If this kind of analysis excites you, it's similar to what a firm called Urban3 out of Asheville, NC led by Joe Minicozzi does. We're trying to get them to do an analysis of St. Louis. That takes considerable funding. If that's something you're interested in helping with please email me at richard at nextstl.com
We've seen the dramatic turn around of the Grove area along Manchester Ave from Kingshighway to Vandeventer in recent years. Federal, state, and regional policies and spending had undermined this and many other neighborhoods for decades leaving it nearly worthless. There has been significant private, institutional, and public investment in the corridor. Let's see how the area's value has grown over the years. Let's do the math!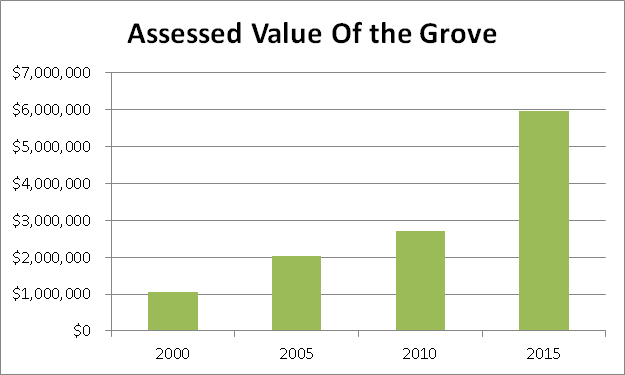 Acreage is for Non-tax-exempt properties
2000 $1,064,320 on 15.8 acres or $67,362 per acre,
2005 $2,038,730 on 18.4 acres or $110,800 per acre
2010 $2,716,150 on 17.9 acres or $151,740 per acre
2015 $5,974,220 on 18.0 acres or $332,455 per acre.
Nearly a 6 fold increase over 15 years.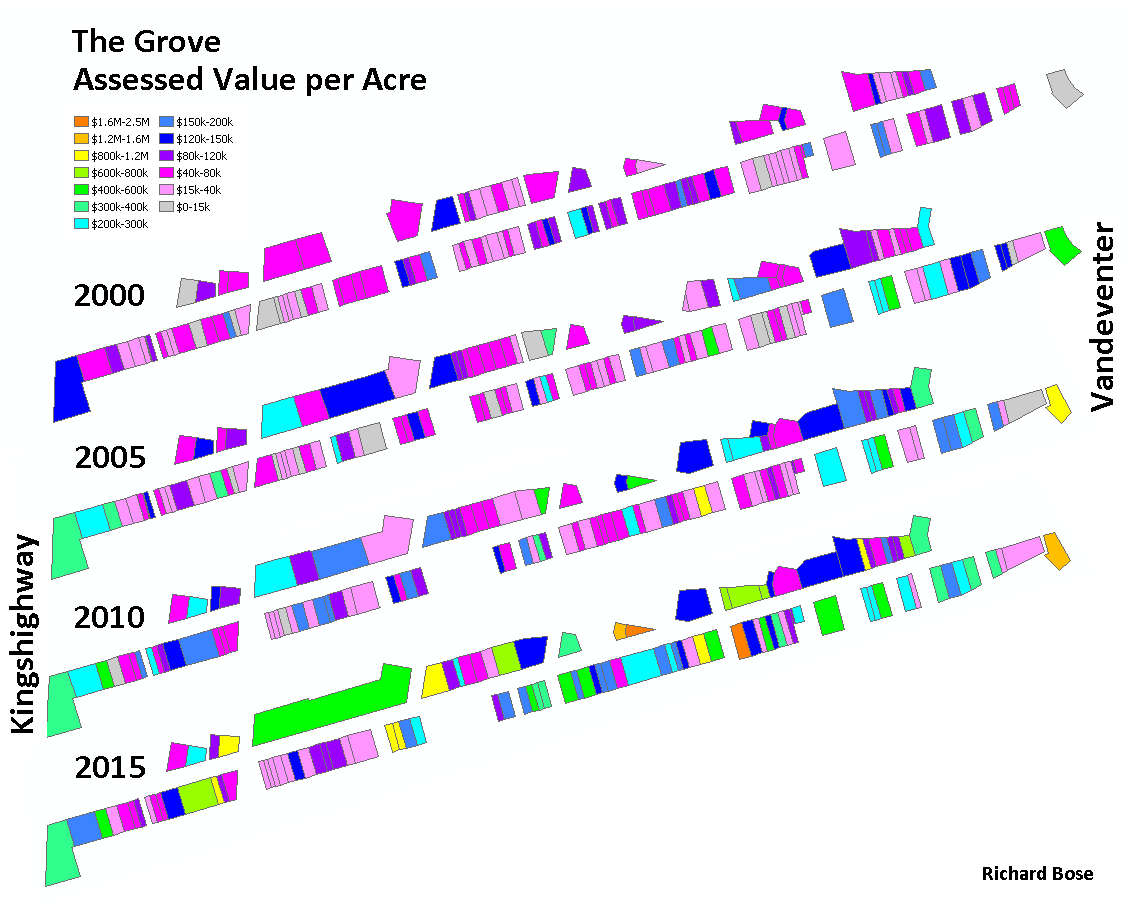 The biggest public investment in the infrastructure of the The Grove was a lighting and streetscape project in 2010. Design and construction cost $2.3M, almost entirely paid for by Federal stimulus funds. The project improved the bike and walkability of the street. The return is a poster child for spending to incrementally enhance a place.
The best is yet to come with the addition of a 20-unit apartment building at 4321 Manchester and Green Street's Chouteau's Grove development at Sarah. Both received 10 year tax abatements. In the meantime their presence will add activity and commerce to the strip. The lots at Kingshighway and Manchester are owned by the Science Center. One hopes they would be receptive to developer interest. And while many commercial buildings along Manchester Avenue have been returned to productive use, close to half remain vacant, or used for storage. Further investment will only add to the already positive economic impact.
The turnaround of The Grove and the greater FPSE neighborhood has been a great success. Luckily large-scale land clearance and urban redevelopment didn't occur here. Its fine-grained development pattern means more people have participated in that success. Numerous rehabs have been aided with the state's historic tax credits.
Its synergy with the great things happening nearby at Cortex, CWE, BJC, etc can't be overlooked of course. Other nearby neighborhoods like Fountain Park (FPSE used to have the same stigmas) should be similarly cultivated.

{Produced by the Landmarks Association of St. Louis}