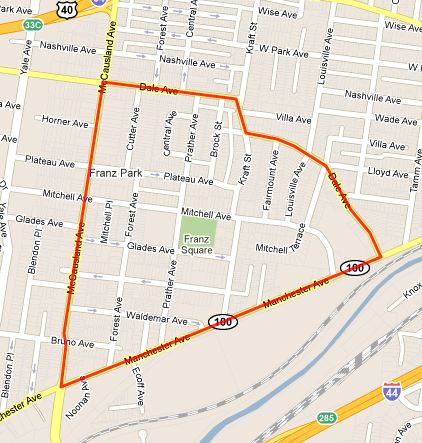 Franz Park is a south St. Louis neighborhood roughly bound by Dale to the north and east, Manchester to the south and the city limits to the west. The 2000 census data counted 2,621 residents (down 10% from 1990's count) of whom 11% were black, 85% white, 1% Asian and 2% Hispanic/Latino. There were 1,318 housing units counted, 92% occupied (67%/33% owner/renter split). I like the high occupancy rate.
The 2010 census data counted 2,442, down 6.8% from 2000's count, with 86% white, 8% black, 4% Hispanic/Latino and 2% Asian.
The 2020 census data counted 2,260 people, down 7% from 2010's count, with 80% white, 8% two or more races, 6% Black, 5% Hispanic/Latino and 3% Asian. A 1% gain in total housing units occurred, with occupancy hovering around 92%.
This is one of 3 neighborhoods collectively referred to as Dogtown, including Hi-Point and Clayton-Tamm. Like Clayton-Tamm and Ellendale, Franz Park judiciously marks its territory with street light flags.
Here's a little background from the City of St. Louis website:
Franz Park grew with the other "Dogtown" neighborhoods in the mid-1800s, when clay mining moved into the area. The railroads further increased the speed at which residents began to move into the area. Many immigrants from places such as Ireland, Italy, Germany, and Poland came to work in the mines. St. Louis fire brick was a growing industry that was employing most of the residents, who built homes around the industrial locations.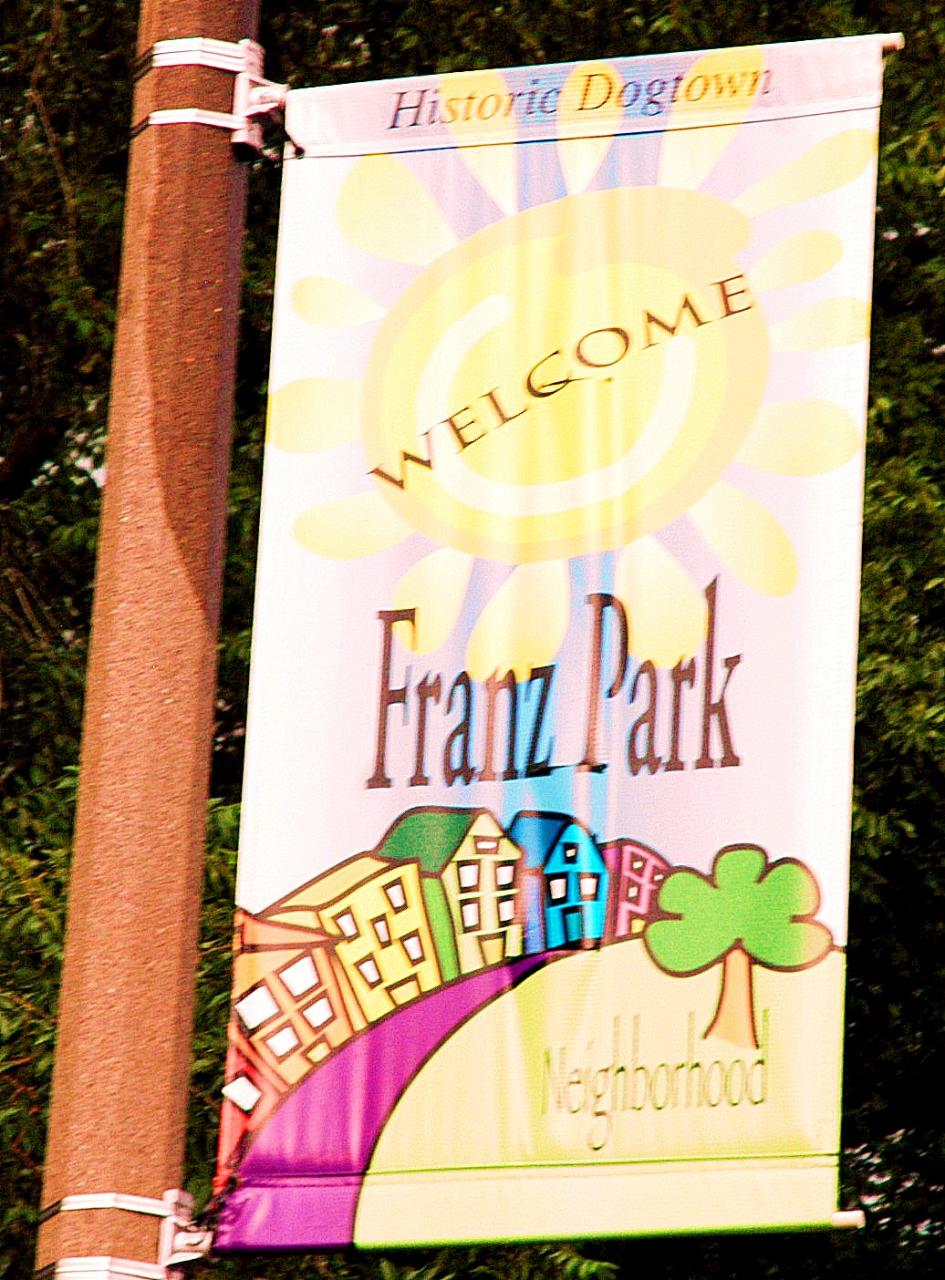 By the end of World War II, the mines had closed, and subdivisions had been built upon the old sites. As a result of the erratic way in which the houses in the neighborhood were built, a variety of architectural styles exist within the area. Despite the fact that the jobs created by fire brick were gone, the strong working class communities remained. In fact, with the World's Fair in 1904, even more people had been enticed to move into the neighborhood, as did the Sulphur Springs Spa, for a few years.
And the neighborhood takes it's name to the gentleman that donated the park to the city:
Originally given to the city by E. D. Franz in 1915, it continues to host local sports activities. It has baseball diamonds and lighted tennis courts. It also hosts summer programs run by the Parks Department. The park is close to Roe Elementary School, home to a preschool through grade five program. Along with strong language arts programs, it also serves ESL (English as a Second Language) students. The preschool has two sessions, morning and afternoon.
So what does Franz Park look like? The three neighborhoods of Dogtown are surprisingly hilly. The streets are packed with cars on both sides, evidence of the high residential occupancy rate. Overall, this neighborhood really doesn't remind me of any other St. Louis neighborhood I've seen so far…maybe a well cared for Walnut Park East would be the best comparison. It's a real mixed bag; and as per the entry above "…the erratic way in which the houses in the neighborhood were built, a variety of architectural styles exist within the area…" That description couldn't be more accurate. If there is a prevailing type or style of home, I'd say it was the small frame homes from post WWII: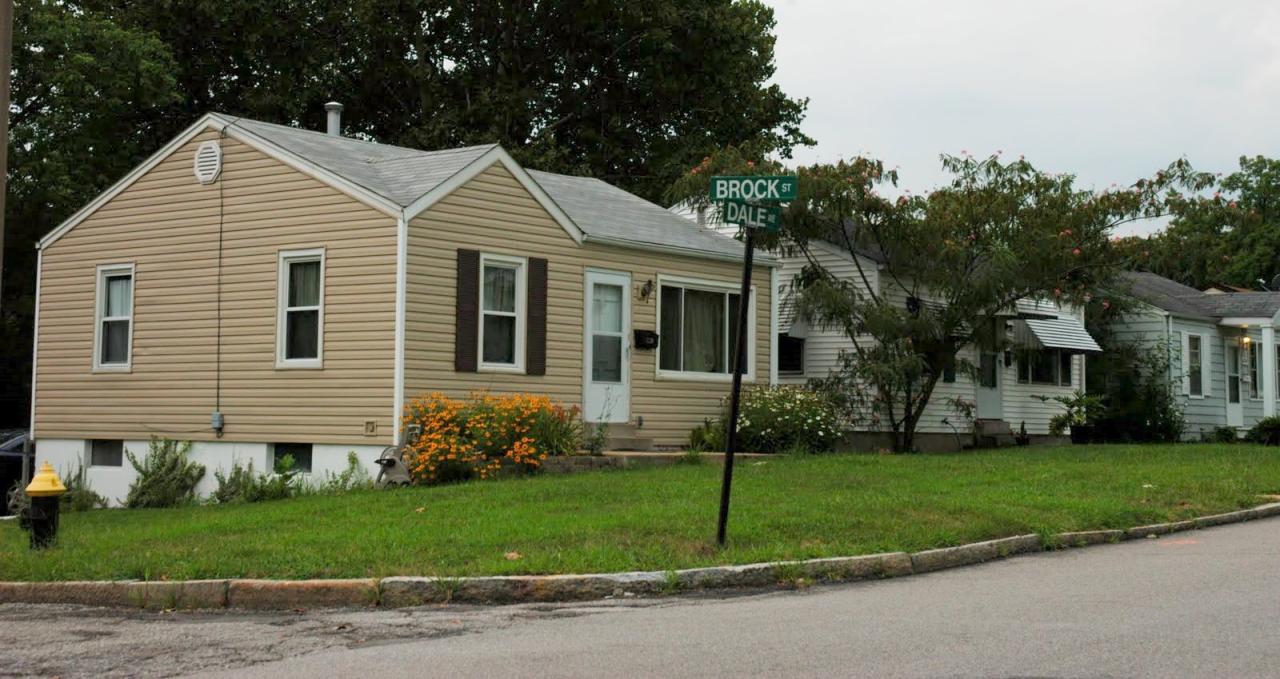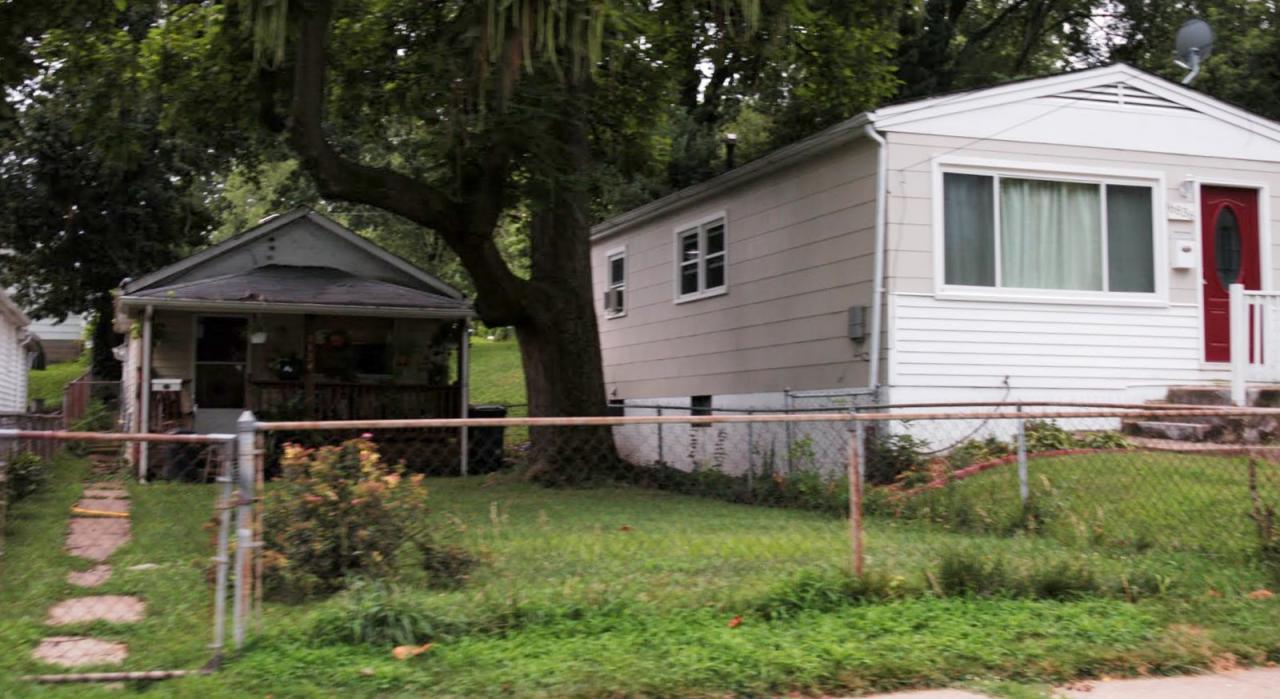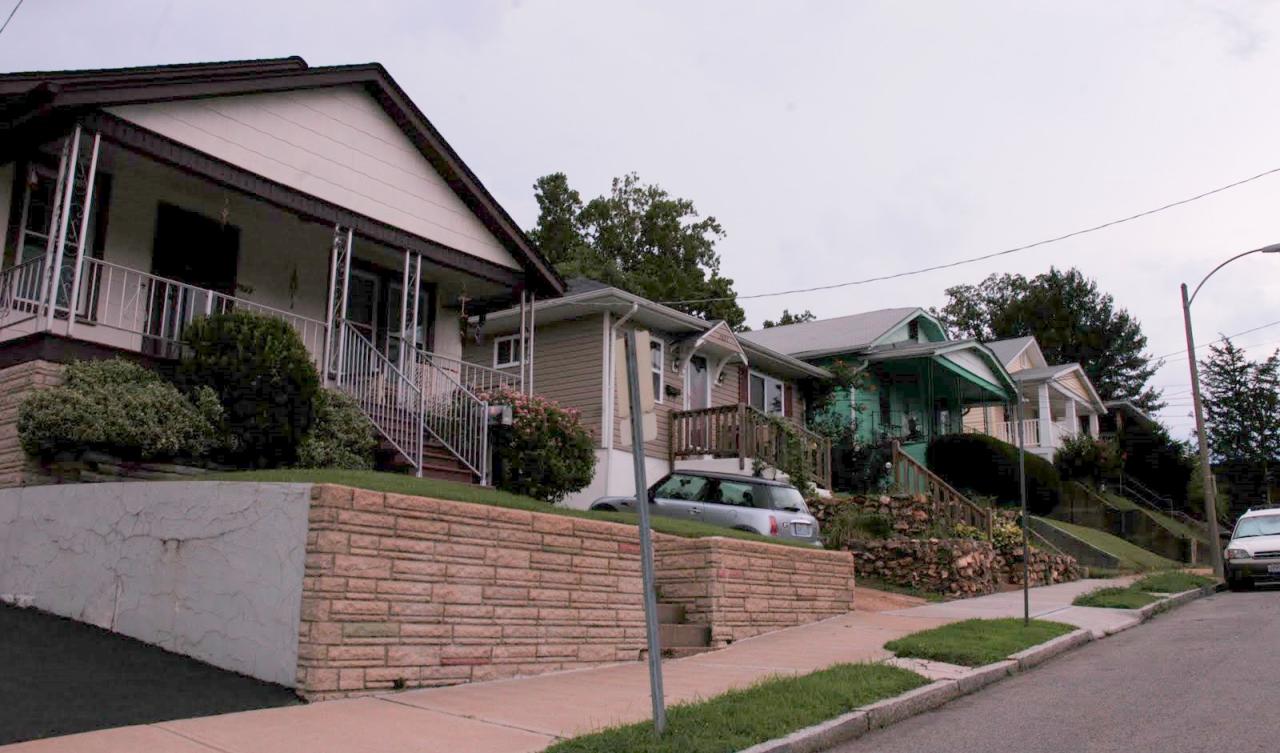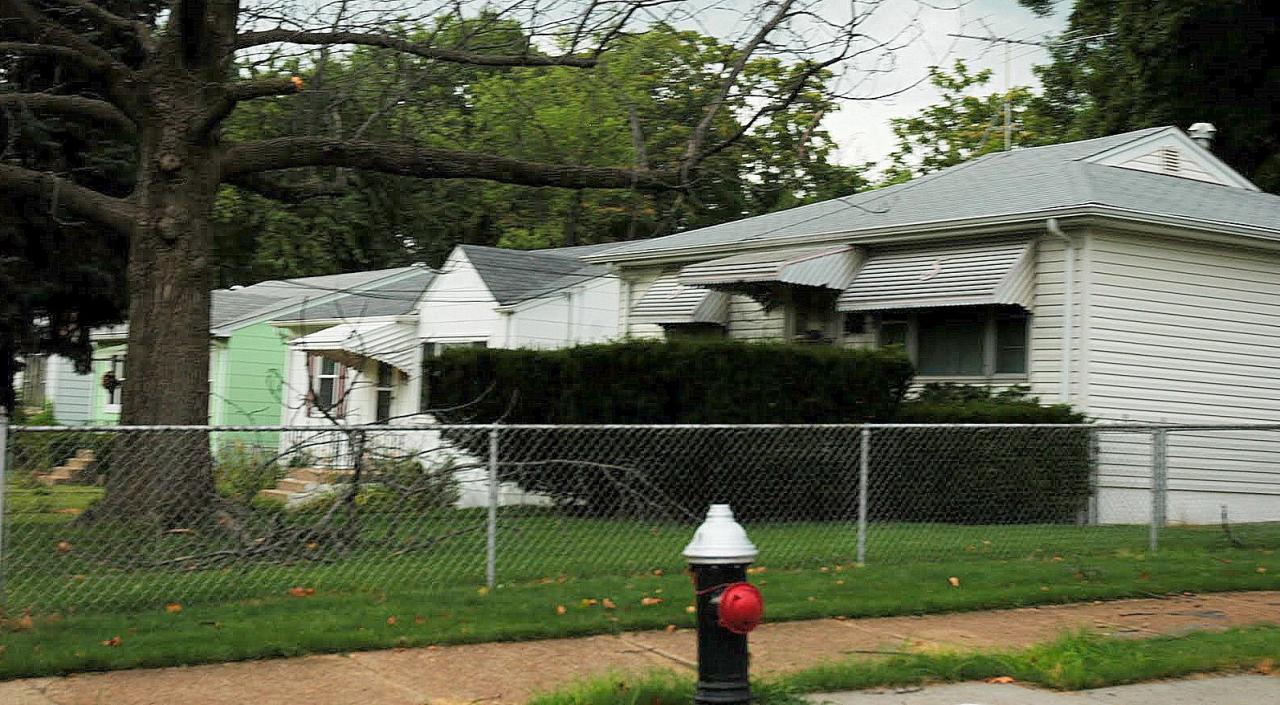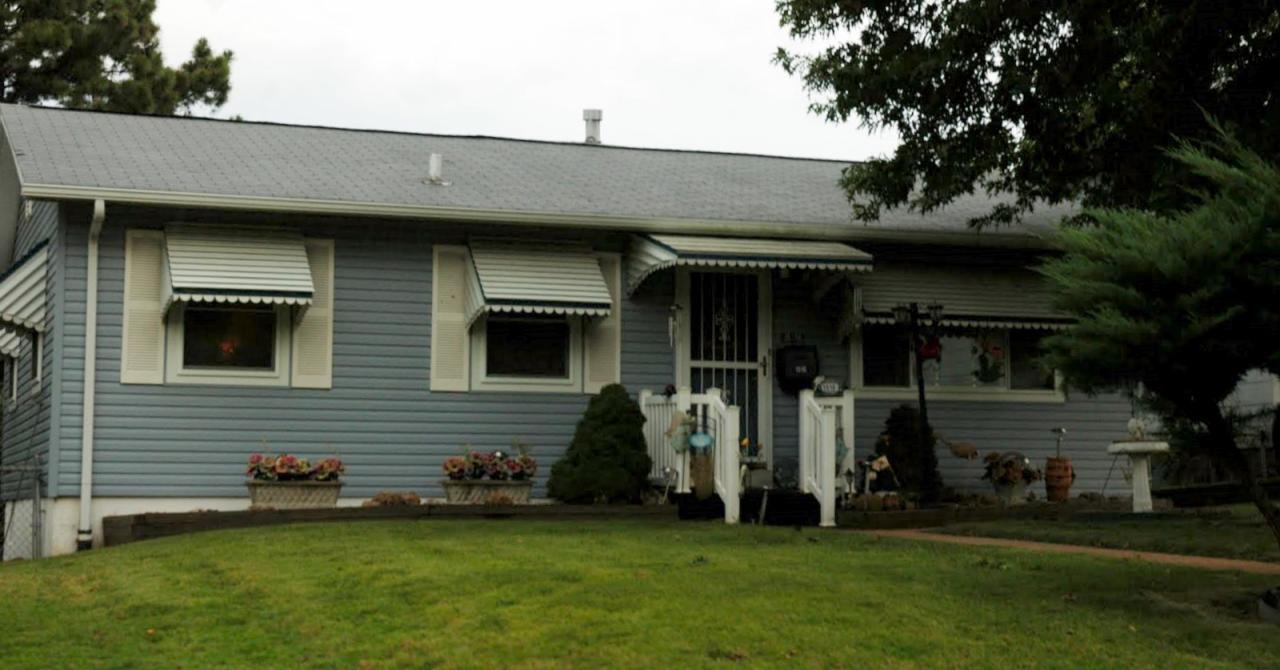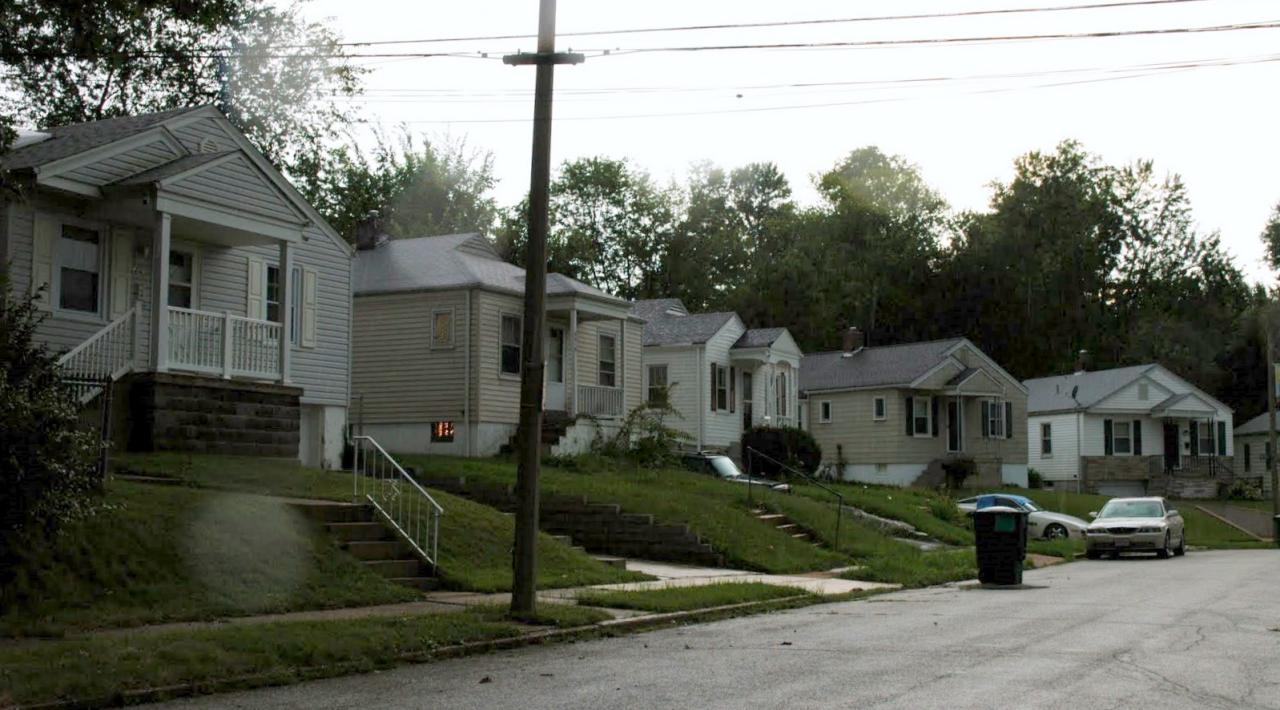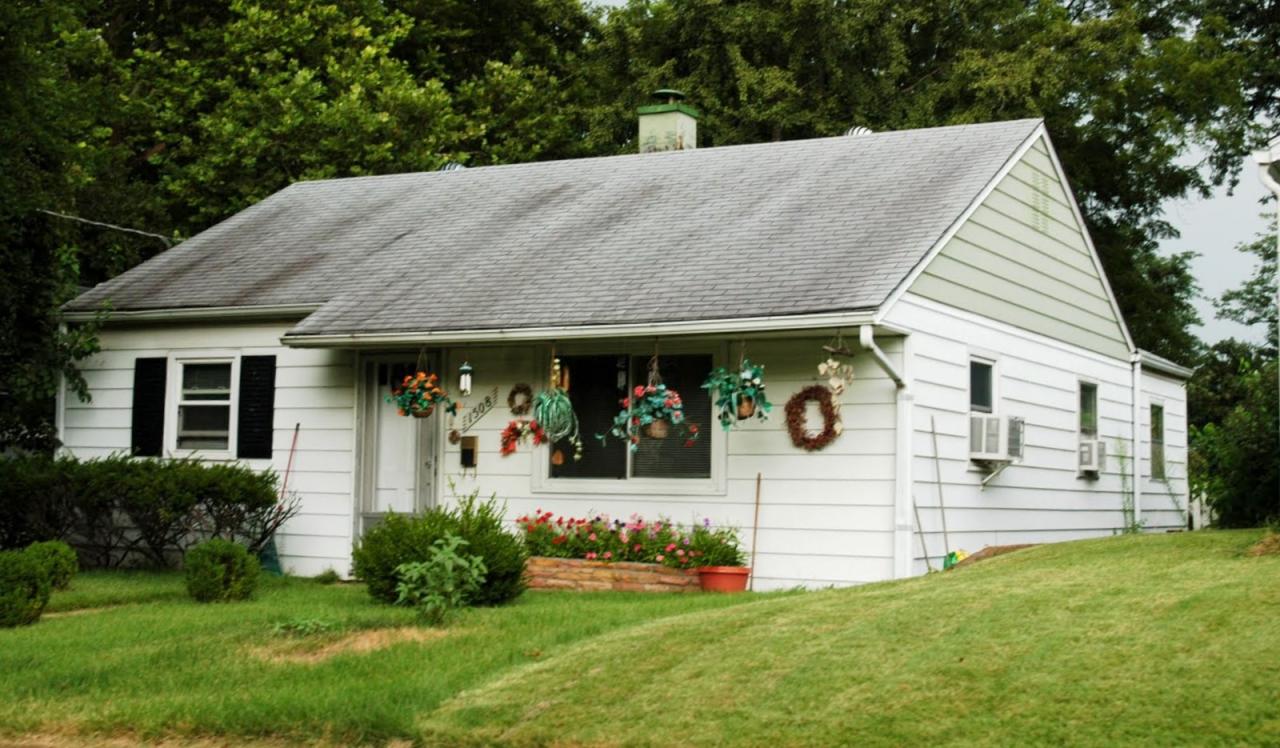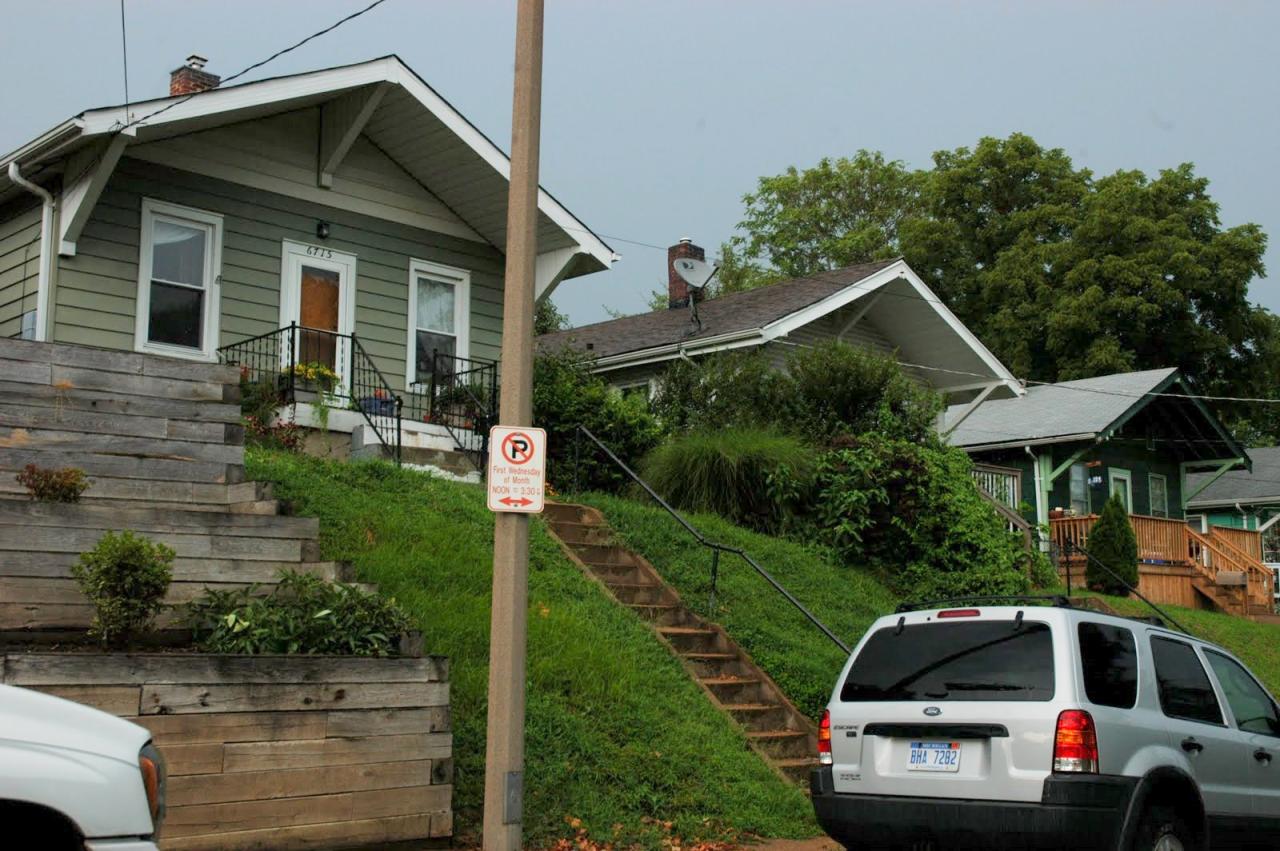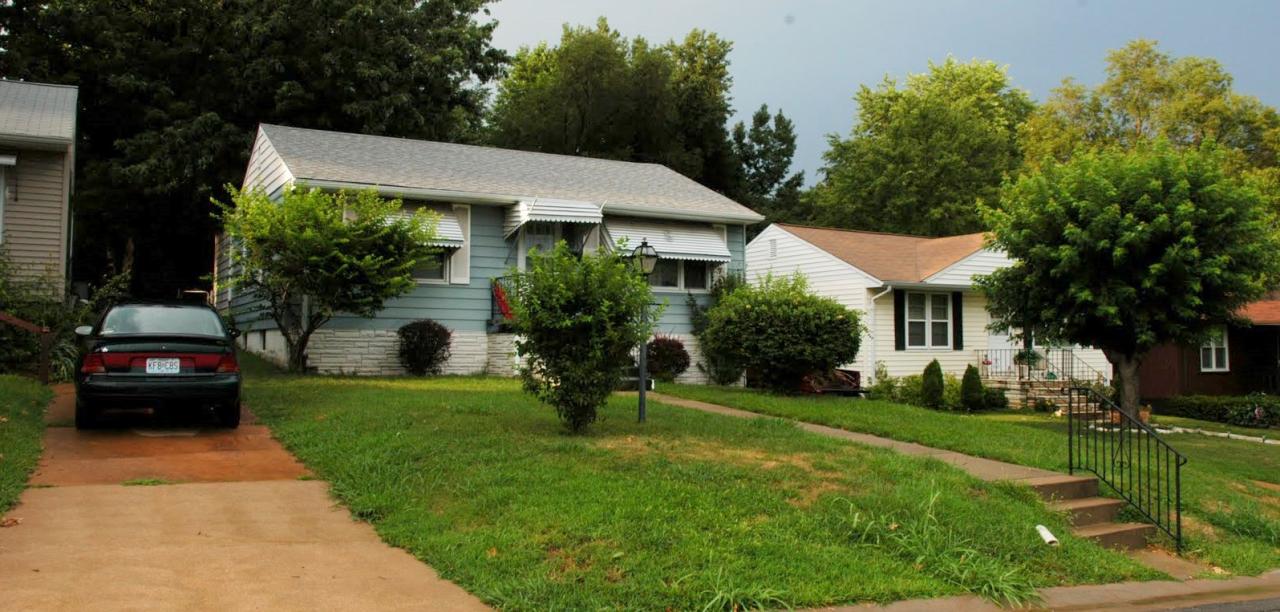 There are many typical brick homes that can be seen in other parts of the city: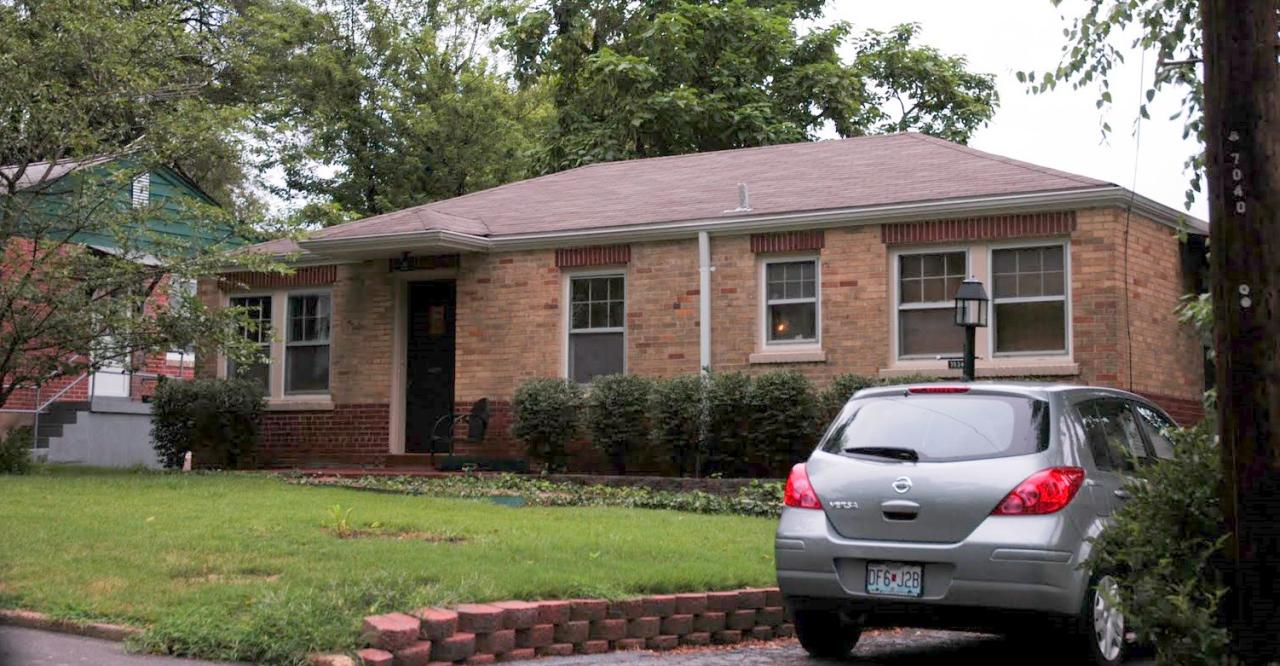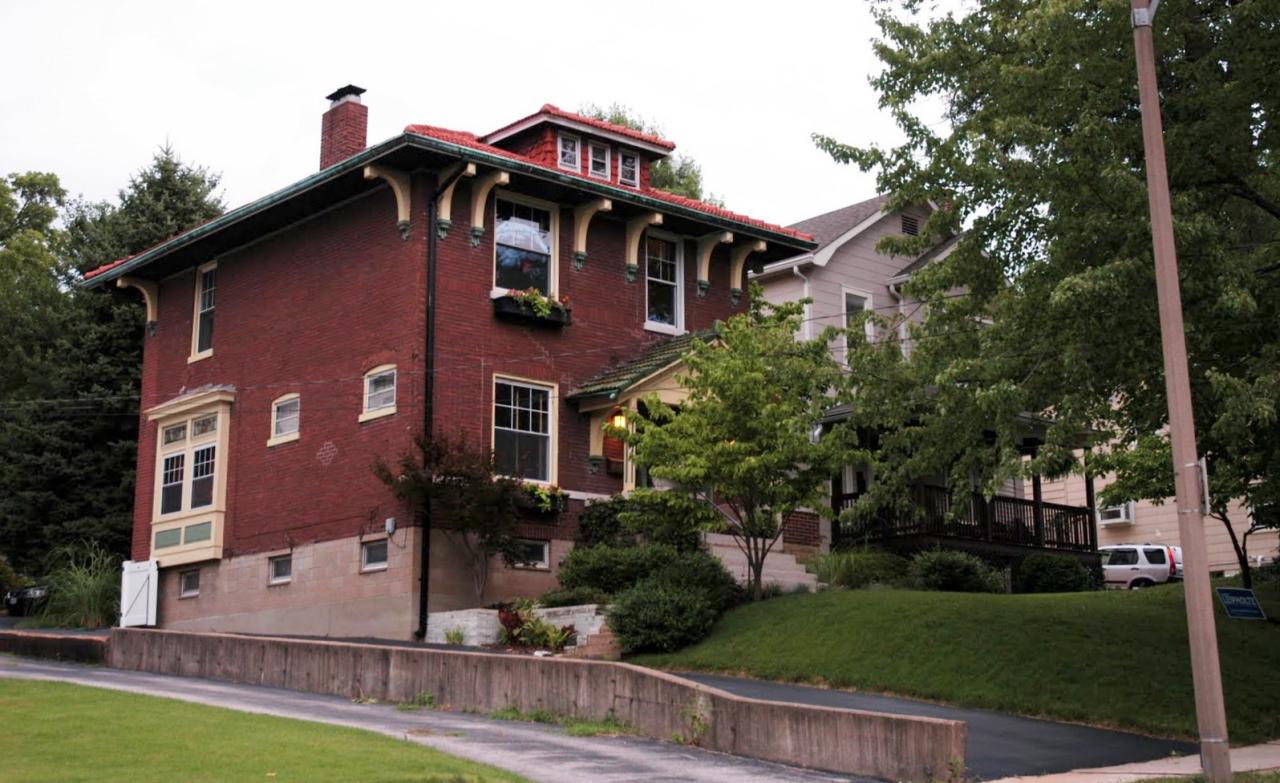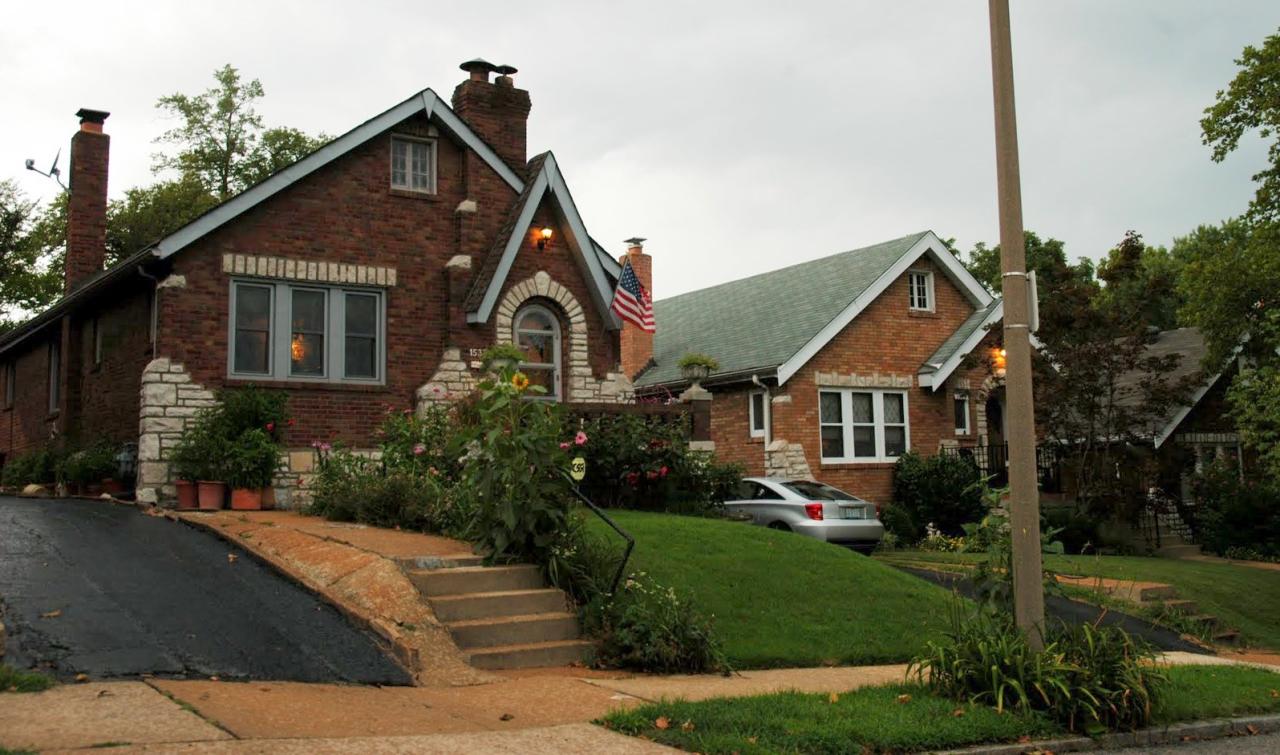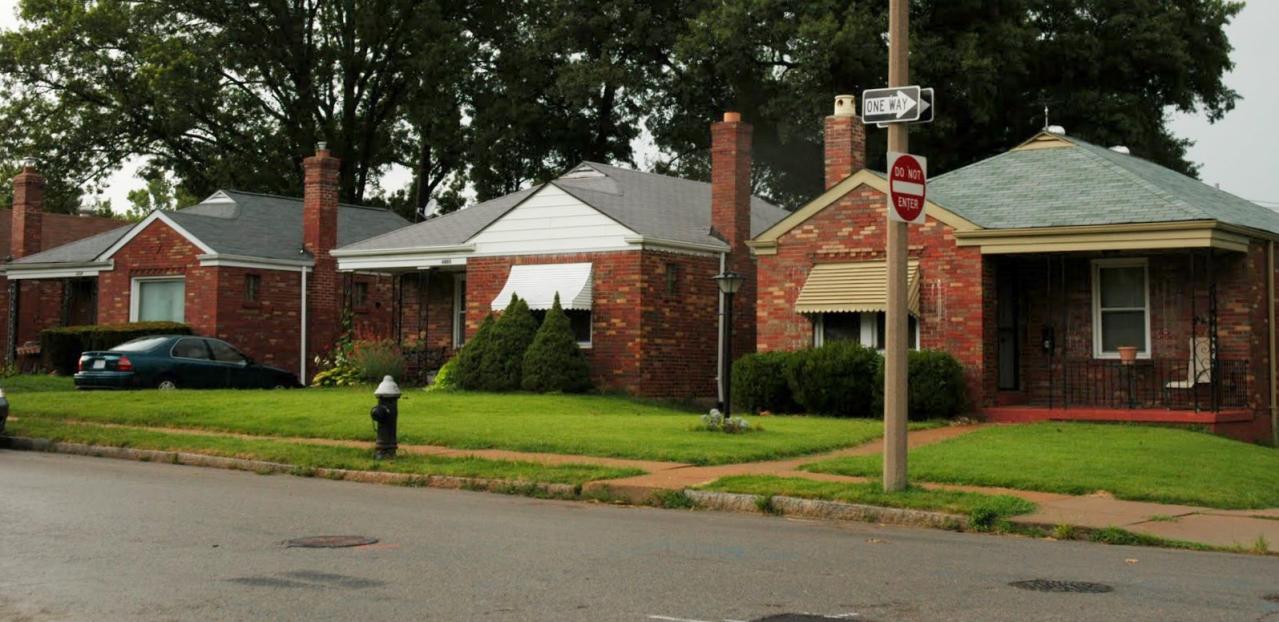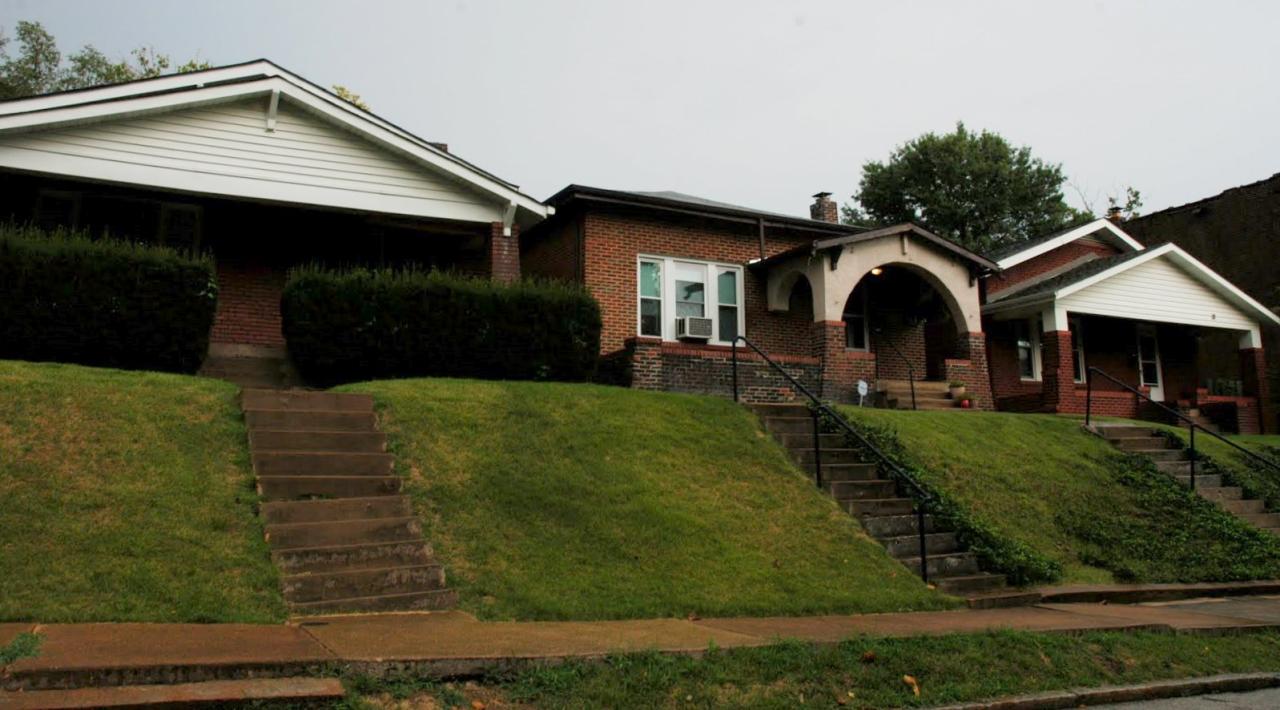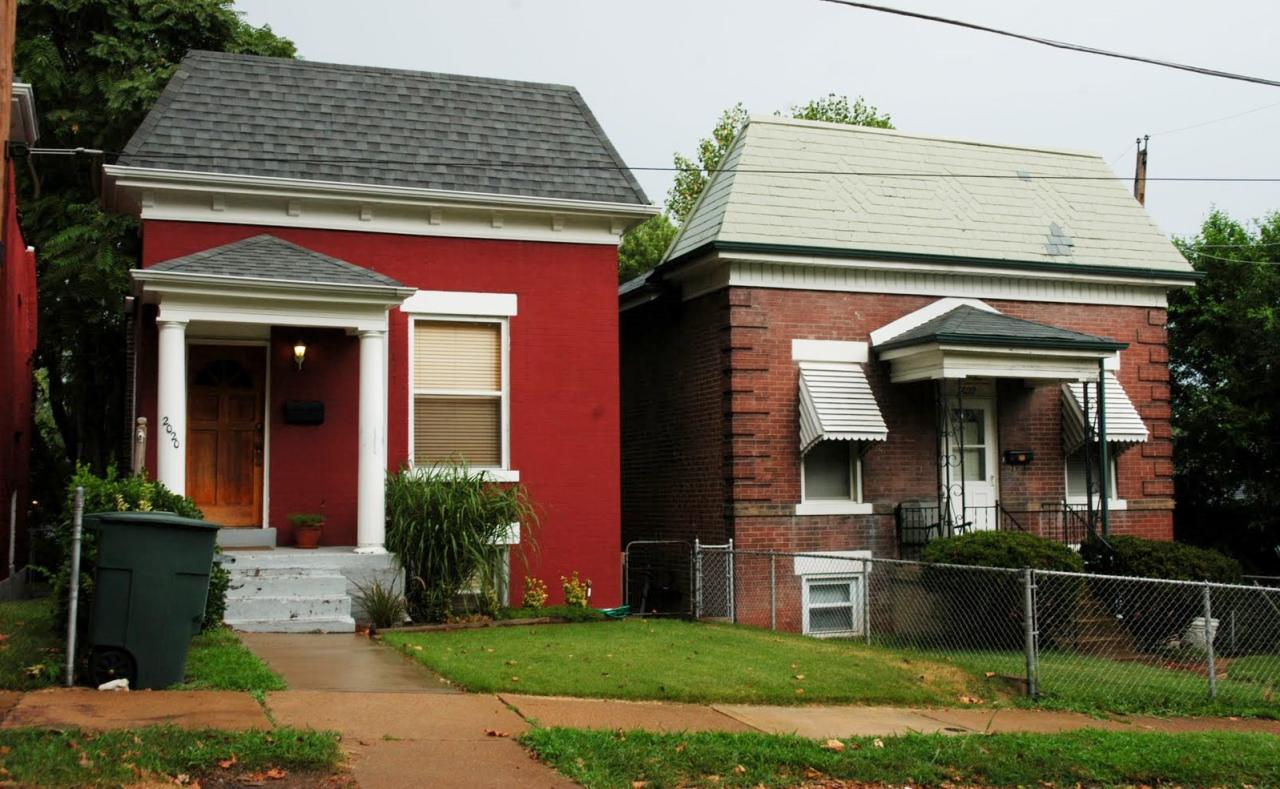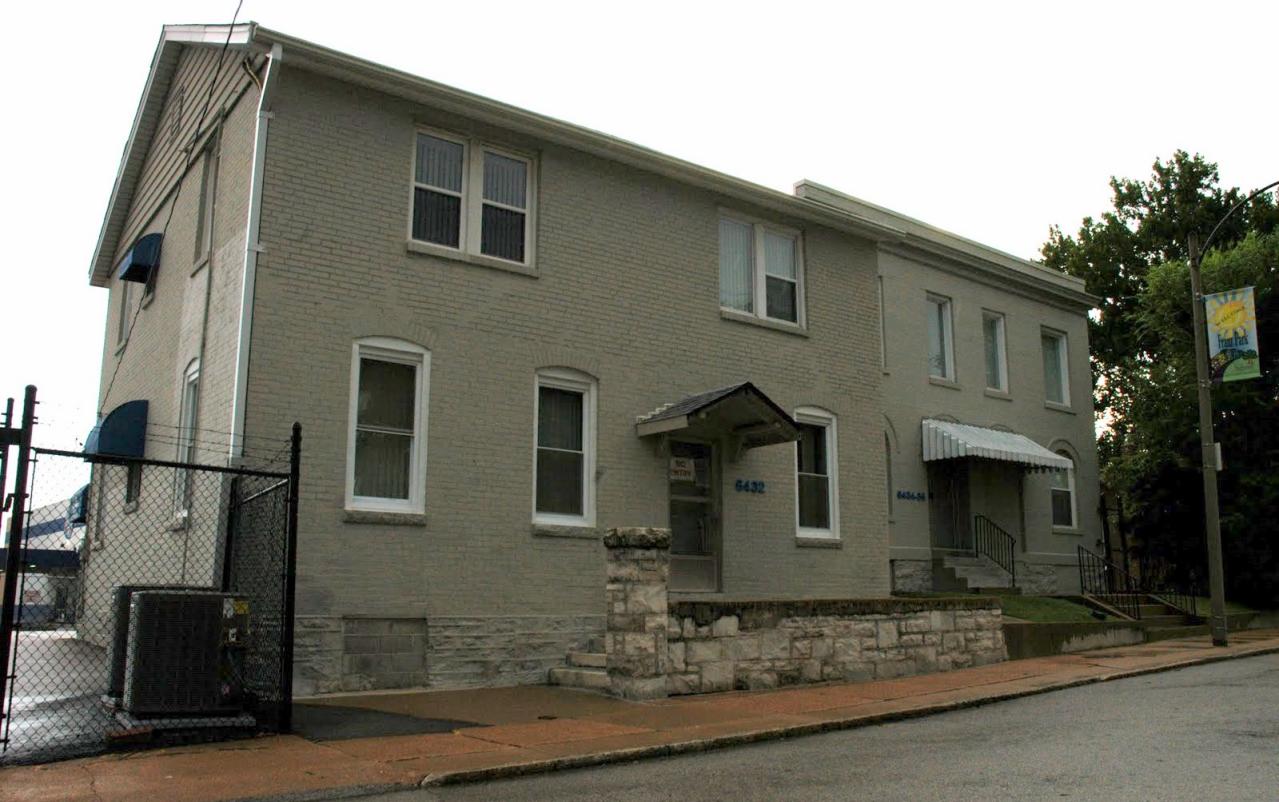 And there are some harder to categorize, unique places that remind me a lot of the inner ring suburb town of Maplewood: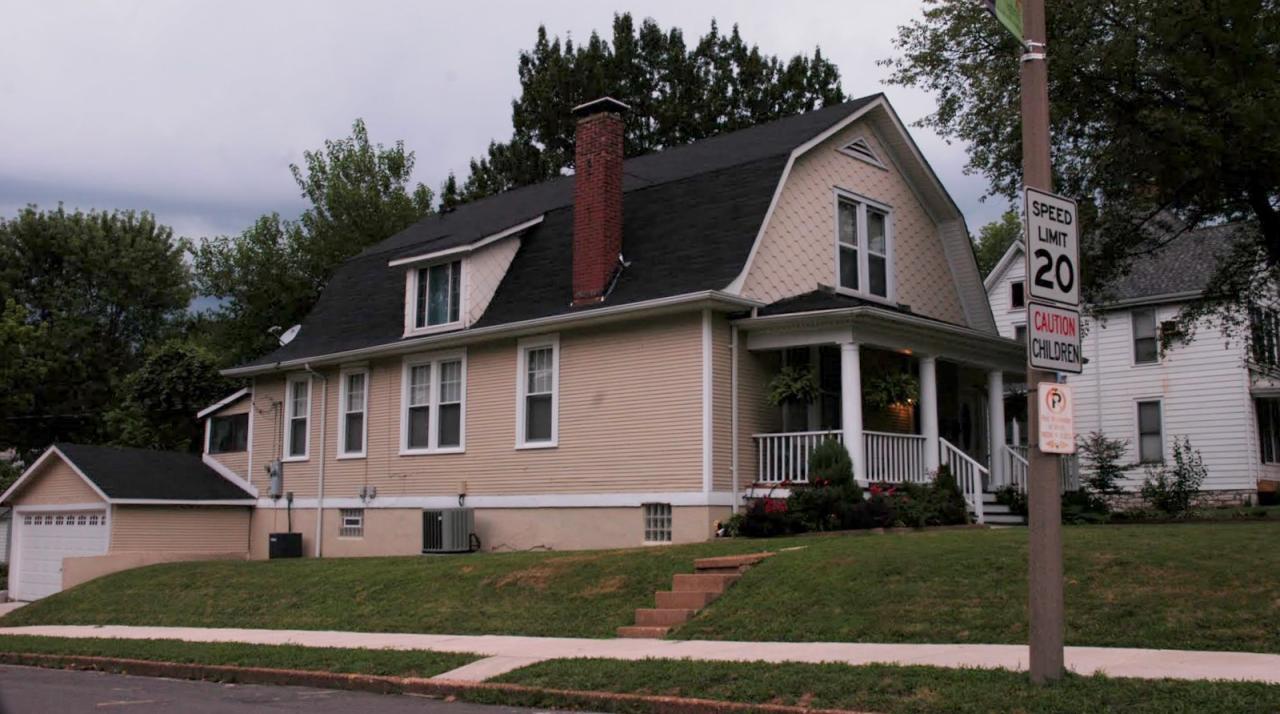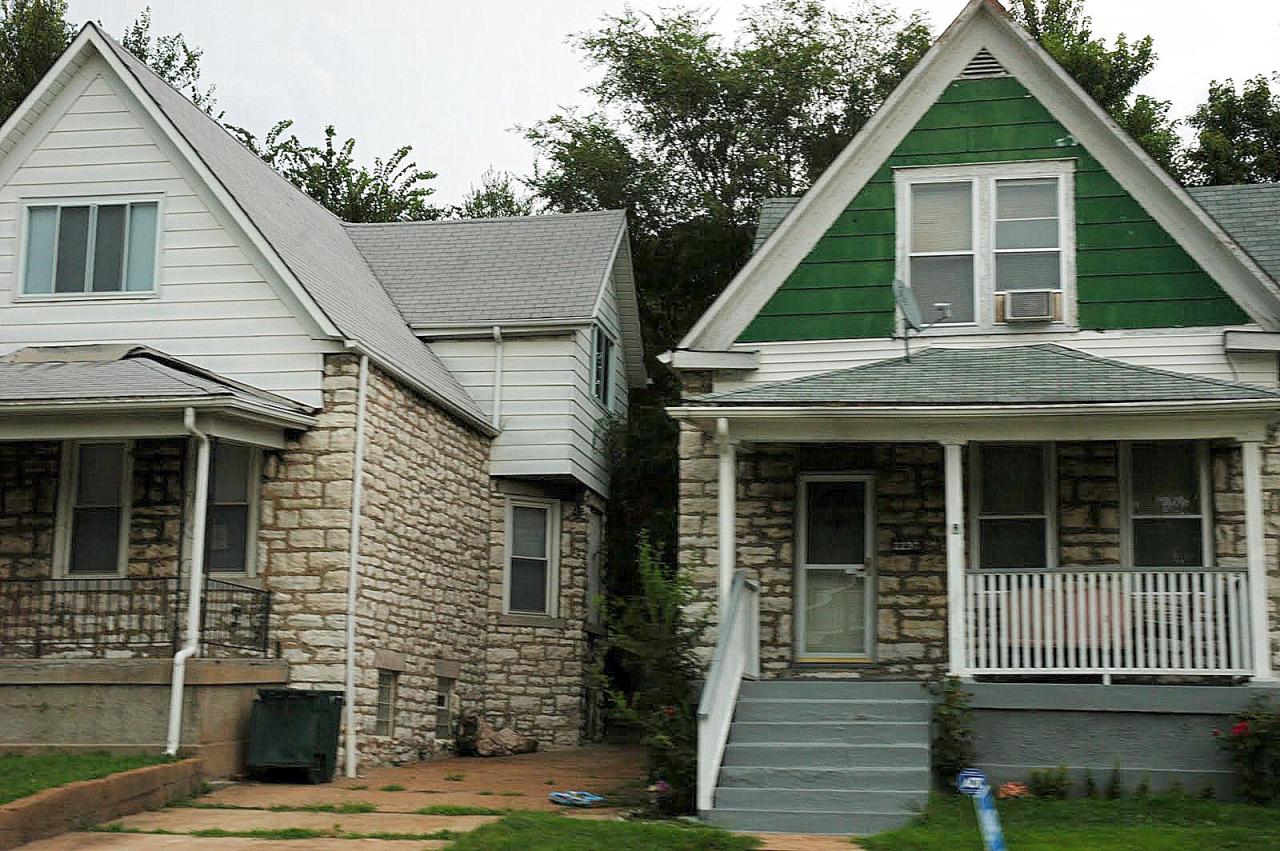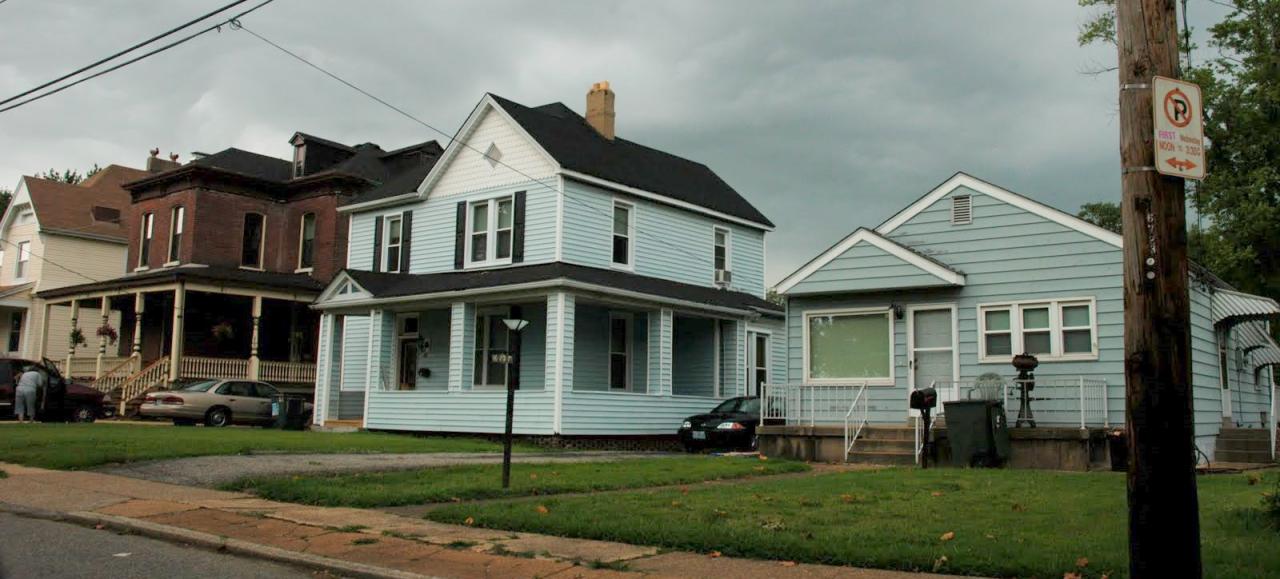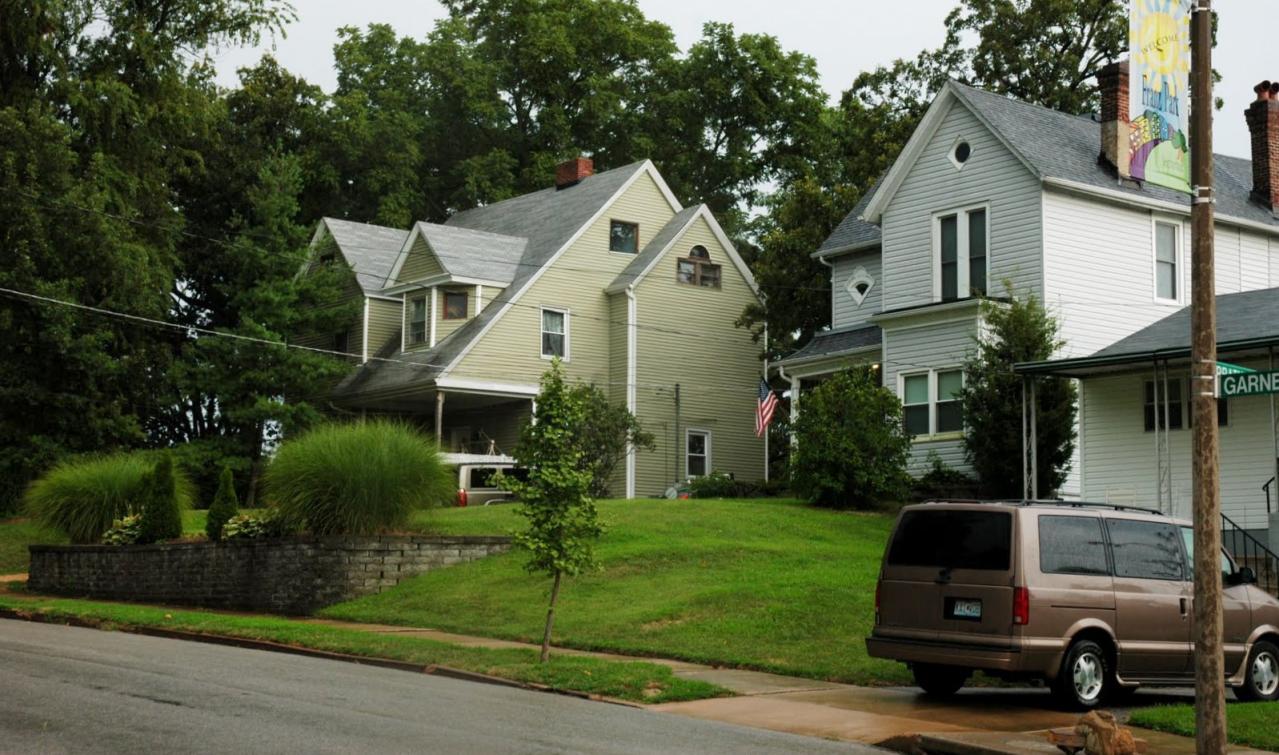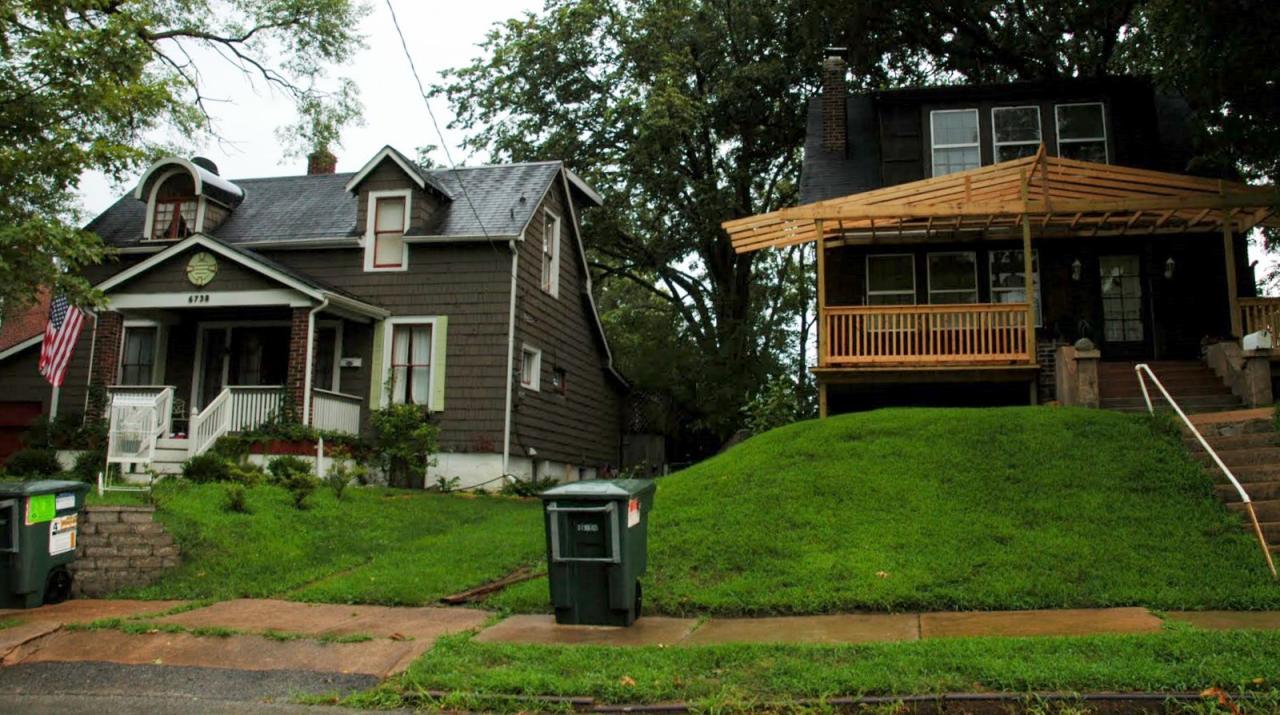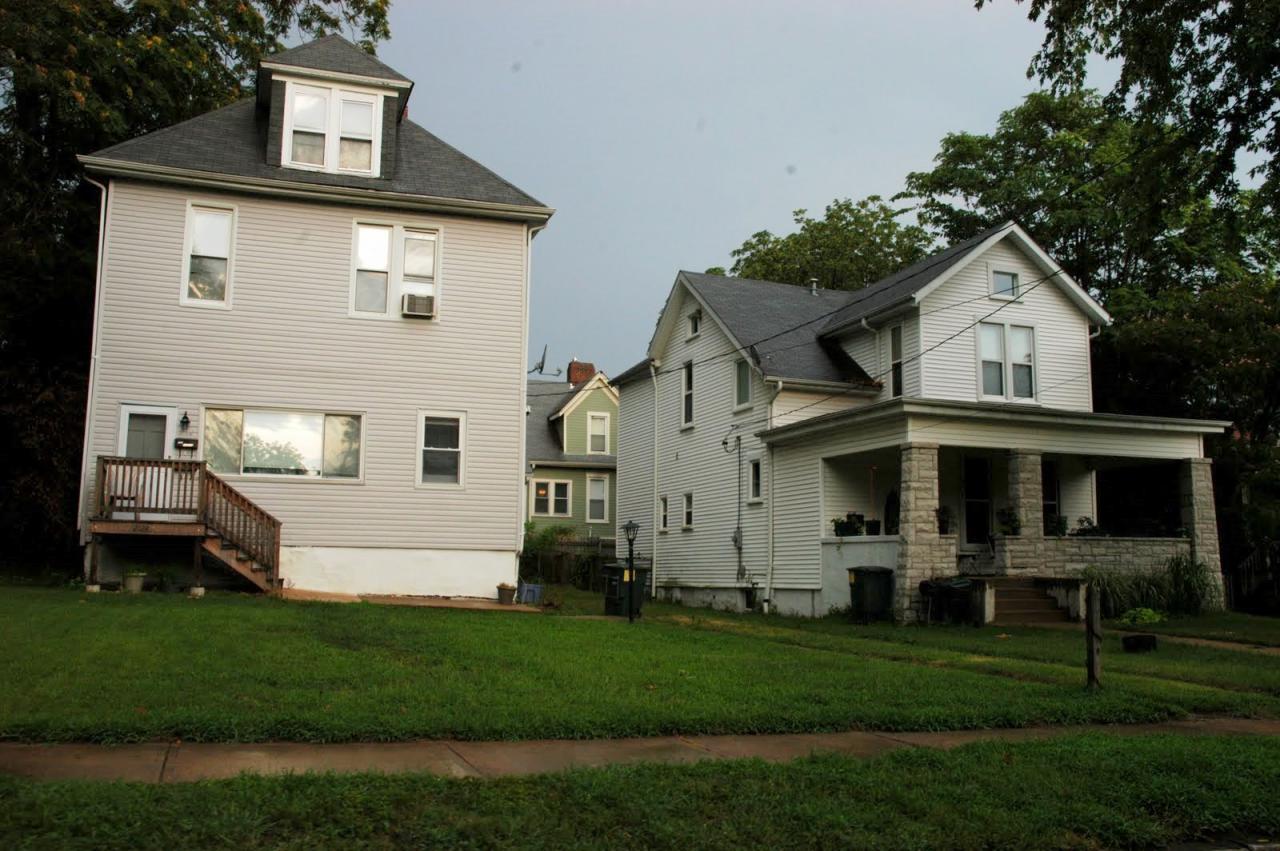 But the real surprise was the amount of new construction. I have to say….against all odds….I really like a lot of the contemporary infill in Franz Park, more so than any other neighborhood I've visited thus far: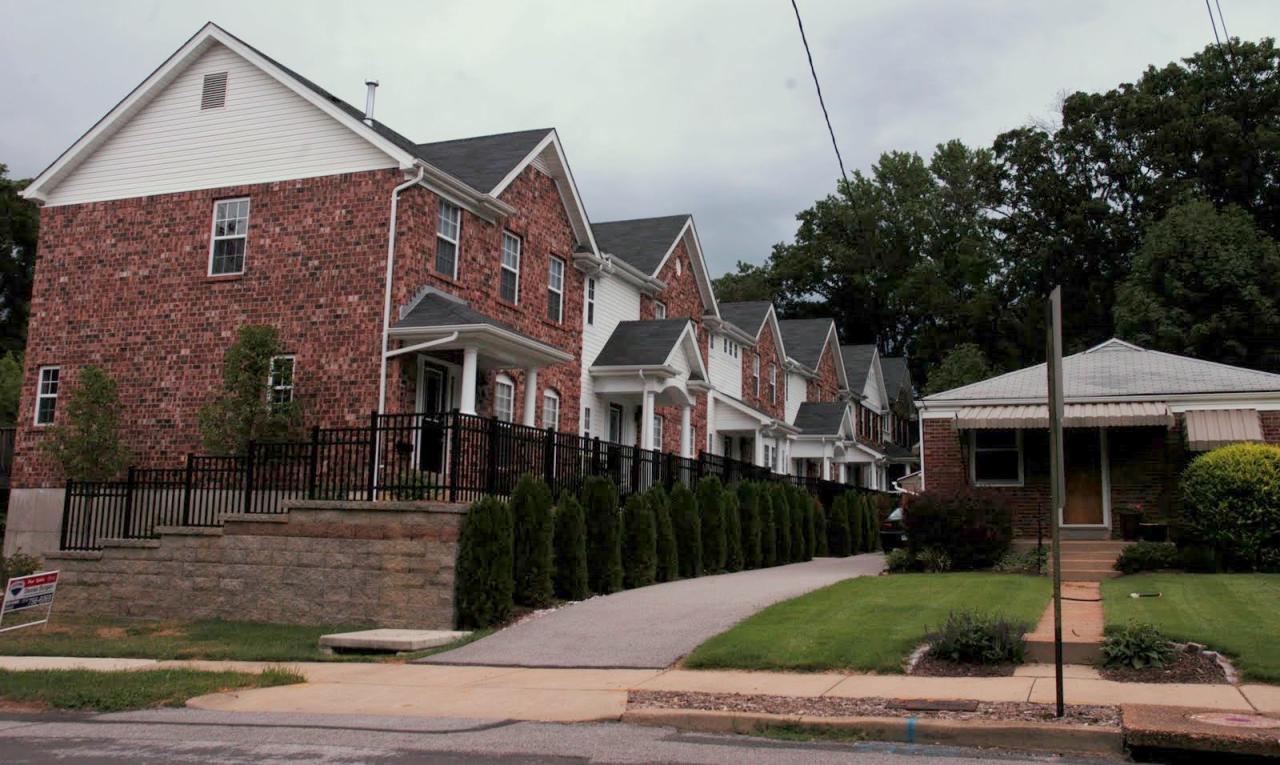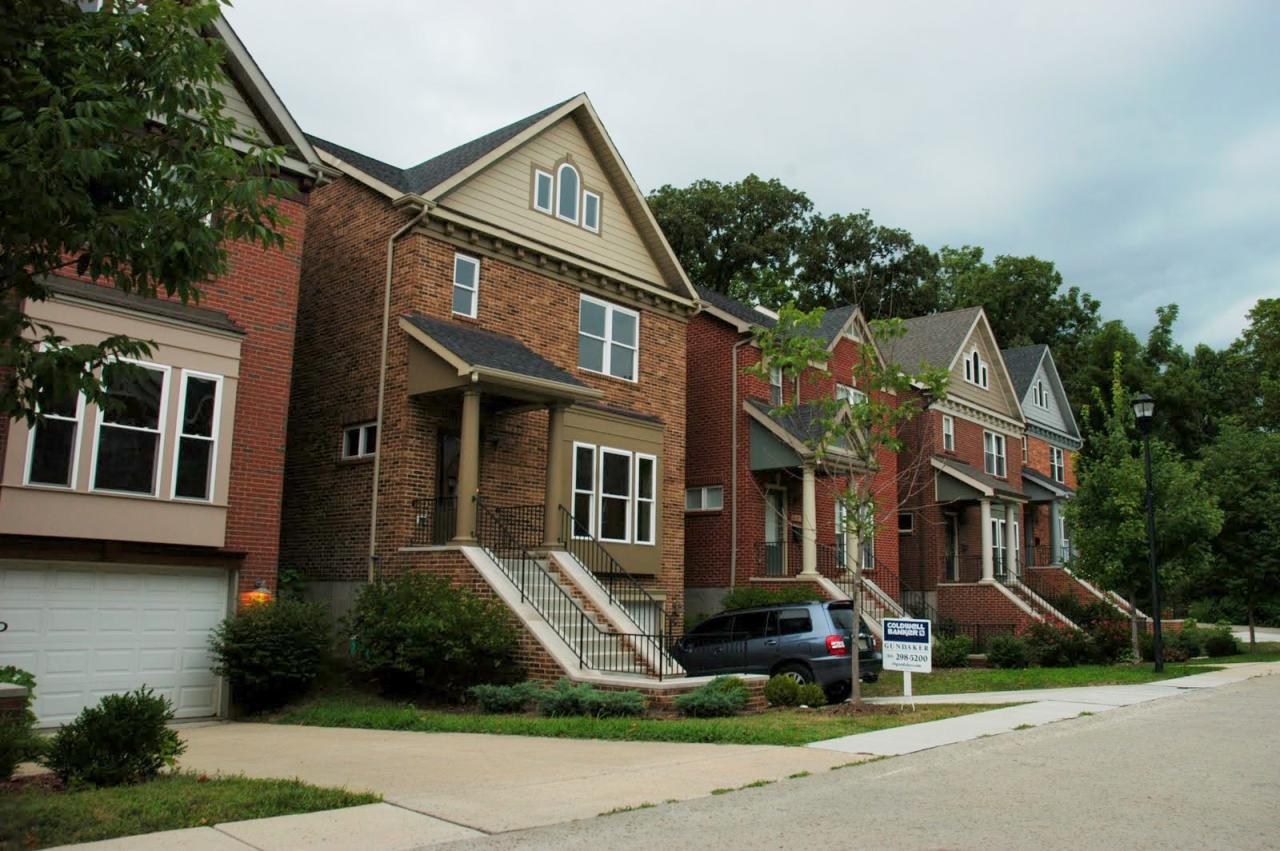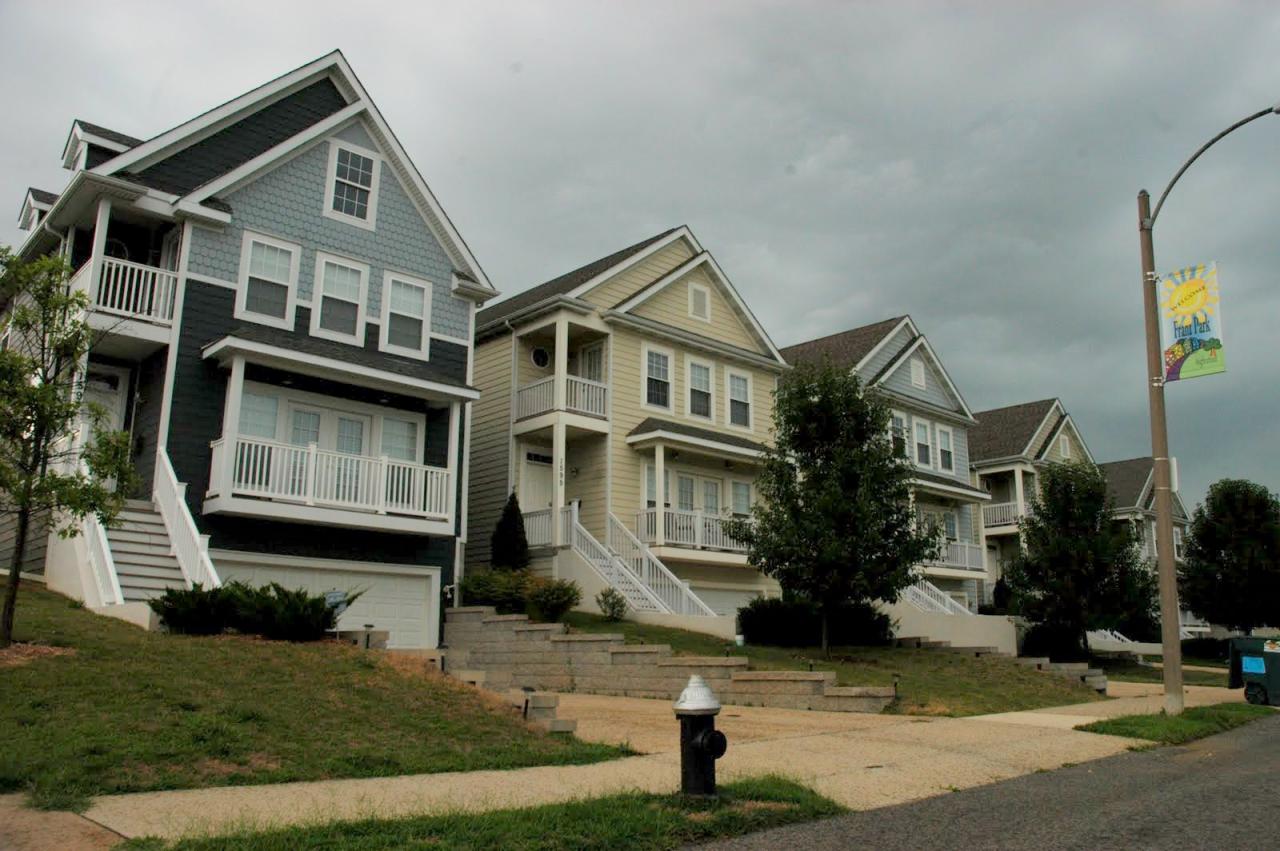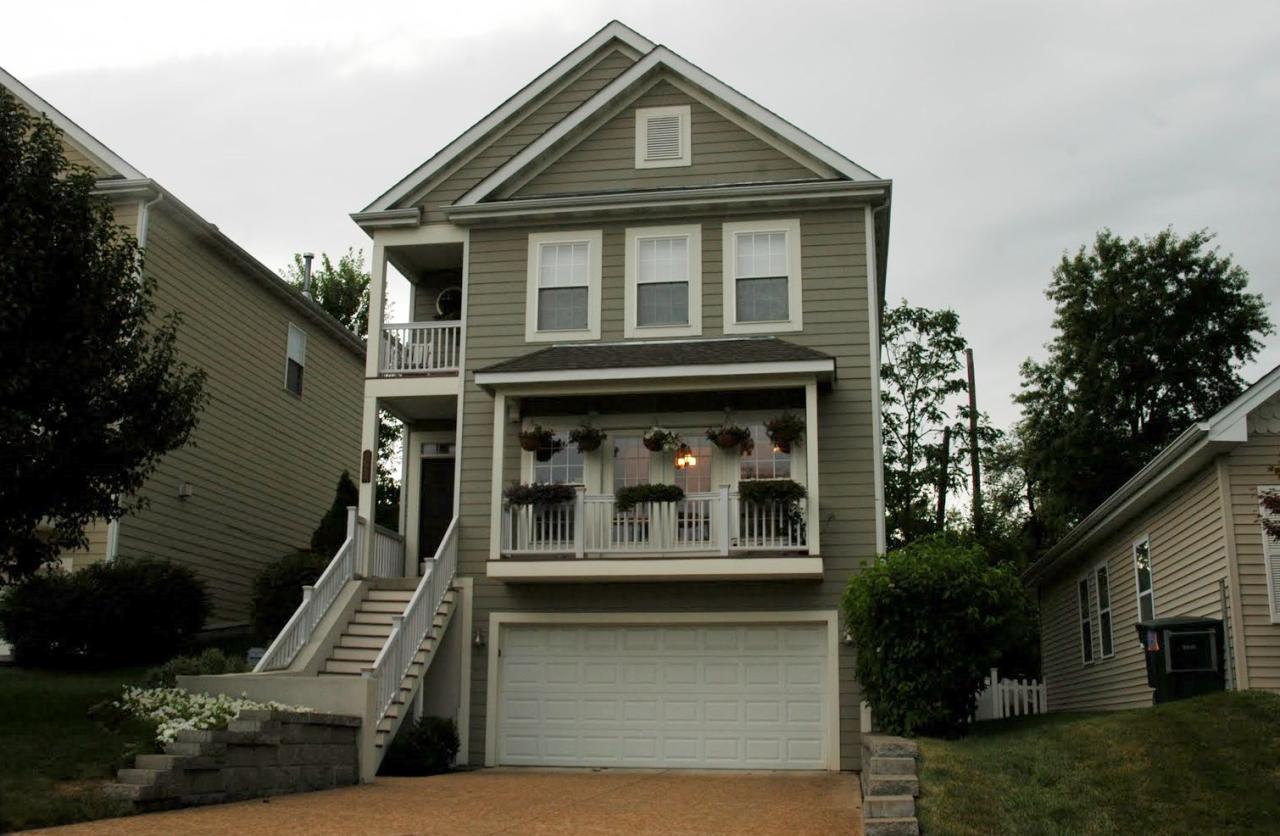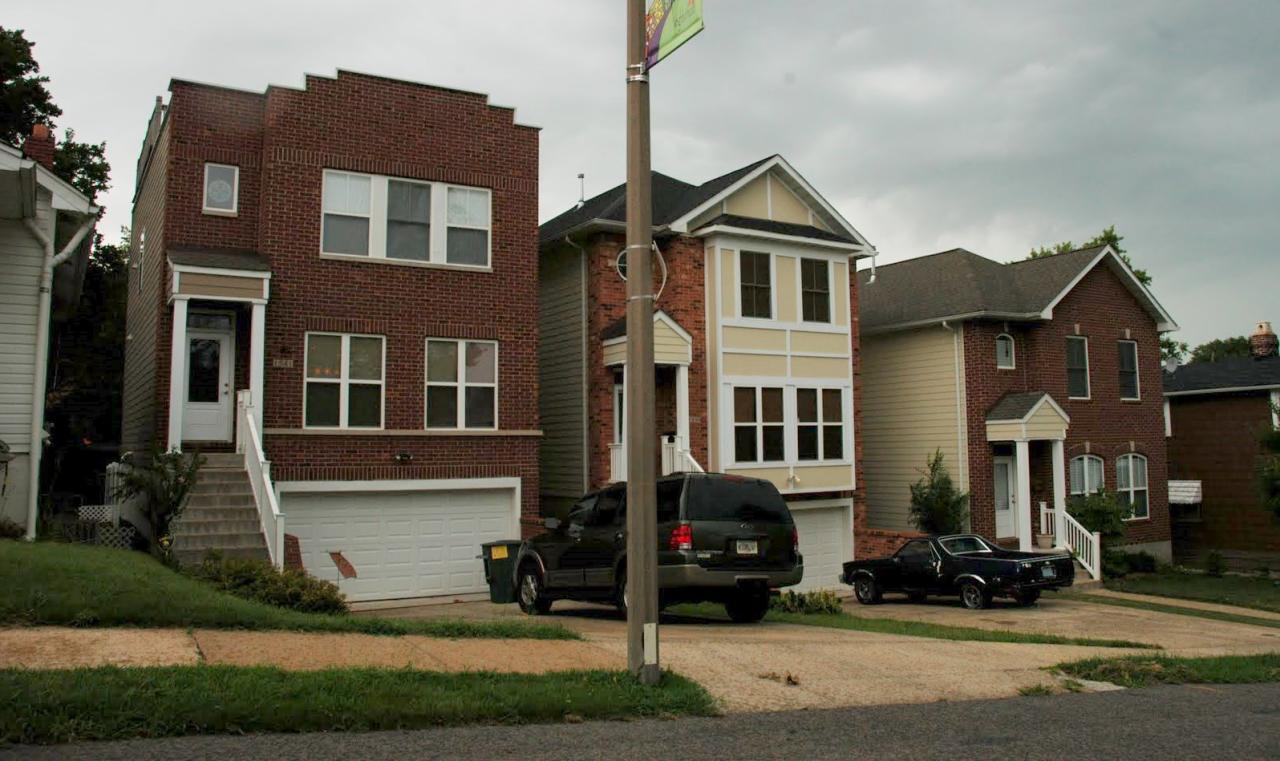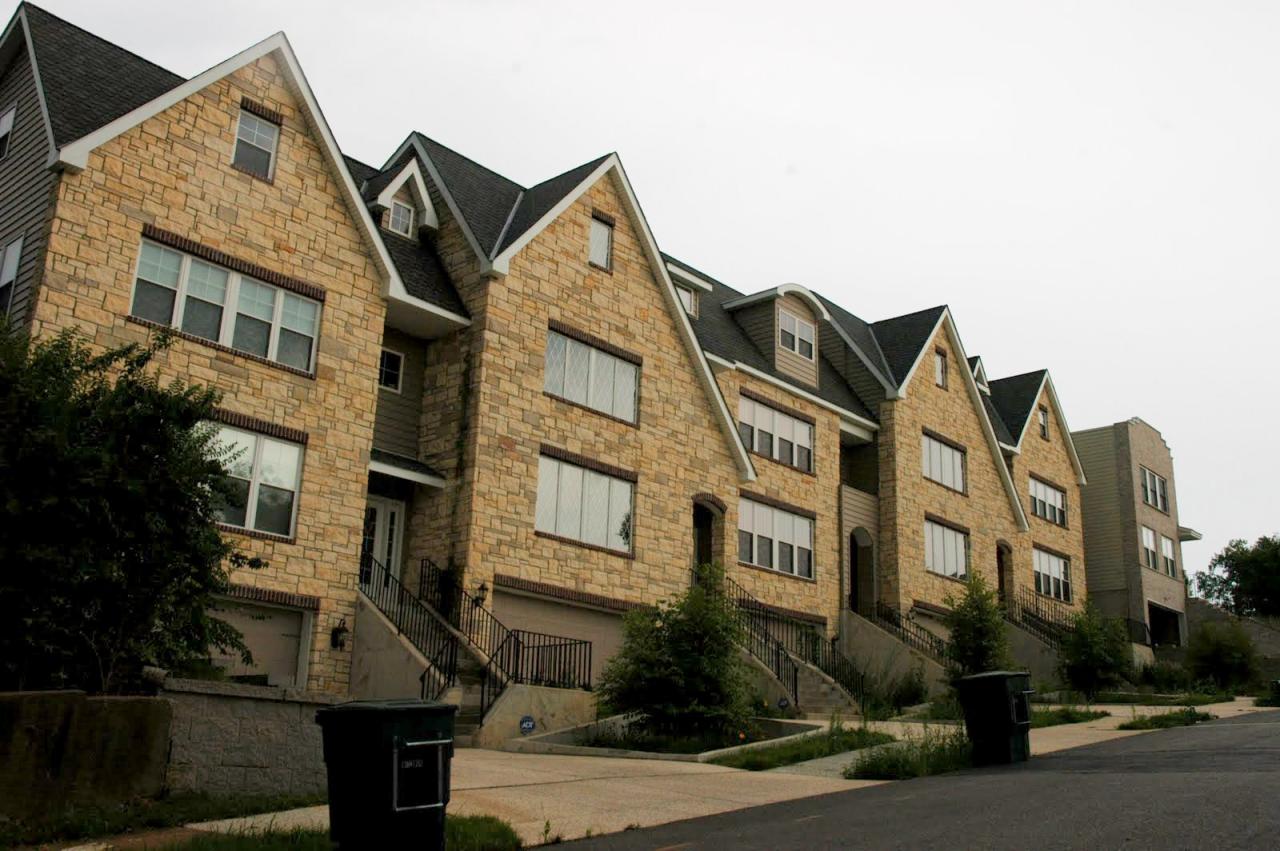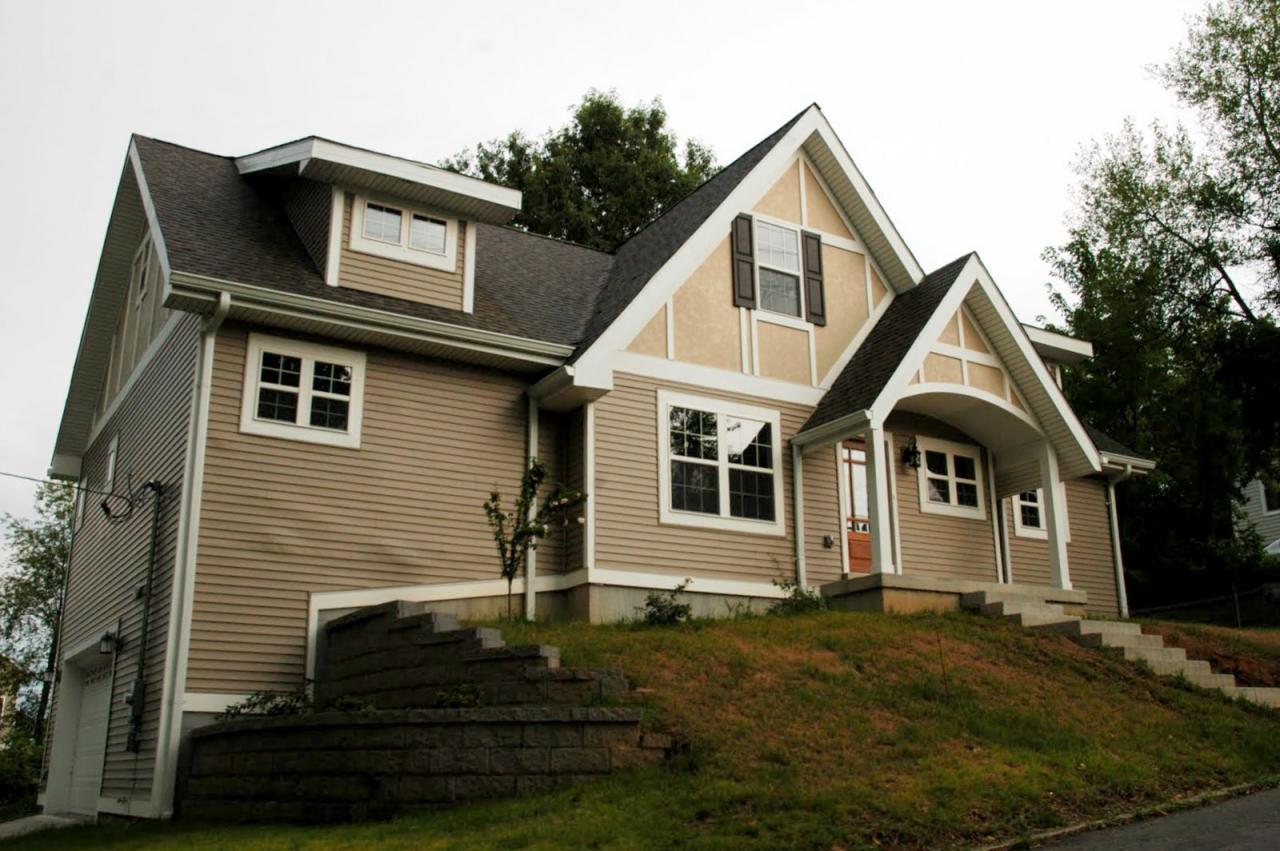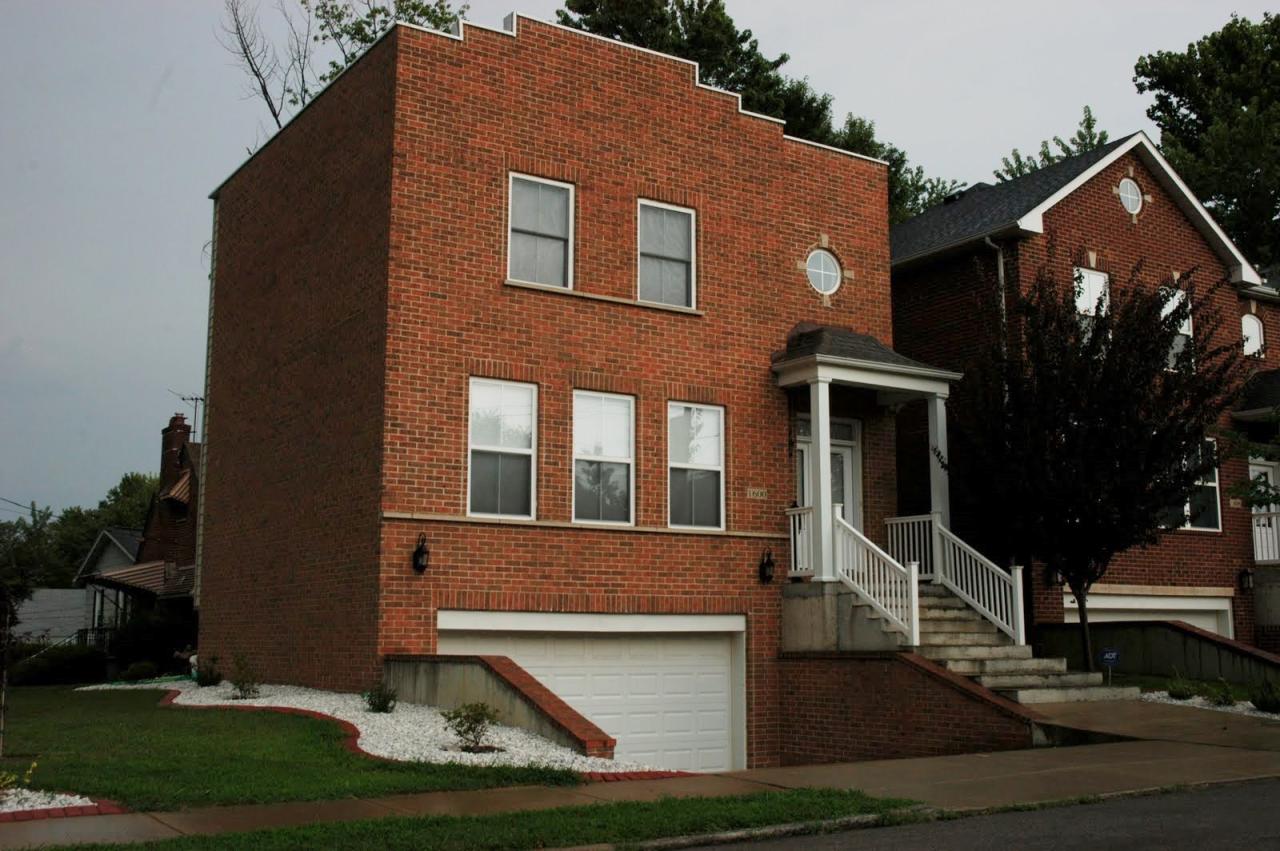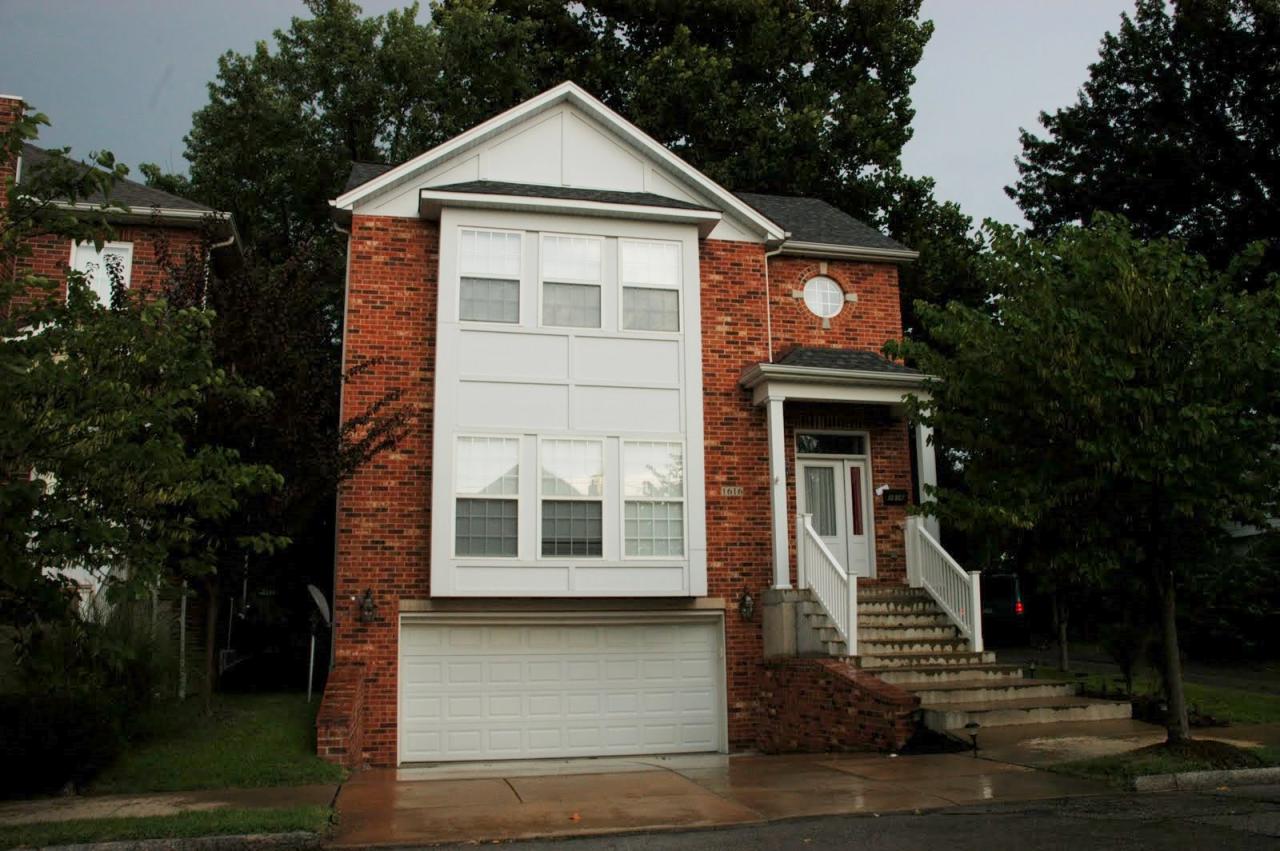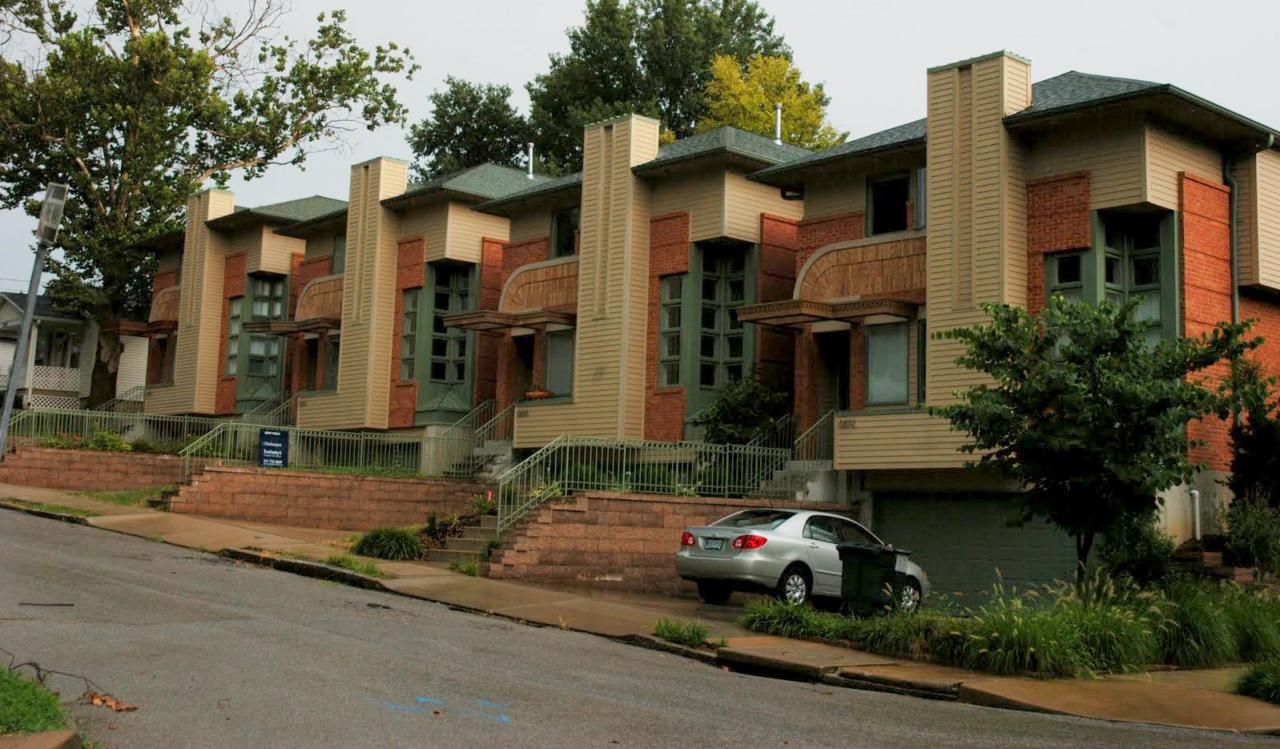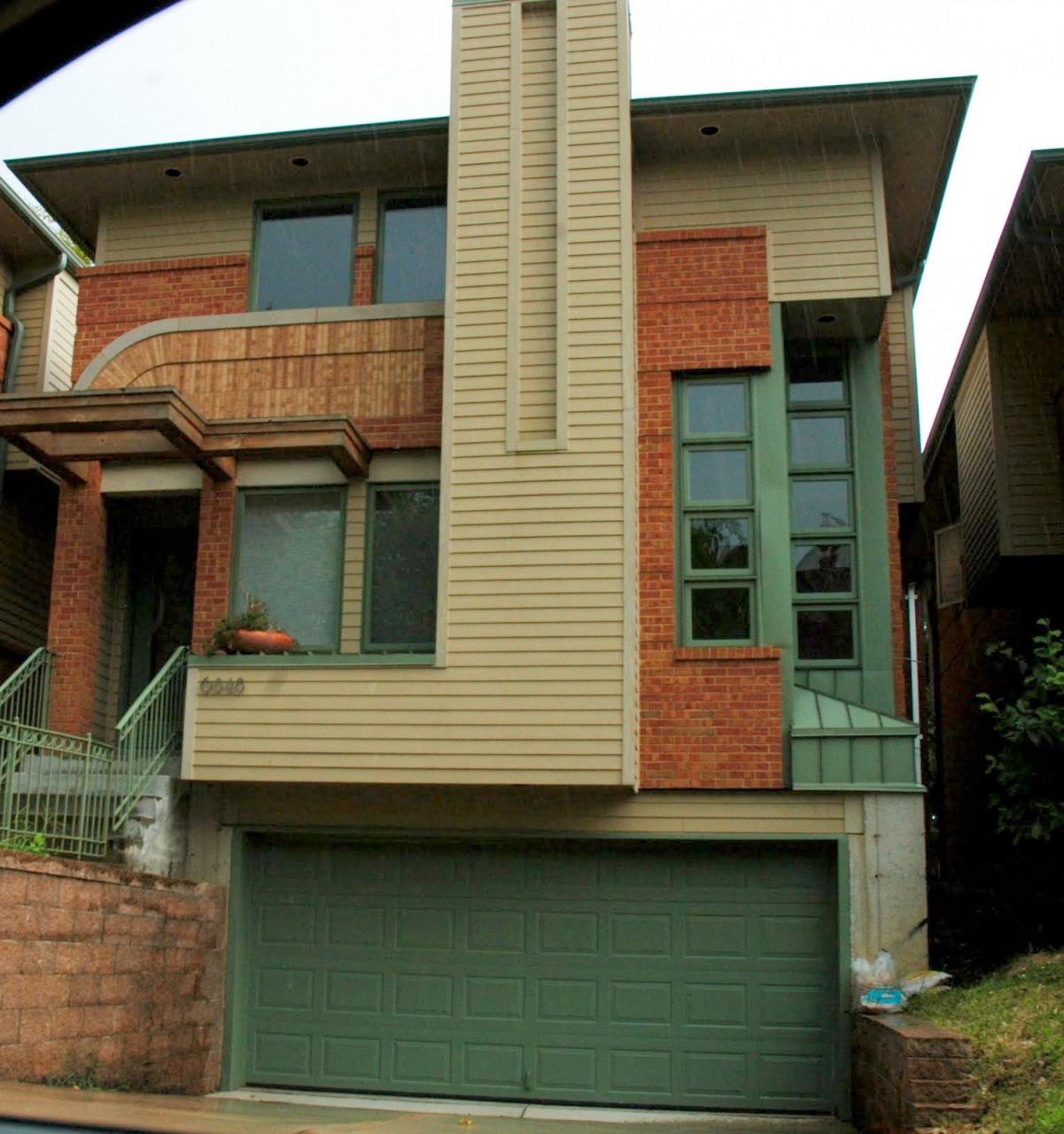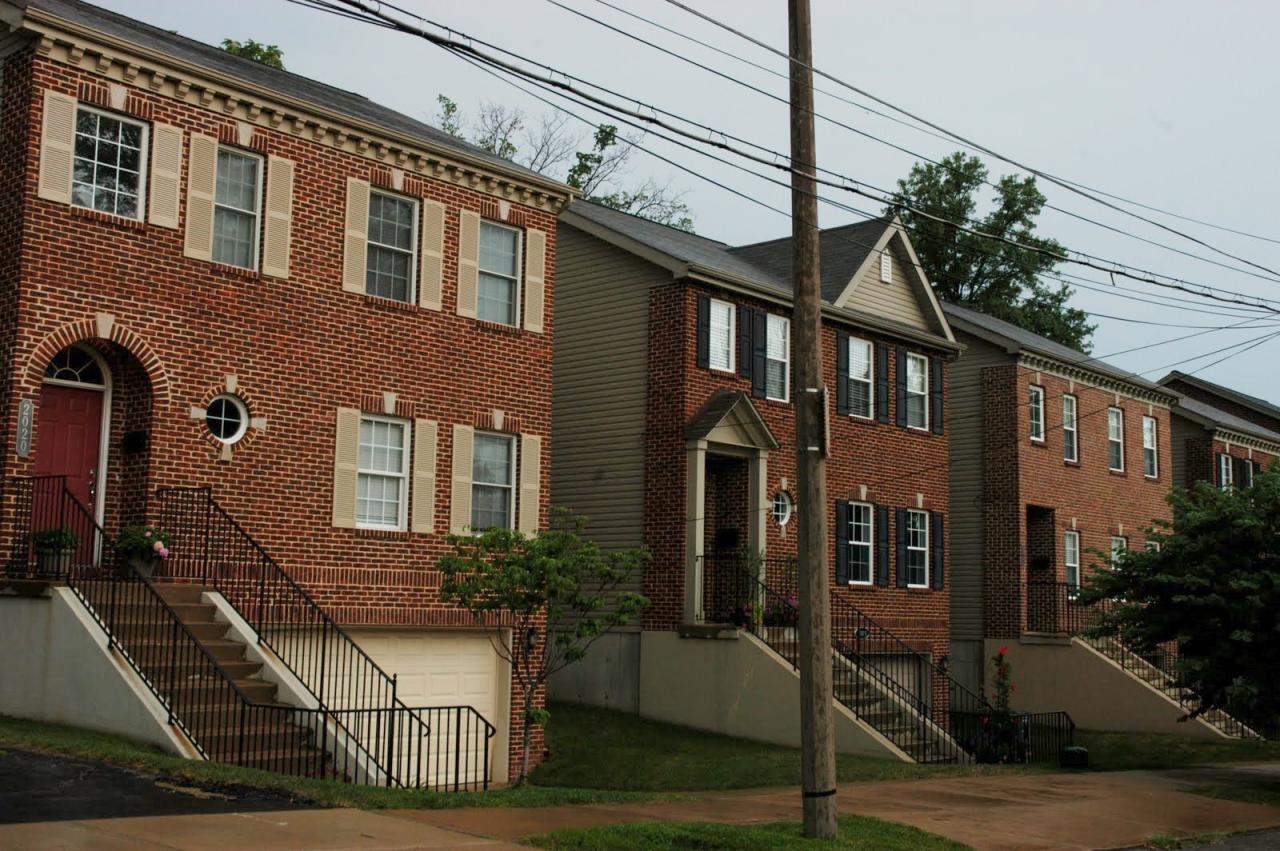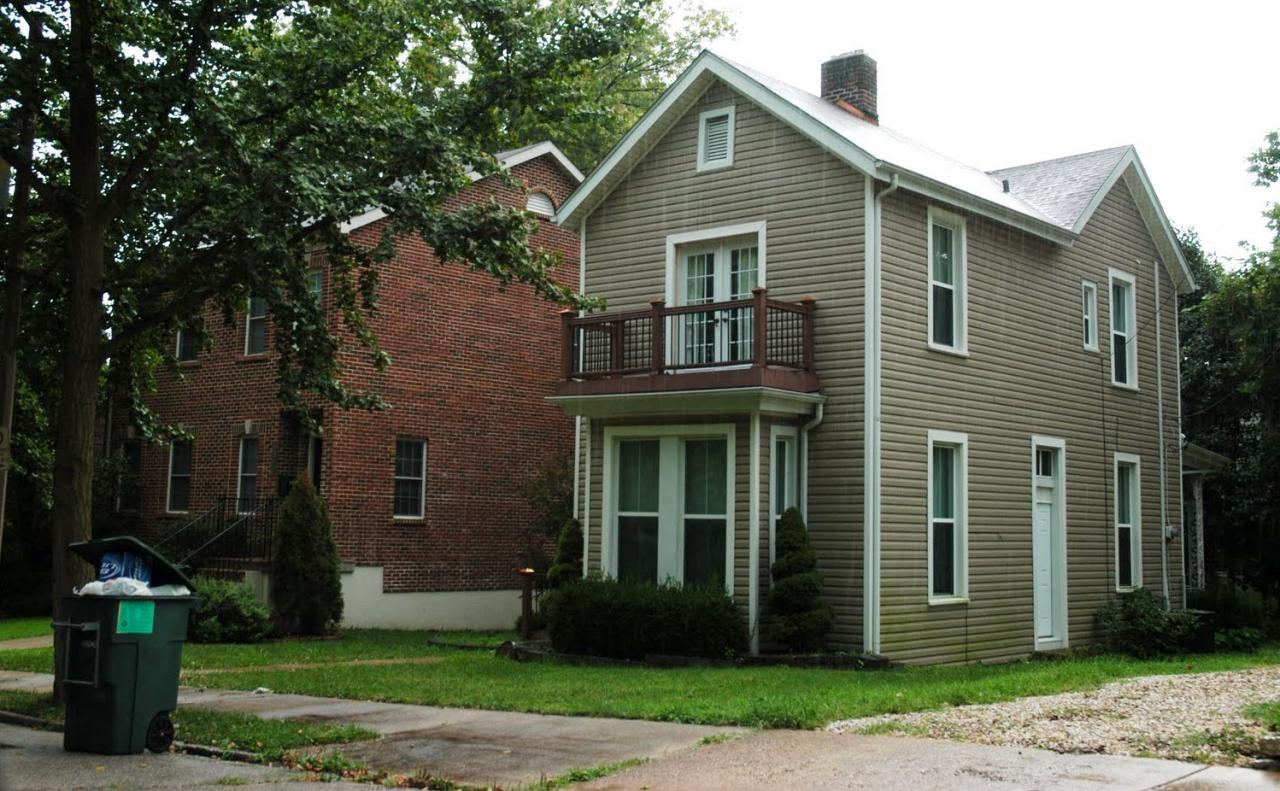 There is a large public school directly west of Franz Park (the park) on Prather called Roe Elementary School. It was designed by architect R. M. Milligan and was named for a well-known St. Louis steamboat captain and was finished in 1922, with an addition in 1927.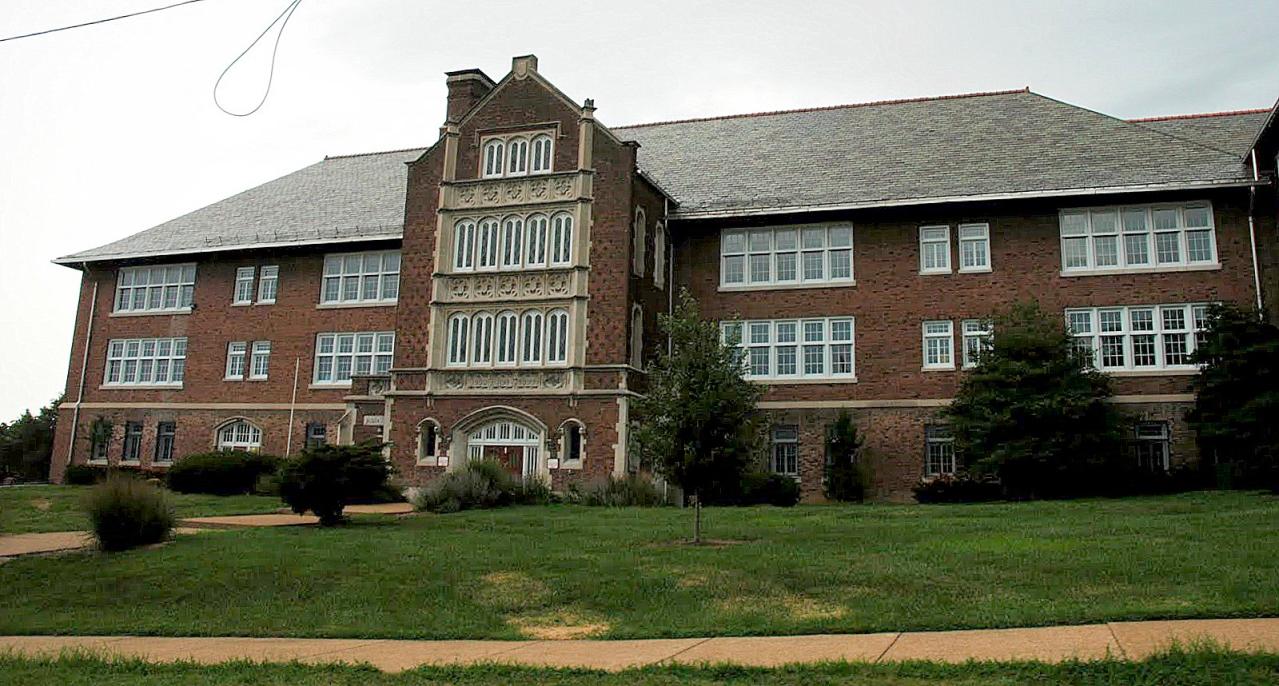 I didn't notice any intra-neighborhood businesses in Franz Park. The businesses are concentrated along Manchester and McCausland. There are several bars and restaurants as well as larger employers and many used car lots: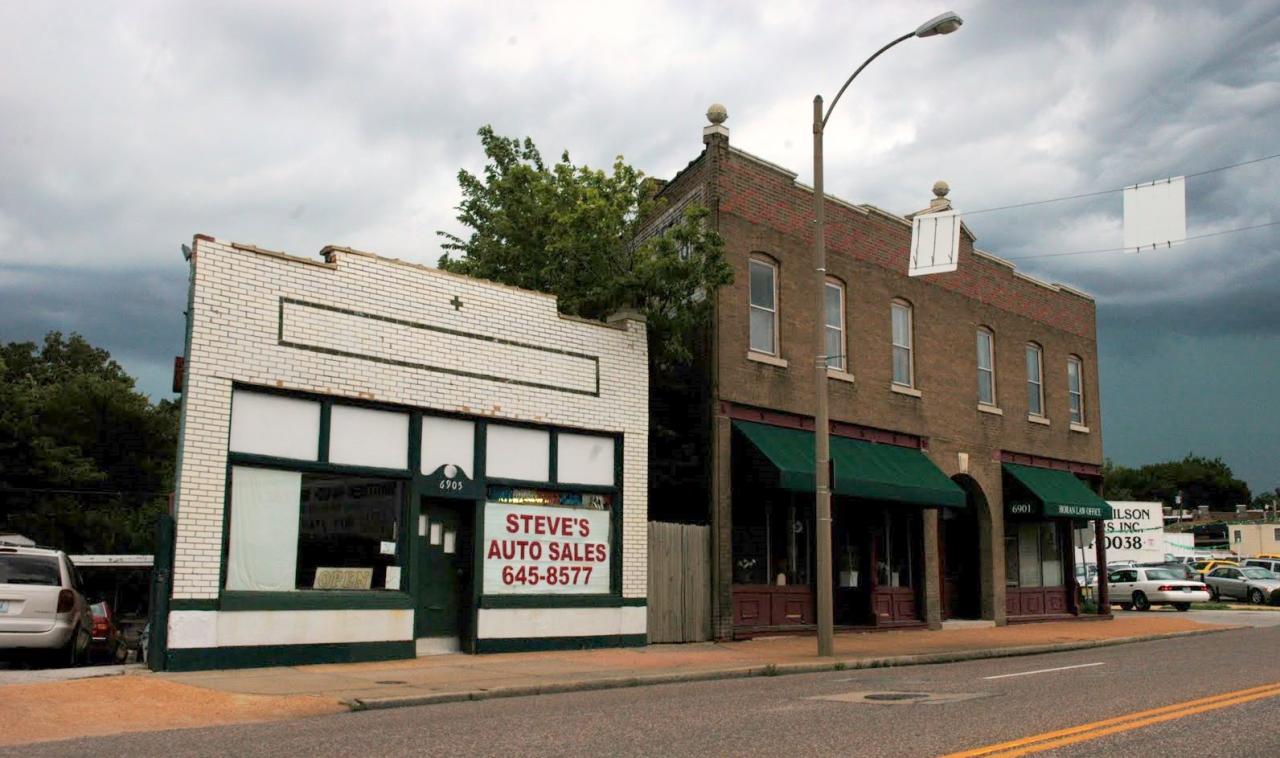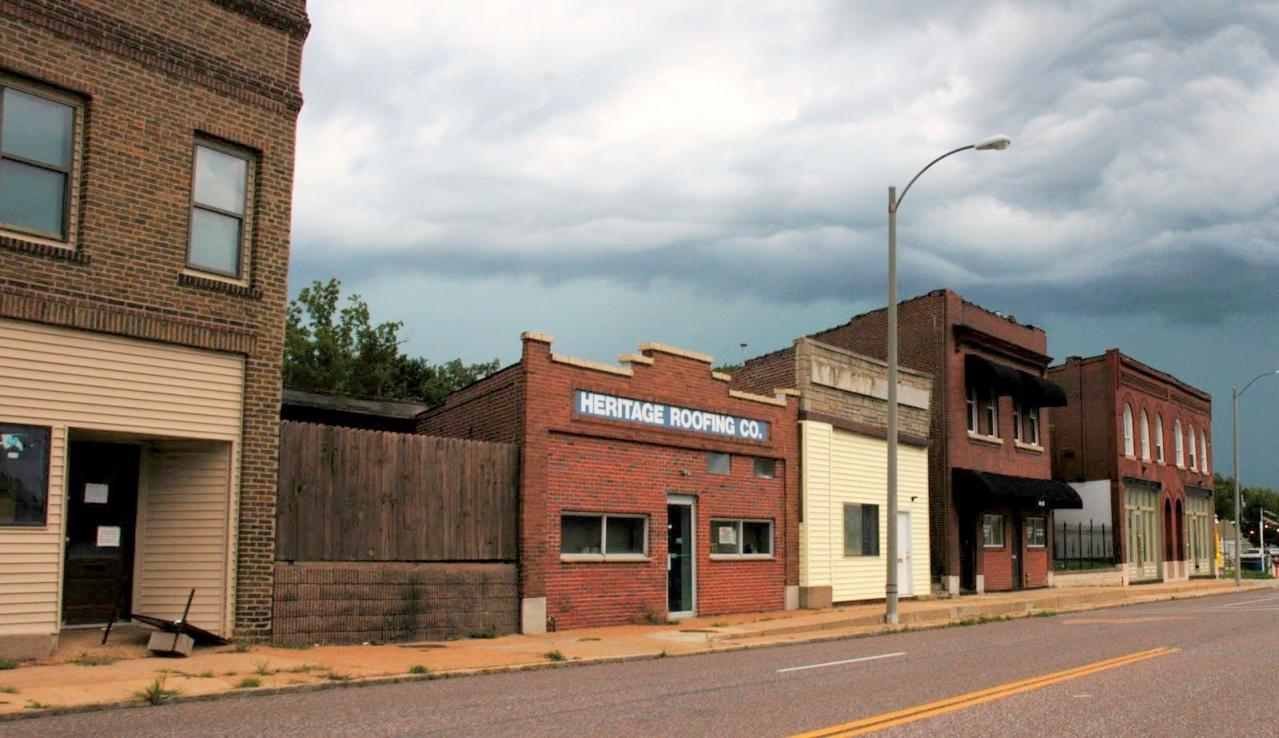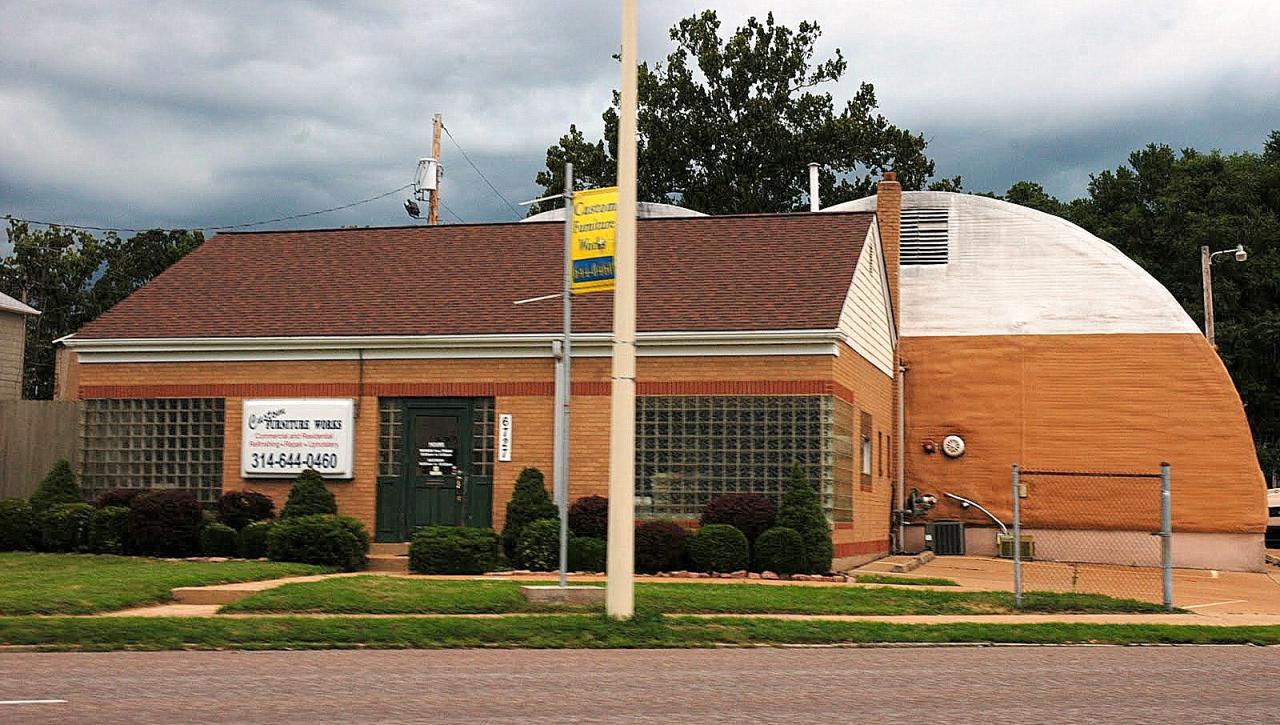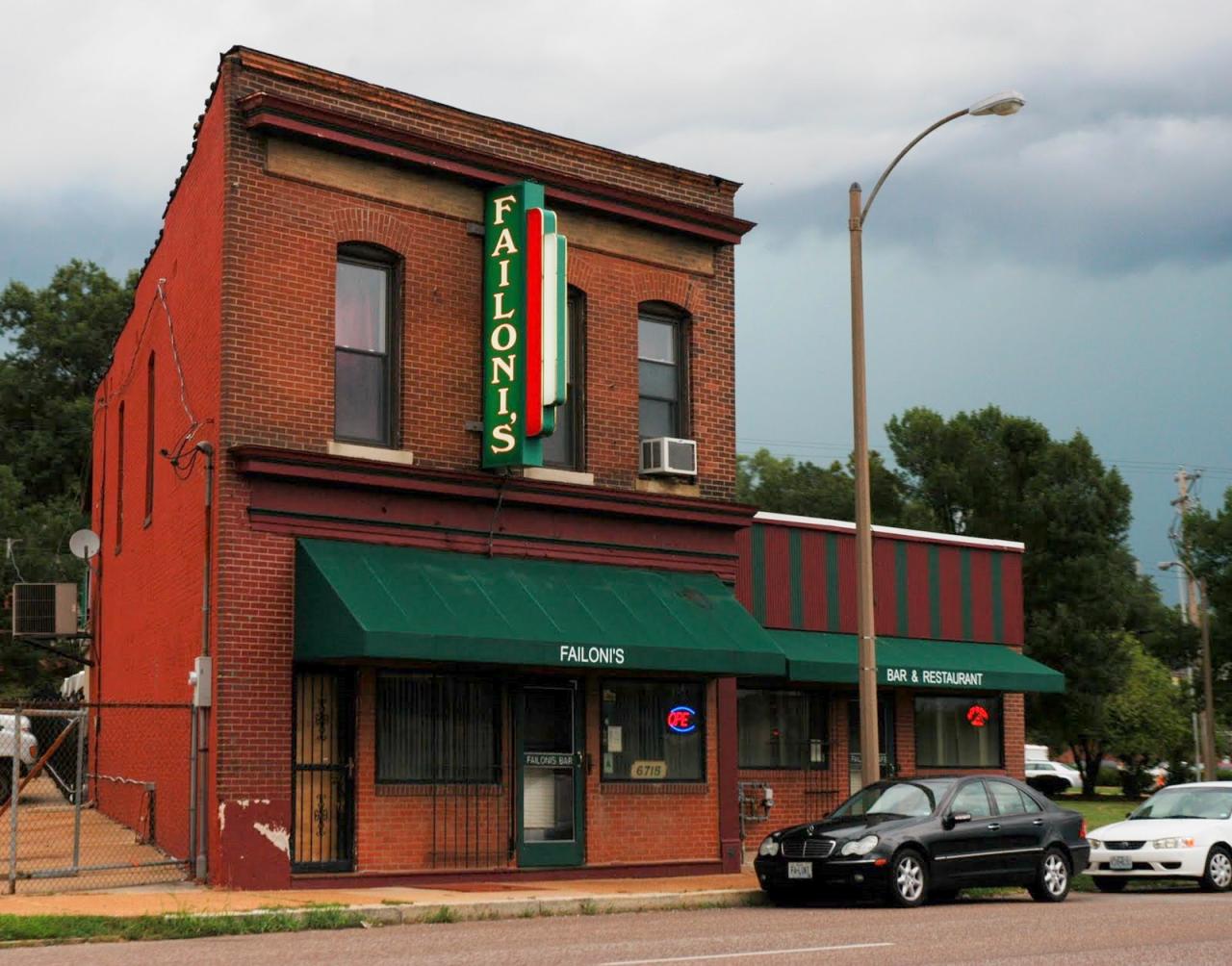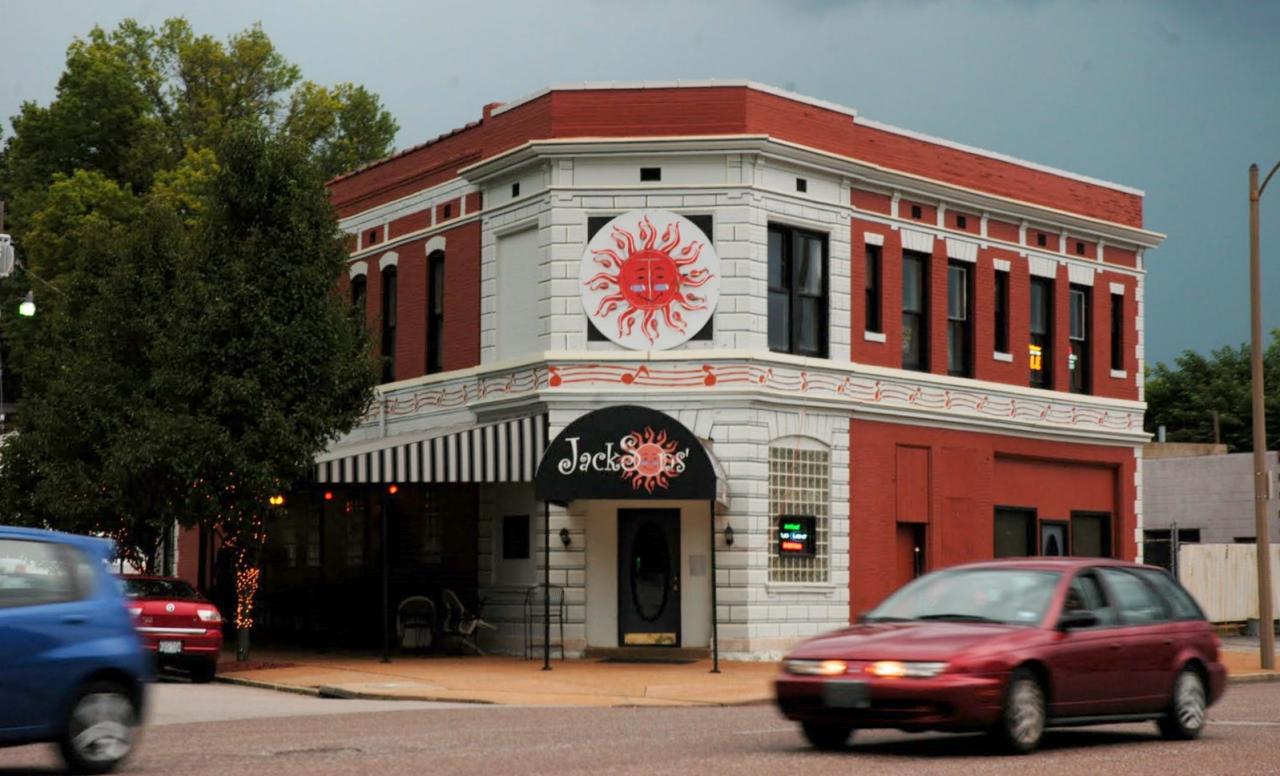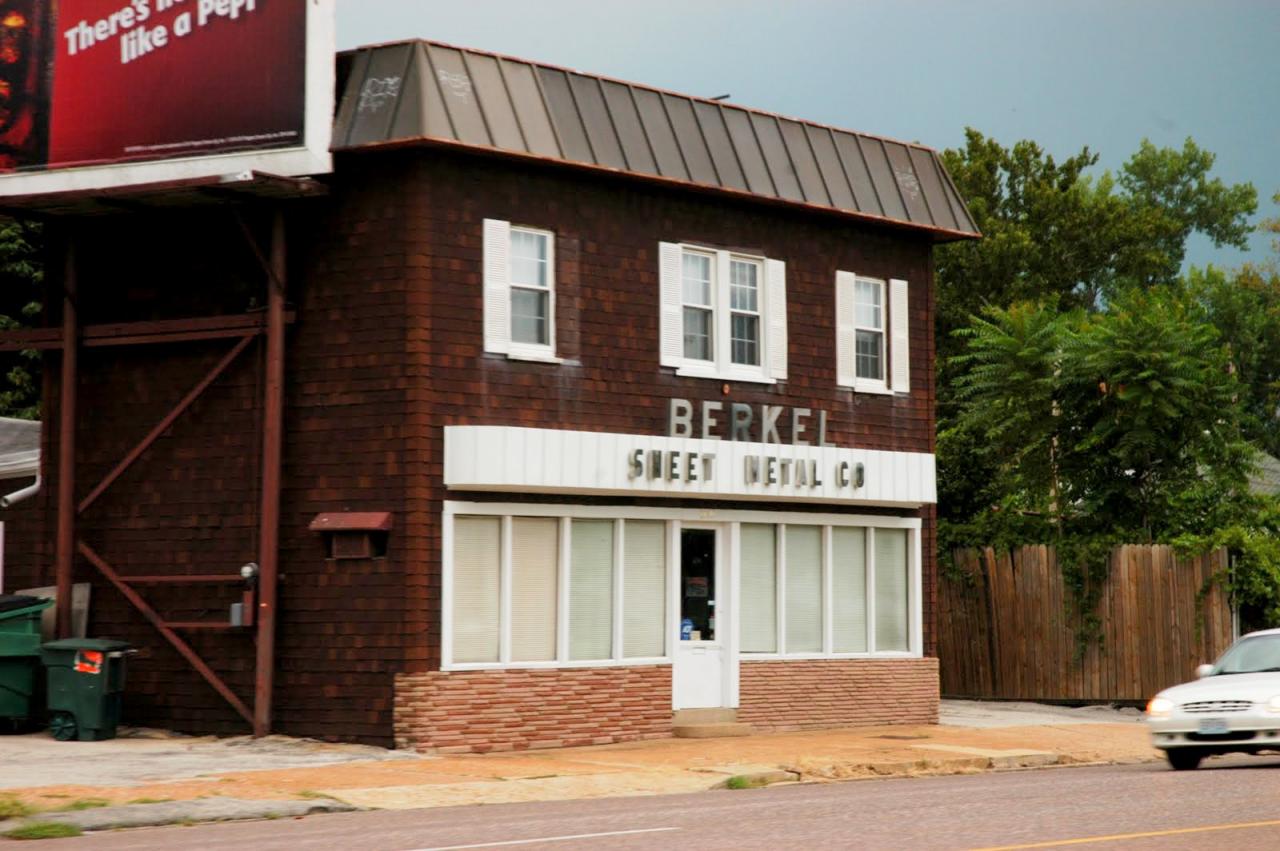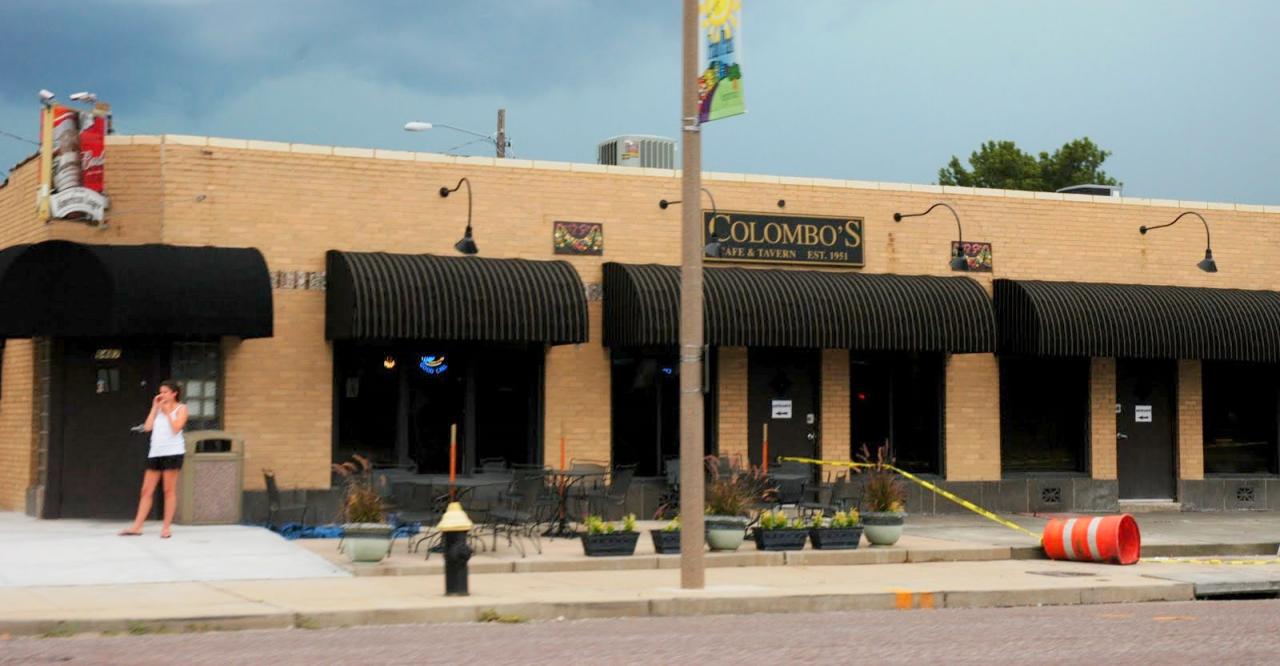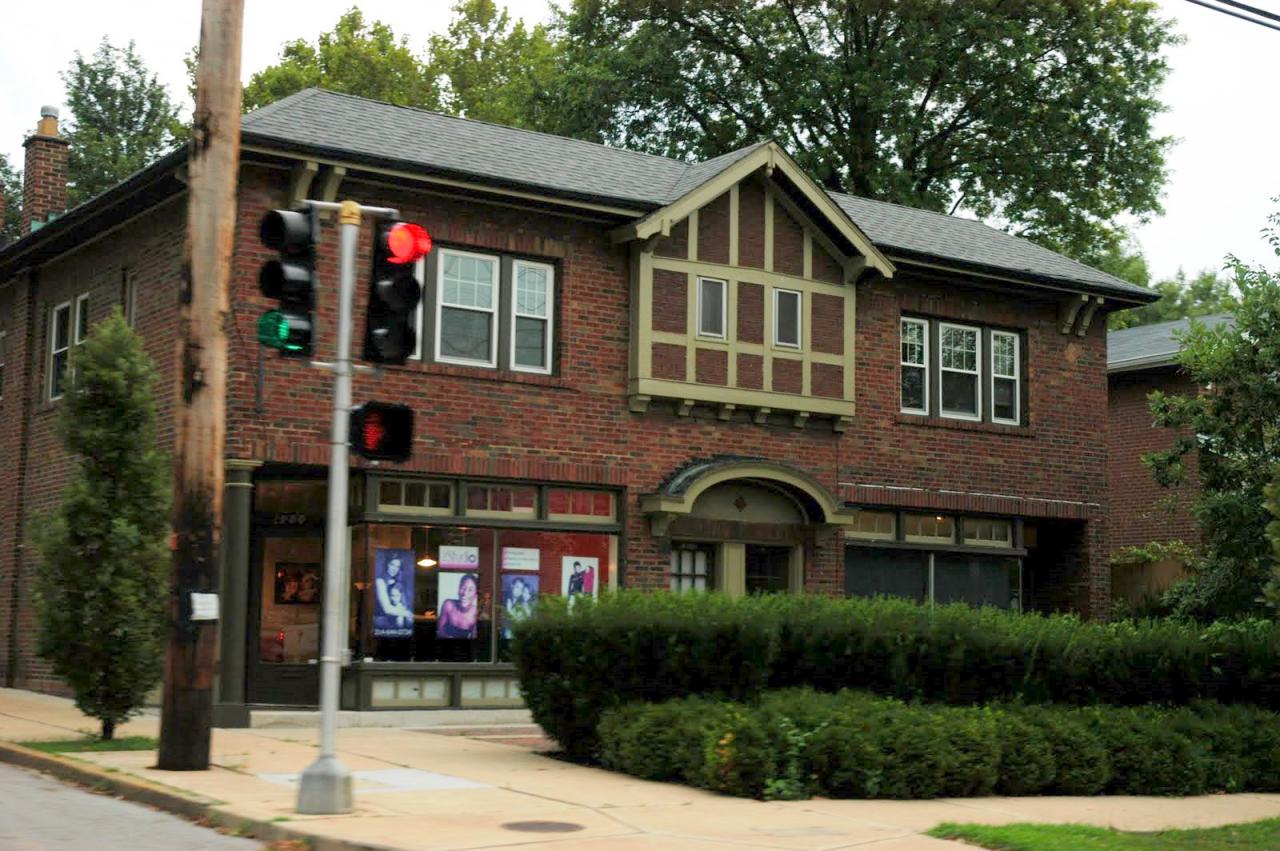 I mentioned the former Scullin Steel Co. in my Ellendale post: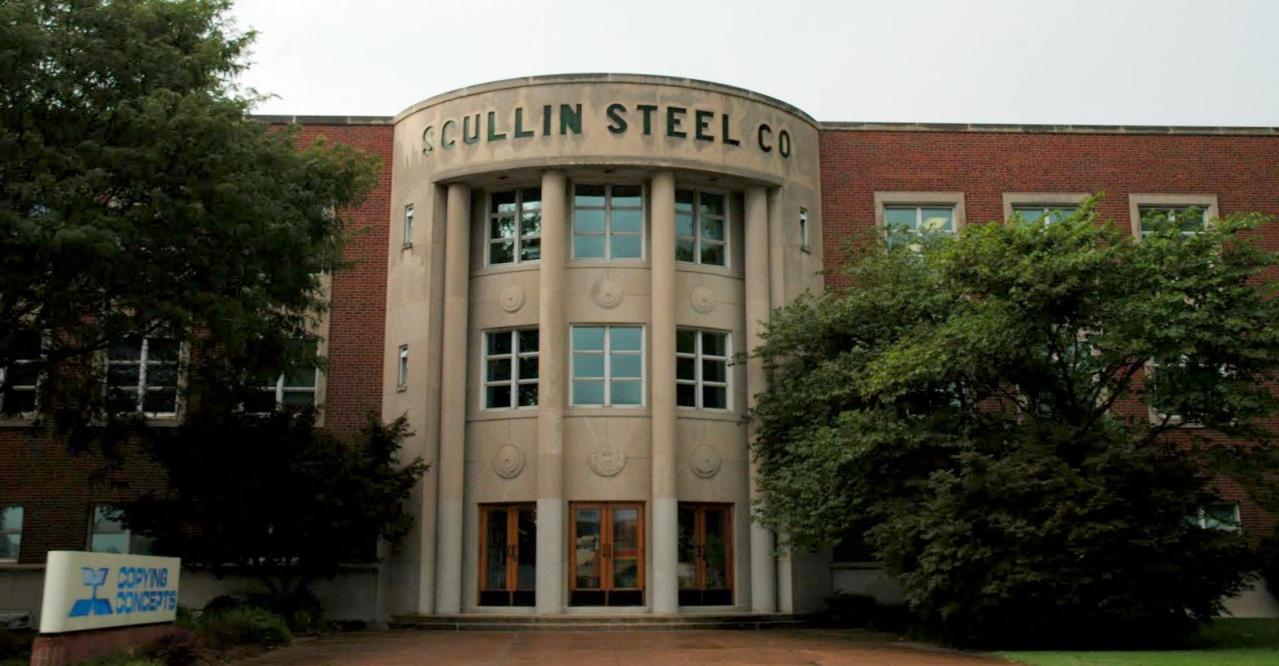 I've never patronized any of these places in Franz Park, so I can't speak to the quality of these joints. However, I have both purchased and repaired vacuums at Discount Vac on McCausland just south of Olympia Taverna who recently tore down some homes for more surface parking. But back to Discount Vac…this place is a St. Louis treasure. You have to check it out and talk to the guy that owns/runs the place. He's a total gentlemen and a true original. You won't be disappointed.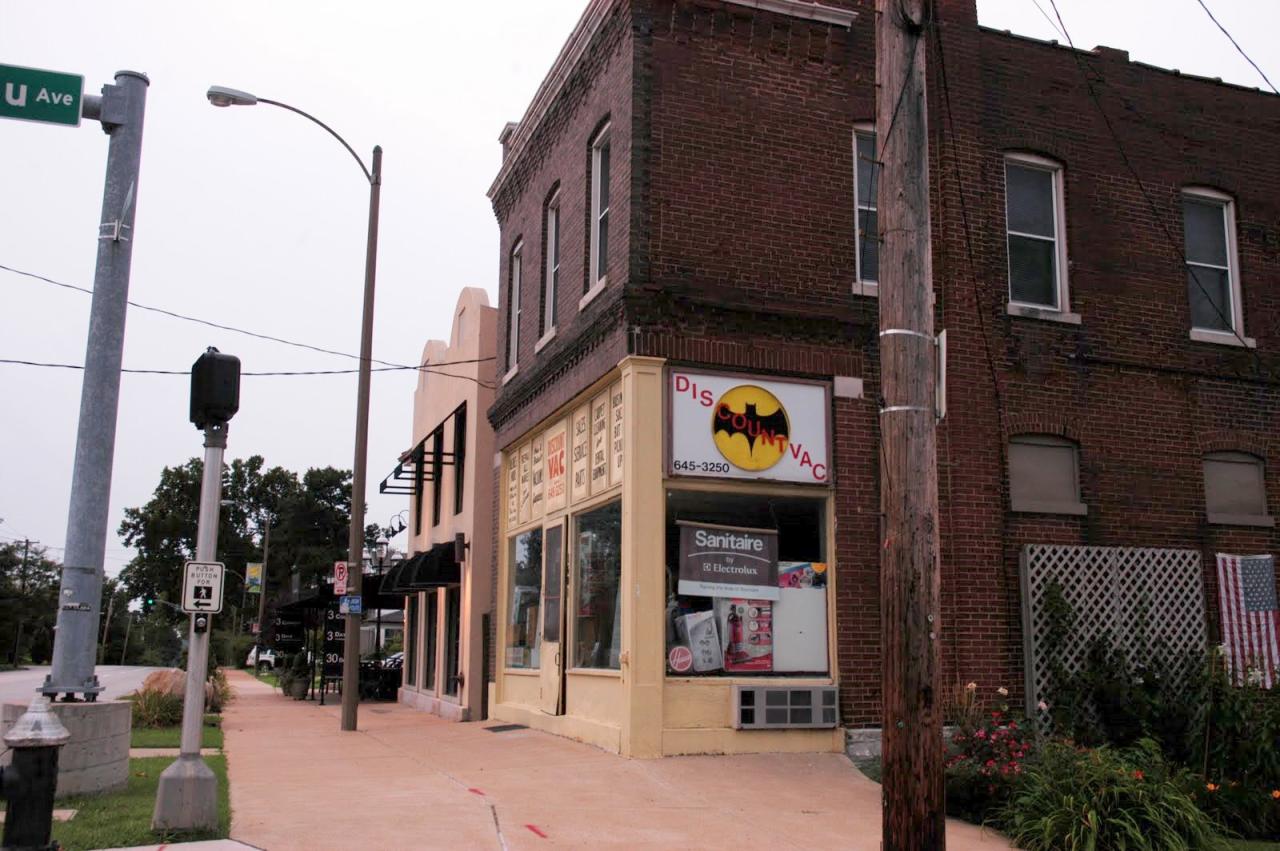 Alright, I've covered Franz Park and Clayton-Tamm…on to Hi-Pointe to complete the Dogtown trifecta!
**In December, 2021 I revisited the neighborhood and the following includes updated commentary and photos.***
For this update, I walked the neighborhood with a friend: Chris Naffziger. Chris is a historian and one of my favorite people to talk STL stuff with. If you haven't bookmarked Chris' website St. Louis Patina, you are missing the boat. It was a joy to walk the streets with someone who can date homes and pinpoint architectural styles and frame things in their historical context. I won't include many of these details I learned herein, because I'm not an expert, don't write this stuff down and don't want to be wrong or misleading.
Misses On Original Tour
Okay, I will admit I was wrong on this one; or at least, lacking inspiration on the original post. I don't actually remember the day I photographed this or any conversations I got into, so I'm a bit fuzzy. But, on a return photography visit, and having been here many times over the last decade, I undersold this place back in 2010. It is a fascinating neighborhood. I missed so much of the beauty in the form of Dutch Colonials, varied setbacks, brick mixed with sided homes, charming scenes and high-density street vistas.
I failed to mention that the spot near Fairmount and Mitchell is one of the highest points in St. Louis and has gorgeous views of Dogtown to the northeast and even the CWE and Downtown. Simply a gorgeous spot that has seen much infill over the last decades. Back porches are being constructed to take advantage of these spectacular views of the city.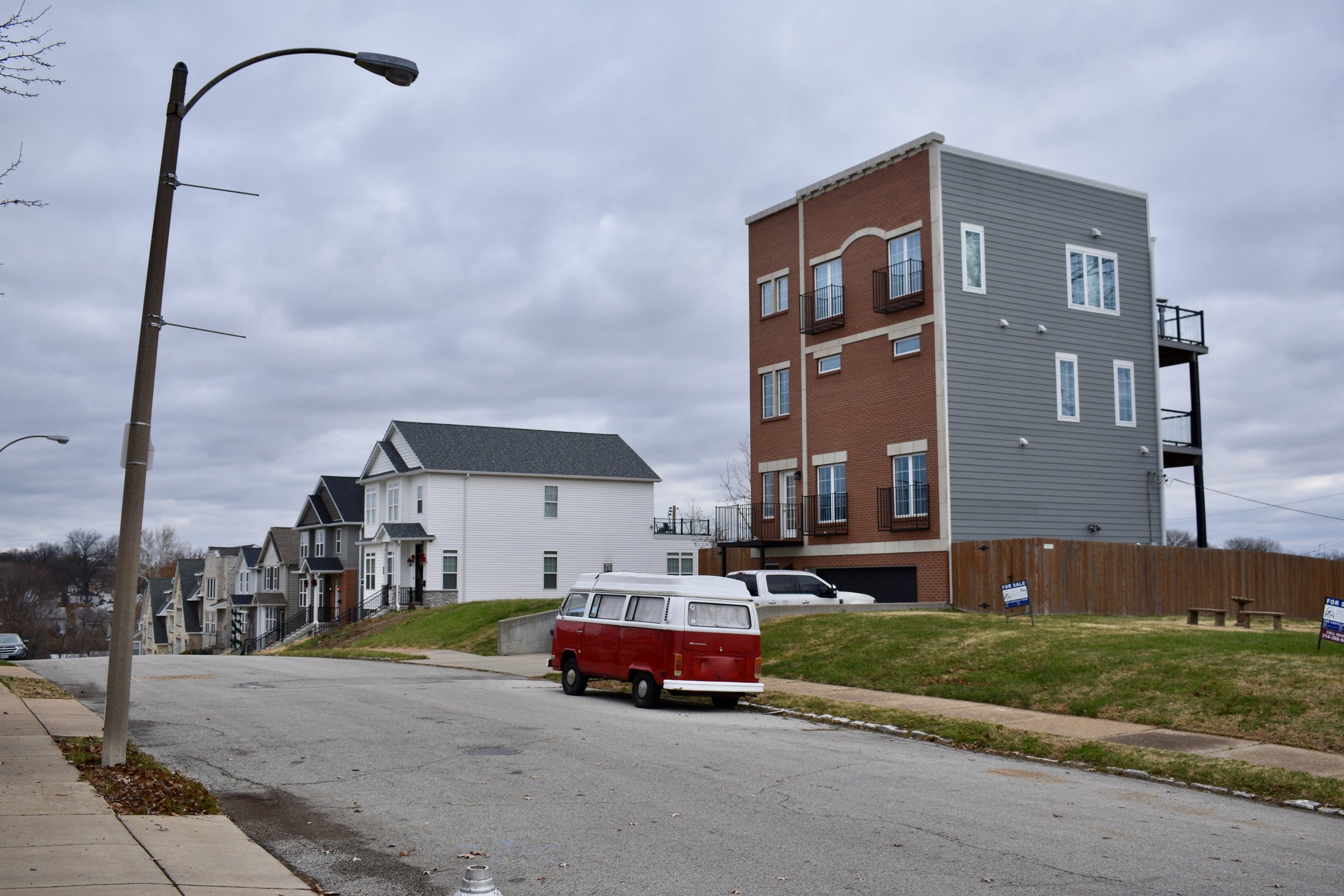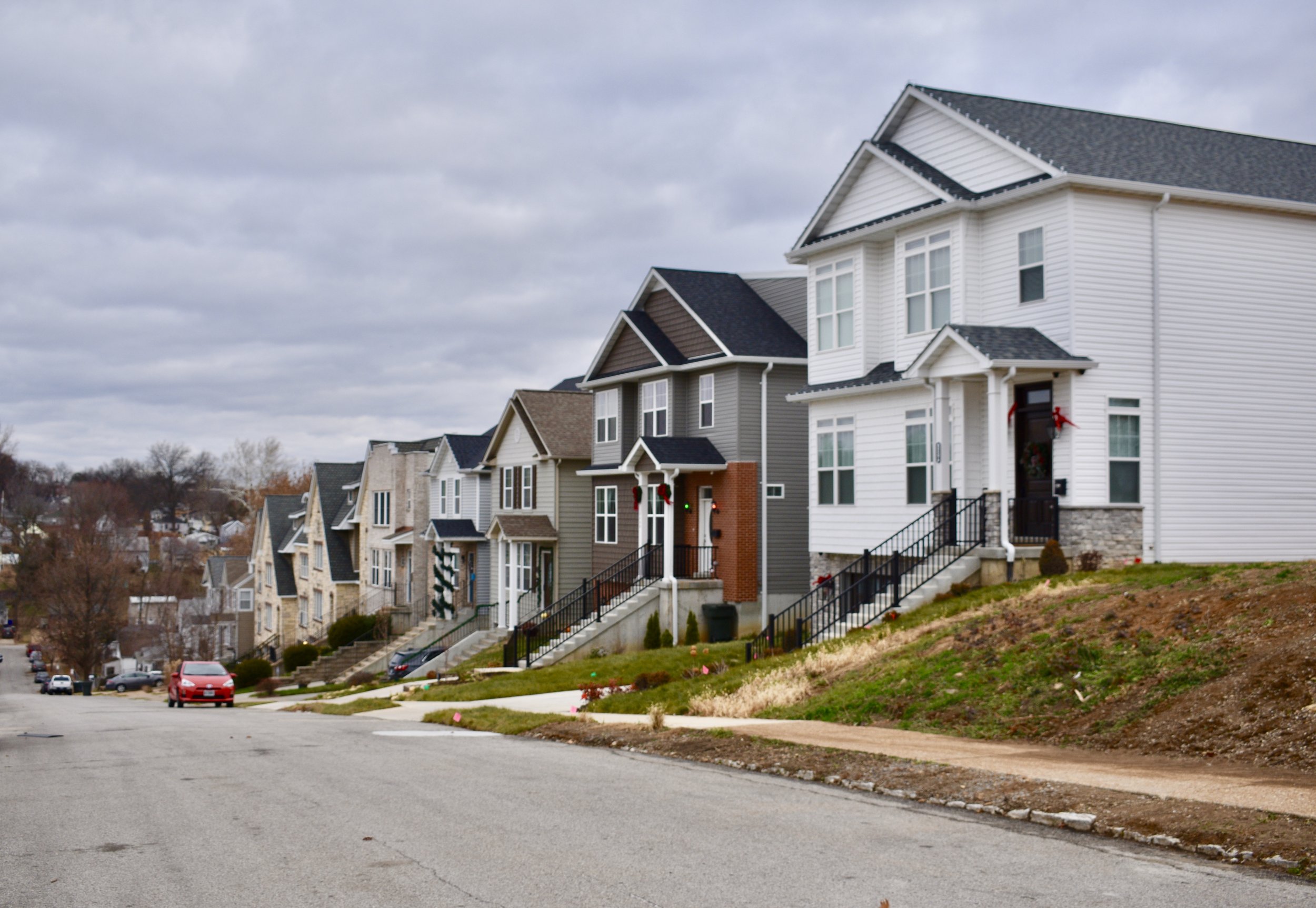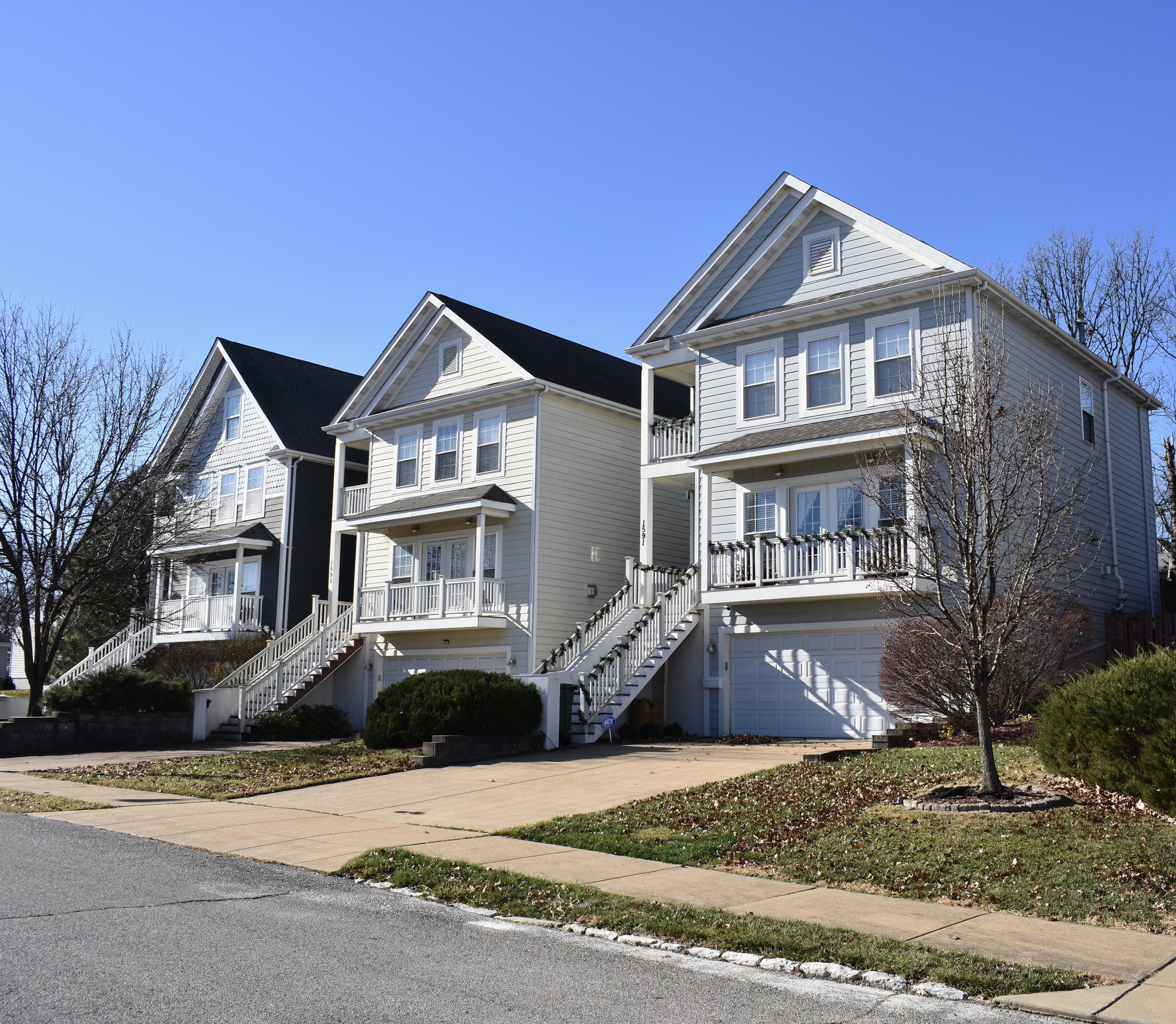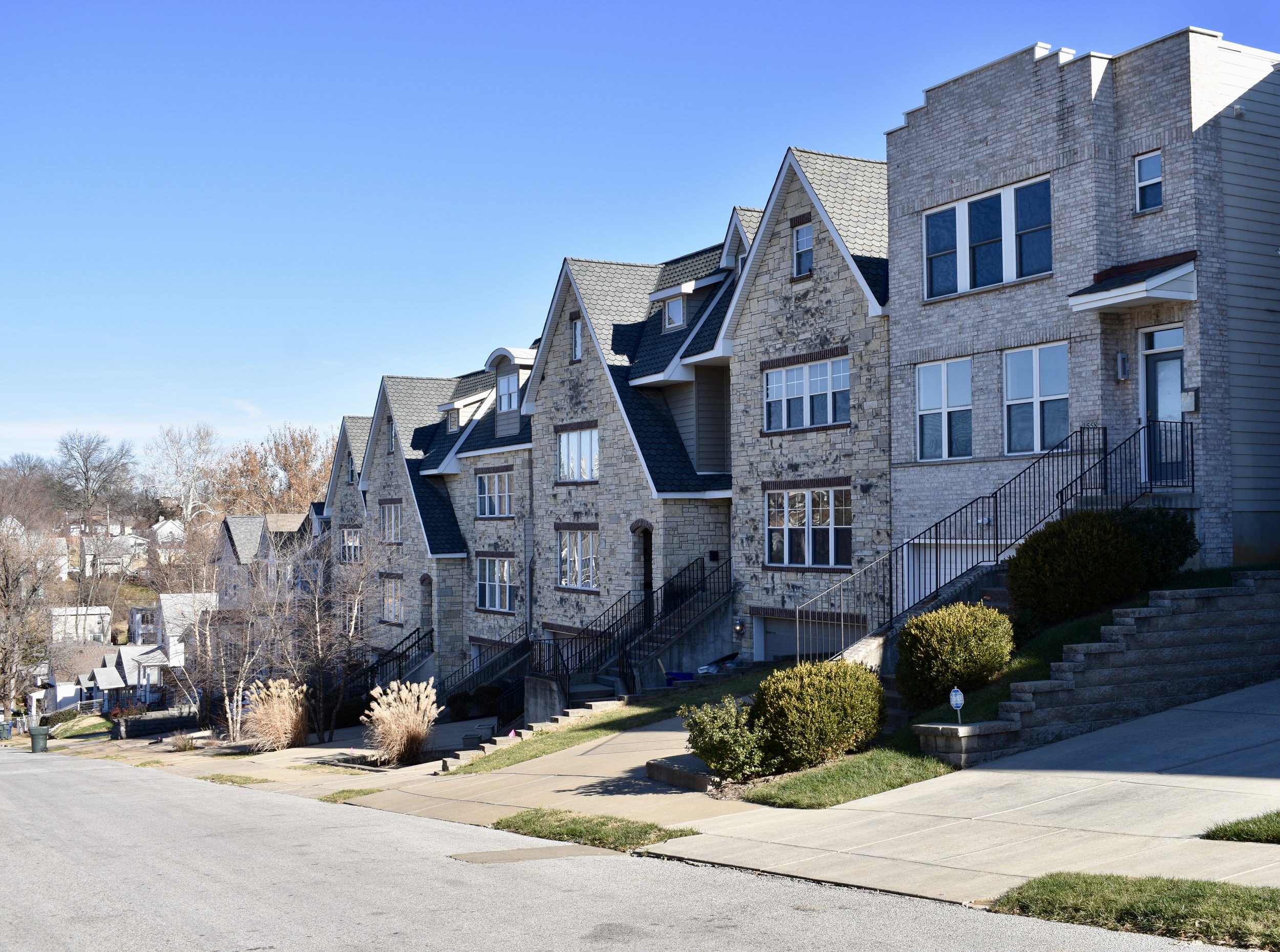 It's the unique mix of styles that is the strength in Franz Park. I didn't do that justice back in 2010. So I hope to fix that here with a lot more photos of the beauty you'll see in this part of St. Louis.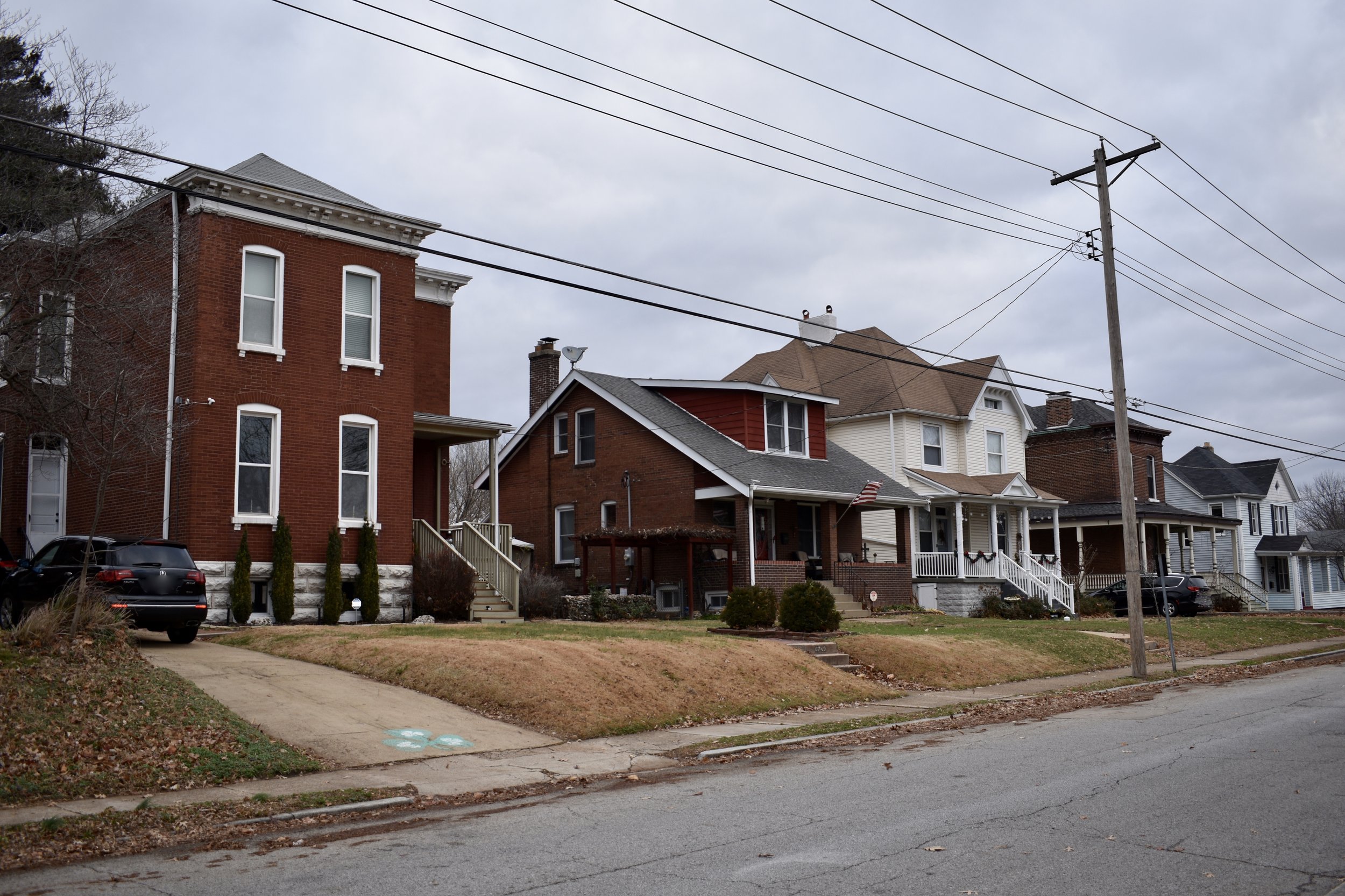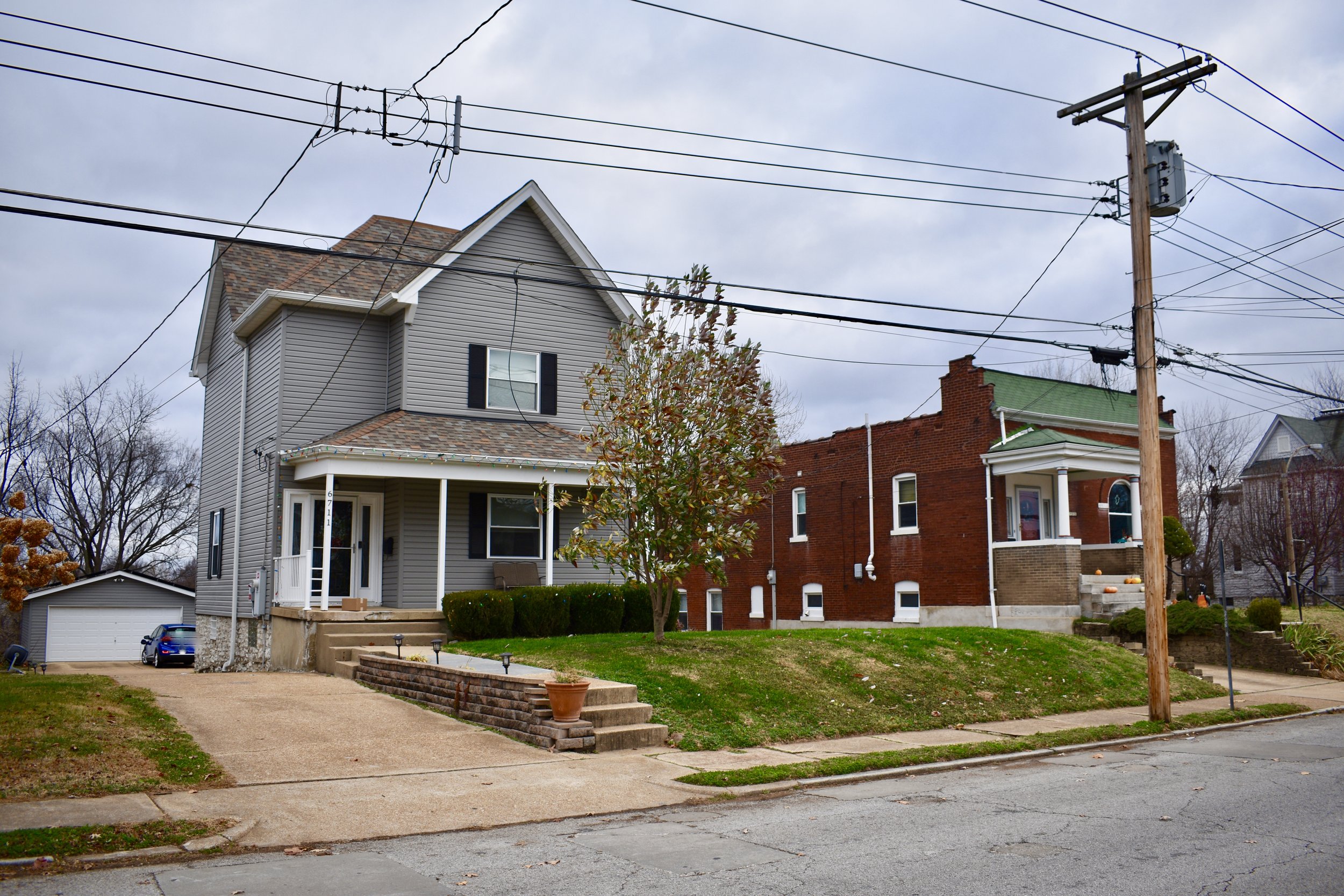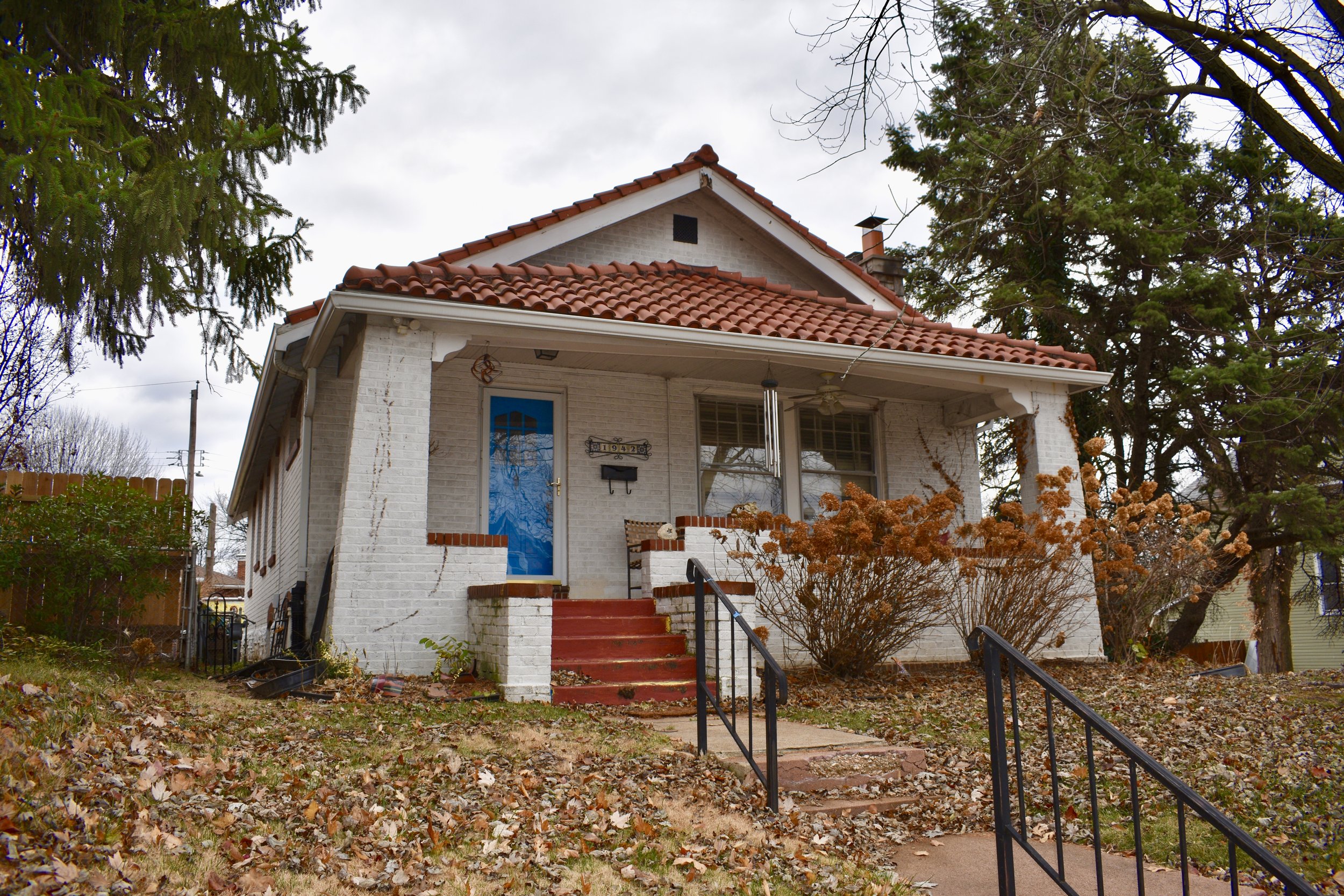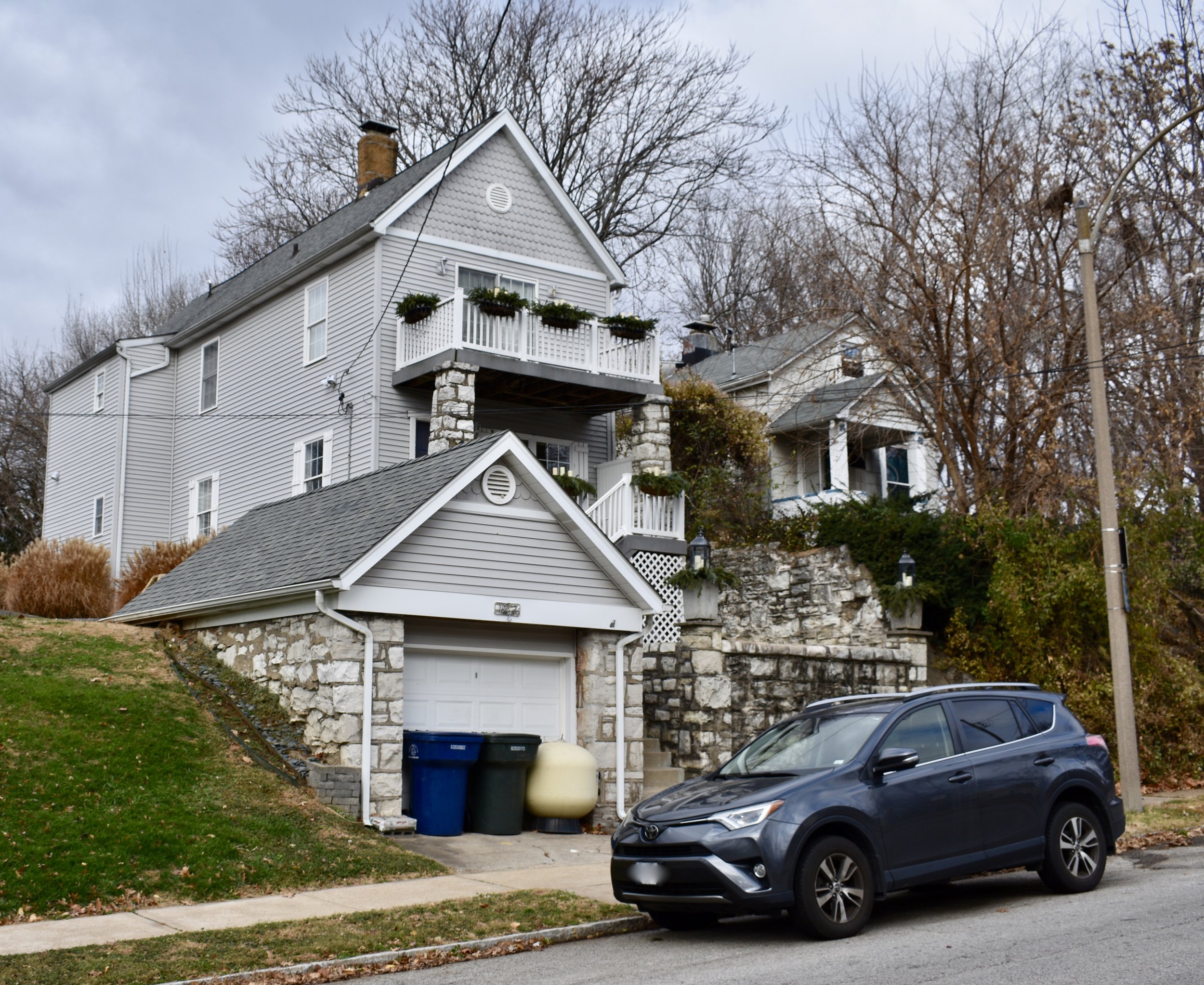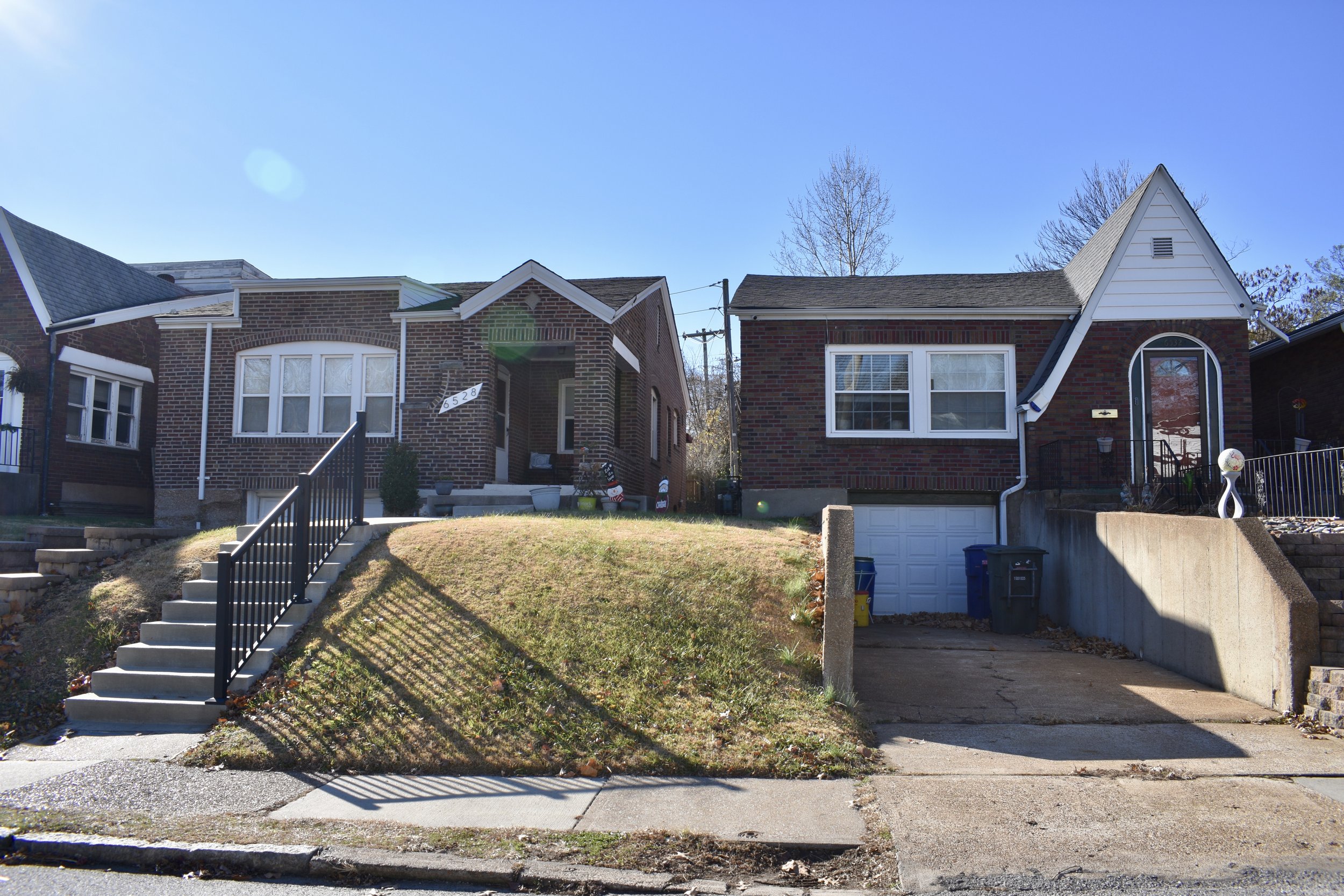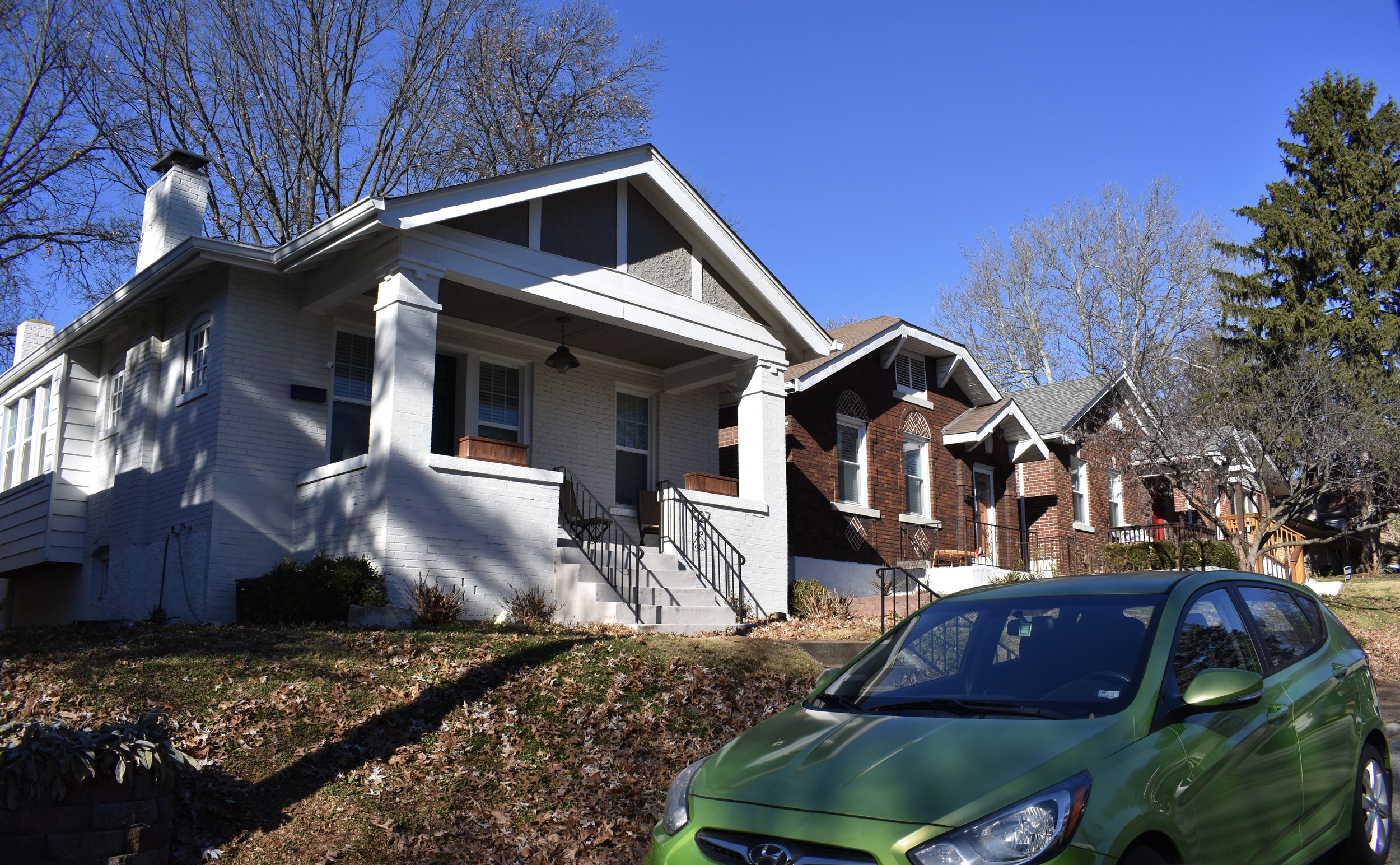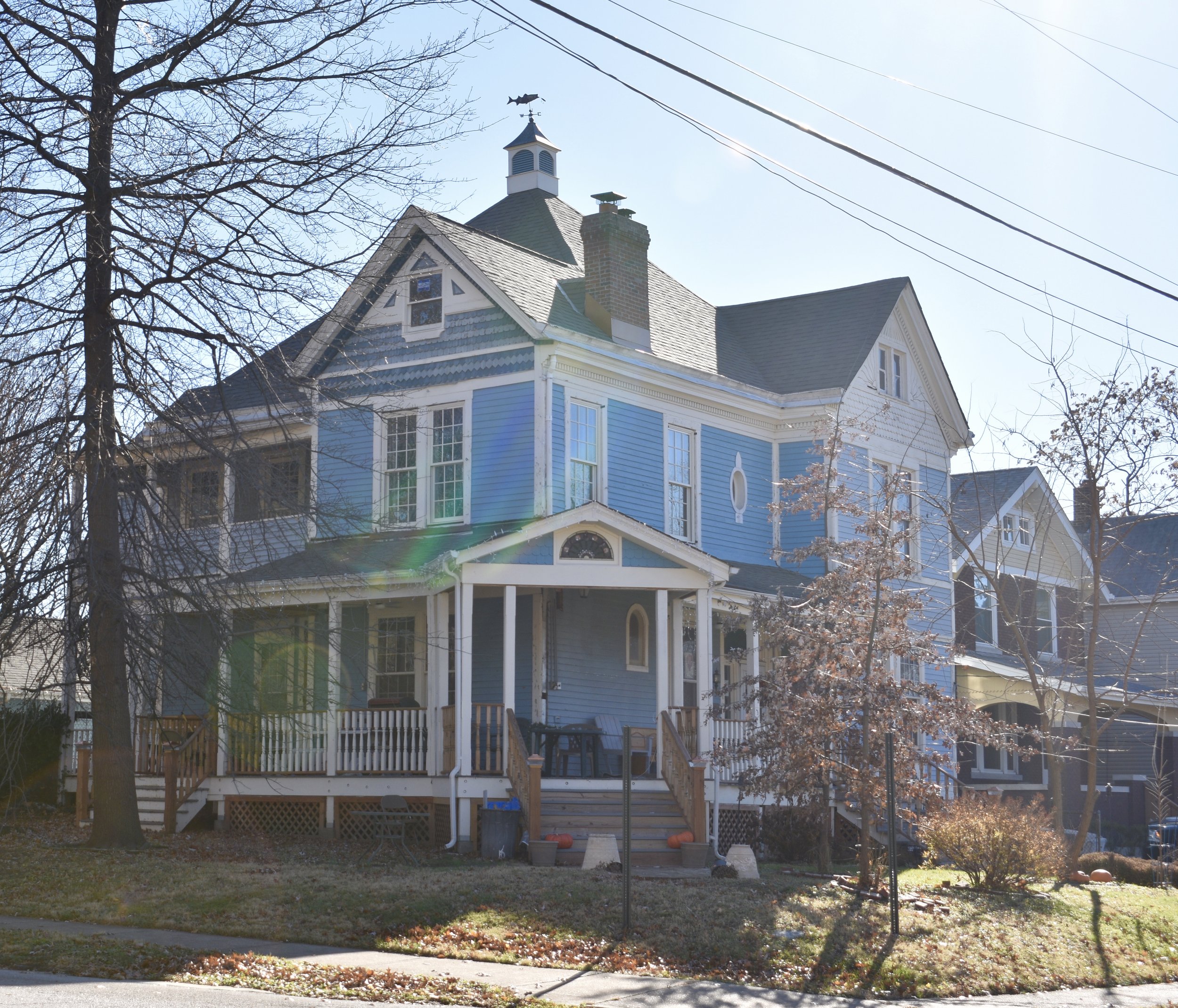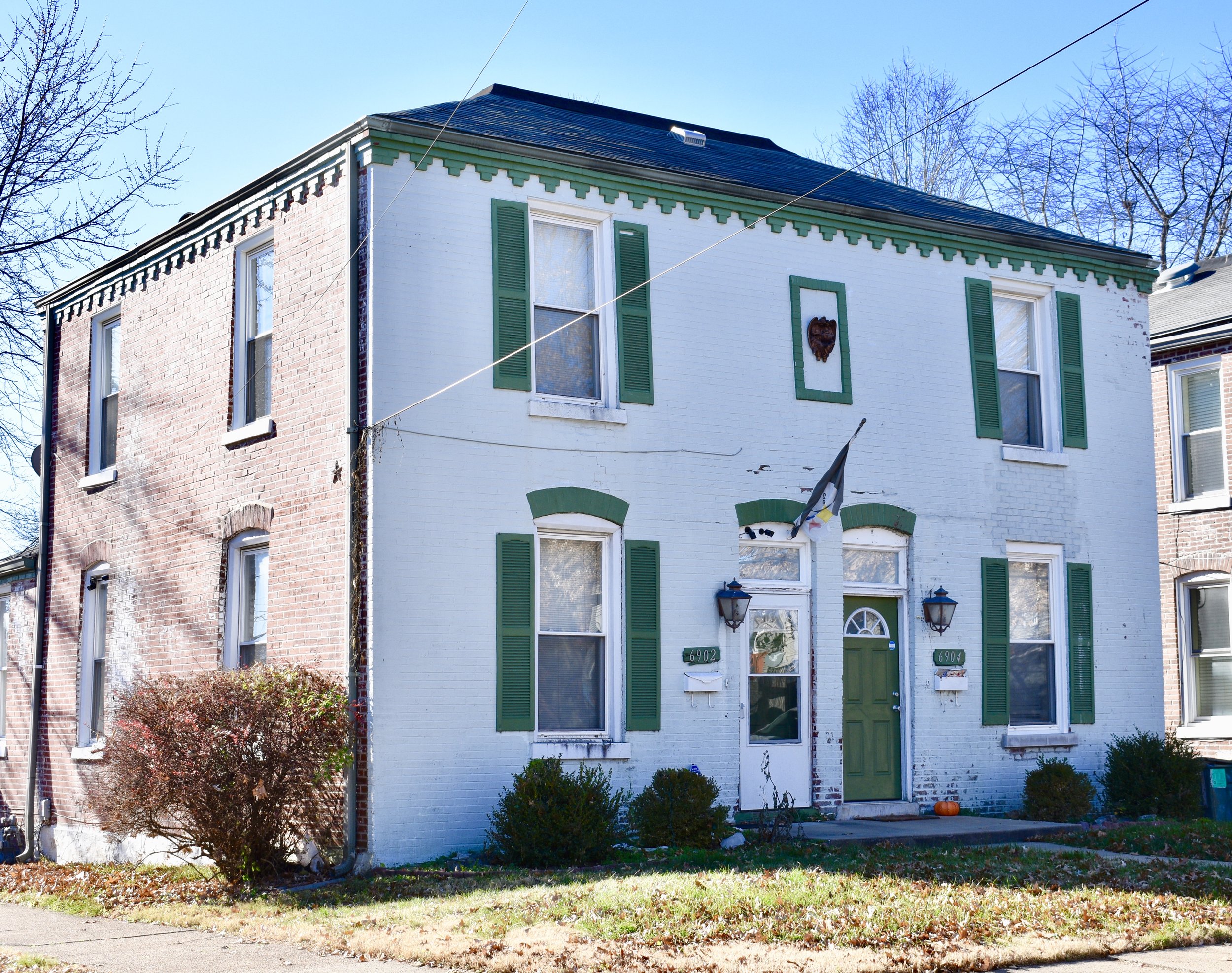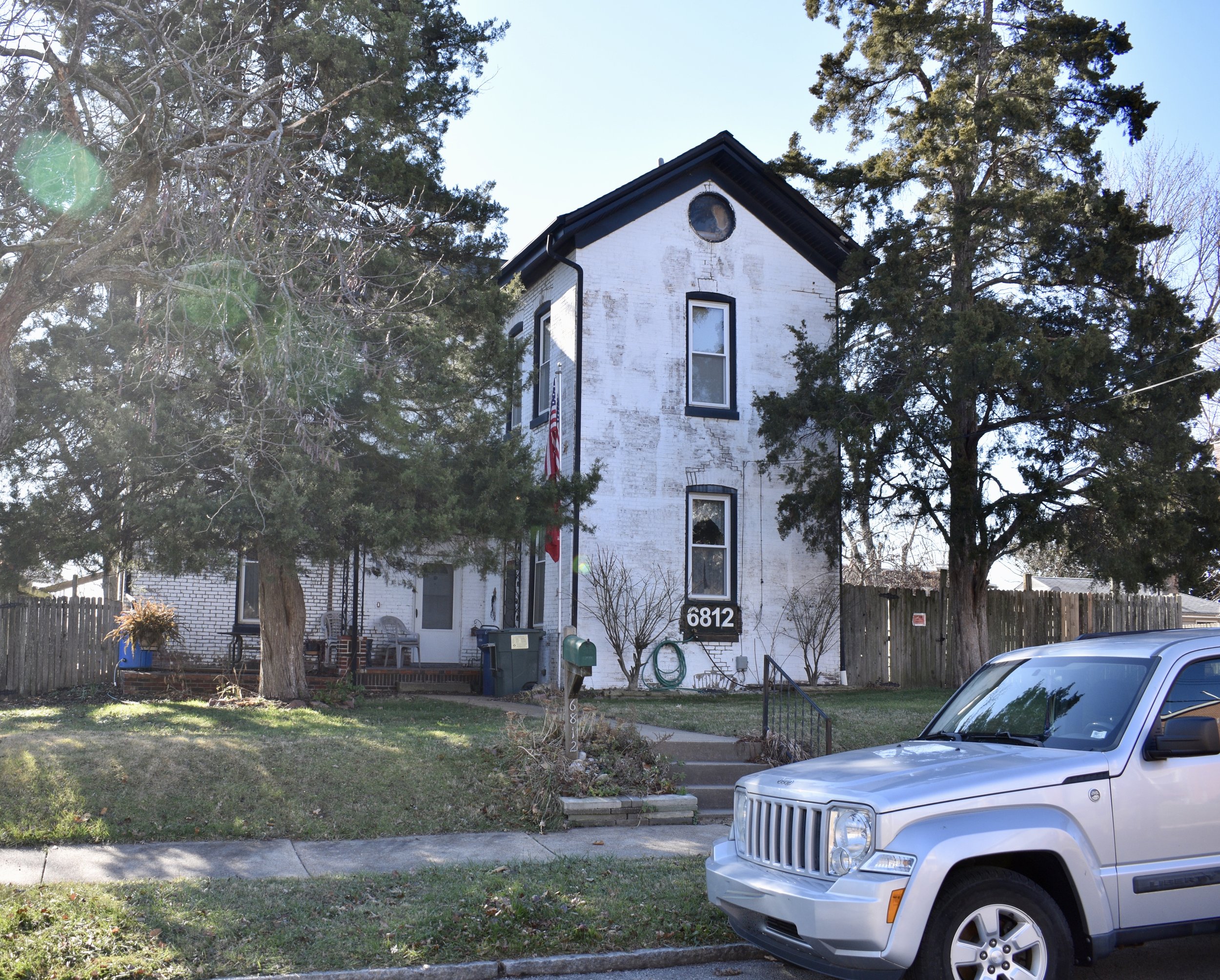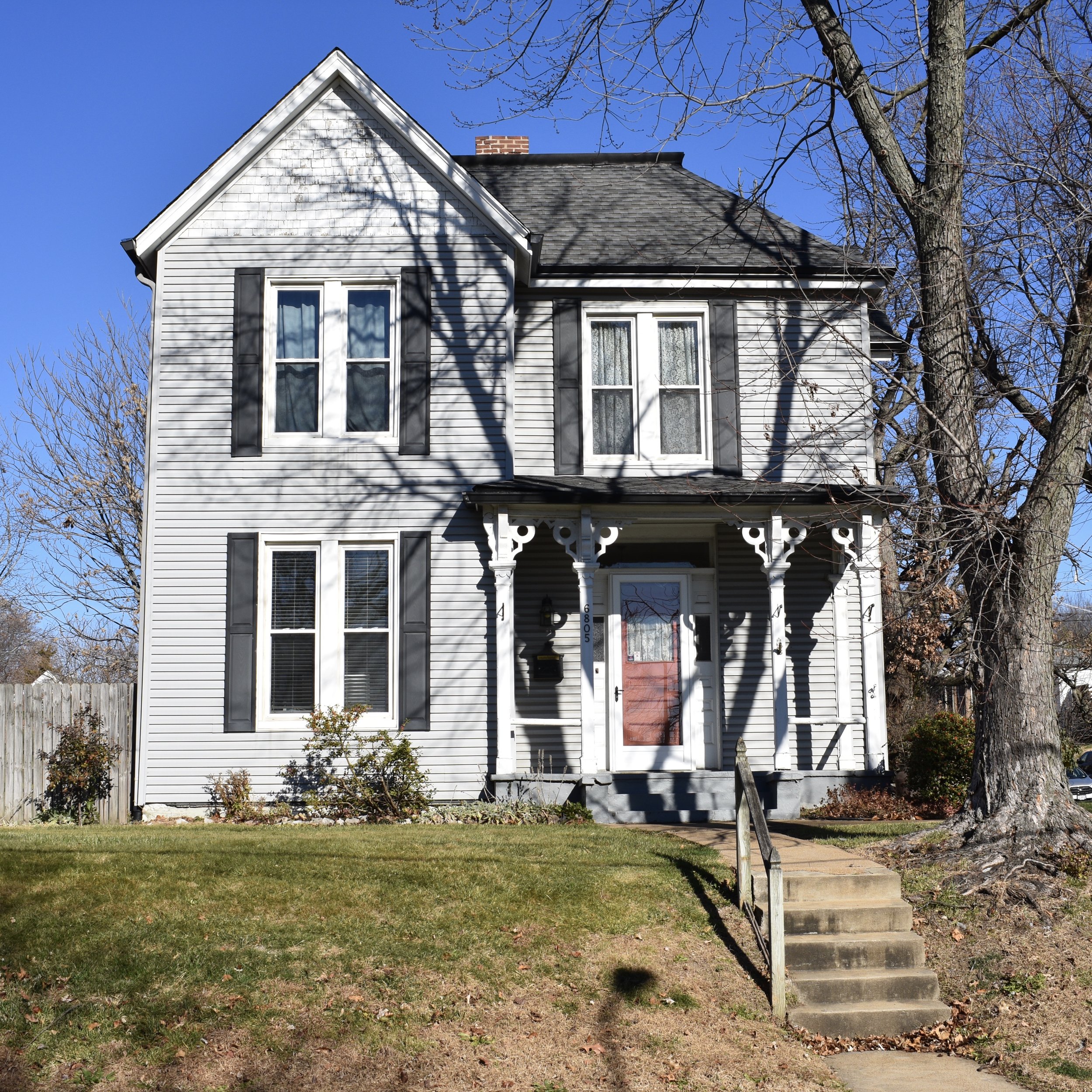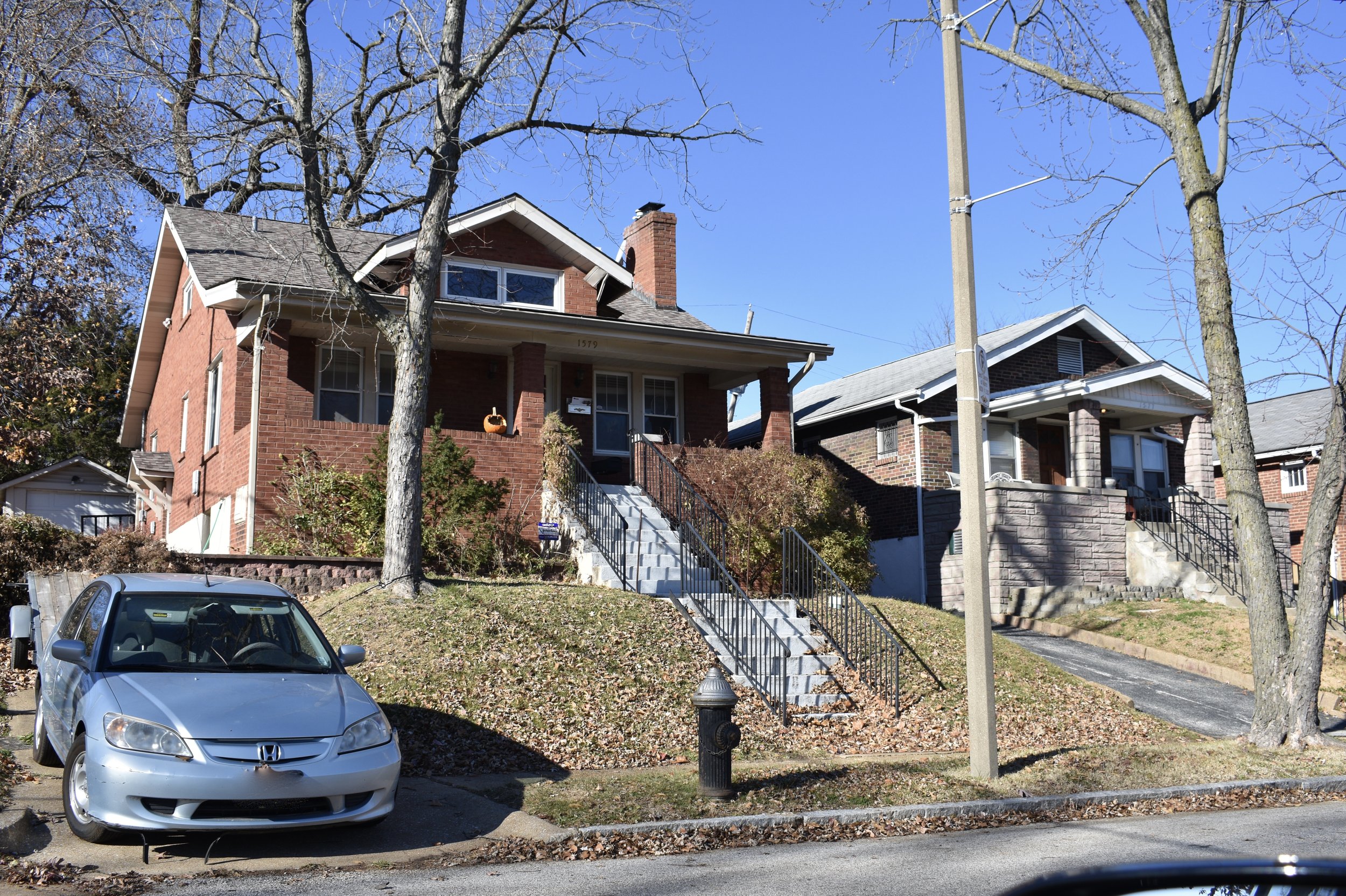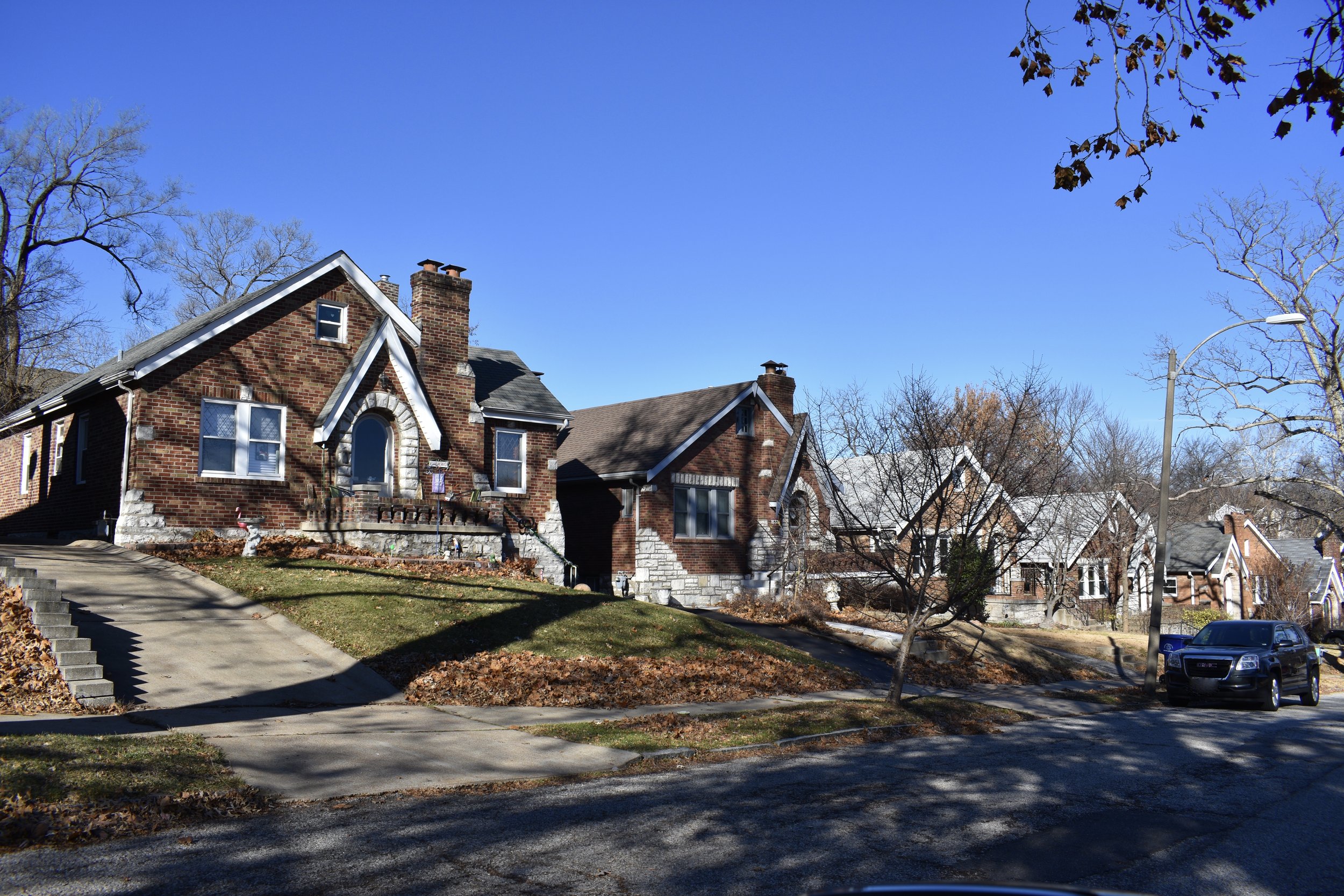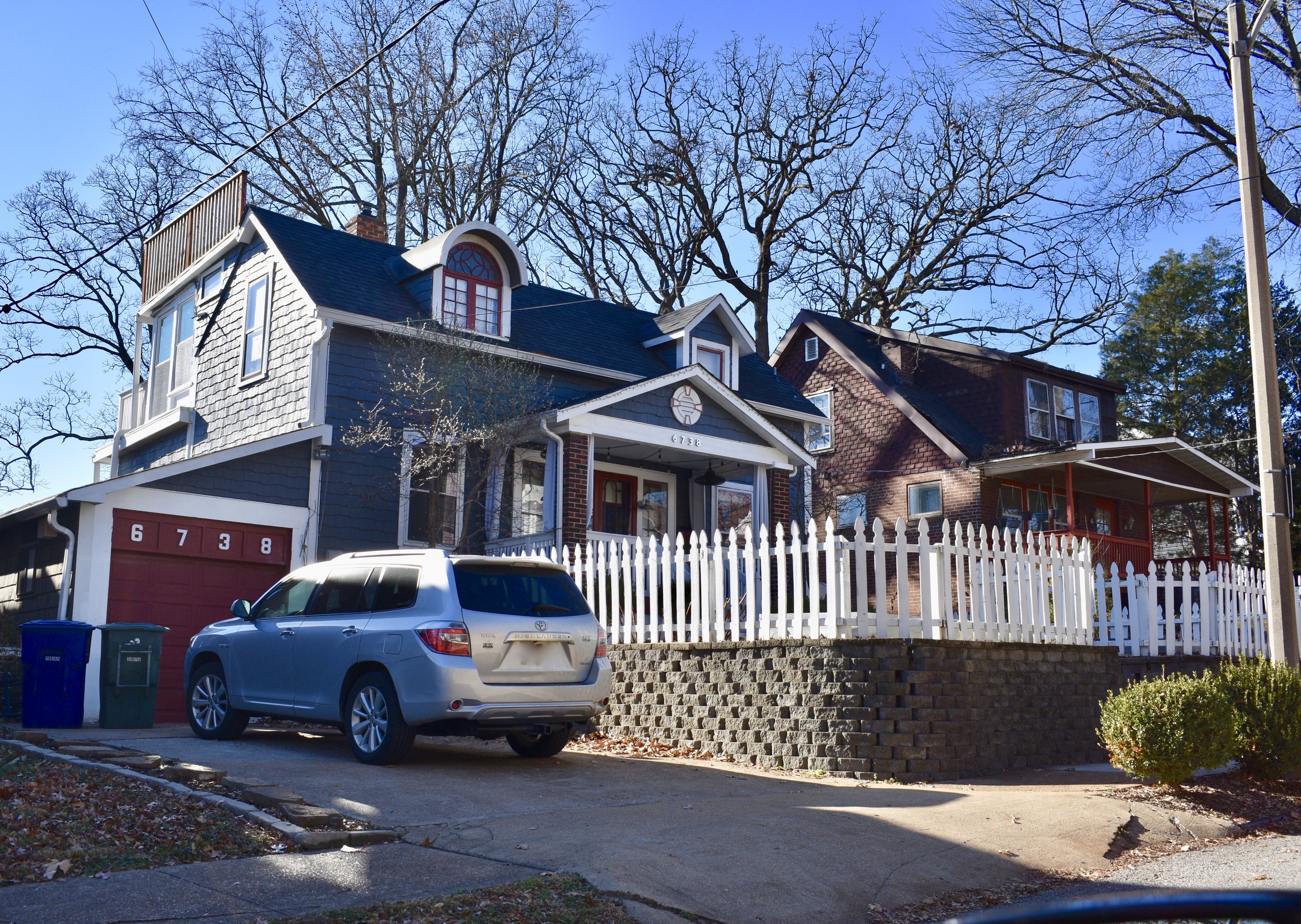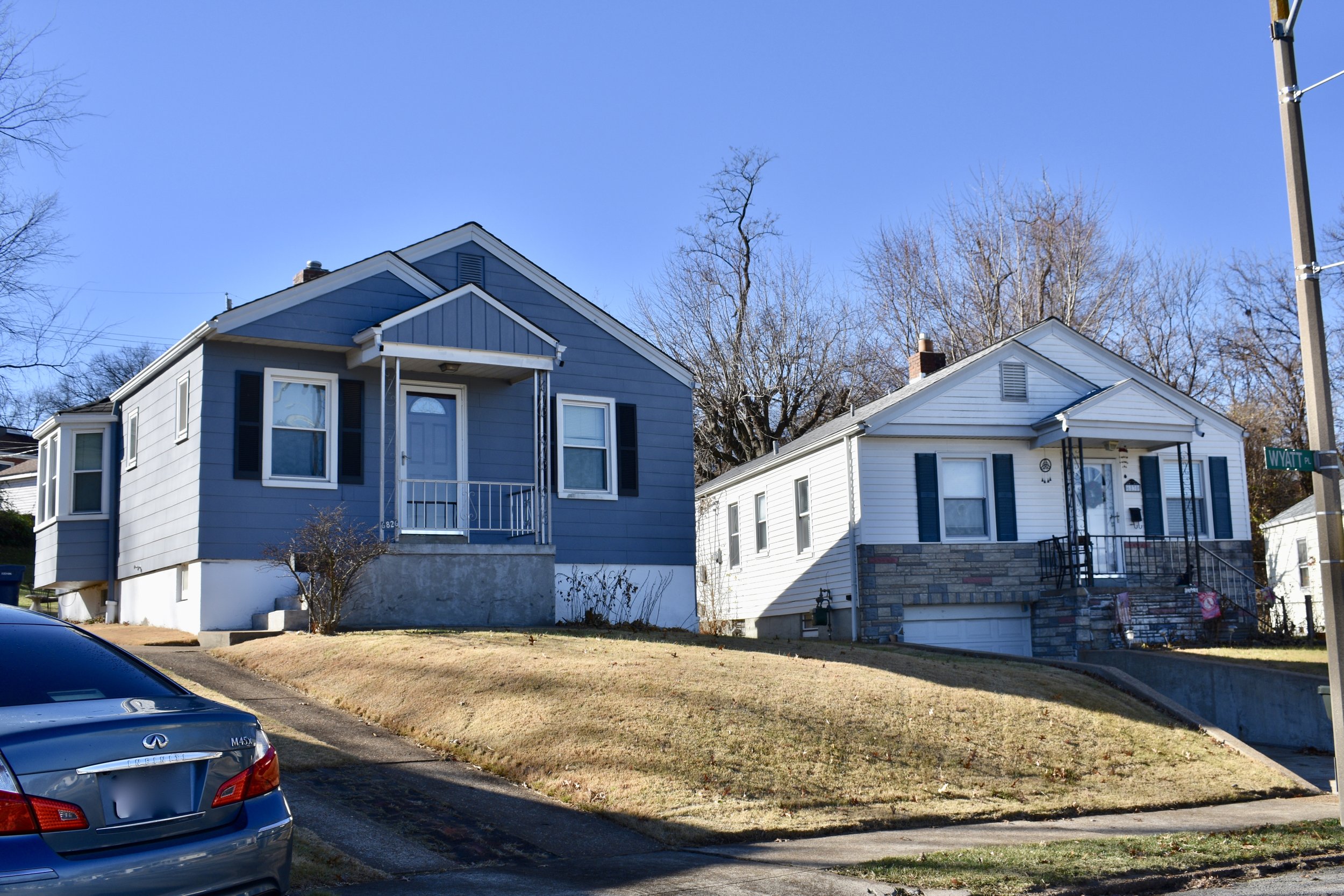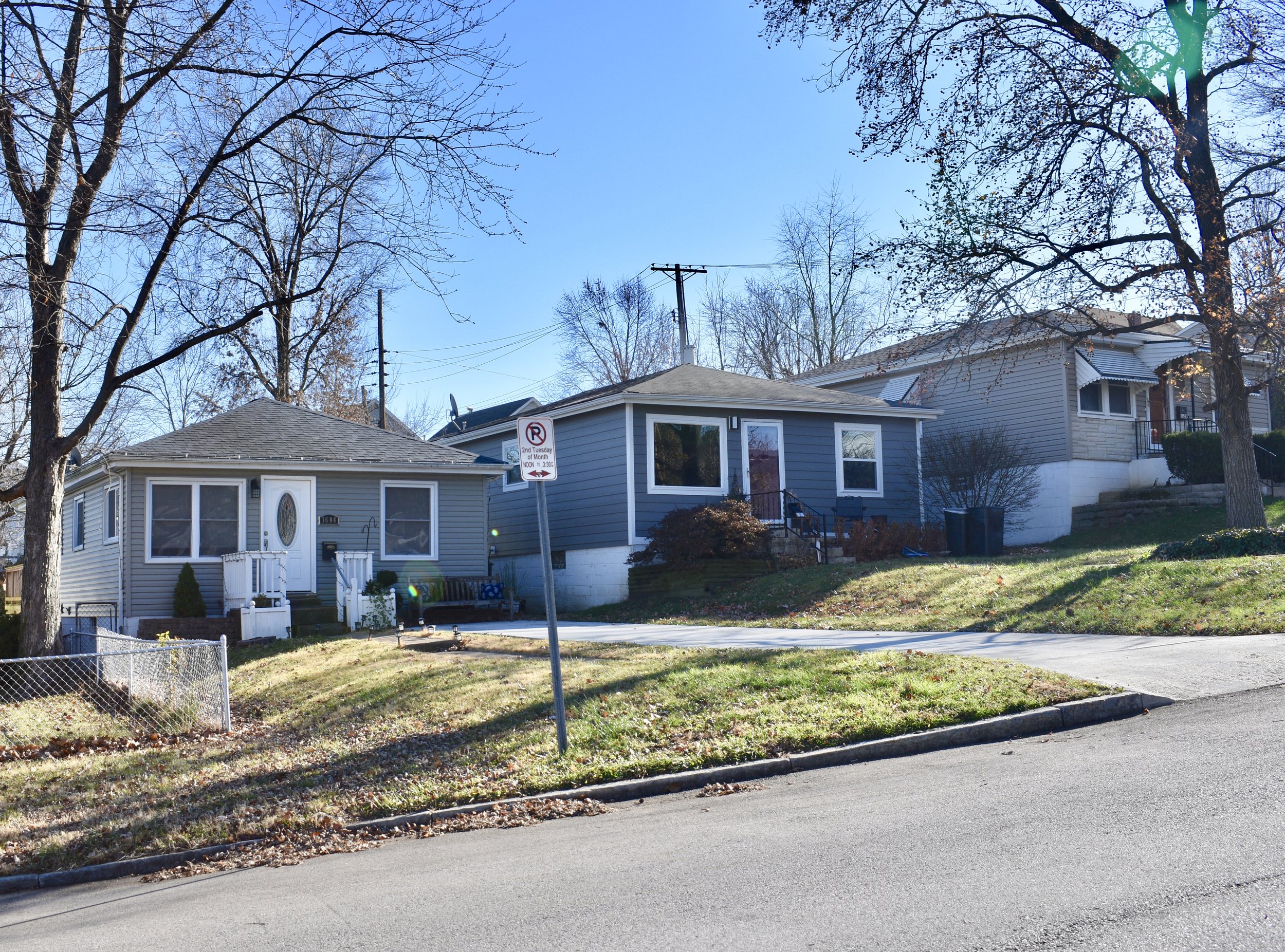 Another miss is that Franz Park extends a block or so west of McCausland and abuts the suburbs, in this case, Richmond Heights, MO. The homes, churches and retail buildings along McCausland and the homes just to the west on the St. Louis border are gorgeous.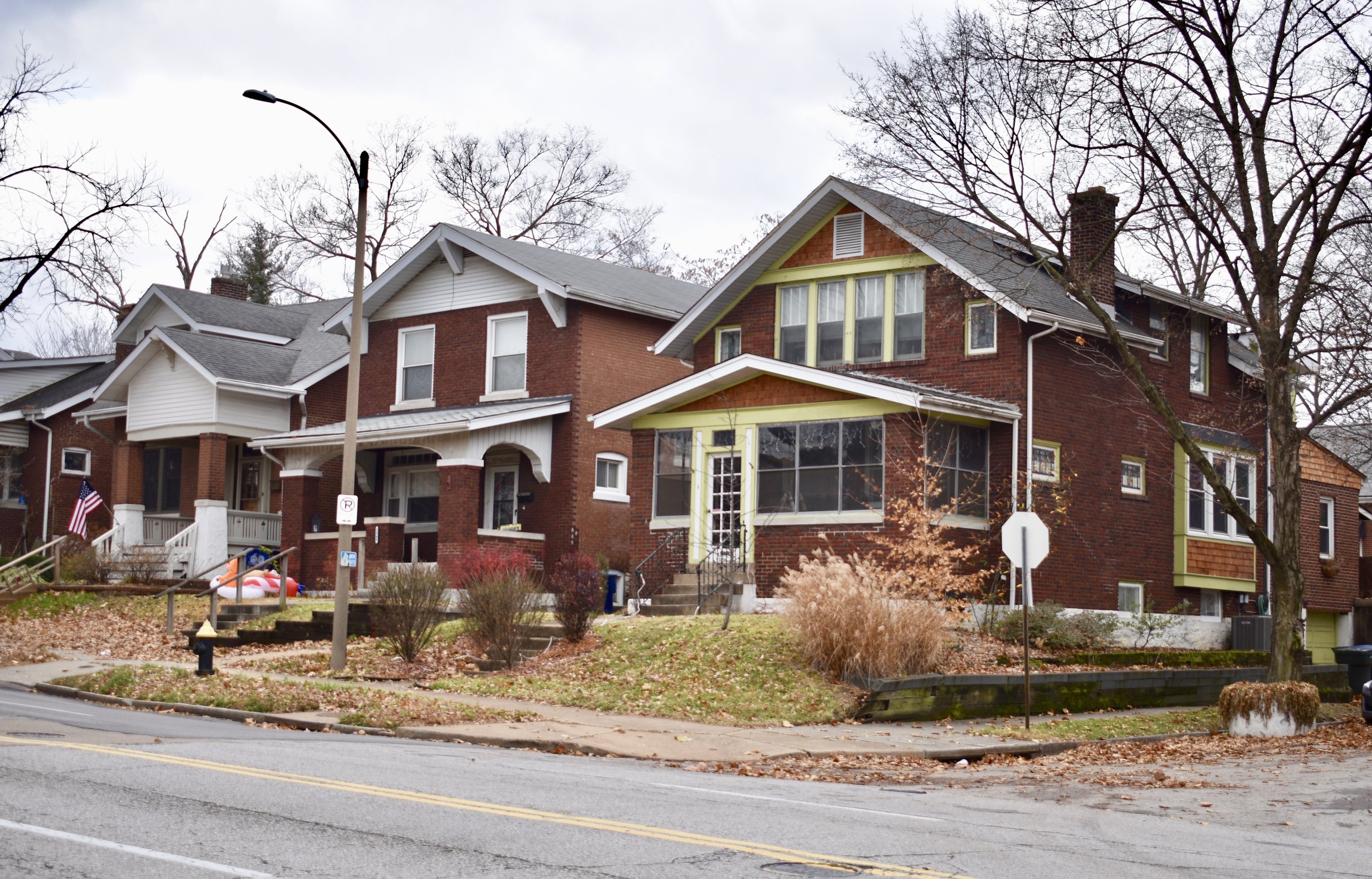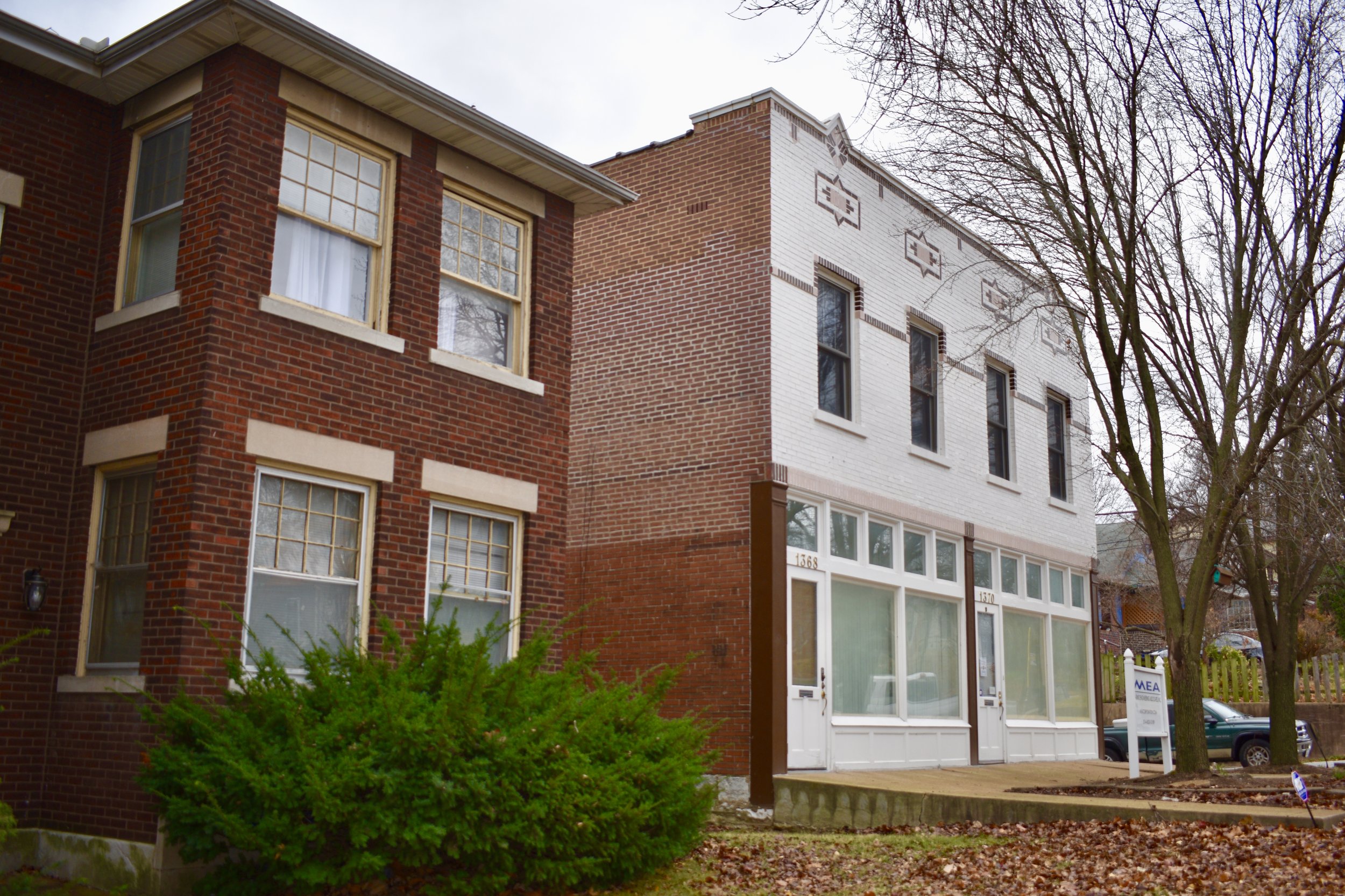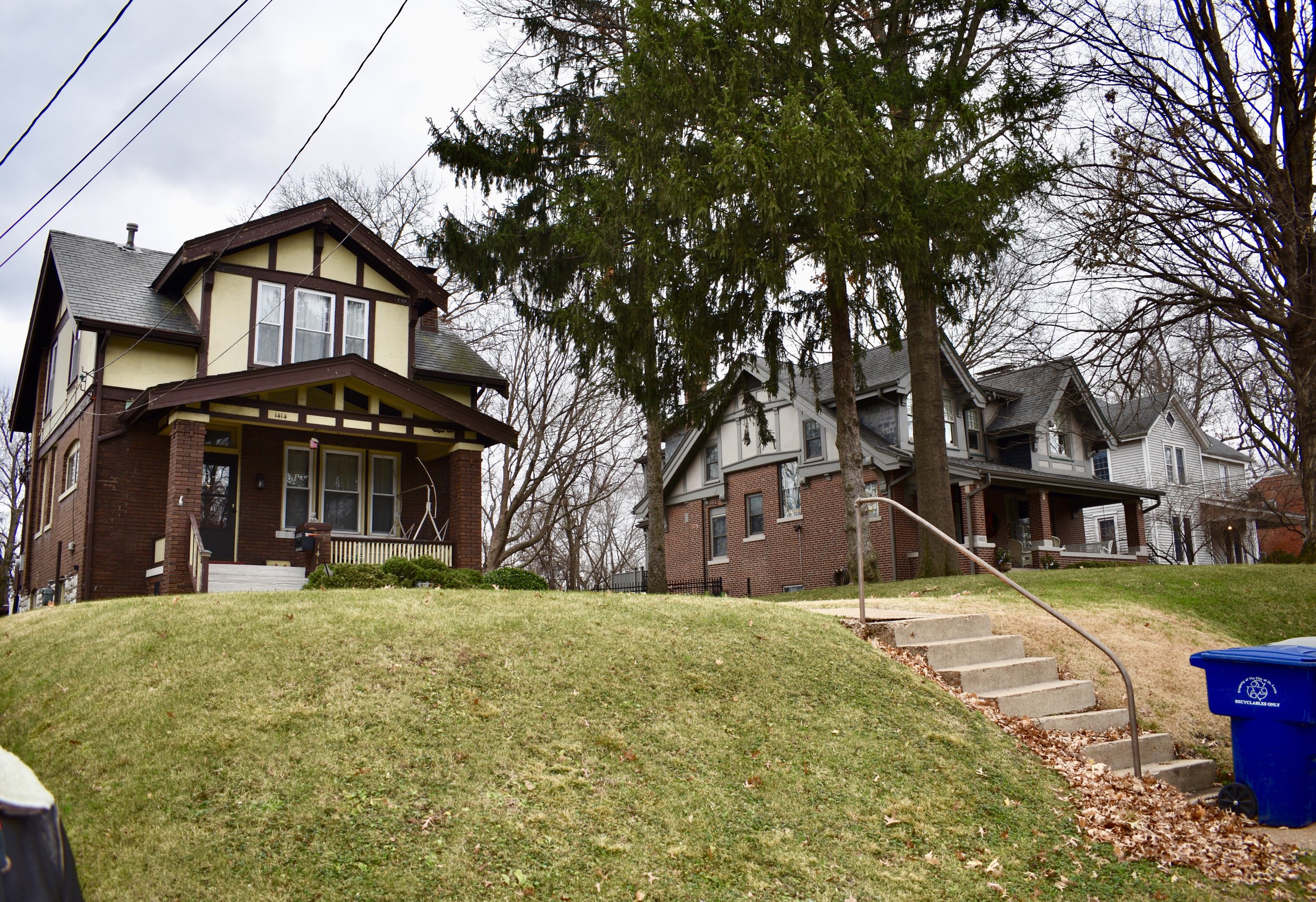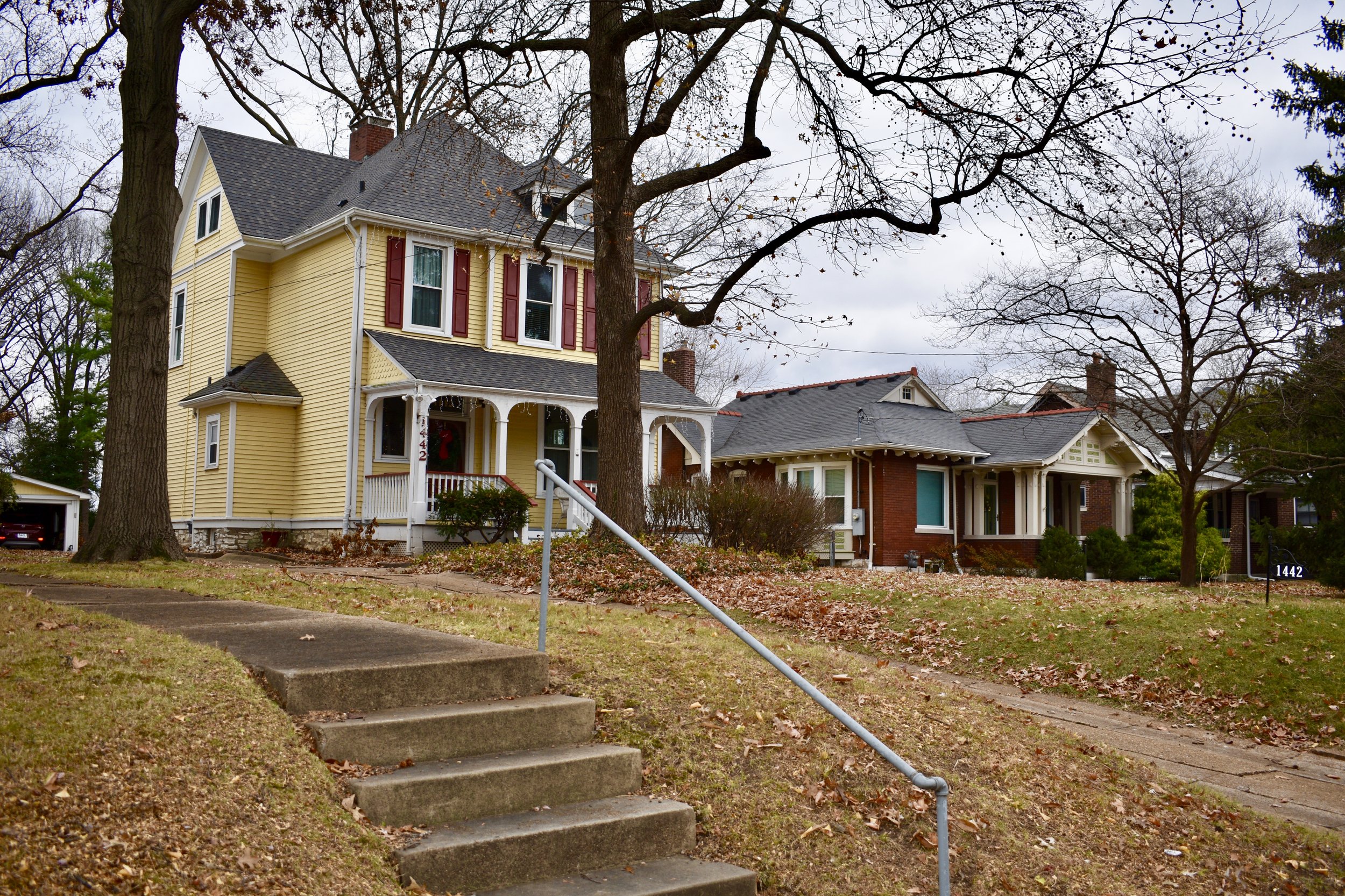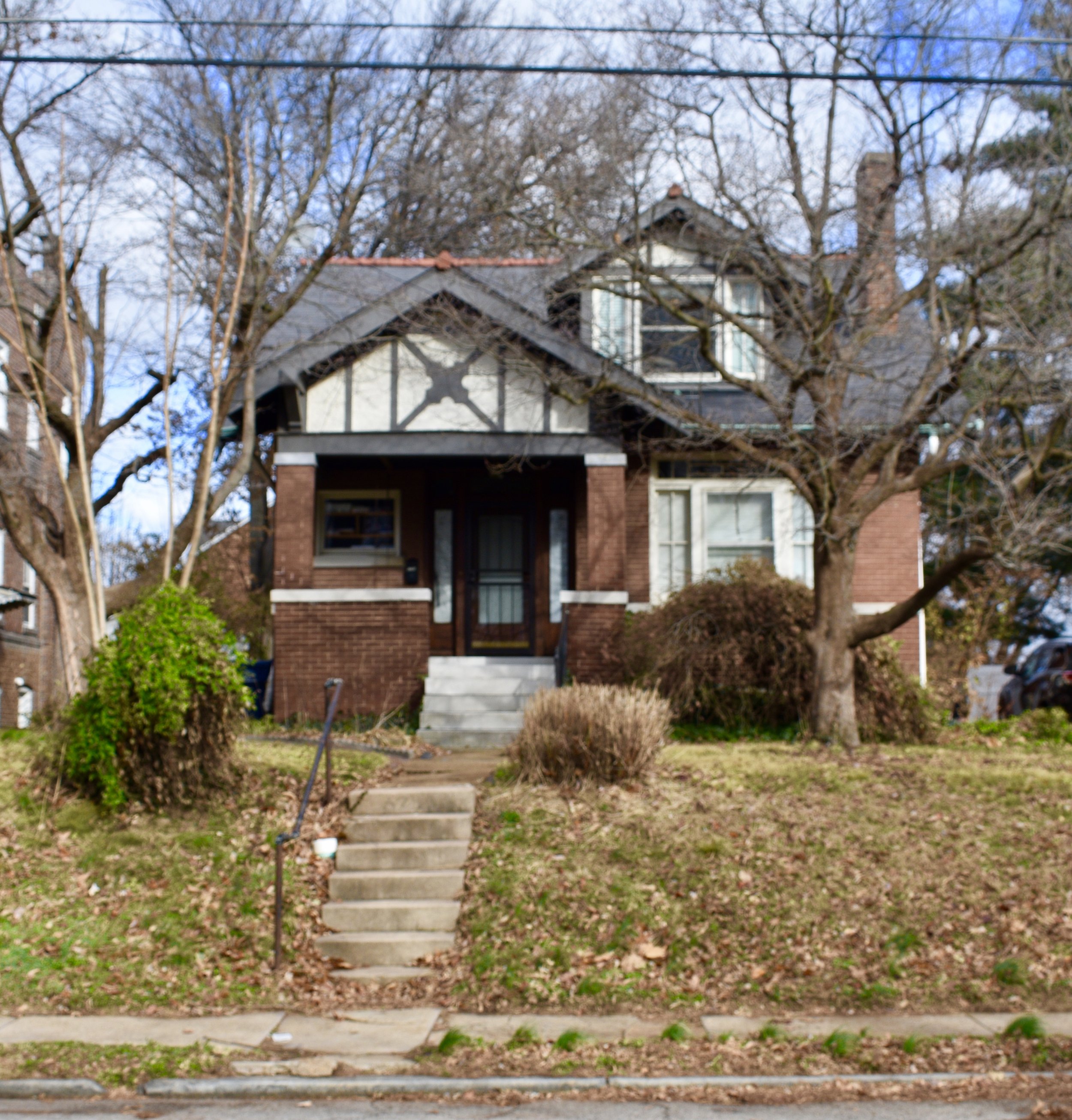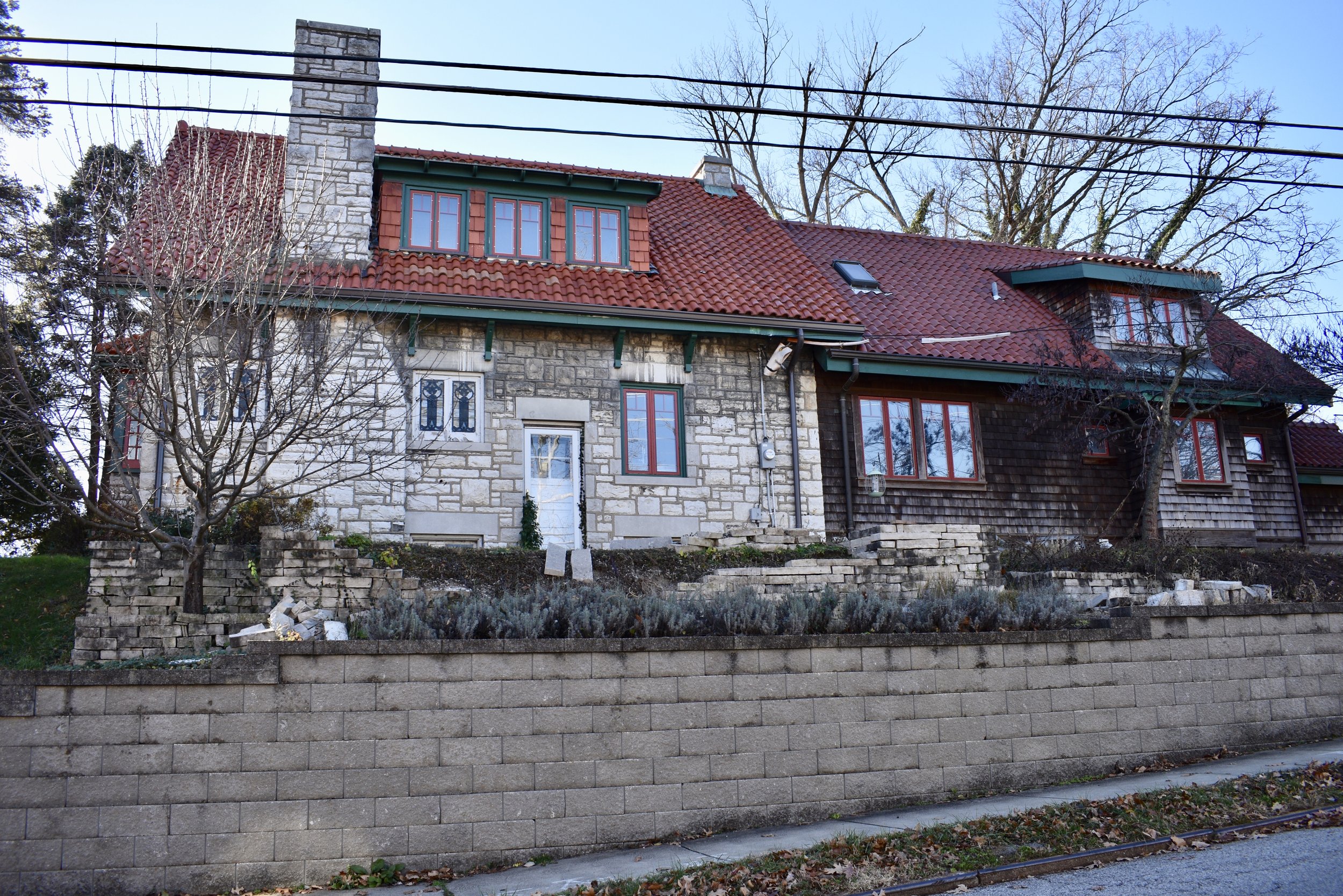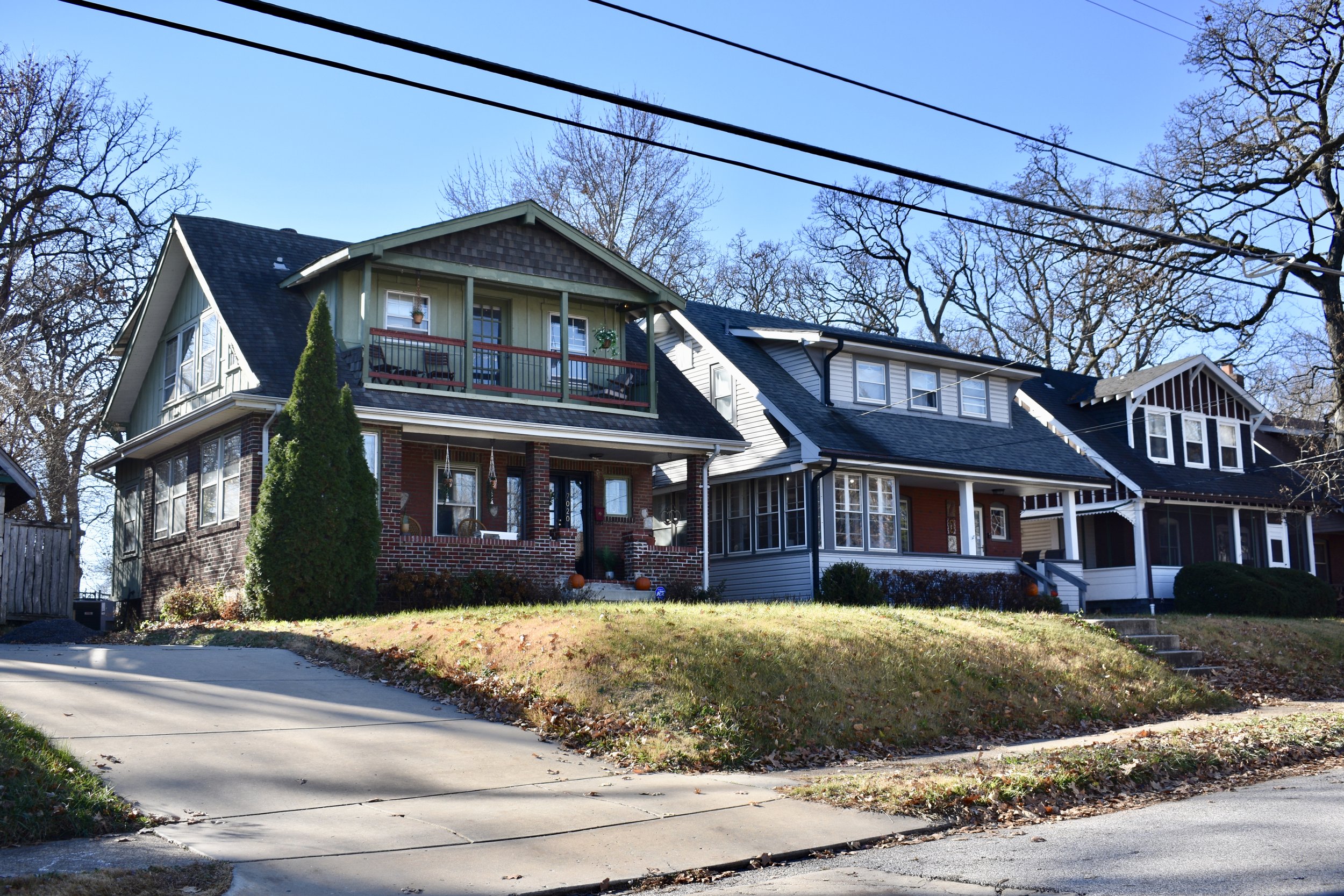 There are spots of the neighborhood that remind me of the small, rural towns in Illinois near where I grew up.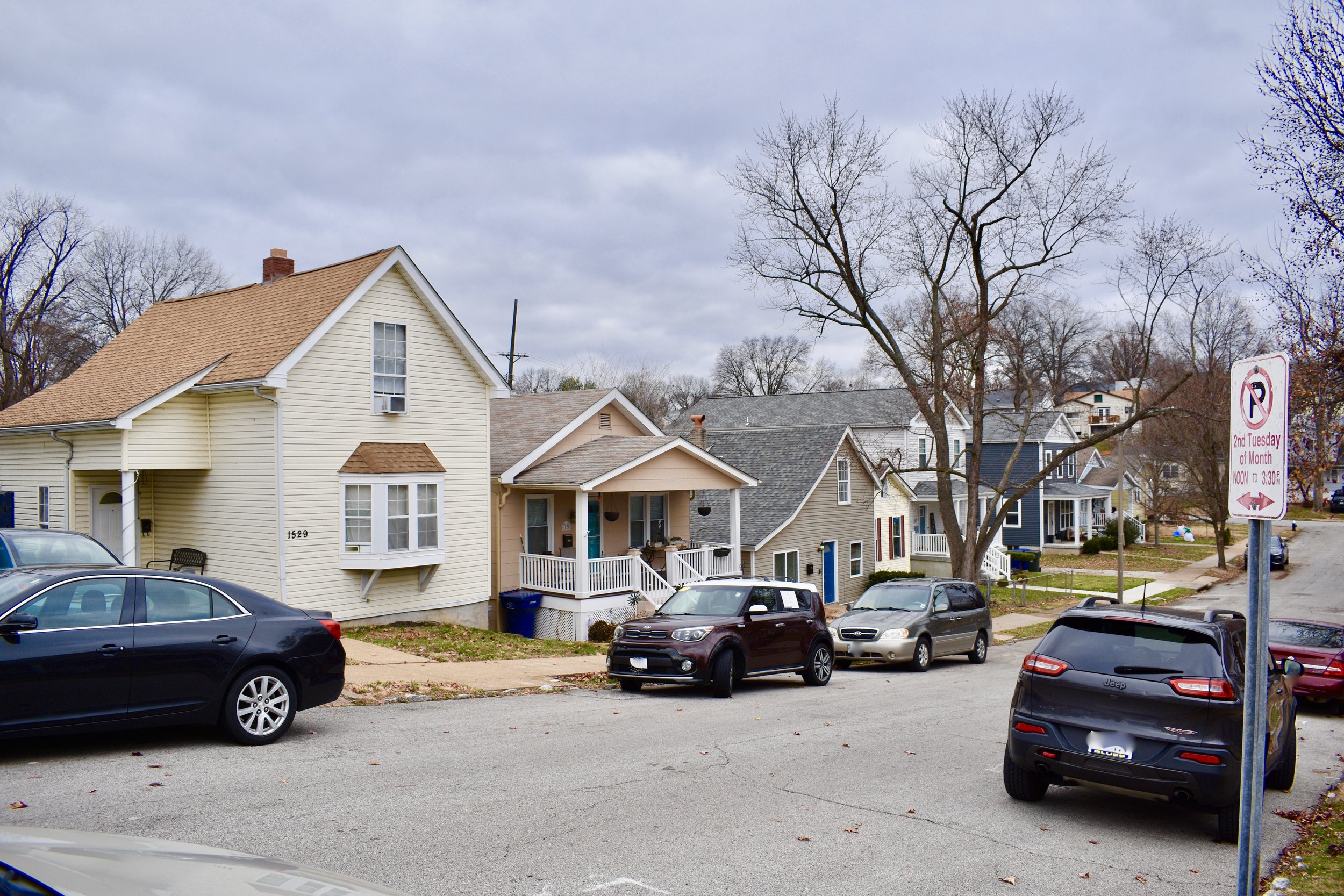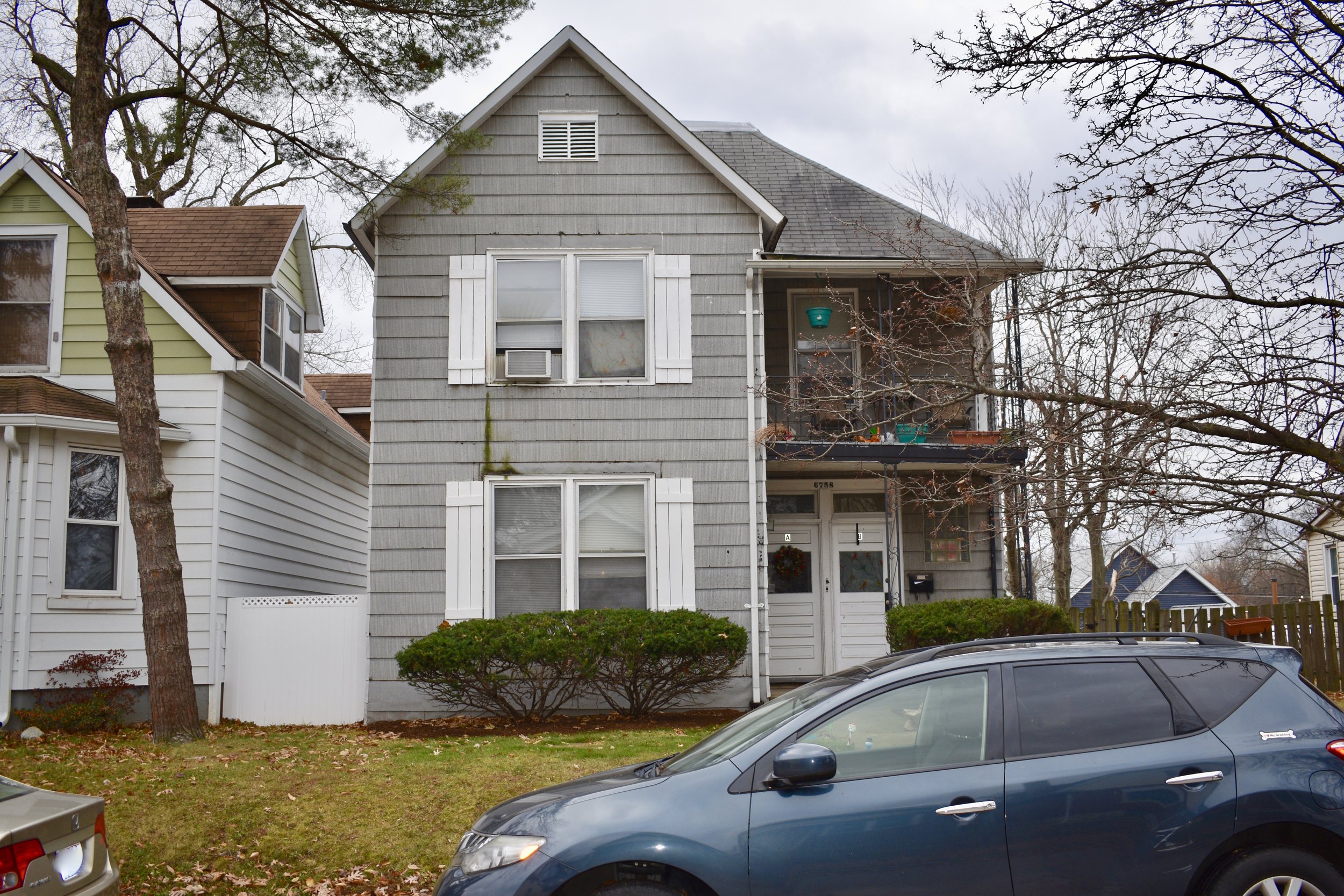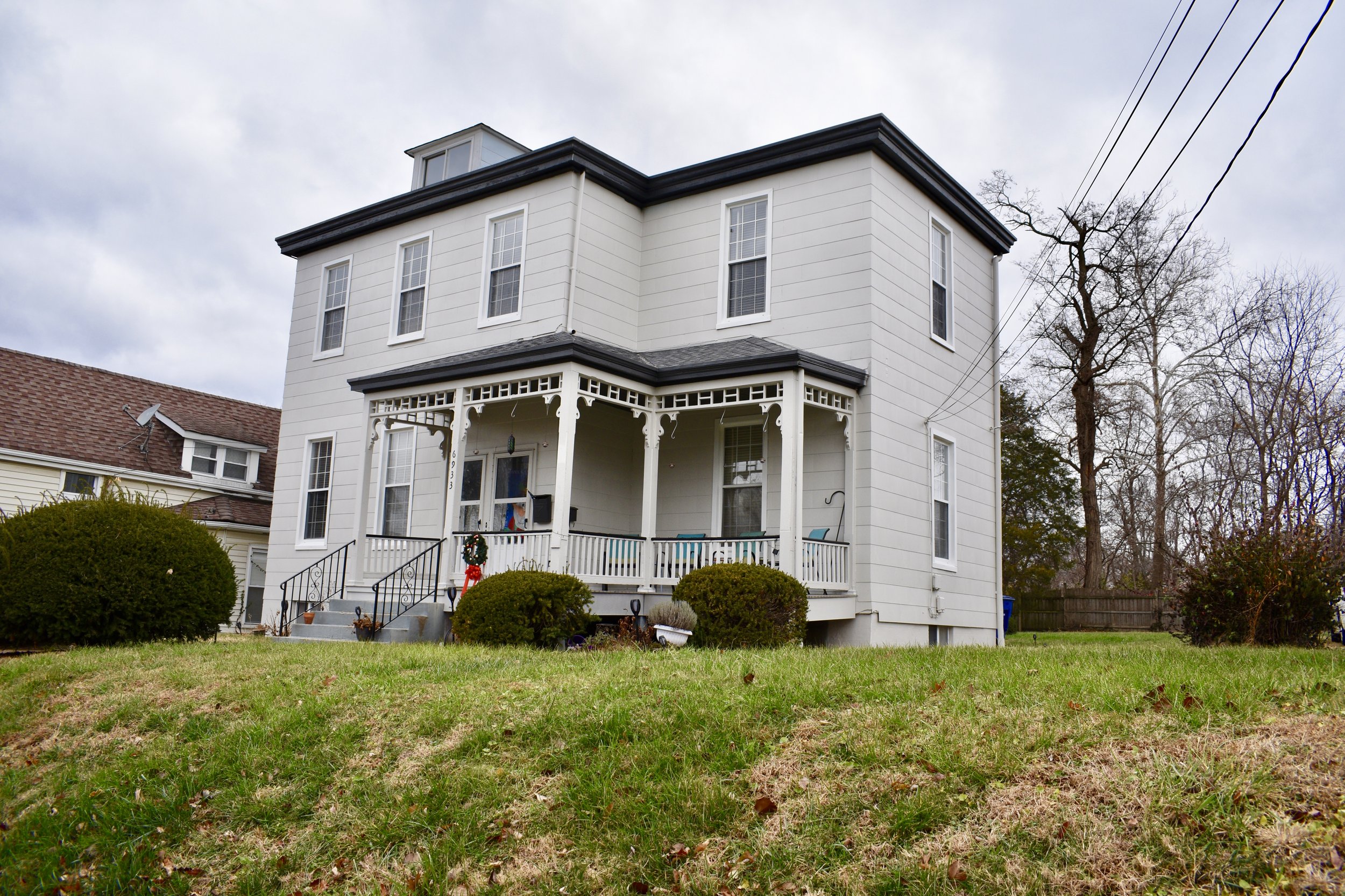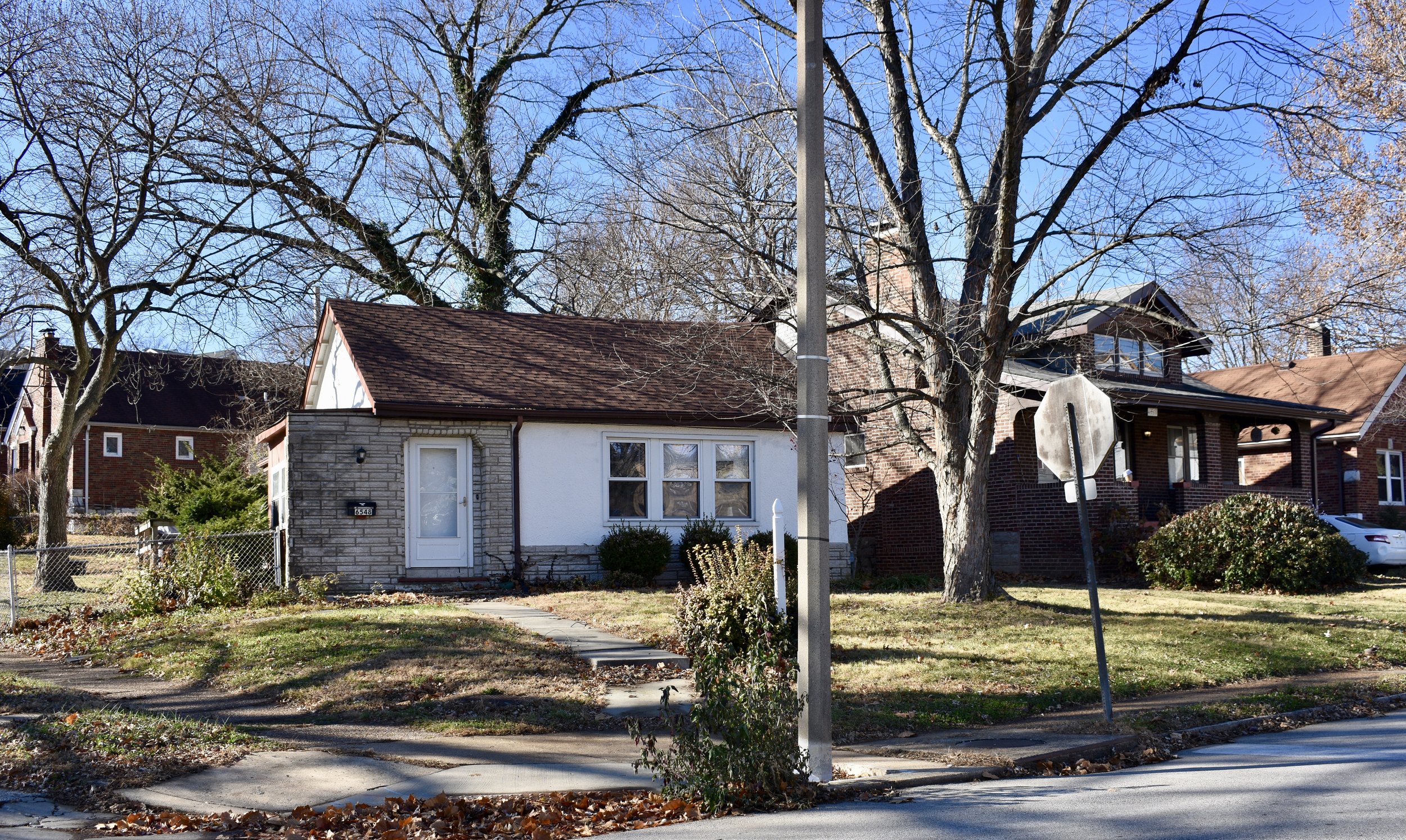 Dutch Colonials? Franz Park's got em.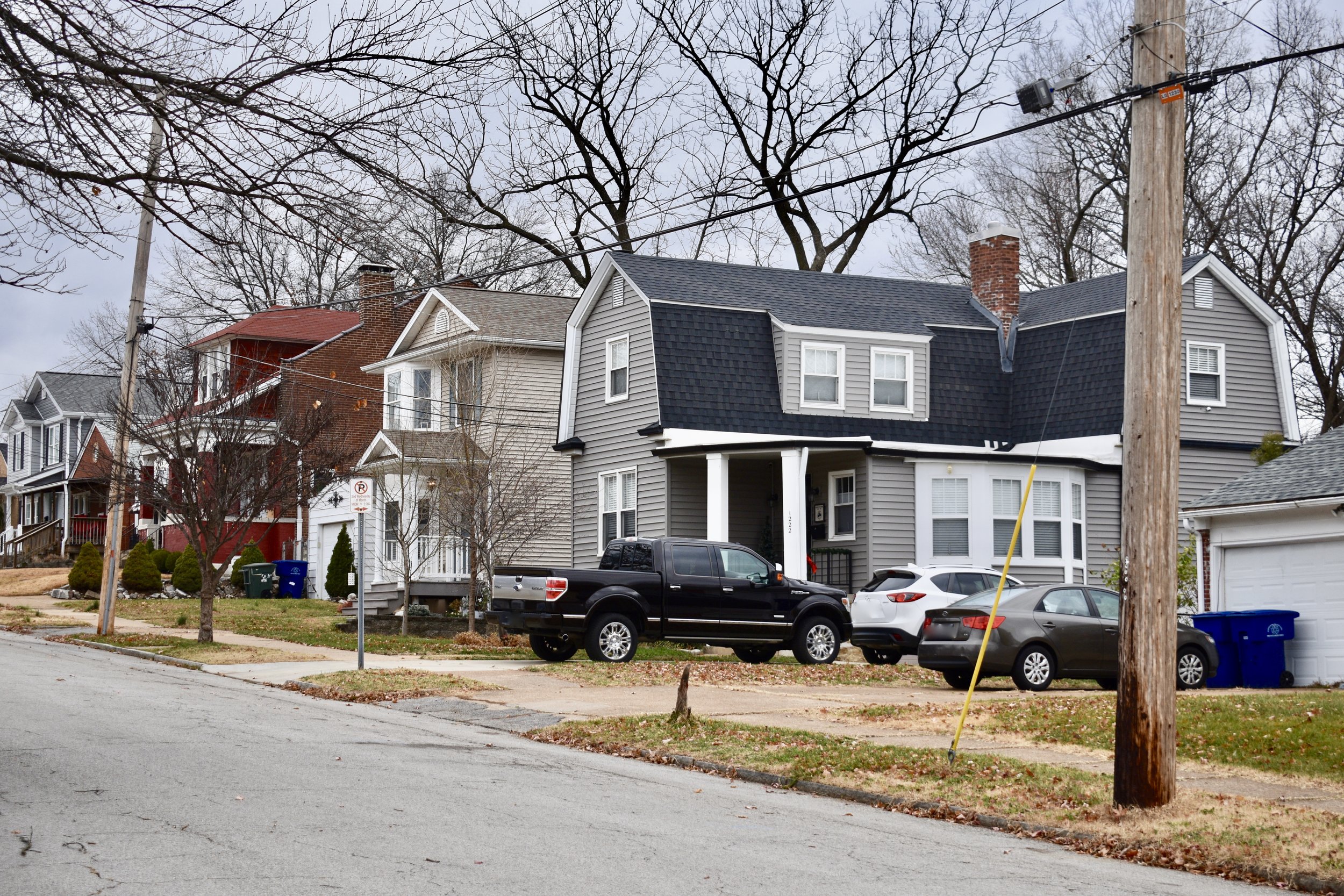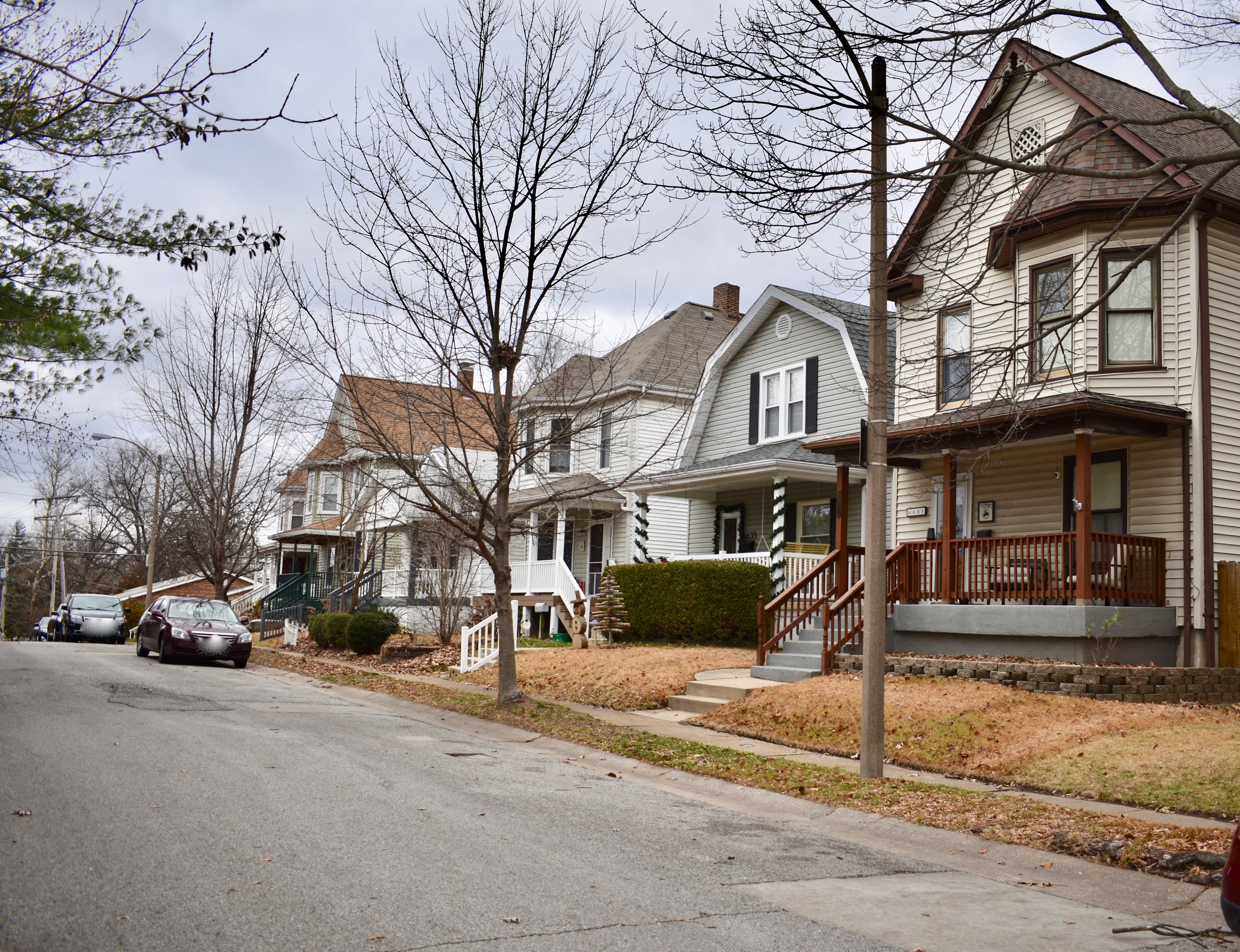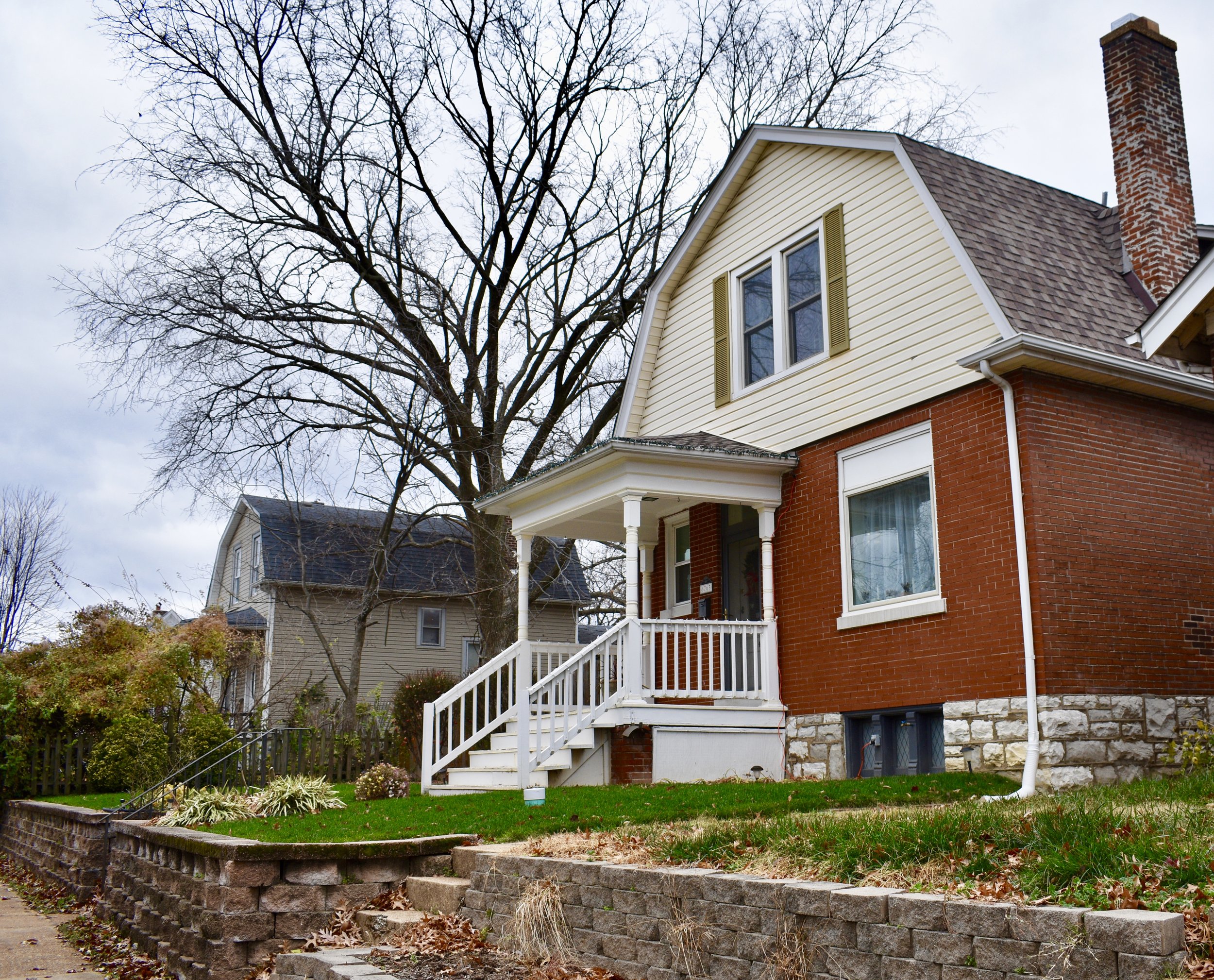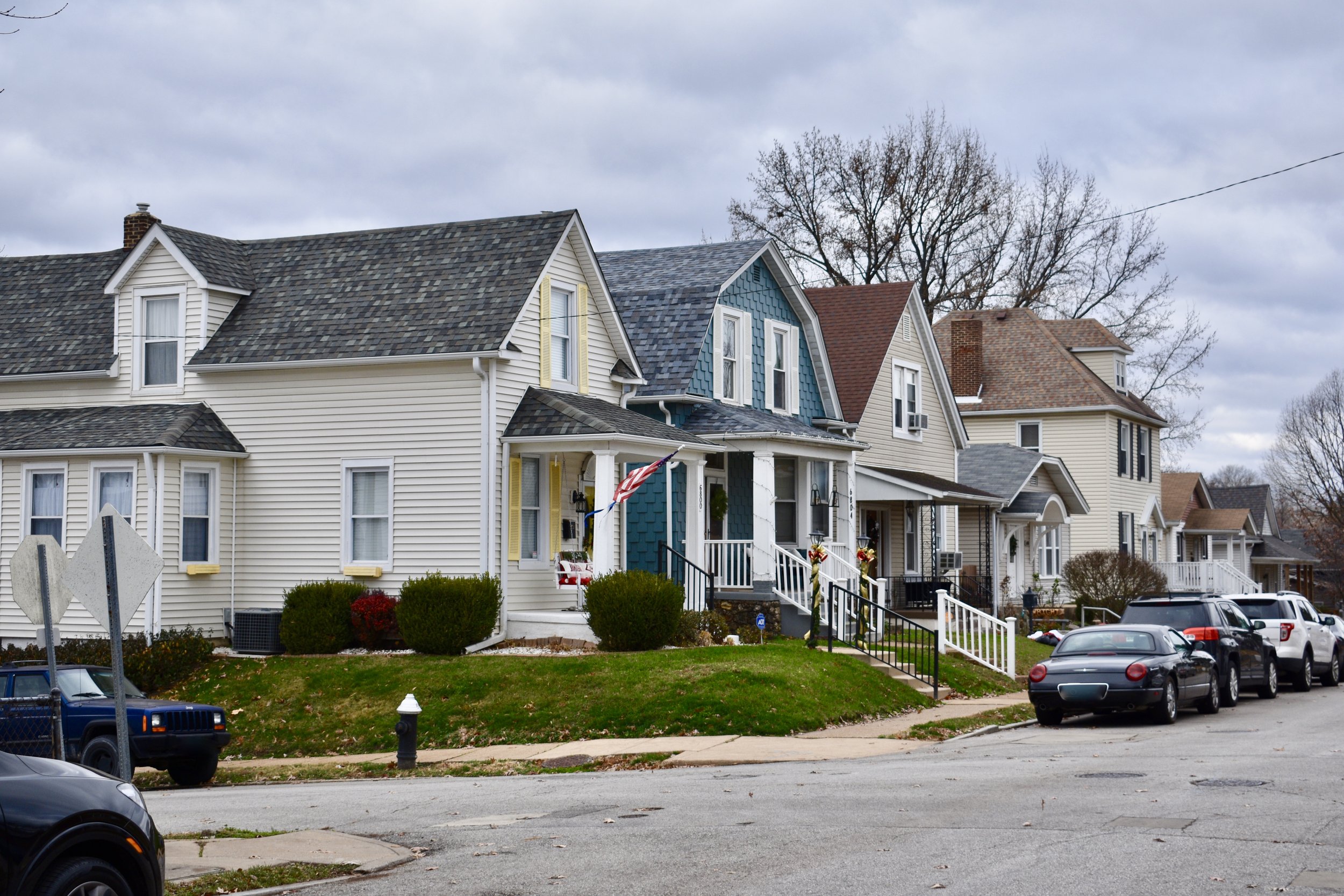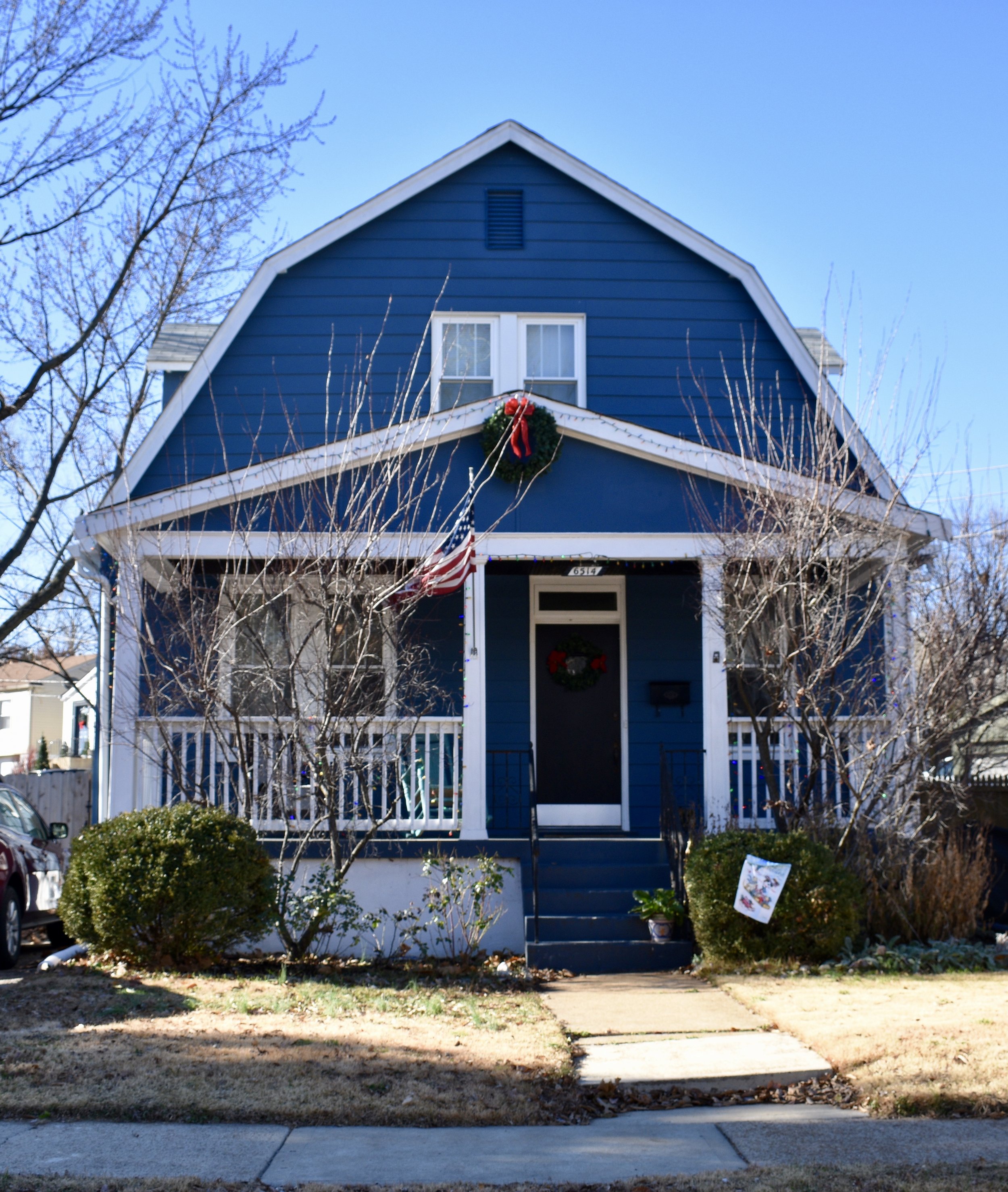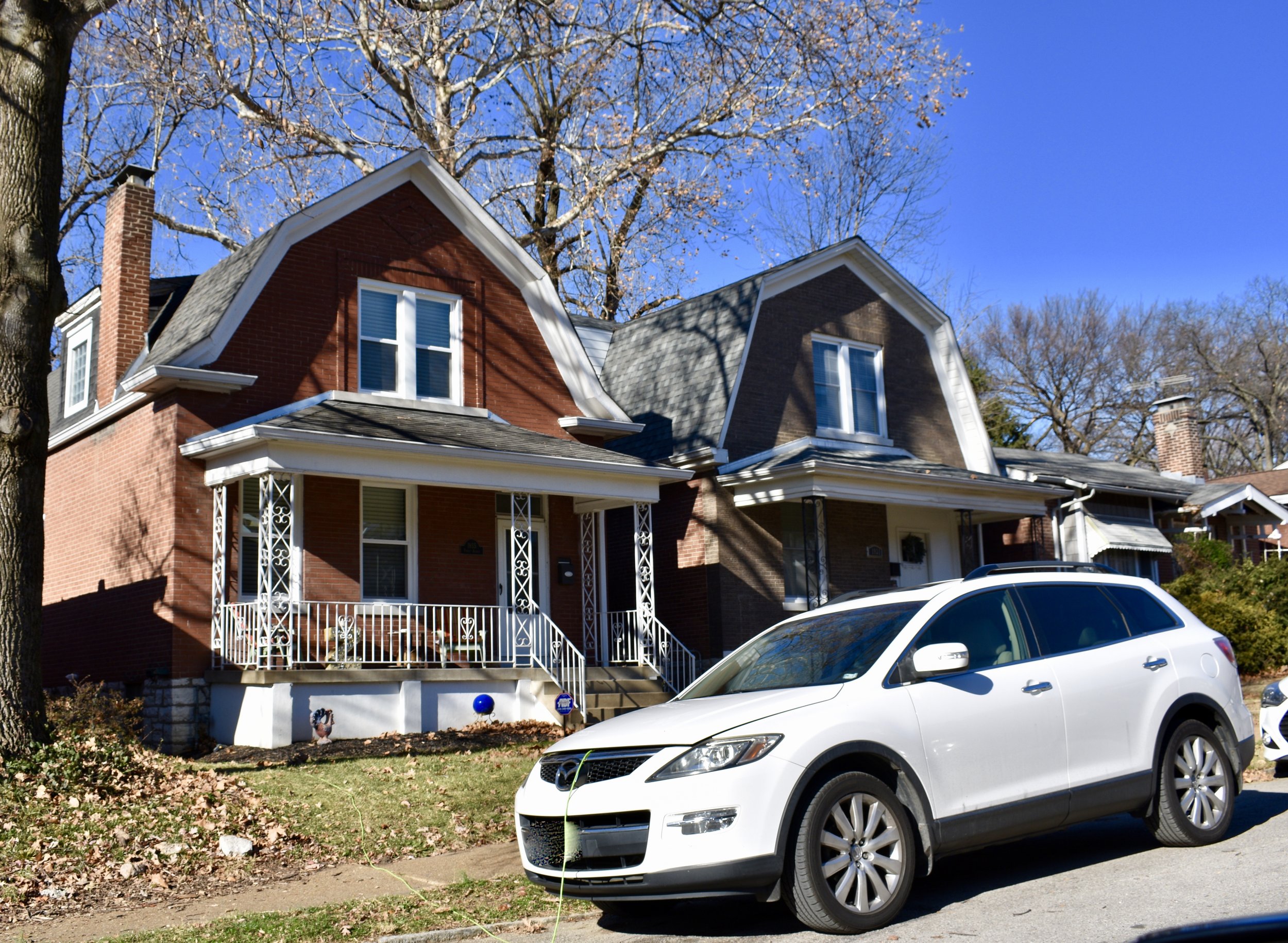 The large, wood framed and sided homes with larger yards and elevations really stand out as unique to St. Louis, but are quite prevalent in Franz Park.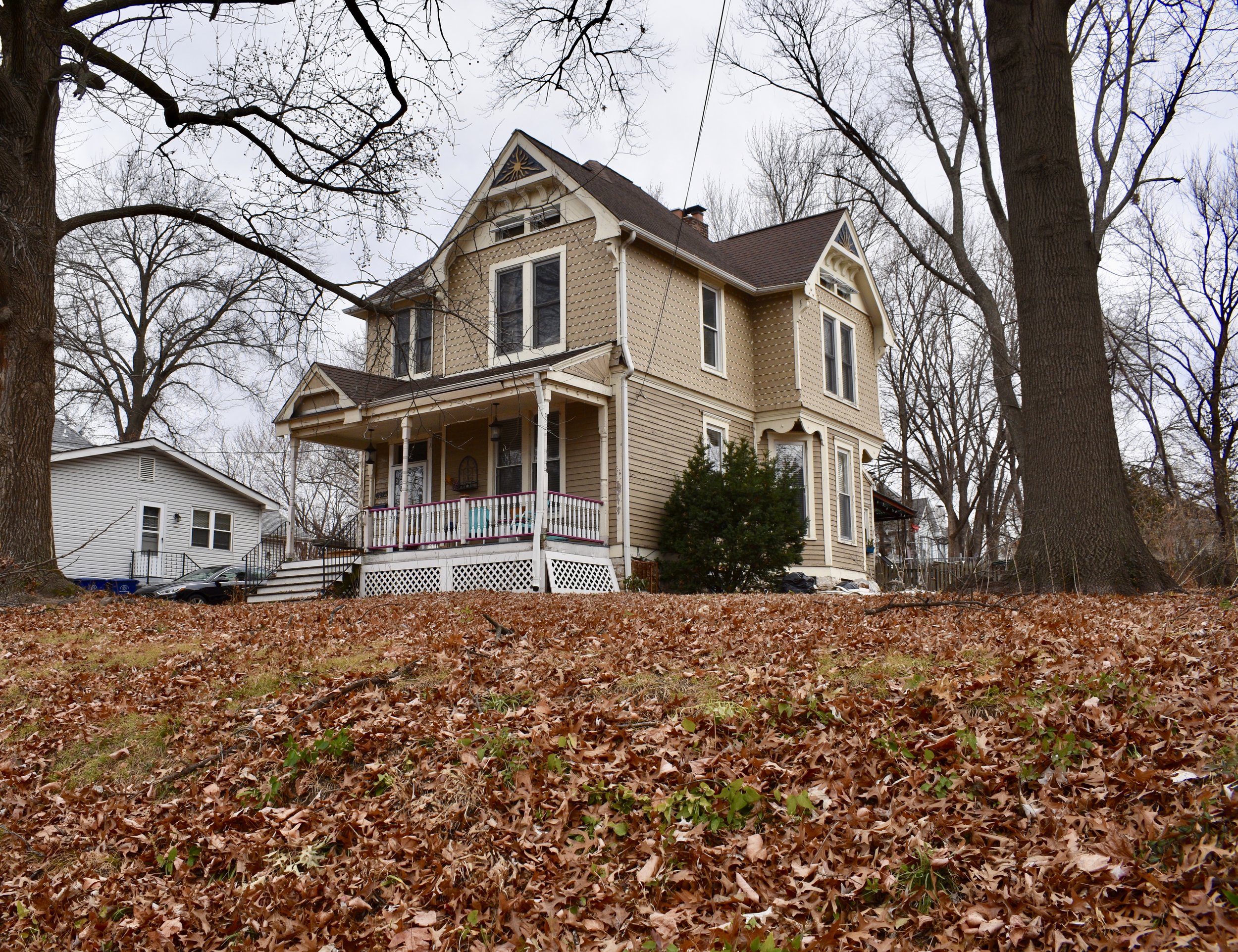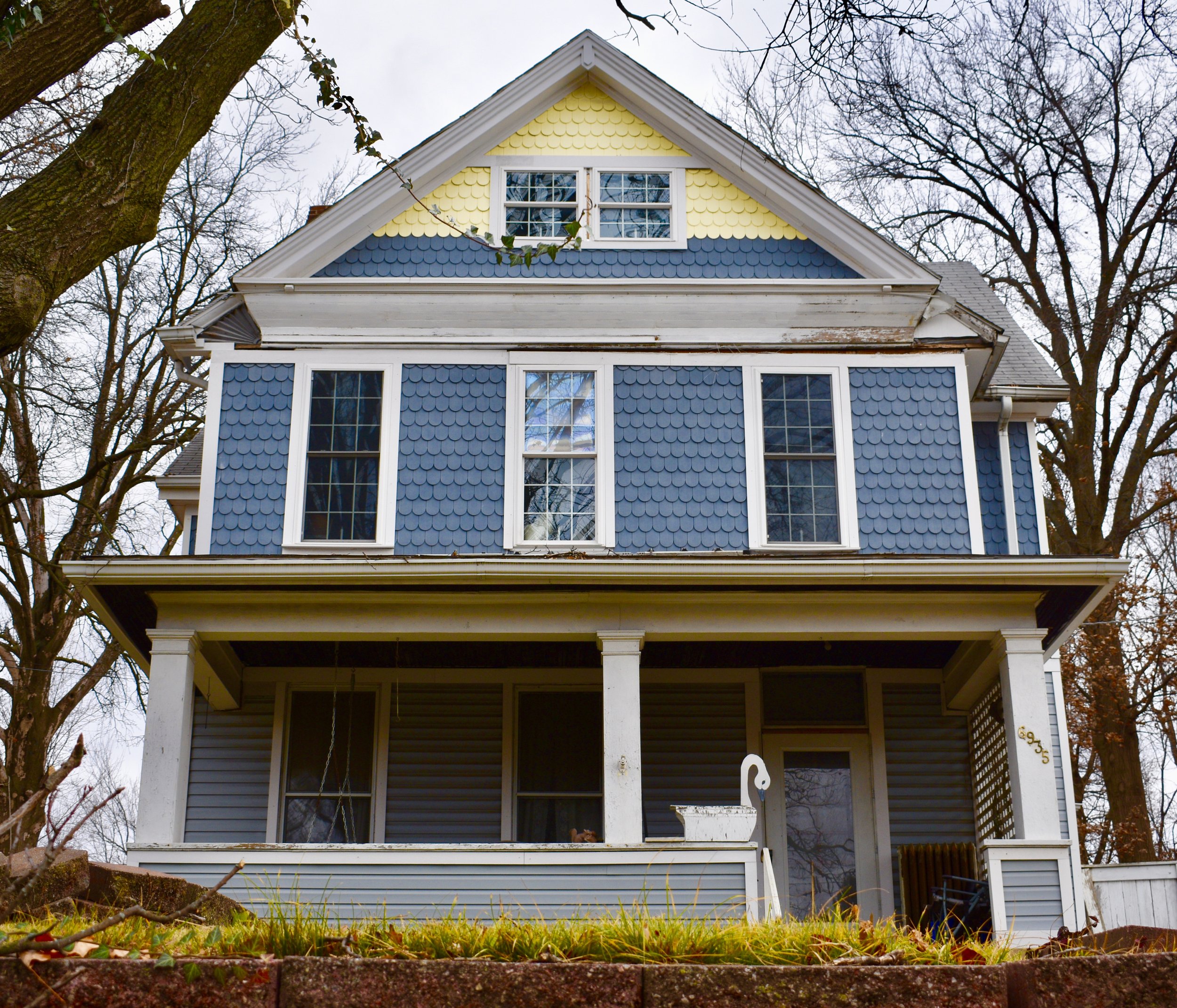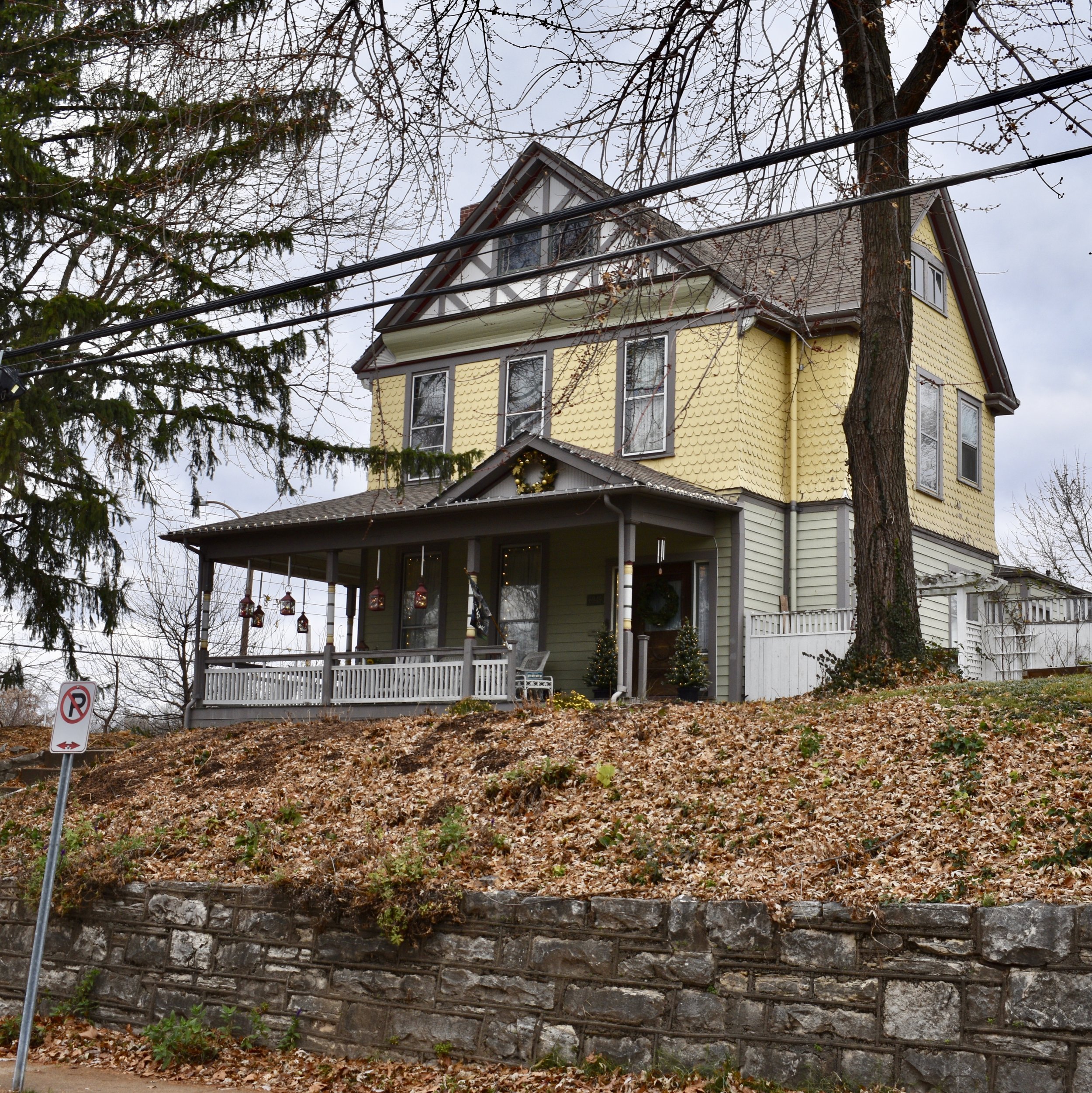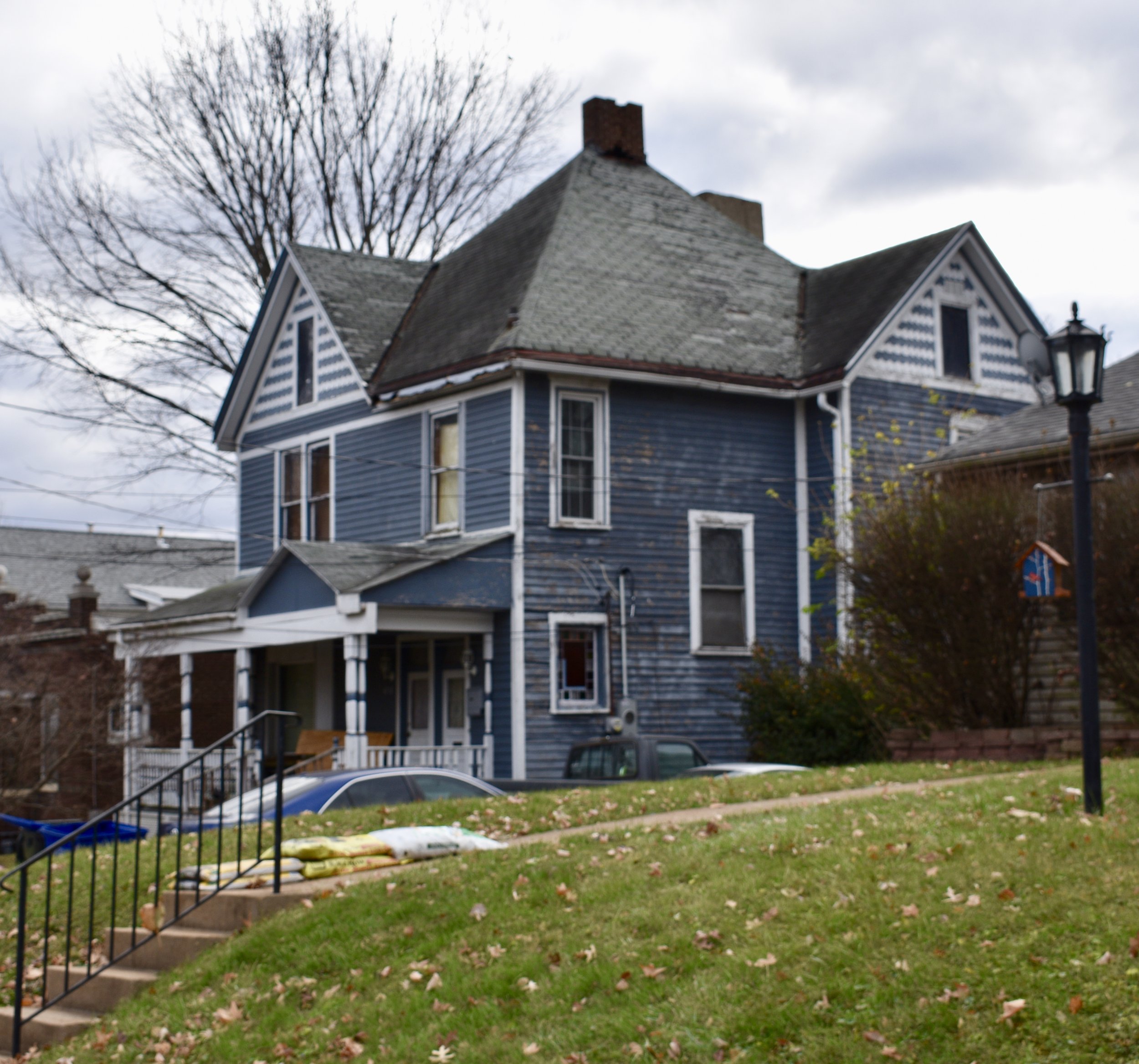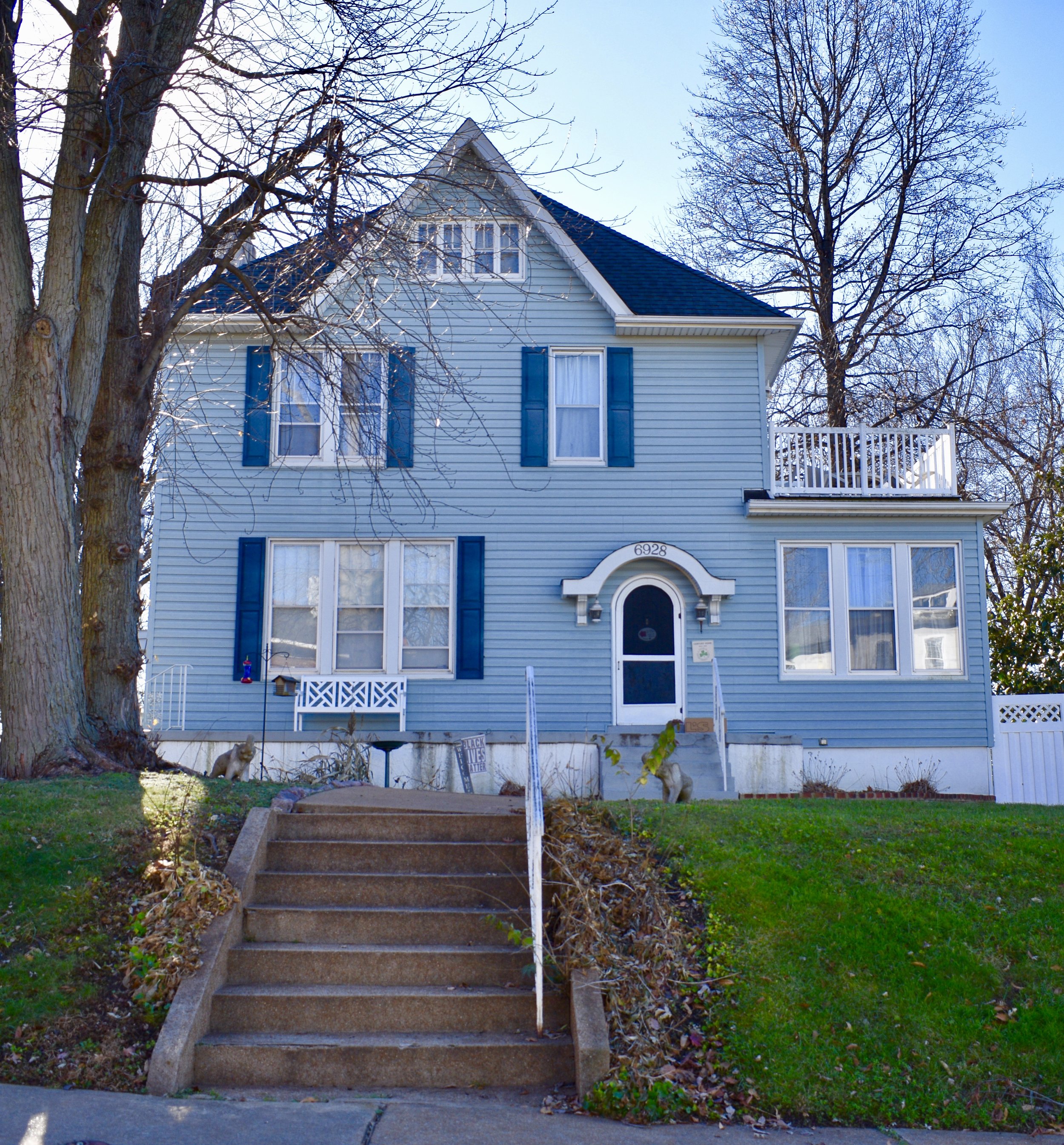 There are even some of those stone homes that remind me of Elephant Rock State Park.
Noticeable Changes
There is a noticeable amount of new construction and investment in the existing homes with what appears to be a generational turnover happening now. I see more young adults and children. Lots of landscaping, home repair and upkeep all over the neighborhood.
Lots of tear downs of smaller post-WWII homes being replaced with larger homes. Gentrification could easily be used to describe what's happening here, but there are no intra-neighborhood businesses to displace nor sizable non-white populations being replaced by whites, so gentrification won't likely be used as a descriptor for Franz Park, but it easily could if you remove the racial component and use the strict definition of the term.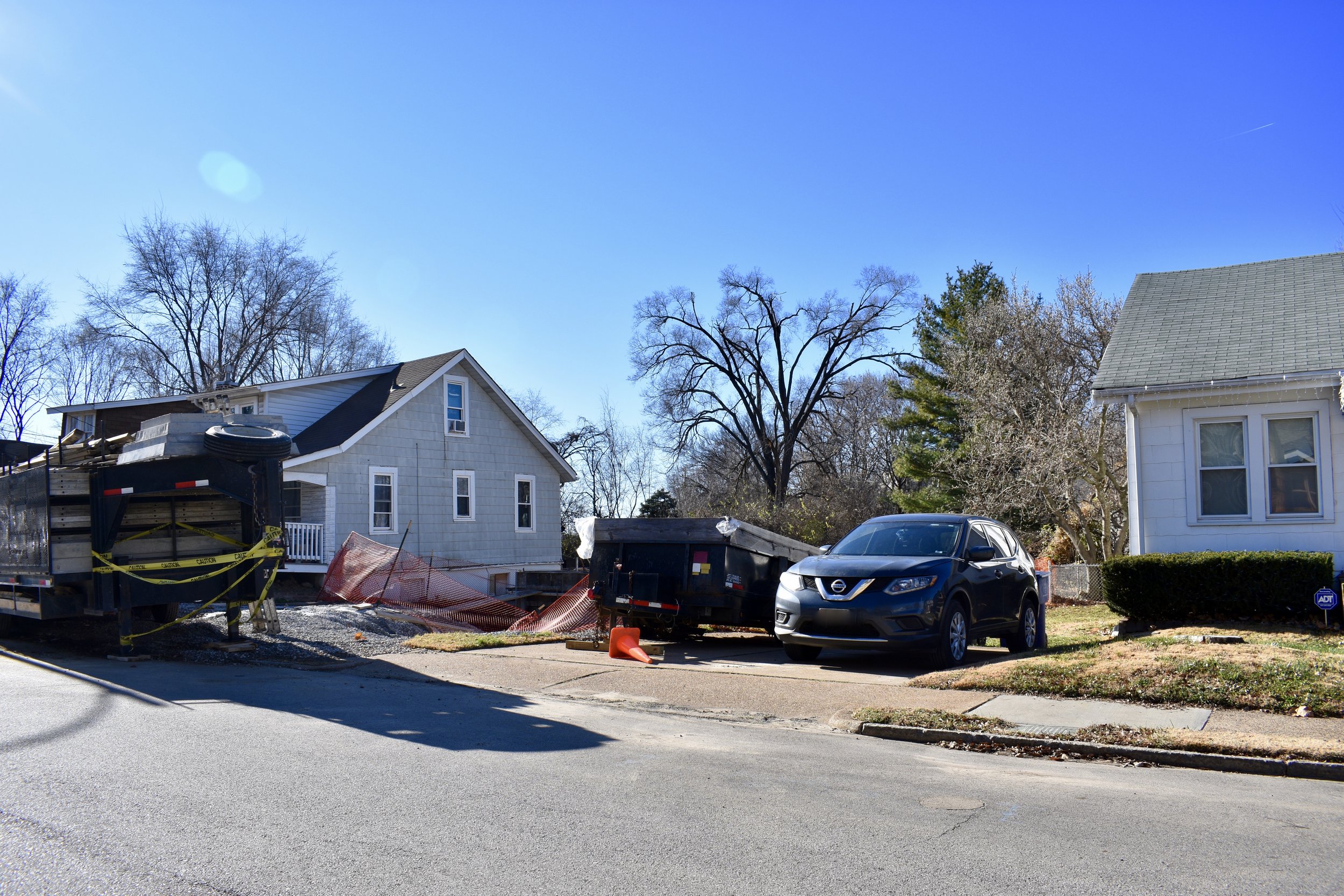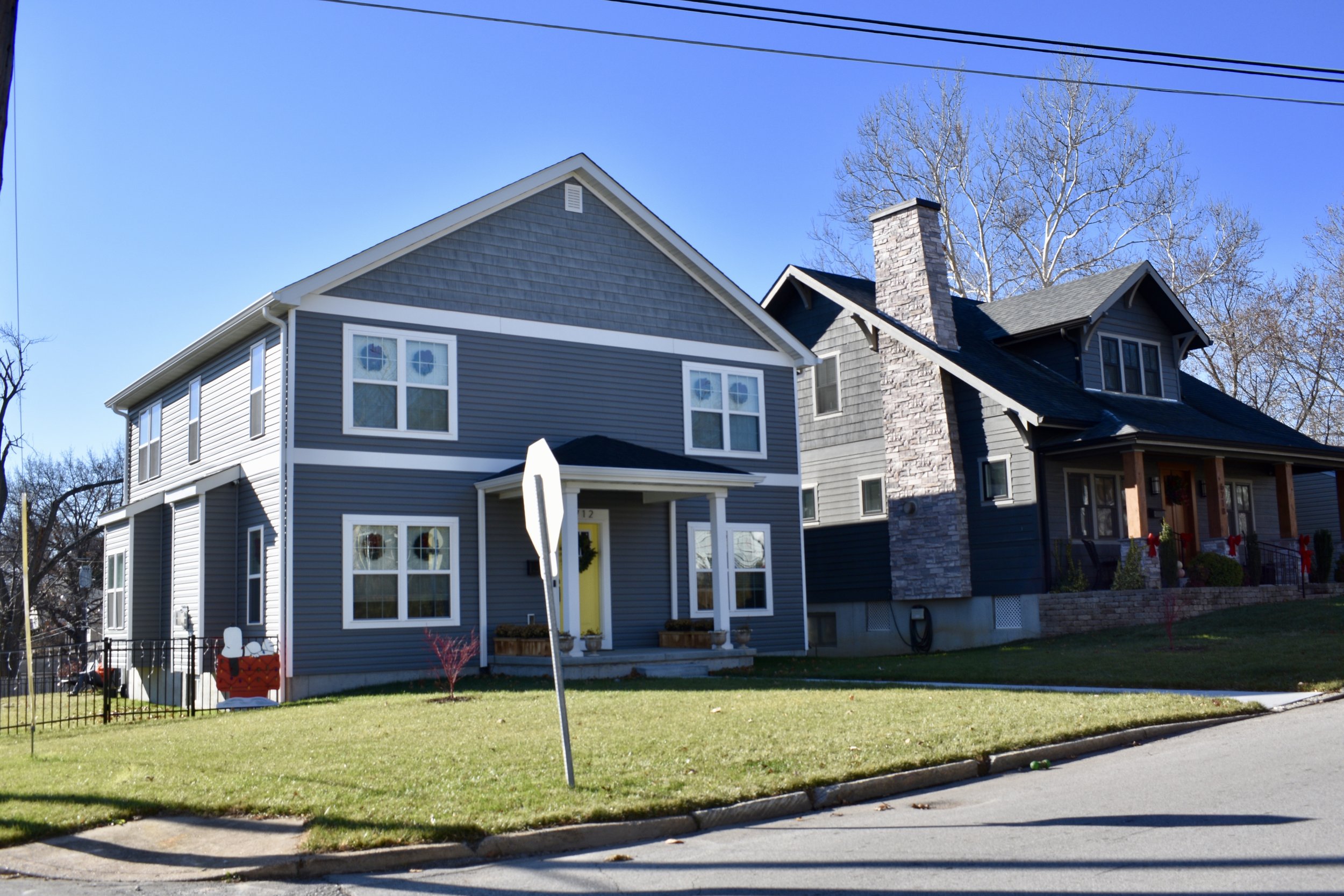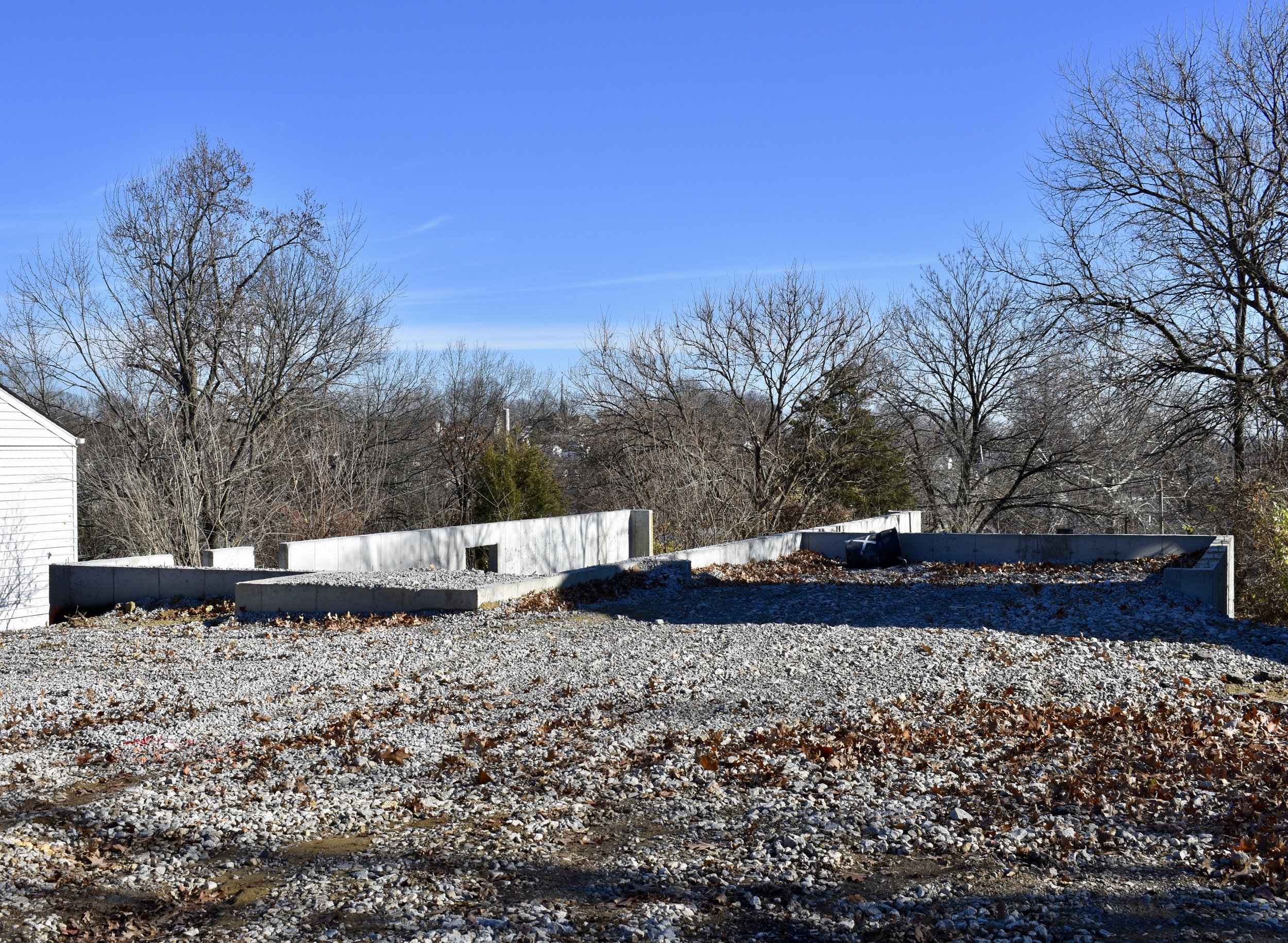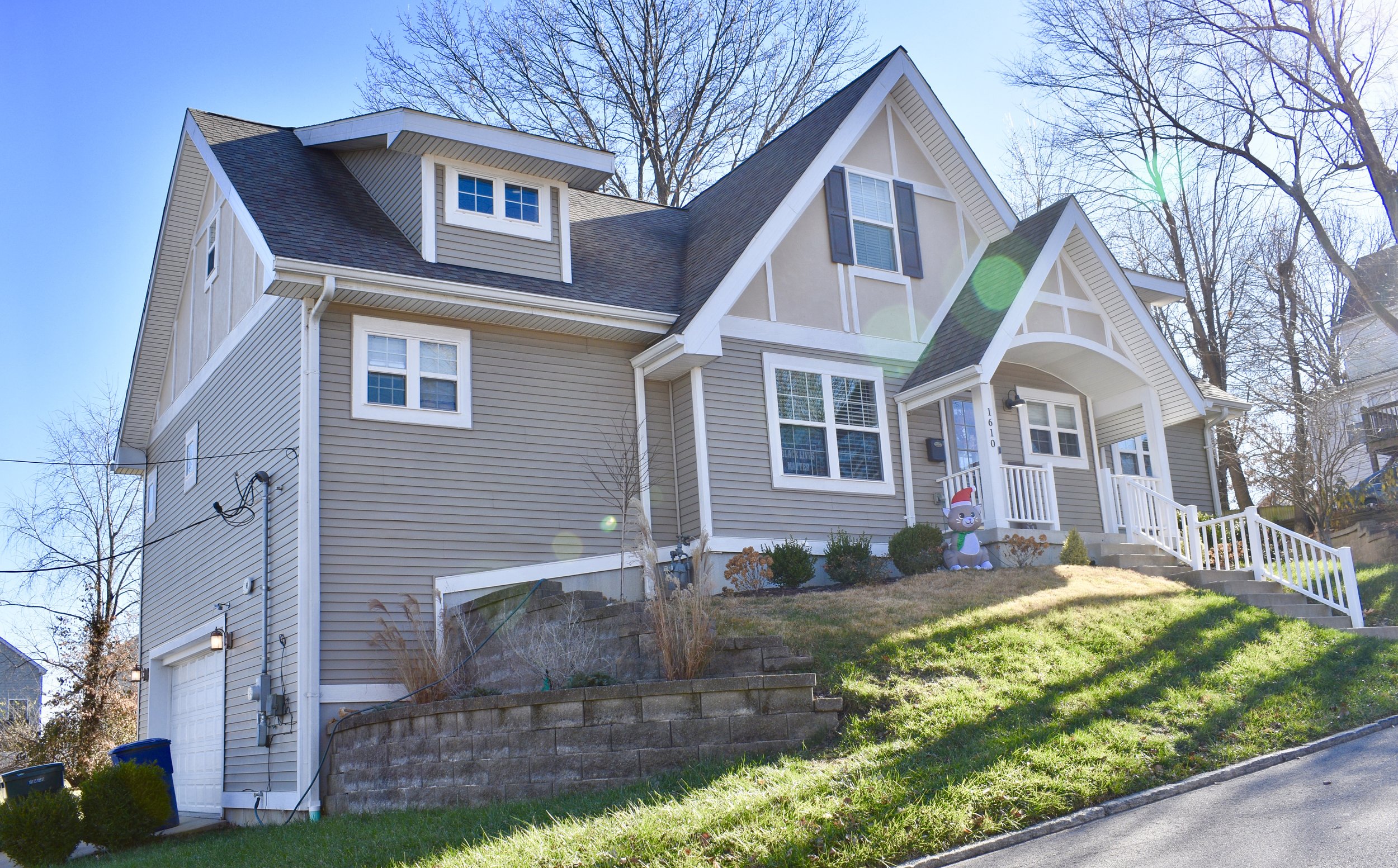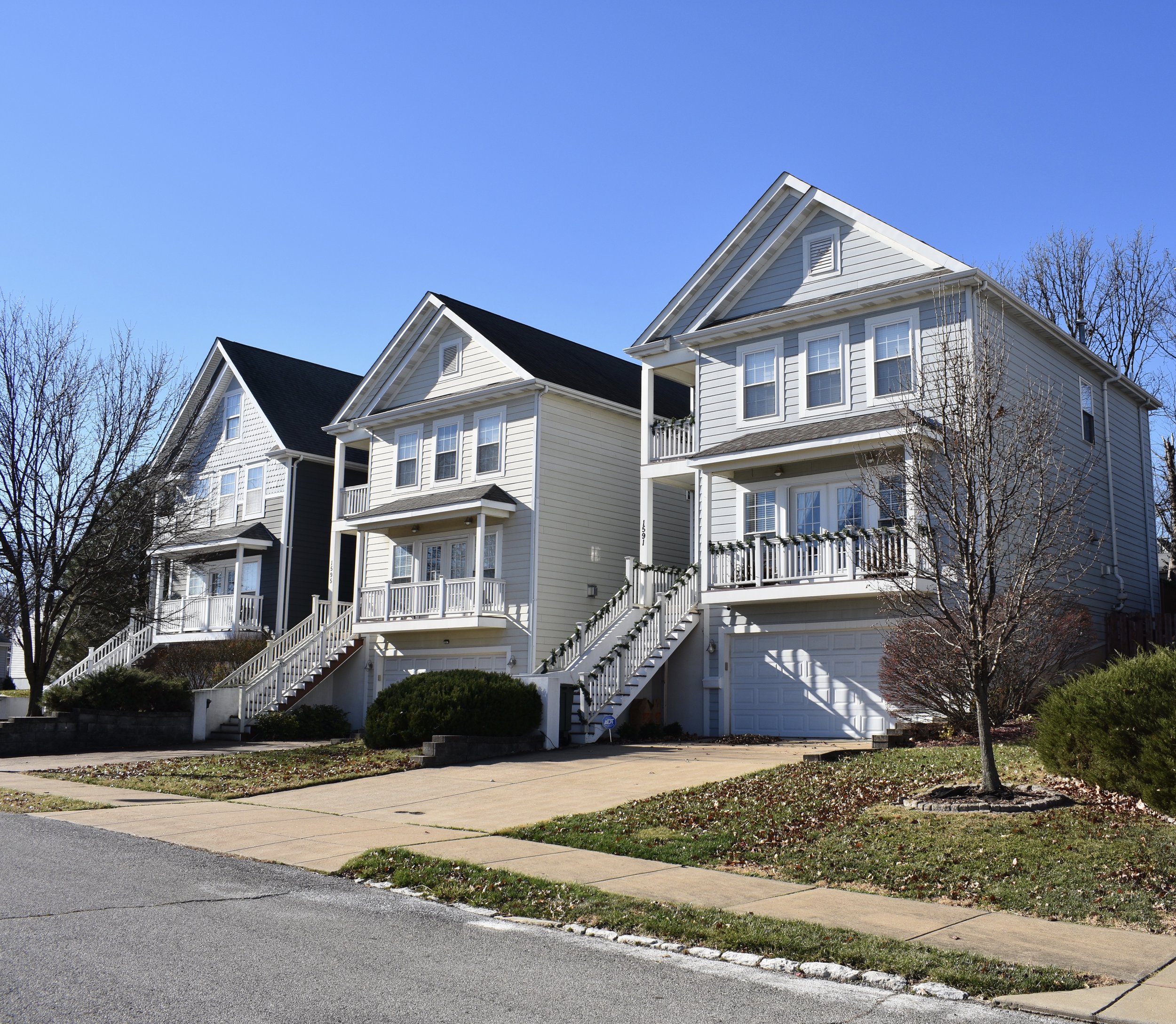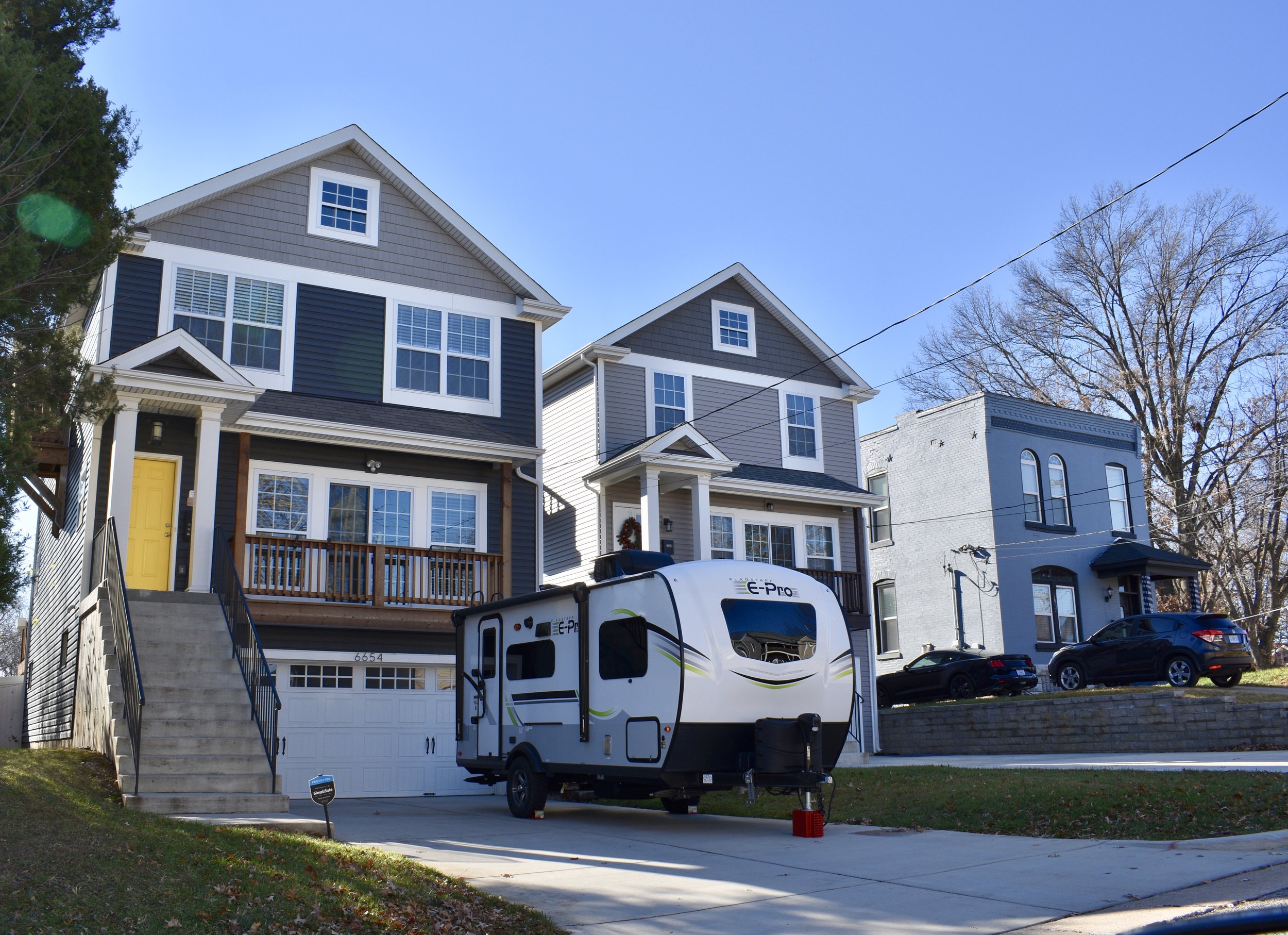 But, don't worry, there are still many post-WWII homes built on the nonlinear, curved streets.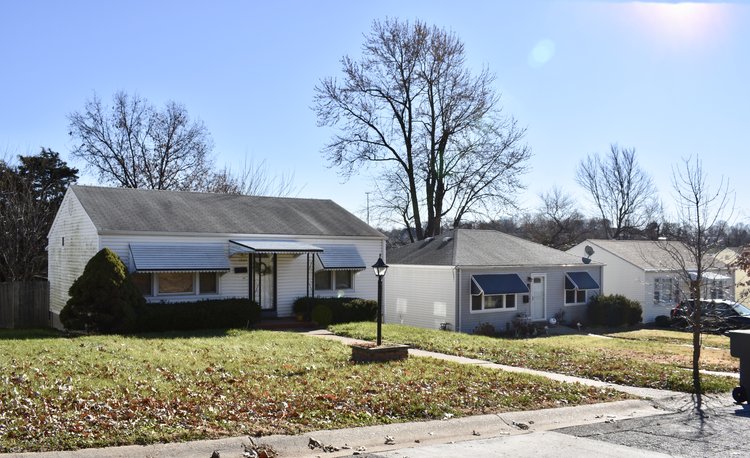 There are some more modern styles showing up as well, adding to the mix of old and new.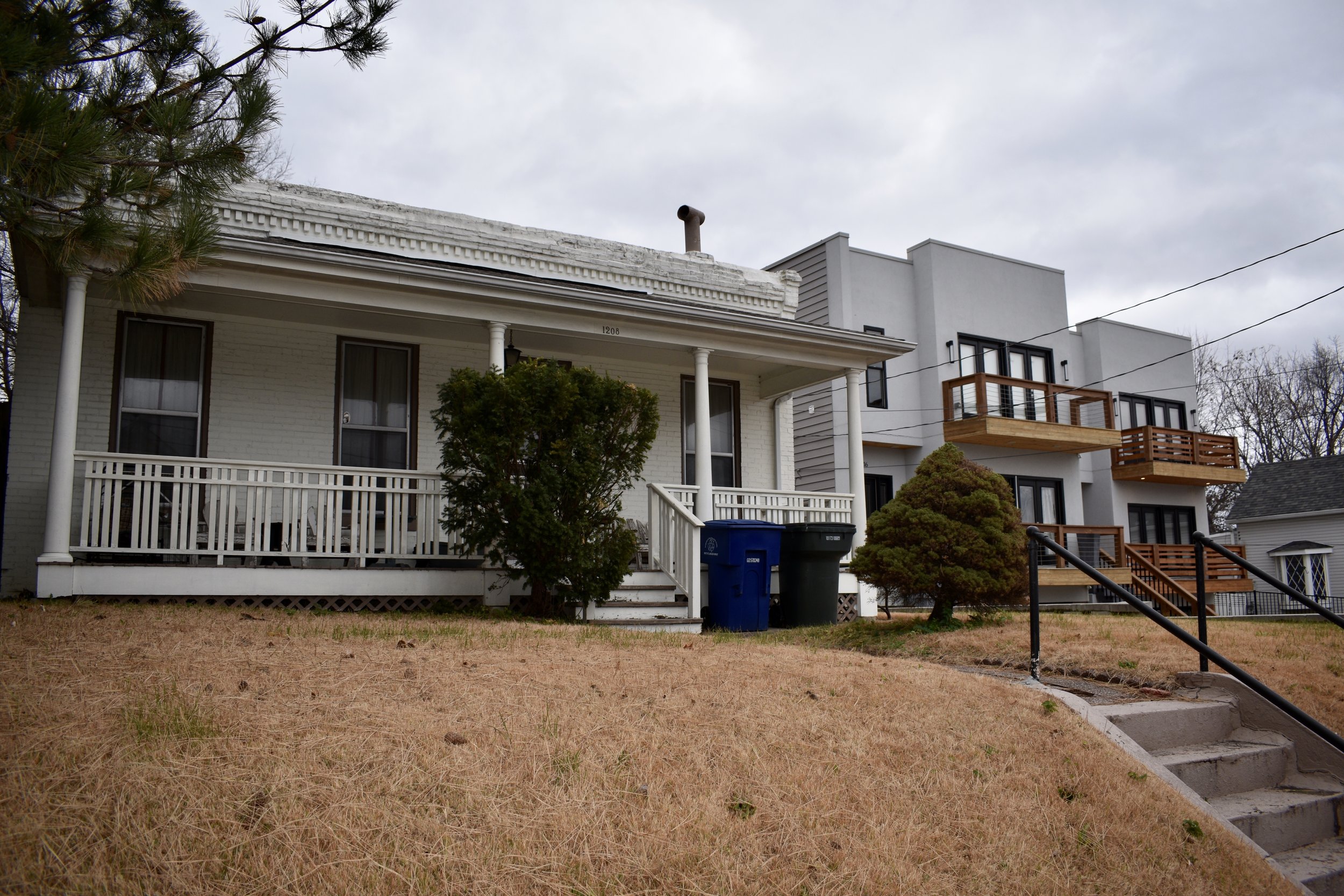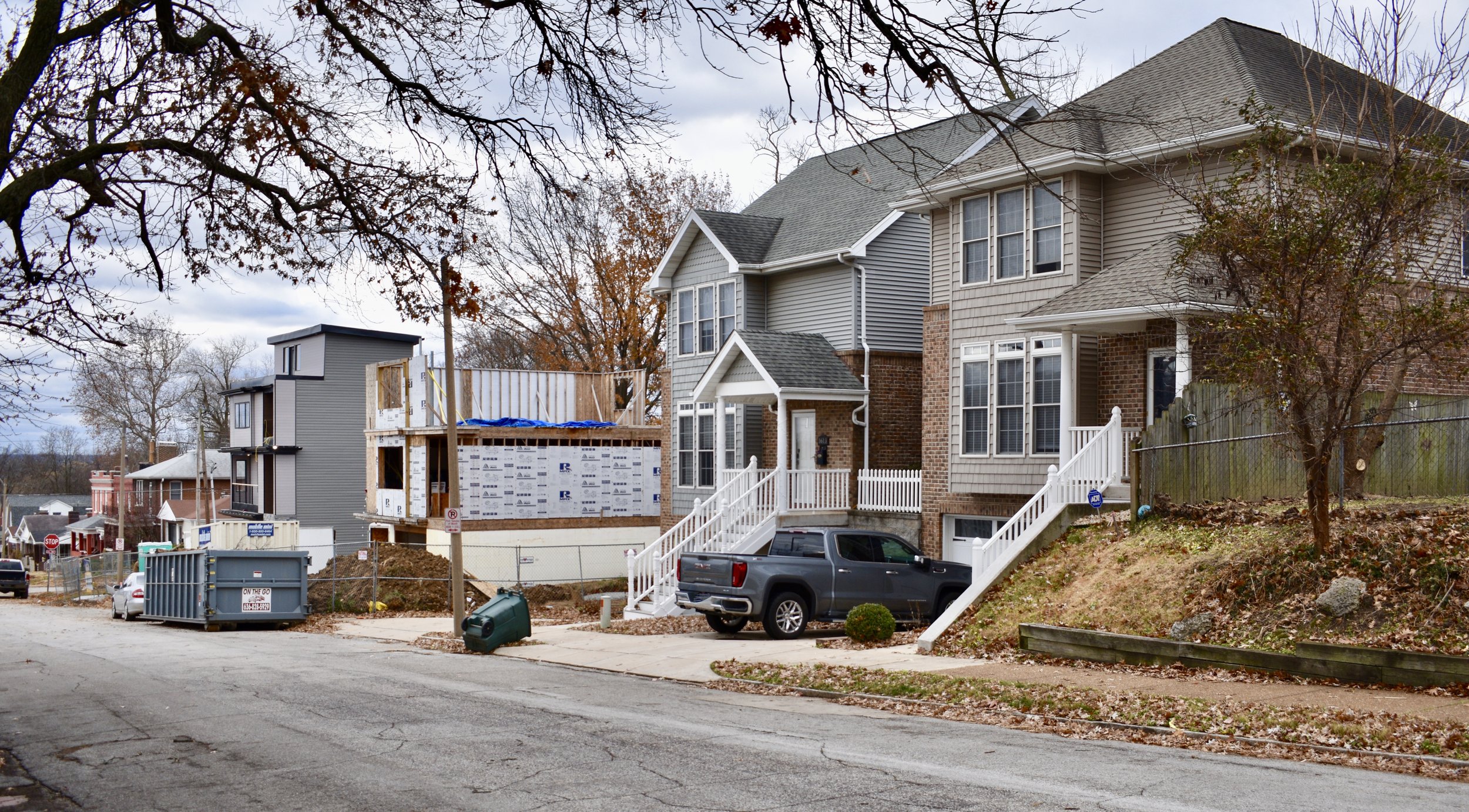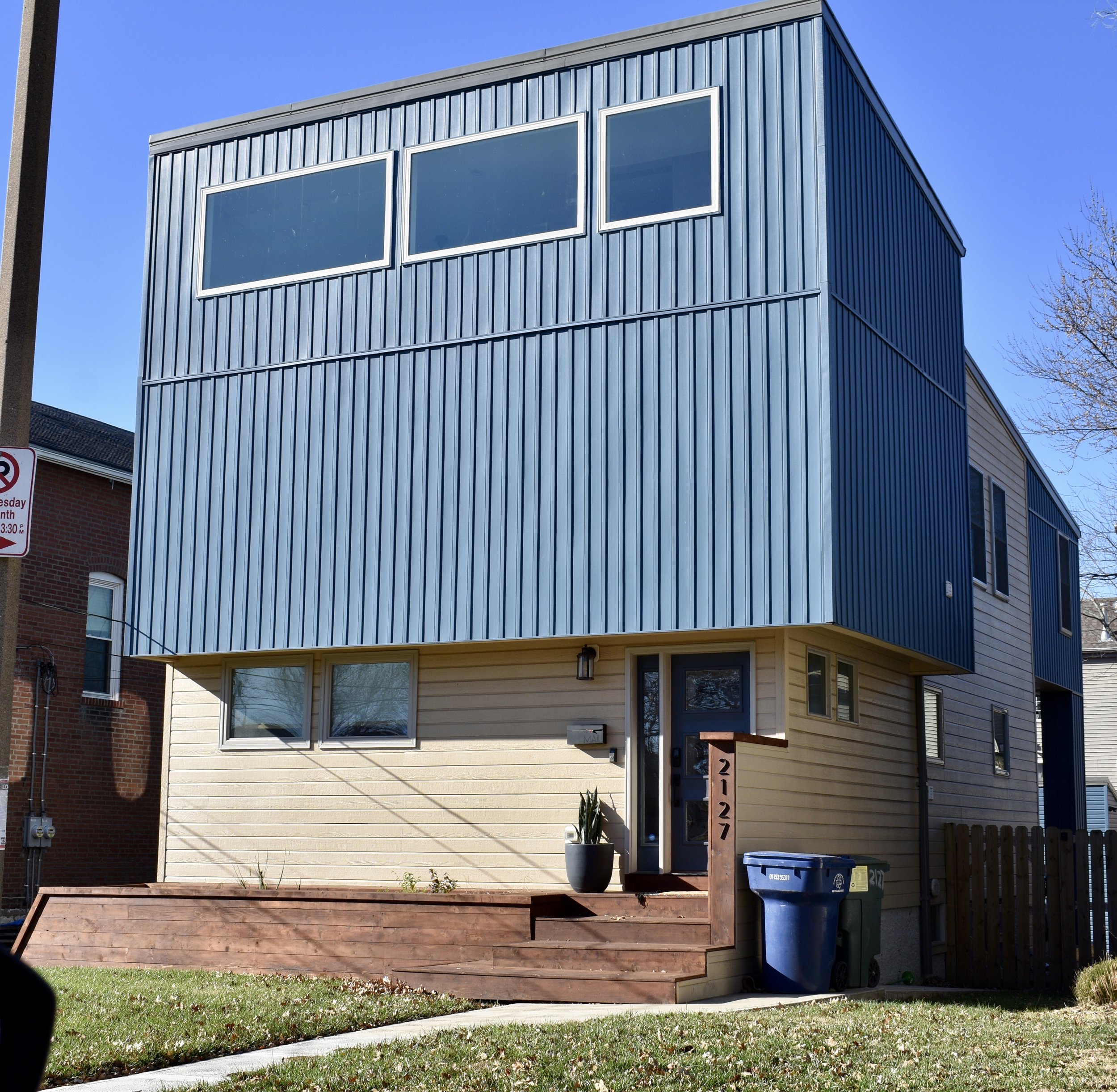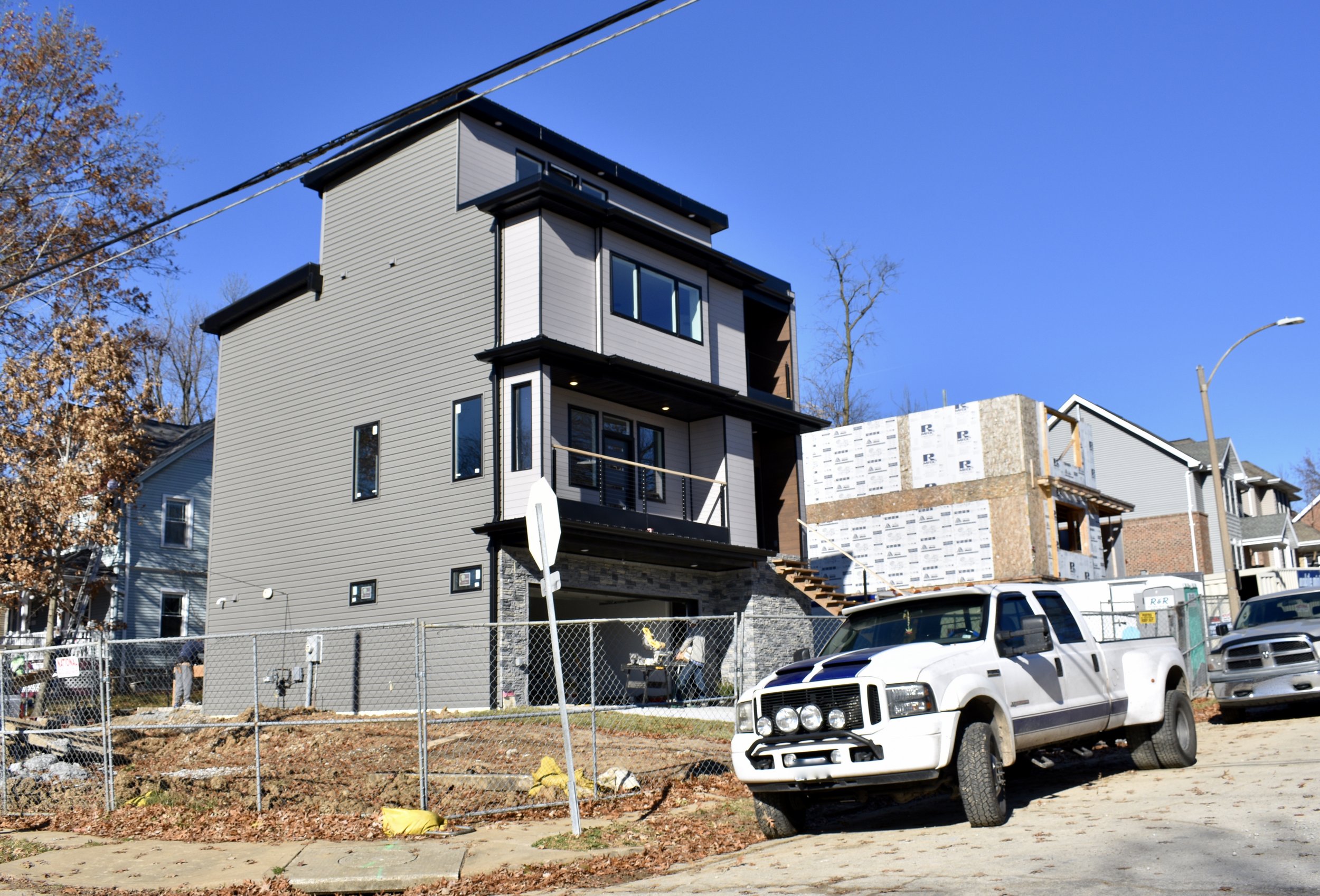 There are signs of new sidewalks and street tree plantings. Lots of handsome siding colors and painting of wood homes has taken place. It looks refreshed and incredible from the street today, a huge change over the last decade.
What Are The Future Needs?
Connecting the Dogtown neighborhoods to Forest Park should be.a priority. The park is such a draw and a key strength for surrounding neighborhoods, and Dogtown is actually affordable for most. There is hope for a pedestrian corridor from Great Rivers Greenway that would do just that. The River Des Peres Greenway currently extends to Francis R. Slay Park. The next leg would extend northeast to Forest Park, skirting Franz Park just to the south.
"The master plan for the River des Peres Greenway calls for a continuous 11-mile corridor stretching between Forest Park and the Mississippi River. It will connect into the Deer Creek, Gravois, and Mississippi Greenways along with connections to the Bike St. Louis street routes at multiple locations." – Great Rivers Greenway
The current planned route to Forest Park follows the green dotted line in the image below. I outlined Franz Park in red for reference.
This would be a real selling point for this part of the city and a great investment in healthy spaces and pedestrian connections to St. Louis' finest park.
There was talk at one point about the Great Rivers Greenway extending north along McCausland which I really liked as a high-profile location as well as potential to influence slower speeds for cars in this area.
I'd like to see traffic calming along McCausland Avenue, which is a speedway during rush hour as people dart toward I-64 and I-44.
I'd also like to see more adoption of speed humps on the internal neighborhood.
There are parts of the neighborhood that have no sidewalks, I'd love to see a push to get the entire neighborhood connected with sidewalks to where you don't have to walk in the street.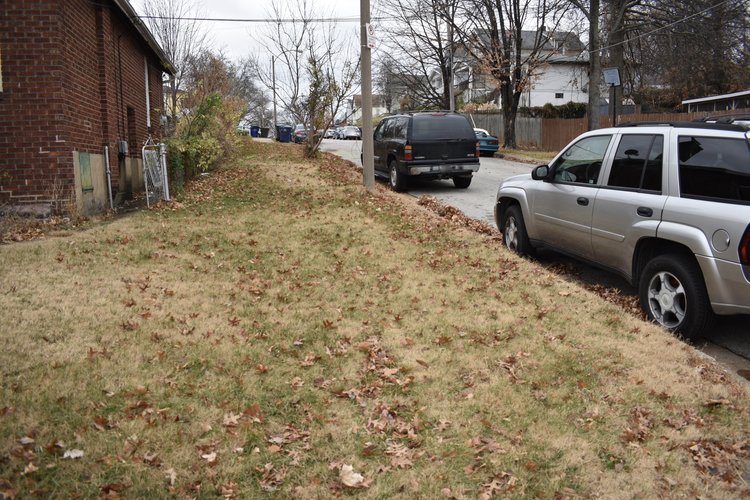 I'd of course like to see more urban buildings along Manchester, and even some apartments. Manchester looks rough and way too wide in its current state. It could use some streetscaping and lane reduction to beautify the southern edge of Franz Park.
Other than that, it seems like Franz Park is headed in a positive direction, with lots of investment and care. It would be nice to see a couple intra-neighborhood taverns and restaurants. Imagine the following as a corner tavern to watch Blues/Cards/CITY SC games and hang with your neighbors. I see a wrap around Budweiser metal and neon sign or a handsome neon blade sign on the top corner.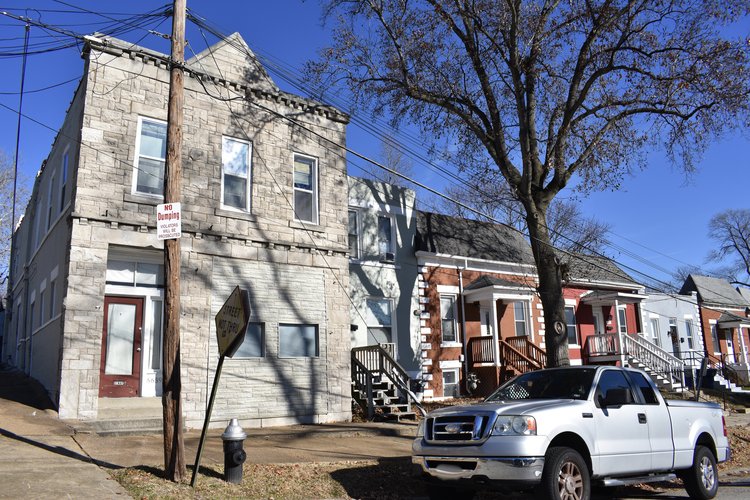 Franz Park is a solid place to live and invest, I think it will only continue to improved over the next decade. In fact, I recently read an article on NextSTL that shared plans of 28 new townhomes on a vacant lot on the south end of the neighborhood. Plenty of reason for optimism.