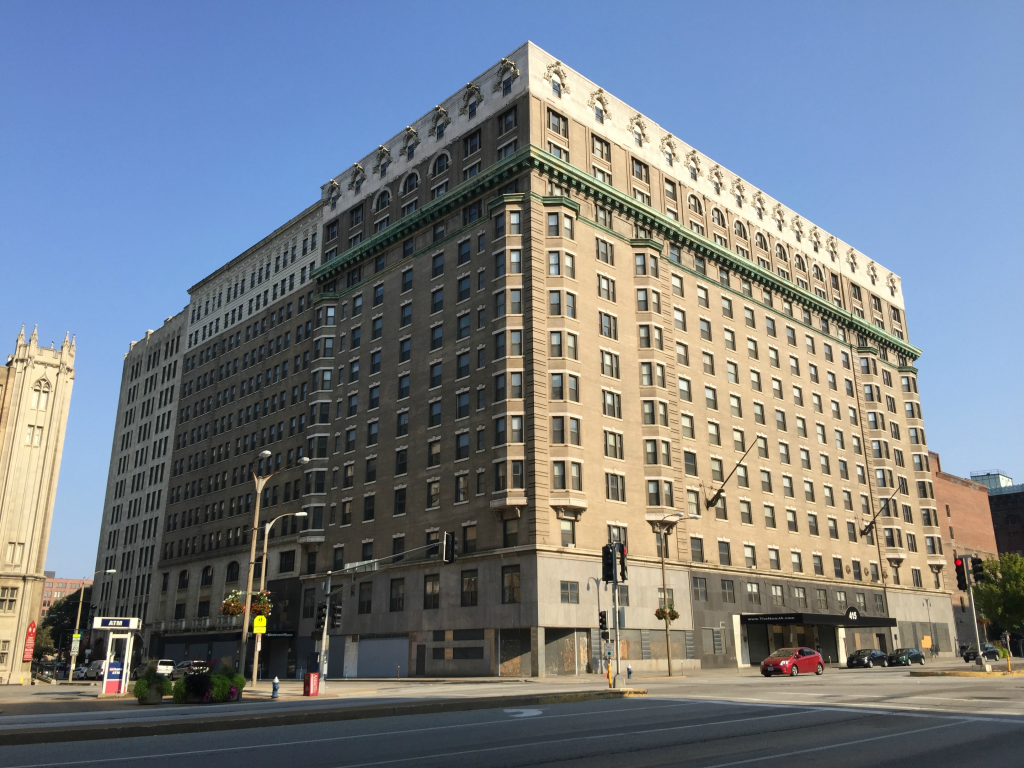 The 500K sf Jefferson Arms (415 N. Tucker Boulevard), long a physical anchor of Tucker Avenue in downtown St. Louis may be closer to reuse. According to the St. Louis Business Journal the building is now reportedly under contract by Turkish developer Mukemmel "Mike" Sarimsakci of Alterra International. The company's projects include developments in Turkey, Tajikistan, Kazakstan, and in the United States, Dallas, TX.
In 2011 we wrote about a plan to remake the massive Jefferson Arms. That plan, by McGowan Brothers Development, would have renovated the half-million square foot building as affordable apartments and office space for Teach For America. The vision died as the project failed to win New Market Tax Credits.
The hulking Jefferson Arms is among a dwindling, but still large inventory, of vacant downtown buildings. The 1.2M sf Railway Exchange building is empty, as is the smaller Chemical building, and the Millennium Hotel complex (both show how plans quickly come and go). Further west the Municipal Courts building awaits a new occupant. The 538K sf Arcade building recently underwent a complete remake.
Alterra's nine-story 700K sf Butler Brothers Building (c. 1911) in Dallas is that company's nearest similar project to the Jefferson Arms, and it may be quite similar. The $90M redevelopment of the Butler Brothers Building is nearly completion and will feature apartments and a Marriott brand hotel, as well as an addition built on two adjacent surface parking lots.
That project may also lend a peek into how the long vacant Jefferson Arms redevelopment could be financed. The Butler Brothers project was unveiled in 2012. Dallas committed to a $5M TIF. Alterra utilized the EB-5 program for financing. EB-5 is an immigrant investment program created in 1990. It sets aside EB-5 visa for foreigners who invest in commercial enterprises. Applicants must make a $1M investment, or $500K in rural or high-unemployment areas, and create or preserve 10 permanent full-time jobs for U.S. workers.
According to the Dallas Morning News, Sarimsakci signed up 99 investors from China to help finance the Butler Brothers project. In addition, the requested TIF increased to $10M. That project is to include 340 garage parking spaces, a 238-room hotel, and 274 apartments.
The reorientation of Tucker Boulevard as a major downtown St. Louis thoroughfare extending from the Stan Musial bridge, which carries Interstate 70 across the Mississippi River, was expected to spur development in this part of downtown. Building owner David Jump paid $1.25M for the Jefferson Arms in 2010 – an 89% discount on the $18M 2006 sales price. The building itself is massive and anchors a very prominent view in the central business district, though one dotted with parking lots and bank drive-throughs.
Never in imminent danger of demolition, the building has been empty since 2008 when Pyramid Development purchased and shuttered the building. That planned renovation never took place and while more than 80% occupied as low income housing at purchase, the Jefferson Arms has sat empty since.
The building has a long and interesting history. The first phase, built in 1904, is the 13-story section facing Tucker Boulevard designed by St. Louis firm Barnett, Haynes & Barnett. The second phase is a 12-story annex to the west. Designed by Chicago firm Teich & Sullivan, it was built in 1928 and created a total of 910 hotel rooms. It became a Hilton Hotel in 1950, then a Sheraton Hotel in the 1955 and finally retirement apartments in the 1970s. The building was added to the National Register of Historic Places in 2003. Since then, the building has been through several owners, lawsuits and a bank foreclosure.
The Jefferson Arms today – images by R.J. Hartbeck:
The Jefferson Arms:

{the Jefferson Hotel (right) has anchored Tucker Avenue since 1904}

{Sheraton highlighted the river and later urban renewal in its Sheraton-Jefferson ads}

{the Jefferson Hotel showning the addition (left) lacking bay windows}

{now out-of-date rendering by Randall Studio for Pyramid}
And while the Jefferson Arms ballroom has seen better days, it's still rather glamorous:
The Butler Brothers Building in Dallas, TX by Alterra: