10. Global Foods Market Coming to Washington University Project in the Delmar Loop – The largest residential project planned for the buzzing Delmar Loop has been known for some time. The $80M Washington University Loop Living complex at Eastgate is for Washington University students only, but tenants for the retail space remained unknown, at least until nextSTL reported Kirkwood's Global Foods would bring a 15,000 square-foot international grocery to the neighborhood.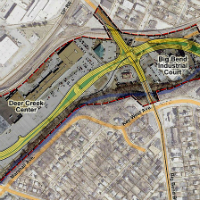 9. Maplewood Aims to Kill "Fundamentally Flawed" South County Connector – Back in 2011, we called the South County Connector "Misguided Planning for an Archaic Legacy Project". It became quite a bit more real, and threatening, with the County's highway department leading the Environmental Impact Statement (EIS), that could greenlight the unnecessary project. This year saw City Aldermen, Trailnet and several municipalities very publicly challenge the premise of the project itself. The outcome of the EIS has yet to be made public. (more on the South County Connector)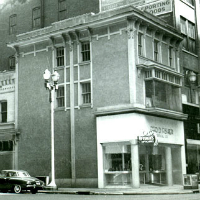 8. When the Art World Came to St. Louis: The Noonan-Kocian Art Company at Tenth & Locust – Demolition is a fact of life in St. Louis, we all know that, but some losses hurt more than others (San Luis, Cupples 7…). That's why those who care about the city's history and built environment are doing more to get ahead of the story, the Midtown Saucer was saved by such advocacy. Now, a corner of downtown is threatened and it turns out that it's not just any corner, but one steeped in the city's history as a center for art.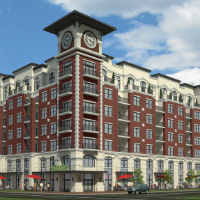 7. CityWalk/Whole Foods Project Ups Apartments to 177, Submits $50M Building Permit – Another long-stalled project took off this year. Having signed uber-grocer Whole Foods to occupy 30,000 square feet, Mills Properties finally had put together a deal. Apartments were added to the plan and CityWalk would break ground just before the end of the year. Once planned for a towering residential building pre-recession, the addition of a large grocer has made this a popular story.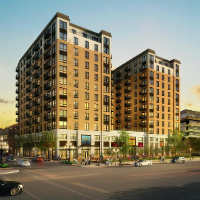 6. Opus Returns: Proposes 177-Unit Mixed-Use Project at Lindell and Euclid in Central West End – When they built the 26-story, 89-unit Park East Tower in 2007, The Opus Group appeared to be on a roll. The adjacent Nine North Lofts was starting, and another proposal for a 25-story+ tower at Euclid and Lindell has been proposed. That tower was defeated by the double whammy of the economic downturn and NIMBYs. Now they're back, an initial proposal has already grown to 12 stories and 217 units. Design details are still being negotiated, but it appears the project will be built.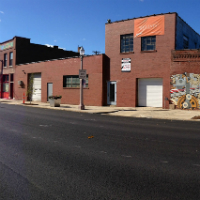 5. The Ready Room to Bring 8,000 Square-Foot Music Venue to The Grove – St. Louis is a music town, and when Mike Cracchiolo of The Firebird found the perfect place to build a new venue from scratch, it was big news. The Grove neighborhood has continued to grow and live performance venues are a big component. With the help of neighbor-to-be SPACE Architects, The Ready Room will transform a couple of the more more homely and uninspiring buildings on Manchester Avenue, into a rocking landmark.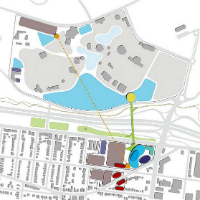 4. St. Louis Zoo Rethinks Almost Everything, Offers Transformative Vision of Expansion – More than 3.5M people visited the St. Louis Zoo in 2012. Not quite that many read this story about the planned transformation of on the city's most popular attractions. With the purchase of the Forest Park Hospital site across I-64 from Forest Park and the existing zoo, more than 13.5 acres could be home to new parking facilities, animal exhibits, a hotel, a gondola, and more.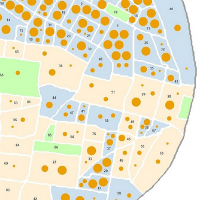 3. Understanding St. Louis: Mapping Homicides 2005-2012 – There's something about mapping these killings that tells the story in a way that resonates. This graphic shows the clear correlation of race and murder. In the city, the 20 neighborhoods with the most homicides experienced a rate of57 per 100,000. In the city's 20 neighborhoods with the fewest killings, that rate was 1 per 100,000. In a city that is roughly 50/50 black/white, 502 of 567 (89%) people murdered from 2005 to 2012 were black.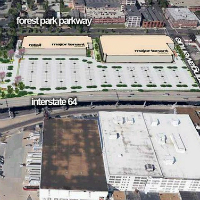 2. Pace Properties to Build Midtown Station Retail Development at Midtown Station Federal Mogul Site – It's not IKEA, but it is across the street and is being put together by the same commercial firm, Pace Properties. The strip mall was big news not because of its lacking design, but because the city is lacking in basic retail. No tenants have been announced, but the project is likely to attract a Marshall's and Trader Joe's-type retailers.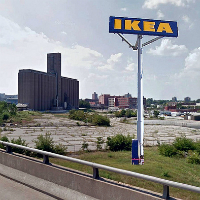 1. IKEA Coming to City of St. Louis – Readers here have had the scoop since March when we outlined efforts to bring the Swedish retailer to the city. While many scoffed and dismissed reports as mere rumors, IKEA make it official earlier this month. Far and away the most read story on the site this year, the March story St. Louis City, Pace Properties Focused on Building IKEA at Forest Park Avenue Site and IKEA Details Plans for City of St. Louis Store were high on the list as well.