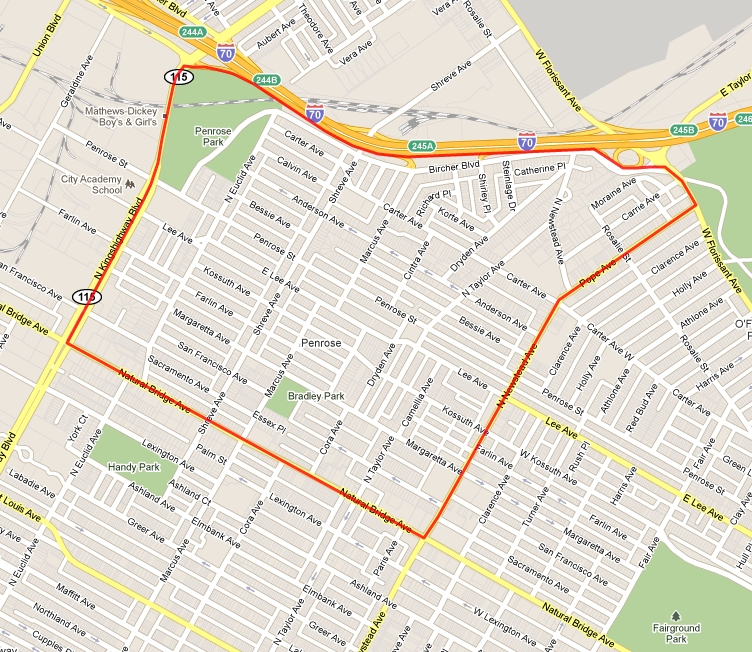 Penrose is a north St. Louis neighborhood bound by I-70 and West Florissant to the north, Natural Bridge to the south, Kingshighway to the west and Newstead and Pope to the east.
The 2000 census data counted 7,435 residents (down 13% from 1990's count) of whom 98% were black. This neighborhood has been all black since 1970. There were 3,565 housing units counted, 85% occupied (61%/39% owner/renter split). That's a high occupancy rate, so I'm hopeful that this will be another well cared for St. Louis neighborhood.
The 2010 census showed another loss of 13%. Racial makeup was largely the same, at 97% Black, 1% white, 1% Hispanic/Latino and American Indians/Alaska Natives and Asians making up the remainder.
Total housing units dropped by 8% and occupancy was down to 80%. Another 118 housing units were vacancy, bringing the total up to 648 in 2010.
From the Penrose website:
Colorful streetside banners greet motorists driving down Kingshighway near Natural Bridge Avenue. "The Neighborhood of Choice," their bright letters proclaim, giving notice of Penrose, an African-American residential community of neat brick homes and can-do spirit. It is a place where "choice" is more than a catchword. The neighborhood is a diverse community with a good balance of homeowners, renters, and businesses. The architecture of the area is reflective of the rich architectural heritage found in St. Louis. Many active neighborhood organizations are involved in improving the neighborhood and building a strong community.
I like this statement as well:
Penrose's strength today lies in the dedication of its residents, many of whom have lived in the neighborhood for 30 years or more. Through "choice," they have refined their community, building an atmosphere of cooperation and improvement. Here, as elsewhere in St. Louis, the idea of "neighborhood" comes much from human spirit as from streets and landmarks.
Having never stepped foot in Penrose before, the back story is essential for painting the picture, so I can capture and appreciate what I see today:
Penrose's neighborhood identity was a long forming. In the early 19th century, the area was characterized more by land speculations than by actual settlement. It took it's name from Clement B. Penrose, whom Thomas Jefferson appointed land commissioner in 1805. Penrose lived on a nearby estate and was of the region's prime land investors. Another early land owner was statesman Henry Clay, a shaper of the Missouri Compromise.
Penrose did not take on take on the contours of a community until the late 1880's, when farmers and dairymen, most of German heritage, moved their families into the area. By 1900, the community, though still rural, was sufficiently settled to boast two German churched, St. Engelbert Catholic Church and Salem German Evangelical Church.
With the 1920's commercial development and transit lines raised land values around the northern edges of St. Louis. Most of Penrose's subdivisions date from that era, when single family brick homes sprang up along Euclid, Shreve and Lee avenues. Although some of these subdivisions were the work of outside investors, others were developed by long time residents, a prime example being the area around Steinlage Drive, a street named for a local German family in the dairy business.
The early 1960s were years of transition for Penrose. As older residents moved out, African-American families moved in. The well-constructed houses were ideal for moderate-size families offering many their first opportunity for home ownership. Middle- and upper-income African-Americans, including teachers, nurses and city and government employees, made Penrose their new home. A significant number came from home. A significant number came the Ville, located to the southeast and long the city's premier African-American neighborhood.
As Penrose's African-American population increased from 33 percent in 1960 to 95 percent in 1970, African-American institutions helped solidify the neighborhood. St. Peter's A.M.E. Church relocated to the corner of Shreve and Margaretta in 1962. In 1974, the Julia Davis Branch Library, its name honoring the noted St.Louis educator, opened on Natural Bridge.ator, opened on Natural Bridge Avenue.
Soon residents began to organize, showing their commitment to community improvement. One of their first tasks was to define exactly where Penrose began and ended. Choice, not history, became the factor of deciding neighborhood boundaries – Kingshighway on the west, Natural Bridge on the south, Newstead on the east and Interstate 70 on the north.
What an excellent summary. Not sure I understand the "by choice" theme, but maybe someone can explain it to me. I asked the alderman if he knows, I'll update if I hear back. And the banners that were mentioned on the website were nowhere to be found today.
Anyhow, this neighborhood came on my radar for "up and coming" neighborhoods through a St. Louis Magazine mention in their April, 2010 "Where to live.." story. Here's a quote from the story on p. 76 of the magazine:
Penrose is about to become one of the easiest neighborhoods to rahab in. "My first piece of legislation when I became alderman was to make the 21st Ward a Preservation Review District," says Alderman Antonio French, founder of PubDef.org.
The Landmarks Association of St. Louis recently surveyed the Penrose and O'Fallon neighborhoods to make them eligible for historic tax credits. The next step will be a partnership between the O'Fallon and Penrose neighborhood development councils, the city's Land Re-utilization Authority, an architectural firm, and a contractor. "We'll be going into these city-owned LRA properties, working with our architect and coming up with plans to turn them into something new, then preselling rehabs," French says. This is the first large-scale, systematic program of its type in the city, he notes. "I think there's two kinds of buyers for these old homes, " French says. "One is the DIY rehabbers…Then there is another kind of buyer who really wants to live in one of these beautiful old homes that have already been rehabbed. For those folks, all they have to do is see the plans, and say, 'OK, I want that; I'll sign here."
The future seems bright; and by my observation, there are plenty of rehab opportunities in Penrose: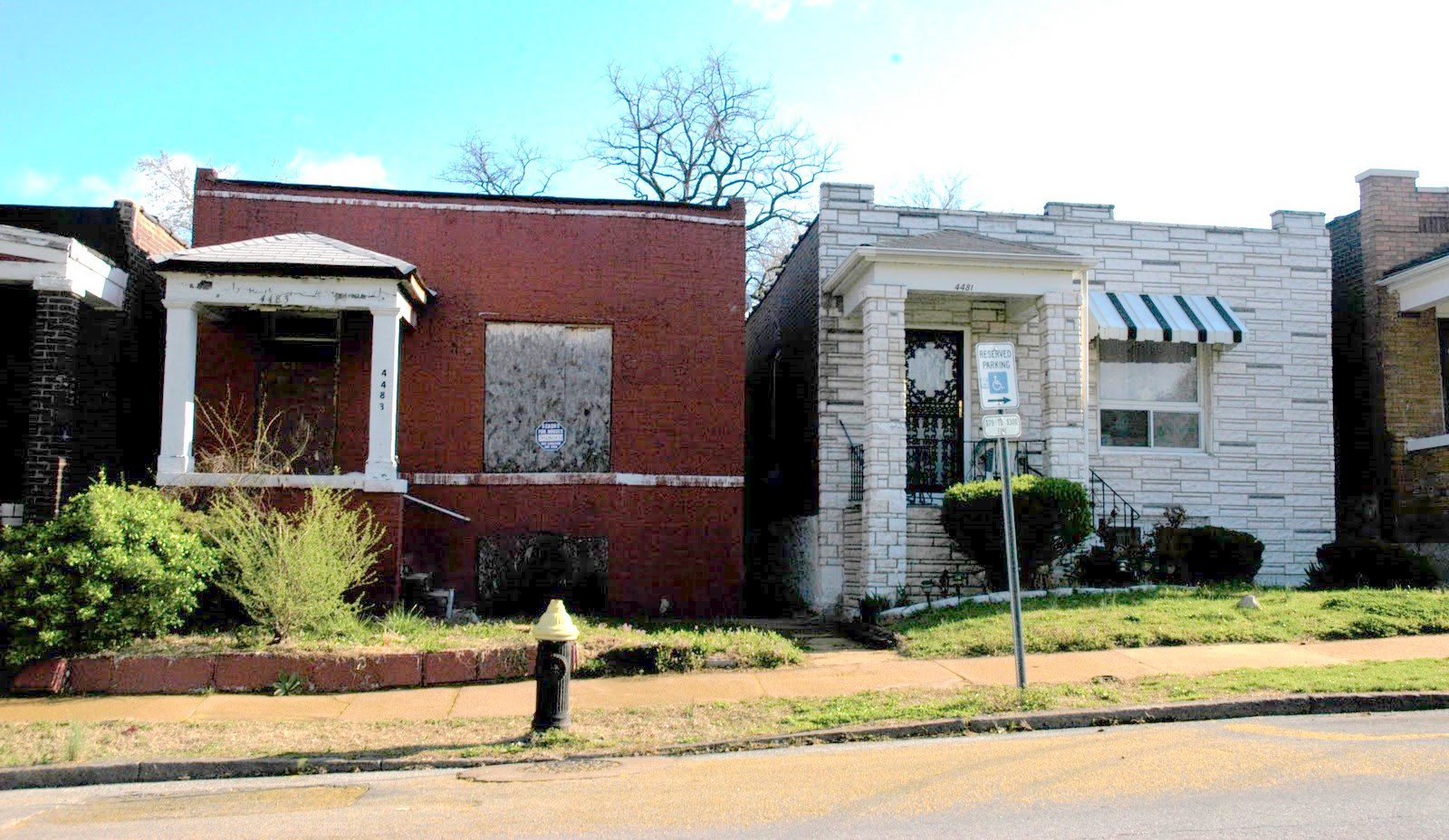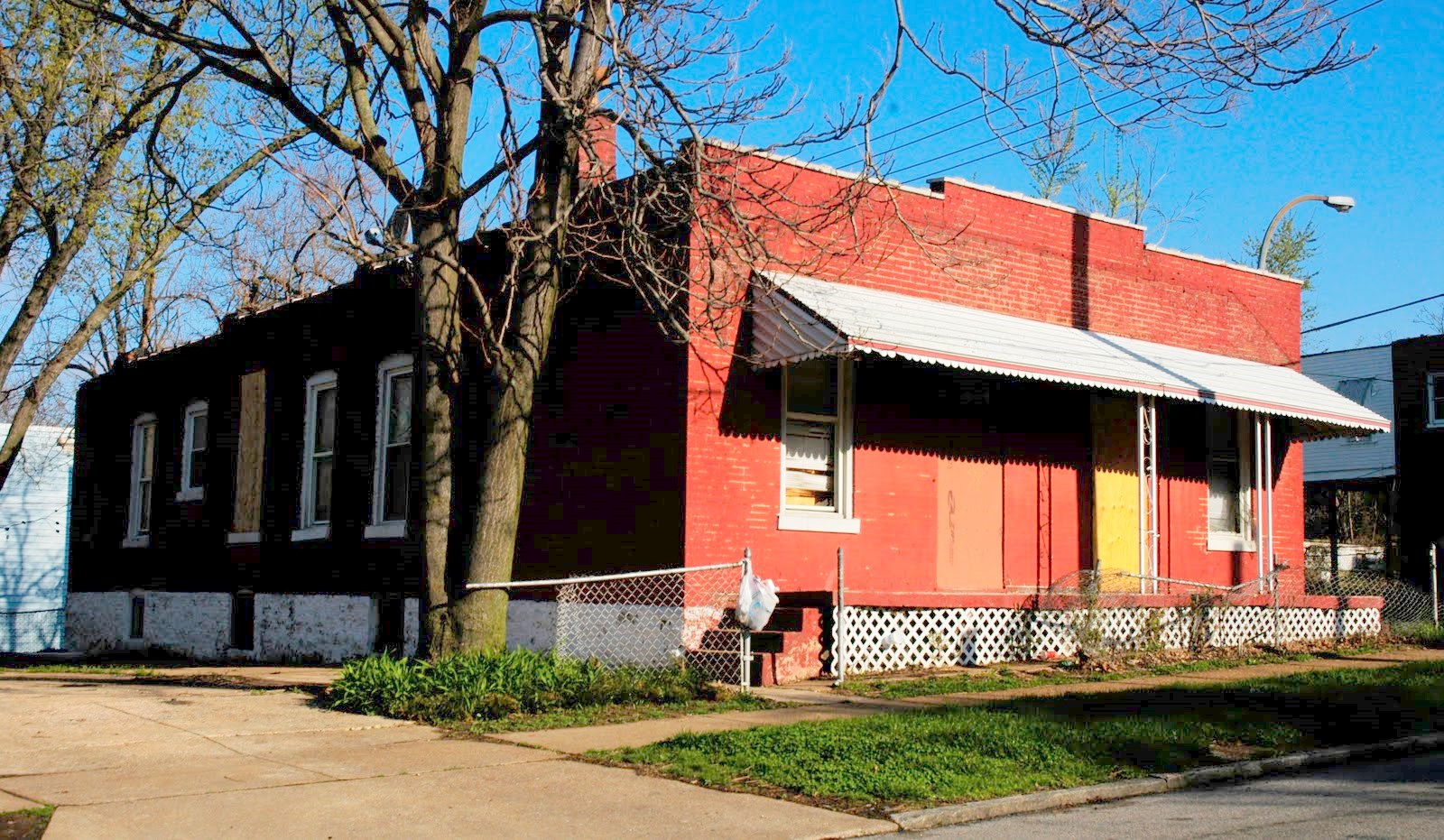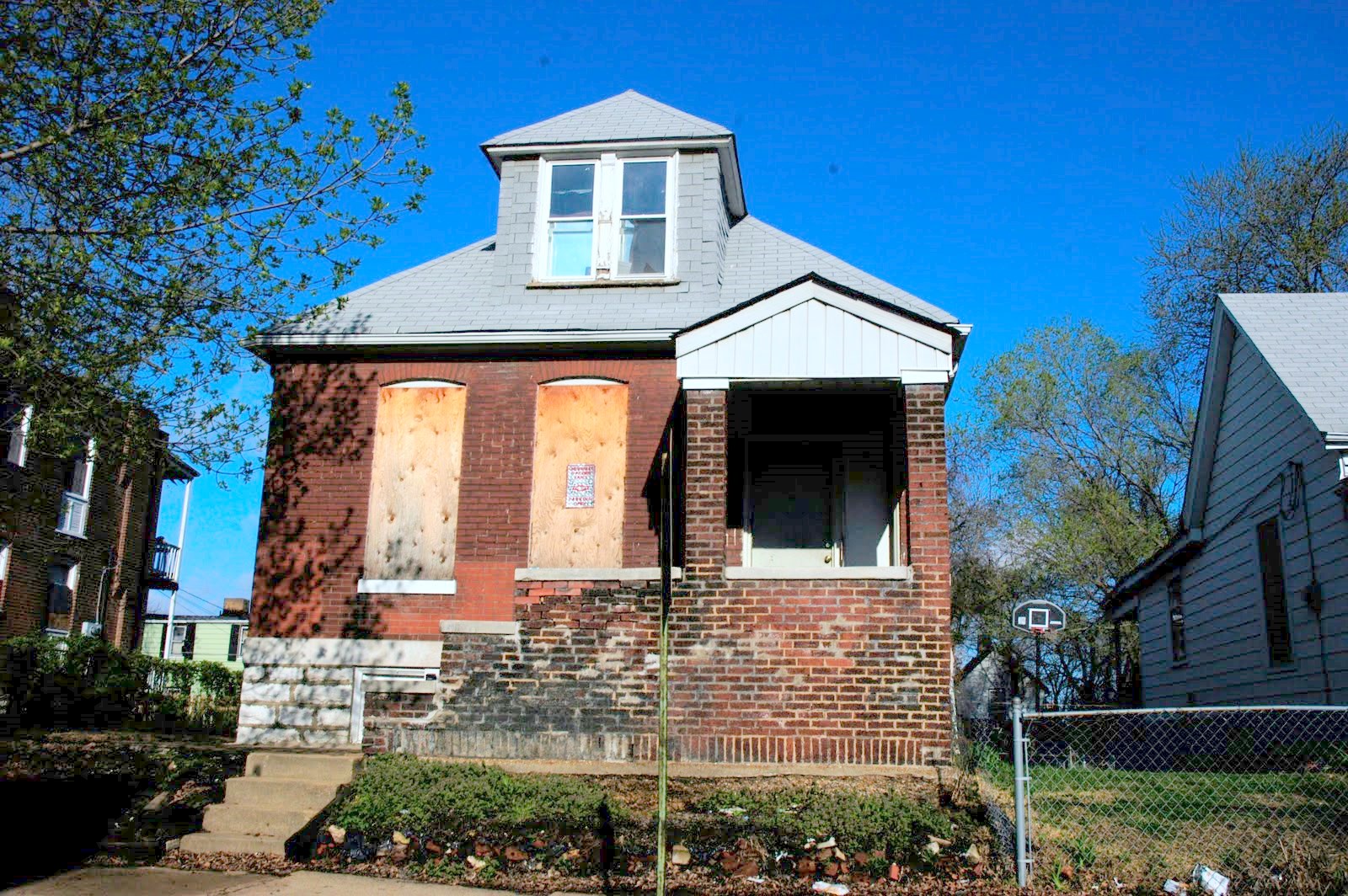 The good news is, for the most part, the LRA and abandoned homes are carefully boarded up to prevent further decline from the elements and are awaiting proper rehabs. There are only a couple examples of burned out or falling down homes in Penrose: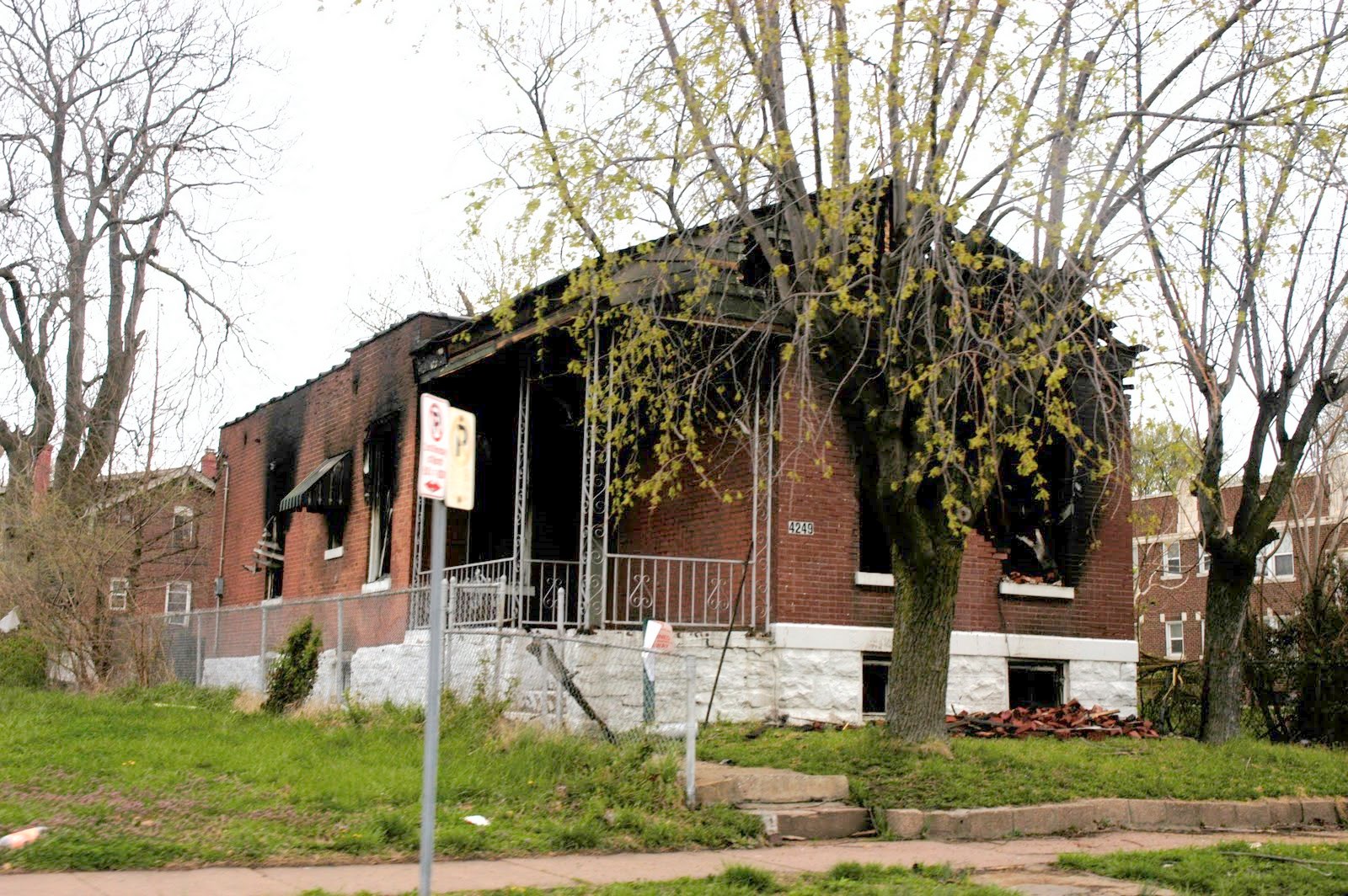 The neighborhood is overall quite solid and stable, with lots of pedestrian and car traffic. This seems like a densely populated neighborhood with a mix of classic St. Louis architectural styles: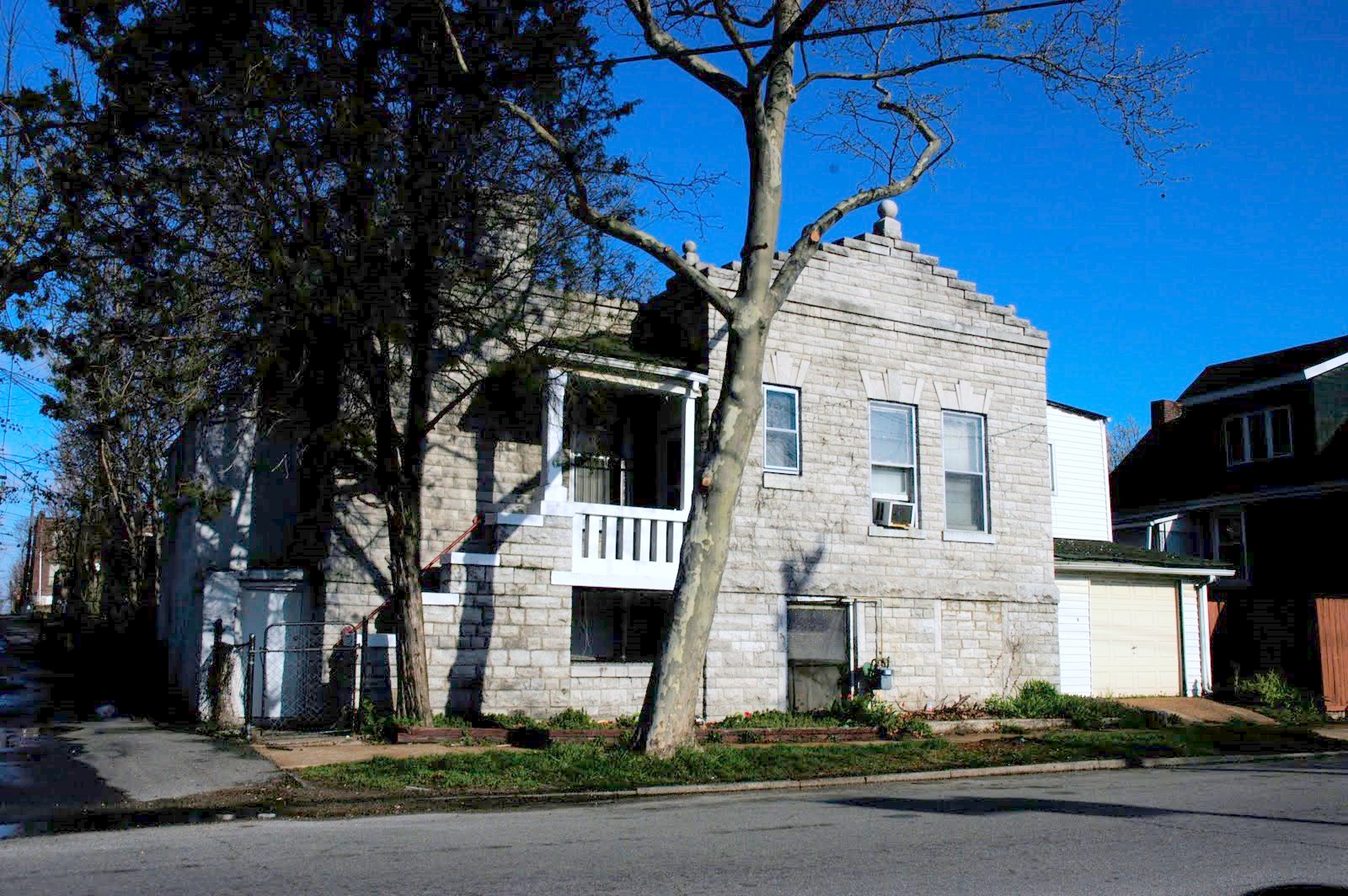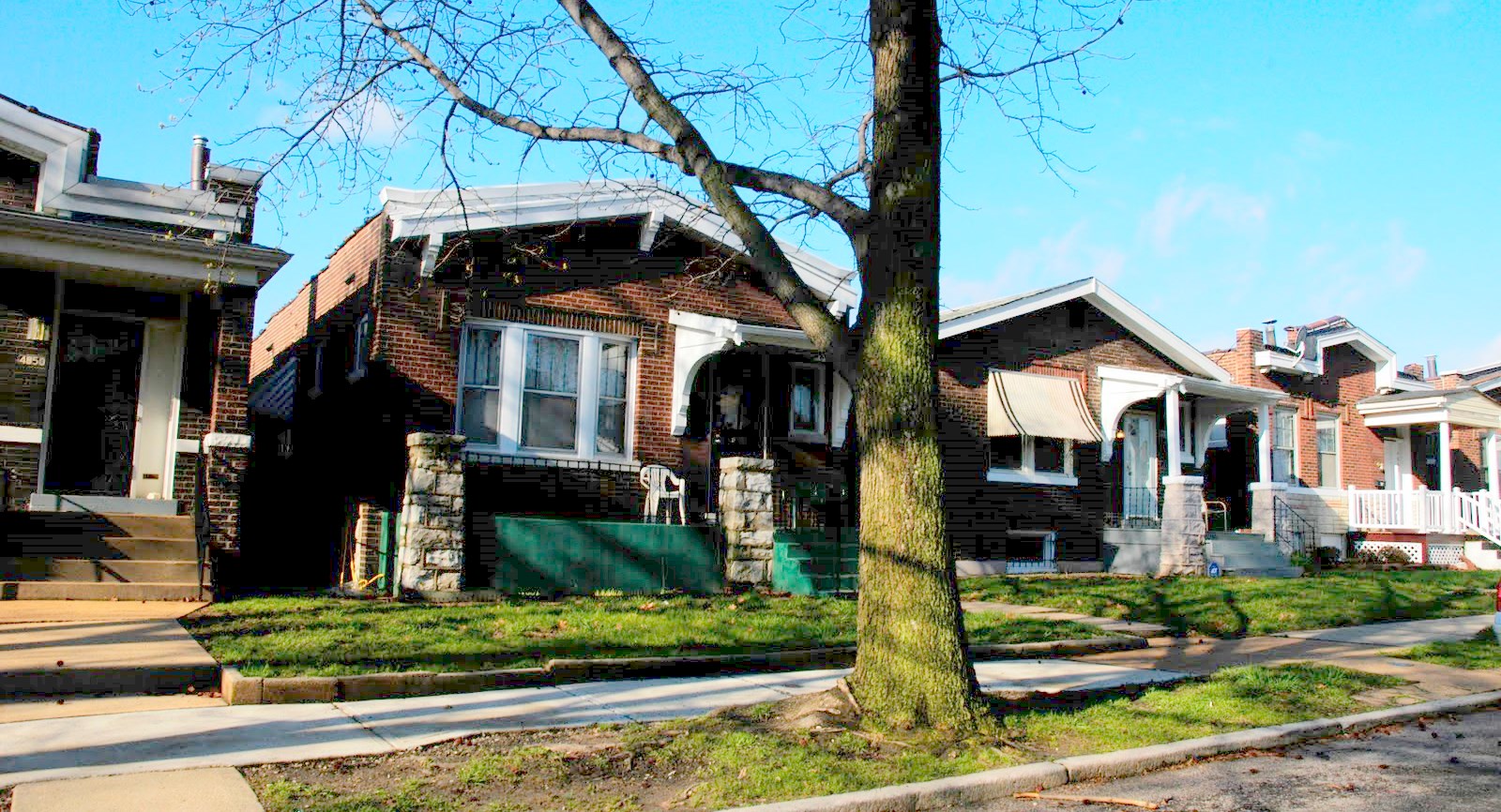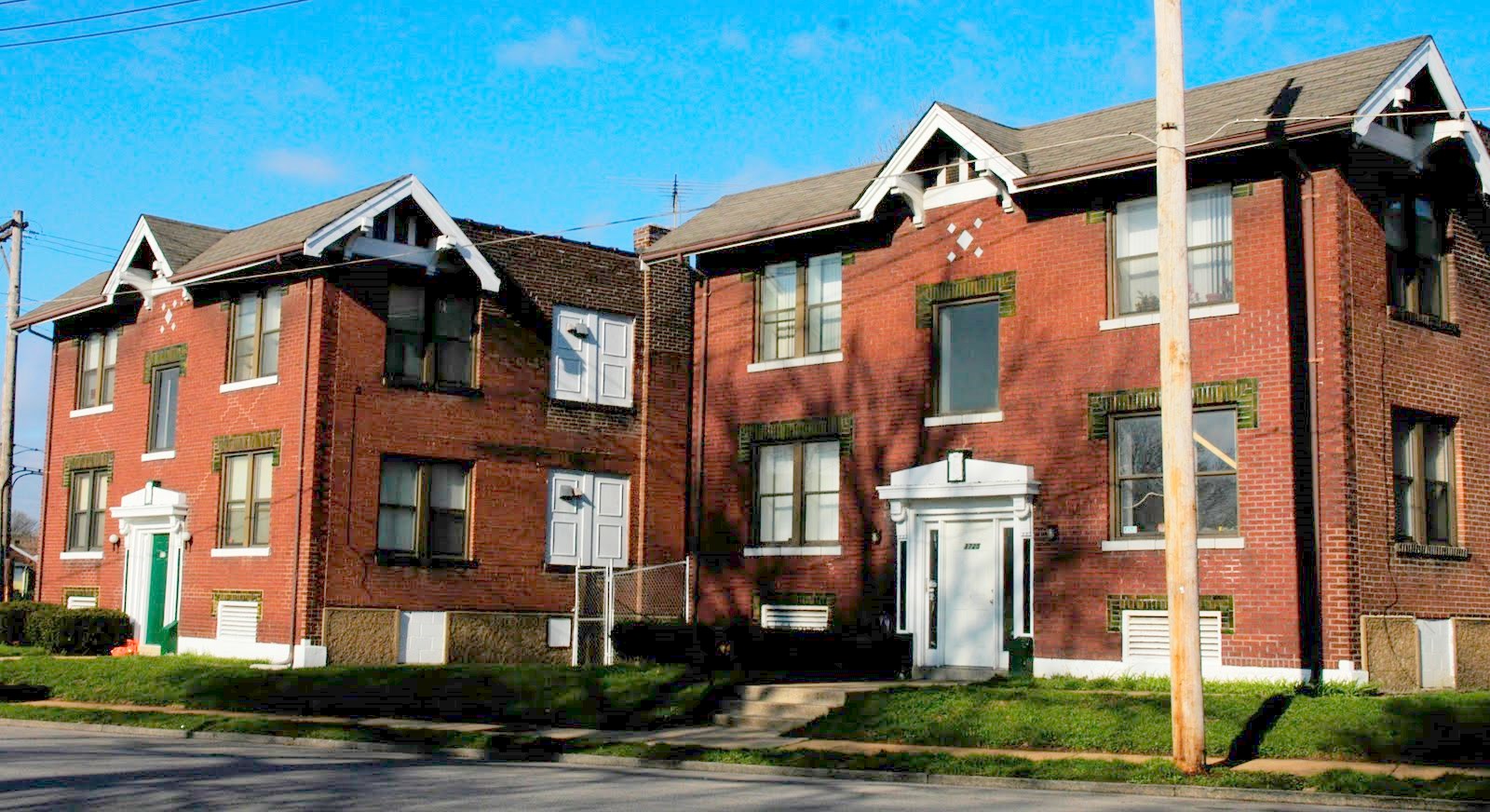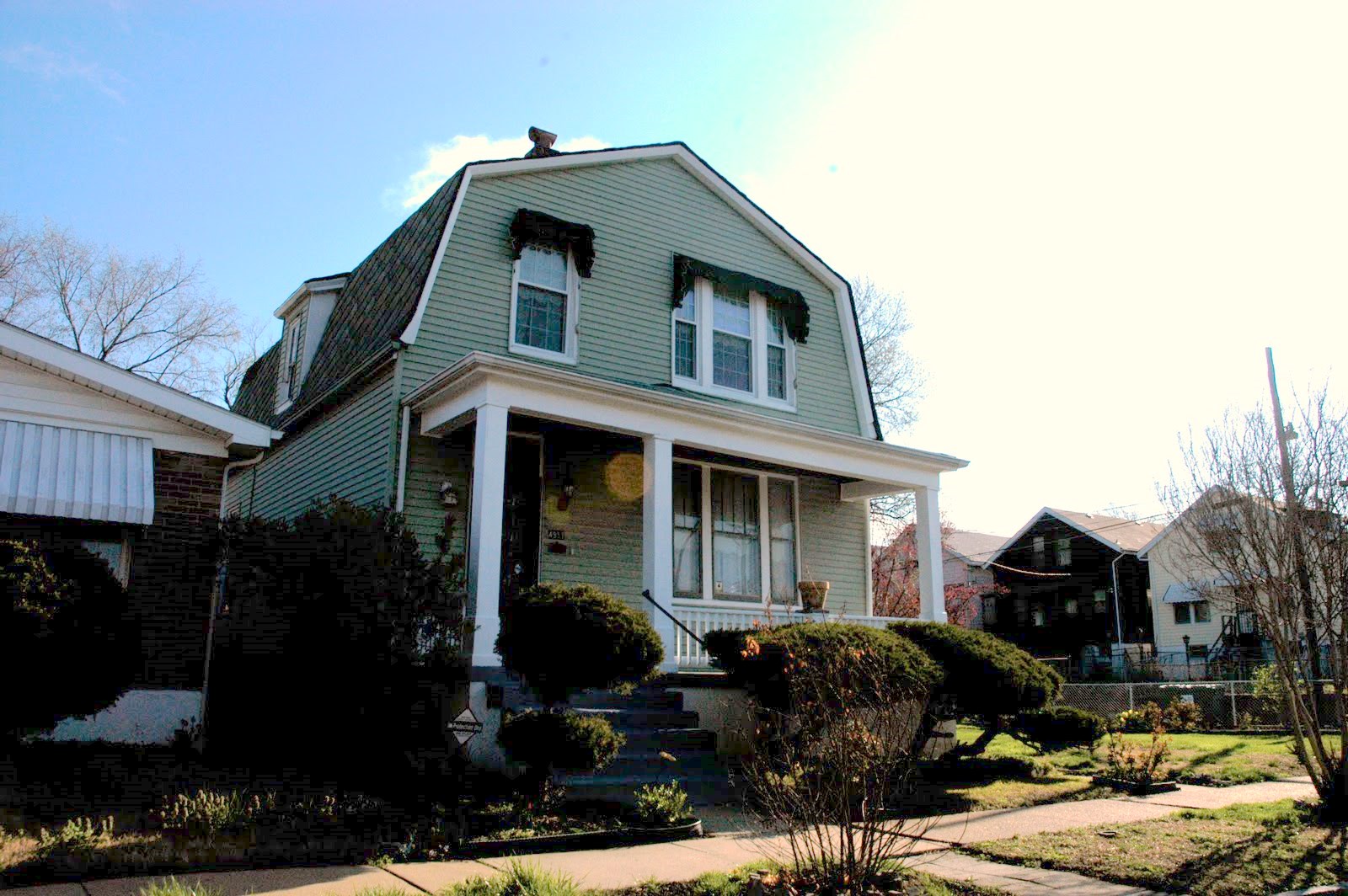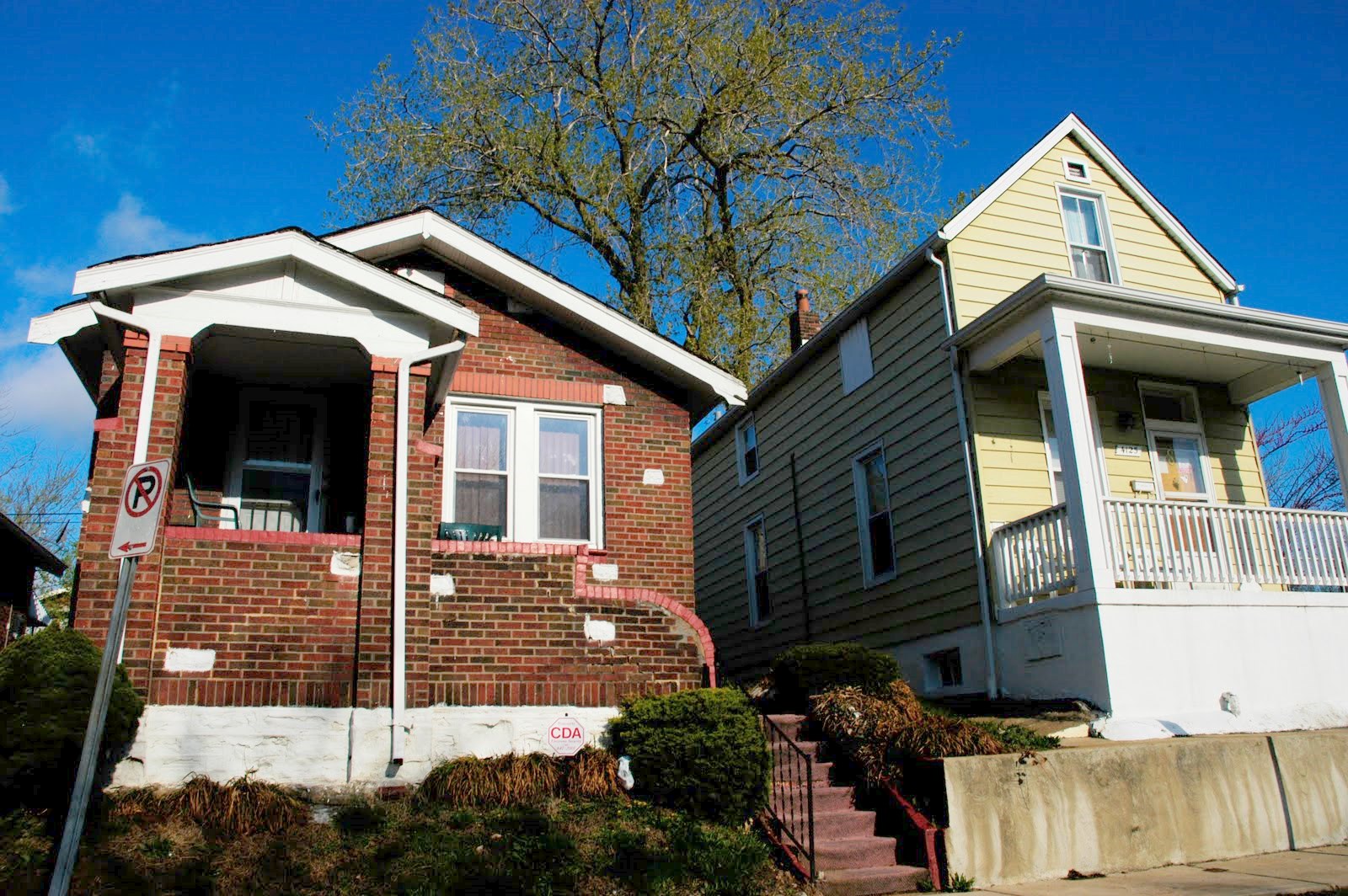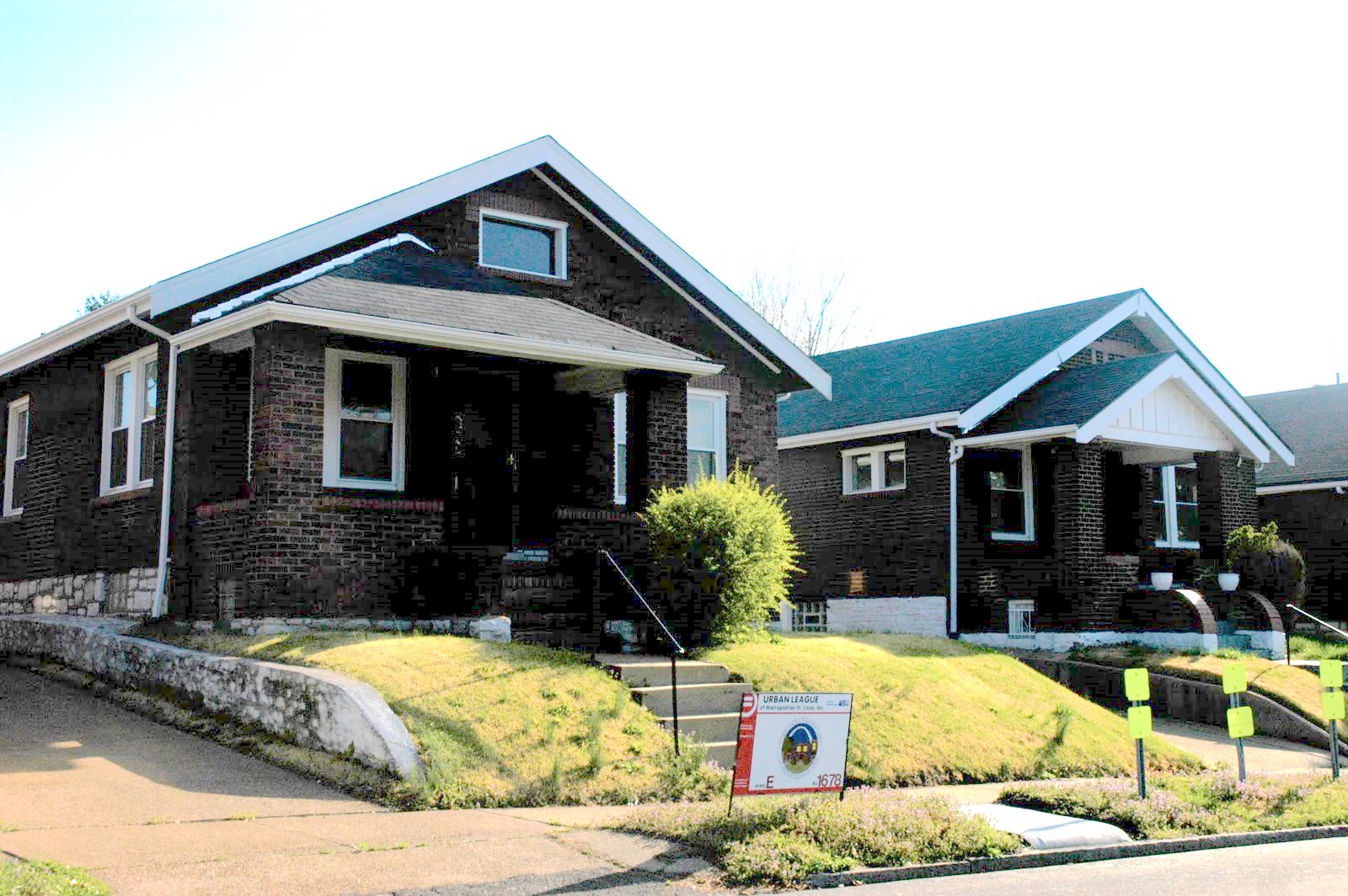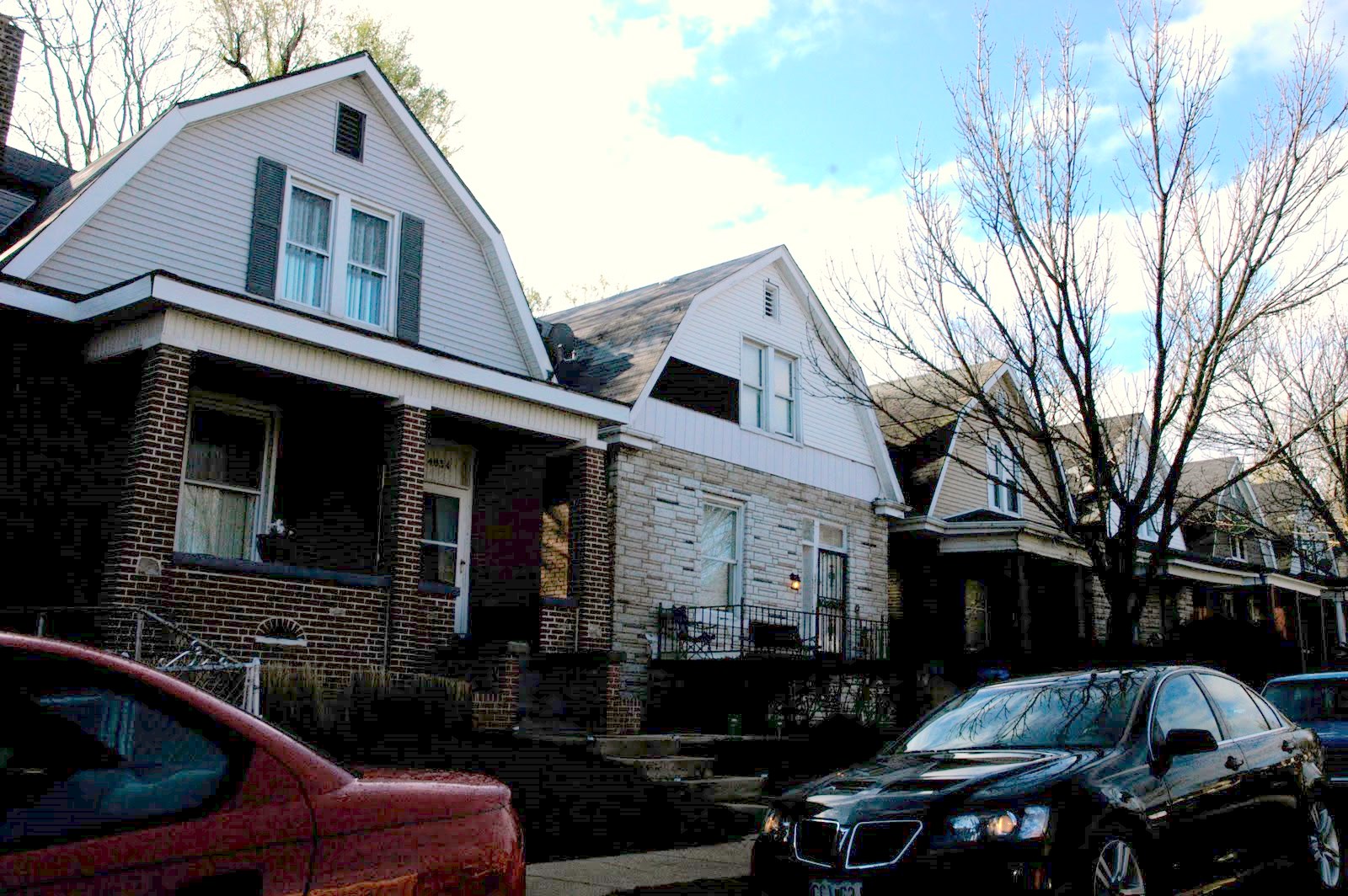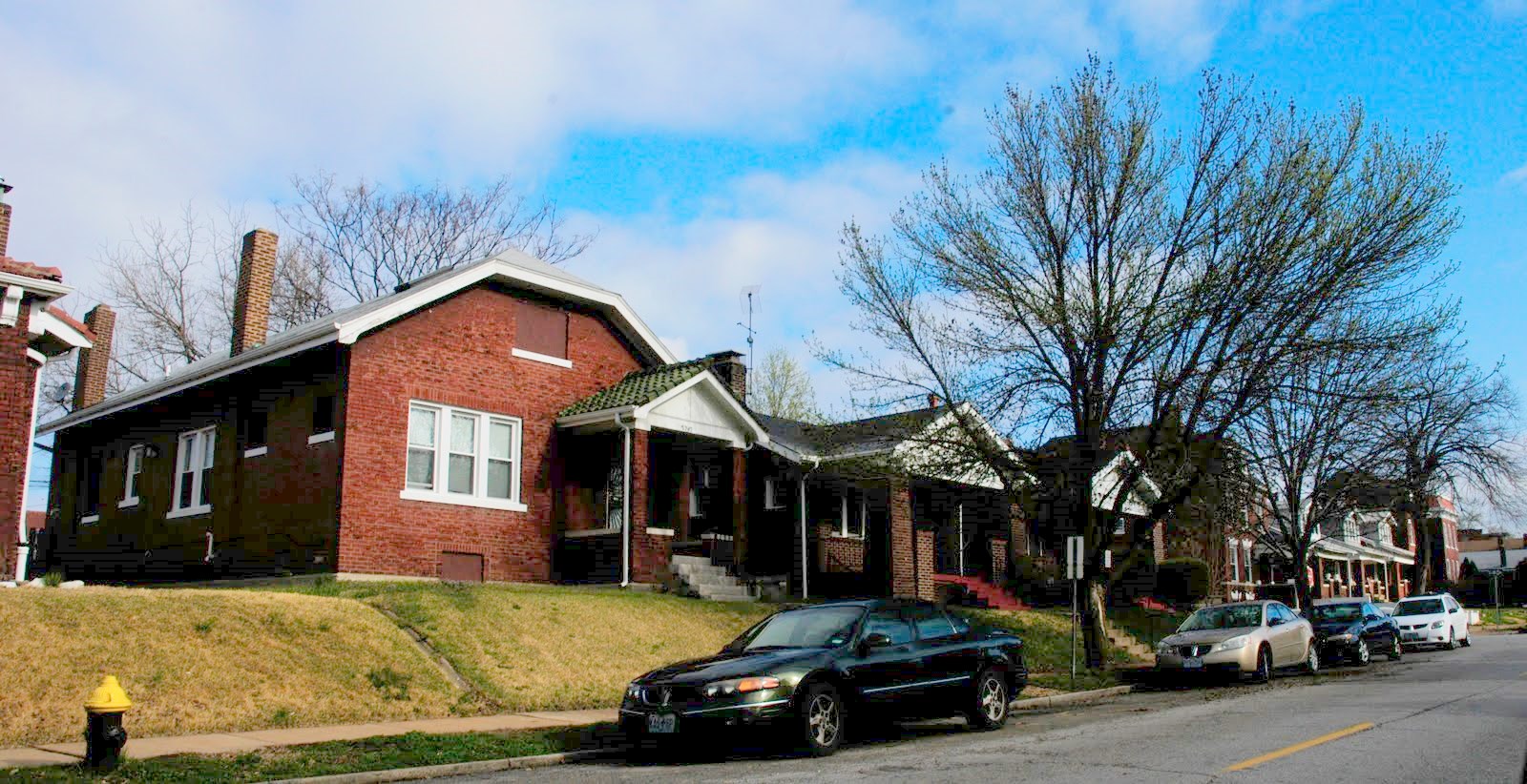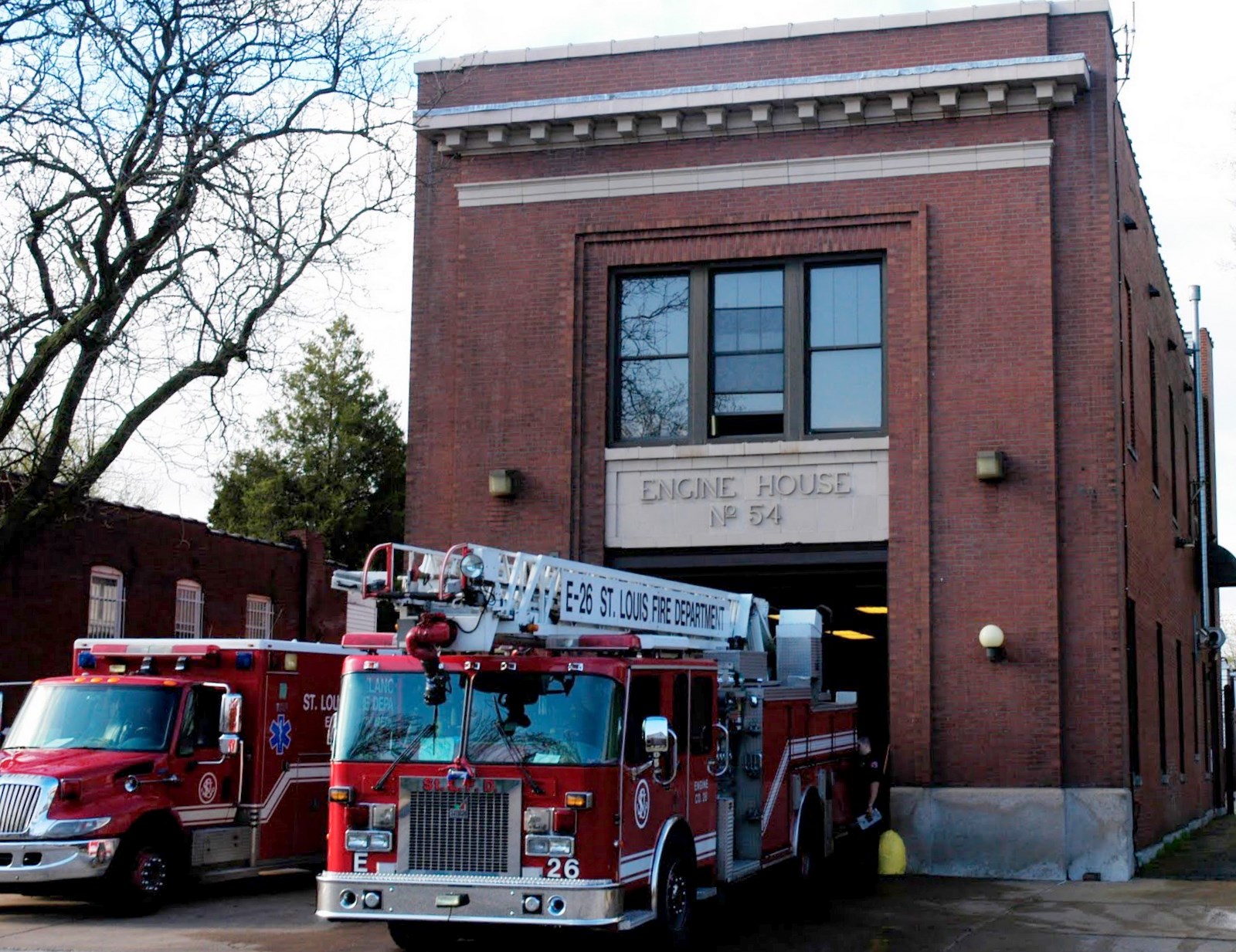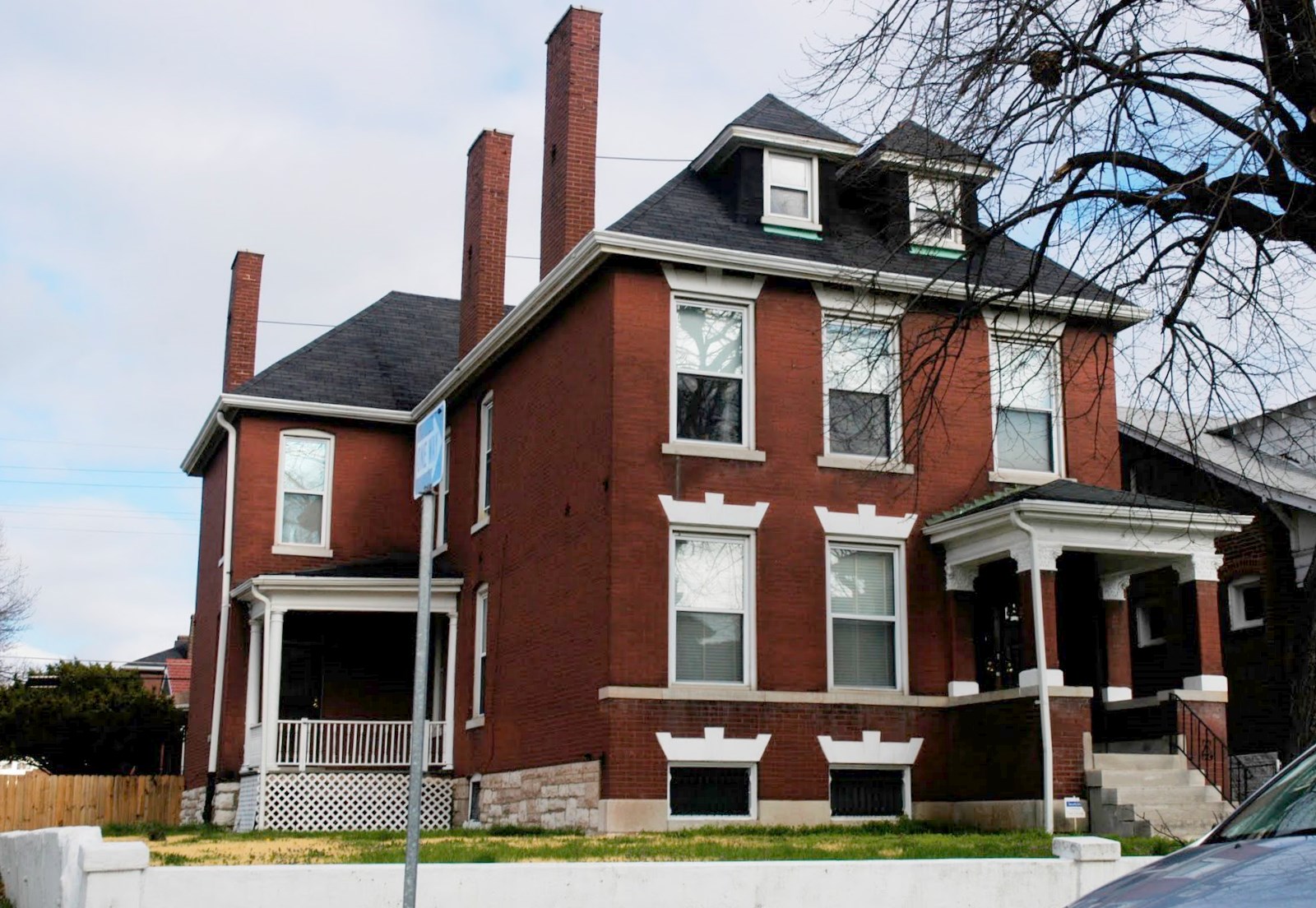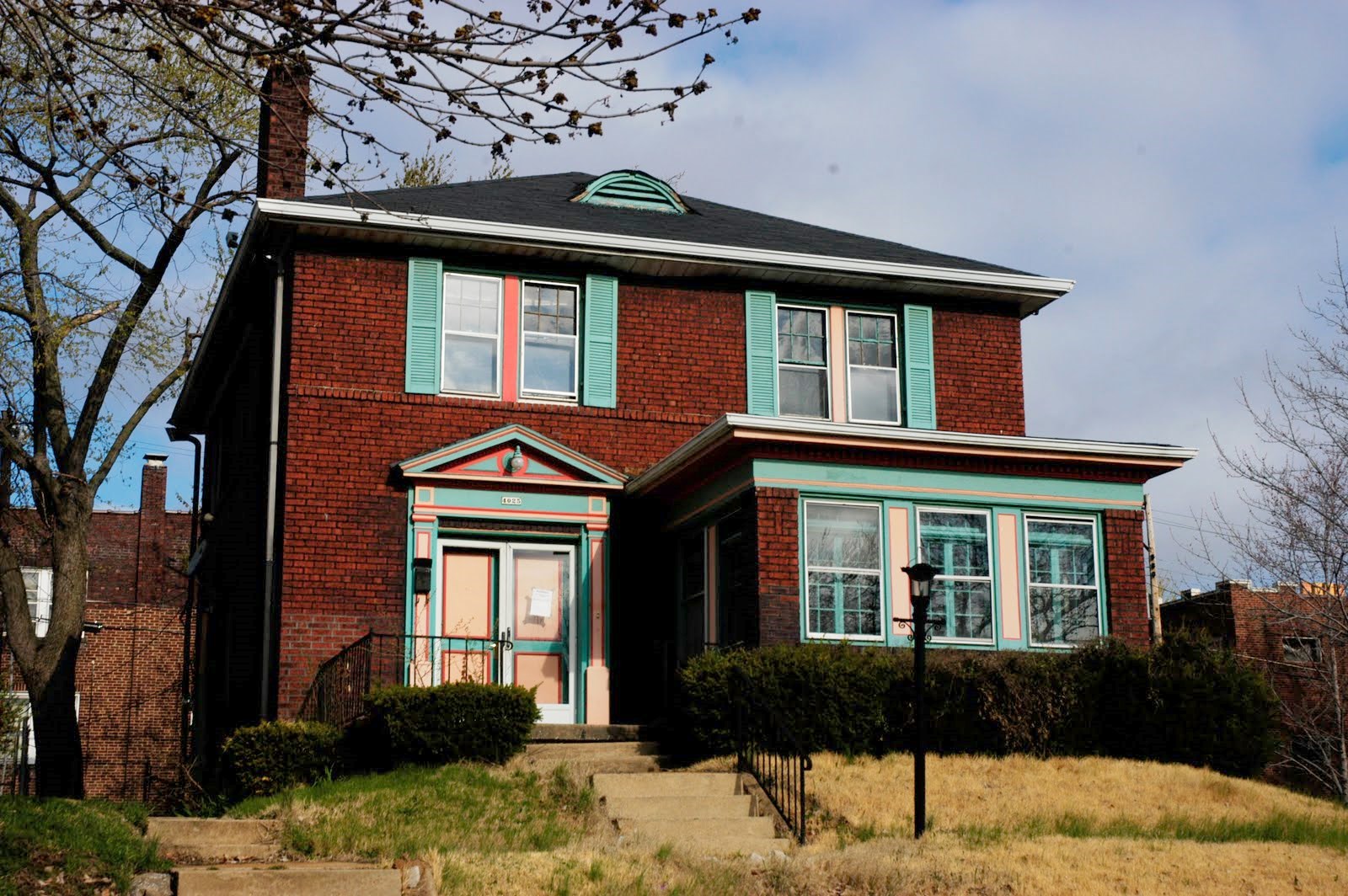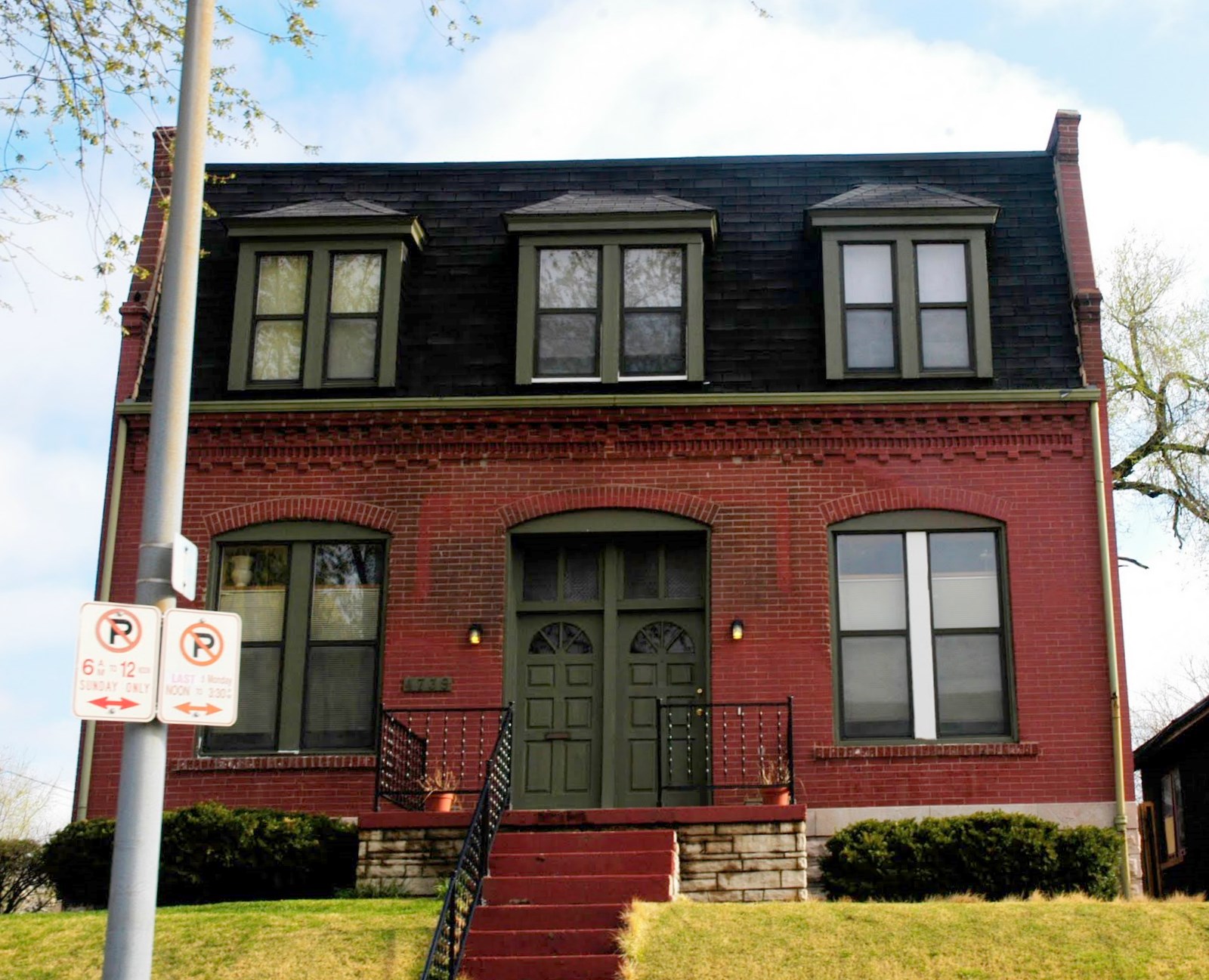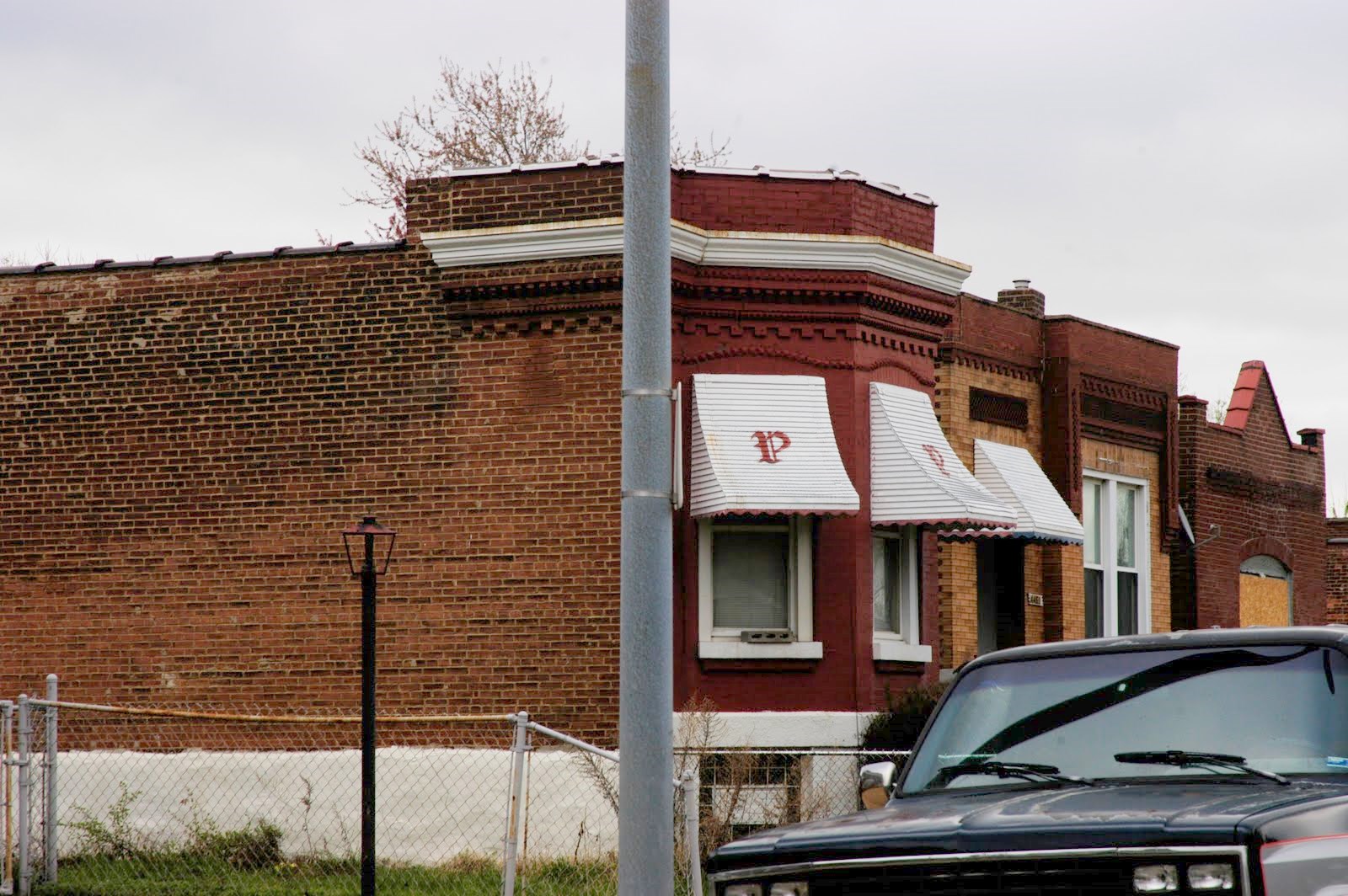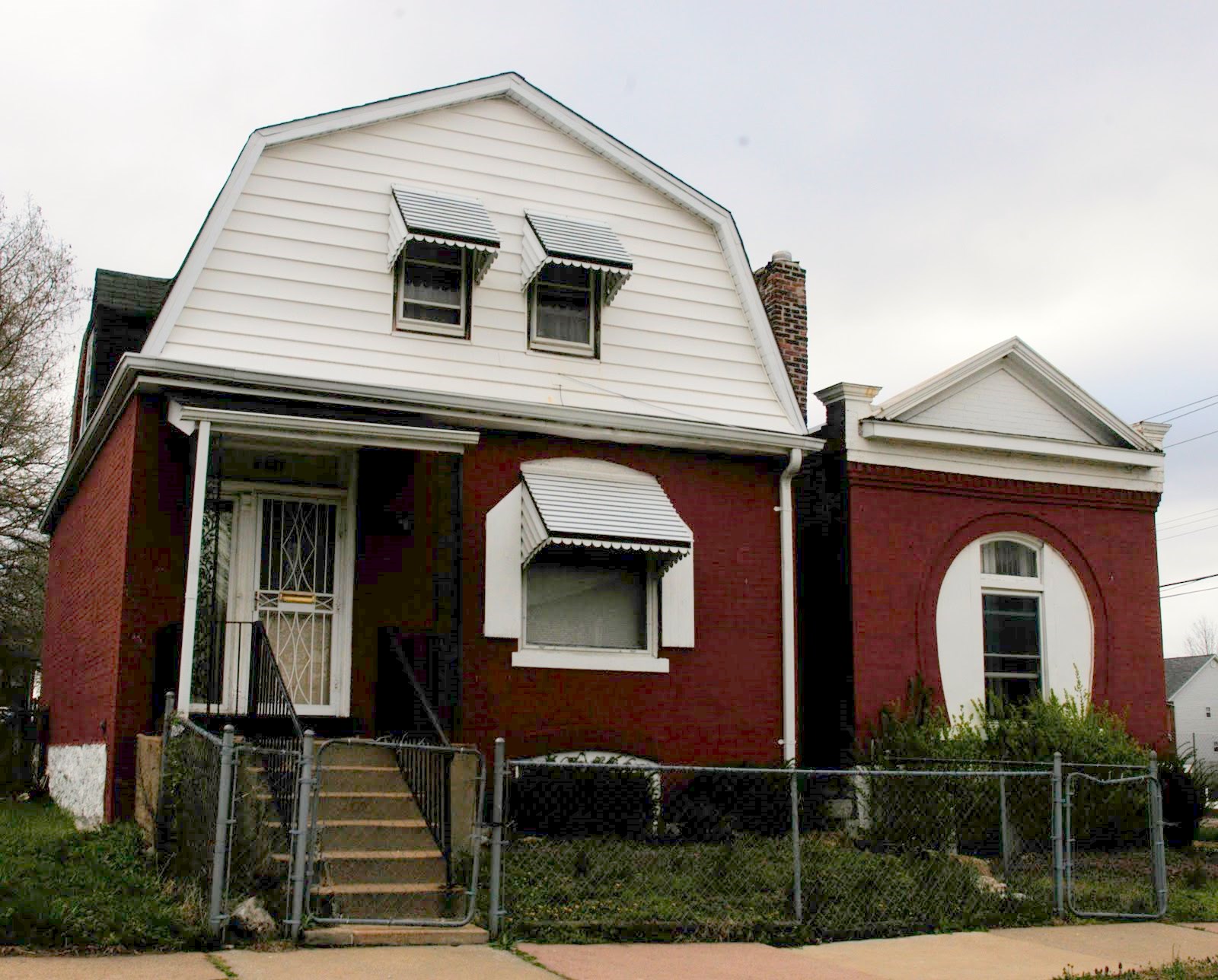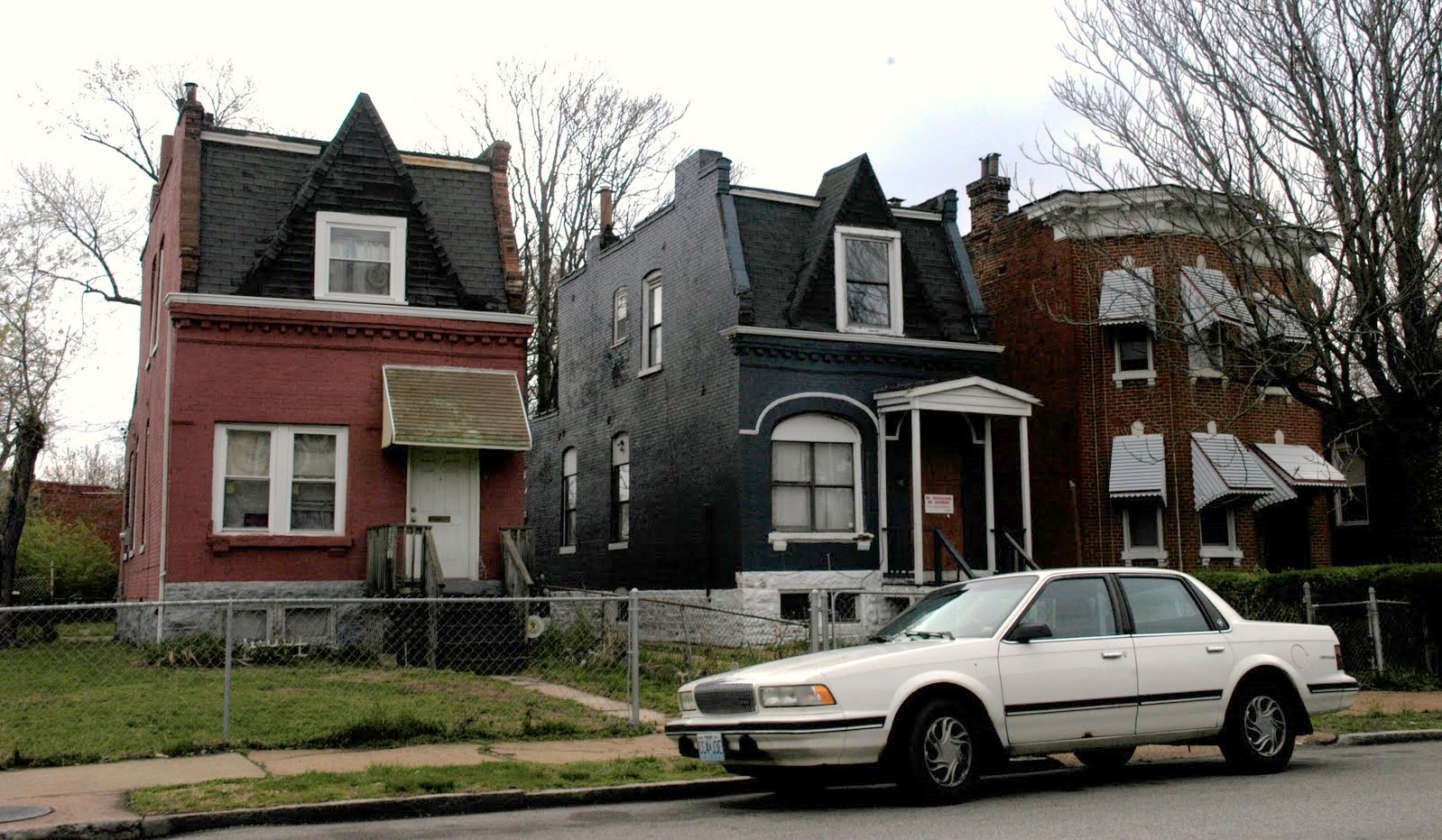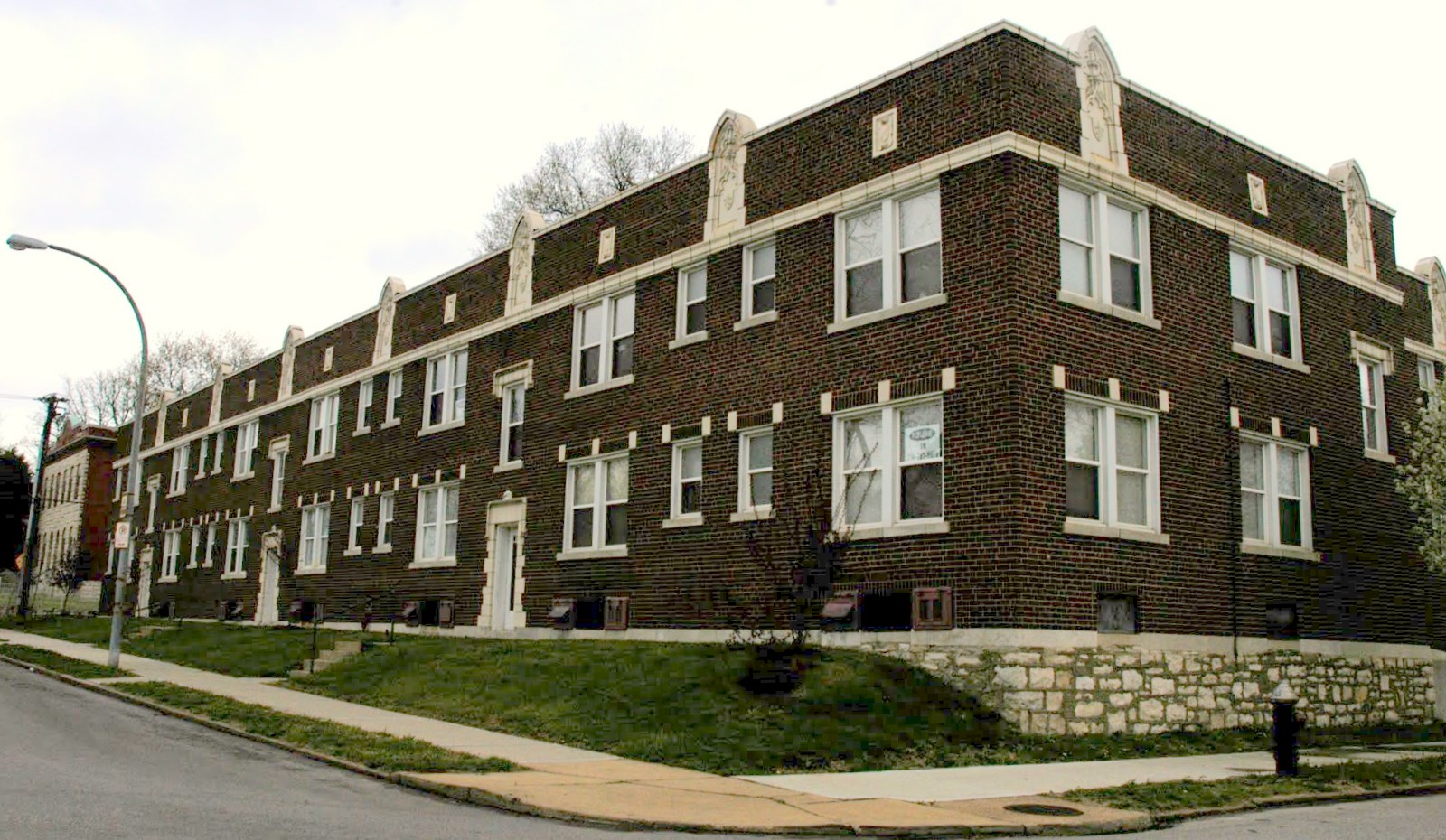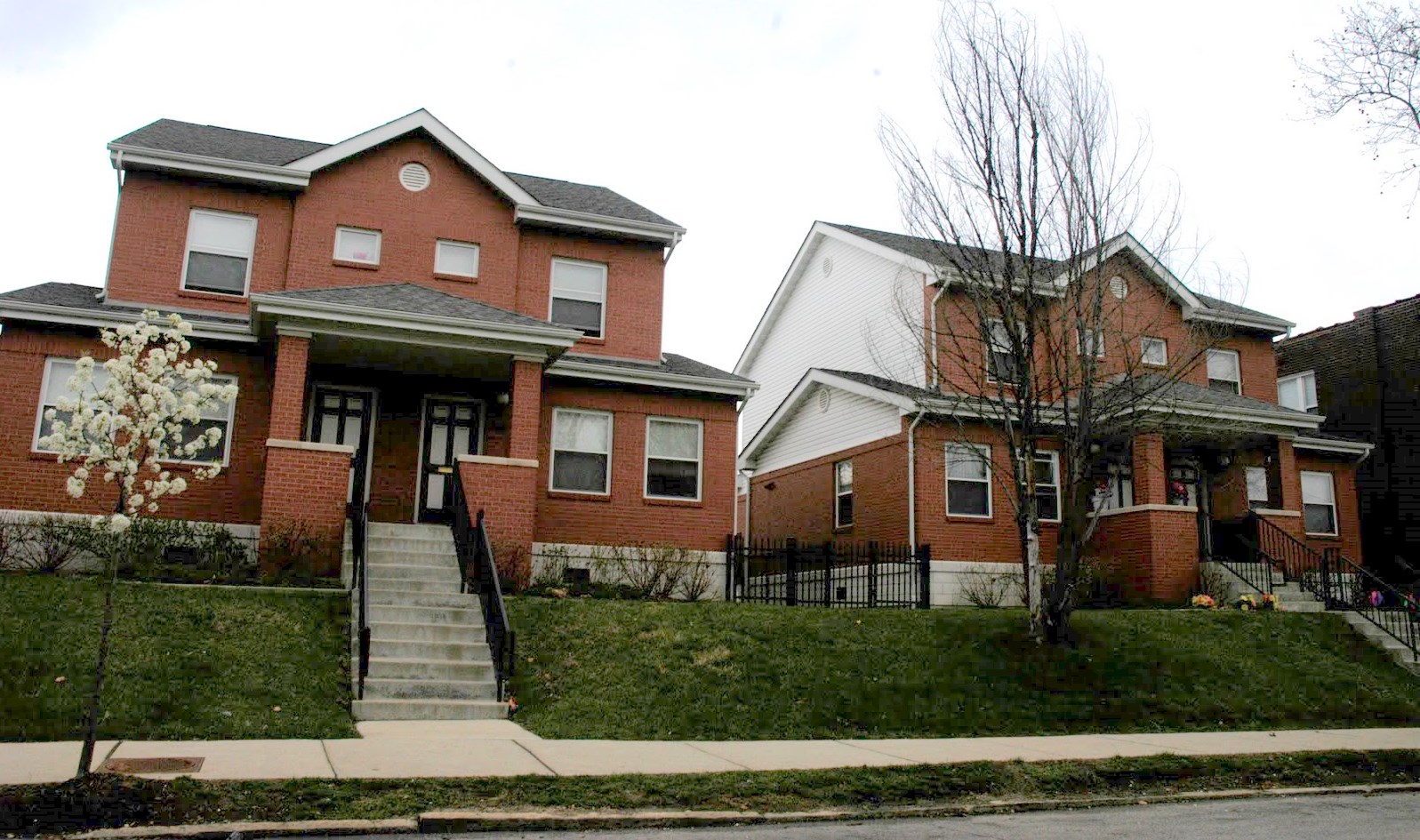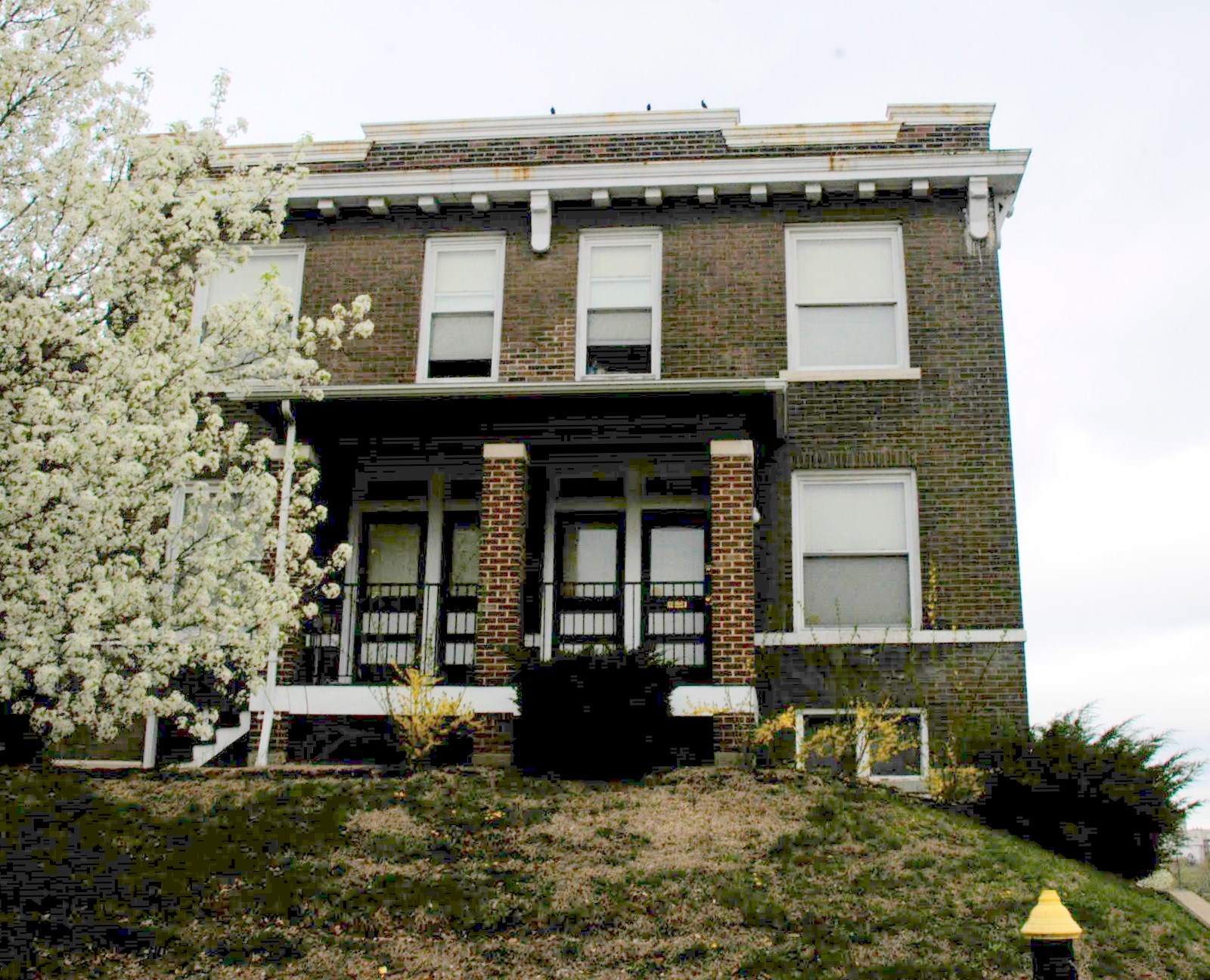 Penrose doesn't really seem to have a centerpiece, or grand street that defines it. Penrose park is right by the Interstate and is on the far north west outlaying corner of the neighborhood. If anything is the centerpiece of the neighborhood it would be Mac's Meat and Produce and the other tidy retail storefronts along Shreve near I-70 in the shadow of the St. Louis Catholic Academy: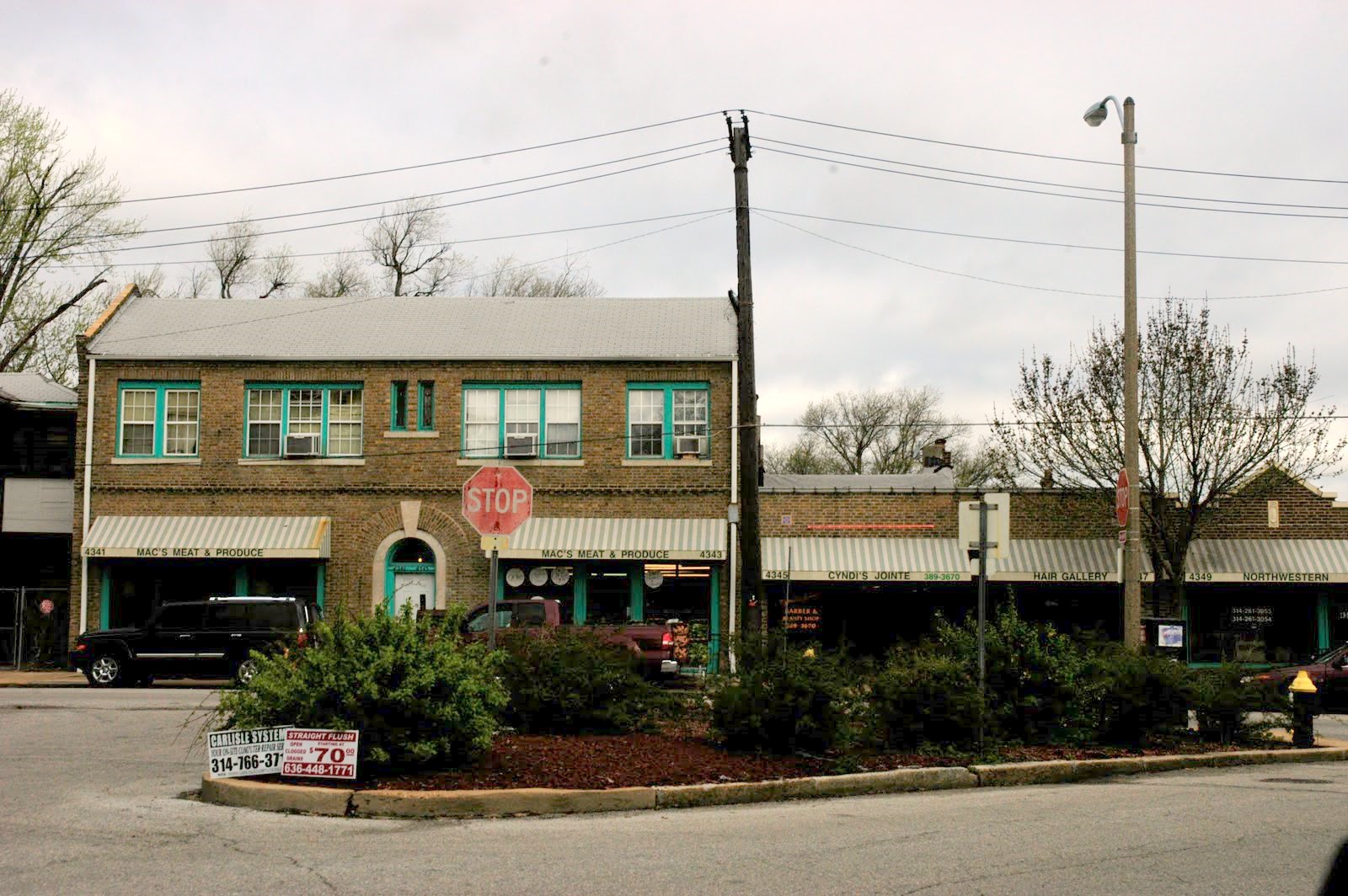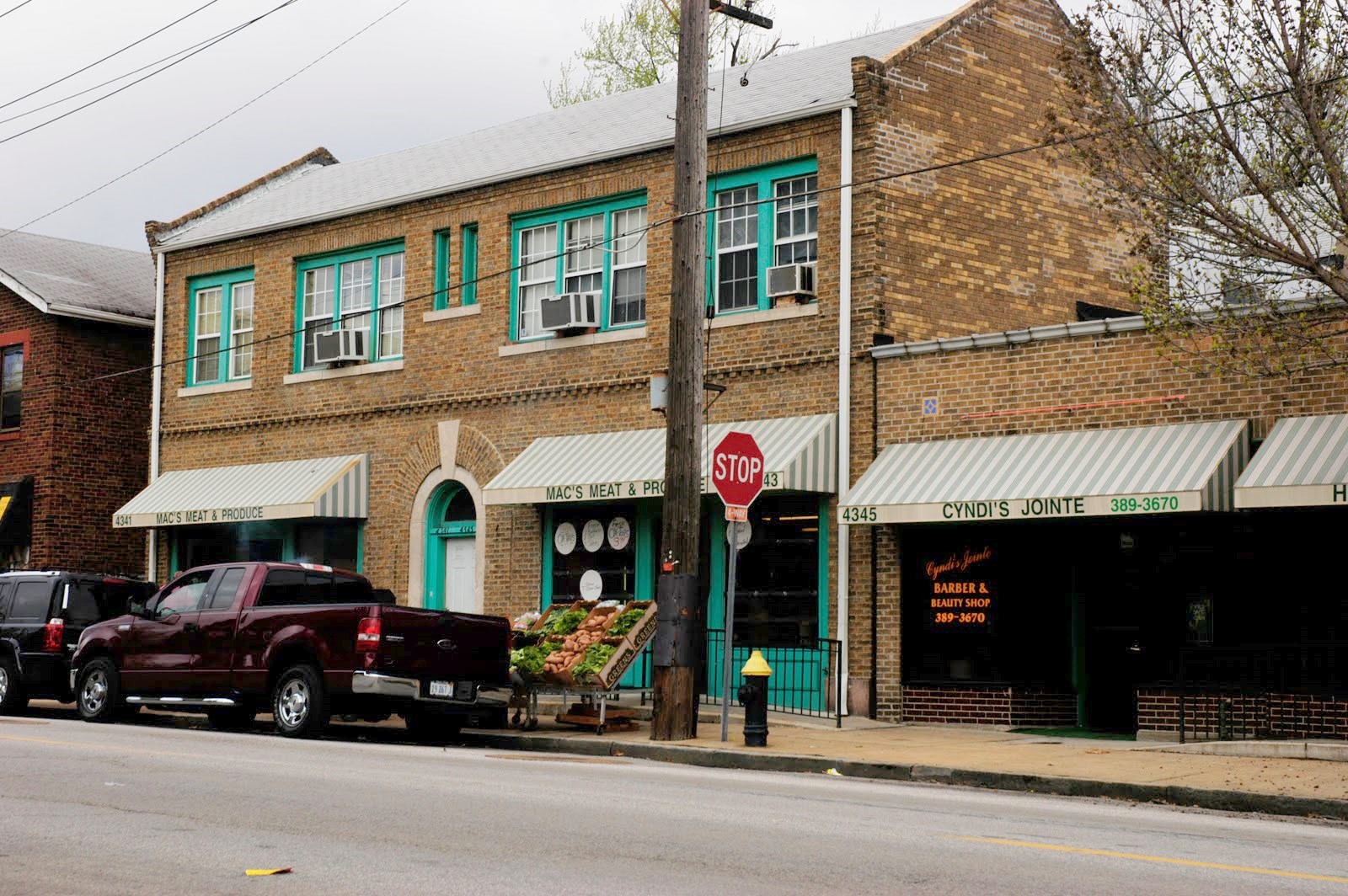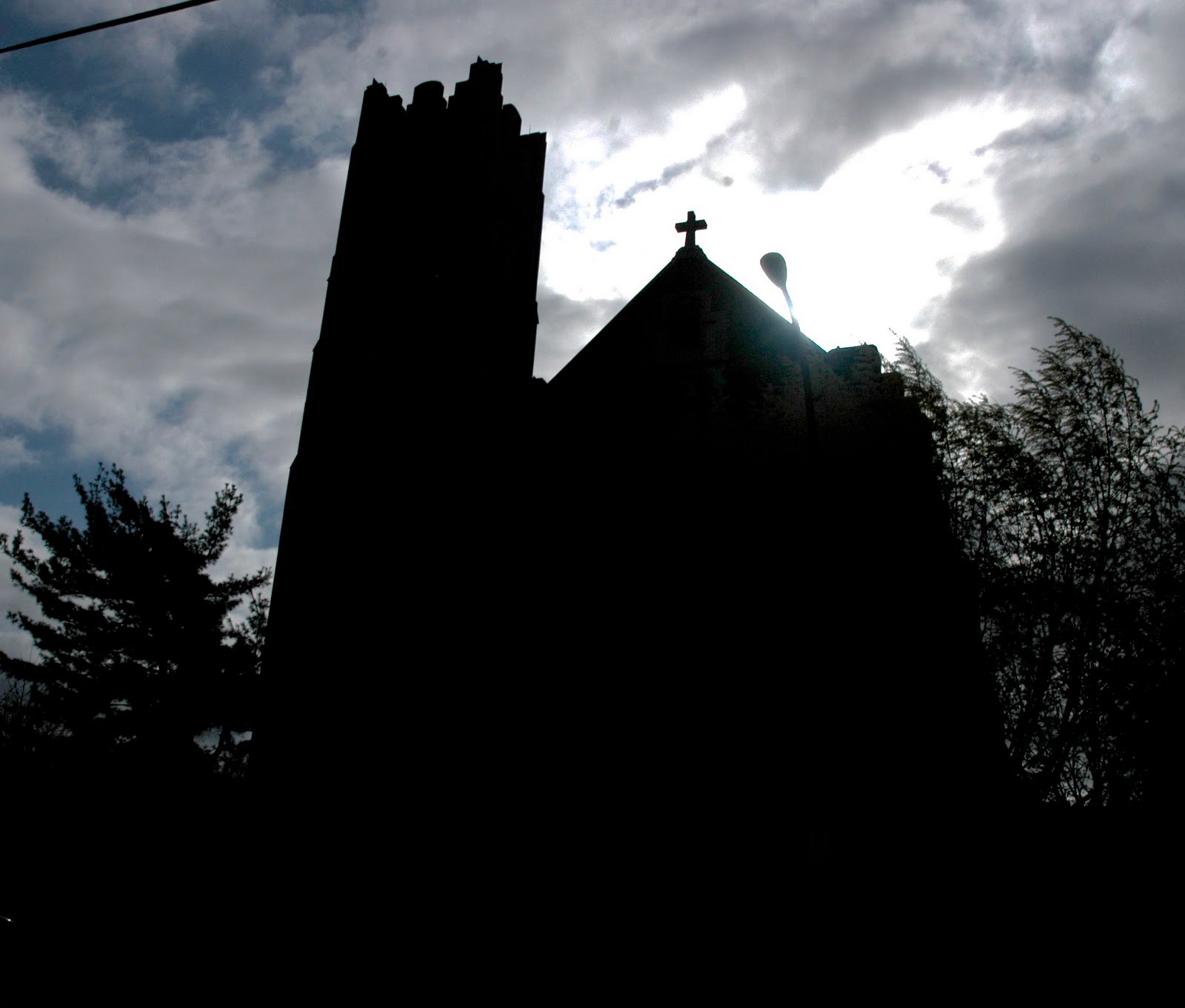 I'm a sucker for fresh produce being presented/sold on the street, and BBQ'd meats smoking at 8:30 in the morning.
Some cool old signs: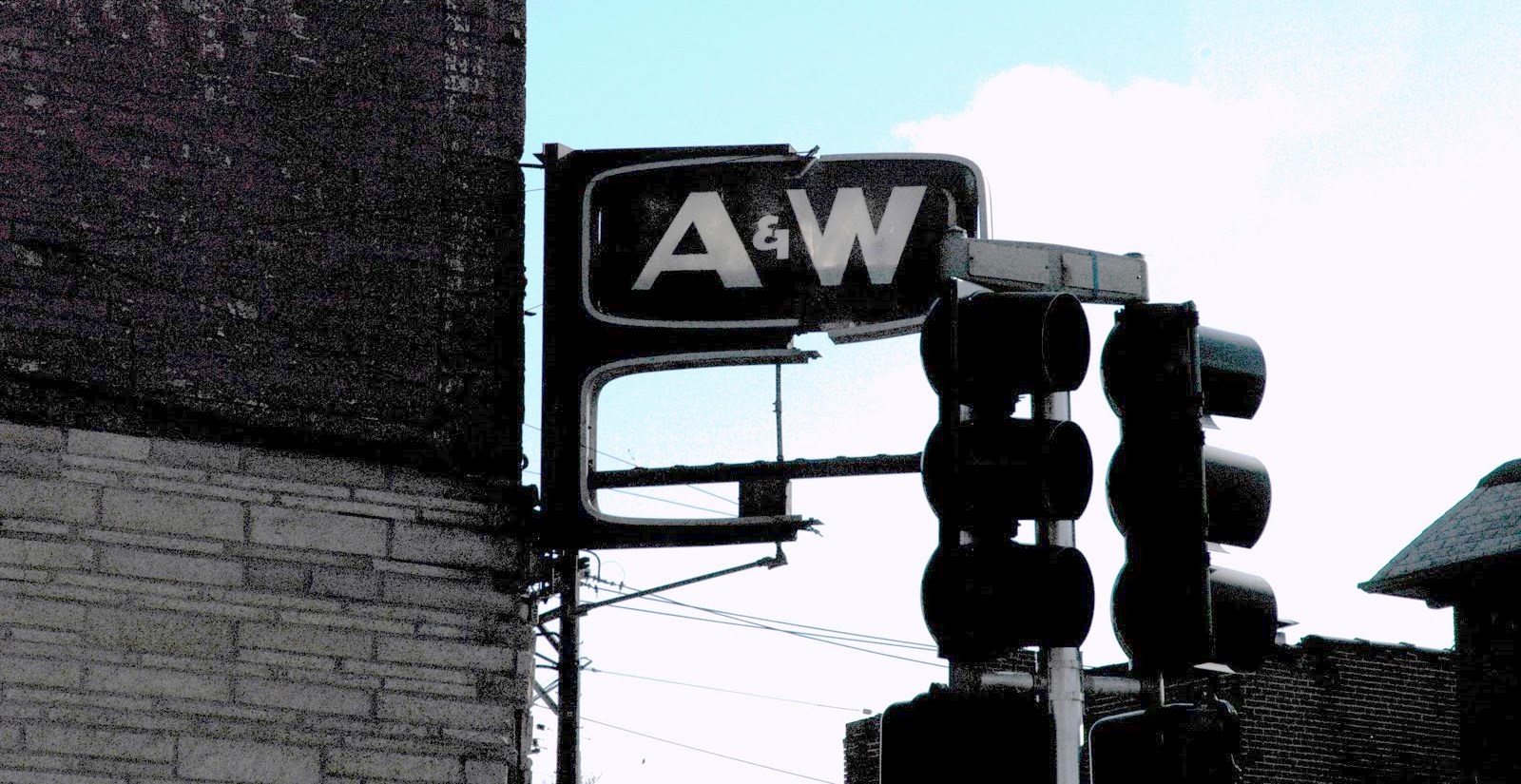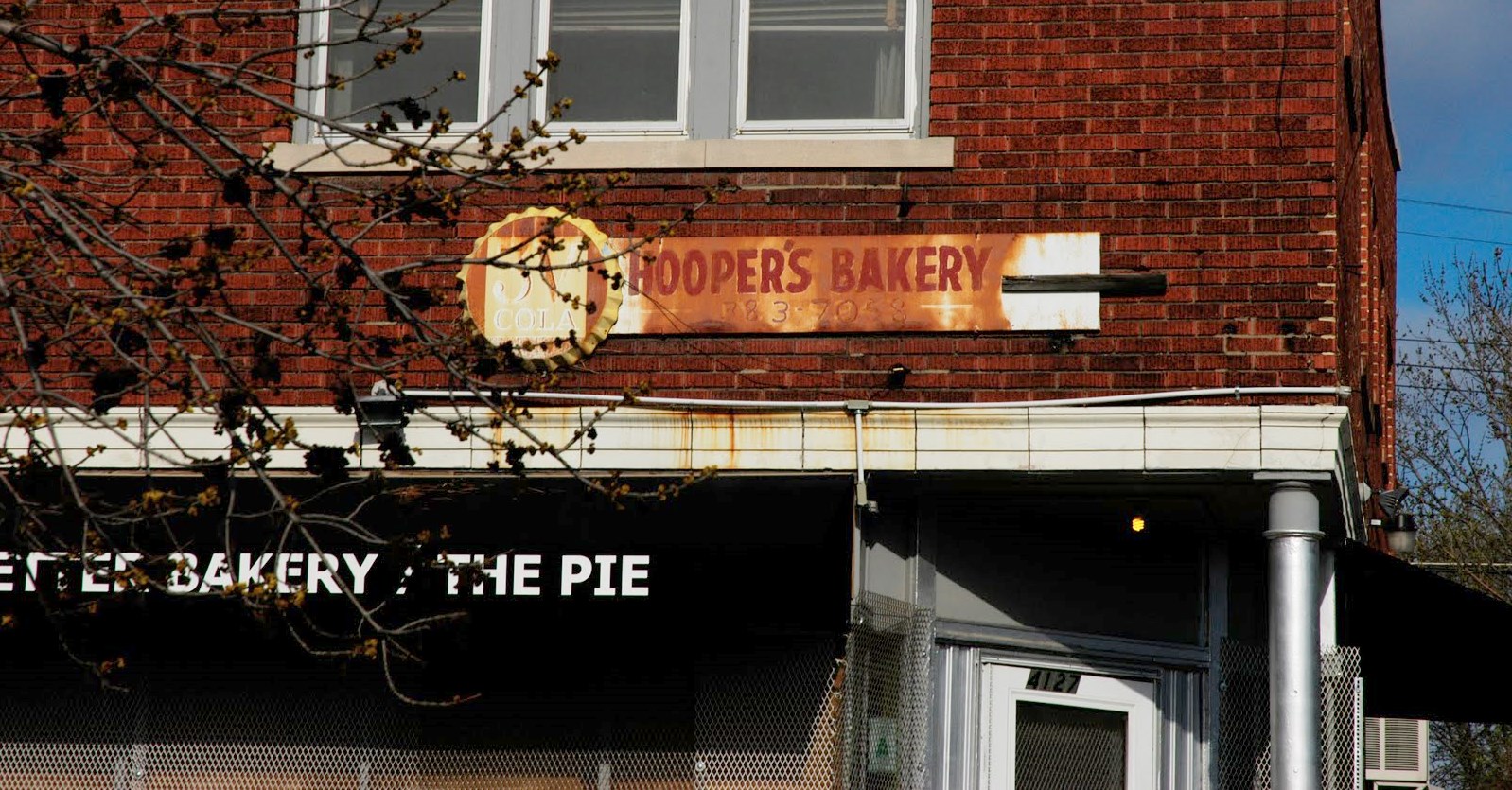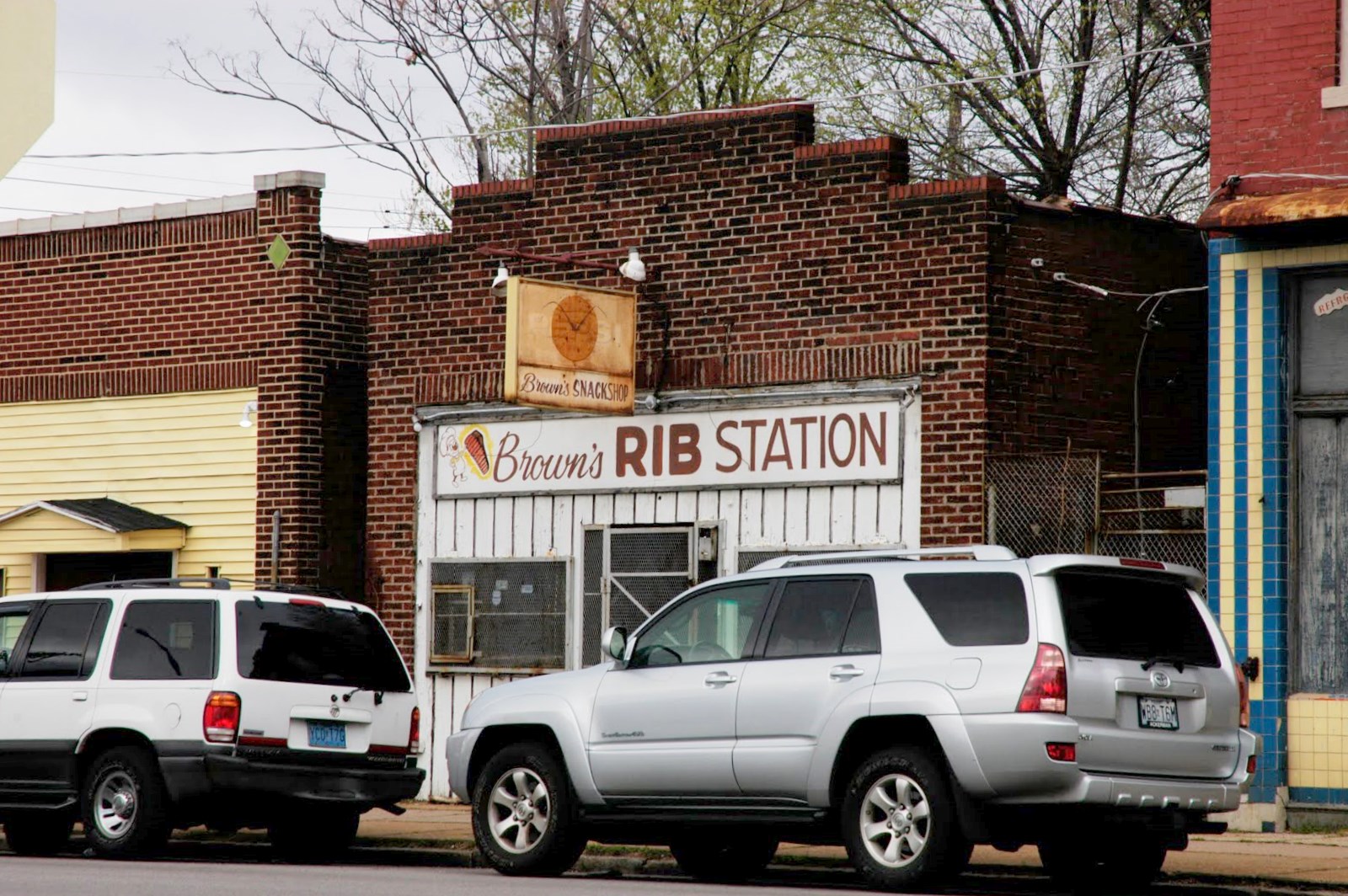 Some signs of new life along Newstead: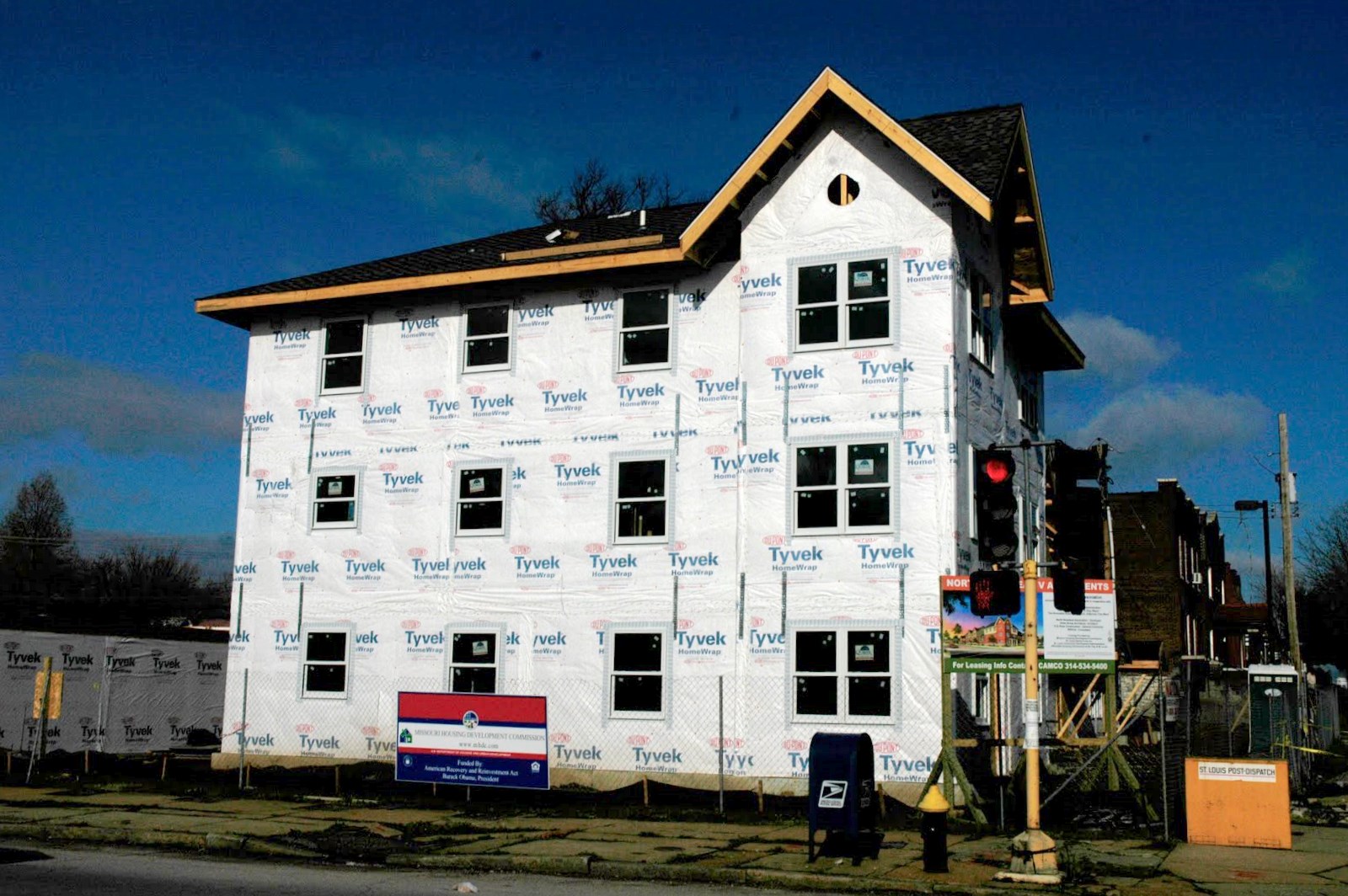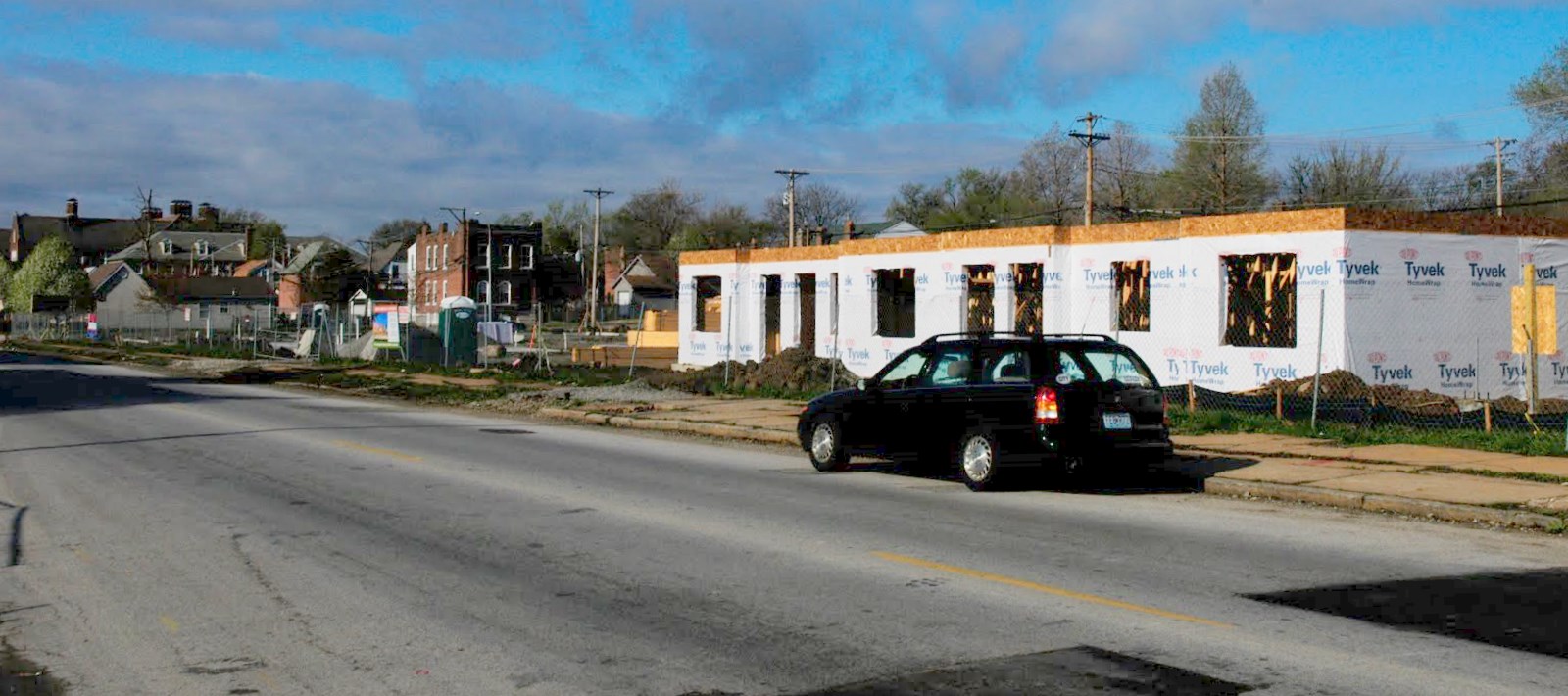 The North Newstead Apartments run the length of Newstead between Lee and Kossuth.
The neighborhood takes a strange suburban turn around Newstead and Taylor where there are some contemporary mistakes that don't fit within the neighborhood. Kings Estates is a good example of what I'm trying to convey: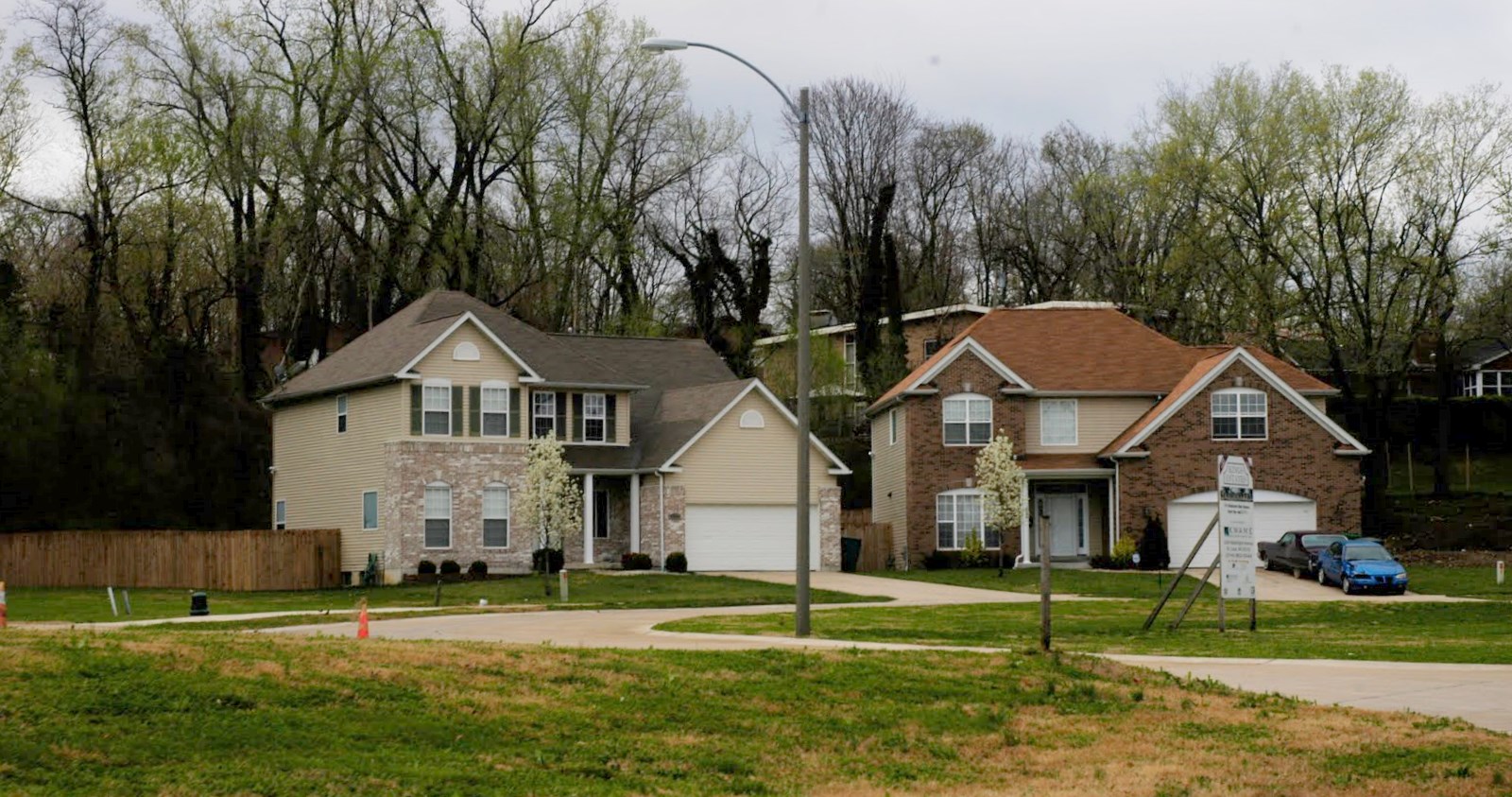 Old, meet new: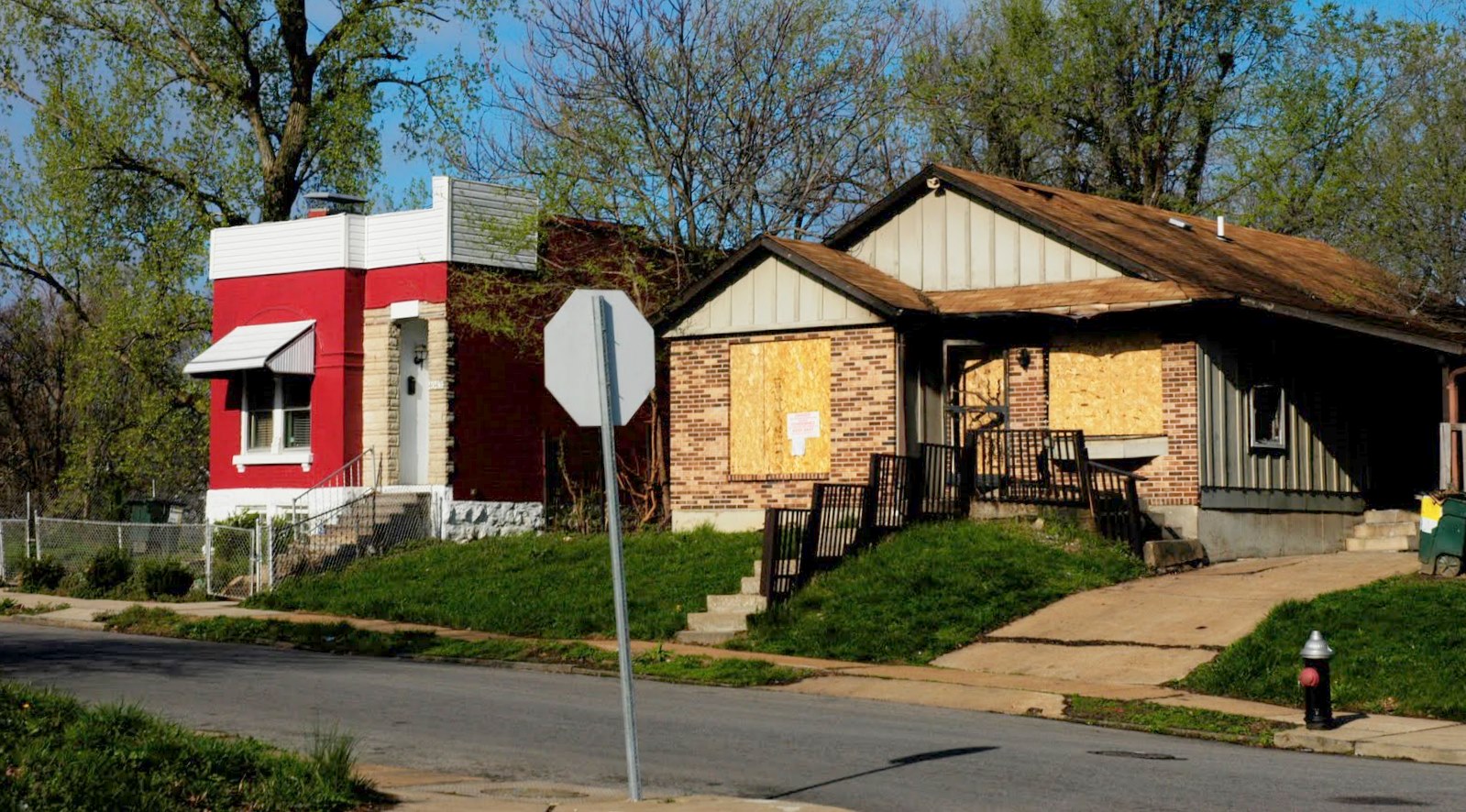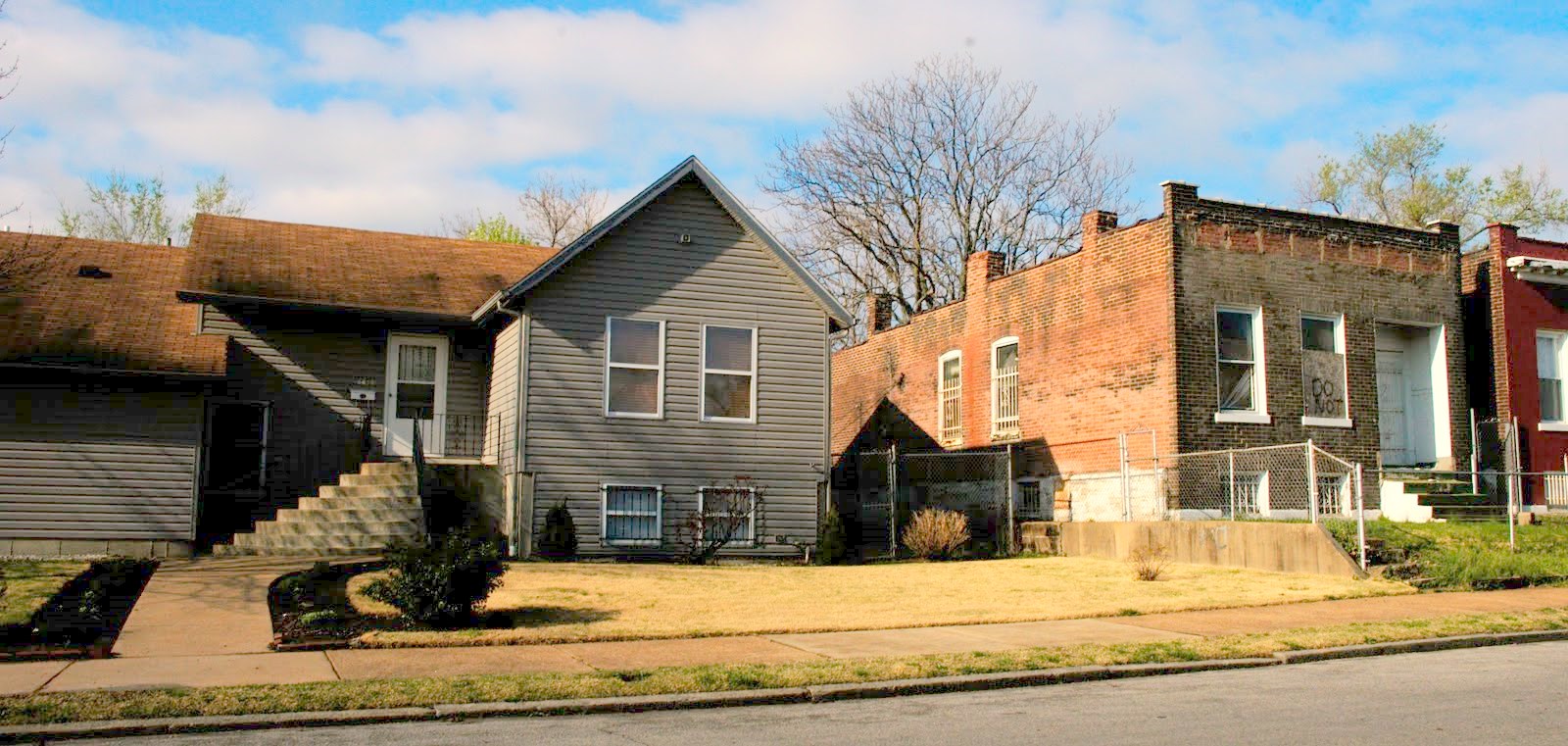 There is also a suburban cul de sac at San Francisco Court that reminds me of Boulevard Heights just south of River Des Peres: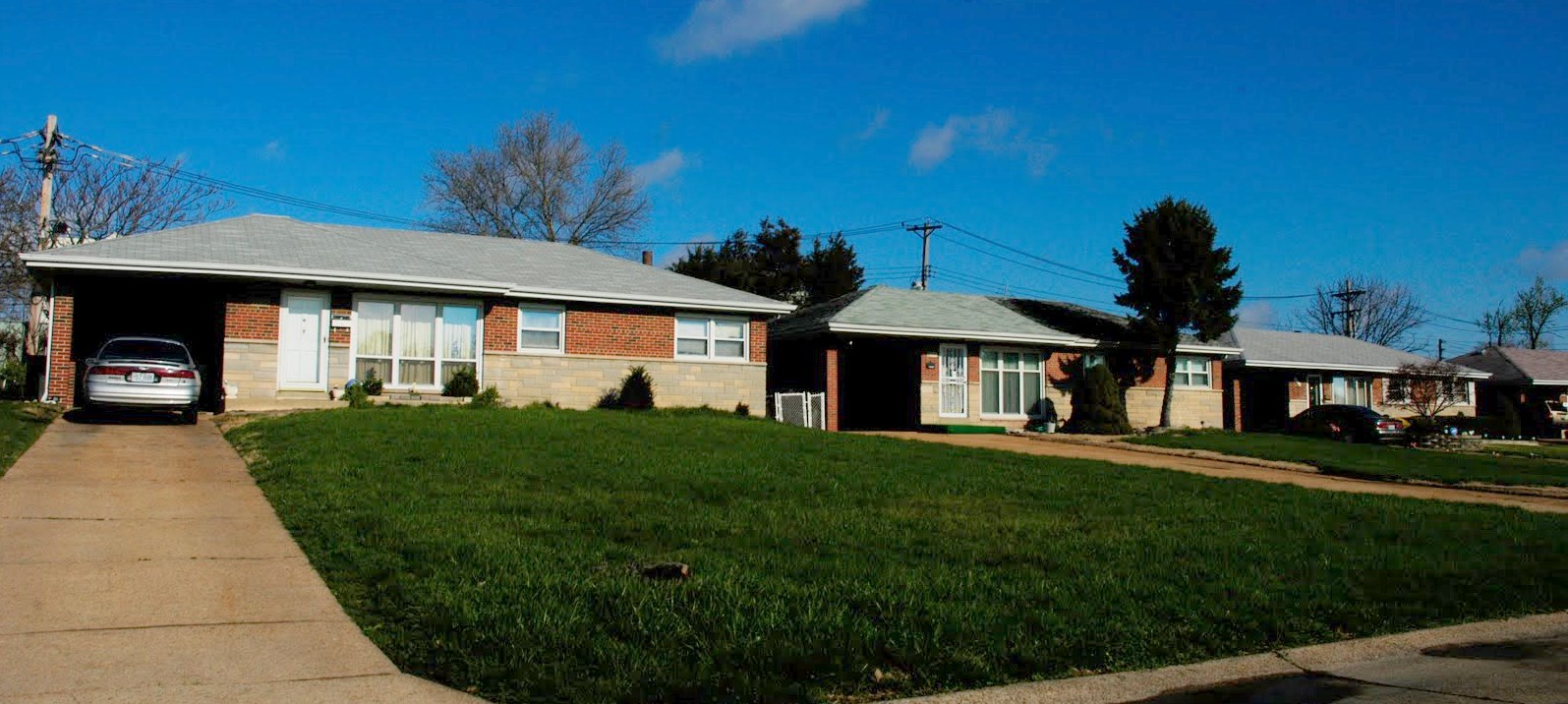 The Prince Hall Family Support Center has a large campus in Penrose: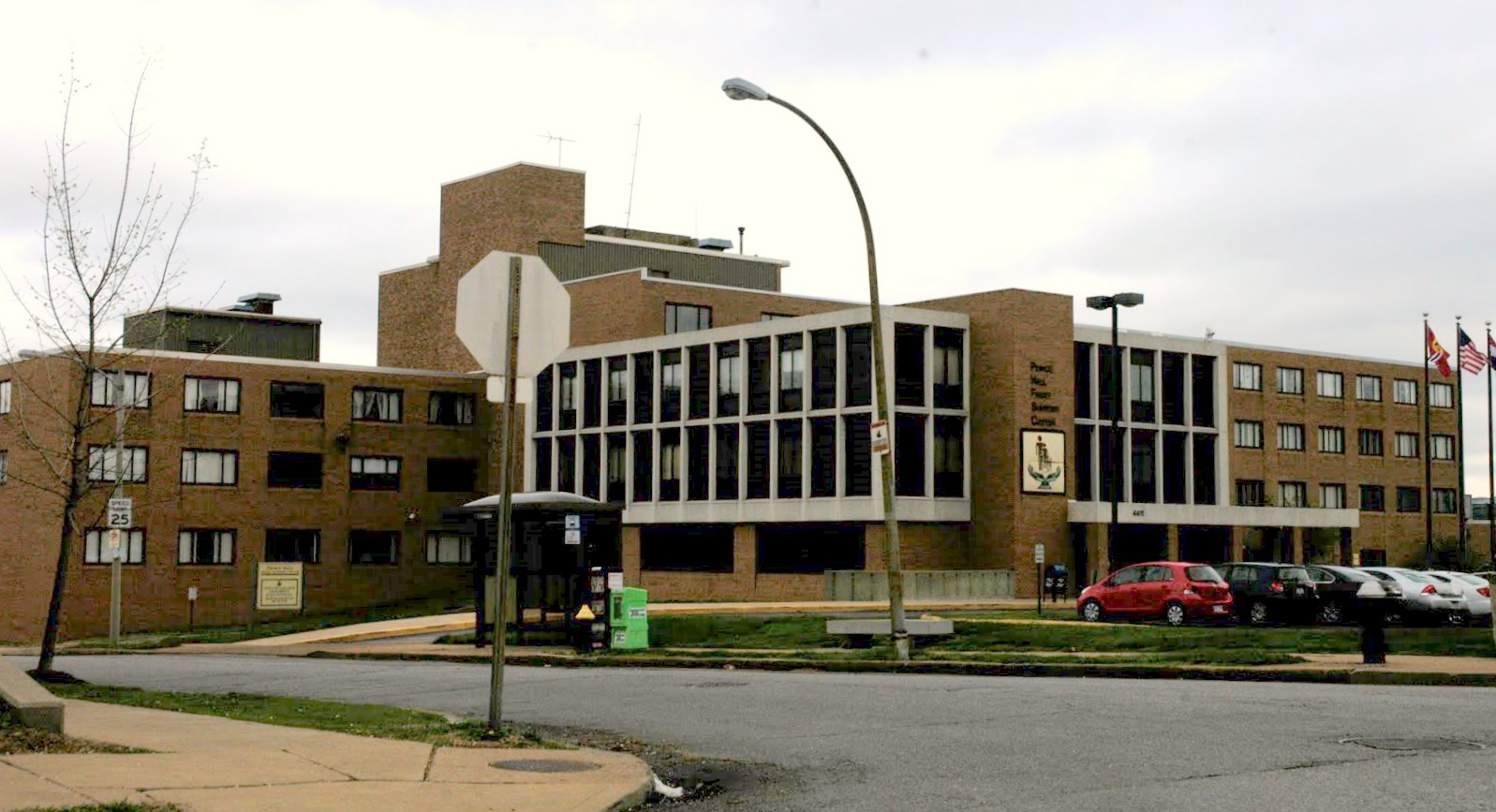 One of my favorite parts of the neighborhood is the garden street of Steinlage Drive between Bircher and Dryden: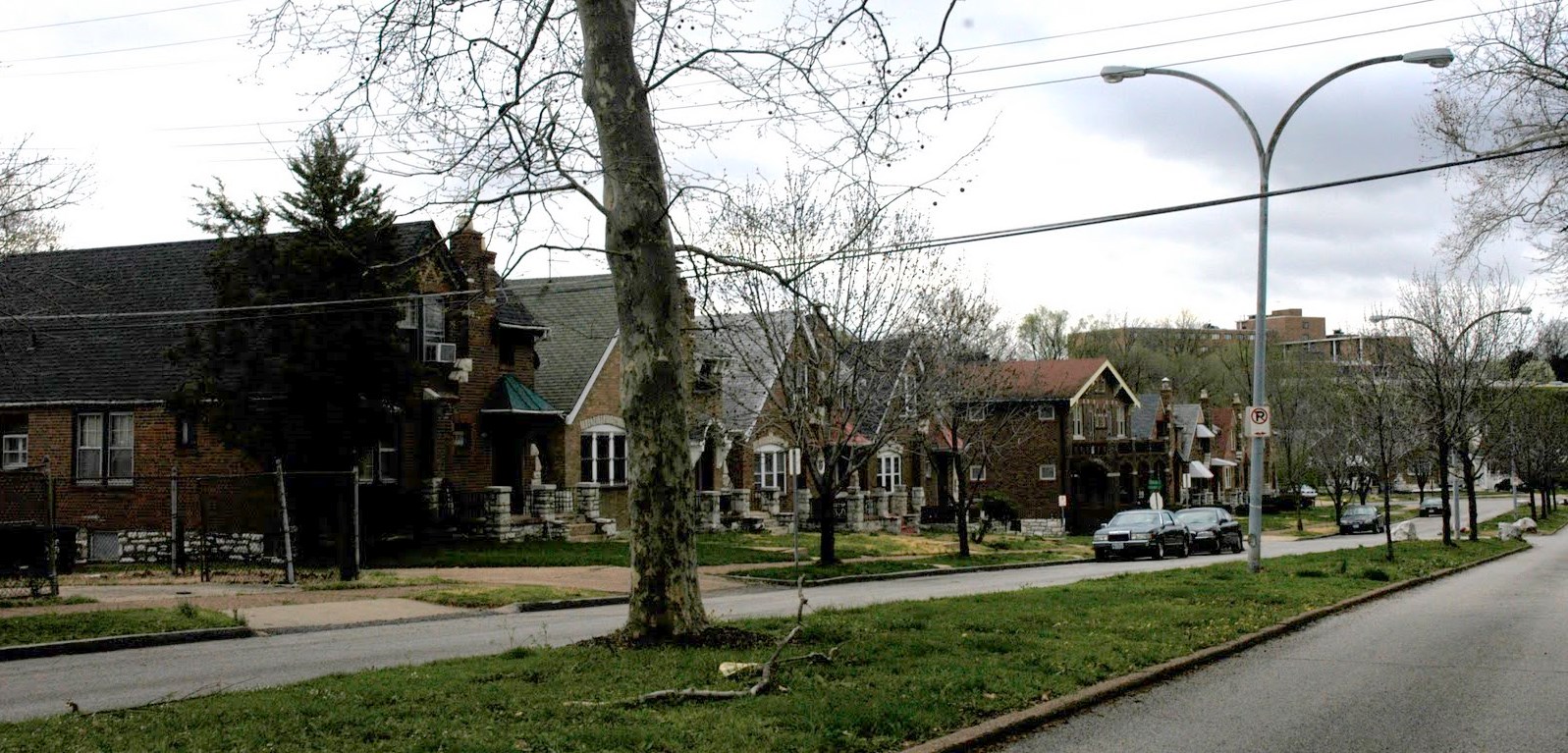 There are some serviceable, yet uninspiring businesses along Natural Bridge, nothing really photo worthy. Do you really want to see pictures of Walgreens, etc? There is a cool looking Commerce Bank on Nat. Bridge (photo was crap, couldn't post it – image is from Google Streetview). There are some exceptions to the contemporary auto-centric developments along Nat. Bridge: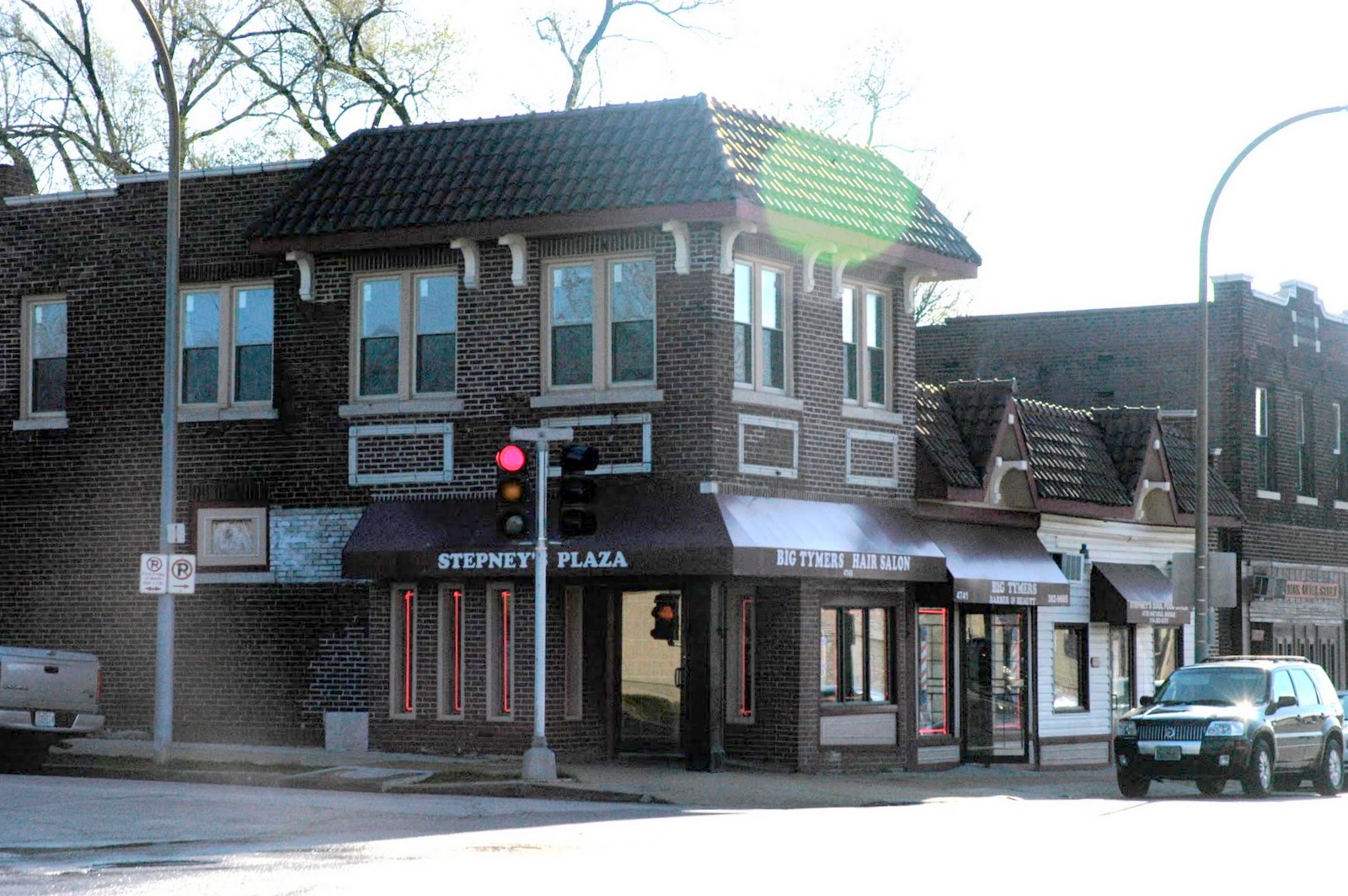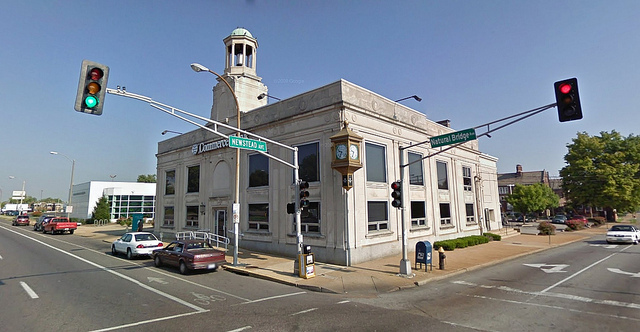 There are several churches and schools within Penrose. The Greater Progressive Baptist Church, Scullin School (self-made steel man from Ellendale?), Bunche International Studies, Ashland School: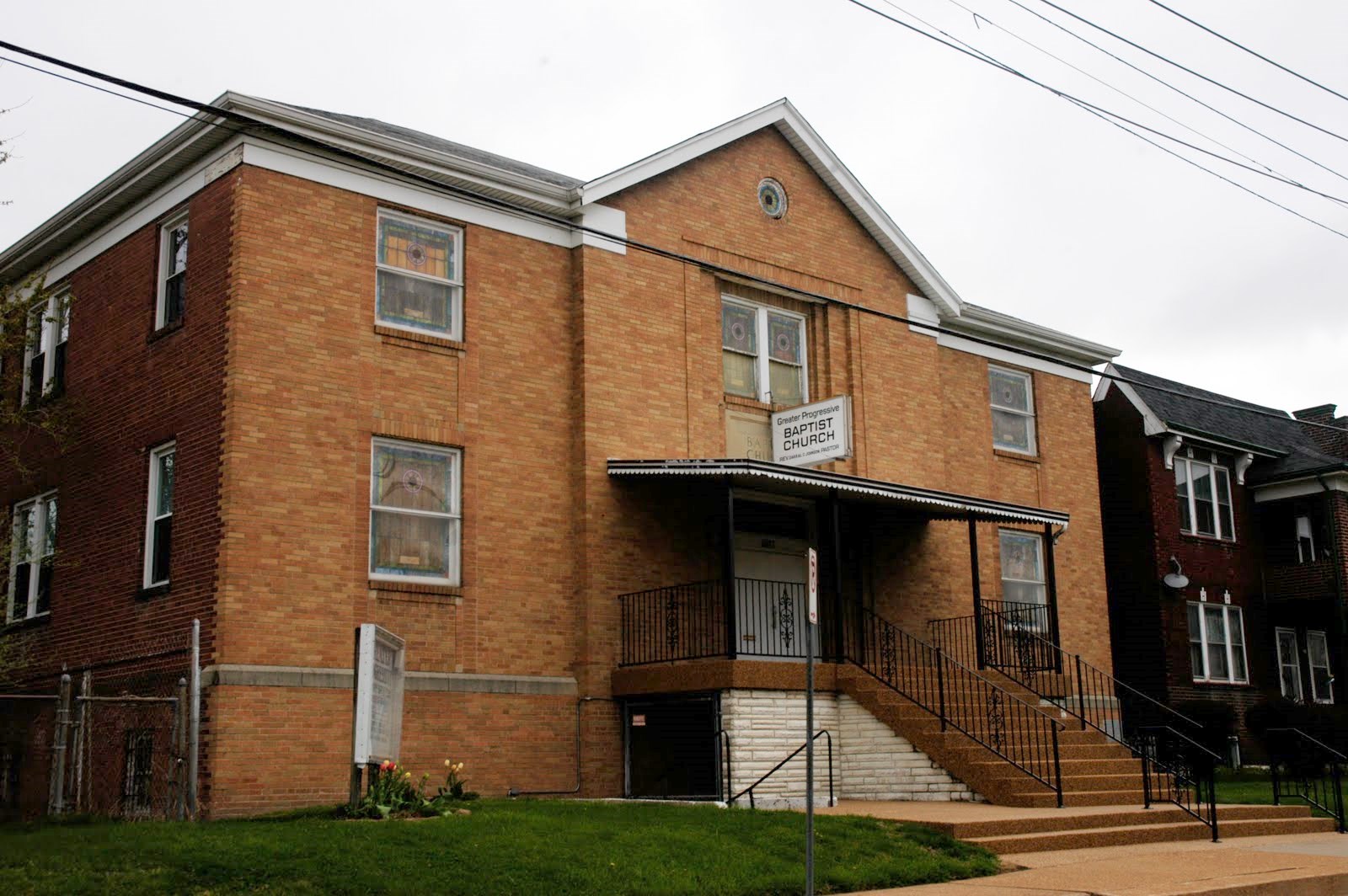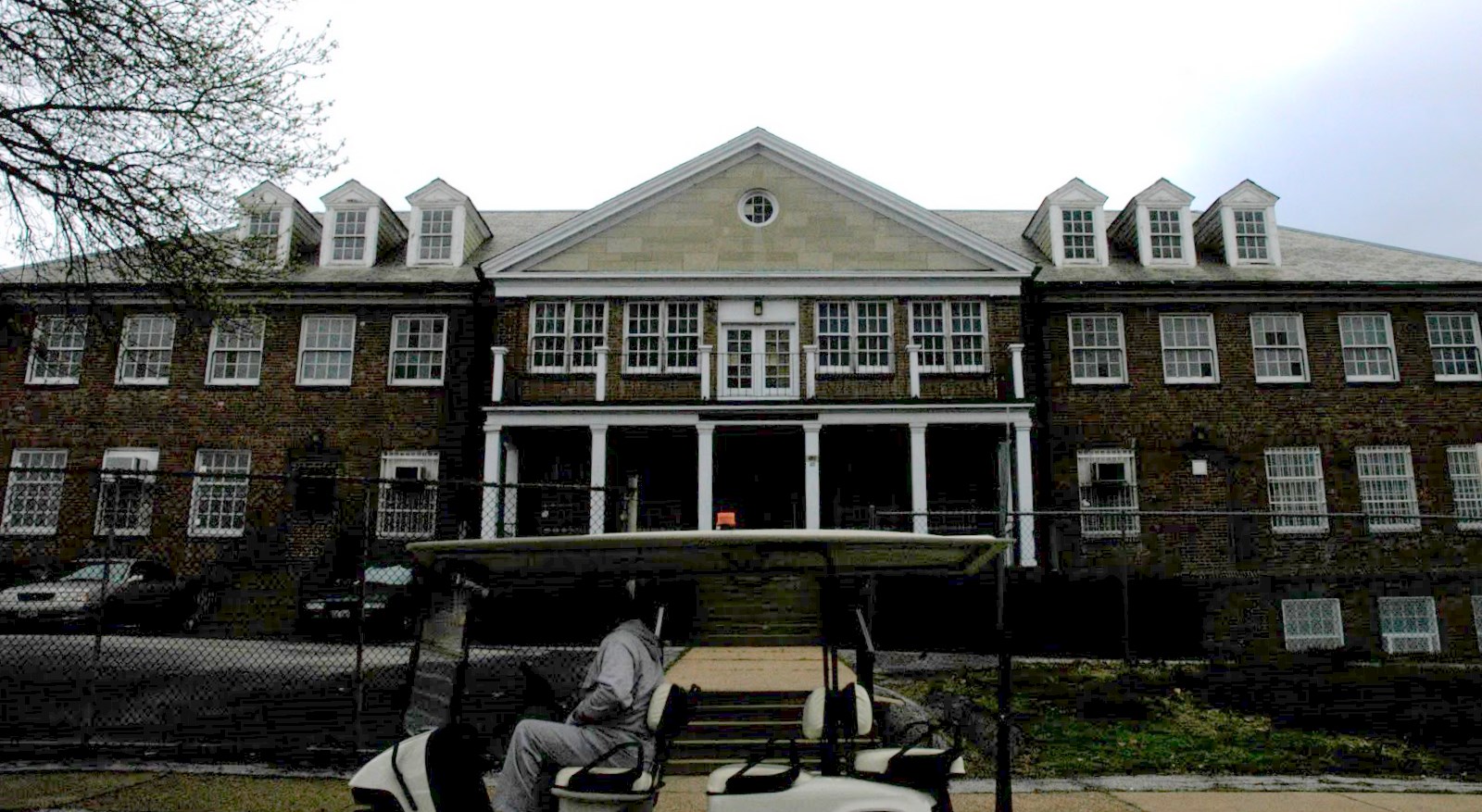 But the exposure most St. Louisians probably have to Penrose are the familiar views of Bircher Street just south of I-70 between the Shreve and W. Florissant exits: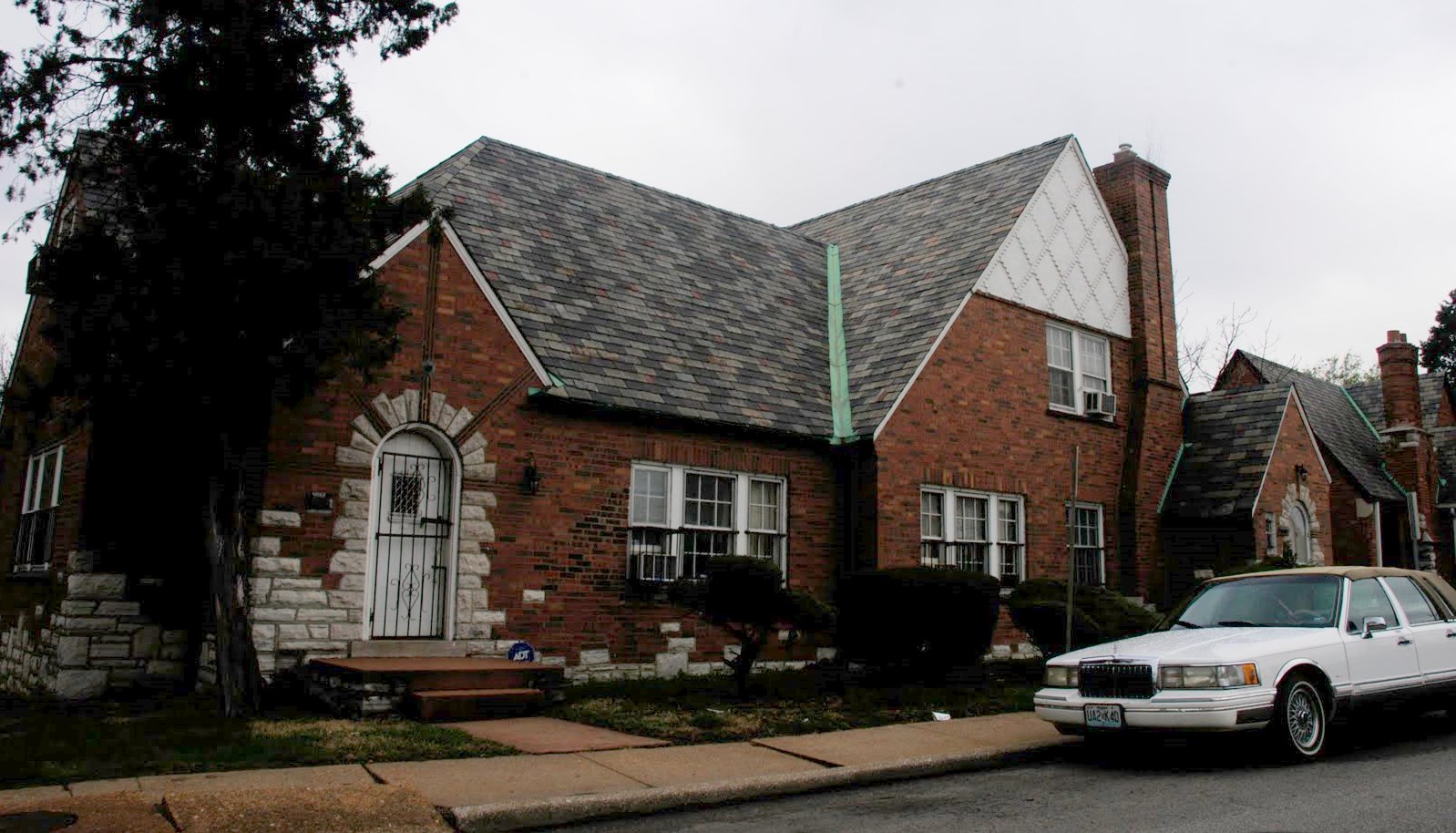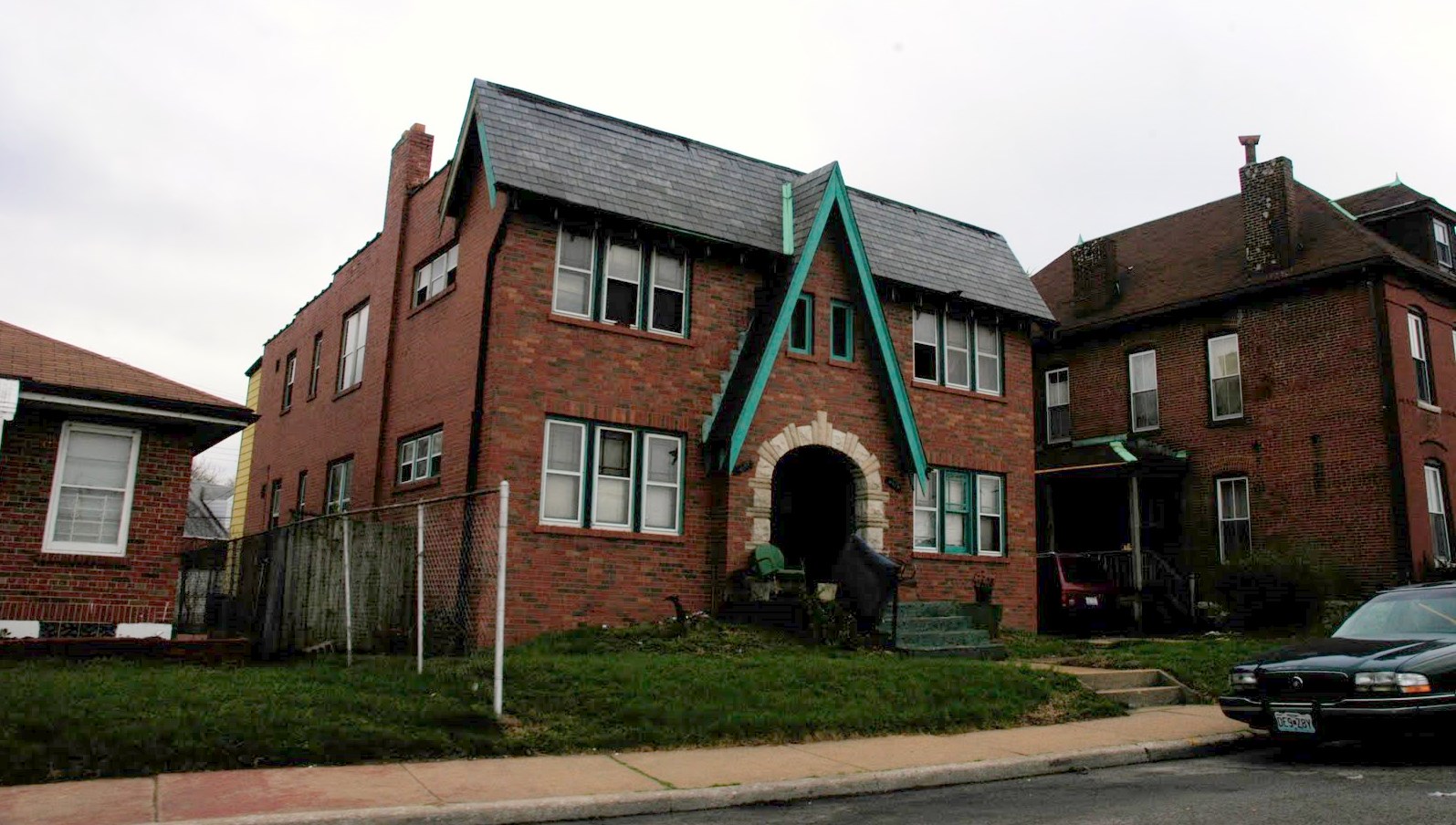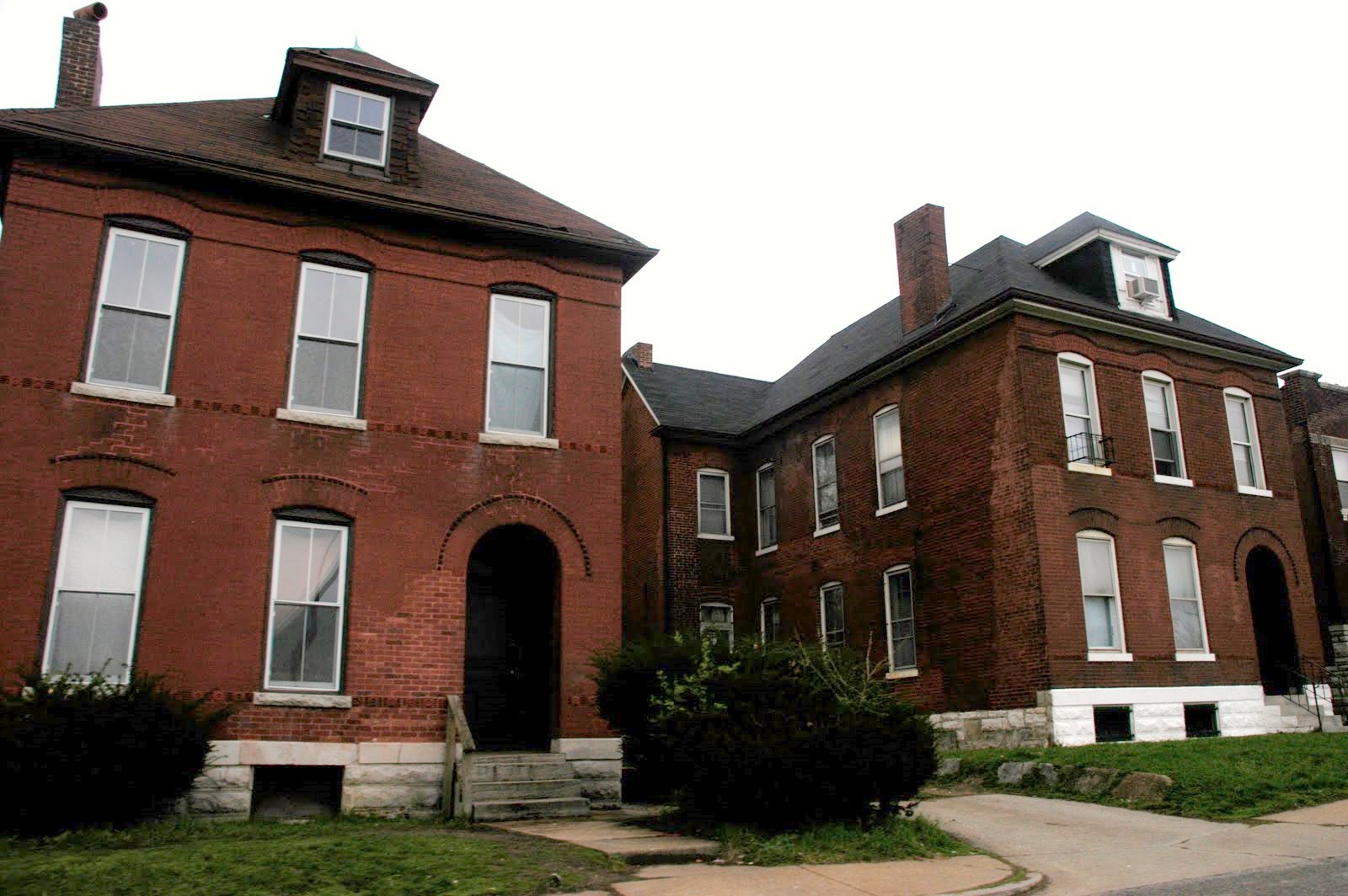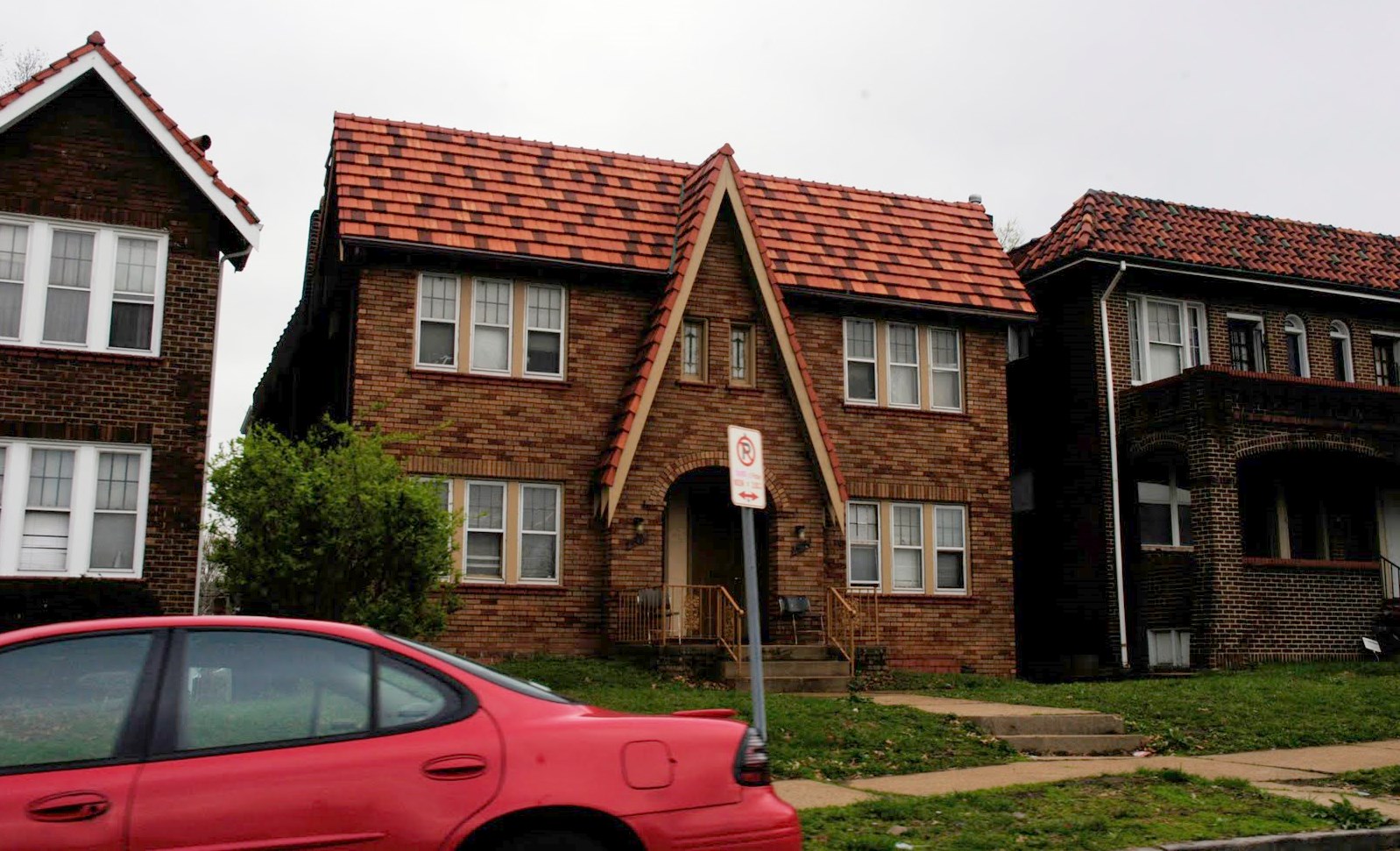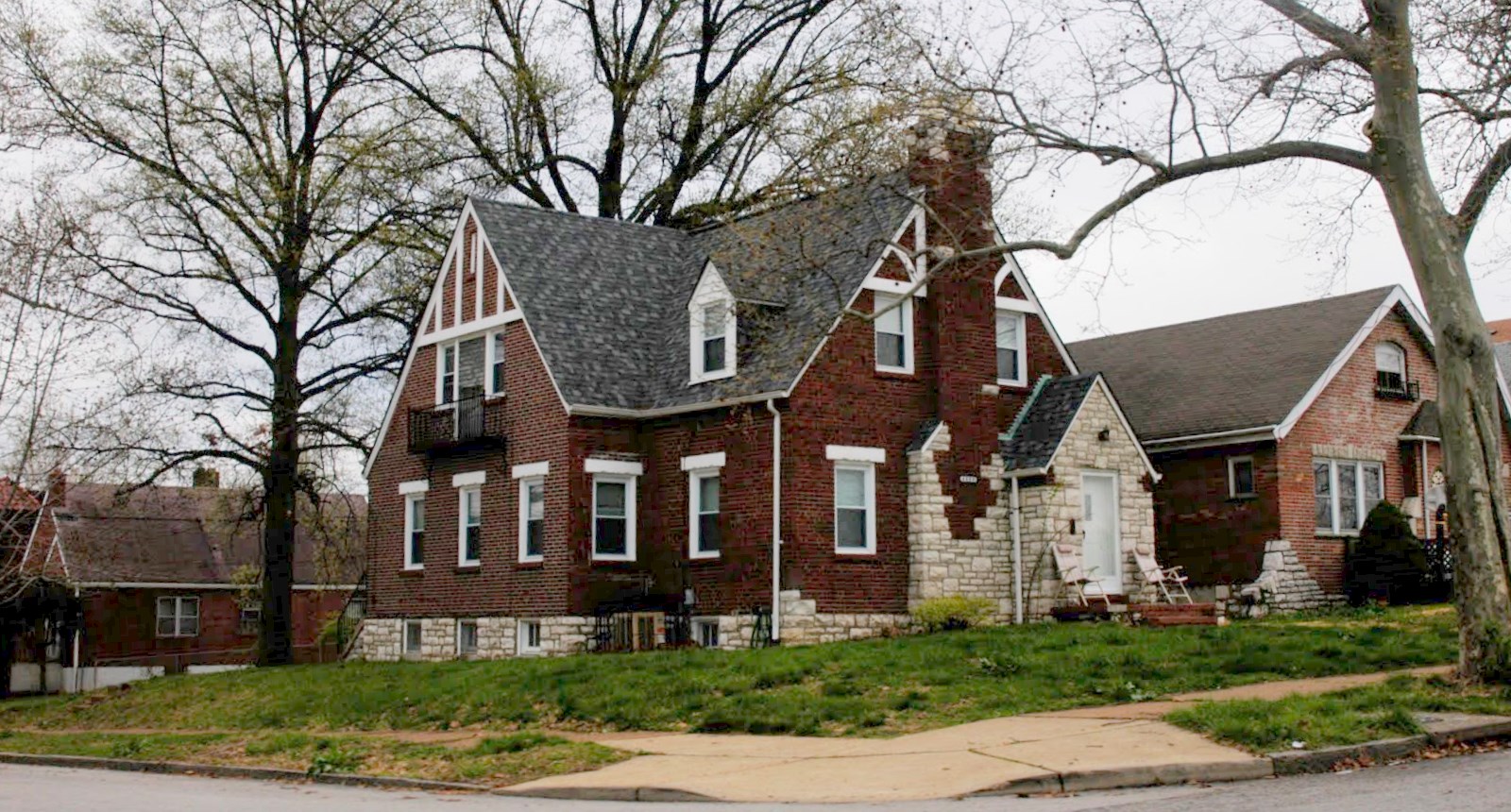 Due to the fact that Penrose is now eligible for tax credits, and it's a relatively stable neighborhood, I think it will look even better over the course of the next decade.
***In August, 2021 I revisited the neighborhood and the following includes updated commentary and photos***
Misses On Original Tour
I missed a picture of the former Natural Bridge Bank and Trust at Natural Bridge and Newstead.
The recently improved velodrome in Penrose Park was in use during my visit. The folks I talked to said there are races on Thursday nights, so I'll need to check that out. I learned the cyclists ride fixed-gear bikes with no brakes as not to mess people up, riding in groups behind them and messing with the flow. They said the city paid for ~90% of the upgrades and donations made up the rest. What a treasure. How many cities have a public velodrome?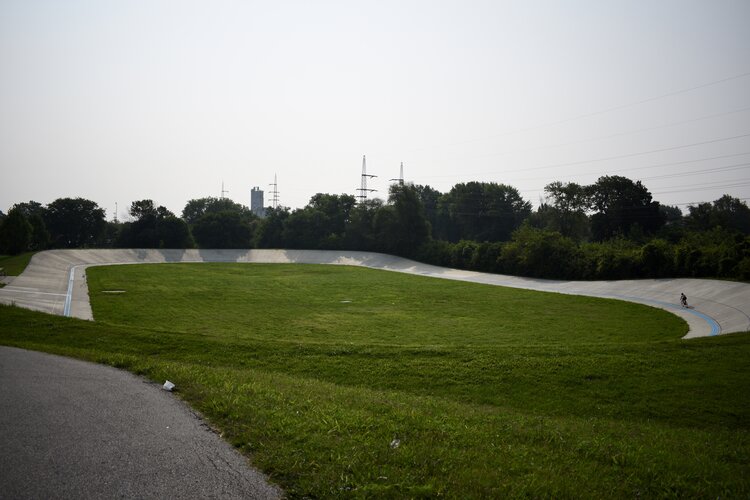 I also missed the Julia Davis Library Branch, which I linked to in the "Additional Reading" section below.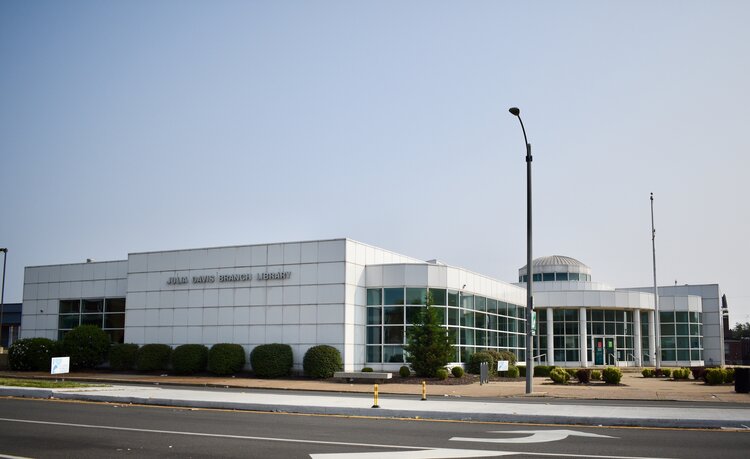 And how did I miss this amazing compound? I want this place!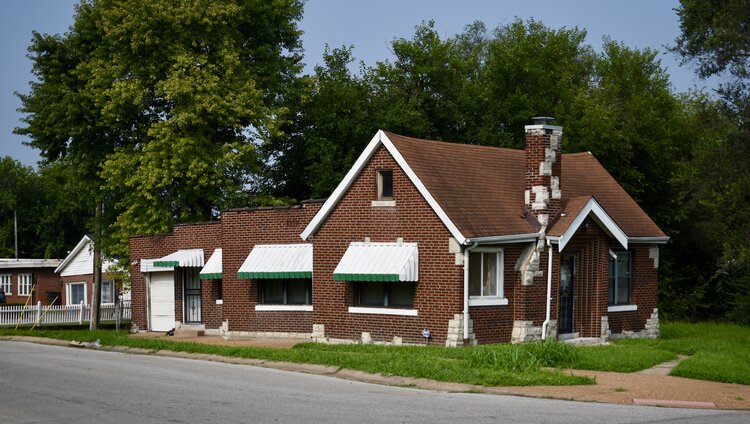 As I've aged and started paying more attention to apartment buildings, I feel like I undersold the beauty of the ones in Penrose. Some classics, I tell ya.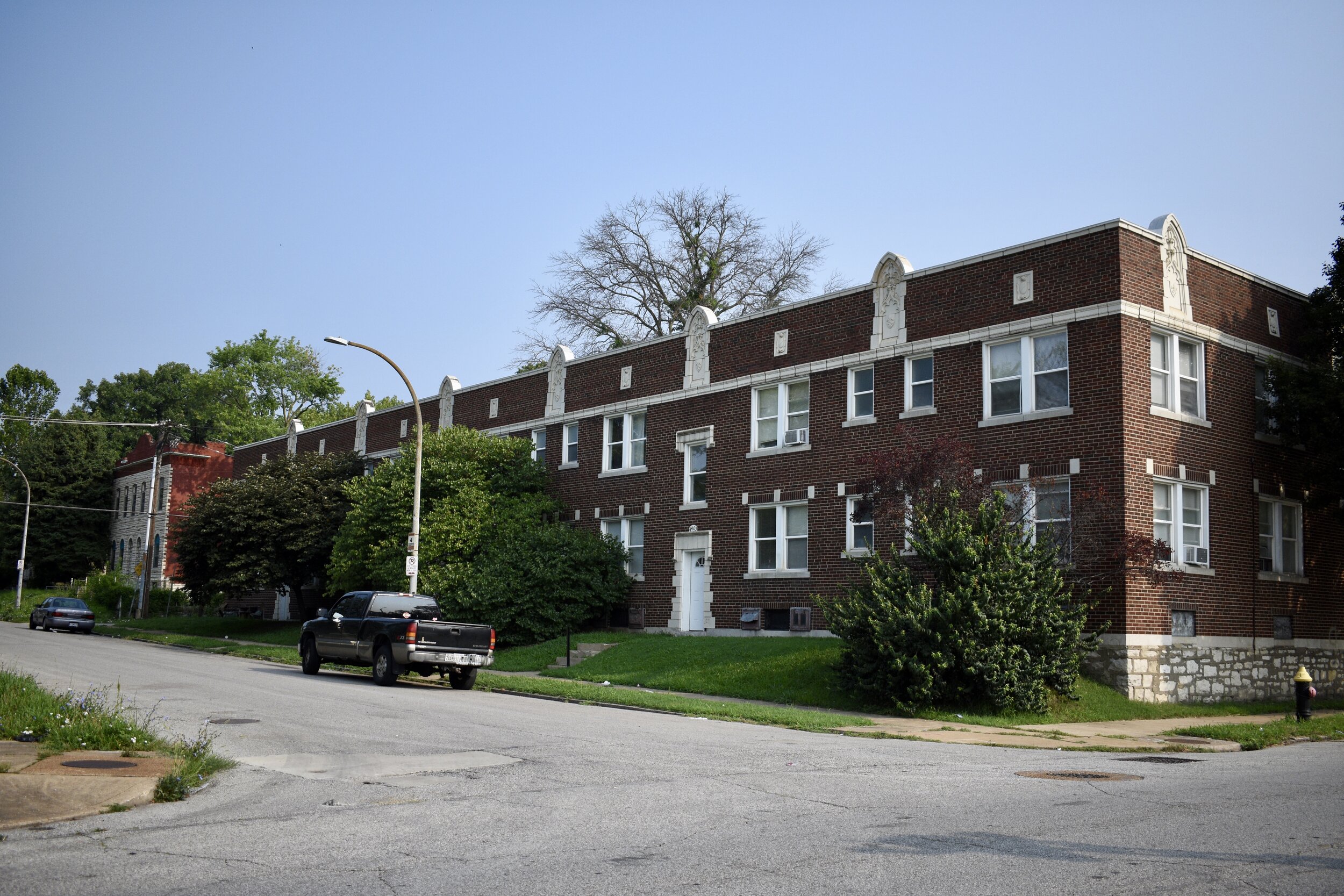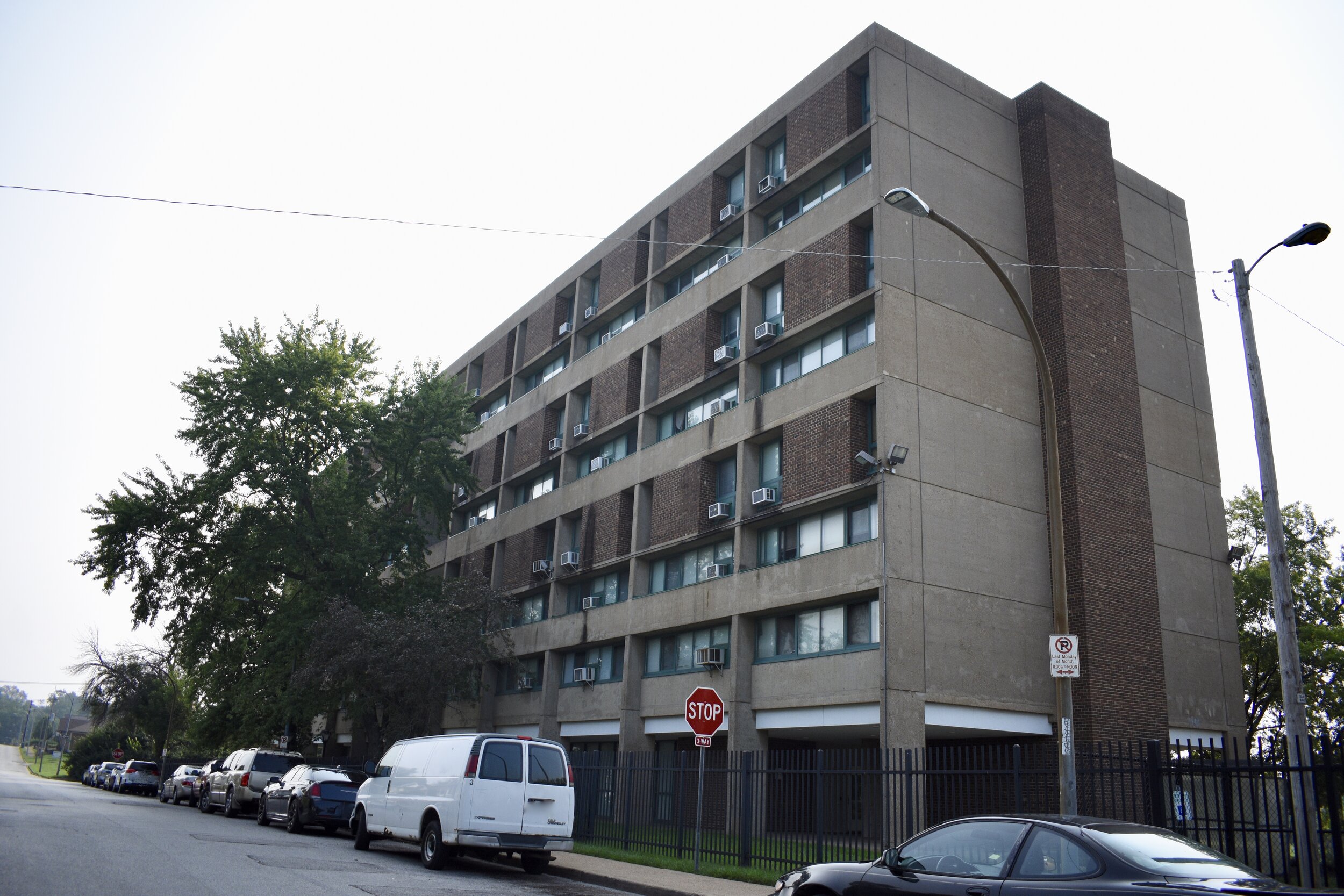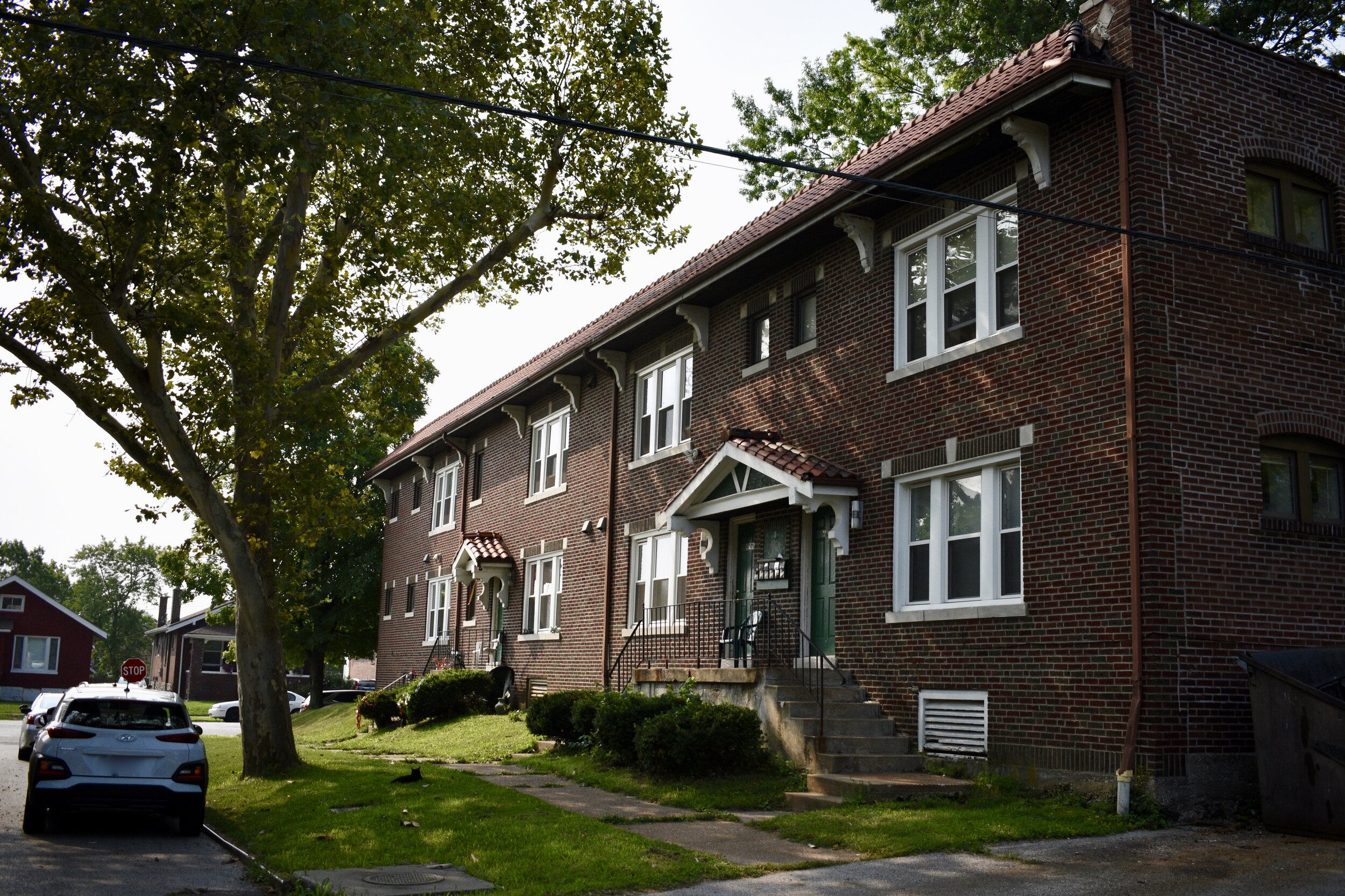 Another thing I put in the miss category, is the civility of Kingshighway in Penrose. In South City, Kingshighway is a speedway, auto-centric disaster. In Penrose, it feels like a neighborhood street. It is way less stressful and decent due to the massive tree-lined medians and fewer speed lanes. An example for the South Side for sure.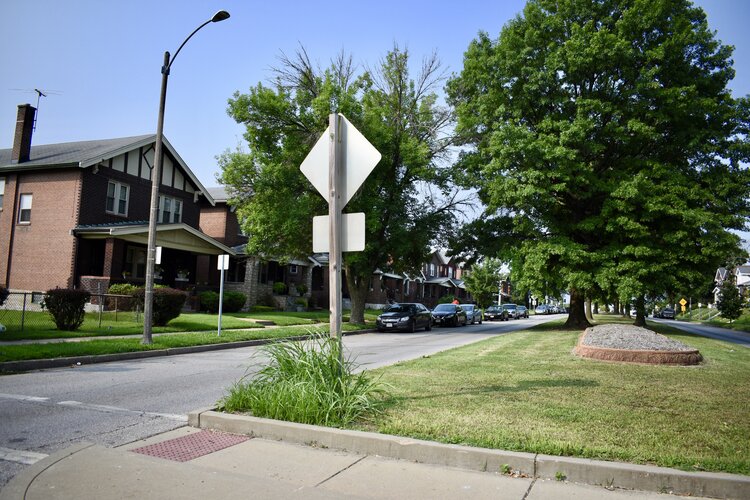 Noticeable Changes
Penrose has seen some impressive traffic calming efforts in recent years. It felt like there were more speed humps in this neighborhood than any I've visited to date. Natural Bridge has seen some sweeping changes with lane reductions, dedicated turn lanes and pedestrian crosswalks and bump outs. Granted, I was here on a Sunday morning, but the vibe was much safer and dignified.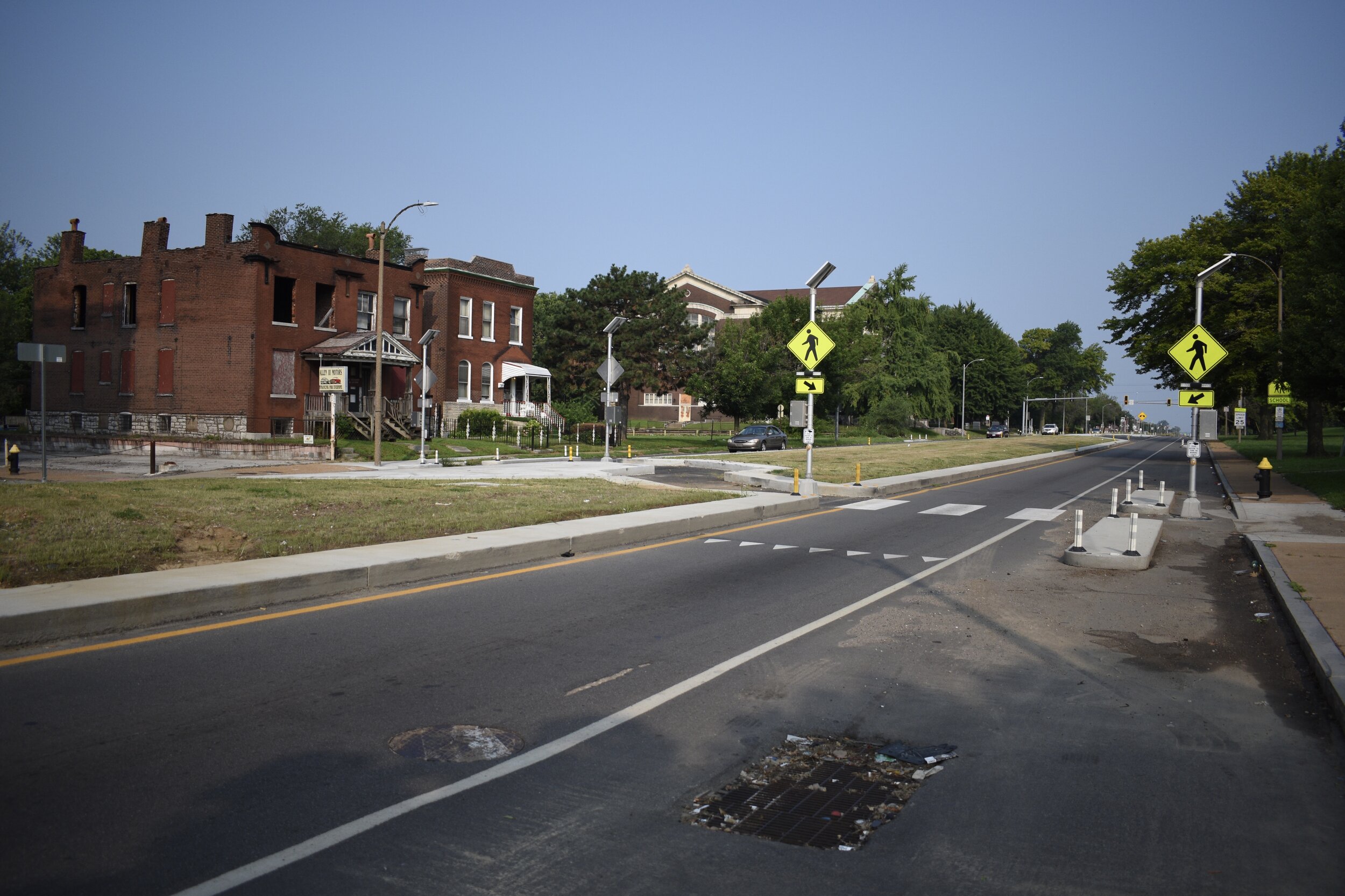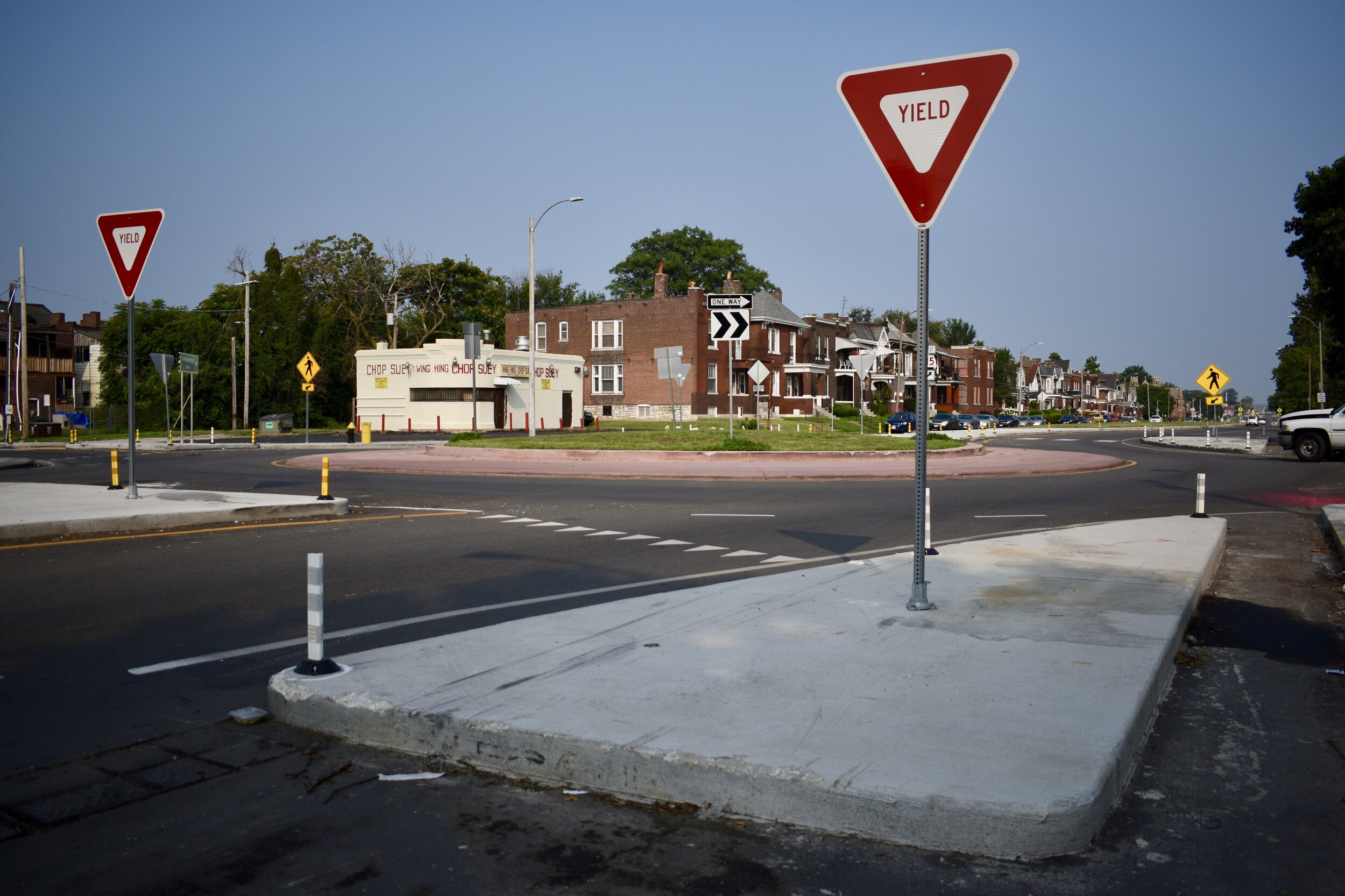 Highly impressive, well done! Can you imagine if we took this approach throughout the city on our heavily trafficked speedways? Natural Bridge used to be a terrifying place to drive/walk/ride a two wheeled vehicle; it is better today due to design, will it work in process? Today, it functioned.
Overall, Penrose feels decidedly solid, if not a bit hanging-on, or aging. I feel like the housing stock mirrors a neighborhood like Southampton or North Hampton. There is a lot of property upkeep and spic-n-span properties. But again, it appears to be aging out a bit with lots of retirement-age people and older at the forefront.
The place is ripe for hundreds of new residents to move in and be a wonderful neighborhood for another generation. If I had the keys to the city, I'd focus on solid areas like this and push resources and incentives this way. We need neighborhoods like this to be complete and strong and heading in the right direction over the next decade(s).
Some parts of Penrose are as solid and beautiful as any in the city.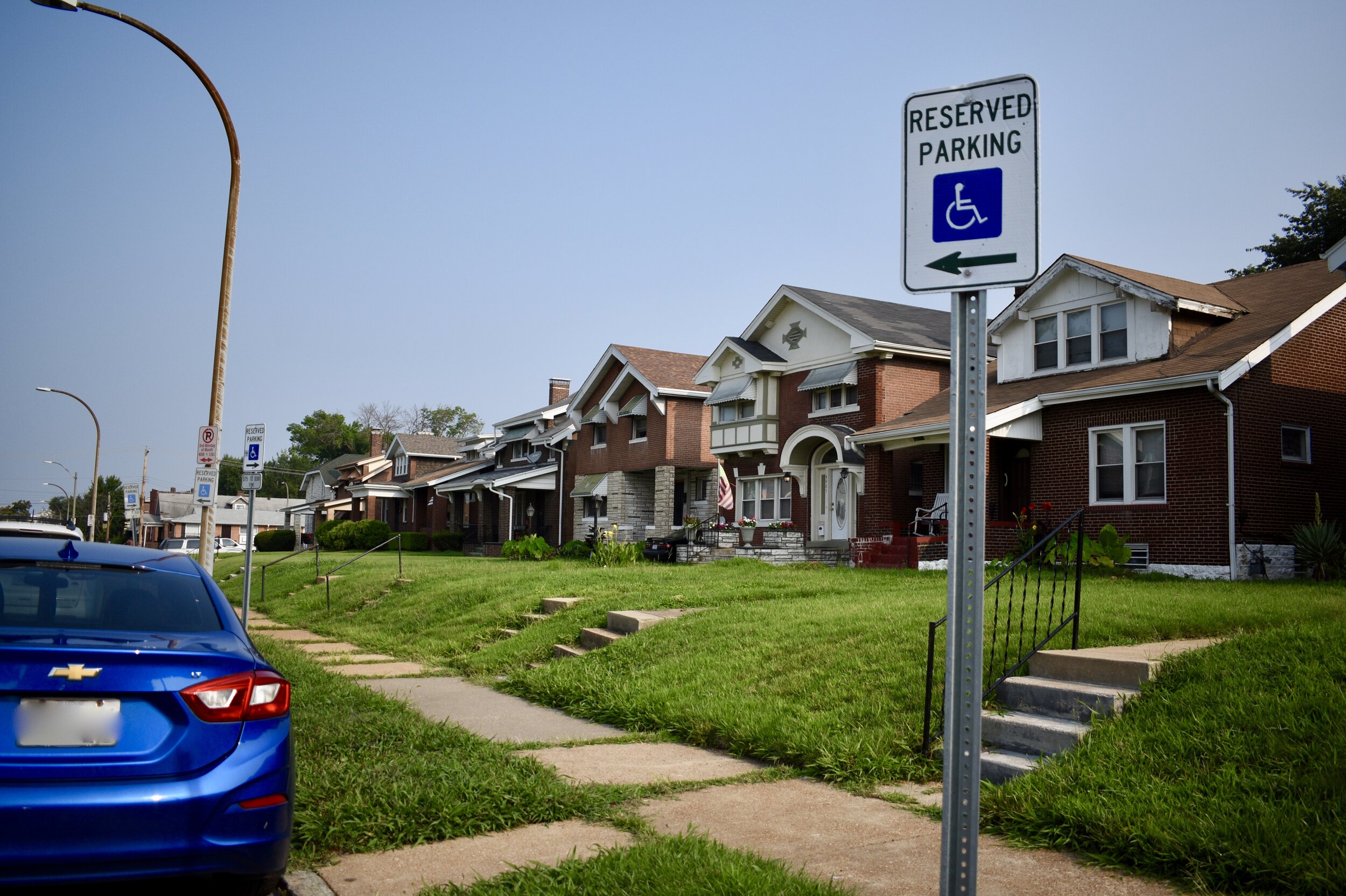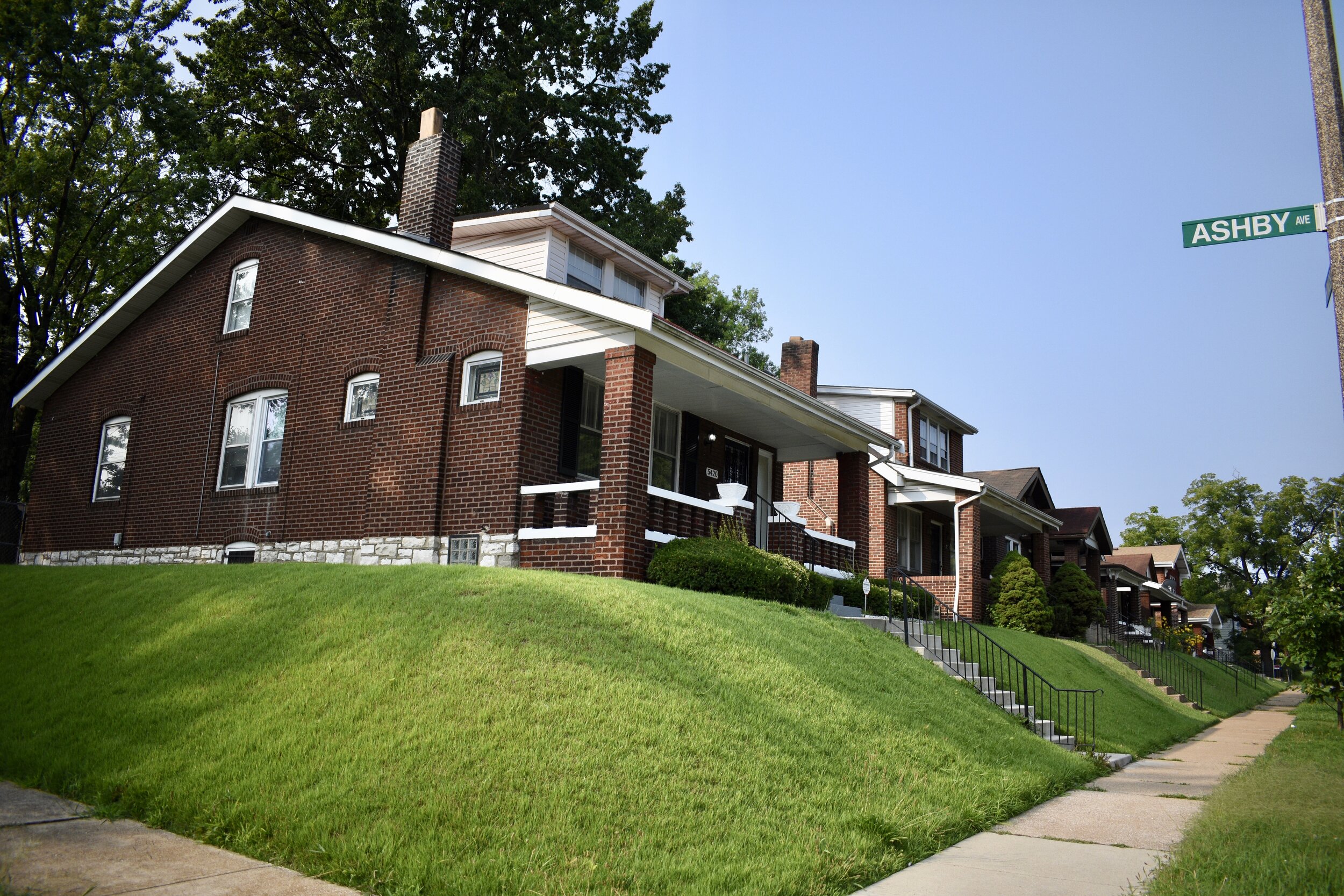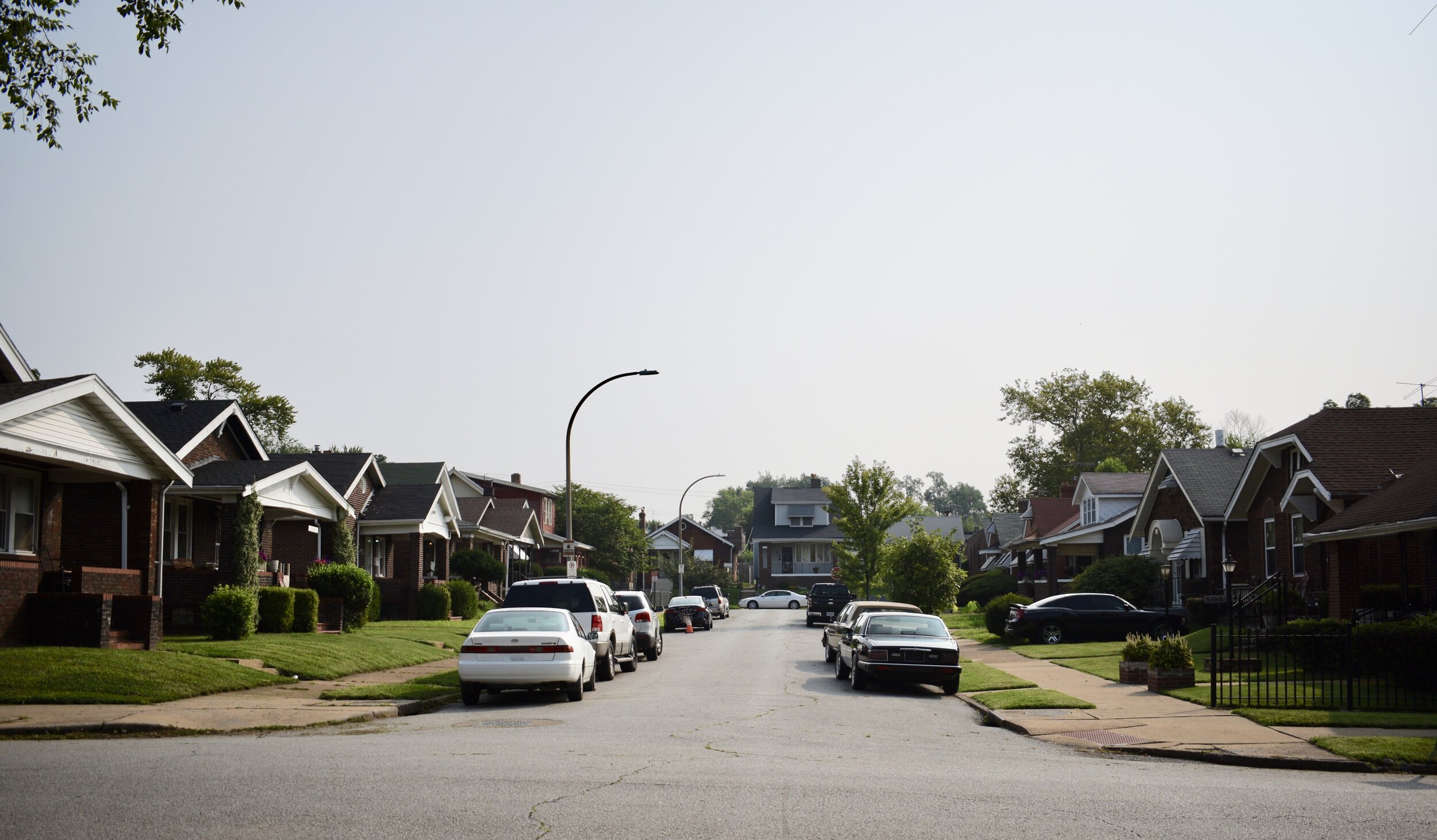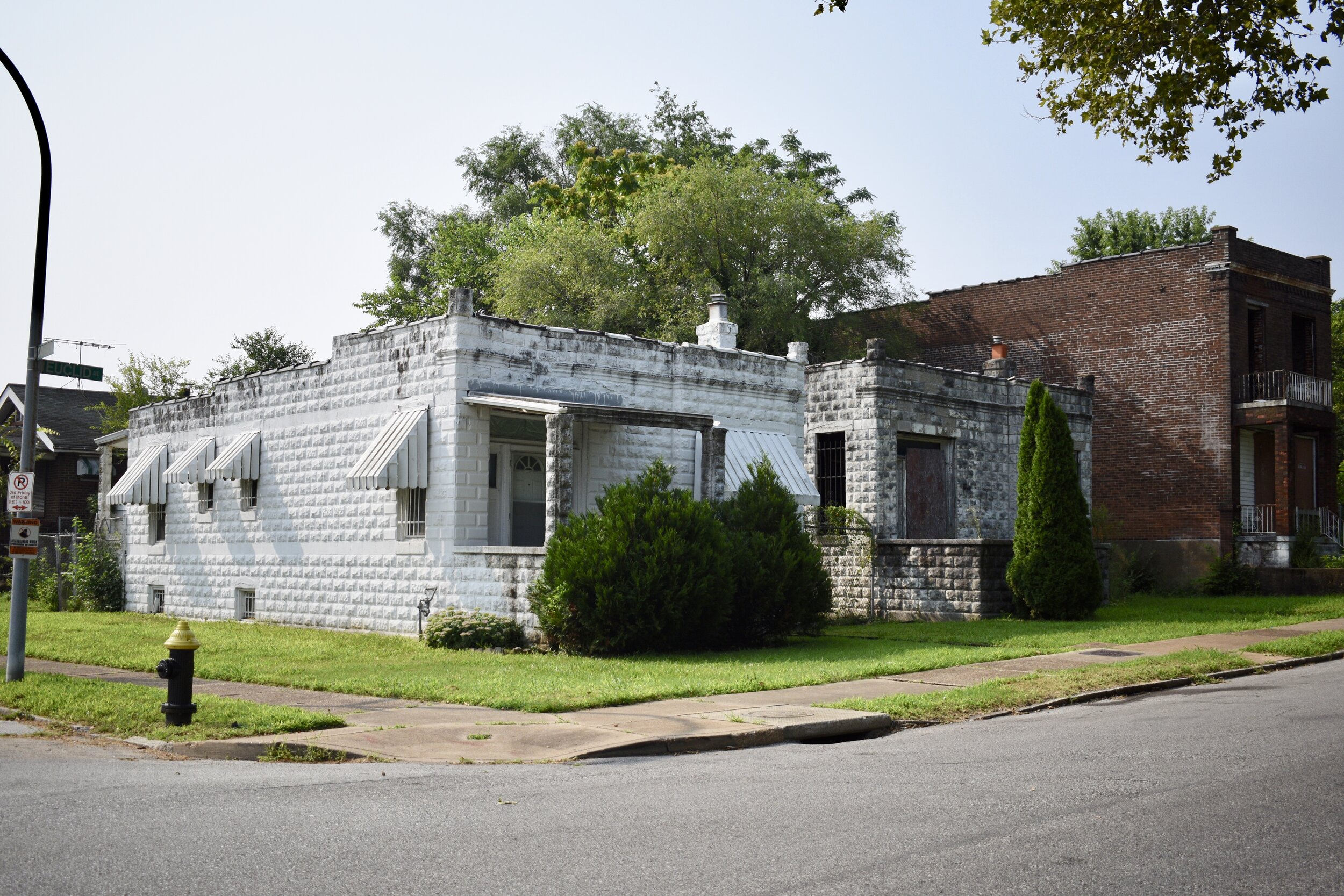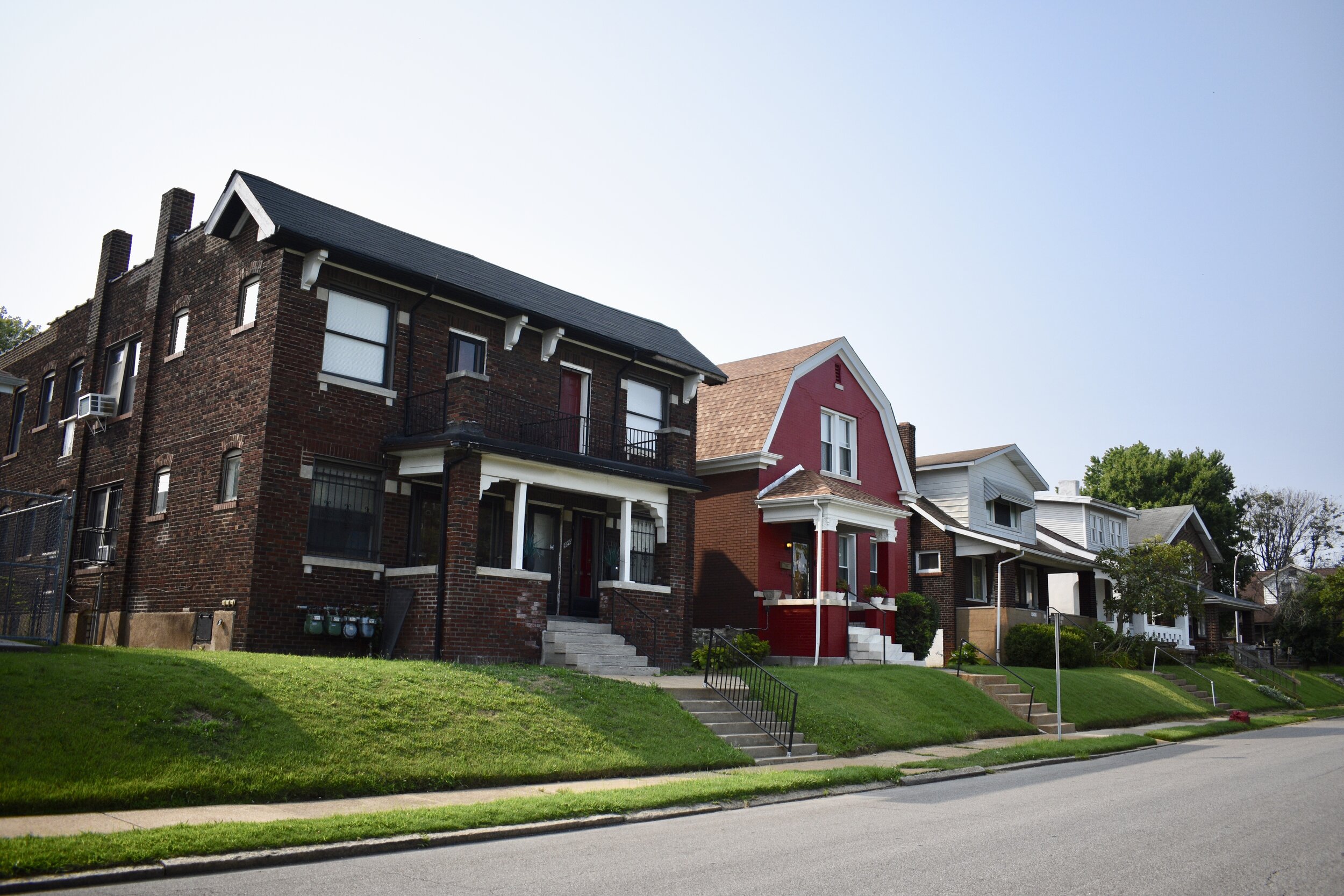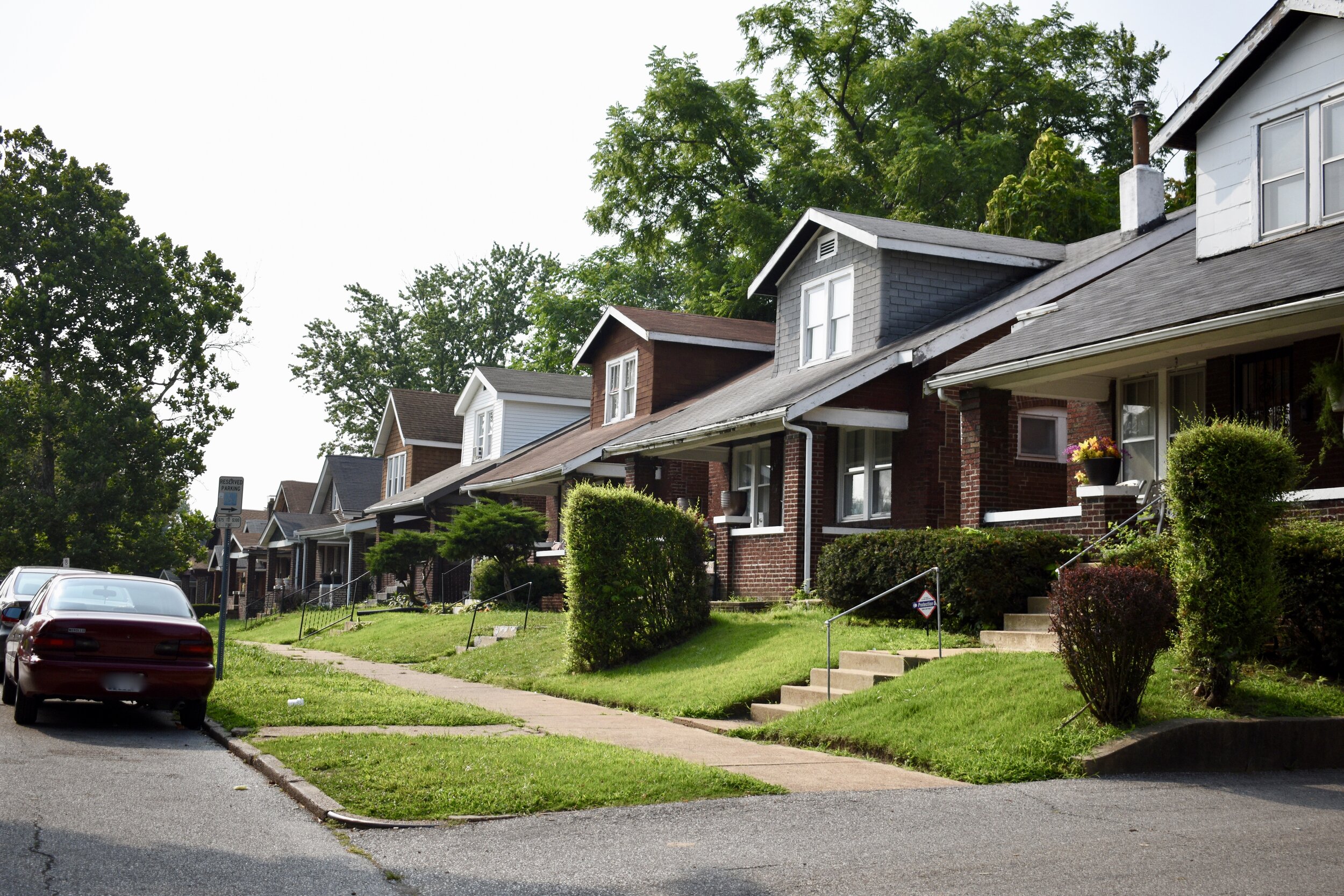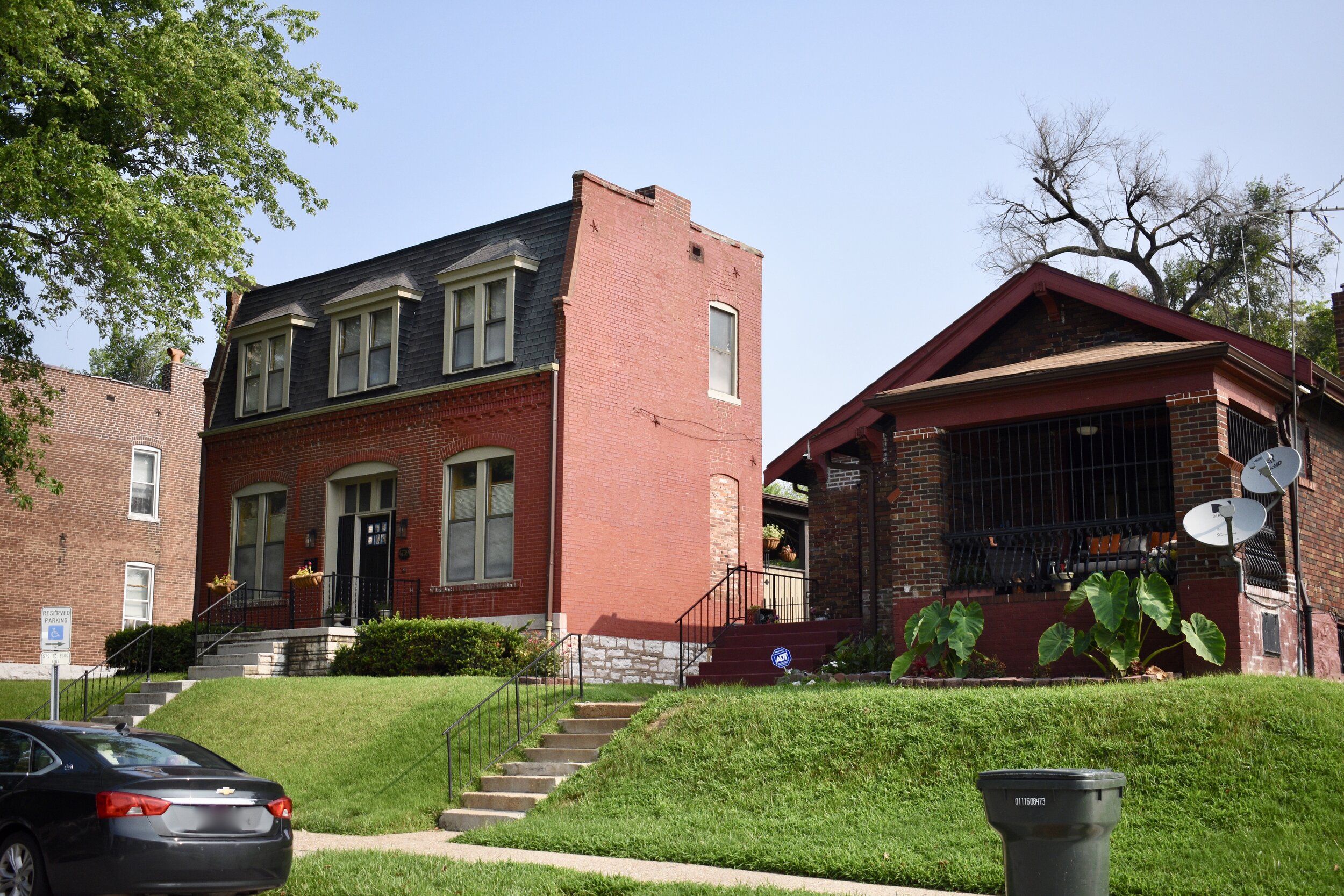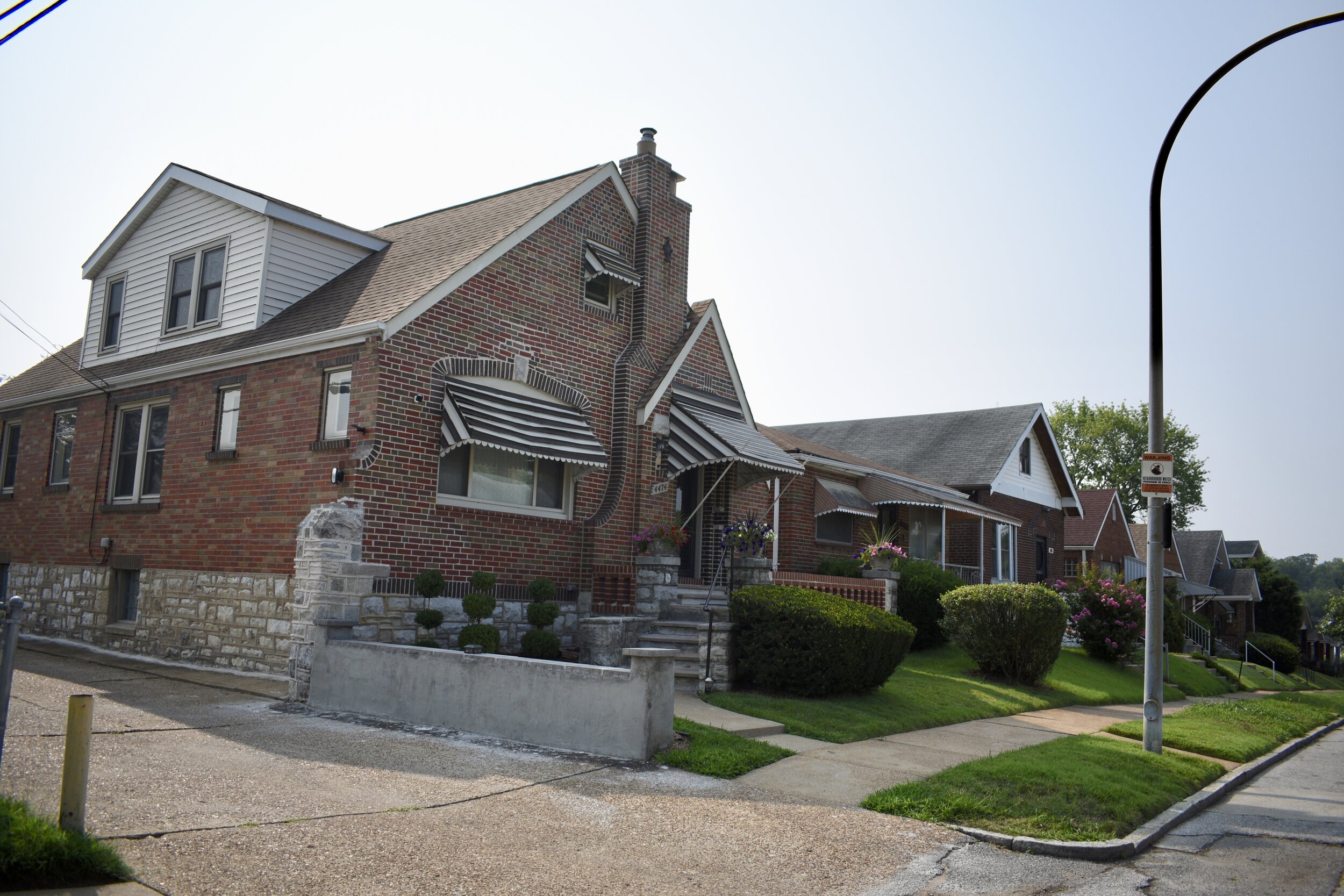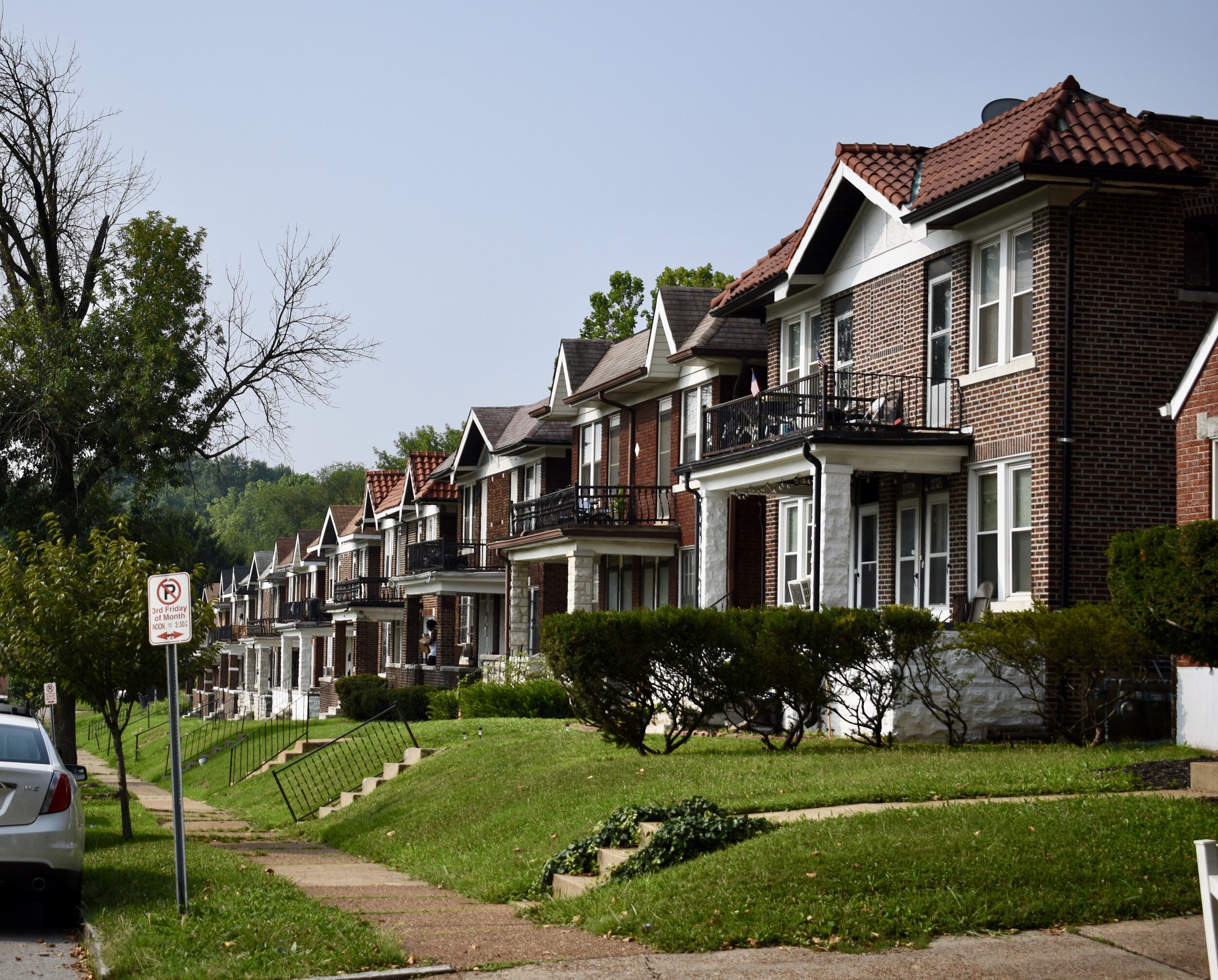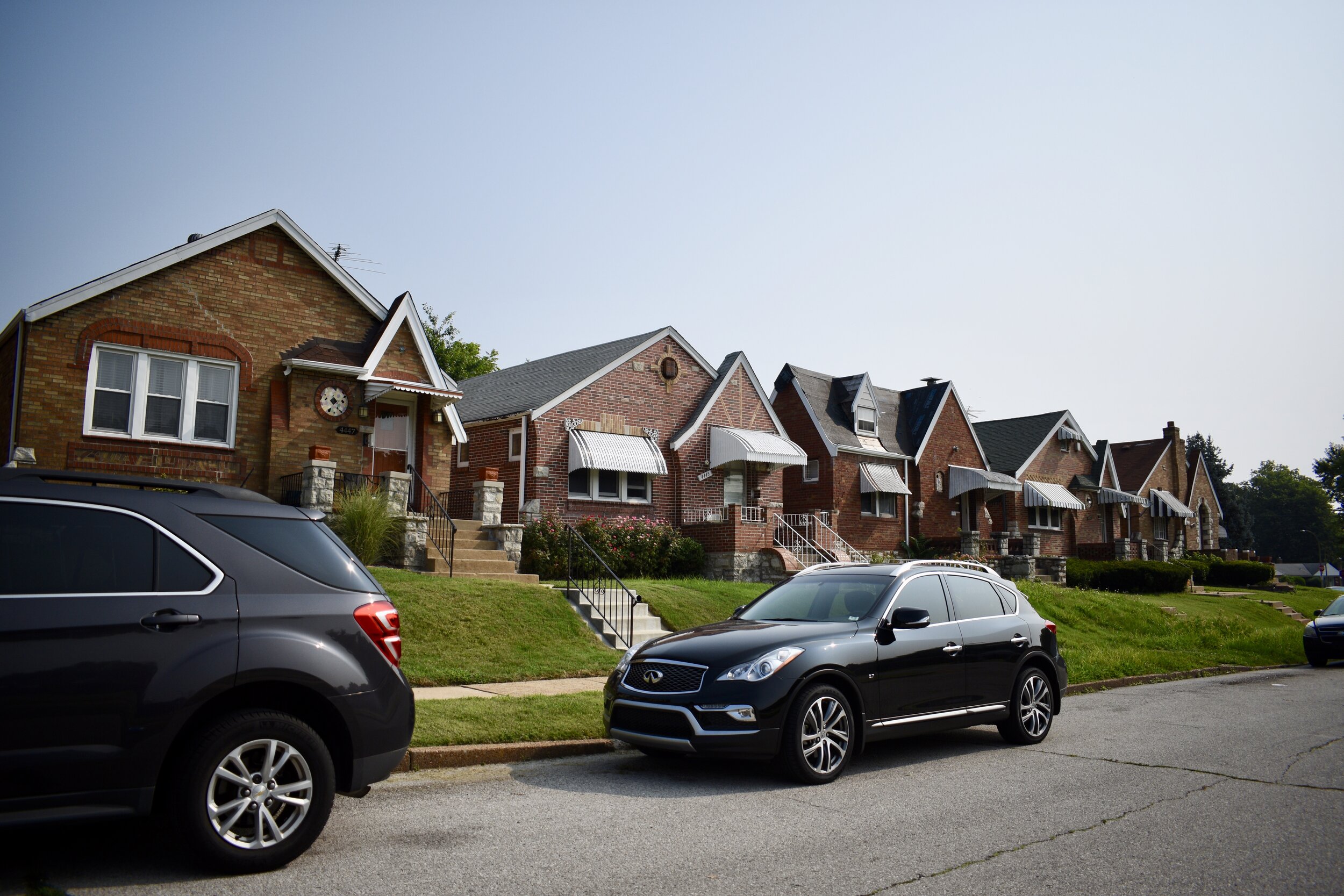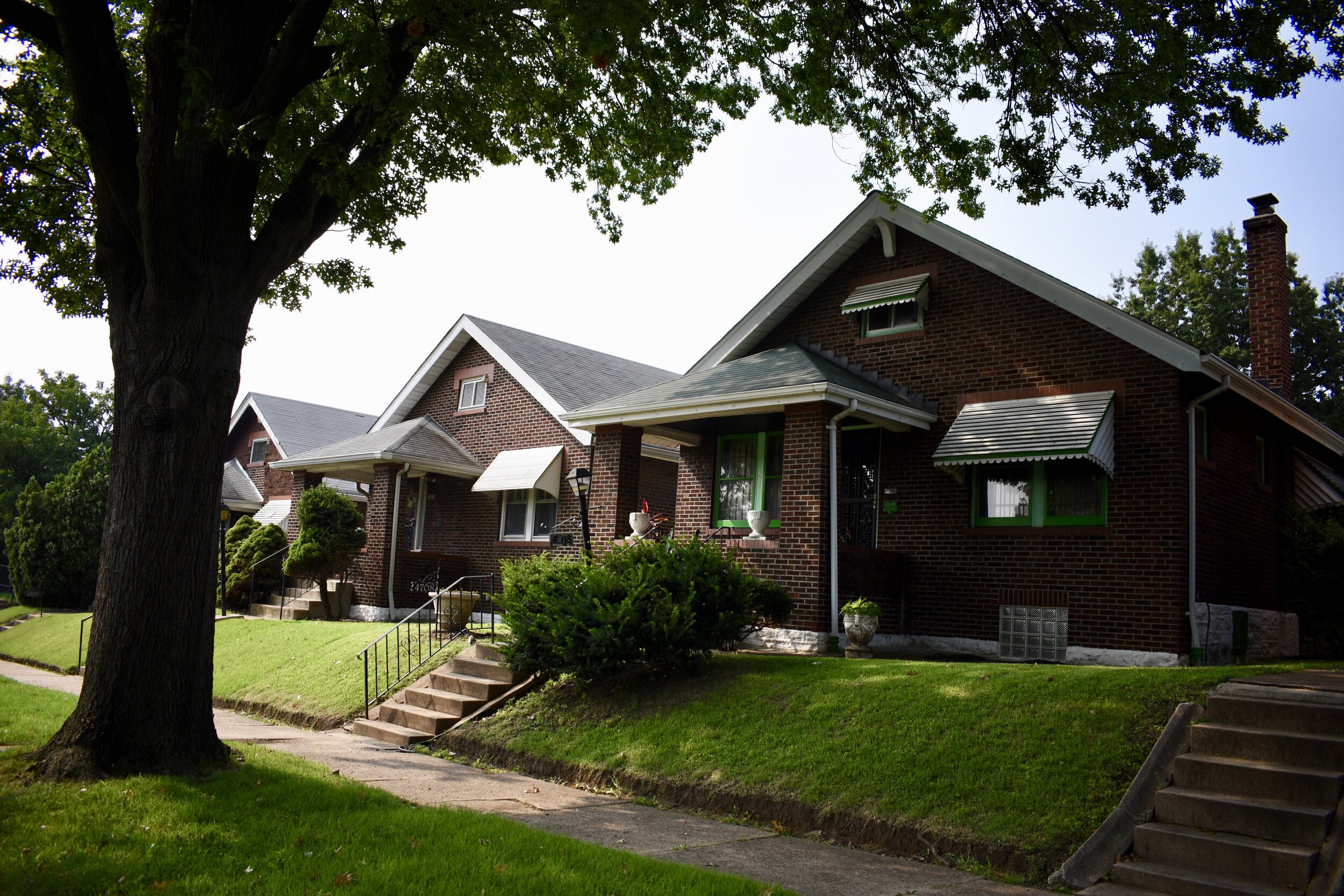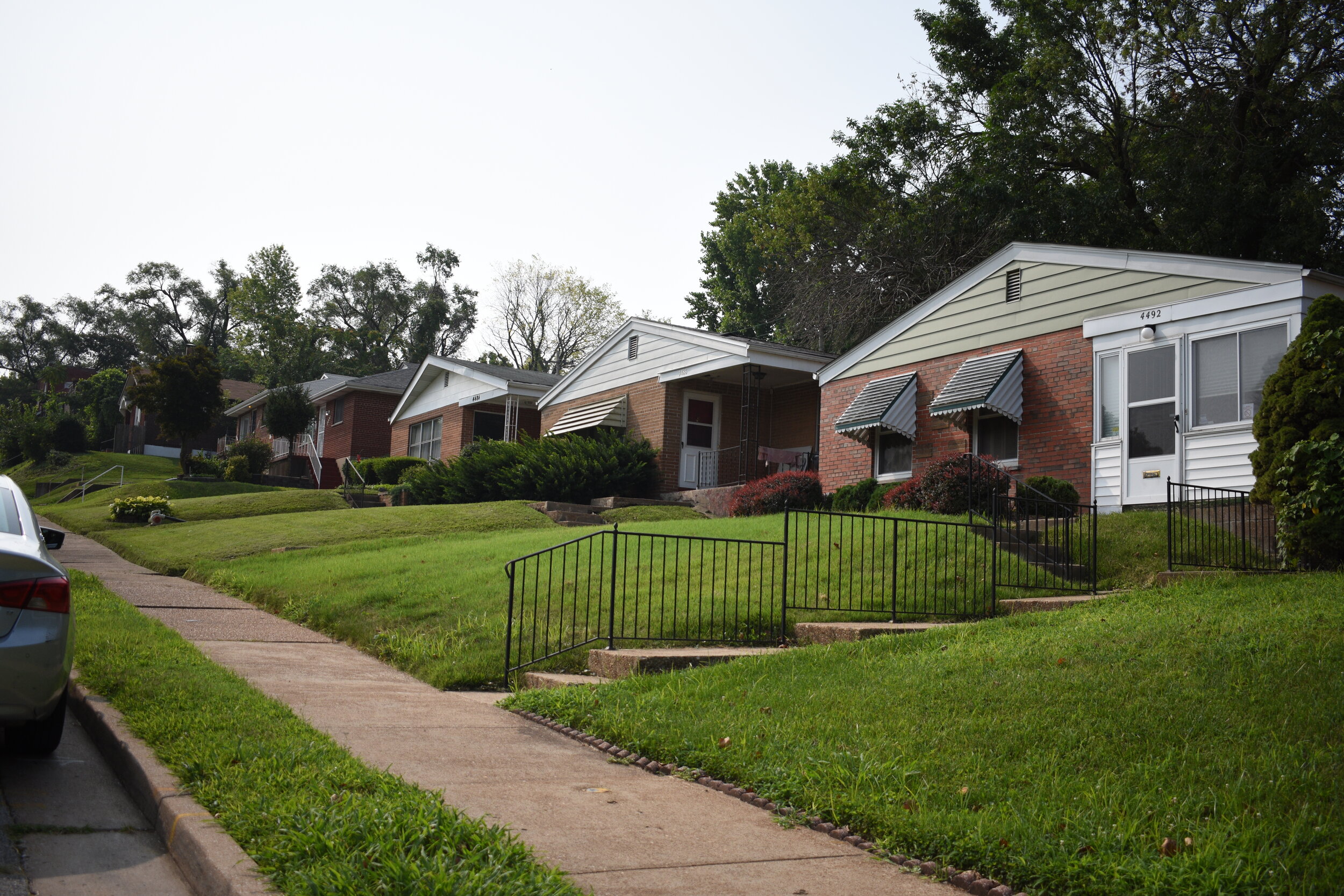 But I'd not be telling an honest story if I didn't recognize that certain blocks/properties are decidedly worse over the last decade.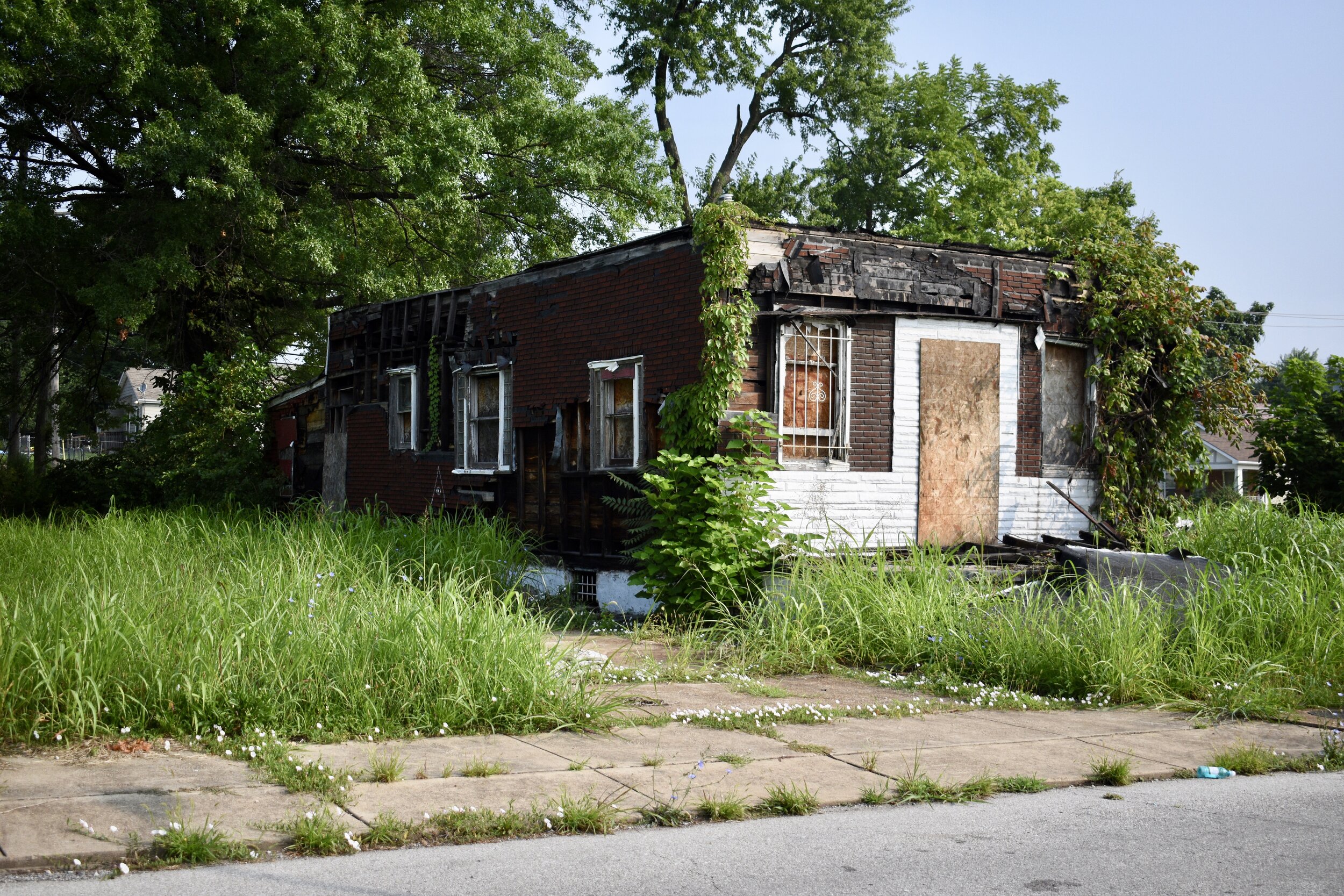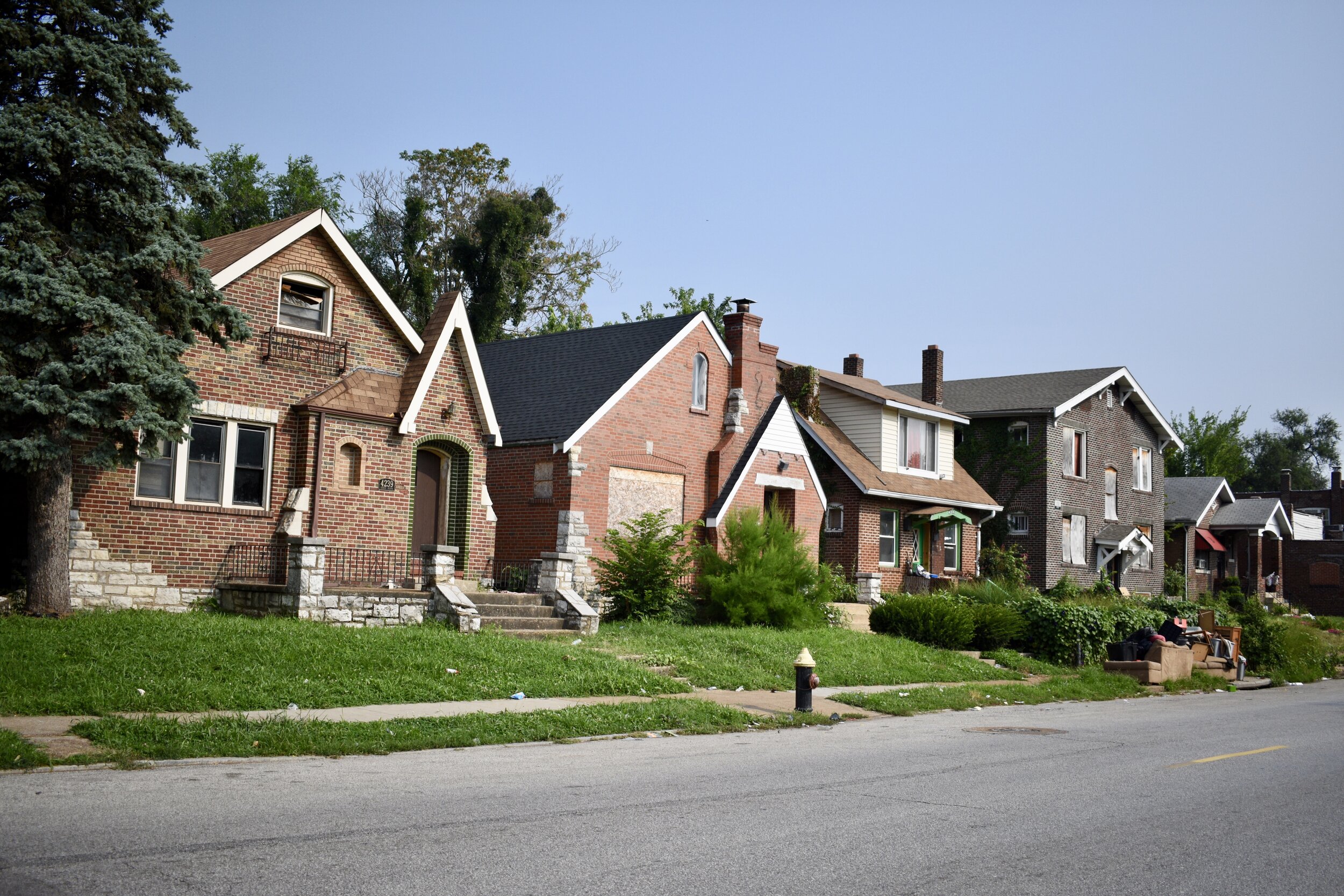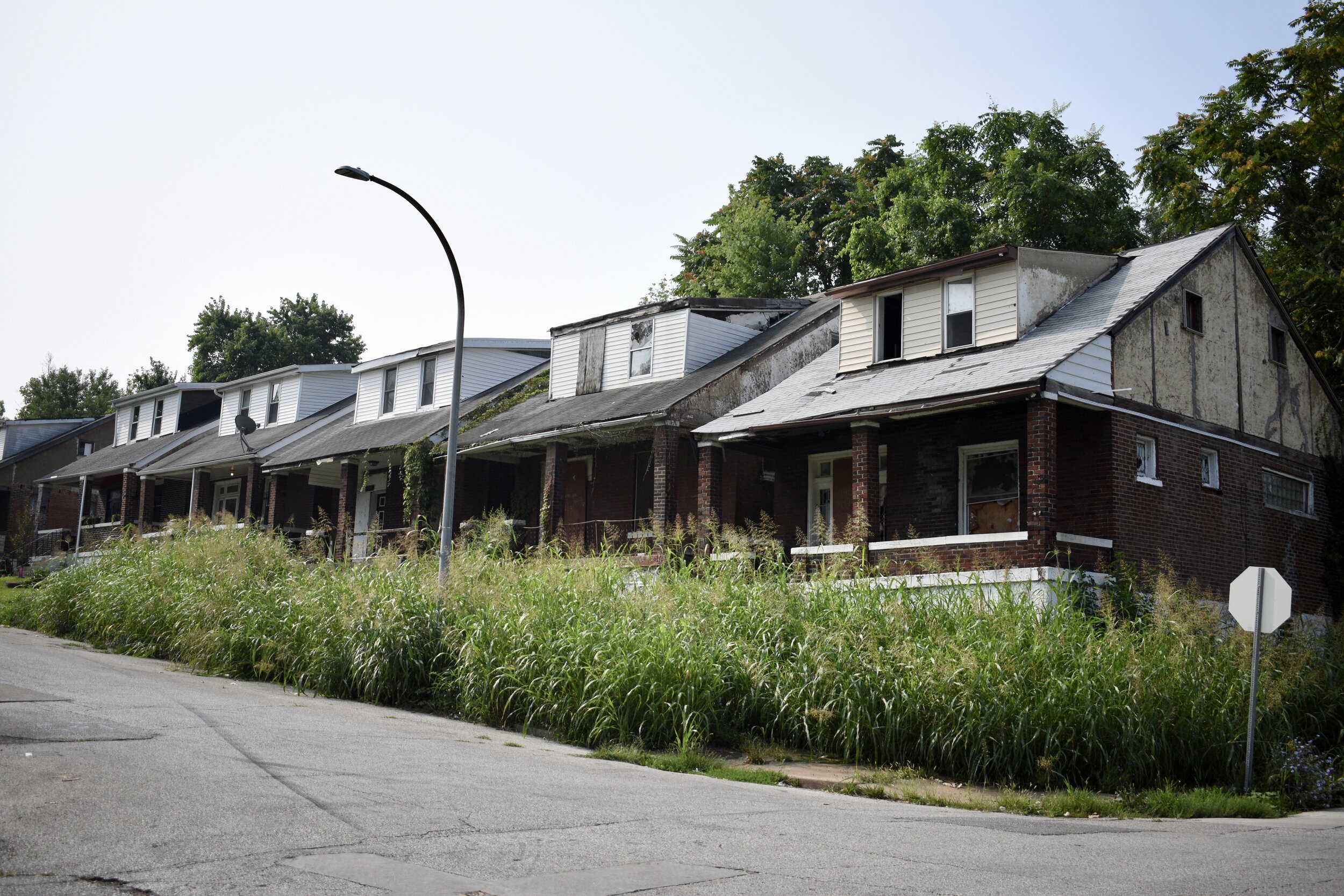 The Newstead Apartments that were under construction in the first post are now complete and fit in pretty well.
There is evidence of newer home infill throughout the neighborhood. They are in varied styles, but the following is a good representation of size and style.
The churches and institutions appear strong and important to the neighborhood.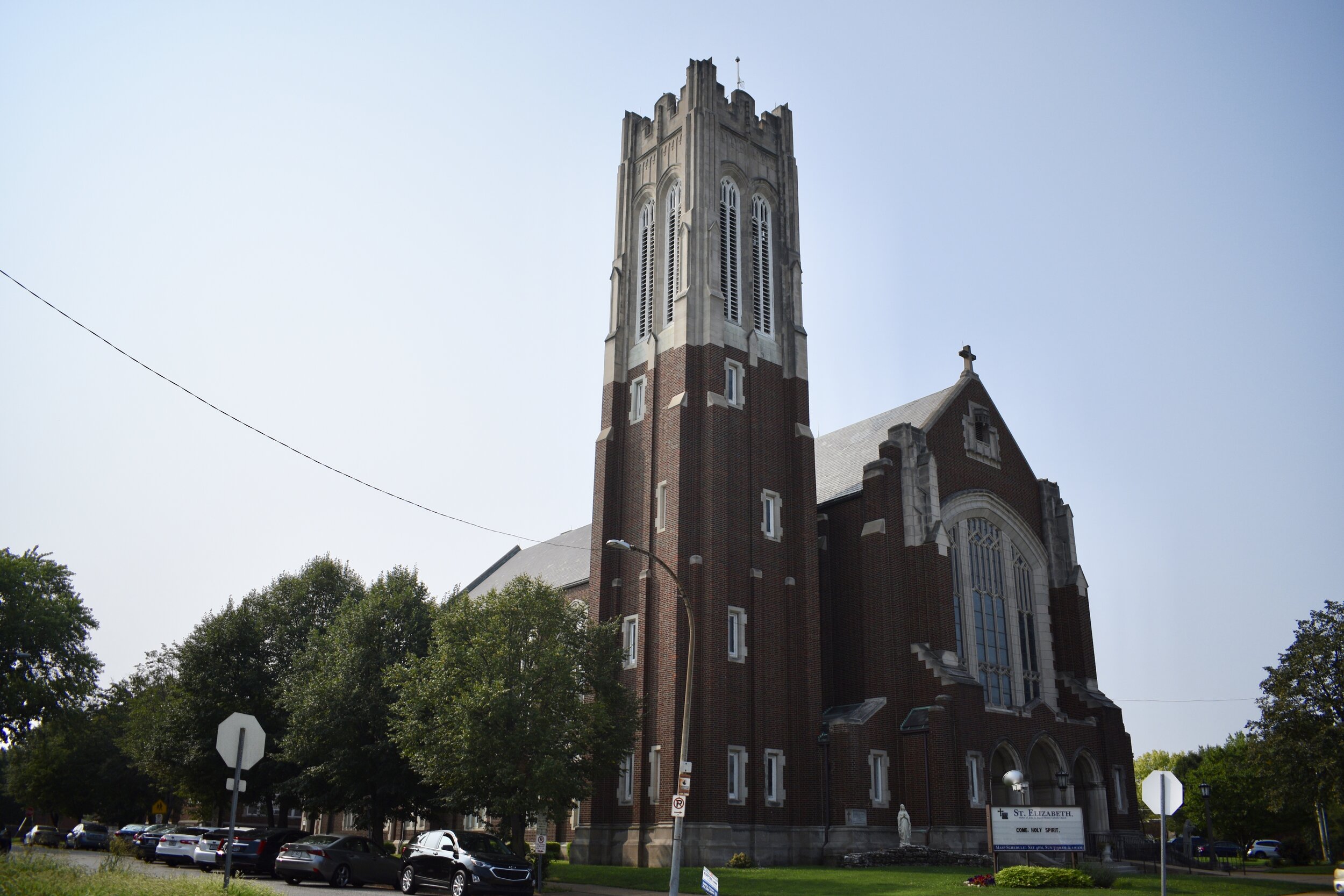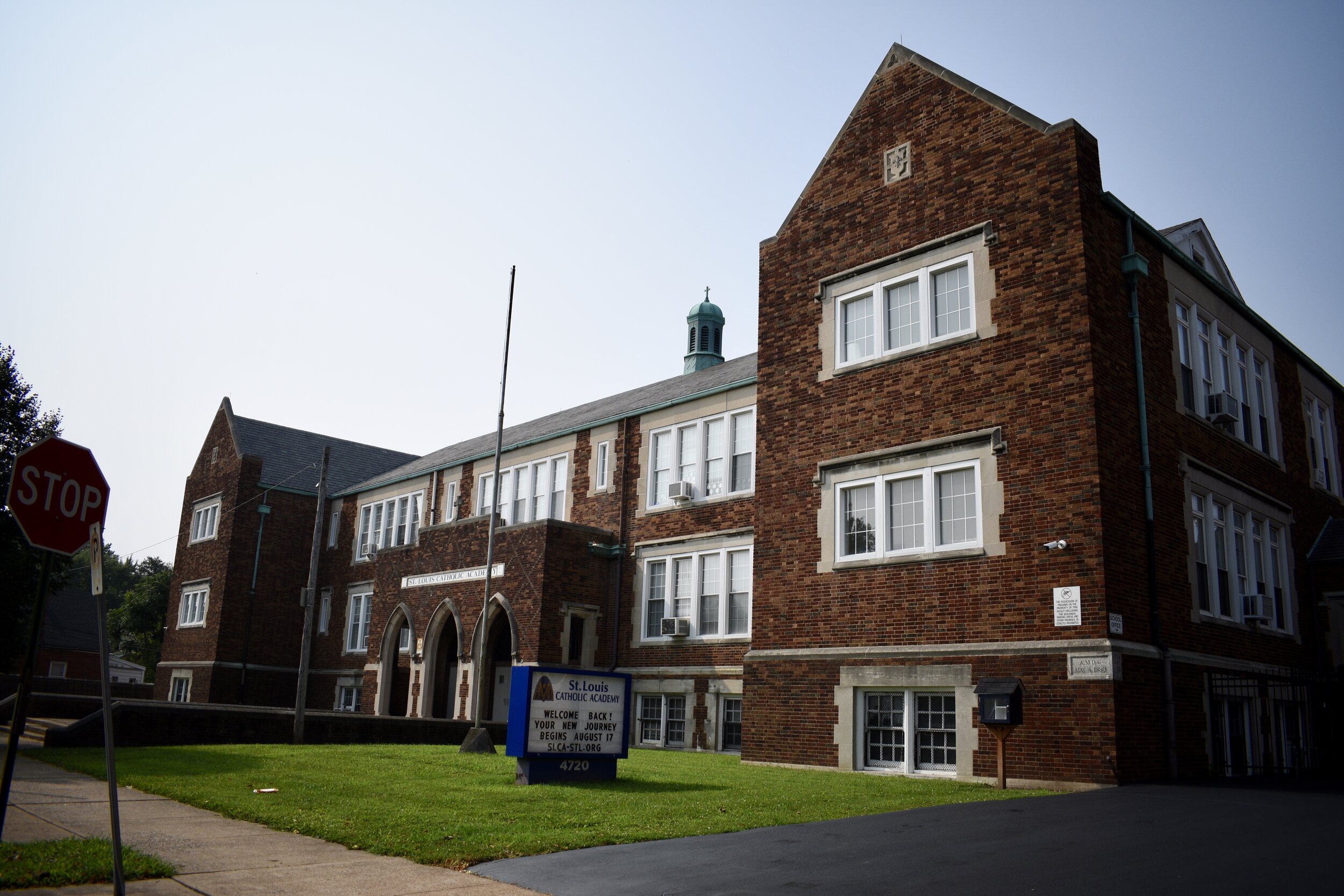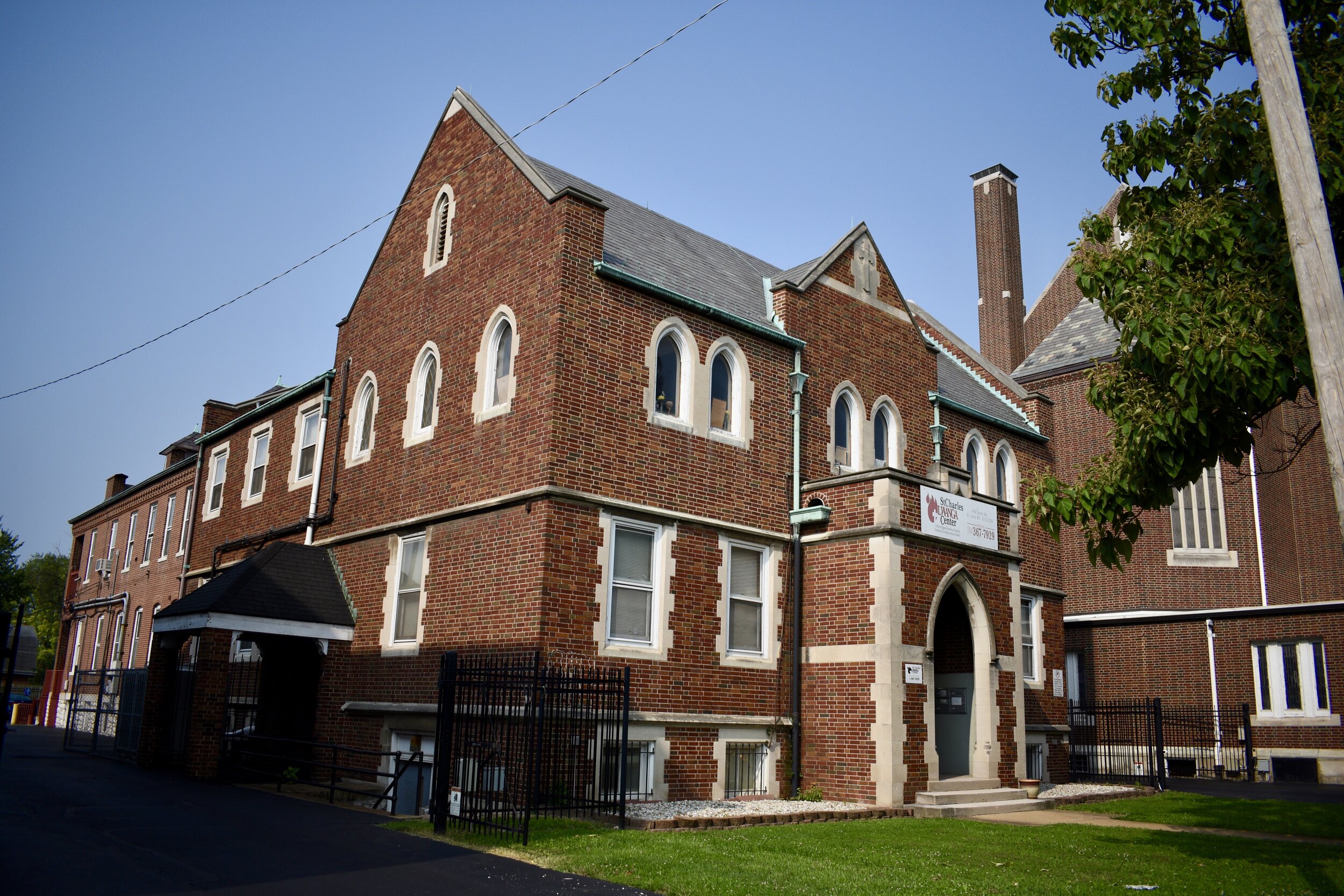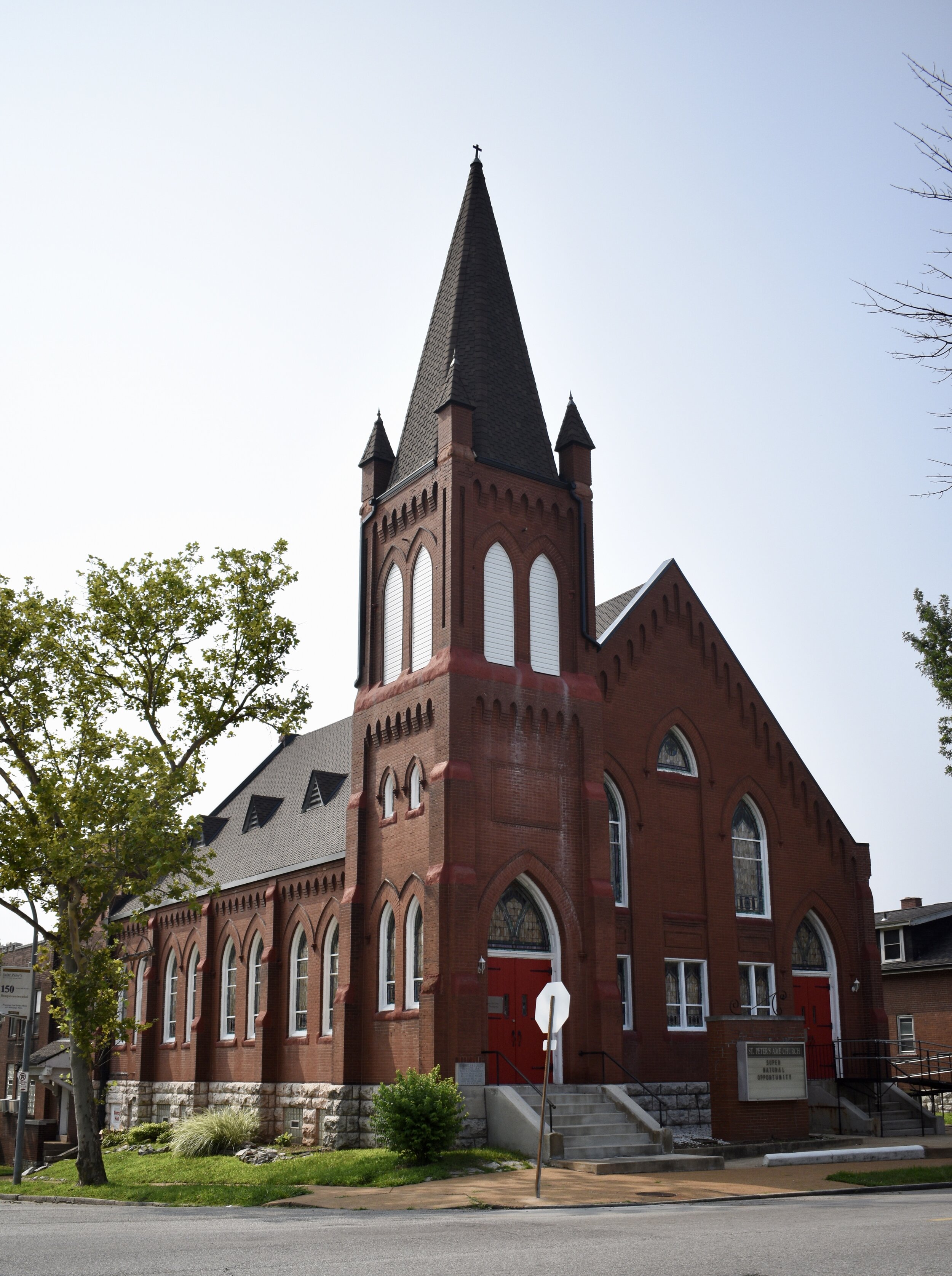 What Are The Future Needs?
Much of the intra-neighborhood business is gone from ten years ago, but this can be said about many places in St. Louis and America in the Amazon/online shopping era.
The intra-neighborhood retail spaces are handsome and waiting for new uses.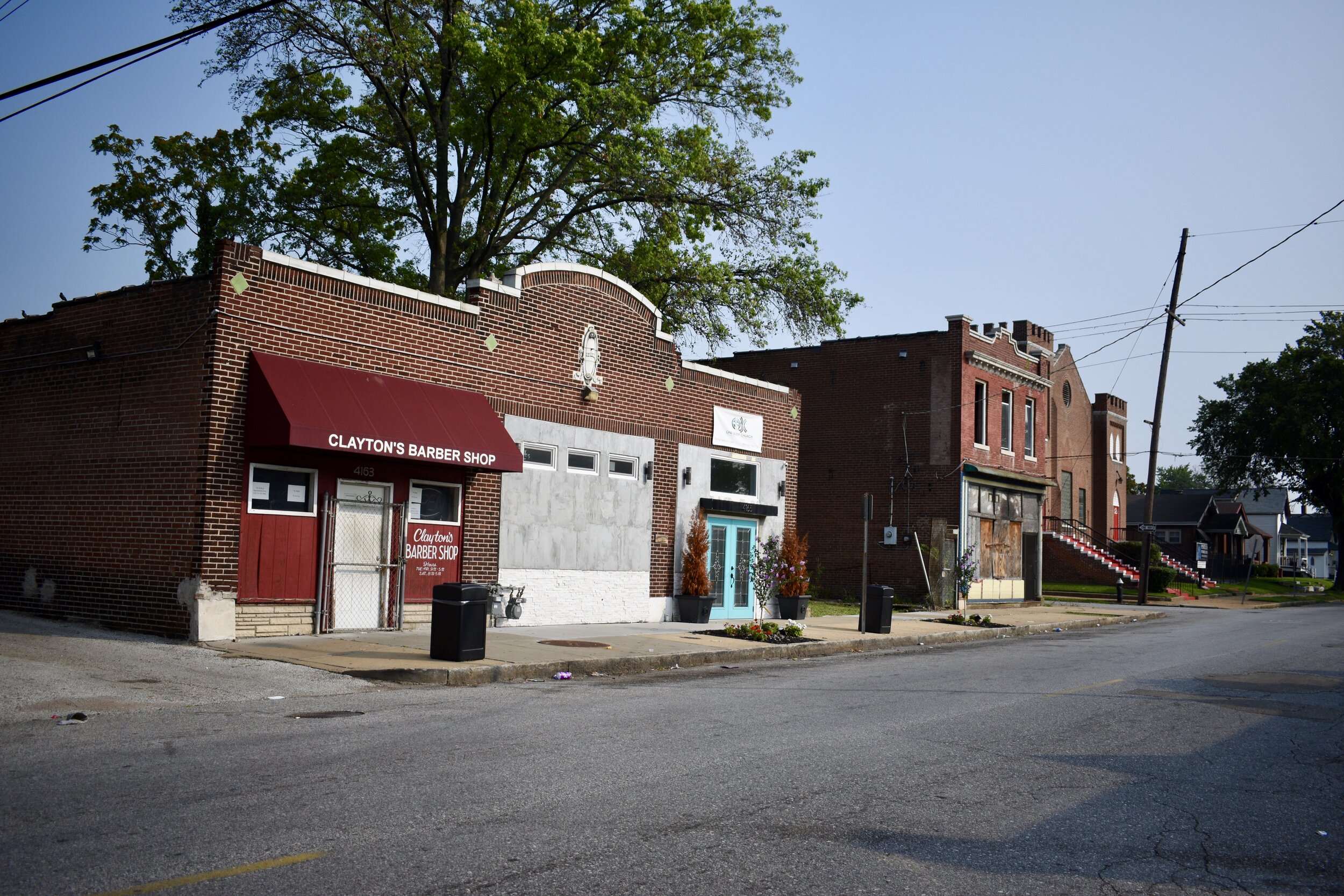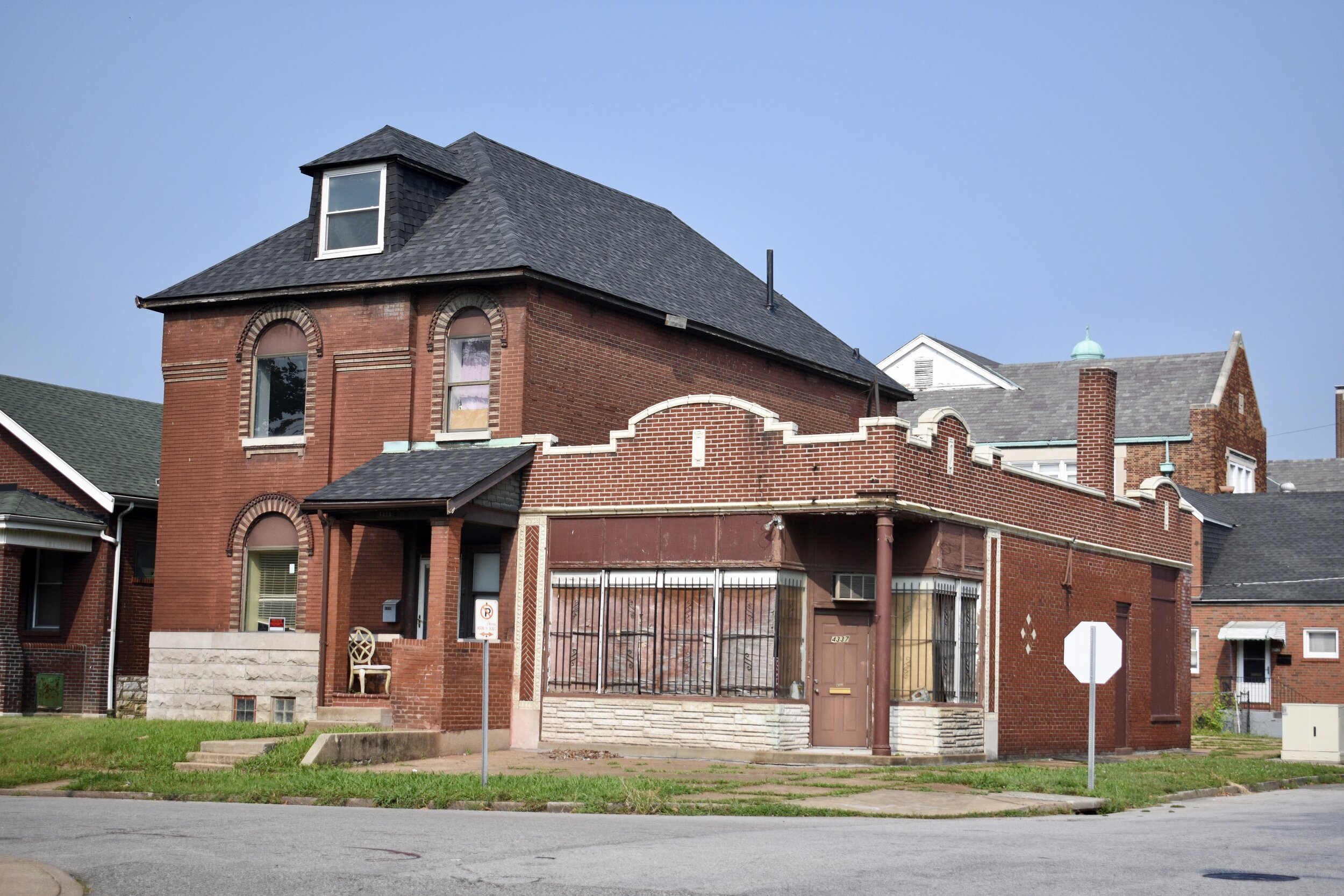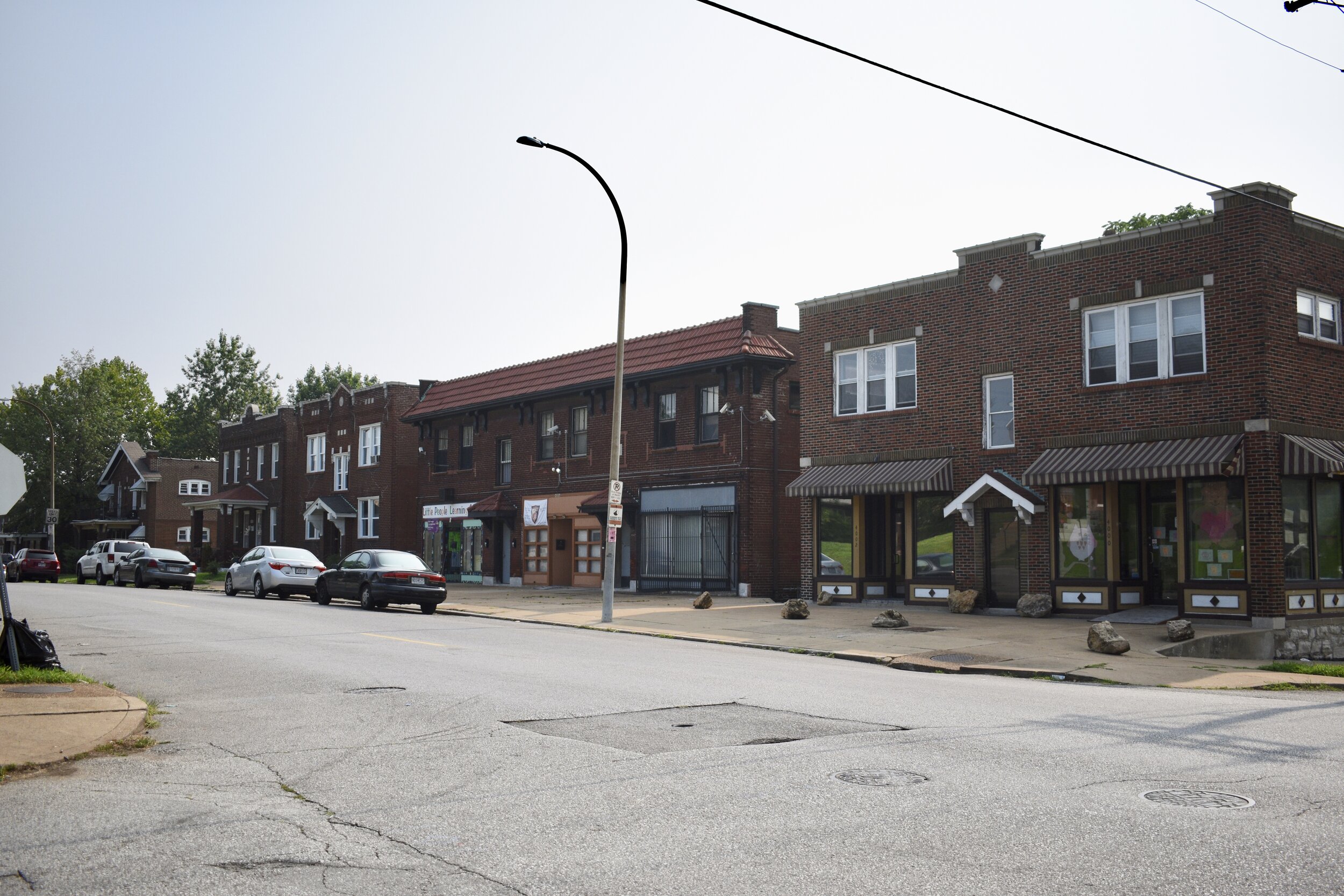 Again, I'd say a youth infusion is needed here. We need lots of people moving here, the housing stock is beautiful, affordable and it would be a great place to settle down and invest in your life and property.
The suburban, mid-century developments are in need of sidewalks and new consideration. These always feel a bit out of place in St. Louis, but are ubiquitous in the suburbs. We can think of ways to connect them a bit more with walkable elements.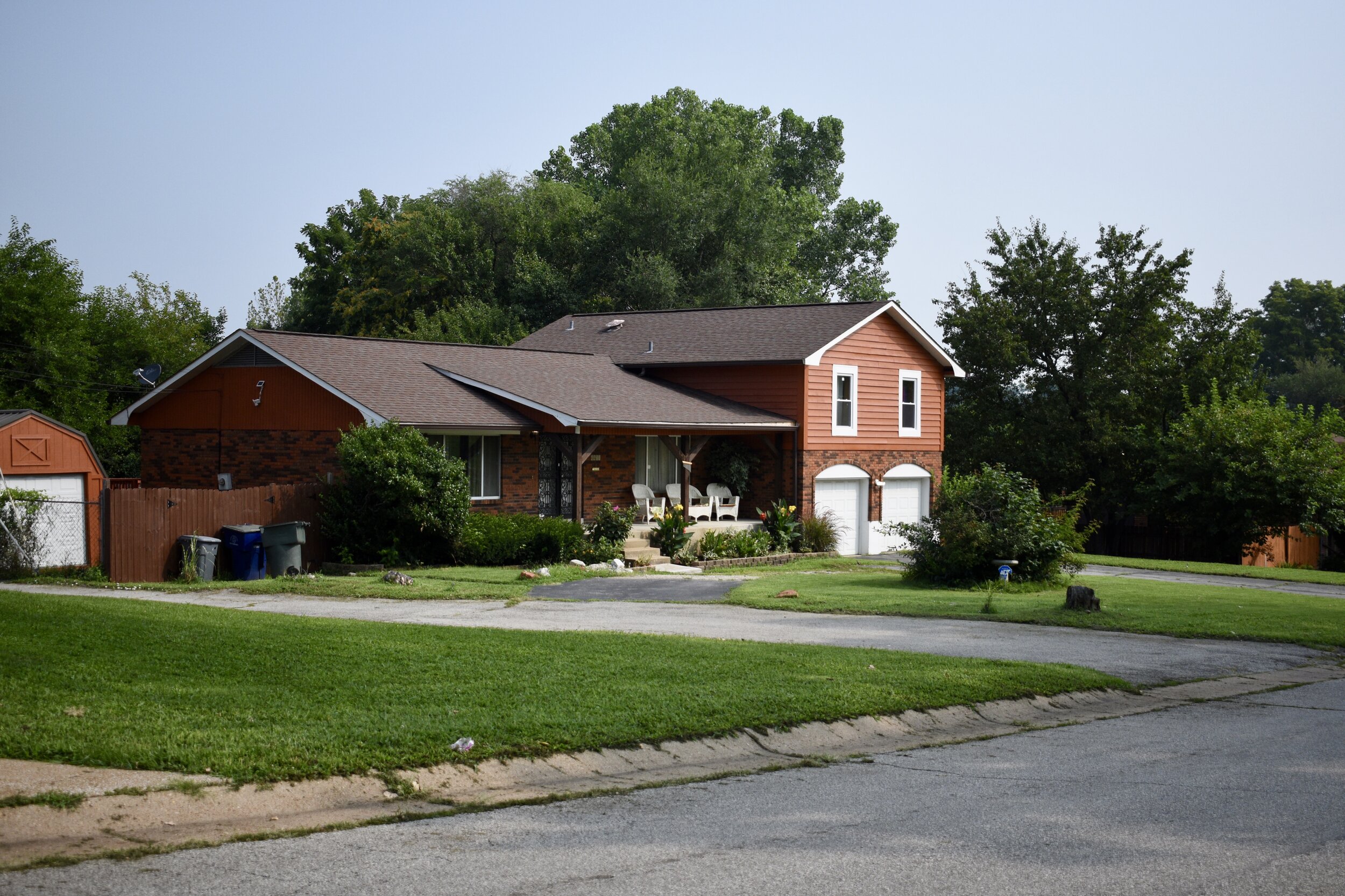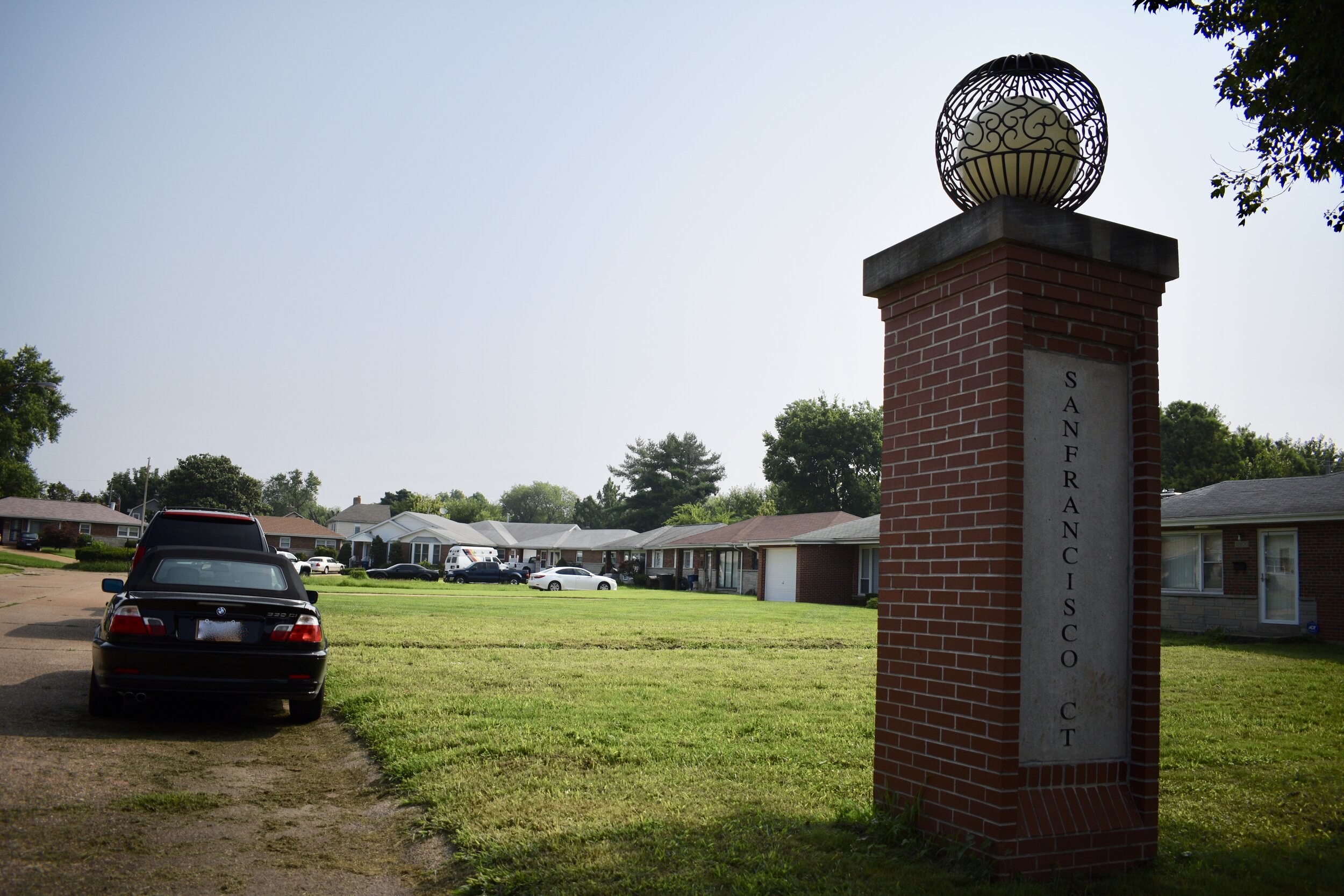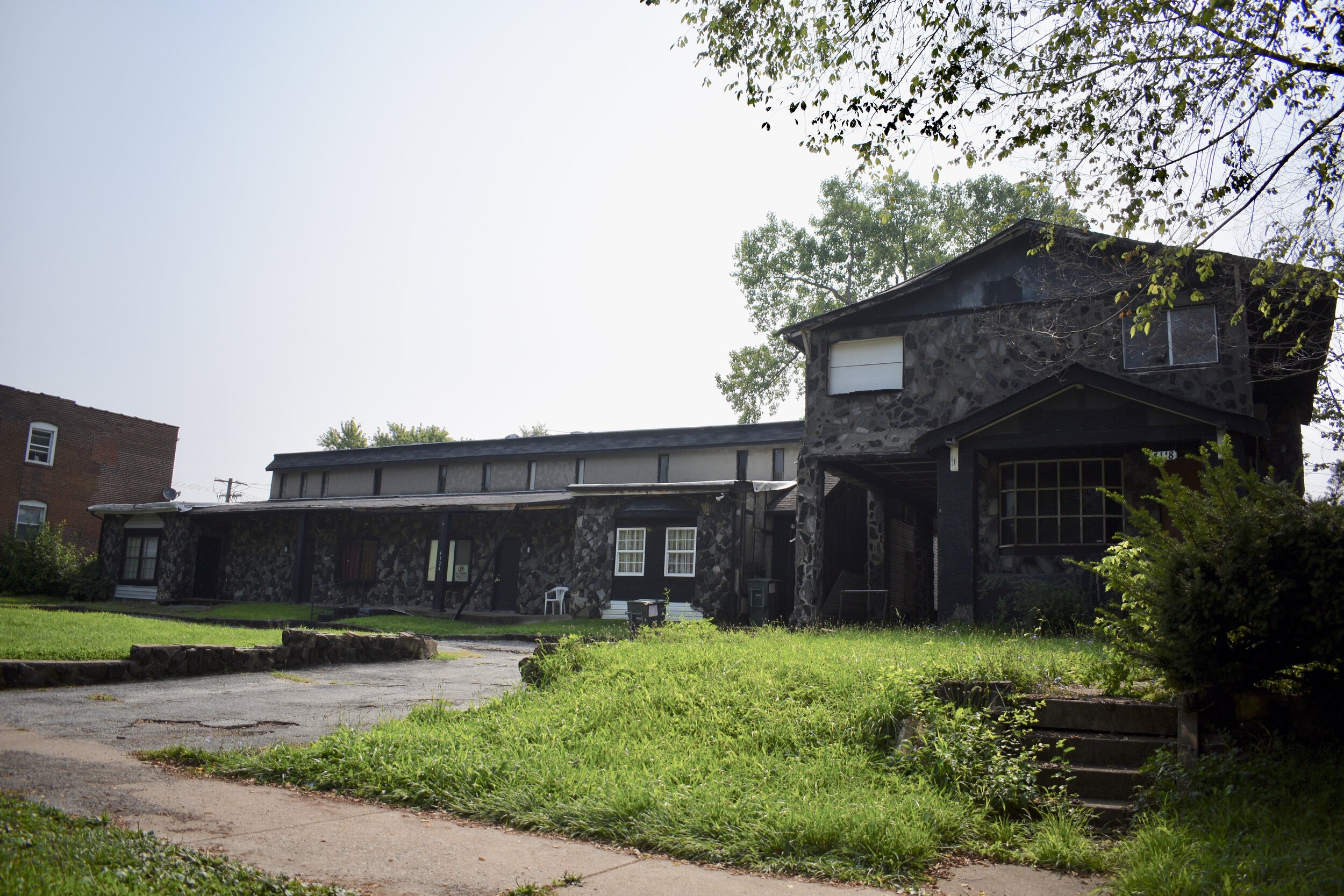 I'd like to see the former schools like Scullin and Ashland Branch to find some new uses, but things are desperate. Especially Scullin which has a severely compromised roof, it is not long for this city unless immediate action be taken.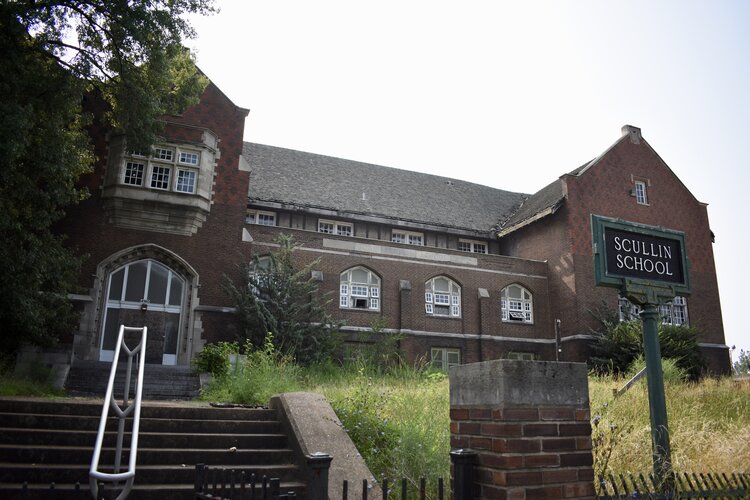 Ashland Branch's outlook may be brighter as CityScene STL reported in April, 2021, there is a residential redevelopment in the works.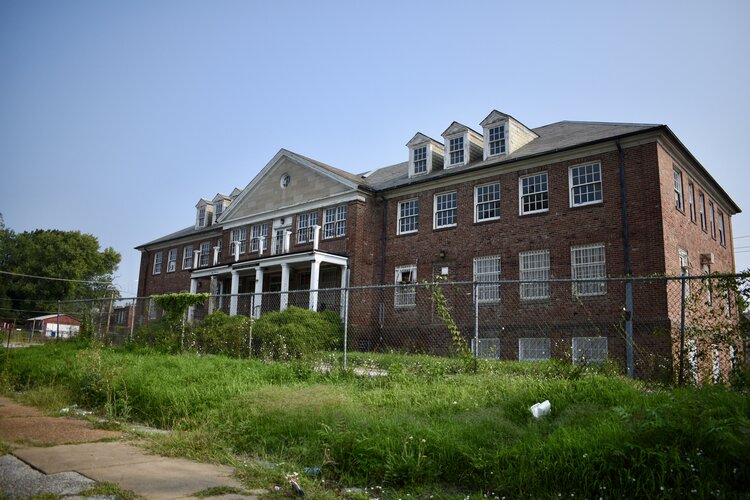 The park building in Penrose Park lost its roof as well. I'd make Penrose Park a priority, it can use immediate help, lest it find the landfill in the next year(s). The tennis courts are off limits, when Black people, and all American's are playing more tennis and pickleball.
There are signs that stupid driving continues to be a problem in the area (same can be said for the entire region). Below is just one example, there are others where cars have clearly plowed into fences and buildings.
I just kept thinking about "Rebound Neighborhoods" when I interviewed a local academic gentrification researcher, and the ones that are on the verge of decline/upward valuation. He mentioned the 3 neighborhoods of Dogtown as rebound places, but I think Penrose matches my personal criteria. I would put many eggs in this basket. We need a youth, investment and positivity infusion here. I think we can do it. I remain decidedly hopeful in these parts. It is worthy of our collective attention.