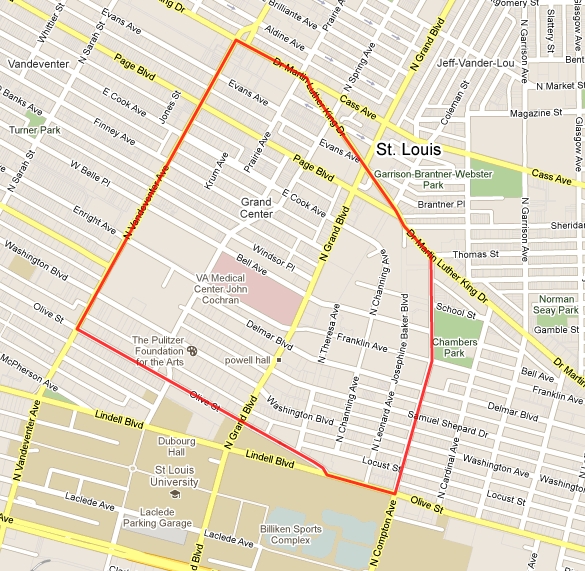 Covenant Blu/Grand Center is a north central St. Louis neighborhood bound by Dr. Martin Luther King Drive to the north, Olive Street to the south, Compton Avenue to the east and Vandeventer Avenue to the west.
The 2000 census data counted 2,758 residents (a decrease of 39% by the 1990s count) of whom 78% were black, 19% white, 3% Hispanic/Latino.  There were 1,721 housing units counted, 73% were occupied (11%/89% owner/renter).  The 2010 census data showed an increase to 3,562 with shifts in racial makeup: 56% Black, 35% white, 6% Asian 2% Hispanic/Latino. There were less housing units counted at 1,663, but occupancy jumped to 90%. The neighborhood became more dense and racially diverse. The 2020 data will be fascinating to see if this trend continues.
Per the city website:
"Between 1880 and 1900, the city's population began to expand to the west. Saint Louis University established its main campus on Grand Boulevard in 1888. Many of the city's affluent families built large, beautiful mansions near Grand Boulevard, many of which are still standing today. The addition of hospitals, medical office buildings, pharmacies, and churches helped to create the neighborhoods that surround Grand Center.
Between 1900 and 1920, Grand Center began to evolve into the city's main center for the arts and entertainment. Development of the area consisted of the addition of several theaters, which included the Odeon, Princess, Victoria, Grand Central, and Empress Theaters.
Throughout the 1930s, the area thrived, despite the economic woes of the Great Depression. The same was true for the 1940s. Grand Center also became a major hub for public transportation, first via streetcar and later via bus. It was during this era that the famous playhouses were built, which include the Missouri Theater, Fox Theater, and St. Louis Theater (today's Powell Symphony Hall).
Grand Center began to experience a decline in the area following the Second World War. Suburban expansion increased dramatically and the City consequently experienced an extensive decrease in population. As the population left the City, businesses, healthcare facilities and other community assets closed their doors. This exodus further facilitated the decline of the area. Sequentially, audience numbers began to dwindle at the local theaters and most were forced to close. Covenant Blu/Grand Center remained economically depressed for the next several decades.
The last decade, however, has shown extensive economic development as the City, its residents and private investors strive to revitalize Grand Center and restore its previous luster and fame. The St. Louis Theatre was purchased by the Saint Louis Symphony Orchestra in 1965, and the building was renamed Powell Symphony Hall. Most of these revitalization efforts did not materialize until the 1980s. Grand Center was designated a National Historic District, which helped to secure federal grant money and increase investment. The Fox Theatre was reopened in 1982, after having closed in the late 1970s. The Sheldon Concert Hall also reopened its doors in 1986. Several arts and education organizations-over 25-located in the area. This movement had a significant impact on the appearance of the area, as many of the boarded-up, vacant buildings were either demolished or restored. Grand Center, Inc., also established itself in the area. Grand Center, Inc. is a not-for-profit urban redevelopment corporation that plays a major role in redeveloping the area. Several other improvements have been made in the 1990s, some of which include the relocation of KETC/Channel 9 and the planned construction of the Pulitzer art facility. Covenant Blu has not experienced, however, the same attention and recent success that Grand Center has managed to achieve."
There are 3 National Historic Districts in Covenant Blu/Grand Center (CBGC):
1. Locust Street Automotive District est. in September, 2005 and expanded to include 3133-3207 and 3150-3202 Locust in February, 2008
2. Midtown District est. in July, 1978
3. West Locust and Olive Commercial and Industrial District est. in September, 2006
With all the housing issues that CBGC has, this is undoubtedly one of the most beautiful spots in the entire city. Everyone knows Covenant Blu/Grand Center because of the Fabulous Fox Theatre, Powell Symphony Hall, The Black Repertory Theatre, etc. This is probably the arts center of the entire region, or at least it's billed that way. There is a lot of good info on upcoming events, etc at the Grand Center website.
CBGC is one my favorite parts of town because it's a convergence of the burgeoning Midtown Alley, SLU's main campus and a gateway to the Central West End to the west and Downtown West to the east. And it's one of the most photogenic spots in town. My favorite approach is heading south on Grand between Delmar and Lindell: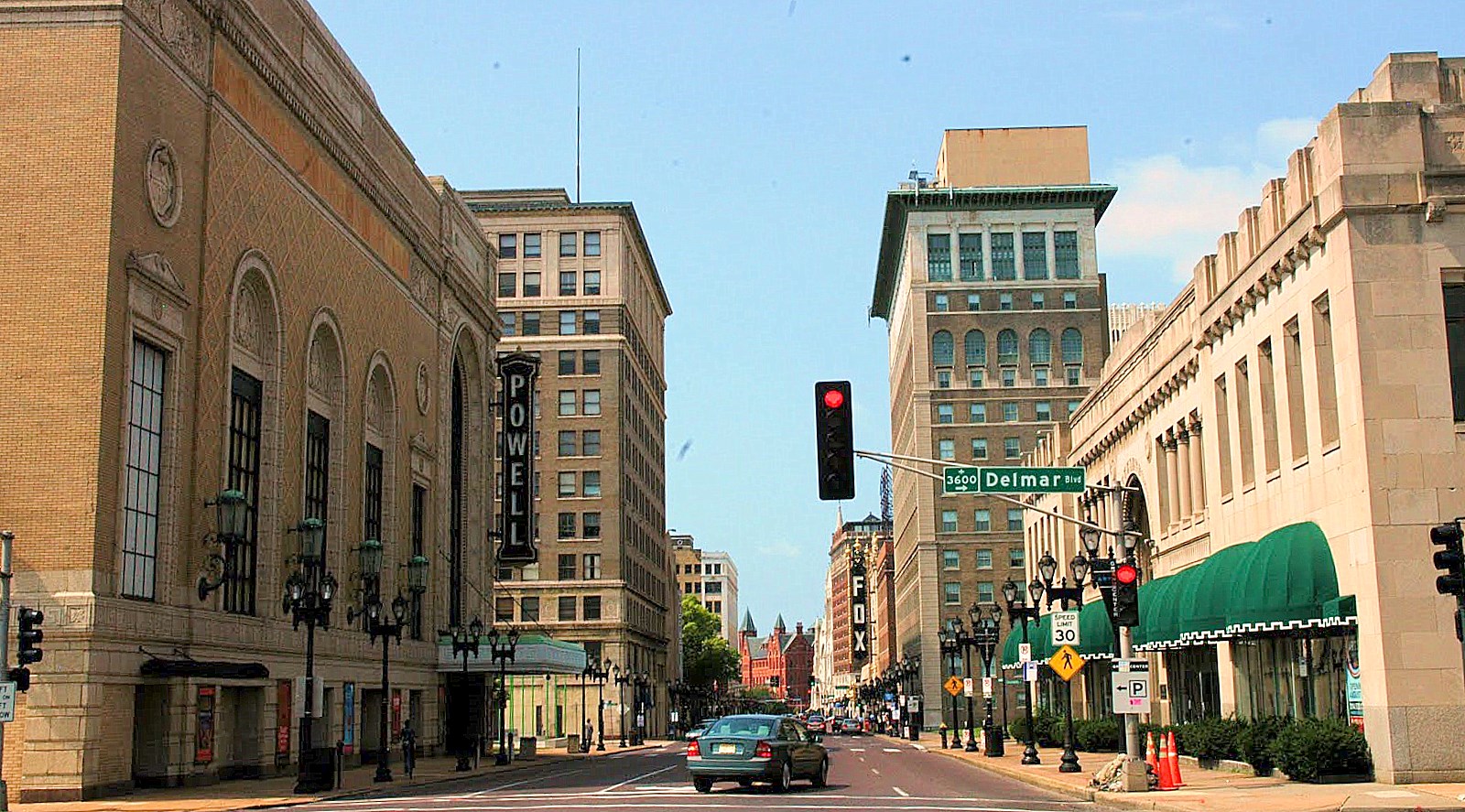 Let's start with what I consider the hub of CBGC, which is the area between and around Olive/Compton/Spring/Delmar.
The Fabulous Fox Theatre: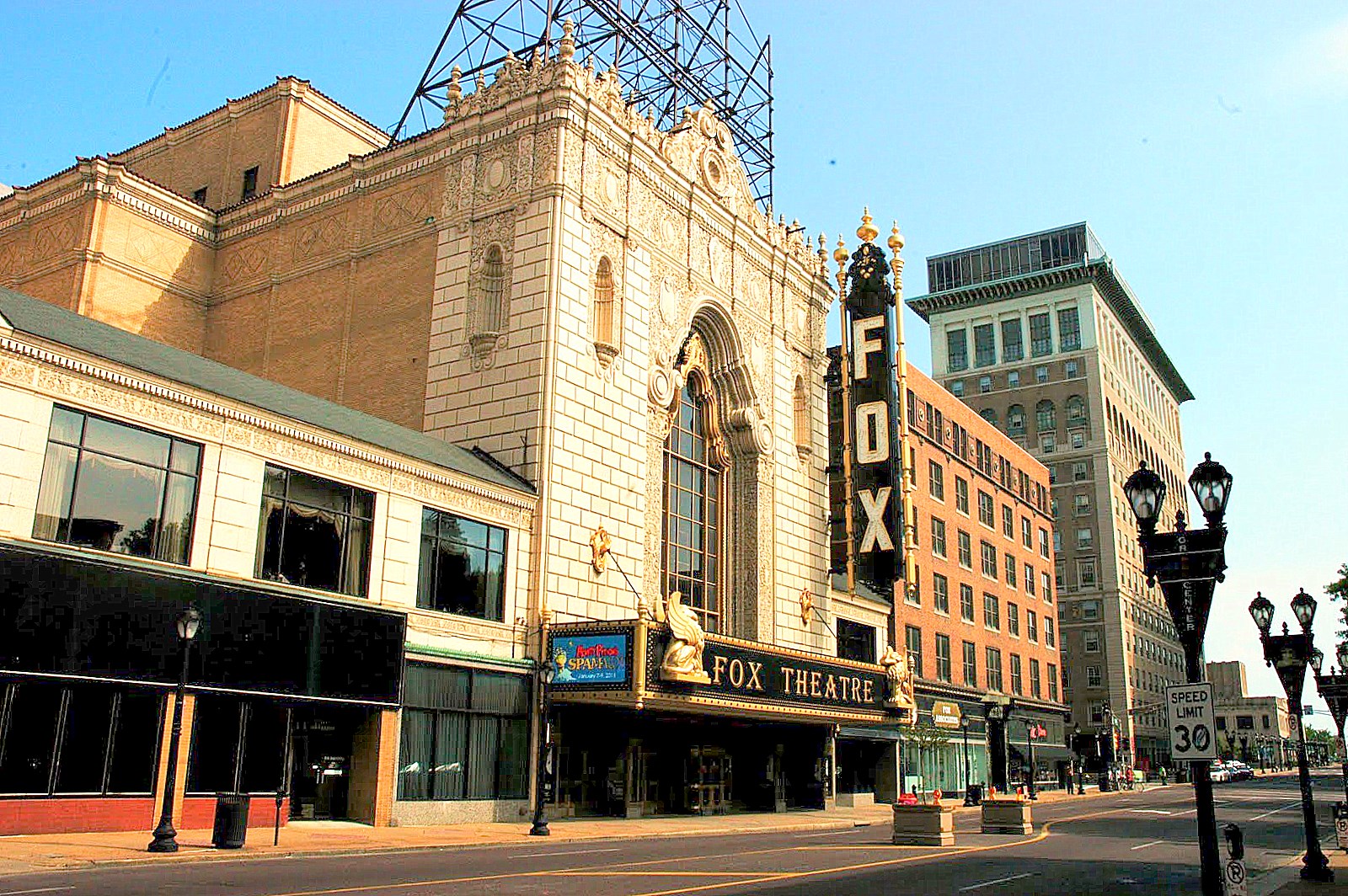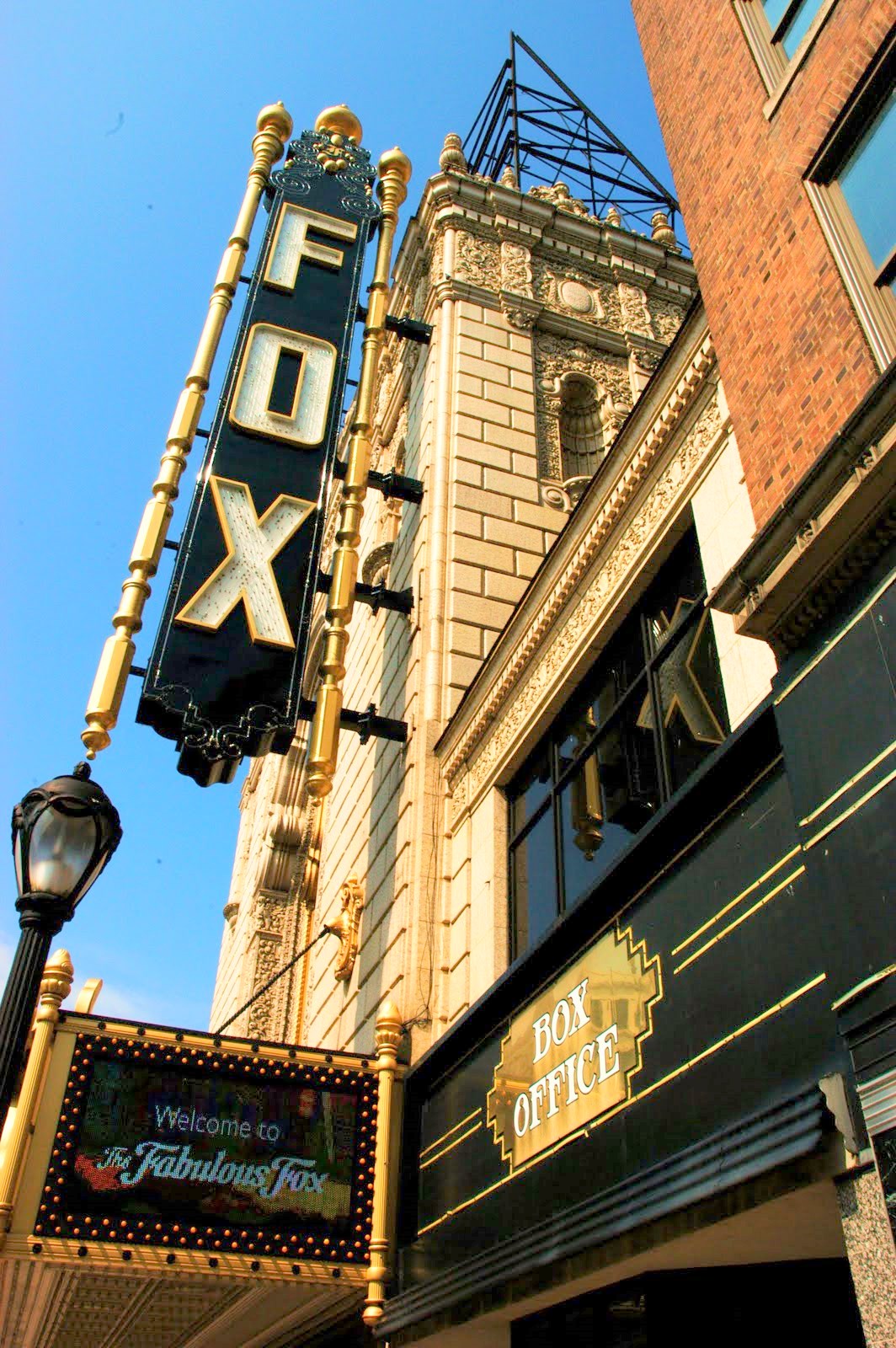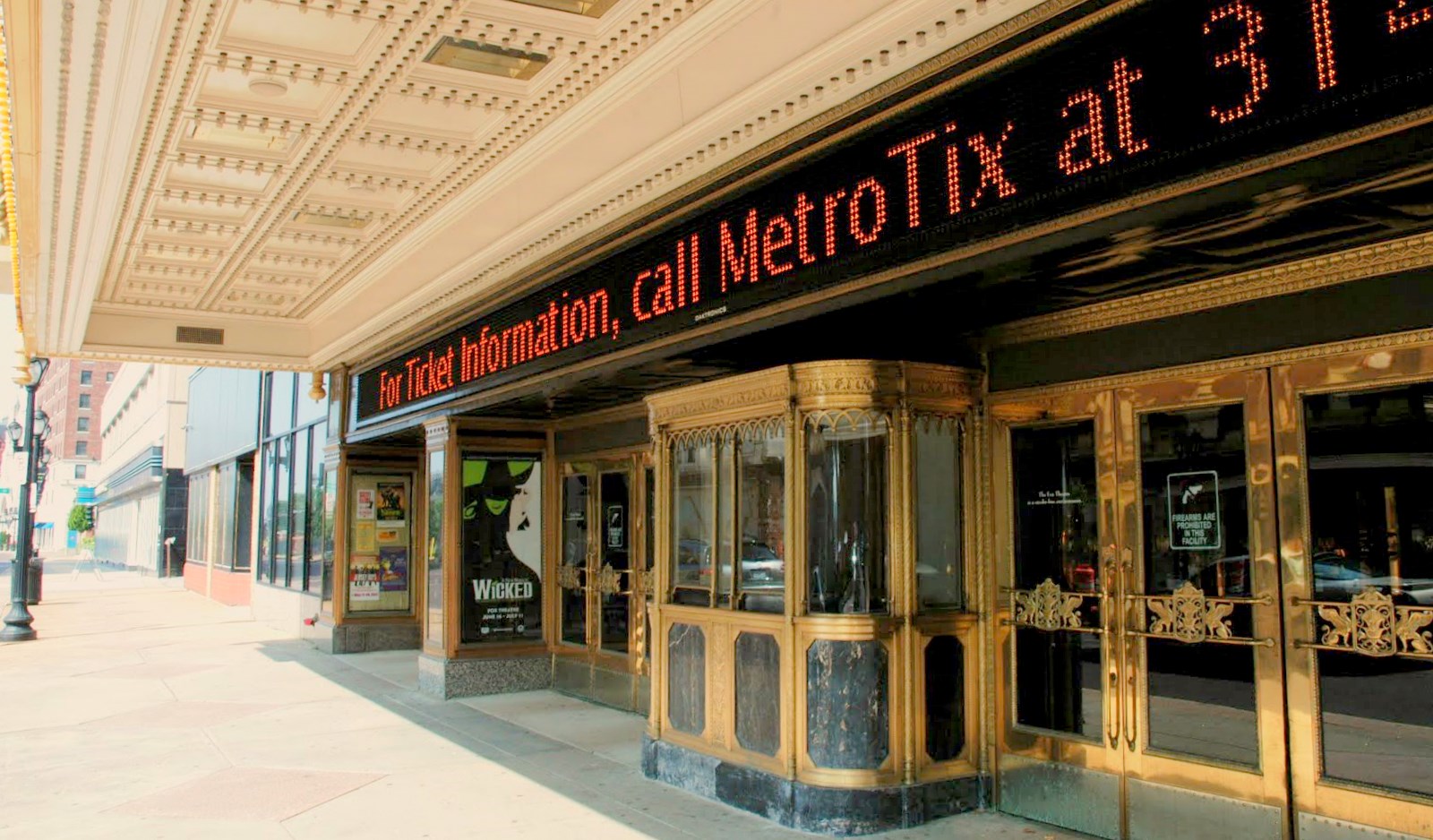 If you haven't seen a show here, you are missing out. Gawking at the lobby alone is worth the price of admission.
Third Baptist Church: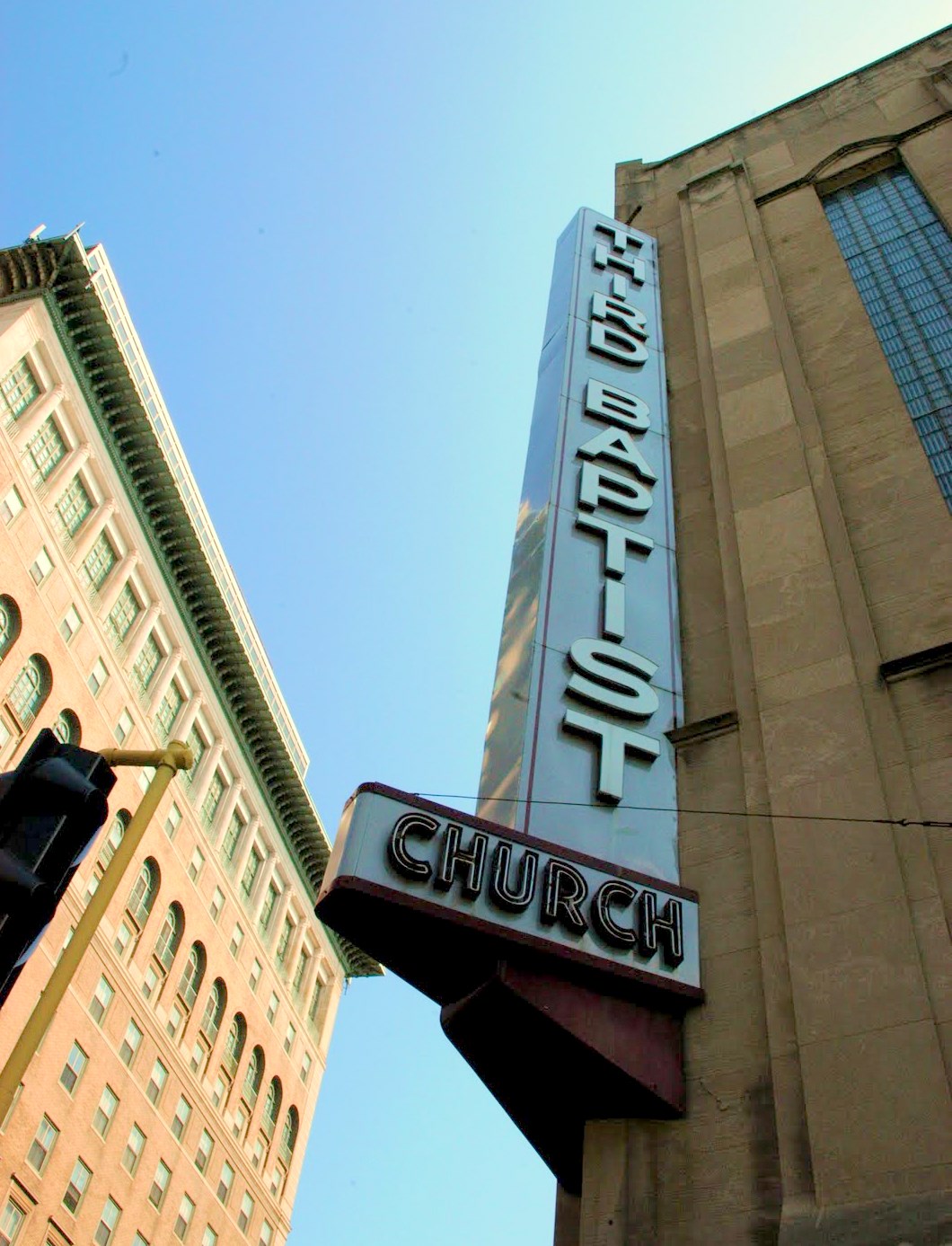 Strauss Park is my favorite pocket park in St. Louis, it reminds me of Manhattan: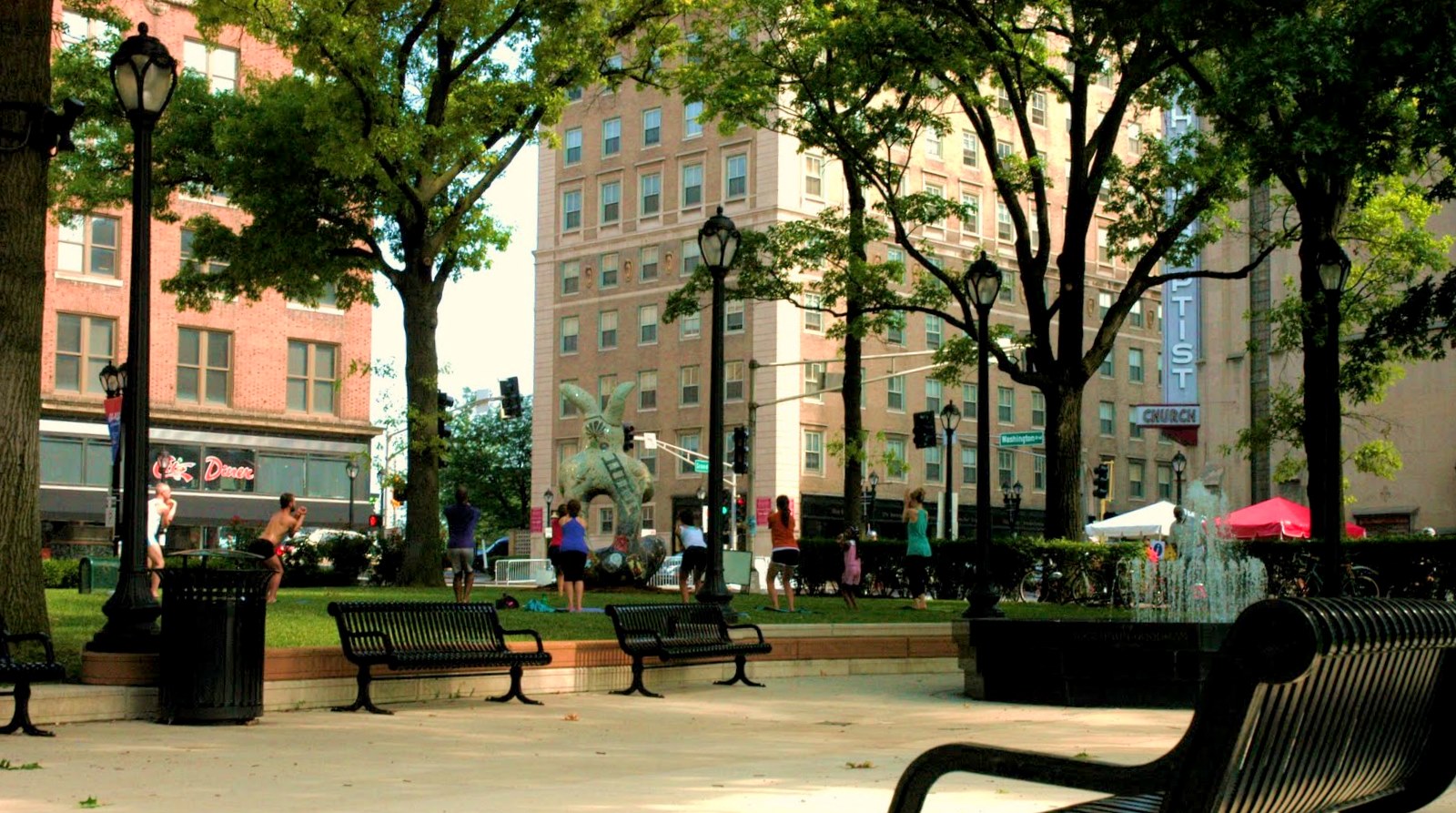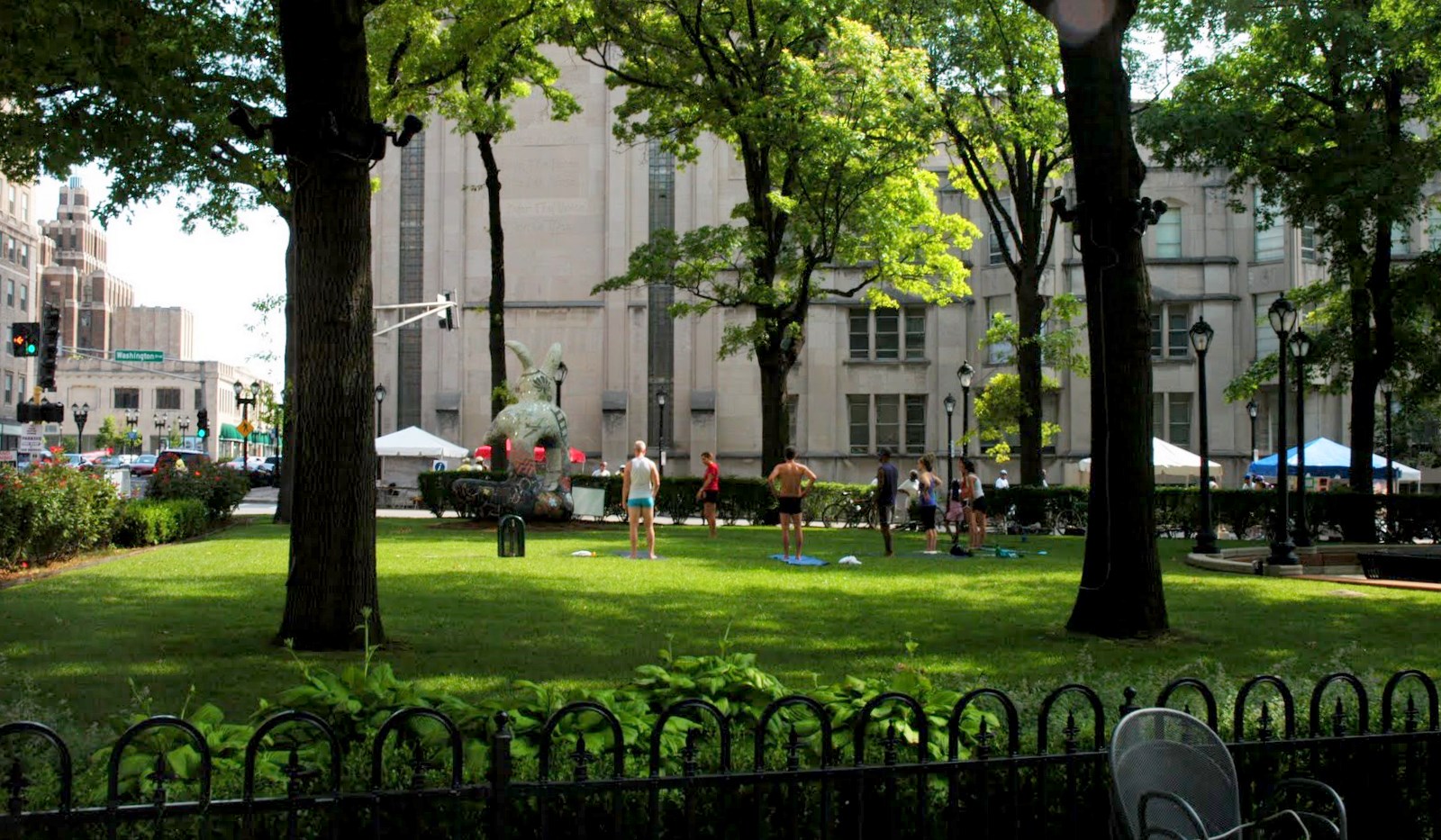 While we're on my personal favorites, bear with me while I try to capture what I think is the best looking sky scraper in the entire city: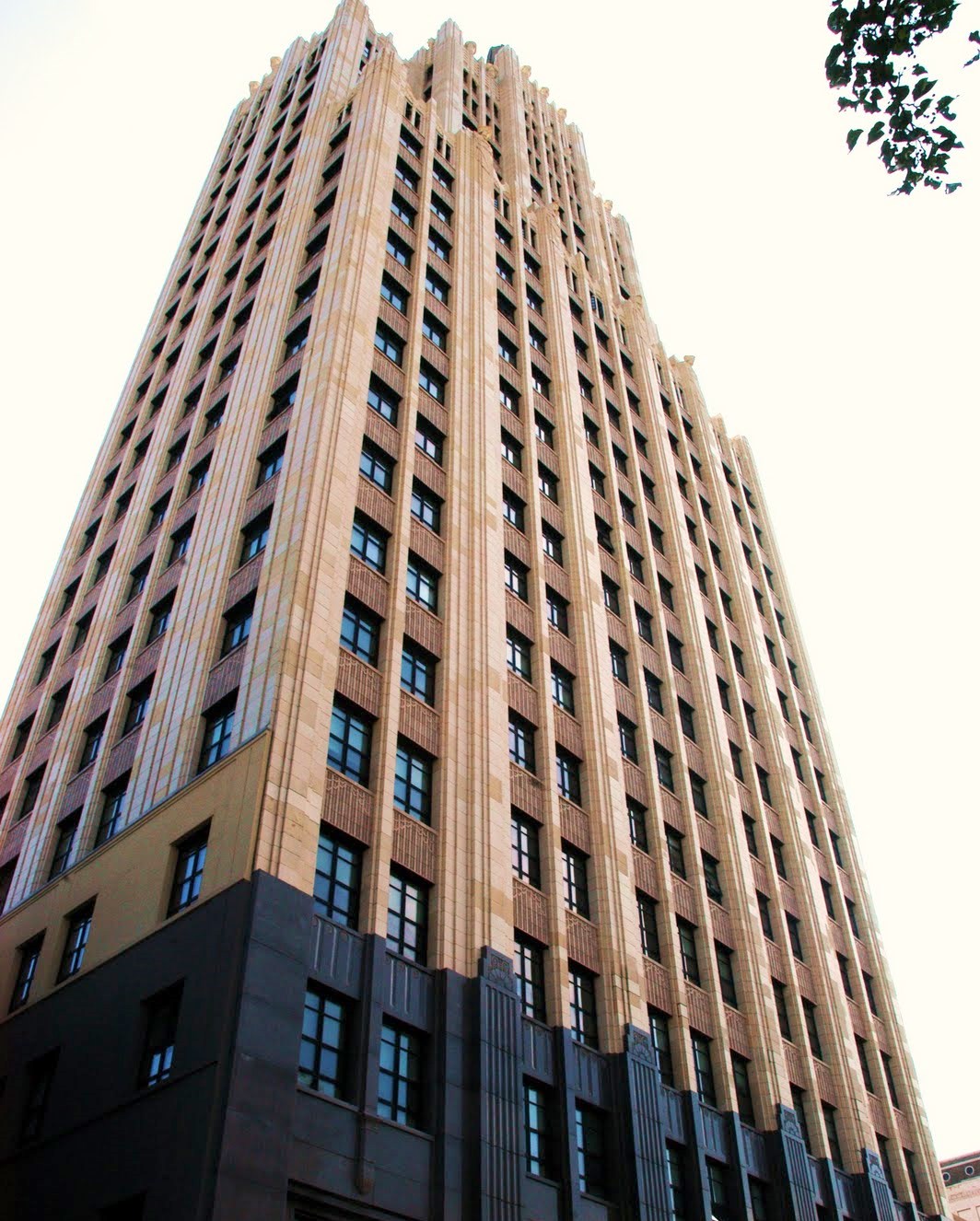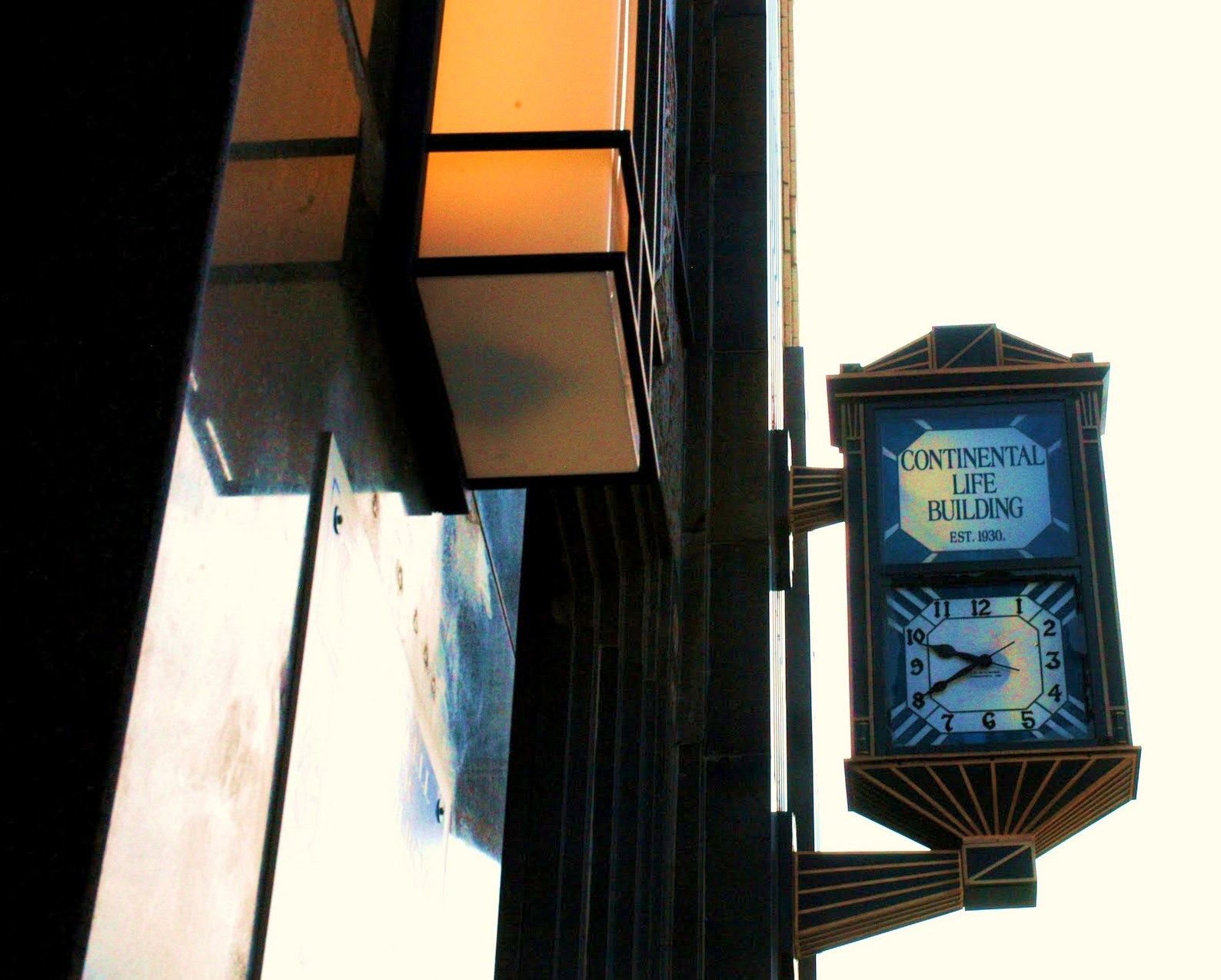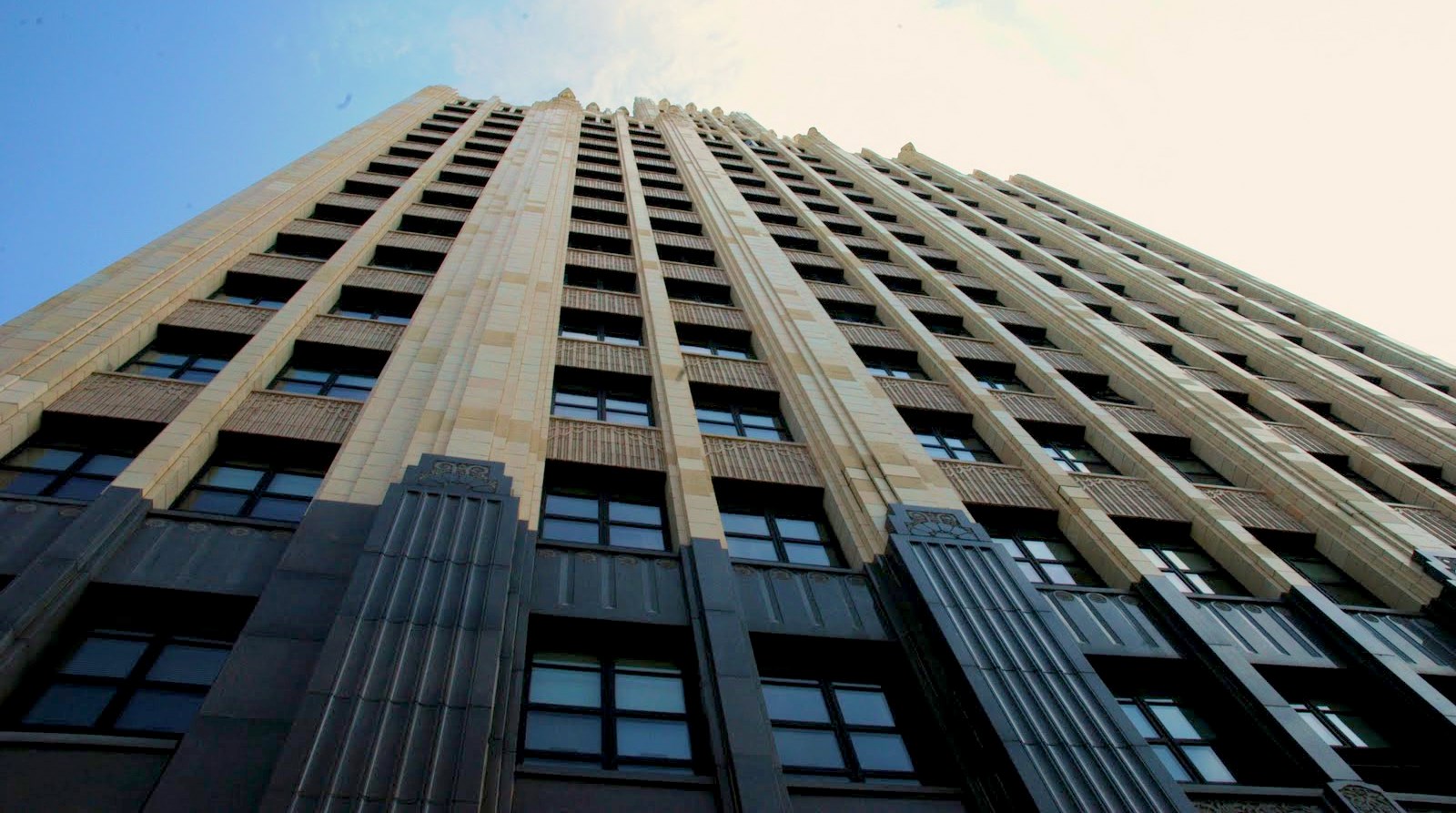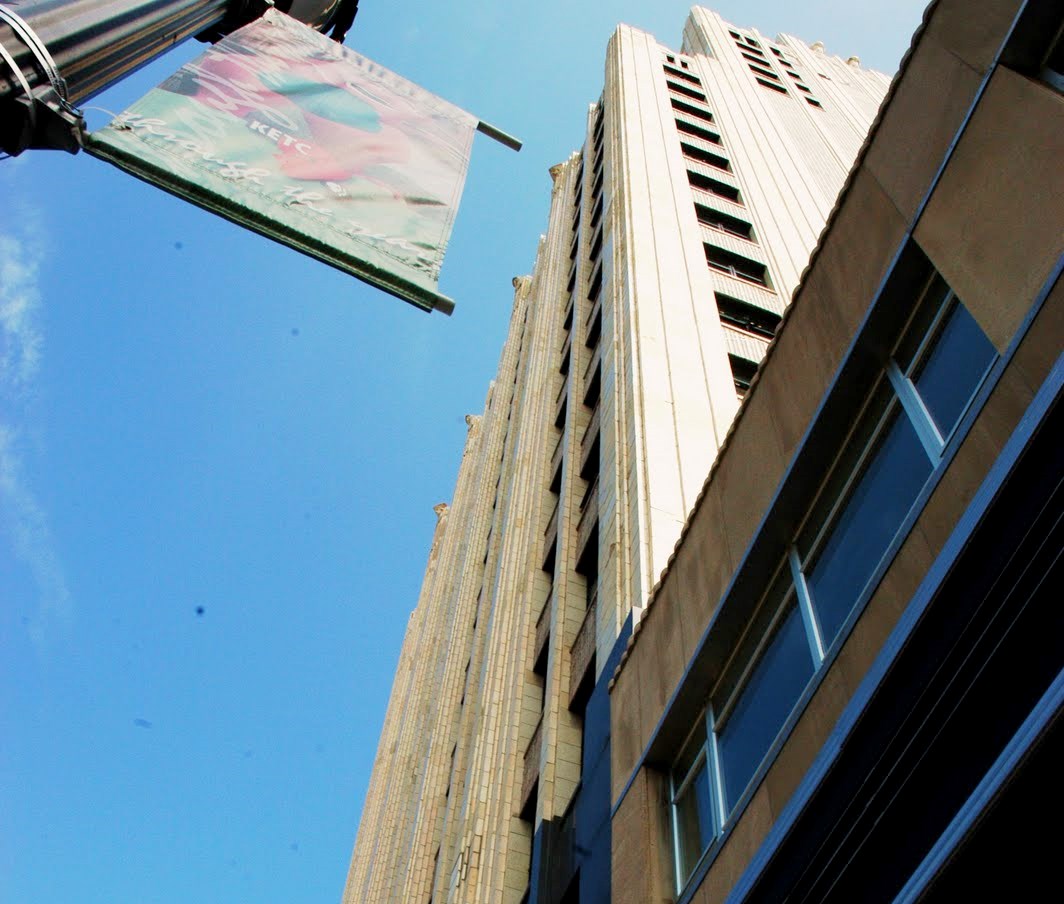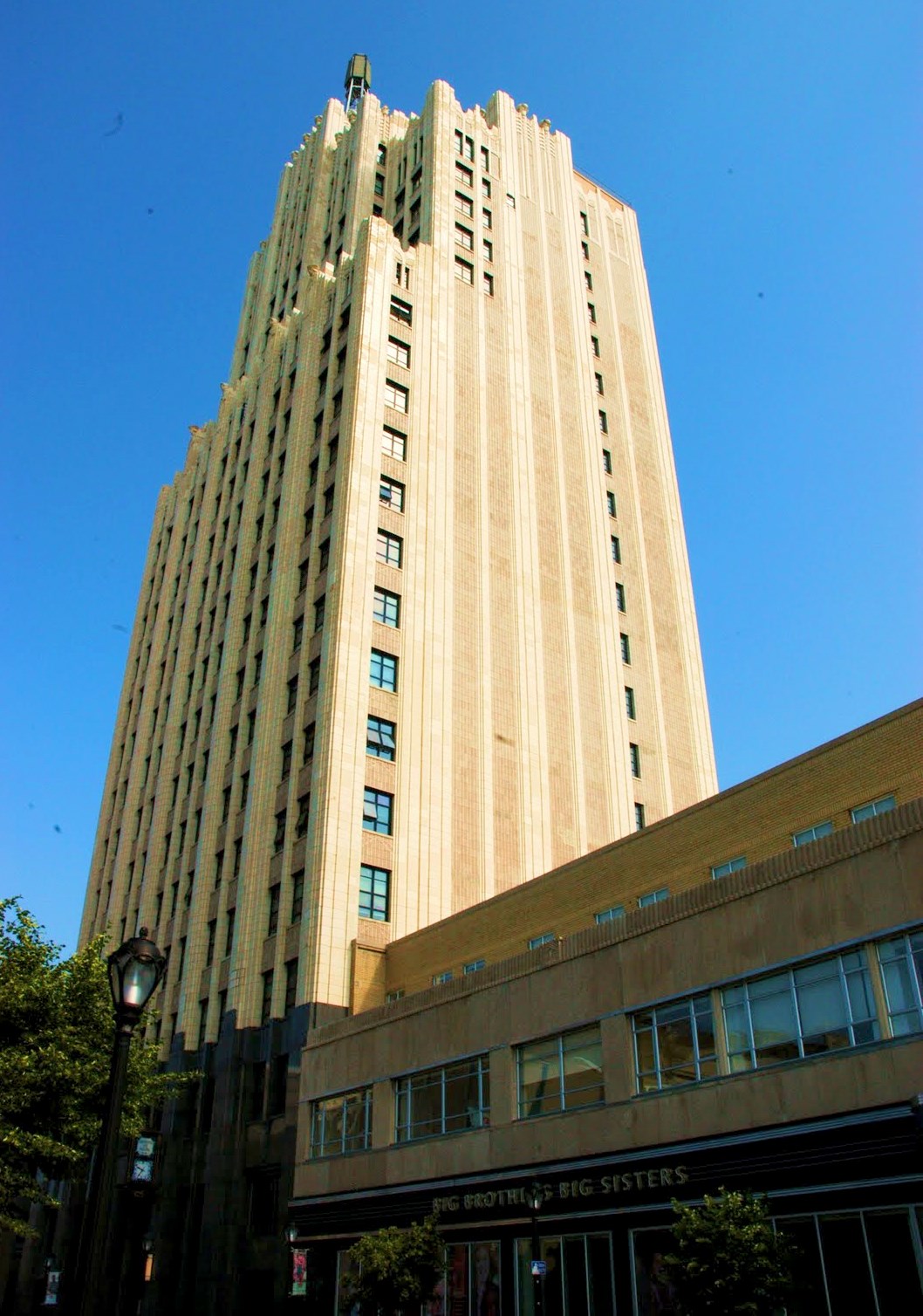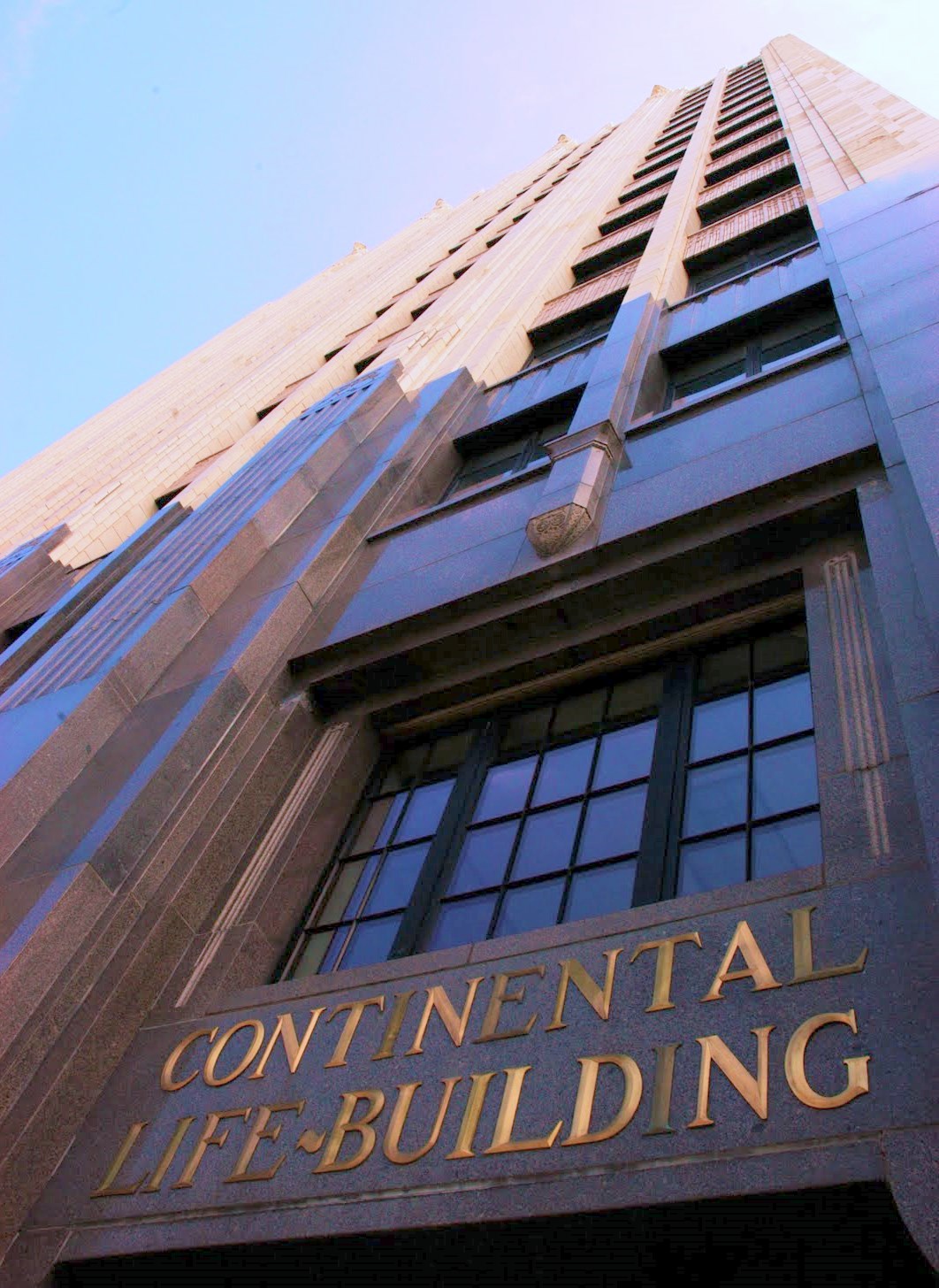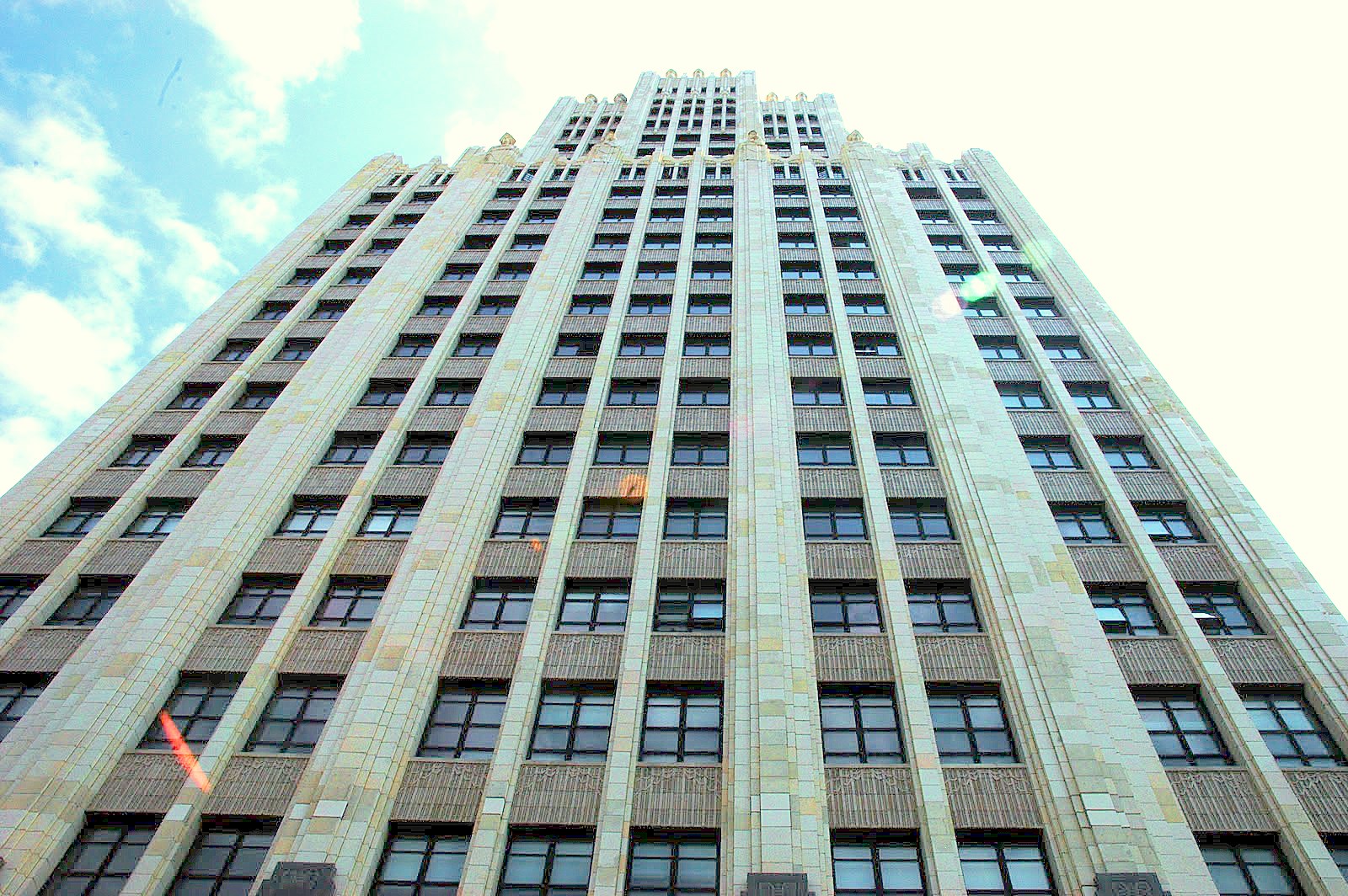 CBGC is home to vital institutions including KETC Channel 9, our excellent PBS station: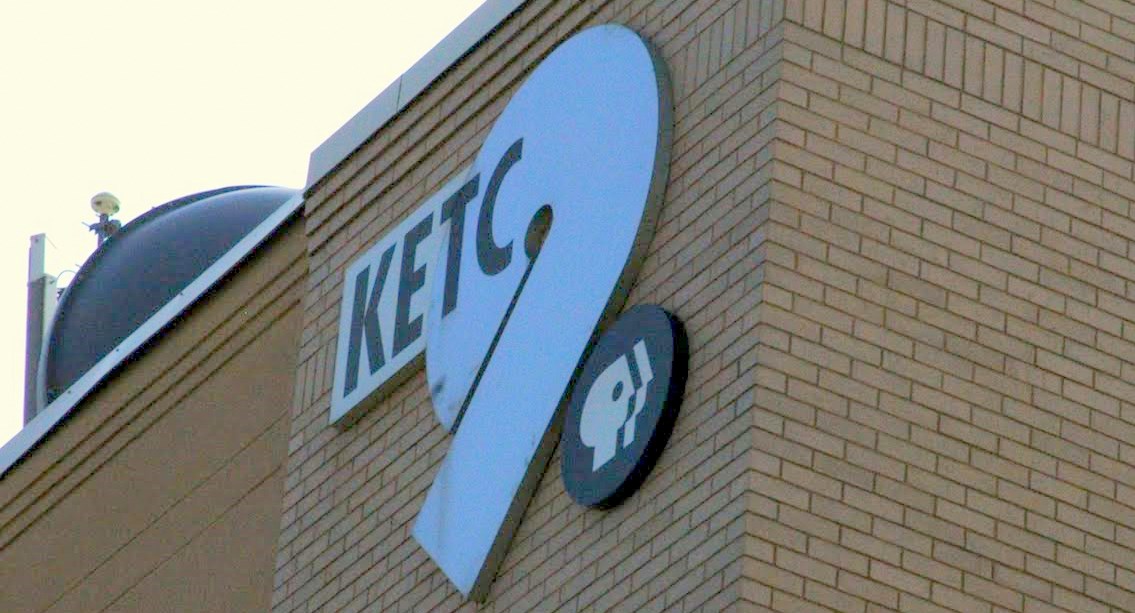 KETC will soon be joined by the region's NPR station, KWMU. Currently located at the University Missouri – St. Louis campus, the station will be building a new station: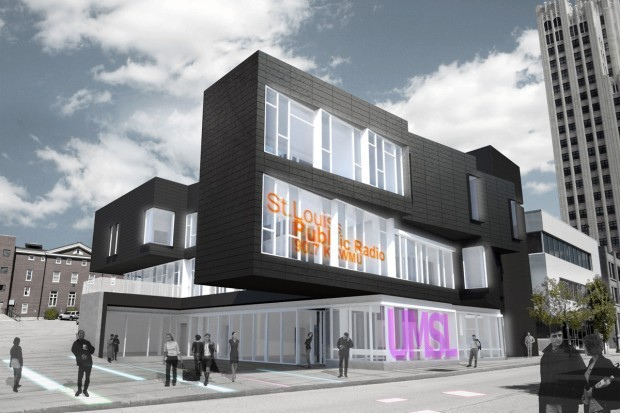 And local independent powerhouse KDHX has announced a move to Grand Center as well: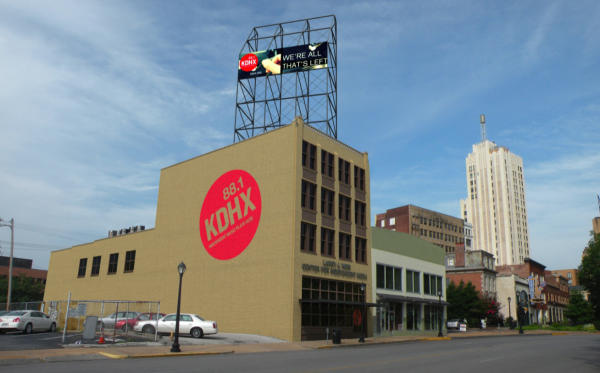 The Urban League: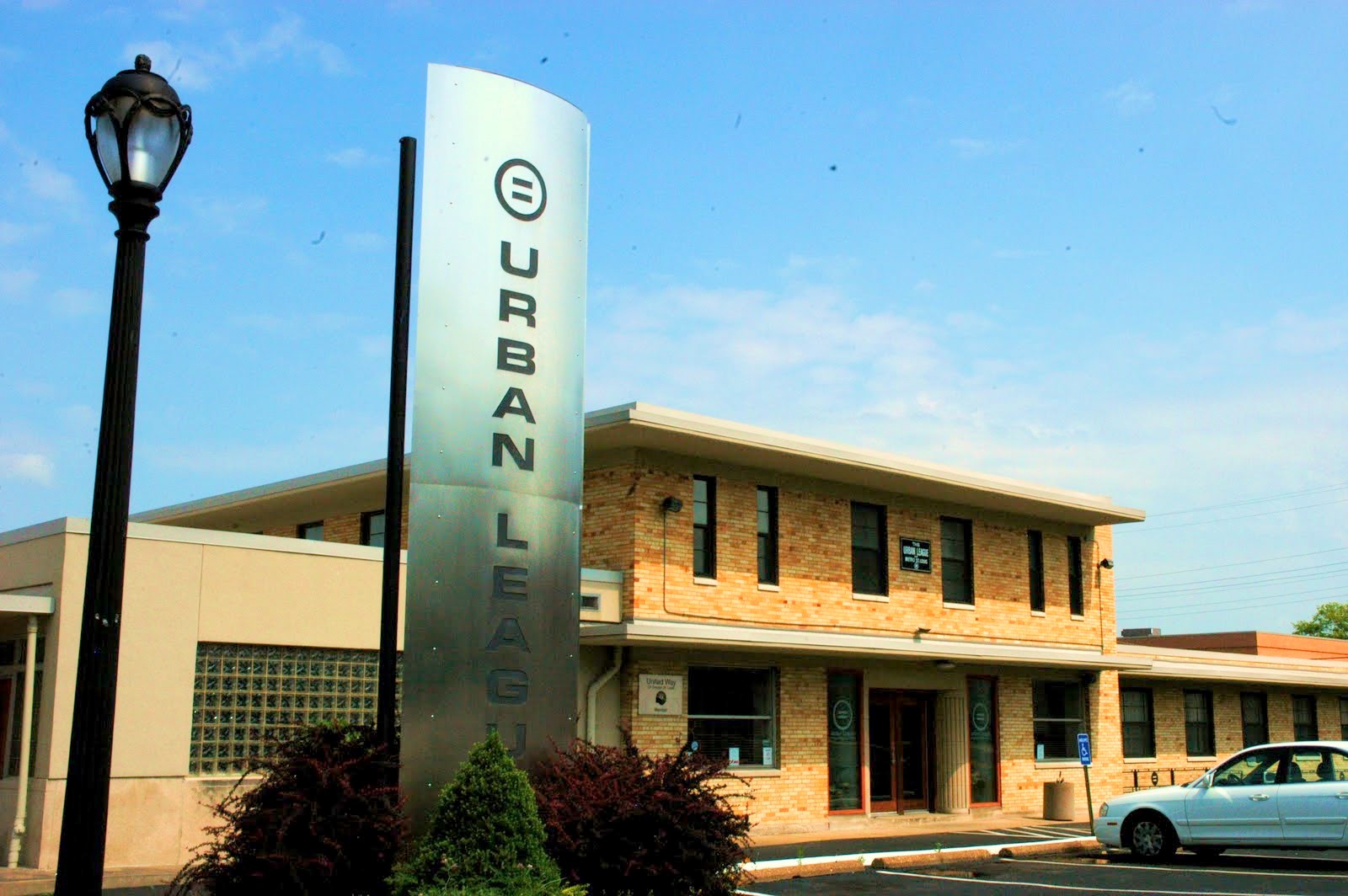 The awesome Contemporary Arts Museum: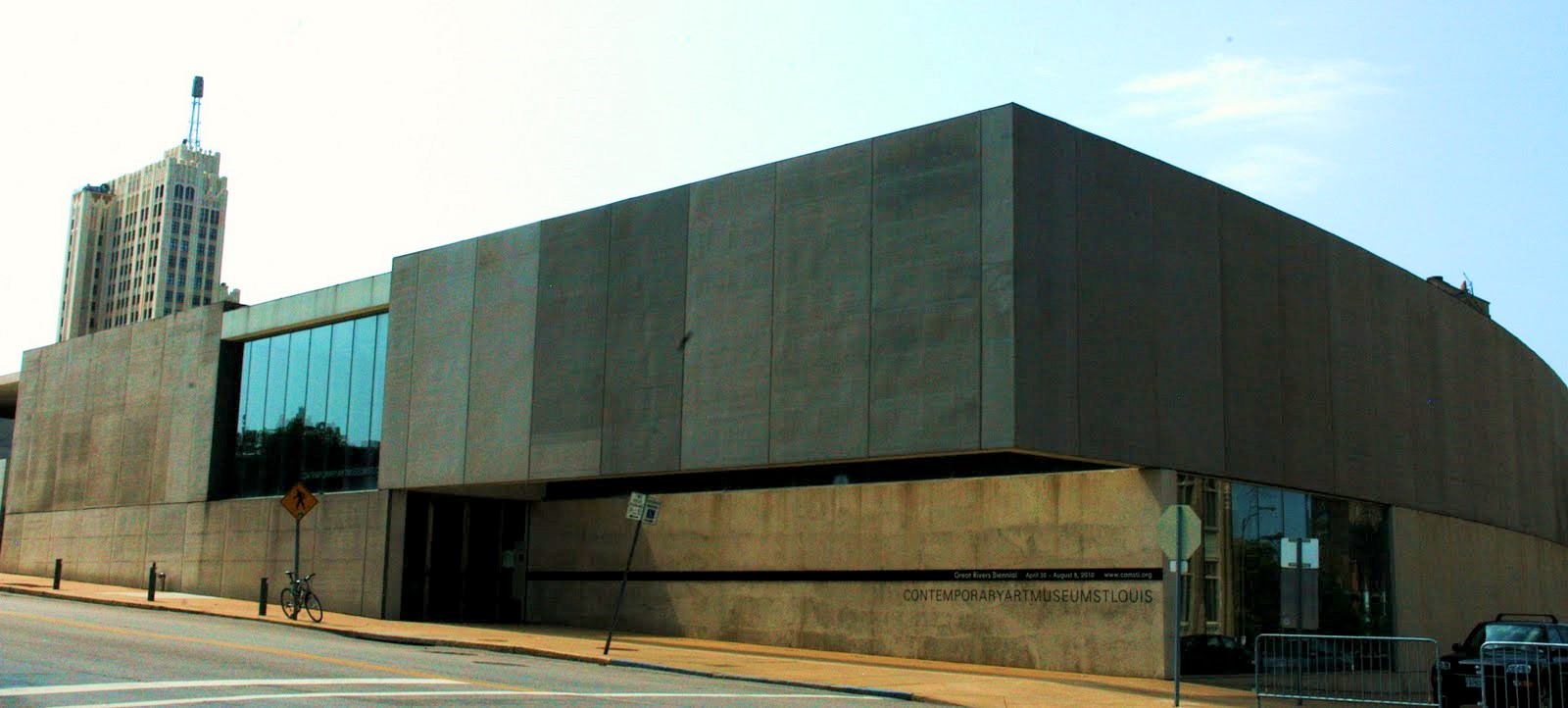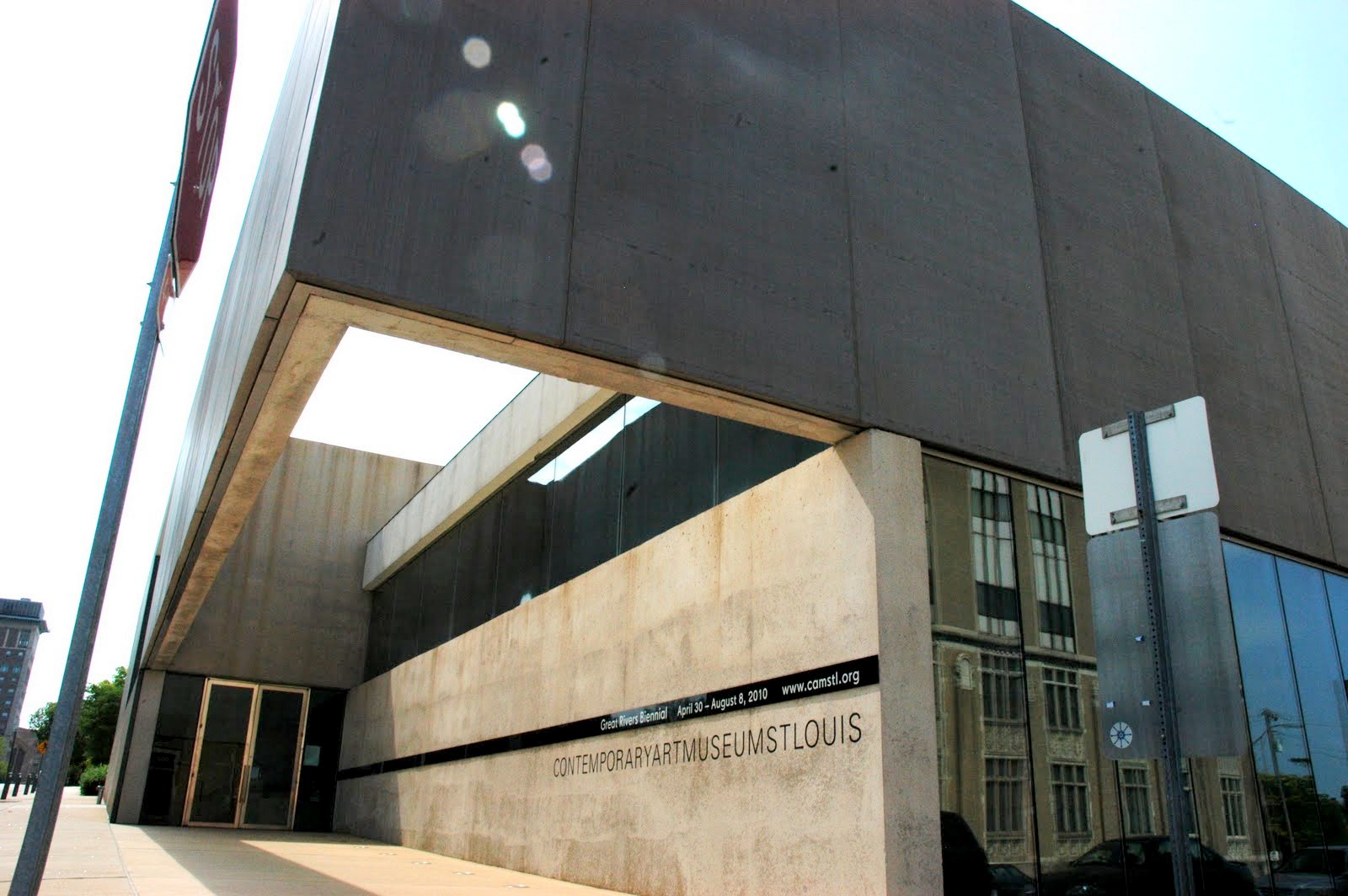 It's cool how the building follows the curve of the street: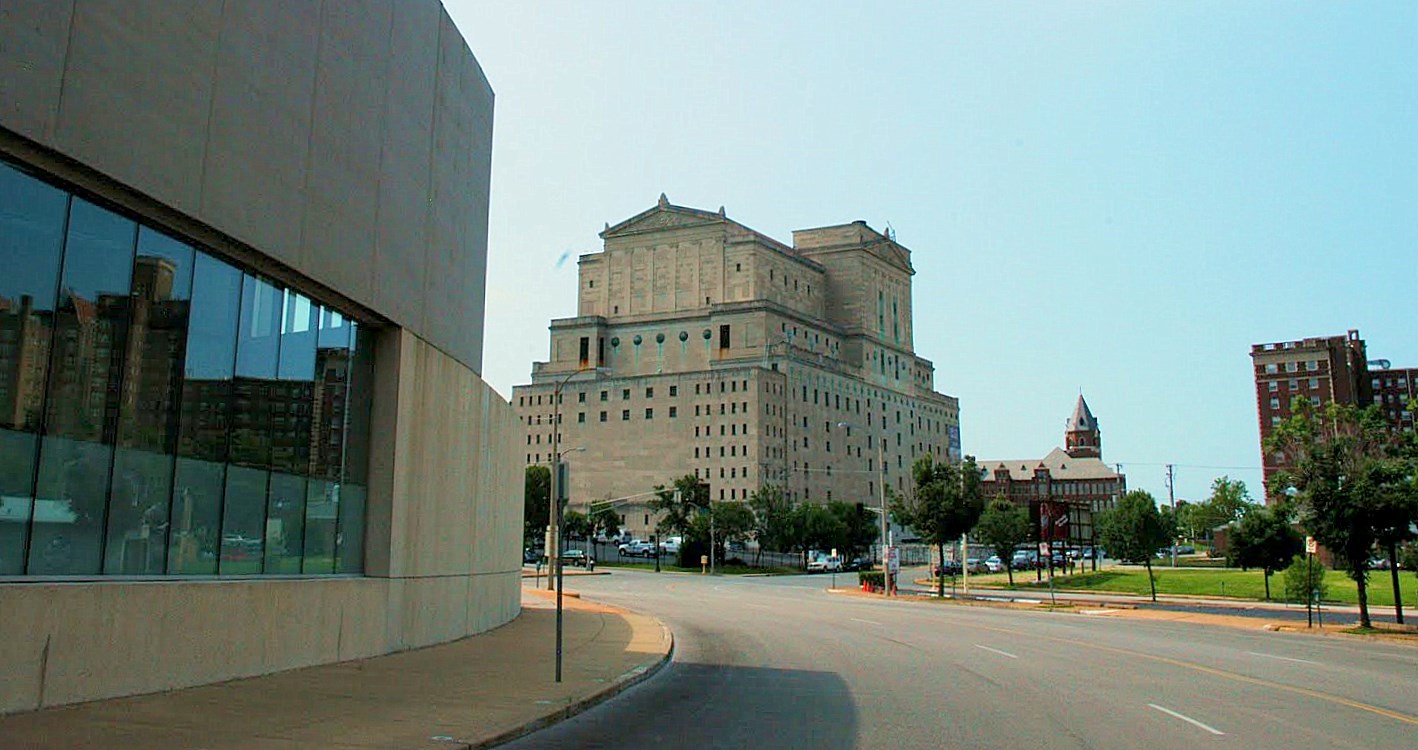 The John Cochran VA Medical Center: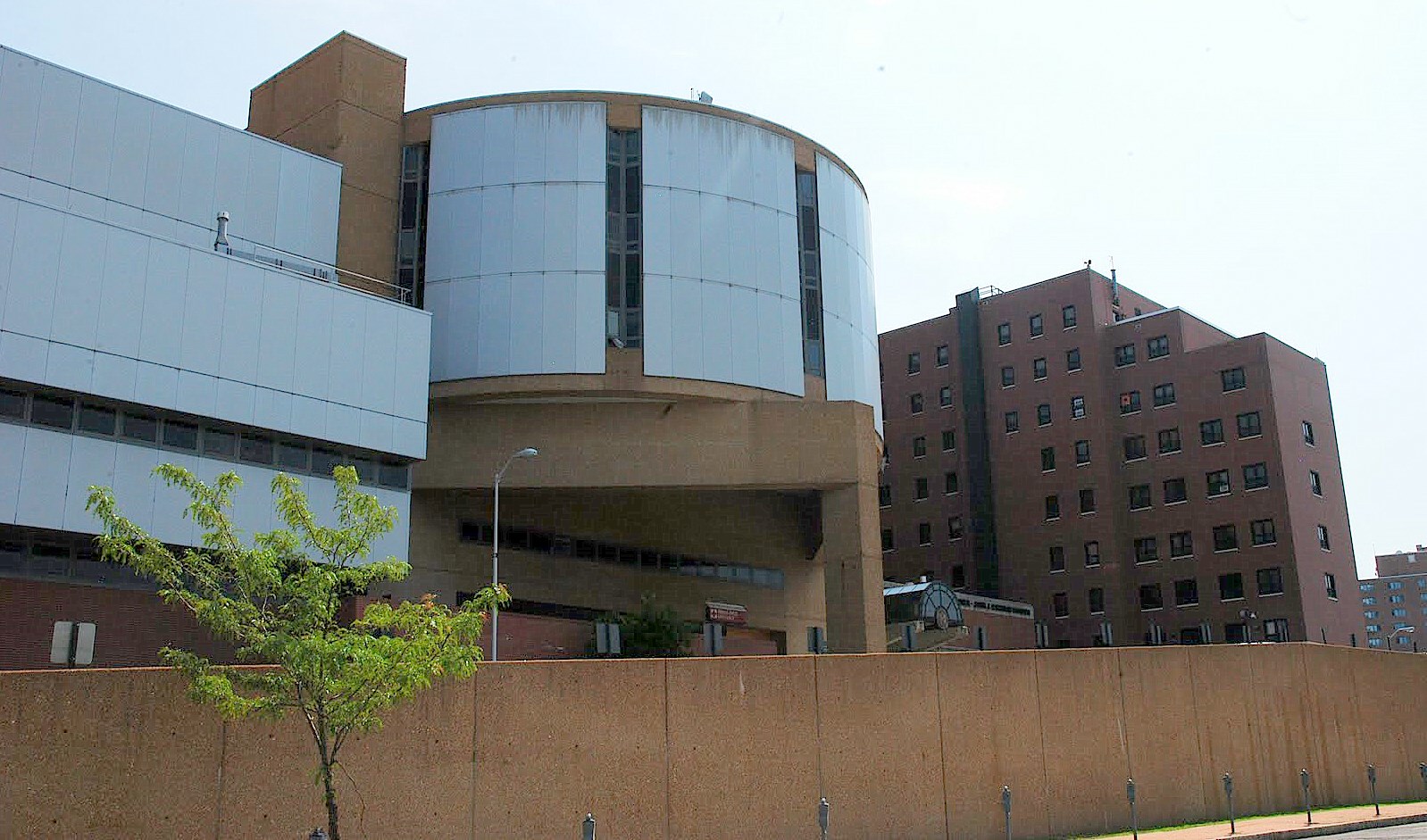 The Sun Theater is just waiting to be restored, or at least stabilized: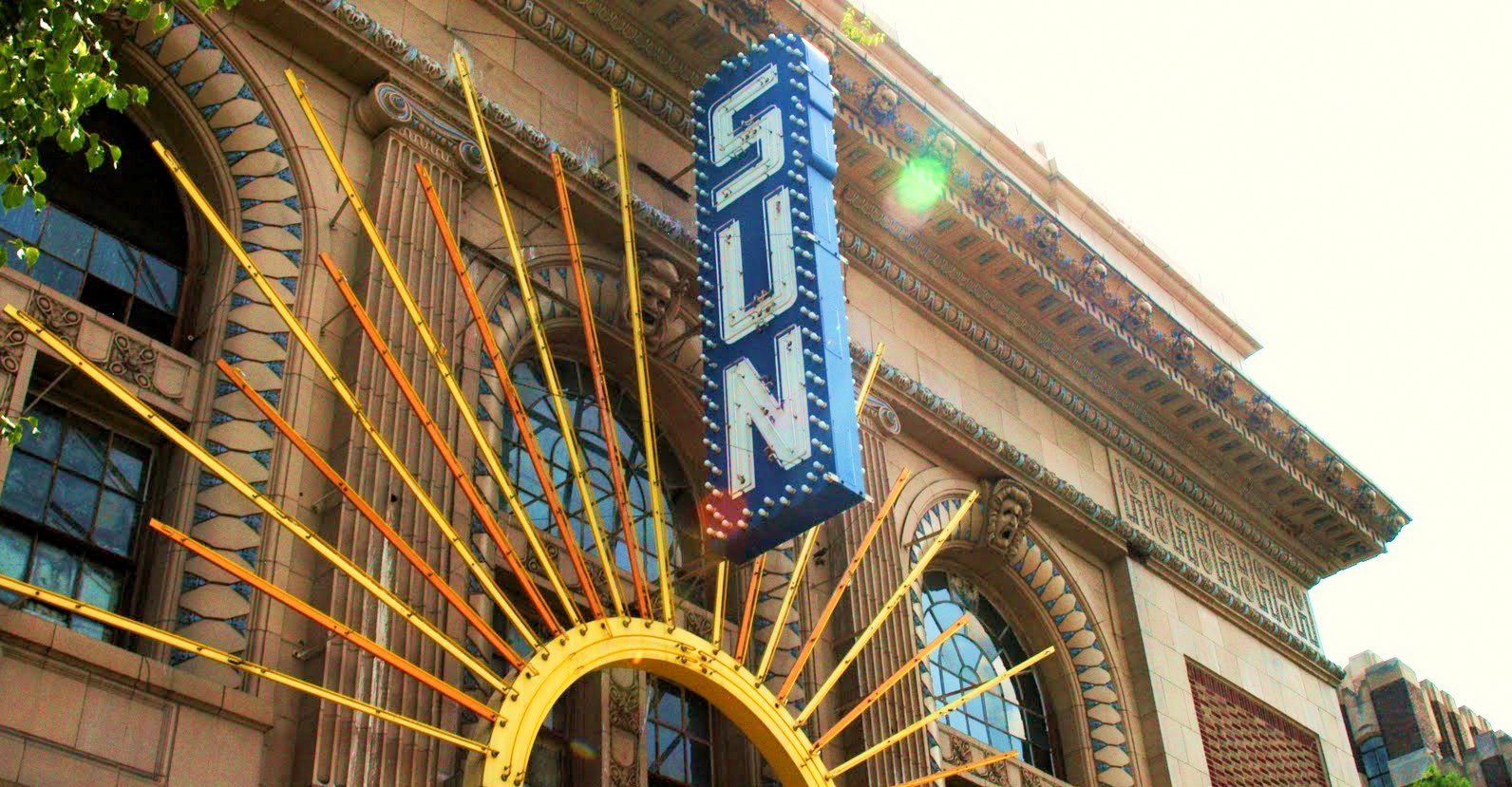 The former Woolworth's at Grand/Lindell has recently been renovated as a Big Brothers and Big Sisters office and a Craft Alliance center (it is handsomely lit up at night, adding to the vibrancy of the area). Here's a picture circa 1993 from the awesome Built St. Louis website: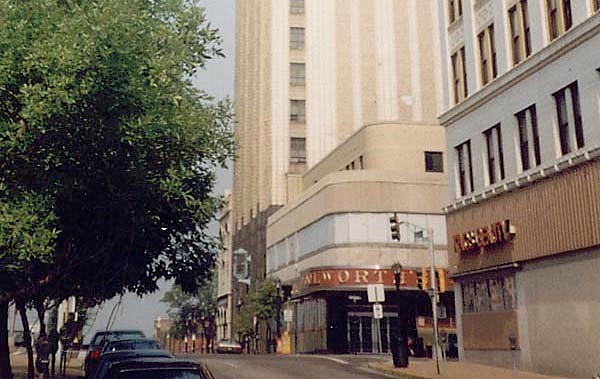 And a recent pre-renovation image: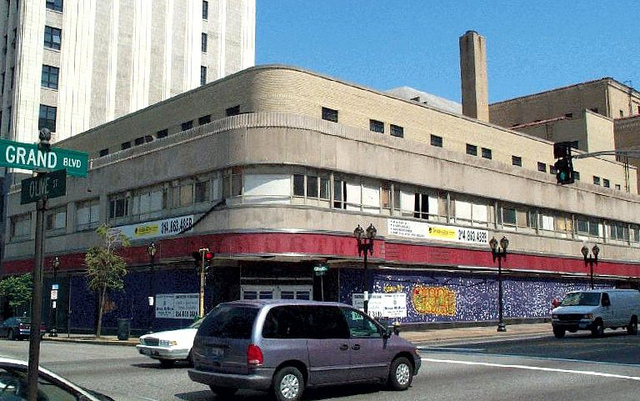 And here's what it looks like now: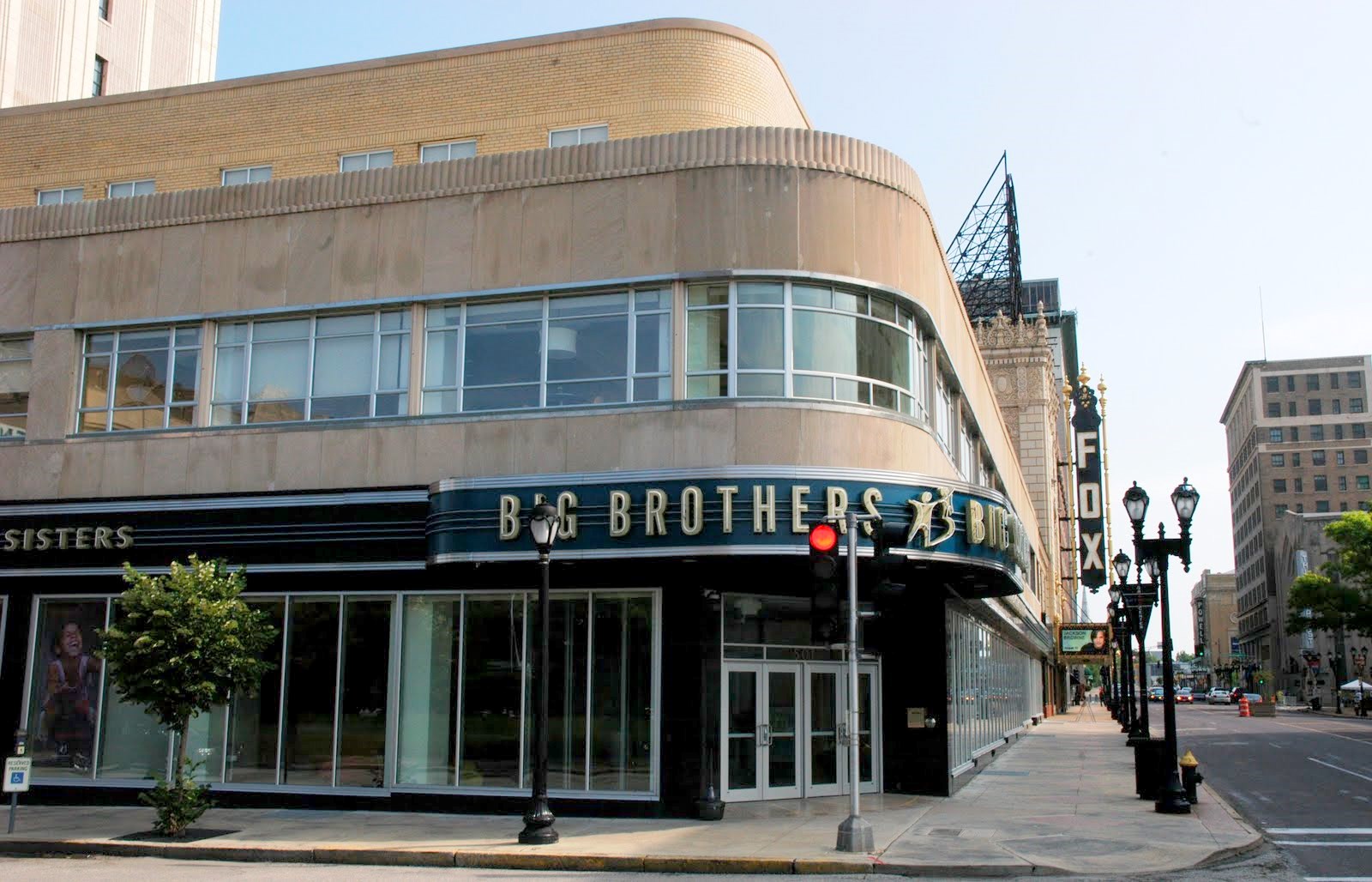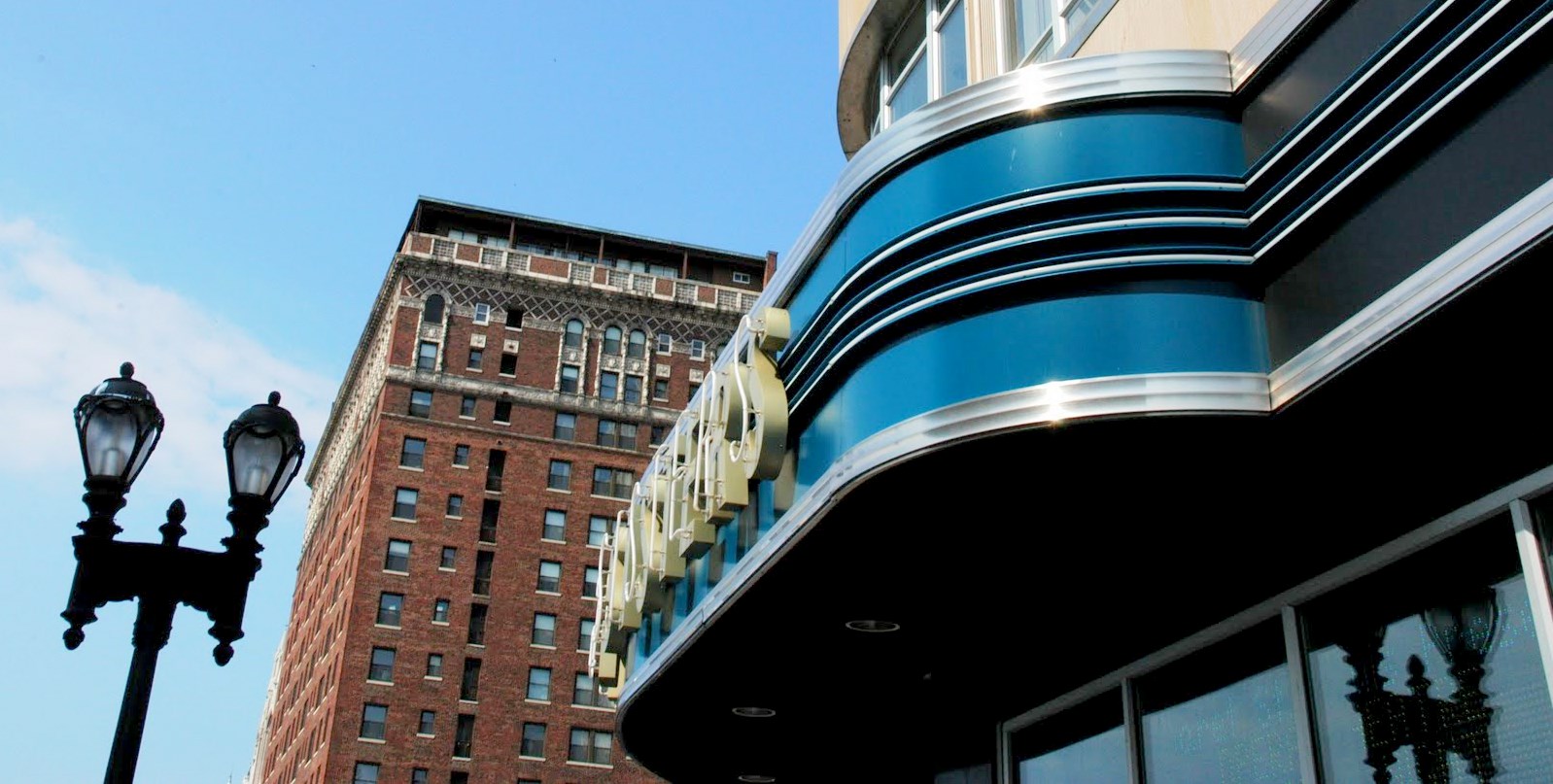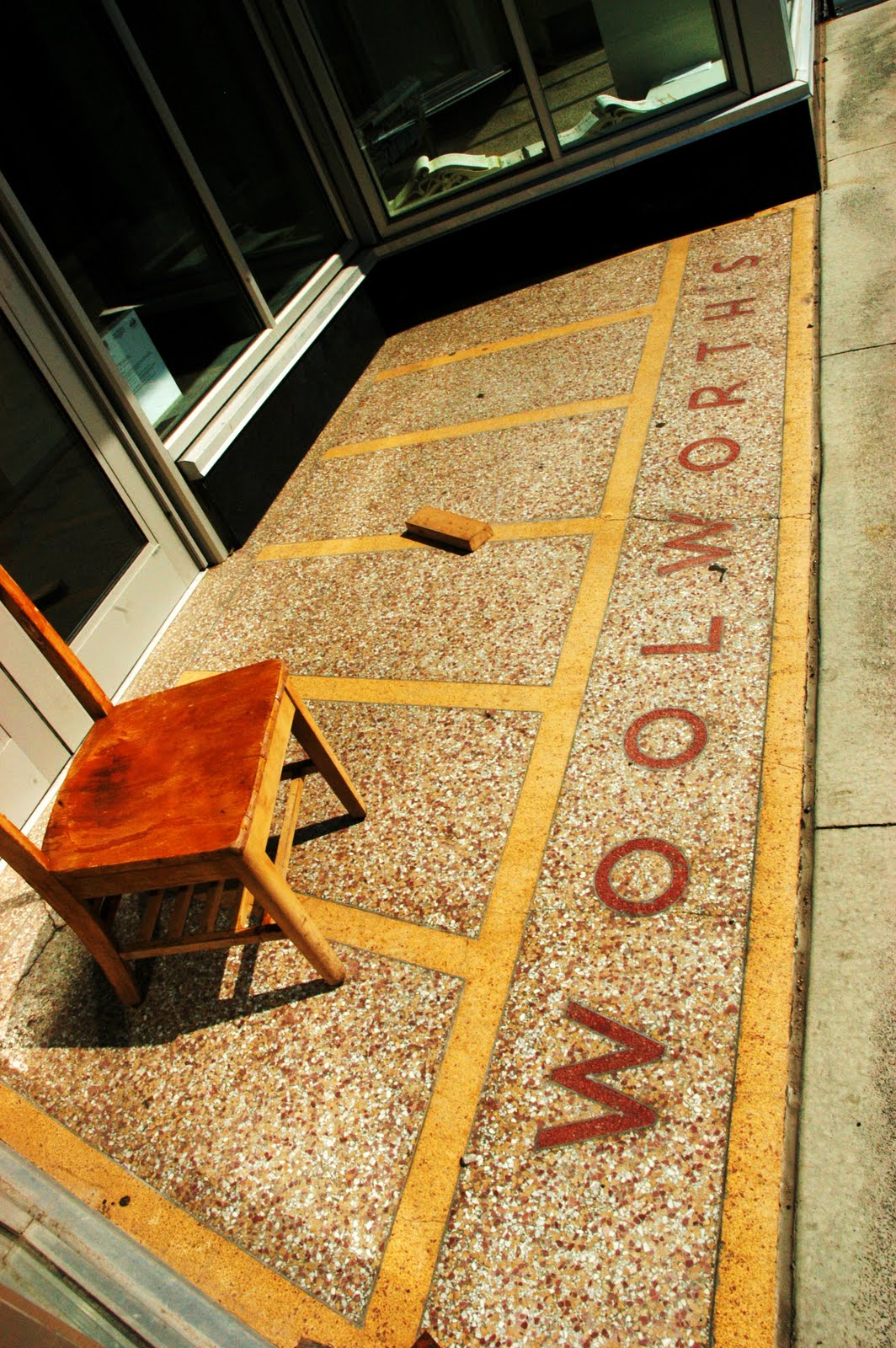 That has to be one of the best rehabs in the last 10 years! You should see it all lit up at night, courtesy of Flickr user ioensis: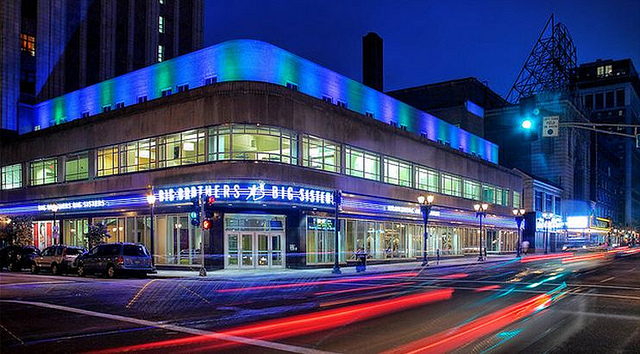 Here's one of the greatest opportunities for improvement in the area; I can't believe this building is sitting empty right at the intersection of Grand and Olive. In fact, interior demolition work began in 2010 and has now stopped. The building was to be converted into a hotel: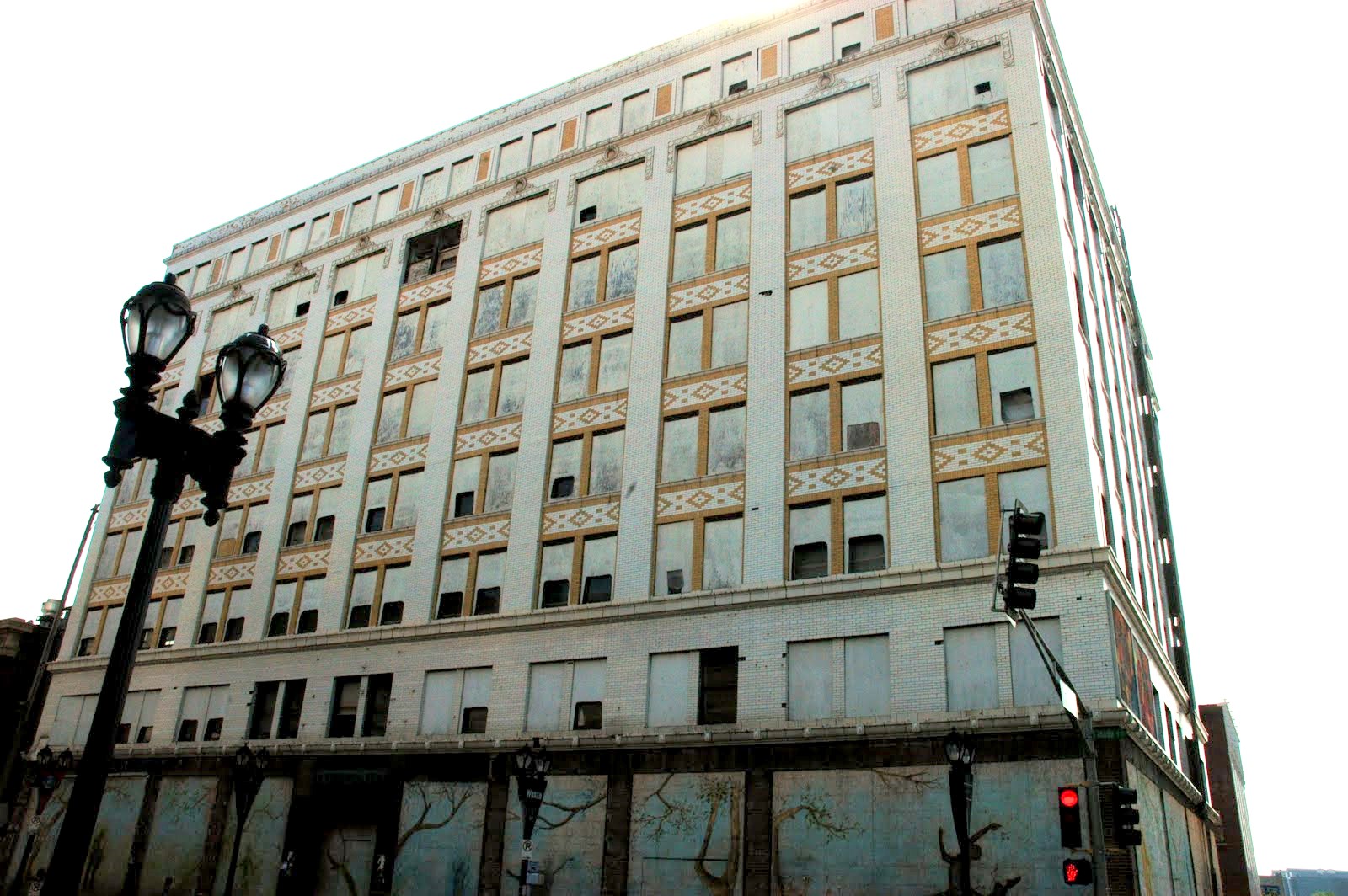 Right next door, on the northeast corner of Lindell and Grand, is a vacant lot scattered with sculpture, a SLU brick and iron gate and fountain. Nothing more is likely to be built there soon, but at least people are dreaming big. Here's one rendering of what the site could hold: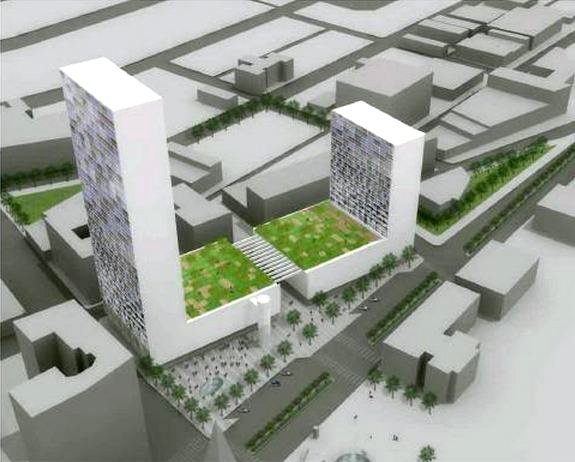 The City Diner, a longtime fixture in the Tower Grove South neighborhood recently opened a second location in the Humbolt building just north of the Fox: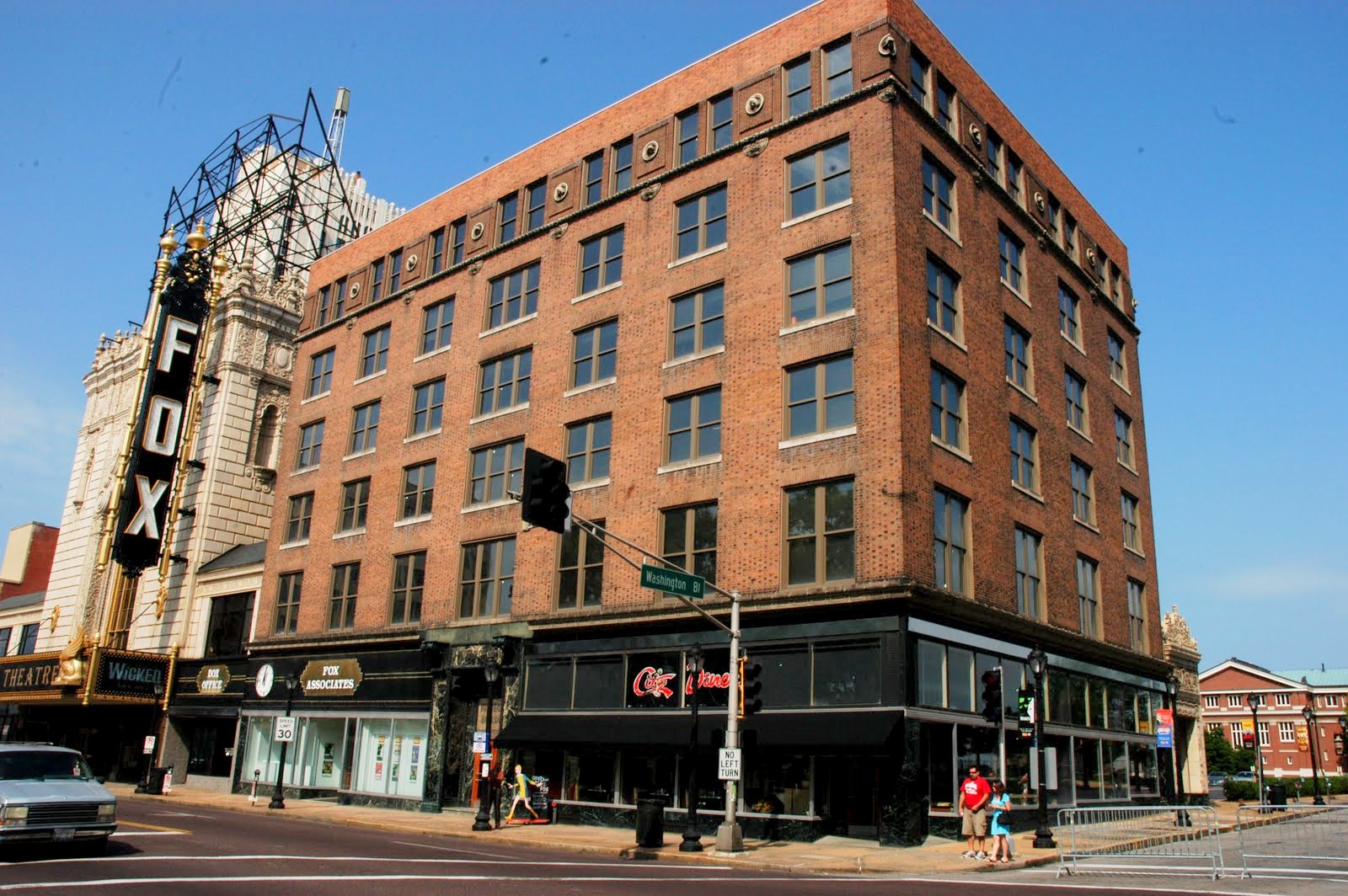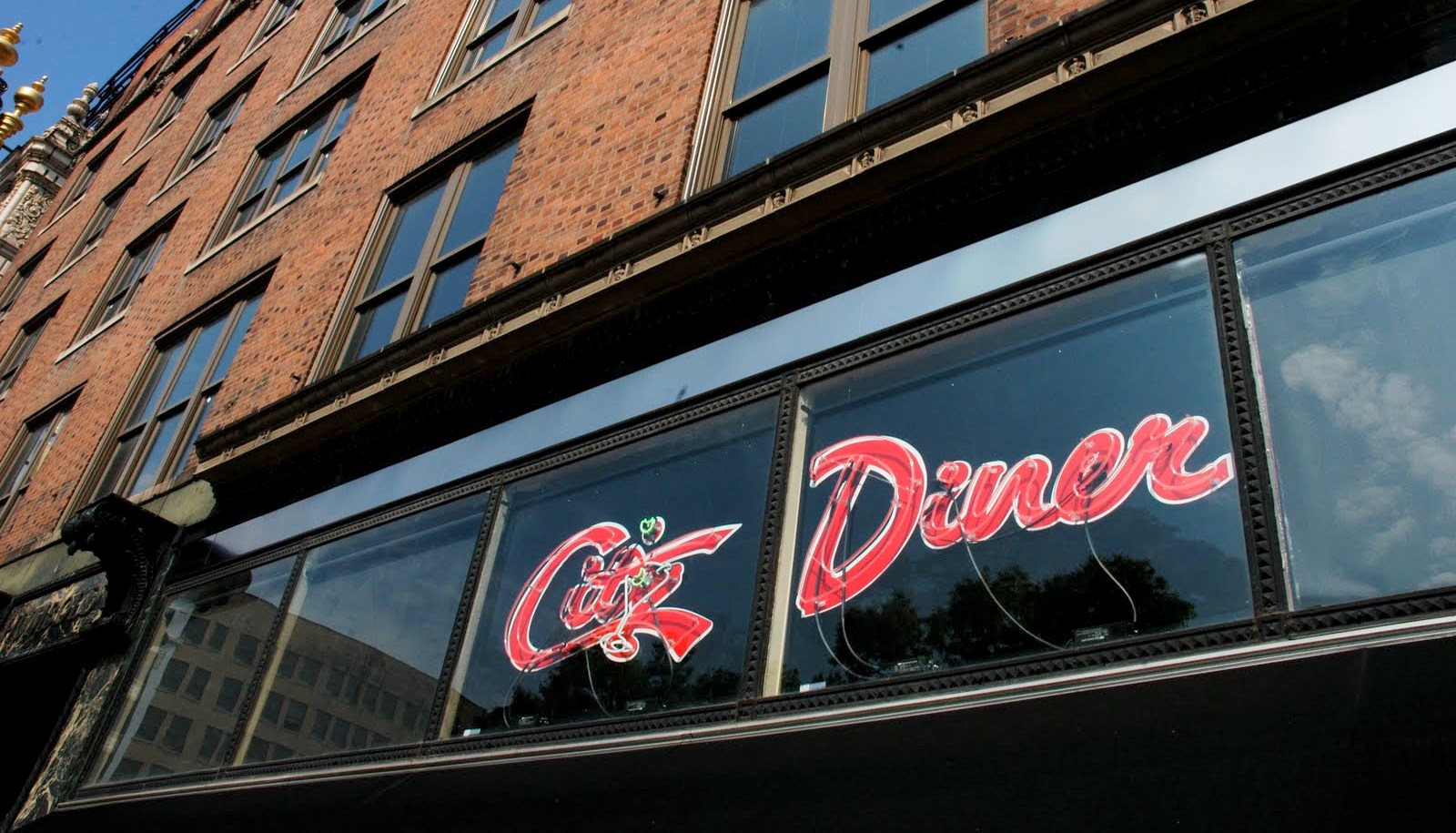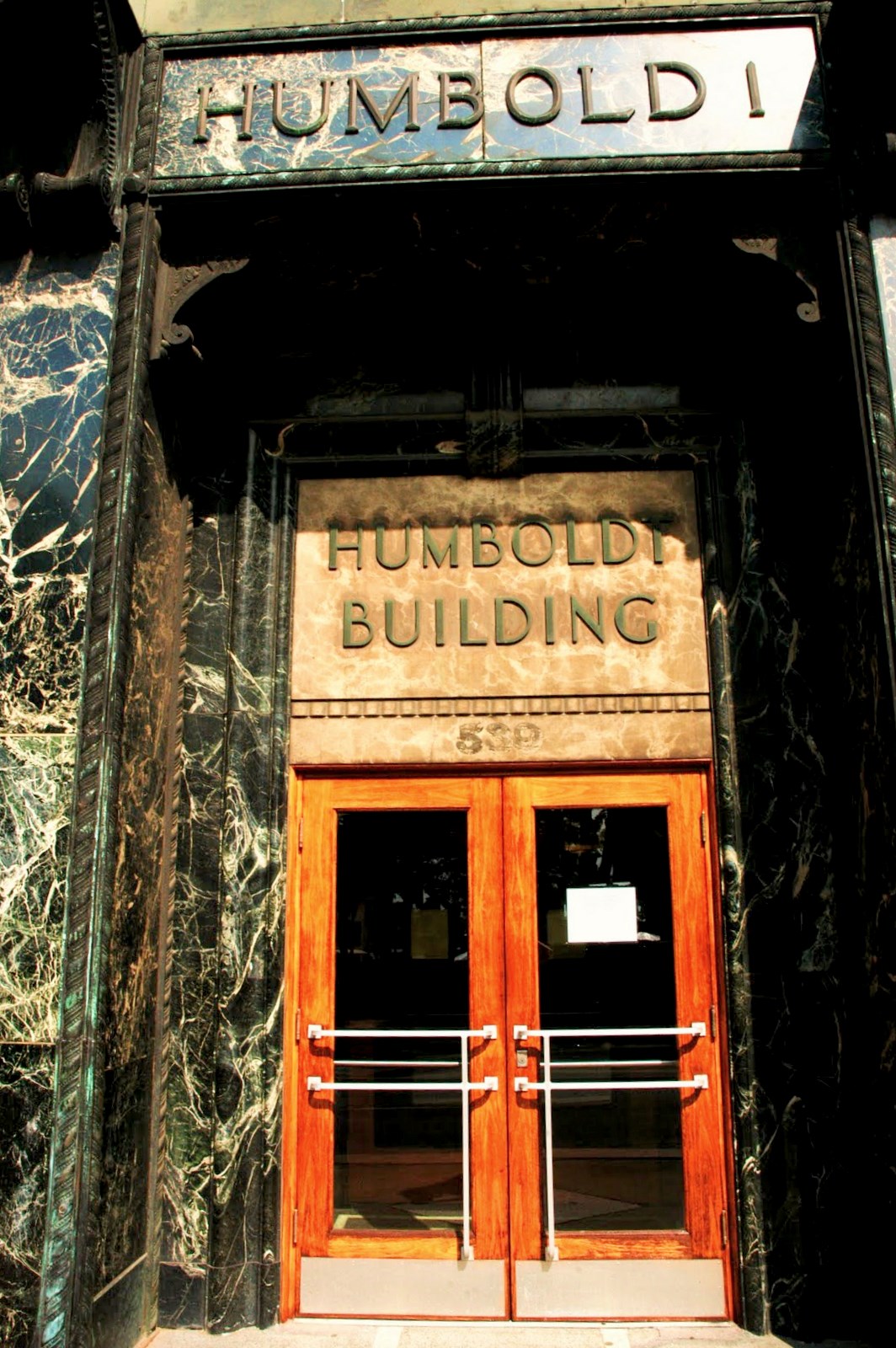 There are some other places just east of Grand including Kota Wood Fired Grill, the Best Steak House and Jazz at the Bistro: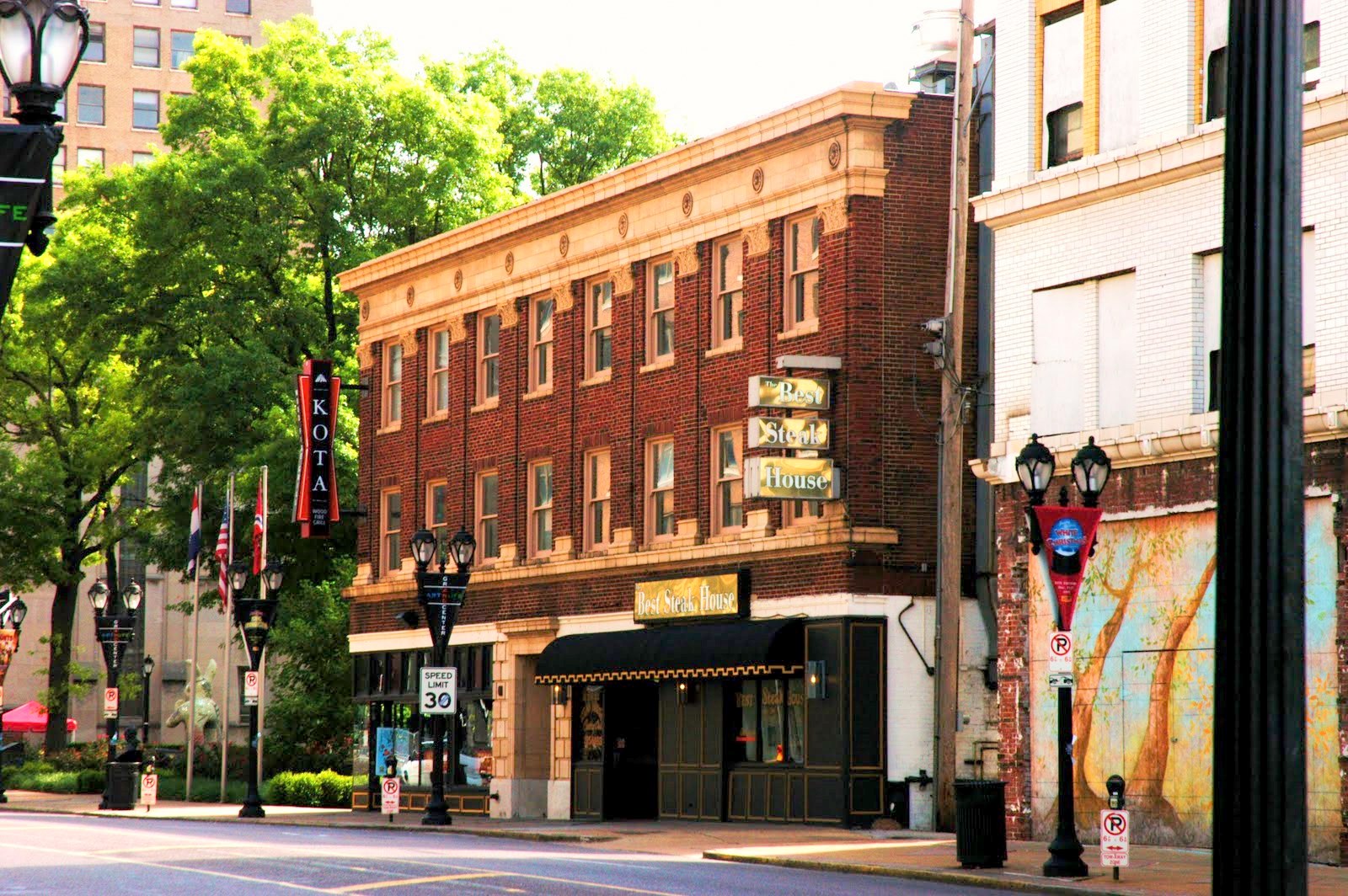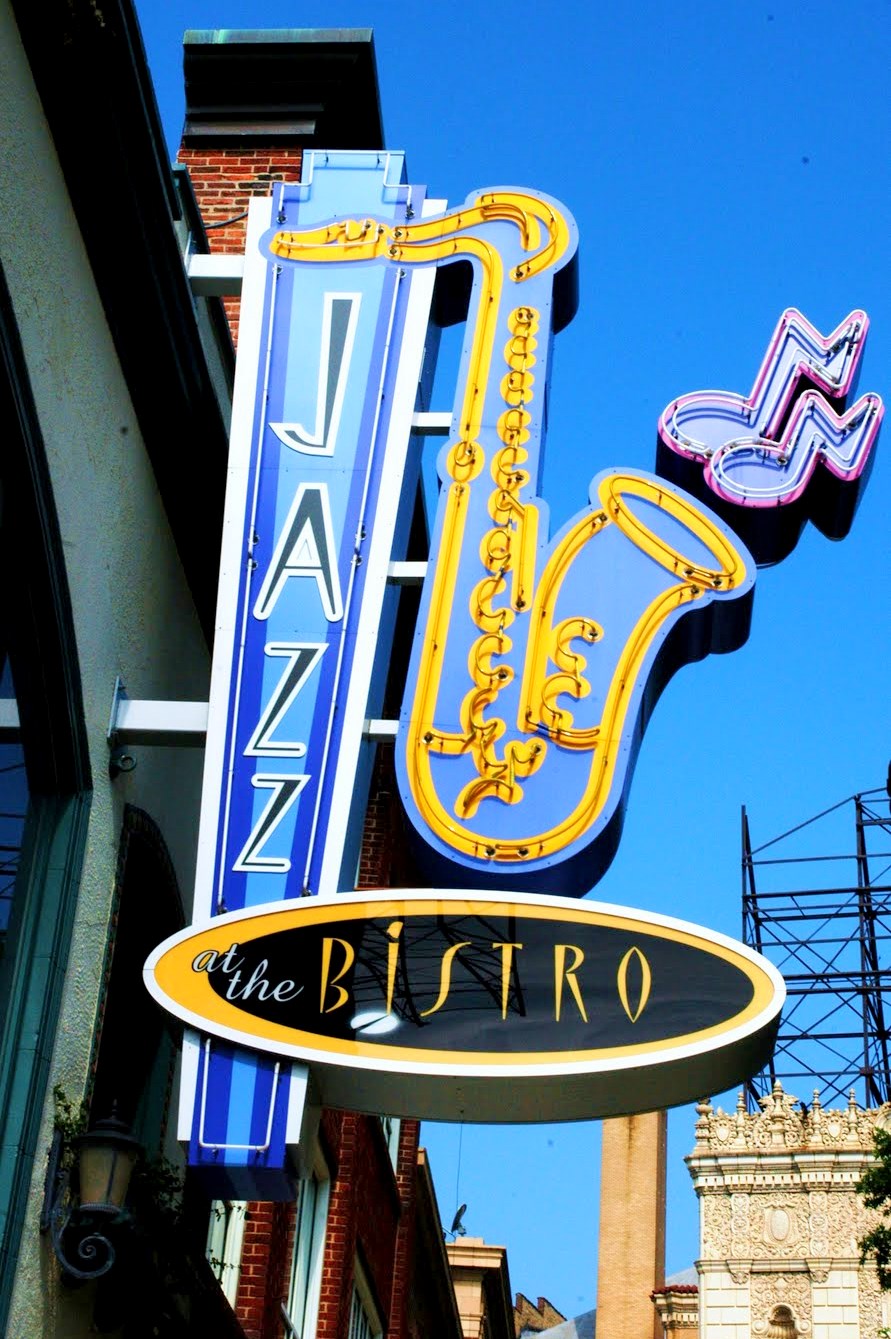 There is new life in a building just east of Jazz at the Bistro, which was nicely reworked to house a salon and a couple other businesses: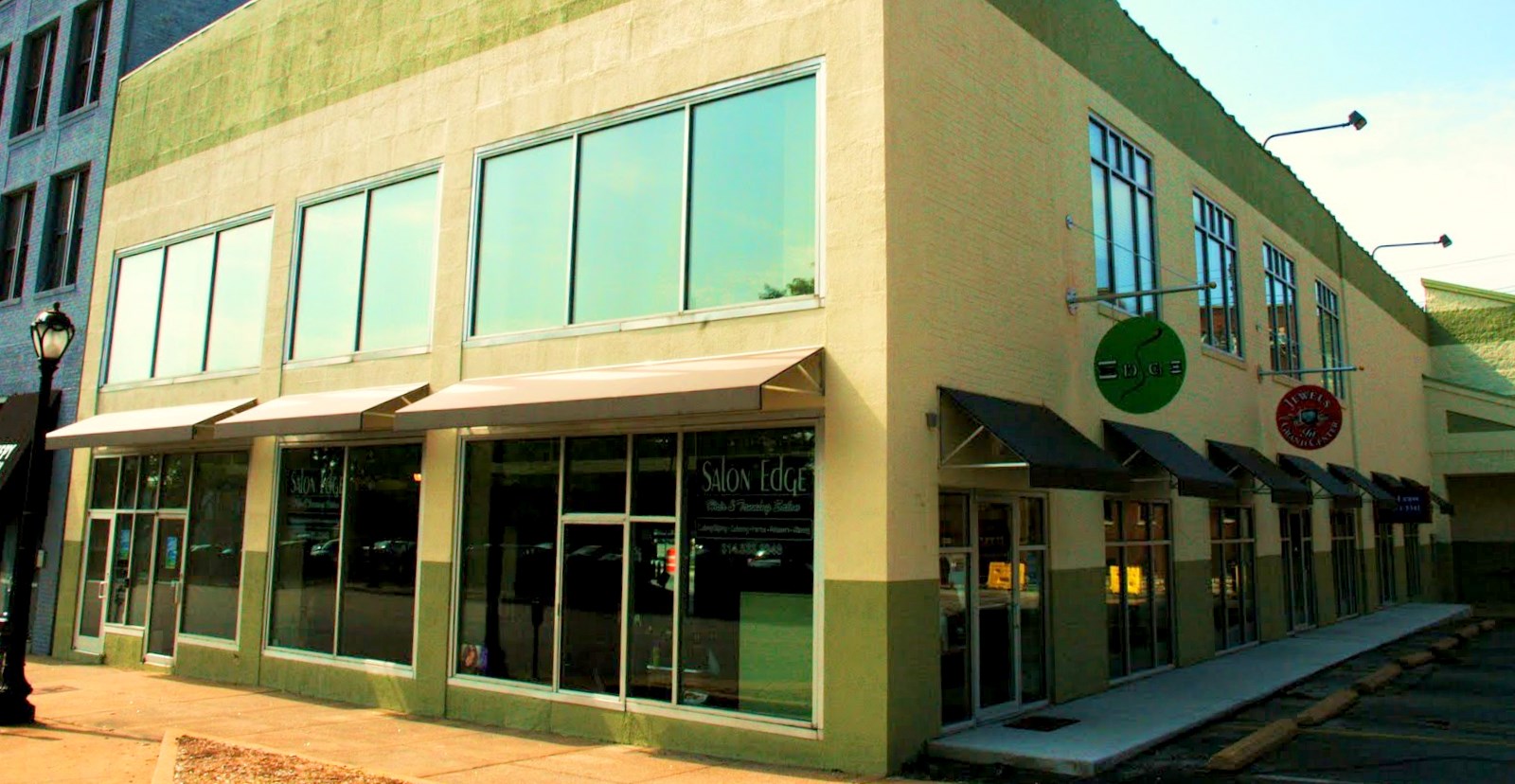 Some other cool sights in this part of CBGC: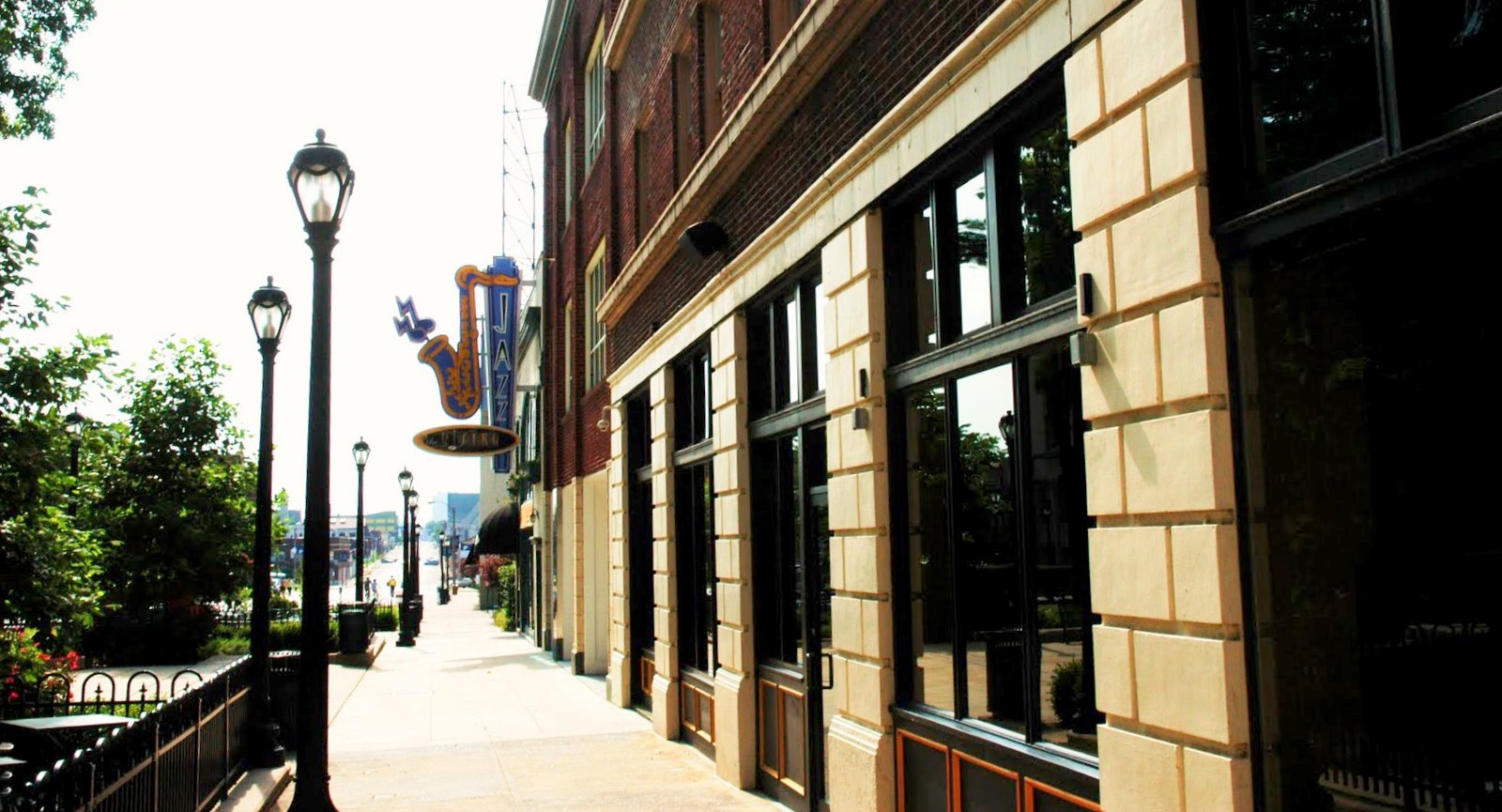 One of the landmark, cool buildings in Grand Center is getting a new life. The Beaux Arts/Carter Carburator is soon to become the Grand Center Arts Academy: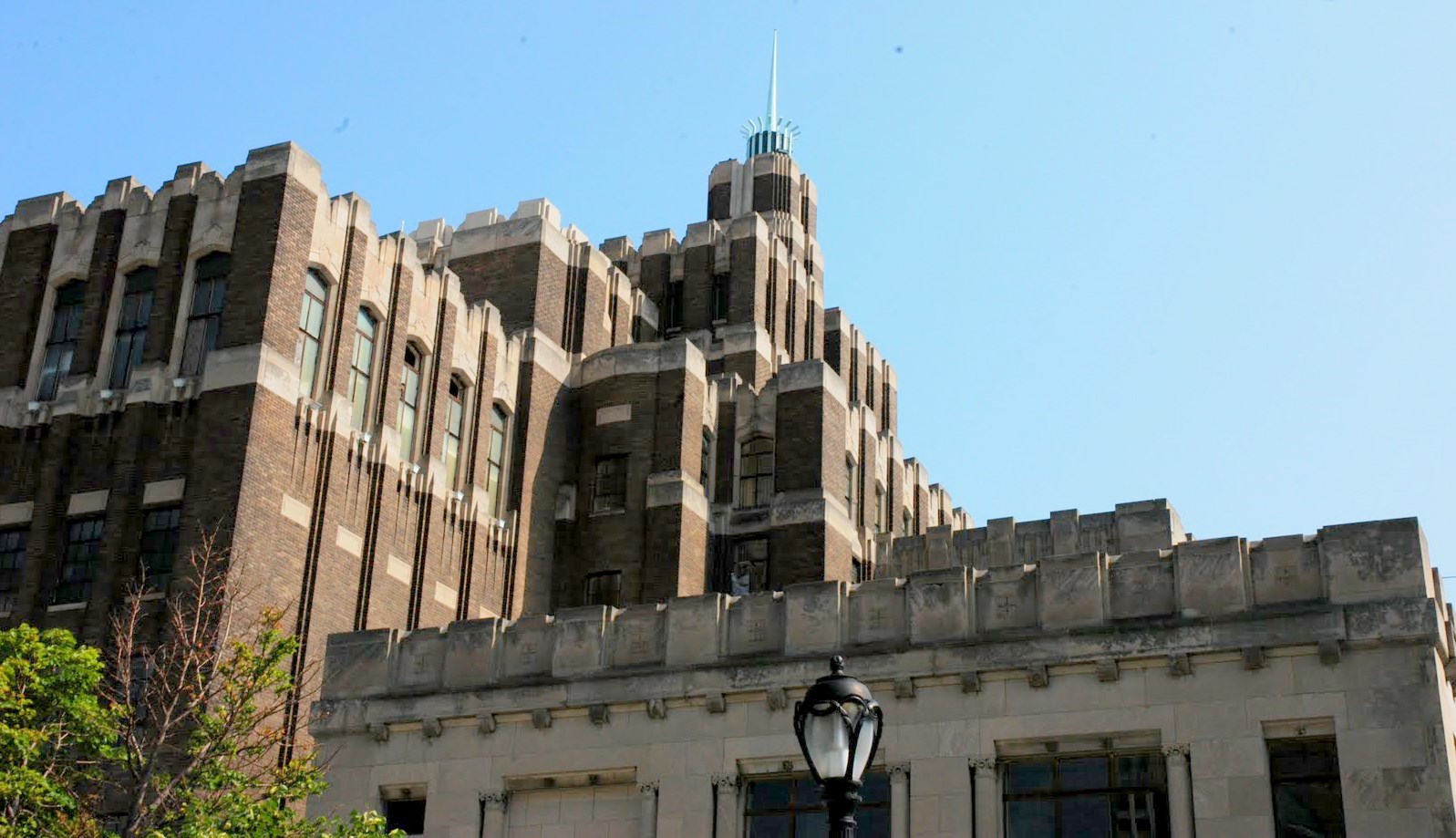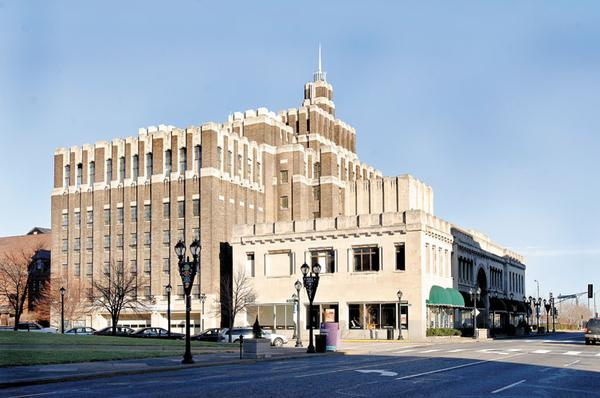 And one rendering from the Arts Academy of a future performance space: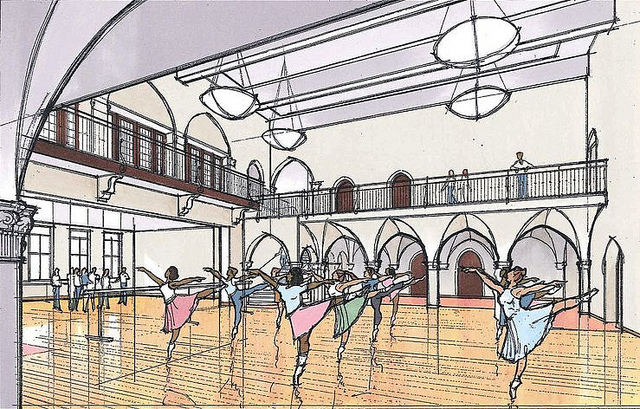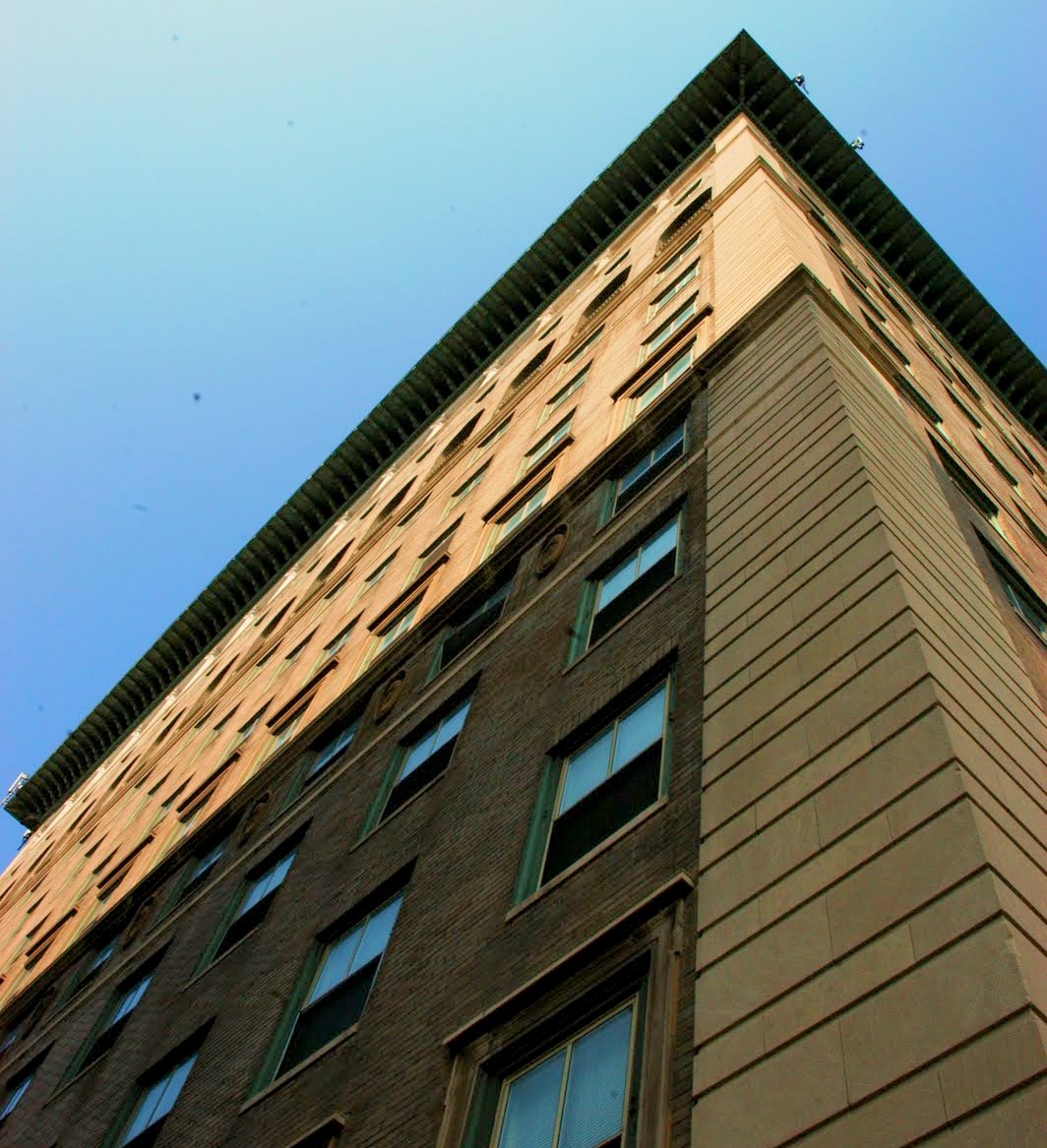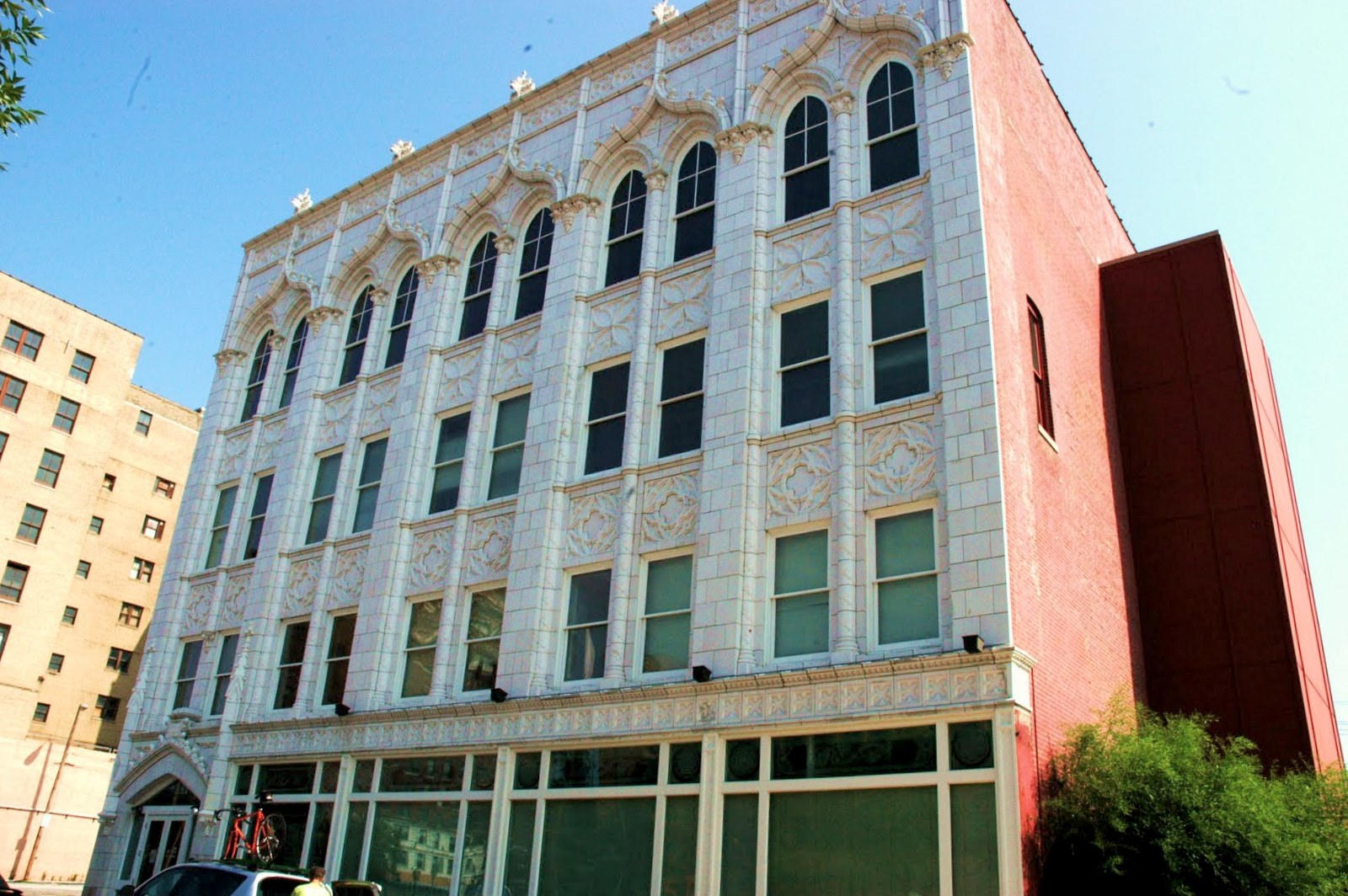 Other places of interest include the Moto Museum: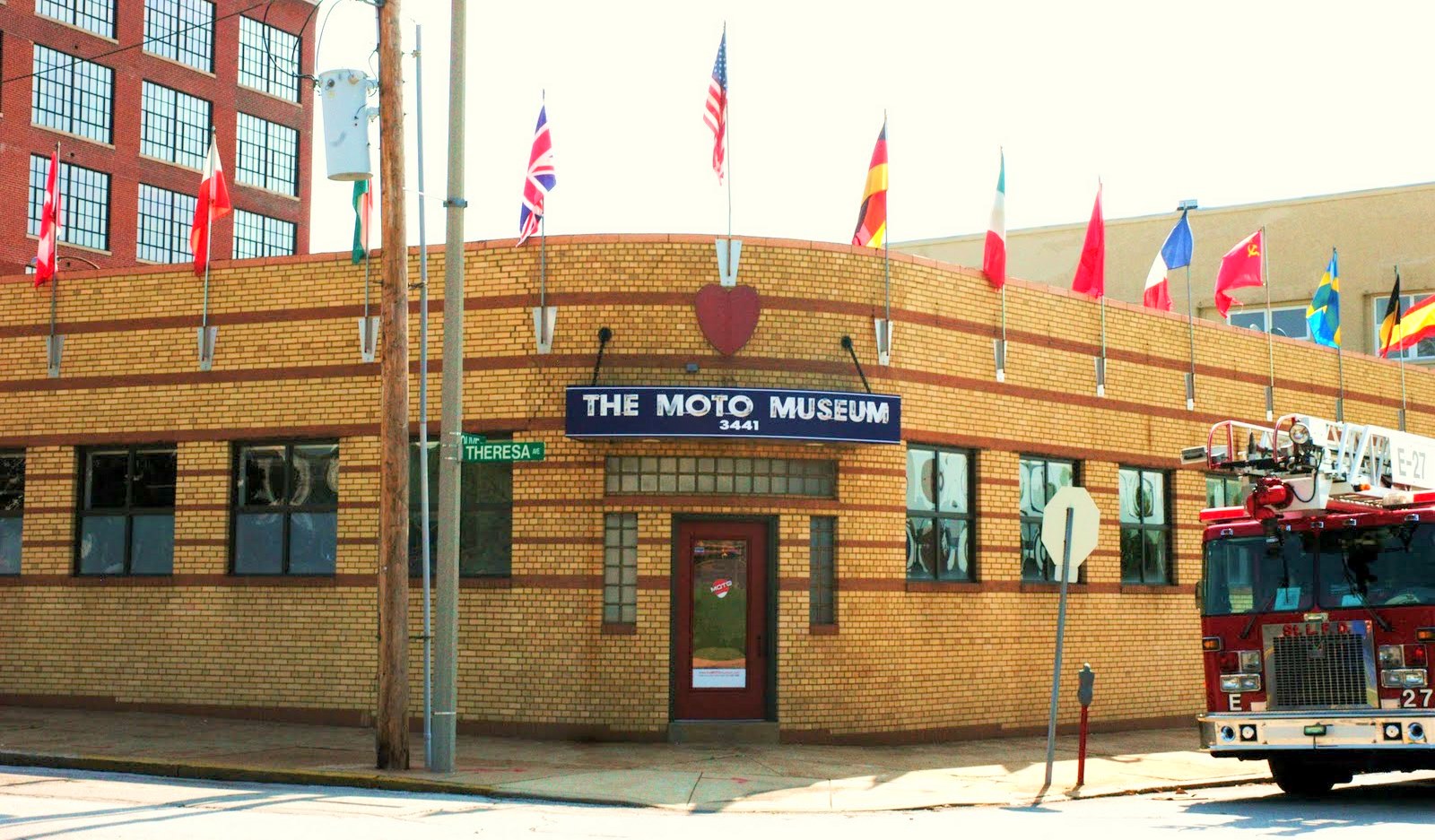 And a couple pictures from countondowntown.com of the new Ducati/Triumph dealership next door: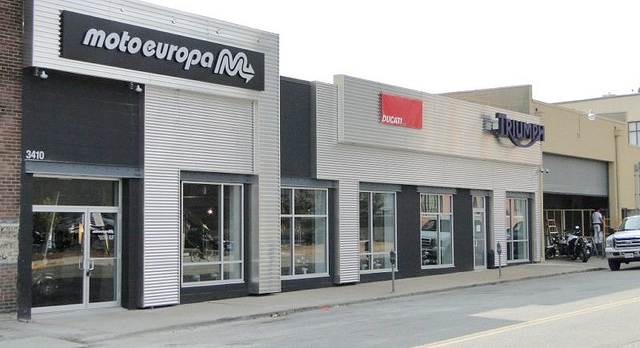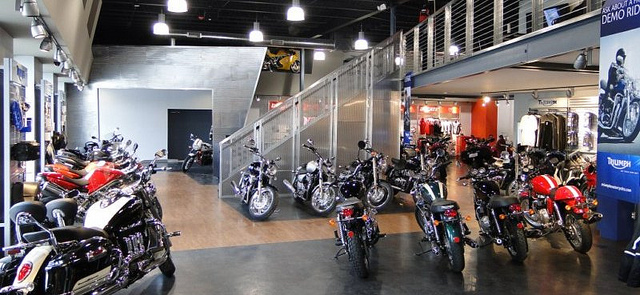 Triumph Grill, Hotel Ignacio, Drake Plaza and other sites along Olive: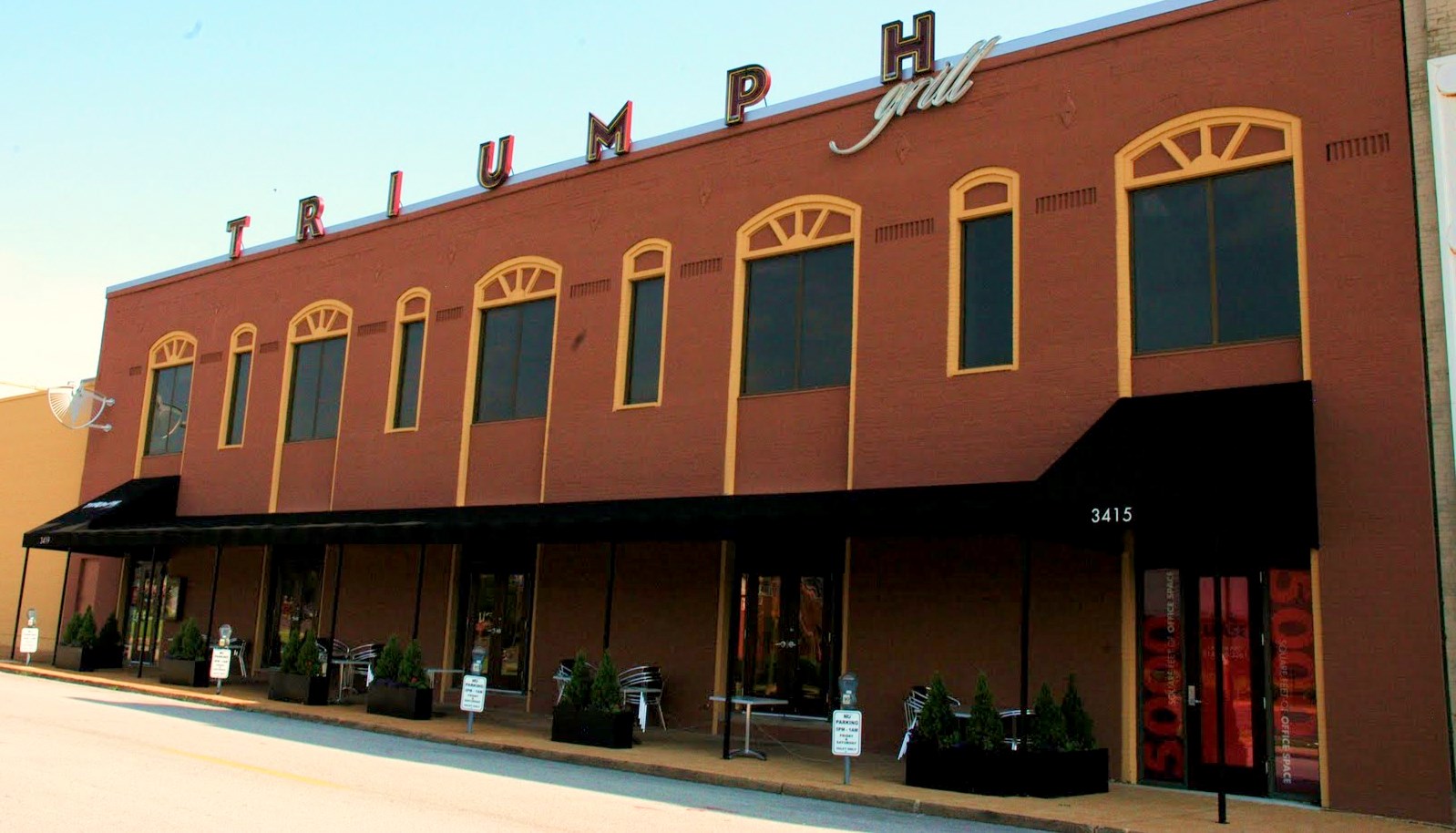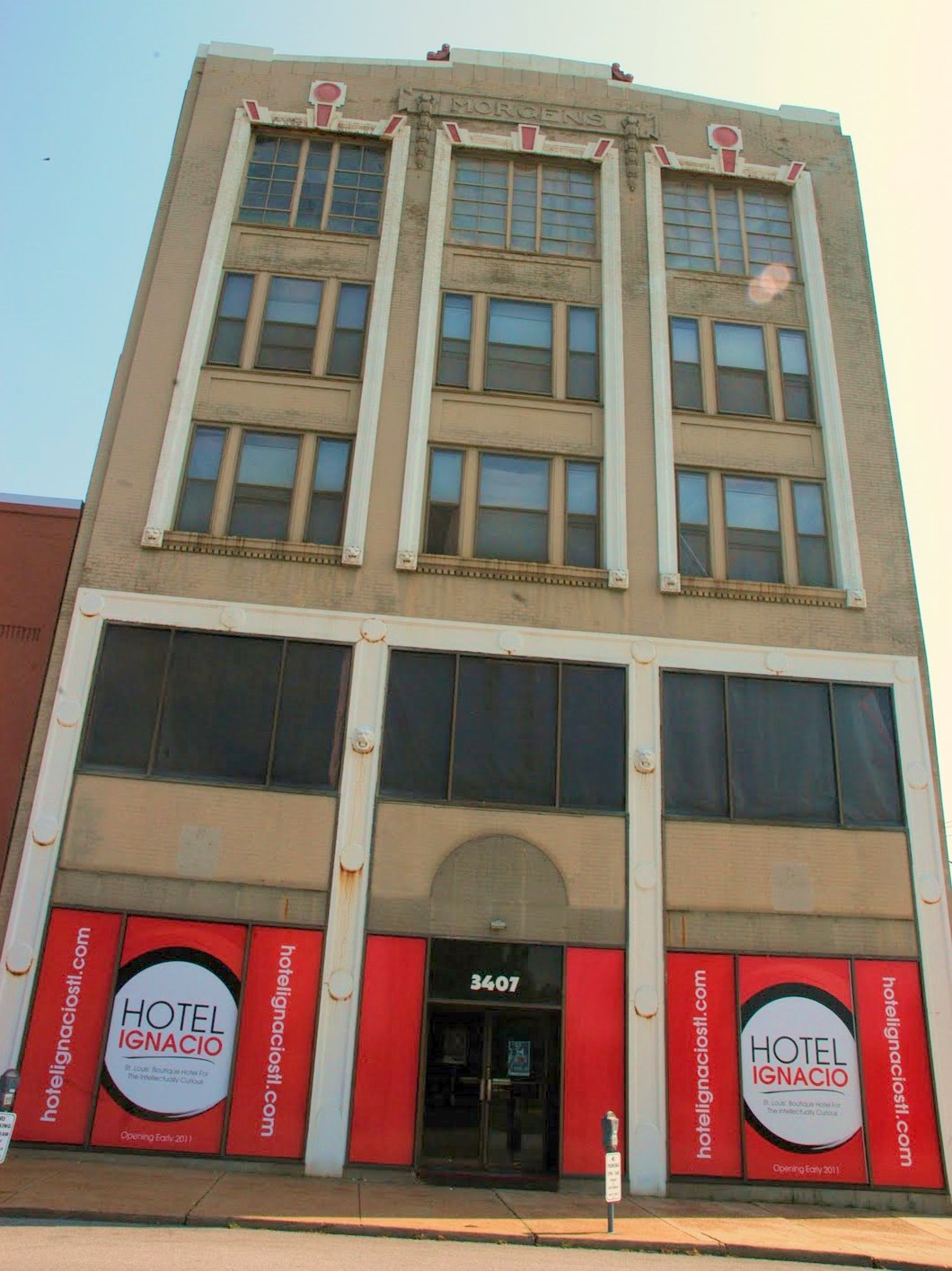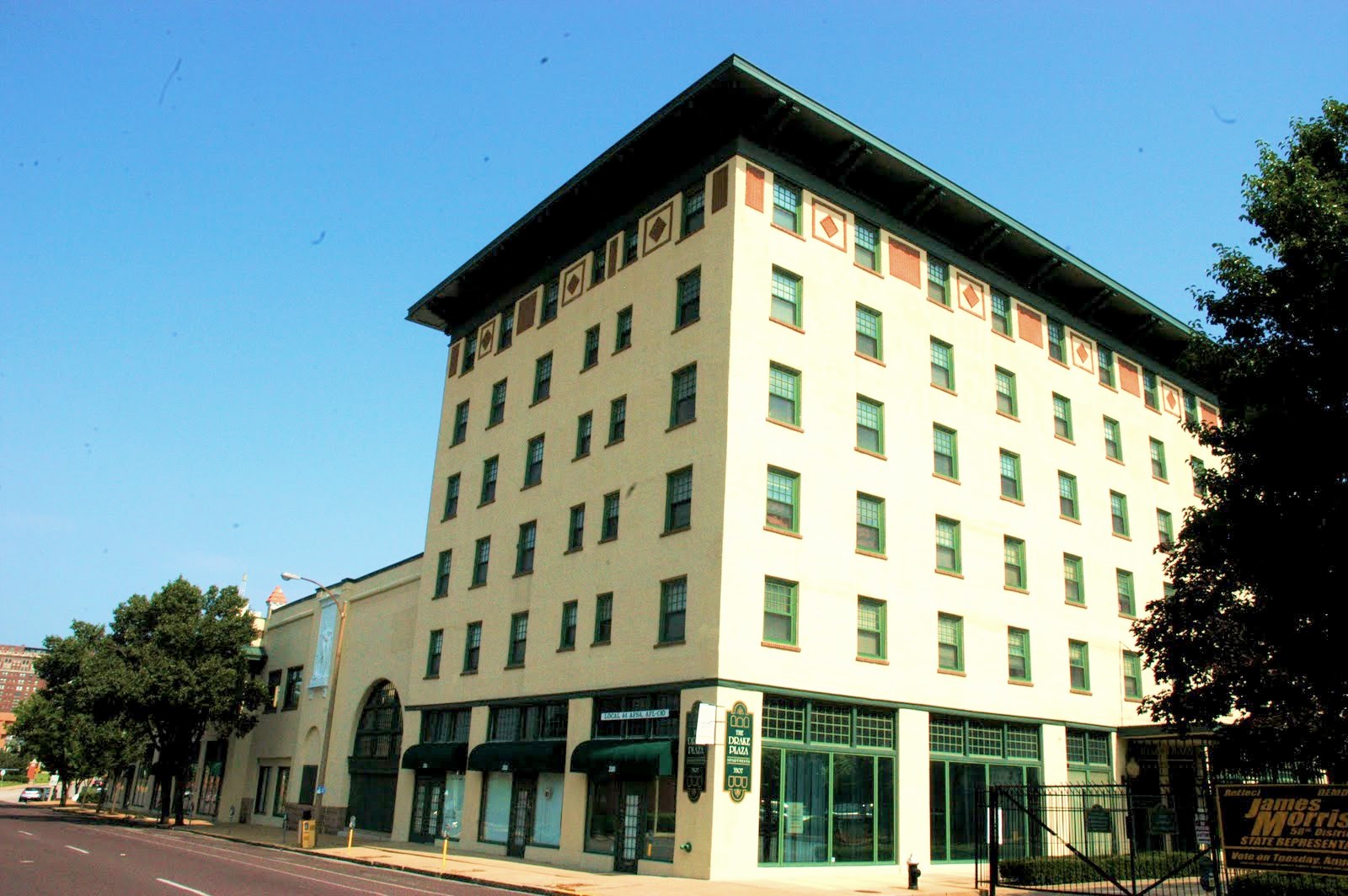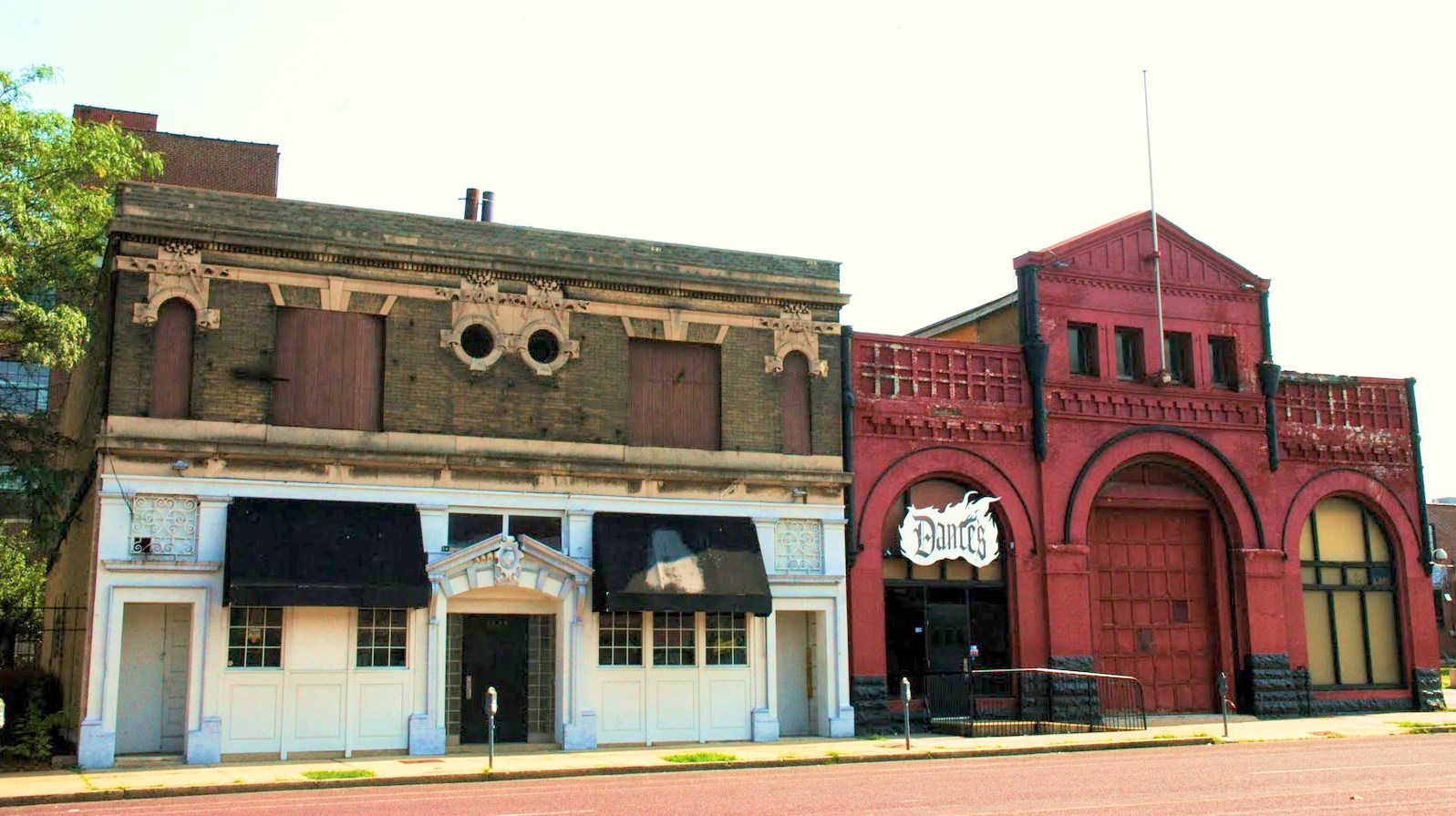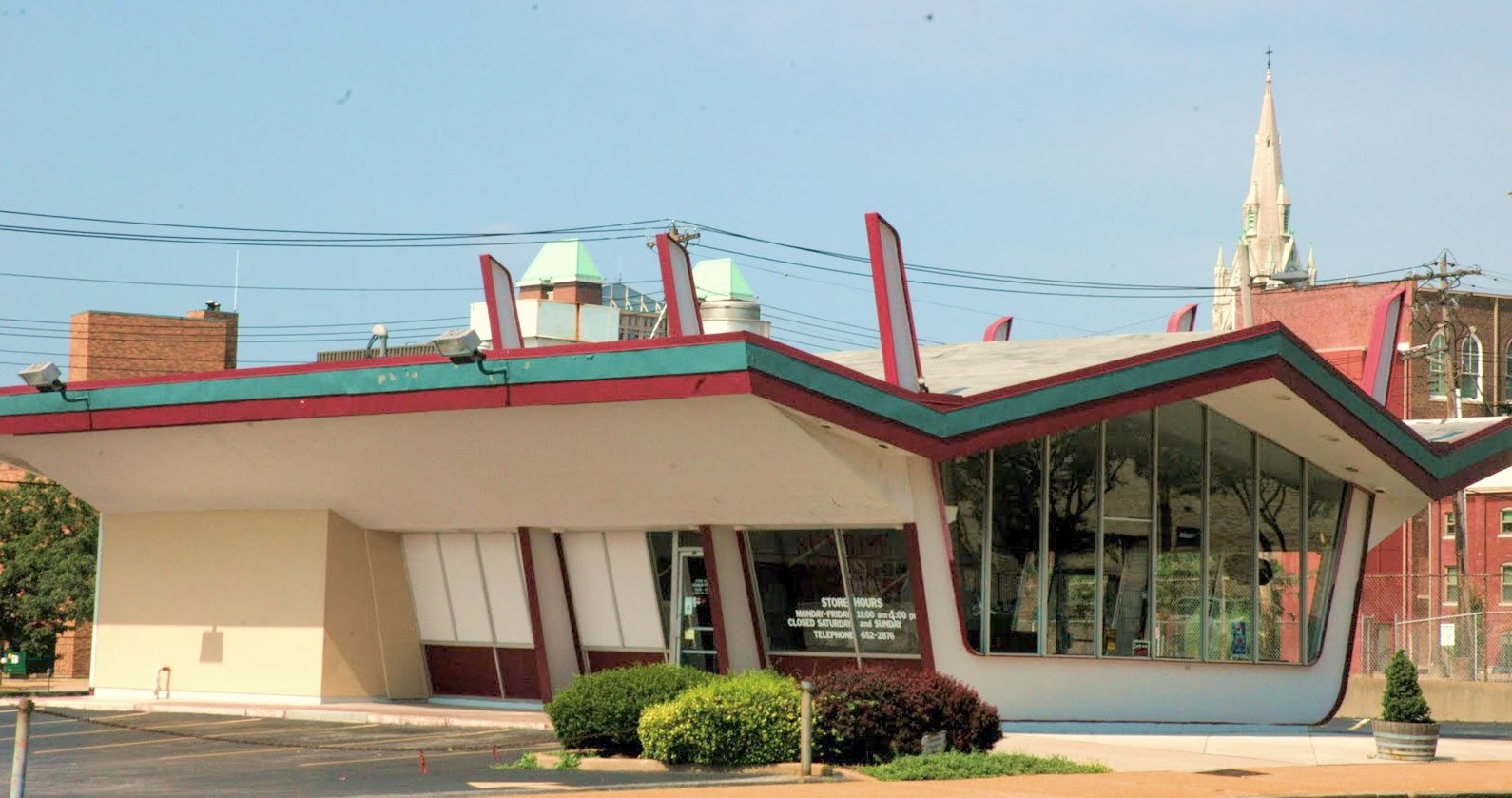 Some interesting site and opportunities along Compton: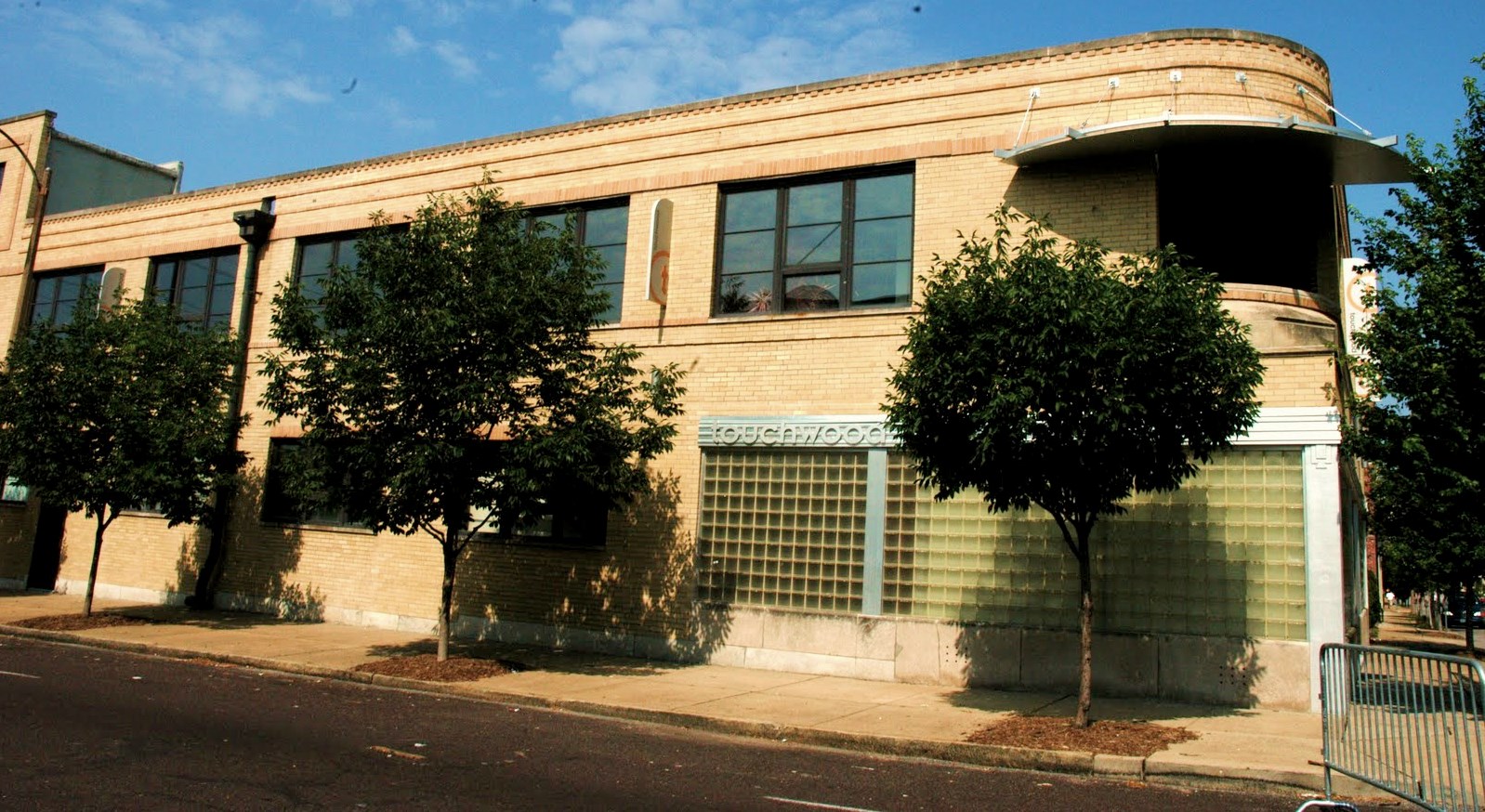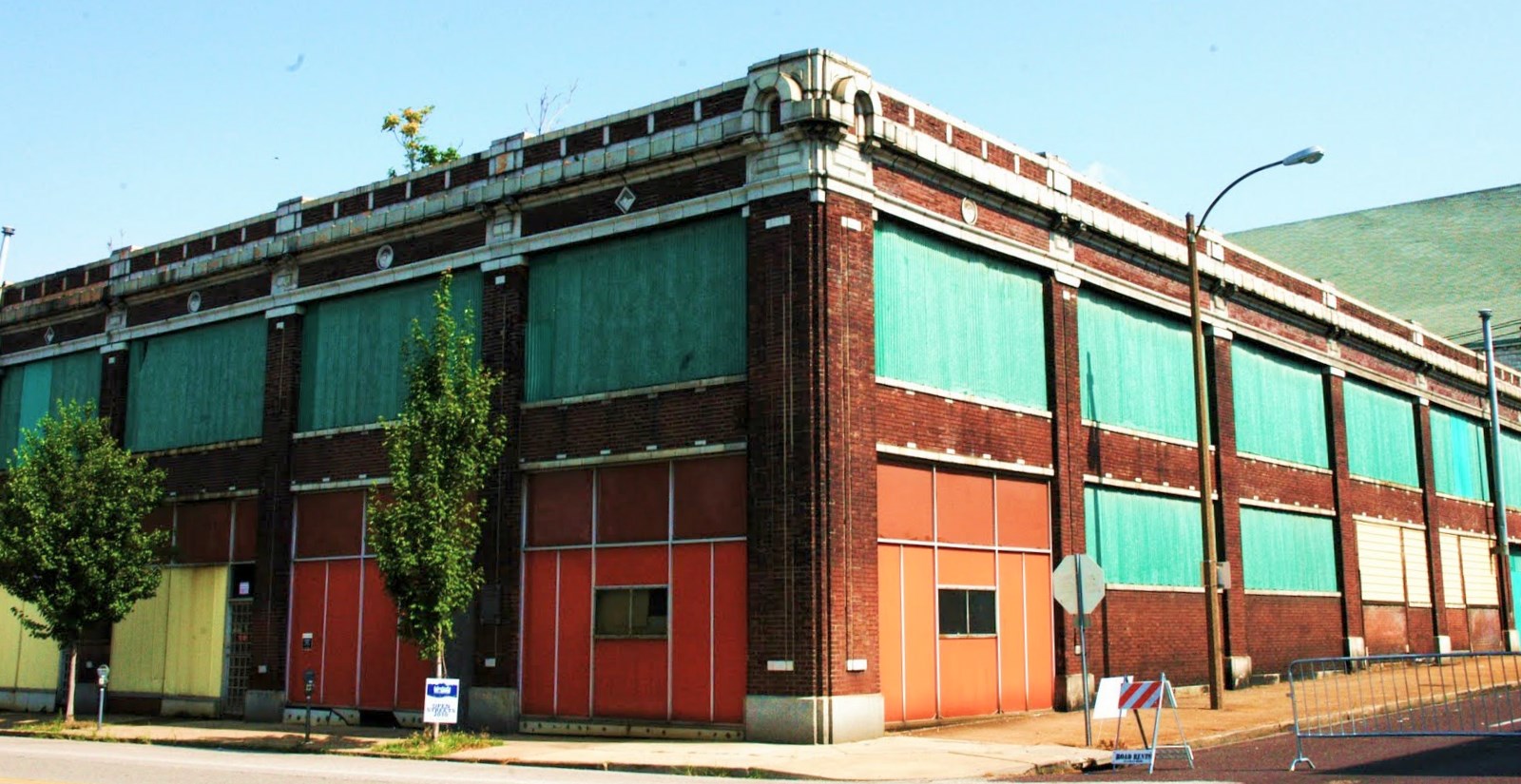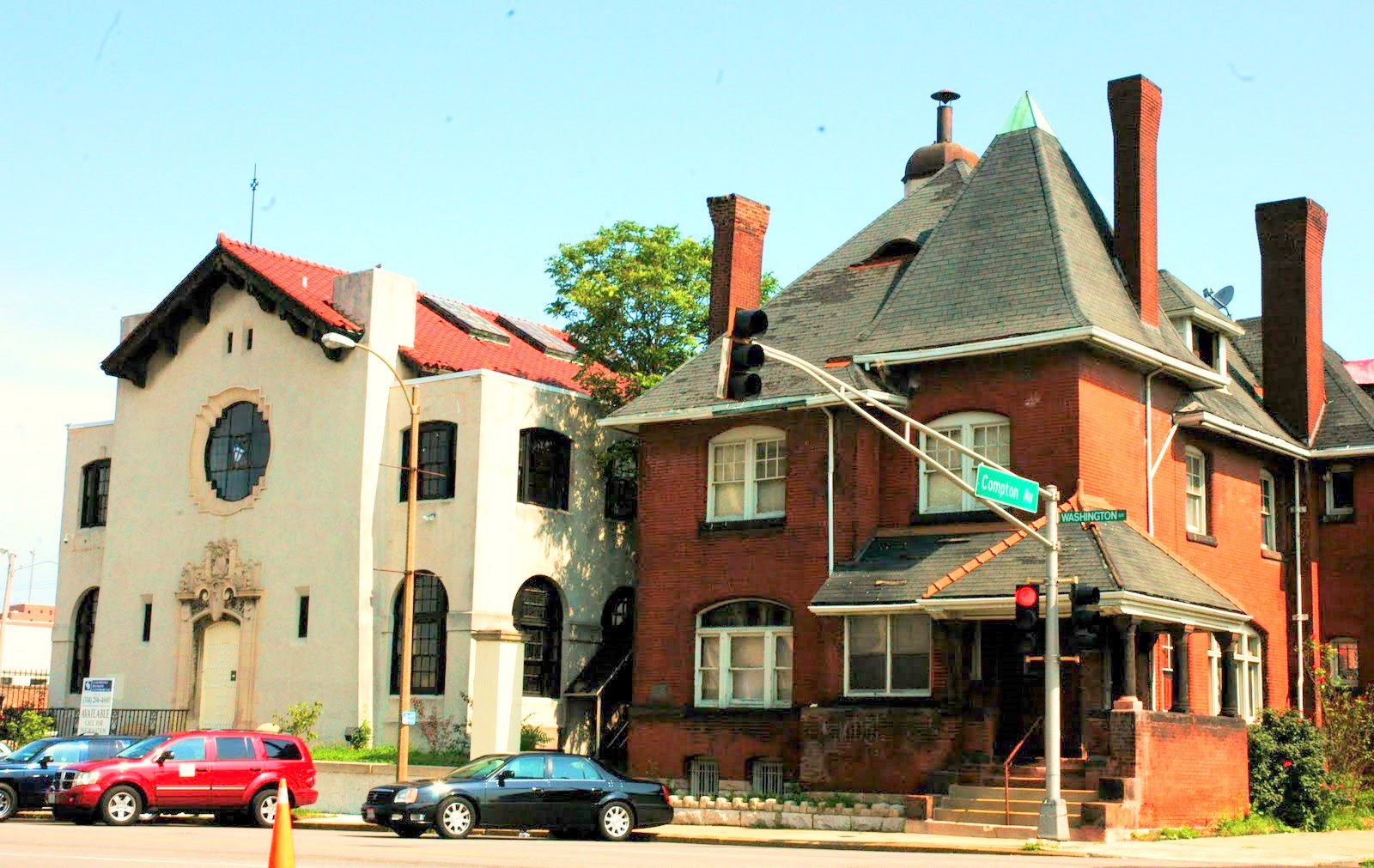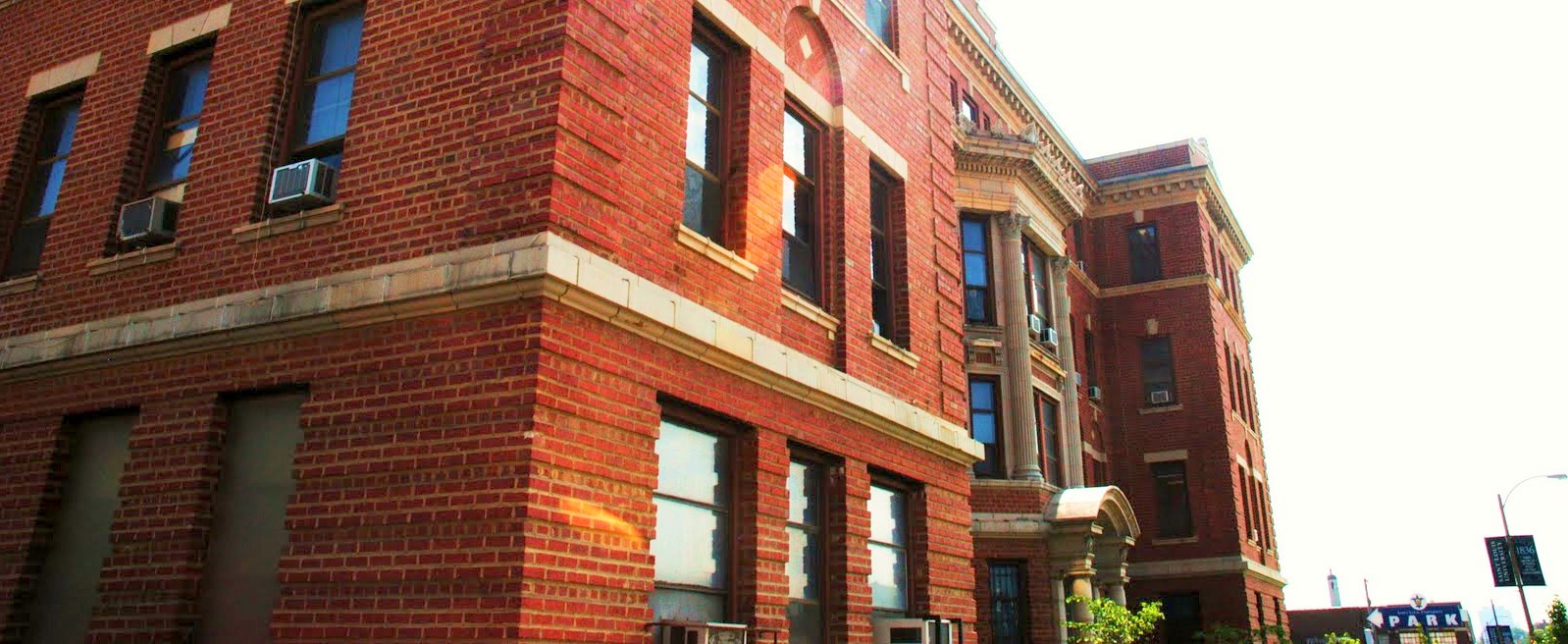 St. Louis University still has a big presence here. As much as I love SLU and want them to do well, they are freakishly obsessed with surface parking lots. Unfortunately, they are dead set on destruction of historic buildings in favor of catering to visitors and tourists that spend a mere matter of hours here and don't live here. They love branding the lots too: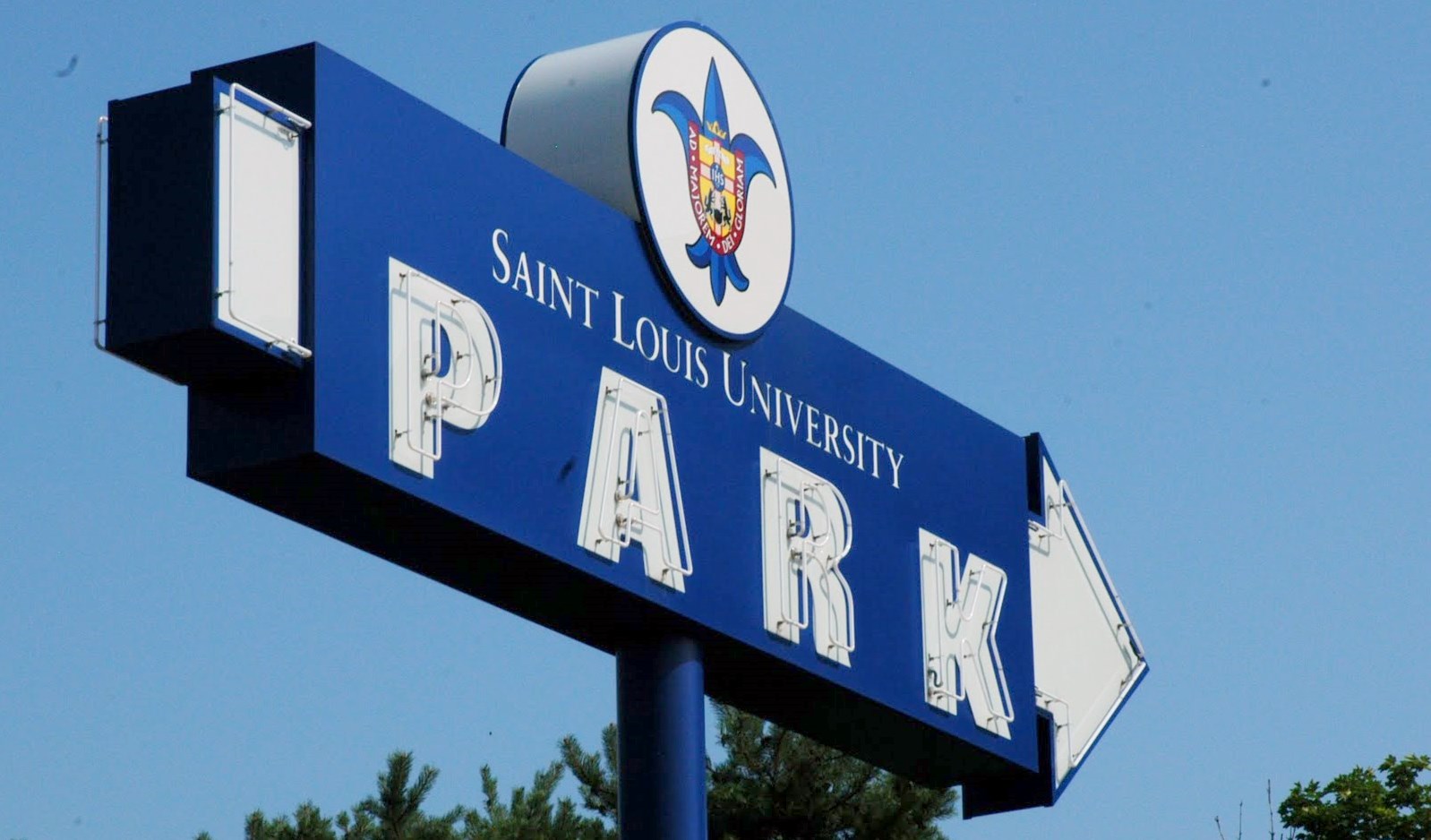 There are so many parking lots in the neighborhood that Brent Jones at the St. Louis Beacon recently did a parking audit and found 4,200 spaces. Each of those and more may well be needed, but the surface lots should begin to go.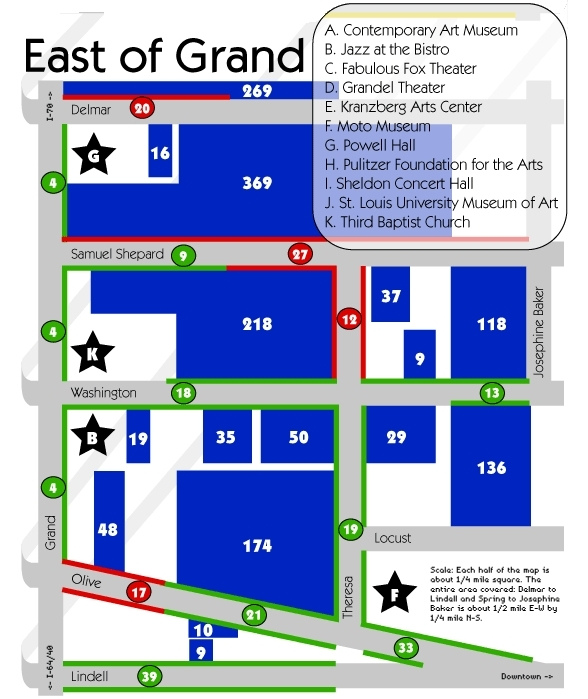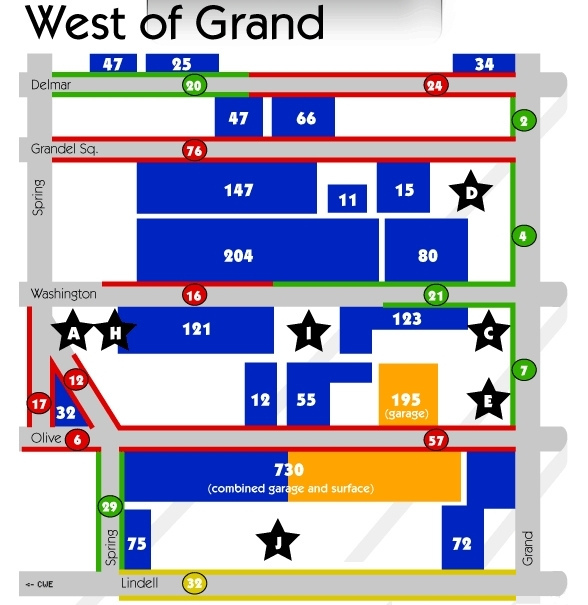 The parking signs are actually pretty cool. But it just seems like such a waste. How many shows do the Fox and SLSO book in a year? Seems like a high price to pay. But, we can reverse the trend, right? Build a large multi-level parking garage with street level retail and be done with it. Well moneyed and vocal people from the suburbs are scared to walk a block to get to their destination, and it hurts our heritage and historic continuity of our city.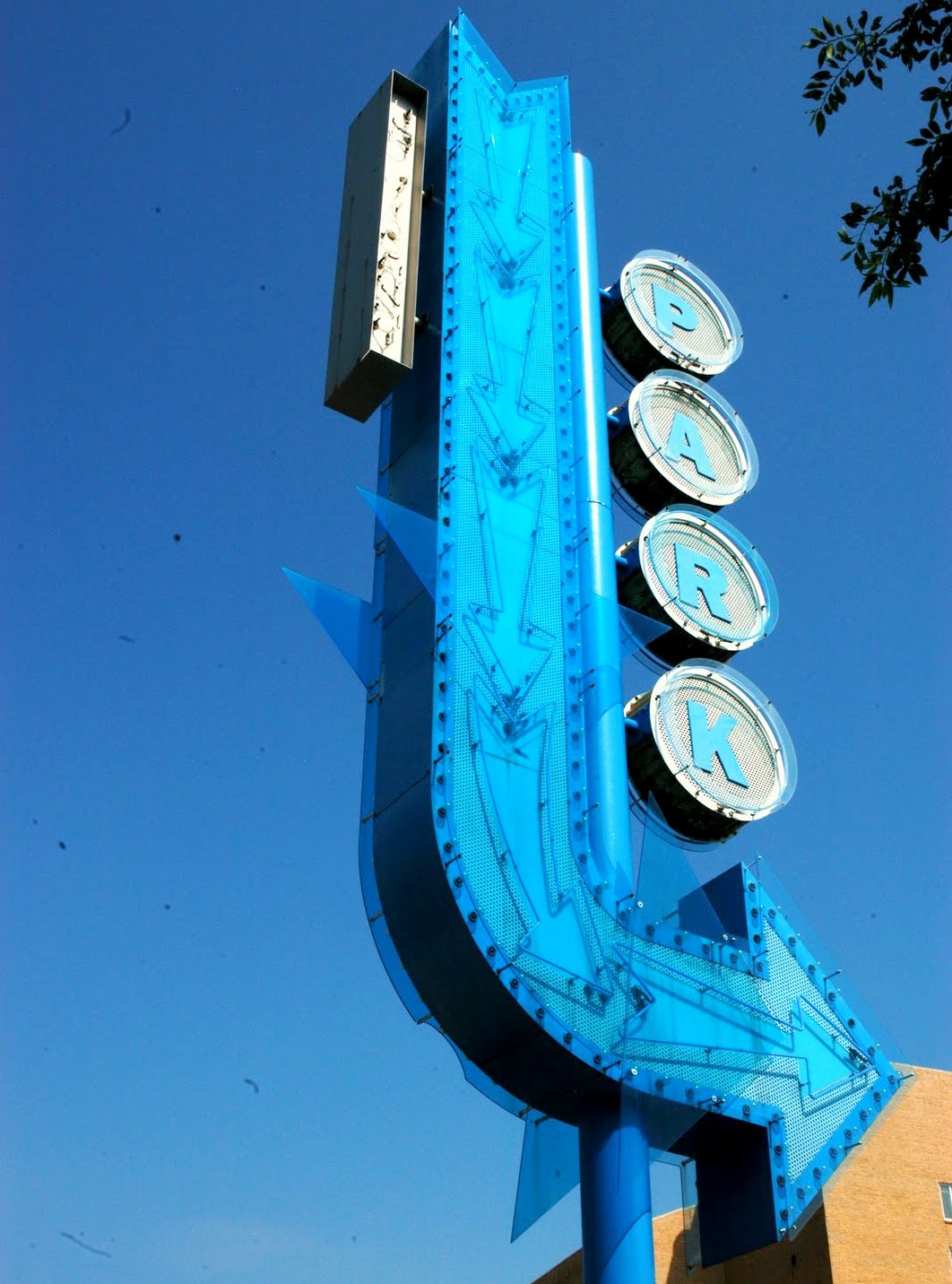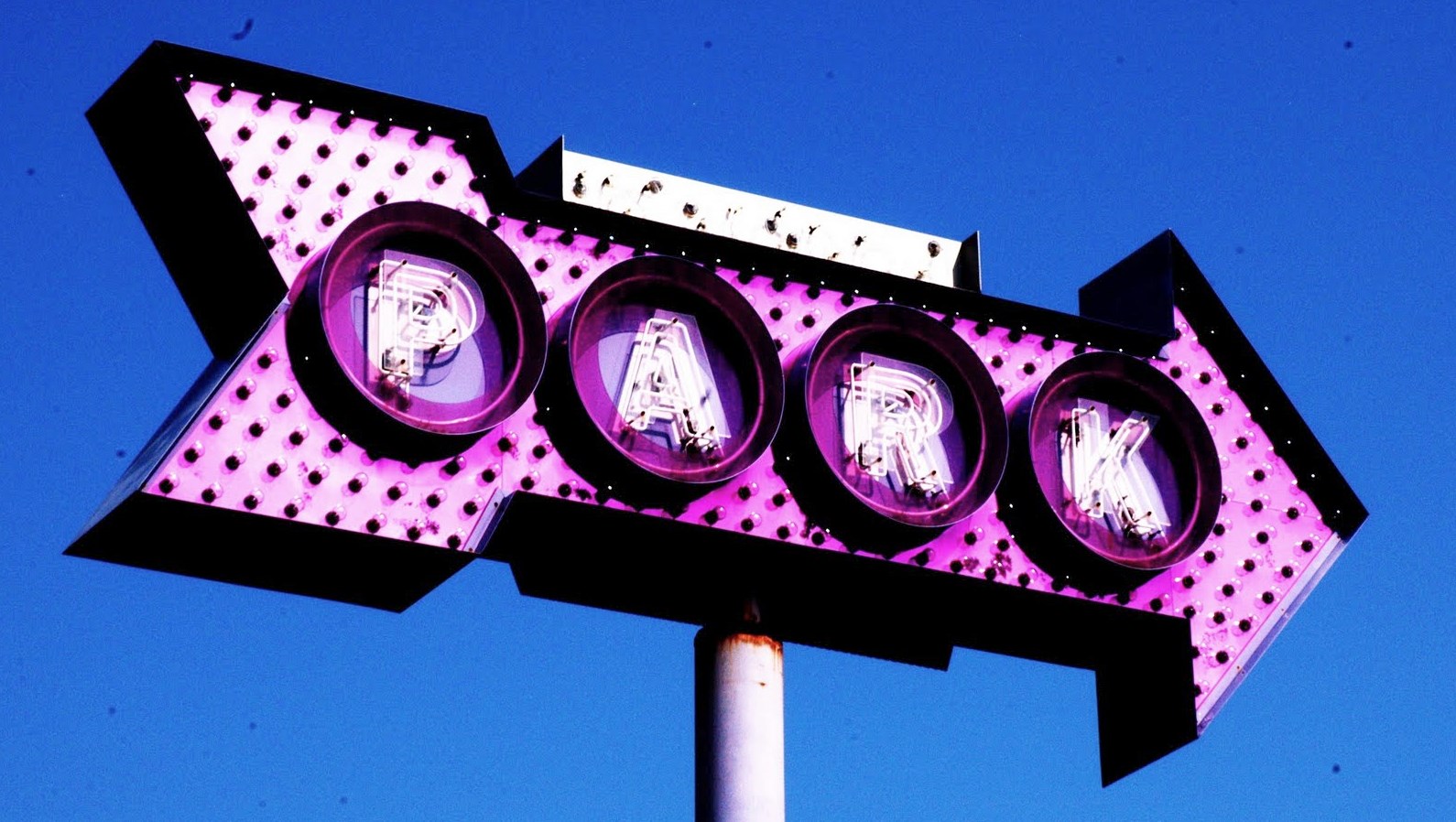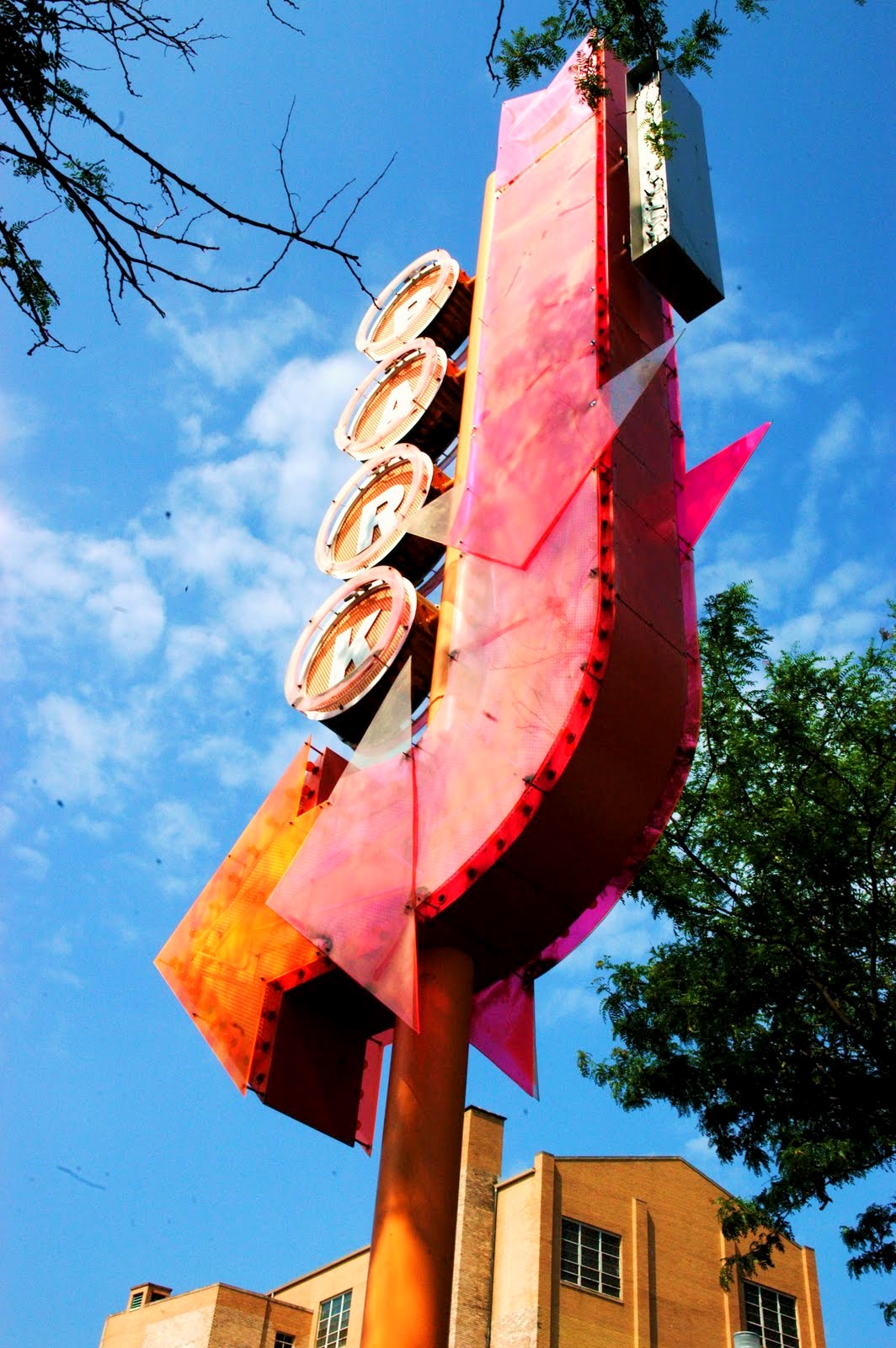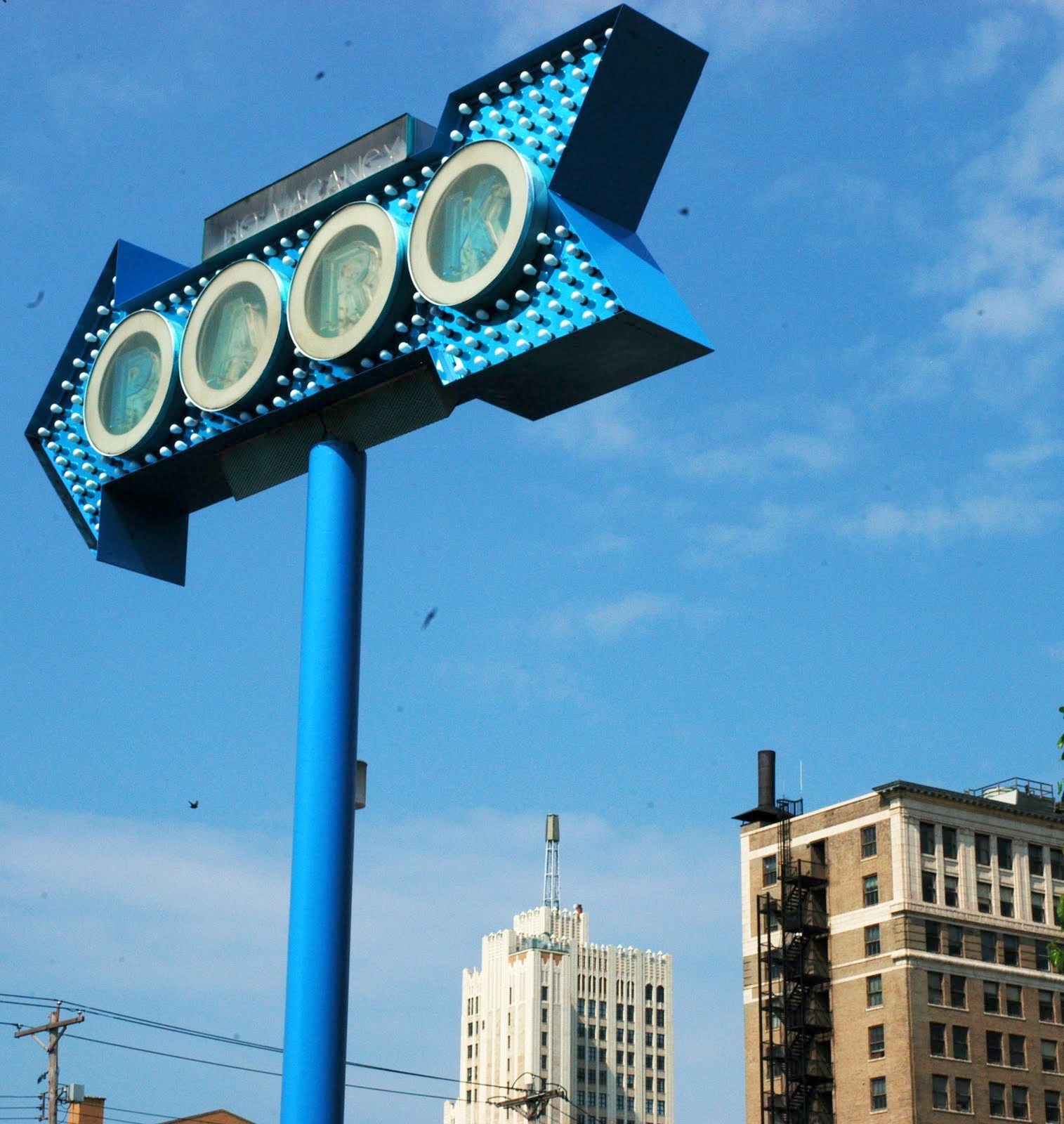 SLU also recently demolished the Livery Stable, built in 1885 to board the horses of wealthy St. Louisians who once populated the Grand Center area. In addition, an alley was vacated, giving visitors one less option in navigating Grand Center. The demolition was not without protest, and at least one architect offered an alternative option for rehabilitation. Photos are from Vanishing STL.
Before: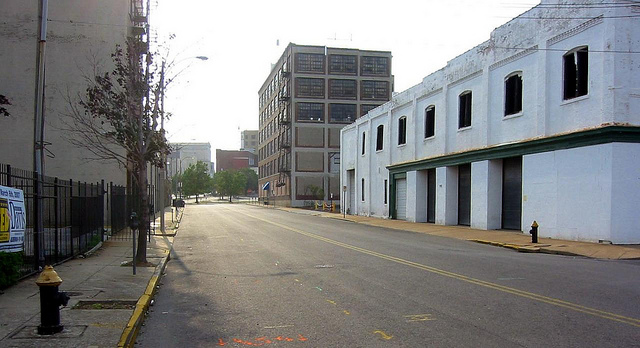 Rendering of possible renovation: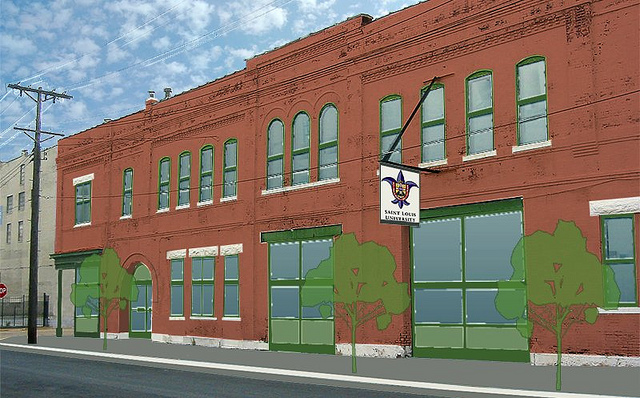 The parking lot after demolition: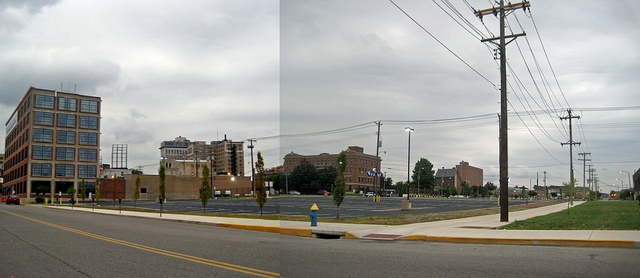 All right, now it's time for a little more not so good news. There is some bad suburban stuff dropped right in the middle of CBGC called (I believe) Compton Place. It's not my style and it adds nothing to St. Louis' resume as one the finest architectural cities in the country, but there are there are the old gems north, south and west of this large "community". Several developments are the work of local developer McCormack Baron Salazar and seem to be well above average for low-income housing.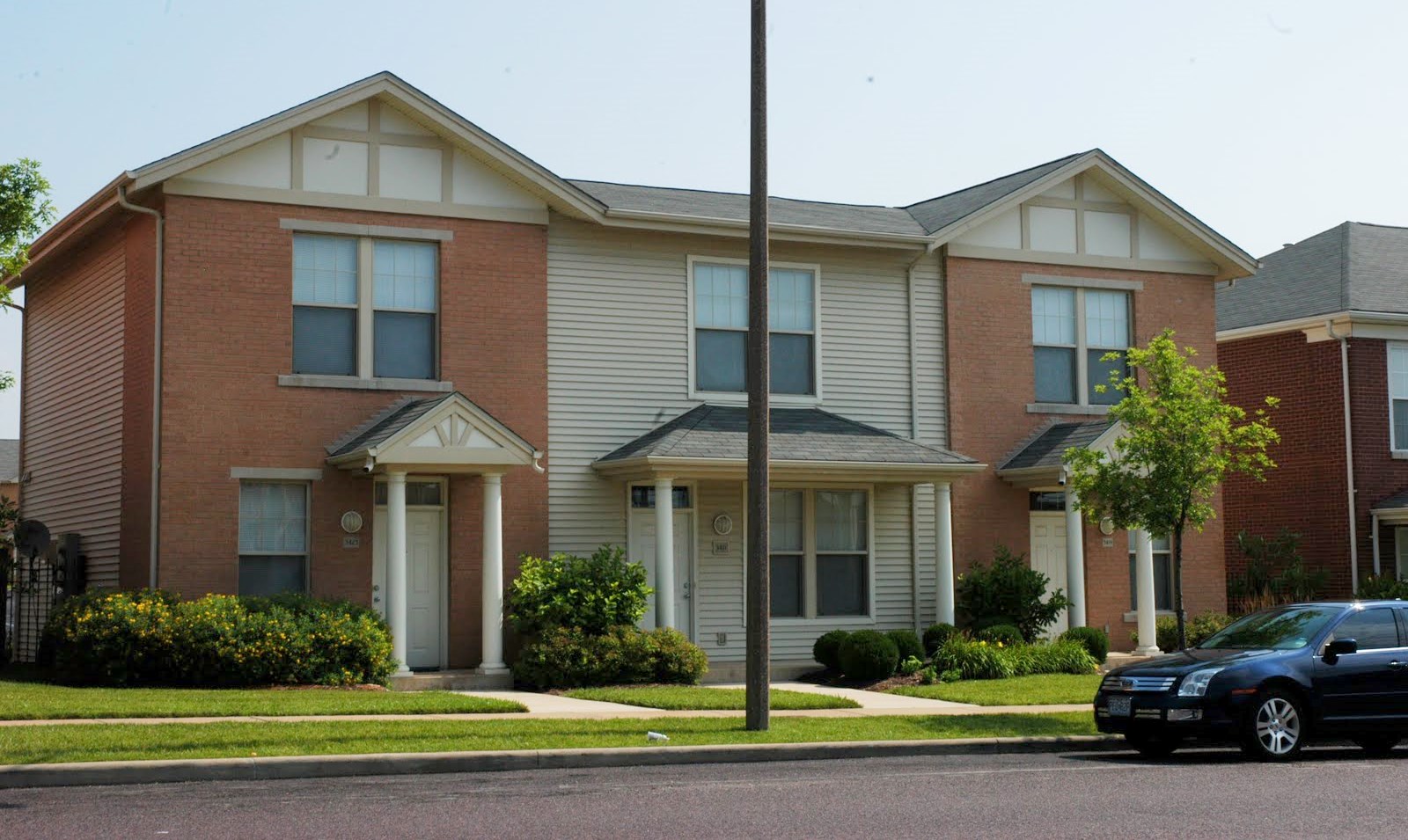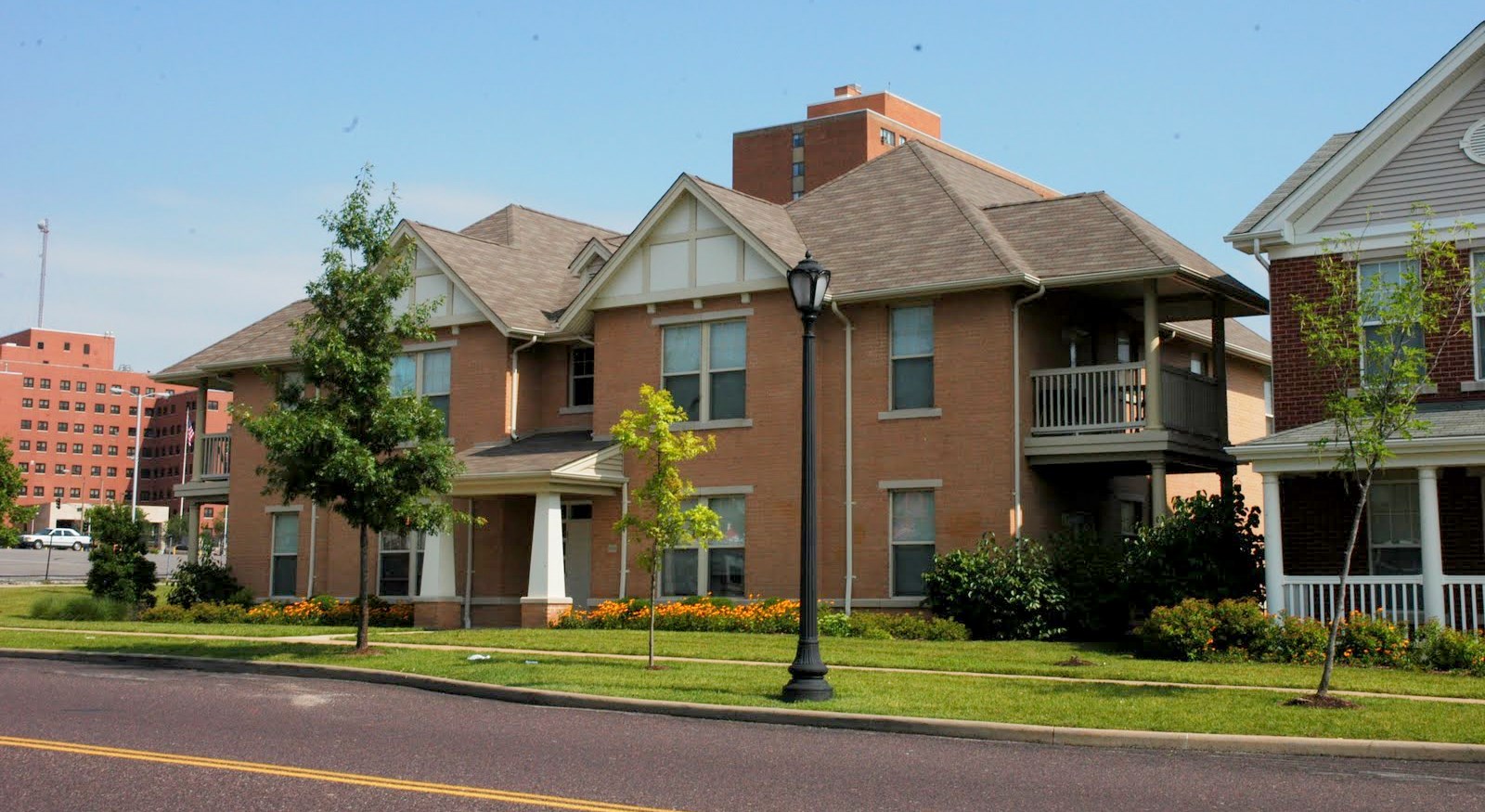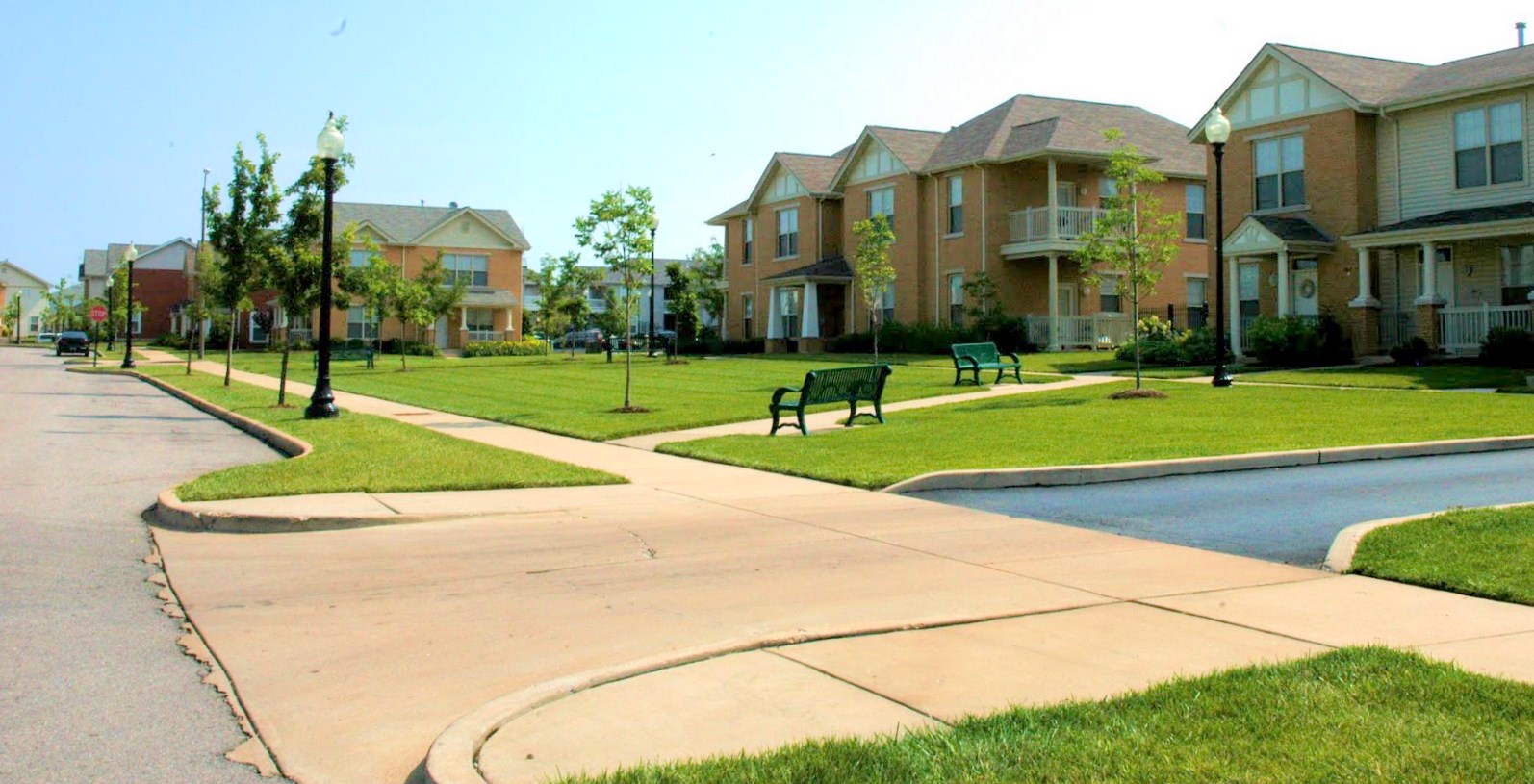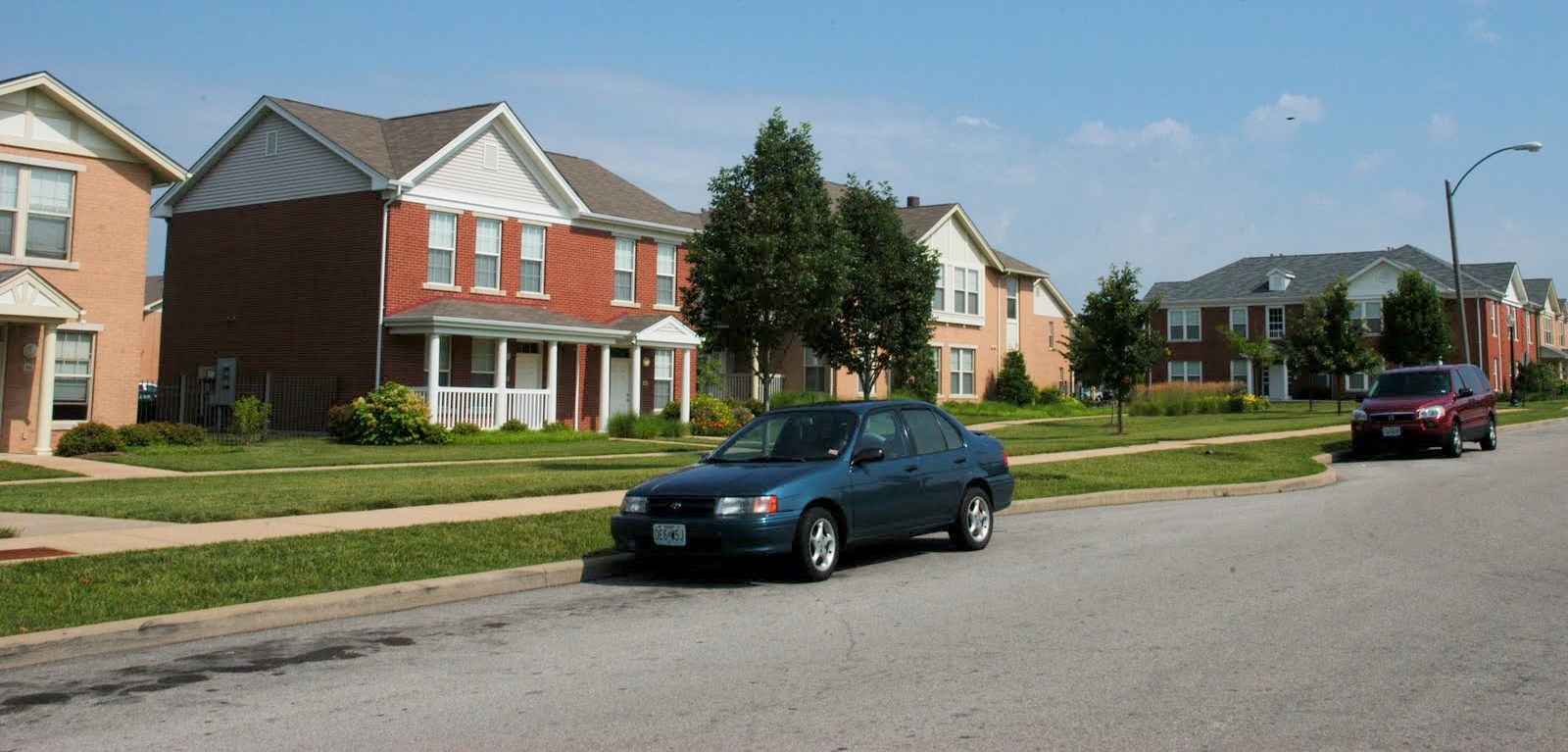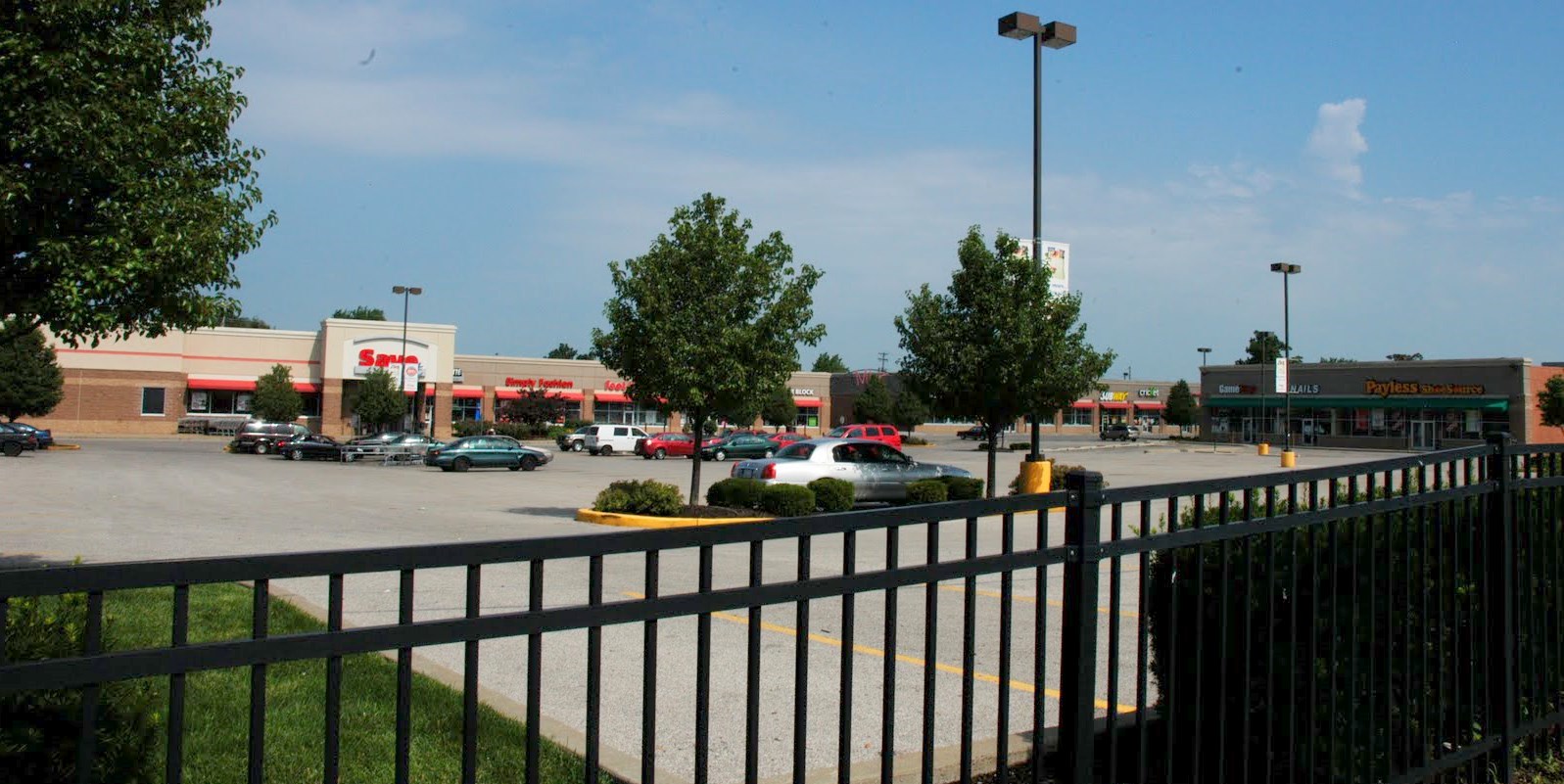 Urbanist types are critical of faux-historic new housing, but I think it works way better than the previous example. Here's what I mean: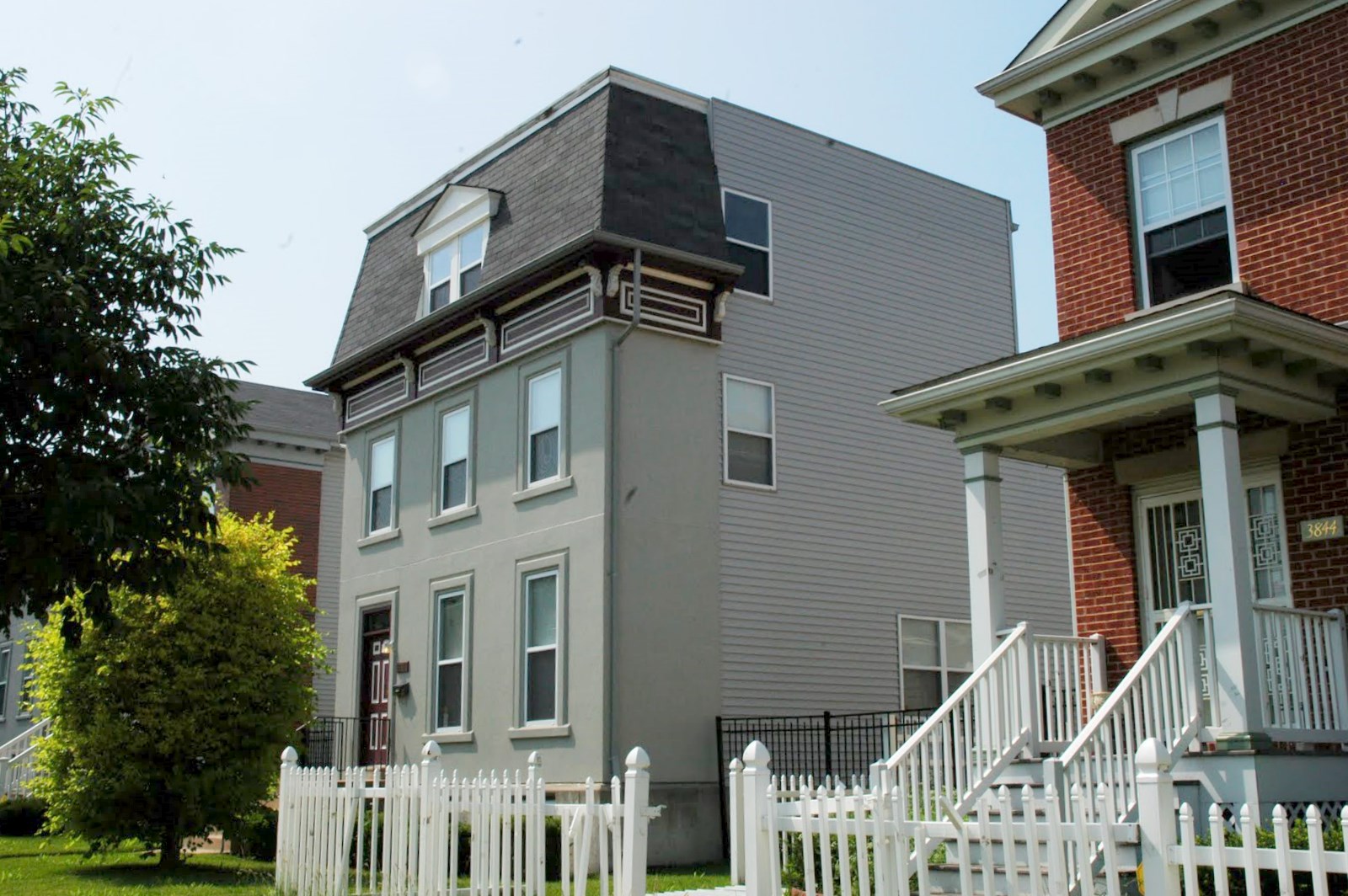 Although, my preference for infill is more on the mod/cutting edge contemporary design: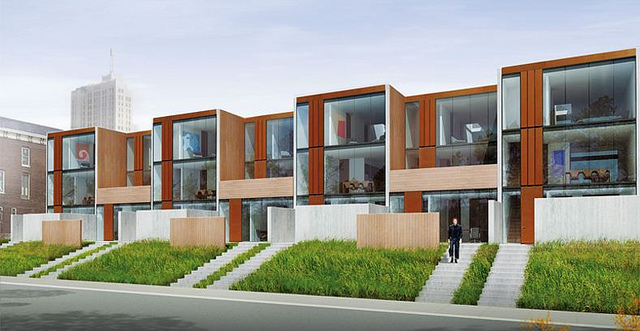 Man, wouldn't that be a sweet place to live? This is the kind of daring architecture we need as infill. Since being proposed in 2009, Art House has unfortunately gone nowhere. With just six units, albeit expensive ones, only three or four likely needed to be sold to break ground. Apparently the market isn't quite ready for this. One more big plan that may or may not come to fruition.
There are streets and streets and blocks and blocks of abandoned homes north of Delmar. I hope more and more people decide to live close to the exciting, invigorating, inspiring areas of the city and choose to rehab these aging beauties.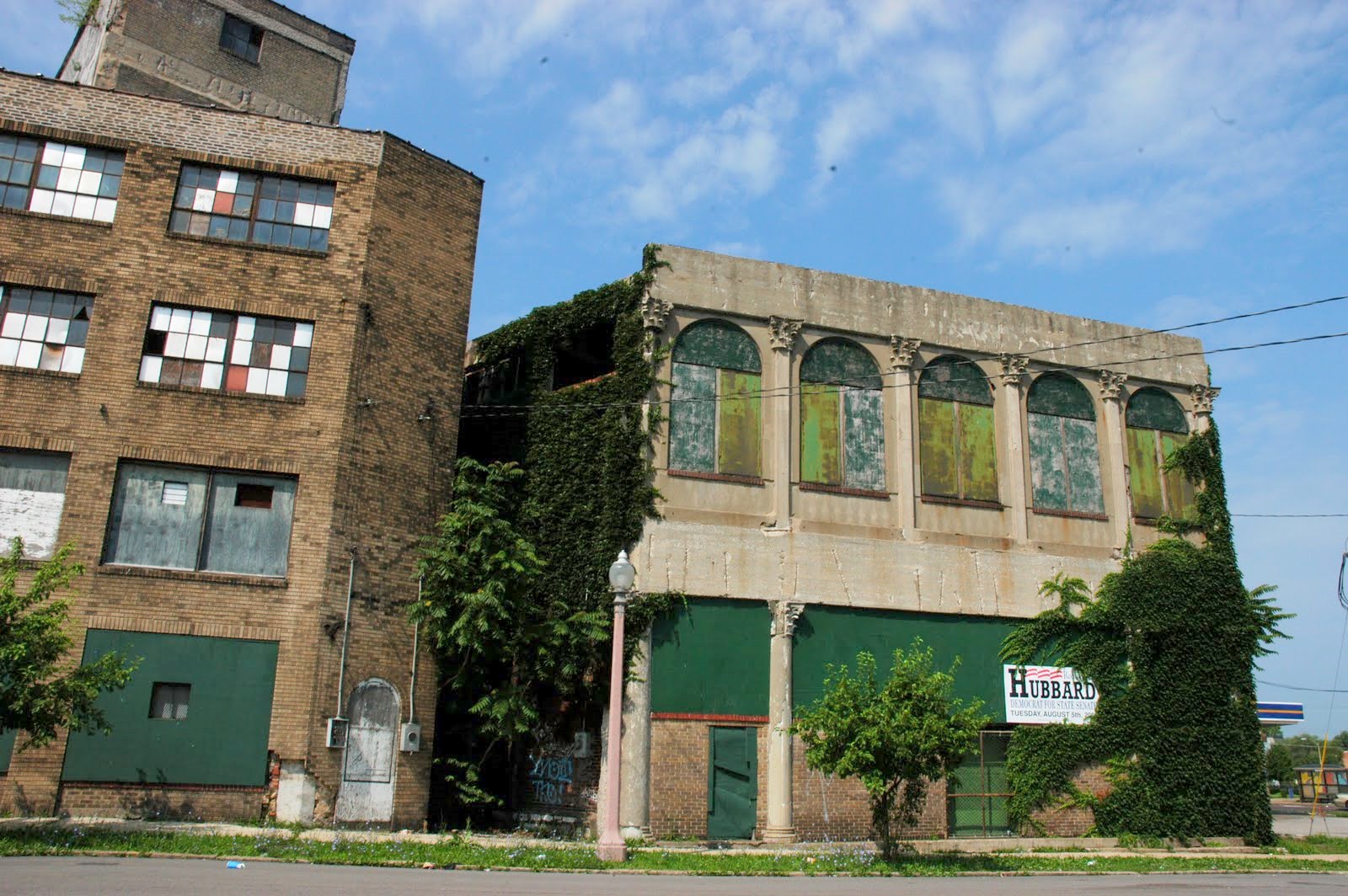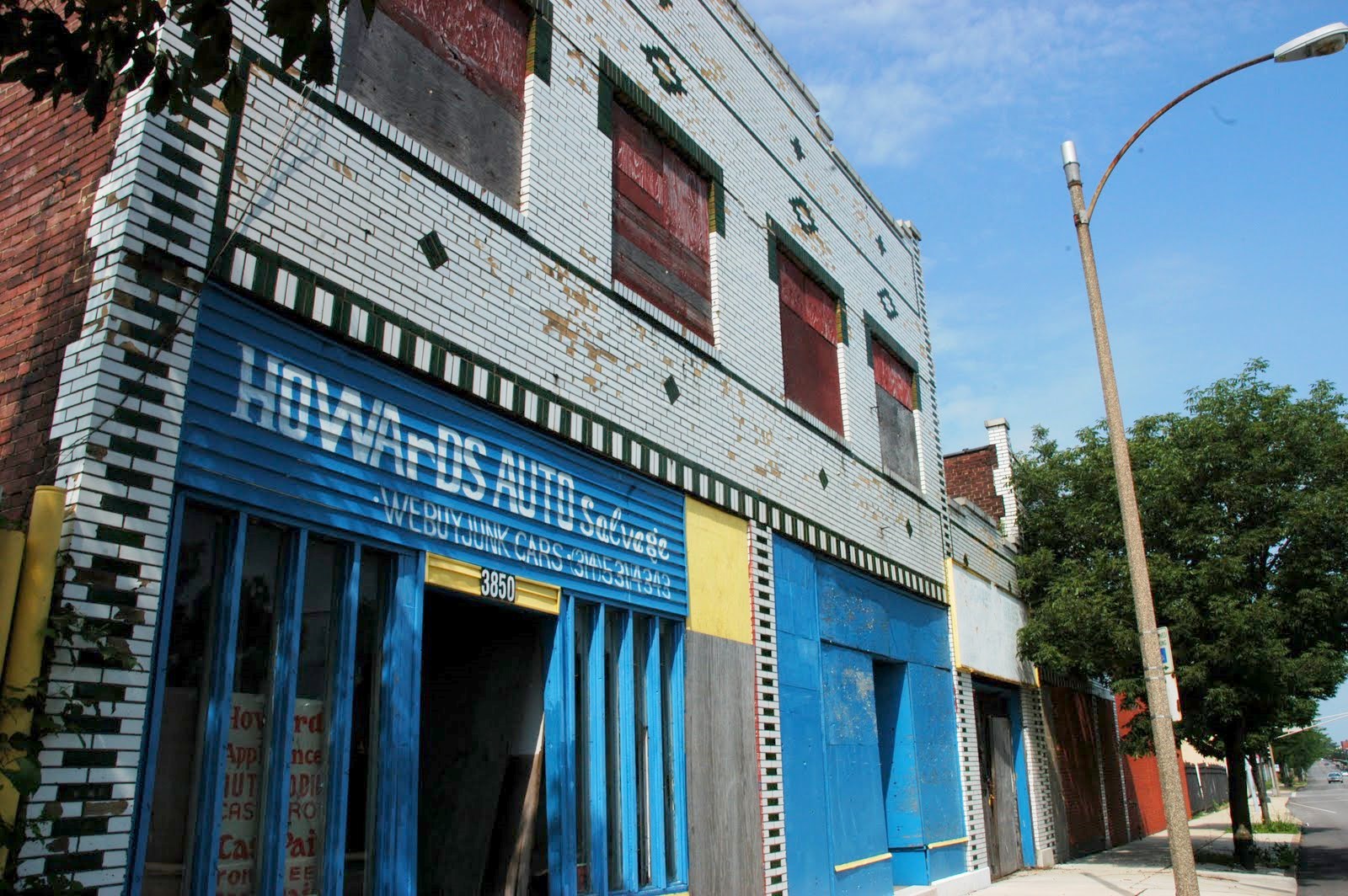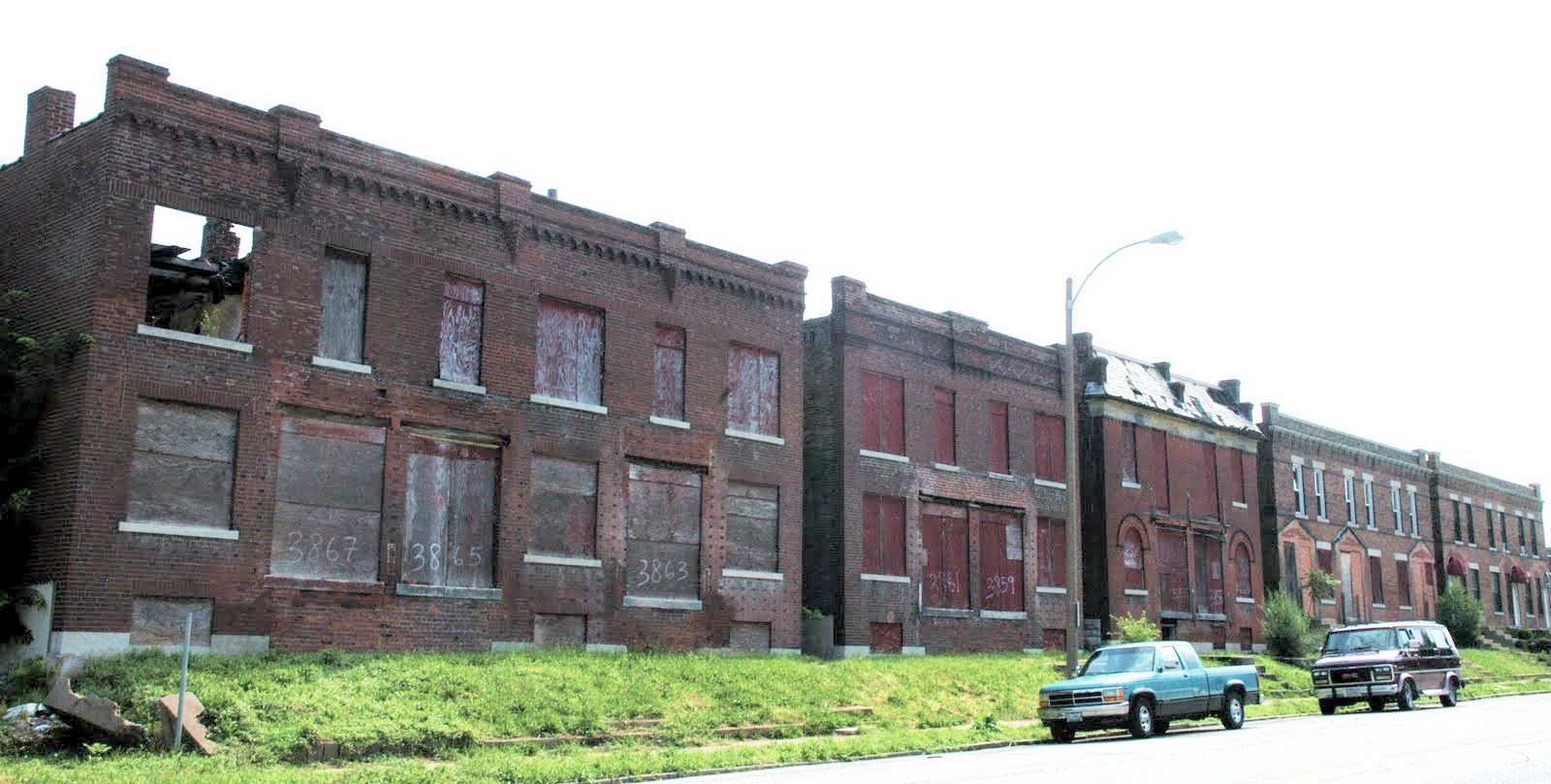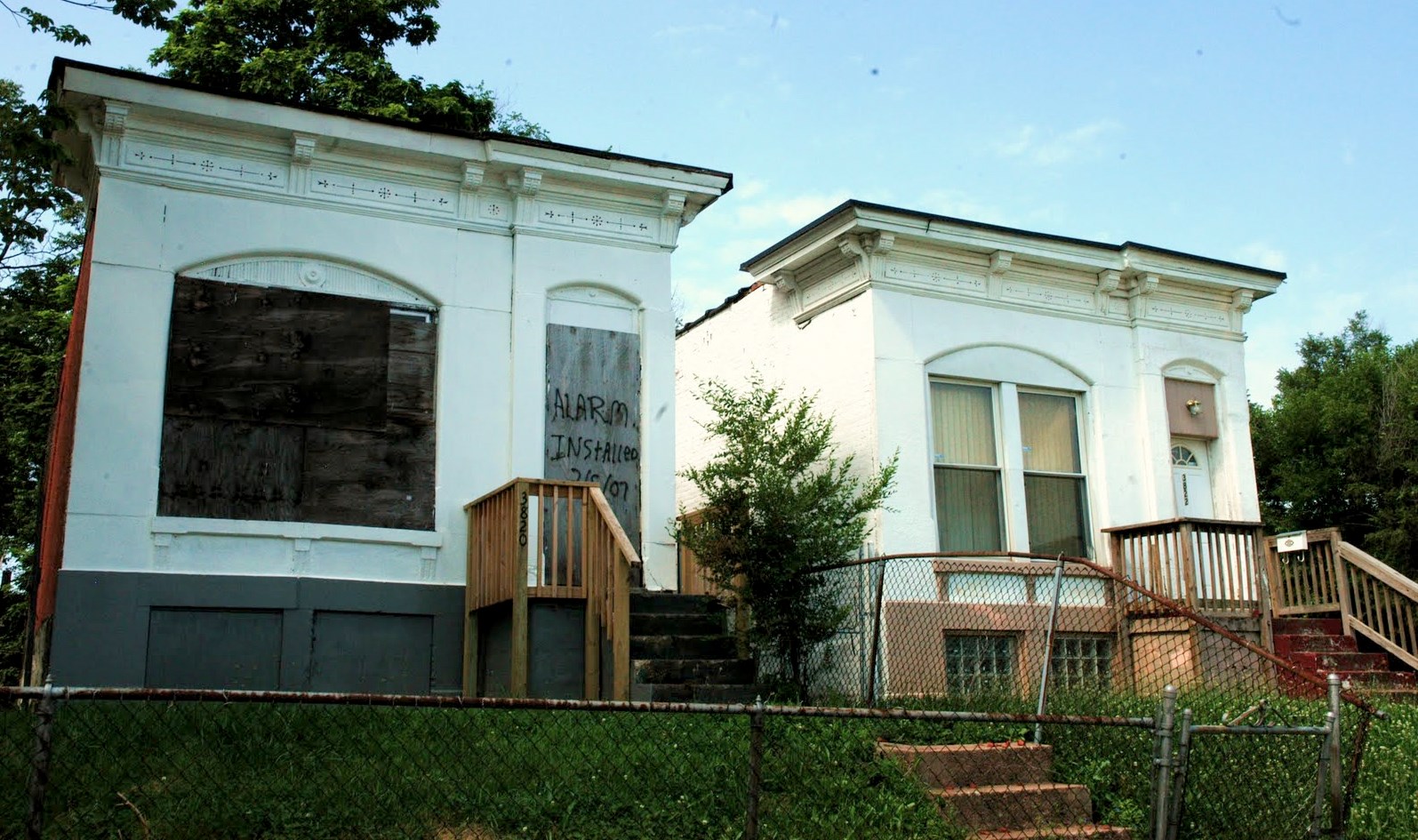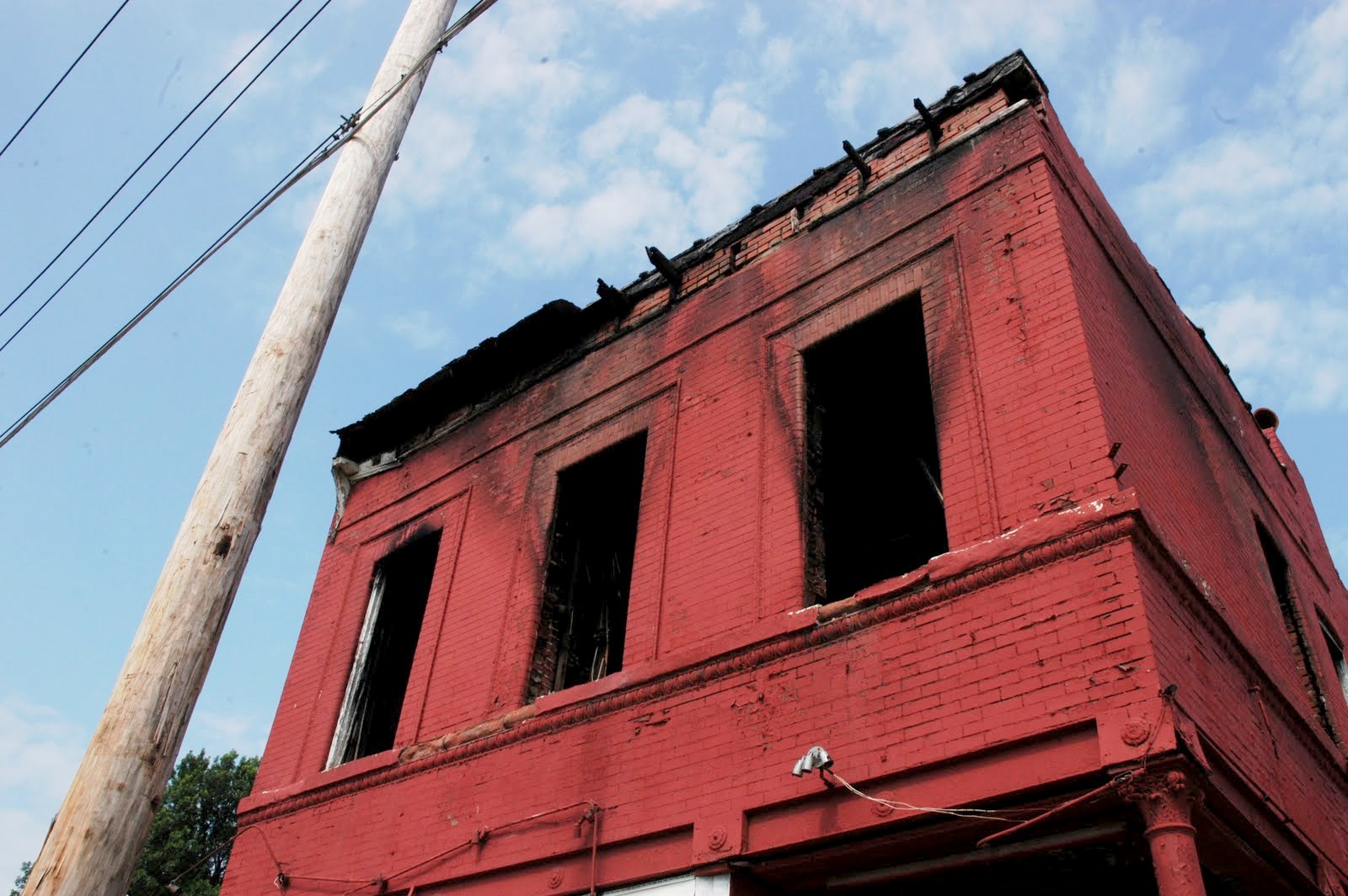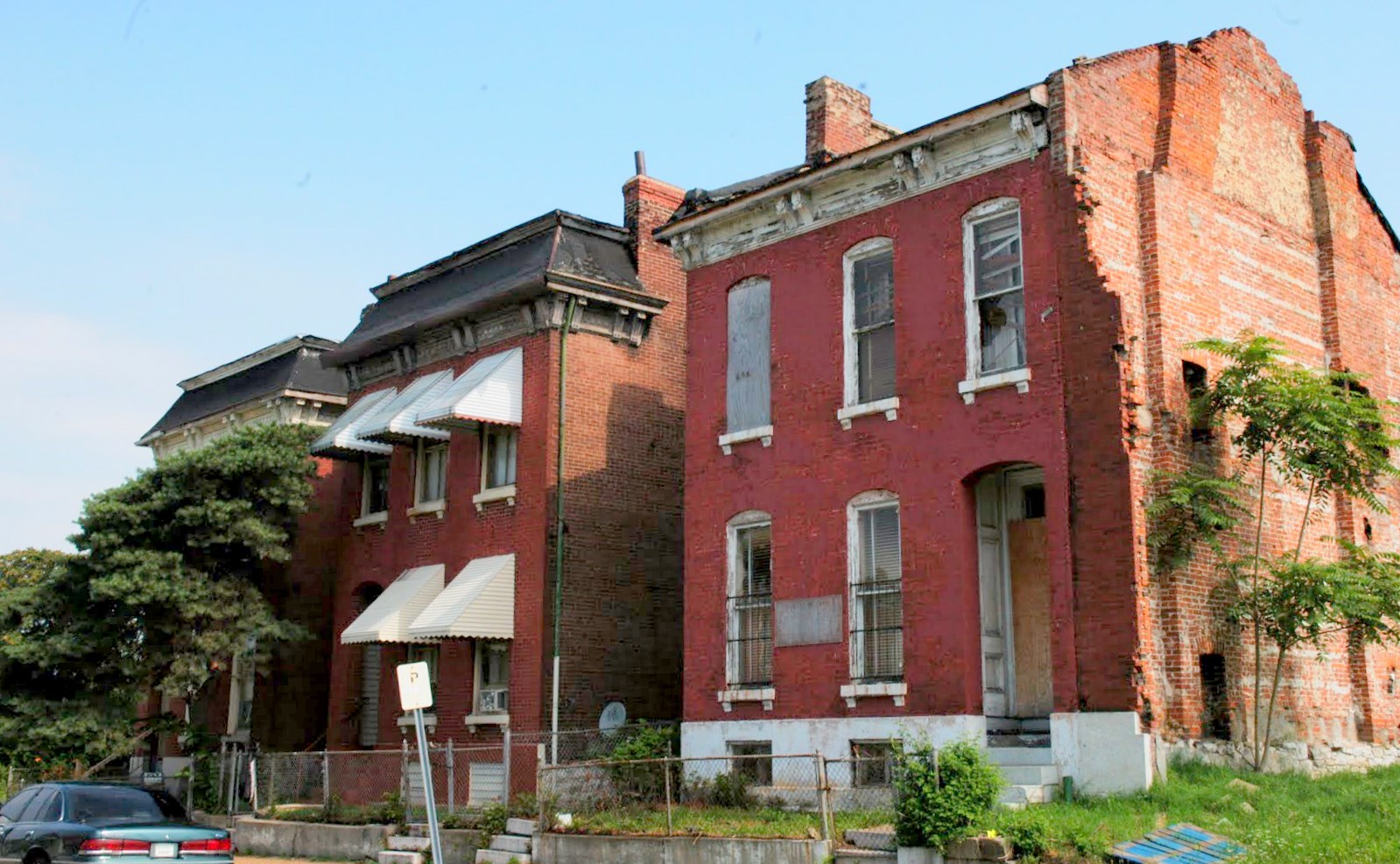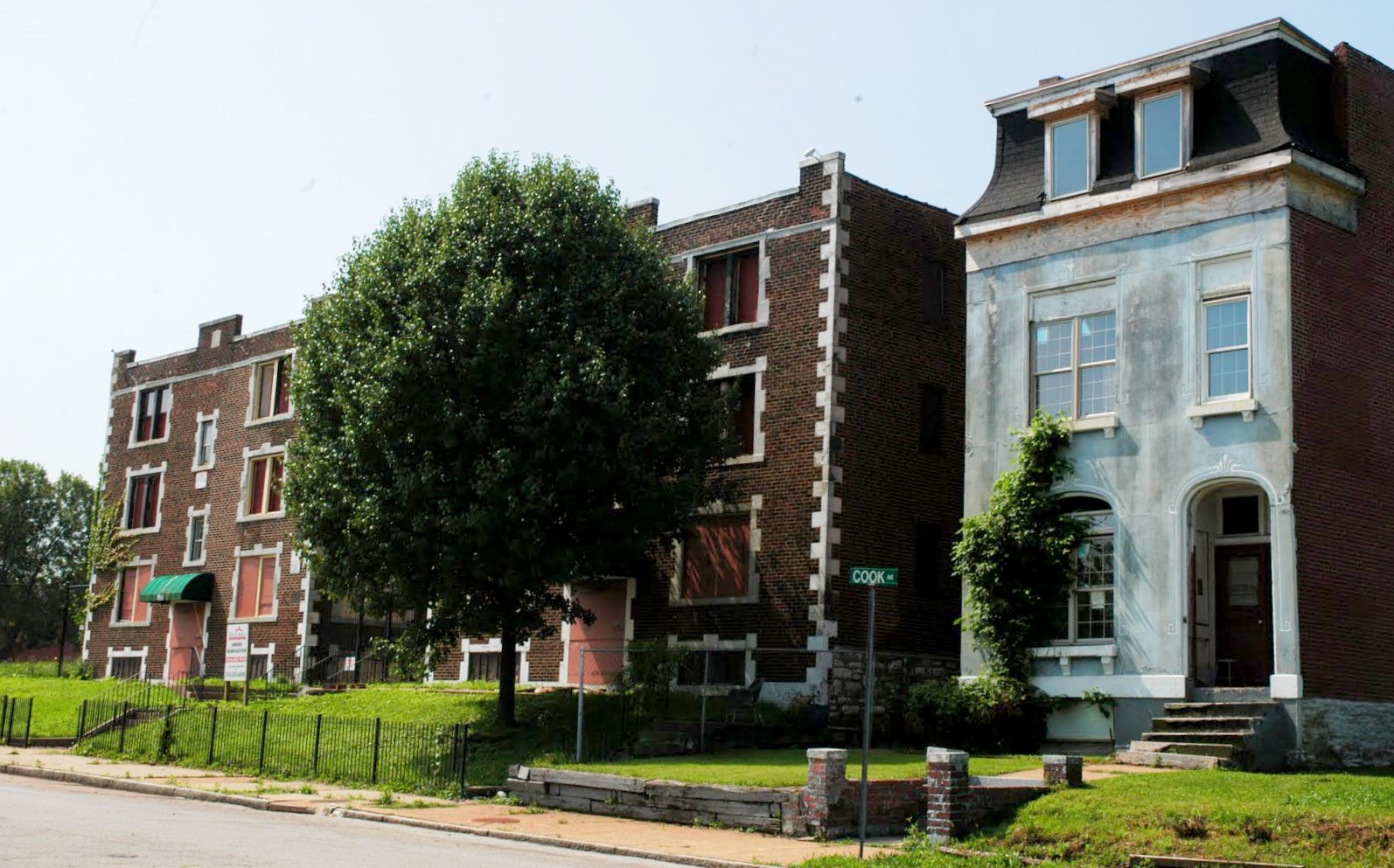 There are some nice parts of CBGC holding on: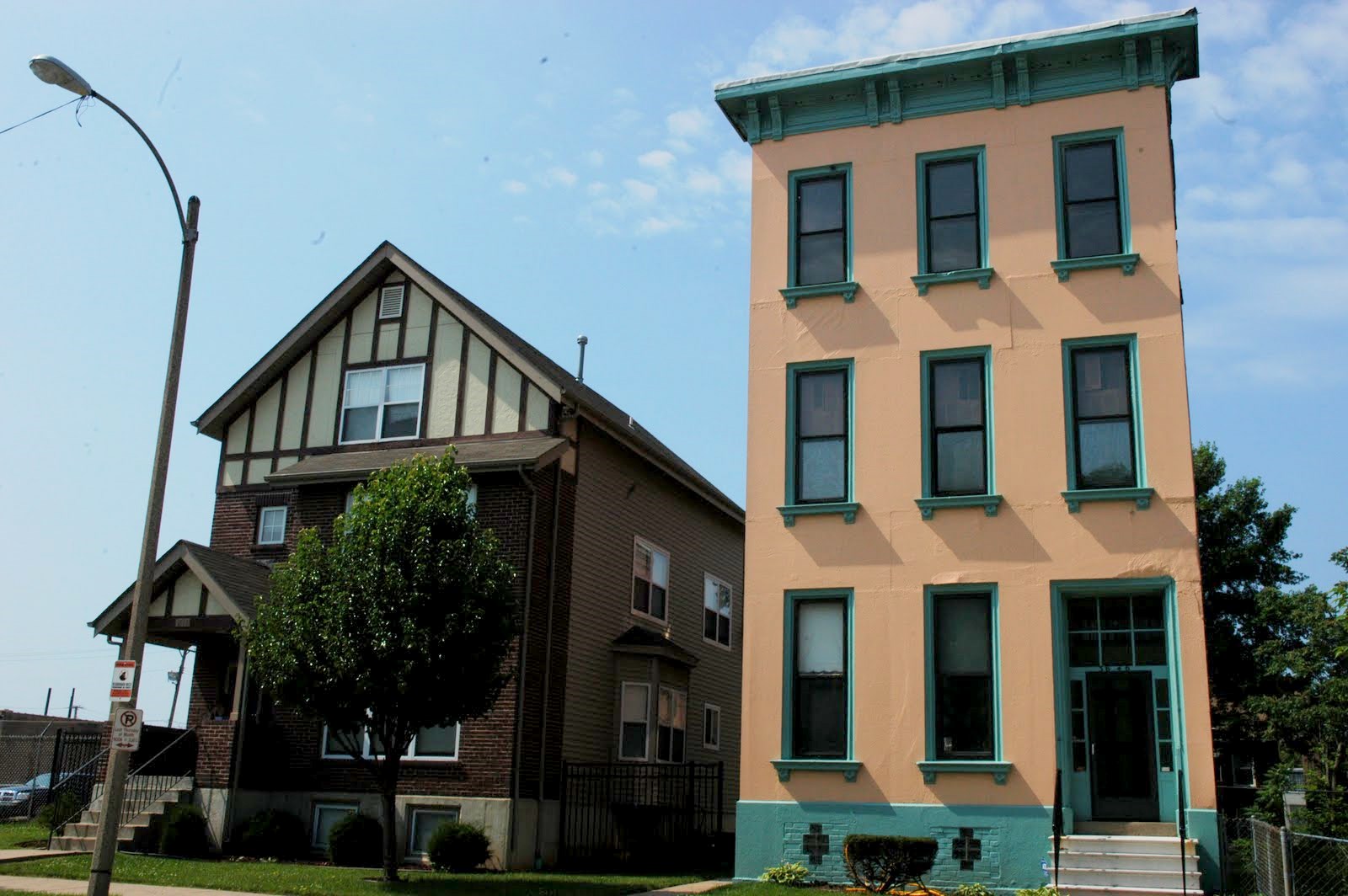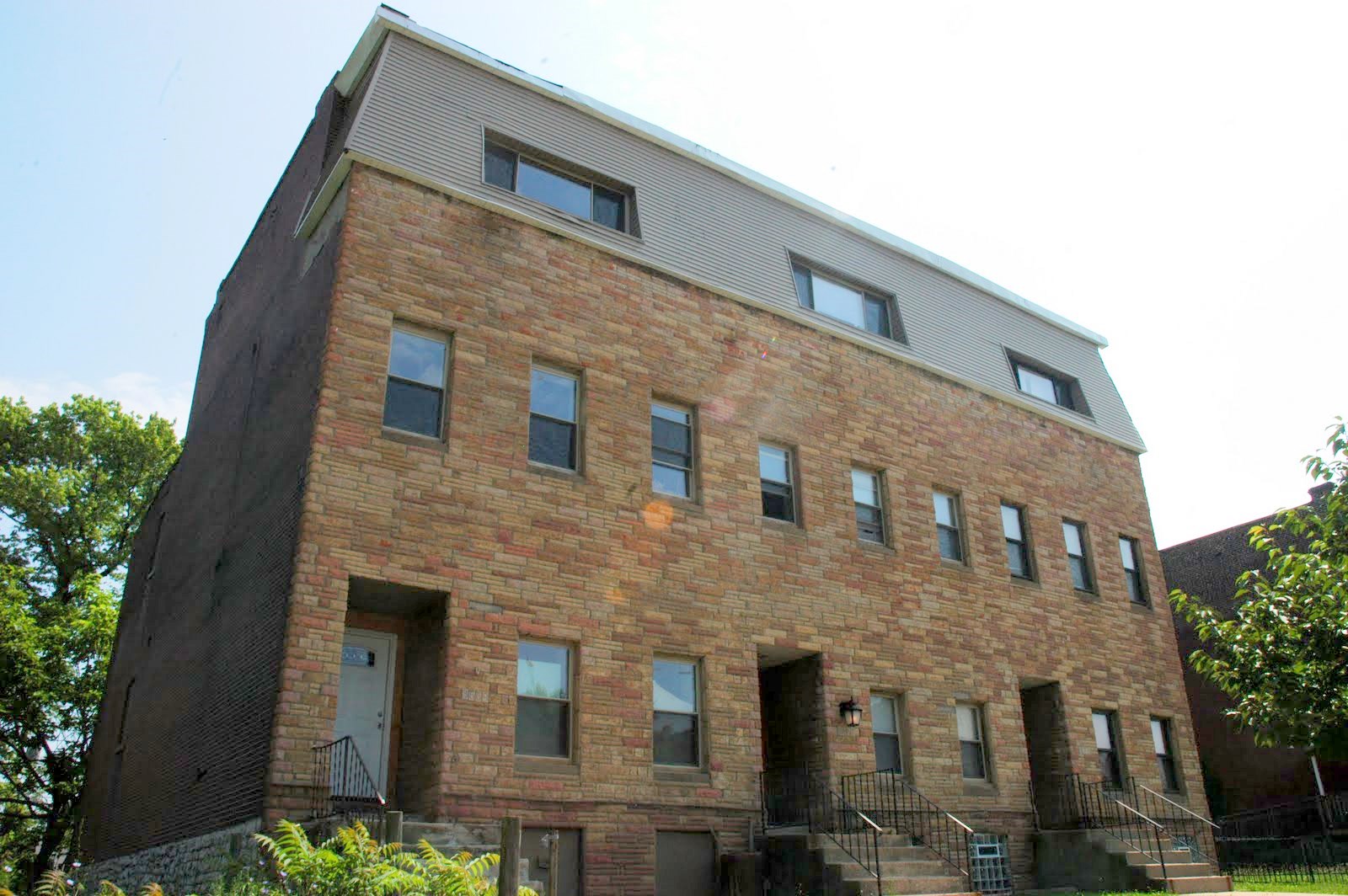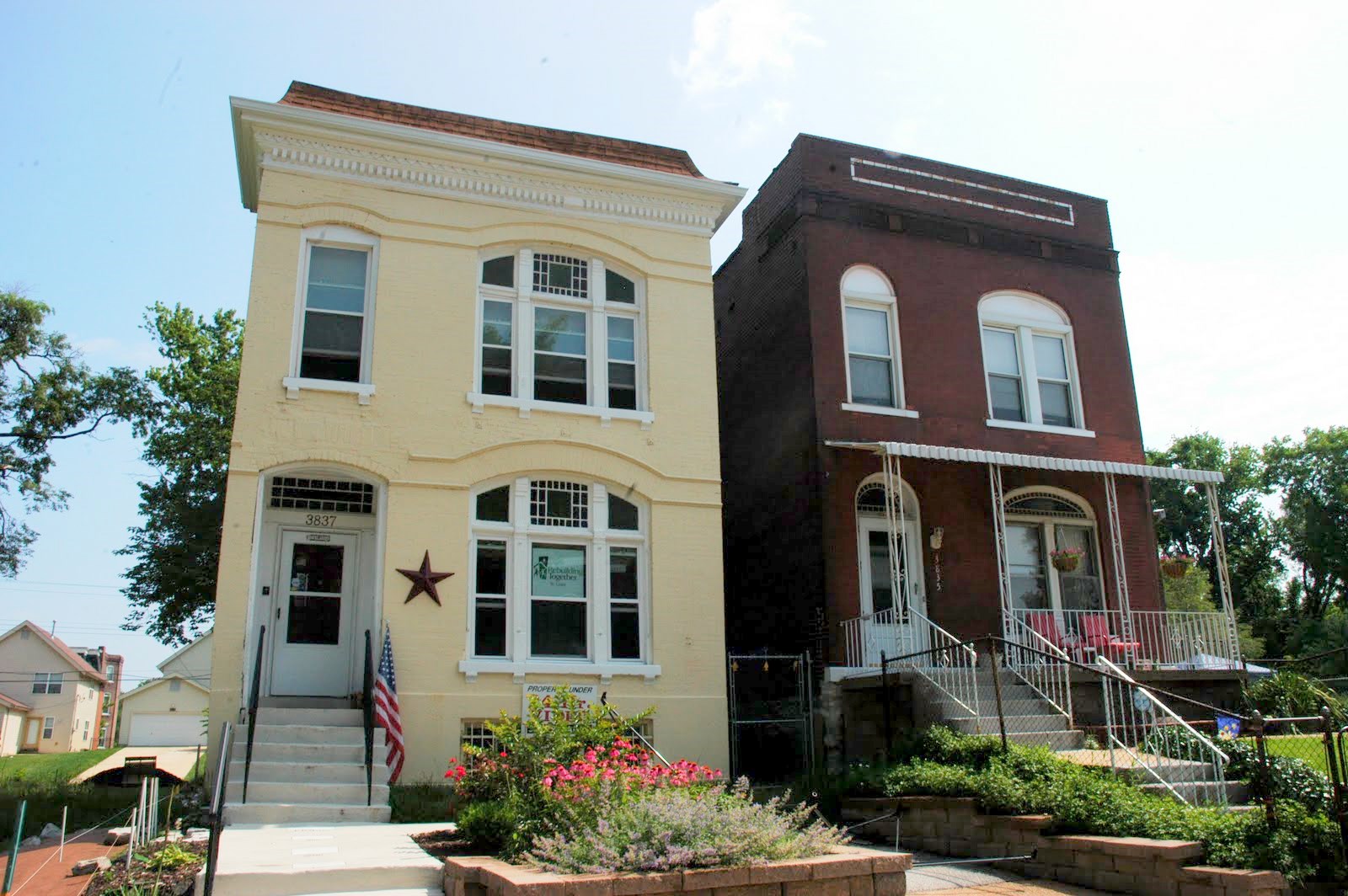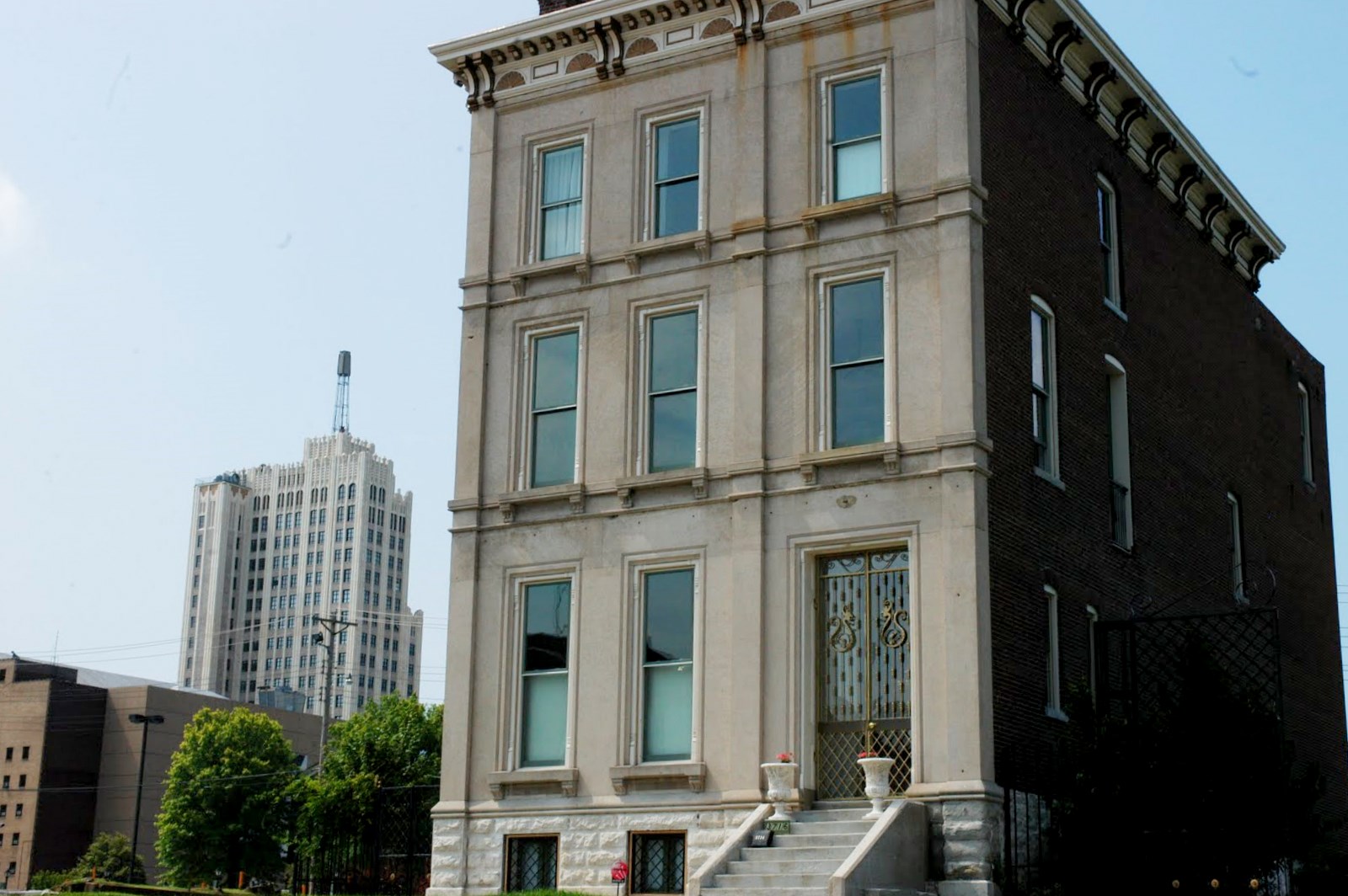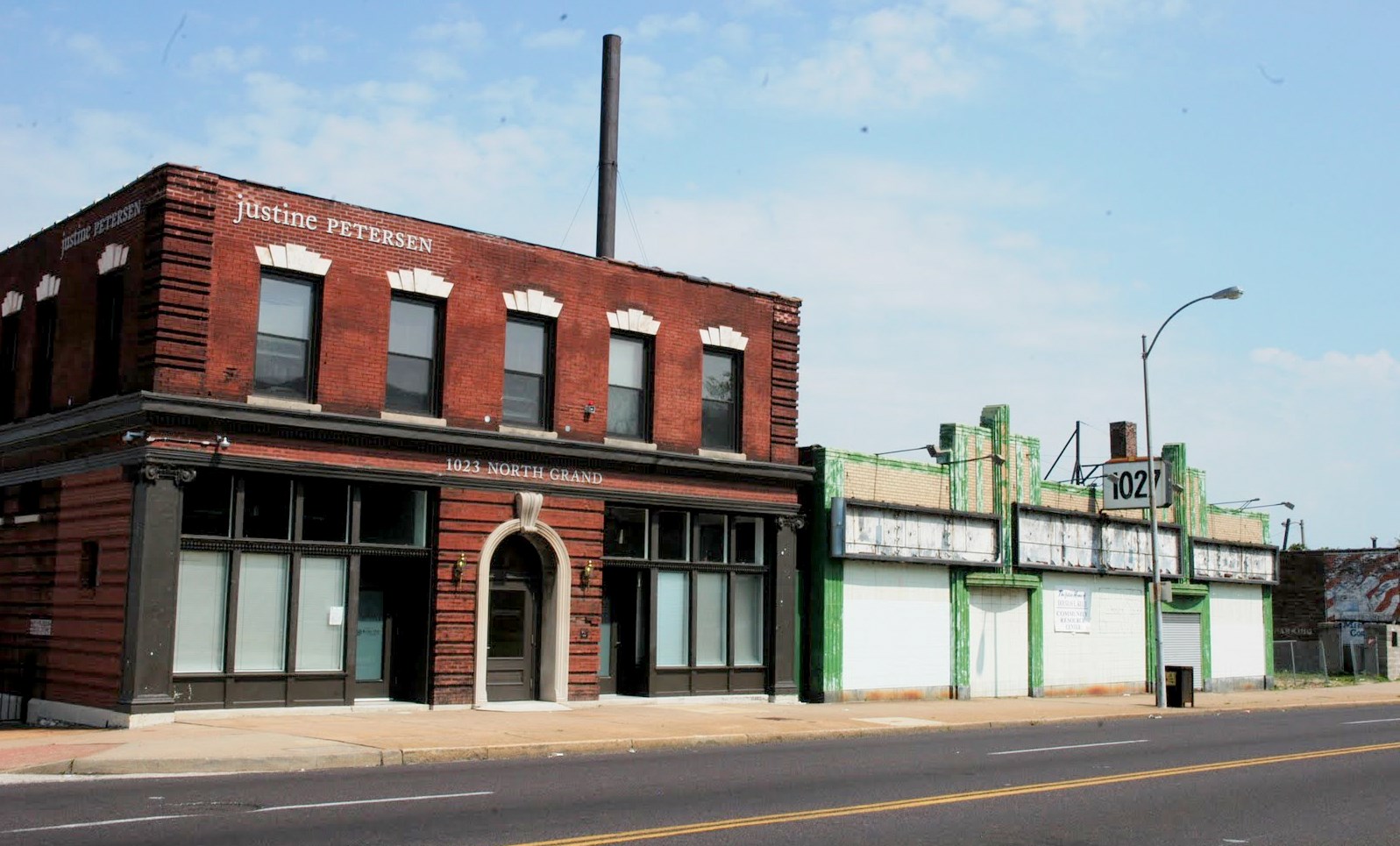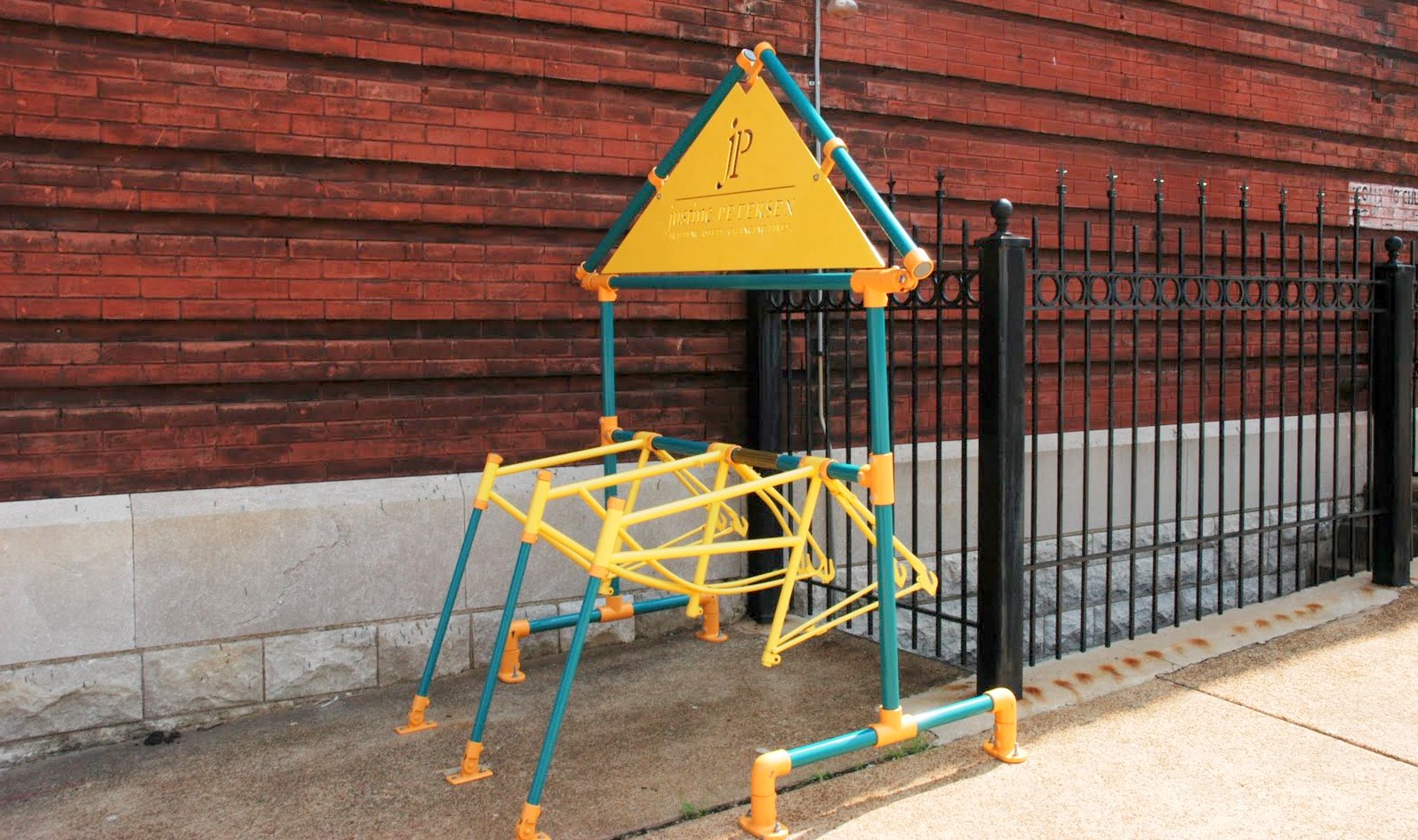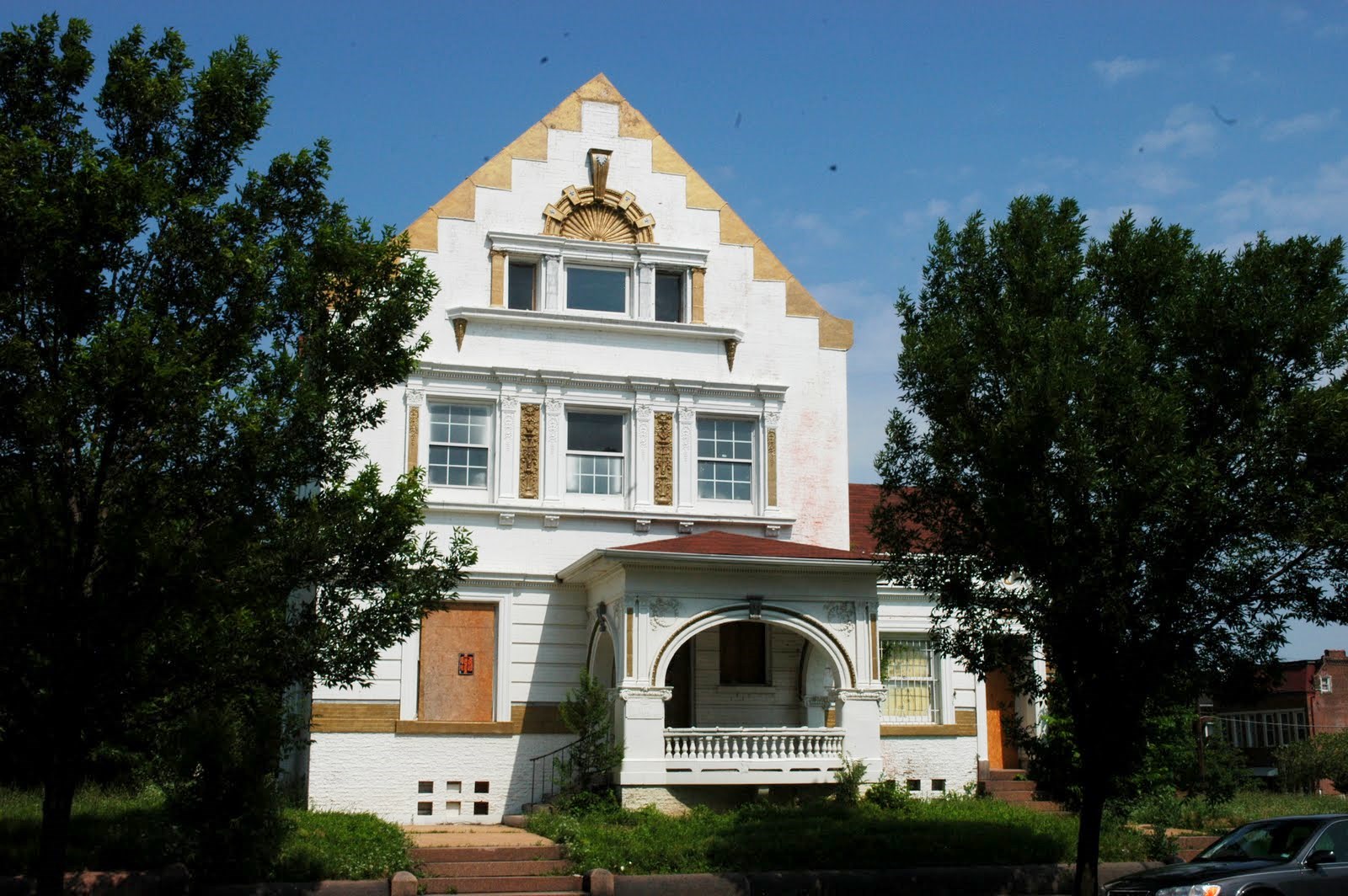 Gateway Greening, one of St. Louis' greatest resources, has a home base of sorts in CBGC at the Bell Garden: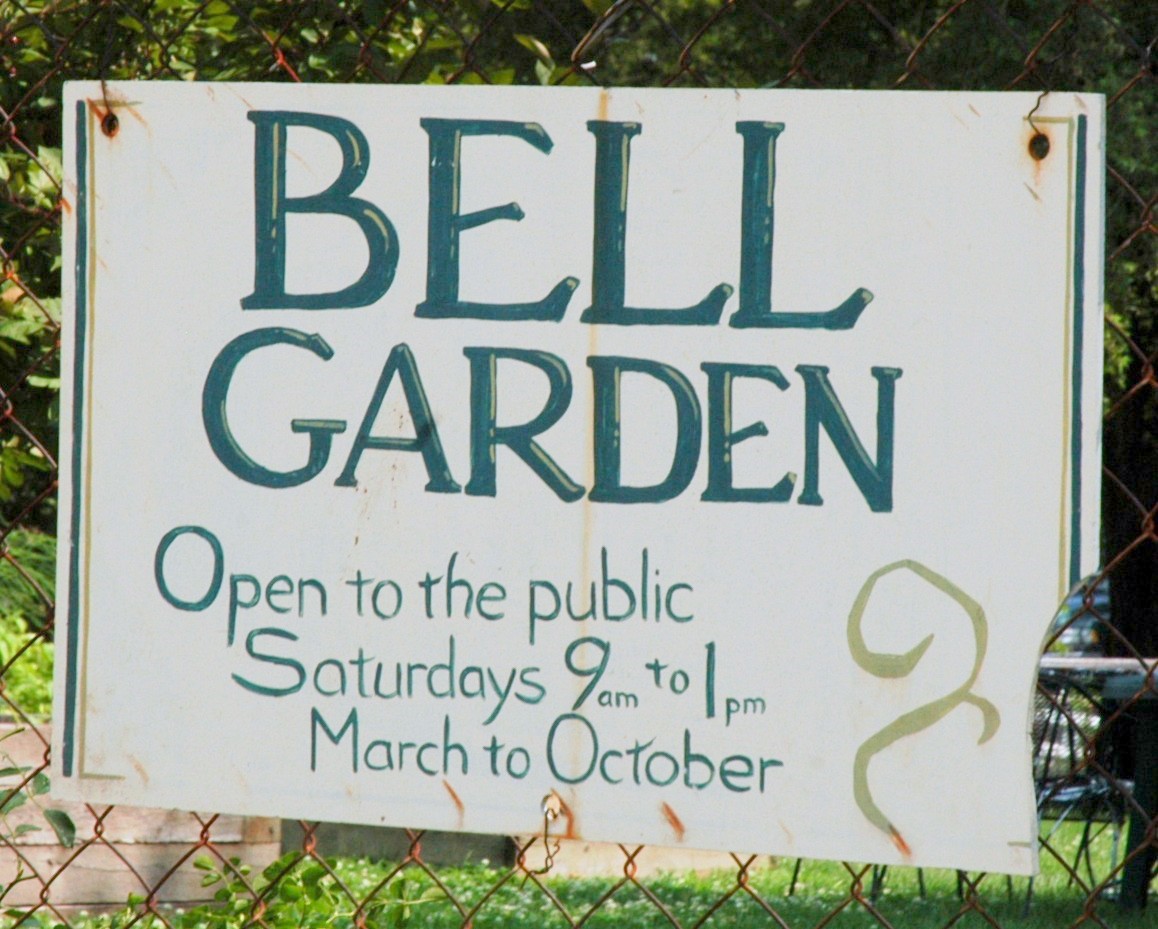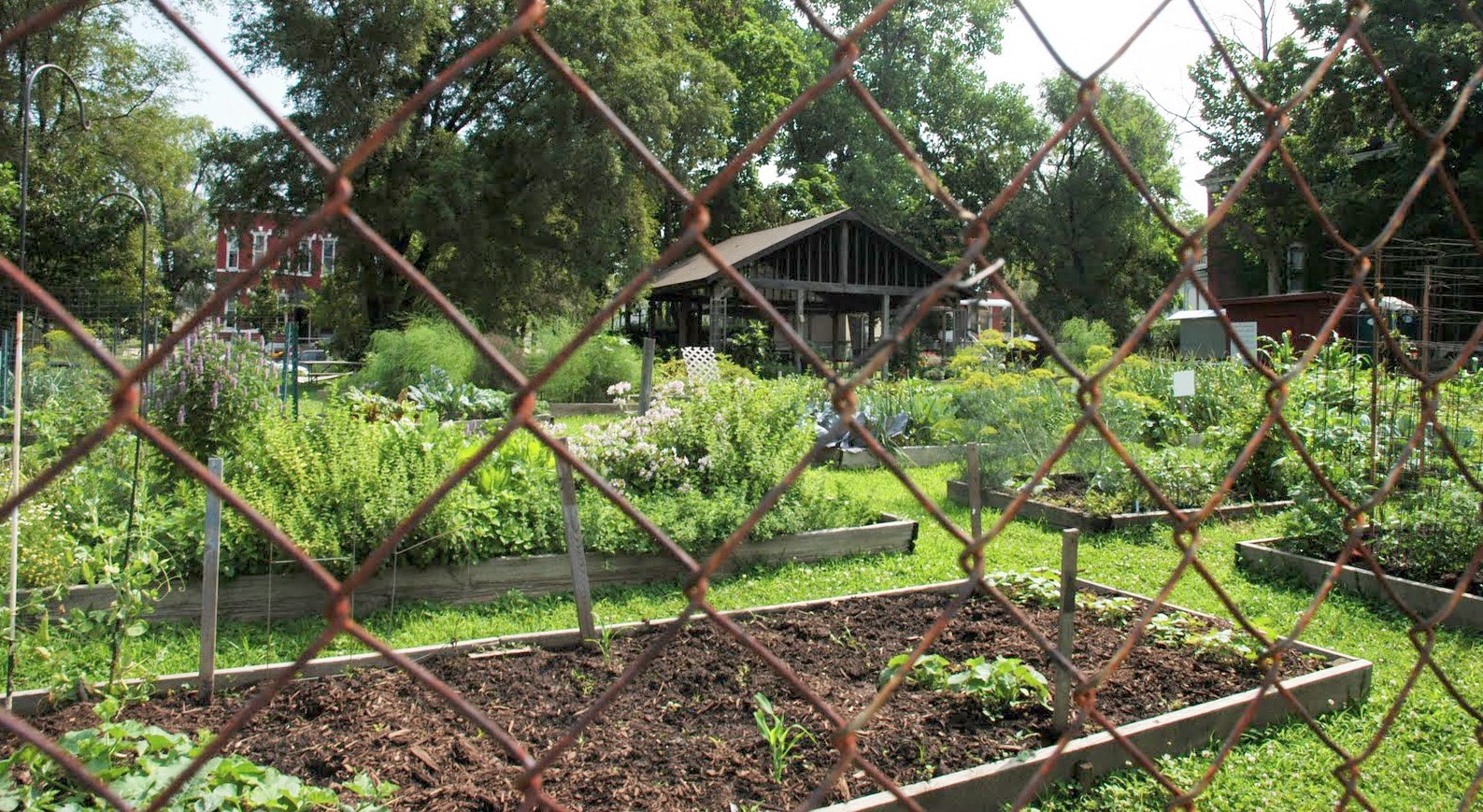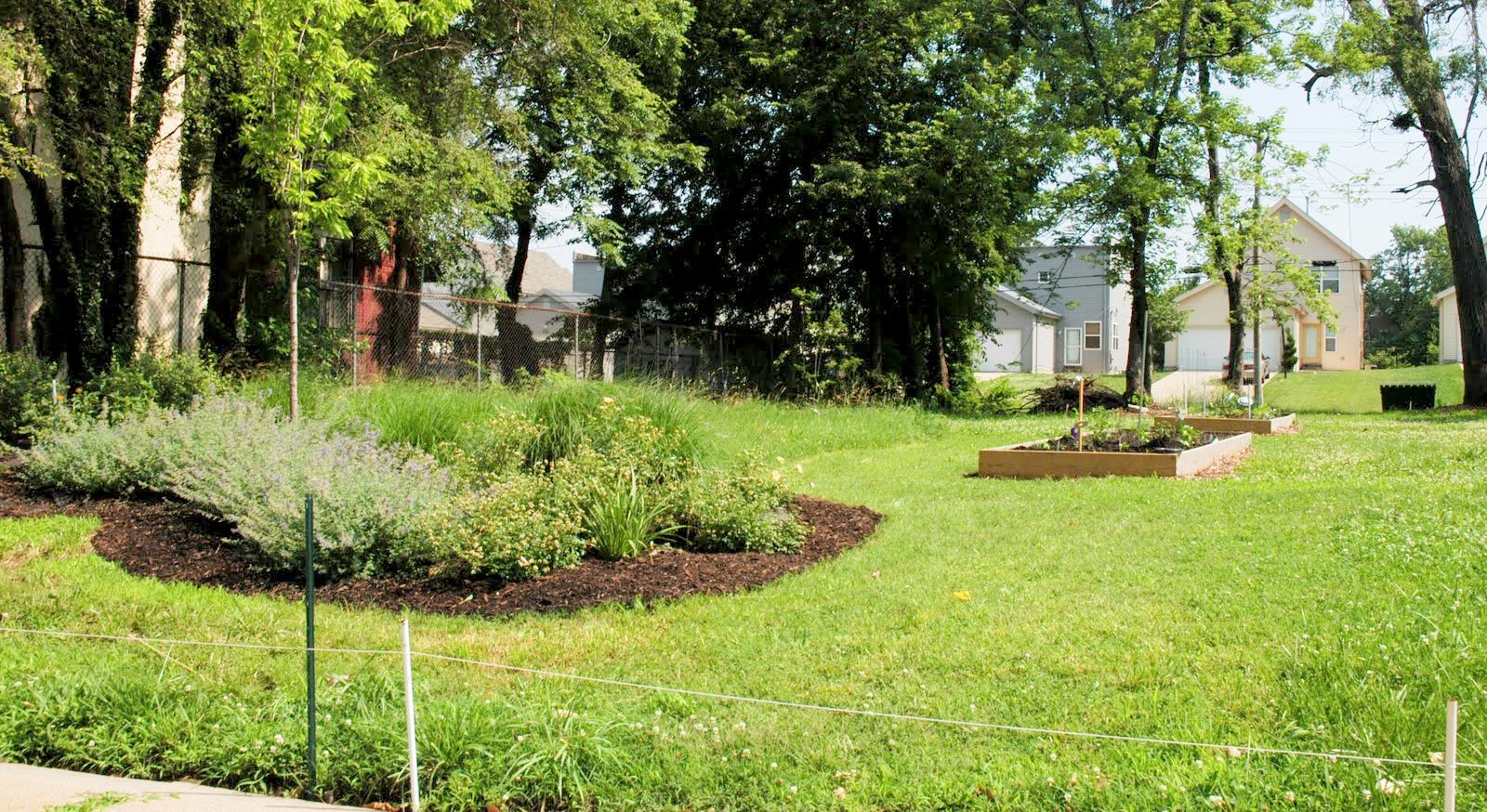 There are a couple noteworthy schools to mention. Cardinal Ritter College Preparatory and the Clyde Miller Career Academy: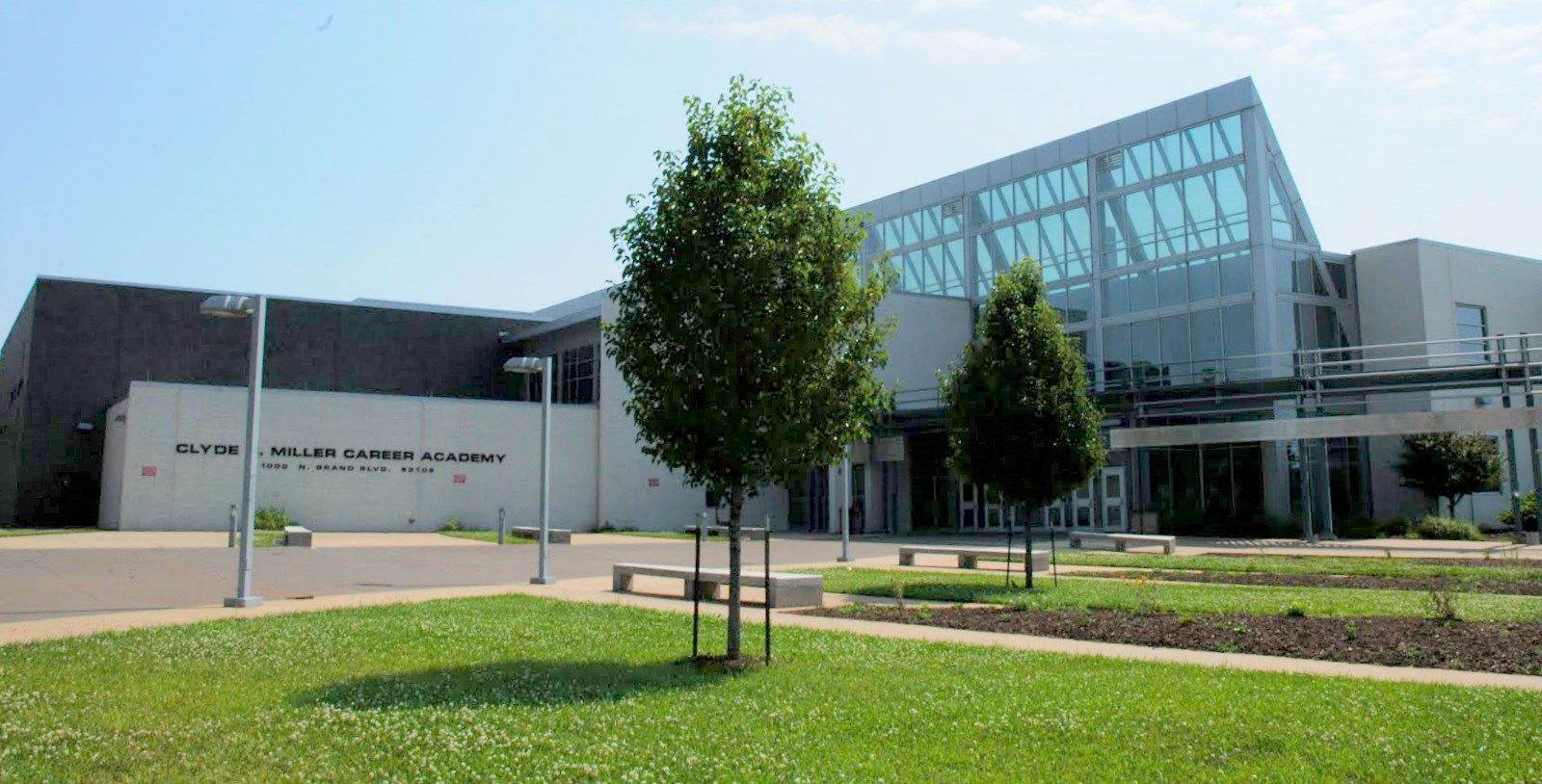 Cardinal Ritter: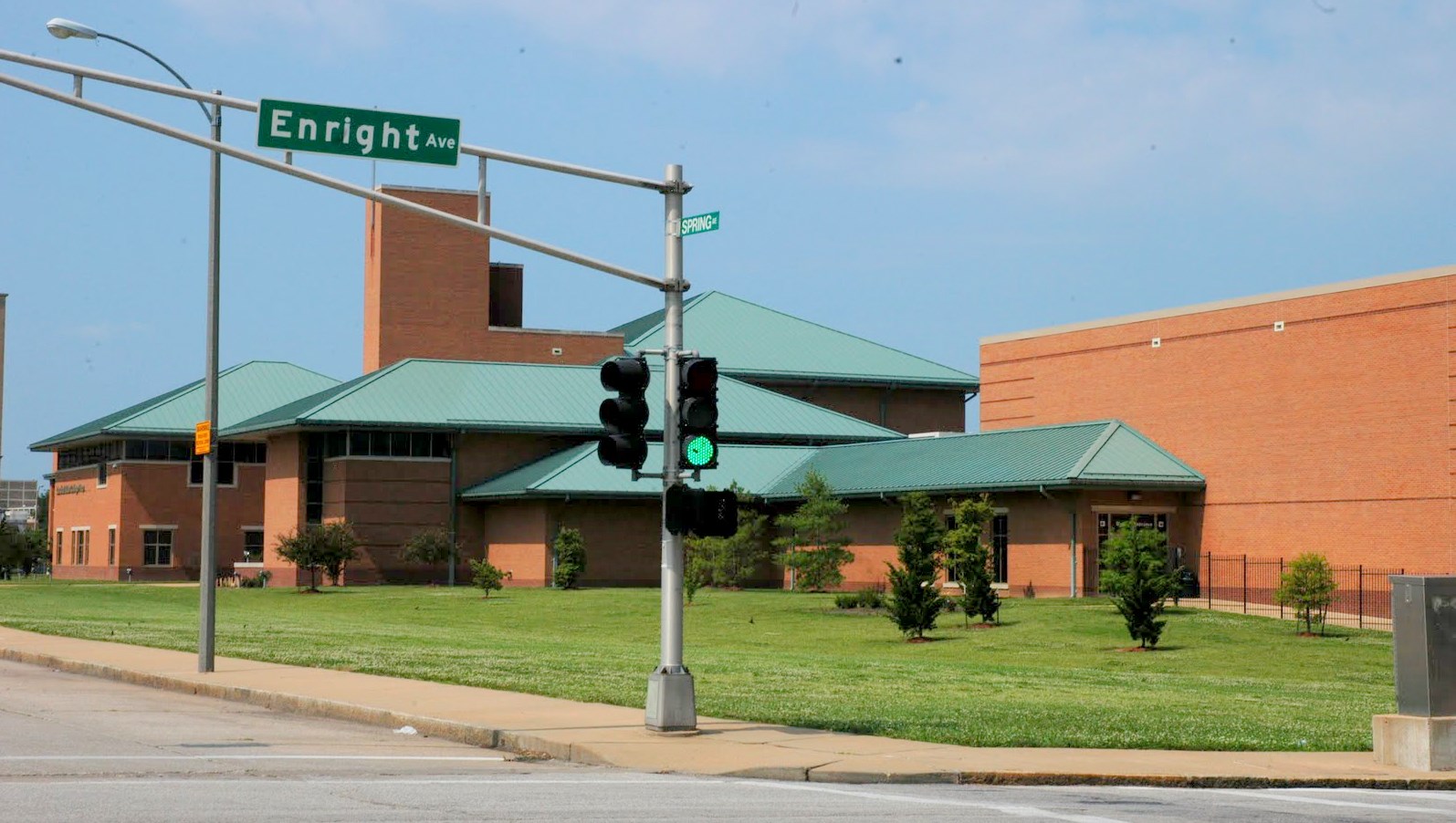 The churches are awesome, as usual in this town. You have the famous St. Alfonsus "the Rock" Church which was dedicated in 1872 and was struck by lightning in August, 2007 which resulted in a 5-alarm fire.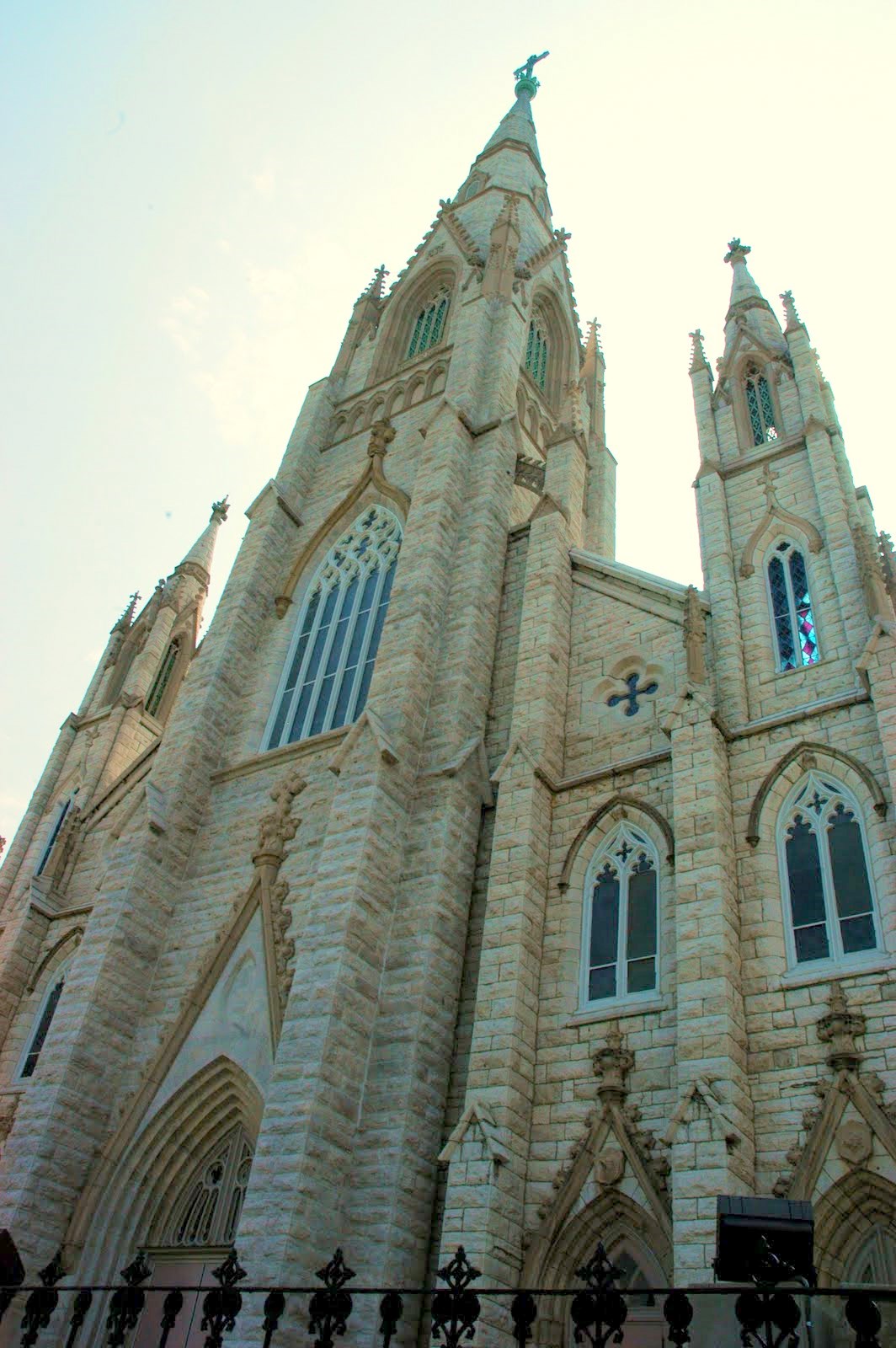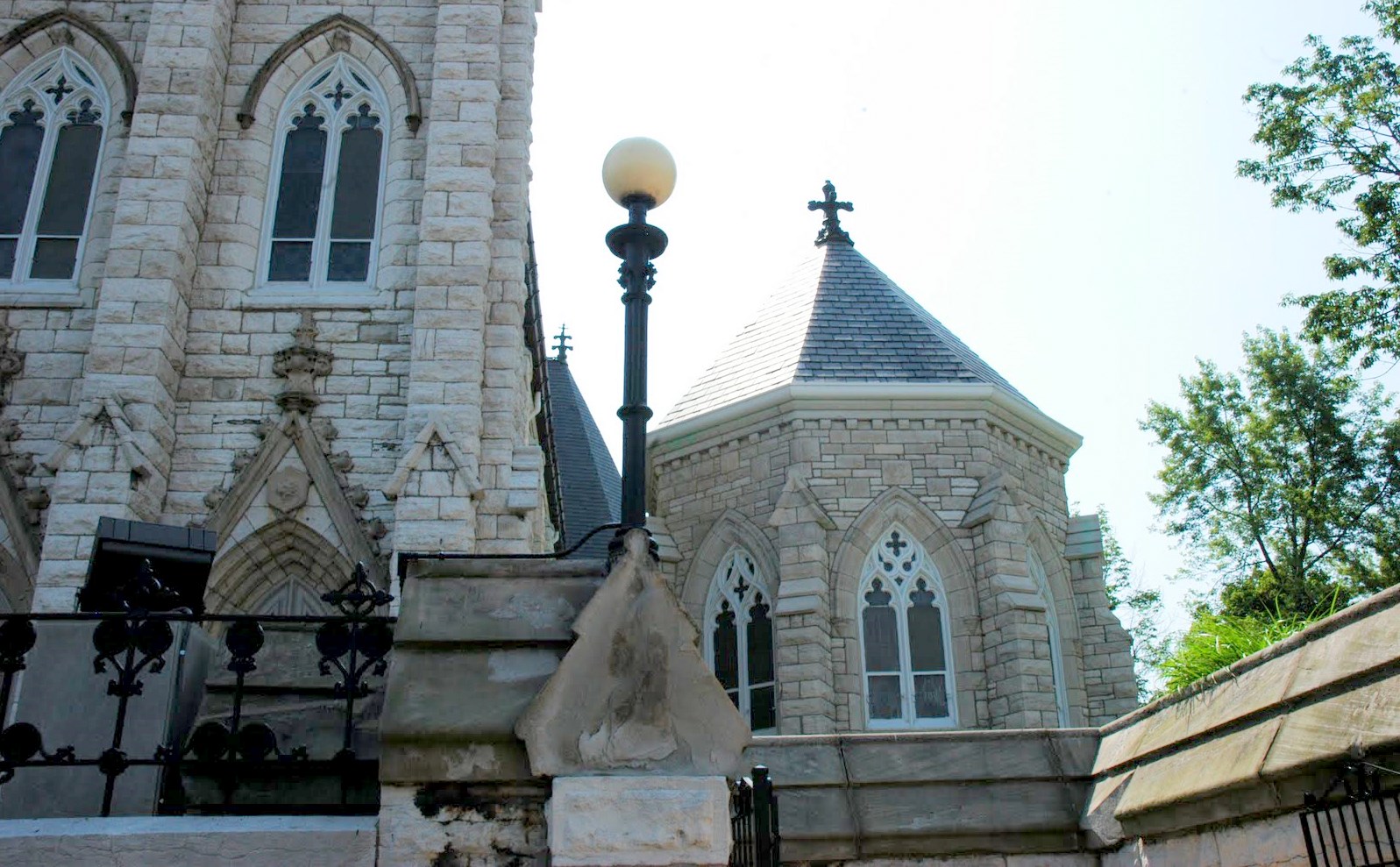 And others: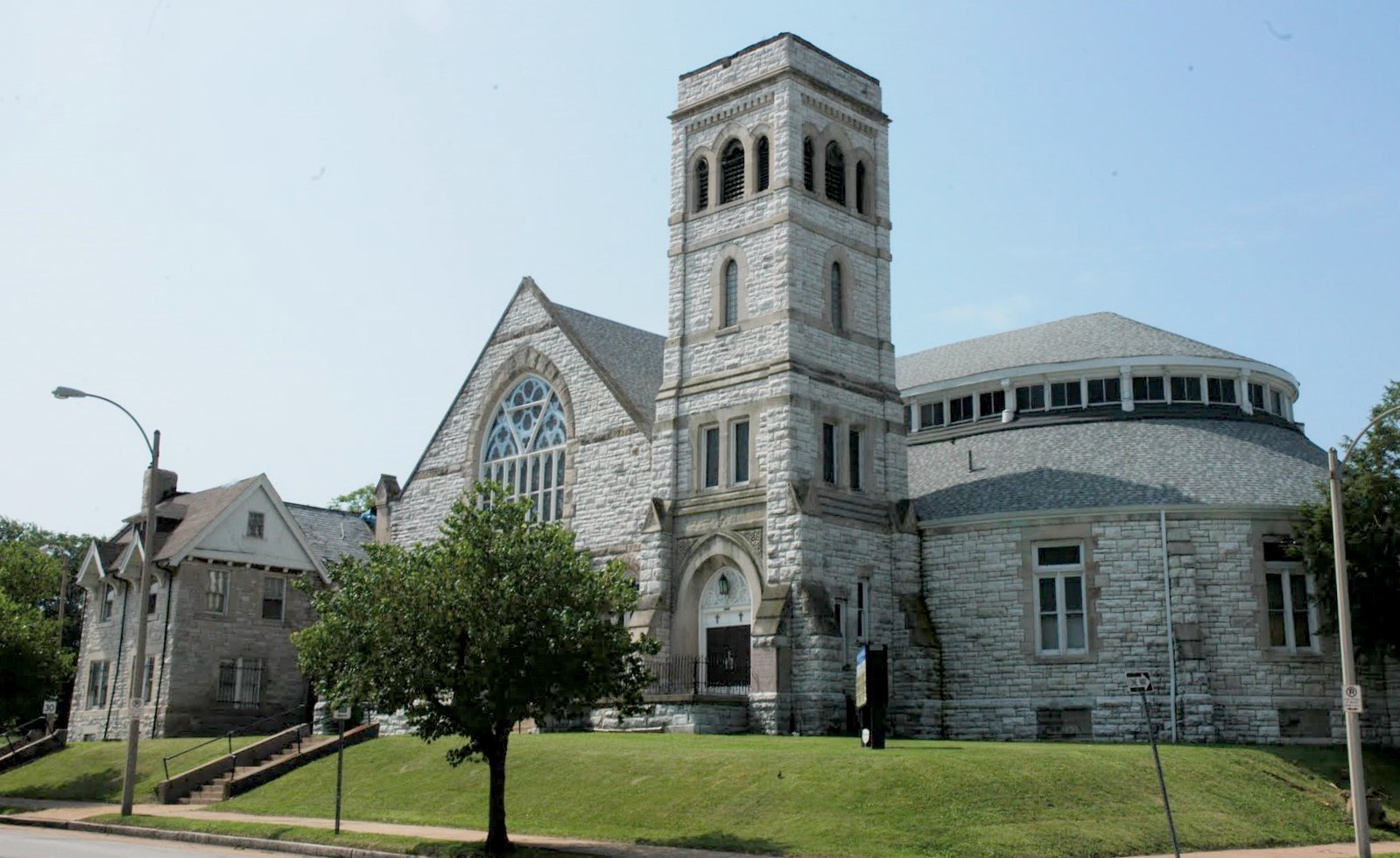 The shell of the church below was recently used as the stage for an incredible art installation. Photos of the project are from Common Lights: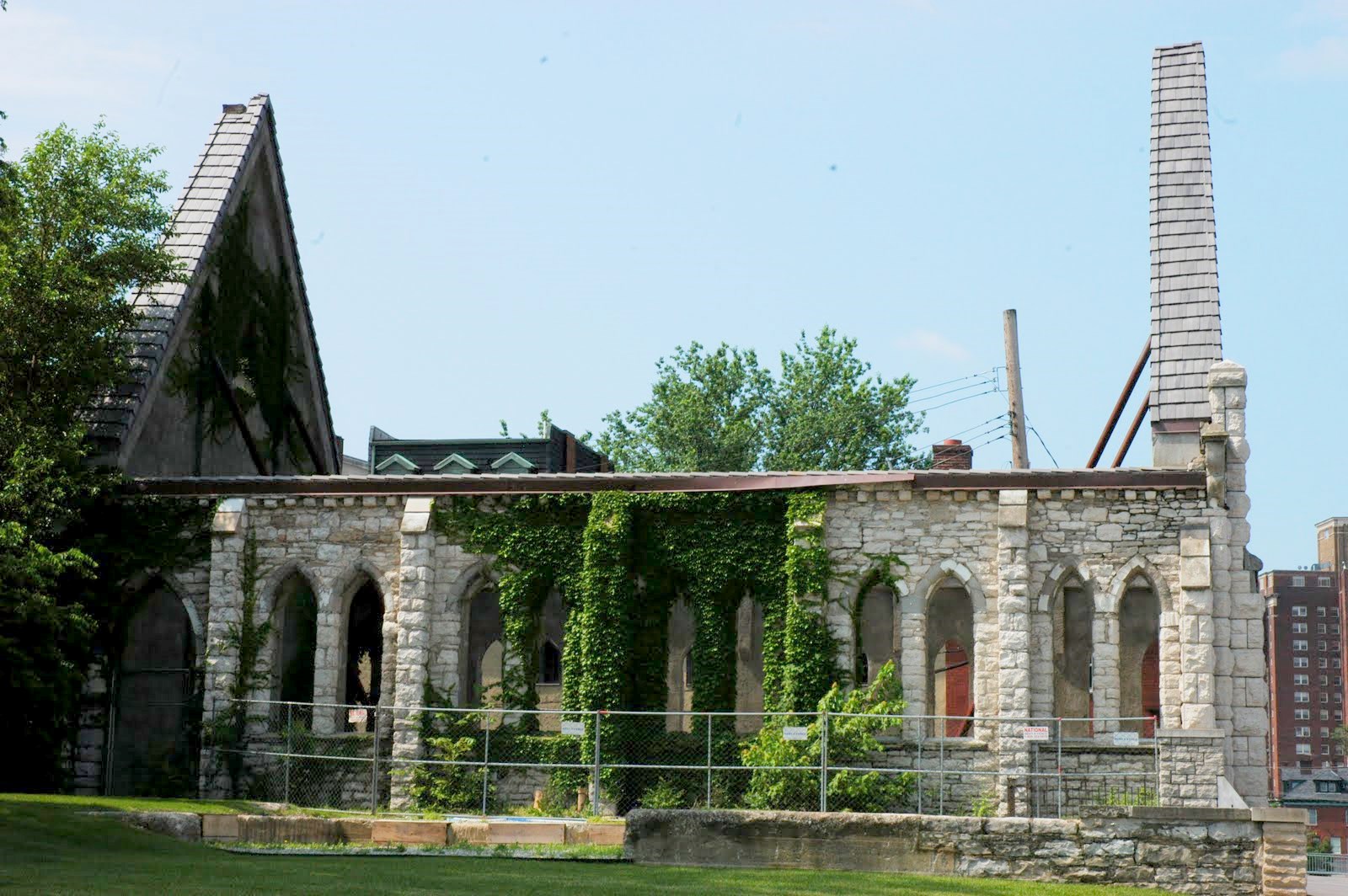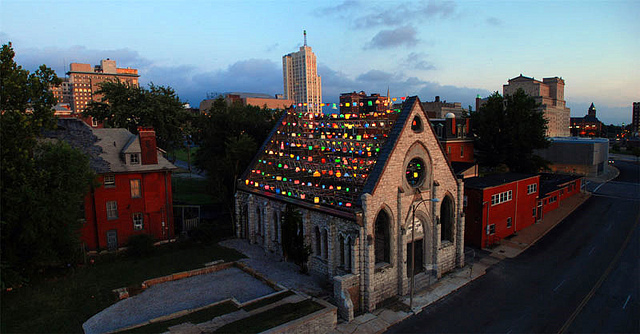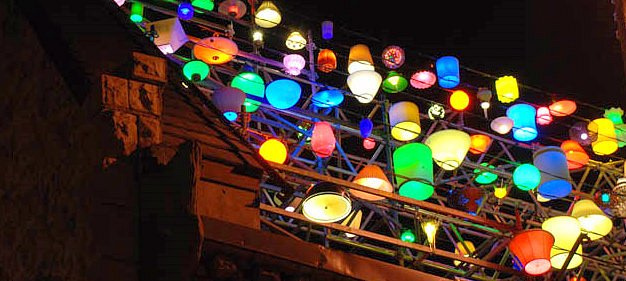 A tribute to a St. Louis classic: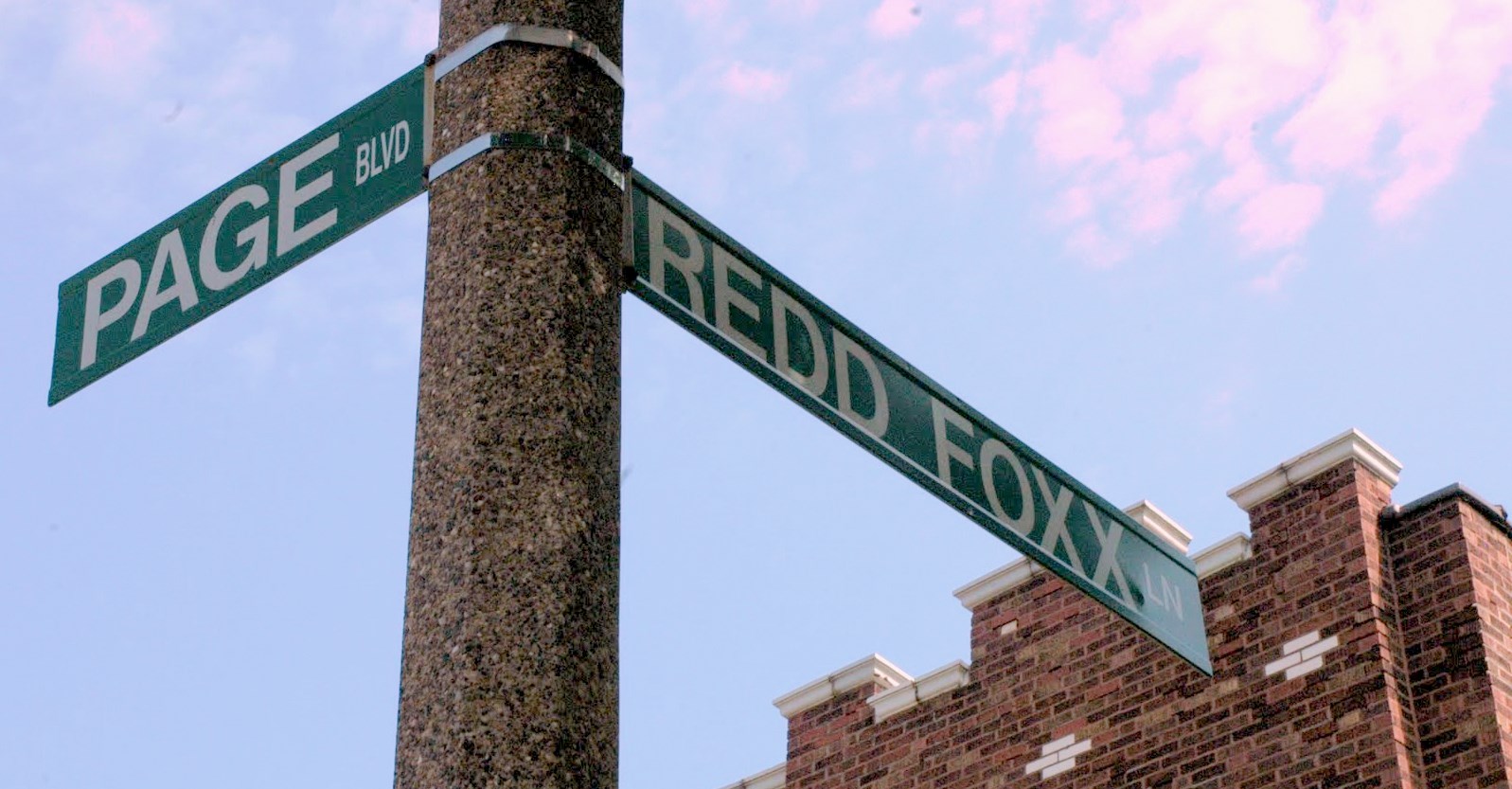 And some other miscellaneous sites.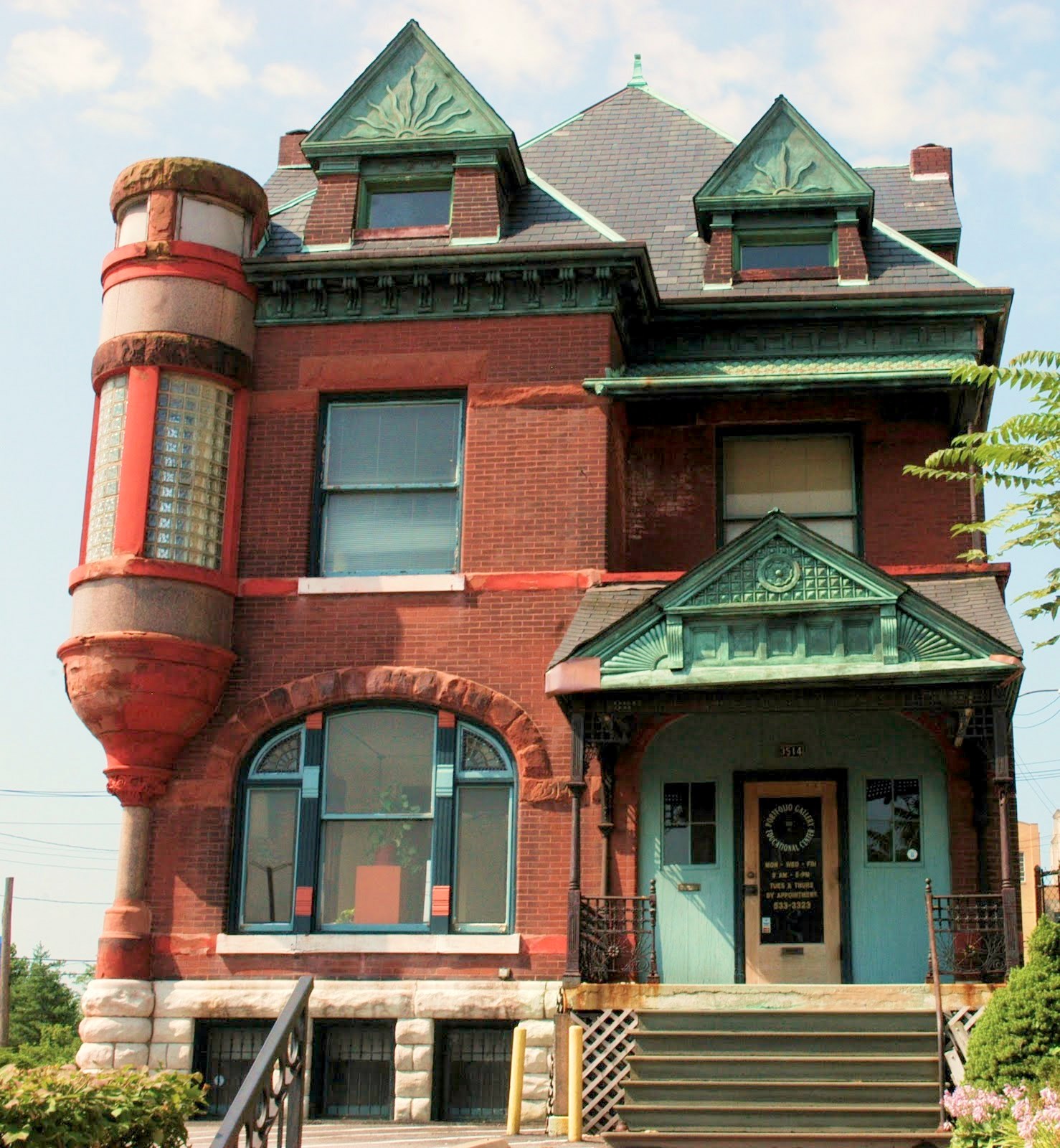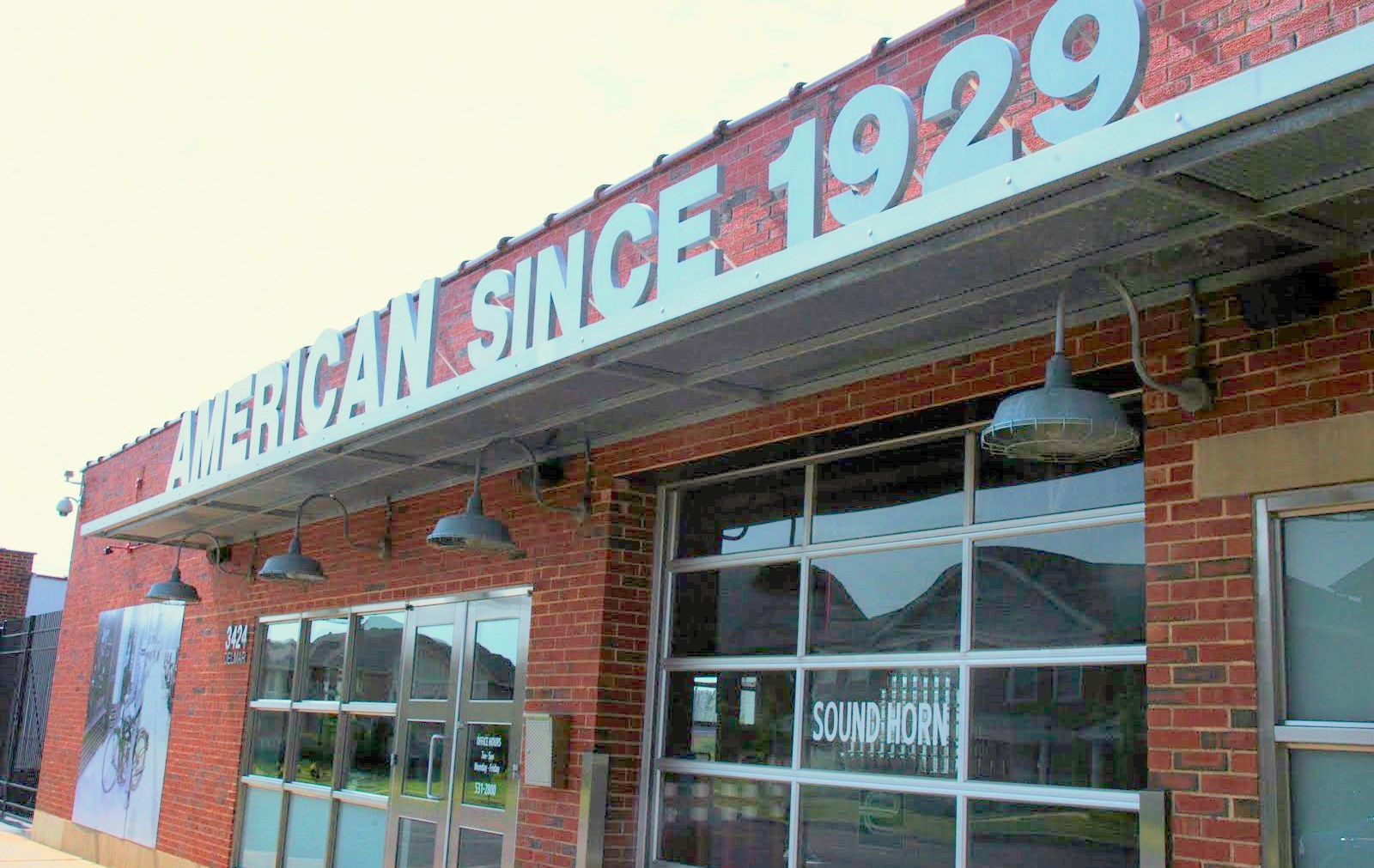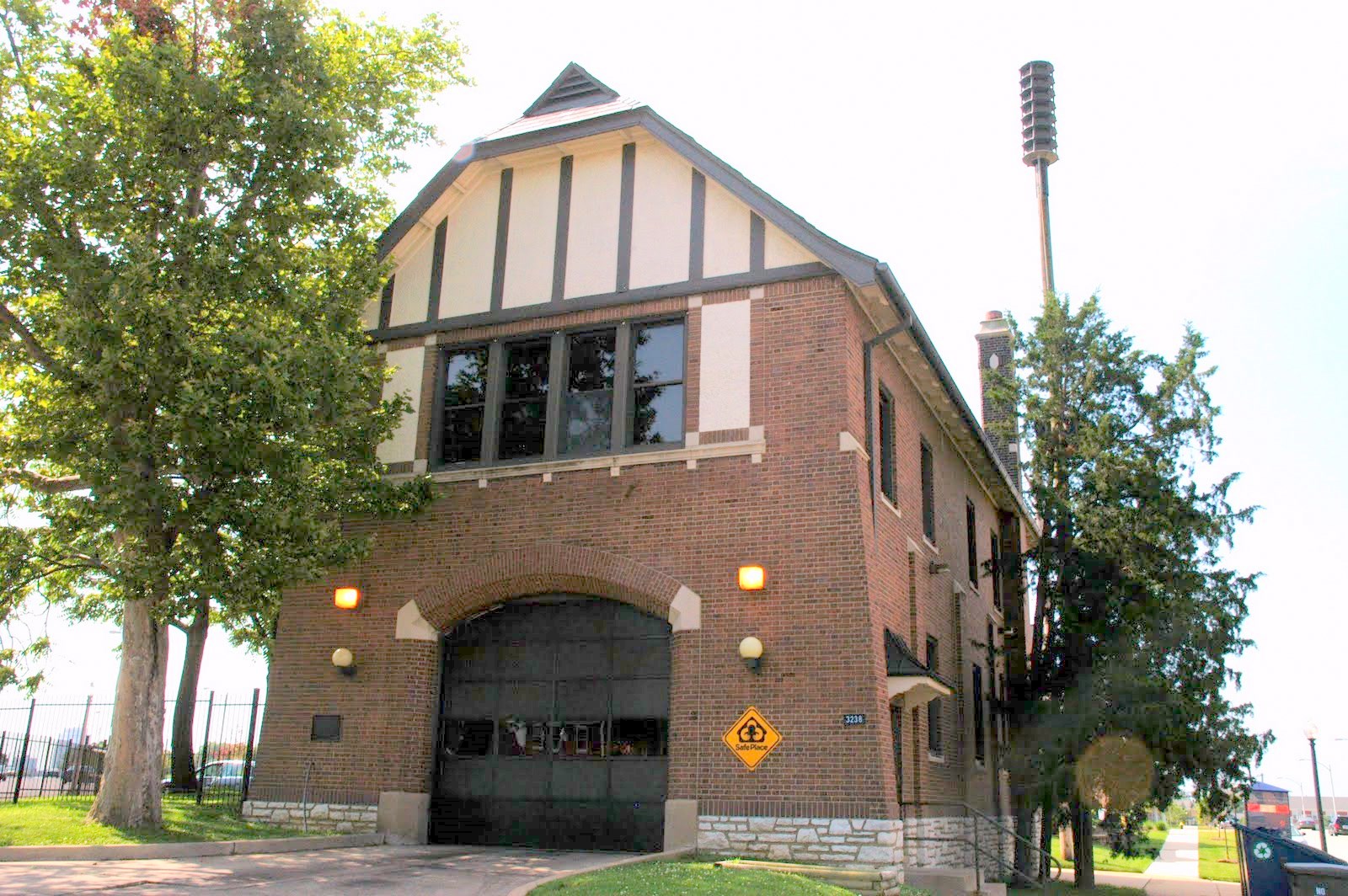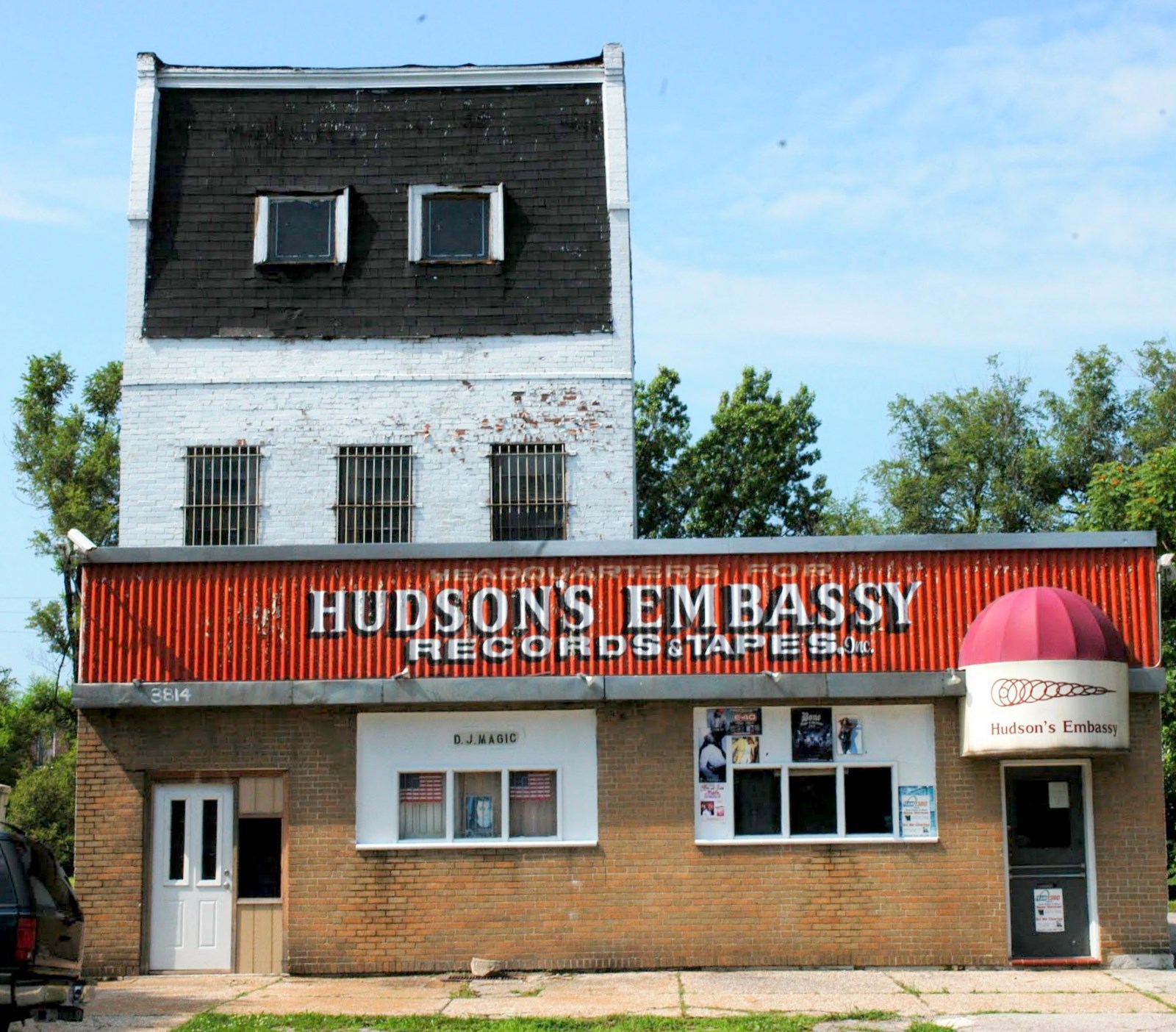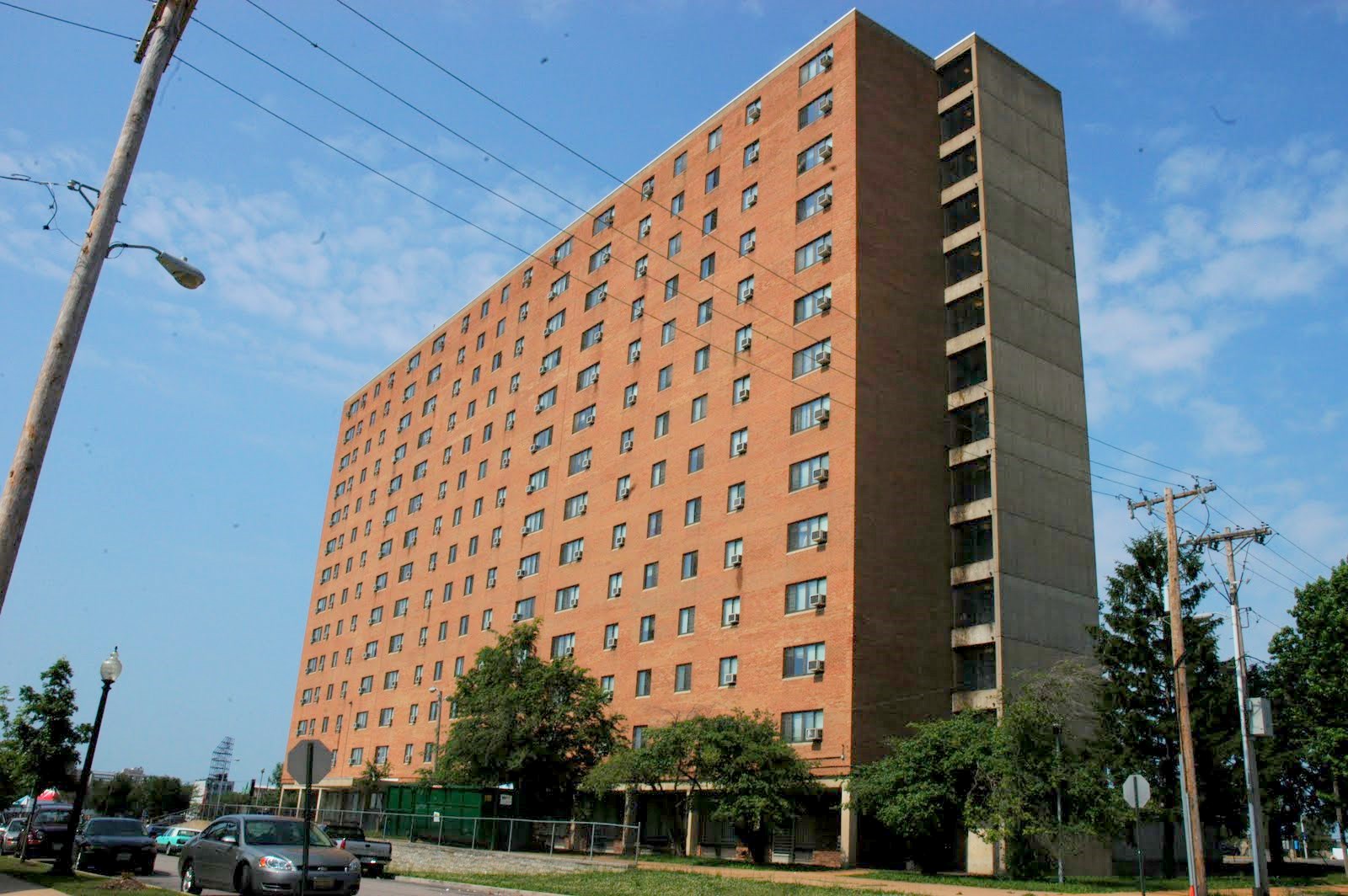 Next time I visit CBGC will be to get a vanilla shake at City Diner, and head over to Strauss Park to enjoy my new book Devil At The Confluence, a history of pre-war St. Louis blues music (thanks sis). With any luck, one or more of the big plans for Grand Center will be on its way to becoming reality. It's already the center for cultural institutions in the city, a few more developments could make it a true landmark neighborhood.
***In August, 2021 I revisited the neighborhood and the following includes updated commentary and photos.***
Misses On Original Tour
This is going to be a long one since I missed quite a bit and there are scads of noticeable changes.
I didn't do a good job at representing just how much is here from an arts perspective. I'll include the photos of the various theaters and venues for live performances and try to show the uptick in public sculptures, murals and park spaces that add to the arts district.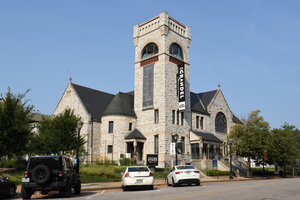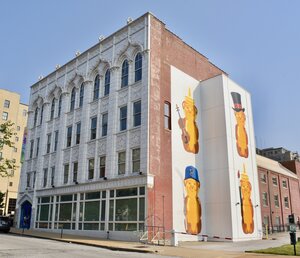 I did not show the area of Olive/Lindell between Grand and Vandeventer. I will fix that here. There are some beauties owned by St. Louis University and many more.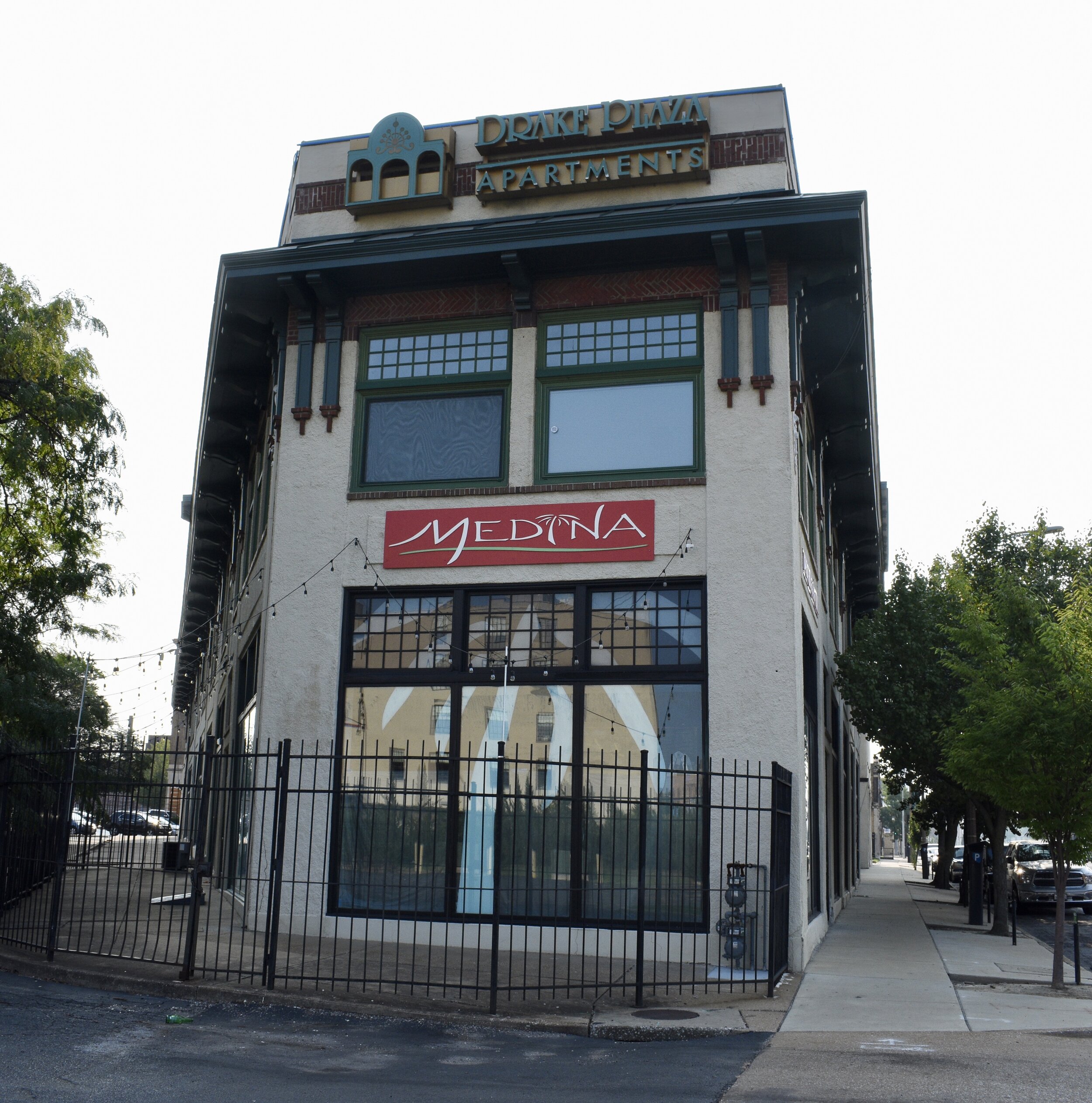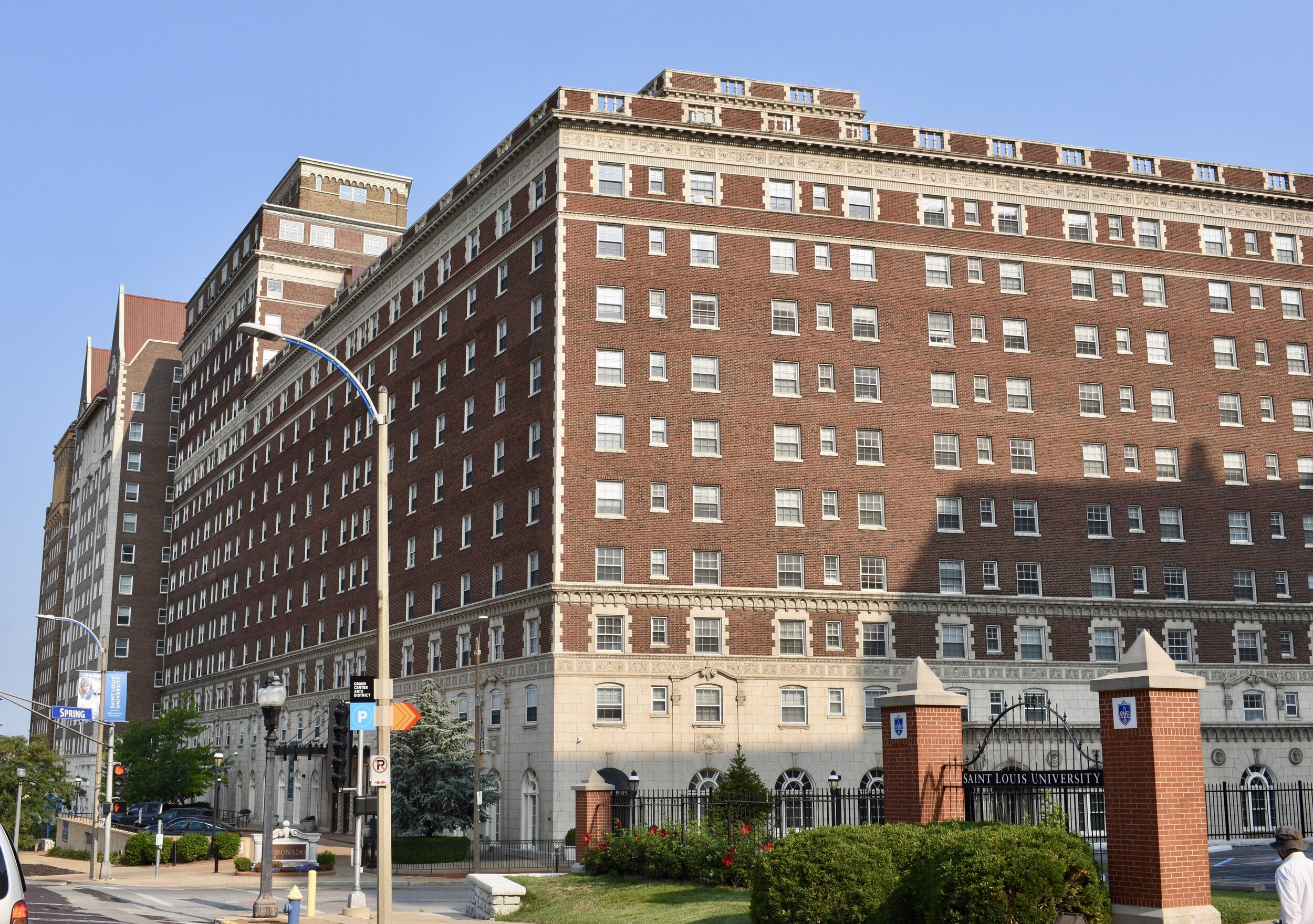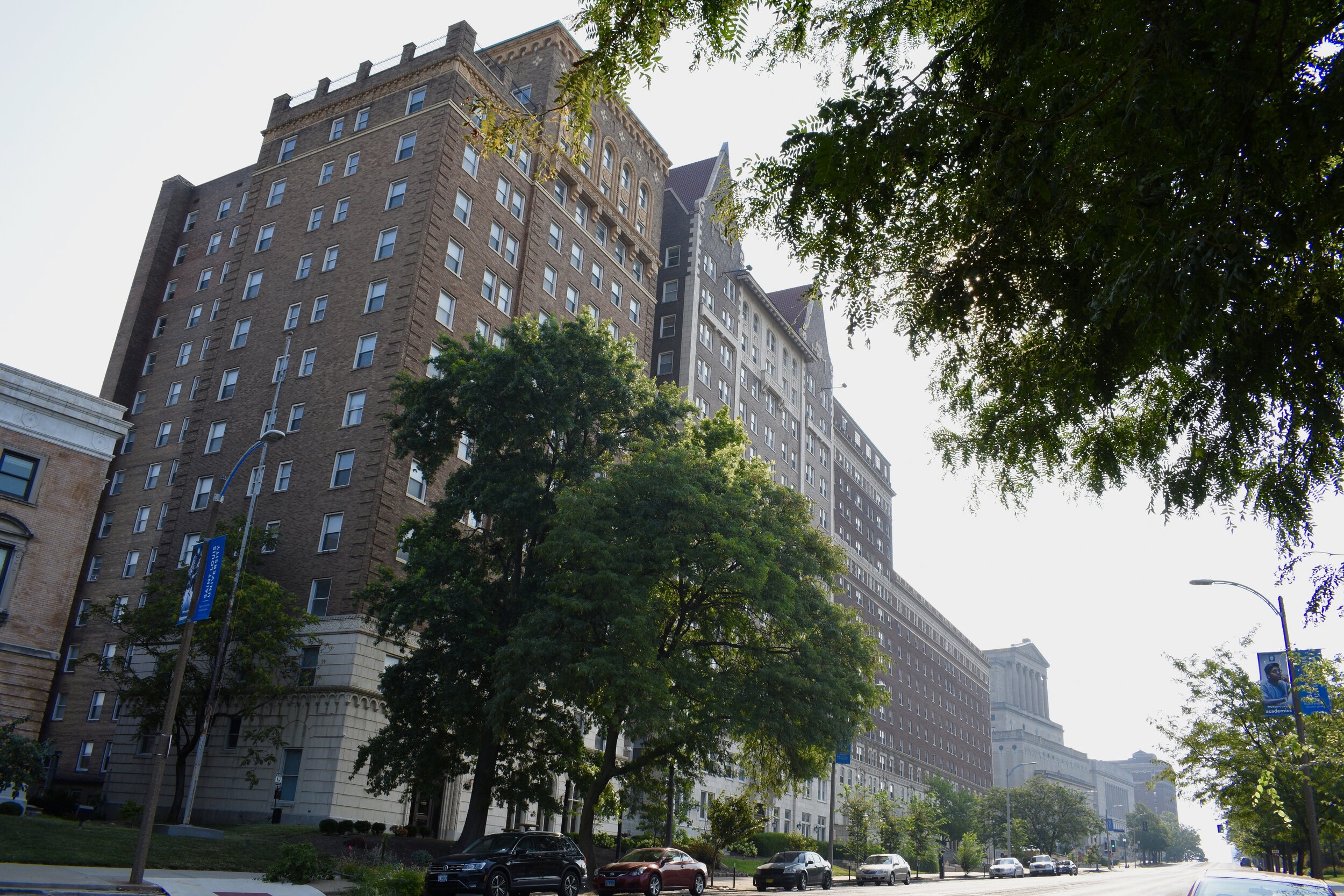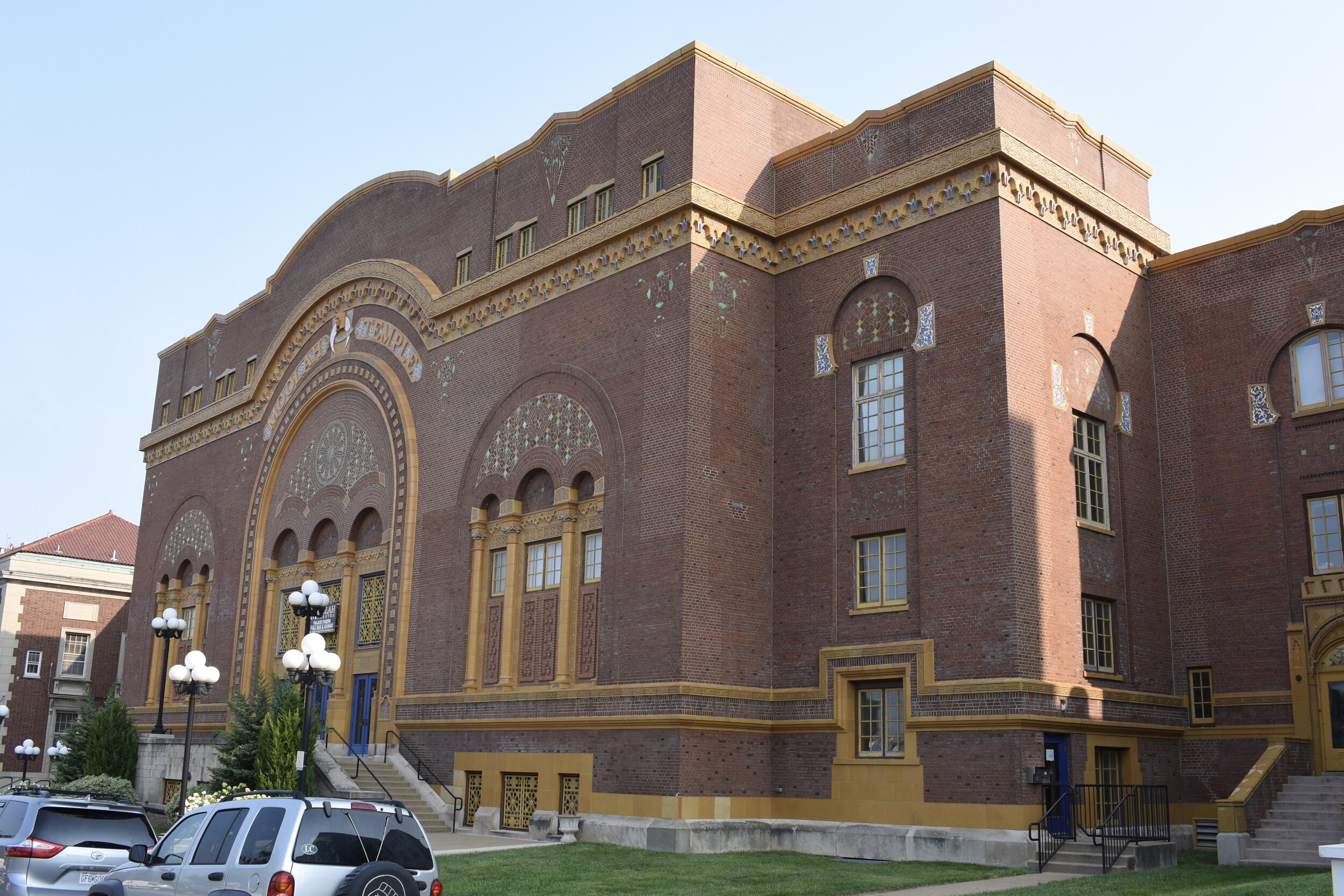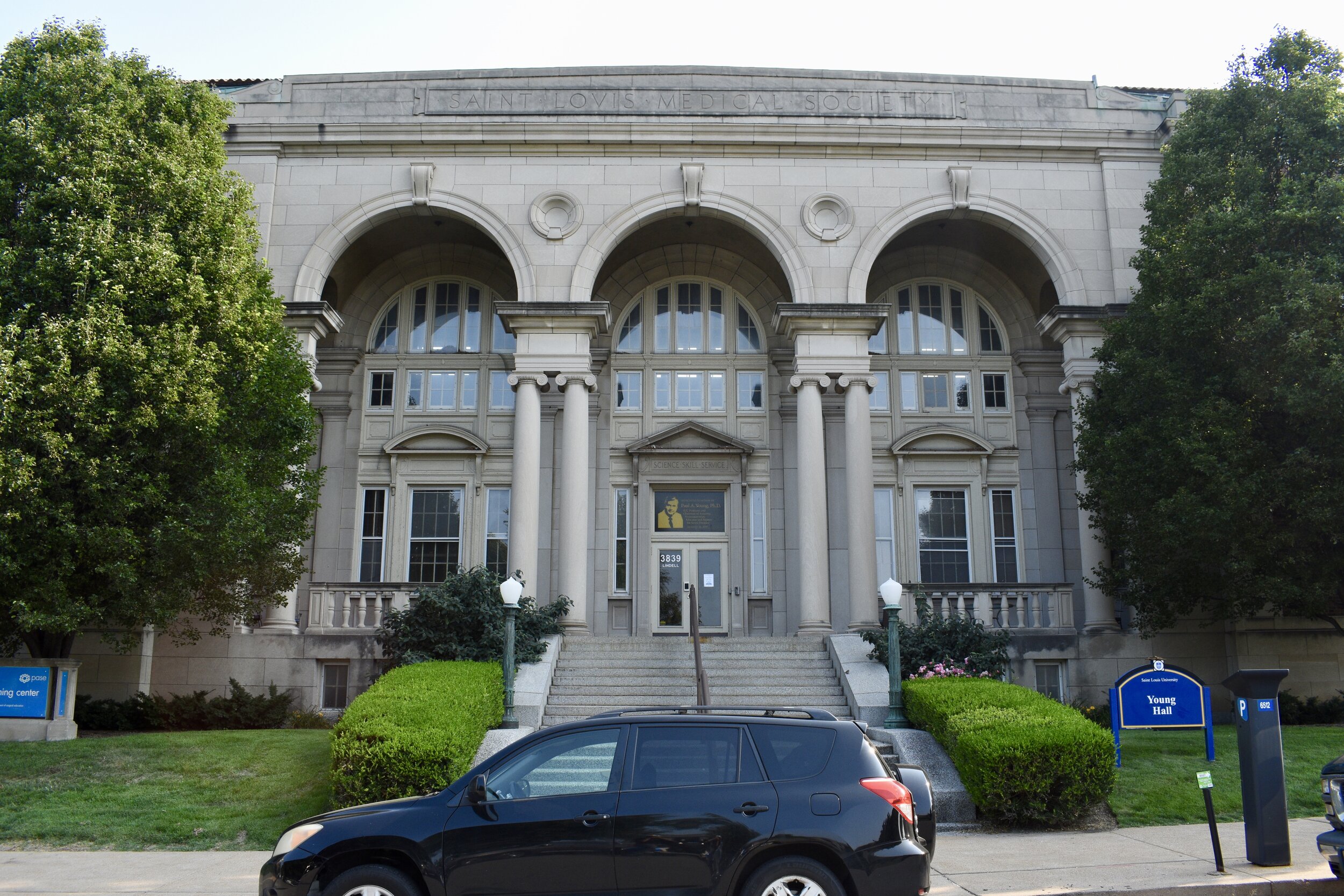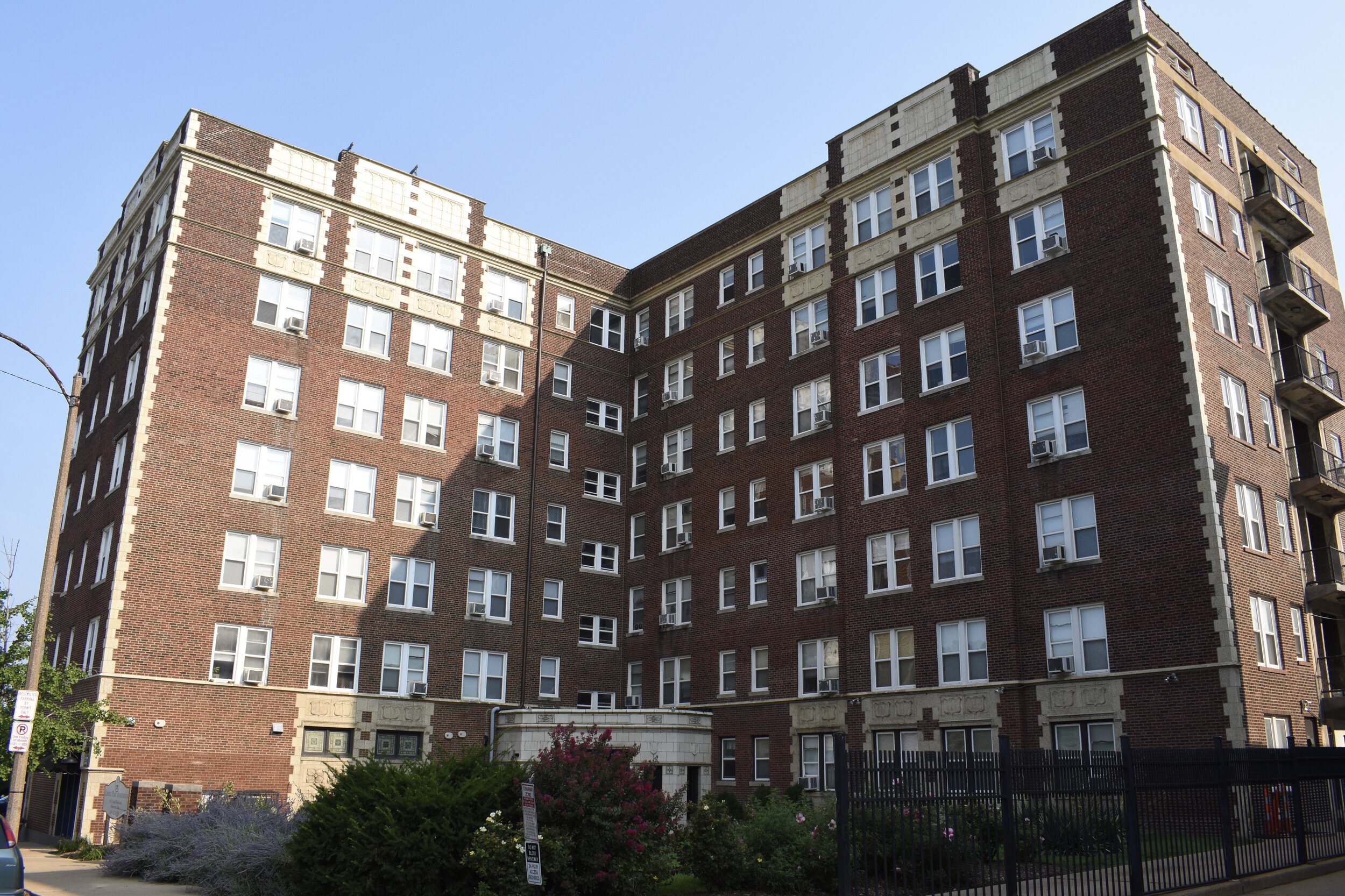 I missed the beautiful, 1925 Southwestern Bell building.
I missed the beautiful residential block on Westminster Place.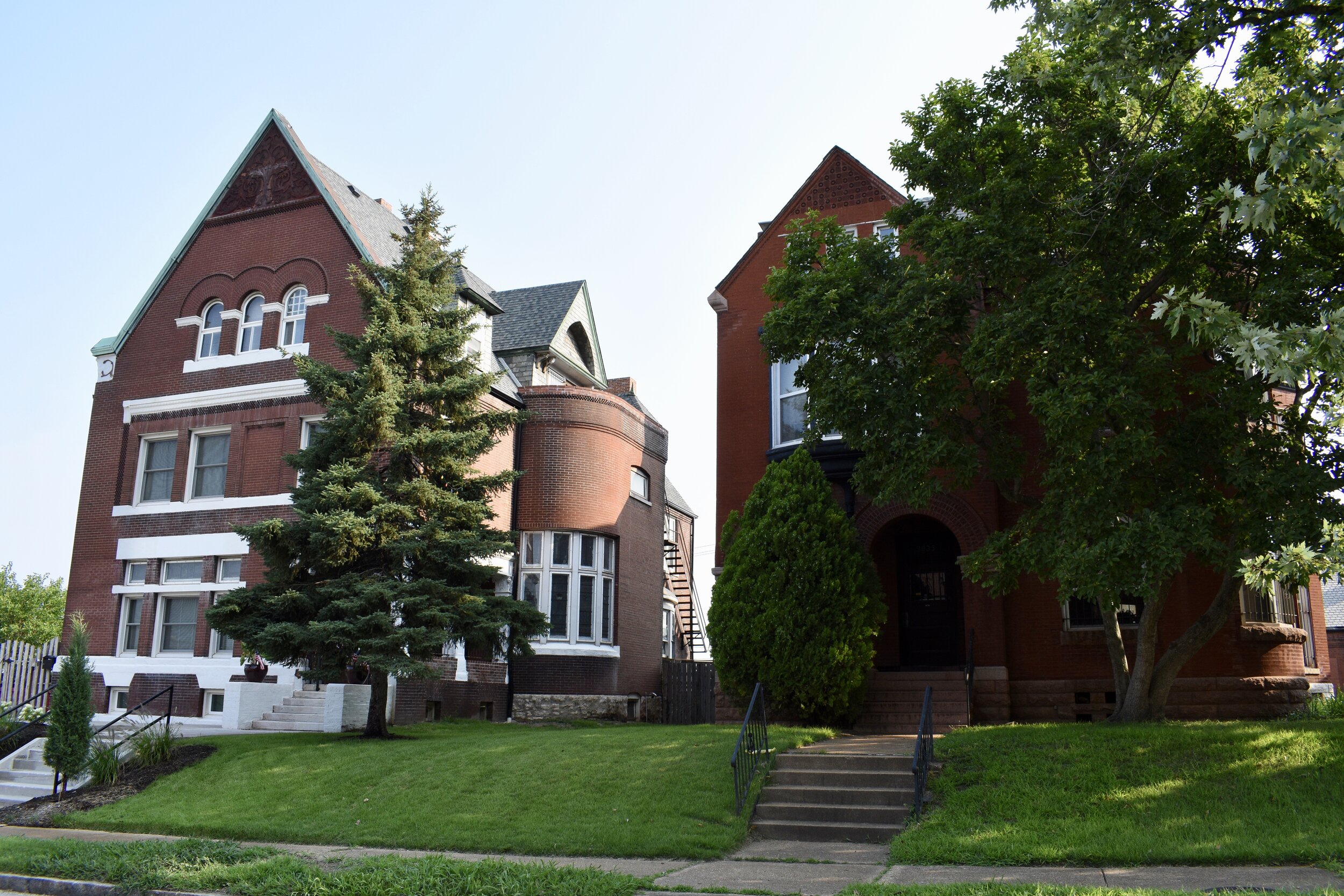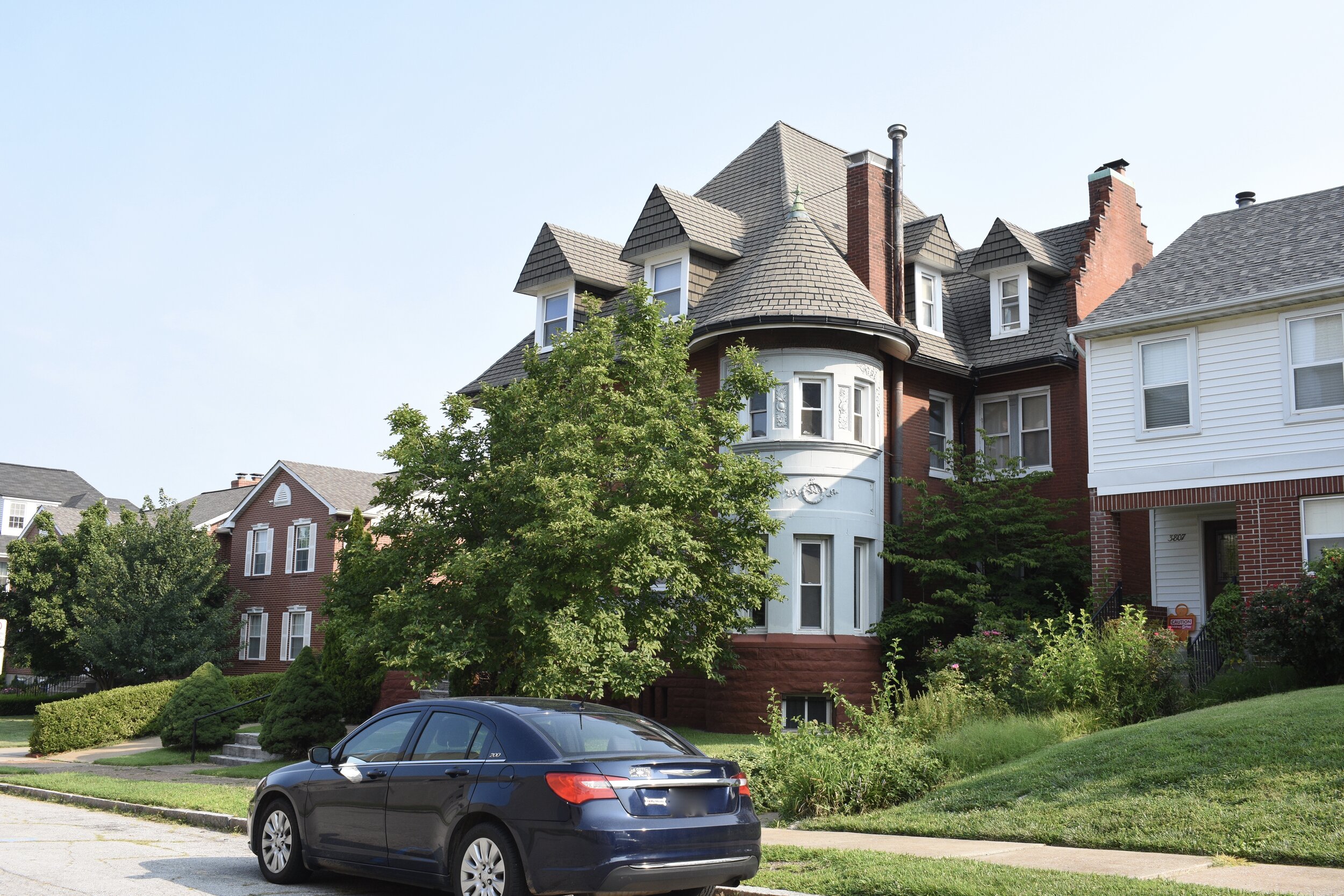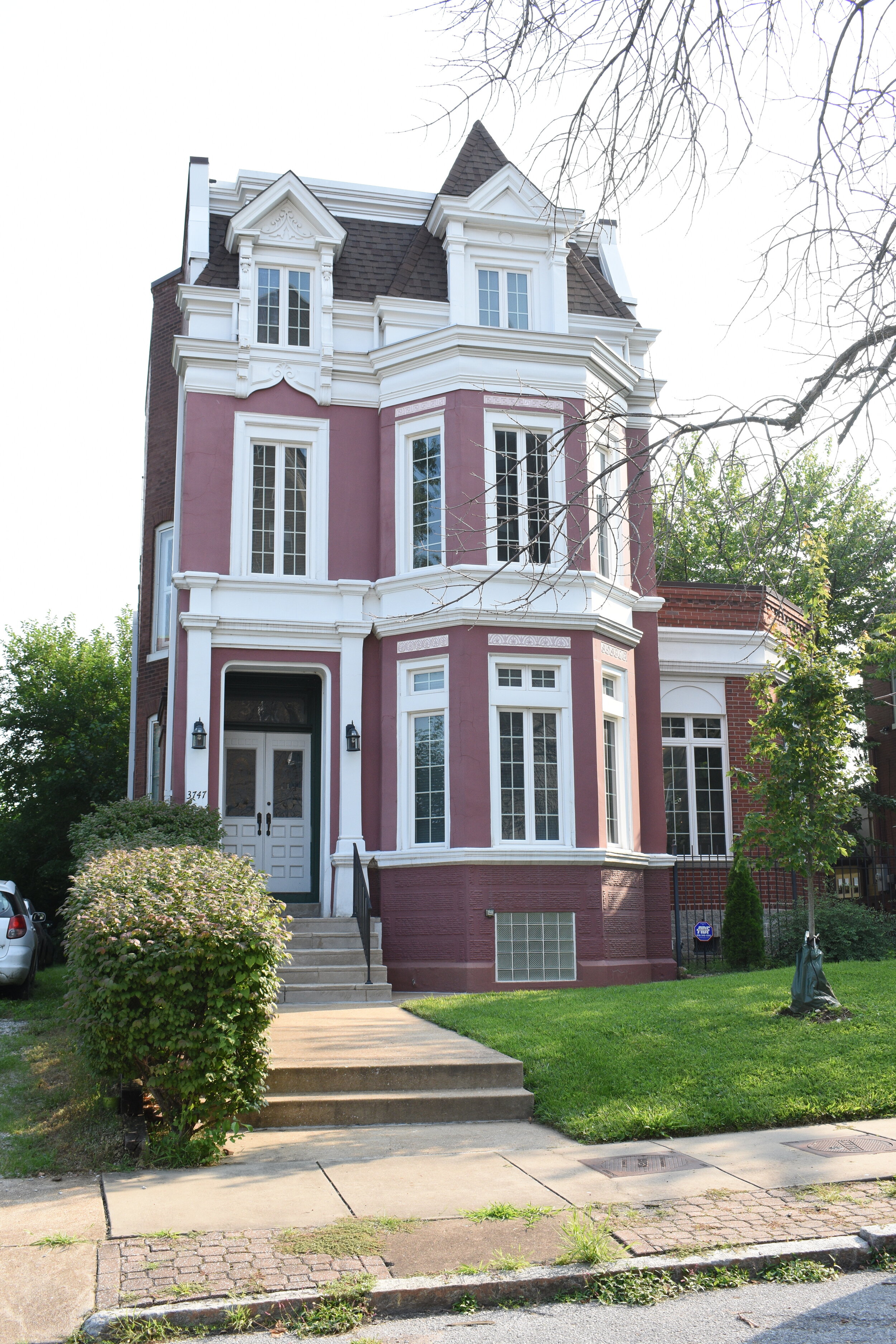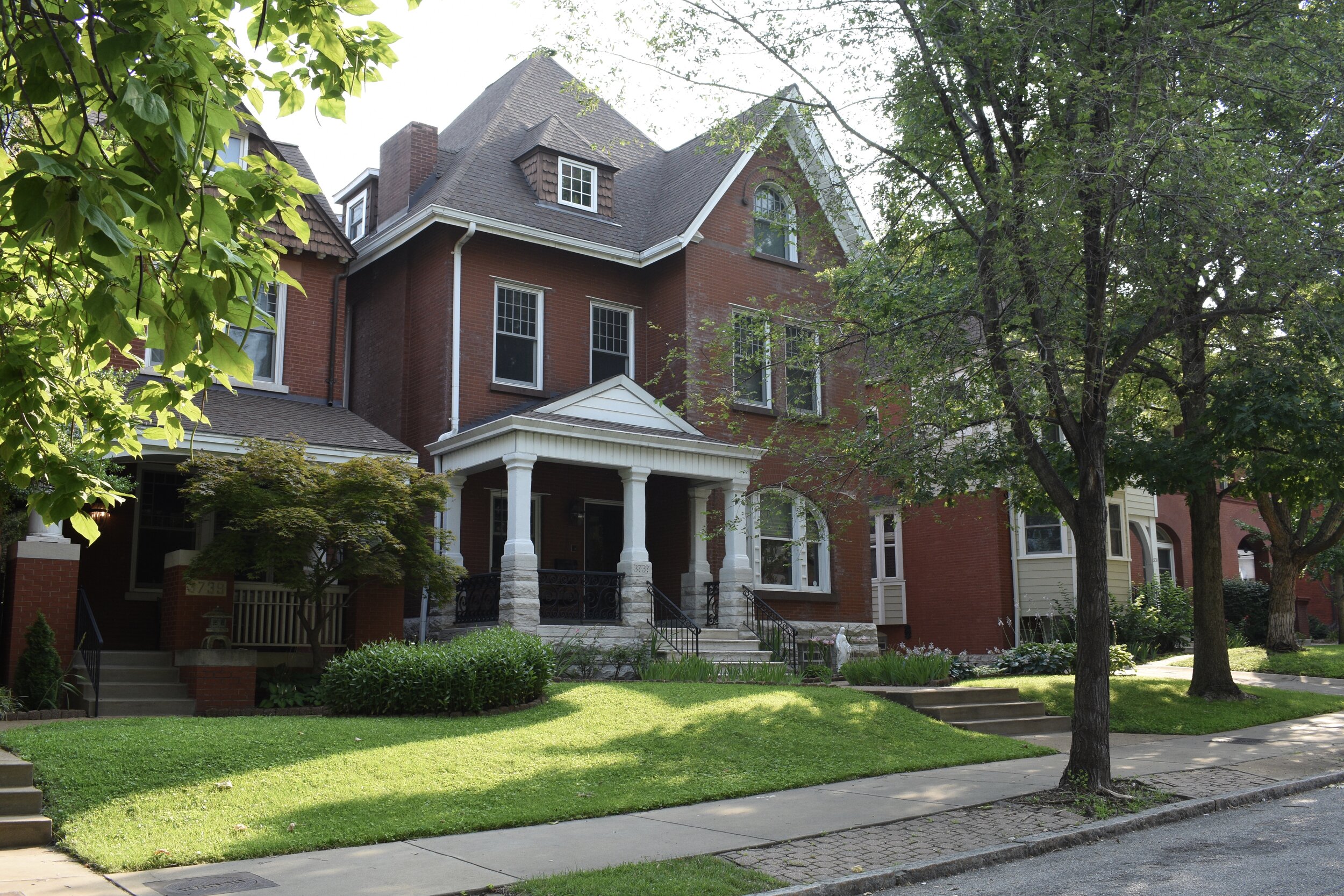 If you are a fan of Mid-20th Century architecture, the 1960 Juvenile Detention Center on Vandeventer has some impressive designs.
Noticeable Changes
Wow, lots and lots has changed over the last decade. I'll include some that caught my eye, and I'm sure there is much more in the works.
Lots of renovation activity has taken place on Olive, Washington and Lindell. The Metropolitan building at Grand and Olive that was vacant in the 2010 post is now renovated and active at the Metropolitan Artist Lofts, a fantastic save for the neighborhood and our city's architecture.
KDHX expanded their facility after moving from the Tower Grove East neighborhood to CBGC.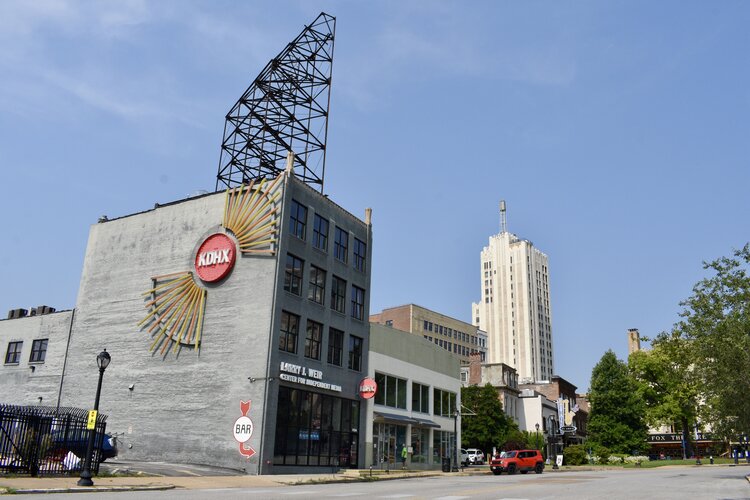 The local NPR affiliate, KWMU moved from the suburbs to CBGC with a beautiful modern building on Olive.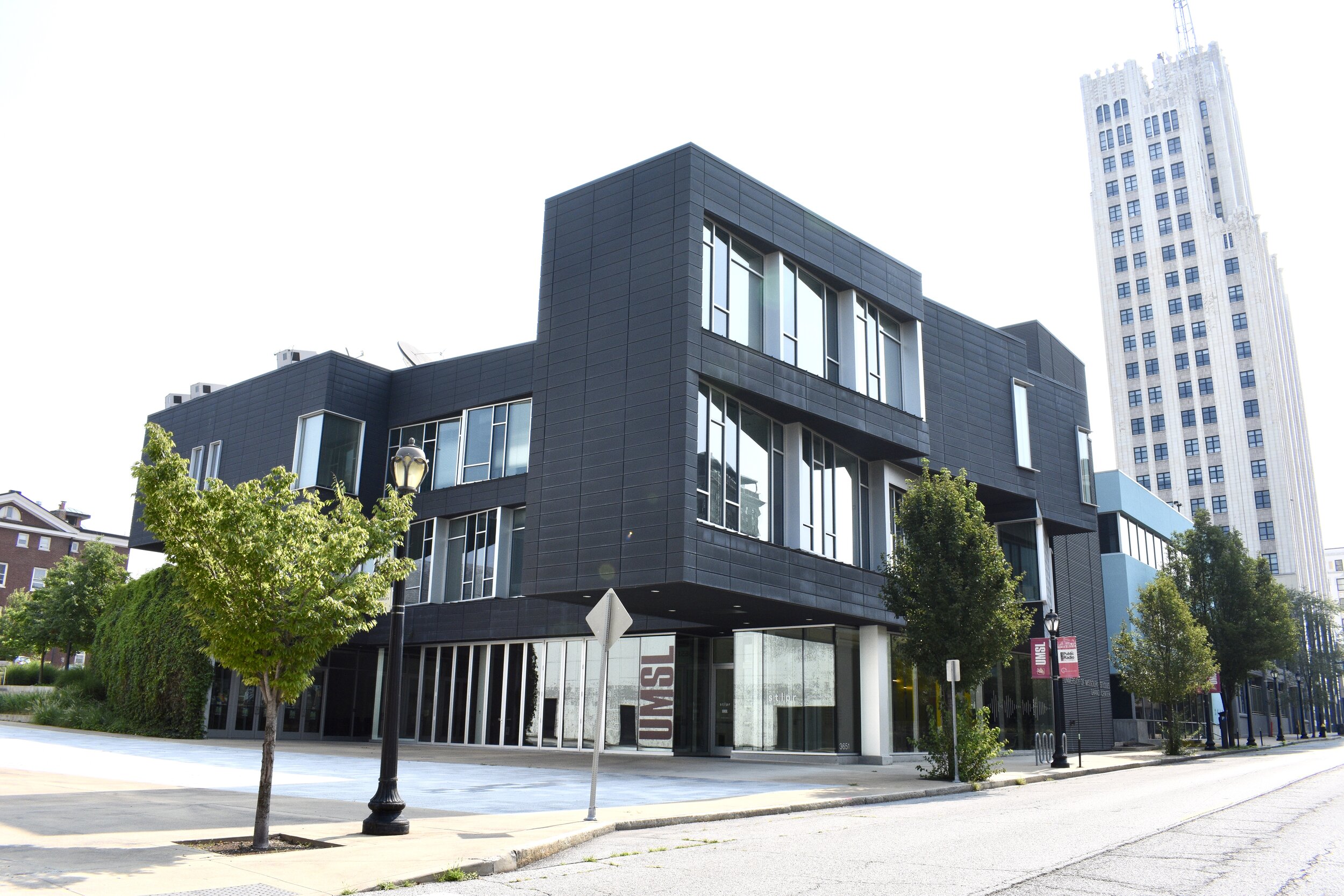 Local brewer Urban Chestnut opened their Midtown Biergarten in 2011 on Washington Avenue. This was their original location before expanding in Forest Park Southeast. The gorgeous buildings just east of Urban Chestnut have been renovated and are in new uses as event spaces. The stretch of Washington in CBGC is burgeoning with lots of future projects and opportunity in years to come.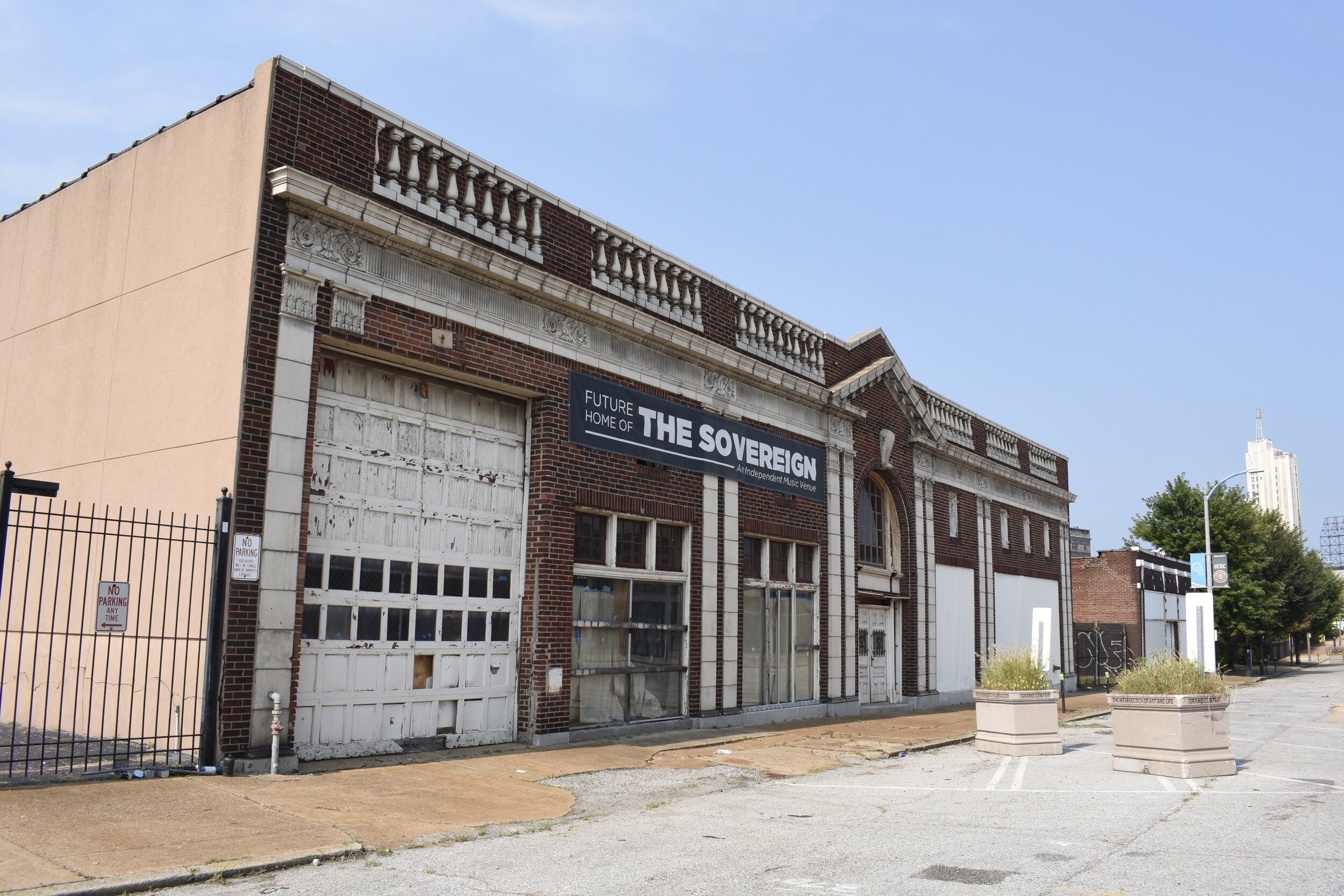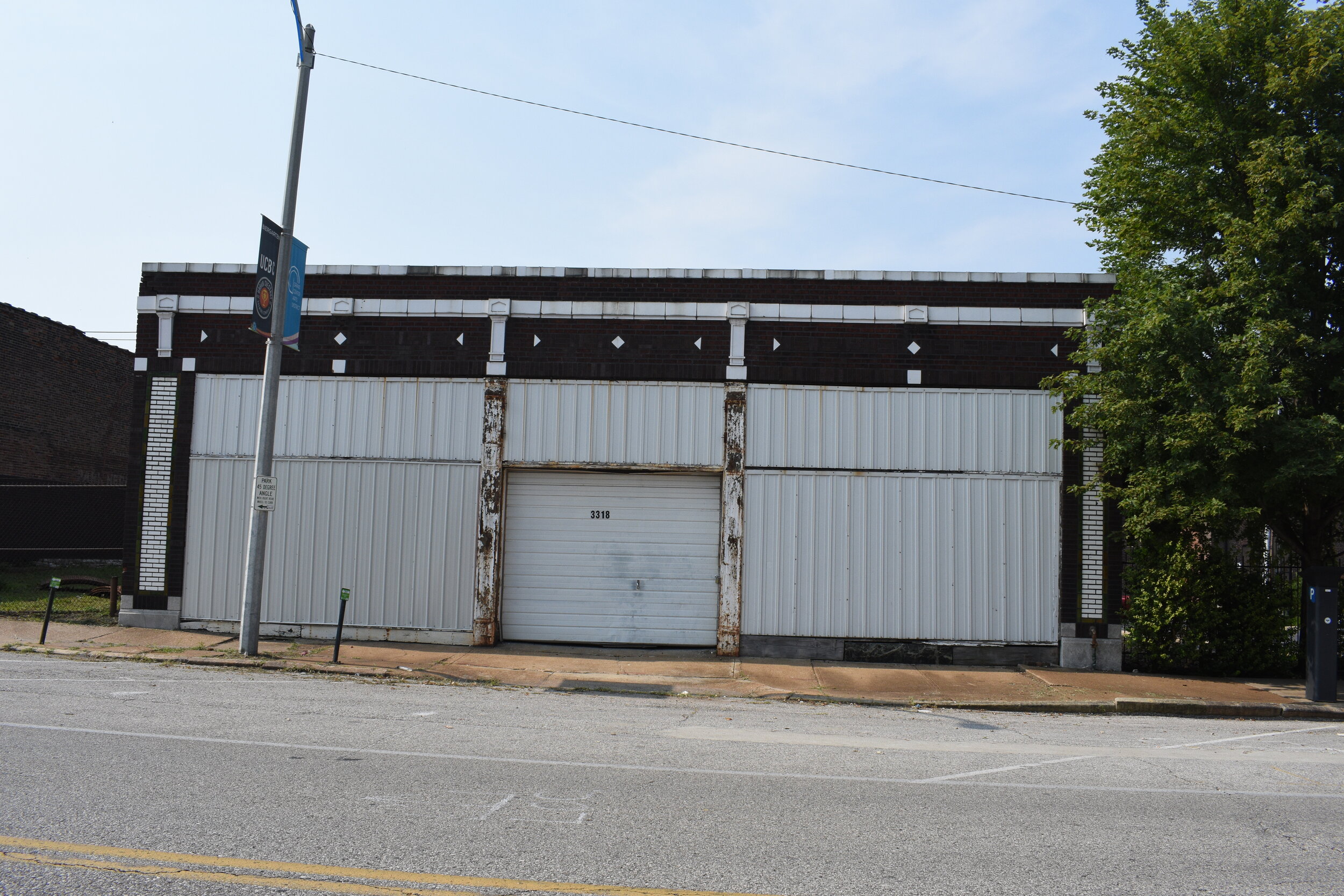 Businesses have picked up, including some with outdoor seating areas that are quite attractive. Many of the old standards like Vito's look better than ever.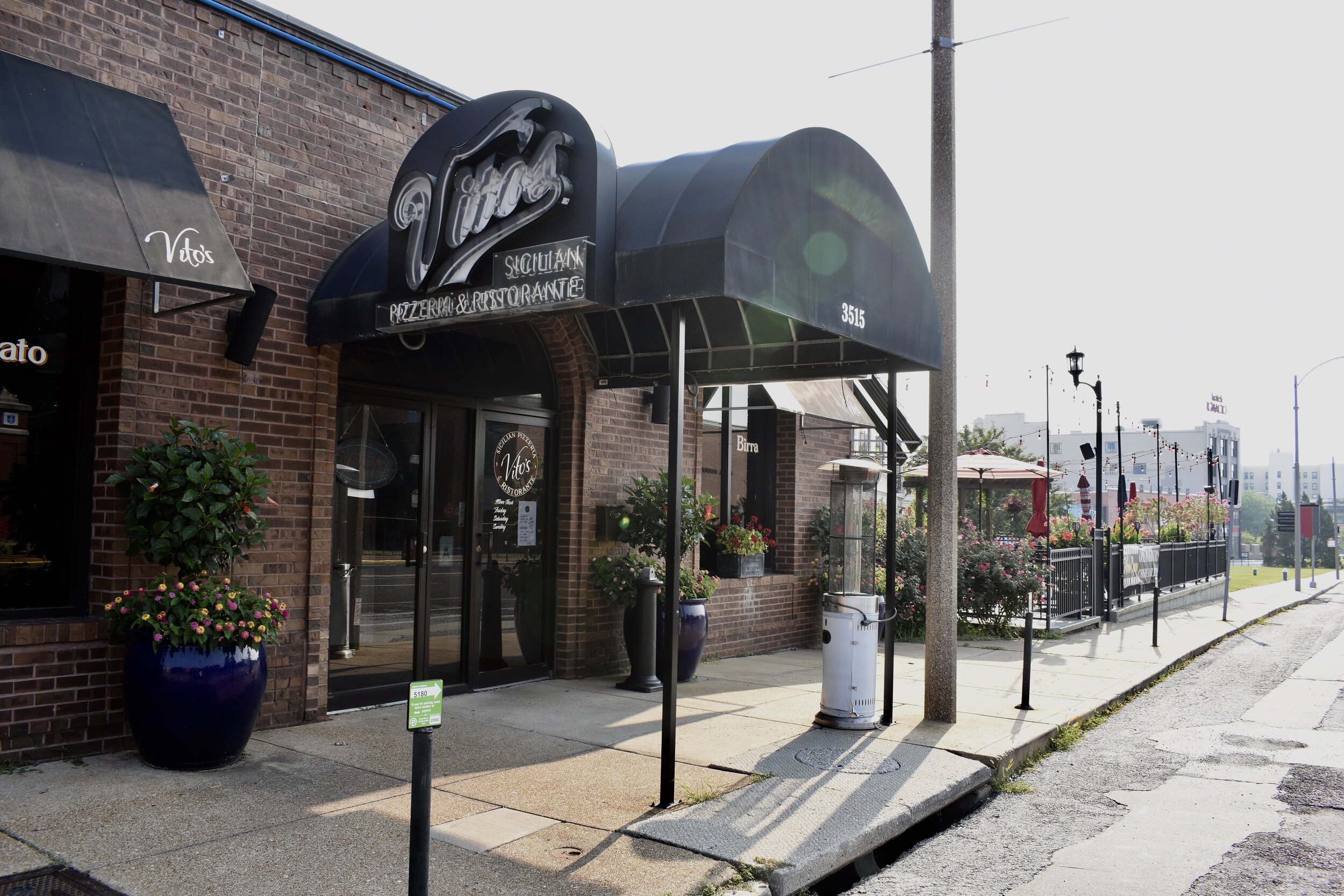 Construction of the Olive West Homes project on Olive Street between Vandeventer and Spring is in full swing, along with the rehab of the Wolfner Library building. This will add people to a recently dead part of the neighborhood. It will be interesting to see the final product with landscaping, etc. to see how these fit into the flow of the city.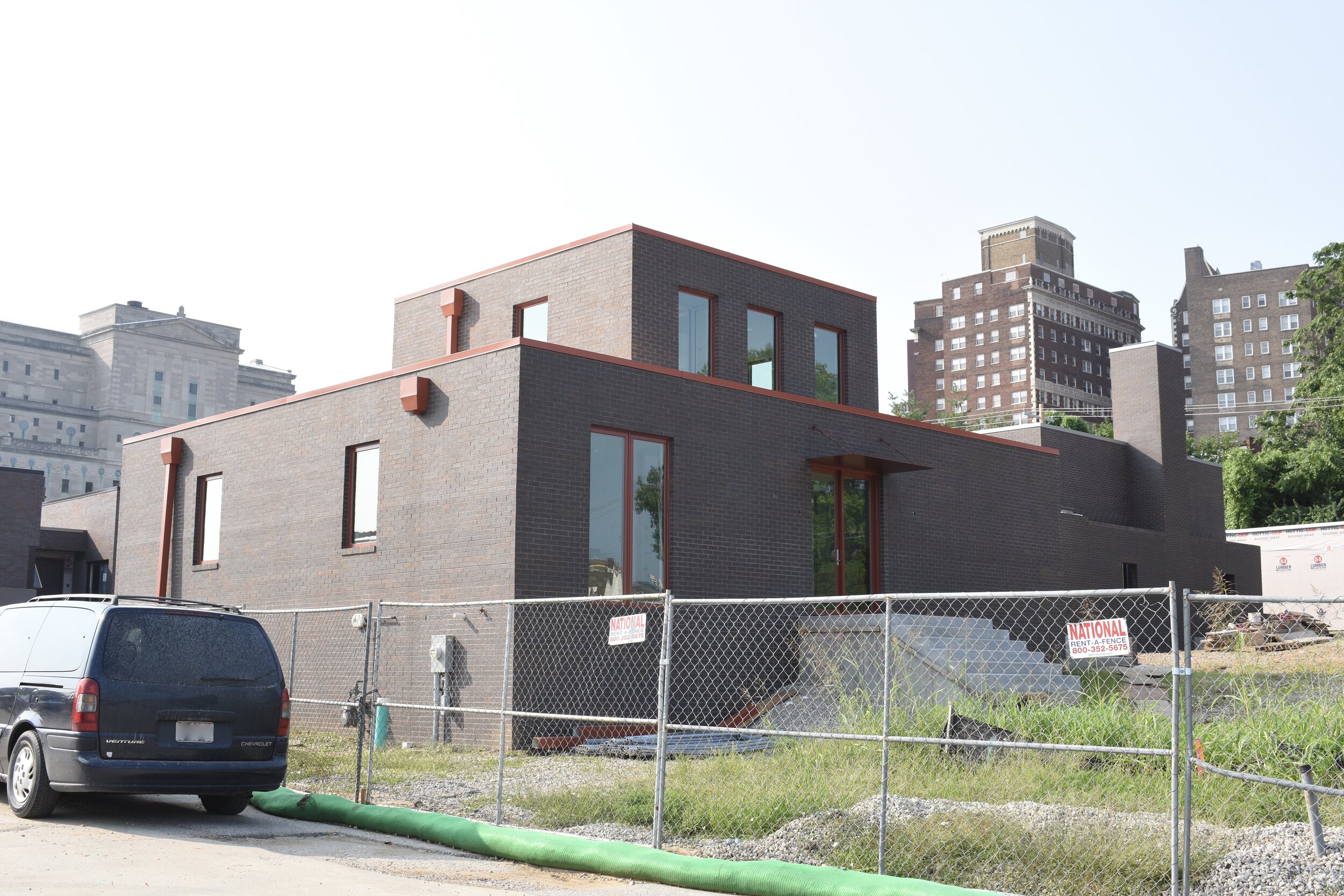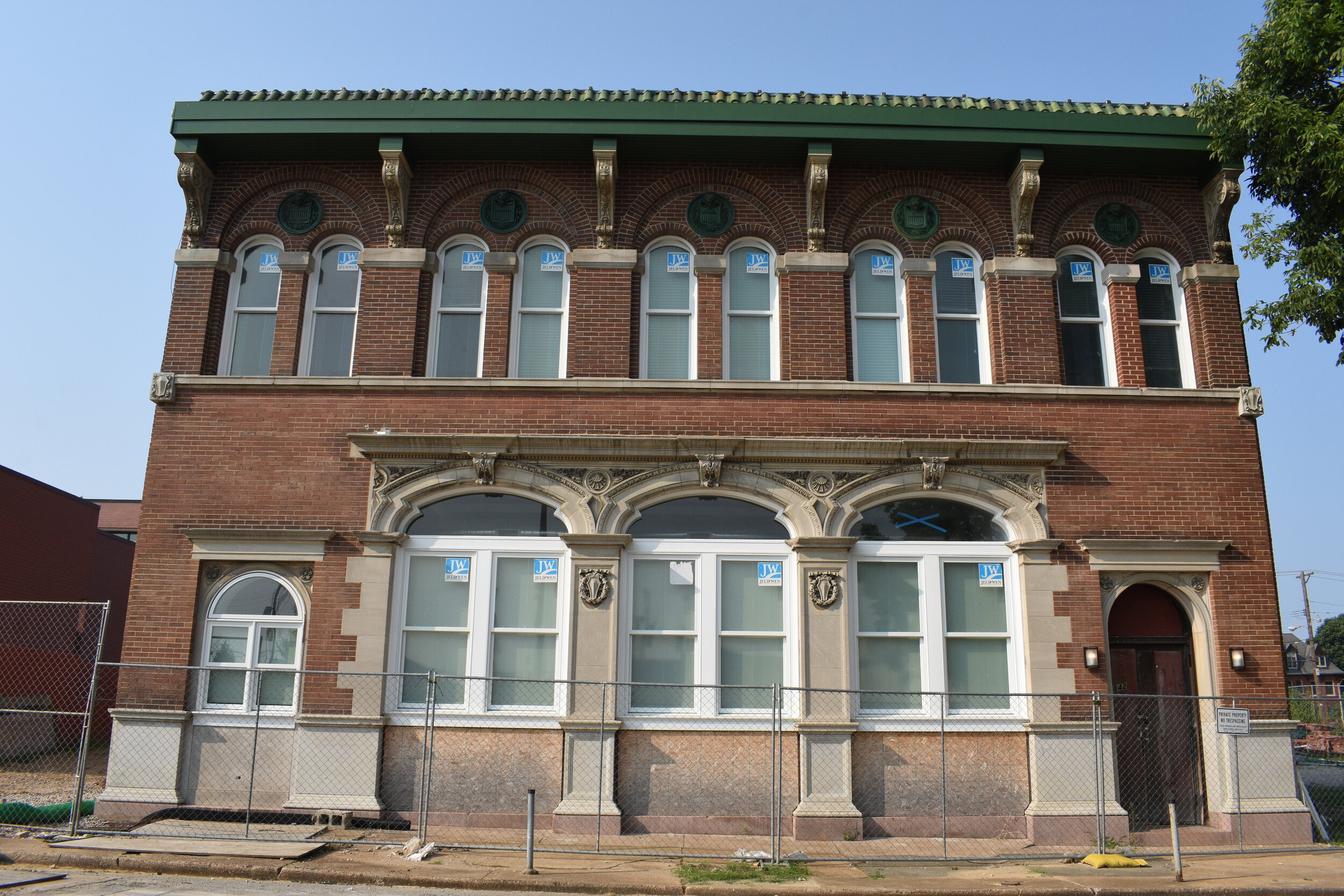 The Angad Hotel was completed and is a fantastic save for Grand.
High-end apartments called Verve replaced the Independent Order of Odd Fellows Lodge where McPherson splits with Lindell.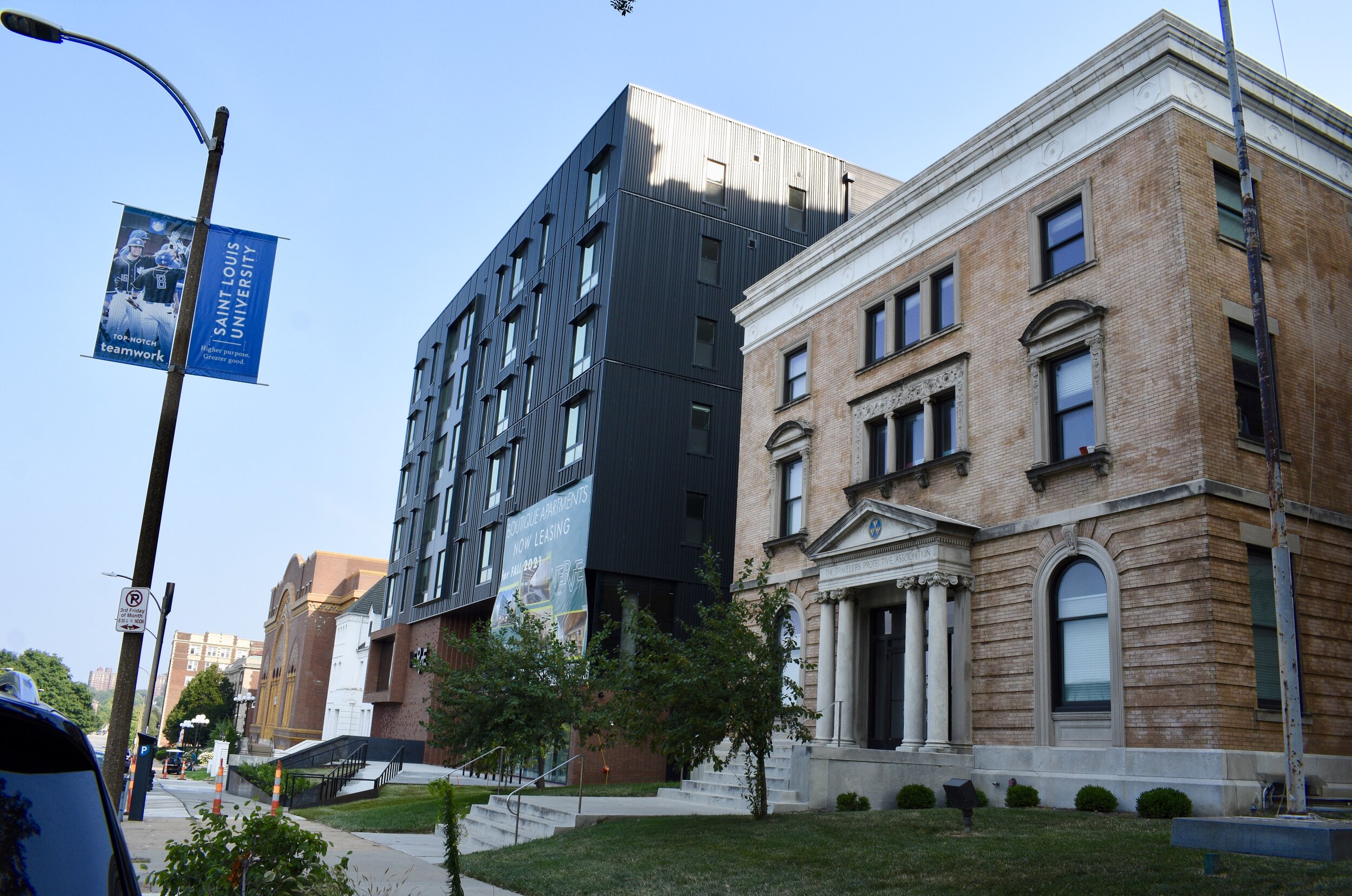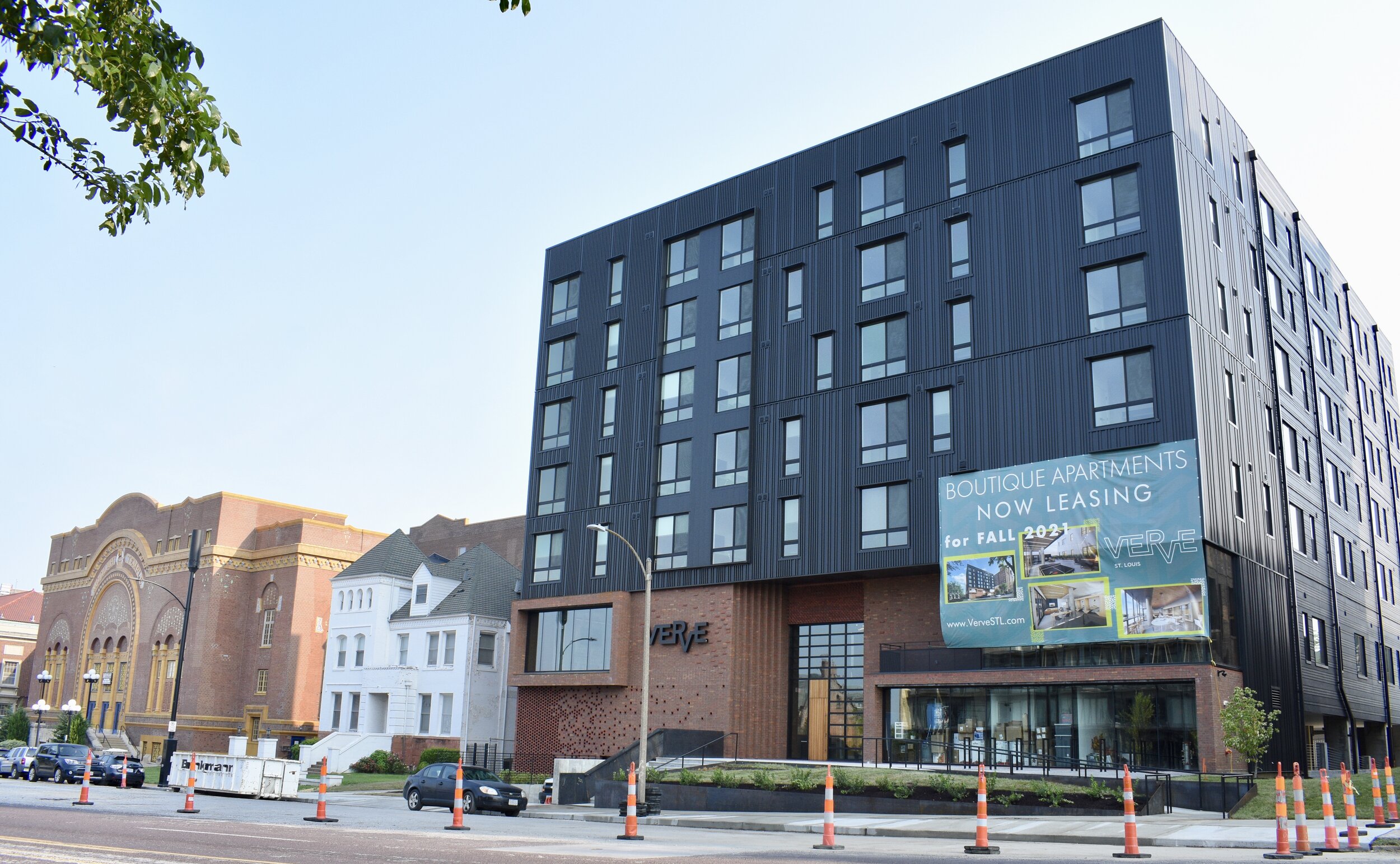 The high rise public housing complexes are now gone. The homes that filled in these spaces appear well cared for and occupancy seems high. I think we need to do better to incorporate new construction and infill with the rest of the neighborhood, but this part of the neighborhood has a lot of people, the thing we need most. Further, this part of the neighborhood has held up well, and have seen some solar panels installed on the roofs.
There are many schools here, and the list is growing.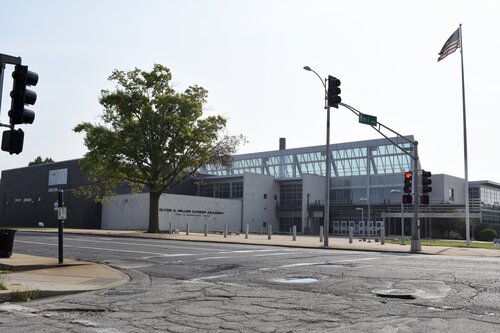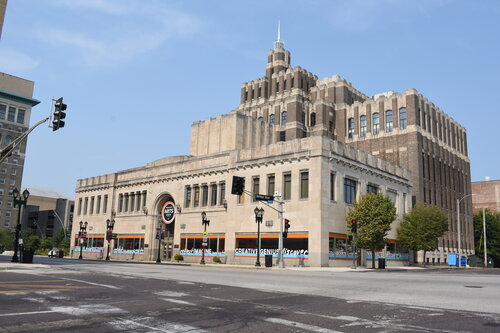 There are examples of rehabs all over.
Vandeventer has seen some quality infill and services added, this one by Deaconess Center for Child Well-Being.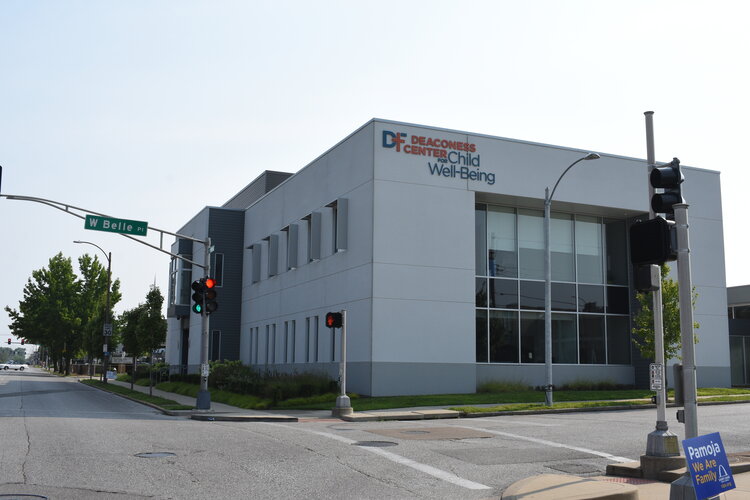 An area of Washington Boulevard across from the Sheldon and Contemporary Art Museum has seen new life in the form of a natural park area and watershed called Park-Like developed by the Pulitzer Arts Foundation.
There is hope for the former church ruins that succumbed to a fire in 2001 is seeing new life as an events space by the Pulitzer Arts Foundation.

What Are The Future Needs?
Olive is way too wide through this neighborhood, especially from Grand to Compton and extending through Midtown and Downtown West. This area is ripe for better connectivity and a road diet would help. In the meantime, a simple paving would help, it is a mess.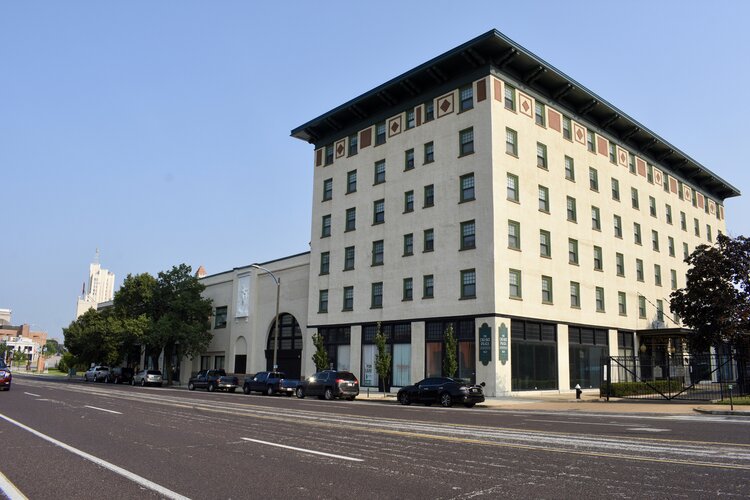 The fenced-off sculpture park on the northeast corner of Grand and Lindell is highly underutilized and needs to be released for development. SLU owns this property.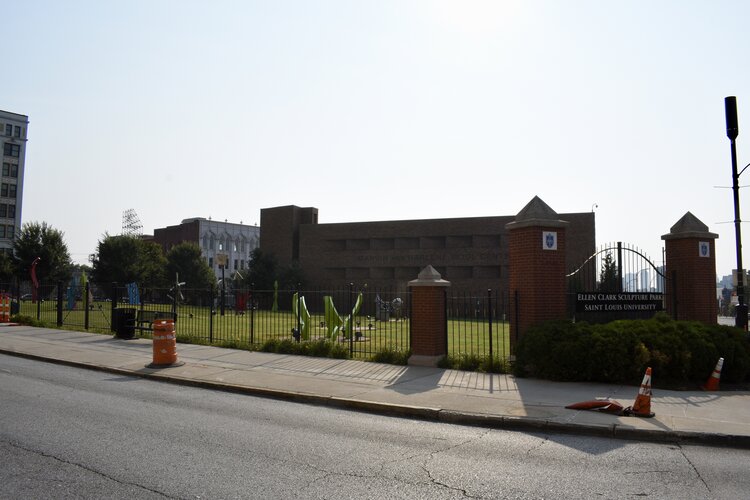 The historic single family and multi-family housing is fading fast toward the northern sections of the neighborhood. Much has been lost to the landfill over the last decade, and we still have many that are vacant and in full decay. Dumping is a real problem in the areas with acres upon acres of empty land.
In a perfect world, there would be programs to retain the people living here with loans and other support for much needed home improvement.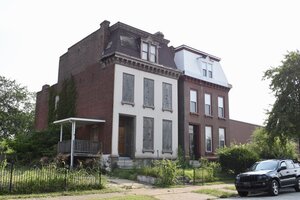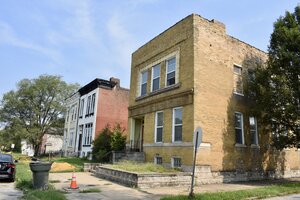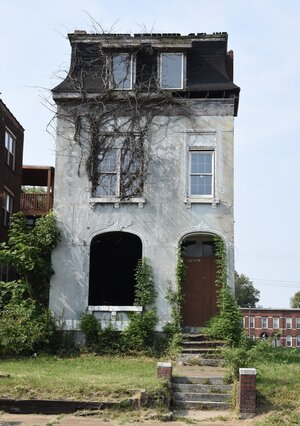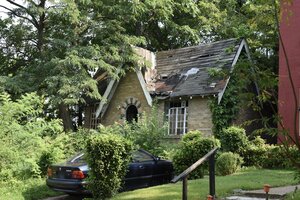 The neighborhood has already seen a lot of suburban strip mall/junk food chain restaurants in the last decades. We have to do better when it comes to rebuilding this part of St. Louis with an urban form.
It would be good to see some infill surrounding some of the lone mansions with vacant lots on at least one side.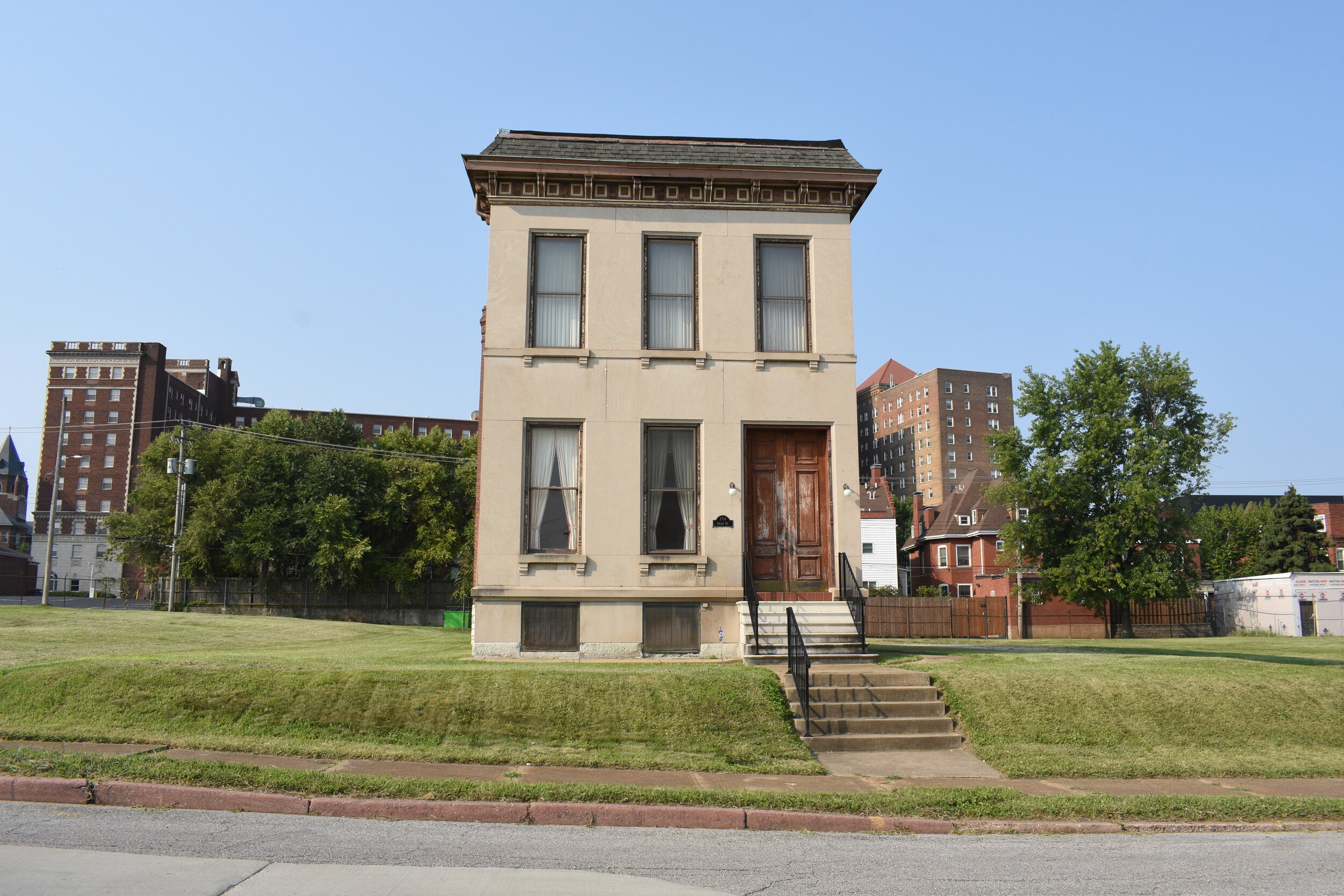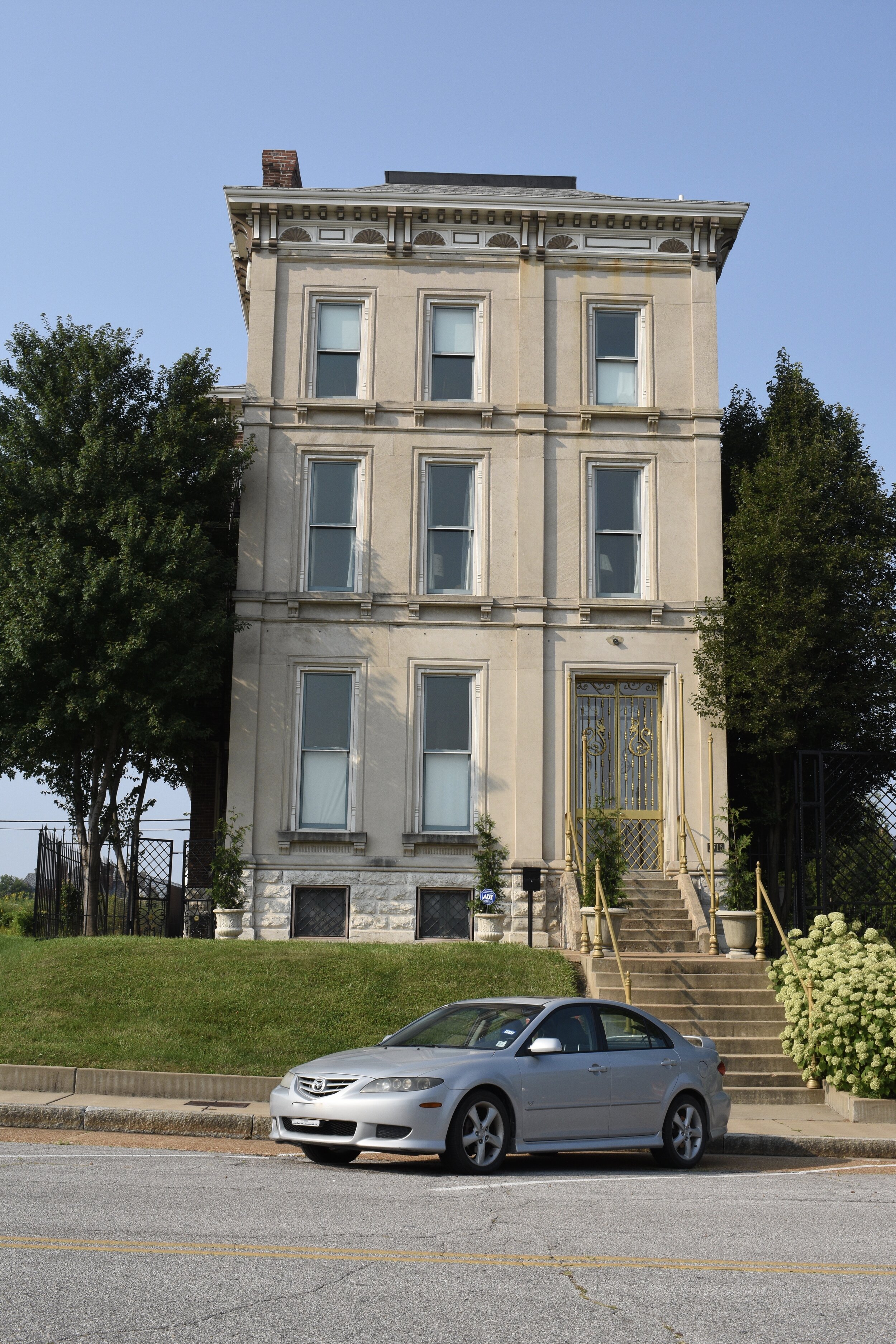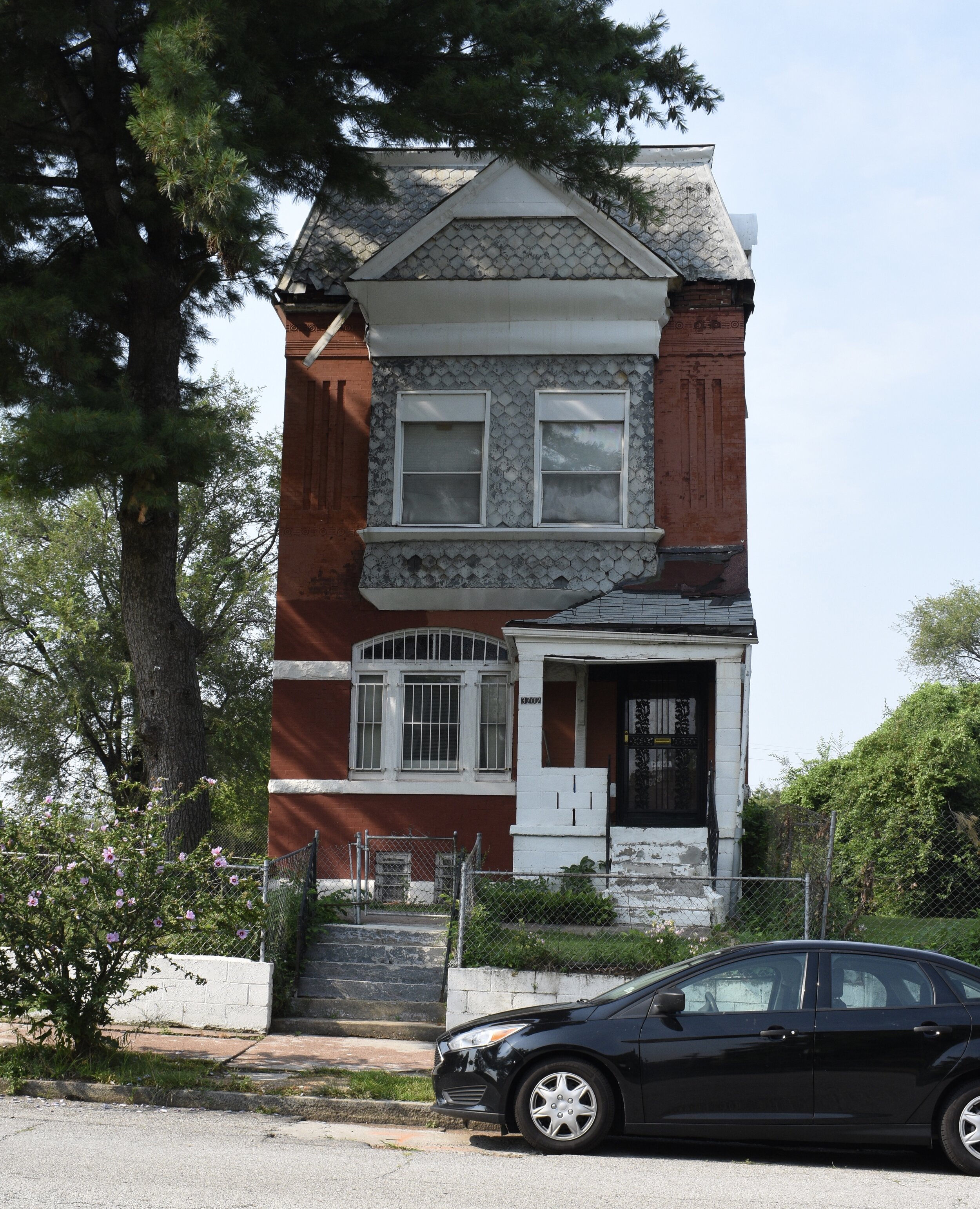 I'm hopeful that the North Central STL Plan will be a locally-focused group that can get investment in the area and help existing residents. There are signs posted throughout the neighborhood advertising the group and linking to their plan. Per their website:
"A new vision and strategic plan is being developed for the Covenant Blu Grand Center and Vandeventer neighborhoods in north St. Louis City! The North Central Plan is a community-led planning process. Help create the vision you want to see for North Central. This project is an update of the previous 2000 North Central Plan. The North Central Plan is guided by a partnership between Deaconess Foundation and the United Church of Christ Church Building and Loan Fund and includes financial support by Deaconess Foundation."
Page is a mess and needs so much more than plowing it down and building suburban strip malls and junk food chains. Density and locally owned business is needed to pump money into the neighborhood.
I'd like to see rehabs of some critical properties in the Midtown Alley area and more businesses and activity in some under-utilized stretches.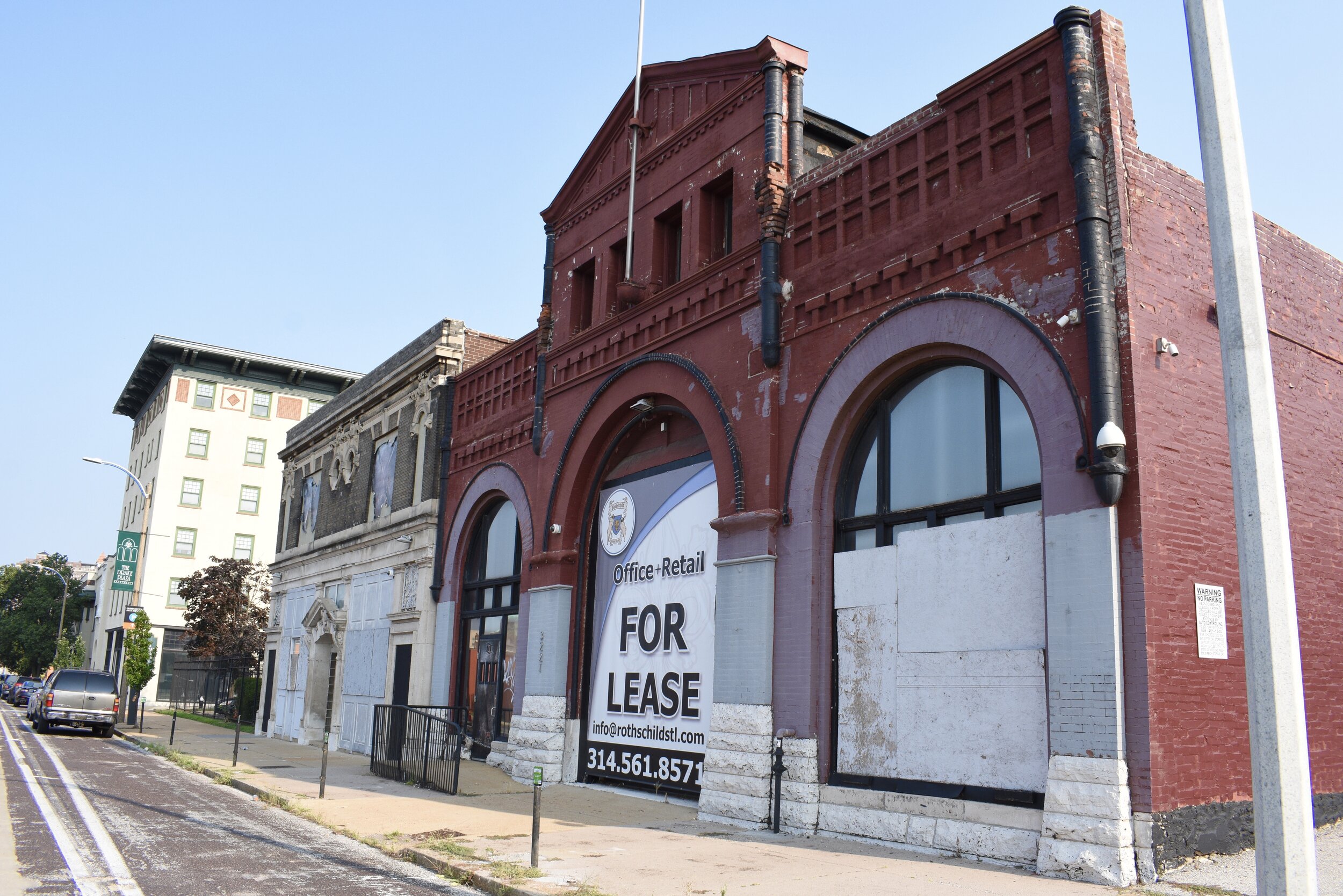 Other than help for the existing residents in the way of loans to improve and maintain their homes, there are many, many under-utilized areas in the way of parking lots, acres of vacant land and a ghost-town feel.
Connectivity is important in this area. We need more residents and workers to activate this part of town. Visitors and tourists are great, but the place needs more people 24/7.
This neighborhood seems headed in the right direction.
Additional St. Louis City Talk Reading
Grand Center Arts Academy – April, 2013
Angad Building – Preservation Favorite of 2017 – December, 2017
Hotel Angad Now Complete – A 2017 Development Favorite – November, 2018
Seven Story Apartment Building – December, 2019
Olive West Homes – December, 2019
And here are some more examples of the beauty in CBGC.