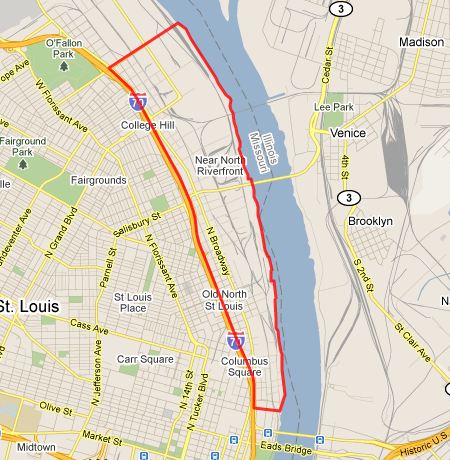 Near North Riverfront is a long and slender north St. Louis neighborhood that runs right along the Mississippi River. It's bound by Carr to the south, I-70 to the west, Adelaide to the north and the river to east.
It's not really a residential neighborhood, but 648 were counted there in 2000. It's not really a residential neighborhood, but 648 were counted there in 2000. That's a 90% increase over 1990. 55% of the residents are black, 44% white.  There are only 157 housing units, 48% are occupied.  36% are owned, 64% rented. The 2010 Census data counted 553 people, of whom 304 are Black, 239 white, 4 Asian, 3 Native American and 1 Hispanic/Latino. That is a ~15% decrease in residents. There was also a ~46% decrease in housing units. Of the 73 units, only 47 are occupied. This neighborhood is moving toward an entirely industrial part of the city.
From the City of St. Louis website:
The North Broadway Business Association is active in advancing Near North Riverfront interests. The City of St. Louis is a significant player in shaping current and future economic developments of the area. The area is home to more than 200 business. Proctor & Gamble, Dial Inc., Duke Manufacturing Company, Roadway Express, and Leaf Inc. are only a few of the businesses active in the area. This large and smaller operations provide numerous employment possibilities to nearby residents.
The vast majority of the area is devoted to railways, warehousing, wholesale and industrial operations. There's a lot of wide open operations creating vistas like this: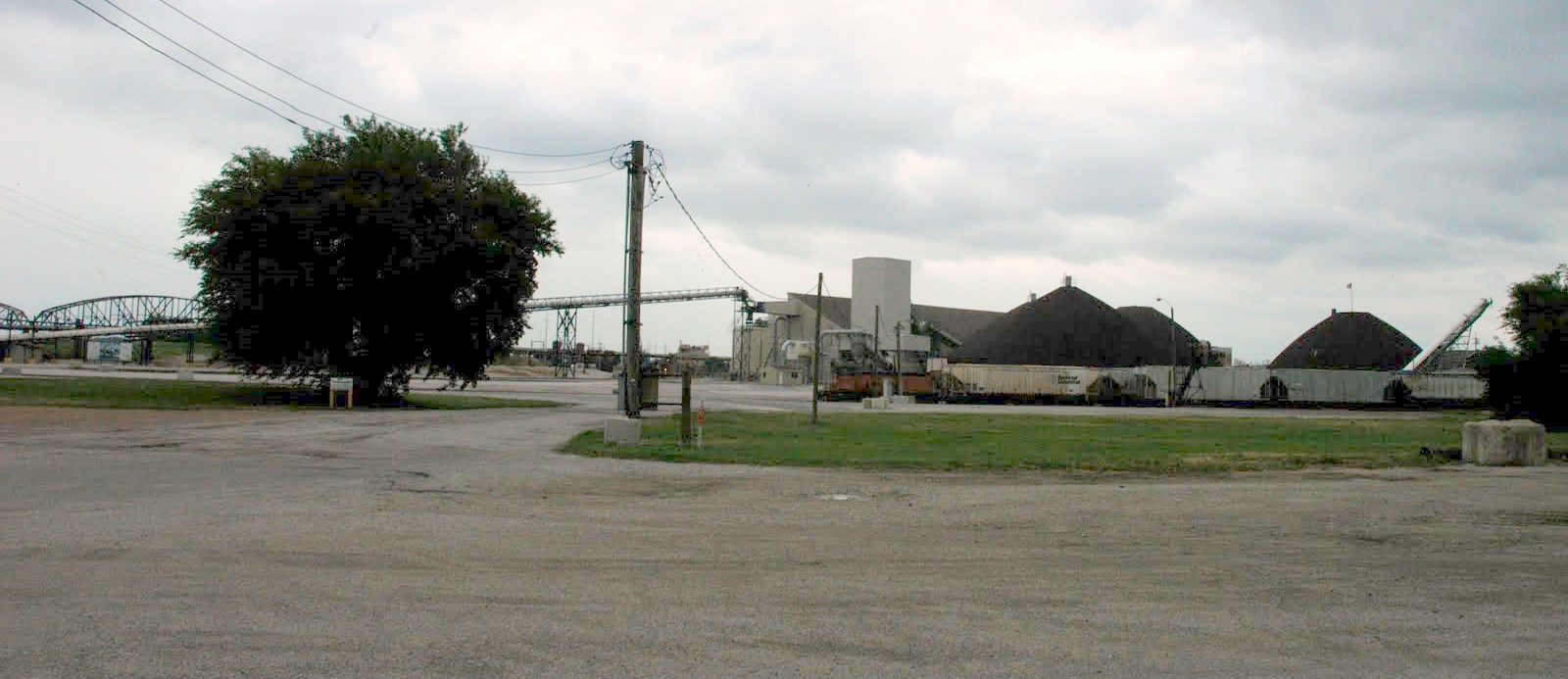 There is a lot of open space for future industrial expansions. There is quite a lot of activity here with truckers everywhere and smoke rising out of factories. Workers are scurrying about….always a good thing. Several of the restaurants and bars seems well patronized. I get the sense that this neighborhood employs many, many people. I actually pine for the days where America made stuff. I mean not everyone wants or can go to college or trade school. We need factory and manufacturing jobs. I like the days when my Levi's, Dickie's and Chuck Taylor's were US made.
Procter and Gamble has one of the largest manufacturing facilities in Near North Riverfront and the GREAT news is they are planning to expand. From the St. Louis Business Journal:
Procter & Gamble has spent $80 million upgrading its North St. Louis manufacturing plant over the past two years and is eyeing future expansion that could bring an additional $150 million investment over five years.
P&G has had preliminary talks with St. Louis officials for incentives to help offset equipment and facility upgrades at its 33-acre plant at 169 and 110 E. Grand, located just east of Interstate 70 and two blocks away from the Mississippi riverfront.
The global consumer products company has been upgrading several of its manufacturing lines at the Grand Avenue campus since the start of the year. It plans to break ground by November on a new 25,000 square foot administration building on the campus, which it has owned for nearly a century, said Plant Manager Frank Blumling; "The one we're in now is 120 years old."
Here is what P&G looks like today: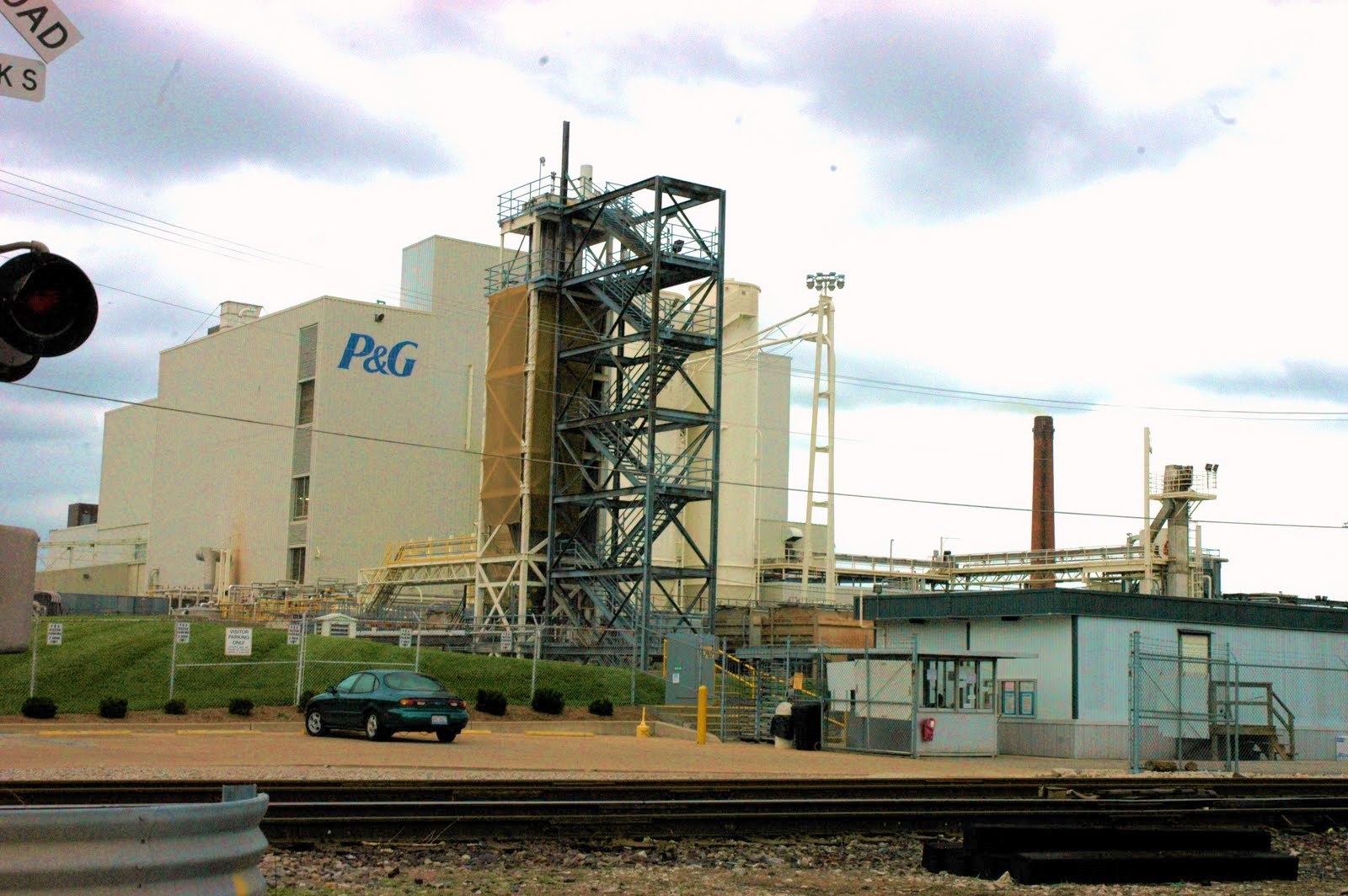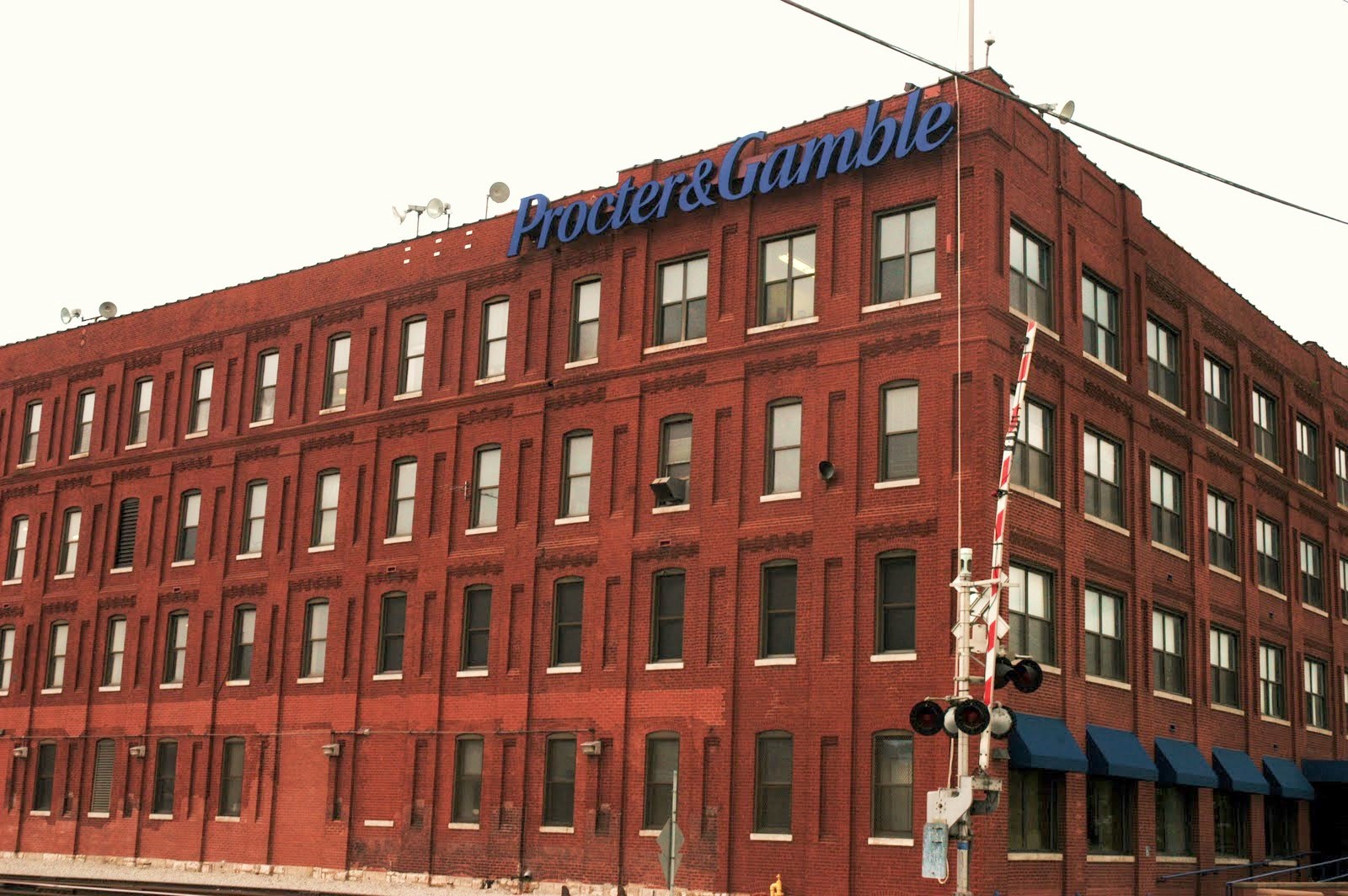 This is a working part of the city with a large refuse division and MSD water treatment facility.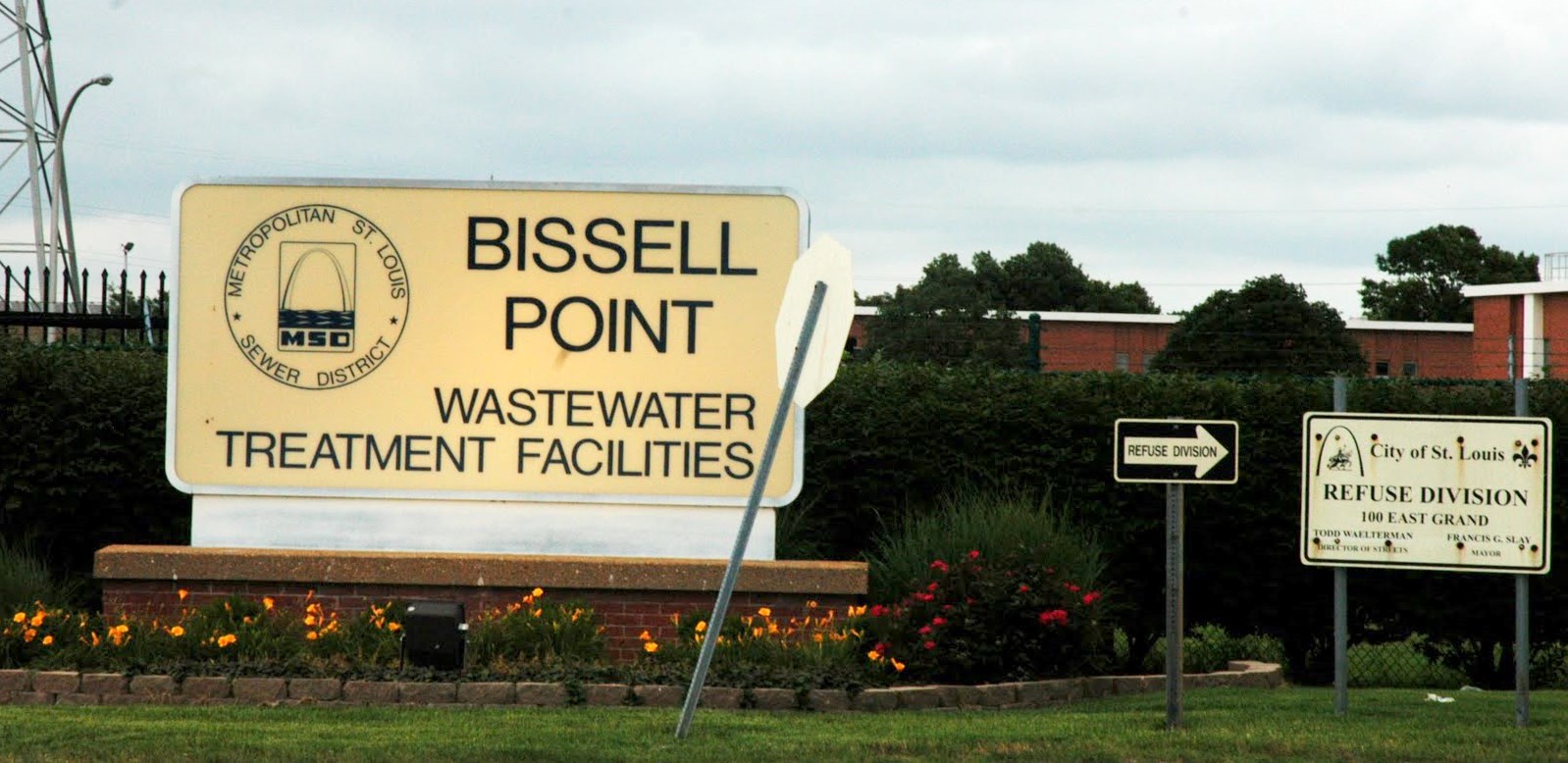 The city is in the process of planning the next wave of development in Near North and North Riverfront neighborhoods. The St. Louis North Riverfront Land-use Study RFQ can be read hear. It's huge in scope: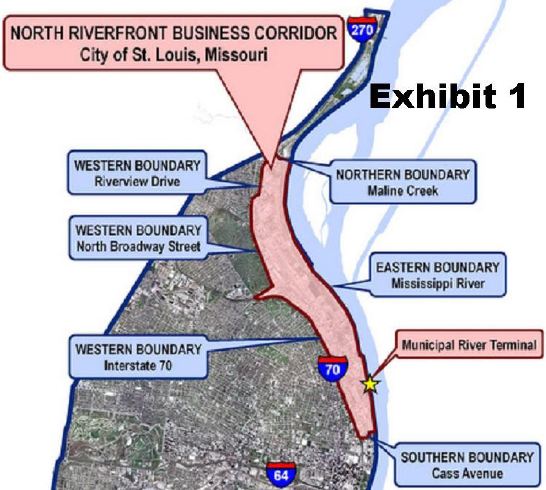 Near North Riverfront is also home to St. Louis' produce row, which is a pretty cool sight with it's old school loading bays for European, Chinese, Hispanic and all other kinds of fruits/veggies: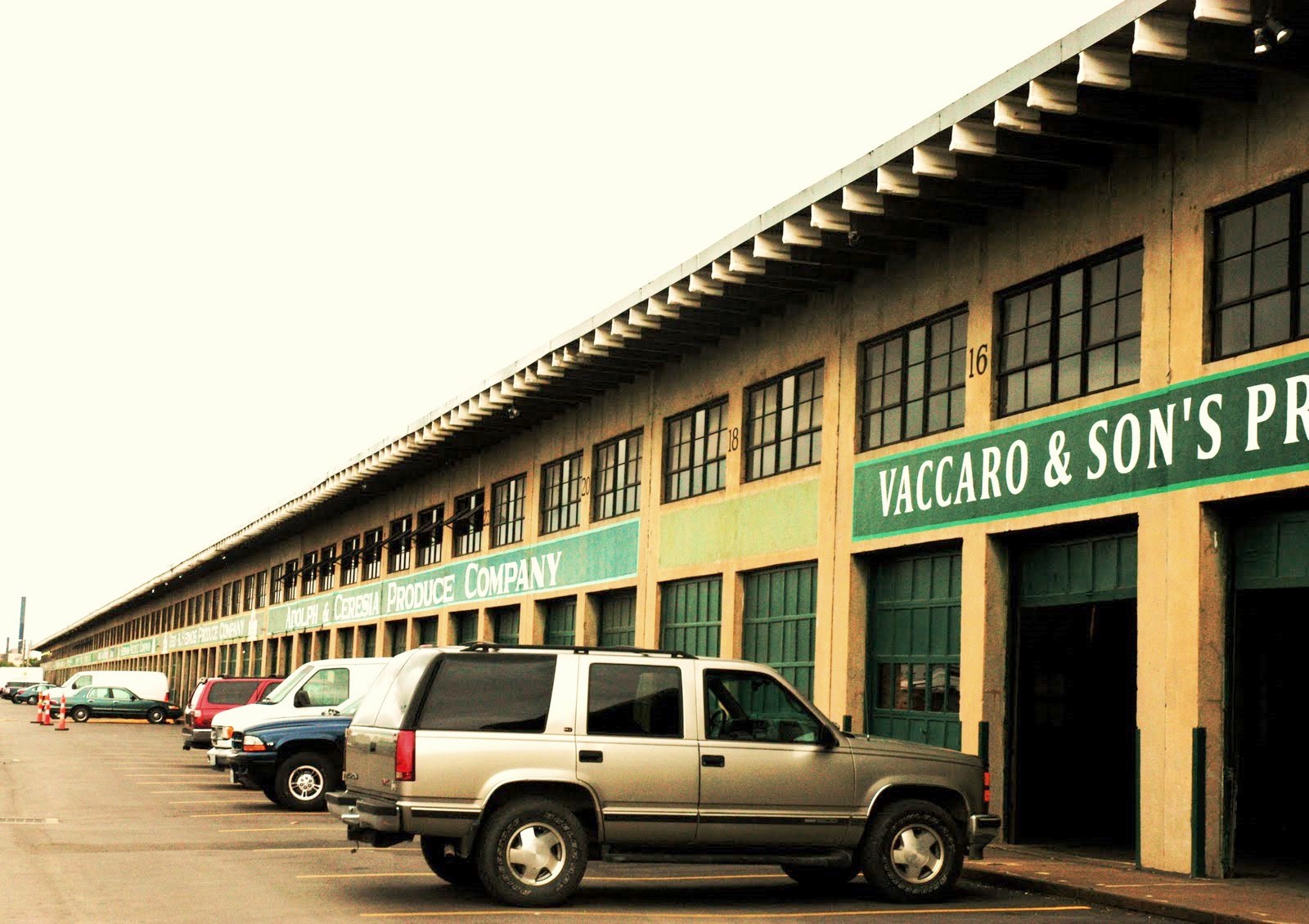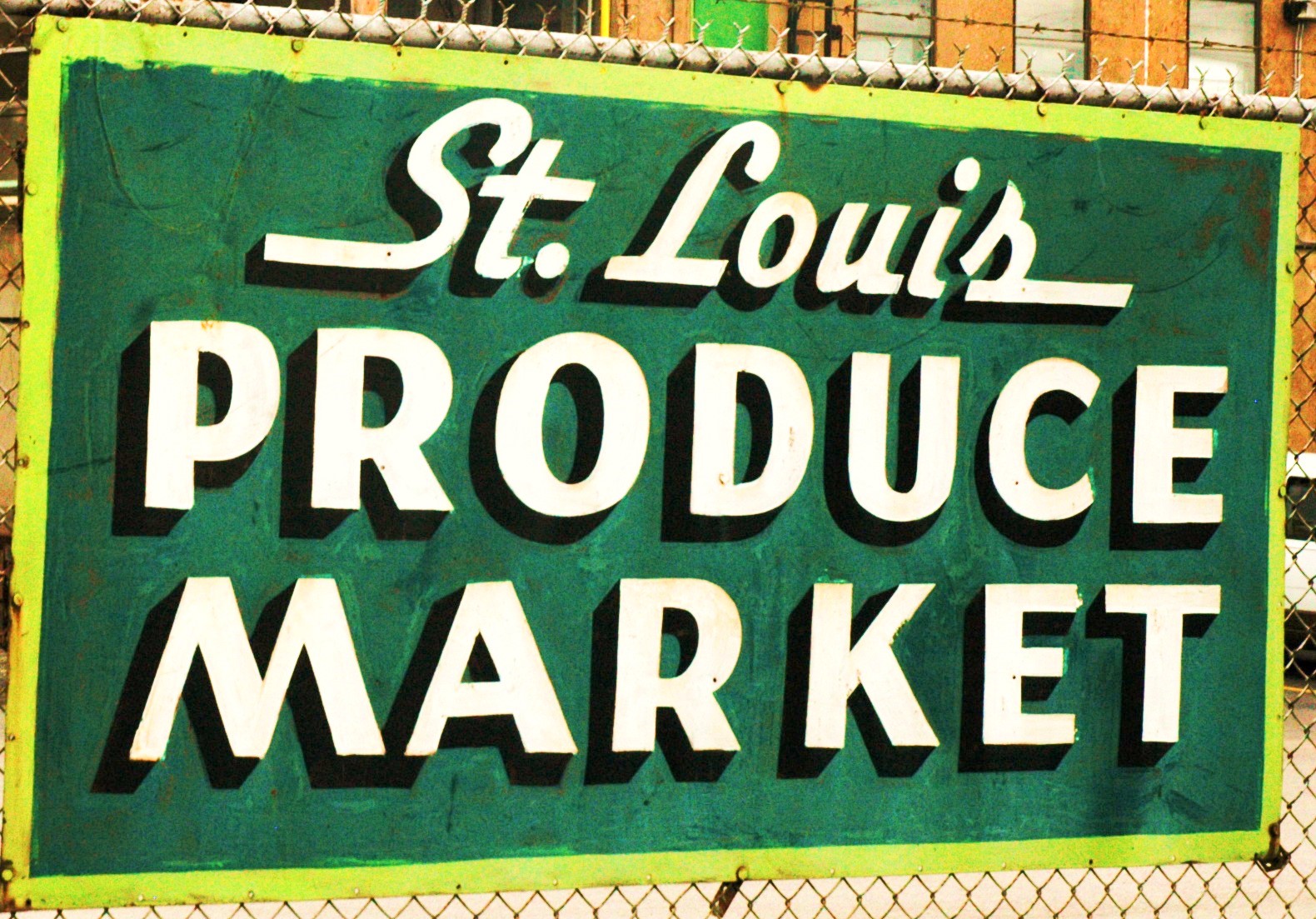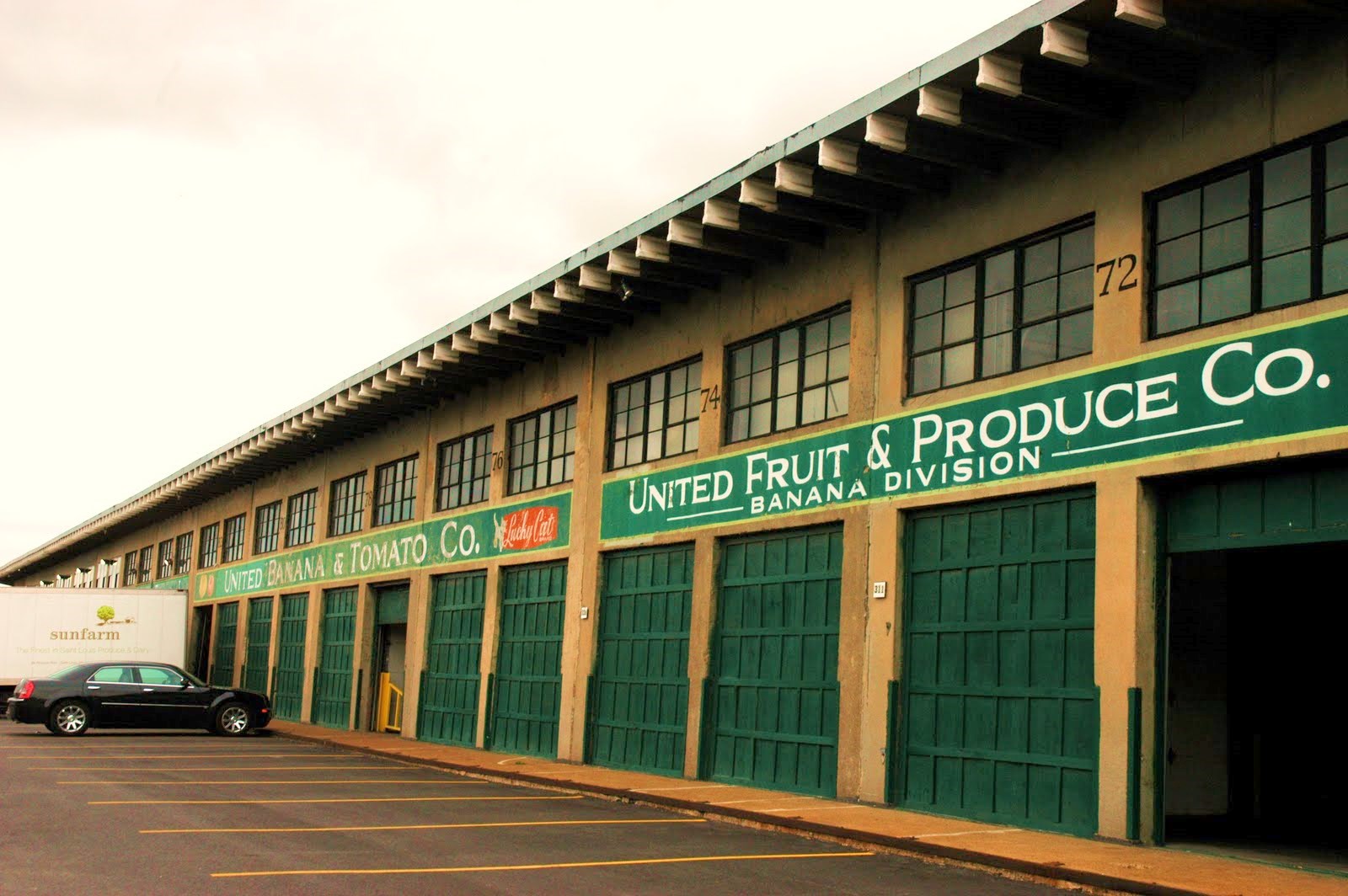 There is some residential property west of Broadway. And there are quite a few abandoned homes as well. Check out the peeled back roof on this one: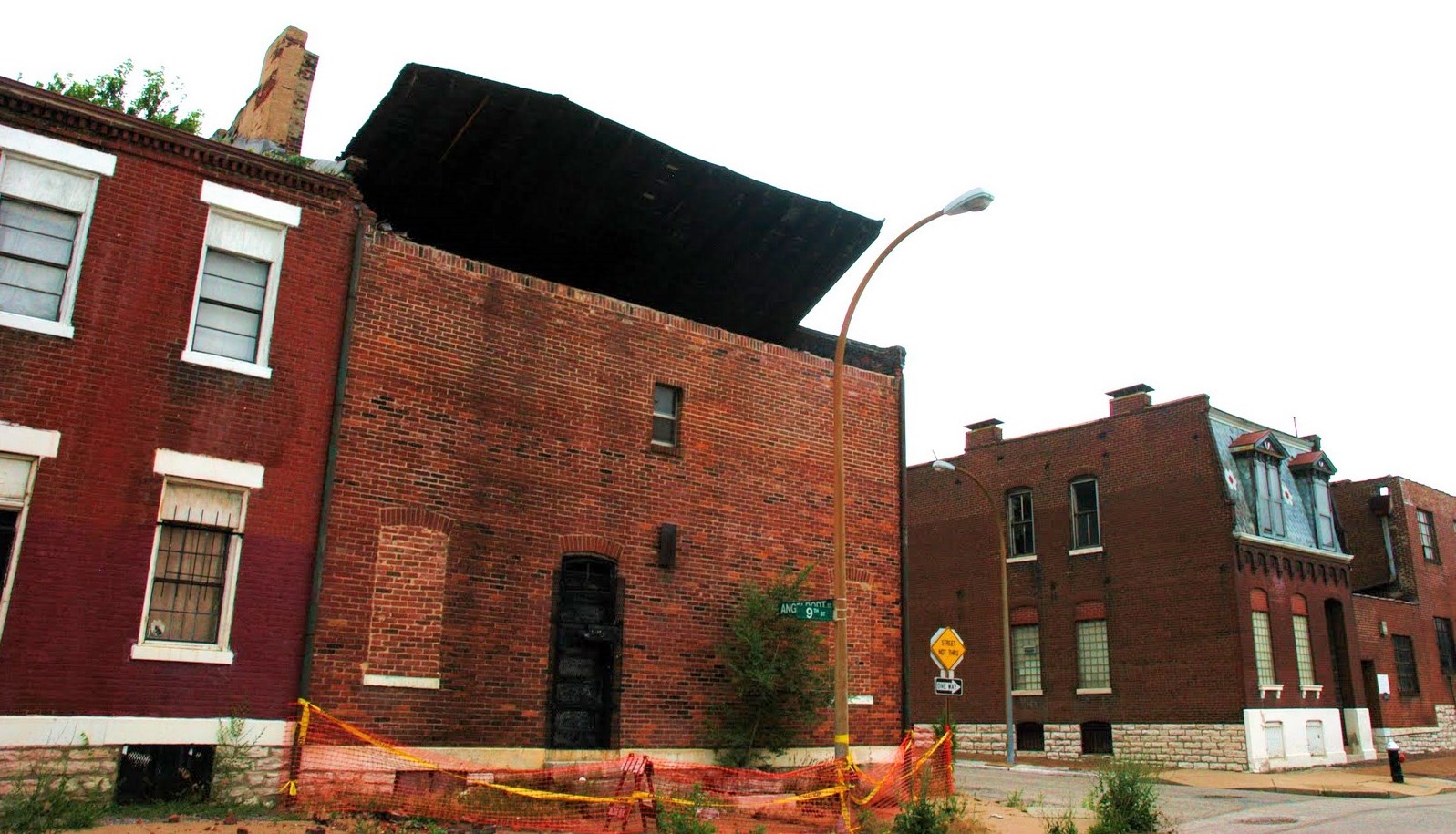 This could be a nice little housing area. And what a great place to live if you work at P&G or any of the other factories in Near North Riverfront: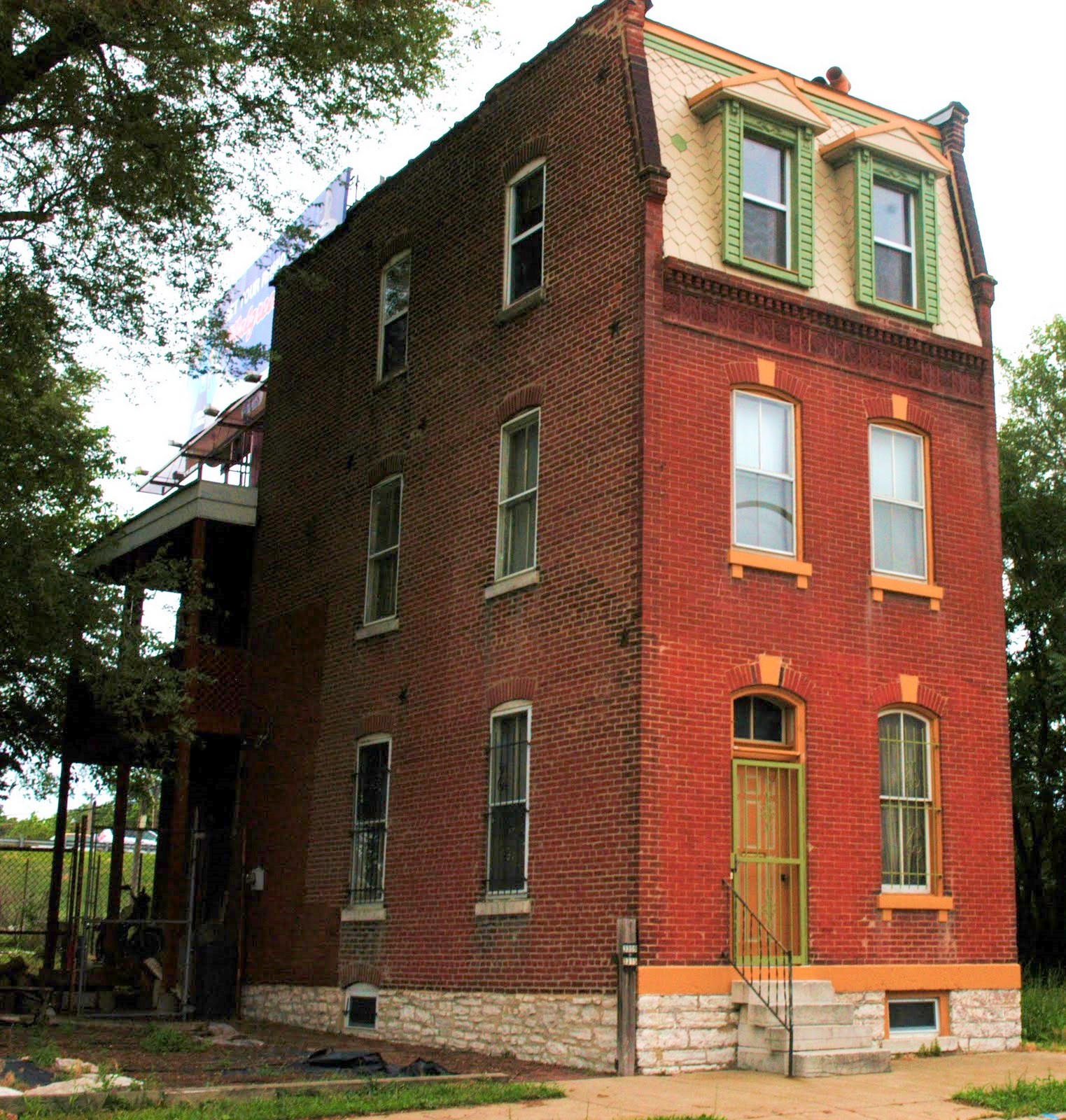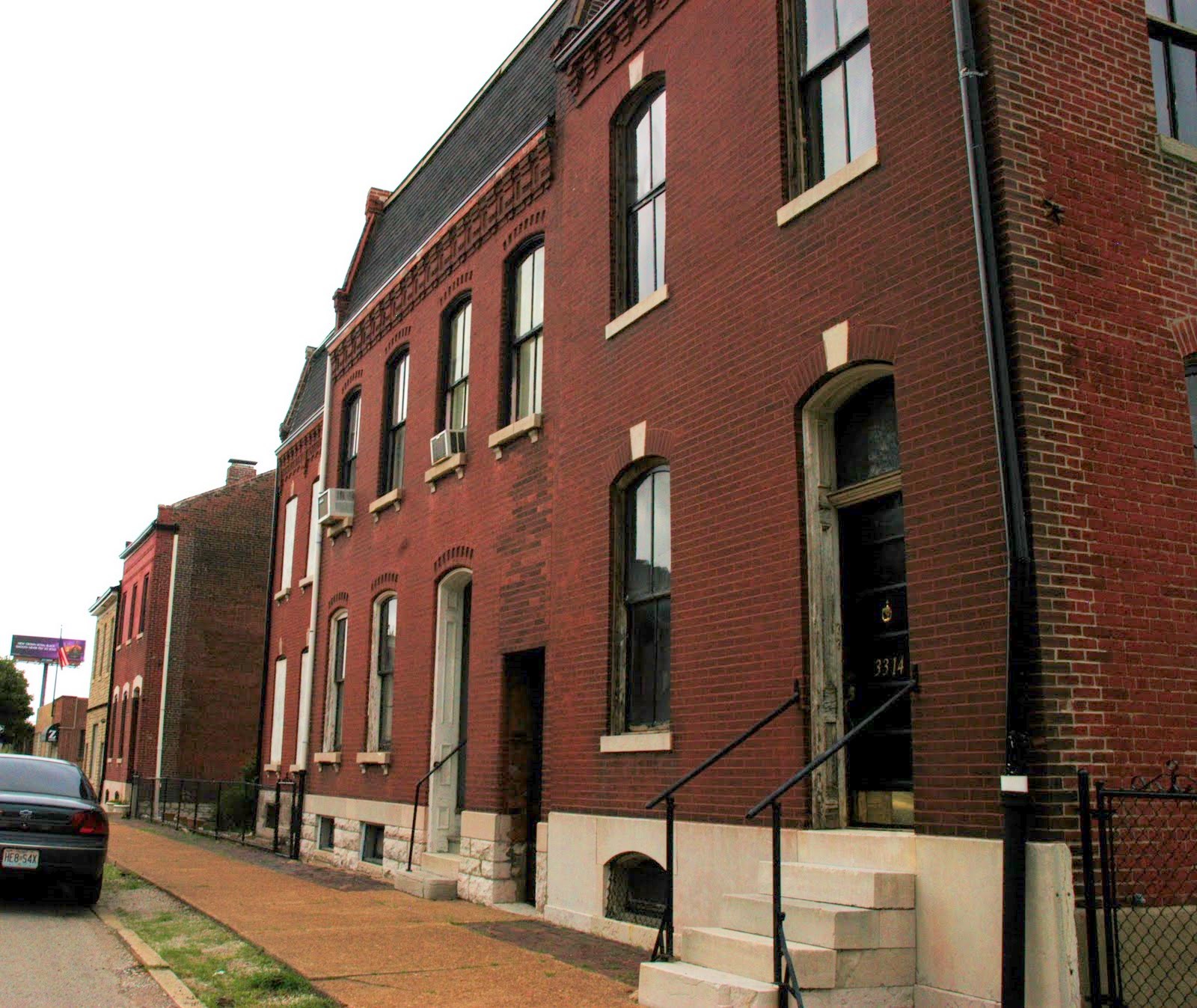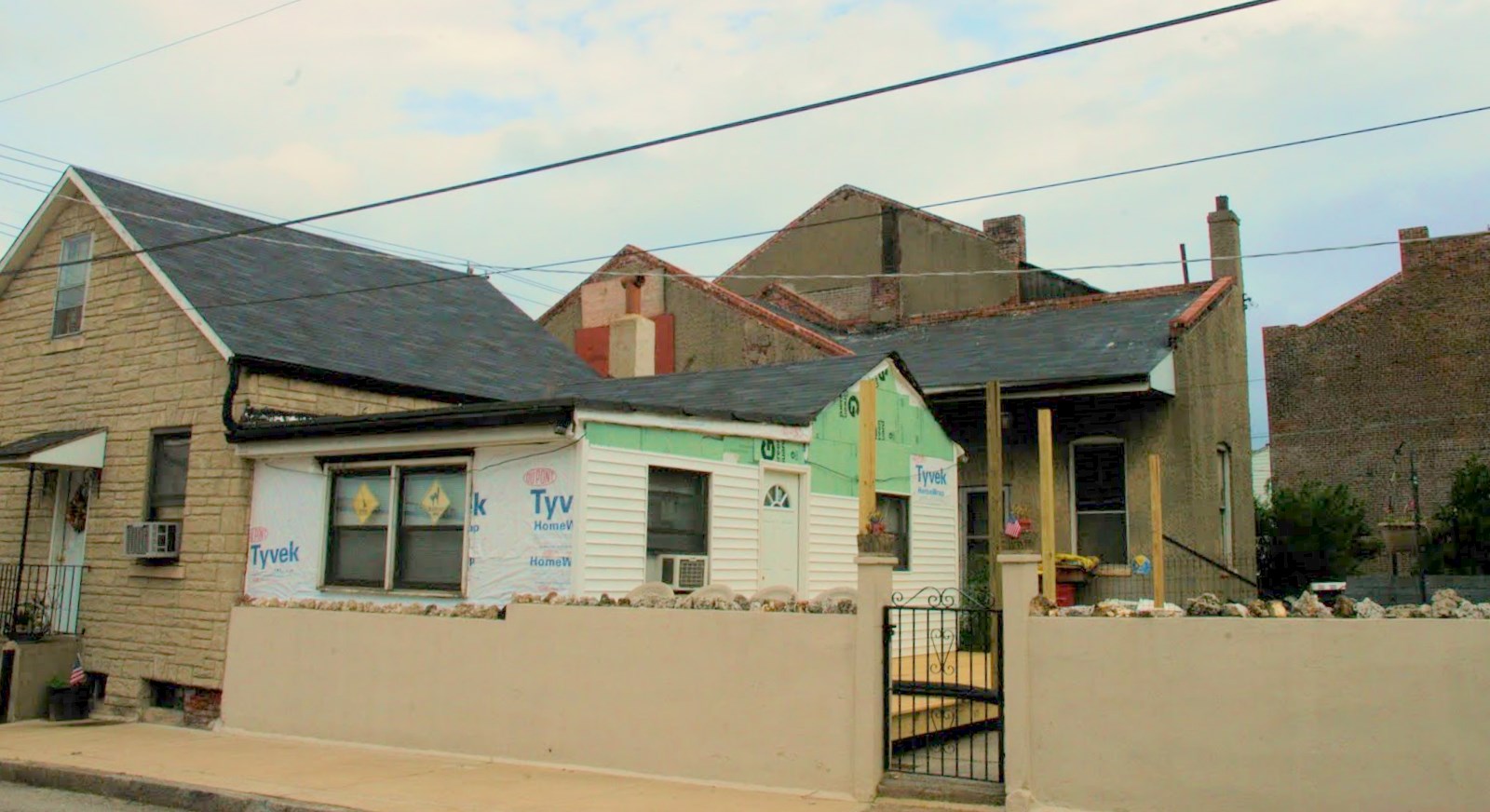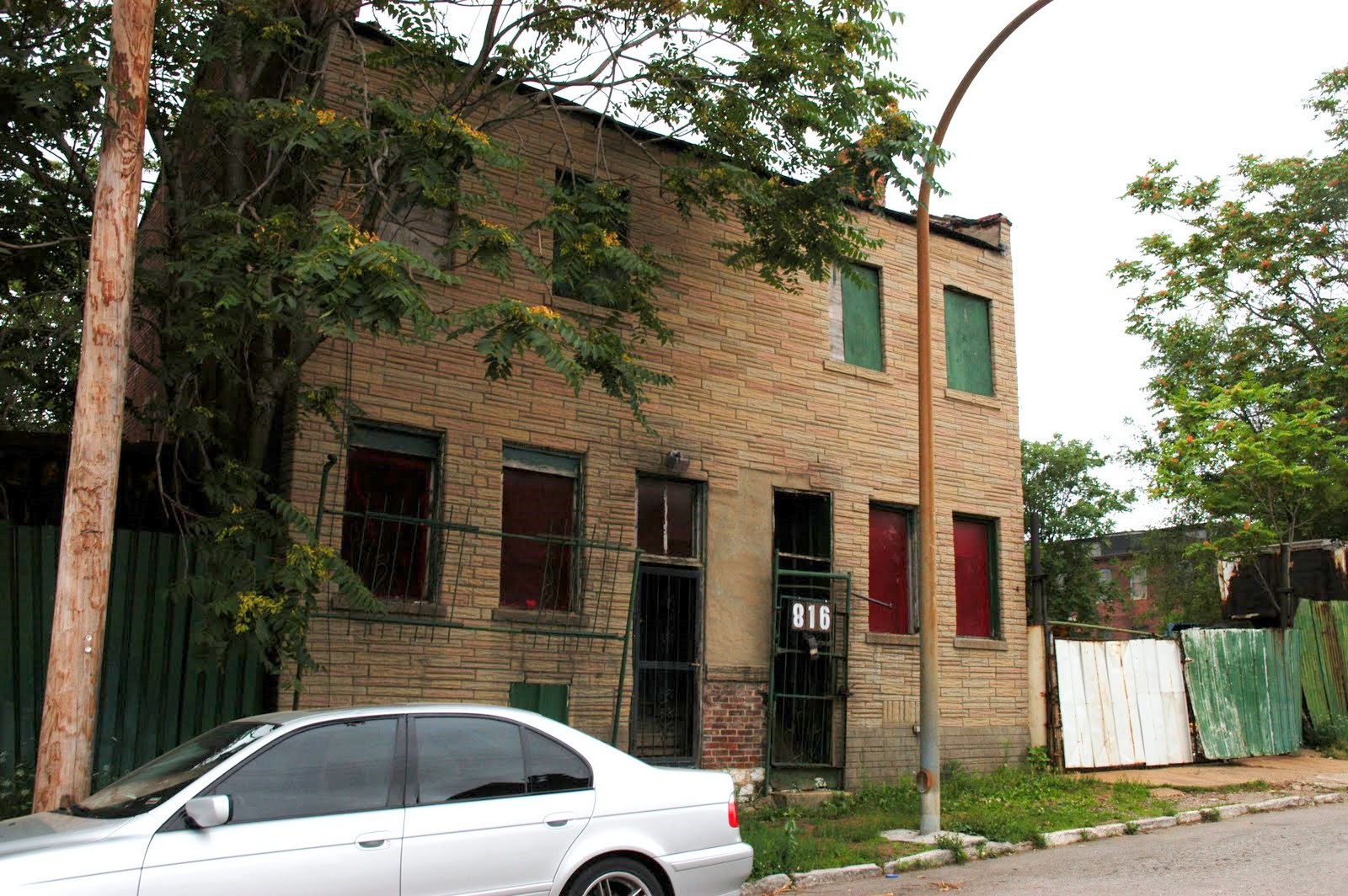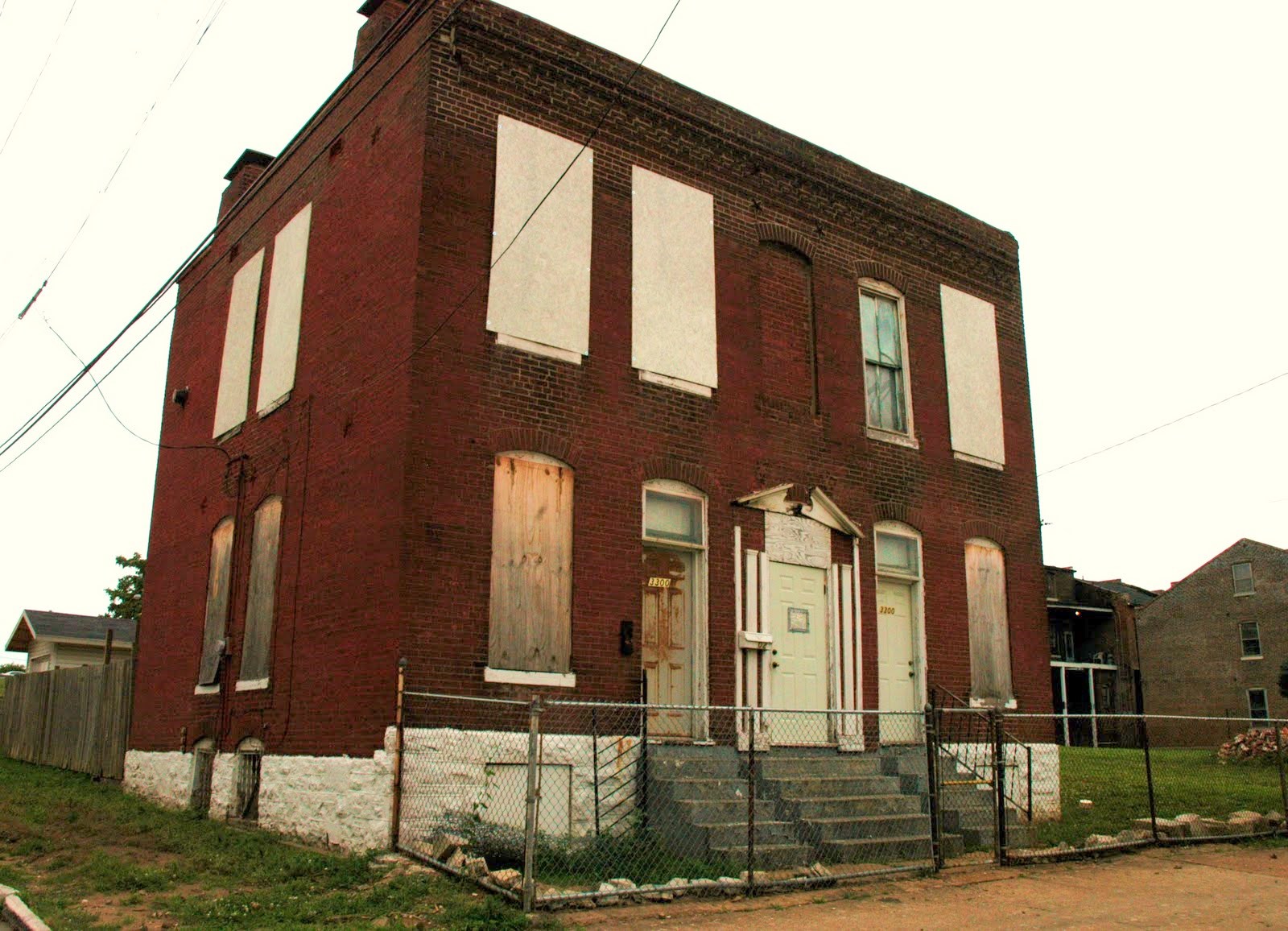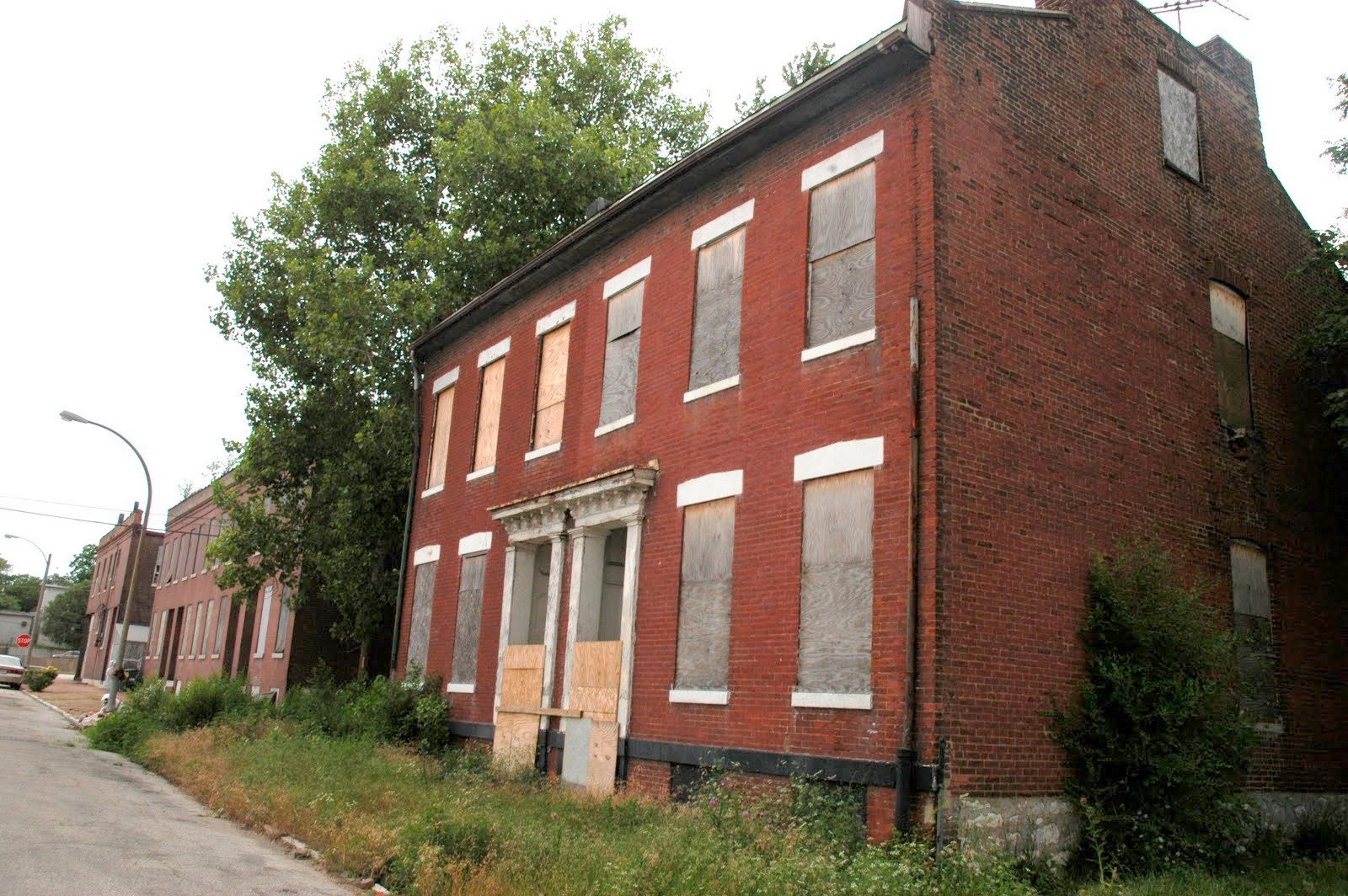 Broadway is just an awesome street north of the Ram's football stadium. Here are some of the sites along B'way: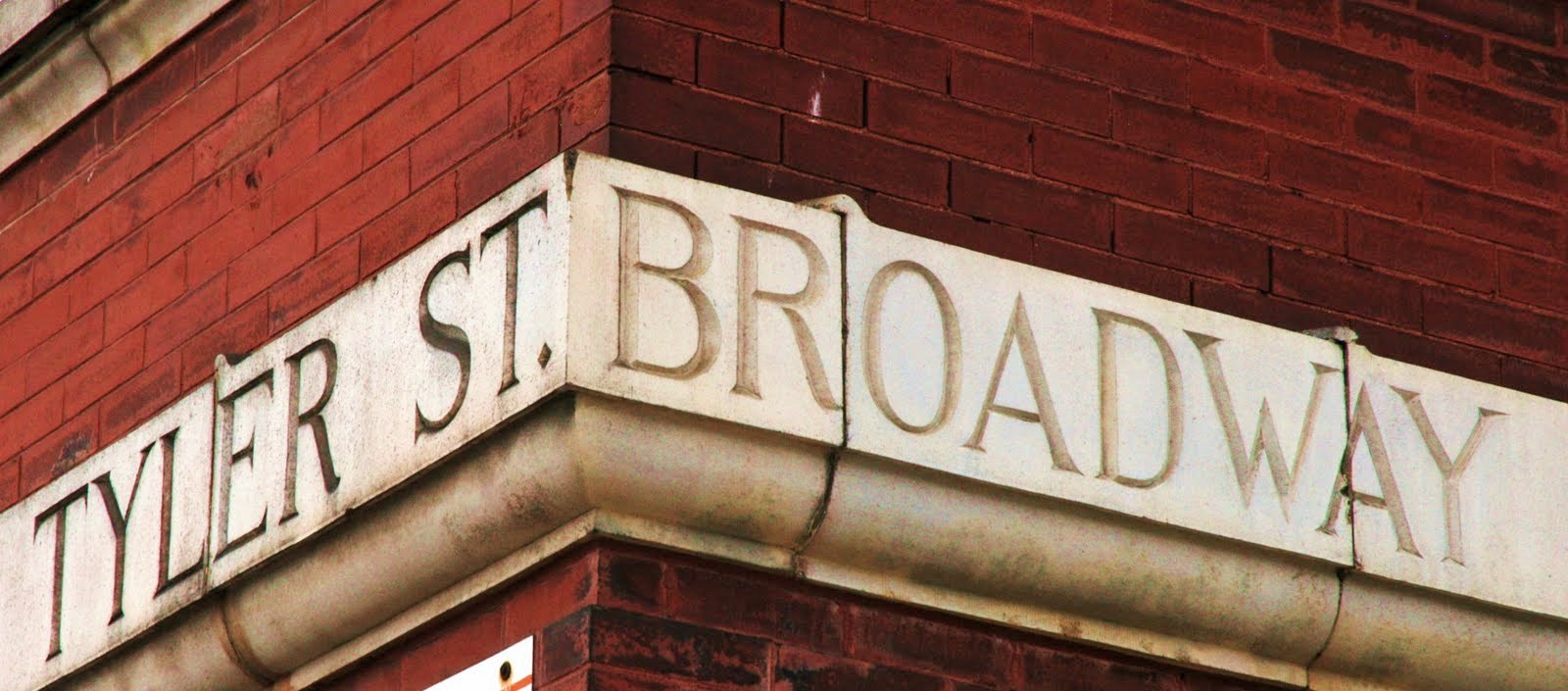 Lunch? Ice cold Busch? Tattoo? Why not try Shady Jack's: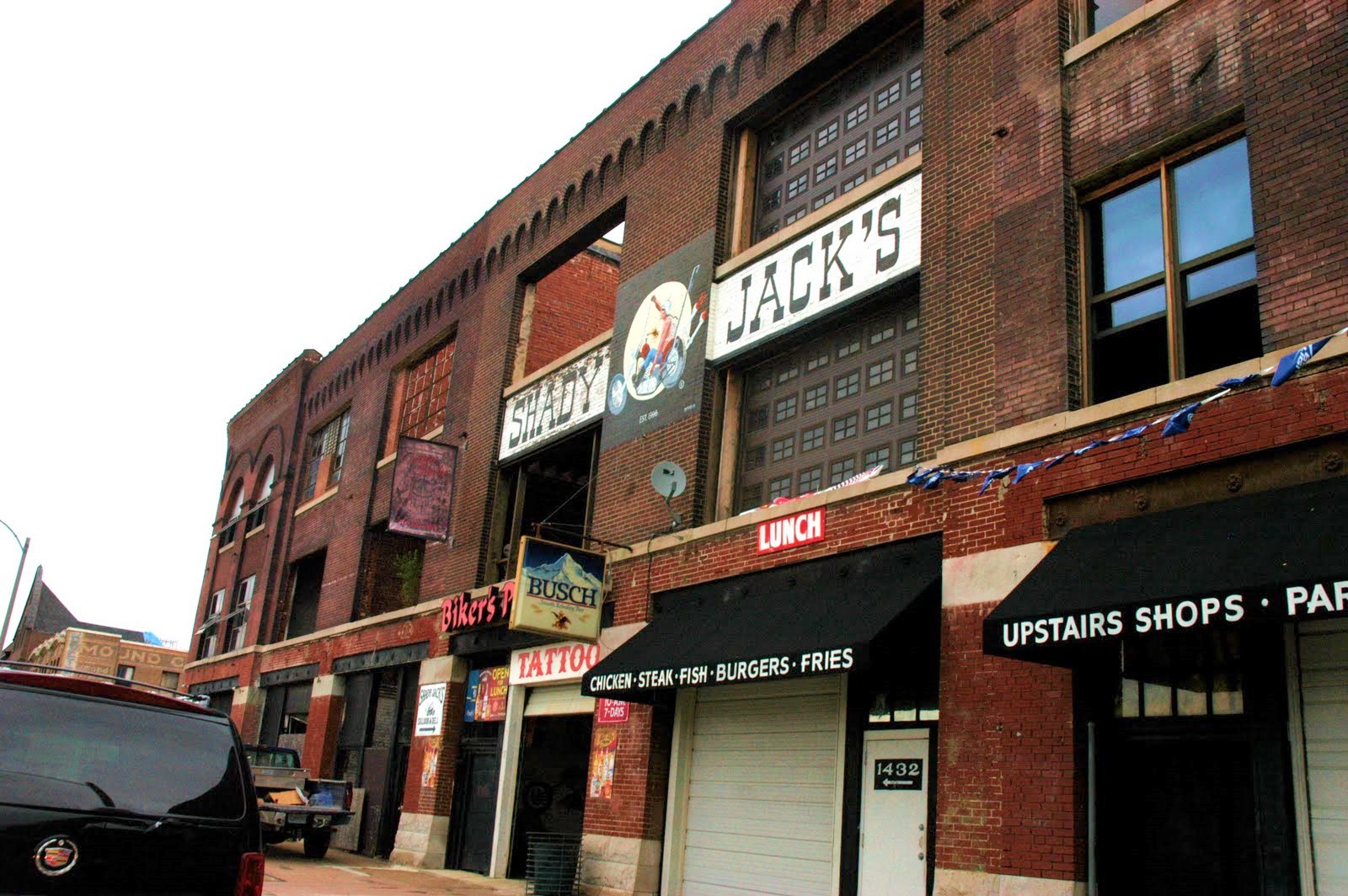 The buildings range from mid-century modern: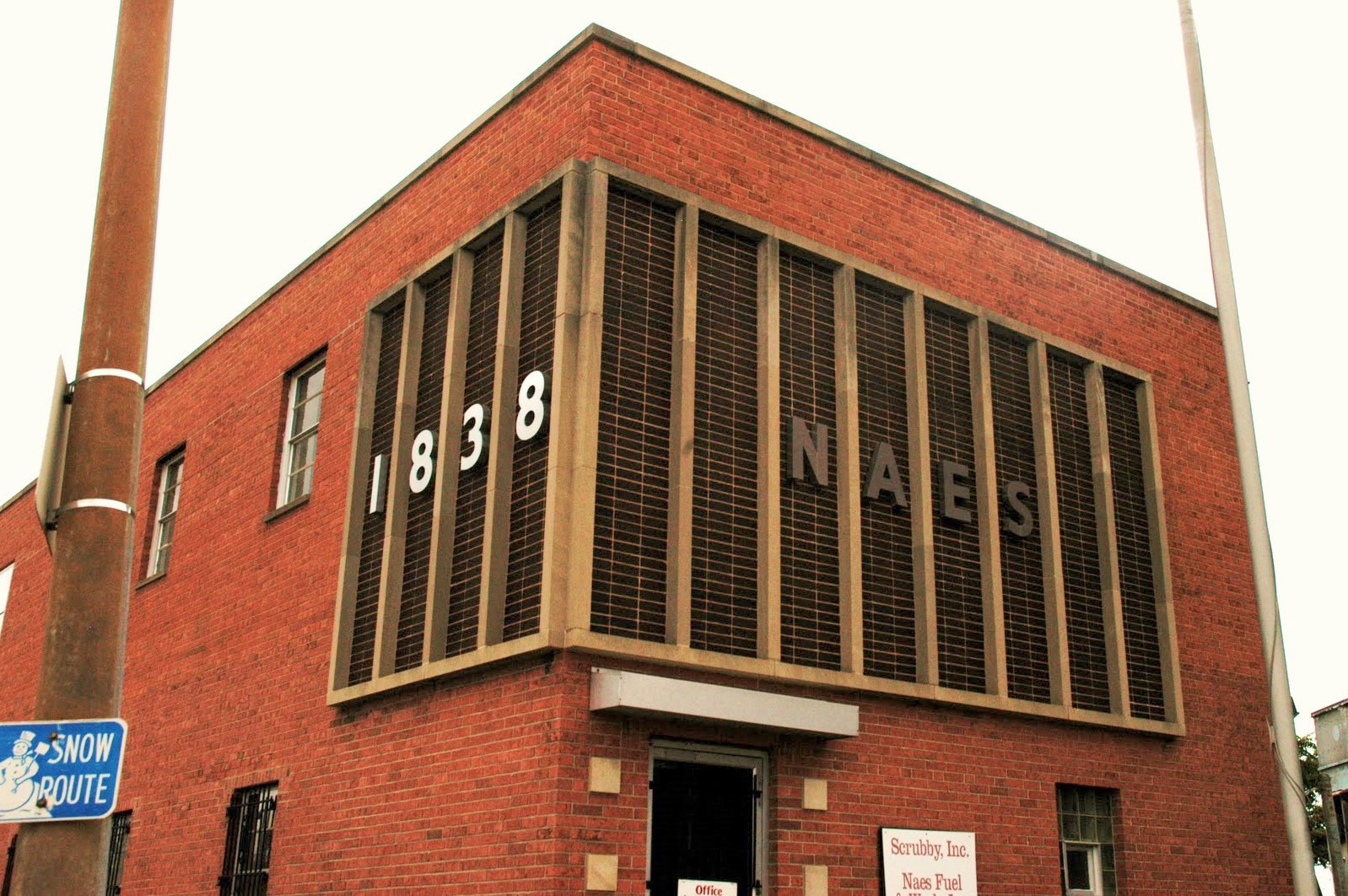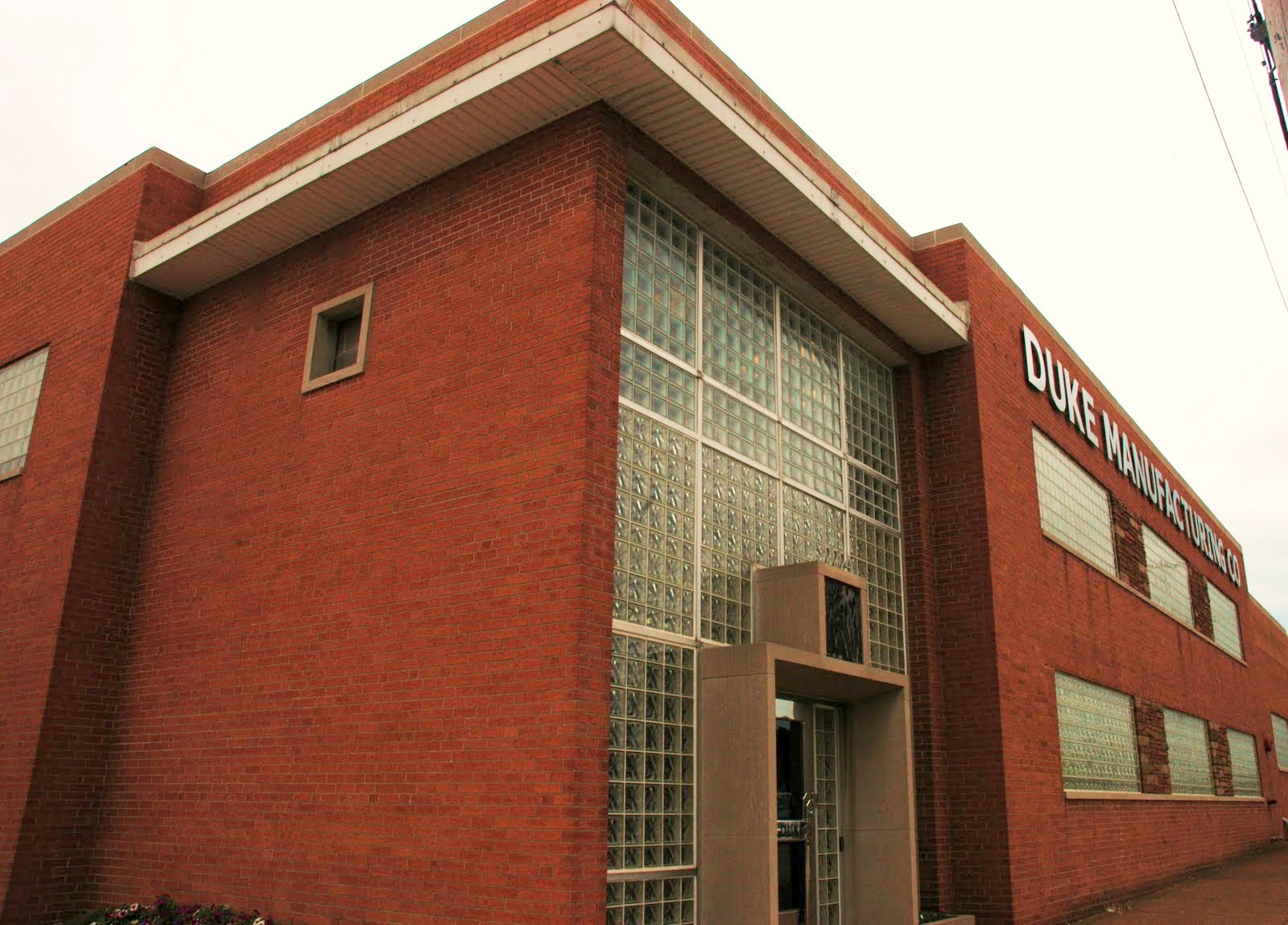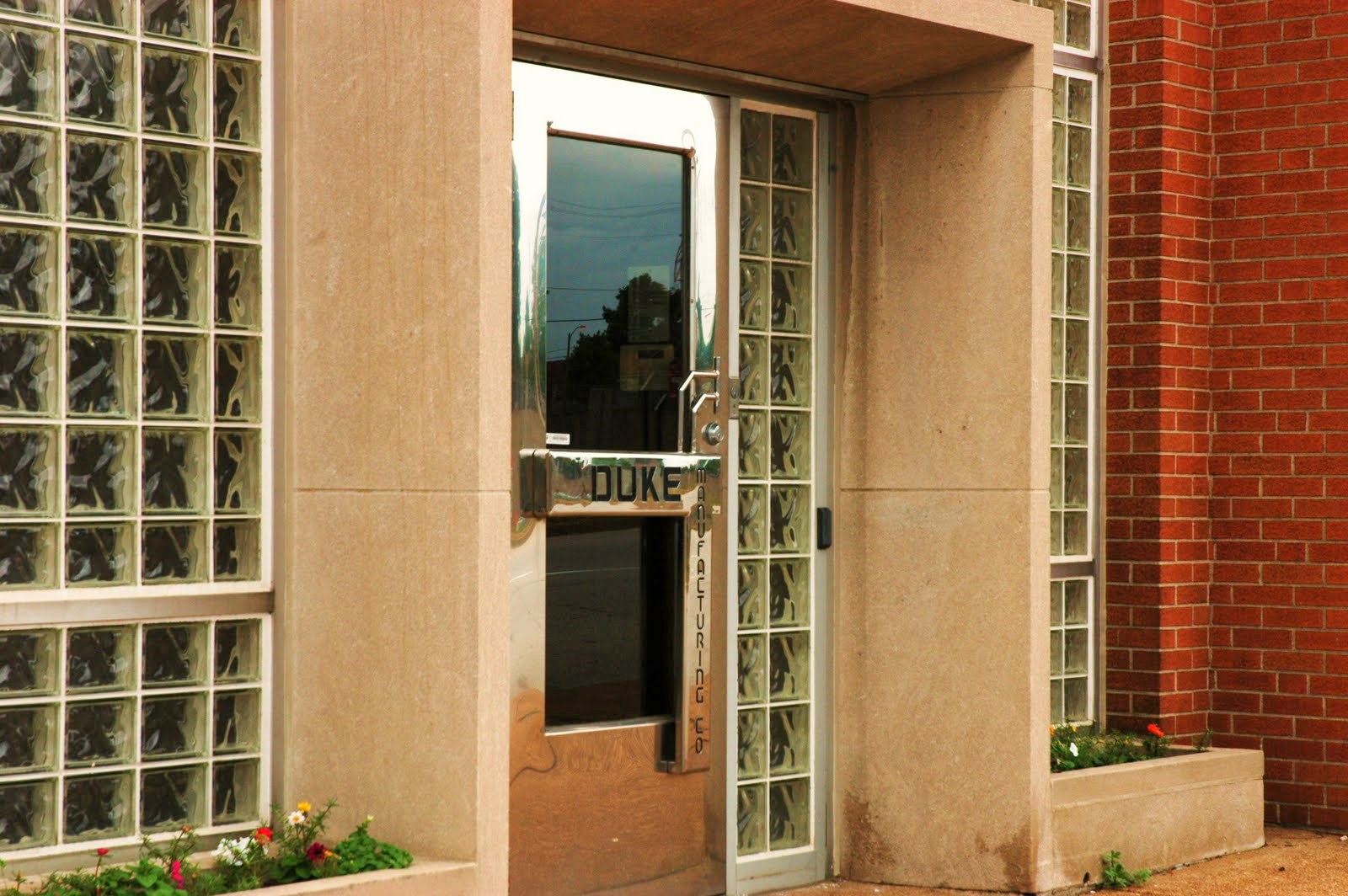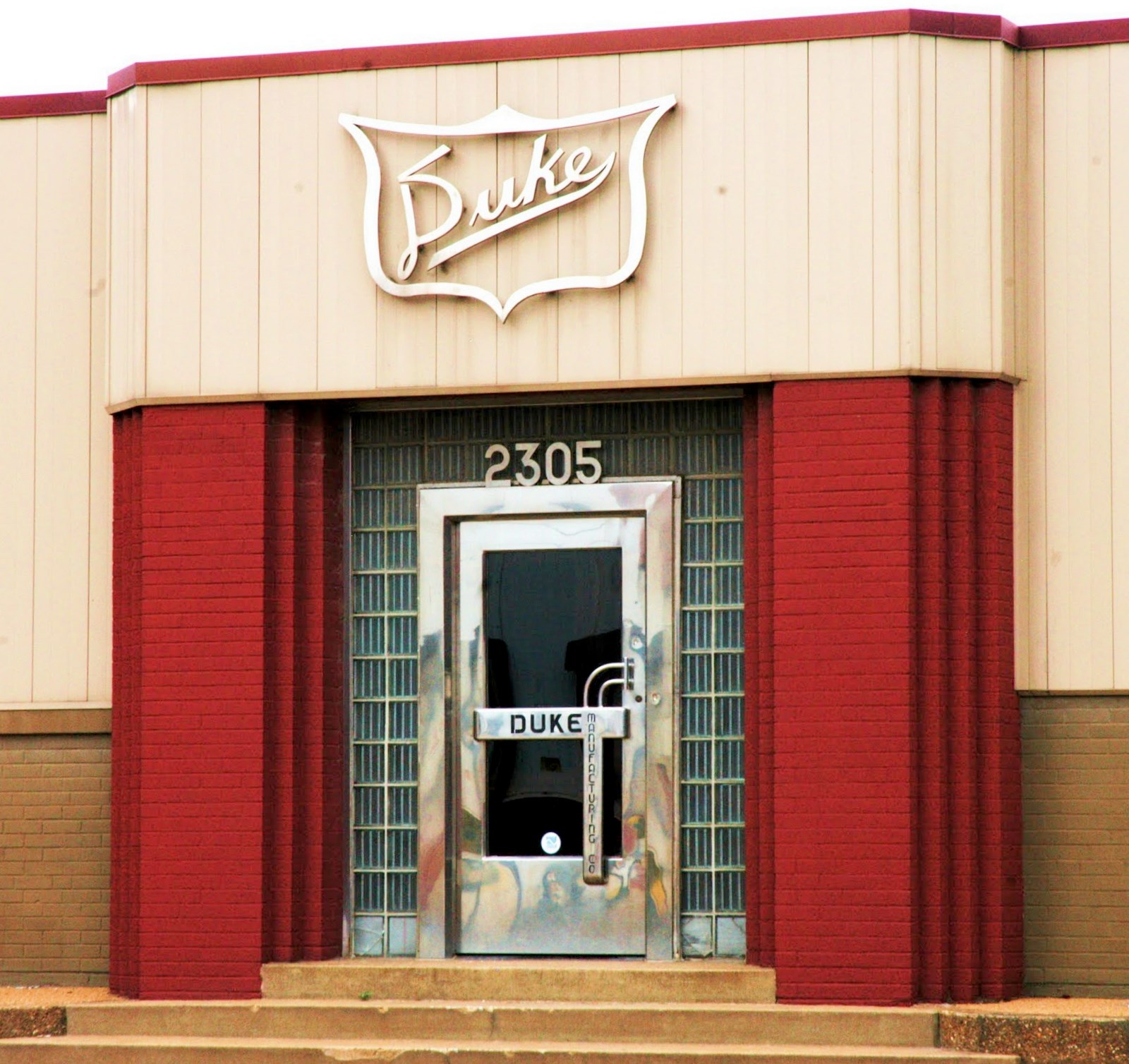 To the old classics: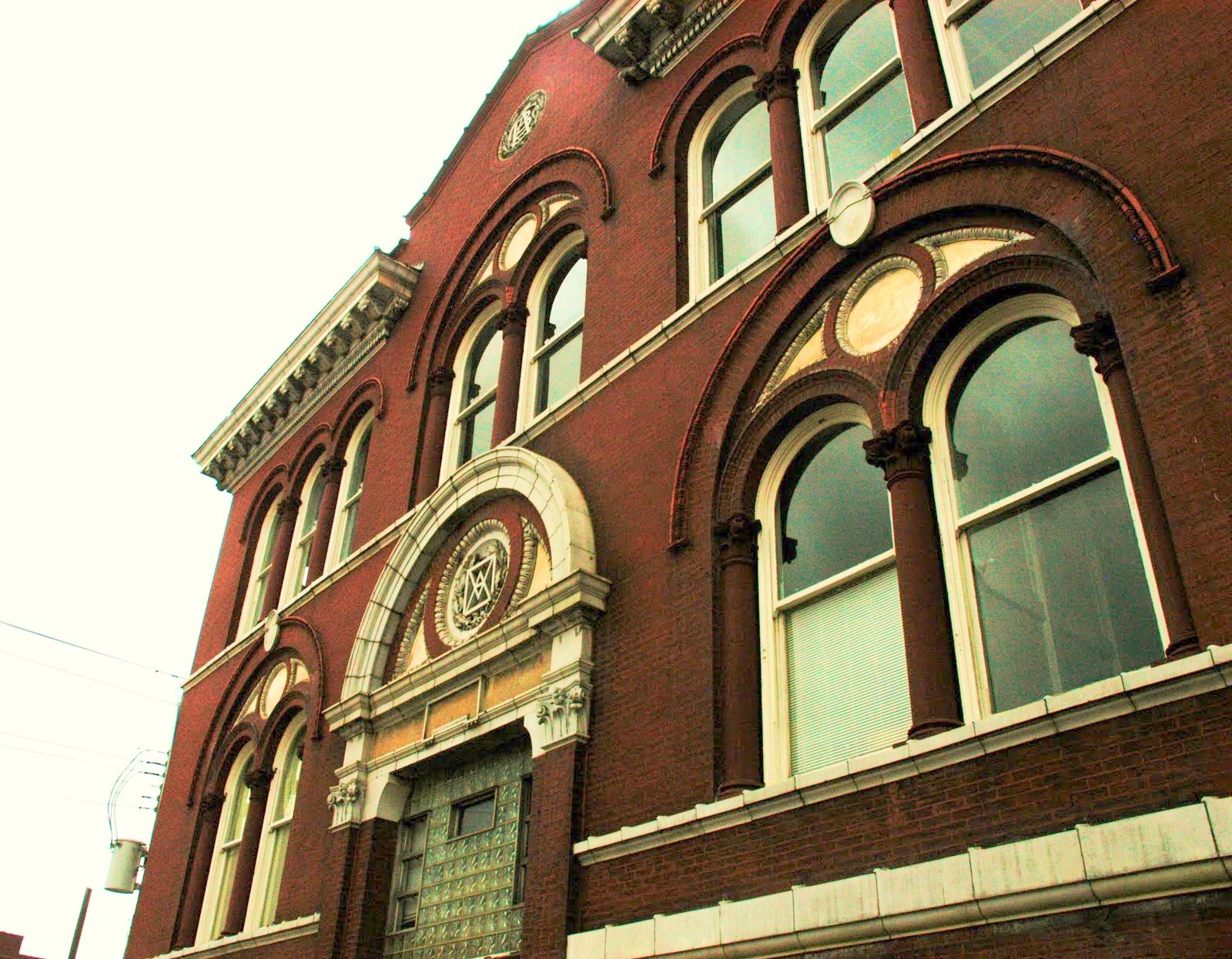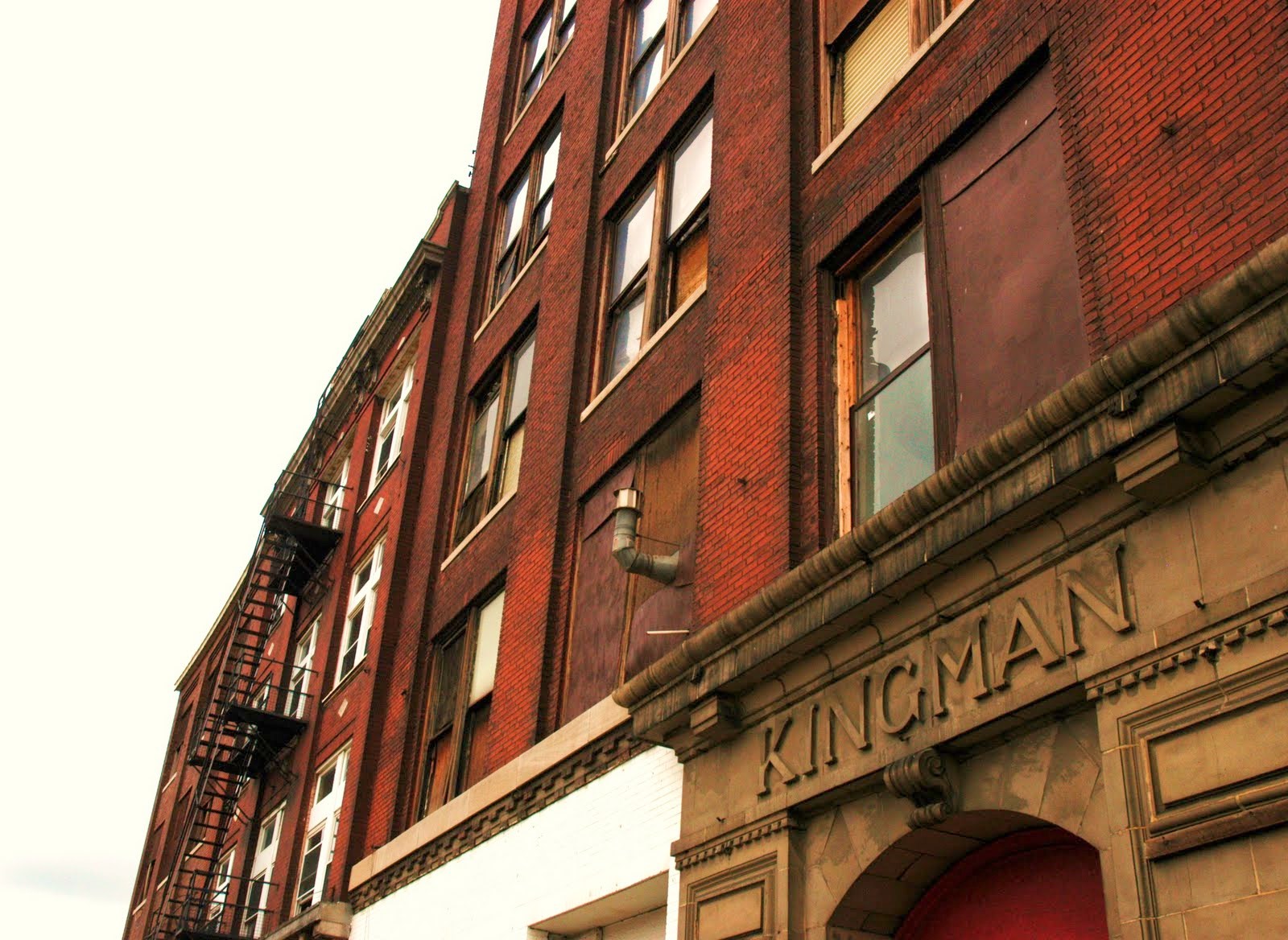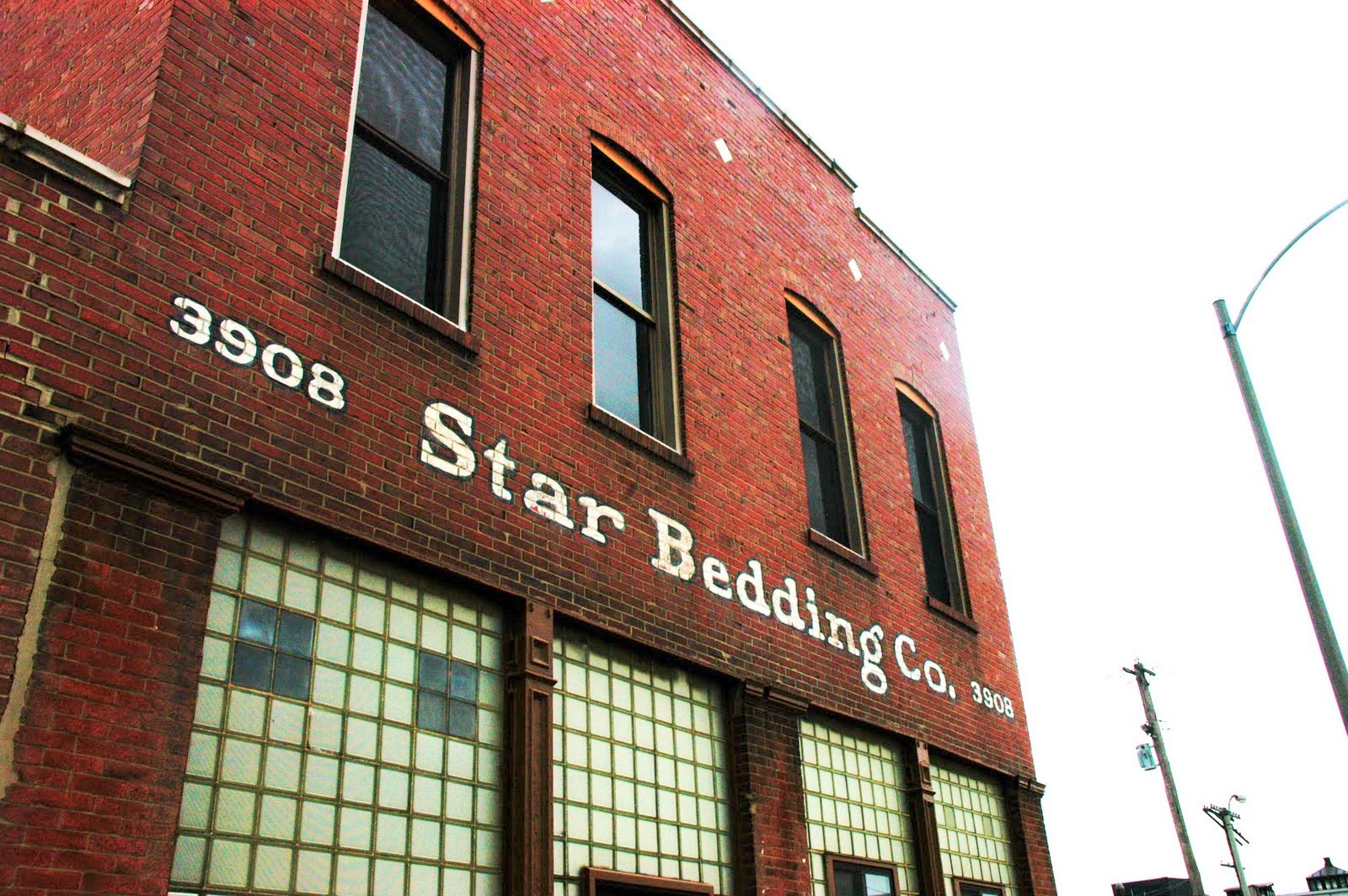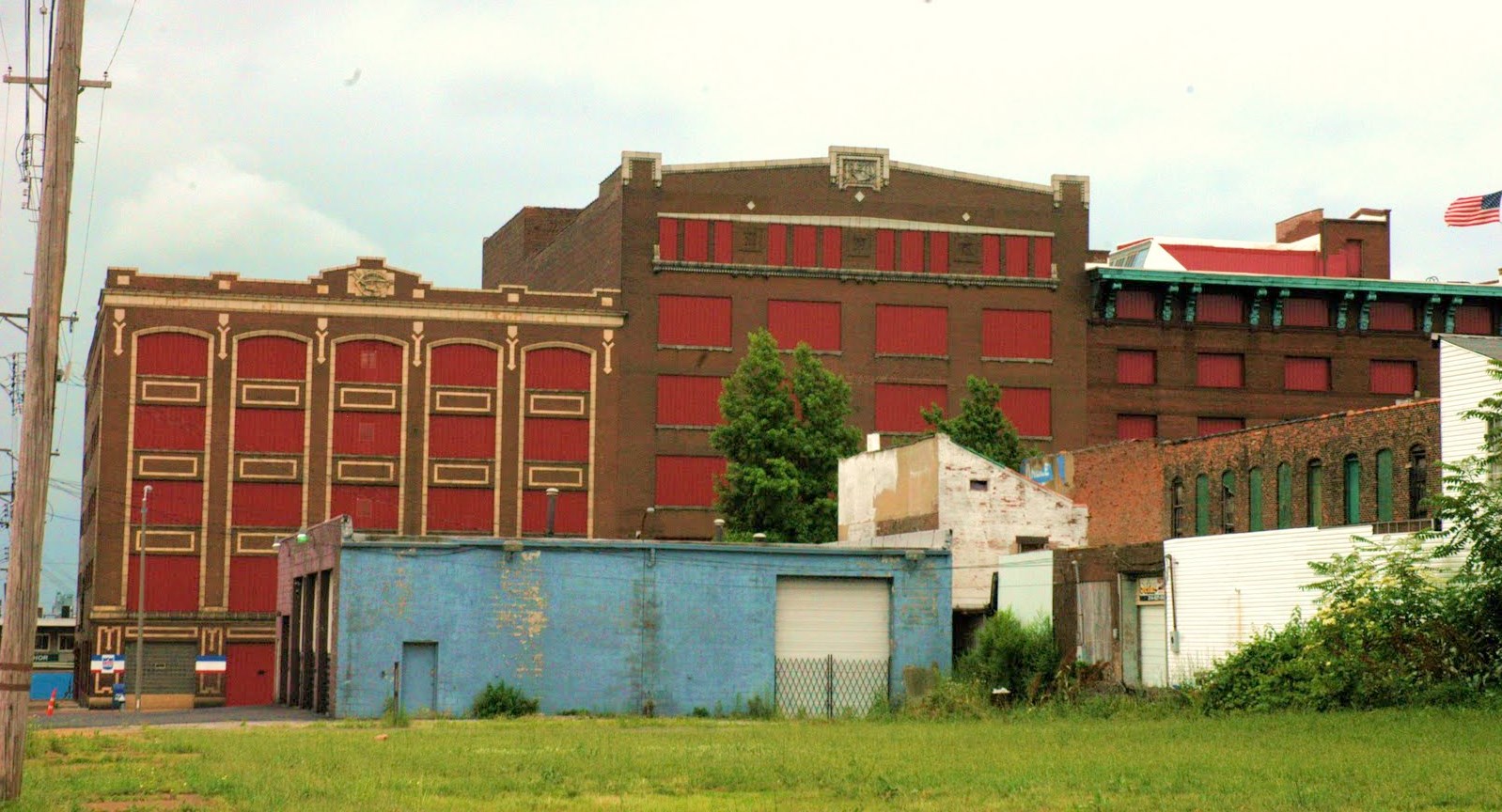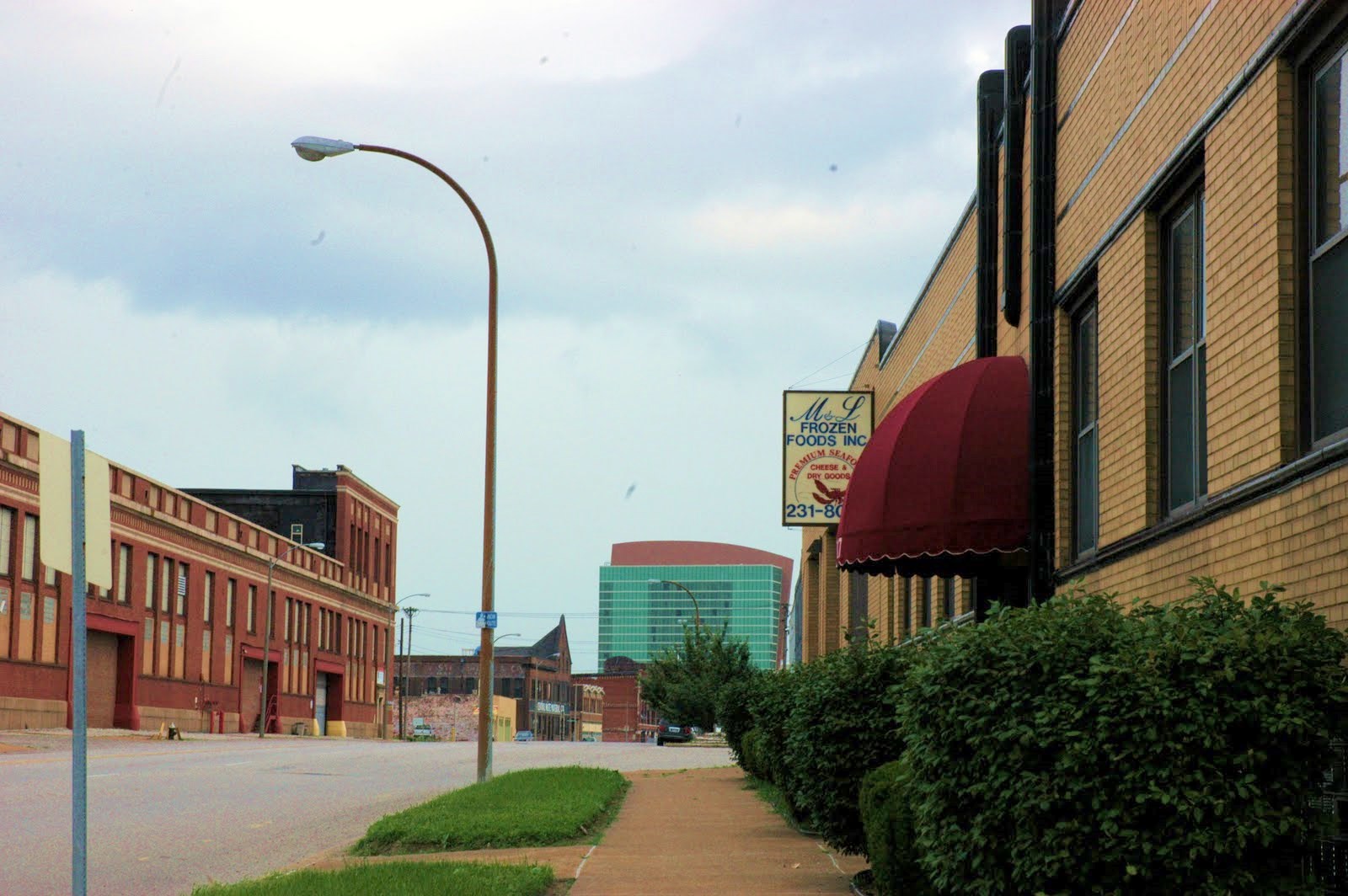 The beautiful Bremen Bank, right next to Chili Mac's diner and chili parlor (arguably the coolest looking diner in the city):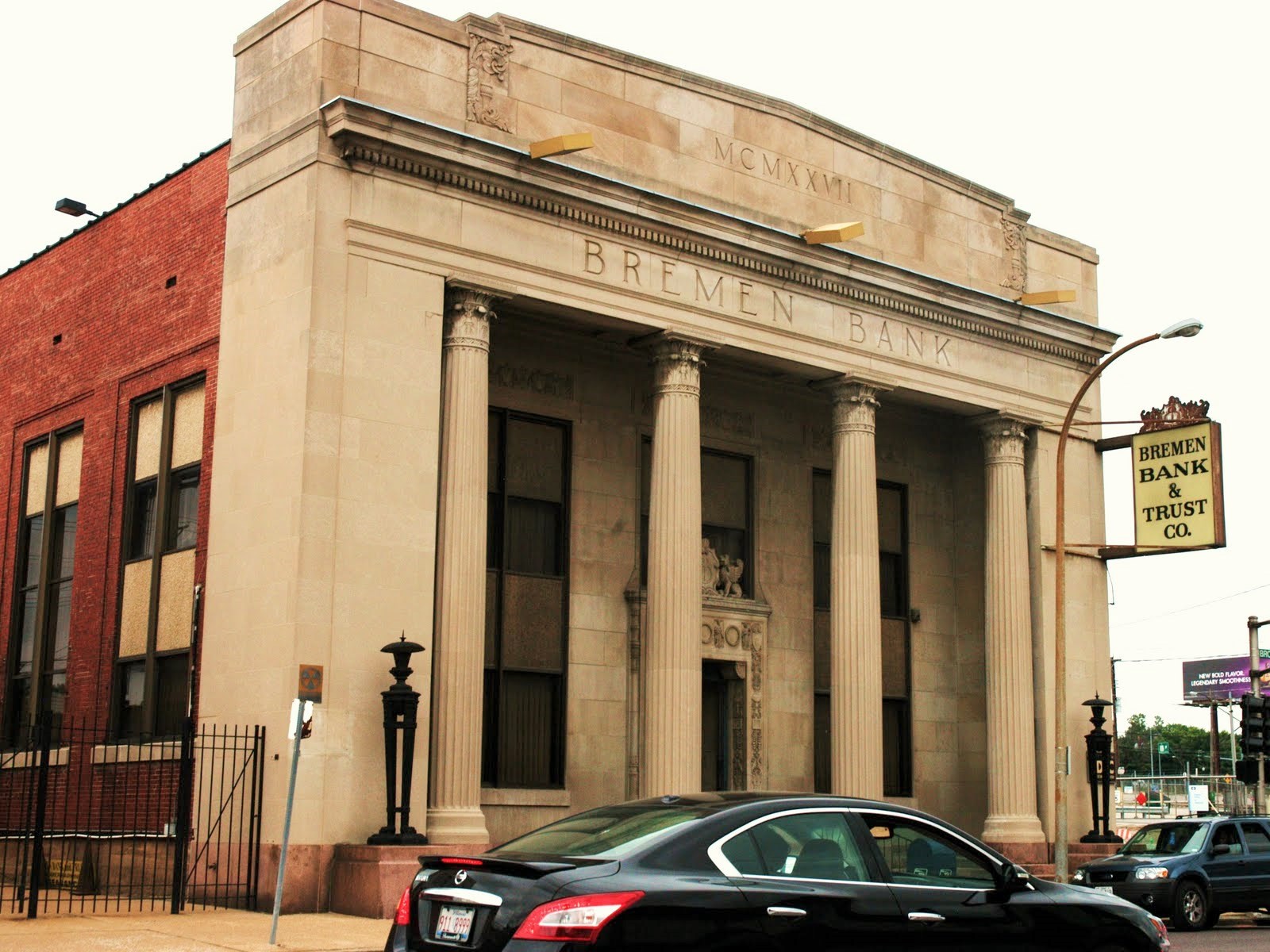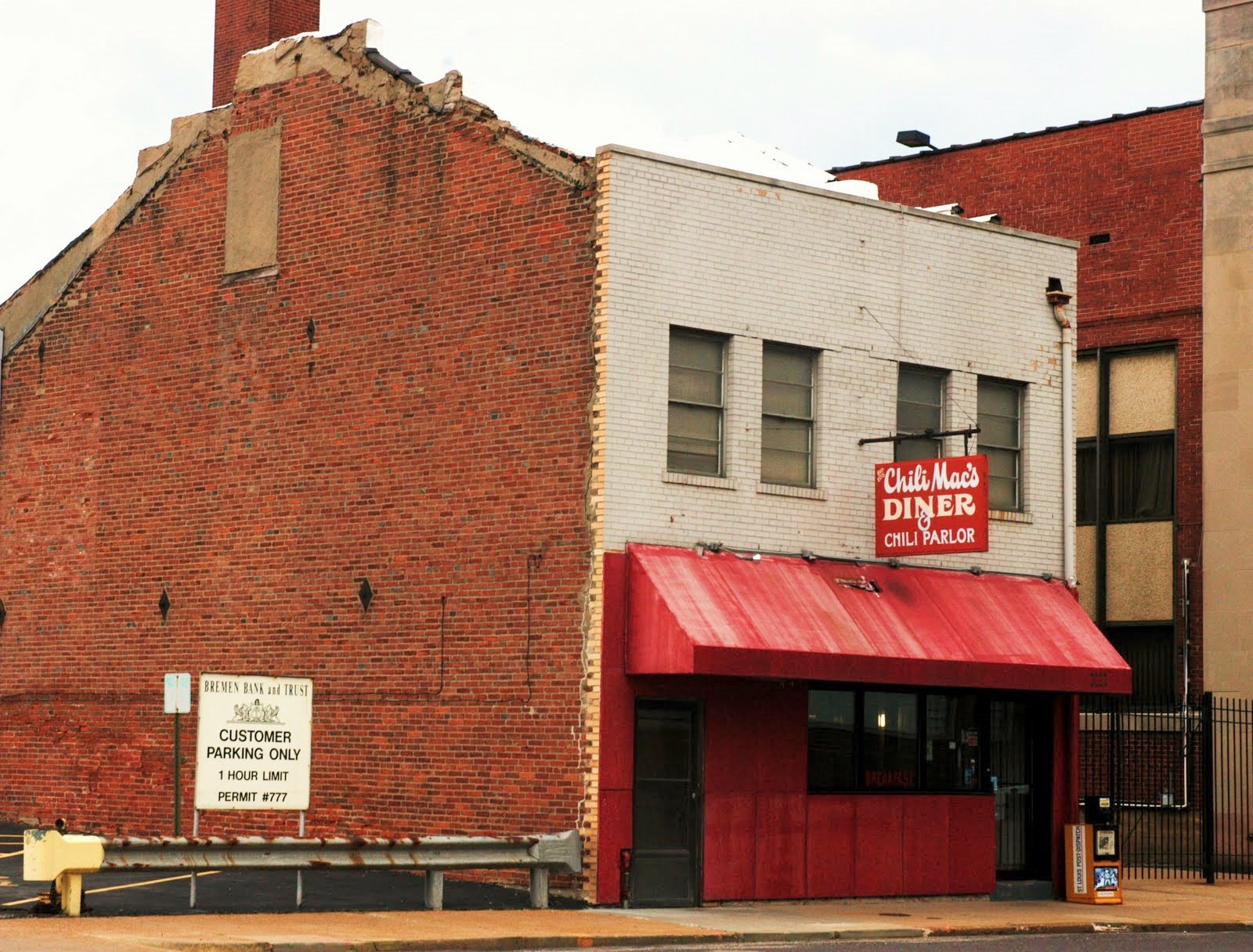 Several other bars/restaurants are alive and kicking: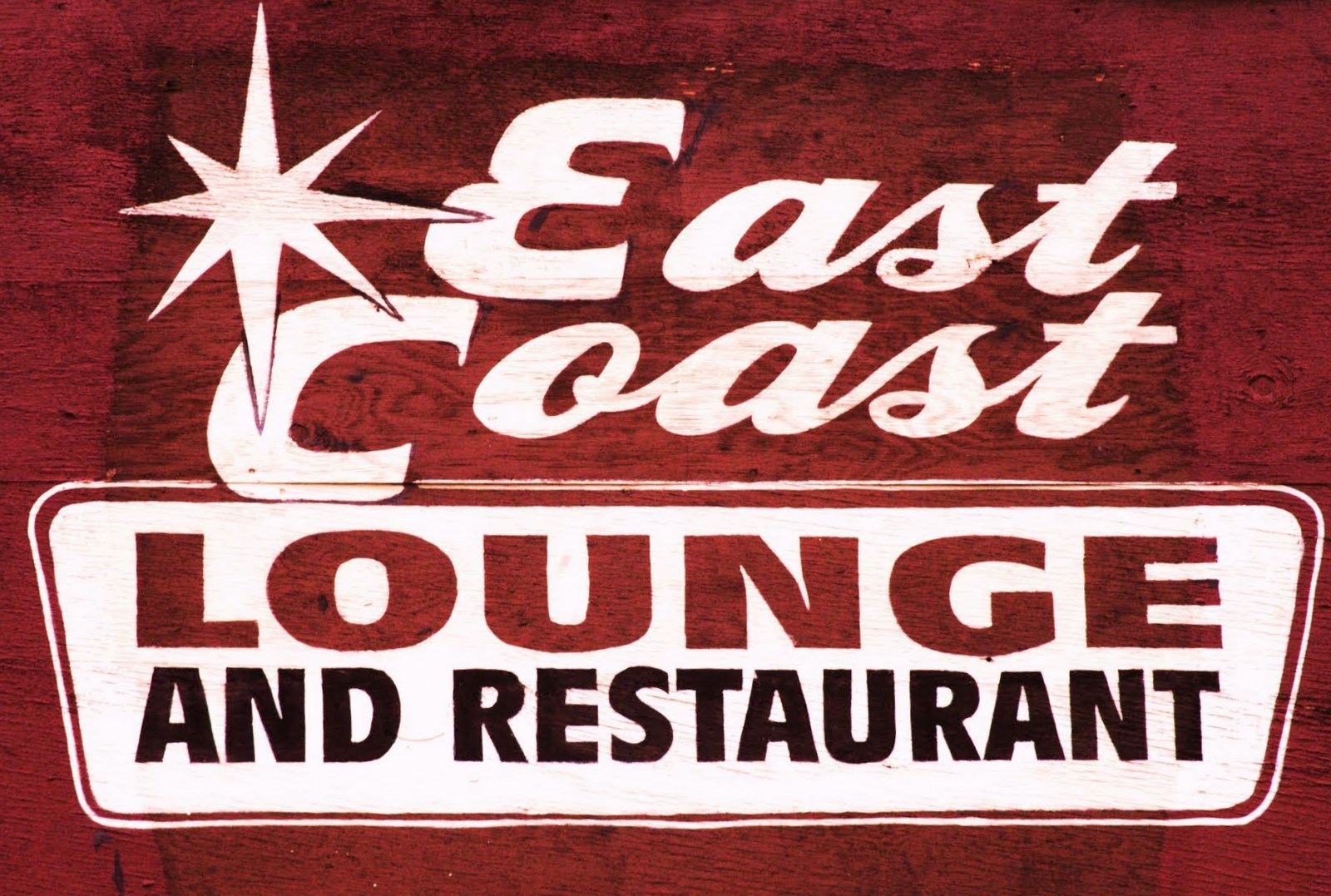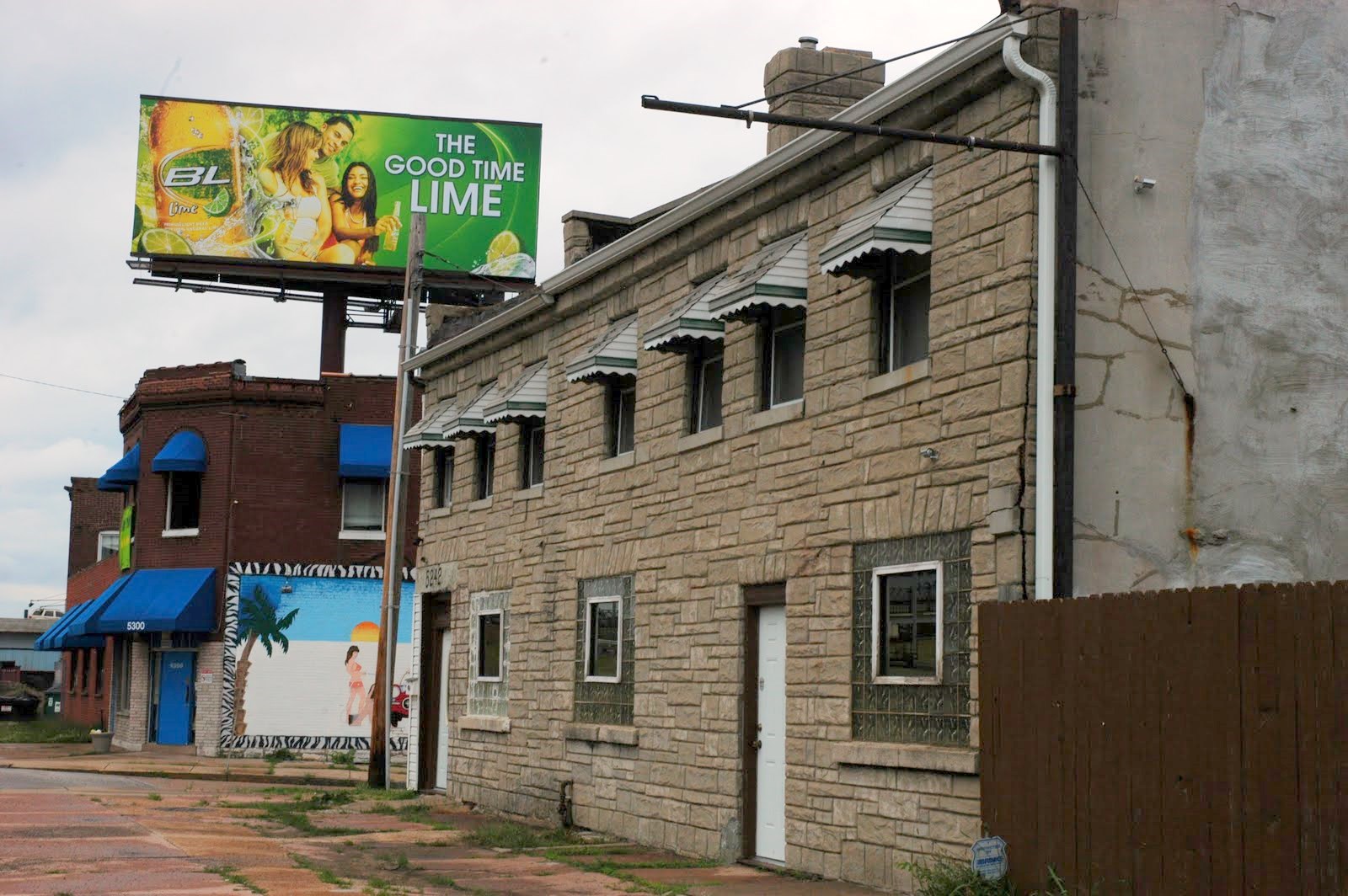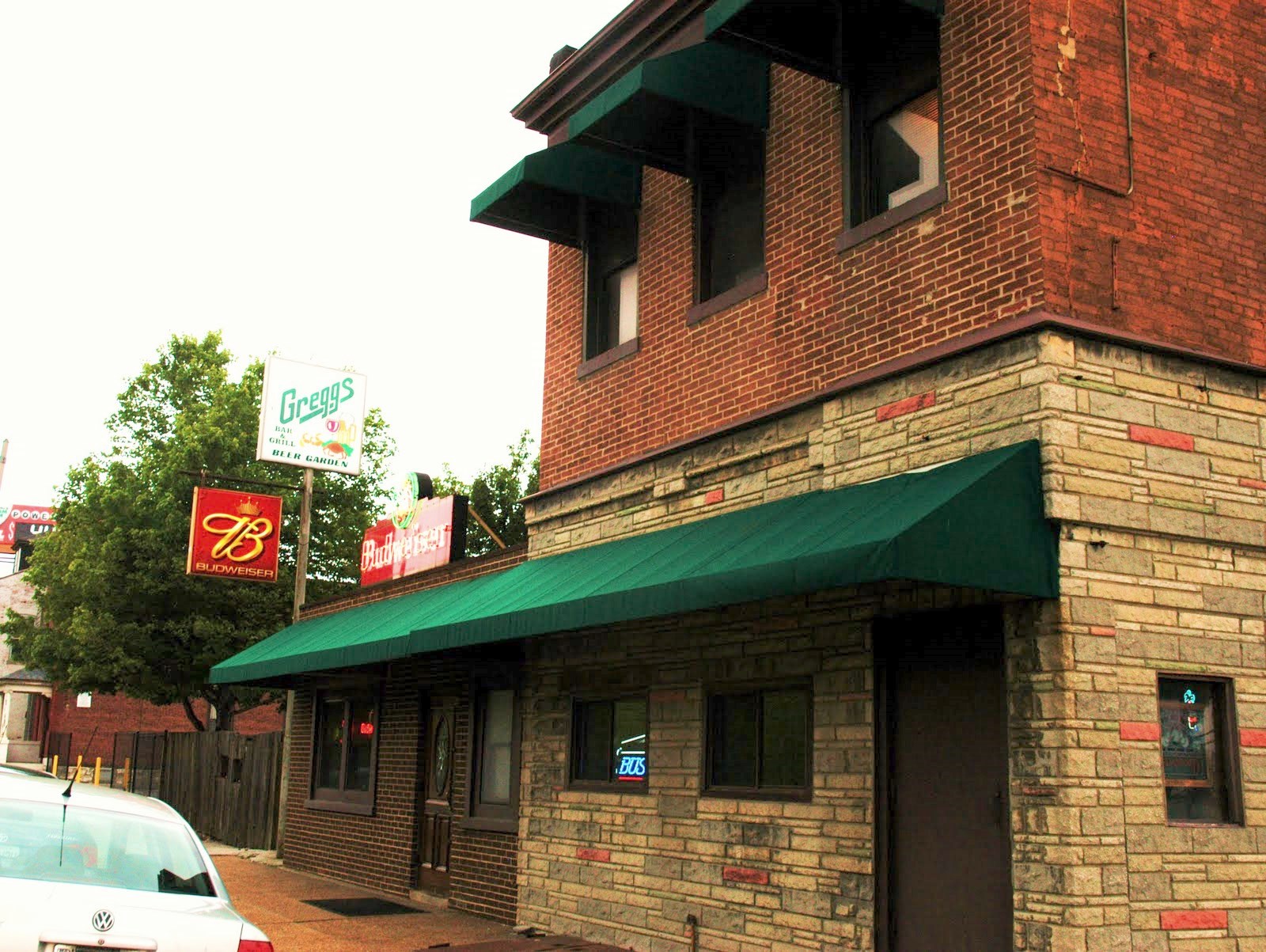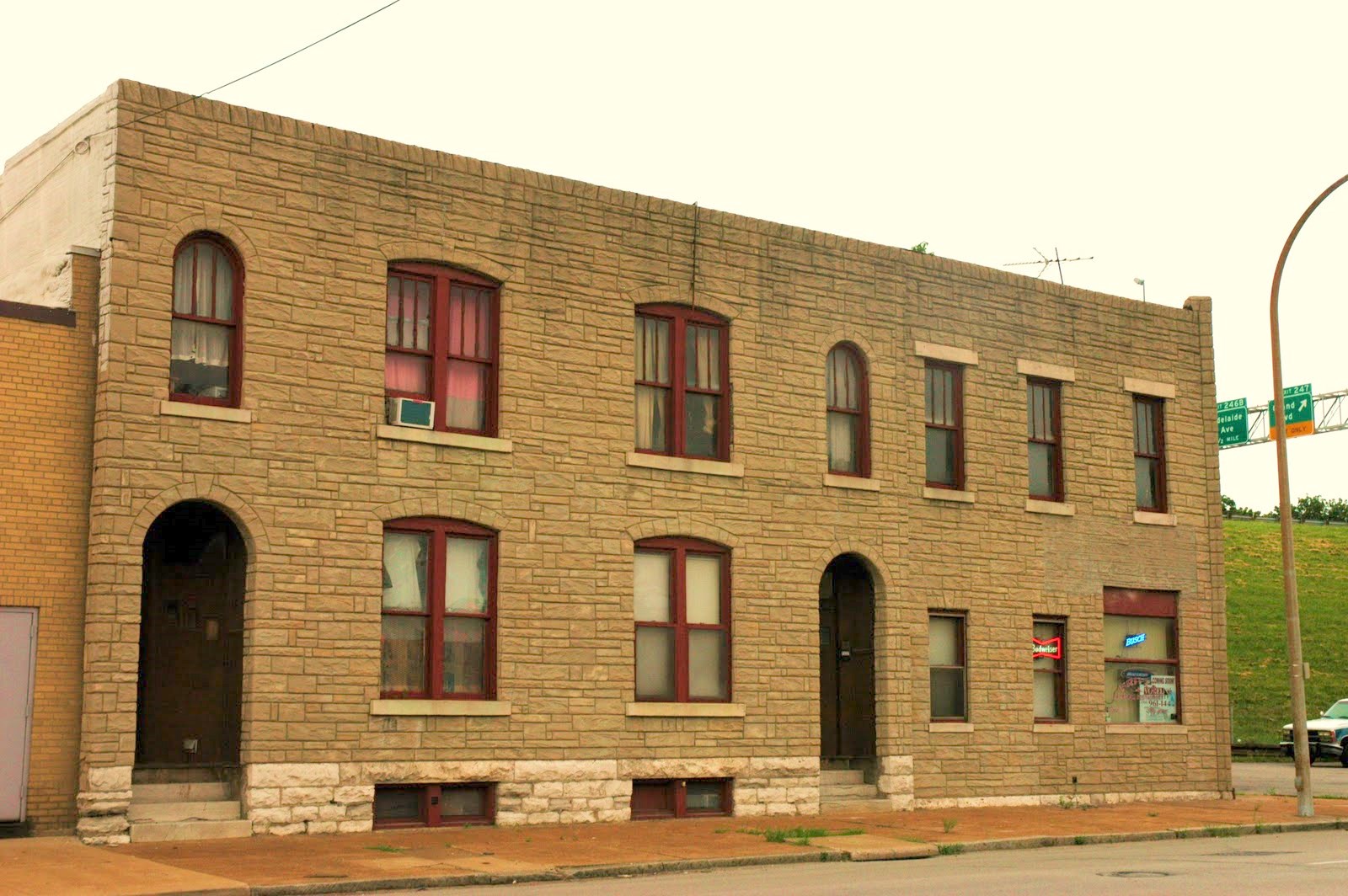 By my estimation, there are two main reasons (other than the Chili Mac Diner) to visit Near North Riverfront, the first being the awesome Riverfront Trail which extends from the old Union Light and Power and Laclede Power buildings 11 miles north along the Mississippi to the Chain of Rocks Bridge. The trail head is a short ride/walk from the Laclede's Landing Metrolink stop.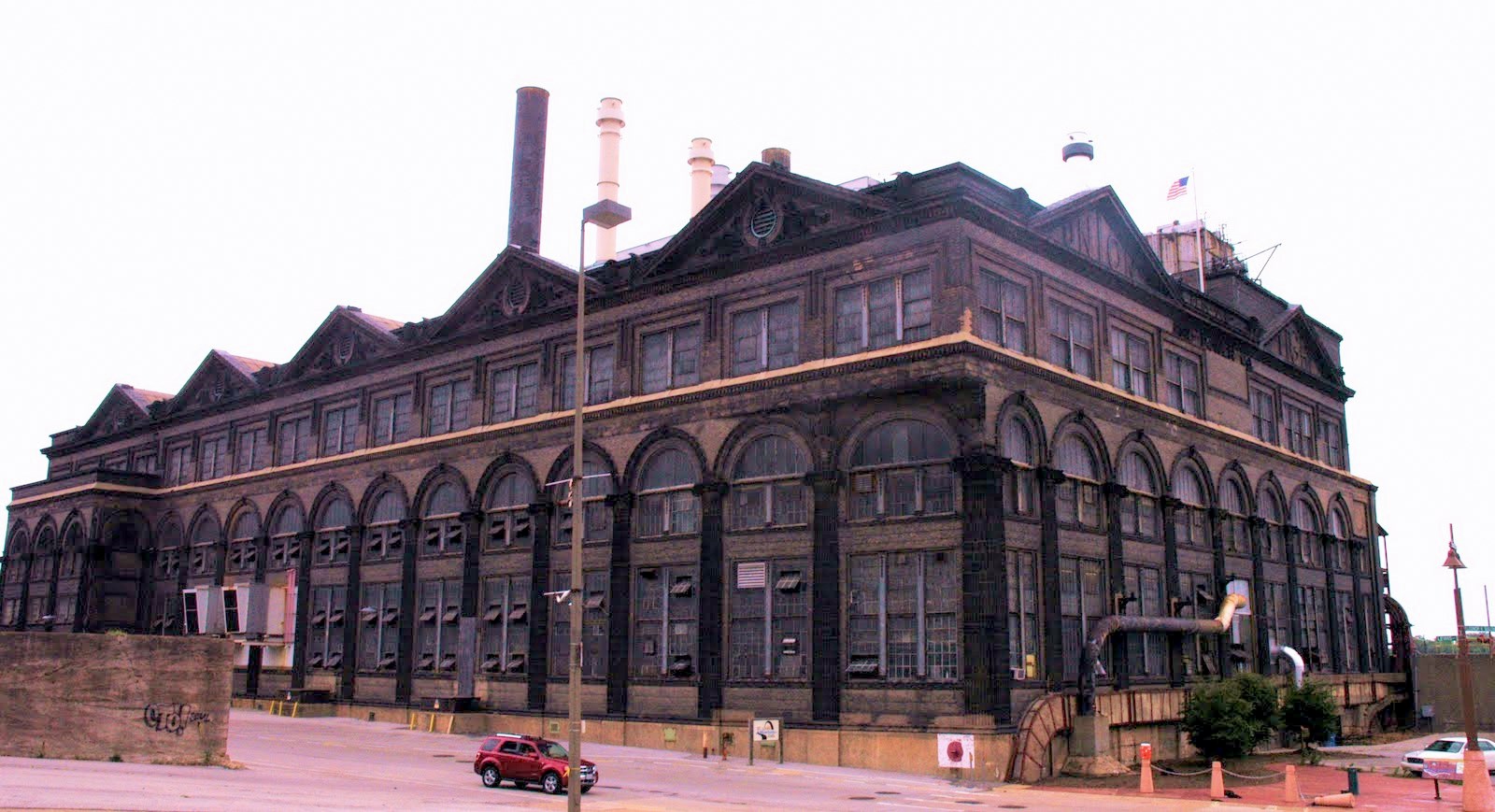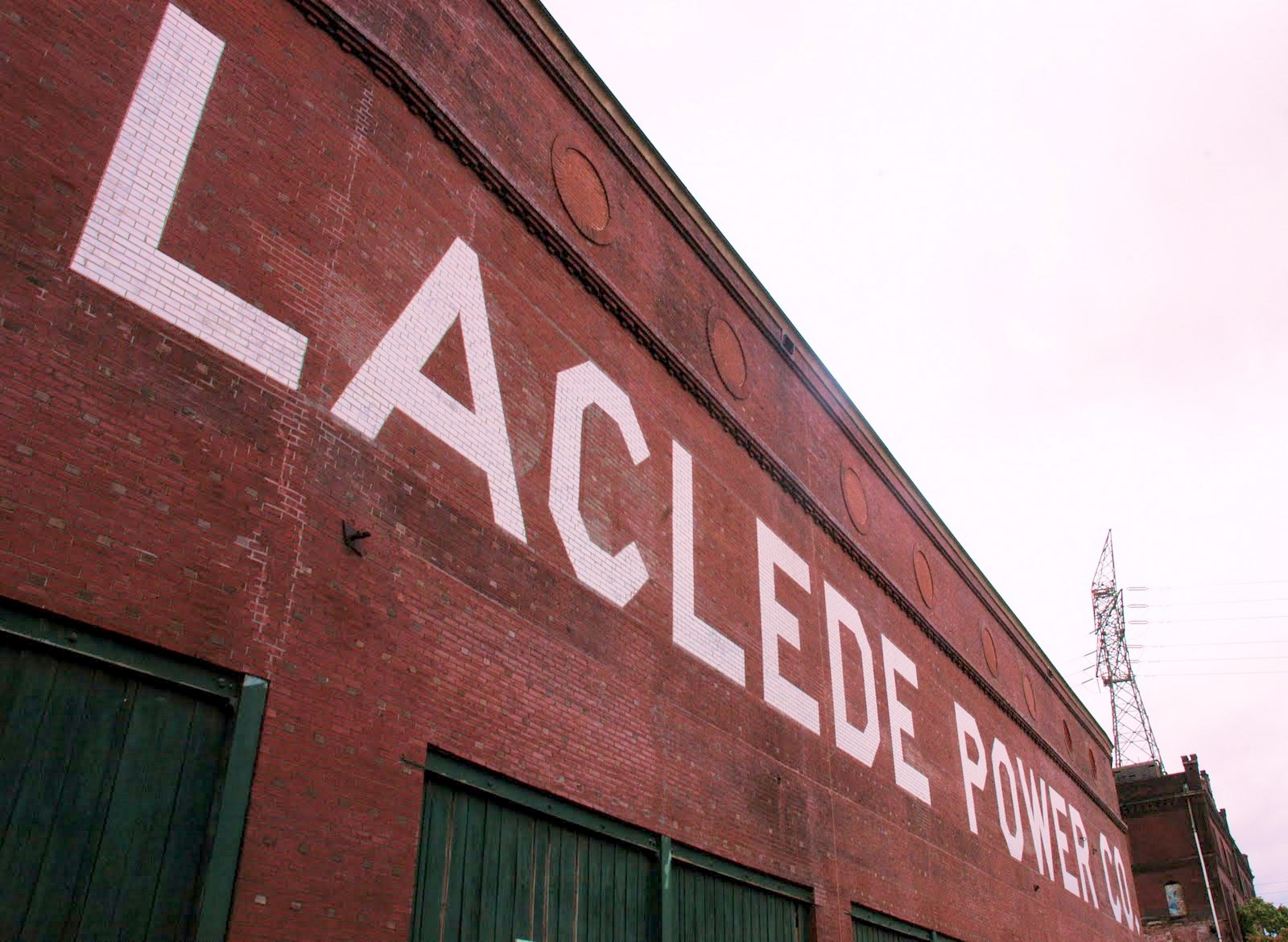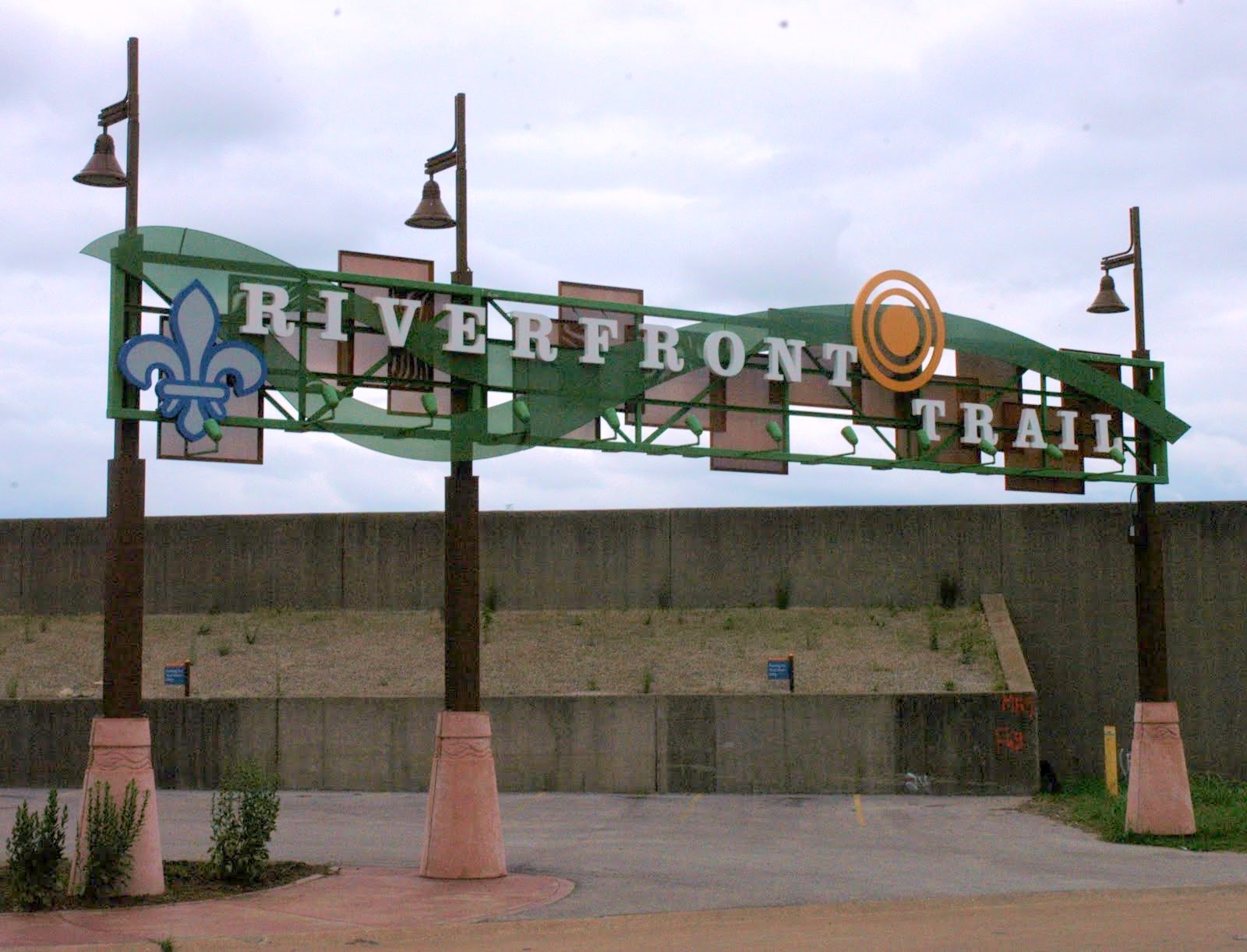 Bob Cassilly of the City Museum made another special place to explore at the trail head: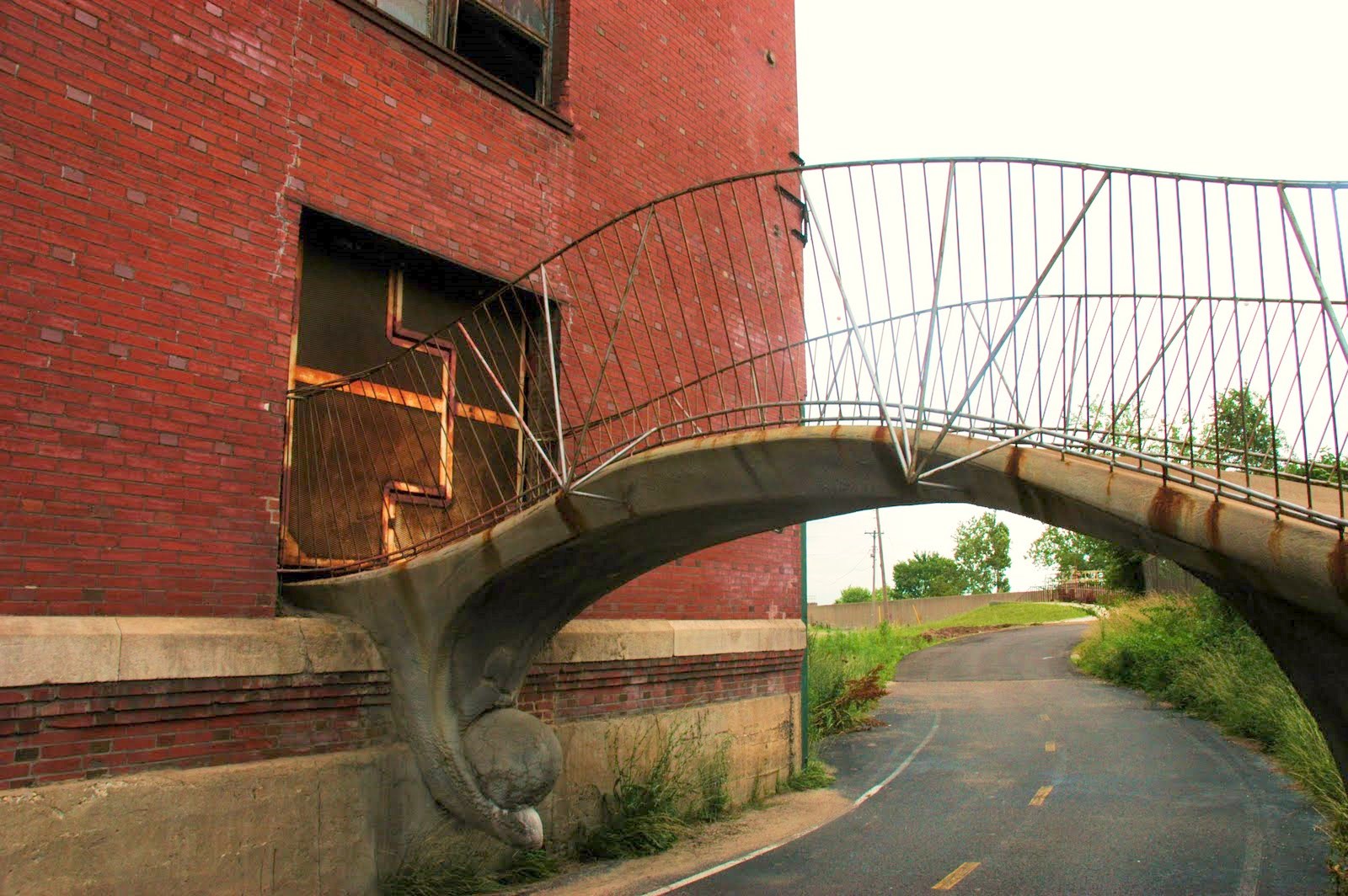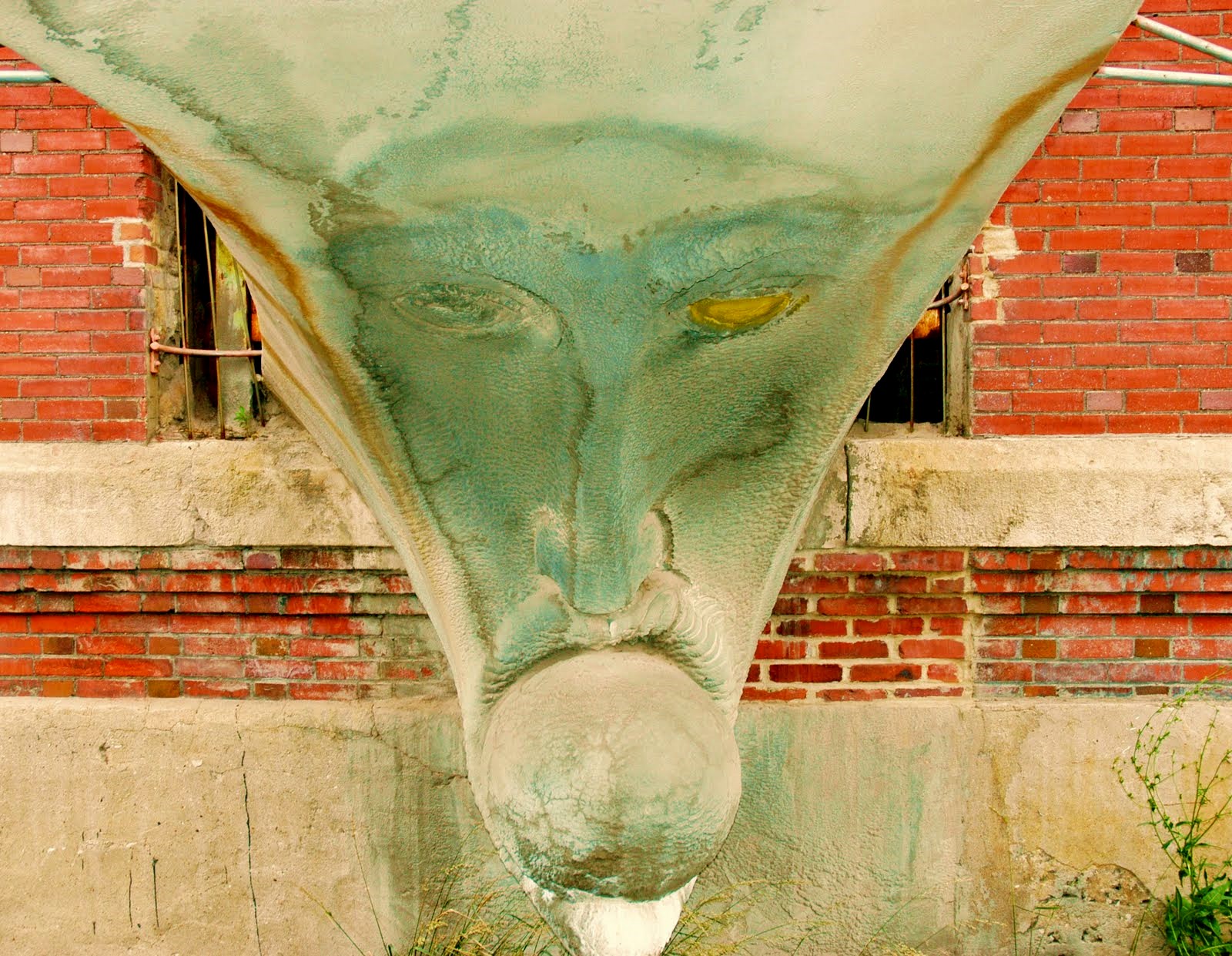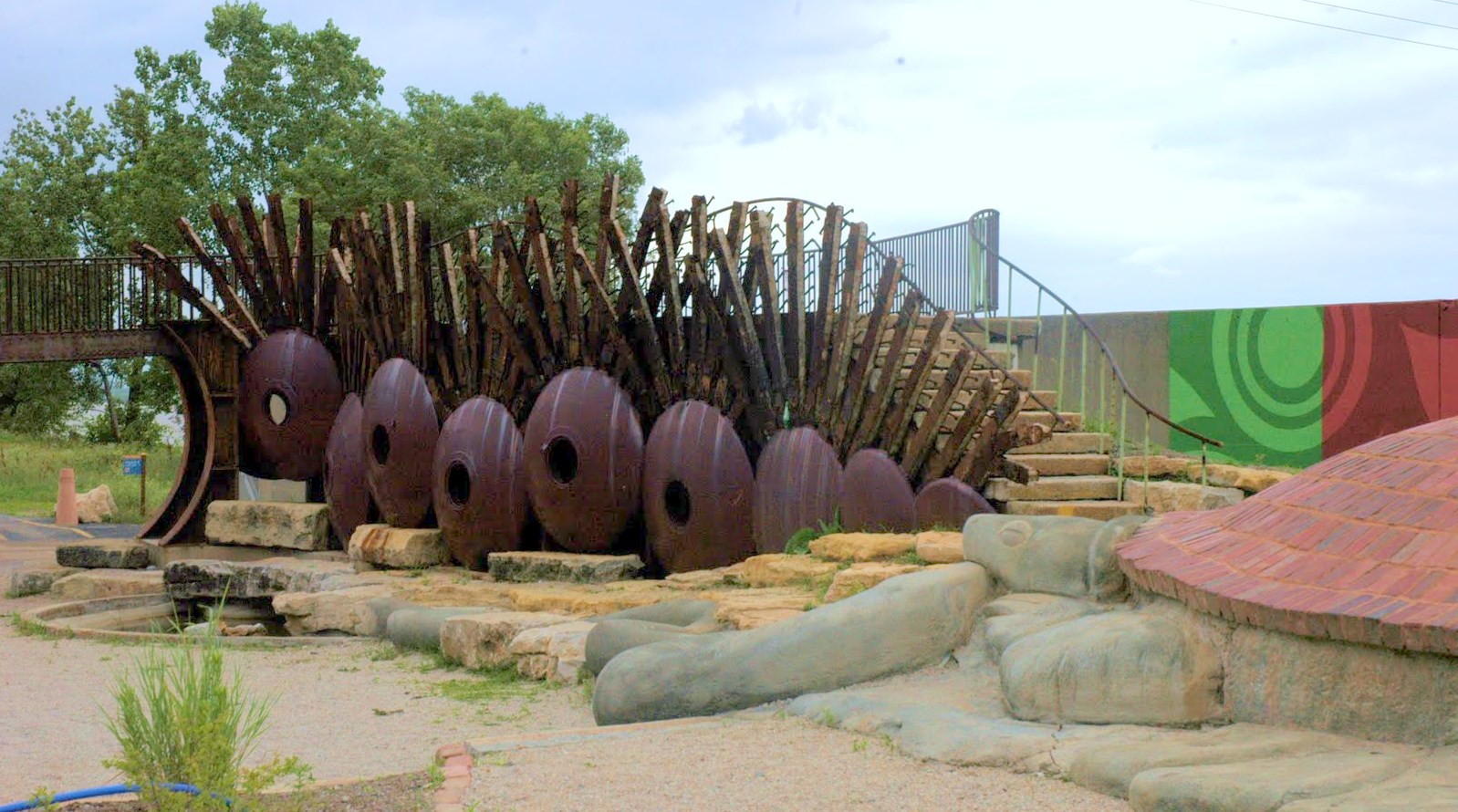 The second reason to visit Near North Riverfront is this awesome fish/shrimp/sandwich shop called The Shrimp Shack. A place that reminds me of Arthur Bryant's in Kansas City in that there are people from the neighborhood as well as workers in nearby factories and men in suits stopping in to enjoy the offerings: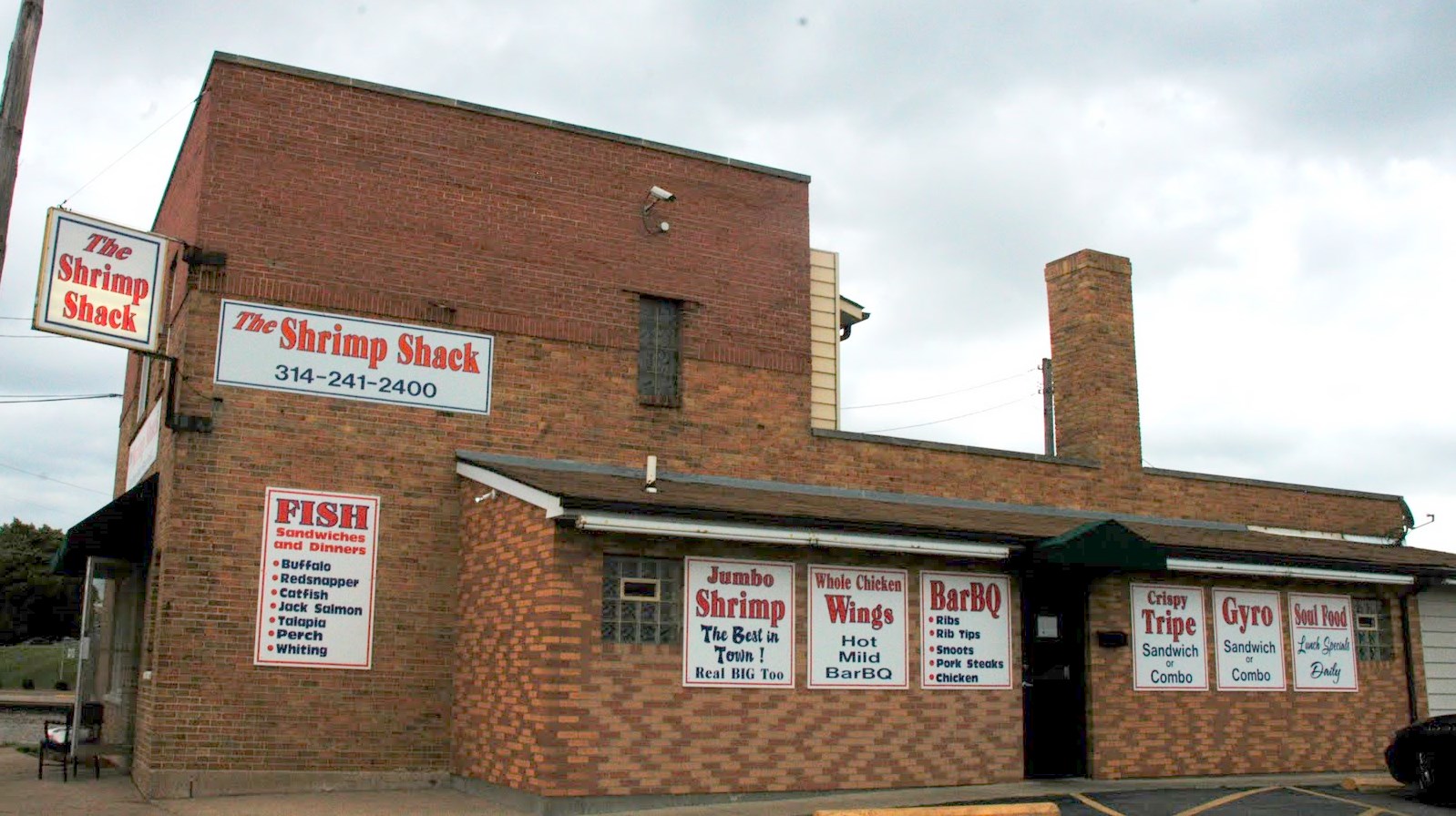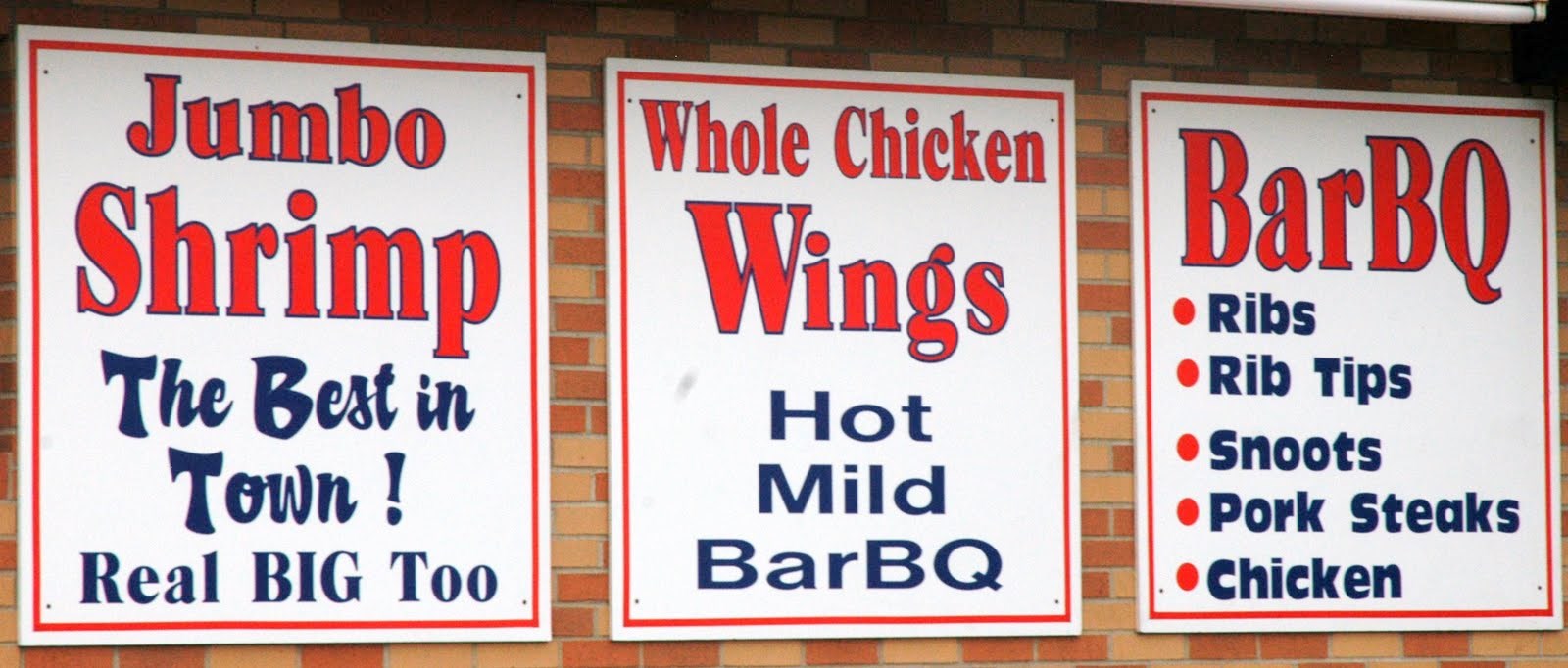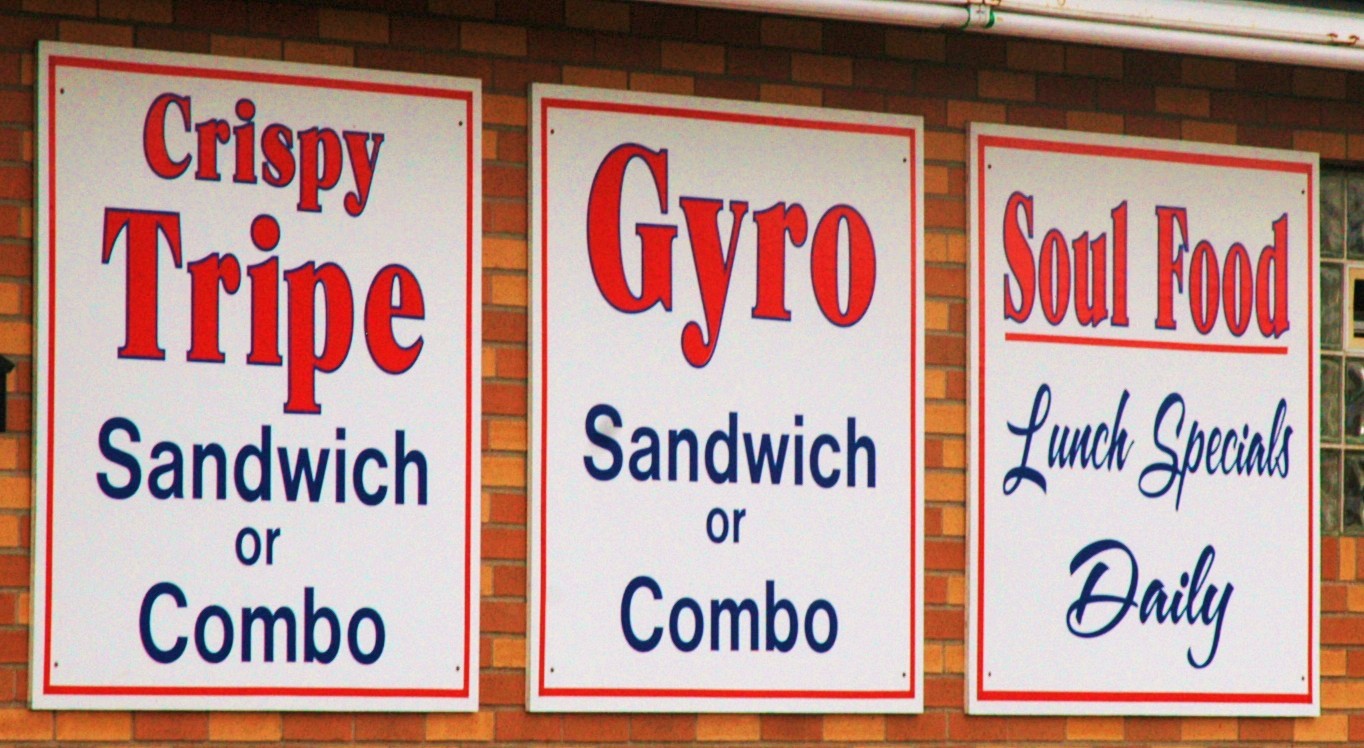 I found some commentary, and what I feel is effective and appropriate use of the F-word. One should always challenge the establishment, no?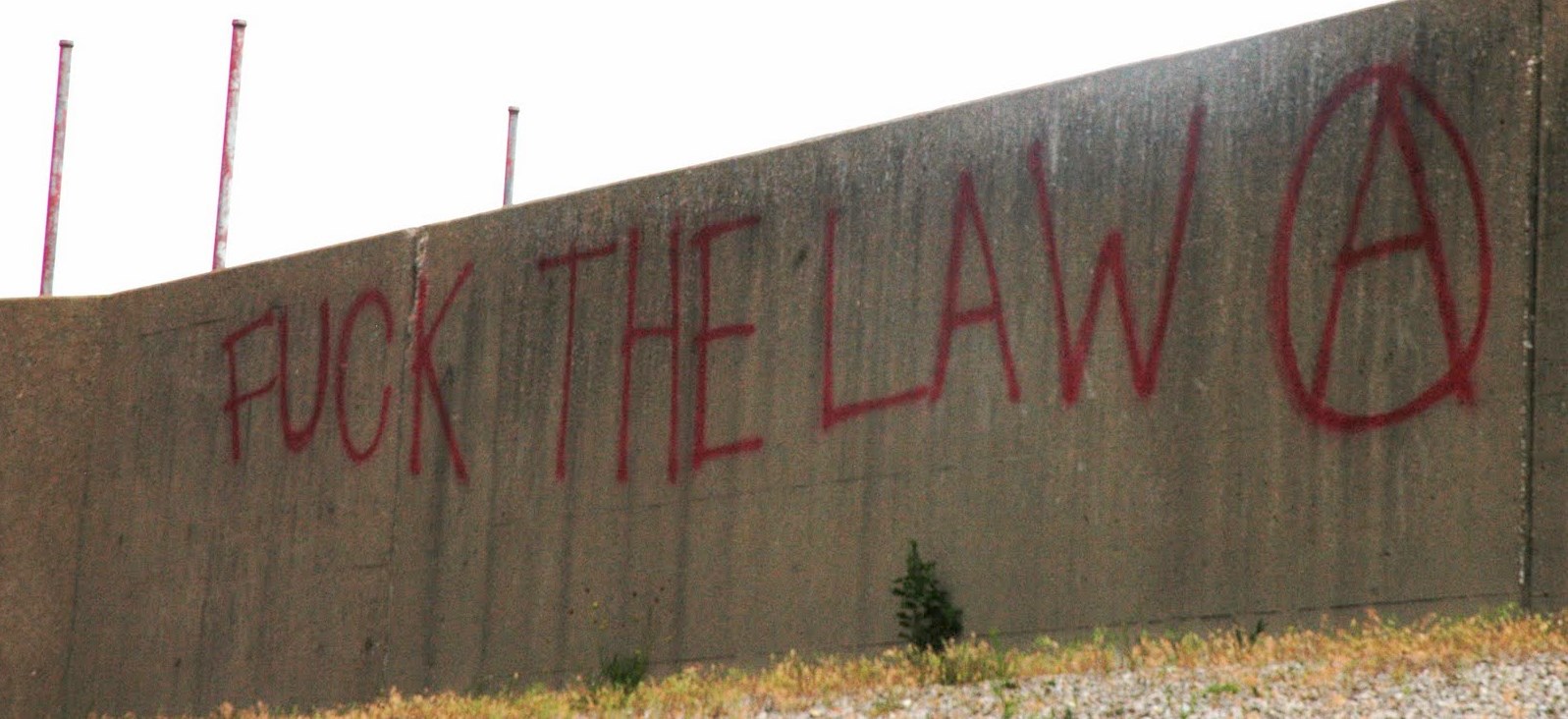 This one is my favorite, as some church group with (I assume) the best of intentions, painted up some structures just north of the trail head with all kinds of bright colors and sappy messages and the natives reclaimed their territory with a little commentary of their own: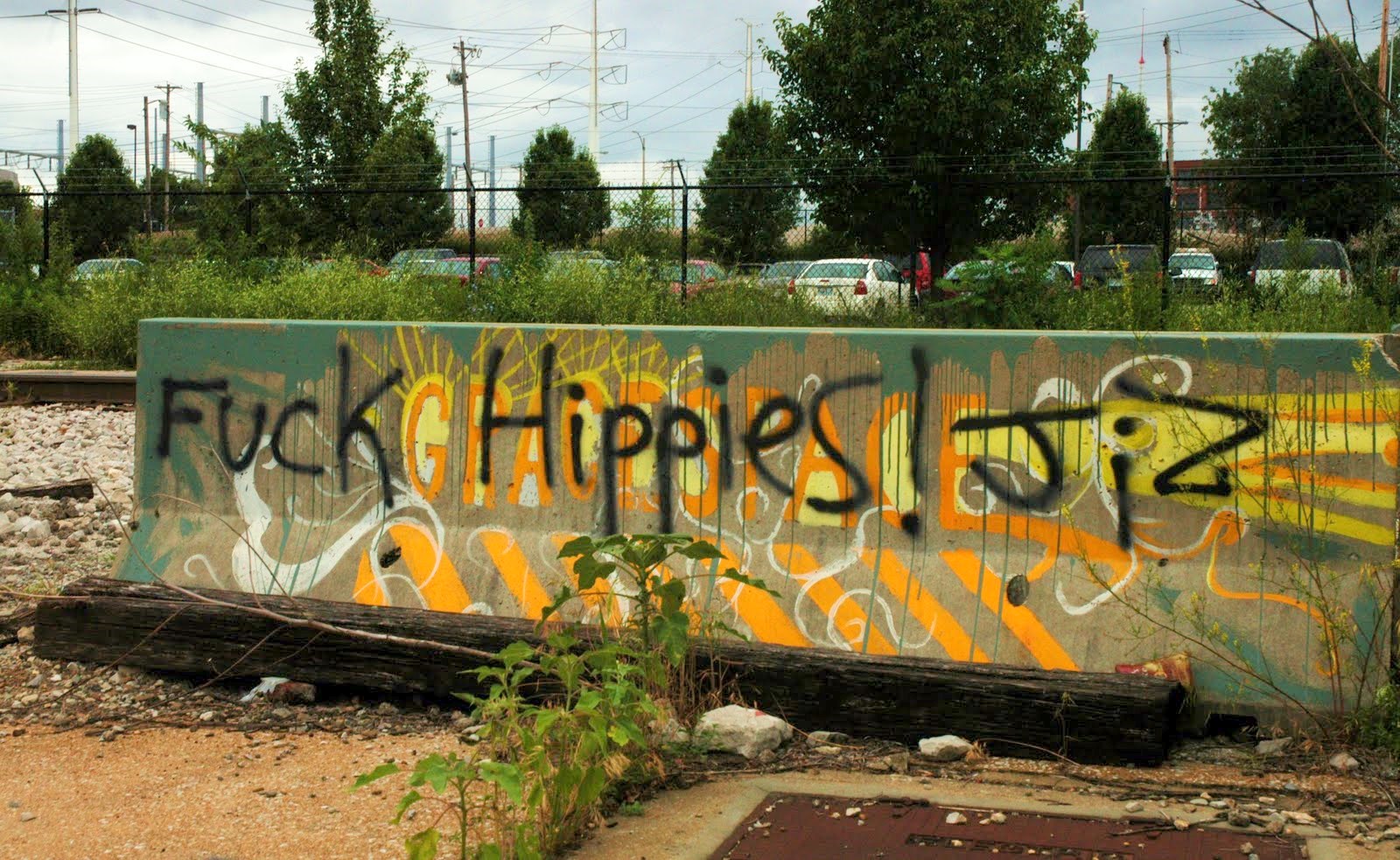 It's a tug of war between positivity and negativity, and usually I'm an optimist, but due to my lack of respect for contemporary hippies (jam bands are to blame), I'm with JiZ on this issue. It's not just huge businesses and factories active in Near North Riverfront. There are many small businesses in some cool old structures: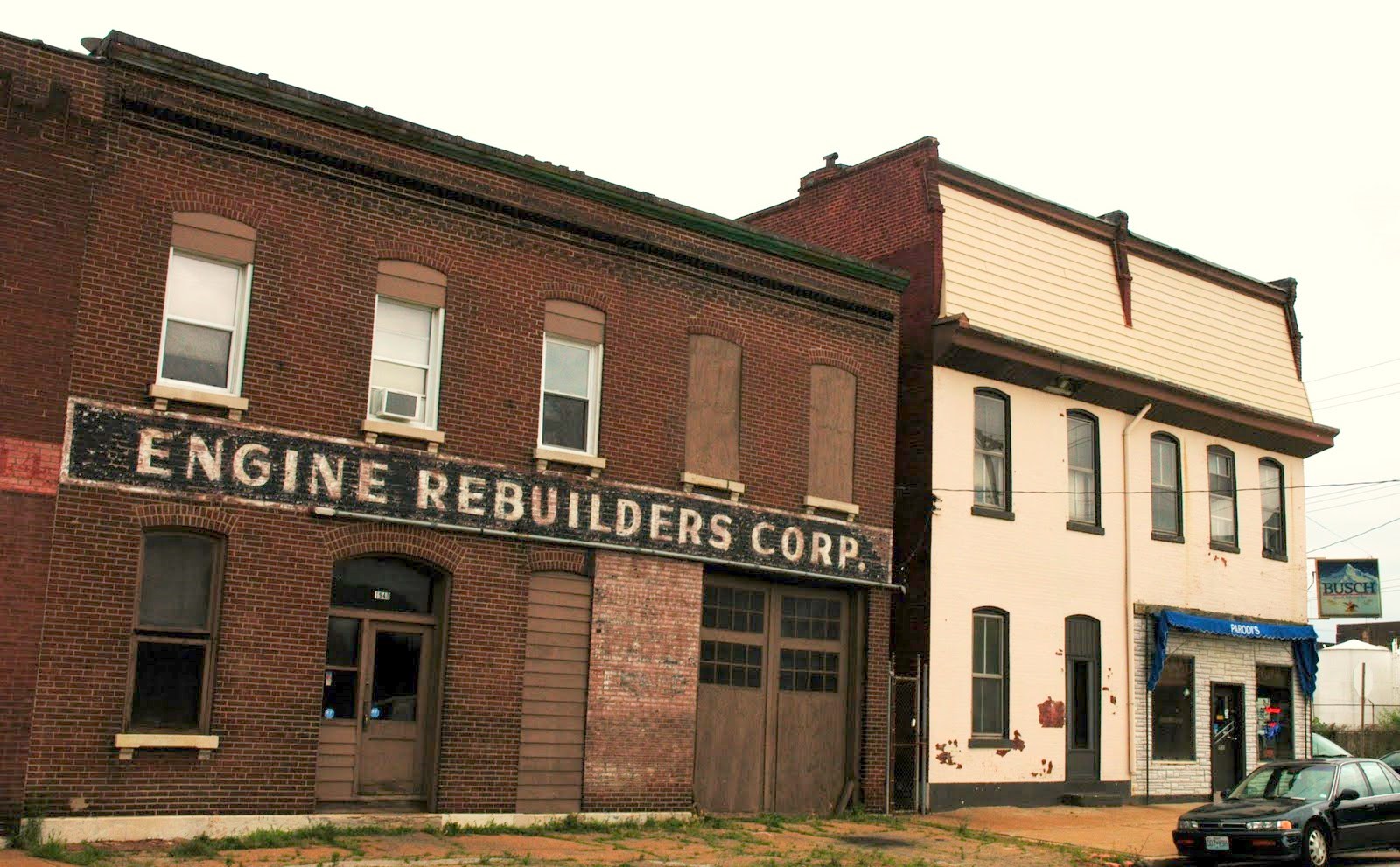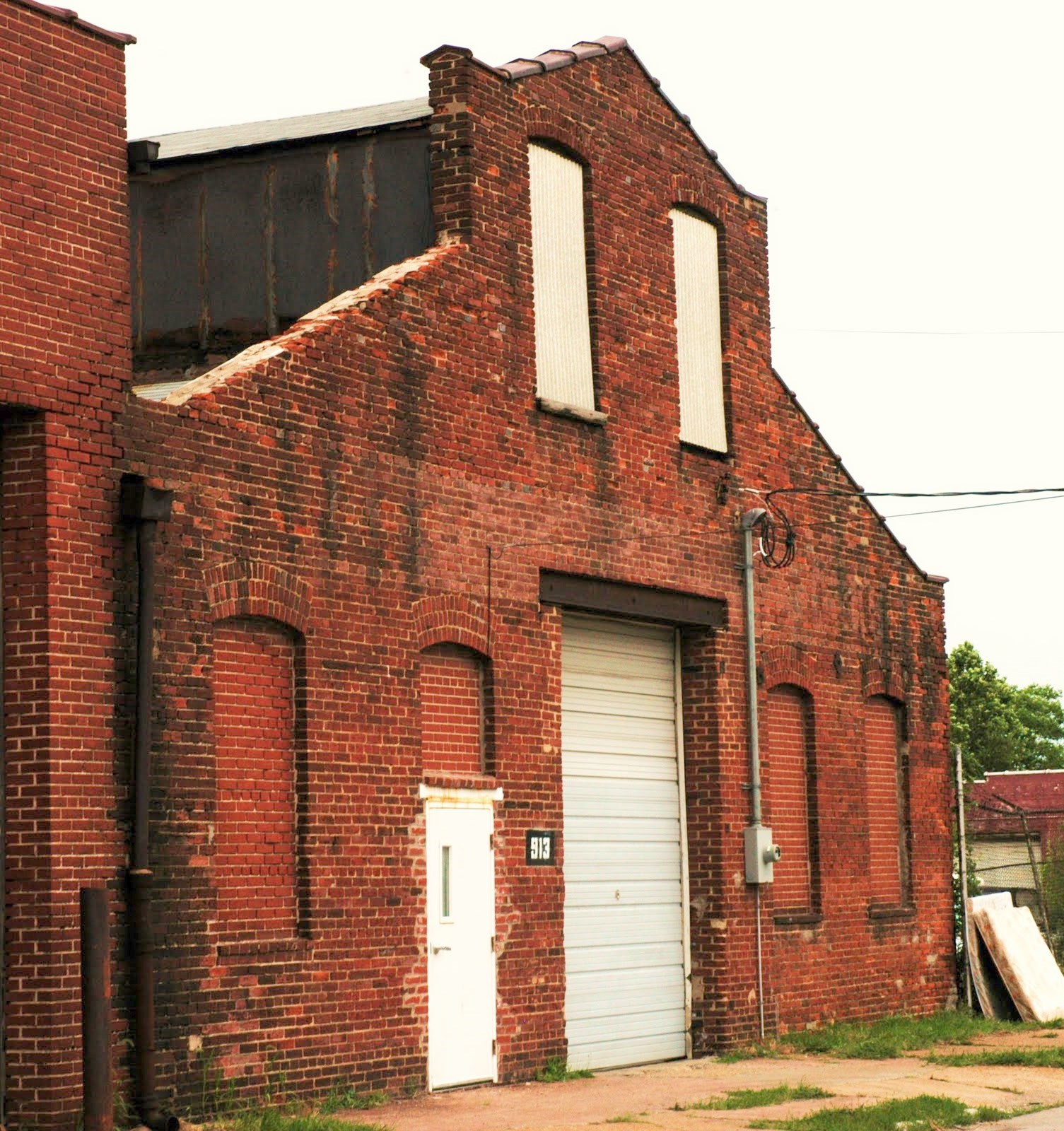 This firehouse is quite reminiscent of the one in the Hi-Pointe neighborhood at the I-64 and McCausland area: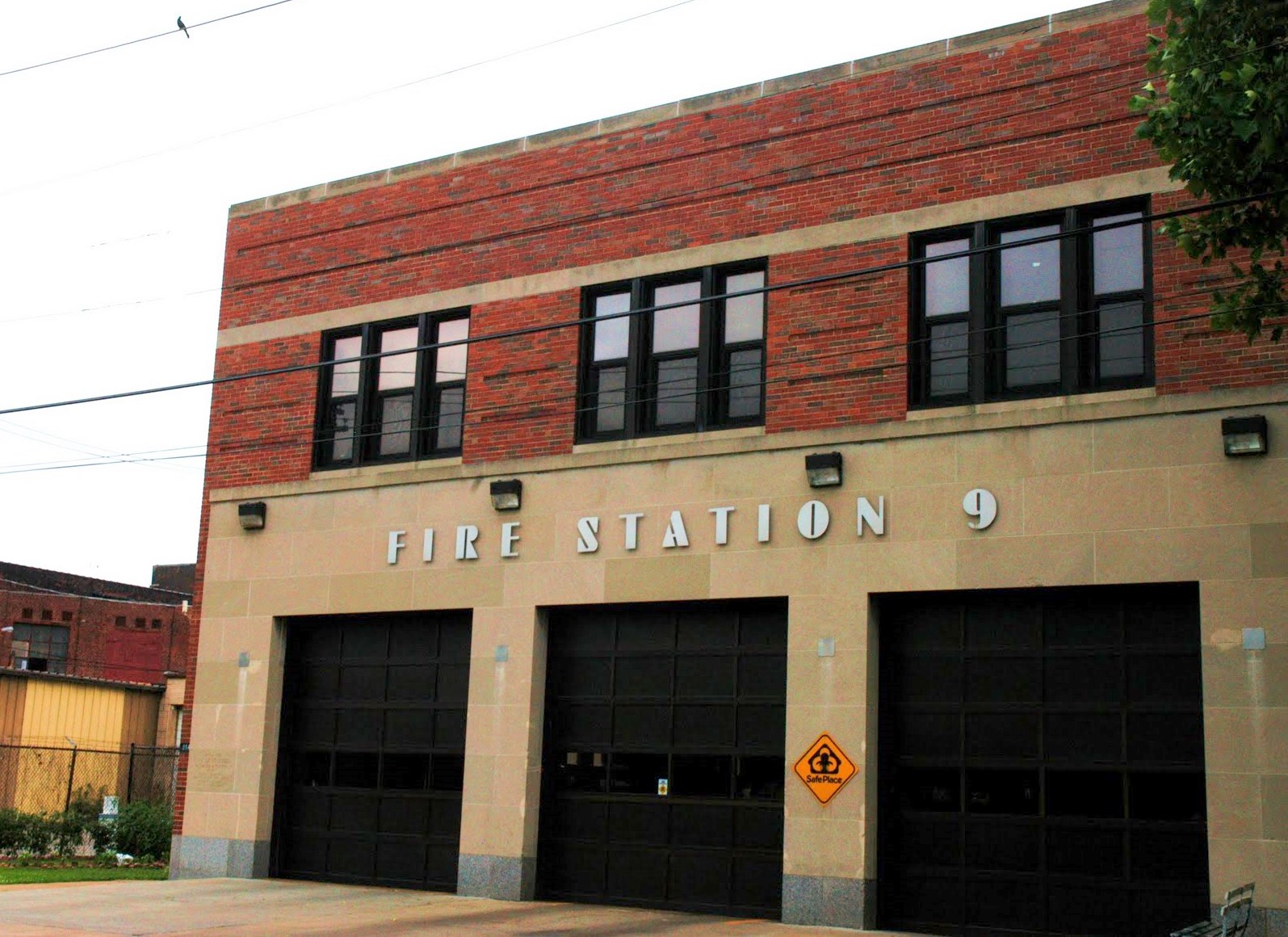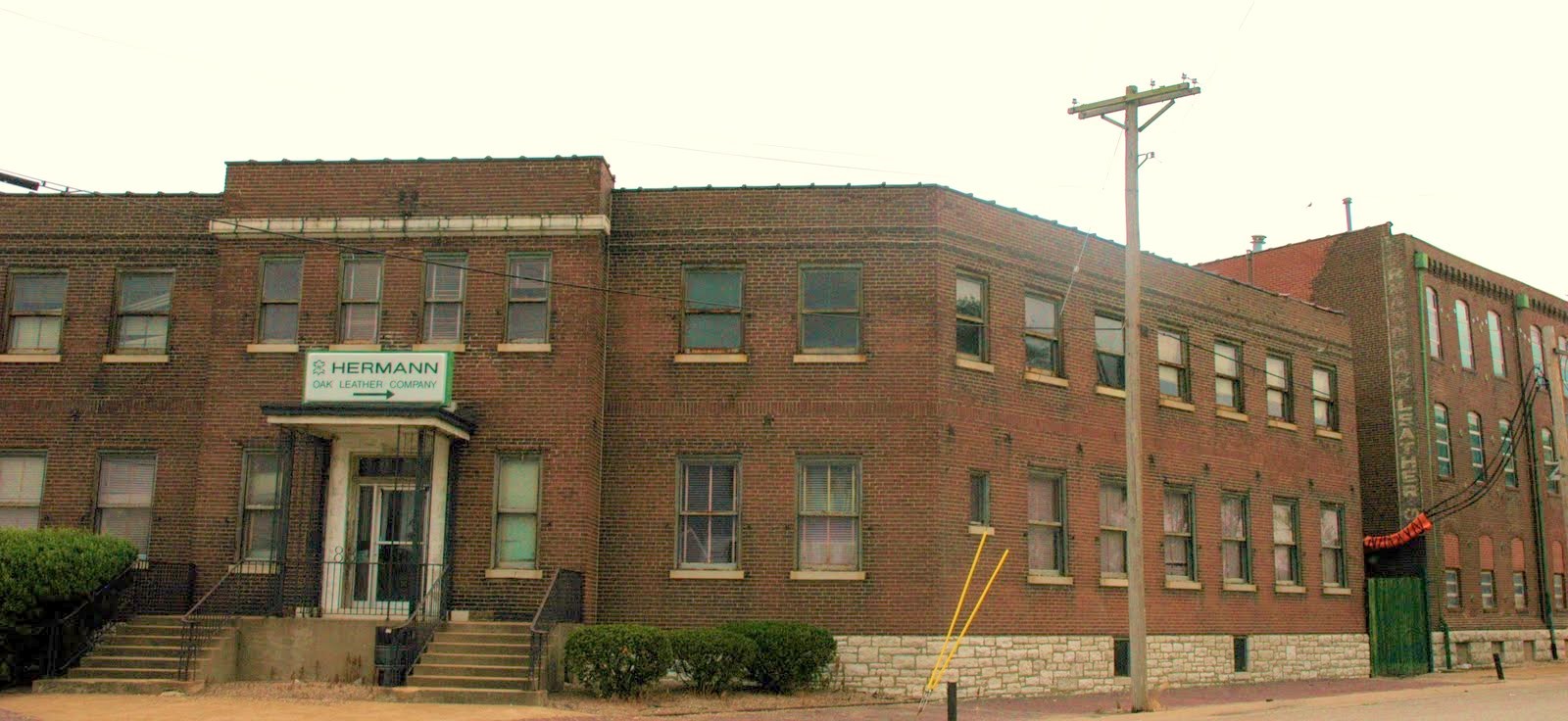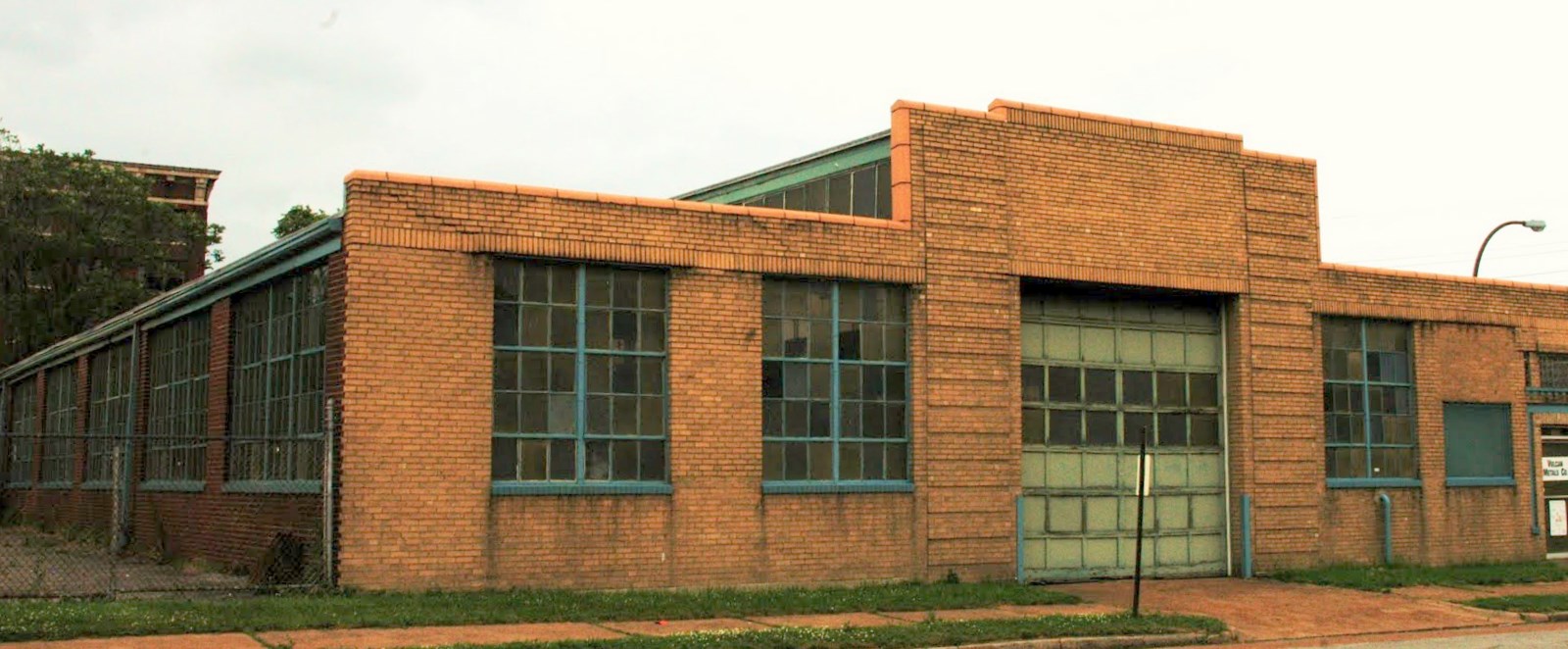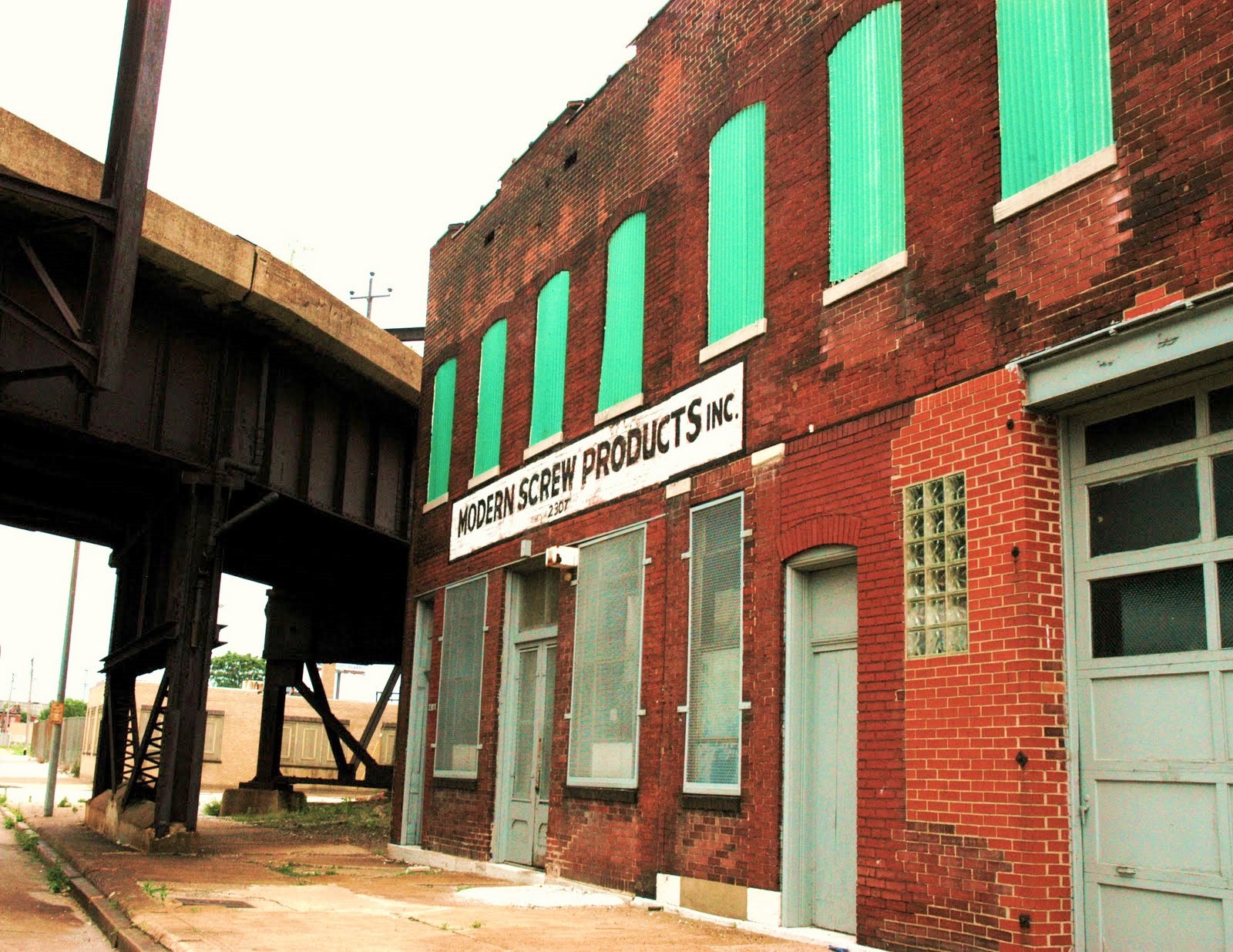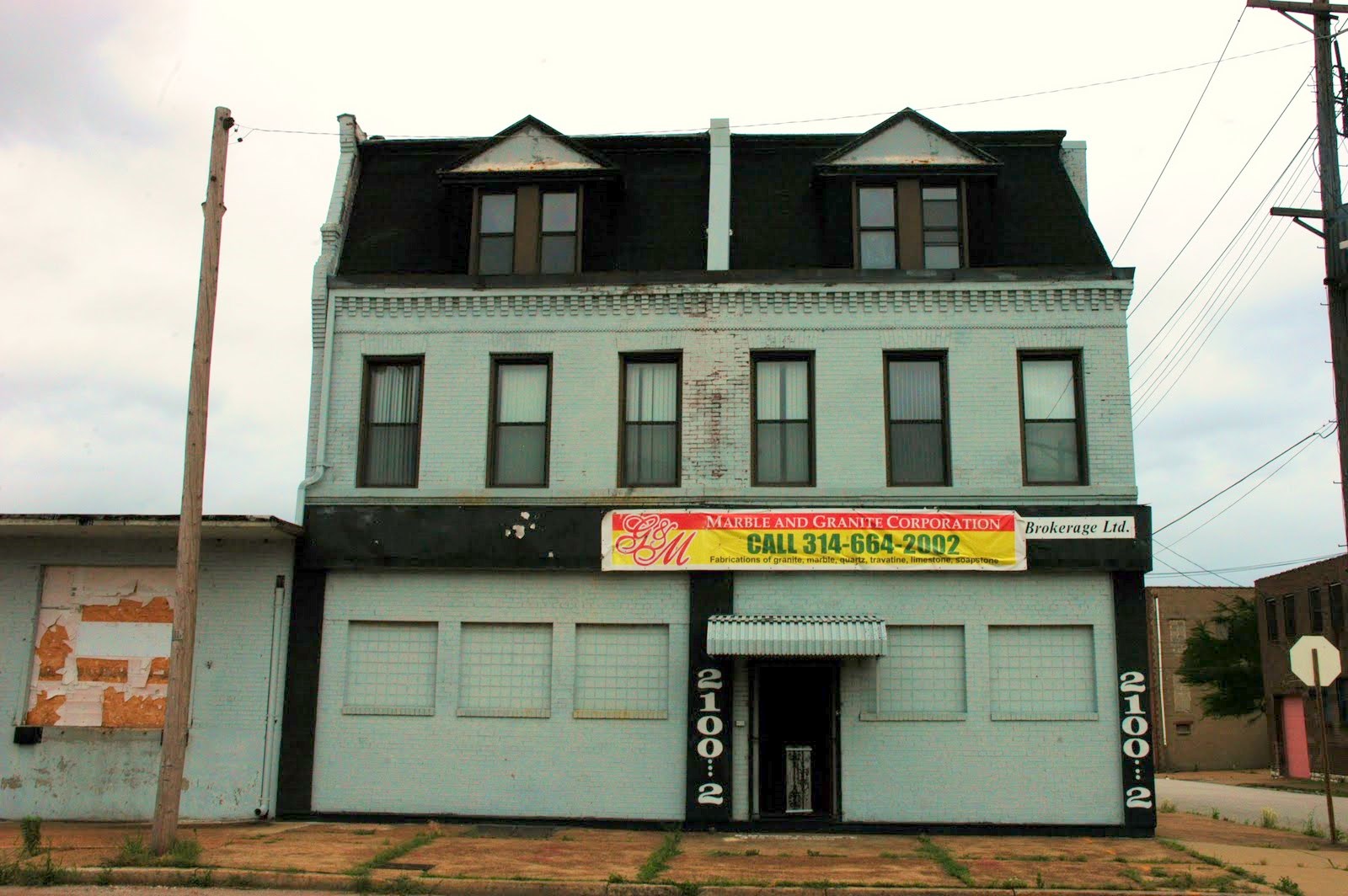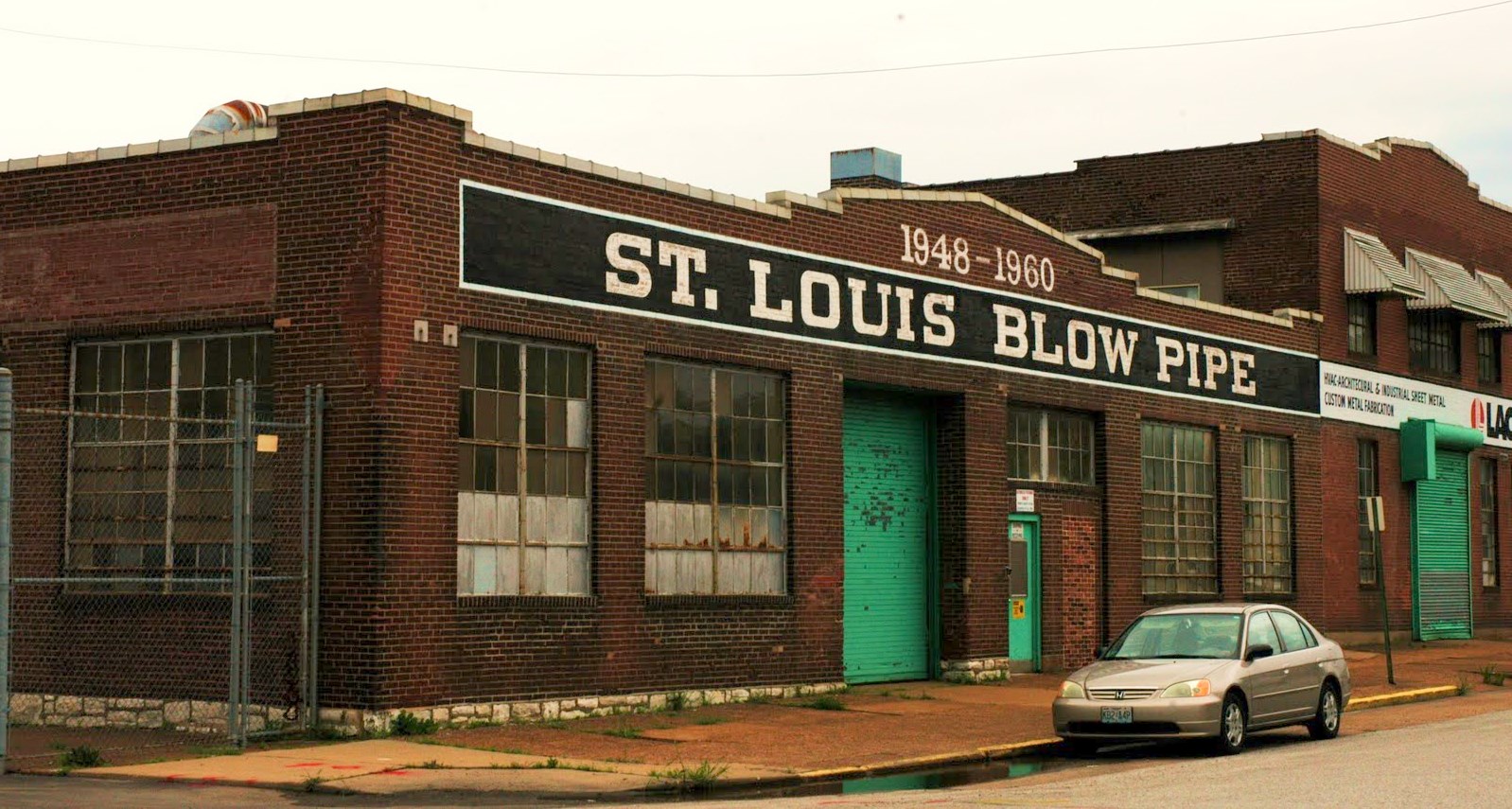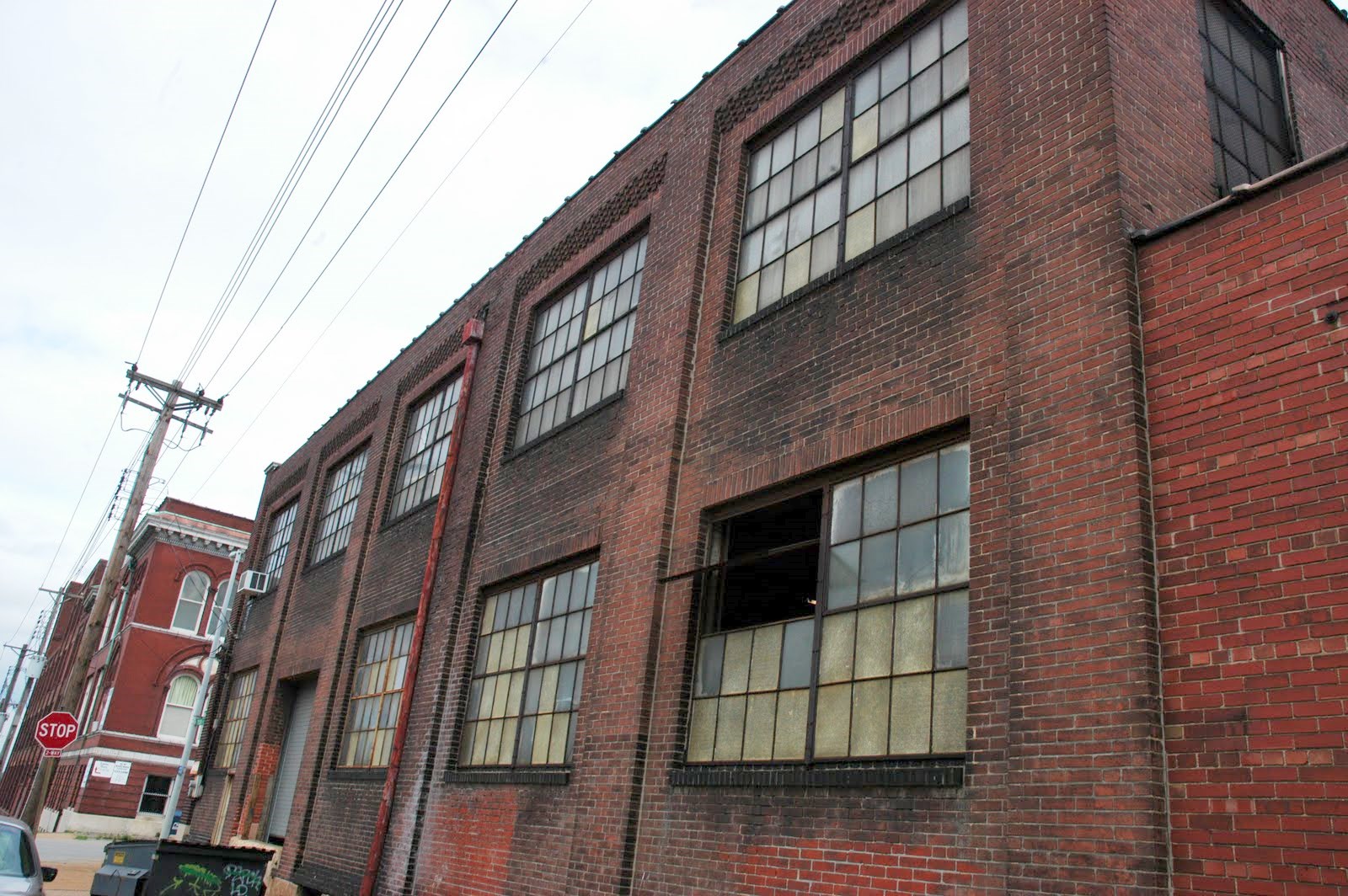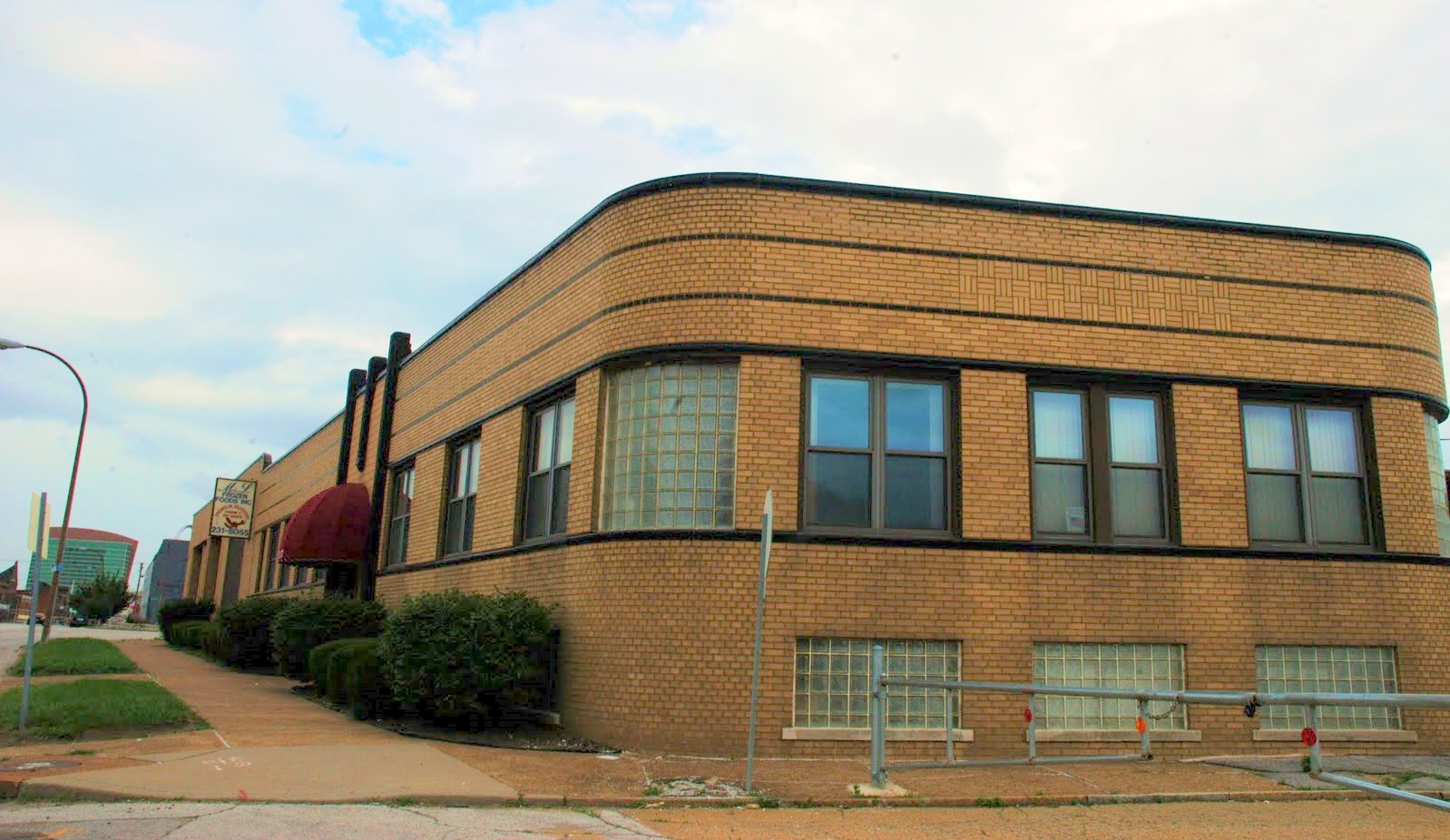 It's good to see some additional investment in Near North Riverfront: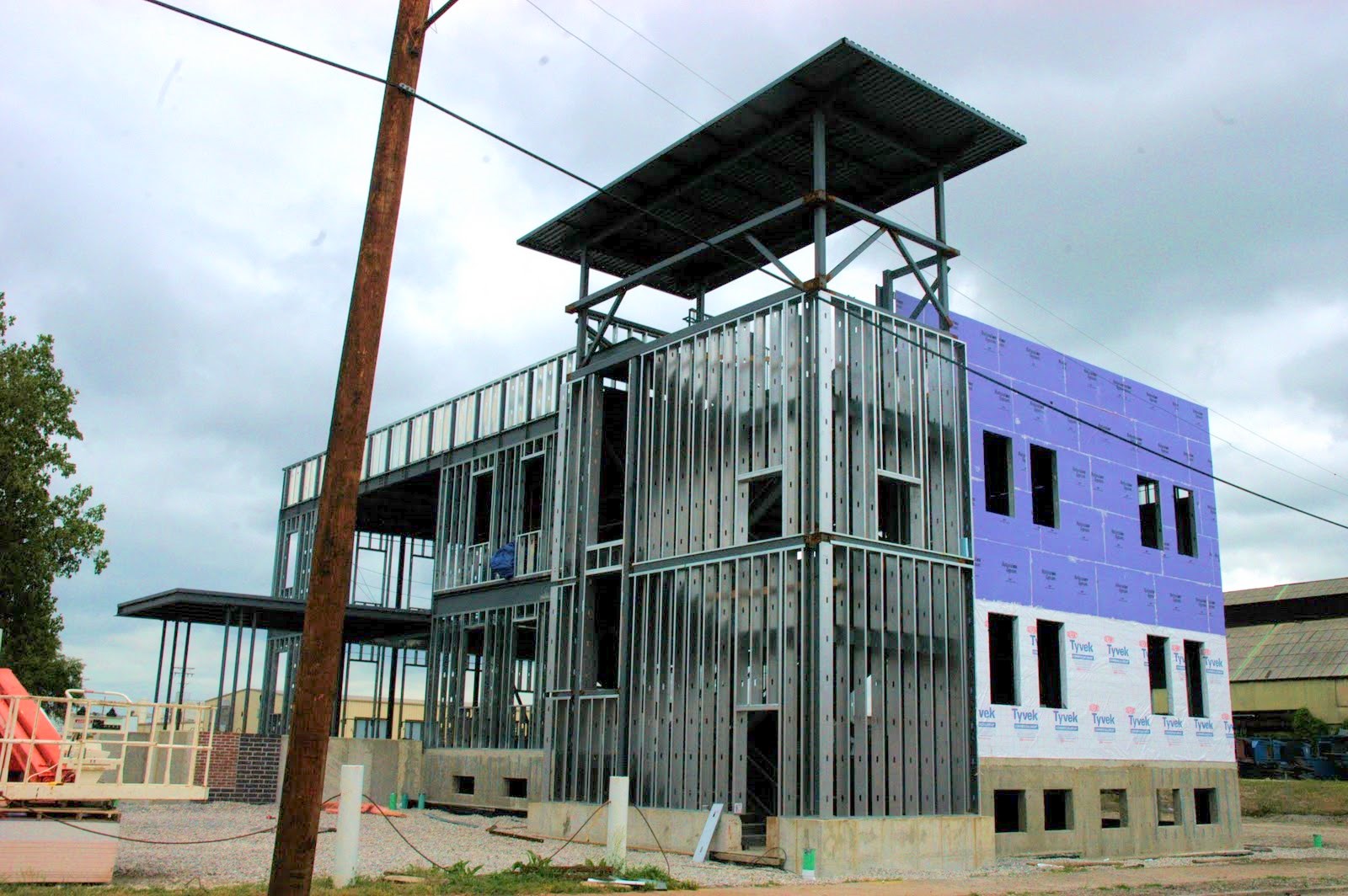 There a many, many abandoned factories awaiting new life: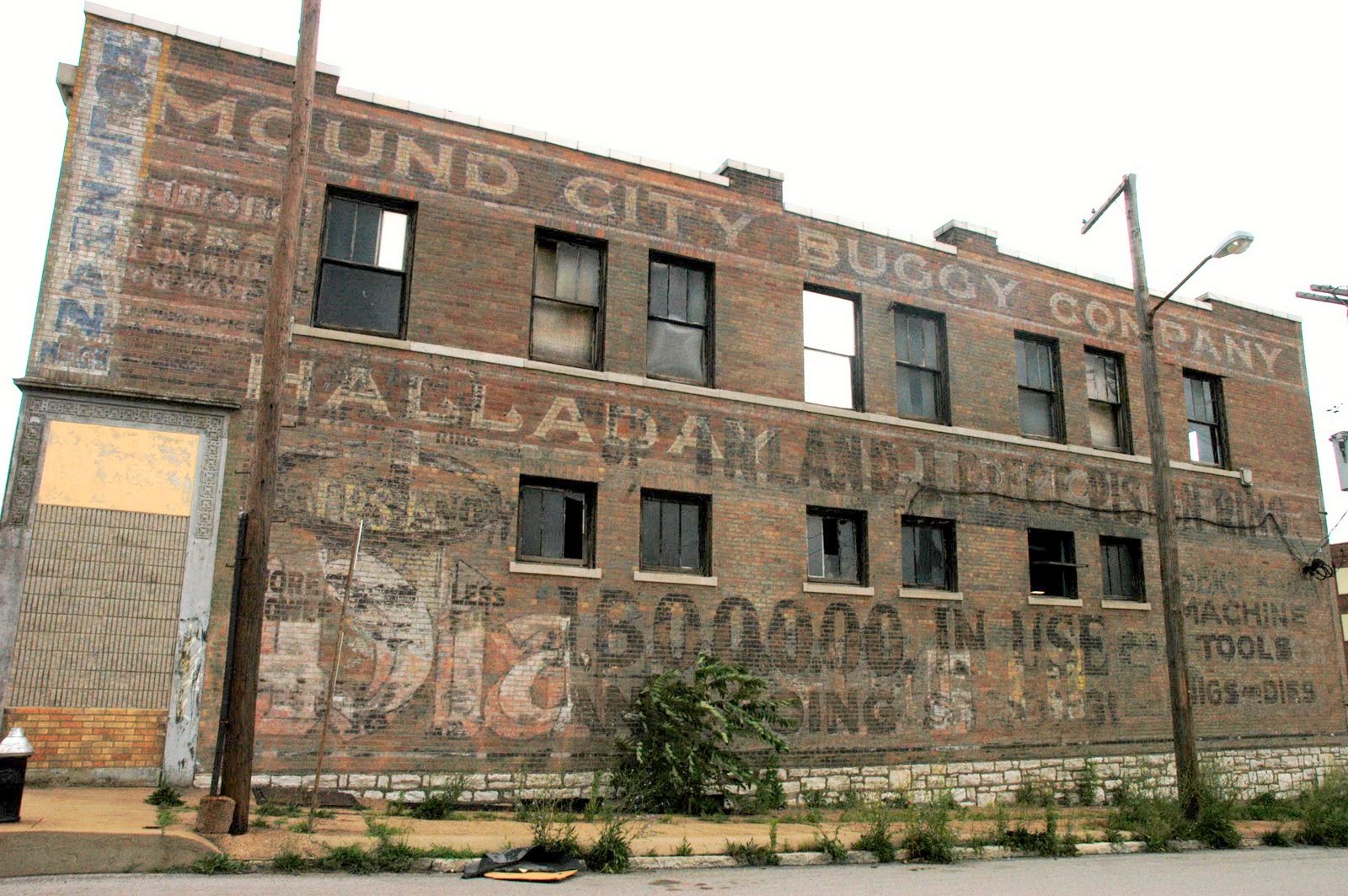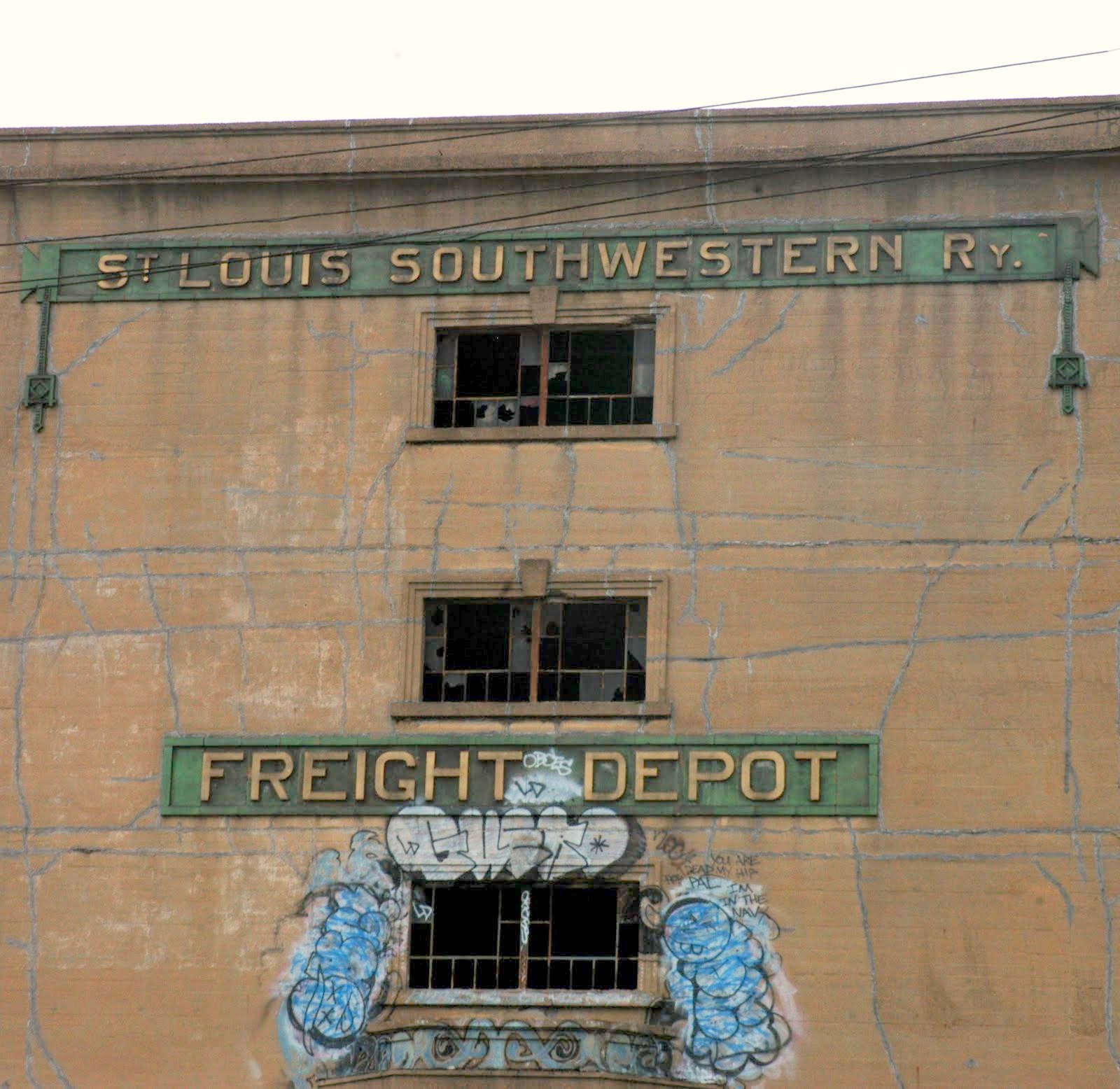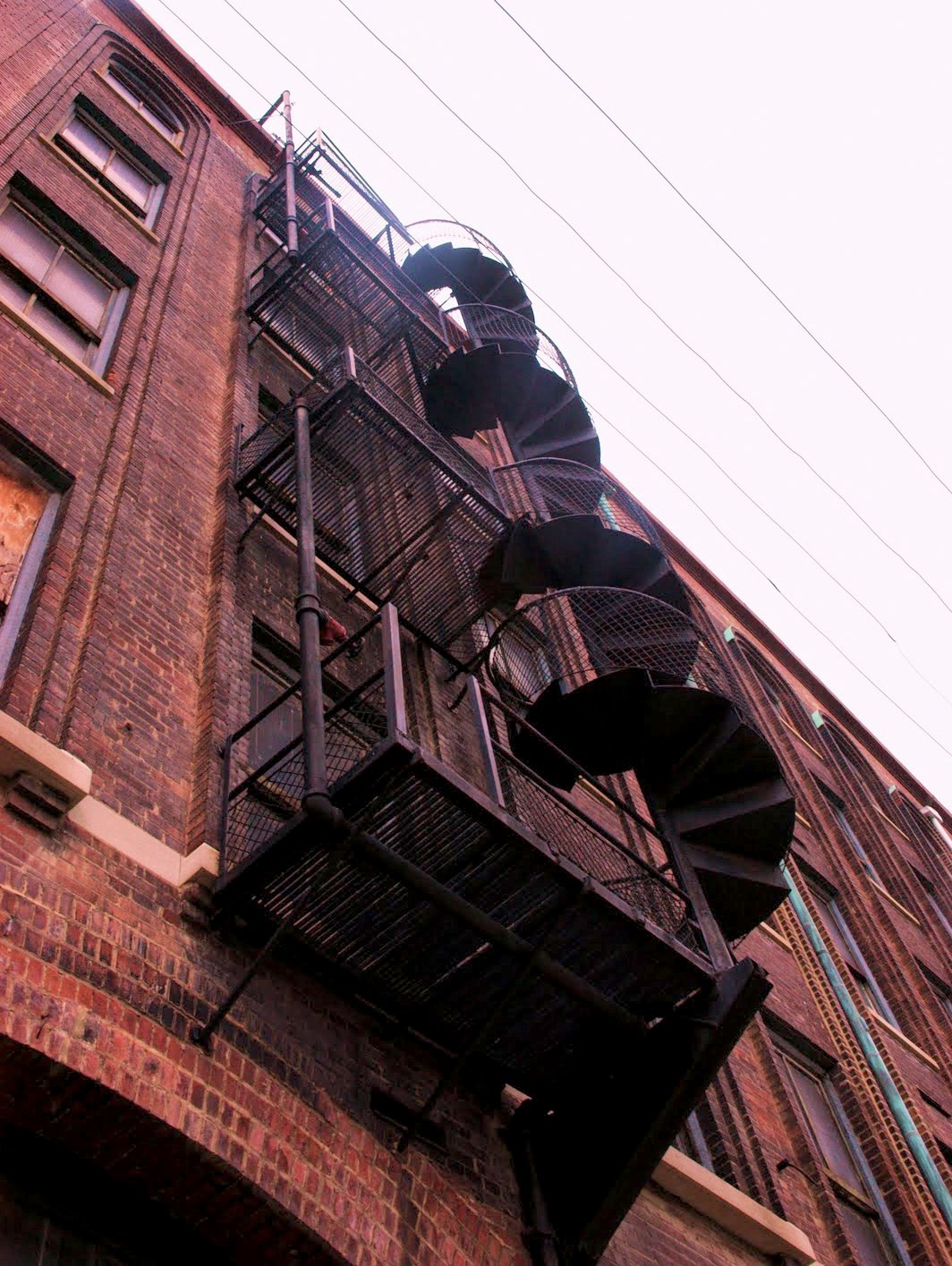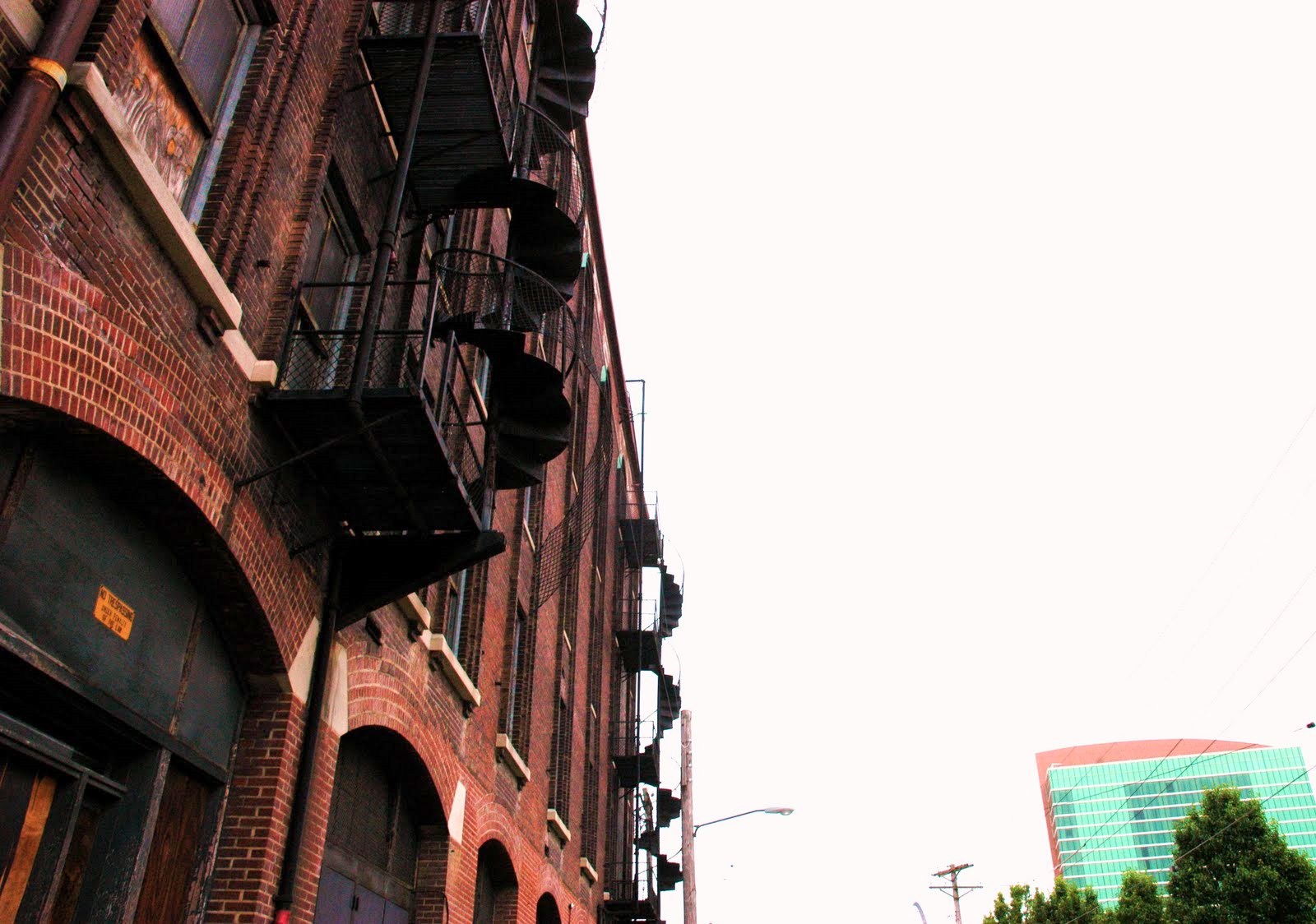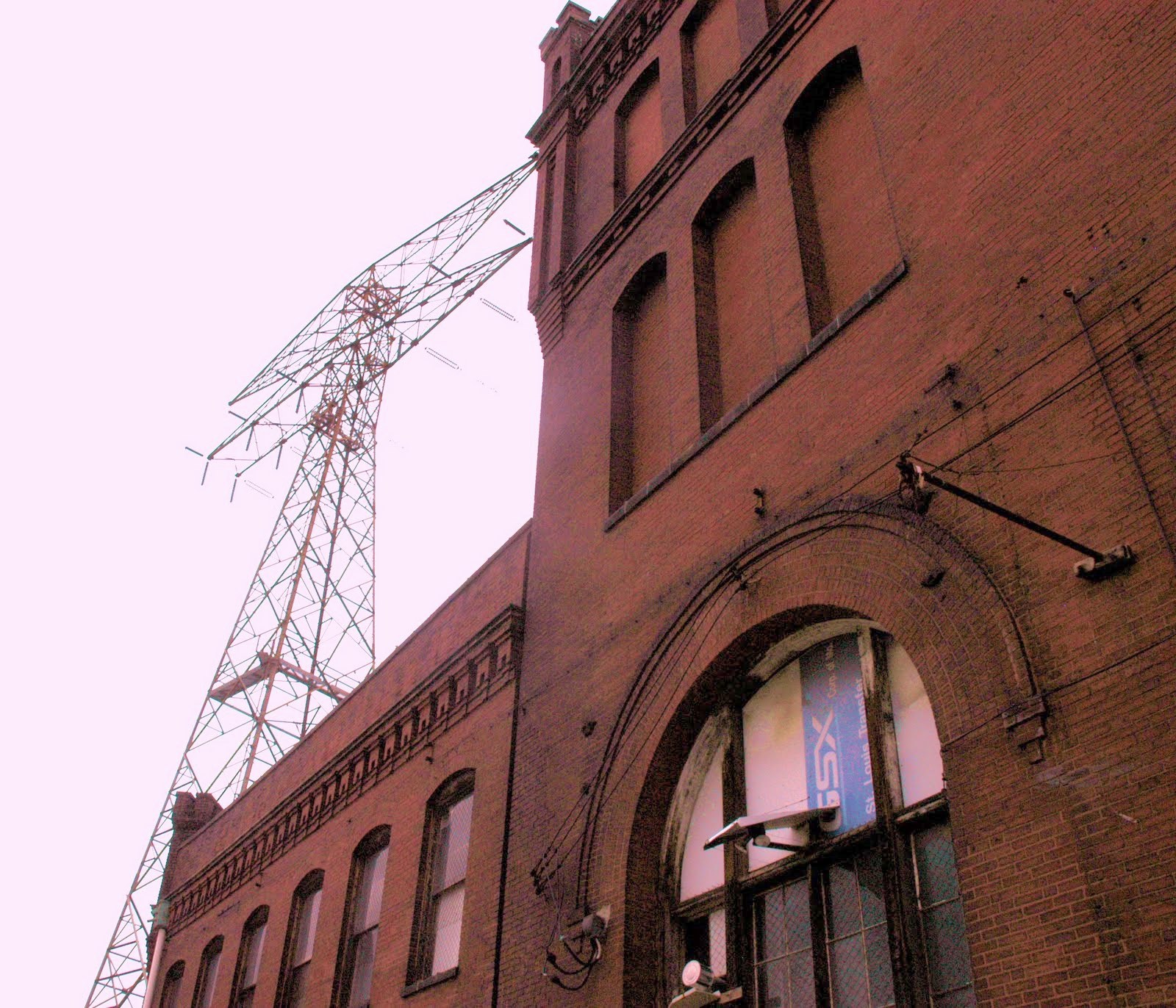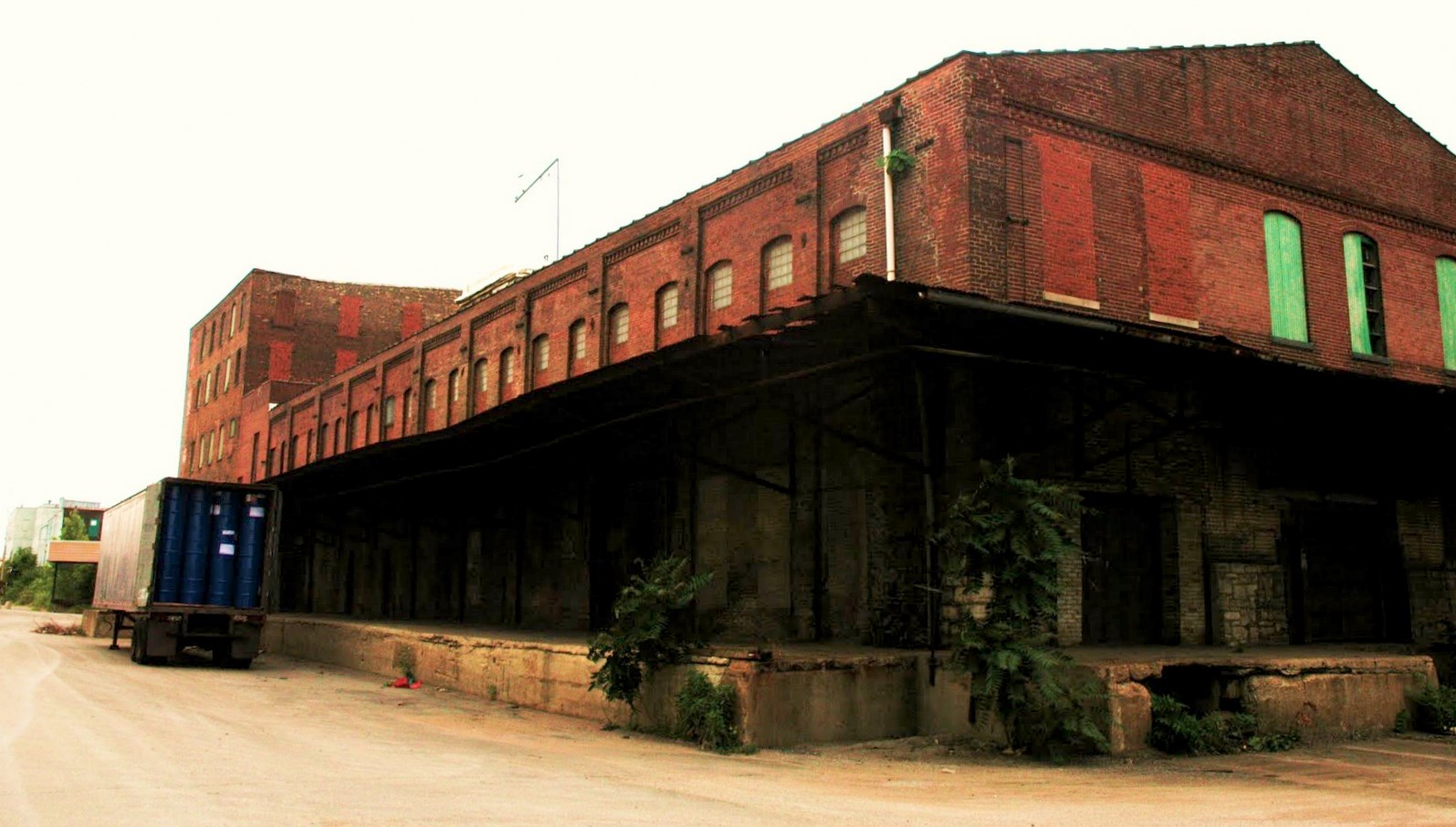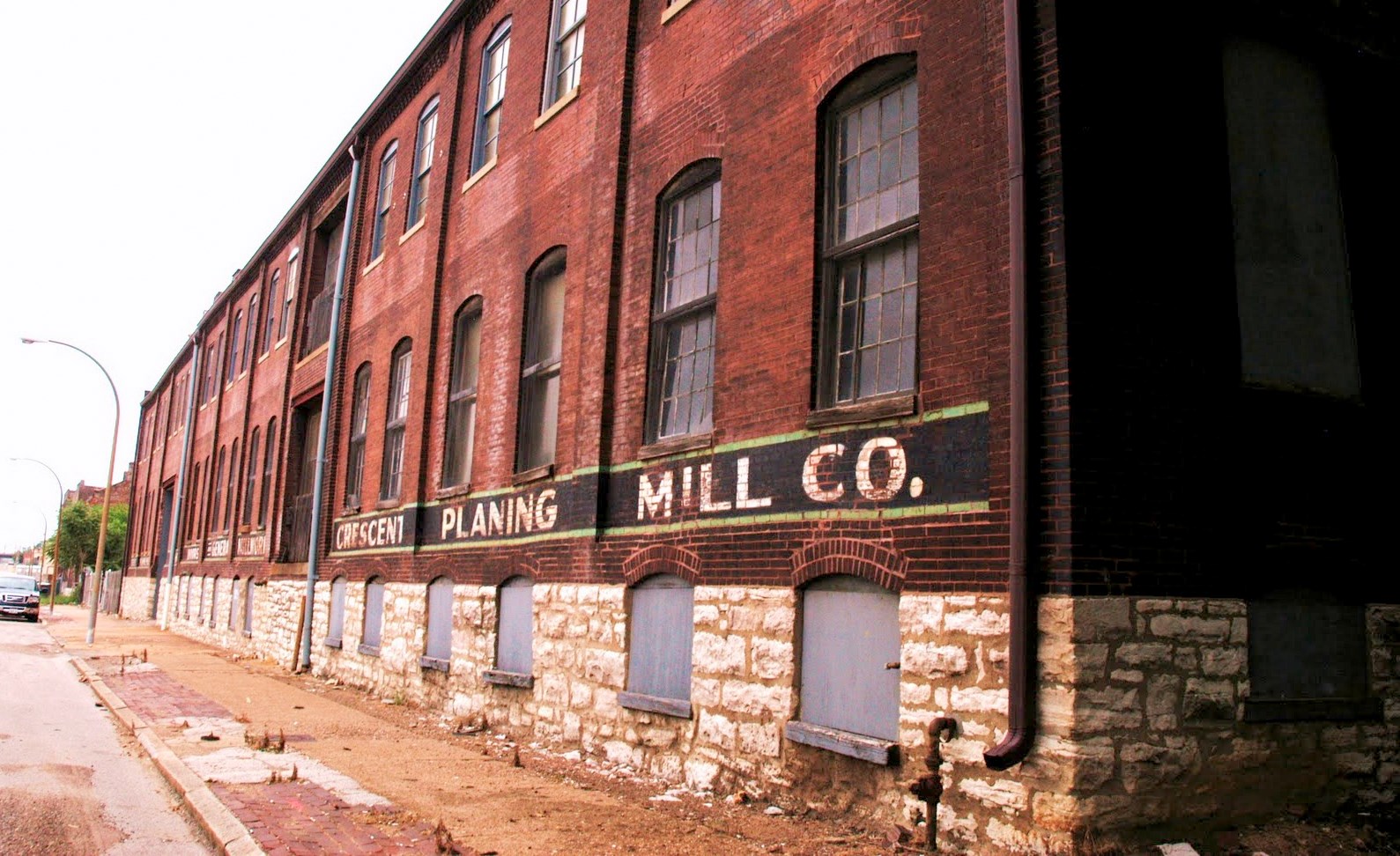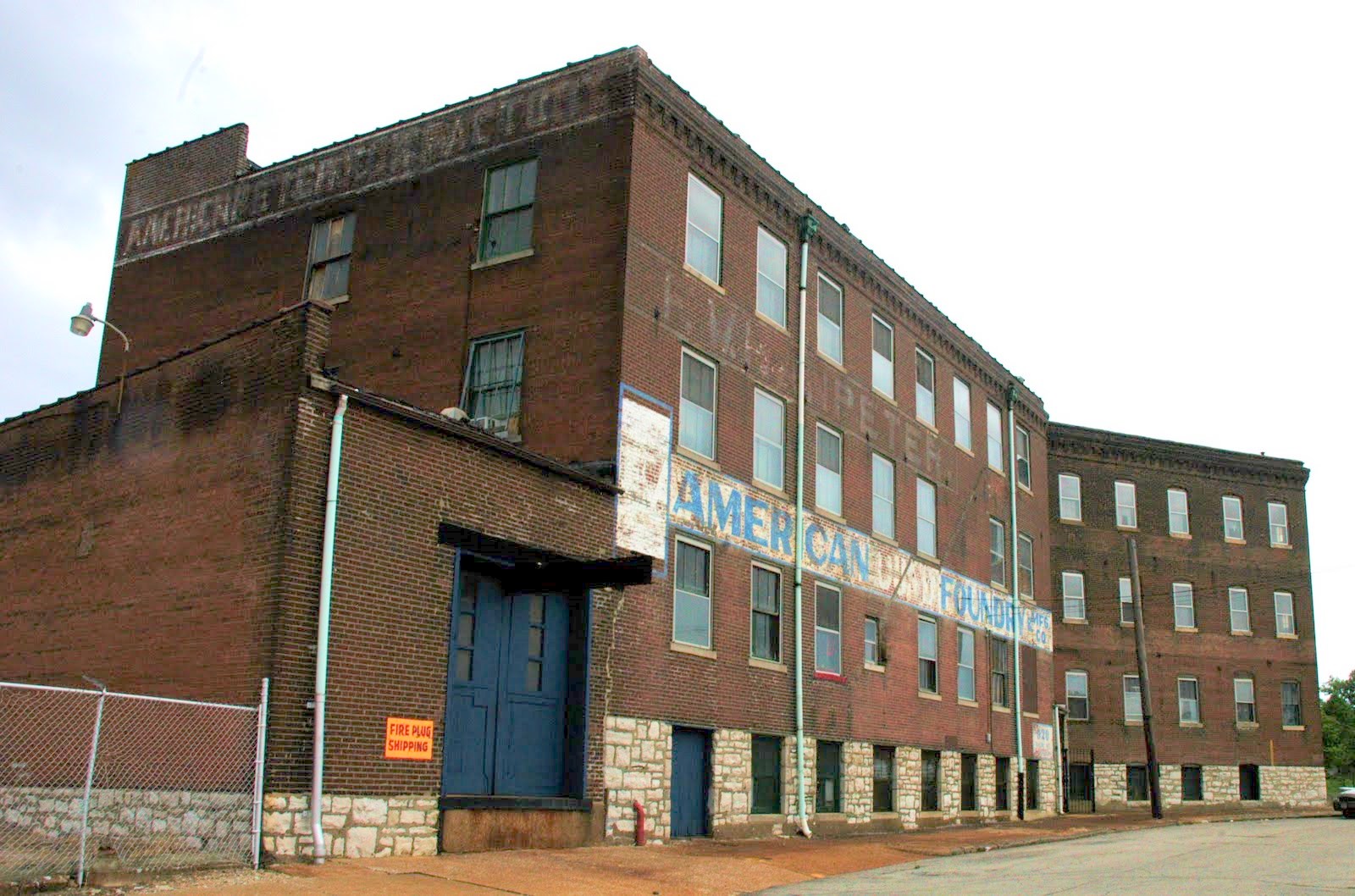 You know Collinsville, Illinois is a major center for horseradish farming: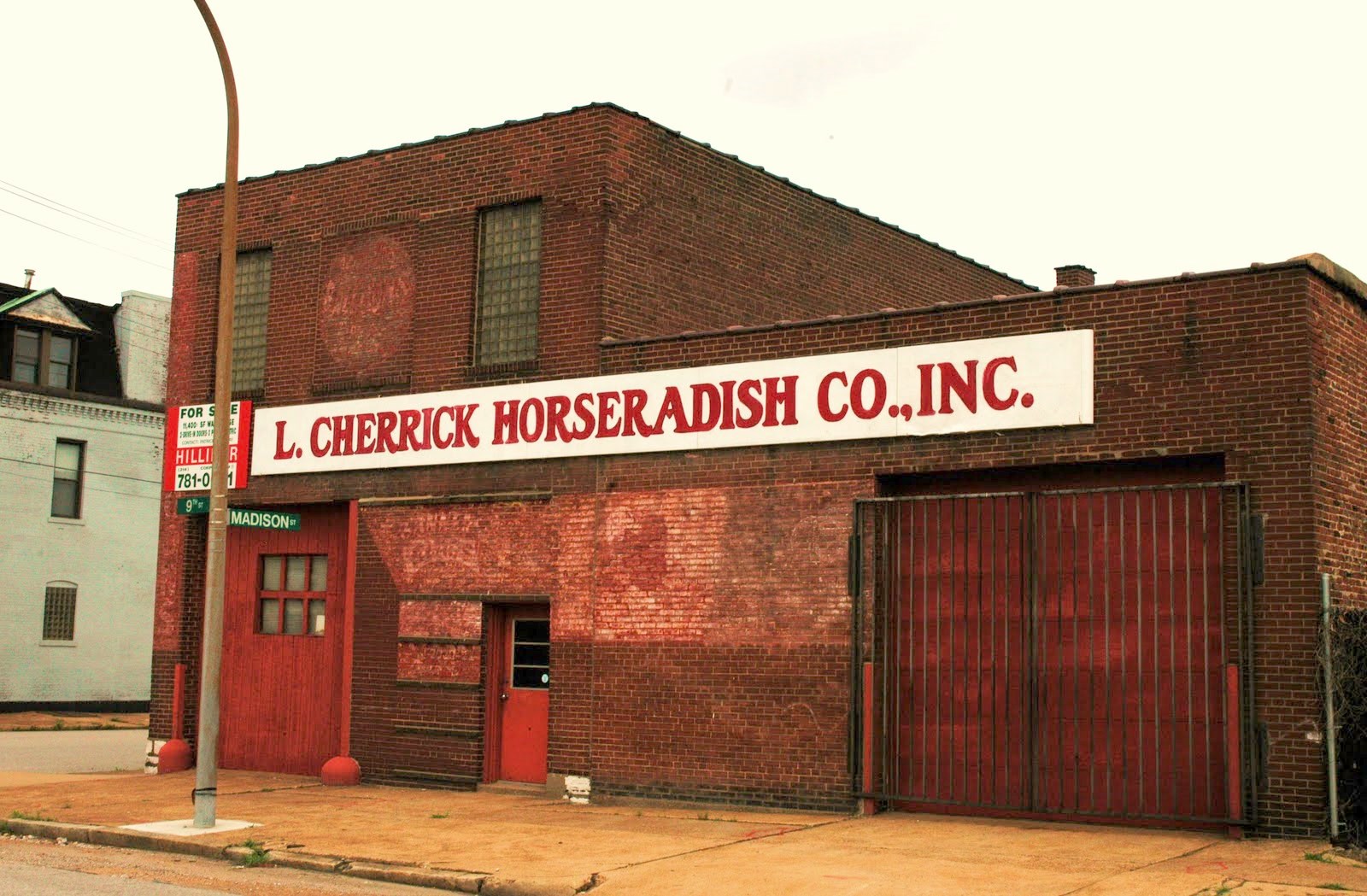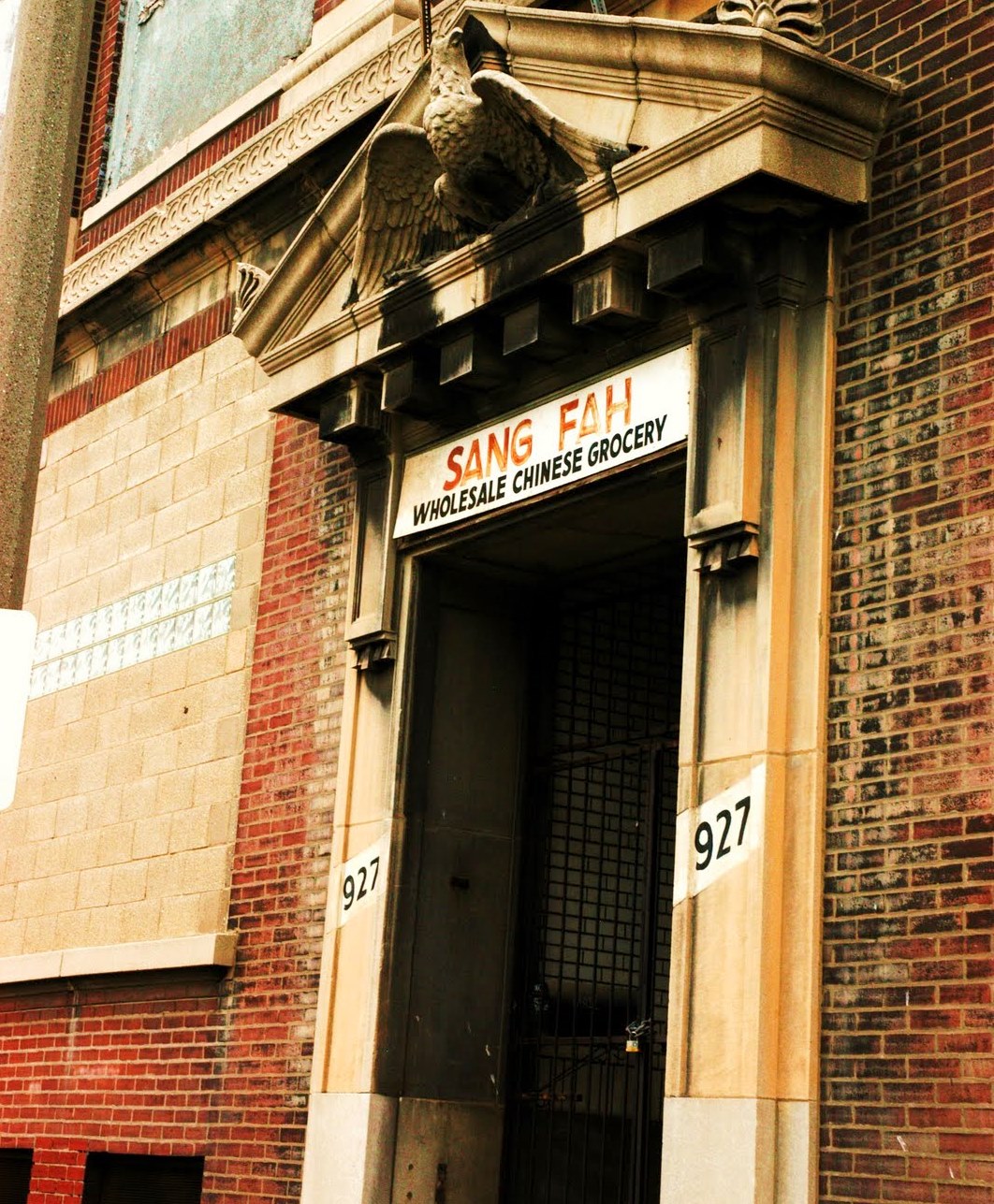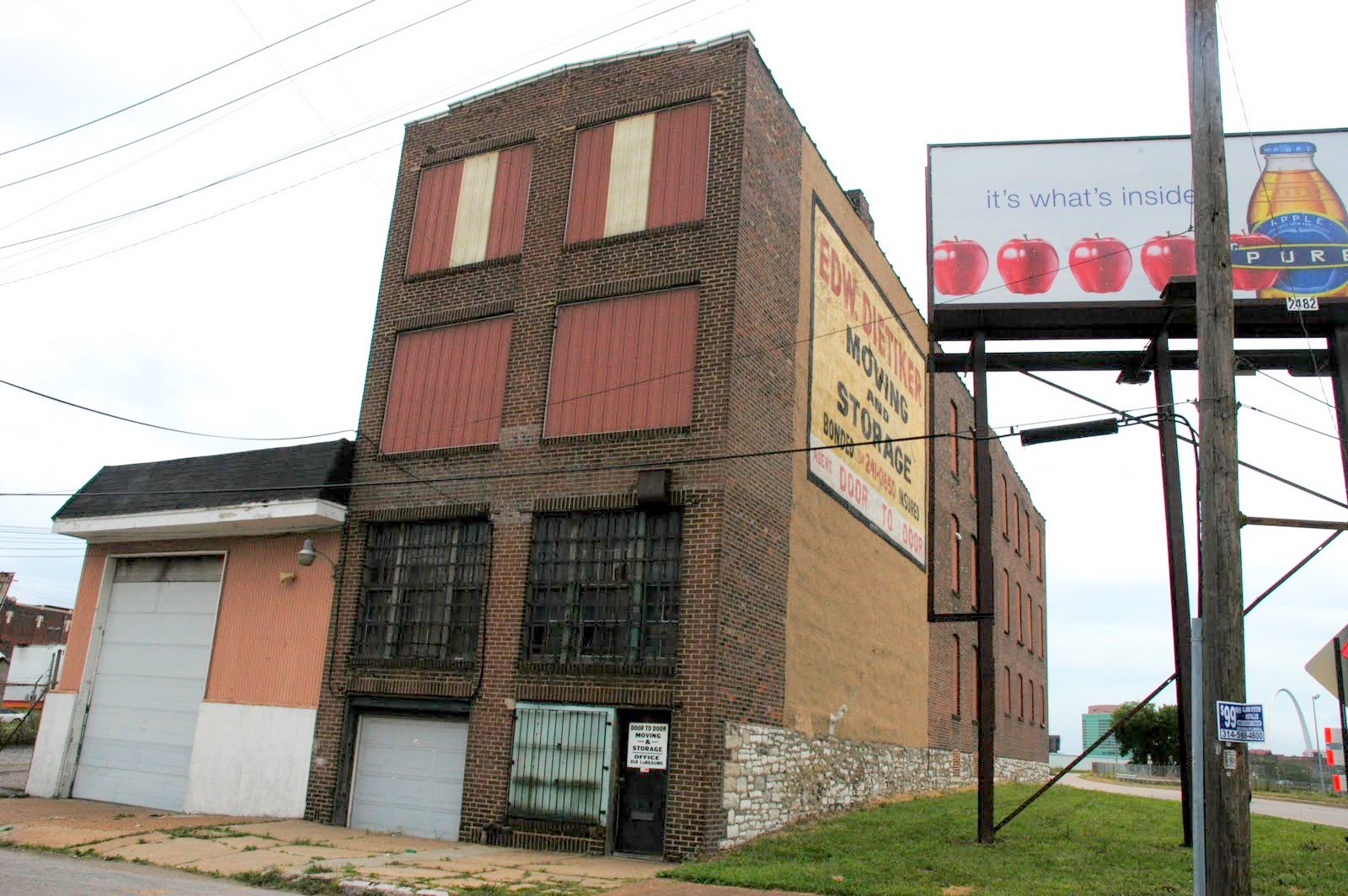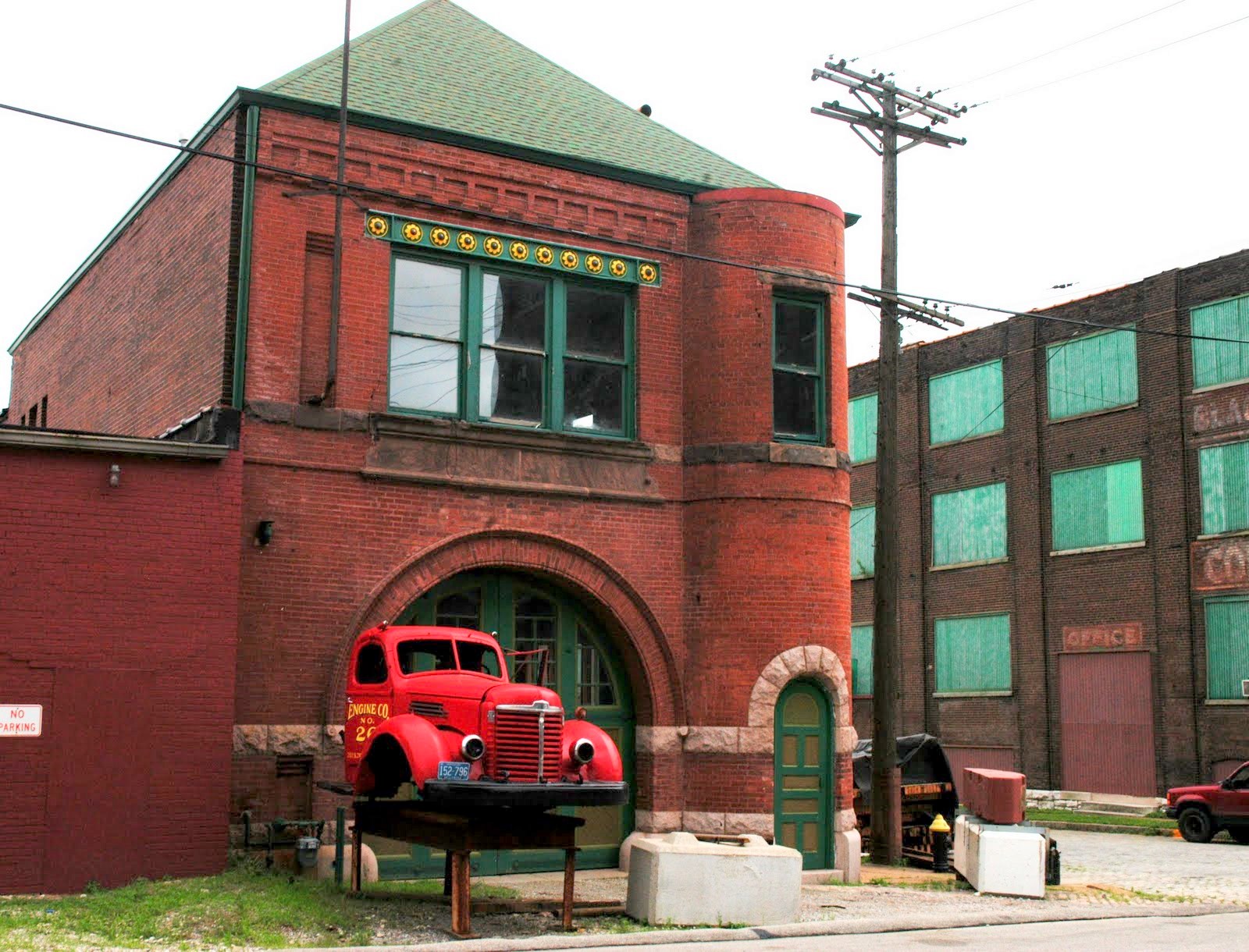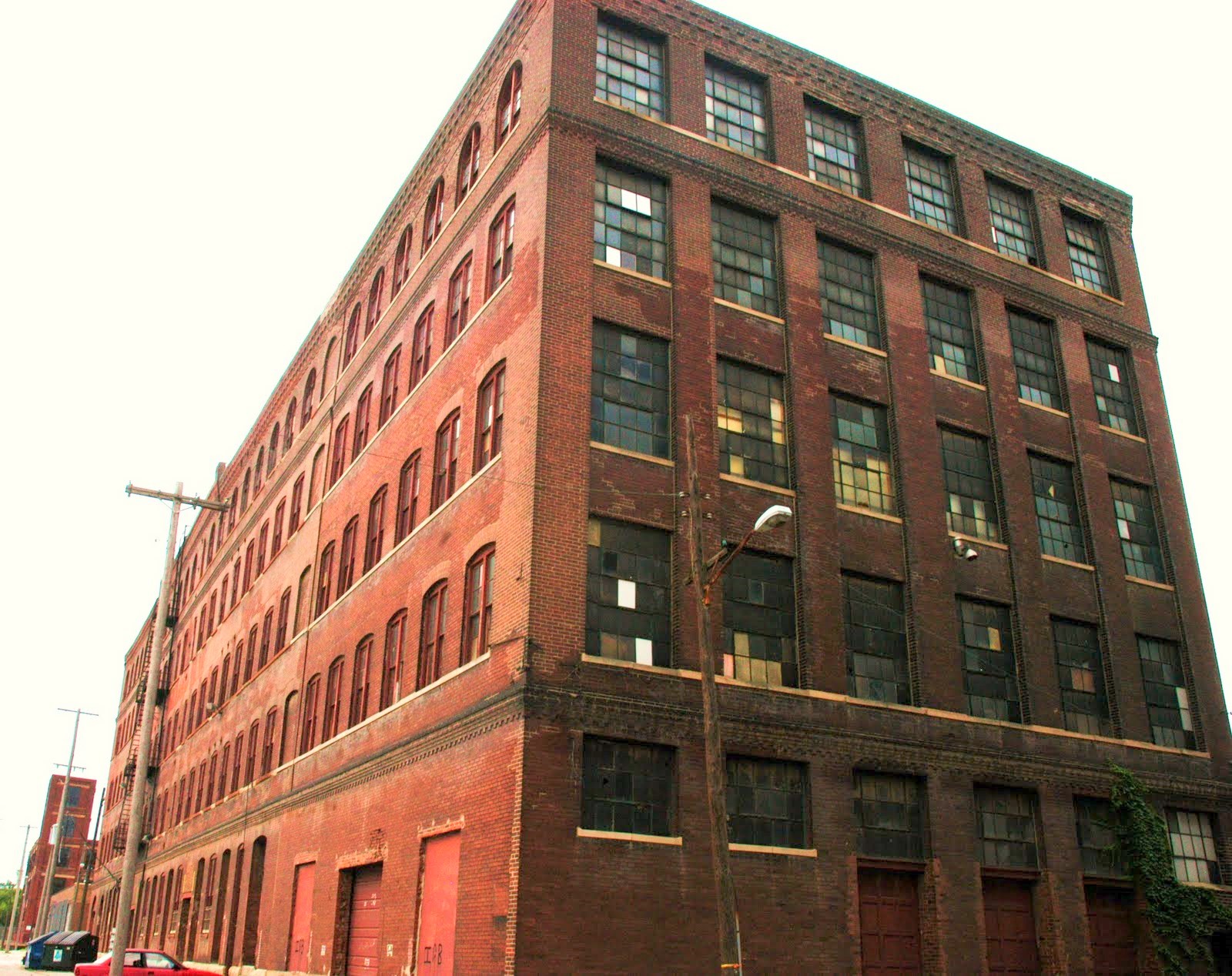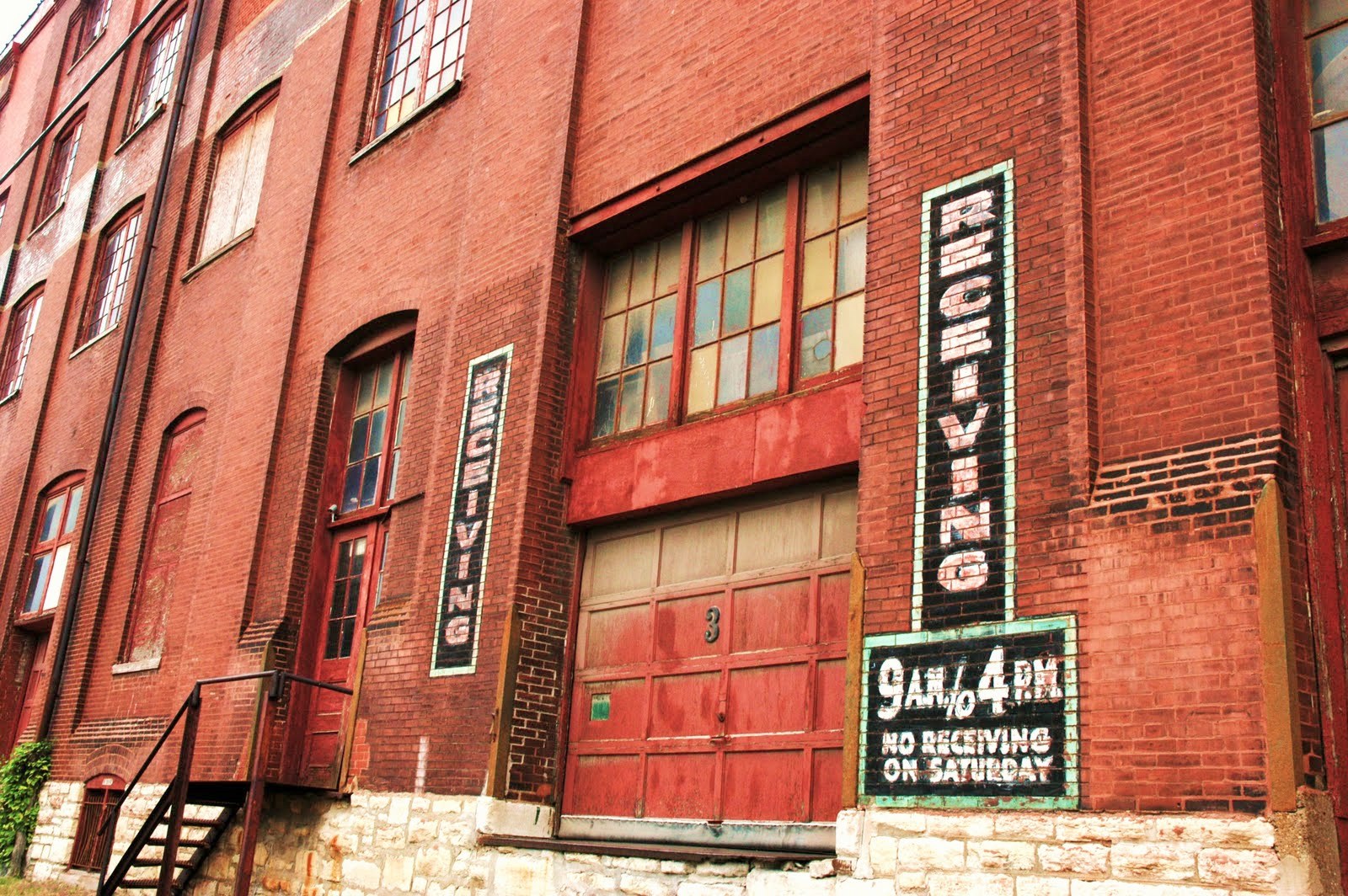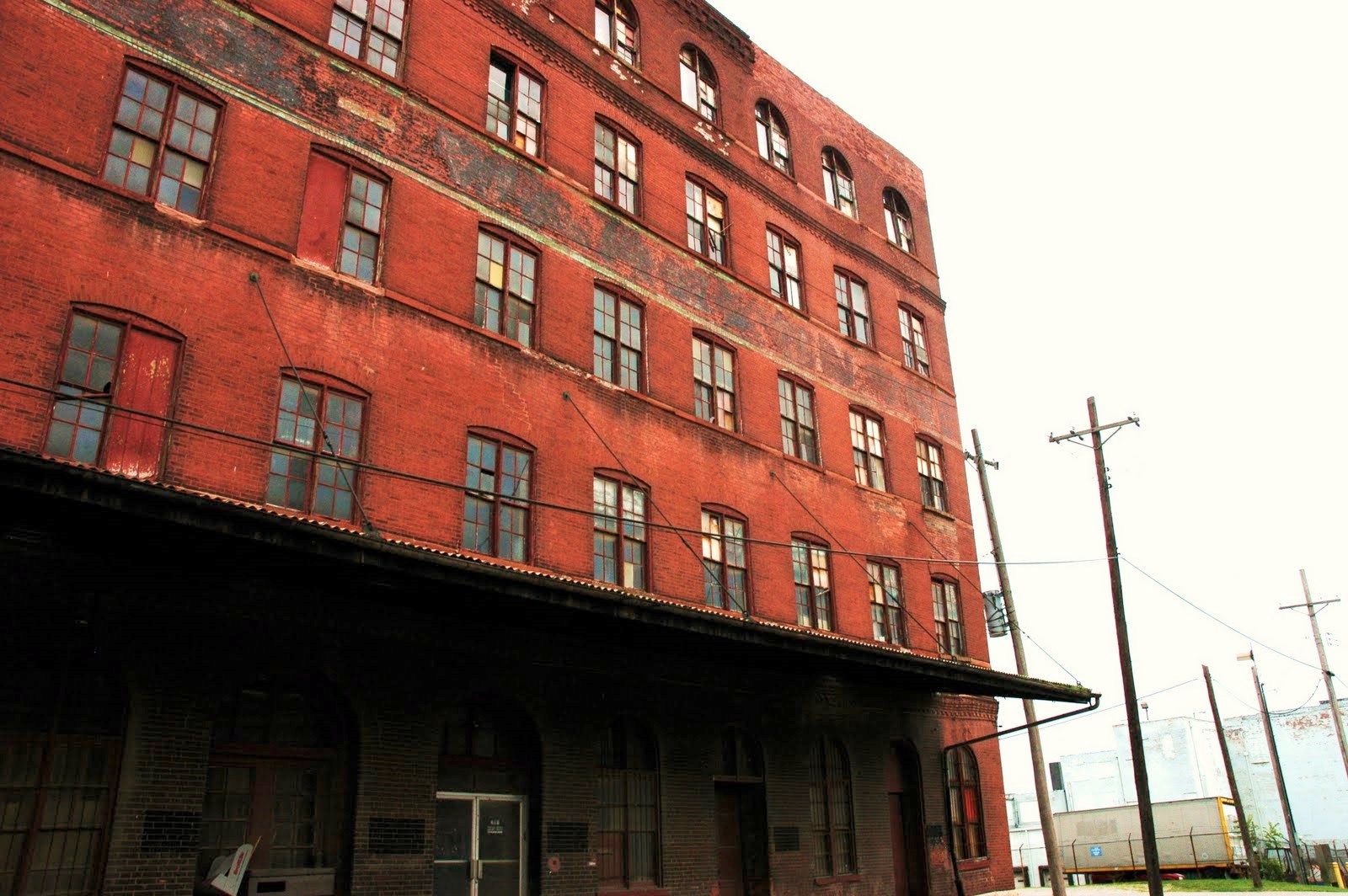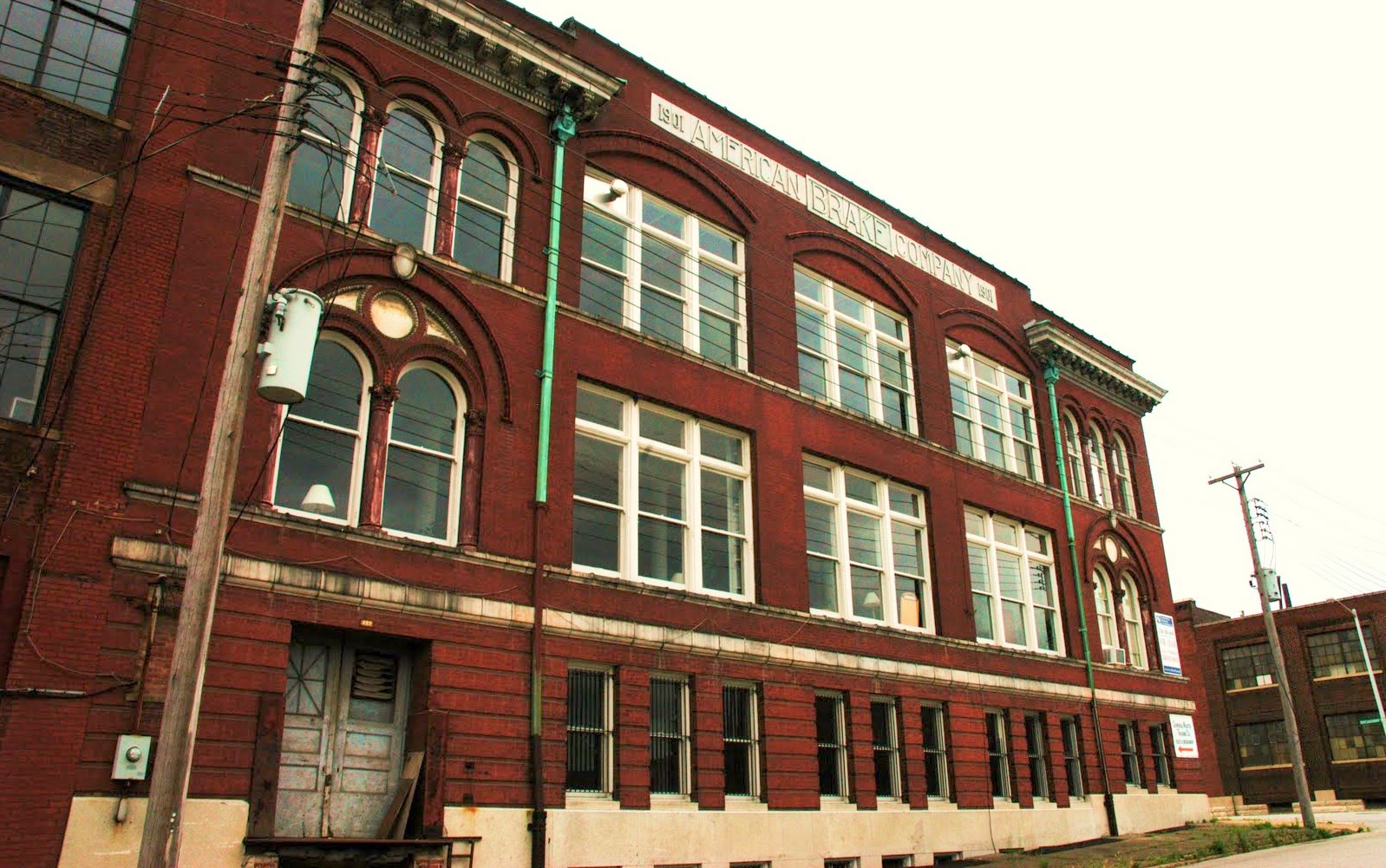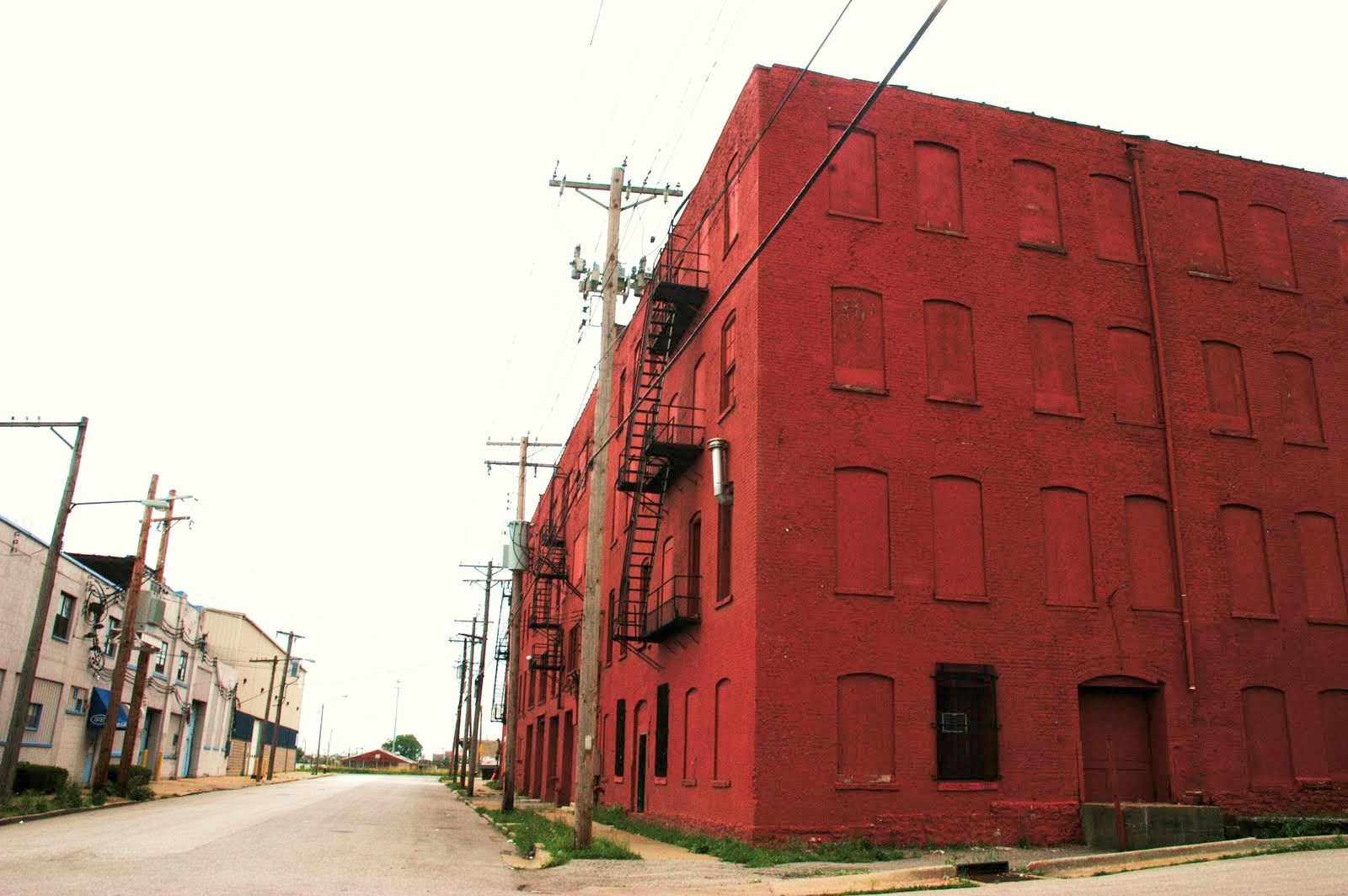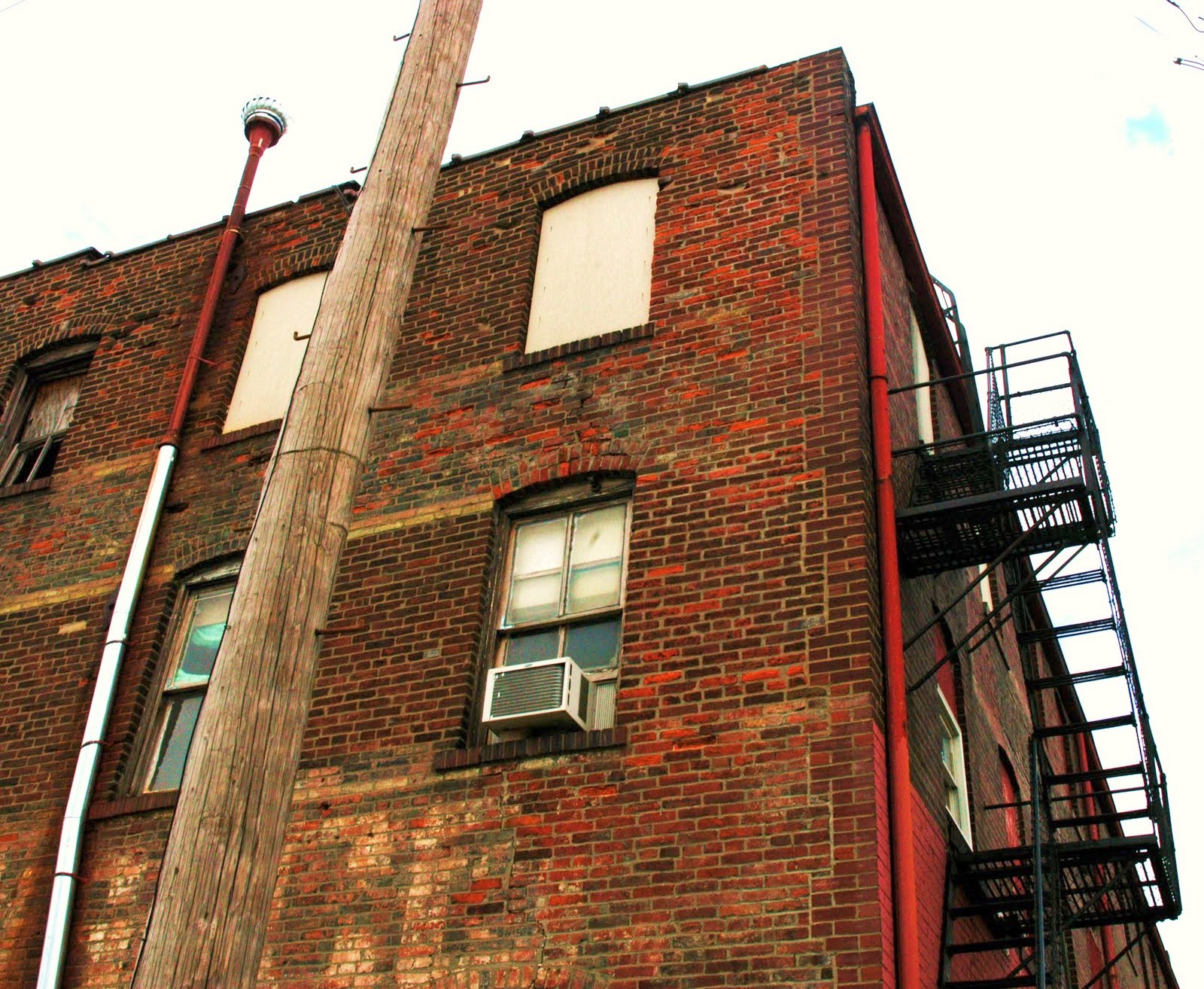 There are some cool train trestles from what a worker in the neighborhood told me were once electric powered trains that carried stuff from the river toward the city: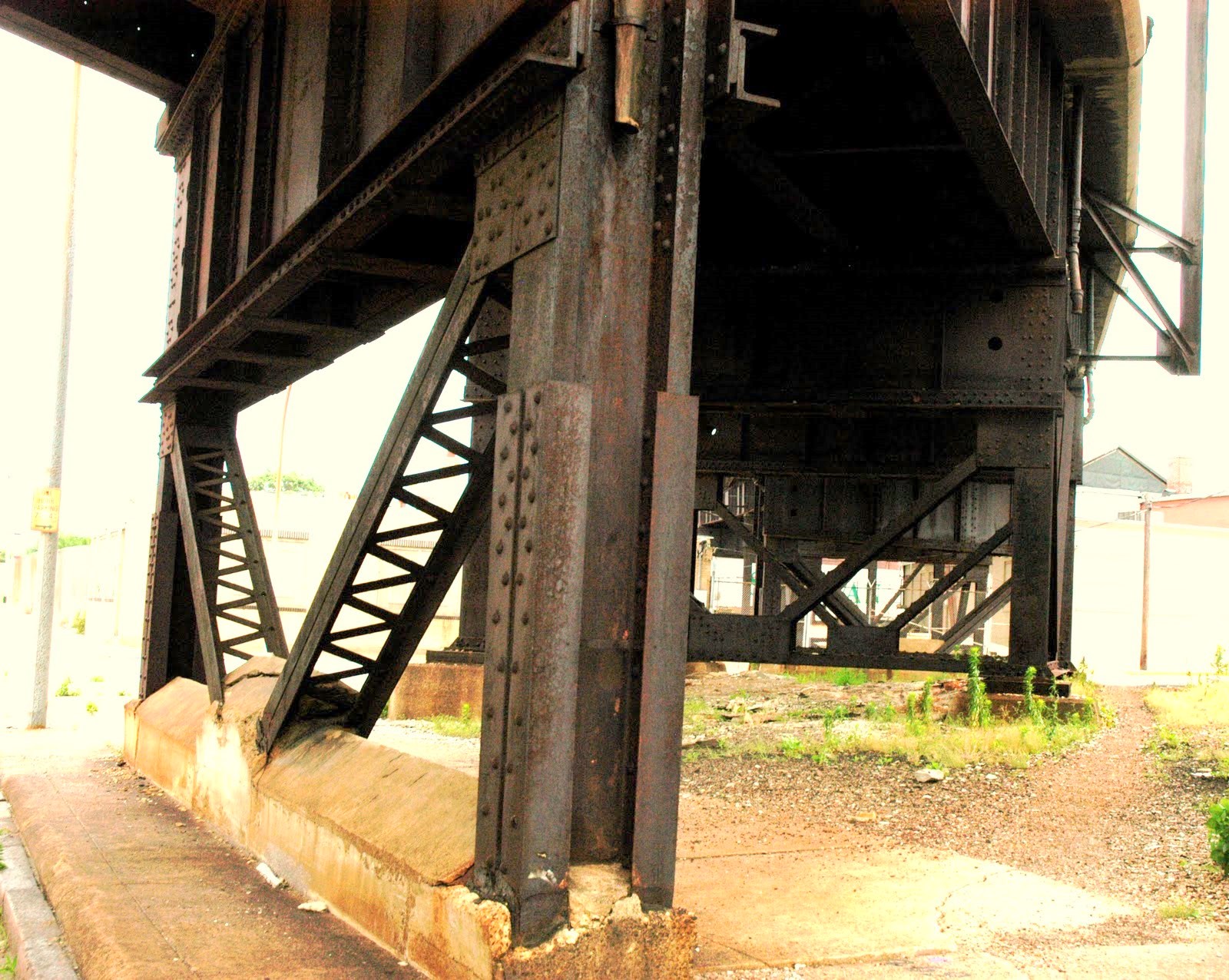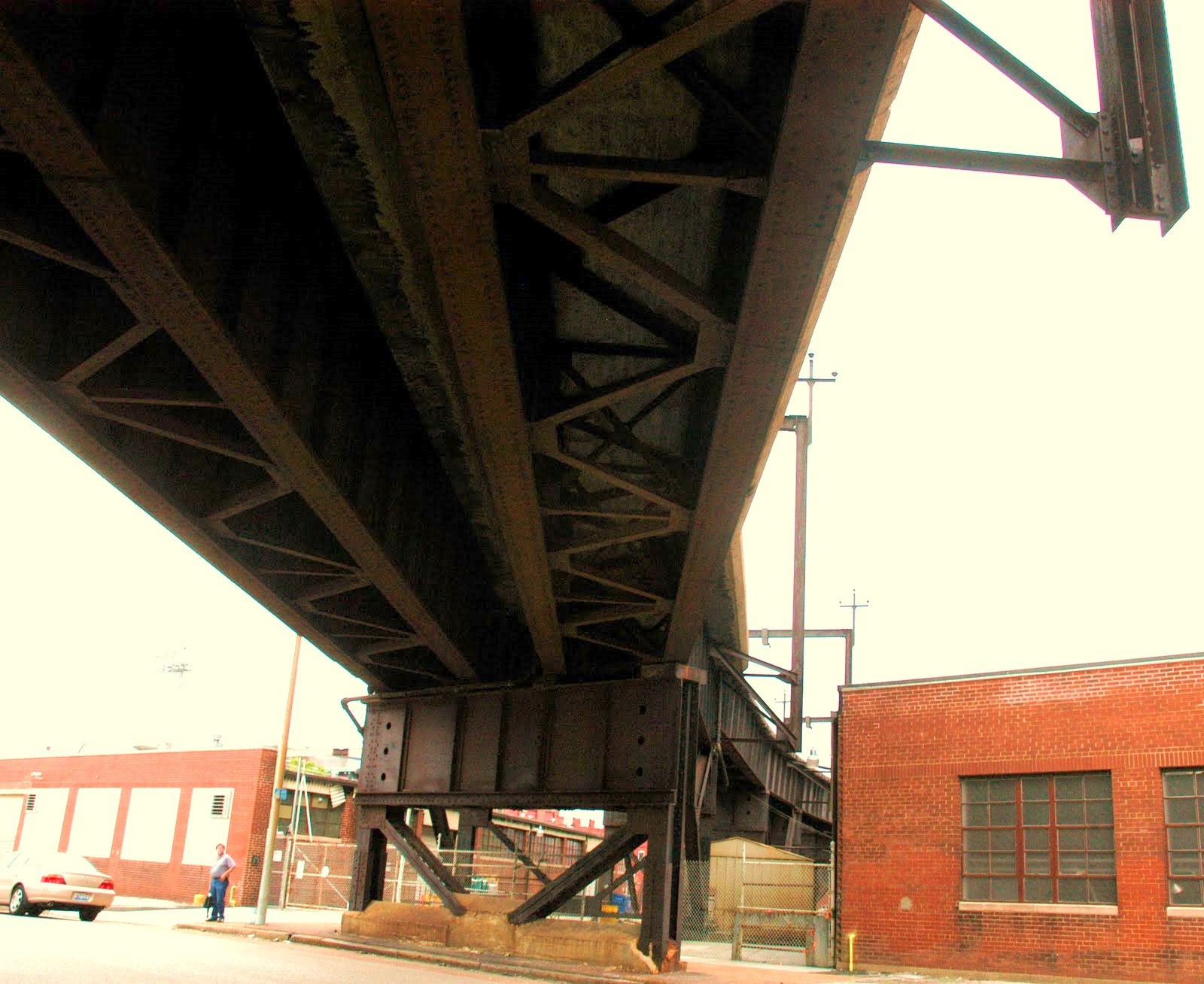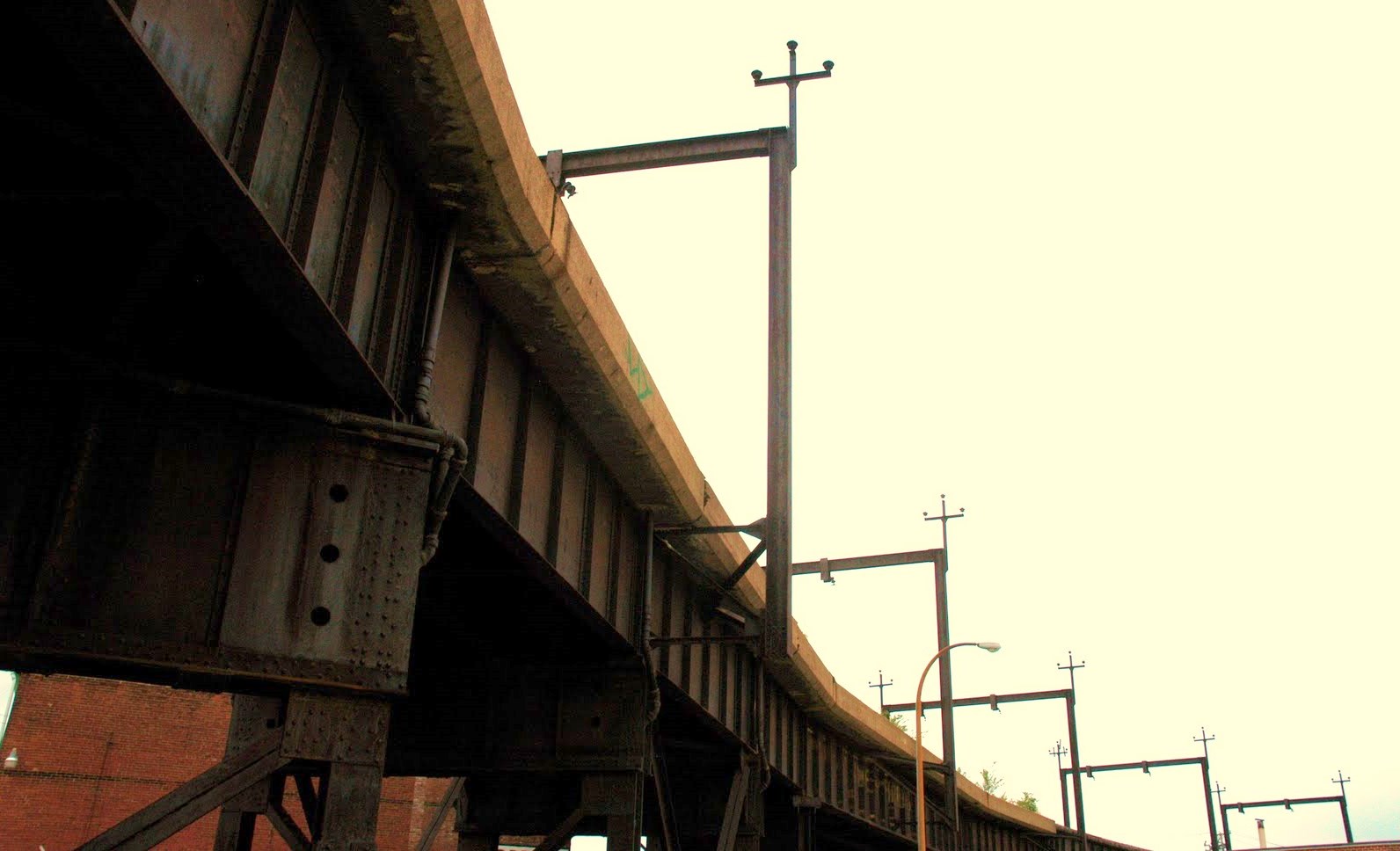 The Trestle may have an incredible future as part of a linear park, bike and pedestrian route if Great Rivers Greenway has anything to say about it (view the complete plan at the nextSTL Scribd Library):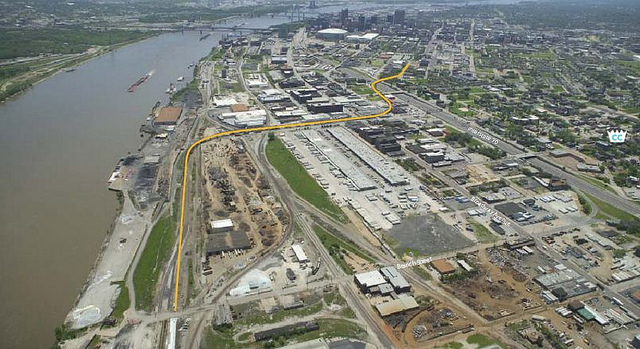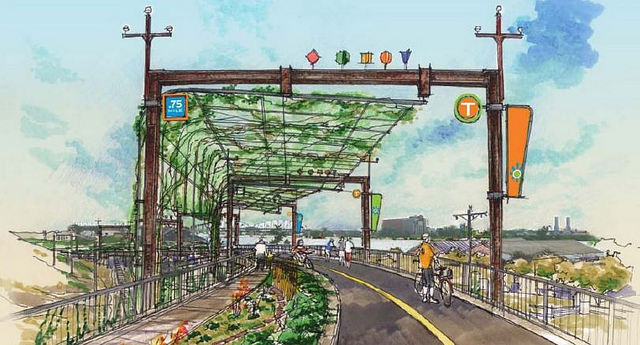 Of course today you can ride the McKinley Bridge trestle bike path. You can just see where it lands in the bottom left of the aerial photo above. It would match up perfectly with the trestle extending further south.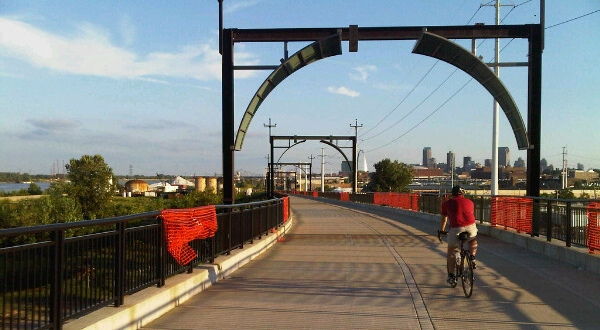 Other sites in Near North Riverfront: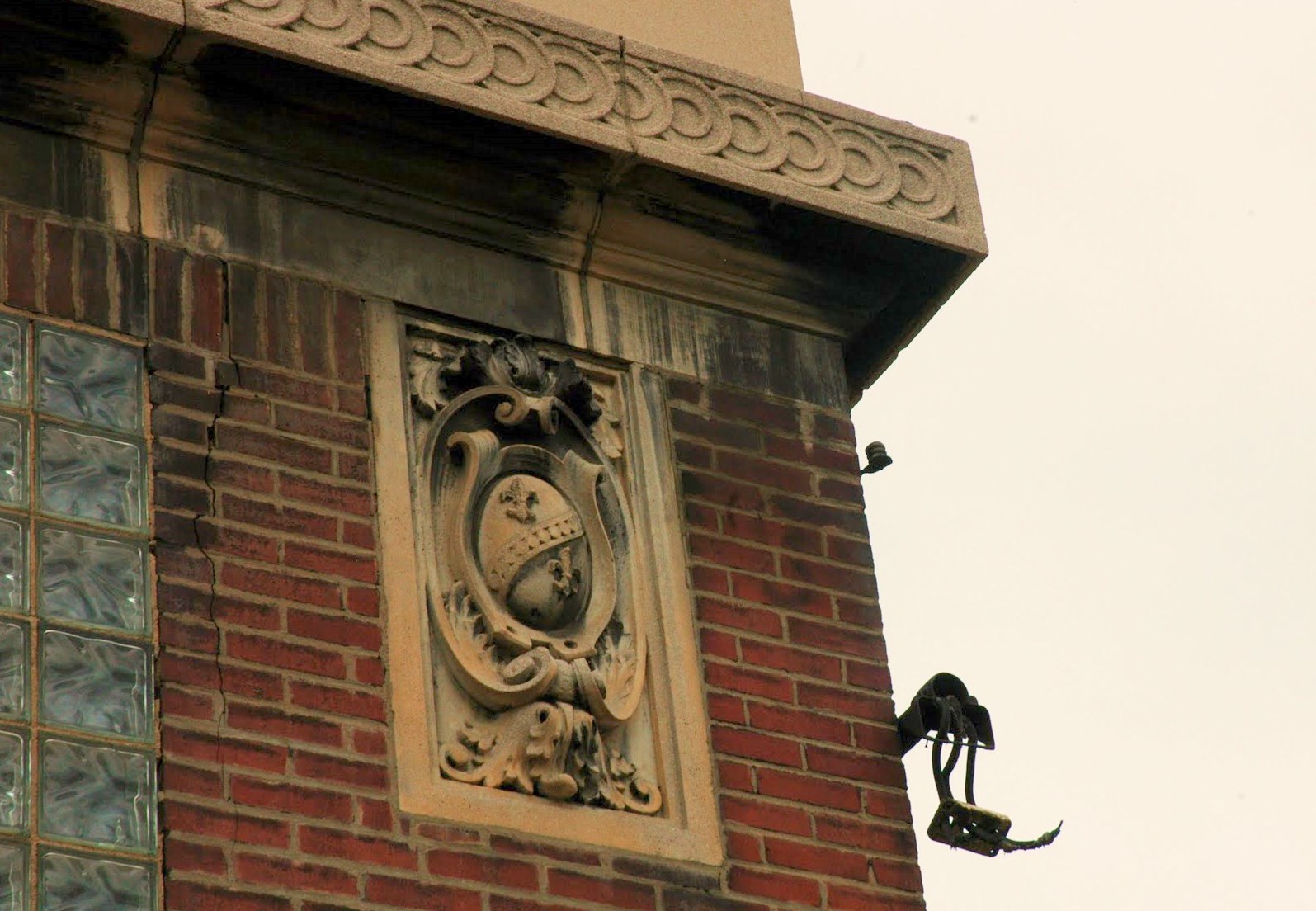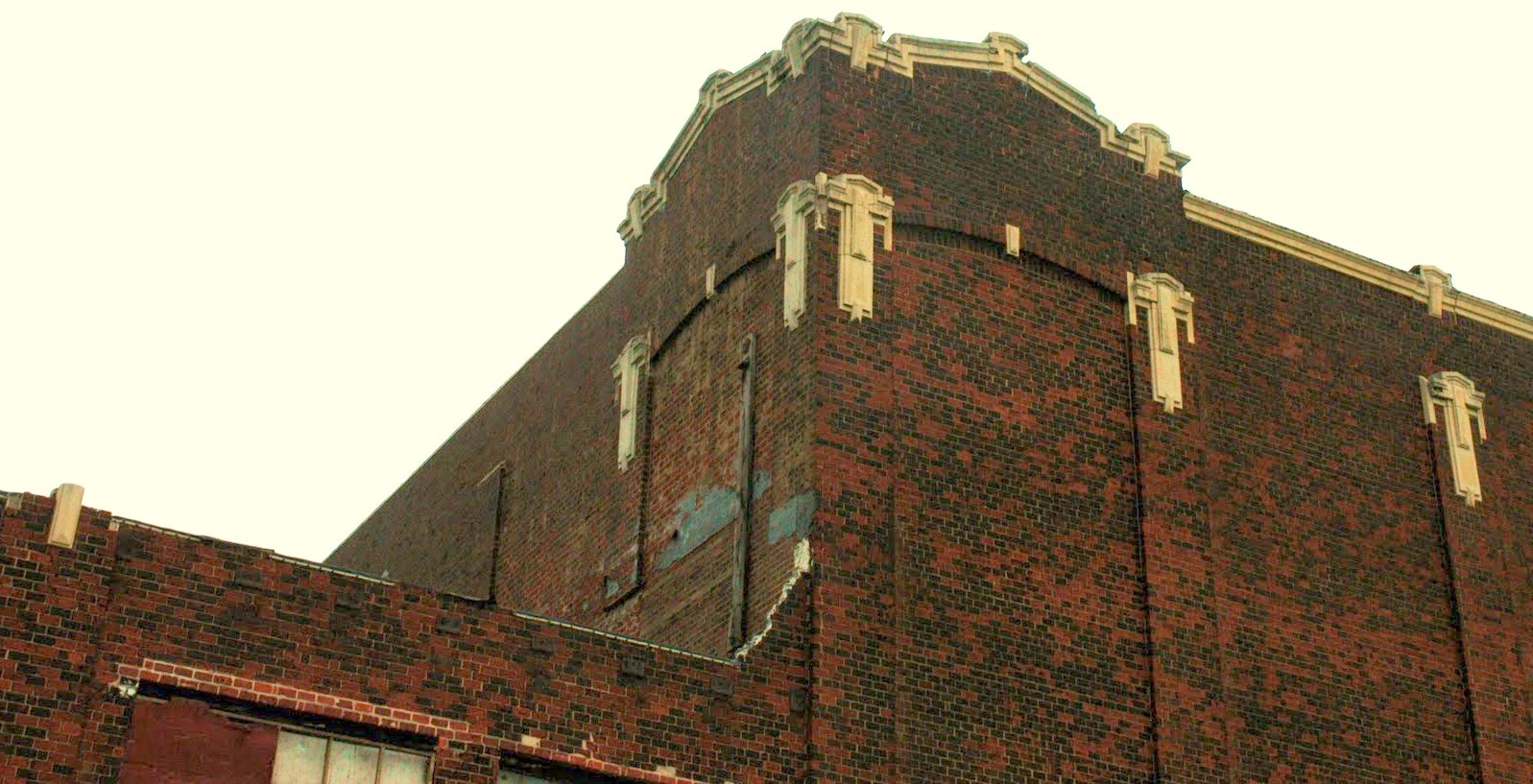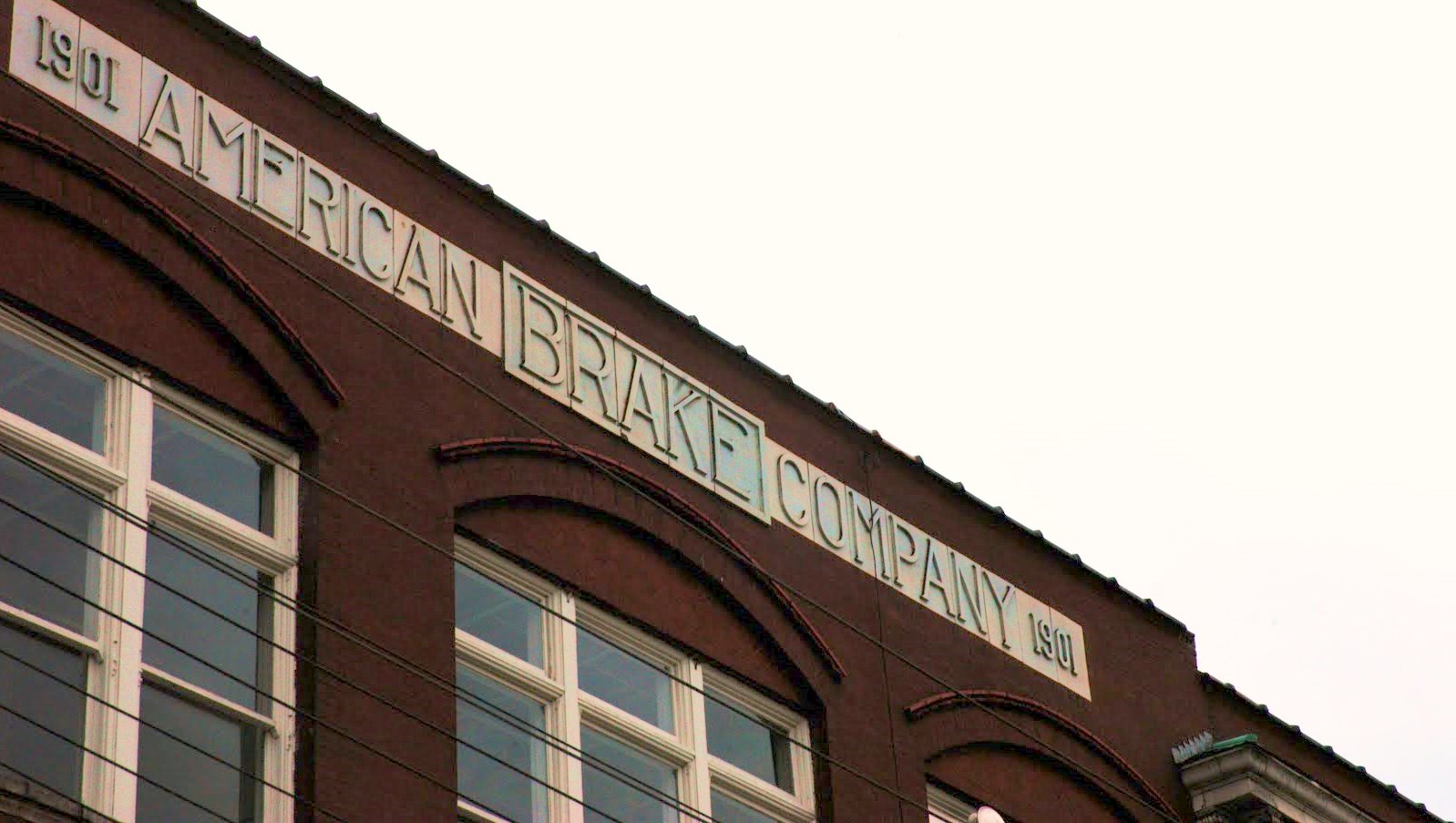 There is a rather surreal Buddhist monument area: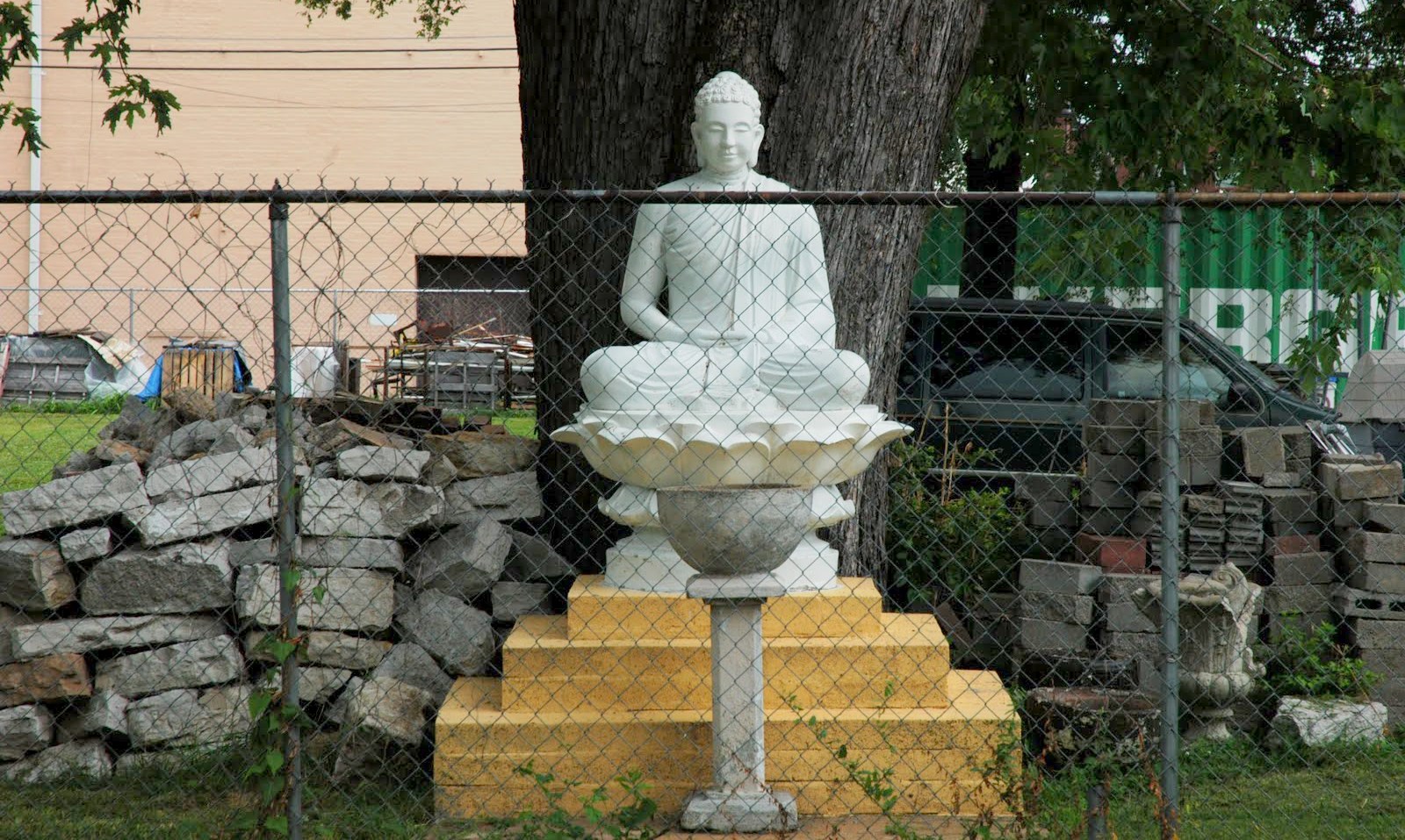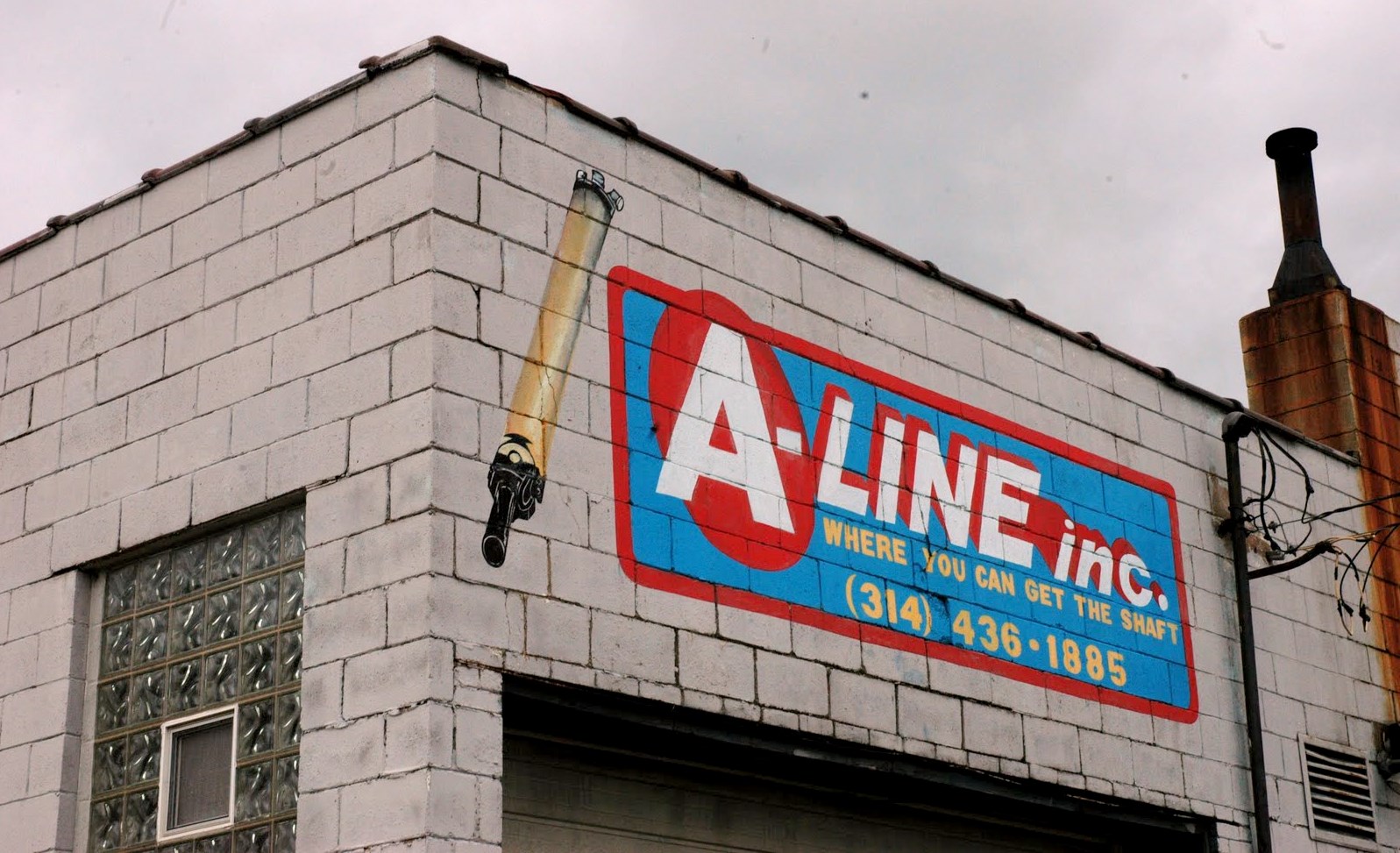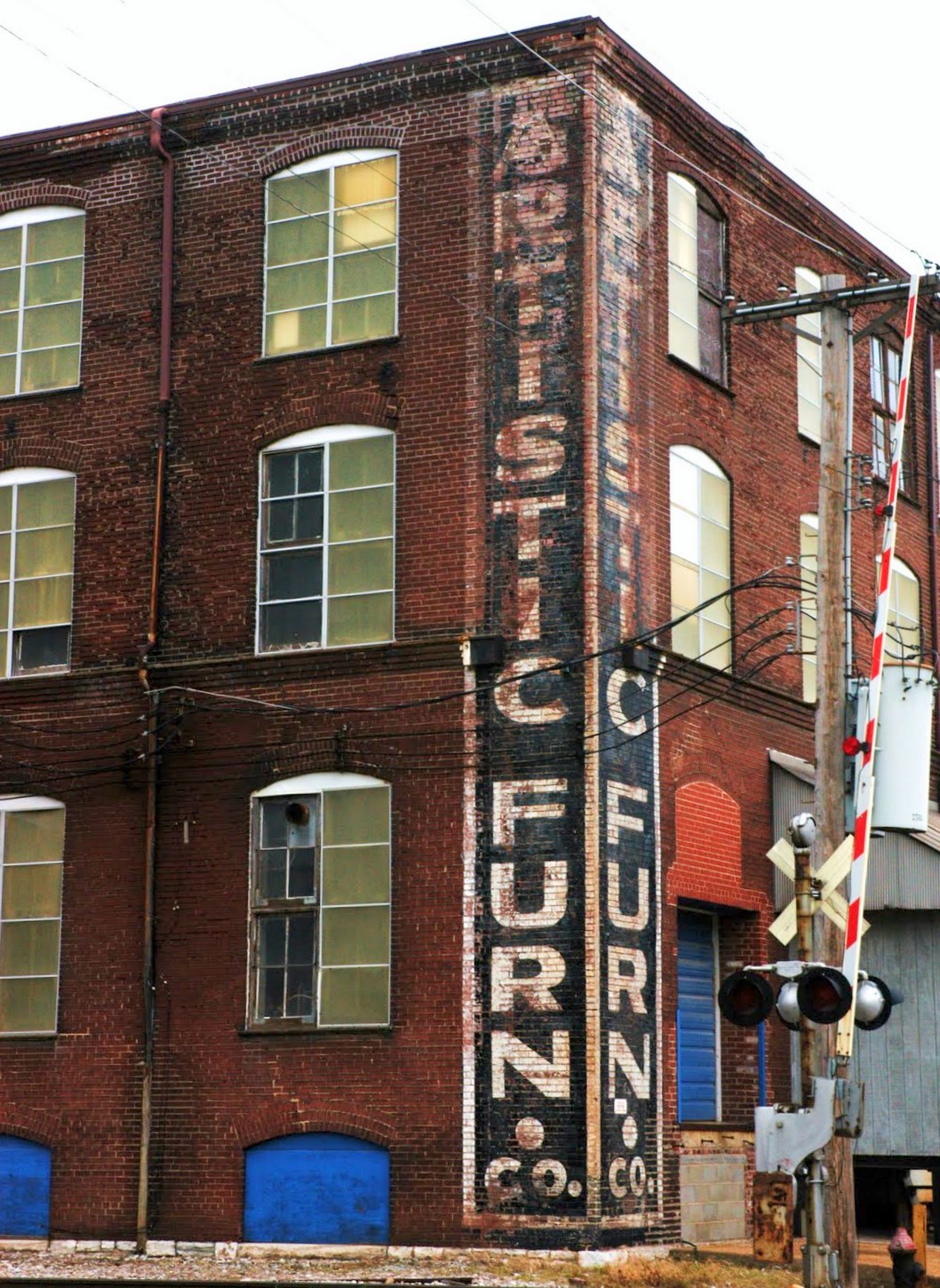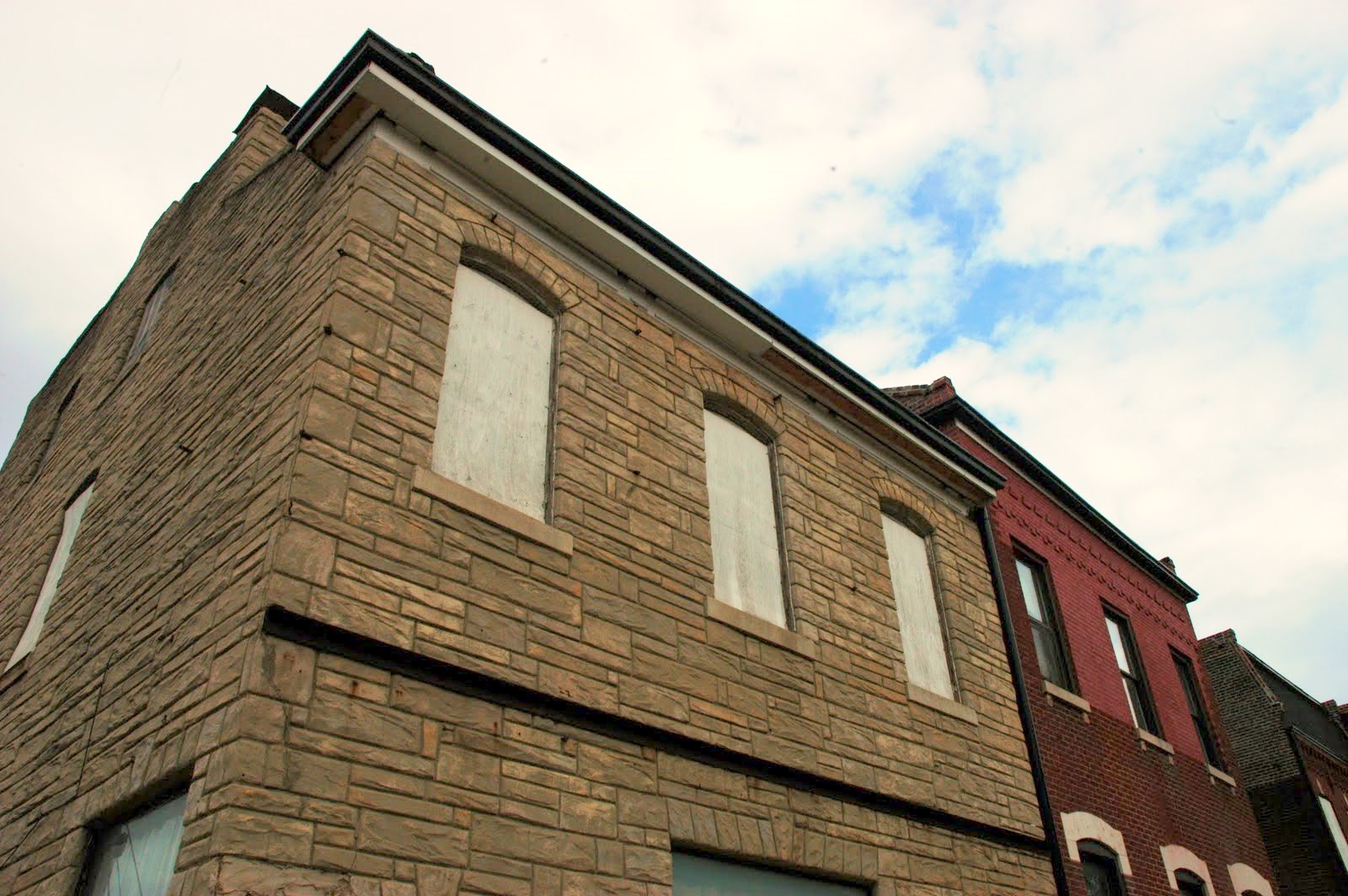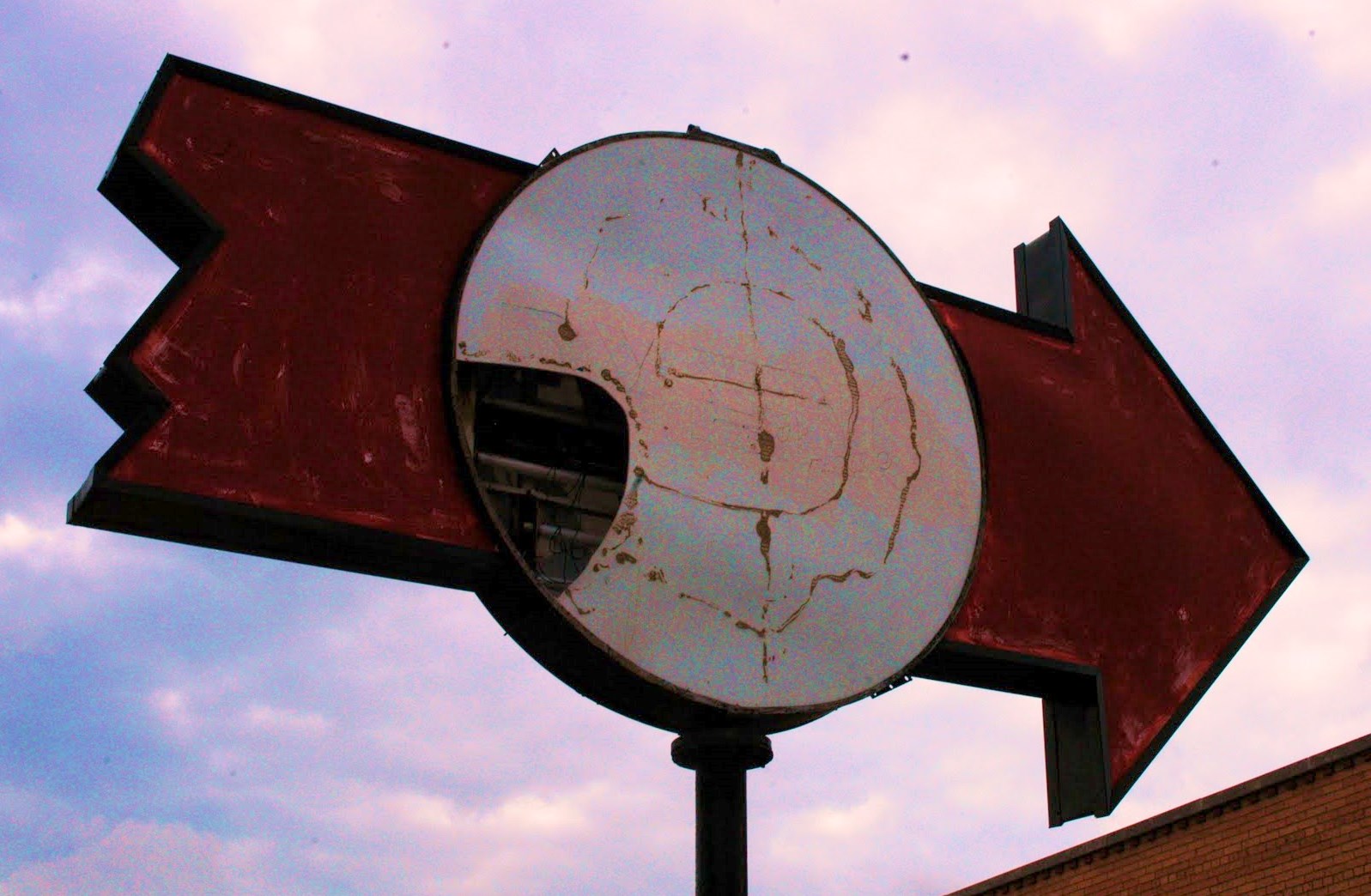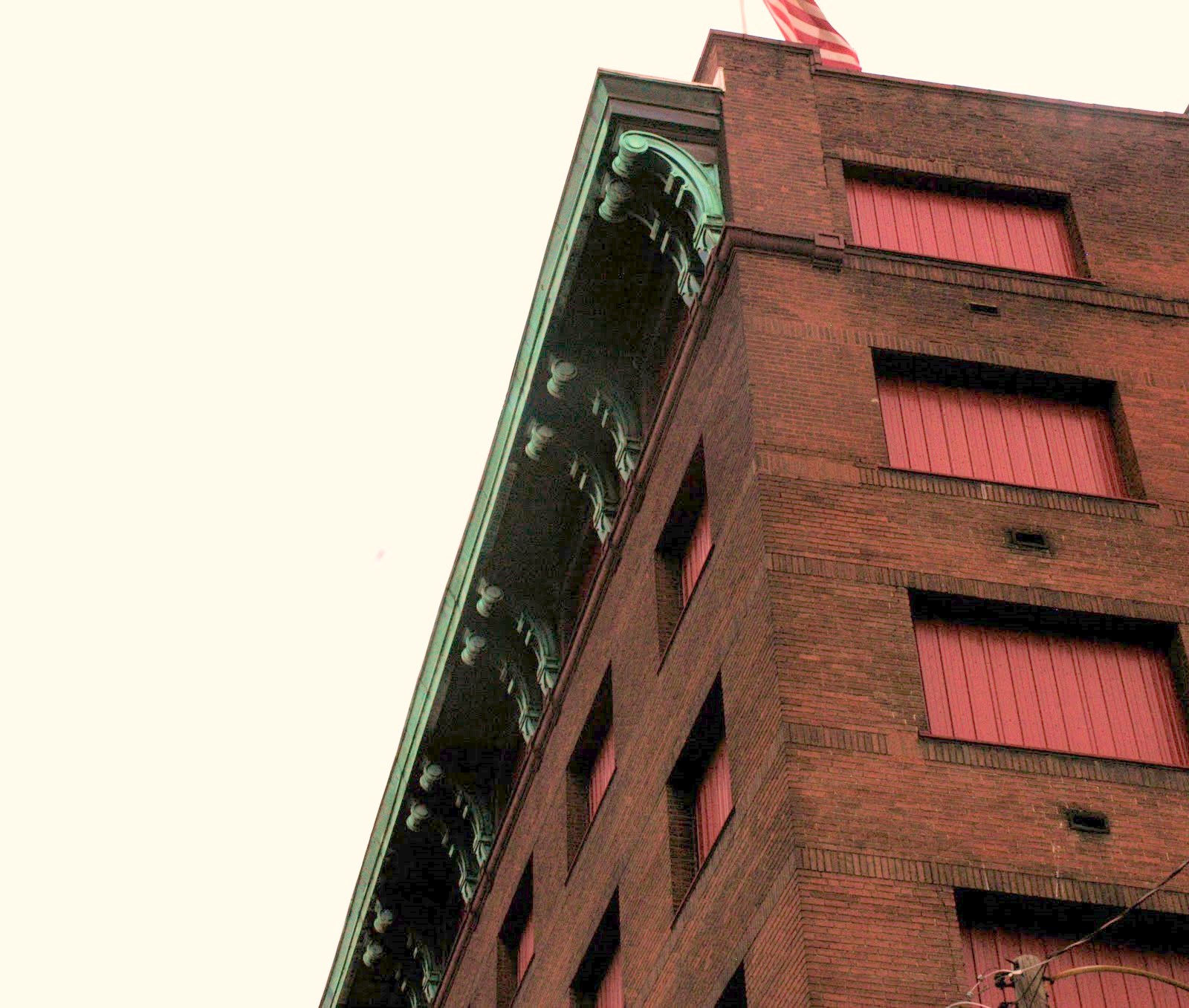 And there are awesome views of Downtown from Near North Riverfront: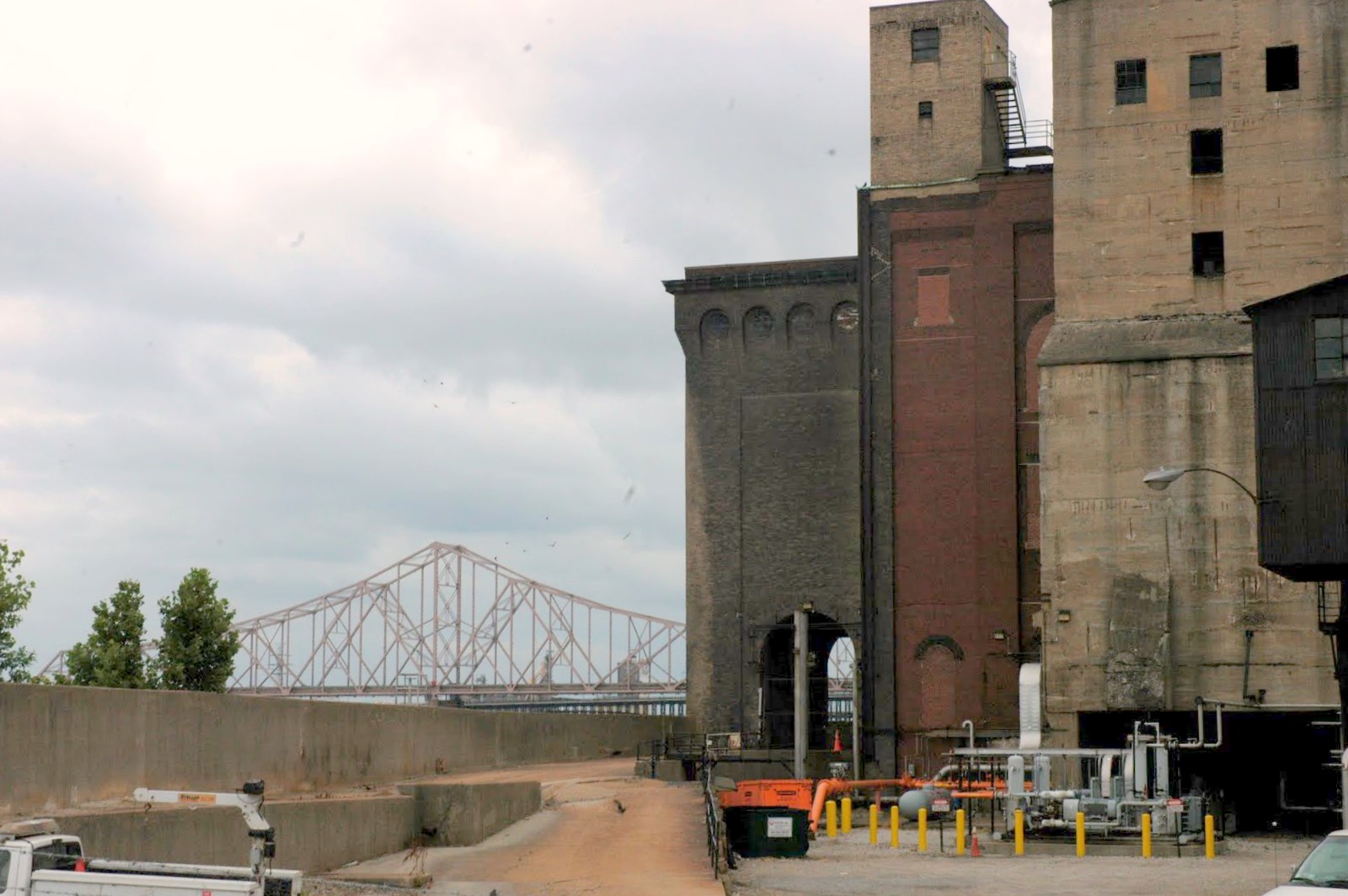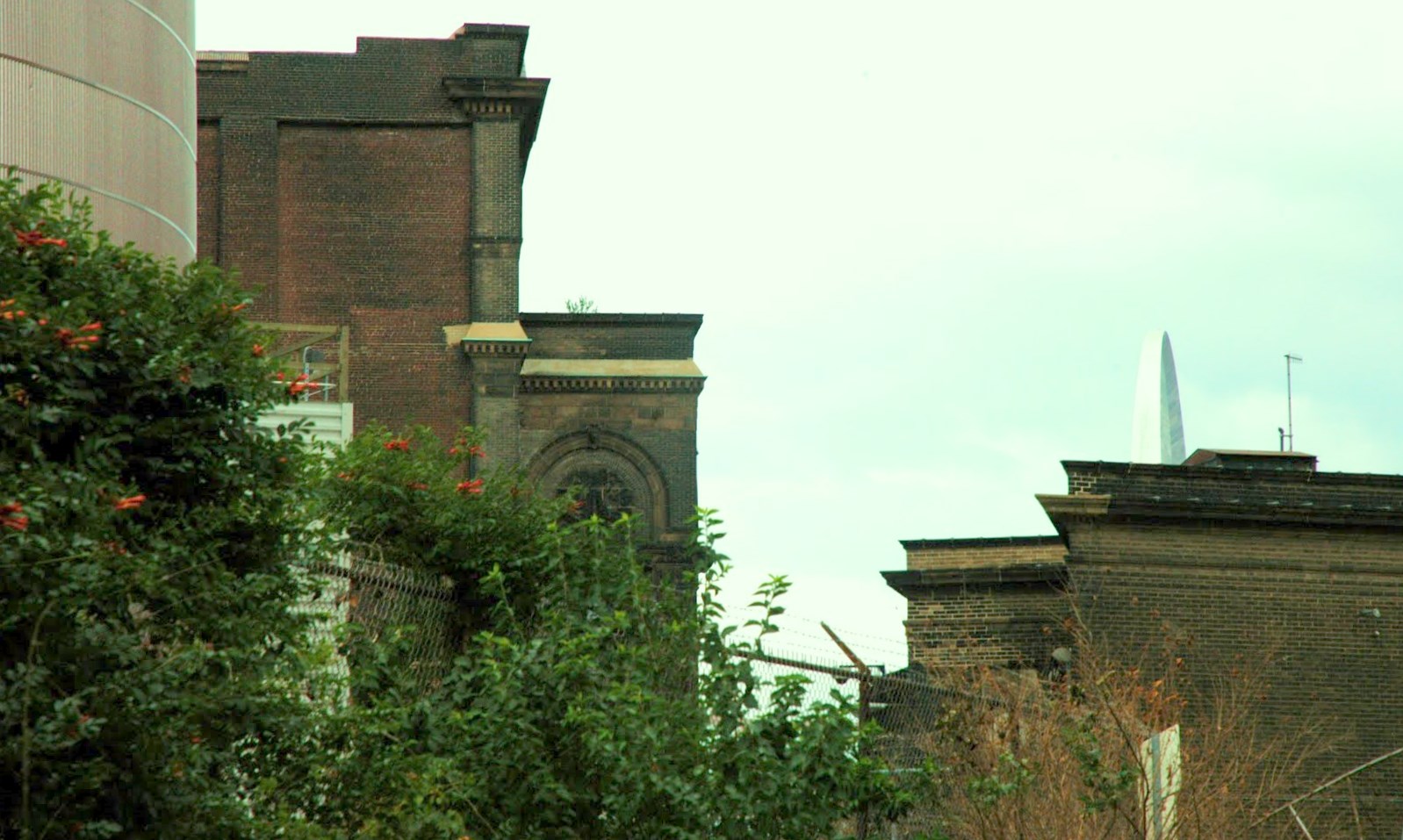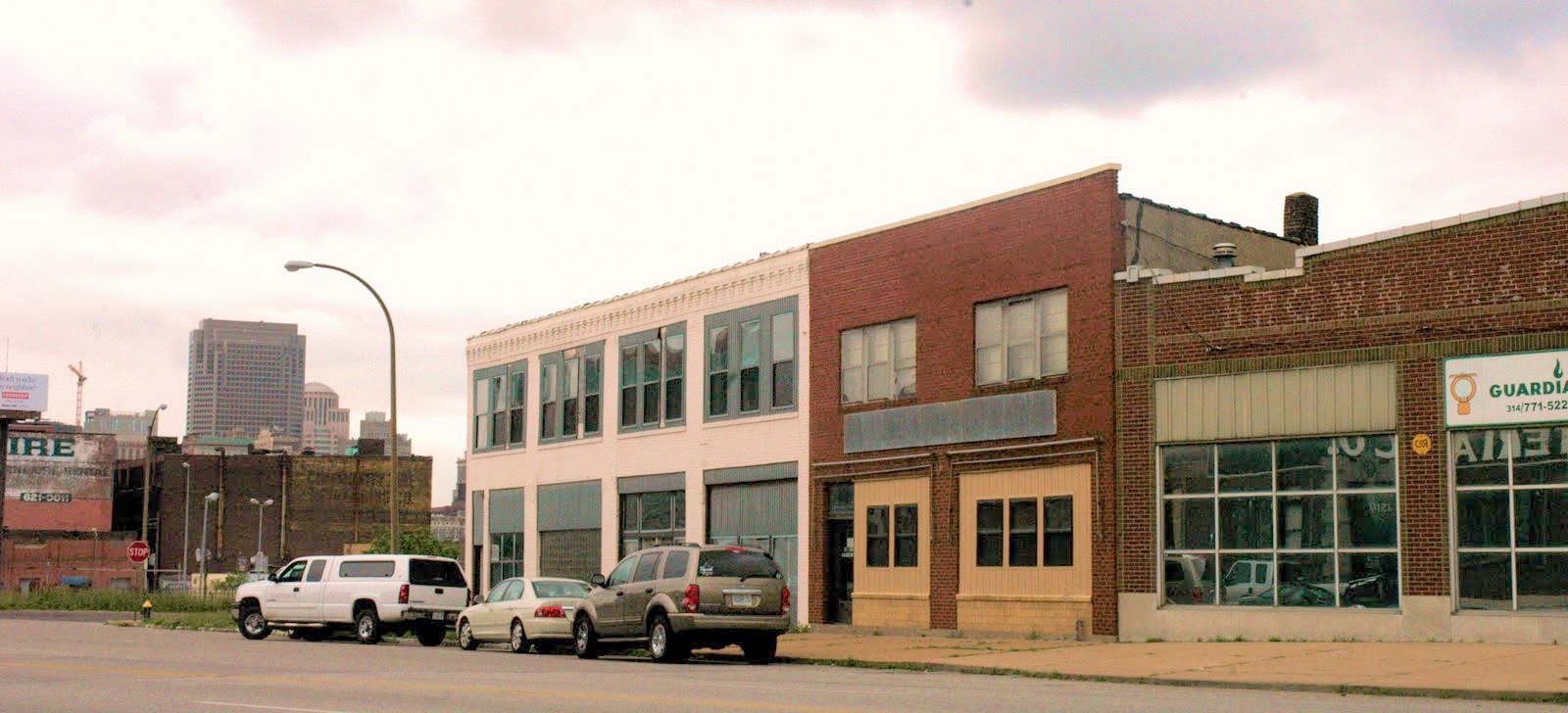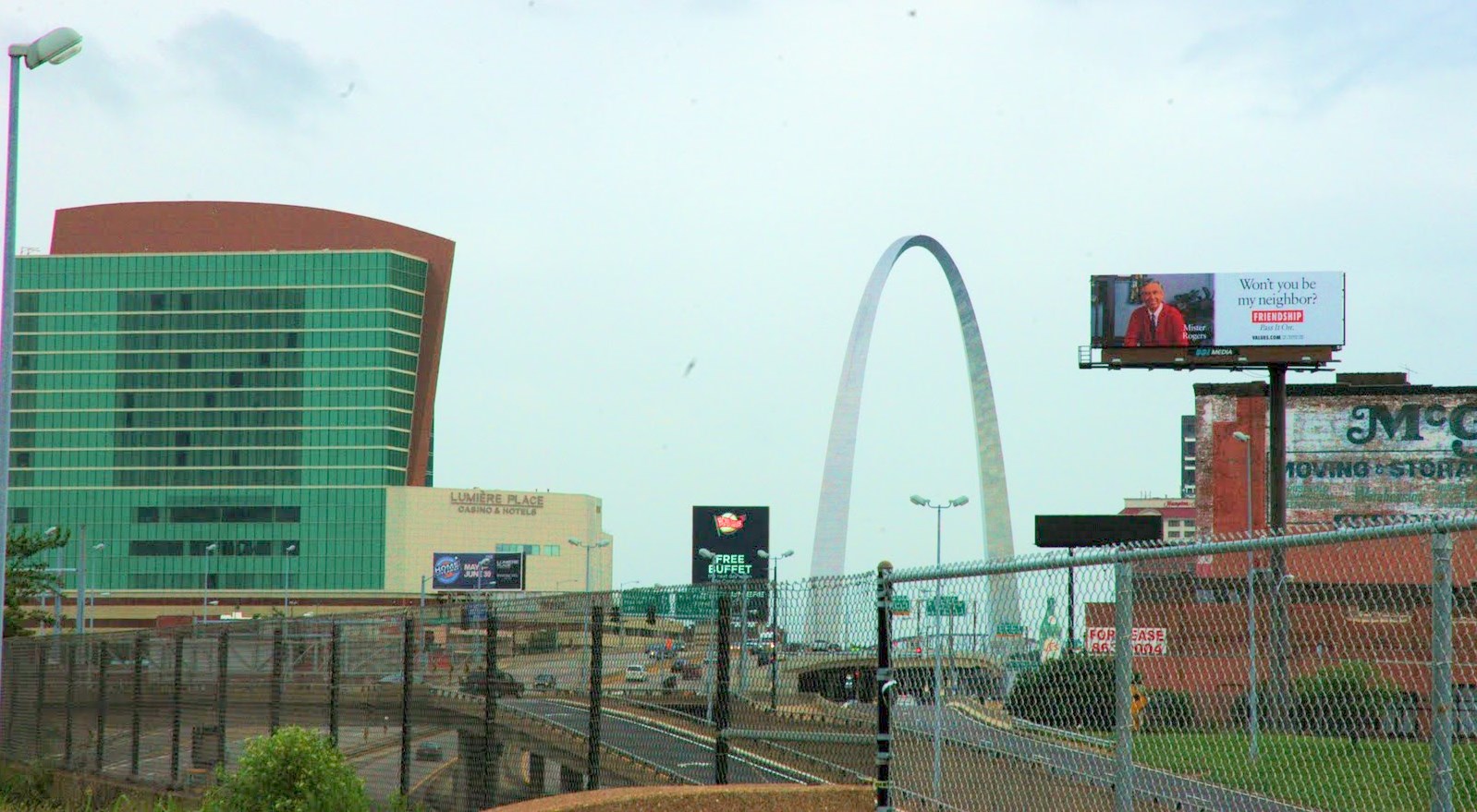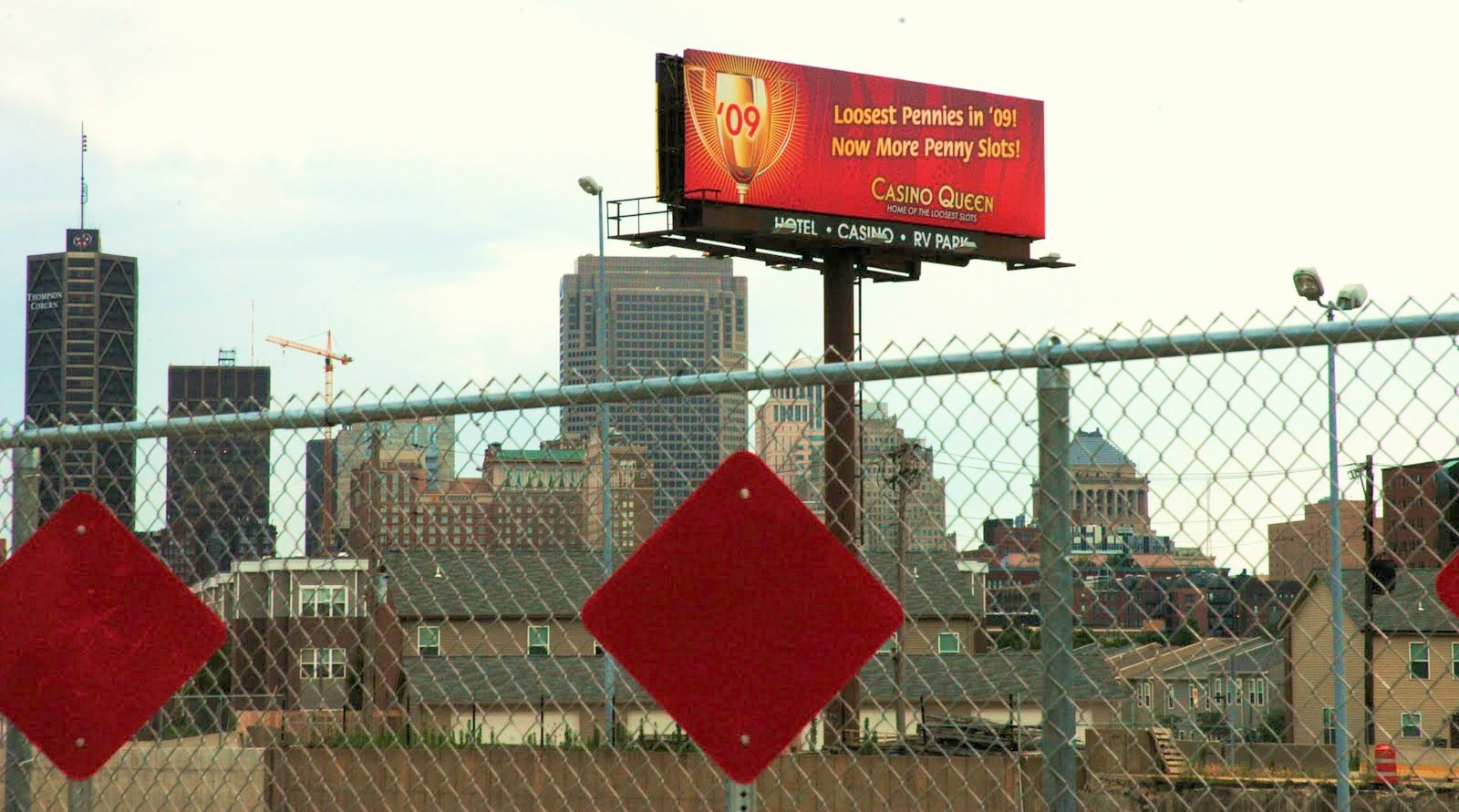 I can't wait to see if the North Riverfront is as cool as Near North Riverfront.
***In June, 2021 I revisited the neighborhood and the following includes updated commentary and photos.***
Misses On Original Tour
I pretty much covered it. I'm happy with the produce market, etc, so no updates needed there.
Mallinckrodt is here and there is a Missouri Corrections facility here as well, but no pics, they have high security clearance and I didn't feel like photographing them.
I missed a few significant factories/warehouses. I'll include many updated photos herein.
One of my favorite factories is the P.D. George Company building, now owned by electrical insulation manufacturer Altana.
I didn't mention the former marker for Big Mound, which was moved to a small area next to the Stan Musial Bridge. The St. Louis Post-Dispatch ran a good story on the heart-wrenching history of the mound.
The former marker location is still there, but has no mention of the mound.
And while I showed some of the buildings that follow the curve of the street, railroad tracks, or the angled corners, I didn't point them out; so I'll fix there here:
Noticeable Changes
The Stan Musial Veterans Memorial Bridge opened in February, 2014. This beautiful cable-stayed bridge spans the Mississippi River carrying I-70 traffic between Illinois and Missouri. It's presence in Near North Riverfront can be seen from many vantage points.
Bissinger's Chocolate, established their headquarters, event space and factory on Broadway. This is a fantastic addition and I commend their commitment to Near North Riverfront. You can take tours of the factory by the way.
While many of the bars and restaurants have closed and there appears to be less housing available, factories are humming away. Some of these factories have been making the same products since the 19th century.
Hermann Oak Leather is a good example, they've been tanning leather since 1881 in St. Louis.
I imagine the residential count will go down in the 2020 census data as a result of fading housing stock. There are still some beauties mixed in.
There are still some amazingly intact stretches of homes and former industrial/retail uses that remind you of how dense this part of the city was when workers lived in the neighborhood.
Many of the bars and restaurants pictured in the original post have closed or changed hands. There is less business here today. But some local classics are still going.
What Are The Future Needs?
Save the factories and warehouses. That simple. The architecture and history is amazing. Shannon and I joined a walking tour of this area years ago led by local historian Michael Allen. It was fascinating and the timing of the tour was right, as it was around the time when the city was talking about leveling parts of the neighborhood for another Rams stadium. That would have been the death knell for Near North Riverfront. Thankfully that waste of space, brick architecture and money never took place and we were freed of Stan Kroenke for good.
While it would be easy to say Broadway should be narrowed and made to accommodate people vs. trucks and cars, it is a heavy industry area with lots of trucking operations. The spot nearest Shady Jacks on the south end of Broadway would qualify for some traffic calming, maybe all the way to the Bissinger's location.
But that kind of mixed use ideal seems a long way off. New infill construction? Residential and retail mixed uses? All good ideas, but for now the factories and warehouses need new uses lest they go up in smoke or crumble before our eyes. If nothing happens, we'll lose them one by one. Look no further than the loss of some significant buildings along Broadway back in December, 2020.
Fire, trespassing/squatting and the elements will continue to take down these vacant properties unless something happens soon.
The approach to the McKinley Bridge is a bike/pedestrian path.
I'd like to see the elevated tracks from the street car days repurposed into a bike/pedestrian path. These snake around buildings and reminds me of the L in Chicago. In some cases, the steel structures are just feet from the buildings. These remains are a national treasure and should be saved as a reminder of what we once had and chose to defund in favor of buses and cars.
There is so much beauty here it will be hard to watch more disappear over the next ten years.
And finally some updated pics of the neighborhood as of June, 2021.