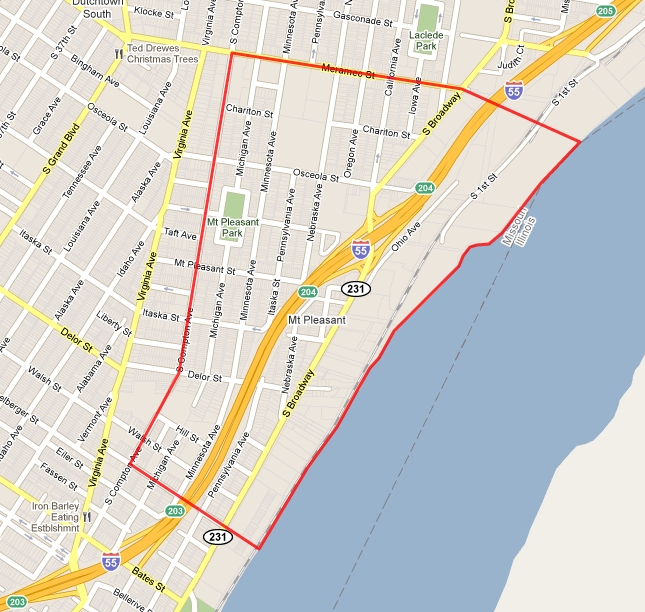 Mount Pleasant is a south St. Louis neighborhood bound by Virginia to the west, the Mississippi River to the east, Meremec to the north and Delor to the south. 
The 2000 census counted 4,302 residents (1% decline from 1990's count).  59% white, 32% black, 4% Asian and 2% Hispanic/Latino.  2,281 housing units were counted of which 85% were occupied, 31% by owners, 69% by renters. That's a pretty low owner-occupancy rate for a south side neighborhood.
By 2010 the neighborhood started a decline due to white flight where it flipped from a white to black majority with a ~3X increase in Hispanic/Latino residents. The Census showed a neighborhood wide loss of 9% residents, 47% black, 43% white, 7% Hispanic/Latino and 2% Asian.
If you want to live in a racial diverse neighborhood (by St. Louis standards), you'd be happy in Mount Pleasant.
There is plenty of unused housing stock, with a 20% vacancy rate per the 2010 Census data.
There are several commonly held beliefs in St. Louis. One, that Dogtown is a distinct neighborhood rather than a collection of neighborhoods, Kingshighway Hills is a distinct neighborhood, separate from North Hampton (note the sign on Oleatha just west of Kingshighway)…I'm sure there are others. Many St. Louisians believe Mt. Pleasant to be part of Dutchtown. Not true.
Yet, like Dutchtown, this neighborhood has the feel of one in transition. I can't quite make out if it's one on the rise or one in the midst of a slow decline. You could call it either way. I'd like to hear from those that call Mt. Pleasant home to chime in on the current status of this fine part of the city.
Today I started out by the Mississippi River on Ohio Ave. where there is, of all things, a frat house and an Indian mound called Sugarloaf Mound within 100 yards of each other. Sugarloaf Mound holds the distinction as being the last mound to survive in what is commonly referred to as the "Mound City".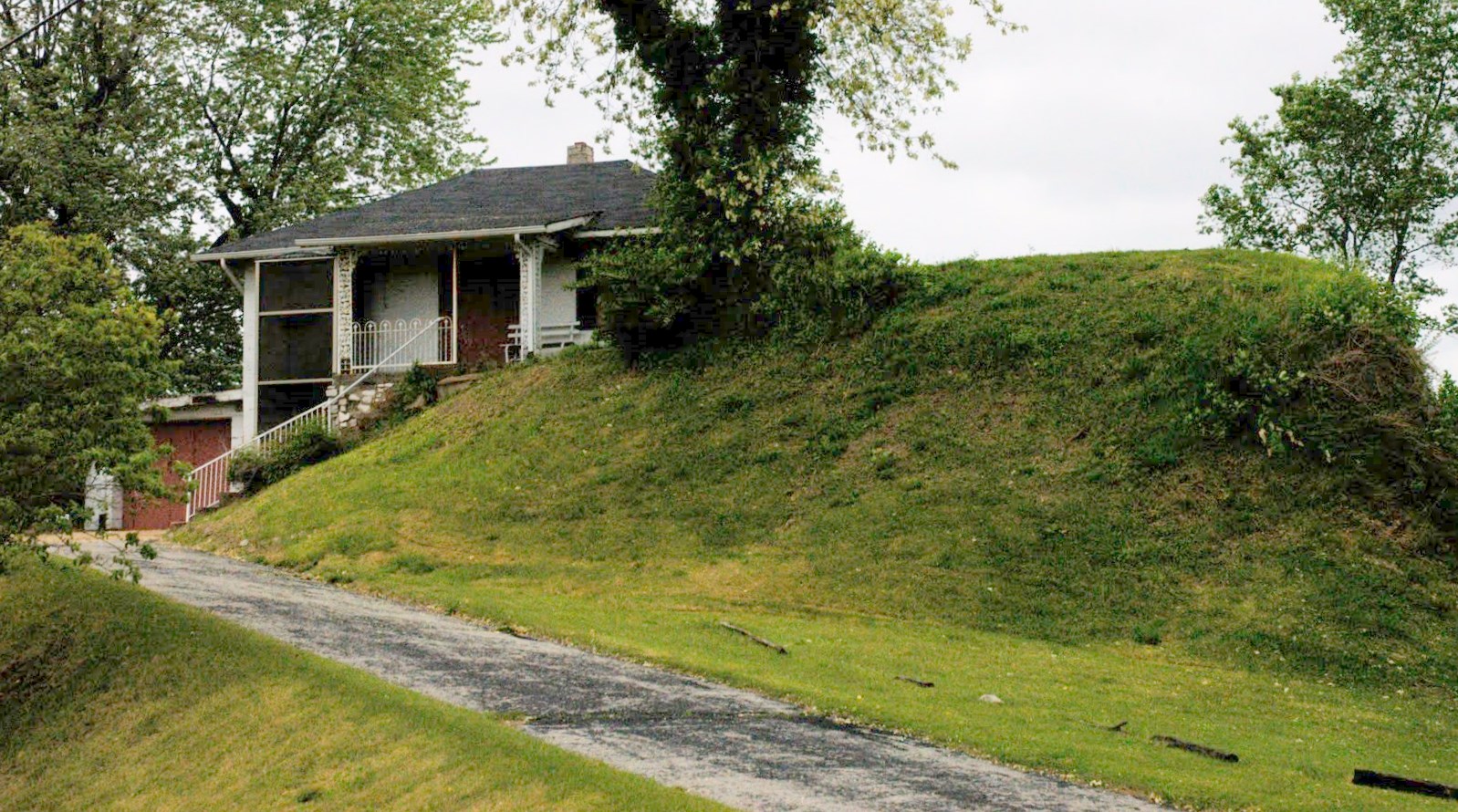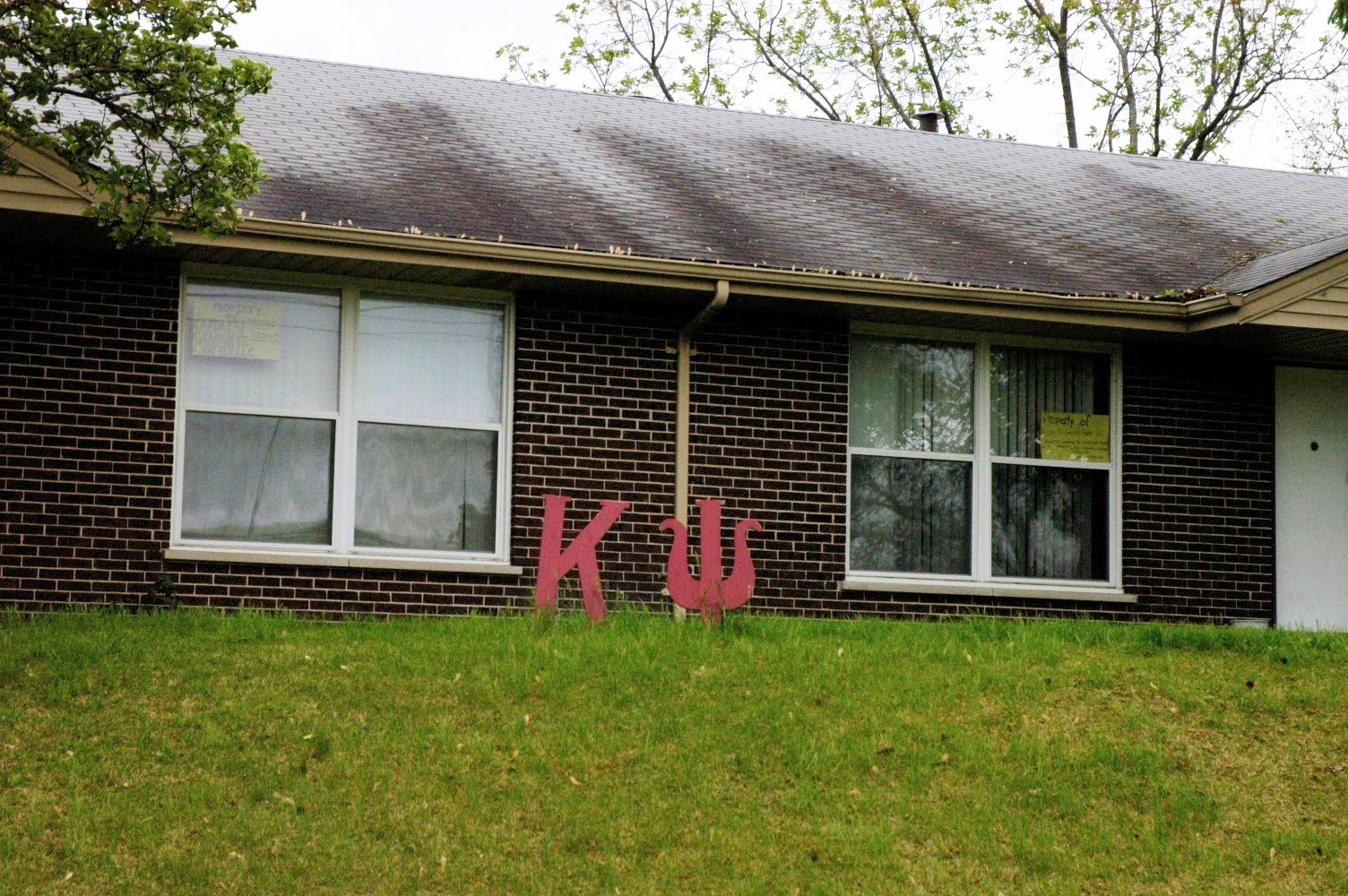 There are some interesting properties along Broadway that overlook the mighty Miss: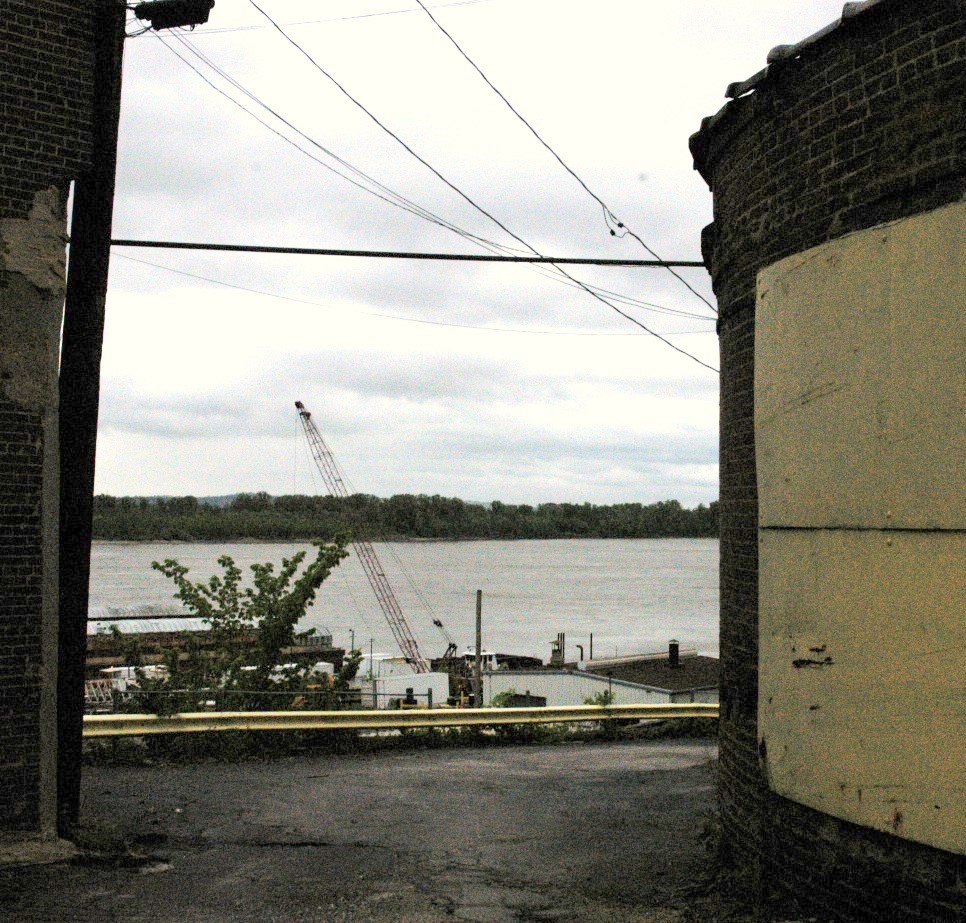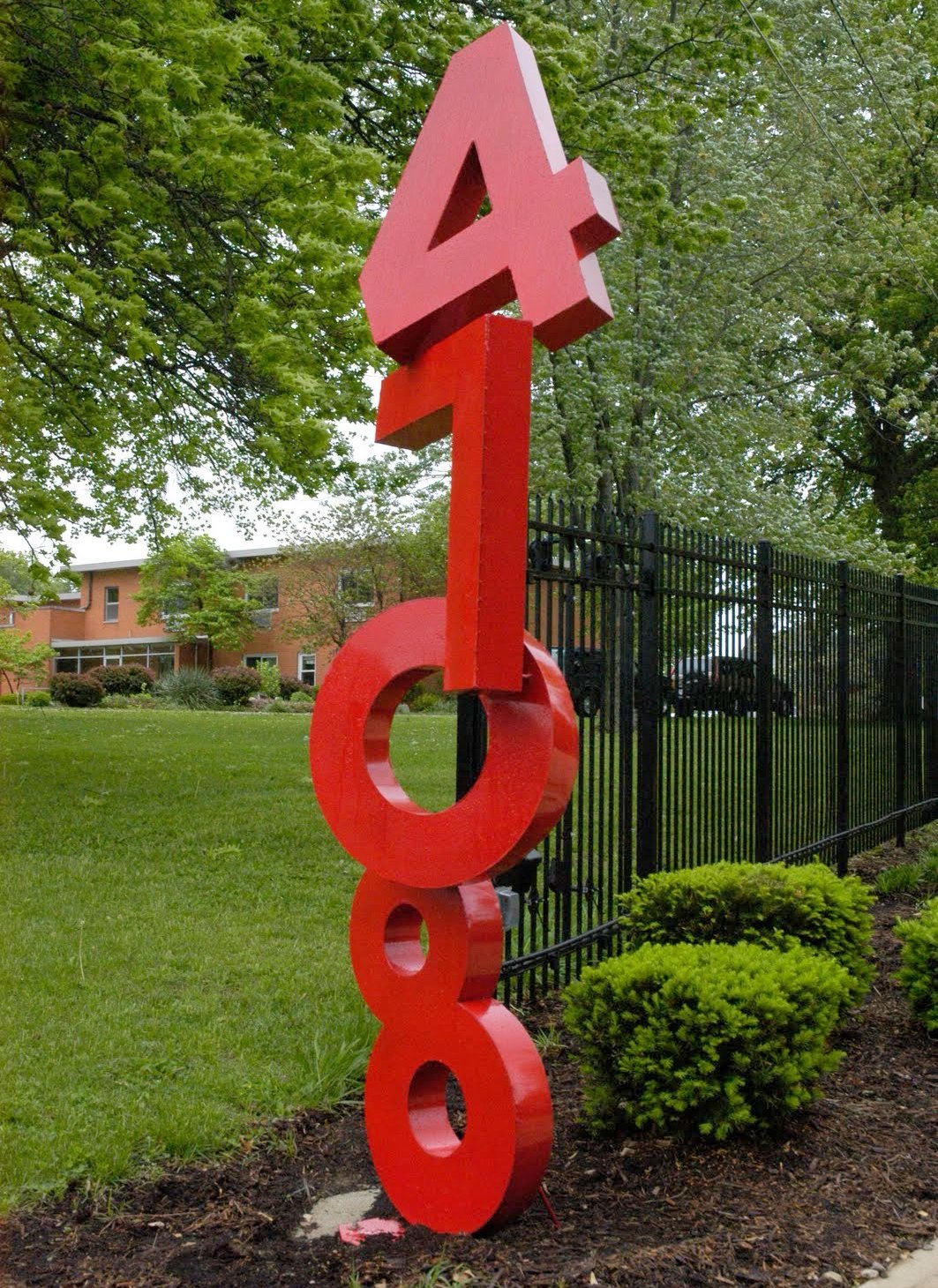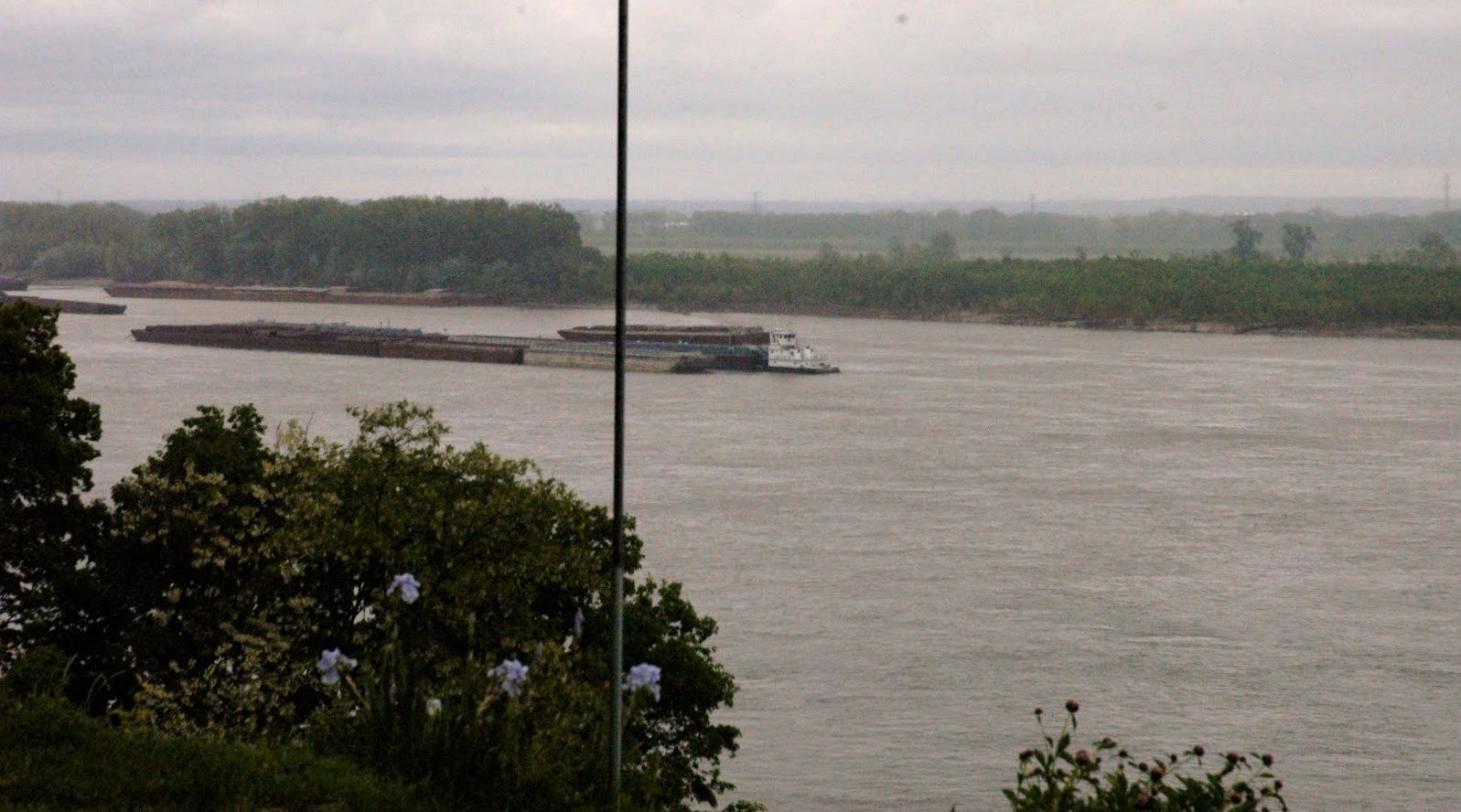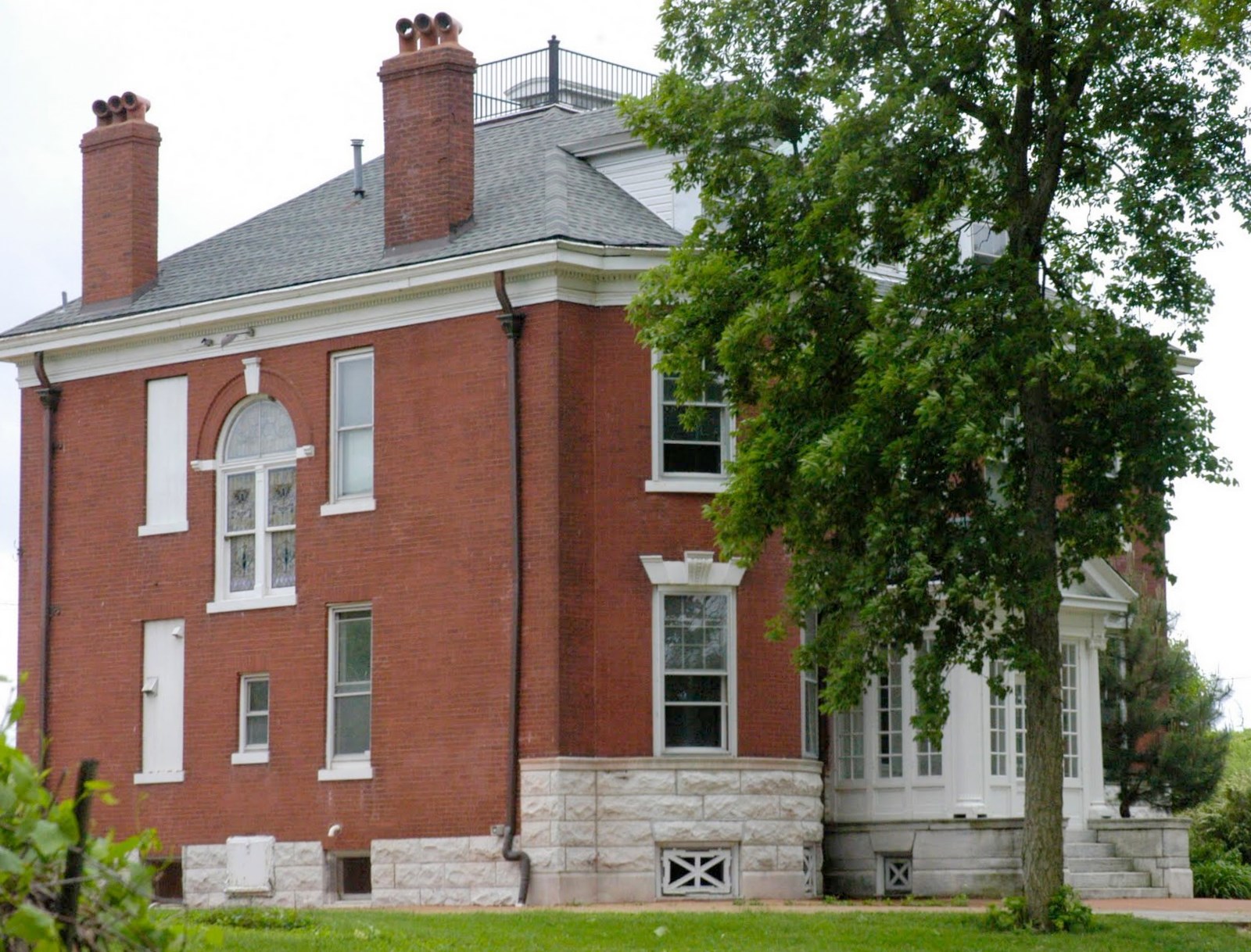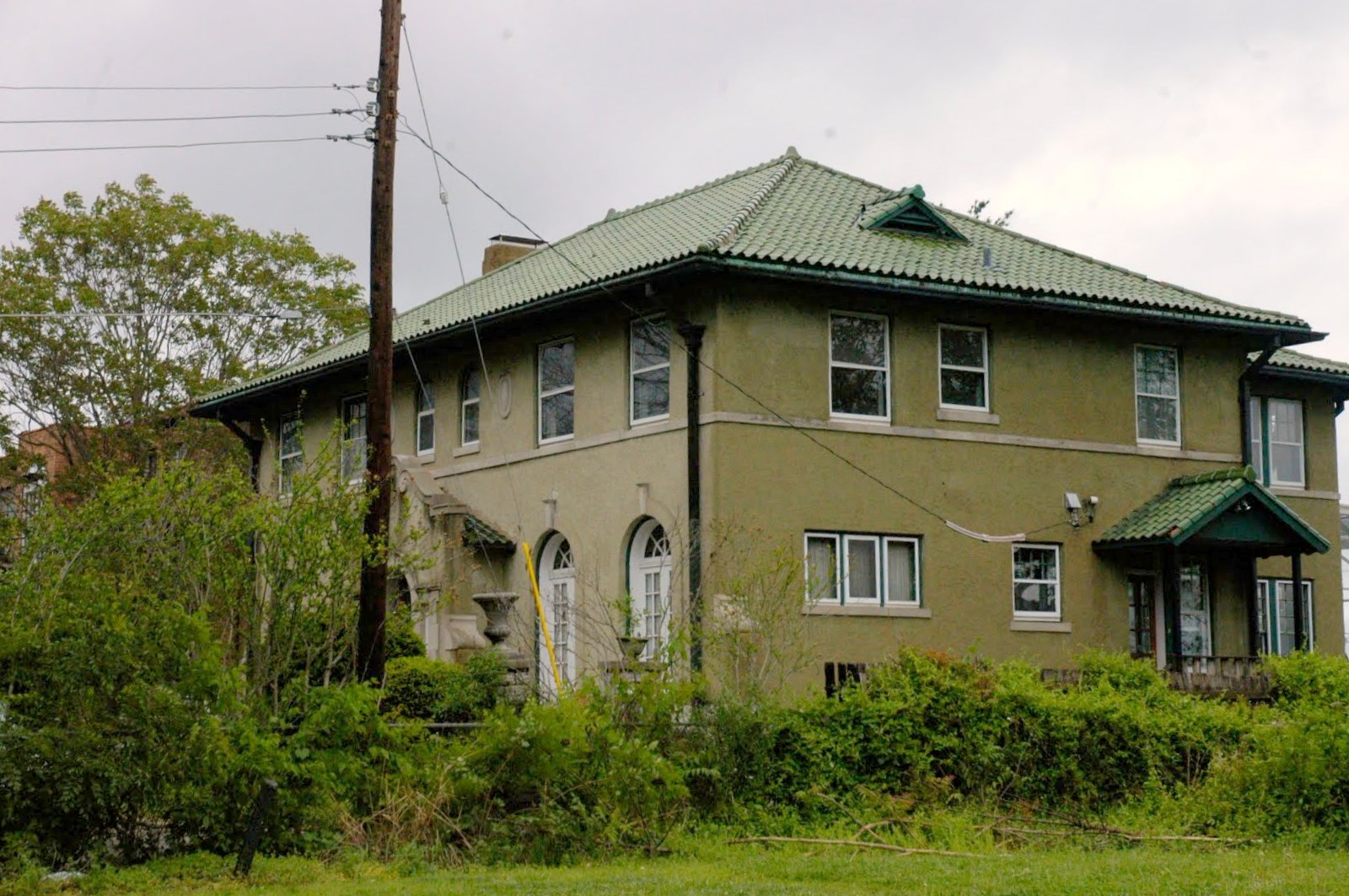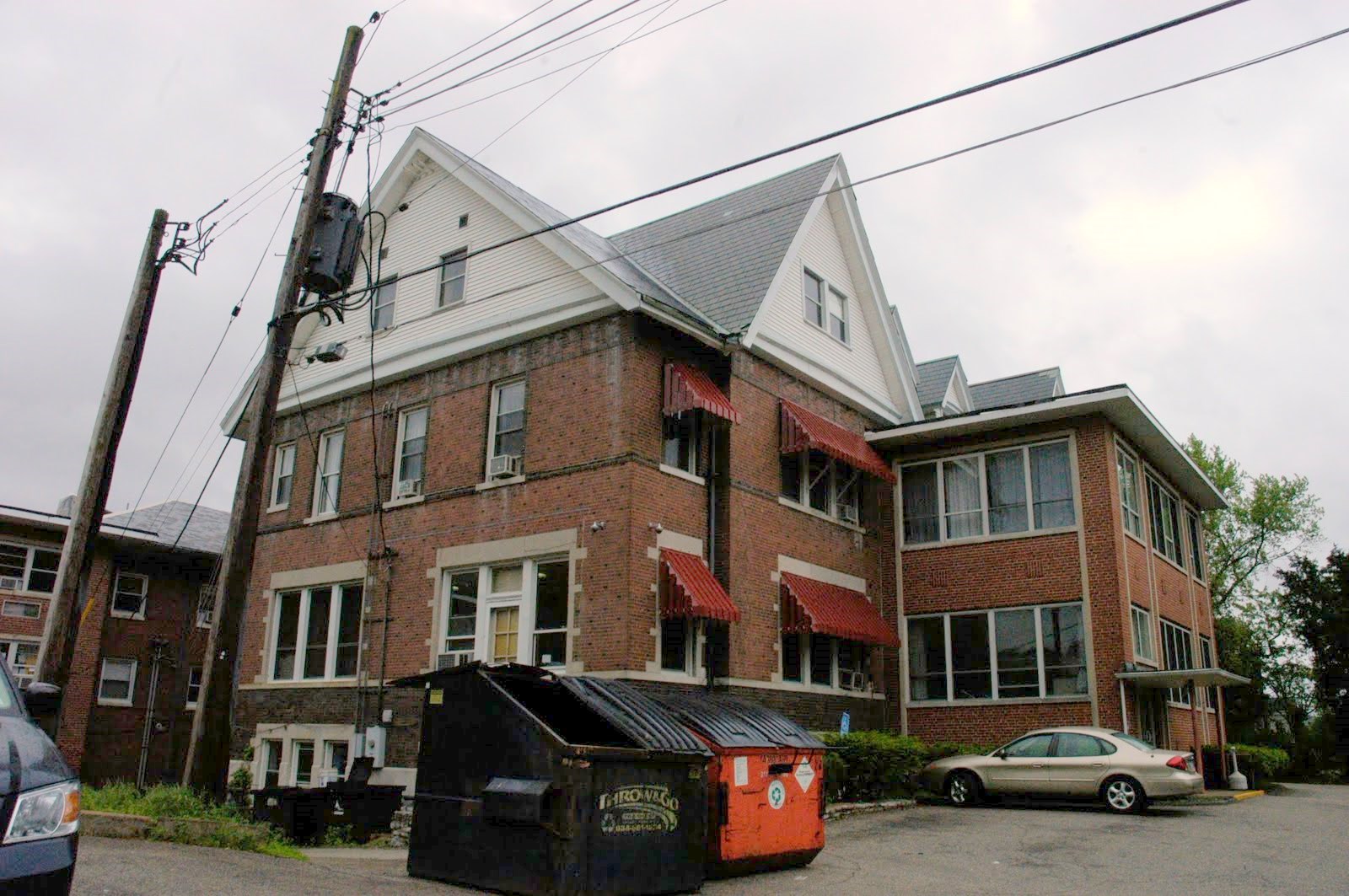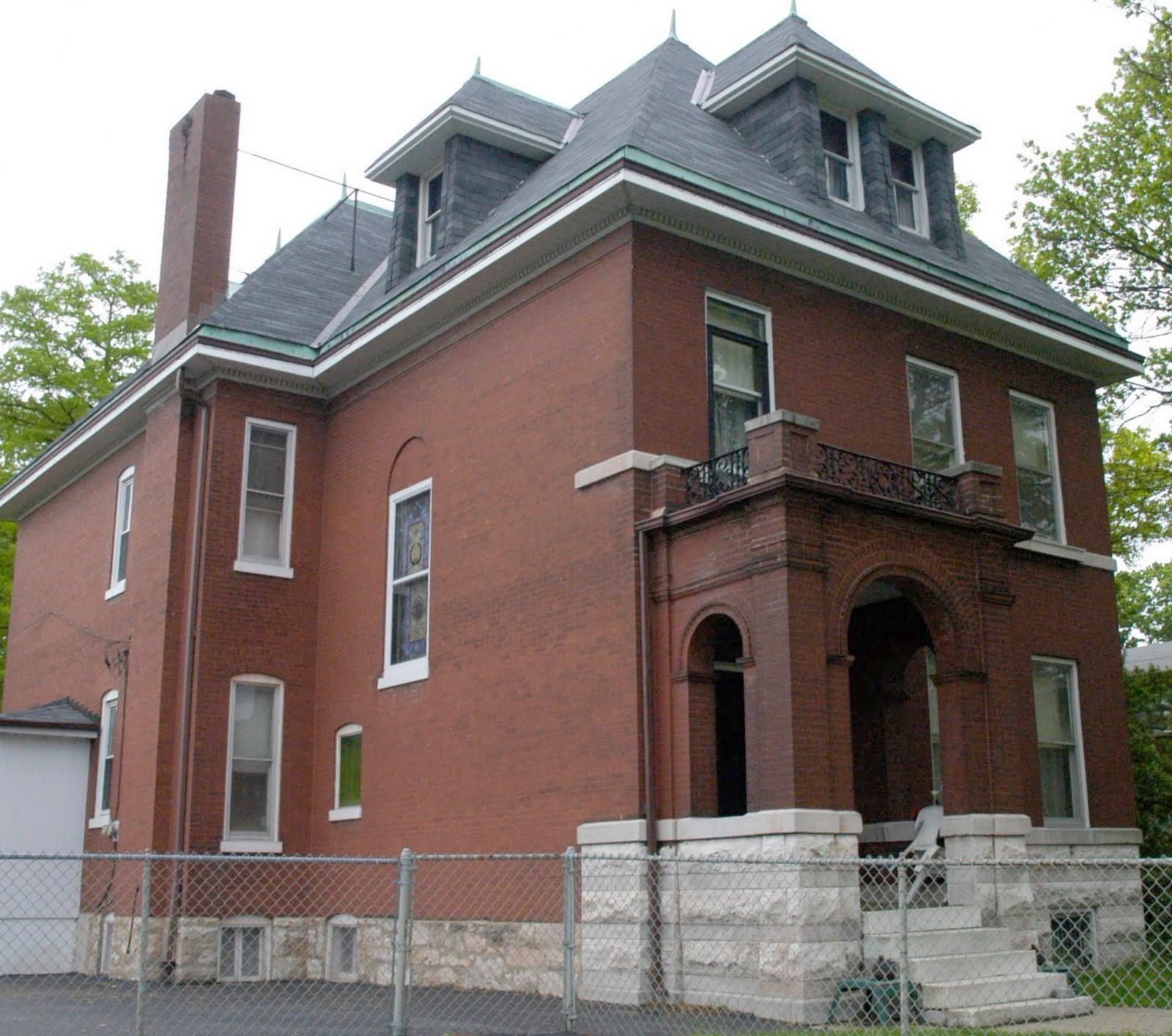 Check out this little clubhouse?: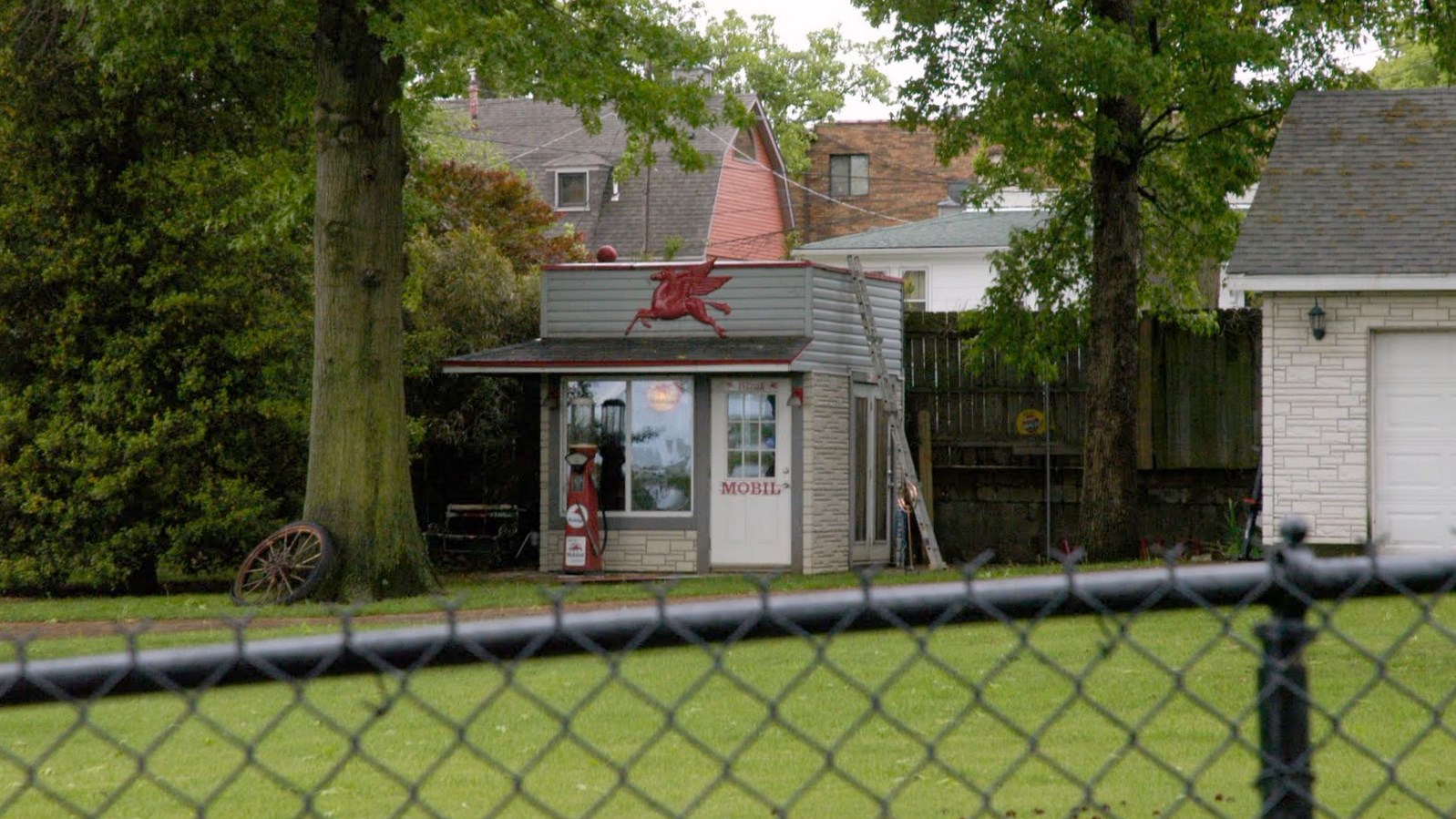 I-55 was as disruptive to the neighborhood as most intersatates were in St. Louis. Here are some of the newer (mid-century) homes built in the wake of the interstate contstruction: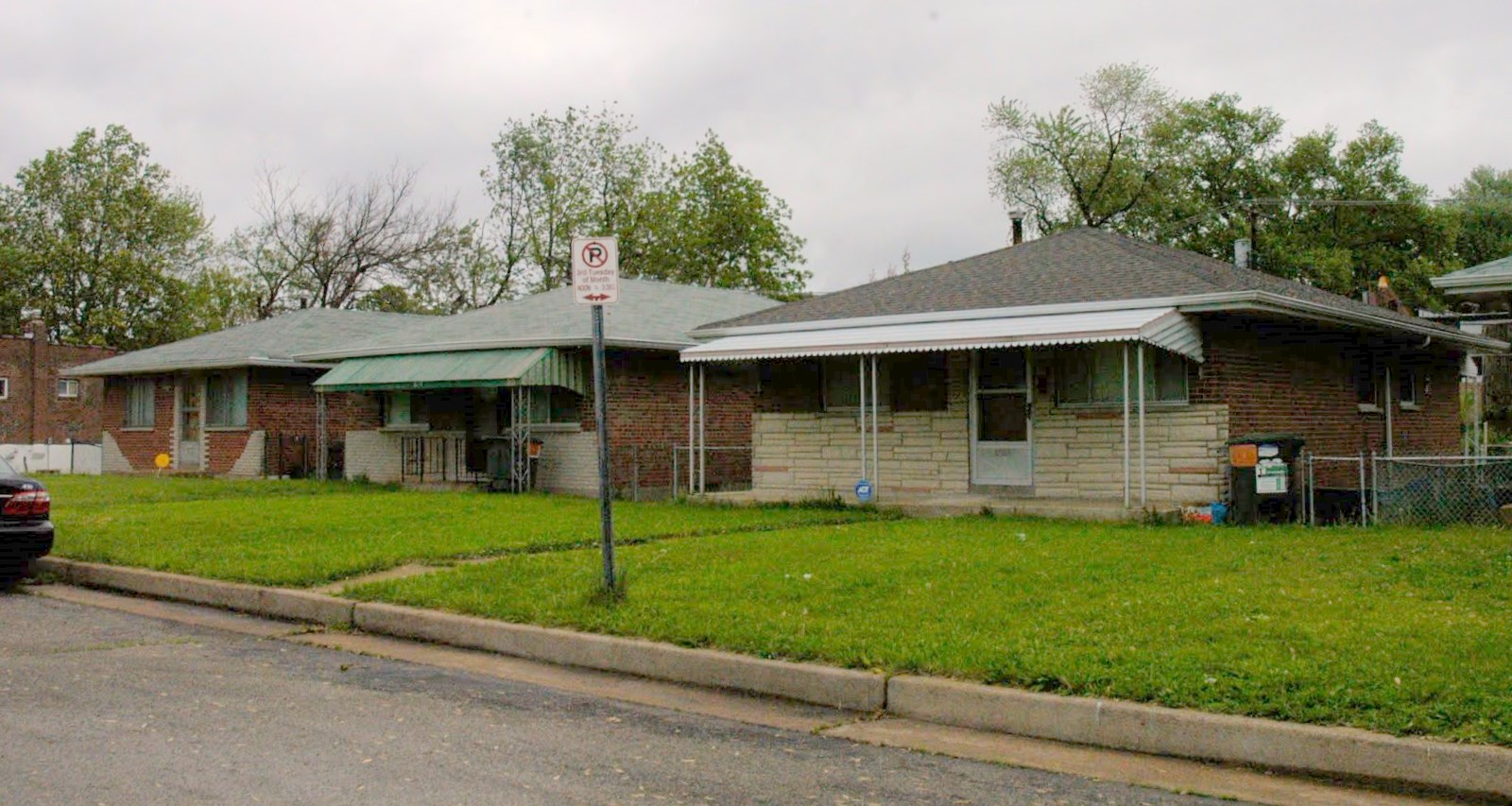 Mt. Pleasant has a park within it's confines.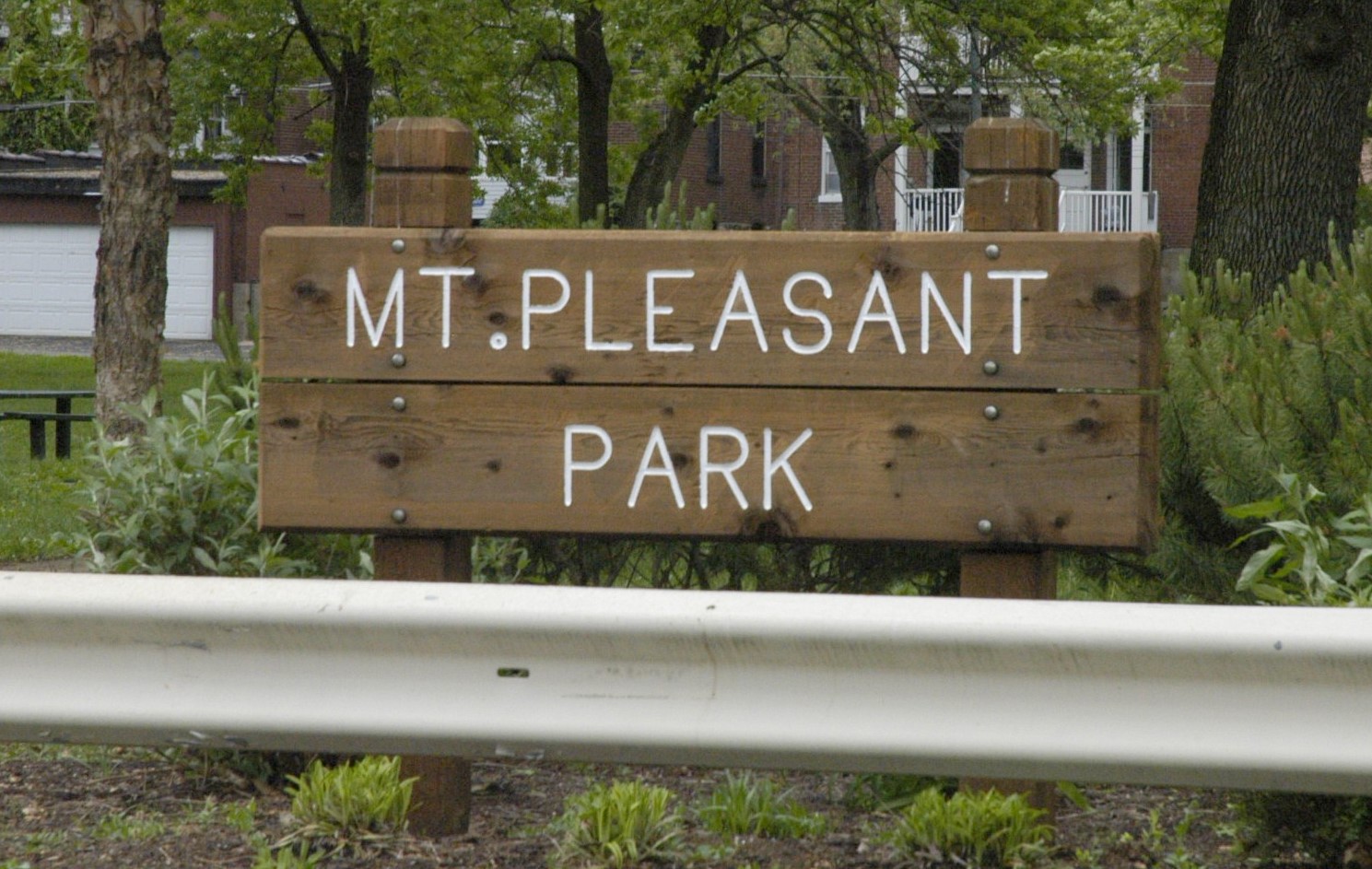 The park is nothing overly special, but it does have one of several roller hockey rinks. This one is in the best condition I've seen to date: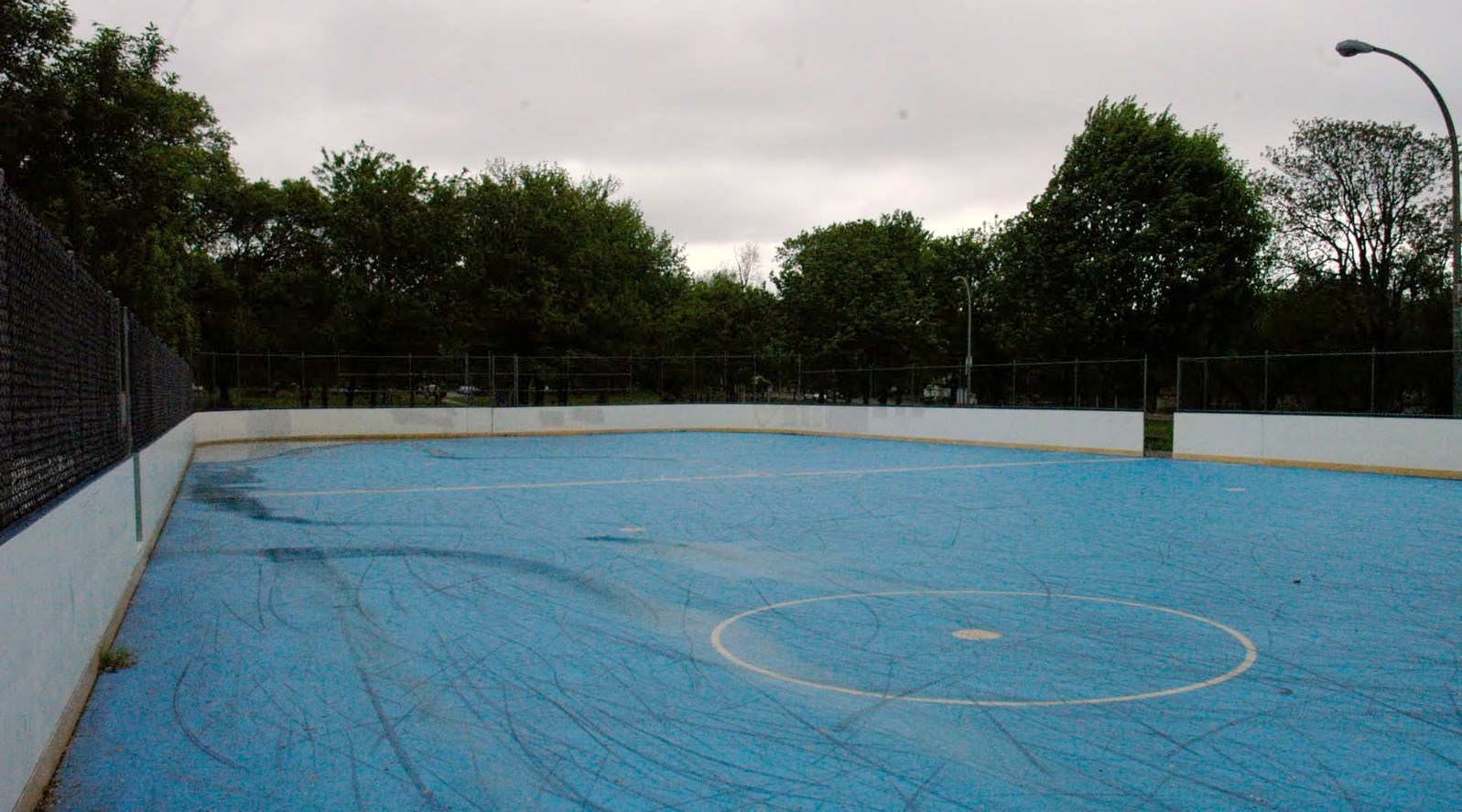 There are 2 commercial districts within Mt. Pleasant, the first being Virginia Avenue the second is Meremec Street. Meremec is a cool commercial corridor with many former storefronts, mostly abandoned. The Schaeffer Hobby Store used to be here before they packed up and moved to the burbs. It was a super cool place with an old-school vibe (much like Harter's Hobby in Belleville, IL):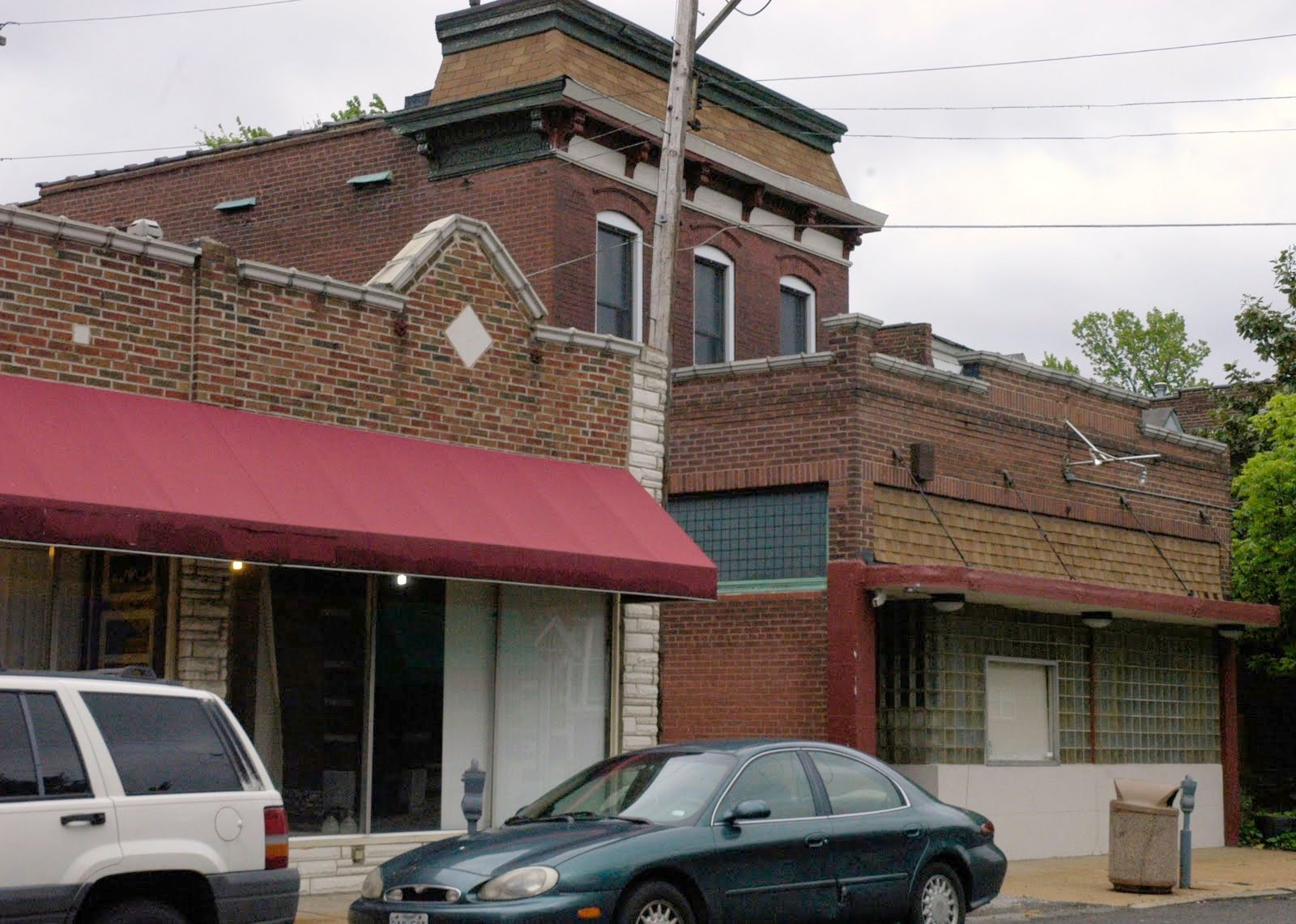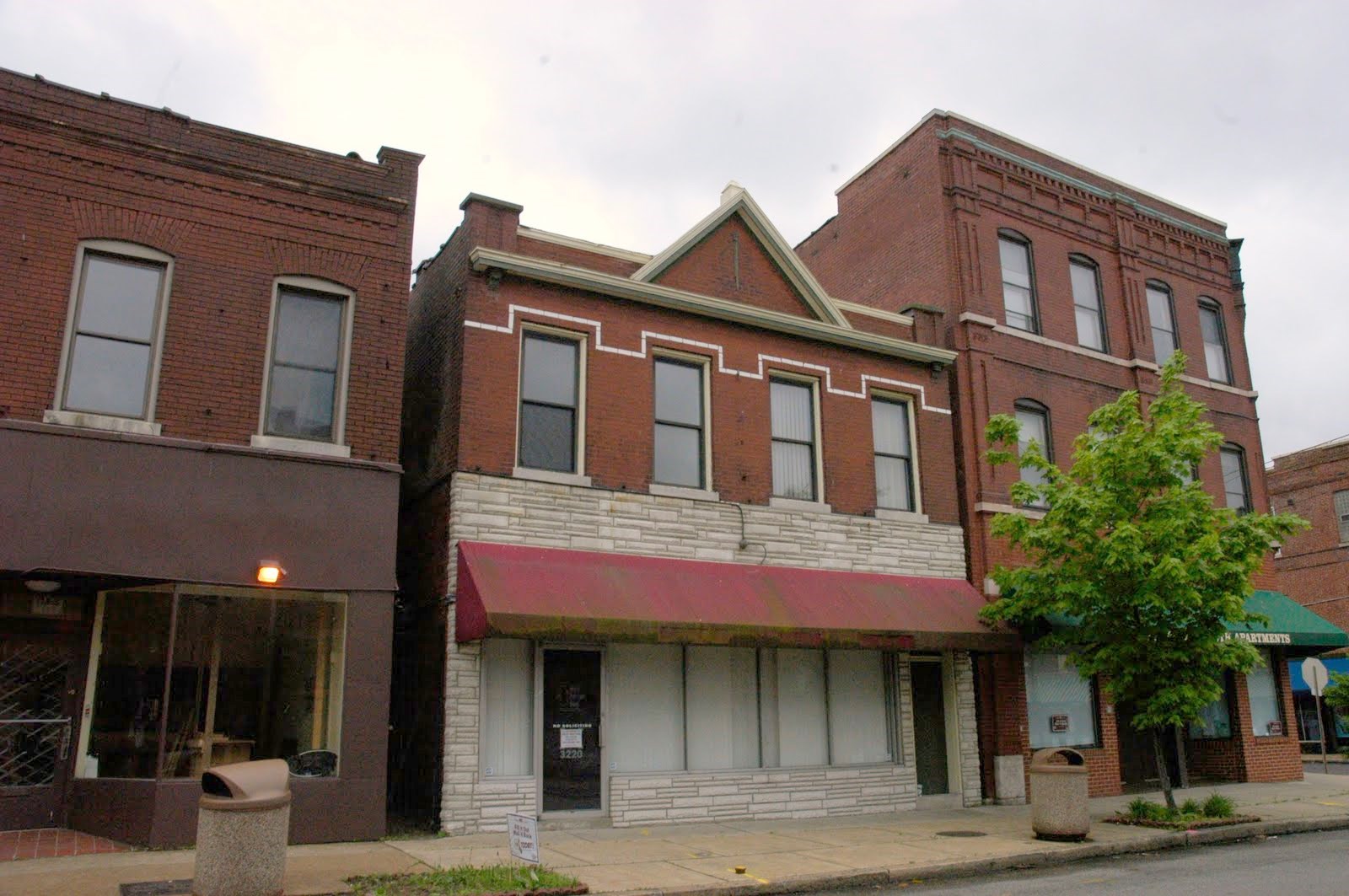 Since 1863, St. Anthony of Padua has been serving the Catholics in Mt. Pleasant and Dutchtown: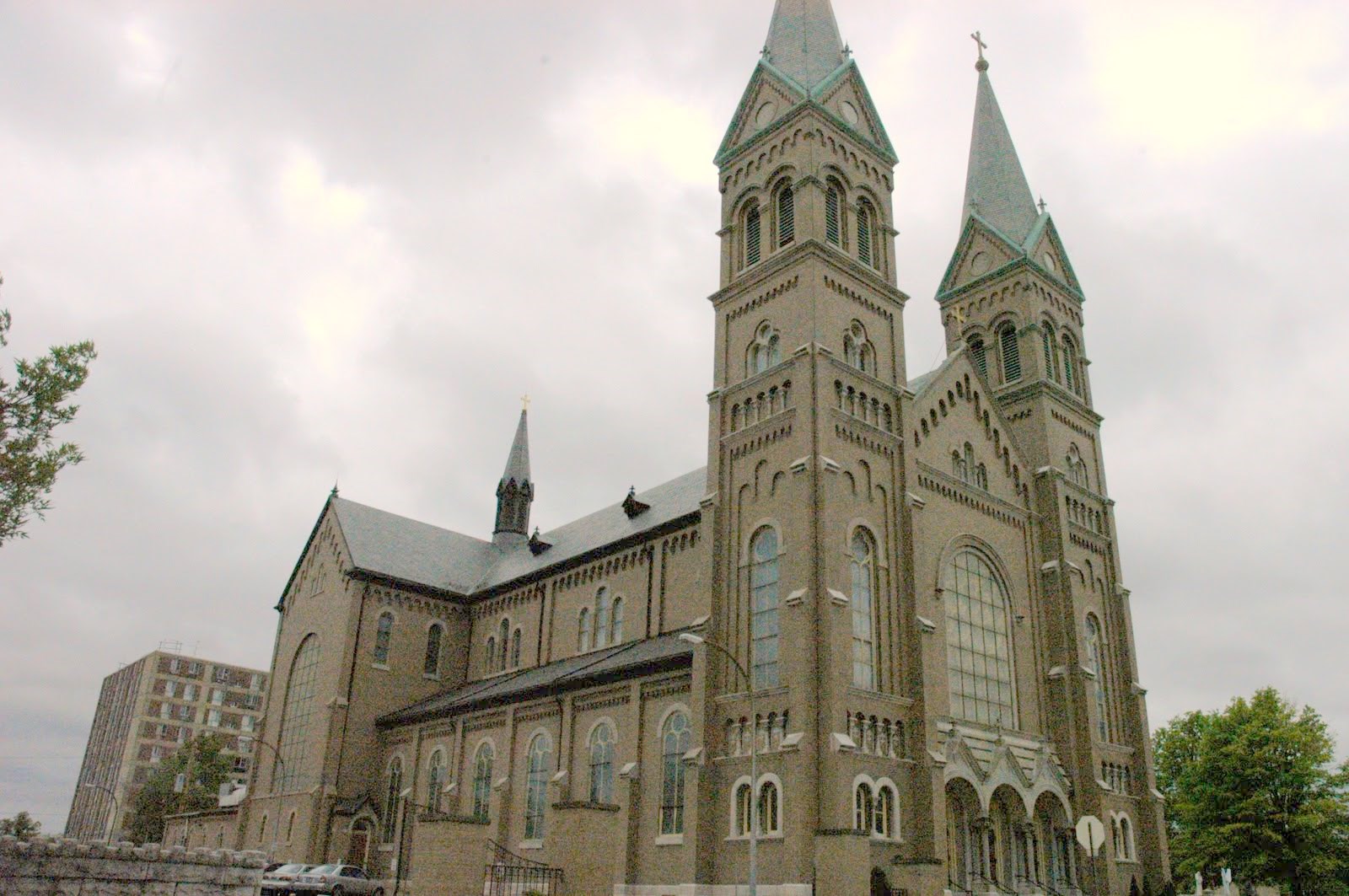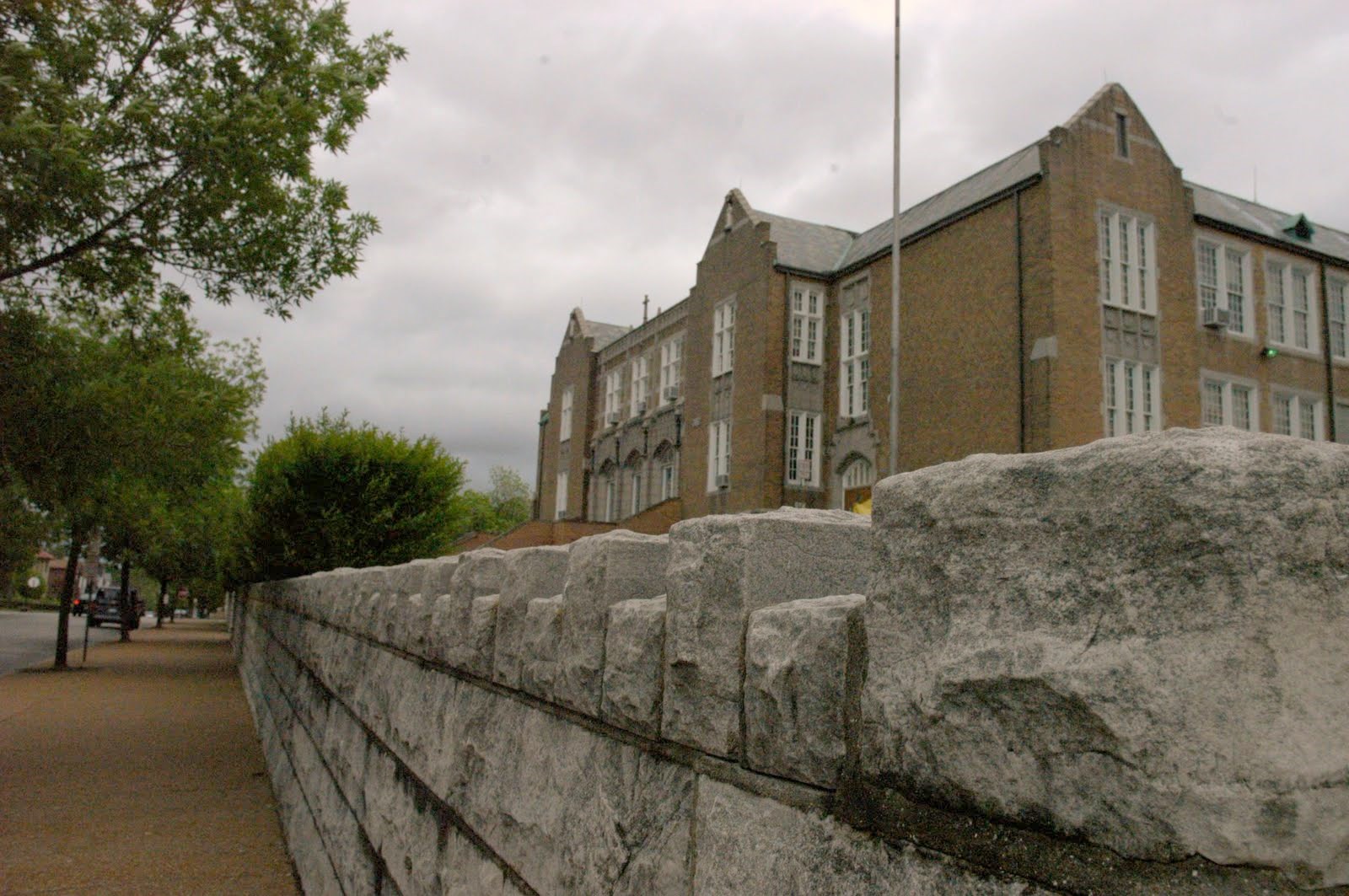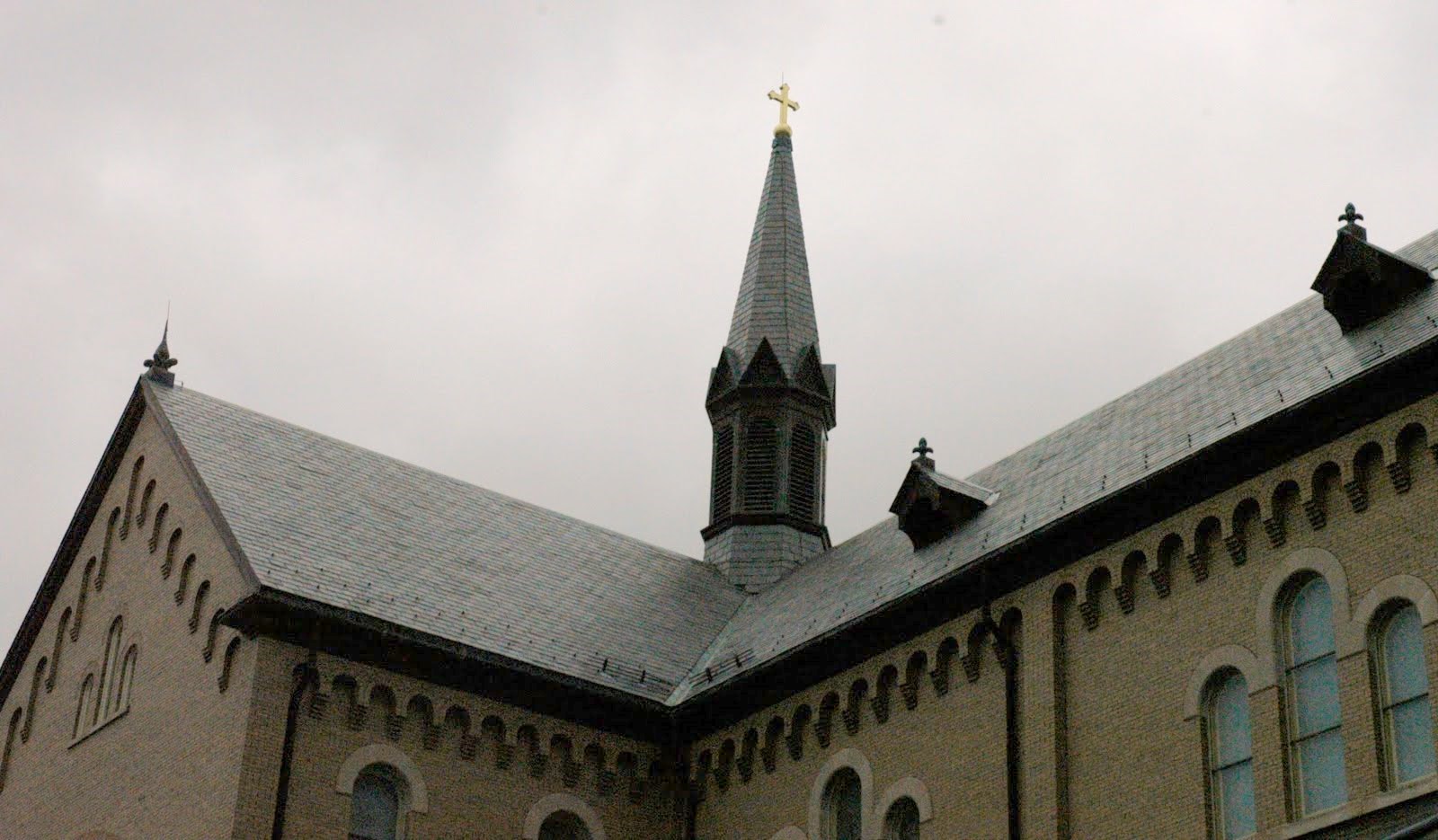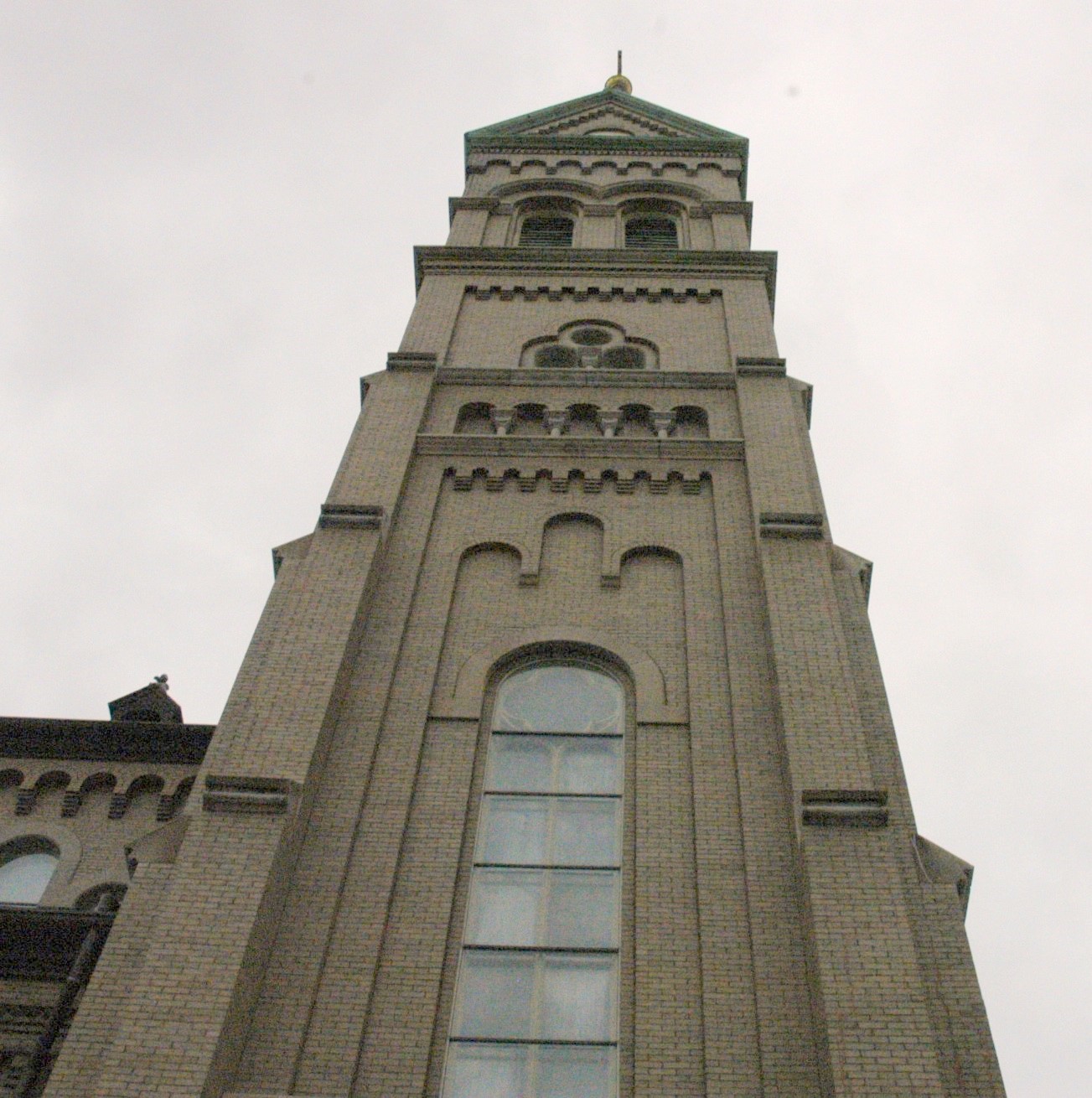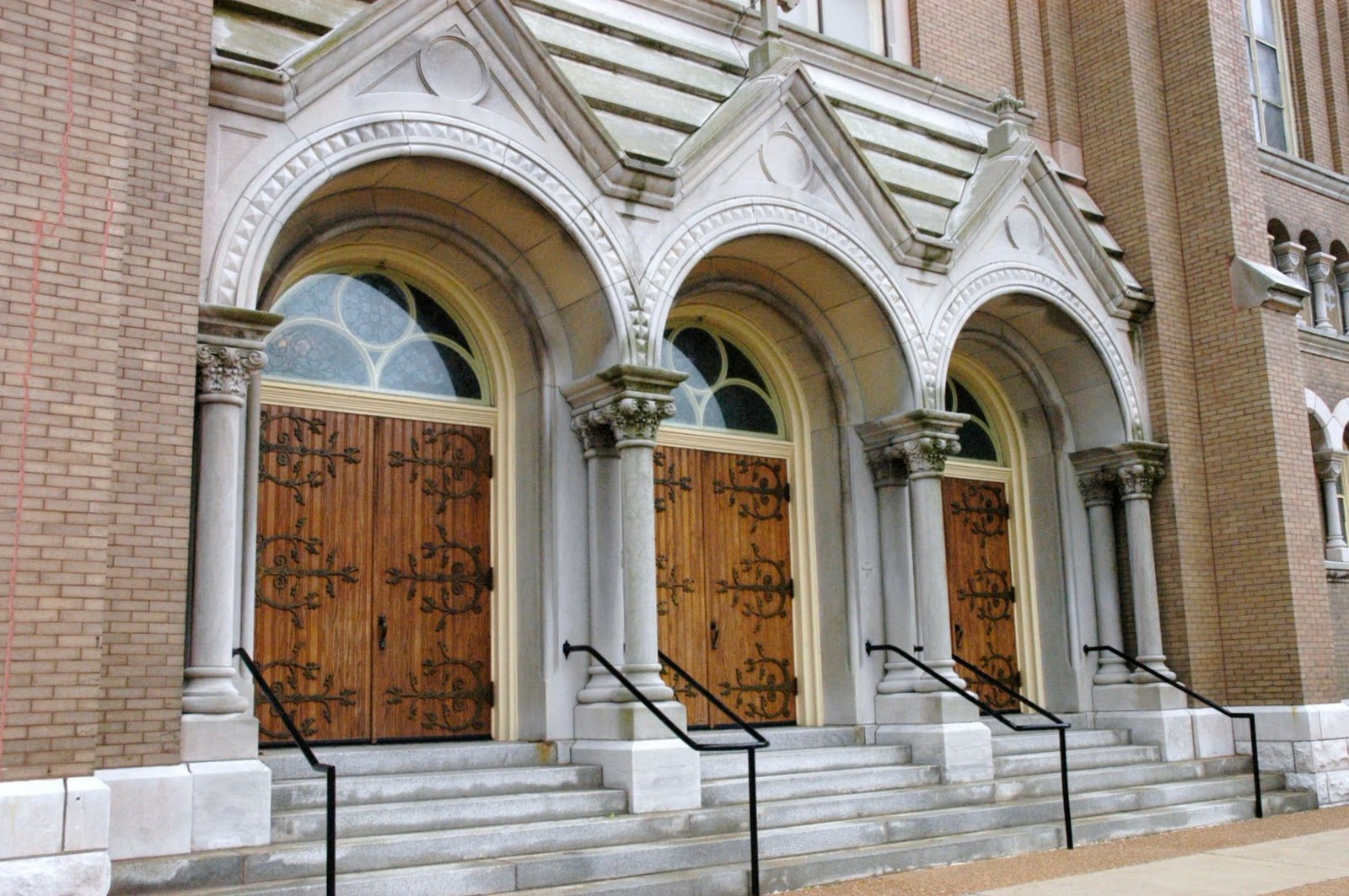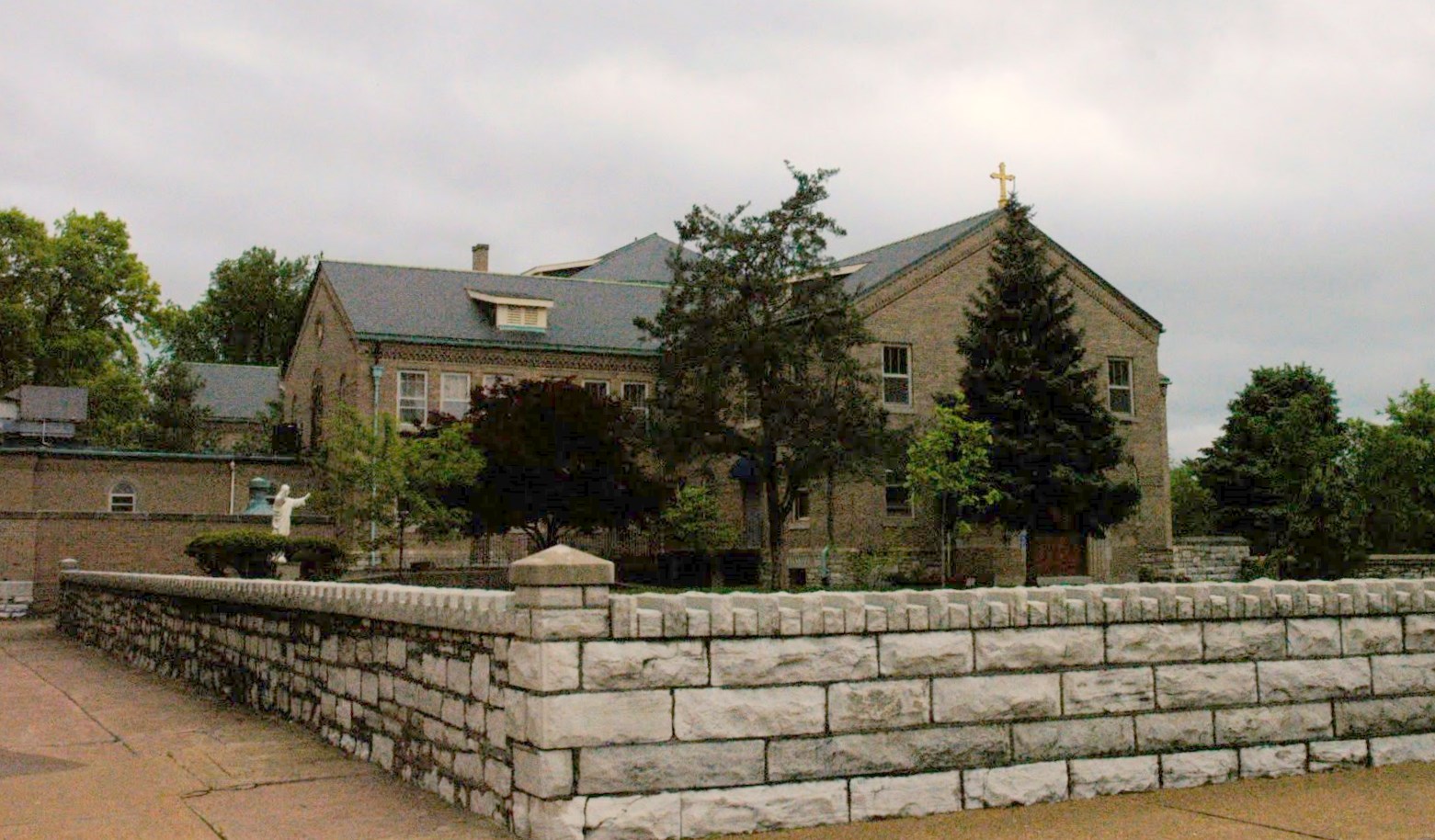 An cool looking funeral home, along Meramec: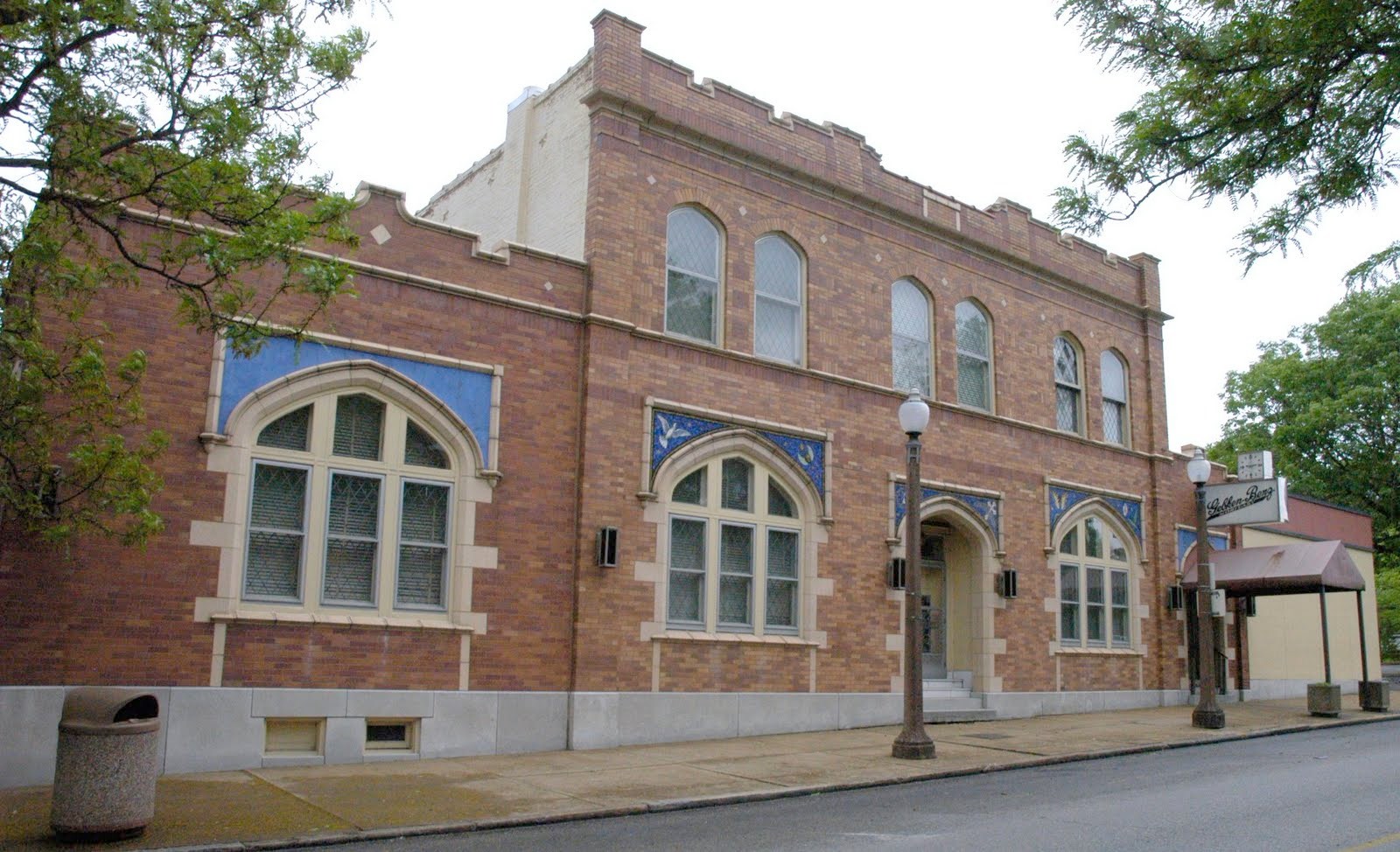 And then came the 70s/80s contribution to Meramec: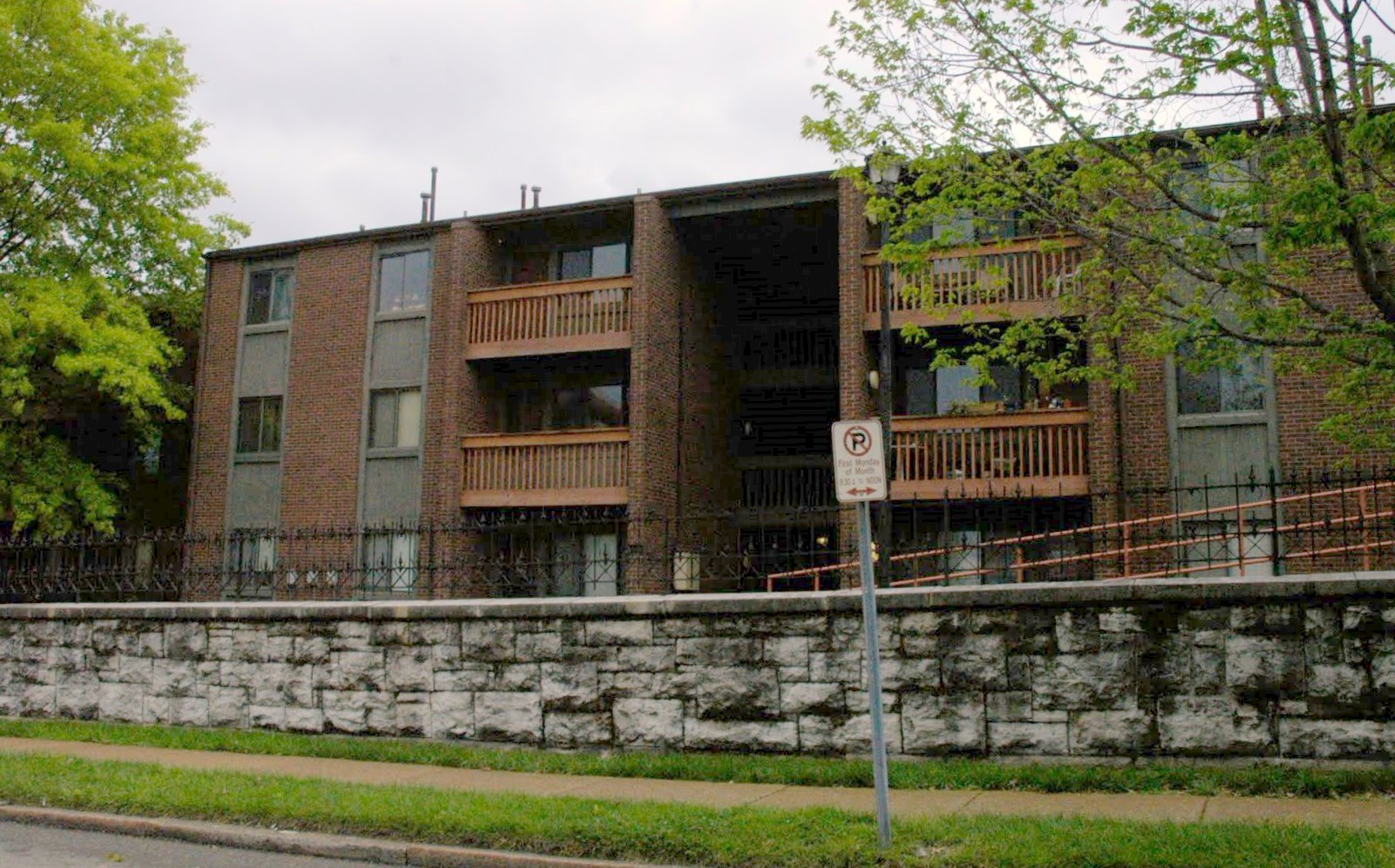 Meremec is far from established as a retail or commercial destination point though. Virginia is farther along, or should I say holding on, with some older businesses mixed in with some newer ones as well: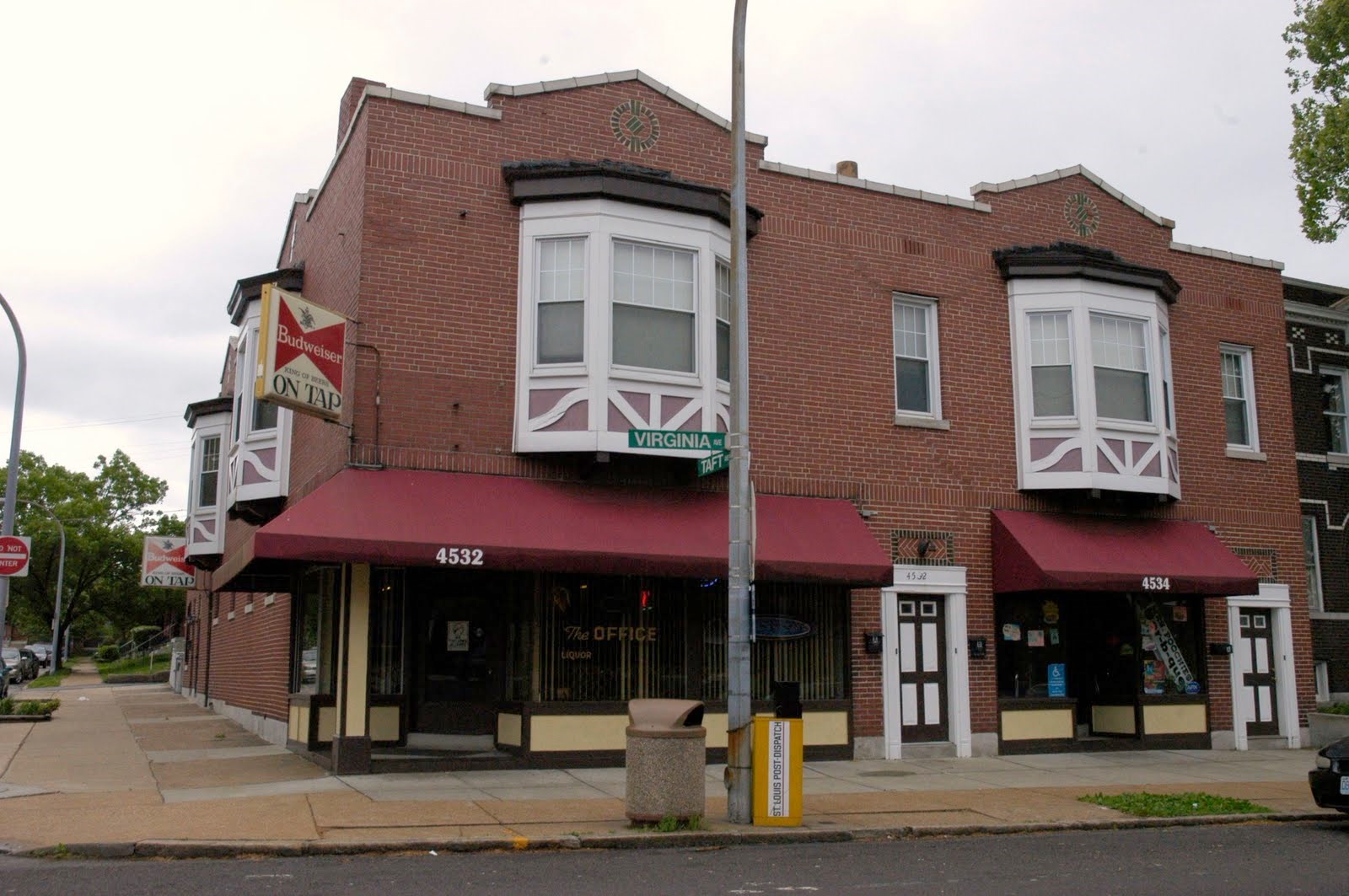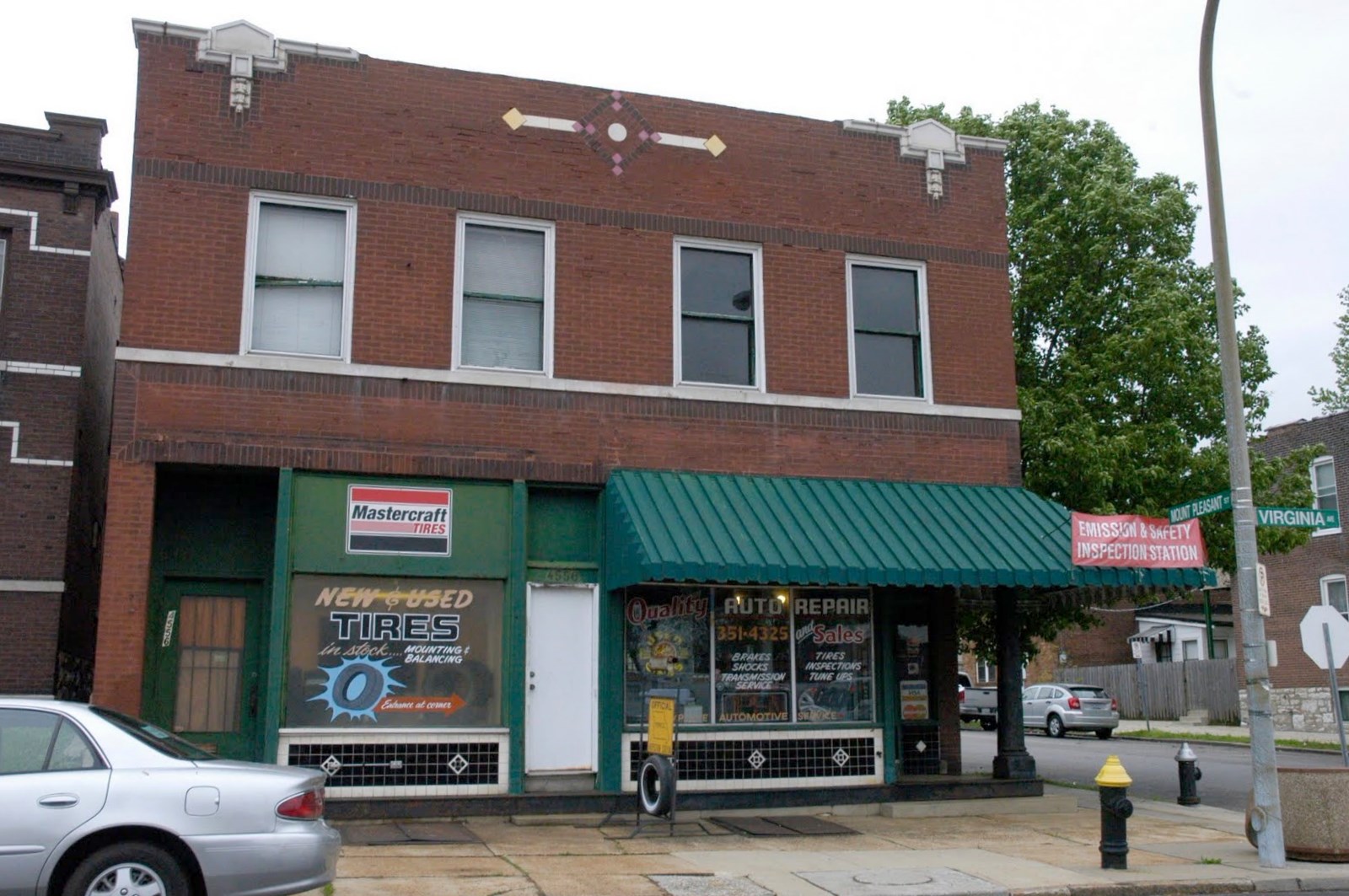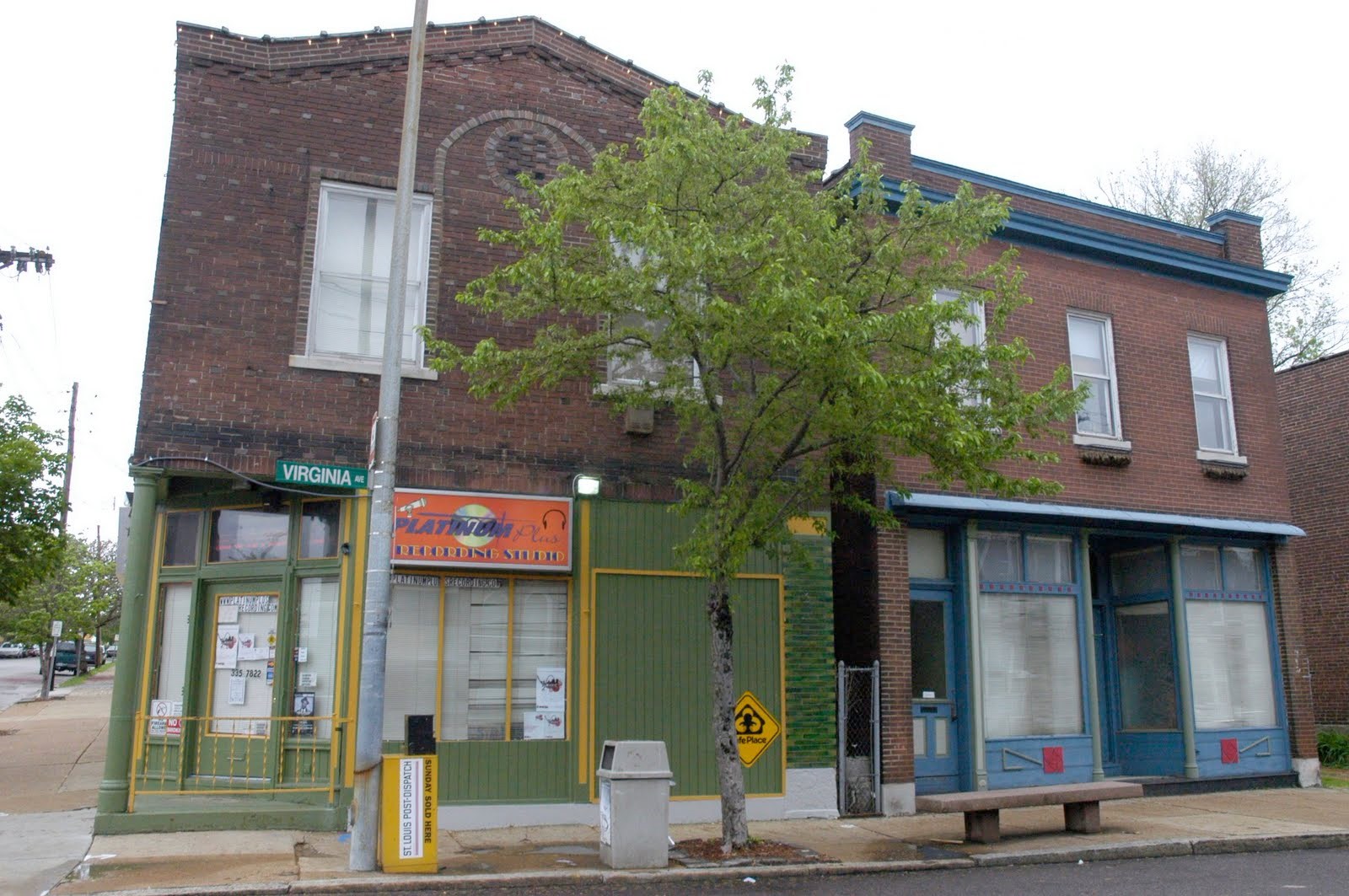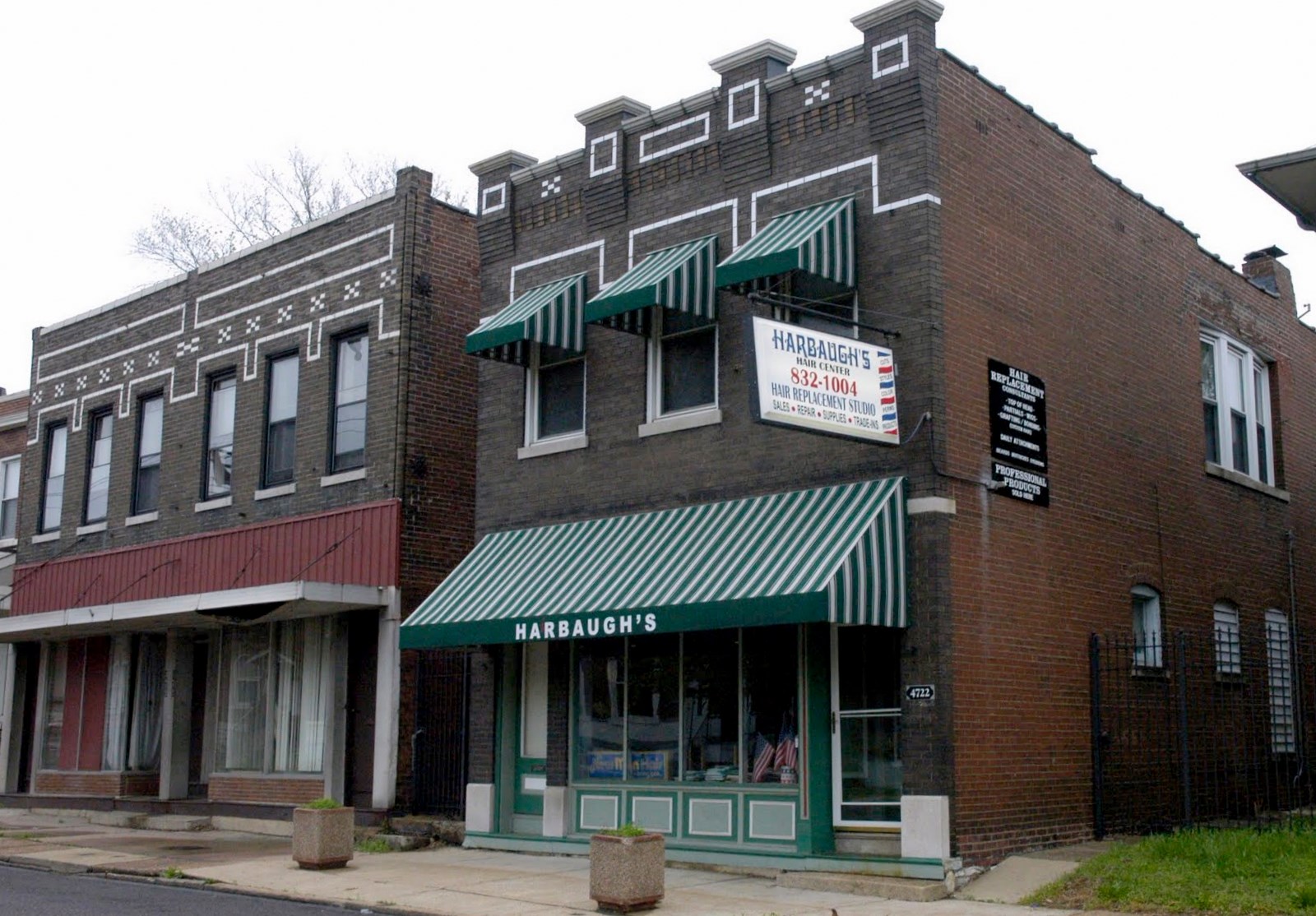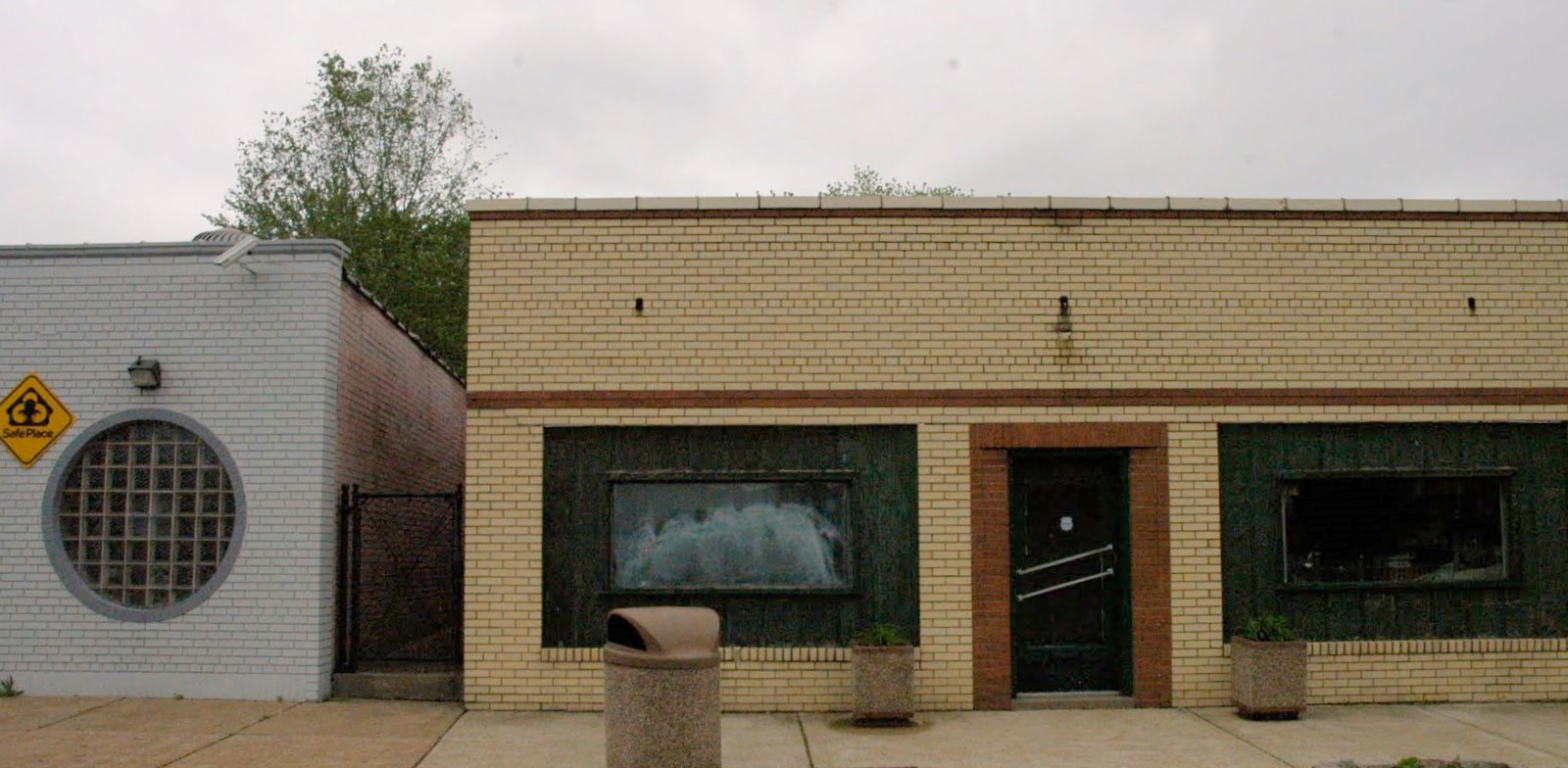 There are some other businesses, institutions and available retail propertys outside of Meramec and Virginia that can be found throughout the neighborhood: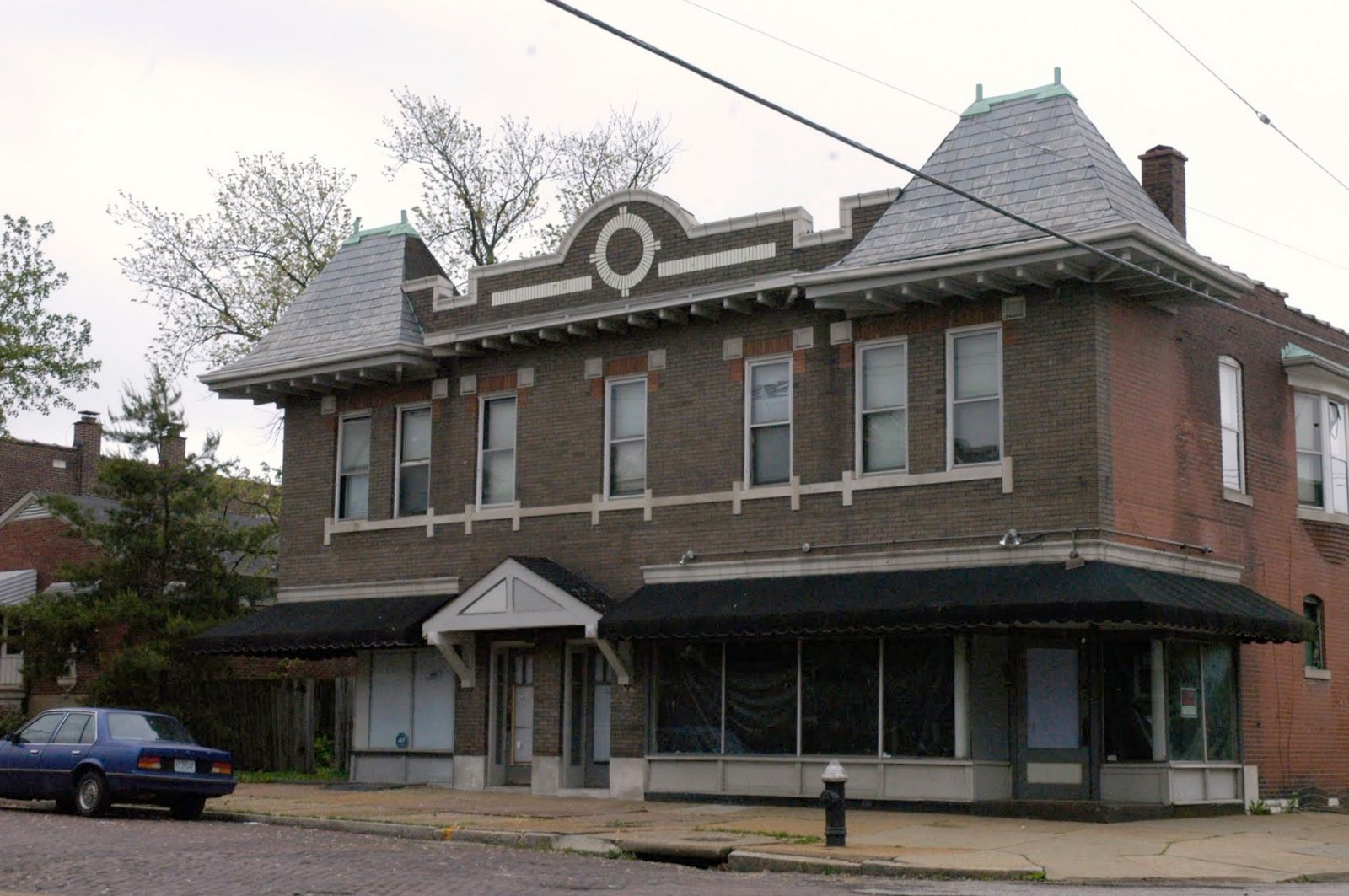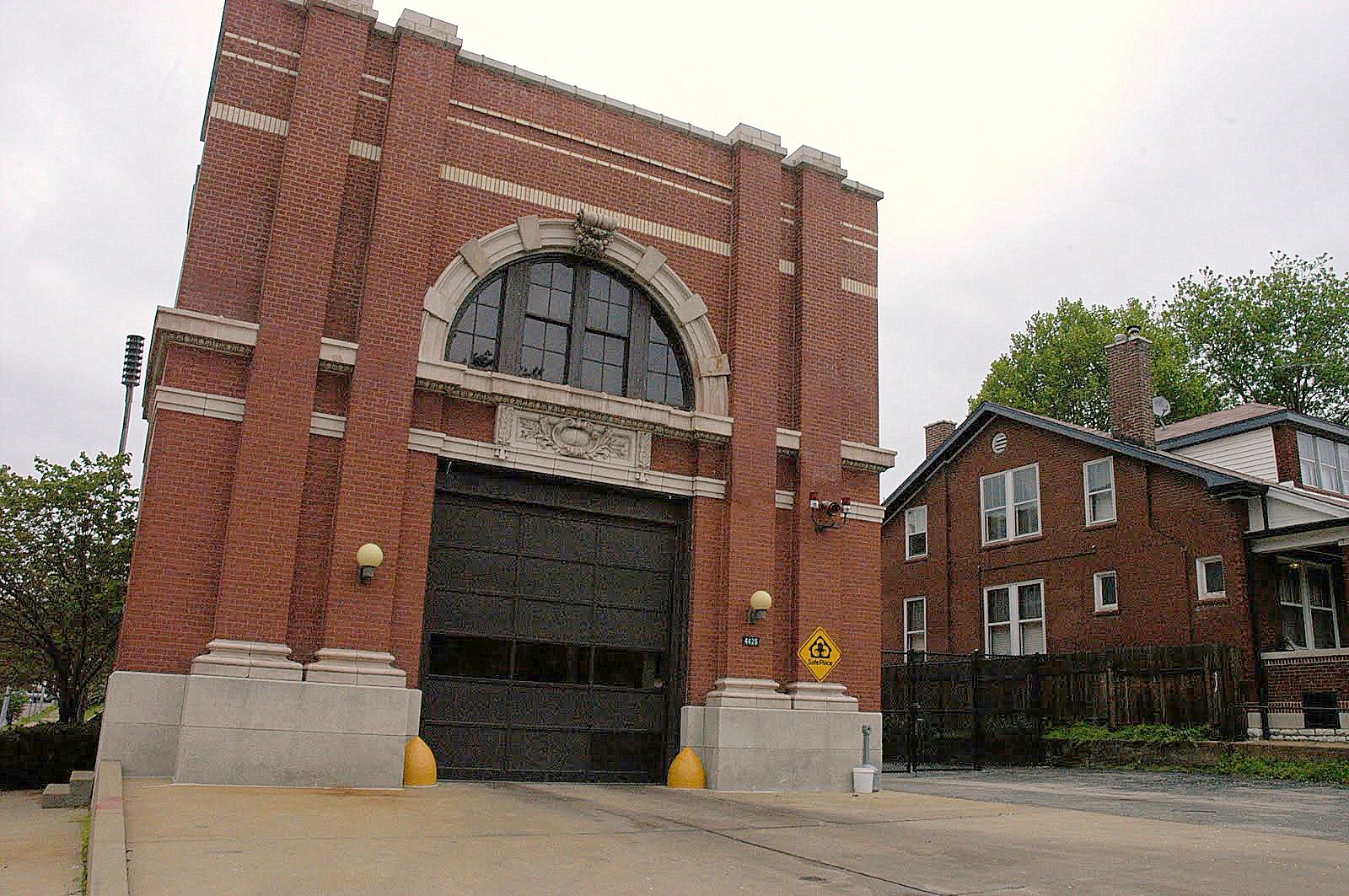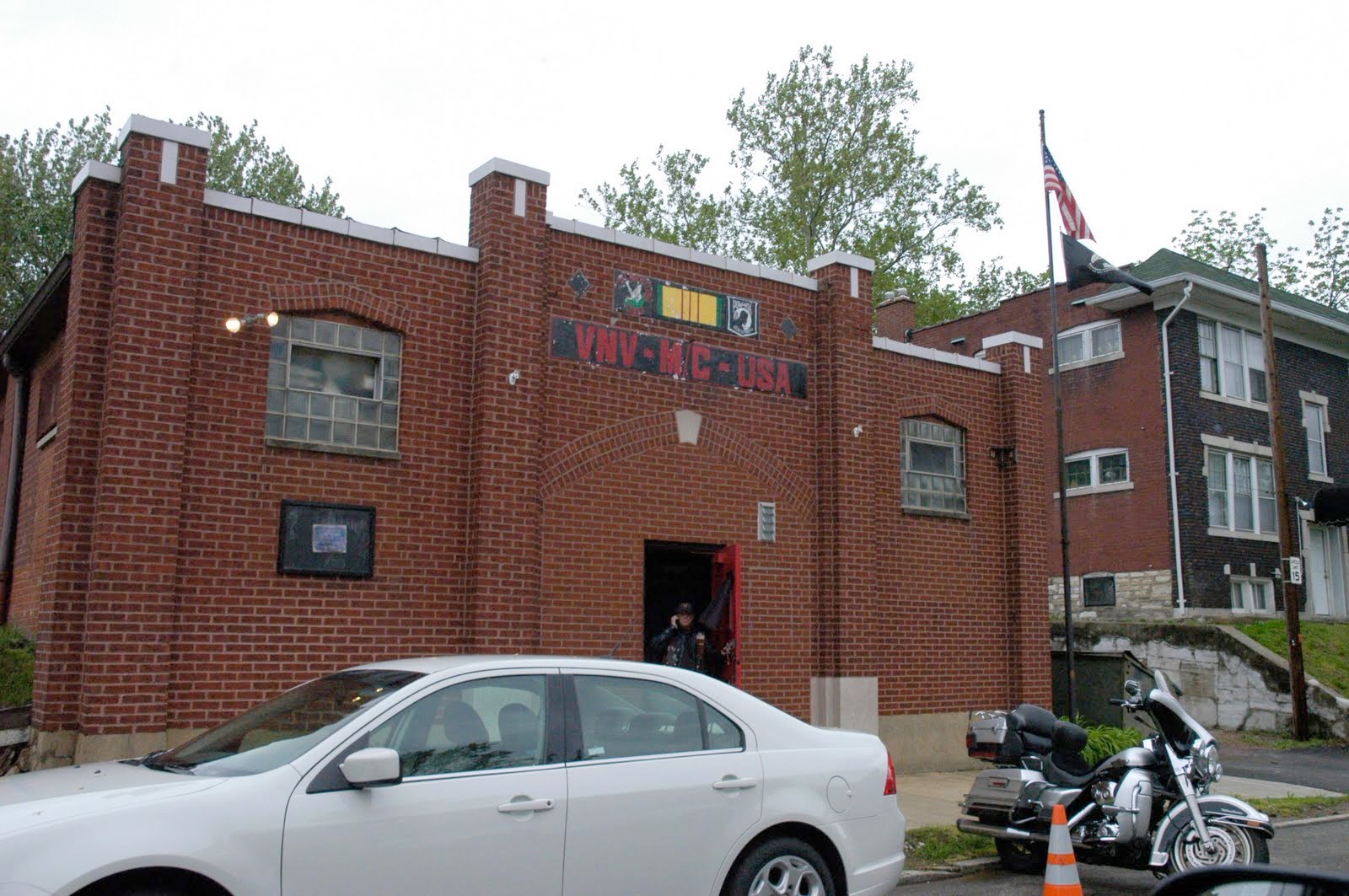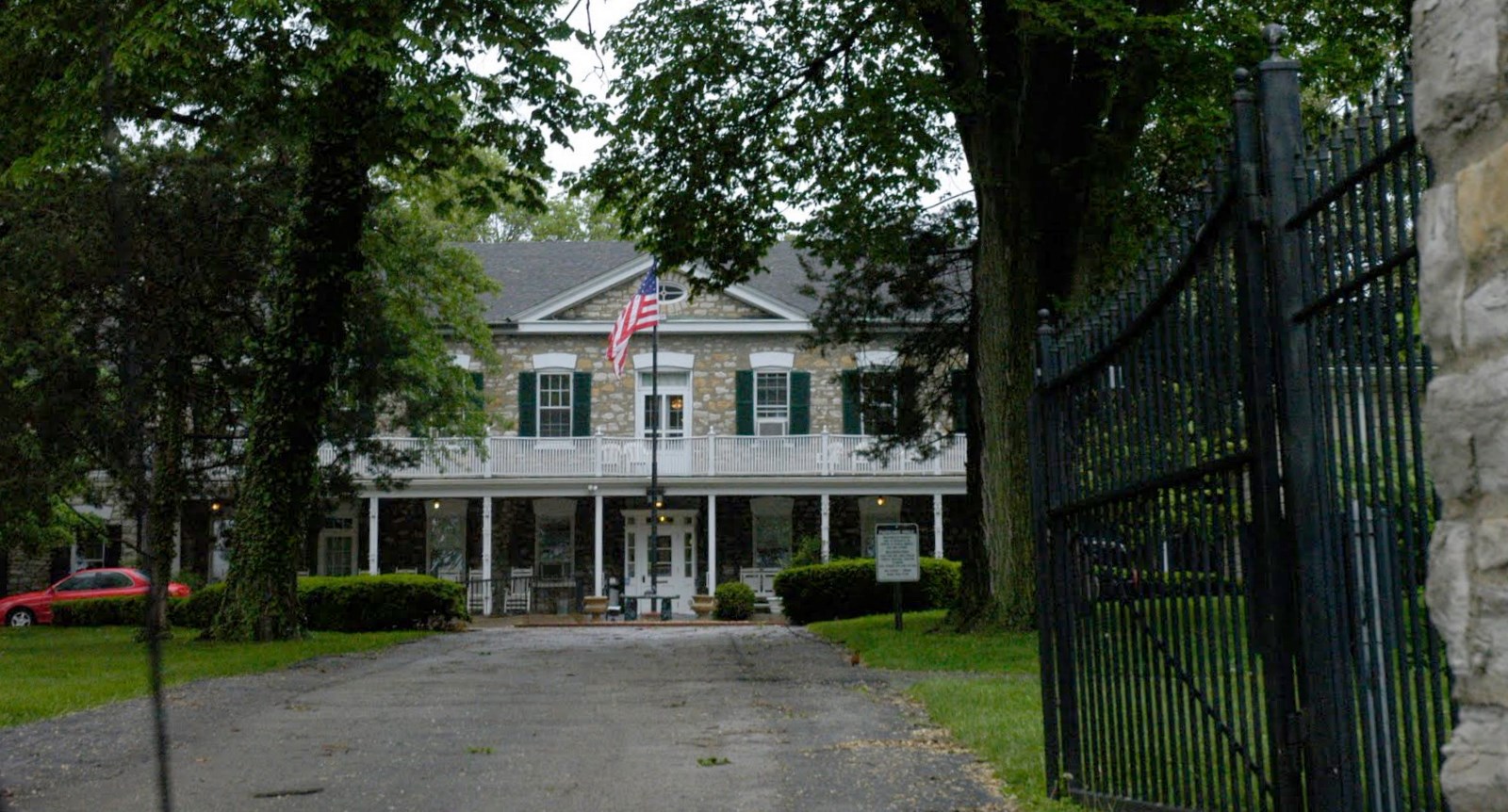 Skip's Place Too: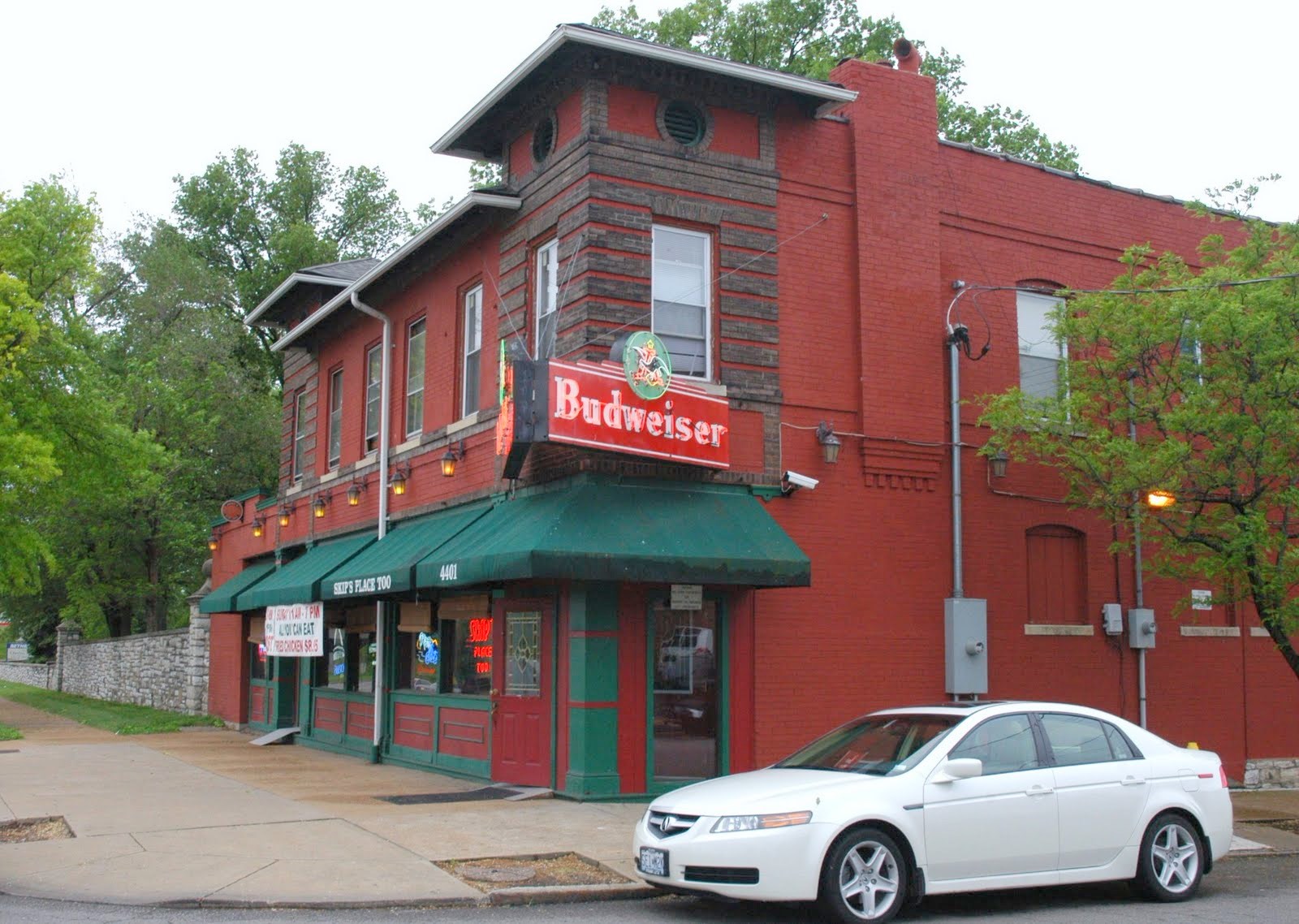 Crusoe's which has the distiction of being a bar/restaurant connected to another bar: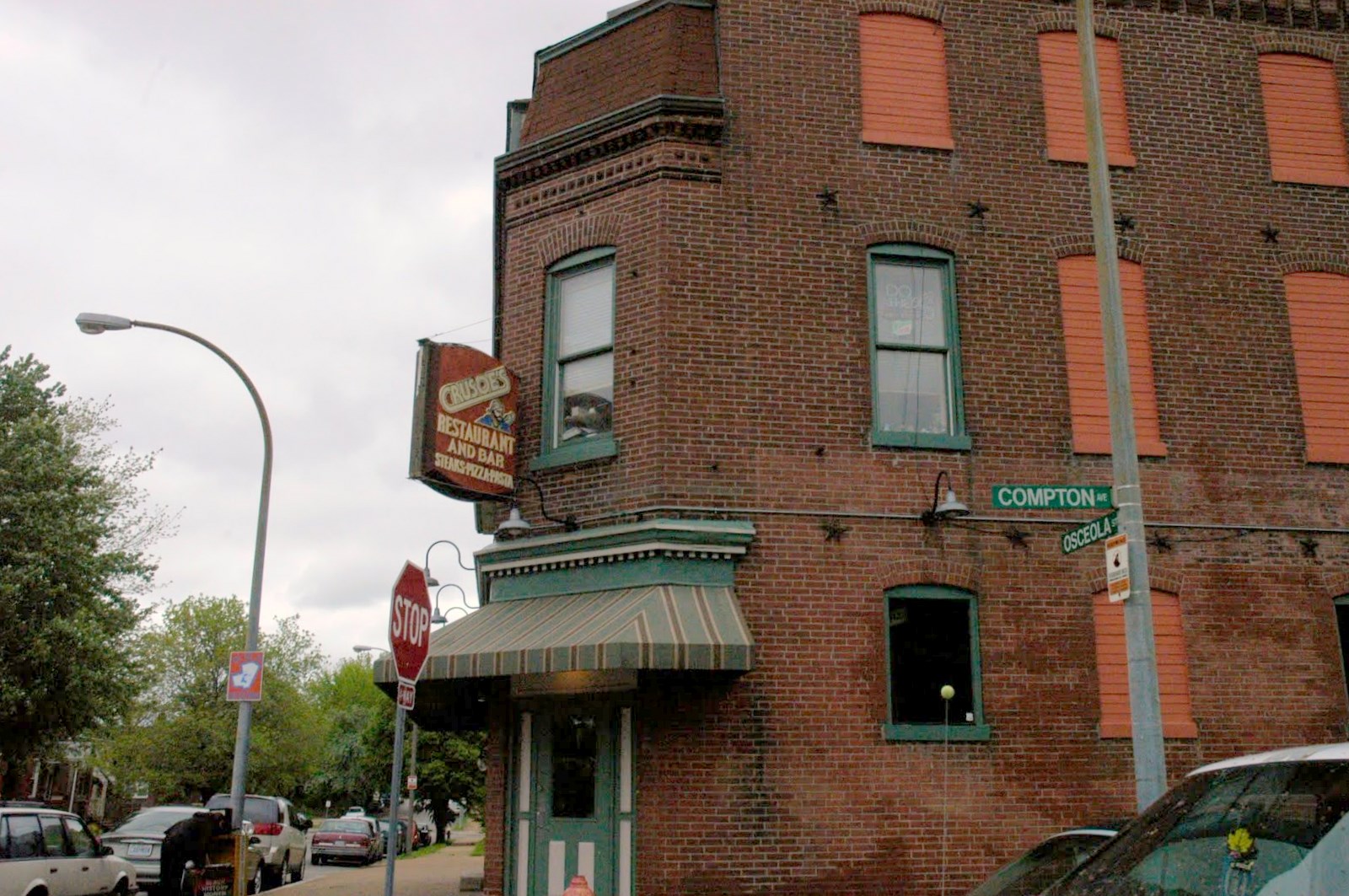 Other churches in the neighborhood: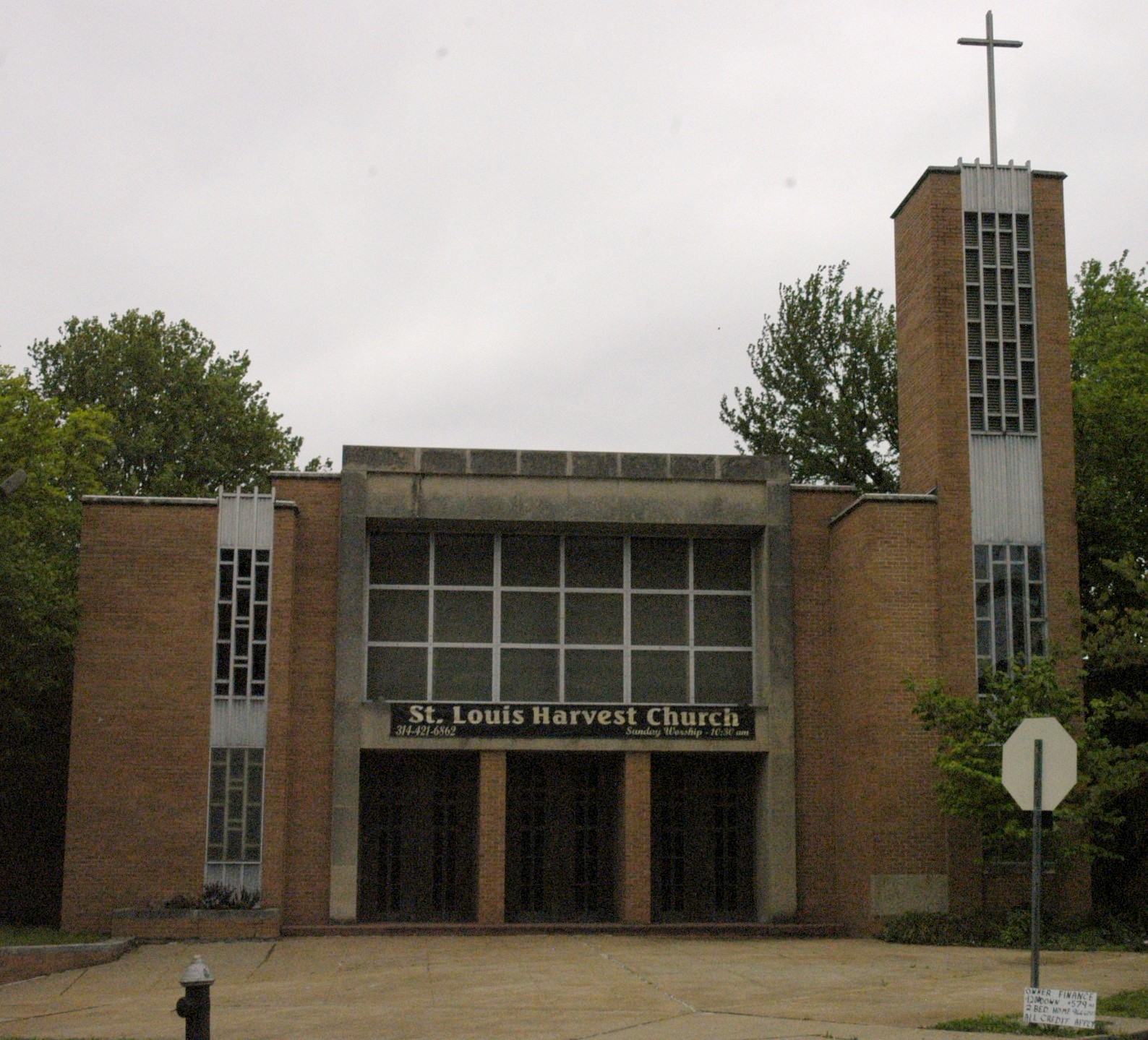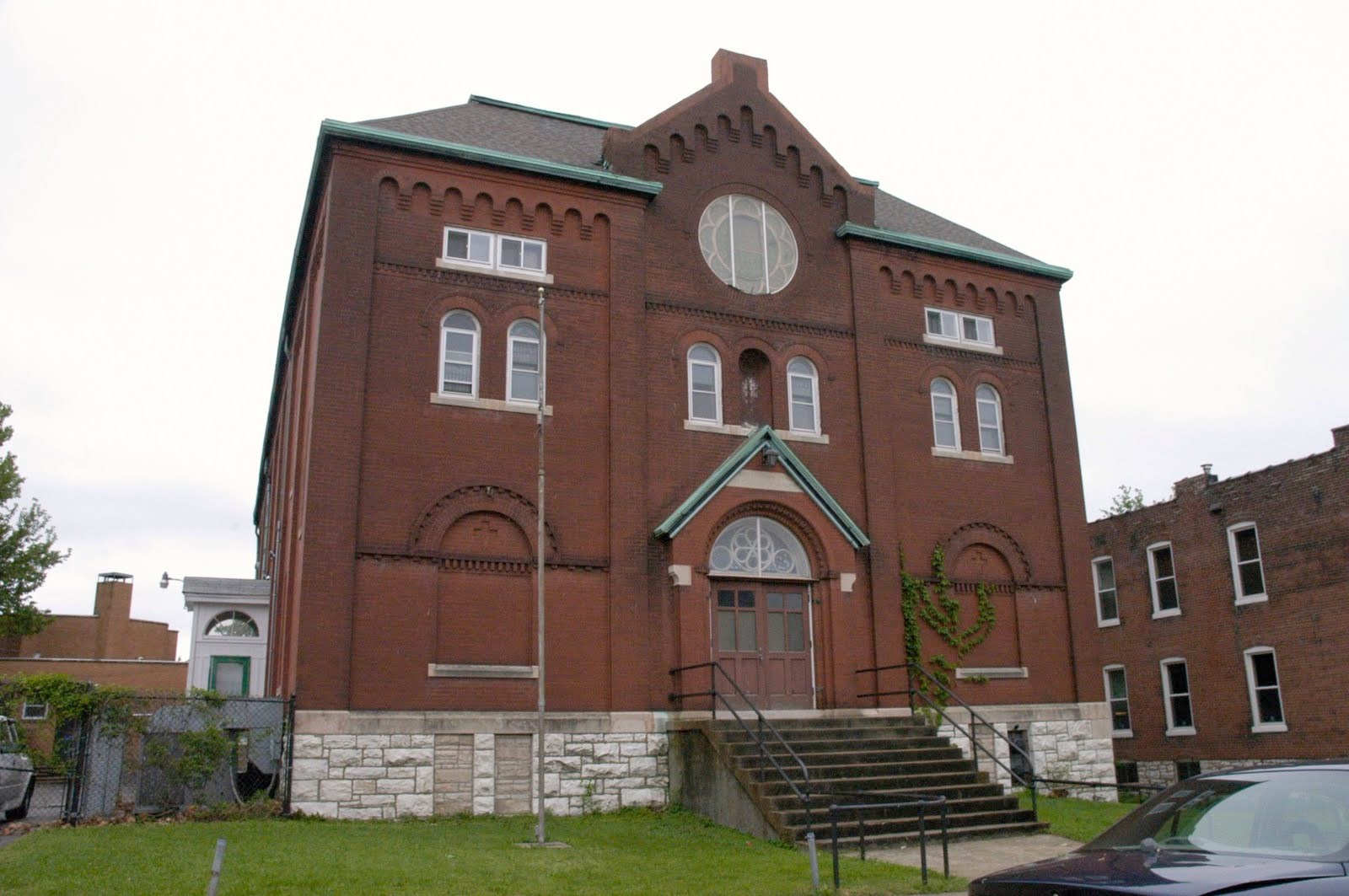 Remember the old Broussards Restaurant? They used to serve cajun food and had a piano player. It was a southside Twin Peaks, very David Lynch-esque.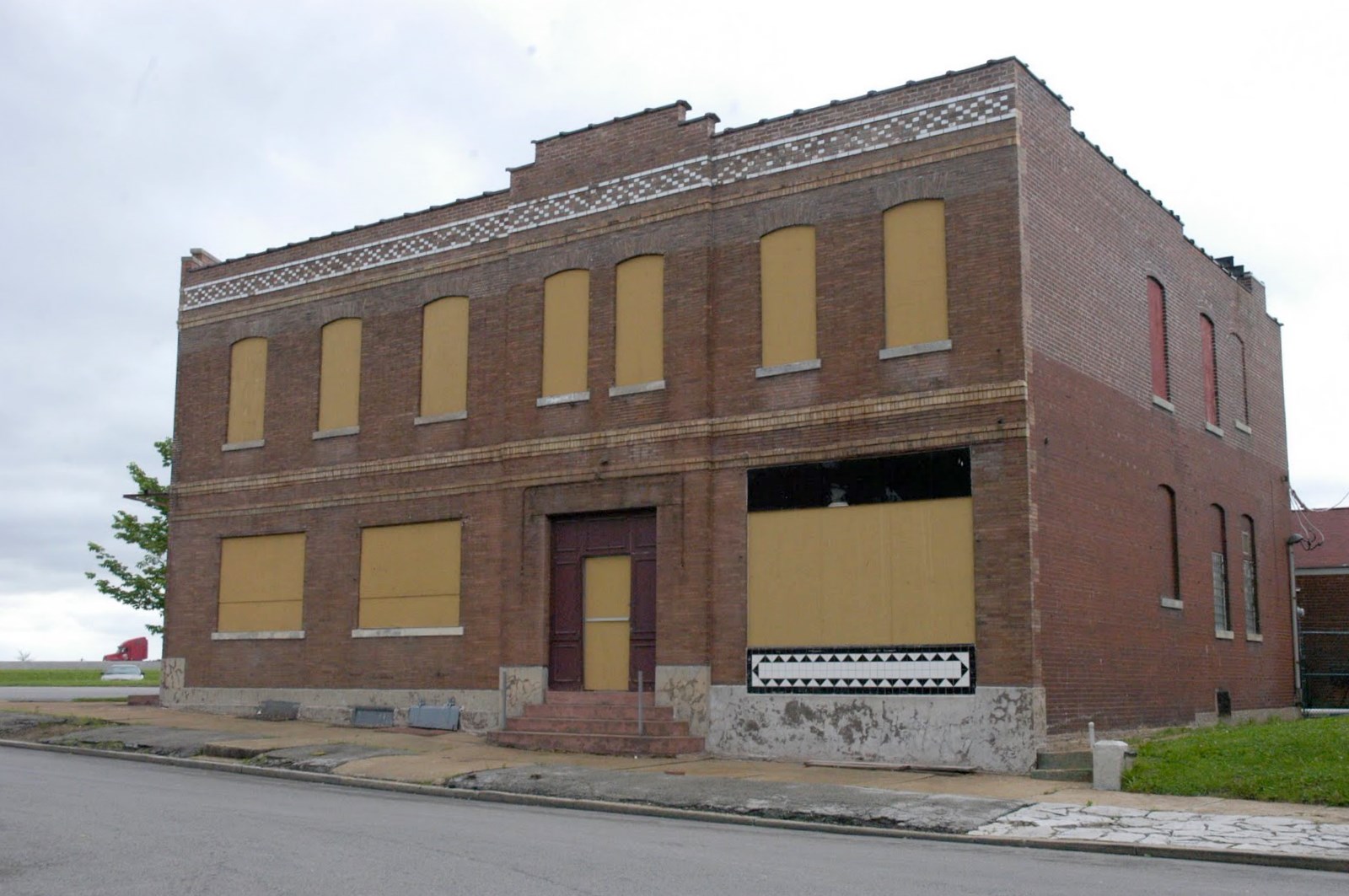 There is a solid mix of multi-families and single family homes. Here's what I'd call a cross section of what you'll find here: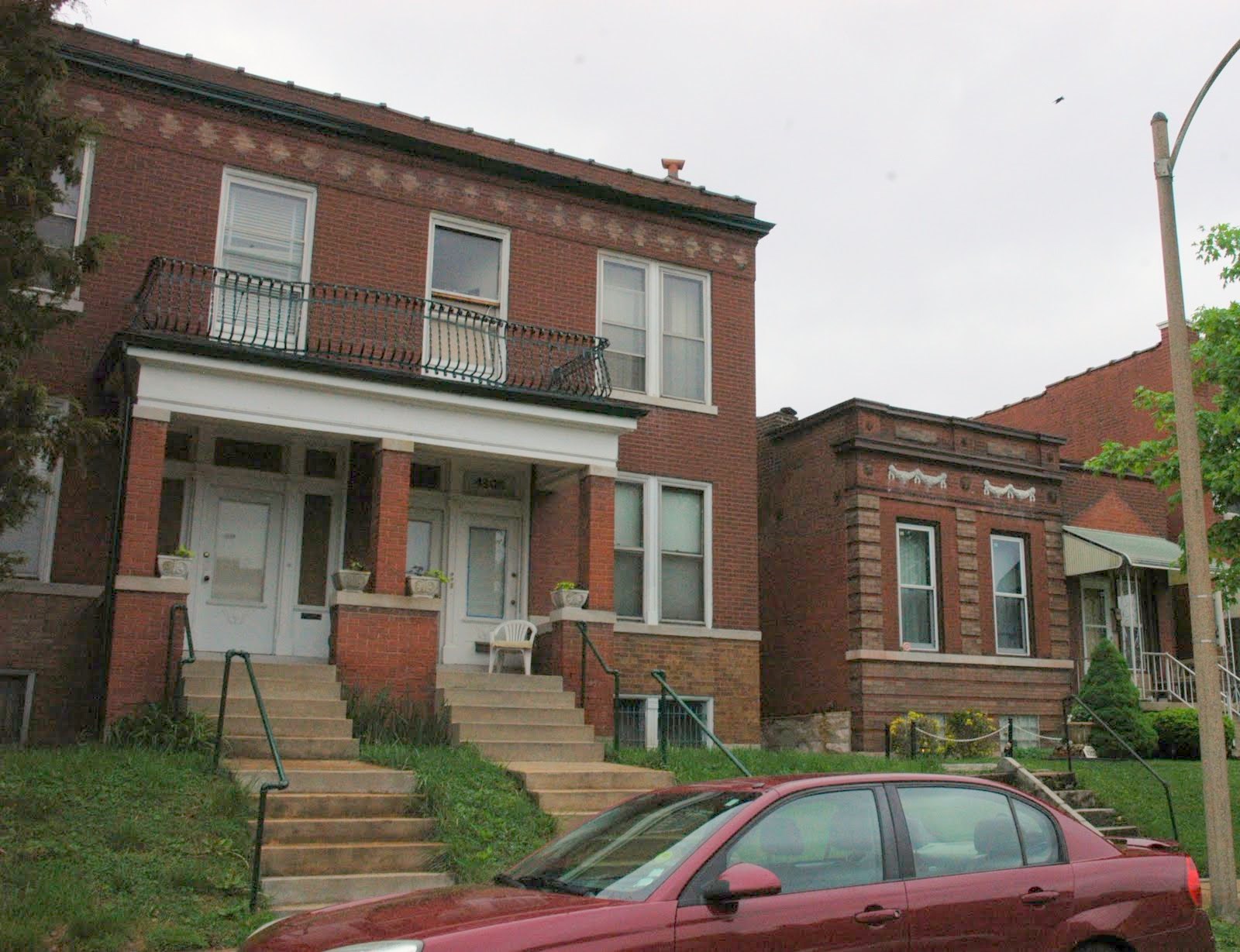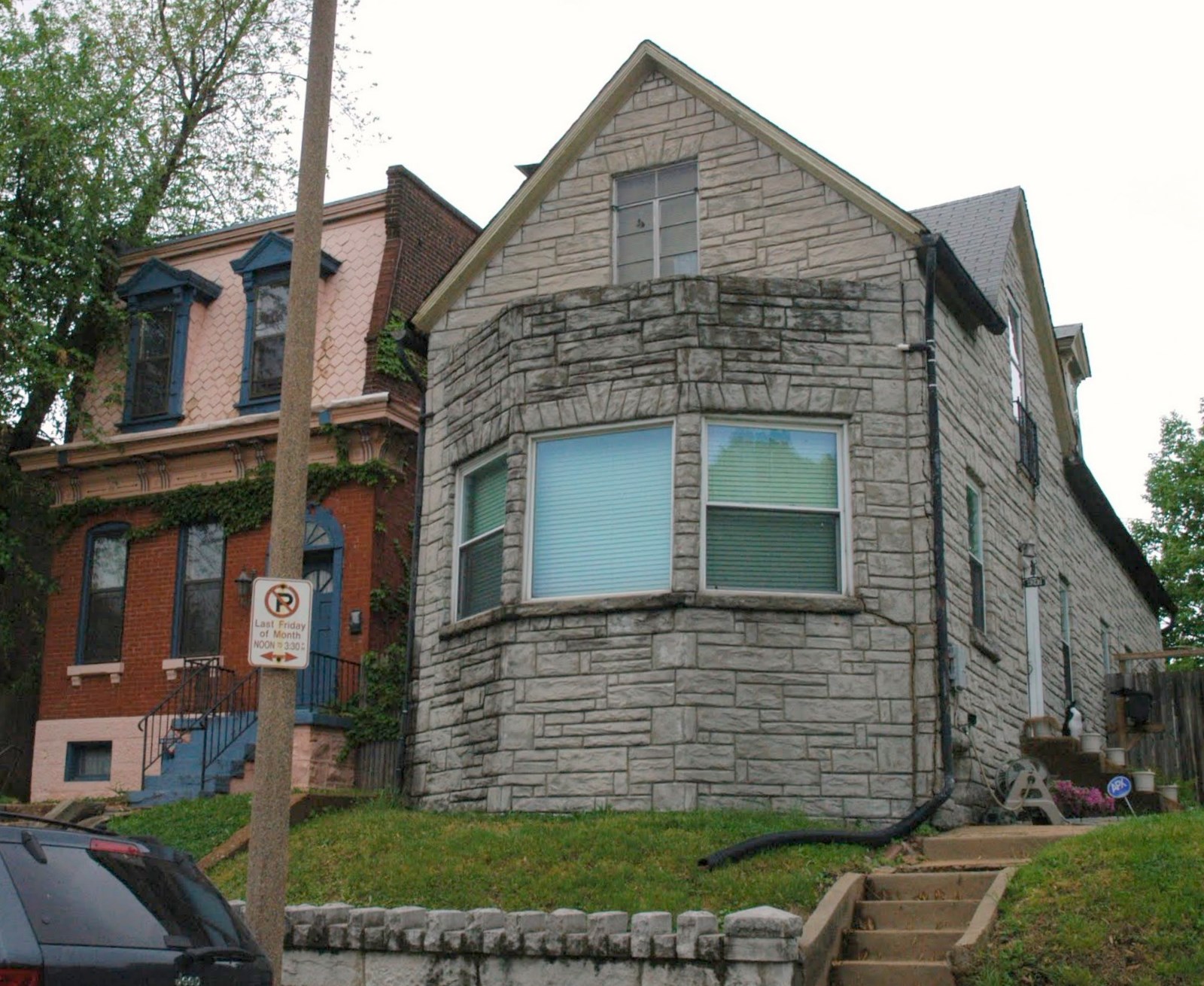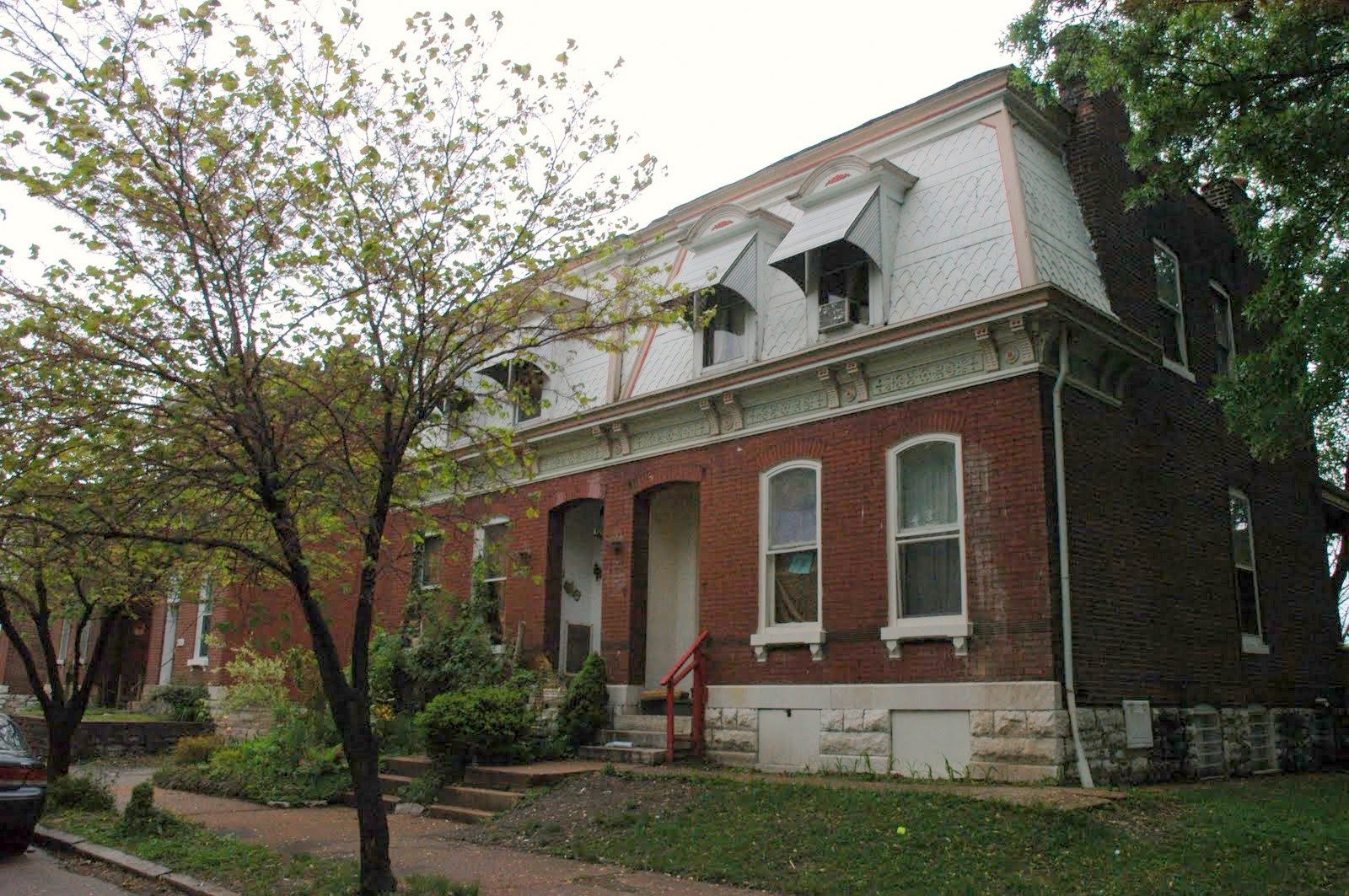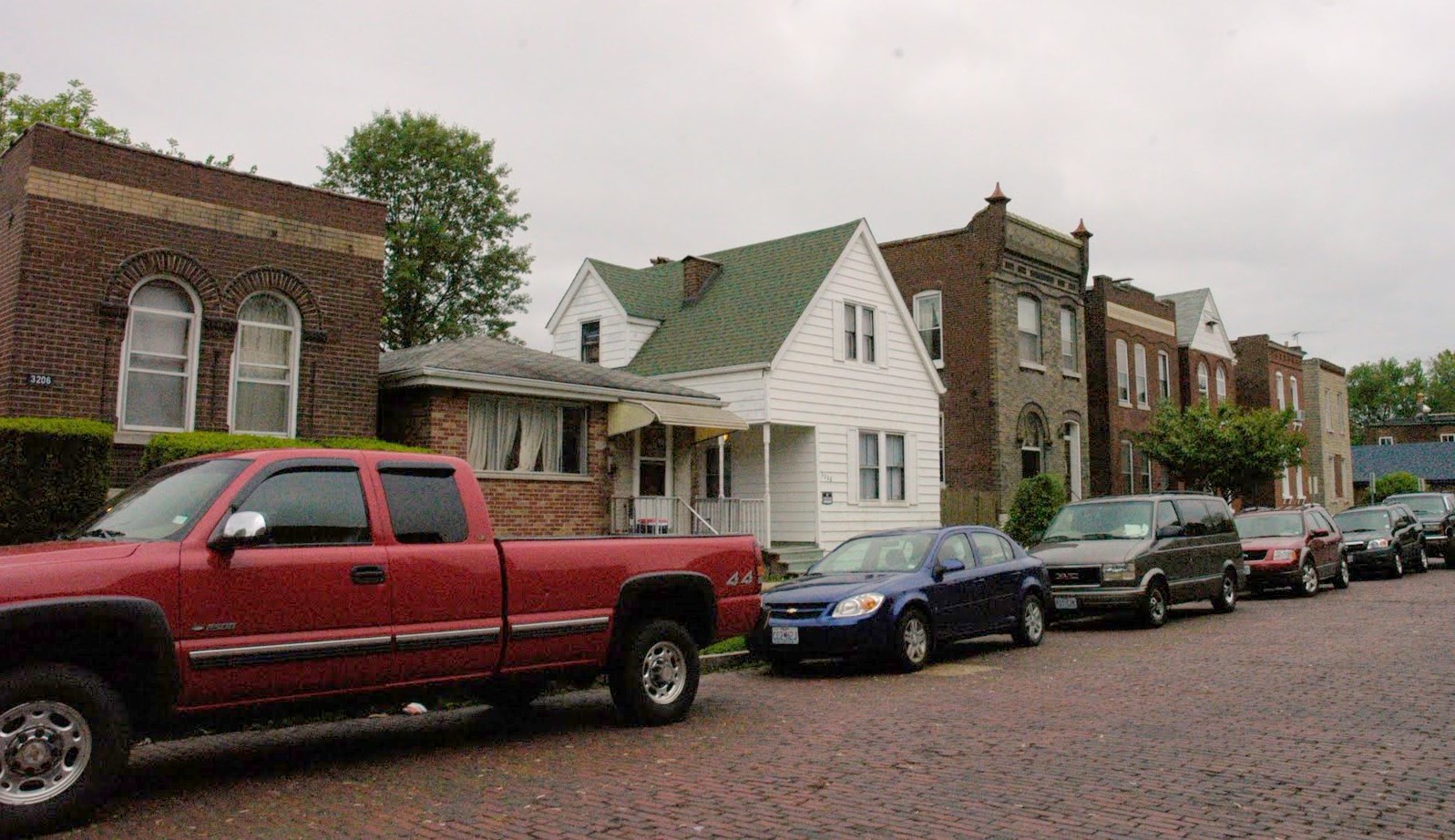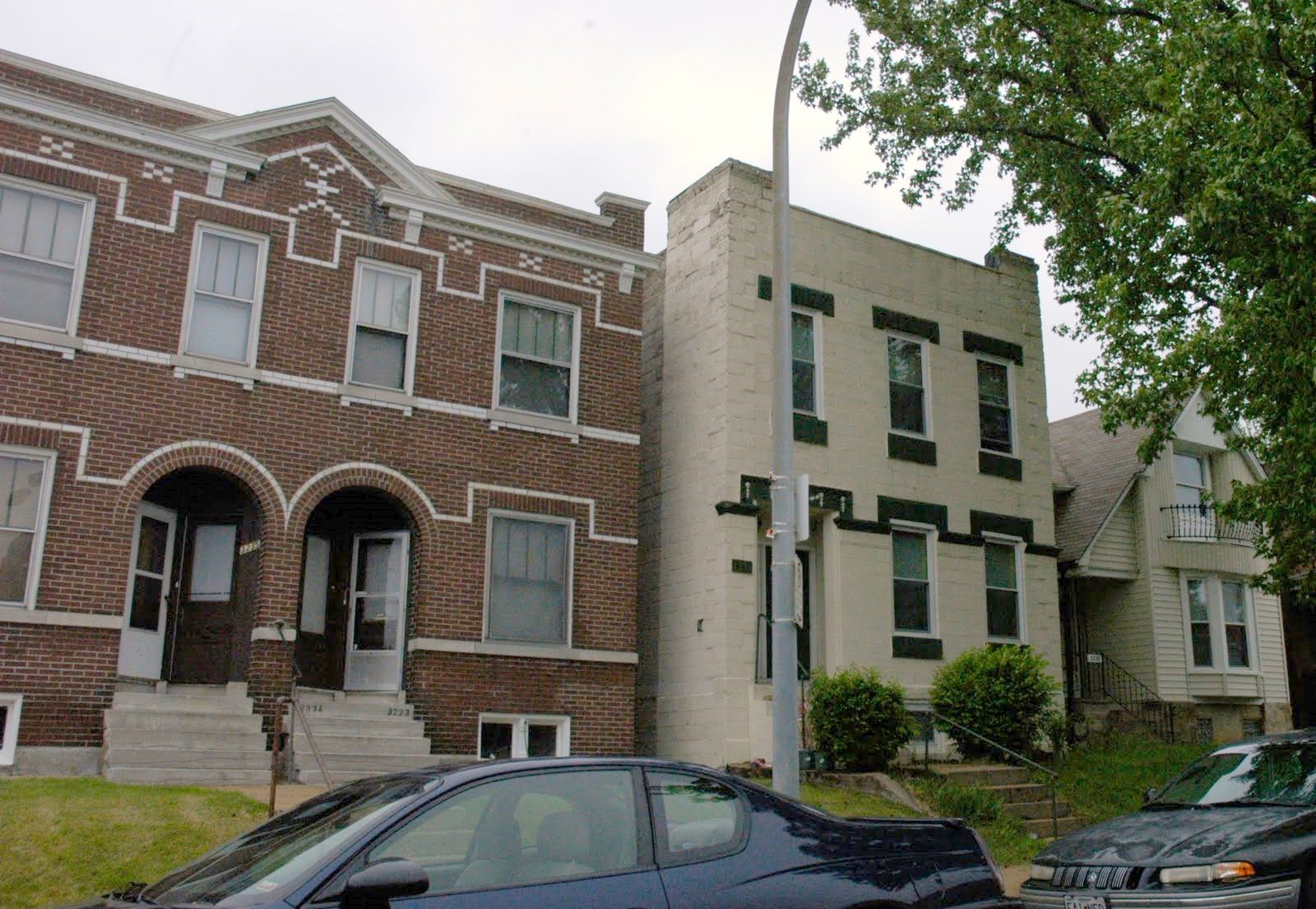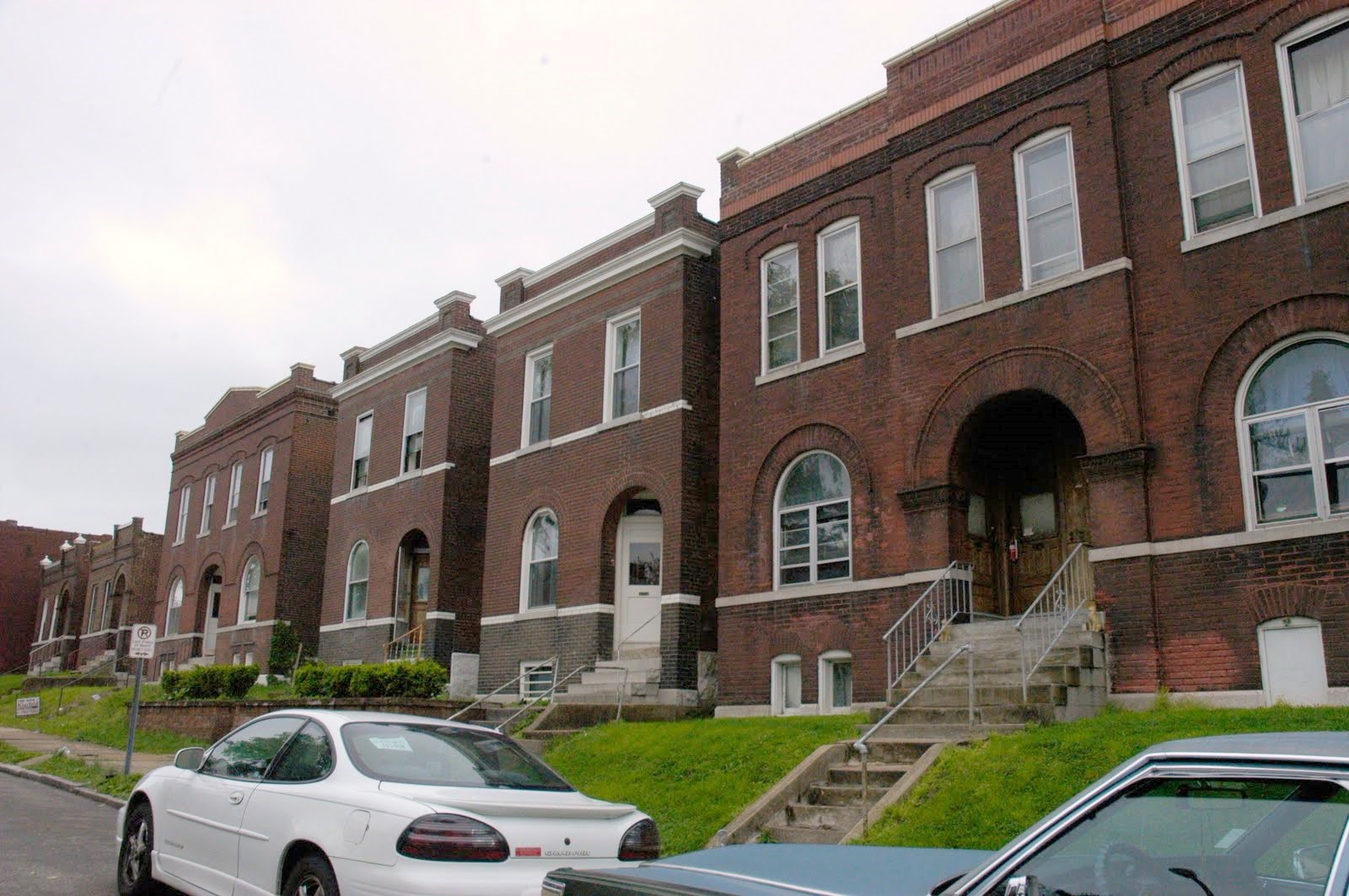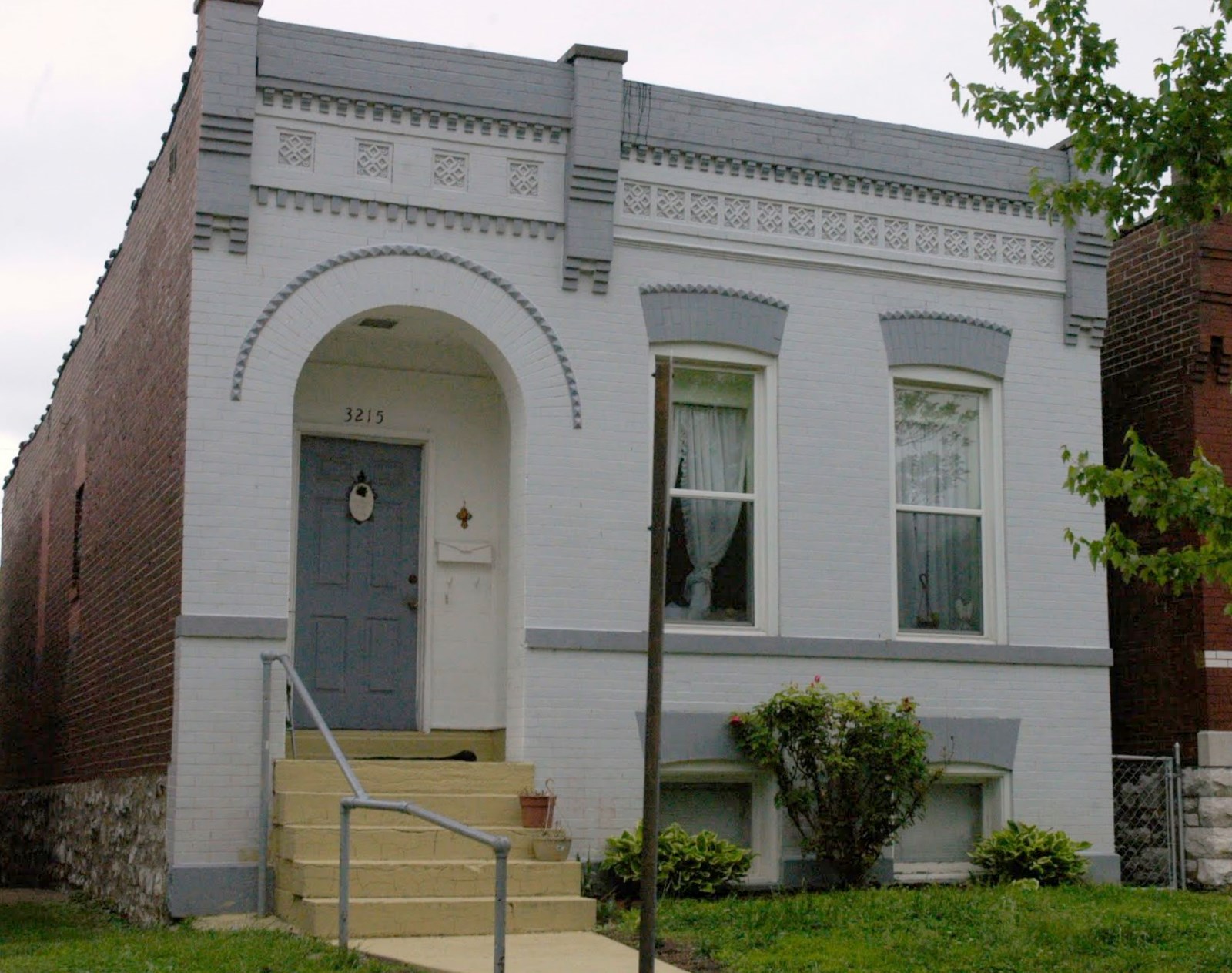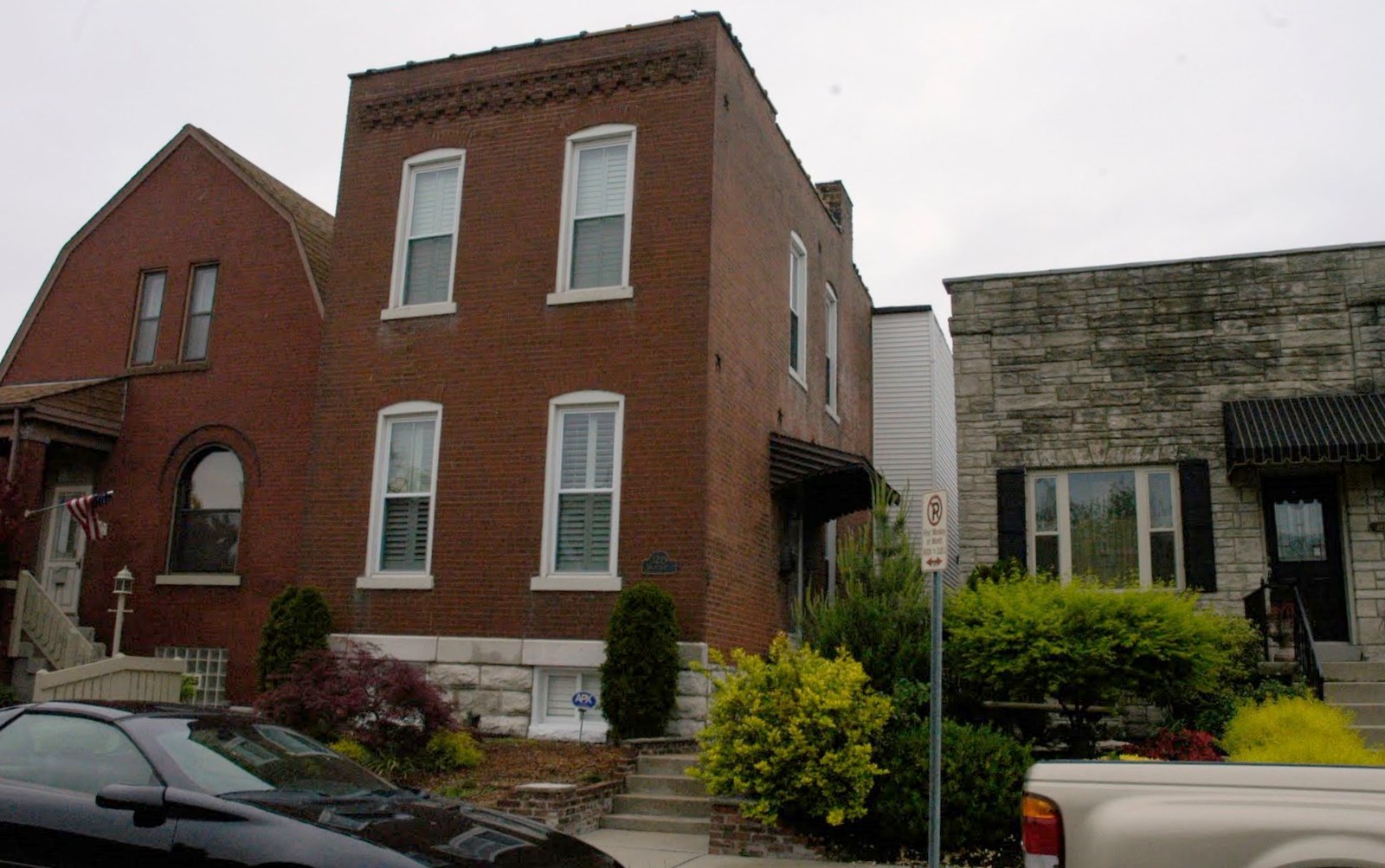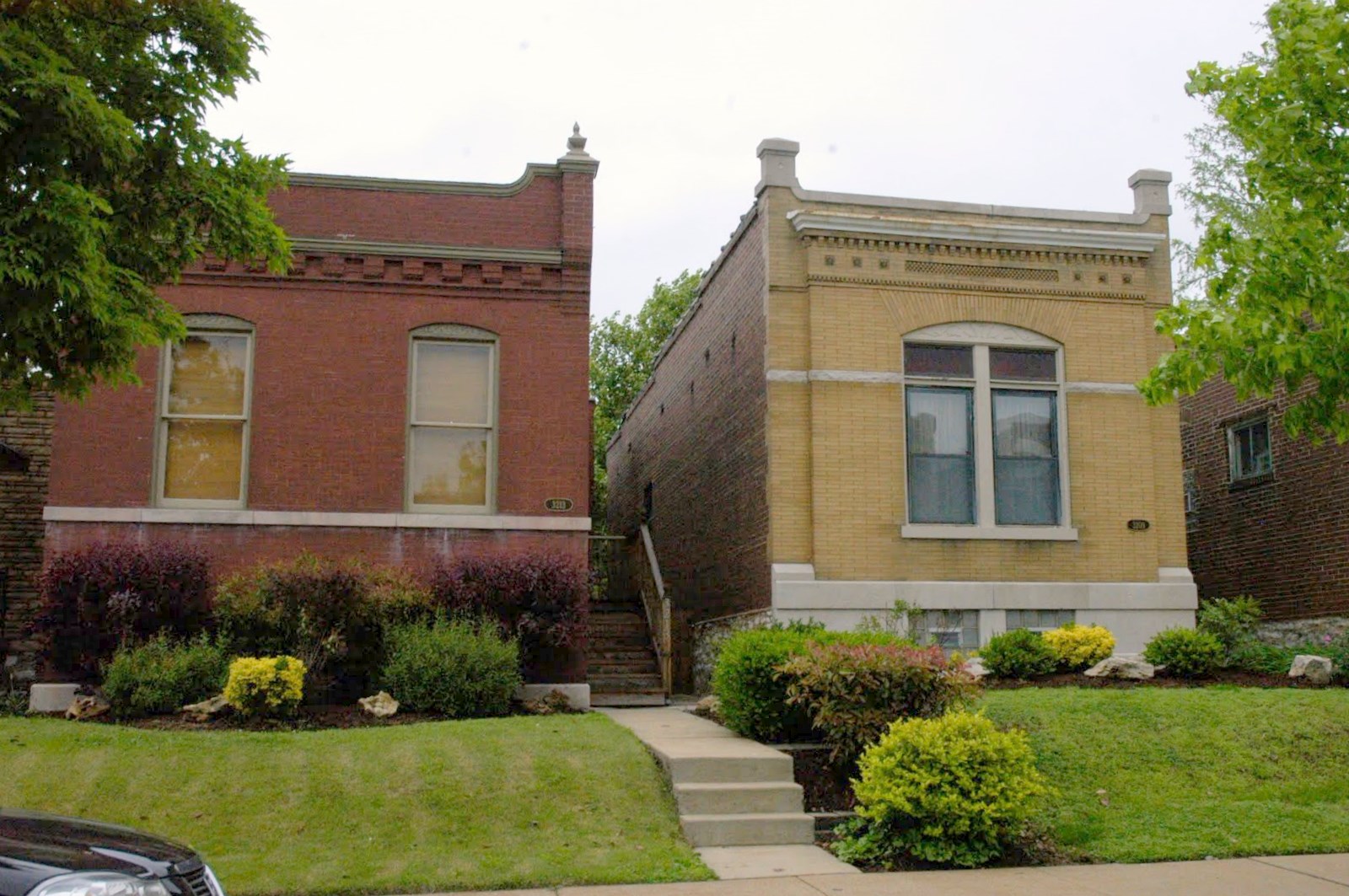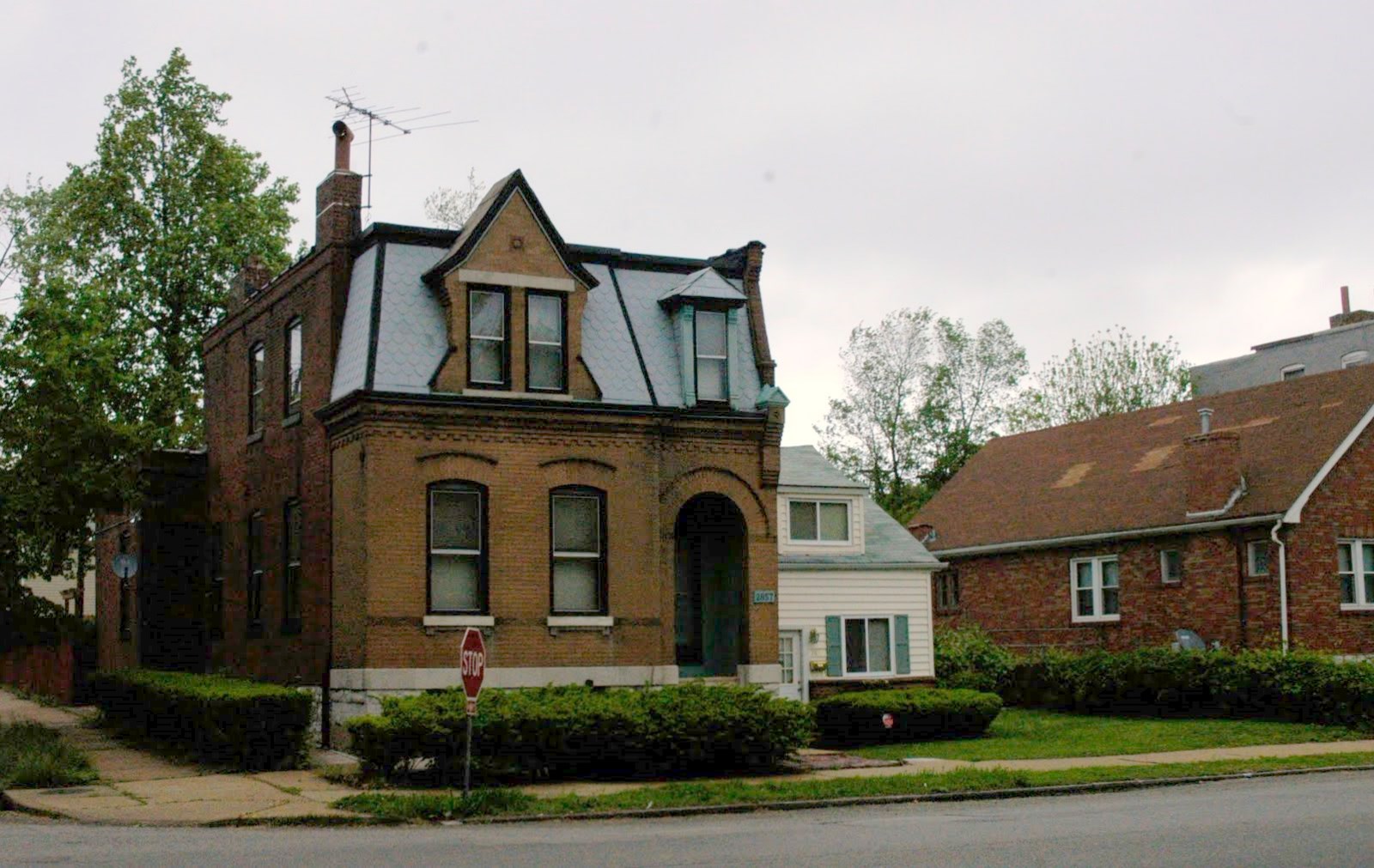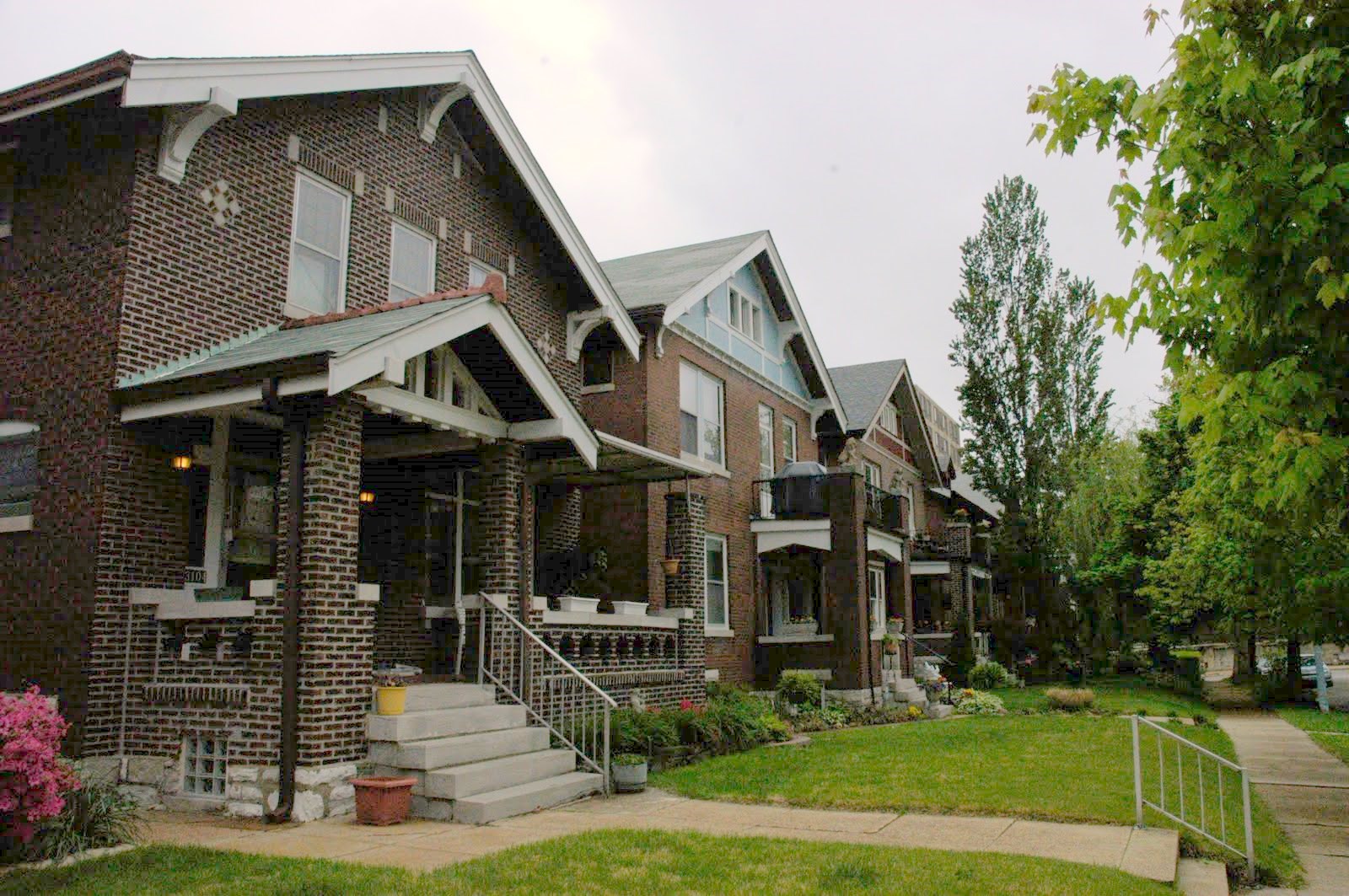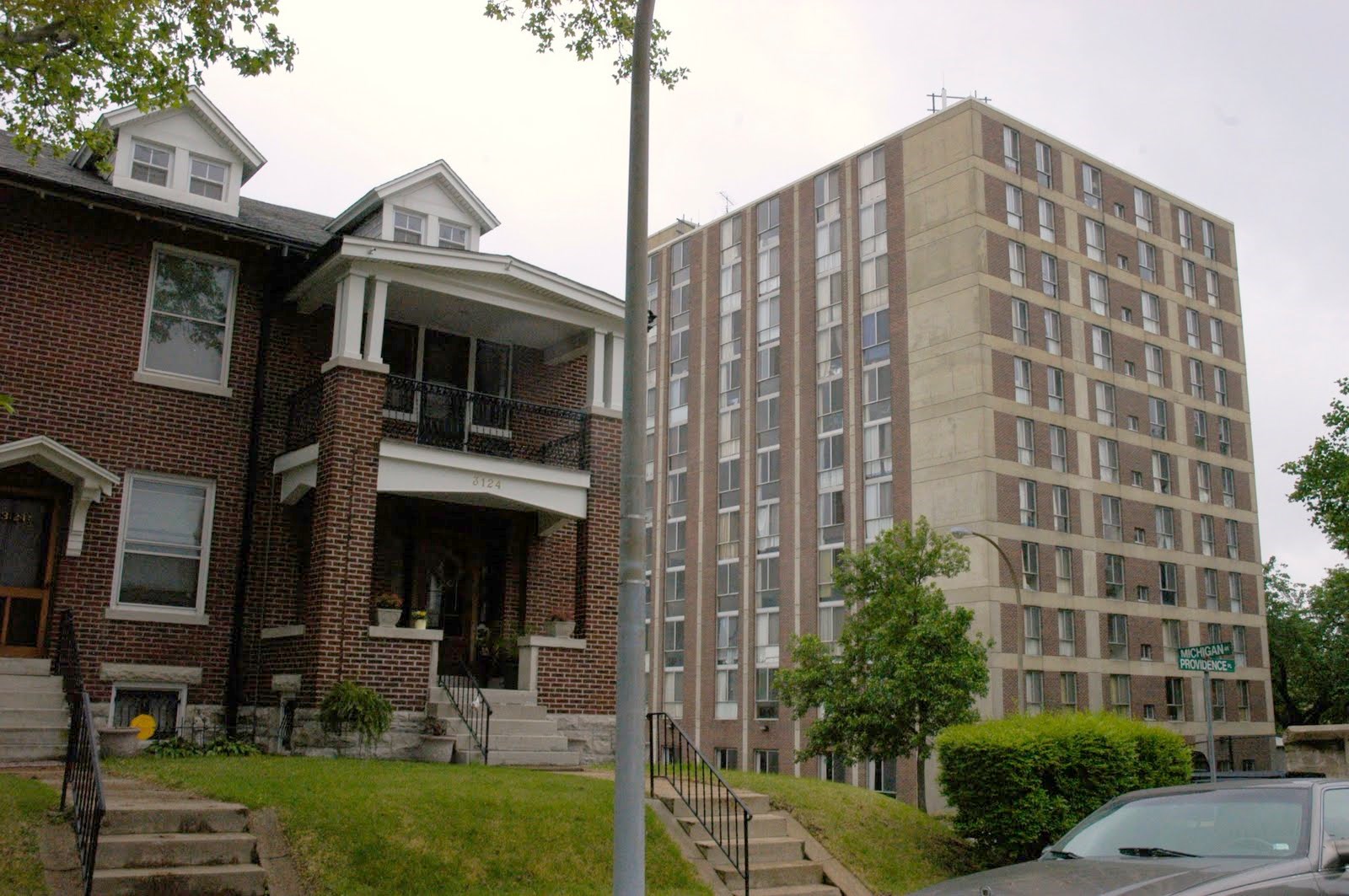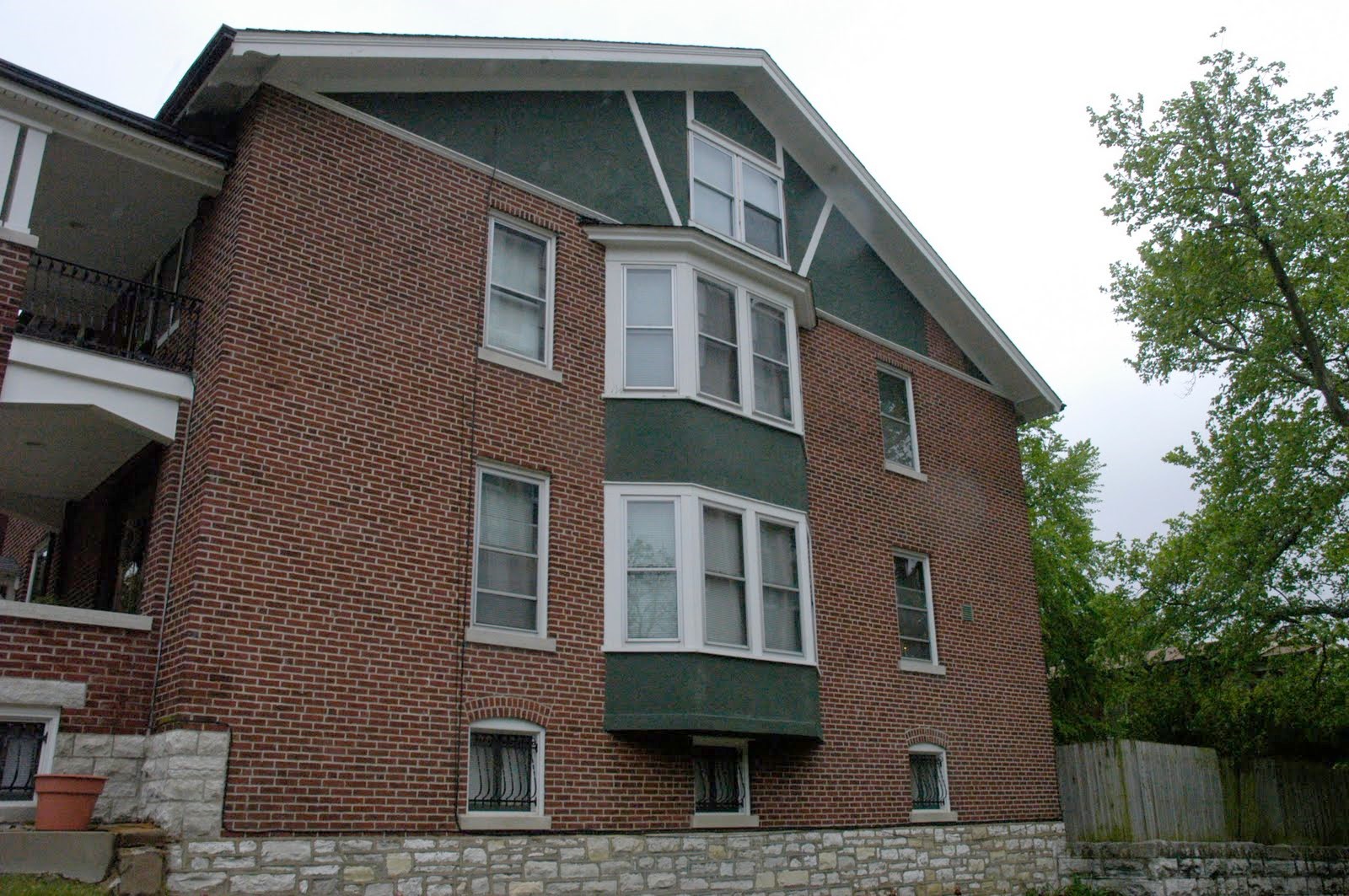 Here are some of the more unique home in Mt. Pleasant: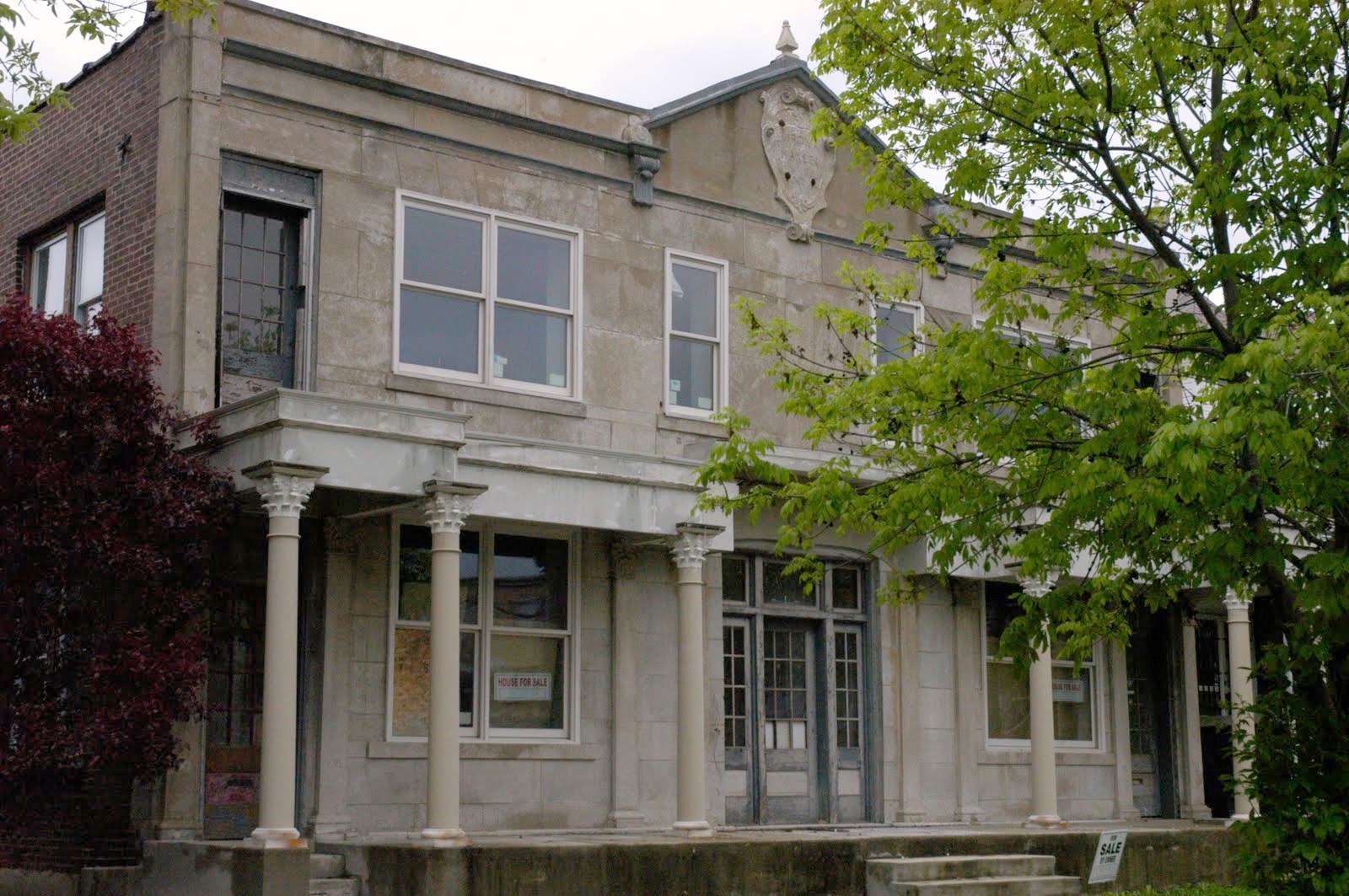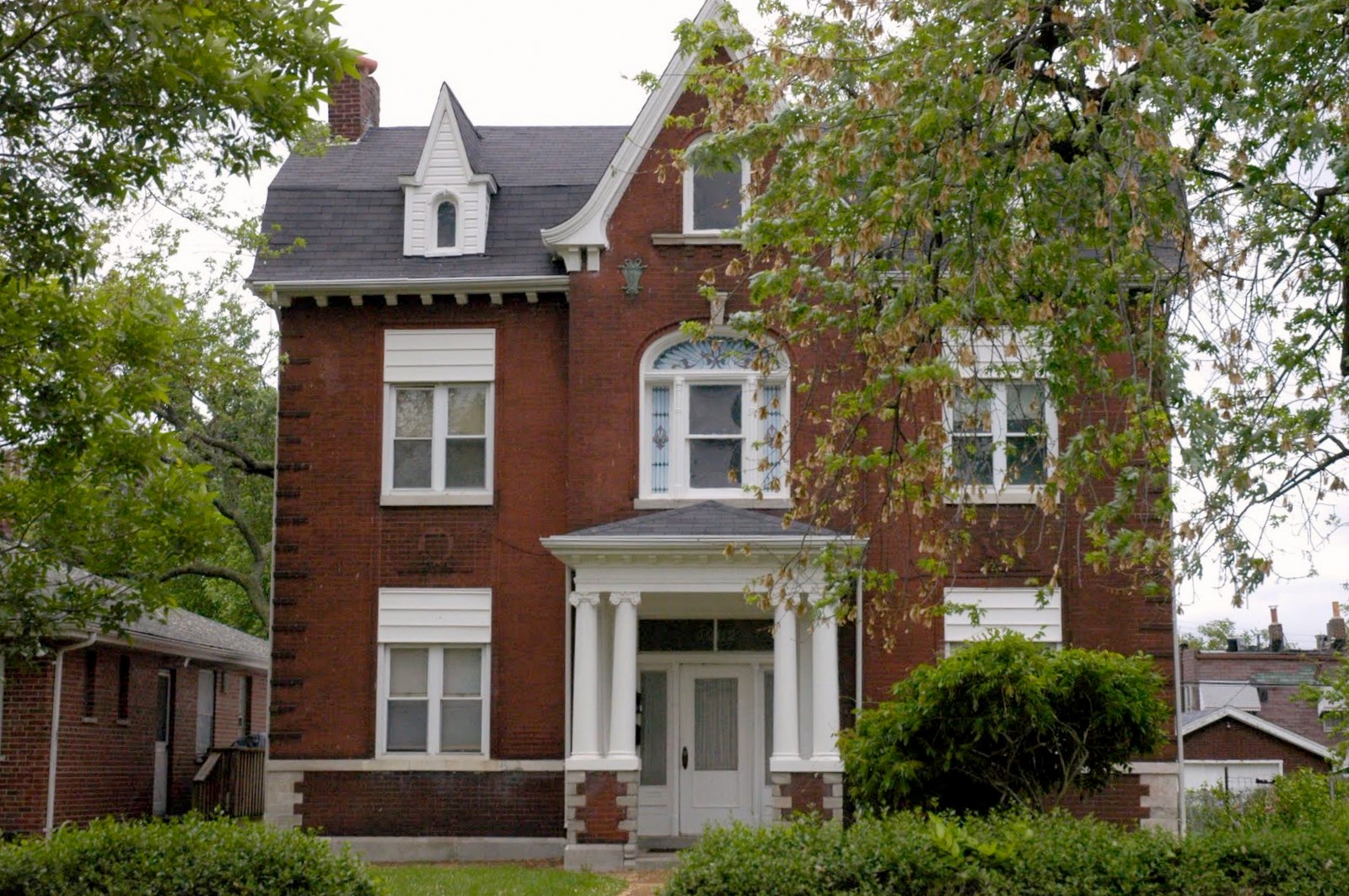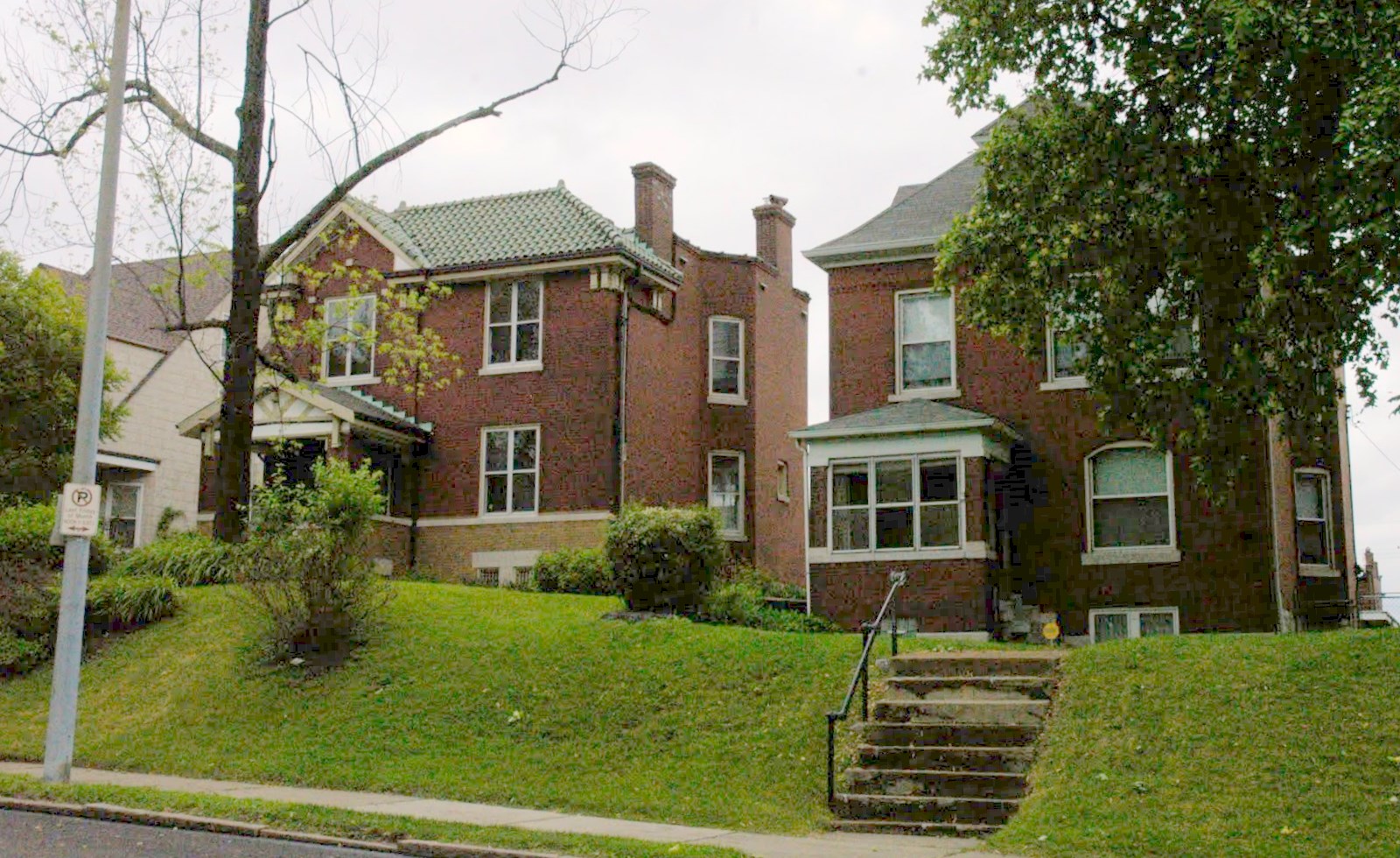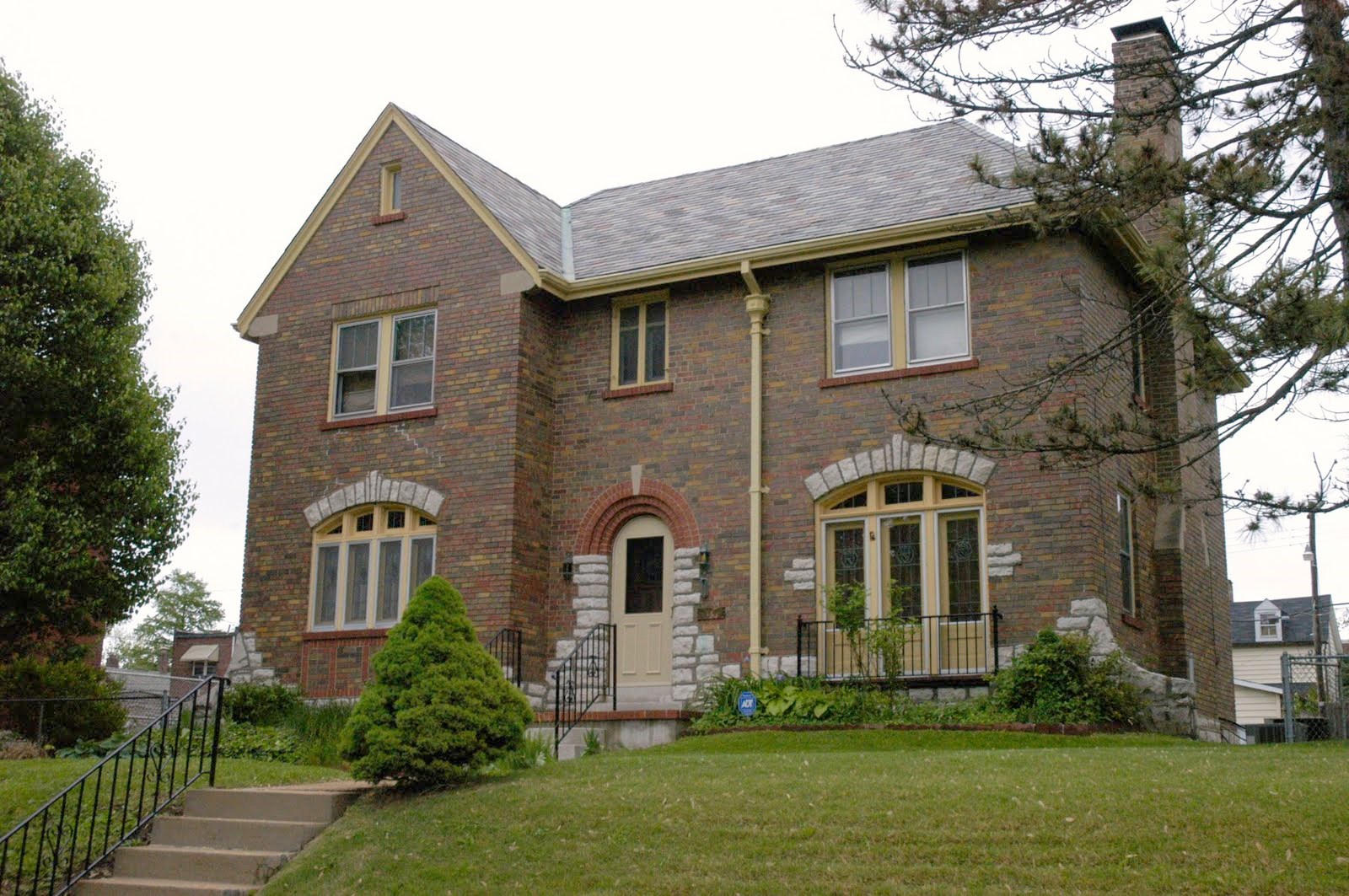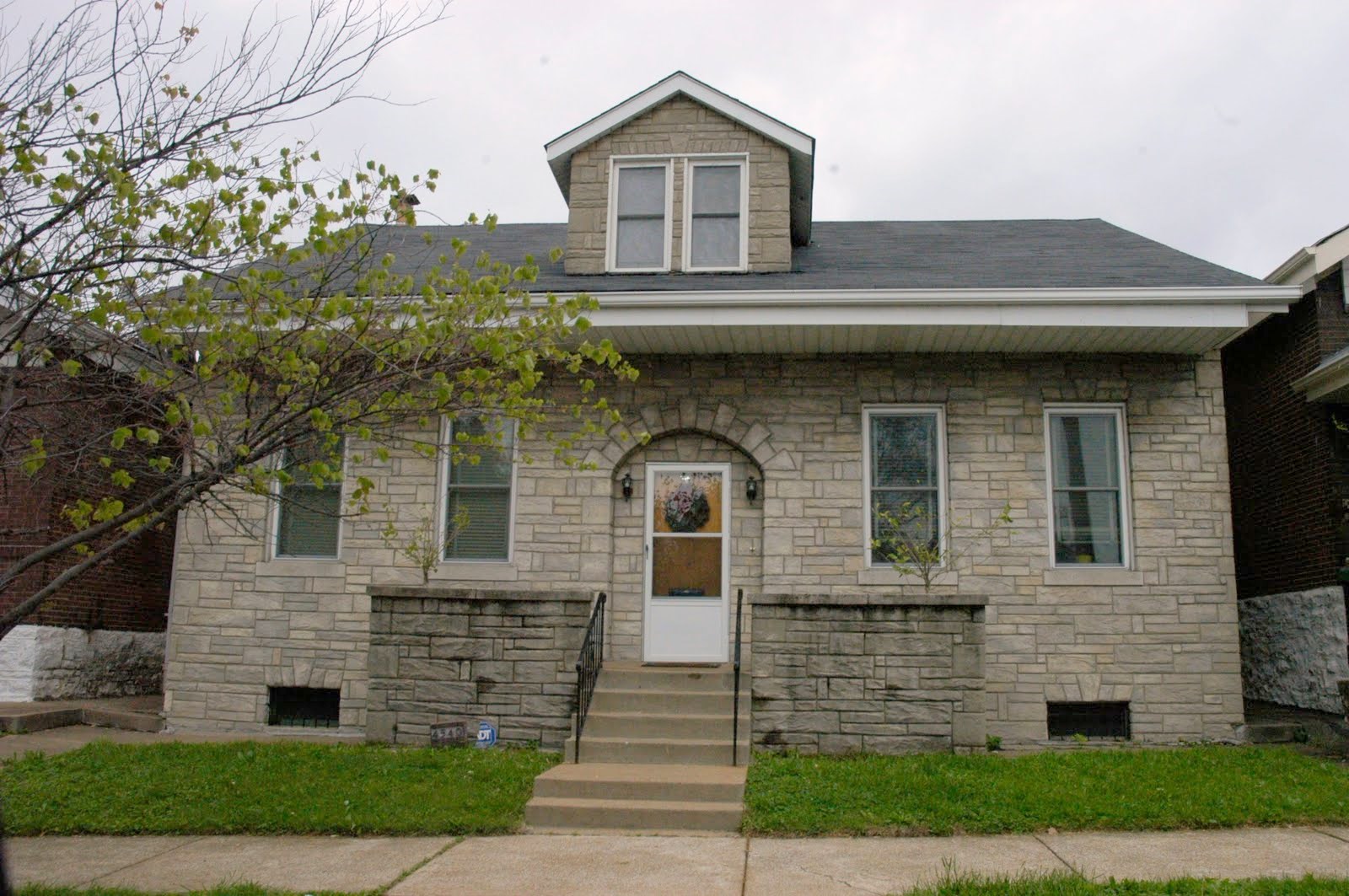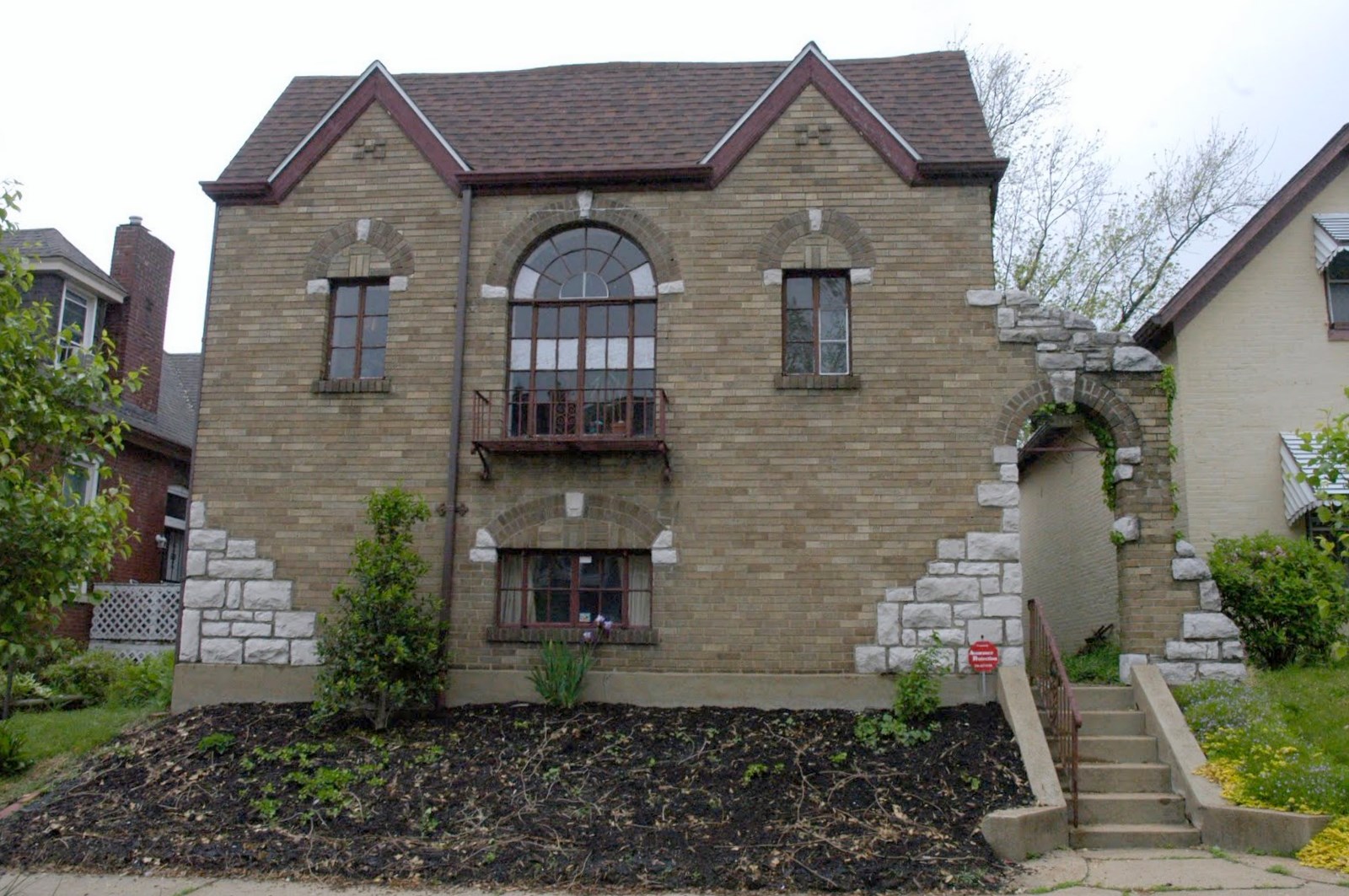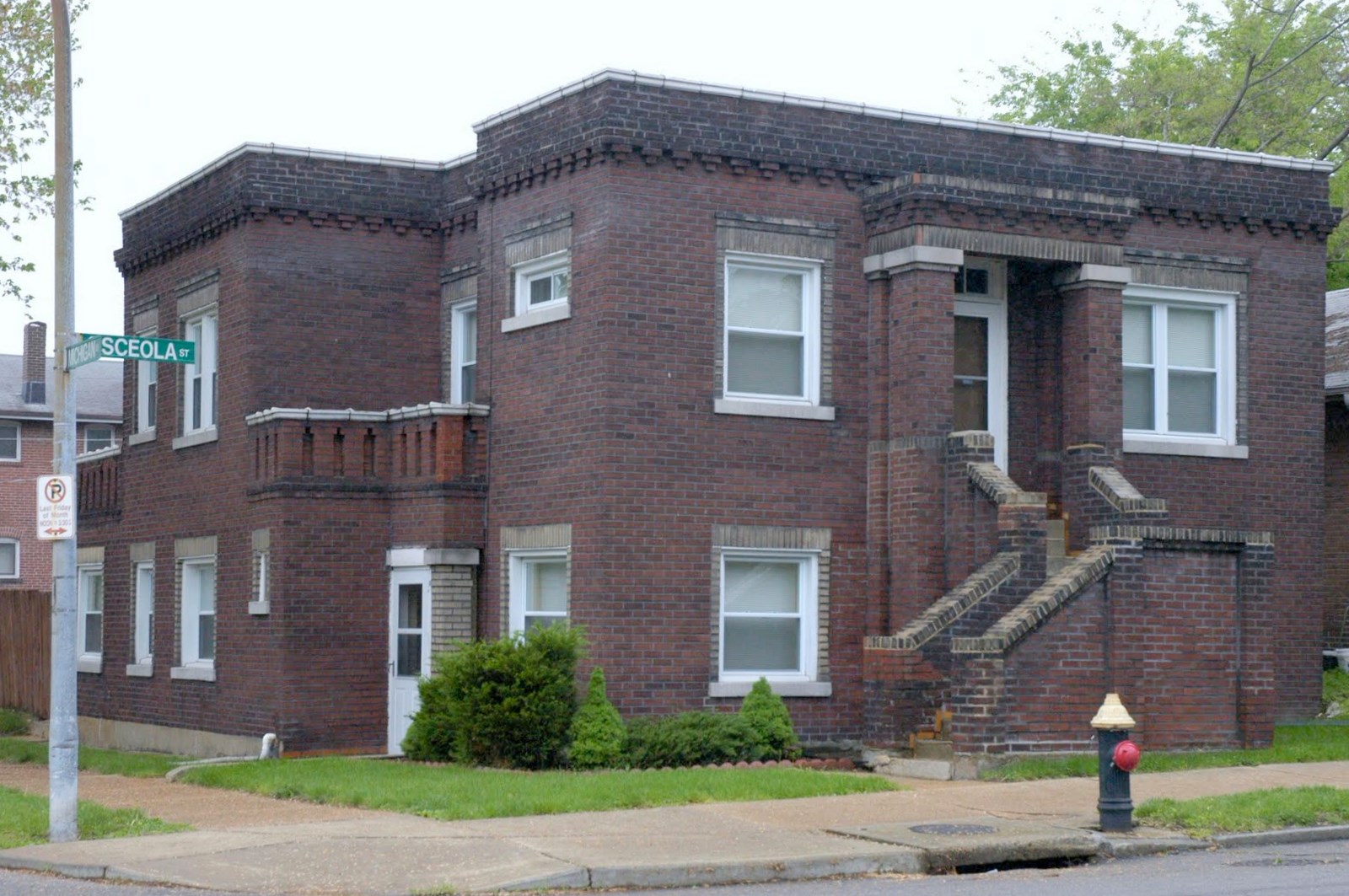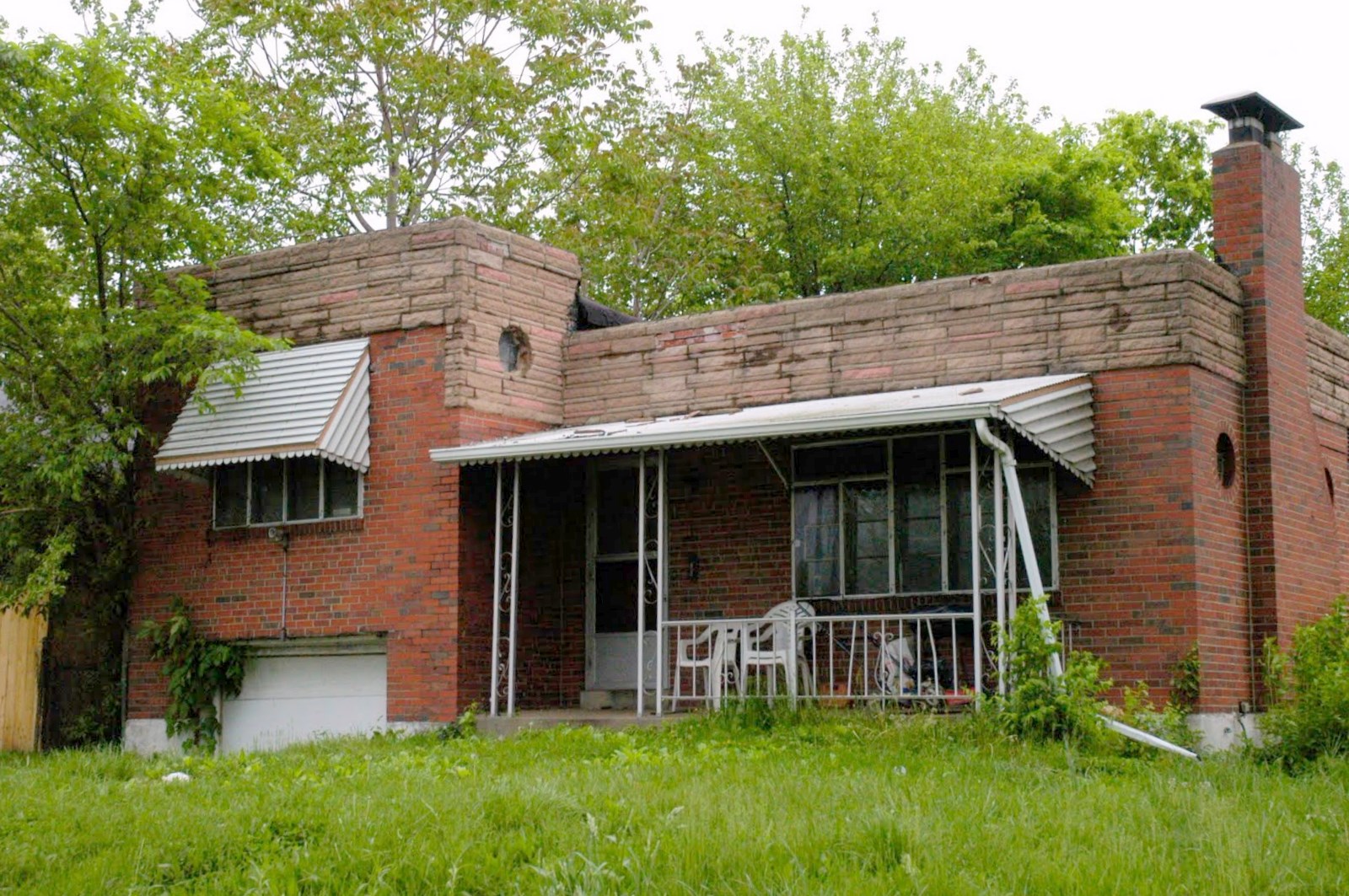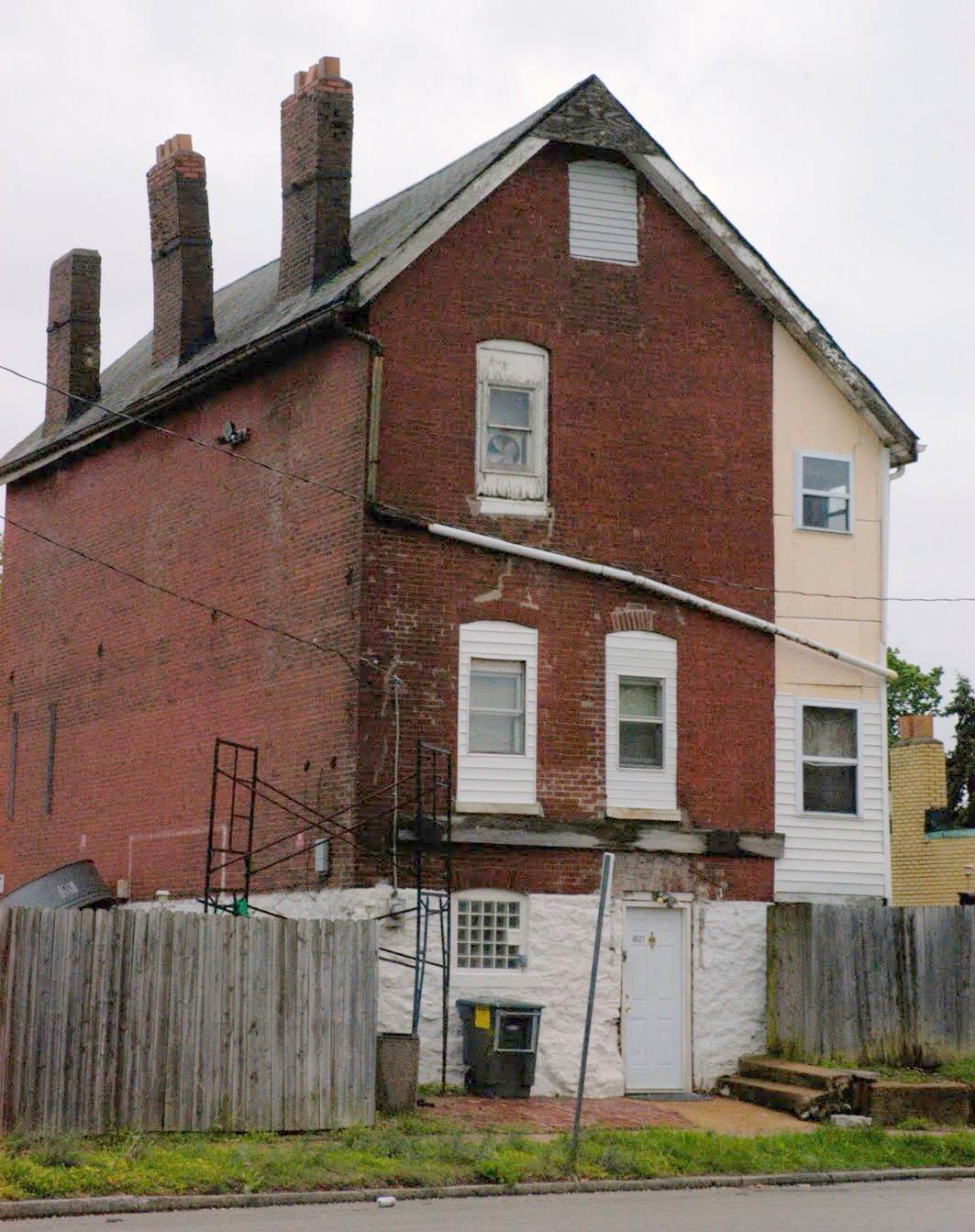 The Mt. Pleasant School which was converted to apartments. You have probably seen the sign right off of south bound I-55: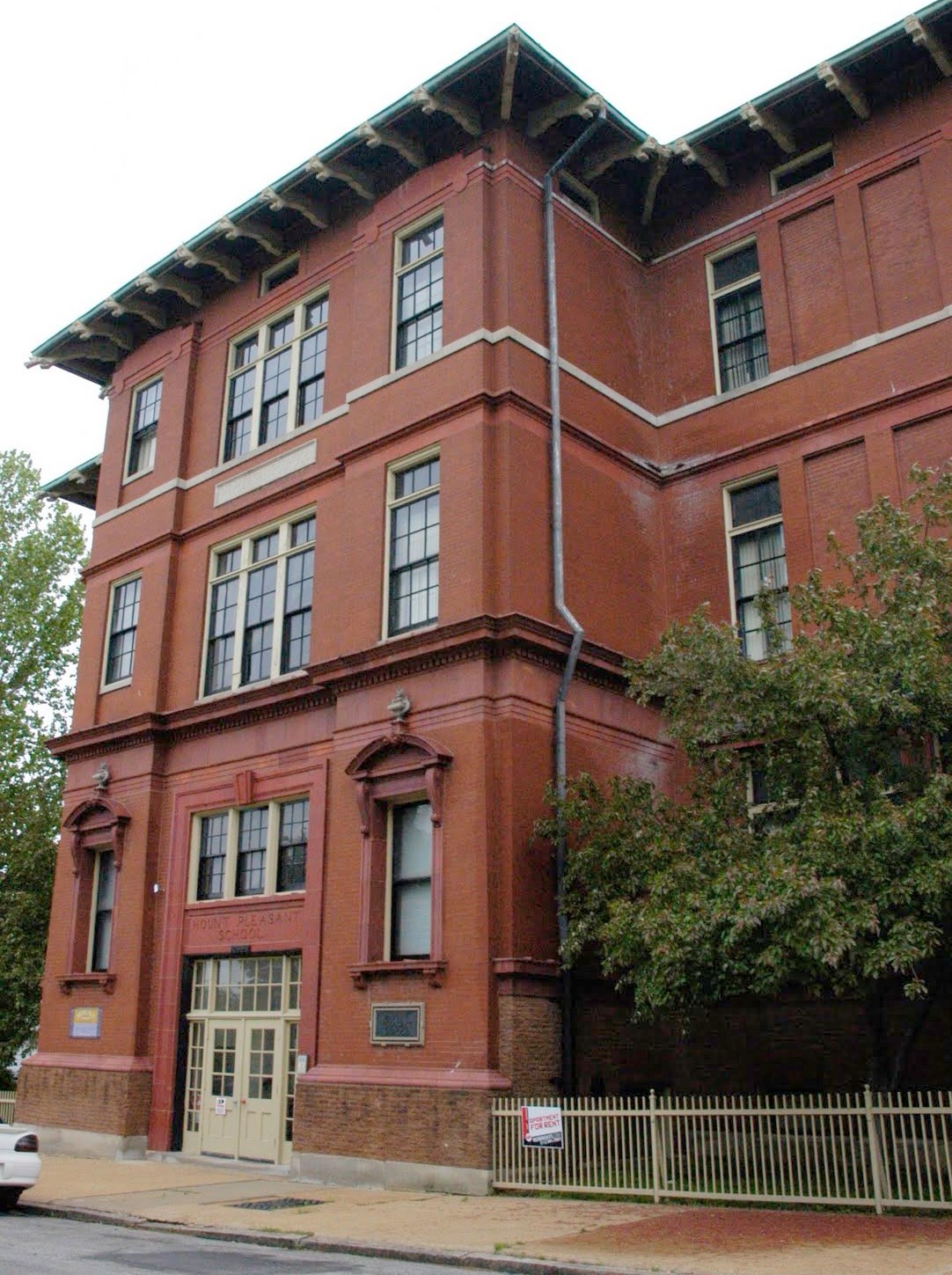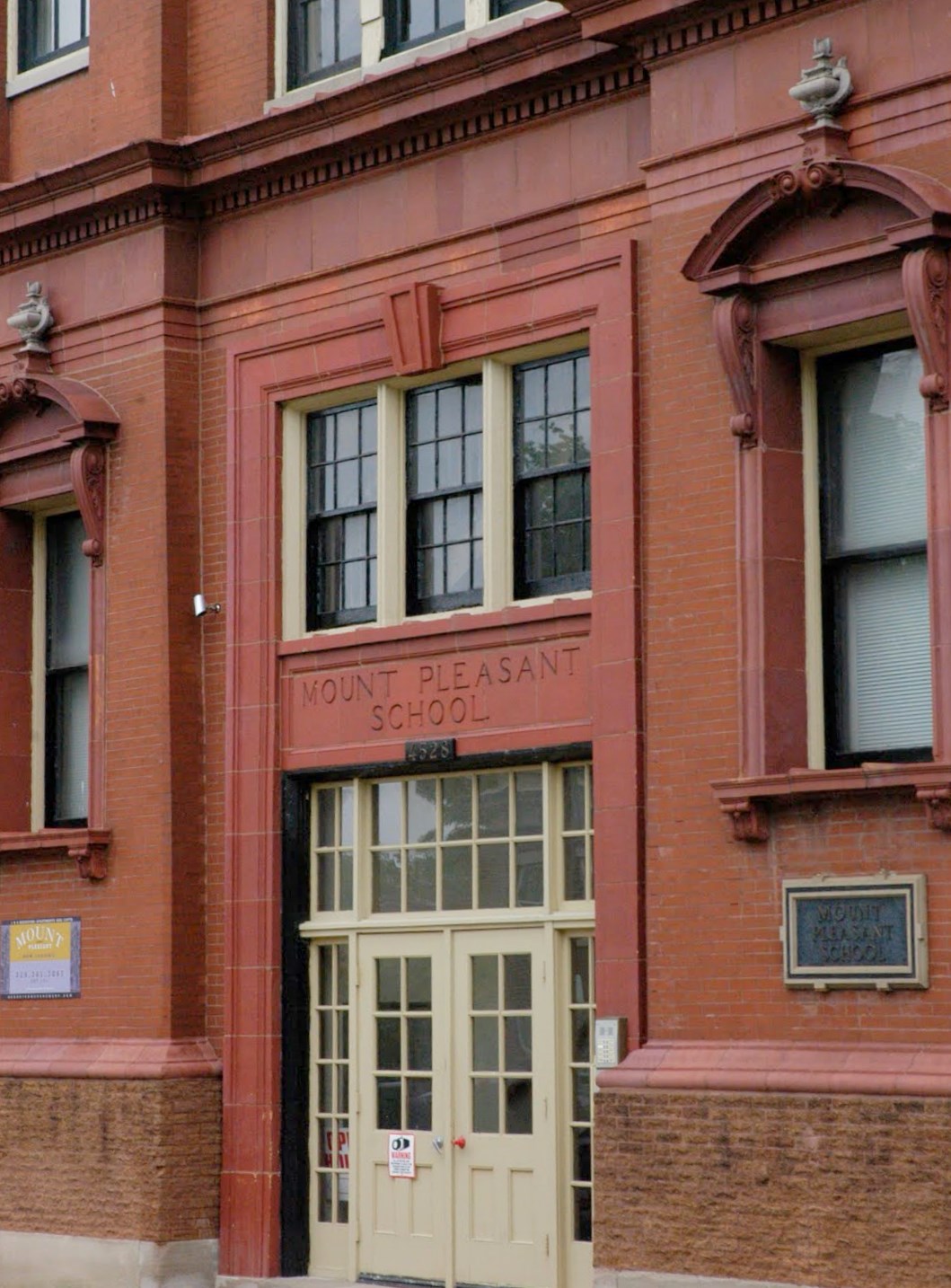 And here are my favorites: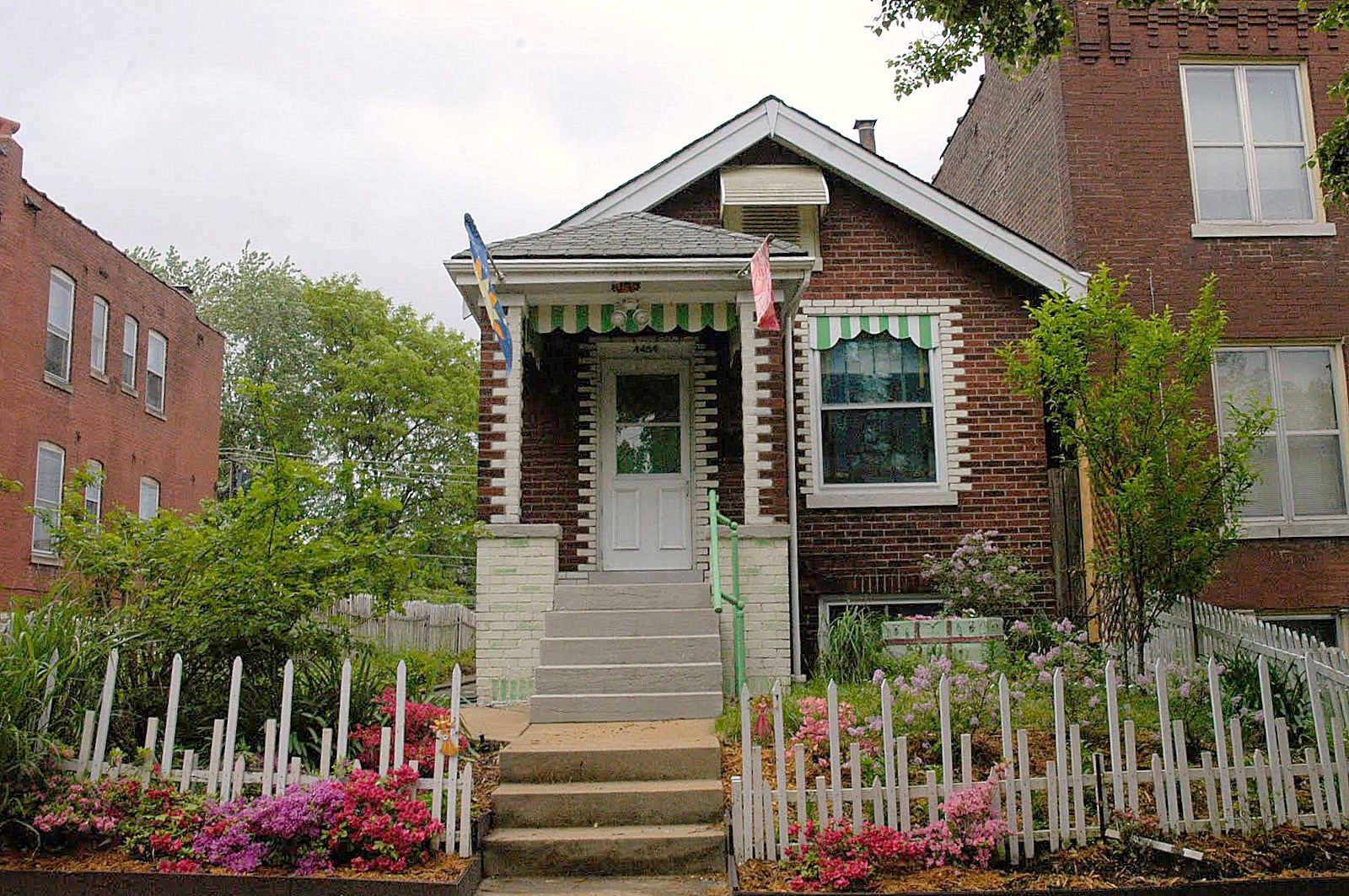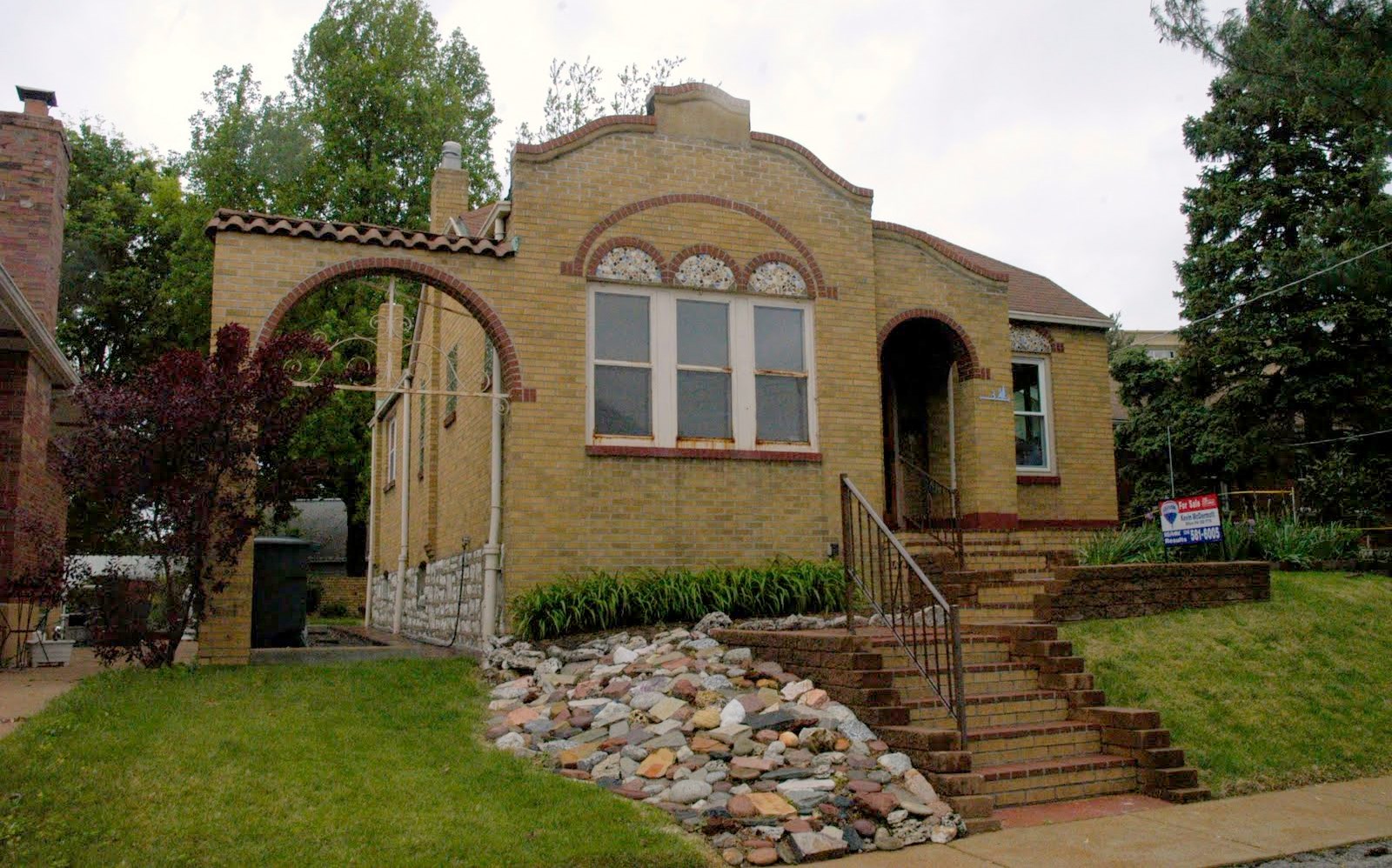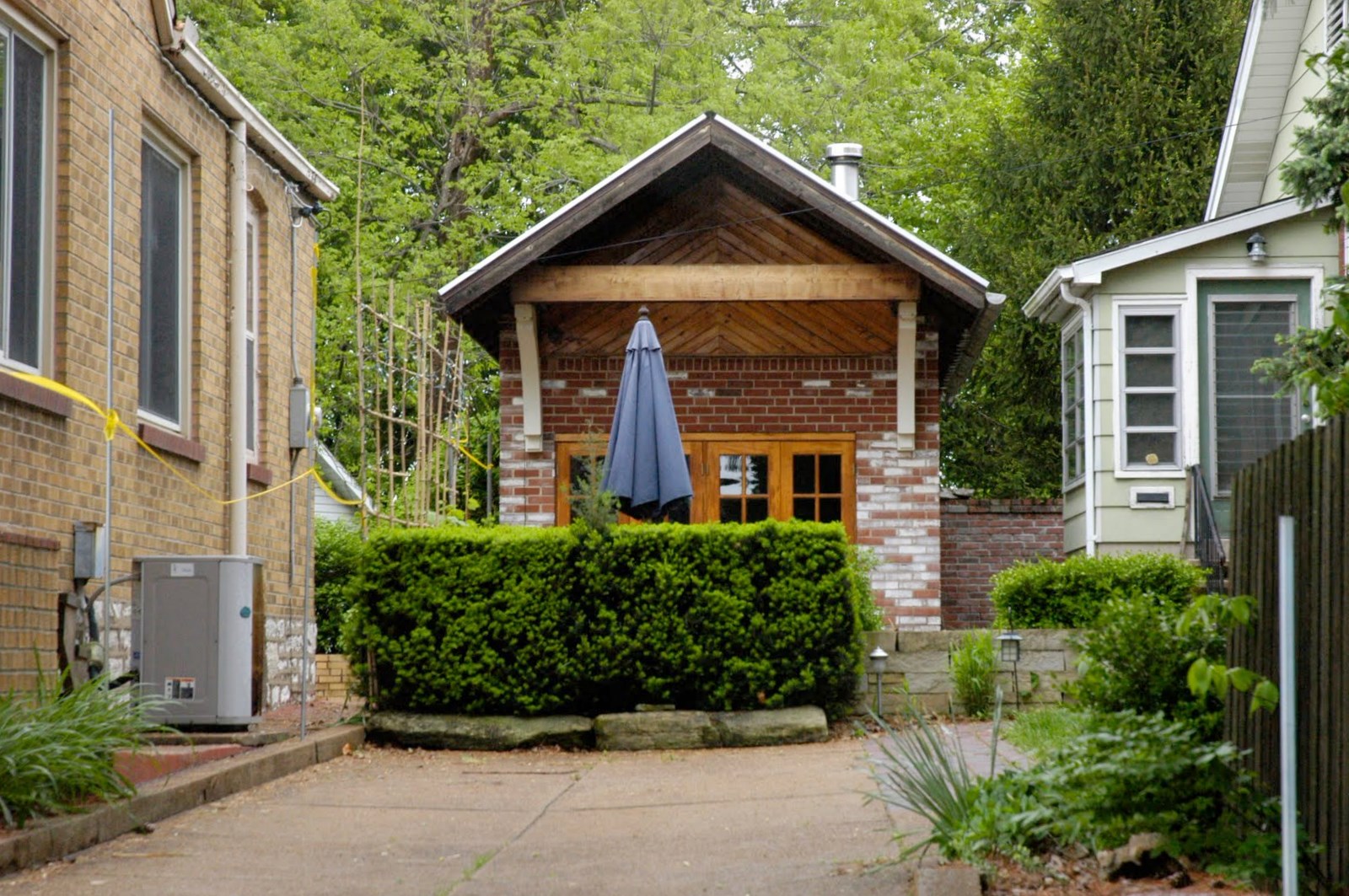 With sweeping views of the Mississippi River and a couple commercial corridors with huge potential, Mt. Pleasant is ripe for investment and renewal as a truly walkable, self sustained, typical St. Louis neighborhood.
**In March, 2021 I revisited the neighborhood and the following includes updated commentary and photos.***
Misses On Original Tour
There are some inconsistencies on the St. Louis official website that sent me down the wrong path. Mt. Pleasant boundaries are roughly Compton to the west, Mississippi River on the east, Eichelberger on the South and Meremec via Gascondade on the north.
They have the correct map, but the wrong boundaries in some sections.
Here's proof:
So, I included Virginia Avenue in the original post when that is actually in Dutchtown. I'm not going to beat myself up over this one, because most people who grew up here years ago call this Dutchtown anyway. I do strive for accuracy, so I've fixed the incorrect boundaries and this update will include streets east of Compton.
Other than that, I am pretty happy with the original post. When I come home with a camera full of pictures and find the same buildings and homes that struck me over ten years ago, I feel I did a good job. So, I'll include some new pics just to freshen it up and show the change over a decade. Also, I didn't speak to the large 1970s-era suburban housing developments and high rises that exist. So I'll properly mention those.
I'm always curious when I see neighborhoods leveled for bland suburban housing. I had to figure out what happened to some of these properties in Mt. Pleasant.
In just one example, there is an uninspiring 1970s suburban apartment complex just south of the Post Office called Maryville Gardens.
This was a once significant property in the neighborhood, occupied by Maryville Academy.
"In 1864, 21 acres of property at the corner of Meramec and Nebraska Streets (Withnell's Grove) were purchased for the Academy for $40,000. After financial difficulties slowed construction, Maryville Academy (Mary's Villa) was finally completed in 1872.

This new "country home," designed by architect James McNamara, opened on September 5, 1872 with 80 boarding school students. Also part of the new complex was a free school for nearly 70 underprivileged children, and a novitiate for 11 young women.
— Maryville University – https://www.maryville.edu/alumni/history-maryville-university/
Maryville Academy moved to the suburbs in 1961 abandoning its history in St. Louis. Mt. Pleasant was left with a fenced in, nondescript Post Office and the insipid Maryville Gardens apartments and massive surface parking lot built in 1978. The apartments were built on the section that was formerly a sports field for the academy. White flight and suburbanization were tough on Dutchtown. Part of the property is surrounded by hurricane fencing and barbed wire…not very neighborhood-y, eh?
There are a couple affordable high rise apartment buildings including the 1973 Riverbend City Apartments on South Broadway, overlooking the Mississippi River and the 1972 Chapel View Apartments in the shadow of St. Anthony Padua.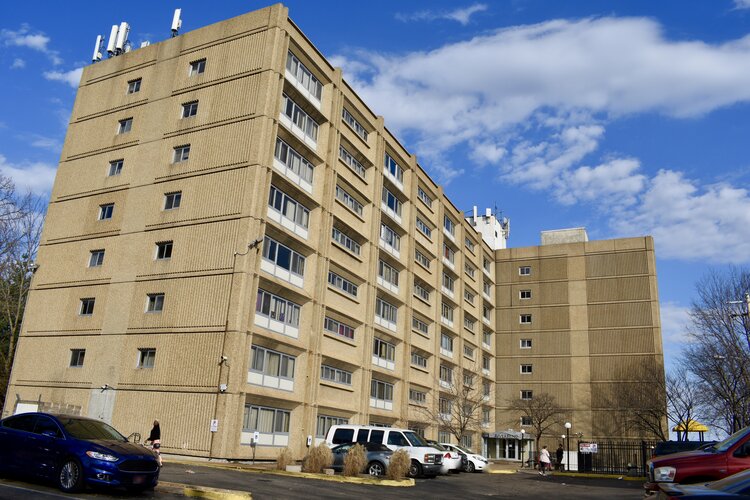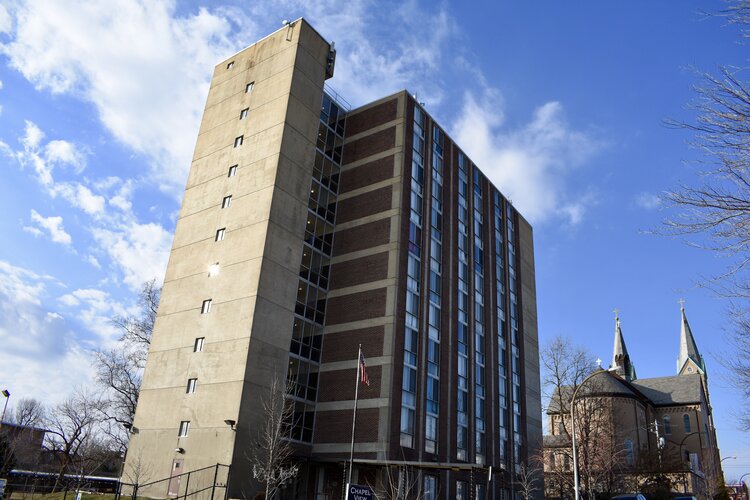 Noticeable Changes
The Osage Nation purchased Sugarloaf Mound in 2009, erected a fence and razed the 1928 home that sat atop the mound until 2017.
St. Anthony Padua, the gorgeous 1864 Catholic church, recently sold its former school building which is now a public charter school Confluence Academy – South City Campus which has 779 Pre-K through 8th grade students (53% black, 43% Hispanic/Latino and 3% white).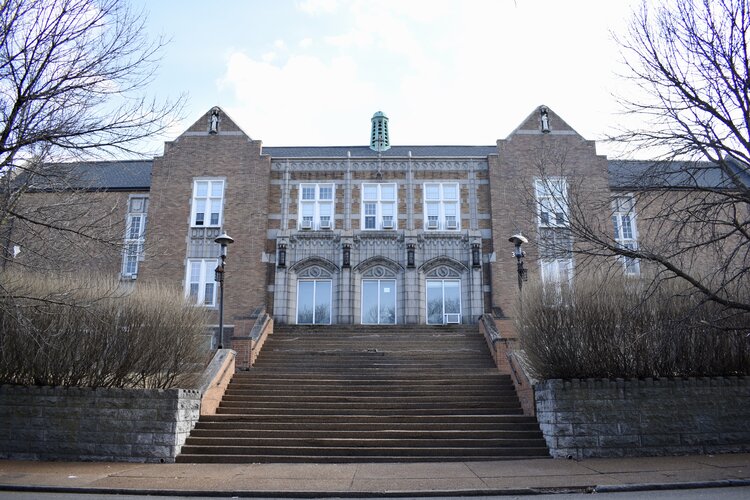 There have been a couple more developments along South Broadway overlooking the river. I always appreciate investment and more housing, but I'll leave the judgement to you on style.
Luckily, there are some gorgeous homes and properties blending in with the newer construction. The first photo, the River Bluff Apartments are affordable senior units.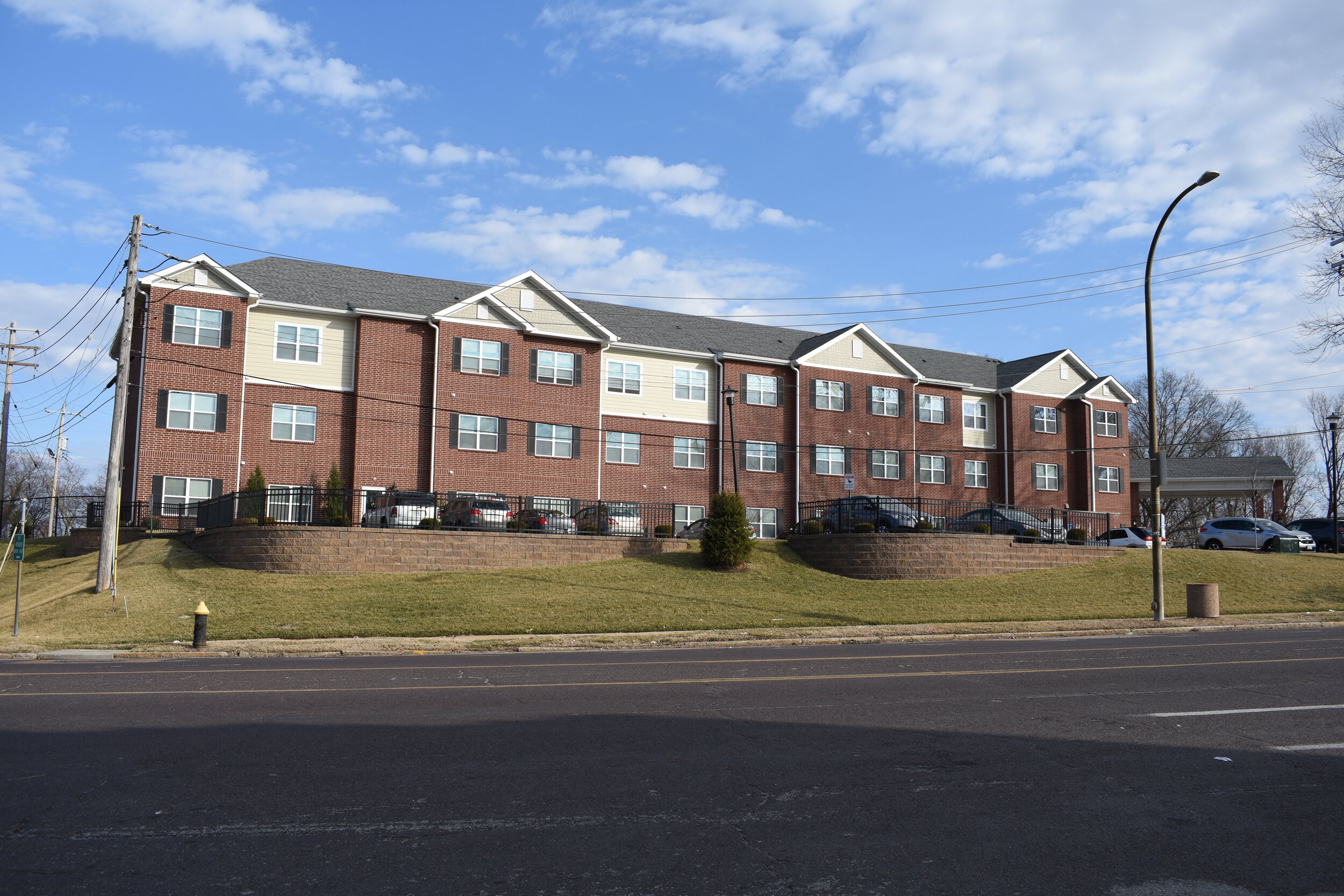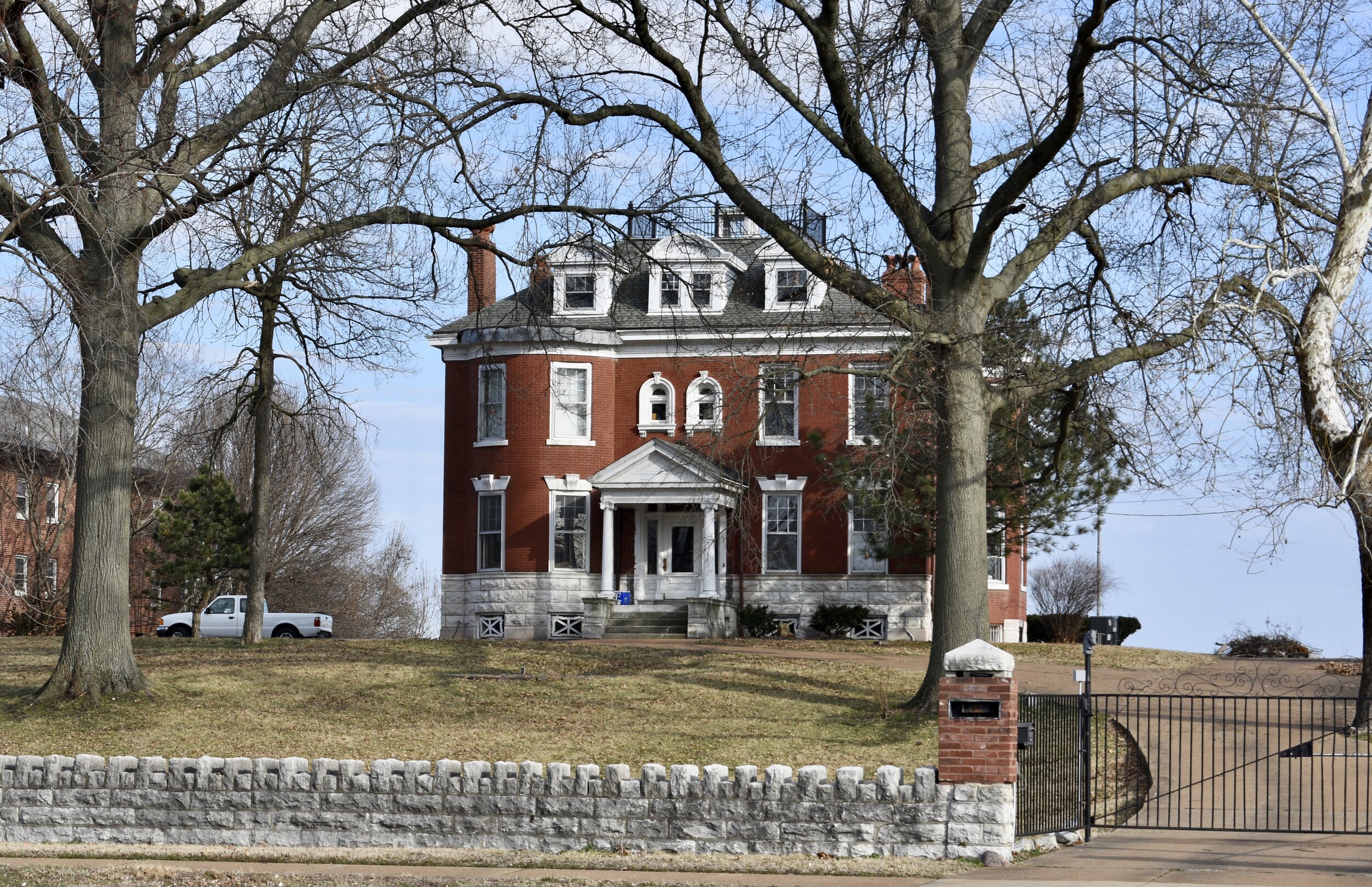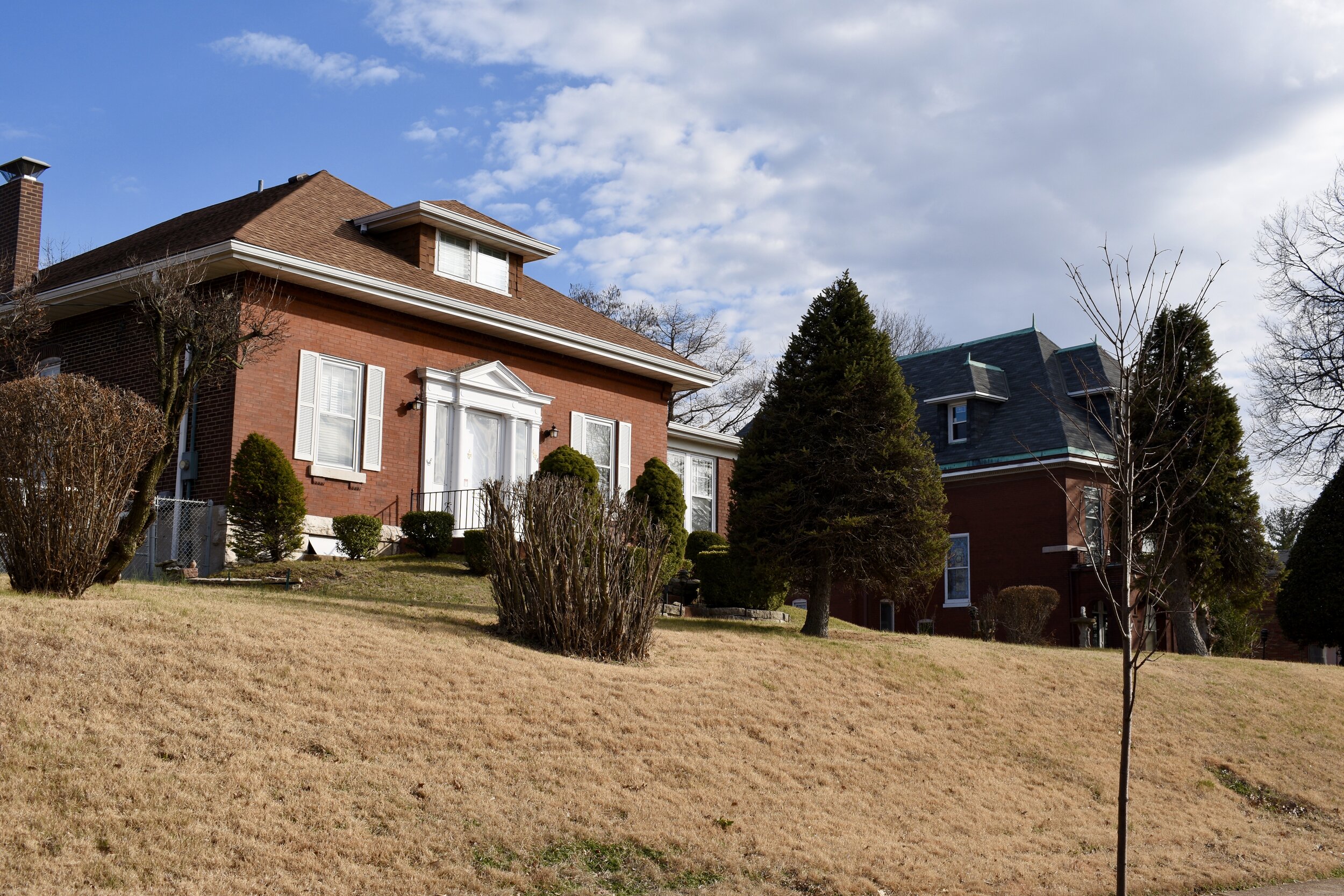 Almost all the businesses have closed. This is true for many St. Louis neighborhoods that saw massive white flight in the mid to late 20th Century. But, Mt. Pleasant has continued to lose businesses, noticeably in the last ten years. Outside of Crusoe's you won't find much.
The storefronts are mothballed for now or converted to residential, many just recently closed in the last 5-10 years, so they are ripe for new people with new ideas. Here are just a few that caught my eye.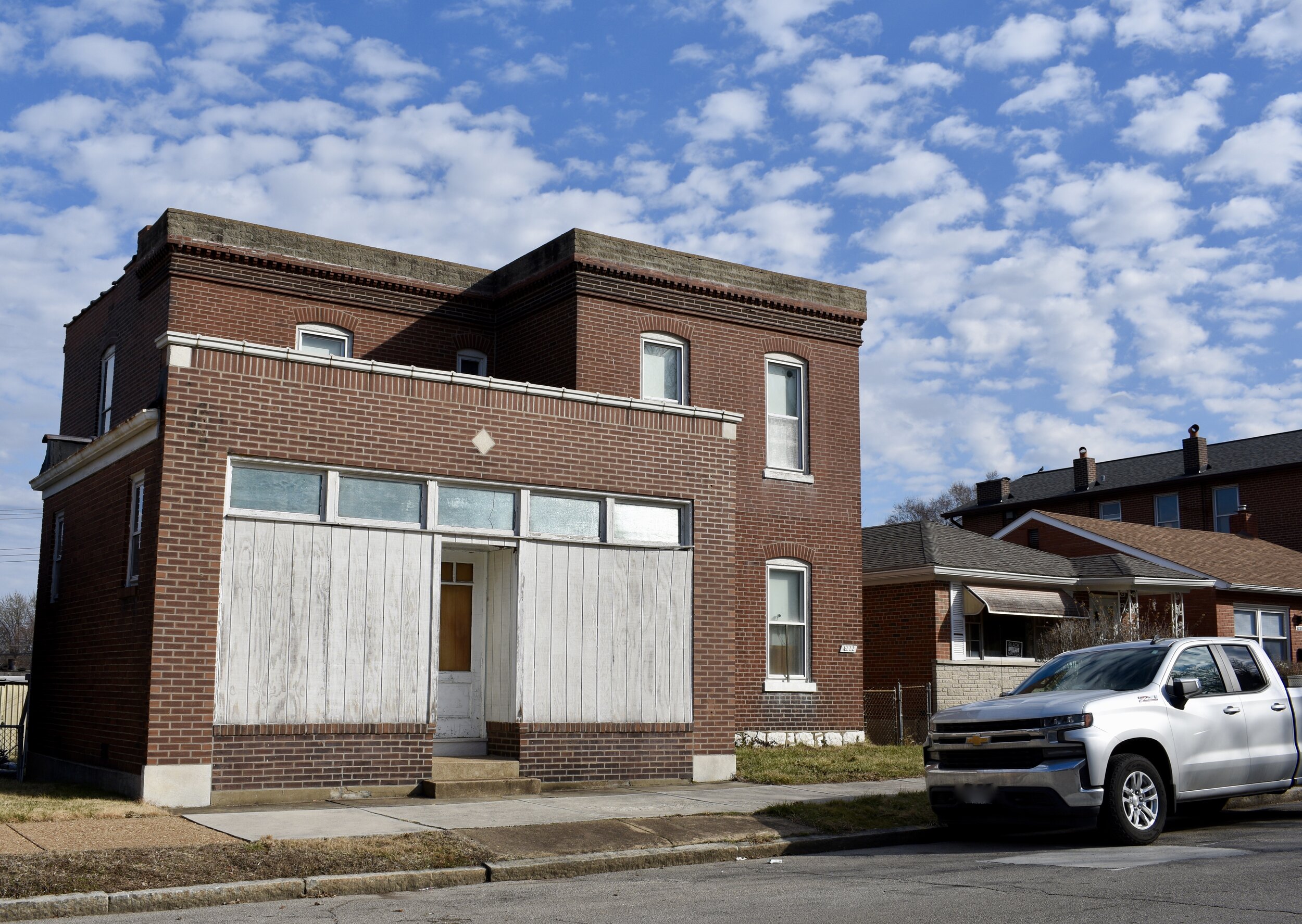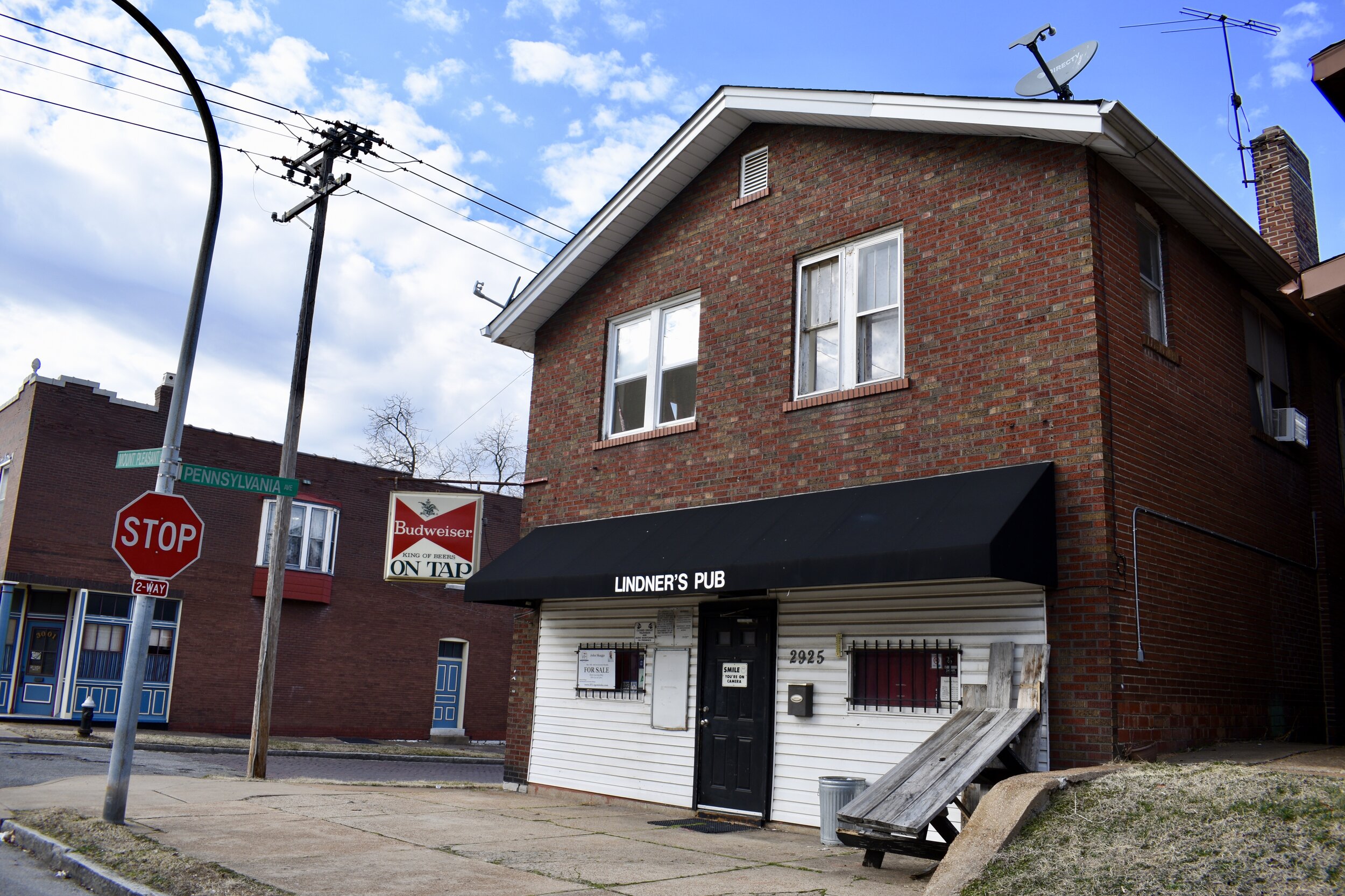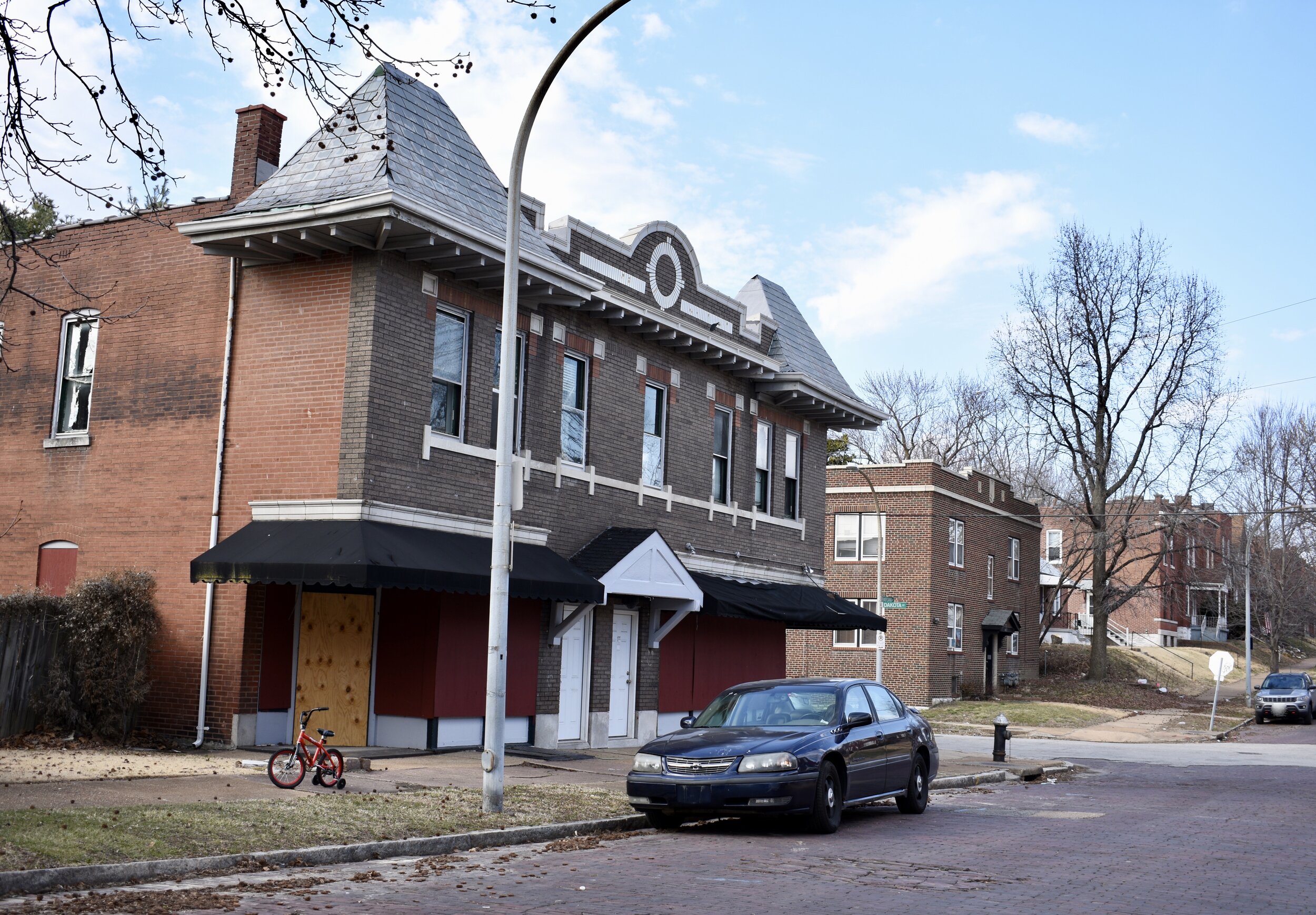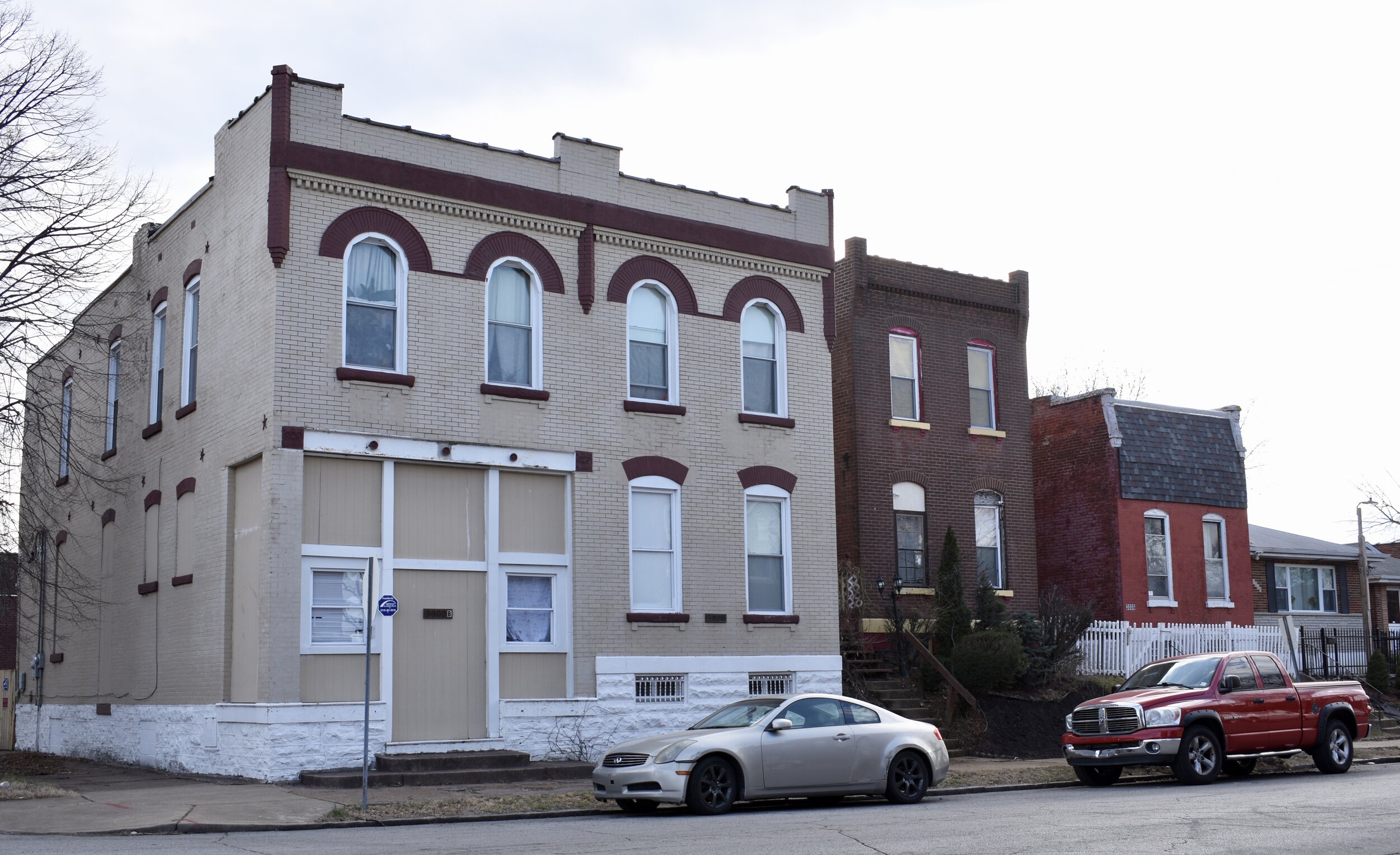 There's an awesome Asian foods supermarket along S. Broadway in Mt. Pleasant.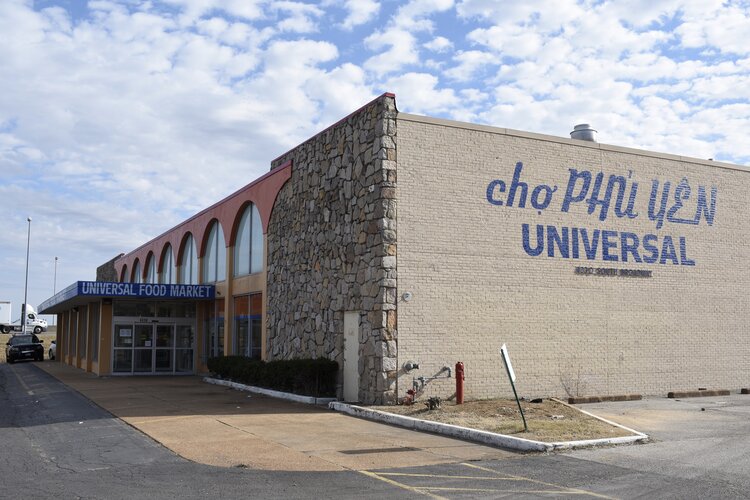 Overall, there are signs of some rehabs underway, but not many. It's not like you go through Mt. Pleasant and say "this housing market is hot", like you might in a neighborhood in the Central Corridor, West End, Academy or Tower Grove Park neighborhoods.
The beauty is there folks, and it's ripe for the investment it will take to preserve these brick buildings for future generations to appreciate.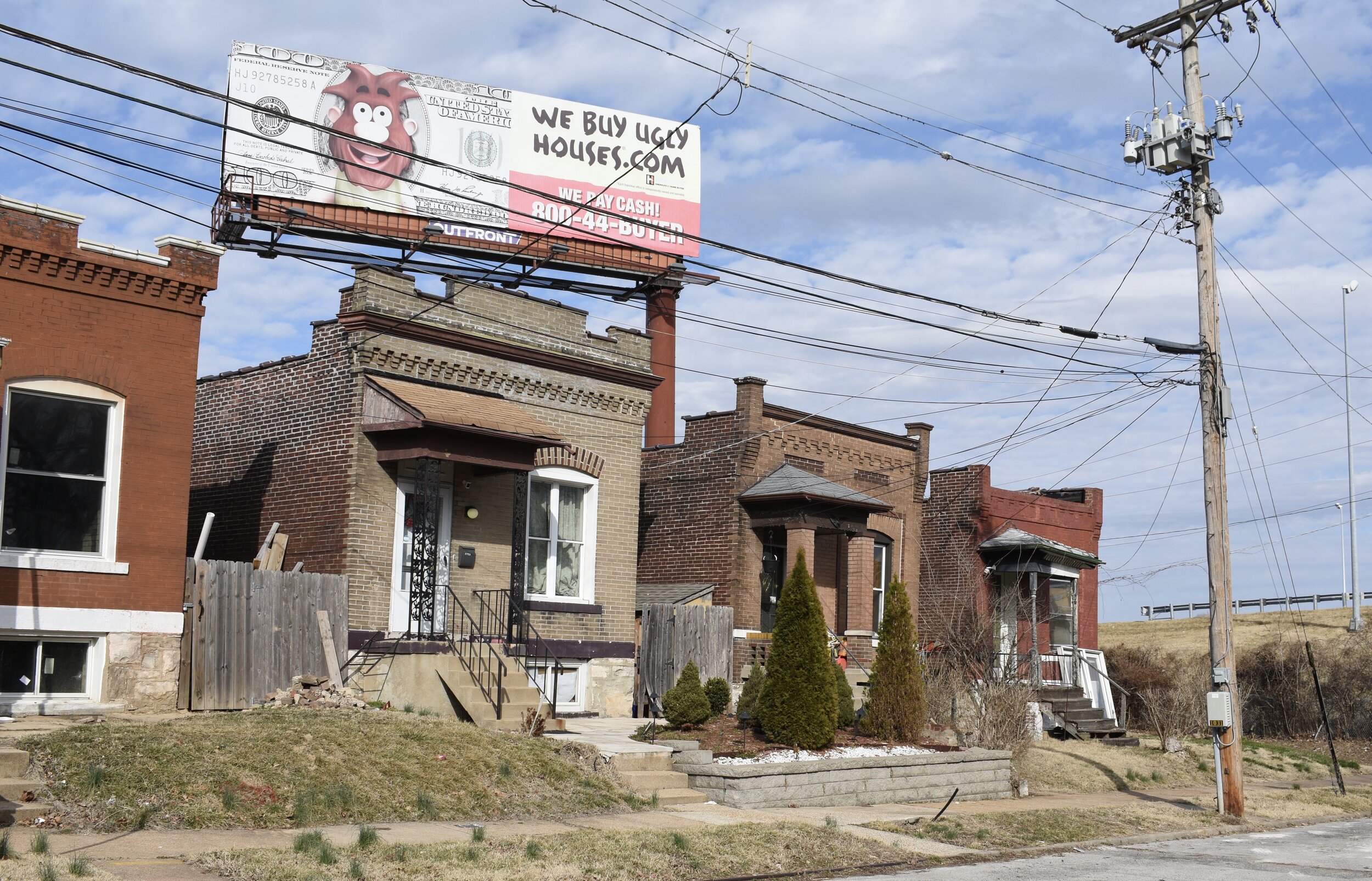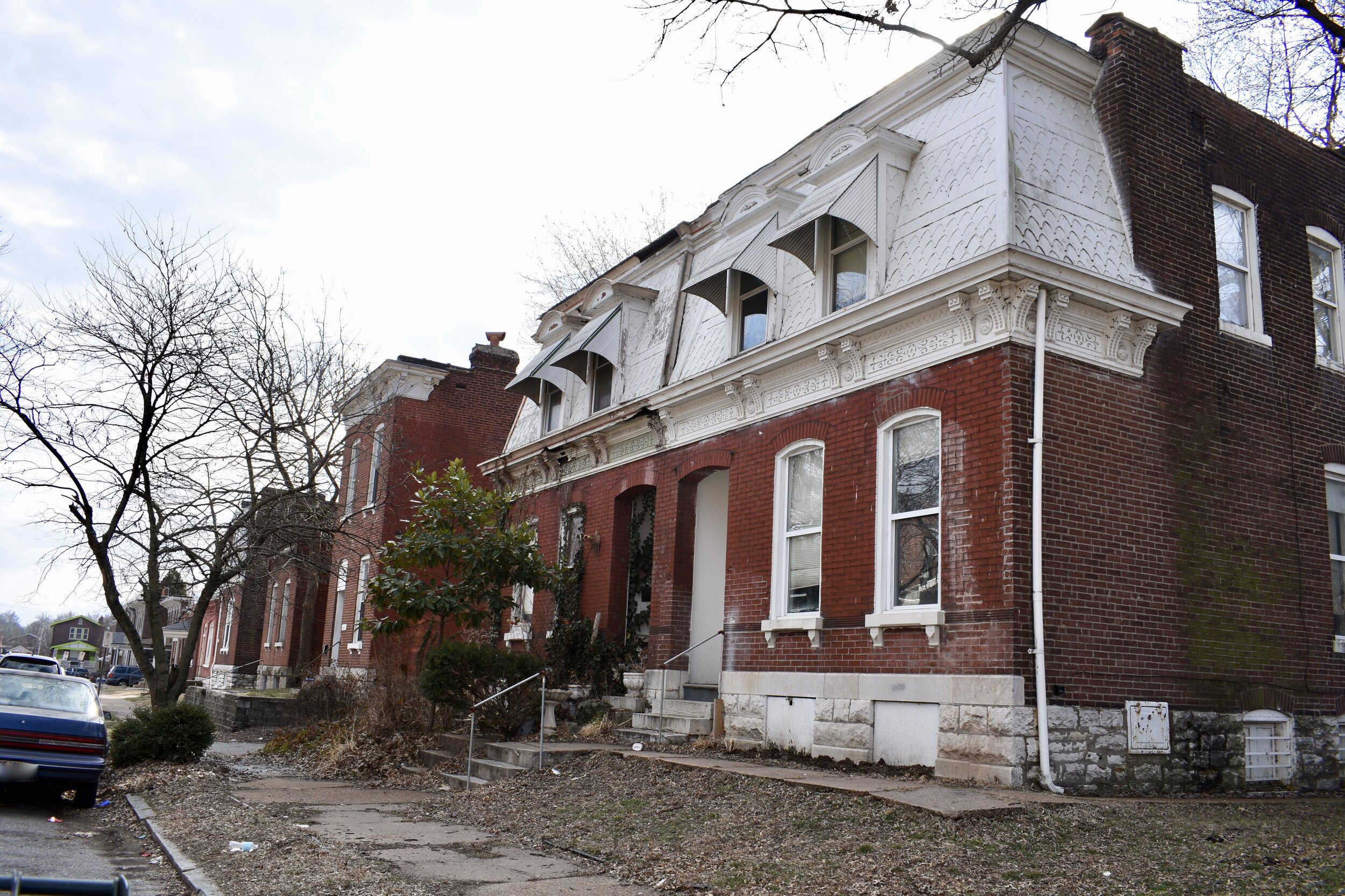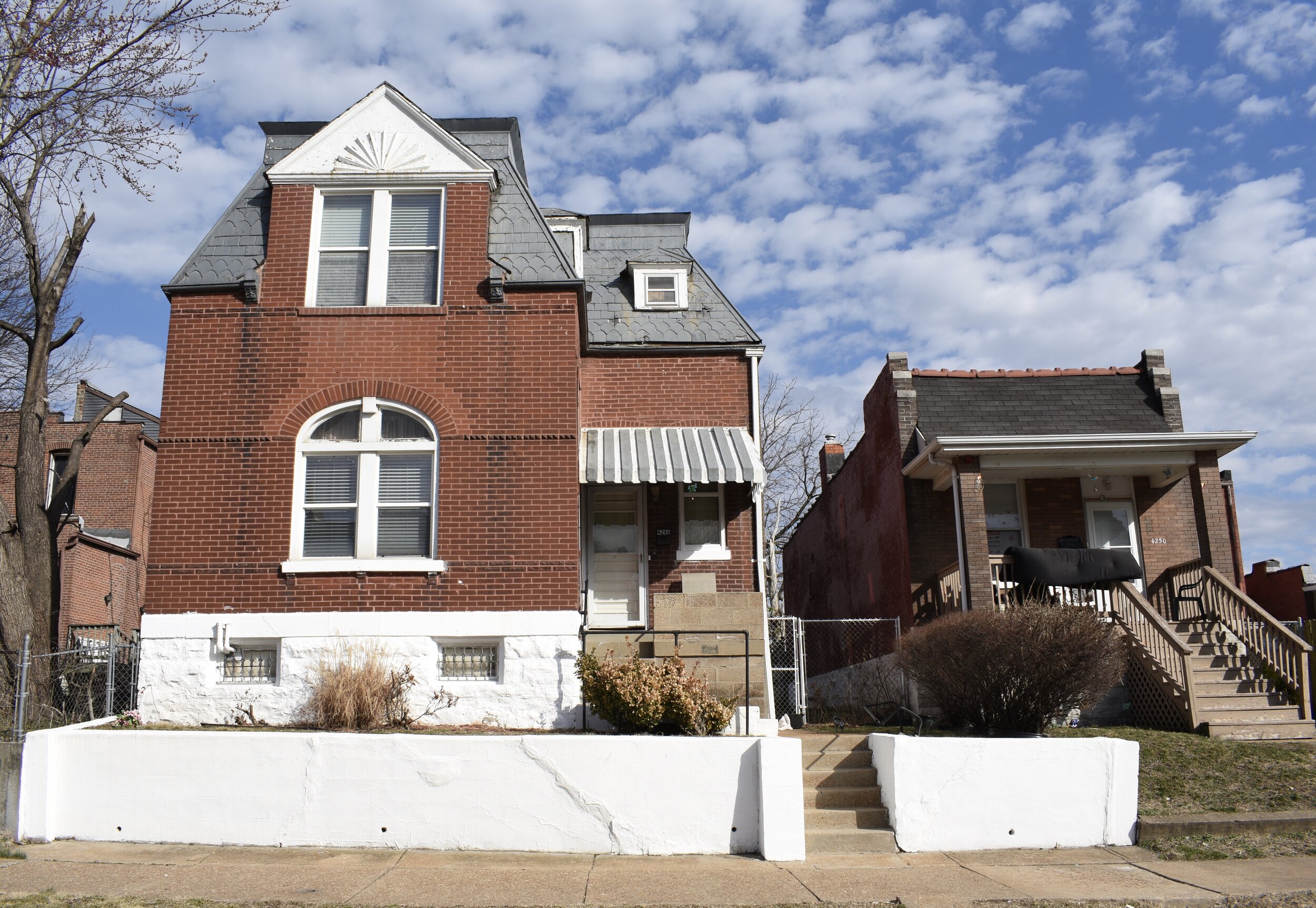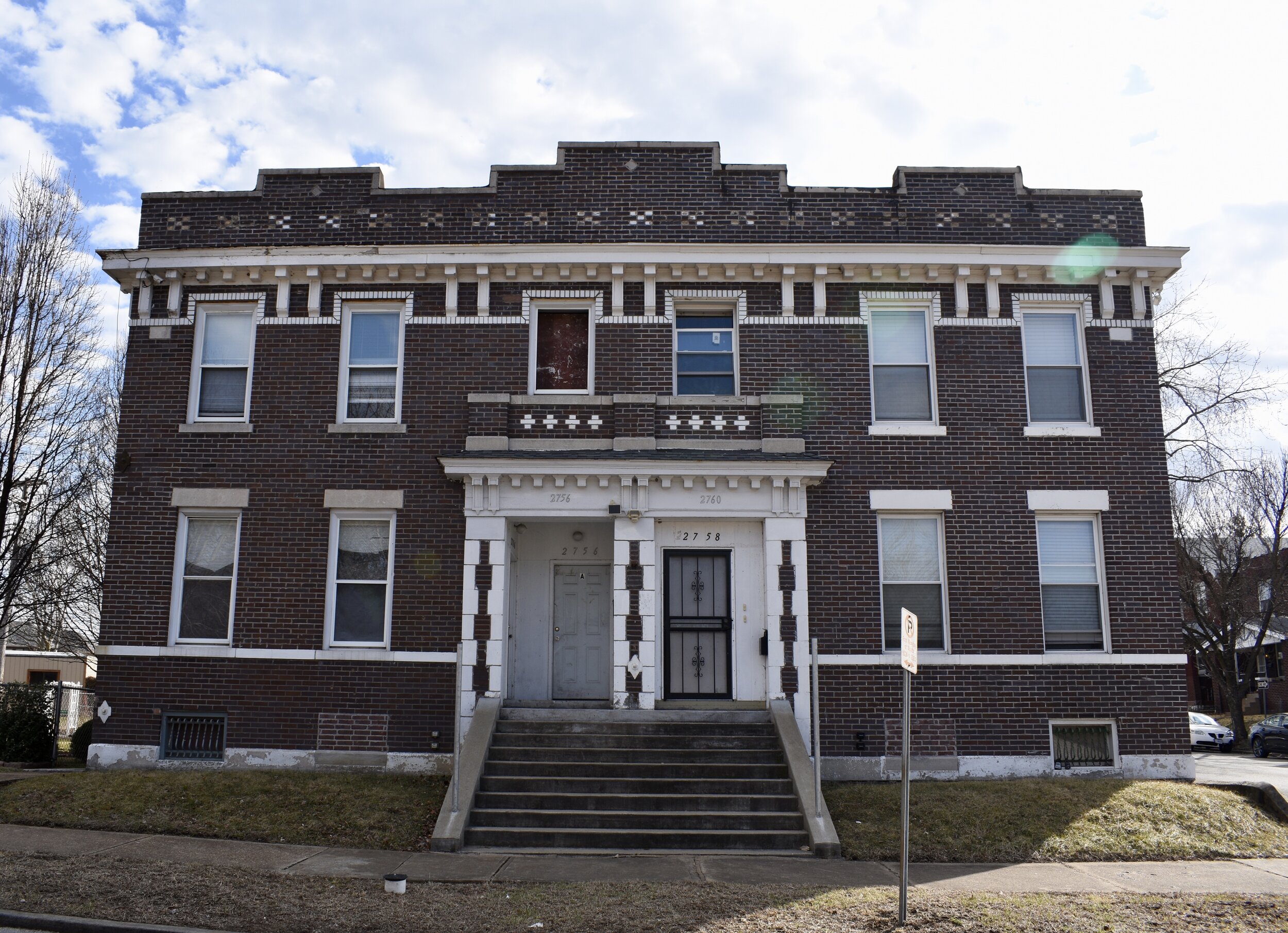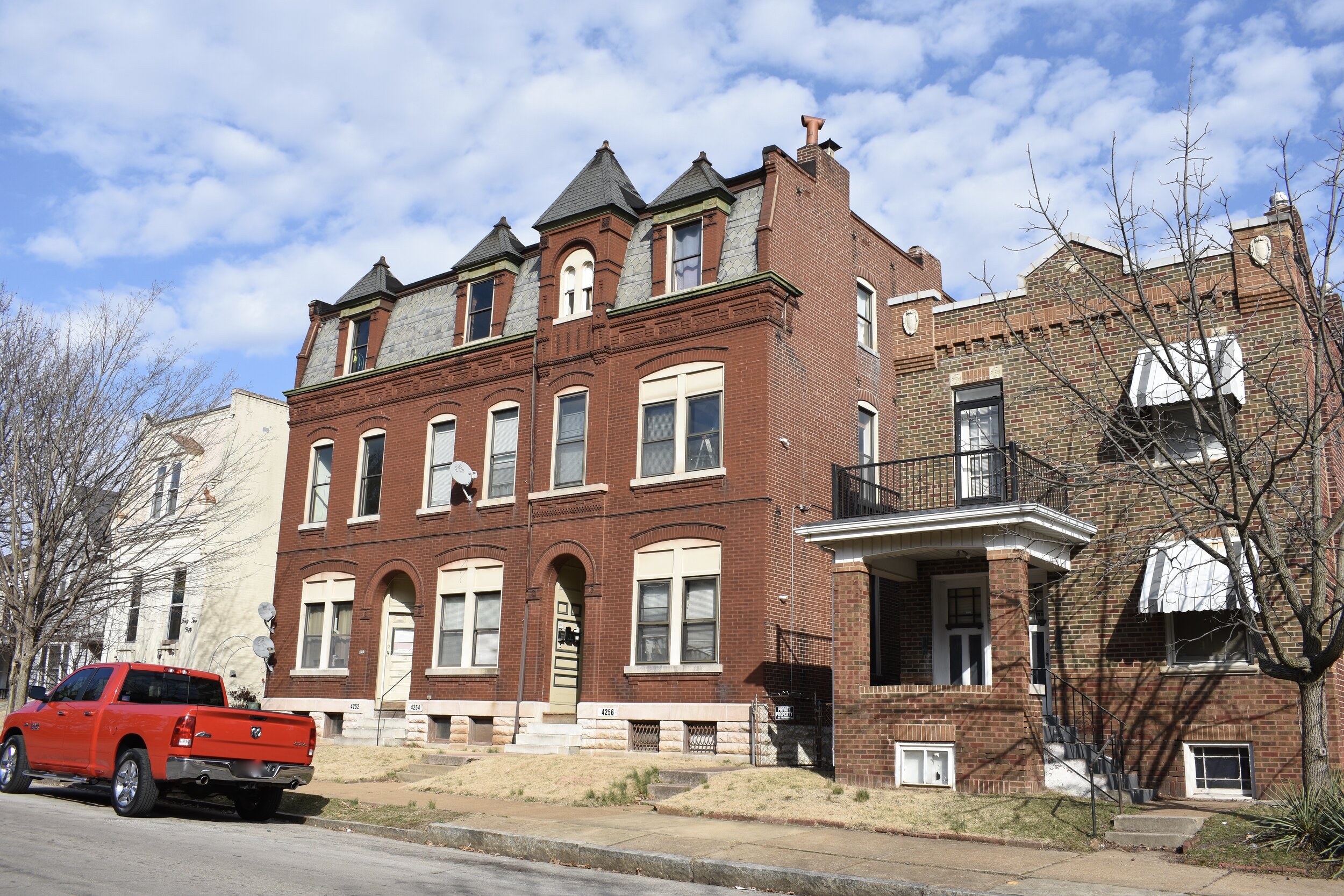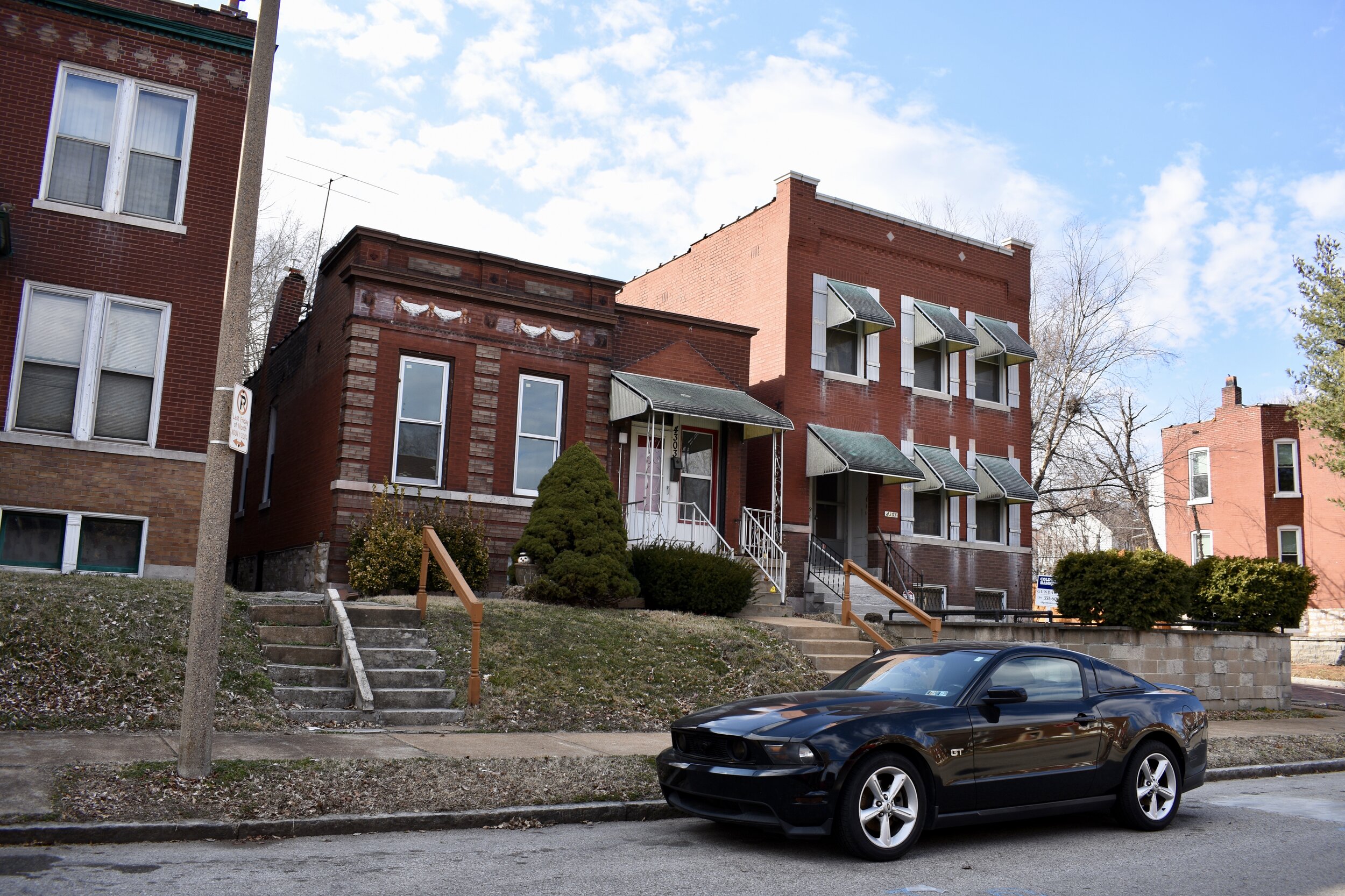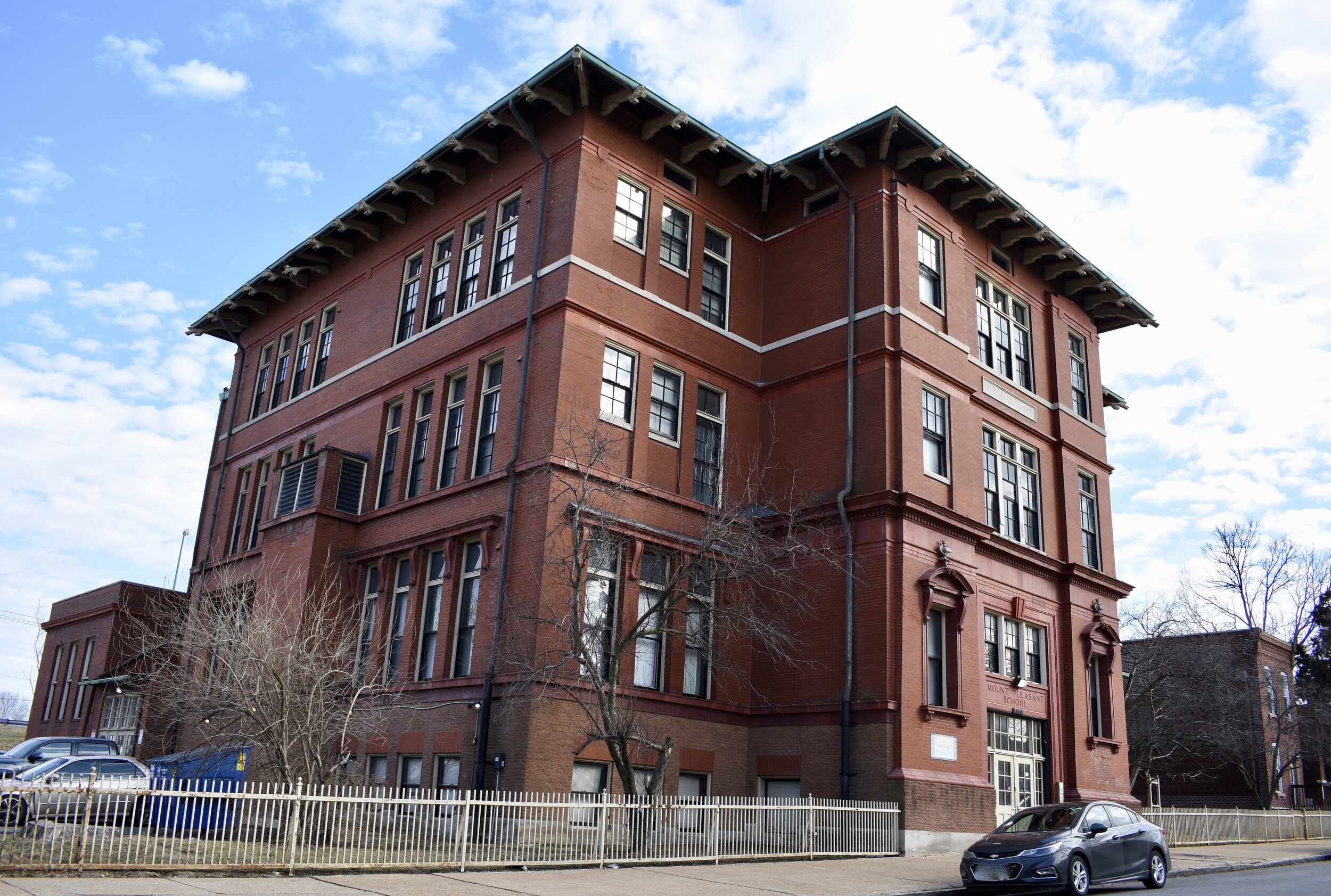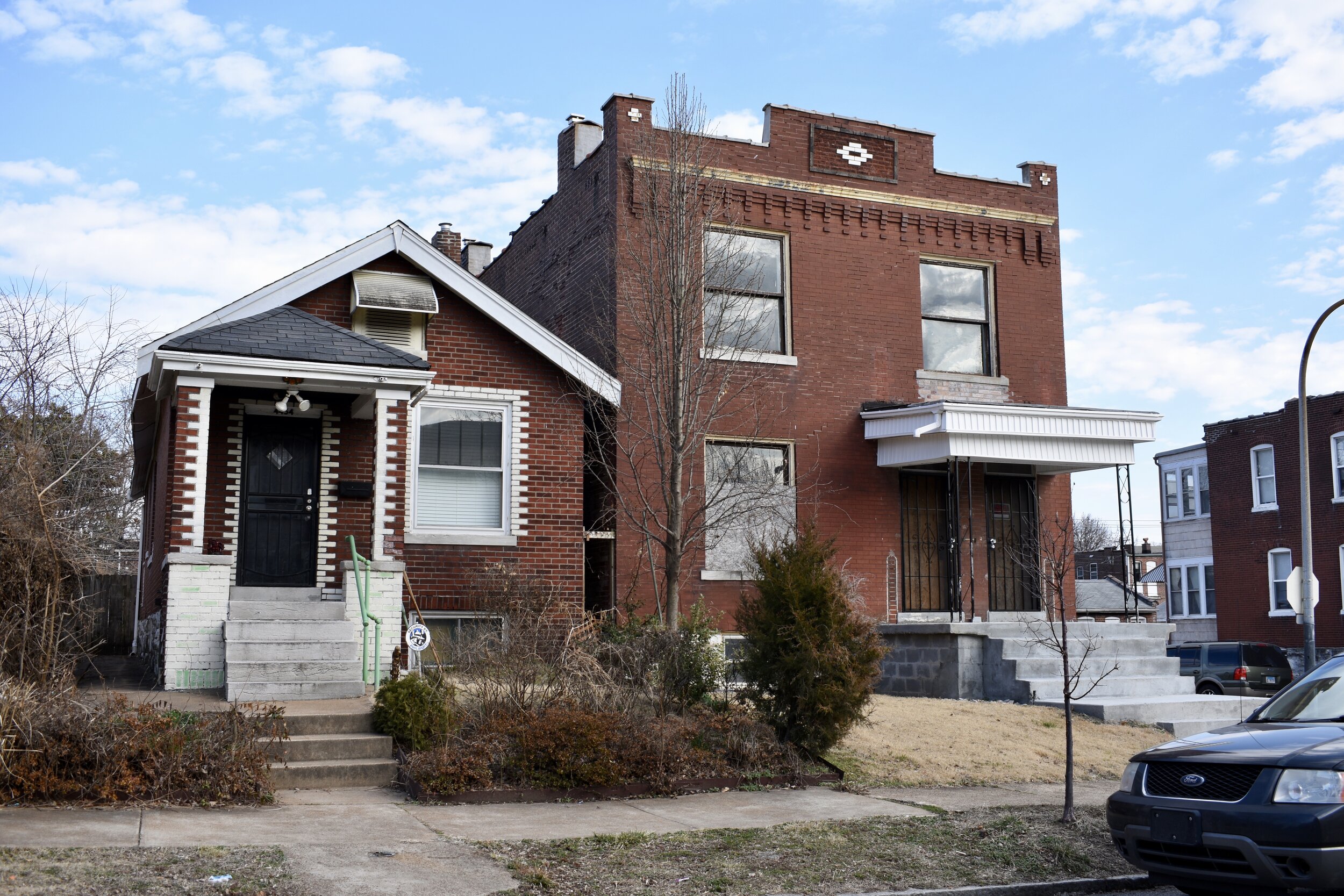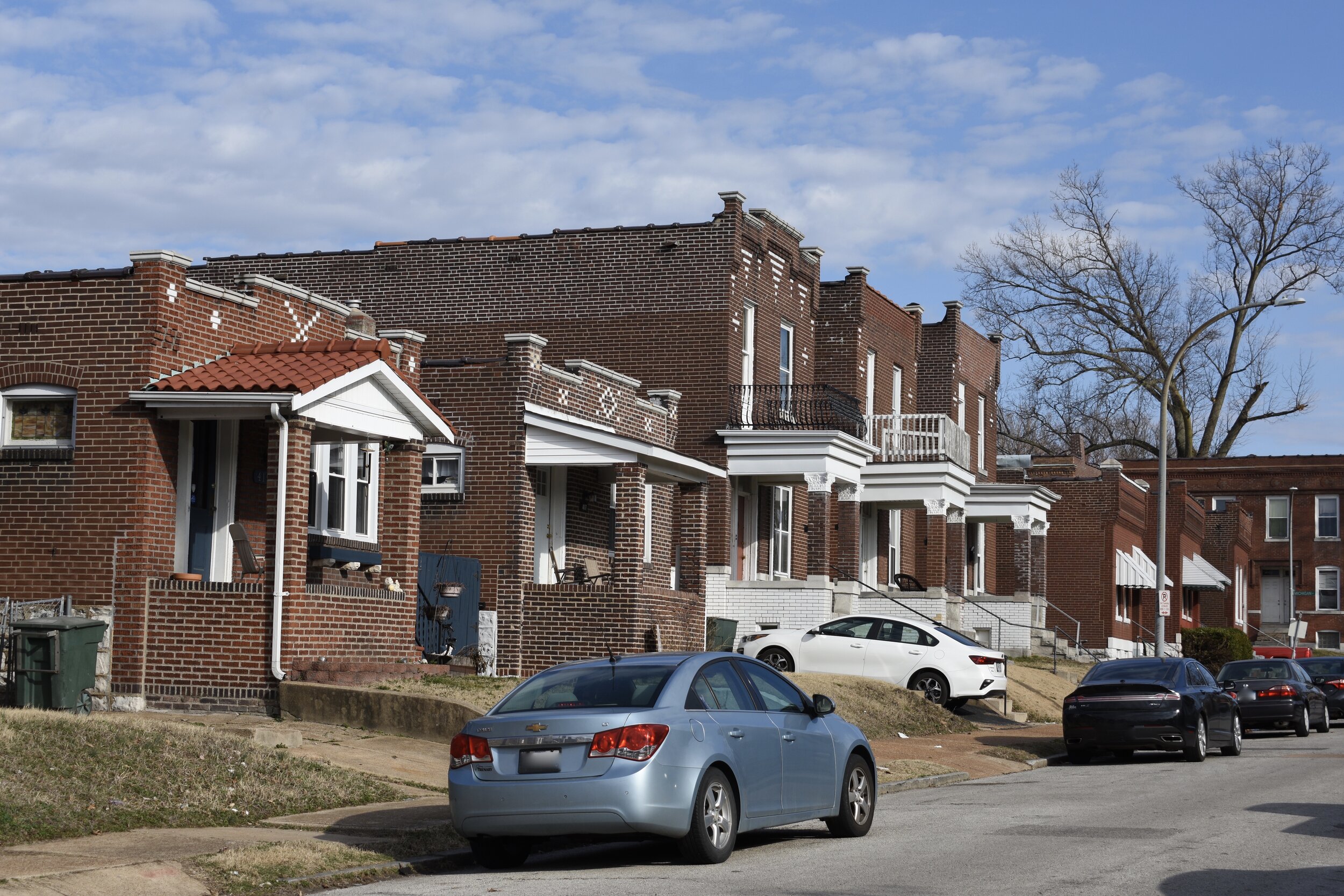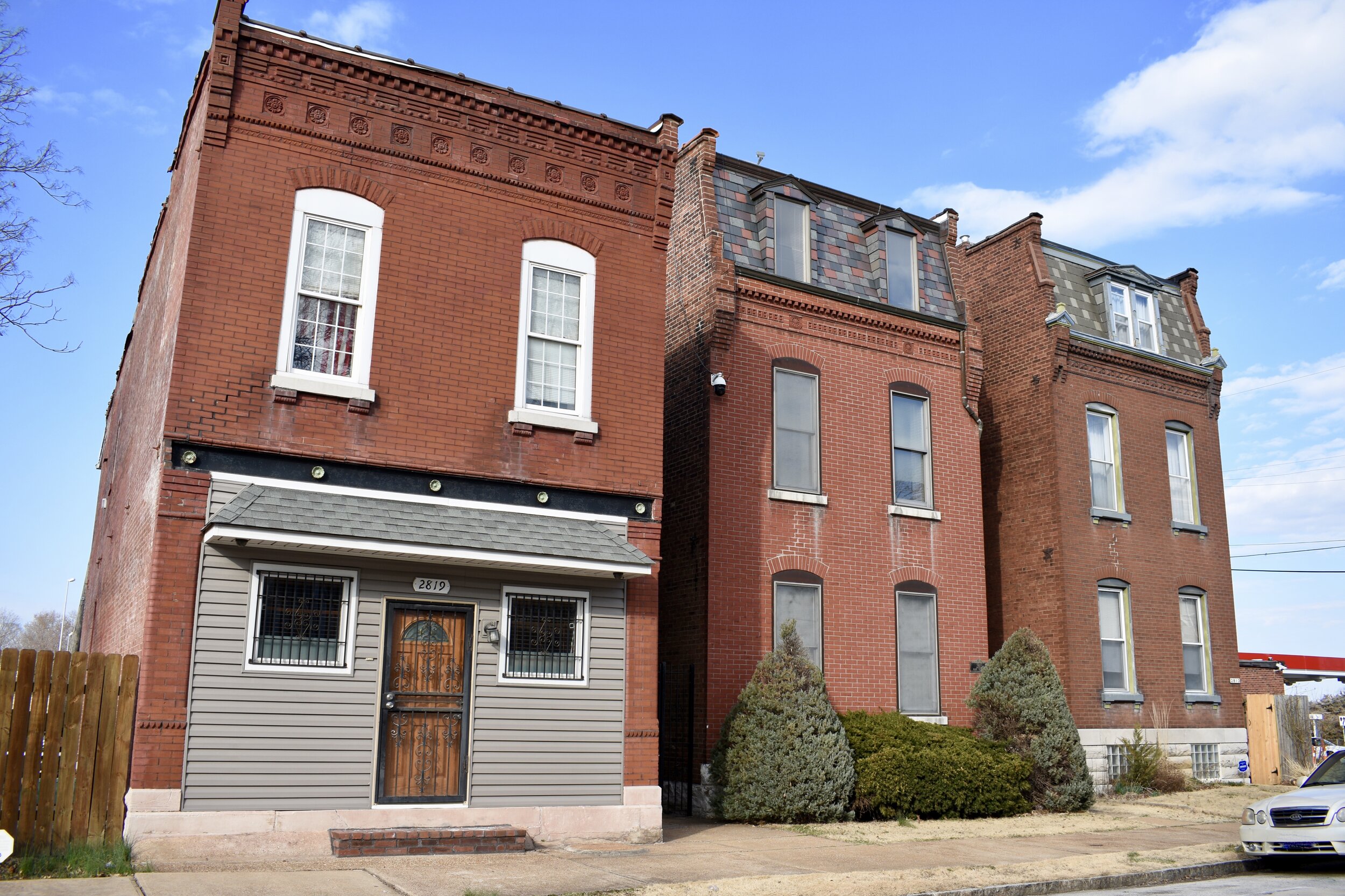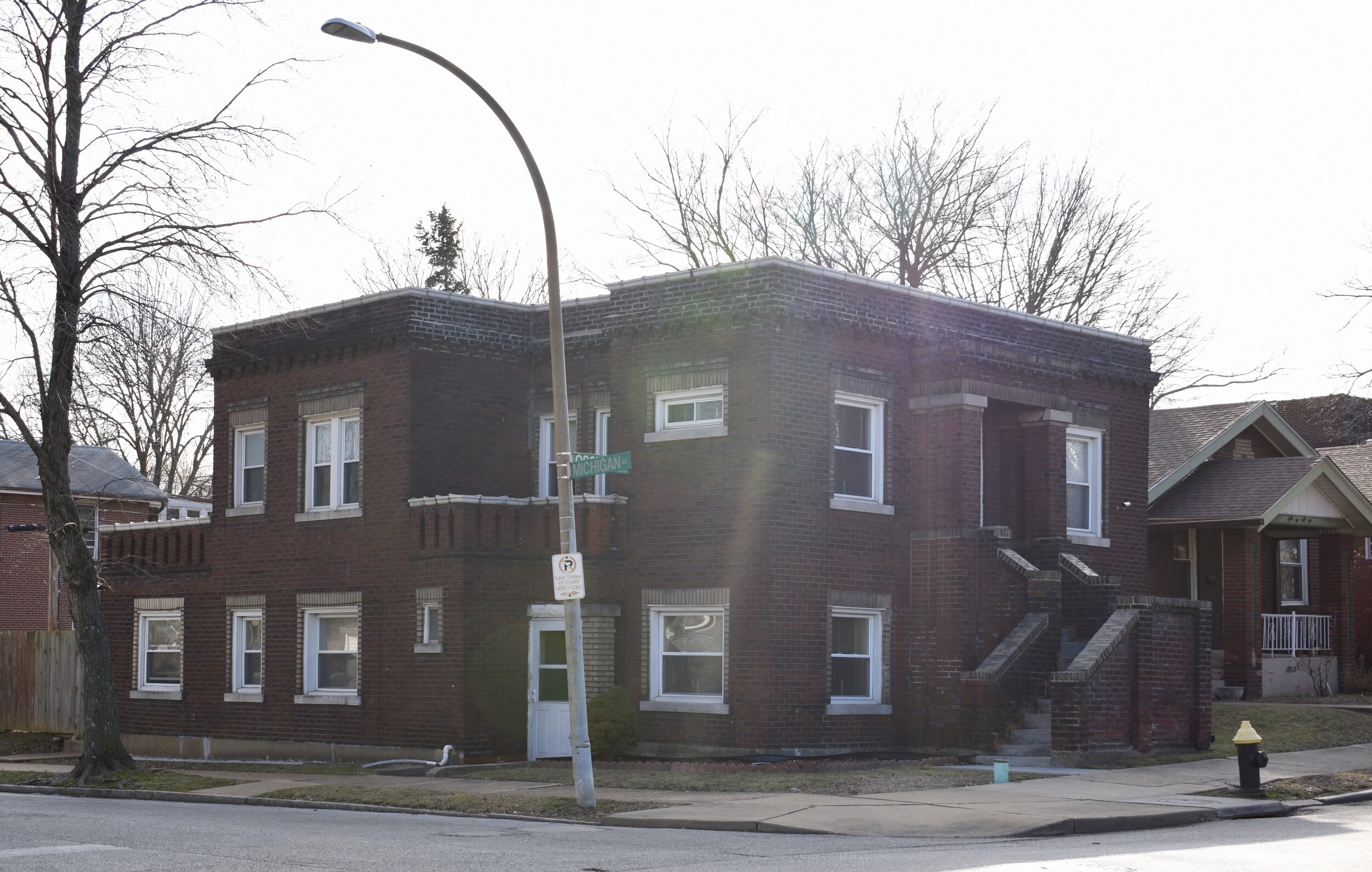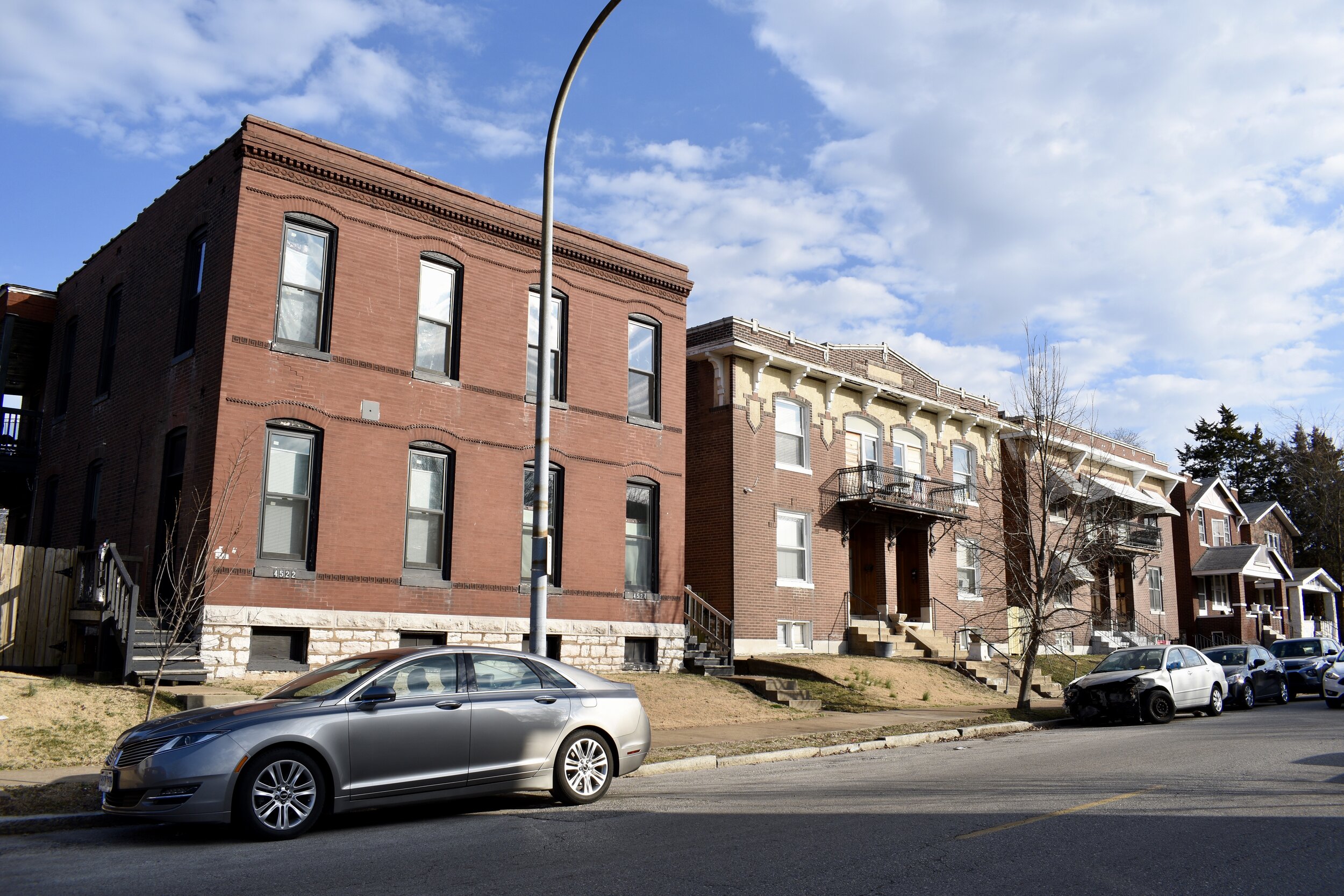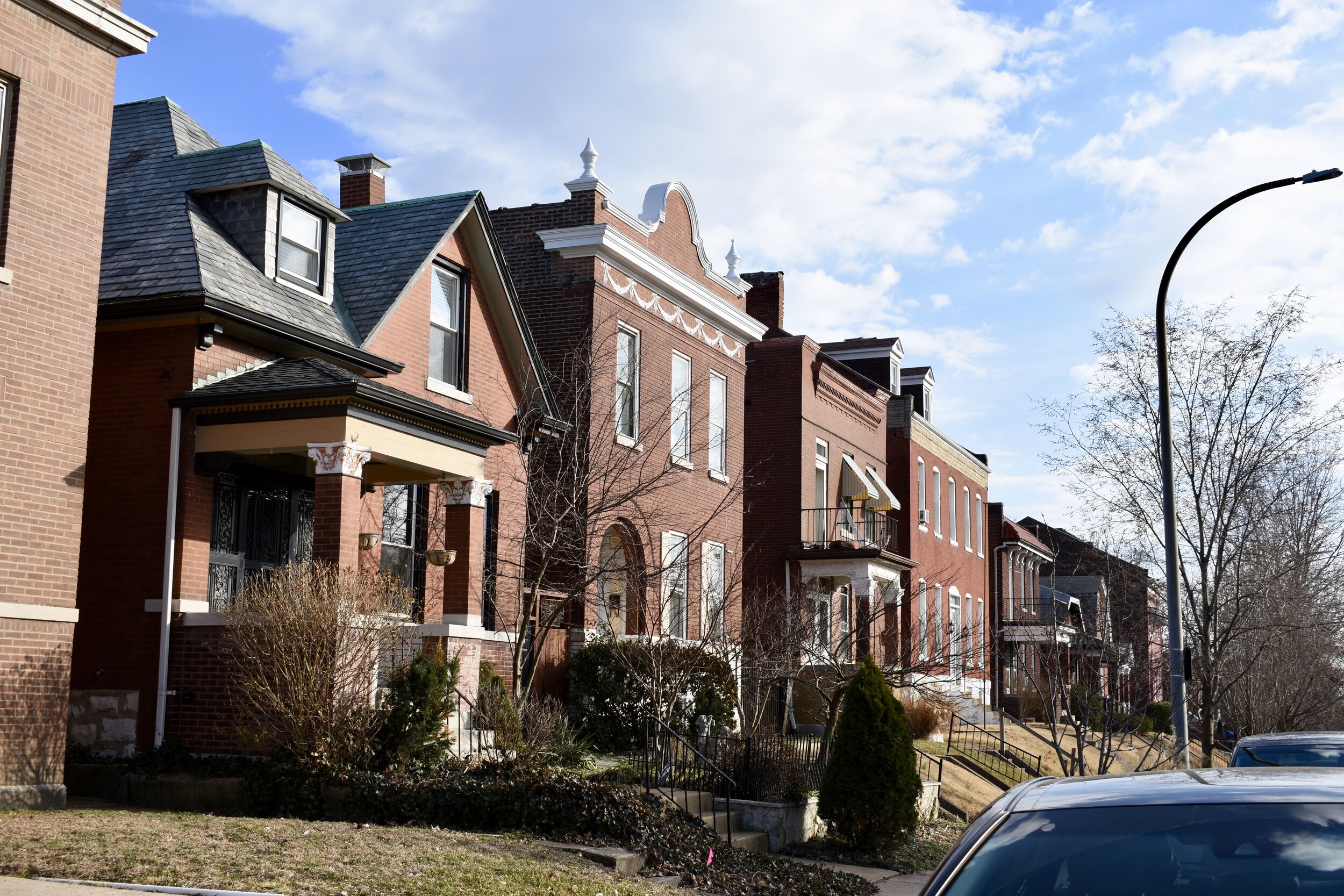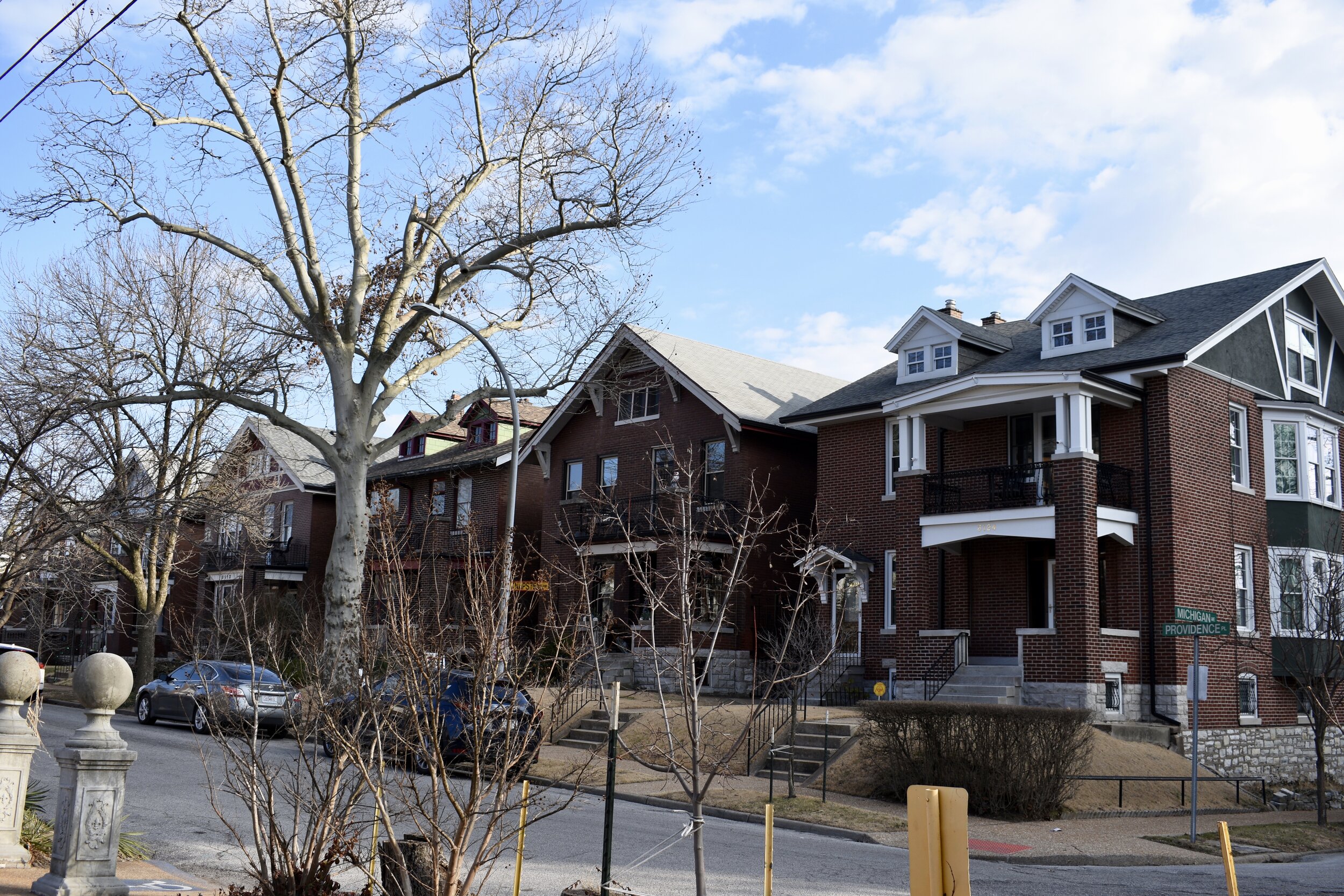 What Are The Future Needs?
Traffic calming via speed humps and more street trees. These two needs are true for many neighborhoods.
Meramec Street should be the priority. The formerly thriving Meramec commercial district is amazing and has huge potential. Although the stretch of Meramec in Mt. Pleasant is more residential and includes the large St. Anthony Padua campus, it is the gateway to the Dutchtown section of Meremec with all the storefronts.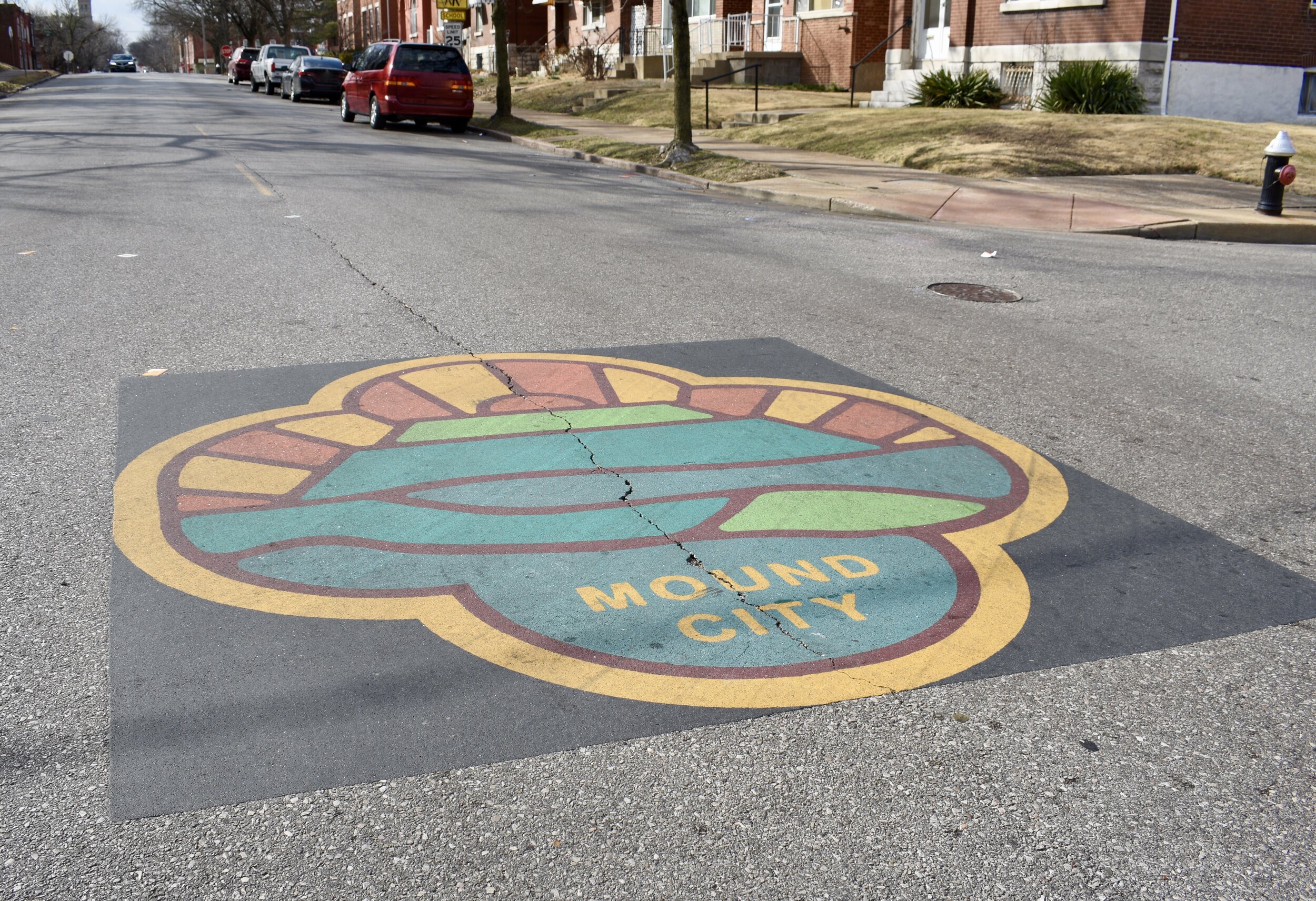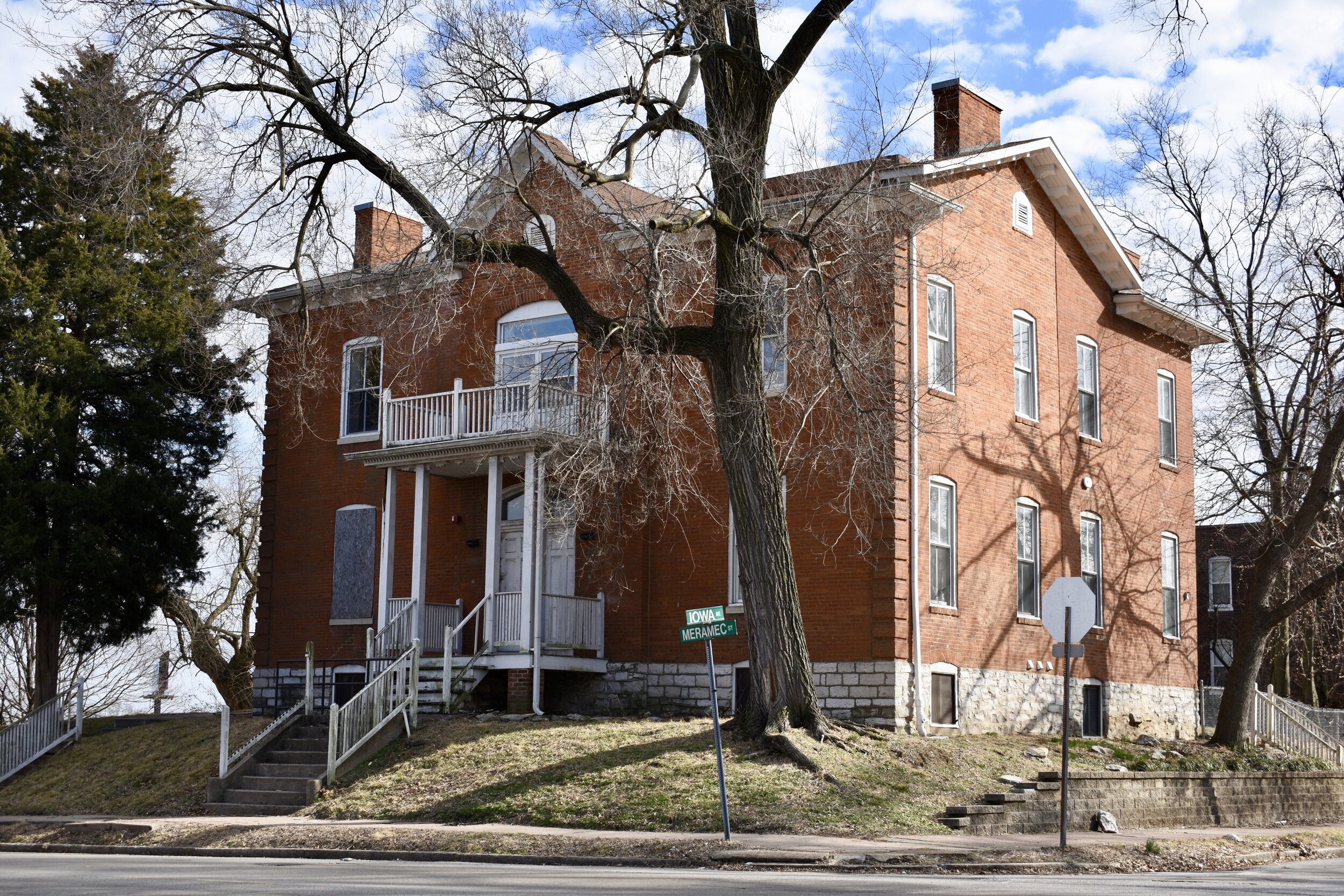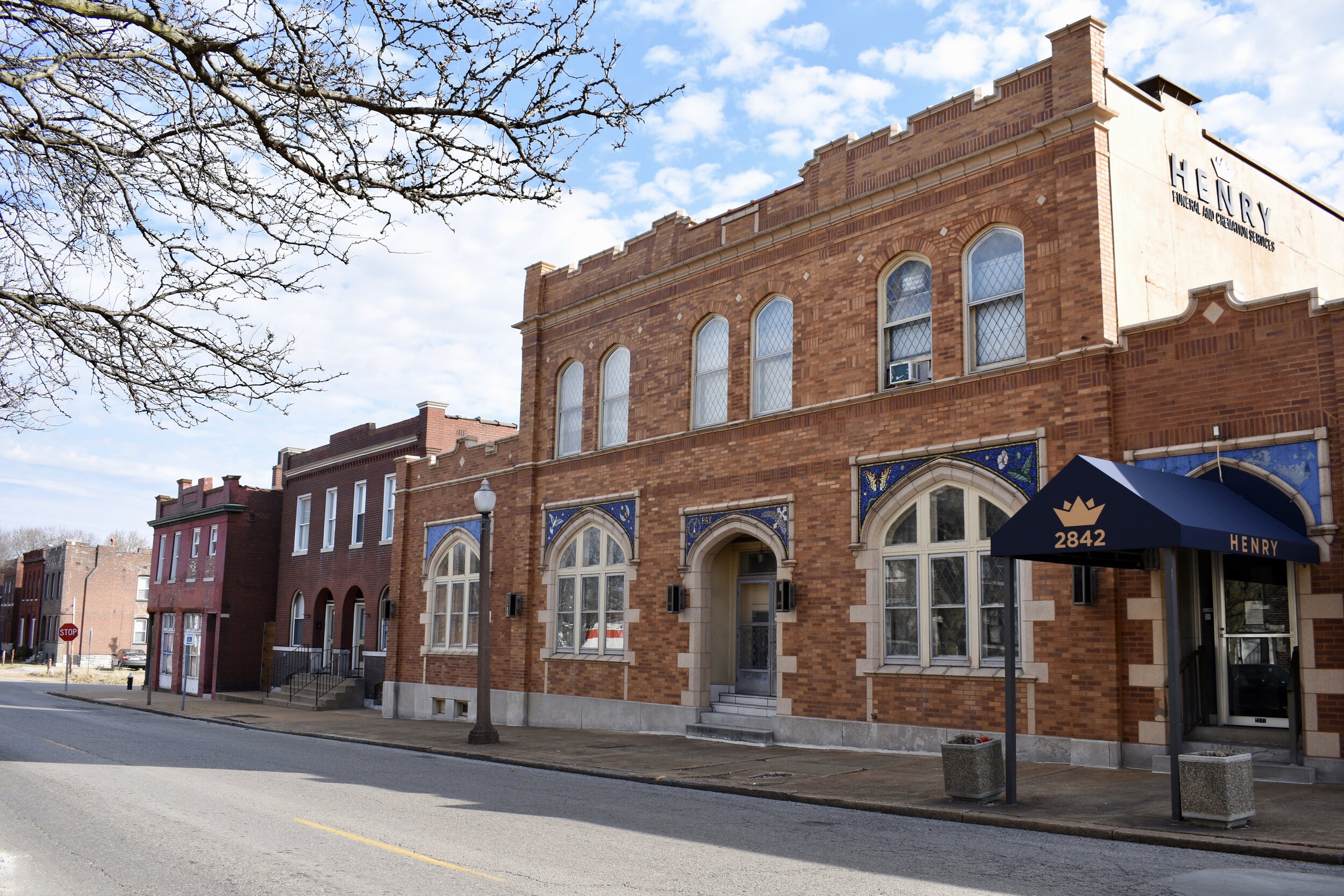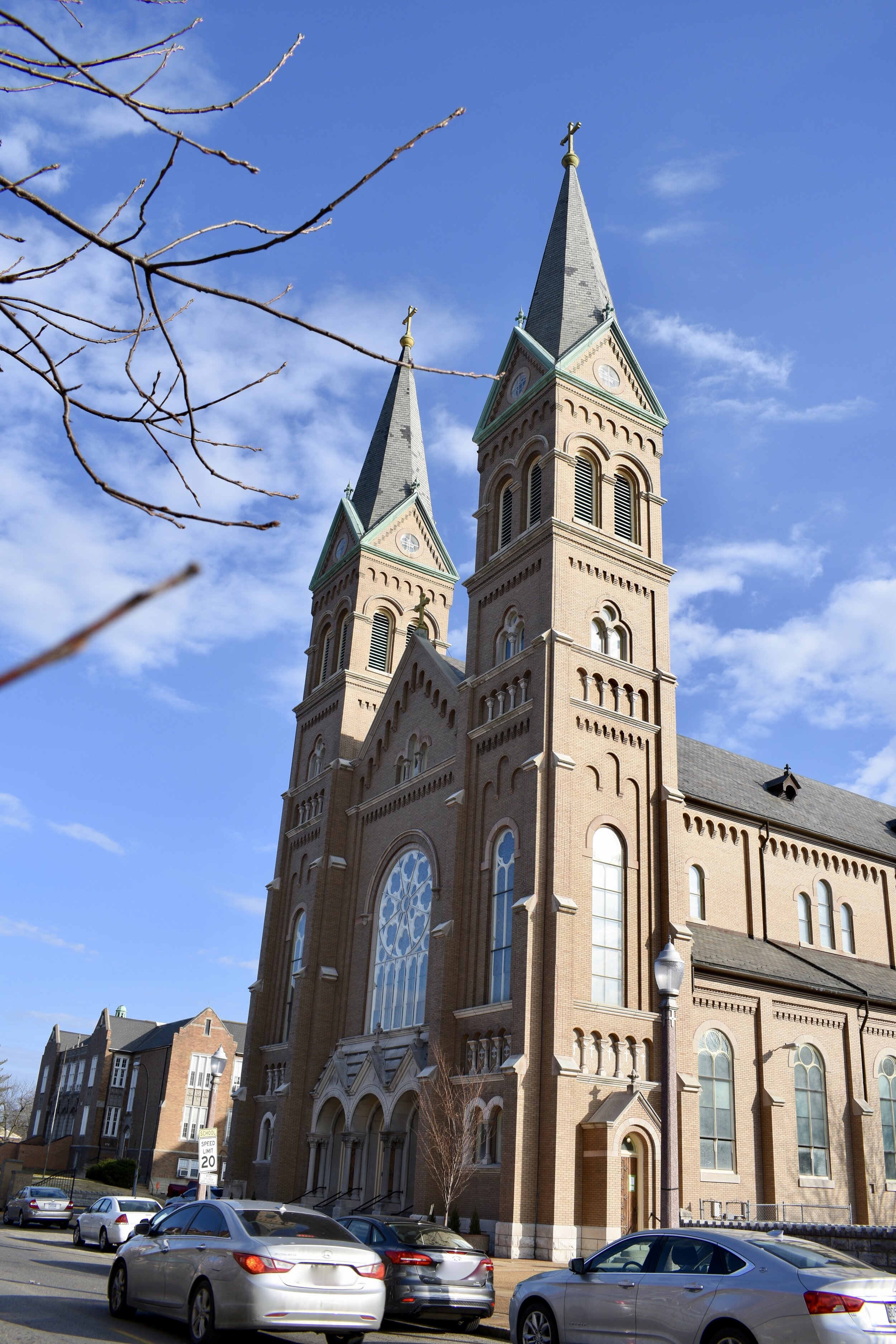 The land that is Minnesota and Hill park should be a proper park or placed on the ballot to allow the electorate to weigh in on selling the space for development. It is one of the worst parks in the city, not because it is trashed, but because it's just a field of mowed weeds/grass…not even a park sign identifying it as such.
Remove I-55…I know that is never going to happen in my lifetime, but it is worth saying. The Interstate butchered Mt. Pleasant in two and stole so much continuity and architecture. Is there a neighborhood more devastated by an Interstate?
Unfortunately a noticeable presence of junked/wrecked cars on the streets has become a thing. This is especially an issue in places like Walnut Park East and West, but you are starting to see it here as well. There are signs of arson, vacancy and decline; but the good news is, the overall bones are all here and this place is ripe for investors, new people wanting an affordable, beautiful home. There is still a pleasant vibe, but you could see it turn either direction.
The city website showed the lowest home sale values in 2012 when the average sale price was $28,423. It peaked in 2016 when the average was $145,104, but that has dipped in recent years when the average home sale in 2019 at $104,883 (source).
As go the state streets, so goes South City, so goes St. Louis. The next ten years will be important in understanding its trajectory.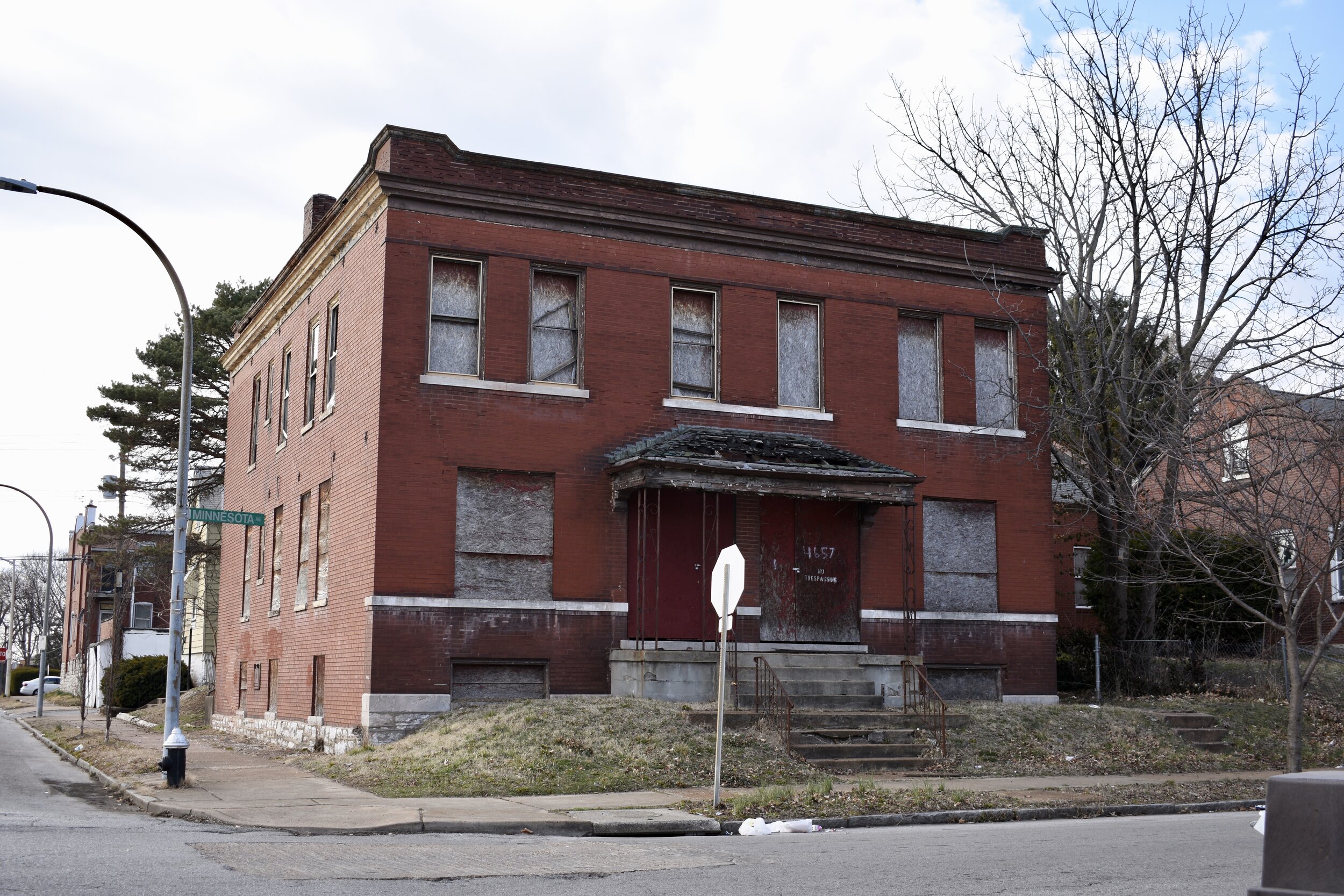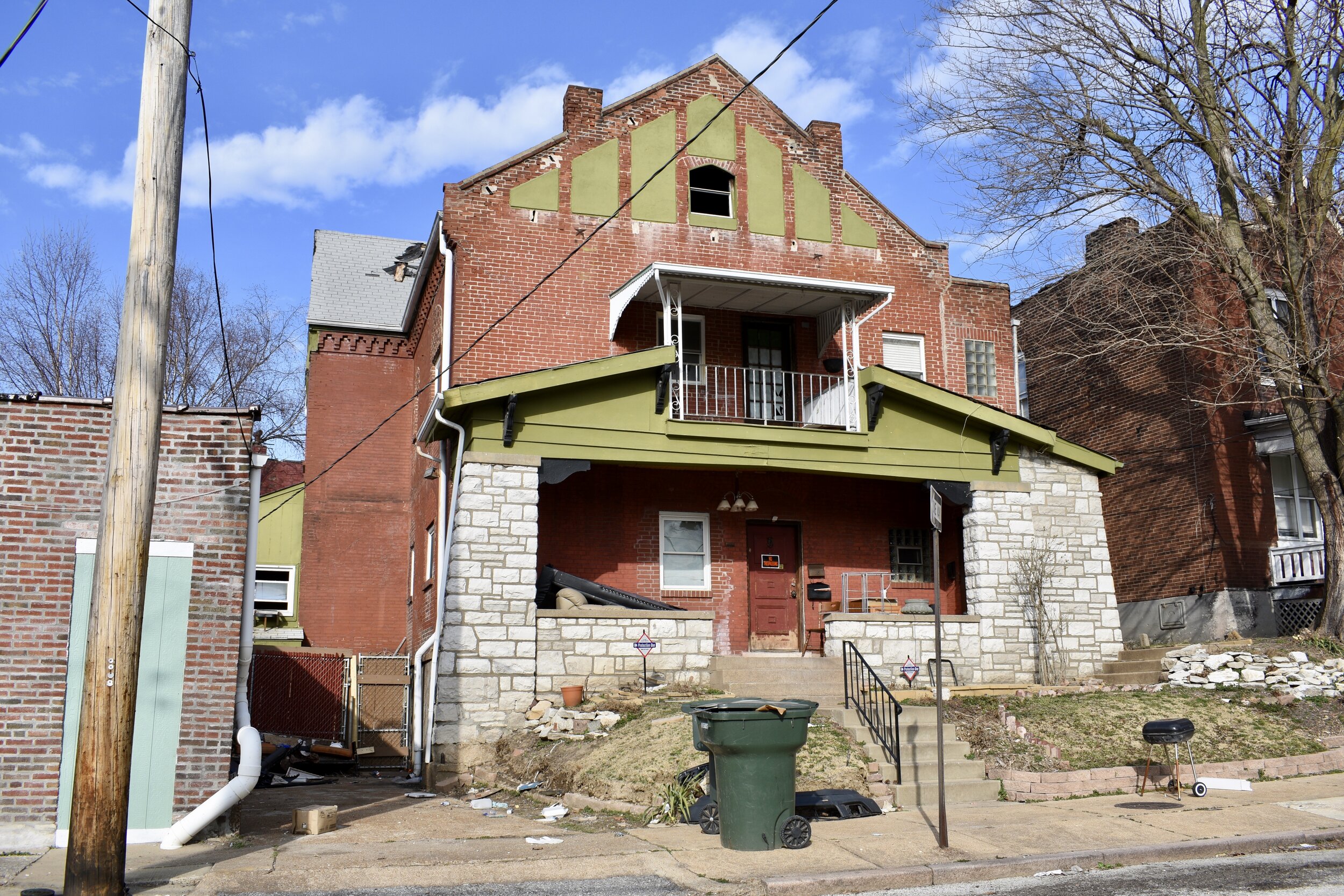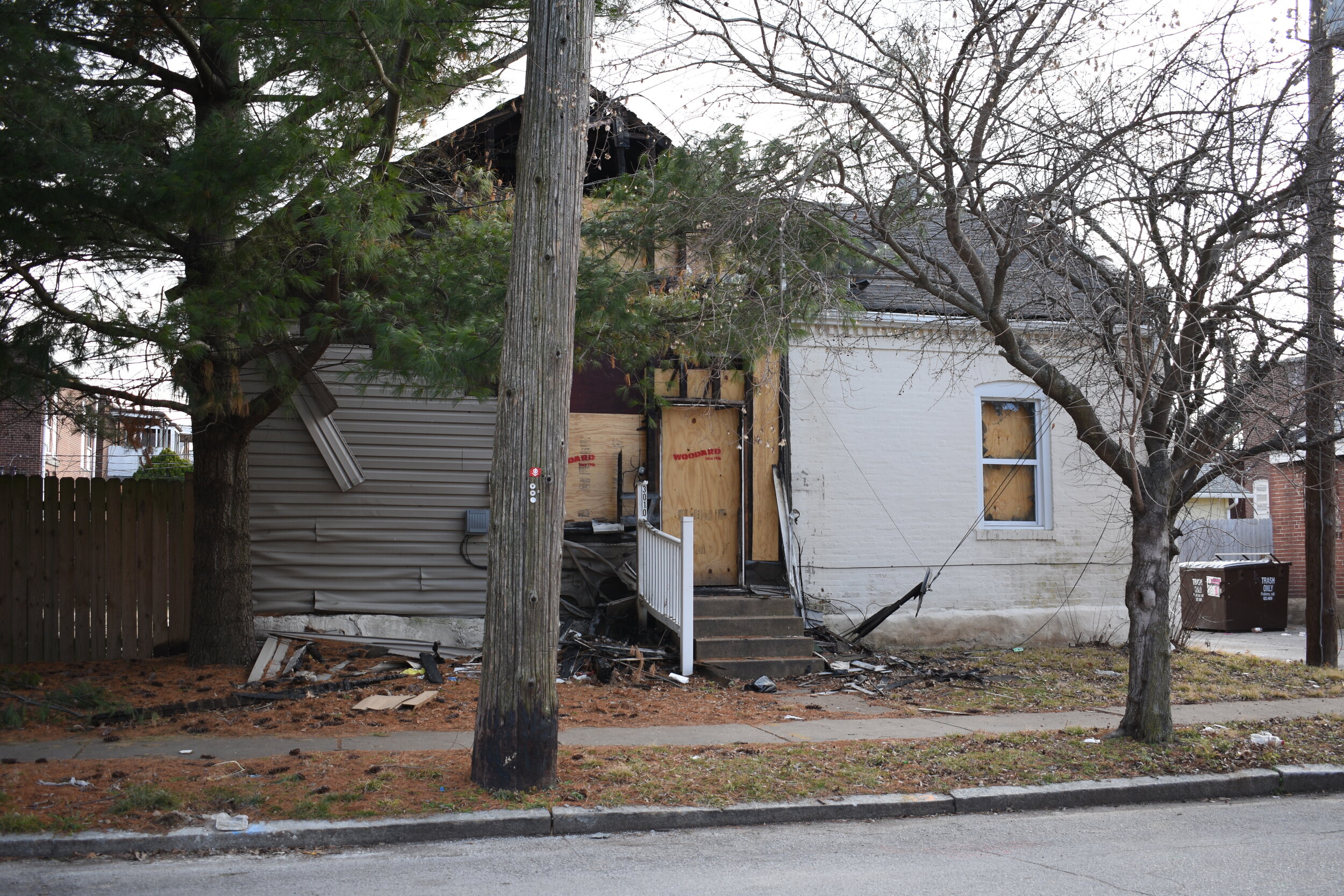 Additional St. Louis City Talk Reading
Minnesota and Hill Park – January 1, 2014
Mt. Pleasant Park – January 2, 2014
South Broadway Housing Projects In The Mt. Pleasant And Marine Villa Neighborhoods – June, 2018