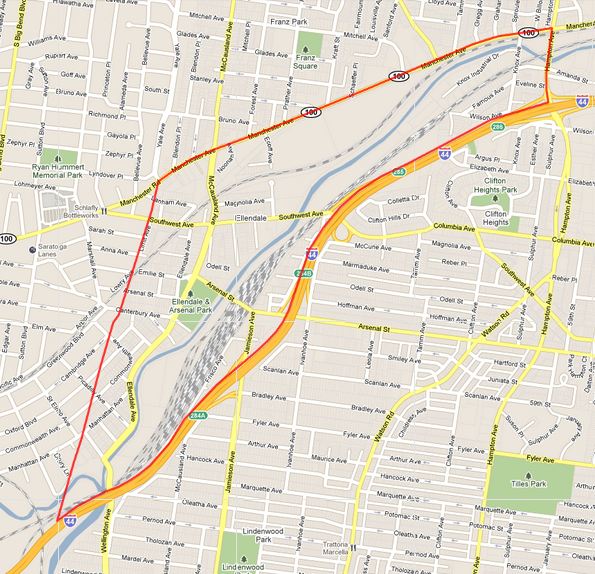 Ellendale is a southwest St. Louis neighborhood located north of I-44, west of Hampton, east of the city limits and south of Manchester. I was able to get out on the Yamaha 125cc scooter for my photo tour of Ellendale. Scooter is the best means of transit in doing these tours through the neighborhoods because you can turn on a dime, go up on sidewalks to take pictures, and of course talk to the locals. People naturally want to talk to you when you're on a scooter and the kind people of Ellendale were no exception.
So who calls Ellendale home? The neighborhood continues to lose population, but could be considered relatively stable, with moderate loses. The 2010 Census counted 1,575 residents, a 5% decrease over a decade. The 2000 census counted 1,656 residents (9% decrease from 1990's count) of whom 85% were white, 10% black, 1% Asian and 3% Hispanic/Latino. 756 housing units were counted of which 91% were occupied, 69% by owners, 31% by renters. As the numbers above suggest, this is not a largely residential neighborhood. And per the map, you can see that most of this area is devoted to rail yards.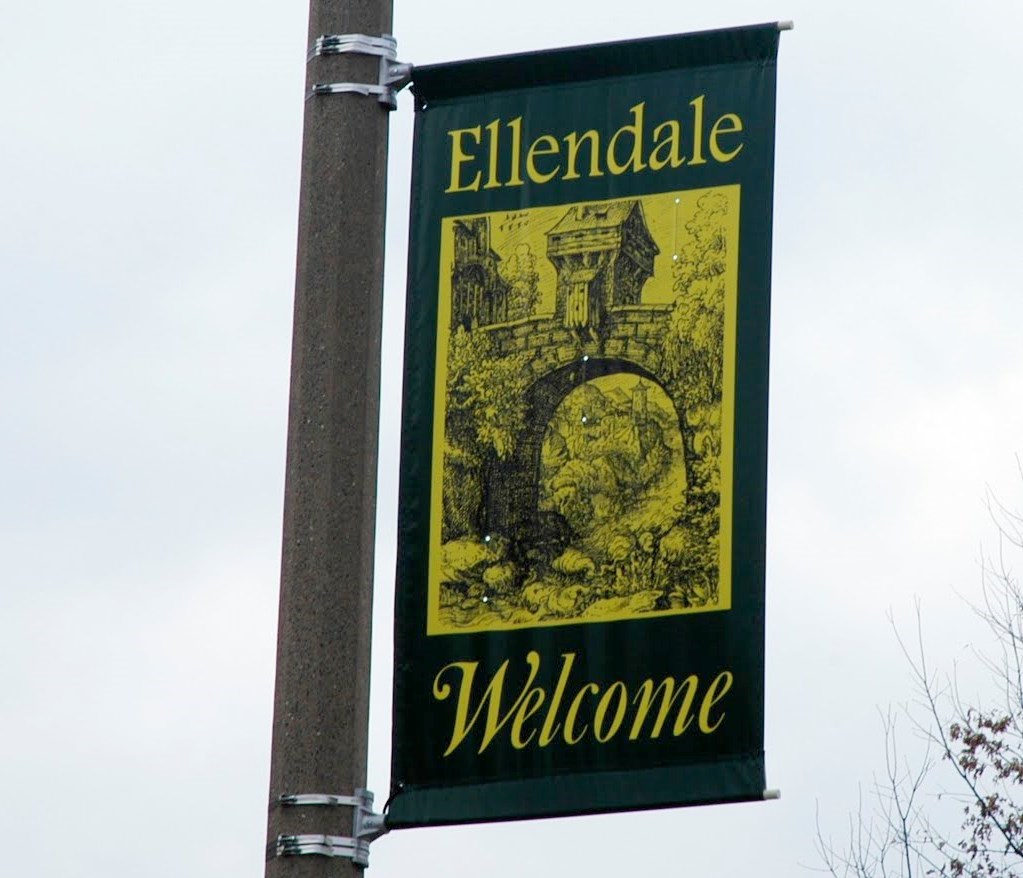 A gentleman in Maplewood helped me locate the city/county divide. Just look for the streets to change, he said. He's right, there is a distinct difference in the city/county streets.
County to the left, city to the right. Goddamn, even our streets are cooler than the county's…just kidding, just kidding. I recently got some coaching from some dear old friends to not be so harsh on our neighbors to the west. Said Maplewoodian went on to tell me it is even easier to notice the county line in the winter because Maplewood clears the streets of snow/ice and St. Louis does not (they always think they're better than us…oops coaching…stop it Mark).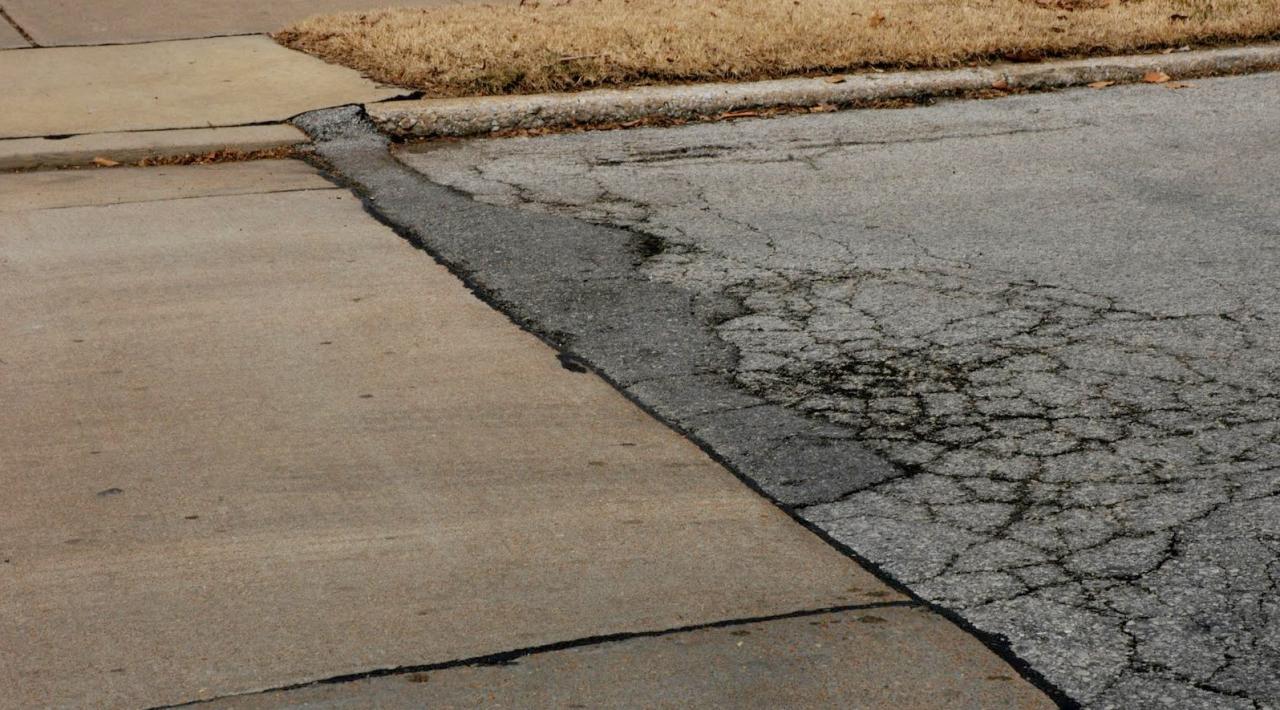 Along Manchester, the city has marked it's turf just west of McCausland: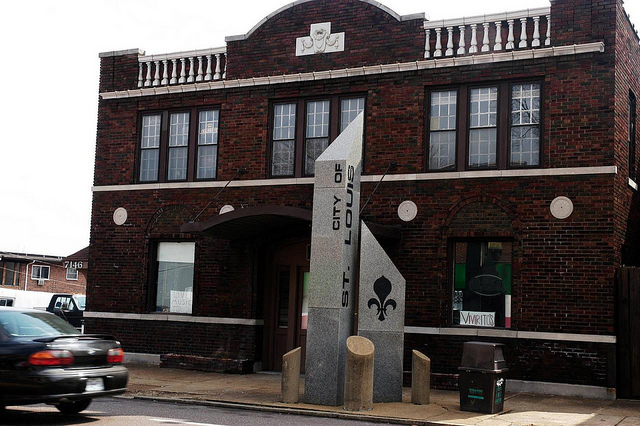 Another kind resident ask me what I was doing with the camera, and directed me to this little clubhouse (NO BOYZ ALLOWED!). She said it's one of her favorite sights in the neighborhood. I'm thinking Little Rascals or Goonies or Sandlot…way to go girls!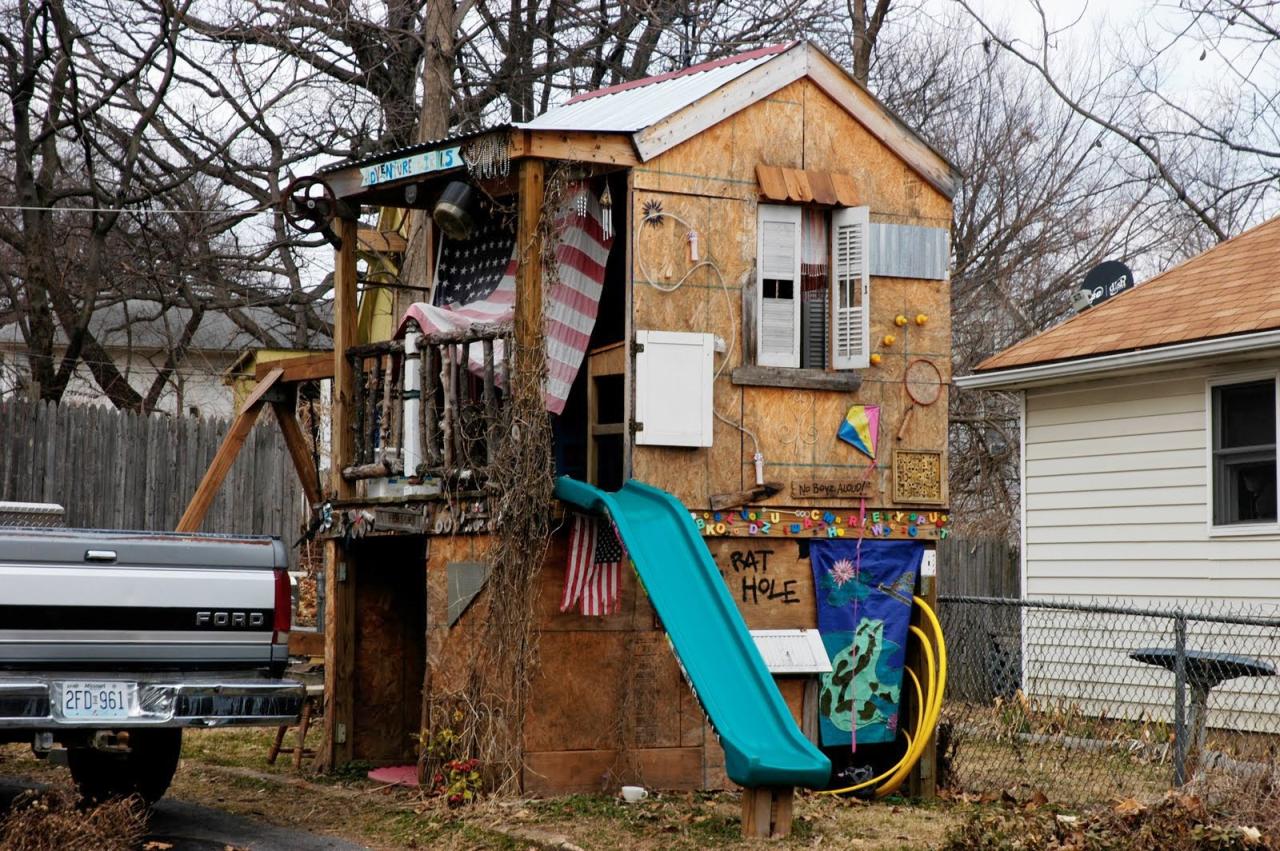 The aforementioned rail yards: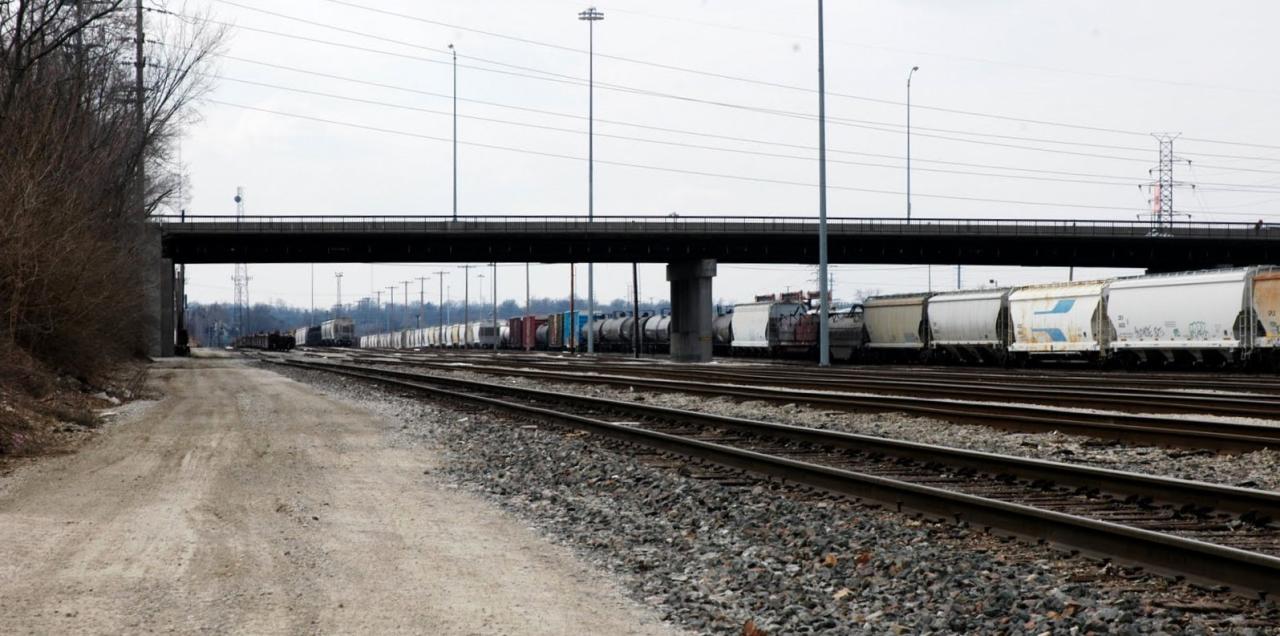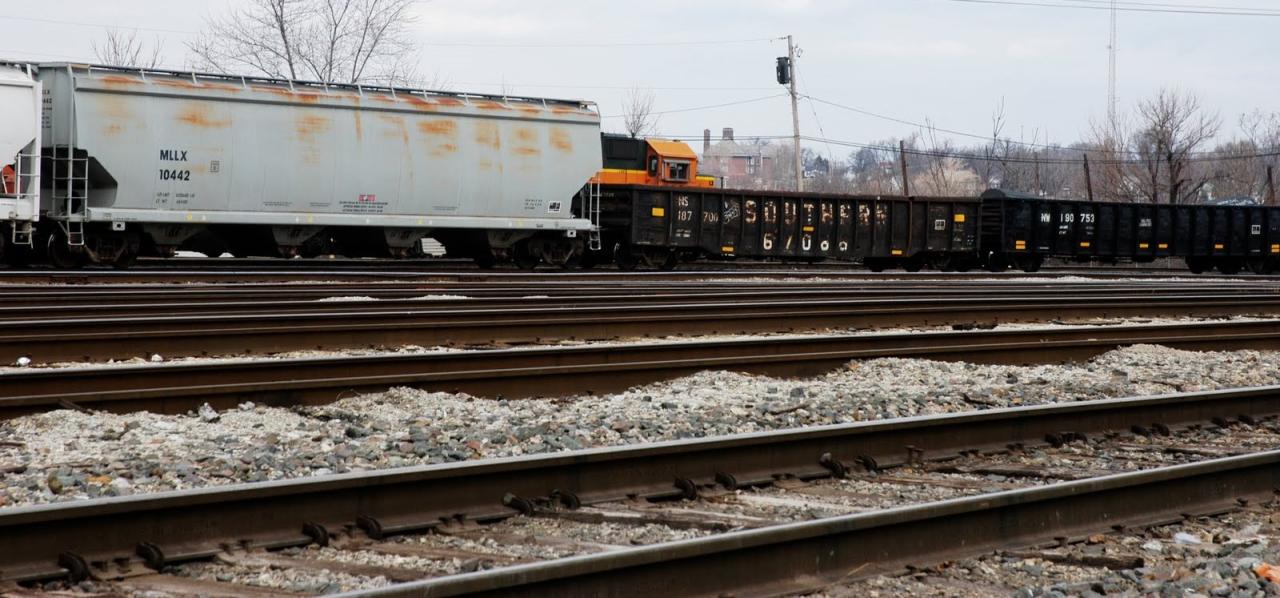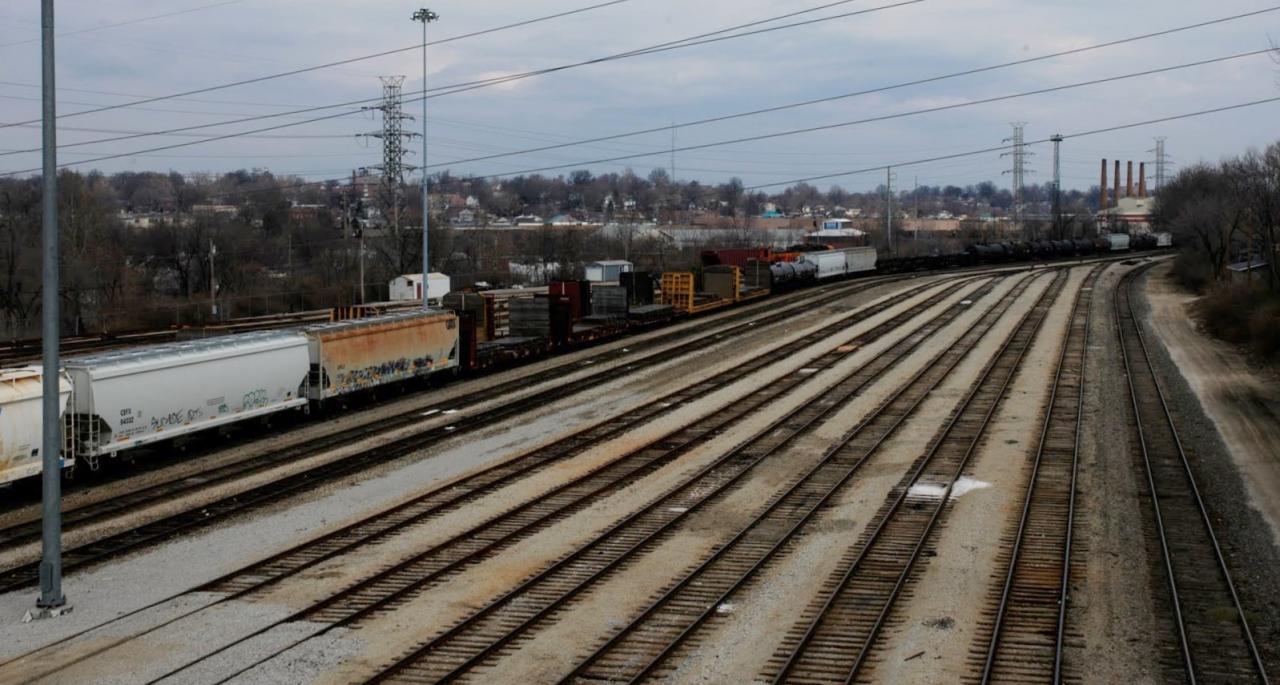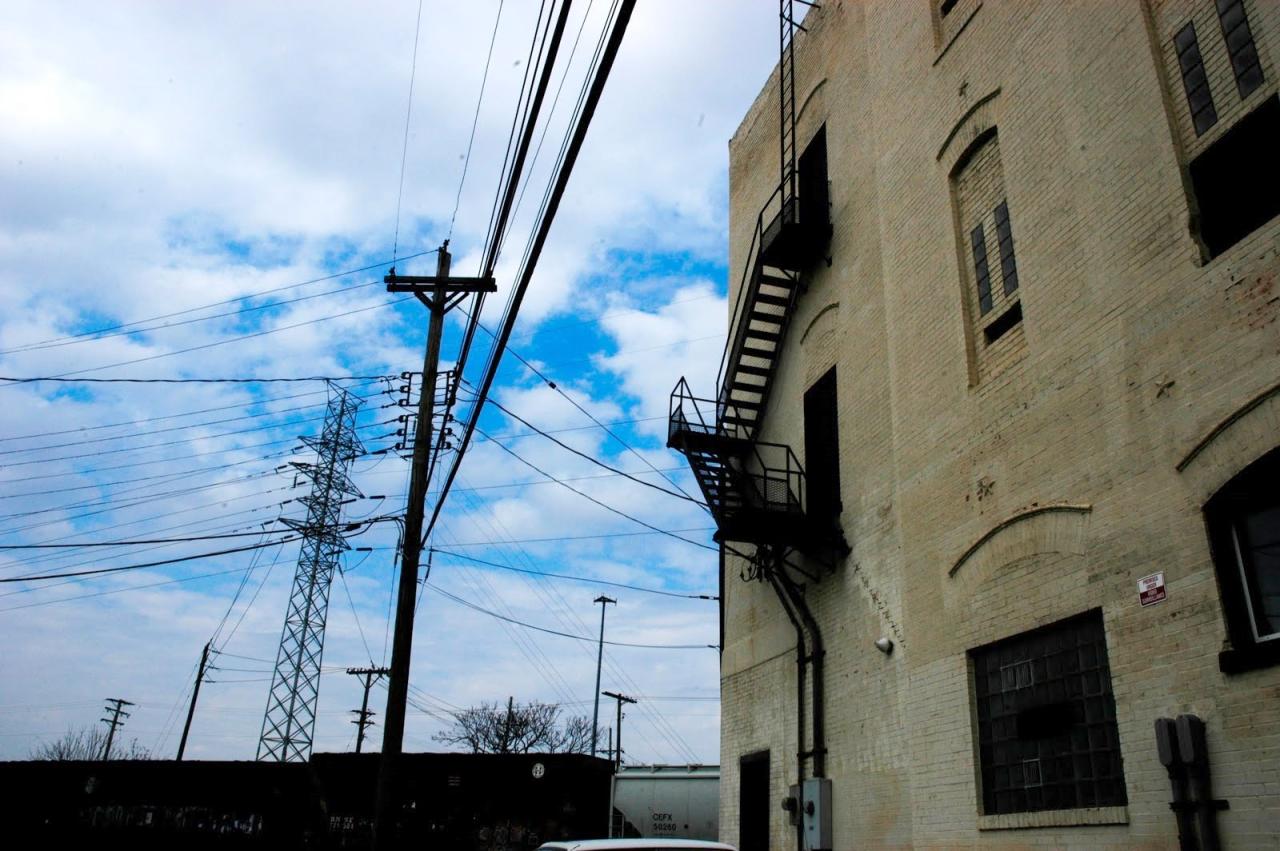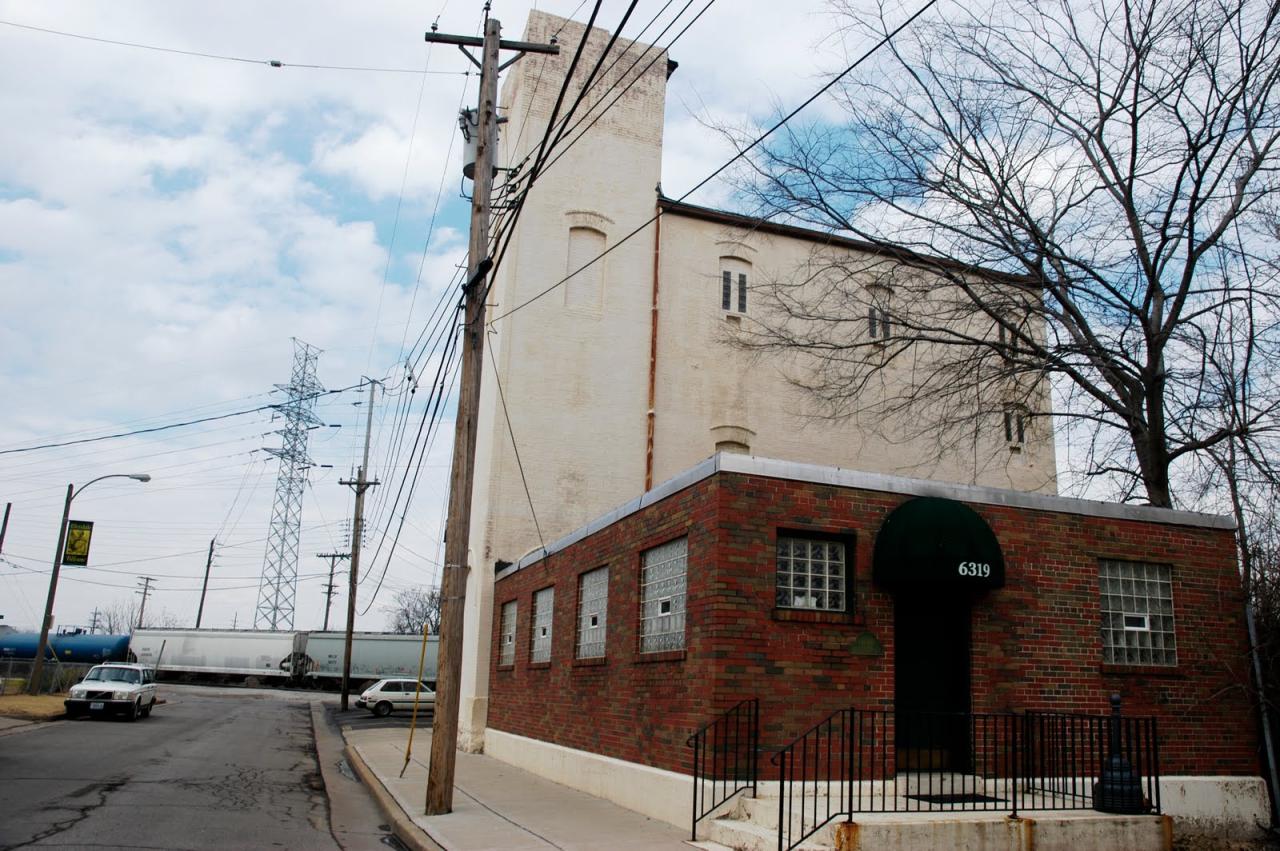 Rail yards beget packaging operations, light industry and trucking. Ellendale has examples of all: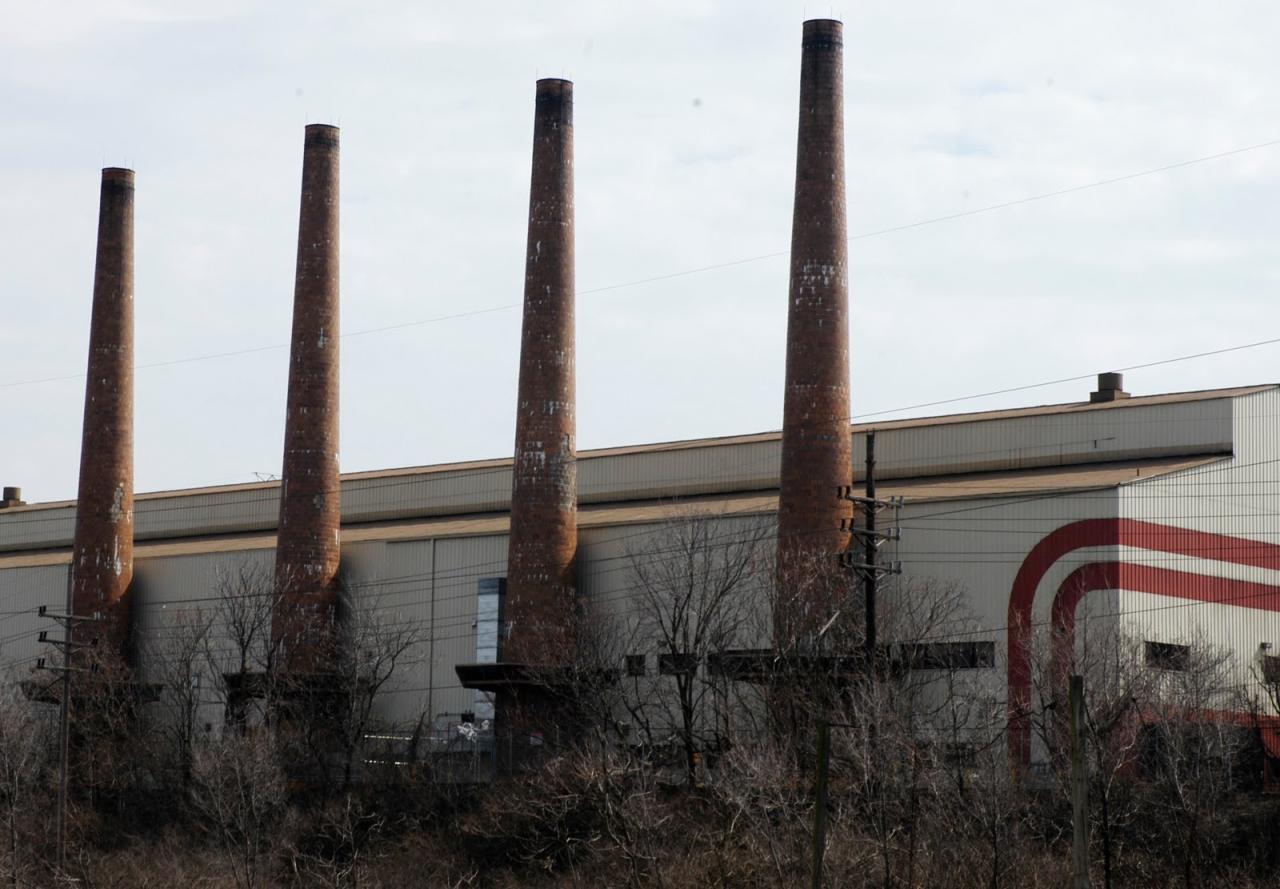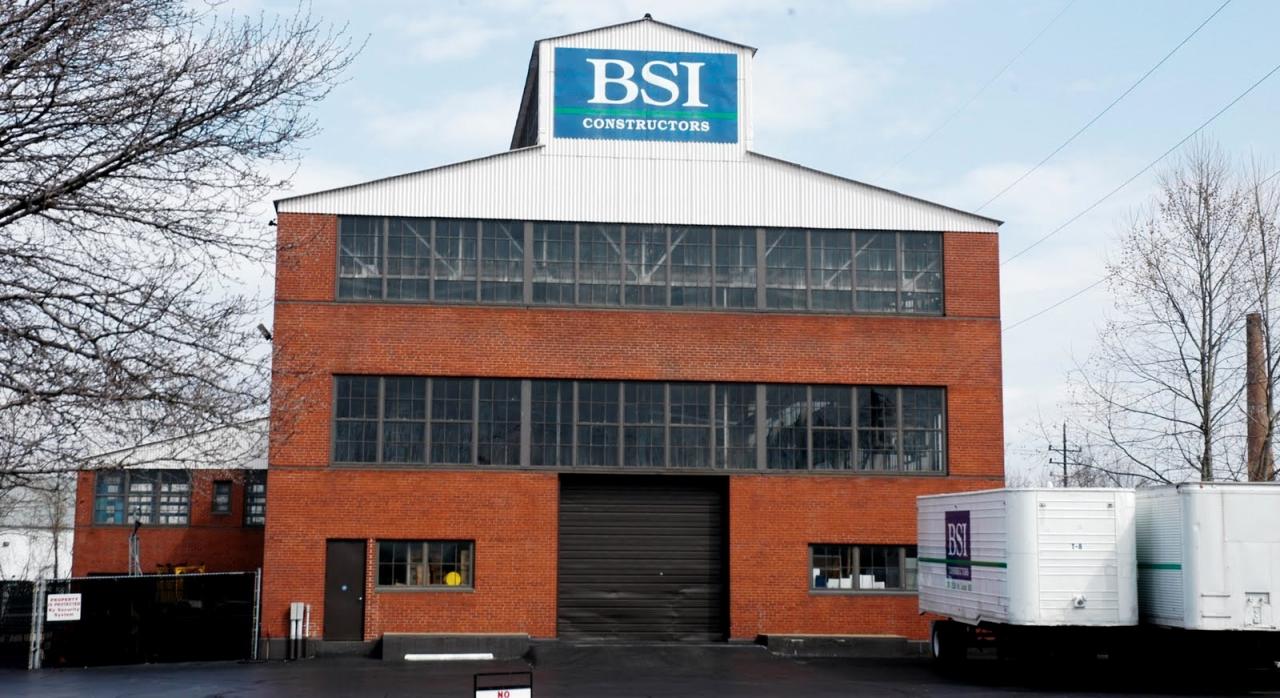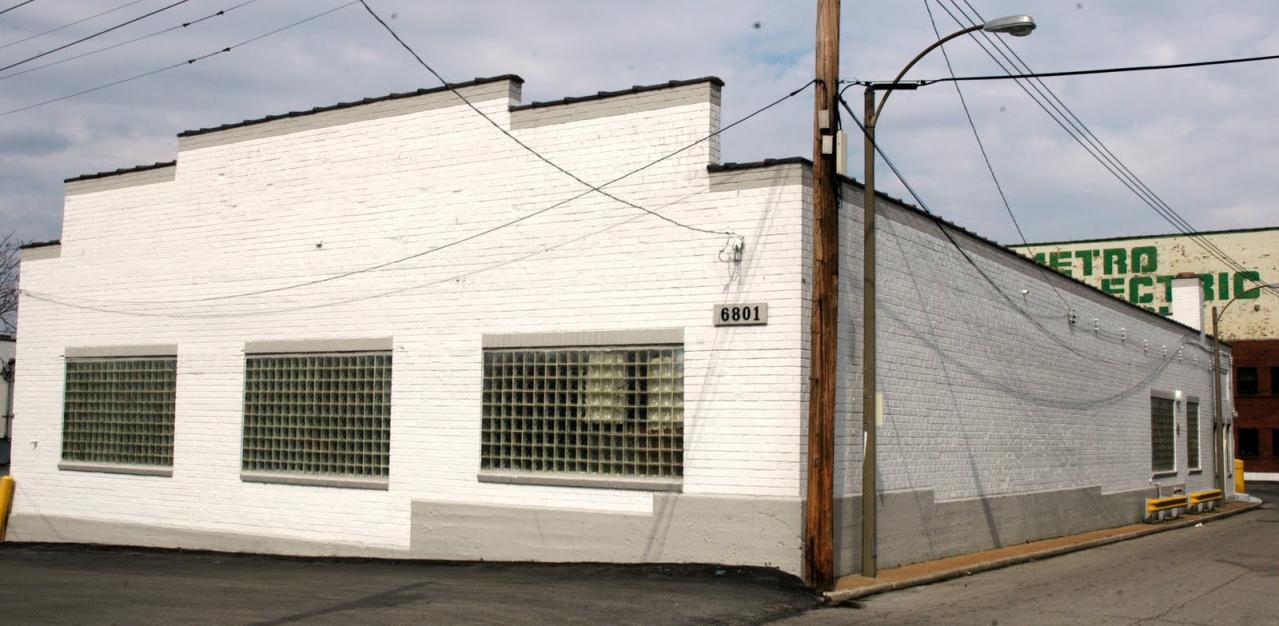 The building above used to be part of the Polar Wave Ice & Fuel Co. network, the largest ice manufacturer and distributor when ice was needed for home use before modern refrigeration. This company took advantage of St. Louis' clean water supply to rise to one of the largest ice companies in the country. This tradition of clean water still exists as we are among the top cities in the U.S. for clean and plentiful water. One of Polar Wave's buildings along Gravois is on the historic registry and has been tastefully restored; we'll get to that on the Benton Park post.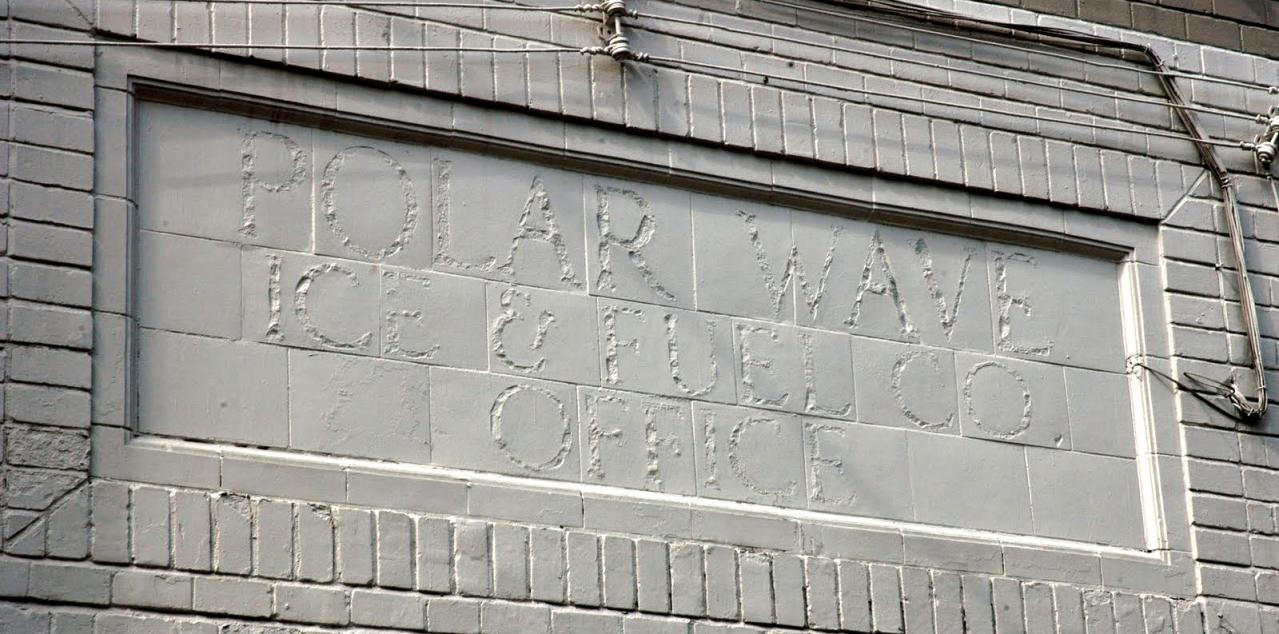 There are 2 very large ambulance operations within Ellendale, the EMT and Abbott companies.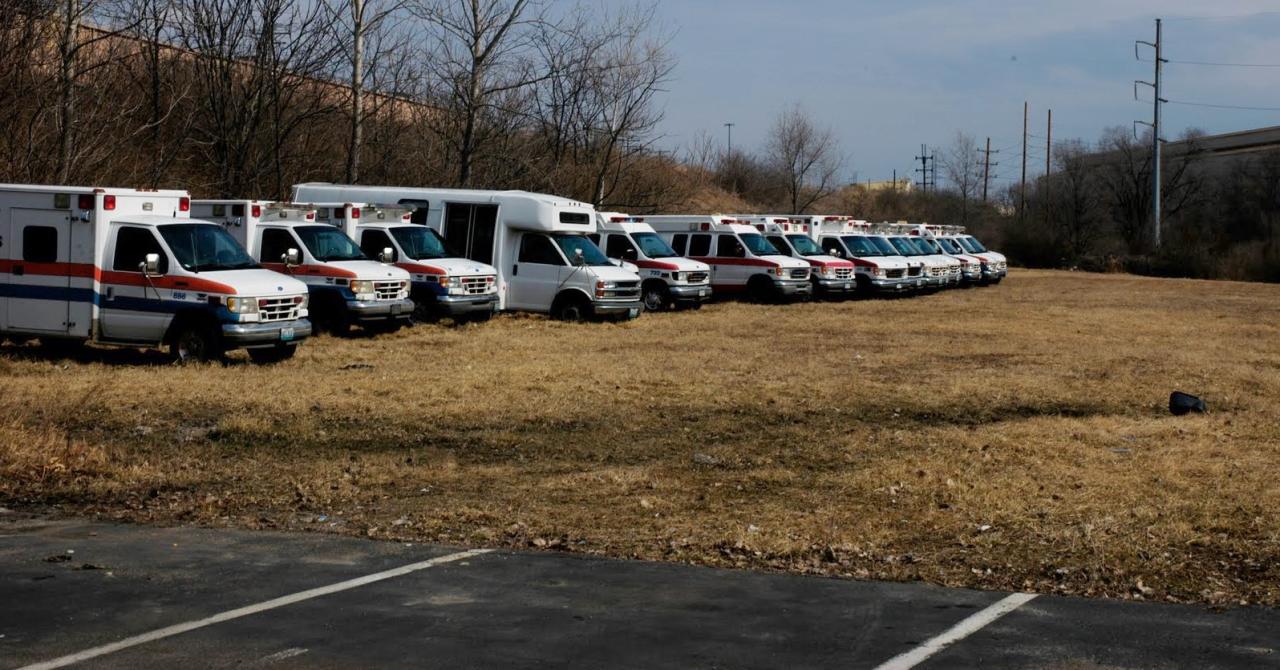 There are also several car lots in Ellendale along Manchester, my favorite being the Brother-Hood lot: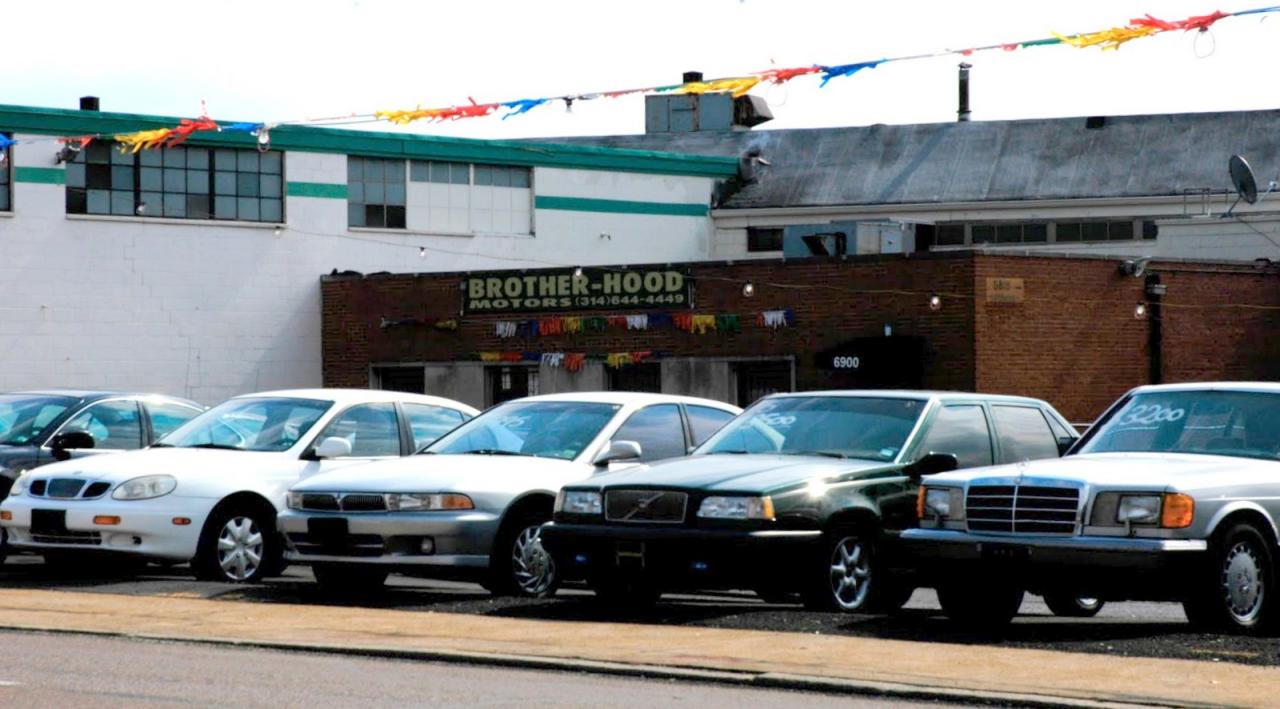 Ellendale is also affected by the presence of I-44, dividing it from Clifton Heights and Lindenwood Park: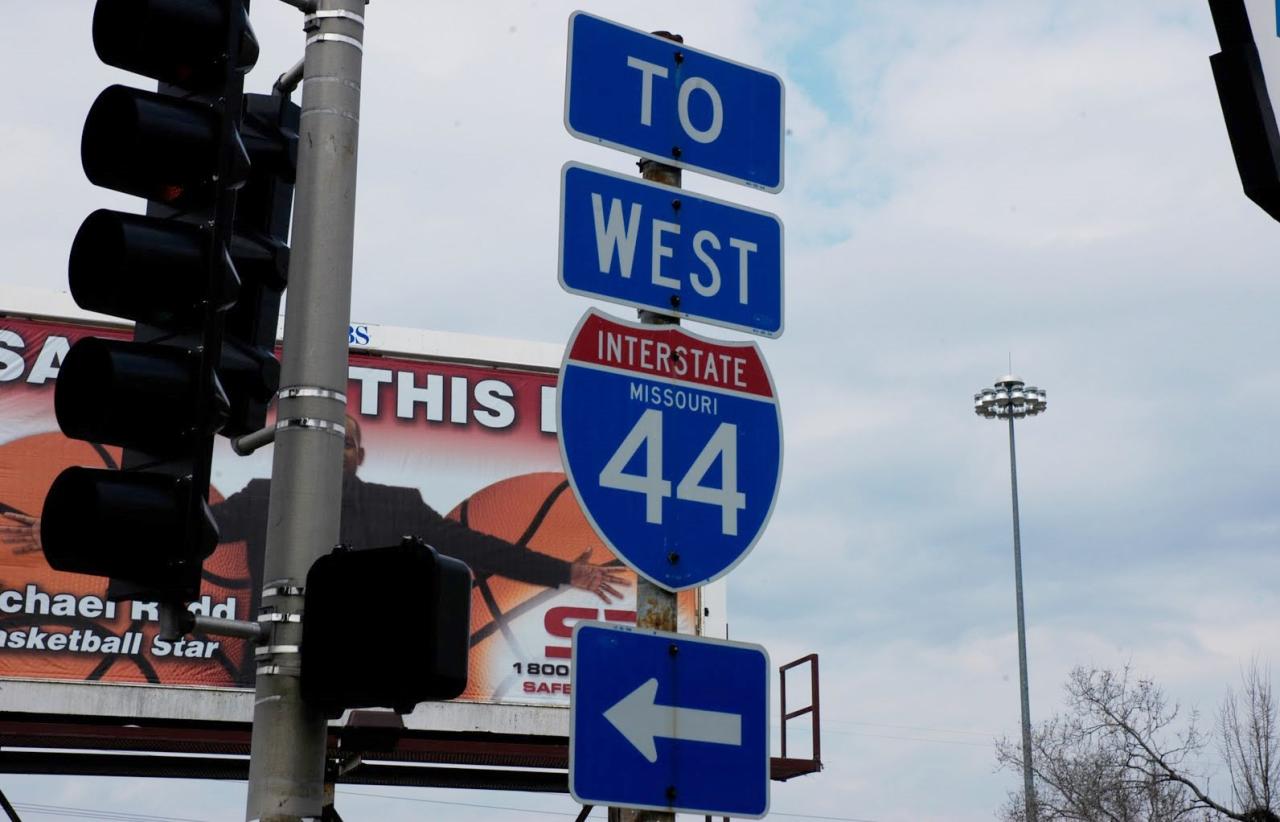 And of course the River Des Peres that snakes it's way through Ellendale: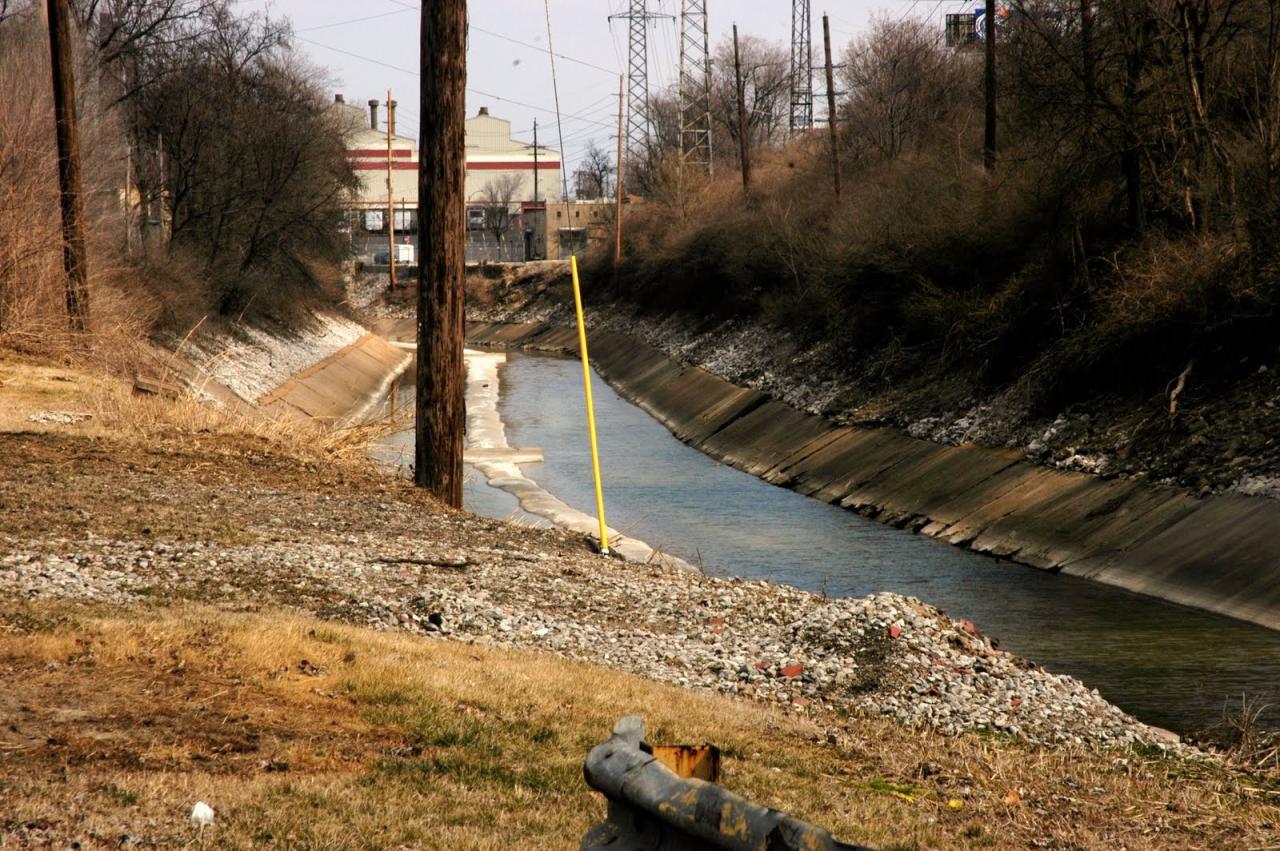 Flow mighty river, flow gently to the sea.
A little history and background on Ellendale from the city website:
Much of what is now the Ellendale neighborhood was part of the property belonging to James C. Sutton who died in 1877.
Mr. Sutton's land was divided among his nine children. One daughter, Mary C. Marshall, sold her share, in 1890, to a St. Louis real estate company. The real estate company platted a subdivision named Maplewood and planted maple trees along its streets. Other plantings resulted in such street names as Elm, Myrtle, Hazel and Flora.
Maplewood was an inner suburb of St. Louis and electric streetcars which began running westward from St. Louis on Manchester Avenue in 1896 improved transportation. The pleasant suburban atmosphere attracted many new residents to Maplewood, including upper middle class and professional families.
Kate Thomas, another of James Sutton's daughters, started Ellendale. A large gas explosion prior to the 1904 World's Fair either demolished or damaged some of the older homes in the area which had been built in the late 1800's. However, several stately homes, originally built for executives of the Scullin Steel Company, after the 1904 World's Fair, are still standing on present day Ellendale Avenue and Ellendale Place. It's said that these homes were built with materials left over from the Scullin Steel exhibit at the Fair.
Charles Sutton, another son, sold his land south of the railroad to Moses Greenwood. Greenwood developed a subdivision named for himself, but with street names that included Piccadilly, Commonwealth, Tremont, Oxford, and Cambridge, which today are included in the Ellendale neighborhood.
McCausland Avenue was named for James McCausland who opened a tract west of Glades in 1859.
One of the topographic features in the Ellendale neighborhood is the valley of the River des Peres–once a river, now a drainage works–which emerges from its underground course through Forest Park near Macklind avenue just south of Manchester avenue, and flows again on the surface in a southwesterly direction before swinging south along the city limits. A public park at the corner of Arsenal street and McCausland avenue contains ball diamonds and lighted tennis courts.
Wilkinson school–a magnet school at 7212 Arsenal Street–was built in 1927. Surrounded as we are by Maplewood and the Southwest neighborhood, many activities spill over into these areas.
As in most of the city's outlying areas, commercial and industrial uses cluster around principal transit intersections such as Southwest. Industrial activity in the area began in the 1850's with the construction of the Pacific railroad. Excellent clay deposits brought the establishment of several firebrick works to this area of the city. Coal was also discovered in the area in the late 1850's. One establishment of long-standing, the Scullin Steel Company, ended production in the late 1970's. The property was sold to a developer who built the St. Louis Marketplace on the site at Manchester and Abbott.
Perhaps because we are a small neighborhood on the outskirts of the city, not much history is available. Our present day crime rate, however, is reported to be the lowest in the city. The percentage of home ownership is high. The major arteries, I-44, Highway 40, and I-55 are easily accessible and downtown is just minutes away. Public transportation is easily accessible. Maplewood and the St. Louis Marketplace provide plentiful shopping opportunities.
Excerpts are taken from "St. Louis–It's Neighborhoods and Neighbors, Landmarks and Milestones". Compiled and edited by Robert E. Hannon. Courtesy of the Missouri Historical Society.
It's interesting that Ellendale claims the lowest crime rate in the city and so does Boulevard Heights on their website.
I am very interested in the gas explosion of 1904. I can't find any information through a google search. If anyone has any leads on this, please email me.
Here's some more info regarding the Scullin Steel Company. The business was founded in 1899 by John Scullin and went out of business in 1981.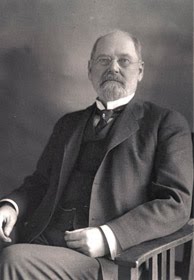 John Scullin was the Chairman of the Board of Scullin Steel Company. After starting his business career selling stoves, he went to work in the railroad business as a brakeman before establishing himself as a railroad contractor. His largest project was the construction of the Missouri, Kansas, and Texas Railroad in 1870. He came to St. Louis in 1875 and constructed several streetcar lines there. He later worked as a financier and founded the steel company. He was buried in Calvary Cemetery in north St. Louis.
Among other things, Scullin provided steel for the burgeoning railroad industry, expanded it's plant to accommodate the defense contracts of WWII and eventually provided some of the steel for the construction of the Gateway Arch.
The worker's entry gates were a fixture along Manchester until the site was remediated to become the dreadful St. Louis Marketplace: largely vacant, suburban styled strip mall.
In many ways Ellendale epitomizes the typical story of American cities. Once privately owned land in the 19th century, passed down to the next generation who sold it for development to meet the growing population base and industrial power of the U.S. The area was mined for it's coal and it's clay, it was then part of the steel boom to meet the demands of the railroad age through WWII and beyond; it employed lots of people for 80 years.
A neighborhood of humble homes were built to house the workers in the mills. Then came the late 1970's and 1980's when the demise of the American steel industry was in full play. Foreign competition among other things sunk the industry. The late 20th century then gave way to the thought that modern big box retail and light service industries would save the cities. Not so much, take a look at Marketplace today which sits on the former site of Scullin Steel. It's an eyesore and possibly one of the biggest suburban experiments to FAIL in the city's long history (St. Louis Centre is a close second in my opinion):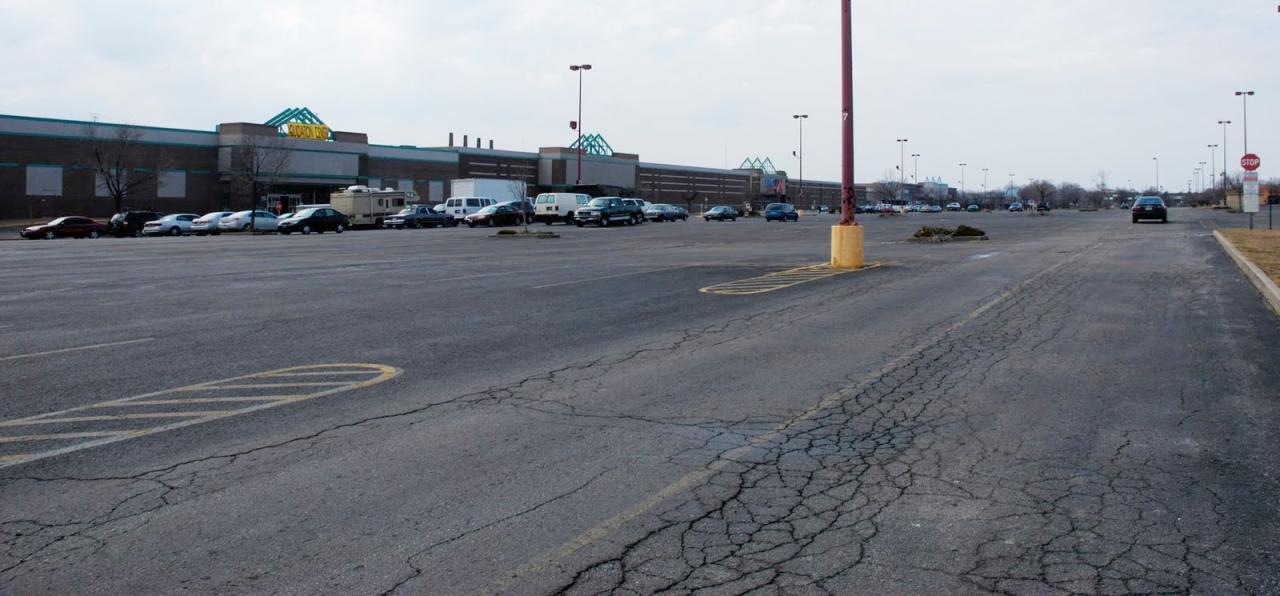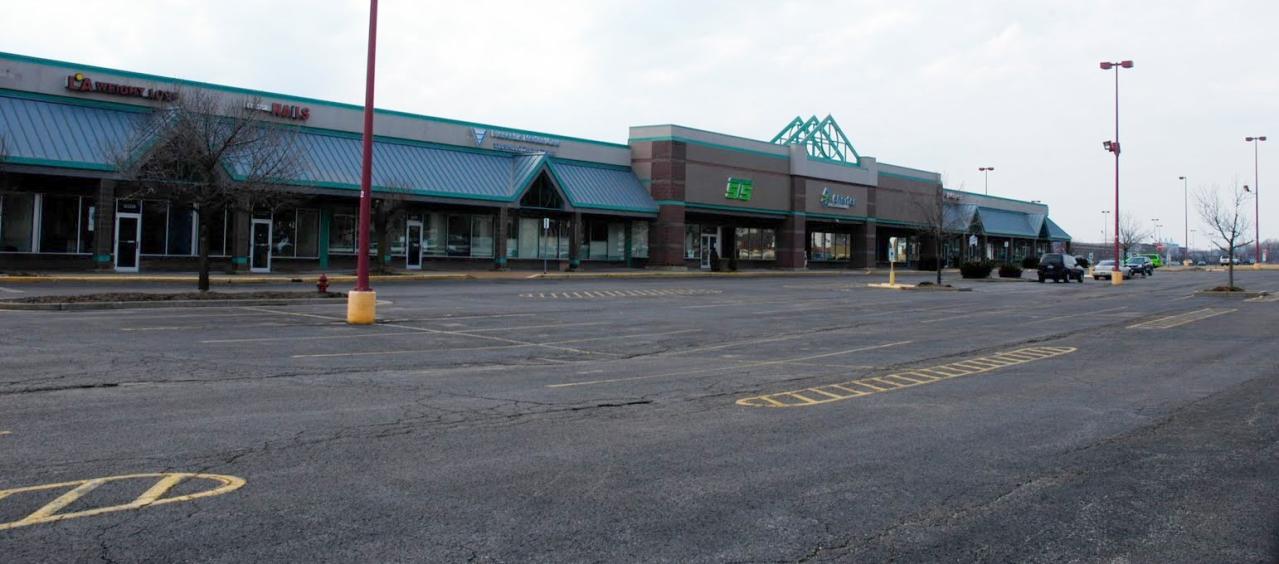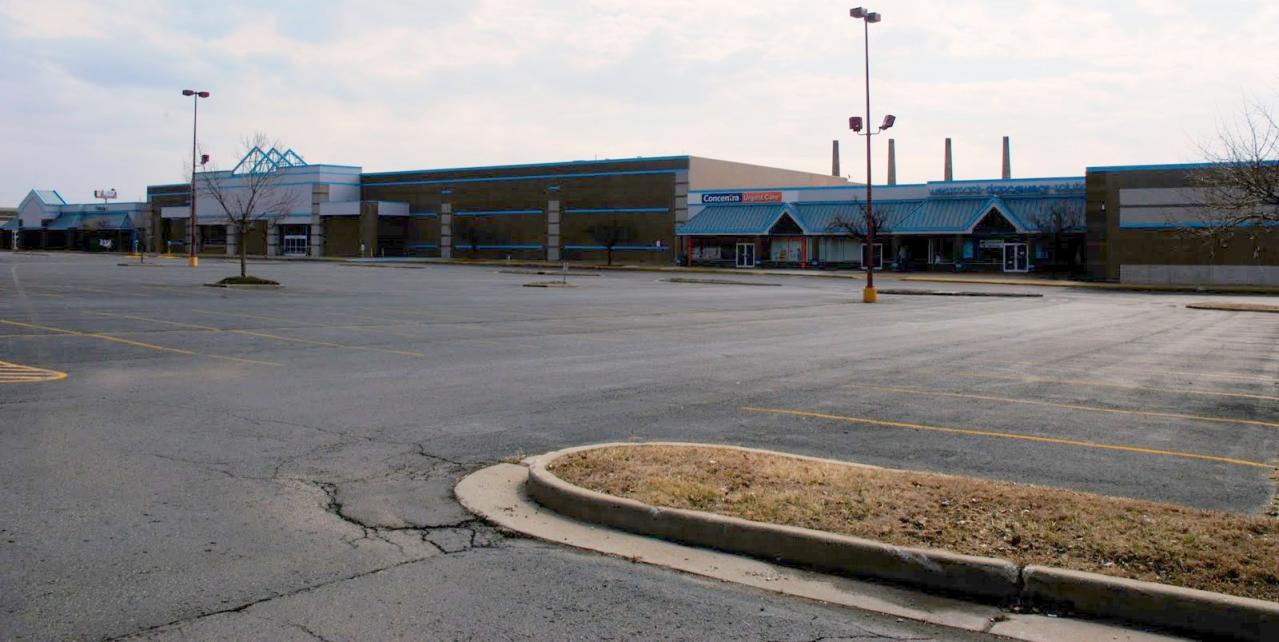 Are you proud of that? Looks like shit to me. And this thing was ushered in by the city with TIFs in hand. Here's a telling descriptor found within this strip mall, and quite possibly a new name for the "Marketplace":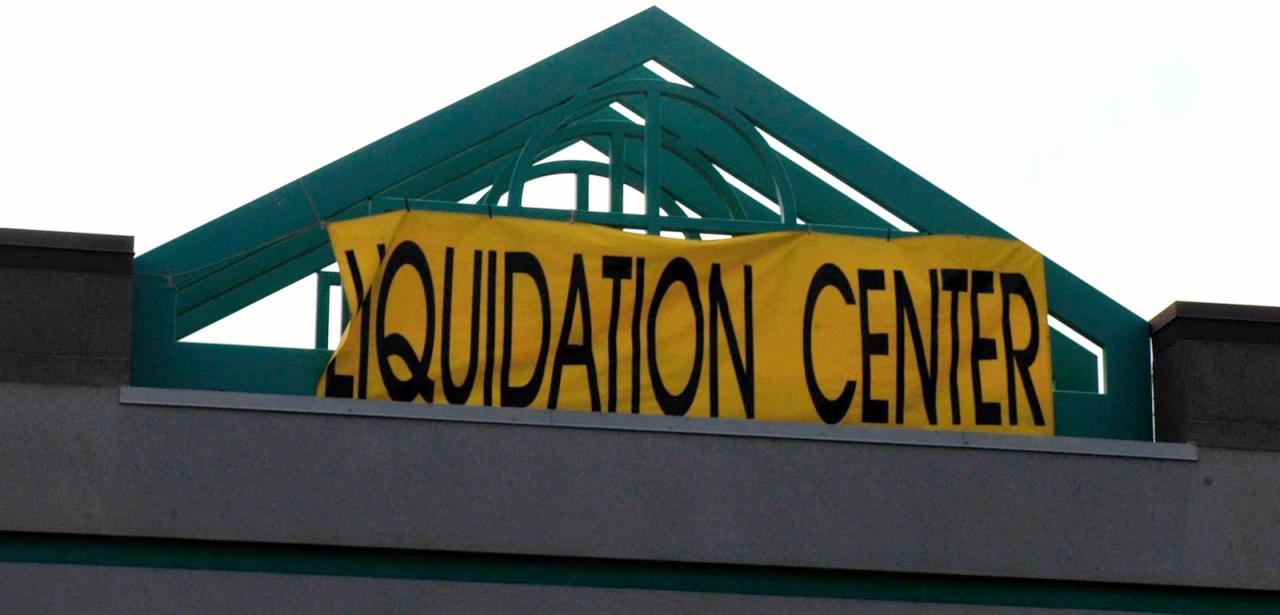 From the St. Louis Business Journal:
The city backed the bonds for Midland Group's $53 million St. Louis Marketplace in the 6500 block of Manchester Road in 1991. When the retail center did not meet revenue projections, the city was on the hook for $3 million and now estimates it will have to pay an additional $1.3 million over the next two years, until 2011 when the TIF expires.
When the Midland Group sought to develop St. Louis Marketplace in the early 1990s, it could not get financing because of the perceived risk at the site, a former steel mill. Stephen Notestine, former principal of the Midland Group and now managing partner of Chesterfield-based Quadrant Properties, said the city's backing of the bonds for a $15 million TIF for St. Louis Marketplace was necessary to move the project forward. The land required extensive environmental remediation and Union Pacific railroad lines that ran through the site had to be relocated.
Retailers that initially flocked to the half-million-square-foot St. Louis Marketplace in the 1990s, including a Sam's Club and Builders Square, ultimately vacated the strip center, leaving it mostly empty before the center was re-positioned as office space under new ownership in 2005. But the city is still on the hook. Under the deal, the city did not have a PILOT (payment in lieu of taxes) agreement, and no standing to foreclose on the property before it was re-positioned. Its debt is still locked into a 7.5 percent interest rate with no ability to re-finance.
Again, another setback to Ellendale was a huge gas explosion in 1904 that destroyed many of the homes built in the 1800's. I couldn't find any info on this explosion; but I can't help but wonder if maybe the explosion took out most of the brick structures, because there aren't that many of the brick/stone homes that characterize most of the other St. Louis neighborhoods. However, this is also what kind of sets Ellendale apart in a positive light. It's got a ton of frame homes all shapes and sizes: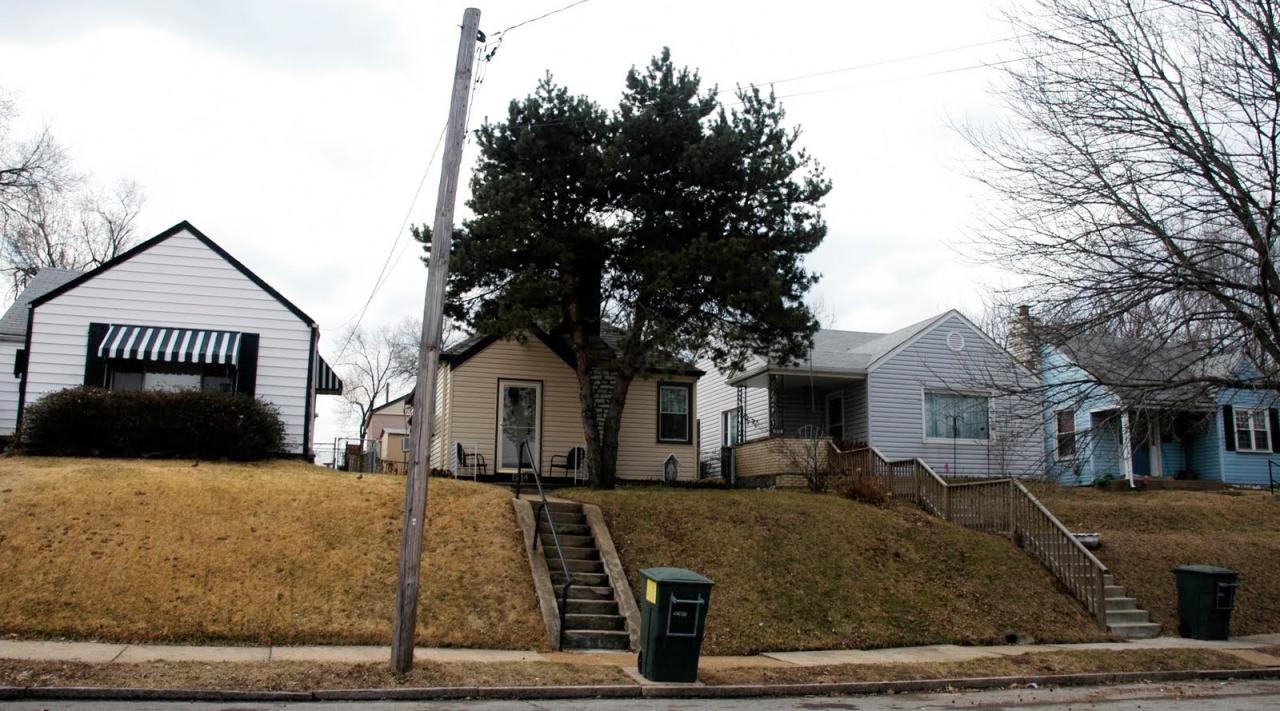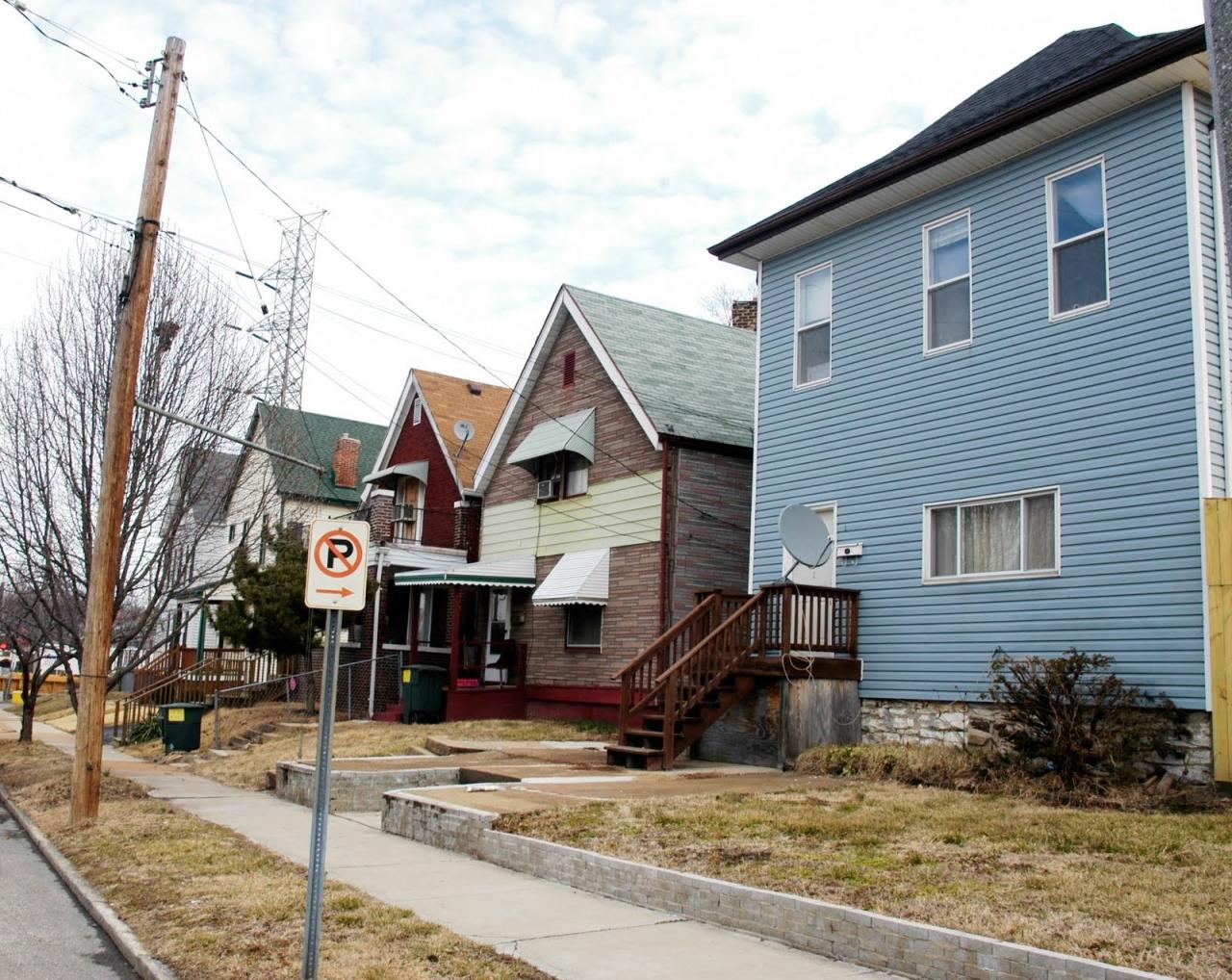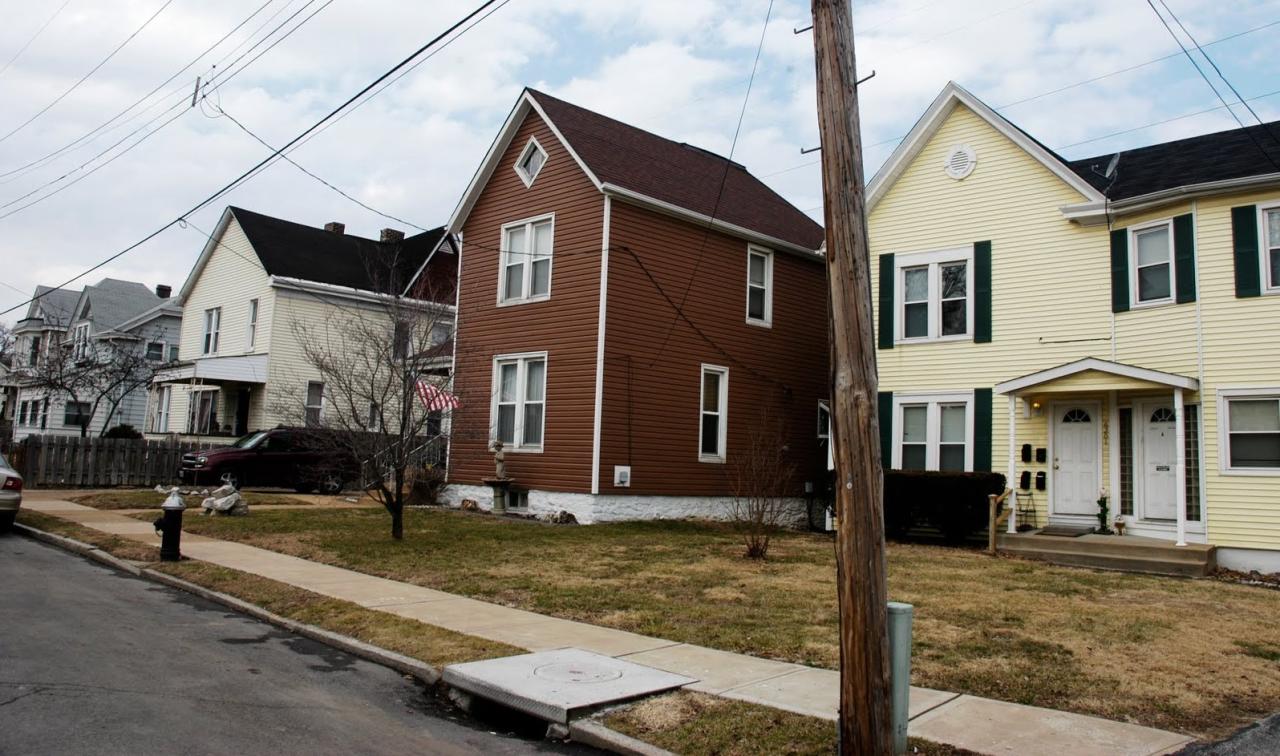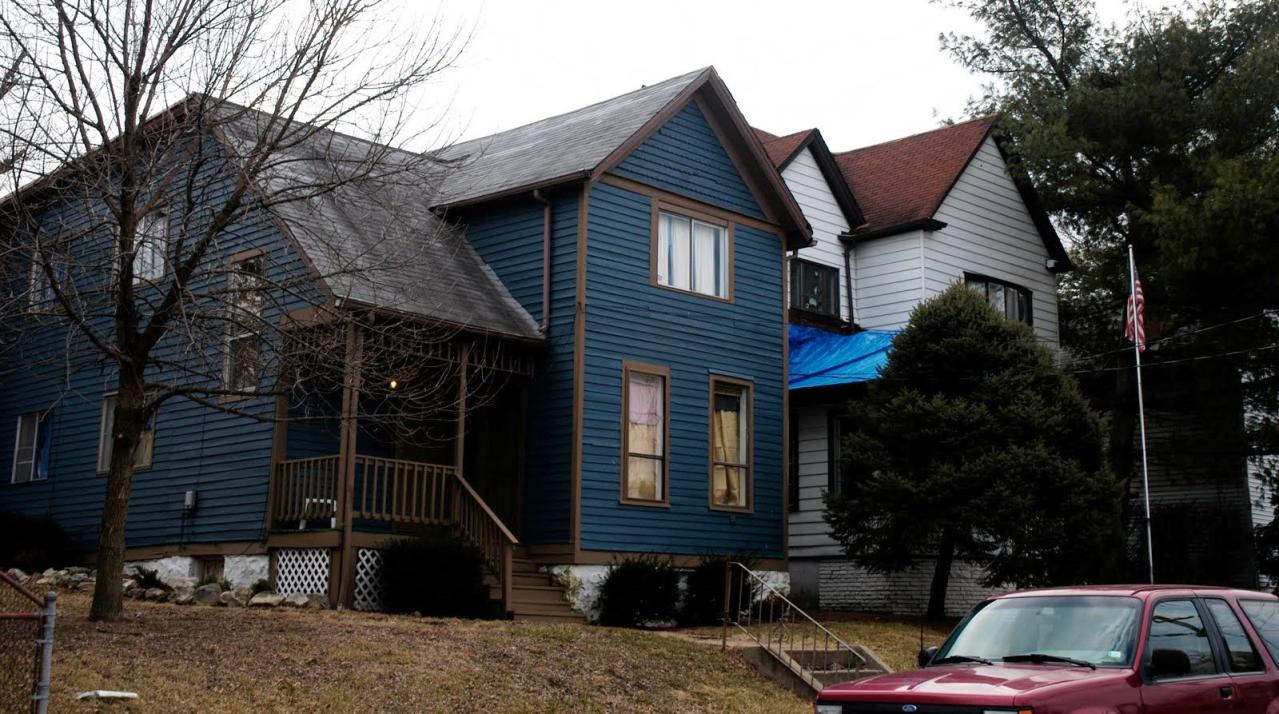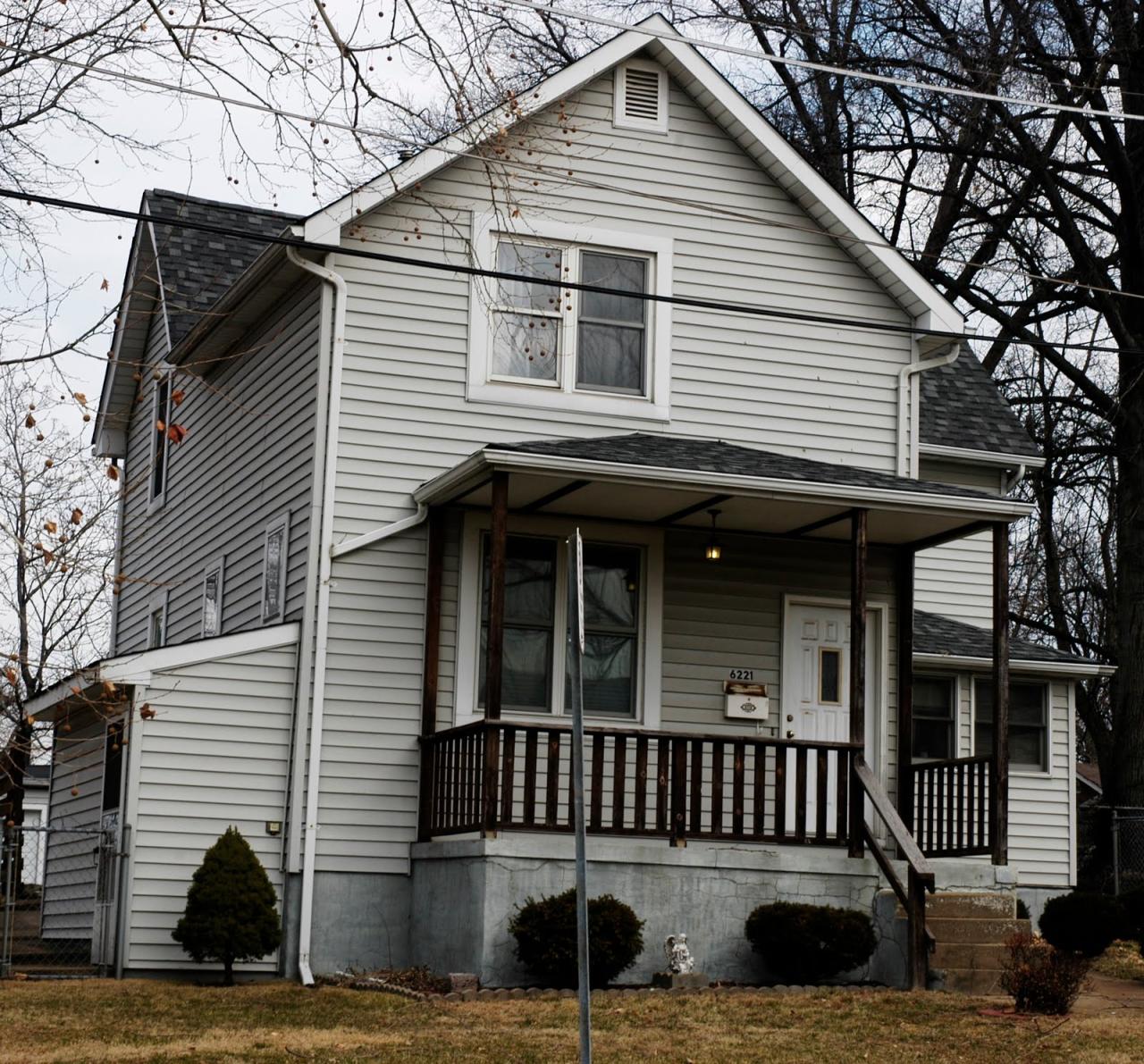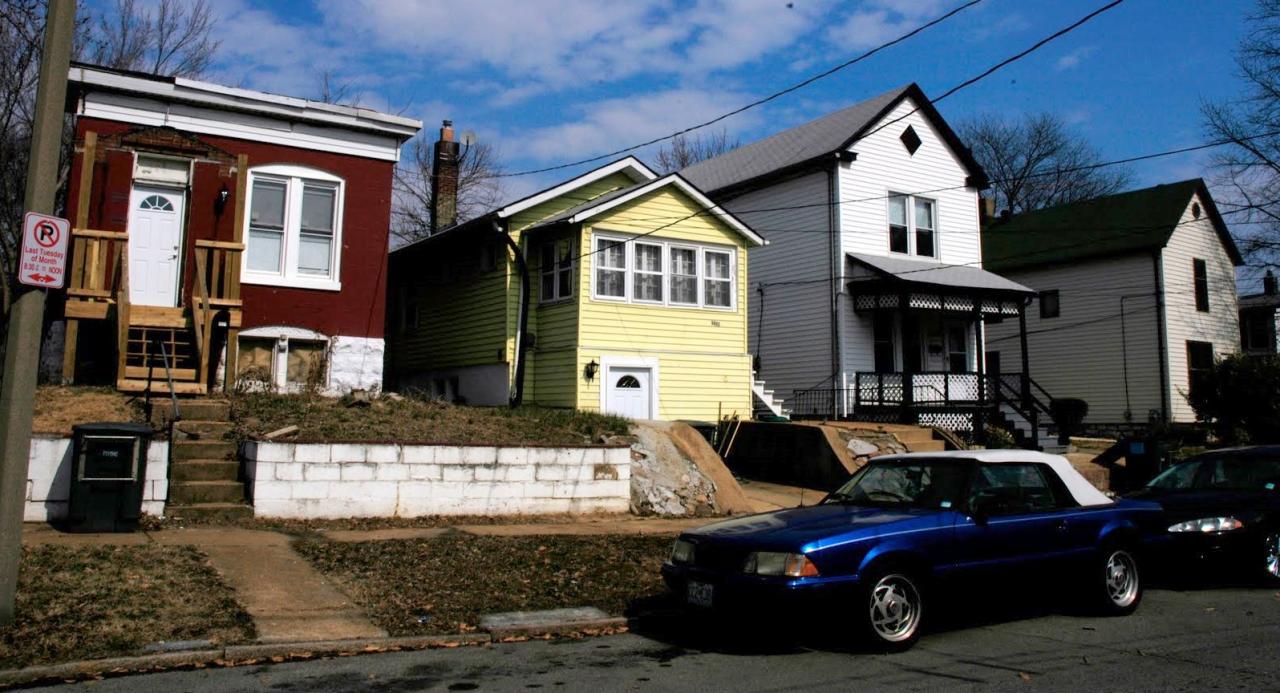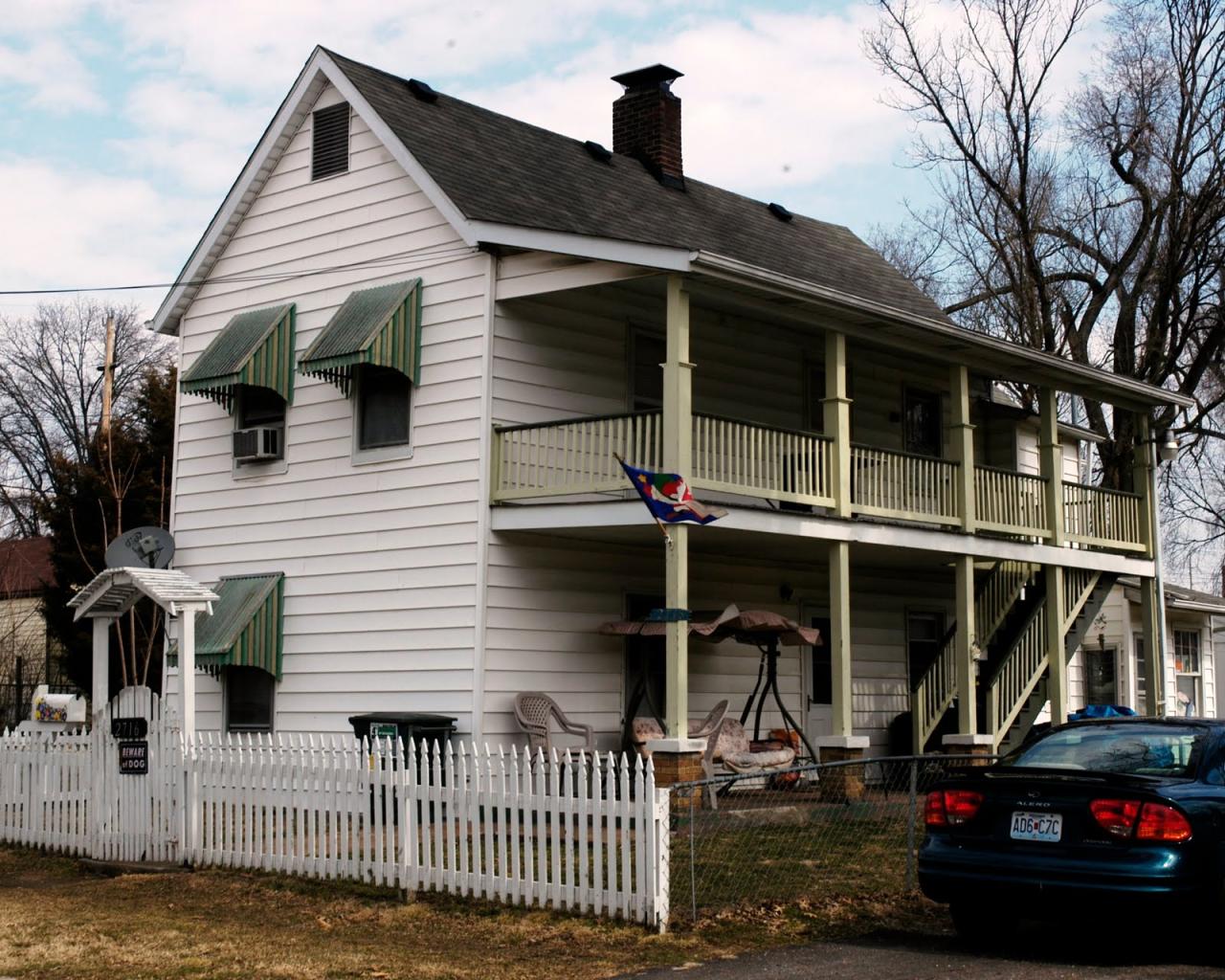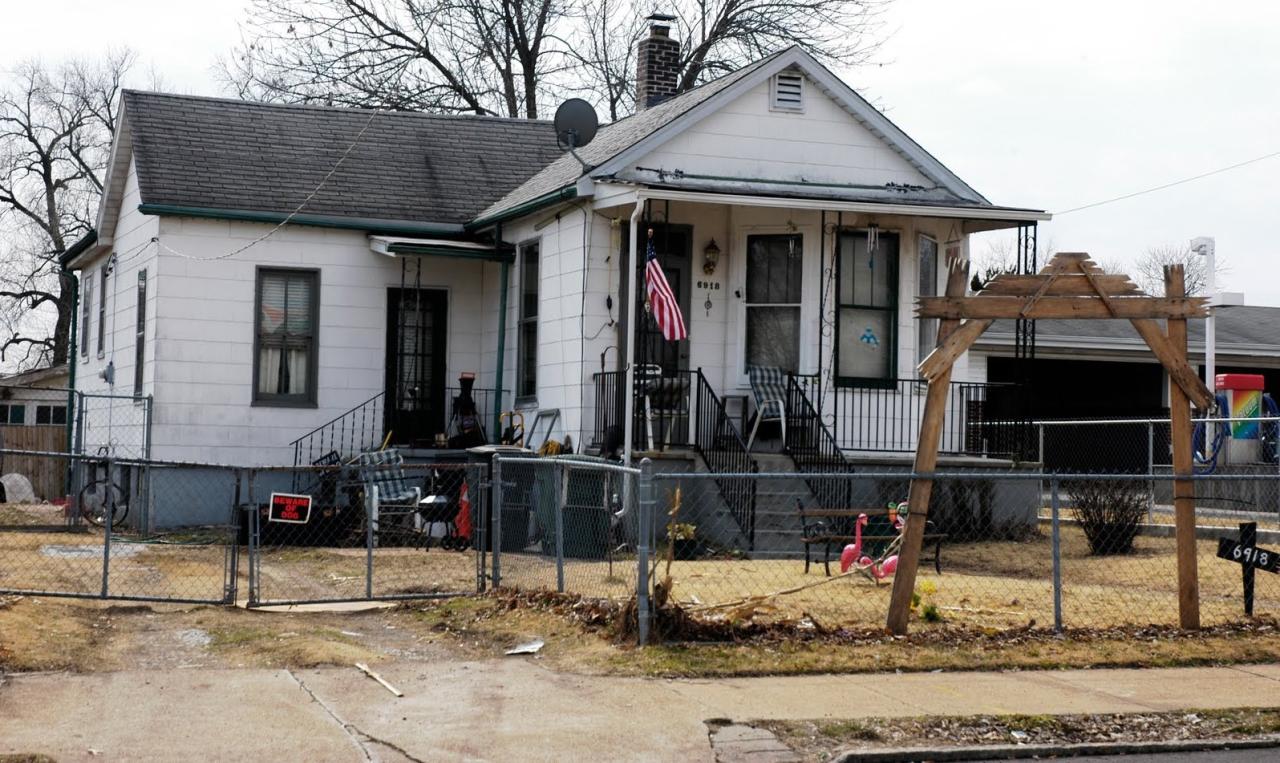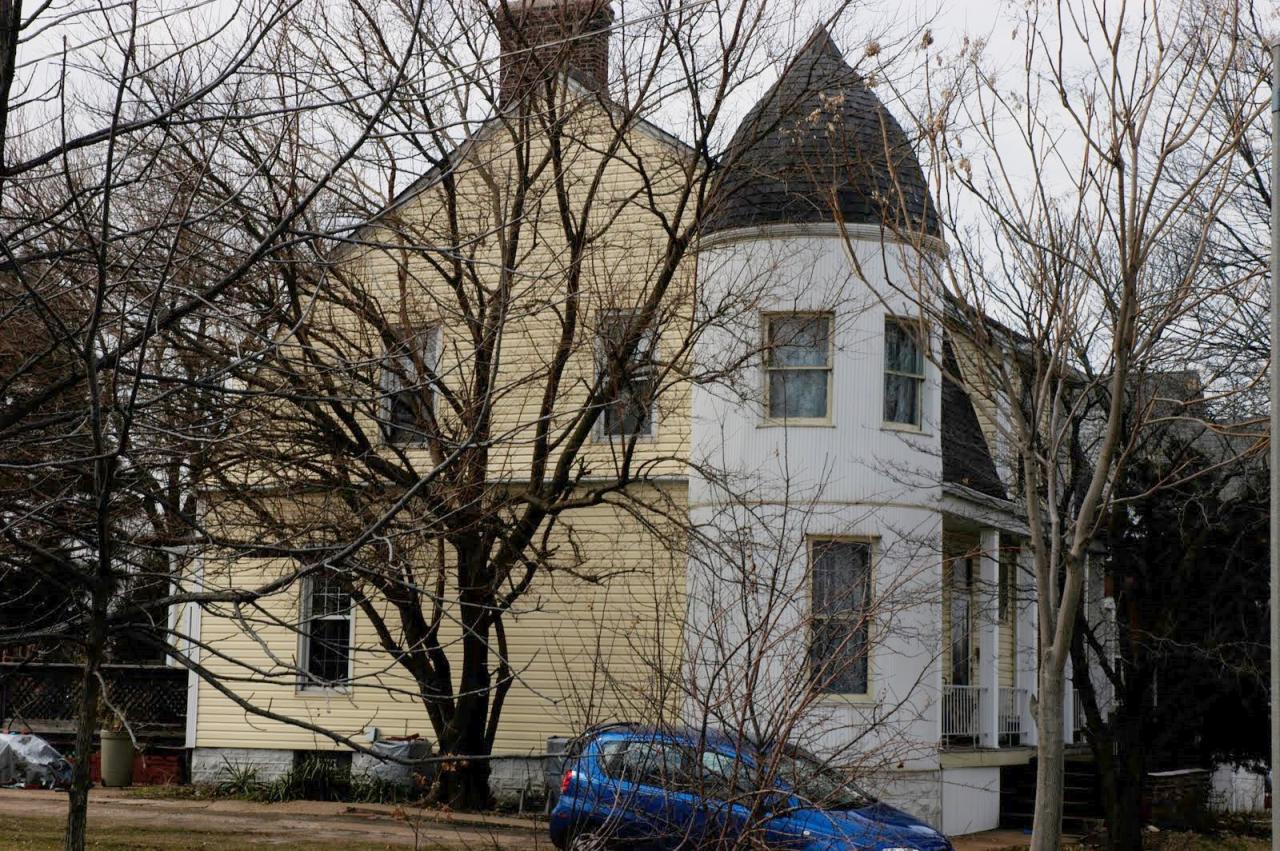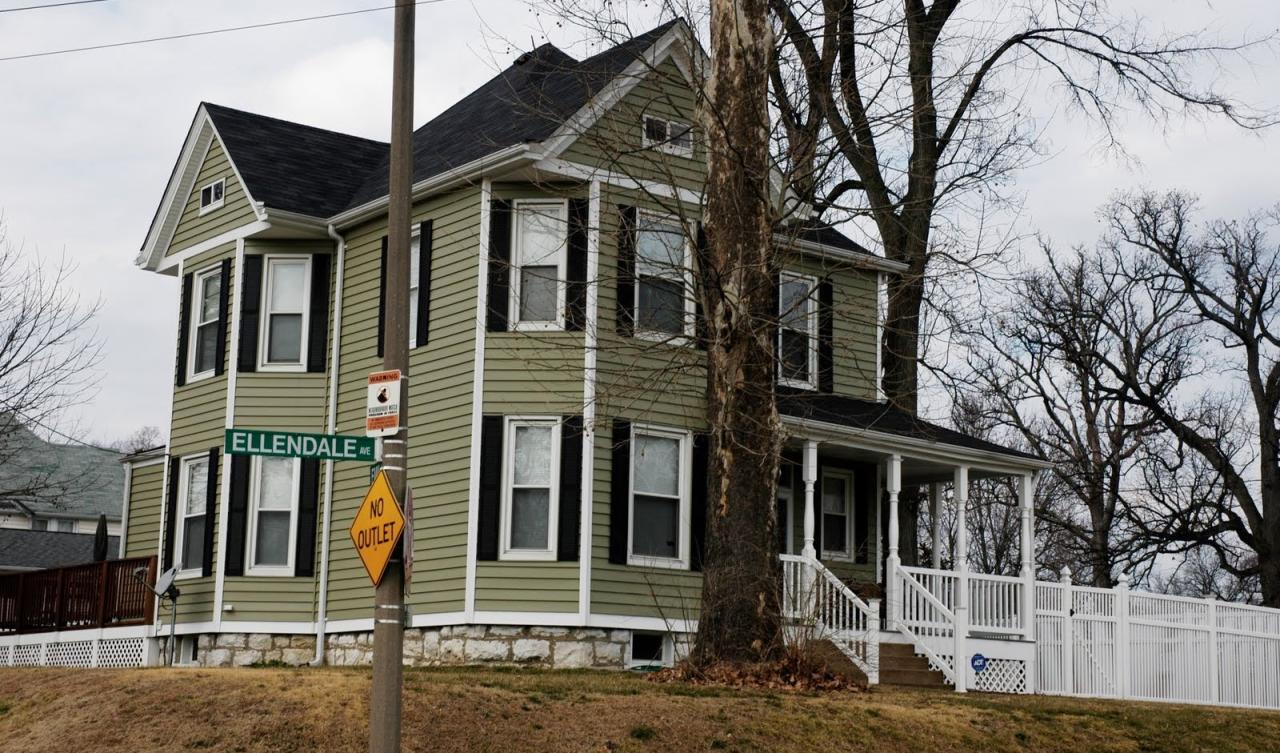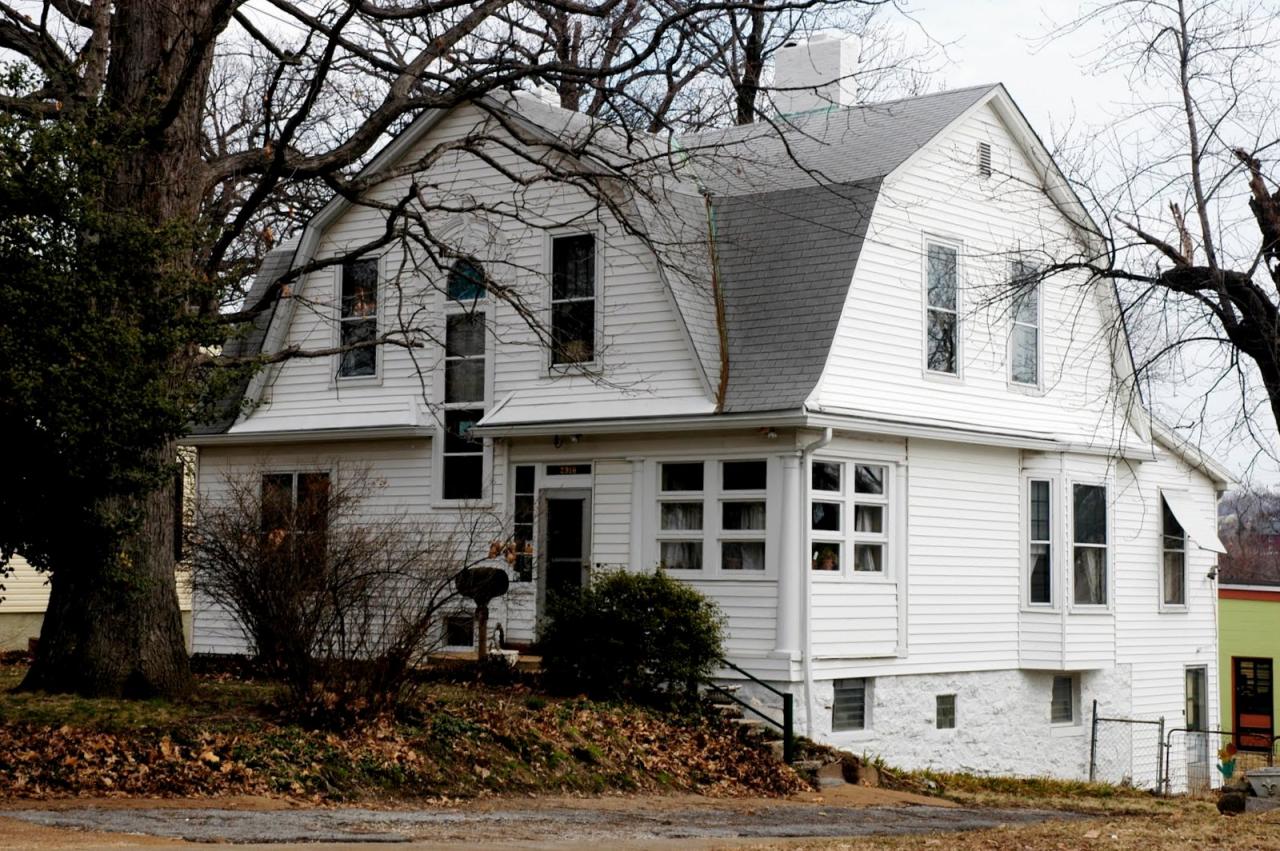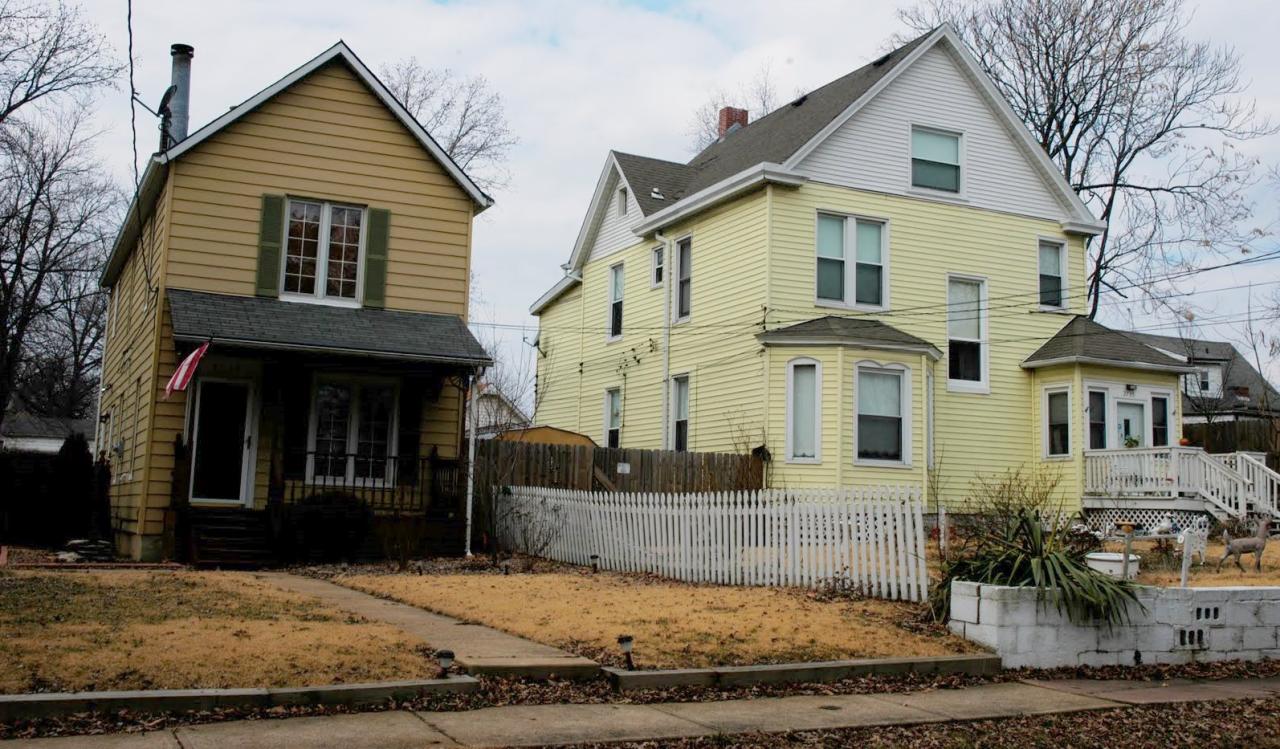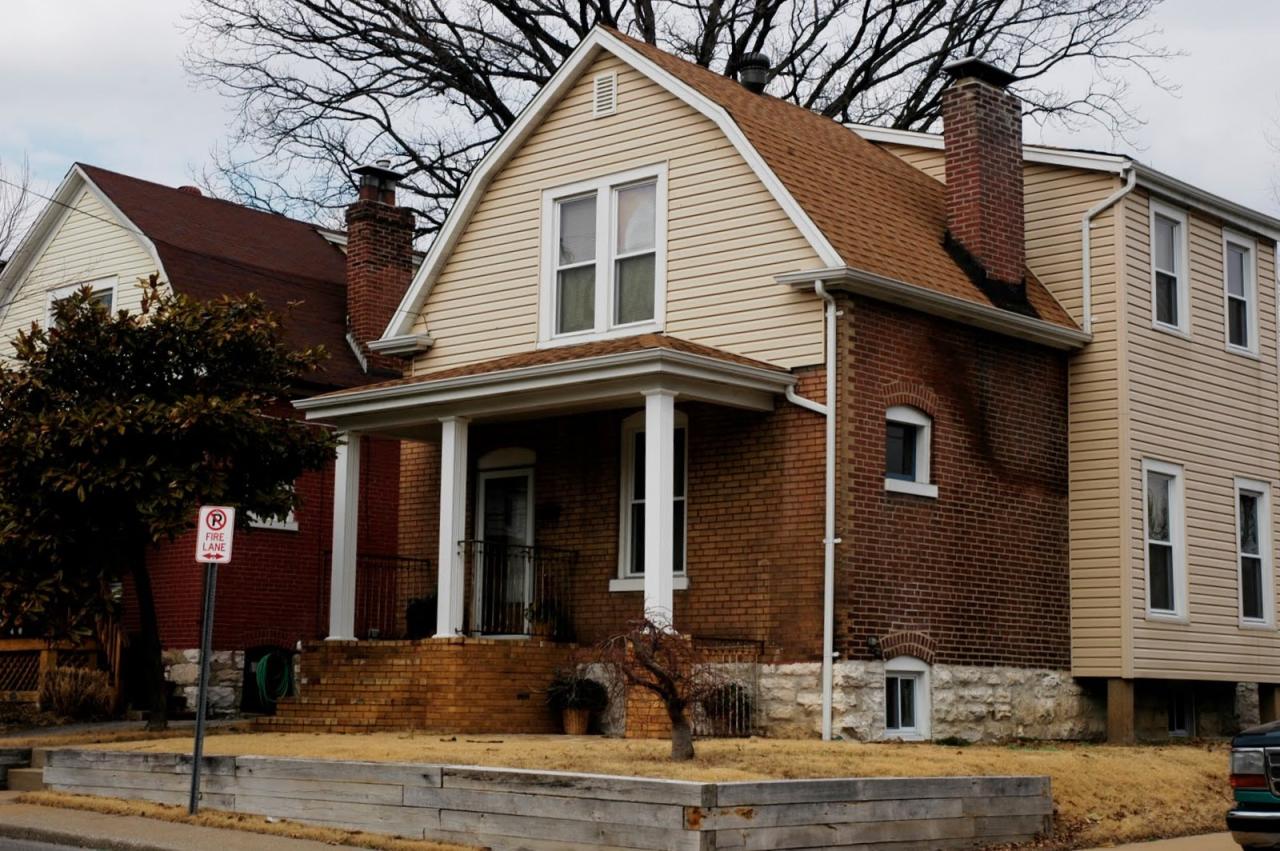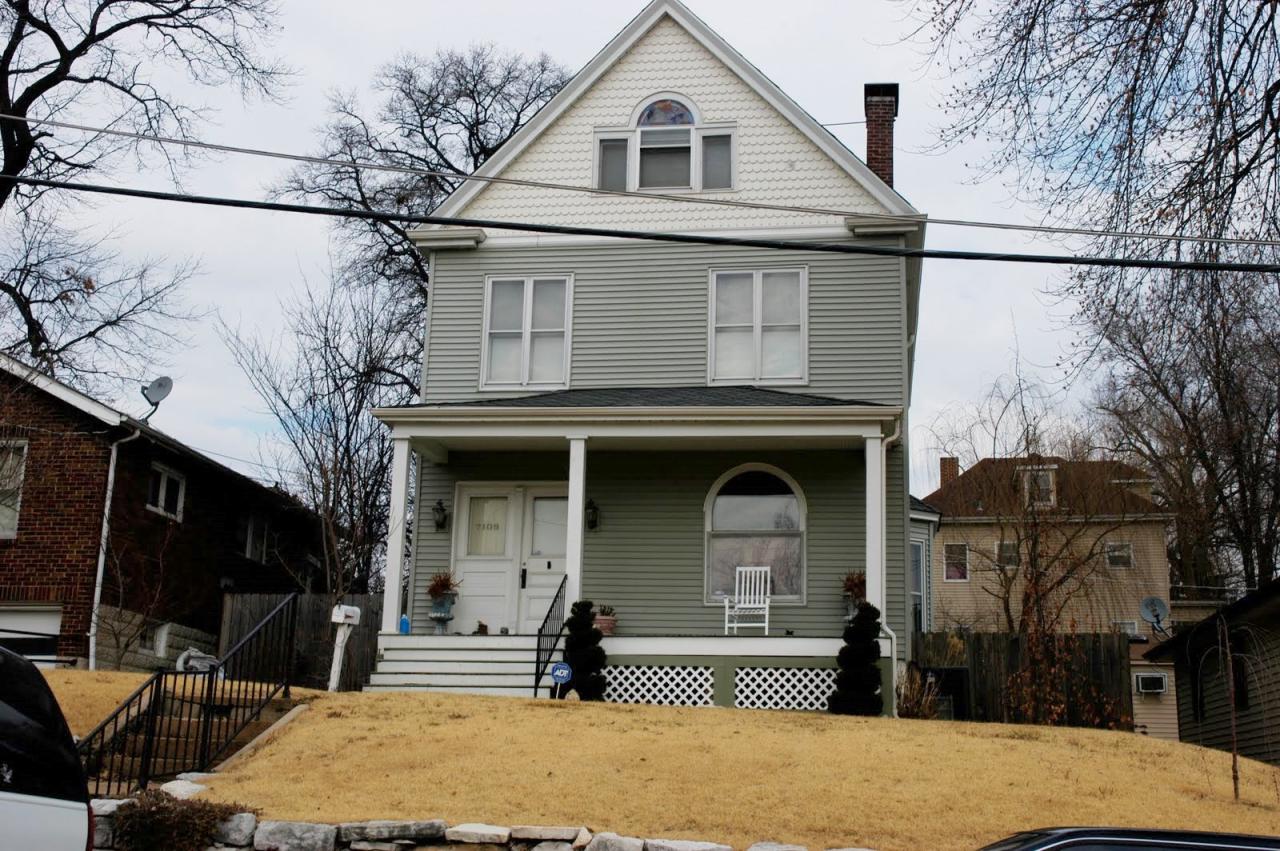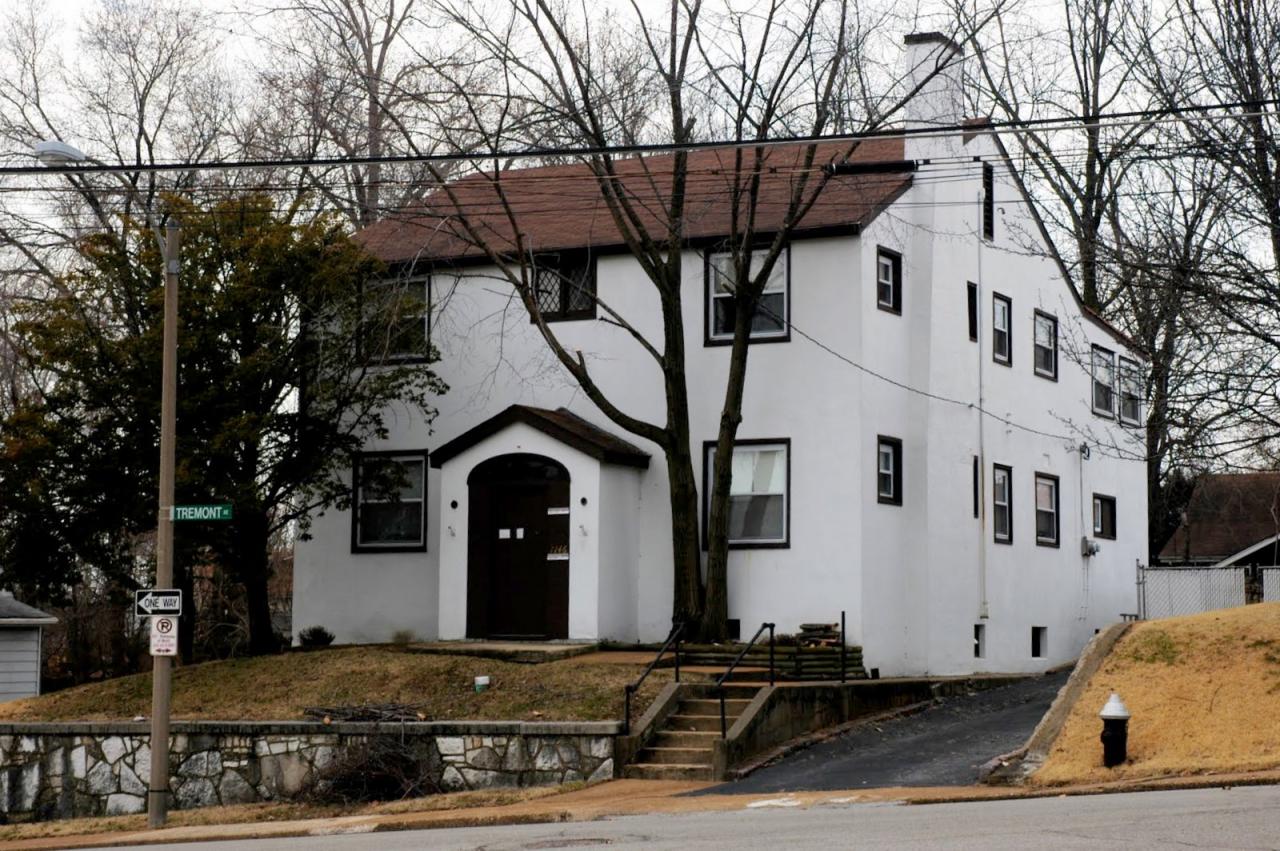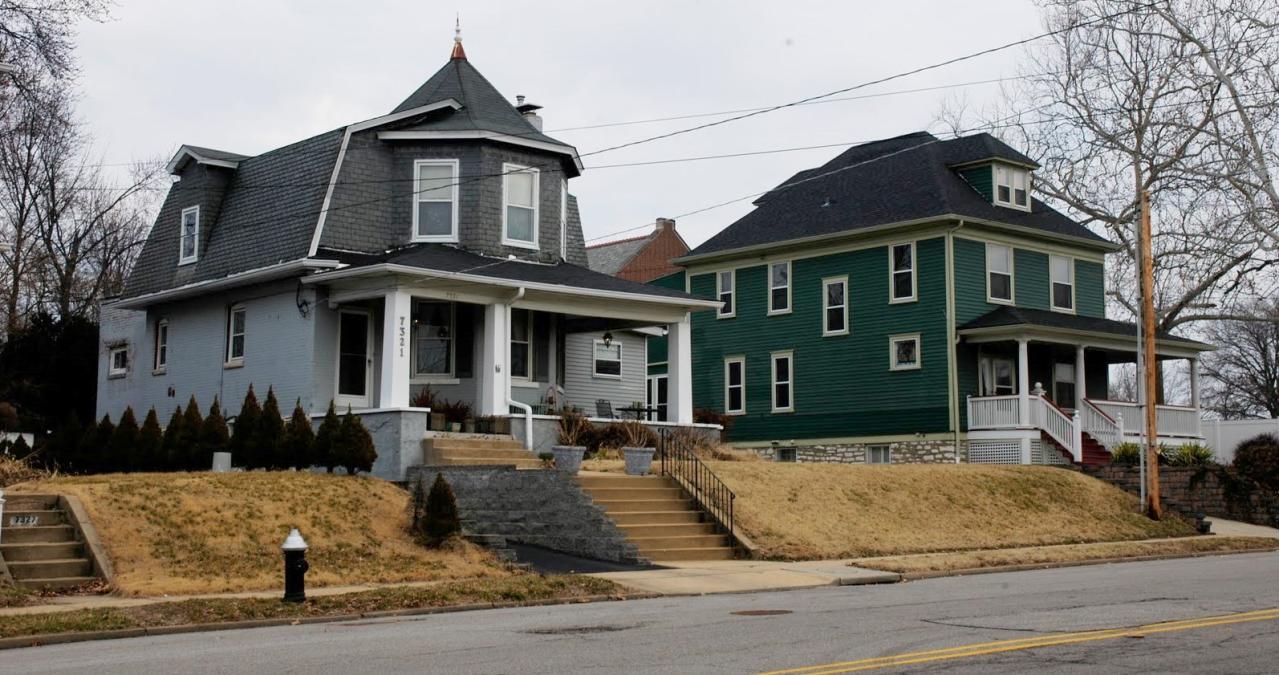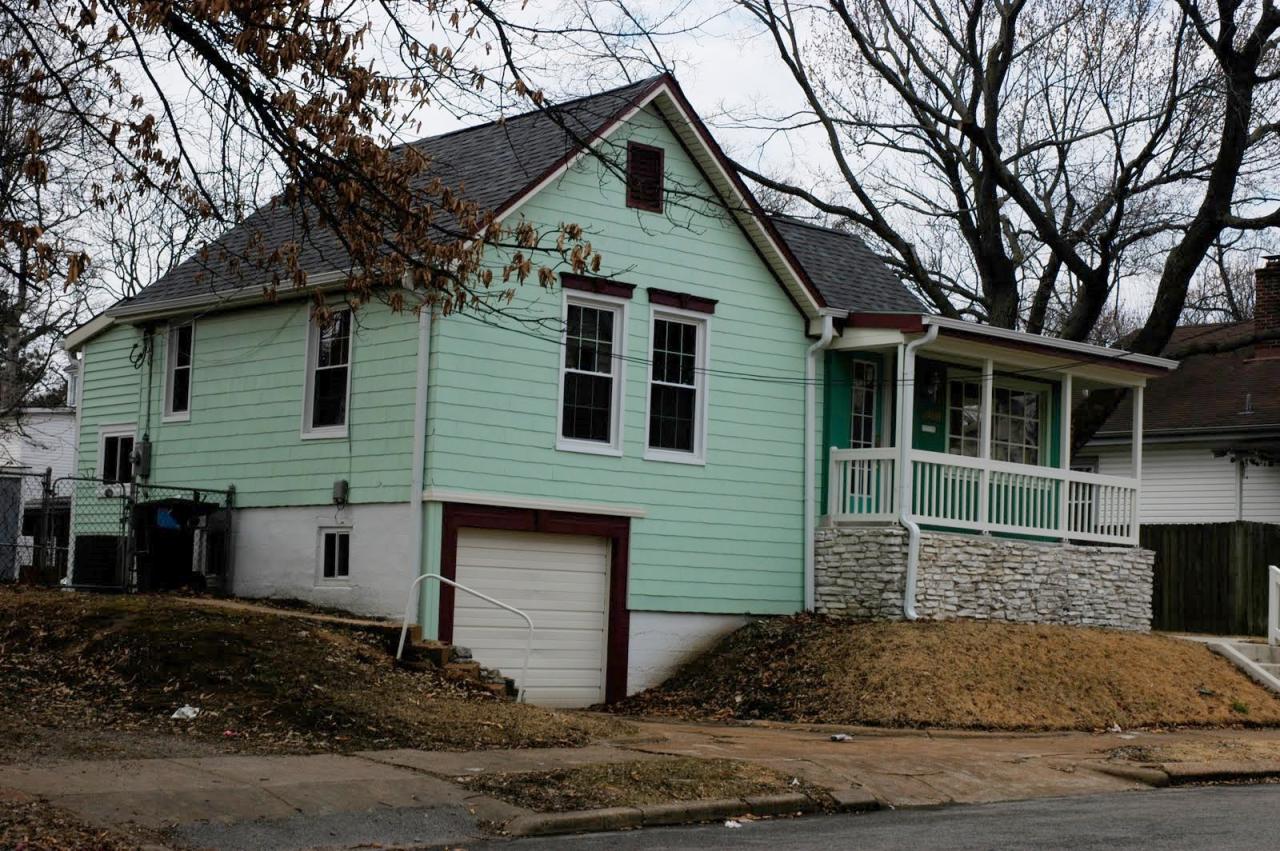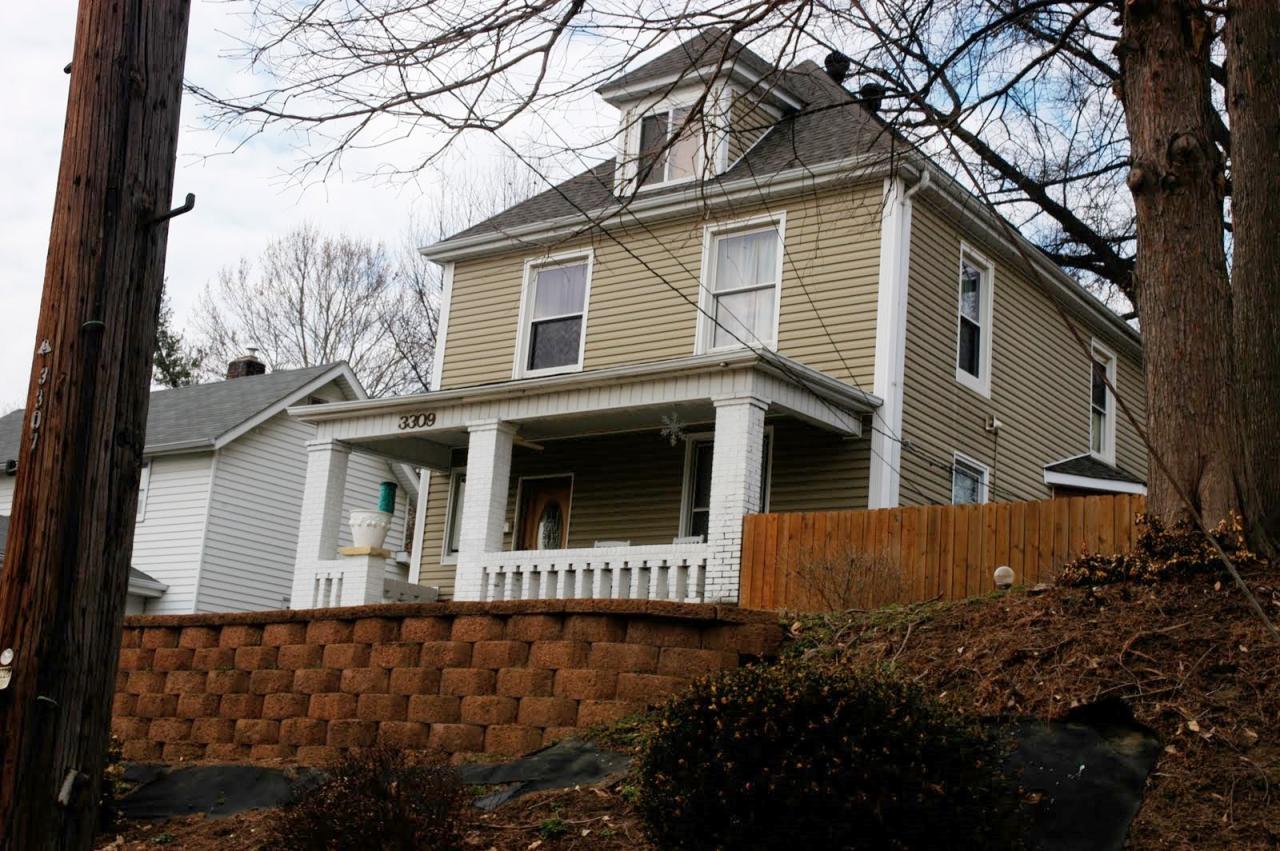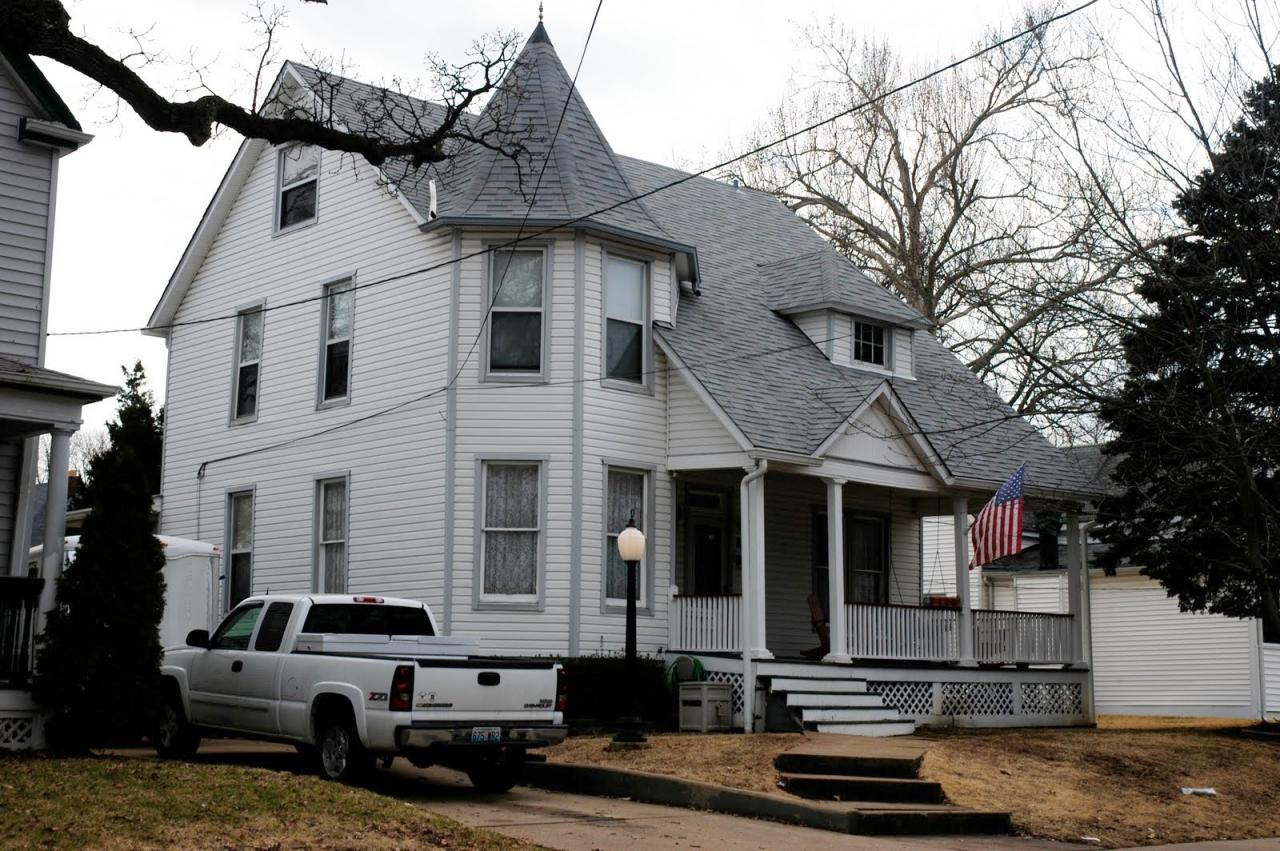 But no St. Louis neighborhood is completely devoid of at least a couple brick or stone structures: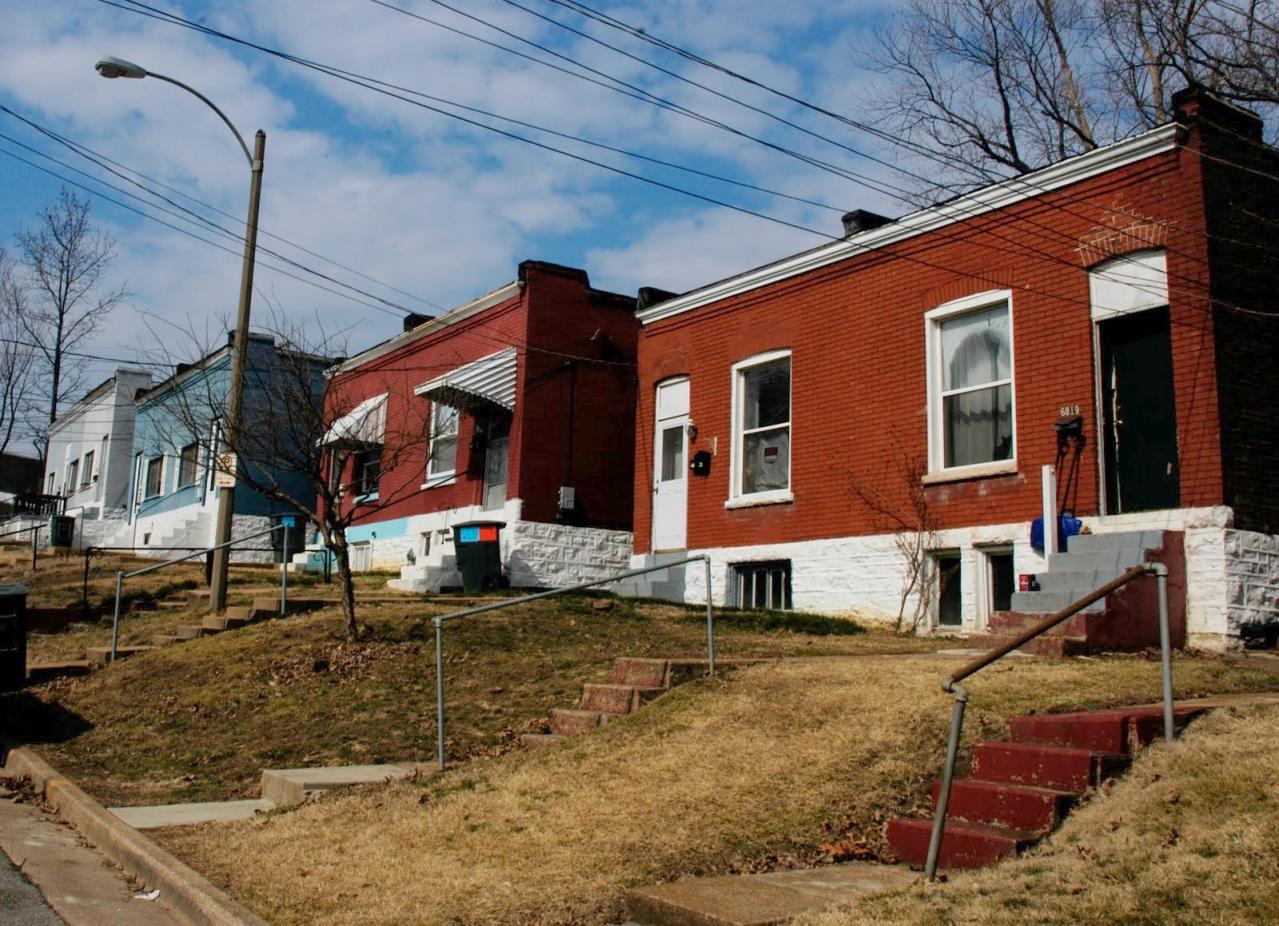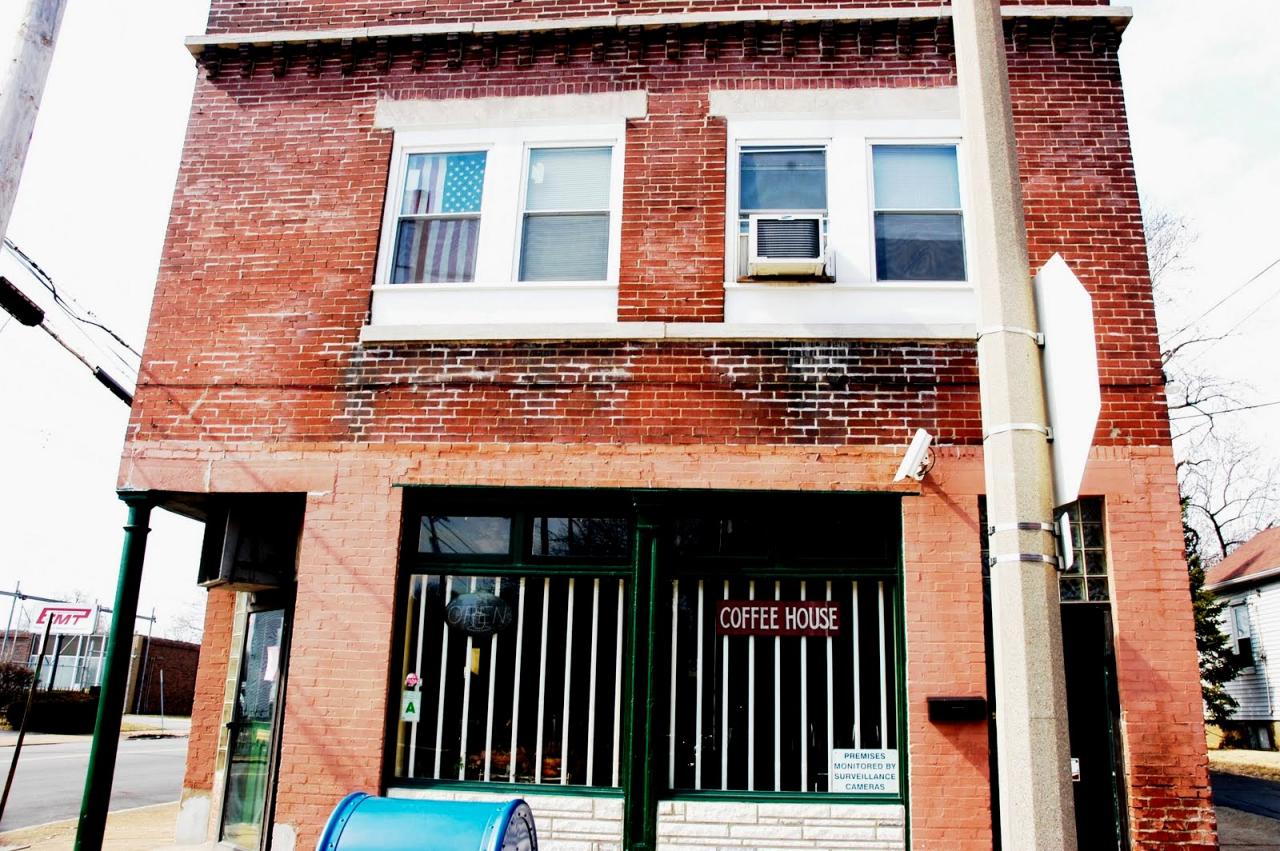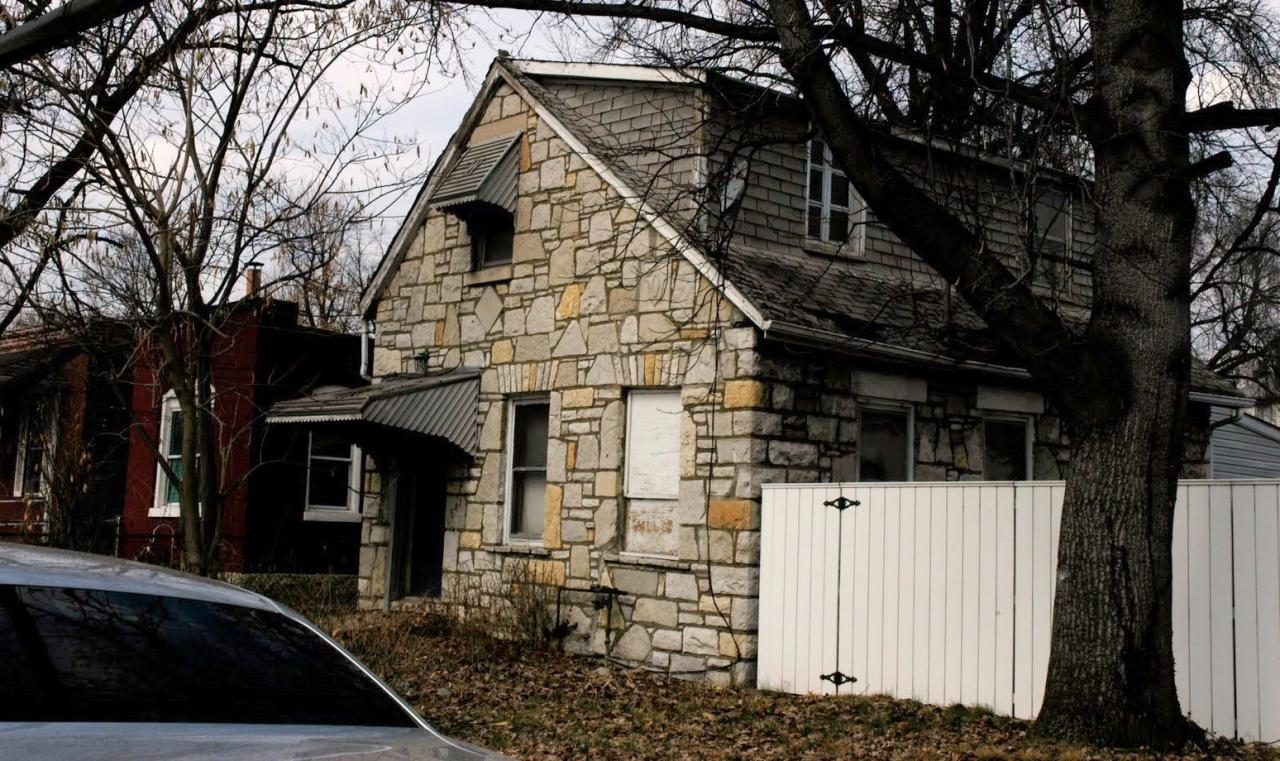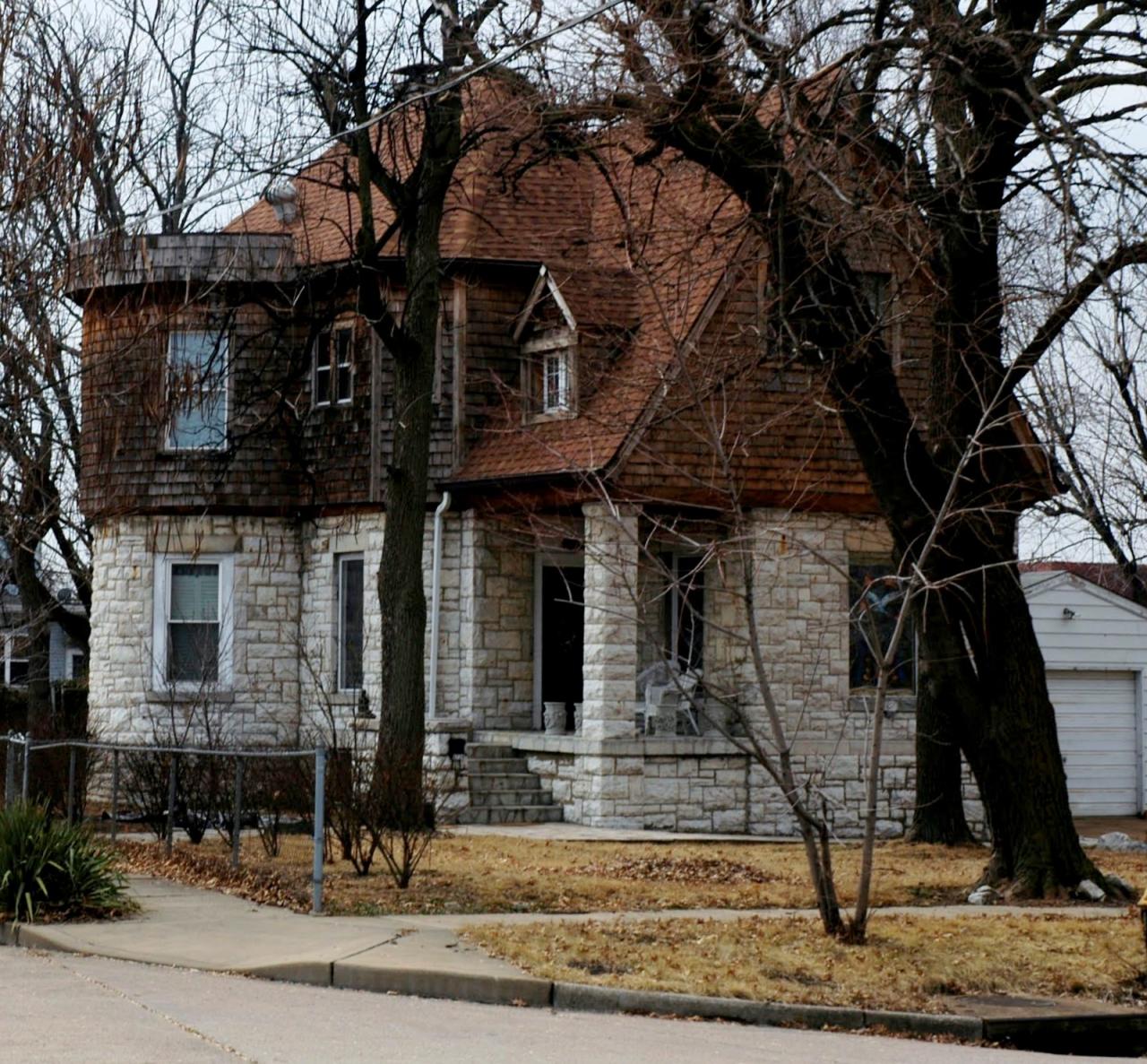 There are also several newer suburban styled homes right off of McCausland: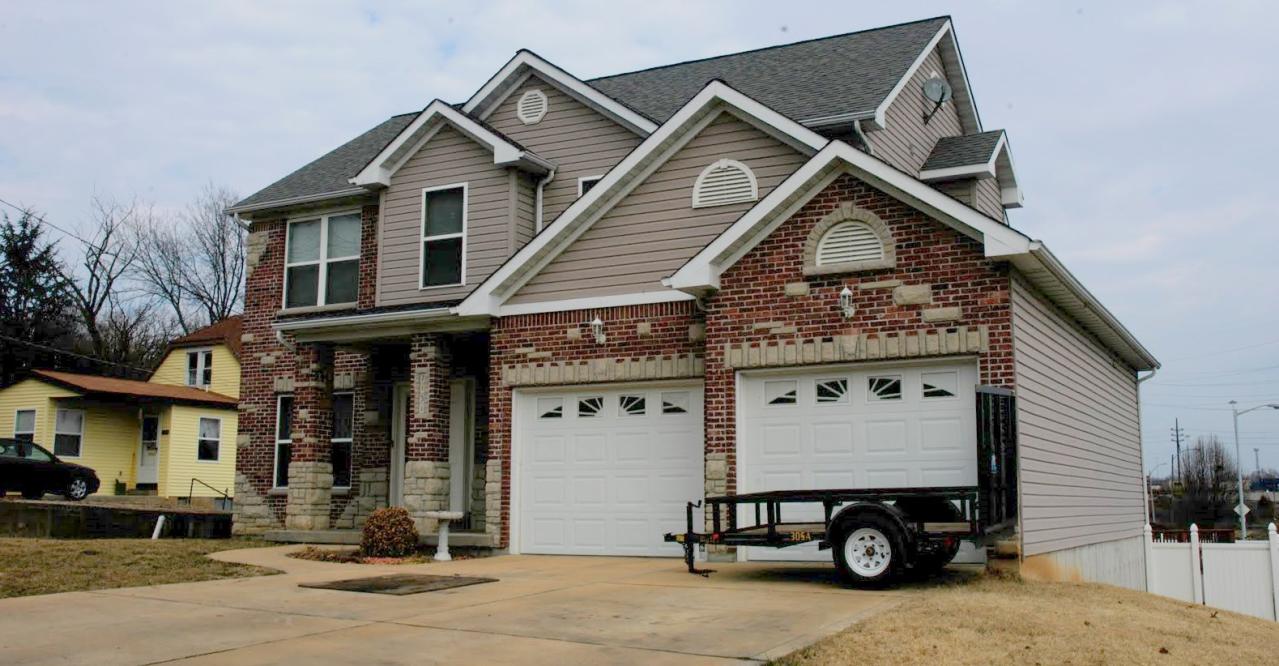 The neighborhood meetings are held at the intriguing Piccadilly at Manhattan restaurant which dates back to the 1920s: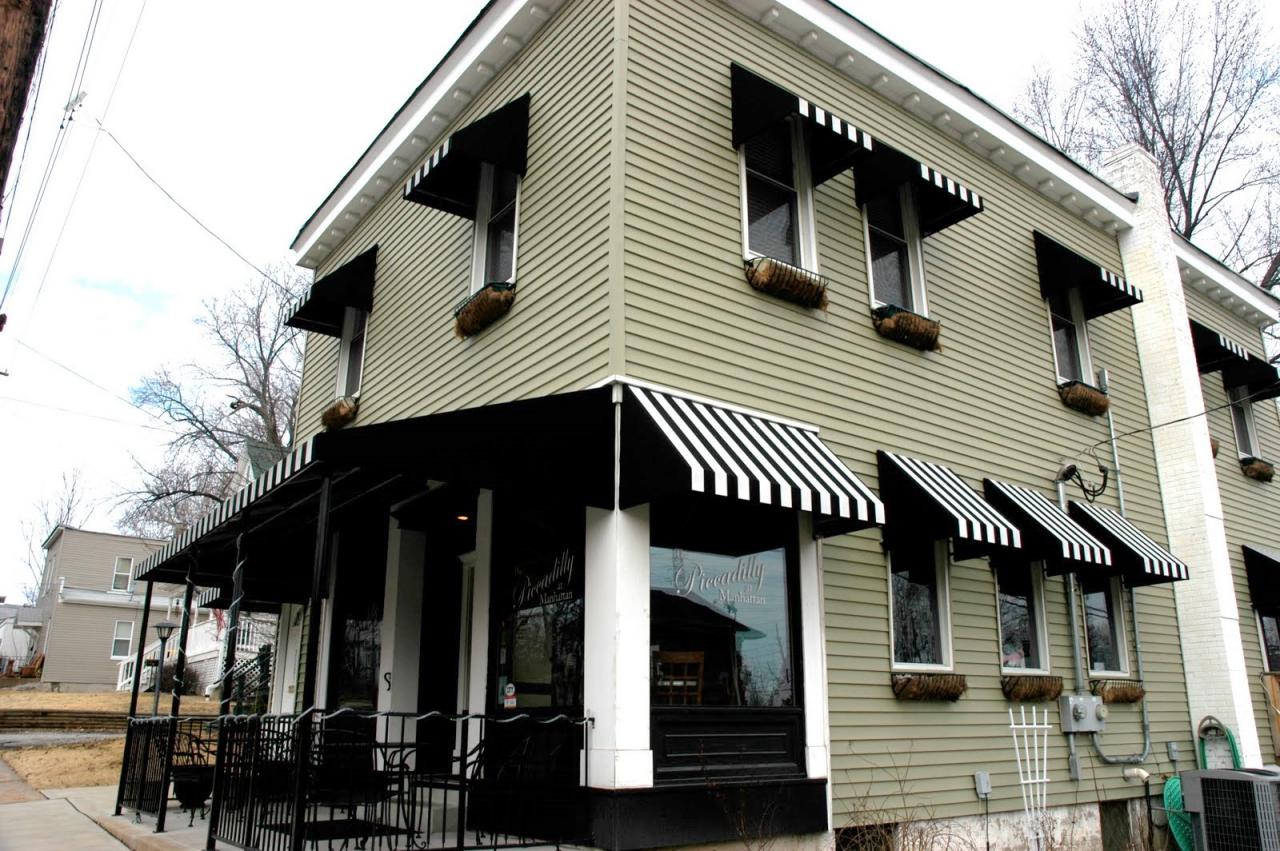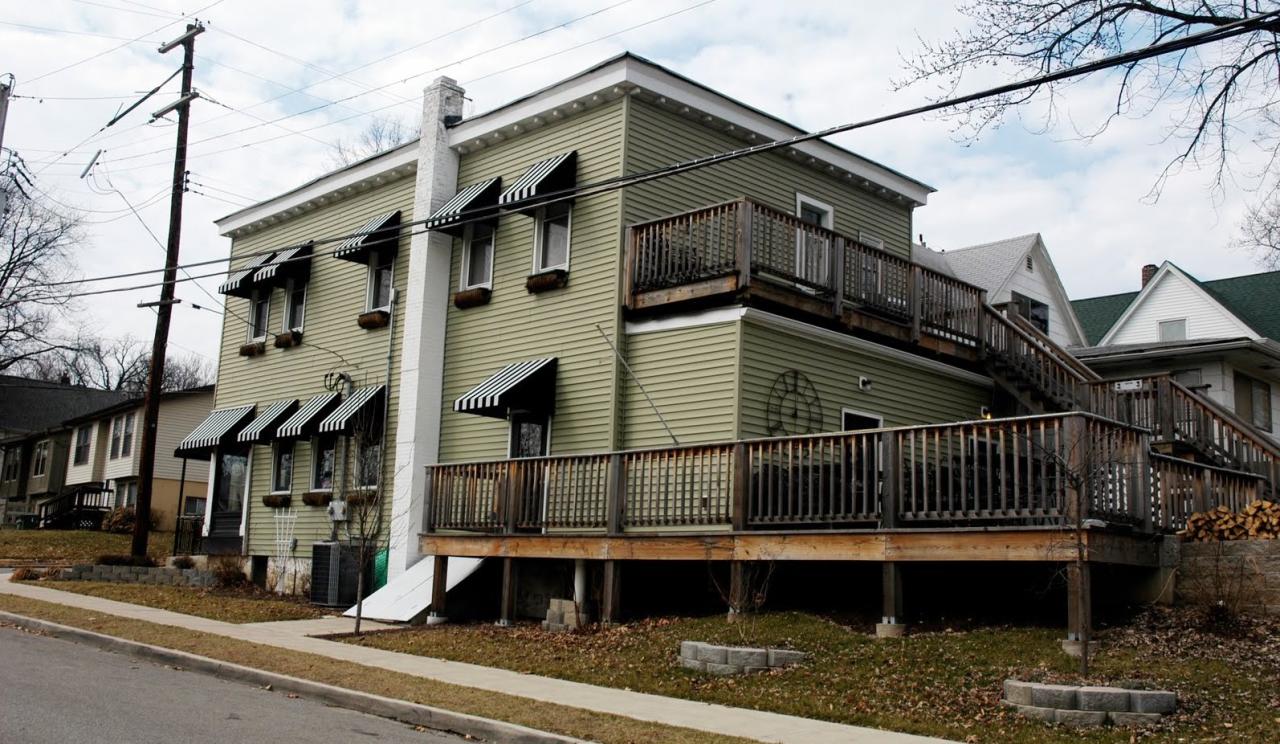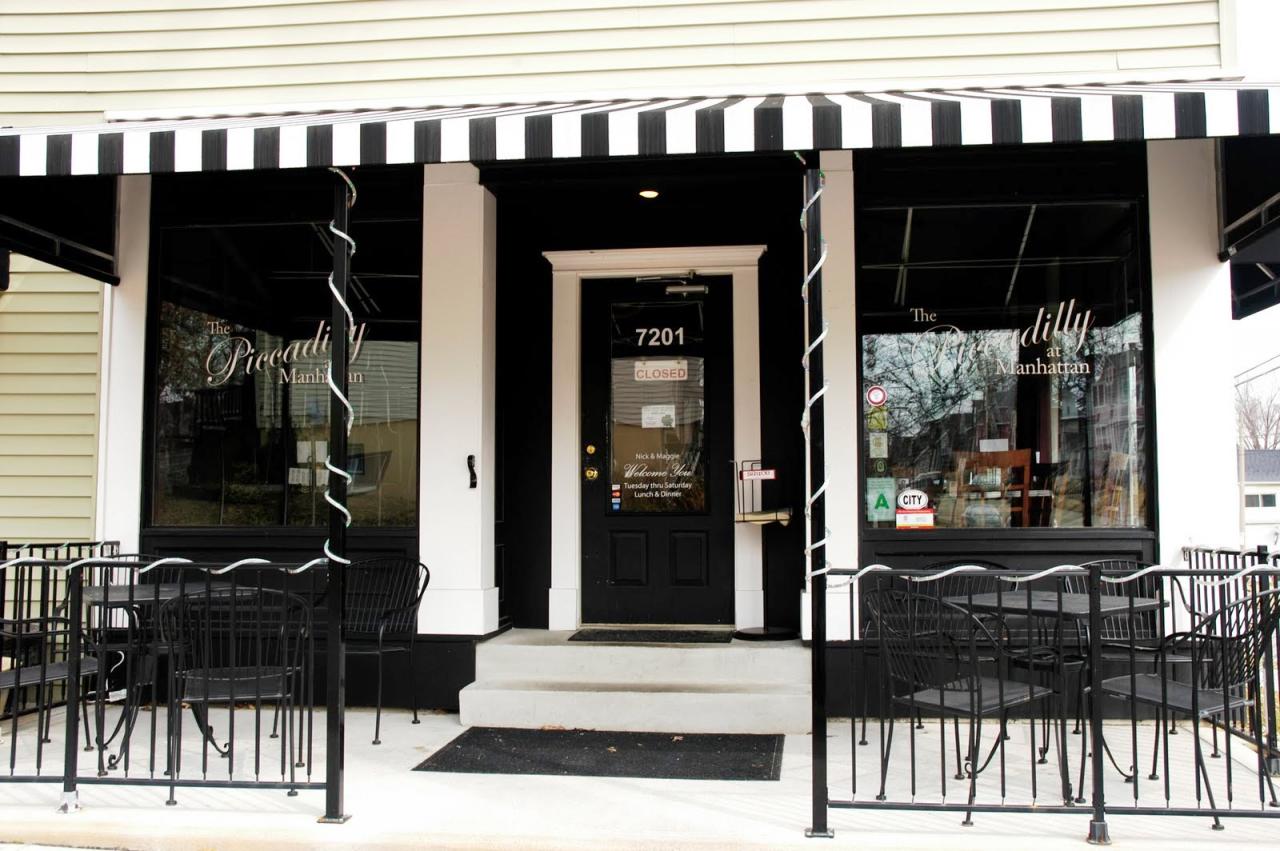 I will surely be back to check this place out. I should also note that this is the first neighborhood that I couldn't find a church. It's quite possible that I simply missed one, if you know Ellendale better than I, let me know if a church exists within the boundaries of the hood.
The Wilkinson School now an early childhood development facility within the SLPS for pre-K to 2nd graders: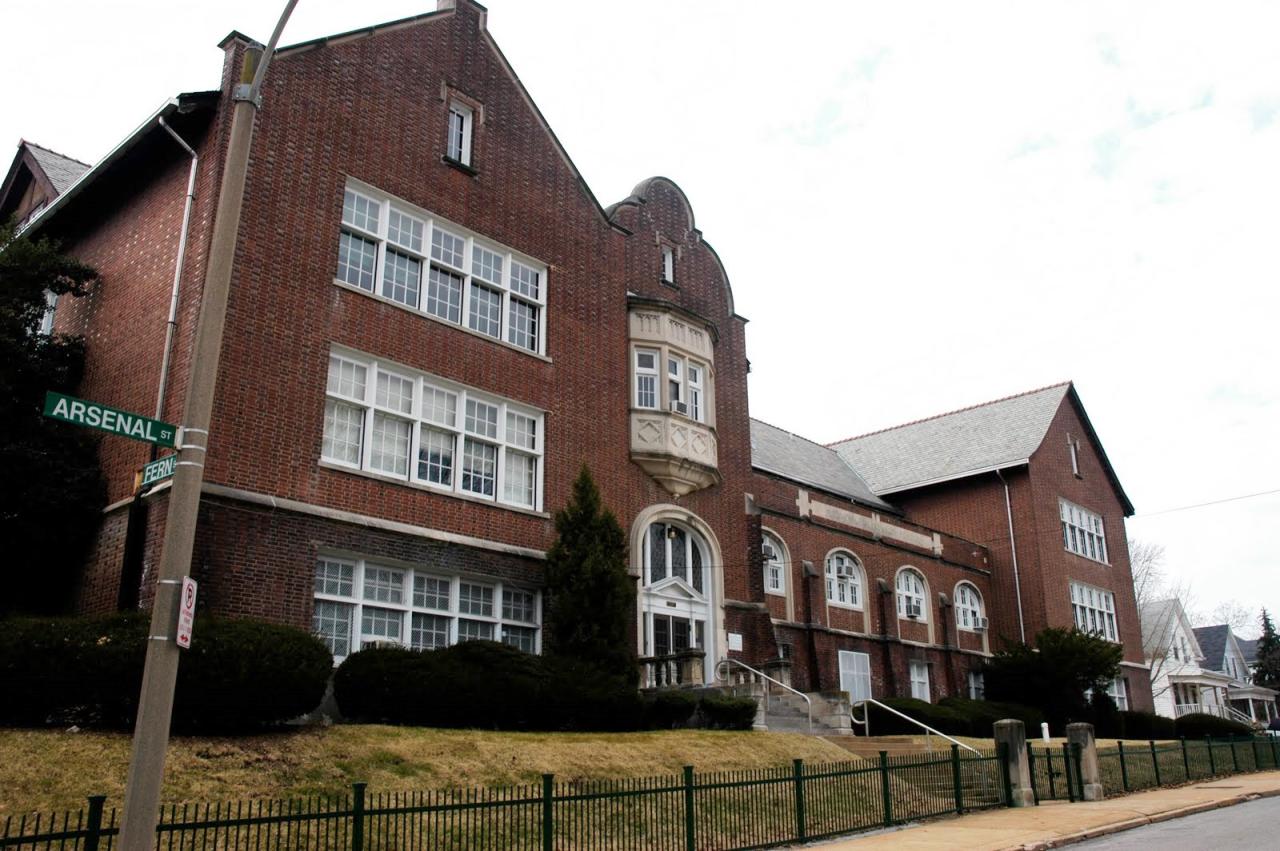 A hot ride for hot times: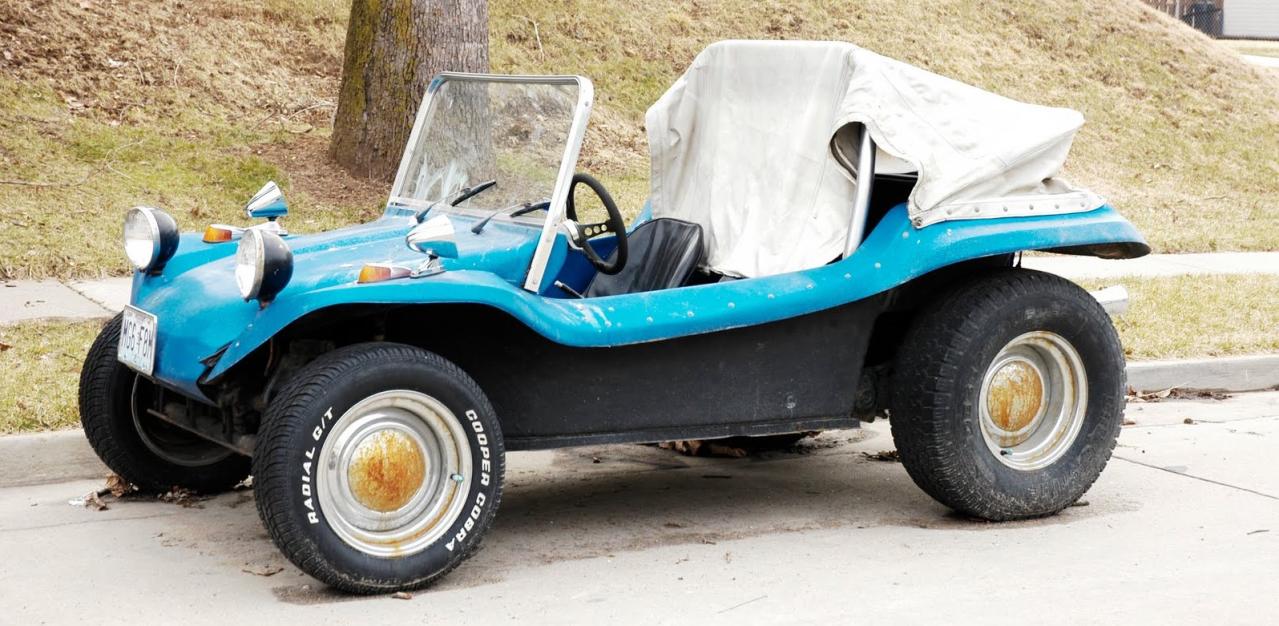 Street legal? Check. Distinctive? Check. Coveted by yours truly? Check. In fact, I coveted this in 1976 and I still do today. In defense (or not) of the city, this hot shit was actually found in Maplewood…look at the street beneath those bad ass wheels…that's a fancy county street.
Ellendale is not a tony neighborhood, not a particularly well branded hood, and it's got well under 2,000 residents. It may not be a destination place, but the history is rich and the feel is good. And if you are a fan of frame homes, this place is a treasure trove.
This guide was originally published at St. Louis City Talk in March 2010.
***In July, 2020 I revisited the neighborhood and the following includes updated commentary and photos.***
Misses On Original Tour
I am pretty happy with it, but Nick's Pub is not actually in Ellendale per the refined city boundary map. There is now a popular diner in the neighborhood which I don't think was there in 2010 when I did my first post.
I missed the fact that are many amazing Dutch Colonial homes.
So many of the sided homes are straight up beauties. And it's not just standard vinyl siding, there are lots of variations in materials and colors to make it quite interesting and varied.
Also, if you are the type that likes a driveway, garage, larger yard and no tuck-pointing bills but still want to live in St. Louis, this is one of the spots you should look.
I also missed the gorgeous Maplewood Bible Church, which I'm almost certain is actually in St. Louis, just east of Limit Avenue (city limit border).
Also, back in 2010 I had not yet visited the Piccadilly at Manhattan restaurant. Now, I know it dates these posts to mention specific businesses, as they tend to come and go, but man what a great spot. It is a total neighborhood place, it's one of those places you go and it is totally a vibe of the people that live there. Some of the best freaking fried chicken and chicken pot pies in the entire city. A true St. Louis original. Check it out.
Noticeable Changes
There is some new construction showing the high demand to live in this part of the city.
The place is highly stable, with lots of home care and it's improved in the last ten years. Seems like a new generation has moved here and is taking sustainable landscaping and home upkeep seriously.
The Great Rivers Greenway bike trail expansion is a massive benefit for the neighbors who like to walk and ride bikes. Links to that project are included below. It is totally connected to the Metrolink light rail Shrewsbury stop.
What Are The Future Needs?
Hmmm, I don't know, it's pretty dense and perfect the way it is. I guess I'd say build on the empty lots. Sadly, I read of a developer trying to build a 100+ unit apartment building in the Ellendale Neighborhood Association meeting minutes that the proposal has run into snags; not sure why, but I'd say build it out! It's a great place to live.
I'd also say the former Melvin Wilkinson school, a 1928 R.M. Milligan beauty, that closed in 2008 is ripe for development. The SLPS sold this one to a developer who was going to turn it into affordable housing for teachers. Not sure if that fell through, last I read, it was under contract (2018 source). There are not signs of work and the windows are open to the elements. This would be a great place to live. After I originally posted this, someone from the neighborhood reached out to me and indicated a developer has purchased the property with plans of residential conversion. Great news.