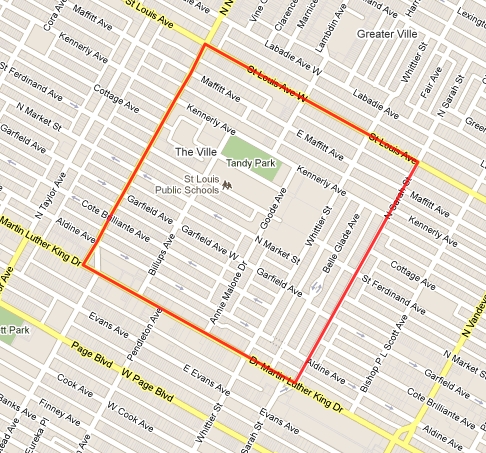 The Ville is a north St. Louis neighborhood bound by Taylor Avenue to the west, Sarah Street to the east, St. Louis Avenue to the north and Dr. Martin Luther King Drive to the south.
I must admit, I've really been looking forward to this day trip following the reading I've done in advance of my visit. There is a lot of historical information available on the this important neighborhood. The Ville should be one of our greatest sources of regional pride based on its impact on African American culture and society. A remembrance that St. Louis was a place where African Americans could thrive and make their own way as middle and upper class citizens in the early 20th century.
This neighborhood was the childhood home to Chuck Berry for pete's sake. That alone makes this place noteworthy, but the history is much richer than even the brown eyed handsome man.
From the Ville's website (I set out to find some of the structures mentioned on their website, the photos are mine, not the Ville's website):
The Ville was for many years the cradle of African-American culture and home to many black professionals, businessmen and entertainers. The Ville nurtured a rich heritage for the black population of the City of St. Louis.
Out of this diverse group, many institutions emerged: Sumner High School, the first high school for black students west of the Mississippi, Turner Middle School, Marshall and Simmons Elementary School. St. James African Methodist Episcopal Church and Antioch Baptist Church have been providing spiritual support to this community since the late 1800's and continue to be leaders in stabilizing and revitalization efforts. Tandy Parks acts as the front yard of Sumner High School providing many recreational activities for area residents. The Homer G. Phillips Ambulatory Care Center is the major health care facility in the Ville community which is housed in the former Homer G. Phillips Hospital.
The Ville is included in a local historic district. As of the 2000 census data, 97% of the 2,695 residents were black. That is a 25% decline from 1990's census count. 1,492 housing units existed in 2000, 73% were occupied, 36% owner occupied and 64% rented.
Some more prominent locations and people from this pivotal area in African-American history:
The Ville originally belonged to Charles M. Elleard, a florist and horticulturist who maintained a conservatory and greenhouses on the tract. Elleard donated most of the products of his nurseries to his friends. During Elleard's twenty or so years at his property on Goode and St. Charles Rock Road, the area became known as Elleardsville. In the late nineteenth century, Elleardsville (later shortened to "The Ville") attracted German and Irish immigrants, along with some African Americans. The neighborhood's first black institution, Elleardsville Colored School No. 8 (later renamed Simmons School), opened in 1873.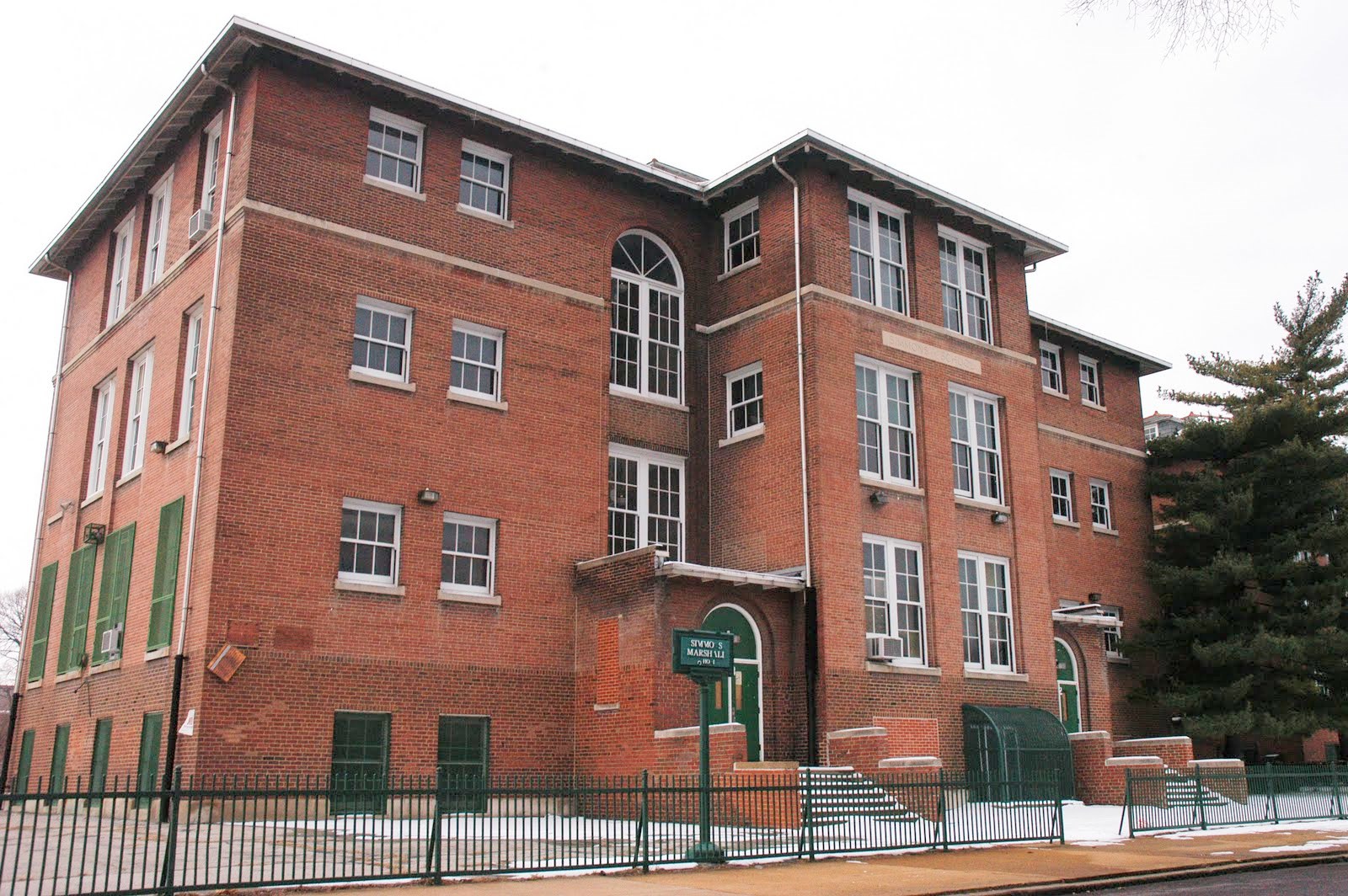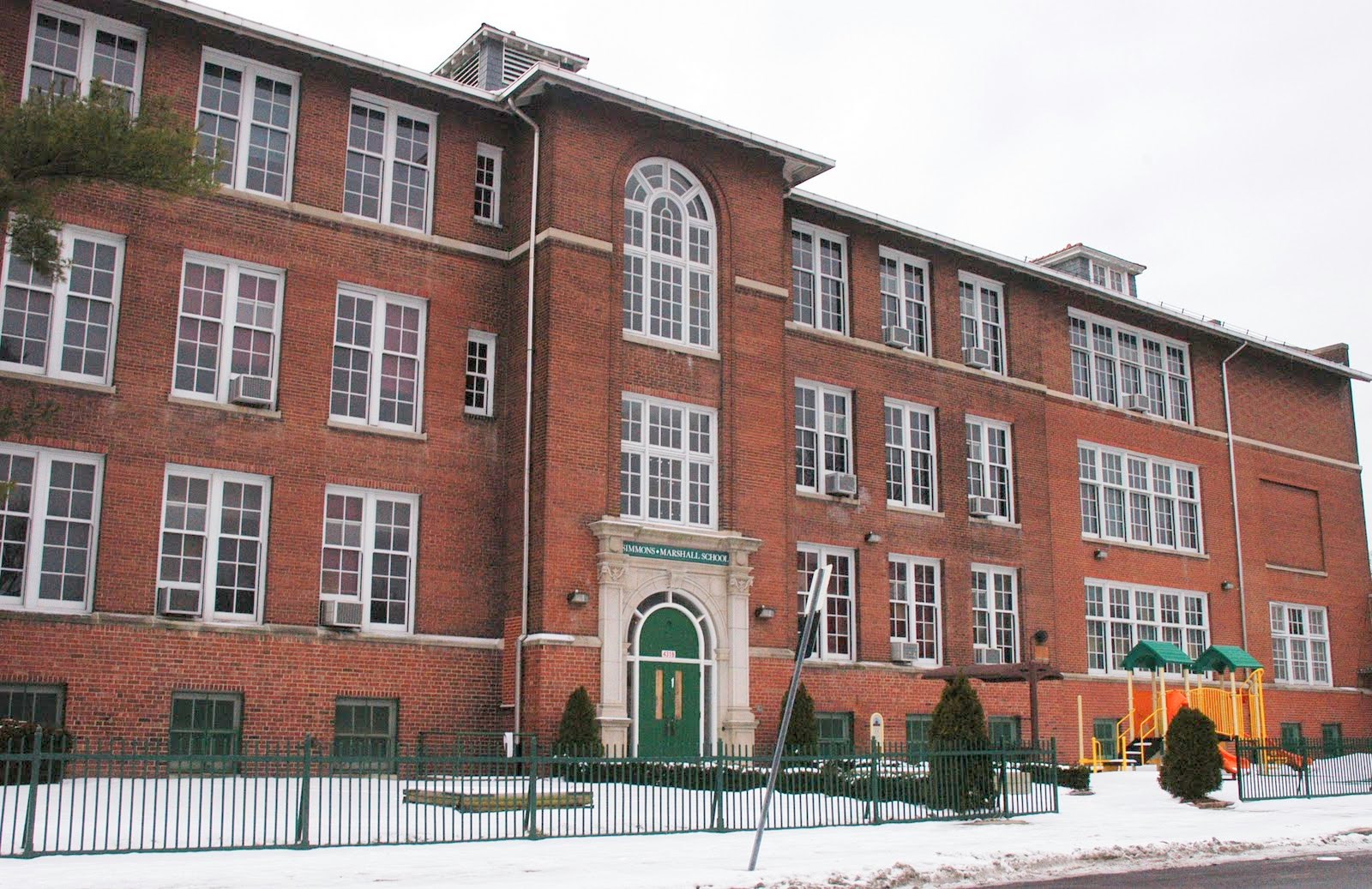 Between 1920 and 1930. The Ville went from being 8% African American to being 86% African American. More and more African American institutions were established and the area thrived. Much of the "eliteness" in the Ville's reputation dates from this period. The most famous resident of The Ville at this time was Annie Malone.
Annie Turnbo Pope Malone came to St. Louis in the early part of this century and began making and selling beauty products. She called her products "the Poro System". She then became so successful that she was able to build her own million dollar building to house her various enterprises. The Poro Building became an important symbol of African American enterprises and was located near Sumner High School in the heart of the Ville. The building housed her Poro College of Beauty Culture and her manufacturing plant as well as a number of other organizations.
While in St. Louis, Annie Malone was a generous contributor to the St. Louis Colored Orphan's home and the St. James A.M. Church . She successfully pushed the city to pave streets in the Ville. Annie Malone is remembered as a generous philanthropist, a civic leader, and one of the most successful African American entrepreneurs in the city's history. The St. Louis colored Orphan's Home moved to the Ville from Natural Bridge Road in 1922 thanks to a large gift from Annie Malone. The Home was later renamed the Annie Malone Children's' Home.
St. James African Methodist Episcopal Church was organized in 1885 and further established an African American presence in the community. As part of a "turnkey" project, St. James A.M.E. helped finance a home for the elderly, know as James House Senior Citizens, across the street from the church, at the former site of Poro College.
The Charles Henry Turner Open Air School for Crippled Children, the first of its kind for African American children in the city, opened at 4235 Kennerly, in 1925. The school was named for a distinguished entomologist with numerous scientific publications to his credit who taught at Sumner High School from 1908 until 1922. The Open Air designation had to do with the belief at the time that fresh air was helpful to those suffering from tuberculosis and fresh air was part of the regimen at the school. The school later became the C.H. Turner Middle School Branch.
Turner Middle School is currently being sold at an asking price of $995,000.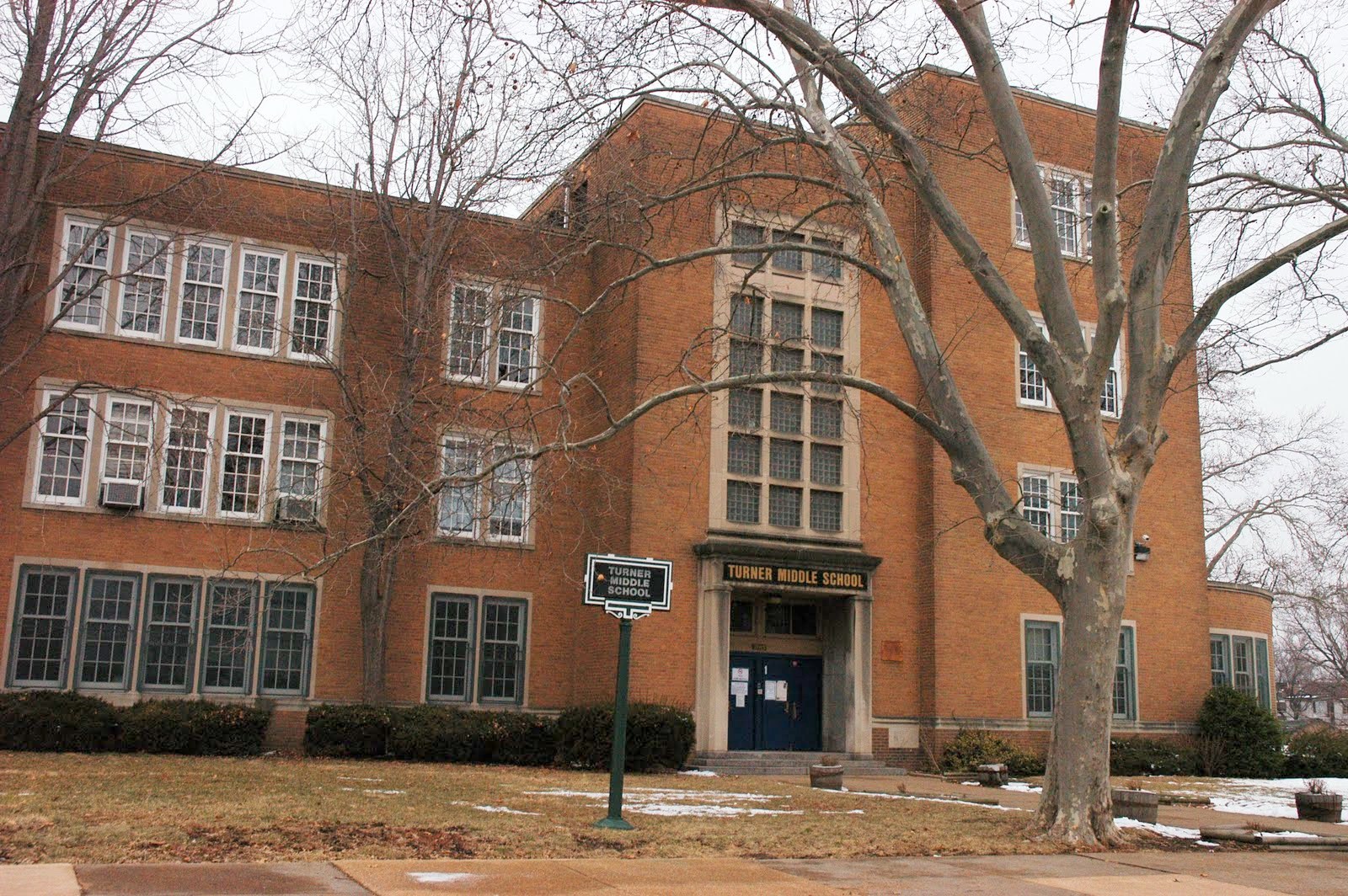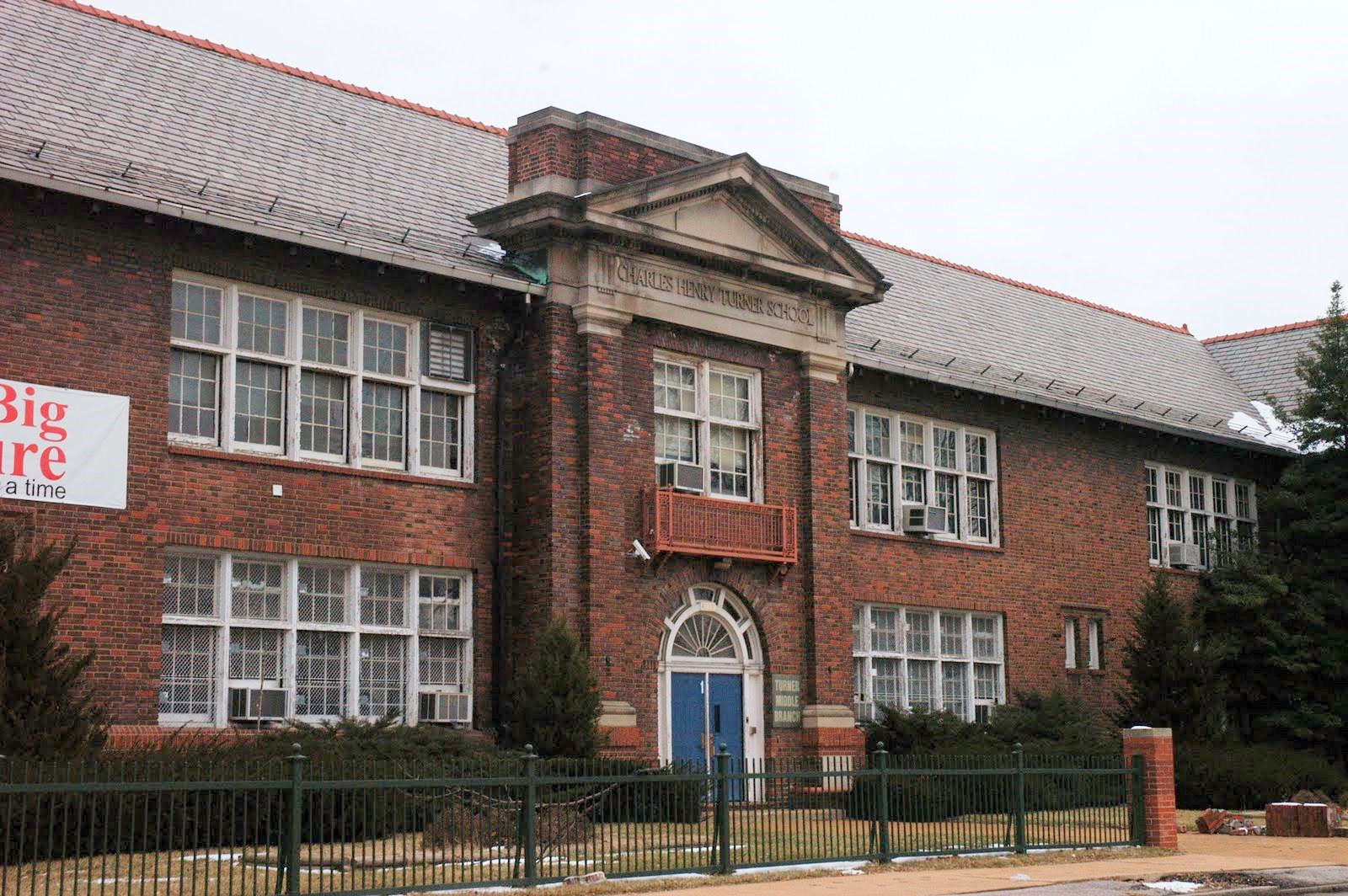 Sumner High school opened in 1875 as the first African American high school west of the Mississippi. The school is named for Senator Charles Sumner, who in 1861 became the first prominent politician to call for full emancipation. Originally established at 11th and Spruce streets, Sumner moved to 15th and Walnut streets in 1895. It acquired its present home in the Ville in 1910 when citizens petitioned the Board of Education to move the school away from the saloons and pool rooms near its downtown location.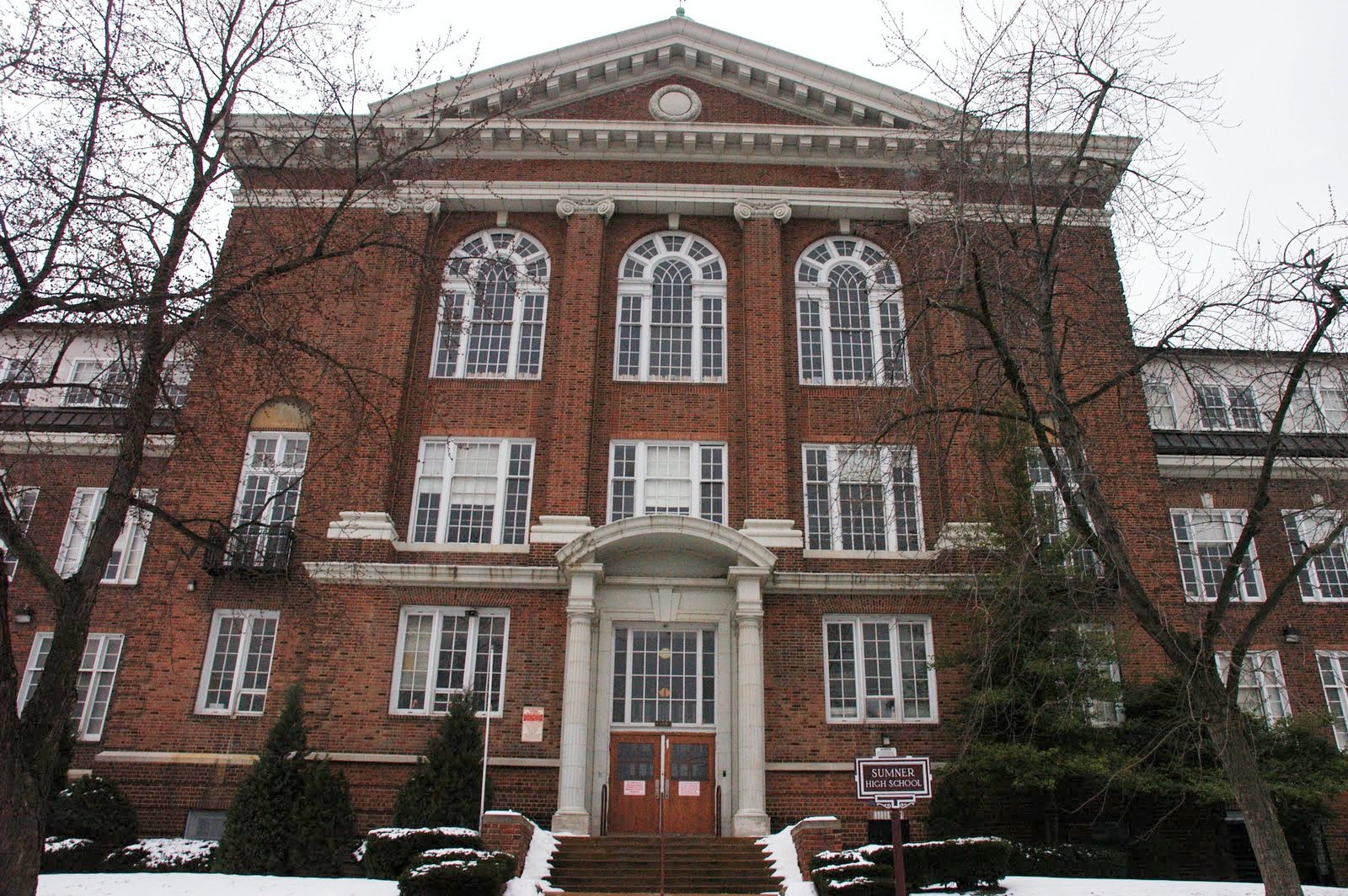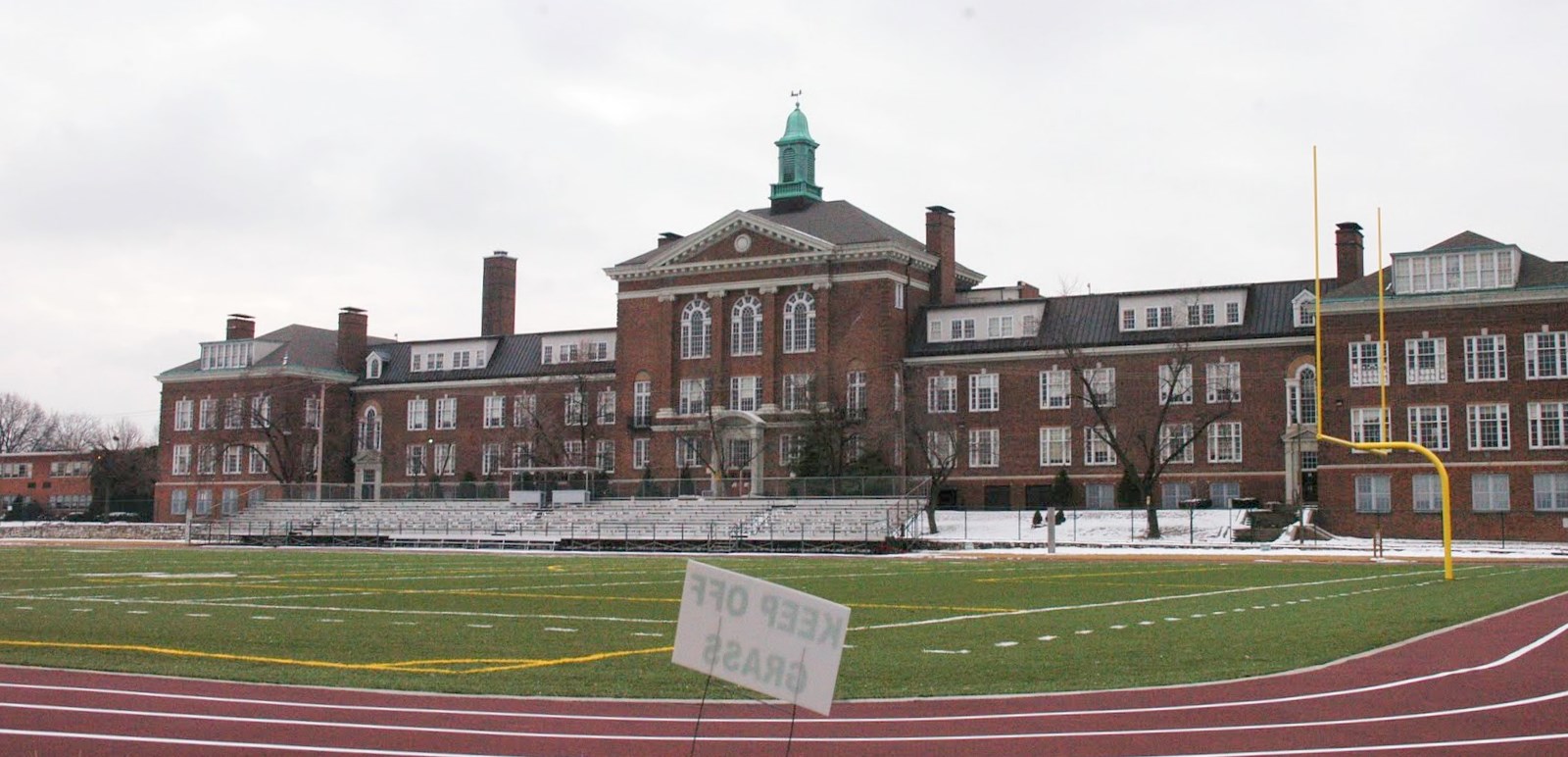 Sumner Normal School, which had been a department of Sumner High School, became a college in 1925 and took the name Sumner Teachers' College. In 1930, the name was changed again to Harriet Beecher Stowe College and it was housed in a portion of the Simmons School. In 1940, a new facility was built on Pendleton to house the teachers' college. With desegregation in 1954, Stowe College merged with the all white Harris Teachers' College.
Billups Avenue, named after Kenneth B. Billups, a musician, teach and Sumner alumnus, who served as chairman of Sumner High School's music department and founded the Legend Singers, and opera star Grace Bumbry was one of Billups' most successful students. Billups Avenue runs west of Sumner High School, on a section that was formerly part of Pendleton, extending from Kennerly on the north to Martin Luther King on the south.
Homer G. Phillips, a lawyer and community leader who lived near the Ville, is associated with the successful passing in the 1920's of an $87 million bond issue that included a million dollars for an African American hospital. In 1931, after the bond was passed but before the hospital could be built, he was assassinated by unknown assailants while waiting for a streetcar. The hospital, with a 177-bed capacity, opened in 1937 and was named after Phillips. The hospital remained open until 1984 and employed 800-900 people.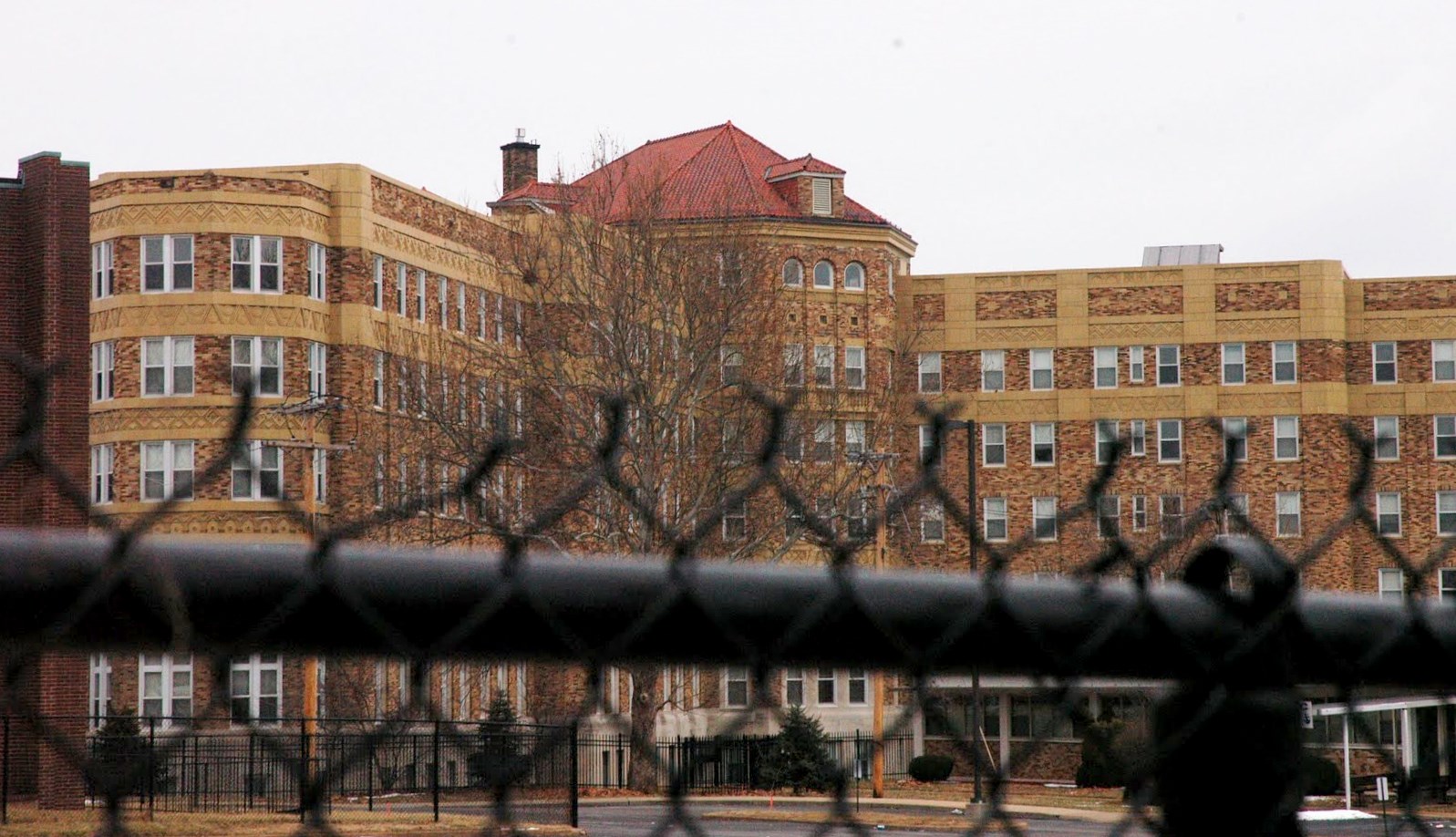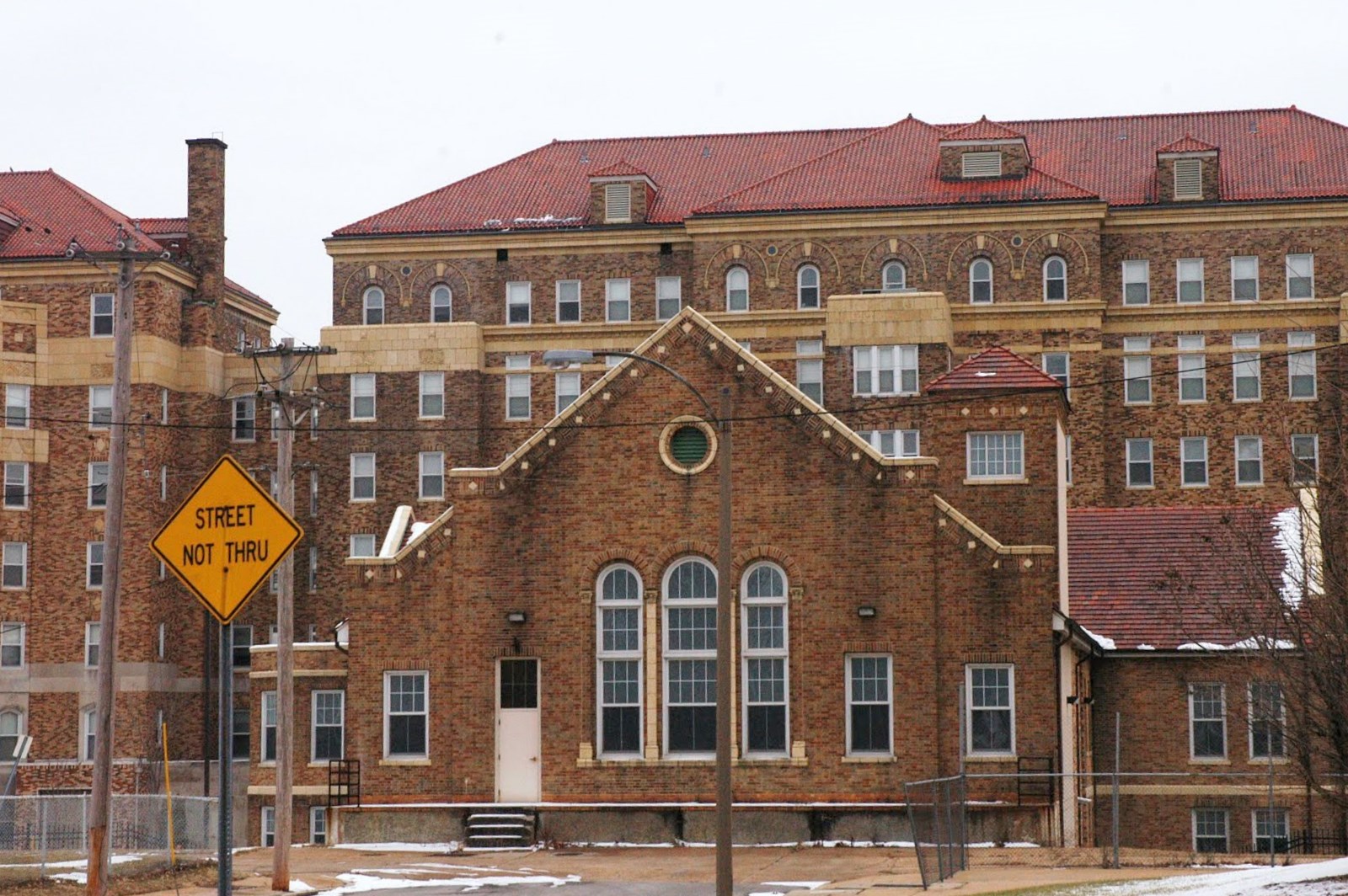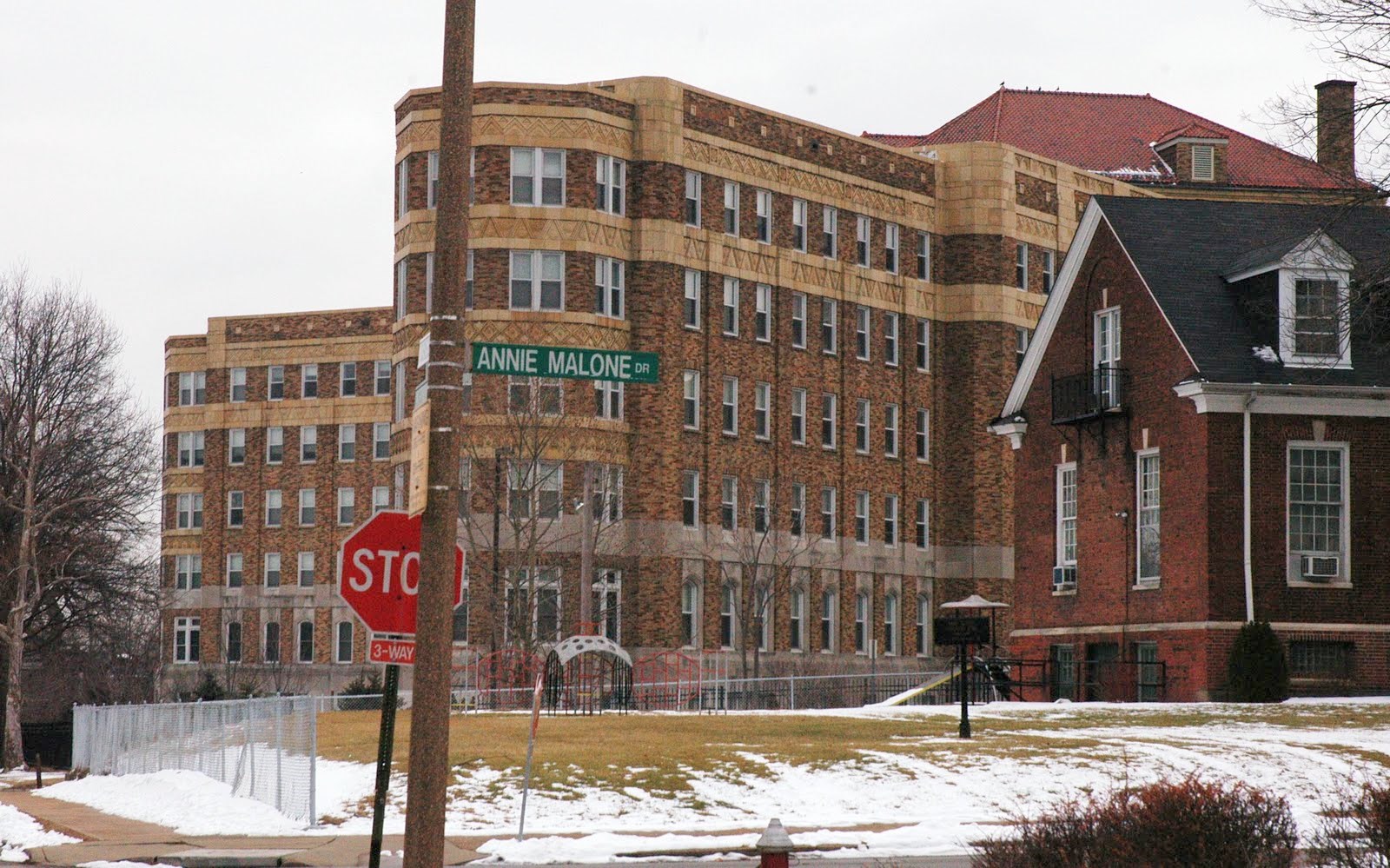 Under construction c. 1936: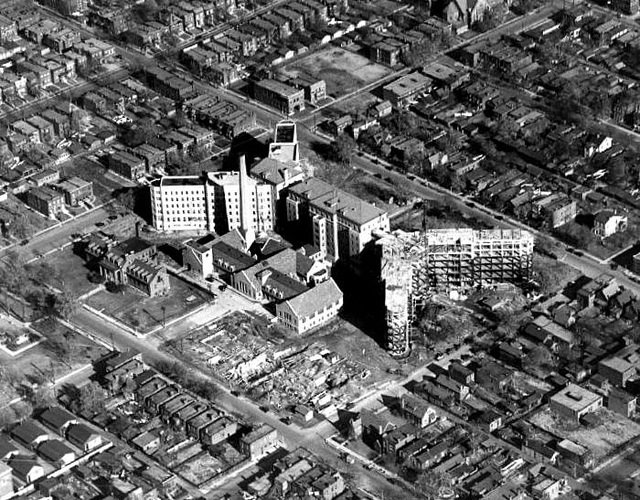 In 1938, the Tandy Community center, named for Captain Charleton Tandy, and early politician, equal rights activist, and Civil War hero, opened its doors. Since that time it has offered recreational facilities to the members of the Ville, specifically such sports as boxing, basketball, swimming, dancing, crafts, and dramatics. In the adjoining Tandy Park are the tennis courts where Arthur Ashe, among others played.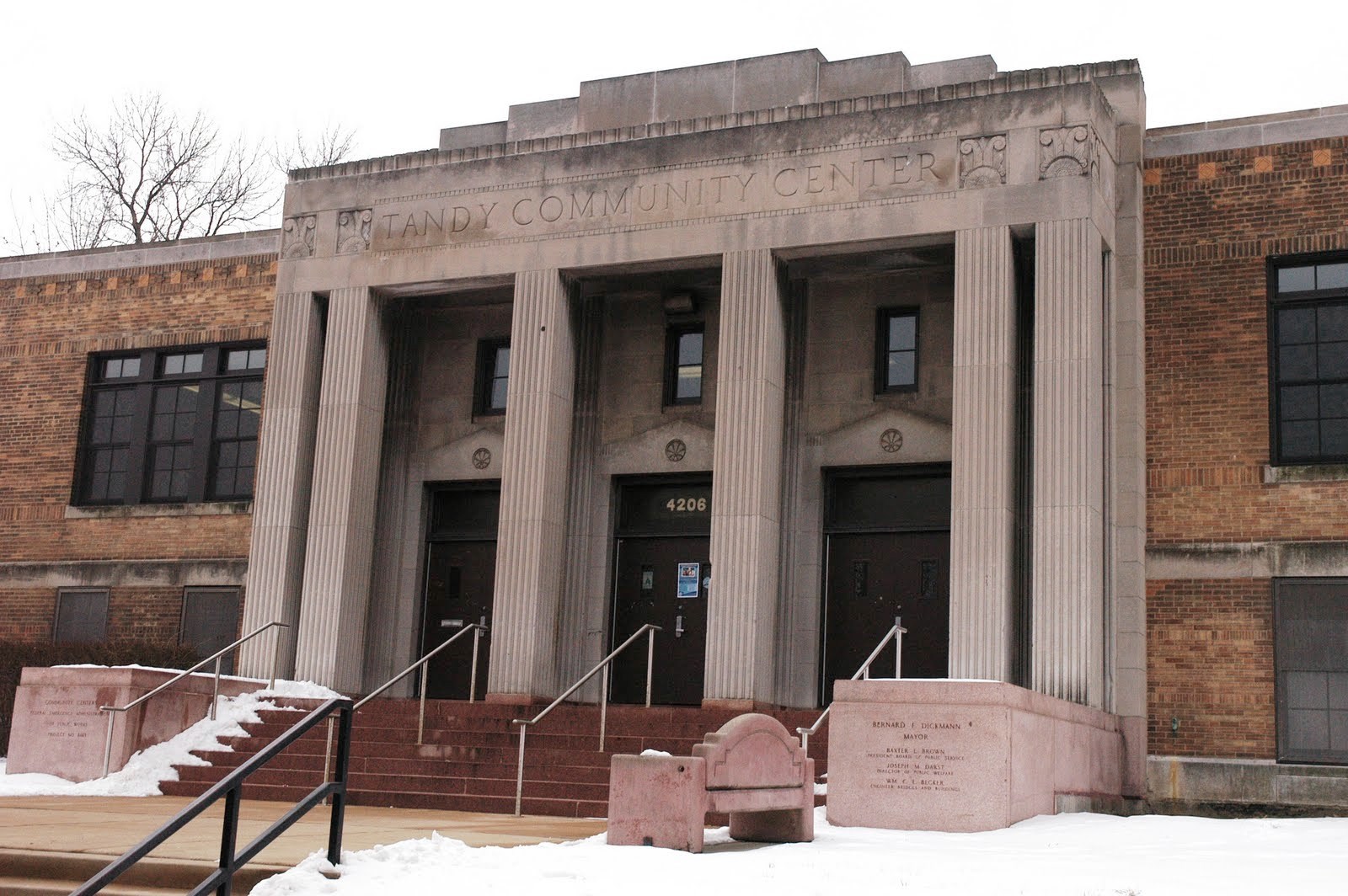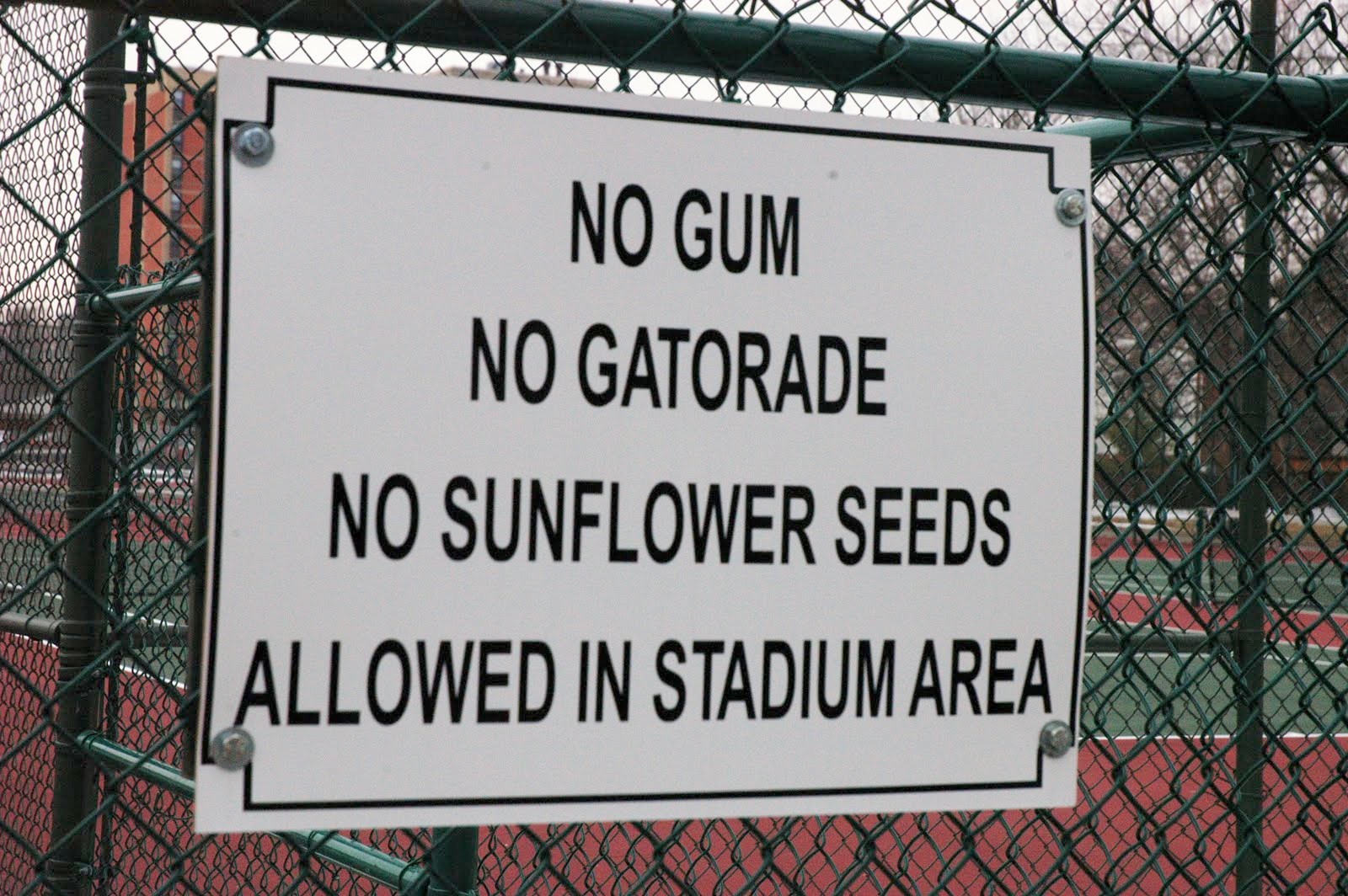 Antioch Baptist Church, one of the oldest Protestant churches in the Ville, was incorporated in 1884. The present church building, at Annie Malone Drive (formerly Goode Avenue) and North Market, dates from 1920. Rev. James Cook, one of Antioch's most memorable pastors, gained recognition for his direction of the Pine Street YMCA and his activity in the civil rights movement.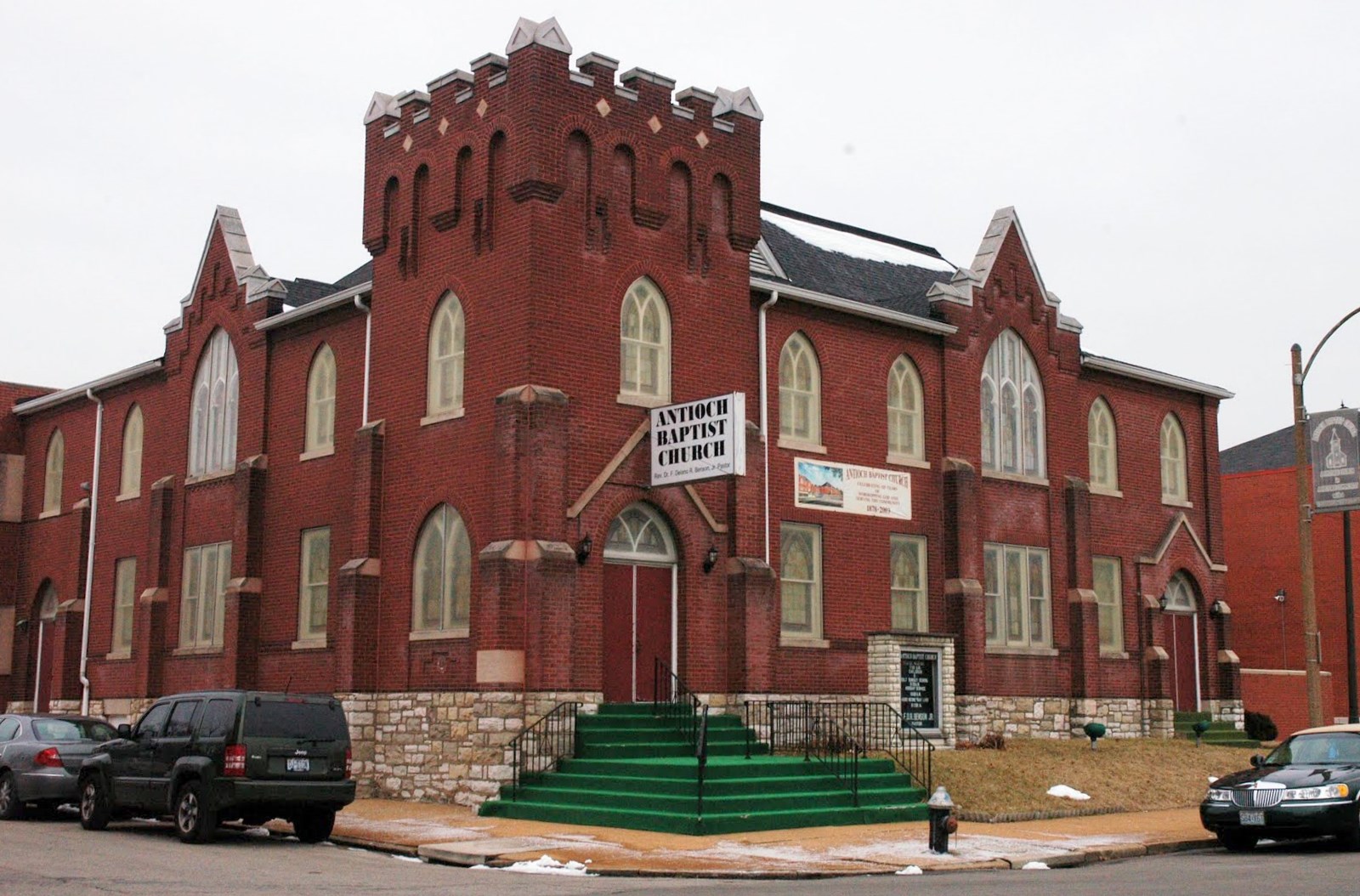 John Marshall Elementary School, built in the 1900's, is the only school in the Ville area not originally intended for African American students. In 1918, Marshall became an intermediate school for African Americans. It has served the area as an elementary school since 1927.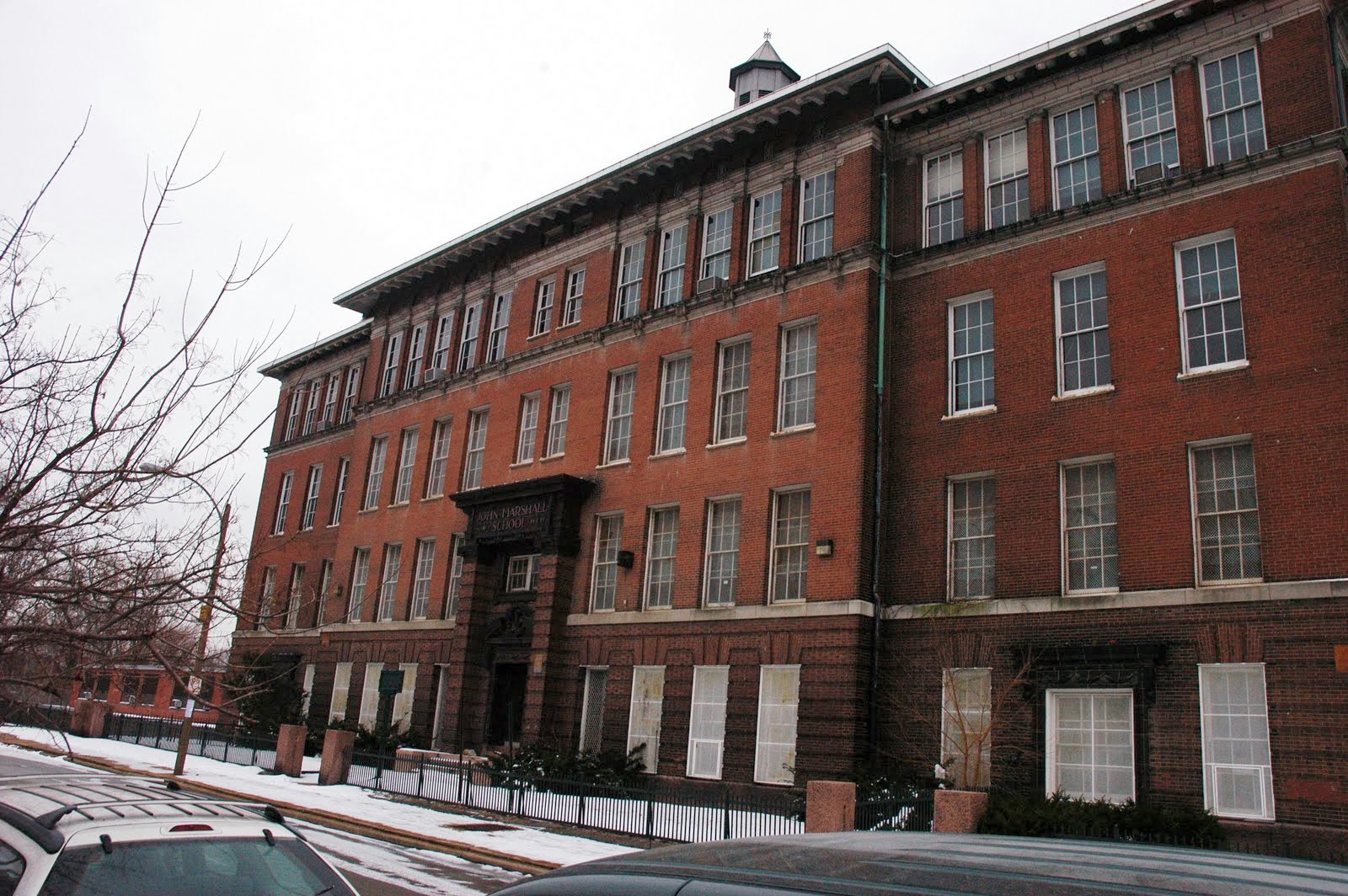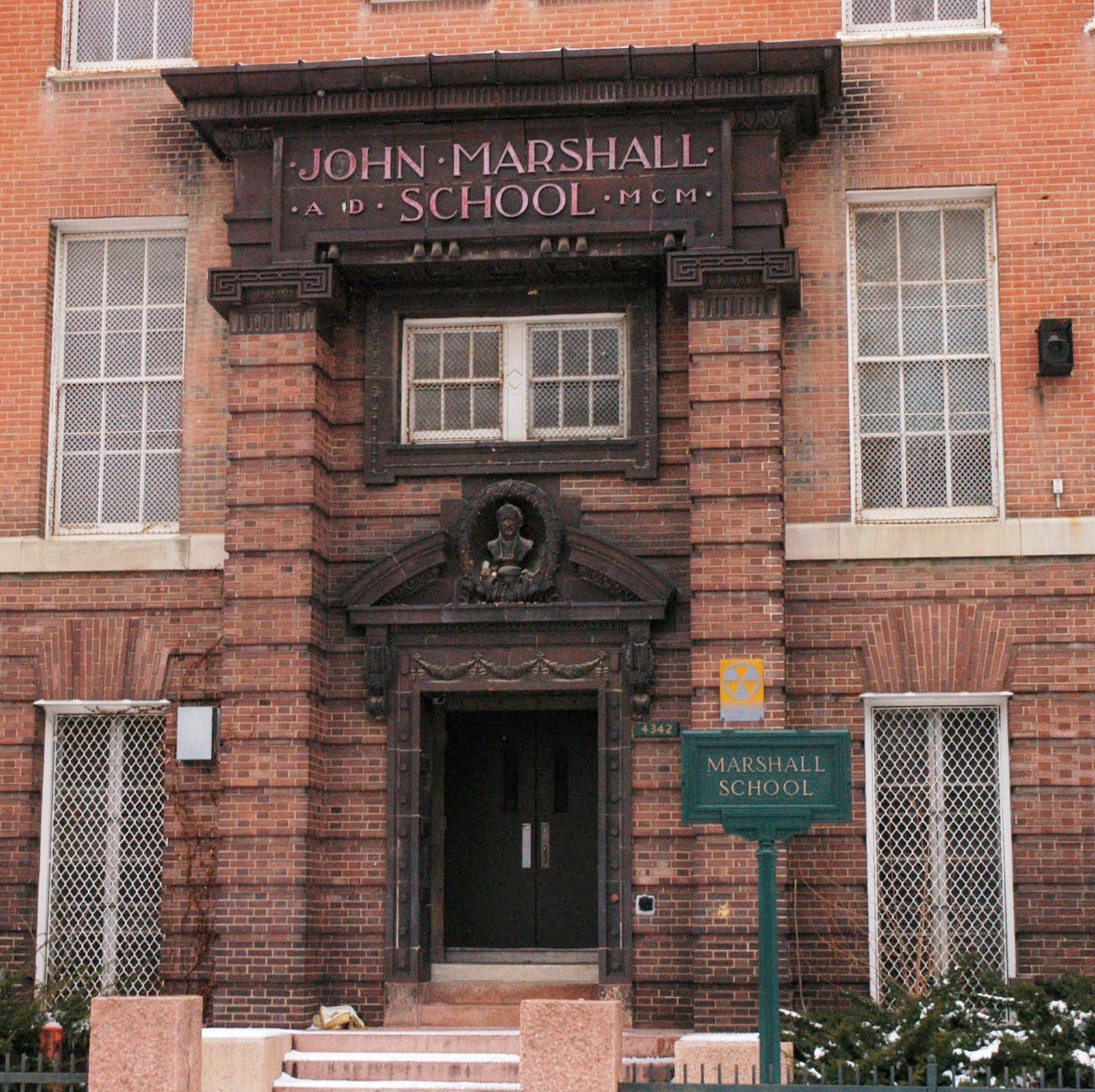 In 1972, Easton Avenue and a portion of Franklin Avenue were renamed Dr. Martin Luther King, Jr. Drive as a tribute to the Baptist clergyman and civil rights activist who was slain in 1968.
Holy cow, that's some amazing stuff. I was thinking that St. Louis Public Schools should focus part of the curriculum not only on MLK, George Washington Carver, Rosa Parks, etc, but also direct the focus squarely upon a the history of the Ville. This place is teeming with American history, especially African American history. Annie Malone, Chuck Berry and others should be part of my kid's public education.
However, upon my visit today, the Ville would not be described as welcoming; not a place to explore and cherish the history. Obviously, the German and Irish immigrants who settled this place are long gone, the black middle and upper class that called this place their own starting in the 1920's and 30's are long gone. Sadly, this neighborhood is literally falling in on itself.
I find beauty in most places in the city, and the Ville is no exception. I'm a sucker for history, and I wish the natives had taken better care of this neighborhood and protected it's great history for all to enjoy for years to come. Sadly, I think the residential base will continue to dwindle and the historic homes will continue to fall. There is a lot of new suburban-styled construction in the Ville that I chose not to profile, but most of the structures look similar to this: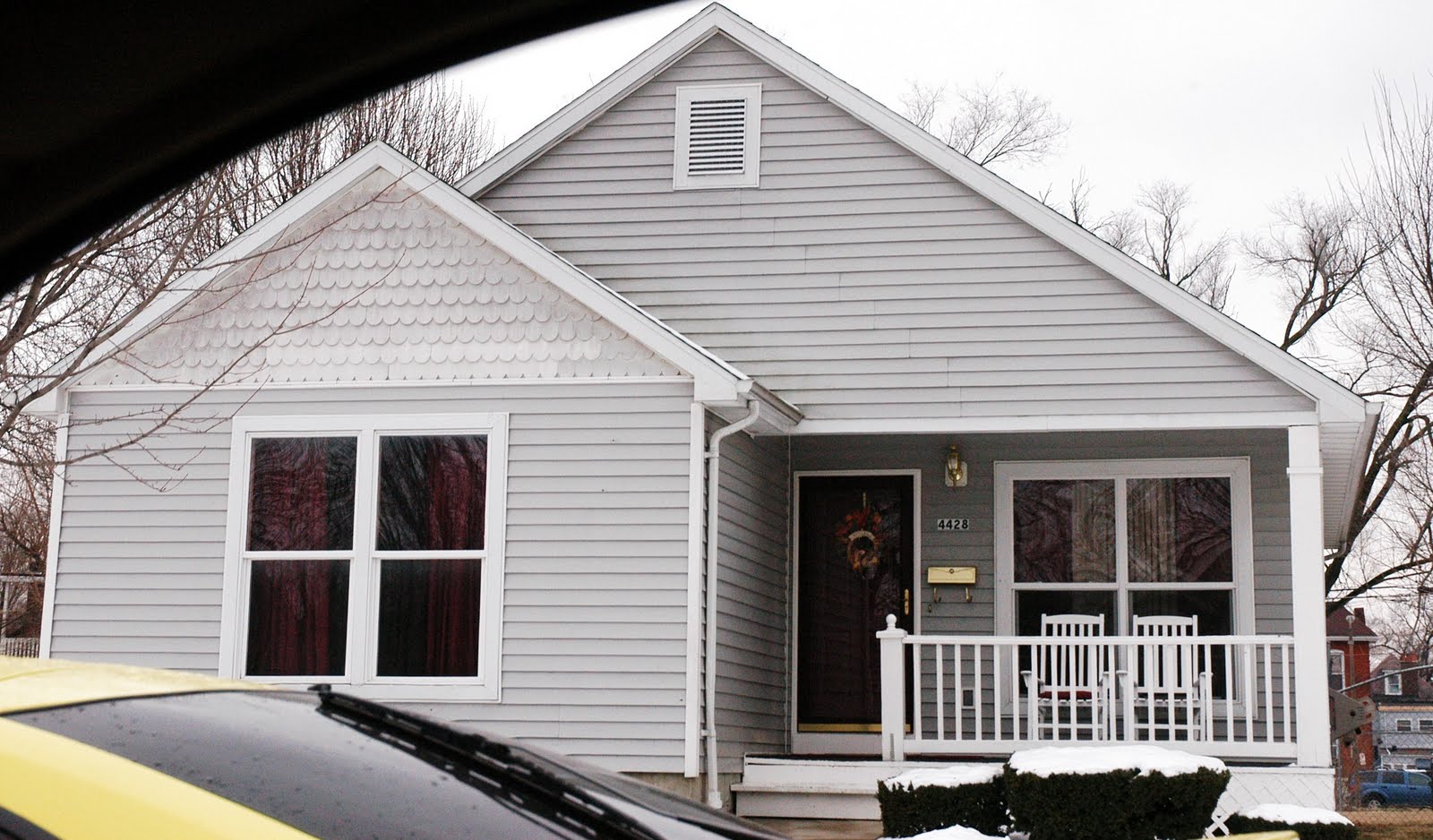 You get the picture.
Here are some photos of the devastating losses as well as some of the beautiful homes/businesses/structures hanging on: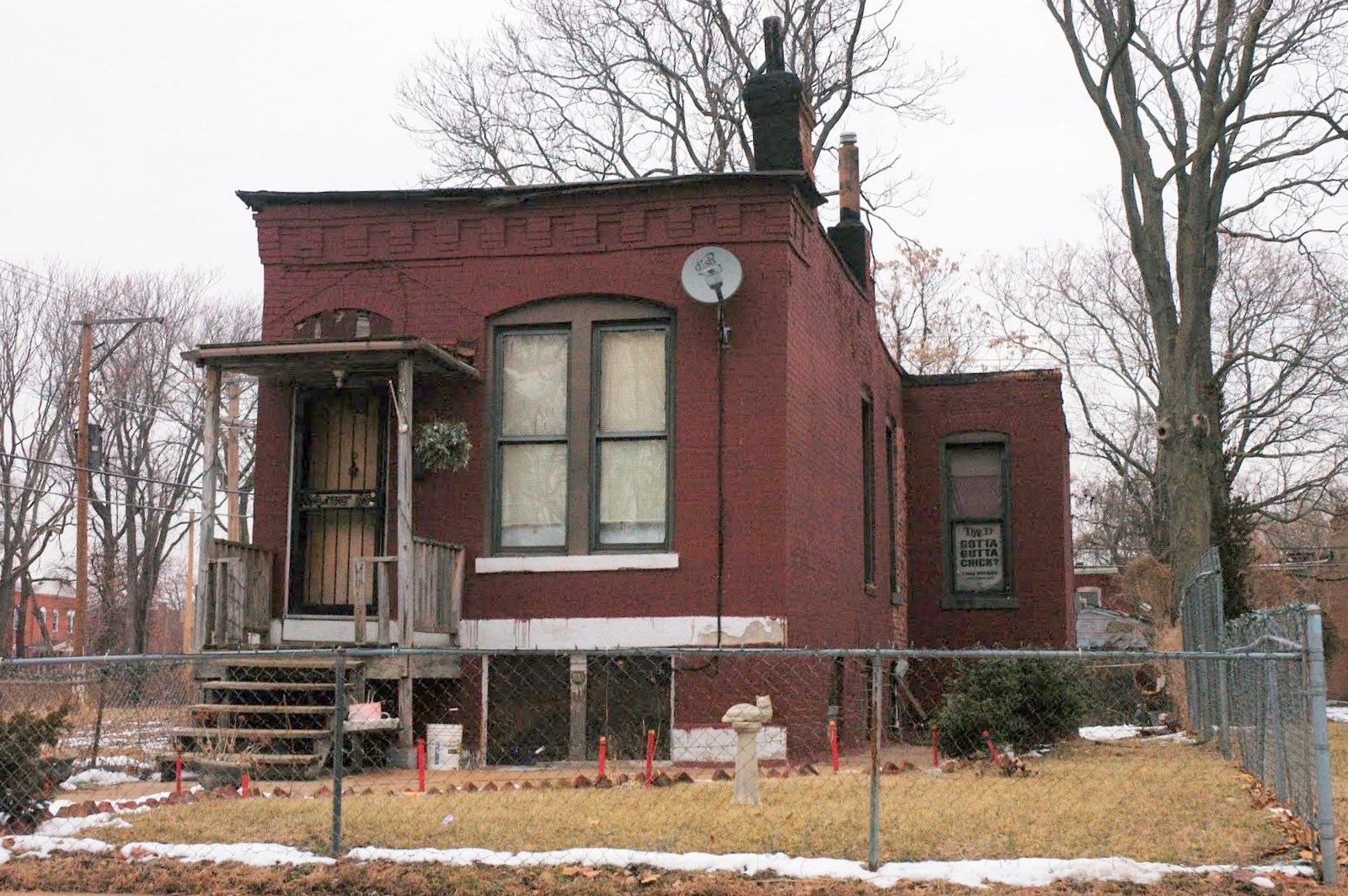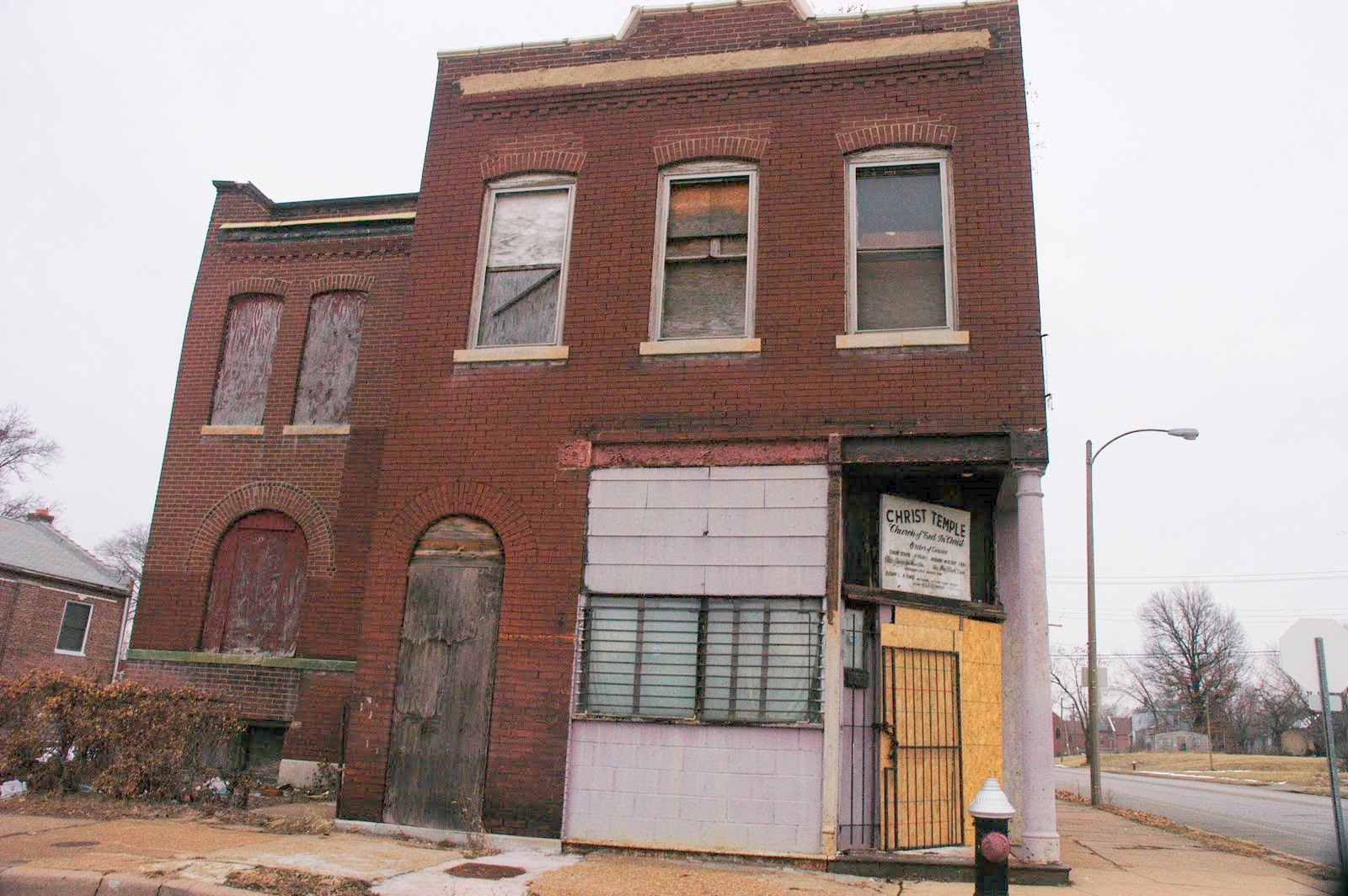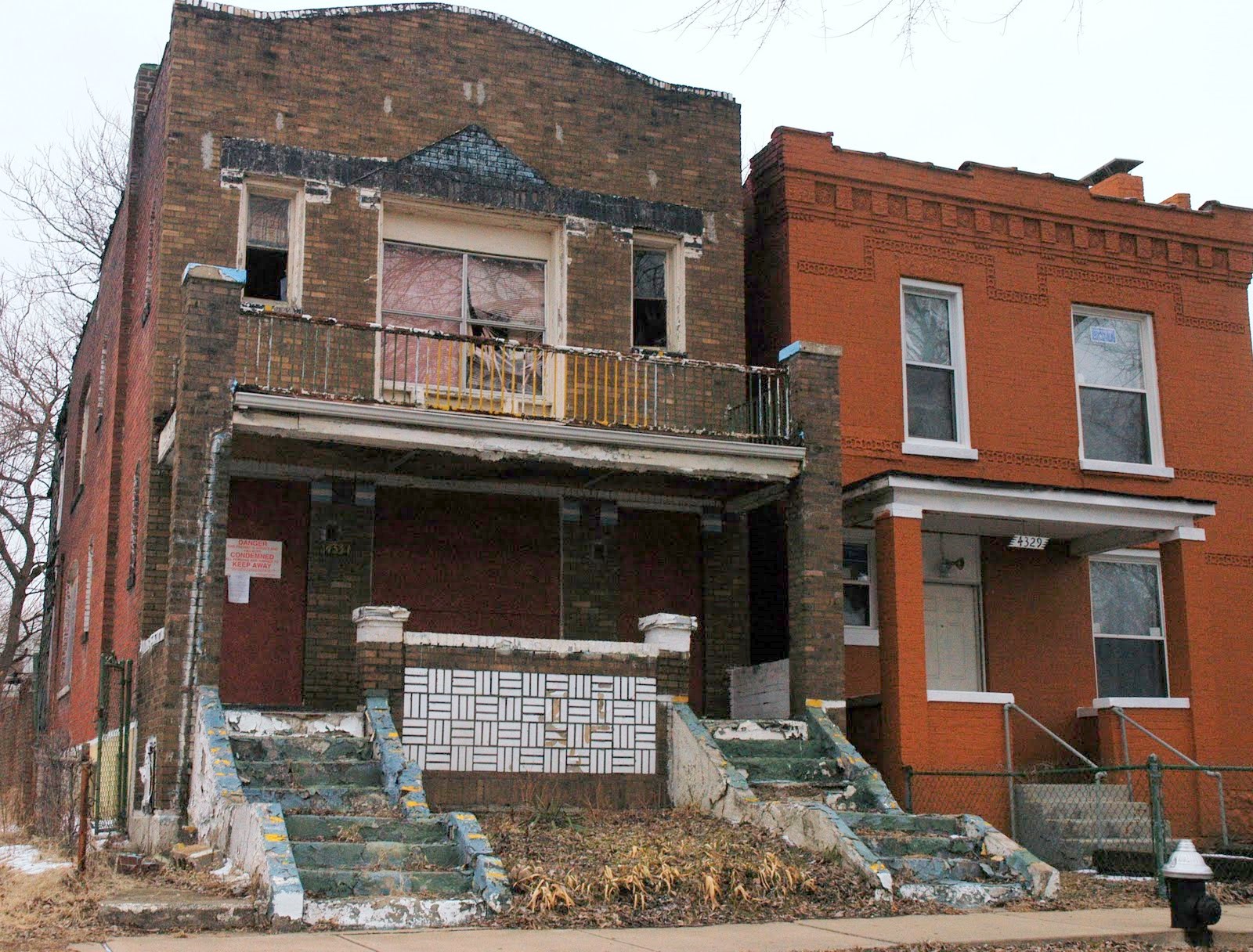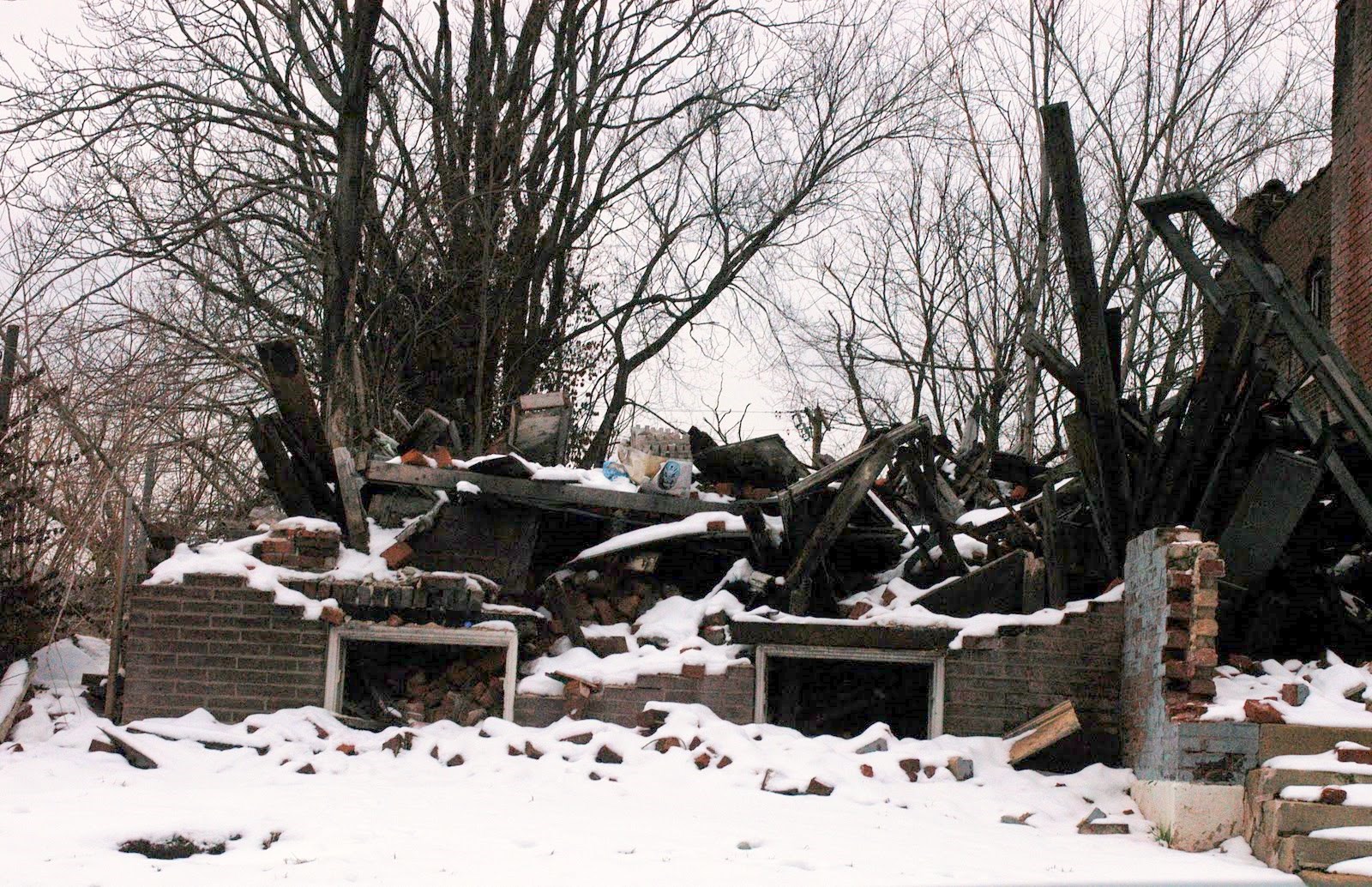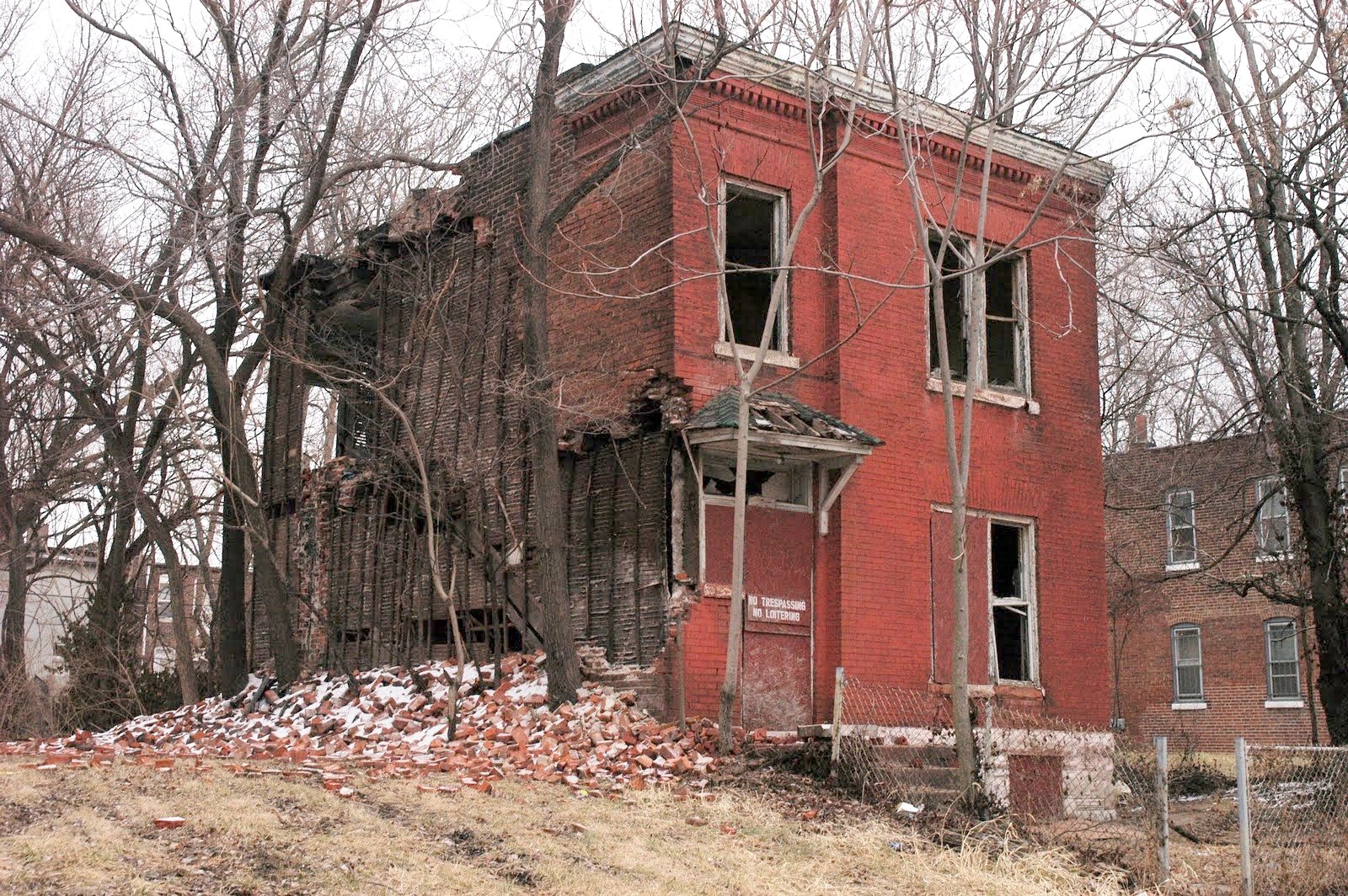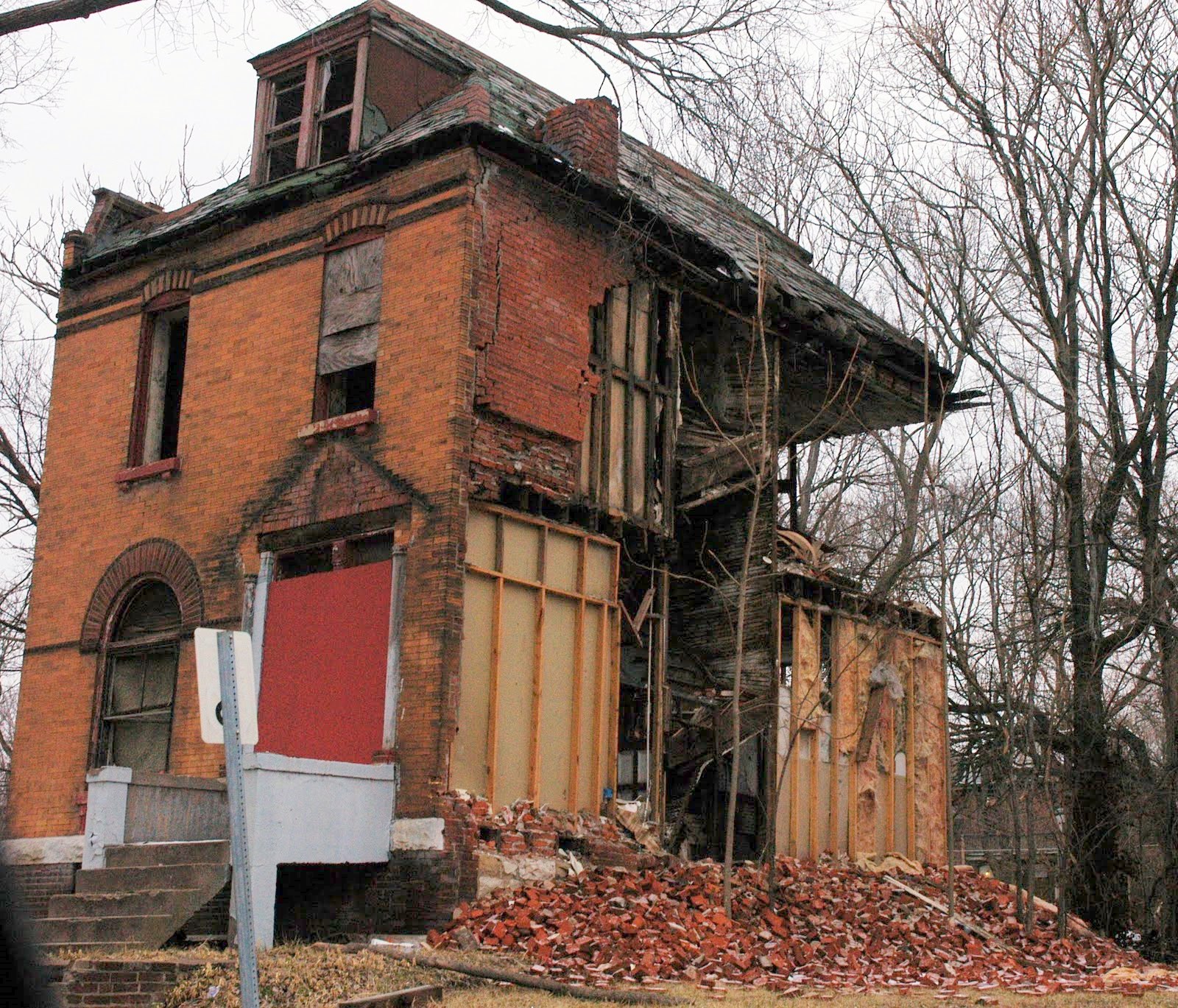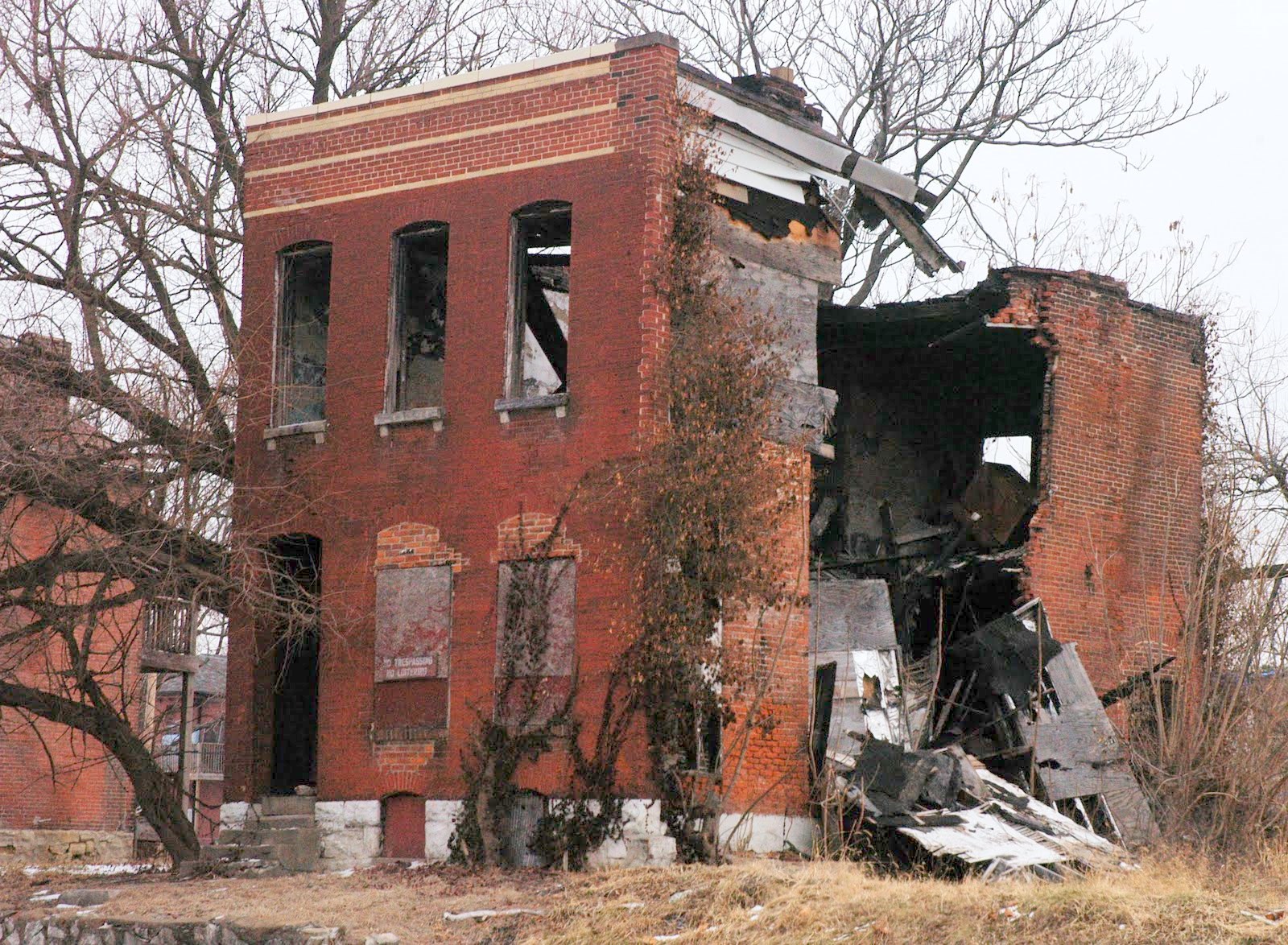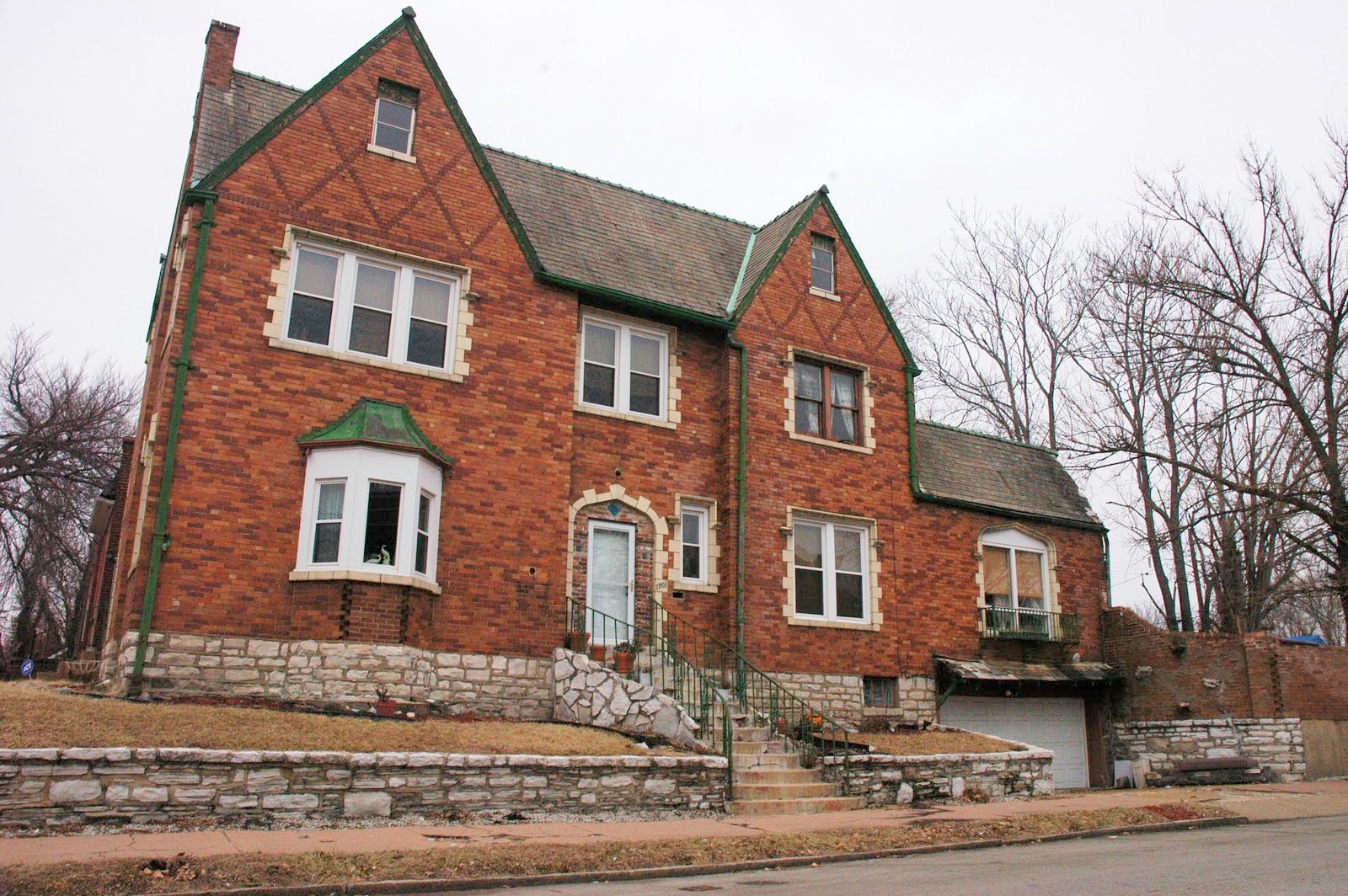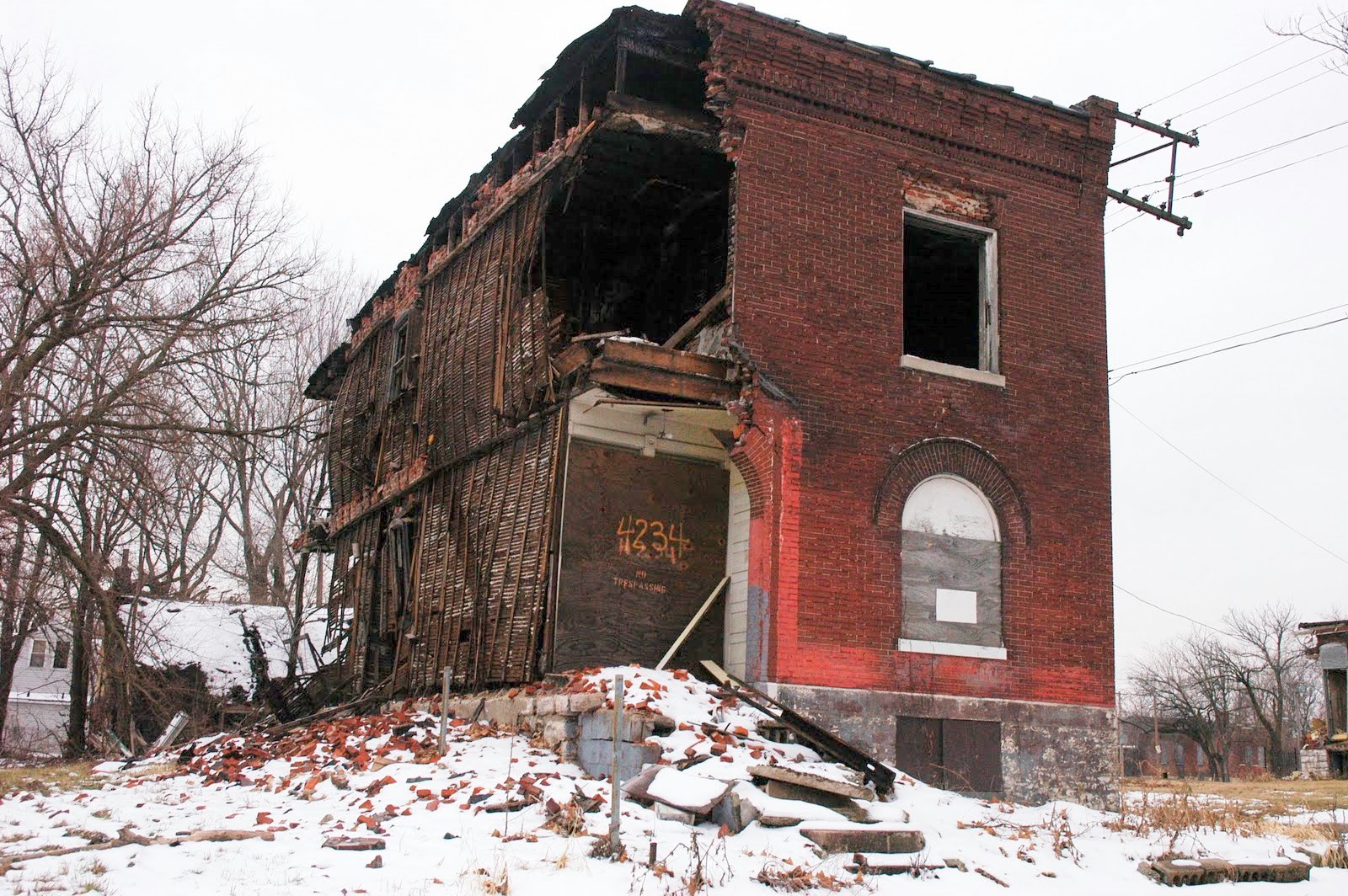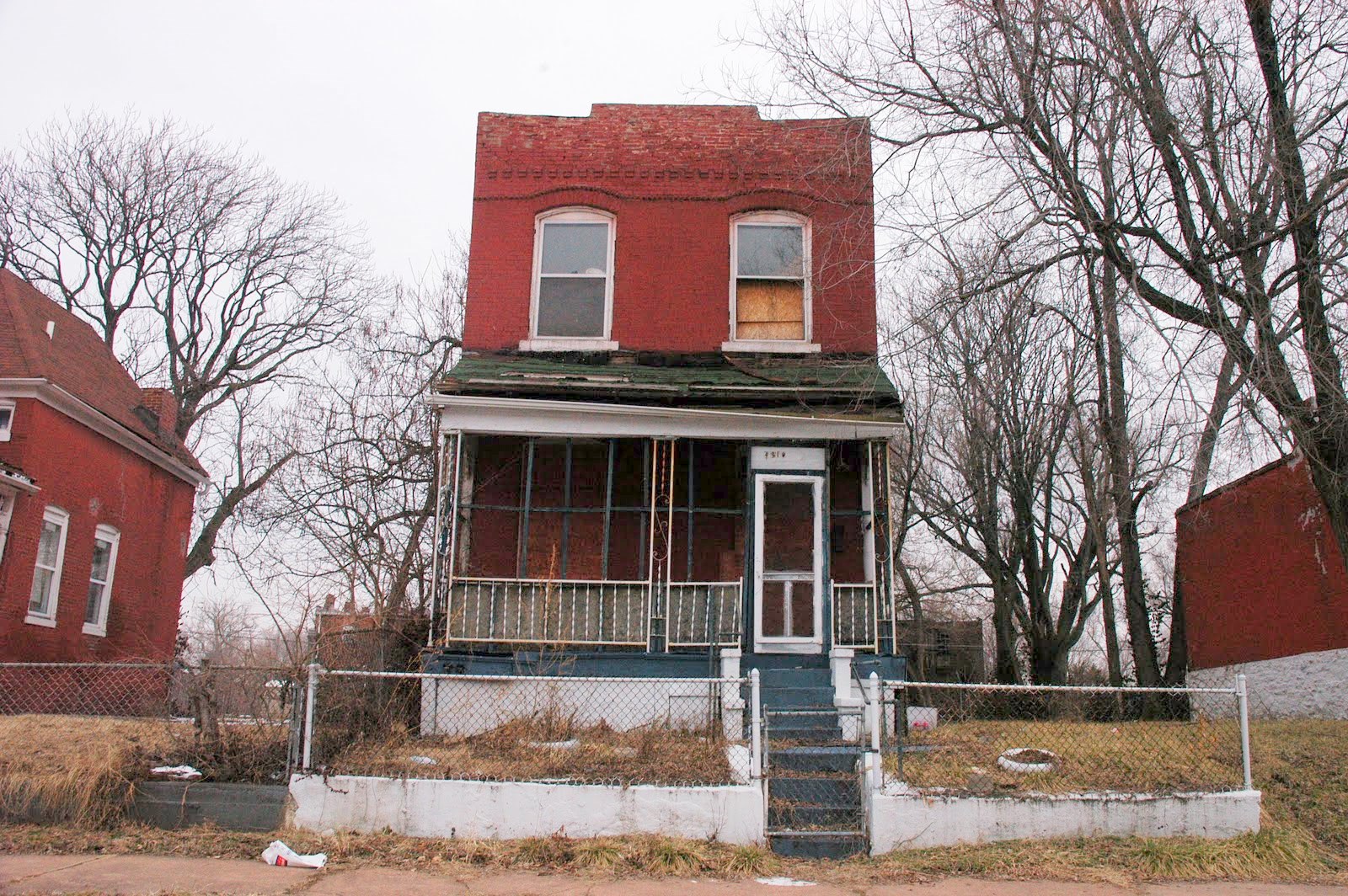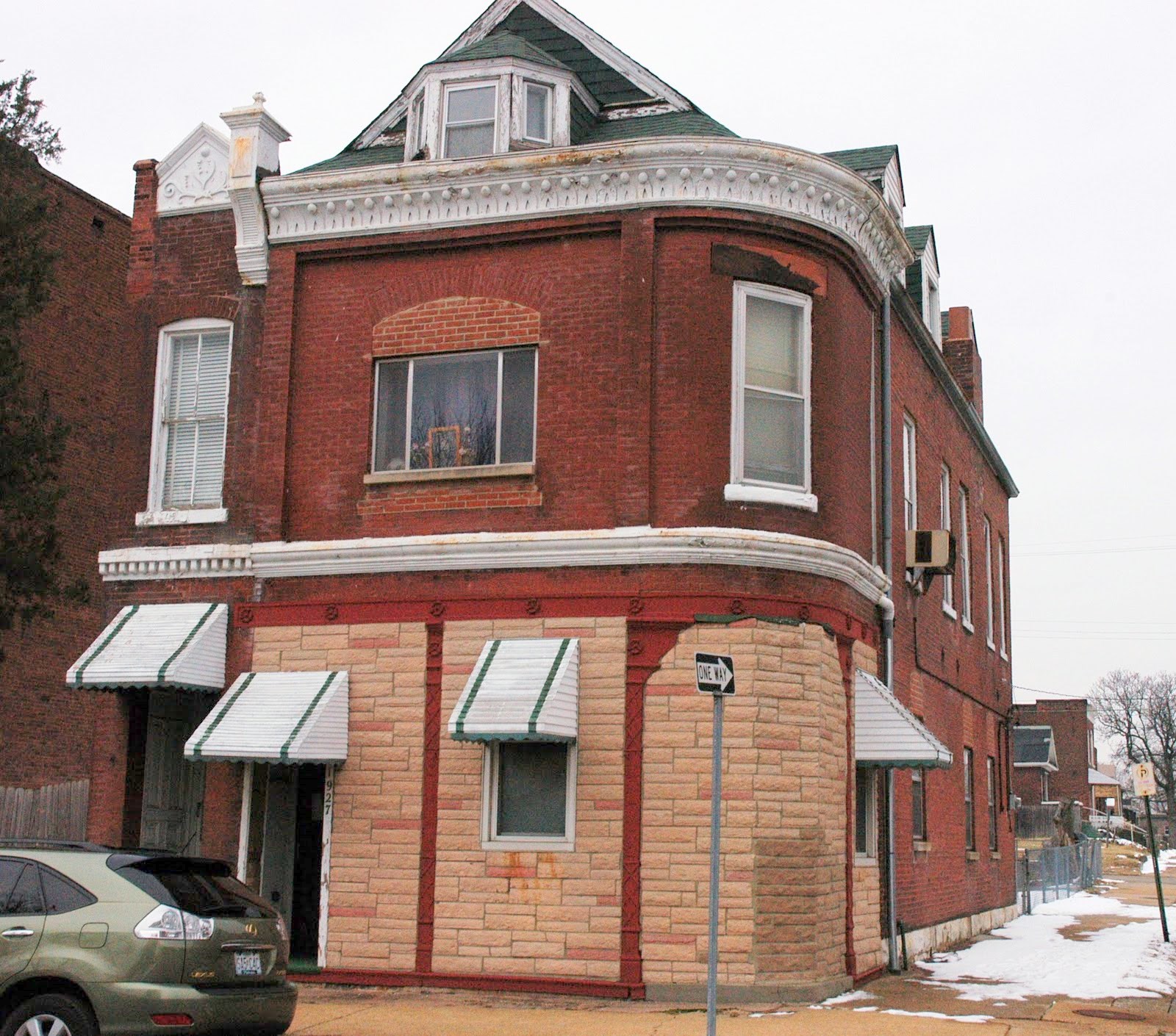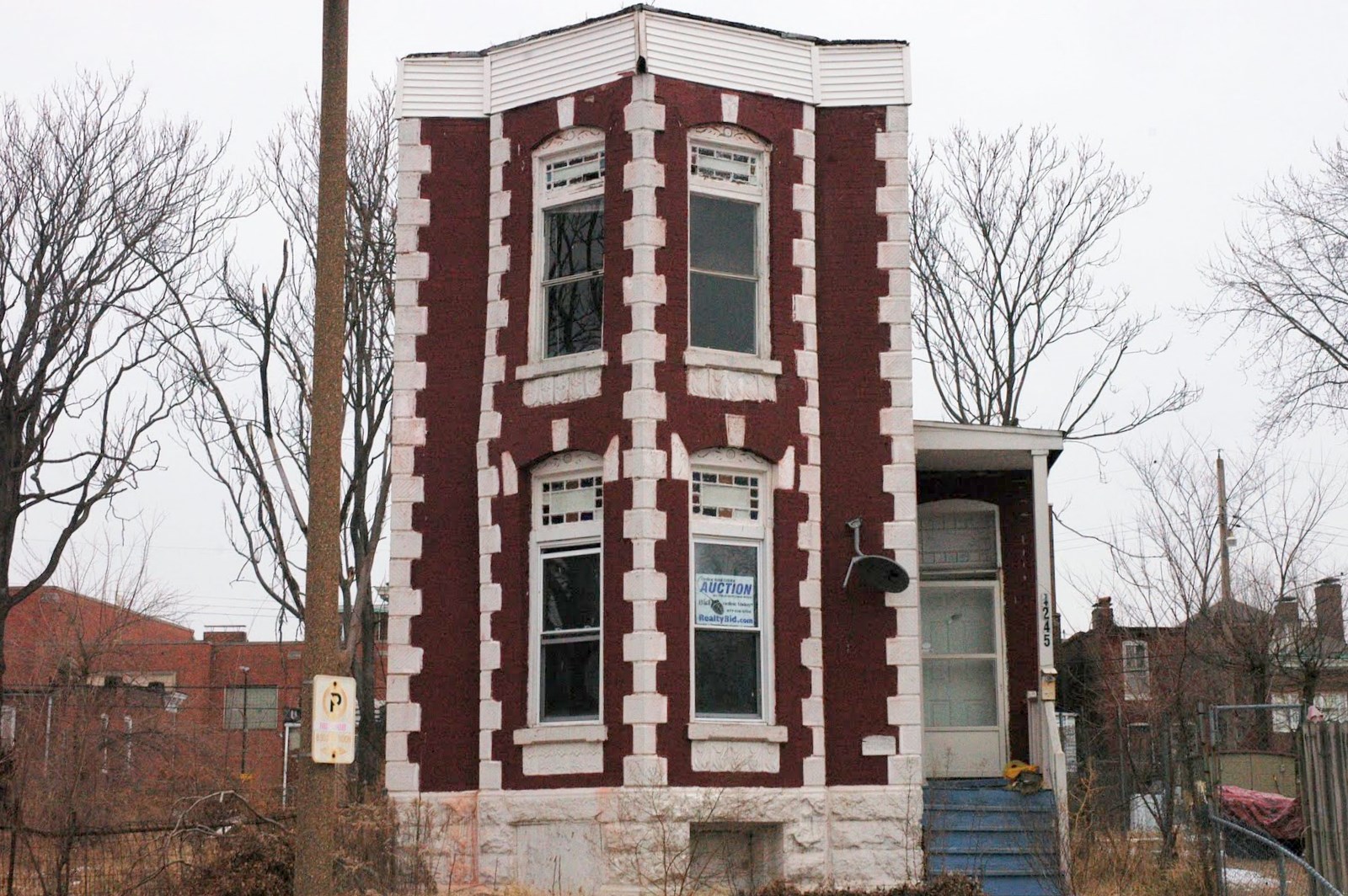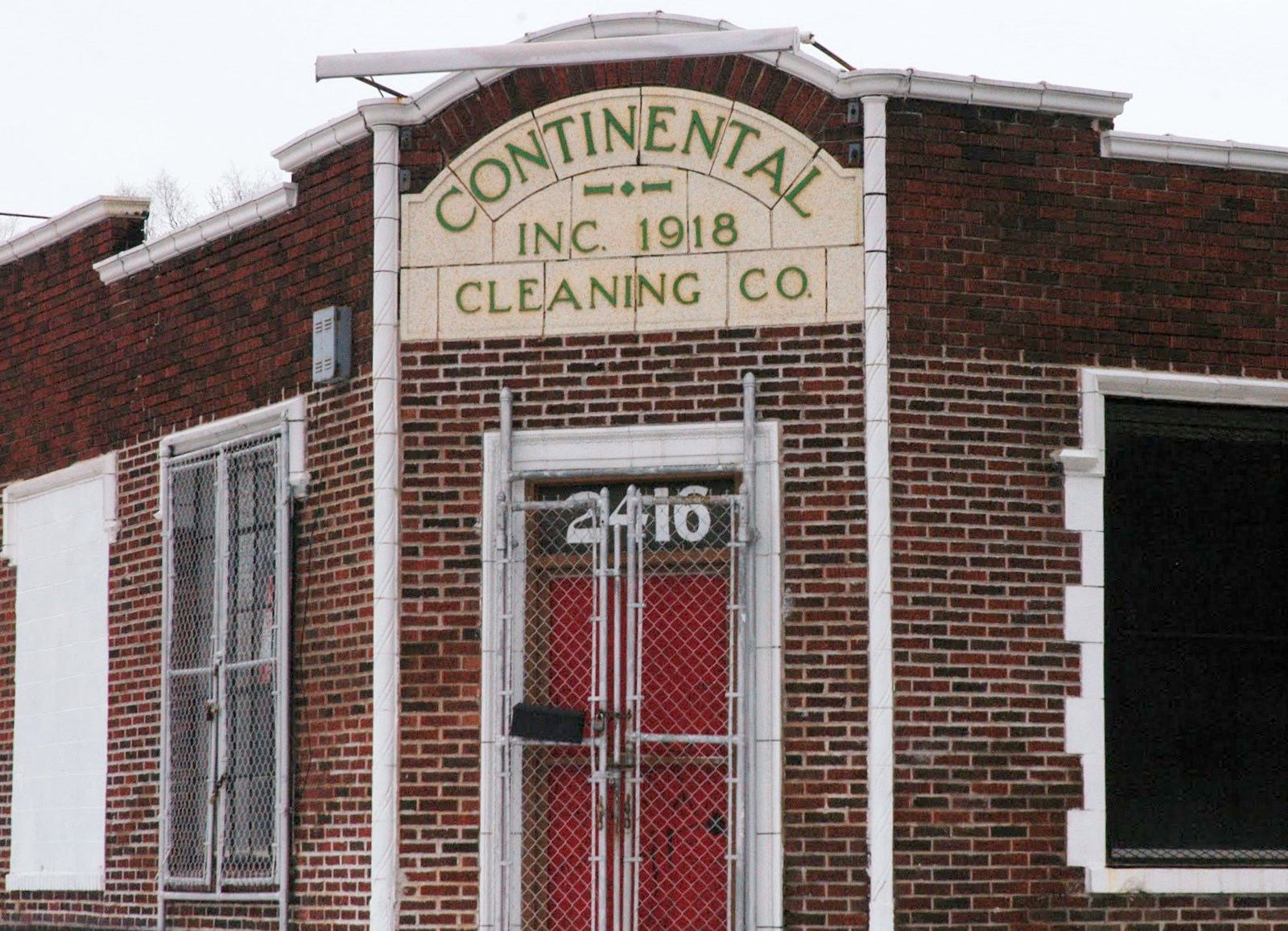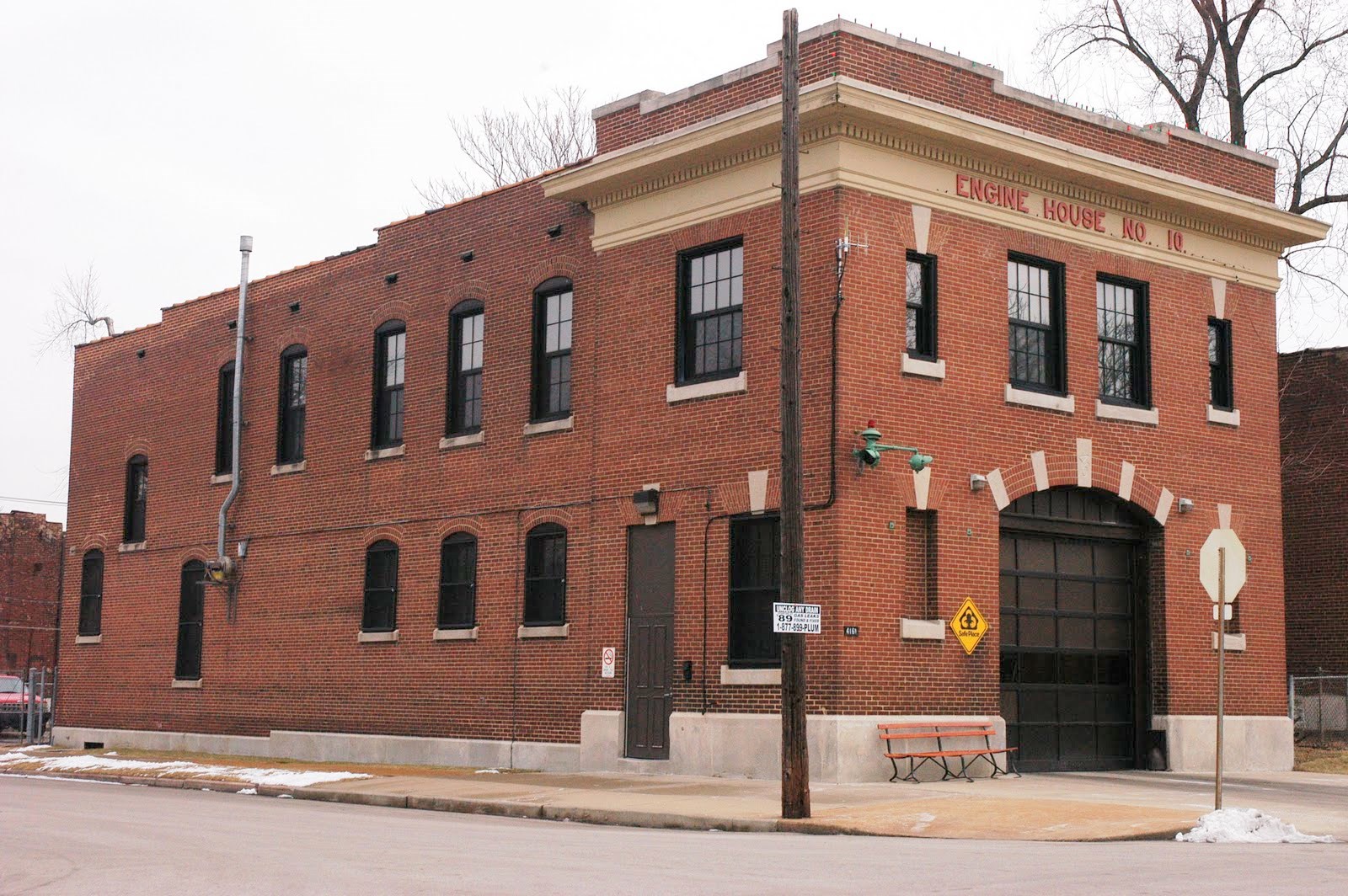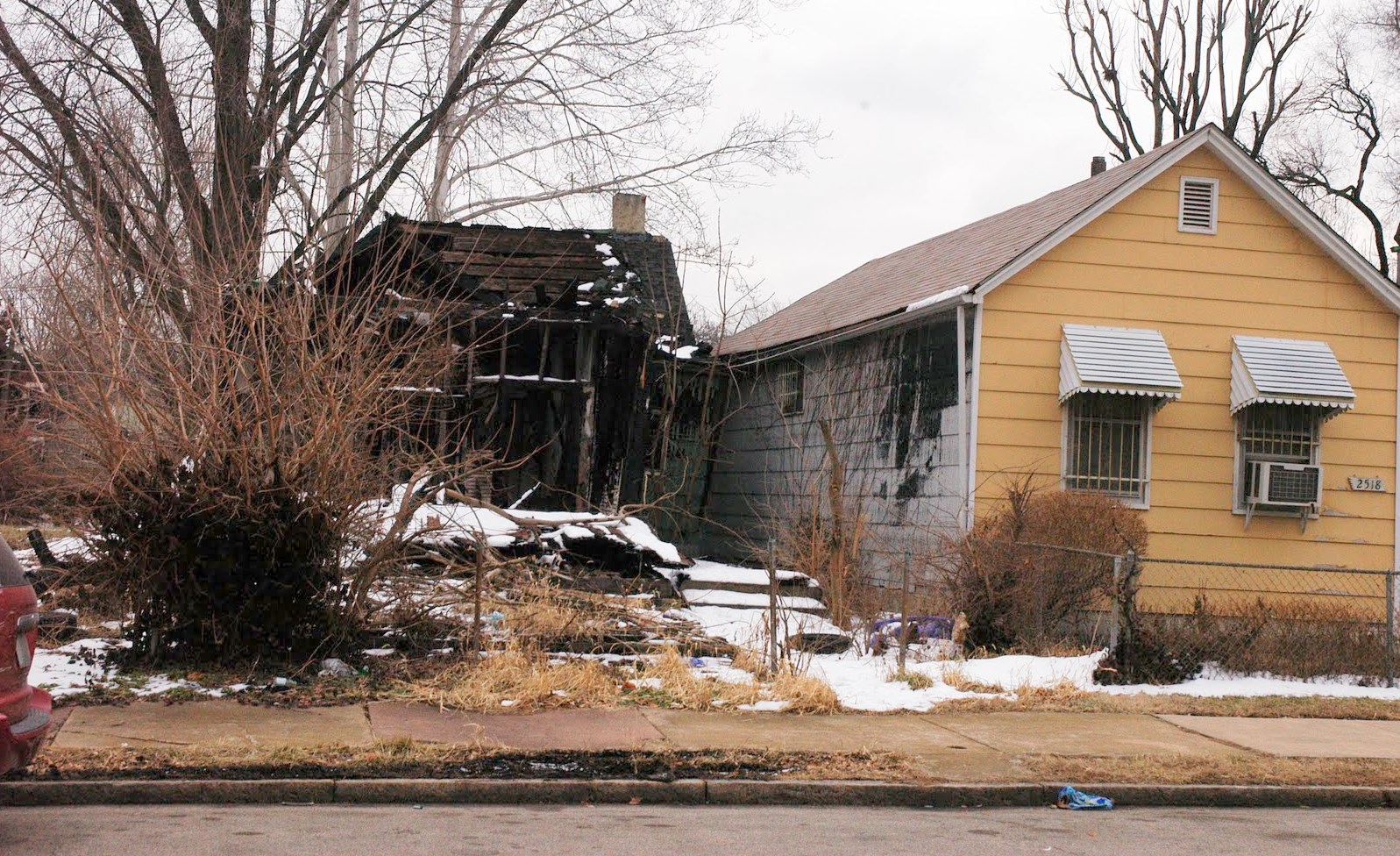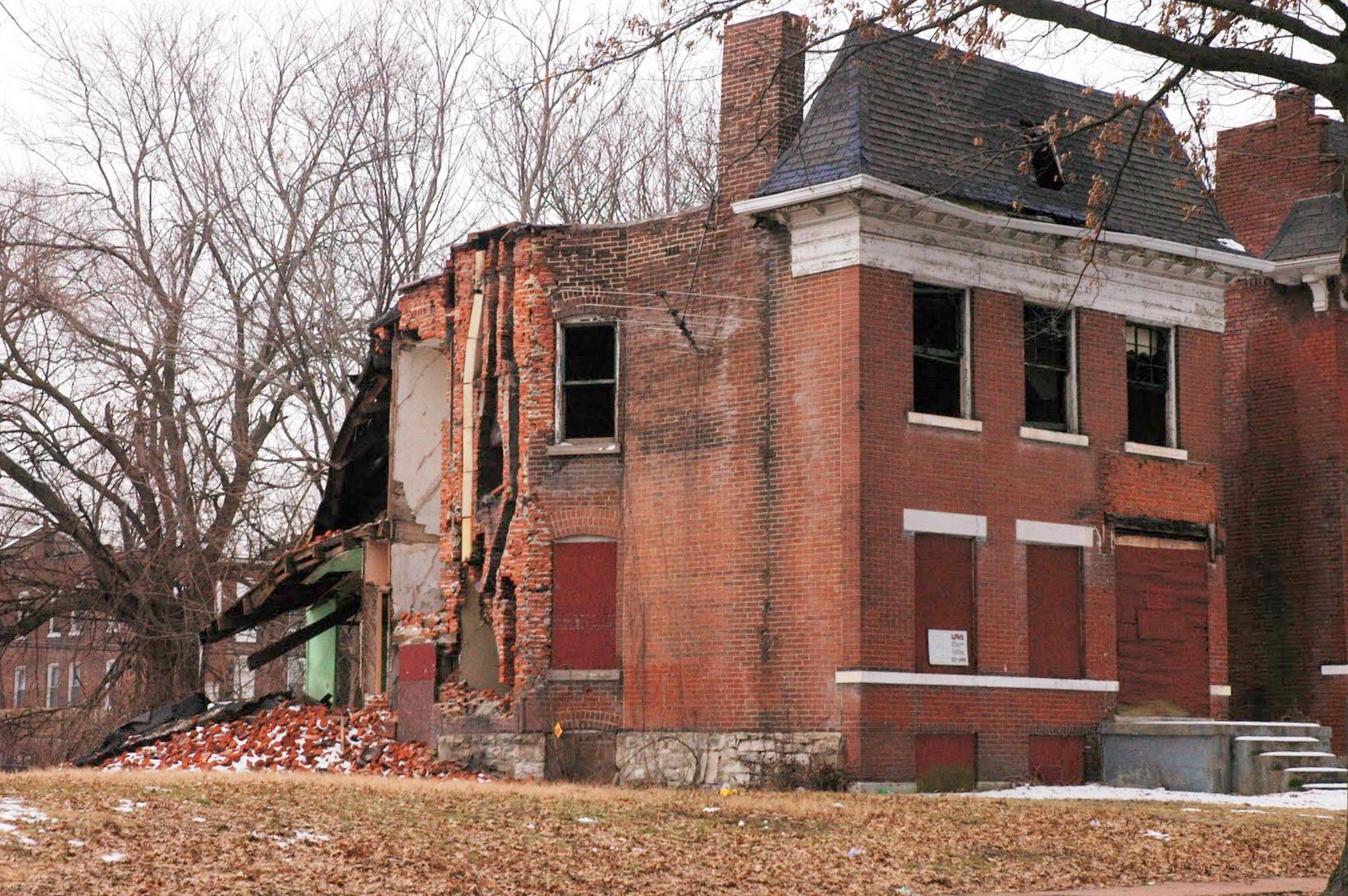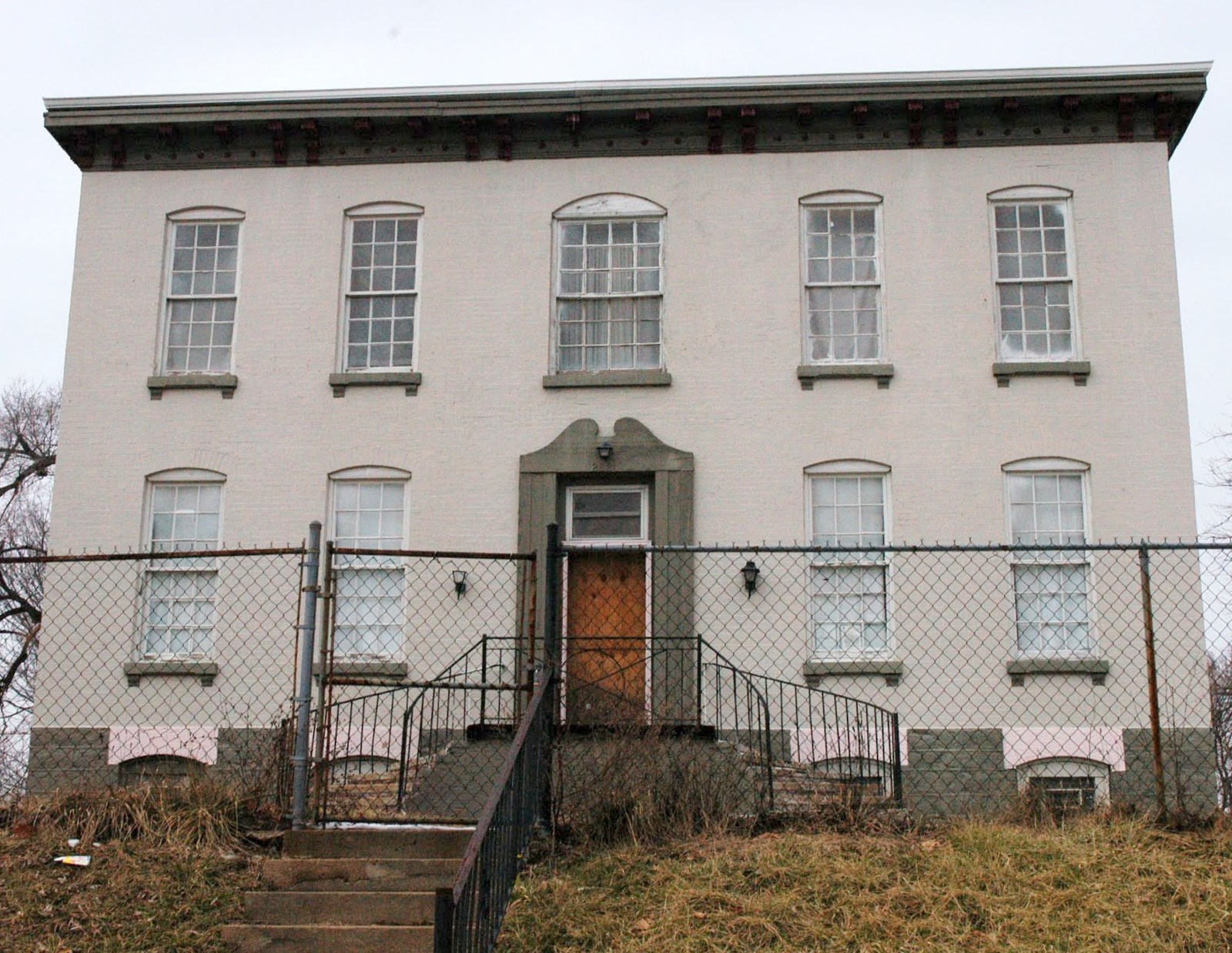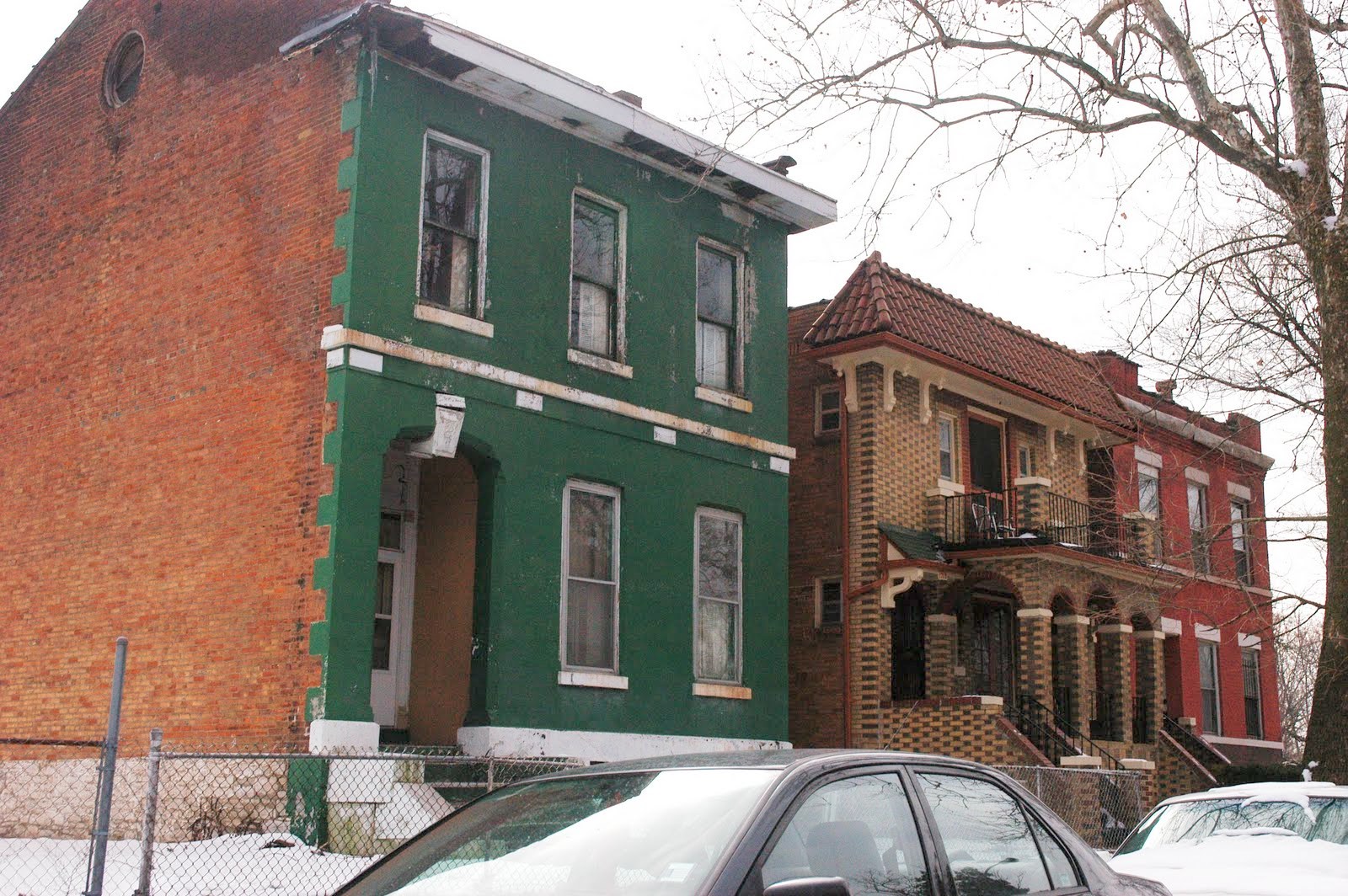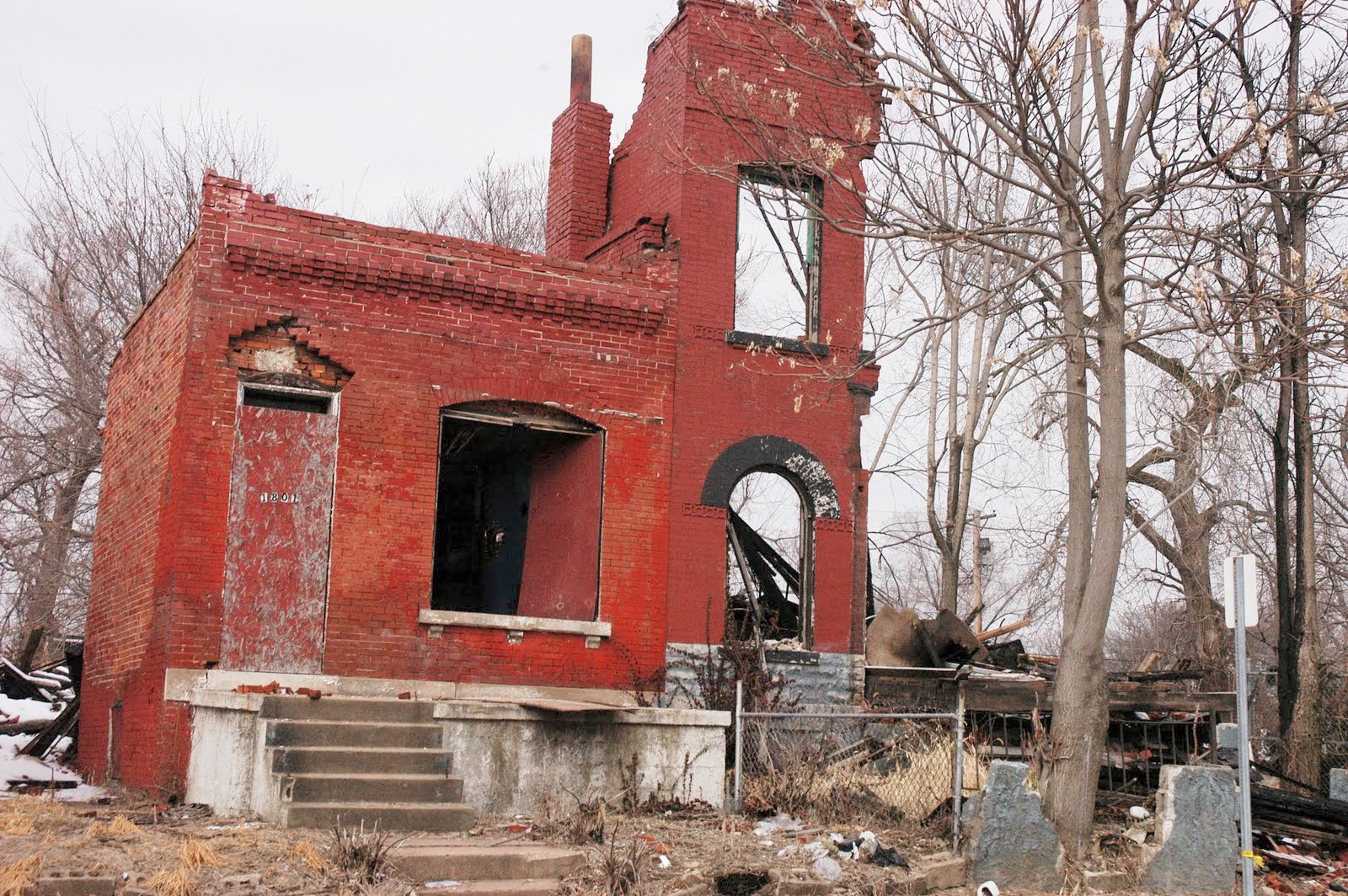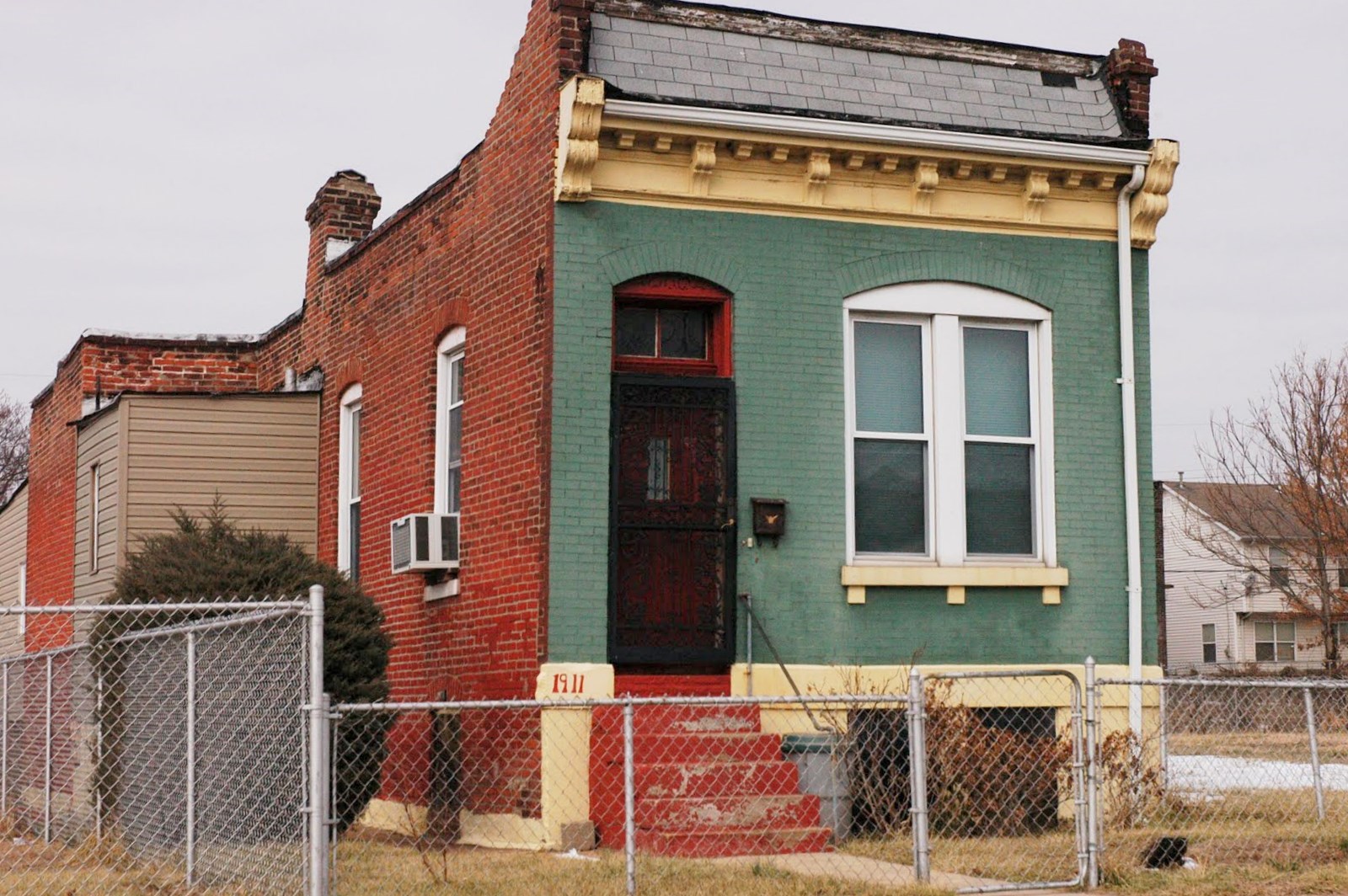 Here are some interesting signs, businesses from the past and present, etc. Sara-Lou Cafe is not technically within the boundaries of the Ville, but I couldn't resist. You've got to respect a place that offered frogs and liquor.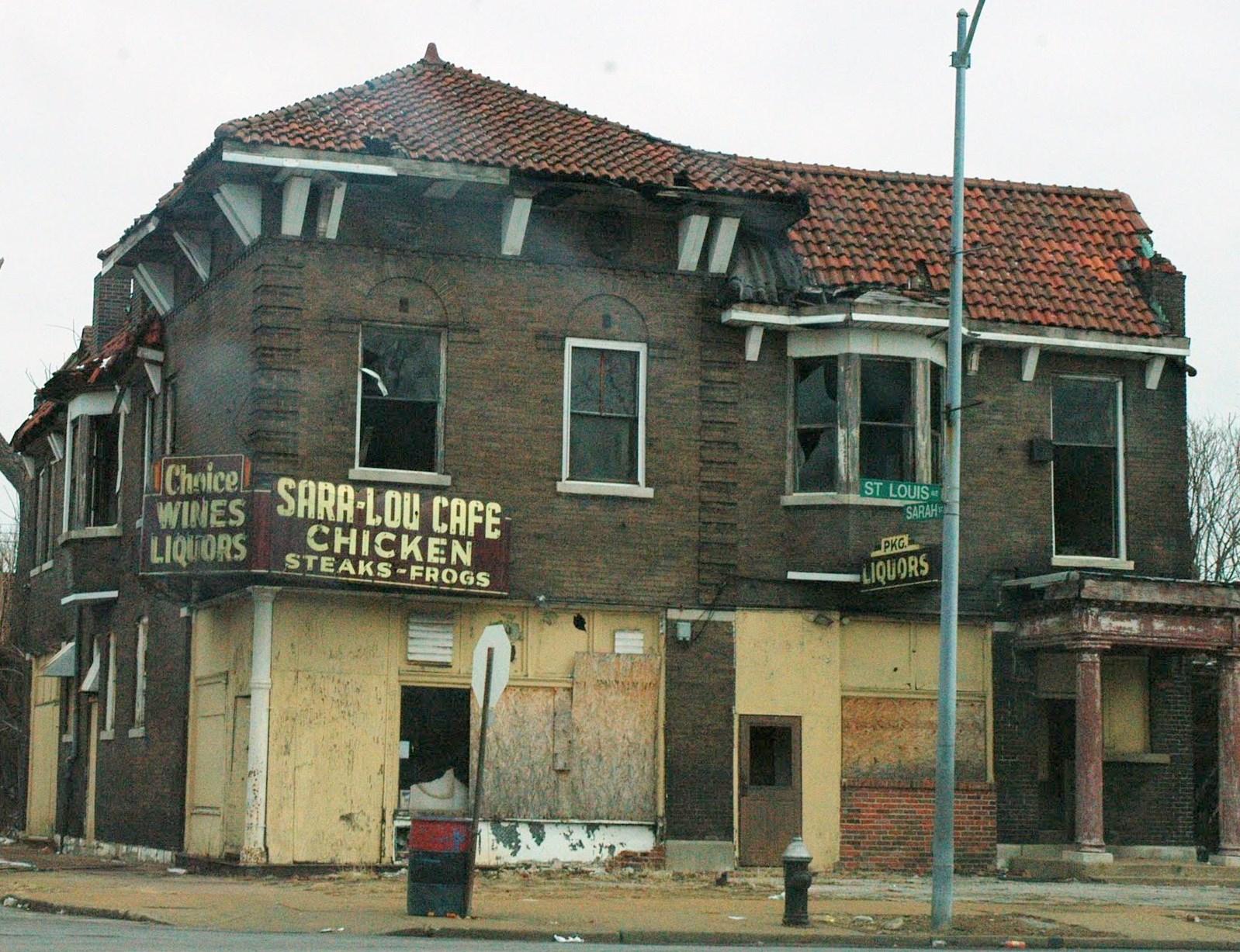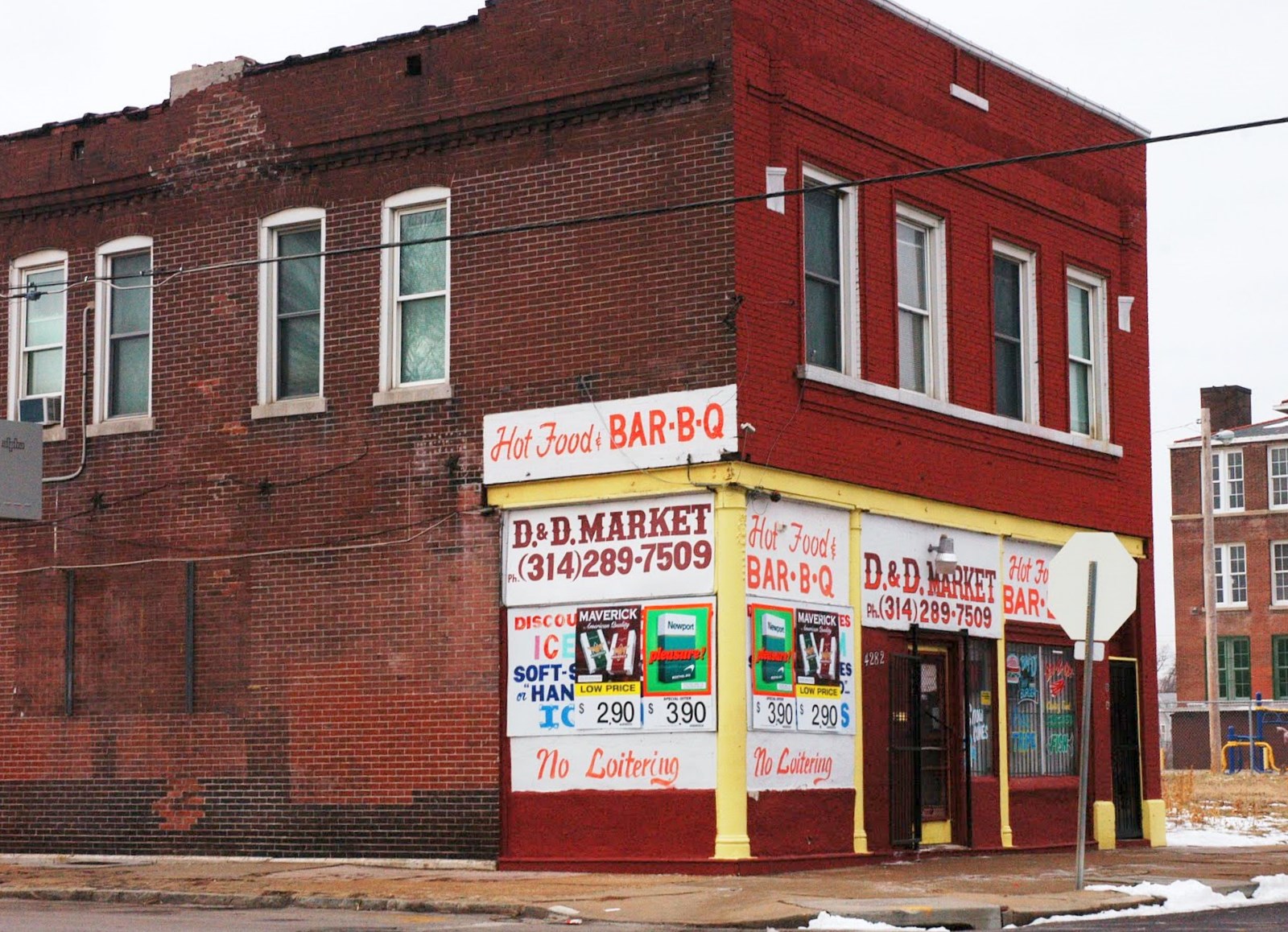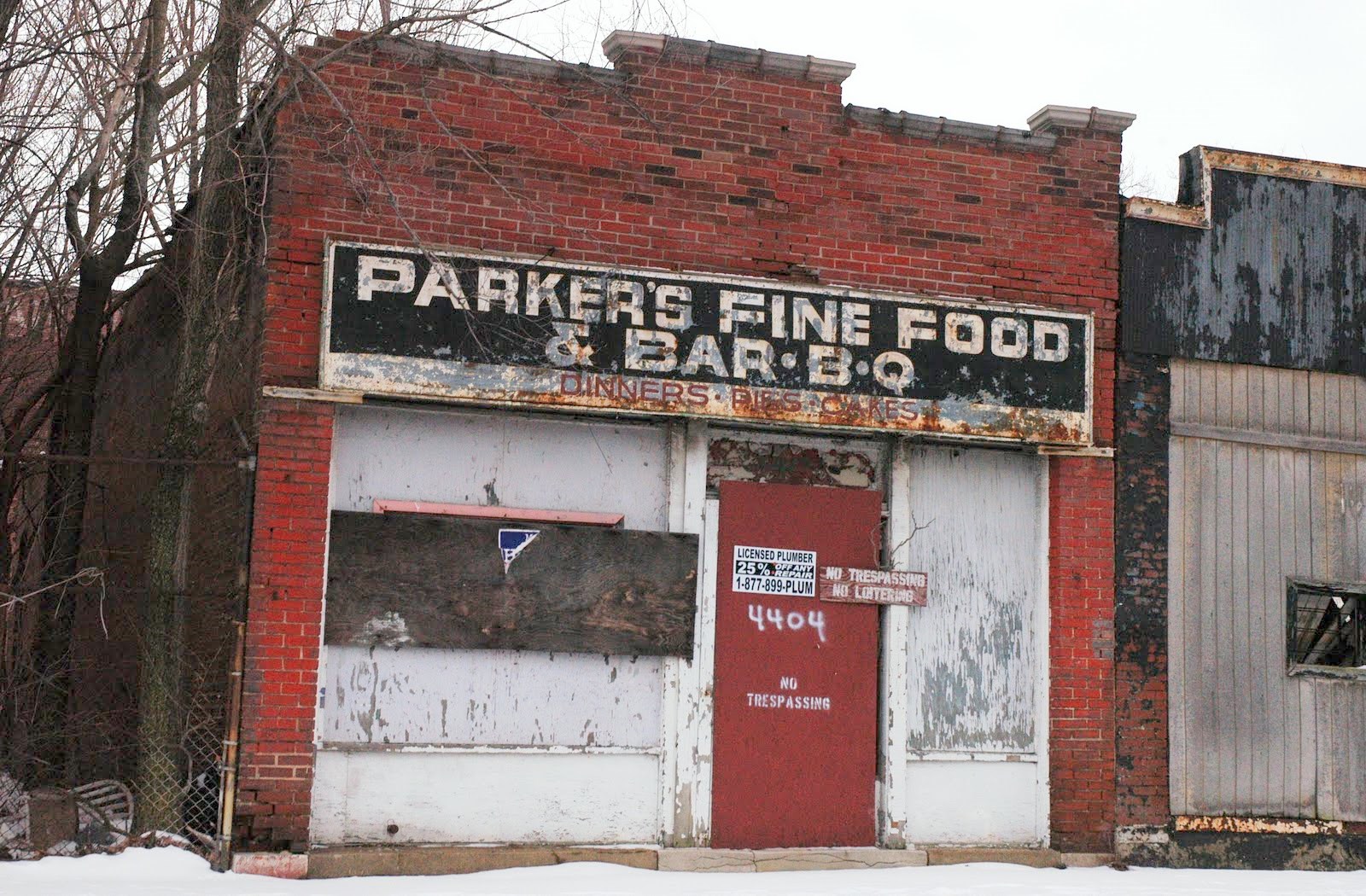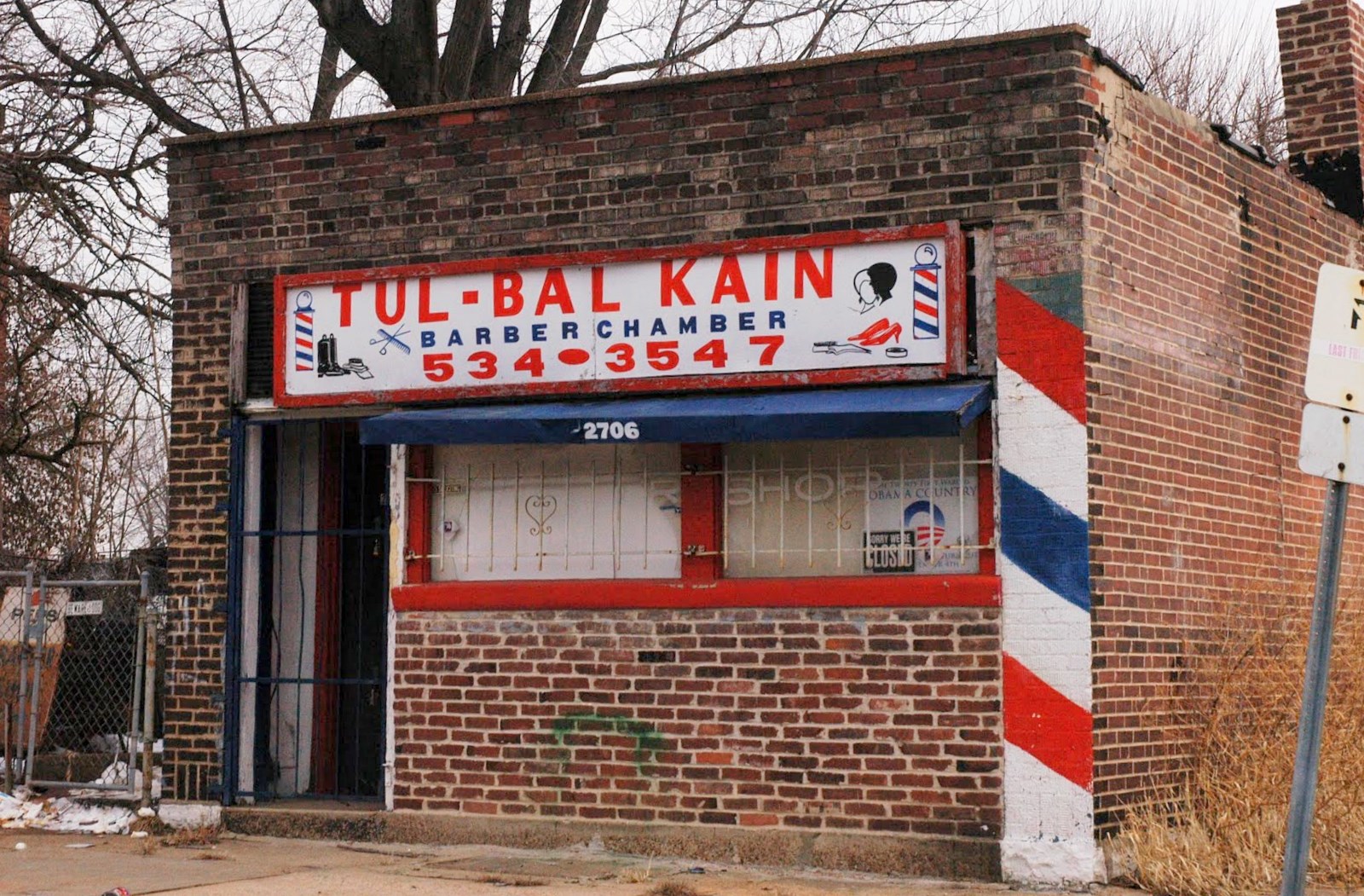 Dr. Martin Luther King Drive has some nice new sidewalks and parking meters. The street must have been the "Main Street" of St. Louis in its heyday. This street is an American urban photographers treasure trove! Check out some scenes on MLK drive in the Ville: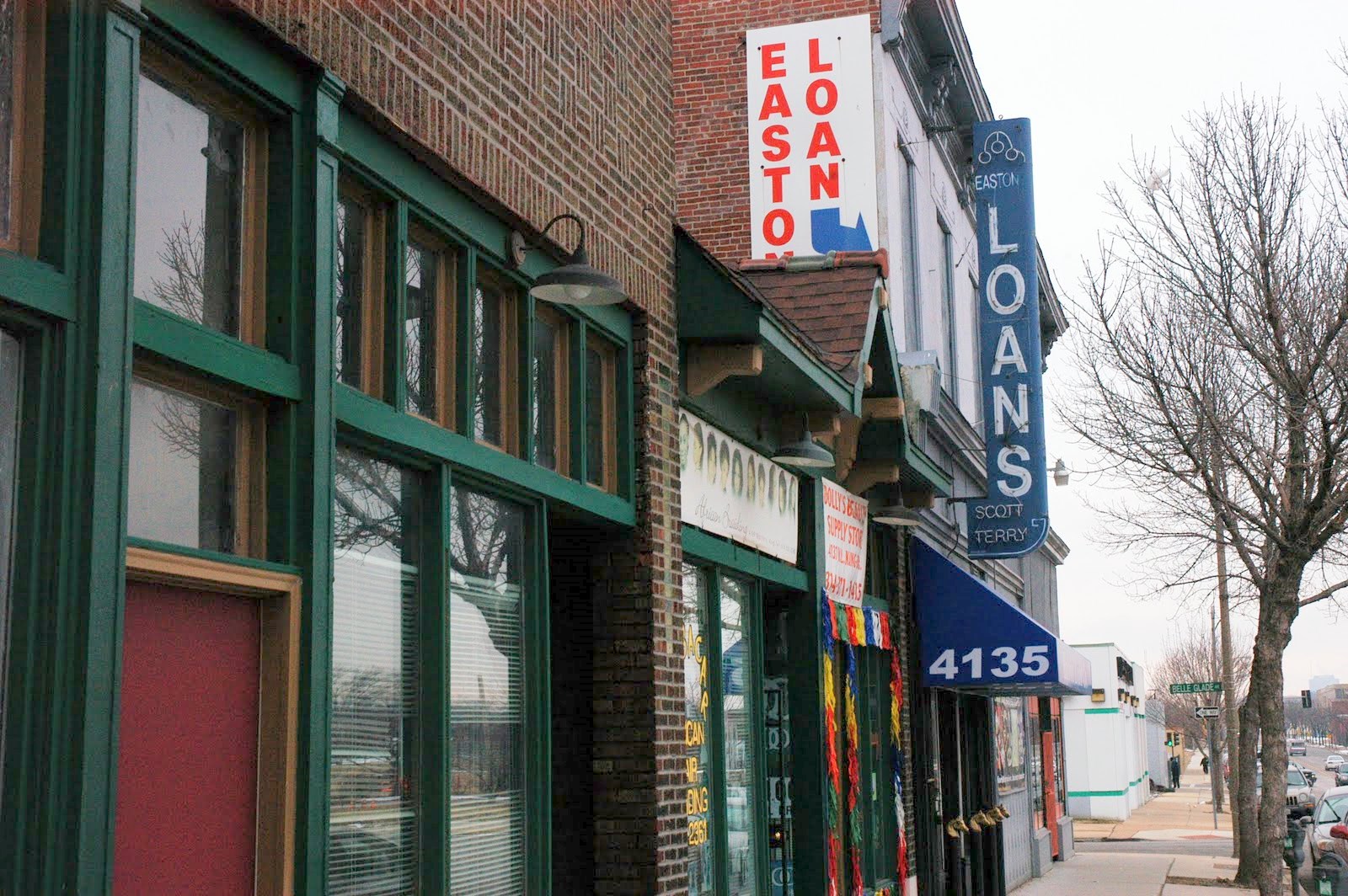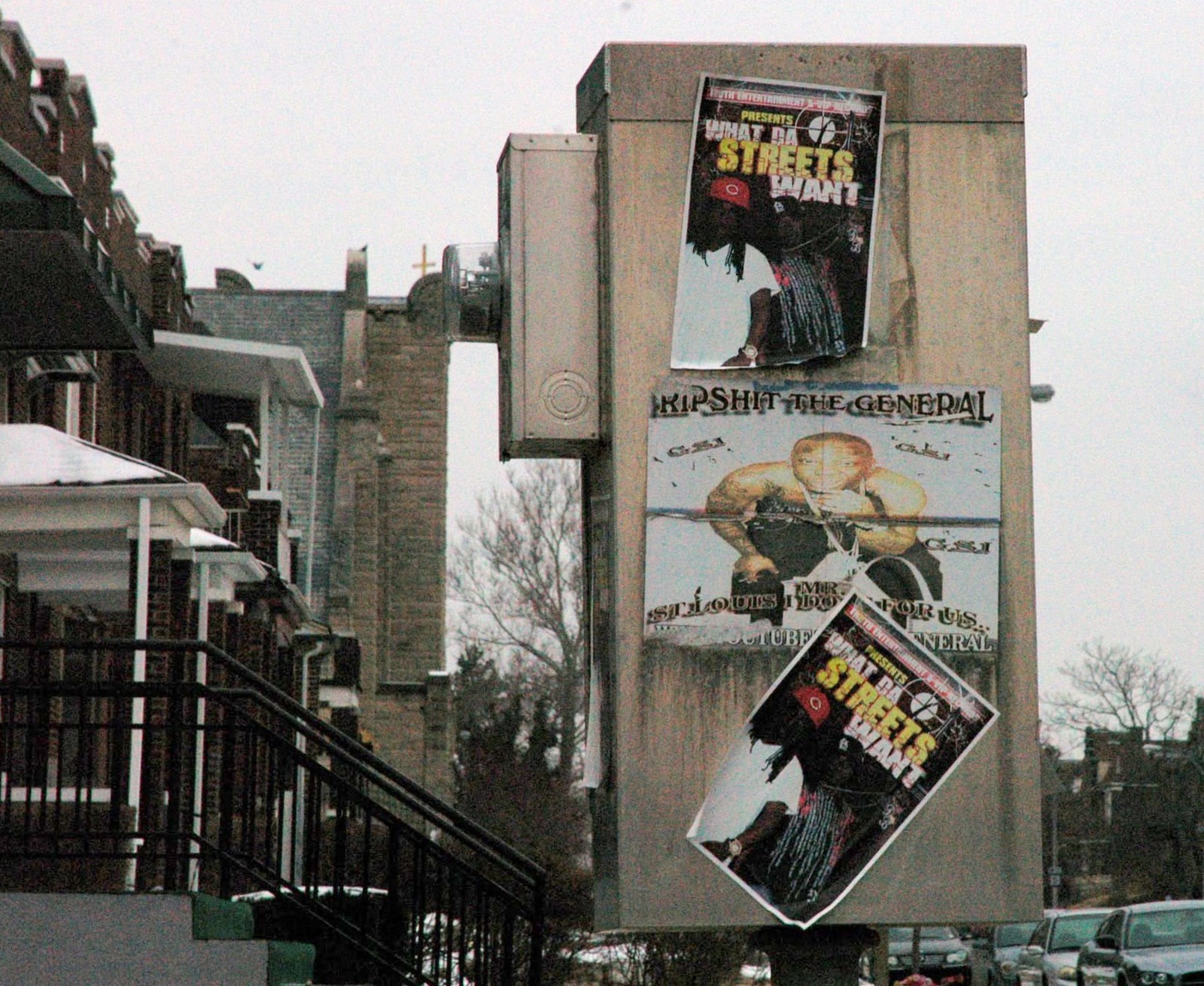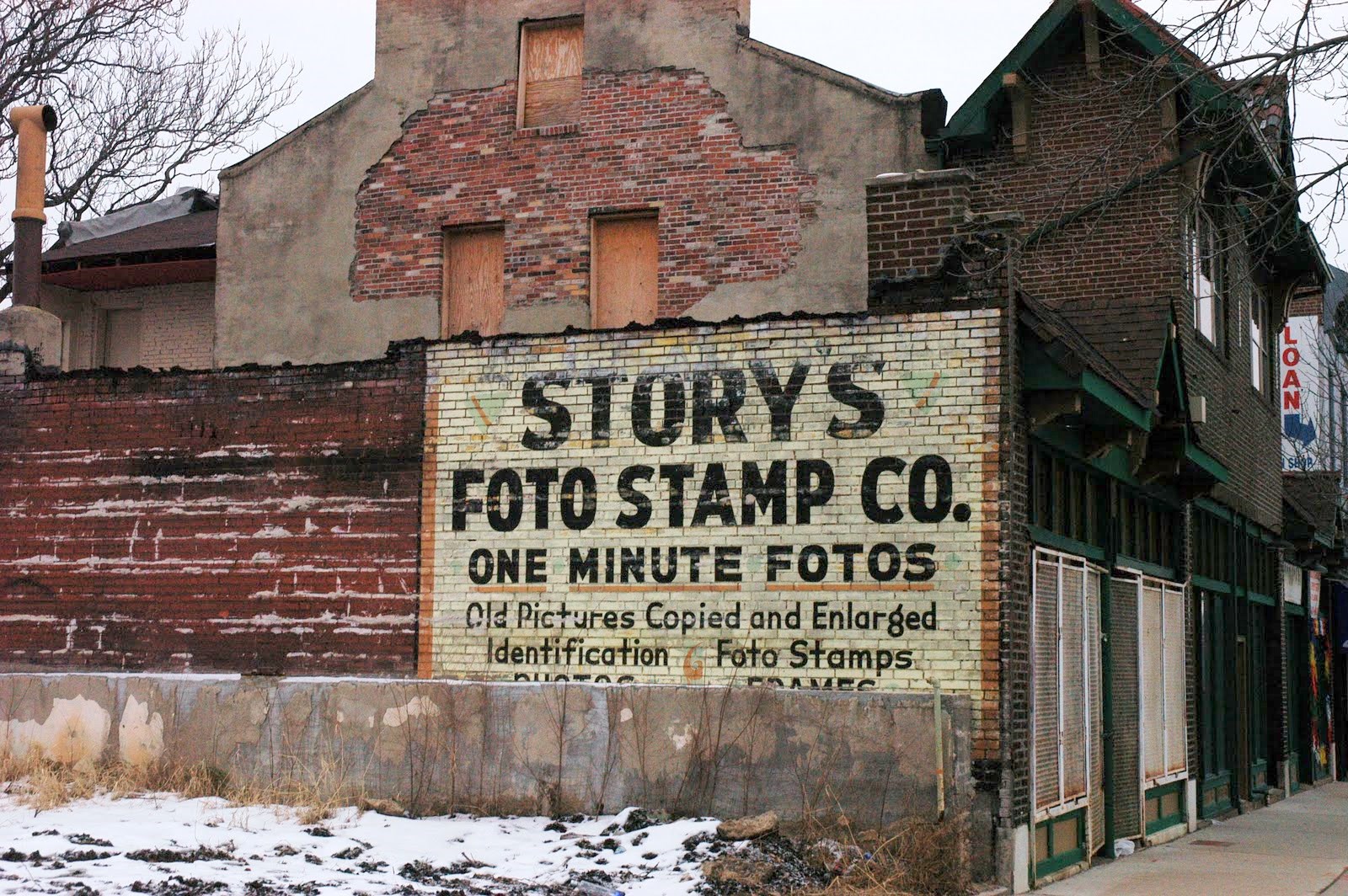 The Harlem Tap Room is at MLK and Whittier: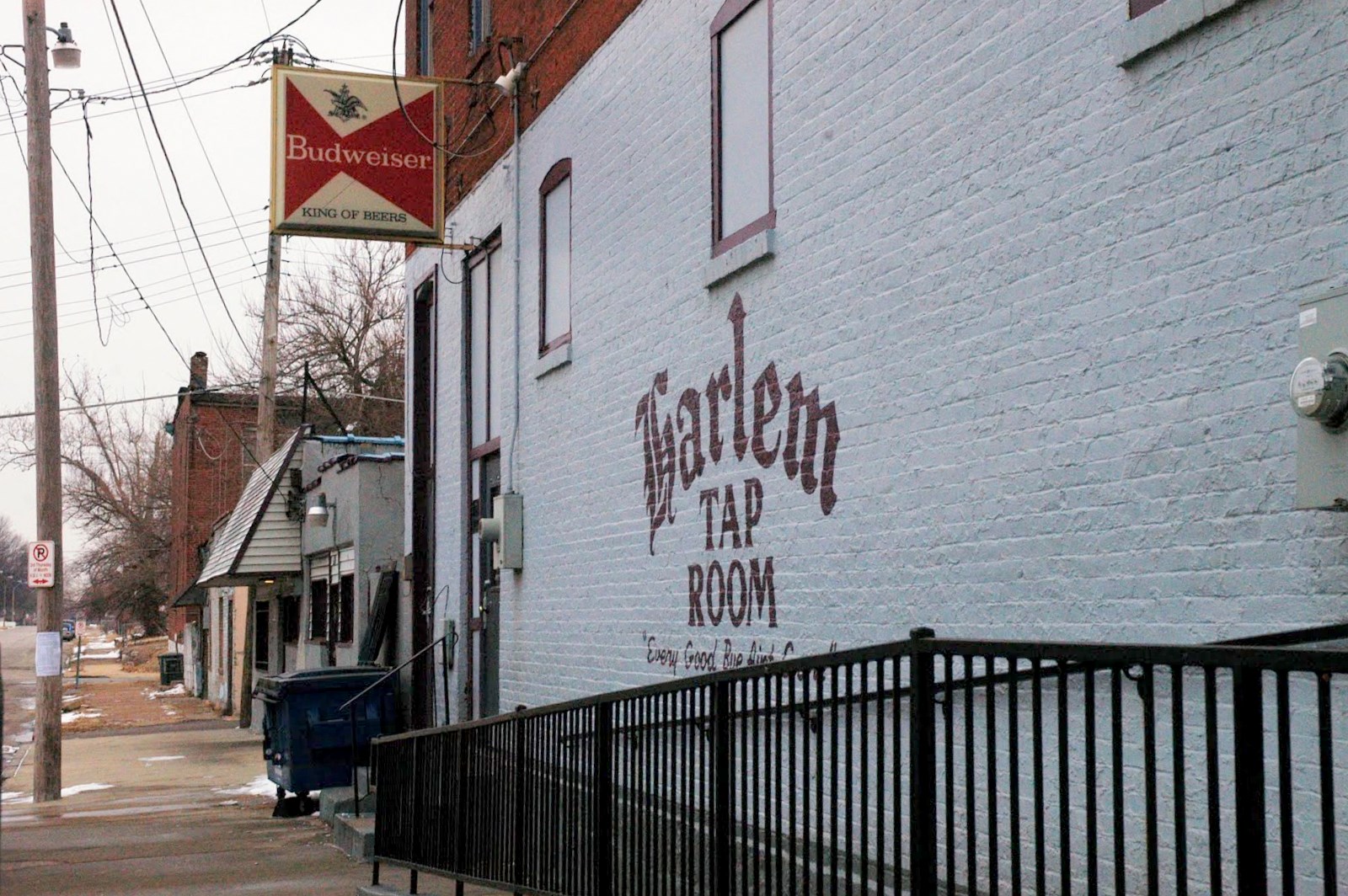 There is a tribute above the entrance to it's 1946 founder Ezell Nance Senior who passed in 1992: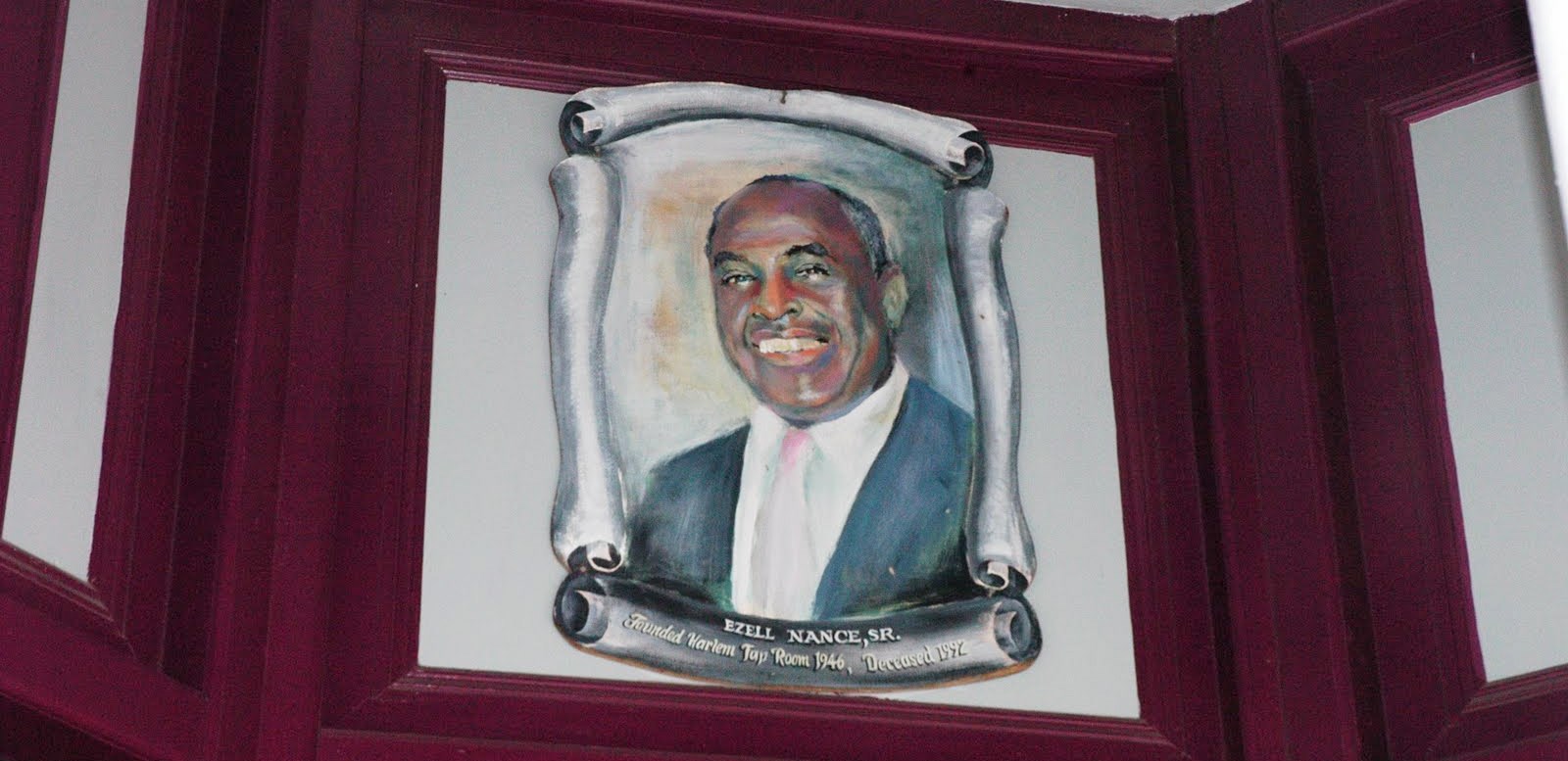 The former Enterprise Cleaning Company building: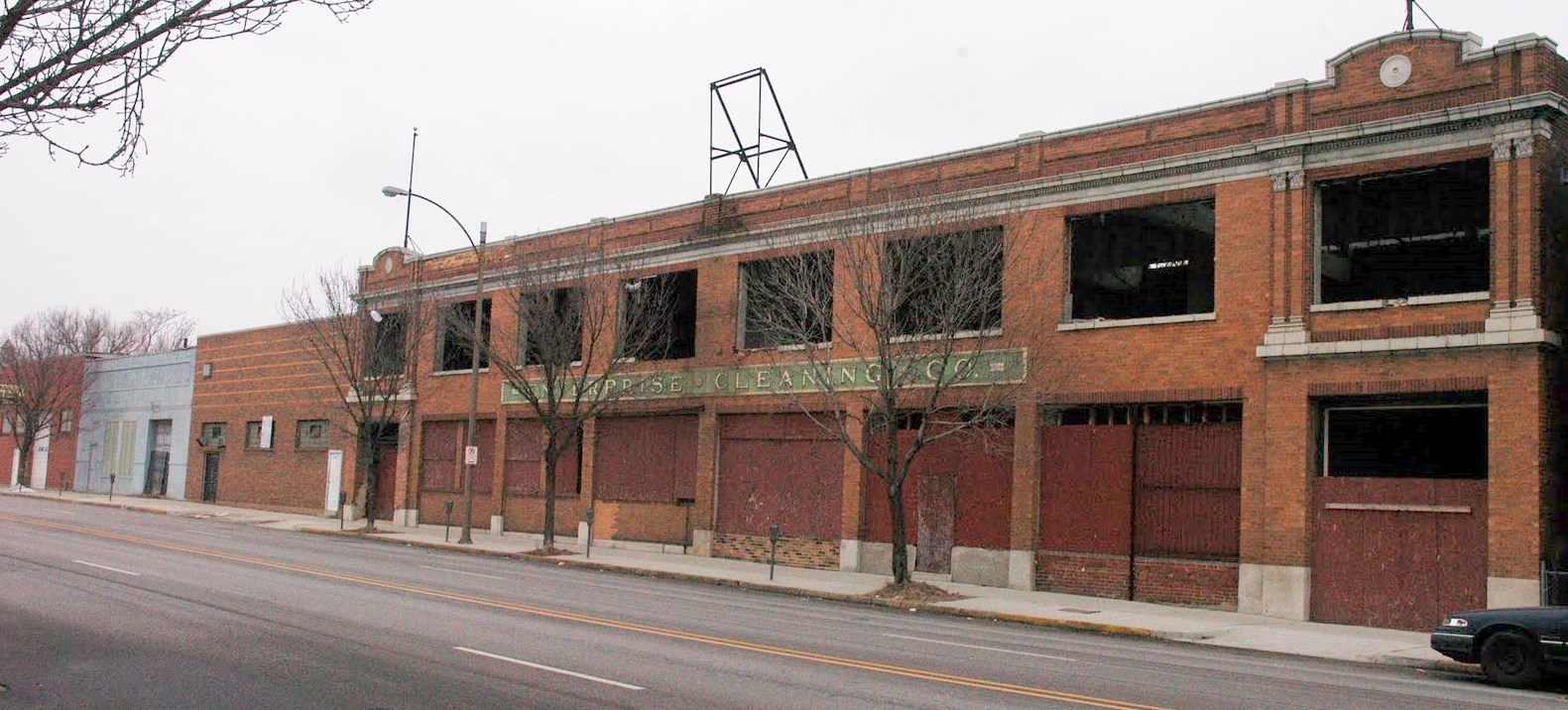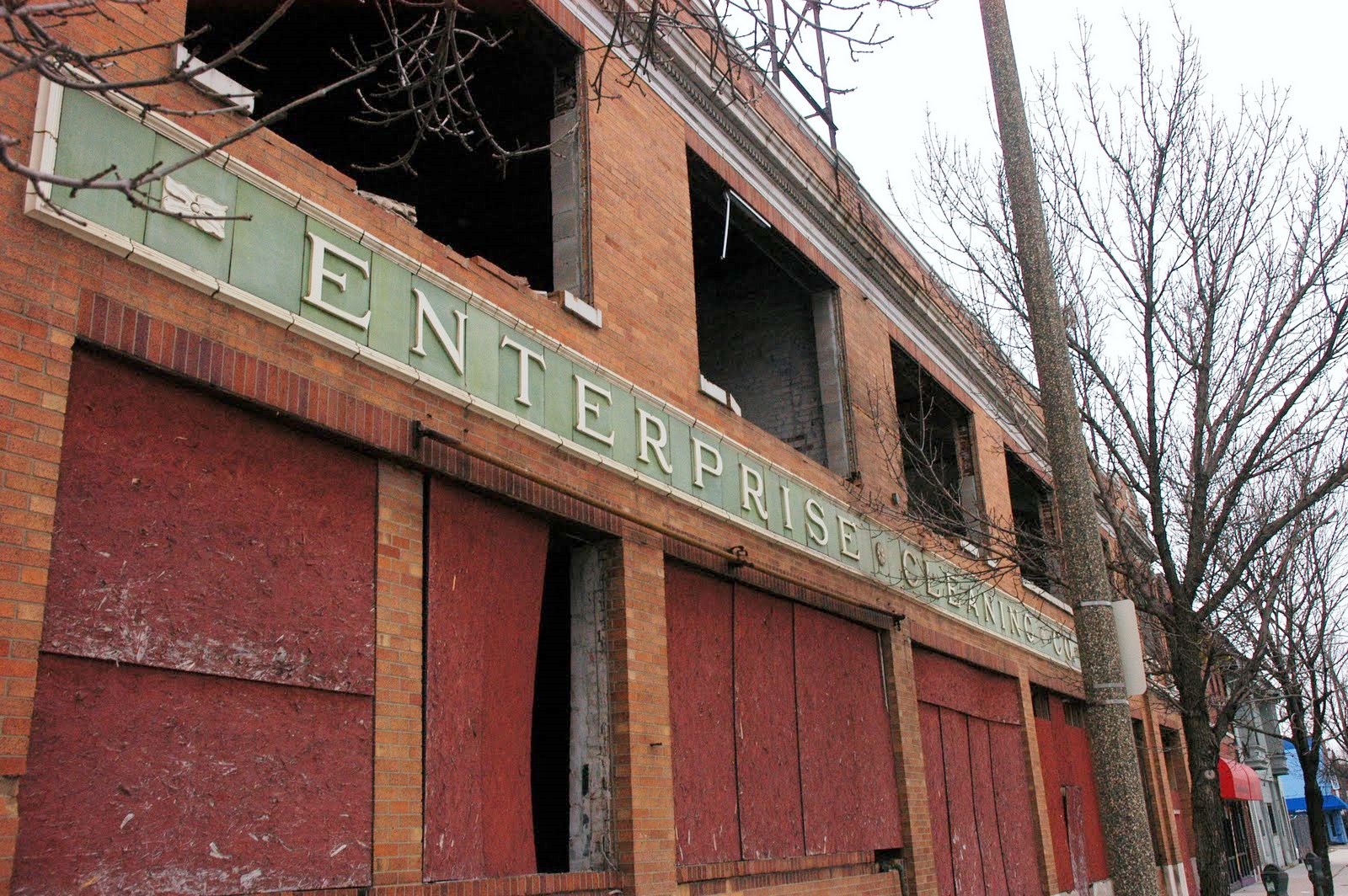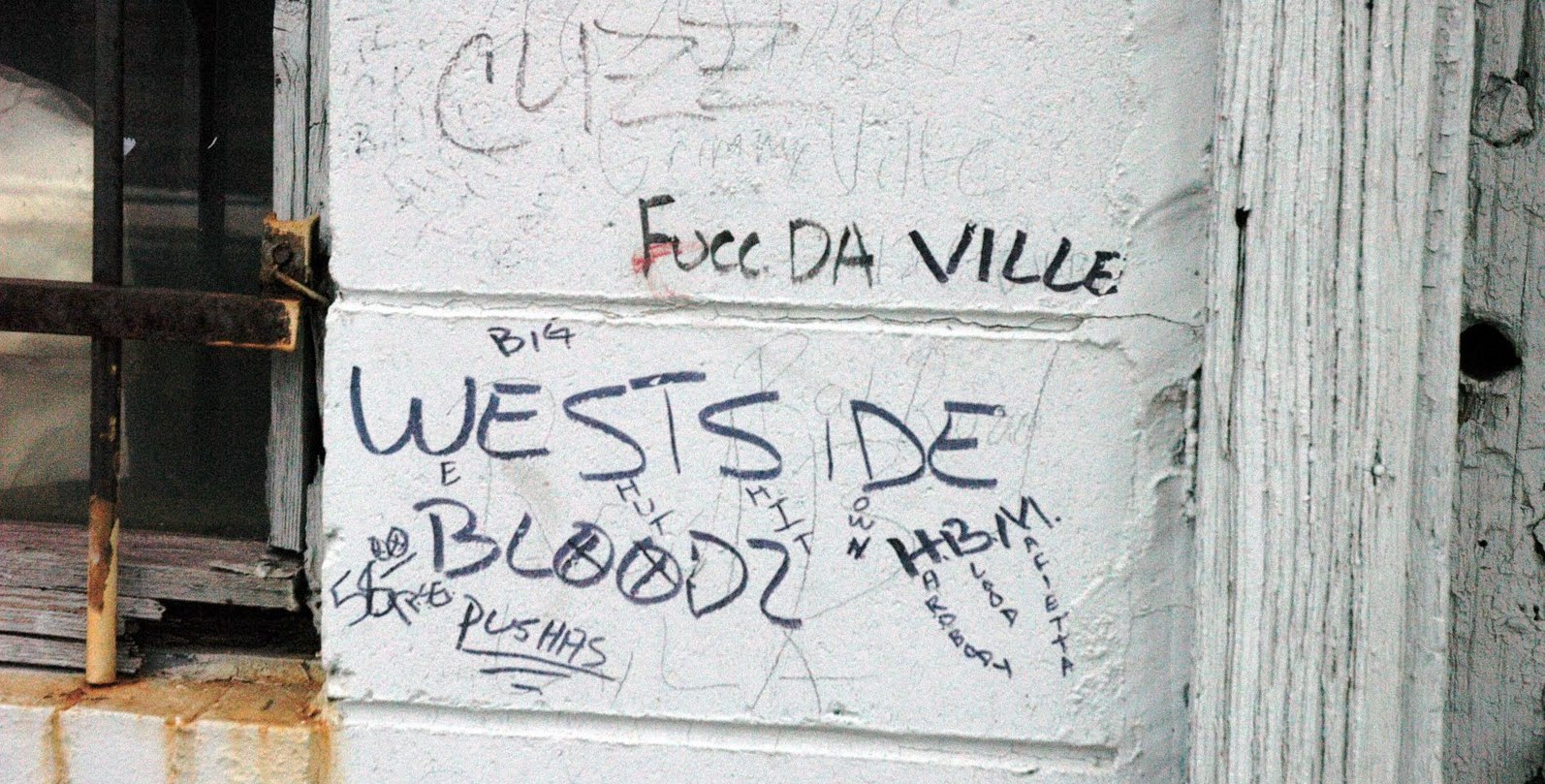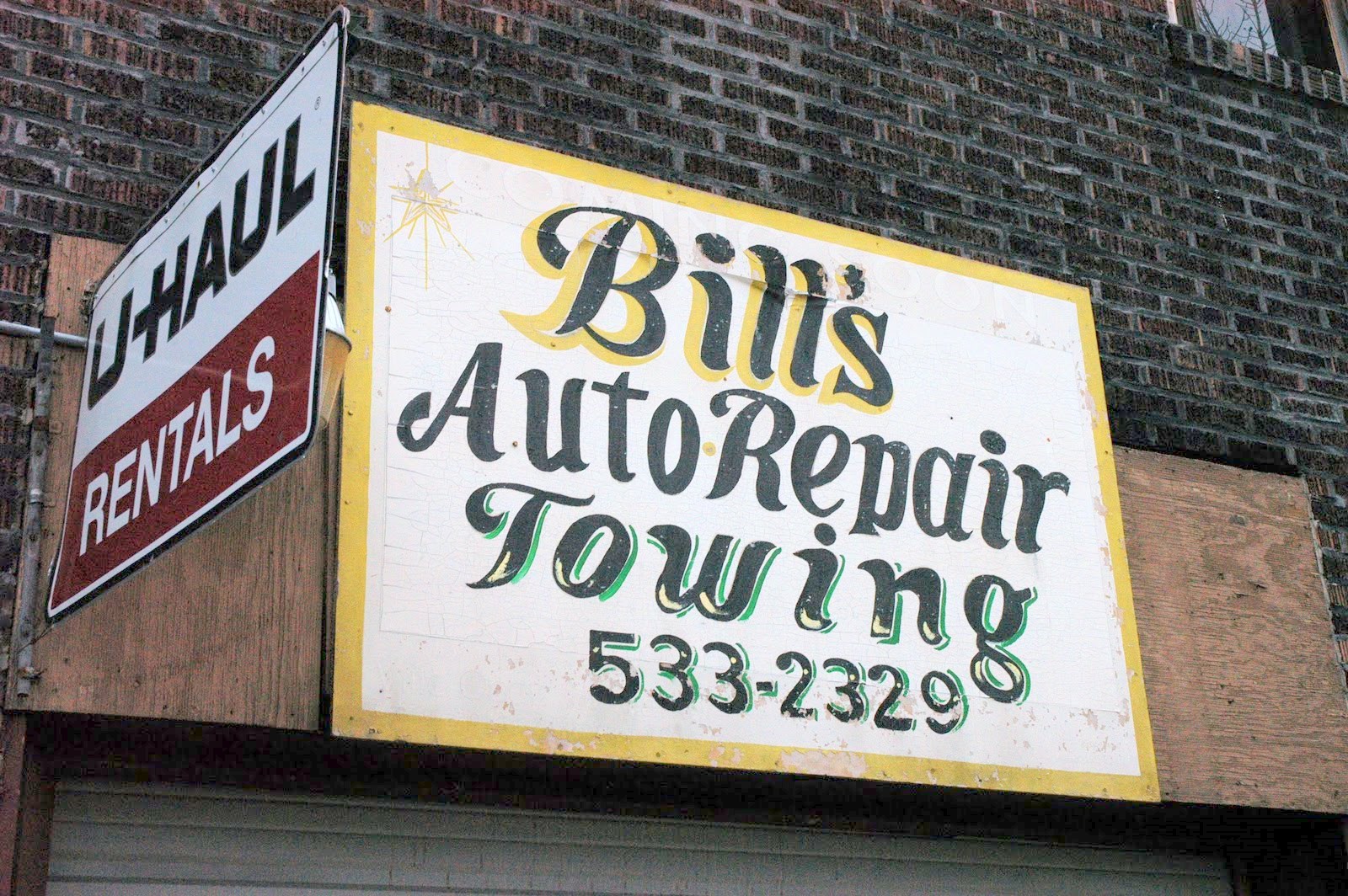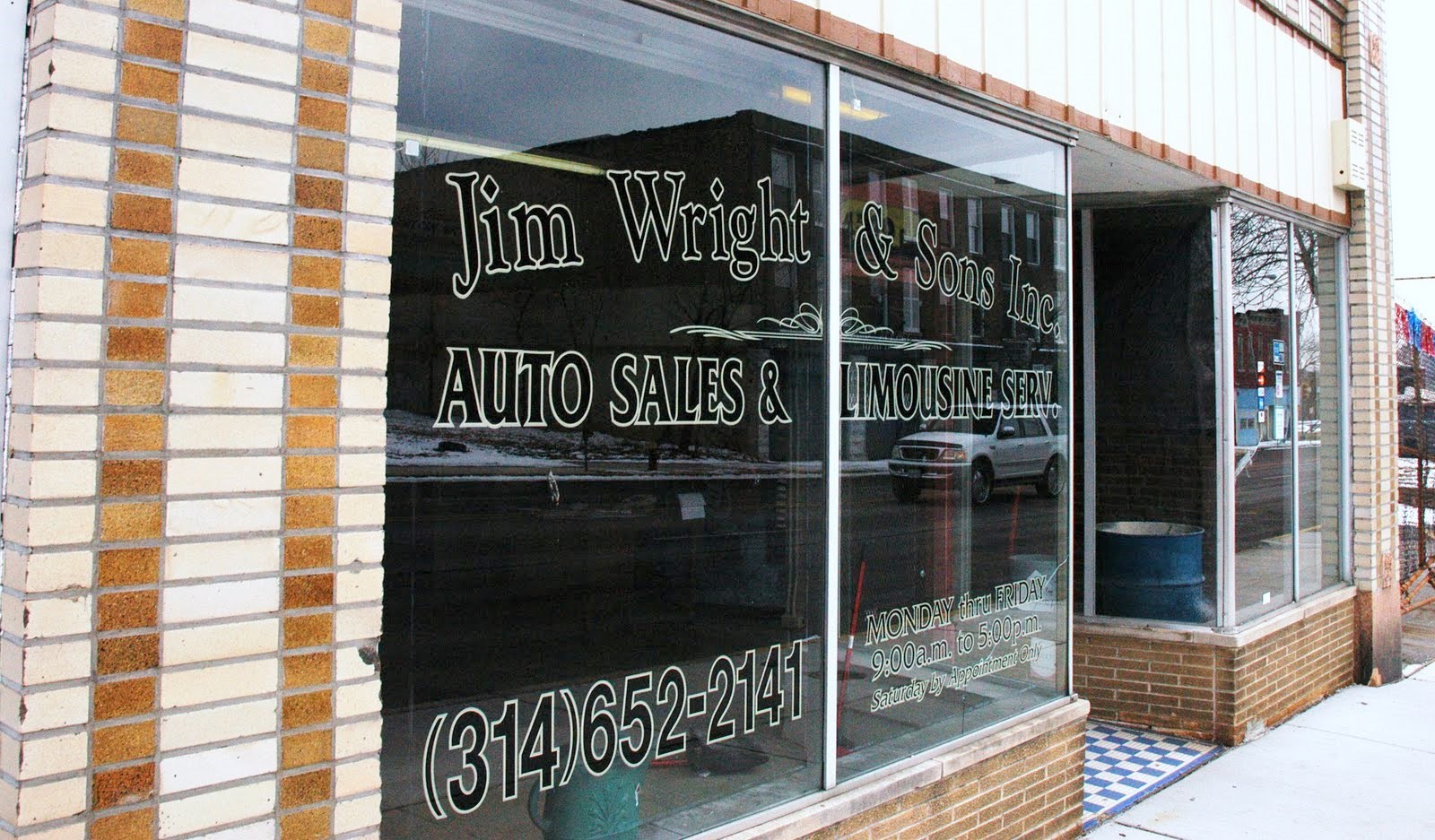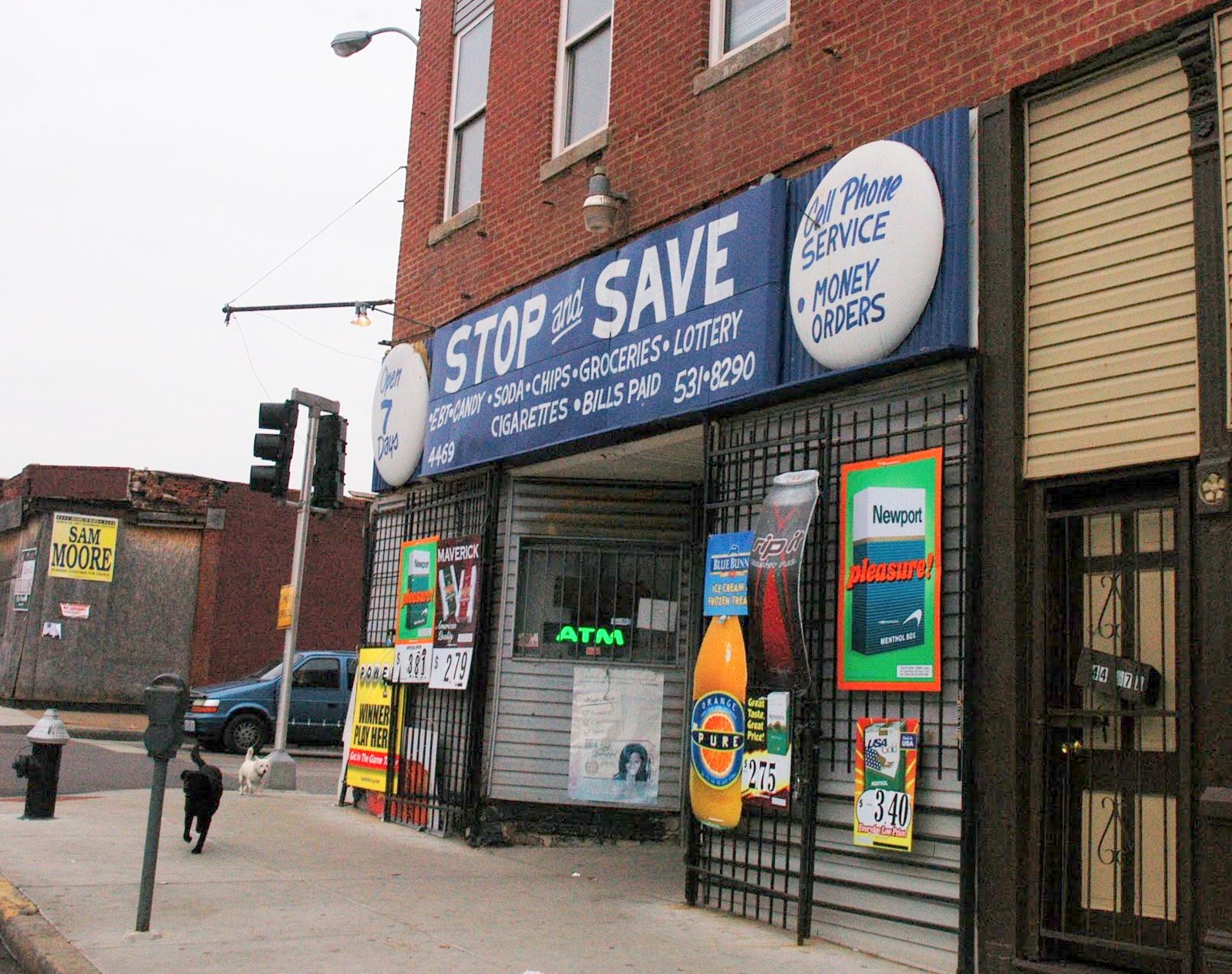 The more solid parts of the neighborhood are right around Sumner and along St. Louis Avenue.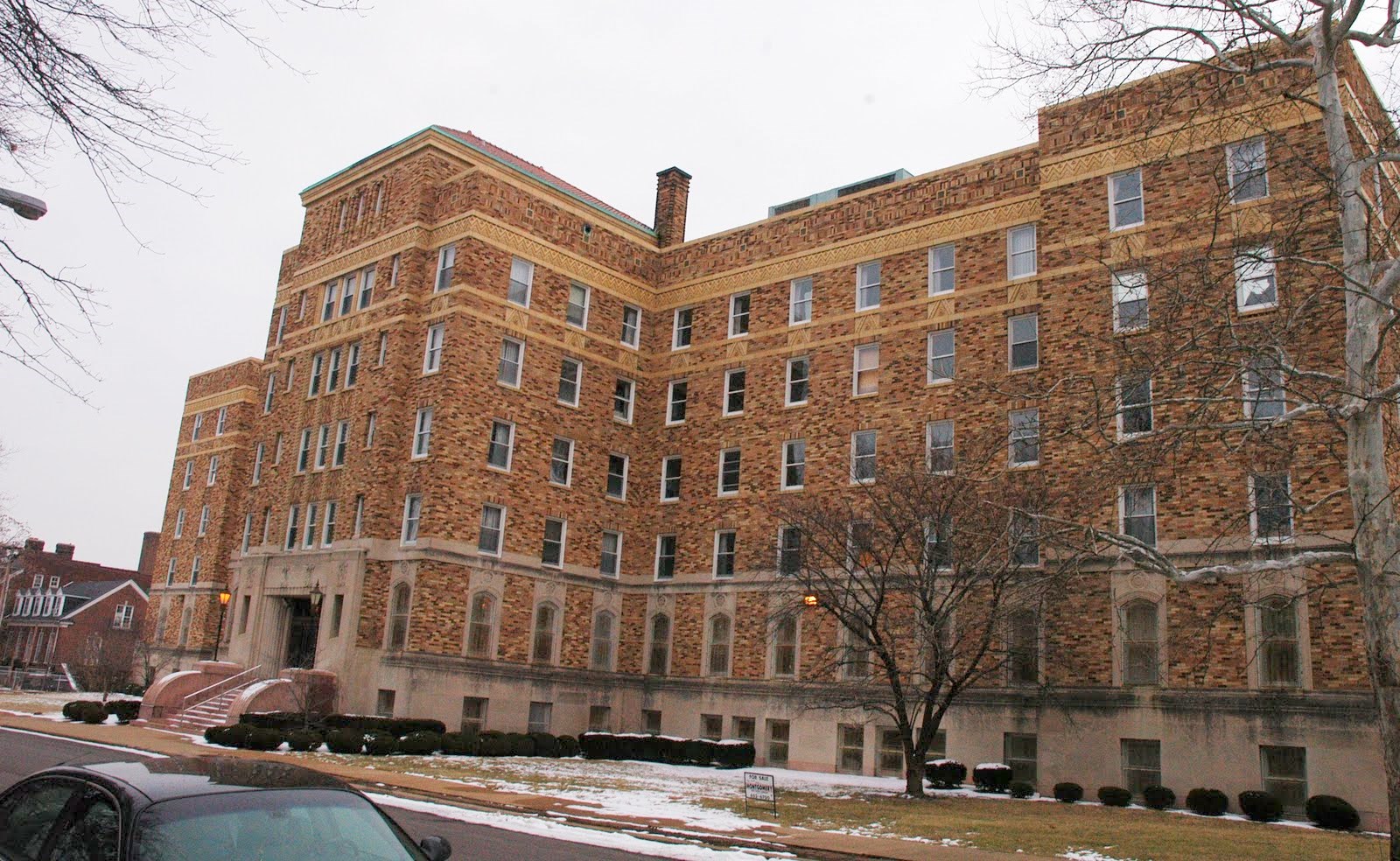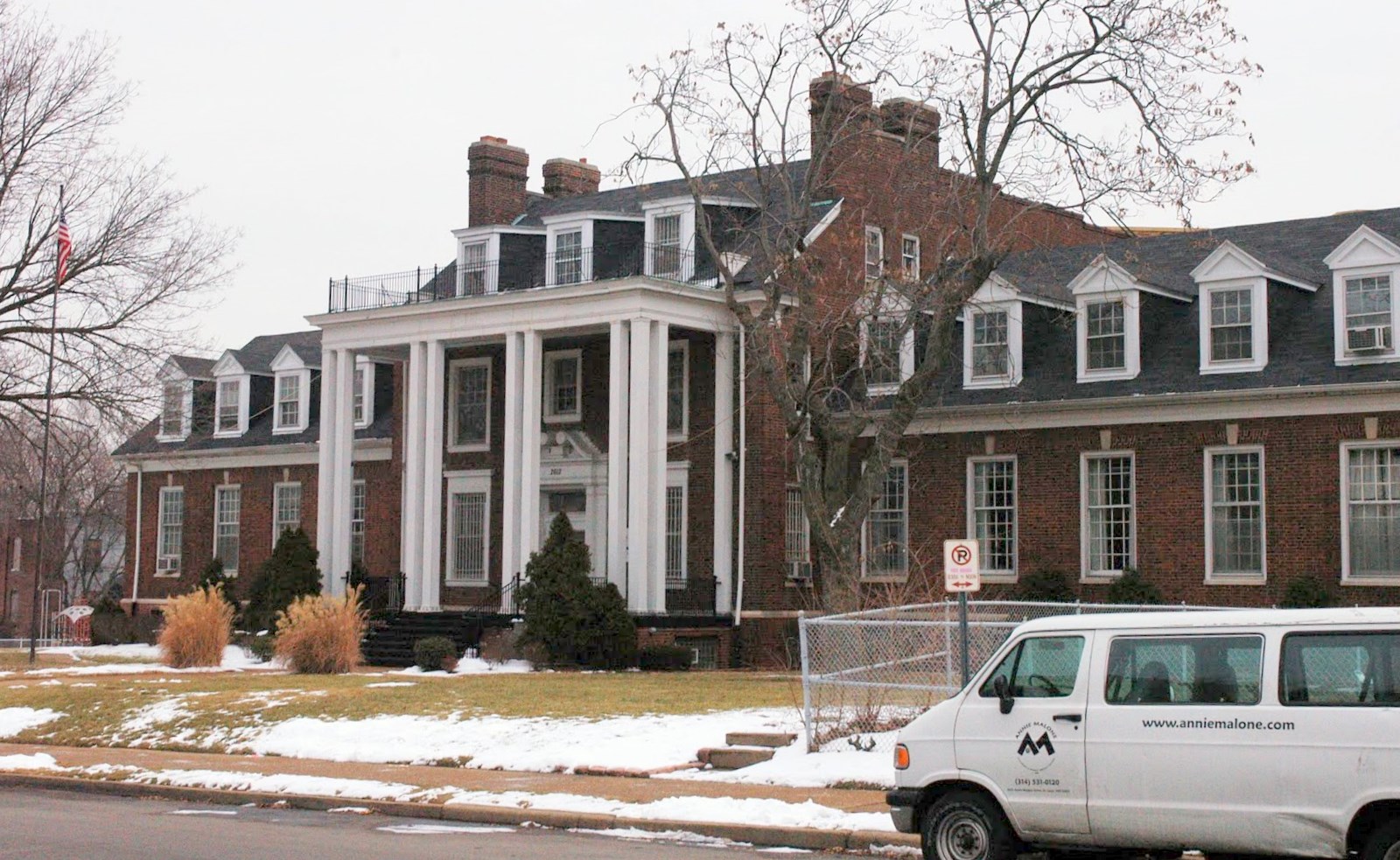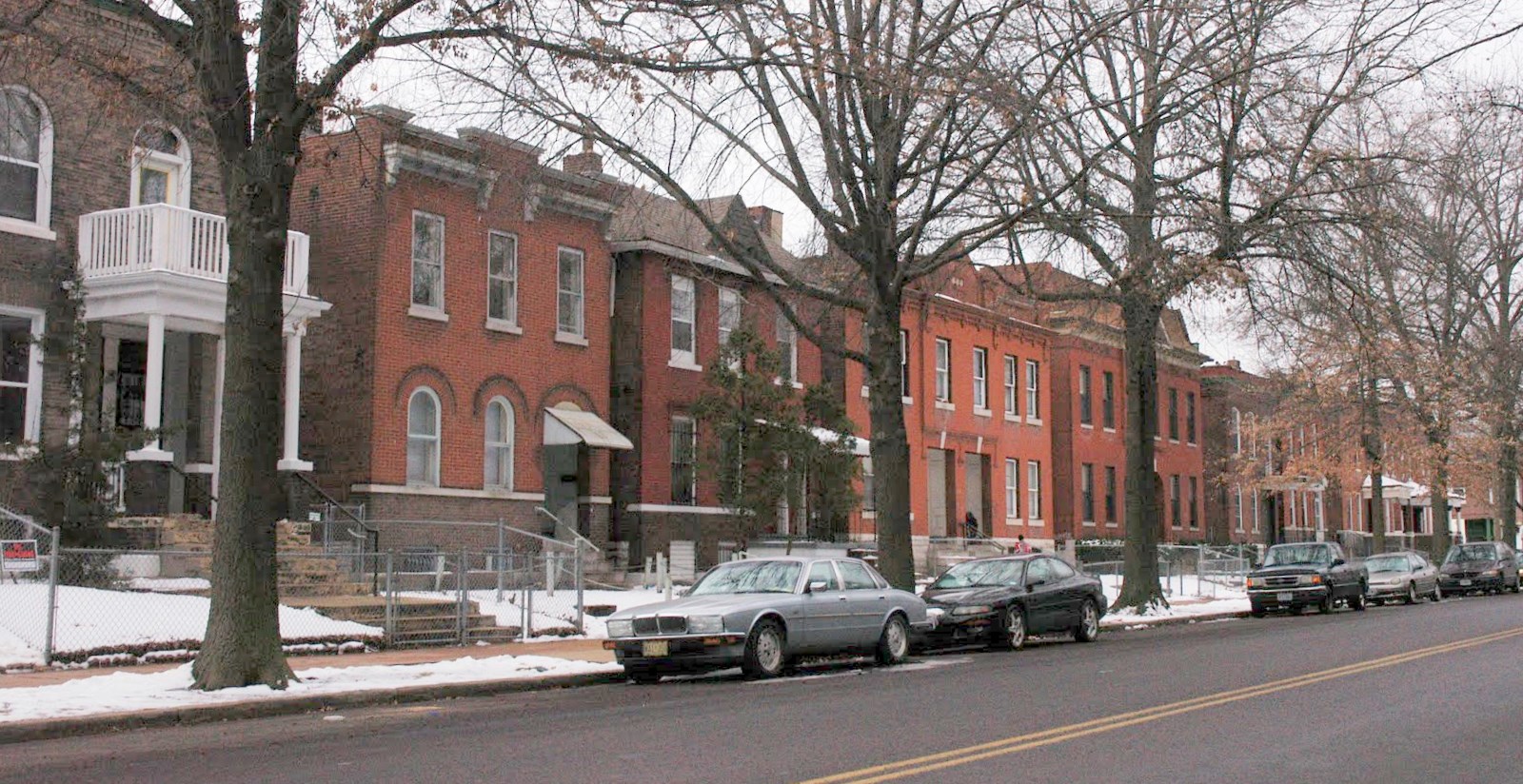 As with nearly all St. Louis neighborhoods, there are beautiful churches. Man, the Catholics got down to business when it came to cathedrals. St. Matthew's is no exception: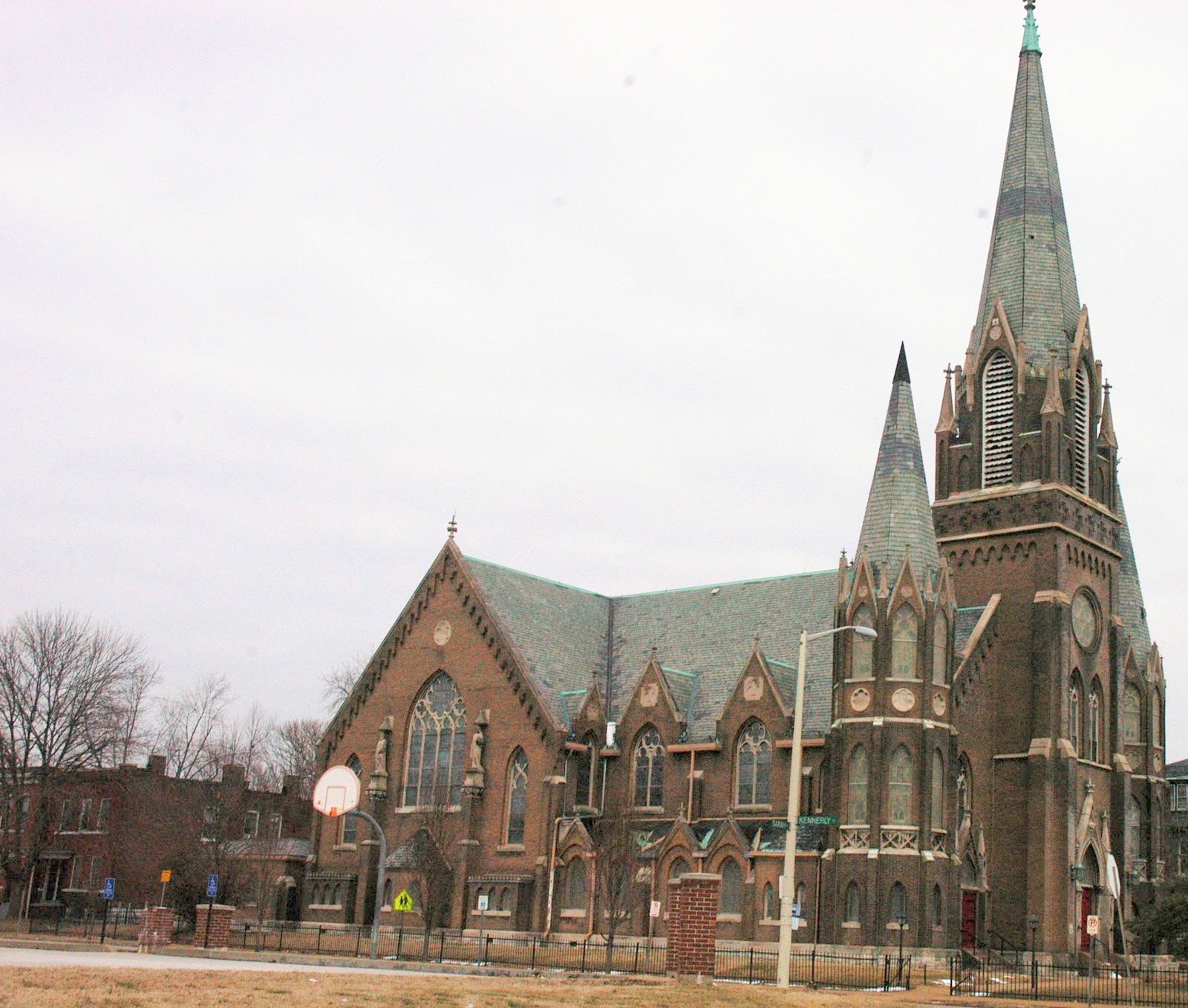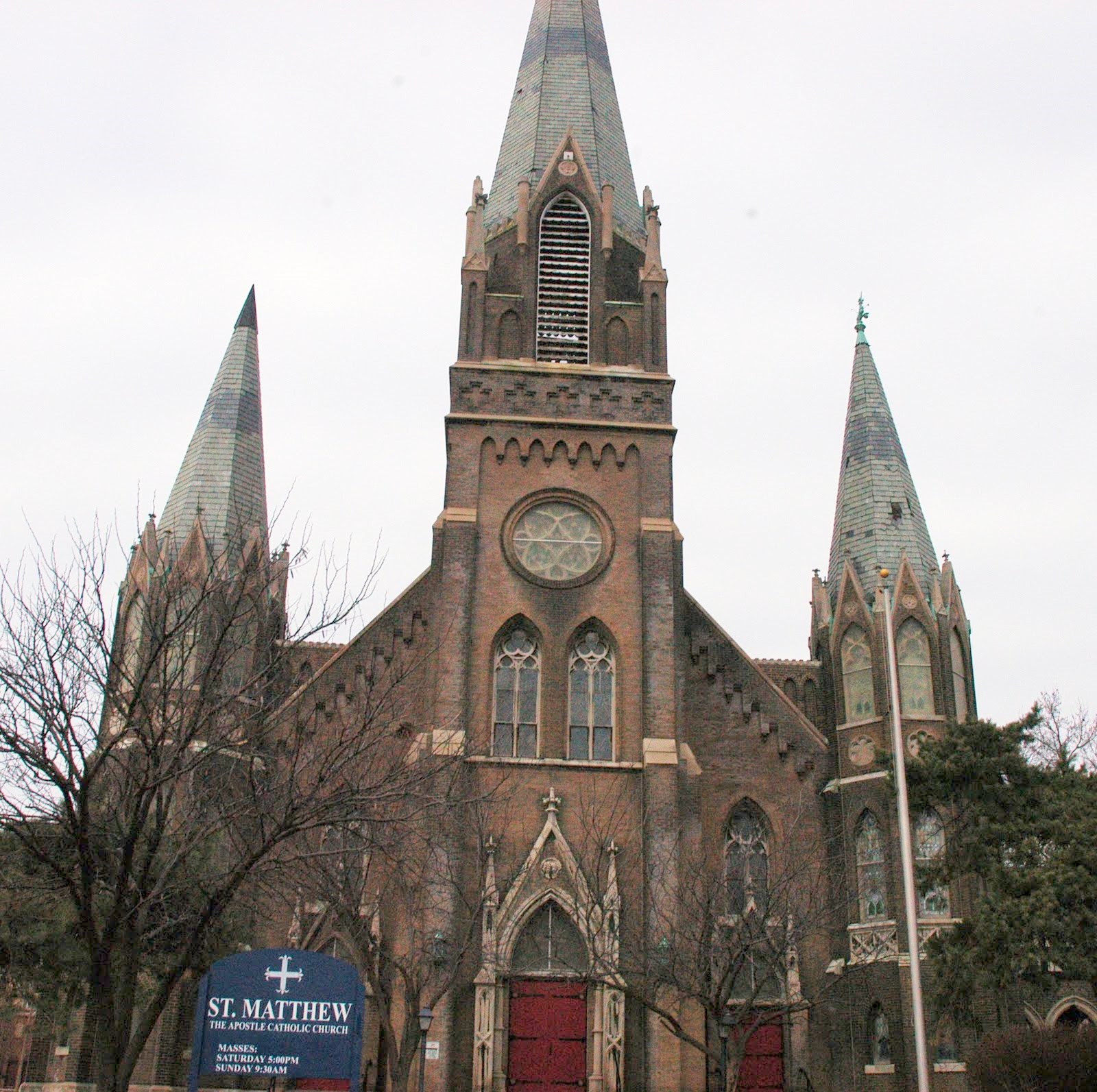 And this is what I love about America…freedom of choice: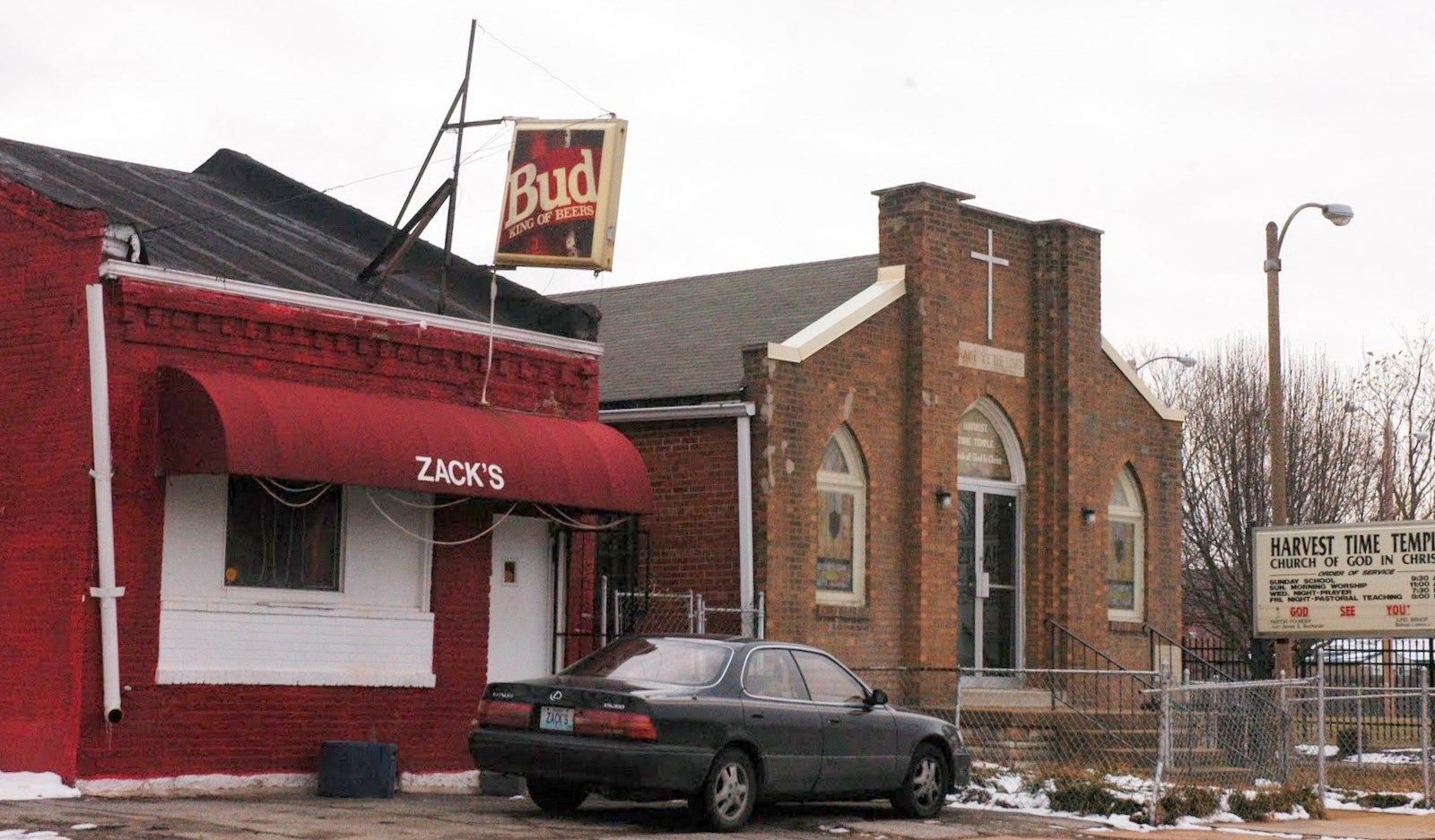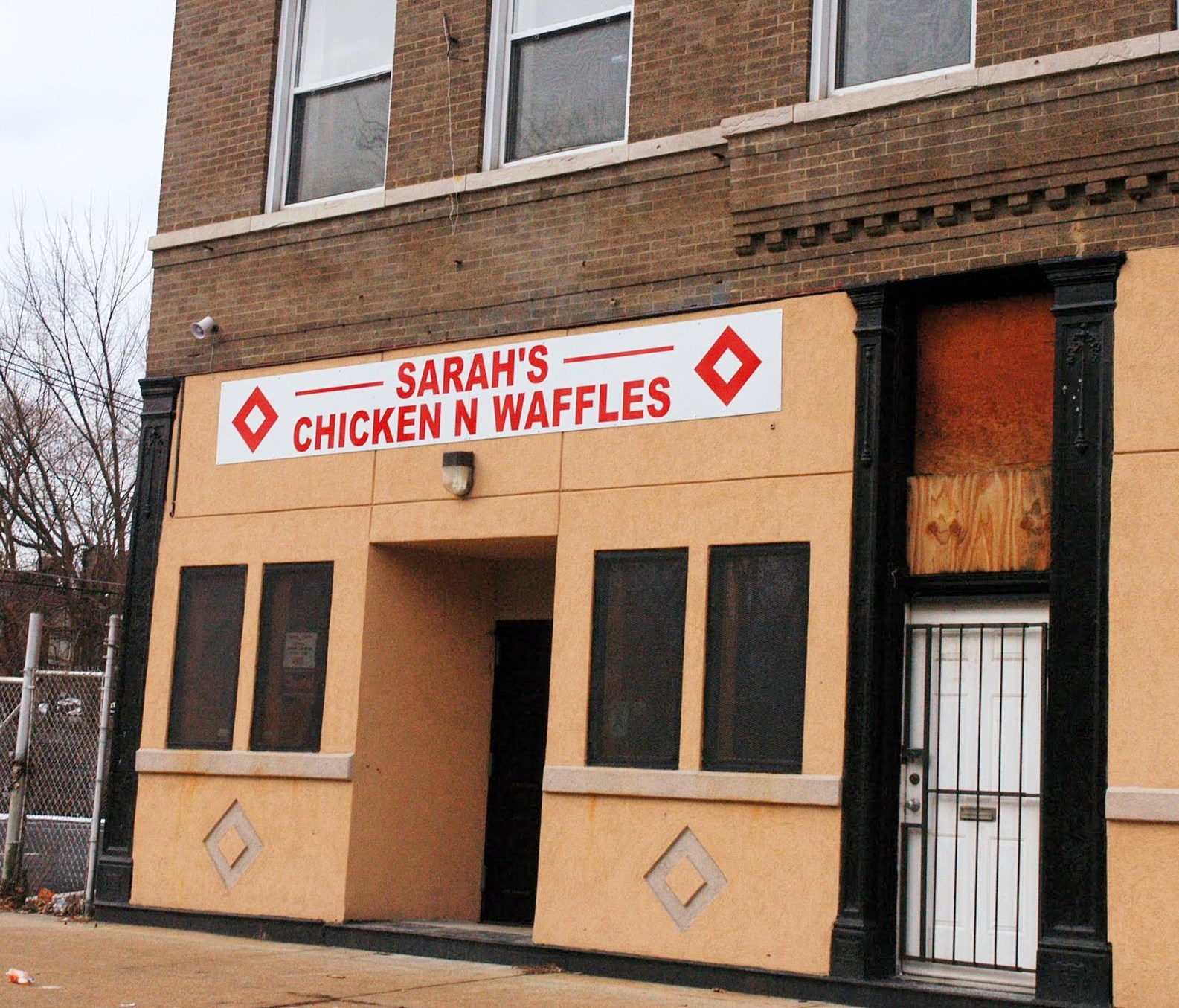 Being a former product of Belleville, Illinois not unlike the Stag Brewery, I had to embellish this next scene. But it isn't just too contrived, the empty Stag bottle was directly in front of the wall.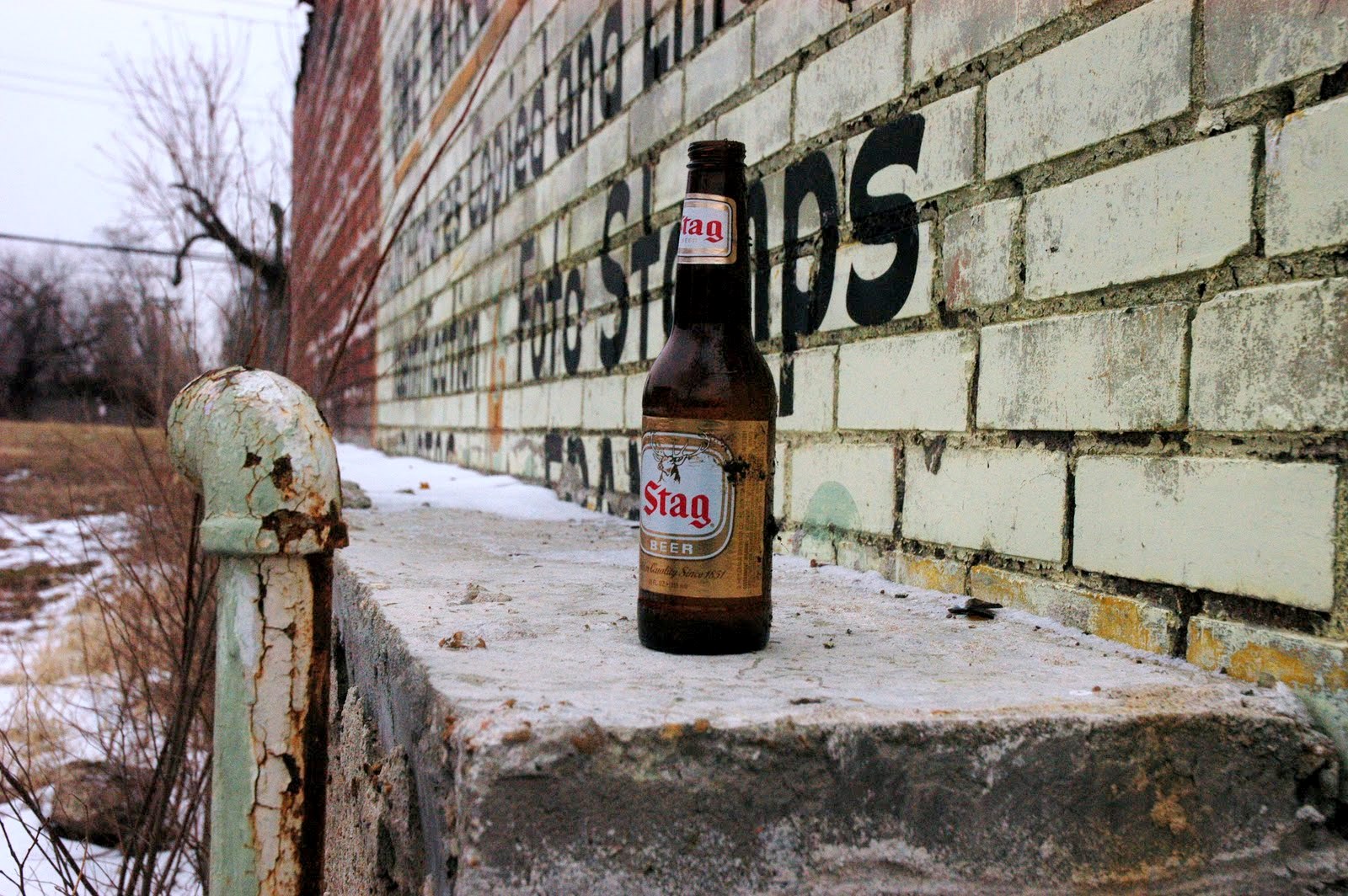 Go check out the Ville. It's cool and it's sad and it's rapidly vanishing. So go soon.
***In July, 2020 I revisited the neighborhood and the following includes updated commentary and photos.***
Misses On Original Tour
Chuck Berry's home is not technically in the Ville, rather the Greater Ville. In fact, many of the photos in that original post are in the Greater Ville. Sorry about that, I didn't have my sea legs on this process back then.
I missed Daisy Park. It is not an official city park, but it does have the familiar wooden city park sign.
I didn't mention the 126-unit James House Apartments. This is a St. Louis Housing Authority high-rise classic from 1970.
I missed one of my favorite homes with twin corner turrets near Maffitt and Whittier.
I didn't really show the smaller churches that are true beauties. They exist all over the neighborhood. St. Matthew's is still quite active and catches the eye immediately and has a beautiful series of buildings on its property.
But, the smaller churches are worth showing as well.
Noticeable Changes
I've struggled with how to characterize the last ten years in many neighborhoods. I'll just come out and say it, there are a lot less homes now. Many have been razed; there are so many more vacant lots that the landscape is starting to resemble fallow fields more than a neighborhood. St. Louis Avenue is nearly wiped clean of anything on the Ville side of the street.
I would be lying if I didn't characterize the VIlle as rapidly disappearing. But, there is so much here that must be saved. So much history and the people who have hung on and are still "the Ville" need help. The place is chock full of gorgeous homes and mixed use buildings.
Yet, some homes are beyond repair and are falling, likely headed to the landfill.
So many decent buildings have been wiped from history. Here's just one example of a former mixed use building at Sarah and Maffitt that is now a graded lot.
So many stable structures that could be saved for future generations are not adequately boarded up and are now open to the elements. Here's a 2010 vs. 2020 example of a beautiful corner building.
There are many that could easily come back to life if the right investors/owners show up. Lots of board ups have strong bones, but if given another ten years of no attention, things could easily go downhill.
This is not to say there aren't examples of positive change. There are some new homes here and there that look less suburban than the last wave of infill from the 1990s/2000s. I think many more of these would look pretty good.
There are some excellent examples of new homes and renovations of corner mixed use buildings at Sarah and St. Ferdinand. These are prime examples of what the future could look like if this area were prioritized by investors and developers.
The "addition by subtraction" strategy has been in full effect for many years now. And maybe that is a logical approach at this point. So many structures are gone, most with vacant lots, but others have been filled in with rainscaping gardens by MSD's Project Clear. The environmental benefits are obvious, and this seems to be a better temporary uses than fallow ground, but the future needs housing and hundreds who want to live here to make that happen. It's encouraging to see these efforts even if it is not what we all want in the long run.
What Are The Future Needs?
From a history and placemaking standpoint, a proper website would me most welcomed. The incredible amount of black history and "firsts" should be touted and available in one spot. The Ville needs young black people moving here, reclaiming the history and sense of place. With the exciting energy I see in current-day activism, wouldn't it be a powerful statement to see many of these driven, smart, ready for change people move back and return the Ville to a place of positive change? The bones are there waiting on the next generation. I always have hope for them, they are movers and shakers.
As mentioned above, building stabilization vs. demo is necessary NOW. The people who've stuck it out should be offered low interest home improvement loans to keep them here and have a property to pass down or sell to the next generation.
The former schools have hope for renovation; I did a post on these schools in the Additional Reading section below. There is hope.
Sumner is a treasure as is the former Homer G. Phillips Hospital which is now a senior living facility.
I'd focus all efforts on this immediate area. The homes that surround Sumner are beautiful and need attention now. I'd prioritize the blocks of Kennerly Avenue around Annie Malone Drive. If not, these historic institutions could easily be surrounded by overwhelming social decay and more vacant lots.
Other sections to prioritize are the wider, tree lined streets like Maffitt Avenue. There are stretches with largely intact rows of homes, and would benefit from some rapid attention to save the blocks as a whole.
Another need is the former Annie Malone Emerson Academy building. That institution moved just to the east of the firehouse, in a space formerly occupied by De La Salle charter school. As of my visit, this gorgeous building was boarded up, but the windows are open to the elements and trespassers/squatters. Hopefully plans are on the way.