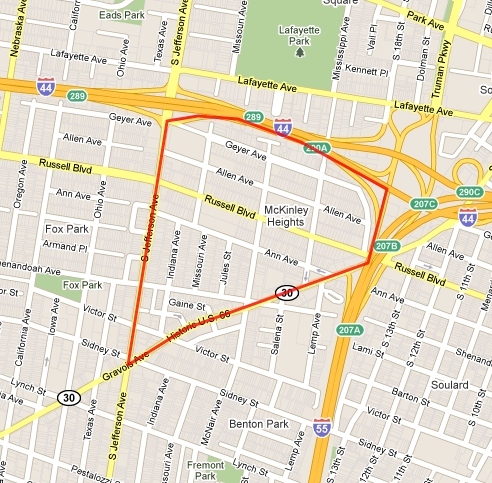 McKinley Heights is an officially designated historic neighborhood right in the middle of some of St. Louis' most famous neighborhoods. It is just south of Lafayette Square, west of Soulard, north of Benton Park and east of Fox Park. A great location if you ask me. One of my favorite St. Louis streets is Russell. From Broadway all the way to Vandeventer, I think this is one of the most beautiful and representative streets of the unique St. Louis neighborhoods and architecture, and it goes right through McKinley Heights.
McKinley Heights is just about as diverse as a St. Louis neighborhood gets. The 2000 census data indicated a mix of mainly black and white people at 35% and 60% respectively; Hispanics (2.2%) and Asians (1.5%) make up the rest. 2085 McKinley Heights residents were counted, a 7.1% decrease or 159 residents lost since 1990.
This neighborhood is one of my favorites. The tree lined streets are on a rectilinear grid. If the housing market comes around and we can sell our home, this will be one of the places on our list to move. McKinley Heights is just about the perfect mix of small, medium and large dwellings (nearly all brick) with many of the architectural styles that makes St. Louis the great city it is: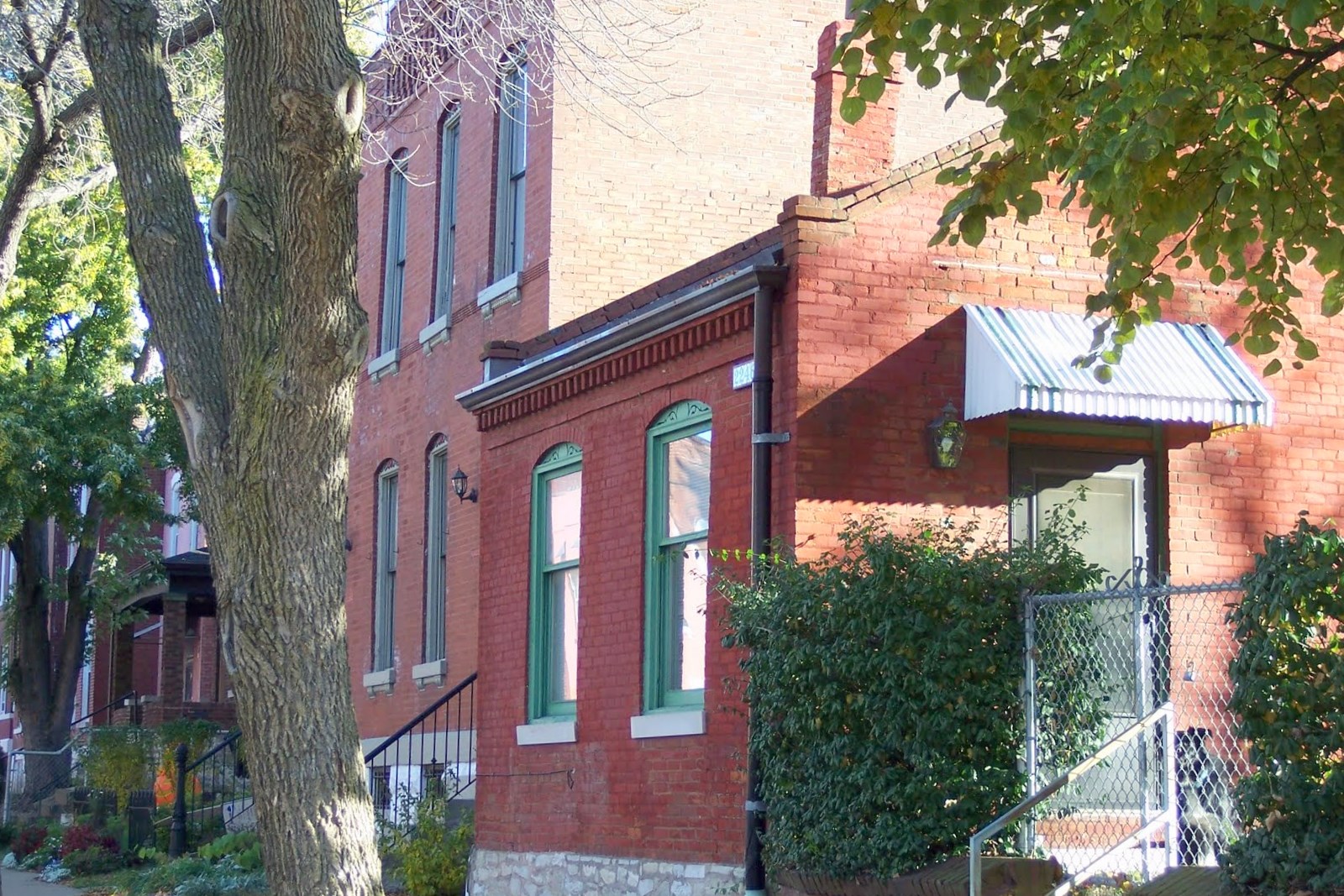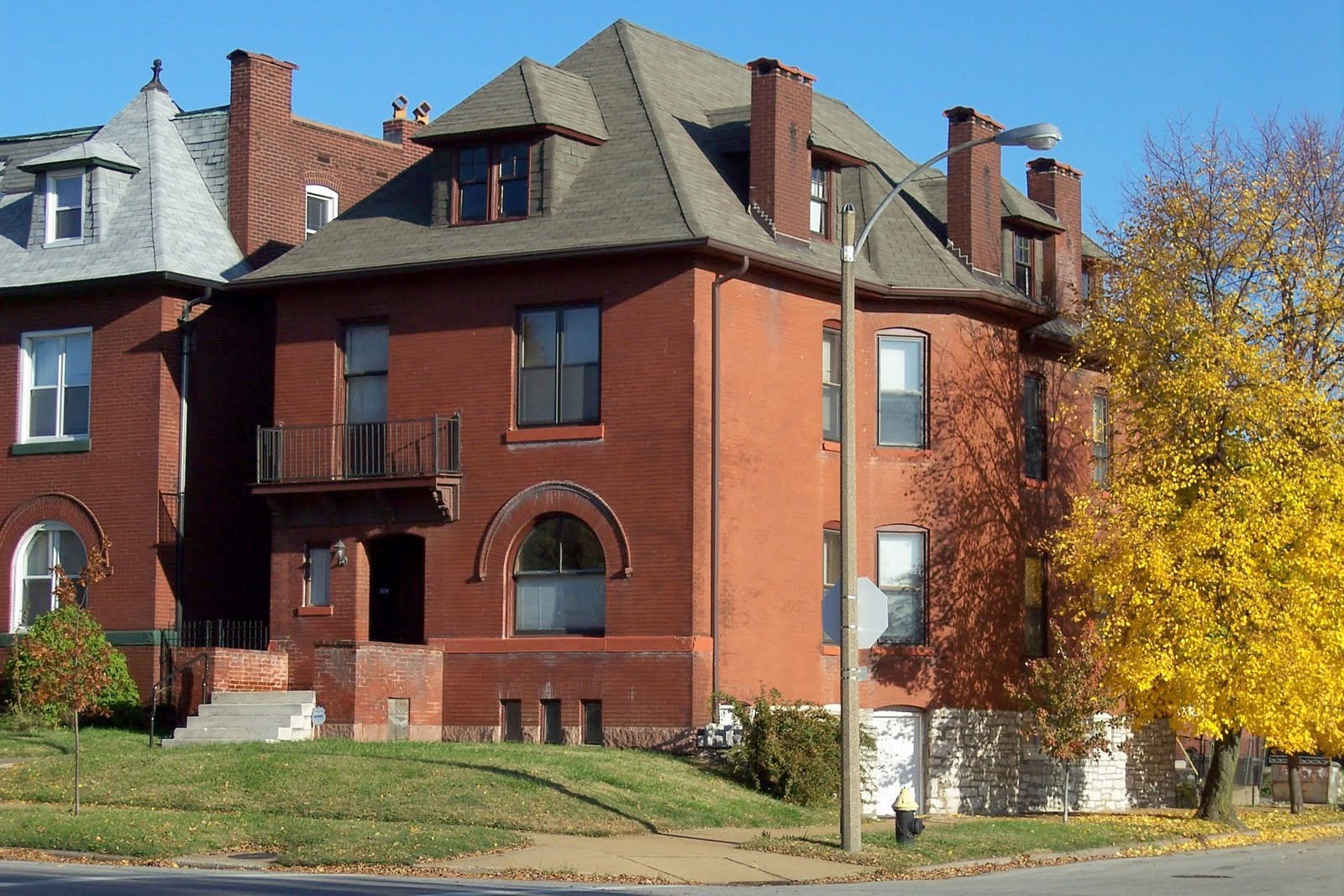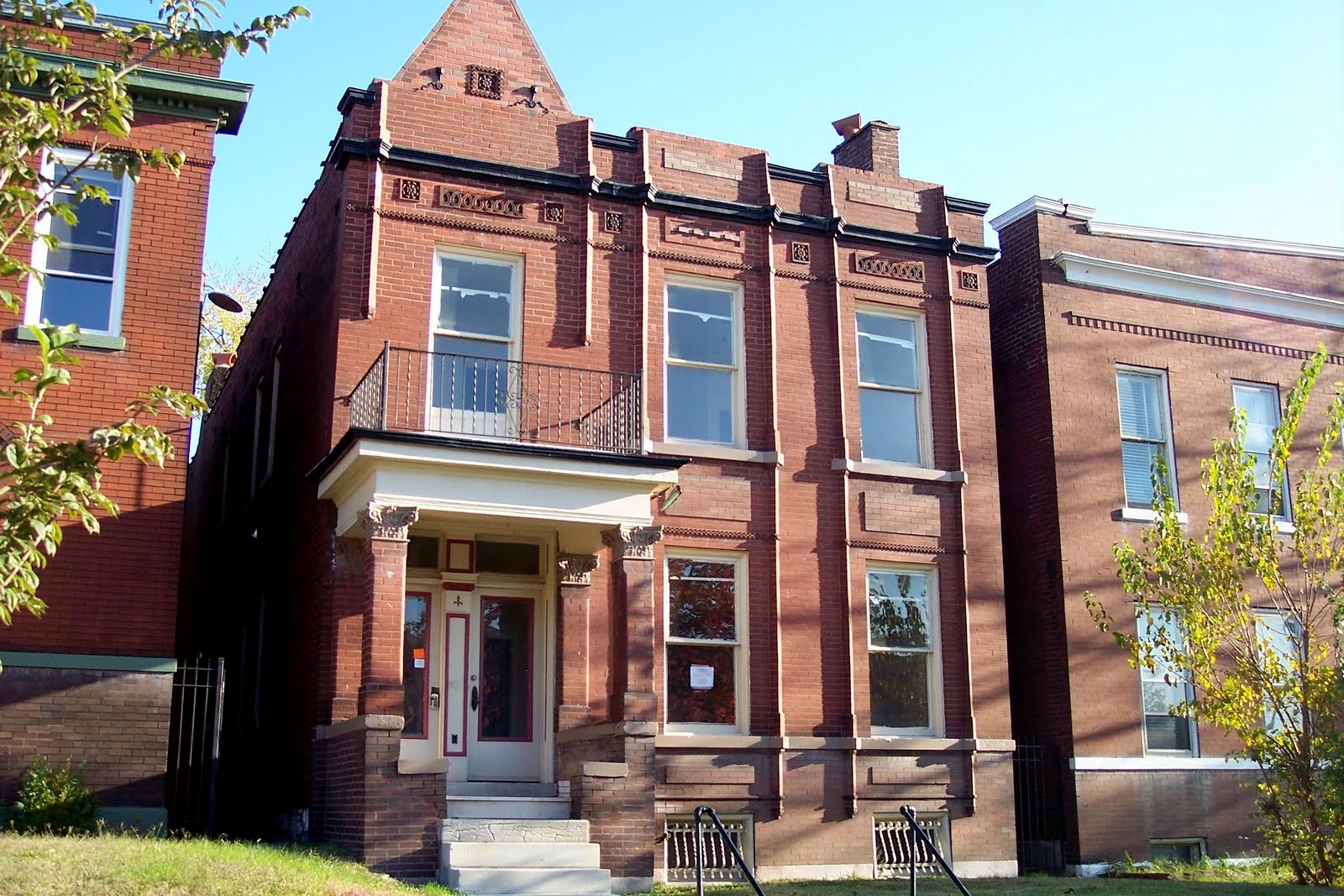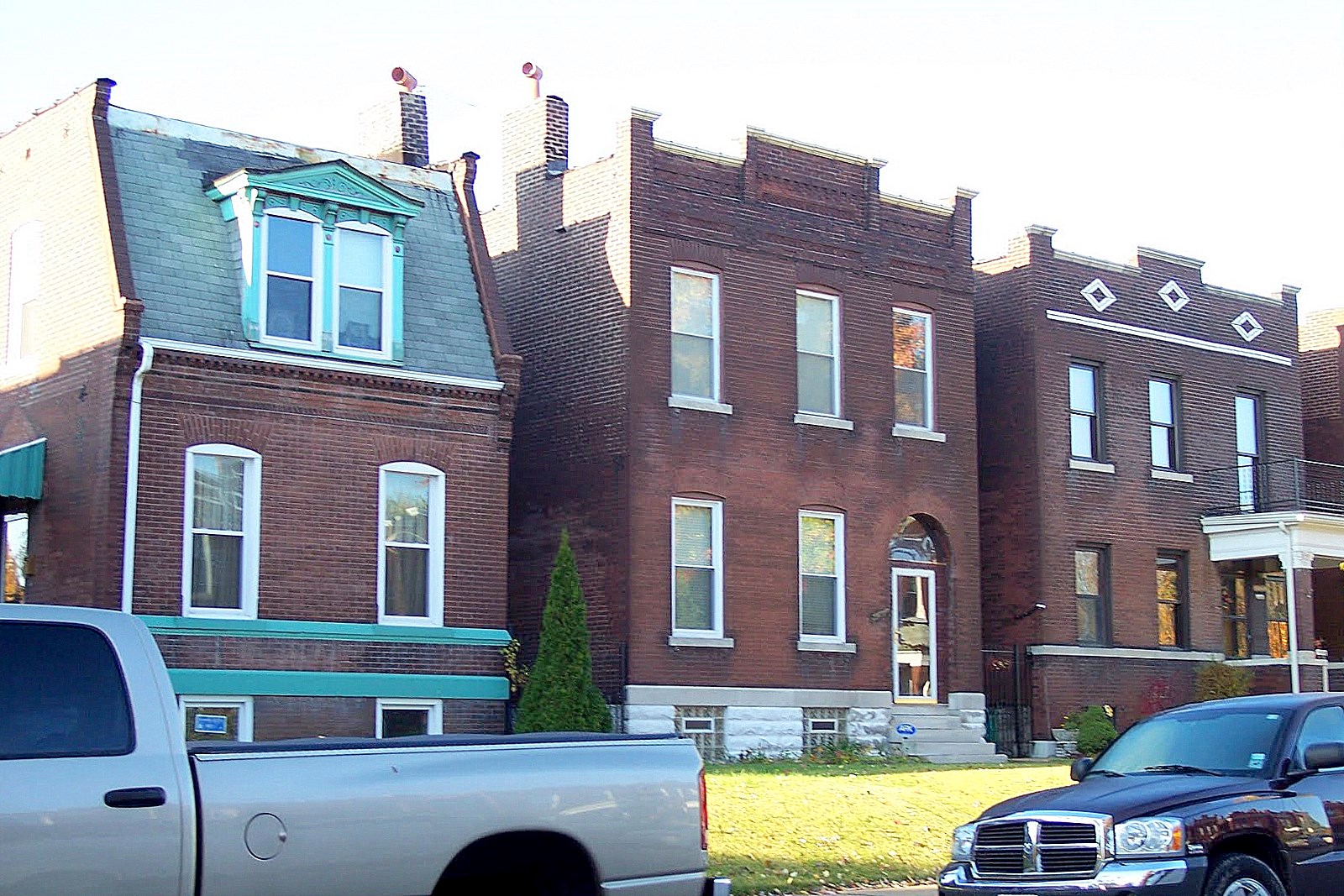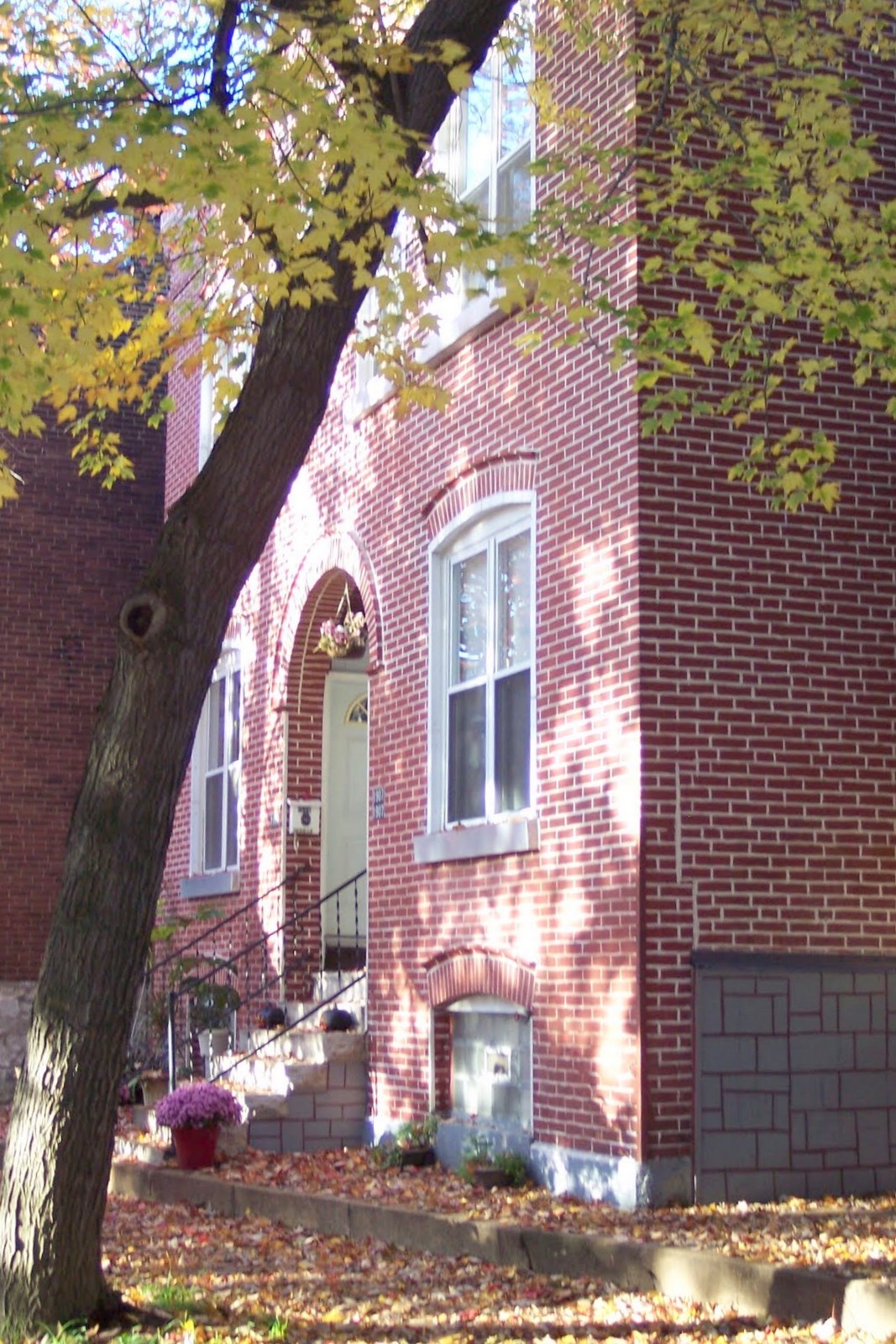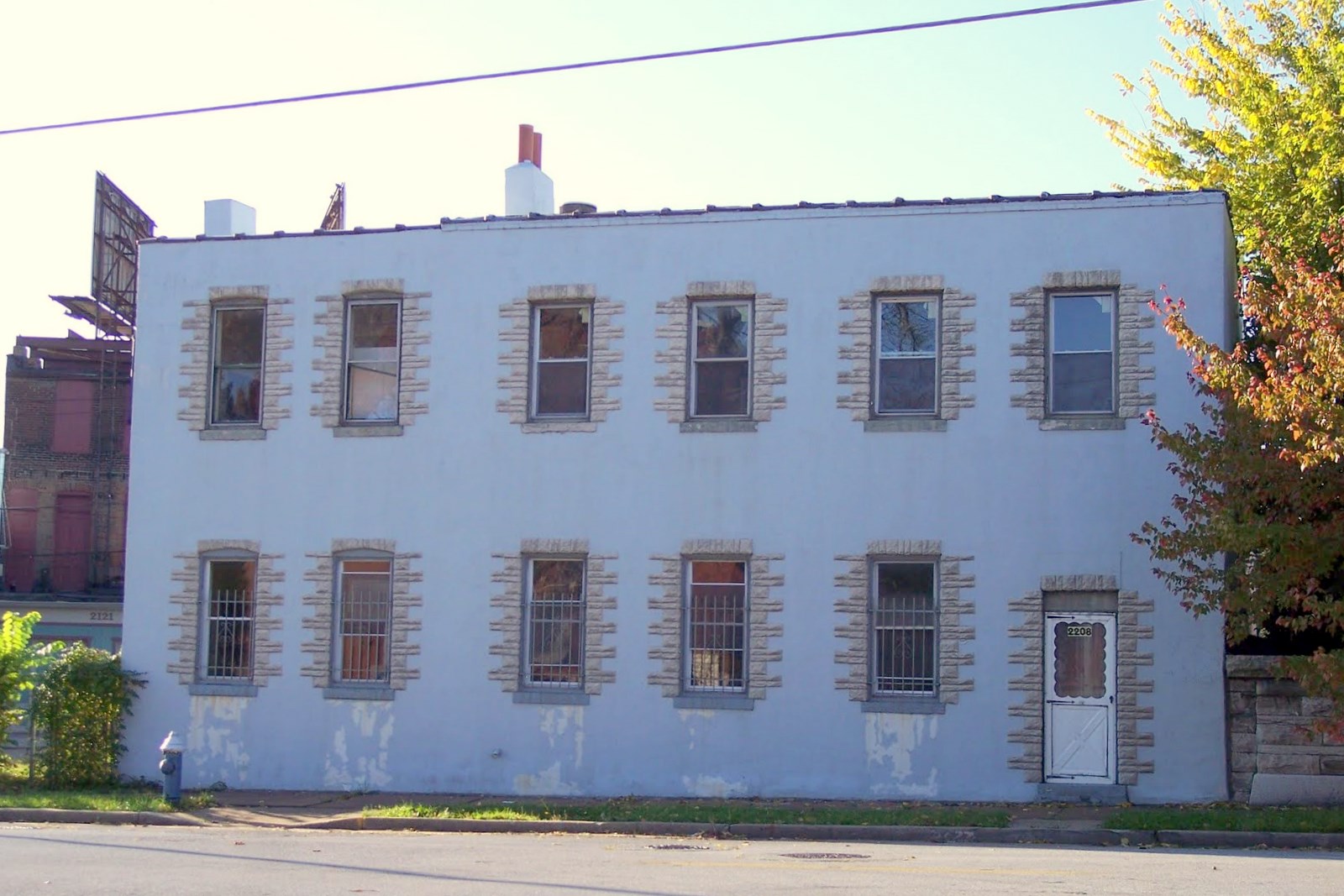 Fire escapes are one of my favorite urban fixtures: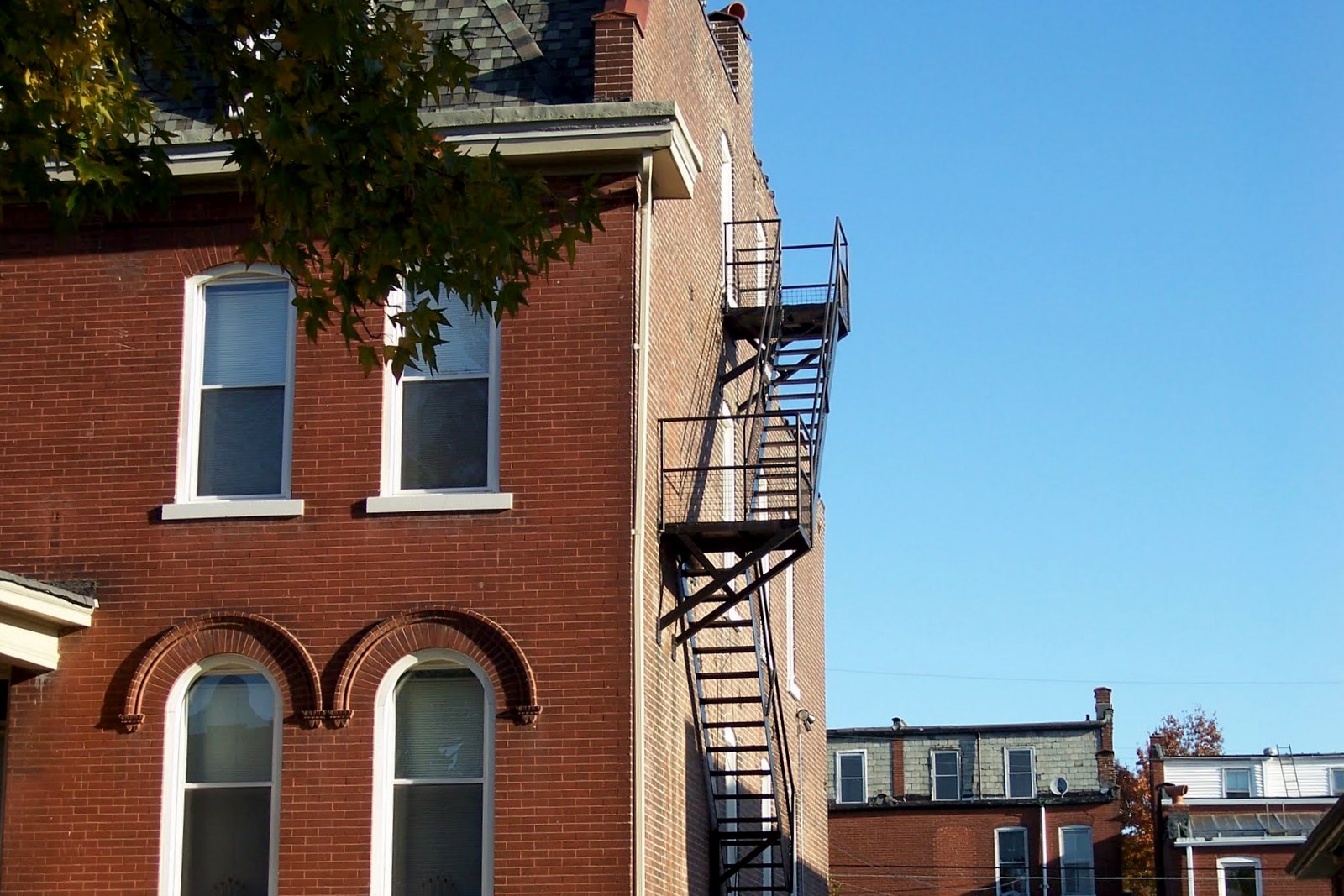 Not to mention, my kids will eventually go to McKinley School on Russell, so walking to school would be a huge plus, even though they ride the bus today. And, the school itself is a work of art: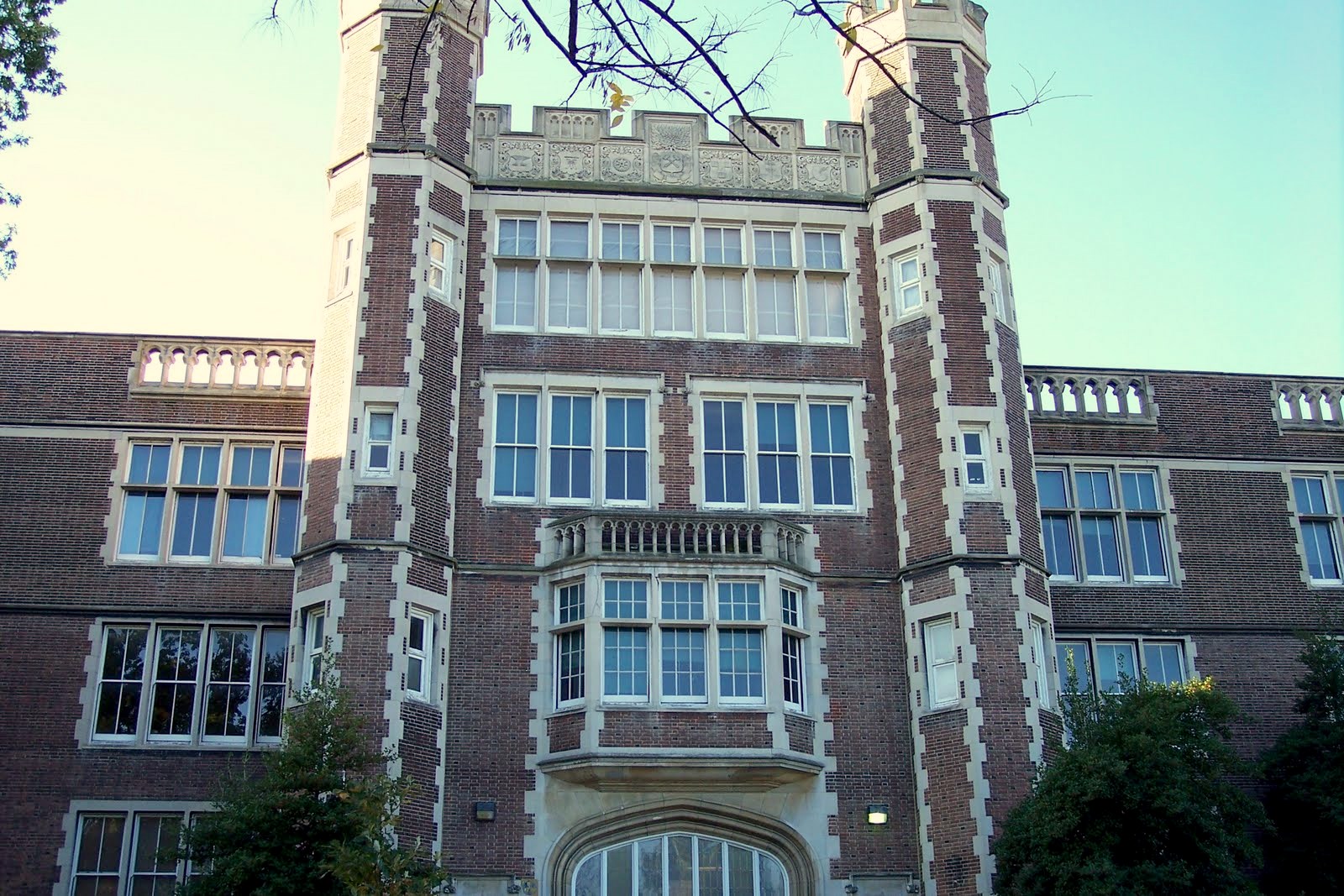 As is Sigel elementary on Allen: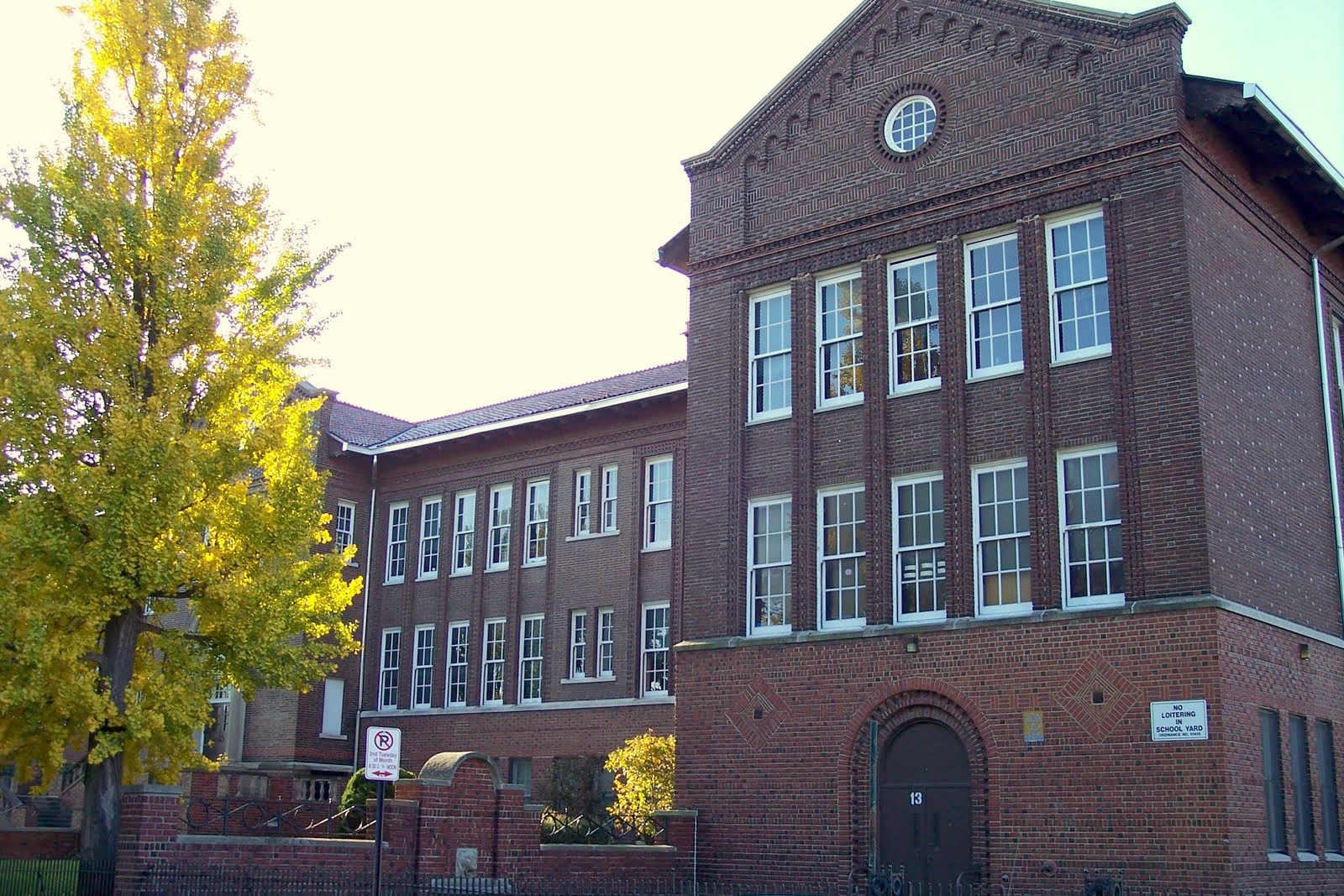 The neighborhood could use a few more small businesses to accentuate the truly self contained and walkable configuration of the streets and neighborhood. If you want a cup of coffee, cold beer or a quick meal (not Jack in the Box), you'd have to take a short walk to Soulard and crossing Gravois is a death wish. If ever there was a place for a traffic signal and marked pedestrian crossing, it's here. The McKinley Heights website does a good job of listing the businesses that do exist in the neighborhood.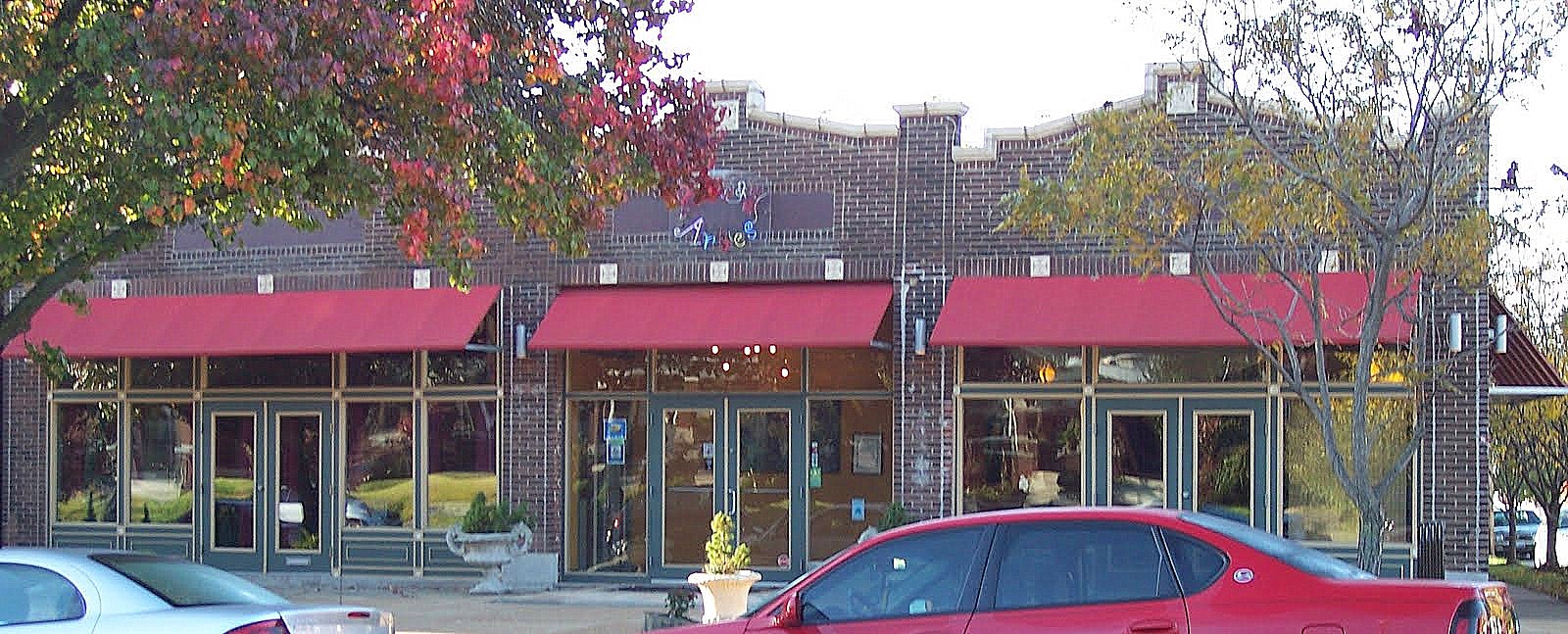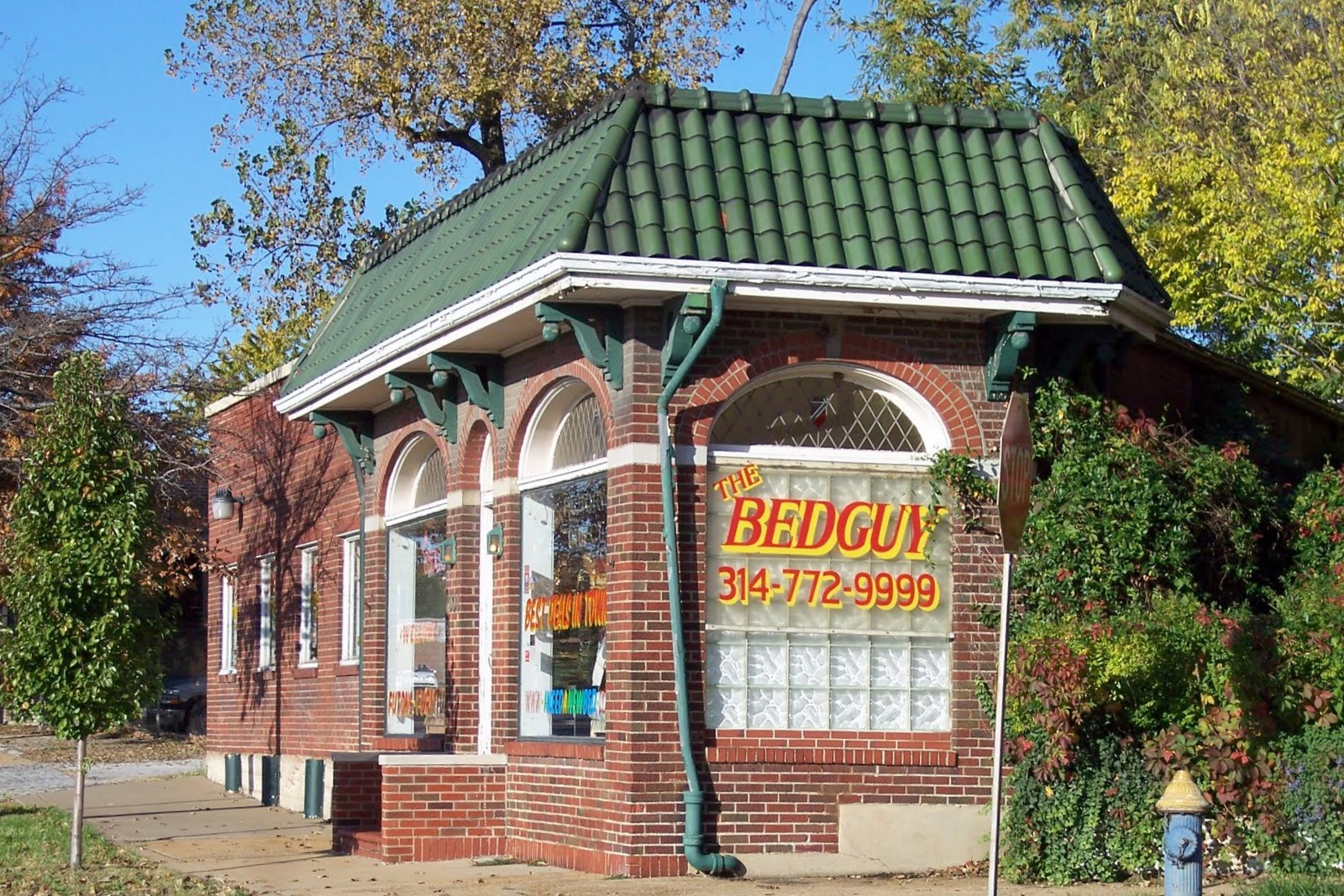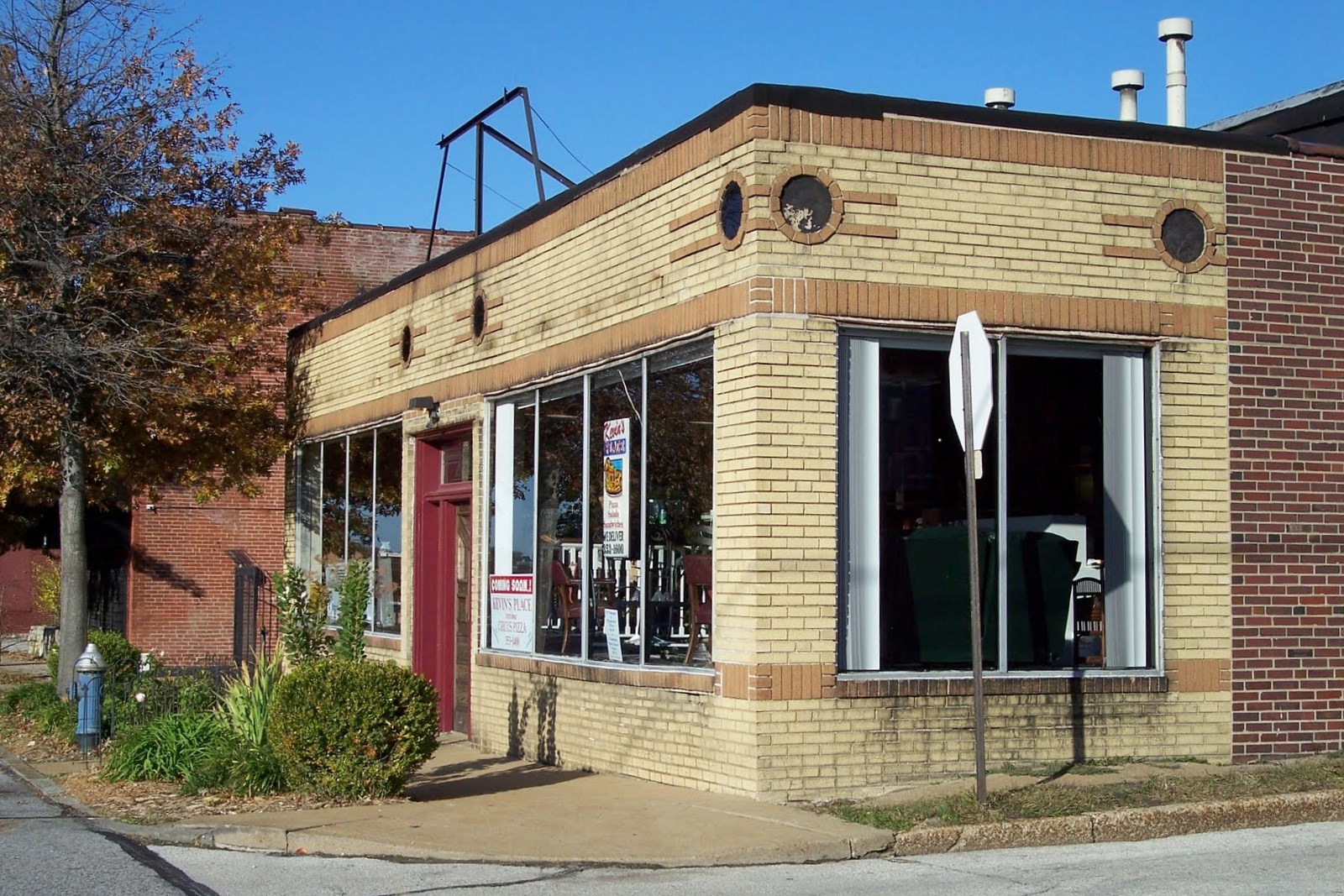 The neighborhood area is actually quite small, but I like that. The interior containing most of the the residential property is clean and tidy and for the most part is in just about as good of condition that homes this old can be. Many are rehab ready, many have already been carefully redone. There is a good mix of multi-unit rentals, multi-families and single family options.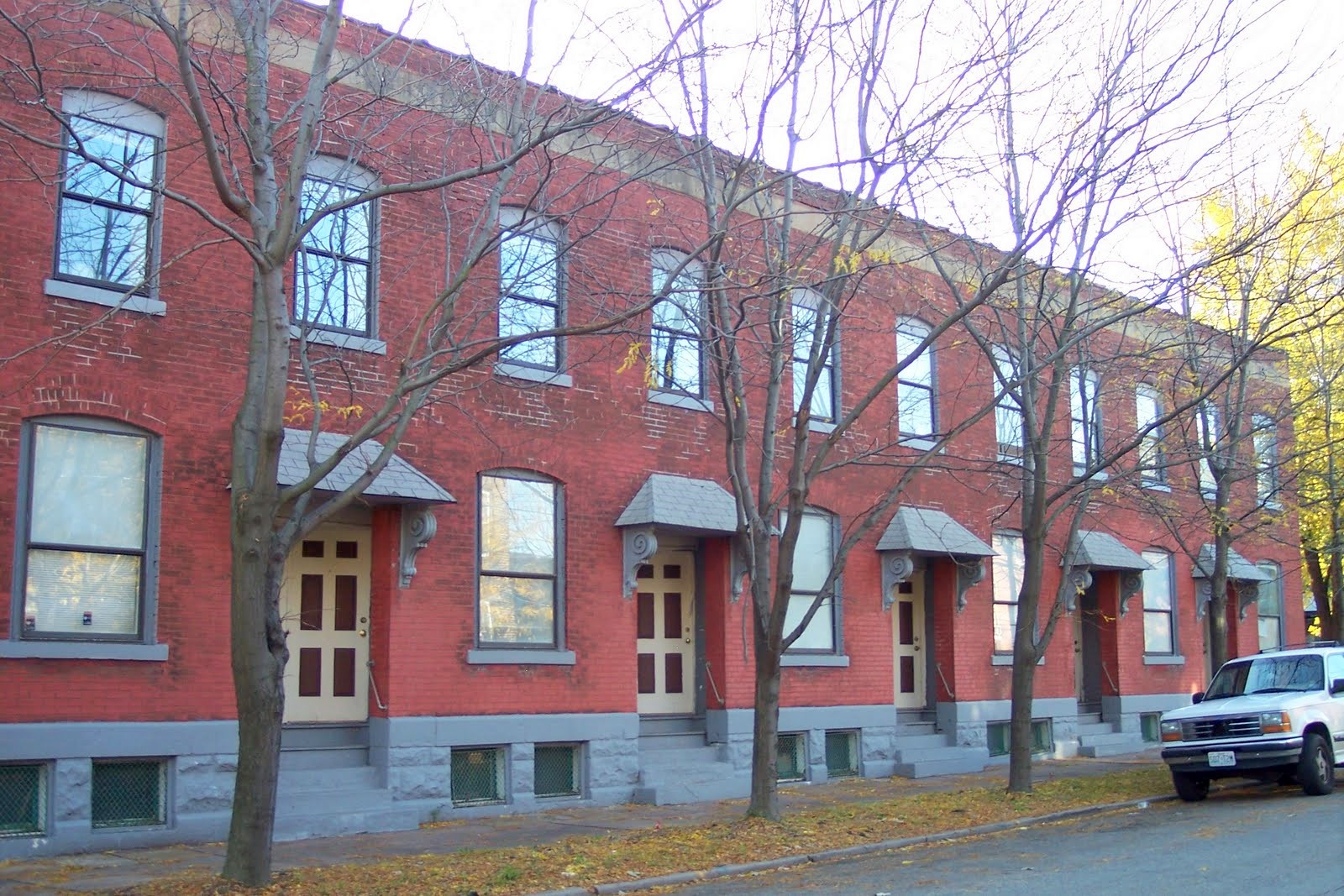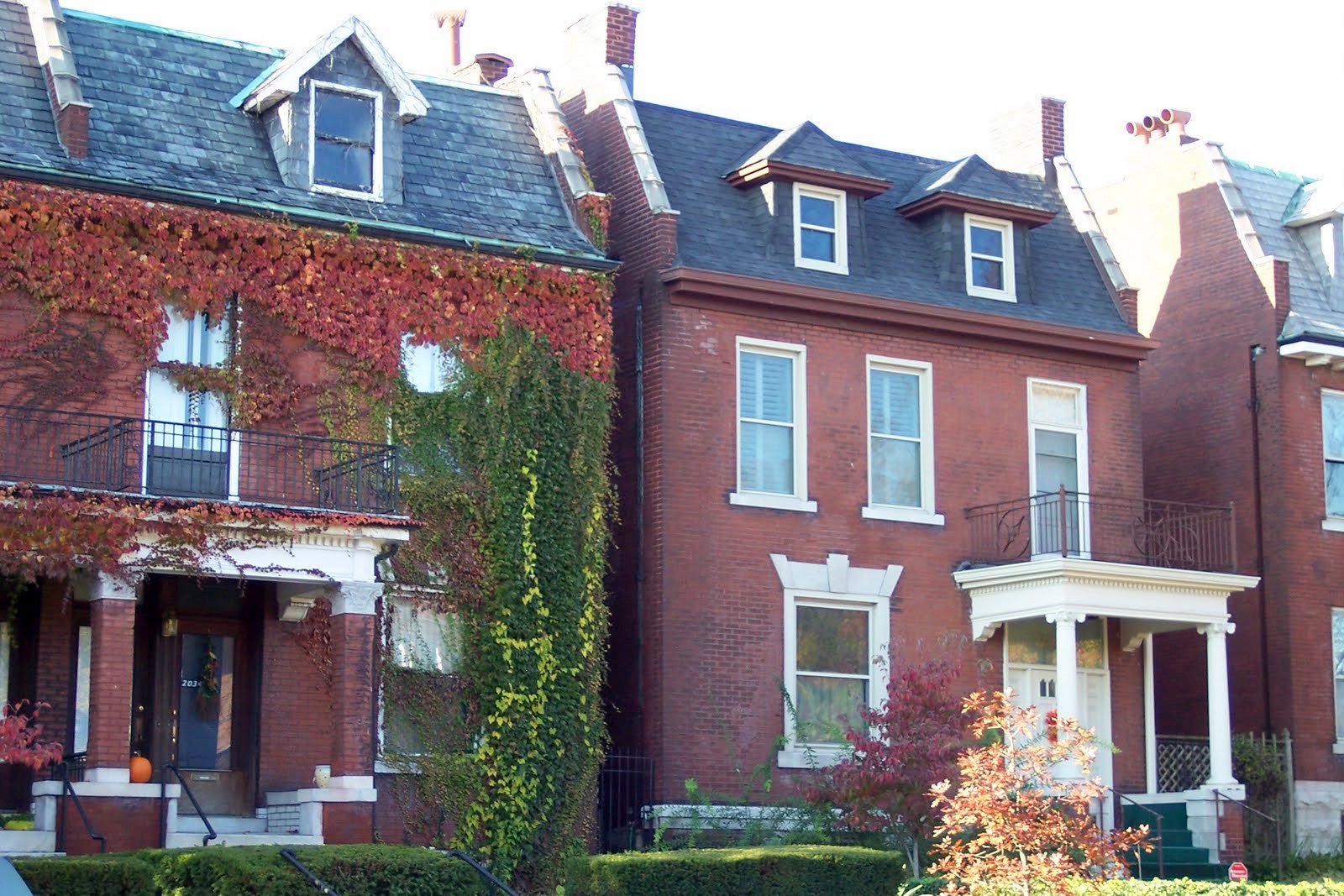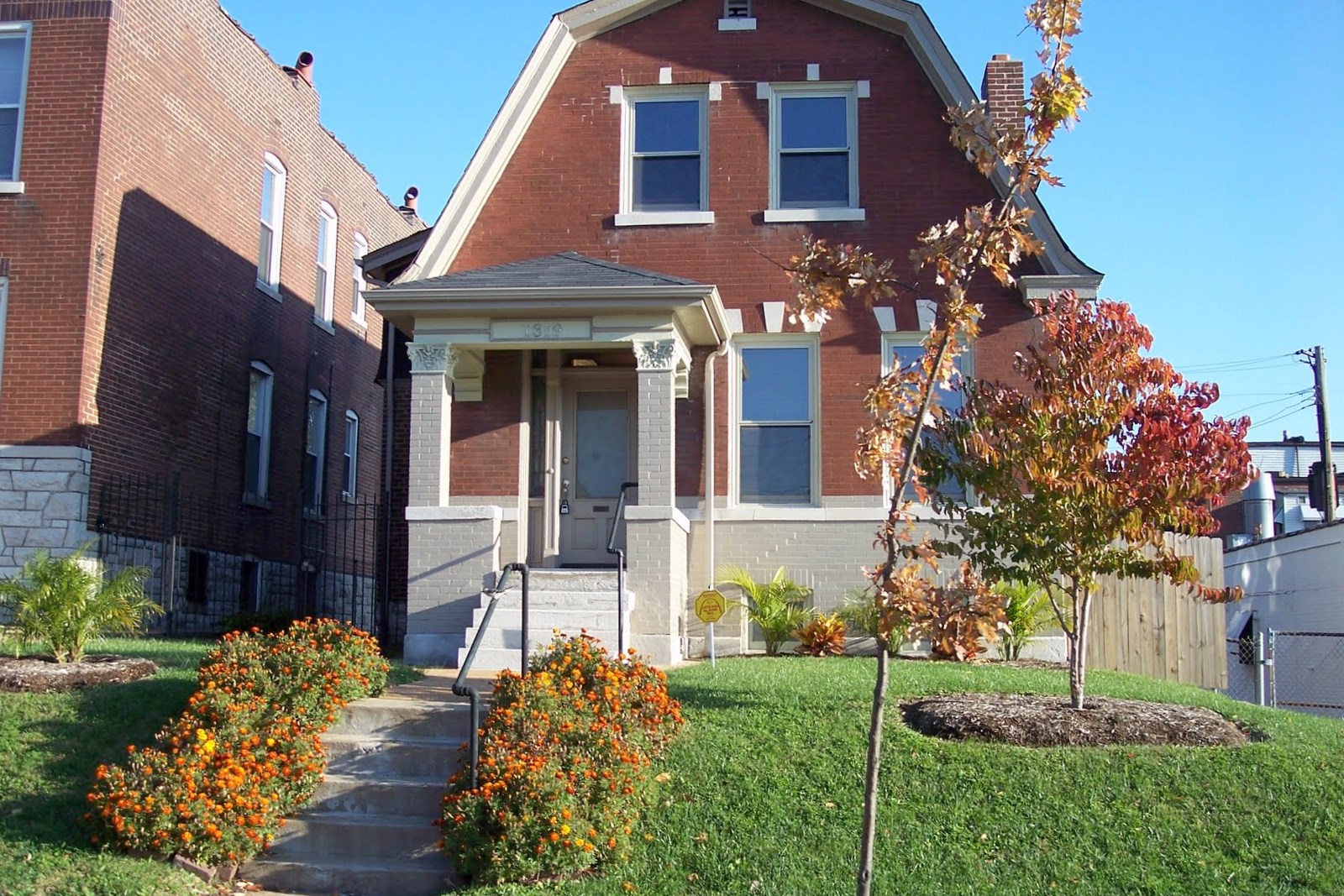 There are also some really cool looking warehouses and old business properties within the neighborhood.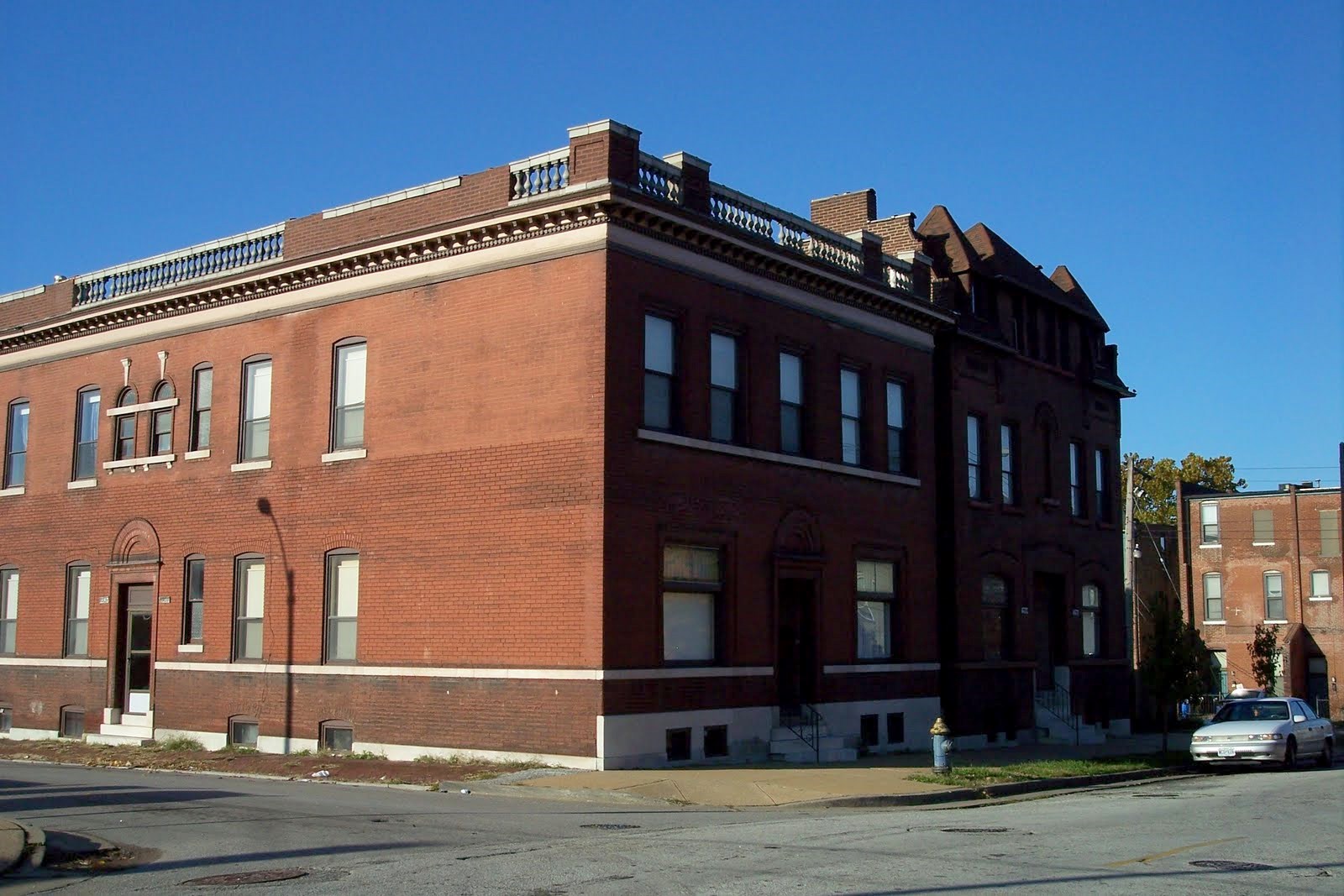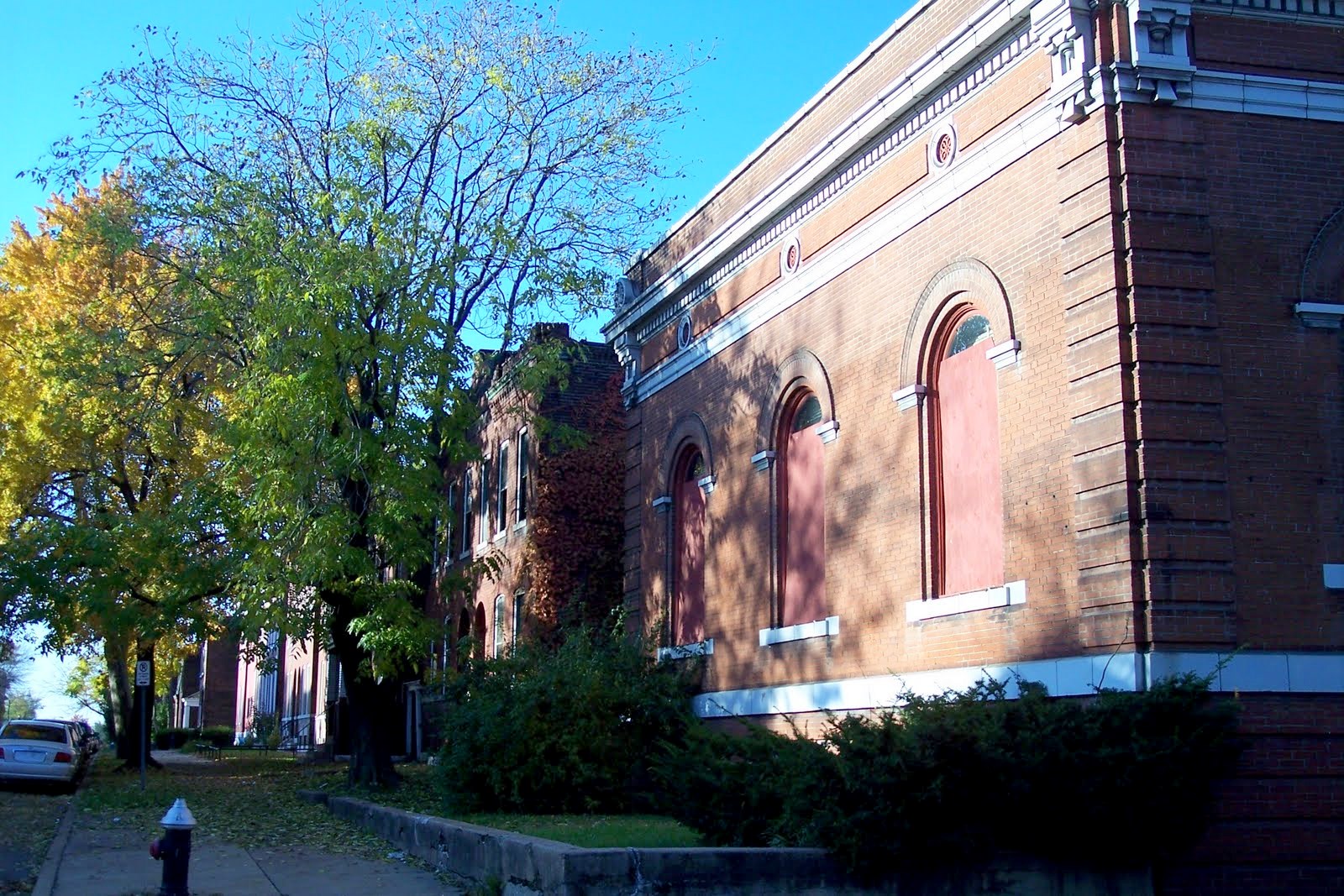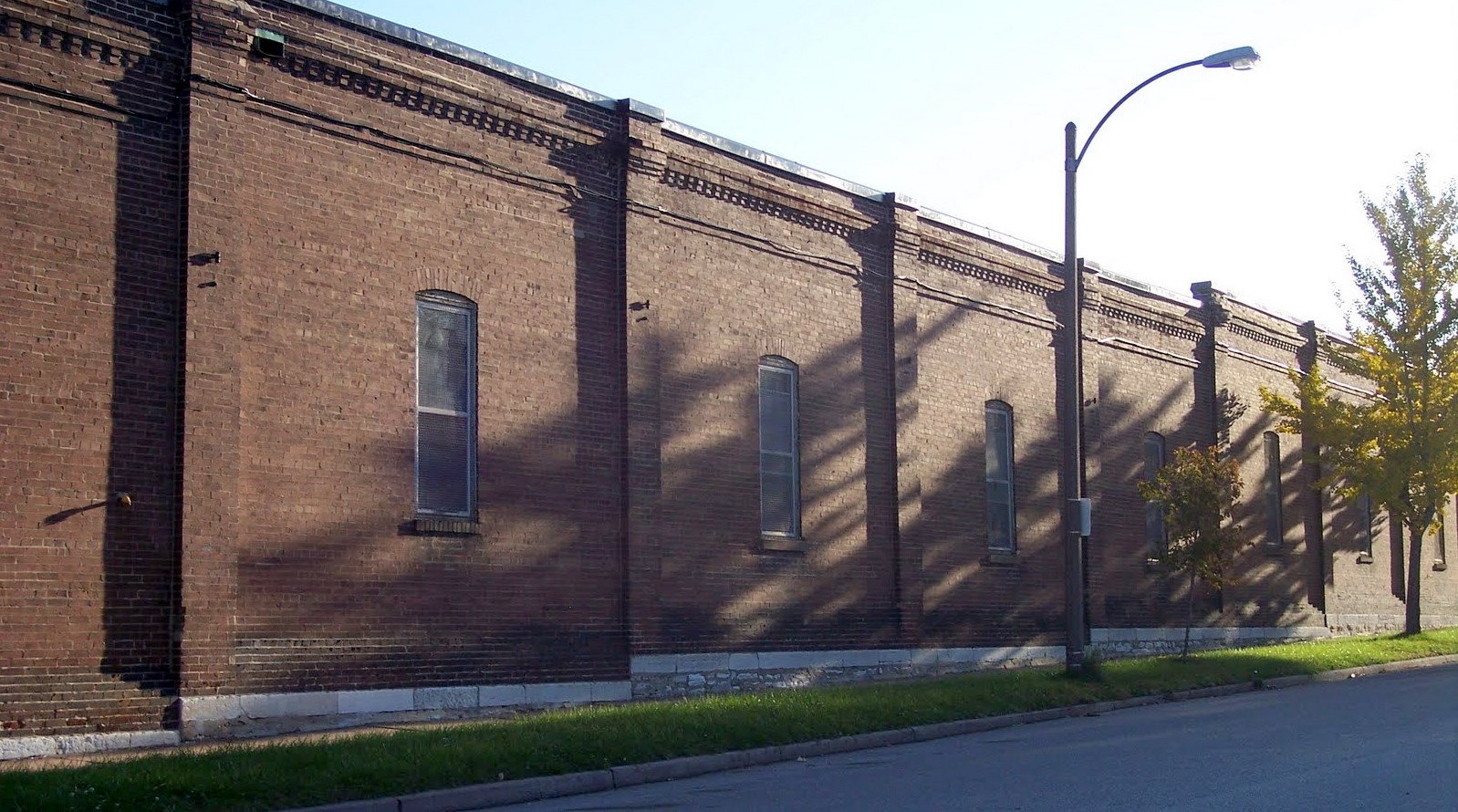 Here's an old funeral home: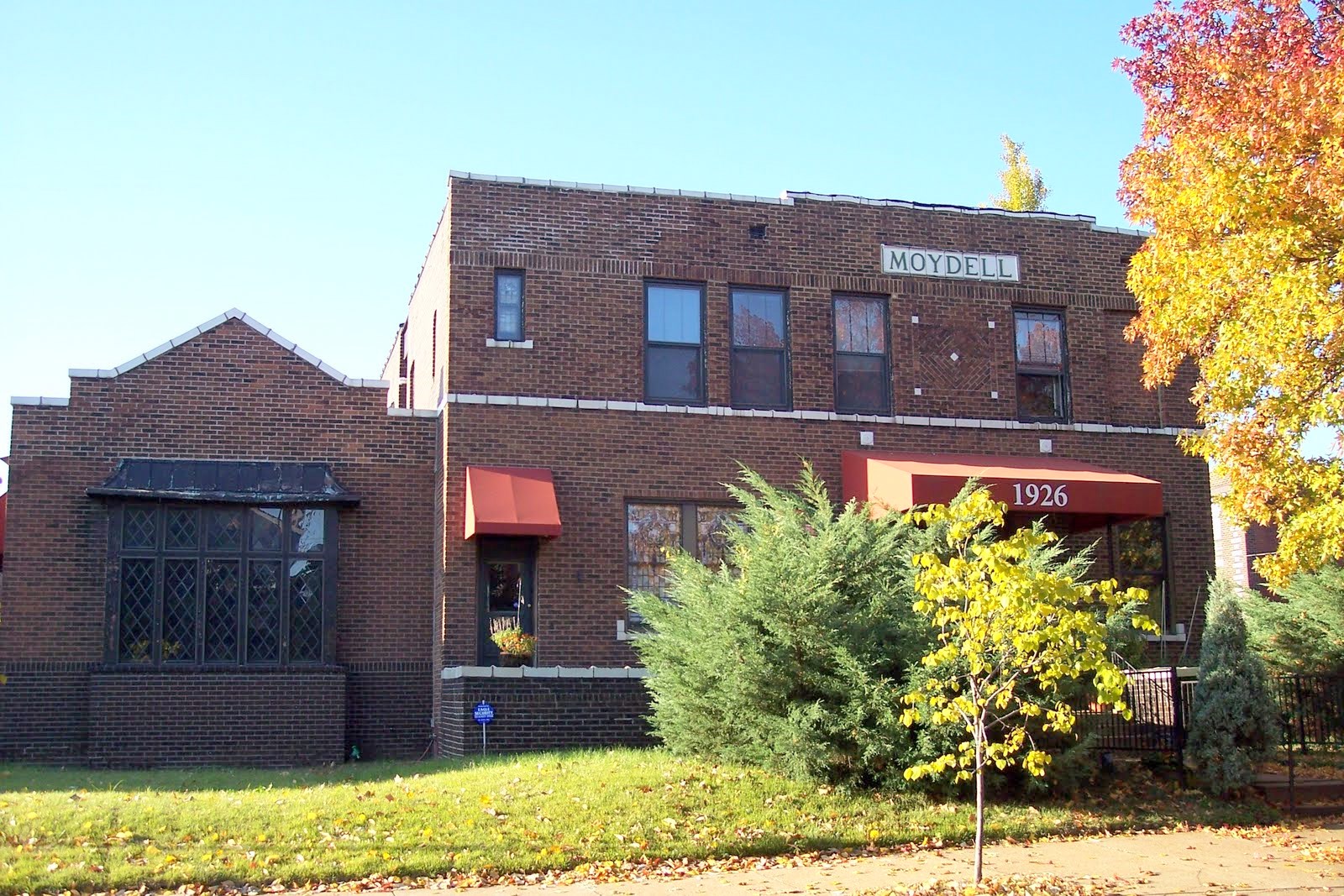 The churches are varied and interesting: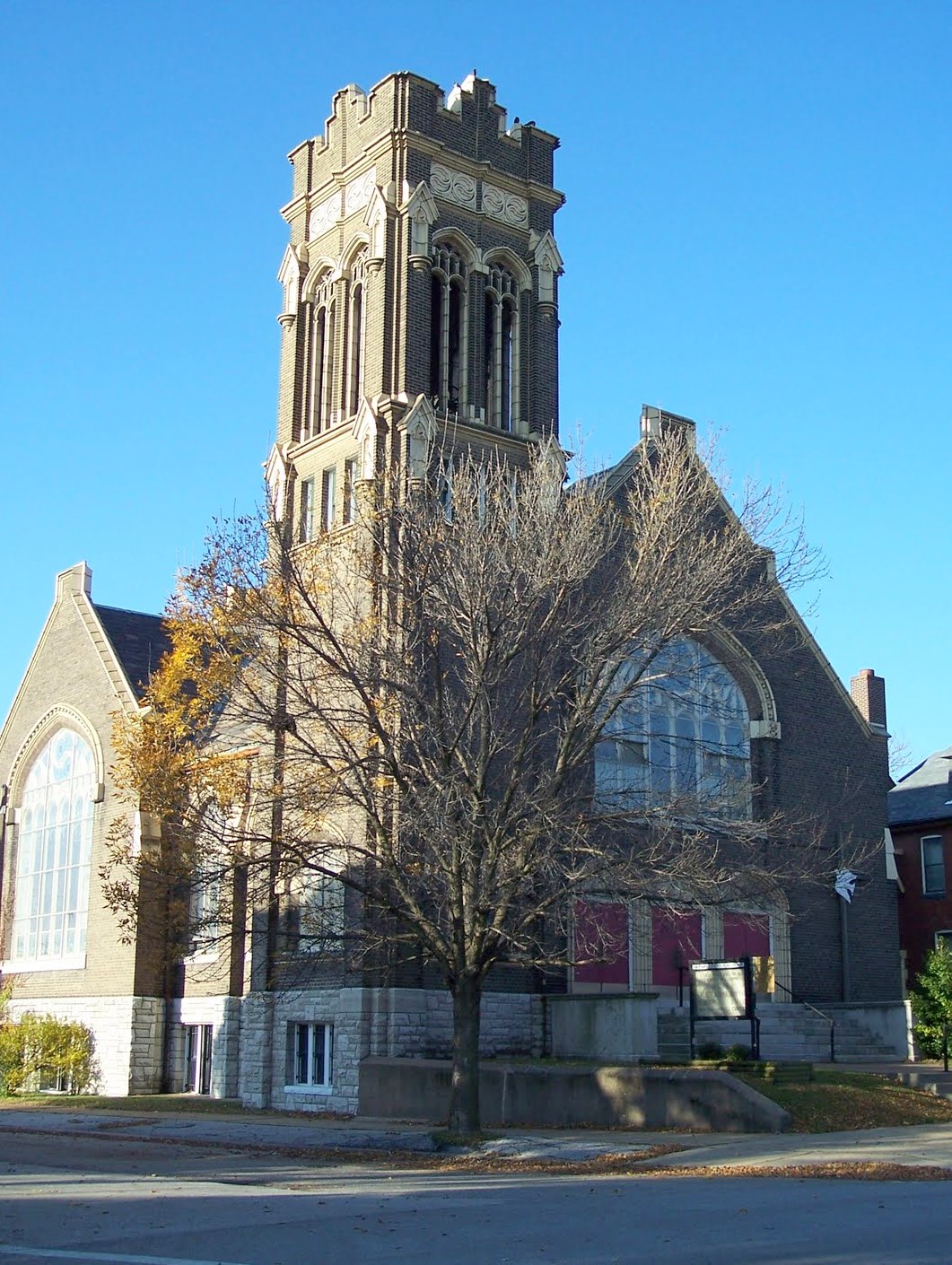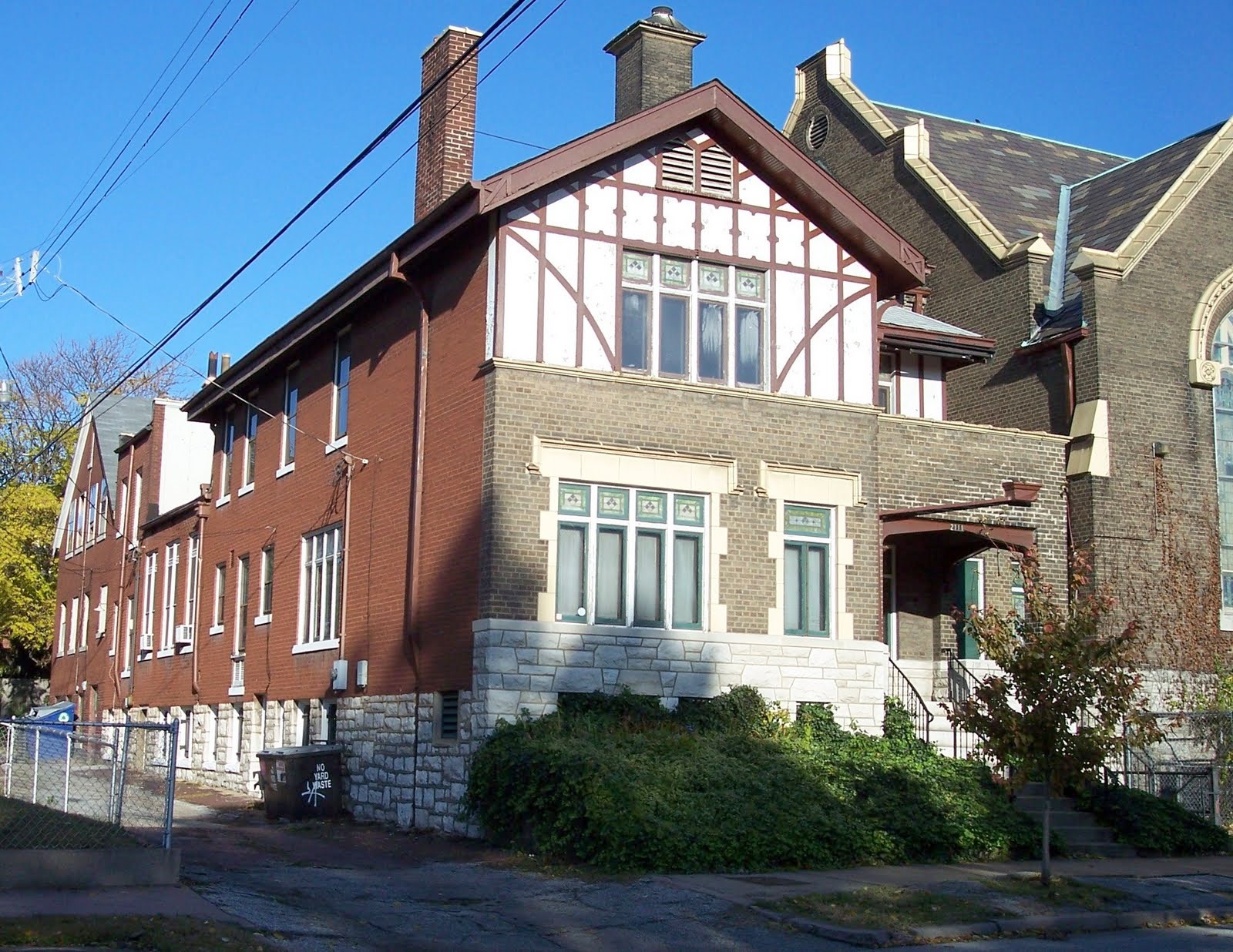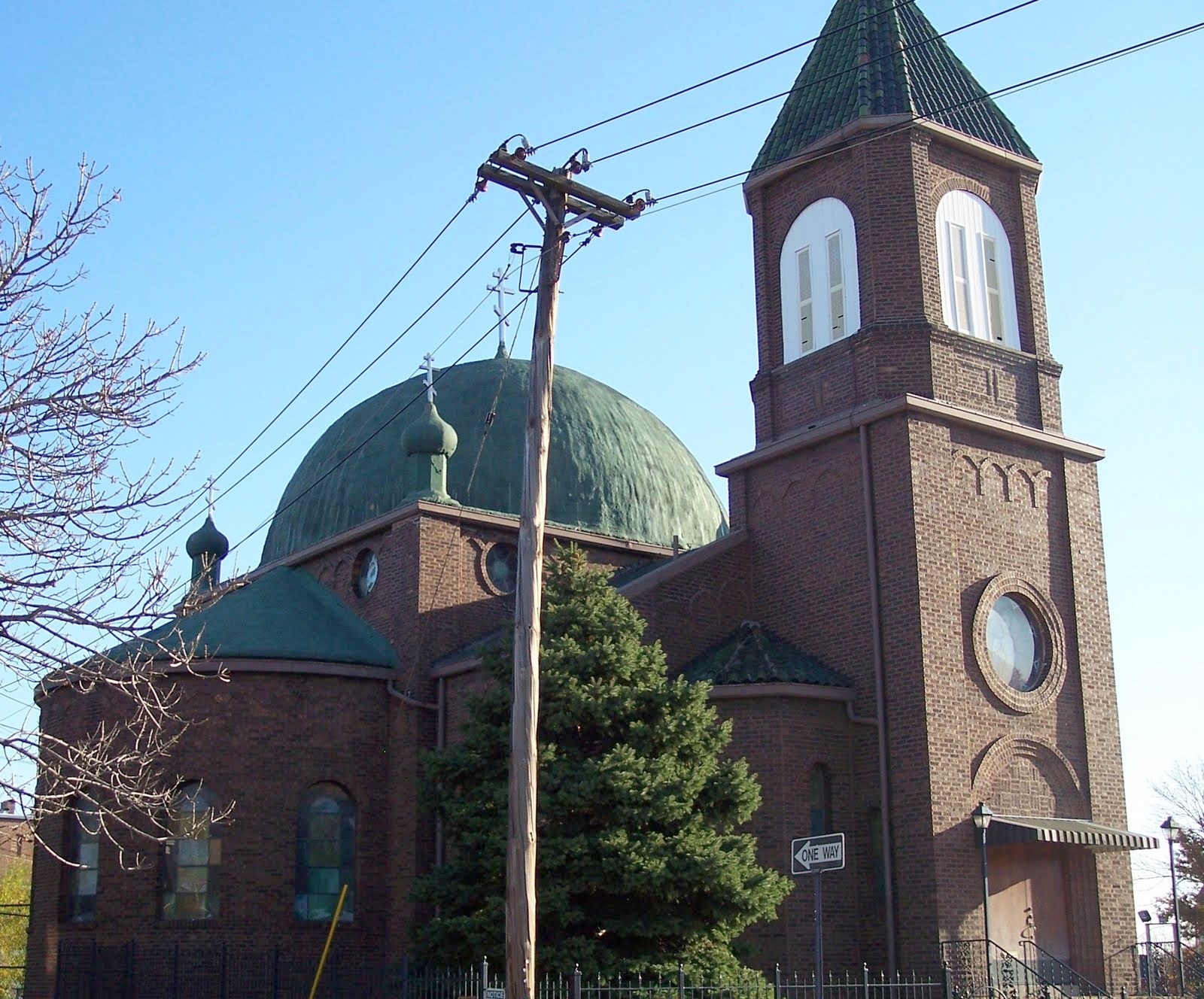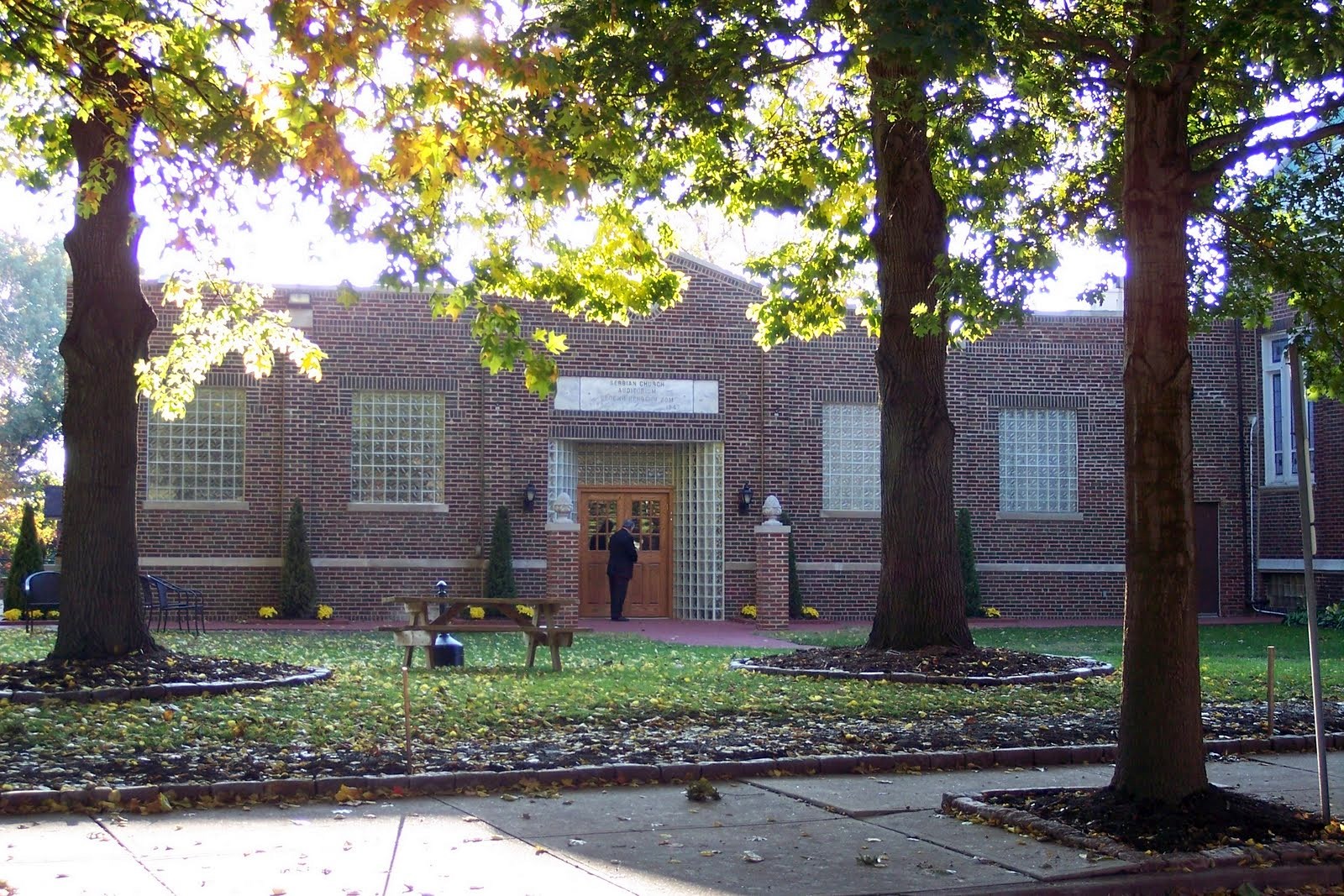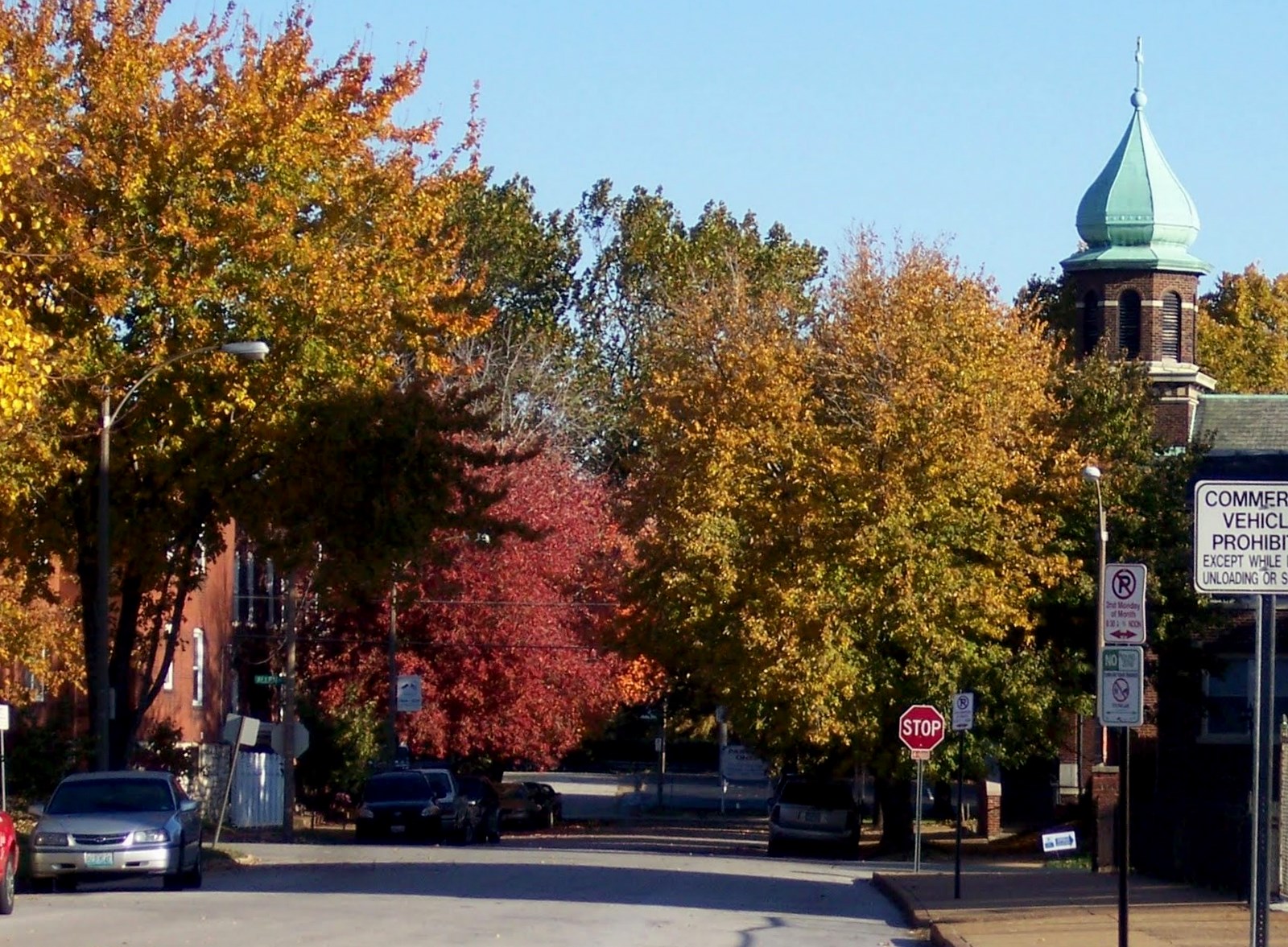 Unfortunately, the retail and residential along Jefferson and Gravois is not the most inviting. There are some rough properties. However, most are simply cool old buildings that are vacated and awaiting good tenants. There are also some really good signs of life on Jefferson from Gravois to I-44.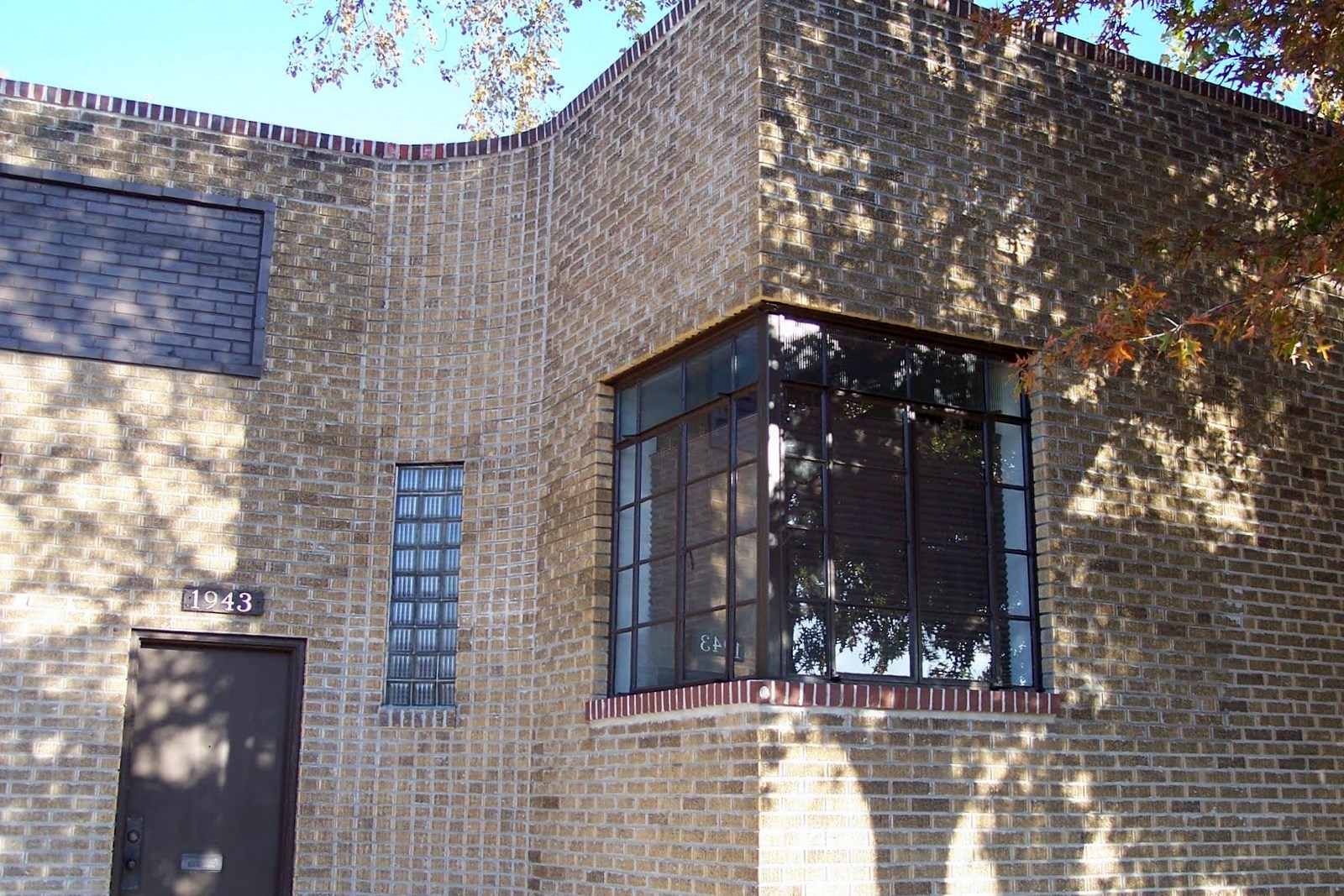 Art gallery: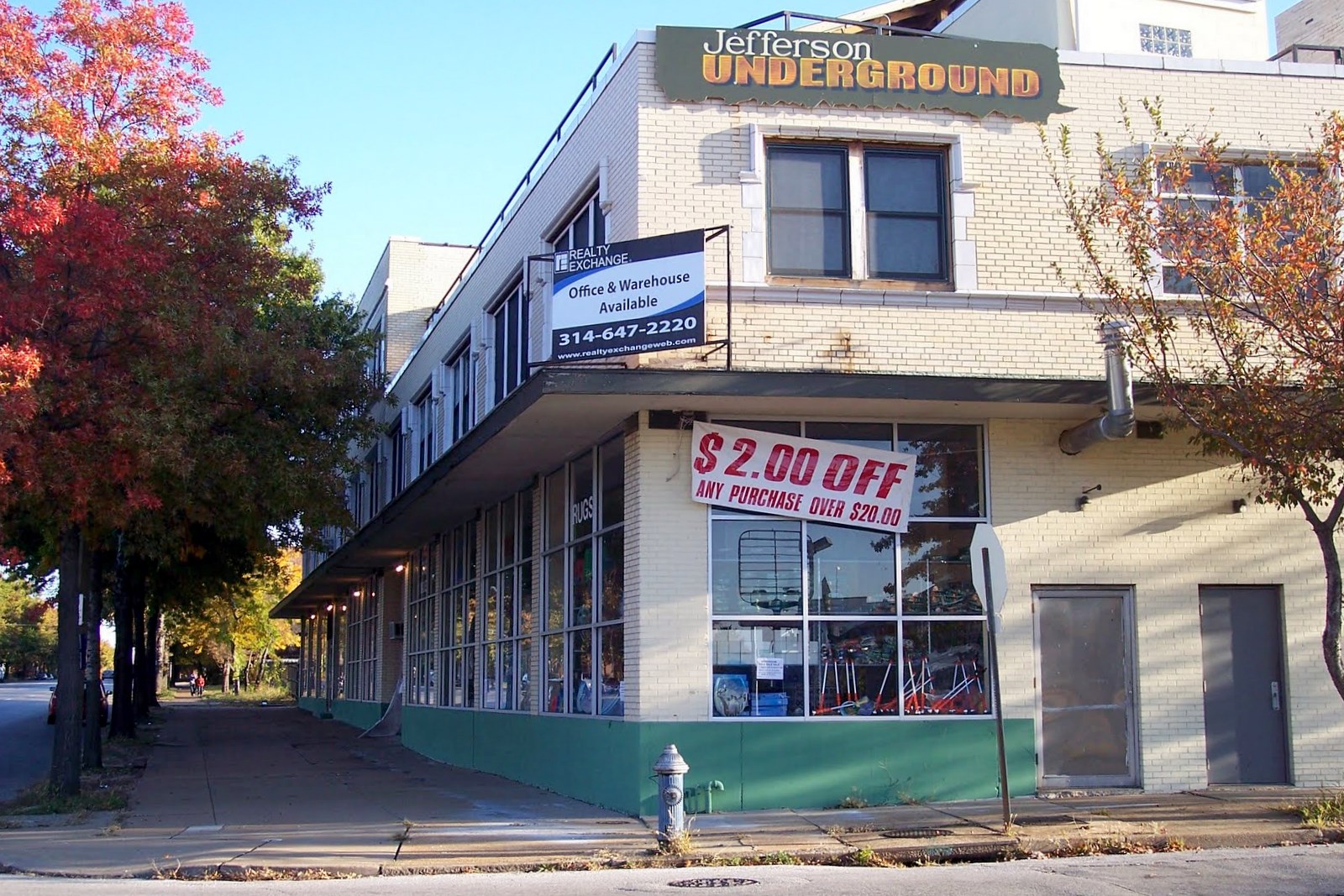 Barber shops and a Nicaraguan restaurant: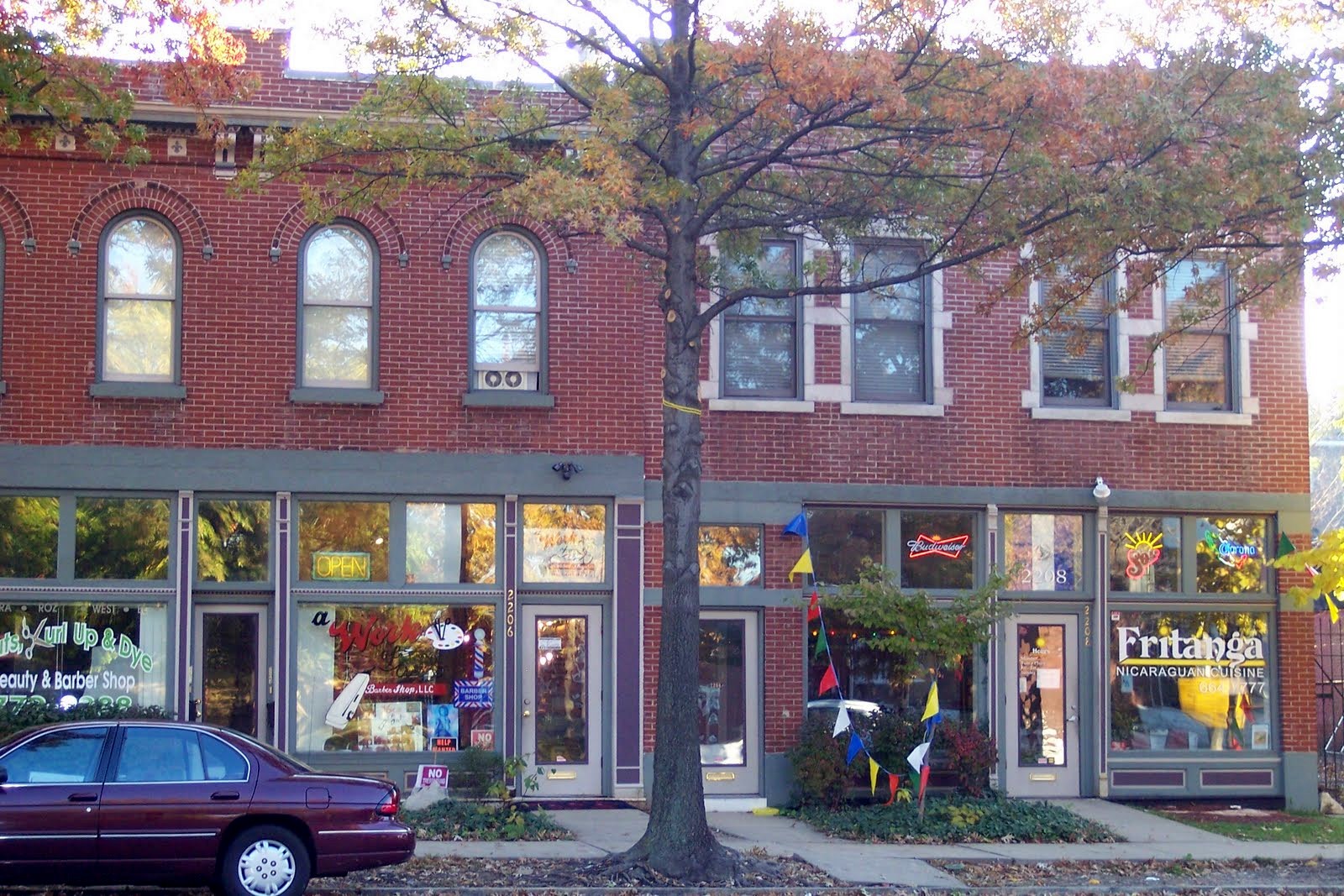 There are also some mistakes that need rectification, like the boarded up suburban styled Burger King across from the Way Out Club. This is a total eyesore. However, for the most part, MH has avoided many of the uglier modern developments that plague other neighborhoods.
***In September, 2019 I revisited the neighborhood and the following includes updated commentary and photos. Also included in the update is commentary and information from Rocco Danna, owner of Elevate who lives, develops and manages property in the neighborhood.***
Rocco and I met through some mutual friends and collaborated on a couple efforts in our neighborhoods. He has shown me some of the properties he's renovated in McKinley Heights, including a massive gut rehab of a brick beauty at 2265 Indiana which was completely taken down to the brick walls and converted to green multi-family living space. I'm a big fan of his work and he cares a lot about his neighborhood.
Misses On Original Tour
I undersold the amazingly serene and peaceful property around the Holy Trinity Serbian Orthodox church. They have a great fish fry during lent, including crepes for dessert. There is something about this space, with the shade from mature trees that builds the perfect setting. Many a trivia night has been spent here. They are a great member of the community, indeed. The immediate homes and shaded streets to the west and south frame the church property beautifully.
I can't believe I didn't include the very unique Waverly Place section of the neighborhood, a rather strange, almost private street that results in just a handful of homes oriented against their surroundings. Meaning, driving west down Geyer, you will see the typical rows of front yards and homefronts and then at Waverly, the backs of a handful of homes along Geyer that front Waverly. Go down the T-shaped Waverly and find a home facing a dead-end cul-de-sac, perpendicular to the others. This is a curious remnant of the brutal chasm that I-44 created when it butchered the neighborhoods in St. Louis. It's like they couldn't figure out how to build on a grid in this section. The homes that remain on Waverly are straight up beauties facing I-44. Imagine how many of these beauties were lost for the freeway:
Next time you stock up at Randall's take Geyer Ave and see what I mean. It's quite unique.
Noticeable Changes
The retail strip along Jefferson Avenue has improved with the addition of a resale shop, Milque Toast Bar and of course the barber shop, animal hospital and Fritanga Nicaraguan Restaurant, a true city treasure, remain.
Per Rocco, intra-neighborhood interests have improved as well. He walked me through McKinley Meadows, an "urban edible forest", and most impressive city garden. He said it is now one of the neighborhood's main places of gathering. It is owned by the McKinley Heights Neighborhood Association as well as their garden on the northwest corner of Mississippi & Geyer. They include free produce and events and have been a huge success. McKinley Heights is one of the few St. Louis neighborhoods without a park, so this kind of space can be quite important.
Rocco also mentioned Urban Fort, a space that "encourages our community to play, learn, and gather."
"Our amazing tree fort, slides, climbing walls, train tables, and playhouses
allow your kiddos, aged 0-7, the freedom to create, discover, run, jump, and socialize
while you enjoy a comfortable chair and a cup of coffee." (source)
Apparently the coffee is good, I need to check that out. This kind of thing DID NOT exist when we moved to St. Louis 20+ years ago, proof that families may, just may be staying and settling down in St. Louis vs. leaving for the staid burbs when junior gets school aged. Positive! Move here, live here, stay here. Make it better! I love it.
New Dimensions Soccer, a nonprofit corporation with the mission of charitable, educational, health, social welfare and community betterment provides instruction in moral and character development and integration of immigrants into the St. Louis community via soccer and sportsmanship while fostering international understanding.
They have a strong presence in the neighborhood, with their soccer field at Allen and Missouri Avenues. They are currently replacing the sidewalks and investing in their field. This is a good group of people here, our kids joined the Watermelon 4 on 4 league for several years, a very impressive scene for sure. I would love to see this organization set up shop in the neighborhood, they are currently located in the small suburb of Maplewood, MO. It's always good to see organizations with a mission like this to be immersed in the diversity our city can bring vs. the suburbs.
Speed humps were installed near McKinley CJA Middle and High School on Ann Avenue; and more recently, on Shenandoah. Both have made a big difference and increased safety for students, staff and general pedestrians in the neighborhood. Rocco commented that the neighborhood has been advocating for these for 13 years, and they've finally taken hold. Congrats on the persistence, we're all safer as a result..
The shuttered Burger King has been replaced with a Family Dollar that looks better than the drive thru on Jefferson and is a better use than junk food.
There is plenty of evidence of good infill and lots of rehabs of beautiful brick homes and buildings, rehab dumpsters are all over.
I reported on the Charless Village new homes on Shenandoah, you can read about it and see the results in the "continued reading" section later in the post.
Rocco's business alone has renovated eight buildings, mostly multi-fam and several Energy Star certified. The following pictures were taken by Rocco and Elevate.
Other noticeable changes Rocco mentioned: noticeable drop in crime. More people are on the sidewalks walking their dogs, meeting neighbors and looking out for each other. The neighborhood is turning over, with large numbers of Millennials buying homes and renting. Bike lanes were implemented on Russell increasing the number of cyclists in the neighborhood; we use them to get to Soulard Market all the time, it's a safe and easy ride…until you get to Gravois…
What Are The Future Needs?
Intra-neighborhood restaurant/community spaces would be a bonus. Rocco agreed and mentioned opportunities for improvement at Russell & Jefferson, Russell & Gravois, Ann & Jefferson and Allen & Jefferson. We agree Jefferson could use a bike lane and serious traffic calming. It is a dangerous freeway but could be a beautiful urban residential and retail corridor. Rocco also mentioned the need for modern lighting and replacement of the cobra-head lights with pedestrian-scaled lighting.
But, the focus for McKinley Heights should be on connections with Soulard, Fox Park and Benton Park. Traffic calming and safer crossing of Gravois will be tough since it's a state stroad, Jefferson has some hope. Currently, crossing either is tough. The Interstate isolation is brutal, and seemingly permanent, which makes Gravois and Jefferson more important. Slow down traffic, make pedestrian connection a priority. Soulard, Fox Park, Lafayette Park and Benton Park need to be united and Gravois and Jefferson calming and narrowing are our opportunities.
Finally, more rehab of the amazing housing and intra-neighborhood storefronts is in order. There is plenty of room for hope, Elevate has purchased 2201 Indiana and 2337 Russell. Both are in the design phase with plans to do historic renovations for a commercial office tenants or local businesses to occupy.
2337 Russell is the handsome green and white-glazed brick fronted building just east of Jefferson. The potential of this one is huge and it used to be a Howdy Bottling Company, who made 7-Up, back in 1935 (source).
What a great little building and a high-profile location.
Jefferson's retail buildings need new uses and there are several infill opportunities that have been vacant for years.
McKinley Heights has drastically improved in the last ten years. Way less gunshots, way less insane driving through the neighborhood, less ramshackle properties and more business. The neighborhood has improved one property here, one there. There are no massive apartment buildings or new projects, just the slower redevelopment that after time really becomes noticeable.
Additional St. Louis City Talk Reading
Big 4 Chevrolet – Jefferson Underground – McKinley Heights Neighborhood – December, 2018
Charless Village Update – McKinley Heights Neighborhood – February, 2017
Historic Codes, An Empty Lot and a Proposed Mosque in McKinley Heights – March, 2017 (Part 1)
New Homes Under Construction in McKinley Heights and a Brief History of Charless School – November, 2016
Man, the housing stock is so amazing in this neighborhood.