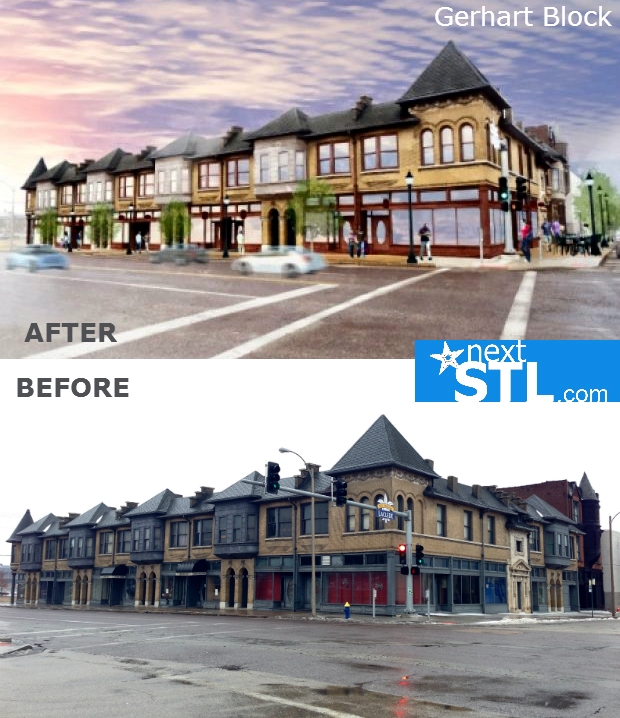 The Gerhart Block was feared to be on the chopping block. There were never solid rumors of its demise, but any time a building sits empty in St. Louis, the demolition vultures seems to circle. What's more, this significant building was drawn into the footprint of the behemoth CORTEX district. That was good and bad, as the project promised development and had a Tax Increment Financing package that could help, but the city's legislation creating the technology and innovation district also removed any demolition review by the city's Cultural Resources Office. And so people worried.
New apartments and renovated warehouses are coming to surrounding streets. Two gas stations have given way to development (and if a St. Louis gas station can be demo'd, clearly anything can be demo'd), one for a 380K sf IKEA, and one for a zero subsidy 164-unit apartment building. Several years ago, the adjacent warehouse was demolished and remains a grass lot today. And so people worried. Now, the Post-Dispatch is reporting that the building will have a new life:
The historic, two-story brick building at Laclede and Vandeventer avenues is empty. But that's about to change. Capstone Development has the building under contract and is planning an $8 million restoration and rehab.

Bill Luchini, Capstone's president, said today he plans to renovate the 11,000 square feet of ground-floor commercial space and build 17 loft-style apartments on the second floor. Construction will take about a year and begin after he completes the building's purchase in about 60 days.
Development in St. Louis (and all cities) is uneven. It's often either one step forward and two steps back, or vice-versa. Turning that corner to when we can expect two steps forward is the next step for our city. We've noted that the best part of CORTEX, its soul, is what is being kept. Now, with the Gerhart Block coming back and preserving some human scale in the neighborhood, it feels like that second foot is nearly on the ground.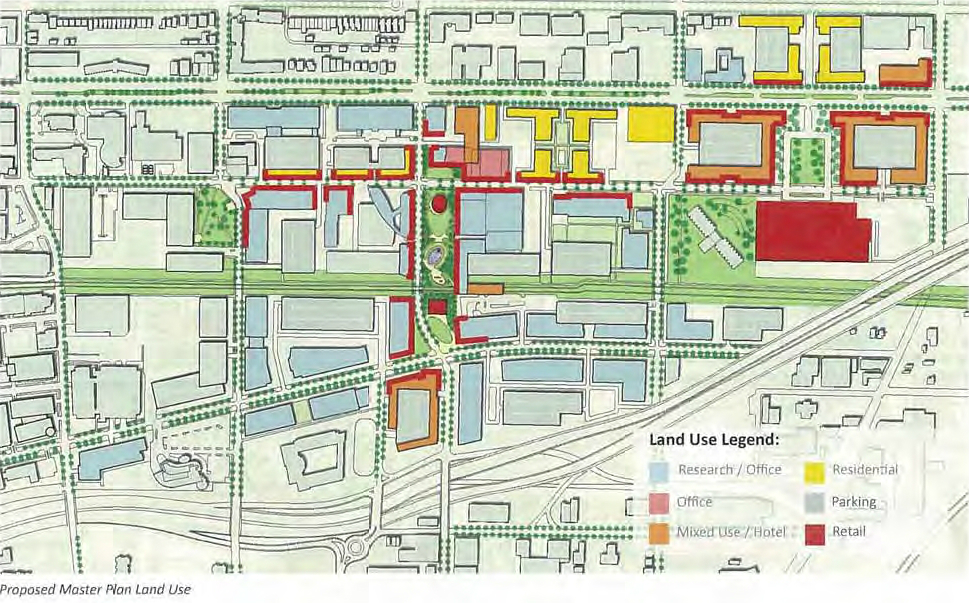 {an overview of basic CORTEX development plan}
Gerhart Block National Register of Historic Places Registration Form – St. Louis, MO by nextSTL.com