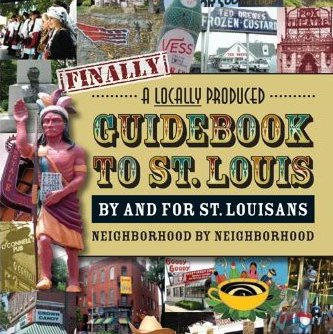 A Locally Produced Guidebook to St. Louis by and for St. Louisans Neighborhood by Neighborhood is a must have for anyone interested in the city. Simply put, it's the best guidebook about our city you can buy. Even the most versed local, you know, the "where'd you go to pre-school?" variety, will find something new. Better yet, author Amanda Doyle hasn't stopped at the printed word. You can find the guidebook on Facebook, visit the website and follow on Twitter. There's even a sweet promo trailer put together by the one and only Bill Streeter.
The book's a treasure trove for the visitor as well, though for the standard hotel, top 5 must-see info, one of the standard guidebooks would be a warranted compliment. One item that sets the book apart are the concise, but enlightening histories of neighborhoods and regions. Thankfully, there's more than the staid list of relatively famous names and a couple restaurants.
And the guide is incredibly up-to-date as well. From final edit to publishing must have happened in record time. Of course, with the passage of time, places will close, others will open, the jogging path in O'Fallon Park won't be quite so new anymore. All the more reason to anticipate a revised edition. Anyway, this is an idea book. In this day and age who doesn't preview a restaurant or bar on Yelp to verify hours and more?
There much, much too much in the book to review it all. May it be suffice to say that it is truly exhaustive. Of course a few things jumped out as I perused the book over the course of a couple weeks. First, it's fun to peruse (and that's a fun word). Each time you pick it up you're likely to stumble upon something new.
Most of this is quite welcome but it gets a step or two too obscure when it sings the virtues of the Laclede Race Course, "formerly hopping" from 1865-1869. Yes, there is a Race Course Avenue on the south side of the Forest Park Southeast neighborhood. It's 150ft long and no, there is no reason for anyone to notice it, much less seek it out.
While there may not be an easy way to locate the most recommended coffee houses in the region, the book gets a bonus for highlighting the coffee district at the east end of the Forest Park Southeast neighborhood. Four roasters are located within a four square block area, including Thomas, Kaldi's, Ronnoco and Northwest.
As a father of a 3-year-old and 1-year-old, the Kid Zone segments are welcome. Hartford Coffee, Co. has a kids play area, you can catch old-time baseball in Lafayette Square Park, the General Candy Company on Oleatha can provide a sugar fix for an entire school district.
There is also information about 24-Hour Eats, seriously local Salume Beddu, The Best Salami in the Country, worthy commentary on the architectural oddity that is Holy Corners on the edge of the Central West End and Mizzou alums can grab Shakespear's Pizza at Gustine Market. You find that Holly Hills is the "California of St. Louis" and Butch O'Hare, a WWII flying ace and namesake of Chicago's little air field is from here. Everyone who flips through the book will find their own list.
There are misses too. "Today Bevo has the added nickname of "Little Bosnia" due to the recent influx of Eastern Europeans," is a wholly inadequate treatment of the rich and interesting Bosnian community in St. Louis. The city is home to the largest Bosnian community in the US, numbering more than 40,000. Without this group, the city's population decline would have been even more precipitous. The largest Bosnian language publications in the US are produced here in St. Louis and there are a myriad of dance clubs, bakeries and restaurants carrying the ethnic legacy. Perhaps there's more written about the community elsewhere in the book, but there's no way to know because…
The biggest miss is the lack of an index. On a recent Saturday morning the family headed to Laumeier Sculpture Park and at the last second I grabbed my guidebook to take along. I figured it would be interesting to see what it had to say about one of my favorite St. Louis County parks. Unfortunately, to this day I don't know. Without an index I scanned through the book a couple times, didn't see anything and gave up. Then my wife grabbed the book and wondered what it said about local coffee shops. Foiled again.
I have to think that a majority of local guidebook users, after all, it's "by and for St. Louisans", are going to wish to use it in a similar fashion. A friend mentioned a restaurant, you want to look it up. Was it the "Shaved Can", the "Tin Duck"…? Wondering if that bar you haven't been to in five years is still there? Looking for art gallery options? I'm trying not to dwell on it, but the lack of an index means that the interesting material in the guide is much, much less usable and ultimately, the book will spend more time on my shelf because of it.
Guide books are notoriously difficult to get right, but the effort by Amanda Doyle and Kerri Bonasch will certainly remain the go-to guide for St. Louis for many years to come. Here's to hoping the Convention and Visitor's Commission picks up about 100,000 of these to hand out to visitors. Although for practical reasons, maybe they should wait until a second printing with the index appears. It's still a must buy the book for yourself, your friends, relatives and visitors.
*yes, I'm aware that there have been a number of local reviews for A Locally Produced Guidebook to St. Louis by and for St. Louisans Neighborhood by Neighborhood, but there weren't any when I first drafted this review!