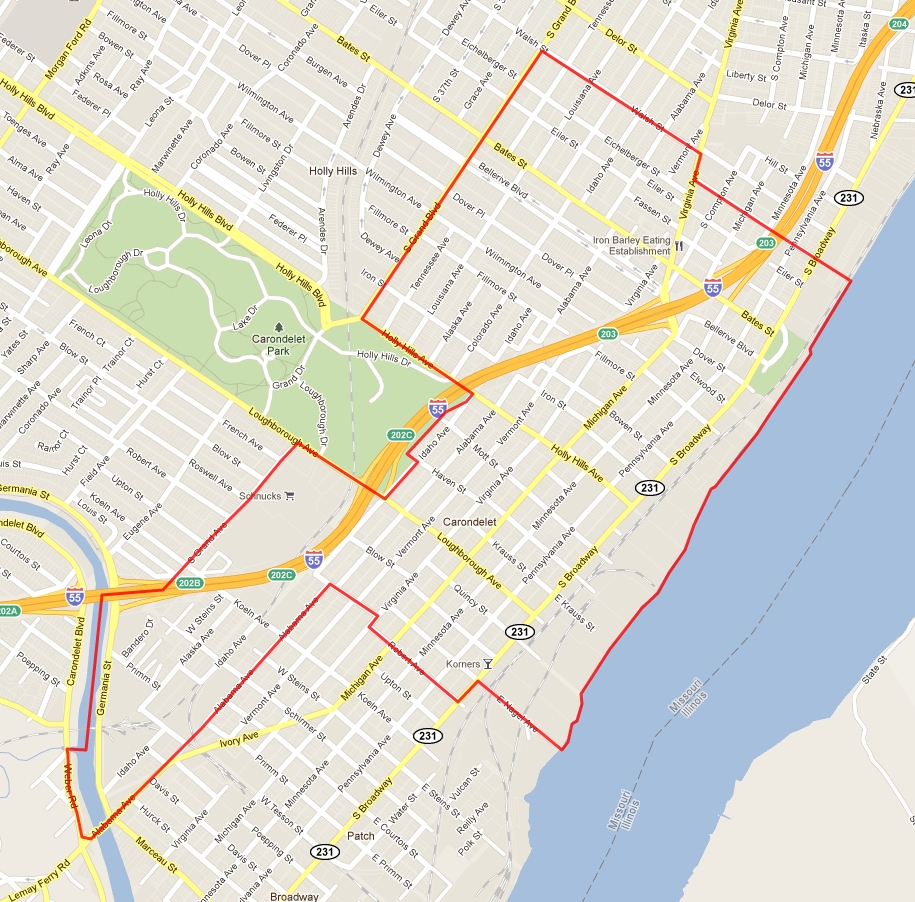 Carondelet is a south St. Louis neighborhood located south of Walsh and Eichelberger via Virginia, east of Grand and I-55 via Holly Hills and Loughborough, north of the River Des Peres, Robert Avenue and Nagel Avenue and west of Alabama Avenue and the Mississippi River. Are you as confused as I am?
The 2000 census counted 9,960 residents (5% decrease from 1990's count) of whom 74% white, 19% black, 2% Asian and 5% Hispanic/Latino. 4,730 housing units were counted of which 85% were occupied, 52% by owners, 48% by renters. 5% is a pretty modest decrease considering the staggering city-wide losses, especially in North St. Louis. Carondelet has nearly stabilized, but still saw another 3% loss of residents from 2000-2010.
As you can see I-55 butchered Carondelet and divided it in two. It's a rough cut that makes access nearly impossible by foot/bike. It's a sad part of Carondelet's long history.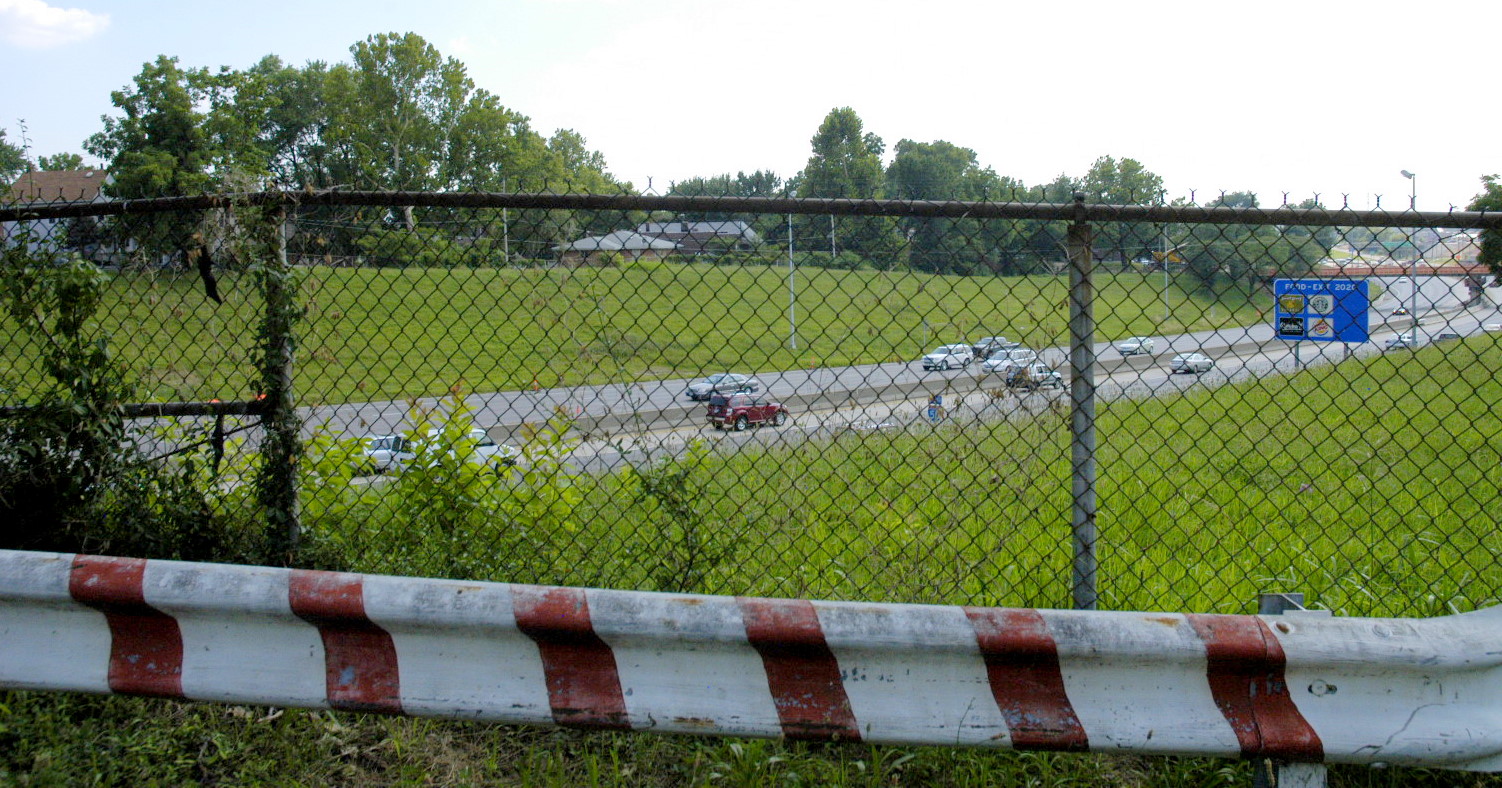 Carondelet was an independent city founded in 1767 by Clement DeLore de Treget, until St. Louis absorbed it in 1870. The Patch neighborhood was also originally part of Carondelet, but is now a distinct neighborhood. Most St. Louisans think of the Patch neighborhood as Carondelet anyhow, and it's branded as such, so why not just merge them? The charming area around the Ivory Theatre which includes several cafes and bars has a big "City of Carondelet" painting in the middle of the road. Here's some more on the history of Carondelet from the City of St. Louis website:
An act of the State Legislature on March 1, 1851, authorized the incorporation of the City of Carondelet. It was divided into three wards and authorized election of a mayor and two councilmen from each ward. In 1862, the city offices were moved to Lafayette Hall at the southeast corner of Broadway and Loughborough. This landmark, later converted to commercial uses, was destroyed by fire in 1949. During the late 1860's, the city began to attract many industries and prospered after opening of the Iron Mountain Railroad from St. Louis.
The political complexion of Carondelet changed during the Civil War. Older inhabitants were generally Democrats, whereas the more recently arrived Germans were Republican and Northern sympathizers. At the 1859 city election only two Democrats were elected, all other offices going to the Republicans, who dominated the city's life for many years. Henry T. Blow remained the leader of the pro-Union people during the war years. Southern sympathizers rallied to join the Confederate Army under Captain John S. Bowen, who, as a general, died of complications from the effects of the siege of Vicksburg.
A special census in 1865 reported the population of Carondelet to be 4,534. Native Americans comprised 3/8 of the total, while Irish and Germans comprised 1/4 each and French and Creoles were the remaining 1/8. On the first Tuesday in April, 1870, by act of the legislature, Carondelet was annexed to the City of St. Louis, amid much bitterness among Carondelet residents who had no voice in the precedings.
Until 1900, Carondelet continued to be a pleasant place to live, having enjoyed the extension of city services after the 1870 merger with St. Louis. With the advent of the twentieth century, a gradual decline began in the area to the extent that considerable rehabilitation is now necessary, especially in the older portions of Carondelet.
This part of town is brimming with potential. Particularly, the stretch of Broadway that goes through Carondelet and the Patch could be one of THE premier city streets in all of America. It reminds me of New Orleans or Charleston, South Carolina. It feels like the South, which is odd because Carondelet played an important role in aiding the Union Army in the Civil War. There are many bars and restaurants including Slo-Toms Lounge made semi-famous by the legendary local band the Bottle Rockets: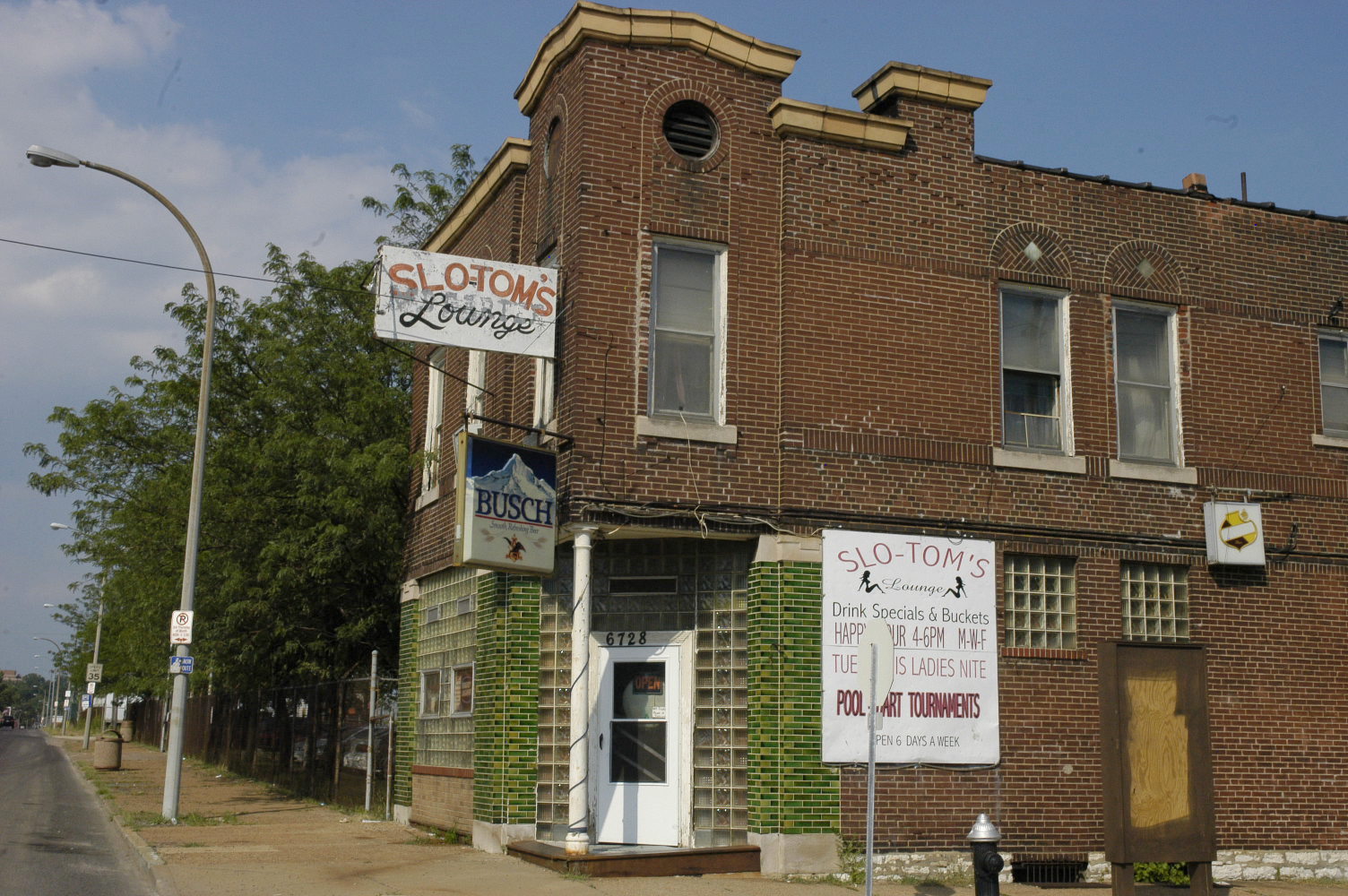 Some sights along Broadway: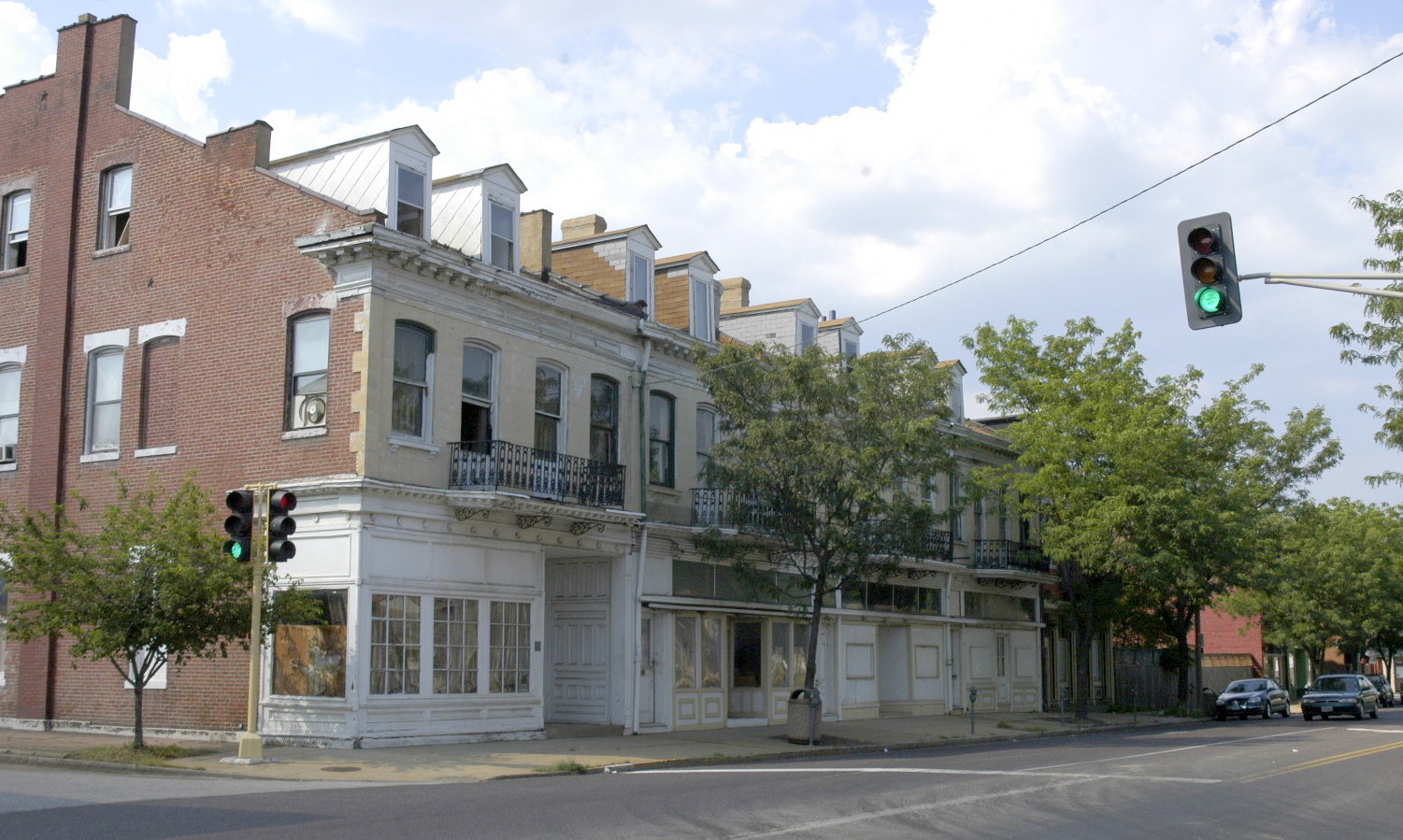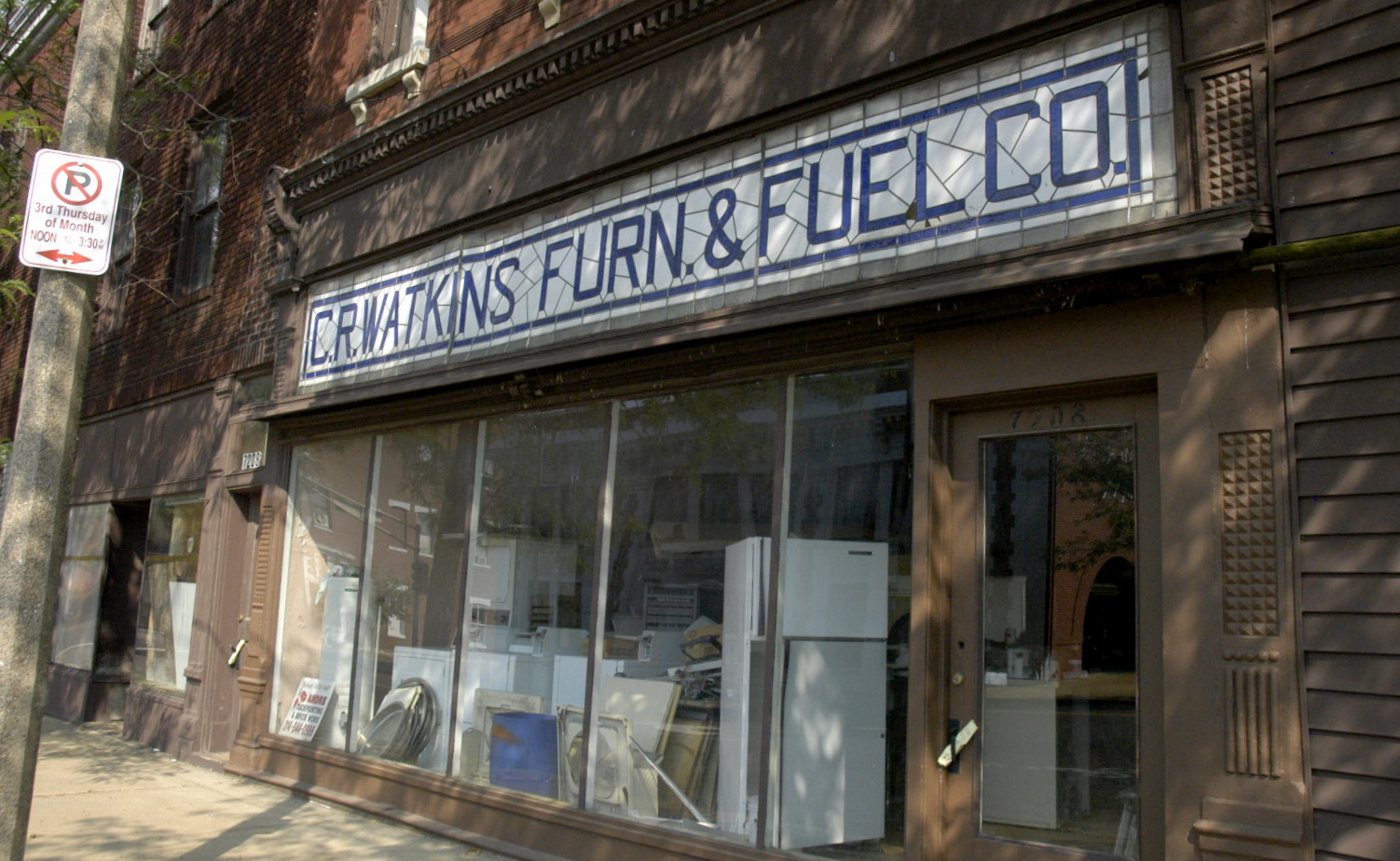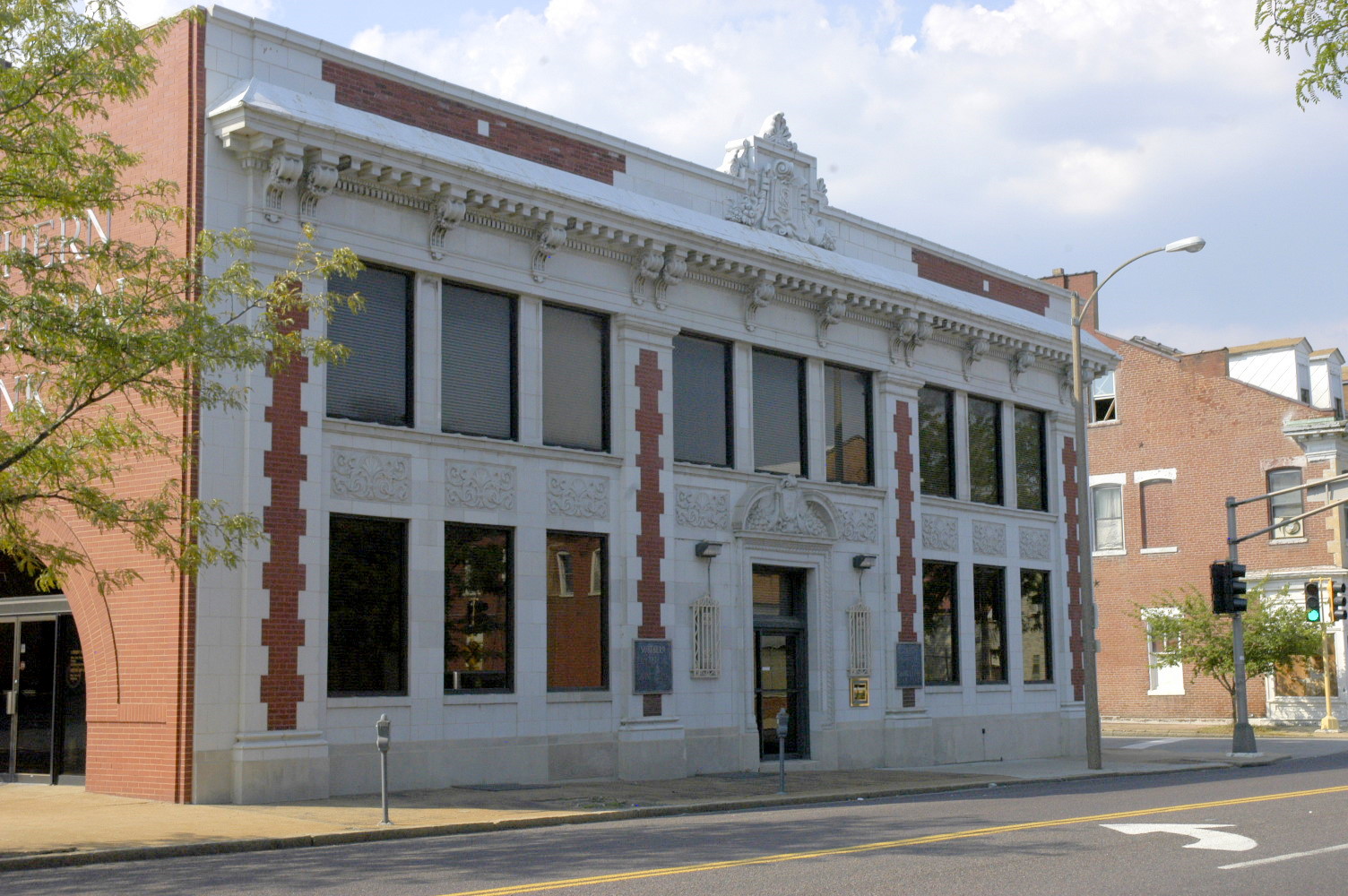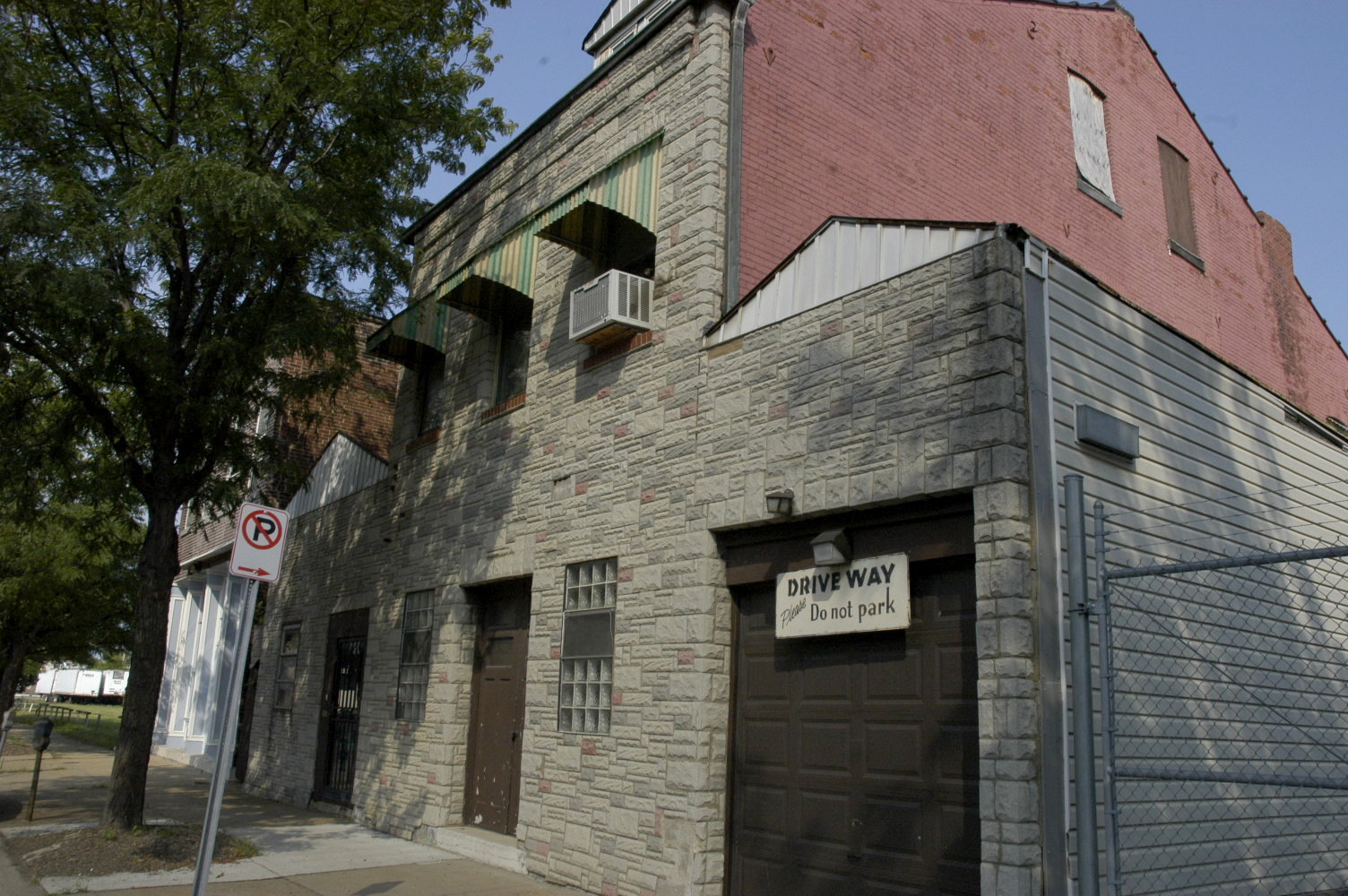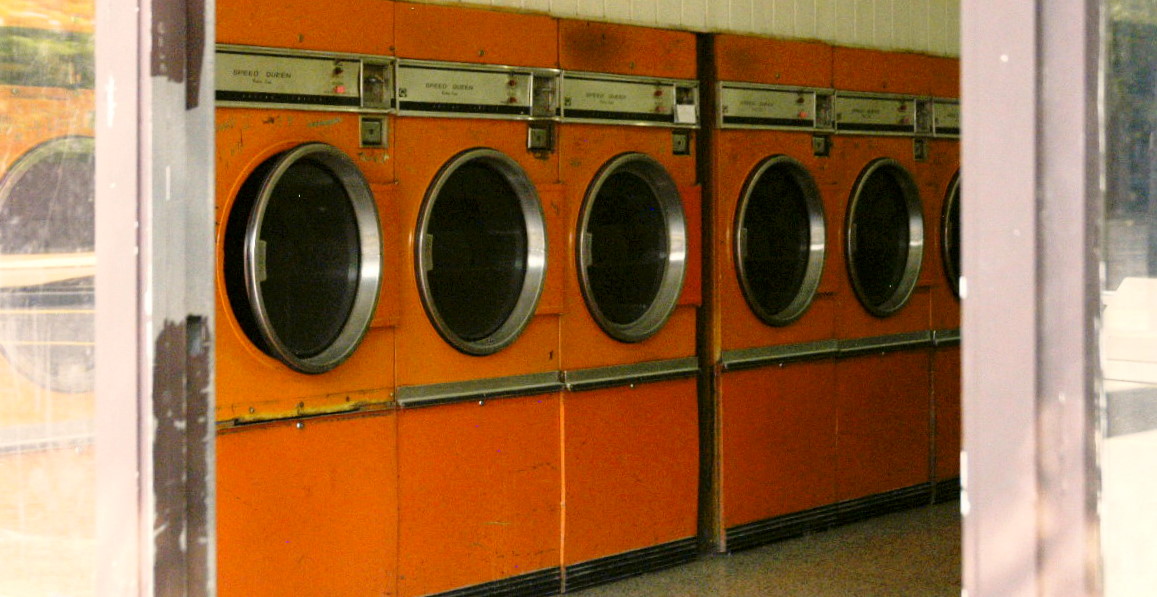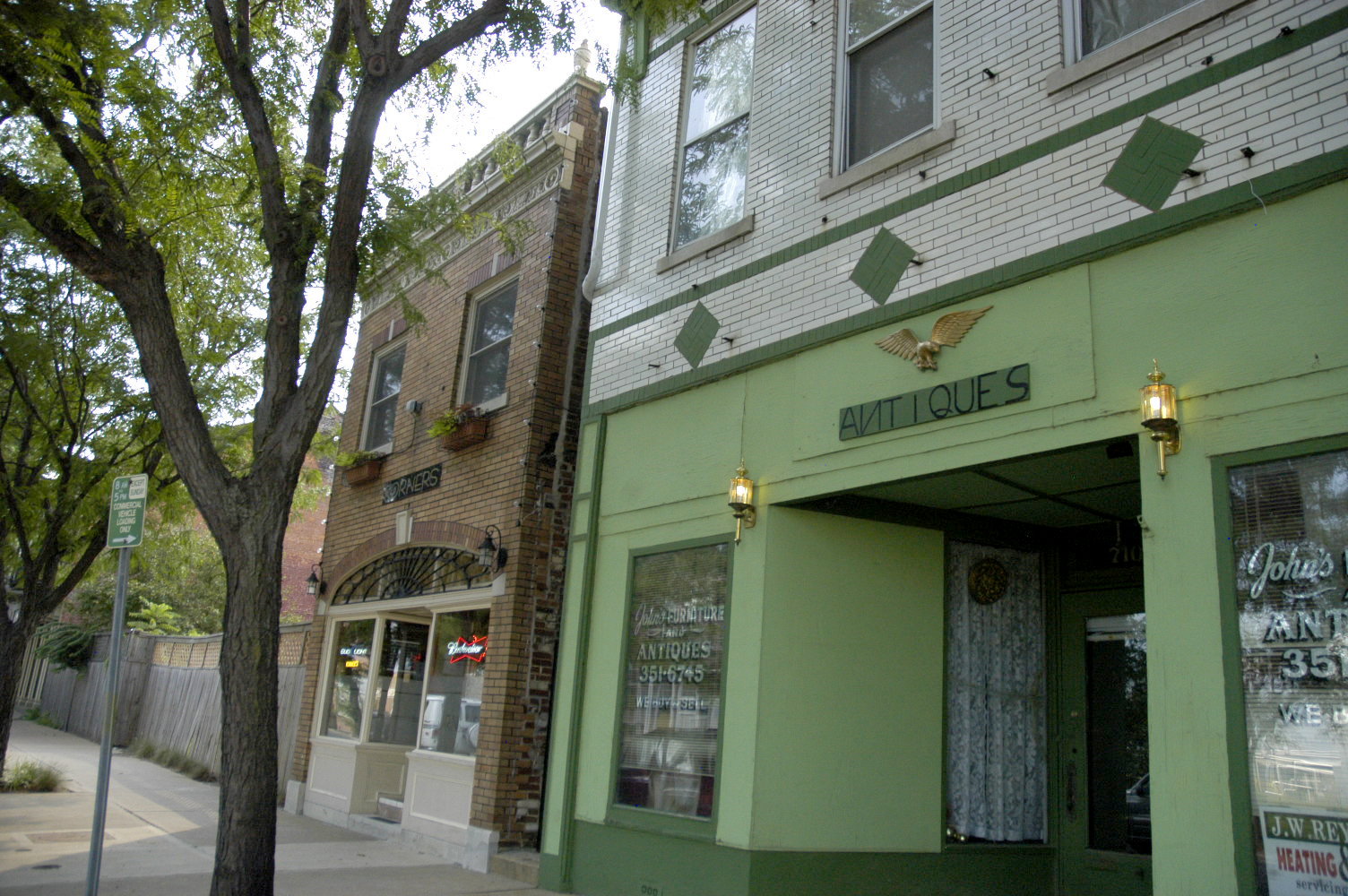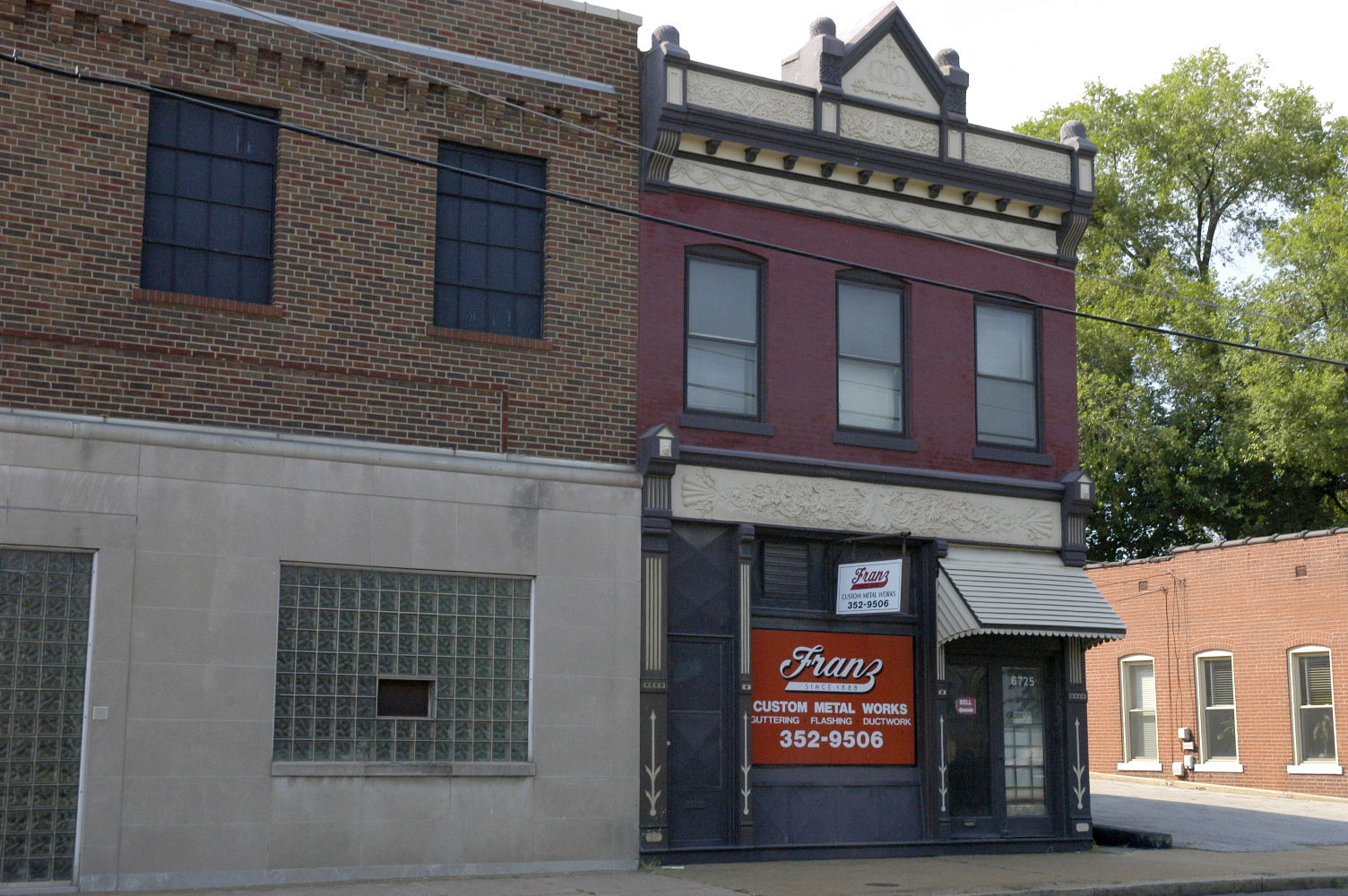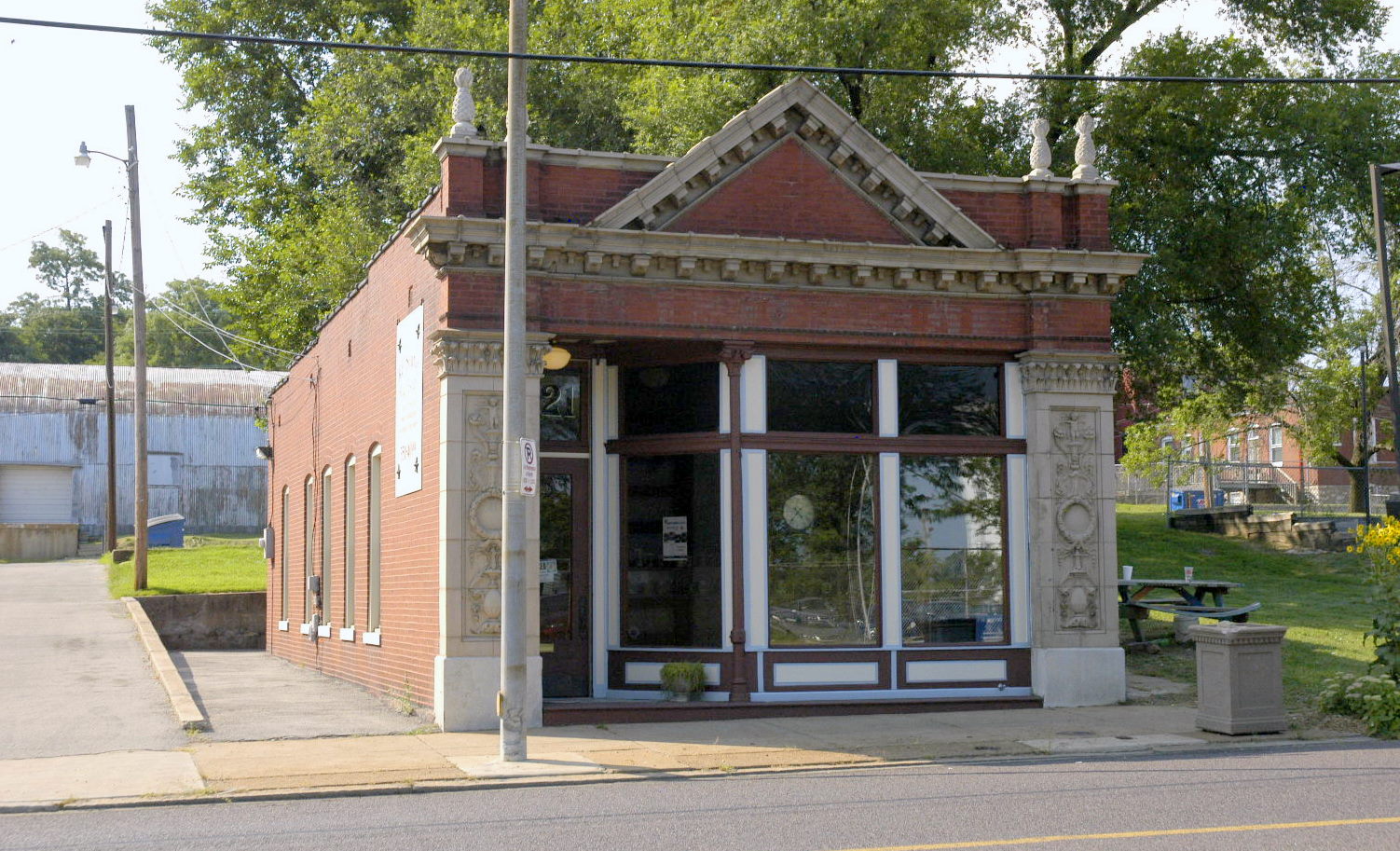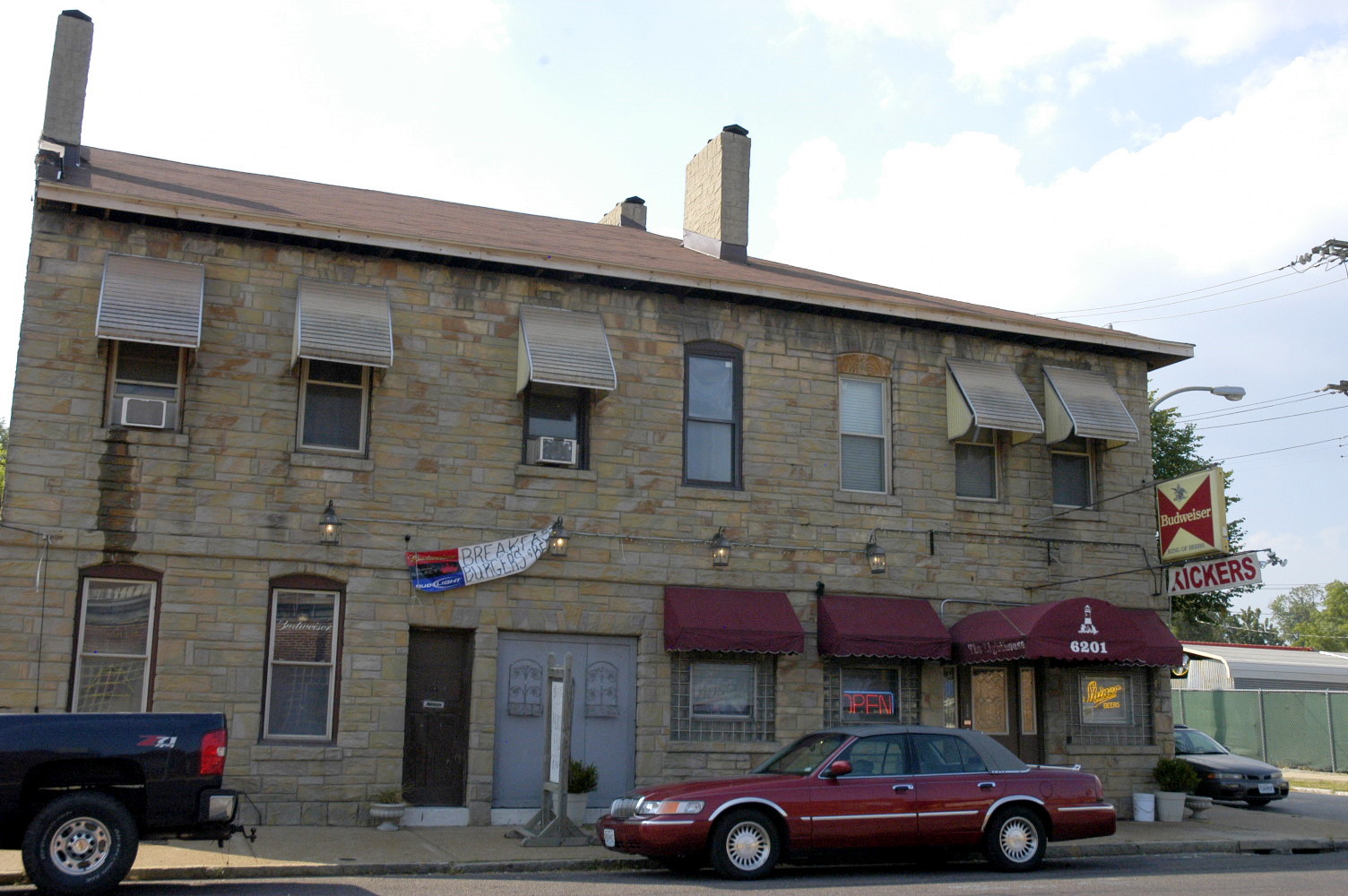 But don't get me wrong, it's not all southern charm and rainbows on Broadway, it's largely industrial with large petroleum, scrap metal and other unsightly operations. But it adds to the gritty cool that is South City.
Carondelet's topography is on a bluff, which then slopes down toward the river right around Michigan Avenue. There are some amazing structures in this part of the hood, espicially on Michigan and Minnesota. For instance, the convent of the Sisters of St. Joseph who have an amazing history dating back to 1836…from Carondelet many institutions had their start and continue their good works to the present day. St. Joseph Institute for the Deaf, St. Joseph's Academy, Fontbonne College, now Fontbonne University, all began in the convent at Carondelet. Check this 175 year old beauty out: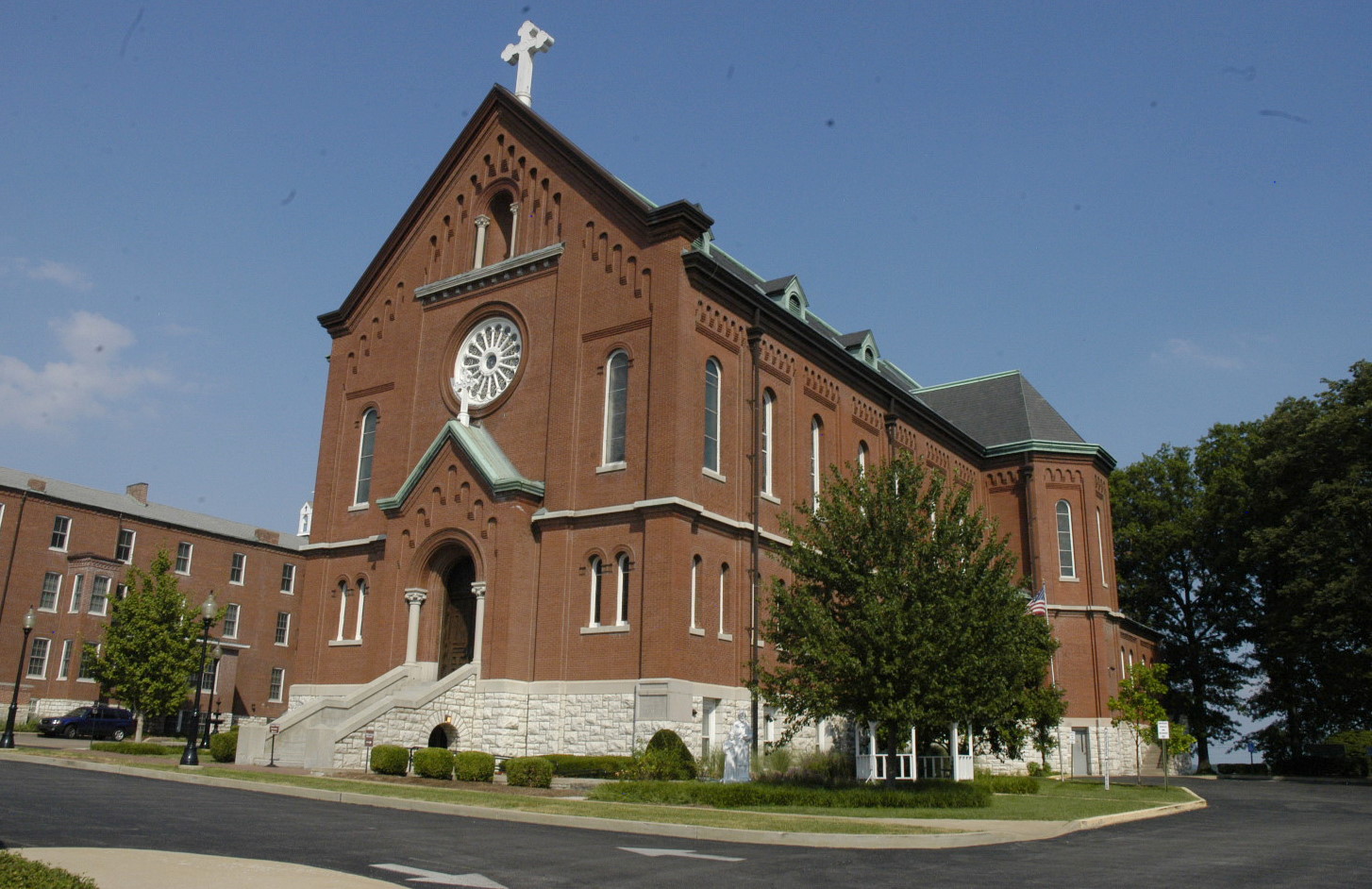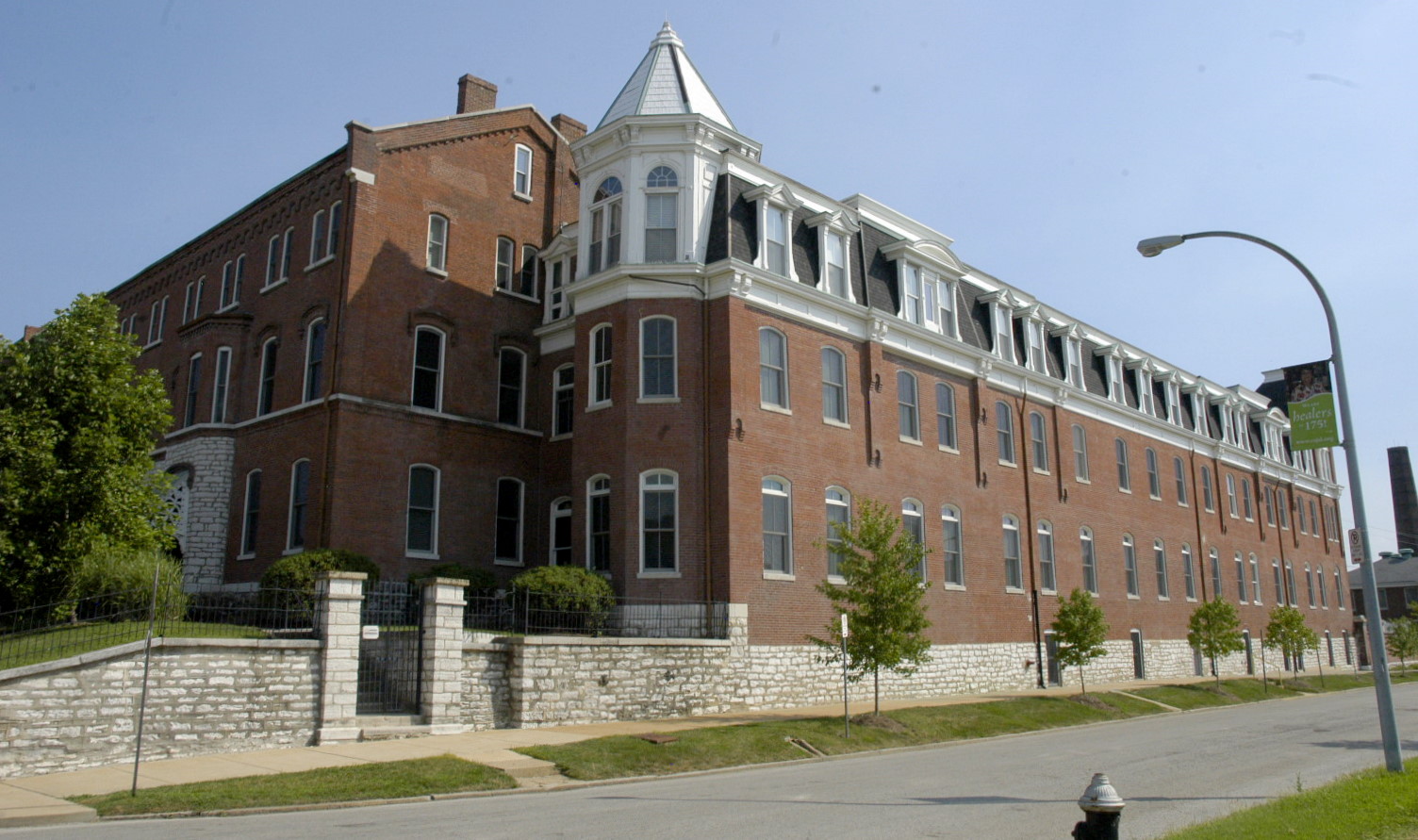 You also have the Mary and Joseph school/church campus: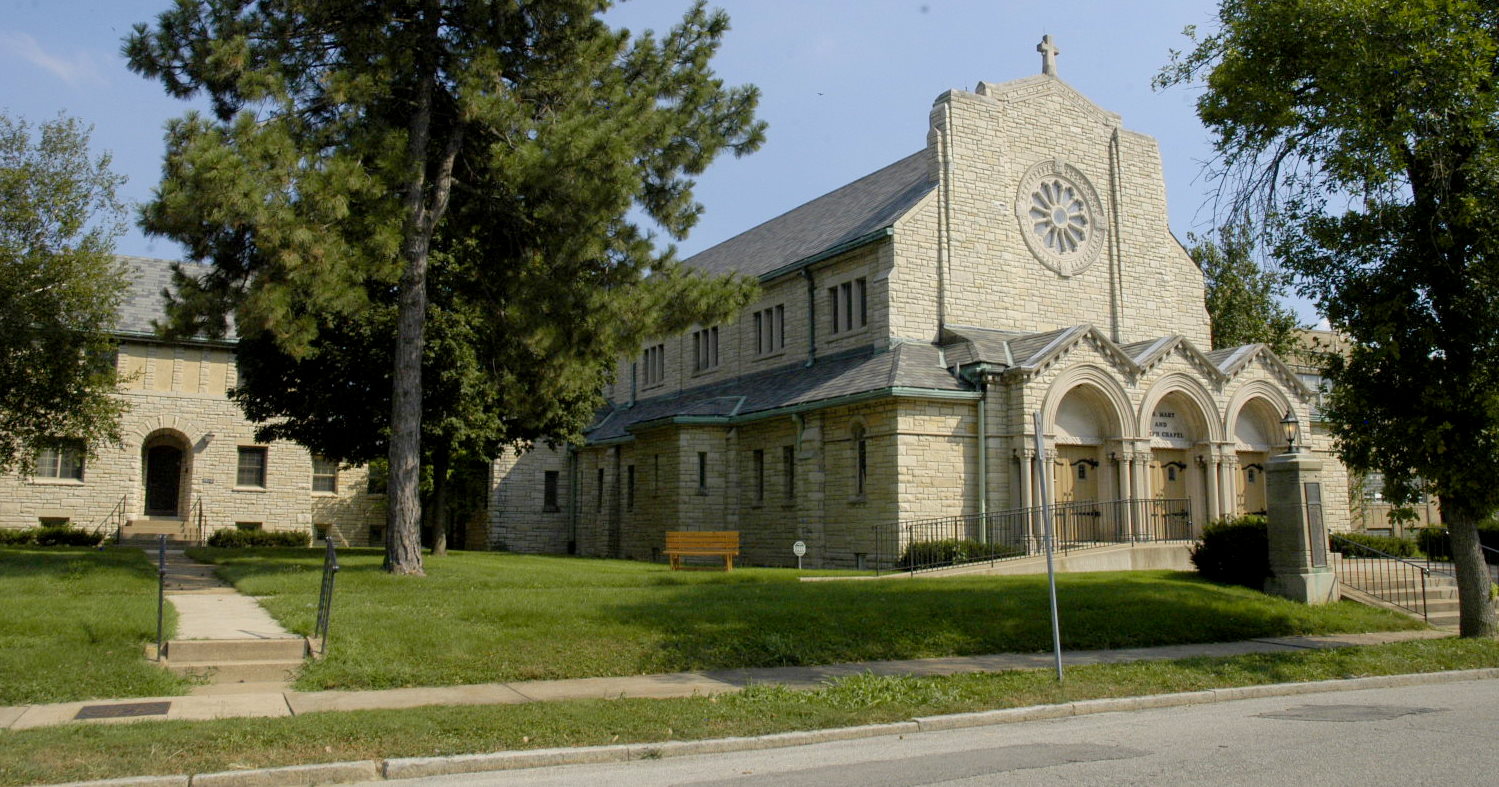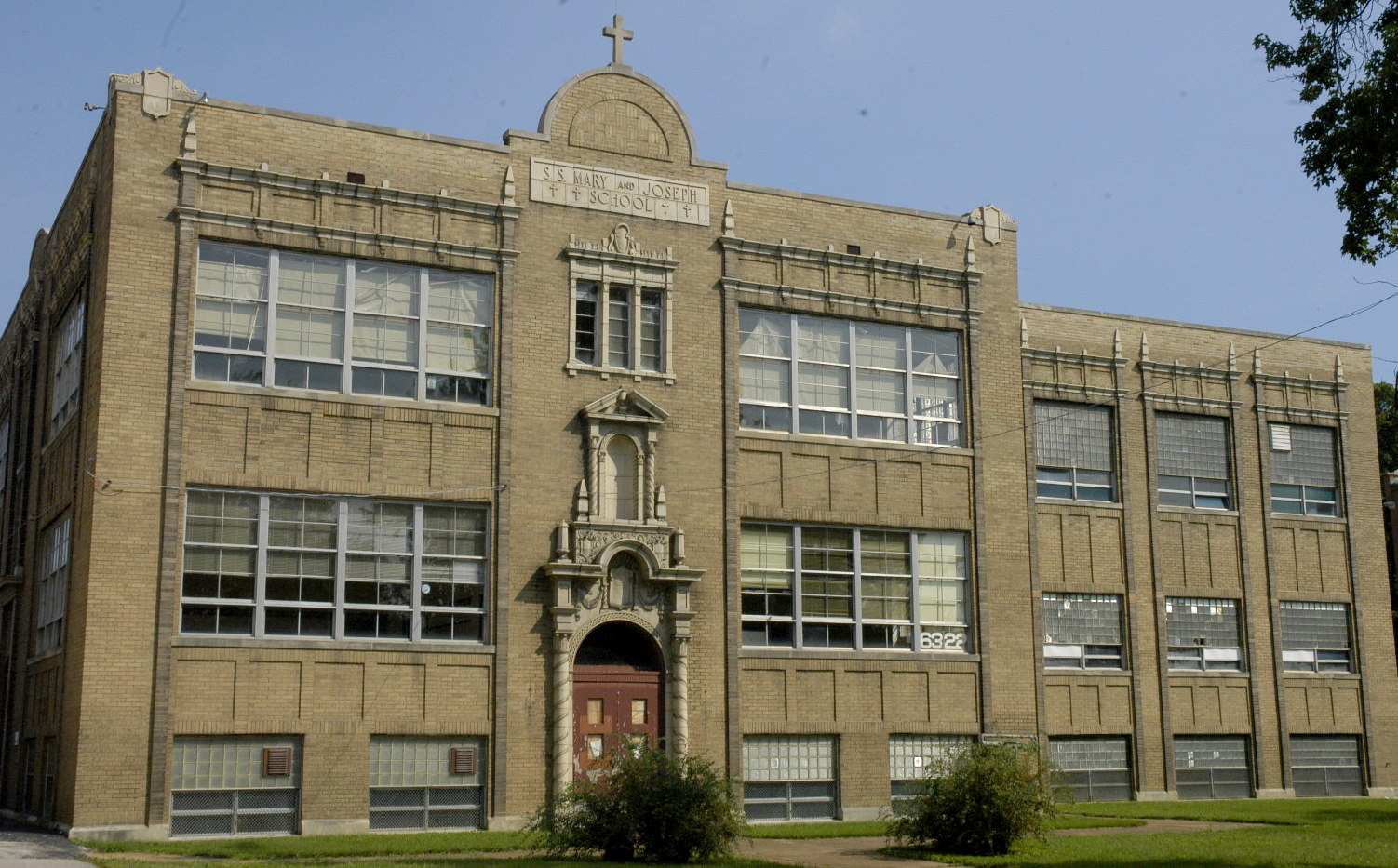 Another awe inspiring building along Michigan is the Carondelet Branch of the Public Library. This is a Carnegie Fund library which dates back to 1908. It includes a WPA mural, "The Founding of St. Louis" by Robert Rigsby which was added in 1934. The place is great, but it had some unfortunate "rehabs" including a cheezy dropped ceiling covering up the original ornate ceiling. But, the library has been closed since December, 2010 through 2012 when it will reopen with some wonderful upgrades. From the RFT:
During the renovations, construction crews will add a new entrance, an elevator and ADA-compliant bathrooms, and the parking lot will be expanded. The mural will be cleaned and restored, and the library plans to update its computers and its collections of books, magazines and DVDs.
Hopefully the orininal ceiling will be re-exposed. Of course in St. Louis, progress always seems to come in the 2 steps forward, 1 step back nature. A beautiful brick building directly south of the library was demolished to make way for a parking lot. My family has never had a problem parking on the street to access this place….never. But, I realize the ADA component and other factors require parking, etc to improve access. So it goes.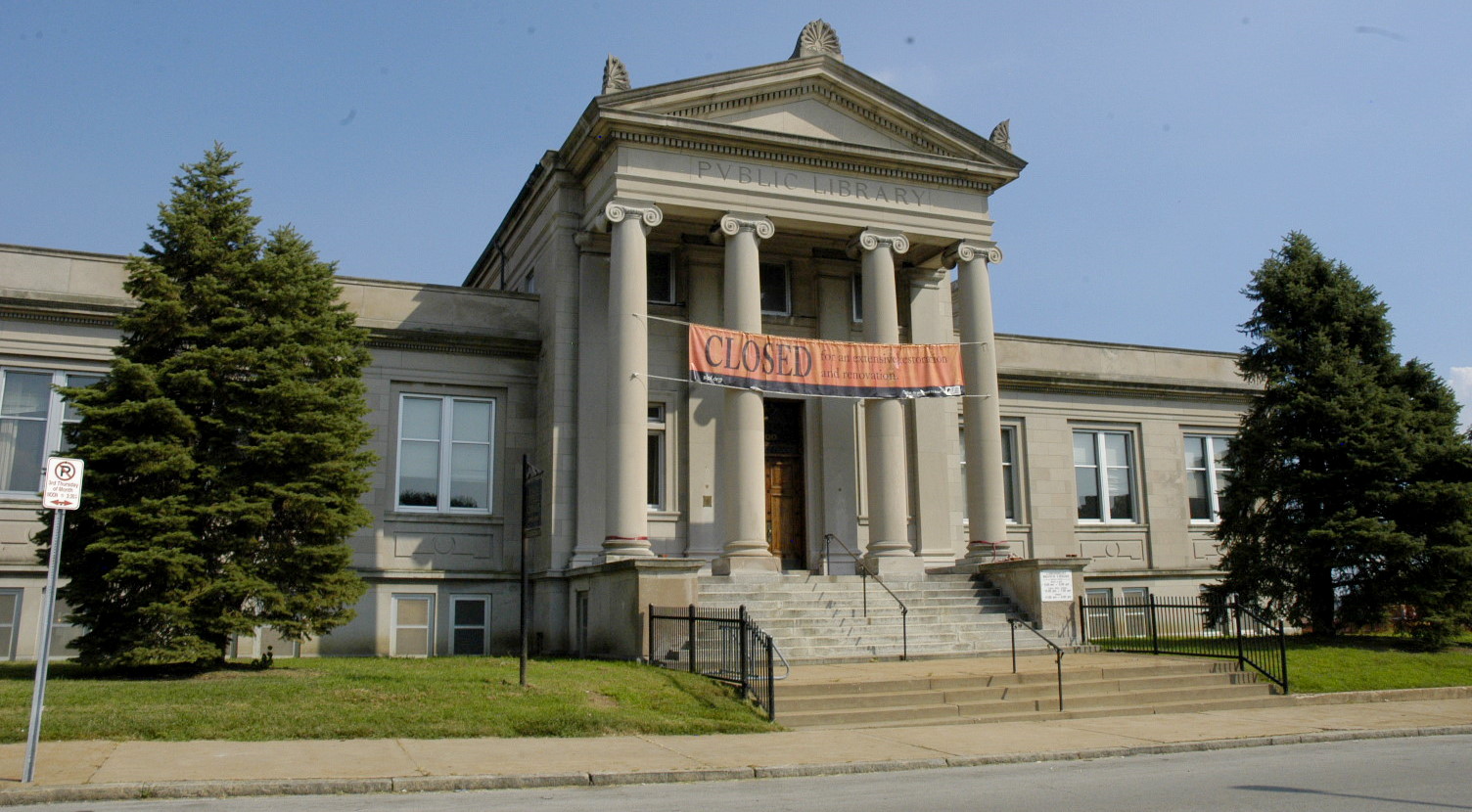 The Carondelet Historical Society is housed in the former Des Peres School building which was the site of the first public Kindergarten in the United States founded by one of my favorite St. Louisans: Susan Elizabeth Blow.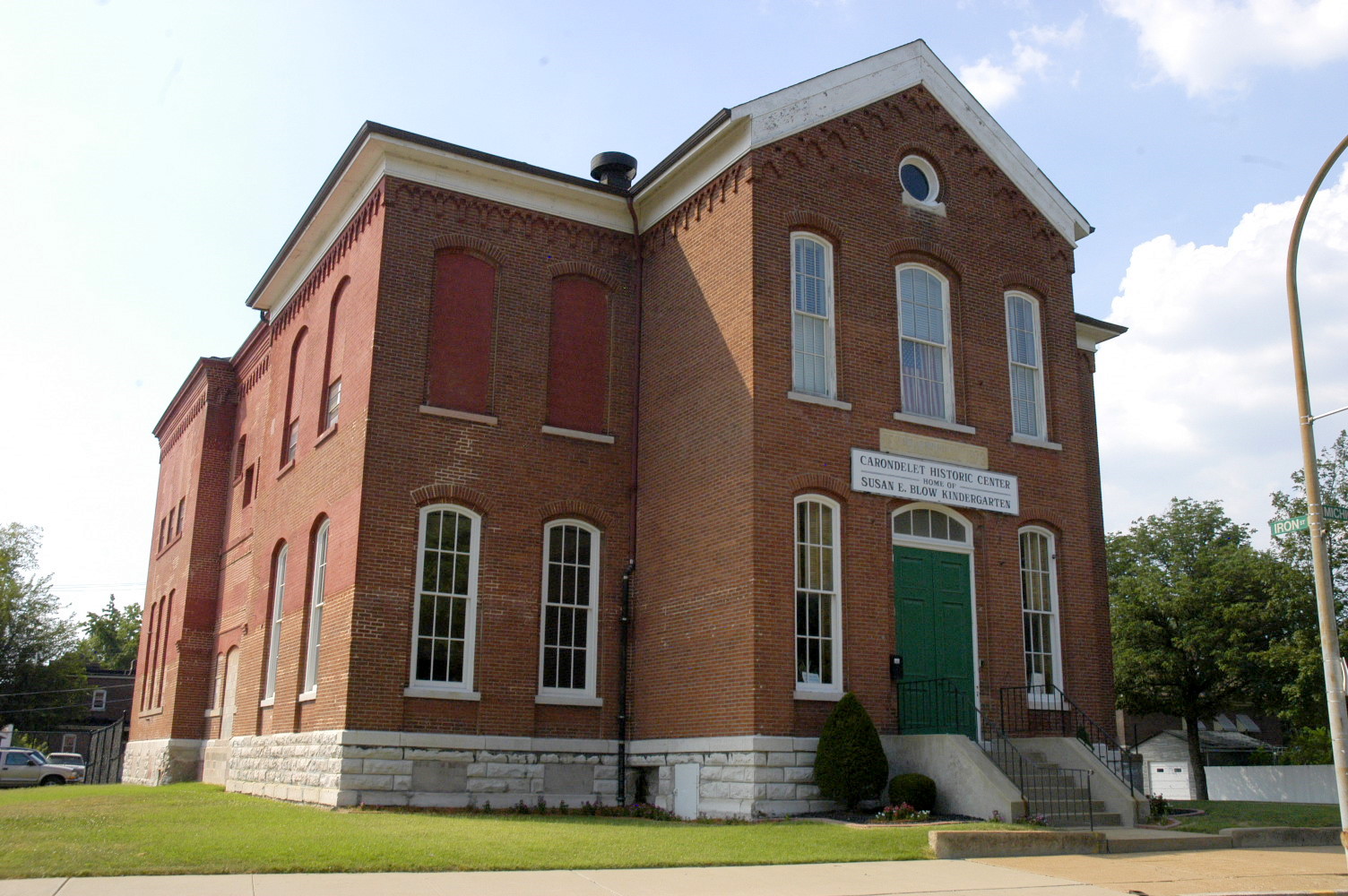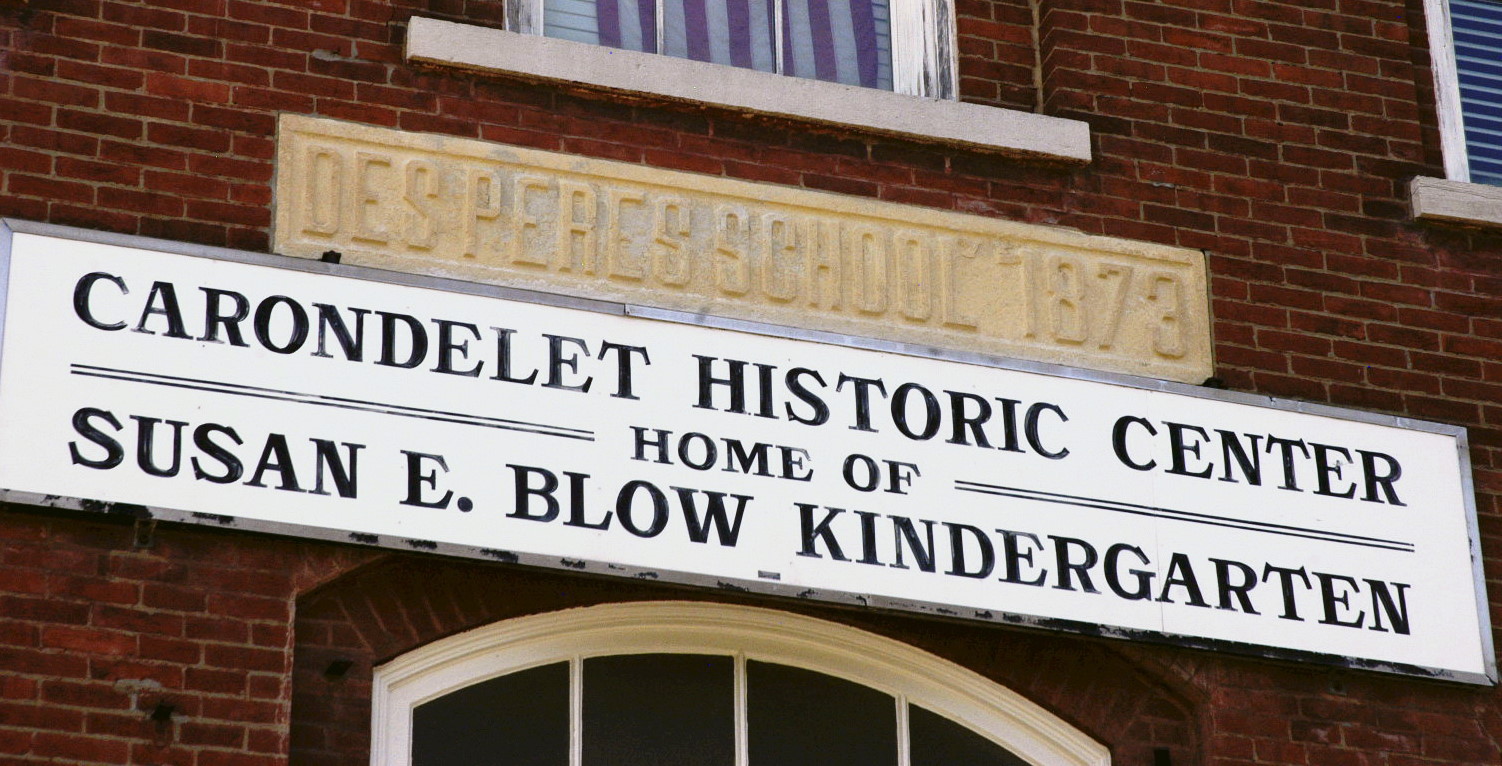 There is a Spanish Society on Michigan as well: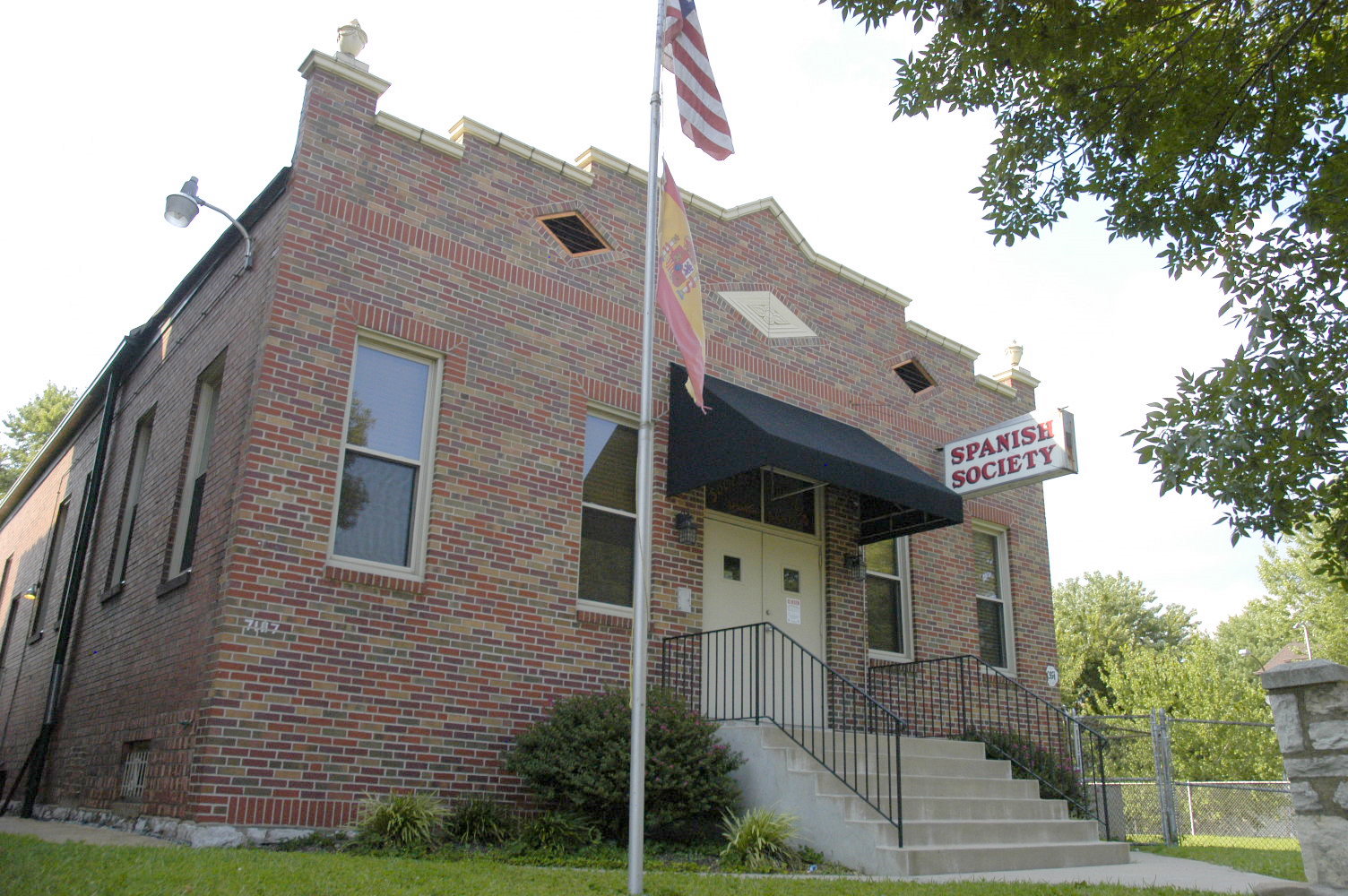 The schools of Carondelet include Blow (1903 William B. Ittner masterpiece); this was the first school to open in Carondelet back in 1866 on the same site as the current Blow Middle School: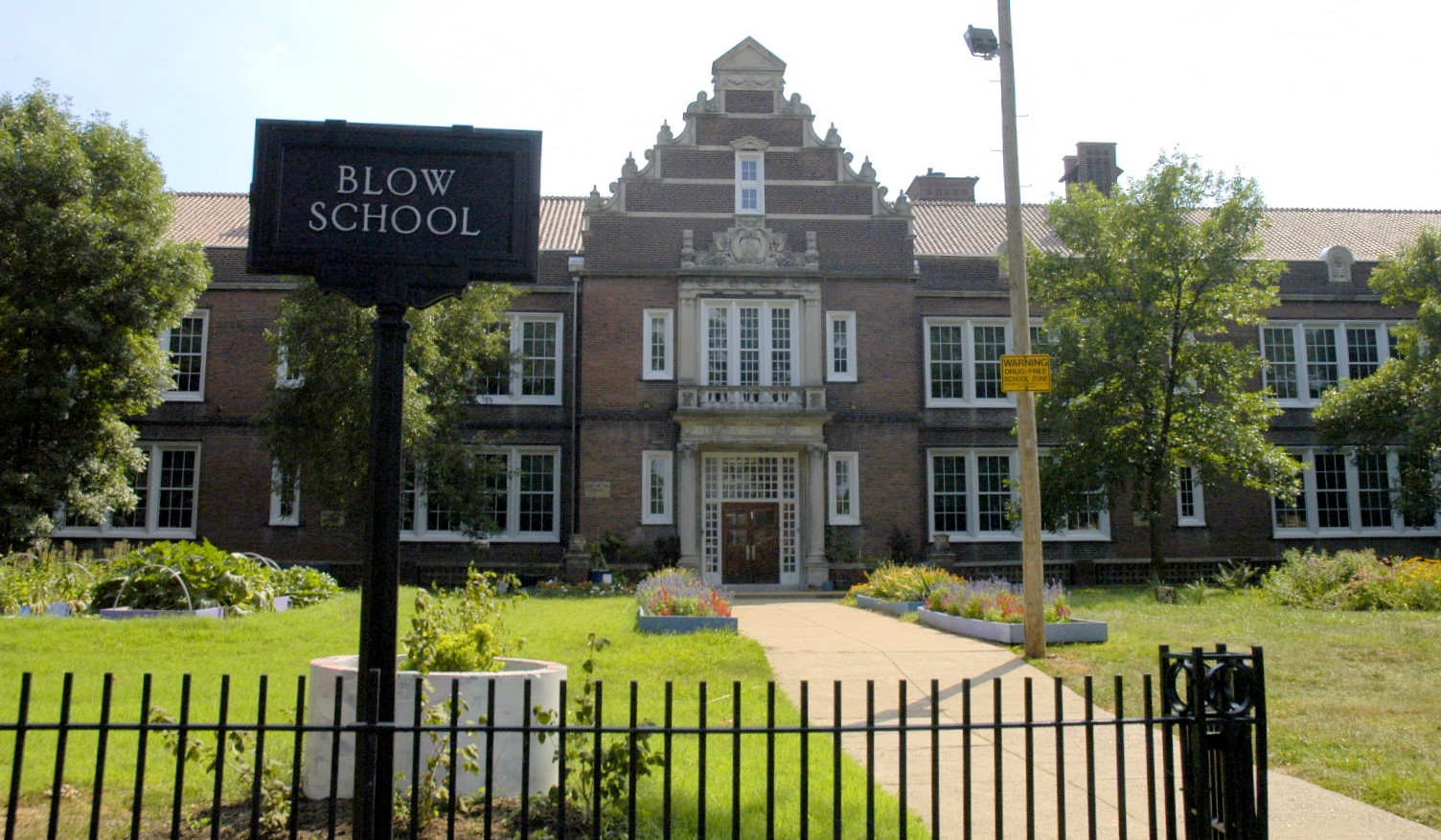 Then you have Woodward on Bates, well, the sign is on Bates; but the front faces Bellerive. This one was completed in 1921.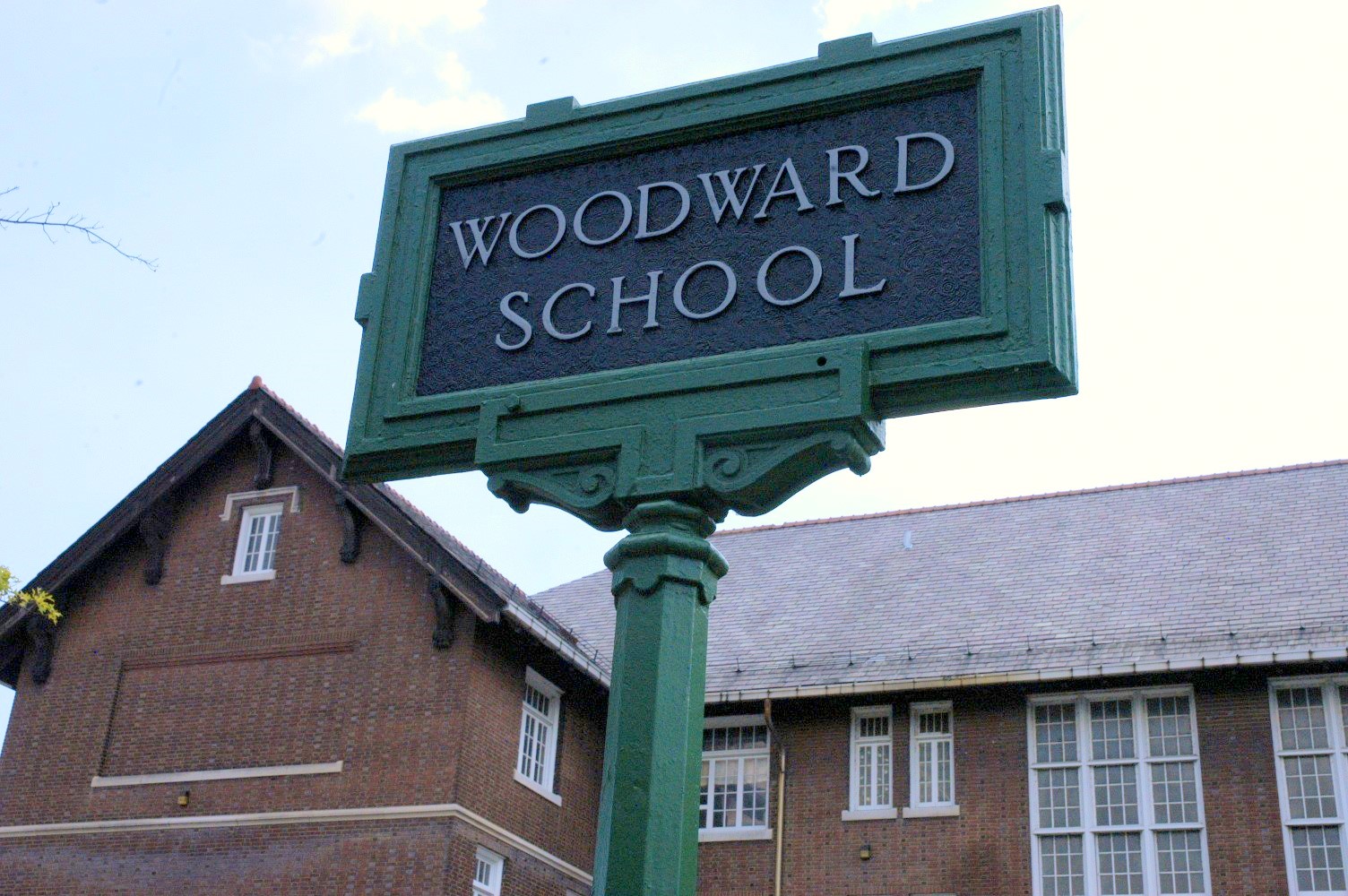 Also of interest is Virginia School which has recently been converted to condos. History from the City of St. louis website:
Carondelet's first school for blacks was also built in 1873, in response to a state law reguiring segregated schools. This was Public School No. 6 at Virginia Avenue and Bowen Street which was later named for Martin R. Delaney, a Negro physician and publisher. The old school was razed in 1911, and was replaced by a new Delaney School, which was renamed Maddox in 1952. From 1940 to 1952 it was named the Virginia Avenue School (for White Children.)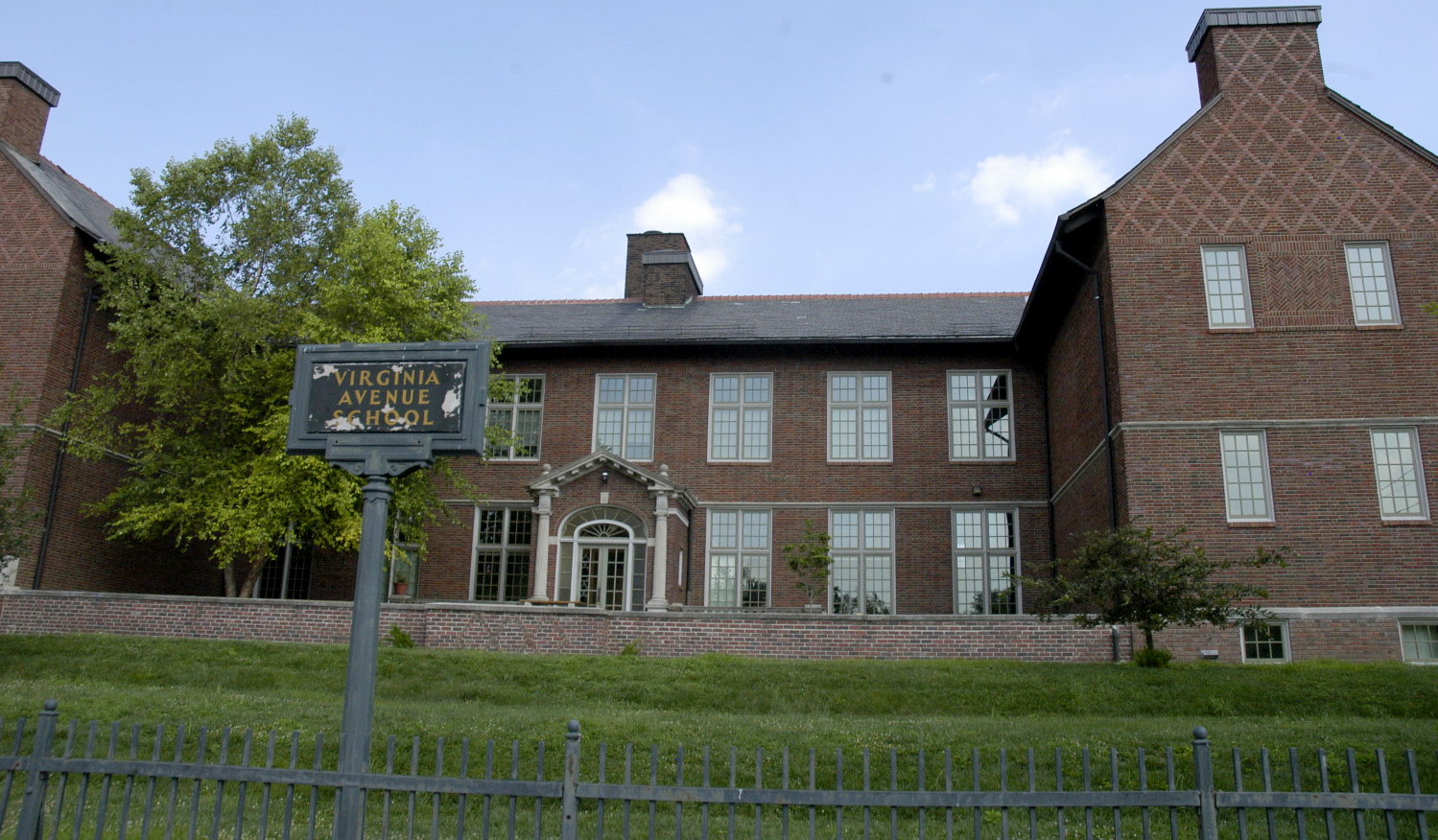 Other curiosities of Carondelet include the art deco former police station, now EMS dispatchers: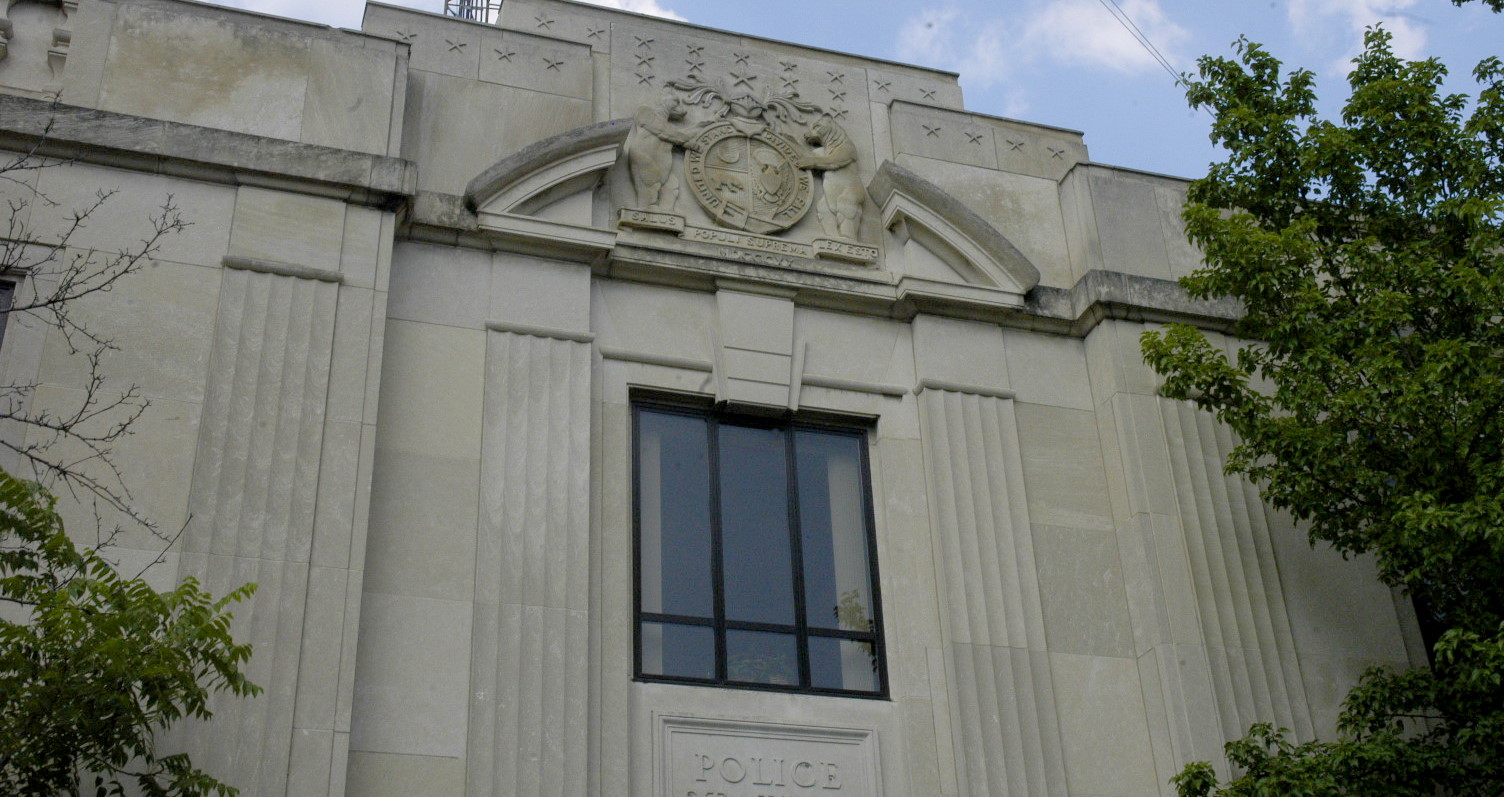 There is a prominent commercial corridor along Michigan just south of Holly Hills: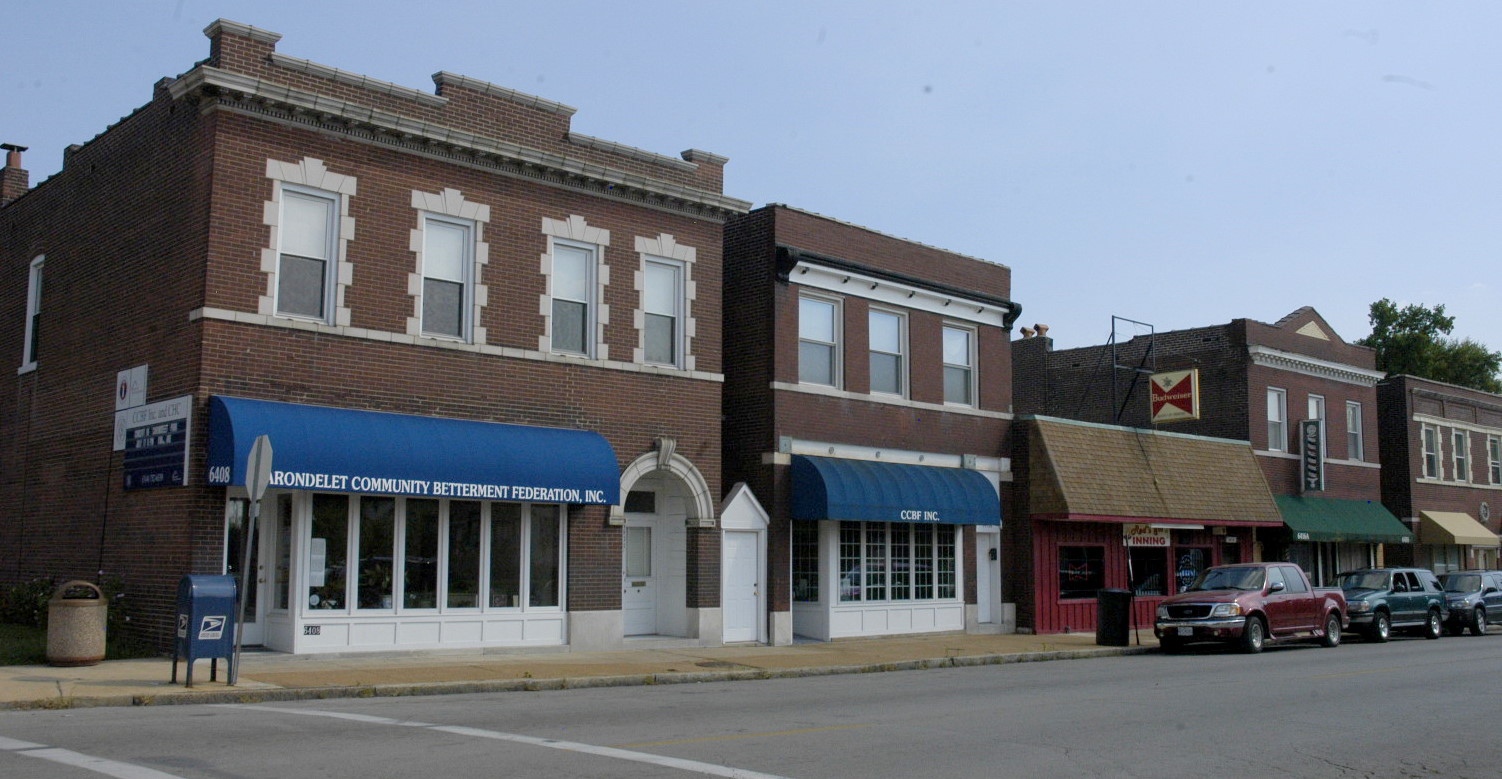 Just like any place in St. Louis, there are plenty of watering holes, too many to show. But here are a couple: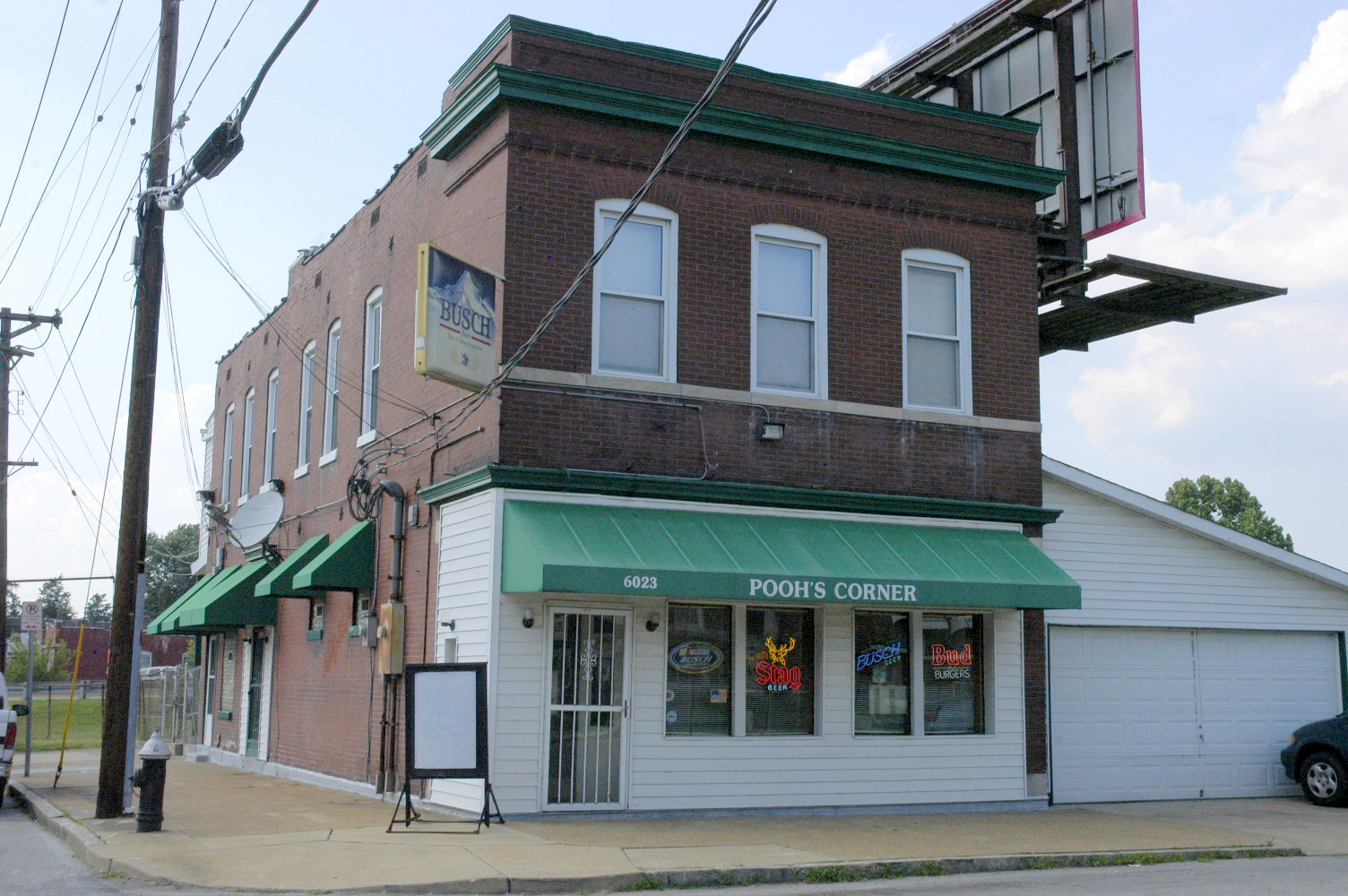 St. Louis is my home, but you can't take the Belleville outta this boy: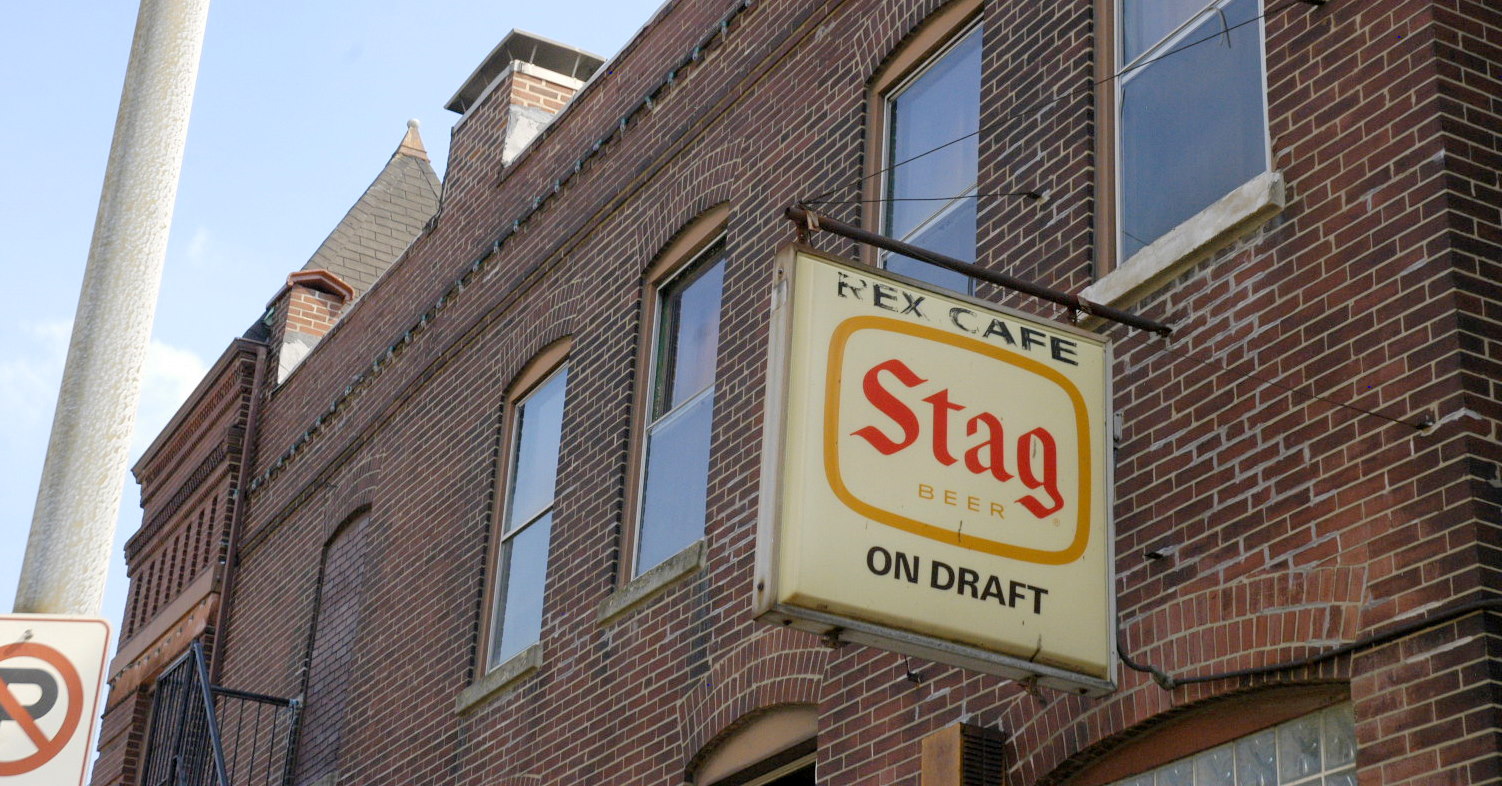 I'd be doing this city a disservice if I didn't mention Iron Barley. I love the atmosphere here and the food and live music and bar. Fred's Six Feet Under is a major contributor to Carondelet soul as well.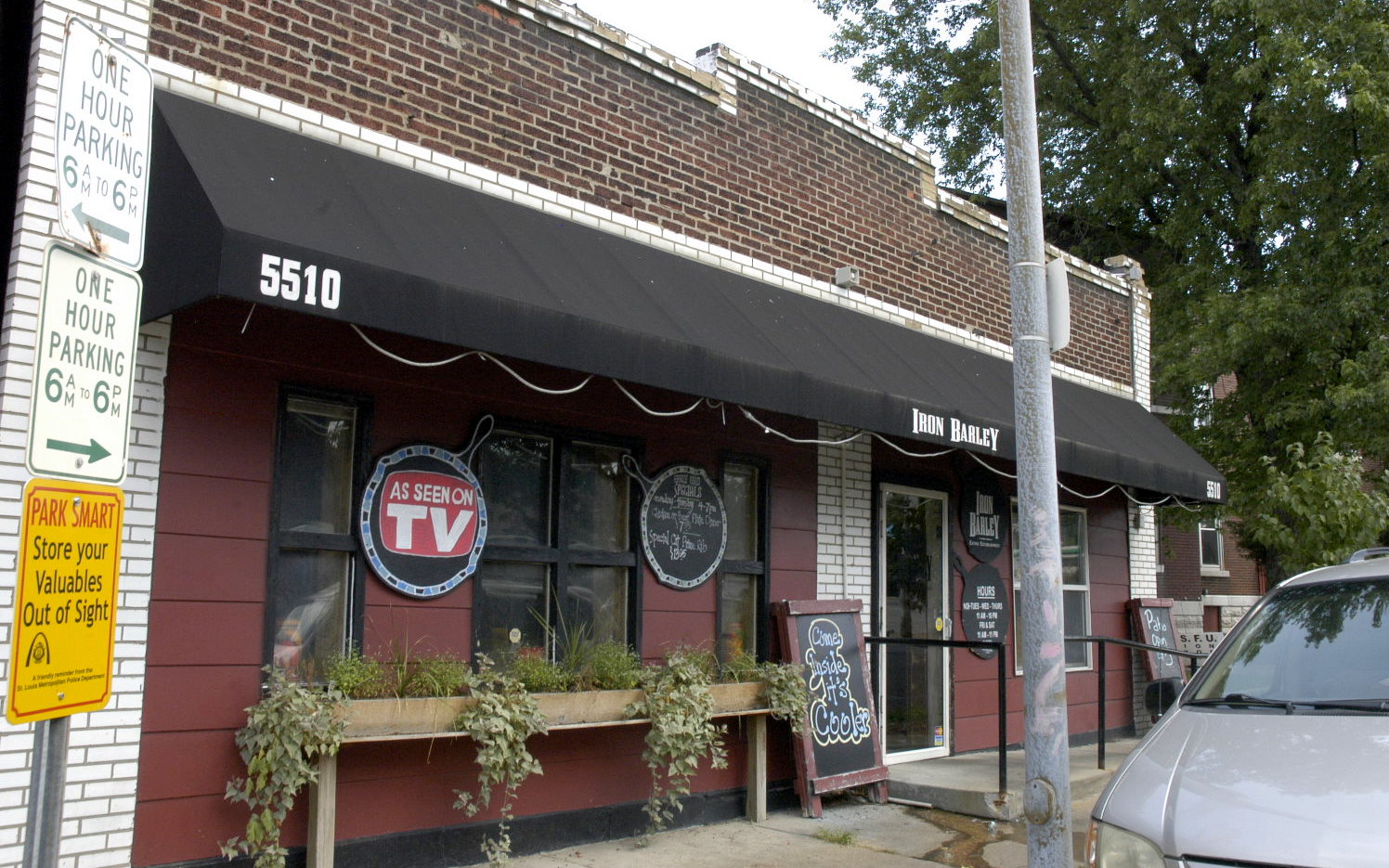 Gorgeous churches aplenty: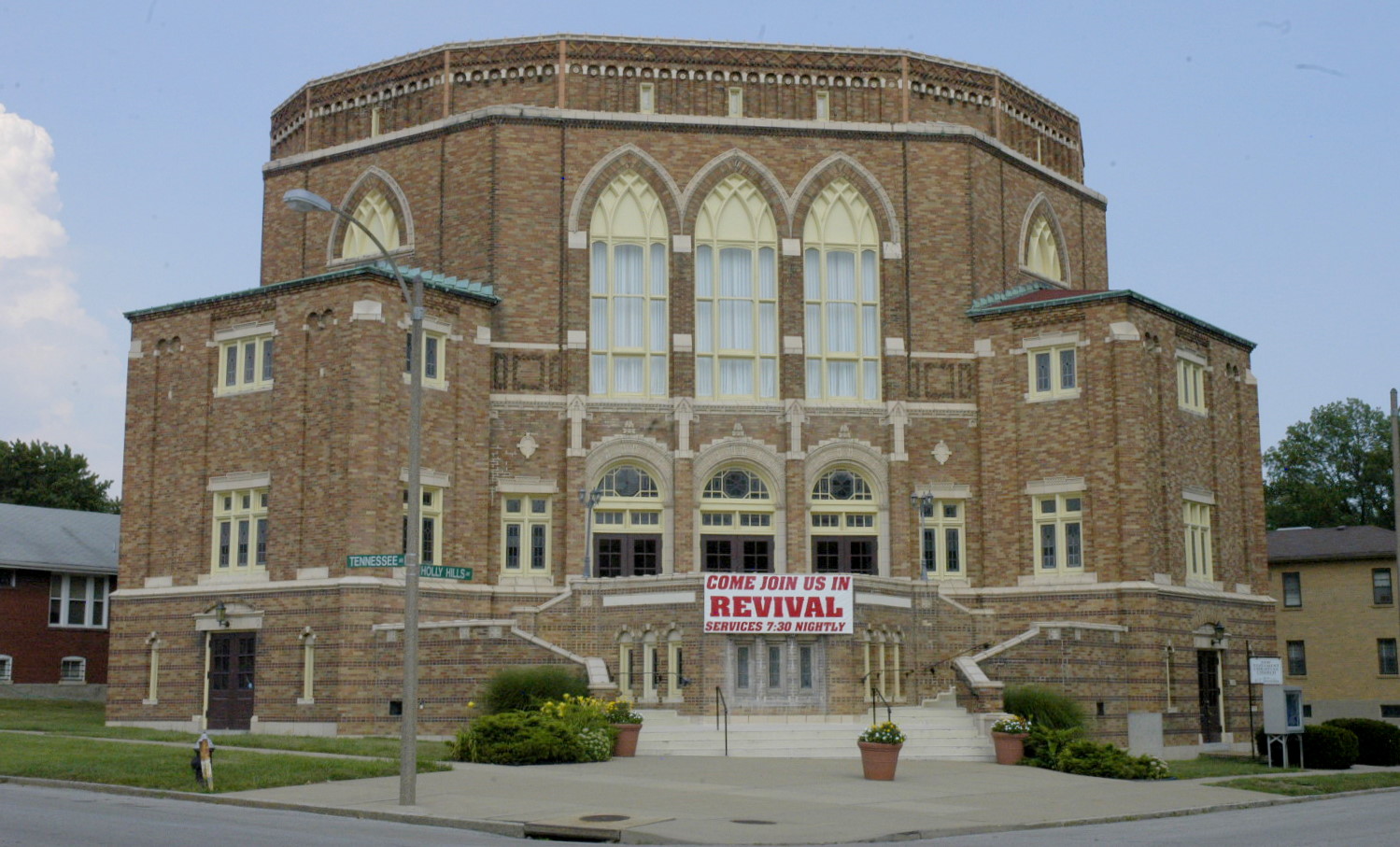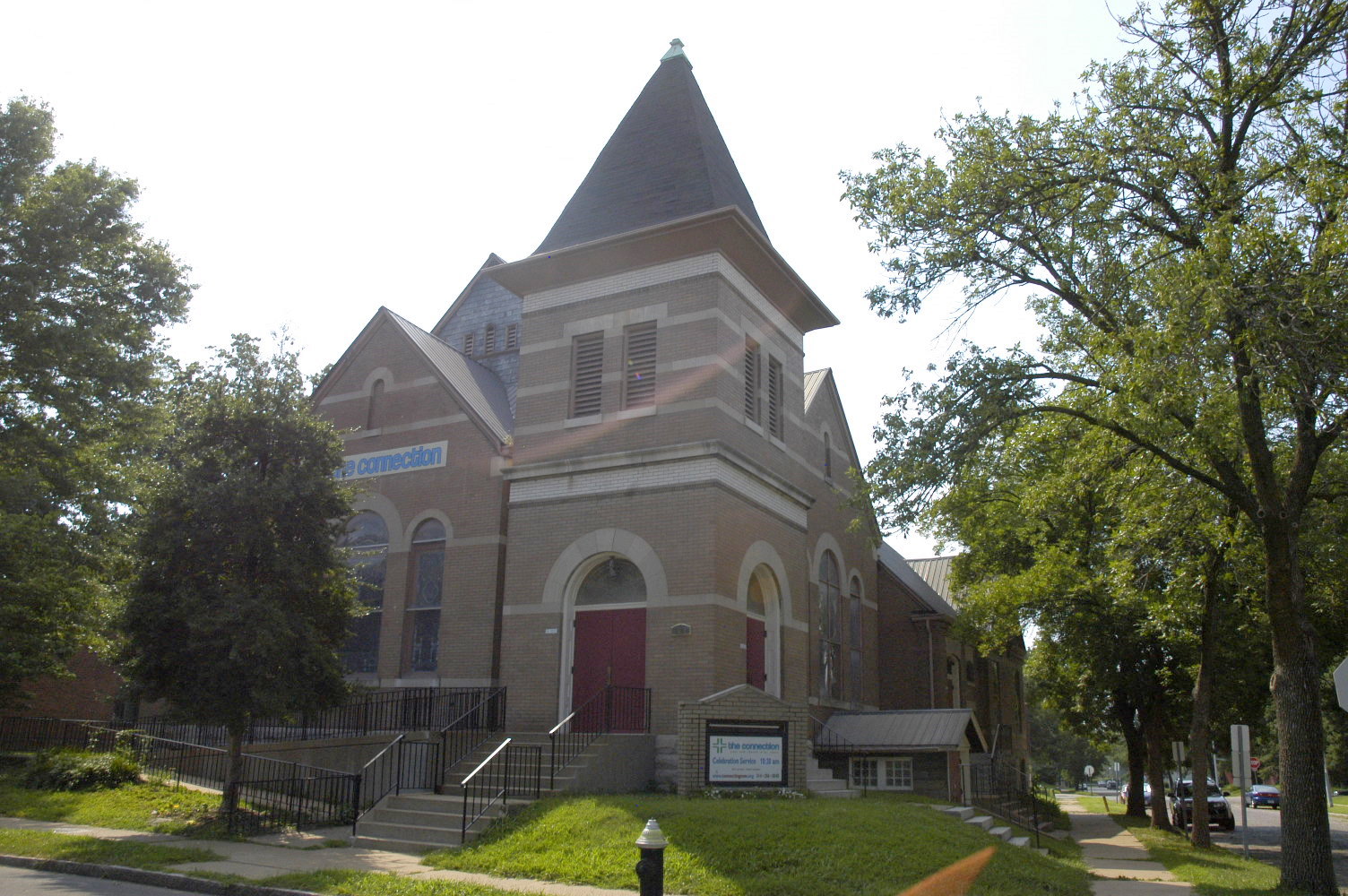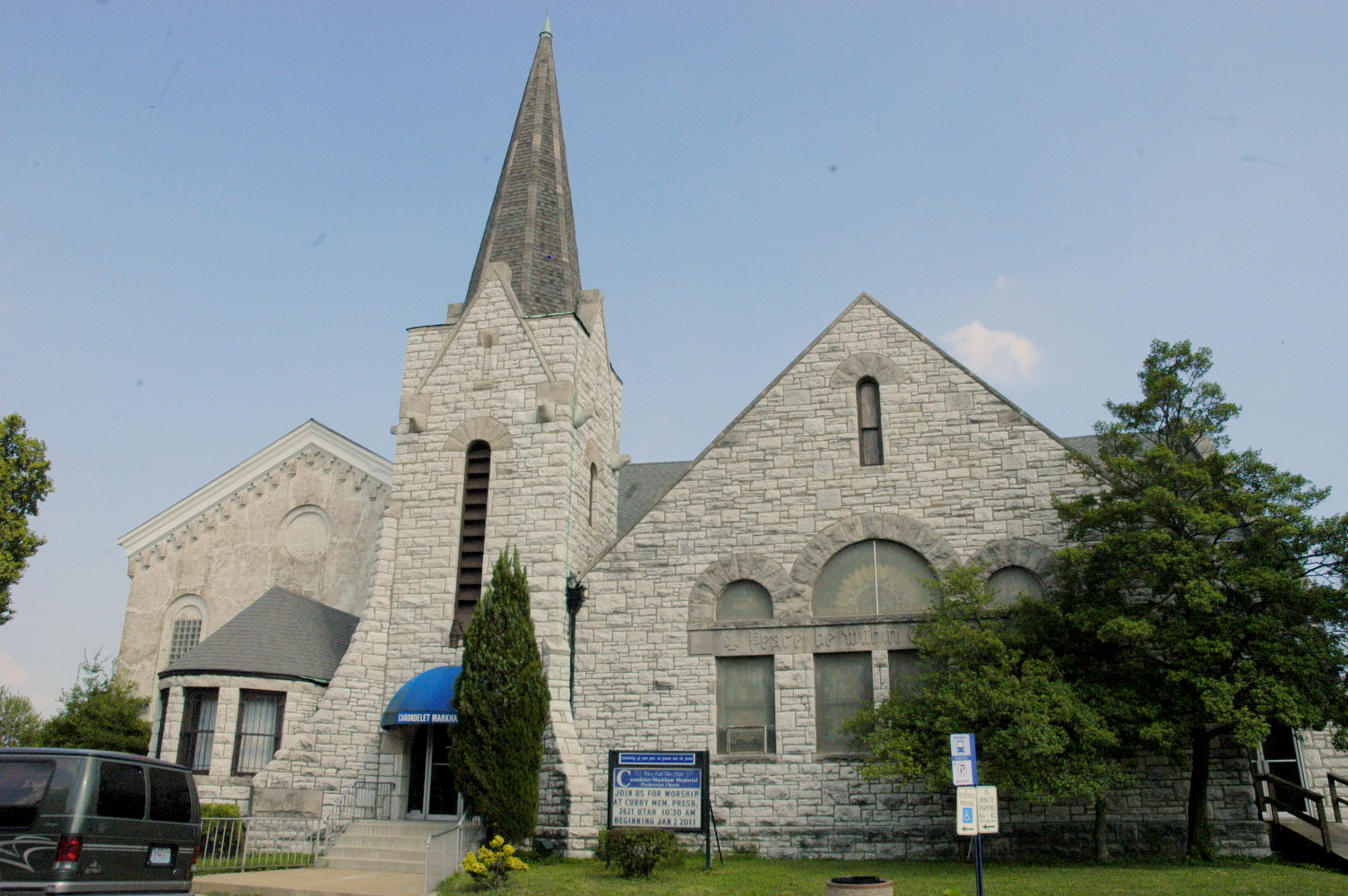 Can someone tell me what these next 2 buildings once were? The neighbors I spoke to hadn't a clue: [edit] Here's the answer, thanks to Dustin Bopp! It's a 13,000sq ft Big Ass Building originally built as a switching station for Southwestern Bell and is now being converted into a home. (STL Business Journal story)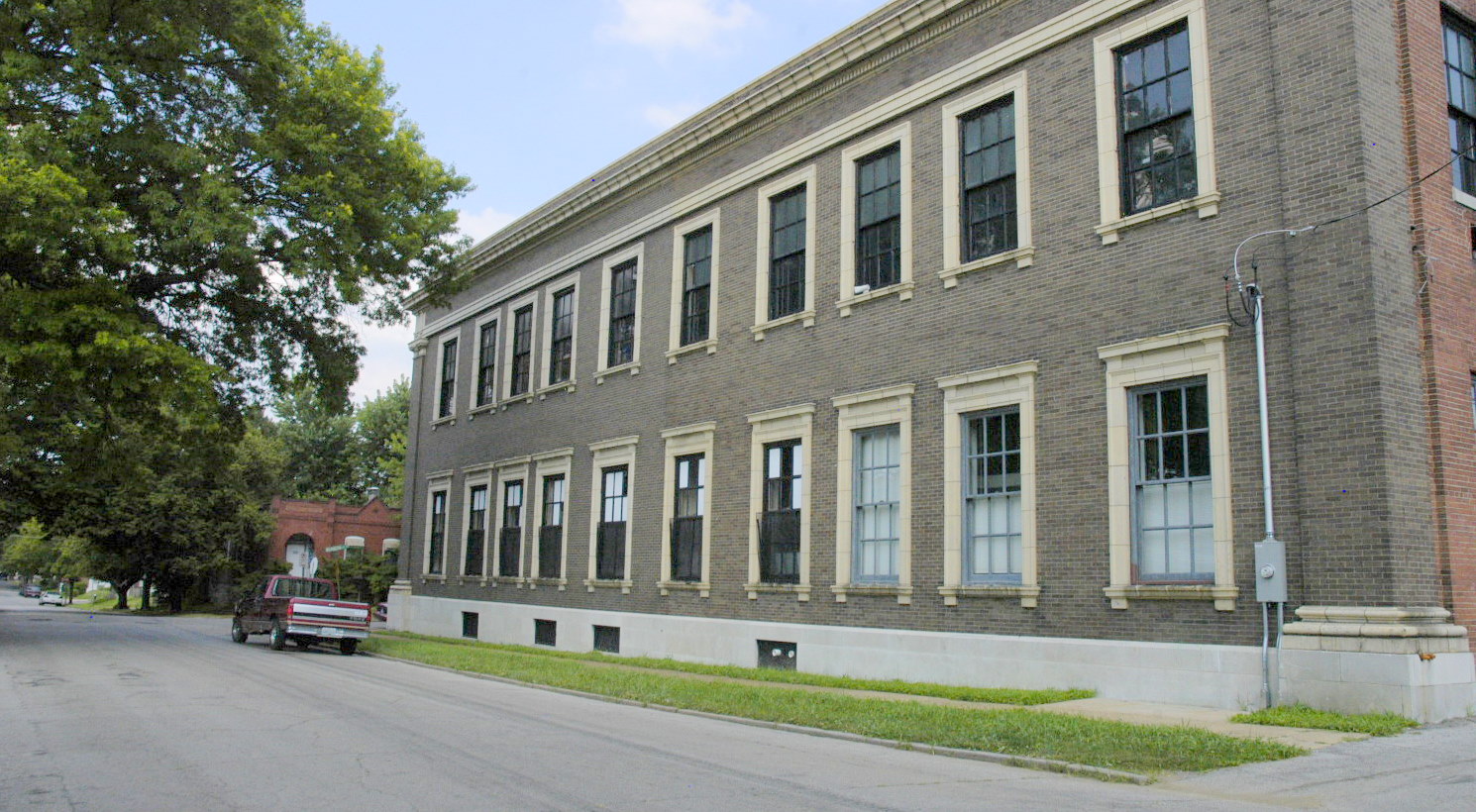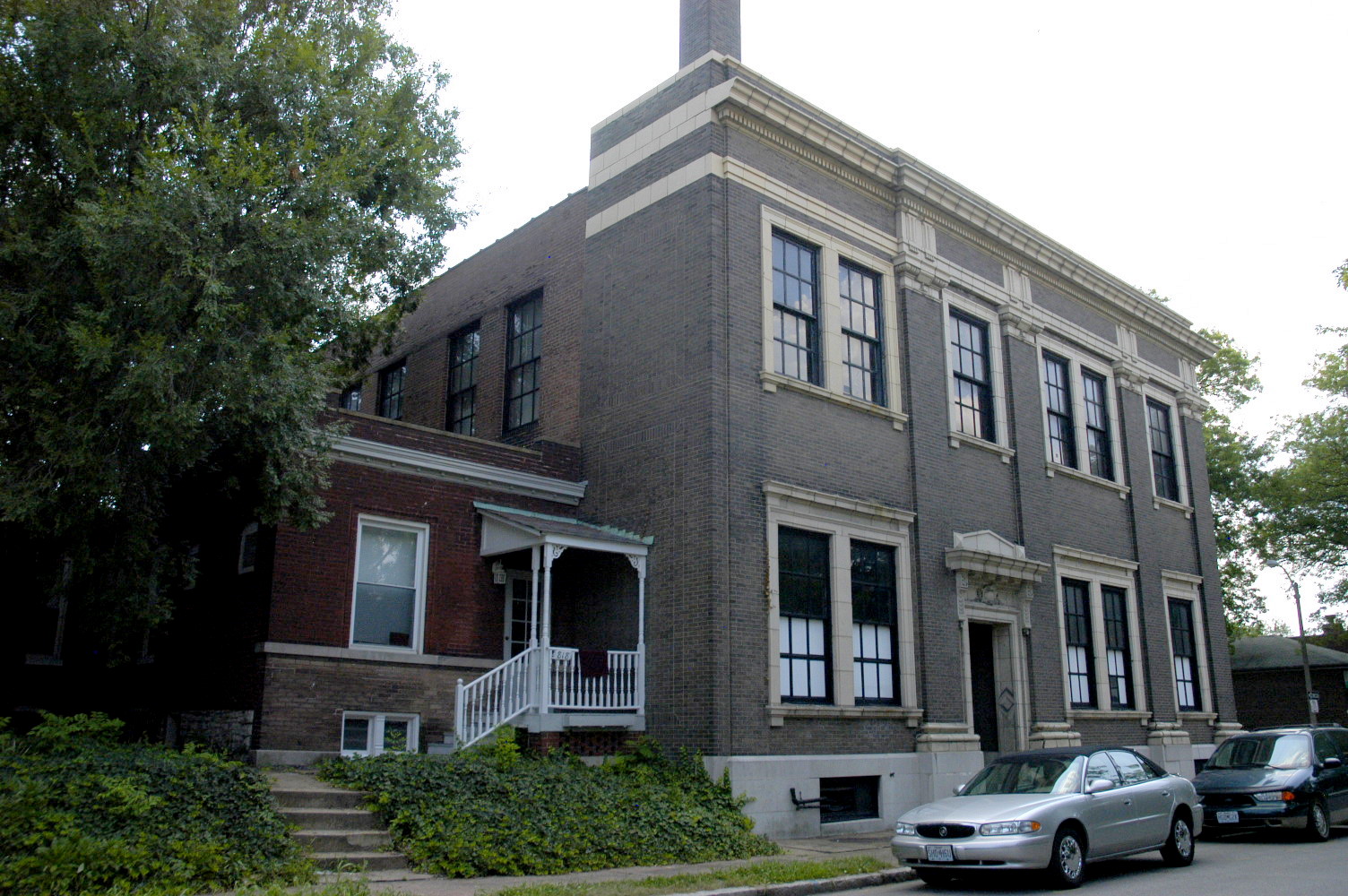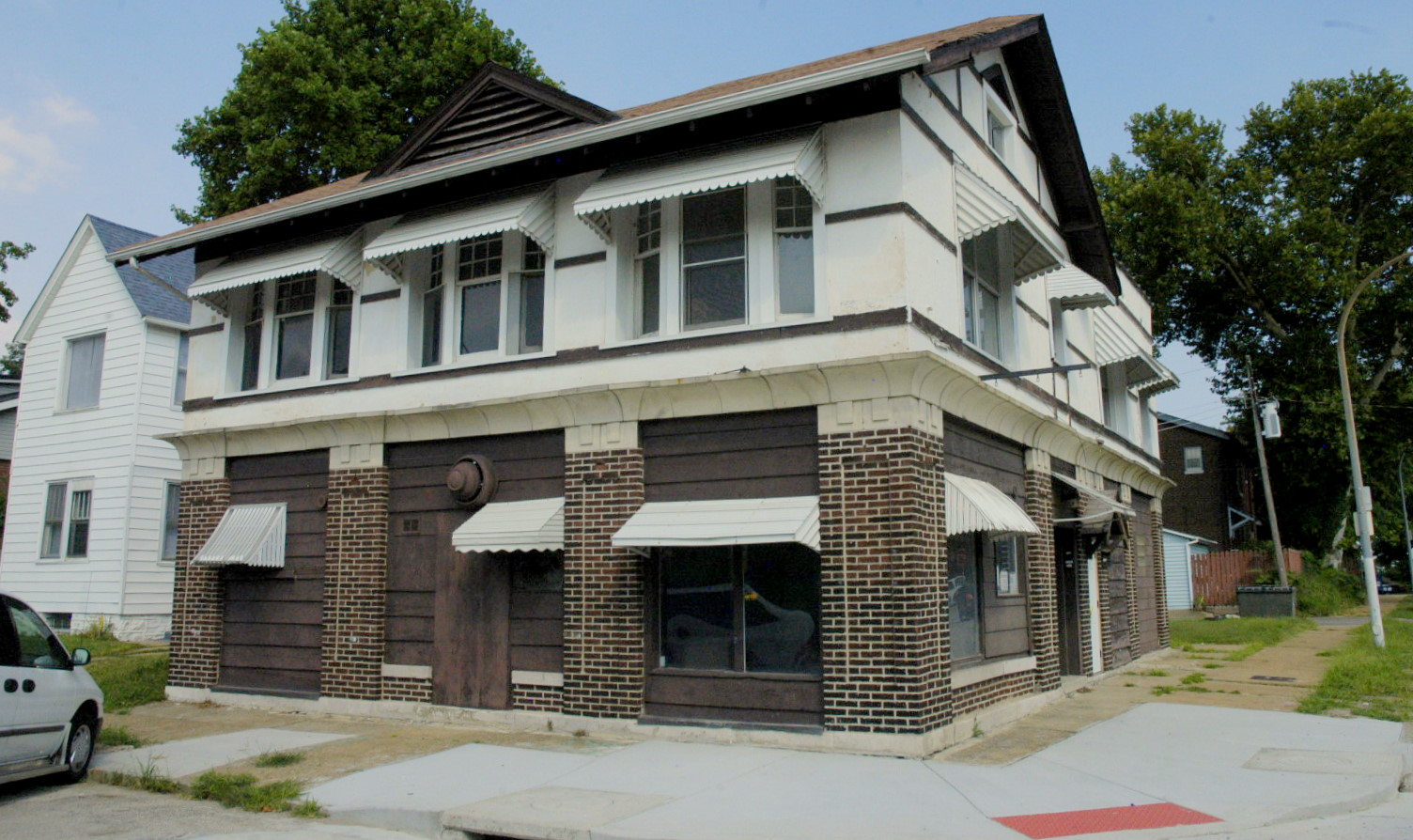 You know I'm a sucka for the ghost and other signs: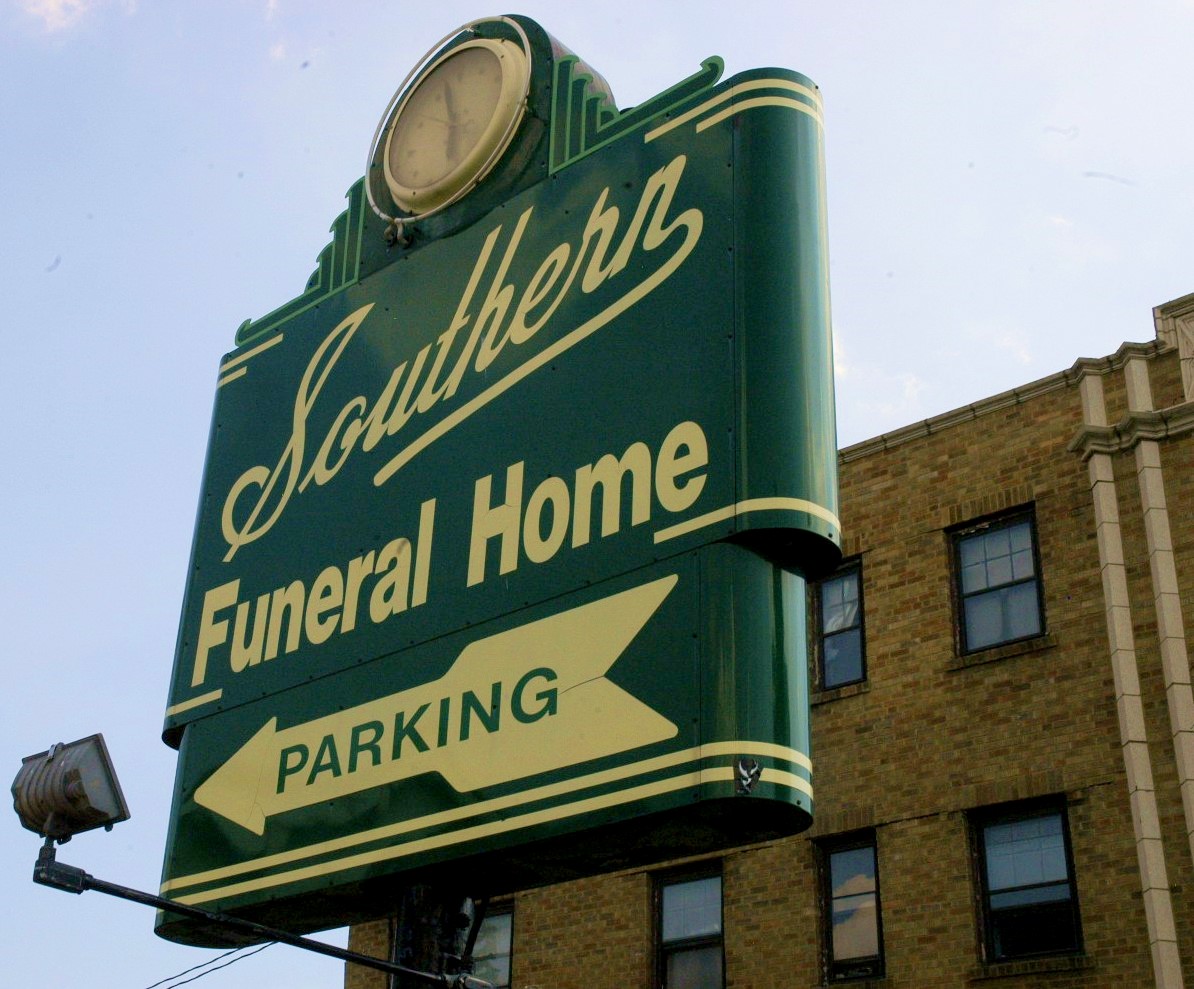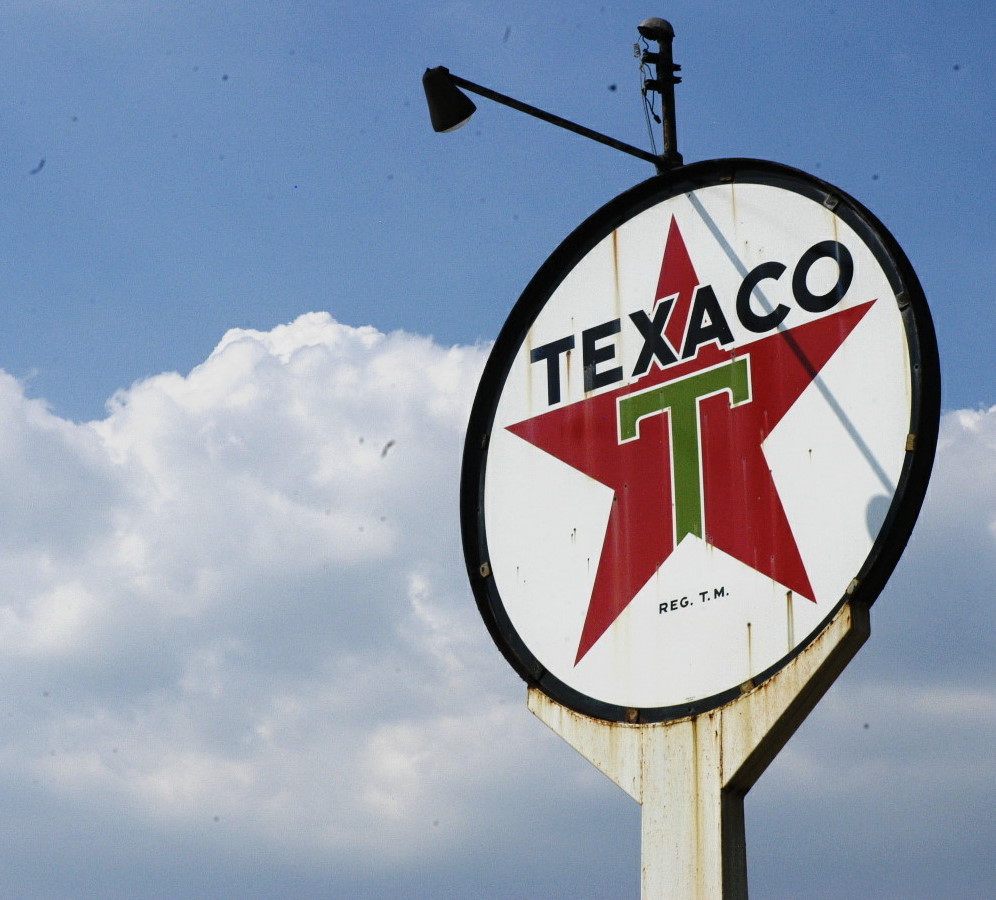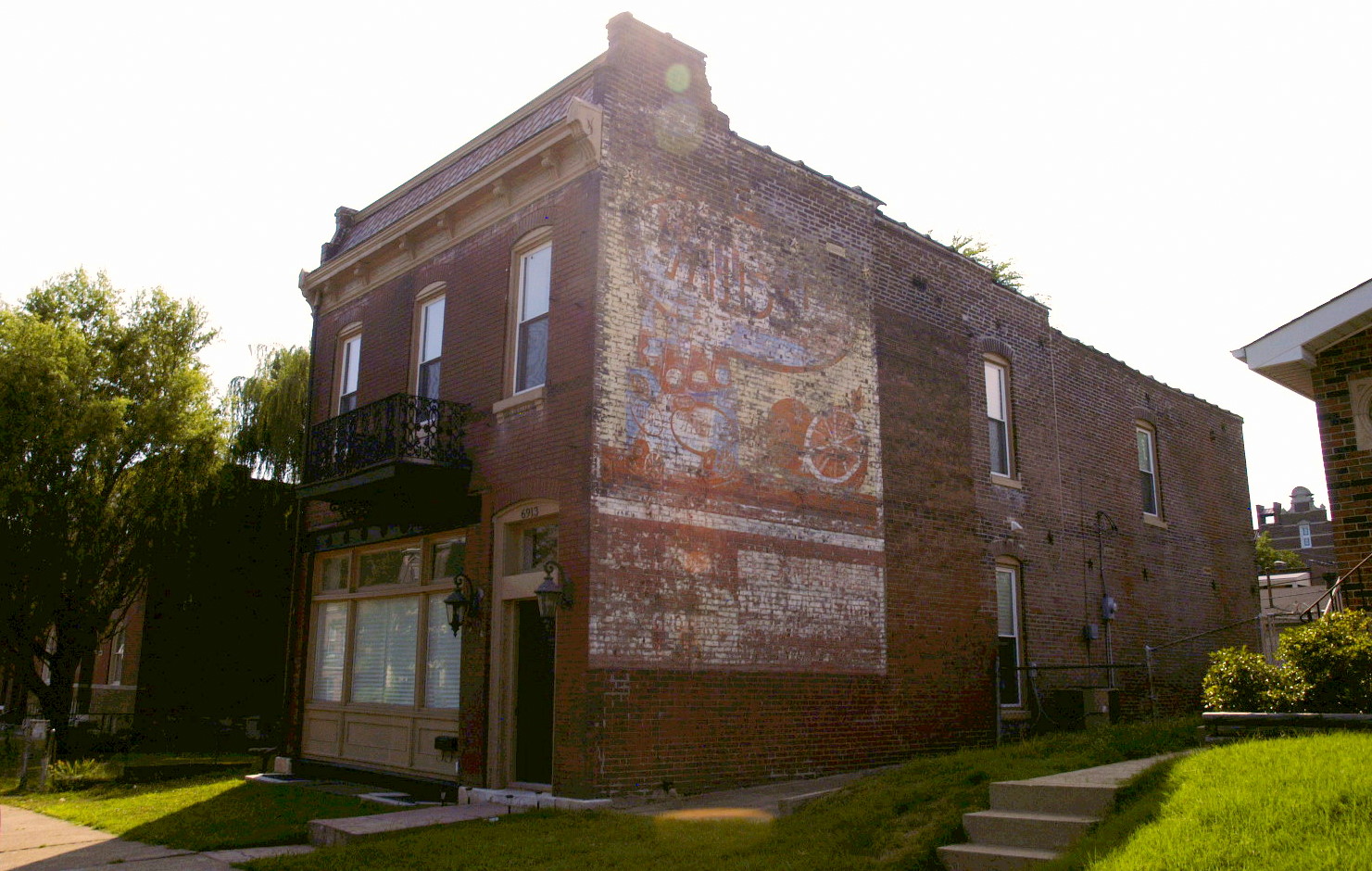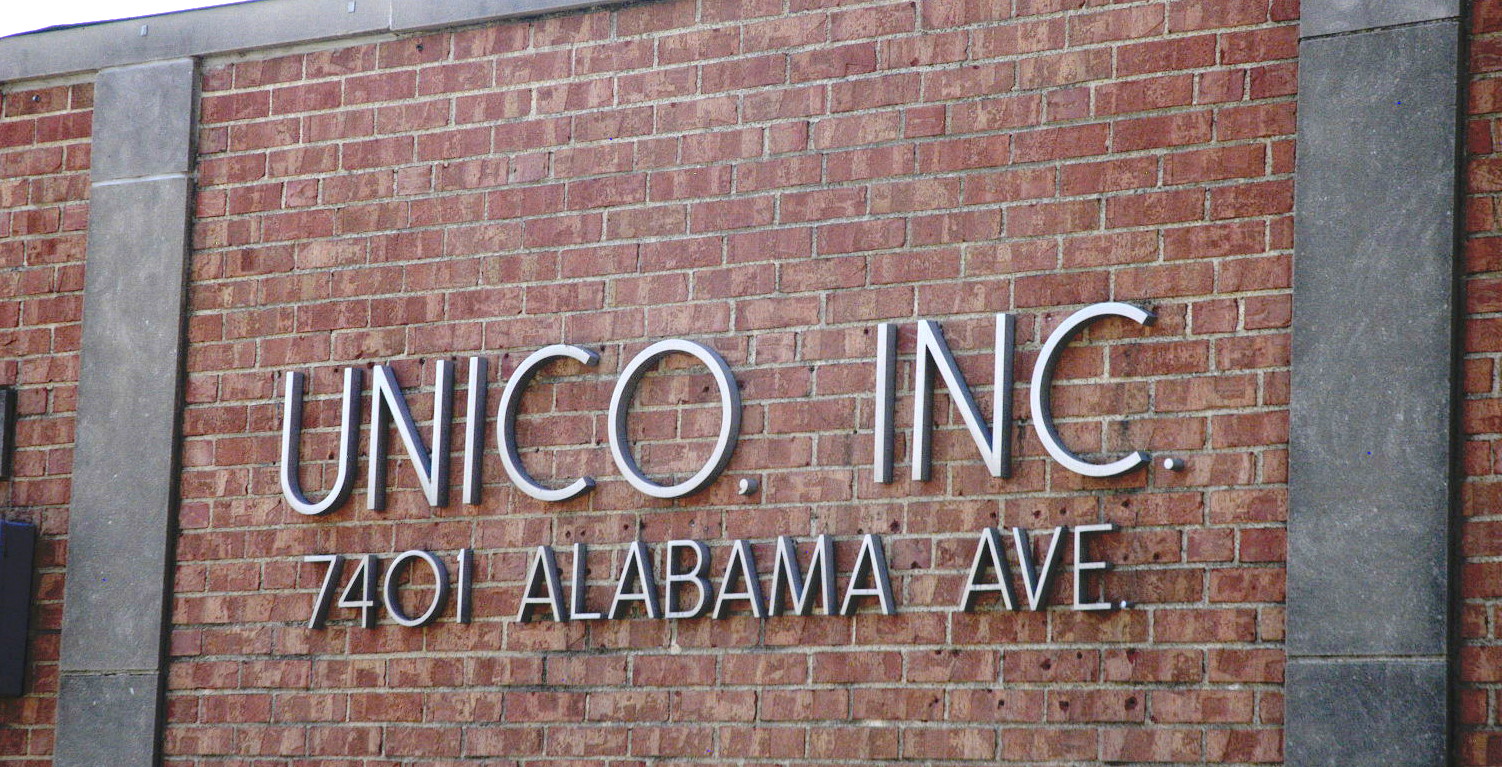 And if you want people to find you, you make your address clearly visible: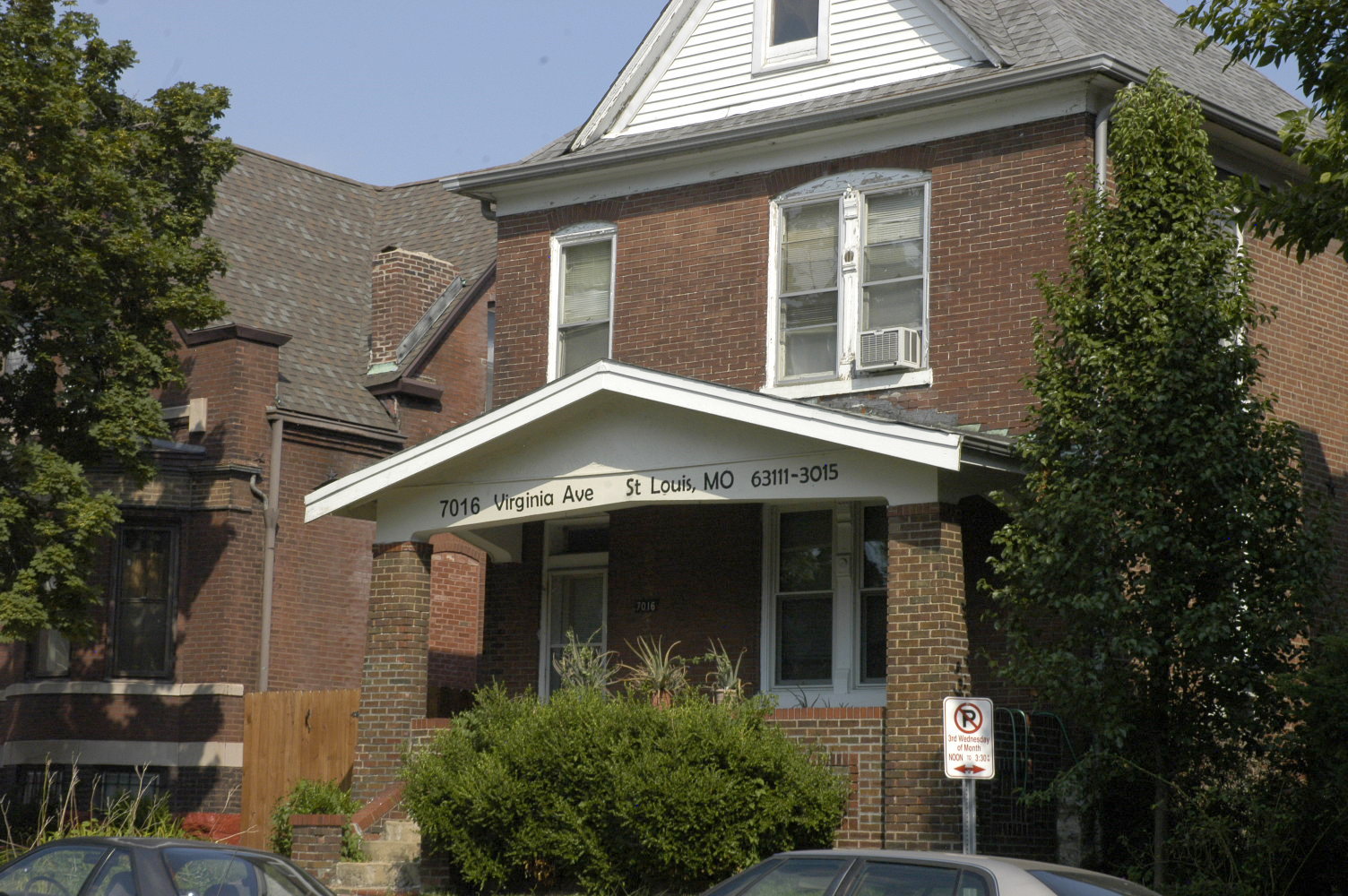 Recent development in Carondelet includes the much loved and/or hated Loughborough Commons suburban shopping center. I've flip flopped a couple times as to whether this shopping center is a good or bad thing for St. Louis. On one hand, you have to look at the recent history of the site. It was an eyesore including a closed down Nordyne furnace/air conditioner plant and an unsightly former National Supermaket turned Schnucks. It was a dirty store. Now there are several huge chain businesses that I and many others frequent quite often including St. Louis' only Lowe's, a nice/new Schnucks, Office Max, Starbucks, Qdoba, Panera Bread, Little Caesar's Pizza, etc. The trouble is the entry into this suburban styled shopping center is an absolute CLUSTERMESS.
Access to the pedestrian is even worse. But, this little pocket of businesses creates a tremendous amount of tax dollars for the city and gets a lot of I-55 traffic stopping in. So yes, the current set up is an improvment over what was there before, but it's not a good example of design and is about as suburban and anti-city as one can imagine. There are also out buildings aside from the strip malls including a bank, Burger King and there is now grading of the final lots near the railroad tracks that run parallel to I-55. So the shopping mall is a financial success, it's just a bummer they couldn't have attempted to make it more part of the neighborhood.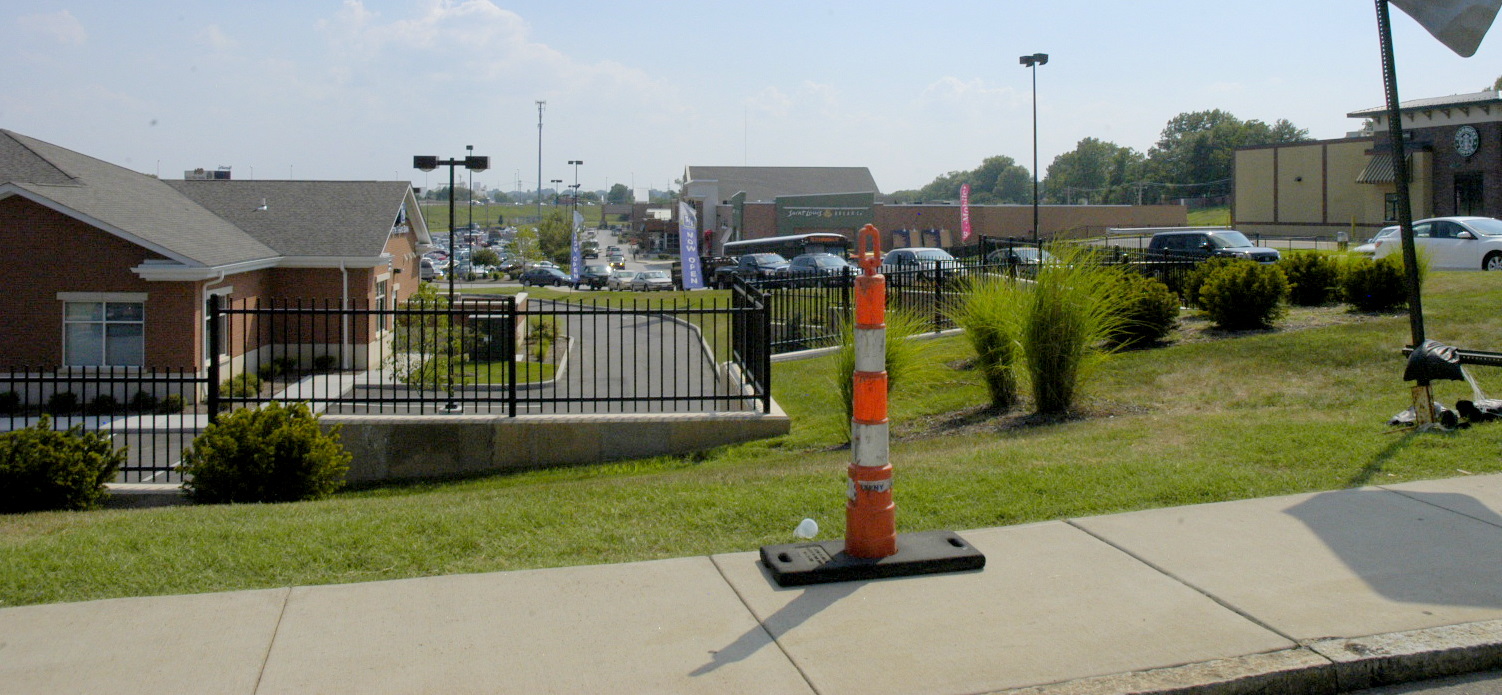 So there are 3 parks that serve the residents of Carondelet. First there's the fantastic Carondelet Park, which is technically outside the borders of Carondelet; but, it includes the new Carondelet city recreation complex run by the YMCA. This is a fantastic place, and a clear asset to the neighborhood. This photo of the rec plex is not meant to show you what the place looks like, but to make note of the fact that the Loughborough bridge widening currently underway utilized the old iron railways from the previous bridge…kudos Carondelet: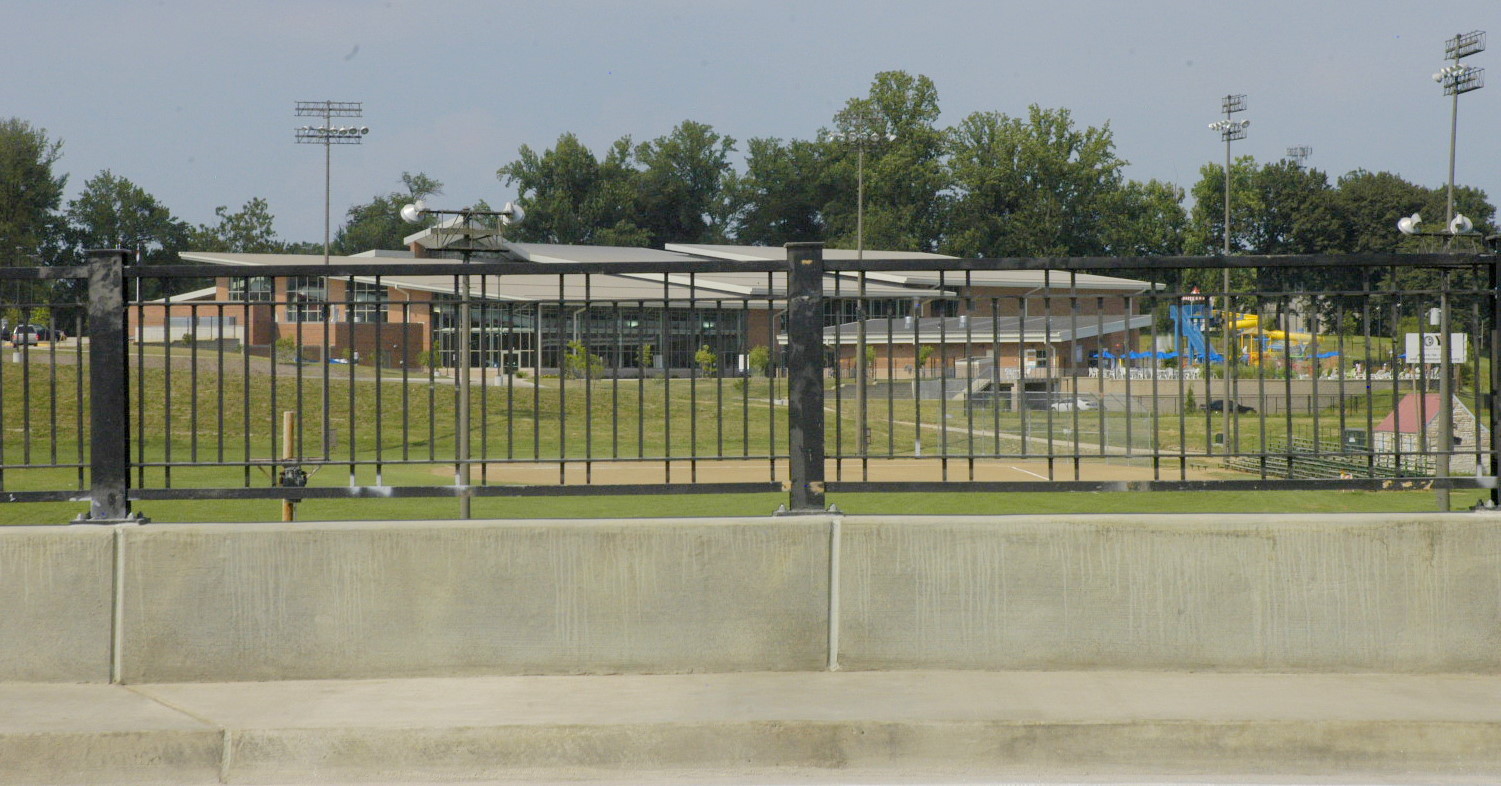 Sadly though, the fact that the YMCA was given the keys to this city funded rec plex, they closed the former YMCA on Loughborough. This building was awesome and we have lots of good memories here.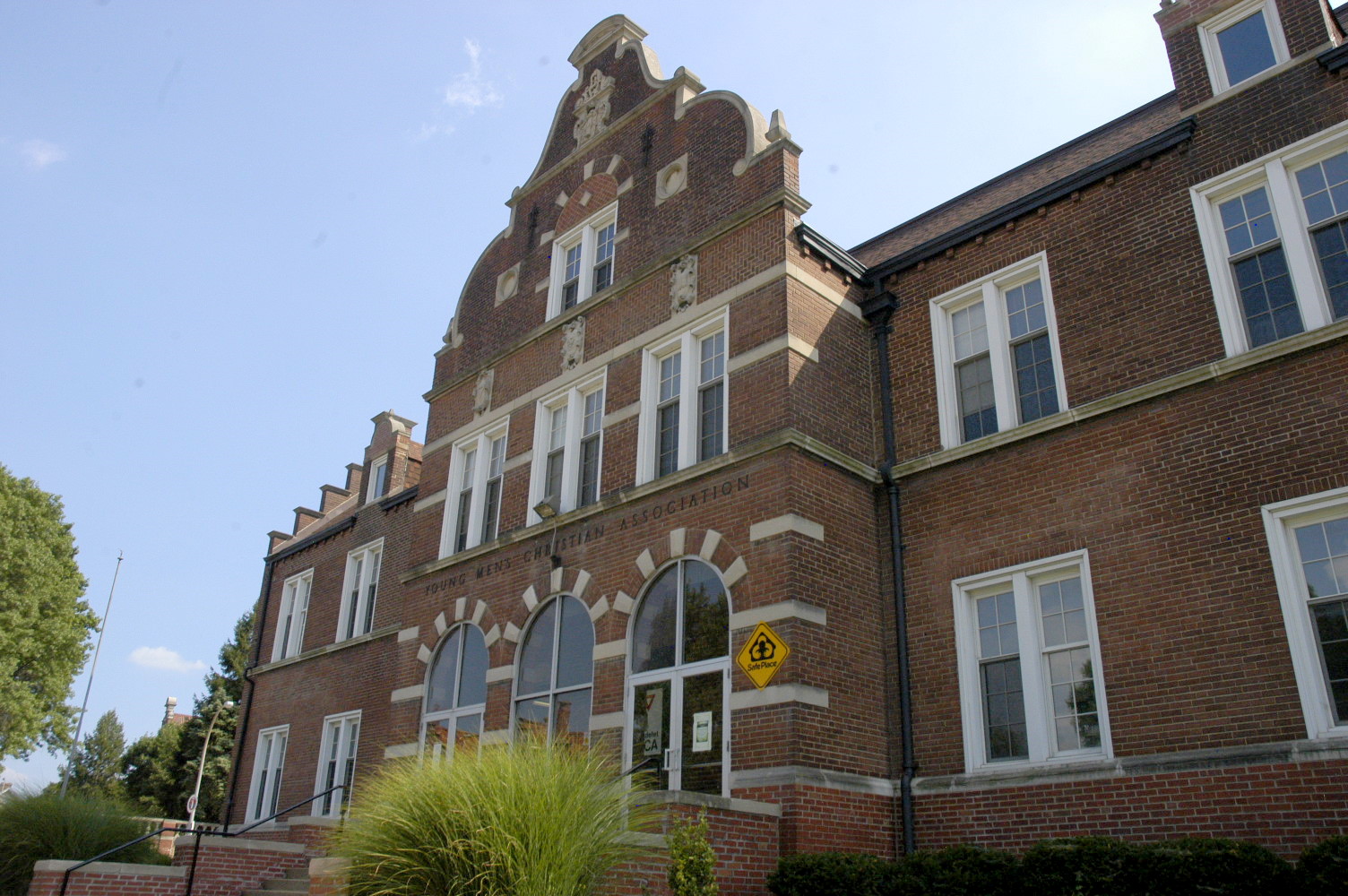 Secondly you have Bellerive Park which has arguably the finest views of the Mighty Miss in the city. The approach to the park is one of splendor. The bridge over Broadway is ornate as is the pavilion which guards over this tiny tract of land intended to provide St. Louisans with views of the river.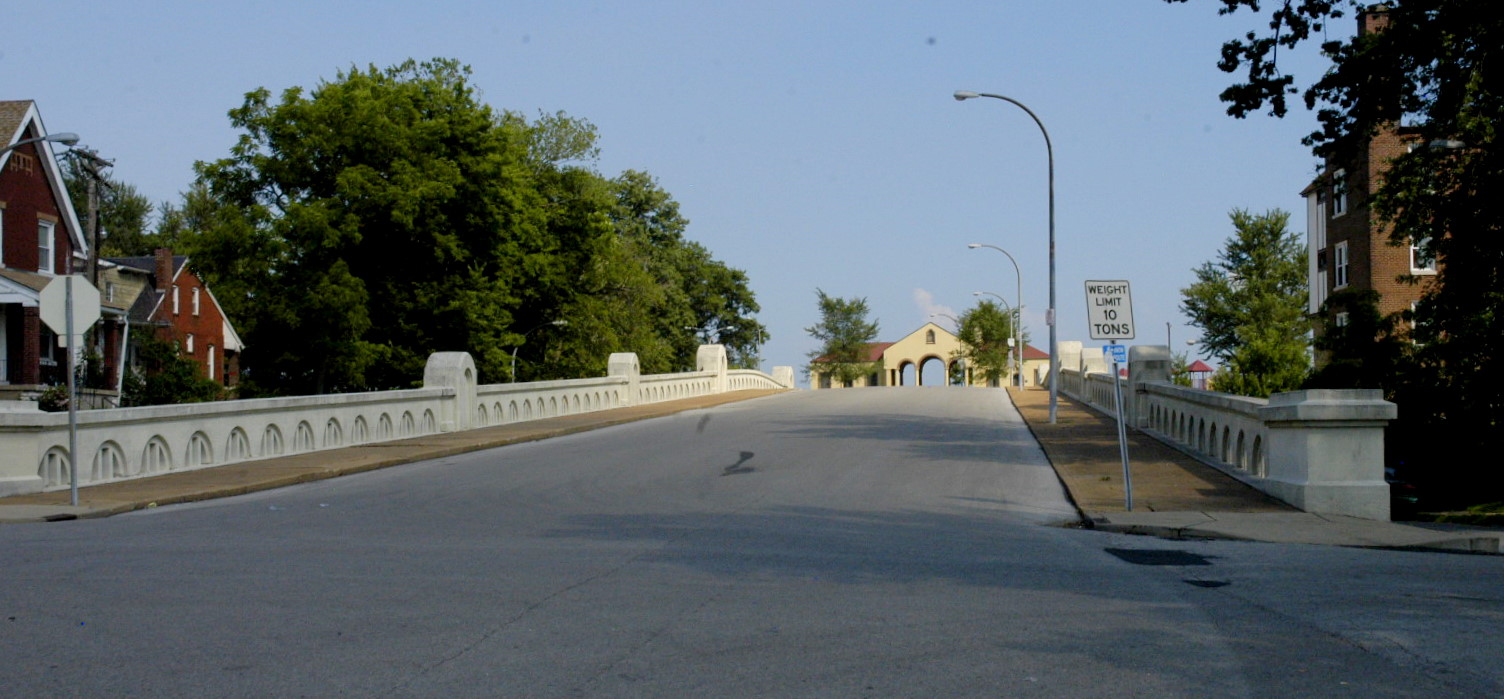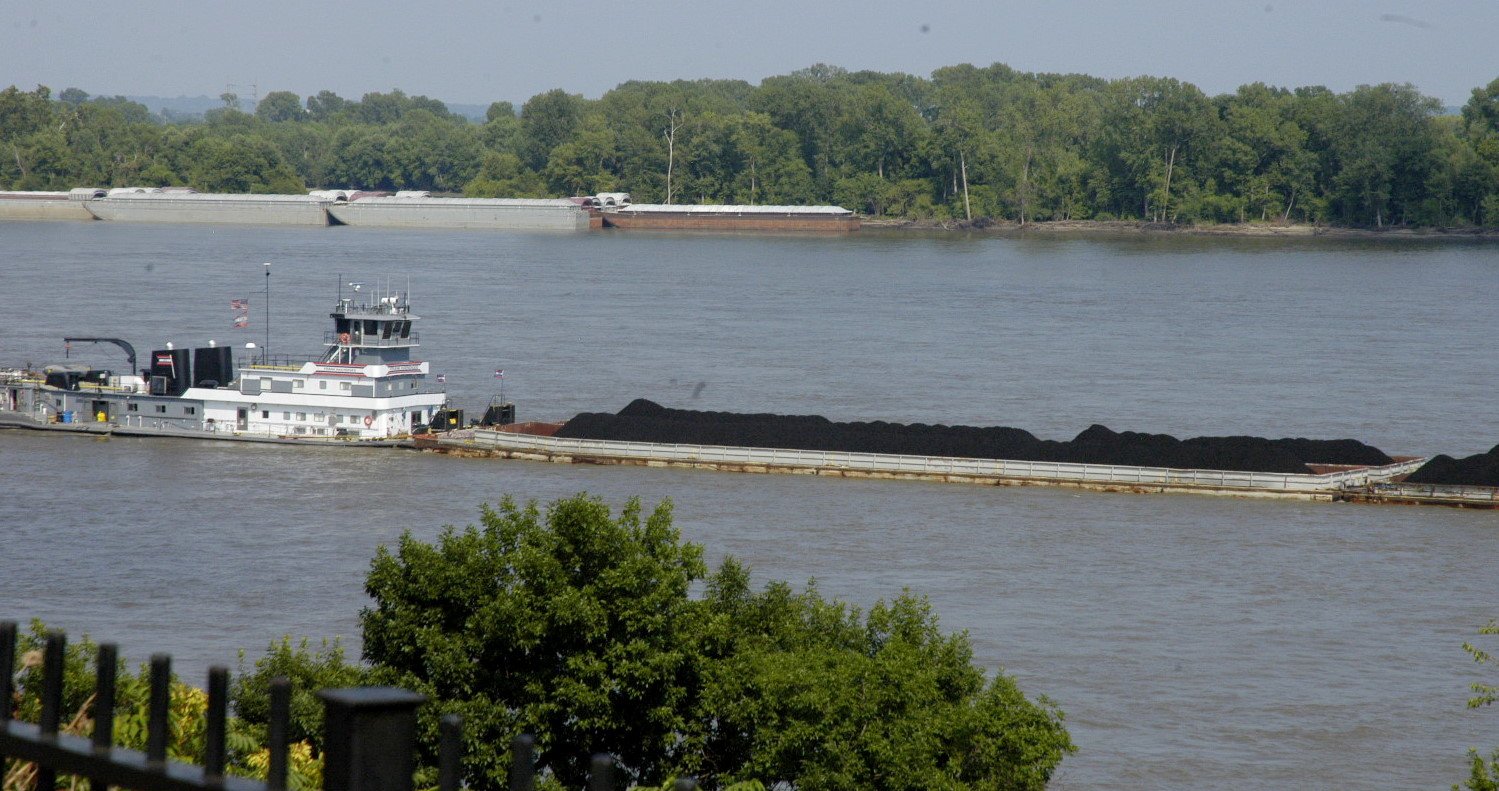 Thirdly you have the underwhelming Alaska Park which I must say is just a huge field of unmown weeds. It's not even really a park. The severe southern end of Carondelet is the most industrial part of the neighborhood, right by a huge automotive junk yard and the massive phosphates and phosphoric acid plant. The industrial plant has a long history (source):
Throughout the 1800's, until the 1920's, the flood plains adjacent to the River des Peres were used for farming. This activity was gradually abandoned in the early 1920's because of persistent flooding and the flood plains were then used for trash disposal by the City of St. Louis.
The site was industrialized dating back to 1840 when it operated as a lead smelter, refining metal for lead shot. It helped supply munitions for the Union Army during the Civil War. Iron smelters were also in the area when the Iron Railroad came through. During the Civil War, the Carondelet Shipyard manufactured 32 ironclad gunships for the Union Army. From 1870-1930, the site was operated by the Hertz Metal Company still as a lead smelter and they made bailing wire. Monsanto took over in 1935 and ran the site for years focusing in on phosphates and phosphoric acid by products. The site is still used for this application, but Monsanto divested its raw chemicals business as Solution Inc. back in 1997. In 2000 Astaris took over and most recently Israel Chemical LTD has been running the plant since 2005. Surely many have seen this plant from I-55.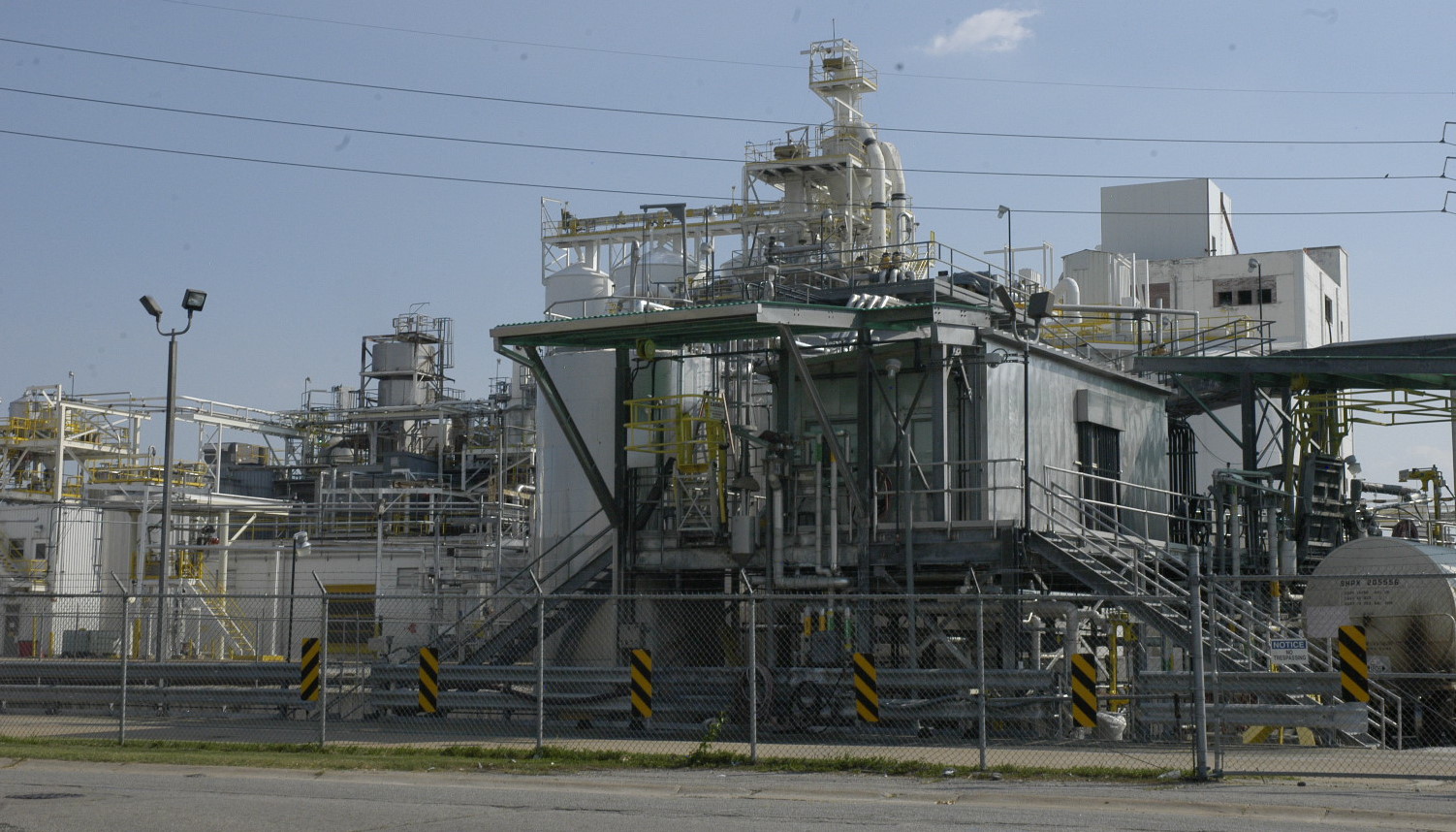 Some of the oldest homes in the city can be found in Carondelet, actually I think the lion's share of old stone homes are in the Patch. But there are many beauties in Carondelet. There prevalent home style is probably the shotguns; but there are some medium sized bungalows and huge mansions as well.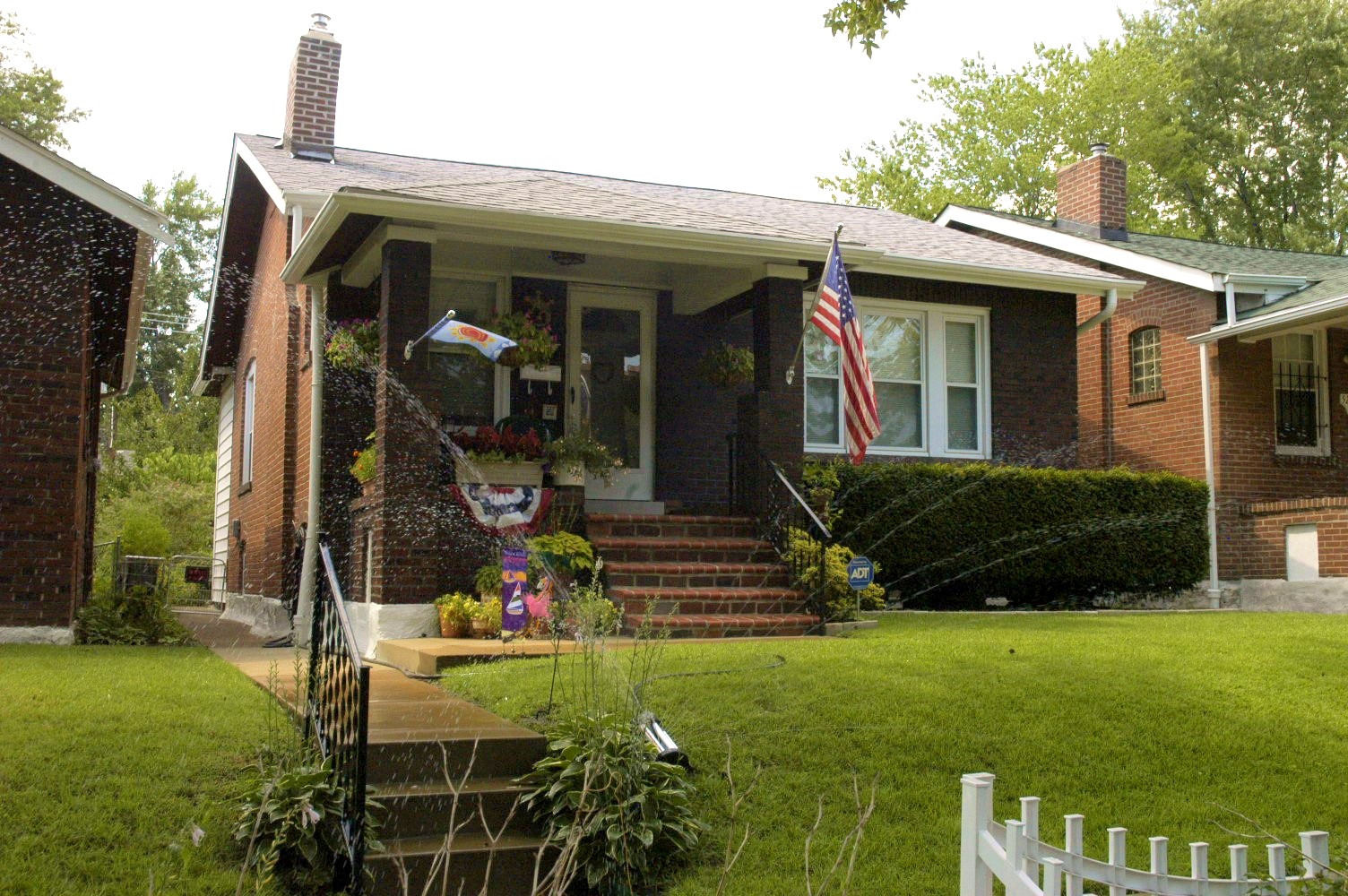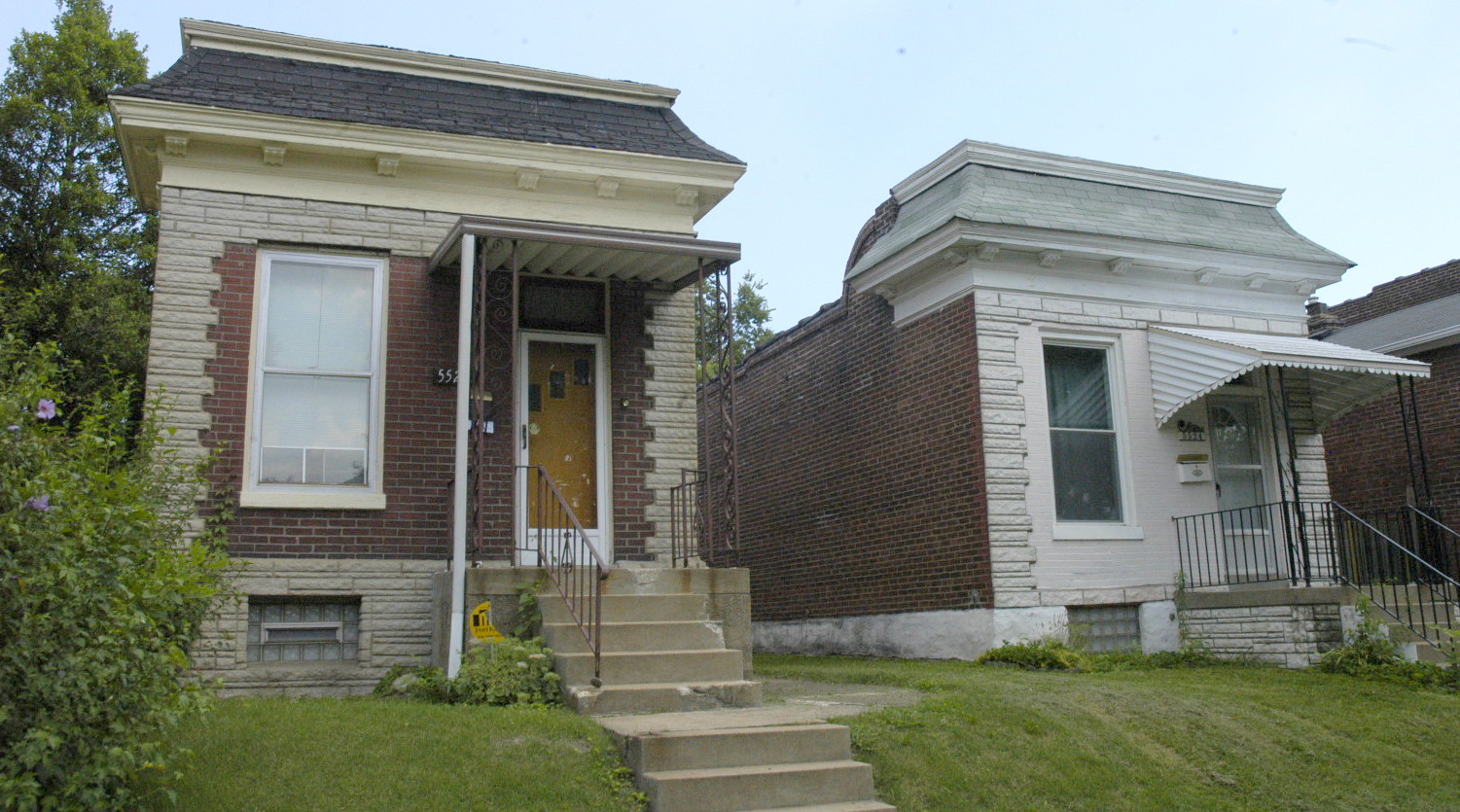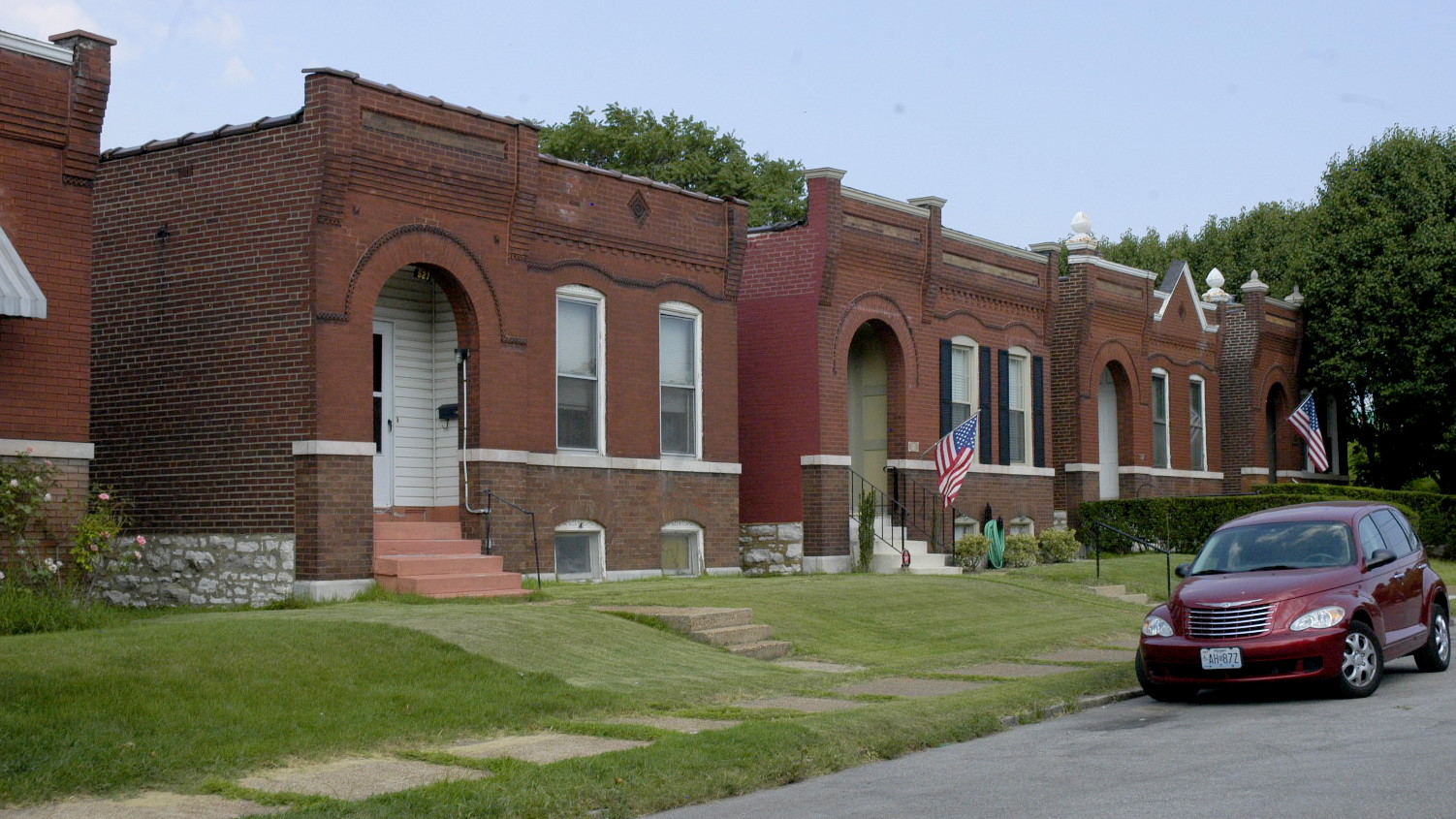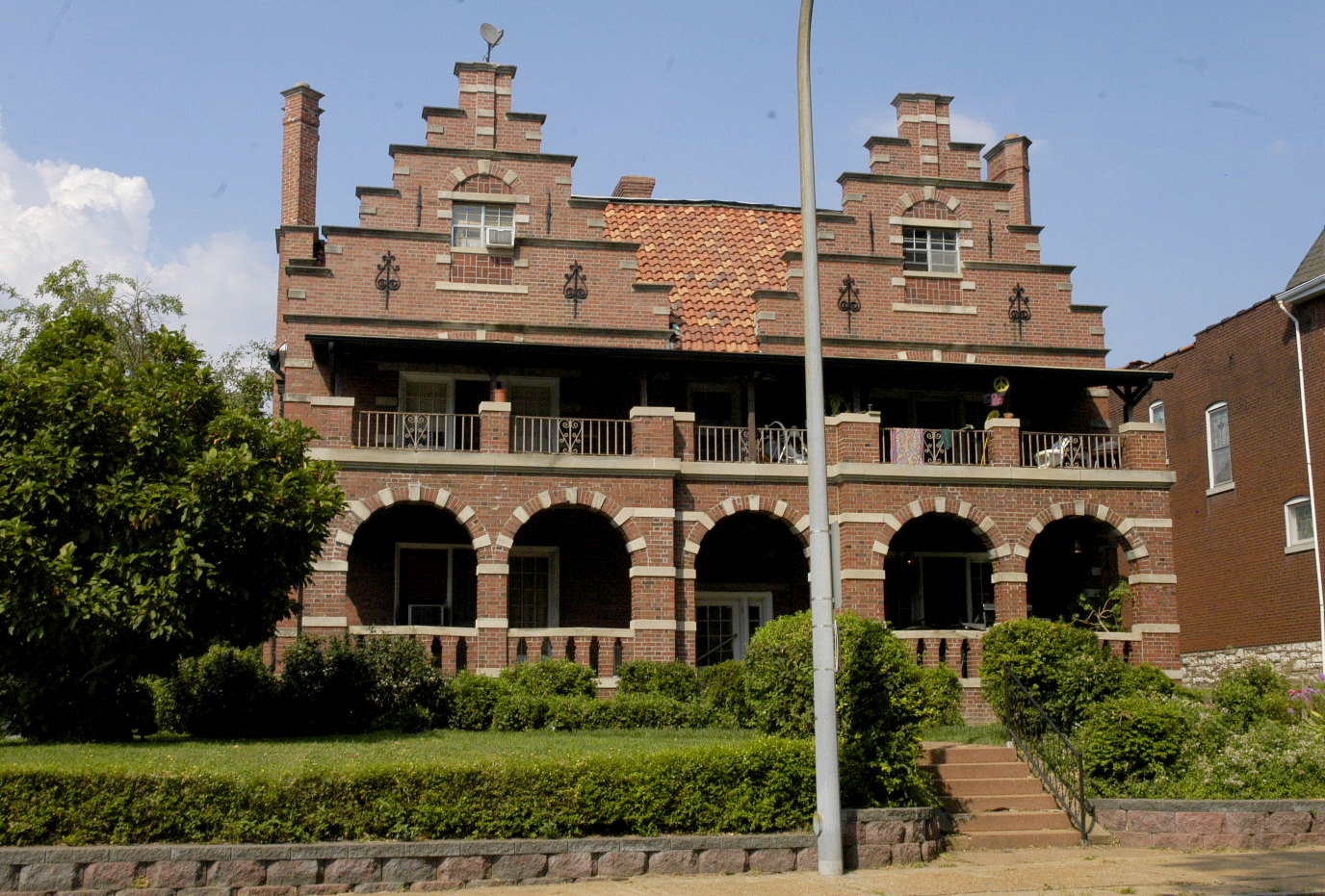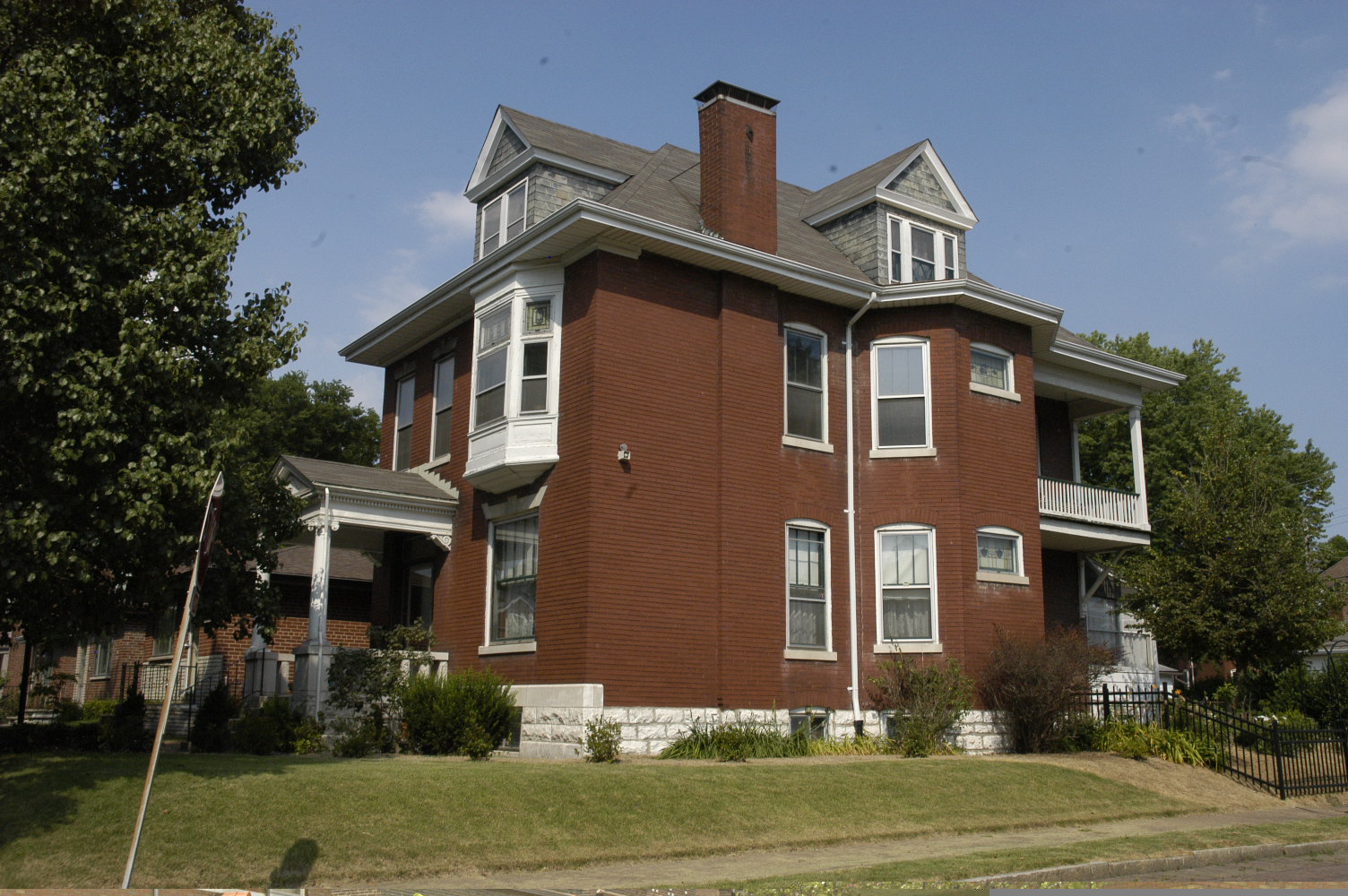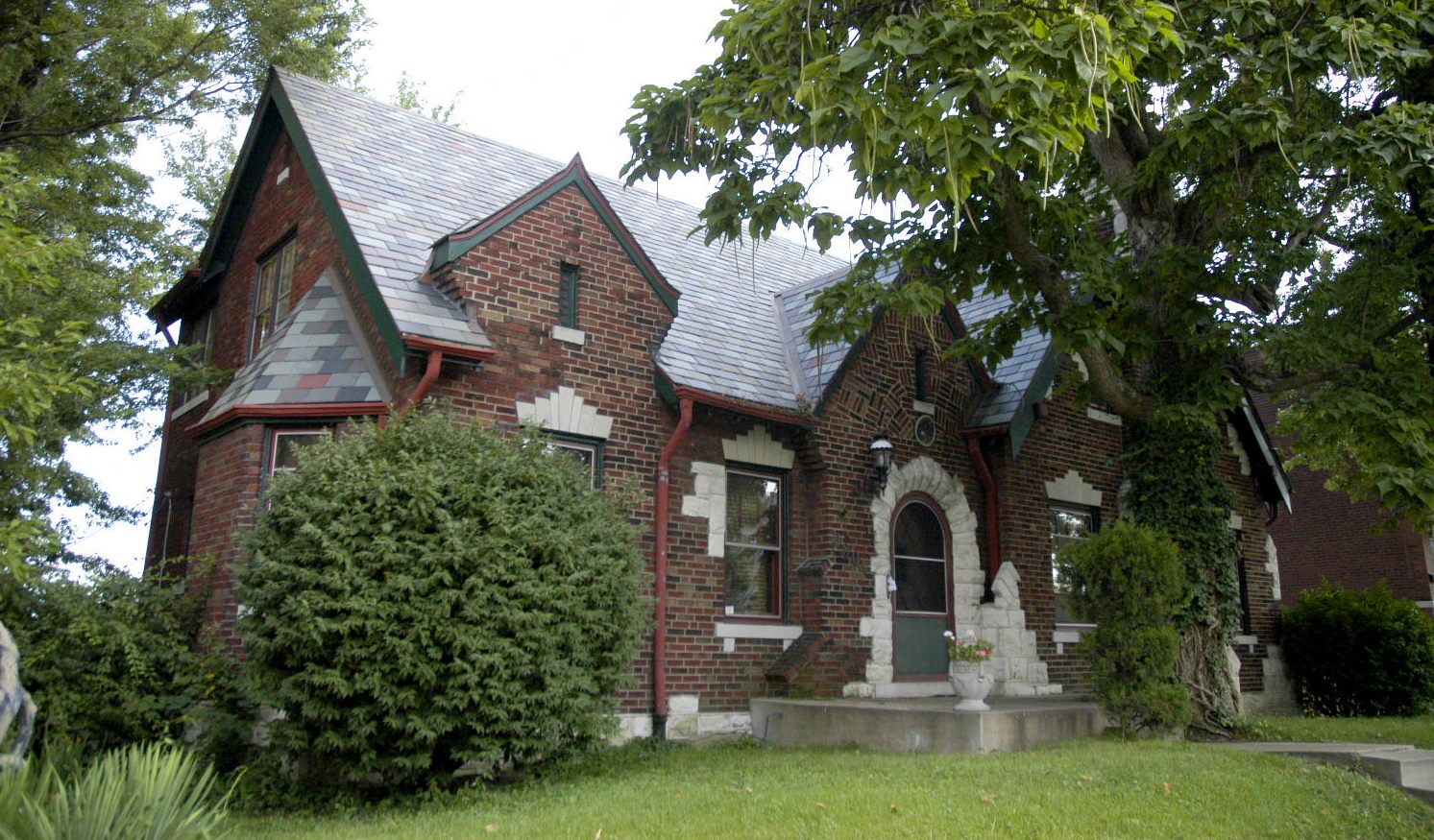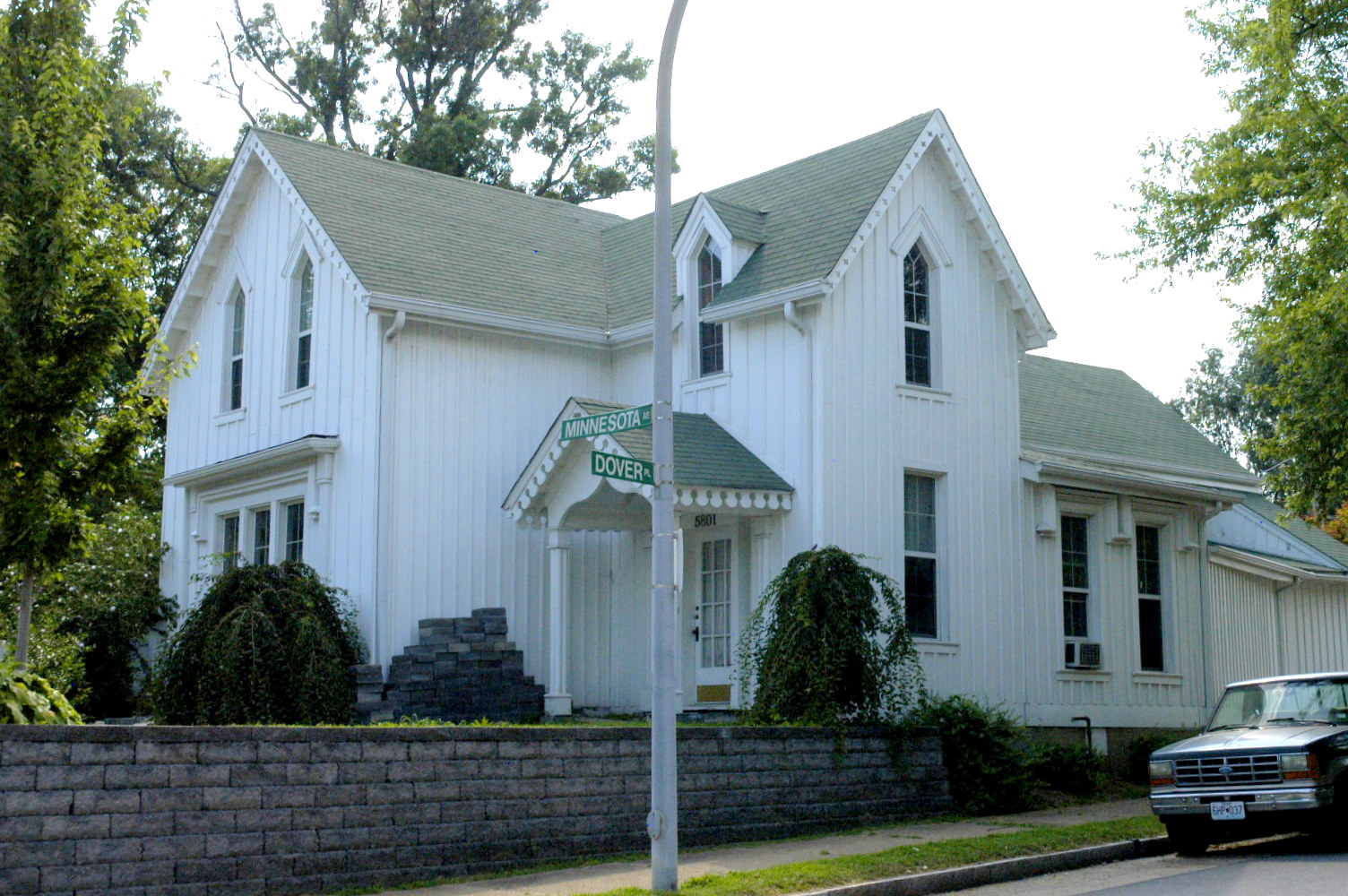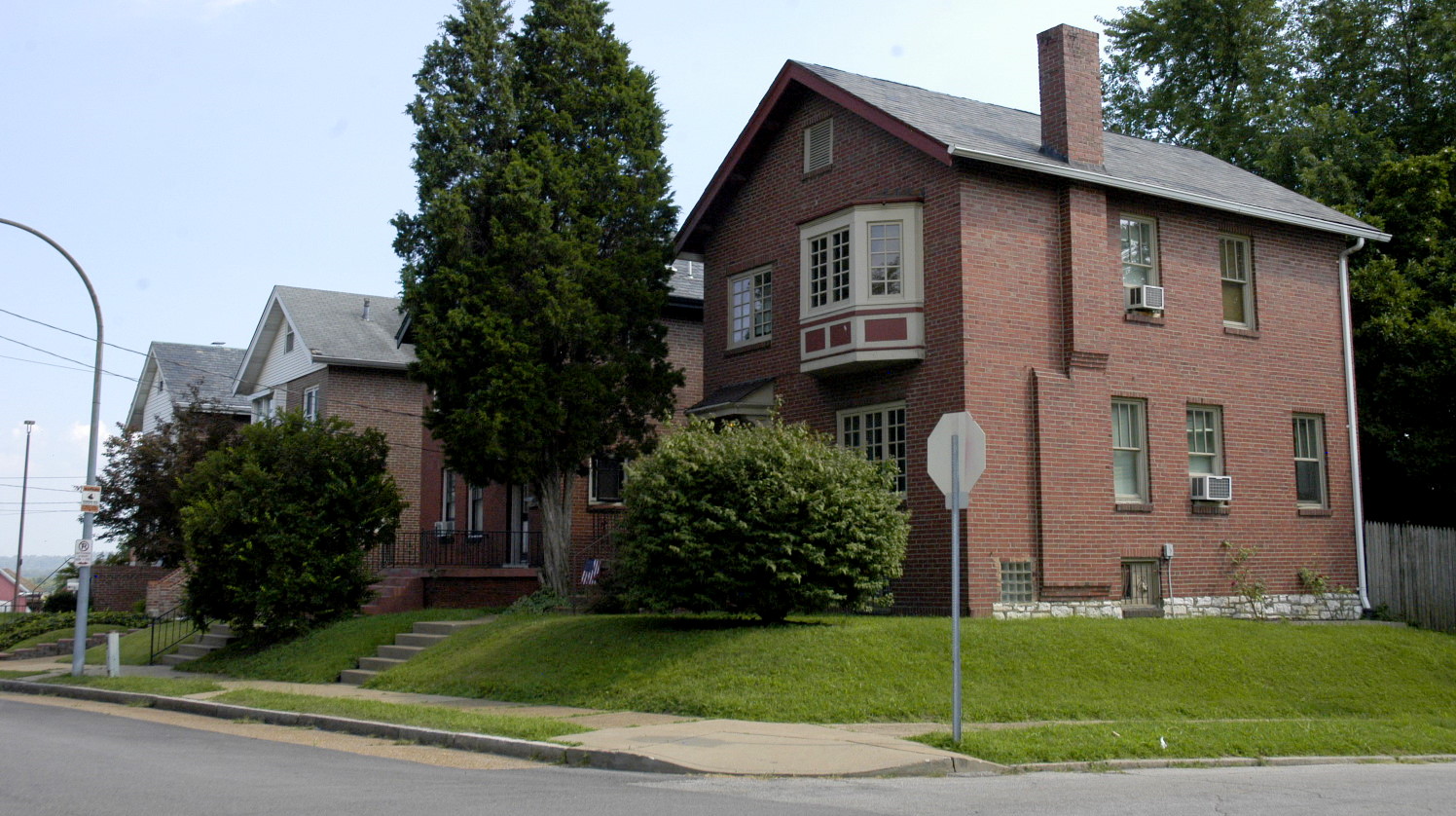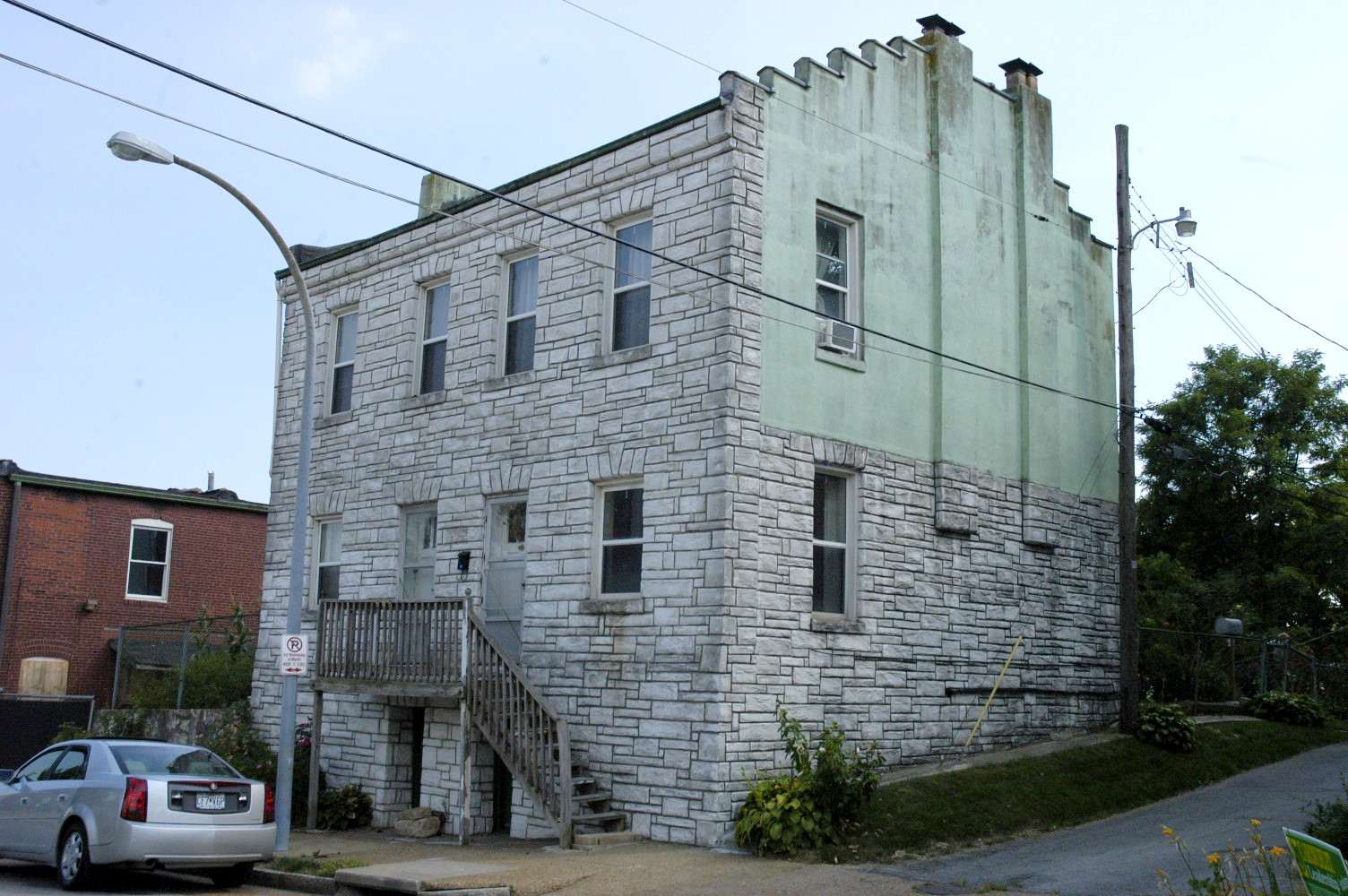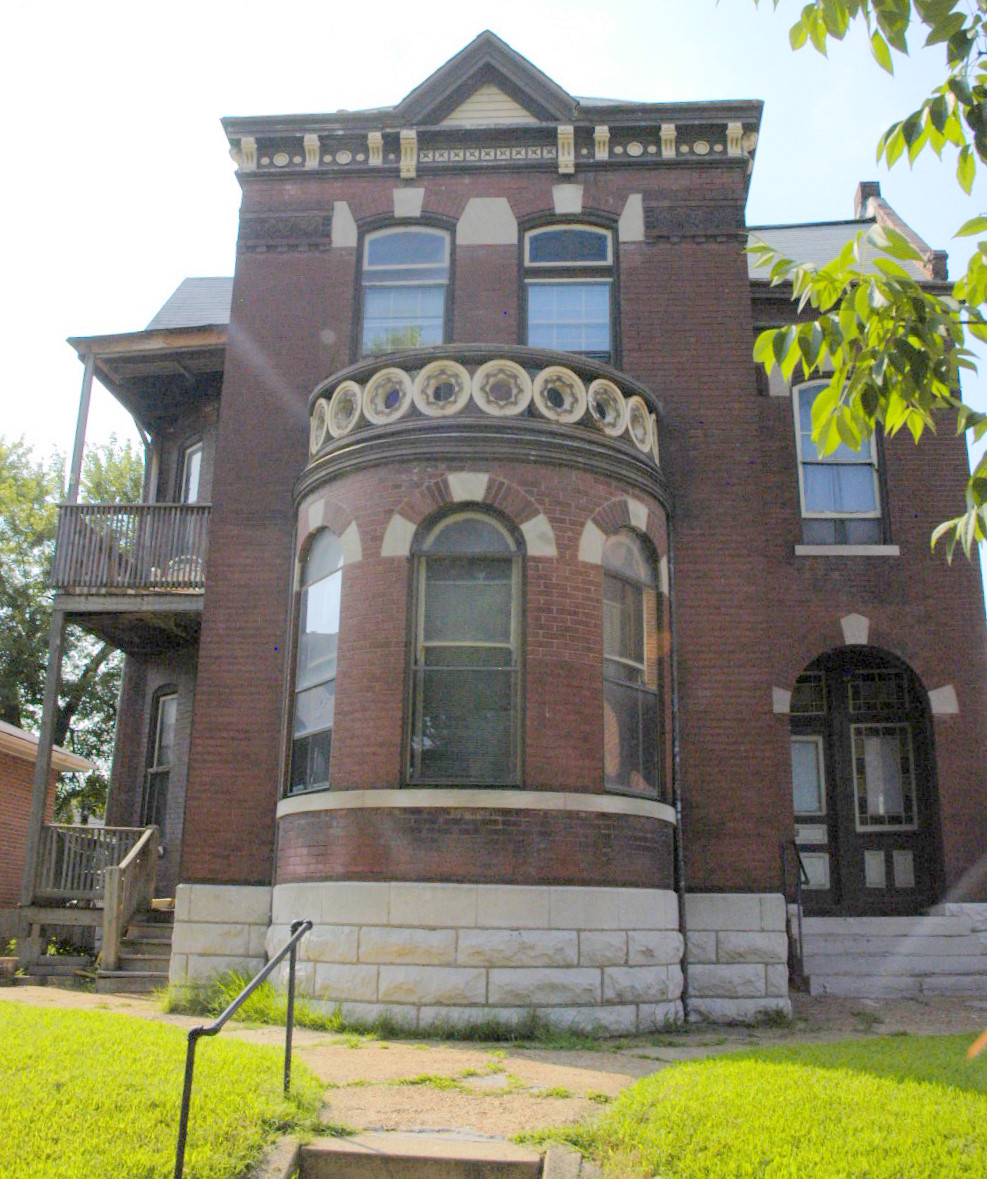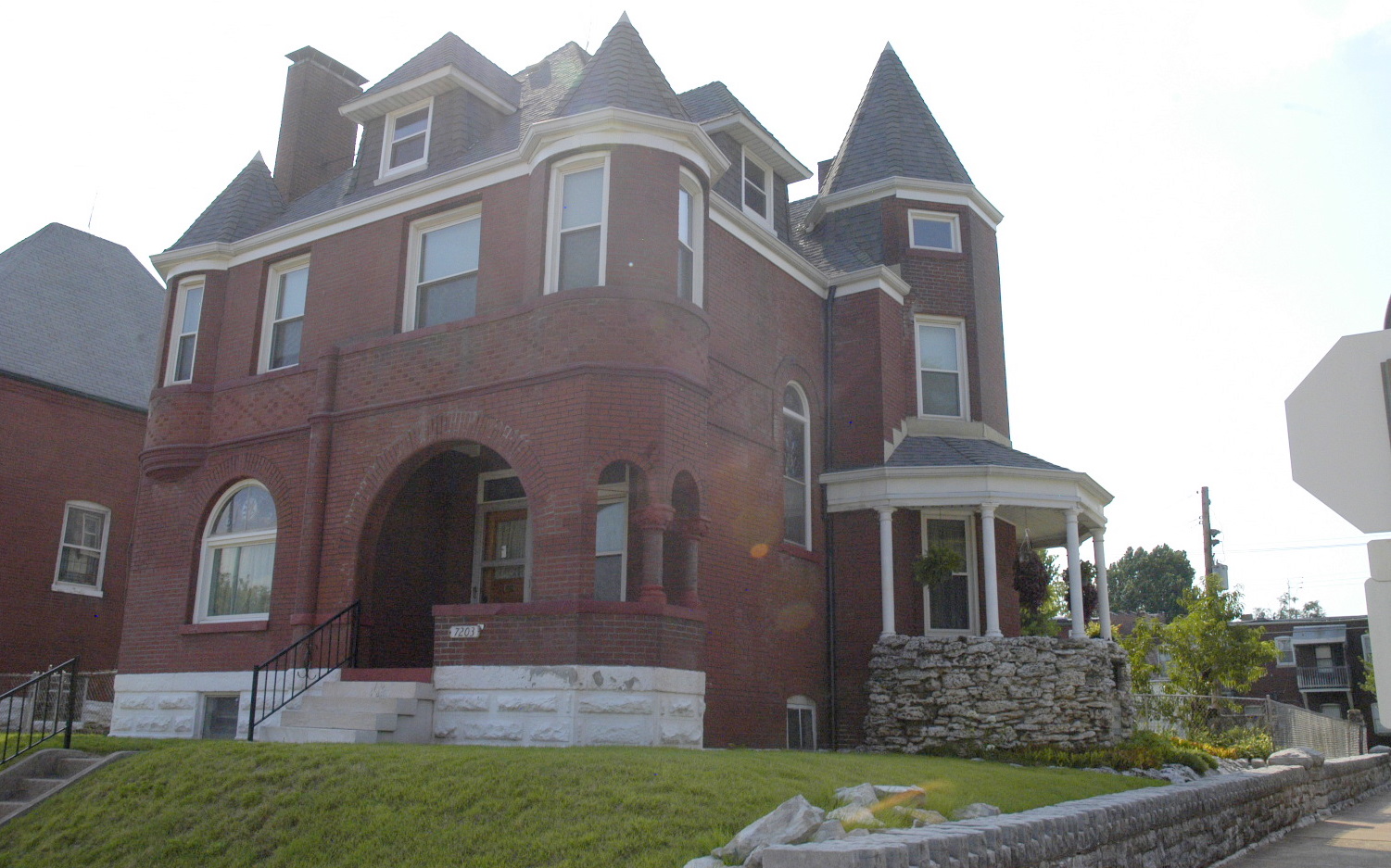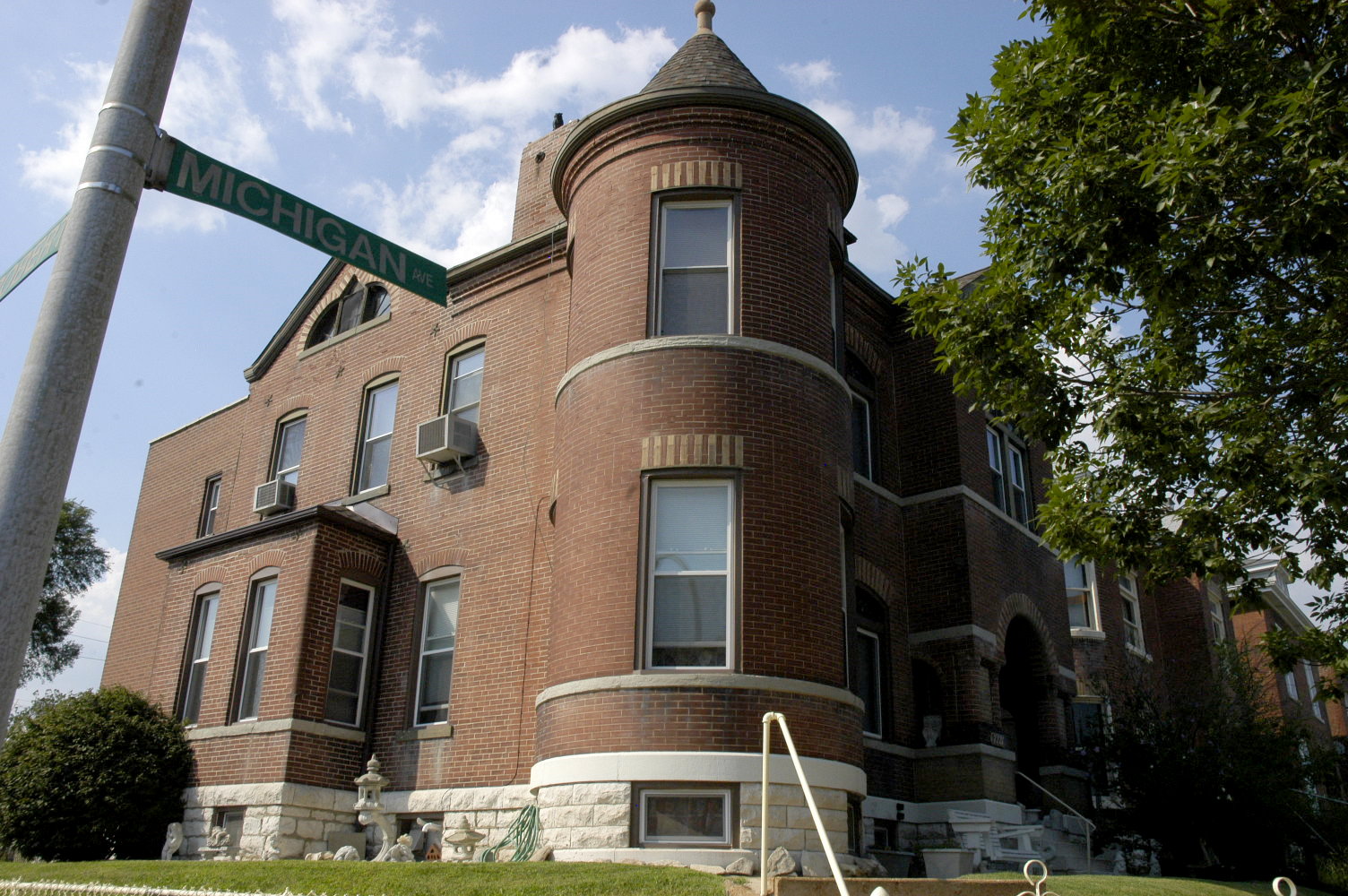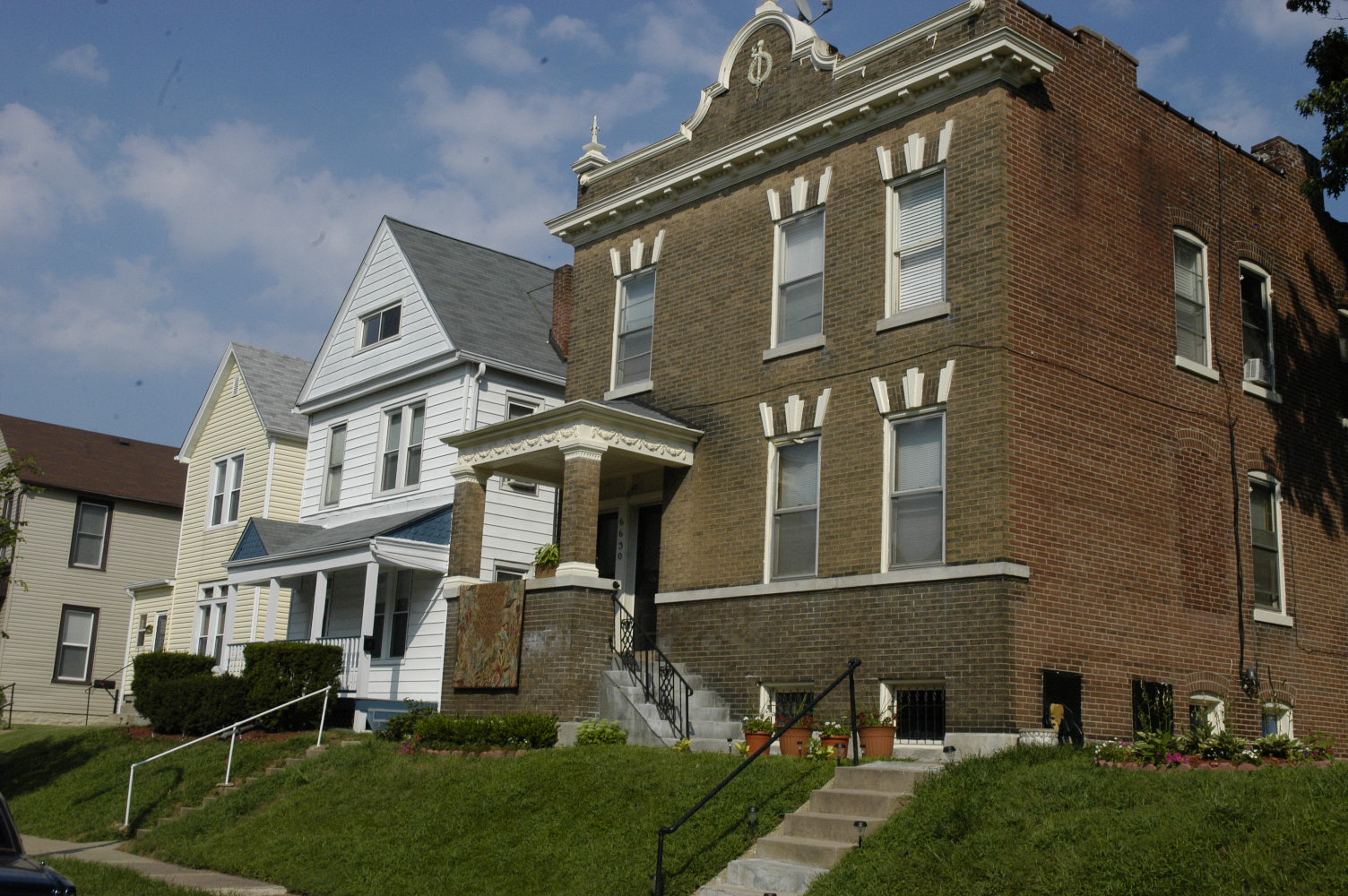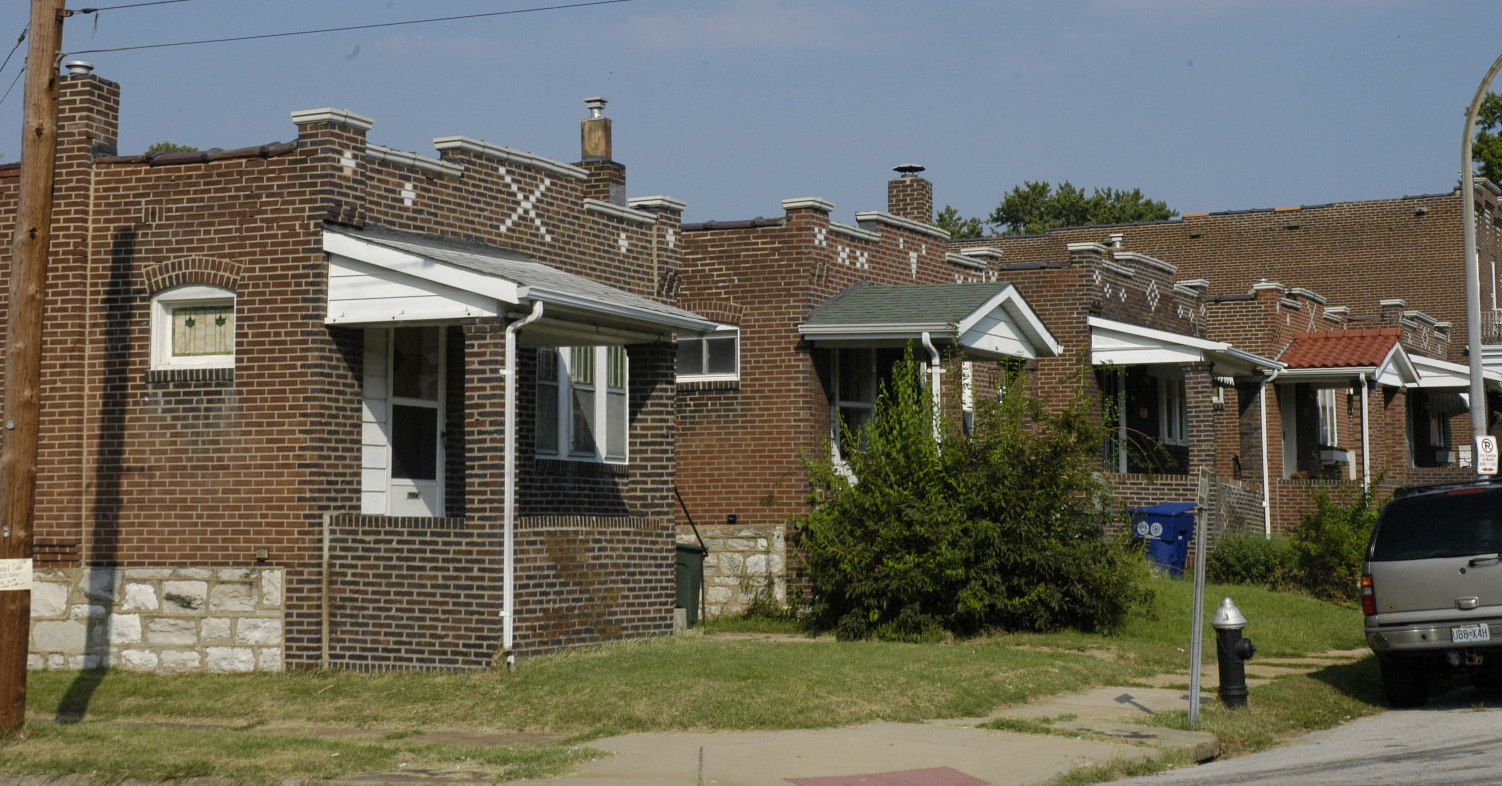 The awesome western section including Dover, Wilmington and Bellerive Boulevard is one of the finest pockets of St. Louis you will find. The old growth trees and planted medians of Bellerive just east of Grand and west of I-55 beautifully complement the homes and manicured lawns. Churches and schools are woven into the fabric of the neighborhood; and businesses flank the perimeter.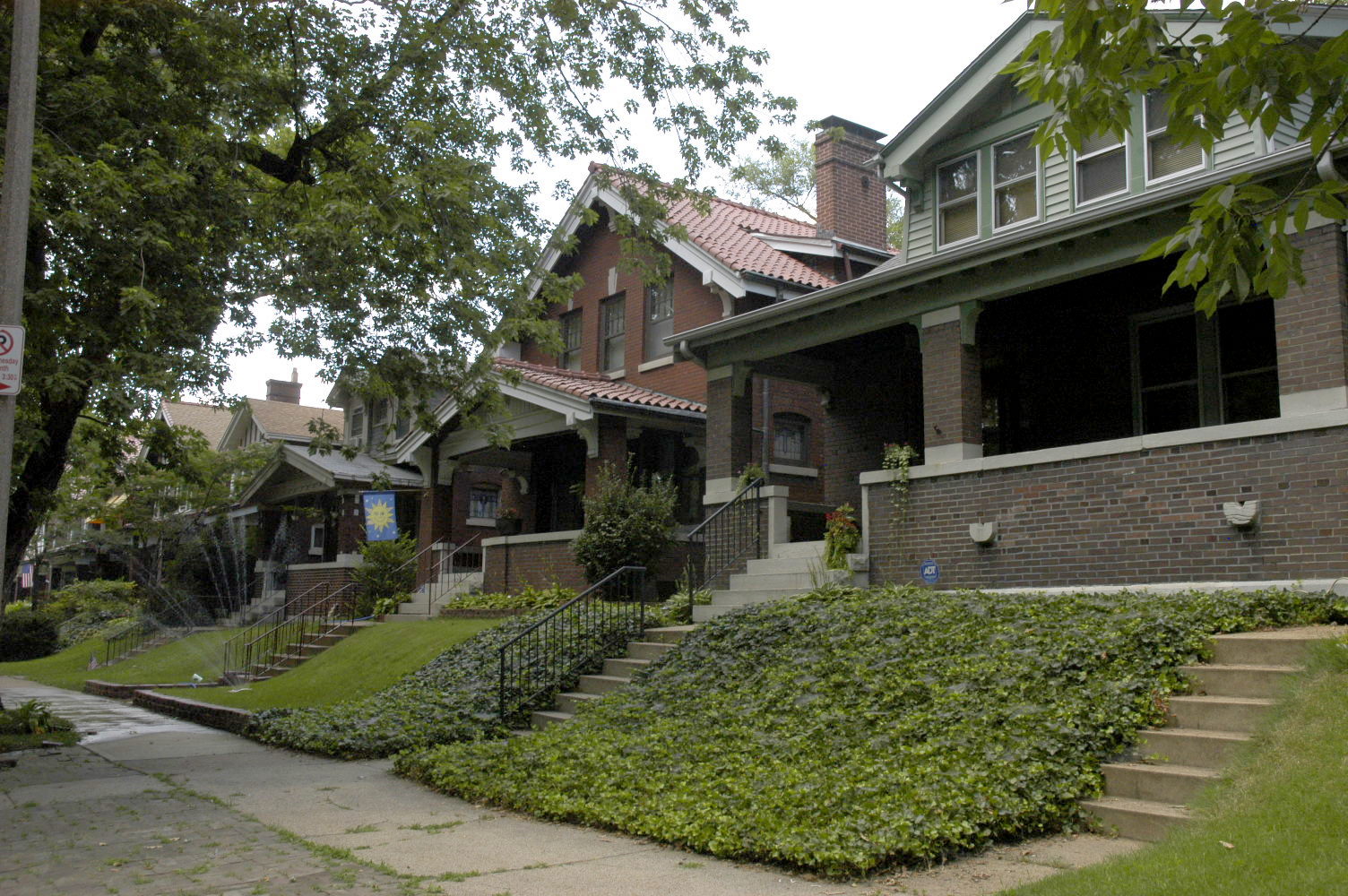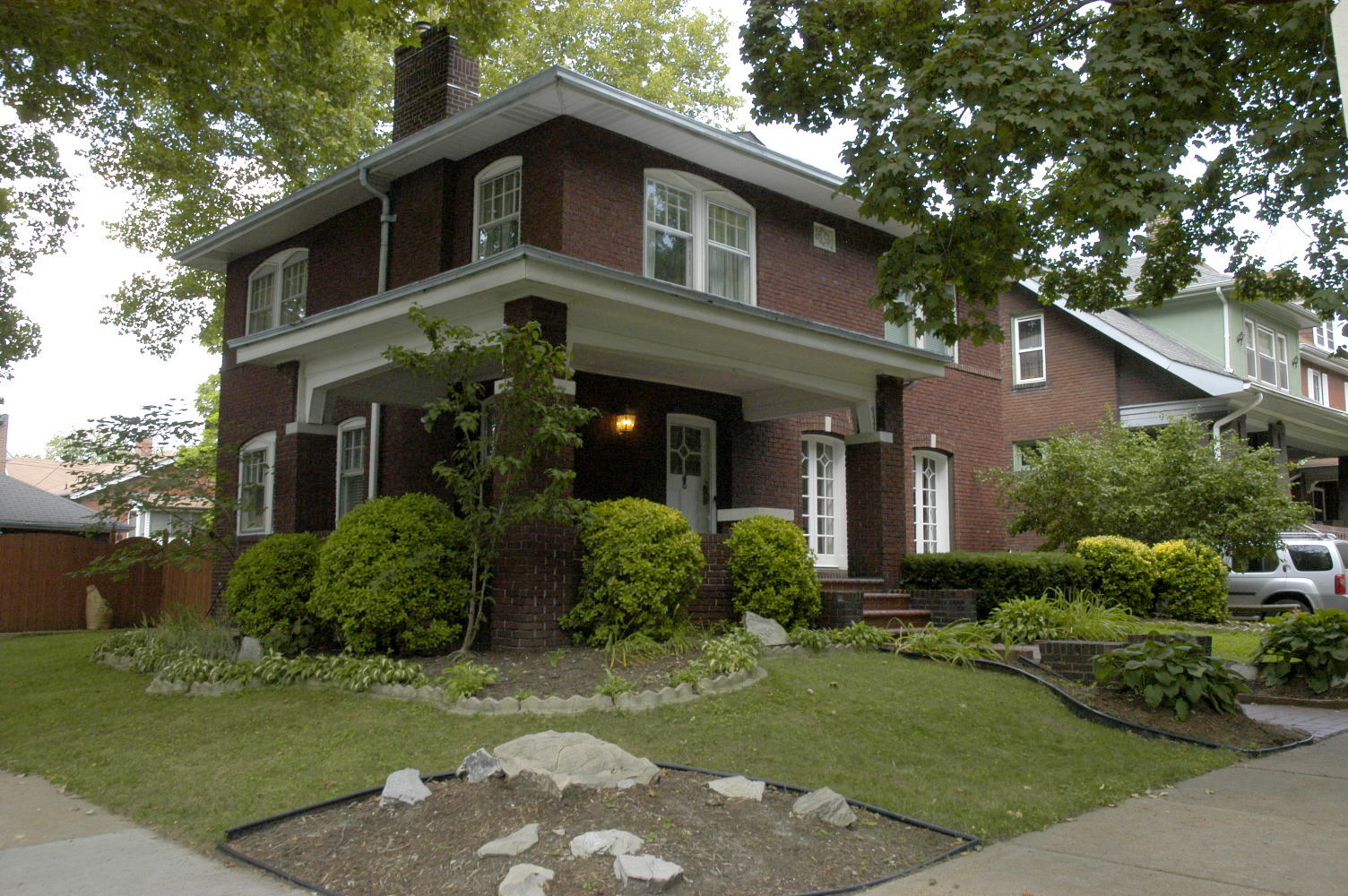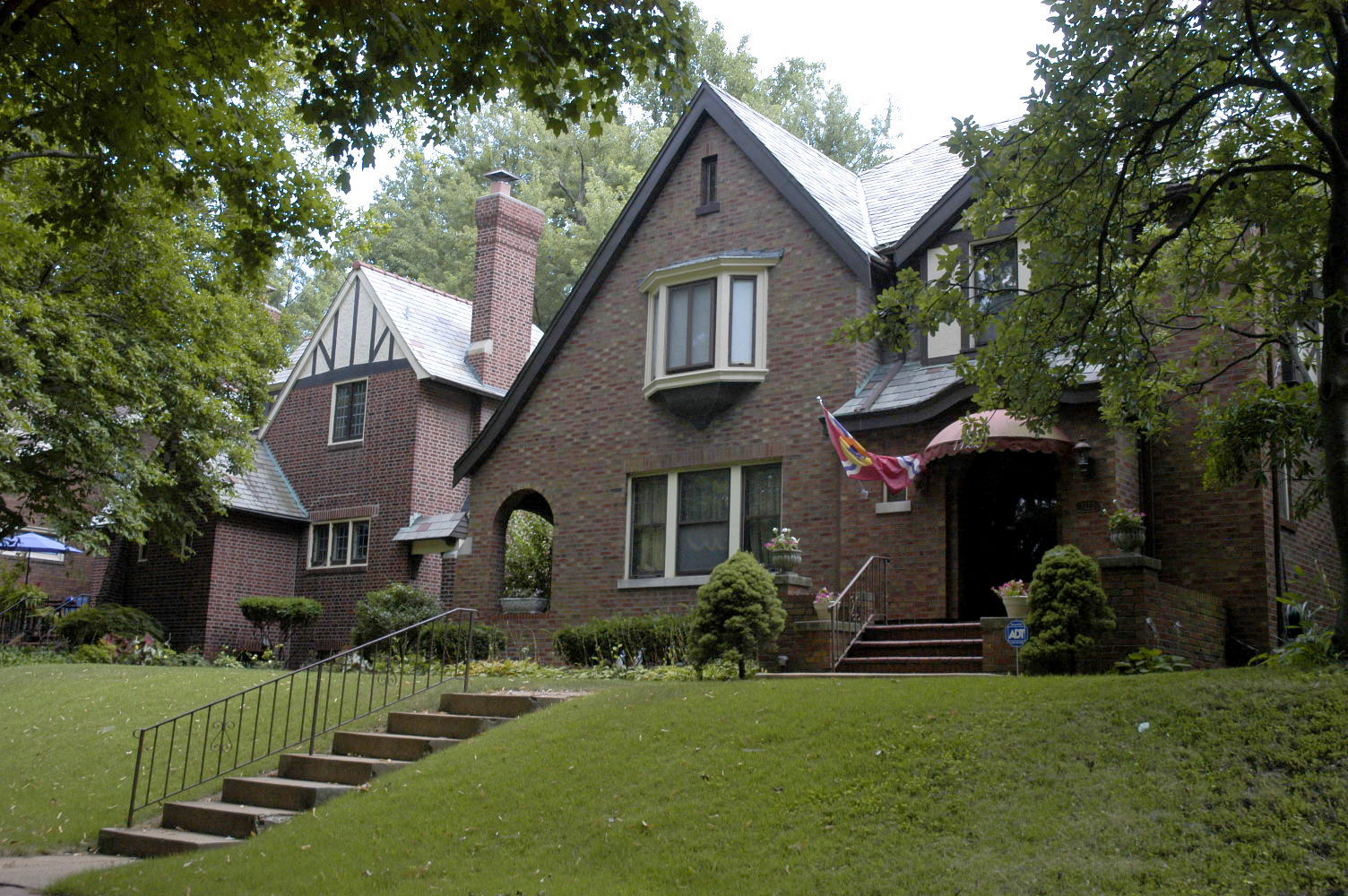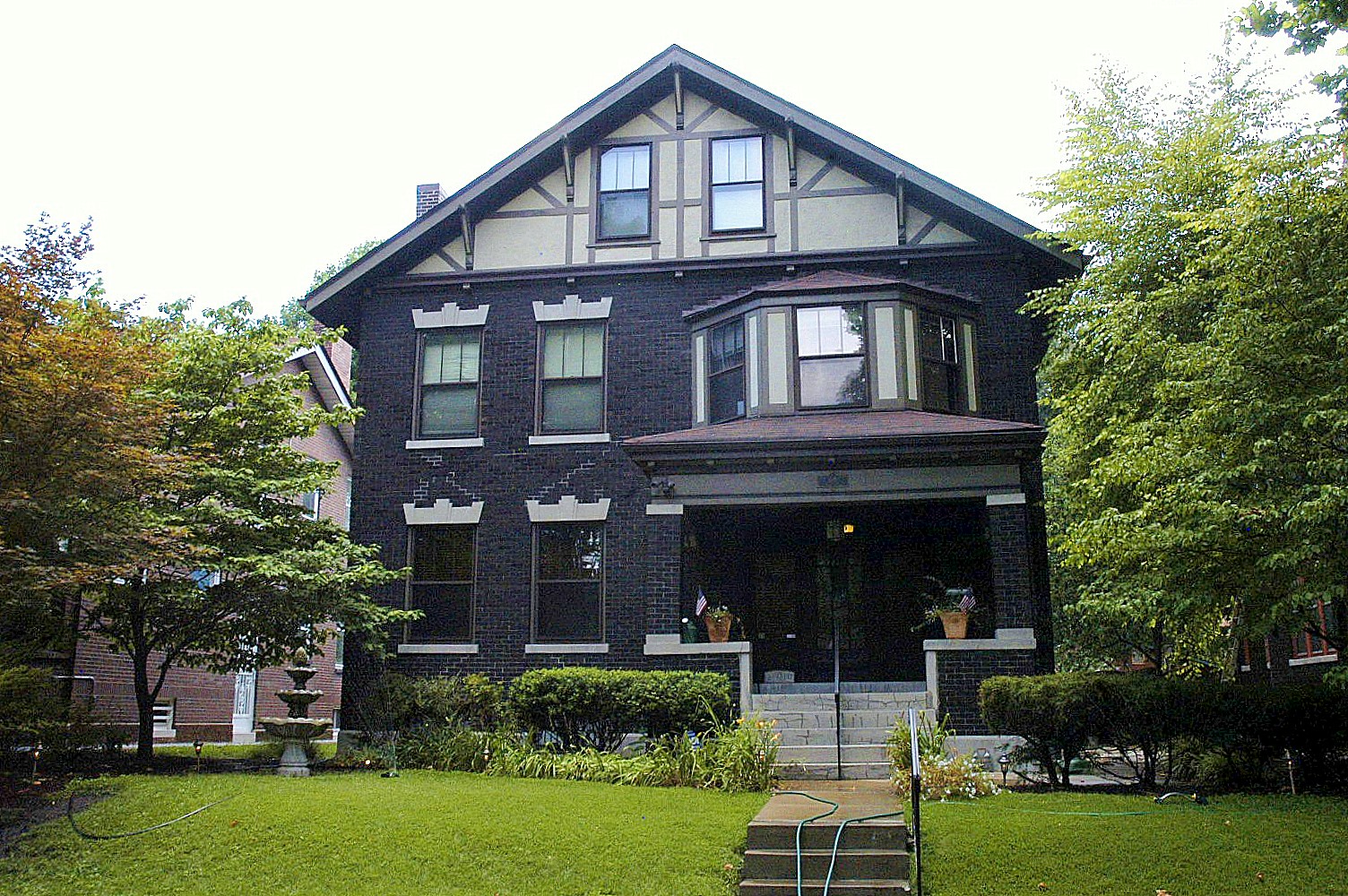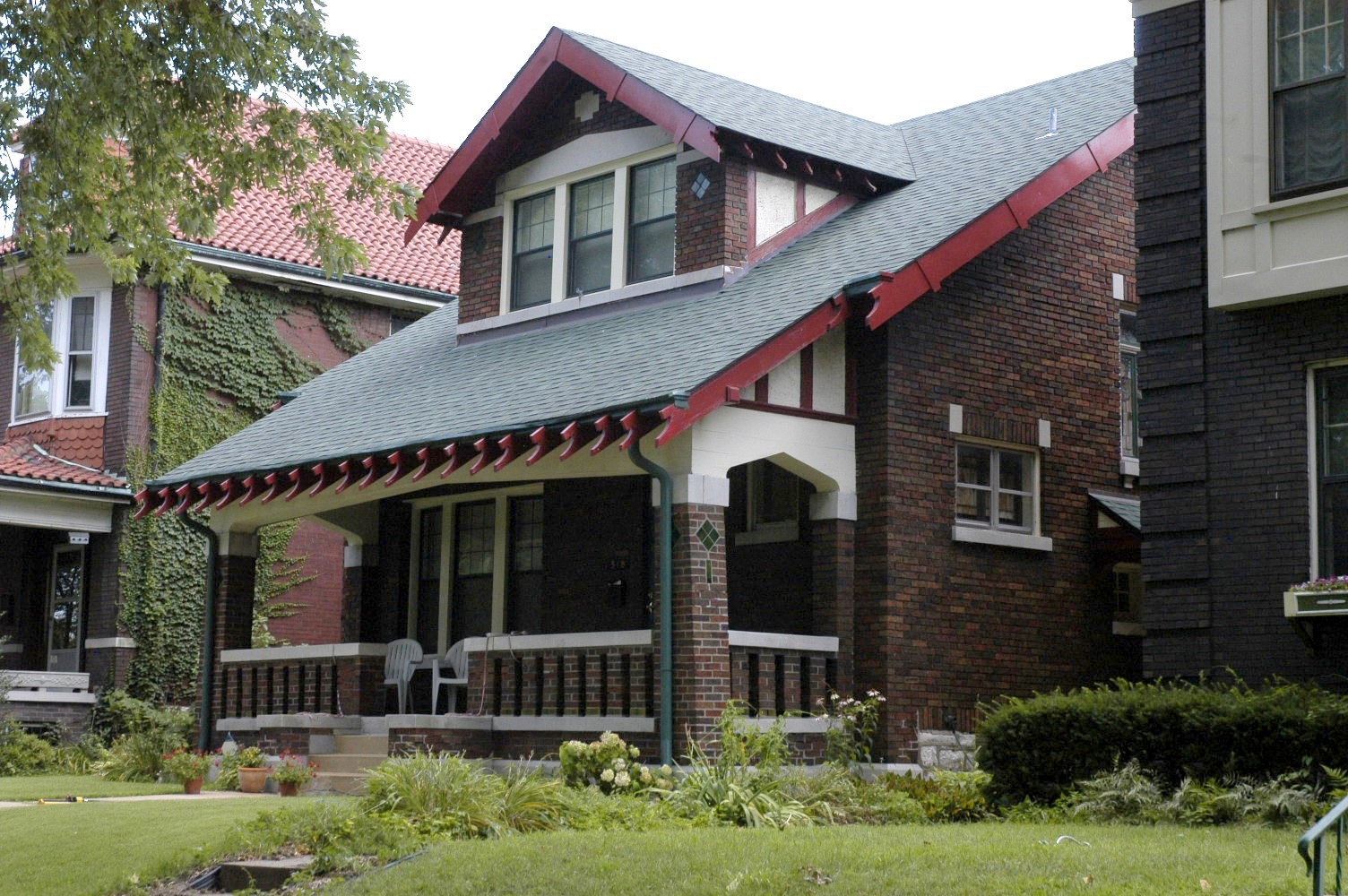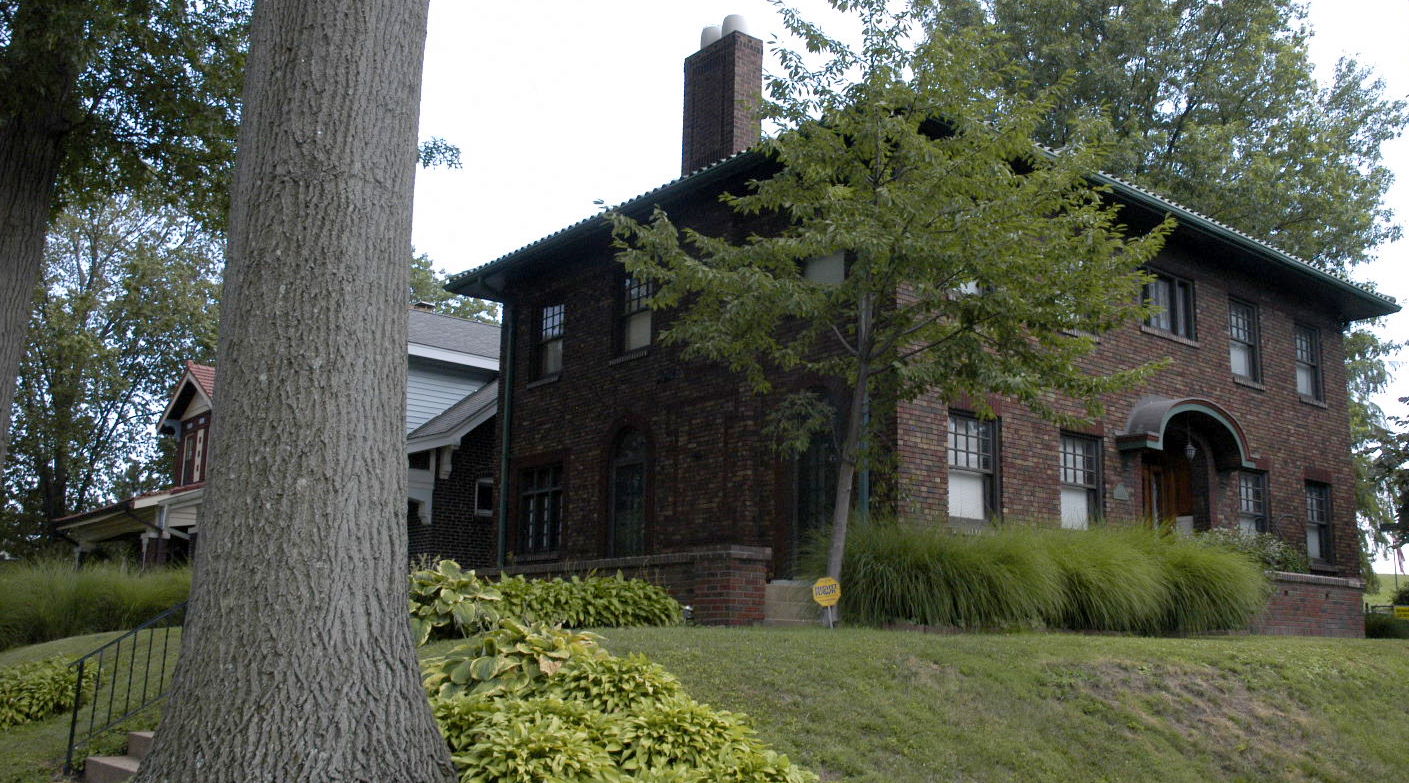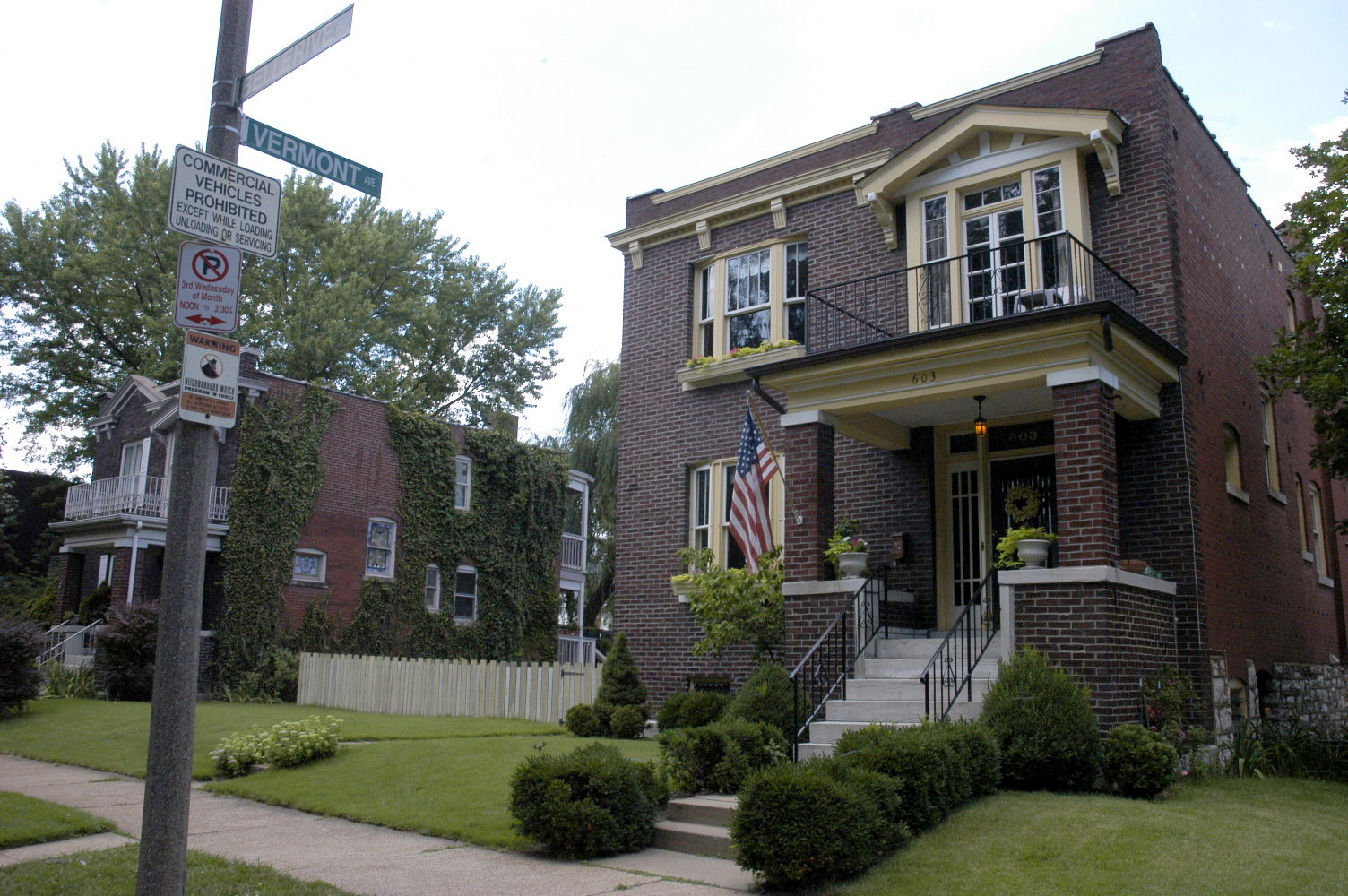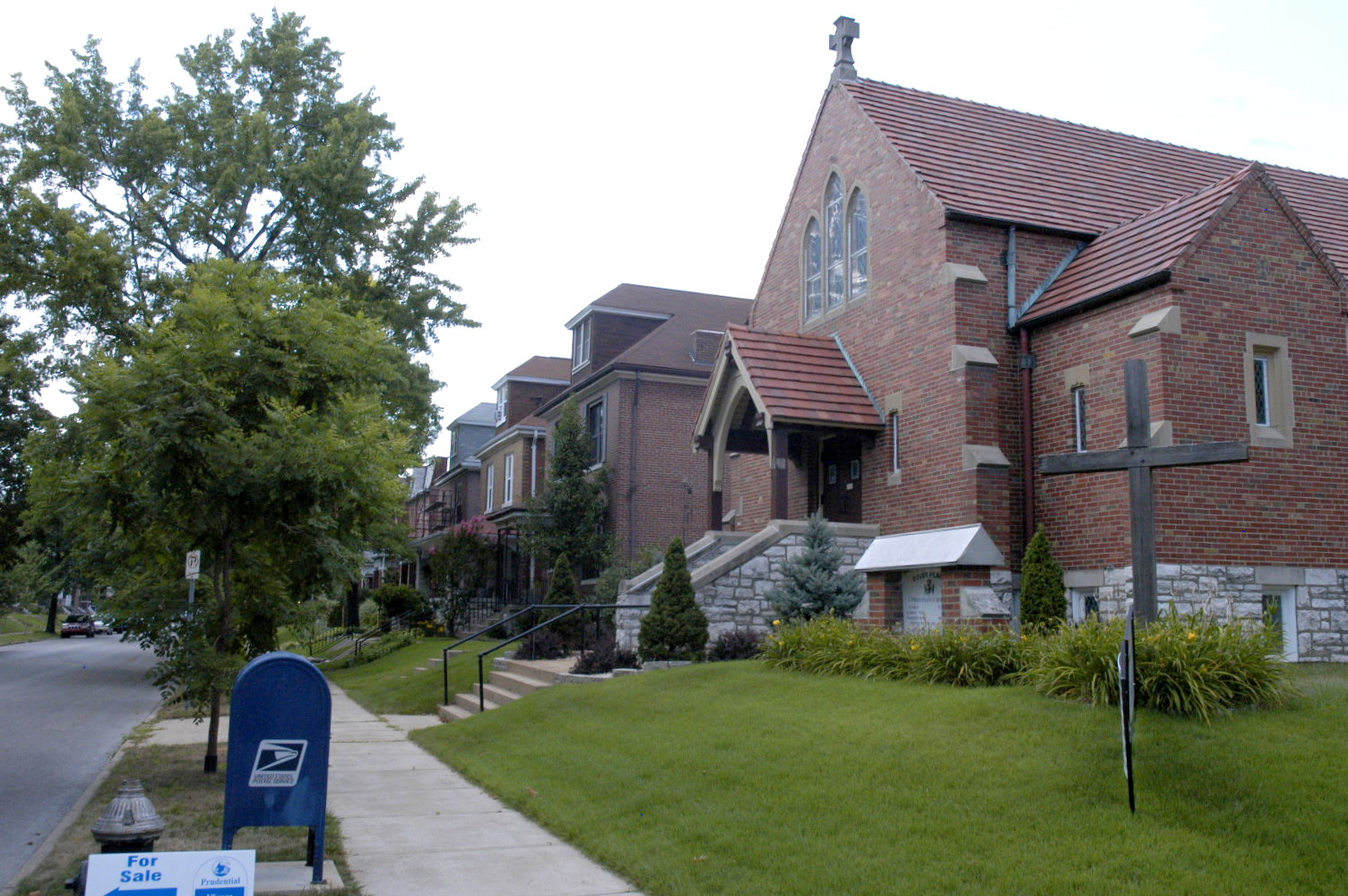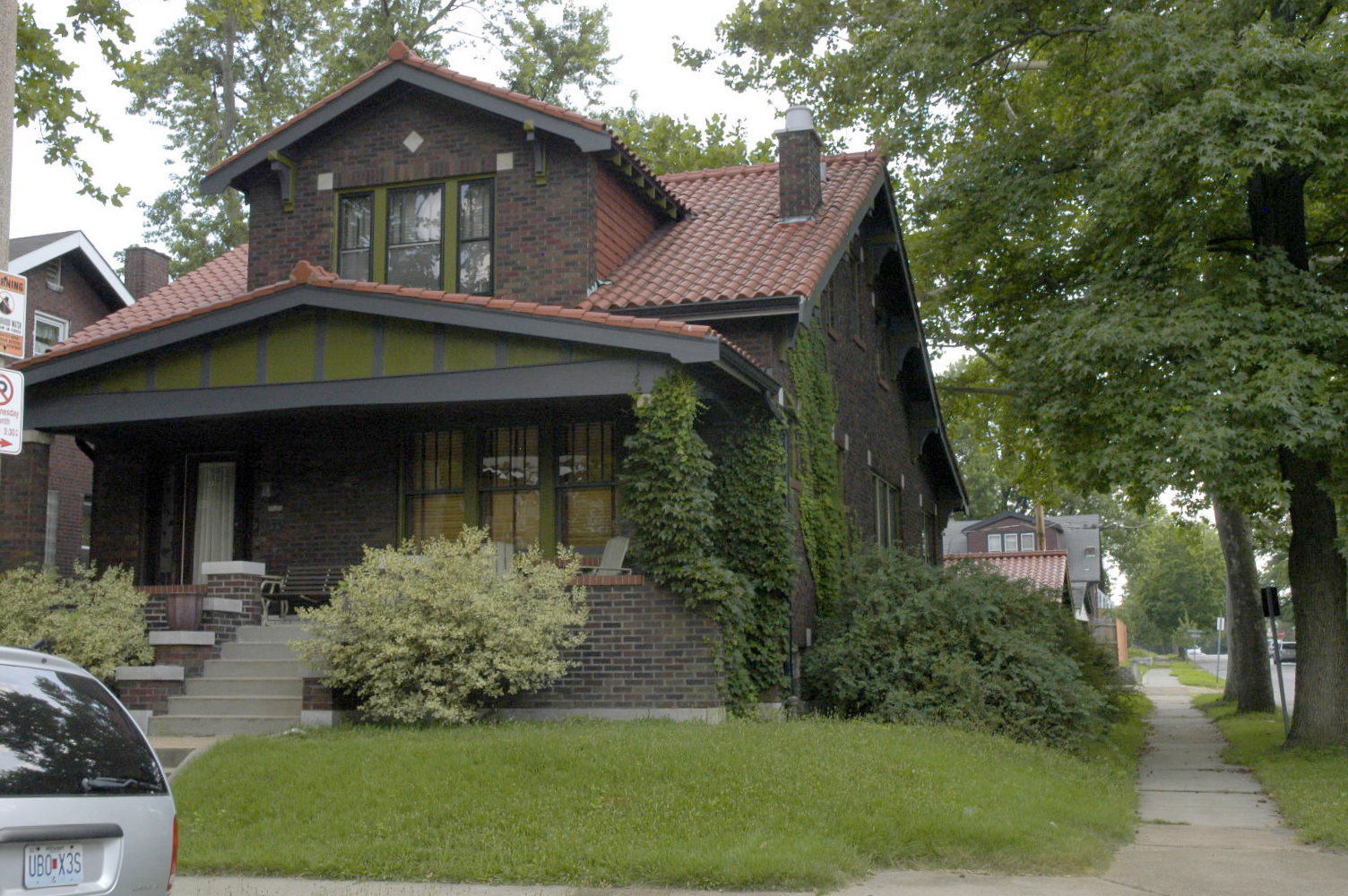 There is plenty of business occupying the handsome storefront along Grand in this part of the neighborhood.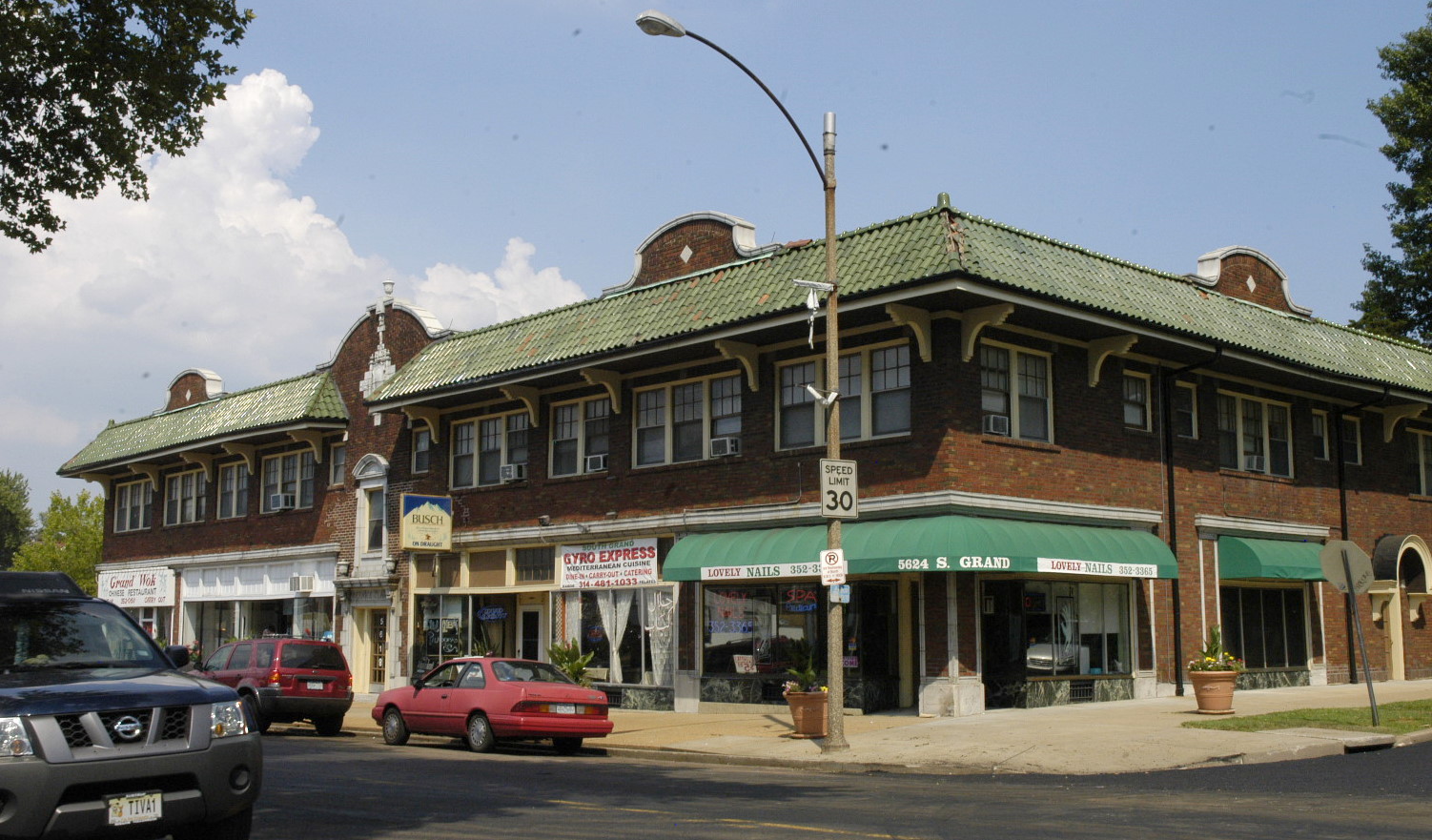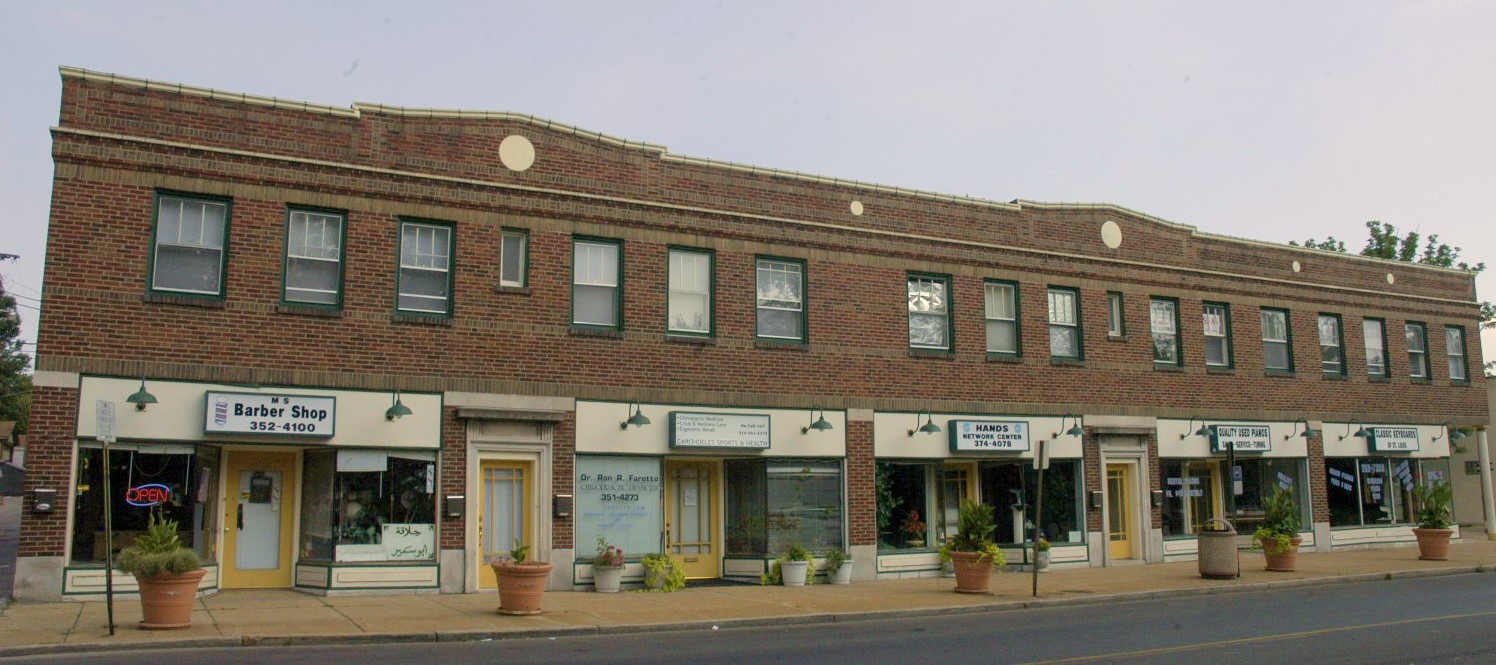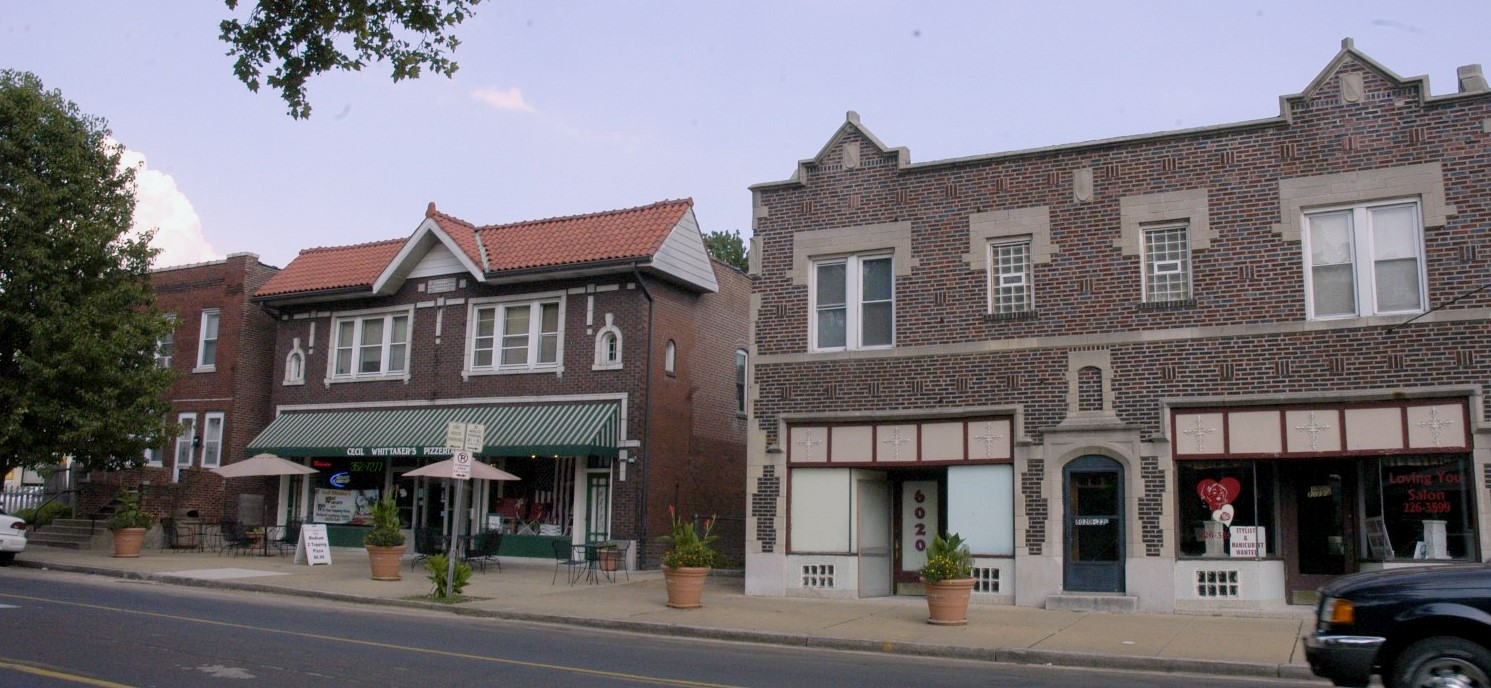 There are also some major opportunities for improvement including the awesome former Southern Funeral Home which is for sale (the latest rumor is that it will be demolished for a Walgreen's):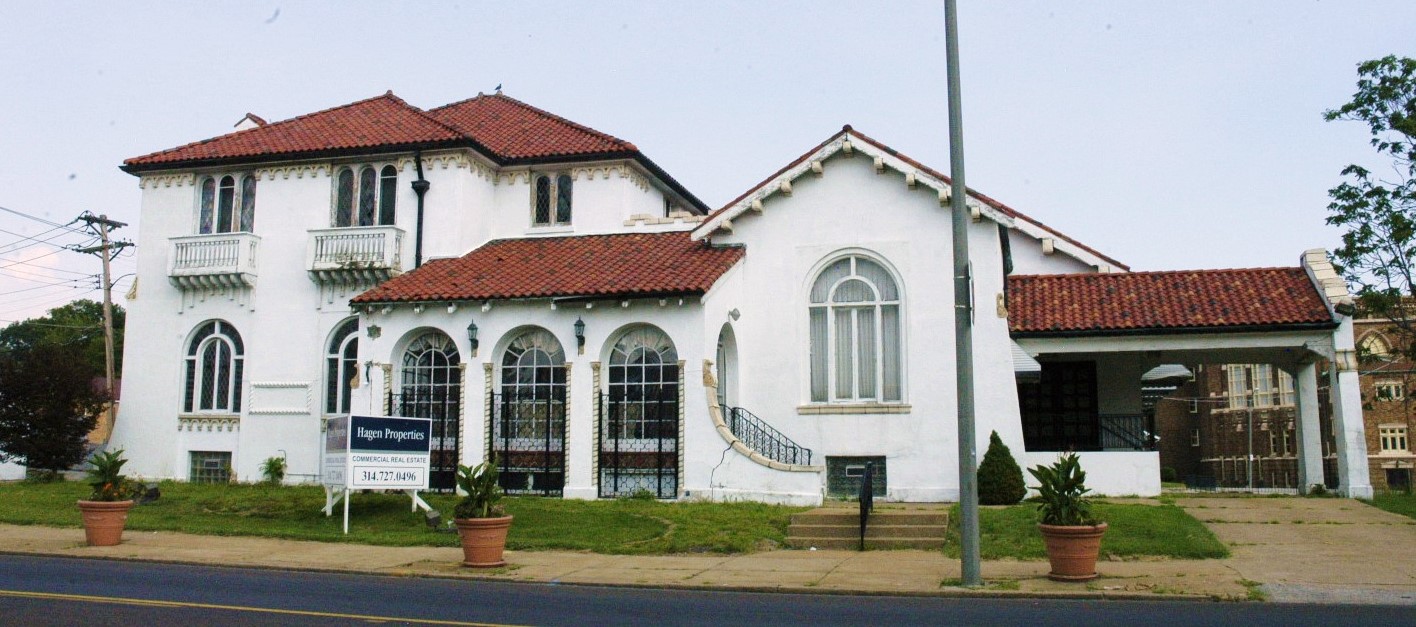 And the cool corner building at the high profile end of Grand at Carondelet Park, which I've always called the Shoppers Cleaners building. This is a place that has attracted a bunch of dubious behavior and is a bone of contention for many in the Holly Hills area. If they could get some decent tenants in here, it could be a real boost for this section of Grand.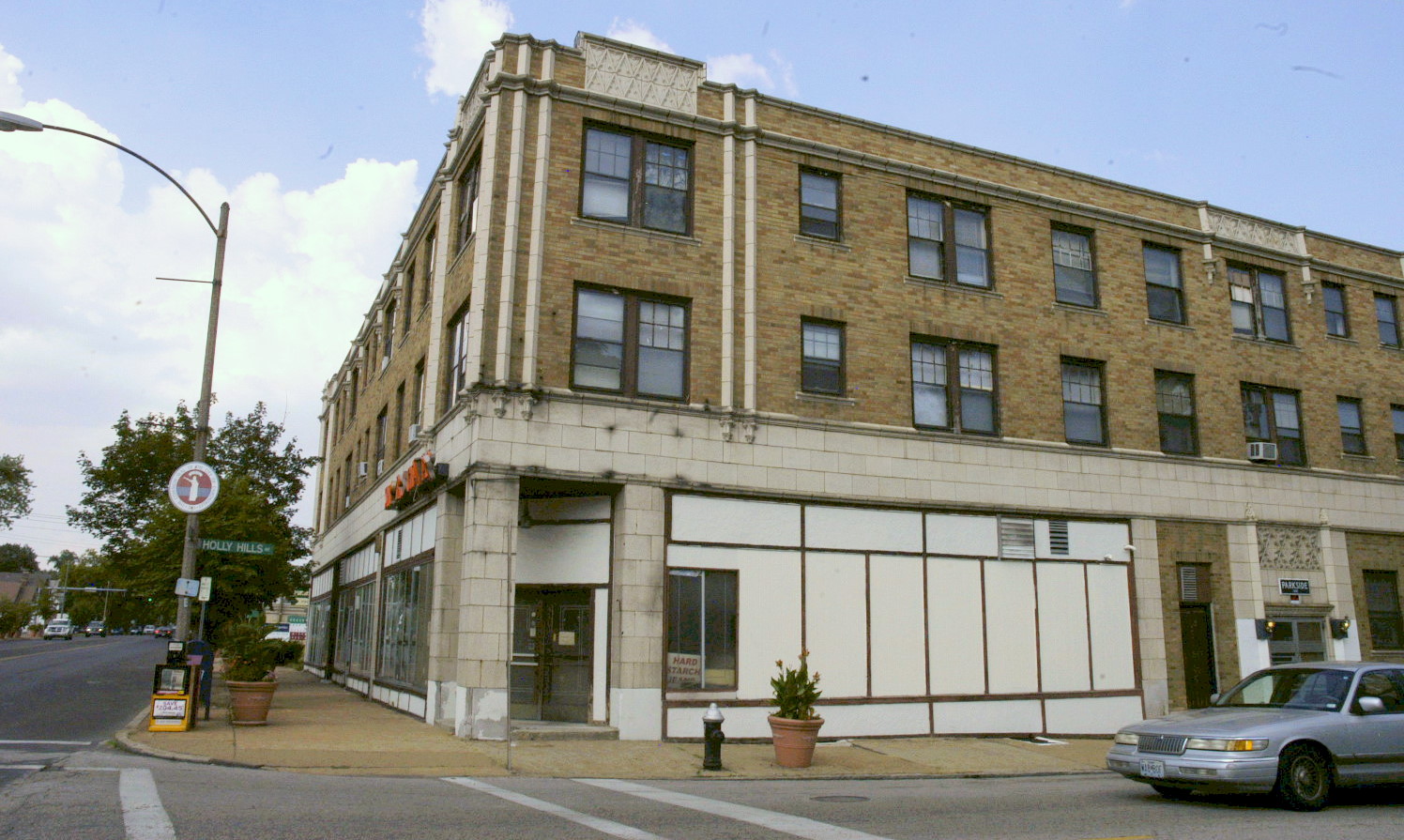 The section of homes north of Bates and west of I-55 right around St. Cecilla's Catholic Church/School are unique for one main reason. There is the largest concentration of white glazed bricks on the lower fronts of homes and apartments than any other place in St. Louis I've seen. It really stands out and you gotta wonder if the white brick salesman made out like the music man and had the sales pitch of a lifetime. Check it out: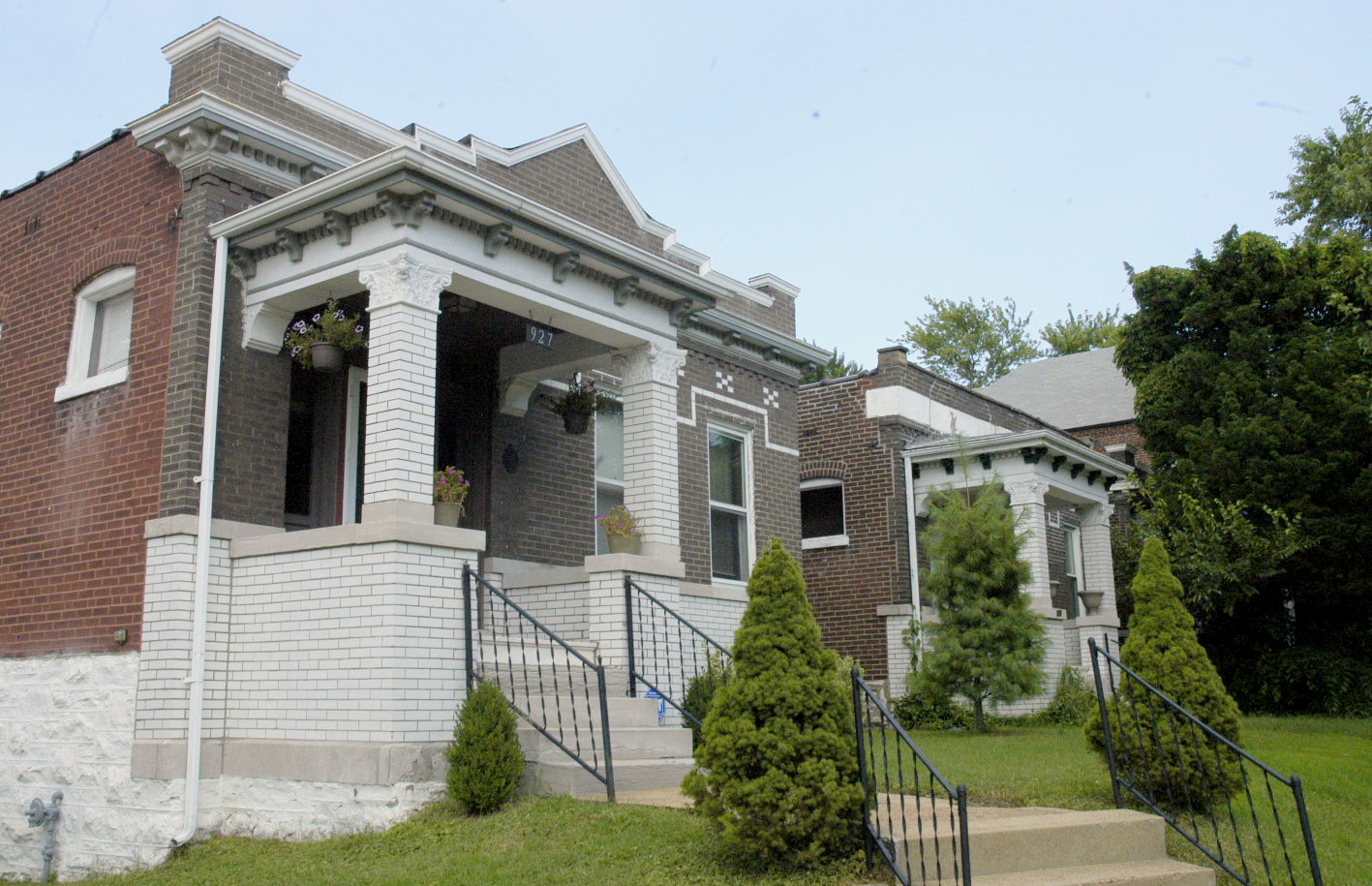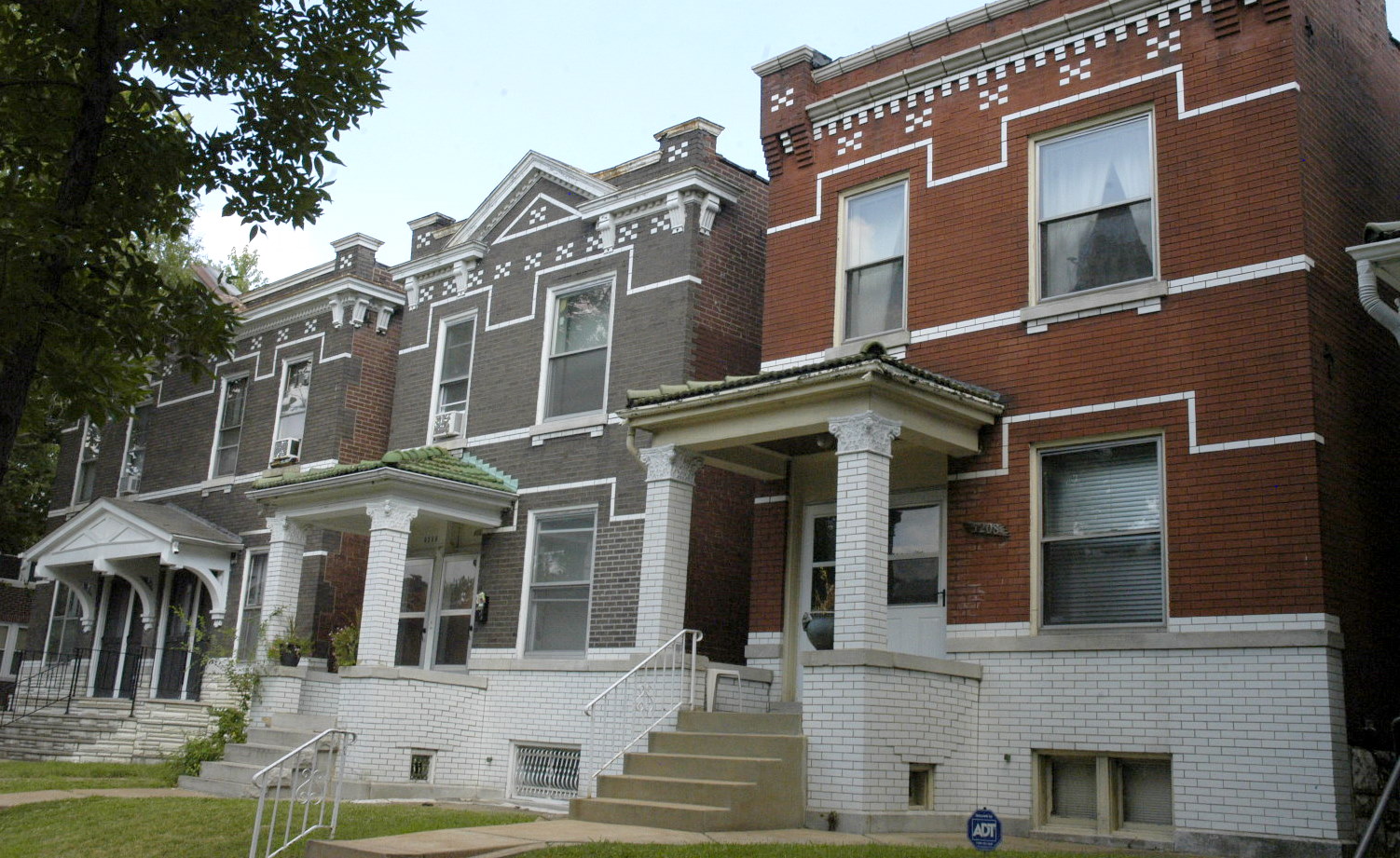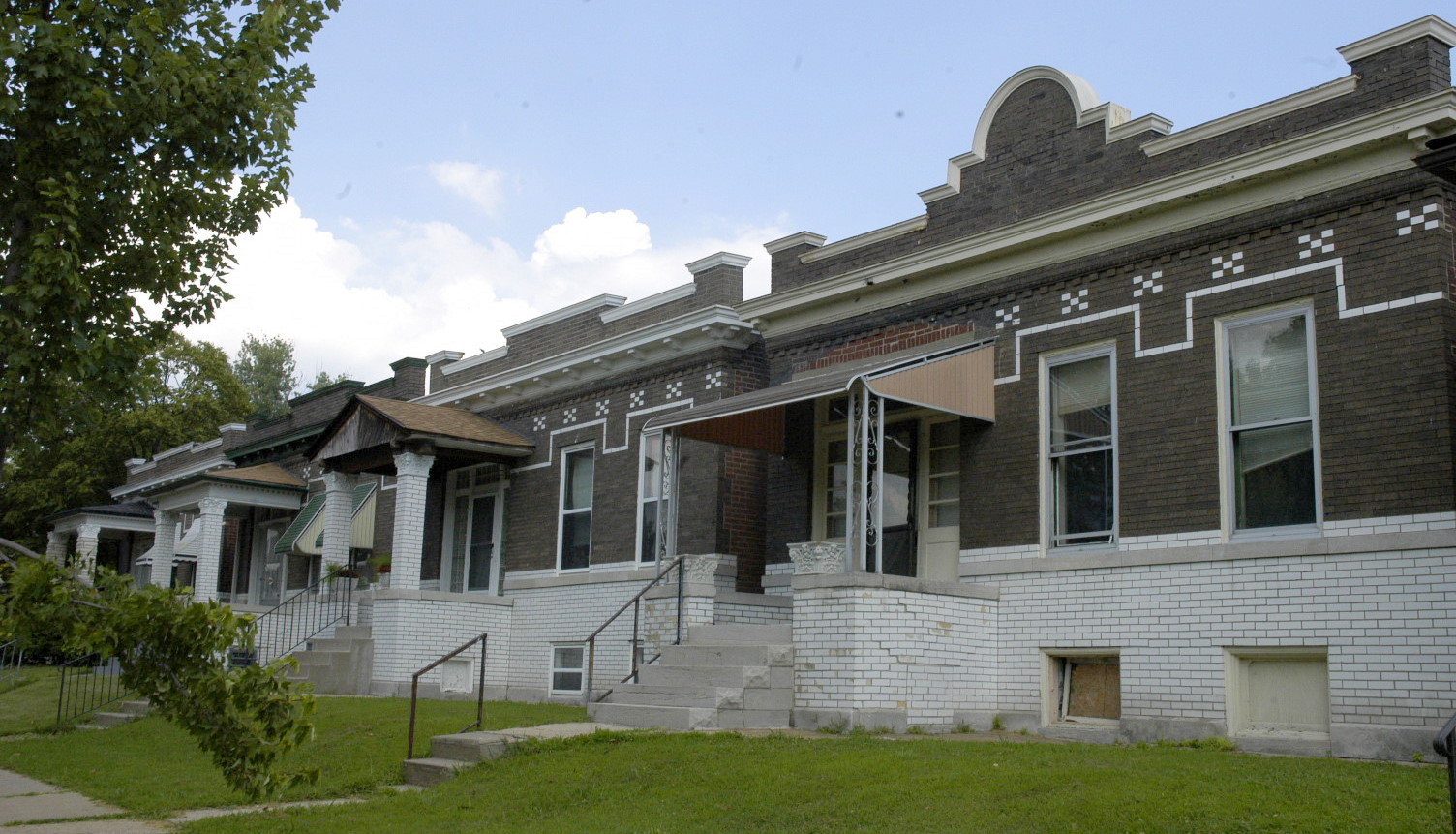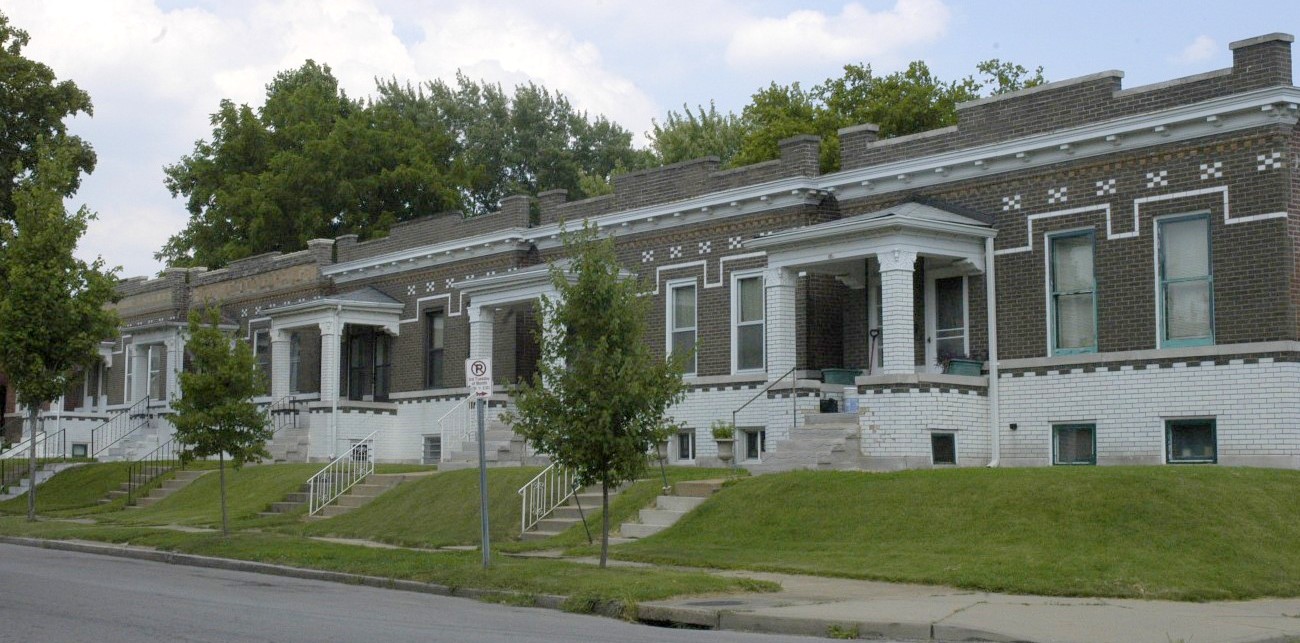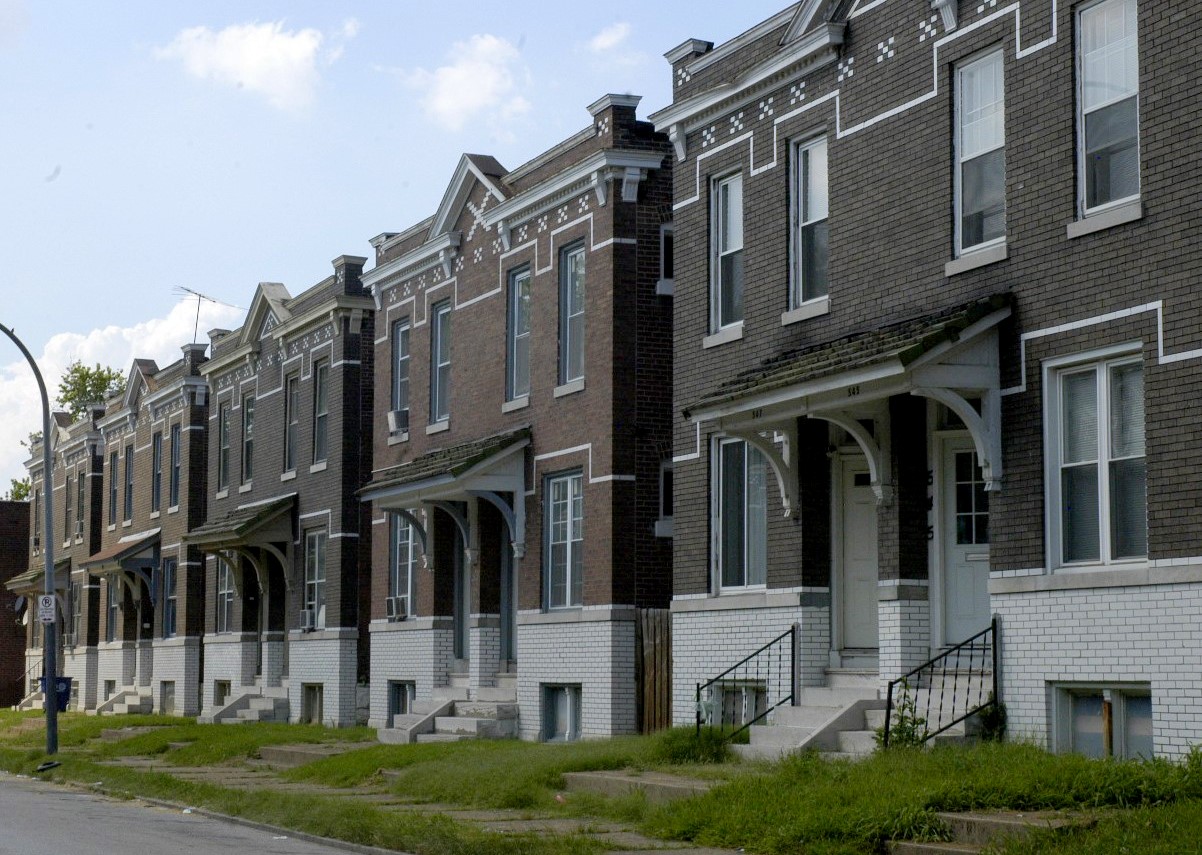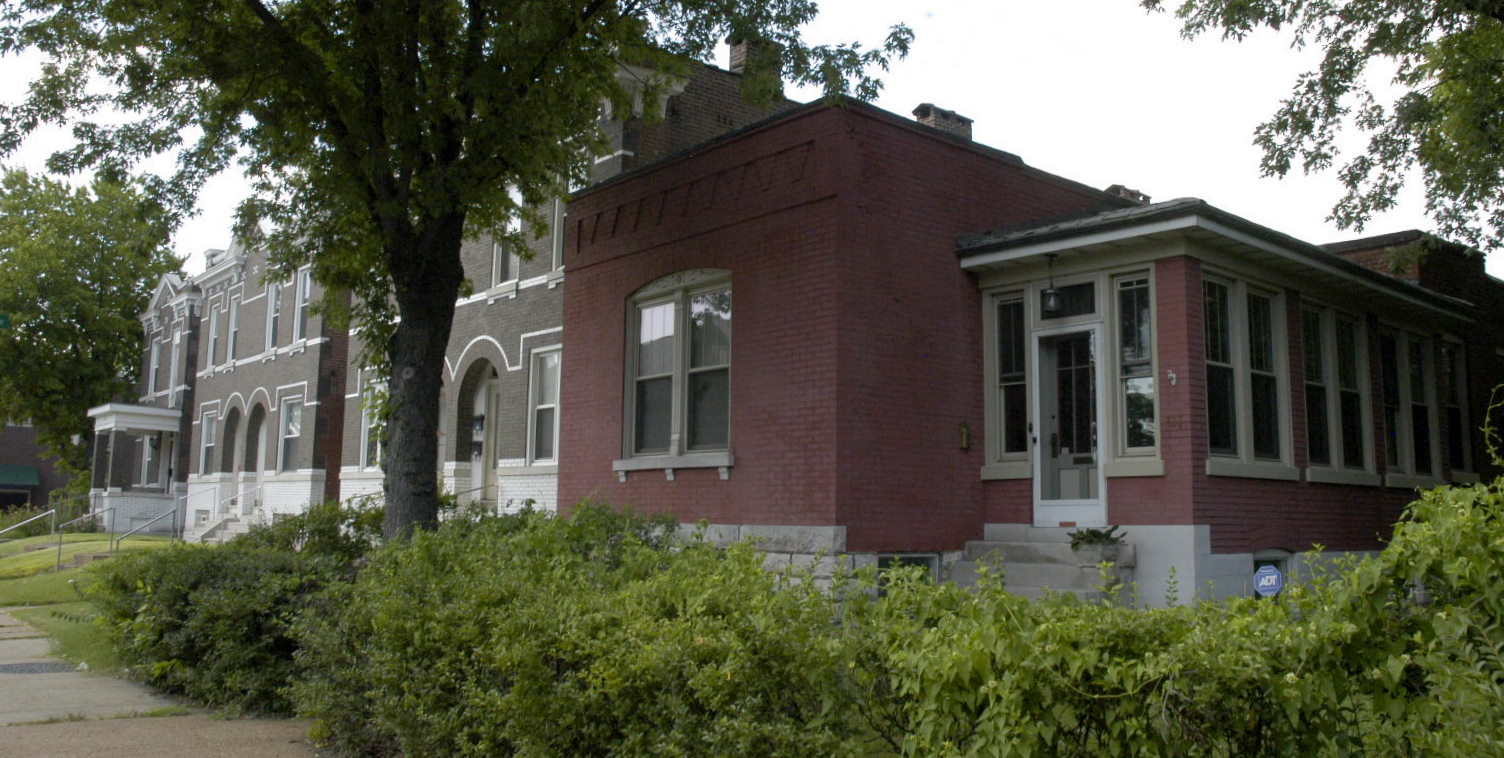 I've got to spread some love for St. Cecilia's while I'm on Carondelet. If you've never been to their lenten Friday fish fry, you've gotta go. This is one of St. Louis' larger concentrations of Mexican-Americans and they have a Spanish Mass and the south of the border treats served during lent are awesome. It's a great vibe with homemade tamales, cold cerveza and other Mexican treats including Latin dancers and music. It's a feel good scene. And if you get a chance to see the Gothic interior of the church, you won't be disappointed. It's a mosaic covered masterpiece…it made such an impression on me that we decided to get married here. The church has a beautiful Romanesque exterior with twin steeples.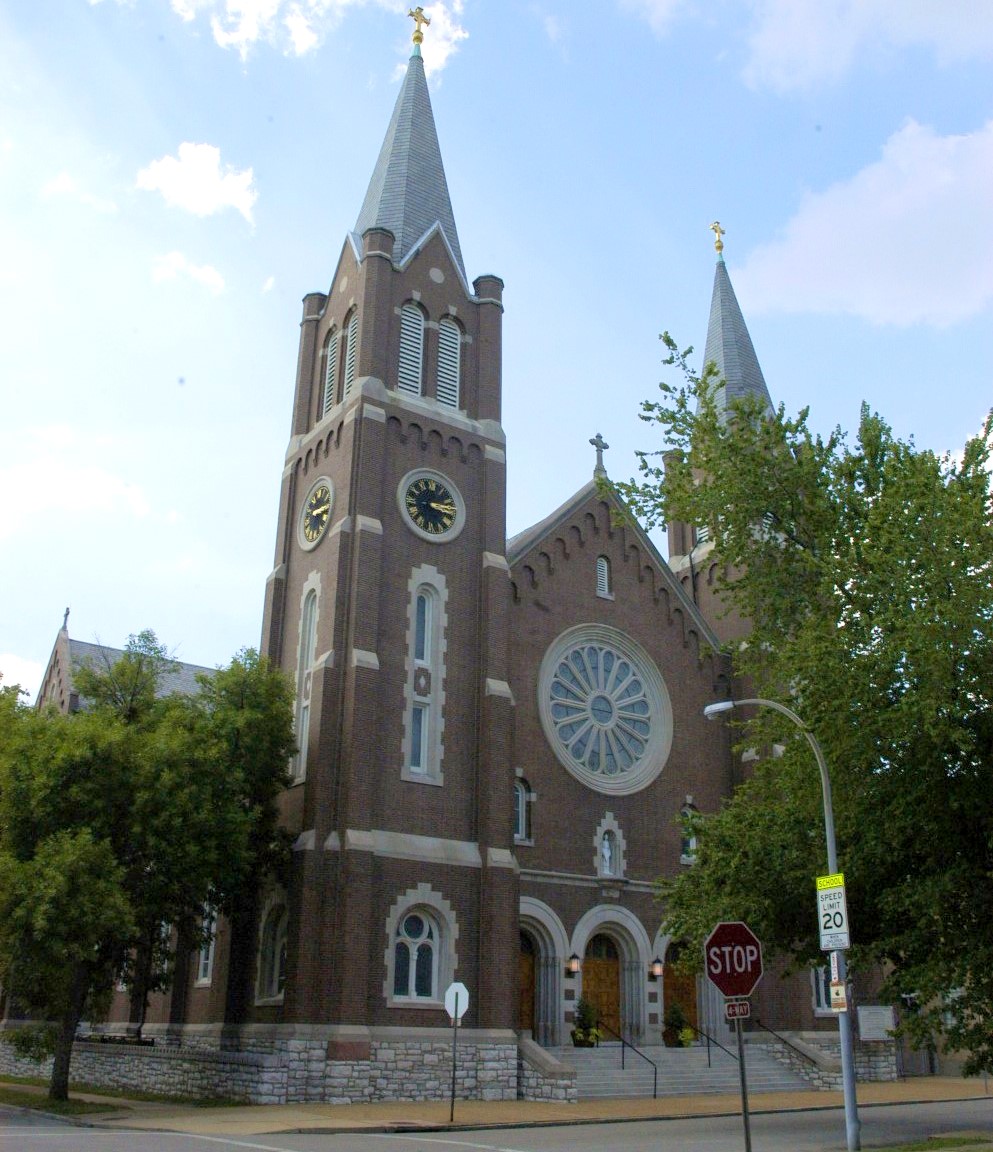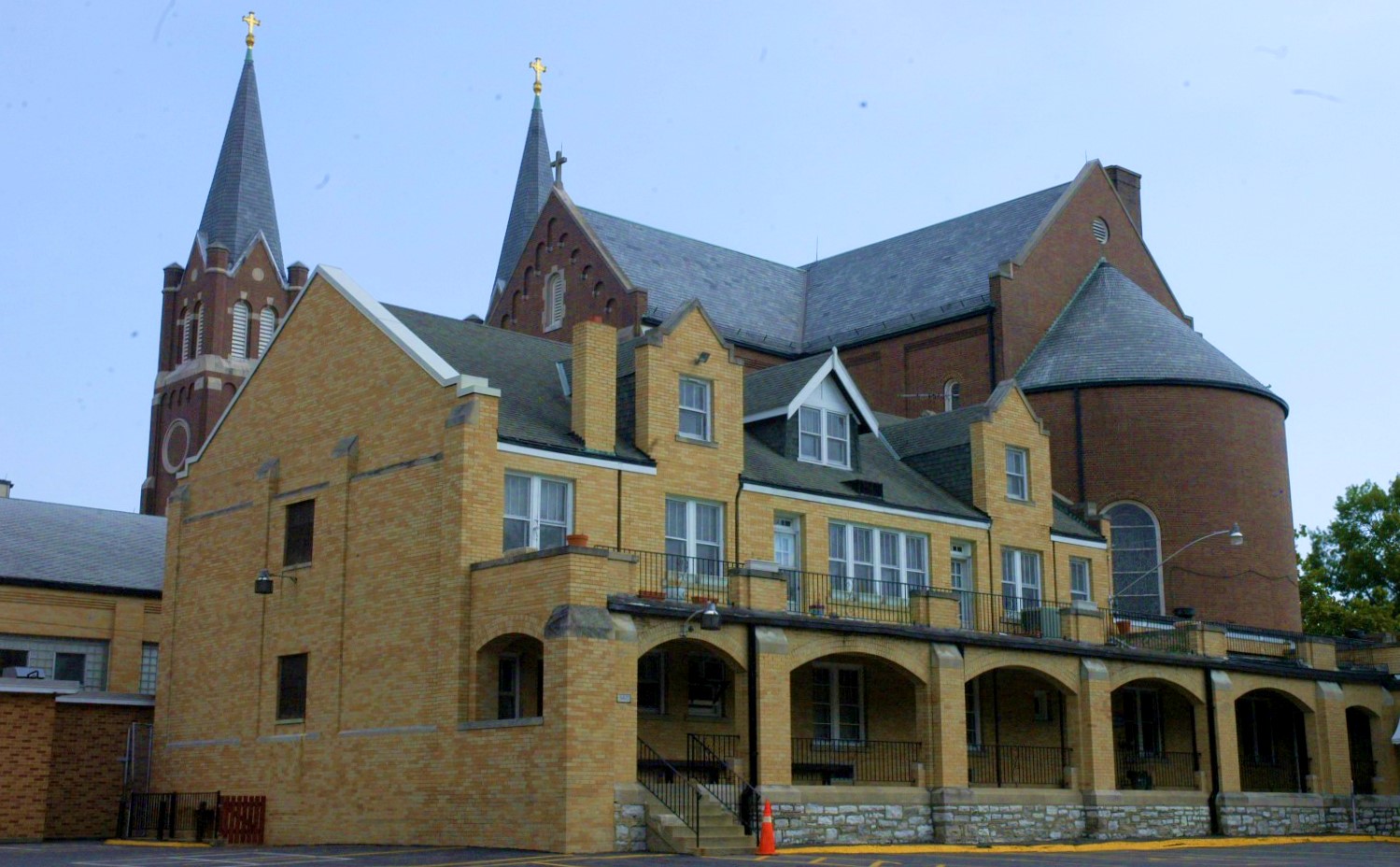 Yeah, there are some not so nice places and some trashy joints and yards for sure. There are some more contemporary suburban styled homes that don't really attempt to blend in.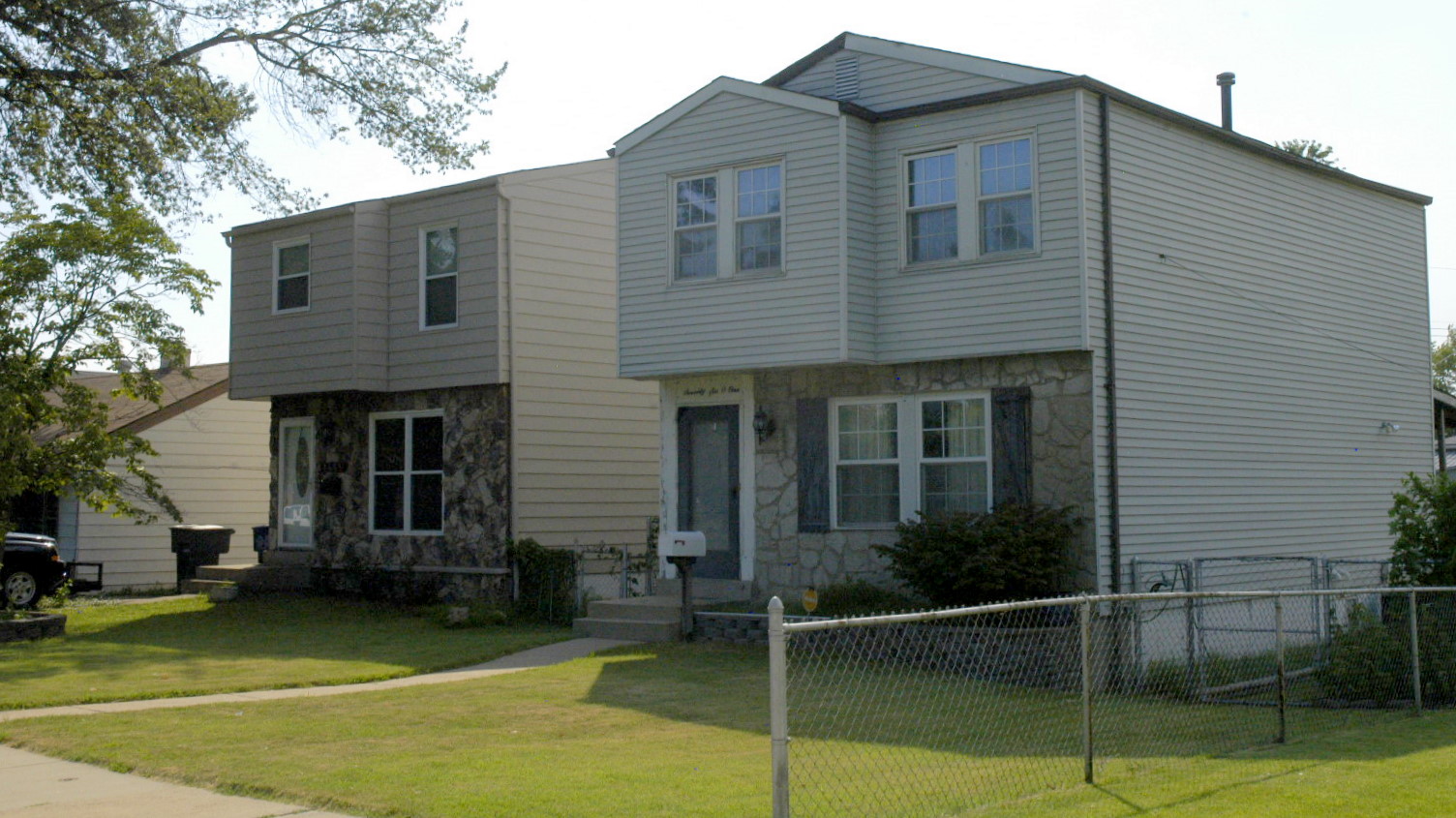 But there are also some more intriguing new homes that help add density to this fine South City neighborhood: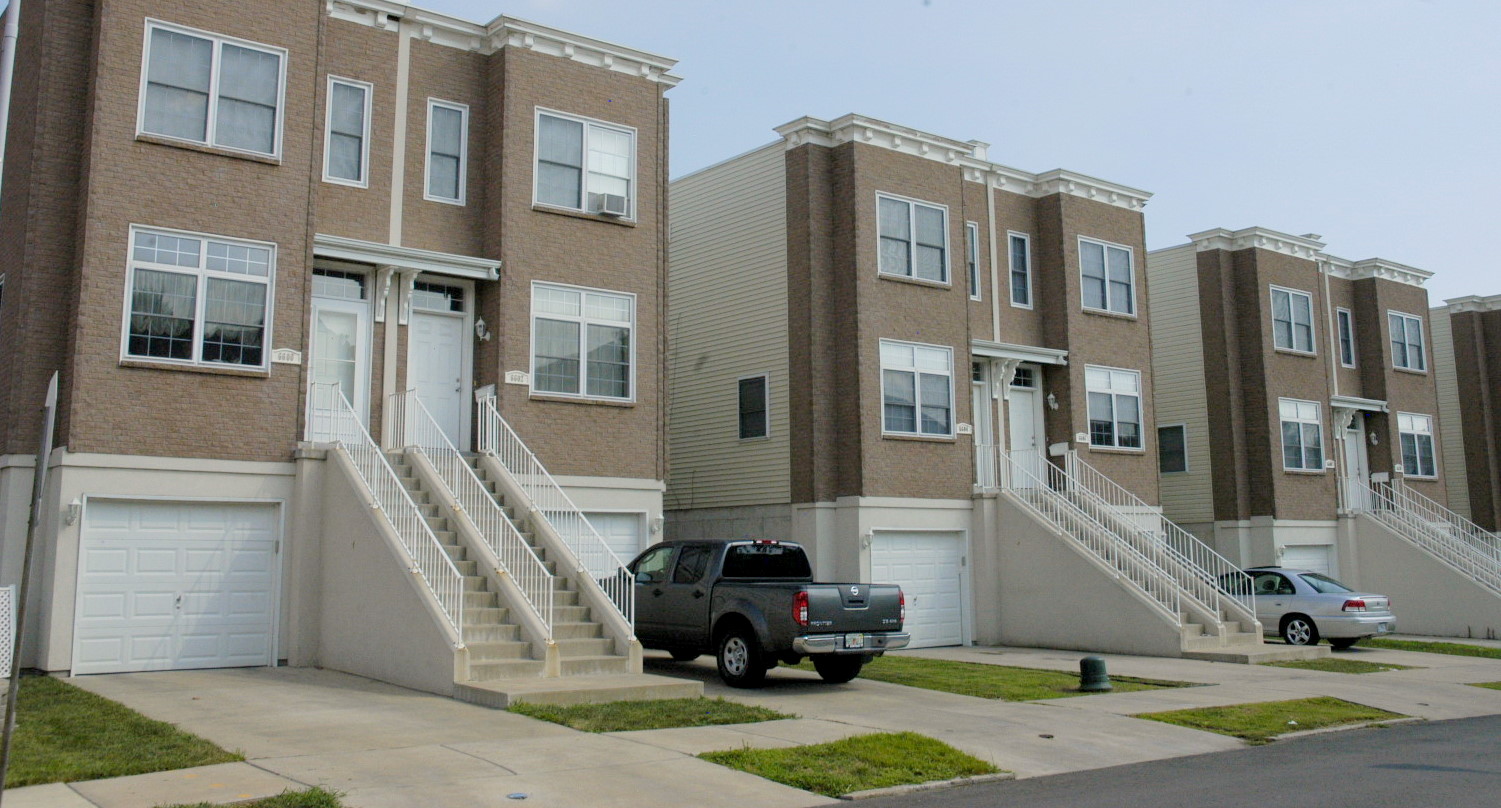 Now I typically leave the personal stories out of these posts, but I'm going to include one simply because I love this next home and the info I got off the street. I feel it deserves a proper tribute.
First of all, I damn near crashed my scooter into a car on my approach as I gazed at this one-of-a-kind home. I just stopped and wondered how this came to be. Is that a MCM addition on a 1930's St. Louis gingerbread? No, is that 1950's era new construction? Hmmm. I was parked on the sidewalk trying to photograph this place when a kind neighbor waved me over to give me the history of the block. People in this town love talking about their neighborhoods. I have some awesome stories of prideful and amazing people from Lewis Place to the Patch who have entertained and enlightened me with their oral history lessons of this town. I'm grateful for the chance to hear their stories and usually I respectfully leave them out as its sometimes quite personal. But this story really intrigued me so bear with me on this long winded background. The home was intended to be a 2-story dream home of a rather wealthy son of a man who owned a successful cleaning company in St. Louis and lived 2 doors west of this property. This son and his new young bride had dreams of making this a unique home that would display their wealth and sense of style. Sadly, the young couple who were aviation hobbiests, crashed their small airplane in the Florida Everglades and were killed. The home was never finished to it's intended glory, but boy does it stand out. In all my travels, I've never seen one like this. It get's better though. Whenever the husband would return from his long day of work, his bride would could be seen looking out the window and pointing to the clock as to indicate that he's late (or on time, I don't specifically remember which). It was her ritual to greet her hubby. Neighbors and other owners of the home have claimed to have seen her image pointing toward the location where the clock was once hung. The place is haunted and her spirit is told to have lived on in the place of their dreams. I am a sucker for stories like this and I was glad my acquaintance across the street relayed the story amid the 101 degree heat of a sweltering South City day in July.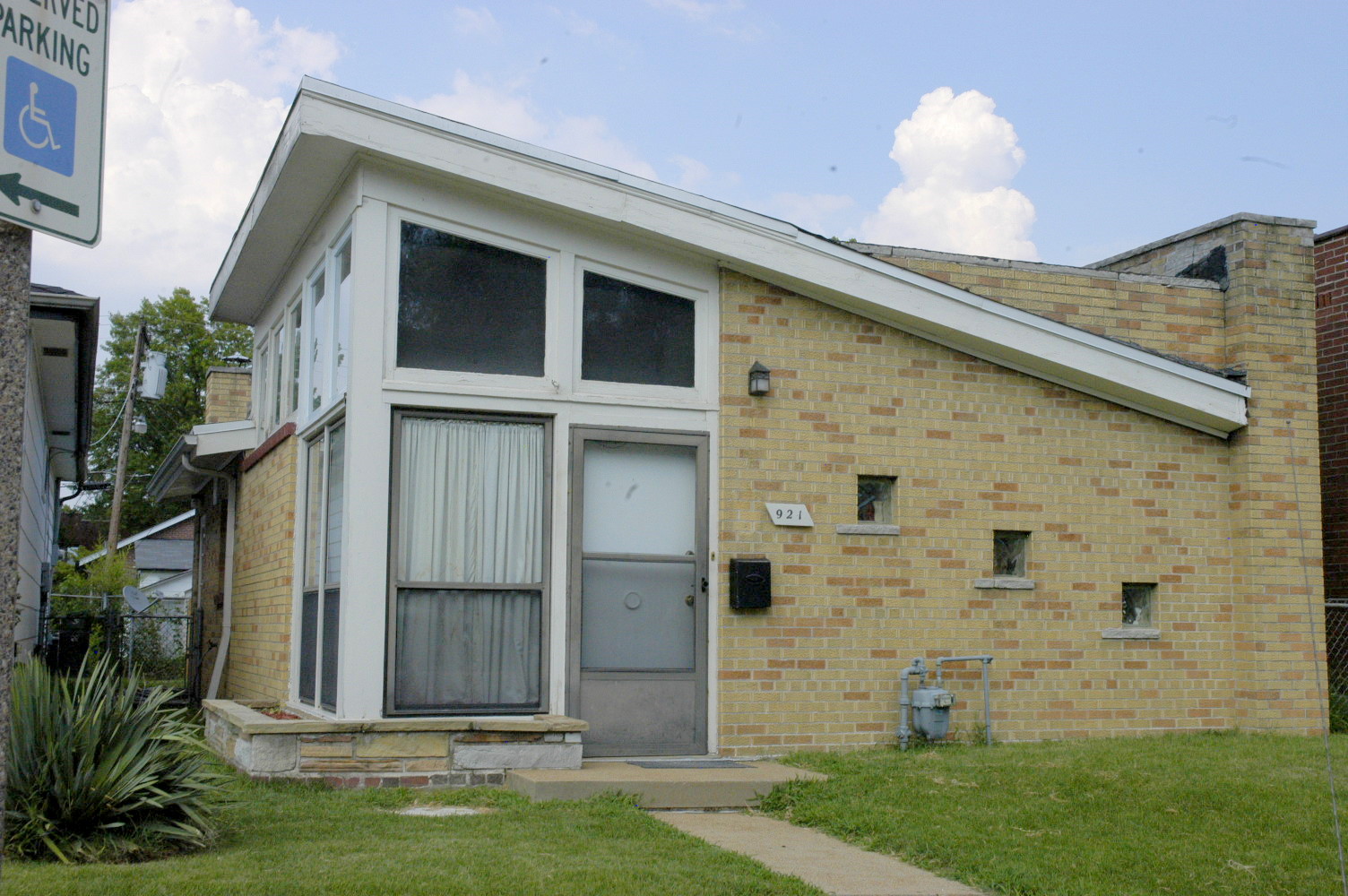 Should the owner of this fine home ever come across this story, please email me, I'd love to get a tour of this one.
Carondelet is a great neighborhood adding to St. Louis' history and story.