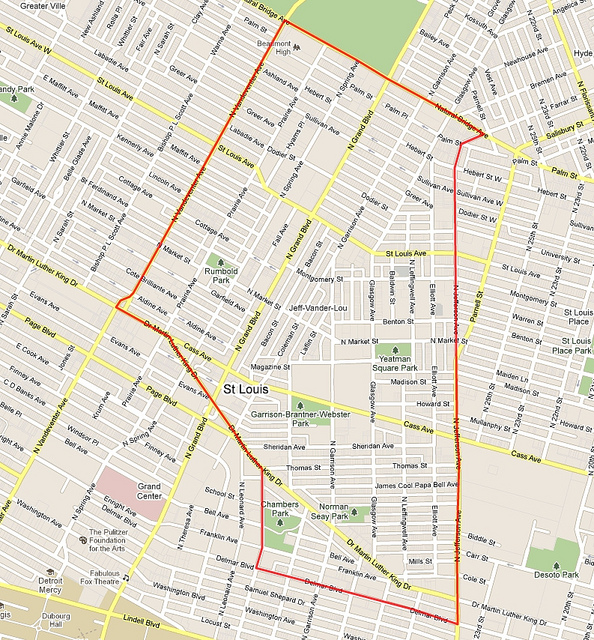 JeffVanderLou (JVL) is a north St. Louis neighborhood bound by Vandeventer Avenue on the north west, Natural Bridge Avenue on the north east, Jefferson Avenue on the east and Dr. Martin Luther King Drive to Delmar Boulevard on the south. I must admit I made a slight error on the map above and had Delmar as the full southern boundary, not MLK. Some of the stuff you'll see here are actually in Covenant Blu/Grand Center.
Anyhow, the obvious guess is that JeffVanderLou takes its name from Jefferson and Vandeventer which serve as east/west boundaries, but where does the "Lou" come from? Sure St. Louis Avenue runs through the neighborhood, but Natural Bridge is the northern boundary and Delmar the southernmost boundary. Maybe we should change the name to a more contemporary and accurate moniker such as Natty Del Vandy Jeff…just kidding…I think JeffVanderLou is cool sounding and next to Patch, is my favorite St. Louis neighborhood name.
An acquaintance alerted me to keep my eye out for some of the coolest street names in the entire city right in JVL. It's true there are some gems, and I feel I've gotta give a tribute to some of my favorites:
COZENS AVENUE (E-W). Commemorates a surveyor for the city of St. Louis, William H. Cozens. Born in St. Louis, Cozens apprenticed with Rene Paul, the first surveyor to be hired by the local government after St.Louis was incorporated. Cozens surveyed many real estate developments in St. Louis from the late 1840s through the mid 1860s. (Grand Prairie) (Old North St. Louis-Yeatman)
COTE BRILLIANTE AVENUE (E-W). Meaning "bright hill" or "shining hill" in French, the name described an Indian mound near Easton Avenue and Kingshighway Boulevard. The same name was given to the nearby Cote Brilliante subdivision by its developers, brewer and savings and loan institutional head Felix Coste and attorney Charles Gibson. Cote Brilliante Avenue was a street within this fashionable development. (Arlington) (Grand Prairie)
BACON STREET (N-S). Banker Daniel D. Page honored his associate, Henry D. Bacon, when he laid out the Second Western Addition of 1855, Page was a promoter of the Ohio & Mississippi Railroad. (Old North St. Louis-Yeatman)
I prefer the more delicious reference…mmm. Bacon makes everything better, even Cass Avenue.
MAGAZINE STREET (E-W). Located in William Glasgow Jr's Addition of 1853, it gained its name because of its location near a "magazine," a storage facility of a nearby gun powder works. (Old North St. Louis-Yeatman)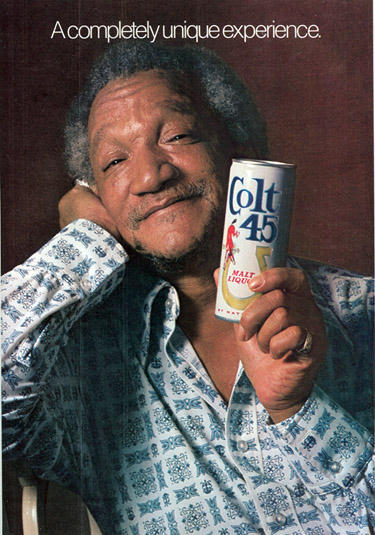 REDD FOXX LANE (N-S). When Spring Avenue was realigned for construction of the Cochran Veterans Hospital, a small remainder of the street was named West Spring Avenue. In 1973 it was renamed in honor of black comedian Redd Foxx (originally John Sandford), a native St. Louisan. (Grand Prairie)
This man's voice is etched into my brain as is the depressing lighting and sets of Sanford and Son…a 1970's love/hate thing with me.
JAMES COOL PAPA BELL AVENUE (E-W). A portion of former Dickson Street between Jefferson Avenue and Webster Street, it is named for the home run king of the old black baseball leagues. (Old North St. Louis-Yeatman)
James "Cool Papa" Bell was widely known as the fastest man to ever play baseball. Stay posted for a full blog on James Bell in the near future. Recently there was a bit of a spat regarding honorary street signs in St. Louis, with Mayor Slay slamming the idea of adding 10 honorary street signs in the 4th Ward at a cost of $3,500 as being "over the top." The signs were eventually approved, but now must be paid by the person requesting the signs. Perhaps these funds will come from ward funding? Requests for honorary signs have exploded and some may not be warranted, but to be honest, in much of the city those signs are the only indication that something great once existed where now one sees only decay and abandonment. This appears to be another issue that is confused and abused by our city's aldermen.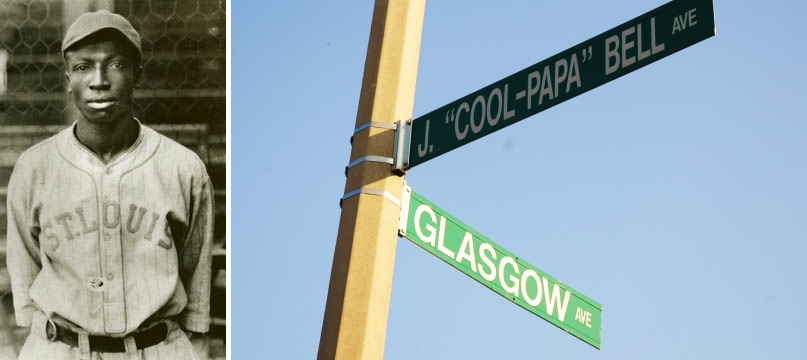 This town is steeped in history and stories and everything else. We have great street names. The suburbs can have their Shady Oak Lane or Pussy Willow Grove or whatever…I'll stick with the historic and aged city names thank you. I thoroughly enjoyed the mix of homes, institutions, factories, storefronts and everything else remaining in JVL…and how it's strangely holding on against all odds. I was also very struck by the amount of positivity going on…I'll get to that in a sec. But don't get me wrong this is not a thriving, successful, cheery St. Louis neighborhood by any honest person's account. You'll see plenty of this: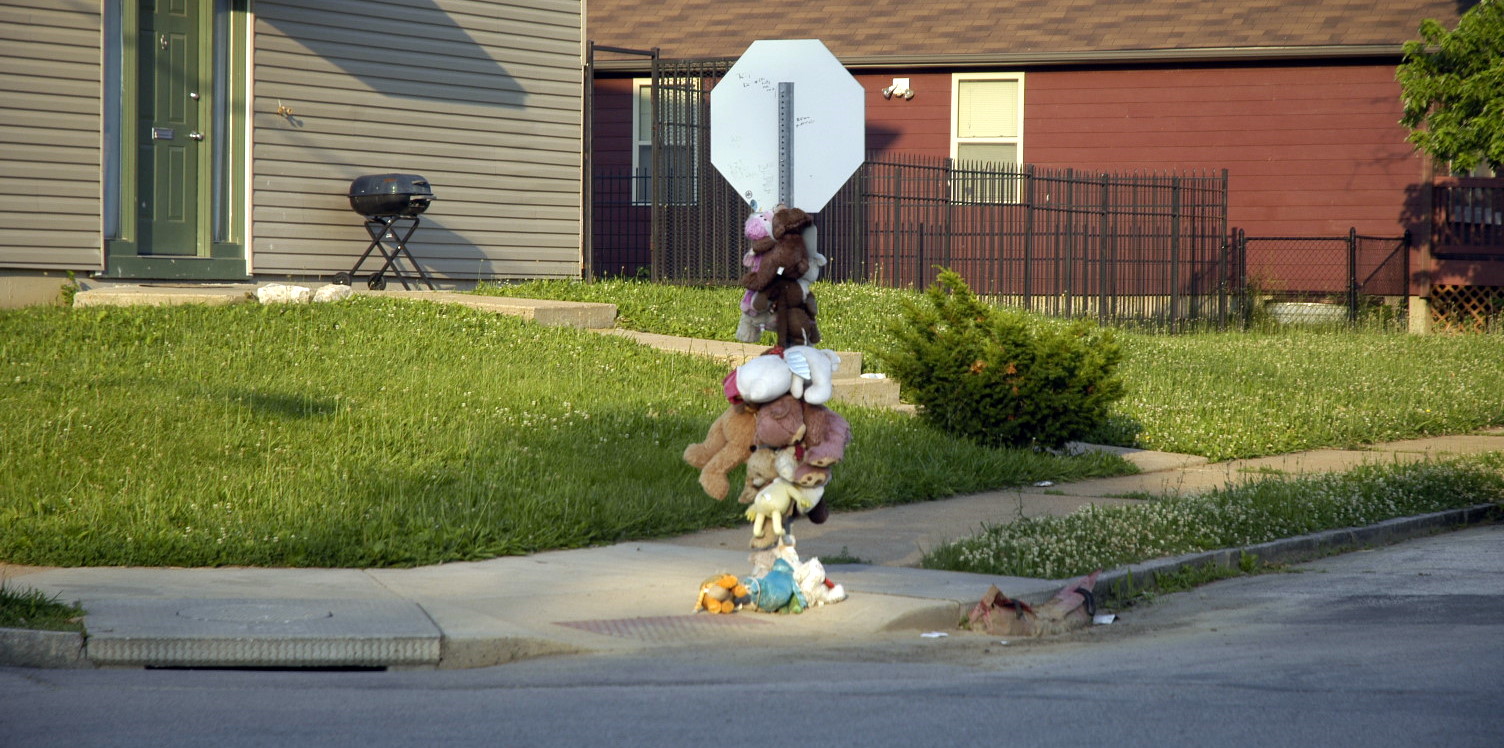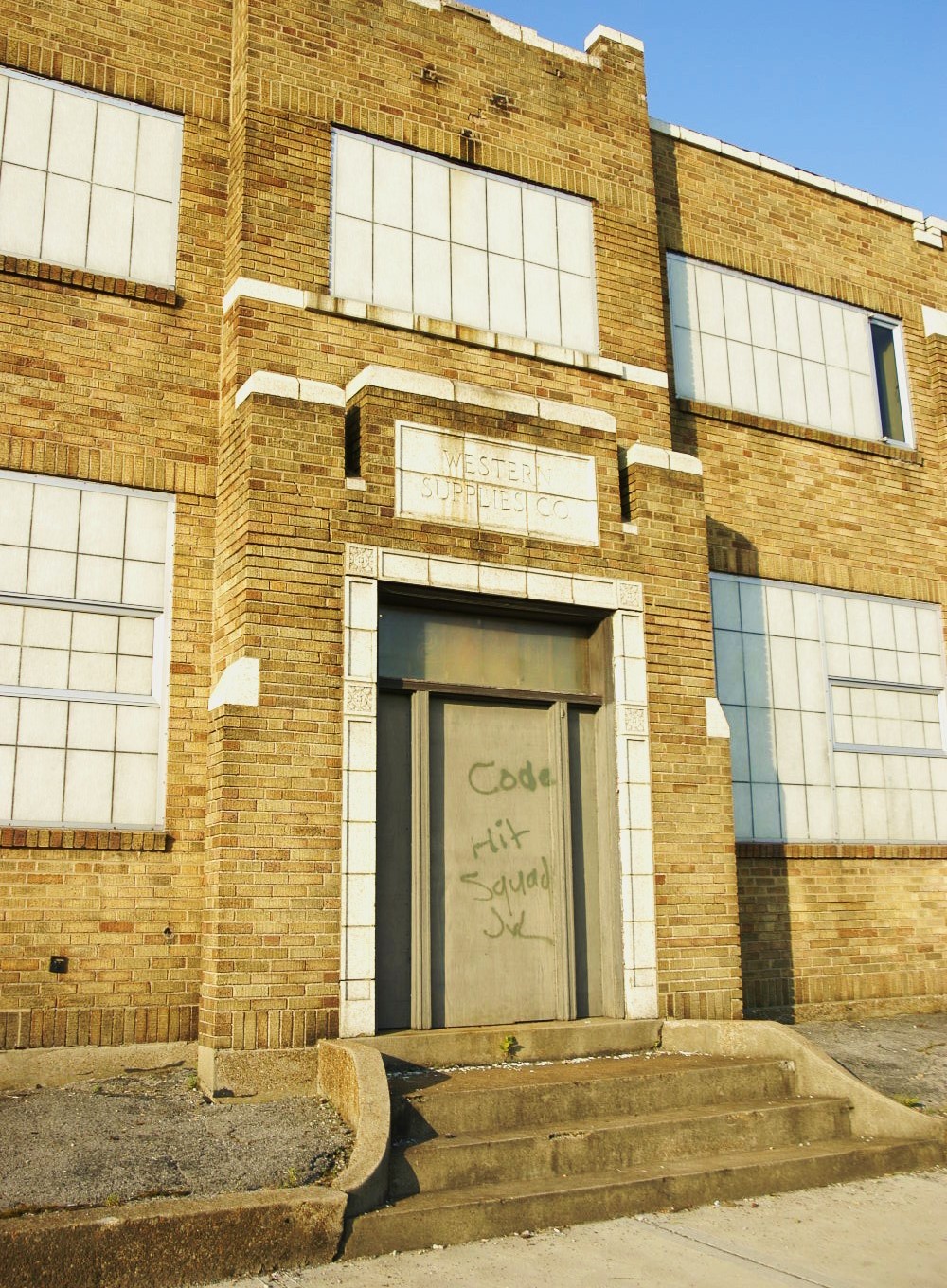 Let's start with what the residents have to say over at the city website:
Jeff-Vander-Lou is a developing area of north St. Louis bounded by Jefferson on the east, Vandeventer on the west, Natural Bridge on the north, and Martin Luther King to Delmar on the south. The current residents are a diverse group of African Americans. There are numerous small to large businesses within this developing neighborhood.
With Grand Avenue serving as its central corridor, any resident or visitor has easy access to highways 70 and 40. Columbia Community School benefits the entire community with numerous programs ranging from GED classes to counseling and crisis intervention services.
One of the area's most notable historical landmarks of the past includes Old Sportsman Park home of the St. Louis Browns and St. Louis Cardinals at Grand and Dodier which is now home to Herbert Hoovers Boy's and Girl's Club. The richness and vibrance Jeff-Vander-Lou then possessed will reign once again as the residents position themselves for unlimited growth.
It's curious the words developing and growth are used to describe JVL. I guess the neighborhood is positioned for growth simply due to the massive population losses JVL saw in the span from 1990-2000. I guess one could surmise that they probably hit rock bottom near the year 2000 when they lost a whopping 35% of their residents compared to the 1990 census count. The 2000 census counted 6,459 residents of whom 98% were black, 1% white. There were 3,463 housing units that were 72% occupied, split 35%/65% owner/renter. However, things are not getting better in JVL as far as residency is concerned. The Census data from 2000-2010 indicate another loss of 14%; JVL is down to only 5,557 people within it's borders.
It's also curious they mention Sportsman Park as a landmark when it was demolished shortly after Busch Stadium II opened in 1966. I would like to see the city take a more active roll in working with the neighborhood organizations, or when there aren't any, writing more accurate accounts of the neighborhoods on the city website.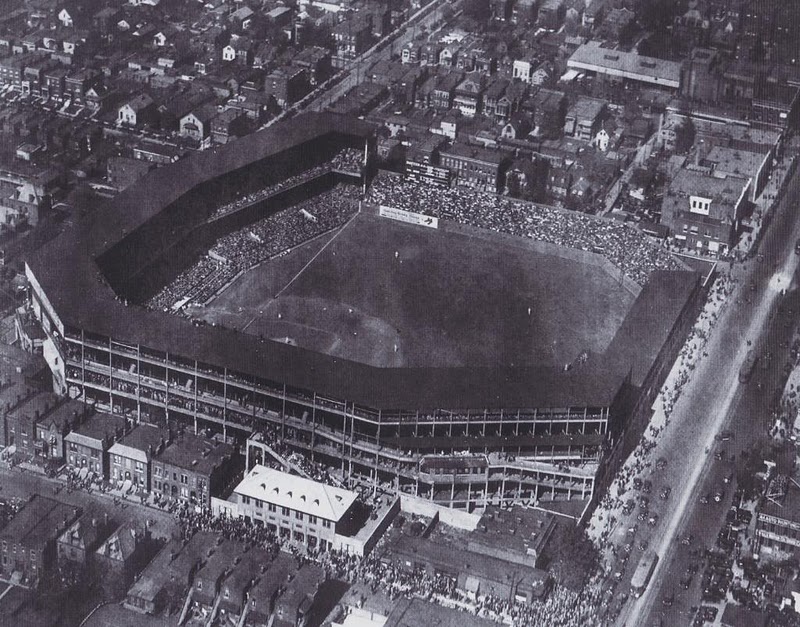 As a baseball fan, I must make mention of Sportsman's Park, here's the story (source):
Sportsman's Park was home to two different baseball teams during its existence. Baseball at the site where Sportman's Park stood dates back to 1866. The Brown Stockings of the National Association League played at the first Sportsmans Park in 1875 when the ballpark was known as Grand Avenue Grounds. It was located at the corner of Dodier Street and Grand Avenue. In 1880 Alfred Spink bought the team and tore down the ballpark, rebuilding a covered Sportsmans Park. The ballpark opened on May 21, 1881 but burned ten years later because it was built mainly of wood. In 1892, the National Association folded, the Browns were renamed the Cardinals, became part of the National League, and moved into a new Sportsman Park. However in 1898, fire swept through the ballpark destroying it and the Cardinals moved to Robison Field. After the 1901 season the St. Louis Browns were formed when the Milwaukee Brewers, charter members of the American League, moved to St. Louis.
The St. Louis Browns built a new ballpark where Sportsman's Park burned in 1898. Consisting of about 8,000 wooden seats, the ballpark was named after its predecessor. In 1908 a new ballpark was constructed. Concrete and steel was used to build a double deck grandstand from first to third base with additional seating joining the lower level and extending down the lines. Bleachers were also built and placed in the outfield increasing the capacity to 18,000. The Browns played their first game at the new Sportsmans Park against Cleveland on April 14, 1909. For over two decades the Cardinals had played at Robinson Field, a 21,000 seat ballpark. In 1920 owner of the Cardinals, Sam Breadon, sold the ballpark for financial reasons. The Cardinals moved to Sportsmans Park, playing their first game there on July 1, 1920. By the 1925 season the grandstands were double decked to both foul poles and the bleachers in right field were covered, increasing the capacity to 30,500.
Fans sitting behind homeplate could see the bleachers that extended around the outfield, a huge scoreboard above the left field seats, and views of the surrounding neighborhood. Members of the media also received an excellent view of the field from the press box on top of the stadium roof. The first night game under lights at Sportsman's Park was on May 24, 1940. Both the Cardinals and the Browns played at the ballpark until 1953 when the Browns moved to Baltimore. The same year, Sportsman's Park was renamed Busch Stadium after August Busch purchased the team on April 9, 1953. Busch added box seats and renovated the clubhouses at the stadium. Busch also placed a Budweiser eagle atop of the scoreboard. The Cardinals played at Sportsman's Park until May 8, 1966 when the last game was played at the ballpark. The Cardinals moved into Busch Stadium in downtown St. Louis days later. Sportsman's Park/Busch Stadium was demolished soon after. Today, it is site of the Herbert Hoover Boys' Club. A baseball field is at the same location where the Cardinals and Browns once played.
And here's a great 9 minute video from KETC Channel 9's Living St. Louis series
Man, I wish the St. Louis Browns had not moved to Baltimore to become the Orioles. I would love to see both an American and National League team here. If we were able to retain 2 baseball teams in a market this size, we'd surely lock up the Baseball Town U.S.A. nickname. But I realize that ain't gonna happen any time soon. But Sportsman's Park was tucked into this urban neighborhood just like Fenway and Wrigley. What a lost opportunity. The Cubs and Red Sox can print money just based on the location, soulful experience and history of their ballparks alone. Alright, I will never compare the Cardinals to the Cubs again where the Cubs have the upper hand. But you've got to admit, the following scene would be pretty cool had it lasted into the 21st Century: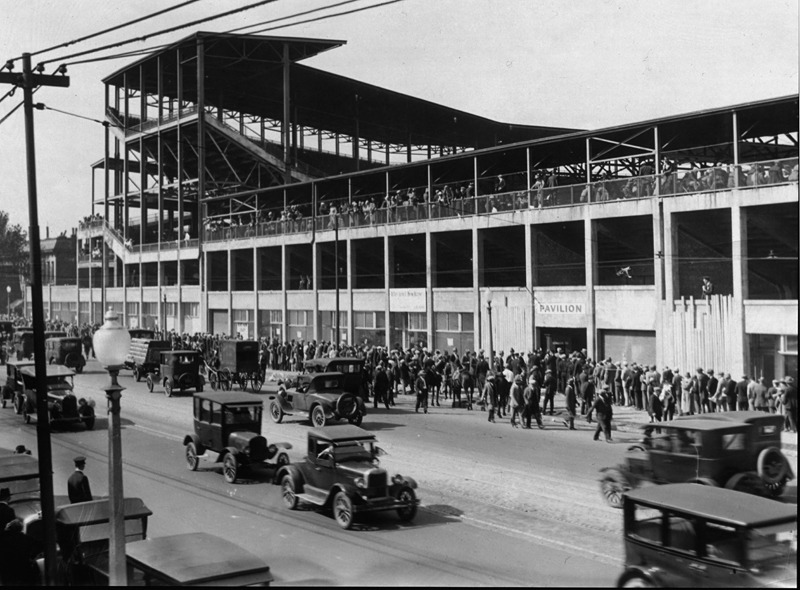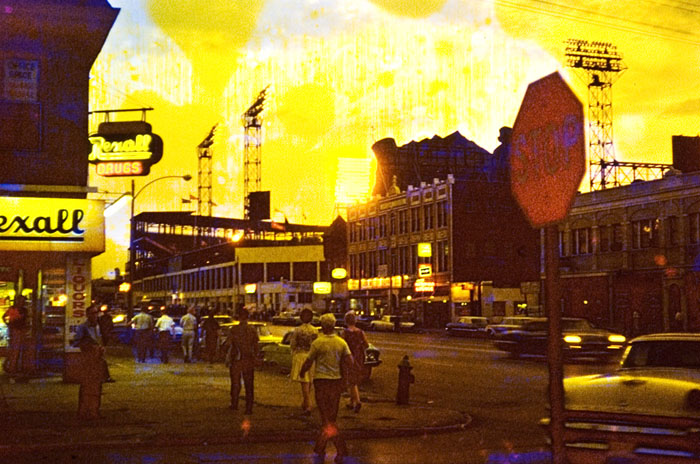 So what does the area around the former stadium look like today? It'll bring tears to the eyes of all baseball fans and historians/preservationists: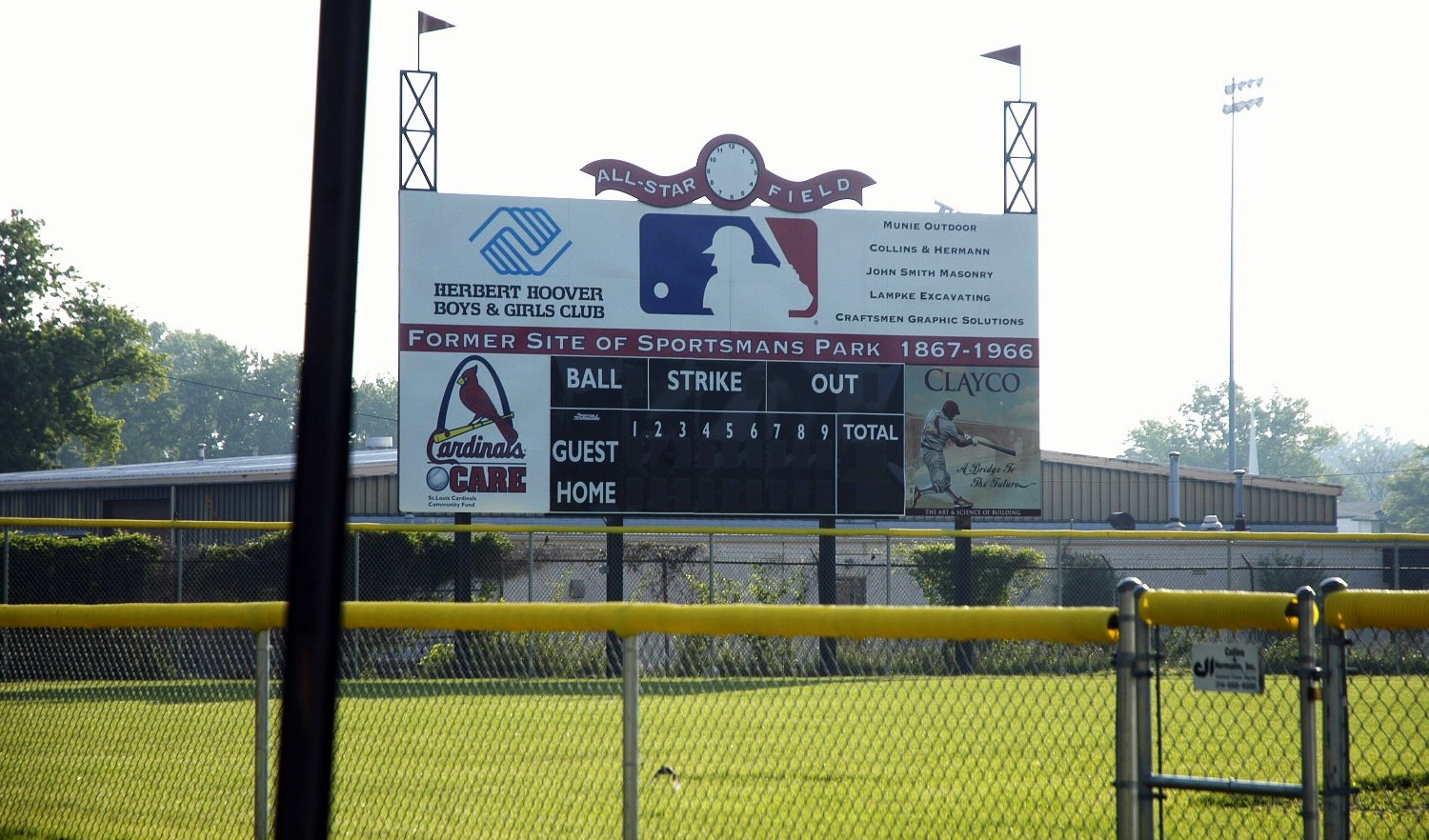 The actual site at Grand and Dodier is now home to the Herbert Hoover Boys and Girls Club, an institution committed to providing a safe, fun and healthy learning environment for kids/young adults ages 6-18 years old.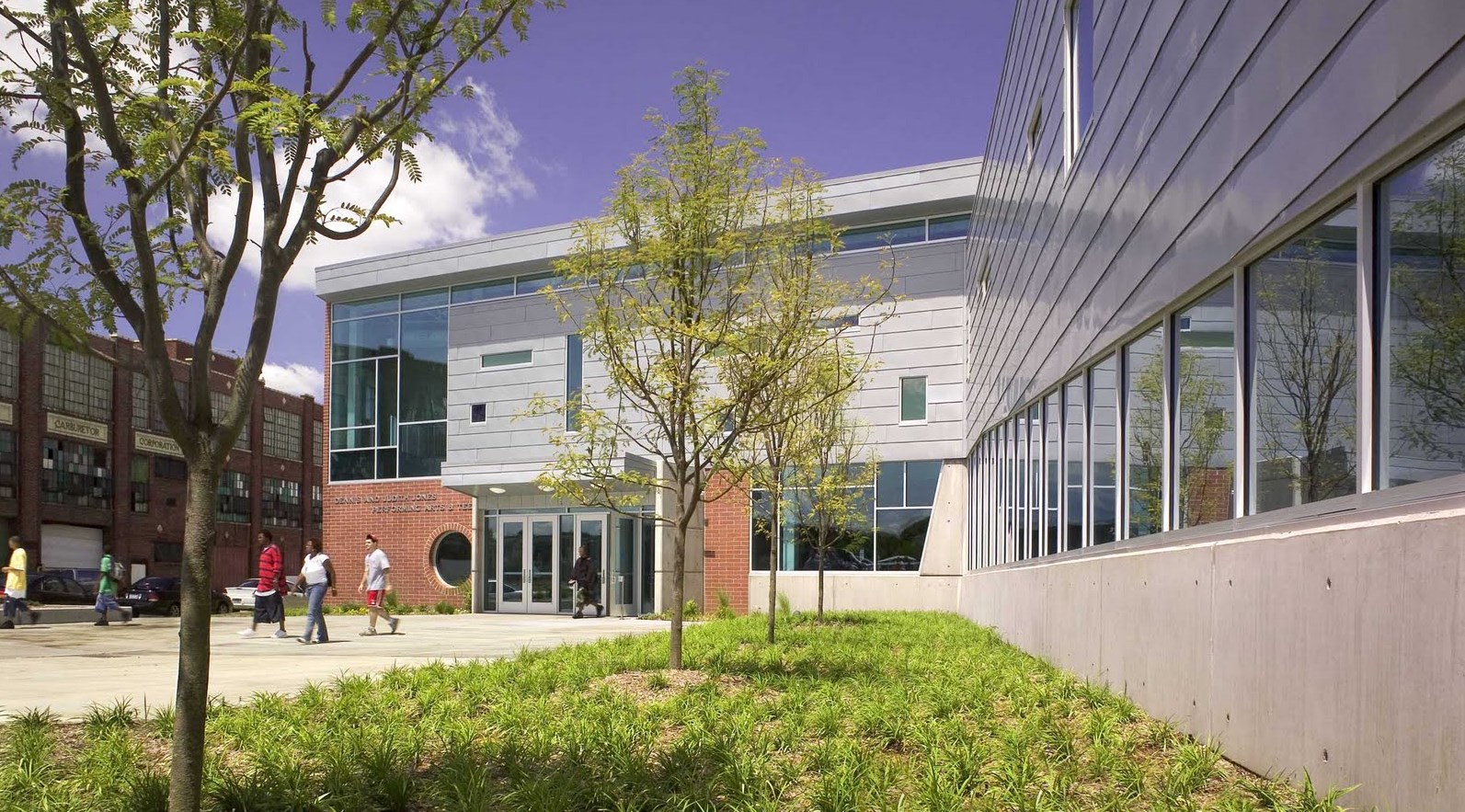 That abandoned factory looming over the former ballpark site is the Carter Carburetor Factory which closed in 1984 and is slated for a major EPA clean up which likely means most buildings will be demolished.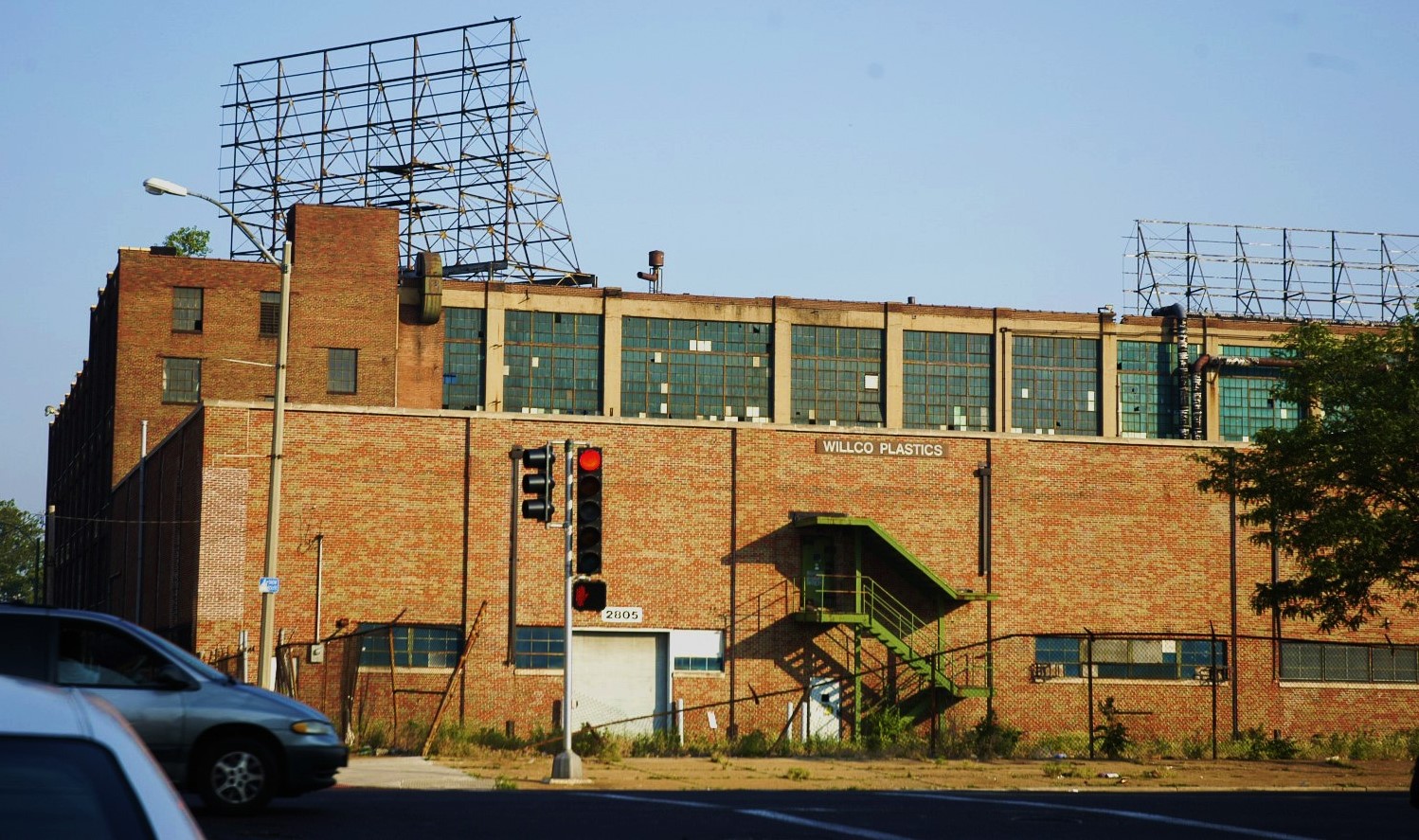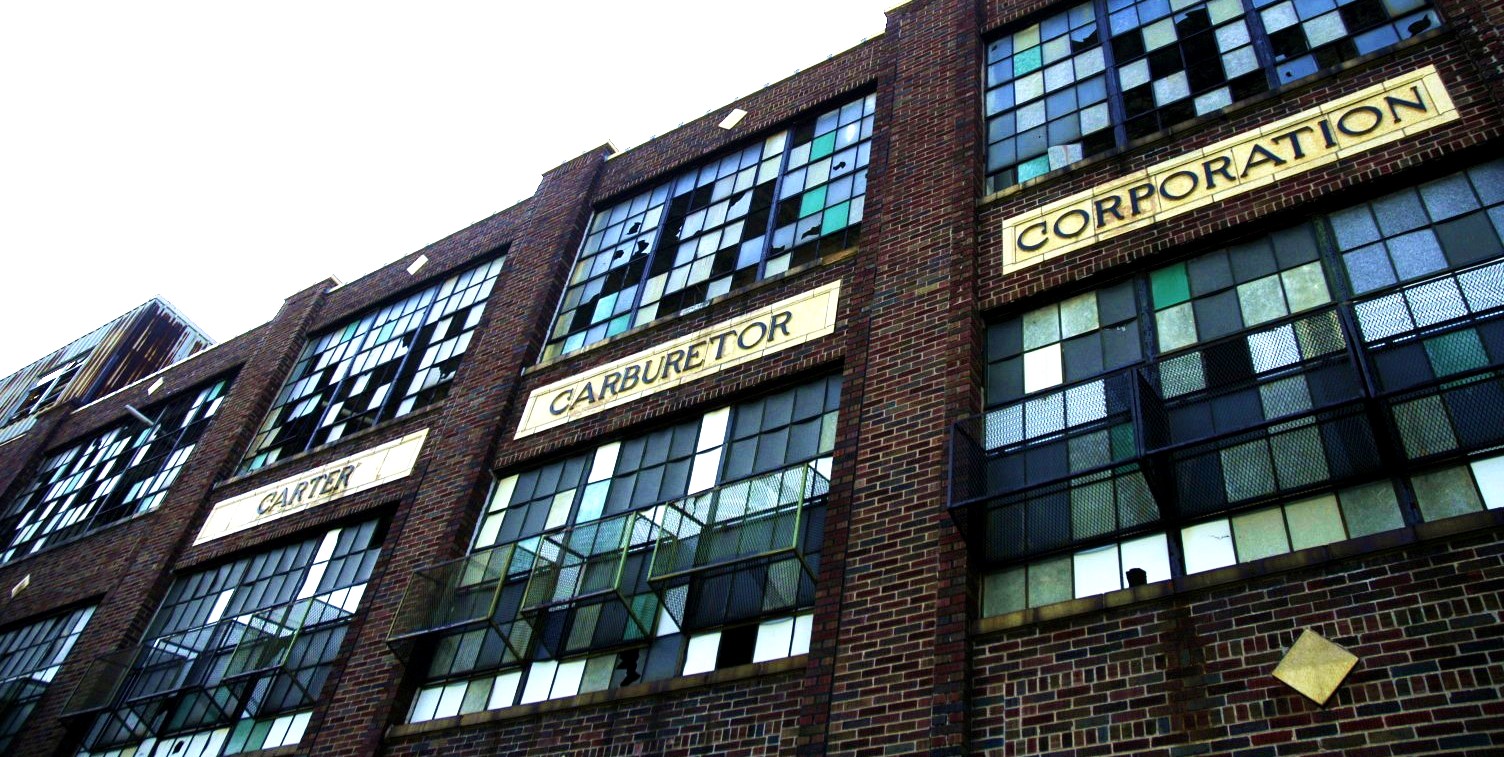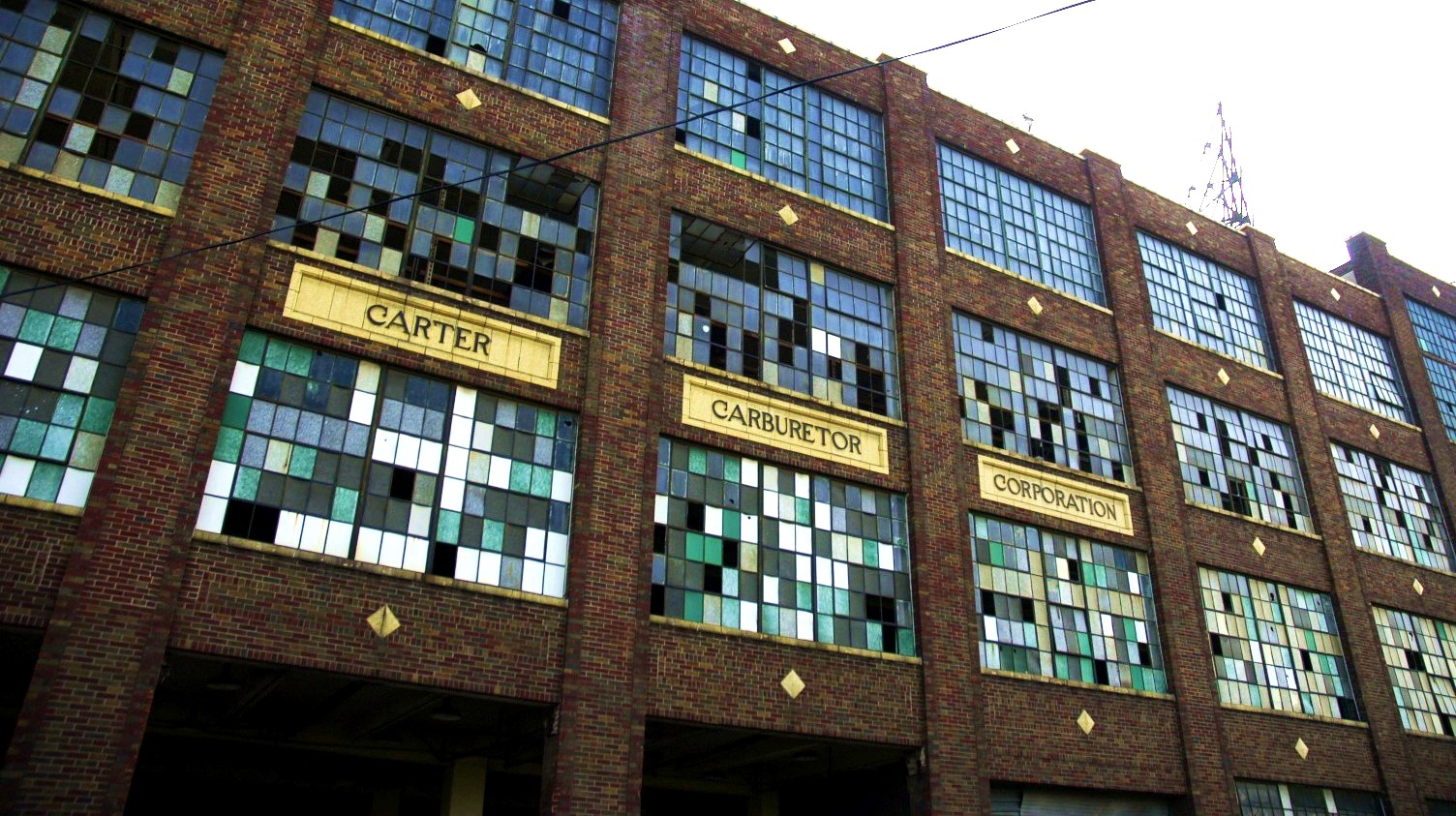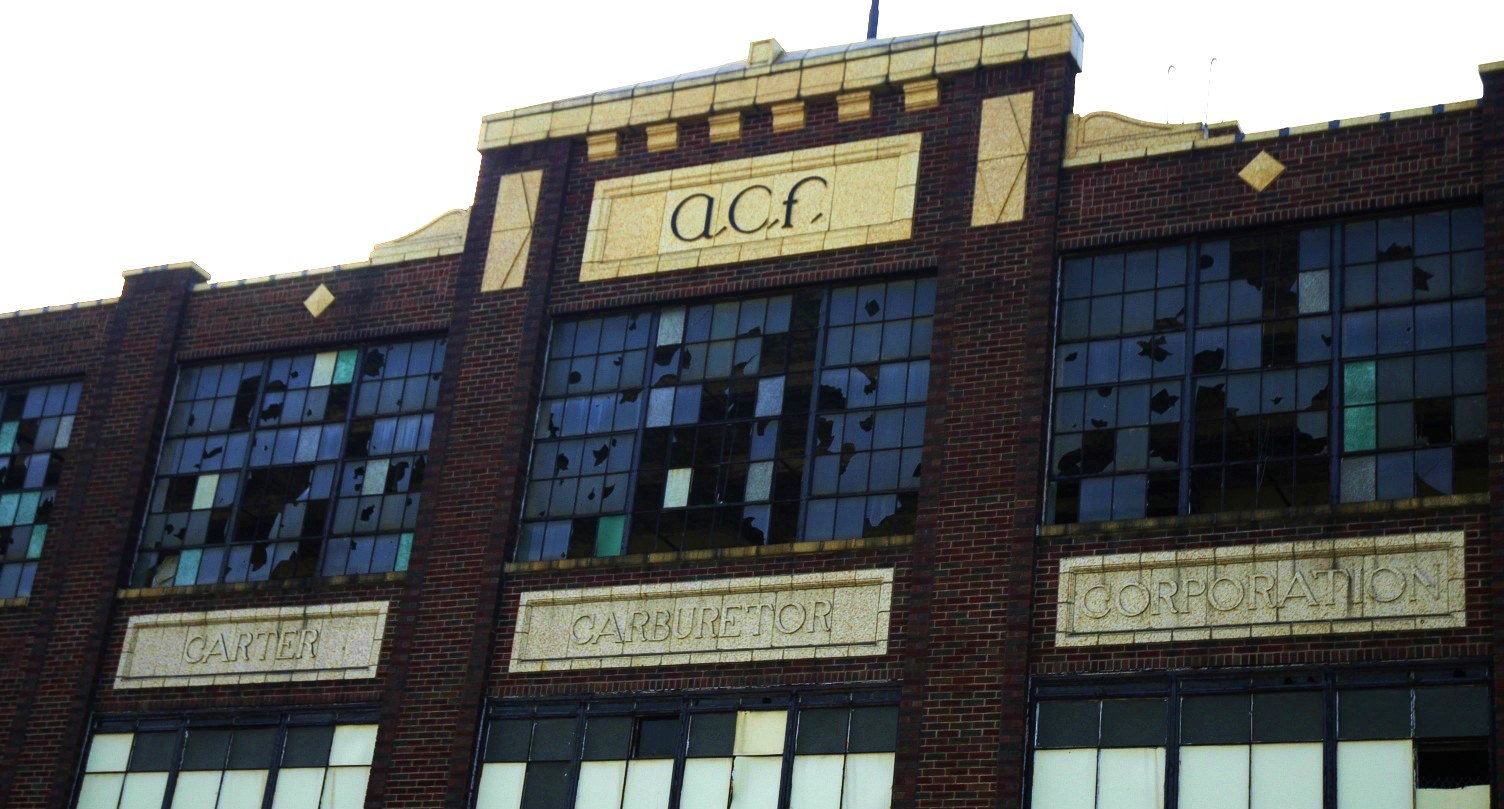 Since Delmar is widely accepted as the dividing line between north and south St. Louis, JVL is a gateway of sorts to North City. A drive south on Grand toward Covenant Blu/Grand Center provides one the greatest street scenes in St. Louis: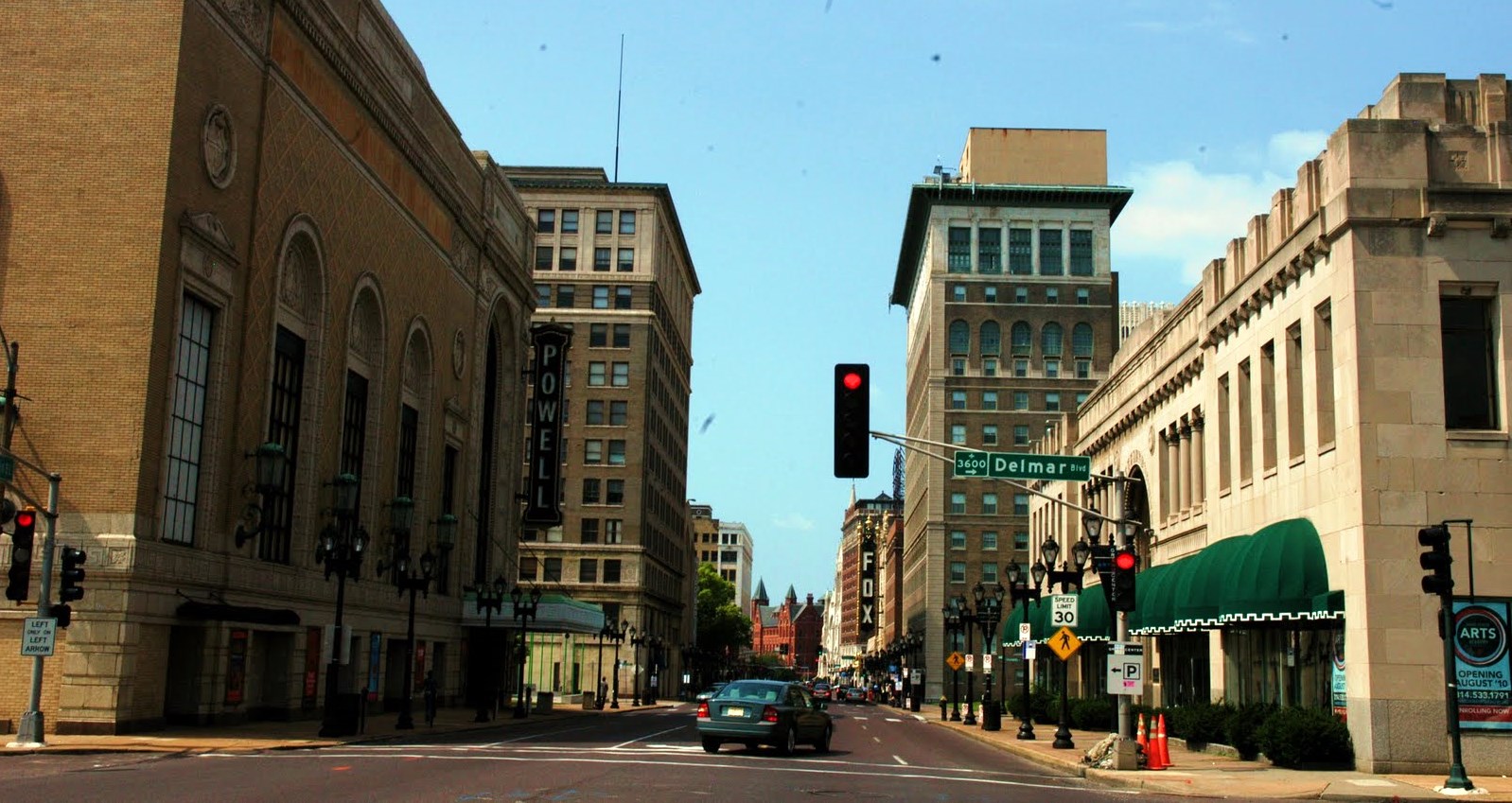 If St. Louis is to ever realize its full potential, we have to have more investment north of Delmar to stabilize these regions that border some of our most important and high profile central corridor neighborhoods such asMidtown, Central West End and Covenant Blu/Grand Center.
The south side of the neighborhood is pretty stable, the other areas not so much. This part of the city is ripe and ready and freaking due for some positive change. I'm sad and pissed that it's come to this. This was once a neighborhood; mixed use by design. Yet, today much of the land in JVL is lying fallow, many of the homes are in various states of disrepair and abandonment. That's not to say there aren't many nice stretches and some streets that look pretty decent. But the factors stacked up against this neighborhood seem overwhelming. There are, however, many folks working toward positive change in JVL…but, will it be enough to stabilize the staggering resident outpouring and massive brick liquidation of the last 20-30 years?
It's hard not to think of the saying "going, going, gone" when you visit JVL as there are properties that range from needing immediate attention to stabilize them, to buildings that are about to fall to piles of rubble and wood and plaster to the already fallen mounds of former homes lying in the weeds. I'm told that Paul McKee's McEagle and the LRA own scads of property here, and they sit, and sit and sit until a hole in the roof appears, then a bigger whole and then mother nature and father time and eventually thieves and scavengers take care of the rest.
Just check out this one example at 3114 Glasgow in JeffVanderLou from the Preservation Research Office from May 2009 and then December 2010: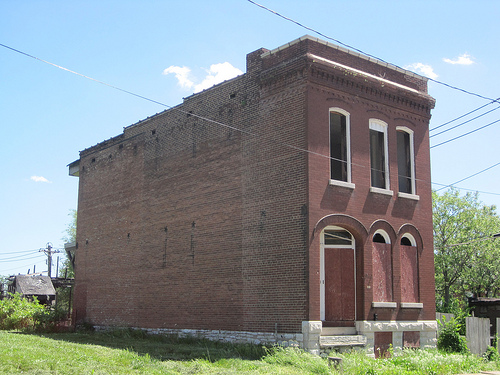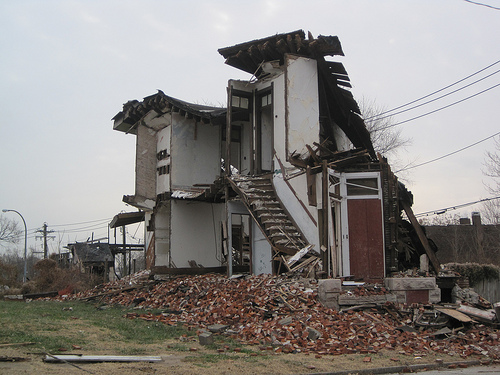 I really hope McKee can do something positive here; but, the inaction is destroying the historic fabric that is already sparse in areas of JVL…I commend this man for wanting to help and wanting to invest and make some money in North City, which no one else seems to want to do on any meaningful scale…but let's get going and bring some life back to the area and let these old buildings be rehabbed and integrated with new infill of all kinds. If not, they will be lost to thieves and the elements.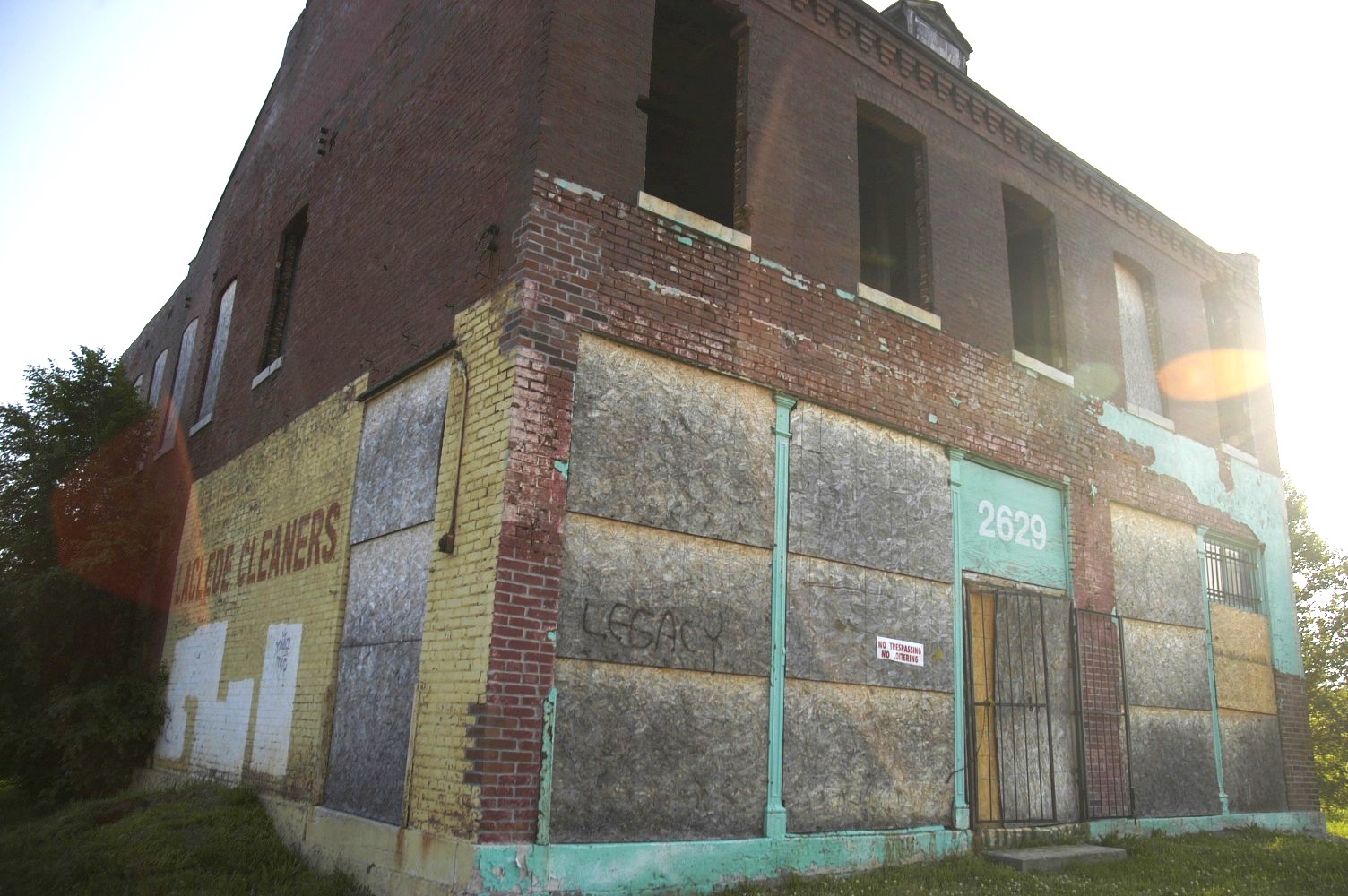 Here are some examples of nice, occupied homes holding on next to some pretty grim situations. Back to my going, going, gone analogy: going: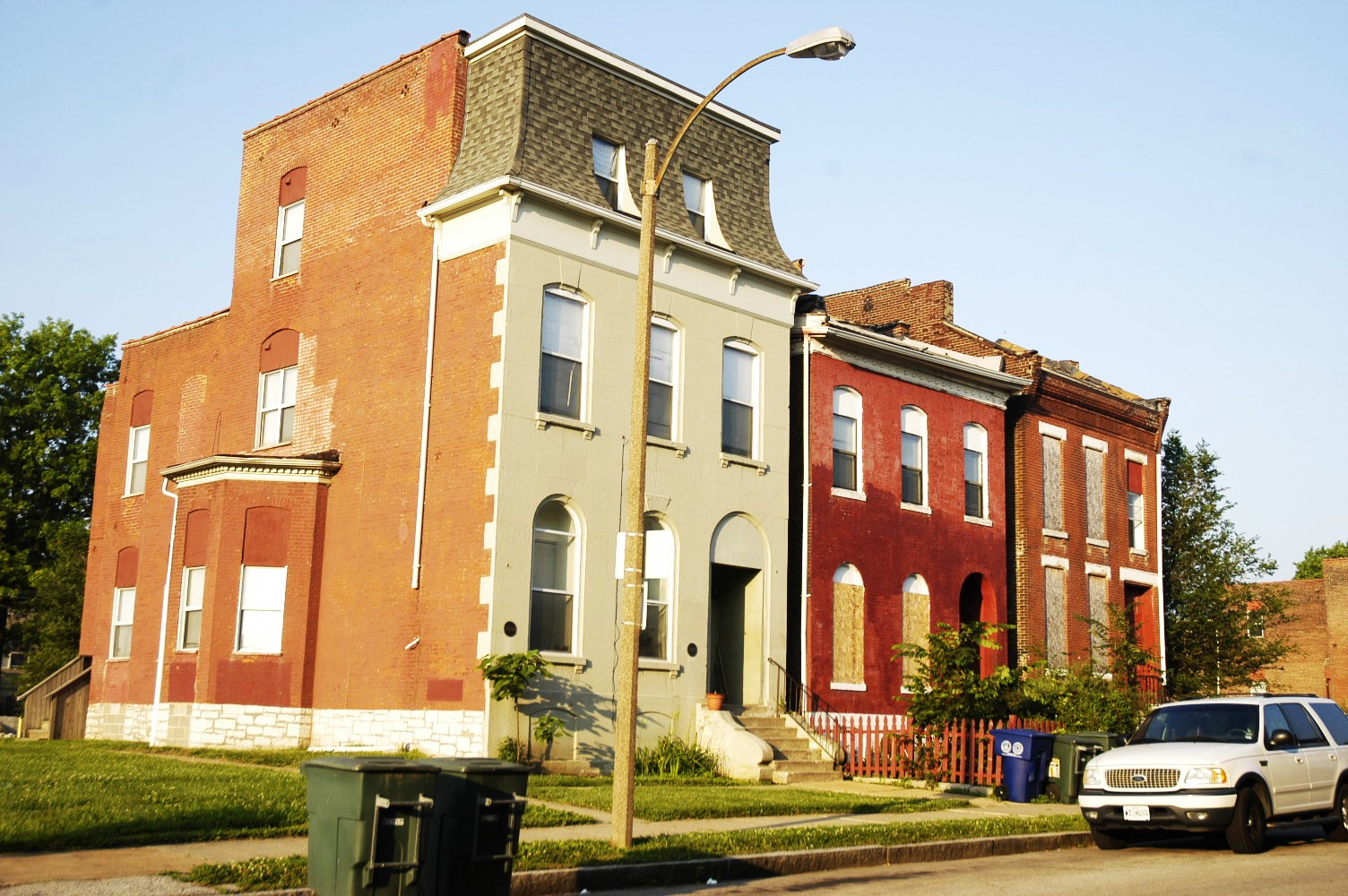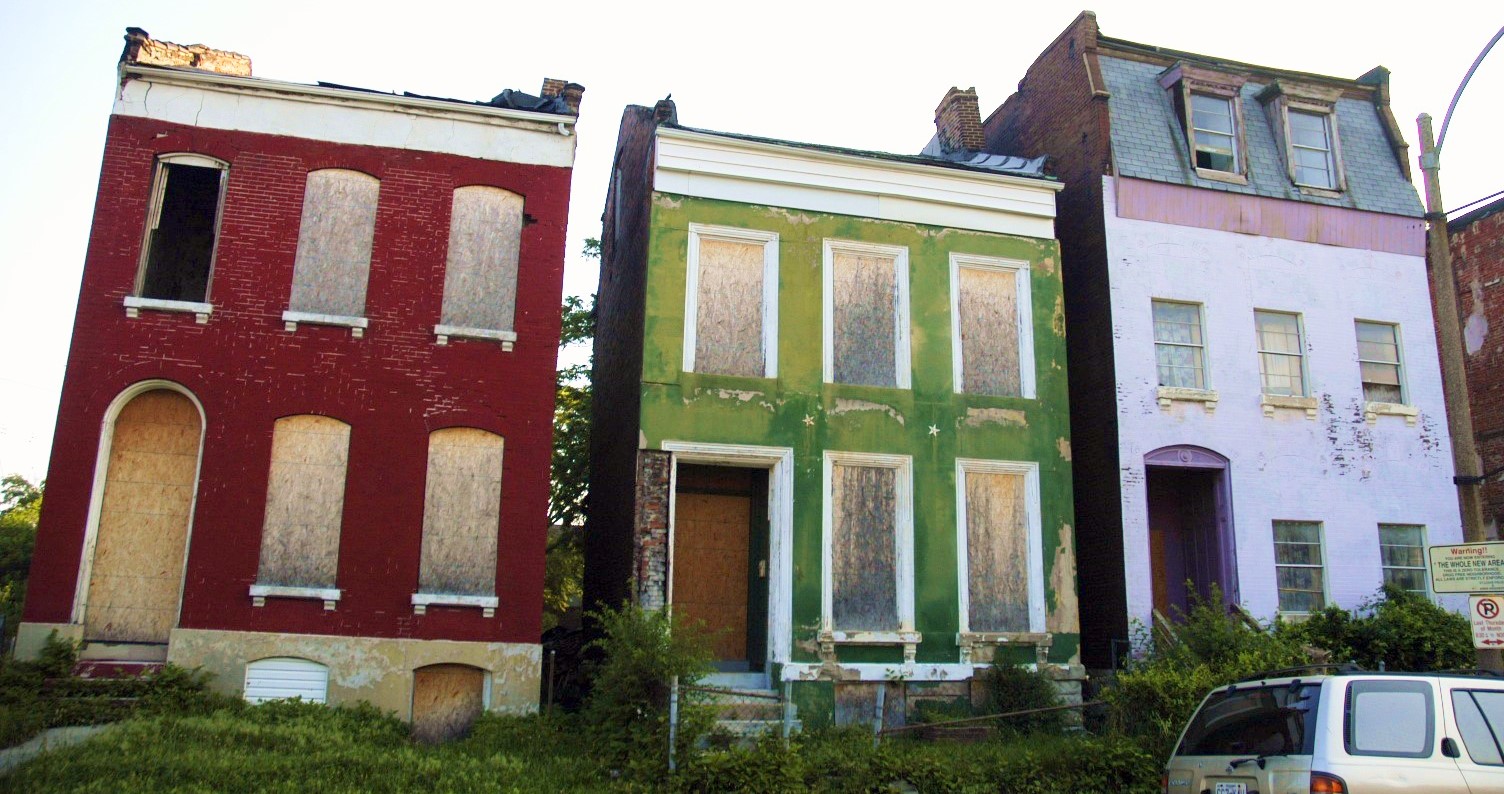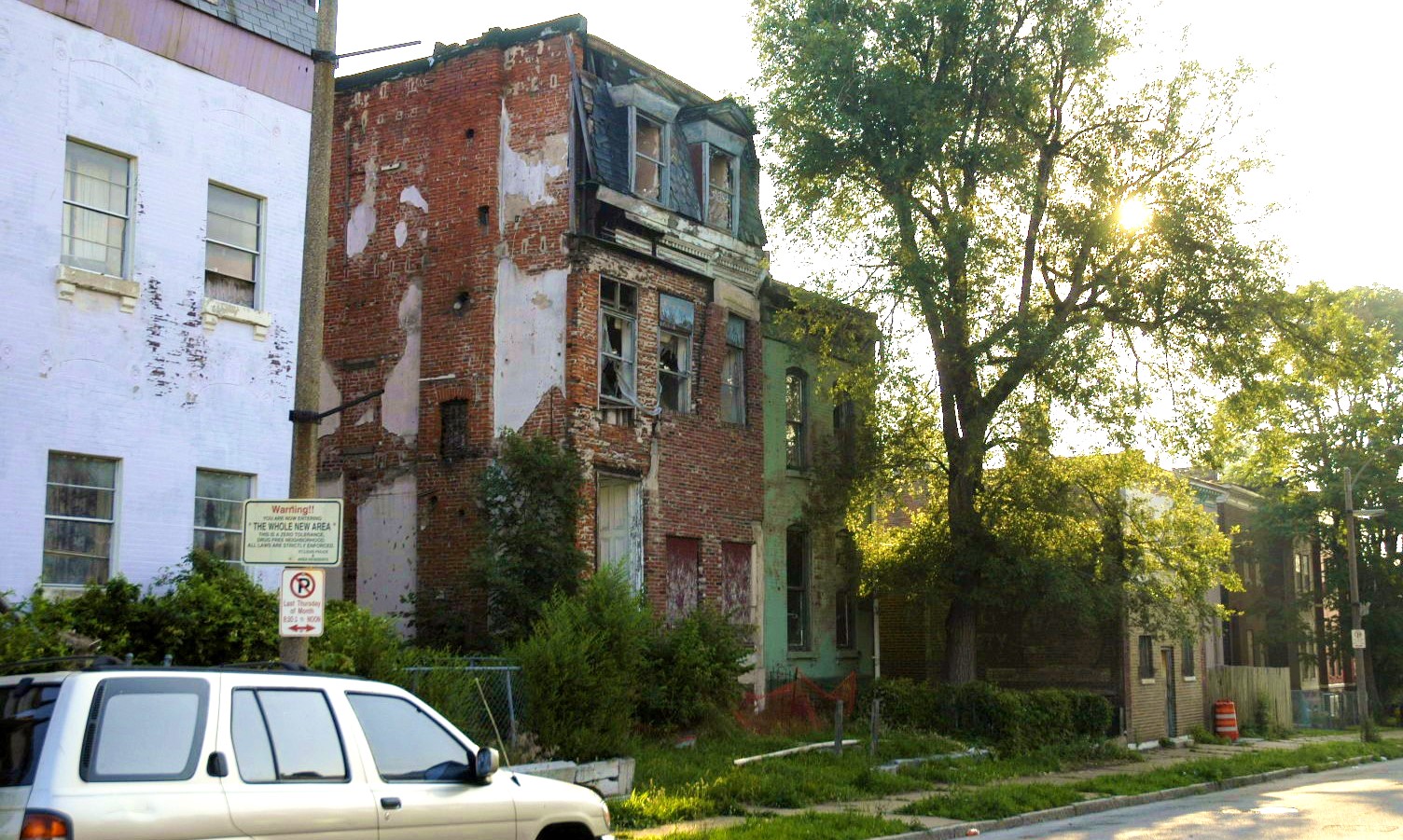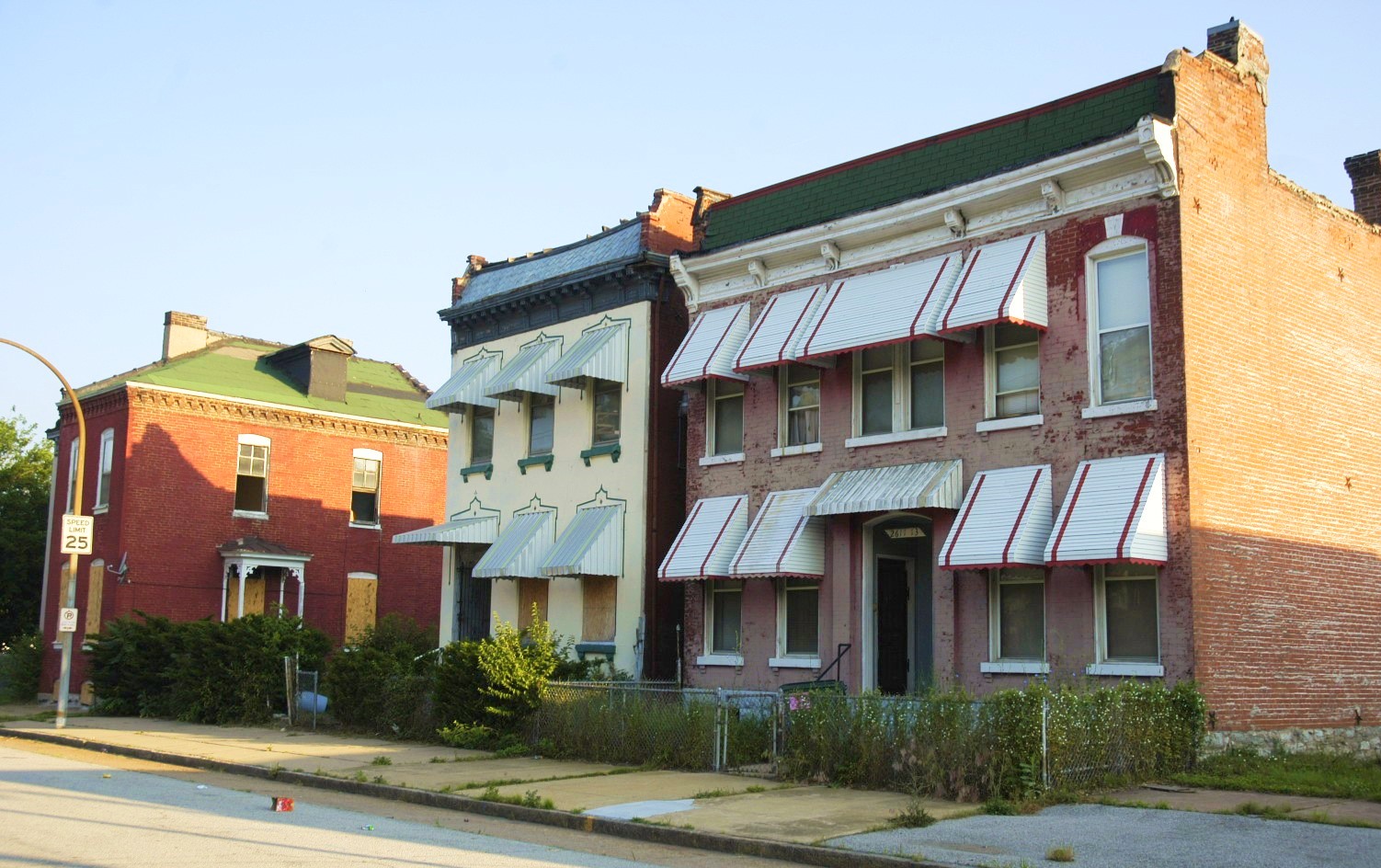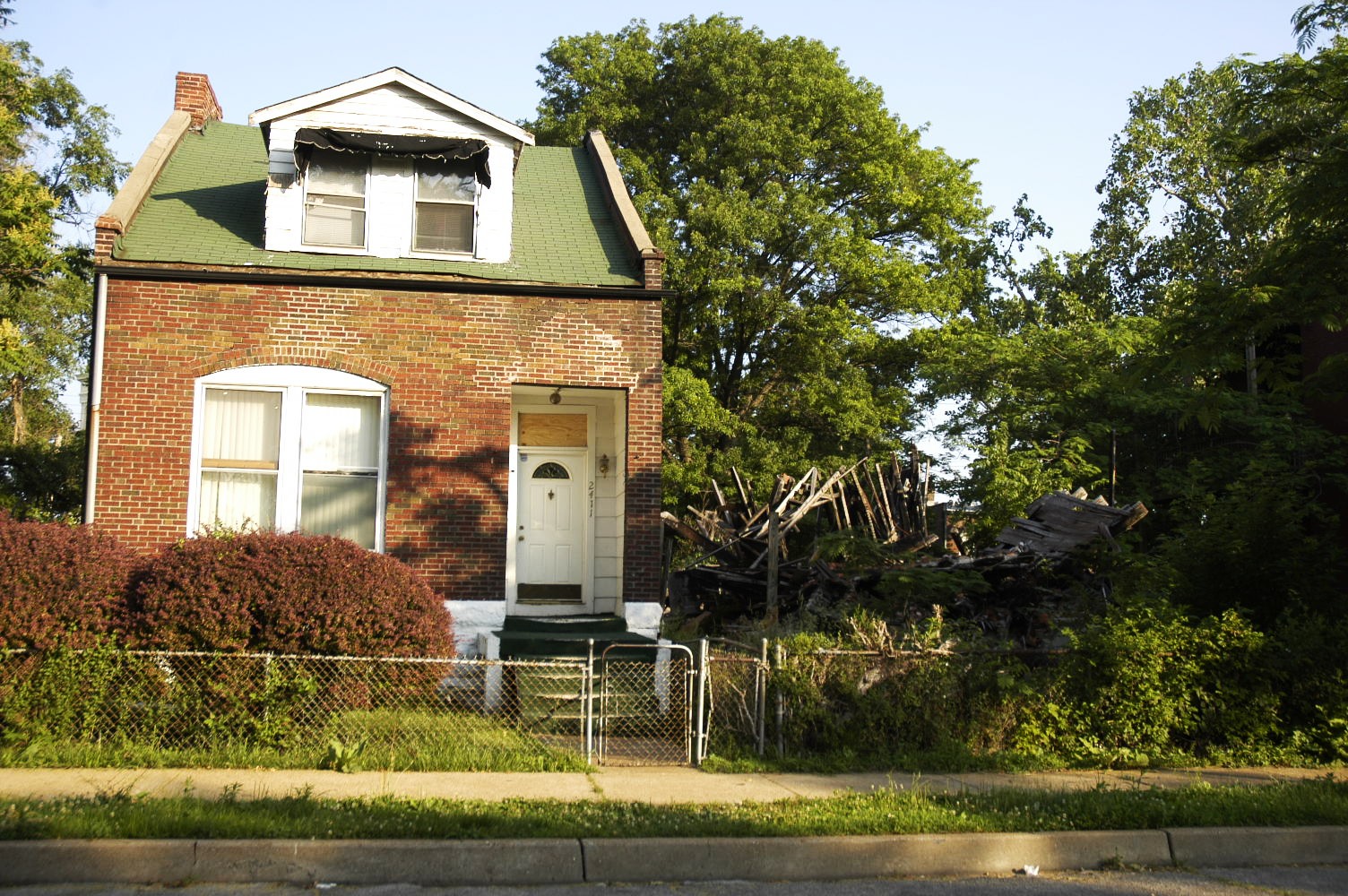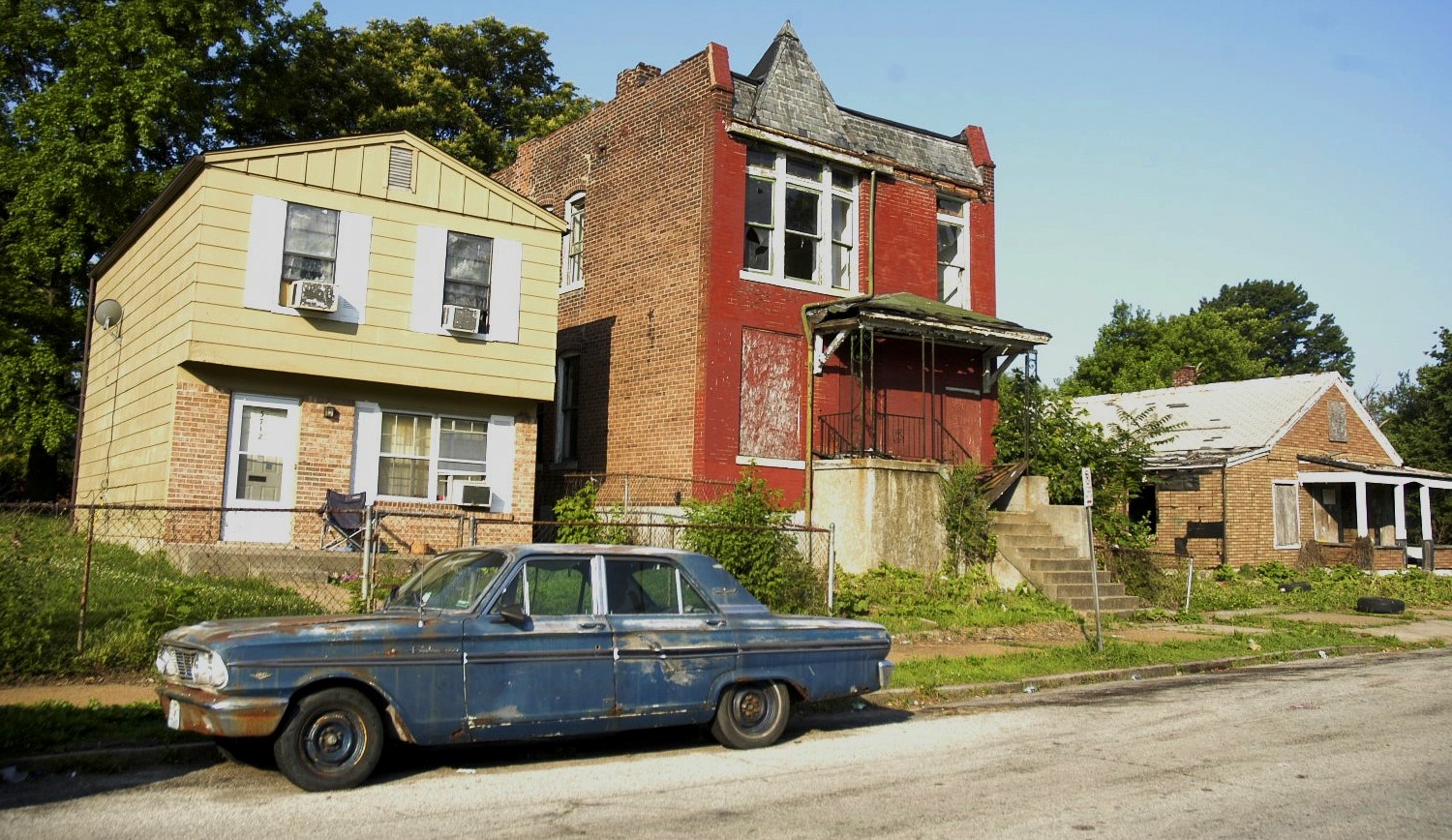 Going: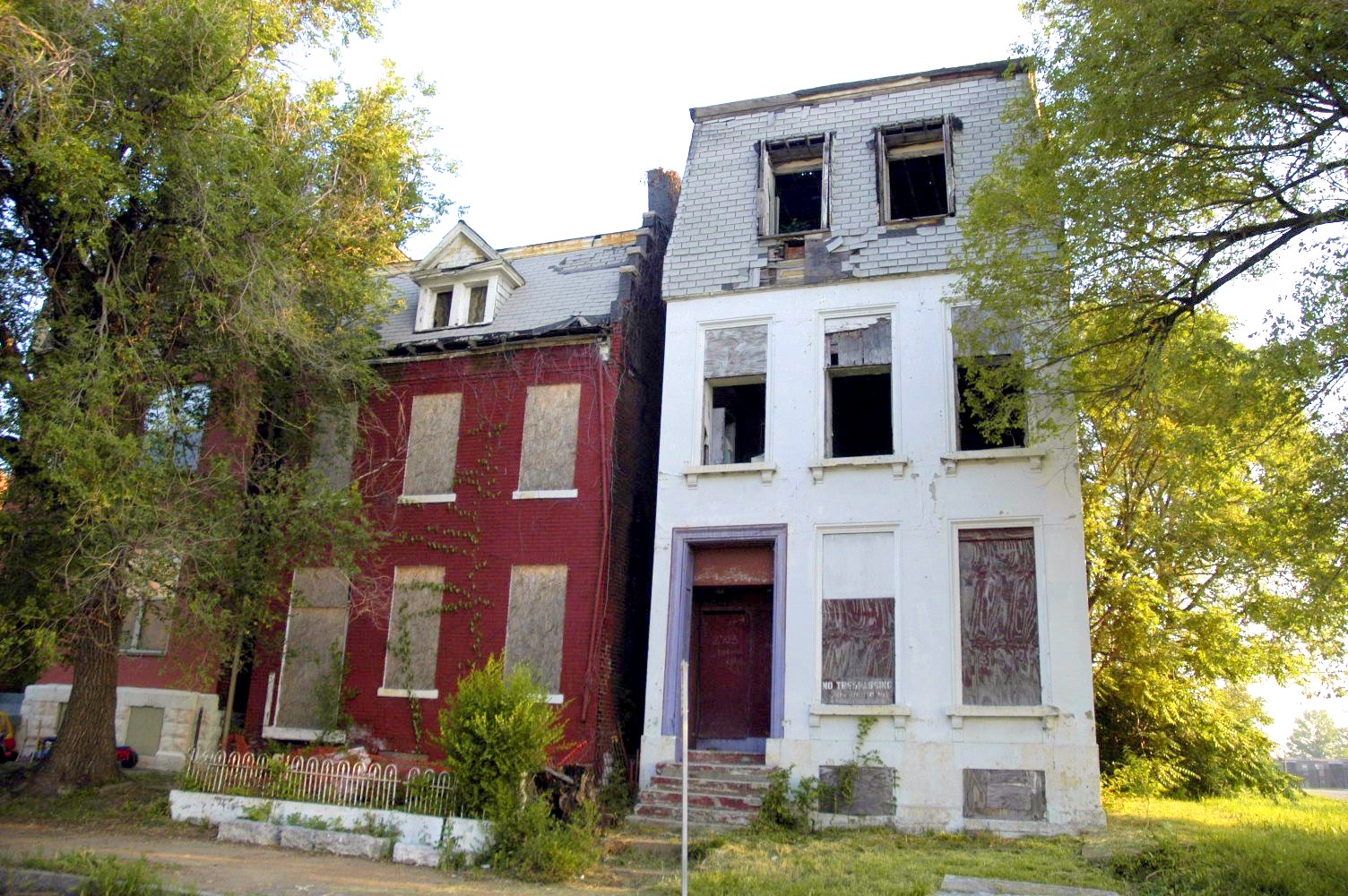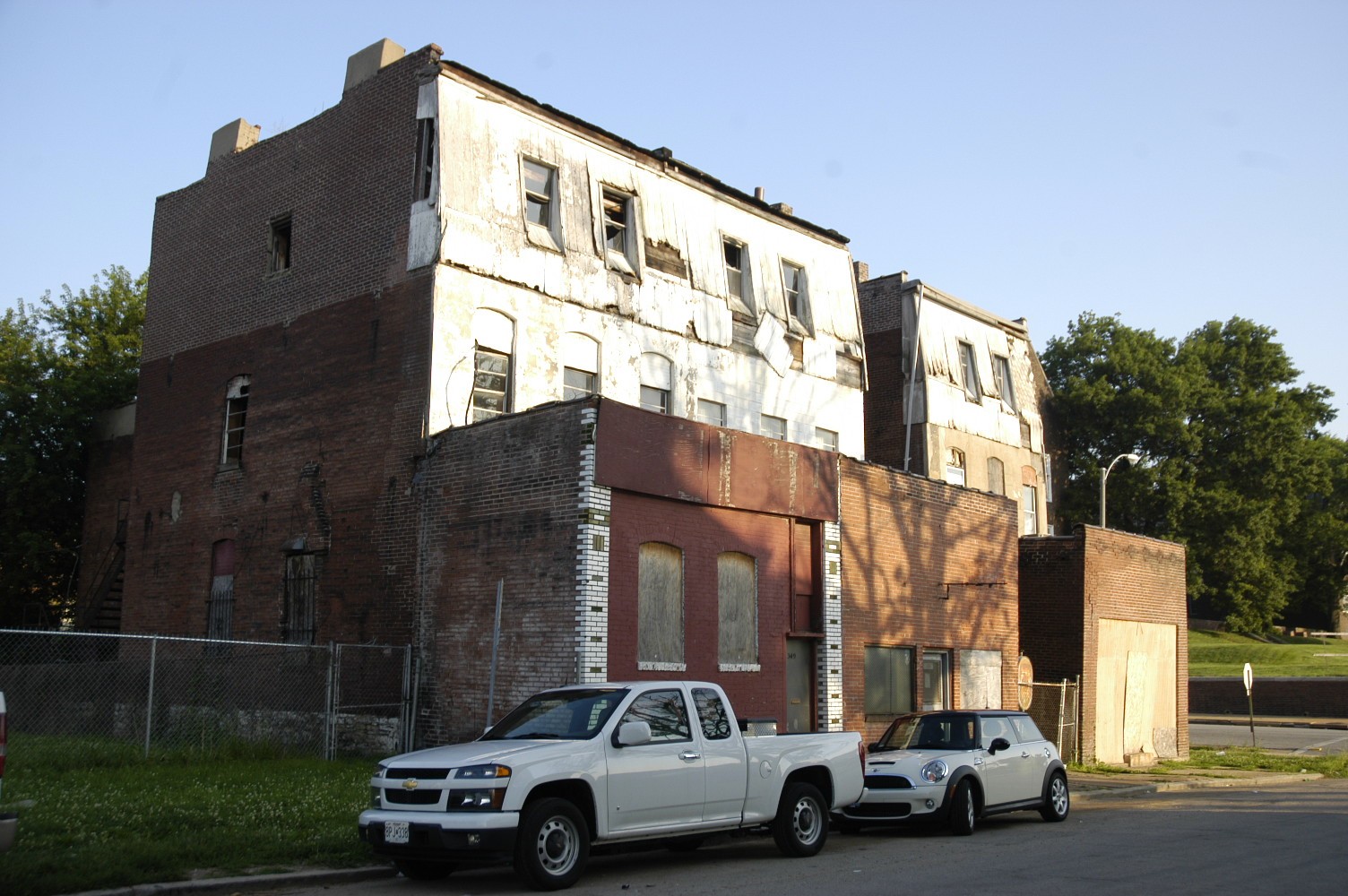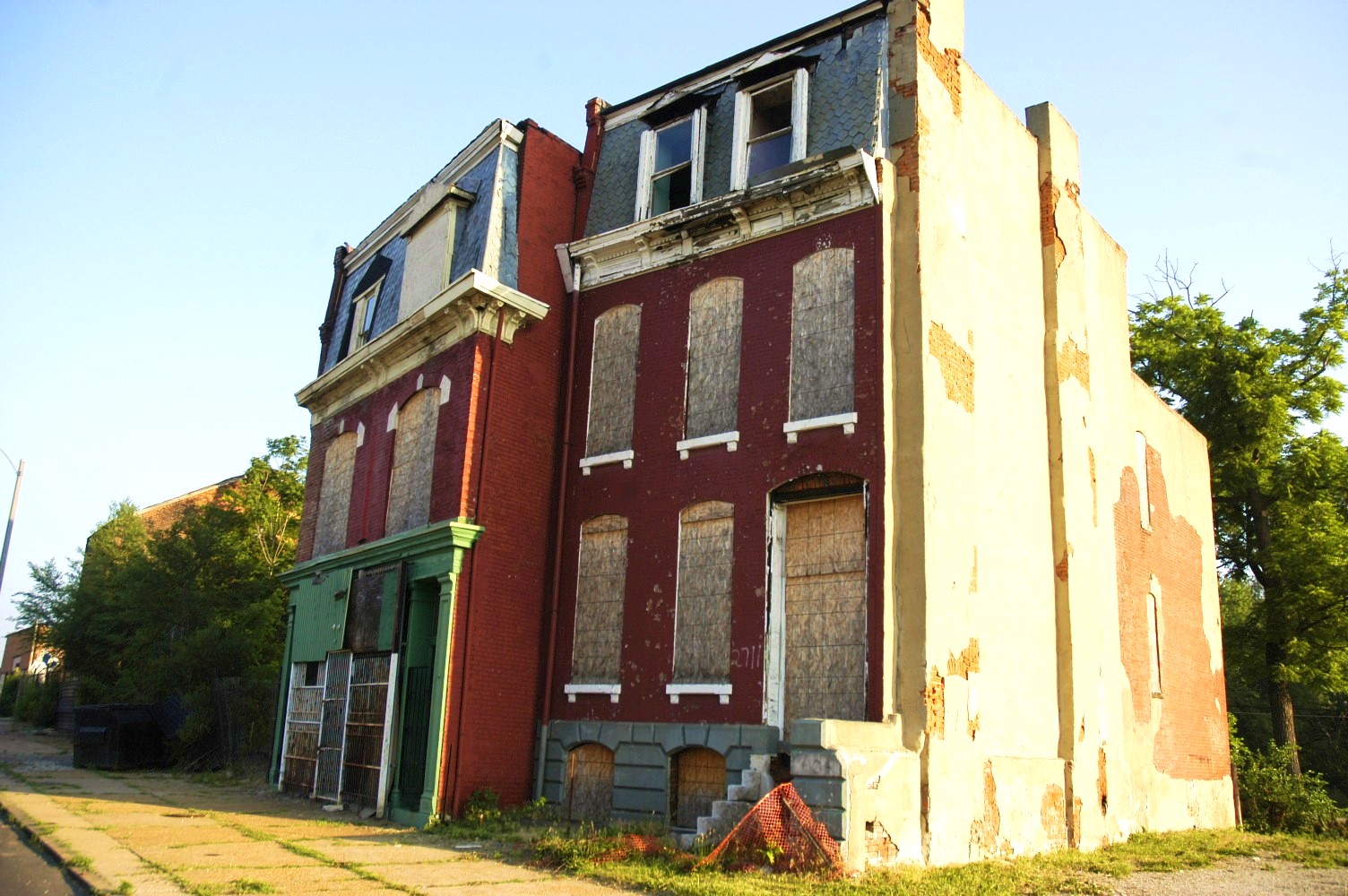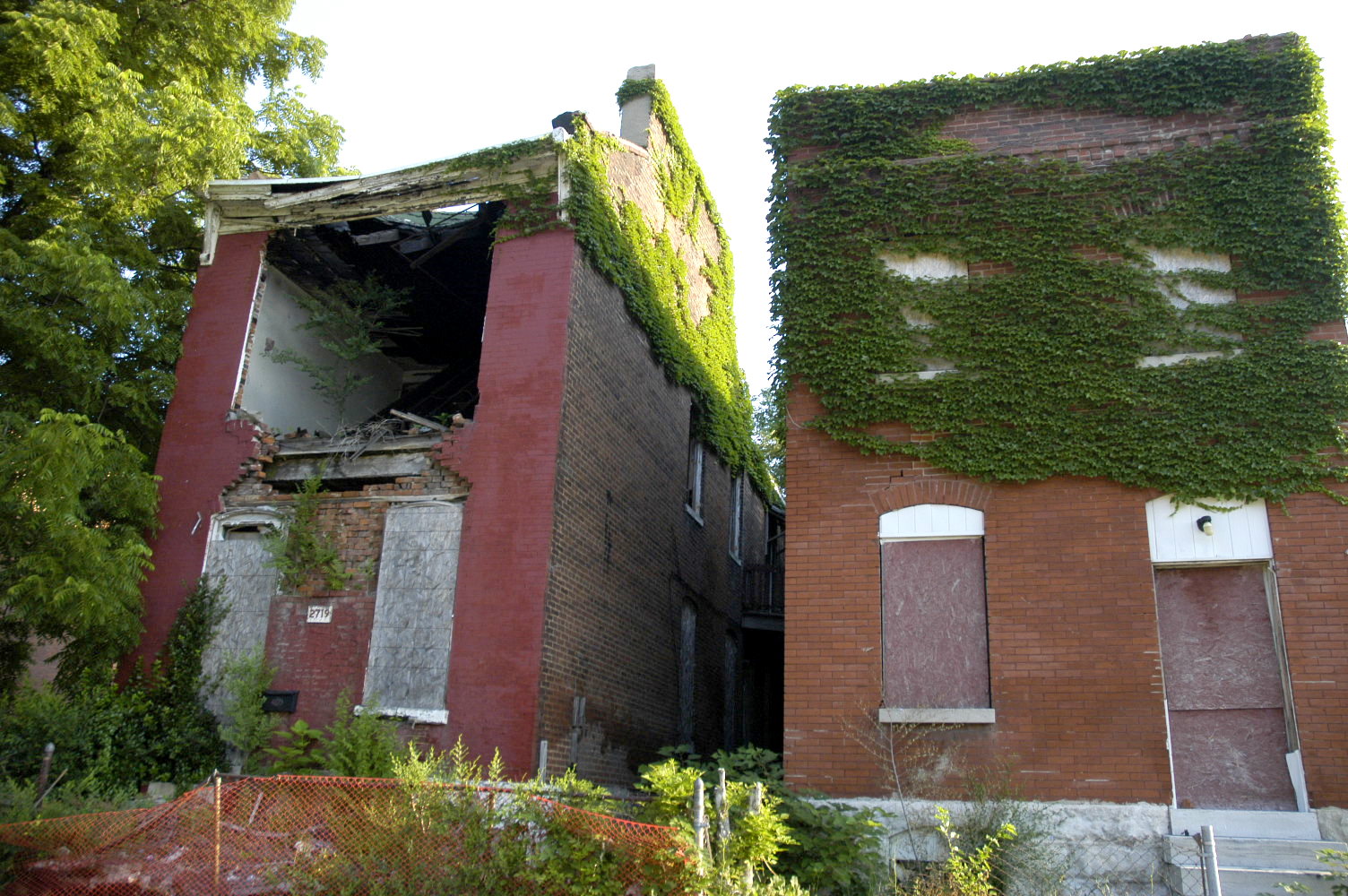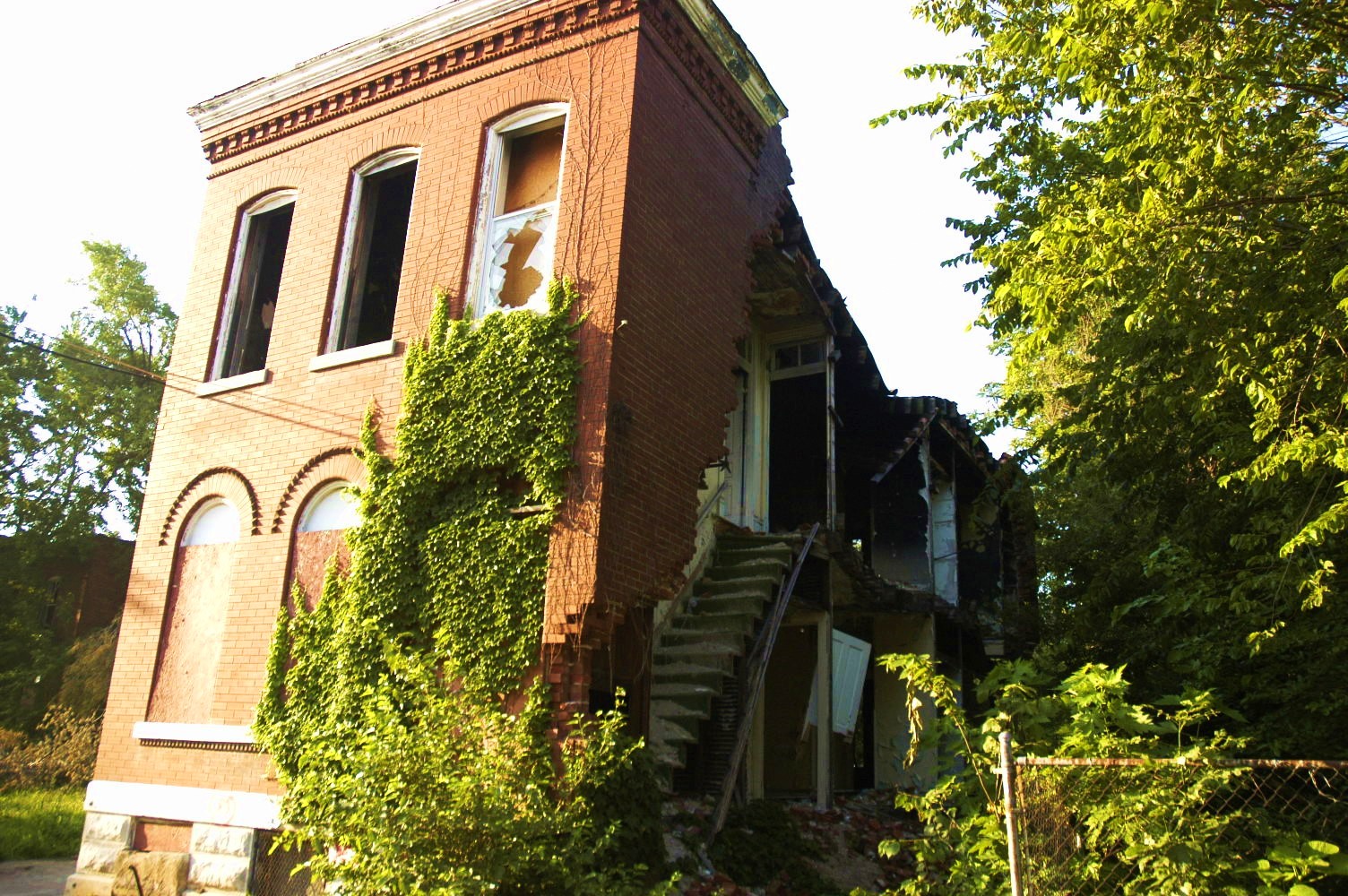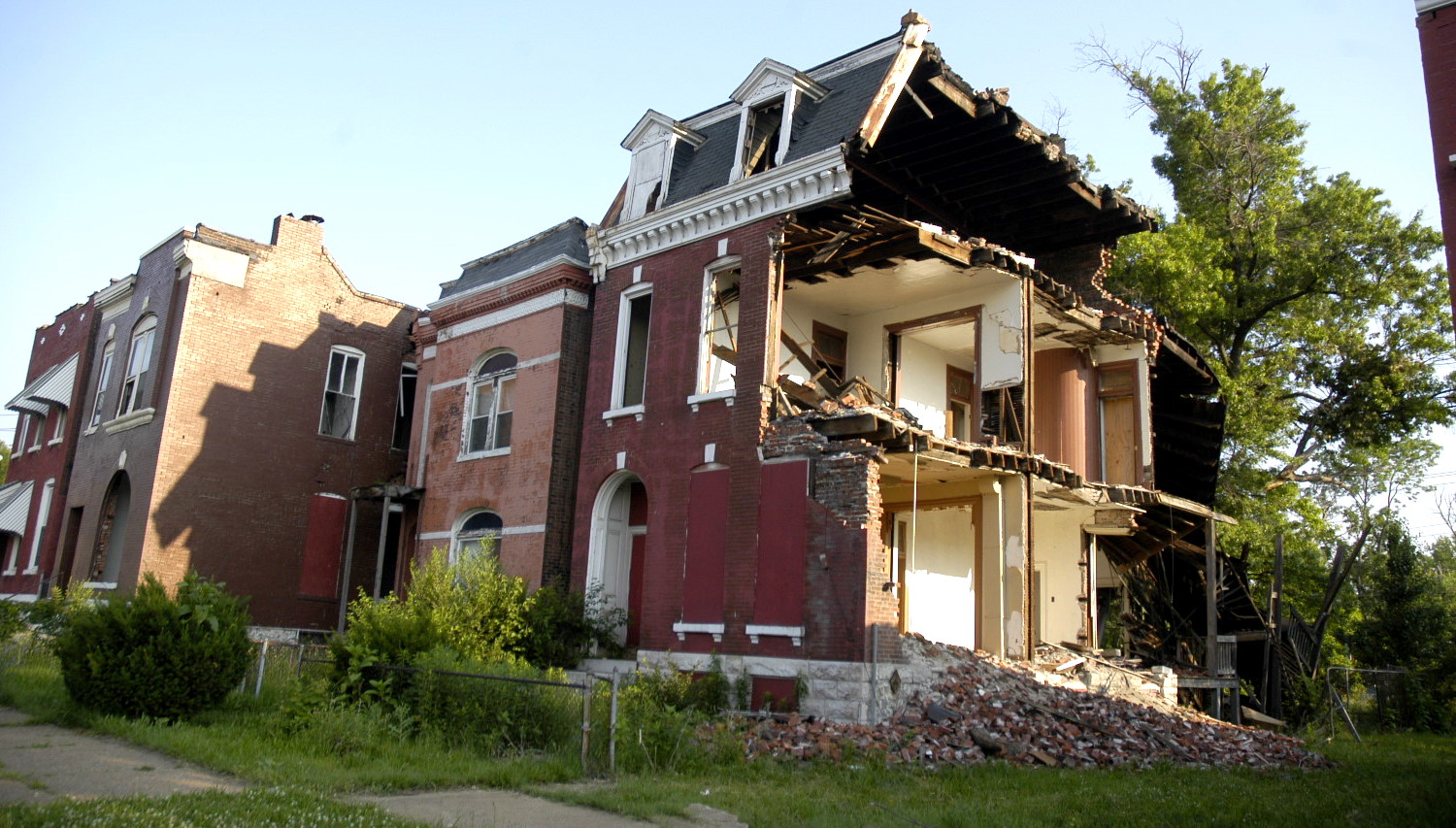 Gone: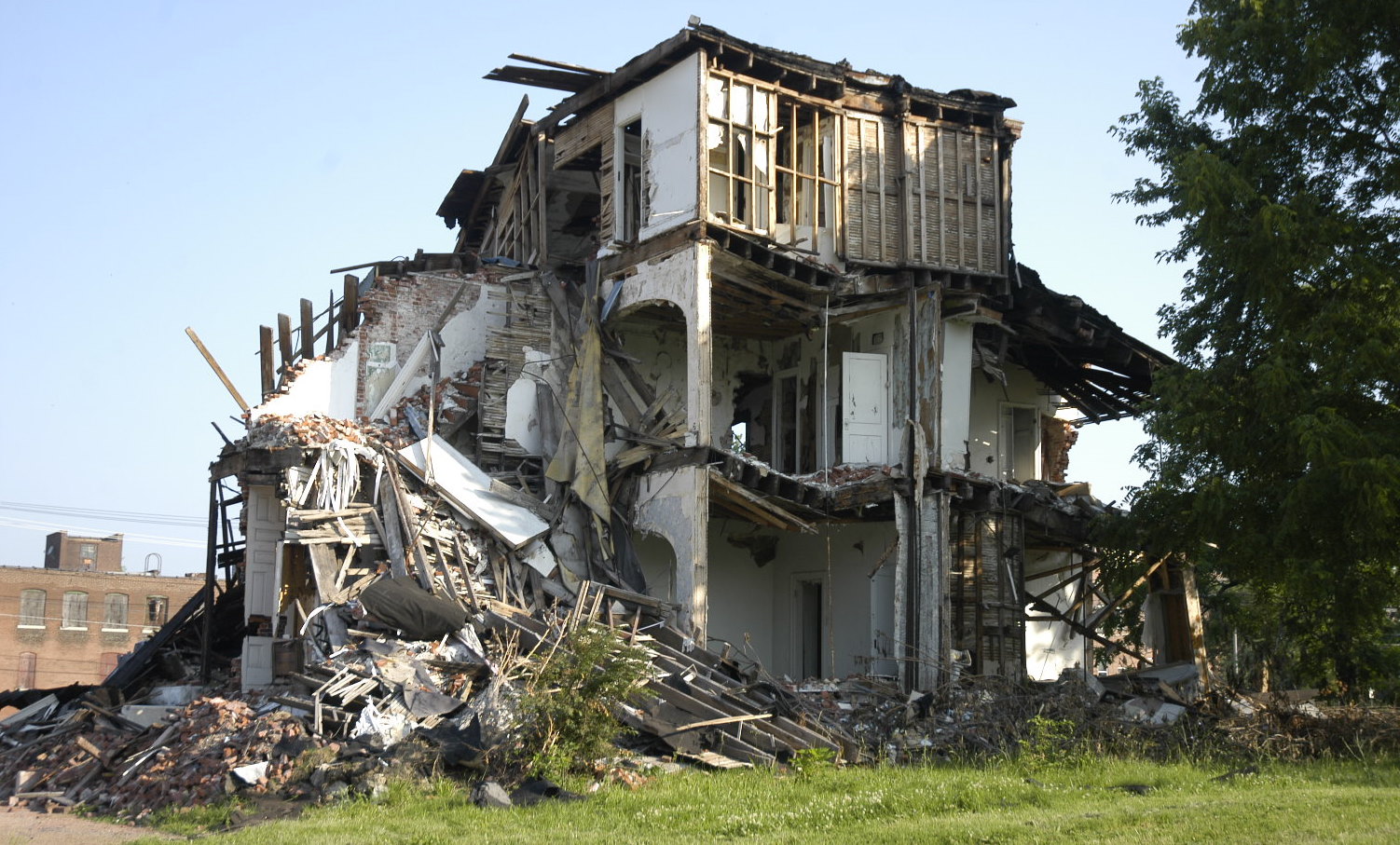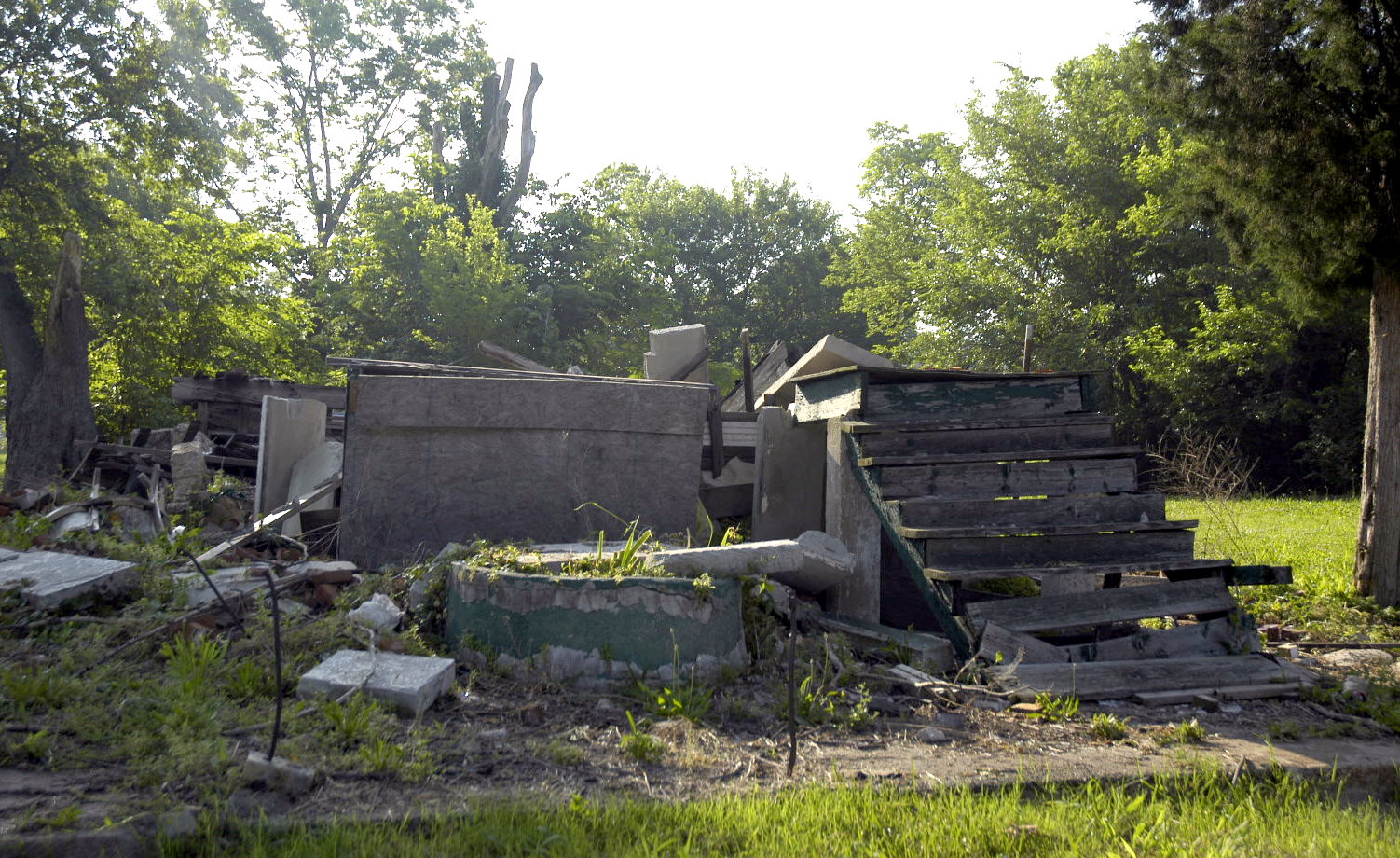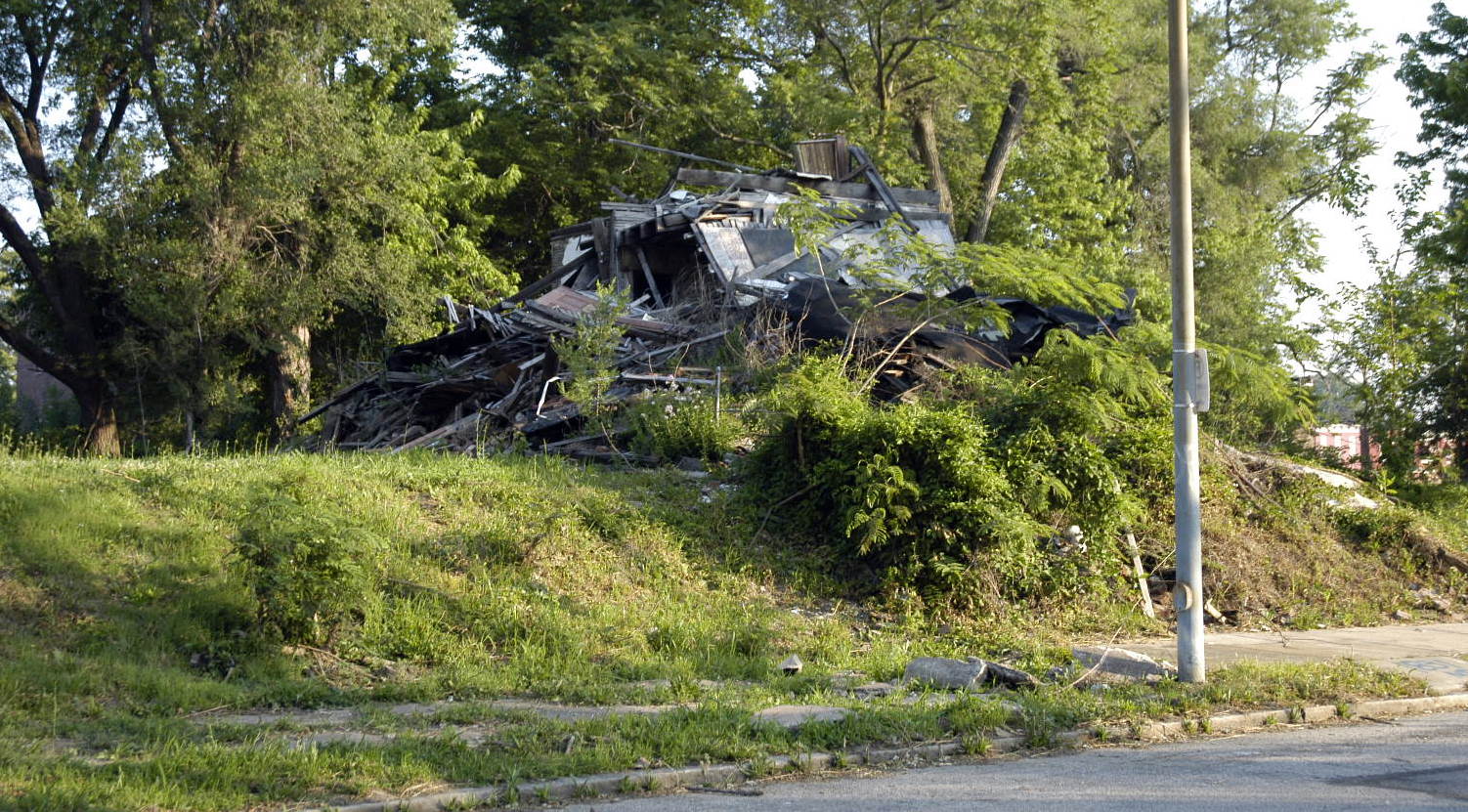 There are many examples of each category. There are also many really nicely maintained, respectable stretches of JVL: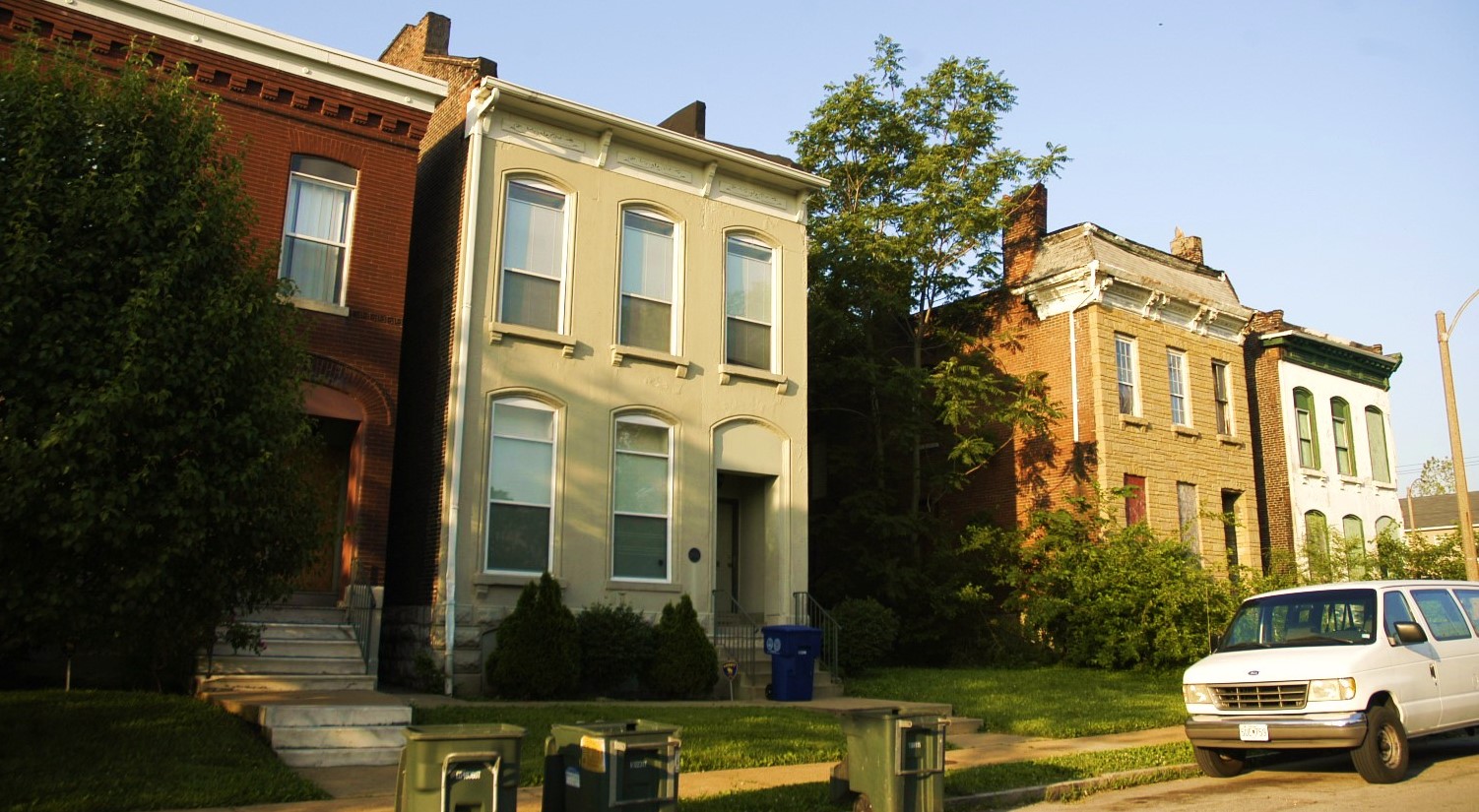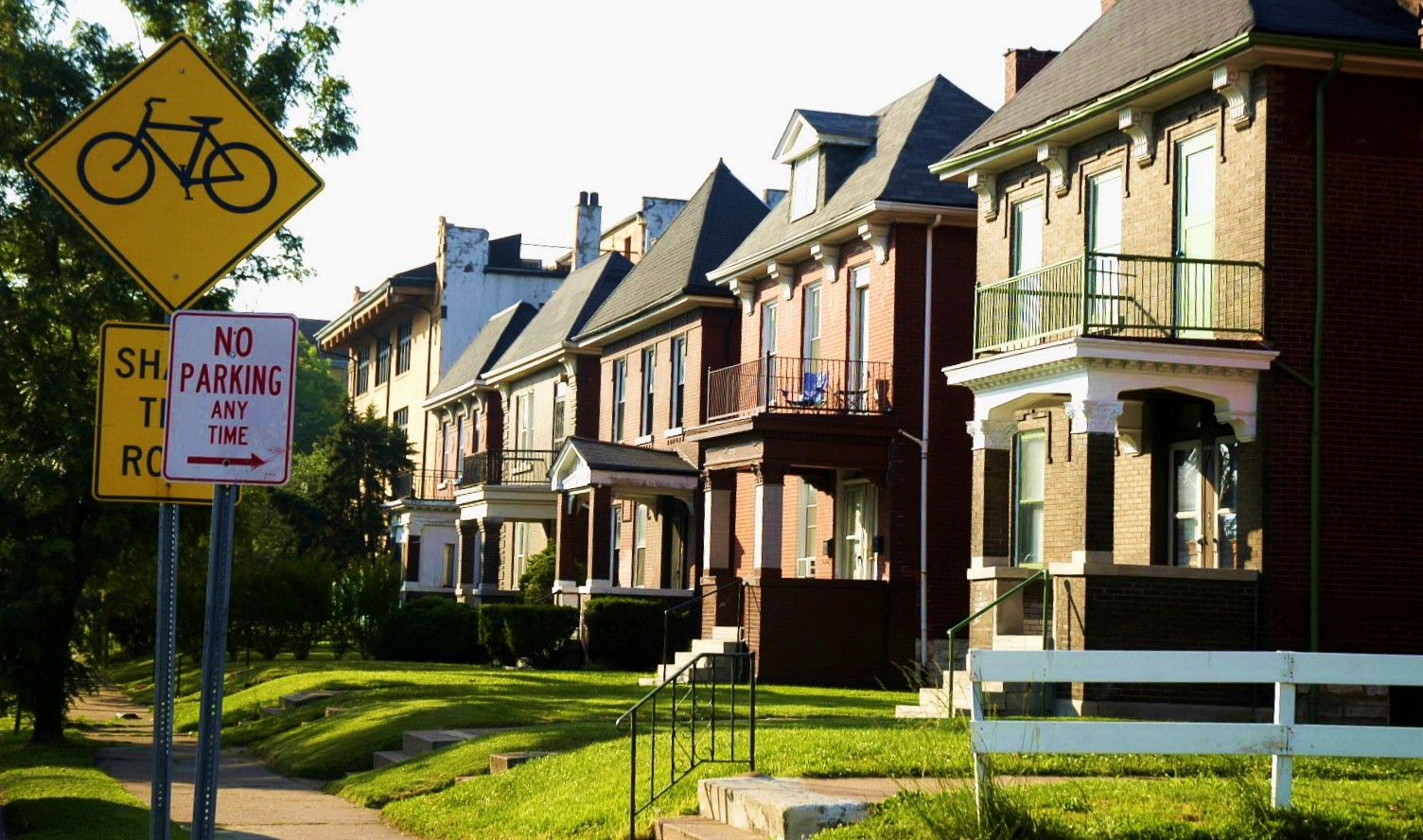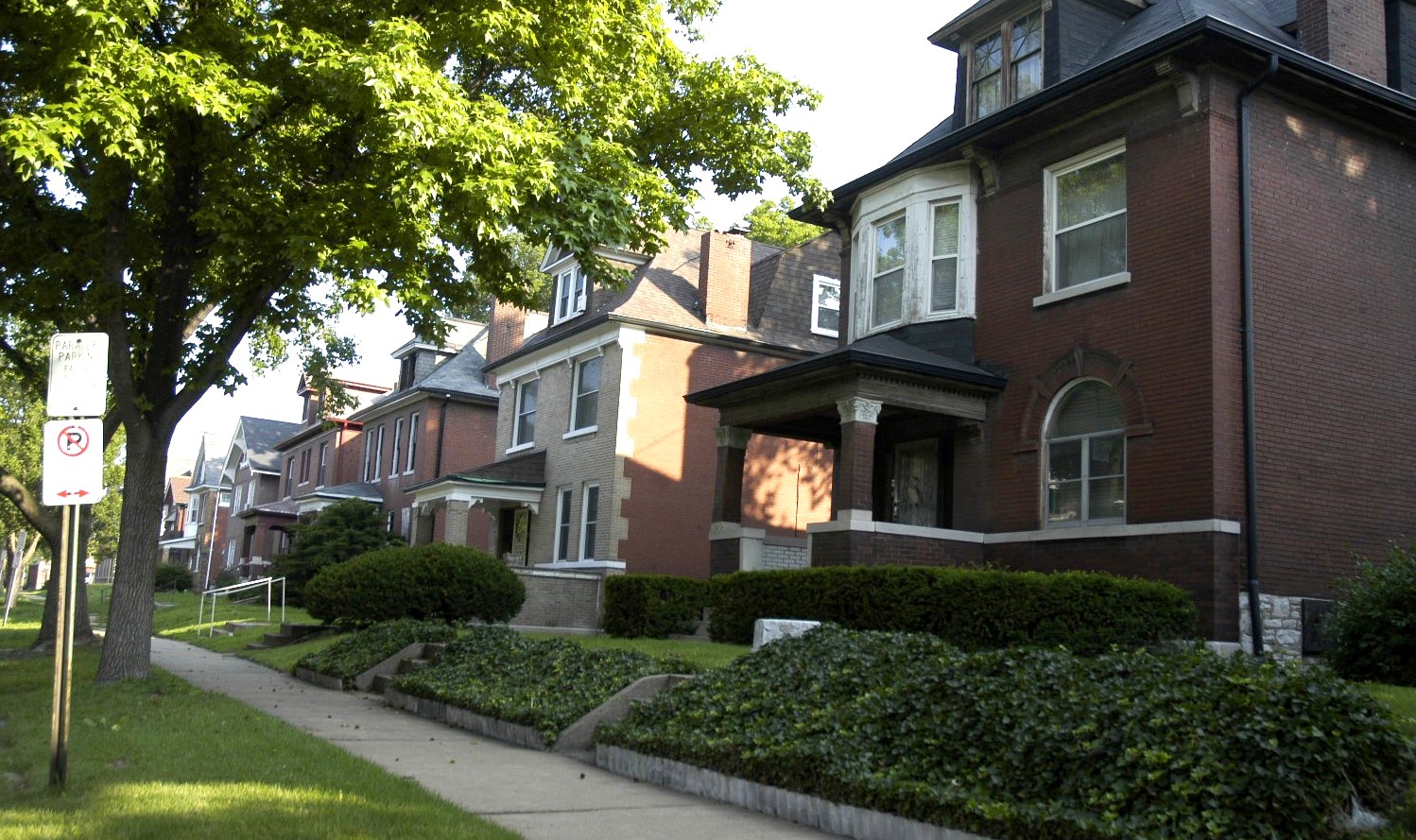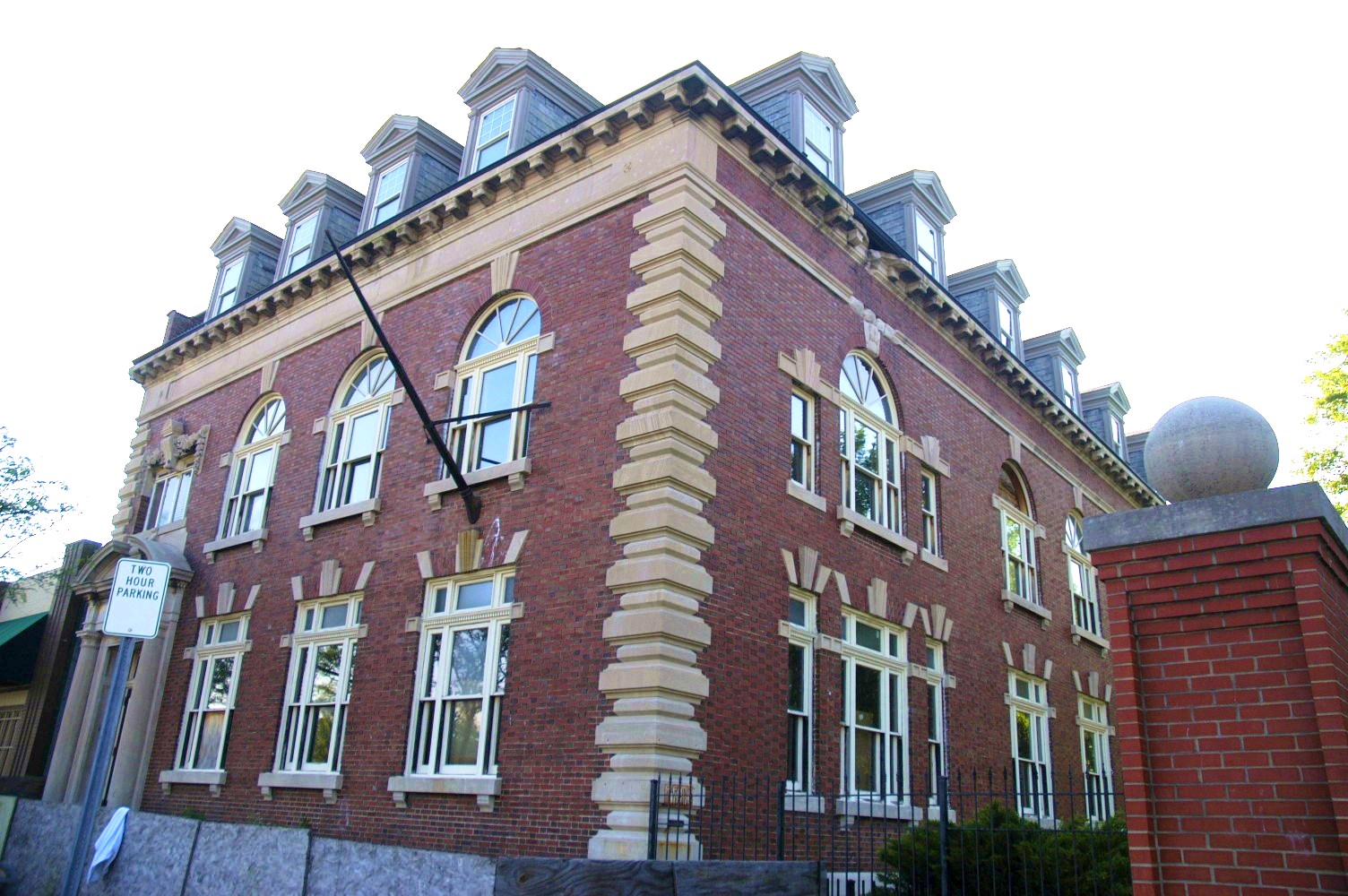 There is also much fallow ground where buildings once stood. Many lone survivors stand in these fields. I can't help but wonder what these beautiful homes would look like if they were rehabbed and the surrounding former properties were farmed with acres of row crops or veggies or orchards. It would look stunning amidst the more dense parts of JVL. Hey, I can dream of my contemporary North City plantation/farm can't I? Imagine these as "21st Century Farm Houses" surrounded by fields of green helping feed people in the area with real food instead of Funions, strawberry soda and ding dongs that are widely available as evidenced by the trash in the streets and gutters of JVL: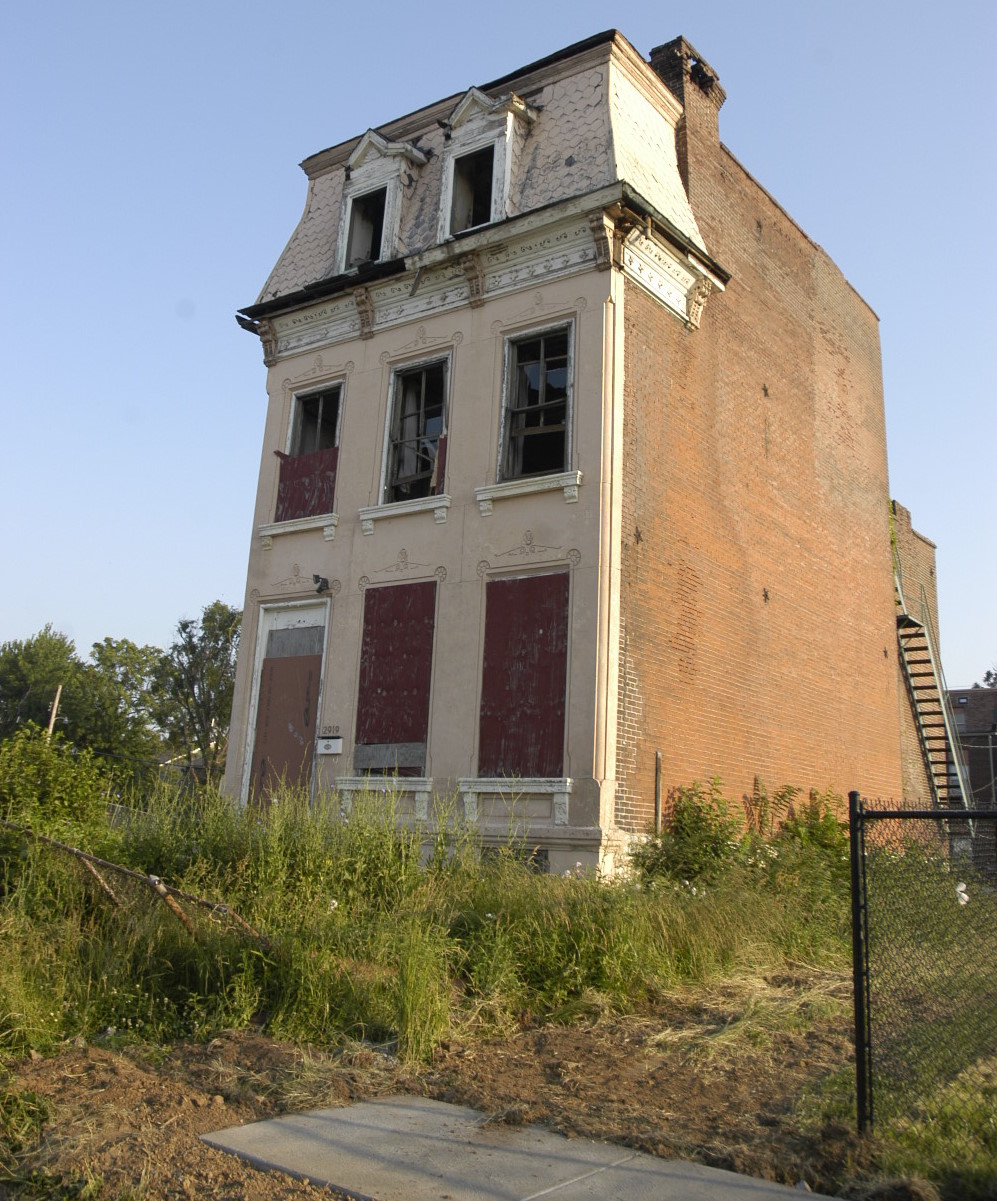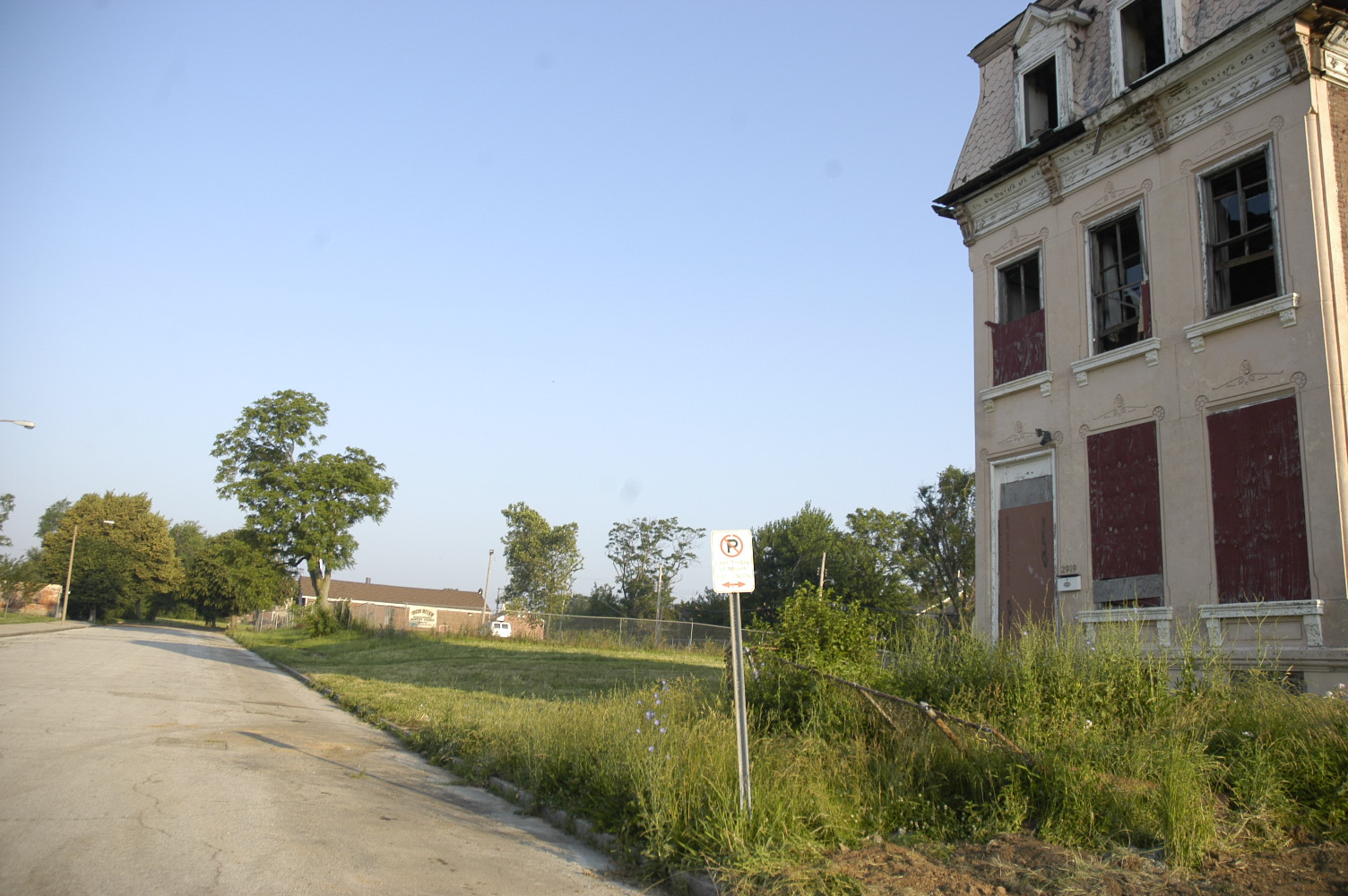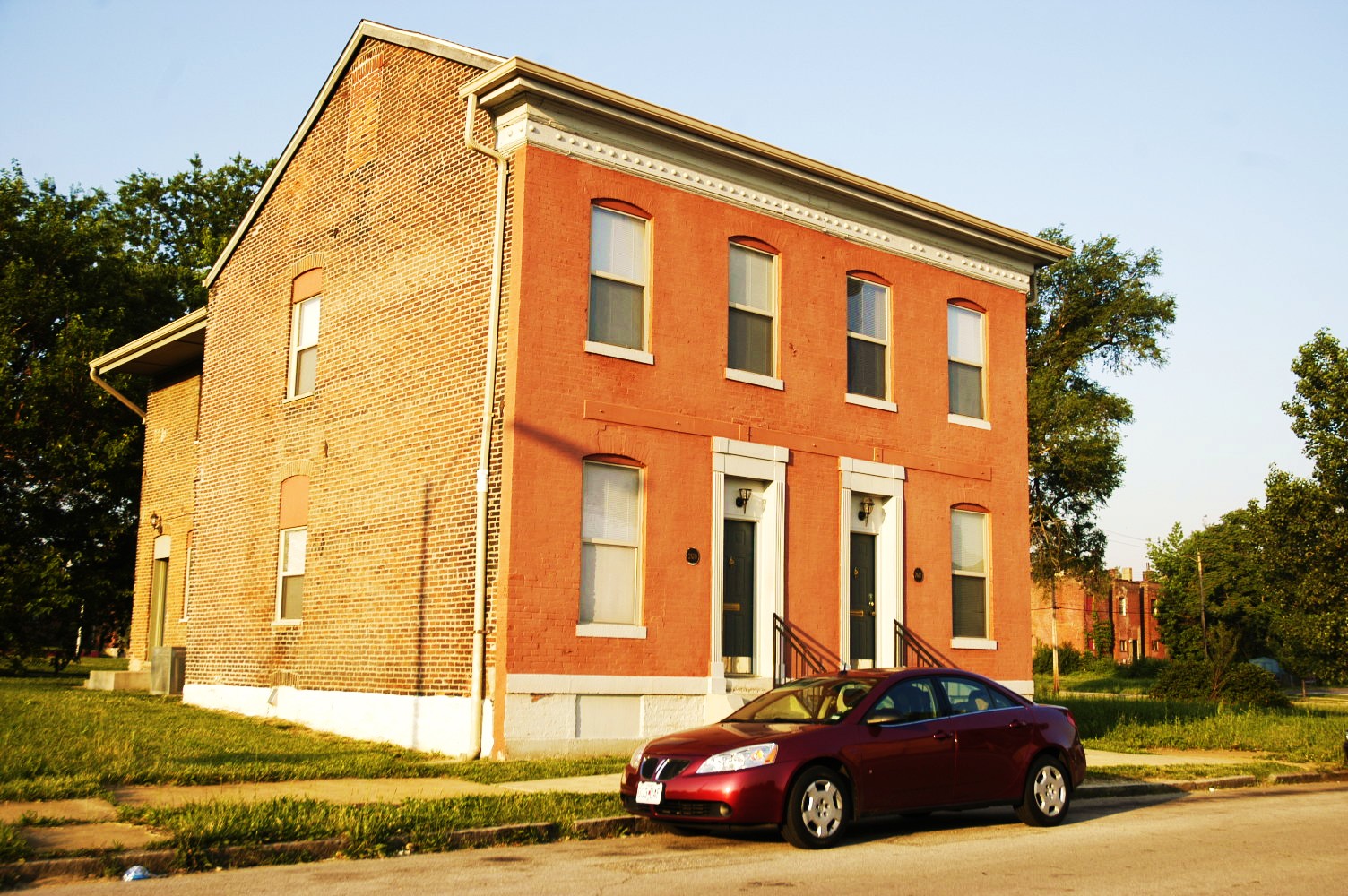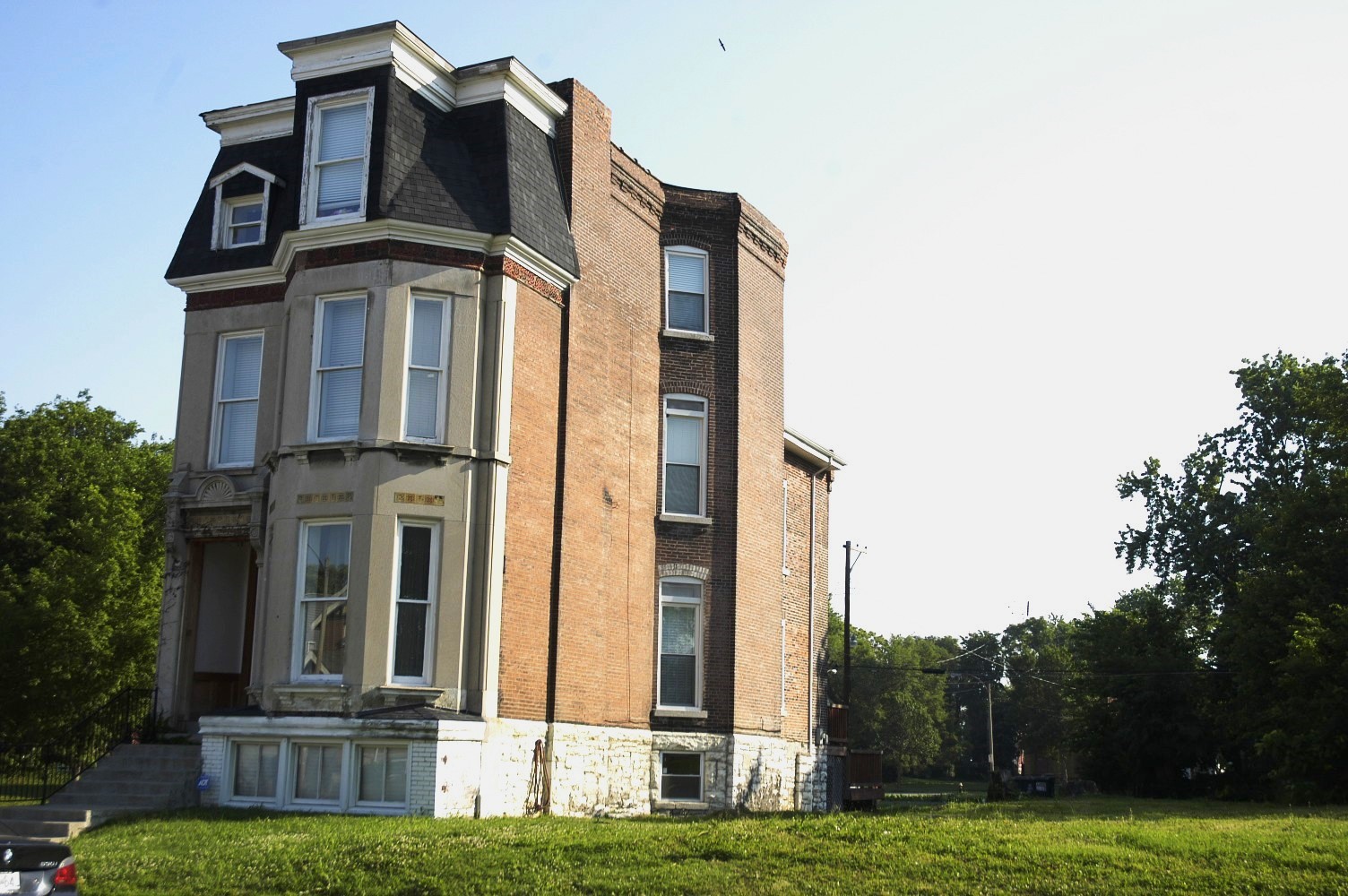 A visit to JVL today will provide you with a glipse back to the times when St. Louis was a manufacturing power house. A time when we MADE things and people lived where they worked. There are aging, crumbling factories, businesses and former institutions all over JVL. I'm fascinated by these scenes of decay.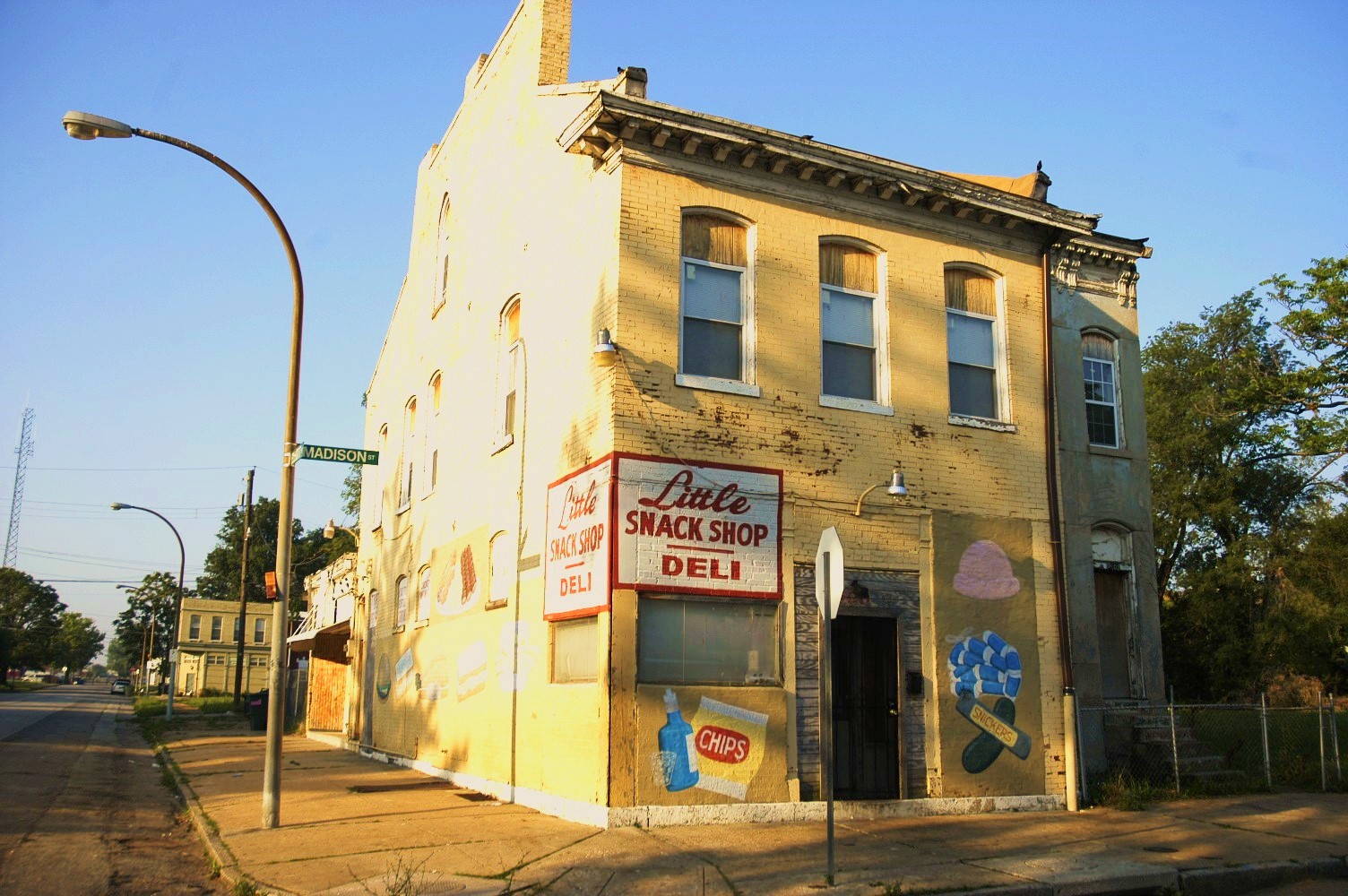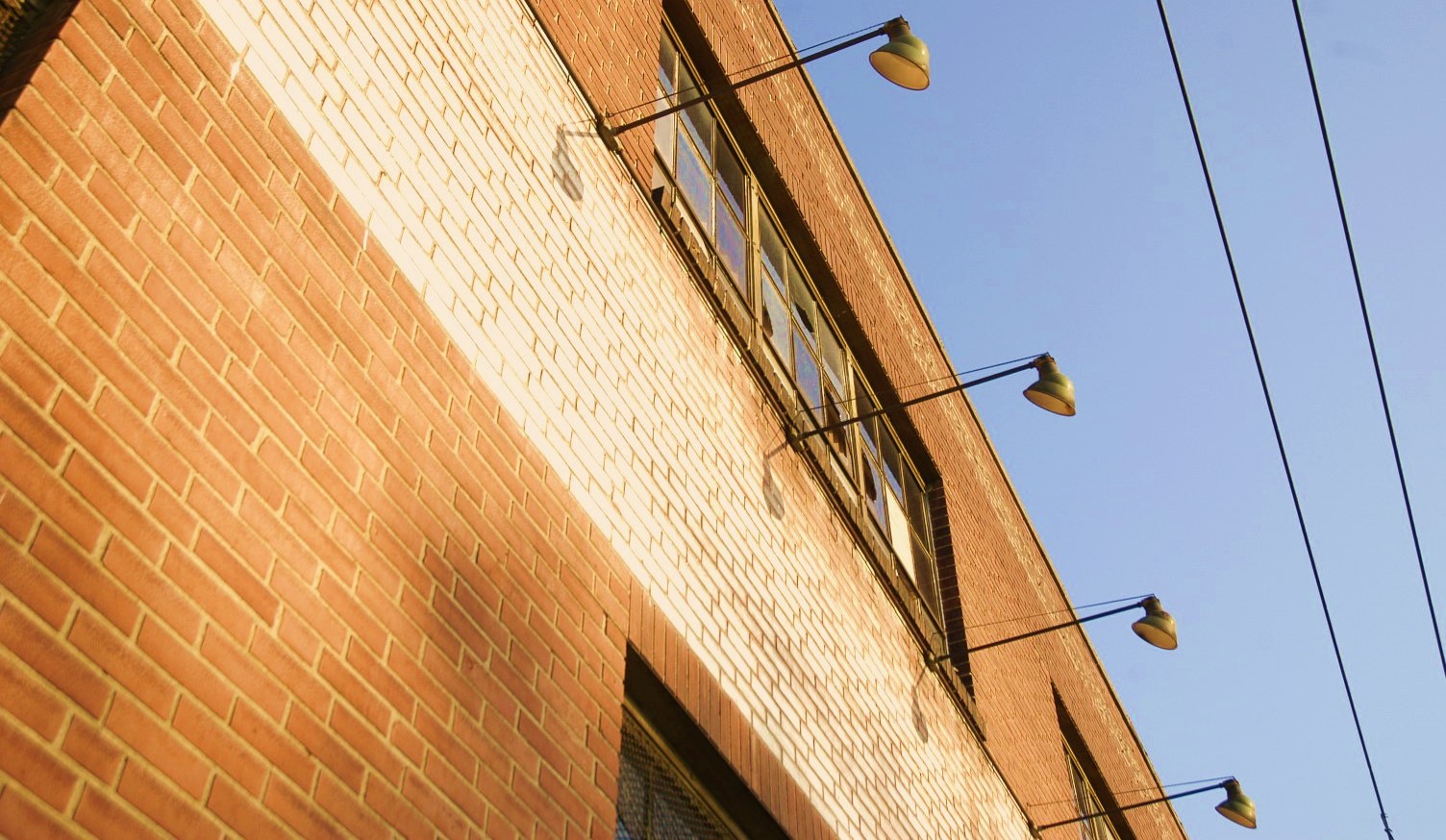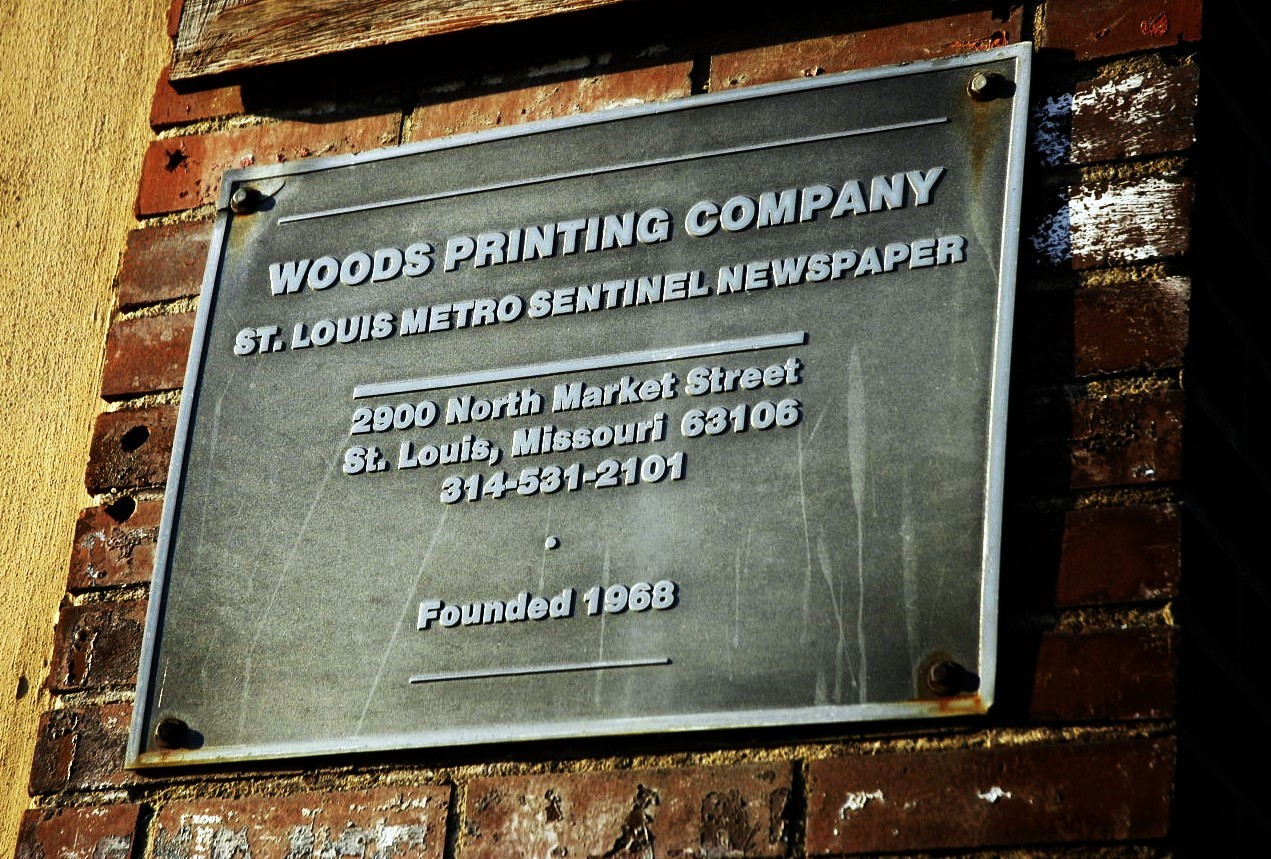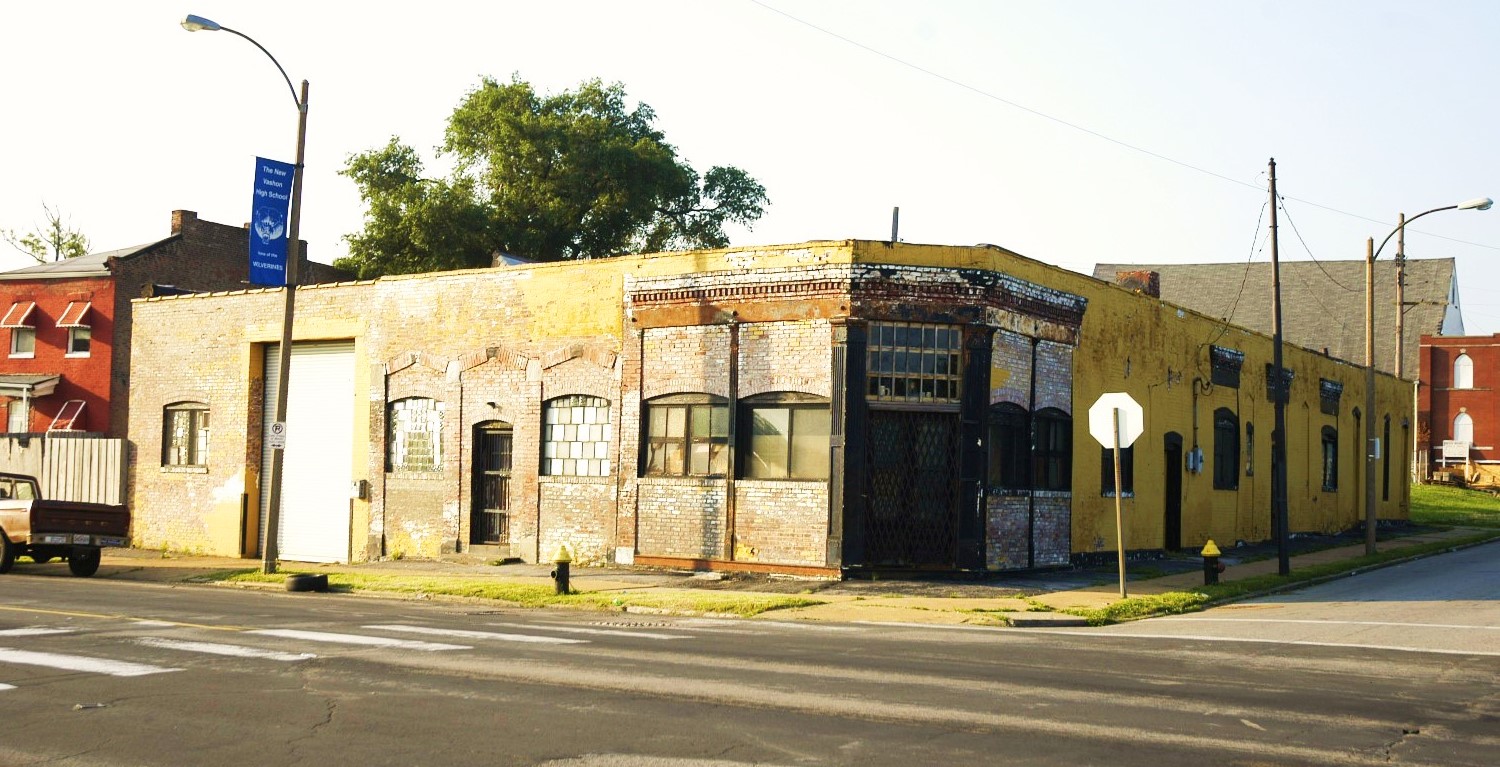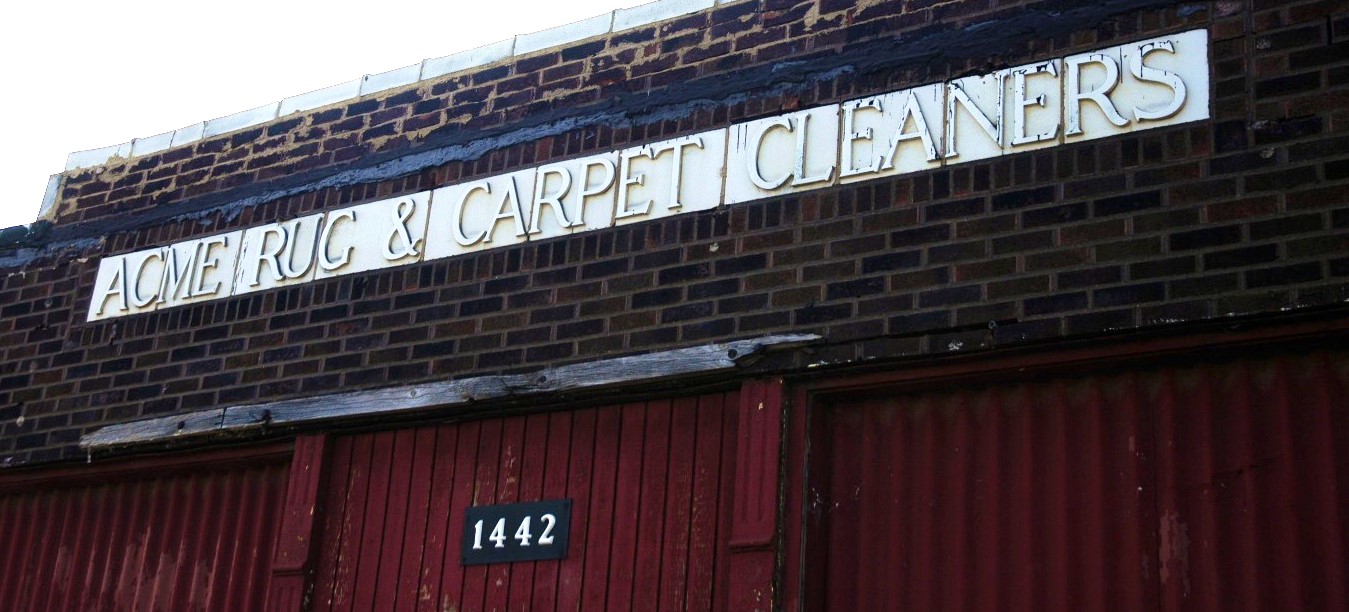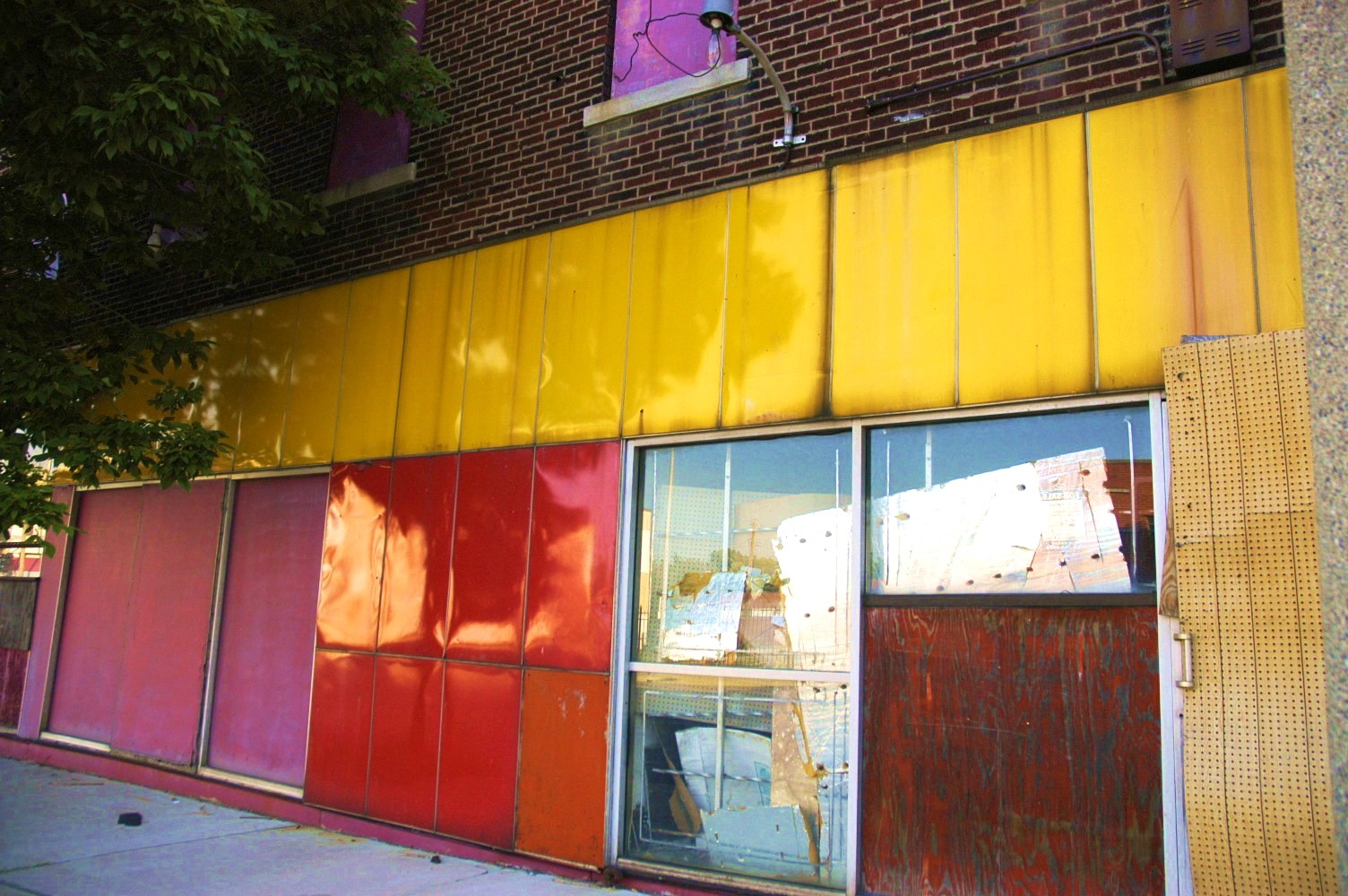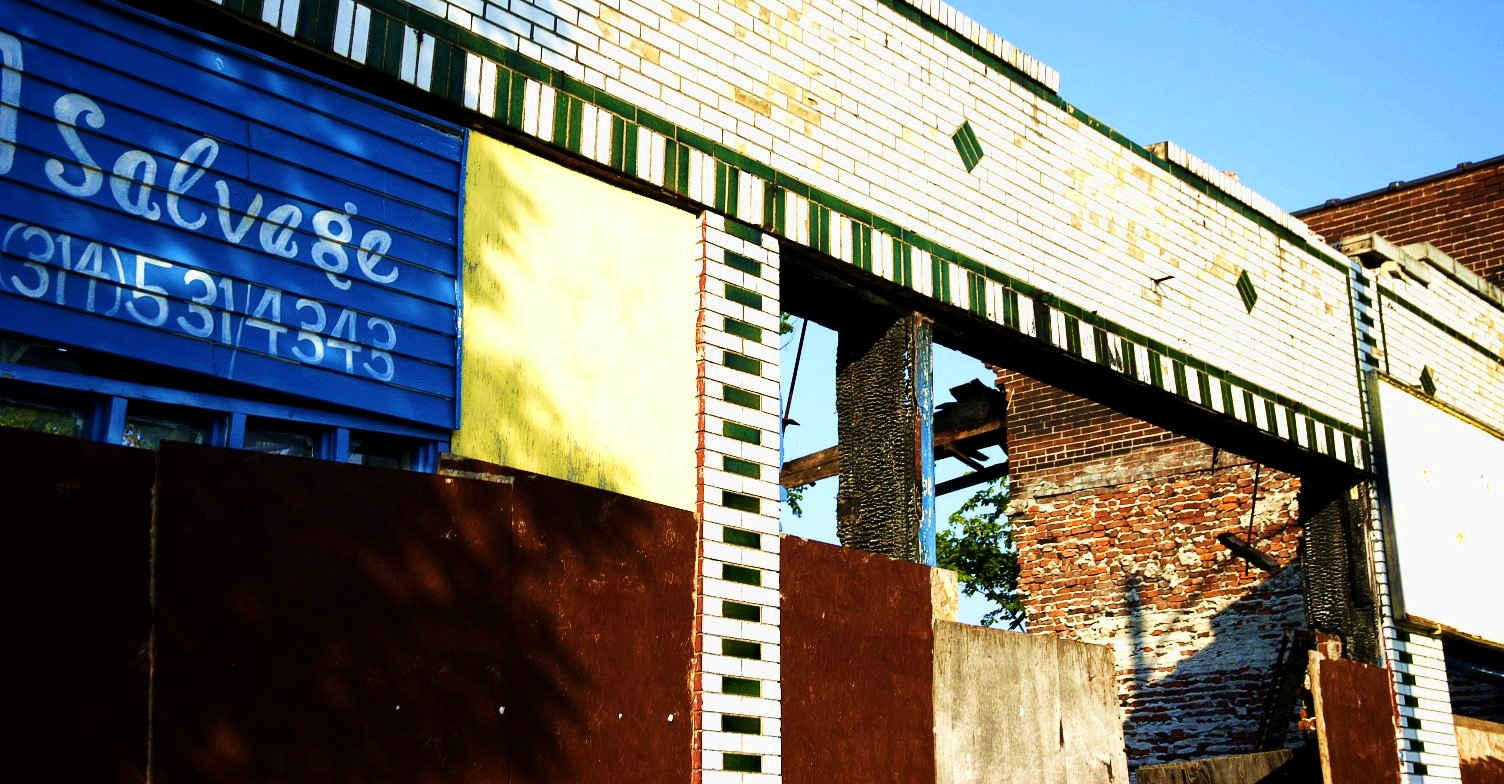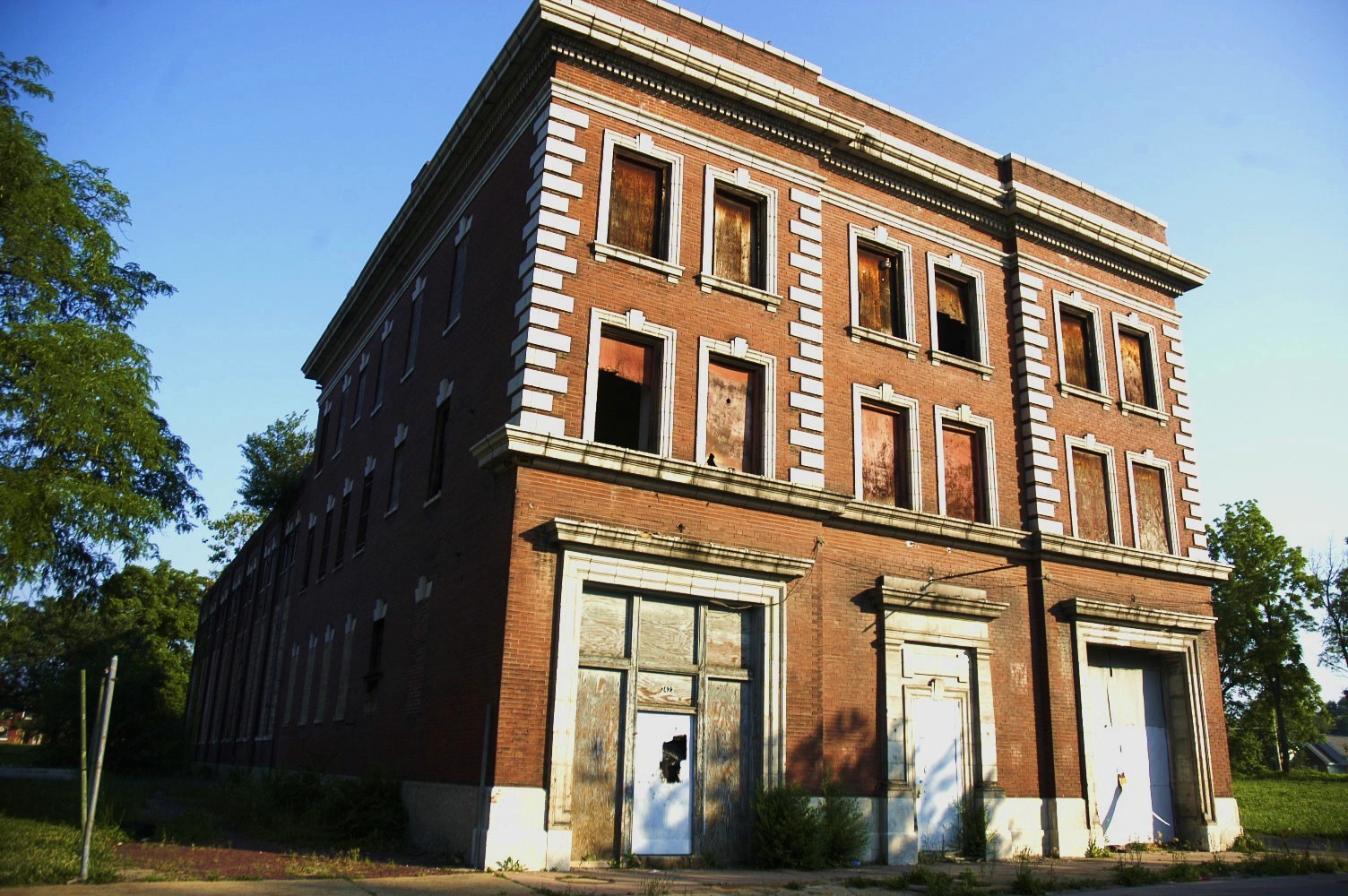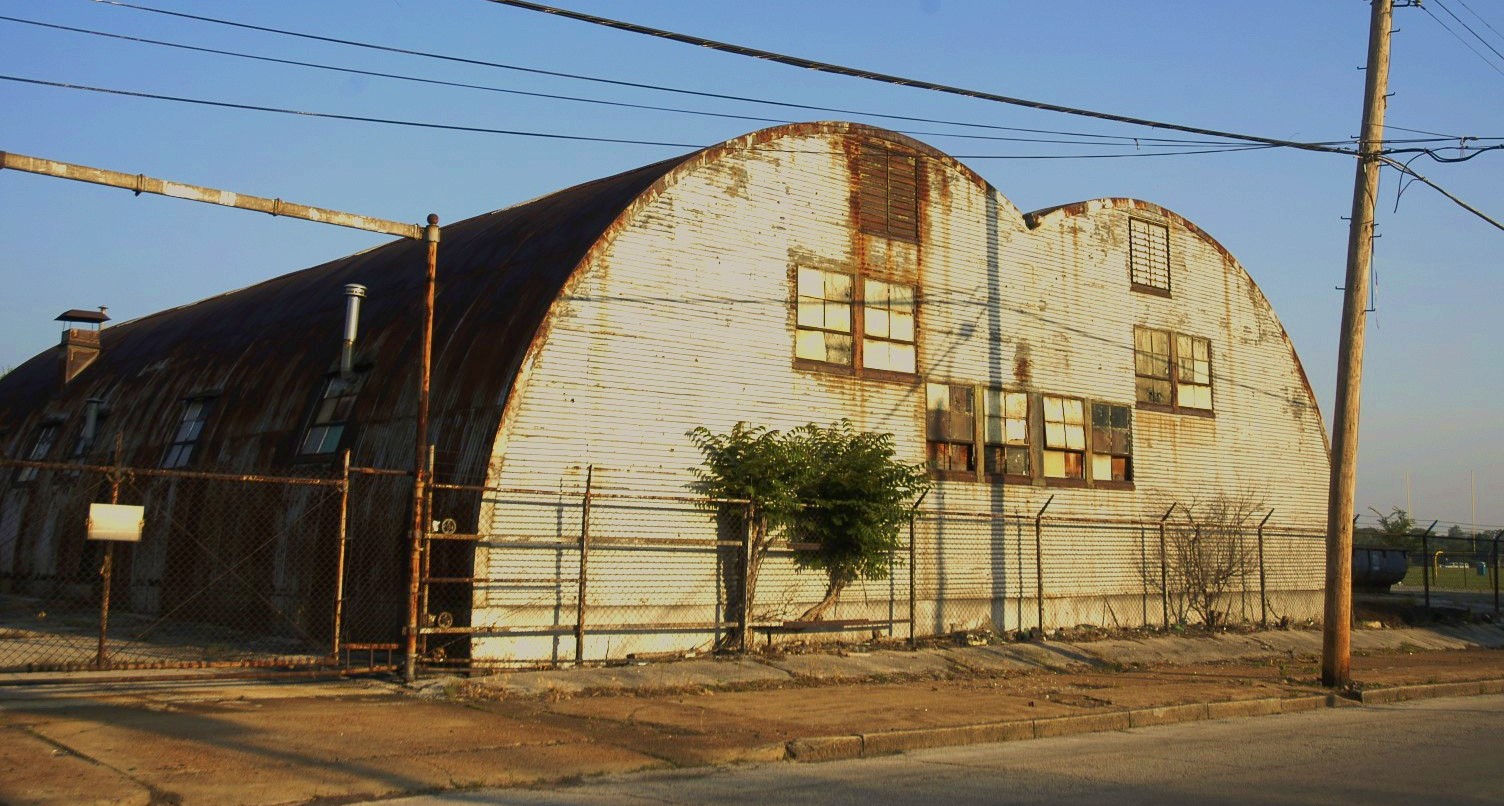 There are also a couple newer factories still in operation, here's one: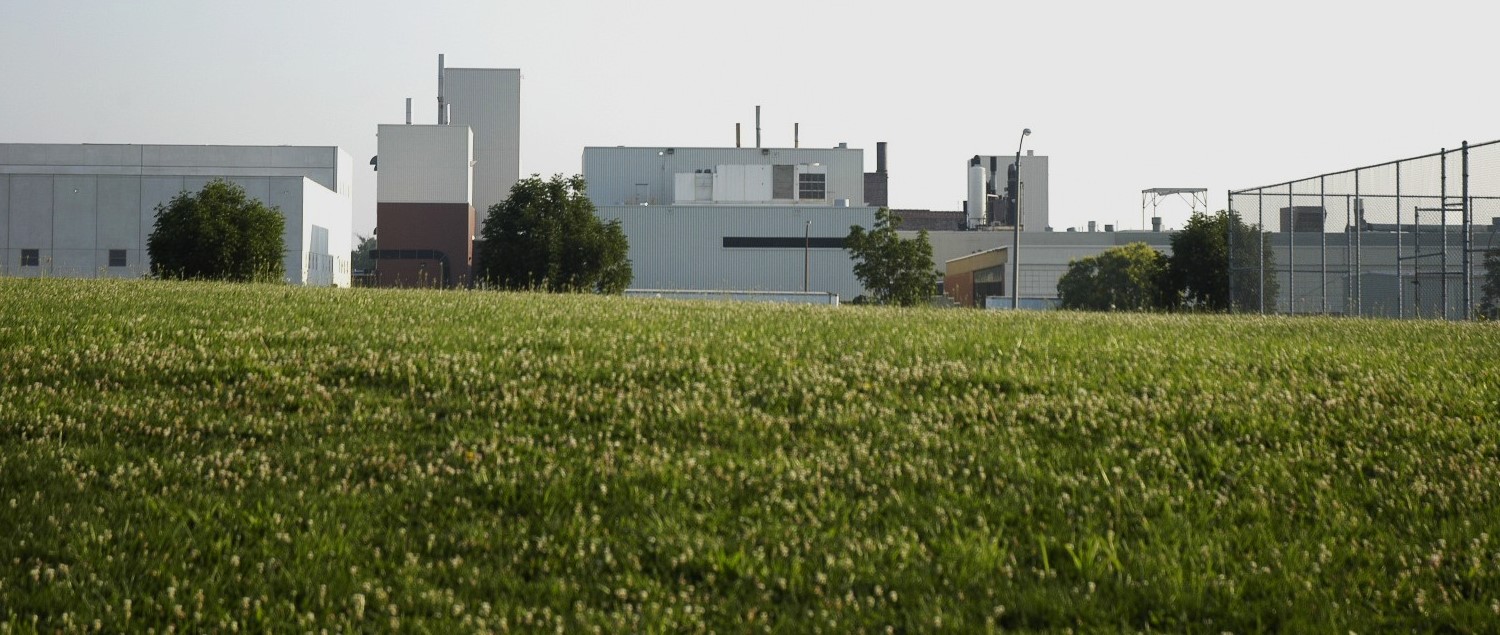 There are several parks, green spaces and churches in JVL: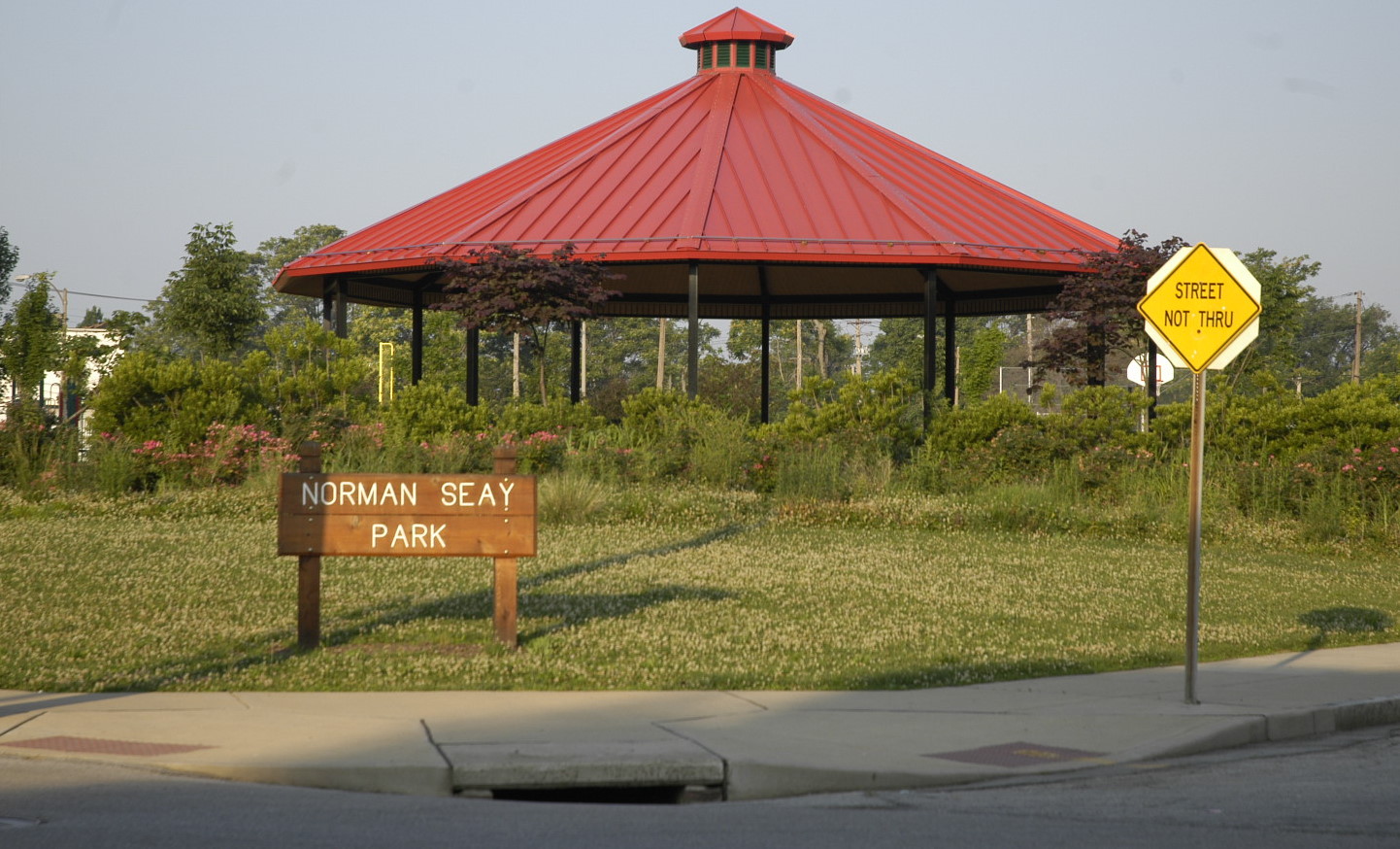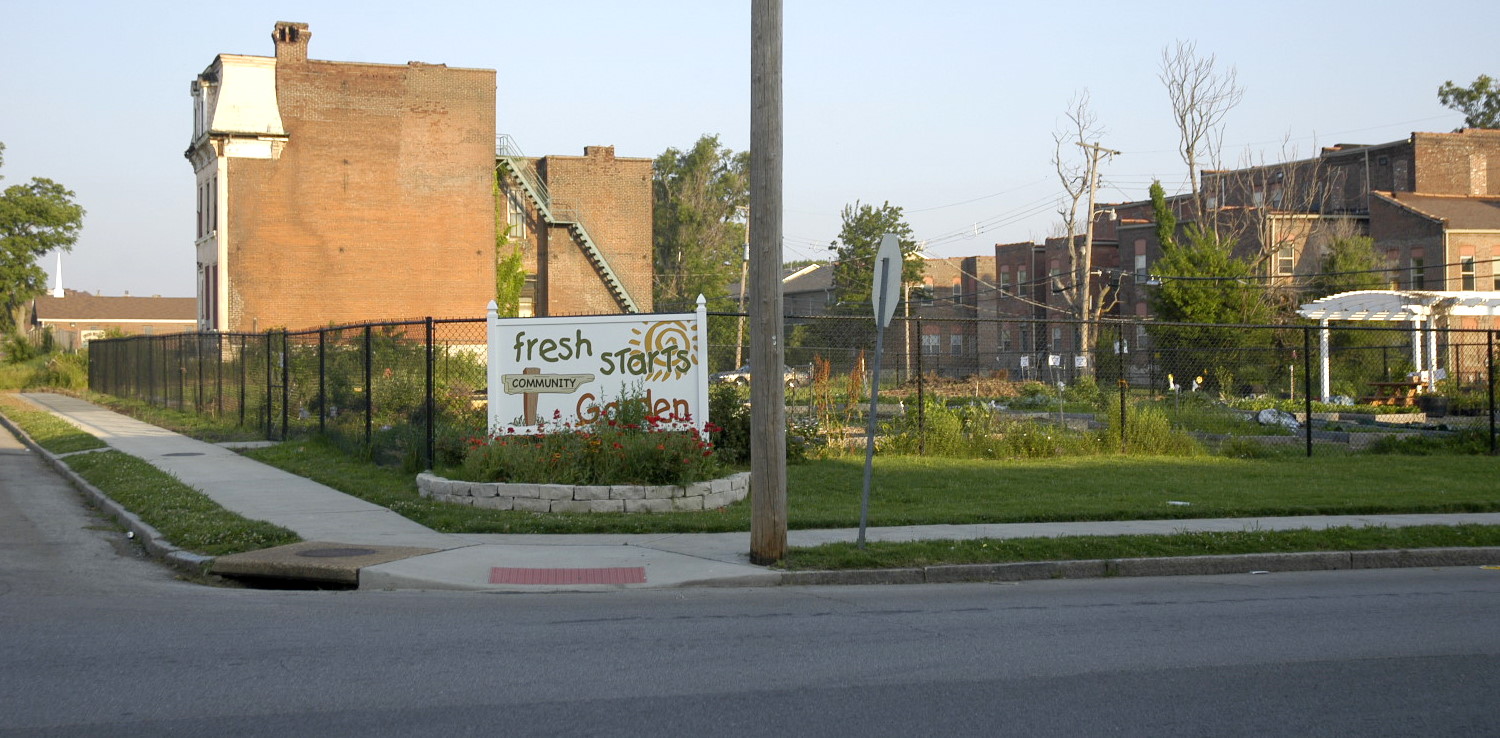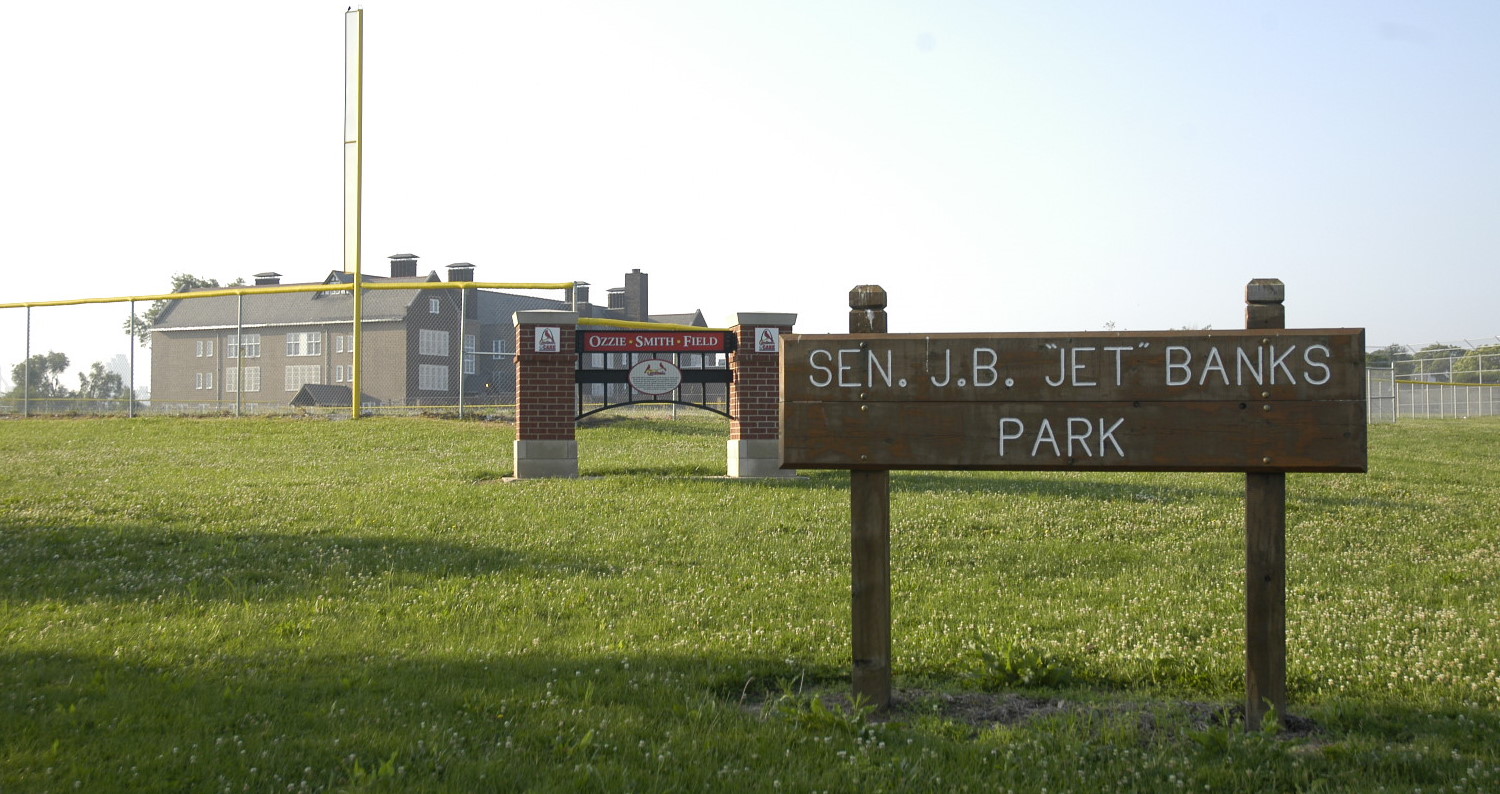 Other parks include Rumbold, Yeatman Square, Garrison-Brantner-Webster and Chambers.
And some of the handsome churches of JVL: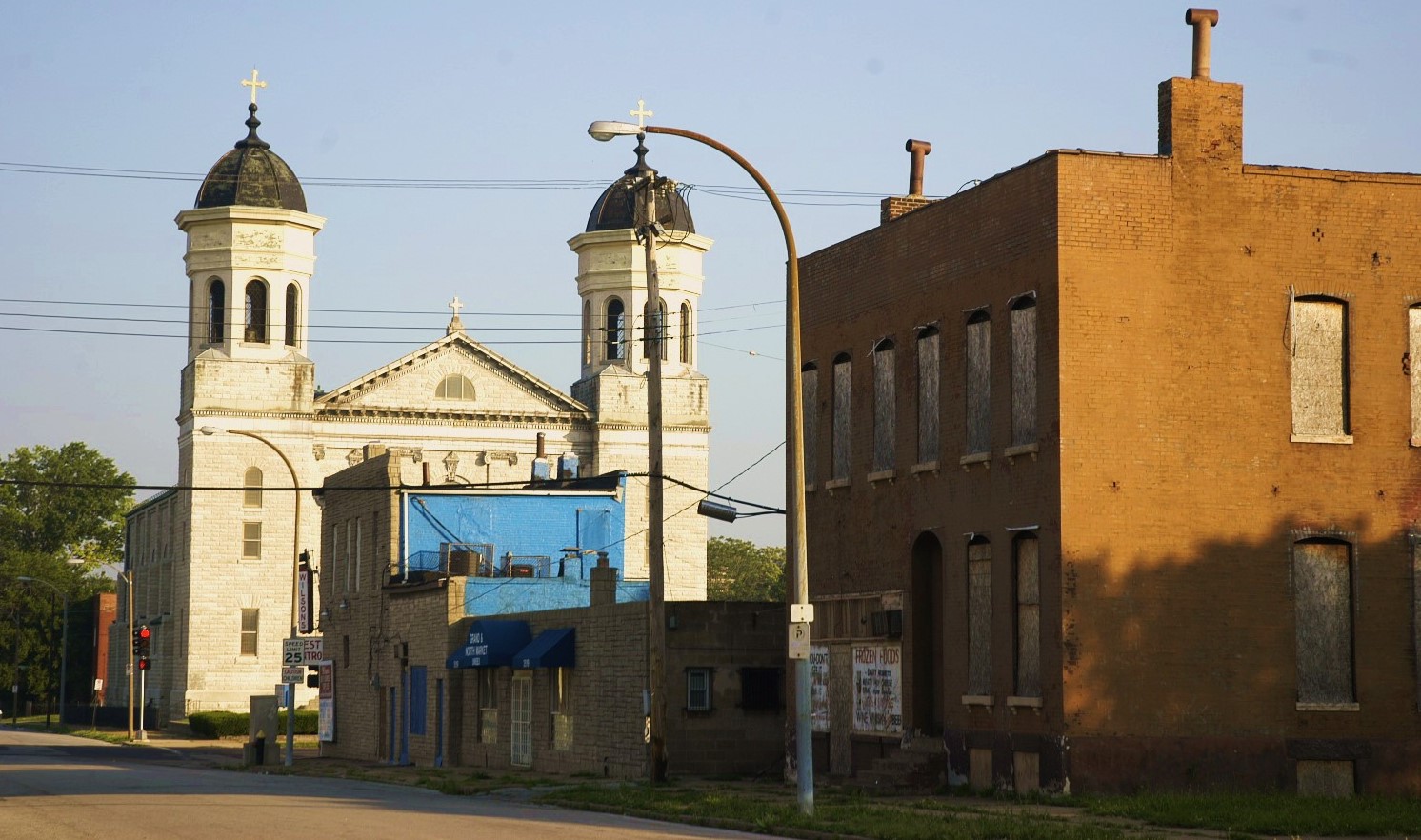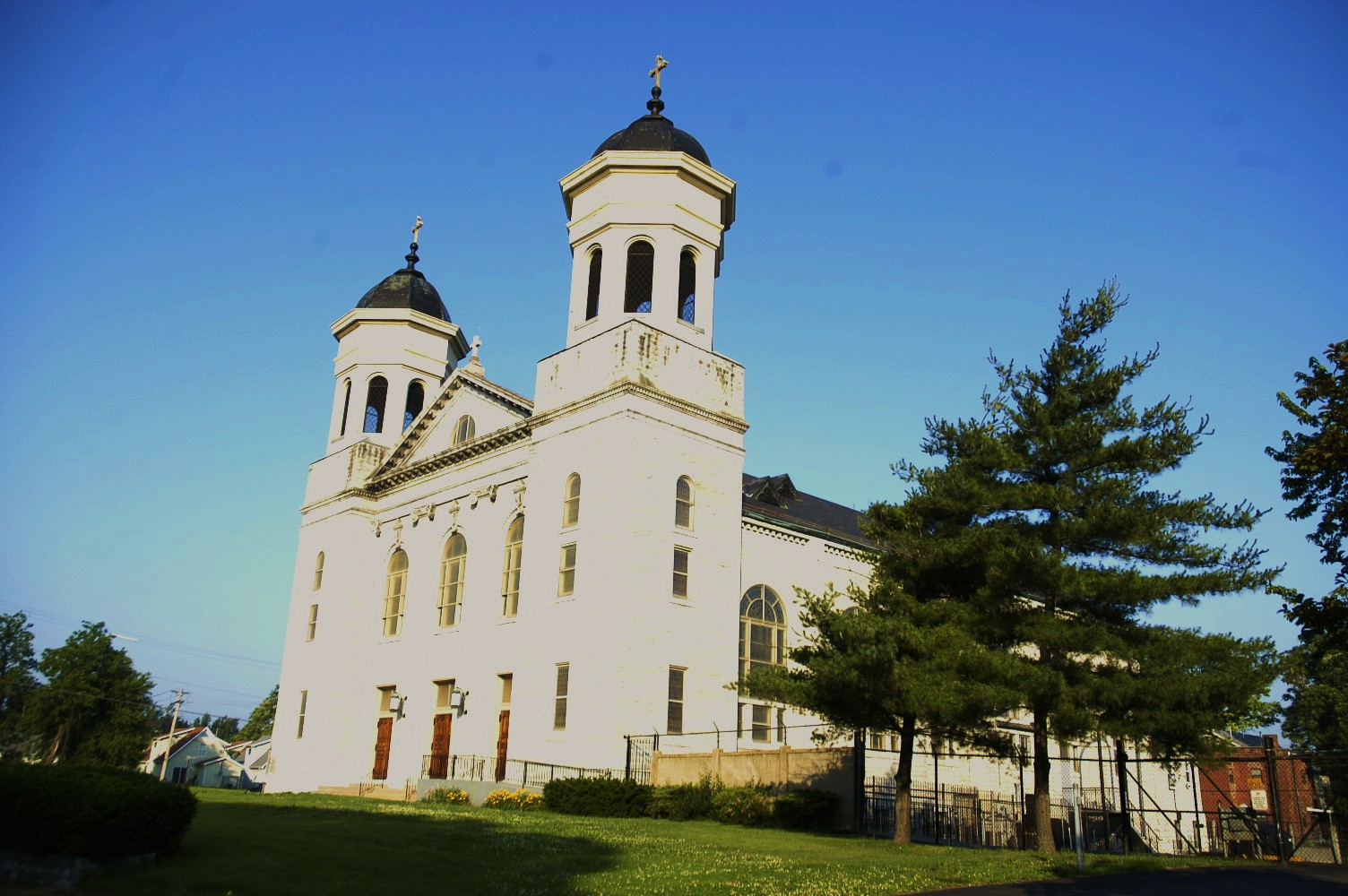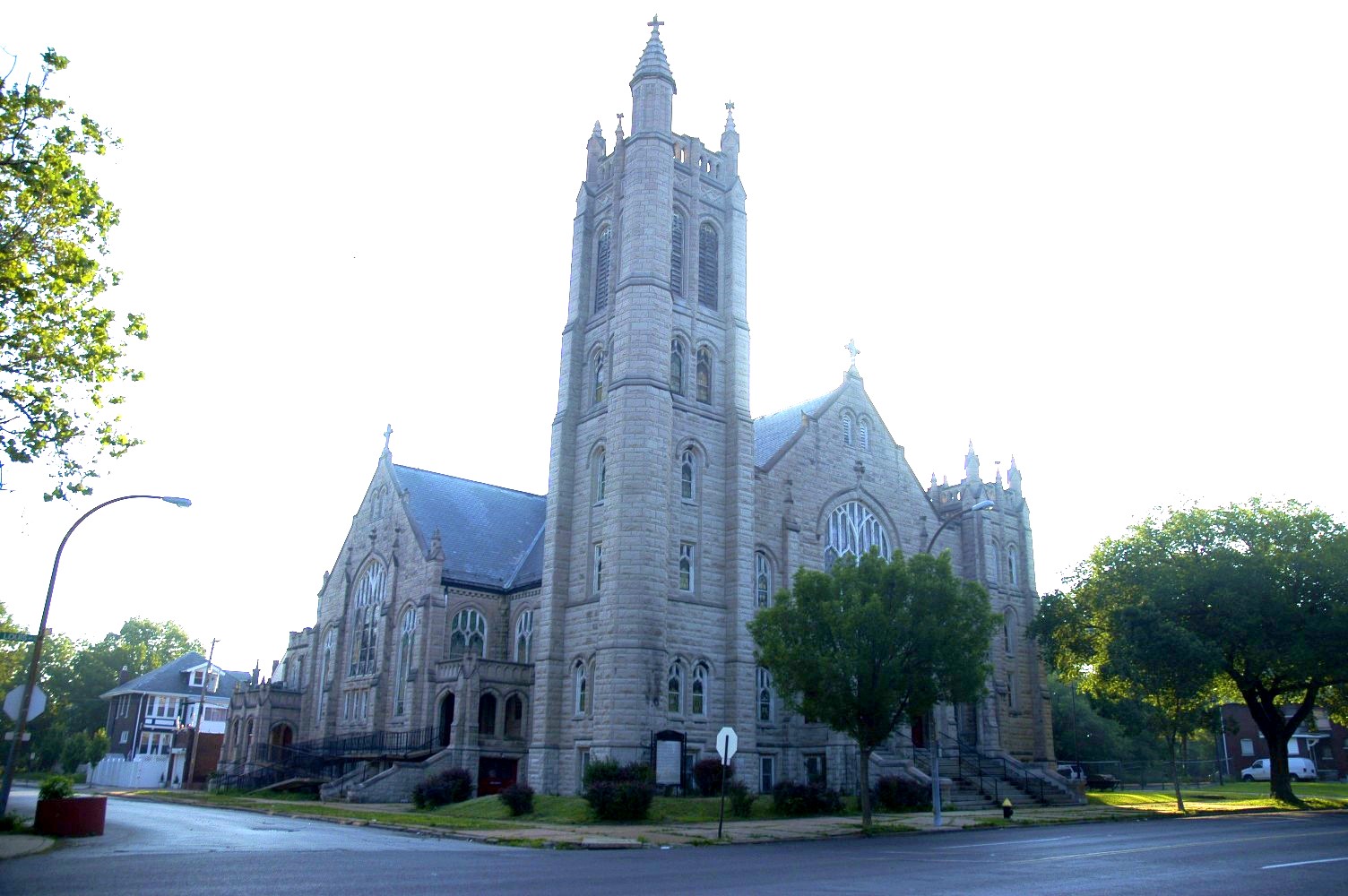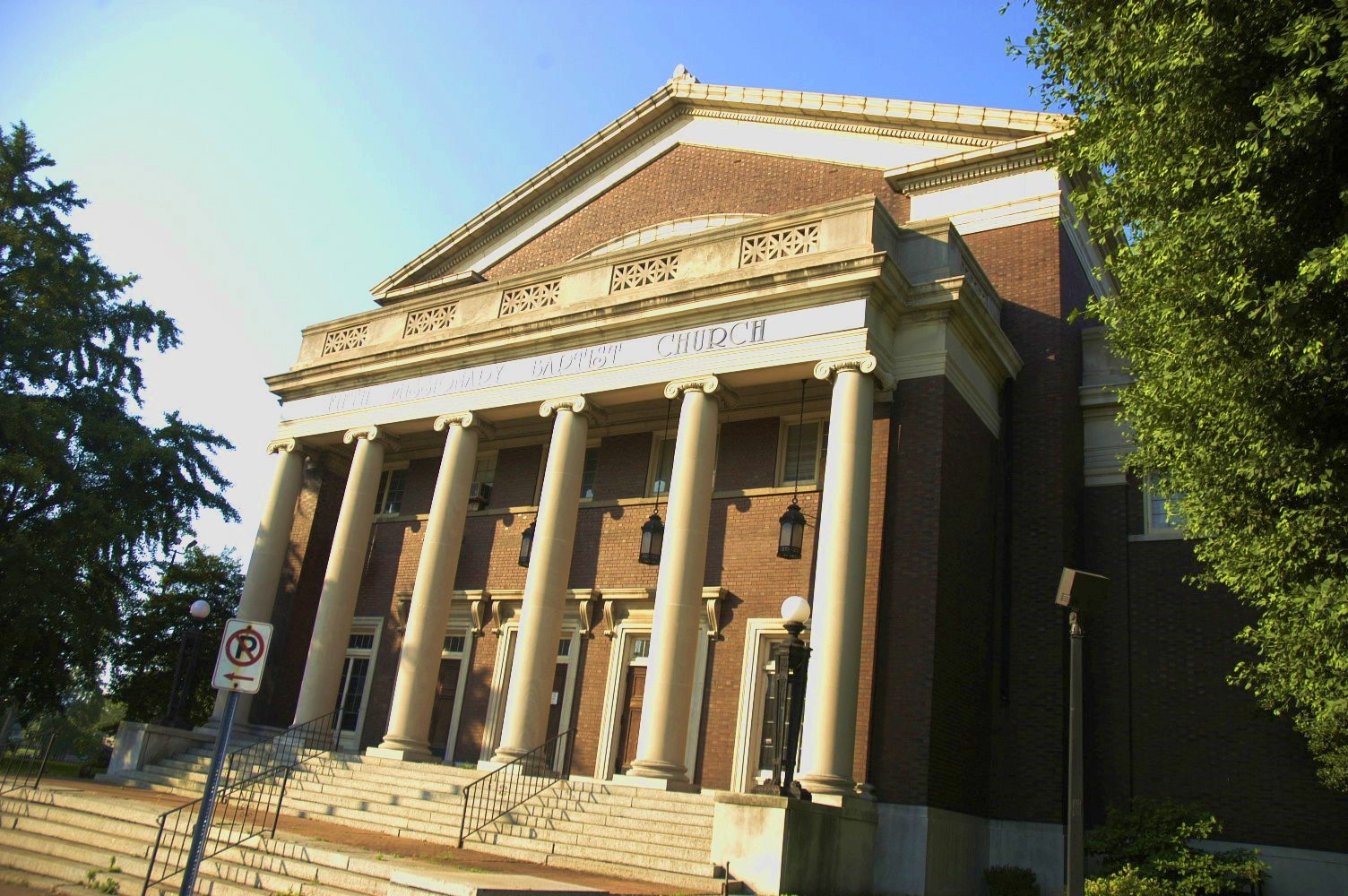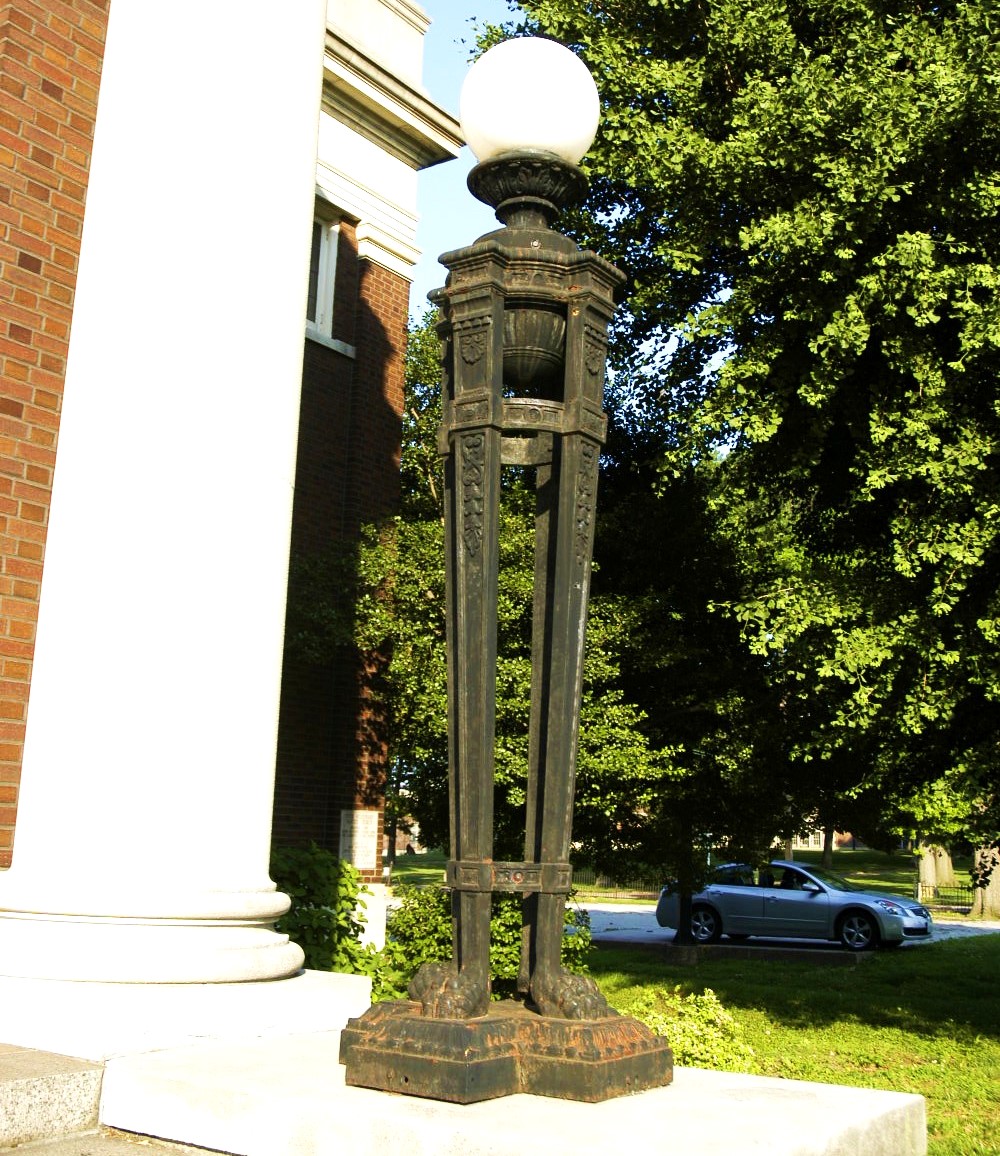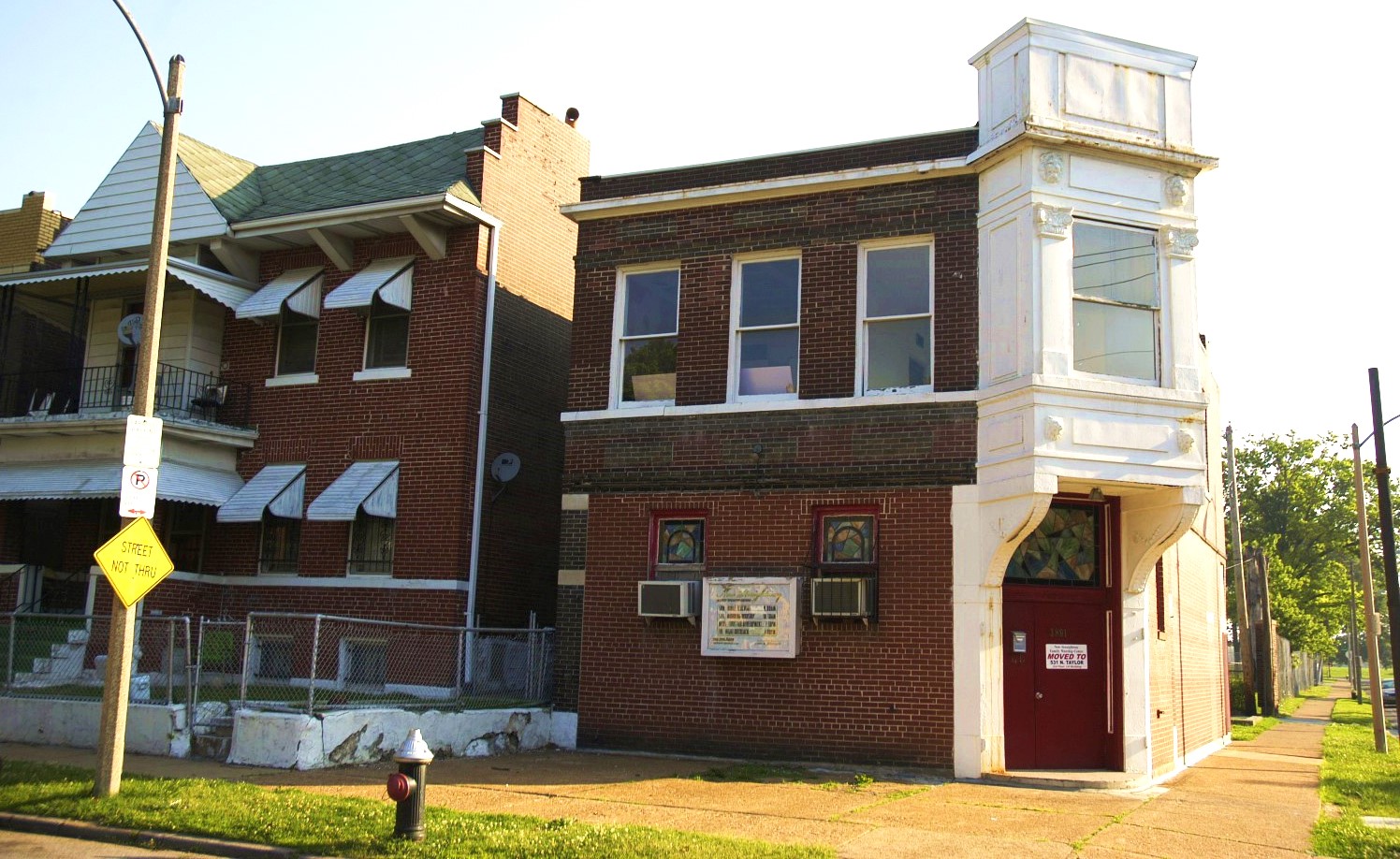 My favorite church is that cosmic white stalagmite rising over JeffVanderLou and Covenant Blu/Grand Center, St. Alphonsus Liguori "Rock Church". The church suffered a major fire August 16, 2007 and has since been repaired: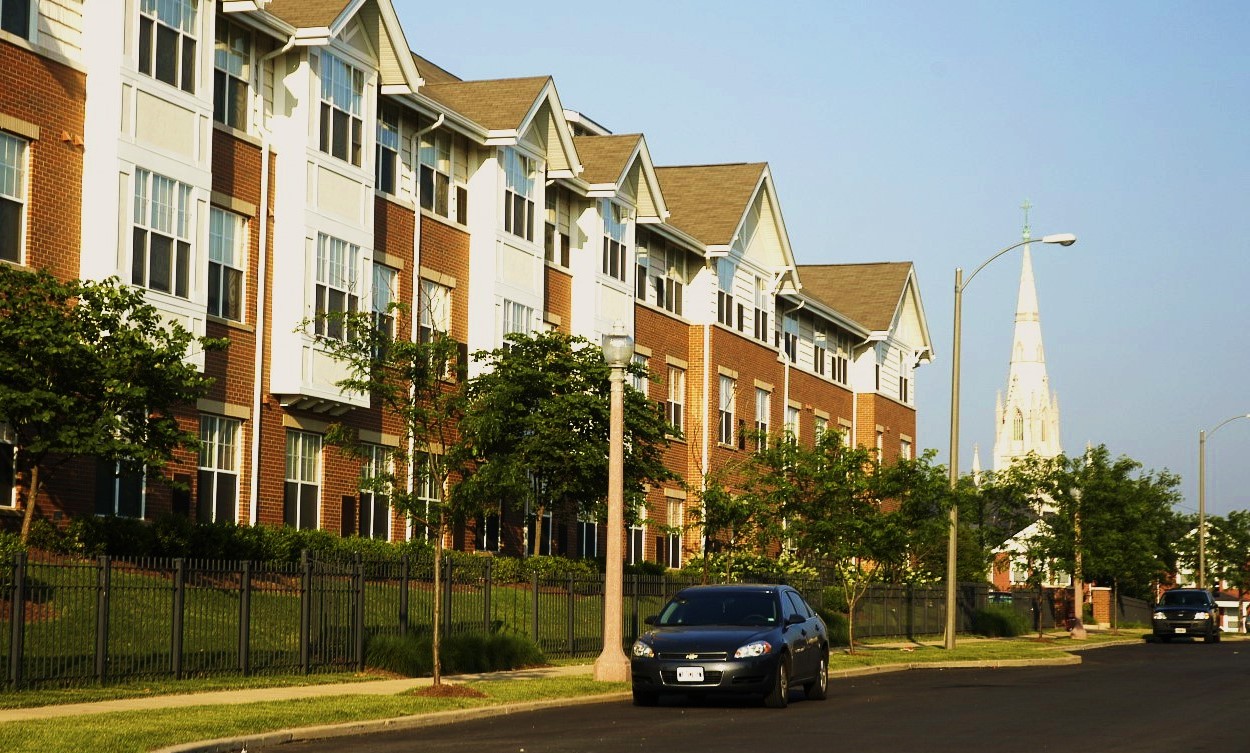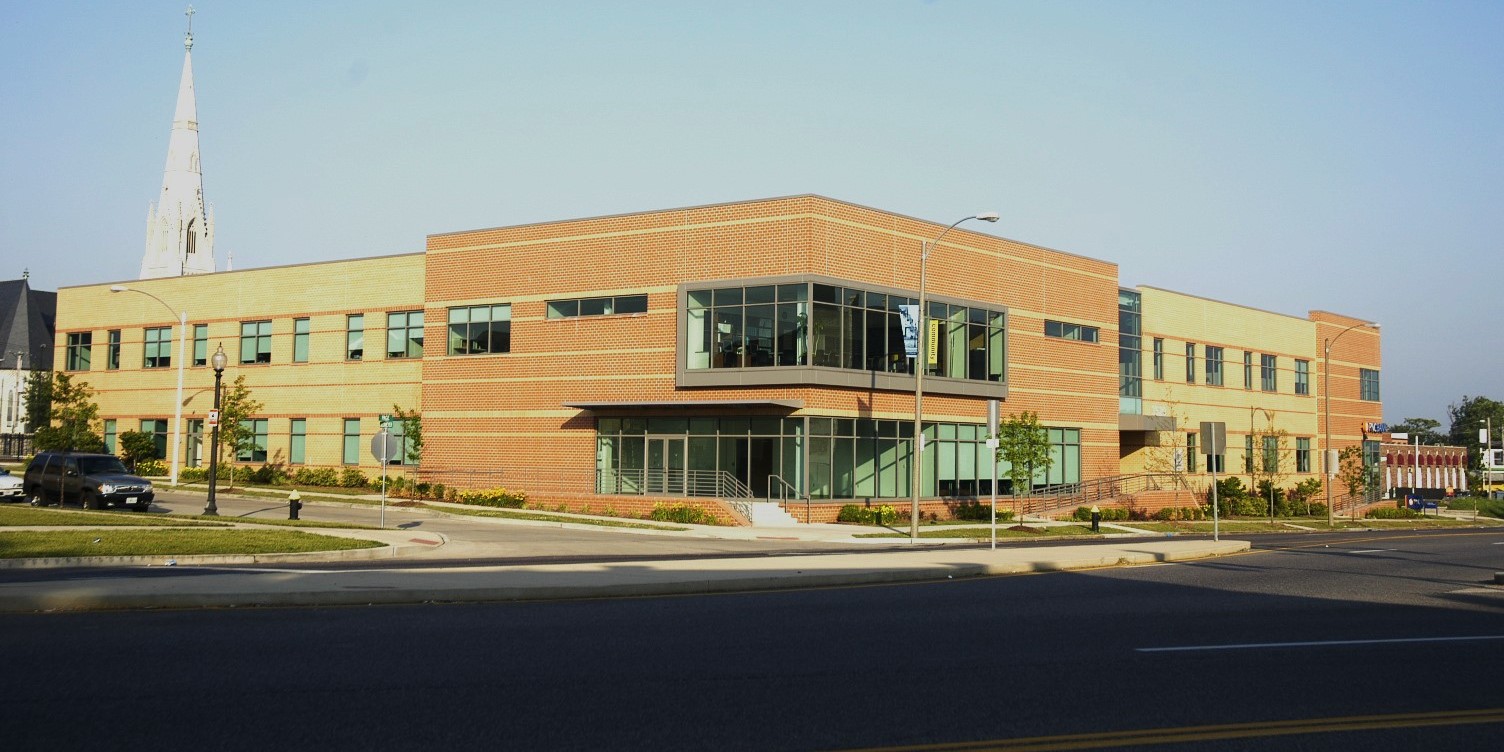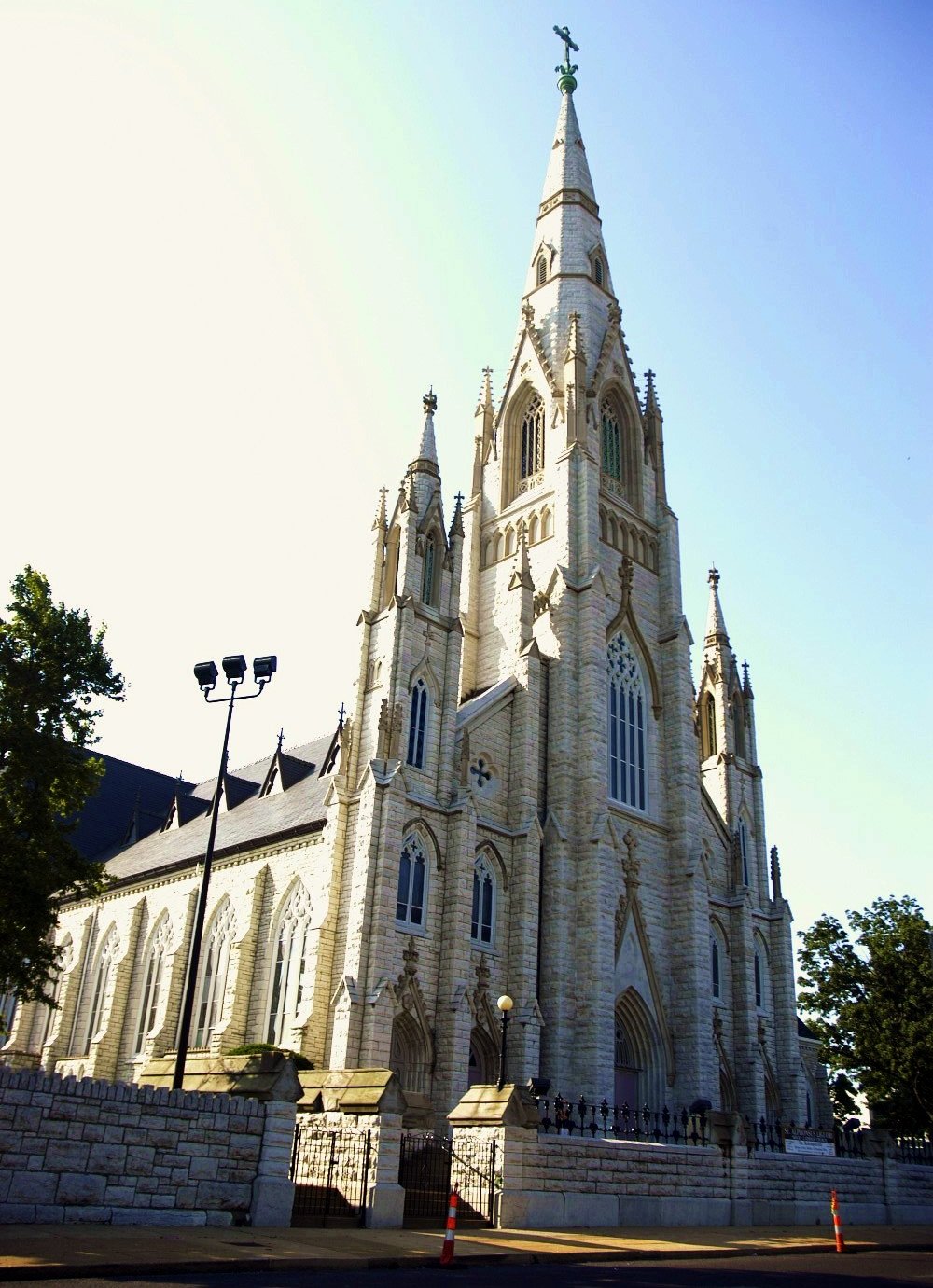 Schools both current and former, including Vashon High School: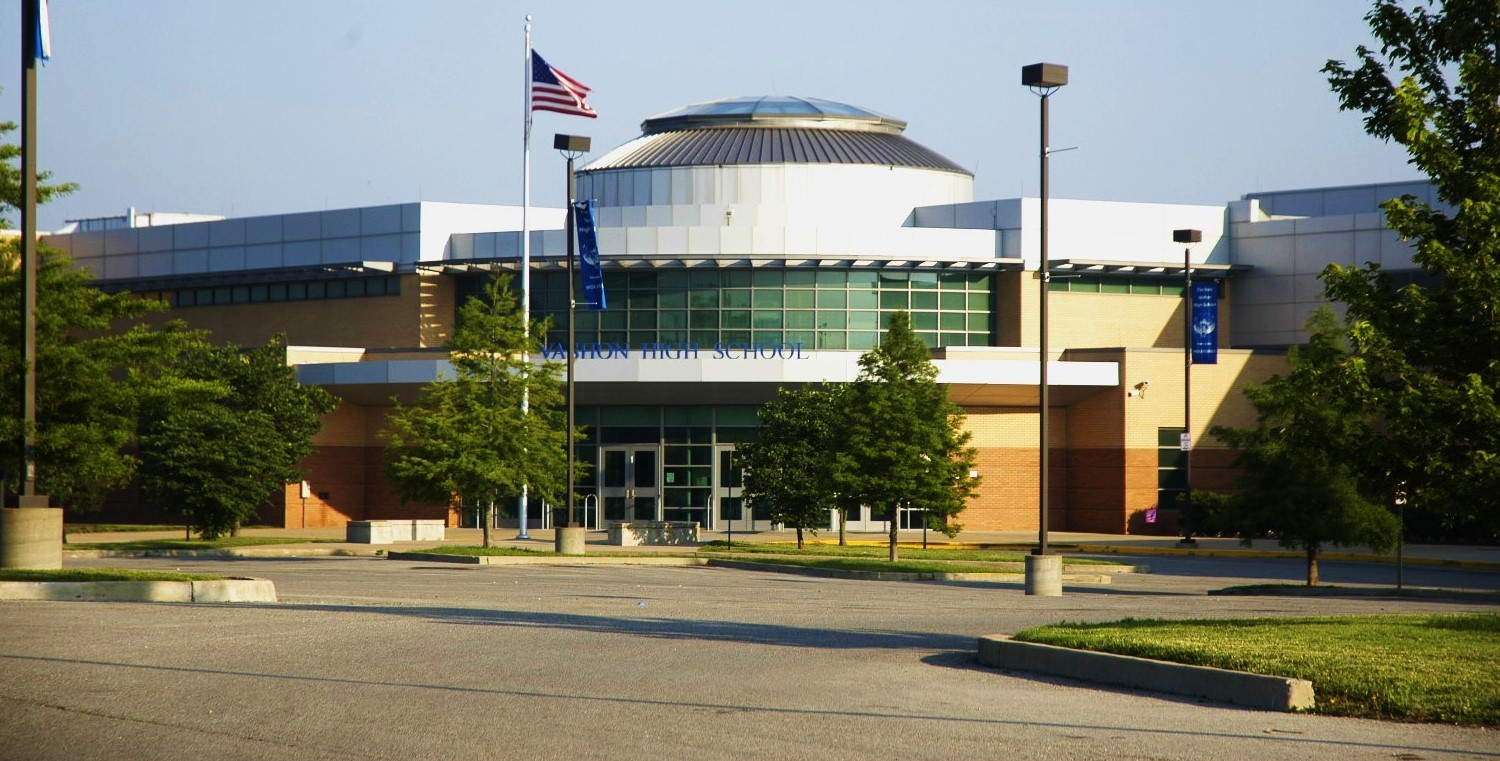 St. Louis Community College: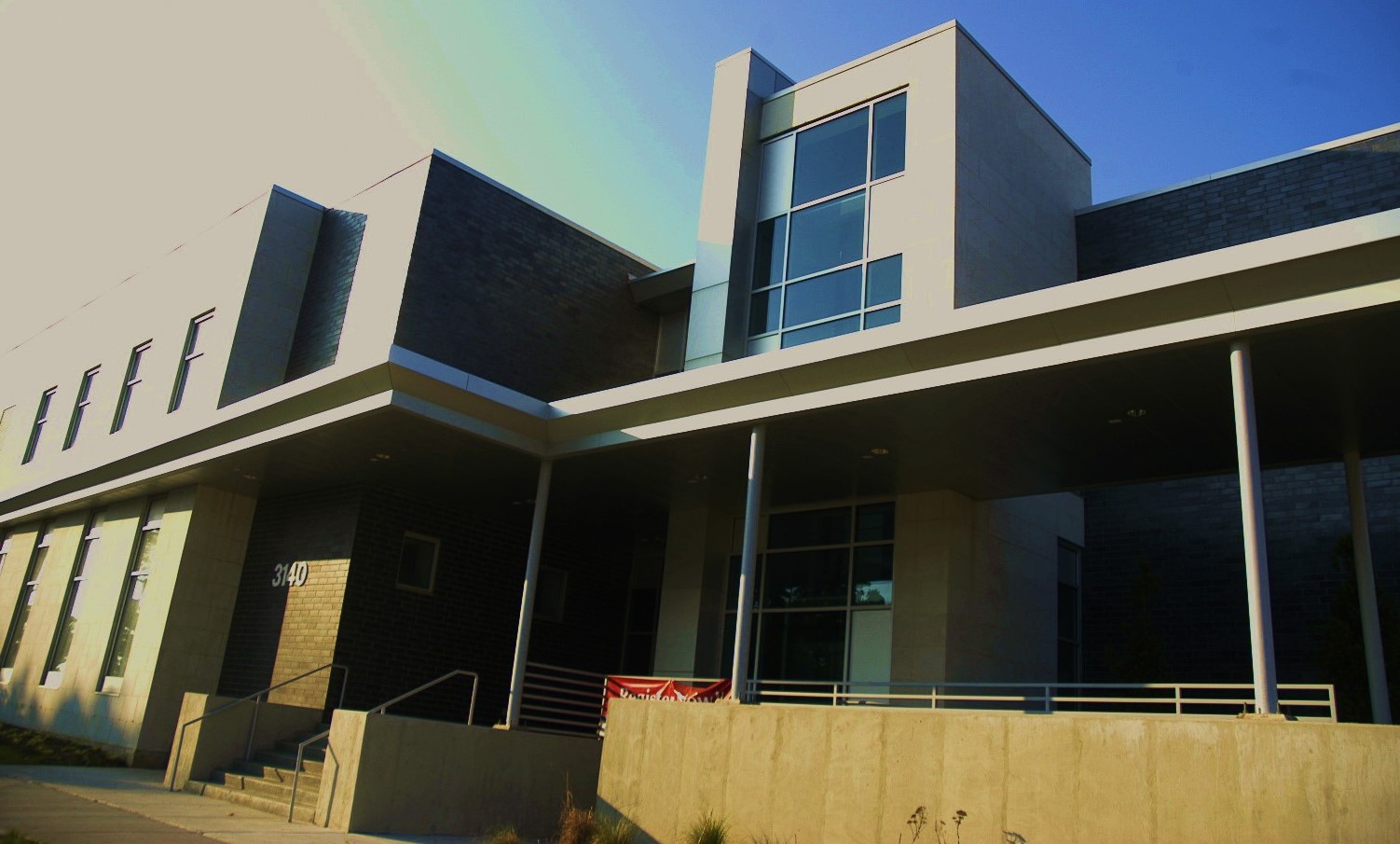 Others: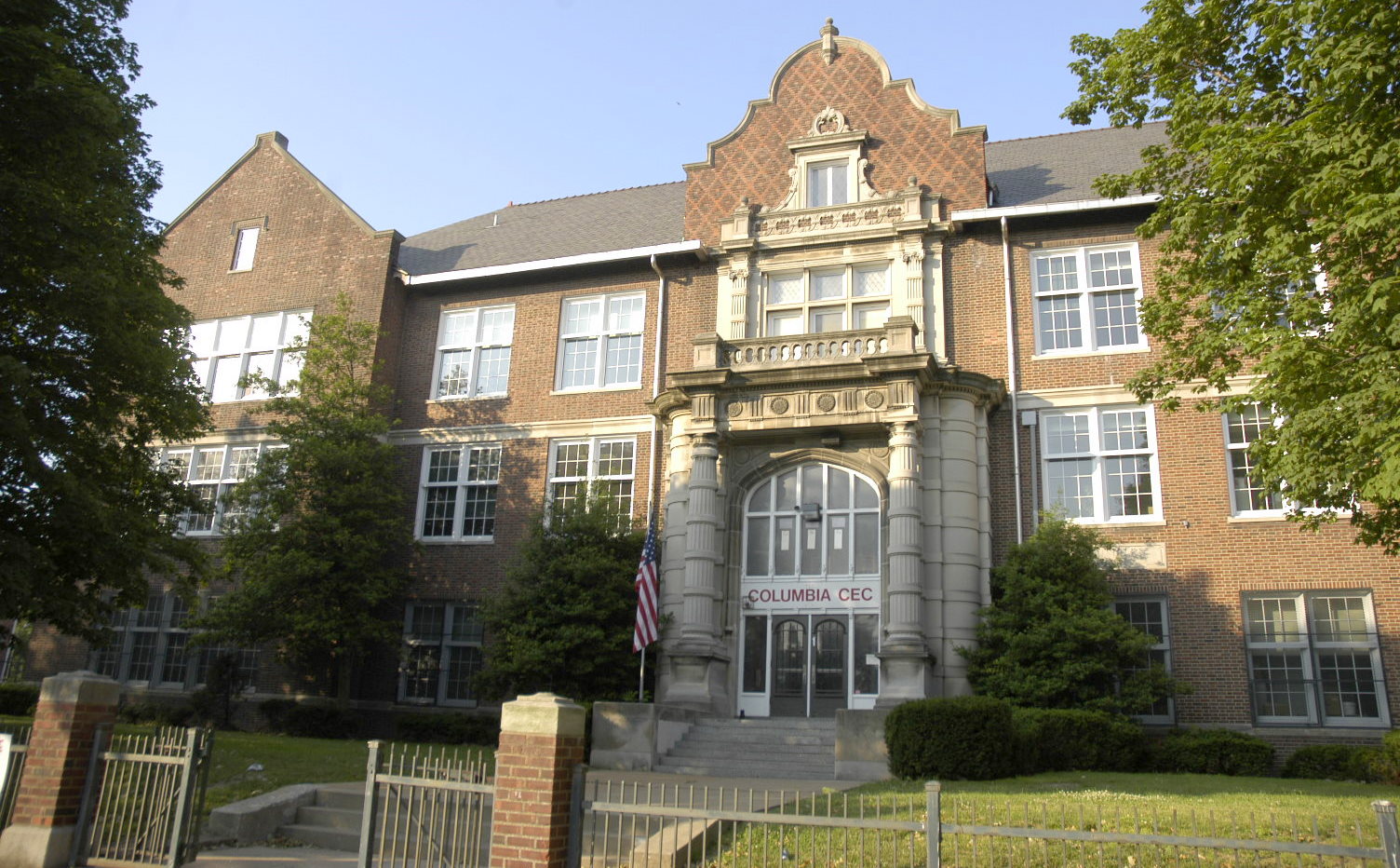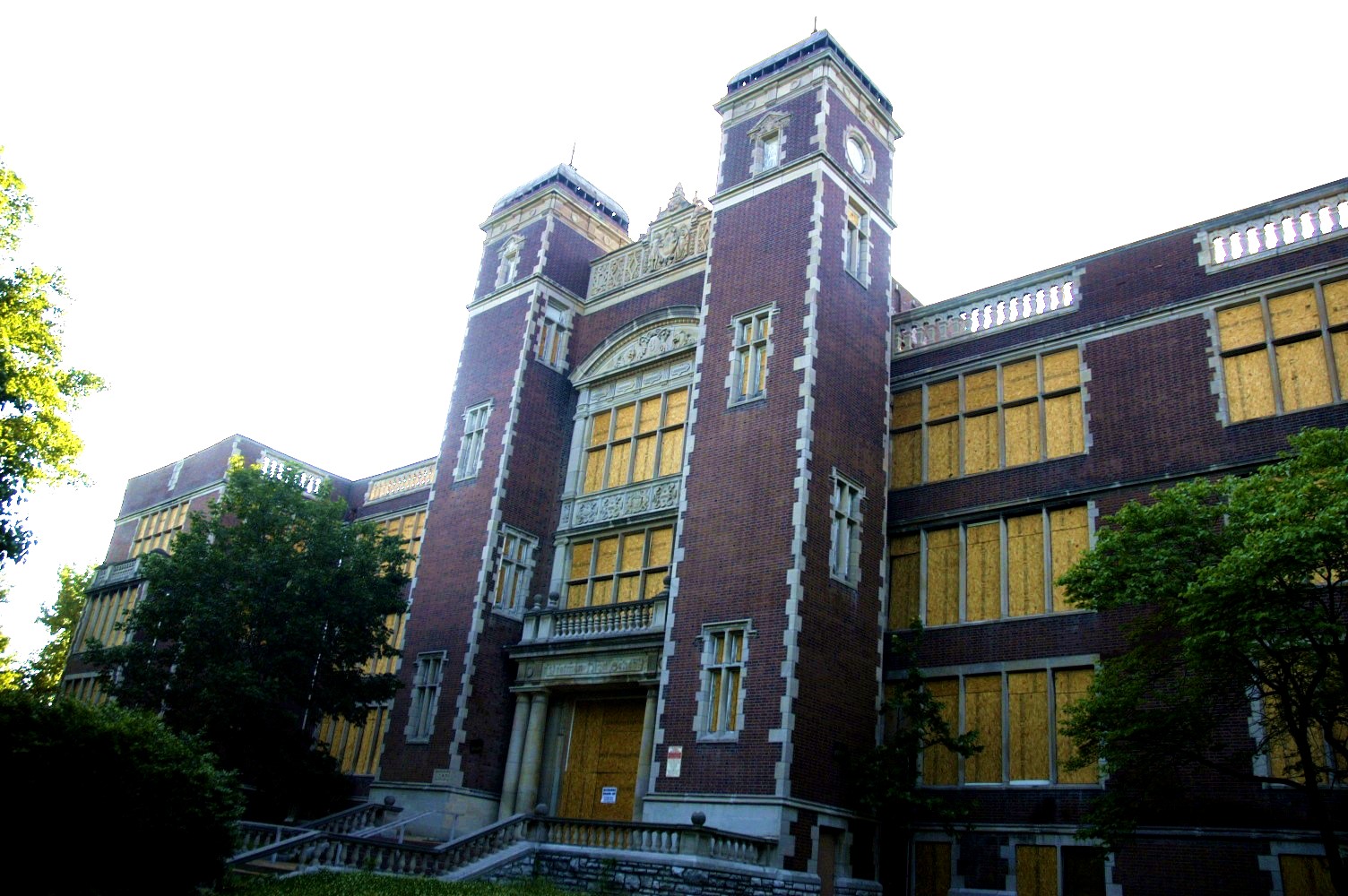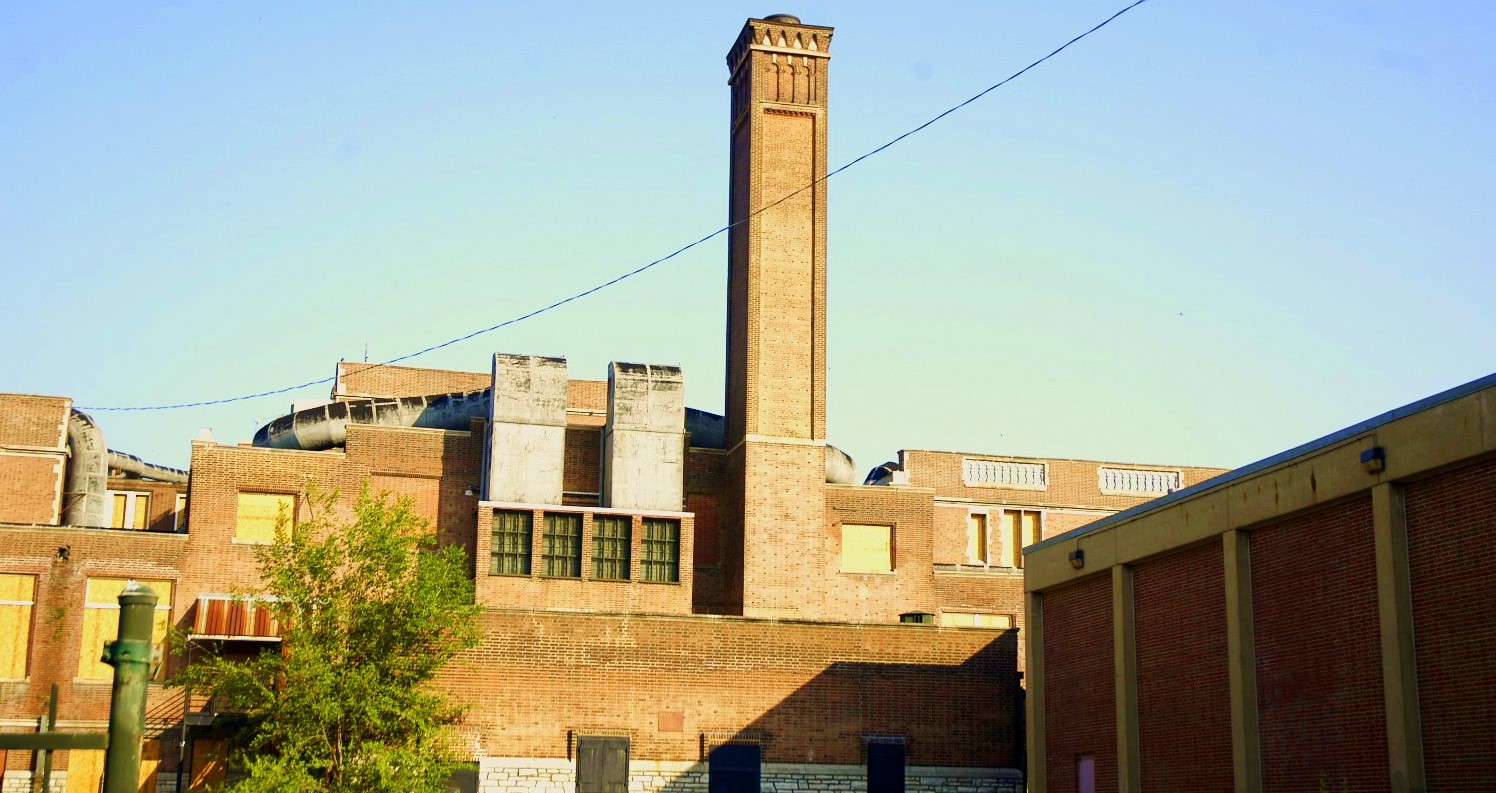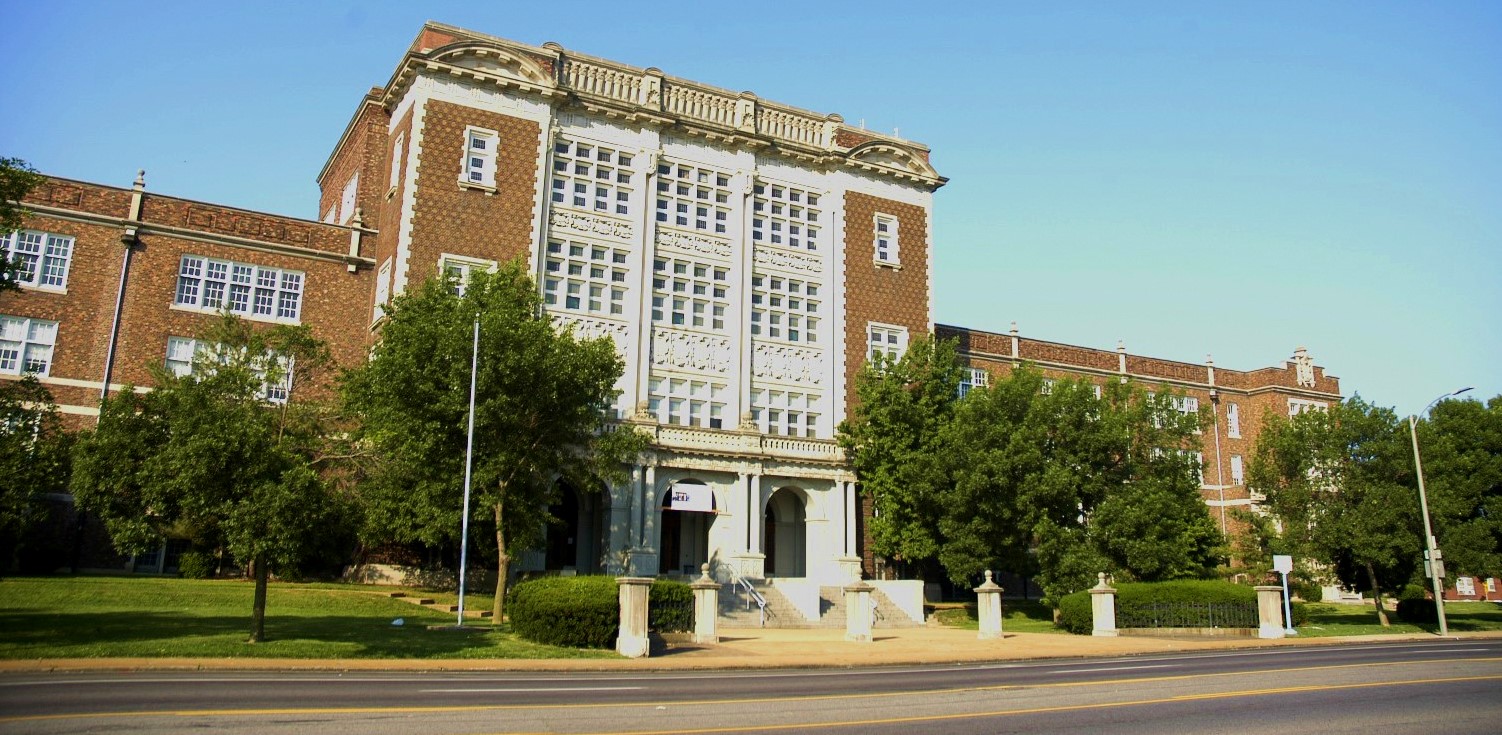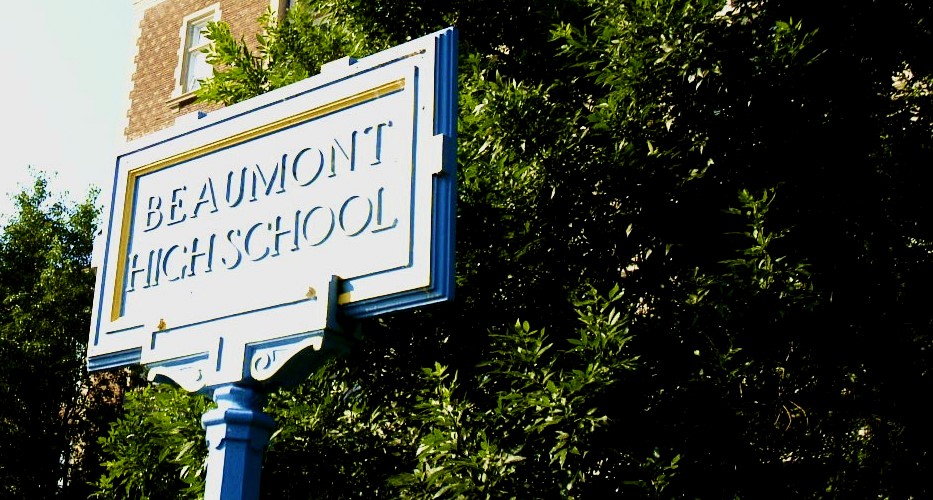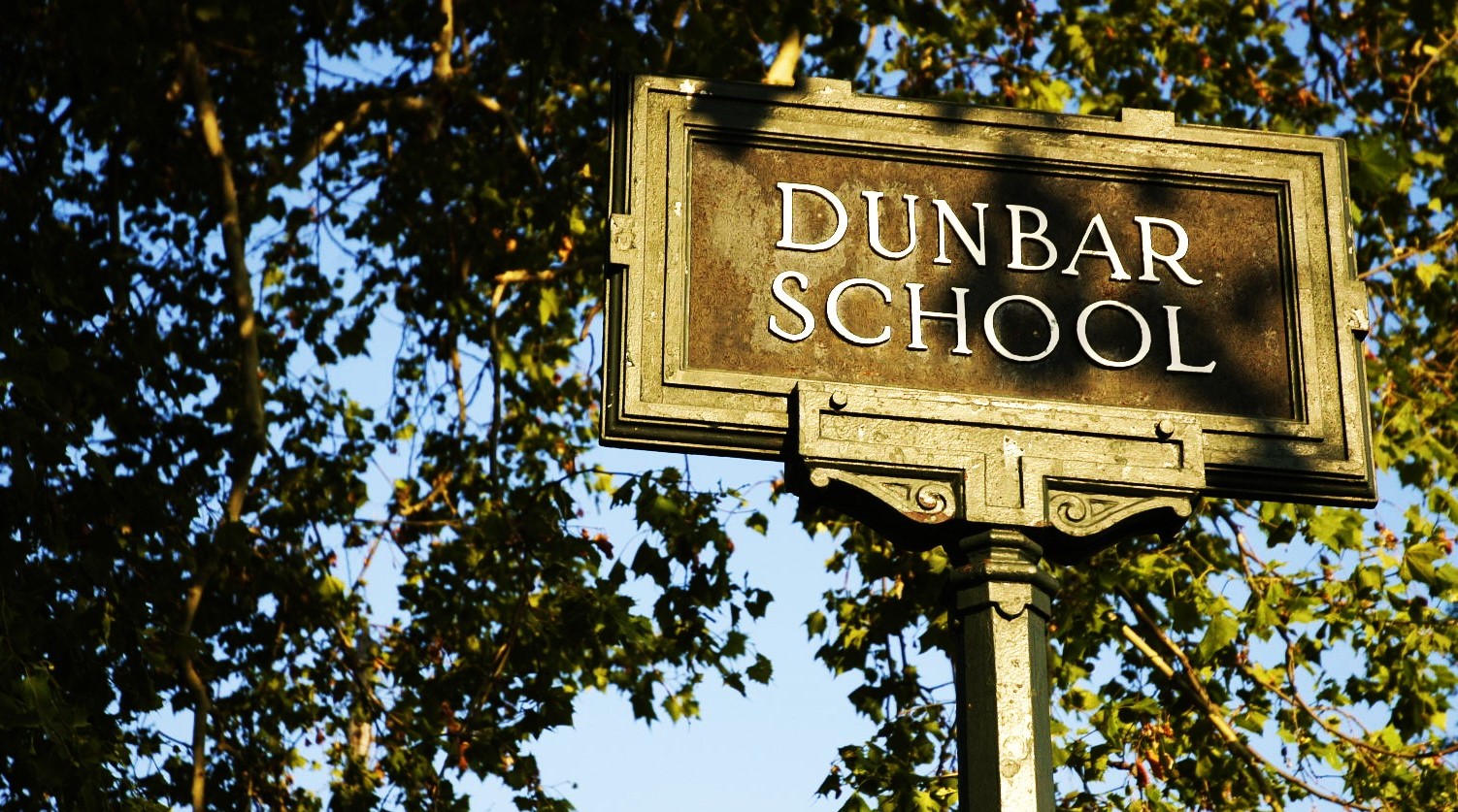 The St. Louis Housing Authority resides here: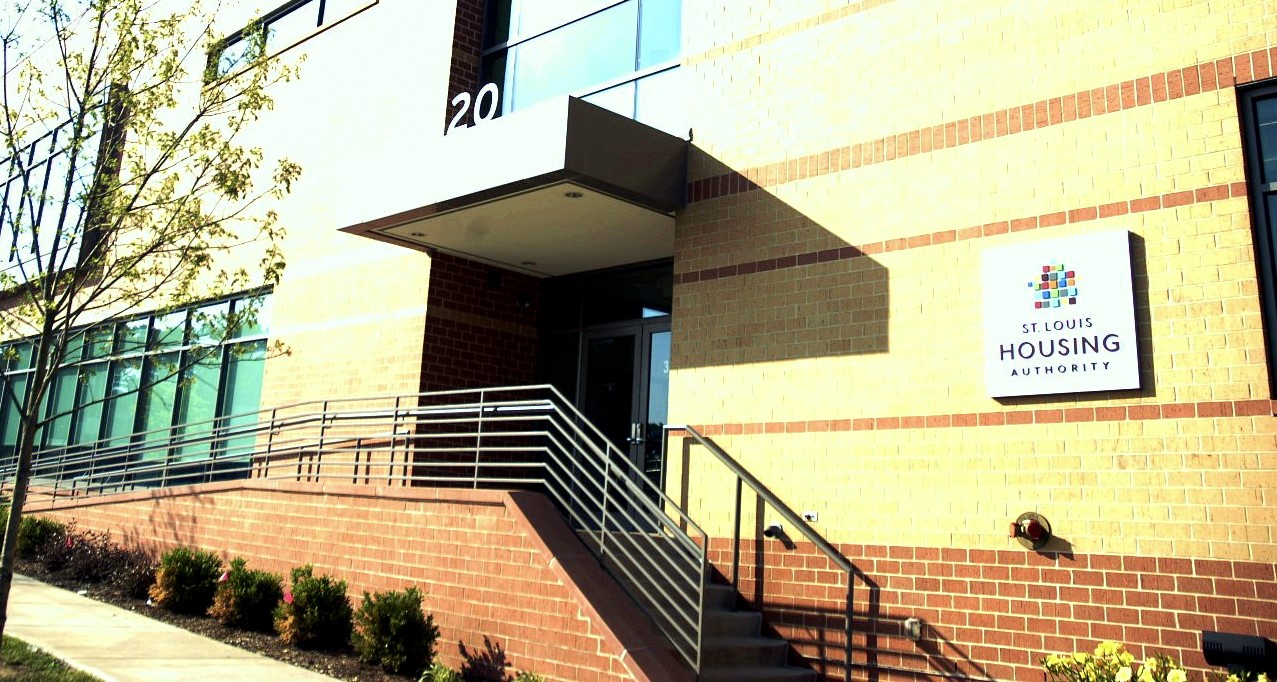 And a few remining watering holes and restaurants: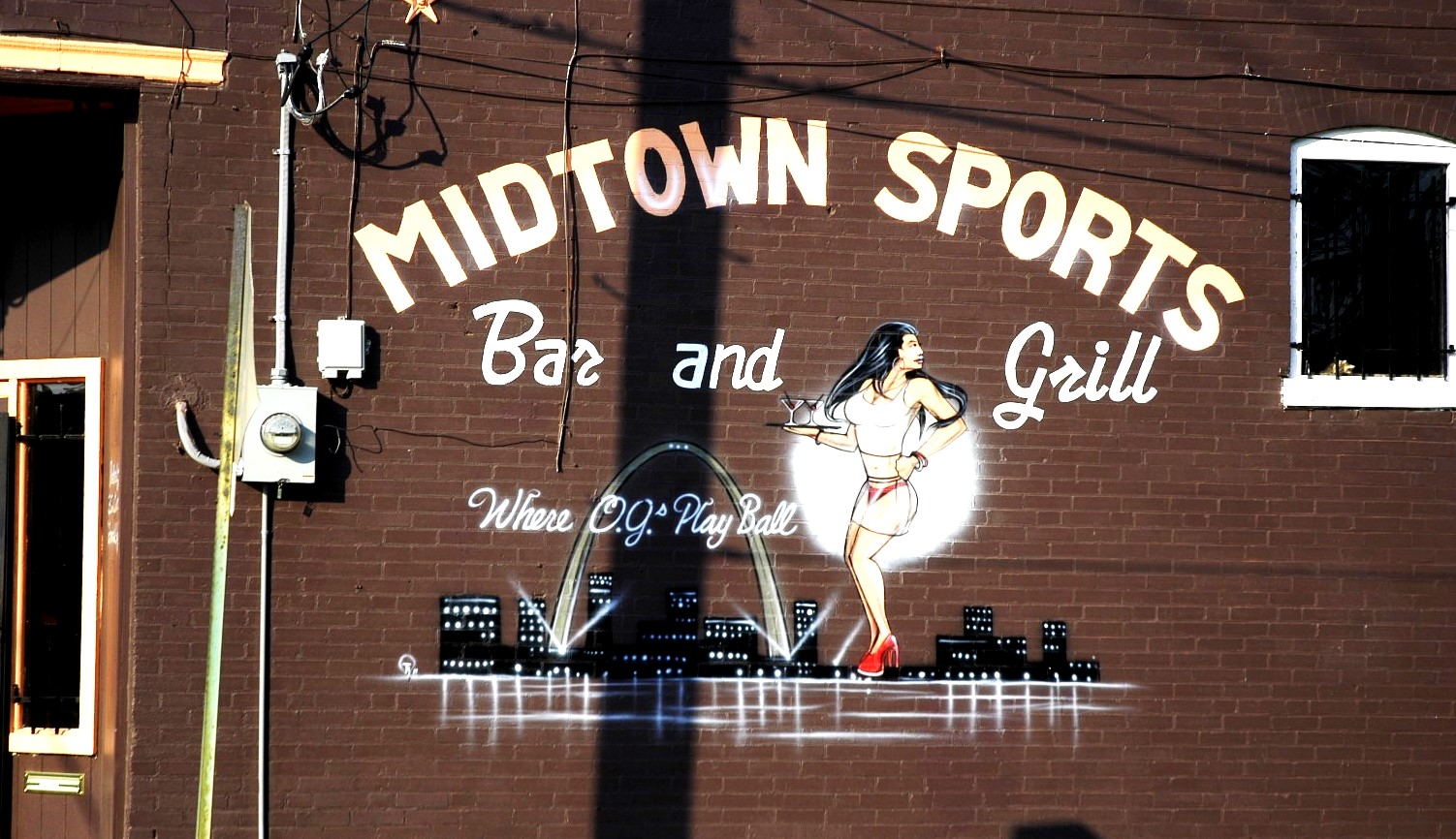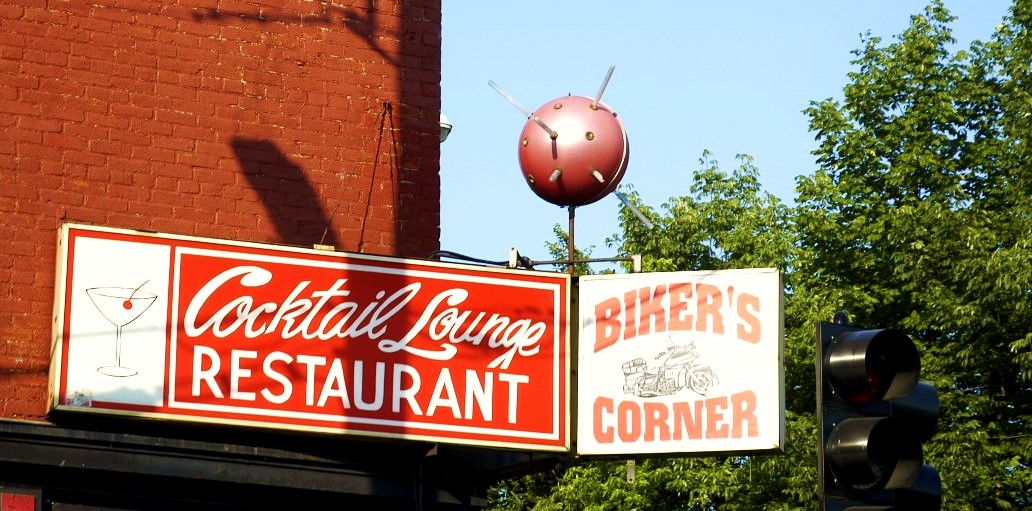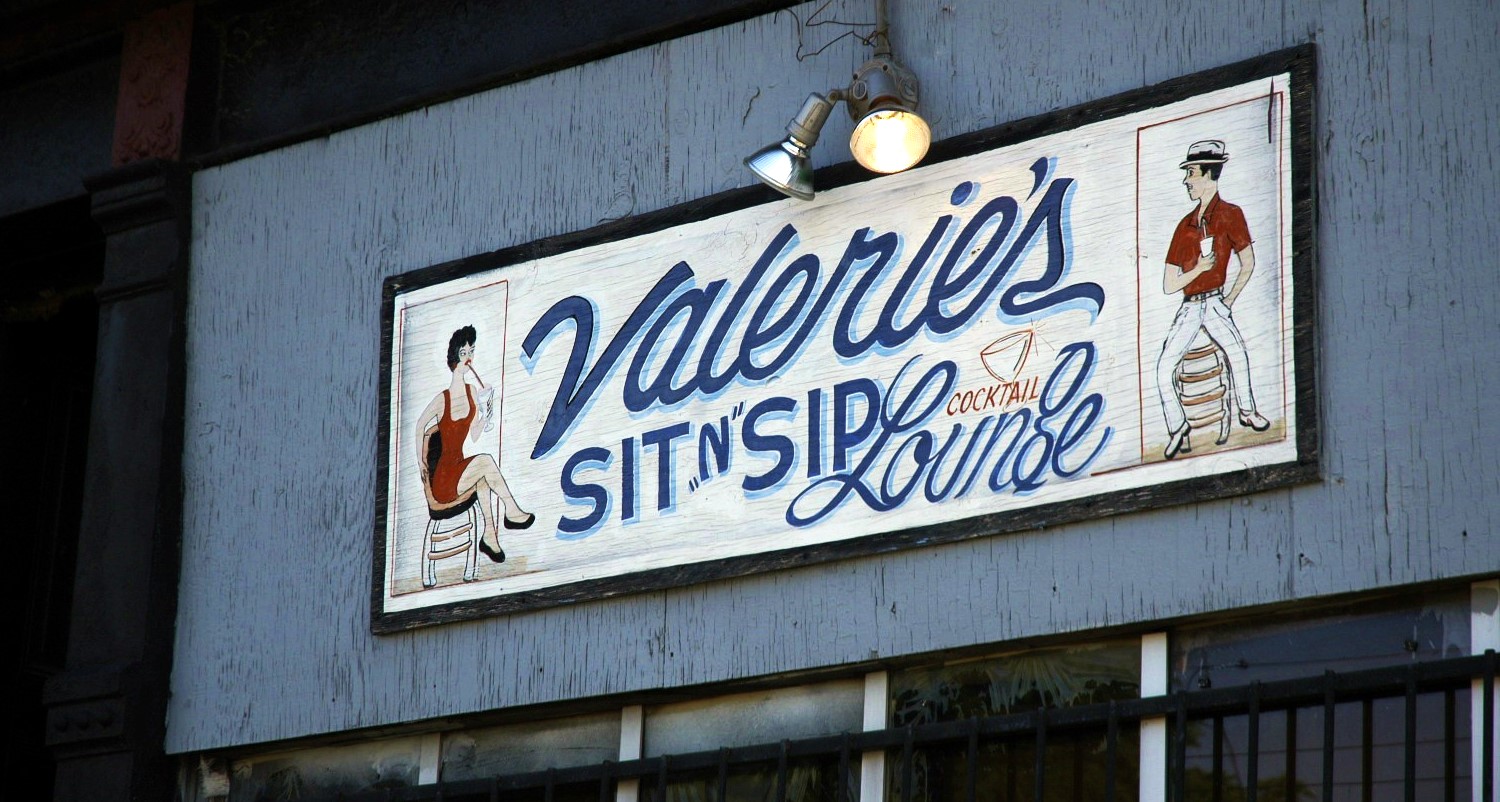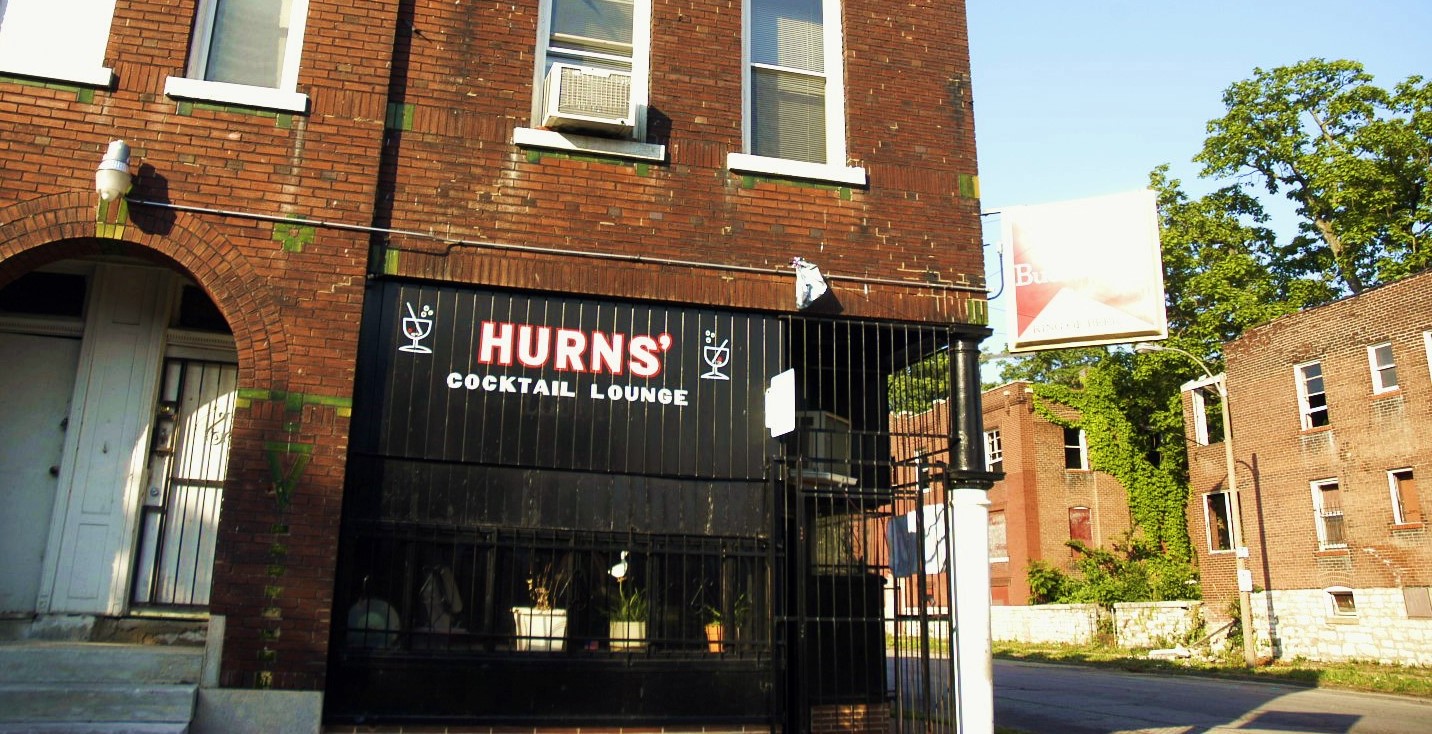 What is this? Turns out is a training facility for the City of St. Louis Fire Department. A guy I talked to near the site said the STLFD sets it ablaze for training exercises.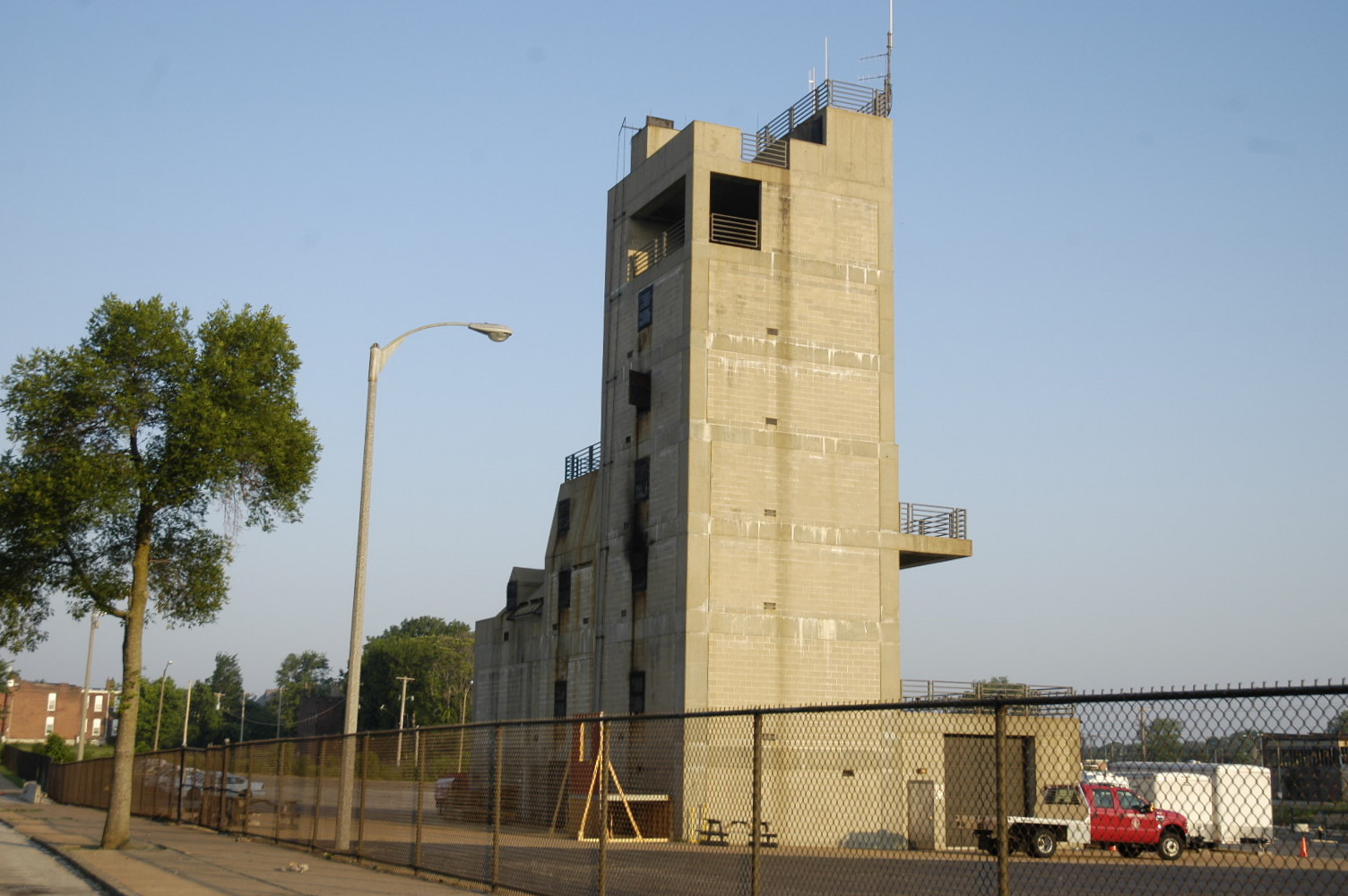 There were tons of white people driving around which is unusual for the greater than 98% black neighborhoods of North City. As it turns out, they were volunteering for Habitat For Humanity. Many proud little single-family homes have been built and continue to go up in great numbers in JVL. These beautiful homes will bring much needed activity and pride to JVL. Good work all, this part of the neighborhood looks GREAT!!! These need not be built only in North St. Louis. The modern shotguns would look great in many city neighborhoods.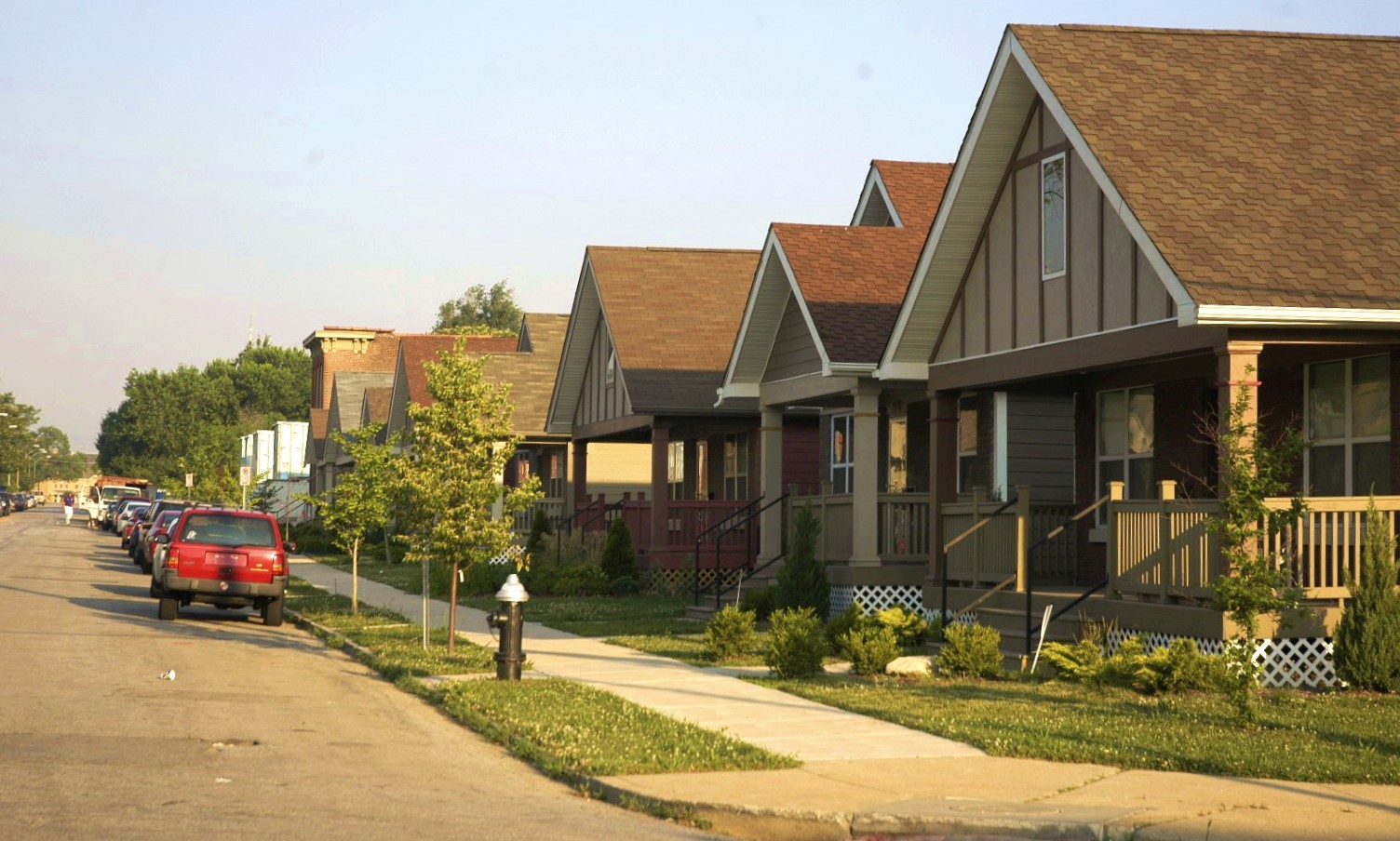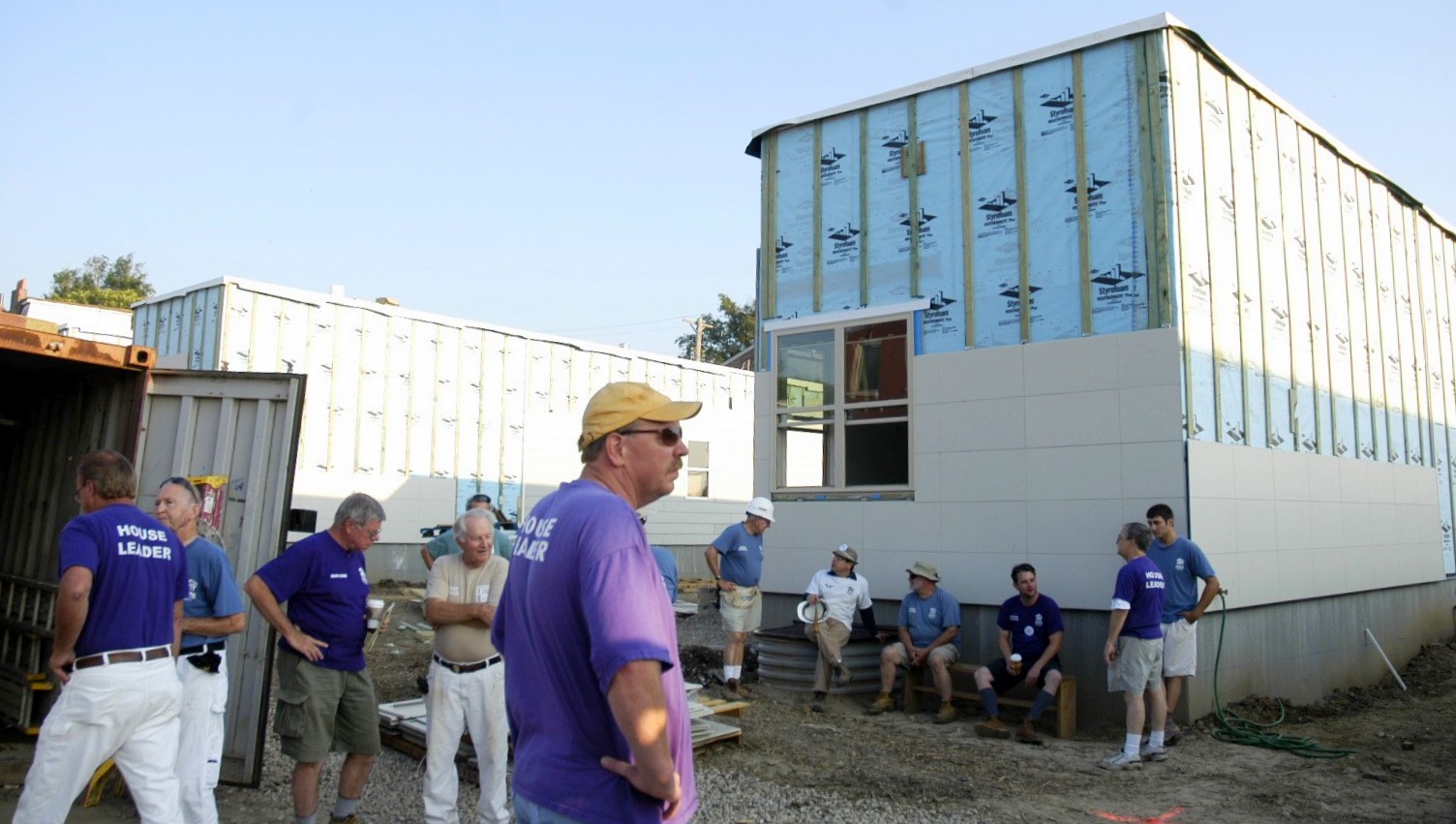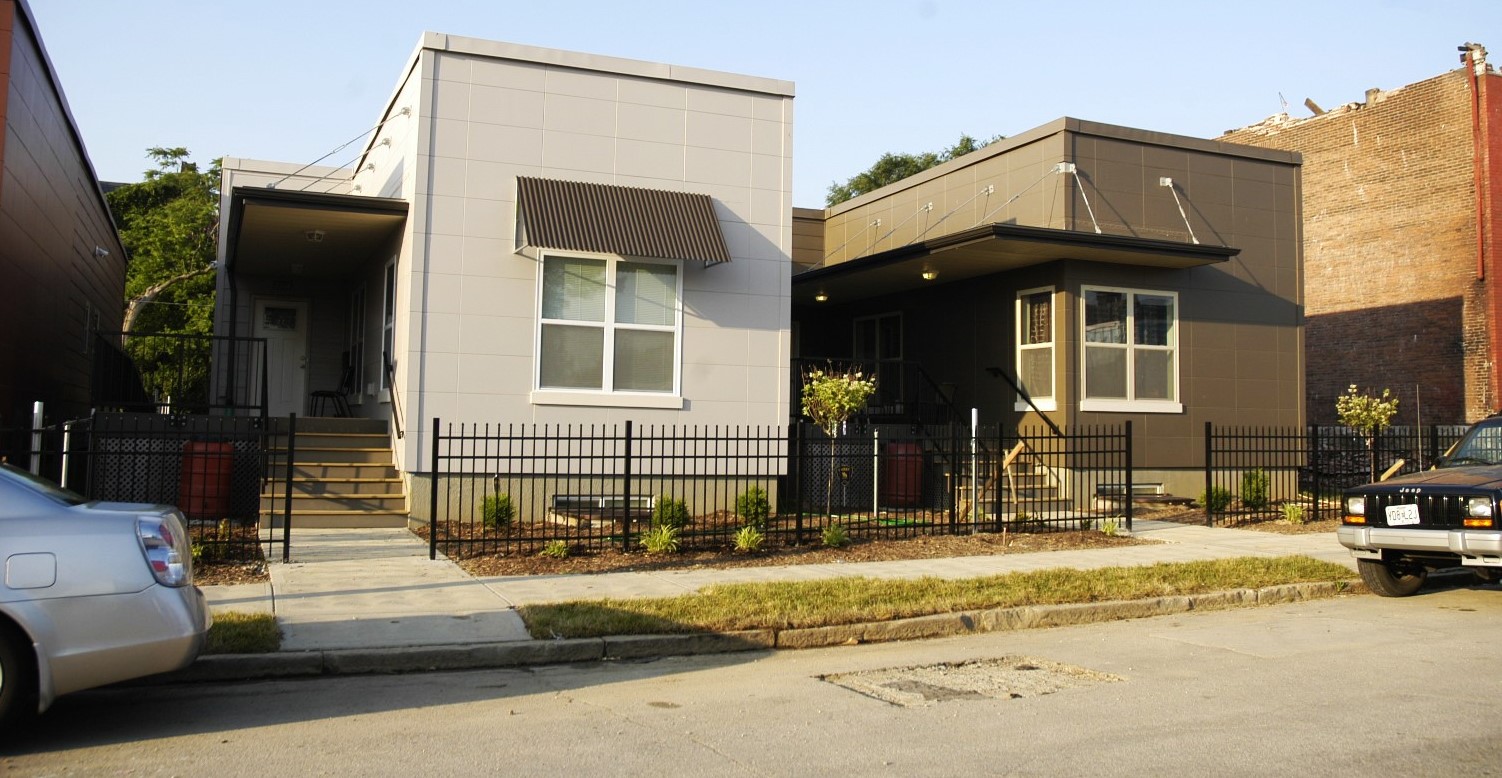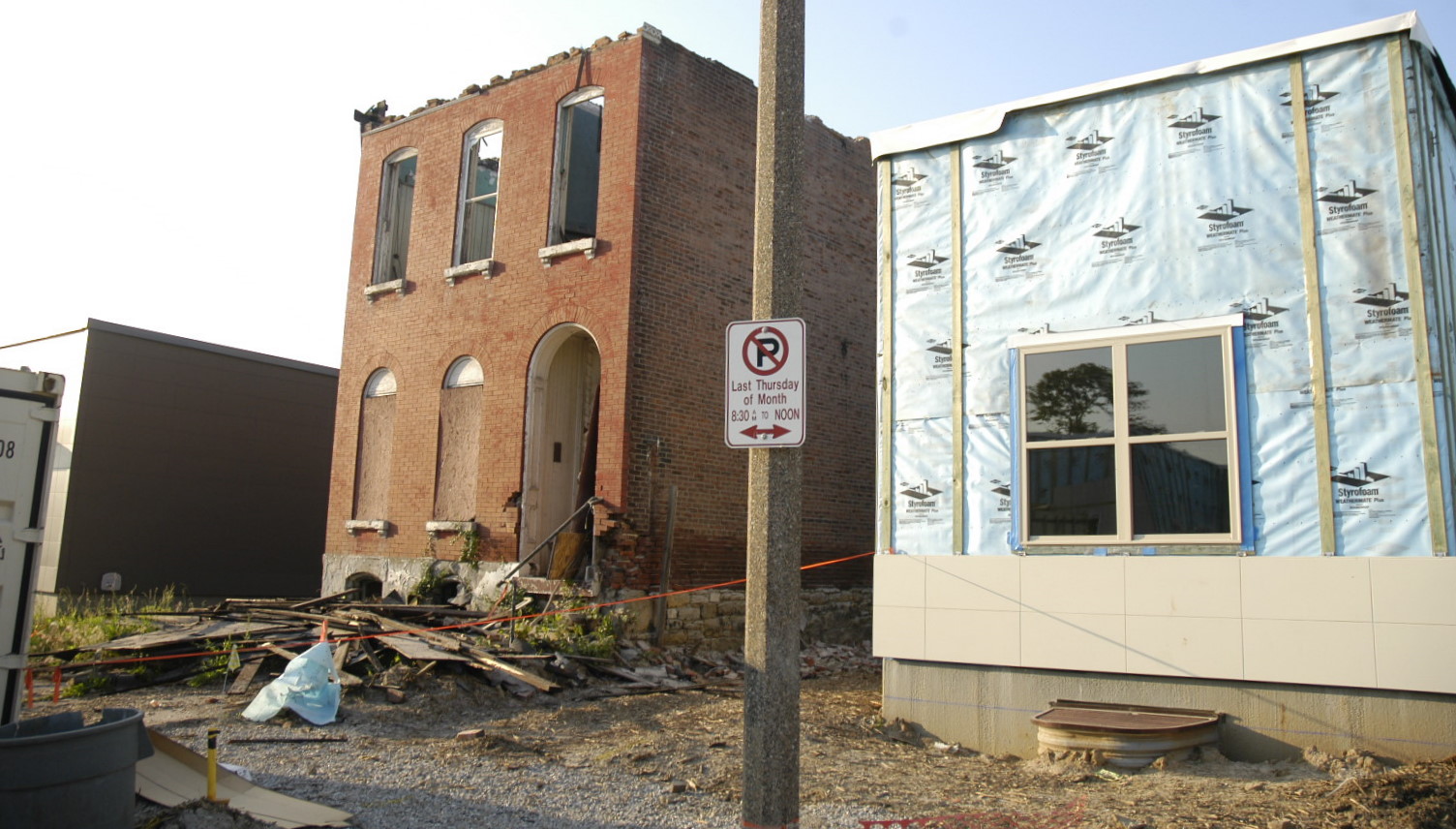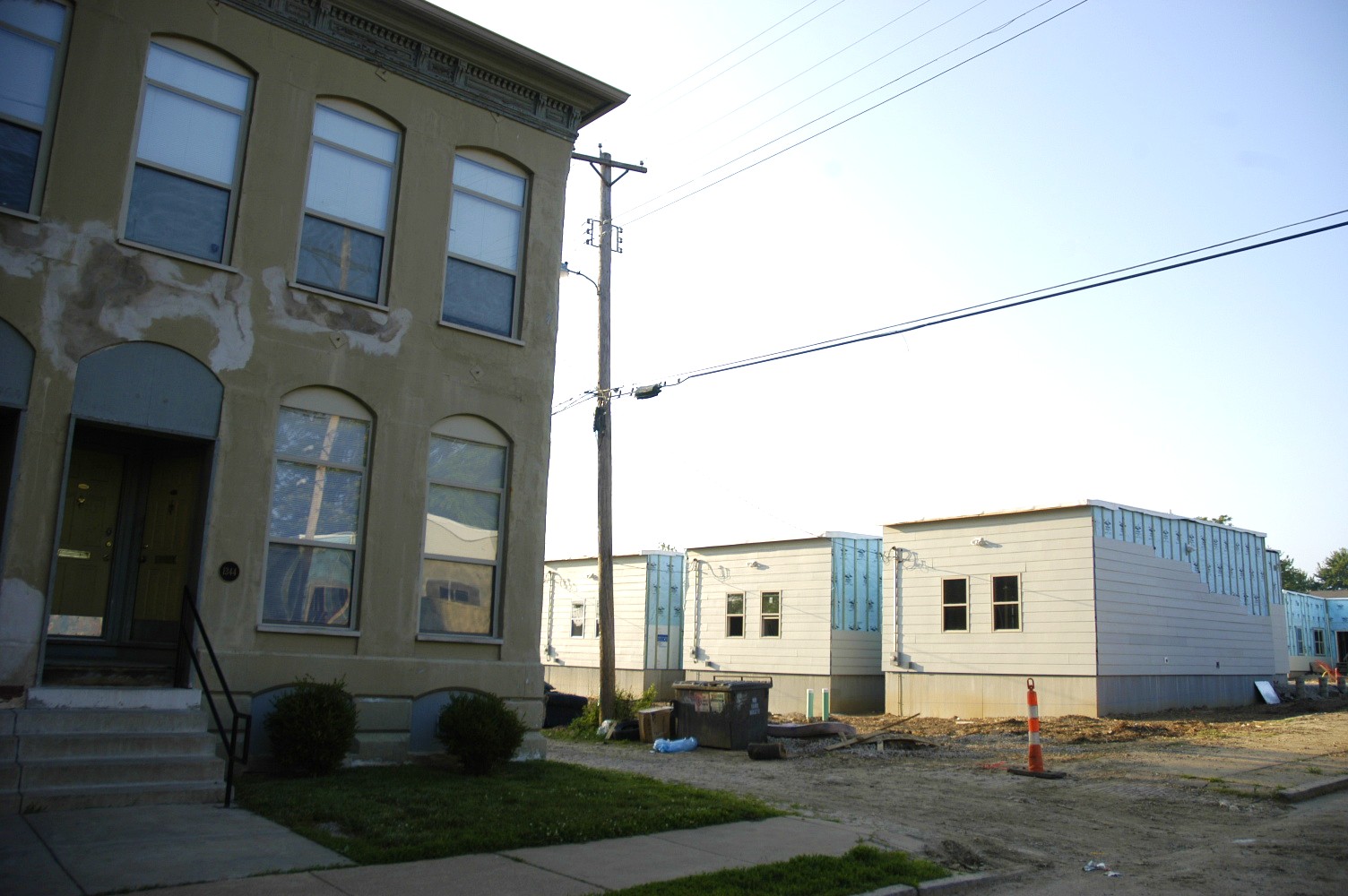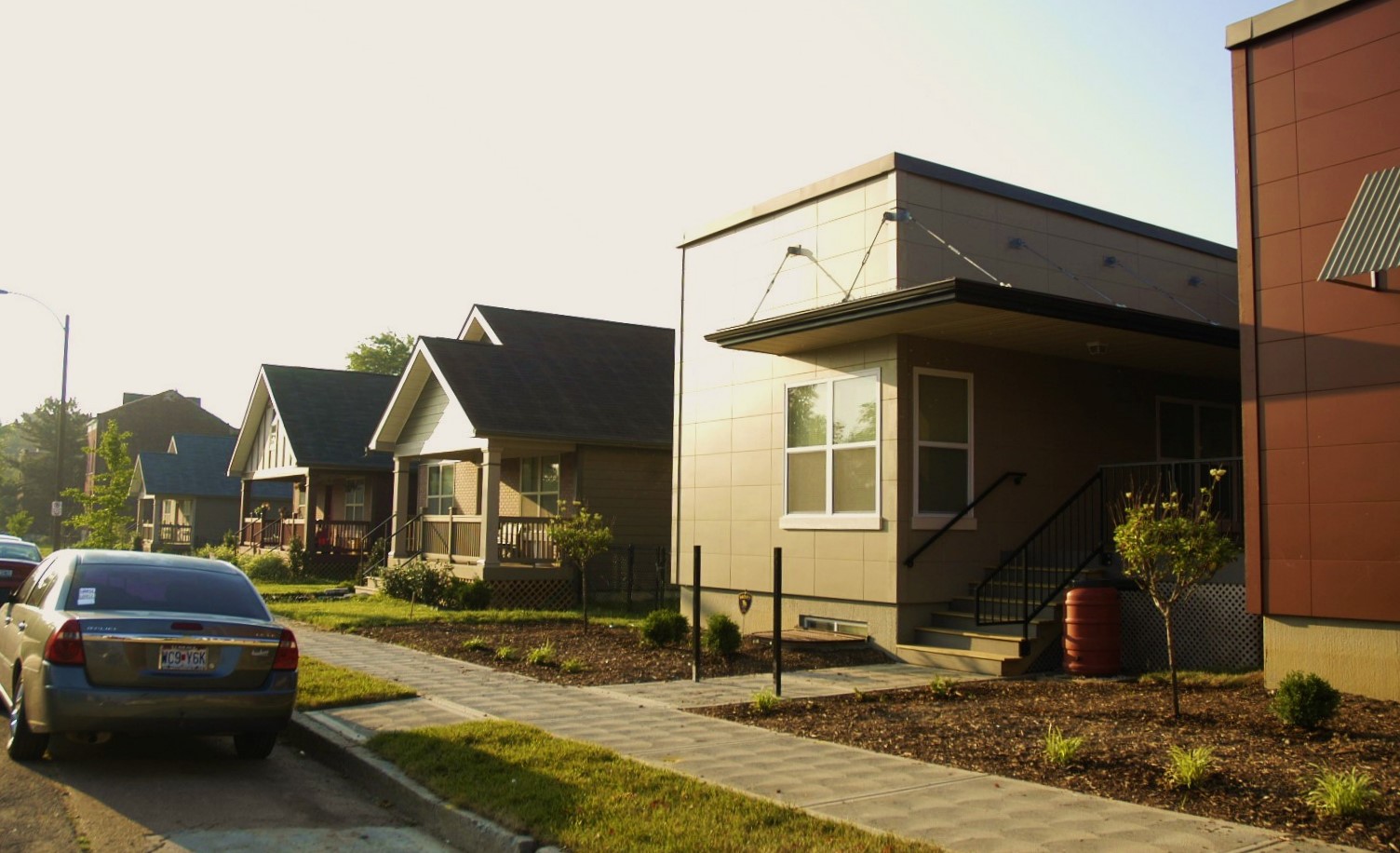 Let's hope these single-family homes last longer than the previous/recent attempts at contemporary infill which were largely multifam and larger apartments which prove that one (or more) bad apple(s) can ruin the whole basket: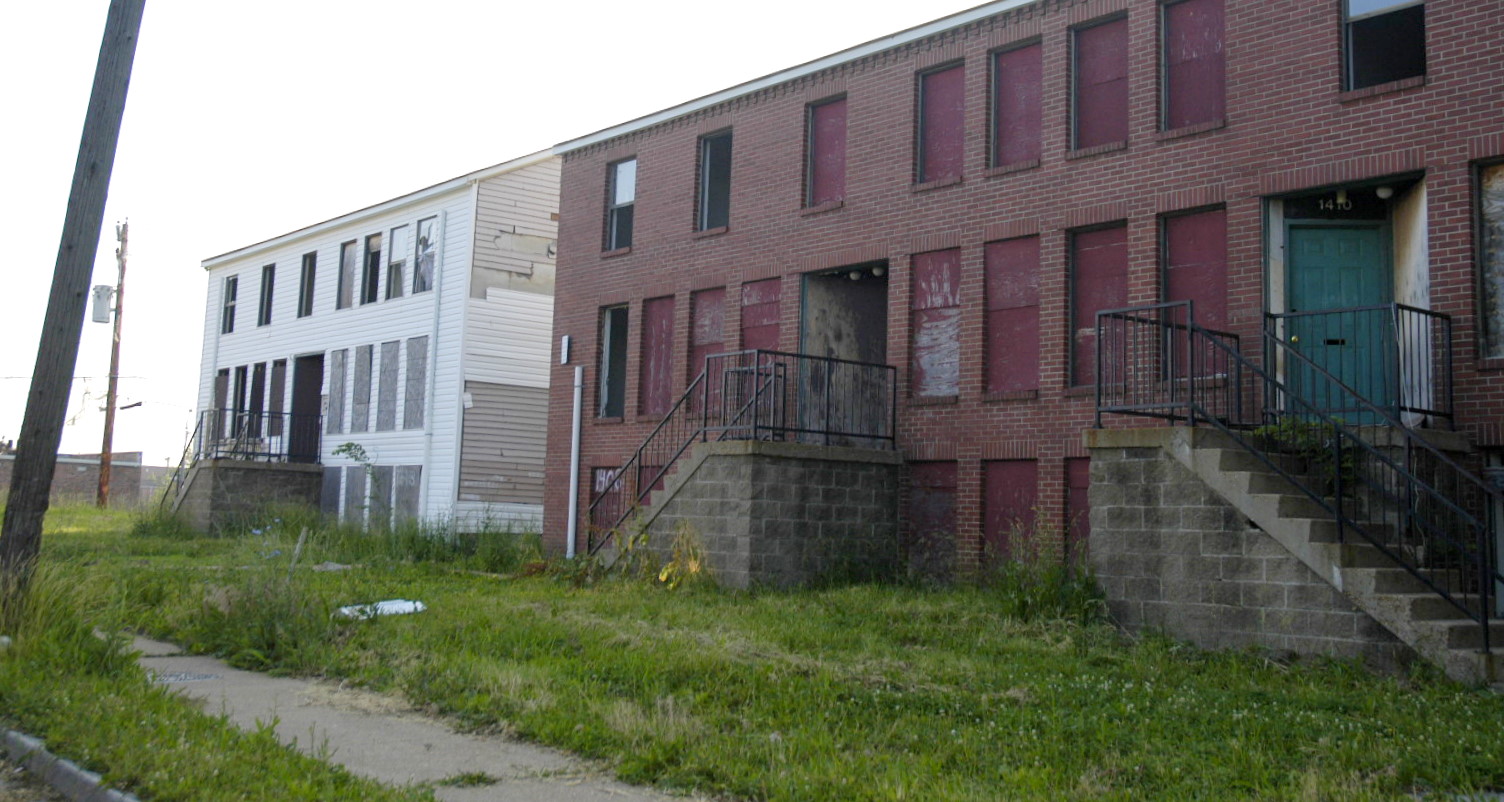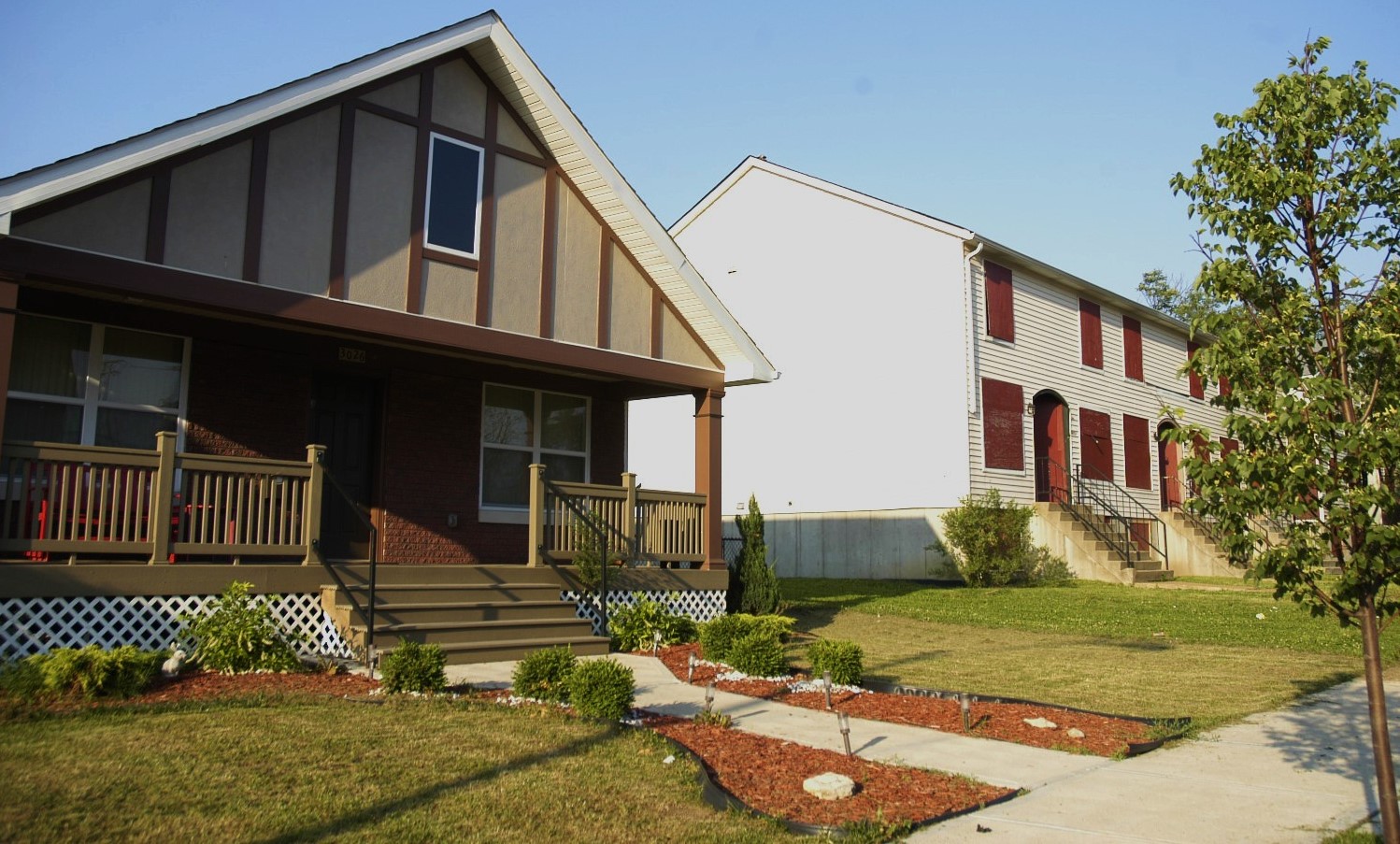 And finally the random stuff that caught my eye on this fine St. Louis morning: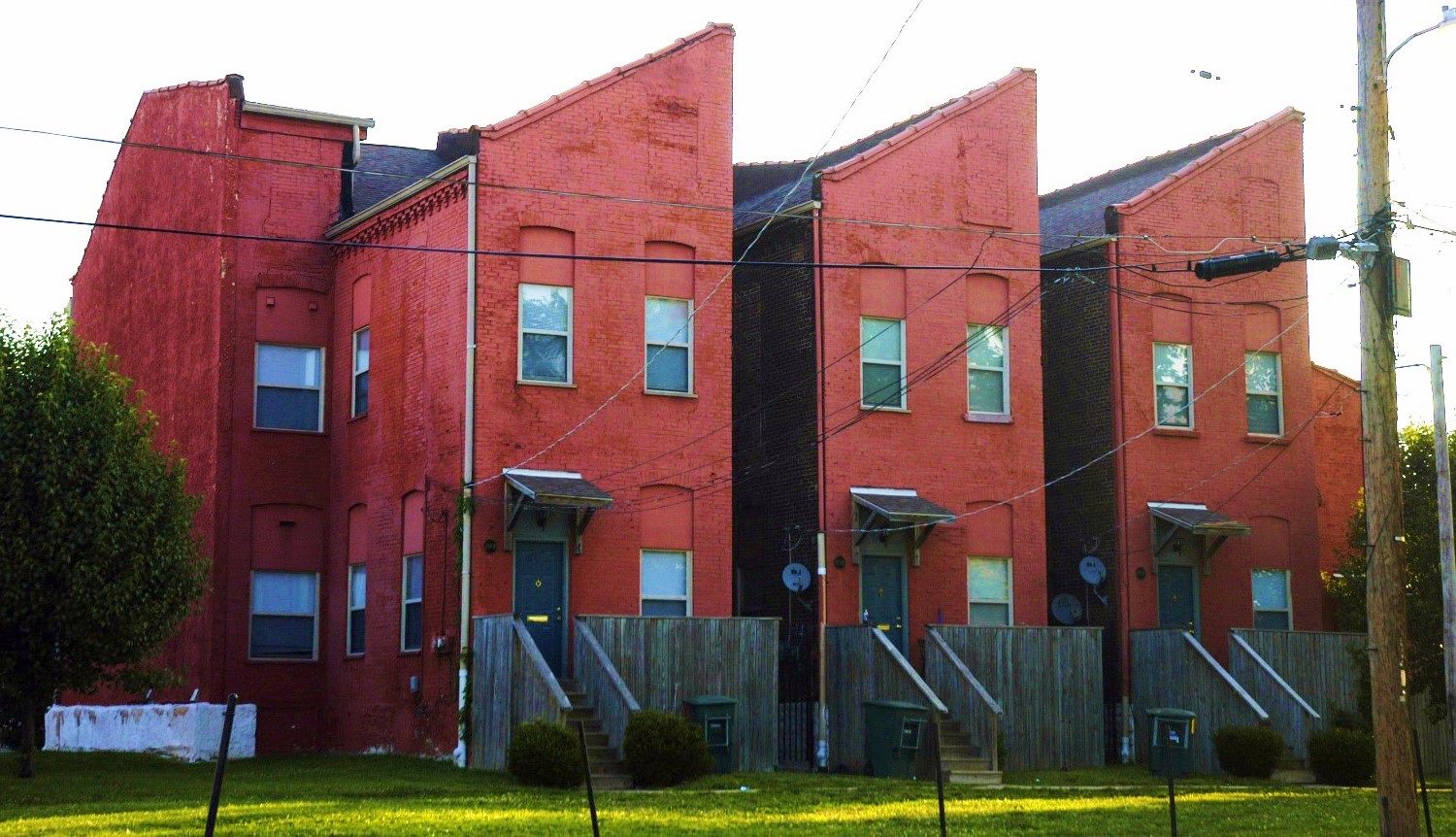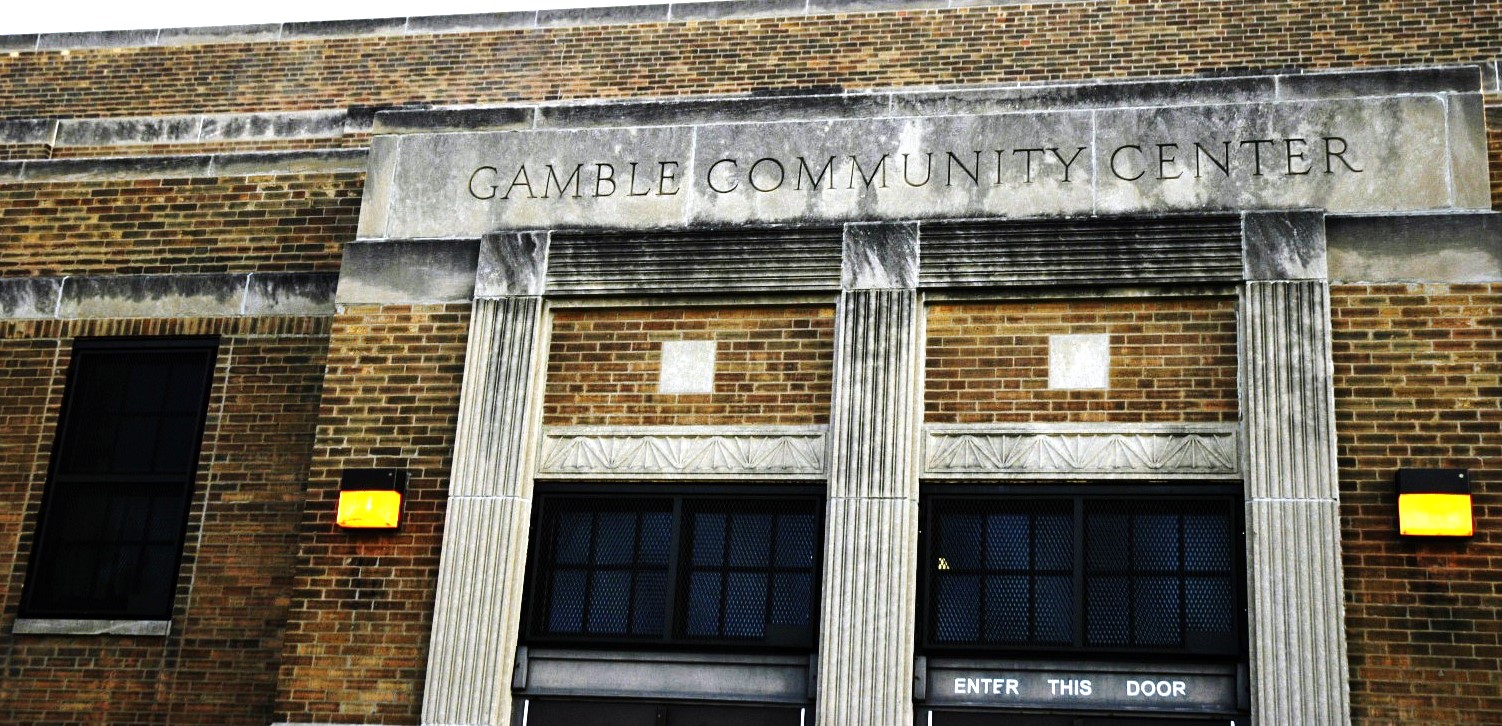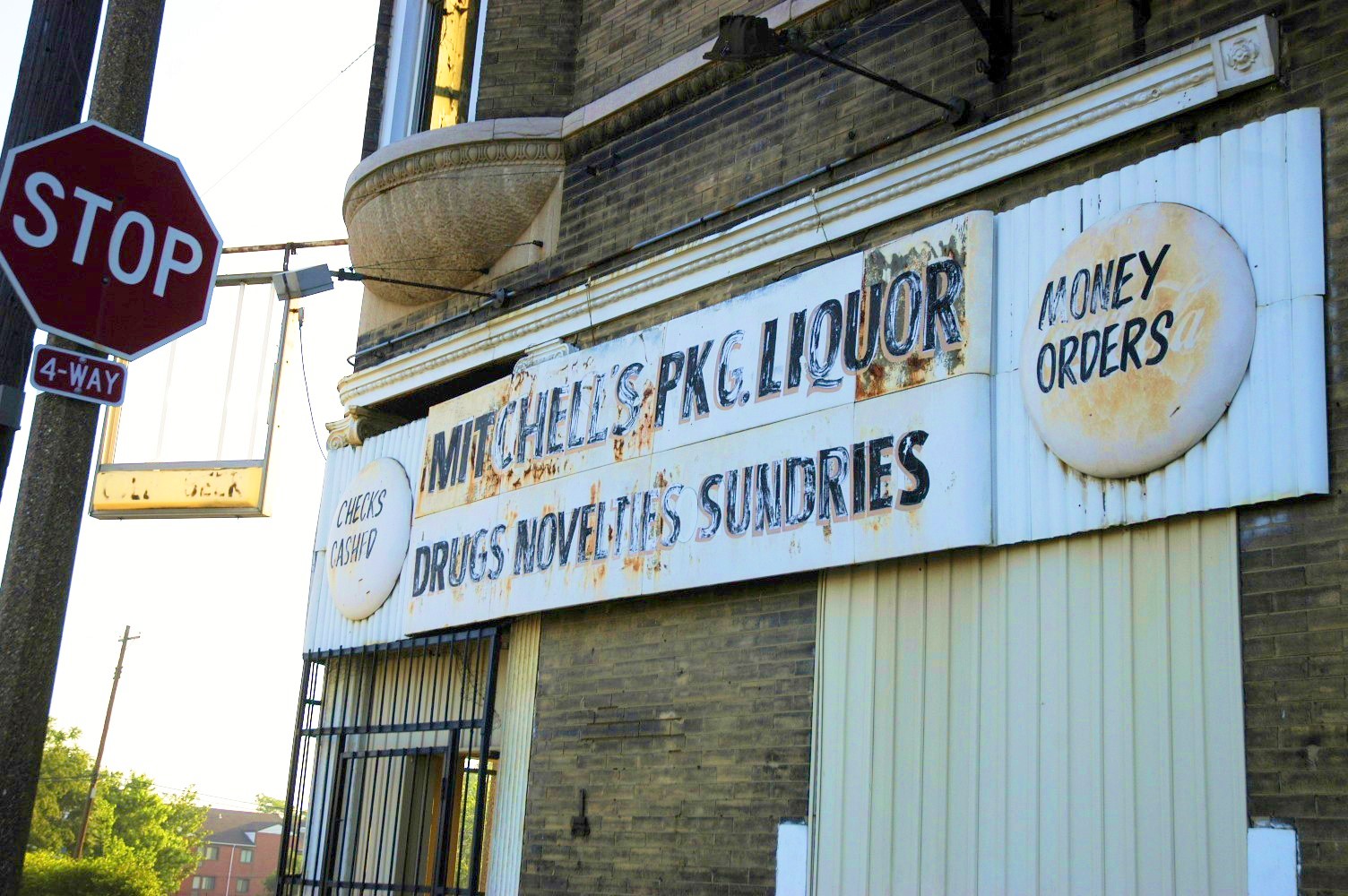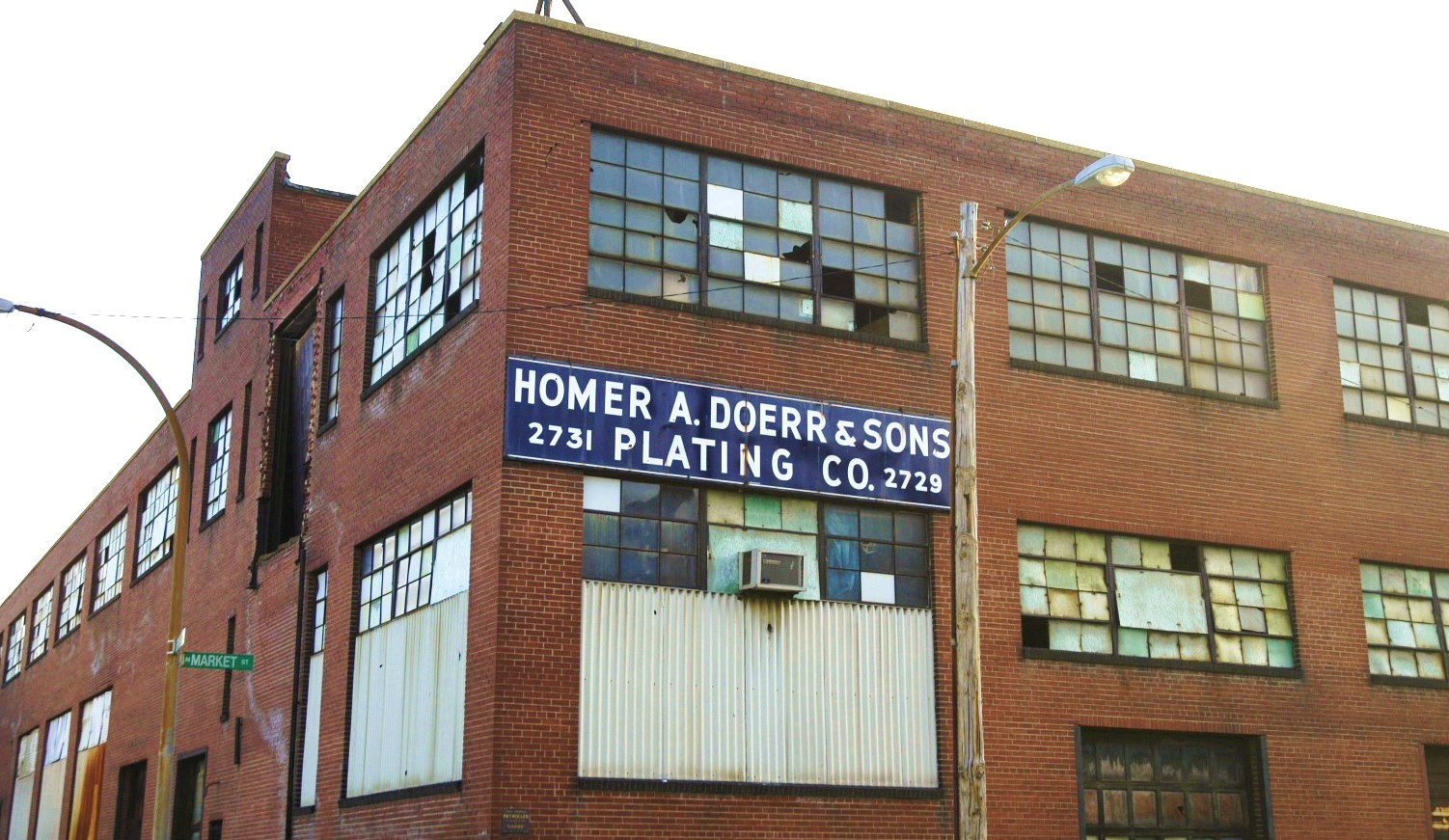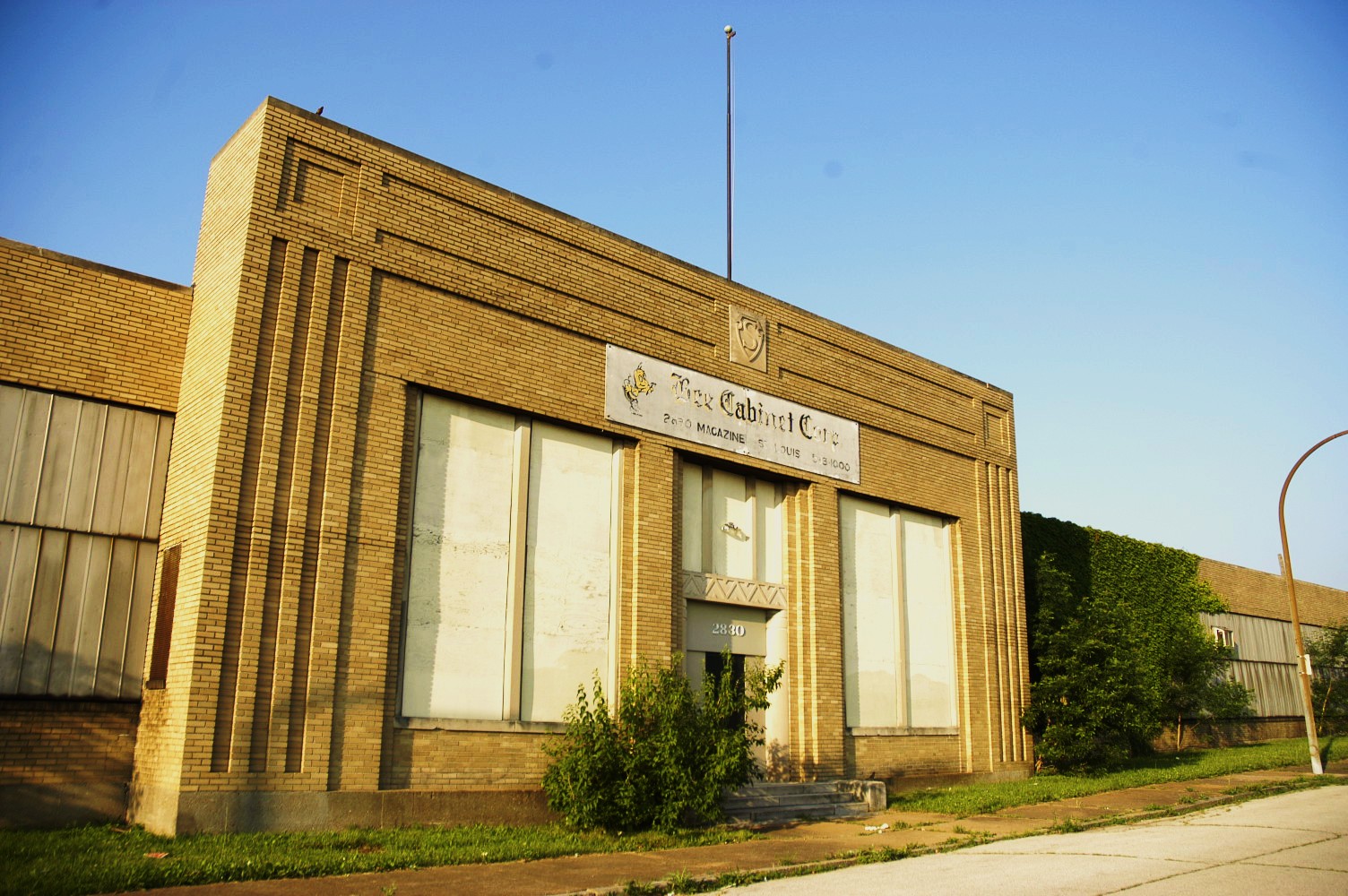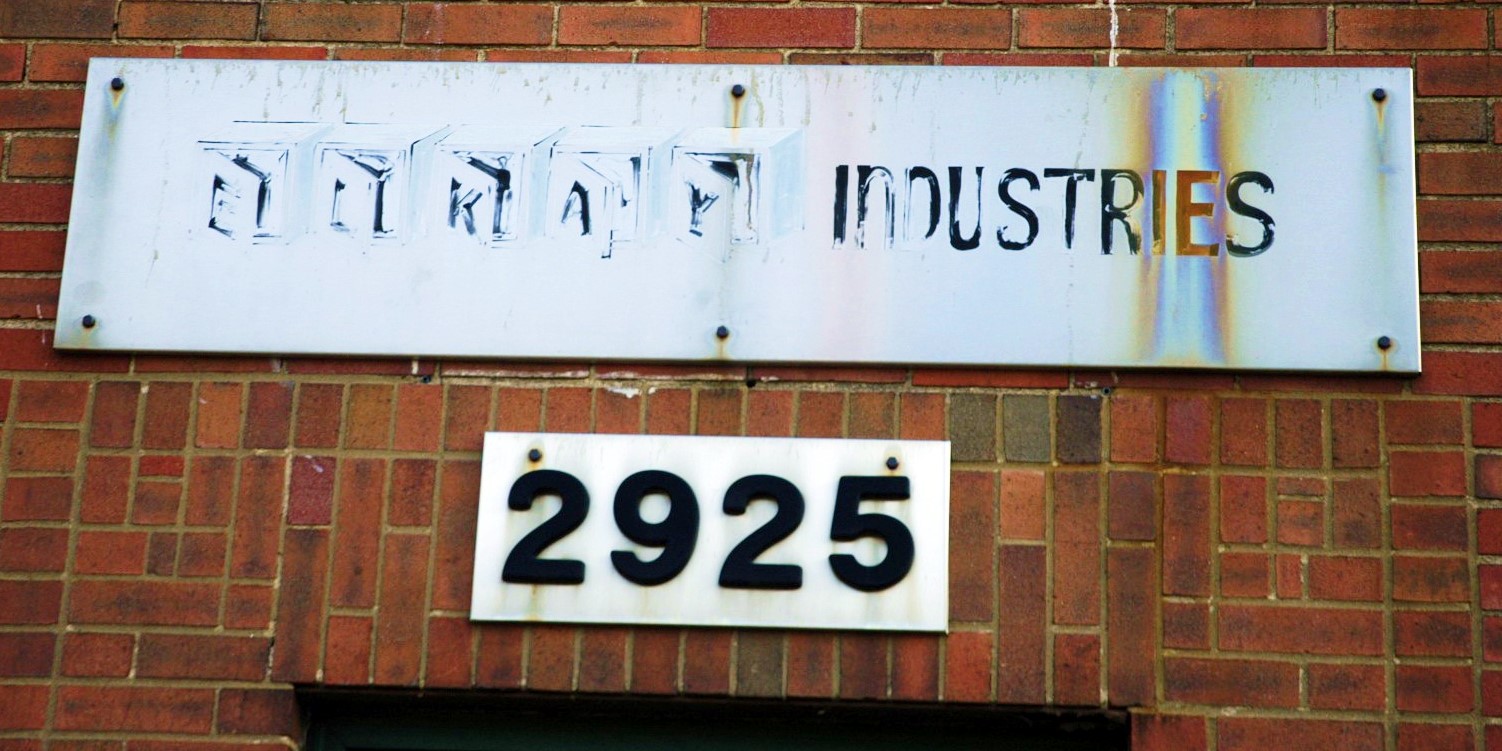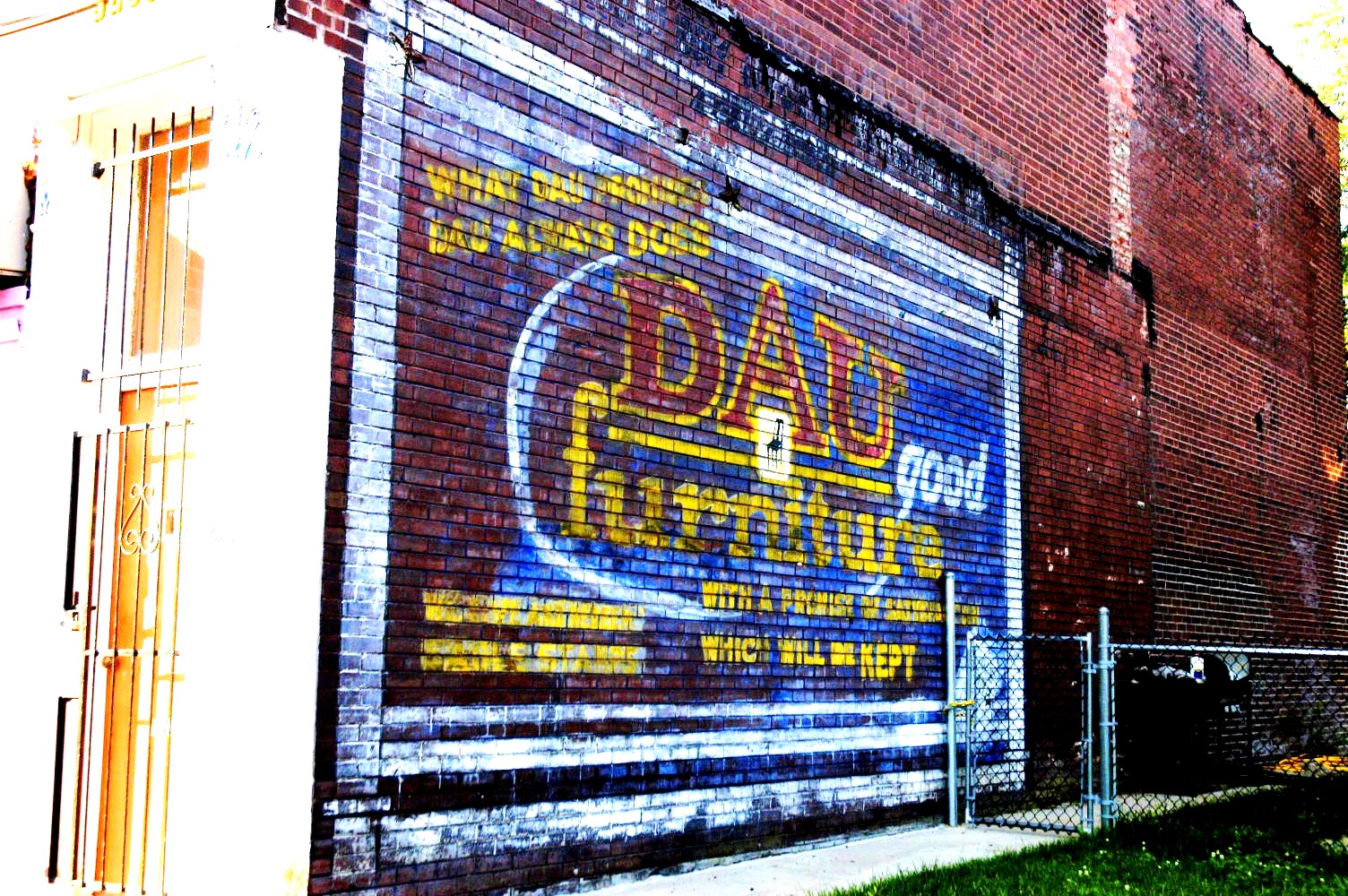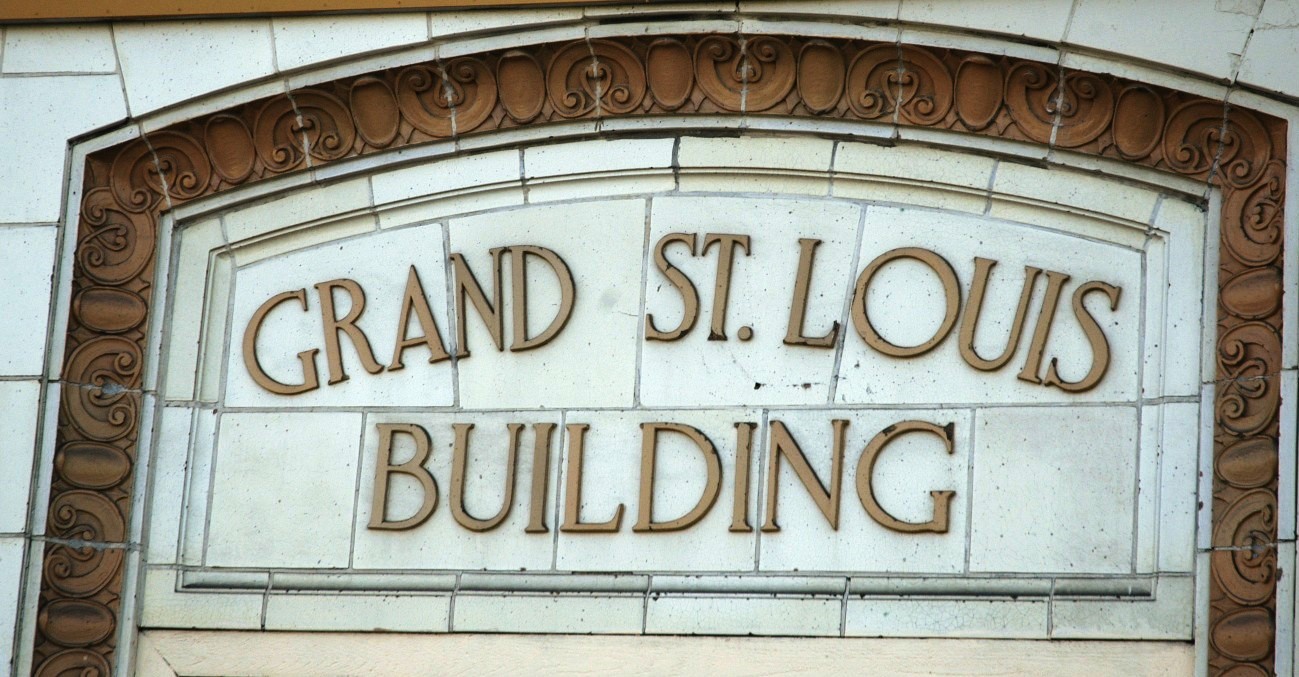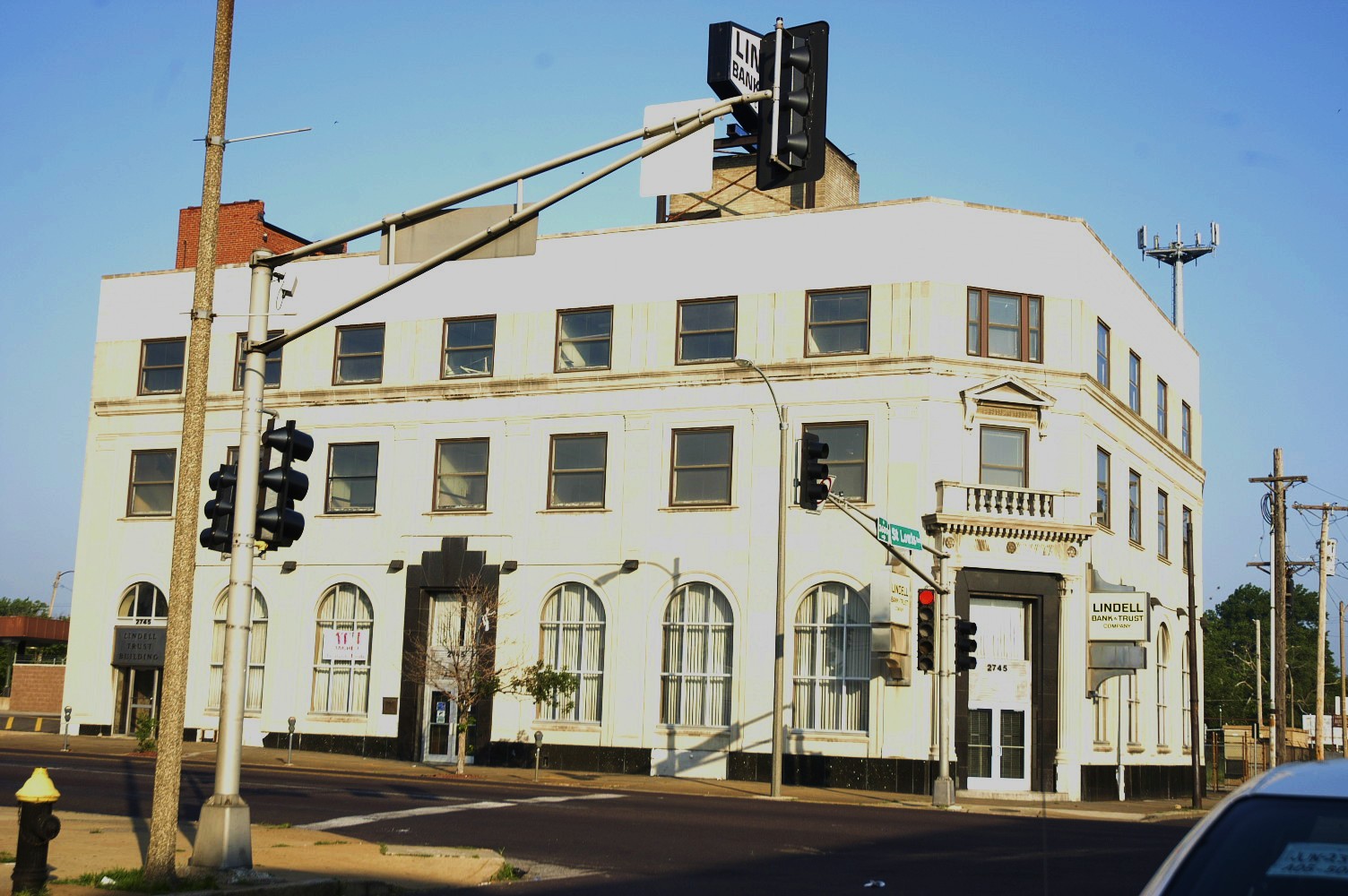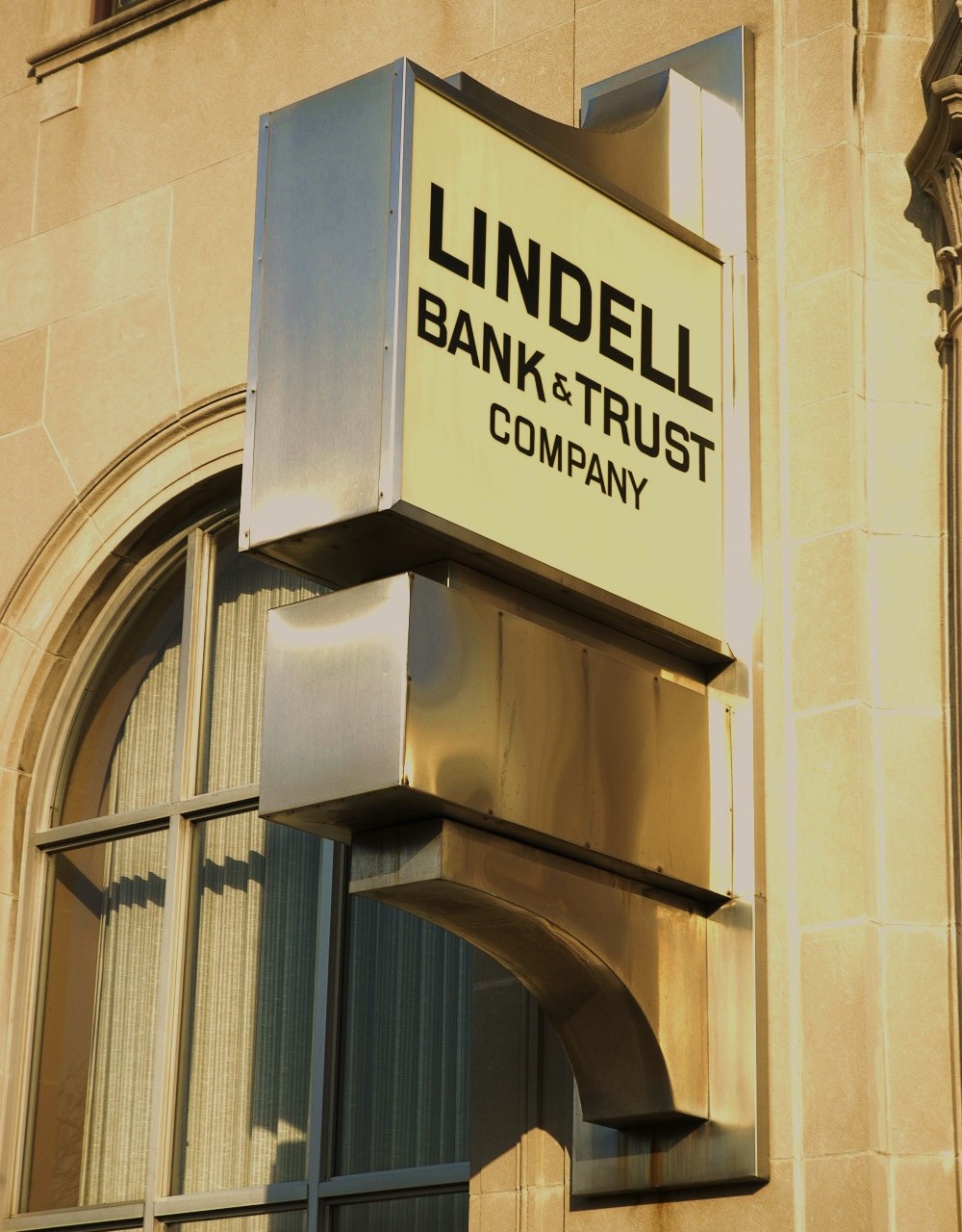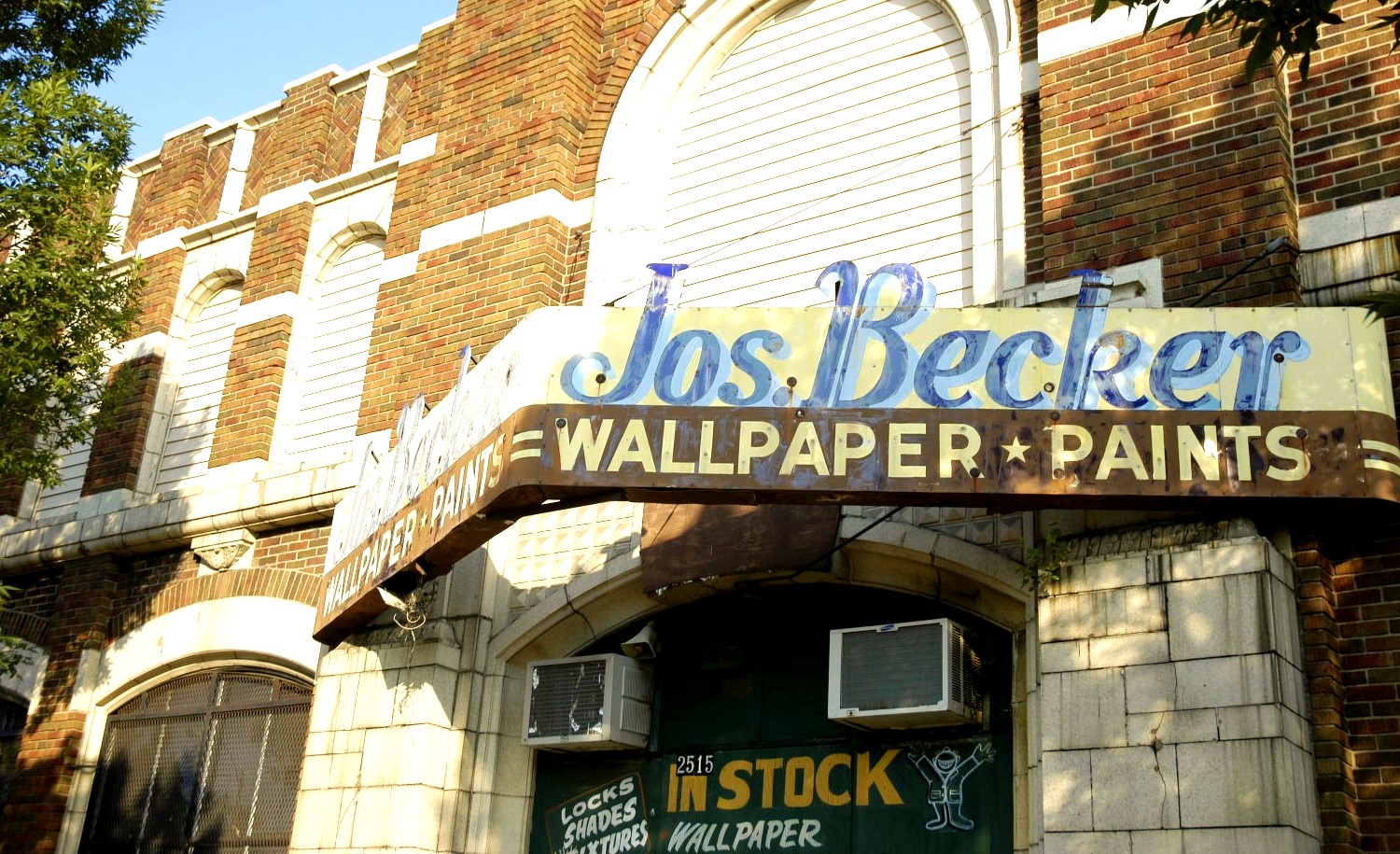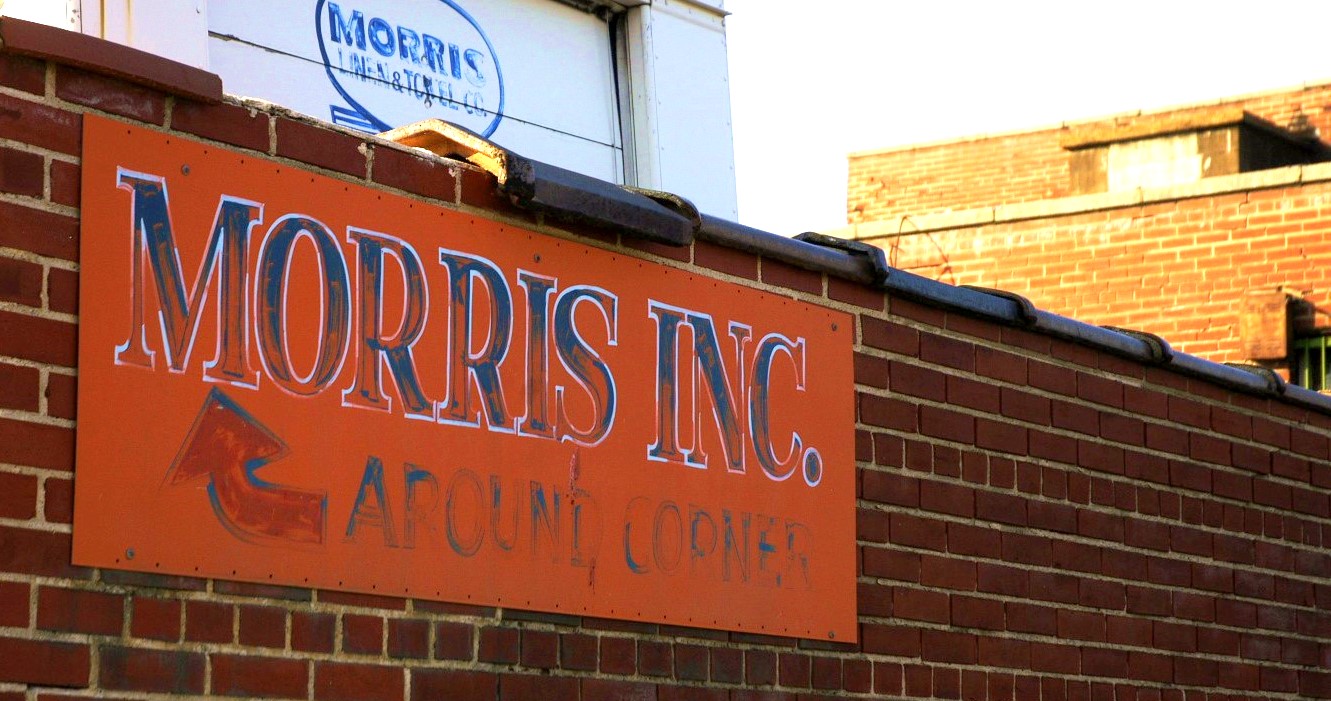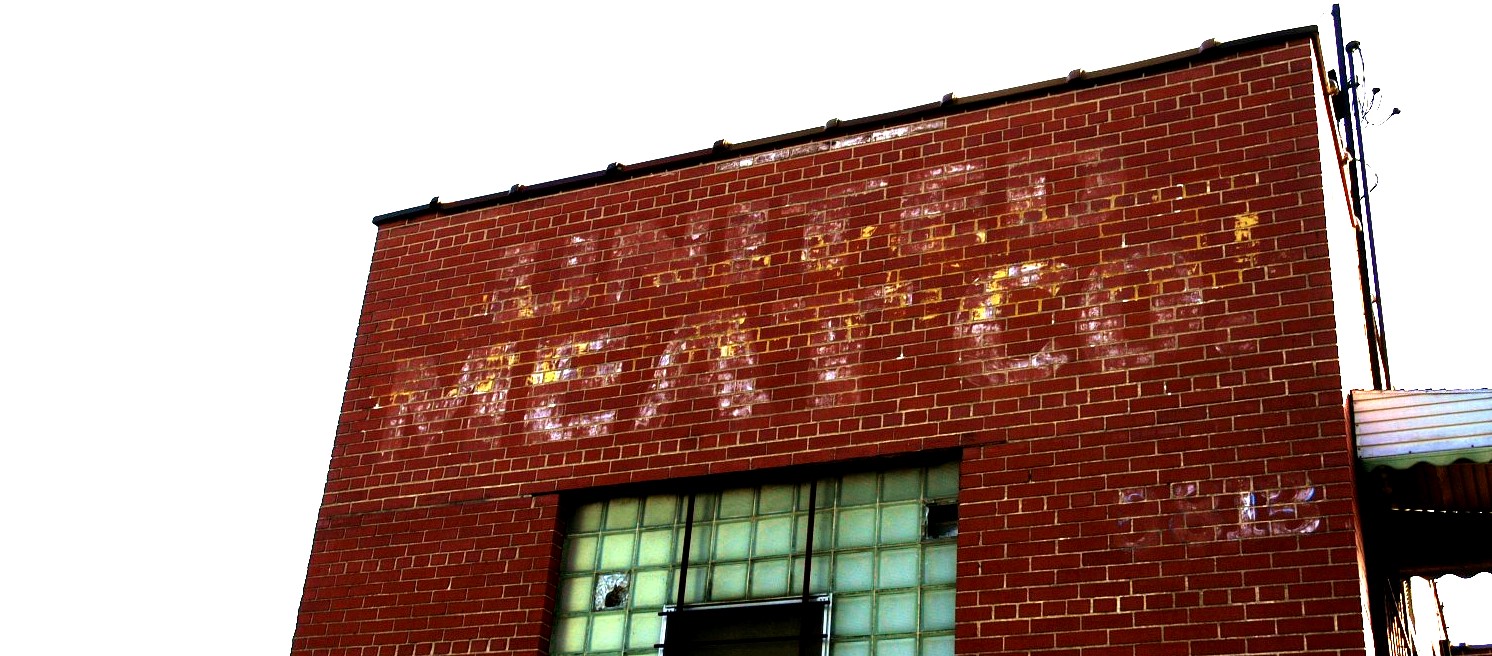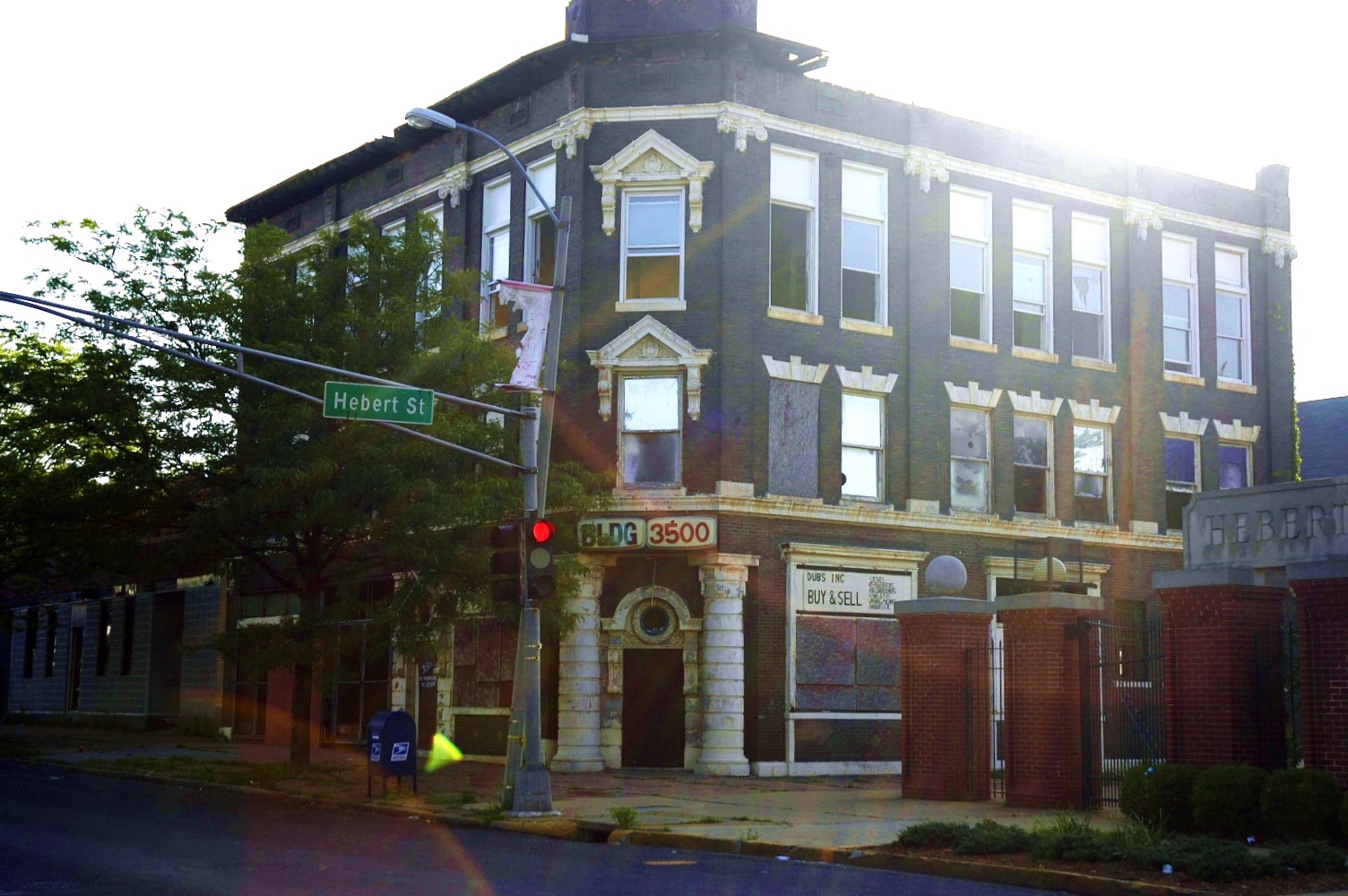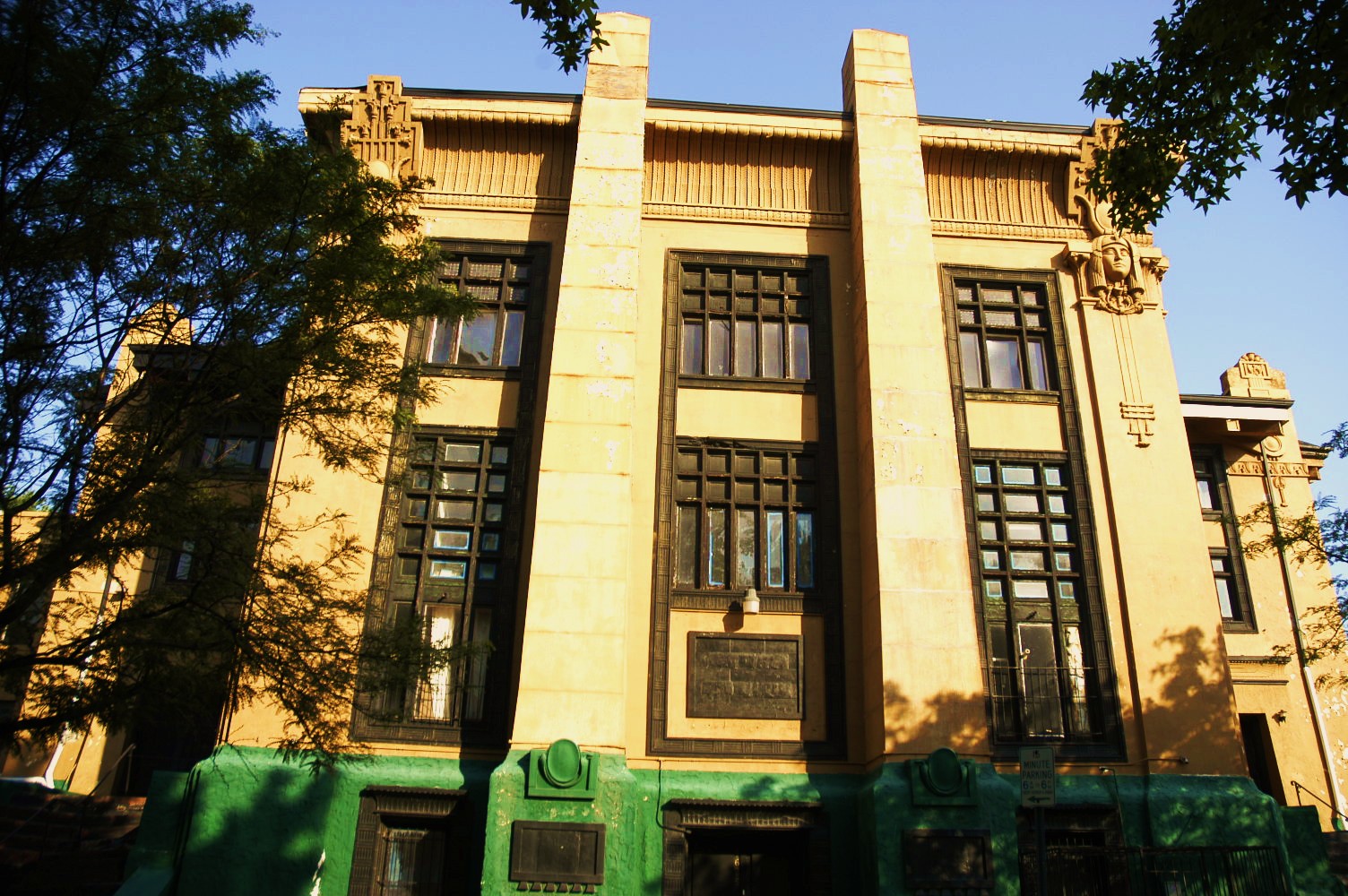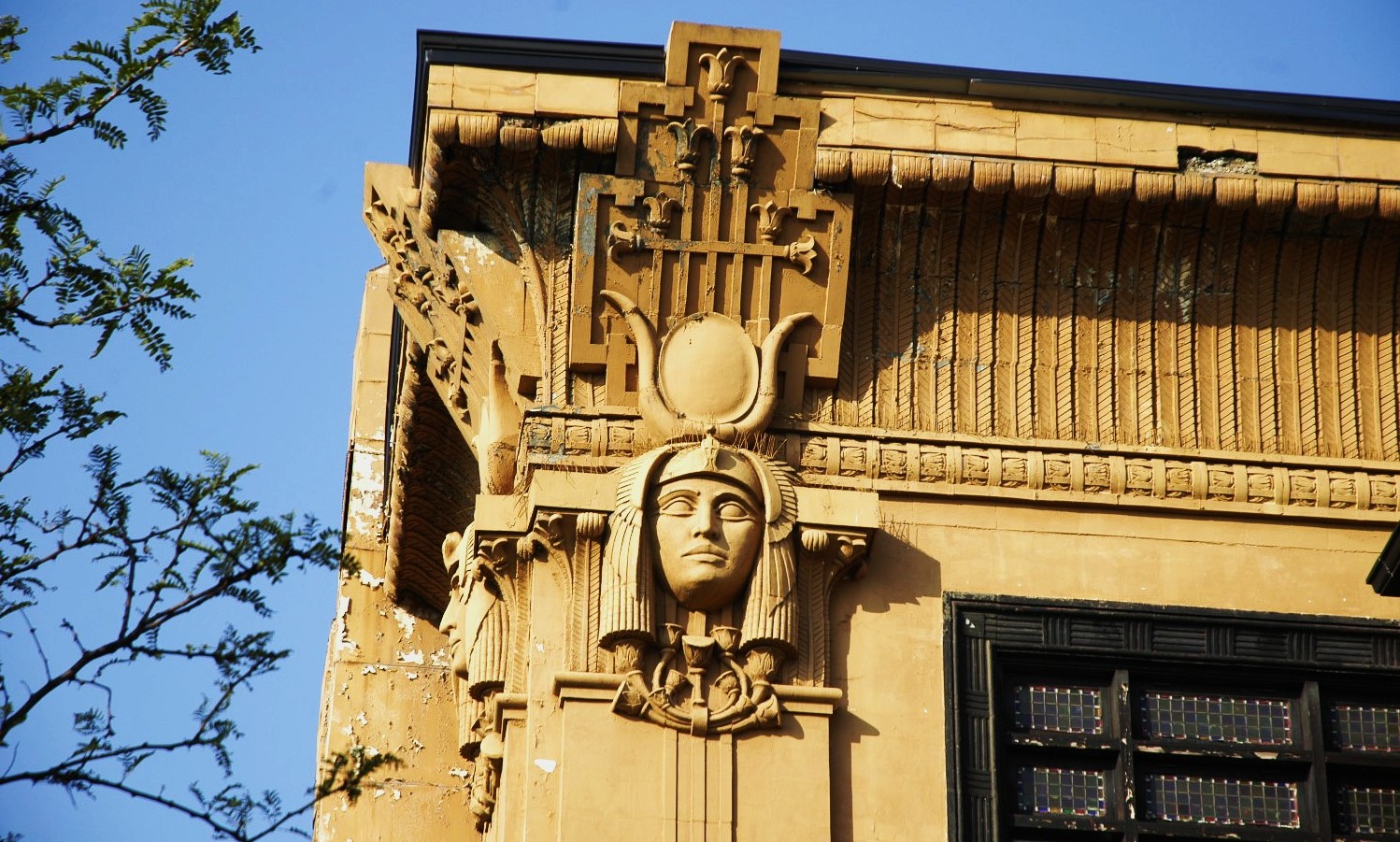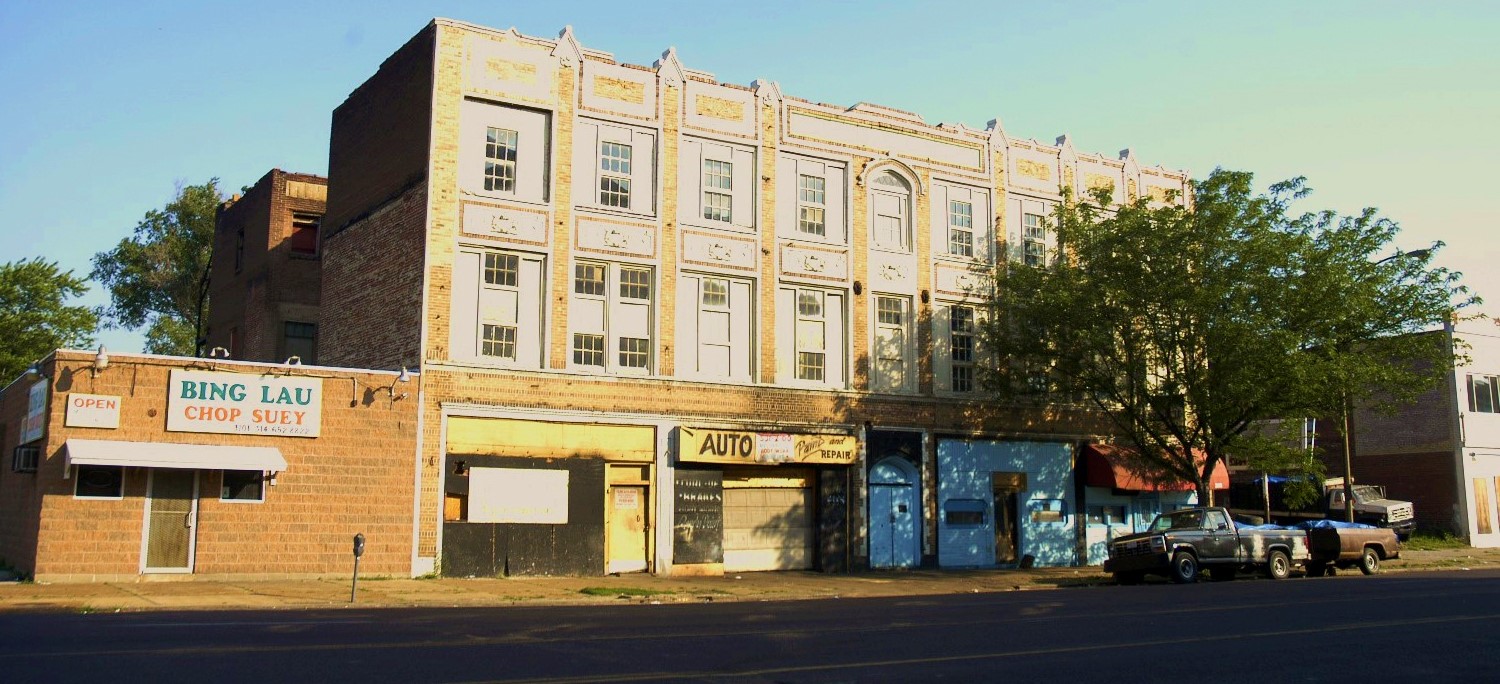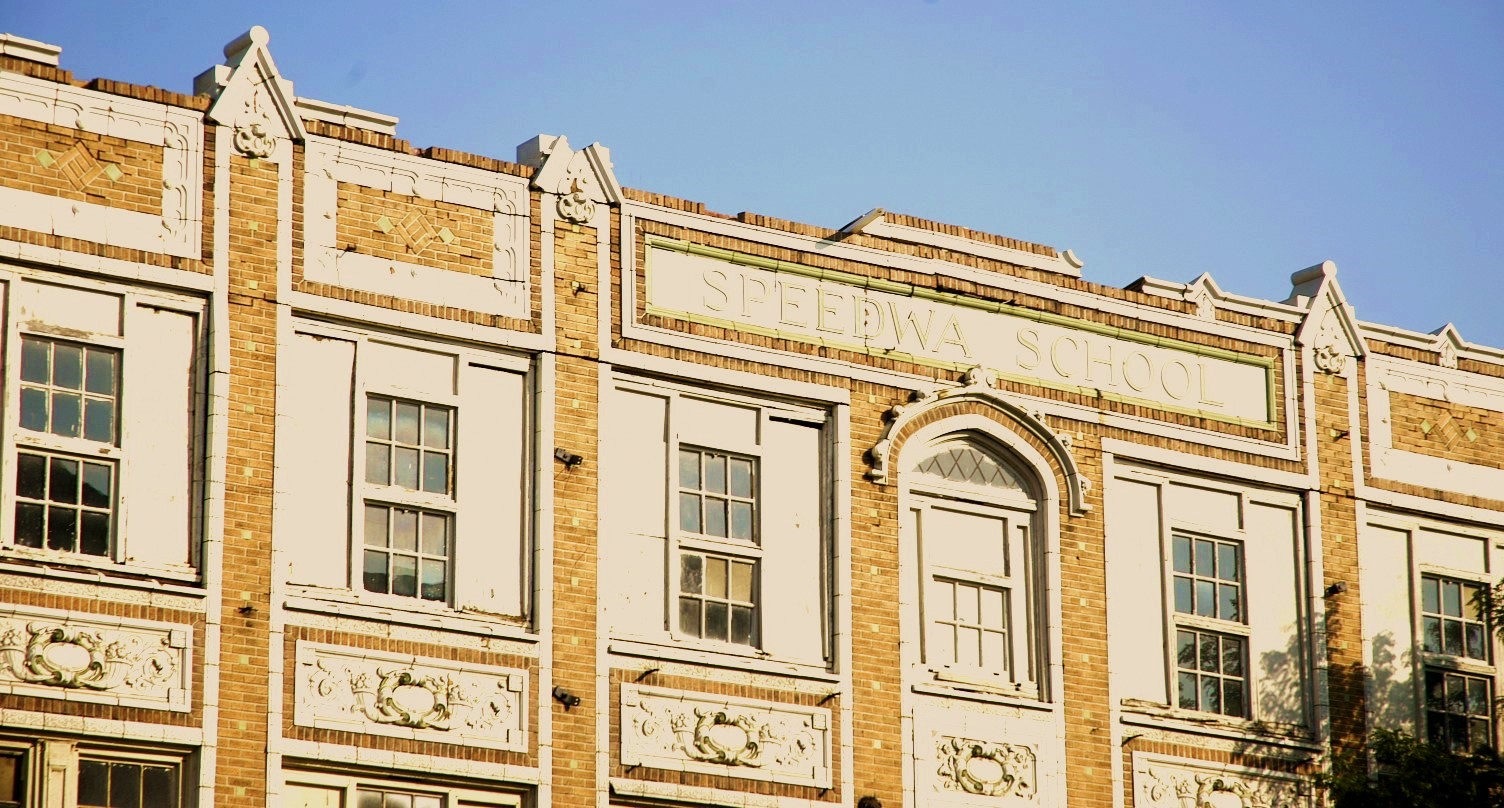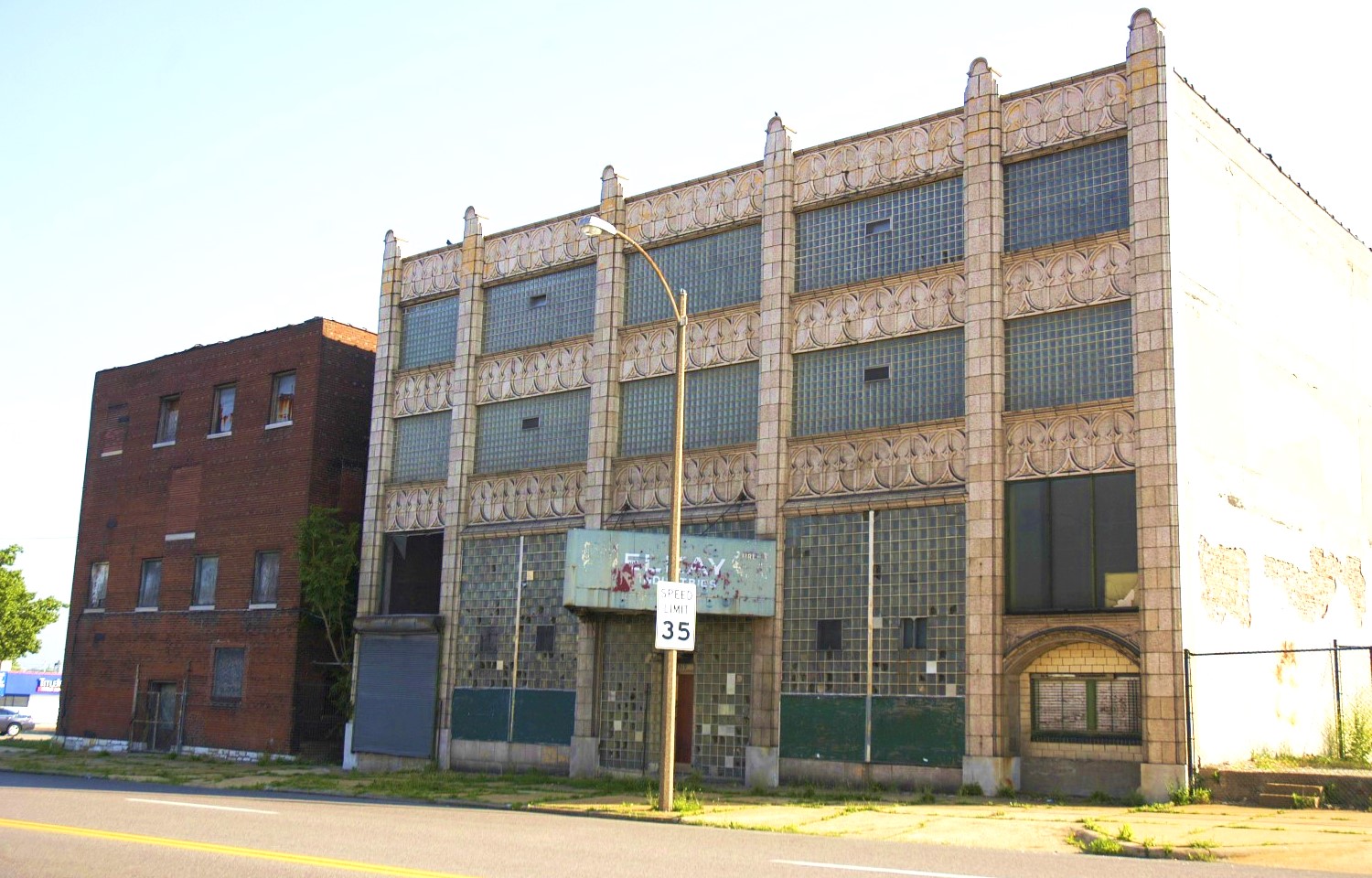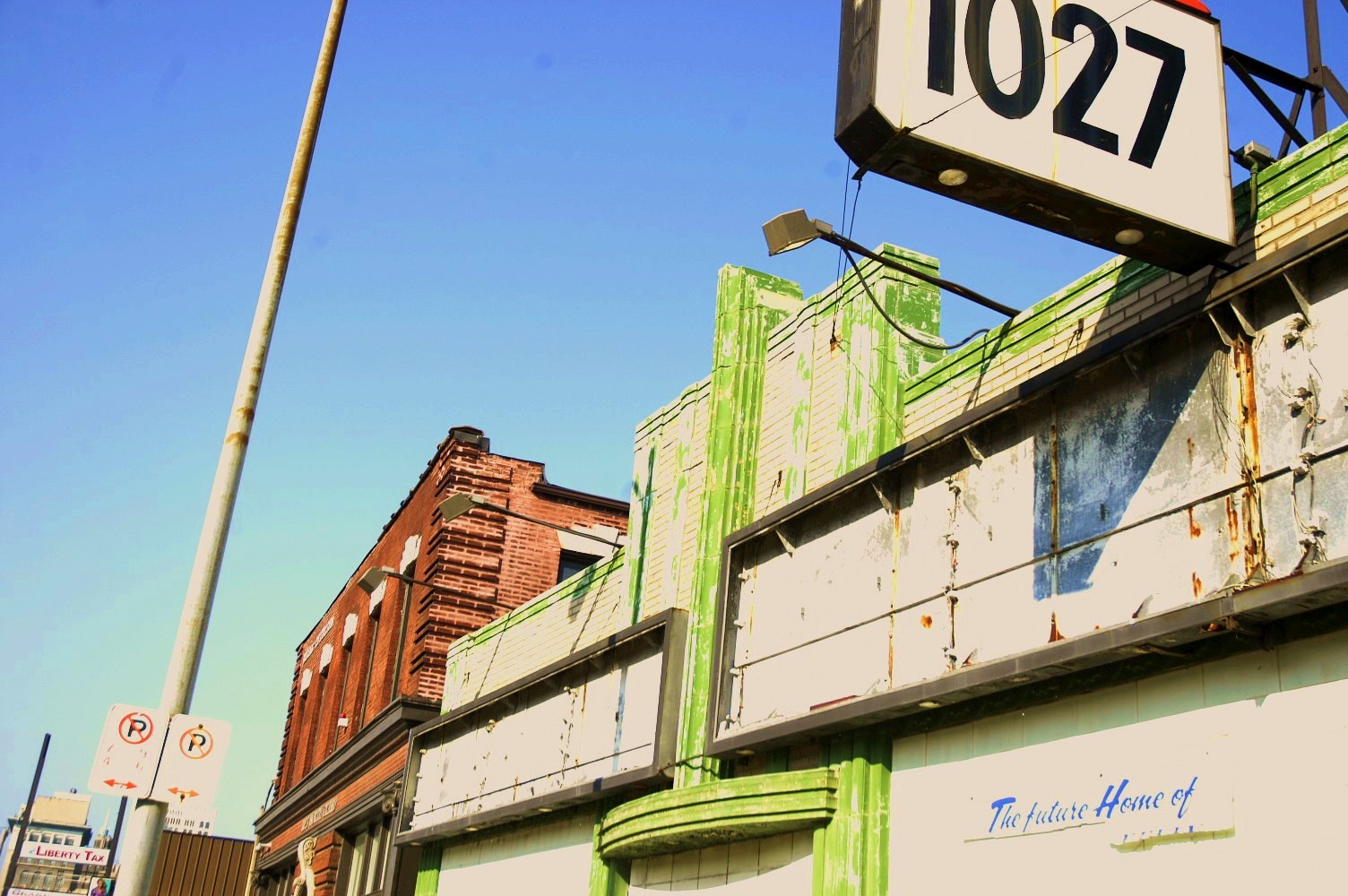 These apartments stretch to nearly a 1/4 of the block: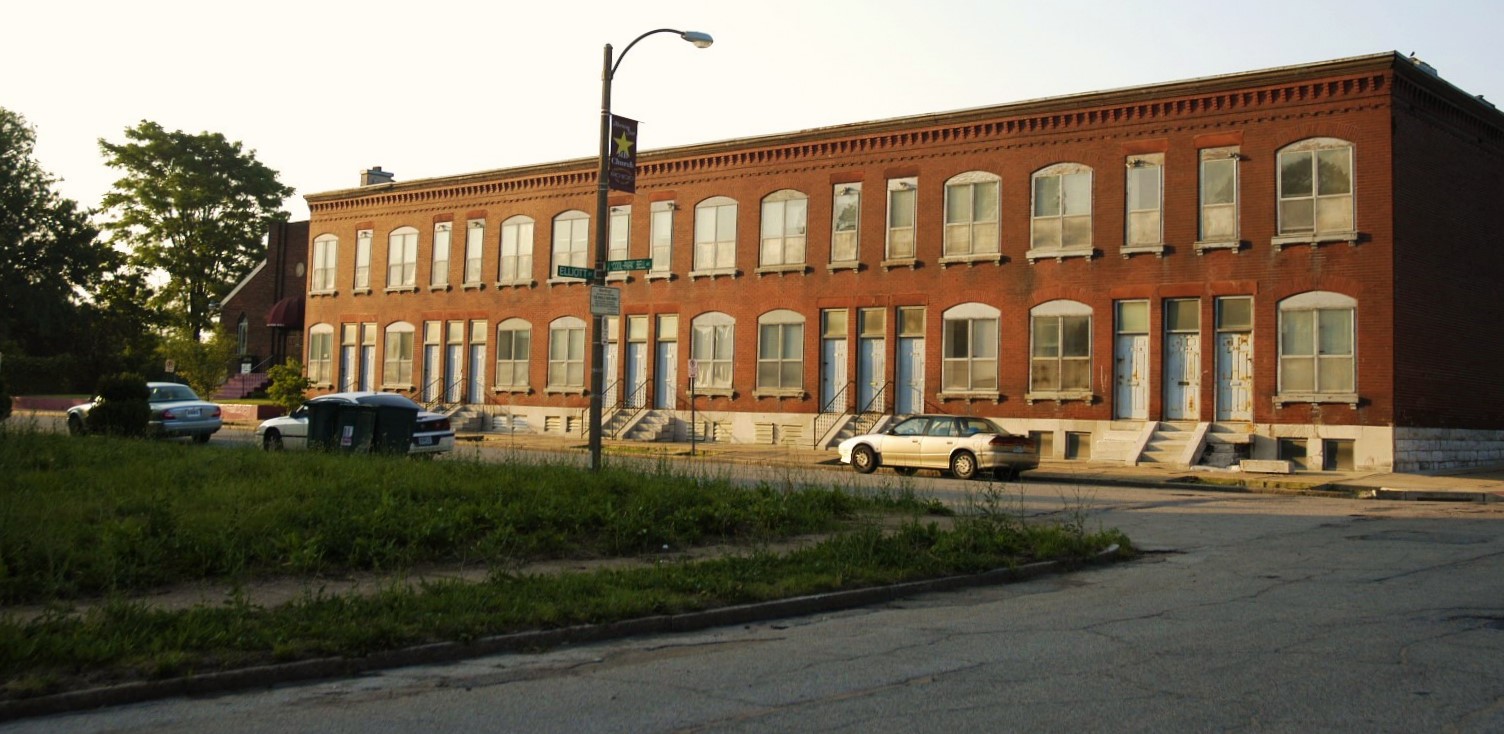 OK, I wish I could have dug in on some raccoon and other delicacies at Sarah-Eastons; but if you have the raccoon jones, you can step down to Soulard Market and purchase one gutted, skinned and ready for the kitchen: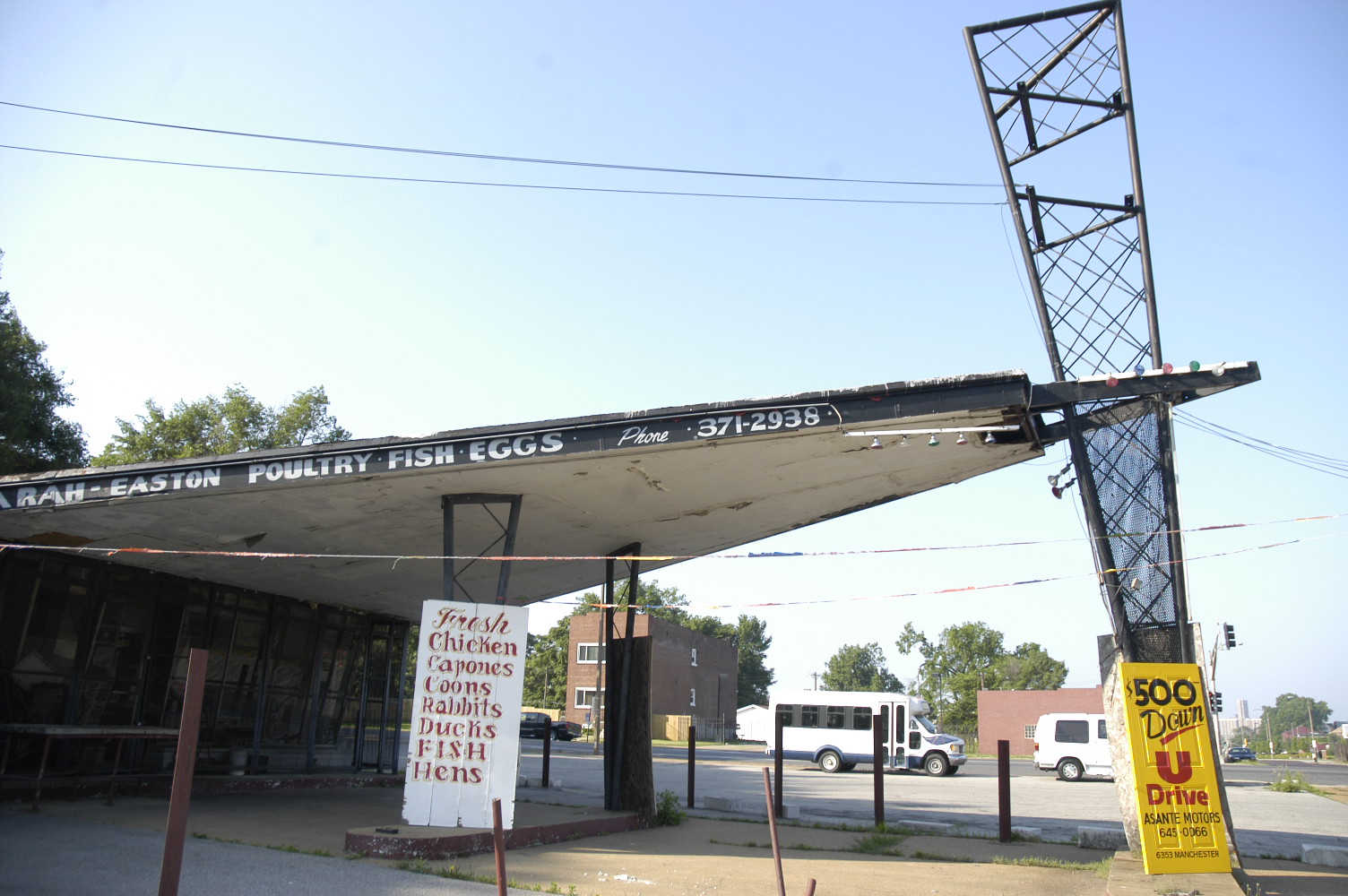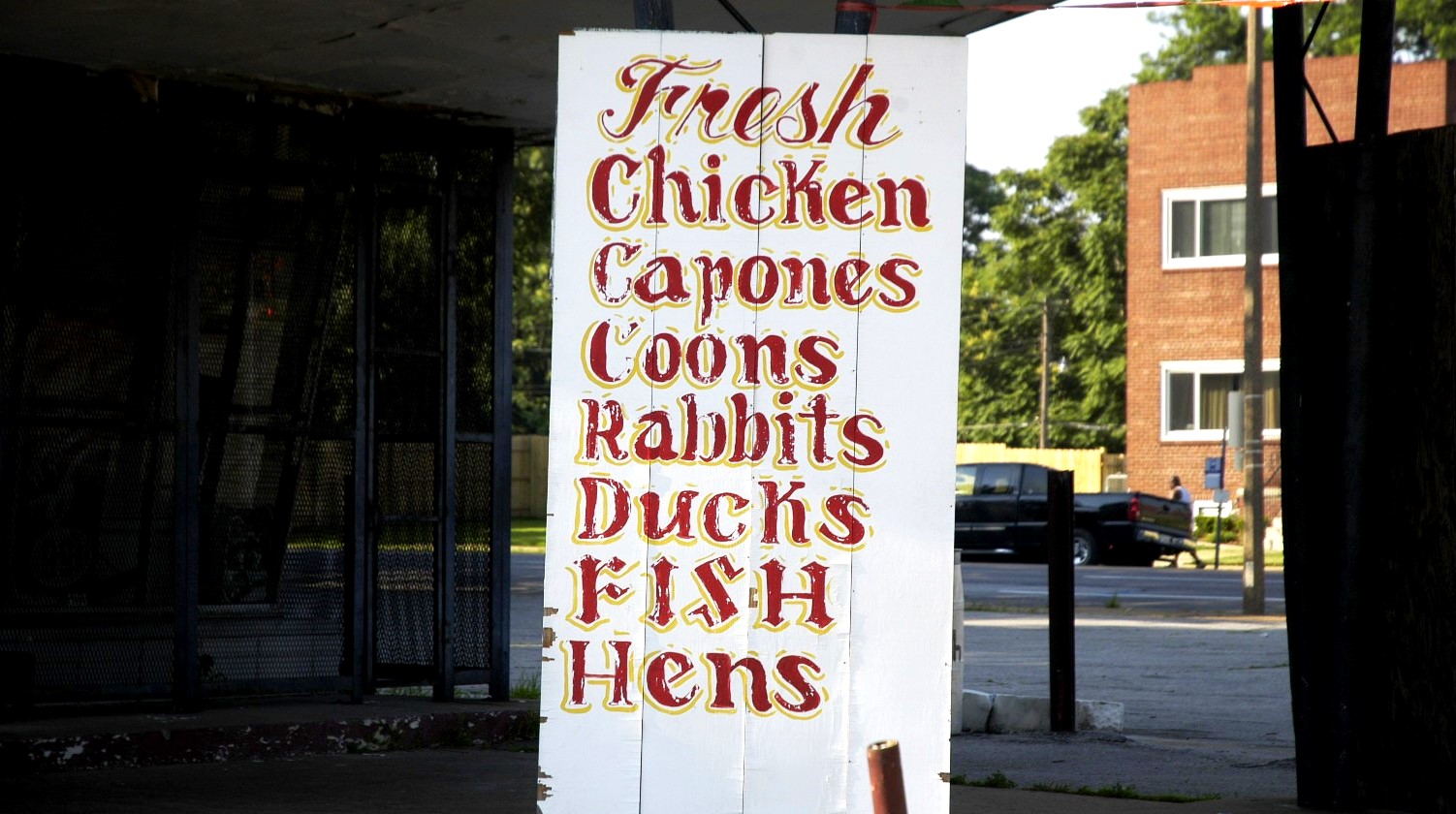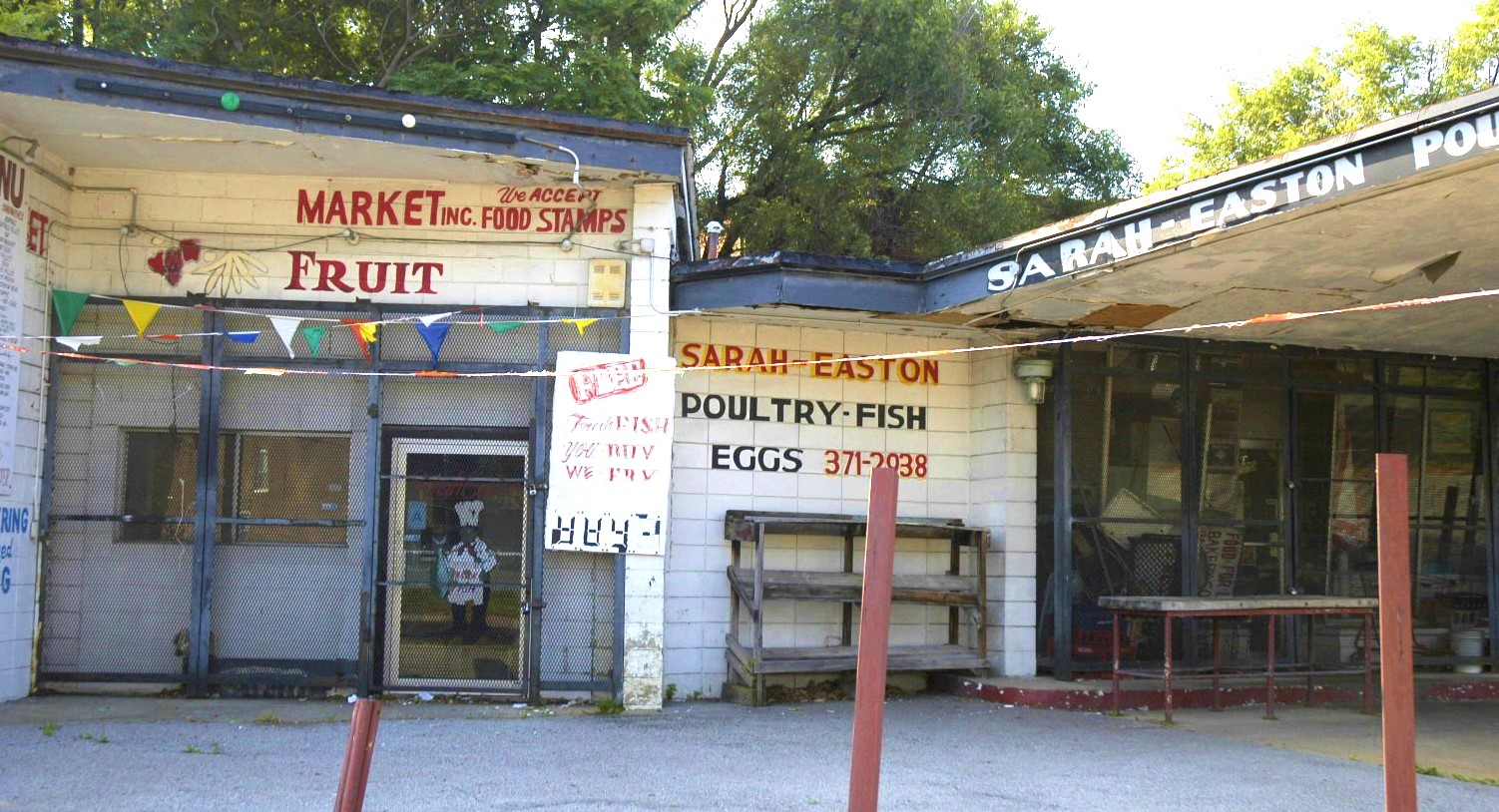 The Fairground's Park Apartments are literally across from the once grand gates of Fairground Park, in the background behind the stop sign in the following: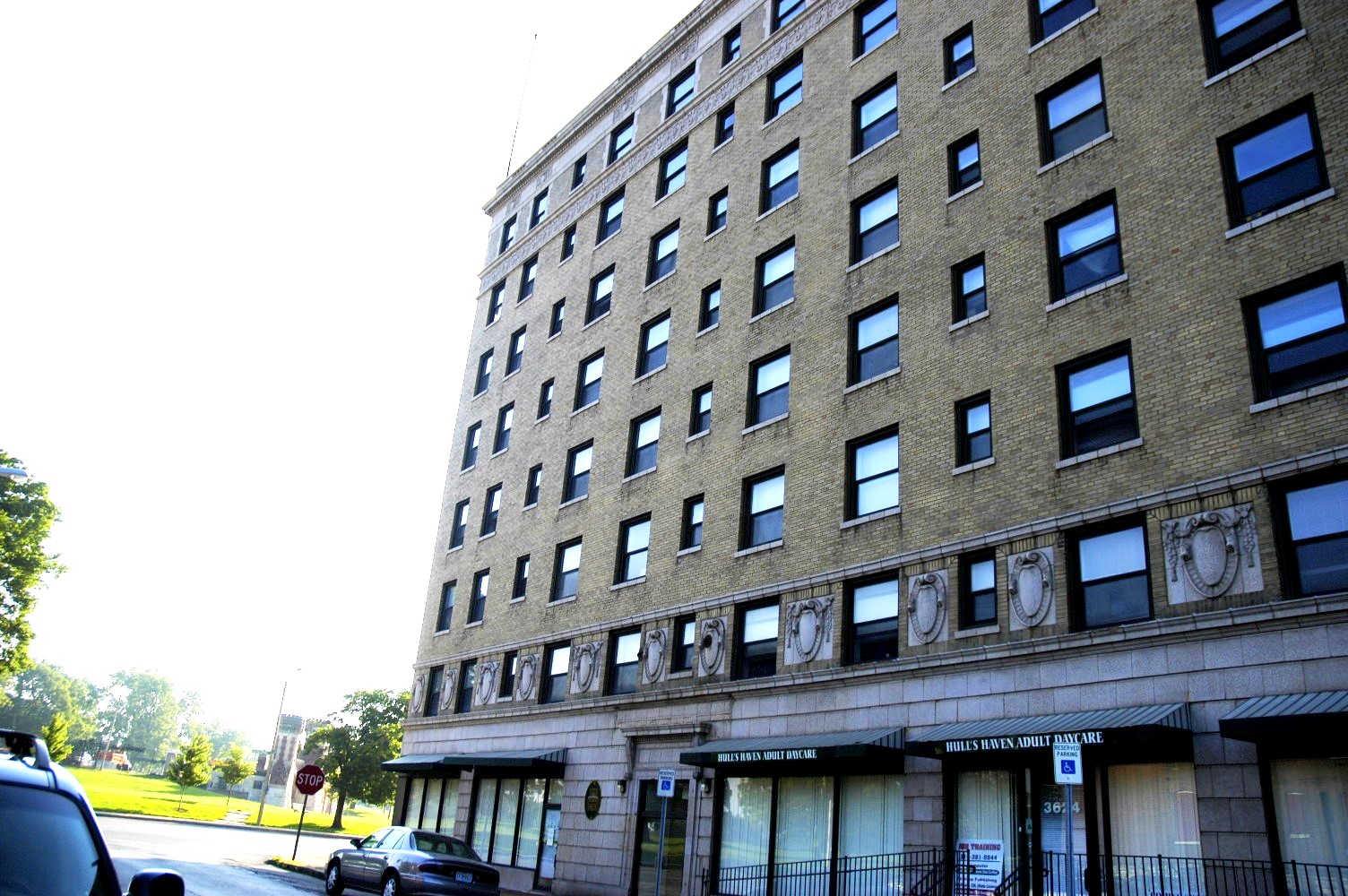 And finally, the Paladium (I know technically part of Covenant/Blu) which is a rich part of our history as one of the most important places in music history on the face of this Earth and in danger of the short sighted gains of today. The story is carefully and inspiringly captured by Kevin Belford writer of the amazing book Devil At The Confluence.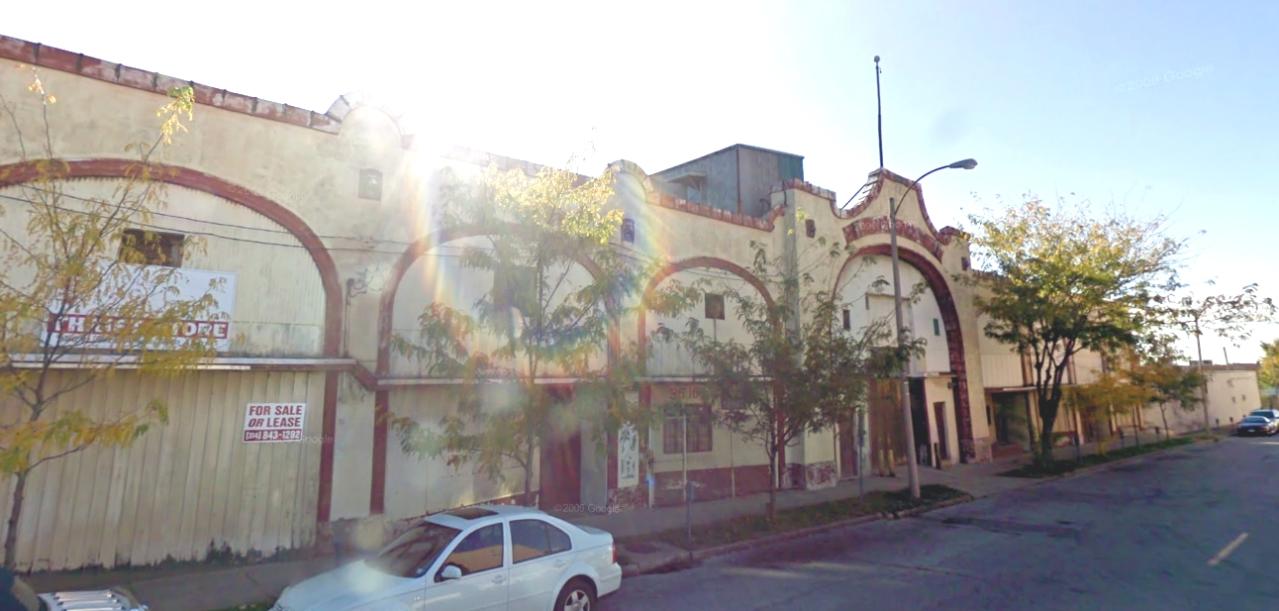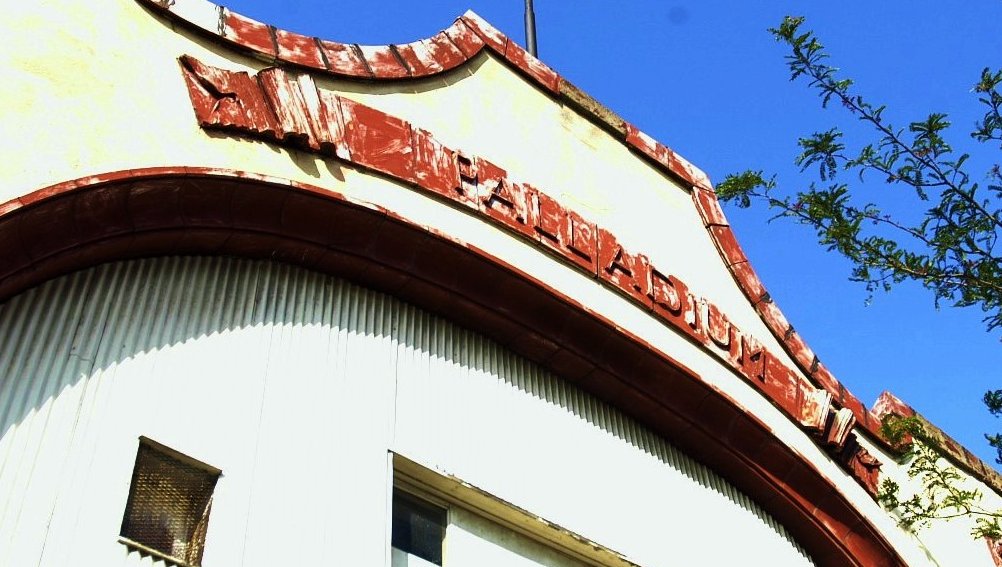 If the street facing side of the building and the history inspire enough contemplation, walk around the back and take in some of the still functional fire escapes with pulleys in tact (pretty rare):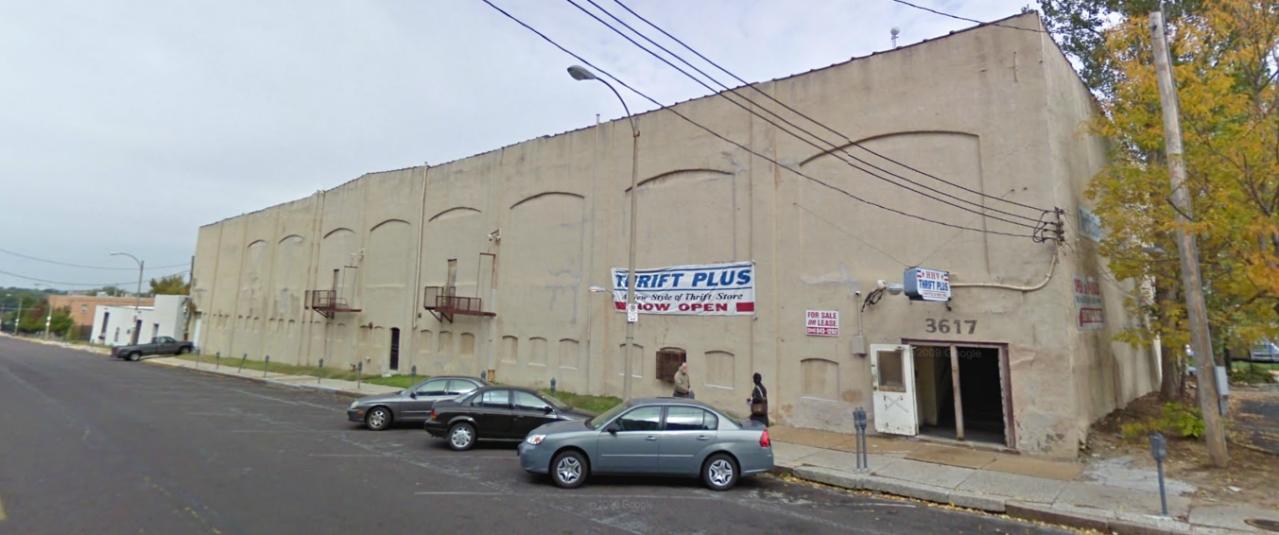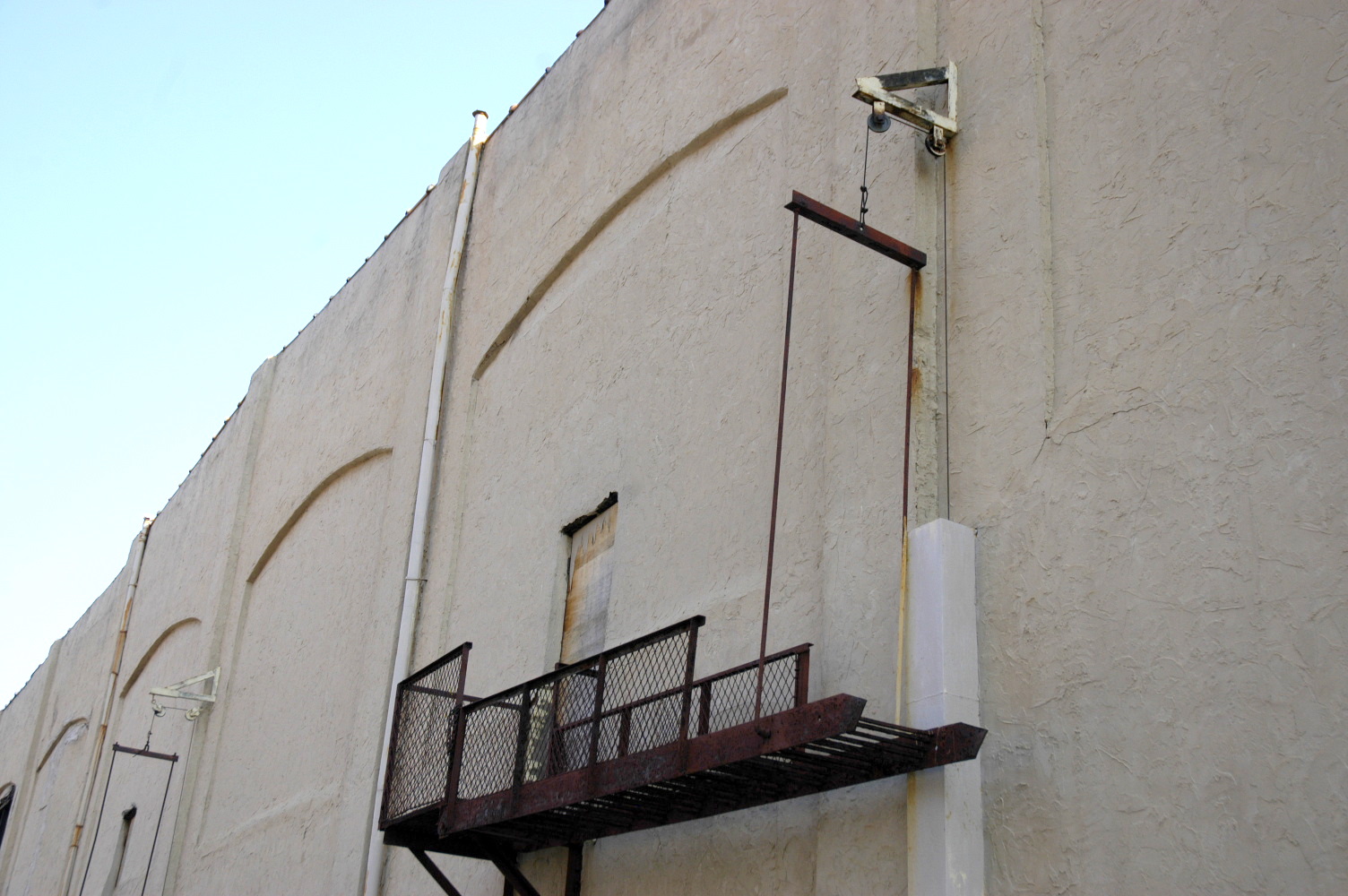 JeffVanderLou needs to be a functioning gateway to the north. I remain hopeful that brighter days are to come.