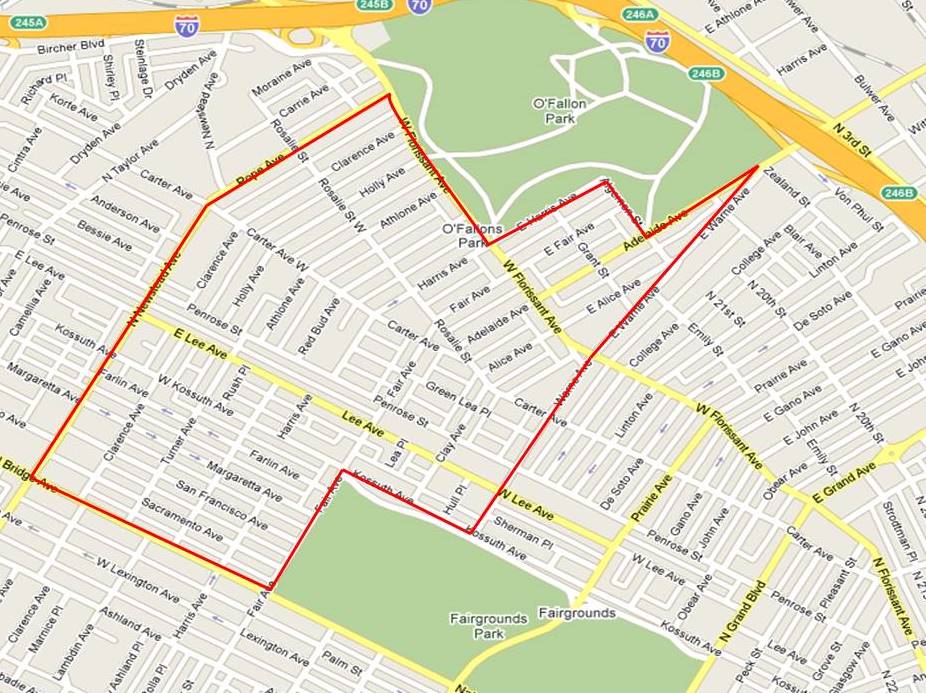 O'Fallon is a north St. Louis neighborhood bound by West Florissant Avenue, East Harris Avenue, Algernon Street and Adelaide Avenue to the north, Pope Avenue to the northwest, Kossuth and Natural Bridge Avenues via Fair to the south, Warne to the east and Newstead Avenue to the west.
O'Fallon is wedged between O'Fallon Park and Fairground Park. The street grid is really unique where Carter Avenue bisects the neighborhood, with streets angled toward the north east seemingly following the borderlines and trajectory of O'Fallon Park, whereas the streets south of Carter Ave. remain parallel with the lines of Fairgrounds Park. Not sure if that was by design, but is works for me. Of the two parks, O'Fallon has much more activity and much more going for it; Fairground Park the neighborhood and park are way more neglected and in much worse shape than O'Fallon. There are many new trees planted in the park and it is home to the second new $23 million city funded recreation complex.
From the city website:
The O'Fallon Park Recreation Complex is a sister facility to the $21 million southside Recreation Complex located in Carondelet Park in South St. Louis City. These are the first recreation centers built in the City since 1971.
The new complex will feature an aquatic center including an indoor splash pool with a triple loop slide, a motion pool, children's pools, sauna, steam room and spa, plus an outdoor lap pool. Other amenities of the recreation complex include a gymnasium, indoor track and fitness center, locker rooms, a community center, multipurpose rooms and a lobby.
A rendering of the coming rec plex:

It will be interesting to see if the membership rates are the same at both locations, or if they stick it to the south siders. It will also be interesting to see if they have the YMCA run the facility. I hope they do, because they run a tight ship. This proximity of this new recreation complex along with the fact that the neighborhood has a bright, dedicated young alderman, Antonio French, who I am confident can lead the area in the right direction. And to add to the positive trajectory of the area, all the buildings in the O'Fallon neighborhood will be in a historic district as of 2012. It will be nominated as a National Register of Historic Places. See the full story at the Preservation Research Office.
This is great news, as there are some AMAZING homes just south of O'Fallon Park. They are among the best looking mansions in the city rivaling Holly Hills Boulevard, Lindell, DeBaliviere and other great areas, but O'Fallon has not fared as well as far as retaining people with the means and dedication to maintain the architectural heritage.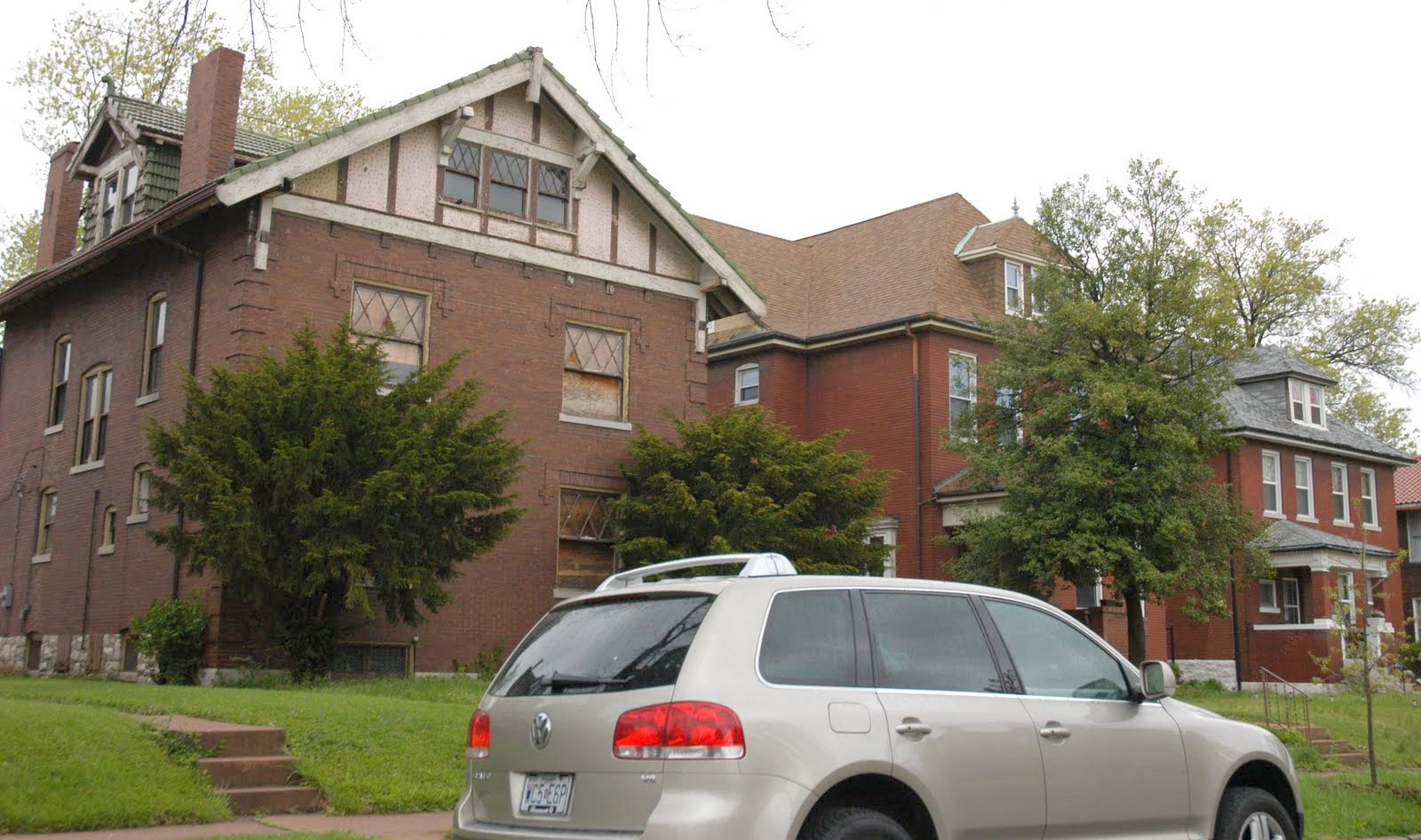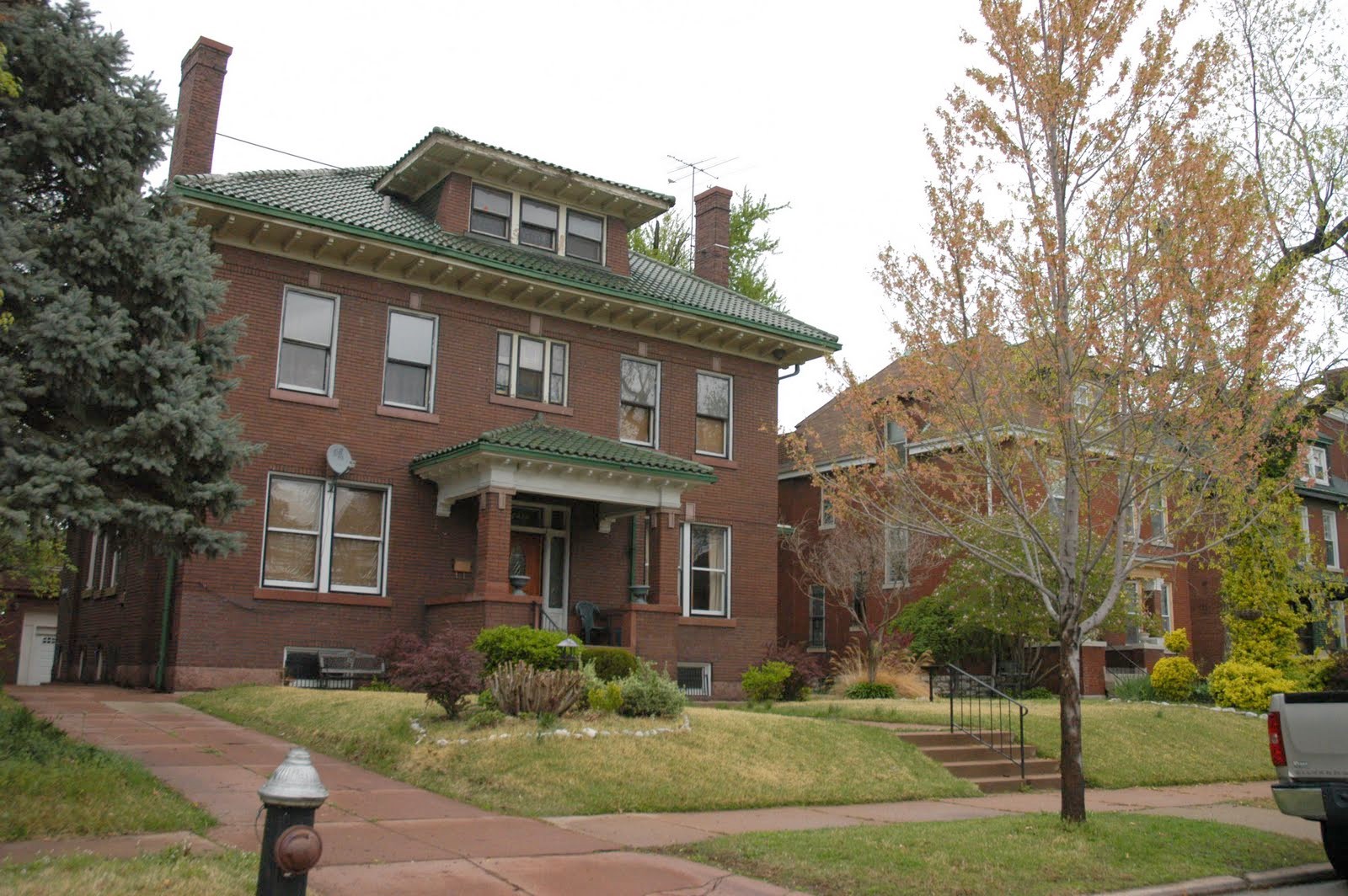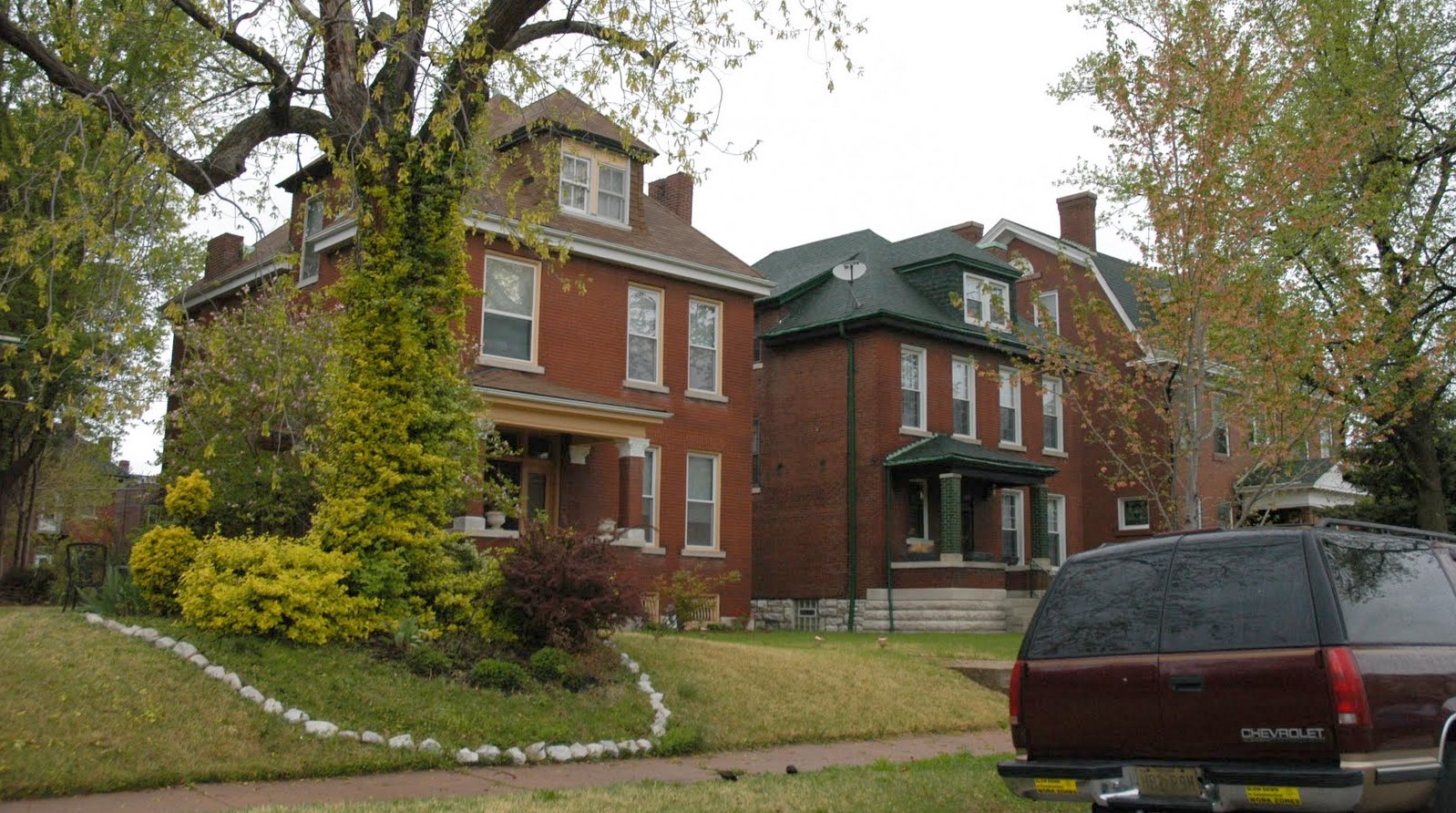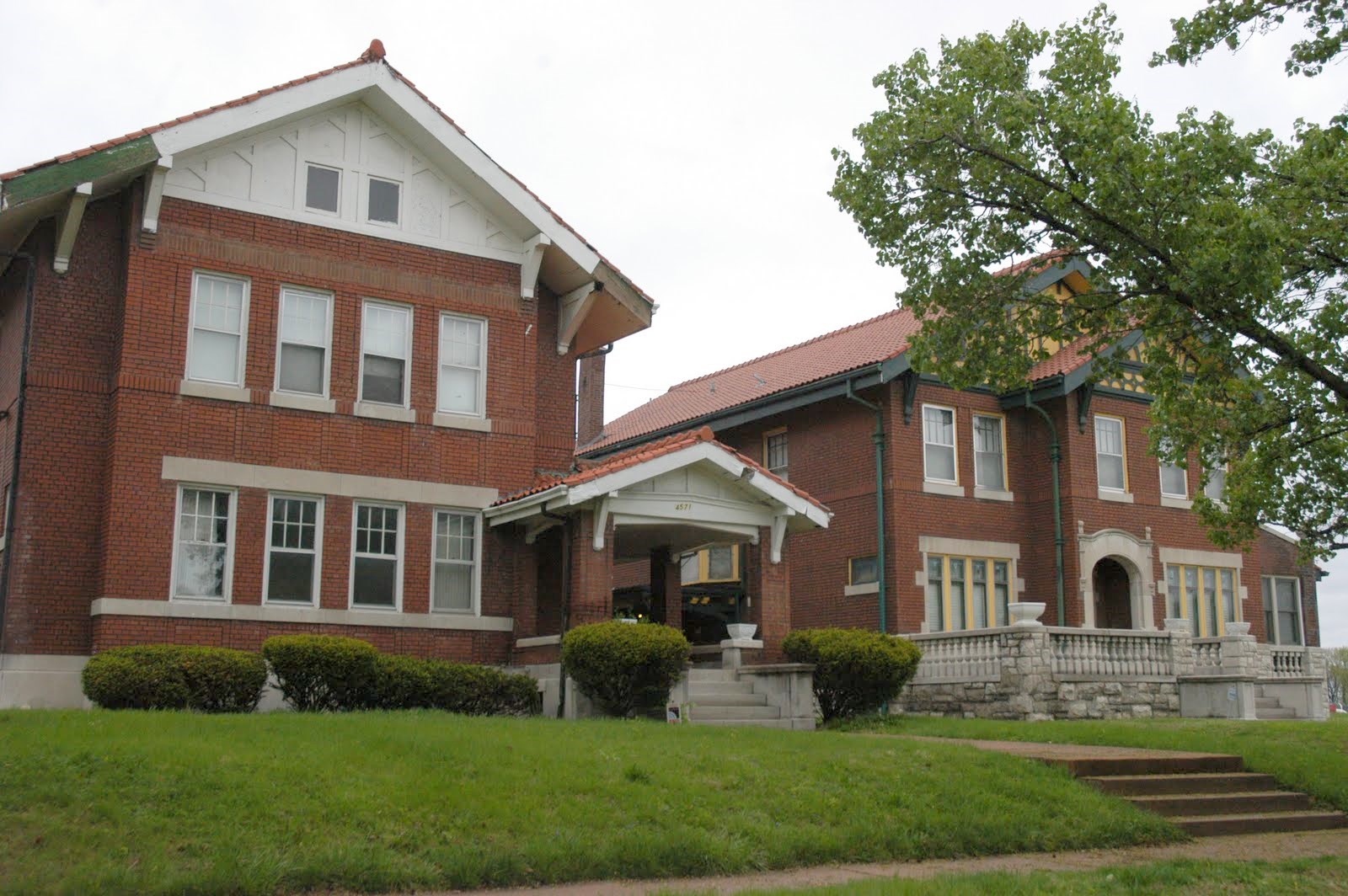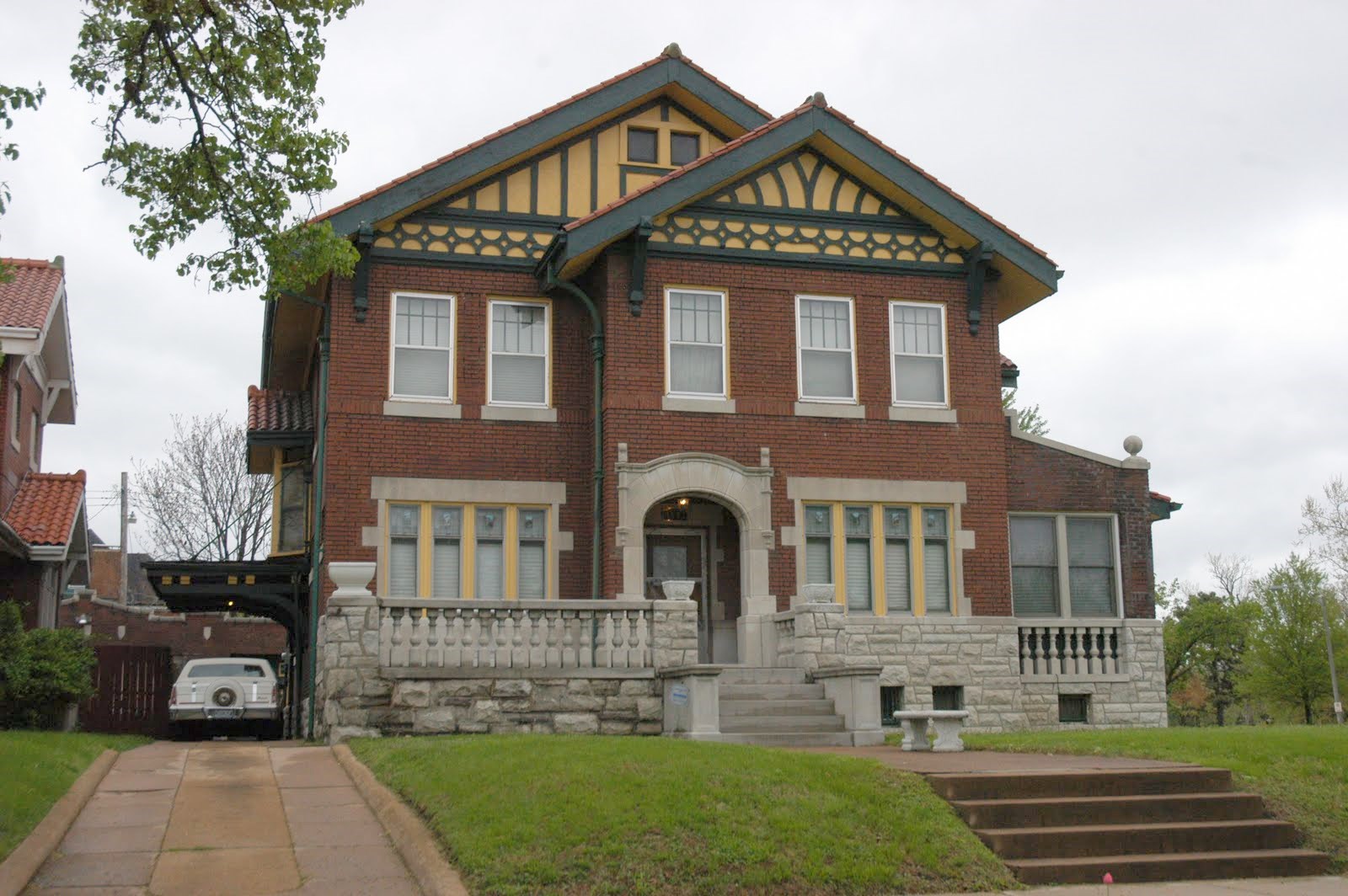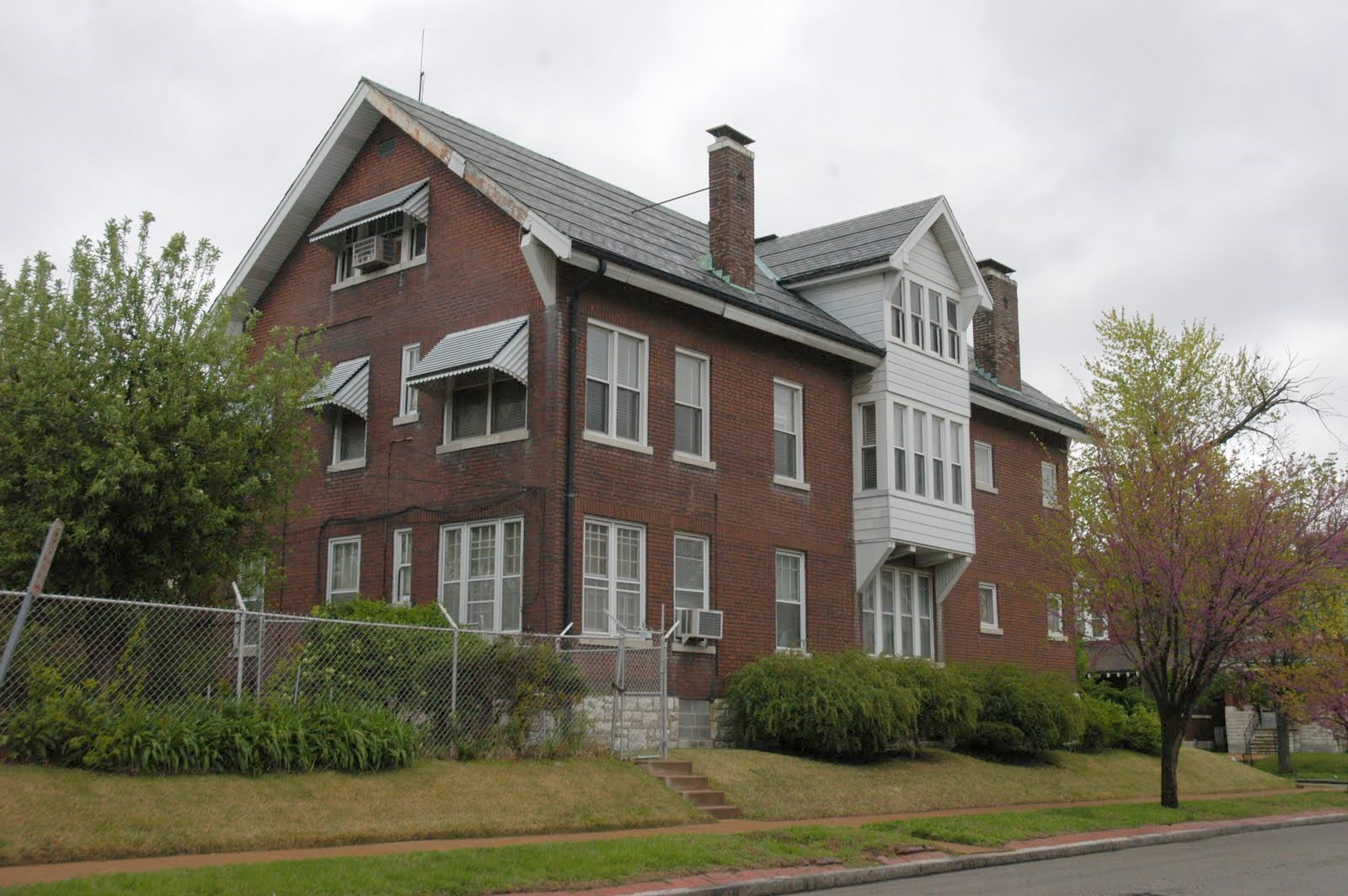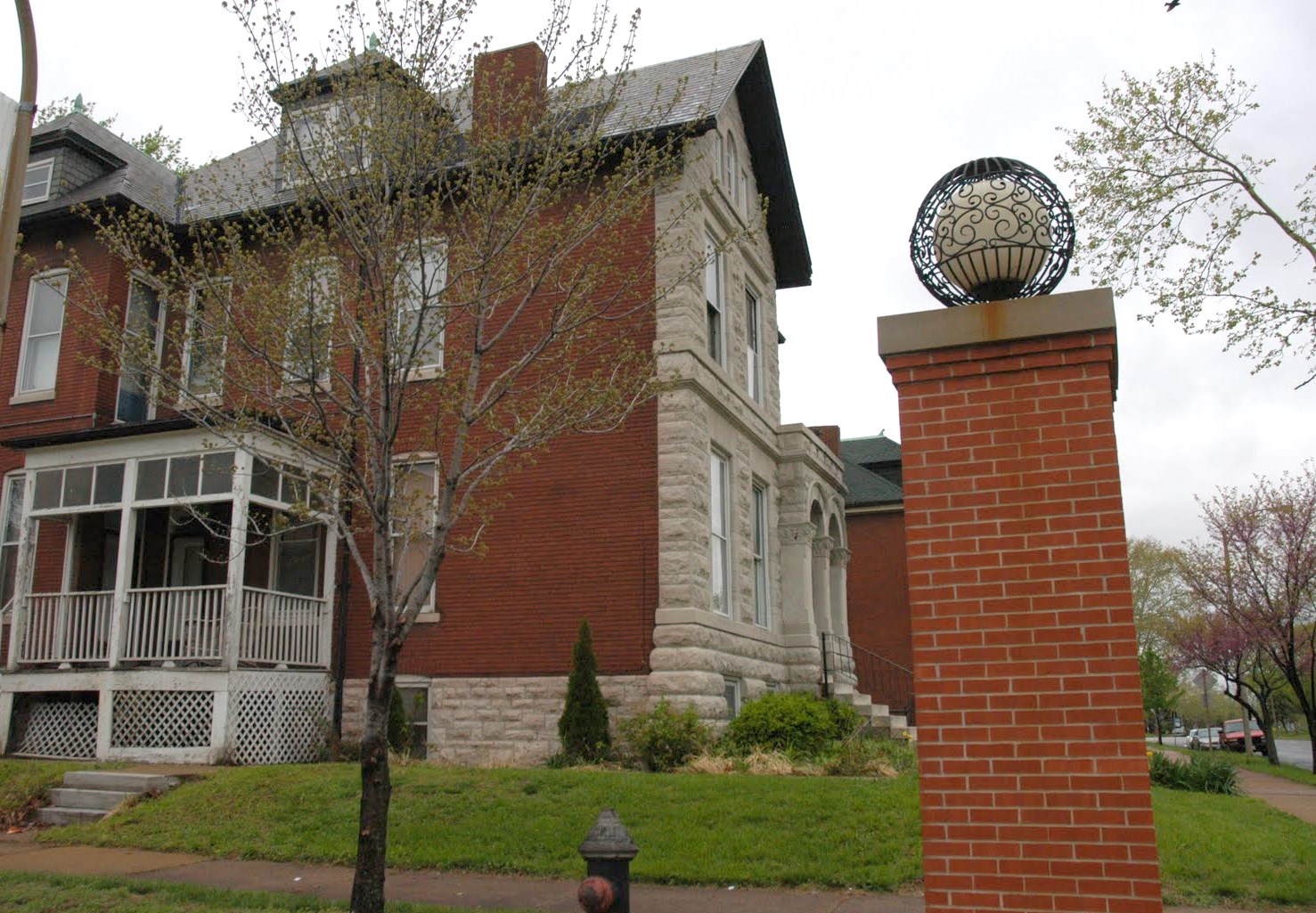 It's still an area that is bleeding residents. Although, I found the neighborhood to be quite densely populated and it's not nearly as depressing/dangerous feeling as Fairground Park. But the numbers don't lie, people are packing it up and continue to vote with their feet.
The 2000 census counted 7,151 residents (19% decline from 1990) of whom 98% were black, 1% white. There were 3,269 housing units that were 82% occupied, split 52%/48% owner/renter. Black people are vacating North St. Louis in staggering numbers. The 2000-2010 numbers are even worse with another 23% loss. O' Fallon is down to 5,791 people. Yikes, people are leaving in droves.
Here's a description from the neighborhood website:
The O'Fallon neighborhood is anchored by two major public parks, O'Fallon Park and Fairground Park. The area is primarily a residential neighborhood with streets lined with brick and frame single-family homes, two-family homes, and a few multi-family buildings. Many of the housing units are owner-occupied. These pleasant brick homes and well-tended lawns add to the quality of life in the O'Fallon neighborhood. Its proximity to good quality education makes the area appealing to families with children. Scattered throughout the neighborhood are several commercial areas where residents enjoy a variety of goods and services. The neighborhood has remained relatively stable thanks to many long-term residents and a high percentage of owner-occupied homes.
Okay, maybe so. There are some well-tended lawns and homes, but there are many run down and abandoned ones too. You don't loose a 1/4 of your population in 10 years without leaving behind a tremendous glut of empty housing stock. There are some businesses, but not many. Junk food snack shops found in nearly every north city neighborhood are there, but there are also some tasty looking bbq joints. Natural Bridge is strangely peppered with numerous Chop Suey joints, you know, another staple of north city.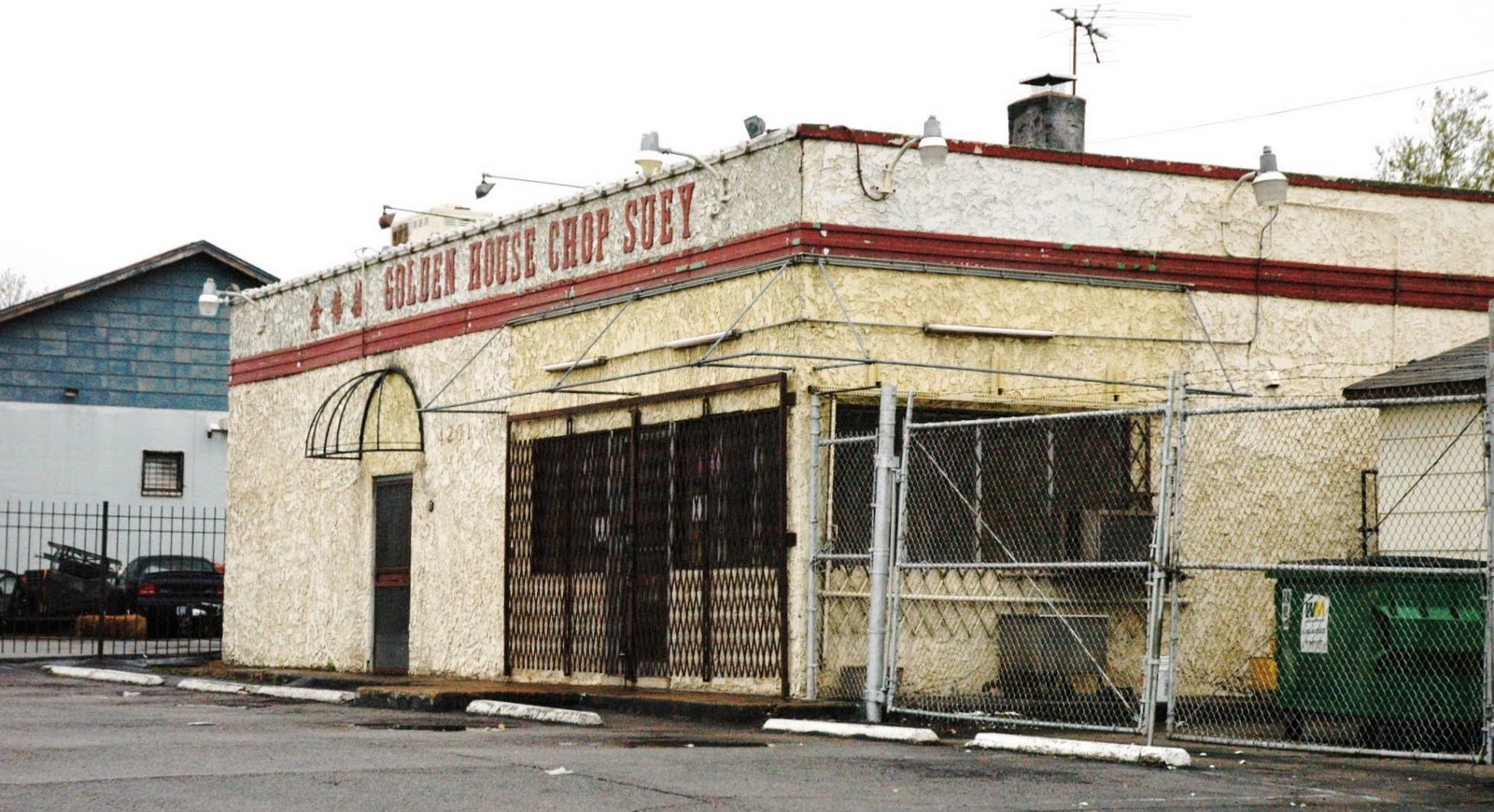 But the original vision of this neighborhood was a grand one, and it's laid out beautifully. Here's what O'Fallon looked like today on a cloudy grey, St. Louis Spring morning: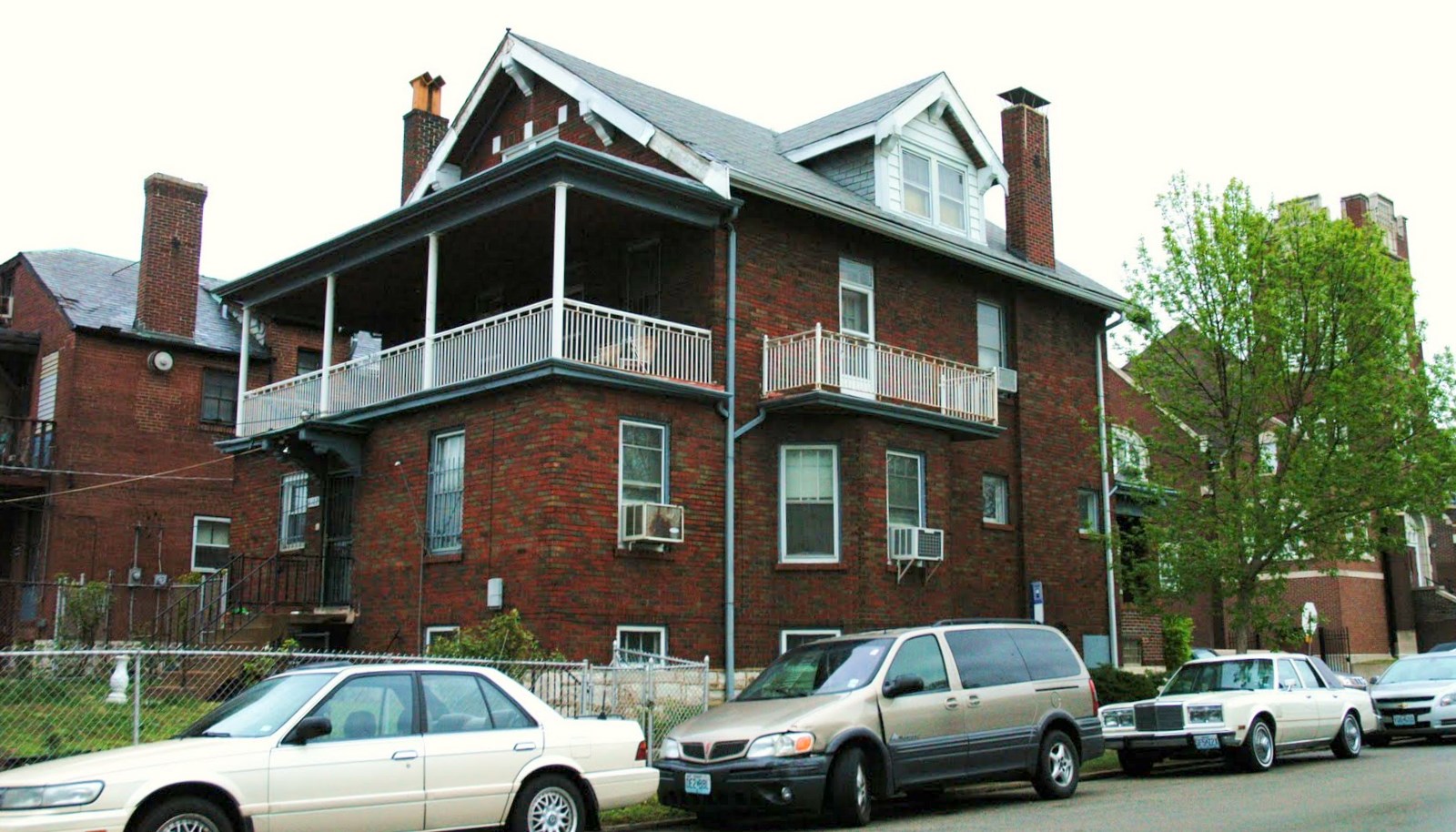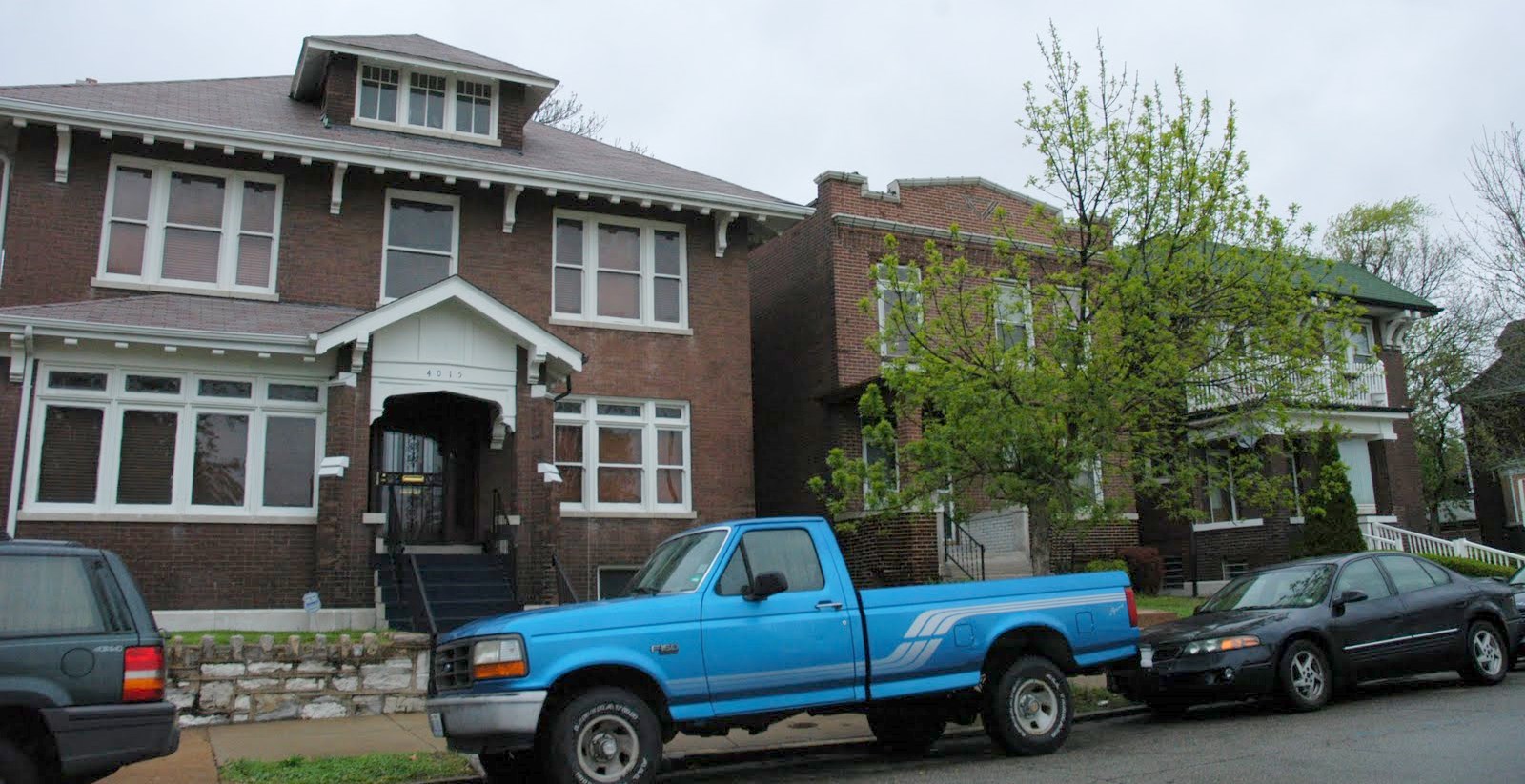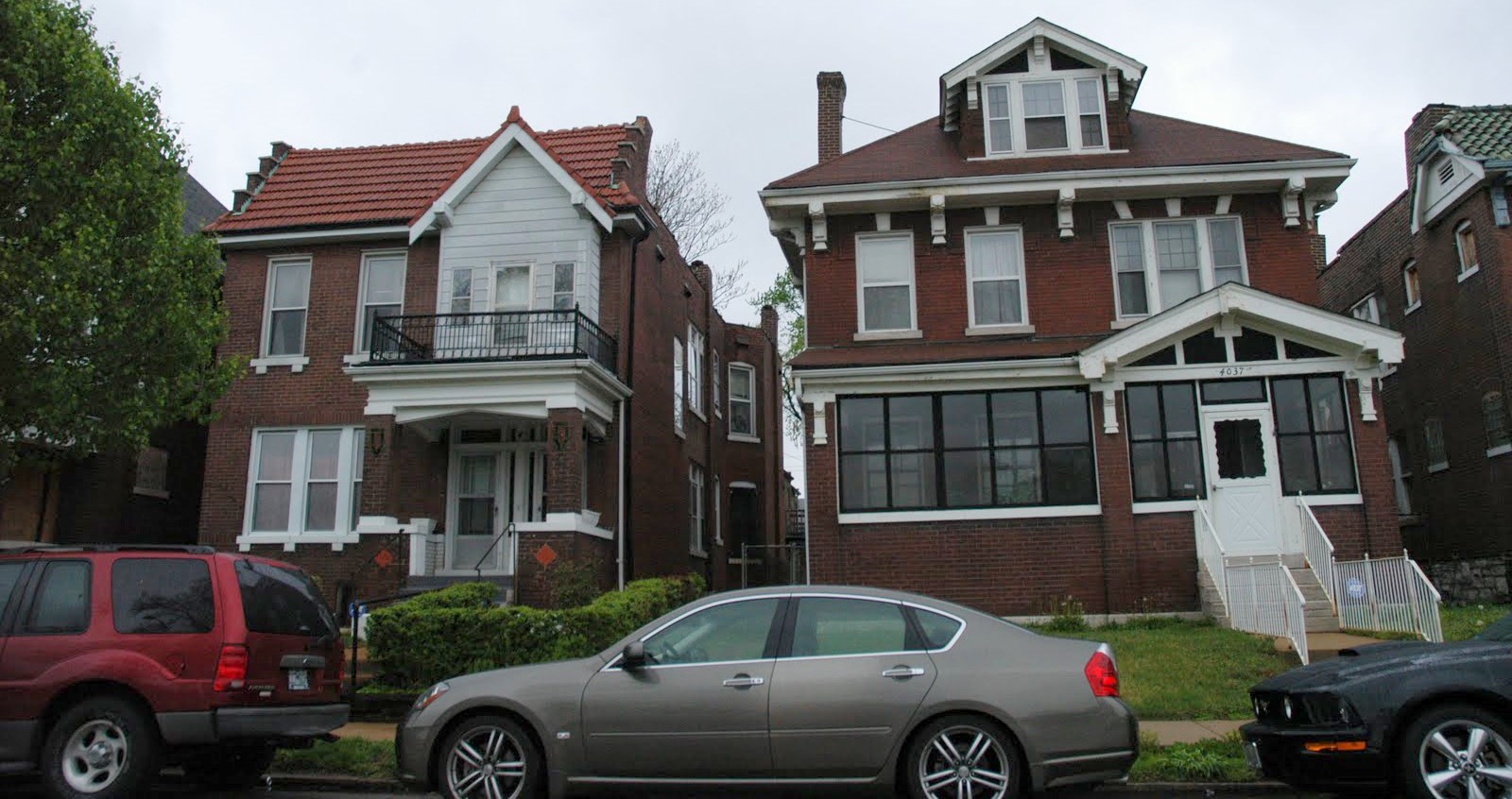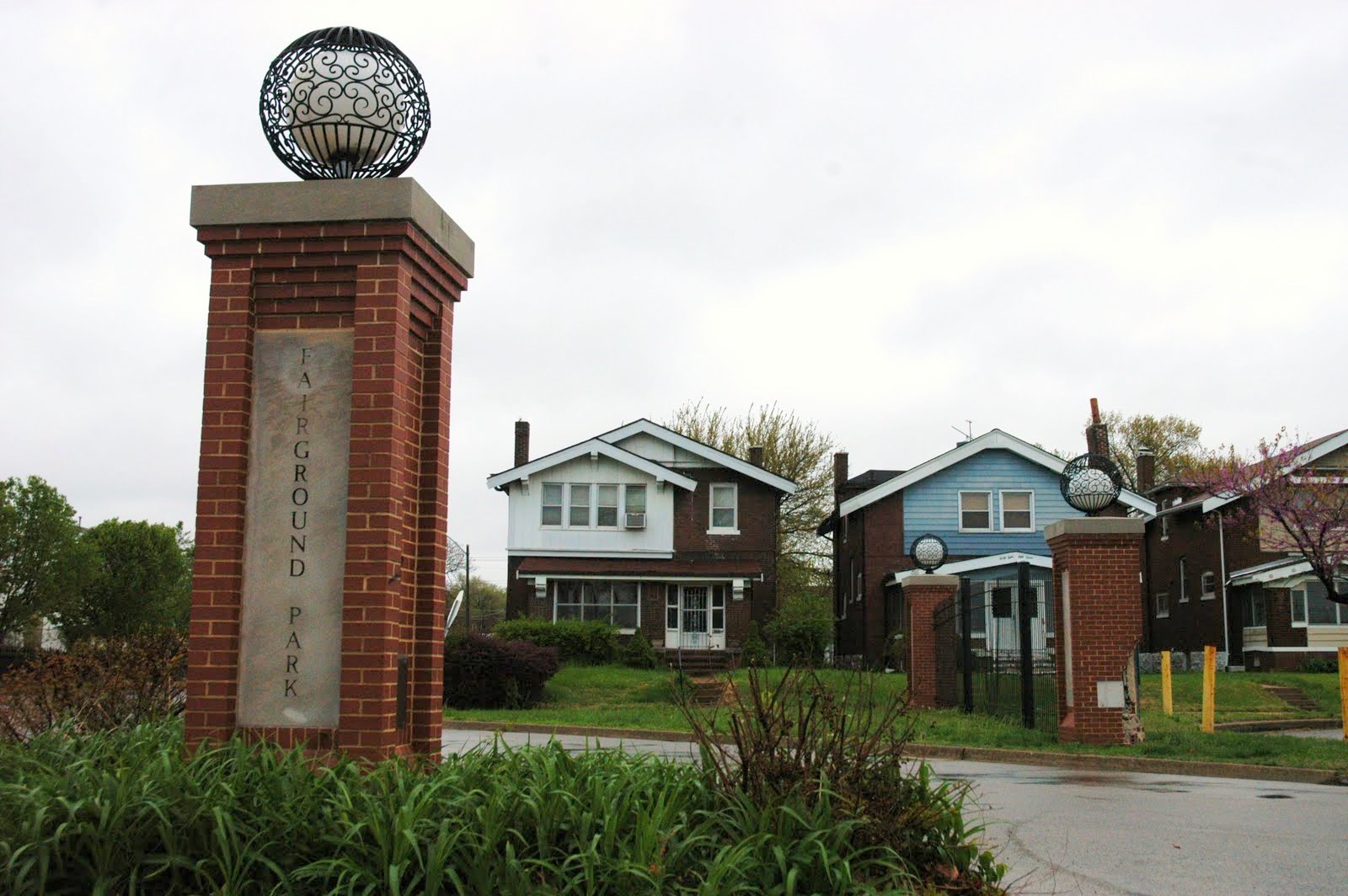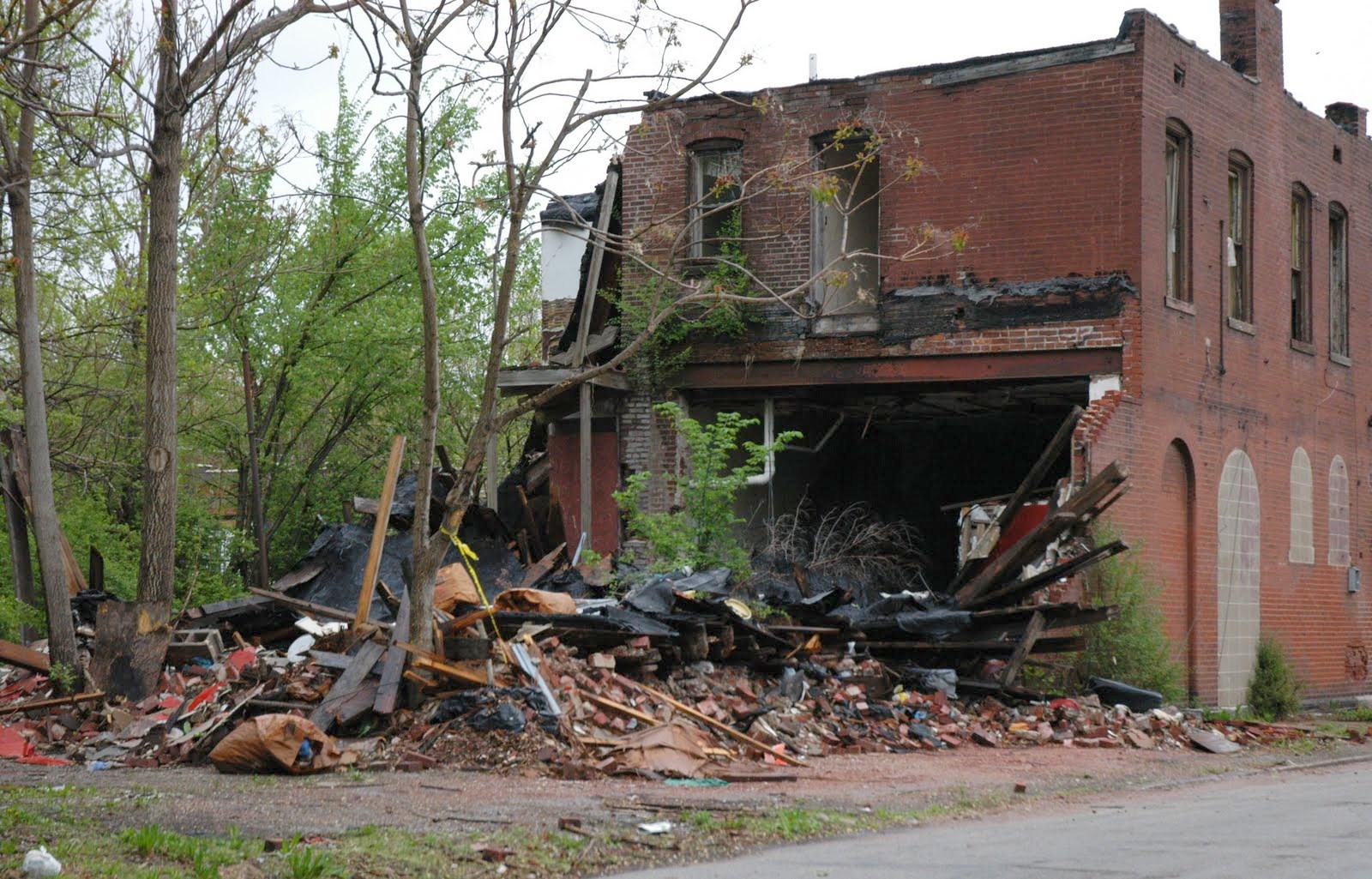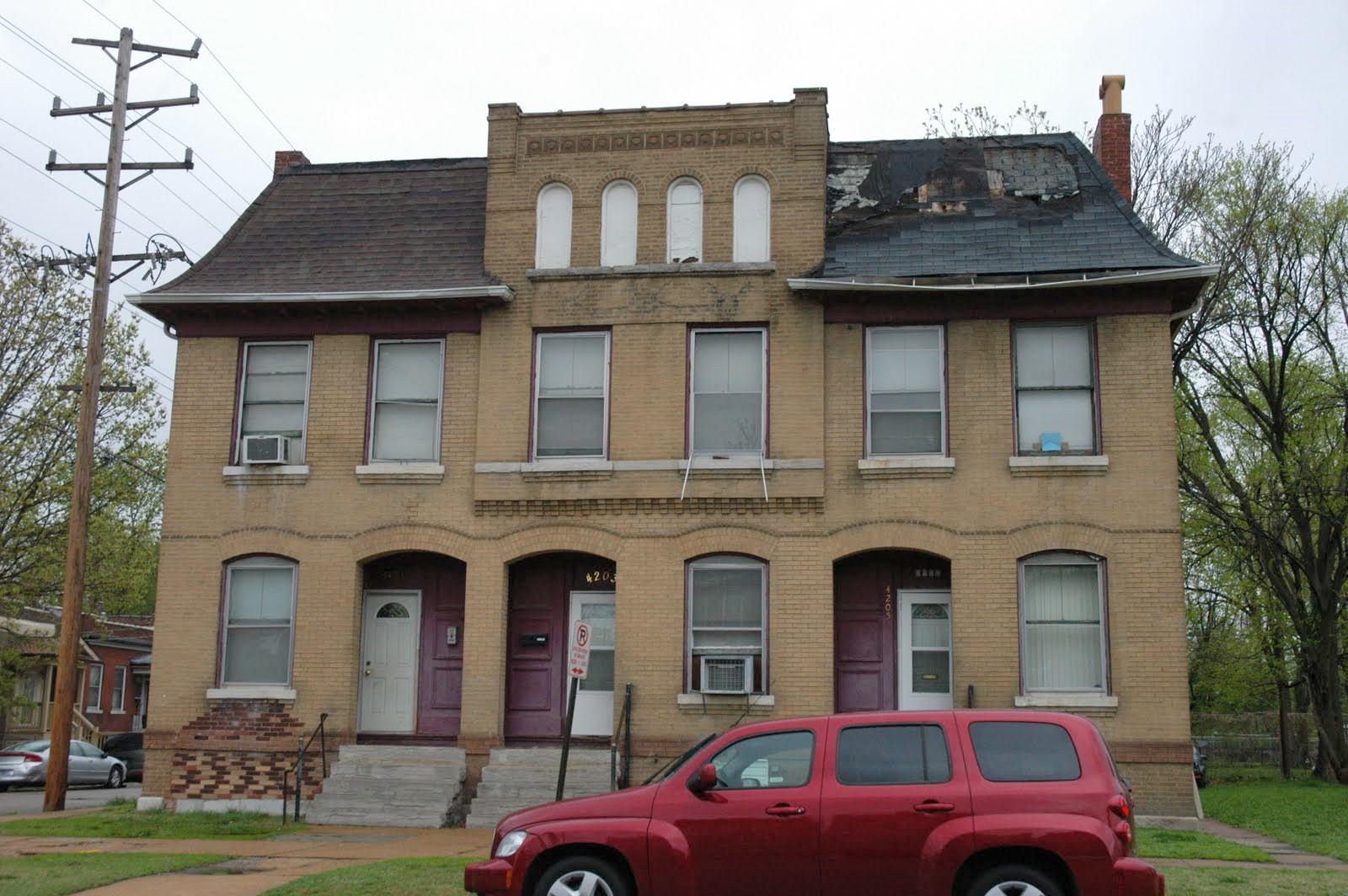 This building obviously had a bowling alley at one point: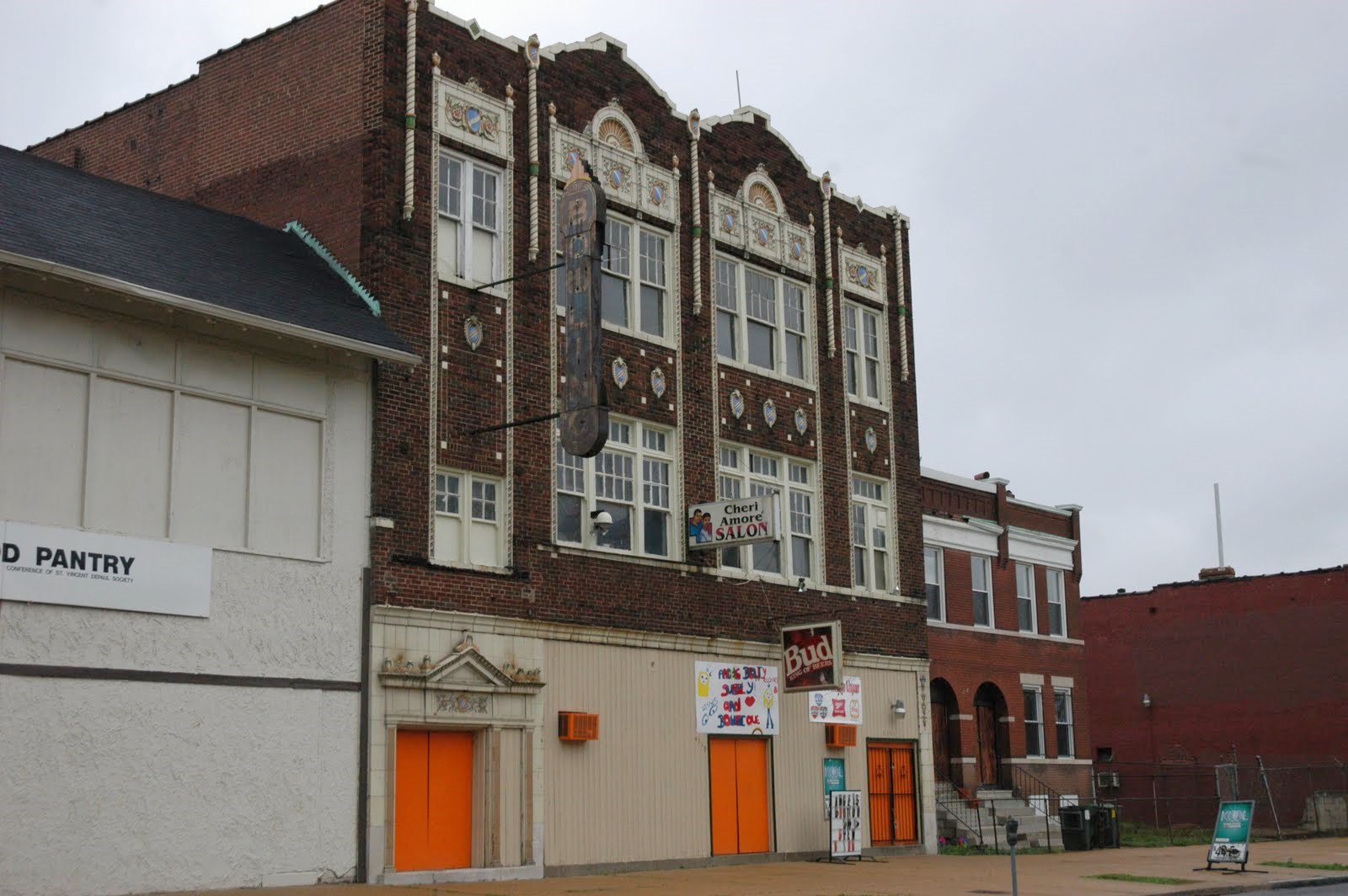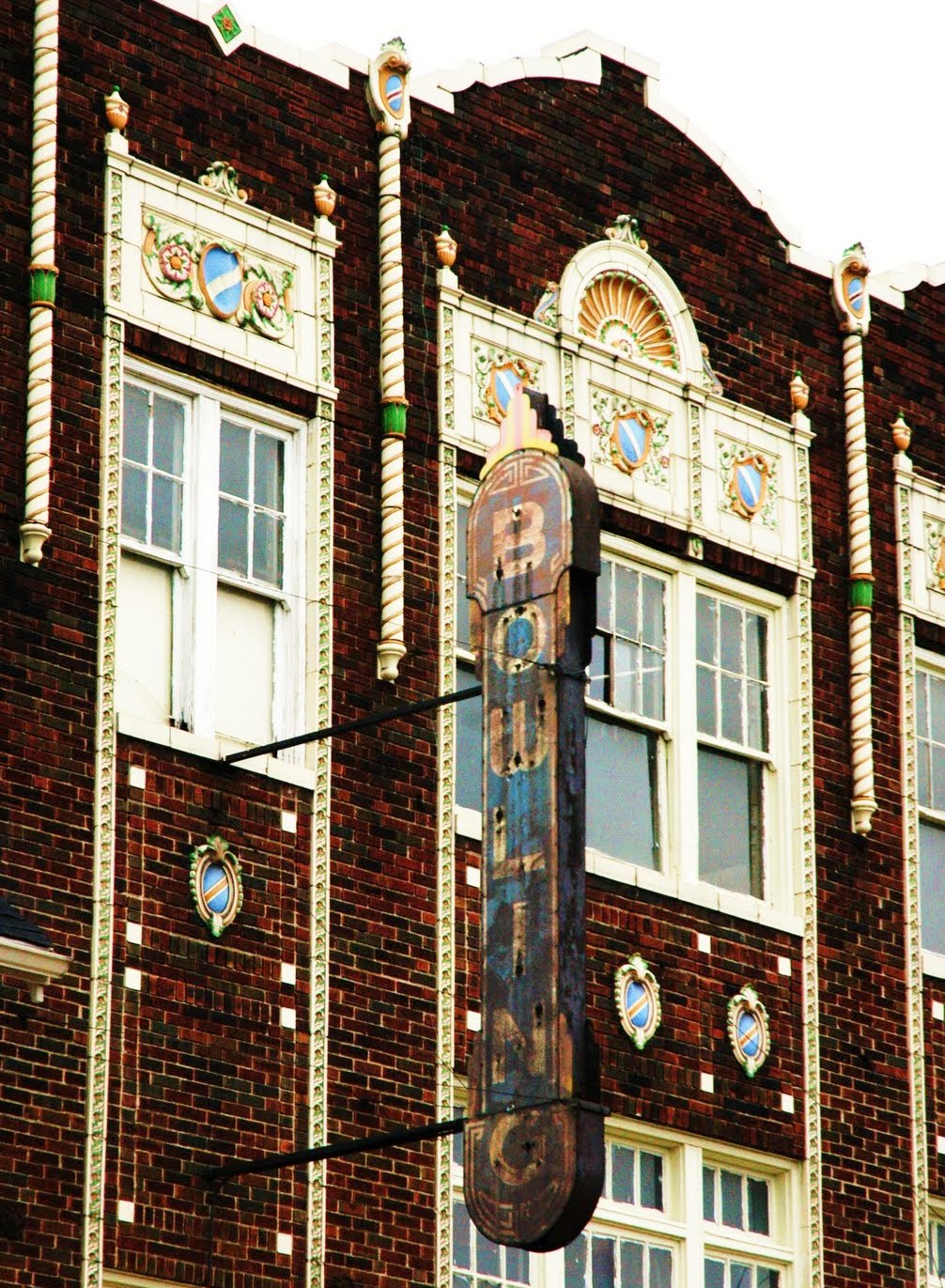 This row of buildings must have once been quite impressive, I wonder what the original use of the blond brick one was:
Other faded signs that caught my eye: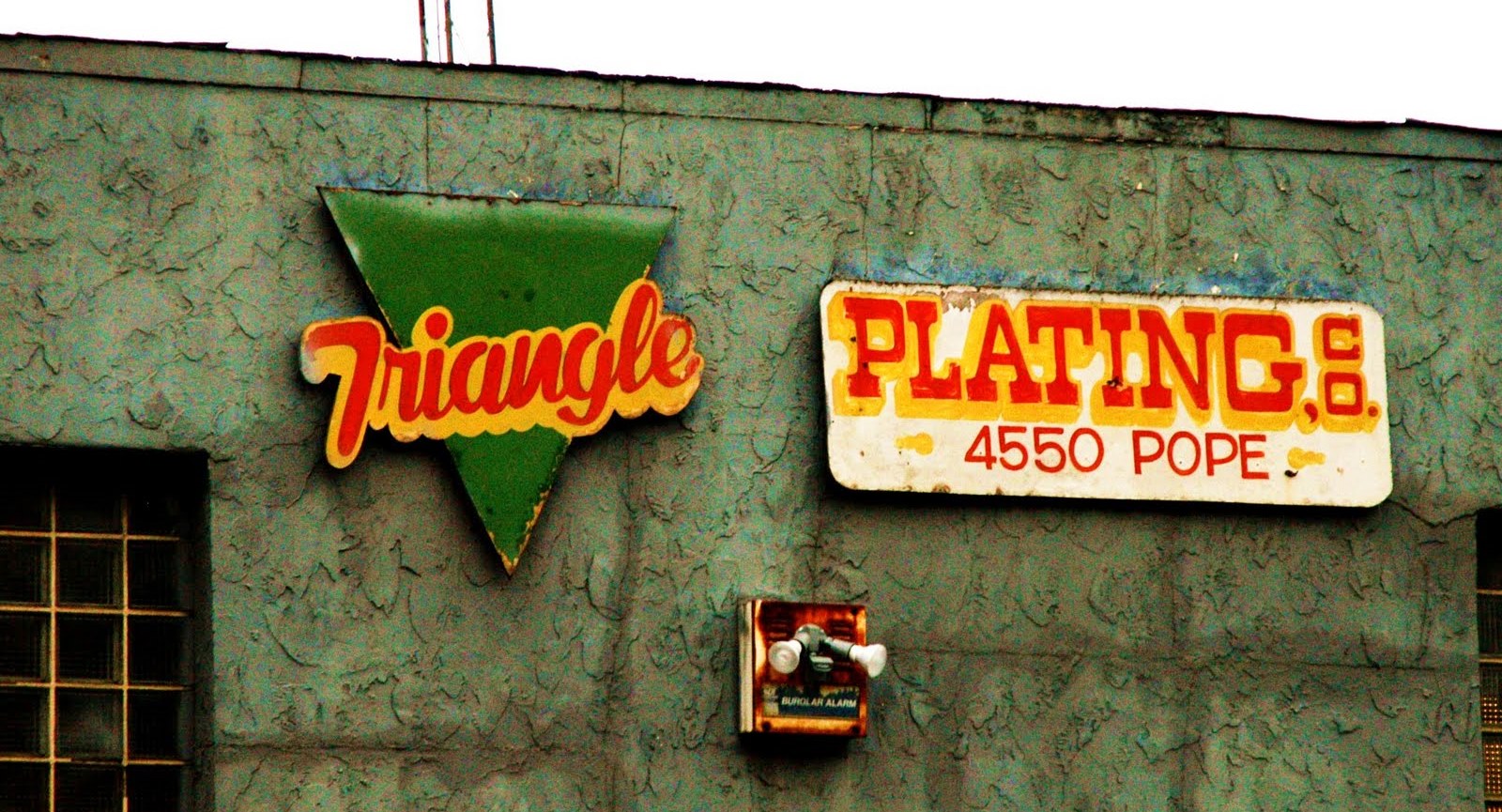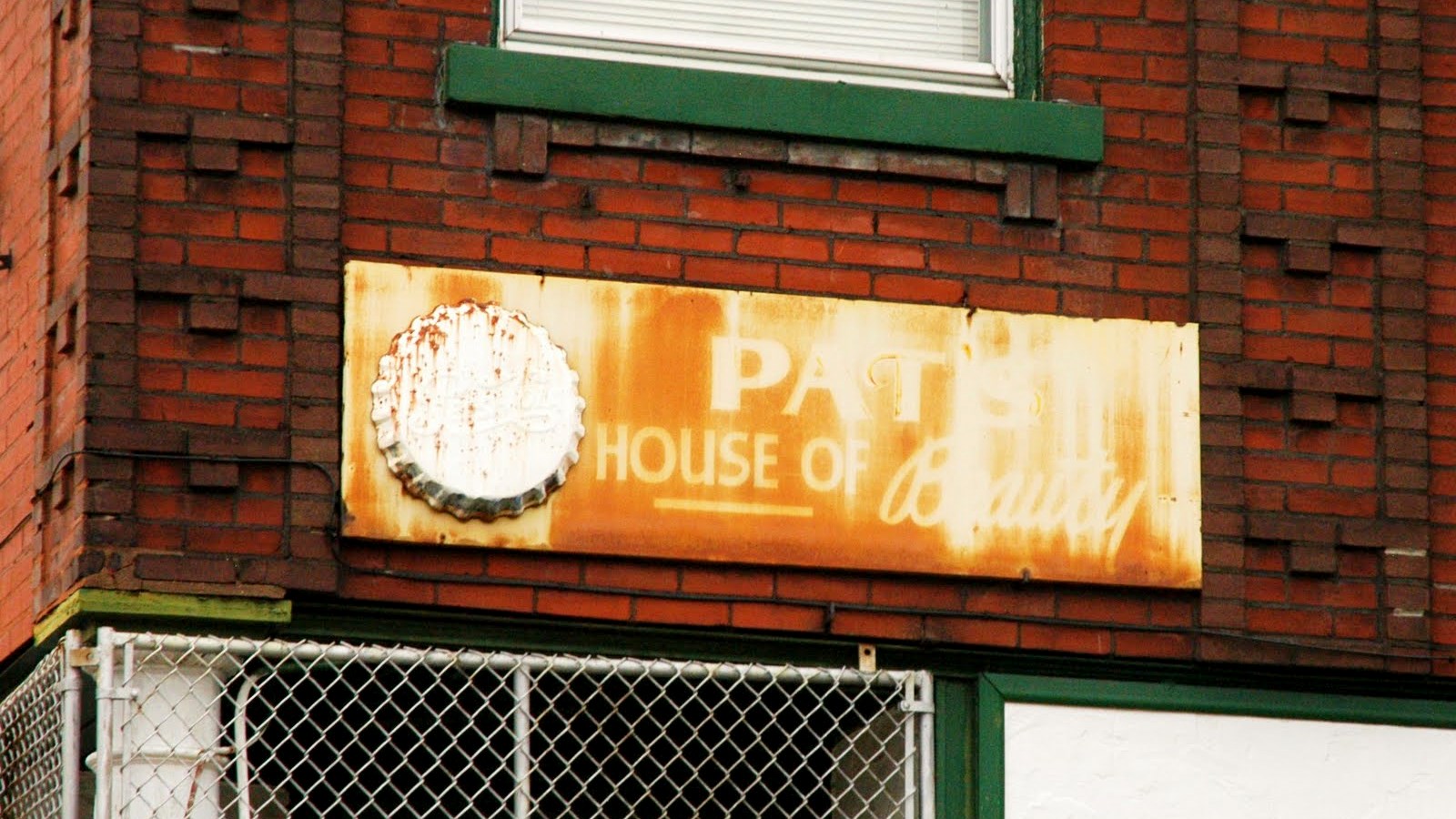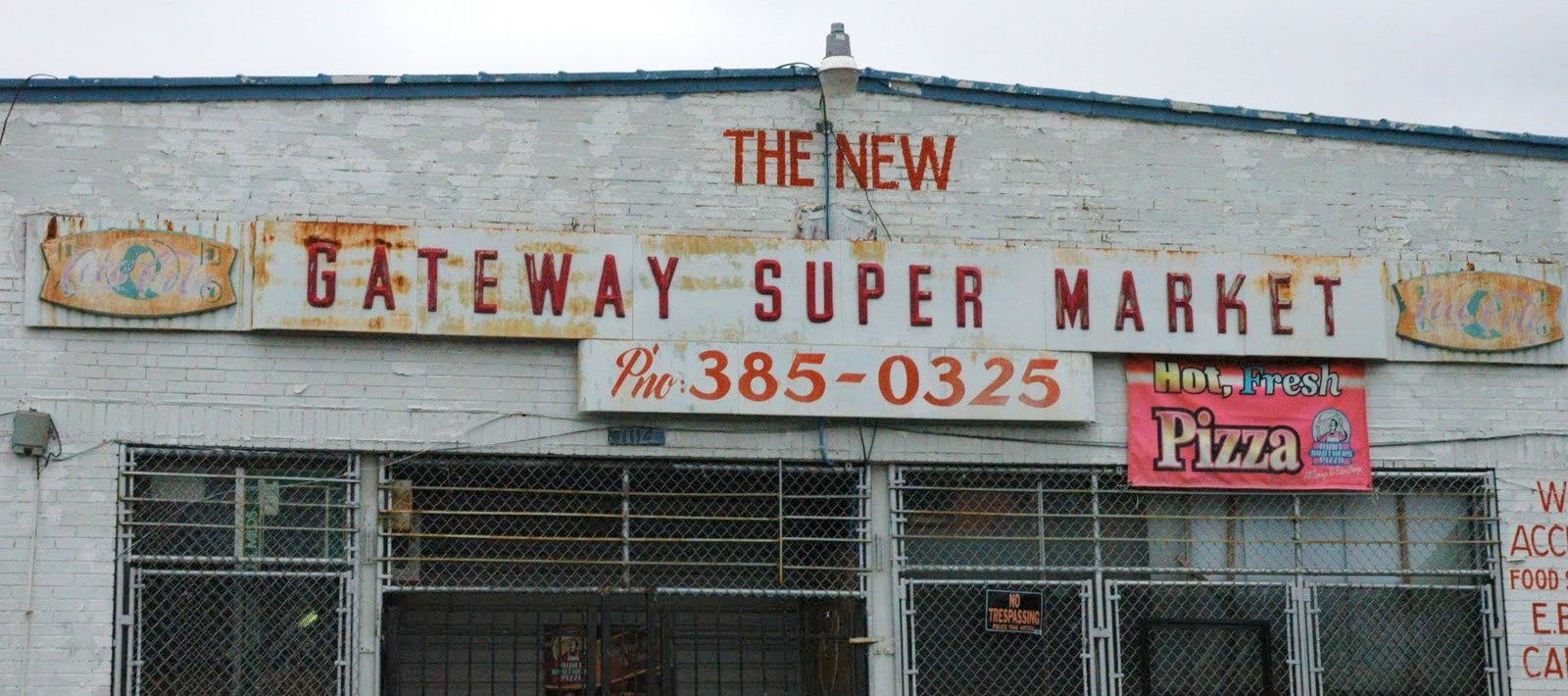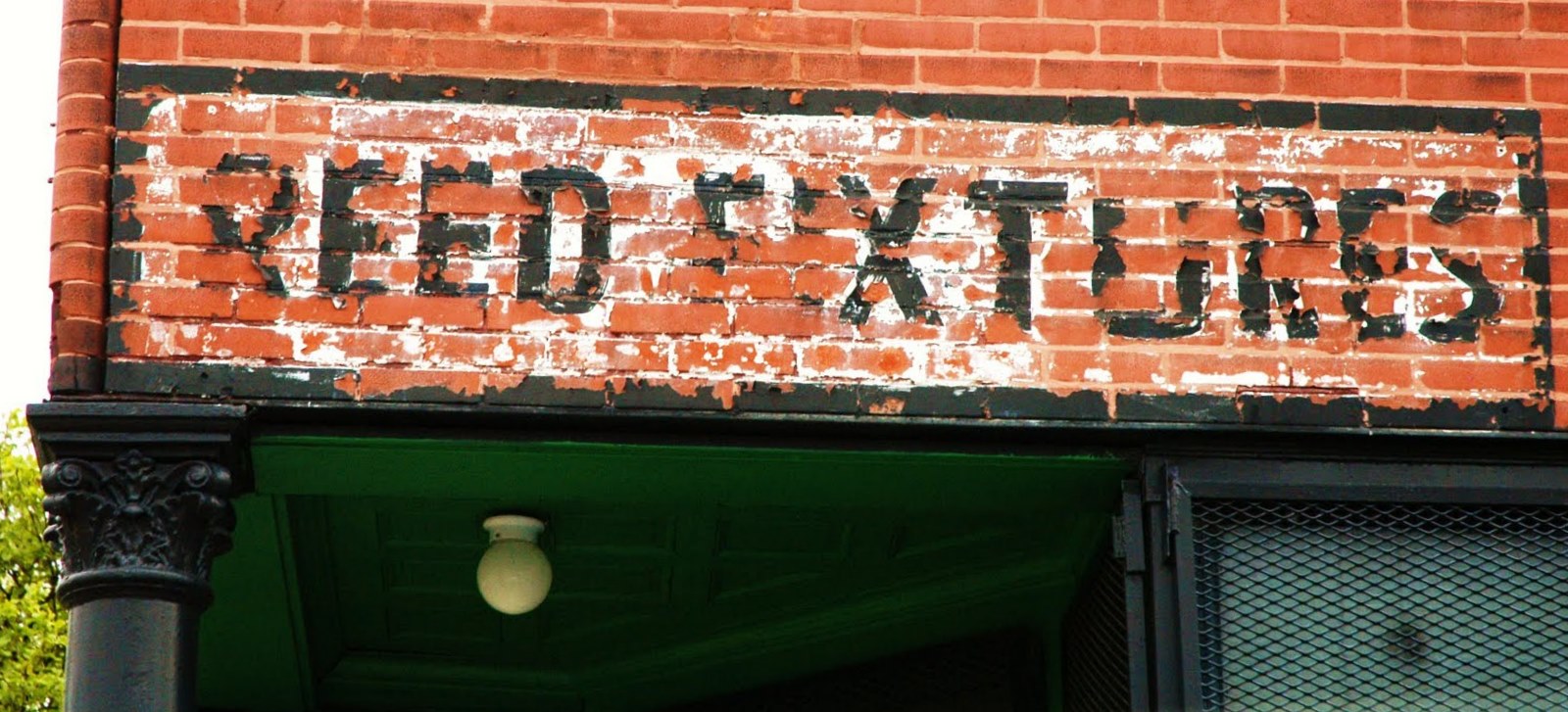 There are many former storefronts some still occupied and kicking: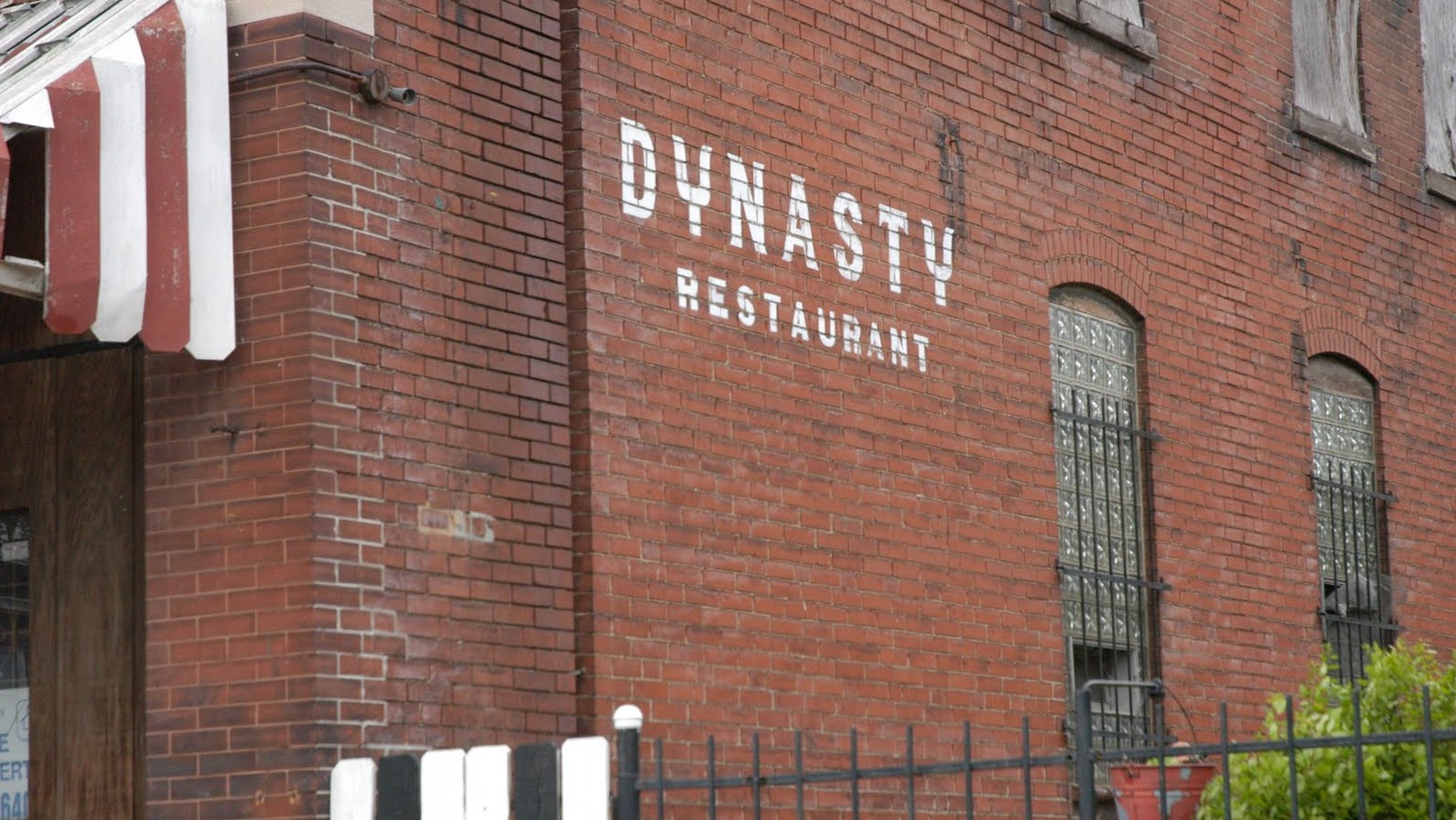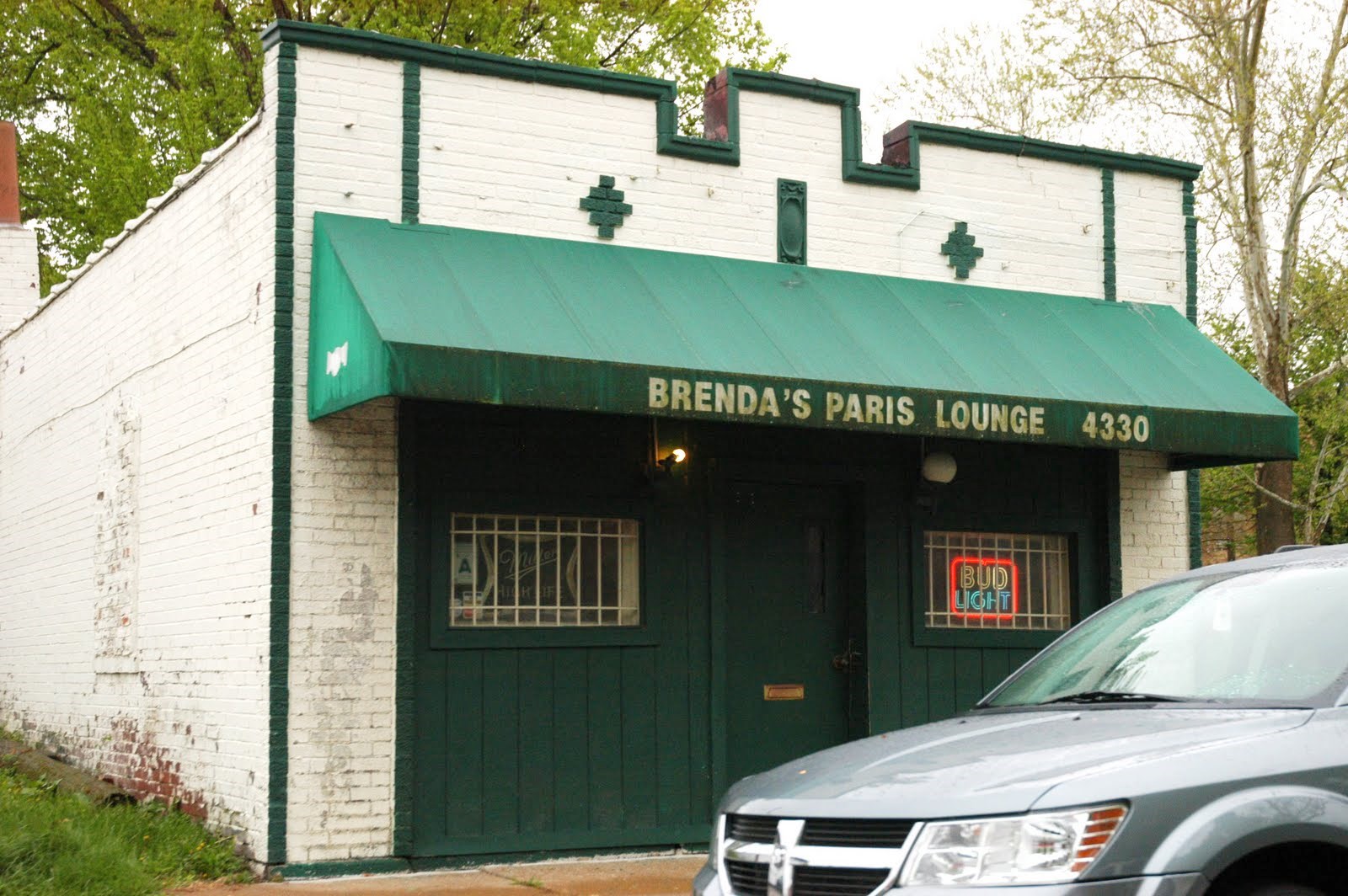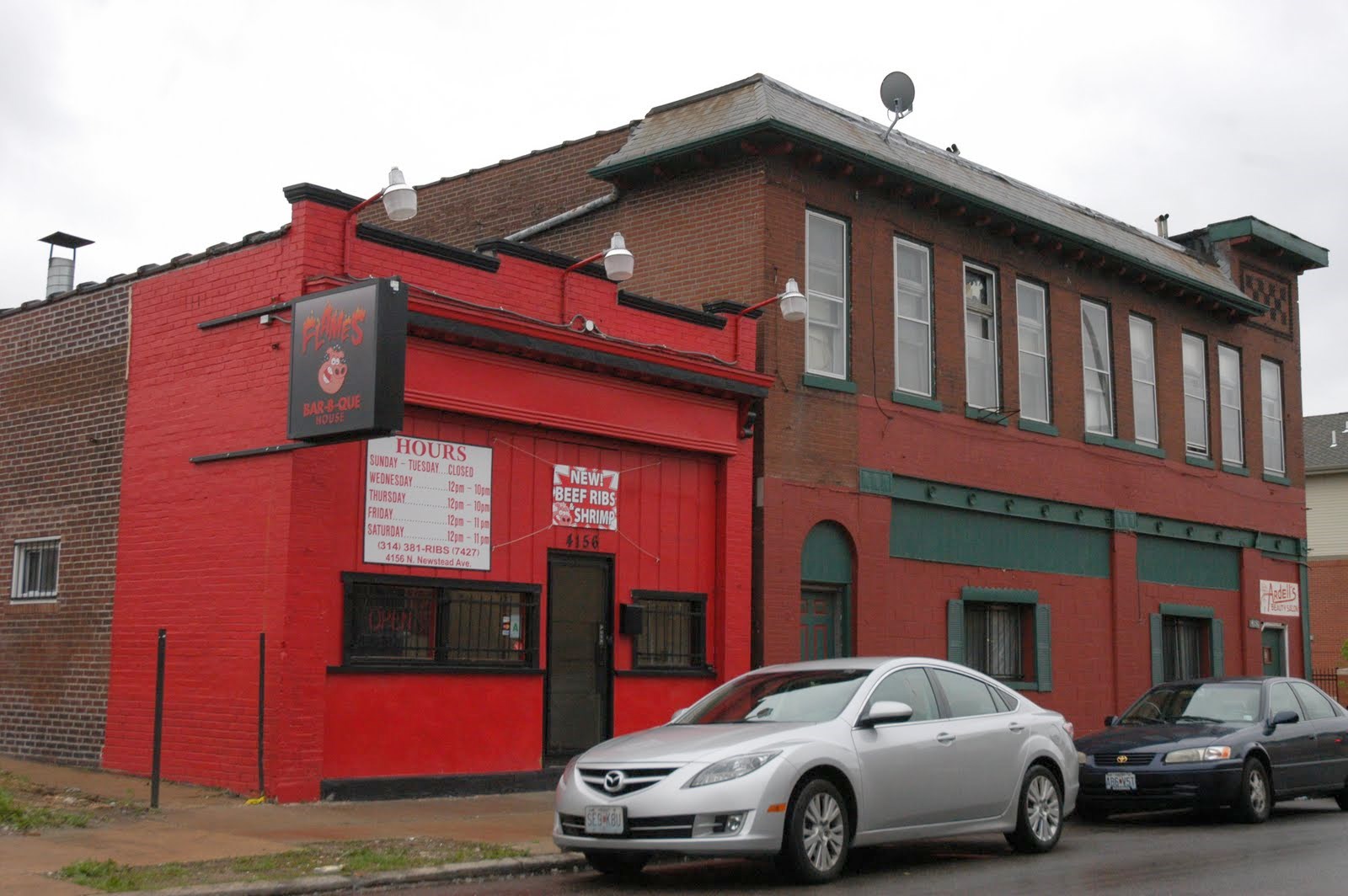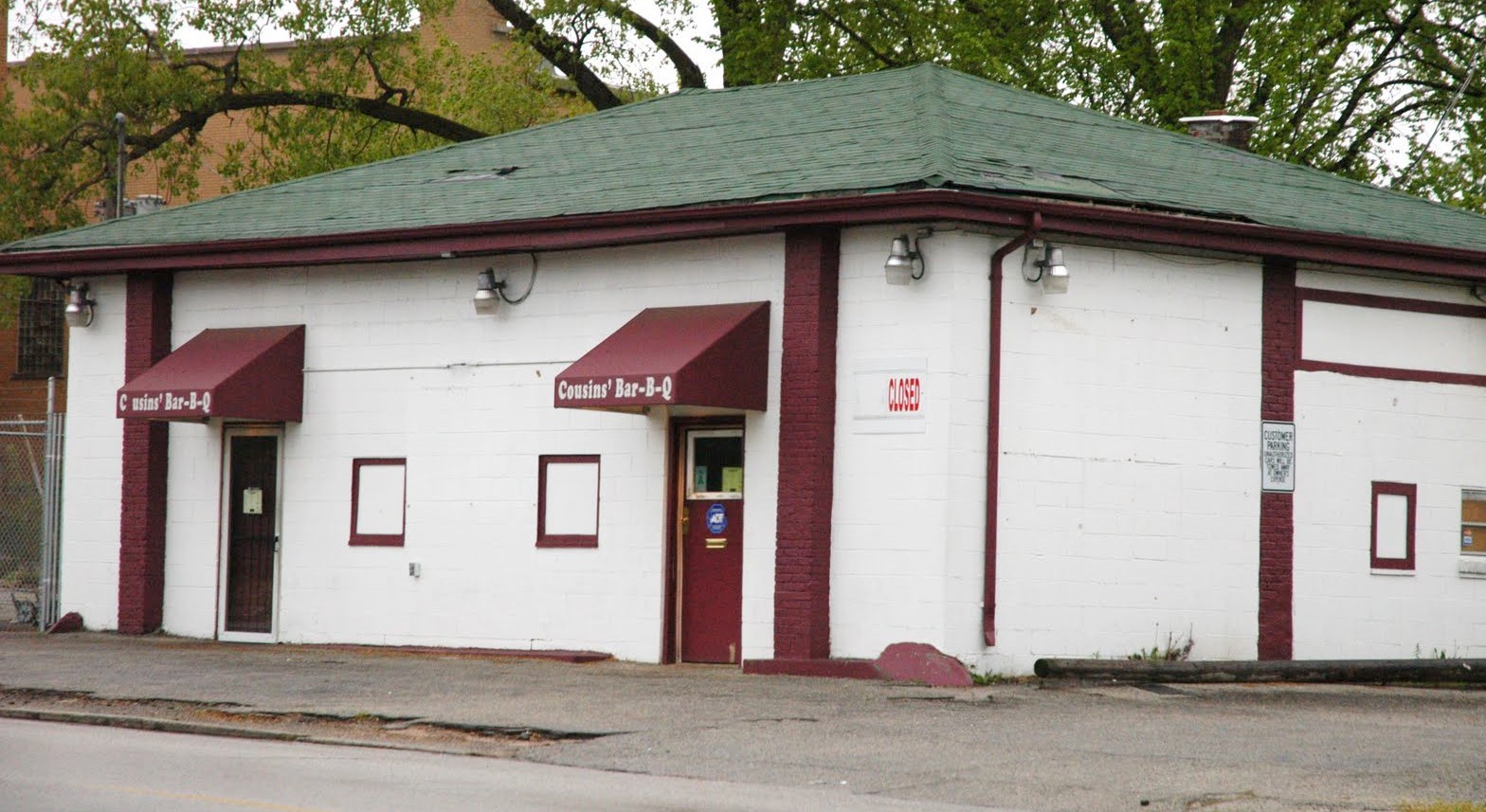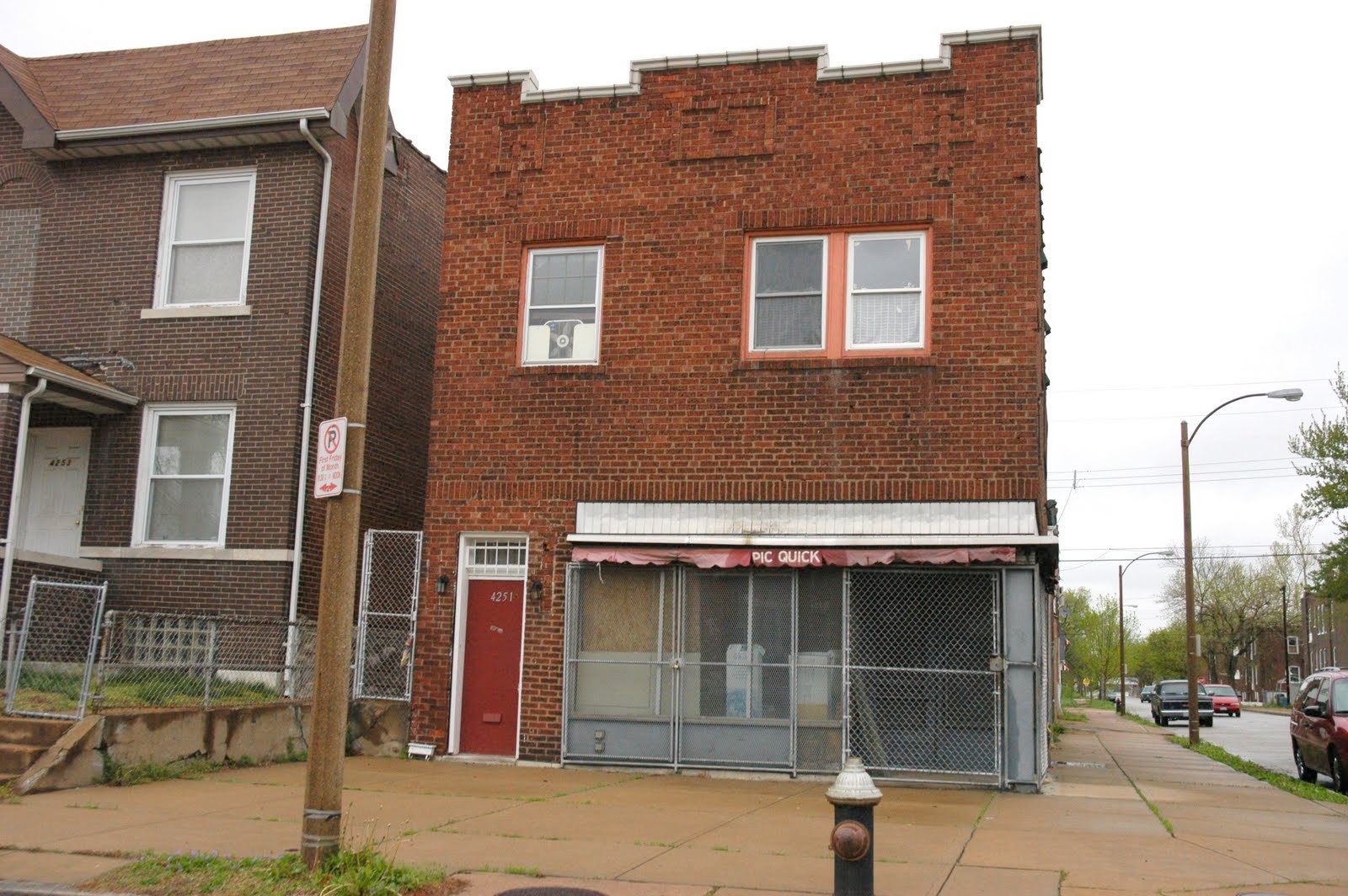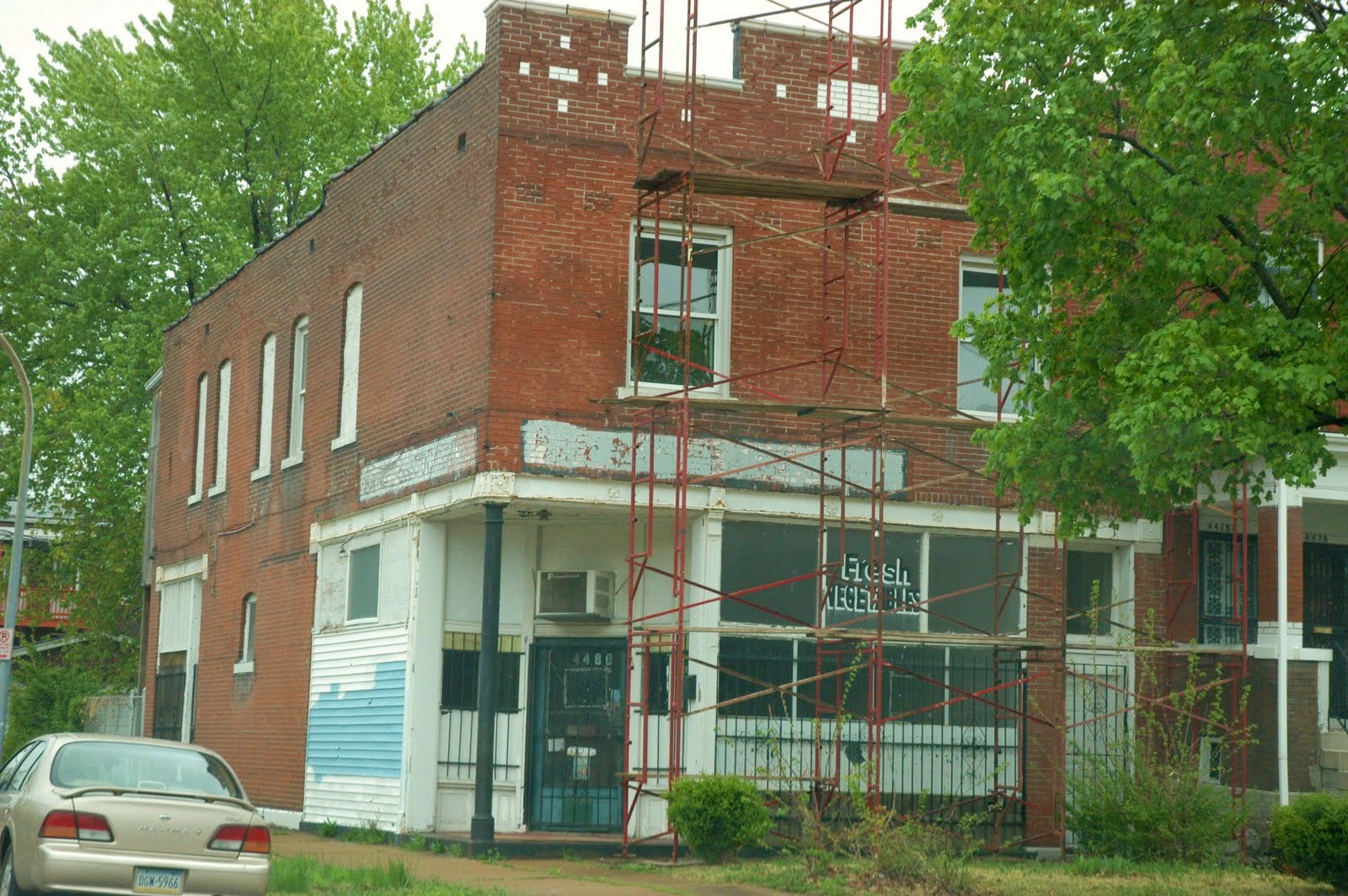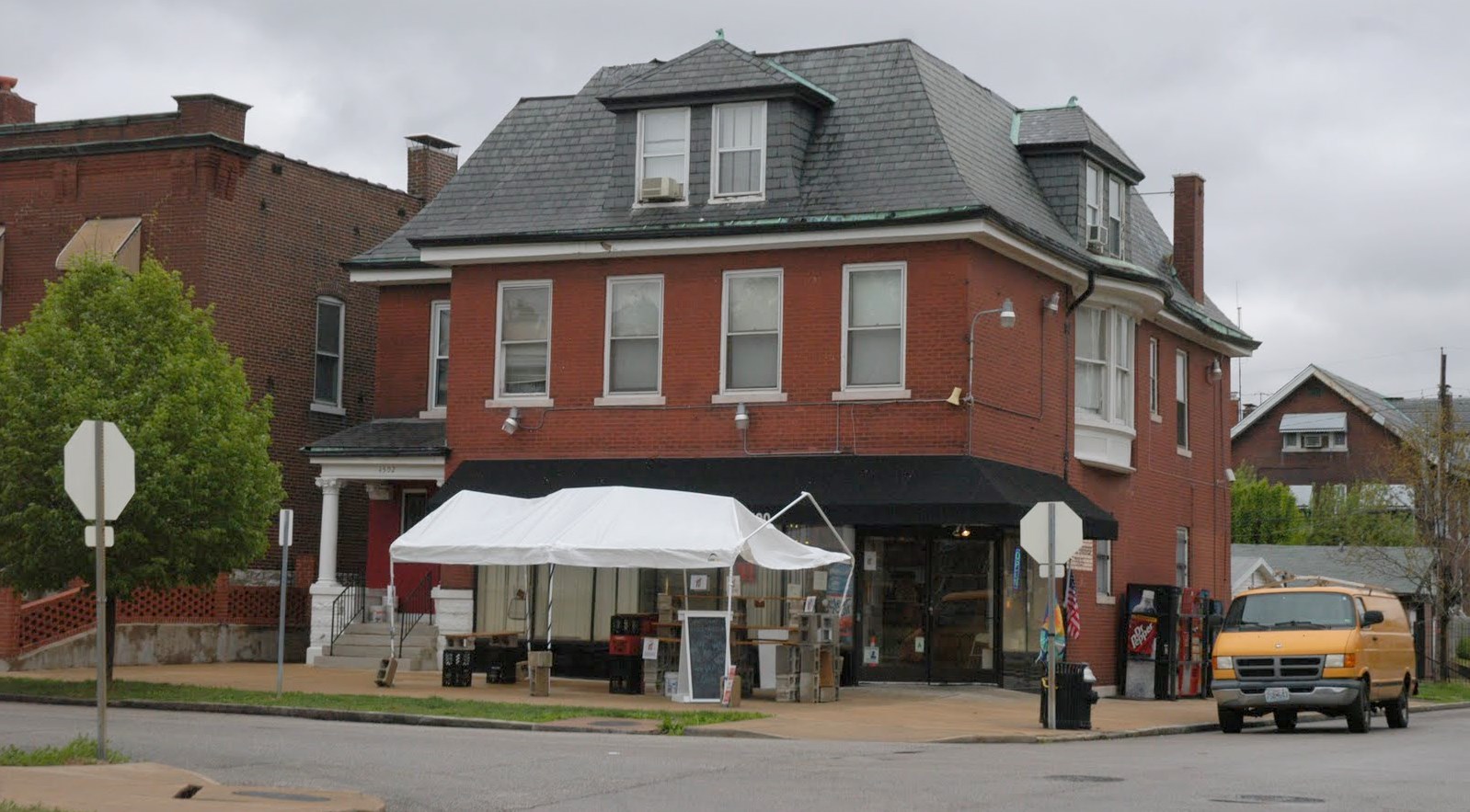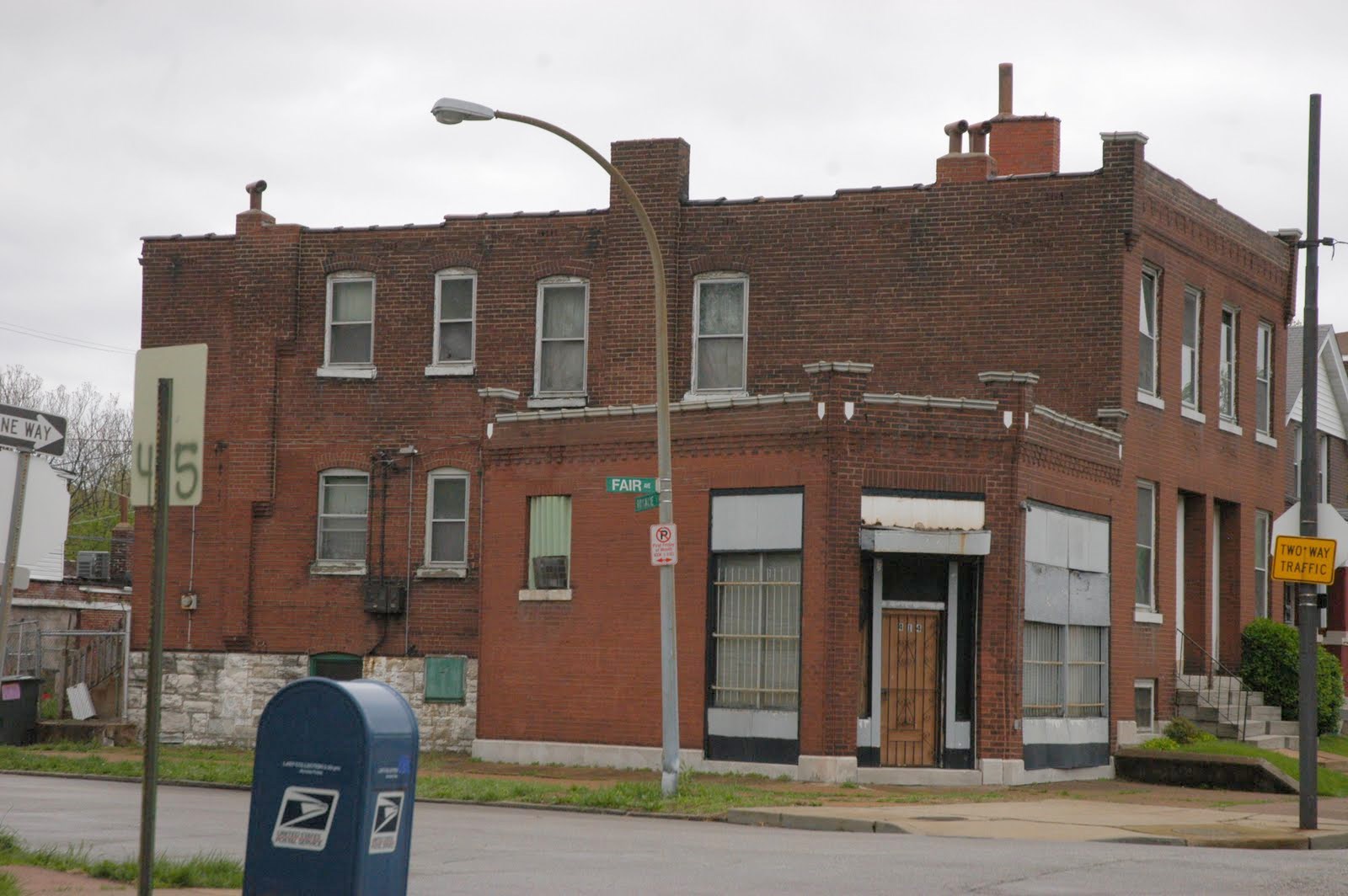 I'm not sure how many schools still serve the neighborhood other than the mod Yeatman-Liddell Middle School on Althone Avenue: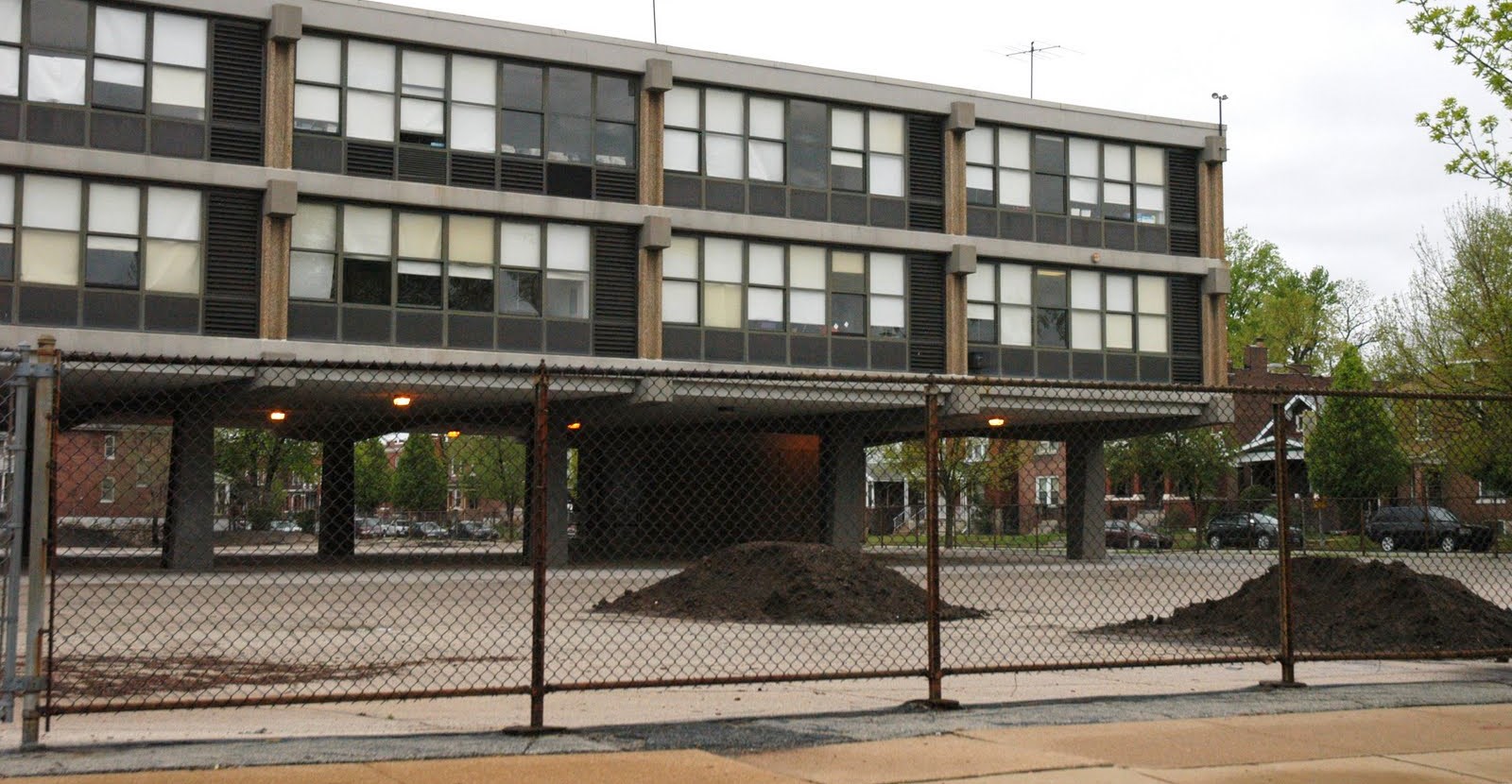 But there are several shuttered ones including the Harrison School built in 1899 on the National Register of Historic Places. At one point, it appeared that a plan was in place to rehab the former school. As usual, the Preservation Research Office has the story. Unfortunately, those plans appear to not be moving forward. This important building is still for sale.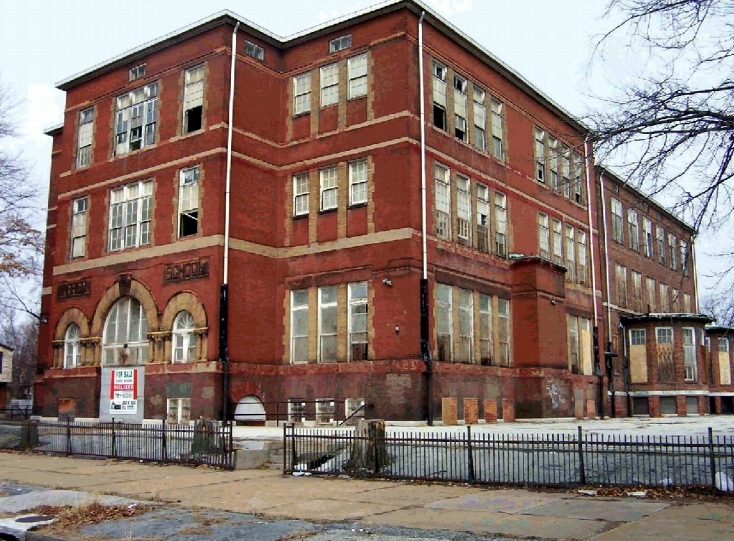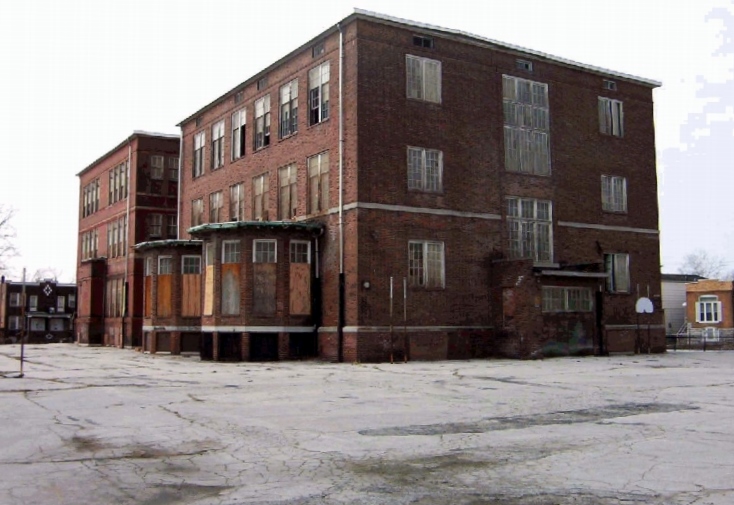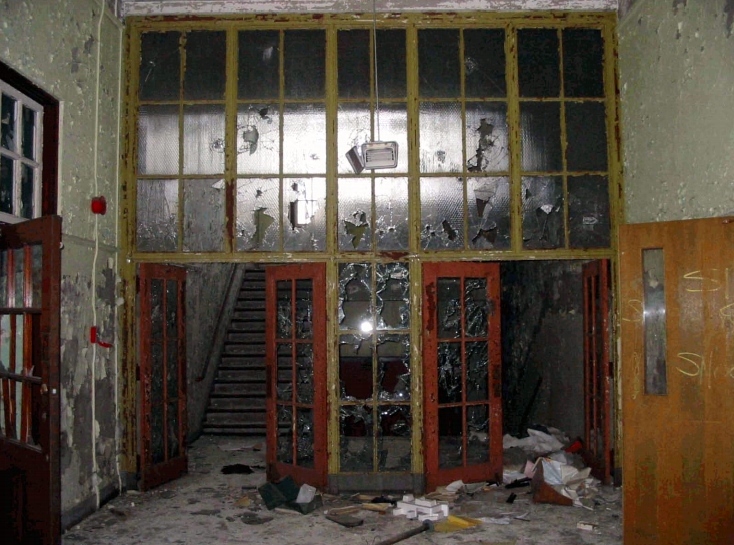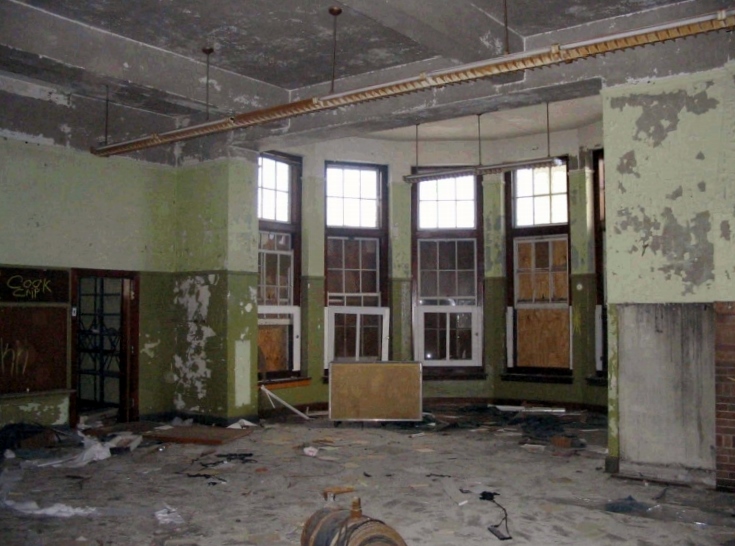 Another shuttered school is the former International Studies Middle School: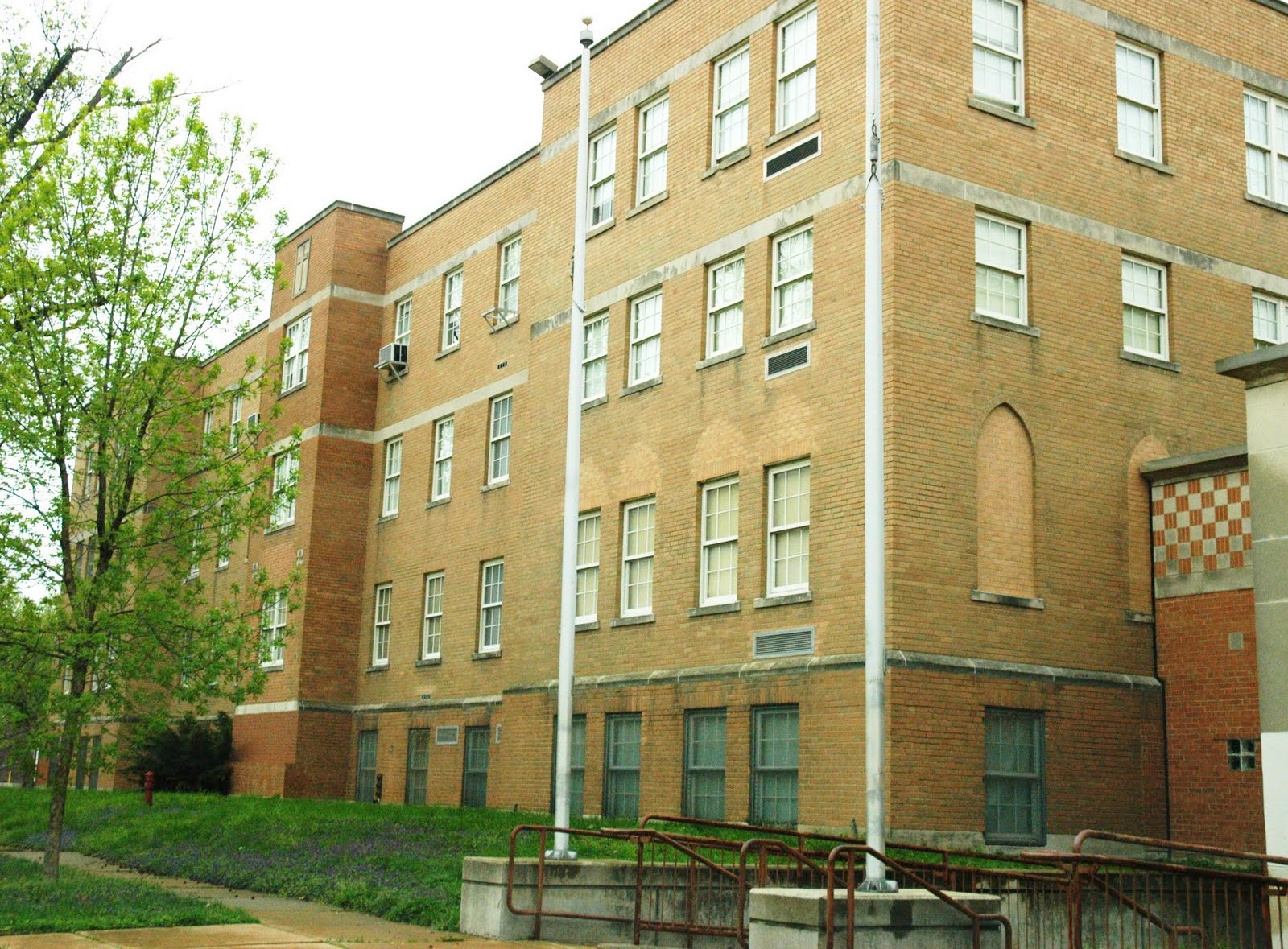 But this is a largely residential neighborhood, so back to the houses: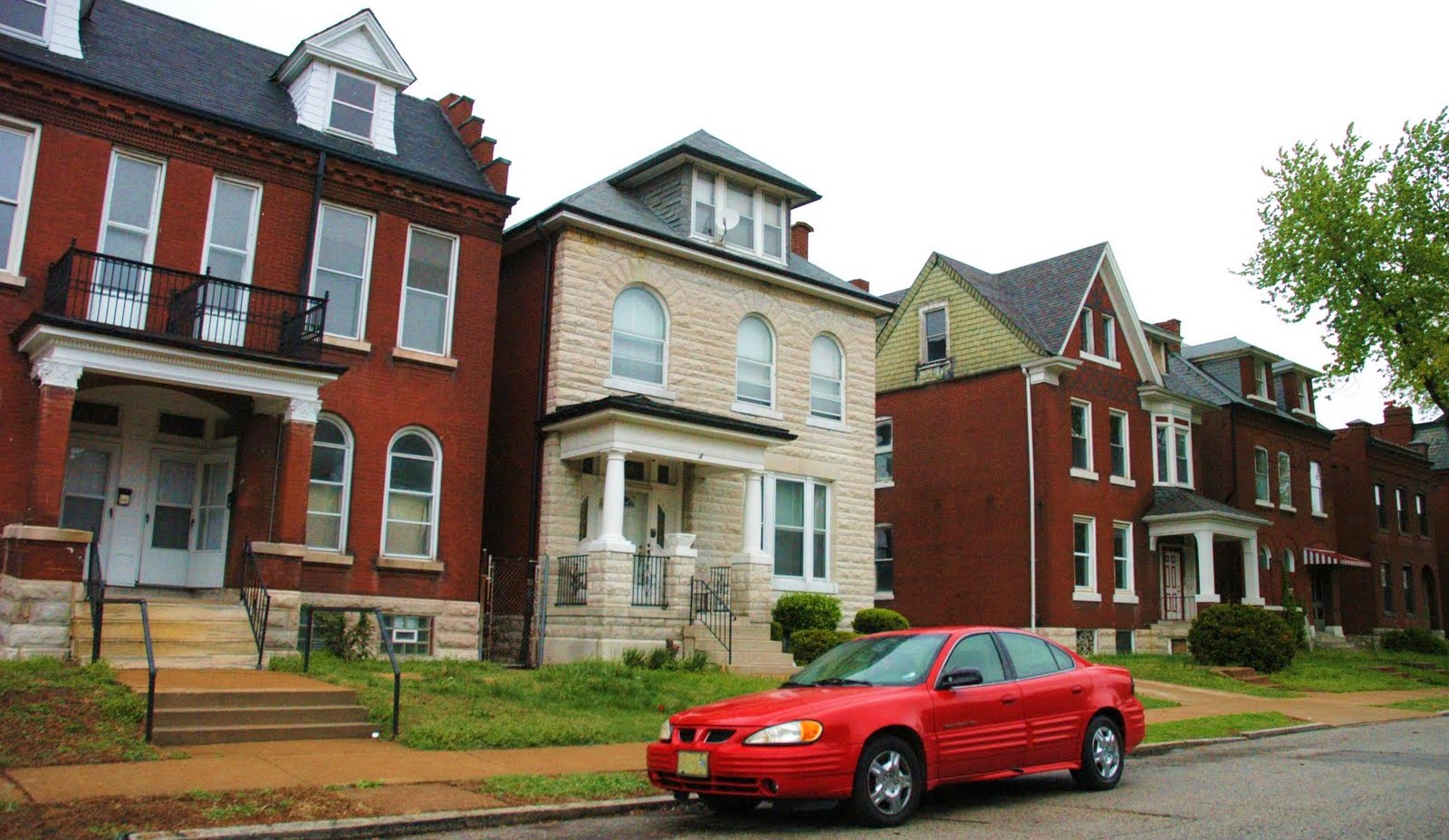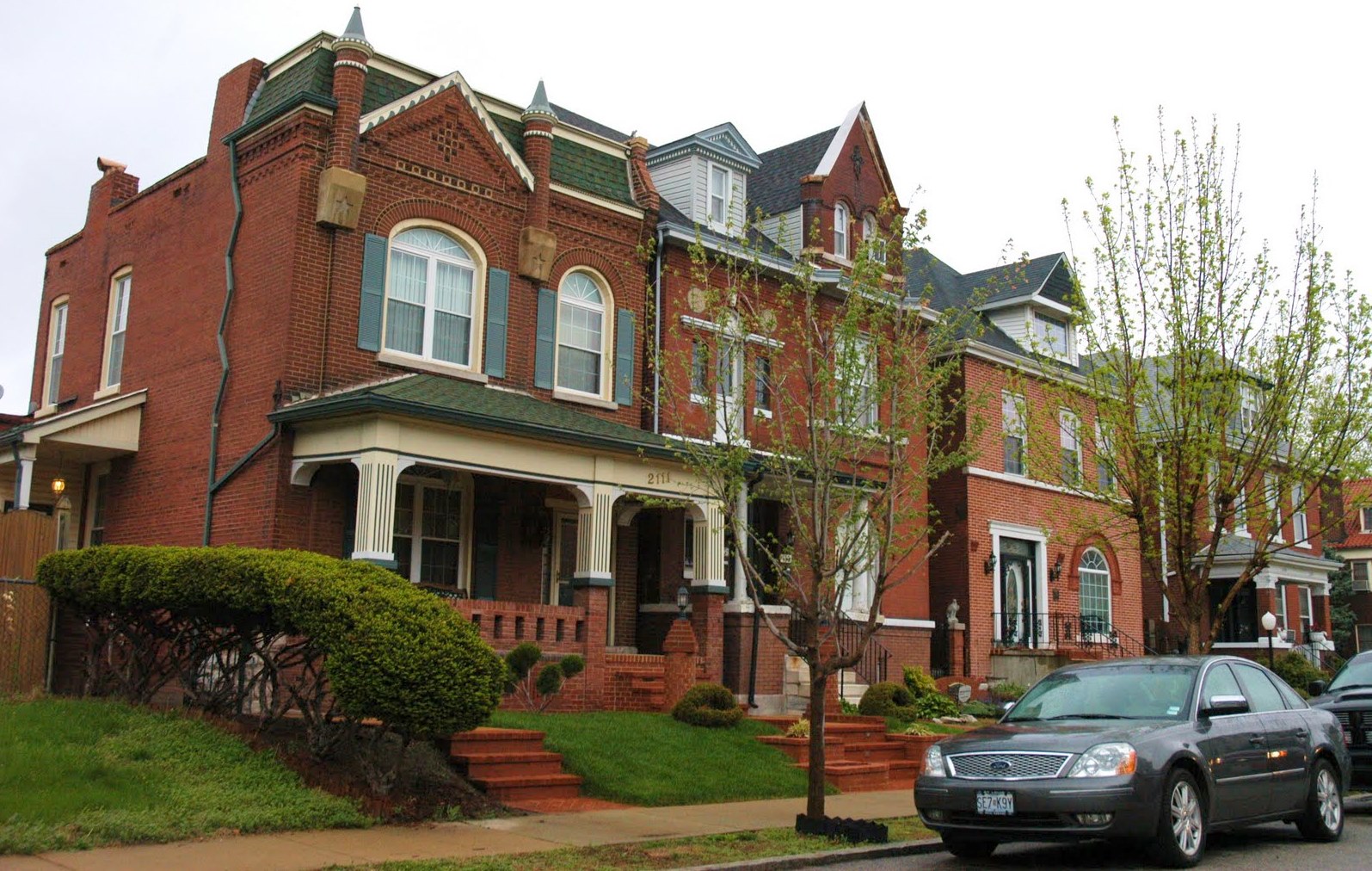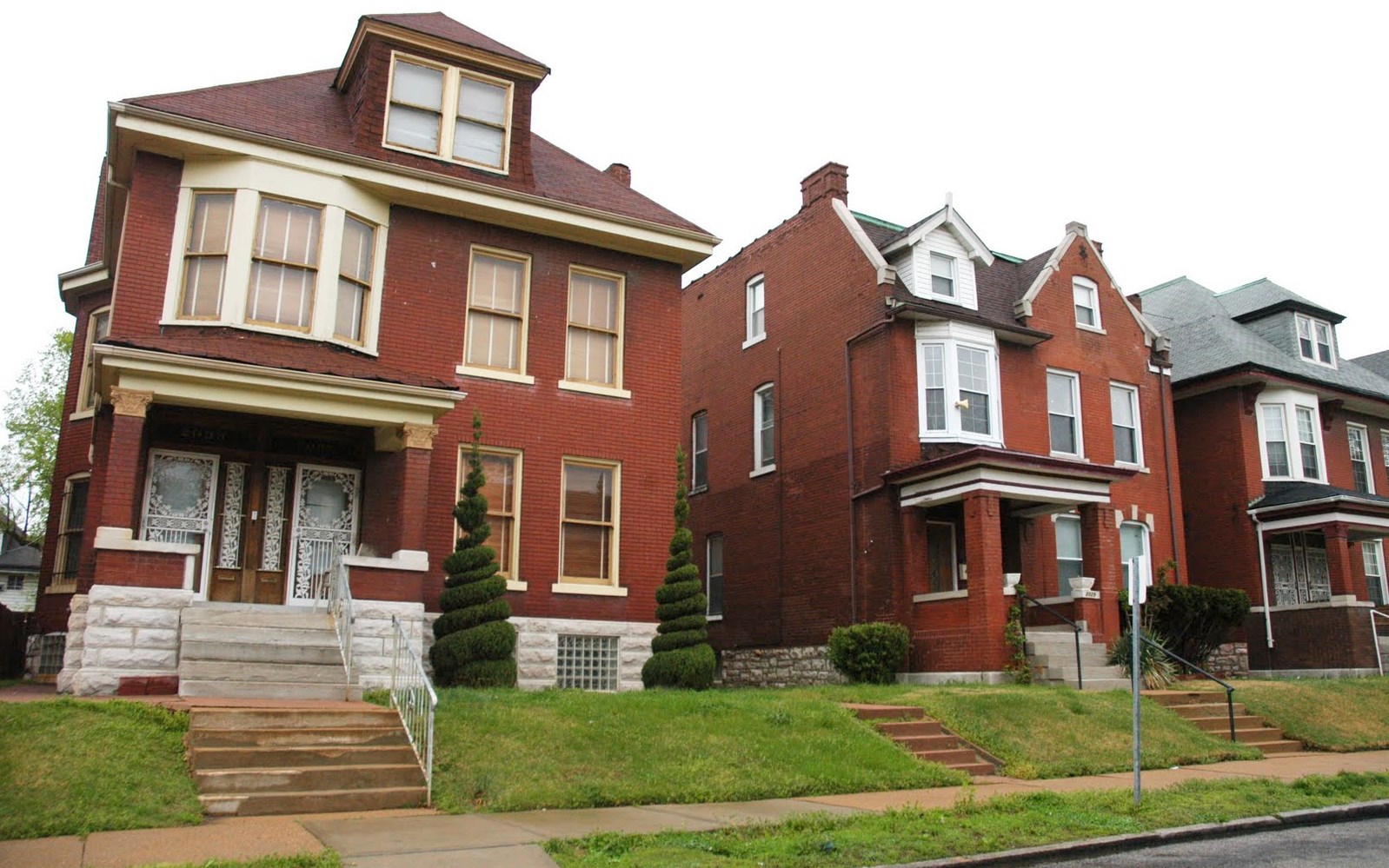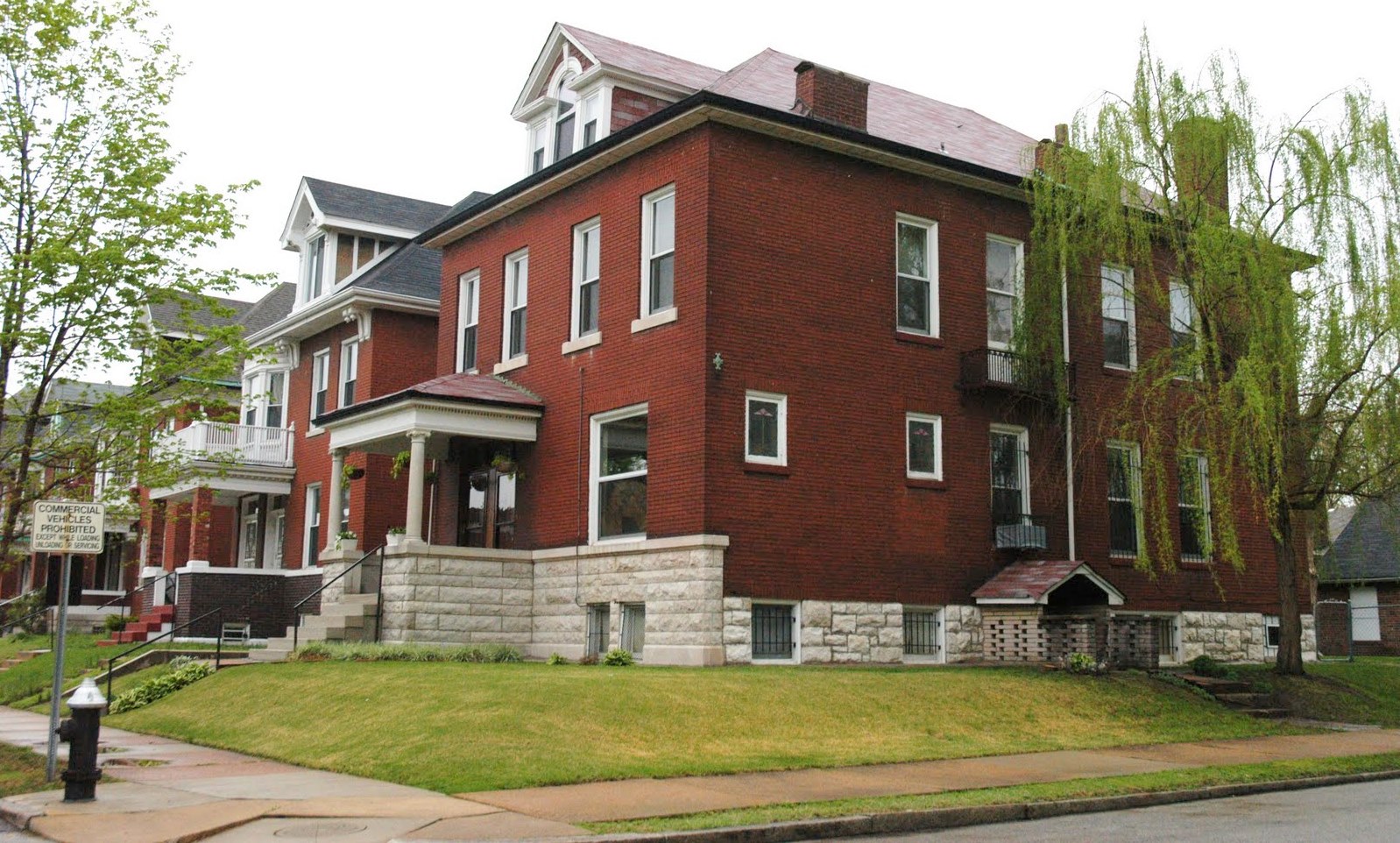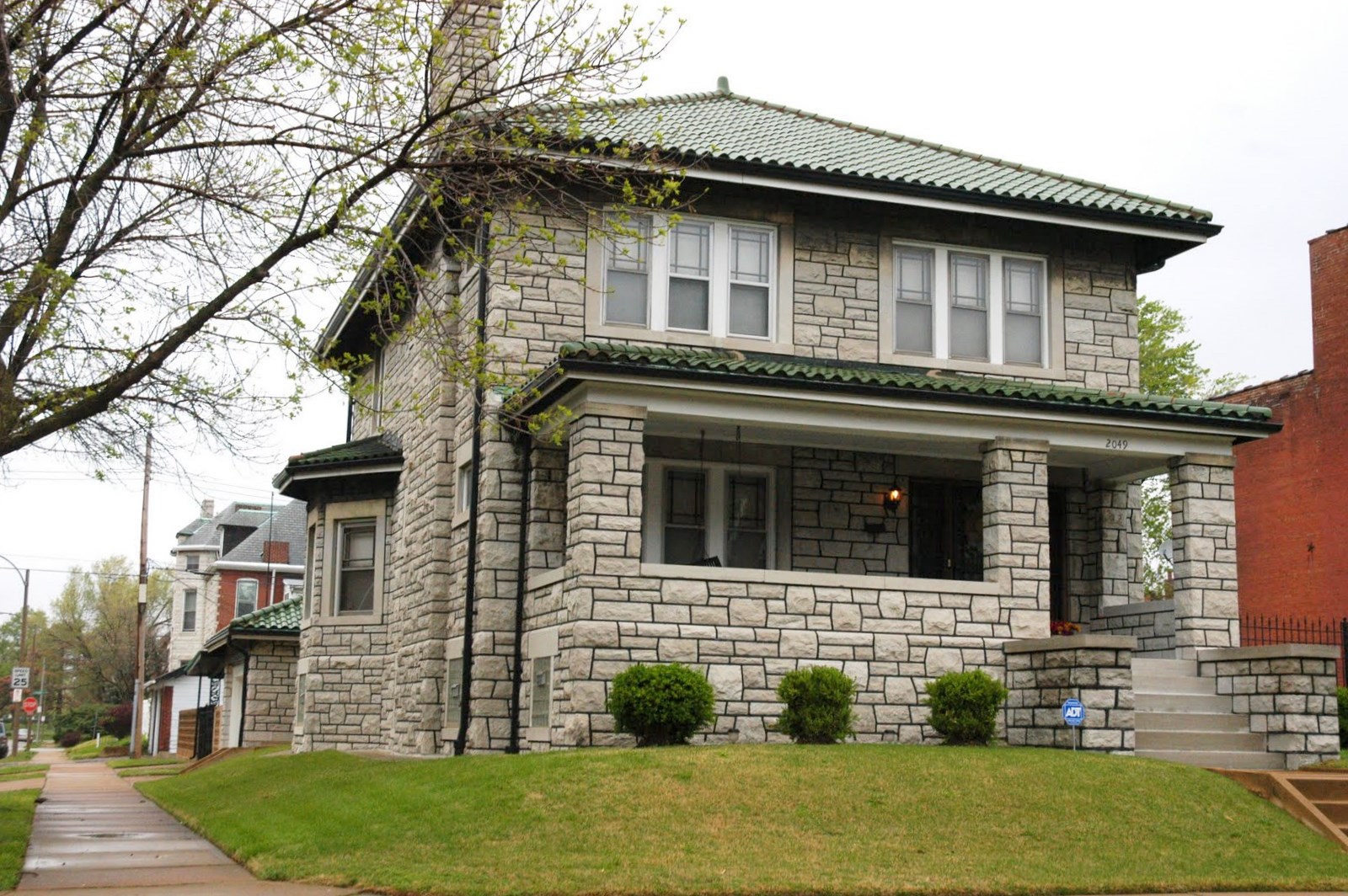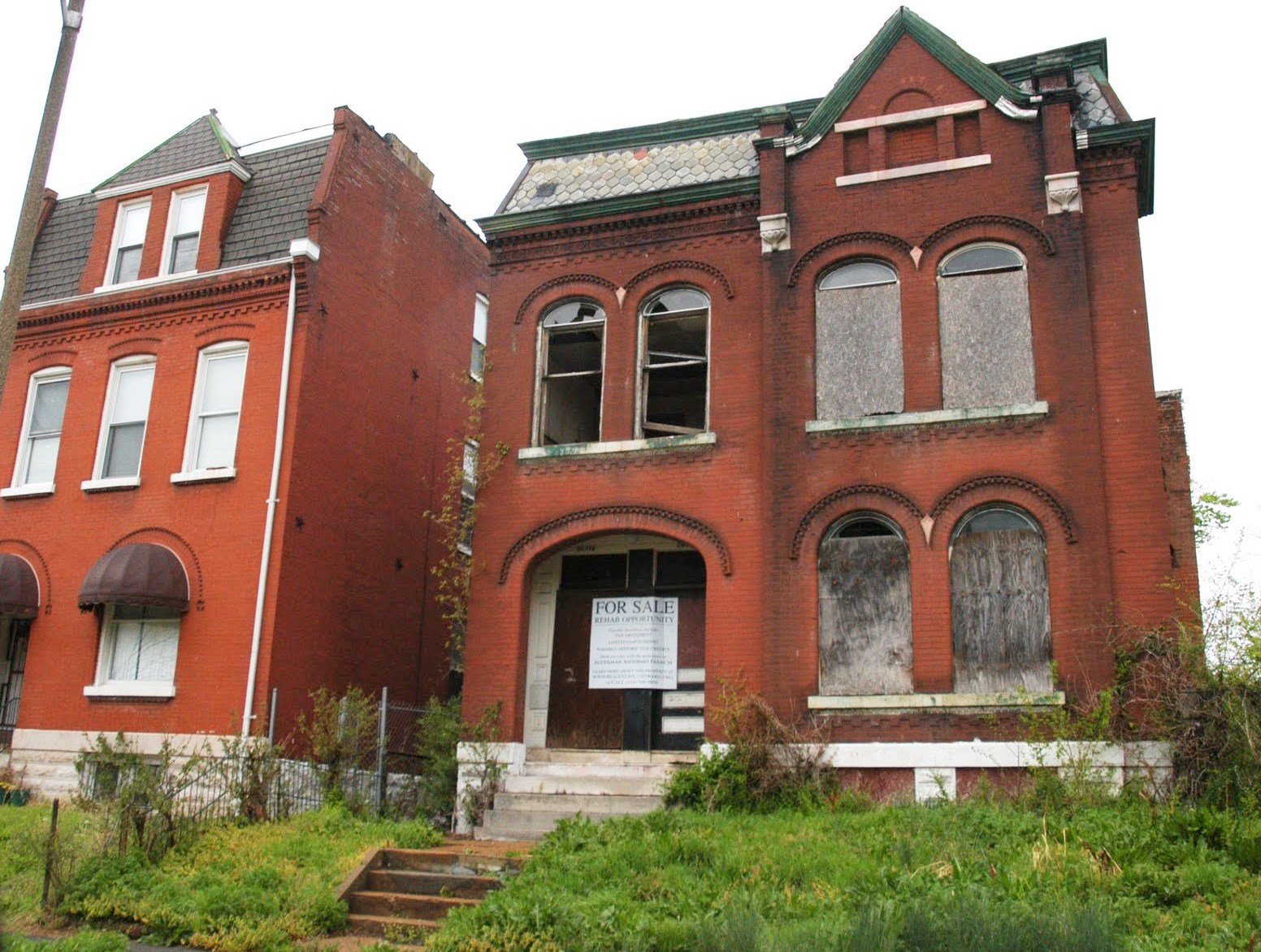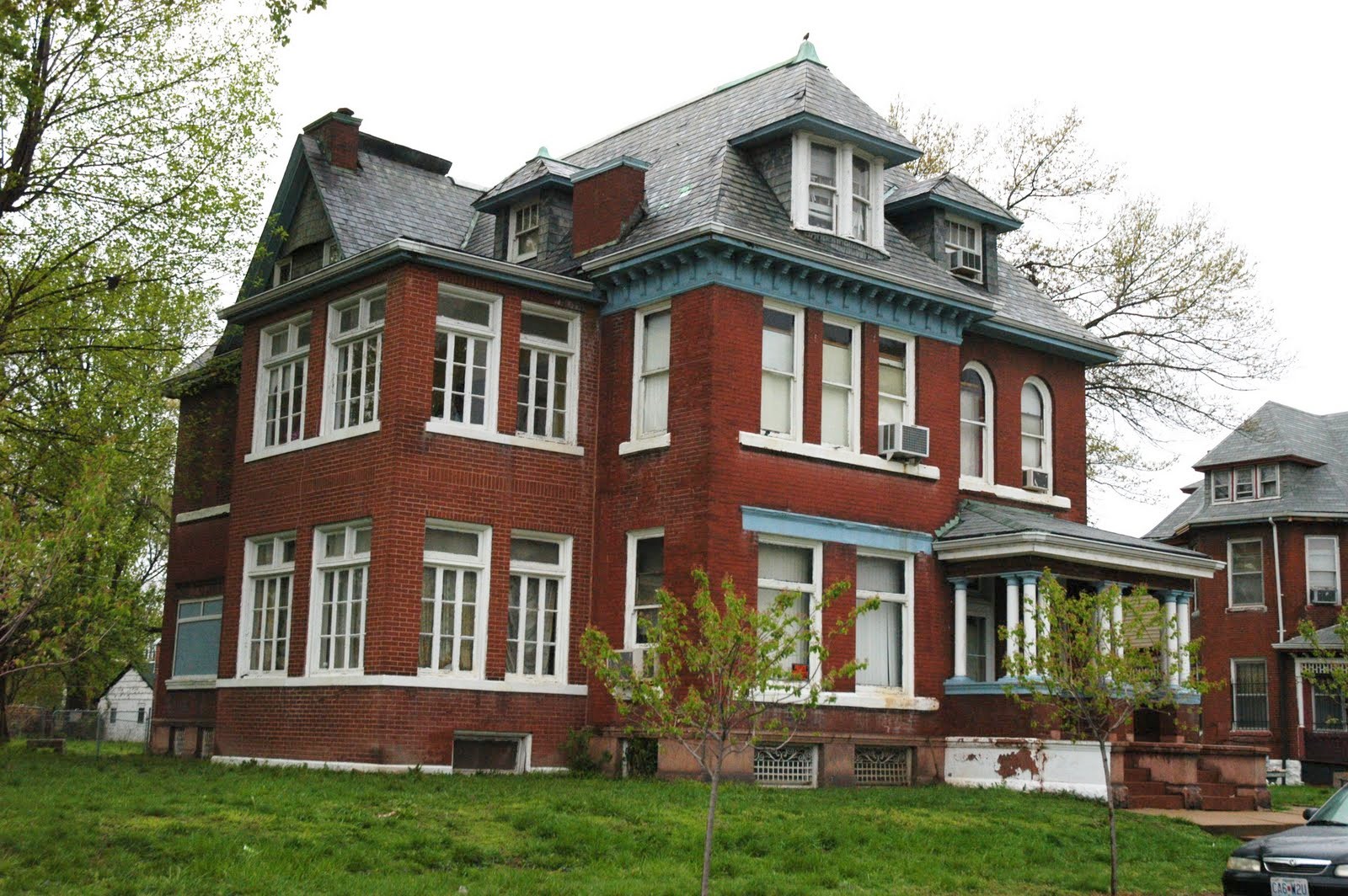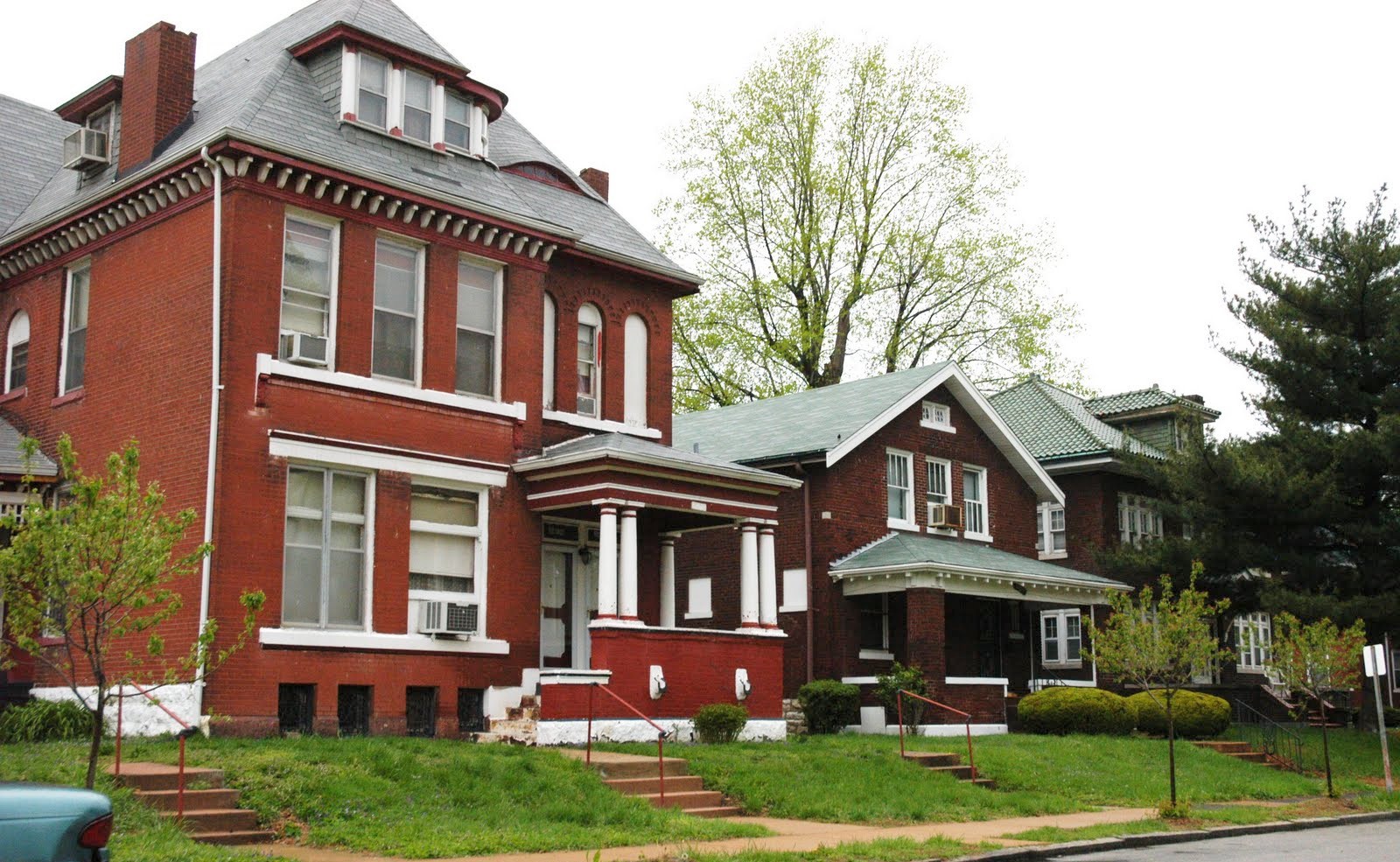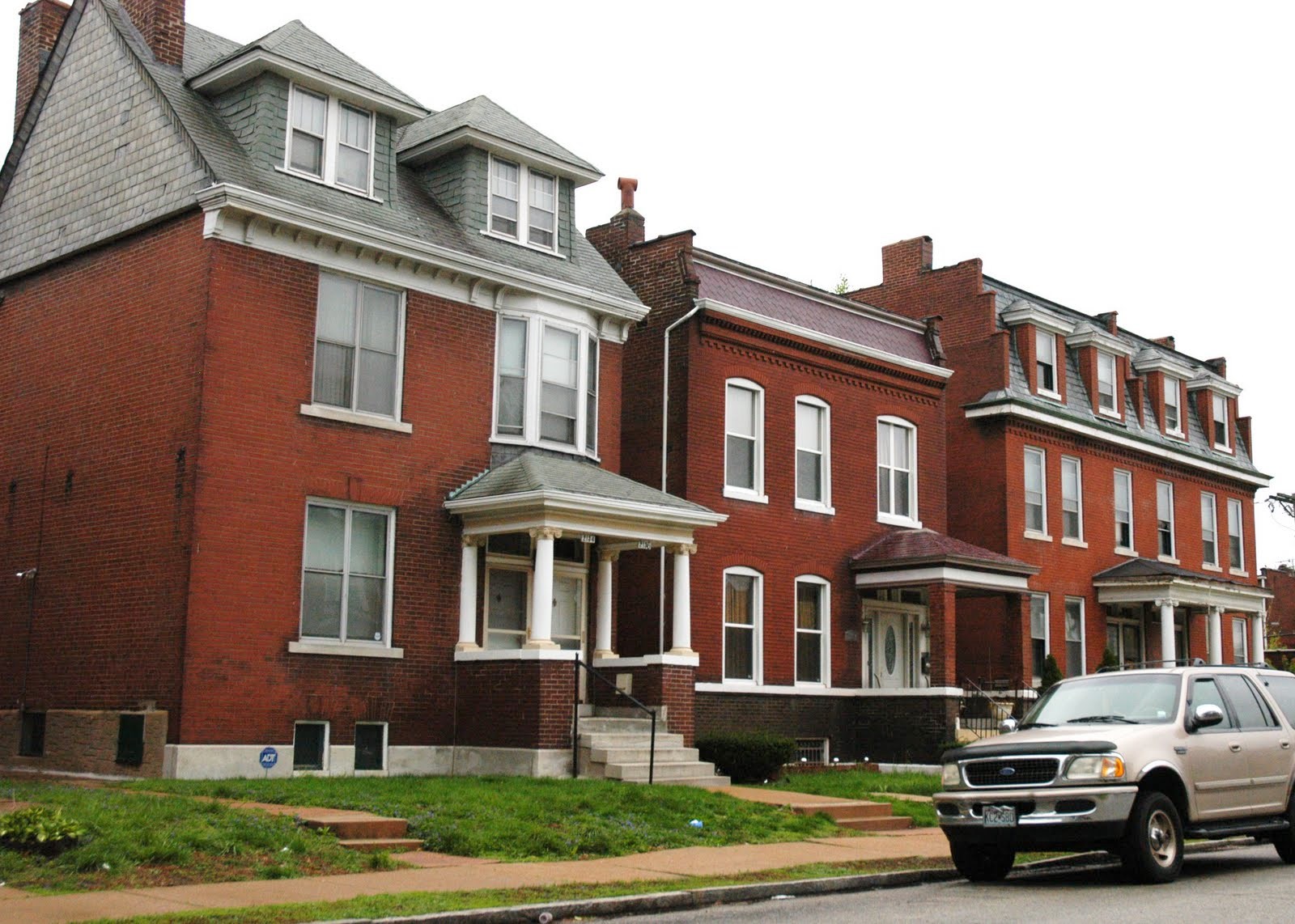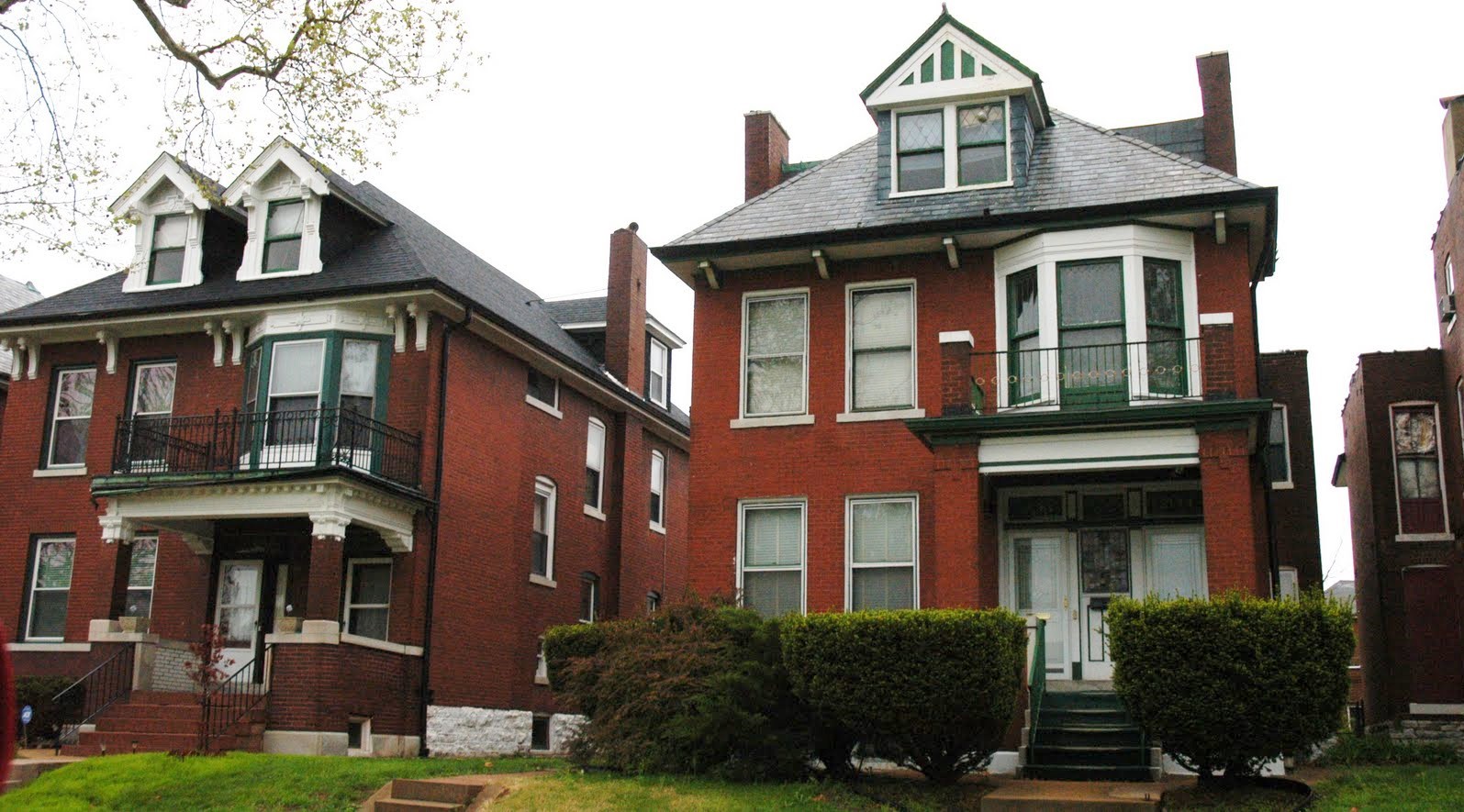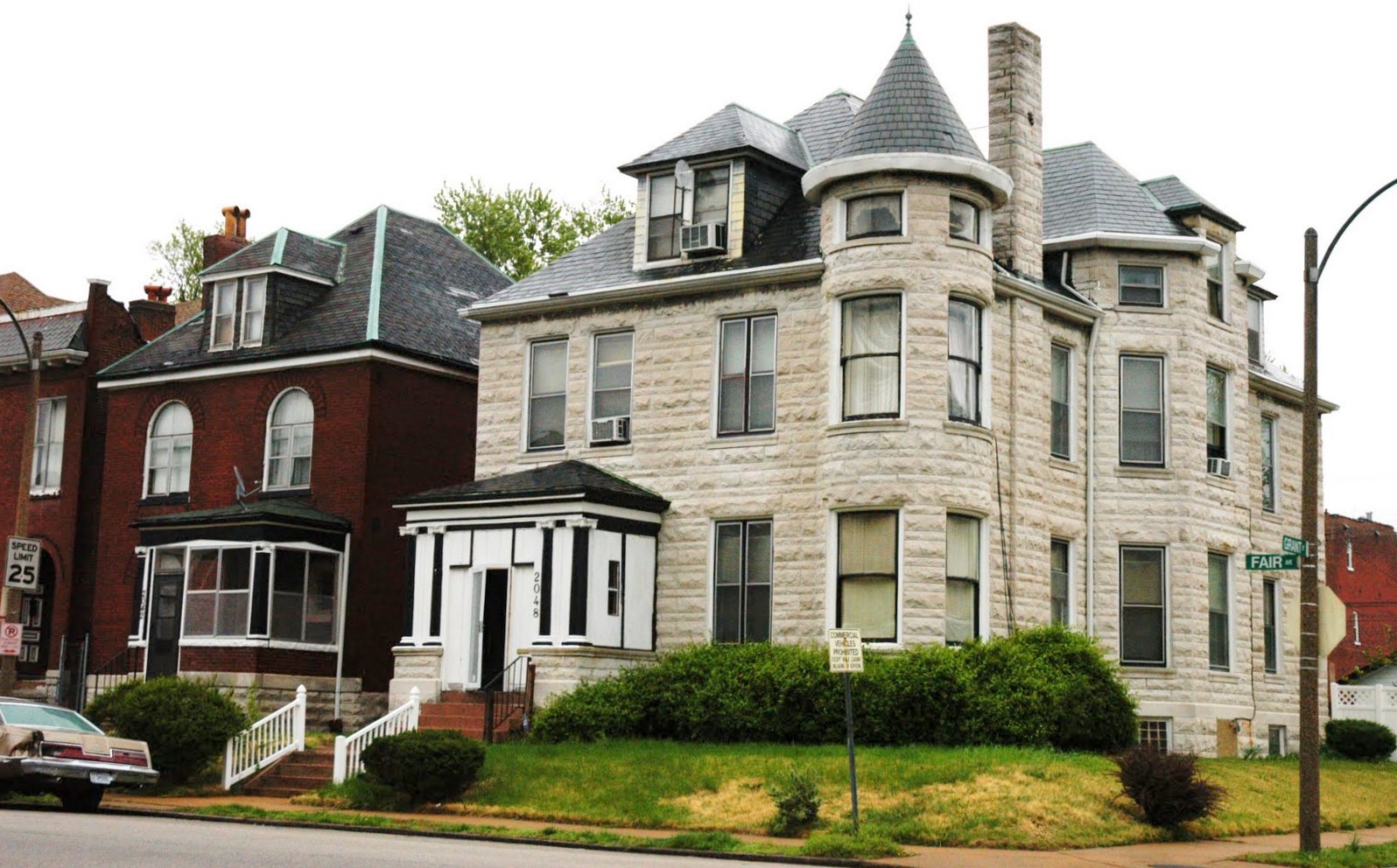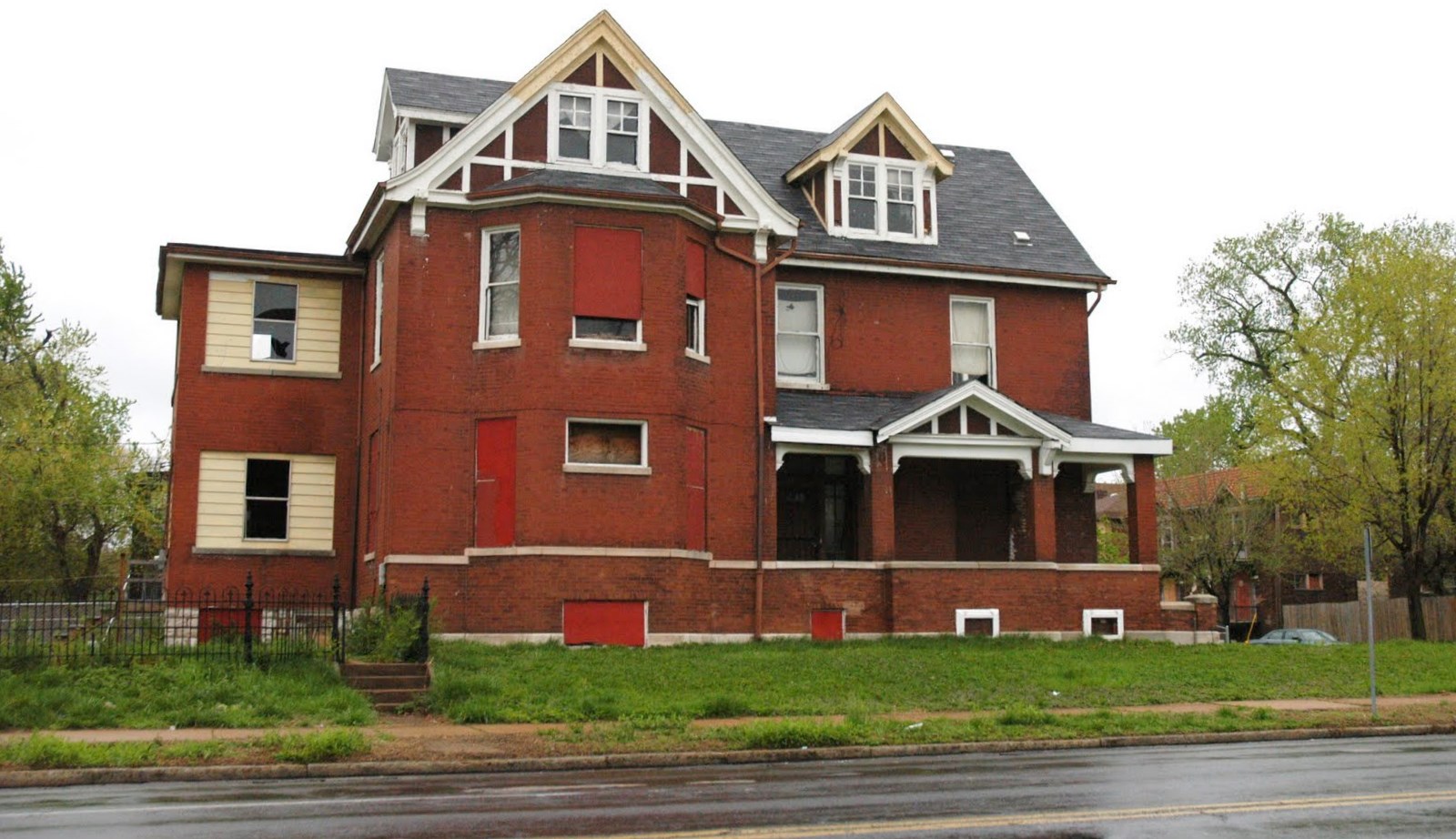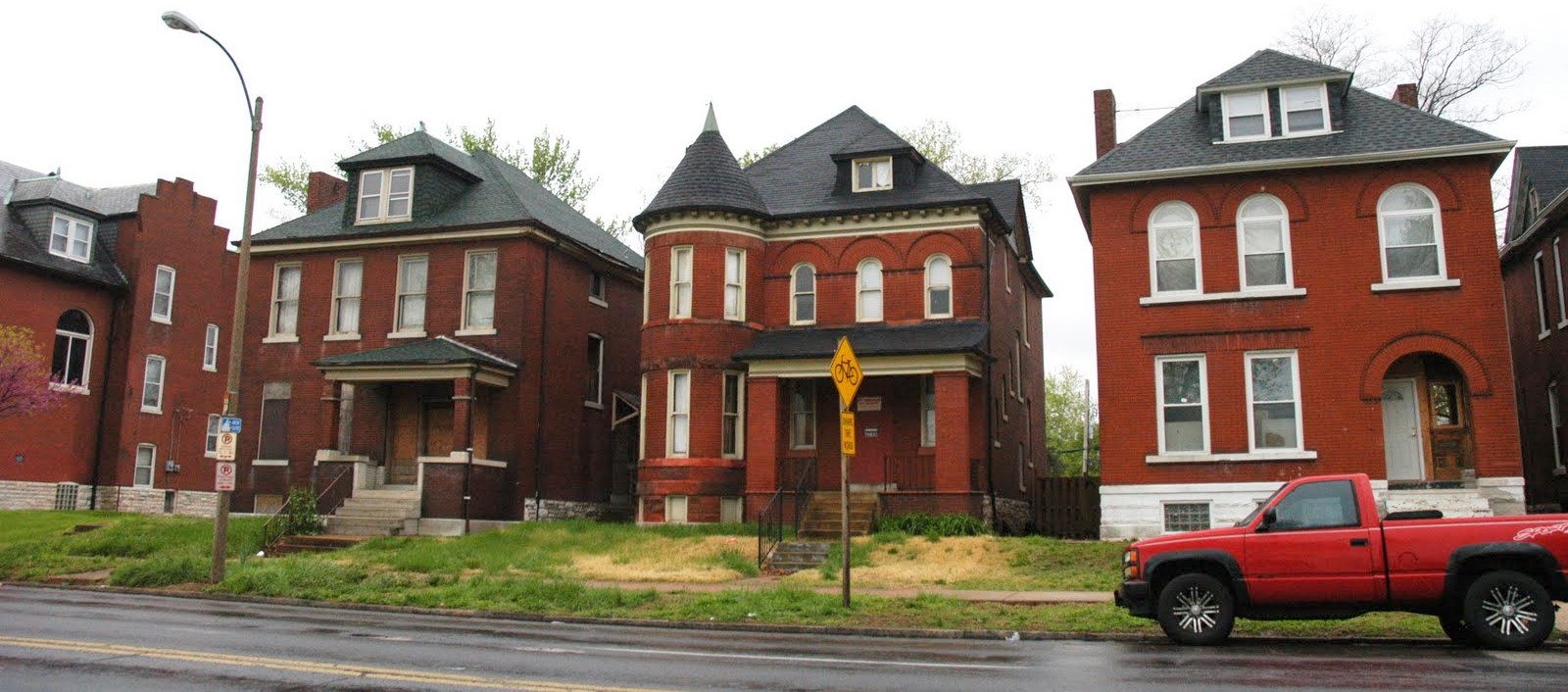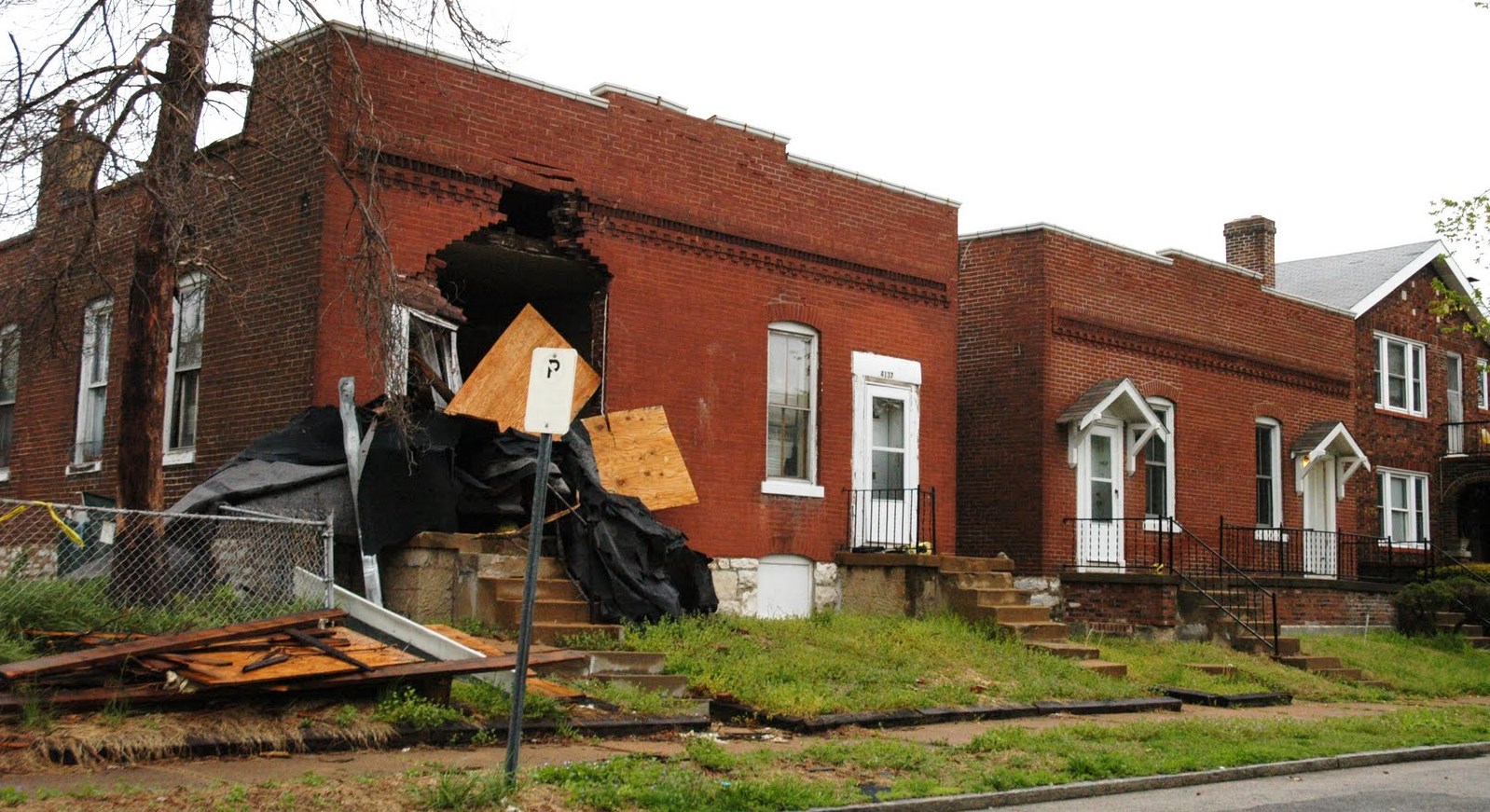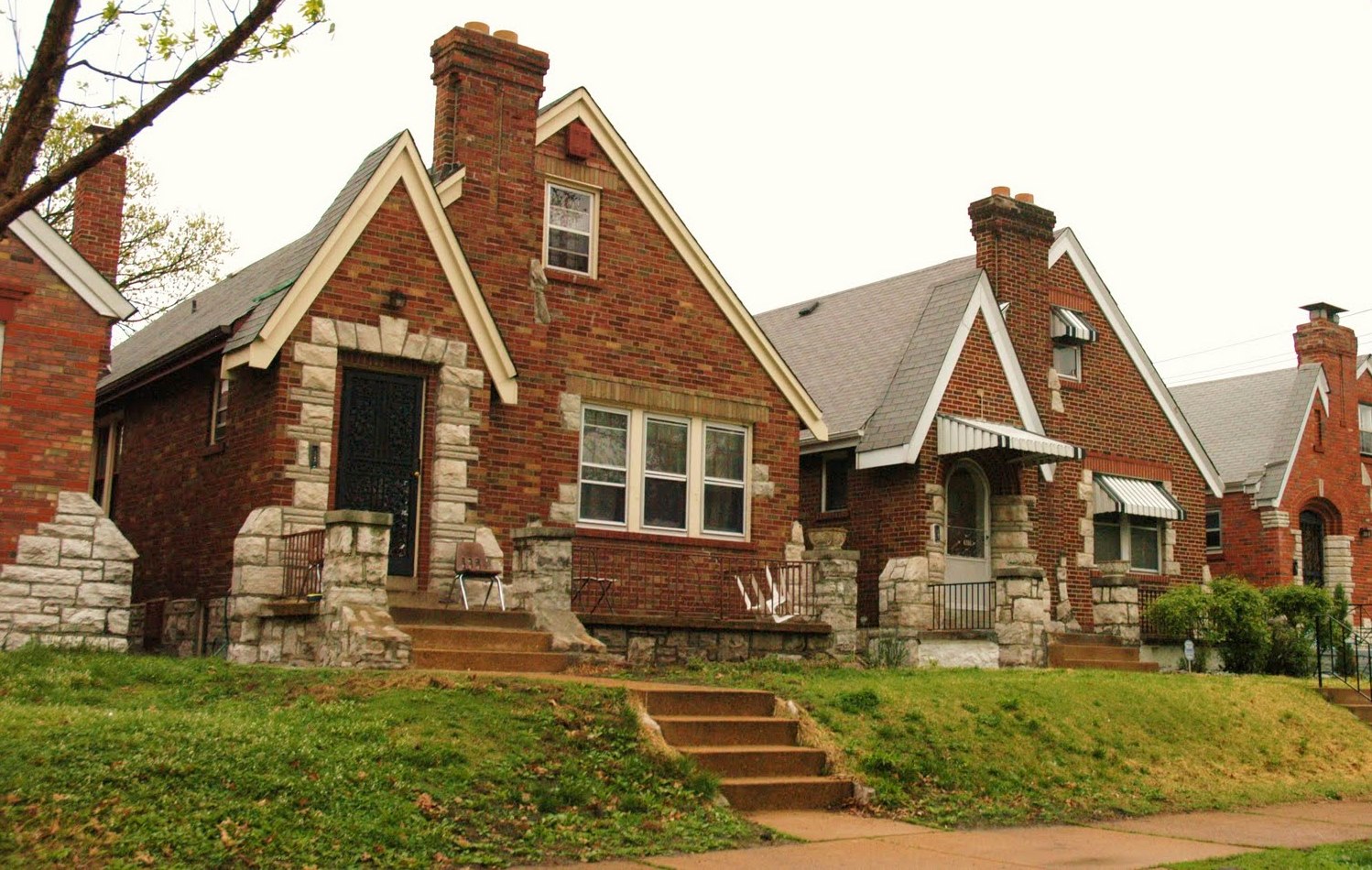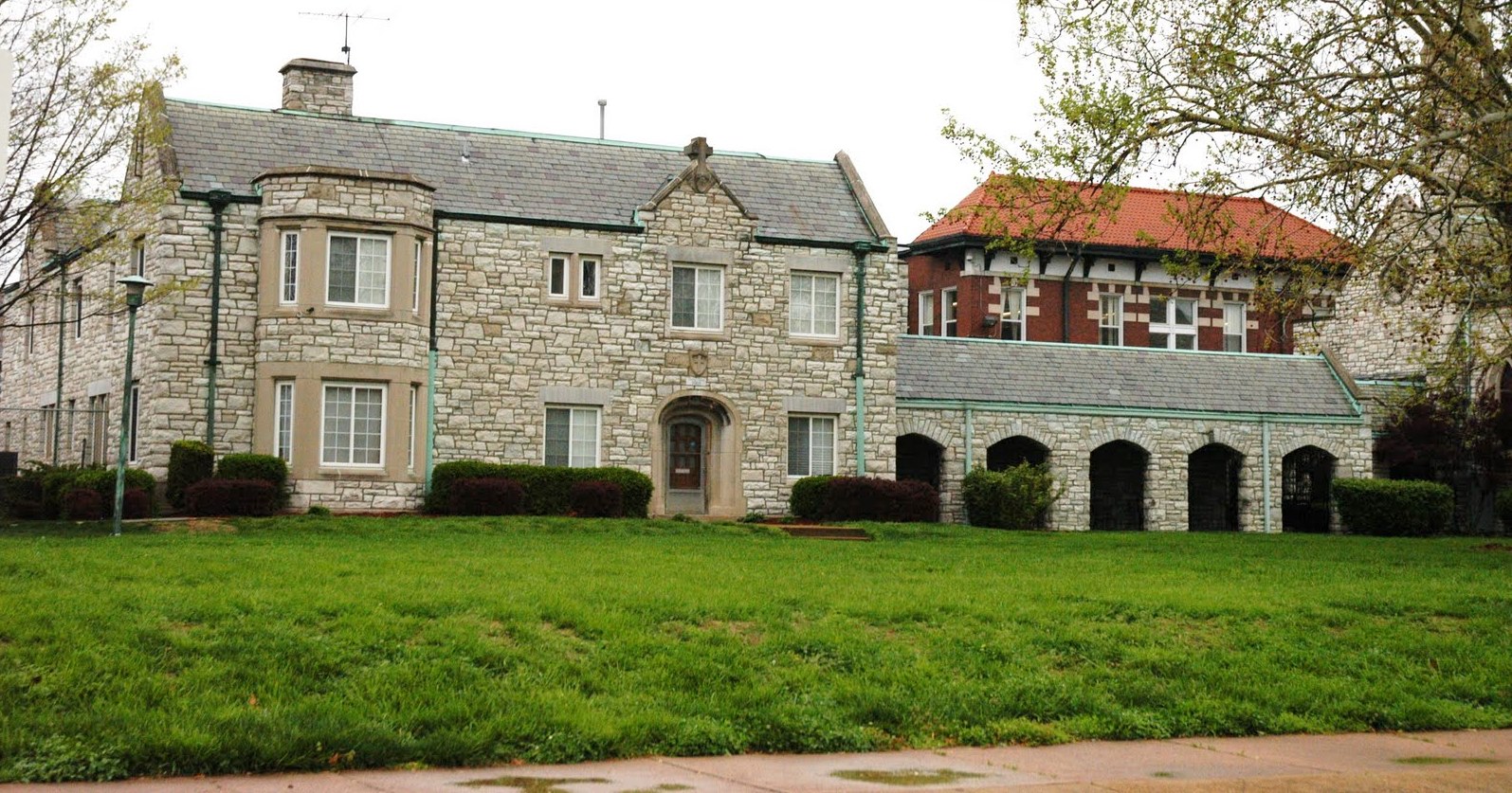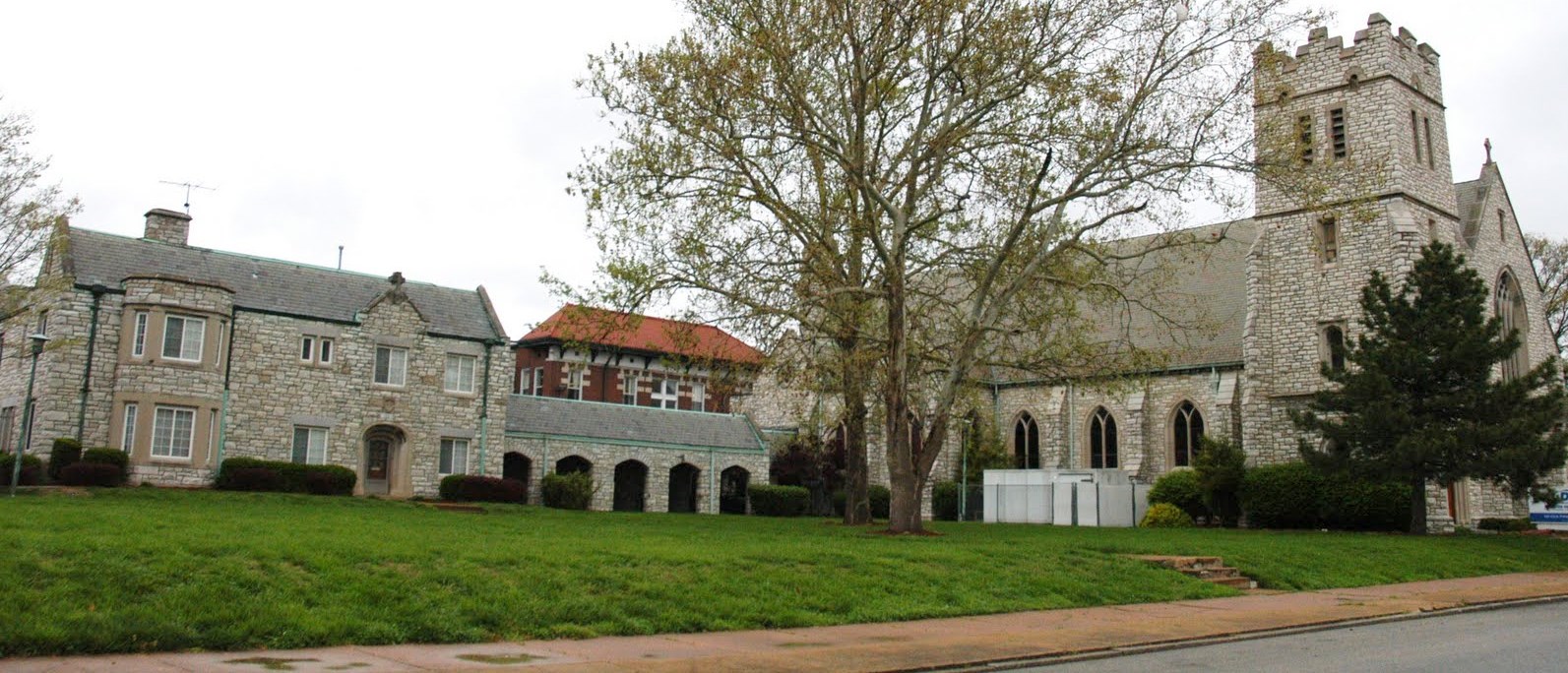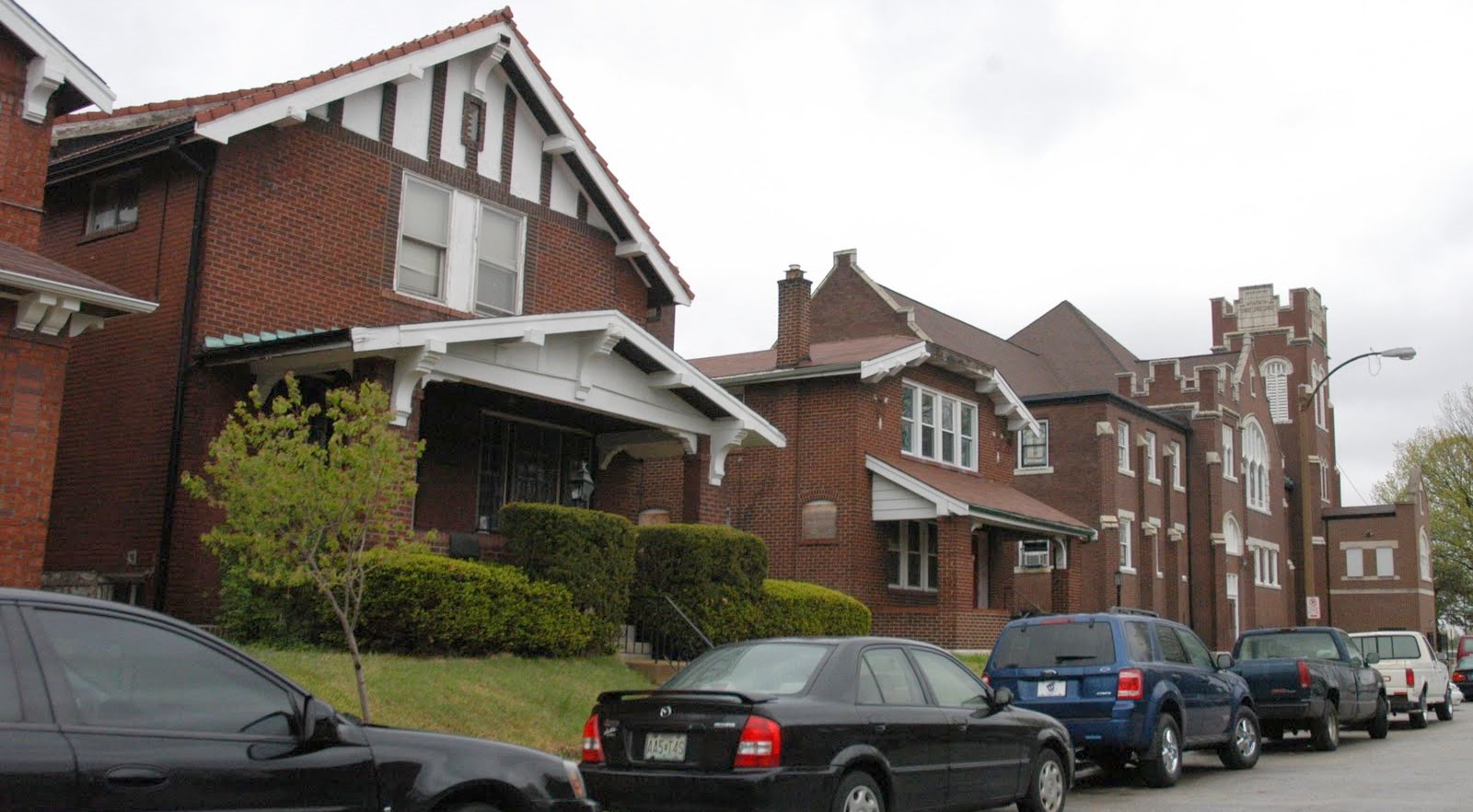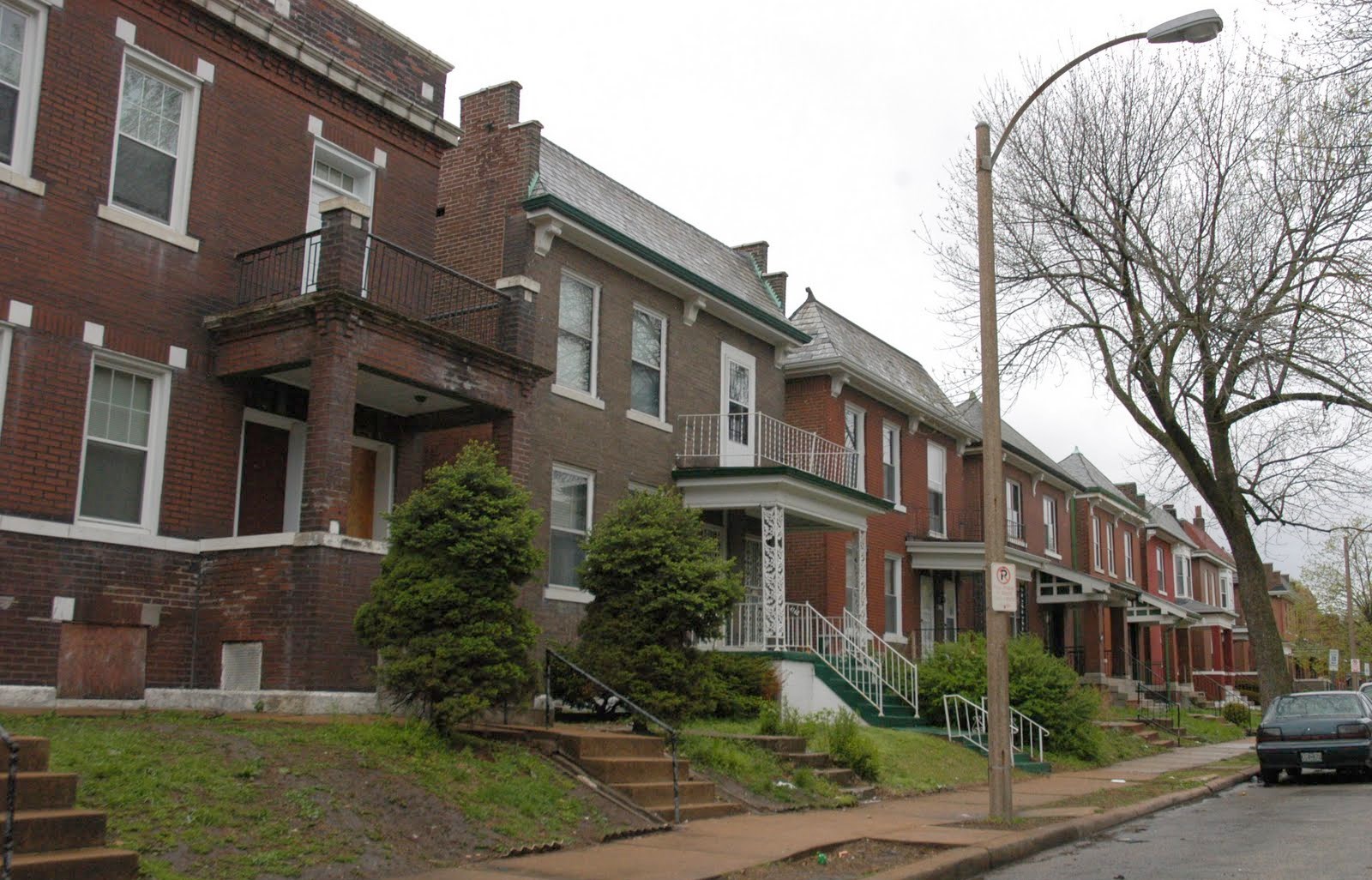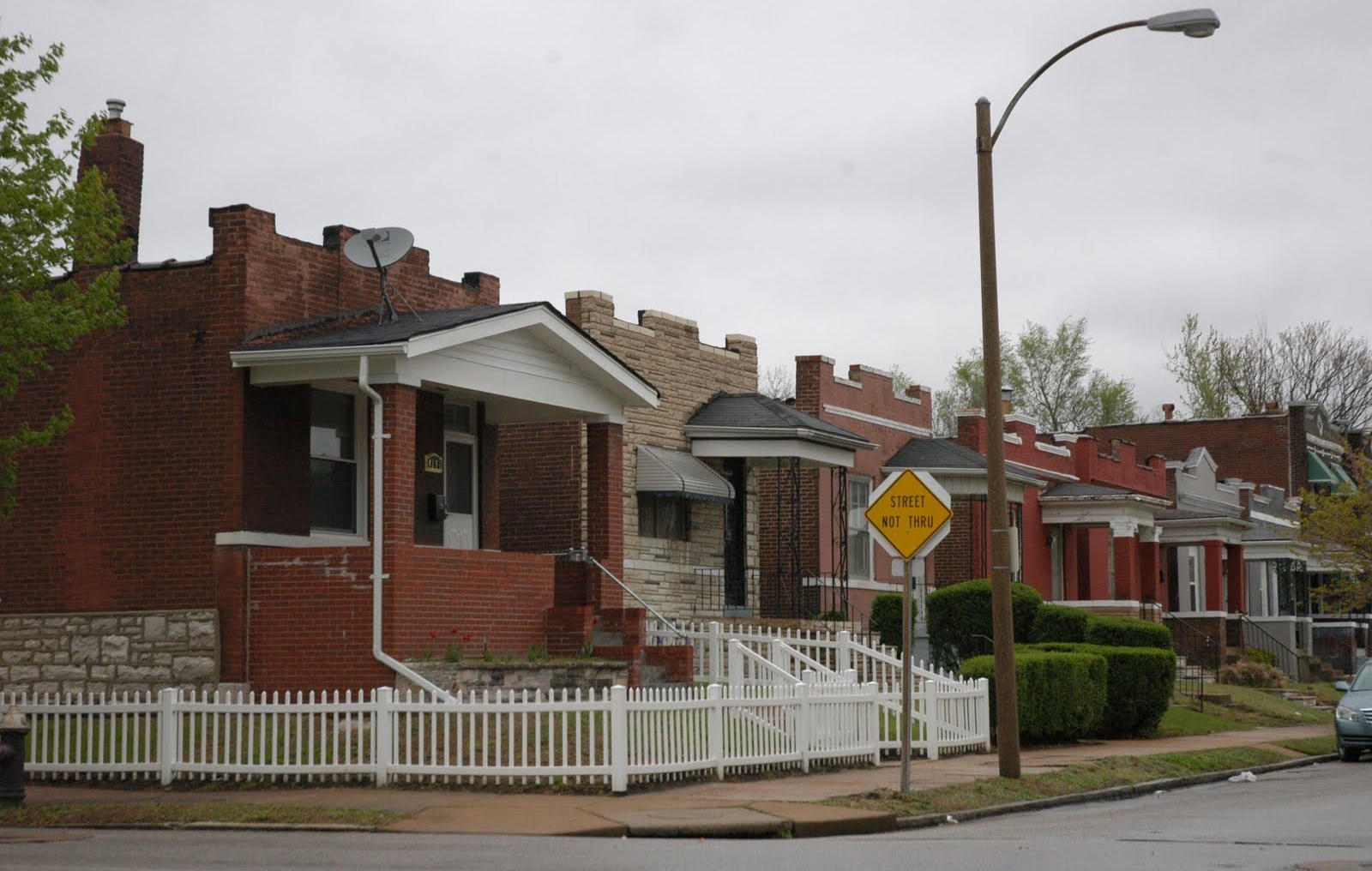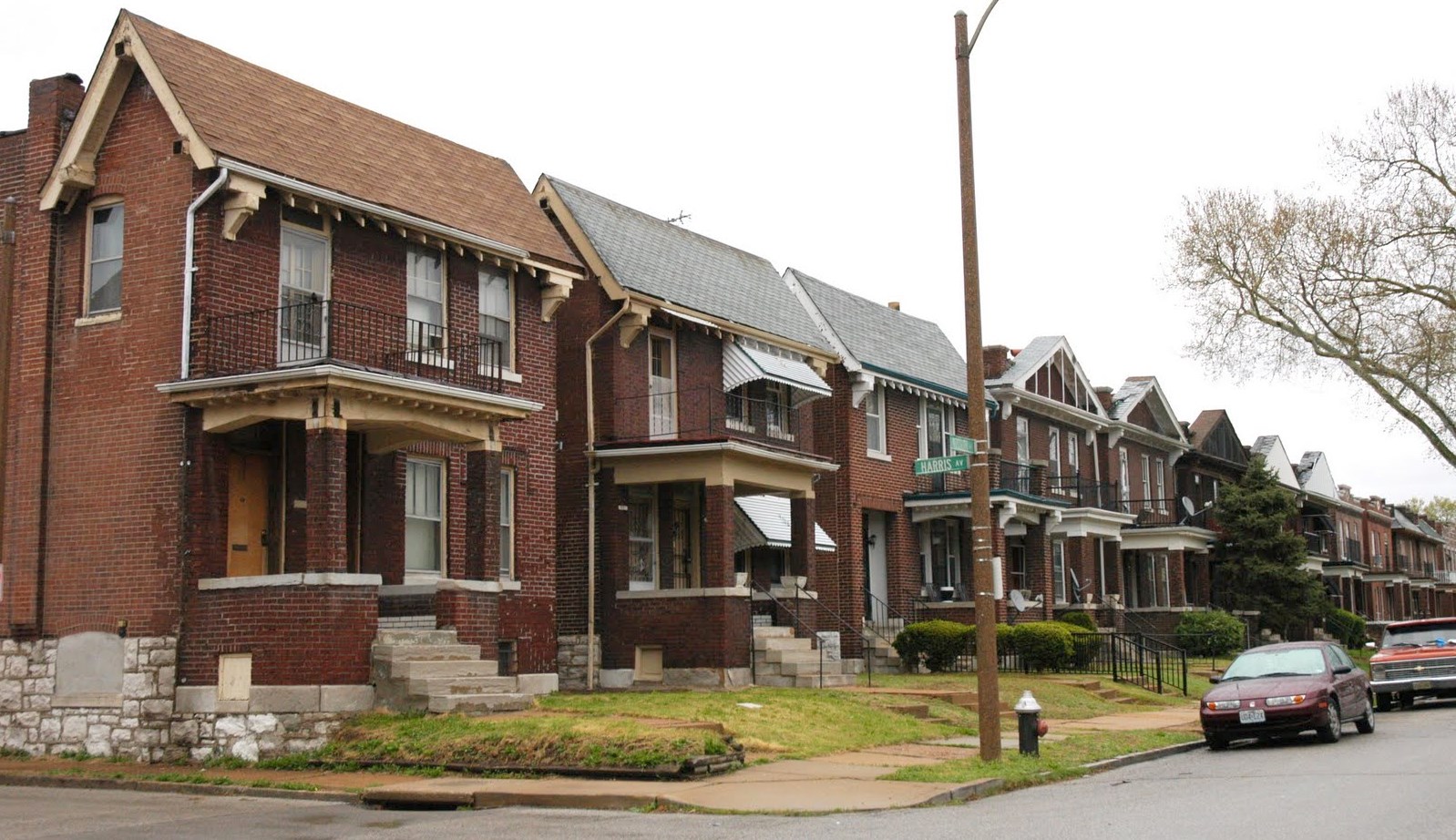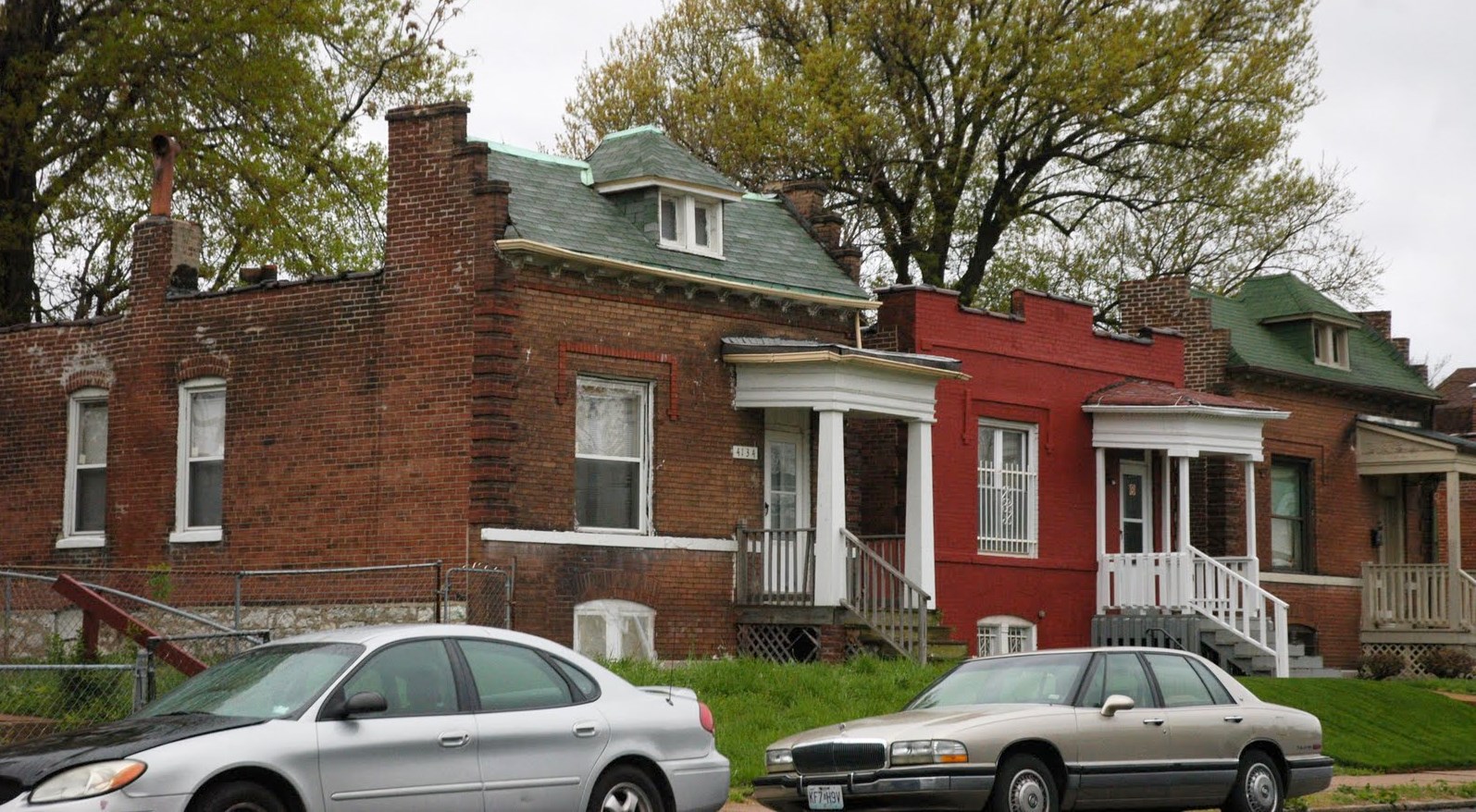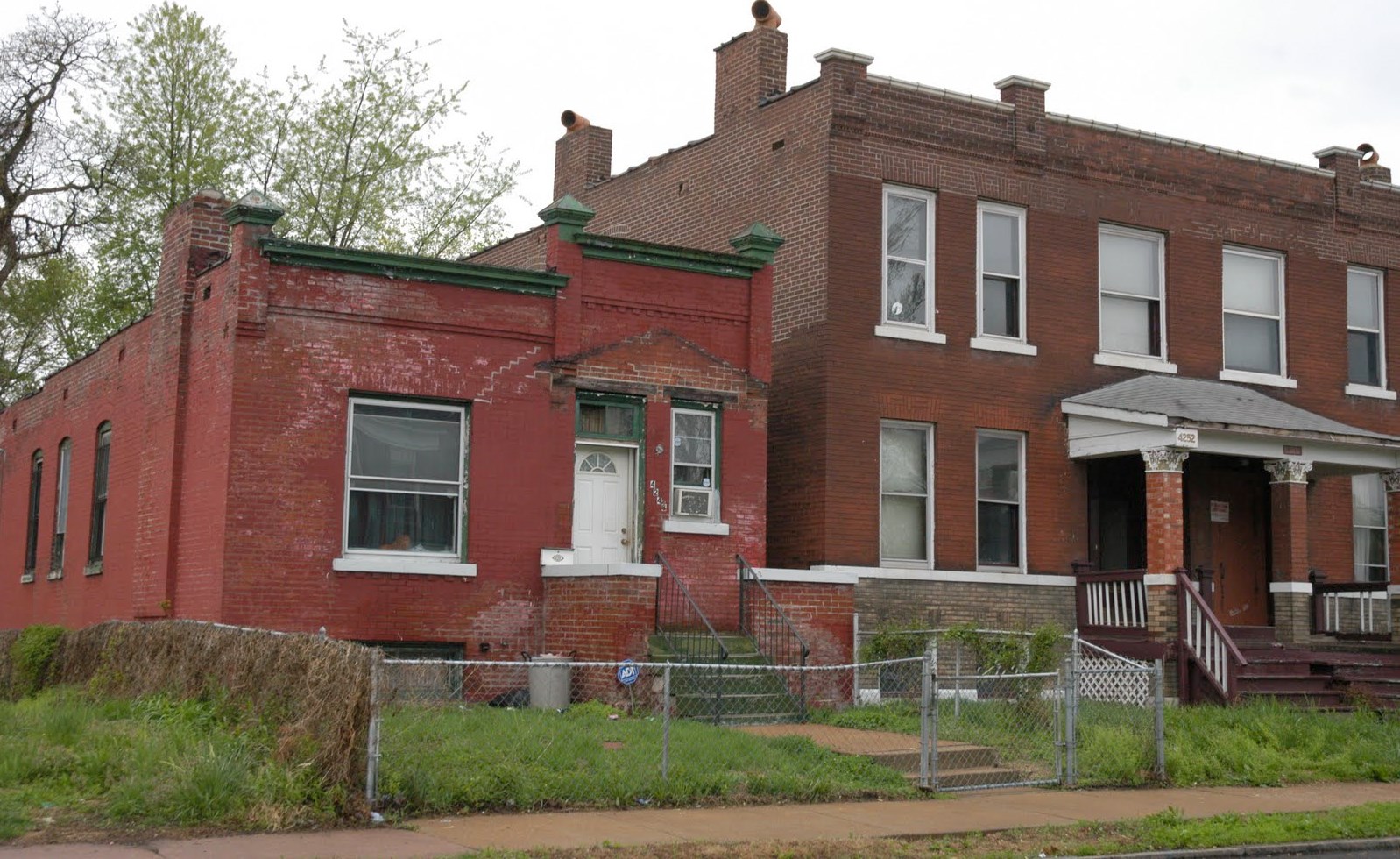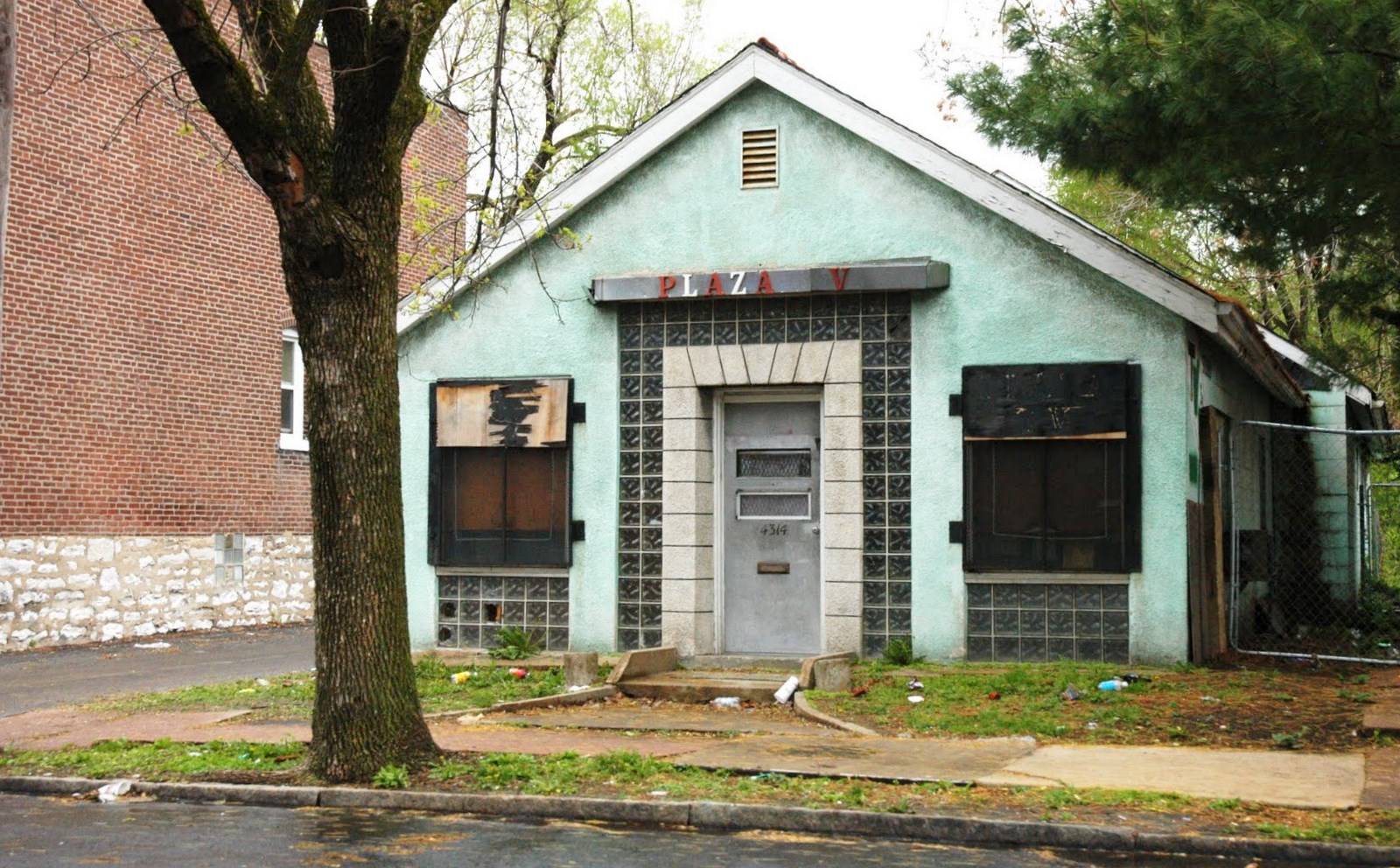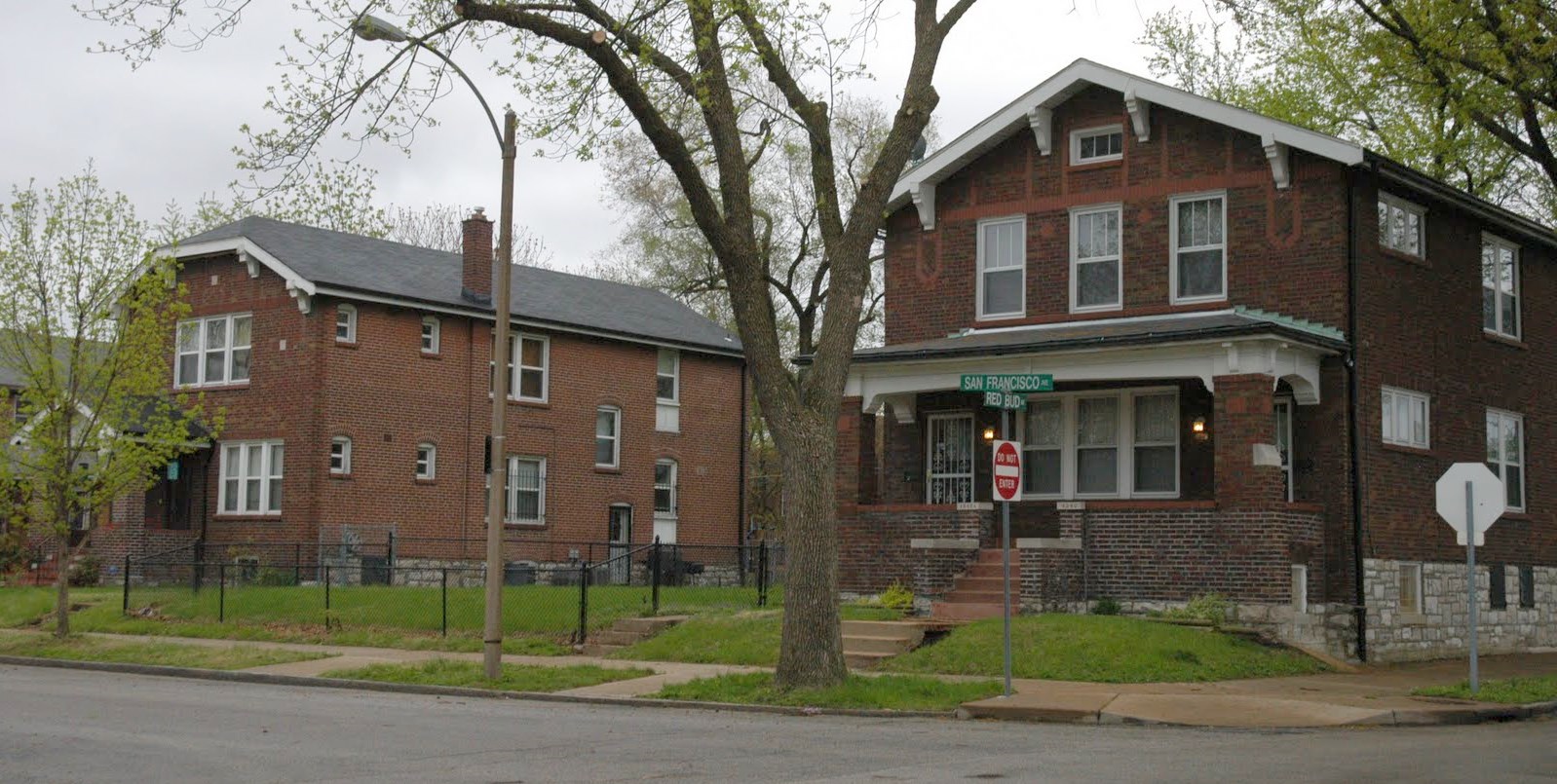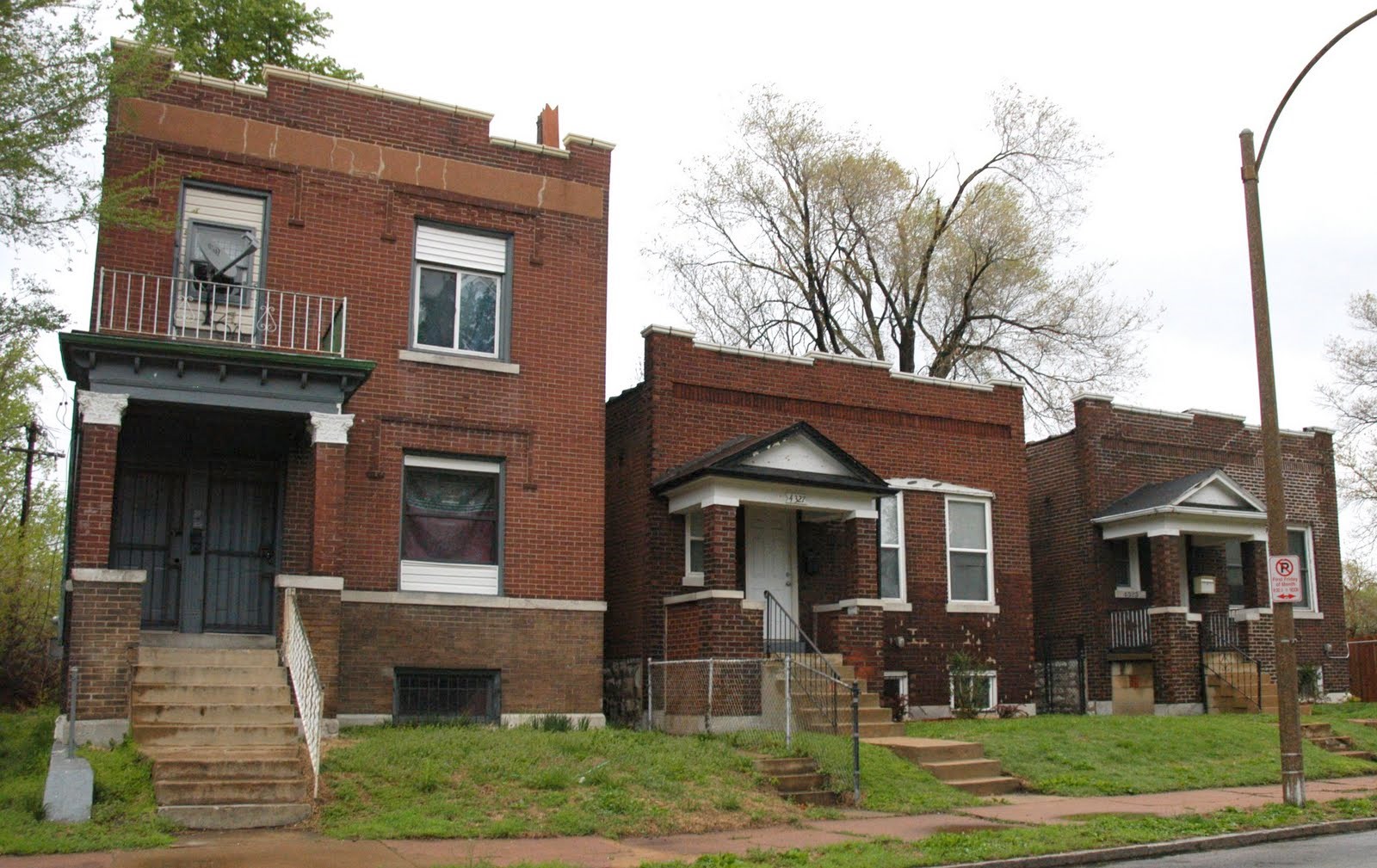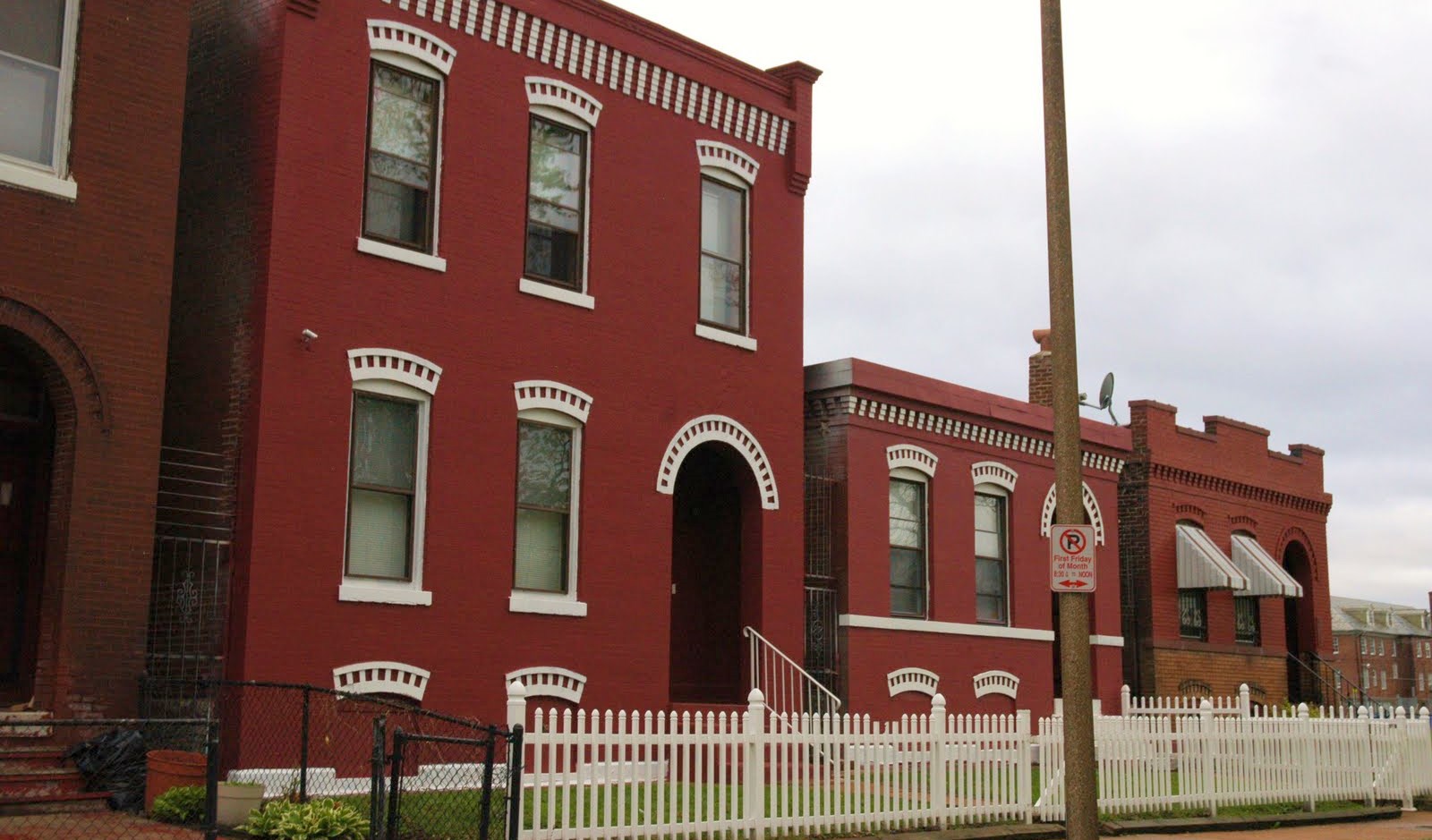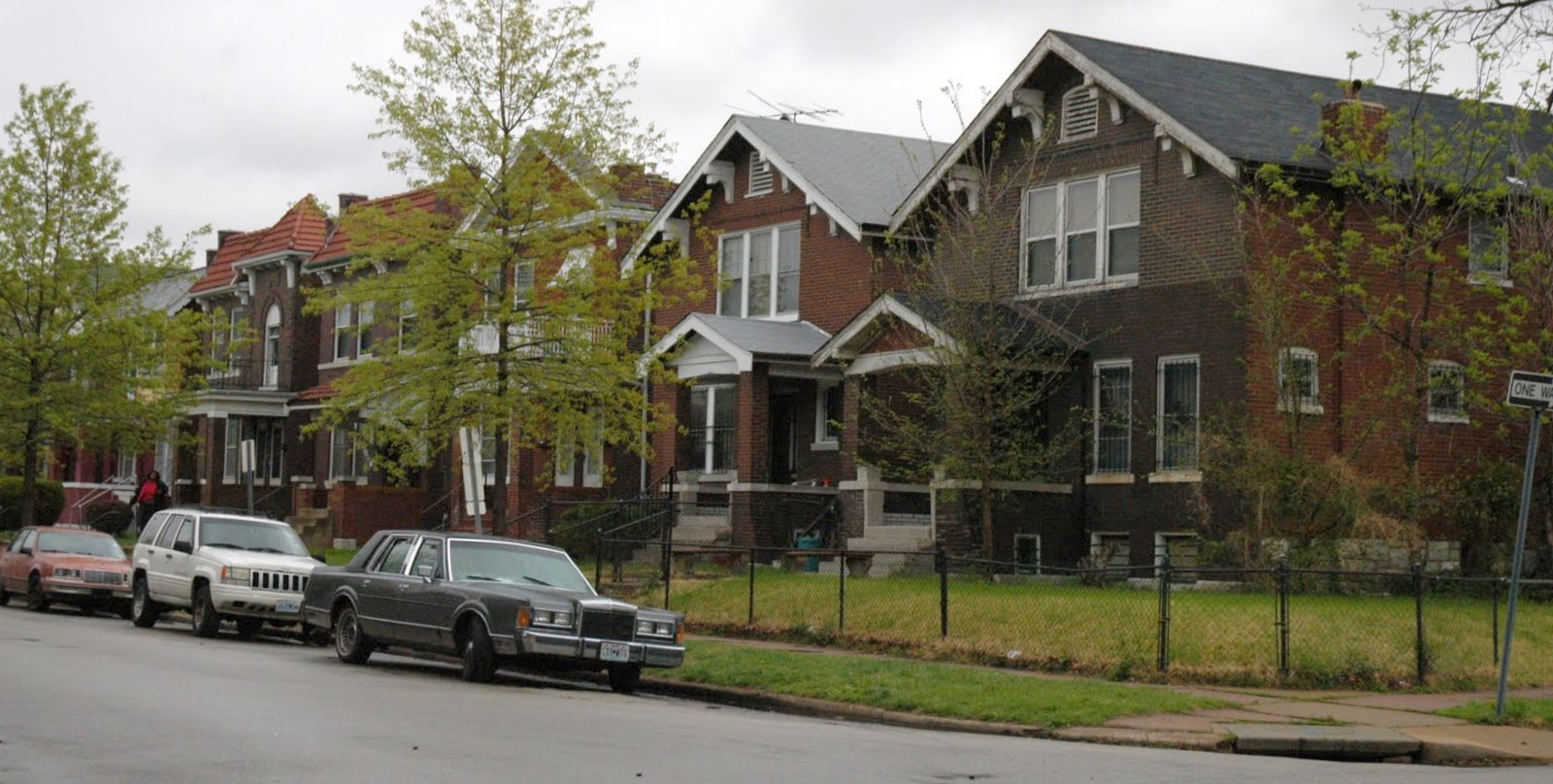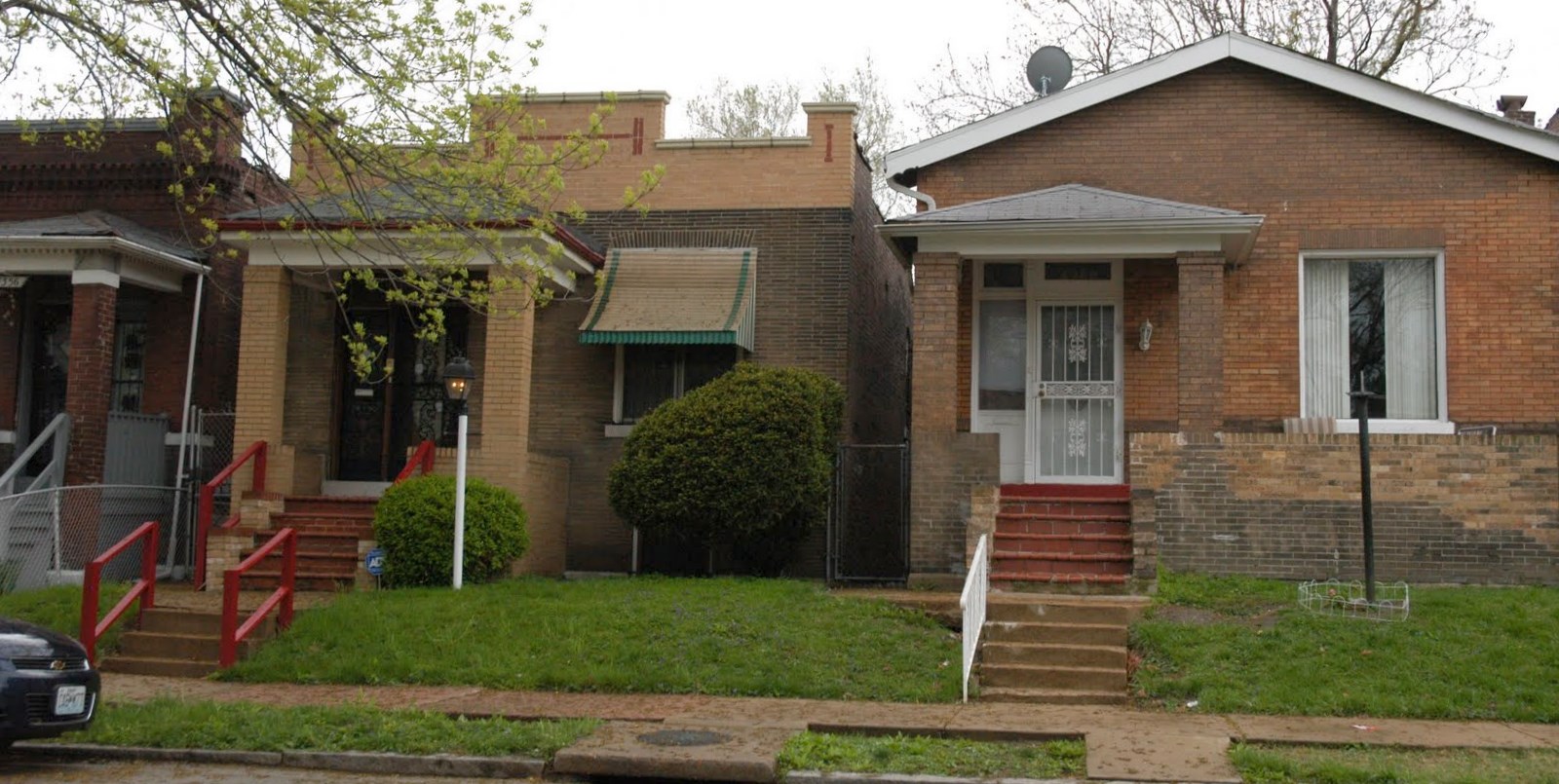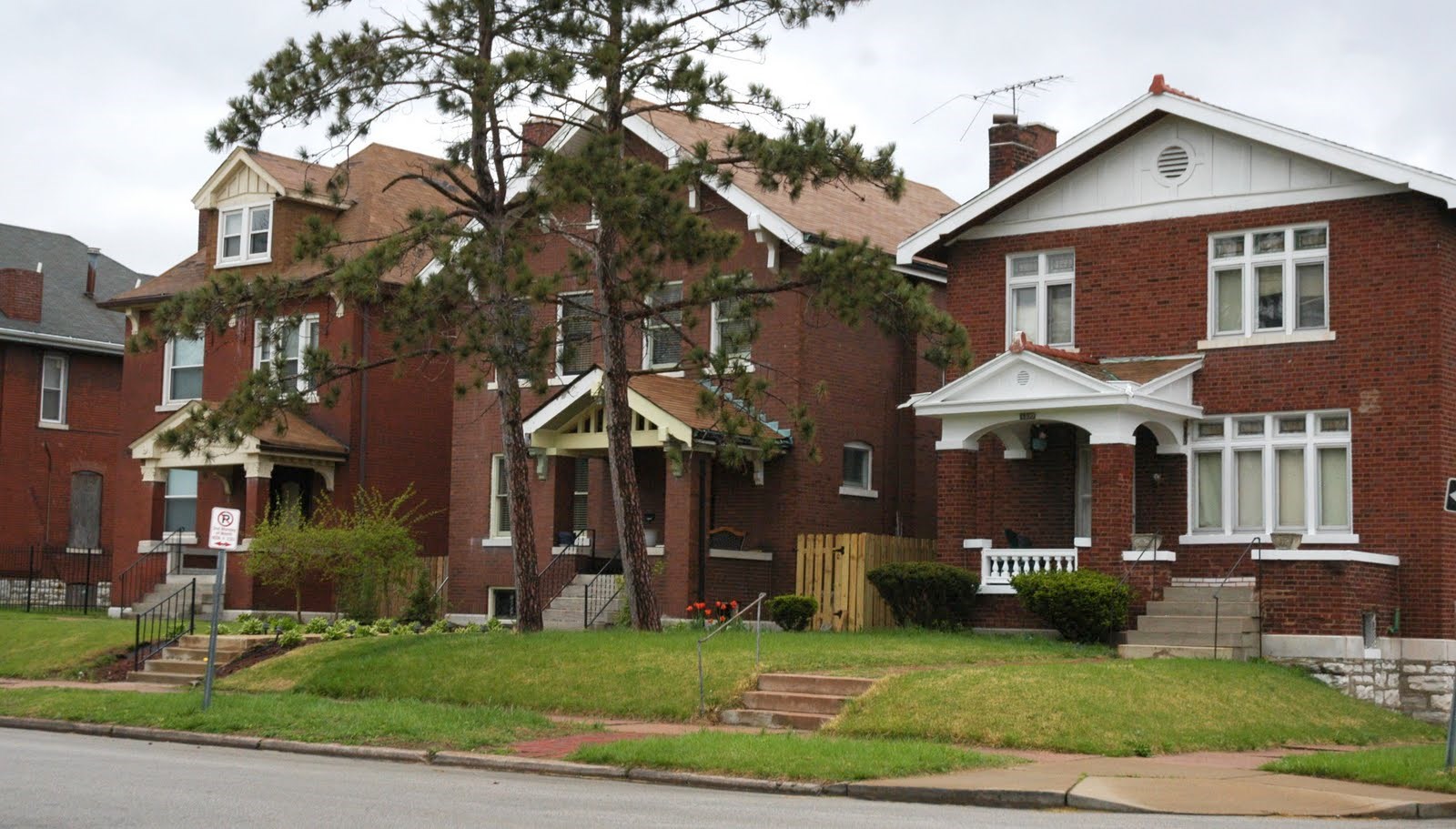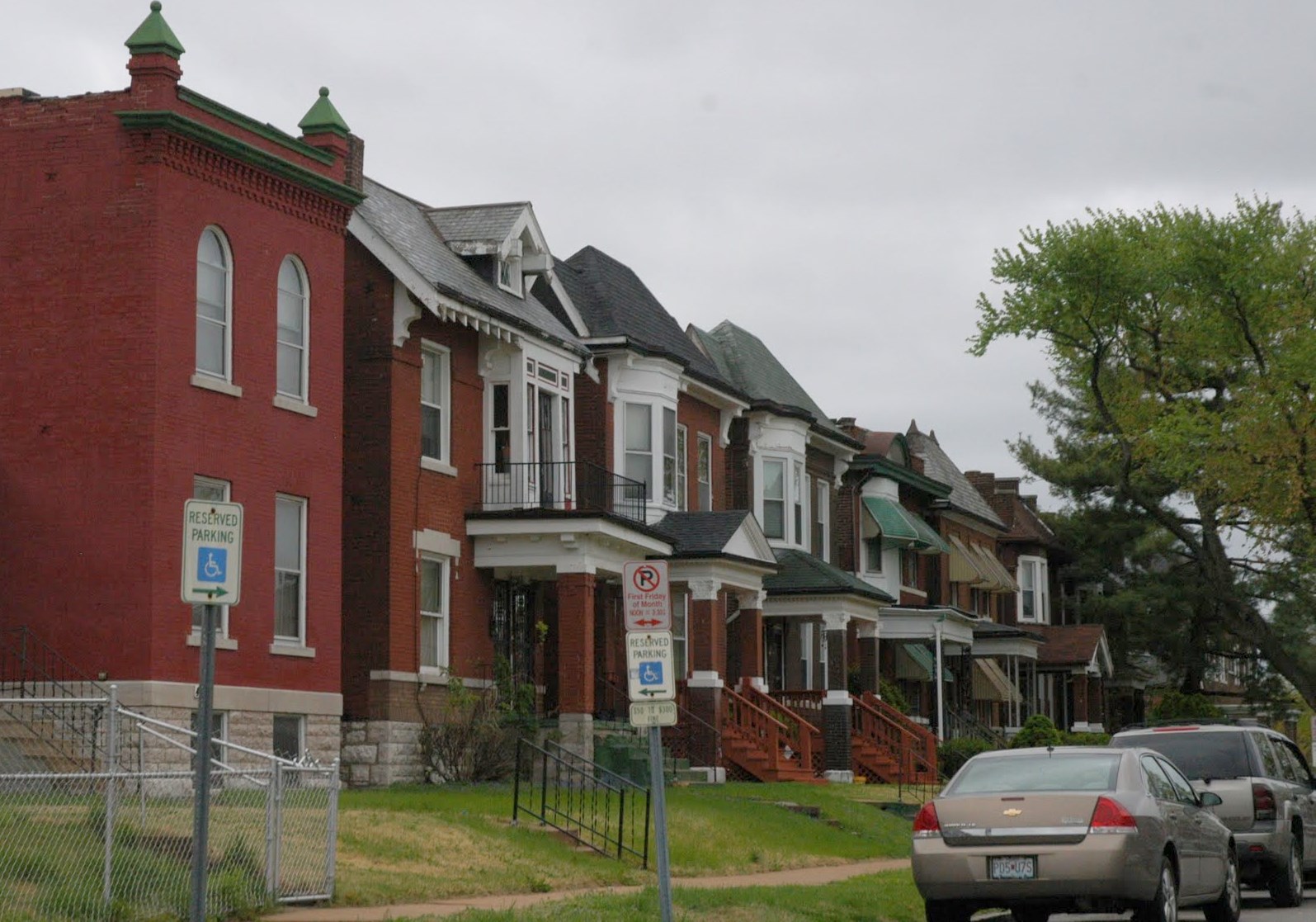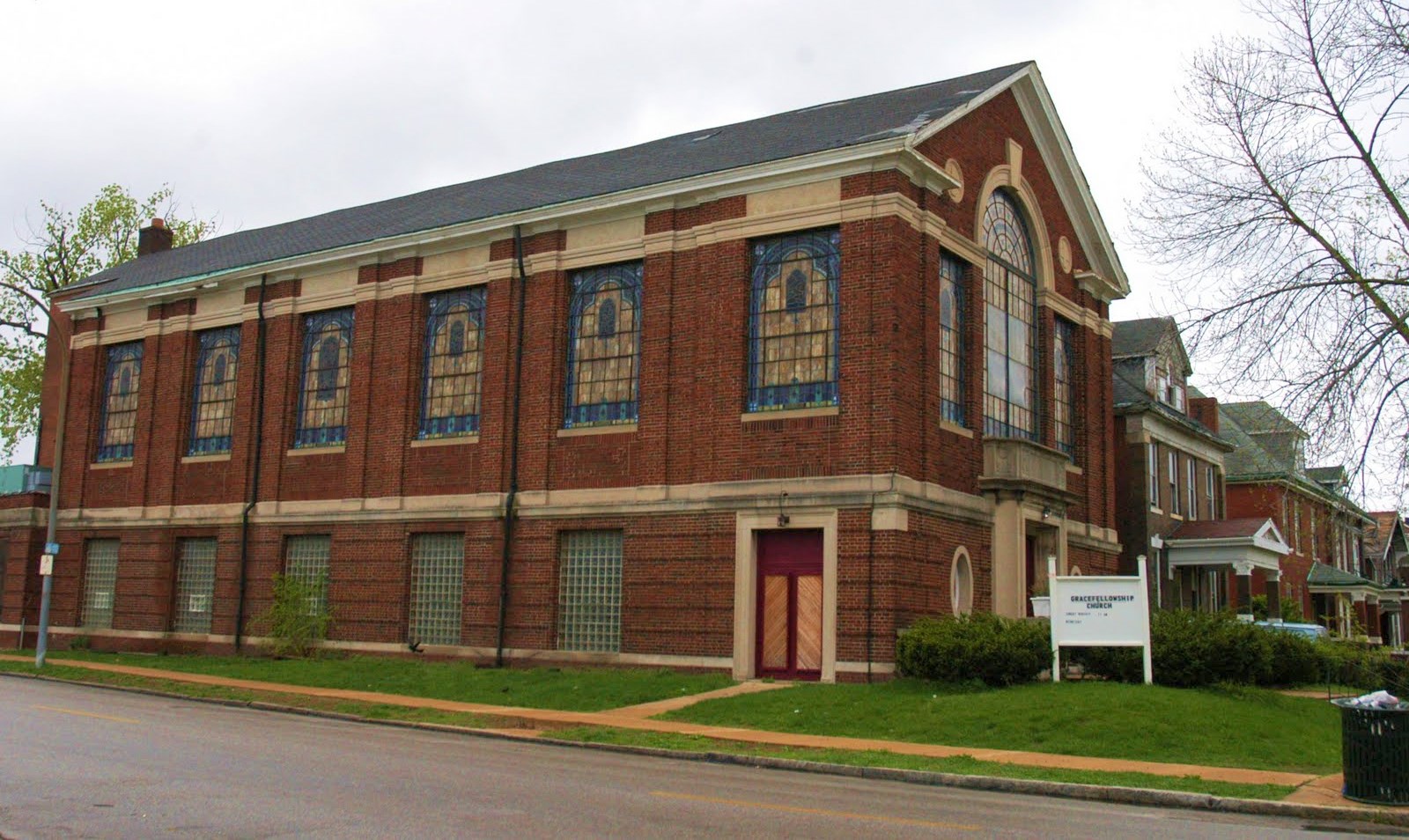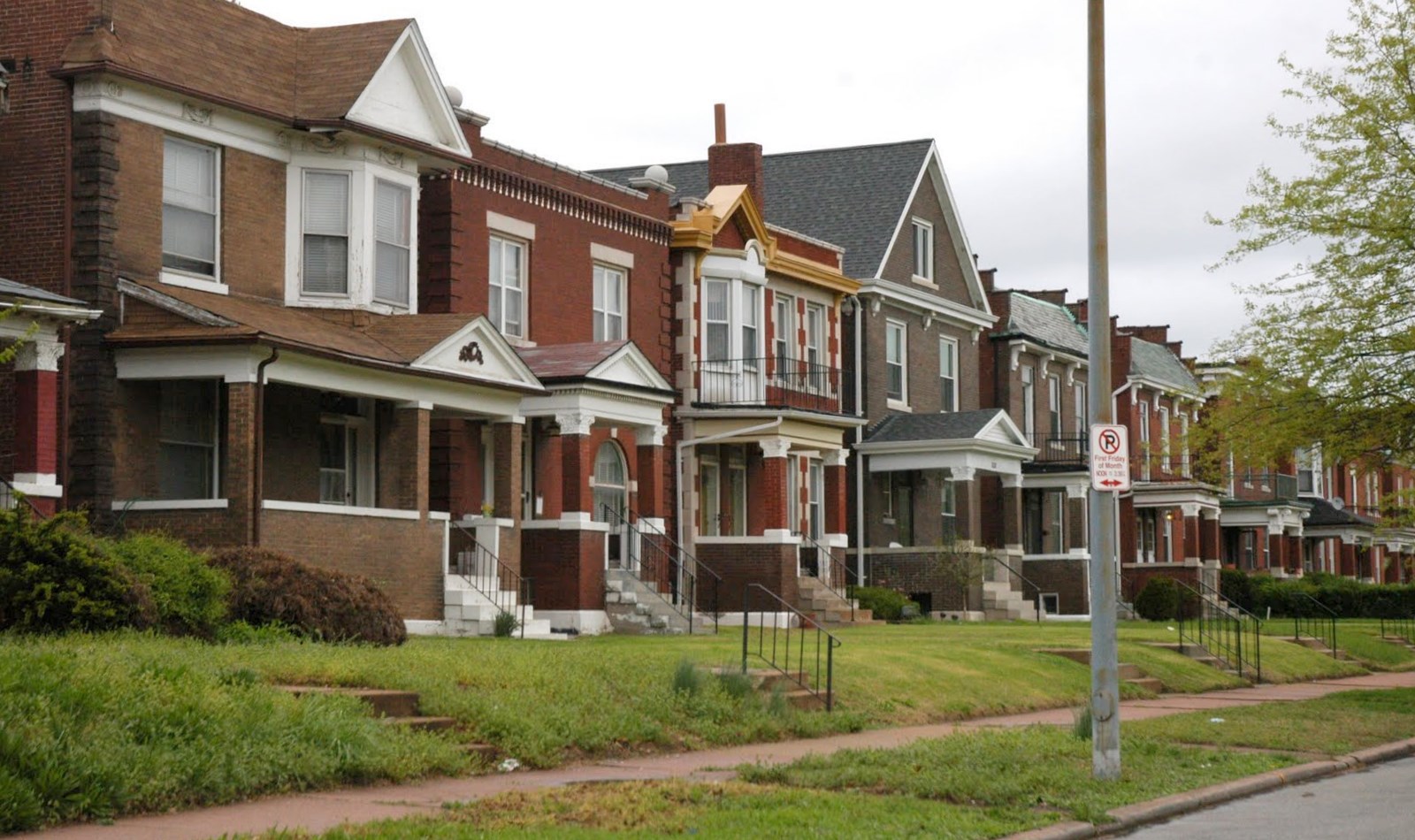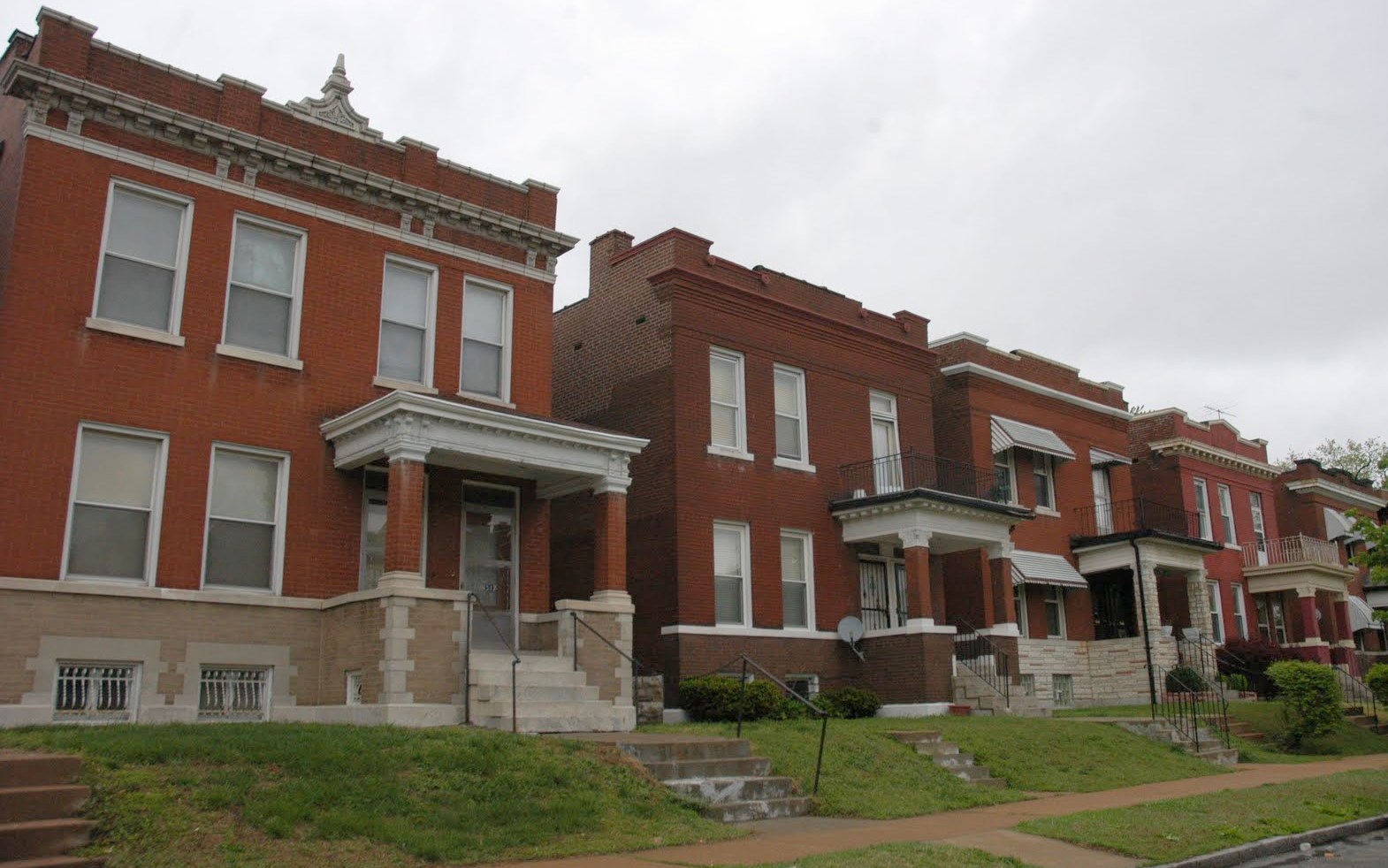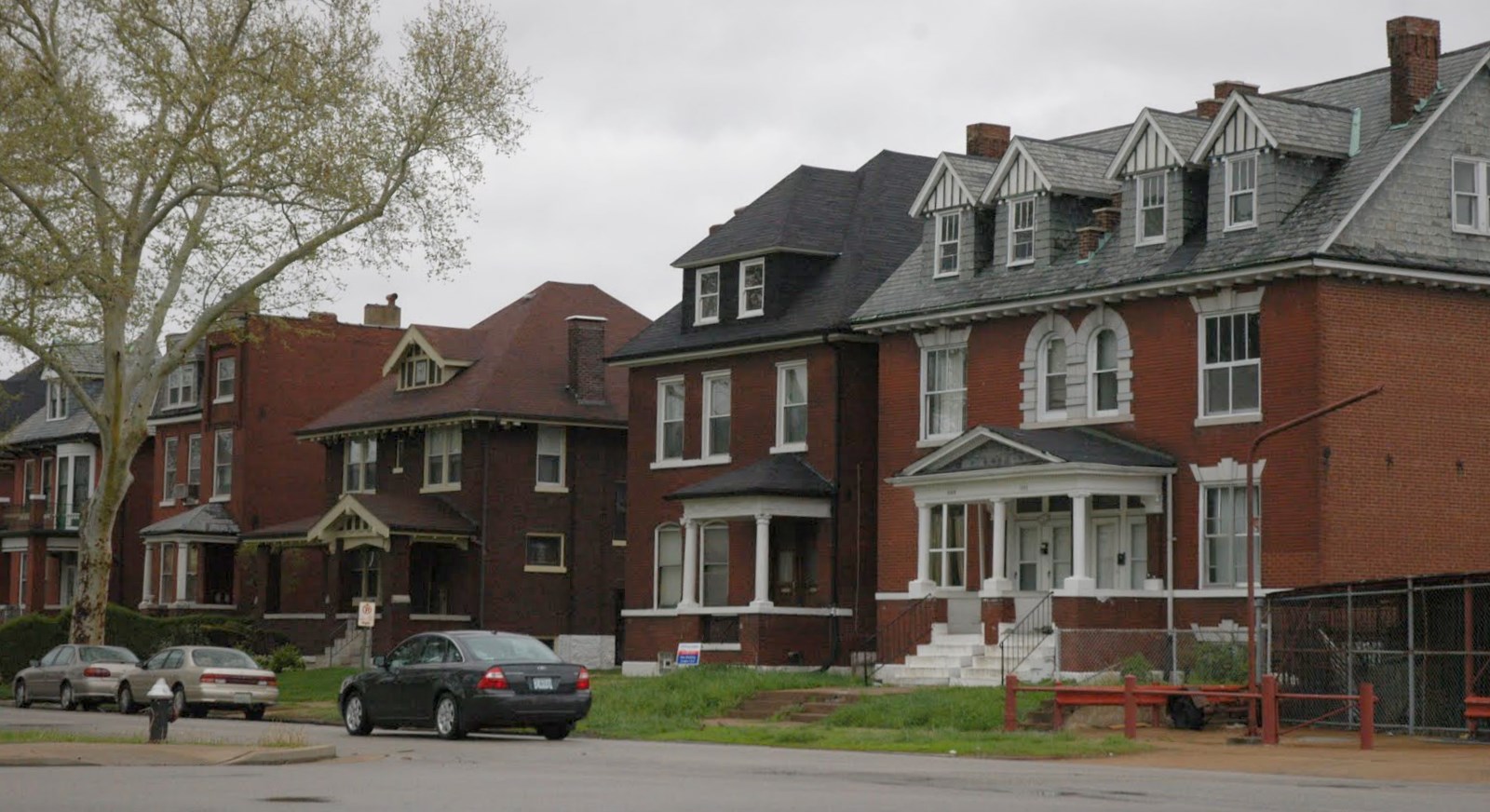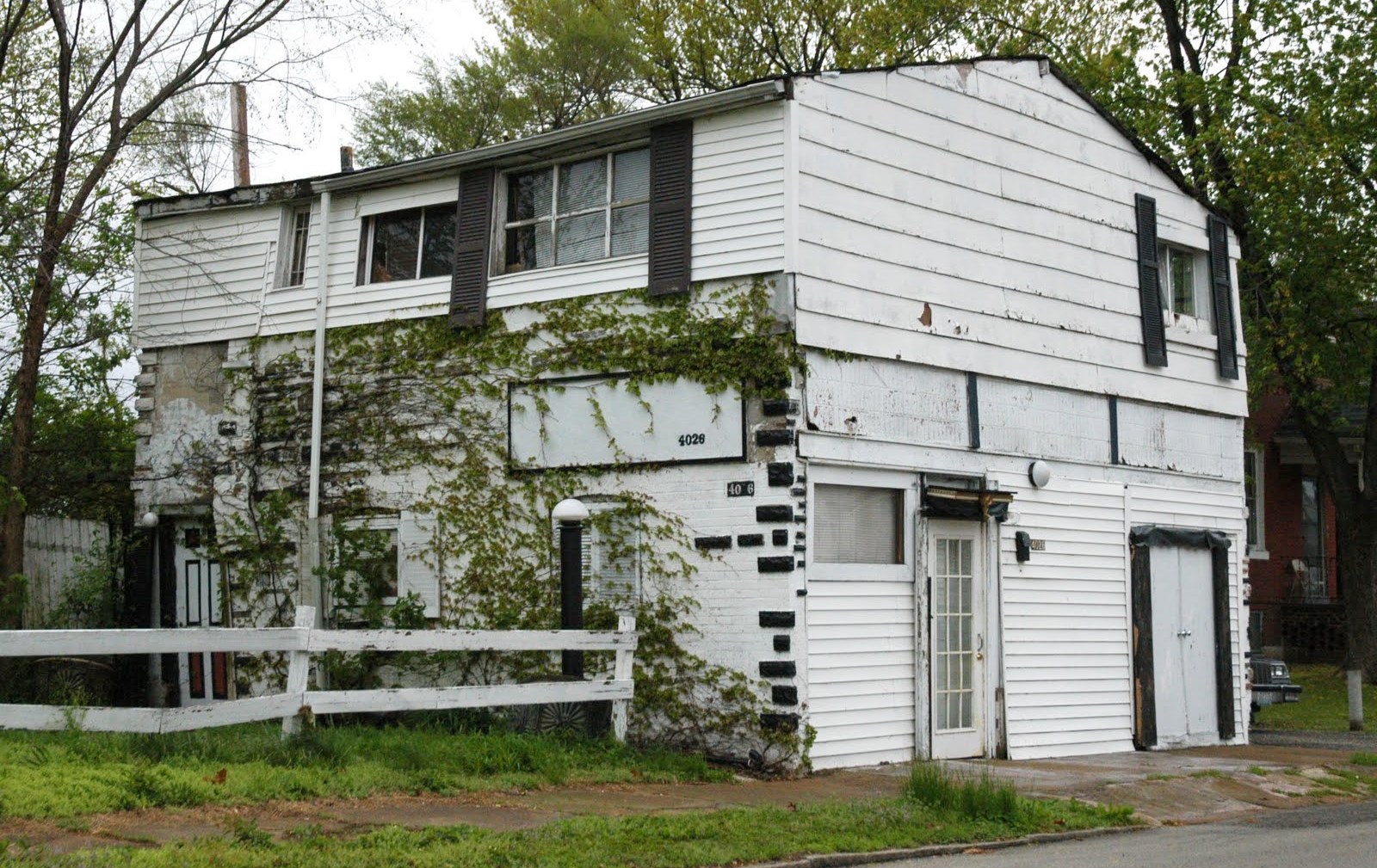 Not a hopeless place, but a place that has lost a tremendous amount of people in the last 20 years. Here's to a more stable, attractive O'Fallon that will be able to retain its current residents and bring in some fresh blood who will take advantage of the historic tax credits that will help to bring this neighborhood back to its original luster.