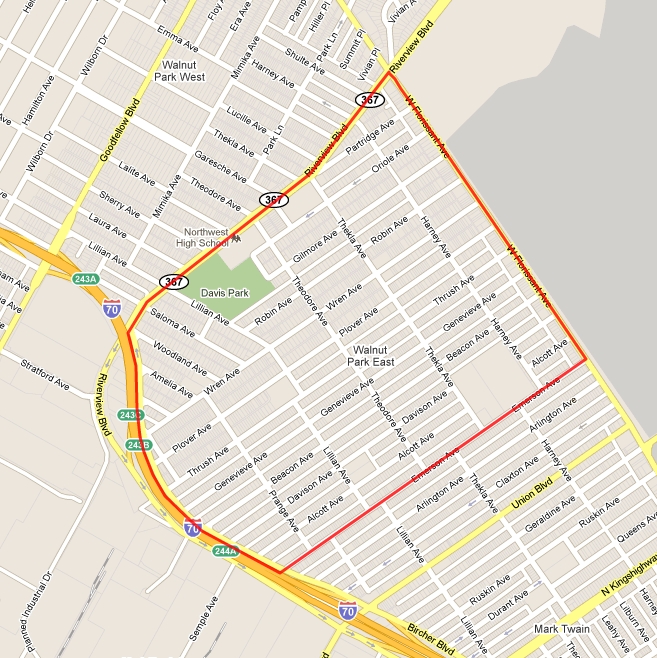 *read entire post for an update to my first impression and information about the Riverview West Florissant Development Corporation
Walnut Park East (WPE) is a north St. Louis neighborhood bound by West Florissant Ave to the north I-70 to the south, Emerson Ave to the east and Riverview Blvd to the west.
Both Calvary and Bellefontaine Cemeteries confine the neighborhood to the north and a huge industrial area to the south of I-70. Walnut Park East and West share a page on the city's website. It's content is scant, but it does say this:
The neighborhood proximity to major thoroughfares and interstate and the availability of public transportation provide easy access to shopping, services, and employment opportunities. The housing in this neighborhood is a combination of brick and frame single-family dwellings. Most were build between 1900 and 1930 by German immigrants. In addition, the neighborhood is supported by several churches and community groups. The area is home to many young families. Residents throughout this neighborhood are working together to strengthen and build their community. In response to the housing development needed by the neighborhood, Operation ConServ has established a community-based, not-for-profit housing corporation. Many residents have formed block units providing the opportunity to meet and to discuss ways to improve the area's surroundings.
As you may be able to grasp from the above entry, this place is struggling. Frankly, the housing stock that exists in WPE was probably never anything out of the ordinary or special in any way. Working class, small, mostly frame houses were built here. The brick bungalows that were built here are not in great enough numbers to be impactful or stand out. The housing in WPE is not really similar to any other neighborhood I've visited so far. Meaning, the structures just aren't that special. This is not as true for Walnut Park West, but I'll get to that in a separate post.
So, I don't like to kick a dog when it's down but I must be honest in saying this is the least intriguing neighborhood I've seen so far. Very little hope exists here. Dumping is rampant. I suspect crime is high here. Even if every home in the neighborhood were well maintained, and nicely cared for, it wouldn't be anything special. It doesn't seem to share any qualities that make other St. Louis neighborhoods unique and worth saving. To say the place has seen better days is honest. In fact, it looks like the people that choose to live here are willing to tolerate a lot of trash, filth, burned down homes, unkempt properties, etc. Some photos: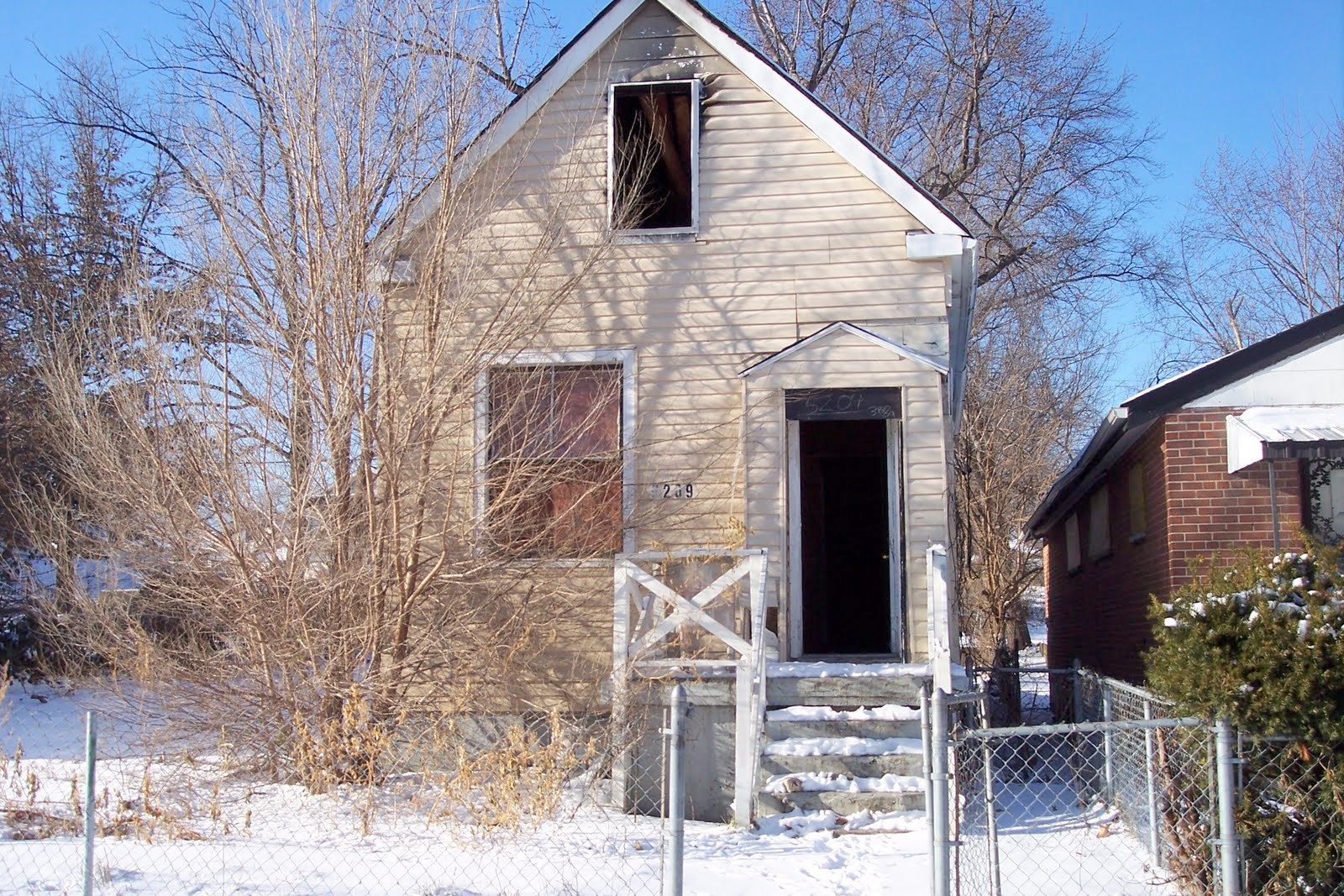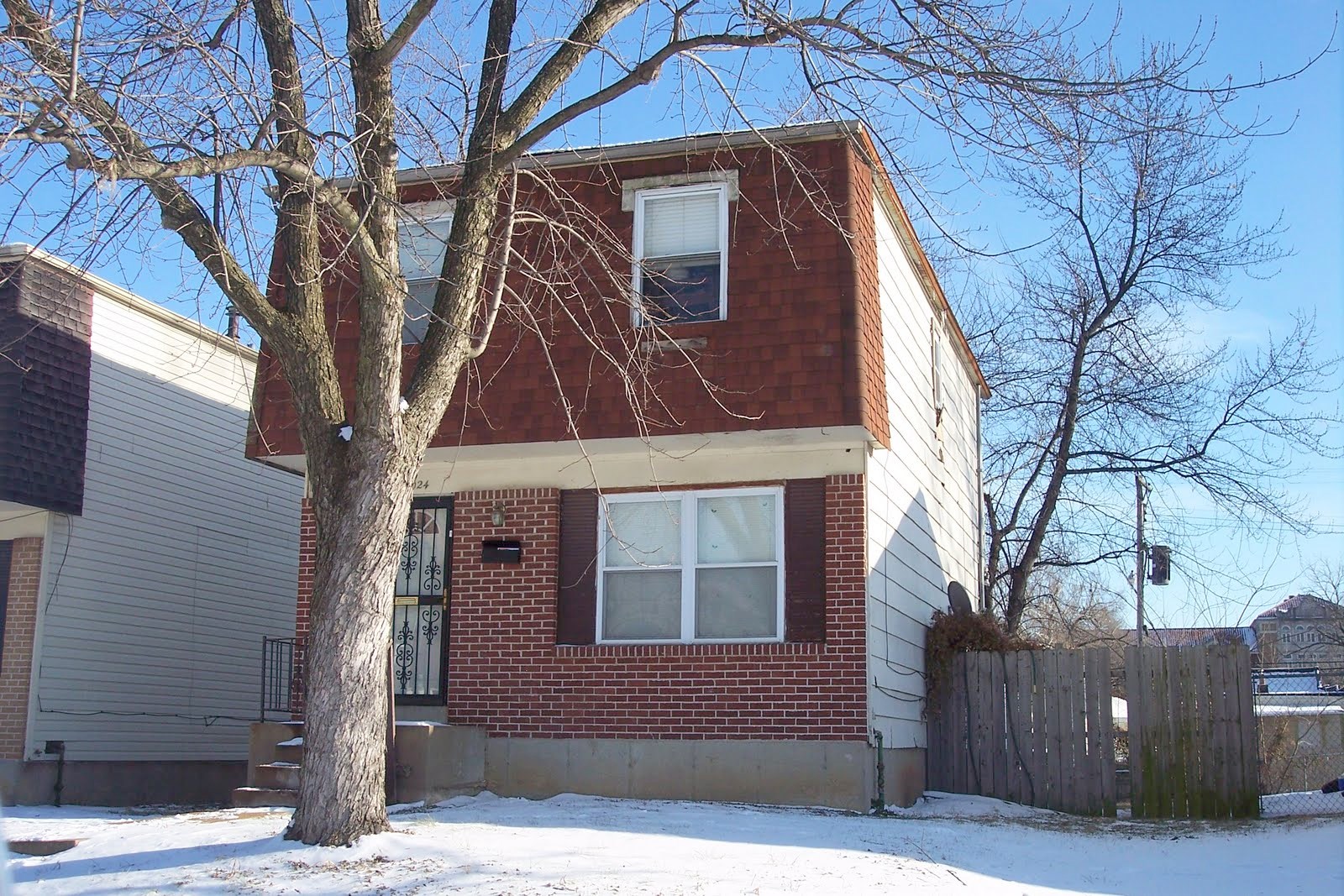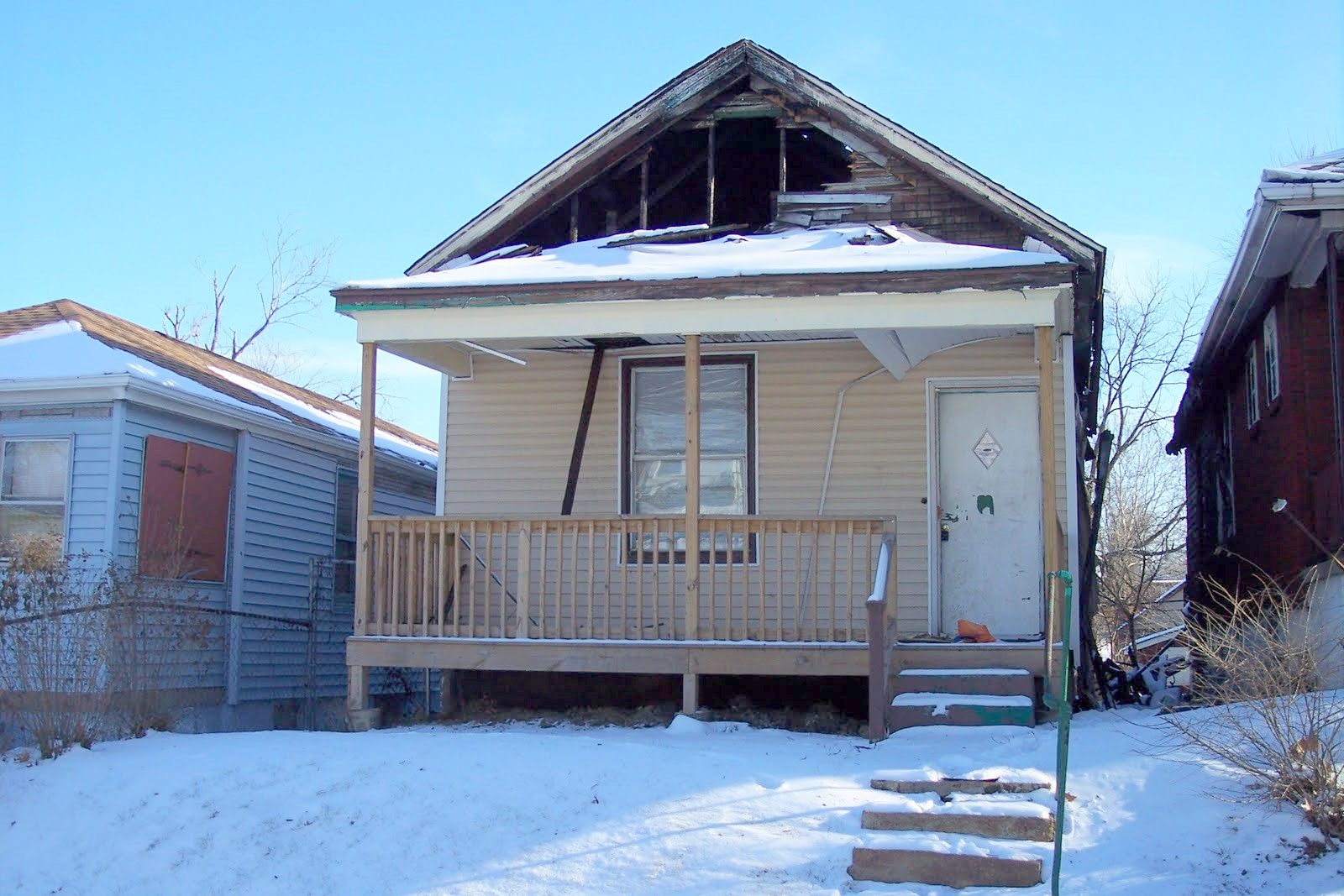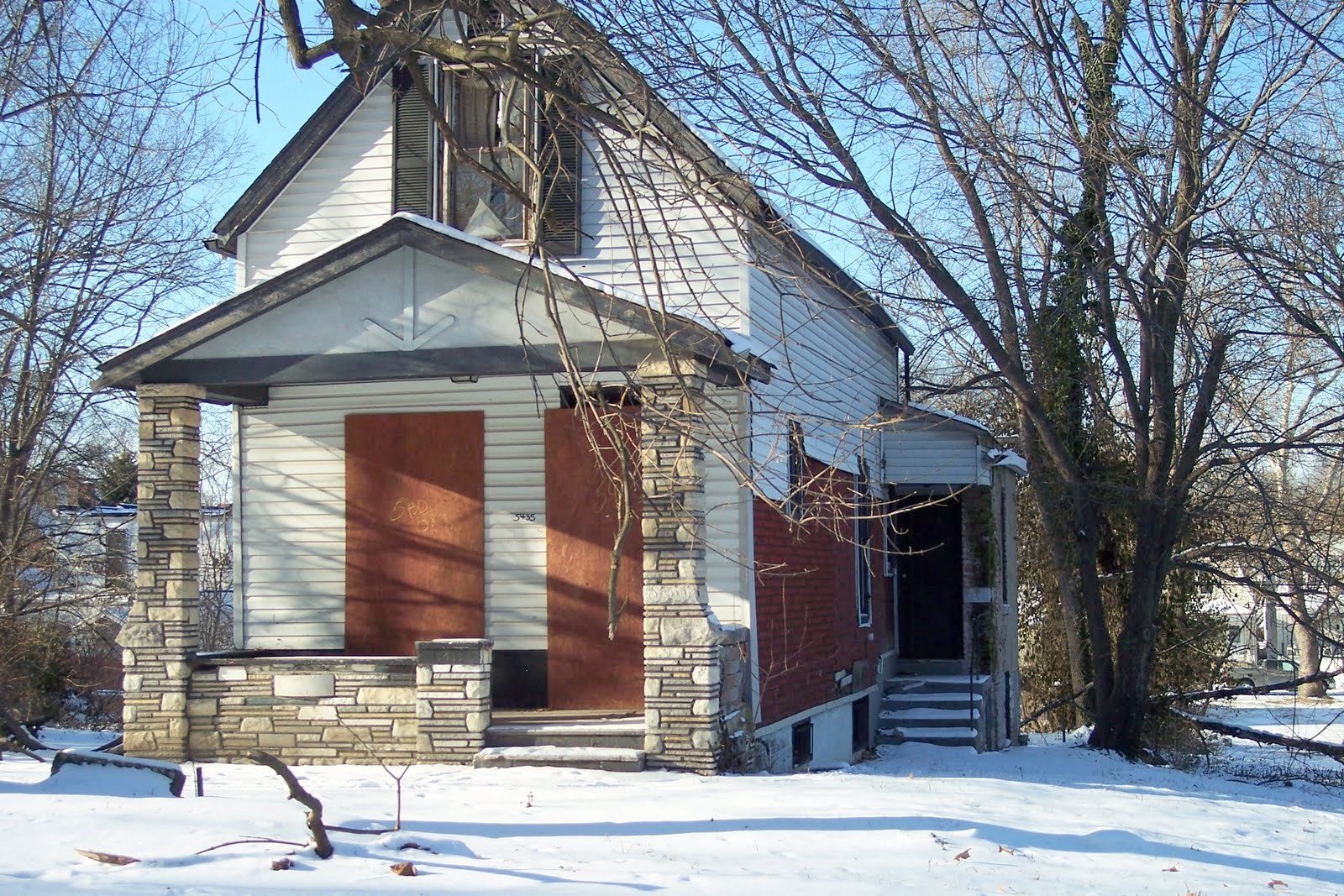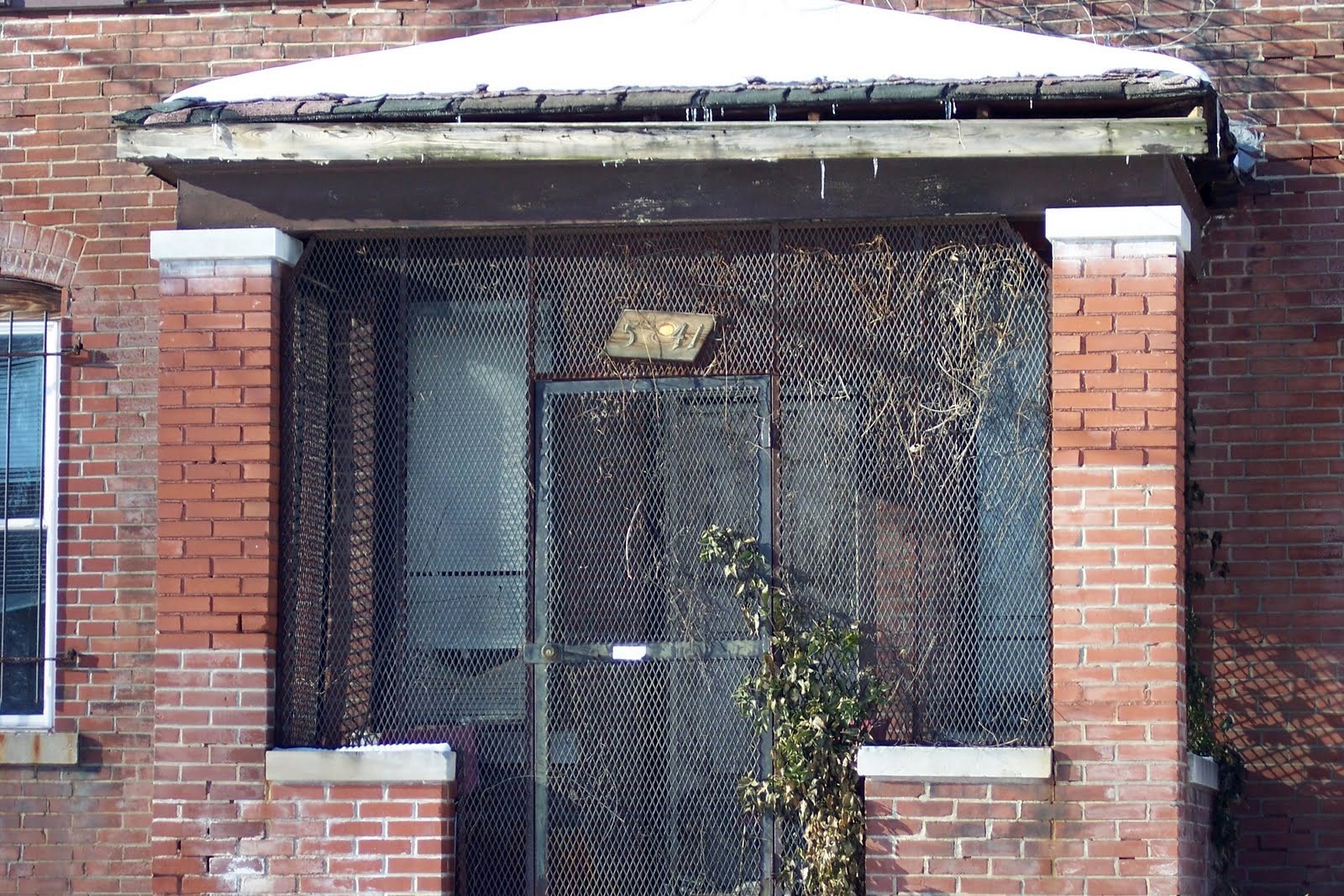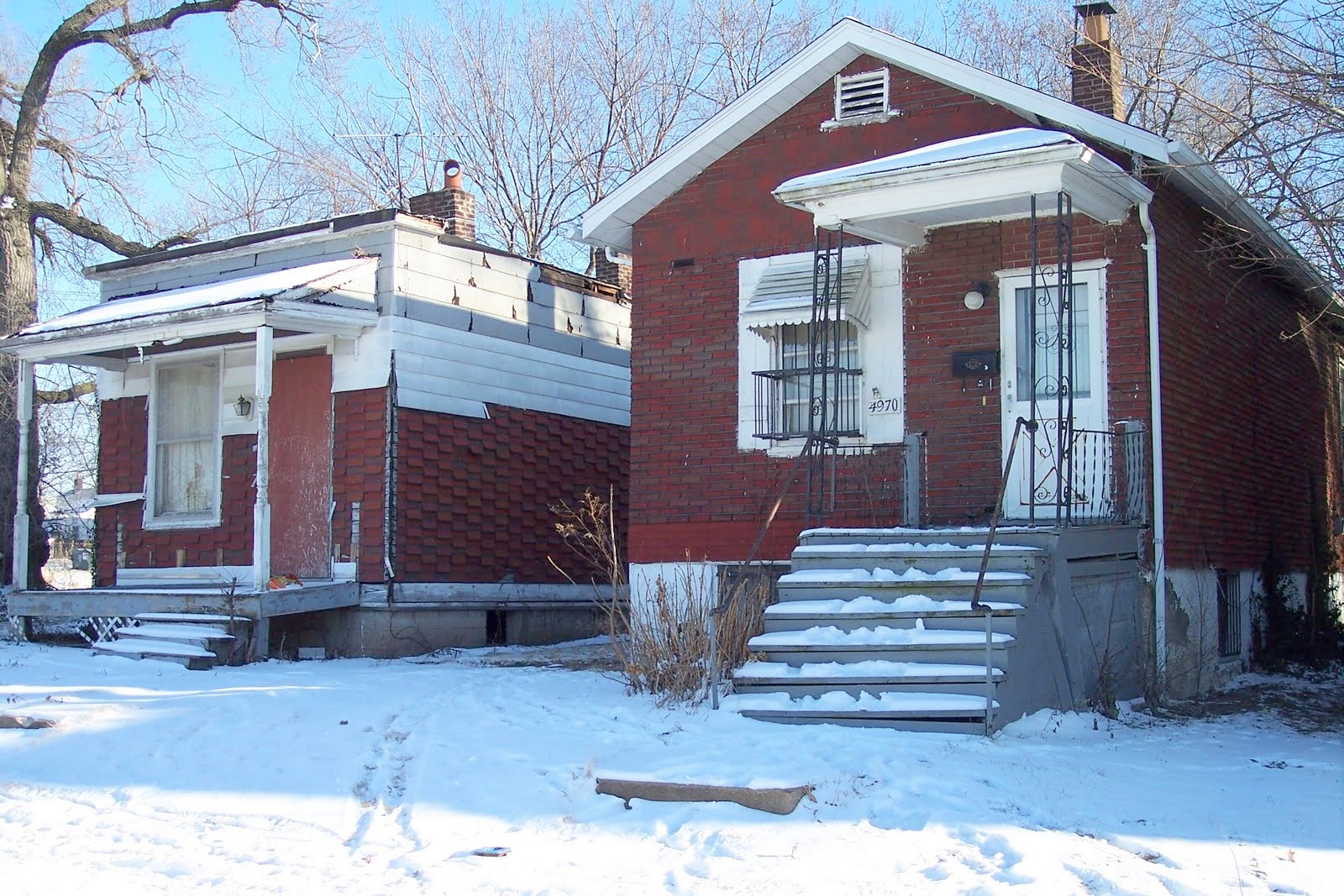 I couldn't find anything that spawns just too much hope, or signs of improvement or positivity. I couldn't find anything of any major historical significance, or any buildings that were really worth stopping and looking at with the exception of the Confluence Academy Walnut Park campus and the San Fran Christian Assembly Multiplex near Emerson between Thekla and Harney: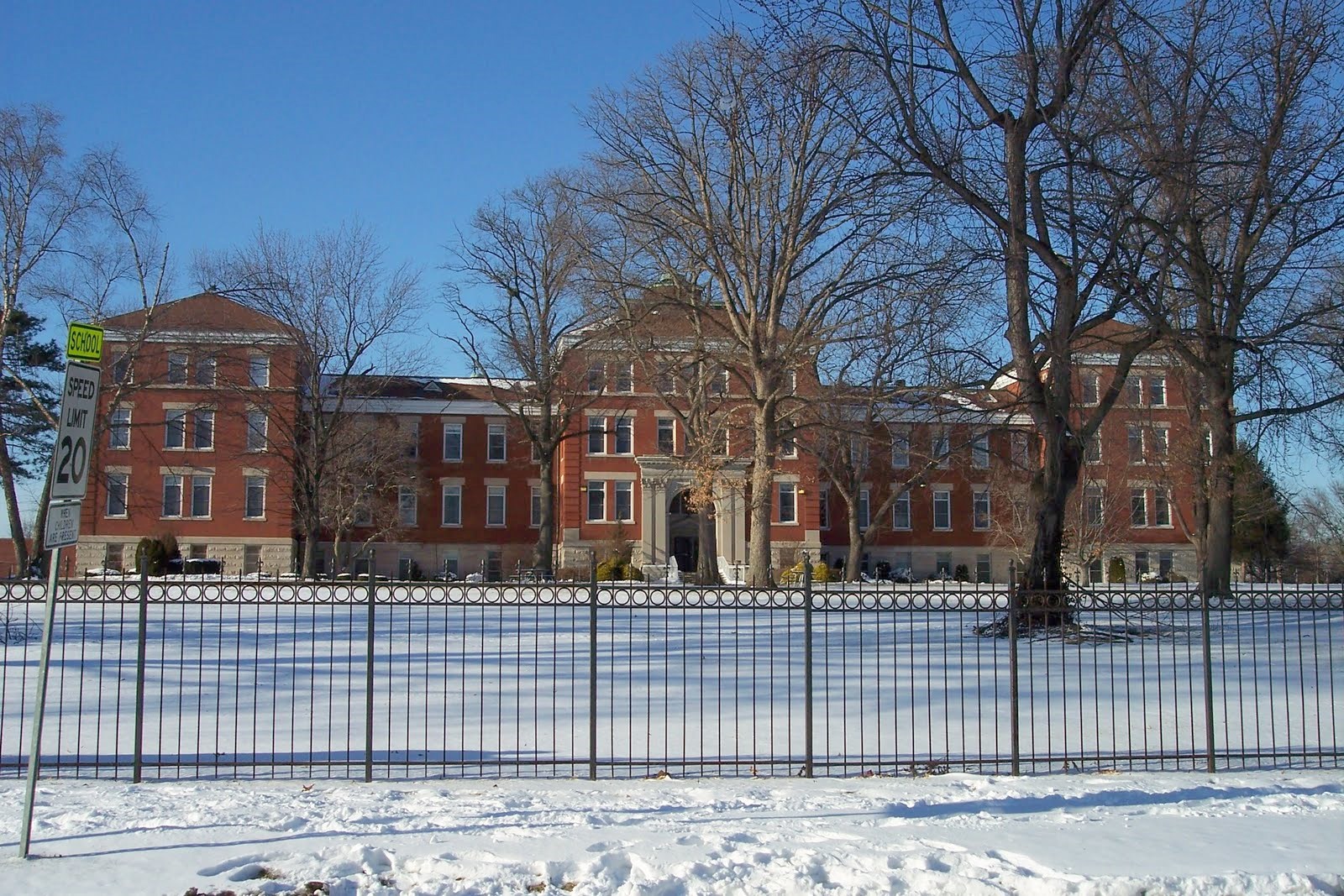 Confluence is a charter school. You can hear from the teachers about what this school brings to the neighborhood here. The school is on the former site of Cardinal Ritter Preparatory Academy.
I can't find any relevant info on the current use of the San Francisco Christian Assembly Multiplex building. It may have been the home of St. Mary's Female Orphan Asylum as early as 1909. If anyone has any info on this place, please comment or email me. I'd like to know more about it. Here's all I could find on the web:
This facility accepted Catholic girls ages 5 to 12 years. In 1859, it merged with St. Ann's Infant Asylum. 1846 10th & Biddle Sts.
1853 11th & Marion Sts.
1900 15th & Clark Sts.
1909 Emerson & Harvey Aves.
I'm sorry if my description of WPE sounds too dire, but my opinion is that this is not a nice place; I can't see the area being invested in or gentrified anytime soon. Frankly, it wouldn't be a special place even if it was taken care of and pridefully cared for. It's depressing. Hamilton Heights and Visitation Park would be stunningly beautiful places if all the homes were saved/rehabbed and good infill was constructed. Not the case here in WPE.
I can't imagine who would choose to live here with so many affordable housing options available in nicer places within the city. And, I'm not off base in posing that question, as this neighborhood has bled residents from 1990 to 2000. A 27% decrease in residents occurred in that 10 year span. And in my observation of U.S. Census data from 1990 to 2000, it's unfair to use the term white flight when referring to St. Louis City population trends in the last 20 years. The white population seemed to have left in "white flight" numbers well before 1990. Whereas now, the mass exodus out of city neighborhoods, mainly on the north side, are from black flight. And who can blame you for leaving? In WPE, the population from 1990 to 2000 went from 210 white people down to 78; for blacks it went from 7133 down to 5197. In 2000, 97% of WPE residents were black. There claimed to be an 81% housing occupancy rate split 64/36% owned/rented. This is surprising to me based on my observations today, as most homes seem uninhabited, boarded up and/or burned. I would expect the numbers to look as bad or worse in the 2010 census data.
Please correct me if you are familiar with the neighborhood and have opinions to the contrary. Or, if you have examples of positivity to share regarding WPE, please do. I'm sure there are church based organizations and such working hard to help those that choose to call WPE home, it's just these efforts were not immediately apparent to me on my tour today.
*Update including Riverview West Florissant Development Corporation
My wife and I drove the streets of Walnut Park East with our camera taking pictures of what we saw on that cold winter day. I did a blog post on January 10, 2010. The photos and description and overall vibe was true to our experience on a maybe 1 hour drive through this neighborhood. But, I fully realize you can't judge a neighborhood on a 1 hour tour? But, I felt I was honest in describing what I saw; and somewhat even handed in that I didn't take pictures of the numerous dumping sites and tire fire remnants, etc.
Not 4 days later, Antionette Cousins, the executive director for the Riverview West Florissant Dev. Corp (RWFDC) left a comment on my post. It struck me immediately, because I fearedI offended her or others that may call WPE home. On one hand I'm always a glass half full guy, a rooter of the underdog, I find beauty is wrecked things and abandoned buildings in former urban residential and industrial areas. Things that were made to be beautiful and last but have aged or fallen apart are some of my favorite vistas in St. Louis. Yet, I wasn't feelin' it here and I'll stand behind that. However, I felt personally responsible to meet with Ms. Cousins to explain my prerogative; to somewhat come clean on my take and learn something about the positive things that weren't apparent to me that day I drove around WPE. In fact, here's how I ended my post:
Please correct me if you are familiar with the neighborhood and have opinions to the contrary. Or, if you have examples of positivity to share regarding WPE, please do. I'm sure there are church based organizations and such working hard to help those that choose to call WPE home, it's just these efforts were not immediately apparent to me on my tour today.
And here's Ms. Cousins comment from Jan. 14th:
I am sorry you feel that way about my community. As the Executive Director for Riverview West Florissant Development Corporation, I invite you to contact me so we can schedule a tour of the Walnut Park East neighborhood. It seems these postings are old as these homes have been torn down and new development has been constructed. I look forward to meeting with you. oh! by the way, crime has decreased by 80% since we began community engagement and new development of 32 new homes.
After giving it some thought, I was very happy that she commented and I called her the next day and we set up a time to meet in person. I do stand by the fact that the photos I took were indeed from WPE and the homes were not torn down as of Jan 10, 2010.
After meeting Ms. Cousins, and having a candid conversation about my post and motives of writing about each of St. Louis' neighborhoods, and learning some more about the work her organization is doing, I walked away feeling pretty good about the future of the WPE neighborhood and that we came to an understanding.
I'm no journalist, but I took some notes of our discussion and asked for her permission to take her picture and post some of our discussion. Firstly, let me say Ms. Cousins totally impressed the urbanist, or at least the city lover in me. She seems pretty cool and is the kind of person that is a blessing to be working the city and we need more of her kind in spades. She absolutely loves her job and that comes across clearly and honestly in her face and her enthusiastic demeanor.
Ms. Cousins is a St. Louis girl born and raised in the city and went to high school in Affton (I had to ask). She went on to get multiple degrees in Missouri and Chicago in social work and human resources and development. We briefly talked about Chicago and New York (Brooklyn) and what makes these cities great. She gets it when it comes to neighborhood continuity. By that I mean finding architects and builders that can merge new construction with the existing homes/structures in the hood.
Yes, this neighborhood has seen some tough times, but the aldermen/women (Bosley, Flowers, Carter) and the RWFDC are working diligently to reach out to people to find out what to do to turn things around. Drugs and crime have been a problem in the areas RWFDC represents (Baden, College Hill, Near North Riverfront, North Riverfront, O'Fallon, Walnut Park East and West and North Pointe).
We talked about the massive losses in population from 1990 to 2000. We discussed that fact that I'm citing info that's 10 years old, and I'm fully aware of that. But, I feel it's the only data that can reliably used to compare apples to apples amongst the city neighborhoods. She is confident that the numbers are going to go up in the 2010 counting. Her team and org. are working hard to educate people in the 27th ward re: census counting and how important it is to comply with the census counts.
We talked about the aging residents in her area. 60% of the people are senior citizens. RWFDC is working with seniors to get them help with computer skills and in general keeping up with the times. They are working with troubled kids who do work mowing grass and repairing homes for seniors and picking up trash in the neighborhood. They are working with Gateway Greening to get community veggie gardens going (3 in total).
Much of the RWFDC's funding comes from Community Block Grant dollars from the aldermanic funds that are awarded.
Ms. Cousins intentions are in line with my ideals for what WPE needs: careful rehabilitation of significant/historic structures, and sensitive new construct to fill in the gaps. We talked about our love of brownstones and matching/urban street set backs and matching new homes with the pre-existing homes. We joked about our fears of people turning the city into the suburbs 🙂 She educated me in that each alderman is allowed to demo 13 homes annually. Her org. works with the aldermen to evaluate these homes. She's an advocate of conservation and rehabs. Demos are done under dire circumstances.
Over 200 drug houses have been identified and shut down in her tenure. The new homes constructed are being rented out for 3 years, during which time the renters get educated on escrow accounts, home ownership and predatory lending practices. They get the option to purchase the home. There is a waiting list for these homes. They are taking into account modern advancements in energy efficiency by building these homes with rain barrels for capturing water to use for outdoor uses and installation of tank-less hot water heaters.
I hope I recapped our conversation accurately. It was a pleasure learning that the future of our city is up to us….our generation….to rise above the loss and degradation that our parent's and grandparent's generations allowed to occur. We are in a good place for the future as a city. We have good people working to improve this improve this town. I'm glad we can talk about it and become friends and unite on the thing we all want: healthy, thriving neighborhoods where people can feel safe, happy and proud of their homes and city.
Cheers to the RWFDC! Thank you for your time and reaching out to me in my quest to understand what the 79 neighborhoods of my favorite city have to show and offer.