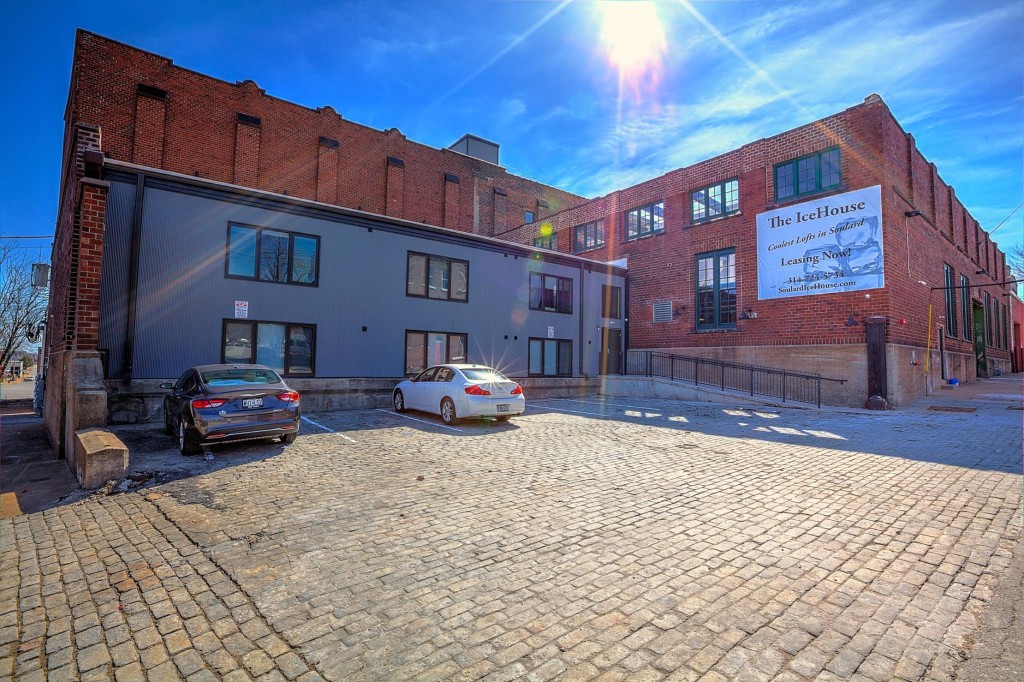 When we posted a story in January of last year that the old Polar Wave ice factory in Soulard would be preserved and transformed in 42 apartments, I probably would have bet it would become one of those projects that sounds great, but fails to materialize. The 1924 brick warehouse was built to store ice, and so there were very few windows. To maintain the building's integrity to an extent that it would still quality for historic tax credits was a challenge.
The renovation is now complete and the building has opened as The Soulard IceHouse. According to Kyle Hennessey, who heads up the sales and marketing for Asprient Properties, the project is nearly fully leased. This unlikely success is three blocks south of another win for the Soulard neighborhood and St. Louis as the Lafayette School will soon be renovated as 36 apartments. Soulard was one of just a hand full of the city's 79 neighborhoods to gain population last decade, and looks to continue the trend with projects like these.
The building's large open spaces were subdivided into multiple levels. The taller eastern portion is ~7,000sf with the ceiling, which had collapsed, reaching 55ft of clear space. The western portion is ~8,500sf with 24ft ceilings. The loading dock area will becoming parking for residents.
The project was funded by a consortium of west coast investors and completed by Asprient, a management firm with approximately 1,000 units in more than dozen properties around St. Louis City, including Park Lane, The Leonardo, Maryland Gardens (hey, my first apartment in St. Louis!), buildings in the Central West End. The IceHouse renovation is designed by Klitzing Welsch & Associates.
Images from previous story: