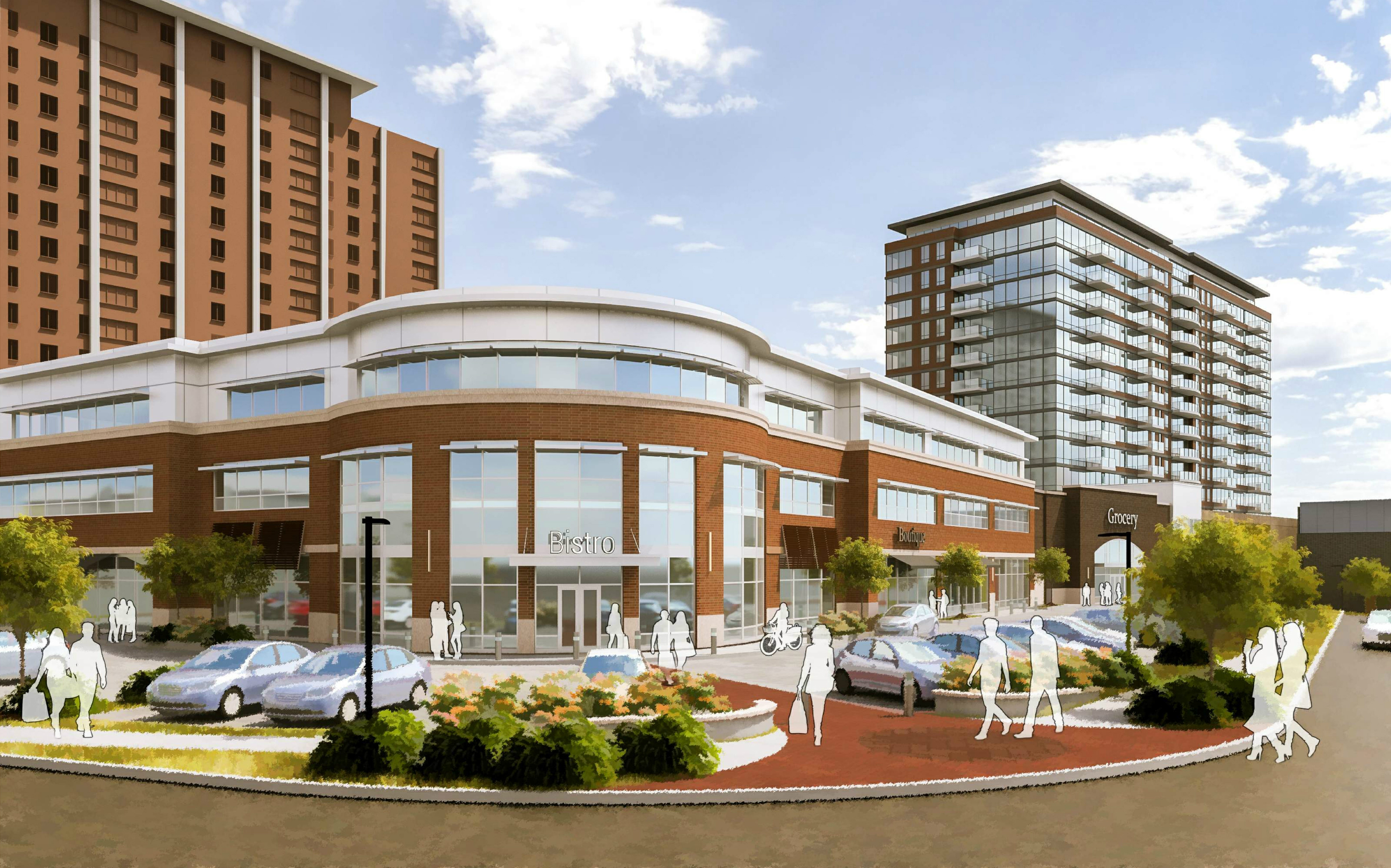 Vacant for nearly two decades, the prominent corner of Clayton and Hanley Roads may finally be redeveloped. Planned is more than 500Ksf of retail, including a grocer, more than 40Ksf of office space, and as many as 291 residential units.
GBT Realty Corporation of Nashville, Tennessee enlisted HDA Architects to complete preliminary design work. A proposal in 2009 envisioned more than 100Ksf of office space and a 200-room hotel. The GBT plan is almost a mirror image of that proposal, which placed an office tower at the busy intersection.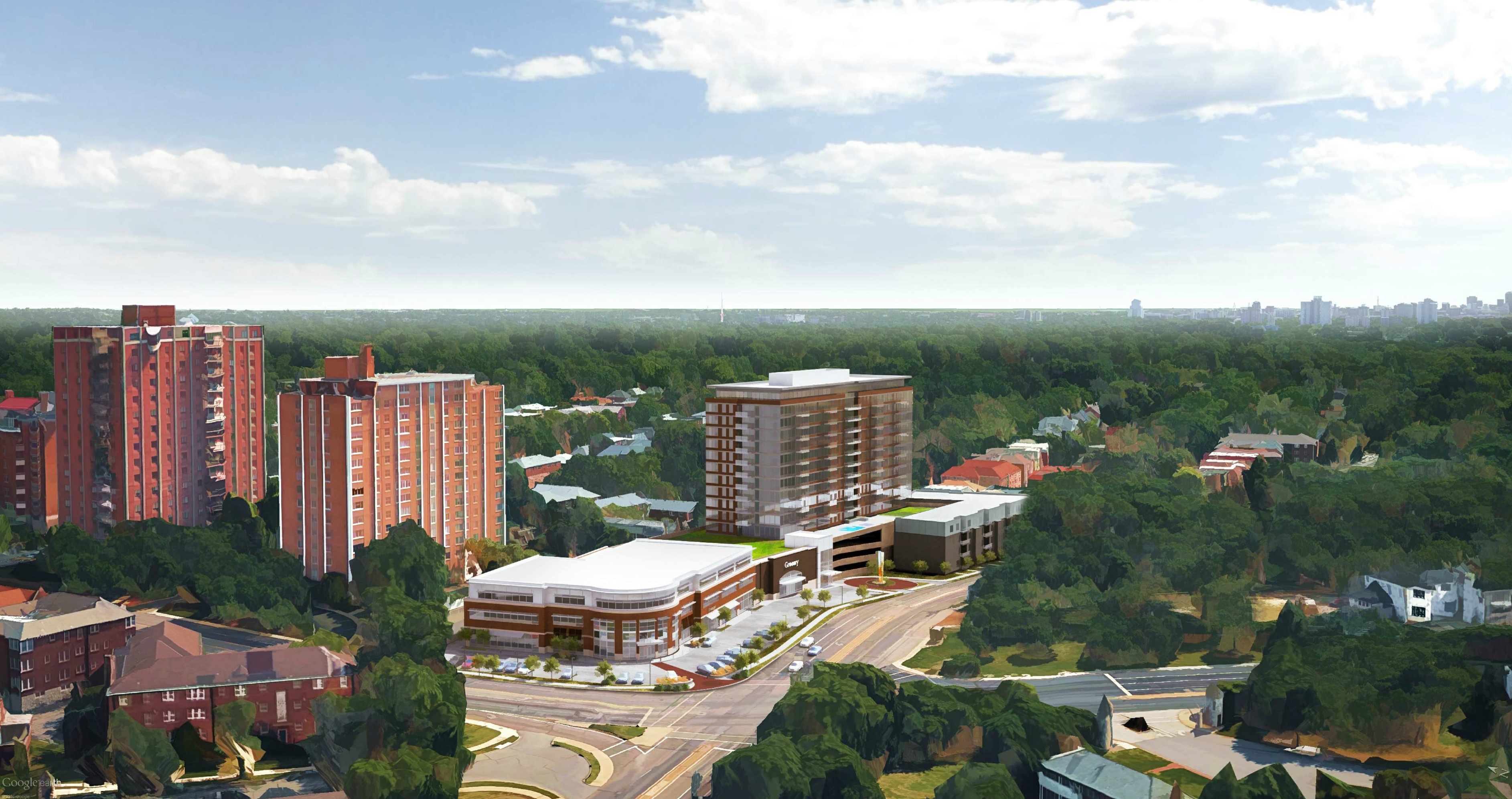 The new proposal filed with the City of Clayton shows a residential tower of at least 12 stories to the far east end of the large parcel. A 488-space parking garage is wrapped by 44 apartments, and toped by the 12-story, 247-unit apartment tower. The property is current zoned commercial to the west and residential to the east.
Plans show a single row of surface parking abuts the street at the corner, where a 7,000sf restaurant space flanked by two 3,000sf retail bays are shown. A 23,000sf grocer occupies the central portion of the development and is connected to the parking garage. A second story above retail would be more than 40,000sf of office space.
The vacant building, once a Schnucks grocery, was rumored to be the new home of The Fresh Market, a North Carolina grocer looking to enter the St. Louis market. A traffic study was completed and the property owner confirmed the grocer had signed a letter of intent to occupy the existing 33,000sf building. It is assumed that The Fresh Market will be the grocer in the mixed-use development.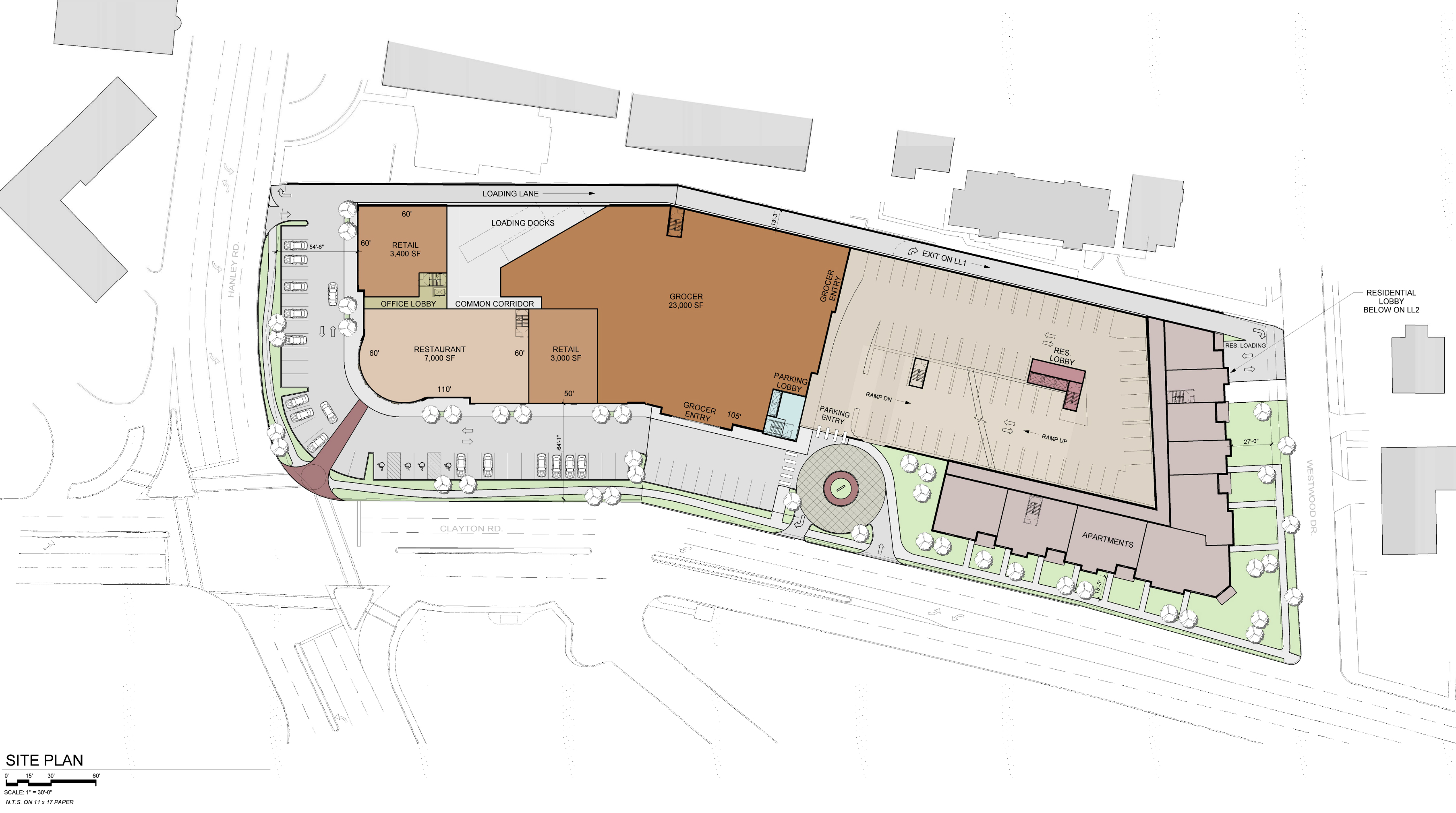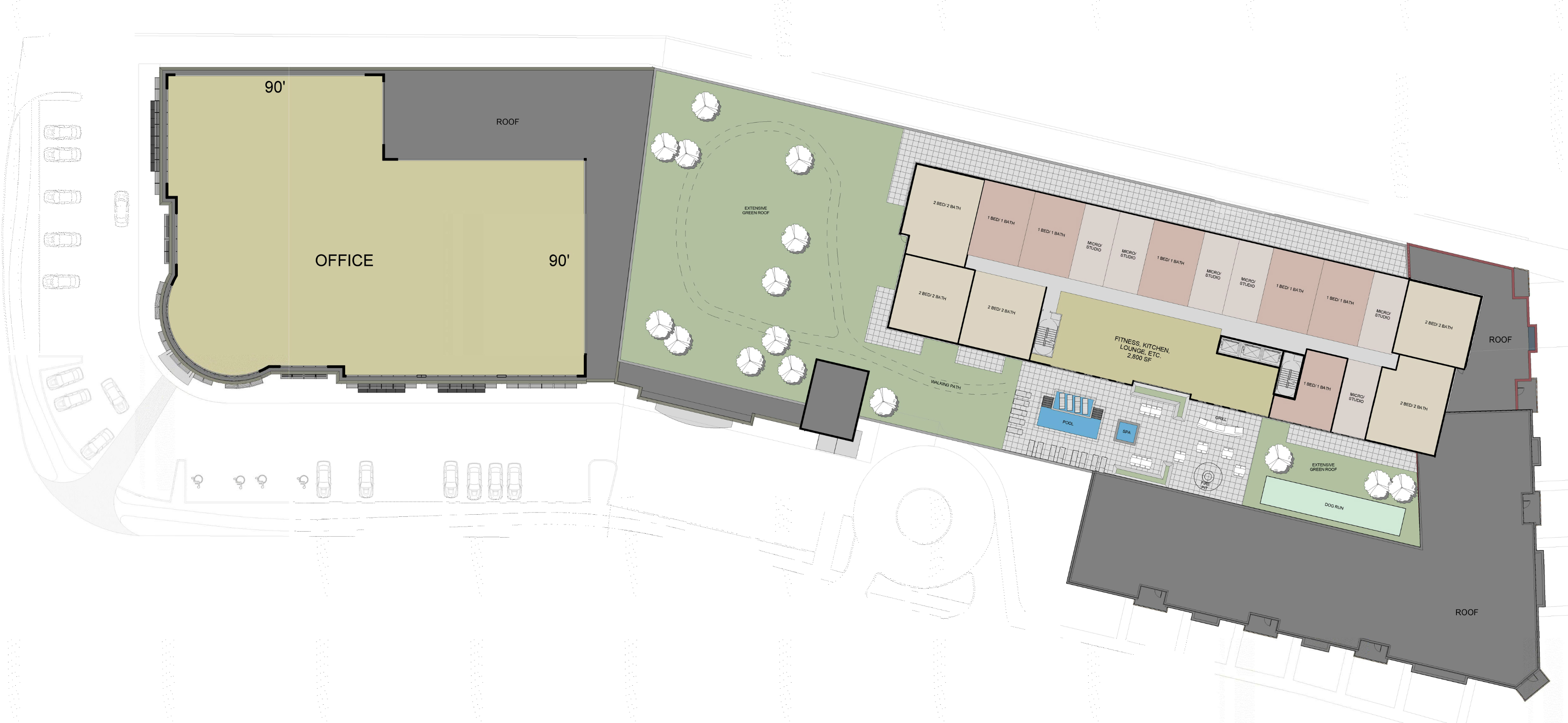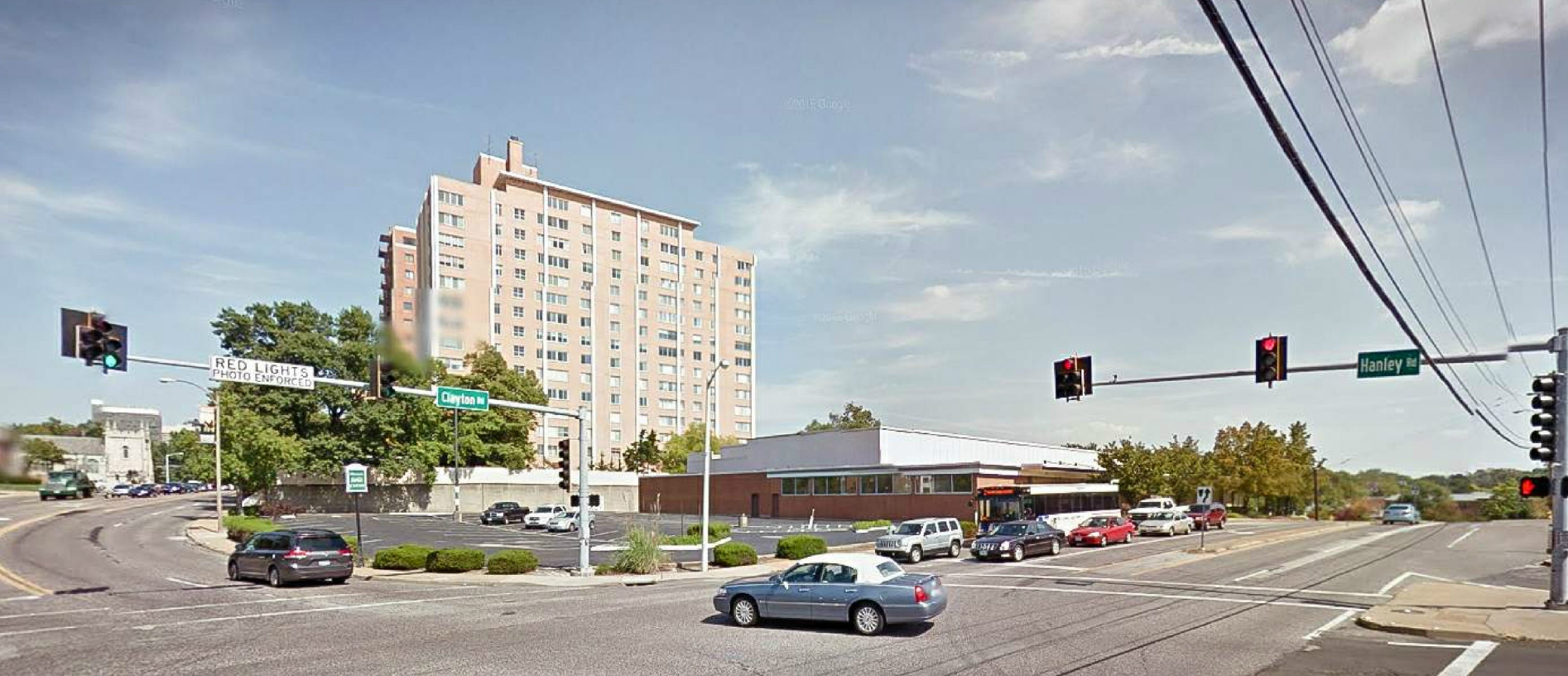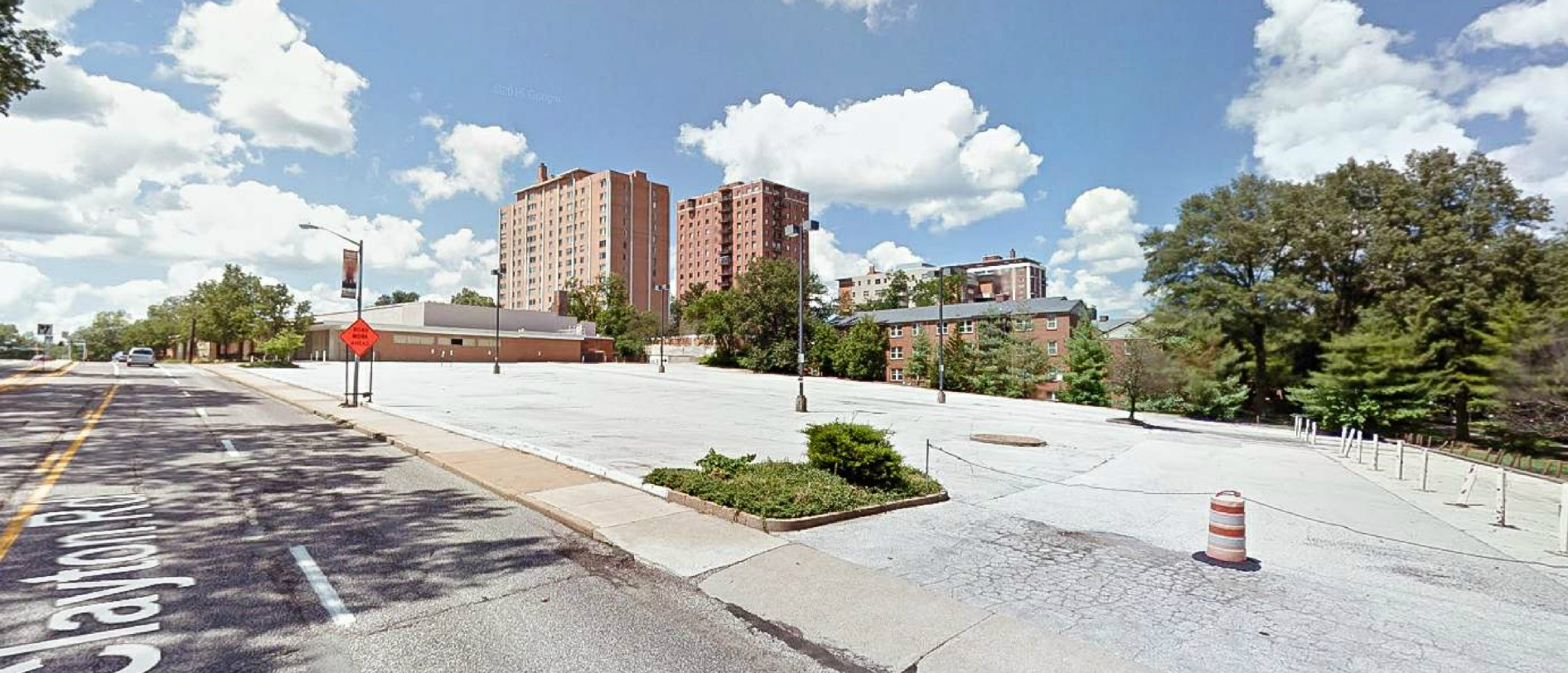 The previous development proposal for Clayton and Hanley Roads: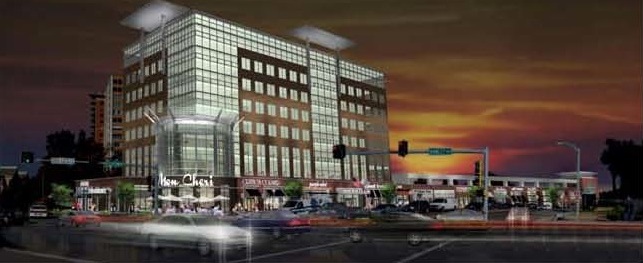 __________________________
*Comments from Clayton planning department staff added 11/24/2015. Comments are meant to guide review of the project and do not necessarily describe required changes to a project.
1. Eliminate the row of surface parking between the western building and Clayton and Hanley
Roads, and relocate the building adjacent to the street frontage. The Zoning Regulations
prohibit parking lots along the street frontage and front yard parking is out of character for
the area, especially along Clayton Road. Locating the building frontage at or near the front
property lines creates a strong street wall and improves the pedestrian environment.
Where additional setback is necessary, activate the area with a courtyard by incorporating
outdoor dining, seating, water features, or public art.
2. This site is located at a prominent southern gateway to the City, and staff recommends the
design of the southwest corner of the building be enhanced to include a more prominent
architectural and/or gateway feature.
3. A portion of the parking structure is visible from Clayton Road and should be properly
screened by a building or architectural treatment.
4. Unify the design of the residential and commercial buildings through consistent massing,
articulation, and materials.