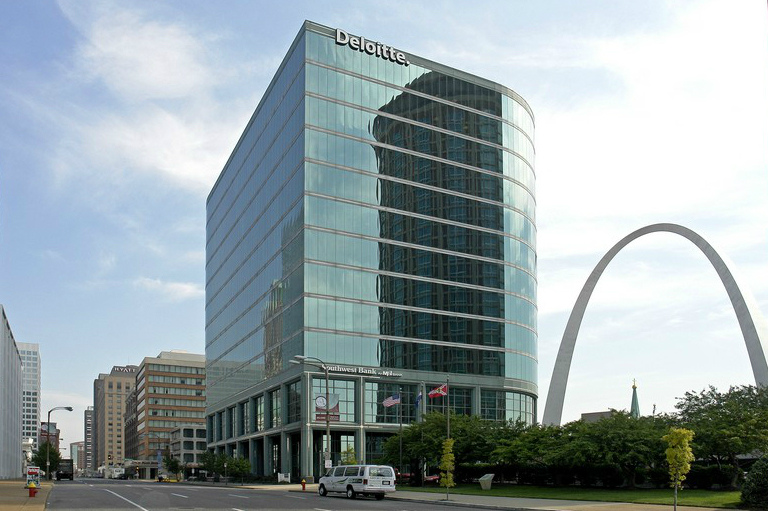 nextSTL has learned that 100 South 4th Street, commonly known as the Deloitte Building, has been sold by Harbor Group International to Stanton Road Capital of Los Angeles. A sale price has not been made public, but the asking price was near $100 per sf. Harbor Group purchased the building from an affiliate of New York-based Extell Development in December 2005 for $26.3M, or $106 per sf.
The Deloitte Building is a mid-size Class A office space in downtown. Completed in 1987, the 12-story building has 249K sf of office space. The Deloitte building was constructed atop a portion of the Stouffer's Riverfront Inn, a signature downtown urban renewal project. That landmark, which later become the Millennium Hotel, was designed in 1964 by New York architect William B. Tabler and completed in 1969.
The Millennium Hotel closed in 2014 and was subsequently listed on the National Registry of Historic places, often a harbinger of pending renovation as the listing enables access to historic renovation tax credits. We reported last October that The Lawrence Group was prepared to begin work, but have since learned challenges with the complex's HVAC systems may prove too costly. The possibility of demolition has been floated quietly.
While benefitting from a signature location between the Arch and Busch Stadium, the Deloitte Building offers just 34 onsite underground parking spaces, with remaining demand being accommodated across 4th Street in the 2,600-space Stadium East garage.
Previously known as the MCI Building, Deloitte & Touche moved from One City Centre into 40K sf in 2004 after considering a move to Clayton. The best look at the Deloitte Building's interior comes from this Polsinelli Shughart promotional video. The law firm signed a 12-year lease in 2009 for 80K sf in the building for approximately $19 per sf.