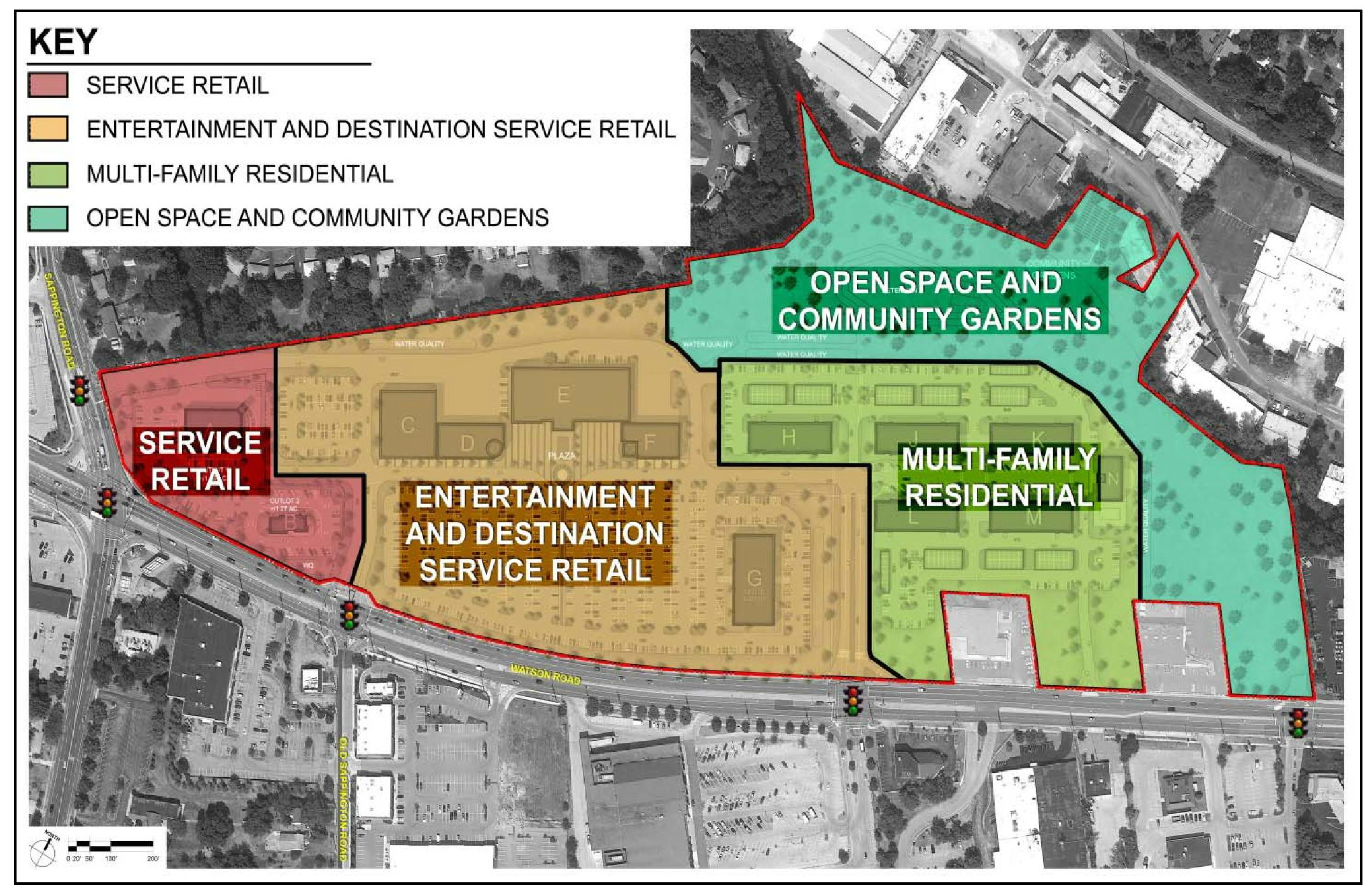 It's amazing the effort it requires to remake a retail monolith. The Crestwood Plaza mall has been vacant now for several years. Plans have come and gone. The city doesn't want something too bland, or too urban. It's been looking for something just right and it appears that Crestwood thinks they've found it.
Site owner and developer UrbanStreet has submitted a low-density, mixed-use redevelopment plan to the city, which it released today. Amazingly, UrbanStreet paid just $3.6M dollars for the 47-acre site, which had sold for $17.5M in 2008, and was assessed at $28.7M in 2006.
The UrbanStreet plan shows low-density, mixed-used development. Four Redevelopment Project Areas (RPAs) show service retail, entertainment and destination retail, multi-family residential, and an adjacent community garden and green space.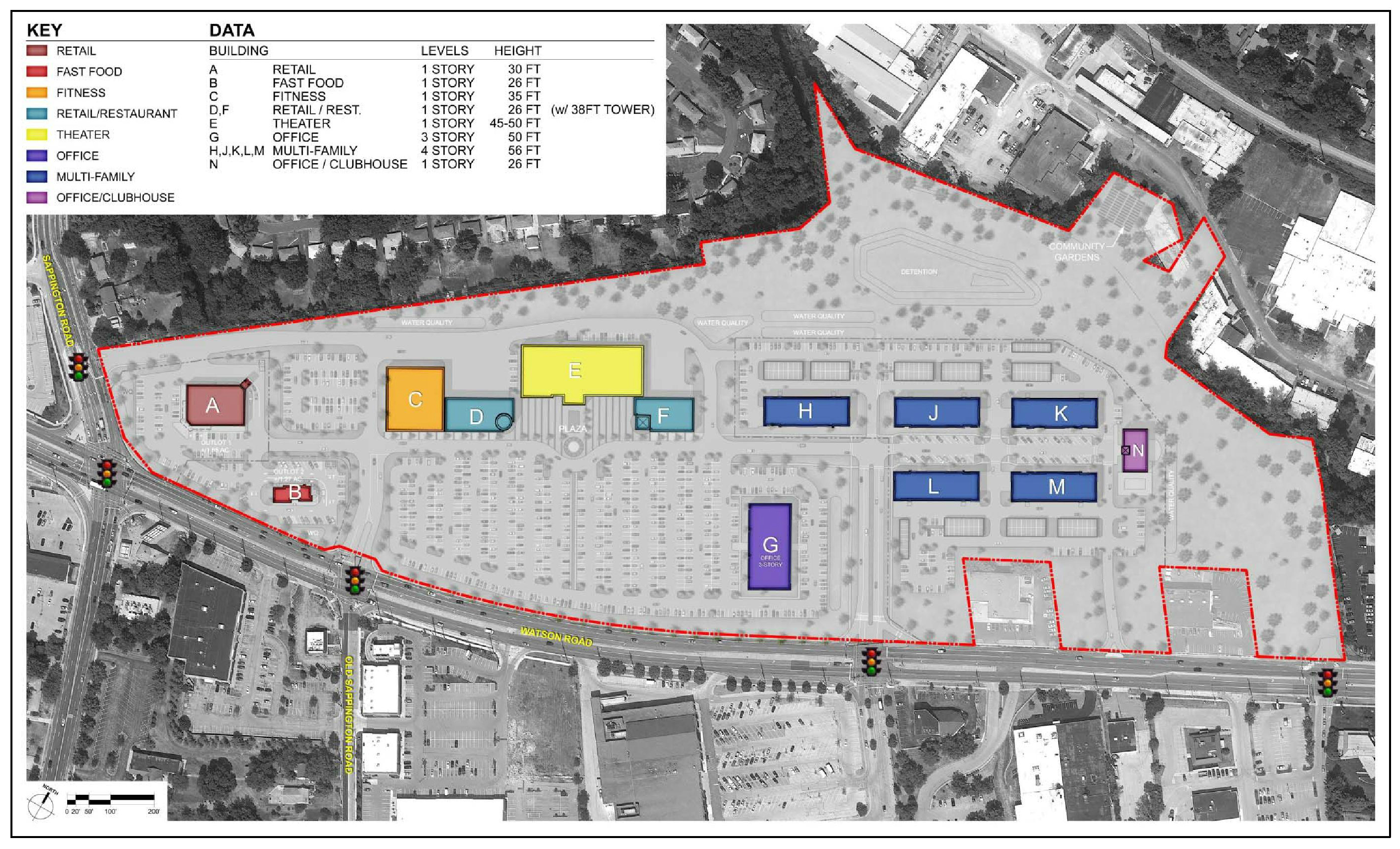 Retail plans show low-density development with expansive parking. This would essentially maintain the nature of the site, and continue the development pattern along Watson Road. Residential is a much needed and the 225 units are a smart addition to the site. And just in case Crestwood would cringe at the thought, the plan states, "rental units are of an extremely high level of finish and cater to a "renter by choice" class of tenant". The remainder of the site, a community garden with open space and rainwater management, could be a great addition to the area.
We have advocated for a vision that would transform the site into more of a "downtown" Crestwood, something the municipality currently lacks (leading us to ask, how do you know you're in Crestwood?). More dense, walkable retail would provide a more sustainable, resilient tax base for the community. But sometimes the plan that can be accomplished is best plan. Still, we lament what we believe is a missed opportunity.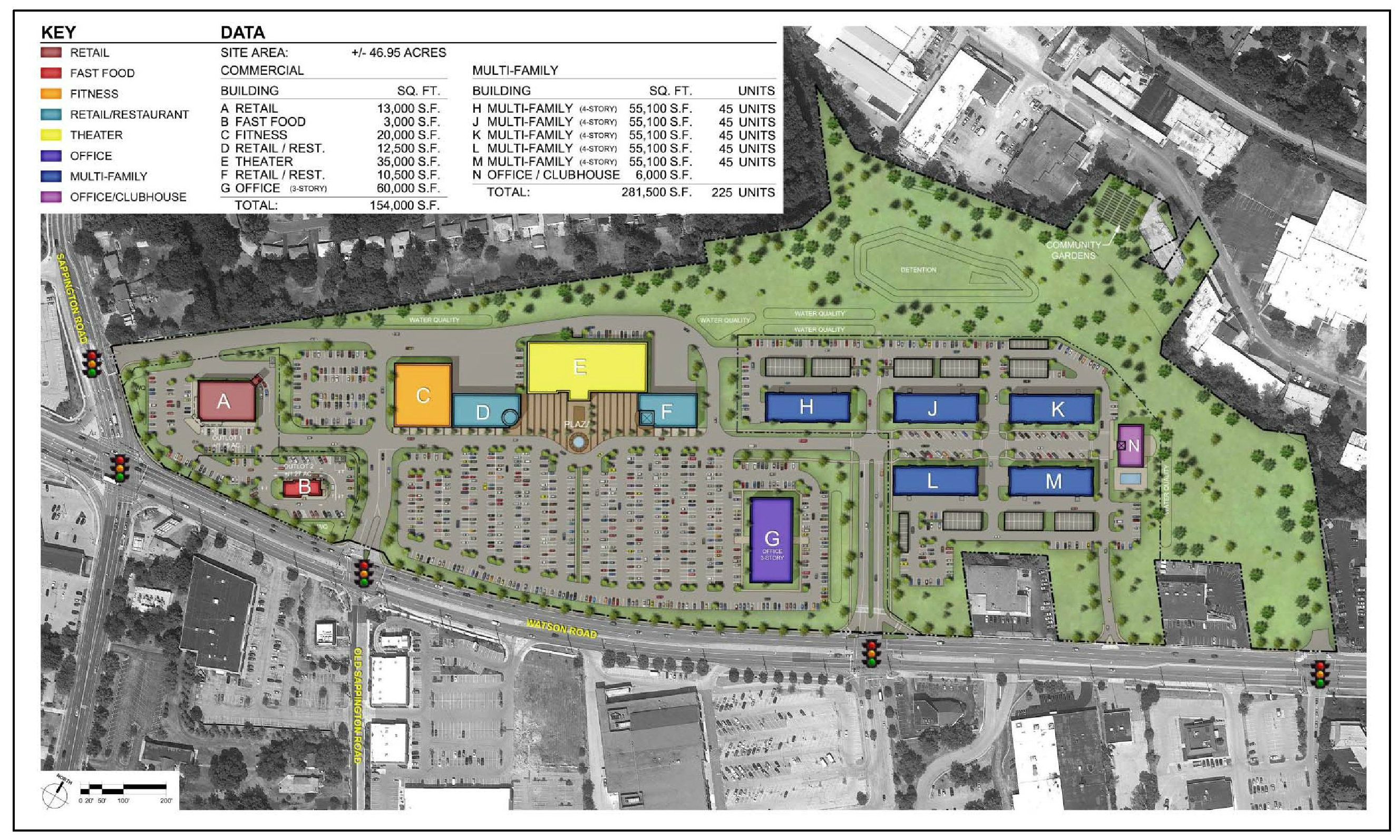 From the UrbanStreet plan:
RPA 1 ‐ Service Retail
Approximately 3 acres, occupying the furthest westerly end of the property, provides the highest visibility and easiest direct access for retail users. This part of the site occupies the corner of the property at Sappington Road and Watson Road. We have analyzed and engineered multiple scenarios for this site including multi‐tenant inline retail, individual out lots and single use midsize box retail. Potential users include a full line grocer, a specialty grocer, a fuel station, a convenience mart, a pharmacy and a drive through fast food. The Developer is in discussions with representatives from all of those user categories.
RPA 2 ‐ Entertainment and Destination Service Retail
Approximately 20 acres of the proposed Project is anchored by an entertainment/retail/service core that would include a multiplex theater and various destination restaurants. This area is accessed from the multiple lane entrance off of Watson Road. This portion of the Project is anchored by a plaza that could be privately and publically programmed to accommodate a wide variety of community events ranging from farmers markets to concerts. This plaza affords outdoor seating areas for the restaurants as well as a gateway entrance to the theater. This "town square" will provide a flexible hub for civic life not only within the Project but for the community as a whole. Other complimentary uses for this area of the project include office, fitness, entertainment complexes and destination dining. The Developer is in negotiations with a regional theater chain to anchor this portion of the Project and has had discussions with representatives of all user categories.
RPA 3 ‐ Multi‐Family Residential
Approximately 11 acres occupying the southeast portion of the Property are designated for multi‐family rental residential. Preliminary plans call for a 225 unit "lifestyle" apartment complex with associated garage and surface parking as well as an amenity center. Due to the extreme topographical changes in the overall site, this portion of the Project will sit lower than the surrounding parcels, providing a certain protective isolationism to the residences. These rental units are of an extremely high level of finish and cater to a "renter by choice" class of tenant. This demographic is seeking flexibility in their lifestyle and prefers to pay rent rather than be tied to the burdens of residential ownership. As a group, they are demanding and the Project will not only need to be built to the highest standards, but more importantly, it will need to be maintained at those standards long term. This new breed of apartment complex boasts amenities mostly associated with resort or hospitality projects.
RPA 4 ‐ Open Space and Community Gardens
The massive reworking of the site and the associated stormwater management will result in approximately 13 acres of multiple open detention and treatment areas. These areas will be landscaped with native plant materials and will provide a natural oasis. It is also the Developer's intent to redevelop the parcels adjacent to the industrial park into public garden plots assessable to the community. This will provide a much needed strip of greenspace in the industrial park as well as potential connectivity to the Great Rivers Greenway path.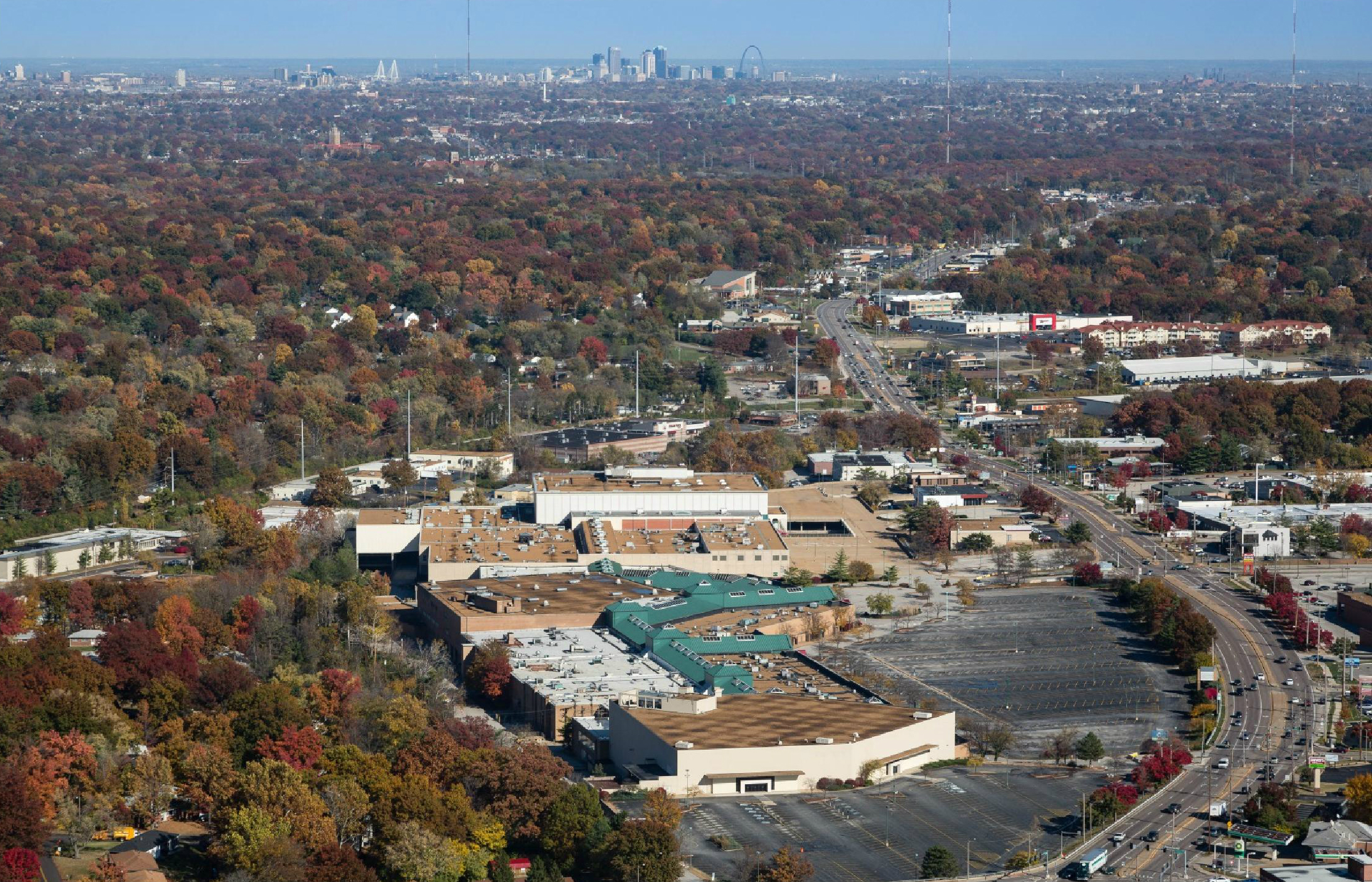 *all images from GreenStreet redevelopment proposal
Proposal for the Crestwood Plaza Redevelopment Area by UrbanStreet – Crestwood, MO by nextSTL.com