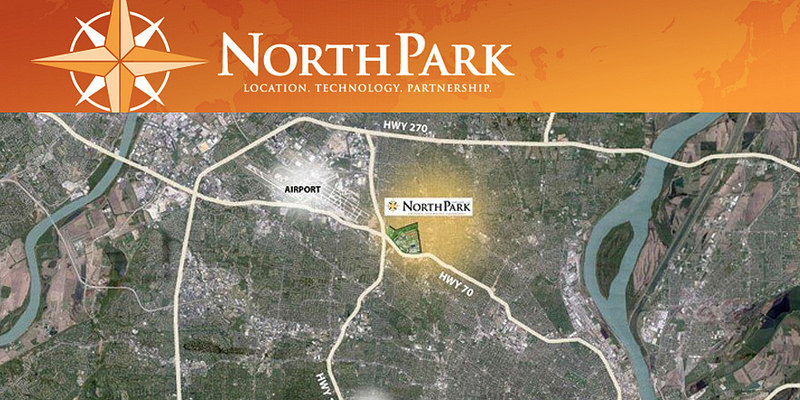 nextSTL has learned Schnuck Markets has selected NorthPark business center in north St. Louis County over a site in Sauget, IL for an expansive distribution center. The development, immediately to the east of Lambert-St. Louis International Airport, will feature a million-square-foot warehouse, nearly double the size of Schnucks current total warehouse storage capacity.
Located between the intersection of two major Interstate highways, an international airport and the University of Missouri-St. Louis, the 550-acre industrial complex is partially located in, or abuts, the municipalities of Cool Valley, Kinloch, and Ferguson.  In 2005 St. Louis County awarded redevelopment rights in the TIF district to NorthPark Partners. Land was purchased from Lambert Airport.
Schnucks currently has more than 500,000 square feet of warehouse space at several facilities located throughout the area. The grocer's biggest storage and distribution center is in Bridgeton. Most products for sale at Schnuck Markets pass through these warehouses. Transportation drivers deliver products from the warehouses and manufacturing facilities to 100 company stores throughout five Midwest states.
The 38.75-acre Bridgeton depot was developed in 1971, and has been expanded twice. Schnucks has determined the facility to be structurally inefficient. According to a company press release, the functionally obsolete warehouse is also lacking the space to meet Schnucks needs. St. Louis County Department of Revenue records list the Bridgeton property's assessed value at $13,500,000.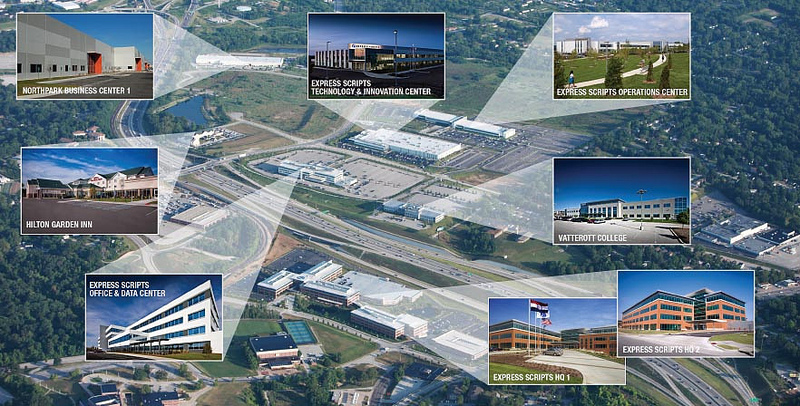 The new distribution center will feature extensive refrigeration capabilities. This will facilitate more than double the space currently available for fresh foods and grocery items at Schnucks Bridgeton distribution center, and an auxiliary site in Hazelwood at Park 370 Business Center. Clayco is expected to serve as project manager for the Schnucks NorthPark development. The construction firm's chairman and CEO, Bob Clark, is a partner in the business center's ownership group.
NorthPark is the largest land redevelopment in St. Louis County history. When fully developed the business center will be able to accommodate approximately 5 million square feet of office, light industrial, and retail space. Two MetroLink stations serve the NorthPark campus. Pending all approvals, and agreements regarding incentives, the project known as Pillar will be the first in the development's 223-acre phase II.
nextSTL has no knowledge of incentives regarding this development. However, Missouri recently offered $7 million in tax credits for a $56 million Express Scripts expansion at NorthPark. The pharmacy benefits management company could be eligible for more tax credits totaling nearly $25 million if 1,500 jobs are created.
Additionally, SKF, an industrial lubrication systems company recently received an incentive package of more than $8 million from the state and St. Louis County to build a $60 million 310,000 square foot NorthPark facility. The company is expected to shutter its plant on Goodfellow Blvd. in St. Louis, and will be operating out of the new building by the end of 2015.
Schnucks will have design input, but will not manage the new facility. The company has stated it will maintain a smaller operation at Bridgeton, and hire an outside firm with warehousing expertise to manage and staff the NorthPark distribution center. Current Schnucks warehouse employees will have to re-apply for their jobs with the new management company.
UFCW Local 655 represents workers in area retail food and distribution centers. The union's three-year contract with Dierbergs, Schnucks and Shop 'n Save expires in May of 2016. An attempt to reach UFCW Local 655 president David Cook for comment regarding the new distribution center was unsuccessful, as was an attempt to reach Schnucks representatives.