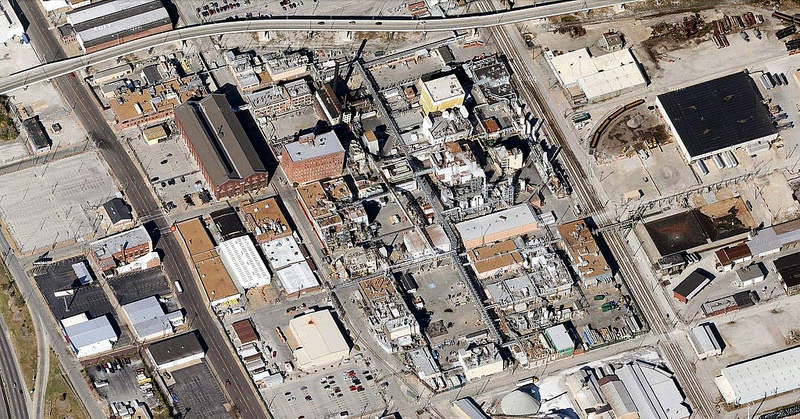 One of St. Louis' oldest companies will soon commence with a major expansion at its historically significant north riverfront campus. nextSTL has learned Mallinckrodt will kick off development with a new $80 million building later this year at their 45-acre North 2nd St. production complex.
Mallinckrodt is the largest U.S. supplier of opioid pain medications and among the top 10 generic pharmaceuticals manufacturers in the U.S., based on prescriptions. The company is also one of the world's leading producers of bulk acetaminophen. Mallinckrodt revenue totaled $2.2 billion in 2013.
Following completion of the initial project, Mallinckrodt intends to invest approximately $200 million between 2015 and 2020 at the North Riverfront Commerce Corridor production site. The expansion will feature demolition of existing structures and construction of four hydrocodone and oxycodone manufacturing buildings. A new sprayer facility will also be built.
The timing of the production expansion coincides closely with the impending release of a highly anticipated Mallinckrodt drug. Xartemis XR, an acute pain drug that is a combination of oxycodone and acetaminophen received FDA approval in March. The drug is expected to be a revenue creating machine for the company.
Mallinckrodt PR materials say the drug was specifically formulated to abate opioid abuse. All opioids can be abused, but Xartemis XR utilizes technology that requires much extra effort to extract the active ingredient from a legion of inactive and deterrent ingredients.
An inactive ingredient called polyethylene oxide makes the tablets much more difficult to crush, break or dissolve. When dissolved in a liquid, Xartemis XR becomes an unpalatable coagulated amalgam. This makes it more troublesome to draw the substance into a syringe for intravenous administration.
According to the Missouri Department of Natural Resources the Mallinckrodt campus consists of more than 50 manufacturing and support buildings covering twelve city blocks. Plant support facilities include maintenance shops, research and control laboratories, warehouses, a boiler, and a wastewater treatment plant. A levee, built by the Army Corps of Engineers, protects the facility along the riverfront from the threat of floodwater.
The facility also operates numerous aboveground tanks for the bulk storage of fuel and both organic and inorganic chemicals. Due to recent procedural changes and the addition of a new container storage area and bulk storage tank for less than 90-day storage, the company no longer stores hazardous waste at the site for more than 90 days.
Between 1982 and 2012 company ownership changed several times. Mallinckrodt most recently spun off from Covidien as an independent public company in 2013. The company has regularly beaten earnings estimates since the spinoff. This includes gains of at least 15% in their last two reports.
McCarthy has drafted and been regularly revising an expansion plan for the company. They will share leadership responsibilities on the project with longtime Mallinckrodt contractor Rhodey Construction. Additional components of the project will include a new chiller, cooling tower, and construction of a utility bridge on Destrehan St.
The company was founded by three North St. Louis brothers in 1867. It was the first chemical manufacturing company west of the Mississippi. Mallinckrodt Chemical Works was constructed at the North 2nd St. site in 1882 on 39 acres of farmland owned by the brother's father. Emile Mallinckrodt was a prosperous farmer and successful real estate investor.
Mallinckrodt's production operations at the north riverfront campus were vital to the Manhattan Project during World War II. In 1942, just 100 yards west of the McKinley Bridge, the plant was producing a ton of uranium per day. The production helped ensure U.S. atomic supremacy.
Reached by nextSTL, Mallinckrodt representative Lynn Phillips commented, "Nearly a year after our spin off into an independent company, Mallinckrodt continues to invest in all of our St. Louis facilities, including our downtown plant.  However, it's important to note that we are still refining our timeframe and our numbers, so it is too soon to say how much we plan to spend or when the projects will commence."