Looking Back to Look Forward
The Expo at Forest Park might give a glimpse into the future of the neighborhoods just north of Forest Park. On St. Louis' west side, DeBaliviere Avenue tells the history of St. Louis from the early 20th century through the present day. What began as a street that operated as an extension of the World's Fair in 1904 and home to businesses serving new middle class residents in the following decades had, by the 1950s, become one of the most significant cultural districts in St. Louis. A jazz historian called it St. Louis' mini Harlem.
StlToday – Evelyn West: The life and times of a St. Louis legend
My St. Louis – DeBaliviere
But white flight, institutional divestment, and a number of other macro trends hit the strip hard and by the mid 1980s few buildings remained on the once bustling street. Over the next few decades, the intersection of DeBaliviere and Pershing was dominated by car-oriented land use – a single-story restaurant with a parking lot, a strip mall set back behind a parking lot, a park-and-ride, and a three story remnant of early neighborhood development.
Lost Tables – Redel's
The New DeBaliviere
Today, that intersection looks radically different. DeBaliviere received a street diet in conjunction with the build out of the St. Vincent Greenway and the Loop Trolley. The single-story restaurant replaced by a six-story 150 unit apartment building with ground floor retail, the strip mall replaced by a five-story apartment building with a grocery store below, and the park-and-ride replaced by an eight-story apartment building with retail bays below. It's an exciting time for DeBaliviere, and St. Louis, but it's worth it to pause and consider the triumphs and missed opportunities of The Expo at Forest Park.
NexSTL – Construction Race on DeBaliviere Goes Above Grade
The Expo at Forest Park is a two building apartment complex. 299 DeBaliviere is the south building which varies in height from eight stories on DeBaliviere stepping down to five stories on DeGiverville. 317 DeBaliviere is the north building and is four to five stories.
Apartment Leasing
In talking with employees, here are where things stand with regards to leasing, rental prices, and retail. The Expo has 287 units: a mixture of mostly studios and one-bedroom units, with some two-bedroom units sprinkled in. The north building opened last fall and is currently 60% leased. Meanwhile, the south building opened very recently to residents. Overall, The Expo has leased 93 of 287 units (32%) and anticipates that leasing rates will look much more favorable by this summer with construction finished, retail moving in, and the typical summer movement in the rental market.
For a studio at the Expo, prices start at $1,275 per month. A one-bedroom begins at $1,675. And at their most expensive offering, the two-bedroom penthouse on the top floor of the south building is $4,100 per month. Since this is Transit-Oriented Development, there are fewer parking spaces for units. Parking spaces cost residents $125/month for a first spot and $150/month for a second spot. This should help to encourage car-free living and, in fact, nearly 50% of early residents do not have a car. The prices far exceed what the average renter is used to paying in the area, but seem fairly consistent with other new construction multifamily in the neighborhood that has largely targeted the young professional demographic.
Retail Leasing
Here's where it gets exciting for the rest of the neighborhood. With new mixed-use buildings come new retail offerings. The retail anchor of this development is Fields Foods, a local grocer with a handful of locations across the city today. It's been decades since a larger grocer was last located on DeBaliviere. The Fields Foods is roughly 15,000 square feet and offers the surrounding neighborhoods – and Metro riders – a convenient and walkable full-service grocer. Though prices are higher than some of the more established supermarkets in the region, the convenience of being able to quickly pop in on a whim is much appreciated. I don't know what sales numbers look like so far, but I think they are probably a bit lower than Fields Foods would hope. The store rarely has more than a couple customers waiting at the checkout line. Some targeted advertising to nearby residents might do some good. Their hot food bar is a huge success with Metrolink riders looking for a quick bite, too.
But since Fields Foods has announced, built out, and opened business, none of the other four or five retail bays have seen movement. In talking with one of the employees, I did hear some encouraging news. They are "deep in talks with a coffee shop" that would take up half of the retail space in the south building. The second half of the south building could also soon be home to a bike shop. I know many miss Velocity Cafe and Cyclery, which was once located at 286 DeBaliviere. There was less confidence in that coming to fruition, but how nice would it be to have a full service bike shop in the neighborhood that also offered rental bikes for the countless visitors to Forest Park? The last retail the employee mentioned was vague, but he indicated there had been some talks with Mark Wahlberg's Fitness Studio, F45. He didn't know if those had fallen off or continue on, though.
I have to admit as a nearby resident that I had hoped the retail would fill sooner with the strength of a grocer anchoring the development. On a day to day basis, new retail will serve the community well. On Cardinals game days and other events where foot traffic swells heading to the MetroLink station or Forest Park, new retail could be a huge hot spot.
A Strengths and Weaknesses Analysis
One way to evaluate the new development is to conduct a strengths and weaknesses analysis. In considering each, I hope to provide a picture of how The Expo can thrive as a newly important part of the community and how future developments can be better than this development.
Strengths
Added density will add ridership to MetroLink, allow more people to live next to Forest Park, and increase demand for retail on DeBaliviere.
TOD investment helps to change the regional perception regarding MetroLink.
Talking with an architect from Trivers, it sounds like a mural will grace the southern building's bus stop area and help with place-making. The process for that is underway.
Benches and the pedestrianized plaza between DeBaliviere and DeGiverville allow opportunities for both organic and planned community interactions.
Construction quality is strong.
Townhouse apartment units create a sense of street level activation along DeGiverville.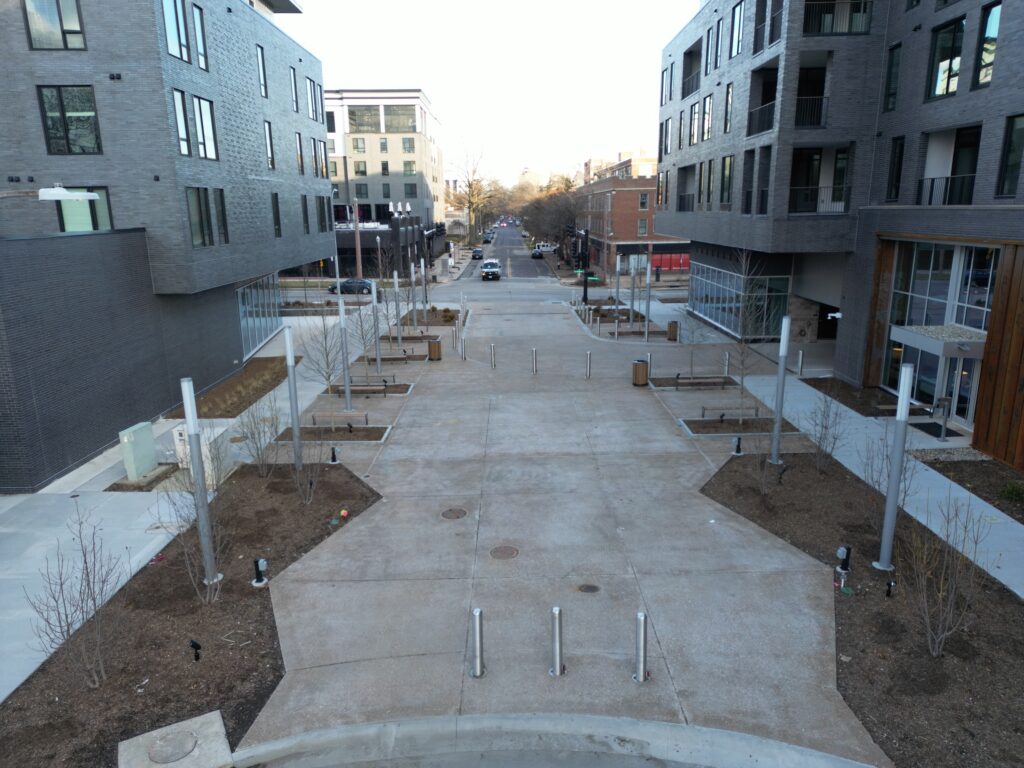 Weaknesses
The lack of any affordable housing immediately adjacent to MetroLink, Forest Park, and a grocery store
There is no crosswalk on the north side of the DeBaliviere and Pershing, failing the interests of pedestrians
Utility boxes along the south side of the north building are inconveniently placed and aesthetically unpleasant.
Overbuilt parking creates additional maintenance, security, and construction cost challenges.
Slow-filling retail bays influence perceptions of the development.
NextSTL – Intersection Intervention: DeBaliviere and Pershing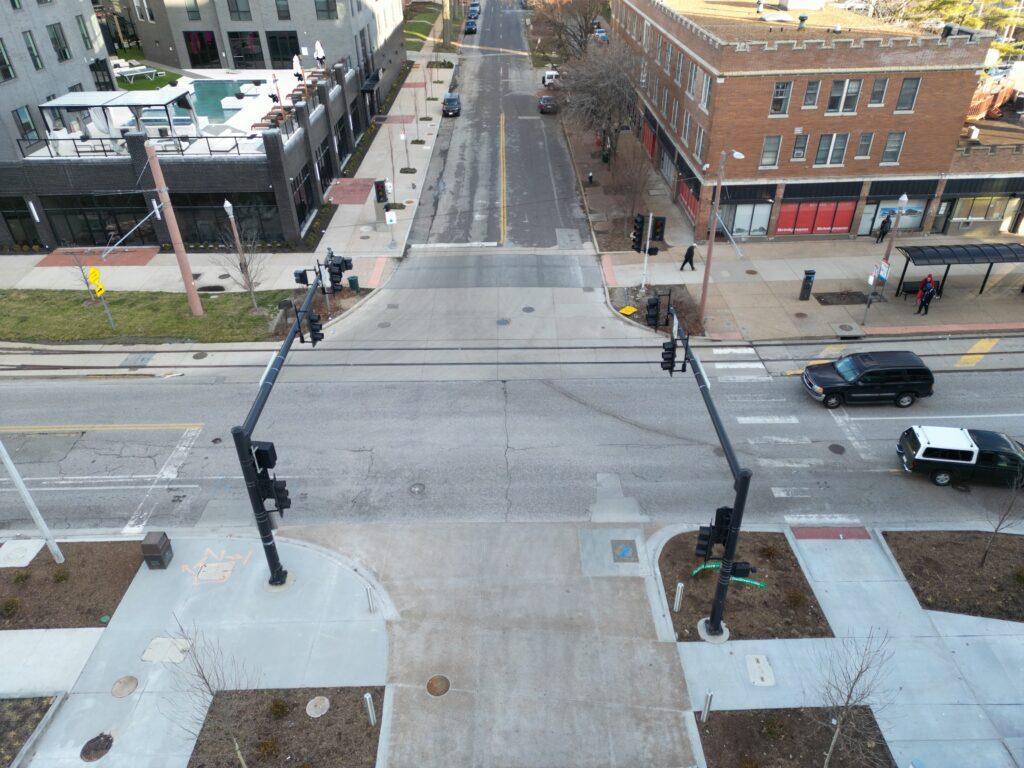 If you have thoughts on other strengths or weaknesses, I'd love to hear them in the comments or on social media. This isn't an exhaustive list.
Overall, The Expo at Forest Park represents a huge investment in Skinker DeBaliviere's plan to become a true urban neighborhood where one can find their daily needs within a short walk. It replaces a low productivity strip mall and park & ride and allows hundreds of new residents to live next to Forest Park and one of the region's busiest MetroLink stations.
I'll leave you with a few bonus views from the 7th floor penthouse unit.