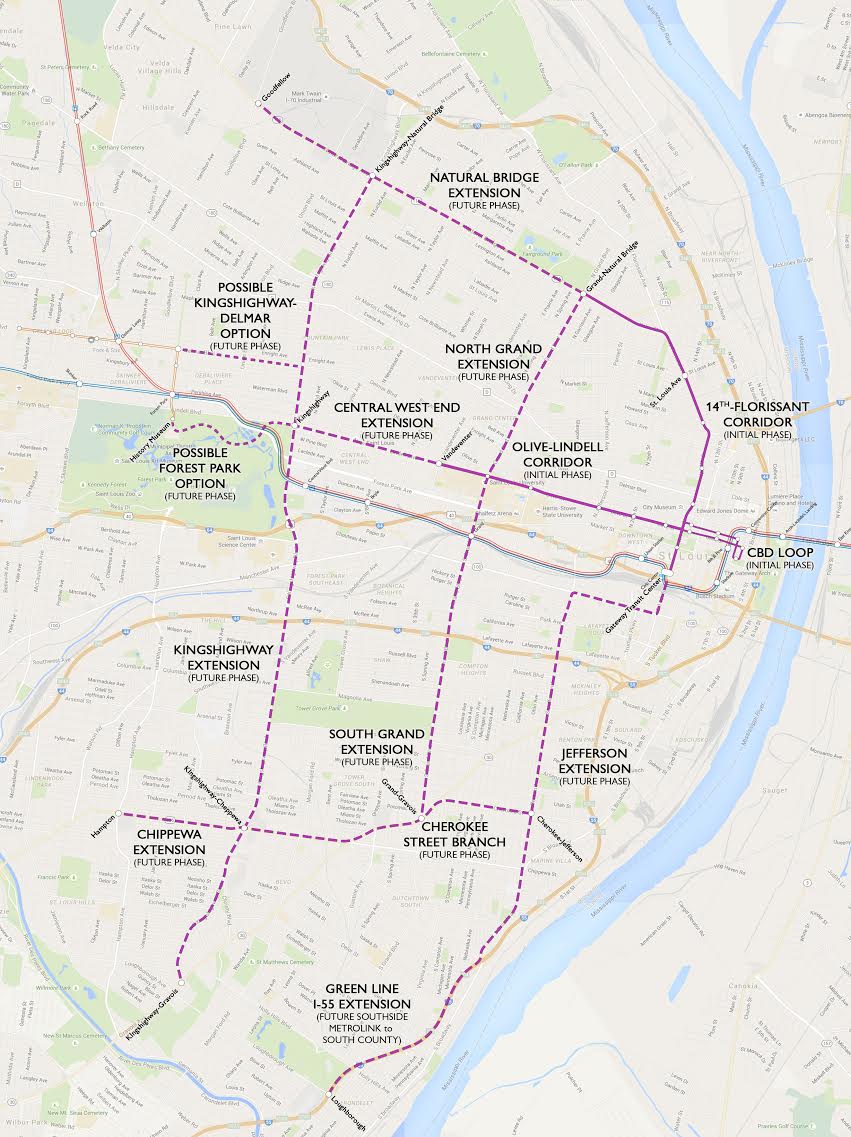 Come Monday, I will be stepping back from my roll with the St. Louis Streetcar Company to take on a new challenge. I do plan to stay involved with the project, but right now I am making a plea. For the health of St. Louis, we need a plan with priorities for transit and the political leadership to support the effort.
The last expansion of rail transit was the Cross County extension of MetroLink in 2006. Since then different transit projects have been considered to improve and expand St. Louis' transit system, we have some good studies, but none of these projects are moving forward. That needs to change and projects need to get beyond the feasibility study.
We need a vision for transit that has both community and political support and dedication. For the St. Louis Streetcar, we are promoting a neighborhood rail transit system that complements existing and future MetroLink corridors with modern trains providing efficient transit while spurring economic development.
As much as we envision a greater connected rail system, we encourage a phased approach to the build out due to the capacity for funding. We view this greater rail system as part of the MetroLink and MetroBus system. It would be a new mode of transit that is proving to be an effective tool in other cities for both transit ridership and economic development.
I live in unincorporated St. Louis County and own a condo downtown that we rent. As much as my daughter may want to see a train coming down Manchester Blvd. from I-270, it would be a poor use of resources. The Manchester #57 MetroBus provides the right level of service for this area. Neighborhood rail needs density, a good built environment, and destinations to justify the investment. The urban core provides the best environment for rail transit investment. This should go without saying, but a strong urban core benefits the entire St. Louis region.
On Monday, I am proud to be joining Gateway Greening. I am glad to be returning to non-profit work that is improving the lives and communities of St. Louis on a daily basis. Advocating for a better transit system does not provide the daily gratification and requires a long-term vision along with a heavy dose of optimism.
But we need a long-term vision to improve and grow St. Louis. Transit is a critical piece for St. Louis to compete for new jobs and new residents. We have opportunities to improve our transit system, and I hope we can gather the community and political support to start making it happen. Get involved and call your local politicians and tell them what you want for St. Louis. If you wish to help champion the idea of neighborhood rail transit, please send an email to [email protected].