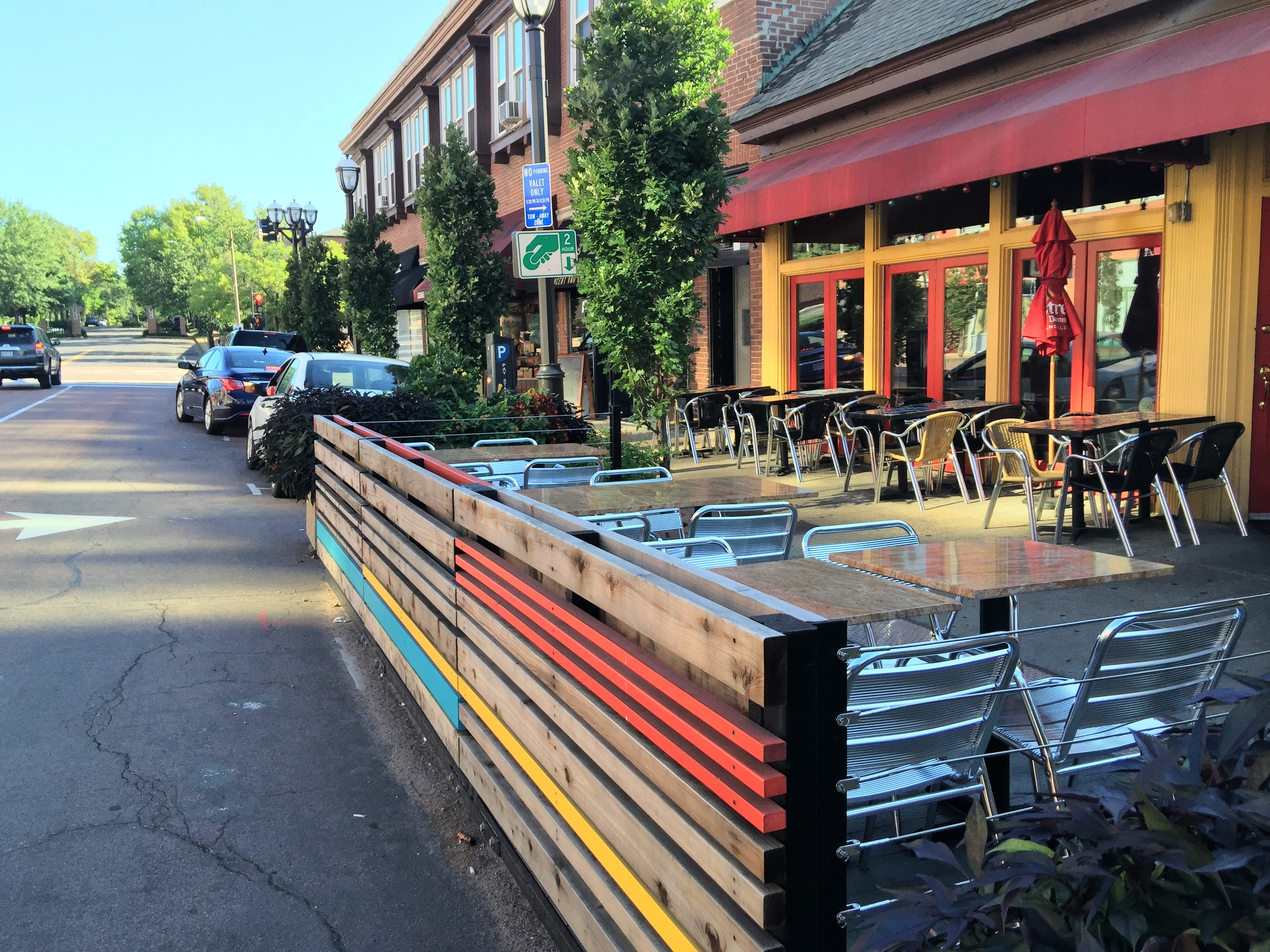 In July of last year, we were the first to write about plans for a Parklet in Clayton. I championed the idea as a start to chip away at the wide Clayton streets that prioritize getting cars in and out as quickly as possible.
A year later the parklet is in. So what do we think? The project absolutely succeeds in showing what's possible, and points the way forward to better street treatments throughout Clayton. It also falls short in several very important measures.
Clayton needs to address its streetscapes. The city has a great urban form, good transit access, and is relatively dense. Yet the pedestrian experience is fairly miserable. Four and five-lane streets dominate. Sidewalks are narrow and nondescript. Even on nights when bars and restaurants are packed, the sidewalks are empty.
As we've observed, even Clayton's best commercial and pedestrian streets leave a lot to be desired. The city understands this and has developed a long term plan for improvements, including the Central Avenue Activation Plan codified this past February. The 8ft x 20ft three-season parklet, designed to be movable for winter or special events, is the first trial step for that plan.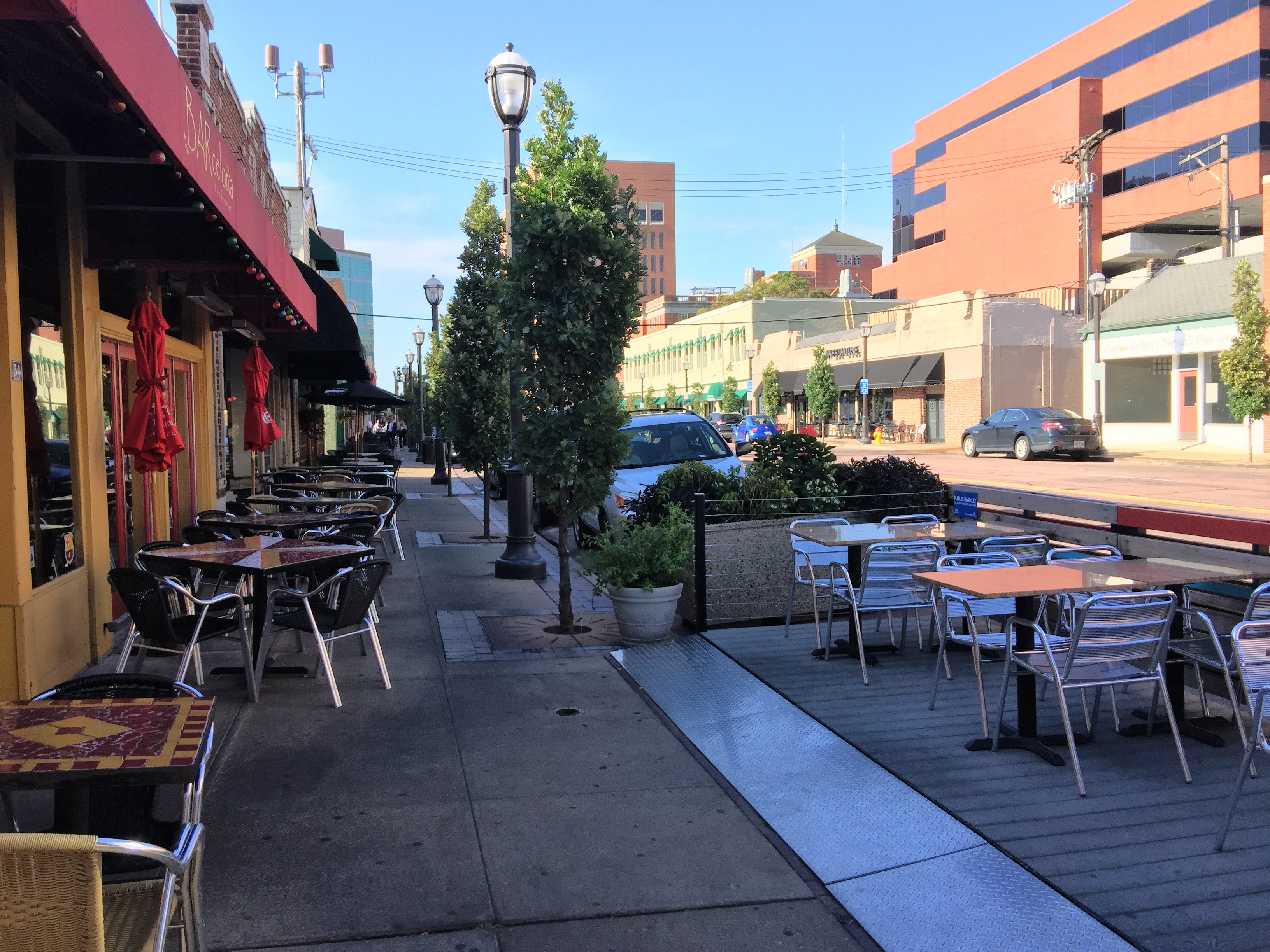 The parklet is a good solution in many ways. Occupying just two street parking spaces, the parklet brings visual interest to the street for pedestrians and passing cars, it creates a place in lieu of a parking space. The parklet widens the public realm, giving more space to people who wish to linger, socialize and experience the city.
More parklets should be placed on Clayton streets. A number of places along North Central, Maryland, and Forsyth would be great. While not cheap, the parklets are substantially cheaper than a full street narrowing project, though they should be used as an aide to determine which streets should be narrowed in the future.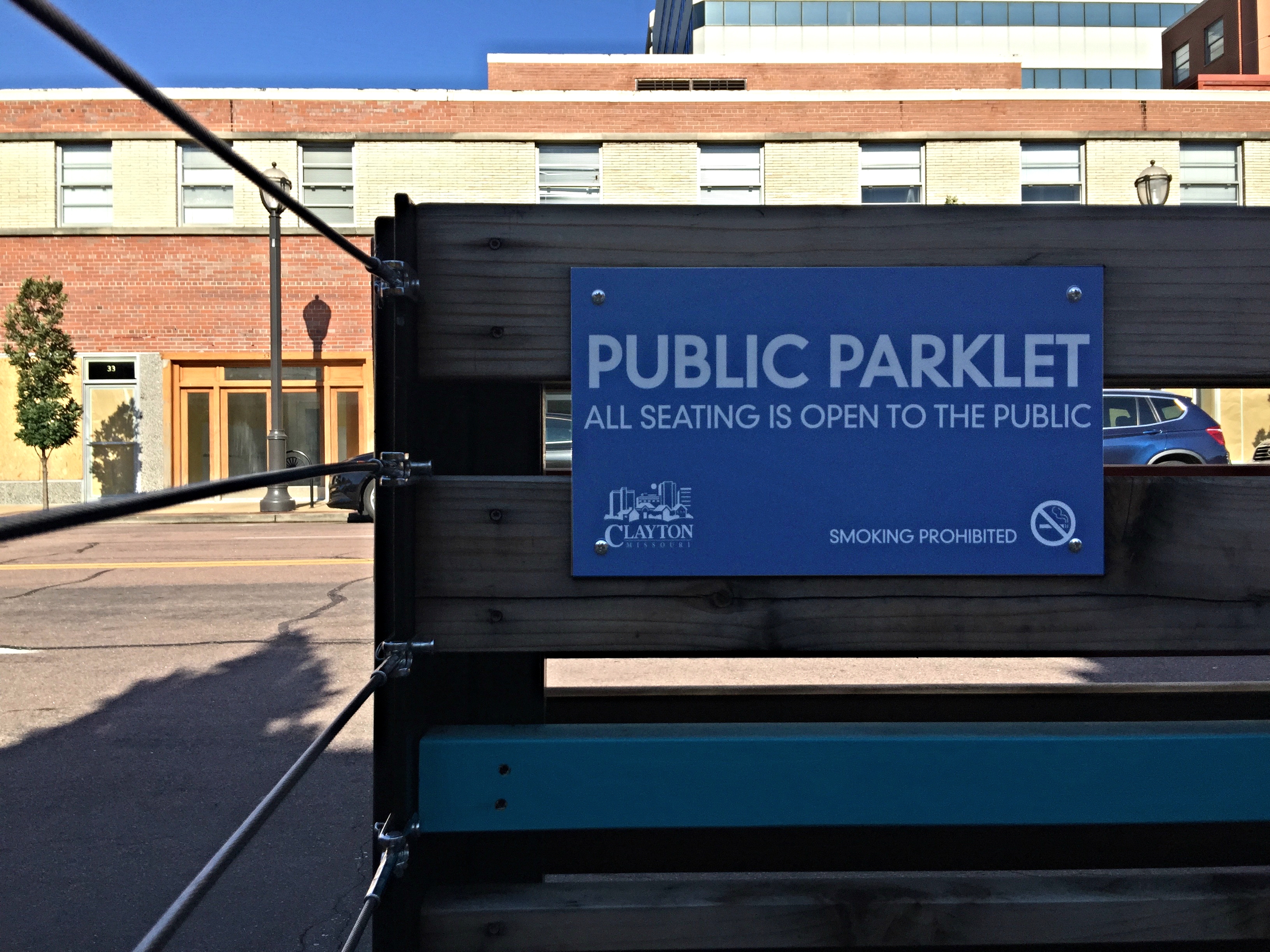 While the experiment should be supported and expanded, there are shortcomings. The most significant problem is that the parklet is too closely attached to Barcelona. Those I've spoken to didn't realize it was a public park, but assumed it to be a new Barcelona patio. The parklet design doesn't distinguish it as a separate space, and the chairs and tables yell restaurant to passersby. In effect, it's not a public park, it's more seating for a restaurant.
That's not necessarily a bad thing. Several restaurants in Clayton (and elsewhere around St. Louis), would be smart to have a "parklet" designed and built as an extension of patio dining. In fact, this works well in the St. Louis City's Central West End. Dressel's has long had a temporary curbside patio, and Brasserie/Taste used a temporary patio before making it permanent. If a restaurant wishes to pay for the parklet, it should be considered.
Parklets succeed in some places because they offer a unique, visually interesting interruption to the streetscape, often bringing communal space to an area which has little. Certainly better public space is needed in Clayton, but whether there's demand for such space that parklets provide (beyond expanded sidewalk dining) is unclear.
Clayton gets the parklet concept correct in its Central Avenue Activation Plan, but the execution of the first effort leaves something to be desired. Schematics also show parklets with adjacent parking, removing a traffic lane from each direction.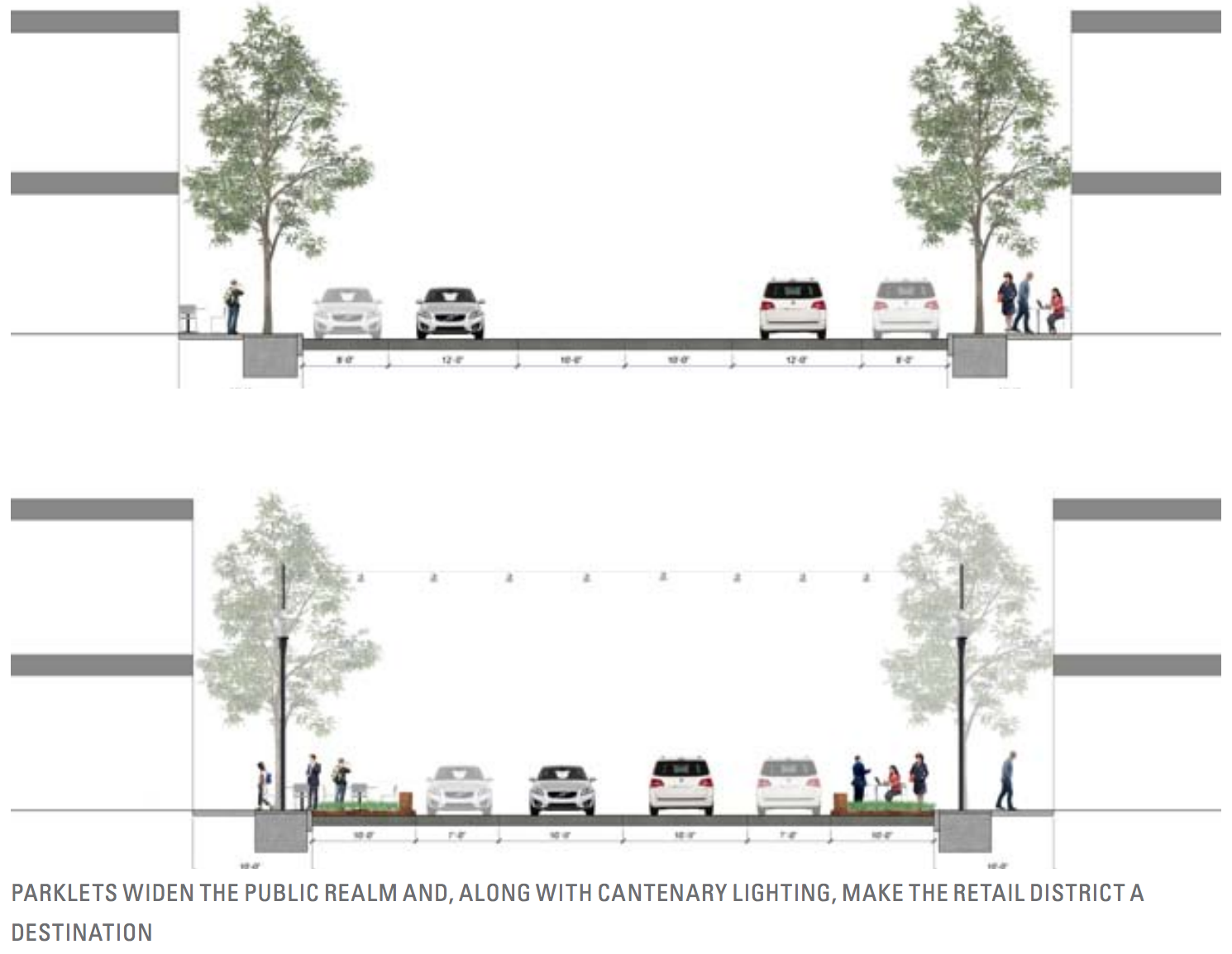 Clayton is considering more parklets and we're told several restaurants have expressed an interest in having one installed at their doorstep. There's some consideration as to whether an adjacent restaurant to pay for the parklet, or possibly lease it from the city, while it would (technically) remain a public park.
Any publicly supported parklets in the future should be designed with varied, interesting, and accommodating seating, which is different, and more than a restaurant extension (see examples below). But if restaurants are excited about more seating, may I suggest Half & Half or Pastaria/Niche in Clayton, and SubZero in the city's CWE call "next"?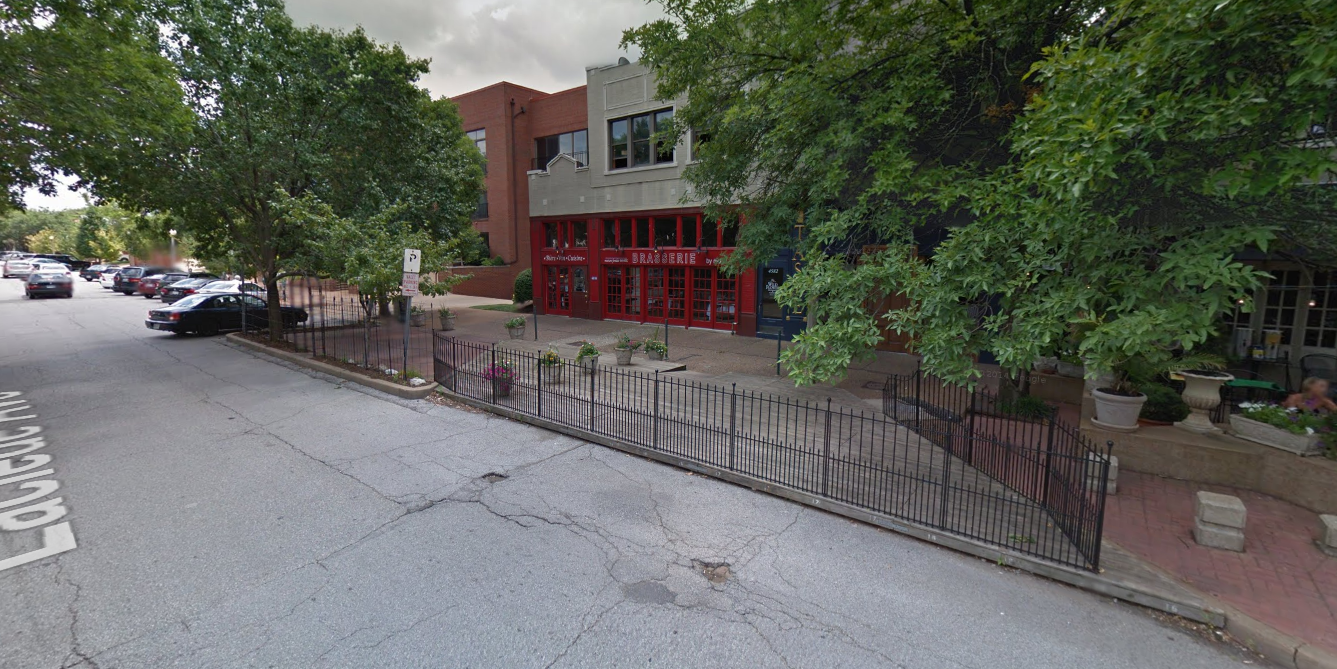 {Brasserie/Taste used a temporary patio (above) before installing a permanent solution (below)}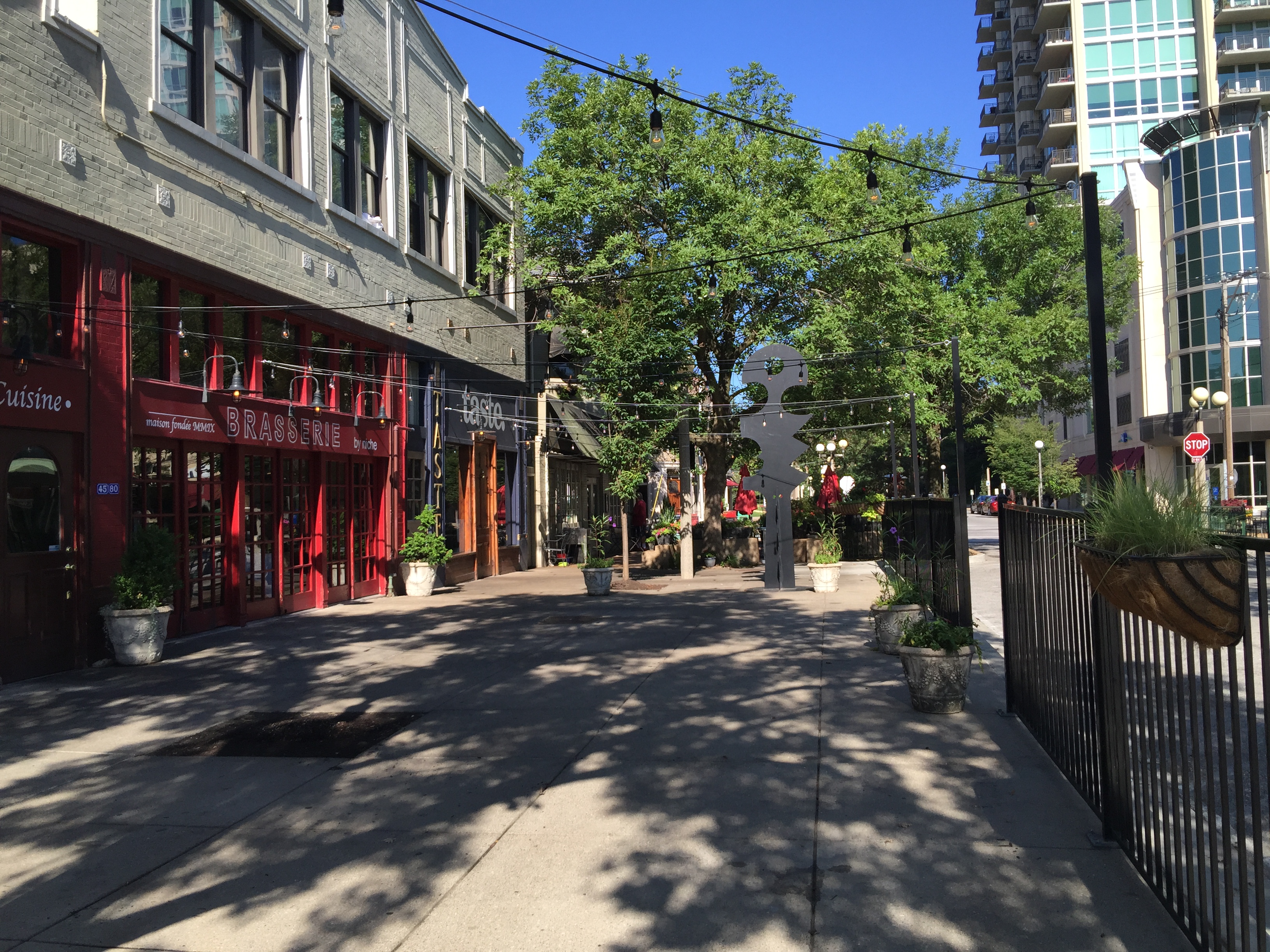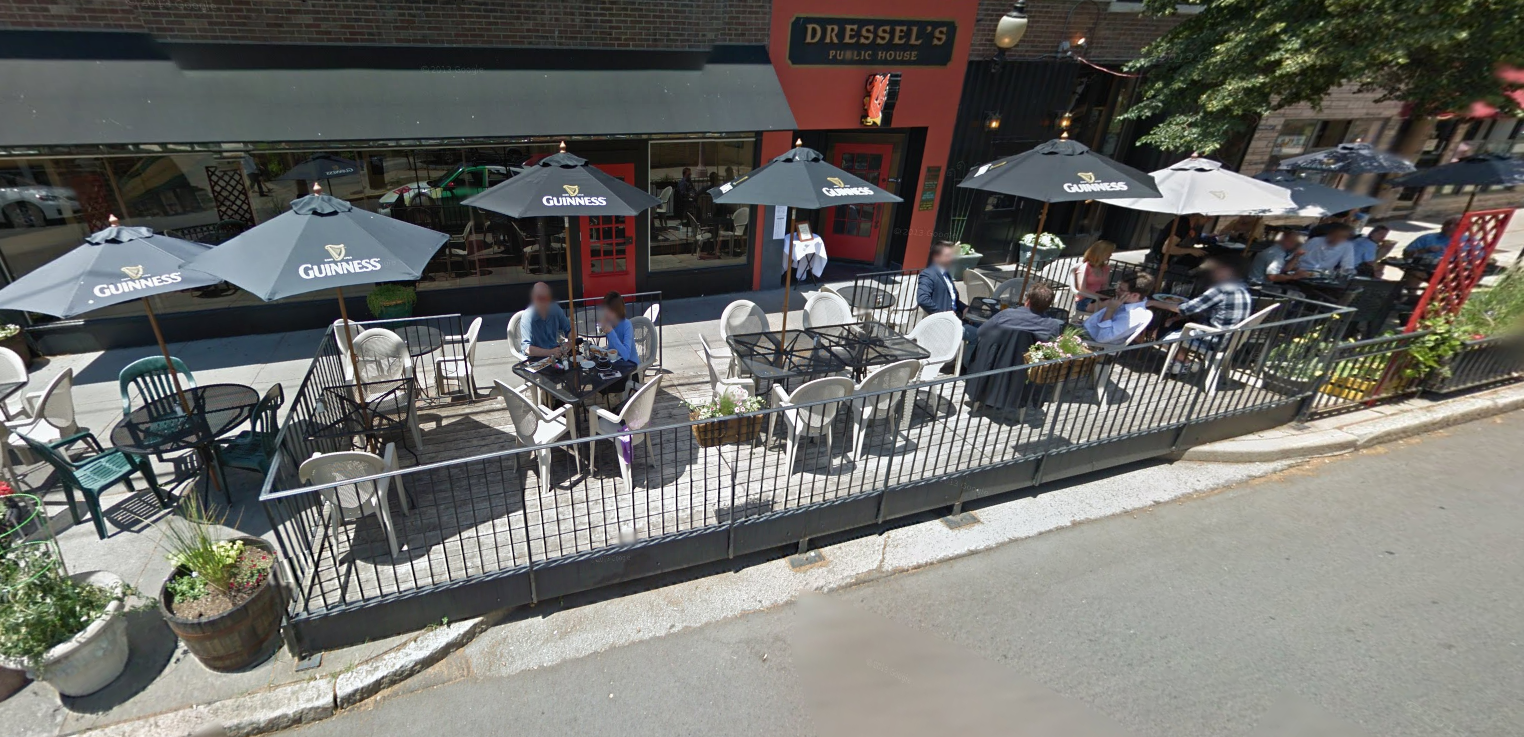 {Dressel's curbside patio in the city's Central West End}
Examples of more park-like parklets: