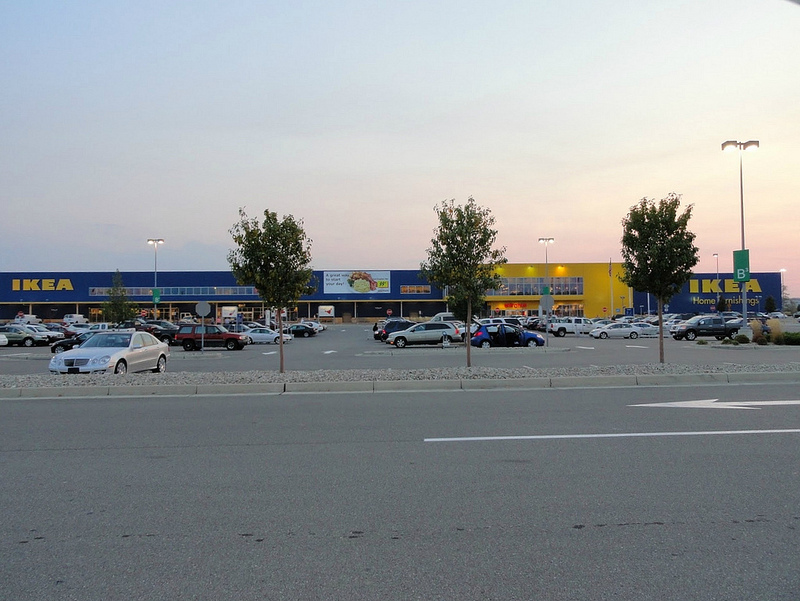 Even before ground has been broken for the Ikea in the City of St. Louis, nextSTL has learned that a second location is being finalized in the Chesterfield Valley. With the imminent announcement, St. Louis is set to join its Midwest rival Chicago as the only cities away from the coasts with two of the massive Swedish retailers.
While many expressed surprised at the location of the first Ikea, the second may be more of what residents in the region expected. Reached for comment, Chesterfield Mayor Bob Nation hailed the move as further evidence of Chesterfield's extraordinary growth, "Twenty years ago, this area was literally under water," he said, referring to the 1993 flood that inundated the Valley. "Now look at it. That's progress."
As a result of a streamlined approval process, the store could break ground in the coming months and possibly be completed before the City of St. Louis location. A rebuilt interchange at Long Road and Interstate 64 will provide access to the store. It's expected that the location will be larger than the City store, which is planned to be 380,000 sf. More parking will also be available, with initial planning for 1,900 surface spaces.
So why two Ikea stores? Ikea spokesman Joseph Roth, who was on hand for the December 2013 announcement of the St. Louis area's first store, told nextSTL that two stores just make sense for a region like St. Louis. "After the (December) announcement, we realized just how many people will refuse to drive to the city to shop, the response was deafening. We didn't have to look far to see that we should be in Chesterfield."
Roth cited recent news that both Taste of St. Louis and St. Louis Blues Week festivals are moving to Chesterfield as evidence that the area's growth extends well beyond retail expansion. He also remarked that the success of both Taubman Prestige Outlets and St. Louis Premium Outlets gave the company confidence to expand. Chesterfield has seen explosive retail growth in recent years. The two expansive outlet centers opened in 2013 and have reportedly exceeded sales expectations.
Nation seemed to echo Roth's vision, stating, "The Chesterfield Ikea means that our residents won't have to drive all the way to the city to furnish their guest rooms or lake cottages. When they leave work, they won't have to stay in the city after dark. This is big for our economic development and personal safety."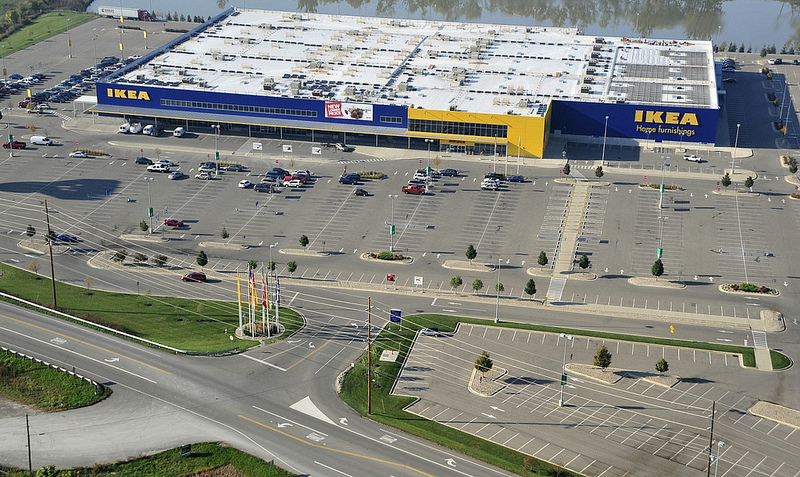 The City's Ikea appeared to be a major coup for Mayor Francis Slay and Cortex, the 200-acre burgeoning life sciences district when announced, but Slay says he's happy for the St. Louis County municipality. "At least the dollars will be staying in the region," Slay stated. "We must recognize as we increasingly cooperate on regional initiatives, what's good for Chesterfield is good for St. Louis City."
The presence of a second Ikea follows a similar trend with so-called destination retailers. Billed as big regional attractions when built, Bass Pro Shops in St. Charles saw a Cabela's built at the St. Louis Outlet Mall (formerly St. Louis Mills), the announcement of a Menard's in St. Peters was followed by another in O'Fallon, IL and now Richmond Heights, and once unique casinos can be found across the region.
While the City's Ikea recently received $32M in Tax Increment Financing support, the Chesterfield location may be in line for more. Libbey Malberg-Tucker, Community Services & Economic Development Director for Chesterfield, says she wants to see the community move quickly, "We are proud of our increasing retail options in Chesterfield and continue to work to ensure we can lure the best companies to our city." Without wishing to cite a hard number, Malberg-Tucker offered that incentives could be in the $75M to $100M range. "It was exciting to see the outlet mall construction race, and now we'll watch Ikea. It's a great time to invest in Chesterfield," she concluded.
Significant infrastructure is needed to accommodate the new store, and Chesterfield is working with the Missouri Department of Transportation to explore adding lanes to I-64 in the Valley. Metro transit agency is also apparently on board and studying the viability of express bus service, or possibly a Bus Rapid Transit line, to serve to expansive retail destination.
Pushed to explain how St. Louis could support two of the massive retail locations, Roth offered a bit of humor and says they're hoping for the best, "To be honest, if you're furnishing a whole house it's inevitable that one location will be sold out of that EKTORP footstool or FINTORP paper towel holder you had to have. Now you have a second location so you can get everything you need." Roth continued,"Can St. Louis support two Ikeas? We think so. The incentives offered allow us to try."
*If you're still reading, yes, this is an April Fools' Day post. The St. Louis Ikea is on schedule and Chesterfieldians will have to visit the city if they want an EKTORP footstool for their lake house. 🙂