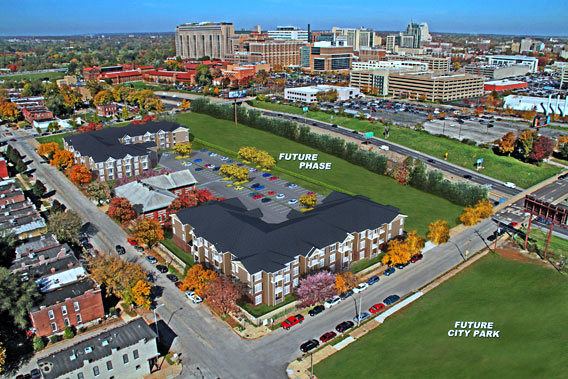 Aventura at Forest Park has been under construction for just six months, but is set to welcome its first residents this summer. The apartment complex is accepting applications now and has gone live with a website promoting the development. The addition of residents to Forest Park Southeast (The Grove) is wonderful for the city. The project is market-rate and at the high end of that. One bedroom, 719 sq. ft. apartments start at $1,150, while two bedrooms and 1,103 sq. ft. will cost $1,450. Even though billed as luxury apartments, these rates should put upward pressure on rents in The Grove. nextSTL has covered the Aventura Phase I development and proposed Phase II development previously.
Aventura is being marketed to professionals employed or attending school on the adjacent medical campus and pitches itself as a Central West End property. Full-amenity, luxury apartments are likely to be very popular so close to the expanding medical center. And while hyperbole is simply the nature of marketing, there are several items here for those interested in how our city and neighborhoods are sold:
MEDICAL PROFESSIONALS & STUDENTS
Located in the Central West End, Aventura at Forest Park provides elegantly designed one bedroom and two bedroom apartments ideal for all types of medical professionals including doctors, nurses, medical students, lab technicians associated with Barnes-Jewish Hospital, Washington University Medical School, St. Louis Children's Hospital, St. Louis University Hospital, St. Louis College of Pharmacy, and St. Louis Medical School.
We understand your unique needs and take pride in providing you the necessary comforts and amenities needed to relax and recharge between classes and shifts at the hospital.
……………
Aventura at Forest Park is located St. Louis' vibrant Forest Park Southeast neighborhood, on Chouteau Avenue, near Barnes-Jewish Hospital and I-64. The Forest Park Southeast neighborhood shares an unidentifiable boundary with the Central West End; one of St. Louis' most sought after and historically signifi cant neighborhoods.
Most likely, after a long day of working or studying you are not going to want to cook, although the kitchens at Aventura at Forest Park are top notch, our location is ideal for dining out. Meet friends for happy hour and a craft beer at Llywelyn's Pub, enjoy Sunday brunch and the atmosphere at Duff's, indulge yourself in chocolate at the famous Bissinger's, or just grab a coffee and read daily news at the Coffee Cartel. No matter what you're craving, odds are you'll be able to find it within blocks of Aventura at Forest Park.
When you're seeking Central West End St. Louis apartments near Barnes-Jewish Hospital, look no further than Aventura at Forest Park!
"Aventura at Forest Park", "Located in the Central West End", "Central West End St. Louis Apartments", and "Located in St. Louis' vibrant Forest Park Southeast neighborhood", all appear on the front page of the website. Perhaps it's a distinction that few moving to St. Louis from elsewhere will notice or care about, but it's still rather glaring and odd for anyone familiar with this part of the city.
Phase I was to consist of 101 apartments and a planned Phase II would add another 101 units adjacent to the current development. The website states Aventura is a 150 luxury apartment community. The rents have also moved up from a stated $1,000 for the 750 sq. ft. unit to $1,150 and from $1,300 for the 1,103 sq. ft. unit to $1,450. The Aventura developer received a 10-year tax abatement for the luxury apartment project. While the project is pitched as close to everything, there are 431 parking spaces planned for the perhaps 202-unit development. The saving grace of the project is the rentention of the Station G building, once the pump house for now demolished gasometers, natural gas storage tanks. The building is reported to be set for conversion to eight apartments.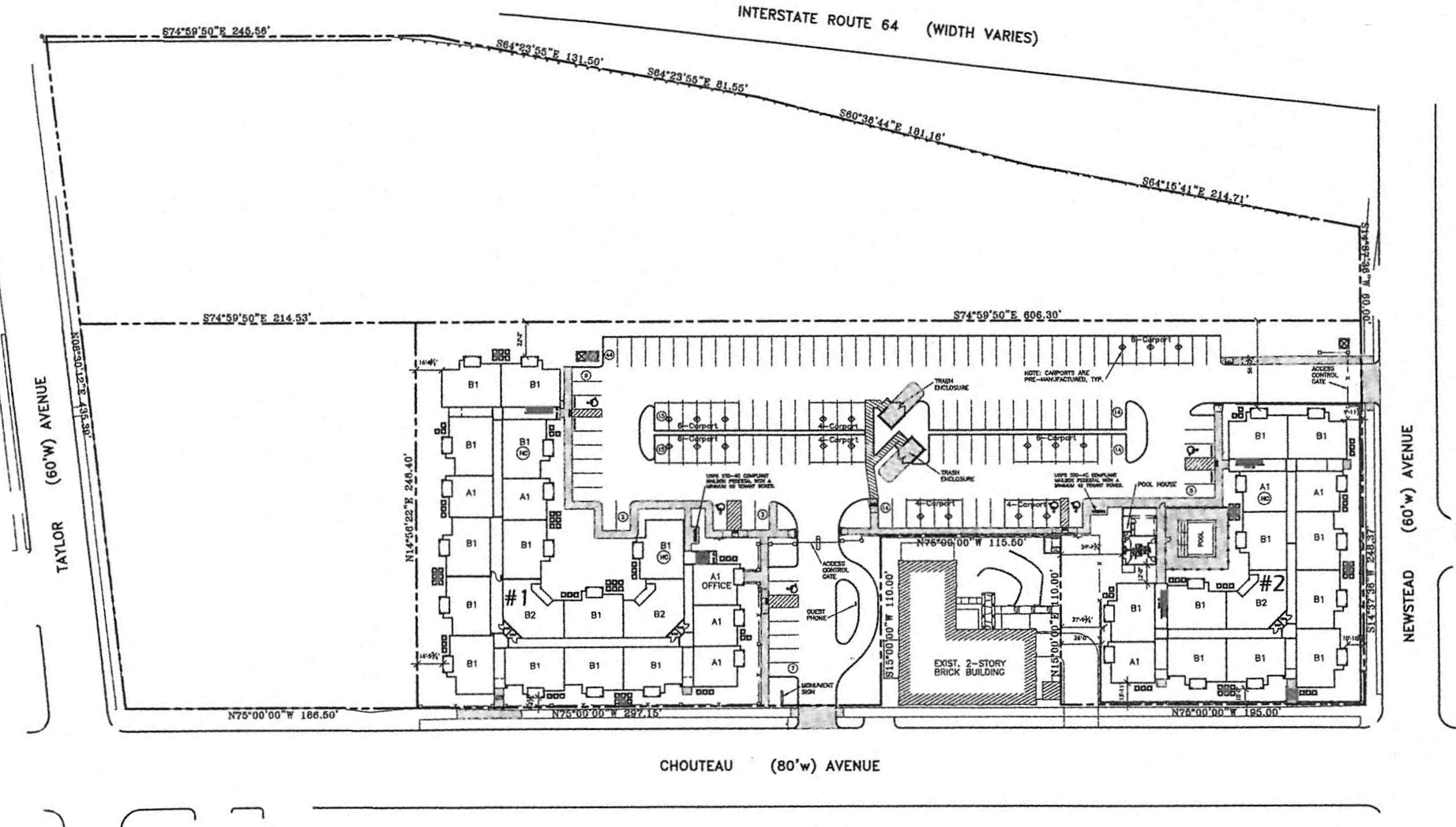 {Aventura at Forest Park Phase I}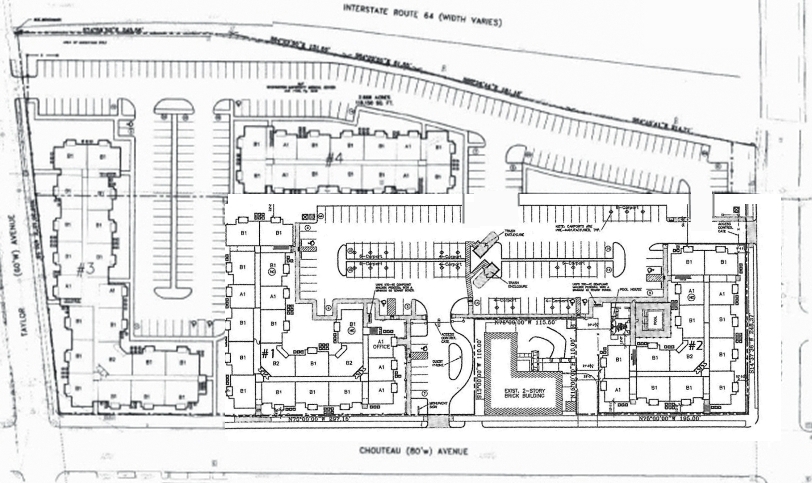 {Aventura at Forest Park Phases I & II}
Aventura under contstruction January 2013: