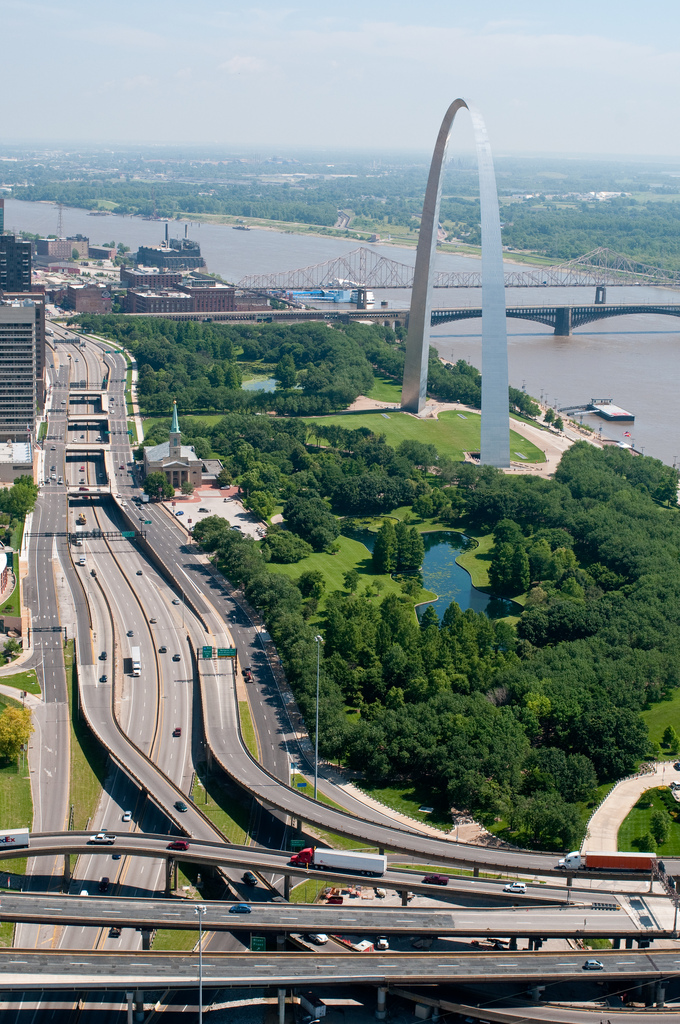 Tomorrow, Alderwoman Phyllis Young will introduce Board Bill No. 258 to the City of St. Louis Board of Aldermen. The bill calls for a 3/16 (0.1875%) sales tax increase in the City of St. Louis to support the CityArchRiver project, Great Rivers Greenway and city parks. If approved by the Board of Aldermen, Prop P would go to the city's voters on April 2, 2013. The board must approve the bill by January 22 for the measure to appear on the April ballot. Approval of similar bills are being sought in St. Louis County and St. Charles County. Two of the three would be required to pass before the tax increase would take affect. One of the two must be St. Louis County. It is estimated that the tax would generate $38M per year if passed in the City of St. Louis ($6.2M), St. Louis County ($24.9M) and St. Charles County ($7.2M).
The bill reads: PROPOSITION P: SAFE AND ACCESSIBLE ARCH AND PUBLIC PARKS INITIATIVE – For the purpose of increasing safety, security, and public accessibility for the Gateway Arch grounds and local, county and regional parks and trails for families and disabled and elderly visitors, and for providing expanded activities and improvements of such areas, shall the City of St. Louis join such other of the counties of St. Louis and St. Charles to impose a three-sixteenths of one cent sales tax in addition to the existing one-tenth of one cent sales tax applied to such purposes…
A year ago, the City of St. Louis passed a $64M parks bond issue. The major selling point on that bond issue was two-fold: the new funding would not require a tax increase and would serve to leverage a $100M fundraising campaign by Forest Park Forever. St. Louis County is experiencing its own park funding drama, though its unclear how serious an issue it is. The total cost to taxpayers in the three counties could reach $1B over 20 years, when the bill would have to then be reauthorized. The 20-year cost could reach $162M in the City, $188M in St. Charles County and $634M in St. Louis County. In the City of St. Louis, where local taxing districts are common, sales tax would exceed 12% in places.
So why the proposed tax increase? It's simple math. The Arch project cost stands at $577M. A TIGER III grant provided $22M and MoDOT has dedicated $25M in state highway funds. Add to that the $15M pledged by Great Rivers Greenway (GRG) and you very nearly have the sum total raised to-date: $62M. What's left? Levy a local tax. Tying it to ballot measure that in short asks residents if they want to fund their local parks is at once smart and devious.
In 2010, the existing tax (created in 1999), provided $10,799,815 to GRG. The new tax would give 60% of new revenue to GRG with half of that to be allocated to the Arch project, and the remaining 40% to be split between local park districts. GRG is a great organization and has completed some great projects. Of the predicted $38M generated annually by the new tax, 60%, or $22.8M, would go to GRG, then half would go to the CityArchRiver project. The revenue would be used to issue $120M in bonds for that project, costing taxpayers approximately $200M to retire. The remaining 40% would be split among city and county parks.
Now just two hurdles remain for supporters of Prop P, the Board of Alderman and a public vote in April. The BoA is being addressed by spreading the new tax revenue across the city. The bill specifies that new funds allocated to the Major Parks Capital Improvements Account shall be directed to capital improvements in Carondelet, Fairground, Forest, O'Fallon, Tower Grove and Willmore Parks (the Major Parks) in the following proportions: Carondelet, 15.1%; Fairground, 11%; Forest, 30.6%; O'Fallon, 10.7%; Tower Grove, 23.6%; and Willmore, 9%.
In supporting materials for the introduction of Prop P, the overall City Arch River 2015 project is now estimated to cost $577 million. Materials state that construction will begin in early 2013 and "be implemented by October 28, 2015." With highway funding in place for the "lid" over I-70 and GRG funding for the smart Lenor K. Sullivan Boulevard project, it's unclear where the additional funds would be directed.
Featured in the materials (full document embed below), is new documentation of the plan to raise Lenor K. Sullivan Boulevard above flood stage. This portion of the project, planned in large part to better connect existing north and south trail networks, is one of the bright spots of the entire Arch grounds project. Planned changes are likely to have a substantial impact on the usefulness and attractiveness of the riverfront promenade, while not creating new obstacles to access.
Unfortunately, the overall CityArchRiver project continues to extoll misguided and simply wrong design assertions. With public comments having been rejected more than once, the Board of Aldermen hearing and April vote are likely the only avenue for residents to express opposition to project design. Updated documents state that the millions of dollars in re-investment in the Interstate is only needed due to the closure of Memorial Drive and continue to mistate the removal of city streets as an "upgrade…of the street grid": Critical components of the project are; a pedestrian link over I-70, replacement of the bridges, roadways and ramps that are necessary due to the pedestrian link, upgrade of the City of St. Louis street grid that feeds into the JNEM and the transportation loop that services both downtown St. Louis and the Archgrounds.
Continued design problems aside, the immediate issue at-hand in this board bill is funding. The levy would only go into effect if 2 of 3 counties approved the measure. Given the numbers (City of St. Louis $6.2M, St. Louis County $24.9M, St. Charles County $7.2M), clearly St. Louis County would need to be one of them. It's no stretch to say the tax will be most difficult to pass in St. Charles County, leaving the burden on the central metro area. Ultimately, county councils, and the city's Board of Aldermen will decide whether to put the issue to the public. If successful, supporters have stated that they hope to introduce the bill to St. Claire and Madison Counties in the metro east.
At the heart of the issue is the challenge of an urban National Park. No one would expect Wyoming residents pay for Yellowstone, but the core of our metro region is going to be asked to give more than $200M for the Arch project and millions more for GRG and other parks. (In fact, the Wyoming State Legislature defeated a bill earlier this year that would have increased sales tax by 1% inside Yellowstone National Park.) Needless to say, the national park itself isn't working well for the city and has been especially detrimental to business development immediately next to what should be a magnet for cafes, corporate headquarters and more. The Arch grounds investment is predicated on attracting 2M more visitors to the Arch each year as attendance has flagged. It's a "heads on beds" strategy that attempts to fight nationwide macro-trends of museum and destination attraction attendance decline. It's an unproven strategy that's been invoked for every massive redevelopment project in the city's history.
This bill should not ask the Board of Alderman and possibly voters to fund a National Park, county parks and city parks in one motion. Such an effort is intentionally meant to obfuscate any examination of need, or questions regarding the merit of expenditures on specific projects. You want more money for St. Louis County parks? Here's your chance, oh by the way, the National Park will get $200M of your taxes as well. You think Fairground Park needs funding? Great, we have that right here for you (nevermind that the vast majority of taxes paid by those using Fairground Park will go to a National Park and other city parks).
The bill should be split. Parks are a regional asset and the region has demonstrated that by committing nearly $10M each year to the great work done by Great Rivers Greenway. Closer funding and management agreements of City and County parks should be explored. Still, the Board of Aldermen should not be asking city residents for sales tax increase following the bond issue of last year. And asking that a City and County both losing population, jobs and tax base, pledge more than $150M in sales tax revenue in an unprecedented measure to fund a National Park, goes too far on its own. If taxpayers choose to fund a National Park now, it will set a new precedent and we will always be funding our National Park.
What if the 3/16 tax were implemented but all revenue were invested in city and county parks? It would mean $200M more for those entities. If the region has $1B to spend, and Prop P supporters think we do, what should we buy? When elected officials ask voters for $1B, the request should be built on the foundation of an open discussion, a need being articulated, projects to be paid for detailed. The CityArchRiver proejct is clearly moving forward in some form, but what if we asked, what could done with $577M? Imagine what could be accomplished without touching the Arch grounds.
What's missing entirely, still, is a public discussion regarding this bill, Prop P and funding of specific park projects, other options and opportunity costs. The people of St. Louis may get one opportunity to address the bill and then, perhaps, one opportunity to vote on it. Yet today, a case for our $1B has not been made, not by CityArchRiver, Great Rivers Greenway, elected officials or anyone else. A time for that will come, supporters say, once a few hurdles are crossed.

BOARD BILL NO. 258 – Proposition P, 3/16% Sales Tax to Arch grounds, Great Rivers Greenway and City Parks