The video above comes from the Al Jazeera news network in Qatar. It's not fancy, or exploitative, or sensational. It striks me rather, as simply honest. It's not pleasant of course, but until this type of reporting is created (or at the very least viewed) by residents in our cities, there's little hope of significant change. Every once in a while the details of a particular murder may catch the larger public's attention, but as in Baltimore, such crimes are immediately met with a flurry of statistics proving that crime is down and more and more resources are being dedicated to making our city safe.
In St. Louis today, this means the Megan Boken murder. She was shot and killed at about 2:00pm on a Saturday in the city's Central West End neighborhood, a block from what most would consider the city's most vibrant intersection at Maryland and Euclid. In the wake of such an incident, we're told about the Neighborhood Security Initiative, the 285 patrol shifts and 1,300 hours of supplemental police coverage in the CWE each month. And if you're aware at all, you know that the vast majority of the more than 60 murders in St. Louis so far this year have received little attention. Fewer than 20% occurred south of Delmar Boulevard.
So watch the video (and the others here if you have not yet) and ask yourself why violent crime is covered the way it is in St. Louis and our nation. Why is it that Al Jazeera, the BBC and Sky provide more indepth coverage of violence and crime in American cities than our own news outlets? Thanks to The Atlantic Cities for bringing the Baltimore video to our attention.
Separated only by Delmar Boulevard: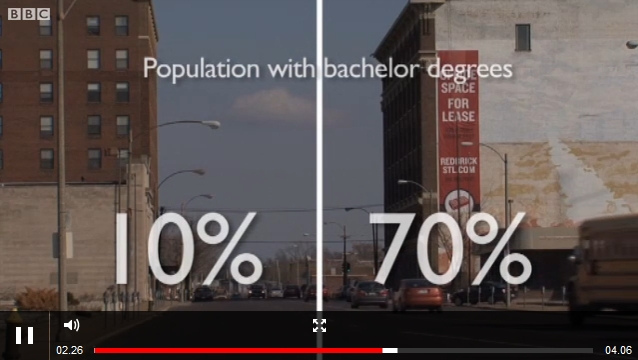 Sky One – Ross Kemp On Gangs – USA – St. Louis: