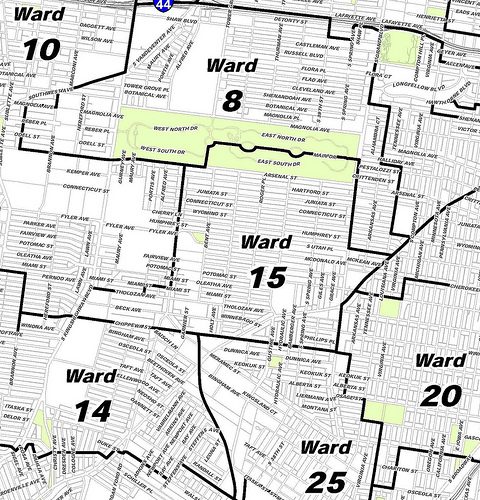 In 1950, each member of the St. Louis Board of Aldermen represented more than 30,000 residents, on average. Today the number of approximately 12,000. St. Louis likes its government close to home. The 90 municipalities in St. Louis County average of fewer than 10,000. The St. Louis region is smothered by political jurisdictions. As reported by the Post-Dispatch, Phyllis Young, alderwoman for downtown, Soulard and Lafayette Square, is set to introduce a bill at Friday's board meeting that would cut the number of city wards to 12 from 28.
While overrepresentation itself may be inefficient and necessary to address, that alone is just one small reason why the new effort to shrink the size of the city's Board of Aldermen is so important. Wards of approximately 12,000 residents struggle to find competent and energetic candidates for office. The current part-time status and modest salary preclude many from considering a run for office.
The fragmented system has meant that Alderpersons are answerable to only a very small handful of city residents, as they are often elected with only several hundred votes. In effect, the city operates as if 28 municipalities akin to those in St. Louis County.
Other reforms are badly needed and the introduction of the bill by Alderwoman Young must serve as an opportunity to engage in a larger discussion. Aldermanic voting should be run in non-partisan elections, no longer should the winner of the Democratic primary, with particularly low turnout, become the elected representative nearly by default. It's not unheard of for an alderperson to be elected with fewer than 400 votes.
Several aldermen should be elected at-large and represent the interests of the entire city and we should consider reducing the number of aldermen to fewer than 10. It's impressive that the bill already has 10 co-sponsors at the time of introduction (Stephen Conway, Alfred Wessels, Carol Howard, Jennifer Florida, Donna Baringer, Joseph Roddy, Marlene Davis, Scott Ogilvie, Shane Cohn and Lyda Krewson). Sadly nearly all represent south St. Louis wards.
The bill would first need to be passed by the Board of Aldermen itself. It would then require approval by 60 percent of voters, as it would amend the city charter. If approved, the measure would use the 2020 Census to configure the 12 Wards and would take effect in 2022. In 1957 voters rejected a reduction to 15 Aldermen. Initiatives in 1981 and 2004 were similarly defeated.
If the message has not been made clear, the wards of North St. Louis in particular have not been well served by their elected representatives. The most that can be said is that the best Aldermen of a largely shrinking part of the city have competently managed decline, and that's clearly a stretch for many. Perversely, aldermen are rewarded for a shrinking population with an expanded ward as proportional representation is sought.
Wards 1, 2, 3, 4, 8, 9, 18, 20, 21, 22, 25, 27 each lost more than 10% of residents from 2000-2010. They simply are not being well served by the status quo. And yet they grew and those alderpersons now control an even larger area of the City of St. Louis.
The pitfalls of 28 Wards go on and on: historic preservation on one side of the street is absent on the other; aldermen routine invoke home rule – the idea that only constituents should have a say in ward decisions, whether closing streets, demolishing buildings or approving a development; community development block grants to the city are divided 28 ways and handed out without regard to city priorities. And there's more.
Simply reducing the number of Aldermen in and of itself will not create a better city, but thinking like a city, having elected officials responsible for the city (or at the very least must larger portions of it) is undeniably positive. And yet no doubt political forces will line up to decry the latest effort as a power grab, a political ploy, and of course, as racist. Naysayers must be required to explain how the status quo best serves ward residents and the city as a whole.
If you believe that change is needed in any corner of the city, you must loudly support this effort. Currently, half of the 28 Aldermen are up for election every other year. This means that change is slow. This does not serve the city and its residents well today. Following a decade of the city insisting it was growing once again, we learned that another 29,000 residents fled. It's well beyond time to hit the panic button. The Aldermanic system in place since 1914 (with aldermen elected at-large until 1943) does not serve the city.
Following the Census bombshell, Mayor Francis Slay stated that it's time for the city to rethink everything it does. It's encouraging that Alderwoman Young believes that this is just the beginning, as she told the P-D that a reduction in the number of alderpersons could set the stage for reducing the number of elected offices and more. Let's hope that Young's bill is a successful opening salvo in doing just that.
City of St. Louis new political Ward map – 2011 by nextSTL.com on Scribd
City of St. Louis Census 2010 Ward Comparison by nextSTL.com on Scribd
City of St. Louis Preservation Review Map by nextSTL.com on Scribd