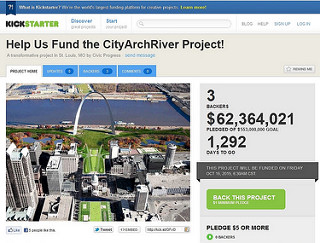 The CityArchRiver2015 Foundation has announced that they will pursue funding using Kickstarter, the growing grassroots platform that has proved successful in funding everything from food trucks and films to school art projects. The largest successful Kickstarter project in St. Louis to-date has been an effort by The Luminary to raise $20,000 to move into a new space in the city's Cherokee Street arts district. Another successful campaign was completed by St. Louis native Phillip Andrew Morton, funding his Spanish Lake film. A first glance at that project will take place in St. Louis April 18 as part of the Shuttered Film Fest and Open/Closed: vacancy in St. Louis conference.
Clearly the CityArchRiver effort is on another scale entirely. The Luminary raised $22,224, 111% of their $20,000 goal, with the average backer giving about $65 to the project. CityArchRiver hopes to close a $473,000,000 funding gap with their grassroots project. Sometimes criticized as not being engaged with the St. Louis community, project organizers see the Kickstarter effort as a way to connect with individuals enthusiastic about the Arch and their city. "We know St. Lousians love the Arch, we use it in our business logos, look at it as we drive by and take out of town guests there," said project organizer Walter Metcalf. "If everyone in the region would each just pitch in $168.93, we would be there."
Jefferson National Expansion Memorial superintendent Tom Bradley, along with several CityArchRiver officials attended the recent Kickstarter seminar hosted by the Regional Arts Commission and left inspired. Bradley sees a paradigm shift in the new effort. "(the Arch) is a national park, but more, a national memorial. We can't let the city change it, or make it more attractive to residents, but we can ask them to fund it," Bradely told nextSTL. "This is a great opportunity for individuals to be part of this exciting project. It's not just your tax money, give us $100 and we'll add your name to a new time capsule."
Despite the big goal, organizers are optimistic as they've extended fundraising efforts up to the project deadline of Friday, October 16, 2015. All donations made by 6:30 a.m. CST on that day will be included in the total raised. As is routine with Kickstarter efforts, organizers are offering premiums, or gifts, based on individual pledge levels. A pledge of just $5 will get a donor's name on a scrolling marquee to be placed at the bottom of the CityArchRiver website. For a $1,000 pledge, a donor will be allowed to pet the famous "do not touch" bison on display in the Museum of Westward Expansion.
A $50,000 pledge will grant the donor free access to the best view of the Arch, the 39th floor lobby of the Bryan Cave law firm in Metropolitan Square. "The best way to experience the Arch is from the 39th floor of Met Square," Metcalf stated. "You could go down there and try to find a place to park and then try to find one of the connections between the city and the Arch, crossing busy streets all the way, but why would you if you don't have to?"
Support levels reach $1M and more. Great Rivers Greenway, an organization dedicated to developing an interconnected system of pedestrian and bicycle paths across the St. Louis region has committed to $15M in funding and will be allowed a dozen free annual passes for an individual to take their bicycle on the planned gondola across the Mississippi River. Pass holders will be able to take their bicycle on the Arch tram as well, enjoying a never before allowed ride on the observation deck.
There is already one sponsor a the $25M level, the Missouri Department of Transportation (MoDOT). As their funding is targeted for the addition of new highway infrastructure surrounding the Arch grounds, MoDOT will receive three dedicated parking spaces located at the south maintenance facility. A new off-ramp connected to the Poplar Street Bridge and I-55/I-70 will direct MoDOT pass holders directly to the premiere parking spaces.
It was recently learned that project organizers hope to ask voters in St. Charles and St. Louis Counties, as well as the City of St. Louis to increase local sales tax rates to provide more than $200M in local funding for the Arch project. County councils and the city's Board of Aldermen would be required to approve placing the measure on the ballot and two of the three counties would need to approve the measure for the 0.1875% tax increase to take effect.
The Kickstarter project screen grab is below, take a look. Is this a project that you would be willing to support?