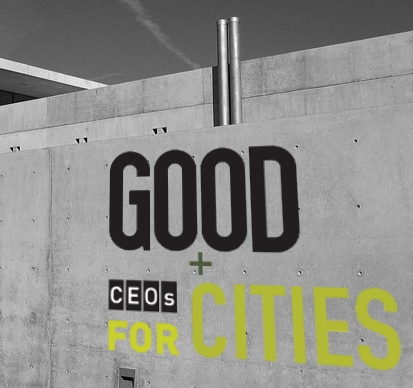 The GOOD Ideas for Cities – St. Louis is this Thursday, March 8 (event details at bottom) and ALIVE Magazine has been profiling the creative teams presenting that night. Below are clips from those profiles and links to the larger stories over at the ALIVE blog. The full lineup and local partnering organizations were announced in early February. Want to know more about what GOOD Ideas for Cities is? Check the quick nextSTL article and the embeded clip here. Five of the seven GOOD St. Louis teams are below. Additional profiles will be added as when available.
STL Provocateur: charged with increasing the accessibility of healthy, locally grown food in St. Louis
Team Members: Rhonda Smythe, Jeanette Reynolds, Stephanie Co, Andrew Flachs, Anne McCullough, Nat Zorach
Urban Leaders: Craig Heller, Food Works; Frank Finnegan, St. Louis Area Foodbank; Mike Sorth, Gateway Greening; Eric Schneider, RCGA
Why did you come together as a group? How do you know each other?
The STL Provocateur members actively do our part to create a vibrant city and community through everyday actions and volunteer work. Several of us met through Mayor Slay's Vanguard Cabinet, an initiative focused on keeping creative young professionals in the region through community involvement. It's working – many of us transient professionals stayed because of 1) the friendships formed through this group and 2) the power to positively influence our city! The rest of the group met through our collective love of food and cycling. We strengthened our relationships through shared volunteer hours and participation on events like the STL World Naked Bike Ride, Open Streets, and STL Harvest Fest. And let's be honest here – Steph Co knows everyone. Luckily, it's her mission to bring us all together.
What are your strengths as a creative team?
The STL Provocateur team brings a wide variety of educational and professional backgrounds to the table. Our strengths lie in community engagement, development and organizing. We all have a deep passion for social justice that ties us together, along with a firm commitment to bettering the place we're in. We create events that bring diverse swaths of people together, from cyclists to foodies to barterers to exhibitionists. We lead with fun, bringing education and behavior change along in bite size pieces.
(Read more about STL Provocateur at Alive Magazine)
__________________________________________
STL Alley Lovers: charged with the task of increasing ridership on St. Louis' light rail and demonstrating the unique opportunities that public transit provides
Team Members: (from left) Derek Hoeferlin, Monika Jankowiak, Chris Galli, Jenny Murphy, Andy Heaslet, Jonathan Stitelman.
Urban Leaders: Kim Cella, Citizens for Modern Transit; Rhonda K. Hamm-Niebruegge, Lambert-St. Louis International Airport
Describe the professional and/or creative backgrounds of your group members.
Our team is made up of a lawyer/ backyard gardener, a cycling entrepreneur/ activist, an architect/ professor, an object conservator/ foodie, a social entrepreneur/ community artist, and a designer/ craftsman. St. Louis natives and transplants, we are each deeply invested in St. Louis, and each in our own way use creative process and production to spark a dialogue and action with our neighbors and city.
How did you come together as a group?
We found ourselves connected through our interests in the amazing potential hidden in St. Louis alleys. Some of us travel them, some of us furnish our homes with them and some of us see creative opportunities in them. Our team members' paths continued to overlap through local projects and events, and when Derek saw the call for GOOD teams, he sent out an email to bring us together.
(Read more about STL Alley Lovers at Alive Magazine
__________________________________________
ACTivate the City: charged with addressing the low graduation rates in St. Louis public schools, and empowering more students to finish high school
Member names: Stan Chisholm, Dayna Kriz, Regina Martinez, Kevin McCoy, Mallory Nezam, Carlie Trosclair, Daniel Waxler
Describe the professional and/or creative backgrounds of your group members:
Stan is an interdisciplinary visual artist and DJ. Dayna is program coordinator in residence and artist for Rebuild Foundation in Hyde Park. Regina is a Coordinator in Residence working at Rebuild Foundation's Salerno House (Pagedale, MO). Kevin is a printmaker and designer who co-runs WORK/PLAY. Mallory is the founder and director of St. Louis Improv Anywhere. Carlie is an installation artist who did her Masters at WashU. Daniel Waxler started the Declare It Art project, and is the Director of Development and Communications at the Danforth Plant & Science Center.
Why did you cometogether as a group? How do you know each other?
Many of us have worked together in some creative capacity, so we are first and foremost connected through our commitment to developing community through the arts. Many of our practices engage with the idea of 'public.' We all want to see St. Louis become the best that it can be, and we want that to happen from the bottom up.
The goal was to create a balanced team with a diversity of strengths. We've got a lot of incredible arsenal appropriate for this event: design and tech skills, lots of creativity balanced with practical problem-solving skills, experience working at the intersection of art and other disciplines. The most important criteria for inviting team members was to find creatives who worked well in collaborative settings and have demonstrated that they are passionate about facilitating the betterment of our city.
(Read more about ACTivate the City at Alive Magazine)
__________________________________________
Arch City Revival: charged with redesigning the borders between STL's many diverse communities to work as bridges instead of barriers
Member names: Emily Hemeyer, Katy Mike Smaistrla, Joyce Gorrell, Sarah Paulsen, David Burnett, and Amy Lampe.
Describe the professional and/or creative backgrounds of your group members.
If they're not already in the same room, gather together a few art teachers, sustainability professionals, world travelers, historic preservationists, painters, event planners, interior designers and grants managers, and then get them to talk about their ideas for the city. You'll find their backgrounds may be wildly distinct, but their passion for place-making has led them to their current position and serves as their reason for staying in that room to discuss some of these pressing questions.
"Arch City Revival" draws from a mix of ages, backgrounds and professional expertise: as active individuals we come at this project with a range of experiences. The skills we collectively possesses are diverse and range from the interpersonal to the practical, from community organizing & educating to grant oversight & map making. Professional affiliations include the EarthWays Center of the Missouri Botanical Garden, SPORE Projects, Home-Stay Artist Residency, St. Louis Development Corporation, Chautauqua Art Lab, South City Open Studio & Art Gallery, STLCC – Forest Park, and many more.
Why did you come together as a group? How do you know each other?
We came together in solidarity, by collectively responding to a unique call to action. We are friends of friends, that formed together in part out of a curiosity to collaborate together and discover what our collective brainstorm might create. Although each of us enters this project with an independent mindset, we share similar interests in helping cultivate the future of St. Louis. As a group we have likely crossed paths at many different times and locations on the general scene of doers; we know each other as neighbors, co-workers, friends, collaborators, and upon the whisper of shared information. We've always had the potential for synergy and action creation under our shared footsteps.
(Read more about Arch City Revival at Alive Magazine)
__________________________________________
HOK FIT: charged with ensuring that the city is able to protect, preserve and maintain our community parks for generations to come
Member names: Charlie Lutz, Chip Crawford, Dhaval Barbhaya, Jason Pierce, Jonathan Murphy, Leesa Coller, Michael Browning, Nicole Hoffarth, Sarah Weissman, Tyler Meyr, Valerie Greer
Describe the professional and/or creative backgrounds of your group members.
We are a group of architects and planners who work together at HOK.
Why did you come together as a group?
While work takes us to a number of places around the world, we are totally passionate about our home here in St. Louis.
What are your strengths as a creative team?
Our process is a highly collaborative one, and we work through a model of fully integrated thinking (FIT)—meaning we approach design problems by considering them through several different lenses, such as ecological, economic, social and cultural ones.
(Read more about HOK FIT at Alive Magazine)
__________________________________________
Brain Drain: charged with attacking the essential issue of how to attract people to St. Louis and get them to stay here
Member names: Matt Ström, Tara Pham, Logan Alexander, Noah MacMillan, Zoë Scharf, Amanda Yates, Andrew Warshauer, Kuan Butts, Danielle Wallis, Christine Stavridis, Bennett Gale
Describe the professional and/or creative backgrounds of your group members. What are your strengths as a creative team?
We are designers, architects, urban planners, journalists, educators, musicians, brewers, printers, archivists, builders, activists, organizers, mobilizers. Our respective fields range from as technical as architecture and mechanical engineering to as creative as illustration and printmaking. We want to offer our diverse skills, backgrounds, and passions to solve real problems on a human scale.
Why did you come together as a group? How do you know each other?
Brain Drain is the brainchild of a group of young people united by a love for St. Louis. Some of us met in college, while others became friends after graduating. We are the ones who stayed, and we are committed to reversing the trend of young people leaving St. Louis. Brain Drain aims to influence the trajectory of this city we all now proudly call home—and show other young minds that they can, too.
(Read more about Brain Drain at Alive Magazine)
__________________________________________
Live the Lou: charged with breaking down the barriers that prevent us as a region from working together
Member names: Juard van Dijkhorst, Stacey Wehe, Nate Paul, Laura Schmaltz, Courtney Sloger, Mike Glodeck, Ed Reggi, Amanda Clark, Whitney Sewell
Describe the professional and/or creative backgrounds of your group members:
Our backgrounds are incredibly diverse. We have designers, entrepreneurs, urban farmers, community leaders and for good measure an architect.
What are your strengths as a creative team?
Our strengths really come from our diverse backgrounds and skill sets. Our conversations and inspirations touched on an array of topics; from game theory to social media, medieval history to current PR campaigns and ever-infused with movie references, glitter and the occasional Barry Manilow impression. We're incredibly fortunate that everyone on the team possesses a fantastic sense of humor.
(Read more about Live the Lou at Alive Magazine)
__________________________________________
EVENT DETAILS:
Thursday, March 8

Doors at 6:00 p.m.

Program begins at 7:00 p.m.
Contemporary Art Museum of St. Louis

3750 Washington Blvd.
St. Louis, MO 63108
The event is free; RSVP via Facebook
Cash bar; Pi Truck selling pizzas outside