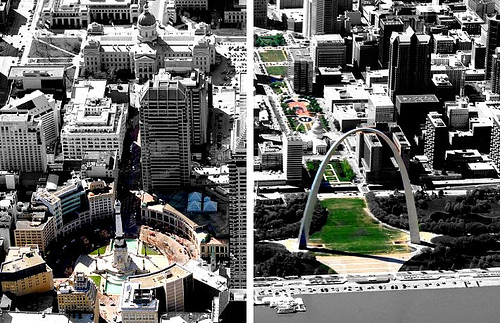 (Listen to "Lessons from Indianapolis" from St. Louis Public Radio's St. Louis on the Air with myself and Ripley Rasmus, Senior Vice President, Director of Design at HOK as guests.)
Indianapolis is an incredible Super Bowl host city. Lucas Oil Stadium fits so well architecturally within the downtown. It's only a seven block walk to the center of the city. Most of the city's big hotels and restaurants are nearby. Indianapolis has a relatively compact, walkable downtown. The stadium has a Walk Score of 72. Indianapolis nailed this Super Bowl because of infrastructure. Indianapolis knocked it out of the park as host city for Super Bowl XLVI.
All of the above has been said in the past week about Indianapolis, Indiana. The city has been lauded for its hosting of sports events. This isn't a revelation to many who have attending an NCAA Final Four, or countless Olympic trials and other events there. The city has great facilities. What's more difficult to understand is the great chasm in rhetoric between Indianapolis and St. Louis. None of this is meant to put down Indy, but as an attempt to understand the rave reviews and why a city like St. Louis may never gain such a reputation.
Understanding expectations and preconceived identities tells us a lot. It's much better to be dismissed as "India-no-place" than labeled as the most dangerous city in the nation. Super Bowl attendees likely had low expectations, or no expectations, for Indianapolis. They were pleasantly surprised. Even the weather cooperated. Several recent Super Bowl sites required visitors to board busses, drive or fork over a hefty ransom in cab fare to move from the stadium to hotel to other attractions. That's the way it works in Miami, Phoenix, San Diego, etc. Super Bowls are not often held in urban stadiums.
Except for the architectural compliment above, the comments could just as well refer to St. Louis. But of course, they don't. And to be honest, the Edwards Jones Dome isn't the worst looking NFL stadium by quite a ways. If you stack up a list of amenities including hotels, transit, walkability, restaurants, unique attractions and more, it's difficult to understand where the difference lies. Although a Walk Score is a less-than-perfect measure, the Edward Jones Dome scores a 92, "walker's paradise" for its nearness to hotels, restaurants and transit. The one big difference between the cities? Circle Center Mall – think St. Louis Centre when it was shiny and new, or maybe more accurately, the Galleria downtown. Perhaps that's a perception game-changer.
Indianapolis closed three blocks of Georgia Street that connect the Pacer's arena with the convention center attached to Lucas Oil Stadium for the Super Bowl Village, the "Epicenter of Awesome". The equivalent in St. Louis would be to close 8th Street from America's Center to City Garden. Indy installed an 800 ft. zip line that allowed visitors to fly over downtown. But let's be honest, which would you rather have one 800 ft. zip line or City Museum? The Indy airport may be a short cab ride to downtown, but MetroLink provides a connection Indy can't offer.
The biggest issue may be that the two cities didn't start at the same point. Indianapolis is at, or very near, its apex, not because of the Super Bowl, but because of decades of success in attracting amateur sporting events. The city sits at the geographic center of its state, the majority of the metro area is within the city limits, it's the state capital. St. Louis, on the other hand, was this and was that and used to this and once had that…. A prime example of this mentality is Lambert International Airport which still today carries 60% more passengers than Indianapolis (6M to 3.7M in 2010), but it used to be the TWA hub!
Indianapolis has had a sports strategy and has the experience and commitment to host events (read "Naptown to Super City": Considering the Indianapolis Sports Strategy on nextSTL). The corporate, and largely the residential, community have bought into the effort, the identity. The Super Bowl had more local volunteers than it needed. What is the identity St. Louis has constructed? In St. Louis our civic energy and leadership has other priorities: the botanical garden, the Arch, Forest Park, City Garden, Washington Avenue… The point is that St. Louis has decided to focus on other initiatives. In the end, those attractions have not produced a coherent story like the sports strategy in Indianapolis.
Every large city has a garden, parks and museums. Differentiating such amenities from other cities is much more difficult than saying, "We have the Super Bowl and no one else does." That's the power of sports. But does the perceived difference between Indianapolis and St. Louis matter? Sports, and the Super Bowl in particular carry enormous weight in terms of perceived success, and that perception is self-reinforcing. Indy was a great host in some part because it got the Super Bowl. Yet, in terms of direct economic benefit, St. Louis may be equally served by having booked the week-long FIRST Robotics Competition for three years (2010-2012).
Of course it's not just robots (or competitors building robots), St. Louis has served as host to the men's NCAA Final Four in 2005 and the women's in 2009. The city will host its 5th of the past 9 NCAA wrestling national championships this year, and the MLB All-Star game was recently in town. Not bad at all. The problem in the end may be simply that St. Louis in competing with Indianapolis in their chosen civic focus. The nearness of the two cities doesn't help either as the NCAA, NFL and other organizations look to move events around the country.
As one person put it to me, "Indianapolis just feels nicer than St. Louis." But "why"? Perhaps Indianapolis has fewer vacant buildings to pass and empty neighborhoods to wander into? If so, it's not because Indy has demolished more than St. Louis (we've done plenty of that), but that the city never had the building stock St. Louis continues to enjoy. Perhaps we're a nice city still wearing a suit three sizes too large, both physically and mentally. Today's Indianapolis fits its skin just fine.