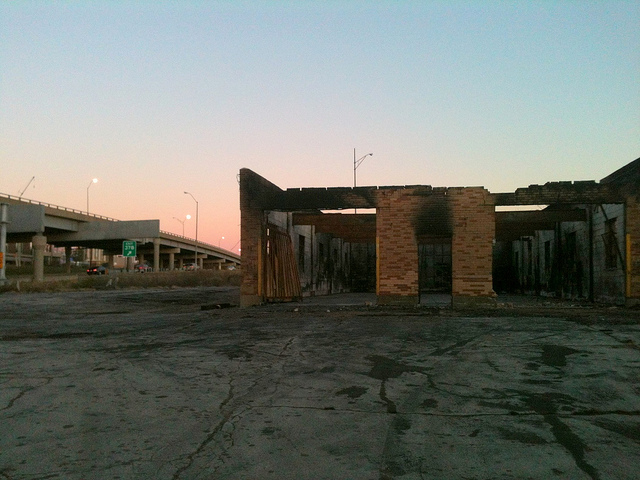 Ever since Clark Griswold told his kids to "look at the blight" when driving through Saint Louis, this City and this metropolitan area have become overly accustomed to doing just what he did: look at the blight, and then pass right by it. And when you drive by it every day, you only occasionally recognize it.
My daily commute has me driving back and forth each day between Downtown and Clayton on our region's Main Street, I-64/40, and every day I see buildings left in decline. Day in, day out I pass these buildings, along with a few hundred thousand others. It's become mostly a passive thing for us, barely recognizing we're going by empty or extremely underutilized buildings that give off the air of urban decline.
Then again, what if it wasn't such a passive experience? What if this was a fresh, unique experience?
Say I was traveling through like the Griswolds, seeing Saint Louis for the first time; would this drive-through be my takeaway? More importantly, say I was a business executive visiting Saint Louis, traveling on I-64/40 between Downtown and Clayton (an obvious travel as these each are our Metro Area's twin central business districts), considering moving my professional practice from out of town; how would I feel about this City if I'm driving past decay? How would I perceive a city that treats its proverbial Main Street like a back alley?
Have we become blasé to this decay? Have we become indifferent? Can we not tell that these derelict, forgotten properties, by their sheer worn-down ugliness, make us all look bad?
Well, let's try it out with our eyes wide open…
Driving the "family truckster" west across the Poplar Street Bridge into Saint Louis, we look to our right and we can almost hear Chevy Chase shout out: "Hey hey kids! See that? That's the Saint Louis Arch, the Gateway to the West! It's over 600' tall and there's an elevator all the way to the top! That's 60 stories to you and me." ("Wow, Dad, can we go up in it?" "No.")
The Gateway Arch truly is a glorious monument and probably the largest piece of sculpture in the world. But look left, and there's this heap:
Eyesore #1: Powell Square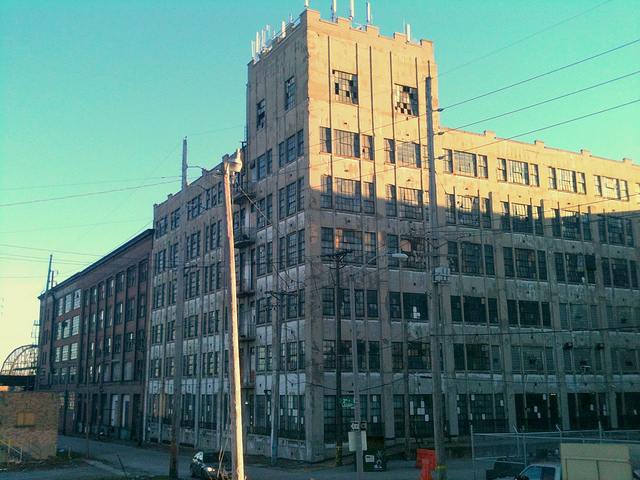 The Powell Square complex reeks of the type of decay that was made fun of in movies like RoboCop and Escape from New York. Plans have been circling around for years on Chouteau's Landing being redeveloped, ranging from the restoration of Chouteau's Pond to the construction of an arts complex at Powell Square, even involving the design teams behind the City+Arch+River plan to revitalize the grounds of the Gateway Arch. But for now, it's mostly just a concrete skeleton and warehouses.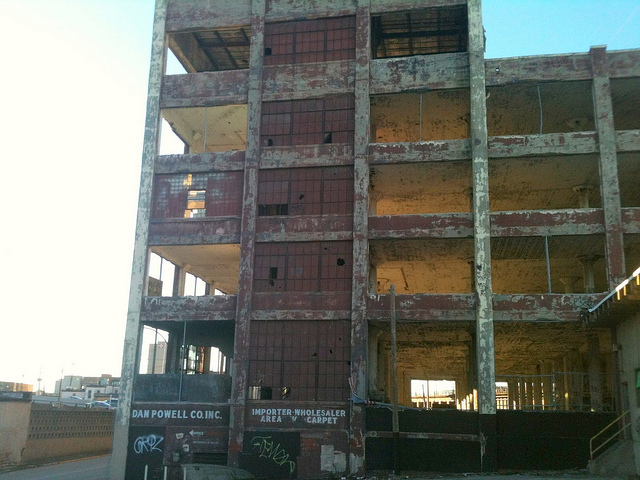 The craftsmanship of the best of these buildings is really wonderful. If the buildings themselves were located in Downtown West, they'd surely be filled already with condos, apartments, and small businesses.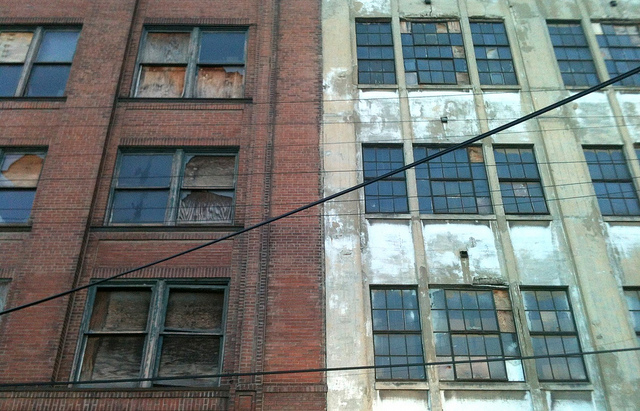 Seriously, we tolerate this?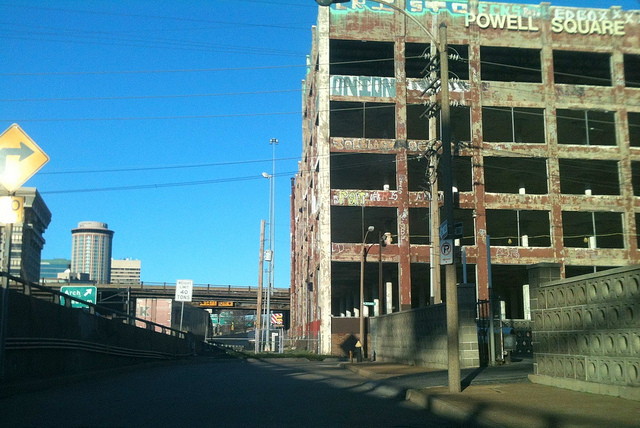 How bad is Powell Square? We only have to think back a couple of months, when one of the abandoned buildings here caught fire and covered Downtown with so much smoke that it erased the Gateway Arch from South City's view.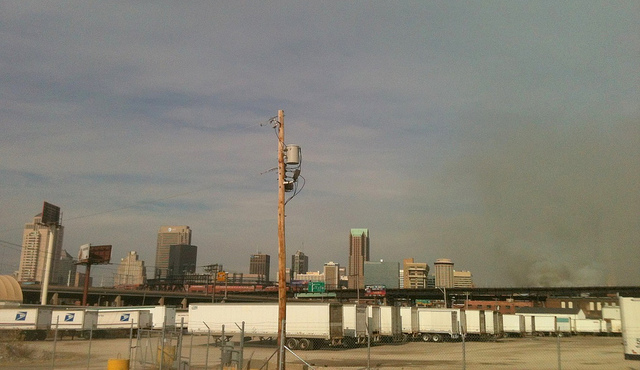 That doesn't engender civic pride.
Back to the drive, where we come upon…
Eyesore #2: The Promised-$700M Softball Field and Parking Lot!
(… otherwise known as Ballpark Village)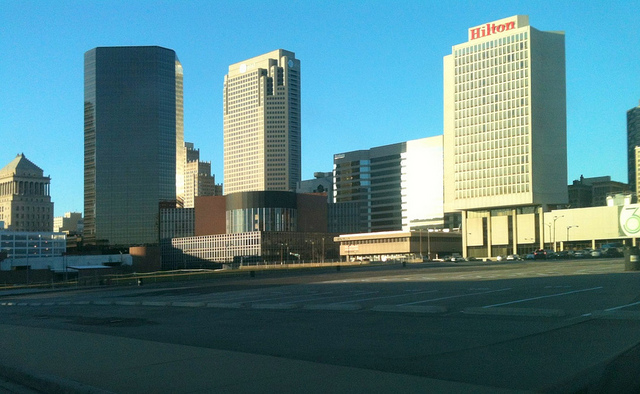 This … was supposed to be THIS … by the All Star Game … in 2009.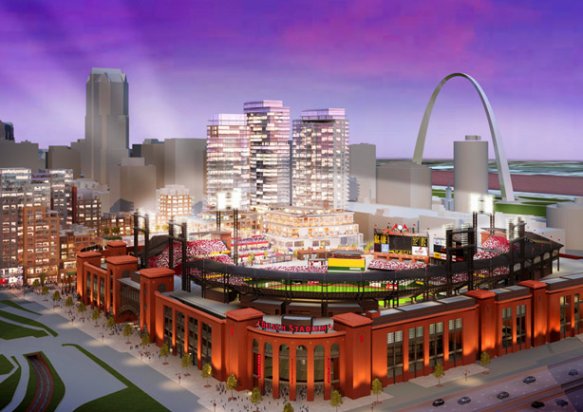 Lookit! All those shiny towers … At least 3 over 30 stories!
Then, like the rest of the world in 2007-08, the Cardinals' ownership experienced the pains of real estate development, namely that prices in a market can go down.
What do we have today?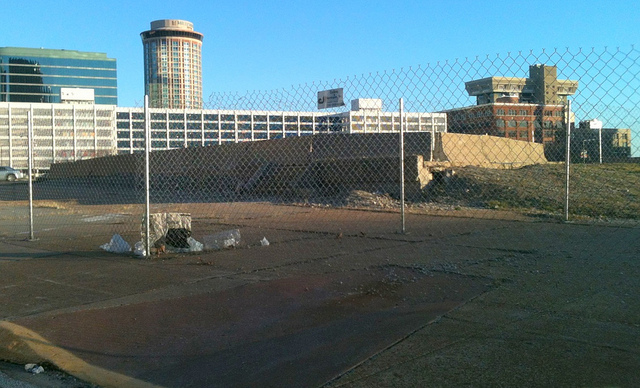 This is the only edifice in Ballpark Village: Along Walnut Street, in front of concrete dividers, you can still find stairs where you'd walk from the sidewalk up to Busch Stadium II.
But, look at that glorious softball field – that is, if you can see it across from the parking lot.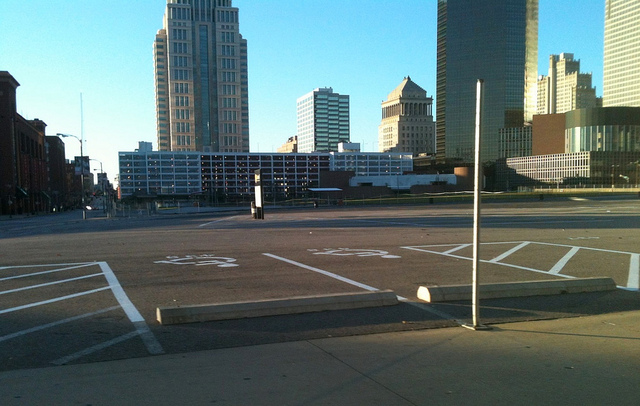 But, here's the bright side: Cardinals ownership know that this is a giant black eye on Saint Louis' face, and they say they're dedicated to "something" going up there. And, with #5 going to the Anaheim Angels, they have another $250M+ on hand to actually do something here.
Just past "Ballpark Village", though, there's more tangible decay, this time with some more viable hope: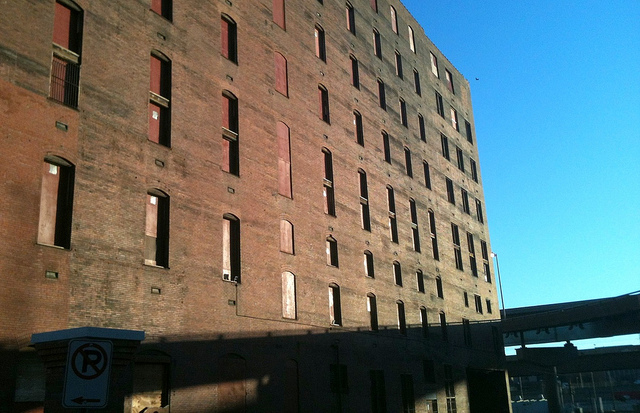 Eyesore #3: Cupples Building #9
Just past the Westin Hotel in the Cupples Station is Building #9, which has been pledged to being rehabbed into office & residential. Ownership has come back to say they are ready to see this site return to their earlier pledges of being fully rehabilitated. Right across 7th Street from the beautiful new Busch Stadium III, and just along the MetroLink tracks, this building's conversion will be a welcome sight to those heading in for Cardinals games … and driving past on 64/40.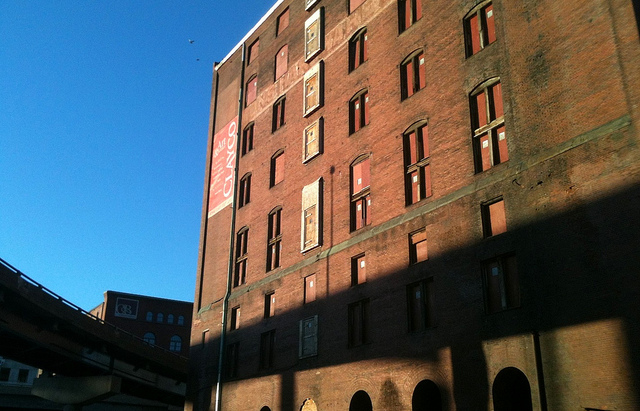 Yeah, lots of potential; I'm not the only one ready to see workers heading in this spring.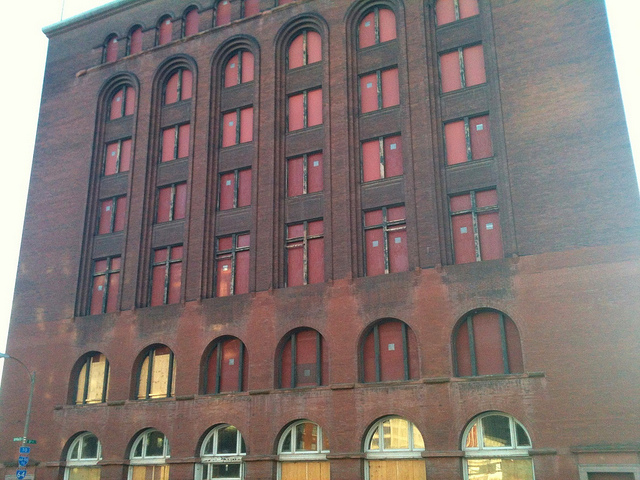 The flip side to that coin, though, is that another Cupples Building is in dire straits…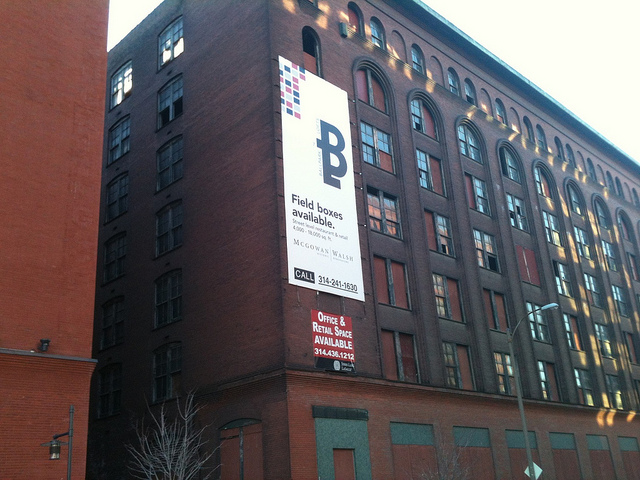 Eyesore #4: Cupples Building #7
Just off the eastbound exit to 11th Street, Building #7 has languished behind the facade of a brand spanking new parking garage, built to hold cars for residents of this building (when originally set to be redeveloped) and other Cupples Buildings that have already been rehabbed. However, #7 wasn't as fortunate as its fellow red brick brothers, ignored so badly that its roof has partially collapsed.
The contrast between this and the other Cupples buildings is striking.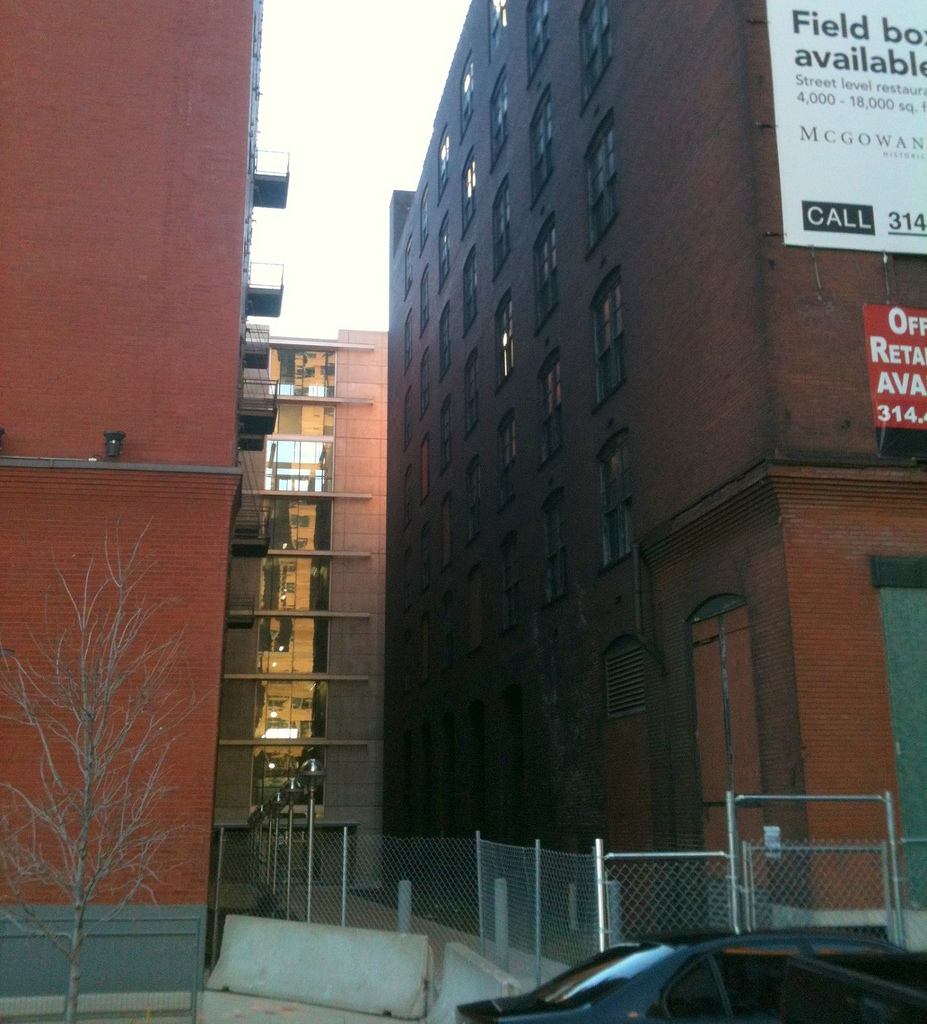 How bad is it? Incredibly: Emergency barricades have been put up in front of #7 along Clark Street, closing off a busy Downtown side street, because Building #7 has been left so long to rot that the City is reasonably scared of bricks falling on cars, or people, passing by. This isn't some forgotten industrial wasteland; this is two blocks from Busch Stadium! Significant advertising firms, new residences, and new restaurants surround it; but #7, you've been forsaken.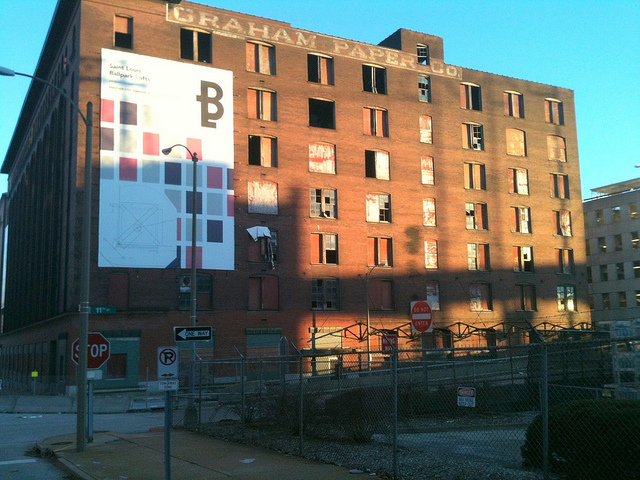 The City has thankfully denied a vote to tear the building down into another vacant hole amidst urban density. However, #7 still will need a whole lot of TLC, and money, in order to be restored.
Go one block past it, and just along the highway you have our next forgotten subject…
Eyesore #5: The Endicott-Johnson Building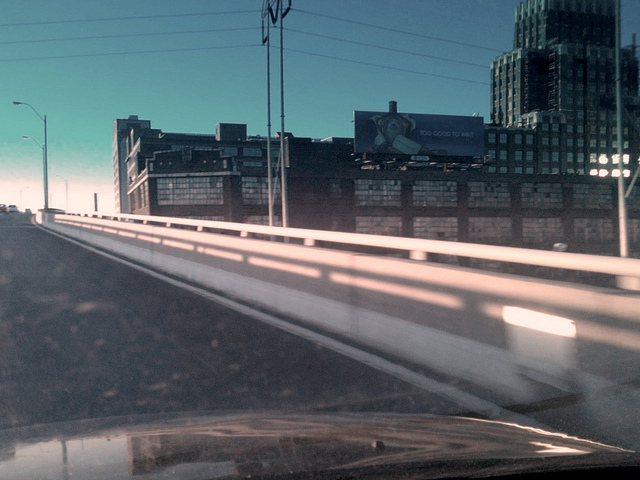 It's a solid old building that hasn't had a tenant since Globe Drugs shut down. And while the Robert A. Young Federal Building is getting a facial, with offices clearly visible to both east & westbound traffic, the Endicott-Johnson just sits, waiting.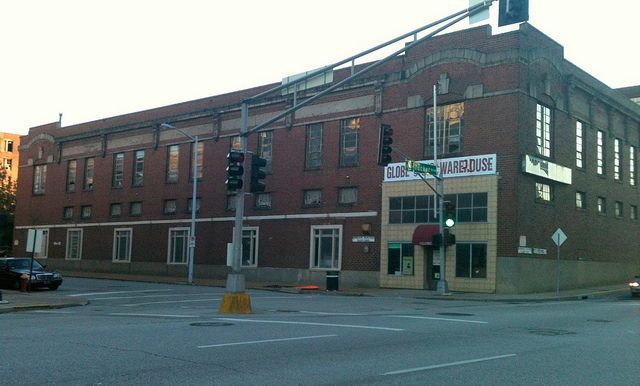 It's not that it just sits there, closed but proud, but what drivers on eastbound 64/40 see: a wall of shuttered windows right next to them as they drive. It's just eerie.
Heading further west on 64/40, you can spot another building jetting out on the other side of the railroad tracks in the old Mill Creek Valley …
Eyesore #6: St. Mary's Infirmary on Papin near Chouteau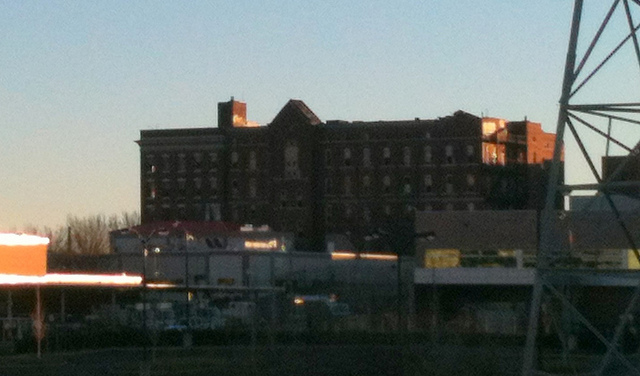 One block east of the Ameren HQ complex off Chouteau, this brick mid-rise reflects a solid history of craftsmanship, regal red bricks, and potential. It's actually not that bad-looking from 64/40. Then again, drive on Choteau along the other side…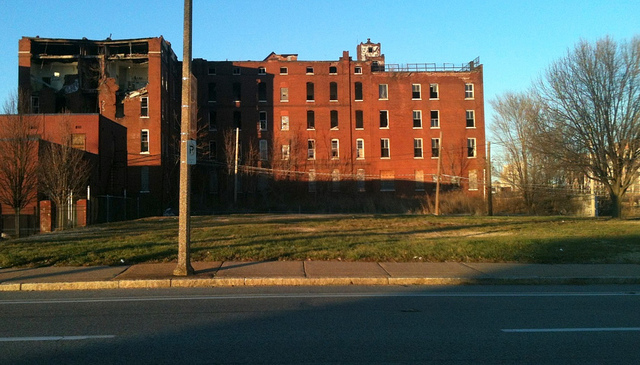 …and you can see half of the east face ripped off. It really is a heartbreaker, with so much potential. With other subsidized housing units nearby, you'd think it would be a good candidate for rehab. Maybe someone out there has their eyes on it and can get a project going, providing more & better housing to this neighborhood just in the shadows of the high-rises Downtown, but who knows when that day will come. The building is still owned by St. Mary's Development LLC. It was listed on the National Register of Historic Places in 2007, making it eligible for state and federal tax credits.
Continuing west on 64/40, there are plenty of great buildings around, and one can see great rehabilitations (Grand View Apartments buildings, expansions at Harris-Stowe State University and Saint Louis University, including Chaifetz Arena, and on and on…). In the near future, we can expect to hear more on plans for the expansion of BJC's campus, with a total investment upon their expansion expected to be near $1.2 Billion (that's Billion – with a B). Then again, if you make a U-Turn across Boyle before BJC, you can drive along and find a really beautiful building all boarded up…
Eyesore #7: The Providence Education Center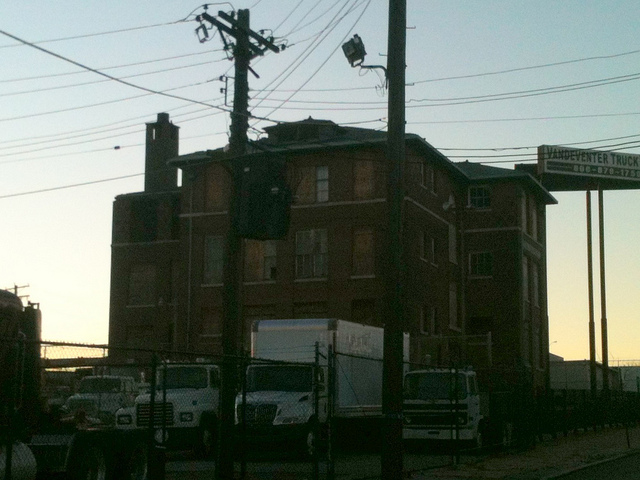 I must have driven past this building a hundred times before I drove up close enough to really look at it.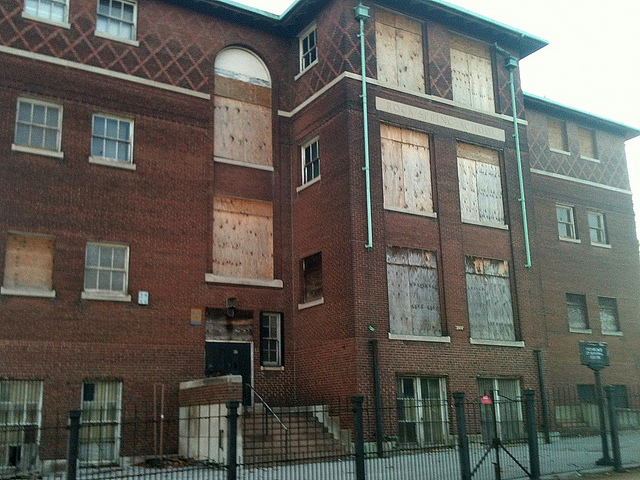 This is the old Providence Education Center building. It sits next to the large sign for Vandeventer Truck Sales, stands 4 stories tall, reminds me of classic French architecture, and is all boarded up. It's a stunning building, and incredibly under-utilized. There's much redevelopment near the Providence; with a little attention, it could surely find a newly productive life. And, talk about location…
When you head back east on 64/40, the roadway splits, dropping eastbound traffic below the elevated lanes that take westbound traffic towards Forest Park and Saint Louis County. Here is where the coldness of 64/40's urban decay can best be felt: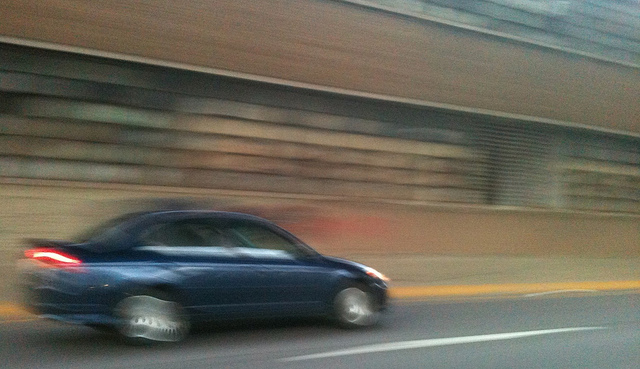 Going by at speed, it's not always readily apparent how ugly this is. But take the time to really look at it…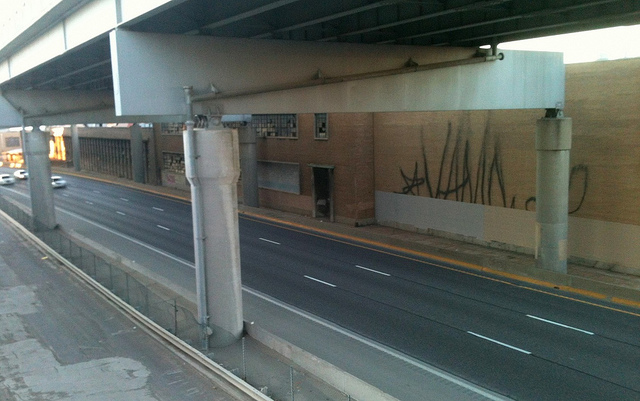 … and that's a whole lot of ugly. Specifically:
Eyesore #8: The Federal Mogul Complex and Adjacent Warehouses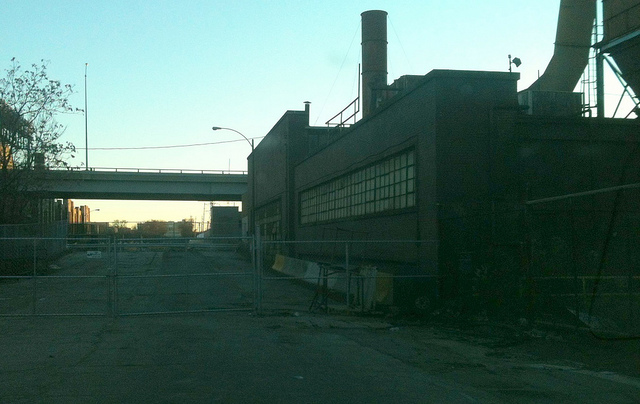 A few years ago, this industrial site (between 64/40 and Forest Park Parkway) was set to be scrapped, leveled, and converted into a retail-based mixture to serve the general area, including SLU students. Stores like Target and Trader Joe's were specifically mentioned for the site. Since then, though, not a thing's been done.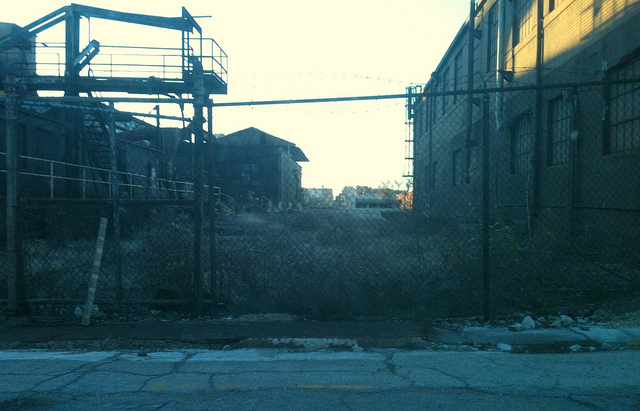 This is looking west from the Federal Mogul. In the distance, rising above the weeds, you can just make out BJC's newest tower, constructed as part of its BioMed 21 expansion. From here, it might as well be on the moon.
Looking at it from 64/40, though, and it's just a big, dark wall of shuttered decay.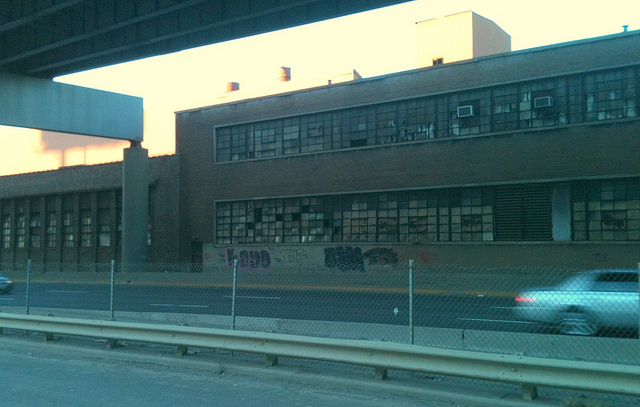 This is why West County is scared of Downtown: to get there, they have to drive past the dark ruins of the Federal Mogul.
I mean – Ten miles of 64/40 from Kingshighway to past Spoede Road get redone, is named one of the best highway projects in the entire US, and this is what we find just on the other side of it?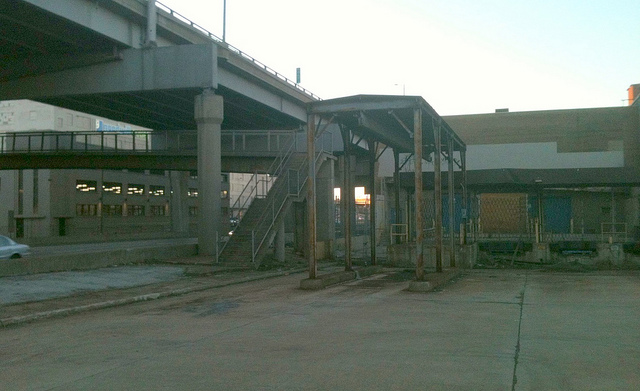 Next to this site is a collection of warehouses offset from the Highway, in varying levels of current use, just before the exits to eastbound Market Street and Grand Avenue.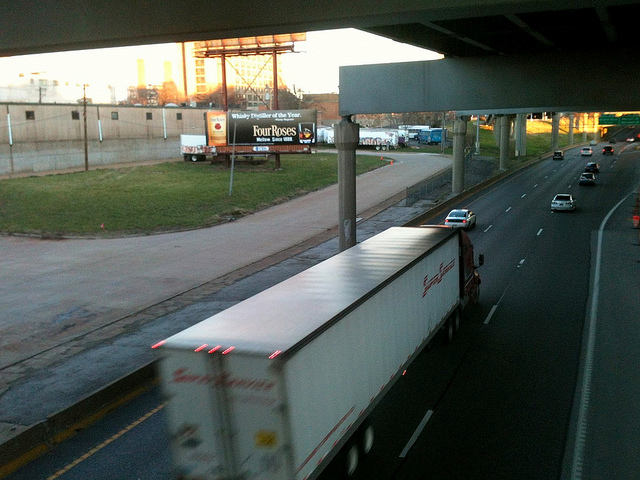 Not so uncommon, but the graffiti artists have taken to the trucks outside of them…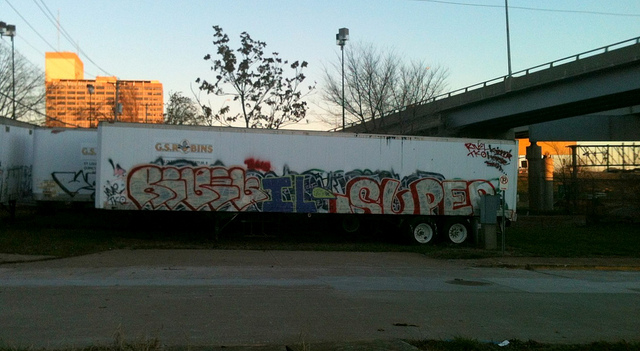 That's not so much out of the ordinary.
But: There's this one trailer, facing 64/40, and…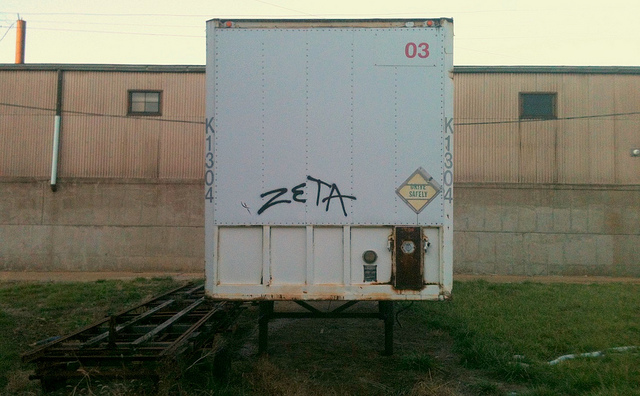 I don't think these "ZETAS" are sorority girls!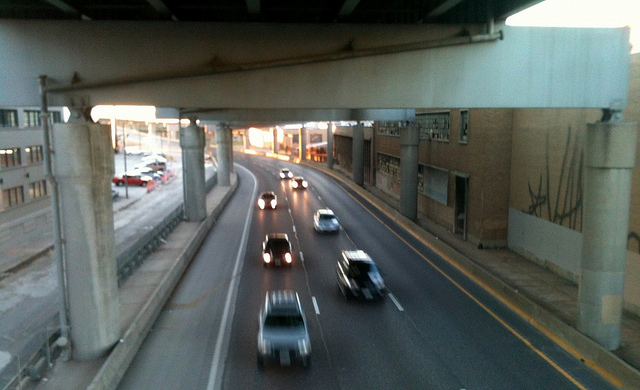 It's not all bad. Just across from the large industrial rot is the new Goodwill center, making a very good home in the old Famous Barr warehouse. However, go one block just east of it, and you'll see one of the most beautiful buildings in the entire City, dying an undignified death: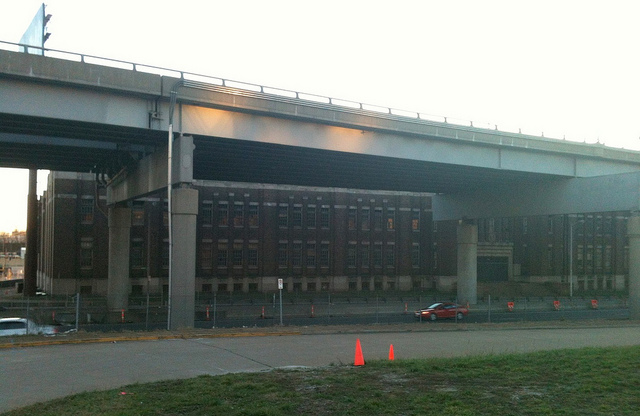 Eyesore #9: The Armory of the 38th Infantry of the Missouri National Guard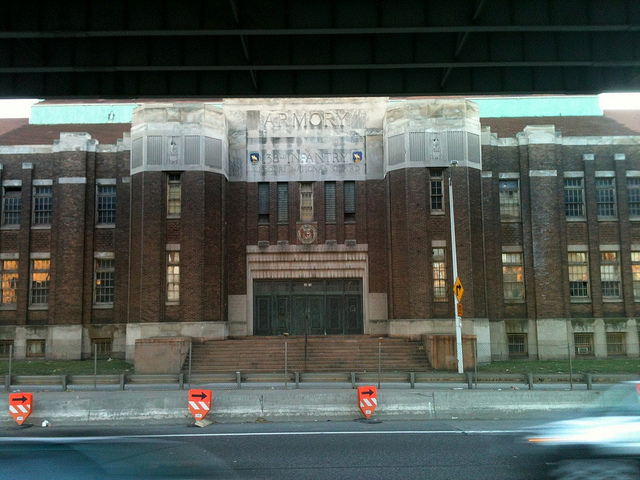 This building is an Art Deco masterpiece, with finishing touches that would match it perfectly with the Soldiers Memorial along Market in Downtown. The years, though, have not been kind, and being forgotten, the Armory is in dire disrepair. The contrast between the building's beauty and its calamity are striking: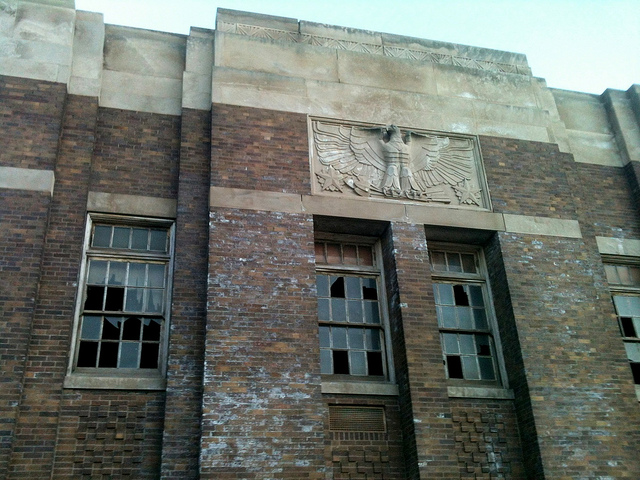 A very big building, with a wide open space inside, it has found past use as a sports center for coed sports and CYC youth soccer leagues. I personally remember playing here on early Saturday mornings in winter, when outdoor fields were covered in frost (full disclosure: it wasn't too warm inside, either).
Its sporting past actually extends much further back…
From 1931 to 1934, the Armory was home to the St. Louis Gunners, the City's professional football team in the up-and-coming National Football League.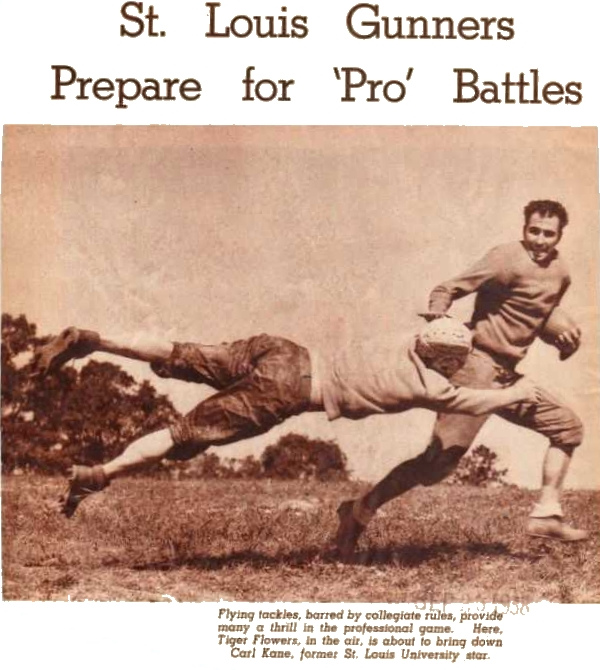 Yes! Believe it or not, the Arsenal use to be a an NFL stadium!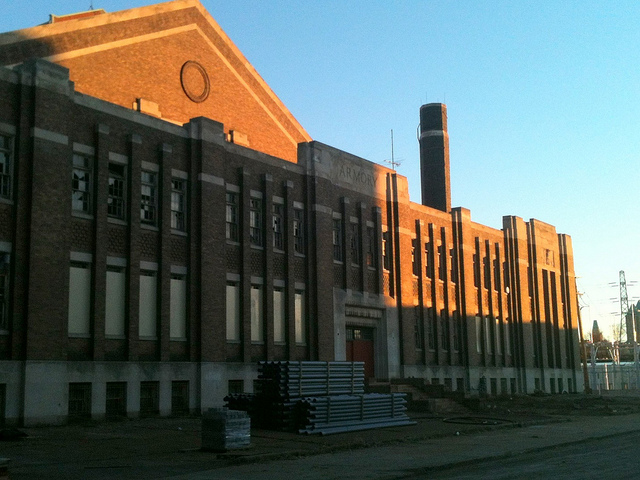 Today, however, this proud, beautiful, sturdy structure can barely stand up to the needs of a standard municipal library, let alone a modern-day NFL stadium (yes, Edward Jones Dome included). With the elevated split lanes of 64/40 literally on the front steps, it's been forgotten, left in decline. If anywhere else, it may be honored as one of the proudest buildings in the City. Instead, the Armory's forgotten.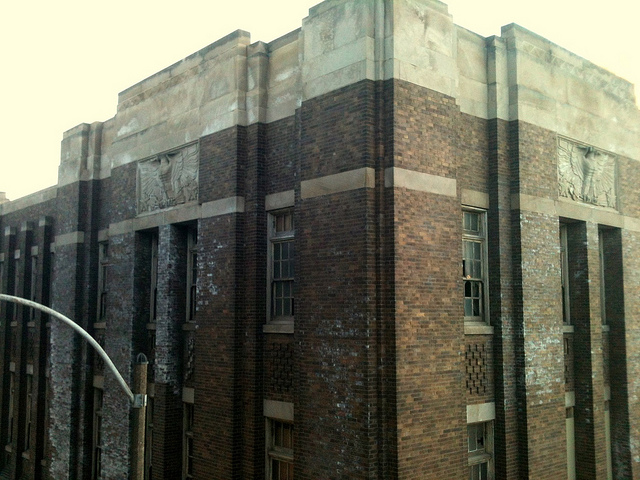 That this building has been left to decline so much is truly shameful.
Our last stop on our blight tour drive is on the other side of Grand, a quiet stopover on the exit to Market Street. It is right next to the new bridge for Grand Avenue southbound over the railroad tracks in the former Mill Creek Valley. The "blight carryover", though, can't be helped, though, at least when it comes to graffiti: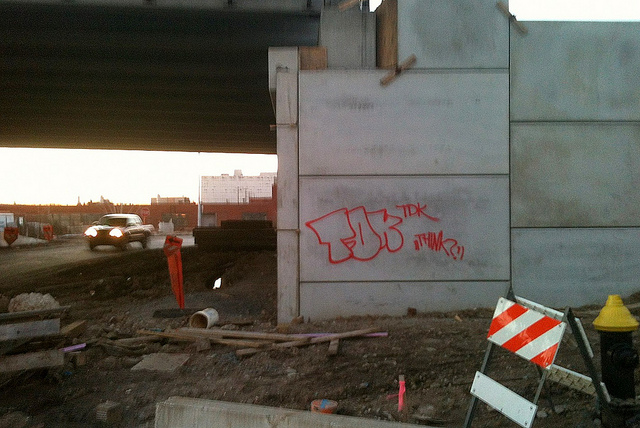 Seriously, if its neighbors were in better shape, you bet your tail this new bridge would not be tagged.
Eyesore #10: Underneath the Budweiser Eagle
The approach is met with a chain blocking traffic from parking in its lot.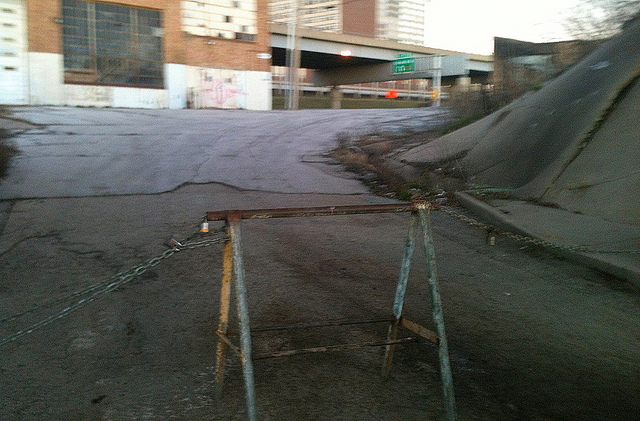 The building is known to us all, holding the neon Flying Budweiser Eagle on its roof to greet all westbound traffic above. But the building itself is, well, left asking for much. It's tagged, shuttered, and is apparently only is useful these days for advertisements.
No word on whether this is what SLU envisioned with their "Be Urban. Be A Billiken" campaign.
And right next to it?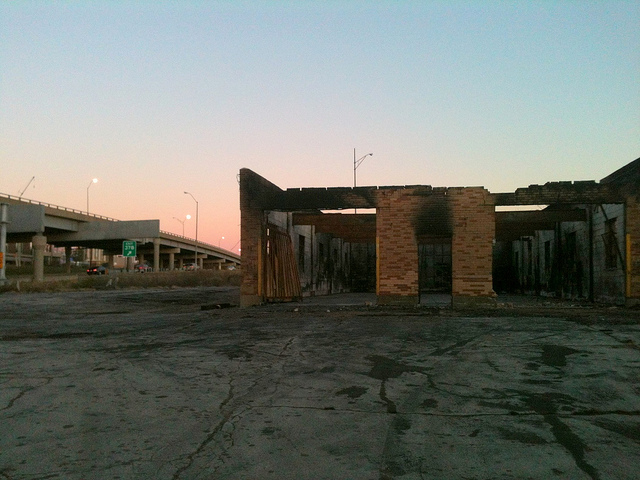 This trip ends how it began, with a burned-out building. This fire also took place near the end of 2011, taking out this unoccupied one-story and also leaving a scarred brick skeleton behind. You can barely see it driving by, but turn to your right as you pass, and it's there for all to see.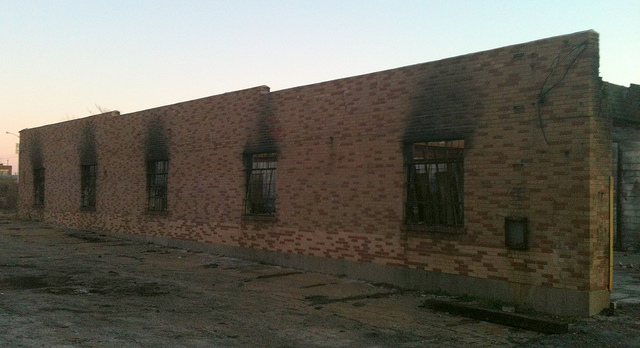 This entire tour has been based only on one of the City's highways. If we looked at other surveys by Interstate, many, many more buildings could be discussed. However, this is the main drive between Downtown and Clayton: as we are a Metropolitan Area with two Central Business Districts, this "main street" is the face of our region. This is where most visitors drive from their hotels to most of our regional attractions. This is the pathway businesspeople traverse when considering St. Louis for a site location and what corporations see when considering relocation. Conventioneers' busses frequently drive down I-64/40. While we may be passive to it, this decay is actively in their visage.
Most definitely, I-64/40 also shows off Saint Louis at its regal best, from the Clayton skyline past Forest Park, the Science Center planetarium, along the Central West End and past the universities. It's the road to the Loop, the Pageant, the Fox Theater, Scottrade Center, Busch Stadium, and the Edward Jones Dome. It's the way to Downtown and most of our largest employers. The Downtown skyline is full of light, much of it nonexistent twenty years ago. Even Union Station, which could use new life inside, is well maintained and no longer in danger of being lost. Then again, it may be impossible for us to see it from our vantage point while it's so readily obvious to others, like wearing a three-piece suit but not seeing the large coffee stain along the collar.
Much like a New Year's Resolution, let's take a more active look at ourselves and fix our problem spots. We'll look better, and we'll feel better. Otherwise, no matter how good we feel, Saint Louis will still look like this.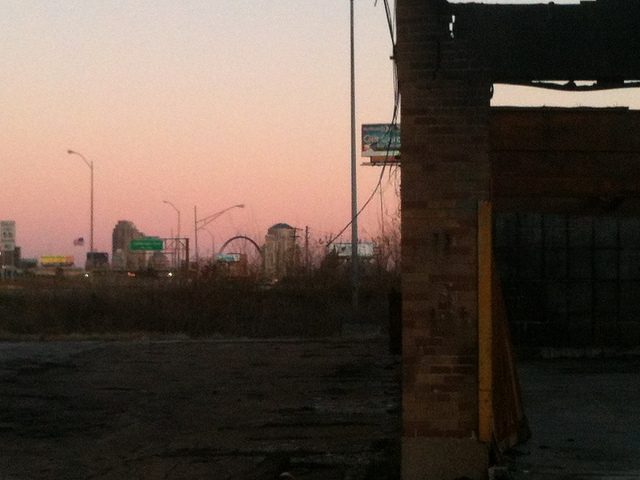 As Clark Griswold may say: "Kids – you noticing all this blight?"