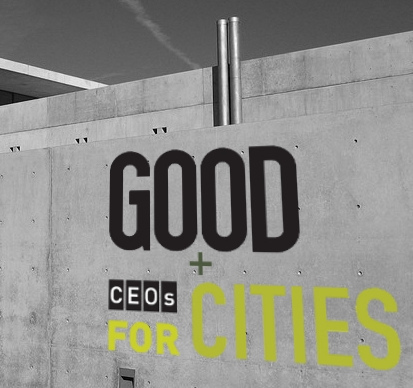 First, if you don't visit GOOD.is on a regular basis, do so now. It's a daily stop for us here at nextSTL. The most distinguishing characteristic of the site may be the infographics explaining everything from Palestine's shifting borders to shoplifting, but there's a lot of substance as well. So we were excited when GOOD announced that its Ideas for Cities series would be coming to St. Louis March 8. nextSTL.com is happy to serve as a media partner for this event. To this point, events have been held where one might expect; LA, San Francisco, NYC… but let's face it, GOOD's simply missing a lot of talent by not being here, and St. Louis has been missing a big opportunity.
What is GOOD Ideas for Cities? From GOOD: "GOOD Ideas for Cities events will bring together creatives to tackle challenges identified by urban leaders and the proposed solutions will be presented to city leaders in front of live audiences, as well as online and in the magazine." Who are the "creatives"? "Designers, architects, artists, filmmakers – anyone who uses creative, visual thinking to solve problems." In short, many of you! GOOD is looking for small teams to apply to participate in the St. Louis event. It takes only a couple minutes (deadline January 6) – apply here.
nextSTL has submitted a number of challenges to GOOD that could be tackled in St. Louis, and the local government officials who could partner in the effort. To be sure, there are no shortage of challenges. In addition, we have submitted a team of "creatives" (hey, it's their word, not ours) and hope to be participants in the event as well. If you want a better idea of how it all works, watch a video of the most recent event in San Francisco, see some solutions from the Los Angeles event, or read recaps of the events from the last three years.
Beyond the March 8 event, GOOD is launching a new effort that engages the community, so anyone can contribute their solutions for city problems. And they're producing a toolkit that allows any group to produce a GOOD Ideas for Cities event in their community. Even more reason to be excited as this is right up our alley. After all, GOOD's slogan is "For people who give a damn."
Event details:
Thursday, March 8, 2012
Contemporary Art Museum – St. Louis
3750 Washington Boulevard
Doors open at 6pm – Program begins at 7pm
Cash bar – Pi Truck selling pizzas outside
Free and open to the public