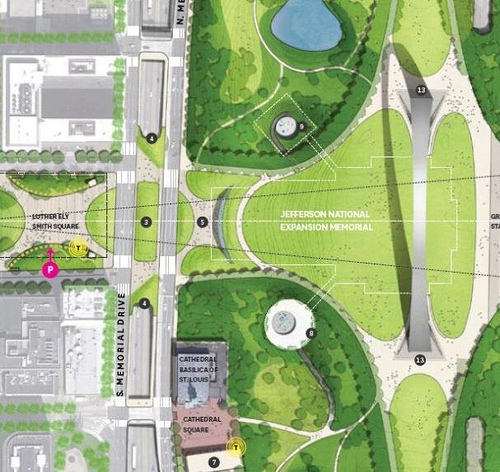 Piecing together $578M for the Arch grounds revitalization project was always going to be more jigsaw puzzle than formulaic business plan, more art than science. And it remains possible that pieces of any final design will be implemented in phases and over a longer period of time than the initial October 2015 deadline for completion of the City+Arch+River project. Now just less than four years from the planned completion date, the funding picture is beginning to come into focus.
Today, it was announced that a $20M TIGER III federal grant has been awarded to the Arch grounds project for "roadway improvements along the I-70 corridor road system in St. Louis". It remains difficult to unwind the grant process locally. For example, we know that Great Rivers Greenway has committed $10M in matching funds for a TIGER III grant application for "Central Riverfront Project element of the City+Arch+River 2015". Yet this would appear to be separate from the grant that has been announced. Another, much larger, grant is said to be hoped for in the coming days.
In contrast with some other communities, grant applications for the Arch grounds project were kept quite. Inquiries from nextSTL to Great Rivers Greenway and MoDOT were met with a lack of comment and a statement that any TIGER III grant information would require a Sunshine Law request for documents, respectively. In Cincinnati, city leaders trumpeted their application for funds to expand their planned modern streetcar system. It's unfortunate that efforts in St. Louis have not been more public.
In a press release, City+Arch+River 2015 stated, "The $20 million grant from USDOT comes with a local match of $25 million from the Missouri Department of Transportation and $10 million privately from the CityArchRiver 2015 Foundation, which agreed to provide $1 for every $2 provided by USDOT."
Although referred to be different names, it appears that announced funds to this point are allocated largely to the long sough "lid" to enhance the existing pedestrian connection across a block of I-70 between the Arch and the Old Courthouse. Depending on counting, up to $57M may have already been allocated to this component. Thus, millions of dollars have been awarded to the "lid" that has not been discussed with, nor presented to, the public.
It would appear nearly impossible that the "lid" would not be built at this point. The visual focus of the planned transformation, several finalist team designs, including the winning MVVA team, left Memorial Drive in place. The last public presentation was January 2011 and did not allow for public comments.
The opportunity to comment in 2011 was the National Park Service's request for comments regarding its environmental assessment. Of 123 pieces of correspondence received, the NPS received 119 comments supporting the full study of converting I-70 downtown into an urban boulevard. Not all pro-boulevard study comments rejected the "lid", and in fact, City to River has shown that the two can be compatible. With any luck, a small portion of funding will be made available to study the only option to receive unambiguous public support.
Additional TIGER III grants will be announced in coming days. Although not confirmed, it is believed that an additional application for up to $80M has been submitted. The result of any application will likely be known before the nextSTL Sunshine Law request response is received.
Here is the funding information that has been made public to-date:
$2M for pedestrian bridge from the Public Lands Highways Discretionary (PLHD) Program. A line item in the PLHD FY2011 awards document simply reads, "City+Arch+River 2015 Pedestrian Bridge".
$26M in the 2011 East-West Gateway Council of Government's Transportation Improvement Program (TIP) report. TIP plans for the Arch grounds include $1,000,000 in Metro funding for improved cycling and pedestrian connections (classified as sustainable development) and $25,373,000 in MODOT funding for 1.65 miles of roadway reconstruction on or near Memorial Drive and I-70 from the Poplar Street Bridge to Washington Avenue (classified as preservation).
$20M from USDOT TIGER III grant announced today. City+Arch+River states that the award is matched by $25M in local funding from MoDOT (It would appear that this amount is from the TIP mentioned above) and $10M in private funding (is this the match from Great Rivers Greenway?).