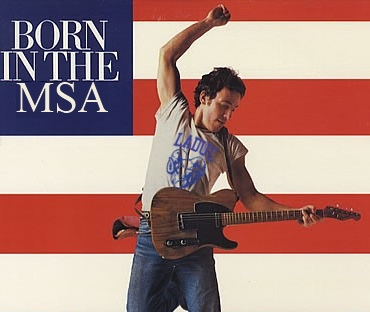 The East-West Gateway Council of Governments blog recently covered "Born in the MSA" data showing that St. Louis is, to no one's surprise, a largely homegrown city. Nearly three-fourths, 69.4% of St. Louis MSA residents were born in either Missouri or Illinois, a percentage that ranked sixth among 34 peer MSAs. This says something about St. Louis. But what?
From the EWG blog: "St. Louis often is criticized as stodgy, not open to change, too insular, and not up-to-date. Image-wise, it sometimes is viewed as unattractive to people looking for a high energy, fun, robust metro area… Seldom is an attempt made to justify these claims with a metro metric quantified by substantive data."
The 69.4% was far below Pittsburgh's 83.2% (the highest percentage), a city that, while it may struggle with civic inclusiveness, has successfully been labeled and rebranded as a growing center for technology and an attractive and vibrant place to live. Not everyone may jump at a job transfer to Pittsburgh, but it's likely more appealing than a move to St. Louis. Cleveland, Detroit, Milwaukee and Columbus, OH also rank ahead of St. Louis.
The blog post cites Richard Florida's "The Rise of the Creative Class," quoting, "(Pittsburgh has) great difficulty opening up the social space in which members of the creative class can validate their identities." Maybe. But if that barrier to civic engagement isn't fully smothering Pittsburgh, is it reasonable to see it as a drag on St. Louis? Should it be an anchor chained to our collective identity. Should it justify the region's self-deprecating (some would say self-loathing) "where'd you go to high school" question?
What does 69.4% say about St. Louis? Again, in the post, Todd Swanstrom, the Des Lee Endowed Professor of Community Collaboration and Public Policy Administration at the University of Missouri – St. Louis, states, "We certainly have a reputation of not welcoming outsiders. I think the city is changing but I also think there is some truth to this." He says that where he grew up (Minnesota's Twin Cities) seemed less "ingrown" and that after 10 years in St. Louis, he still feels like a "newcomer".
Swanstrom continues, "There are advantages to being ingrown. There are rich accumulations of social capital in St. Louis at the local level. Neighborhoods are tight and people feel comfortable in them — like a favorite old sweater. Who wants to live in Southern California where everyone is from someplace else and is constantly inventing themselves? Whatever we are, we are not fake."
But here, EWG makes a big leap, "Having the majority of people who have voted with their feet by not moving them does suggests some positive attributes about St. Louis. They like it here, so they stay."
This proposes a different dynamic than is measured by the "Born in the MSA" data. To understand if people are voting with their feet, the question must be: "What percentage of people born here stay here?" and not "What percentage of people here were born here?"
St. Louis is a region of nearly flat population growth. The region is 27/35 in population growth, 25/35 in net migration, 34/35 in net international migration and 21/35 in net domestic migration. People are clearly voting with their feet and deciding to not move here. Without knowing more (specifically the question above), this points to the issue of negligible in migration. Shouldn't the conversation be: Why aren't people moving here?
EWG also seems to miss the point in stating, "Not surprisingly, the cities with lower homegrown numbers tend to have faster population growth, available jobs and in some cases, better or more interesting climates than the cities with higher "native" rates." I'm not sure what can be said about "more interesting" climates. I've never subscribed to the weather as a population driving factor with a discernable effect independent of economic determinants.
Perhaps the wording is simply unclear, but what's not surprising is that a region with significant population growth would have a lower percentage of "native" residents. But that doesn't say anything at all about why a region grows, or does not. In fact, reading EWG, one might believe that a city with a lower "native" population percentage would create faster population and job growth. See the problem there?
EWG's "Where We Stand" reports are invaluable to understanding our region. However, they are simply a base of data from which to depart and investigate. Presenting determinant factors based on peer MSA rankings is not particularly informative, and in some cases may result in abjectly false claims.
What's your take on the relatively high percentage of "native" born residents in the St. Louis MSA, what can and can't be concluded, and why might it matter?
Percent Born in State of Residence:
1 Pittsburgh: 82.2
2 Cleveland: 75.3
3 Detroit: 75.2
4 Milwaukee: 73.1
5 Columbus: 70.2
6 St. Louis: 69.4
7 Cincinnati: 68.4
8 Indianapolis: 67.6
9 Louisville: 66.8
10 San Antonio: 64.5
11 Minneapolis: 64.4
12 Philadelphia: 63.5
13 Chicago: 63.0
14 Salt Lake City: 60.8
15 Baltimore: 60.5
16 Oklahoma City: 60.4
17 Boston: 58.5
Average: 57.2
18 Austin: 56.7
19 Memphis: 56.7
20 Nashville: 55.7
21 Dallas: 55.2
22 Houston: 55.2
23 New York: 54.2
24 Kansas City: 53.6
25 Los Angeles: 49.4
26 San Francisco: 49.0
27 Charlotte: 48.6
28 San Diego: 48.3
29 Atlanta: 46.8
30 Seattle: 45.2
31 Denver: 43.2
32 Portland: 43.1
33 Phoenix: 36.8
34 Miami: 31.5
35 Washington DC: 30.7
East-West Gateway – Where We Stand: The Strategic Assessment of the St. Louis Region 2011