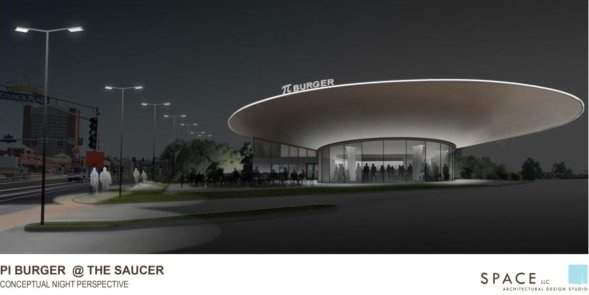 Developer Rick Yackey has unveiled initial renderings of a redesigned Phillips 66/Del Taco building, but those aren't the images that should have supporters excited. Local pizza juggernaut Pi is interested in the space for a new concept called "Pi Burger". Renderings by SPACEarchitects show a sleek modern redesigned Phillips 66/Del Taco. But a renovated building isn't the only idea they've floated. To reconfigure the area into a more walkable, attractive location for retail, Pi is proposing that Forest Park Avenue be brought to grade, eliminating the confusing and inhospitable intersection with Grand Avenue. A median in Grand Avenue would further enhance the streetscape.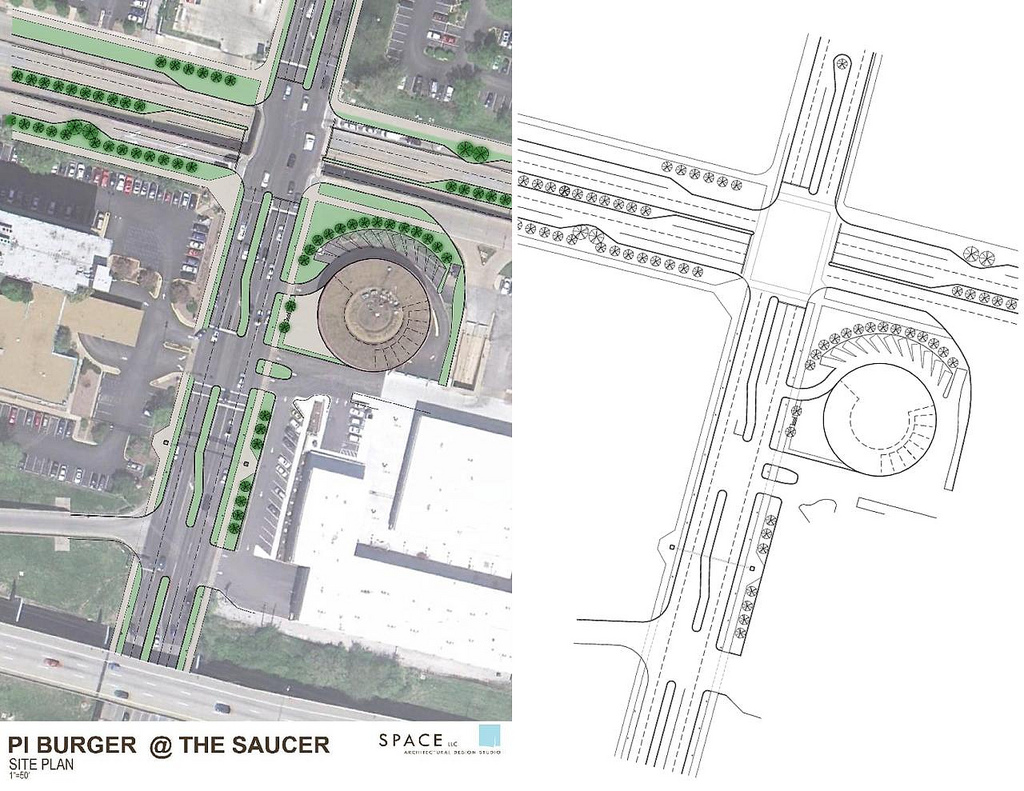 With today's announcement, it appears that the building once headed towards demolition will have a new life. While the developer remains quiet regarding potential tenants, there's been no shortage of interest as Qdoba, Panera, Starbucks and others have reportedly inquired about the building. The movement that has helped save the landmark sparked interest from more than just national chains. The What Should Be blog reimagined the building.
In mid-July, Mayor Francis Slay used his Twitter account to ask "Kaldi's interested in the Del Taco building?" and Board of Alderman President Lewis Reed several days later relayed that local pizza juggernaut Pi was interested, "I've been in talks w/ owners of @pistl about unique concept restaurant in Del Taco bldg on Grand. Exciting! Stay tuned." The news on both has been relatively quiet since then, but that doesn't mean the work has stopped.
Yackey reports that he's 60 days from signing tenants and may have the building ready by March when the new Grand Avenue viaduct reopens. Unfortunately there's been no news regarding local businesses and Yackey seems dedicated to luring national retail chains at the expense of other options. The rendering released looks alright and the building appears to be set for reuse. That's the good news. The bad news is that there's no word on whether the far more attractive Pi Burger and more ambitious design concept is being considered. More complicated changes to surrounding infrastructure would clearly not be able to be completed by March for new tenants, but the clear and bold thinking put forth by Pi needs to be part of the ongoing conversation.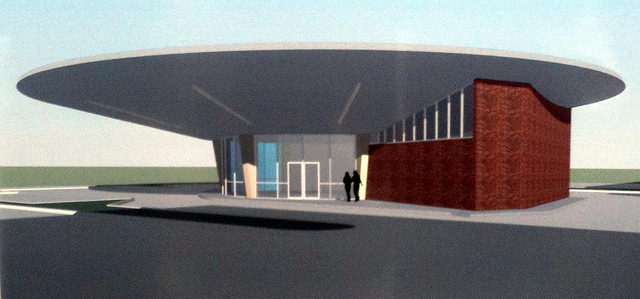 {rendering released by Yackey of a redeveloped Phillips 66 / Del Taco building}
And an excellent piece from KSDK – great visuals and a lengthy interview with building architect, Richard Henmi: