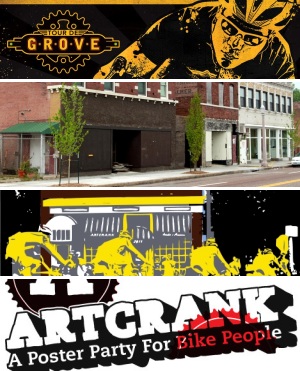 The Grove is a mainstay for some. The Atomic Cowboy, Sweetie Pie's, Novak's, Everest Cafe, Sanctuaria and other businesses are always busy. The neighborhood is a new home for others: SPACE Architects, Not Just a Bookstore, Flavor's BBQ and the HandleBar to name a few. The Grove has changed rapidly in the past 10 years and is now attracting major regional events. The Tour de Grove may be the headline event, but there's a lot more on tap this weekend than a bike race.
Creating a Better Block, hosted by the Mayor's Vanguard Cabinet and The Grove CID and partnering with Staying in St. Louis, will transform vacant storefronts at 4230 Manchester Avenue to colorful and active neighborhood space. Scheduled from 10am-6pm this Saturday, May 14, Building a Better Block will feature a temporary movie theater (The Great St. Louis Bank Robbery is just one of the films to be shown), a bakery/cafe with free coffee, an arcade, a free yoga class and much more. More information can be found on the 17th Ward website.
An interactive public art project will invite anyone and everyone to share why they are choosing to "Stay in St. Louis". And by the way, the biggest professional cycling race in Missouri will be flying down Manchester at your feet. The second annual Tour de Grove brings three days of racing the St. Louis, but the grand prize is the $25,000 race through The Grove. Racing begins at 9:00 a.m. with a 5K run and culminates with the women's pro race starting at 3:40 p.m. and the men's pro race at 5:00 p.m.
What else? Randy's Recycled Cycles is raffling off this sweet, sweet ride during the race. There's a Tour de Grove pub crawl. And ARTCRANK, a bicycle themed gallery art show will be taking over the Atomic Cowboy Thursday, Friday and Saturday night. Bicycle themed posters from 30 artists (including one from me! – more on that later…) will be available to purchase for $30.
Event Schedule:
Thursday-Saturday
ARTCRANK – Atomic Cowboy
Thursday, May 12, 7pm-midnight
Friday, May 13, 5pm-midnight
Saturday, May 14, 3pm-midnight
Saturday, May 14
Creating a Better Block
4230 Manchester, 10am-6pm
Tour de Grove racing schedule:
9am – 5K run
9:40am – USAC Cat 5
10:30am – Master's Cat 1-4
11:30am – Women's Cat 3-4
12:20pm – USAC CAT 3-4
1:15pm – USAC CAT 2 -3
2:30pm – Children's Races
2:50pm – US Hand Cycling
3:40pm – NRC Women's Pro 1-2
5pm – NRC Men Pro 1
6:30pm BMX Demos
7:15pm Street Sprints and Tiny Bike Race begin