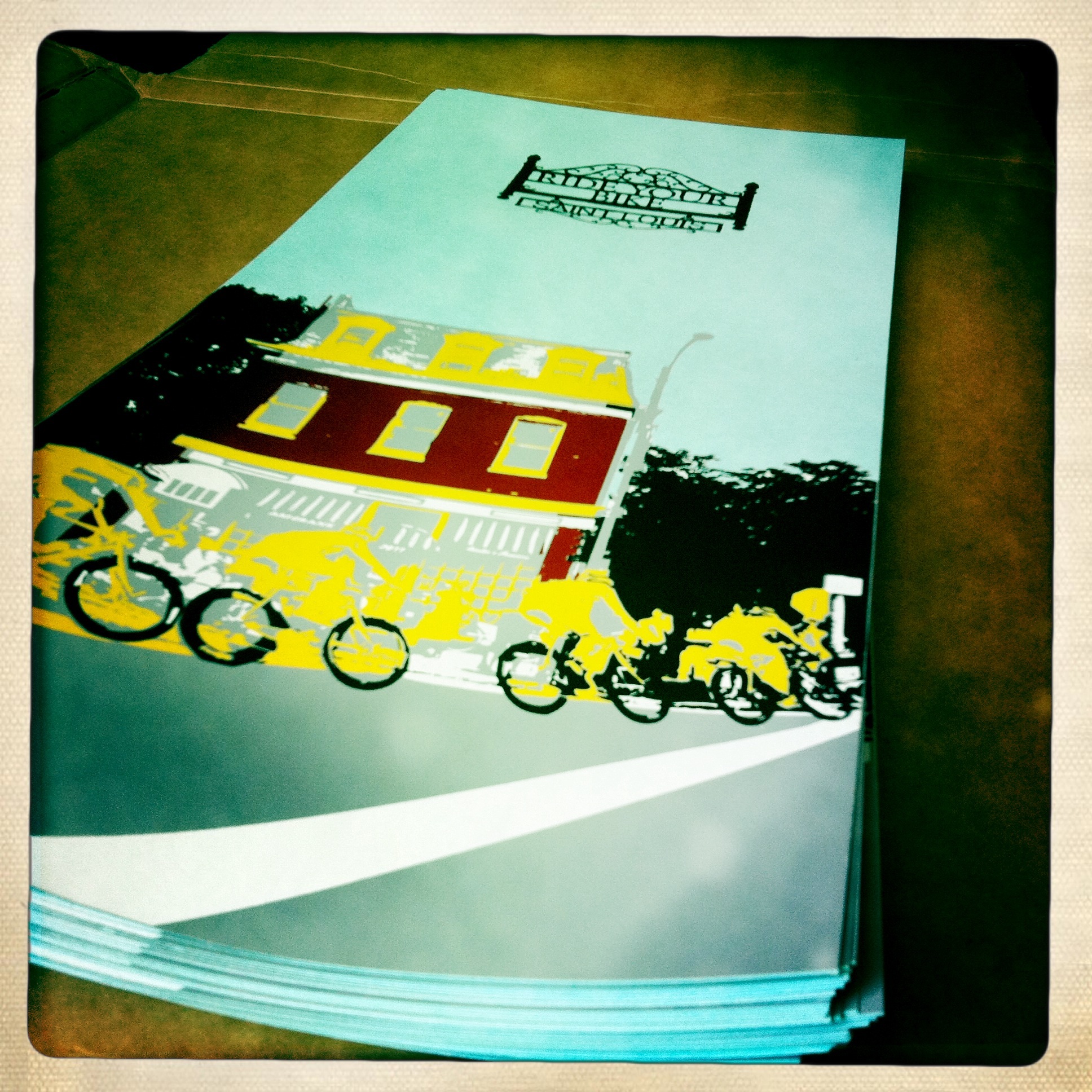 I love bicycles. I own nearly a dozen. I love the freedom I feel flying down the road on two tires the width of my thumb. I love the exhilaration of climbing a mountain and of dropping down the other side, nimbly leaning and diving into corners. I love freezing my fingers and toes to be the only one out on the road. OK, to be honest, although I still love bicycles, these days I very rarely get to experience what I love about them. I desperately need an outlet.
Luckily there's ARTCRANK. Thirty artists are selected to express their love for bikes in any way they choose, the only limit being what can be printed on a 25x20in piece of paper. The short of it is that I ended up being one of the thirty artists selected for ARTCRANK – St. Louis 2011. Here's how I made my poster:
I have limited, though energetic design skills. The full Adobe Creative Suite sits on my laptop. I don't really know how to use it. I mock up ideas in MS Publisher and edit photos in Paint.NET. The initial concept was to show bike racing in St. Louis. I used to race. I'm a bike snob. I categorize people who own bicycles according to this hierarchy: cyclist (racer), cycling enthusiast (the ones with full kits on the Forest Park bike path), bike rider (the ones un-ironically wearing striped white socks), person who owns a bike (everyone else).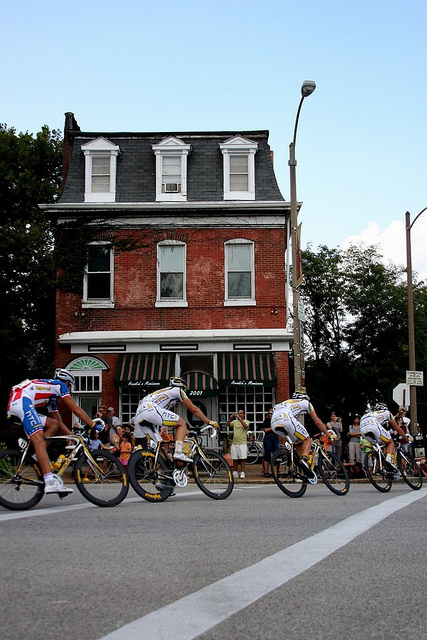 Don't get me wrong, I love each and every type of bike and each and every person who rides a bike. But when you're truly passionate about something, well, you have to be discriminating. So, a photo of racing was the start. I chose a photo I shot from the Tour of Missouri. The HTC team is lined-up, turning left onto Mississippi Avenue from Park in the Lafayette Square neighborhood.
To me, the image says St. Louis. I suppose it could be somewhere else, but not to me. The red brick, the line of riders, the crosswalk, the lamp post, all represent simple, strong elements in the photo. But I figured its shape was rather staid and wanted to do something less conventional. So the poster went vertical and I stretched the sky.
Now I wanted a graphic element, again, one that would say "St. Louis". Look no further than the gates of Compton Heights. A quick rework and the iron sign reads "RIDE YOUR BIKE – SAINT LOUIS". Excellent. That element goes in the sky.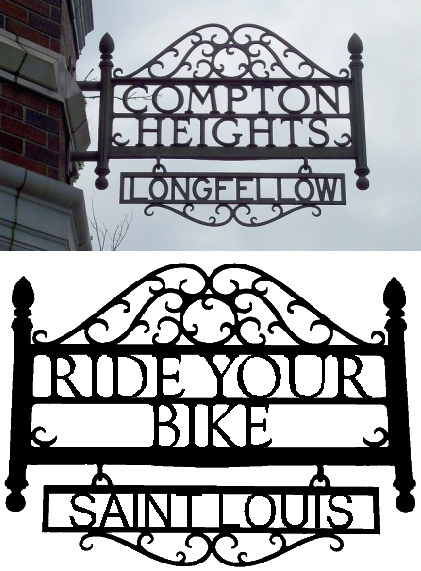 So the basic image is there. Now to make it something that can be printed. I have no idea how to go from design concept to finished poster. I like to think that if given the time, I could complete the entire process myself, but I'll never actually know if that's true. So in stepped good friend and design extraordinaire (and HOK architect) Joe Vickery.
Colors were chosen, layers separated and a big splash of yellow added to bring it to life. We print a few samples, then Photoshop crashes – back to the drawing board, at least for Joe. After several more hours working from a scan of a print, the image is painstakingly recreated. As with a lot of art, creating this poster was a collaborative process and I owe whatever quality it has attained to Joe and good folk at All Along Press.
All Along Press printed roughly half of the 30 ARTCRANK – St. Louis posters. And especially for a novice, they made it easy. With the .PSD file from Joe, I worked with Steven to choose ink and paper and a small ransom later…voila!, my ARTCRANK print. If I'm lucky enough to be selected next year I'll do a few things differently. I take a critical eye toward my poster, but all you need to know is that you can buy it (the story to go with it is free) for $30 at the Atomic Cowboy. Not your thing? No hard feelings, there are 29 other posters on display and for sale as well. I bought two last year and will pick up at least one this year.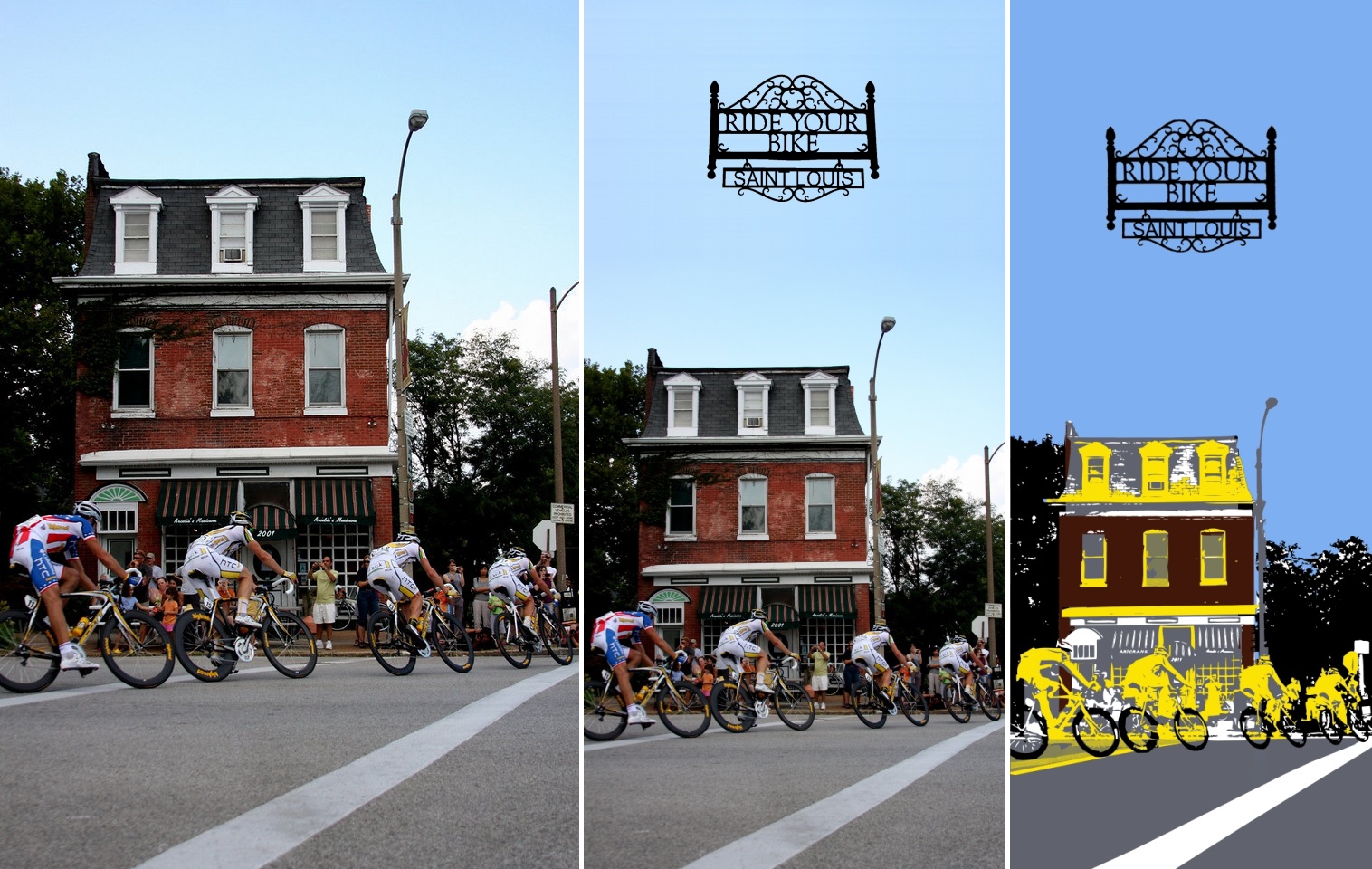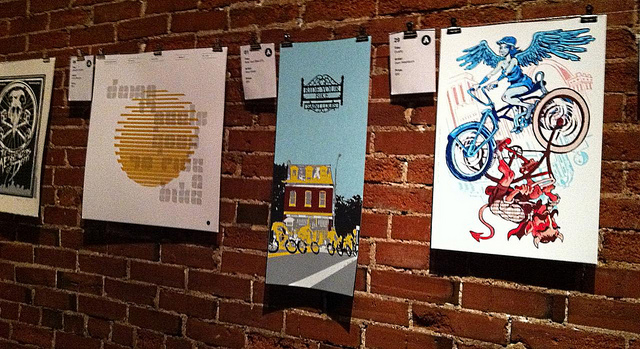 Here's a sneak preview of what you'll see at ARTCRANK – St. Louis 2011:
ARTCRANK details:
ARTCRANK, the poster party for bike people, returns to St. Louis as part of the 2011 Tour de Grove racing series. The third edition of ARTCRANK™ is set to be our biggest show ever, with limited-edition bike -inspired posters by more than 30 local artists — all selling for just $30 each.
Our charitable partner for ARTCRANK STL is St. Louis BicycleWORKS, a nonprofit organization that helps at-risk youth improve academic, vocational, and social skills through their Earn-A-Bike Program.
Join us in The Grove at Atomic Cowboy for three days of bike art, racing action and good old- fashioned fun. Admission, as always, is 100% free.
Full Schedule:
Thursday, May 12 7:00pm – Midnight
Friday, May 13 5:00pm – Midnight
Saturday, May 14 3:00pm – Midnight