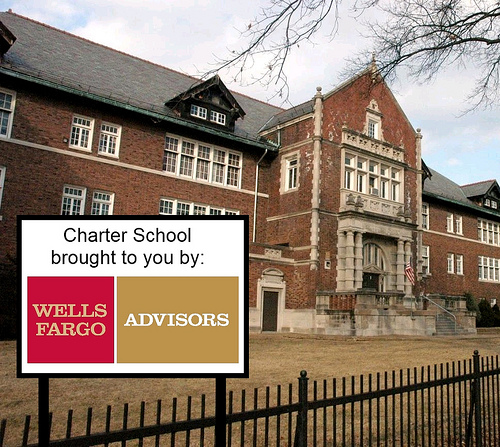 St. Louis should take great notice of two innovative and advantageous programs taking place in the school districts of the cities of New York and Philadelphia. Both set new standards for public schools in funding, dedicated support, quality of education, and potential for creating advanced talent pools within impoverished neighborhoods.

The drivers of these innovations: private enterprise. Two of America's largest corporations have made recent investments that can be described as "future human talent development from the urban public sector". That is, they have started their own inner city public schools.

In Philadelphia, Microsoft has founded what it calls the School of the Future. First conceived of in 2003 and opened in 2006, the school was built to house 750 students in West Philadelphia, a neighborhood comparable demographically to much of North St. Louis, and with the goal of creating a model, repeatable school for "21st Century learning communities around the world." Elements of this school's mission include:
Practice and promote digital inclusion

Integrate technology into every area of the learning community, including curriculum delivery, community collaboration, office support, content creation, and sharing content and assessments
Generate innovative education practices and new models for learning
Create an environment that engages all learning community members and helps to inspire passionate, personal responsibility for learning
A principal goal for the school is to serve as a model for other communities to better prepare their own school's students for success in the growing digital environment of the global business economy. The Philadelphia school's serving as a model is meant to foster replication, adaptation, and innovation. From the success of this school, Microsoft has launched the Worldwide Innovative Schools program, to help governments and communities build schools better suited to the needs of 21st Century learning and the development of technologically-capable graduates to serve in the future business community. Currently, the program is working with 12 schools worldwide to integrate best practices from the School of the Future in Philadelphia, as well as contributing expertise gleamed from its other education initiatives.

The Five Factors that the School of the Future's Curriculum Working Committee has identified as the most critical elements in the school's success are:

An involved and connected learning community, involving all stakeholders in the school's operations towards the goal of promoting learning as a lifelong process
A proficient and inviting curriculum-driven setting, with school design and infrastructure planning that is both able to present shareable digital media to students and is adaptable to inclusion of new technologies to the classrooms
A flexible and sustainable learning environment, focused on "student-centered instructional models that encourage and equip students to realize their full potential"
A cross-curriculum integration of research and development, with the school serving as a learning laboratory for the learning process, and incorporating developments in education from business, technology, and other educational institutions
Professional leadership of the school, from which leadership development can be transferred from the school's administration to the entirety of the school's learning environment

Effectively, it is the foundation for developing the 21st Century Classroom.

Microsoft contributed funding through human capital allocations and corporate resources in its founding and planning, as well as with donations from the Bill and Melinda Gates Foundation. While the School District of Philadelphia had planned on expansion previously, it was through Microsoft's donation of time, people, and expertise that the school could be built into what it is today.

The School of the Future saw its first graduating class in the spring of 2010.

Meanwhile, in New York City, IBM has chartered an inner-city school. In conjunction with the City University of New York, it is meant to provide not only a high-quality education but direct entry into the professional business world.

Working together, IBM and CUNY's charter school have combined high school and college, providing education for 600 students from the ninth to fourteenth grades. Not surprisingly, this hybrid institution has a curriculum focused especially on the computer sciences. From this hybrid, graduating students will earn not only a High School Degree but an Associate's Degree as well. Planning for such a hybrid institution is the result of work IBM has done previously as an active consultant for a number of community colleges.

The fundamental goal of this school is to develop the type of employees sought by companies like IBM. Graduates of this school, it is hoped, will have the education and skill set sought by companies in the IT industry for entry-level jobs, from consulting to development. It is hoped the school will be providing career opportunities for 20-year-old Associate Degree graduates from the inner-city that more often go to graduates of four-year Bachelors Degree colleges and universities across the socio-economic spectrum. For as well as serving as a high school/college hybrid, the school will effectively serve as a professional training program.

Best of all, graduates will have a guaranteed job opportunity with IBM. While they are free to choose any opportunities they want, they will have the chance to work at "Big Blue" with their diplomas, an opportunity that New York Mayor Michael Bloomberg has called "a ticket to the middle class, or even beyond." Funding for this school has come from IBM, as well as from another sizeable donation from the Bill and Melinda Gates Foundation.

At the same time that these companies are building their own modeled schools, other entrepreneurs are making significant investments in public charter schools in the New York area. New York City has seen the growth of many schools funded by private equity and hedge fund managers. One of these is Carl Icahn, the activist investment manager whose history in St. Louis includes the buyout and operation of Trans World Airlines from 1985 to 1993, and who currently is the majority shareholder of St. Charles-based American Railcar Industries. Meanwhile, Facebook founder Mark Zuckerberg recently donated $100 million to the school district of Newark, NJ as part of a goal-matching fundraiser.

While all this takes place, the City of St. Louis' public schools continue to underperform and ill-prepare students for the adult working world. The City's schools often do not have the funding needed to excel; are beset by students' poverty and poor family foundations, with very high truancy rates; operate with teachers who may not be the best qualified or hardest working; and poorly prepare their graduates for the modern working world, let alone opportunities for post-secondary education. And let's not forget, the St. Louis Public School system (SLPS) is also a highly politicized environment, currently overseen by a Special Administrative Board after years of infighting.

Generally speaking (and this comes as a surprise to no one): City schools are abhorrent.

Even the foundational curriculum of most public schools may be seen as dated. While the 20th Century US economy had a foundation in manufacturing, such jobs have largely left for developing countries. Our economy has evolved to focus upon work in the service sectors, with the rise of professional services industries in accounting, law, financial advisement, public relations, business consulting, and especially IT services. For most poor students in the inner city, the only service industries they are prepared for include food service (Would you like fries with your high school diploma?) and telephone call centers that haven't yet moved to Mumbai.

It should be noted that SLPS has operated a number of specialty schools focused on training students for specific careers after graduation. The Office of Career and Technical Education actively works with St. Louis Community College at Forest Park in student development, as well as working with entities like the St. Louis Police and Fire Departments to build their recruiting classes. Many City high schools seek college preparation as well as career education, including: the Central Visual Performing Arts High School, the Cleveland NJROTC Academy, the Clyde C. Miller Career Academy, Gateway Institute of Technology High, Metro Academic and Classical, the Northwest Academy of Law, and Soldan International Studies High School.

As well, the City of St. Louis is also home to many Charter Schools. Operating outside the direct purview of SLPS, charter schools operate under a specified charter, or statement of purpose, towards a school-specific target for student education. Charter schools are opened and attended by choice. Demand for charter school enrollment is very high, locally and nationally, and the issue has certainly gained popular prominence. One specific charter school is the Construction Careers Center, which prepares students for work in the construction industry, including apprenticeship-training programs. The rise of these charter schools has been well-received, and the St. Louis area continues to see demand for charter schools parallel to SLPS.

Still, even with these great programs in operation today, schools within the most disadvantaged neighborhoods continue to under-achieve, bringing down the potential of the entire district, and the perception of St. Louis as a place where one would want to live, have their children attend school, or where to locate a company. This issue ranks with crime as the most important social challenge for the City of St. Louis today.

Obviously, the need to adapt public schools and their education curriculums to the needs of the 21st Century are pressing. How can we capitalize on the innovations currently underway in Philadelphia and New York?

We have to seek out these answers ourselves.

Philadelphia was chosen by Microsoft to be home to the School of the Future for one simple reason: They asked for it. The leadership of the School District of Philadelphia had sought out Microsoft and presented their reasons why the school should be built. As you can tell, the company said "Yes", and the results are a new school, a new model for successes, and a first graduating class.

Meanwhile, IBM and CUNY are working in New York because they are from New York, and Wall Street big-wigs are giving to New York public schools (general and charter schools alike) because they're New Yorkers.

The lesson carries. If St. Louis' public schools wish to have the same sort of success as Philadelphia and New York, we have to proactively seek out partners to help us adaptively re-imagine and advance our own public schools.

Who do we seek out? While outside corporations and benefactors like Microsoft and the Gates Foundation are out there (and I hope someone can ask Microsoft's Worldwide Schools Initiative to consider operating in St. Louis), there may be even better opportunities to build our public schools, and our community at large, by seeking help from the St. Louis business community.

Corporate investment in education at the post-secondary level has strong precedent in St. Louis. Beyond the standard workforce recruitment goals of most corporations from area colleges and universities, Express Scripts' construction of its world headquarters on the campus of the University of Missouri-St. Louis is the largest cooperative venture between a private sector enterprise and university, public or private. Meanwhile, multiple buildings named after Anheuser-Busch can be found on the campuses of both St. Louis University and Washington University. Still, such involvement between companies and educational institutions ends at the secondary level, save the occasional big-ticket donation, and especially where it involves impoverished City public schools.

The biggest question is whether the major corporations of St. Louis could be encouraged to invest in local charter schools. After all, if companies can sponsor passive activities like highway cleanups, then why not sponsor the active and more pressing needs of City schoolchildren and their education?

A new wave of charter schools could be opened in the City of St. Louis in conjunction with the major corporations in St. Louis. Through such cooperation, we could see a strong increase in the strength of the city's school system and the development of a more highly educated, employable, and successful generation of public school graduates.

The IBM-CUNY endeavor is adaptable by any number of large companies in the St. Louis area. A company like Monsanto (which has previously worked with the St. Louis Community College System for Associates Degrees in Life Sciences) could charter a high school seeking City students with strong signs of potential in science. Another such school could be based on students with strong potential in math, with sponsorship by a financial services firm such as Wells Fargo Securities, Edward Jones, or Stifel Financial, or even a partnership of multiple such companies. High school students with a knack for engineering and design could enter a charter school sponsored by architects (such as HOK or Cannon) or by advanced manufacturing outfits (such as Boeing or Emerson). And schools focused on advanced information technology programs could be chartered by a multitude of companies seeking digitally-inclined potential employees.

The potential for all parties involved to capitalize is great. By providing an overtly altruistic service to the high school students of the City of St. Louis, these sponsoring corporations are rewarded with the development of their potential future work forces, educated to best suit their future human resources needs, and with a pre-existing familiarity and affinity towards their corporations.

Meanwhile, companies benefit beyond workforce development. The investment they would increase the attractiveness of the St. Louis metro area, drawing companies from outside St. Louis to recreuit human talent here. Company brand awareness would be furthered within the community, with students, their families, and all other associated persons now able to more closely familiarize themselves with the sponsoring companies and their missions.

Employees of sponsor companies would also realize great opportunities. Employees could act as mentors to students, coaches to sports teams, and boosters for schools and their students. Other employees on the verge of "burning out" from the cubicle world could transition to working in the educational world with greater ease than otherwise. Retiring executives who tire of golf and daytime TV could have an easy means to better make use of their time by working with their former companies in developing the next generation of their employees. Most of all, the personal benefits of working with young, aspiring children, and serving as a role model, brings benefits to all who have had the privilege to serve in such capacities. These personal connections between white collar professionals and inner city students could have transformative effects greater than any words could give justice.

The City of St. Louis would benefit greatly from all of this. The most obvious way is in providing for a higher quality school system and a better educated population with applicable talent sets towards the modern professional service industries. Further, by deepening corporate ties to the community at large, it deepens the roots between corporations and the City, deferring the chances that sponsoring companies could be lured away by other cities under the guise of corporate relocation. Companies would have the abilities to self-fund improvements to their chartered schools, lessening the need for future bond issues or tax increases while eliminating excessive administrative bureaucracy and its costs.

In this age of public pension crisis, there could be opportunities for the employees of these schools, such as teachers, administrators, and maintenance staffers, to participate in the sponsoring company's health and retirement packages, i.e. sponsoring company 401(k) programs. This would better free up the rising burdens and duties of the City of St. Louis, and the St. Louis Public School System, for their employee benefits packages, preventing the onset of major strikes and demonstrations amidst these hard economic times.

How do we get companies to commit? Beyond pure altruism, the City of St. Louis could authorize any of a number of incentive programs to companies, directly tying their work with their chartered schools to benefits. Theoretical incentives include:

Earnings Taxes that City companies would owe the City could be offset by monies invested into their specific charter schools, say on a $0.50/$1 level up to $1/$1 parity, up to the total amount of Earnings Tax owed
Opportunities to sell schools currently empty, or other city-owned buildings, to develop these new charter schools at a discount to market value
A wide array of tax credits or tax write-offs, and opportunities to allocate monies invested in these schools as charitable contributions
While I have focused on St. Louis City, comparable programs for County schools could be established, particularly in the more impoverished inner-ring areas.

The long-term results of what these company-specific charter schools could create are far-reaching:

More charter schools in the City of St. Louis, increasing quality educational options for resident families
Freeing up monies of the St. Louis Public School System, to allocate at their other needs
Increasing options of schools by sponsor, charter, educational focus, and opportunities for future college or employment opportunities
Deepening the relationship local companies have to St. Louis and the communities at large
Increasing volunteerism by professionals in the metro area
Inspiring the students of City high schools through the successes of their sponsoring school's founders and volunteers
Furthering the giving of monies and resources to not-for-profit endeavors
Increasing the graduation rate and earnings potential for City high school students
Decreasing crime from higher high school retention rates and post-graduate employment opportunities
Advancing Total Quality of Life for City residents

These are just rough ideas, and I don't see this as a cure-all for the state of the City's public schools. But, I hope someone could be inspired by these ideas and pursue their best application. After all, the future of St. Louis is in our schools today, in all of our community's children, and our future is wholly tied to the future citizenry of our City and our community.