A bomb has hit St. Louis. Nearly a half century after the Mill Creek Valley neighborhood was flattened in the name of "urban renewal" and nicknamed "Hiroshima Flats" for its decades long barren landscape, the City of St. Louis continues to experience an exodus of grand proportions. The city population peaked with the 1950 Census at 856,796 residents. The 2000 Census recorded 348,189 residents. The 2010 Census officially counted 319,294 residents.
The quick conclusion must be that the City of St. Louis is failing in dramatic fashion. Neither the proposed $578M Arch grounds renovation or signing Albert Pujols is going to change that. The very structure of our city must change. There are success stories to be sure. Many neighborhoods are "coming back". There is reinvestment and new construction, but we cannot allow that to mask our larger issues.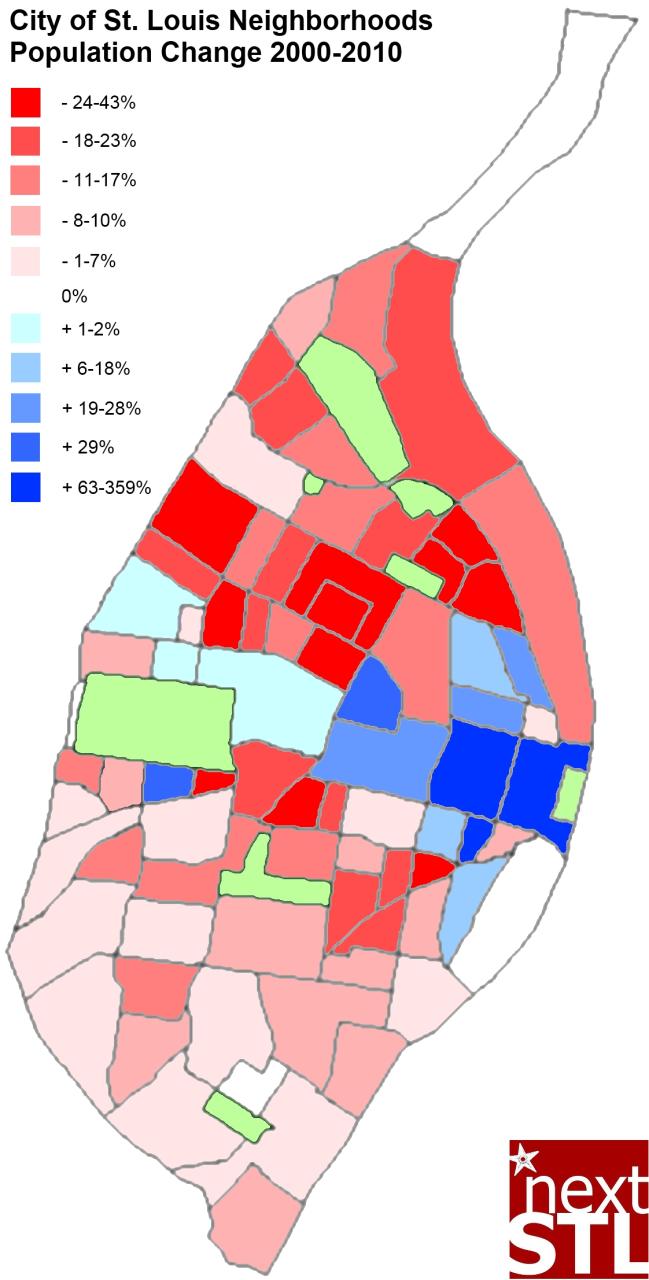 It had become conventional wisdom that the City had hit bottom, that the population was now increasing for the first time since 1950. The 2009 American Community Survey, a yearly estimate produced by the U.S. Census Bureau had estimated the population had grown 356,587 residents.
There will be plenty of time to pour over the details, better understand the results and add context to the numbers. However, this should be a defining moment in history of St. Louis. Losing 8% of our already decimated population is a result few, if any, saw coming. It's past time to ask ourselves the difficult questions about what constitutes a healthy and vibrant community. Perhaps this can serve to focus our attention.
Who is the city losing and why? Where can new ideas come from? When will the "old guard" who have overseen this exodus stop cutting ribons and turning dirt with a smile and silver shovel and simply get out of the way? The City of St. Louis is subject to national and international trends that challenge every historic American city, but what we have done has failed.
City of St. Louis Census 2010 Neighborhood Comparison by nextSTL.com