{green = added lanes, yellow = eastern project area, red = no changes}
"We have twice as many people using I-64 now than we did three years ago," said MoDOT I-64 Project Director Lesley Hoffarth. "Obviously everyone is trying out the new highway."
The quote is from a MODOT press release. It could be as Hoffarth, Forest Park Forever's new President, states, that "everyone is trying out the new highway." Traffic west of I-170 and east of Kingshighway are 95% and 110% respectively at their peak. West of I-270 and east of Kingshighway have seen stopped traffic.
We'll only know in the coming days and weeks if it's true that people are "trying out the new highway", and it's difficult to imagine that volumes will remain twice pre-project levels, but I am betting that traffic counts will remain well above 2007 levels. Why? Traffic follows capacity. But capacity (by adding traffic lanes) was only added from Spoede Road to I-170. The first few days have seen the greatest increase in congestion beyond the project area, both east and west.
The problem with the new I-64 may be that the westernmost portion of the project added lanes, adding traffic while the eastern portion, from I-170 to Kingshighway did not add lanes and I-64 from Kingshighway to the downtown St. Louis remains the same as before the project, as does I-64 from Highway K to I-270 in West St. Louis County. I can almost hear the cries to add traffic lanes to areas with increased congestion.
Adding traffic lanes to a portion of this project was a mistake. The need for a new roadbed is understandable and the new interchanges are a much-needed improvement. And yet traffic congestion has likely been worsened. According to MODOT motorist have not quite adjusted to the new highway and the presence of two left turn lanes at interchanges. According to scripture, God created the oceans, the dry land and vegetation on the third day. It may be an equal feat for MODOT to have doubled traffic.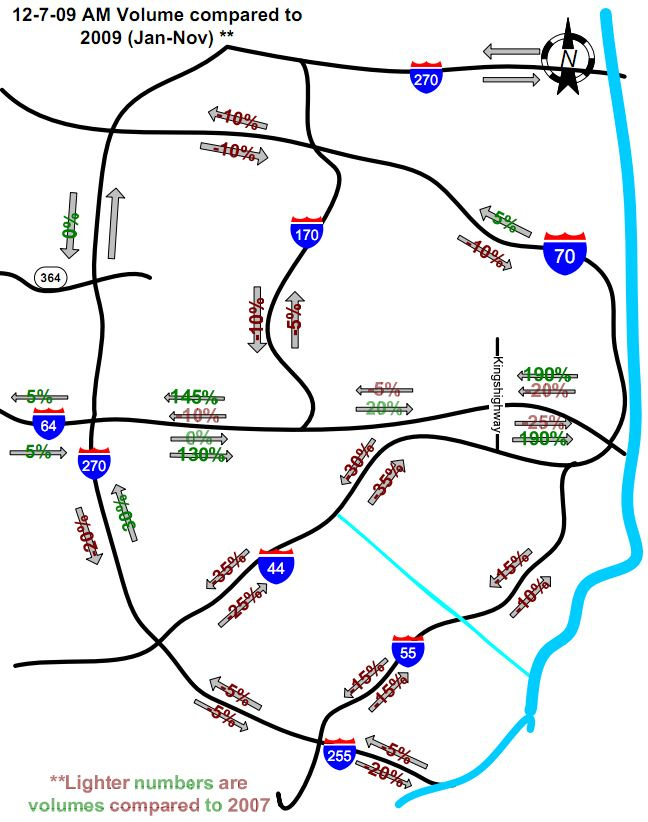 The New I-64 Economic and Regional Mobility Study 2009 Annual Report