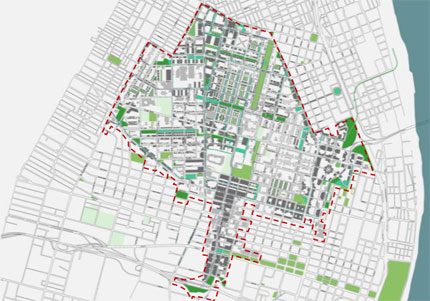 I've been reading about Paul McKee's vision for a large portion of North St. Louis since it was labeled "Blairmont" by architectural historian and blogger Michael Allen. I've viewed the proposed development in terms of architectural preservation (why are remarkable buildings being allowed to deteriorate?), urban design (avoiding cul-de-sacs and restoring the street grid) and the enivronment (mass transit, walkable development and energy efficiency).
But framing the development in those terms ignore two simple forces that are overwhelming all other considerations; jobs and entitlement:
"Many, many thousands of (our members) are unemployed," said Gerald Feldhaus, executive director of the Building and Construction Trades Council of St. Louis. "We support this very much."
"North St. Louis deserves its chance to shine, just like Lafayette Square and Soulard and the Central West End," said Sheryl Walker. "It's time for the city government to show that its commitment extends north of Delmar."
Both quotes come from a Post-Dispatch story by Tim Logan and likely say more about the future of McKee's vision than anything that has been written on this blog. Though I perceive that the blogosphere has put pressure on NorthSide and led to some positive changes in the development plan, the social and political forces behind NorthSide appear sure to push the plan forward.
The prospects of jobs commands support. In the past, and to a slightly lesser extent today, our highways, bridges and subdivisions have been proposed and supported as job creators. So what happens when a highway construction project is finished? The construction lobby promotes another one using whatever research and reasoning they can afford. This force, augmented by the "North St. Louis deserves its chance to shine" sentiment is very powerful.
It remains difficult to see how the city would guarantee any part of the $400M TIF. It has been reported that McKee believes a lack of city backing would be a deal-breaker and so he is moving forward believing that either the city will eventually back the project or that the first two phases are feasible without city backing. Many challenges remain, but if the quotes above reflect real depth then the forces supporting NorthSide are much more powerful and as equally determined as those opposing parts of the development plan. This is why Paul McKee remains confident in the project.
So where does that leave the preservationists, urbanists and environmentalists? In my opinion the framework of NorthSide is becoming very clear. In effect, the starting point of the conversation is becoming more "how is this development going to occur" rather than "is this development going to occur?" If someone would like to shift the pieces within this framework they must bring something positive to the table, demonstrating how their particular interest makes the existing NorthSide plan better.