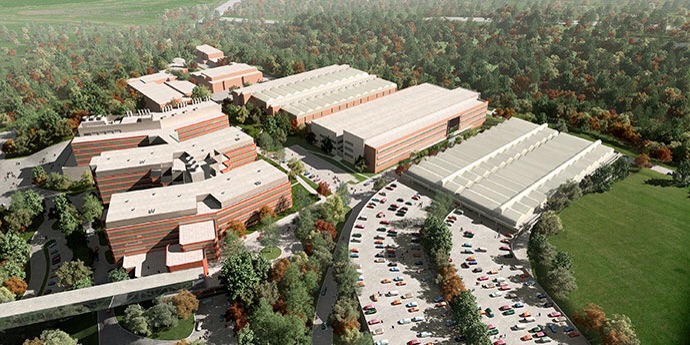 nextSTL has received further confirmation that Monsanto is preparing to make Chesterfield the center of the flowering $400 billion global biotechnology industry. In 2013 nextSTL broke news of the company's $400 million expansion at its Chesterfield Village Research Center to augment a corporate commitment to sustainable agriculture. Then in April nextSTL was first to report on the second phase. It will dwarf the first in size and push the projected budget over $1 billion.
Multiple sources have told nextSTL that the world's biggest seed company has charged expansion phase one project manager Alberici Constructors with budgeting the second phase, currently approximated to be $700 million. Contractors are already battling for position regarding the huge second phase that will shift focus to the undeveloped side of the 210 acre campus close by the Missouri River bluffs.
Phase one of the expansion is expected to be completed in 2017, and will add 590,000 square feet to the campus. Components of the first phase include construction of 250 labs, a conference center, a new parking garage, new office and research space, an expansive dining area, 36 greenhouses, and 13 Controlled Environment Agriculture rooms. The first phase will facilitate consolidation of Monsanto's research and design team.
The company has stated it expects to add 675 jobs averaging approximately $85,000 annually throughout the area by 2017. The St. Louis region is already considered a hothouse for plant scientists. Aside from Monsanto, the Danforth Plant Science Center and Washington University in St. Louis are prominent area biotech players. Monsanto has 4,500 area employees including 1,000 working at the 1.5M square foot Chesterfield facility. Upon completion of the first phase employee capacity at the campus will bloom to 2,000.
Monsanto spent $150 million in 1984 when it first developed the Chesterfield campus. In 2000 the company merged with Pharmacia & Upjohn and changed its name to Pharmacia Corporation. The current company spun off from Pharmacia in 2002. The independent company focused solely on agriculture and leased space at the Chesterfield site from Pharmacia. The lease continued after Pfizer purchased Pharmacia in 2003. In 2009 Pfizer cut 600 area jobs and then sold the campus back to Monsanto for $430 million in 2010. The pharmaceutical giant still occupies space and conducts research at the Monsanto campus.
Sources say there is another possible factor for the enormity of the Chesterfield expansion. The company is contemplating shutting down its Creve Coeur campus and making the Chesterfield Village Research Center corporate headquarters. This move would take place in 2020, following completion of the second phase in Chesterfield. Monsanto's commercial and corporate teams are currently based in Creve Coeur.
The company began developing the expansive Creve Coeur campus in the mid-1950s. It covers 504 acres and only 68 acres is developed with building space and 52 acres of infrastructure. The remaining 436 acres are manicured lawns and forest. Monsanto donated 40 acres of land for construction of the non-profit Donald Danforth Plant Sciences Center and also dedicated five acres on its main campus for the NIDUS Center, an entrepreneurial incubator for startup bio-tech companies.
The company has many options regarding its Creve Coeur campus. It could potentially donate more land to augment Danforth Center and Nidus Center growth. Additionally, the value of square footage in Creve Coeur is $170, much higher than the St. Louis metropolitan area average of $106 according to Zillow. There would be no shortage of high-end developers interested. Or they could keep the corporate and commercial divisions where they are, and do nothing with the land.
Monsanto officially moved to the suburban community in 1957 after outgrowing its headquarters in downtown St. Louis. The company also formerly owned nearly four city blocks at 1800 South Second Street operating out of 30 buildings. For those following the CEO residence/proximity to headquarters game, current Monsanto CEO Hugh Grant has been a denizen of St. Louis City's Central West End since 2006.
Monsanto supplies approximately 90% of the world's GMO (genetically modified organism) seeds. At the official groundbreaking ceremony in Chesterfield last October Grant commented, "Our Chesterfield expansion is focused on strengthening our world-class capabilities in the discovery and development of innovations for farmers around the world." According to the company website, monsanto is specifically working to double yields in core crops by 2030.
GMO technology is highly controversial and has many detractors. A major 2008 UN /World Bank-sponsored report compiled by 400 scientists and endorsed by 58 countries concluded that genetically modified crops have little to offer to the challenges of poverty, hunger, and climate change. The report recommended organic farming as the sustainable way forward for developing countries. Additionally, the United States is the only developed country in the world that does not have mandatory GMO labeling laws.
According to the company website Monsanto states farmers are looking for ways to have better harvests while using water and land more efficiently. The company claims genetically modified crops can help protect resources and make a balanced meal more accessible to everyone. An attempt to reach Monsanto for comment was unsuccessful.