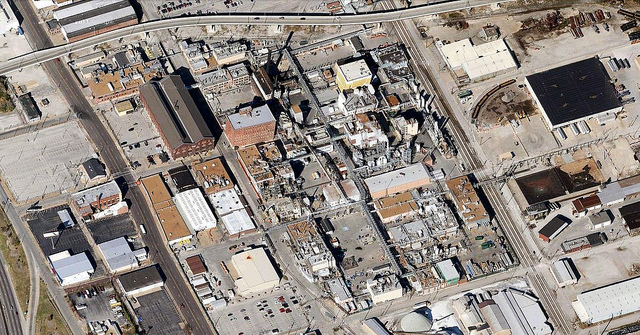 nextSTL has learned Mallinckrodt Pharmaceuticals has considerably scaled down the scope of its initial plans for a North Riverfront Commerce Corridor (NRCC) expansion. Following construction of an $80 million building, components of the project were to include an approximate $200 million investment between 2015 and 2020 at the 45-acre North 2nd St. production complex
Now, that first proposed building has been scrubbed, and construction plans for another production facility have been suspended. The expansion was to feature demolition of existing structures and construction of four hydrocodone and oxycodone manufacturing buildings. A new sprayer facility had also been planned.
Mallinckrodt is the largest U.S. supplier of opioid pain medications and among the top 10 generic pharmaceuticals manufacturers in the U.S., based on prescriptions. The company is also one of the world's leading producers of bulk acetaminophen. Mallinckrodt revenue totaled $2.2 billion in 2013.
The company now plans to break ground mid to late 2015 on a $55 to $60 million 200,000 sq. ft. building near its headquarters in Hazelwood. McCarthy was awarded the project. The construction firm had been drafting and regularly revising NRCC expansion plans for the pharmaceutical company. Longtime Mallinckrodt contractor Rhodey Construction will now be in charge at the revised riverfront campus expansion.
The lack of a key ingredient may have caused the company to rethink the future of its production capacity needs. A shortage of Morphine sulfate is one nextSTL insider's reasoning for the revised NRCC campus plans.
According to the U.S. Food and Drug Administration (FDA) website morphine sulfate is listed as being in short supply along with more than 300 other drugs. These include chemotherapy agents for ovarian, colon, and breast cancer, leukemia and Hodgkin's disease; anesthetics and pain relievers; antibiotics; IV nutrients for malnourished infants, and many other generics.
Morphine sulfate is used for treating short-term or long-term pain. This active ingredient is found in many prescription pain medications and works by binding to opioid receptors throughout the body. The number of drugs added to the "in short supply" list has increased annually over the last ten years. Some blame FDA Good Manufacturing Practice rules. Others point to hospital group purchasing organizations (GPOs).
A group of practitioners, Physicians Against Drug Shortages (PADS), claims GPOs control buying for up to $300 billion annually in drugs, devices, and supplies for approximately 5,000 acute care hospitals. PADS further claims that under GPO practices exclusive contracts are awarded to suppliers in return for exorbitant fees. PADS says this reduces the number of manufacturers to a select few for many drugs while limiting the ability of others to maintain quality. The end result is abandoned manufacturing plant plans and skyrocketing prices according to PADS.
Mallinckrodt was founded by three North St. Louis brothers in 1867. It was the first chemical manufacturing company west of the Mississippi. Mallinckrodt Chemical Works was constructed at the North 2nd St. site in 1882 on 39 acres of farmland owned by the brother's father. Emile Mallinckrodt was a prosperous farmer and successful real estate investor. An attempt to reach Mallinckrodt representatives for comment was unsuccessful.