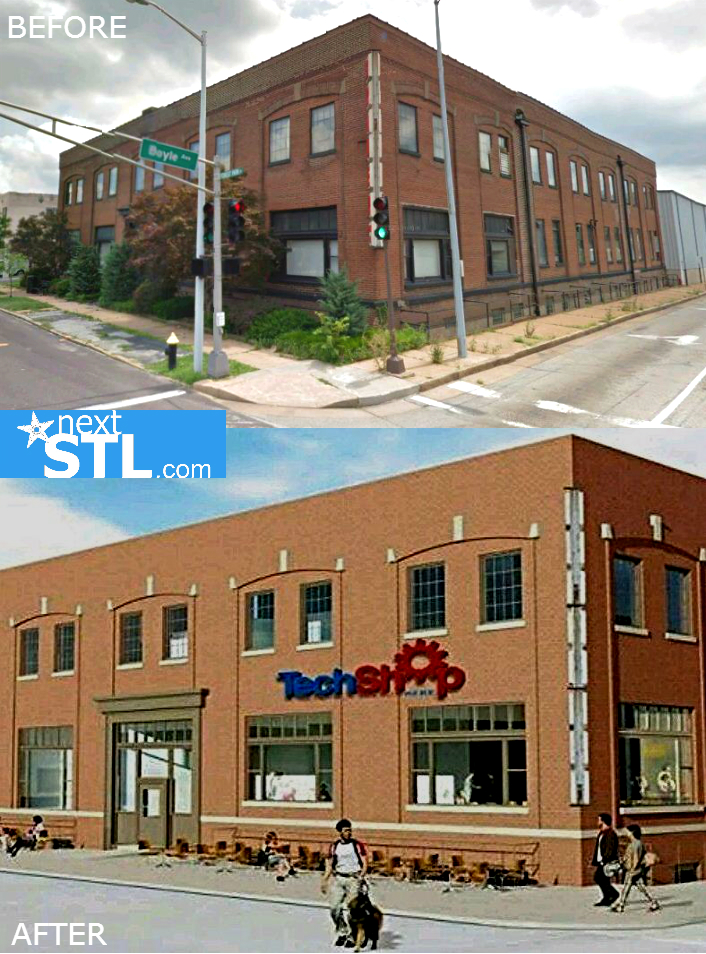 As they continue their mission to build an epicenter of innovation in midtown St. Louis, leaders of the Cortex innovation community are hoping next week to create another in a series of seismic ripples — by attracting to the district a facility aimed at reaching amateur and professional inventors.
Thursday, February 27, Cortex leaders will host officials from TechShop, a do-it-yourself "maker shop", designed to let people of varying skill levels gain access to industrial tools, equipment and technology. TechShop is a membership-based workshop and prototyping studio designed to stimulate creativity and support entrepreneurs.
There are currently seven TechShop locations in the United States. The Cortex district is seeking to bring TechShop number eight to St. Louis. Next week TechShop managers will explain the concept to local corporate representatives and others, in an effort to reach the 1,000 member plateau needed to move the project forward. So far, they're about a third of the way there.
Remember your high school shop class? Cortex CEO Dennis Lower calls TechShop, "kind of a high school shop on steroids." Says Lower, "It features all kinds of high end equipment: water jet cutters, wood and metal lathes, welding equipment, band saws, hand tools. And on the soft side it has quilting machines, industrial sewing machines. It's really designed as an environment for tinkerers, makers, entrepreneurs, and prototypers."
One St. Louisan who 's very familiar with the concept is Jim McKelvey. He used a TechShop in California to create the prototypes for Square, the technology that allows businesses and individuals to accept and process credit card payments using smart phones and tablets.
Lower says if all goes smoothly, TechShop could be ready for its first occupants by the end of 2015 and would become one of five innovation centers within a block of each other in the Cortex district. Two of those centers – the Center for Emerging Technologies and The BioGenerator — already are operational. The resulting innovation cluster is intended to create a critical mass of entrepreneurial talent, business support and access to venture investment that will accelerate new company formation that will benefit the St. Louis region.
The TechShop occupants, Lower predicts, will be a diverse group.
"It will be an intersection of all types of people. Professionals who've retired from industry. Chemical engineers. Mechanical engineers. Architects. Designers. Entrepreneurs who want to build prototypes for new products. And we'll have college and high school students who had access to equipment shops while they were enrolled in school, but had nothing similar after graduation. TechShop will be open access, just like a fitness center would be."
Three million dollars in capital must be raised before TechShop can open its doors. Lower says the initiative is about halfway there right now.
Memberships would cost about $1,300 per year. In addition to individuals, Lower says he's hoping local corporations will step forward and pledge multiple memberships. That's what has happened in Detroit, where automaker Ford sponsors the TechShop there and has committed 500 memberships for its employees; GE sponsors 1,000 memberships for military veterans at any TechShop nationwide.
The addition of TechShop would be another in a series of steps that are bringing Cortex closer to its ultimate goal of creating a midtown St. Louis innovation "epicenter". The most recent steps include:
November's relocation of Cofactor Genomics, a DNA sequencing service, to a newly renovated facility in the district.
October's announcement that The Cambridge Innovation Center, a world-class small business incubator, will expand to St. Louis, making CORTEX the first location outside of its Cambridge, Mass., home.
The summer and fall 2013 transformation of an old phone factory at the corner of Duncan and Boyle avenues into the new @4240 building, housing life sciences, research and technology companies.
Pair those announcements with word earlier this month that St. Louis law firm Husch Blackwell LLP will open a satellite office in the district, and December's announcement that home furnishings retailer Ikea will break ground on a 380,000 square foot store in the district this summer, and a clear snapshot of the Cortex vision is emerging. It's a picture that will, ultimately, include more than just laboratories and offices. Housing, retail shops and boutiques, open spaces, restaurants and a new MetroLink station are all part of the plan to attract a mix of young entrepreneurs and small companies as well as corporate executives, seasoned scientists and local residents.
Lower admits all of this is happening under the radar of many St. Louisans. "Right now," he says, "there are very few people who fully understand the whole scope of it. But in just a few years you will be looking at a district that is the product of $2 billion and 4 million square feet in development, with over 10,000 jobs created and an annual payroll of up to $800 million. If you stop and think about it, there aren't many plans with this magnitude of impact."
*this post first appeared at InnoVoxSTL.com
_____________________
TechShop will be a tenant in a new building on the site of the now demolished Brauer Supply building shown above.
Images added October 2015: