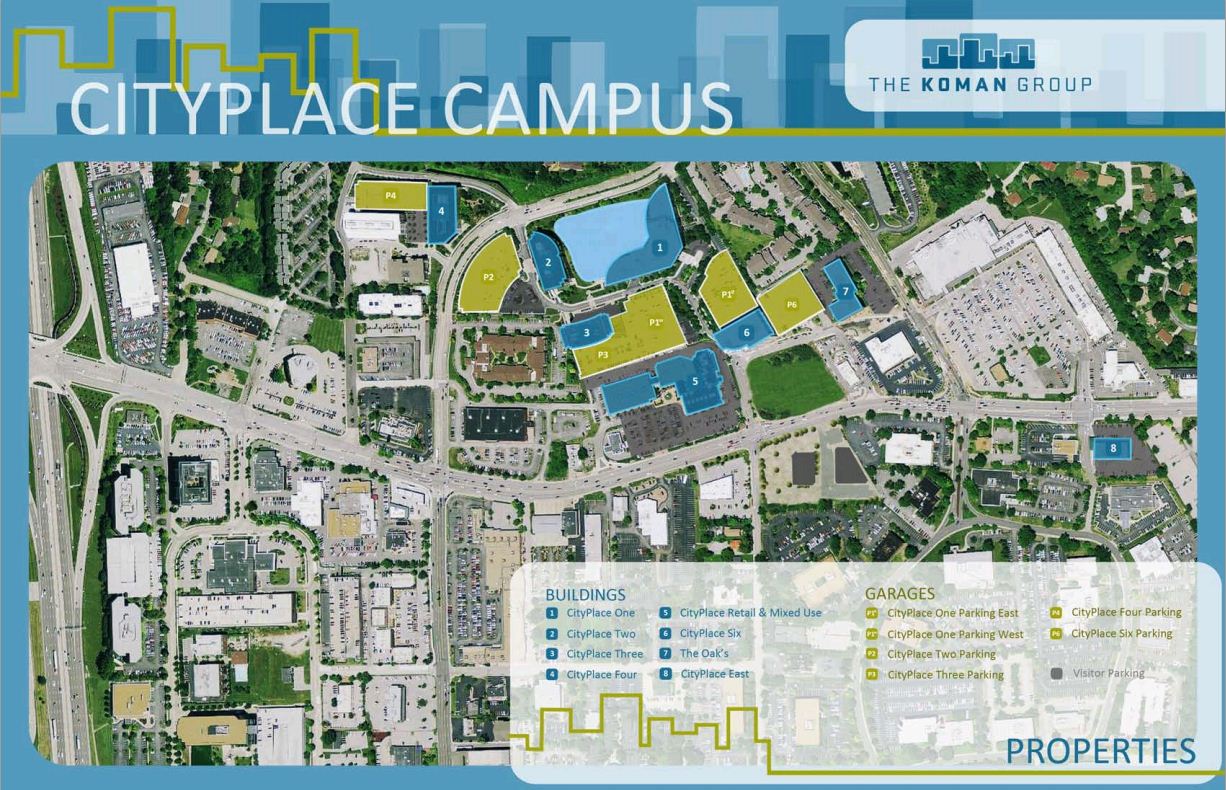 According to nextSTL sources commercial real estate firm the Koman Group is shopping their expansive City Place development located in Creve Coeur. The 40-acre mixed use complex is the firm's flagship project.  The development has grown considerably since construction on the $36 million first phase began during the late 1980s. The office space, shopping center, and residential area of the development now includes eleven buildings situated just northwest of Olive and Craig Rd.
City Place's 1.2 million sq ft are currently 92% occupied according to the Koman Group's website. The buildings offer a variety of amenities that commercial and residential tenants have access to. These include conference and employee-training areas, a fitness center, 24-hour security, and more than 2,000 mostly covered parking spaces.
Microsoft, Arch Coal, Lockton Companies, and accounting firm Brown Smith Wallace are among the development's more prominent tenants. Others include Il Bel Lago restaurant, Potbelly Sandwich Shop, Creve Coeur Camera, and Crown Optical.
nextSTL sources say the Koman Group has put the extensive development on the market with Chicago-based commercial real estate capital intermediary HFF. The Koman Group hired HFF after their City Place loan matured in 2013. HFF restructured the loan for the Koman Group last year on a short term basis. nextSTL sources say with only a short term extension the Koman Group, along with City Place majority holder New Boston Fund, recently decided to sell the City Place complex.
In 2006 New Boston Fund purchased an 80% stake in seven City Place office and retail buildings from the Koman Group. New Boston Fund is a private real estate investment, development, and management firm founded in 1993 by members of the Rappaport family in Boston, MA.
The firm currently owns 874,952 sq ft of City Place according to the New Boston Fund website. The Creve Coeur development is New Boston Fund's only holding in Missouri. Nationwide, the firm has acquired or developed more than 160 properties valued in excess of $3.5 billion throughout 13 states.
An attempt to reach the office of New Boston Fund Chairman James W. Rappaport for comment was unsuccessful. Likewise, an attempt to reach the Koman Group for comment was unsuccessful.