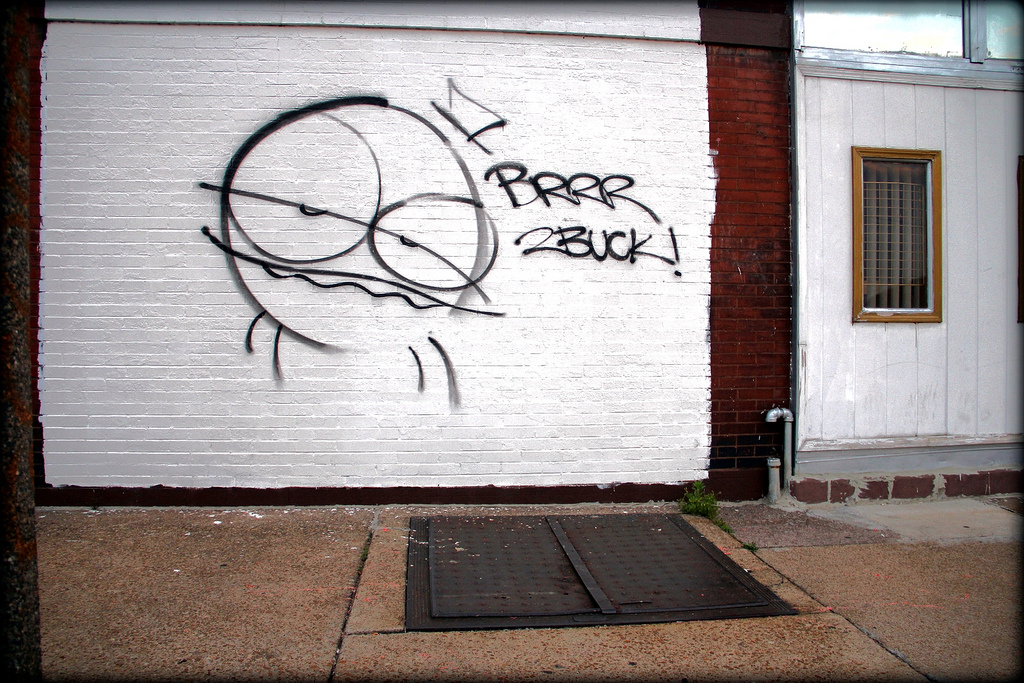 We're into the third week of this project. Here are some notes and updates, touched on before our regularly-scheduled programming. This, and every week's, feature is being written in "real time," essentially coming together during the weekend prior to publication, as opposed to rolling out, assembly line-fashion and complete. This allows for a certain flexibility in topics. This week, for example, three, sympathetic sub-stories rolled around at once, all of them detailing that collision between art and intent and vandalism. So, we'll hold some thoughts on efforts from the Screwed Arts Collective and other odds/ends planned.
We should also remind folks that this is a crowd-funded operation. Please visit the project's Kickstarter page and consider making a contribution. For those curious about process and sourcing, the St. Louis Metropolitan Police Department has been contacted, with an e-mail sent through the SLMPD's communications department. We've also reached out to the Mayor's Office, with a series of questions sent in early July. We look forward to working in material from both of those entities as we move forward with our reports.
And lastly, a topic that's been keeping me up at night: in past weeks, we'd shortened up graffiti to "graf," one of the two versions frequently used. But many sources use "graff." We'll stay with the form already-used, minus the second "f." So, it's "graf" 'til conclusion; thanks for caring.
Let's get to it. Let's talk about some graf at the Venice Cafe.
TALKING TILE
It's possible to roll into the Venice Cafe, turning 25 in just a couple weeks, only to forget to really look at the details. There's so much to take in, so many visual elements, that you can get lost in the macro. But when you do look closely, especially at the tilework, you can see that artists who've contributed to the venue have left their own names, or initials, marked in various, little corners and pockets.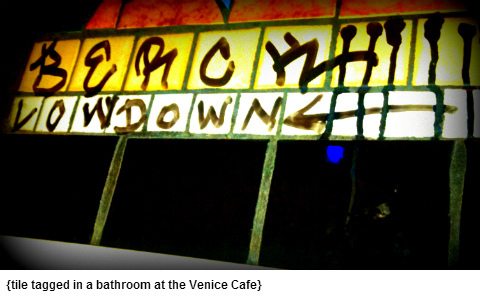 Owner Jeff Lockheed's name is represented, are those of Sharon Von Senden, Nancy Theodorow, Janiece Senn and others, most of whom date back to the Cafe's earliest days. In recent weeks, other names have been appearing around the Venice Cafe, without the same relationship to the place. The most recent additions have come in different forms. In the basement's colorful restrooms, the names of Kink and Broke were carefully carved into the mirror mosaics. In the upstairs bathroom, inside the second floor Explorer's Club, the name Berck (with accompanying Lowdown affiliation) was written on mosaic tile, just above the sink. Less critically, a nearby dumpster was also touched.
The trend, Lockheed says, "is getting annoying."
He says that either he or manager Chad Taylor will attempt to remove the second floor piece with lacquer thinner, which "hopefully will work. But it depends on what they use. The stuff (used to paint) is getting better and better. You have to take time to remove the tag."
"It's just disrespect," Taylor adds. "It's crossing the line."
"The stuff on the mirrors," Lockheed says, "is permanent. It was a concerted effort, done for longevity, with a diamond ring, or something like that. That's when I want to rub their faces into the asphalt. This latest thing, with the mirrors… oh, man. It's a permanent thing. You'd have to take that piece out, which could fuck up all the glass around it. I dunno. (He points to a circular piece of stone on the patio) You can see a ghost face here? I think someone used lipstick on it, which just soaked into the stone. It took me two hours to sand this down to this point. Thanks to some stupid motherfucker. Things like this, you can't totally fix. And when you do, it takes labor.
"We just had the dumpsters tagged," he says. "Last Saturday. It was done in the afternoon, between the time I went home and the time I got back. I touched it and the paint was still fresh. So, all of a sudden, you have to paint. If you see one or two, then you'll have four or five. You have to get rid of it as fast as you can."
As our conversation's taking place, Taylor and Lockheed are sitting under a roof built on the patio in just the last couple years. The dozens of multi-sized, decorated balls hanging from that outdoor ceiling and the incredible amount of metalwork involved only hint at the artistic spirit put into this patio. And Taylor's sporting fresh ink on his arm, a tattoo that's literally less than an hour old. These folks, well, they're in the vanguard of presenting public art, in a manner that's a commercial endeavor, but one that's also a gift to the community.
At one point, Lockheed flits into the building; he's only around on this Thursday afternoon because the Venice Cafe's single television set gets better reception than his model at home and he's looking forward to watching the Rams kick off their preseason against the Browns. As he does so, Taylor, a couple customers and I are without the boss and founder and Taylor pours out some thoughts about the recent activity, which come out in a rush.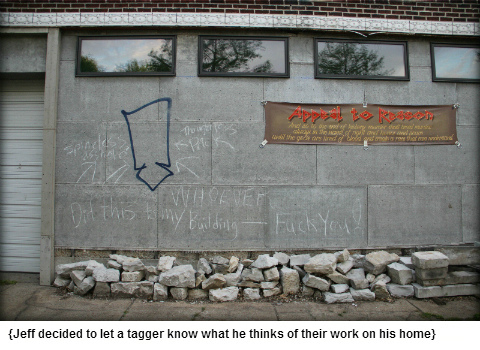 A few days before, Taylor posted a cellphone of the Berck piece to Facebook and the responses rolled in, "overwhelmingly positive on our side. But some people, you can tell, are like, 'it's not that big of a deal.' Which, again, is because it wipes off. It's not that big of a deal, but… it's just… see, I think these people are very talented and it takes a lot of practice to do it as well as they do it. I read an article in the RFT about these taggers and a group of them will have a code; there are things they won't do. Then again, a lot of them don't give a fuck. They'll throw a brick through your window as quickly as not. That's how they get jollies. There are places that are off-limits, I think, some places that you don't fuck with, which can make them more of a target and that's upsetting."
He points to the Venice's bar, where Lockheed's just wandered. I question whether there can be a difference in intent. For example, a "crime of passion," in which someone drunkenly slaps some lipstick against a piece of masonry art, as opposed to someone taking the time to premeditate before writing a piece of graf. Taylor considers it and takes an interesting approach in explaining his thoughts.
"I see how it affects him," Taylor says of Lockheed. "He takes it personally and he should take it personally. He's put his life into this place. It's disrespectful. I heard heard him talking about this, which was done with lipstick and took no talent. It was stupid. With taggers, I think they do target, they want to showcase their name in an artistic environment. I just think there's a way to present it; if you want to get your name up, bring in a canvas and we'll put it on the wall. It's just frustrating. For every person that's really good, there are 10 that are shitty.
"And then there's the guy who puts his name into the mirror, which has been here for more than 20 years," he adds. "I can understand that you're wanting to put your essence into the cafe. I just think there's a better way to do it. We try to keep things clean and so much to clean around here, as is. I don't know if there's a badge of honor in doing it here. But I'd rather they do it to a Wal-Mart or a McDonald's. Maybe it's even a sign of respect to do it here, as opposed to a place like those. I don't know. Either way, the piece will be gone by tomorrow. And maybe they know that, they do it because it'll be erased."
As luck would have it, I was passed along what I was told was Berck's phone number, through an interested third party. Over the weekend, we kicked a large batch of text messages back-and-forth. As of press time, we were unable to fashion an interview. Maybe we'll still talk. Maybe?
FORT GONDO'S TOUCHED, TOO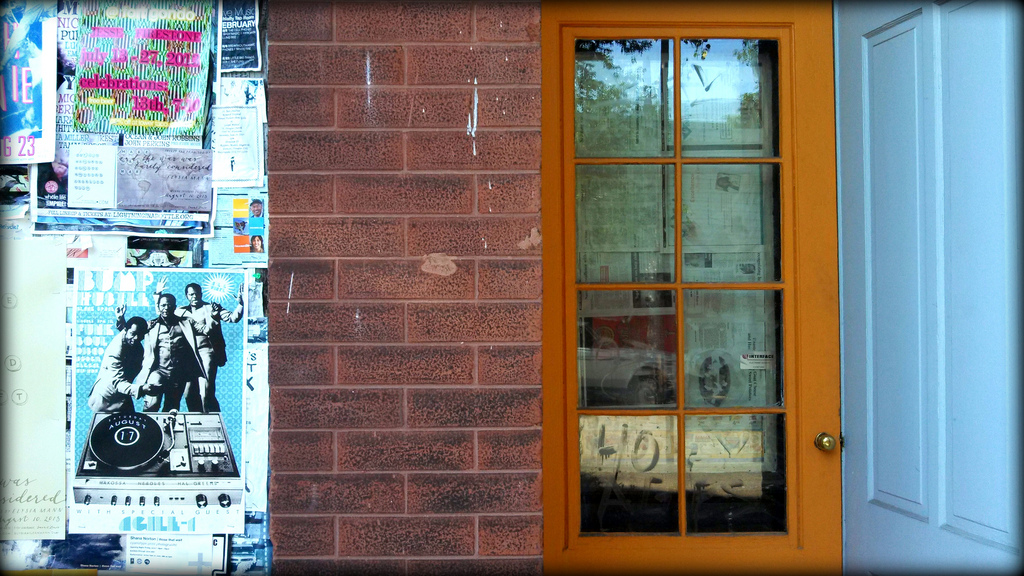 On Friday of last week, Jessica Baran, the curator of Fort Gondo Compound for the Arts, was photographing a series of print piece by the co-owner of All Along Press, Elysia Mann. The two were moving about the space, considering the ways in which Mann's pieces would be hung for a Saturday night opening (and an afternoon artist lecture). It's a trick of the eye, of course, but Fort Gondo somehow looks smaller when the walls are bare and the art's on the floor. When that work's up, the lights are on, and even a dozen people move through the space, it somehow seems grander, more expansive.
Baran and her husband/partner in Gondo, Galen Gondolfi, live in the building. The space has rightly been credited as being the true catalyst of an arts revival at the intersection of Cherokee and Compton, which slowly, then rapidly, spilled eastward to Jefferson and beyond. For over a decade, Gondo's championed artists at all points in their career, working in all media. Though not the same kind of business as the Venice Cafe, it's also one of the linchpins in keeping South City a destination for regional culture.
In just the past week, or so, Baran was briefly out of town. When she returned, Gondolfi showed her the original front of the building, leading to their apartment. The pane windows had been painted by, according to Gondolfi, a type of graffiti paint called "puff paint." The names of prolific local graf writers Hoax and Obces were on the door, along with the LD crew affiliation. While the Cherokee business district's long been a magnet for graffiti writing, in recent months there been a noticed bounce in the activity level; there's not only been an explosion of graffiti, there're stickers, stencils and at least some cross-out battling between specific writers and crews.
Baran says that "it does ebb and flow on Cherokee. The only thing I would say is that art spaces are programming non-defacement-oriented graffiti projects, where there are publicly-sanctioned murals. I would definitely say there's an uptick in people contextualizing the practice as art. In terms of street-tagging, it really is no more, or less. We don't often get tagged, but it does happen on our structure and the adjacent one, which faces Compton, where STL STyLe is located. The wall along Compton there gets hit a lot."
Saying that the windows, in this case, "were plate originals, of a building 100 years old," Baran adds that the practice is "hurtful. There's this notion that there's no respect for other people's property, or consideration of the ramifications of destroying another person's space. There's an intimacy of going into that little corridor, into what clearly looks like a residential space; that feels aggressive, somehow. It saddens and angers both of us and it's tremendously disappointing. It's also very curious that they chose that and not to deface the storefront."
She amplifies Taylor's thoughts by saying, "it's just, for us, a genuine hassle. Replacing that glass could cost a fortune. It feels personal. There's this assumption, too, that it's so easily fixed. It's not. It can be expensive. The reality of factually tending to these marks is not trivial."
If Baran's able to clearly articulate some of the issues at play, perhaps it's her background in the arts that adds an interesting overlay to the conversation. It's why, when I heard about the incident at Gondo, that I simply had to speak with her. For many folks, her name's familiar not just through Gondo, as Jessica Baran's been an art critic at The Riverfront Times, as well as a contributor to other publications in that role; she's also a much-published poet. (You can visit jessicabaran.com for a fuller picture.)
Asked whether she does see a strain of artistic success in some of the targets along Cherokee, or the City, generally, she says that "honestly, in terms of St. Louis generally, there's a fellow who's been a mystery to me for a long time, Ed Box. You see it on abandoned, gorgeous buildings, these really interesting sentiments. They're like a plea for compassion and are located in remarkable, remote portions of abandoned buildings. Whoever that is, they seem to have an eye for placement, the aesthetics of St. Louis being so full of gorgeous, decaying building stock. That punctuation of text is really beautiful.
"On Cherokee," she continues, "I don't' see anything in the street tagging that's artistically remarkable to me. The tagging of script isn't interesting to me. Maybe when I think back to the old day of New York City, the subway bombings… then it becomes a sculptural entity. This doesn't go to that level. It's kids not thinking about the larger purpose beyond their tagging, which seems an intervention into public space. It's just people getting kicks. Then you have pieces like the mural that Aisle 1 had put on a wall across the street (at Cherokee and Texas). That's really beautiful, I think. There is a gulf between what Peat Wollaeger and the Screwed Arts Collective are doing and the work that's so juvenile. Or maybe I'm imagining that. I mean, it sounds crusty of me, 'that's what kids do.' If it's an adult, then that's problematic, they should know what property ownership means."
In an interesting twist, she says that "it's not an interesting enough intervention to me to make it interesting, there's nothing to beyond the common. If something was really radical, even Galen would say 'hey, that's new to us, but cool.' We don't have some rigid notion of what should be on building faces, but this just seems half-hearted. I really don't know, it just seems a typical behavior for kids, who do that sort of thing in an urban area."
Sitting in the windows of Gondo, watching a variety of familiar faces walk by (hi, Carson!), I ask her about the idea of having spaces, like Gondo, like The Venice, that deserve to never be touched, due to their artistic contributions to the city. Or, on the other hand, maybe Taylor's right and such places are targets, of a sort. While she doesn't mention rubbing faces into asphalt, there's a concern.
"I feel like such a stodgy business proprietor saying some of this," she says. "But we've had such an open door policy. We've allowed so many people on all levels of experience and interests to have an opportunity to come in and do something. If you want to make art, come in and drop off a card. There's no reason to come in and do something negative. I don't understand it. The Venice is another example of this; we're small businesspeople. So it's not like they're targeting the man. We're really not the man. I like to think it's not personal. And I've never gone so far as to think we'd be a target. That'd make me sad.
"It's happened over the years," she concludes. "Maybe it's because of the fluid nature of programming, maybe it's made us open to defacement. We've had such an open door policy. It's funny, with a prim-and-proper space, they maybe wouldn't tag it; maybe it seems like we're open for anything. It almost hurts. We're the ones here cleaning the floors. When a more polished space won't get tagged. A lot of people have contributed to the artistry of this space over the years. But there's a threshold of being rude or inconsiderate. Anything kinda does go, if you're gracious and respectful. It's pretty simple."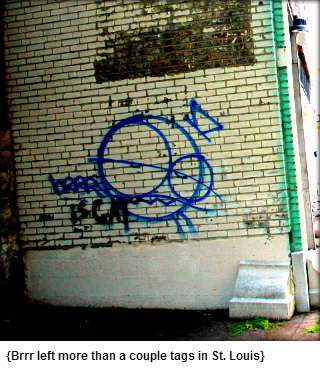 FROM LOUISVILLE WITH LOVE
Last week, we noted that a graffiti meet-up happened in St. Louis, an unofficial one that featured graf writers from around the Midwest, who arrived for a city-wide paint session during May. One of the folks who made an impact was Brrr, whose moon-faced character was seen throughout South City and Downtown, often accompanied by the term 2buck.
I'll be quite honest here: the image, the face? On seeing it around town, I couldn't stop smiling. It was intriguing and enigmatic. It was also never spray-painted onto my own house or property, so my admiration for the shifty-looking character's a bit removed, yeah? Jeff Lockheed has a different feeling about Brrr, as his own house on Jefferson was tagged by Brrr a couple months back. The event spawned a report on Fox News 2. It was also the final catalyst in jumpstarting this series, as I wrote about at the time. So, in a sense, that this piece, and others, are running's due, at least in part, to Brrr's visit to St. Louis.
Just this week, Brrr seemingly made news in Louisville, based on a situation that has to be read about in detail to fully appreciate. But the gist of the story, written here by Gabe Bullard and Joseph Lord for wfpl.org is this: "(Philip) Rodriguez, 25, was arrested Wednesday afternoon in connection to an alleged assault and robbery at the Regalo gift shop on S. 4th Street. The shop had been selling t-shirts with the Brrr artwork on them. The shirt was allegedly based on a Brrr tag… Police accuse Rodriquez of grabbing 19 T-shirts from the shop and tussling with the owner, Jeffrey Dotson." Again, the piece is worth reading, as is a second piece on branding rights, as are the comments. Quite the package.
In another life, Gabe Bullard was a student of mine. He's had a nice career since, working in public radio as a writer and on-air newscaster. I wrote to him about the issue, particularly due to Brrr's recent presence here; I found out that he had many of the same questions on his scene that I've had here. Our e-mailed conversation went like this:
Interested in Brrr's rep there. Sounds like he was a fixture of the graf/street art scene there?
Brrr is the most notable person tagging, at least to the majority of observers. That drawing of a face is everywhere. I first saw it on the circular oven vent outside of a falafel shop in my neighborhood. I later saw it outside a bar and become obsessed. It's that consistency that gets it noticed. For people in the know, it's kind of a game to find new tags and post them to Instagram.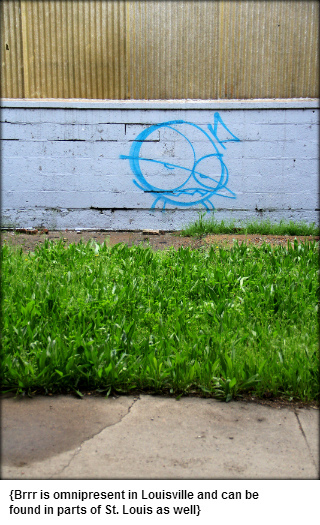 People have been tracking Brrr for a bit, though. A few maps with photos popped up a little more than a year ago. And until now (maybe still), there's been almost an expectation that Brrr will make his presence known somewhere. There was a music festival here last month and someone posted a fresh Brrr tag from inside of a portable toilet. This weekend, I was walking home from the grocery store and saw a Brrr tag hidden on the side of a recycling bin in my alleyway. It's everywhere, in every neighborhood, and it's a small thrill to find. I've been places in town that seem pretty isolated, places that seem like the calm, hidden spots of the city, and they've been tagged with the Brrr face. No matter where you go, someone has been there before. It was probably Brrr.
How active is the scene in Louisville, overall?
There are tags all over [pics], but Brrr is the most recognizable. I think folks have become more creative in town over the last few years. I've seen some really good stickers (there's one of David Duchovny on an alley "no parking" sign that gets me every time I pass it) and some nice tags. It's funny that this arrest happened when it did, because there's been a slight Brrr backlash. Some folks say it's just the same thing over and over, and that Brrr has become too ubiquitous. But it's that ubiquity that's also interesting to me as a reporter. Is Brrr's work a thousand faces painted across the city, or is it the act of painting a thousand faces across the city?
Have you talked to Brrr directly for this piece, or a follow-up?
I haven't. Brrr is notoriously hard to contact. I don't know how many folks in the press have sought interviews, but it's not easy. I haven't seen him talk to anyone in the media. There was an attempt at a Brrr art show I heard about, but I think it fell through. When the store started selling Brrr shirts, I ramped up my efforts in hopes of getting his side of the story. I'd love to talk to him, if only to find out how and why he does it.
In reading the comments, it seems as if there's the usual split of feeling in Louisville about this form, whether it's art or vandalism. Is there a general sense you get that things there are more/less conservative than St. Louis, re: policing this?
I think it's probably about the same here as in St. Louis. This shirt dust-up has brought out the haters and the defenders in equal measure. There are some people arguing that Brrr tagging the store is a nuisance and the owner has the right to reproduce and sell the tag. There are others saying that if the allegations are true, Brrr was justified in taking the shirts. Those are fairly representative of the prevailing opinions on this form in the city as a whole. Some say it's destroying the urban fabric many are trying desperately to mend and preserve, whereas others say it's giving the city some much-needed character. That said, many Brrr tags have remained on buildings for months, maybe years, without being scrubbed off.
Anything else to say about Brrr or this story?
This whole thing is fascinating. There are those saying this is Brrr's comeuppance for defacing a business. But people who I've seen gripe about Brrr are coming to his defense, too, saying that selling the image was too much for the store to do. I'm surprised at how many people have brought up their personal aesthetics in this, too. People say they would defend Brrr if he were doing Banksy-type work. It's becoming a more nuanced argument as it progresses, with the judgments of quality being factored into discussions of creative validity.
The speculation around the "Who is Brrr" (#whoisbrrr) question has been wild. I think a lot of people were disappointed it wasn't someone locally famous for something else…if this is really Brrr. We still don't know. This has definitely captured the attention of a certain segment of the city. It's rare we get a comments section on a post to light up like this.
FURTHER READING AND VIEWING
As most folks know, the term "vandalism" has a long history, dating back to the days of Roman dominance. There's plenty of material online about the original Vandals, the oft-warring people who attempted to build empire alongside their Roman contemporaries. As the popular reference website, wikipedia.org, says: "Early Modern writers characterized the Vandals as barbarians, "sacking and looting" Rome. This led to the use of the term 'vandalism' to describe any senseless destruction, particularly the' barbarian' defacing of artworks."
For a nice overview of the Vandals' life and times
If you want to know about the Vandals' religious beliefs
And what the heck happened in Rome that caused the Vandals to get such a bad name? Here's an overview of the famed sack.
Bringing things into a more contemporary context, we should note that the popular video-sharing site, YouTube.com, has a countless clips of news reports of news reports detailing graff hits, as well as a host of clips shot by graff writers, themselves. Click here for a selection.
From a civic perspective, there's a book and video dedicated to both graffiti removal and punishment. Click here for "End Graffiti". (We wish the authors good luck with that!)
And, lastly, we'd remind folks that we're looking for perspectives from every corner of this debate. At the third-of-the-way marker of this series, we'll remind you that your own stories on this topic are welcomed, from every (and we mean every) angle. Jot a line to: [email protected]. Discretion is absolute, anonymity granted as needed.
Please consider supporting this journalism project via Kickstarter (click here)
Thomas Crone has reported on St. Louis culture and civics for two decades, writing for a large cross-section of local publications and websites. This summer, in covering the world of graffiti in St. Louis, he's found a topic that neatly intersects a number of topics, deeply-rooted in the worlds of art, politics and the law.
Working on the 10-part series for nextstl.com, Thomas will document the local street art scene from the flood walls of Paint Louis to the back-alley touch-ups of Operation Brightside. Speaking to city officials, neighborhood activists and those involved in the activity themselves, the series will highlight multiples angles of the graffiti culture and its impact on the city around it. Though not completely limited to the urban environment, it's safe to say that the piece will be focused on the central core of the St. Louis region, with the City serving as the primary home for the conversation.
Supporters at the $50 level and greater will receive this unique nextSTL.com logo T-shirt printed by STL-Style and designed by Chris Sabatino of Art Monster: